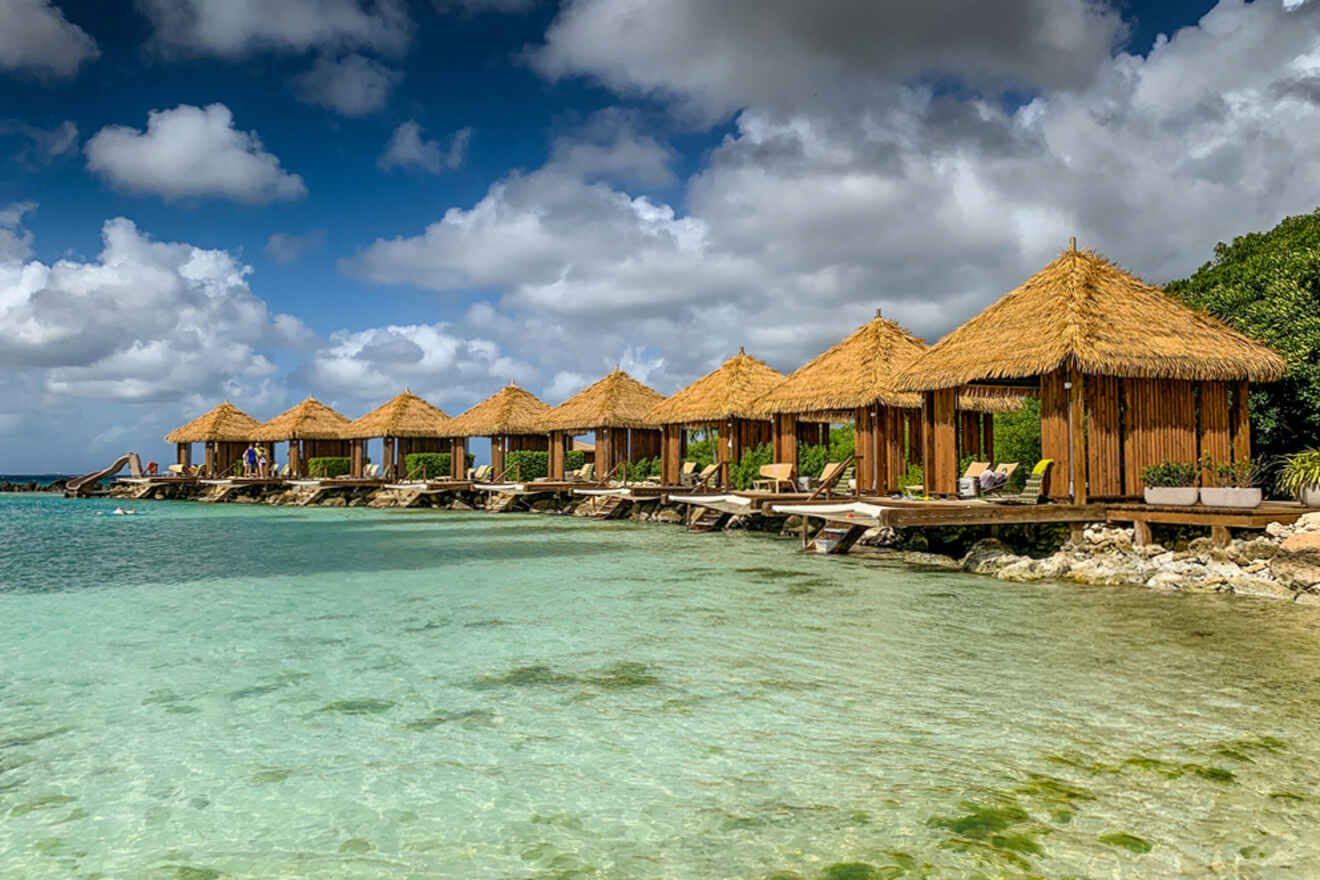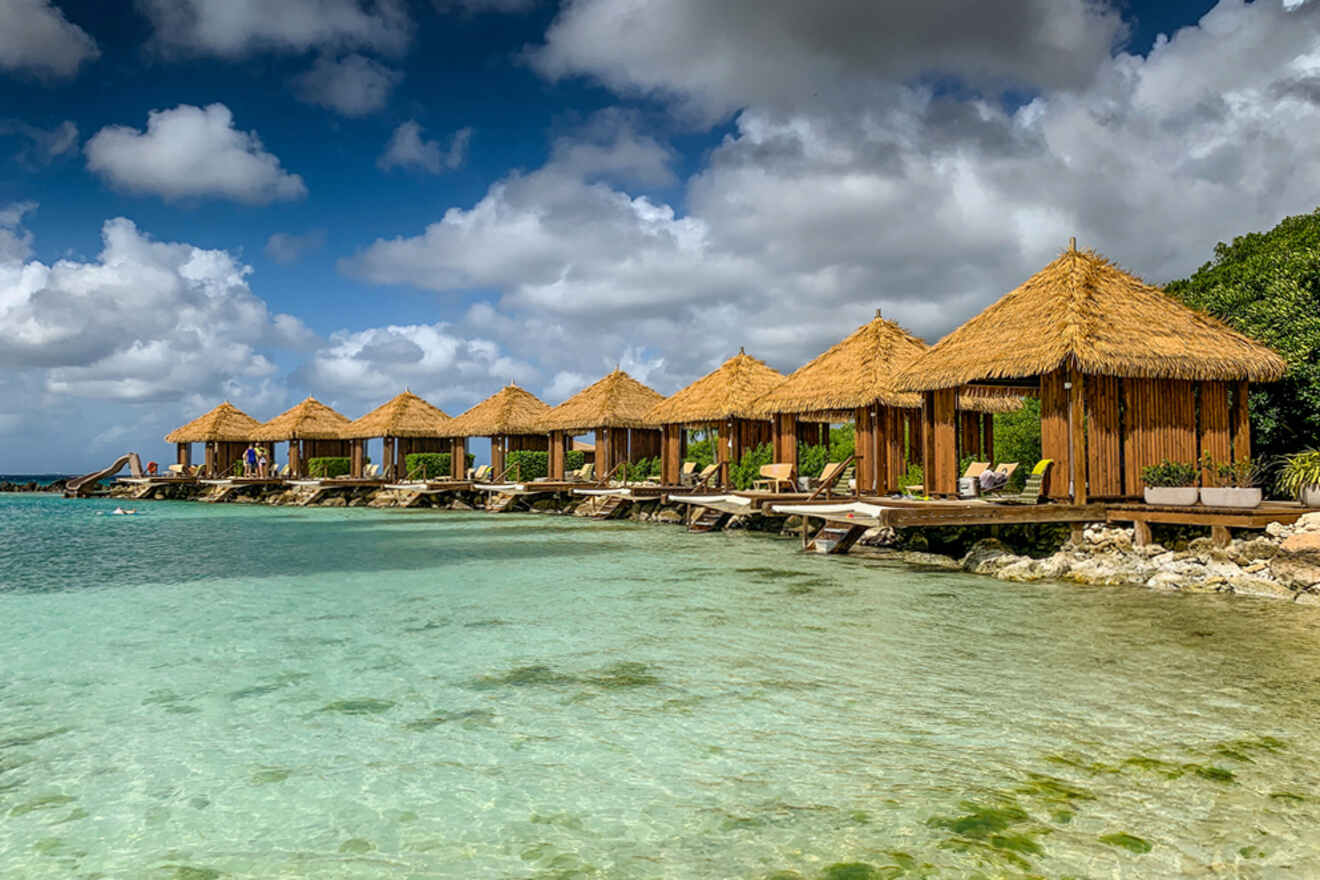 Are you looking for Aruba bungalows over water for your next trip? Then you came to the right place! I've compared all the best spots to give you the ULTIMATE list for your next vacation!
Aruba Ocean Villas is the only resort with overwater bungalows, but lucky for you, there are plenty of beautiful villas and beachfront resorts on the island for your tropical vacation, so I've made sure to list them as well!!
This article is arranged starting with the overwater bungalow, followed by 12 stunning beachfront resorts and ocean villas, starting with the most luxurious first.
These accommodations are super popular, and if you want to secure the accommodation of your dreams, you must book in advance!
If you are in a hurry
If you need to book a hotel room ASAP and don't have a lot of time to read the whole article, here you have the top 3 Aruba Bungalows Over Water:
Aruba Overwater Bungalows
First things first, here you have the only resort offering overwater bungalows. It is luxurious and unique, so book it fast!
Aruba Ocean Villas
Wow! I am completely blown away by this stunning resort offering overwater villas! It is located in Savaneta and surrounded by lush gardens and pristine waters, the perfect place for an idyllic escape and encounter with marine life. The accommodation includes water activities such as snorkeling and kayaking, and offers the chance to relax with in-bungalow spa treatments in an outdoor bed!
Without a doubt, this is the perfect place to live a romantic and unforgettable experience! All the accommodations, including Isla Alistaire, offer breathtaking views of the Caribbean Sea from spacious rooms and your private plunge pool. Select rooms like the penthouse Mai Wisha feature private decks with direct access to clear turquoise waters and provide luxurious amenities, including outdoor showers and overwater hammocks.
Aruba Beachfront Resorts and Ocean Villas
These properties have nothing to envy from overwater bungalows; enjoy these 12 stylish and luxurious resorts!
1. The Ritz-Carlton – benefit from personalized service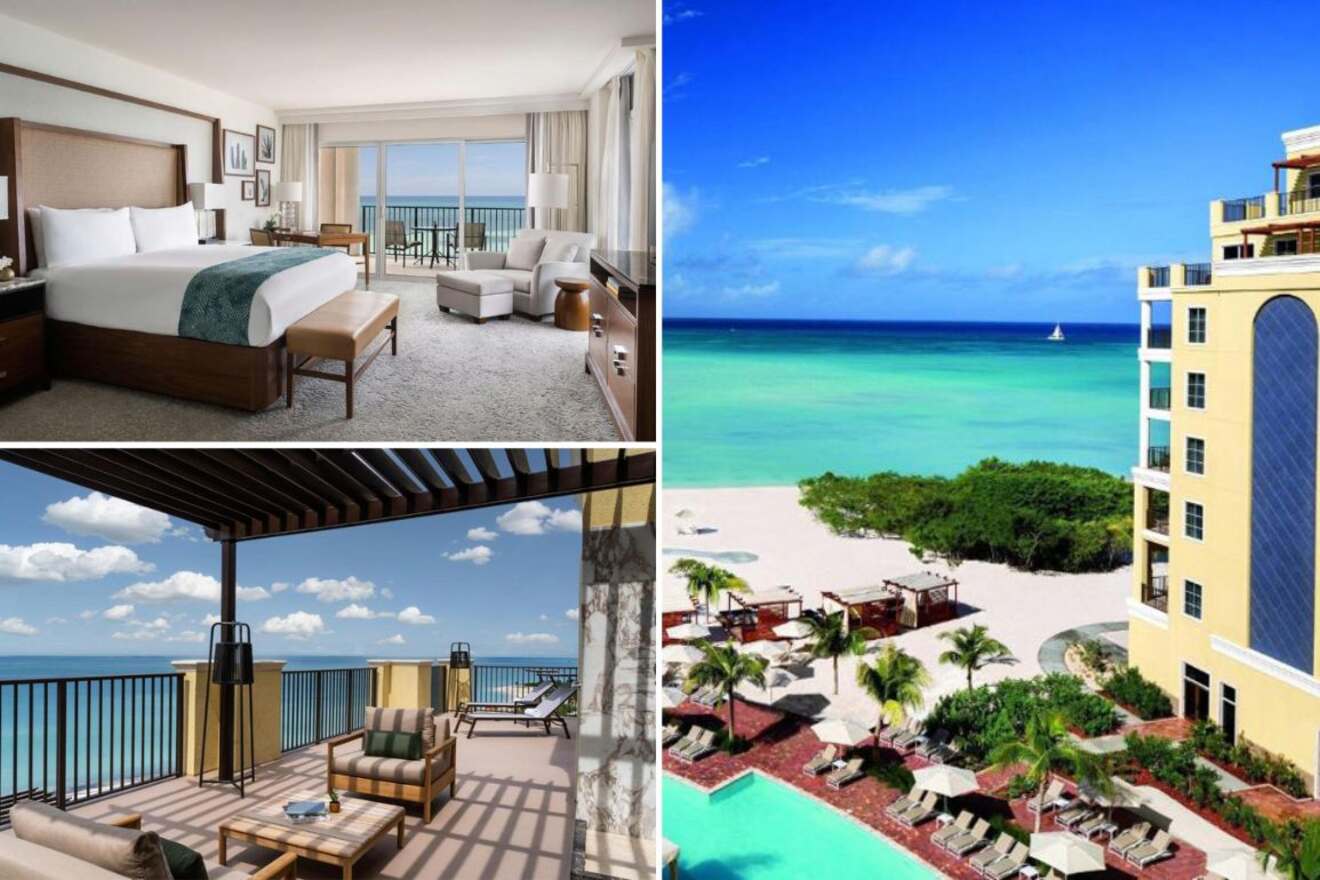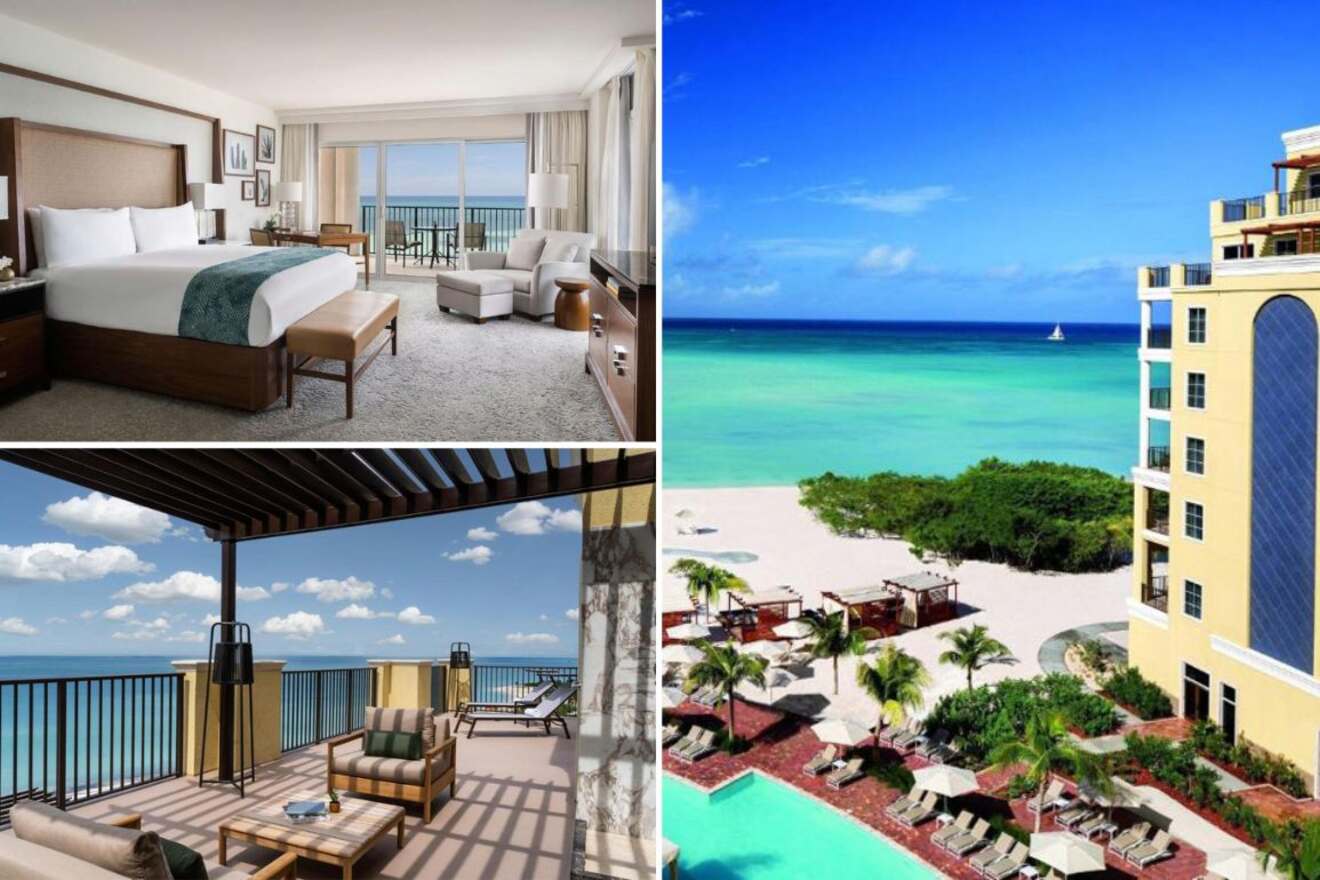 Experience the luxury of the Caribbean seascape! This stunning hotel is in an ideal location by the sea in Eagle Beach. It presents unique dining experiences with beachfront and in-room services, and the staff is super helpful; you will feel pampered and taken care of with all their thoughtful details. You can engage in watersports just steps away, such as snorkeling and canoeing.
There is a complimentary breakfast available every morning, and there is a bicycle rental service available for free in case you want to explore the area. Immerse in the blend of Aruban charm and luxury with all the incredible rooms with ocean views, the perfect place to enjoy evenings with cool ocean breezes!
2. Aruba Marriott – revel in the blend of luxury and nature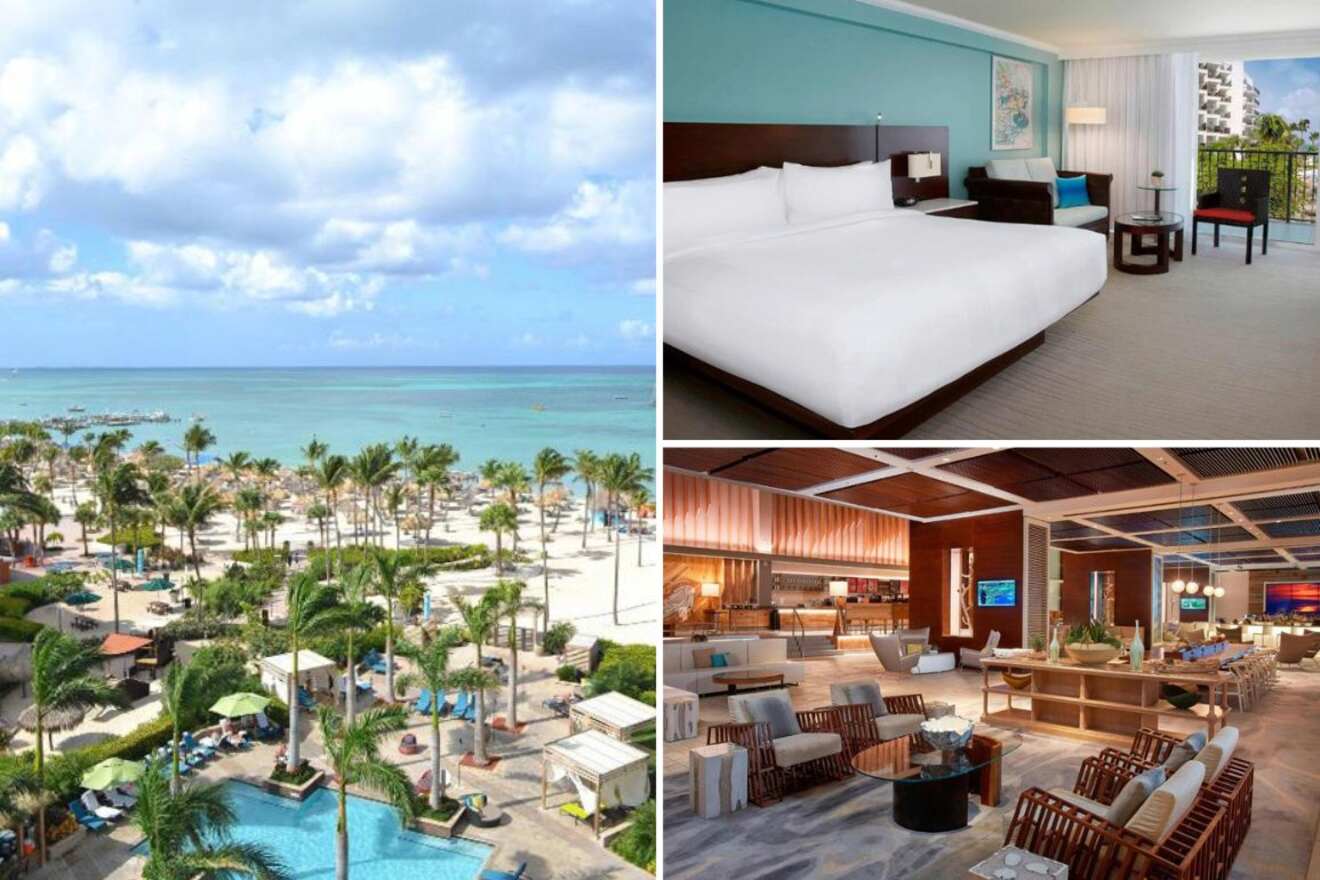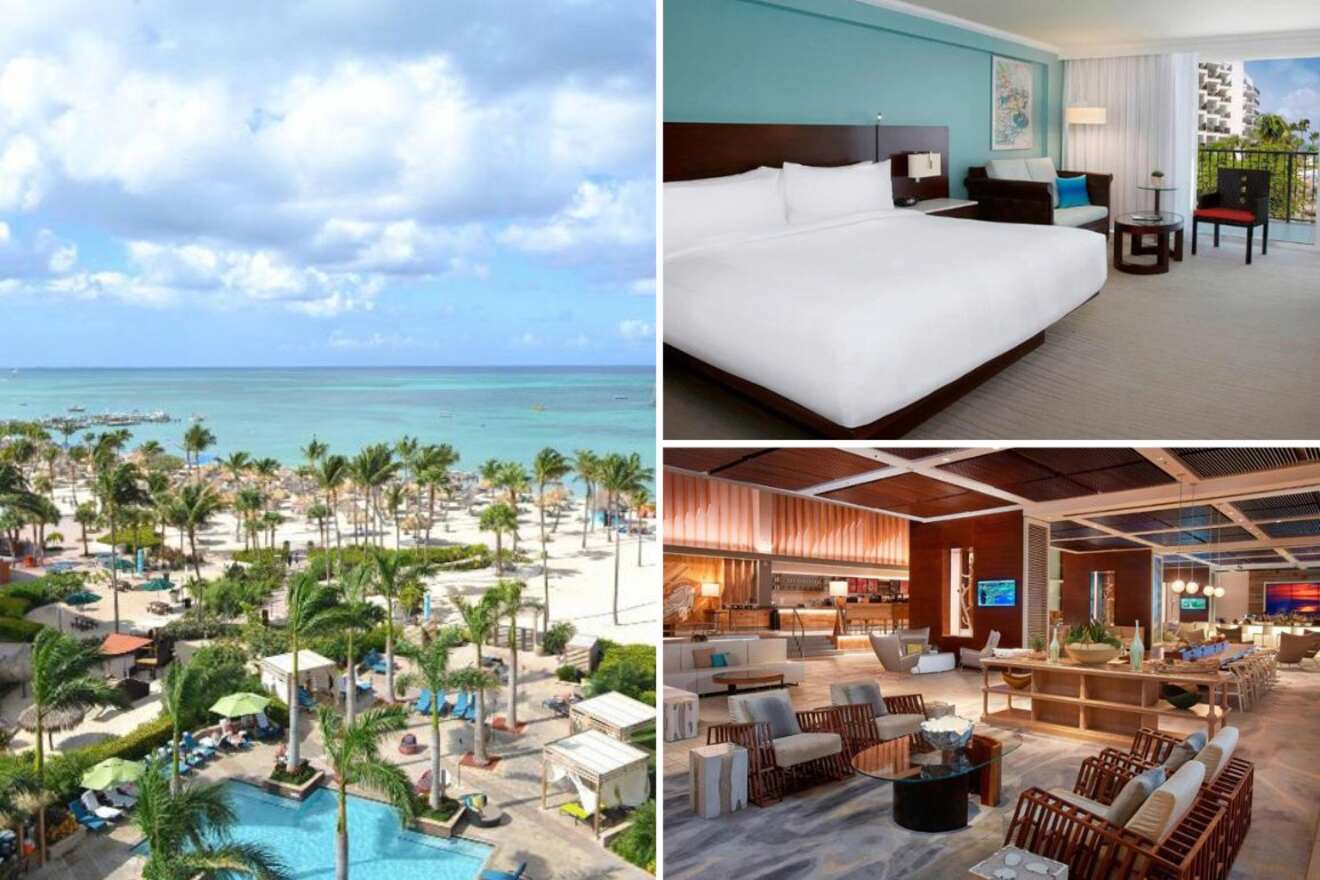 Enjoy the tranquility of lapping waves at night with this beachfront hotel in the beautiful area of Palm Beach! The hotel comes with everything you could wish for to make your days and nights in Aruba a complete dream. There is a huge pool on site where you can swim or simply relax. Take advantage of the tennis court and play a few sets before heading to the onsite restaurant to enjoy a delicious meal!
All the rooms have lovely decor and a private balcony so you can savor breakfast views of the endless horizon from the privacy of your room! There are family-friendly rooms available in the property, these can host a maximum of 4 guests.
3. Divi Village Golf and Beach Resort – all-inclusive amenities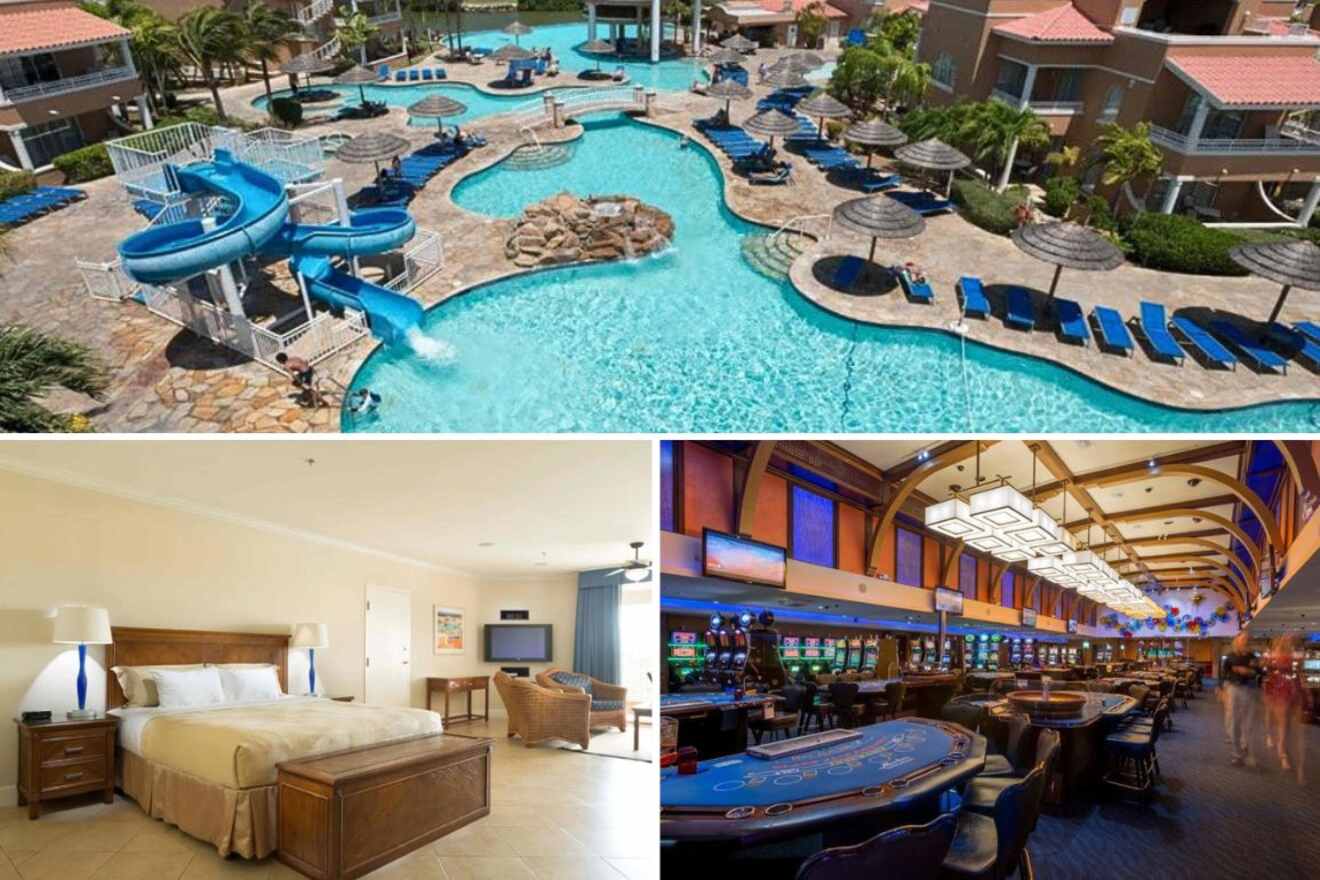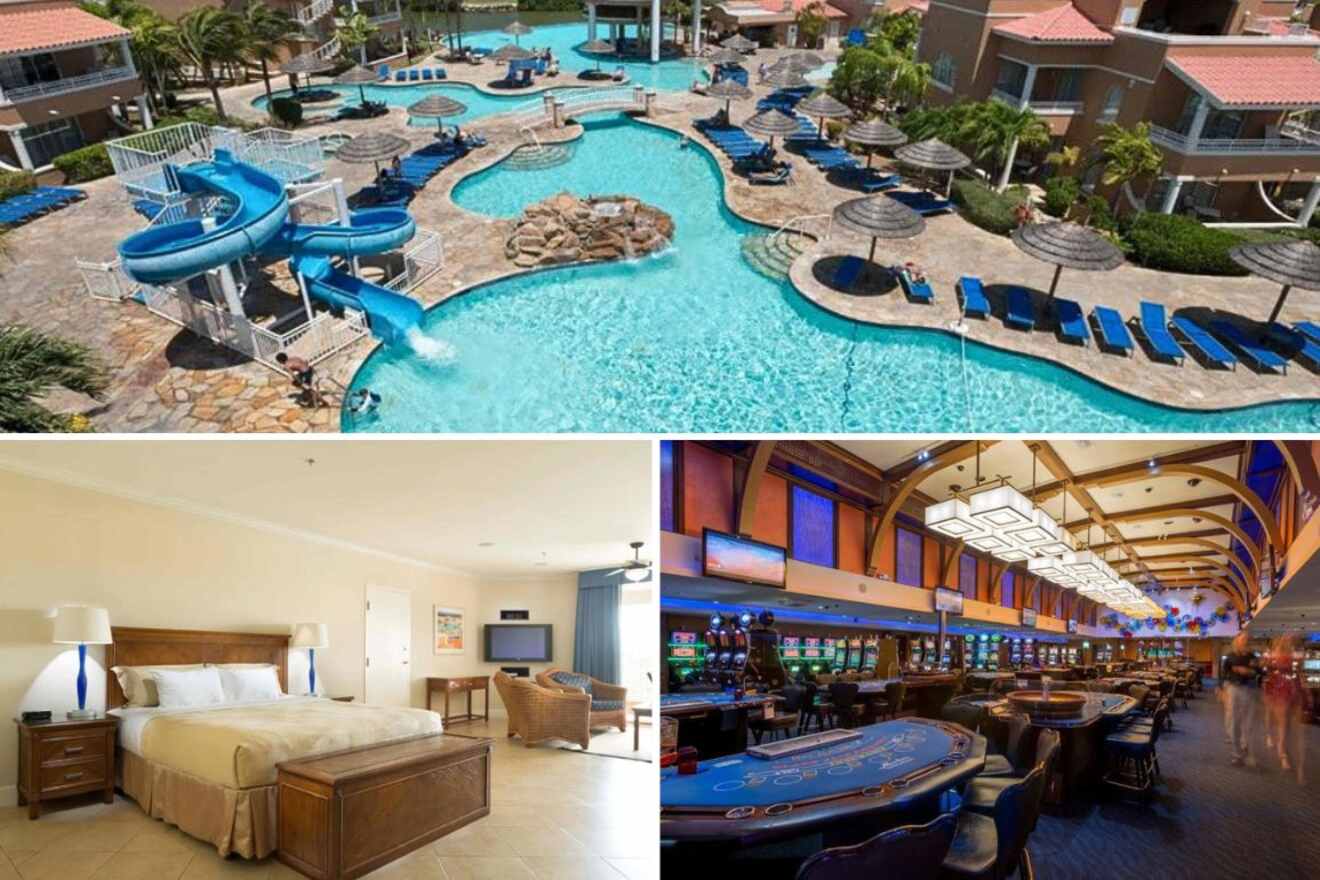 This hotel has everything on-site! This incredible resort is located in Eagle Beach and has soft white sand and pristine blue waters just seconds away from your villa, thanks to its beachfront location. Travelers will never be bored in this accommodation; you have an onsite casino, tennis courts, an outdoor swimming pool, live evening entertainment, and the chance to practice watersports on site.
If you have kids, they can spend the day away playing in the kids club. All the villas and suites in this property look homey and elegant, which is the perfect combo! You can relish panoramic sunsets from private balconies and enjoy a quiet and intimate sunset!
Want to learn more about Aruba and its neighborhoods? Check out our area guide to help you choose the area for you!
4. Hilton Aruba – dine al fresco with oceanic backdrops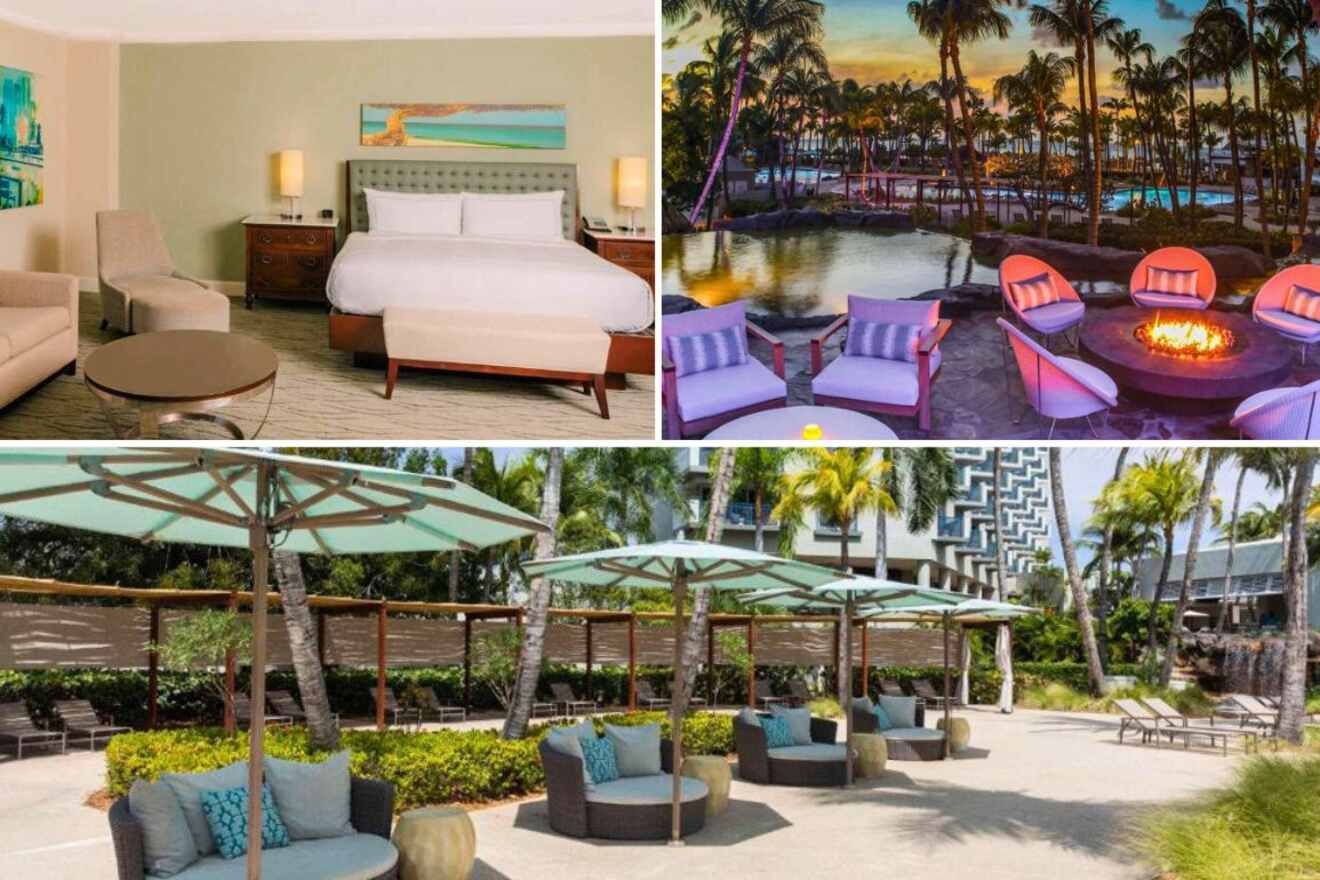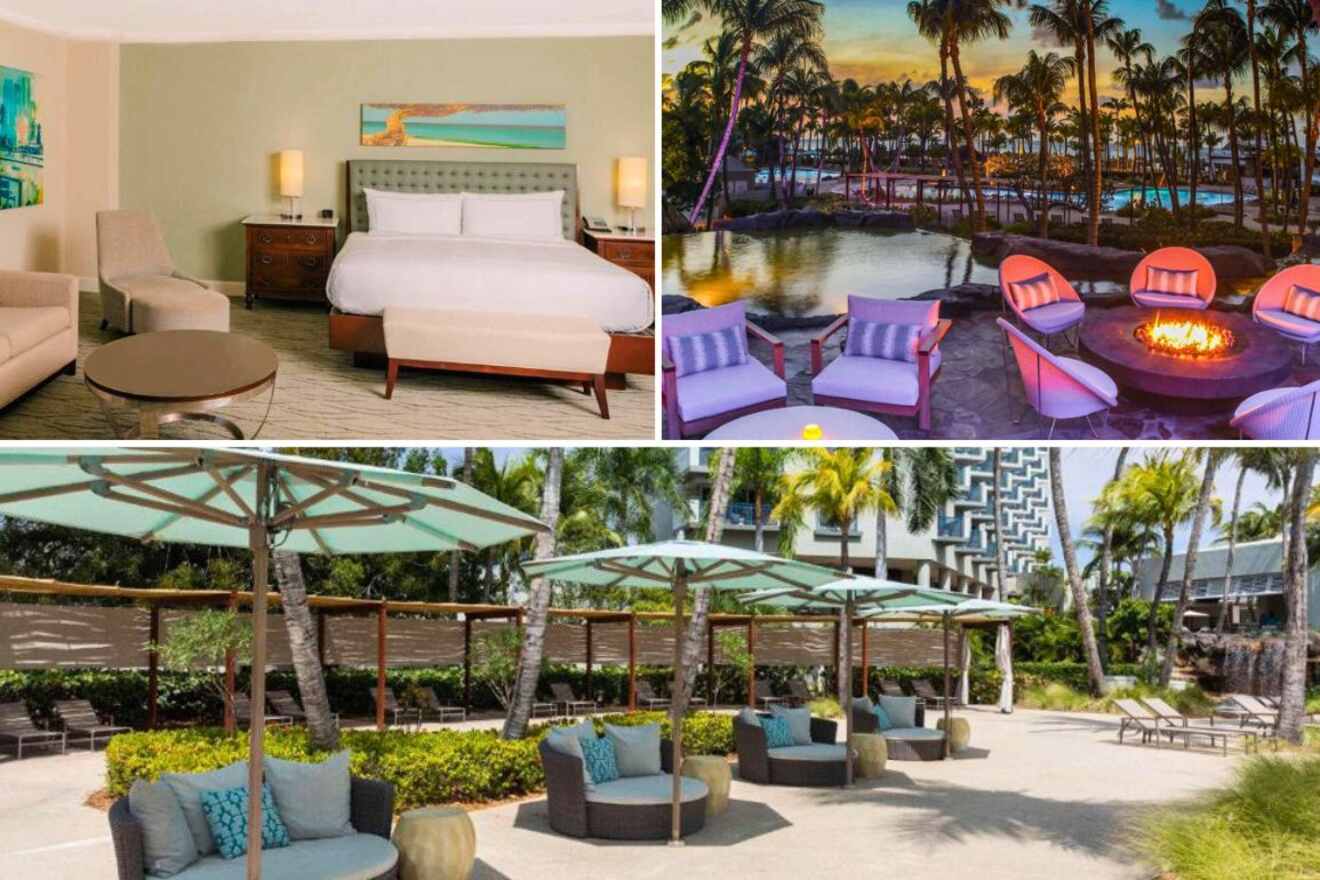 Feel the allure of tropical elegance over the sea in this beachfront Palm-Eagle Beach resort! I cannot begin to explain how stunning this resort is, it has a modern style and a hip vibe. This property has everything you'd want. You can swim in any of the outdoor pools, and if you are into sports, you can use the complimentary bikes, practice yoga, or play tennis on-site!
There is an onsite spa offering a wide range of body treatments and 3 onsite restaurants to indulge in traditional Caribbean cuisine. The rooms look like a dream come true; they are spacious and can host from 2 to 4 guests!
5. Marriott's Aruba Ocean Club – jaw-dropping views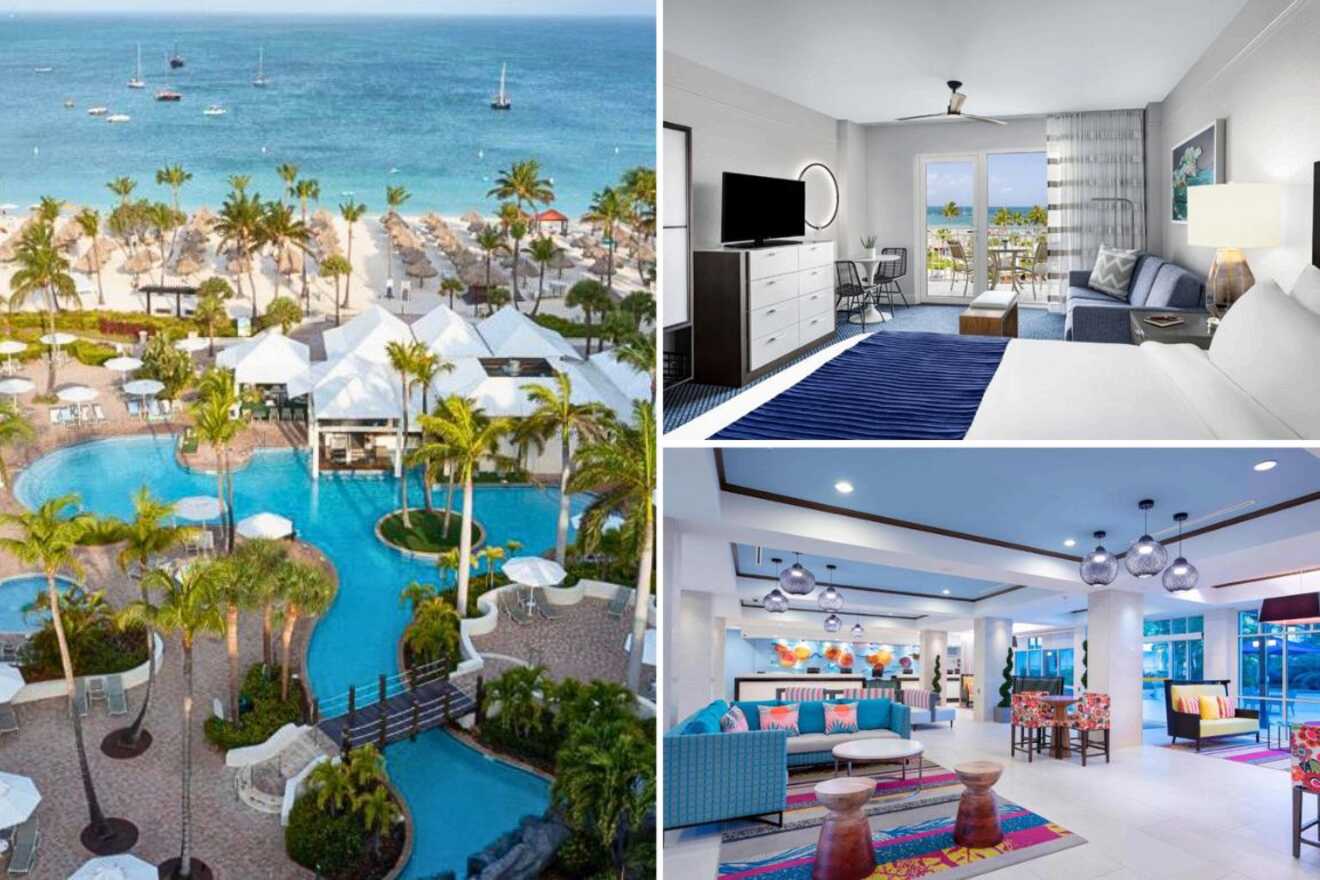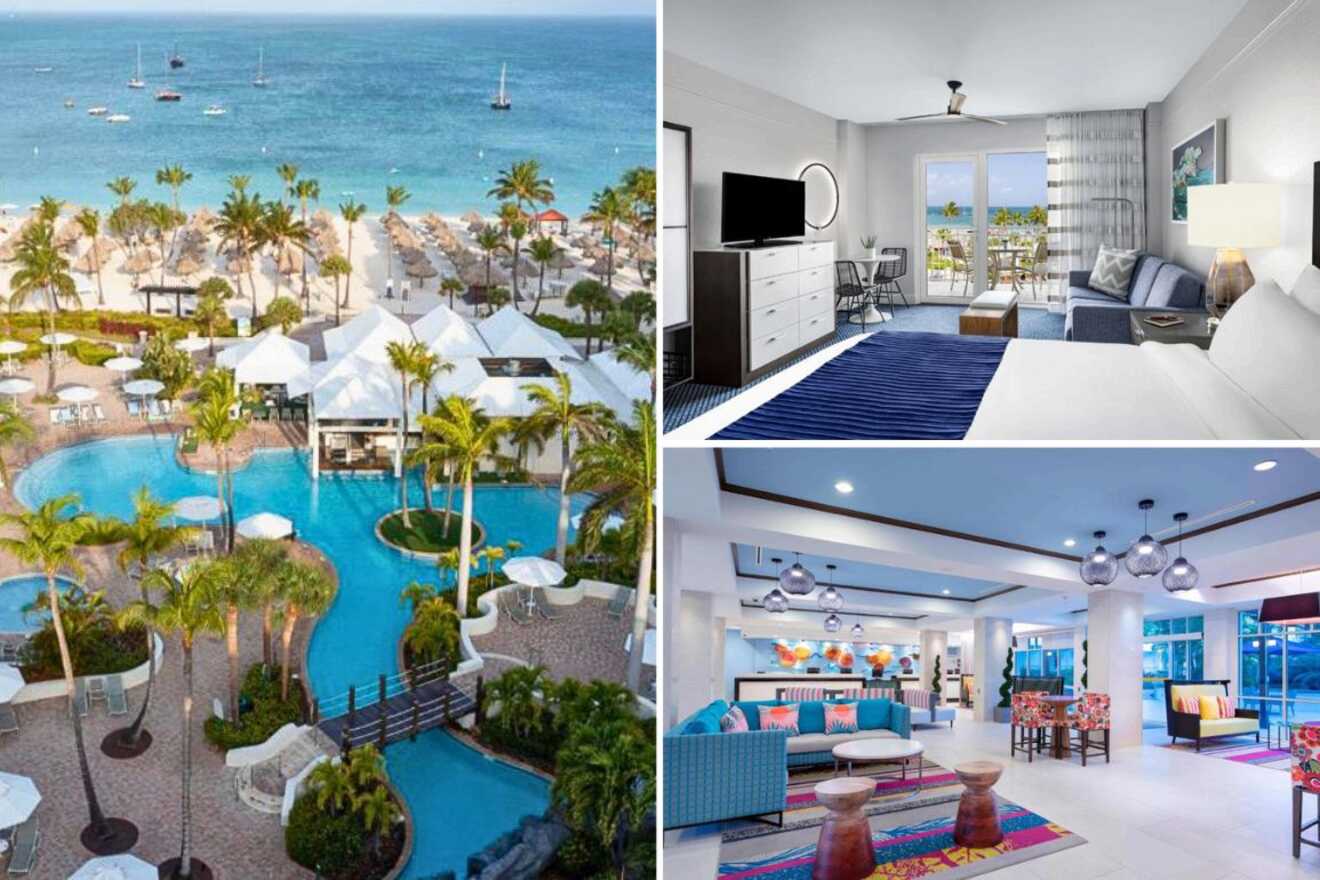 I am so obsessed with the laid-back and colorful vibe this hotel has, it looks like the ideal place for a relaxing vacation! Imagine waking up in the morning and heading to any of the 3 onsite restaurants ordering a delicious breakfast, and heading out to a paradisiac beach, which is only steps away from the property since it is located by Palm Eagle beachfront.
The hotel comes with fun activities like bingo, evening shows for a fee, a casino, and free movie nights! The spa center has a jacuzzi, so stop by during your stay for some relaxing times. Stay in any of the luxurious and elegant villas, which can host from 4 to 8 guests!
6. Hyatt Regency Aruba Resort & Casino – stylish stay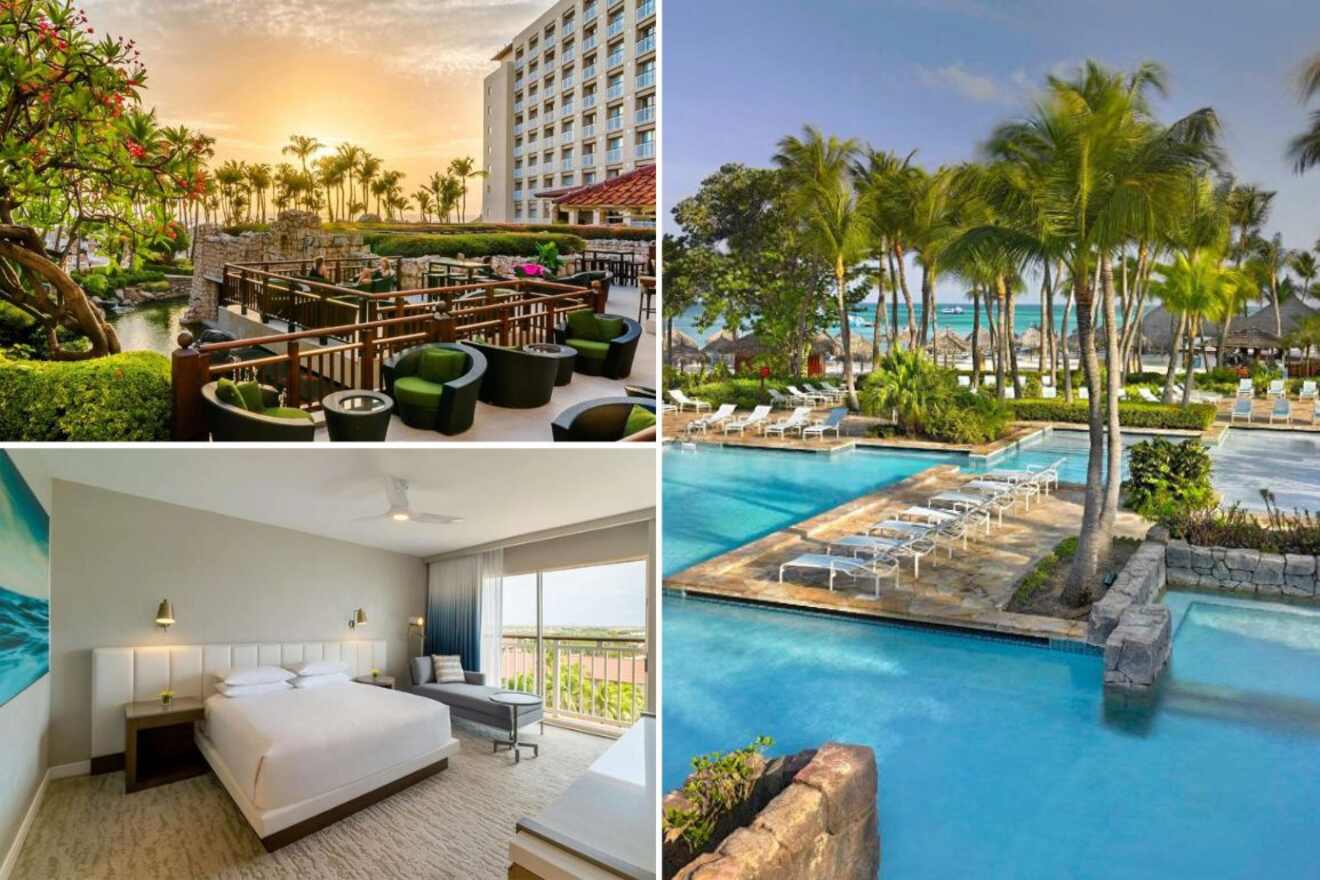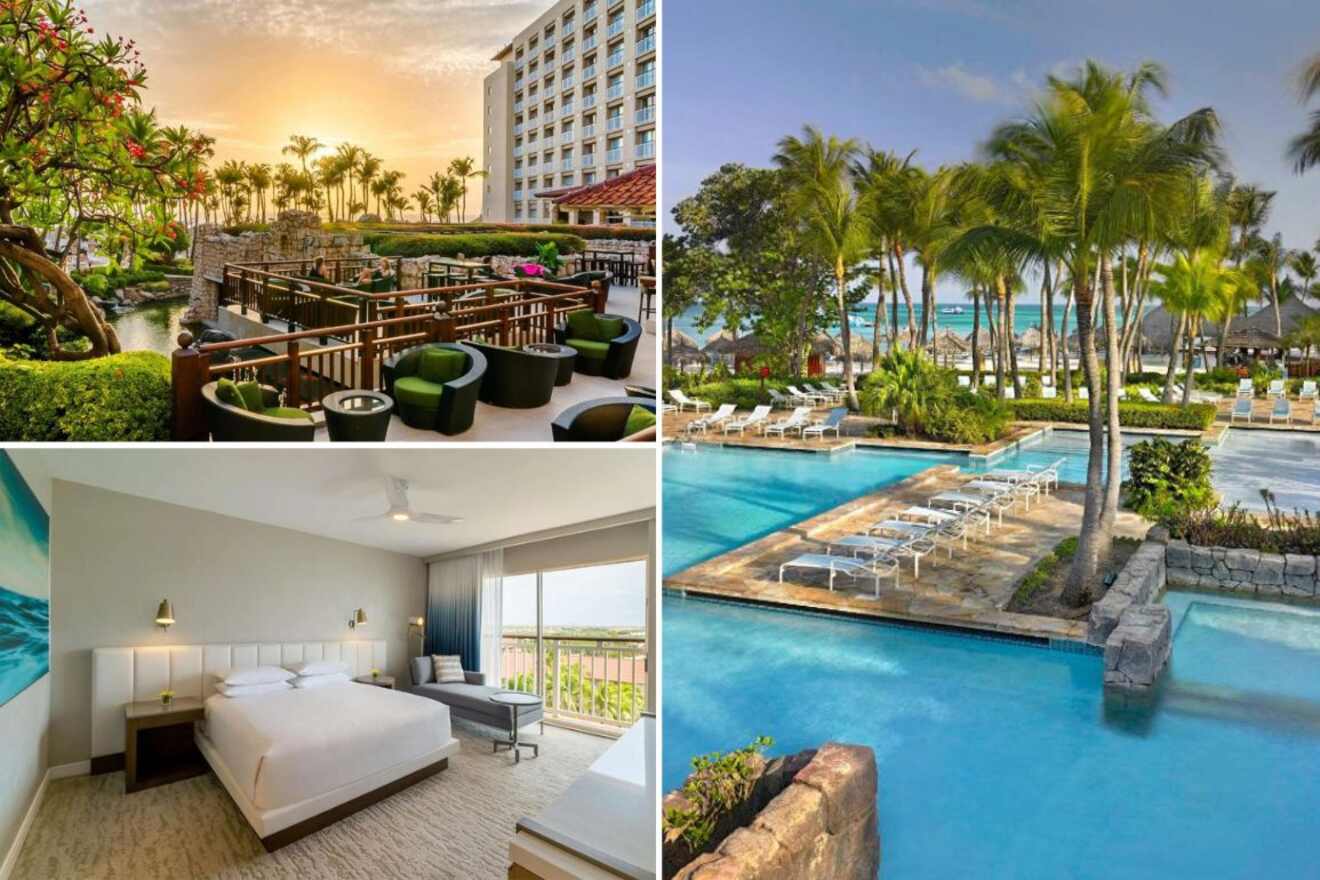 Oh, la la! This resort looks unique, luxurious, elegant, and modern, literally the perfect combo! It is located by Eagle Beach, so the soft white sand and cool, pristine ocean waters are only seconds away from your room. There is an oceanfront infinity pool open to all guests and a wide range of onsite amenities, from fitness centers and tennis courts to spas and live music shows!
Rooms are bright and have deluxe amenities like a flat-screen TV with streaming services, air conditioning, and private balconies and terraces with views. I suggest you stay in a room with a view of the ocean to enhance the vacation!
7. Bird of Paradise Villa – take a dip in personal plunge pools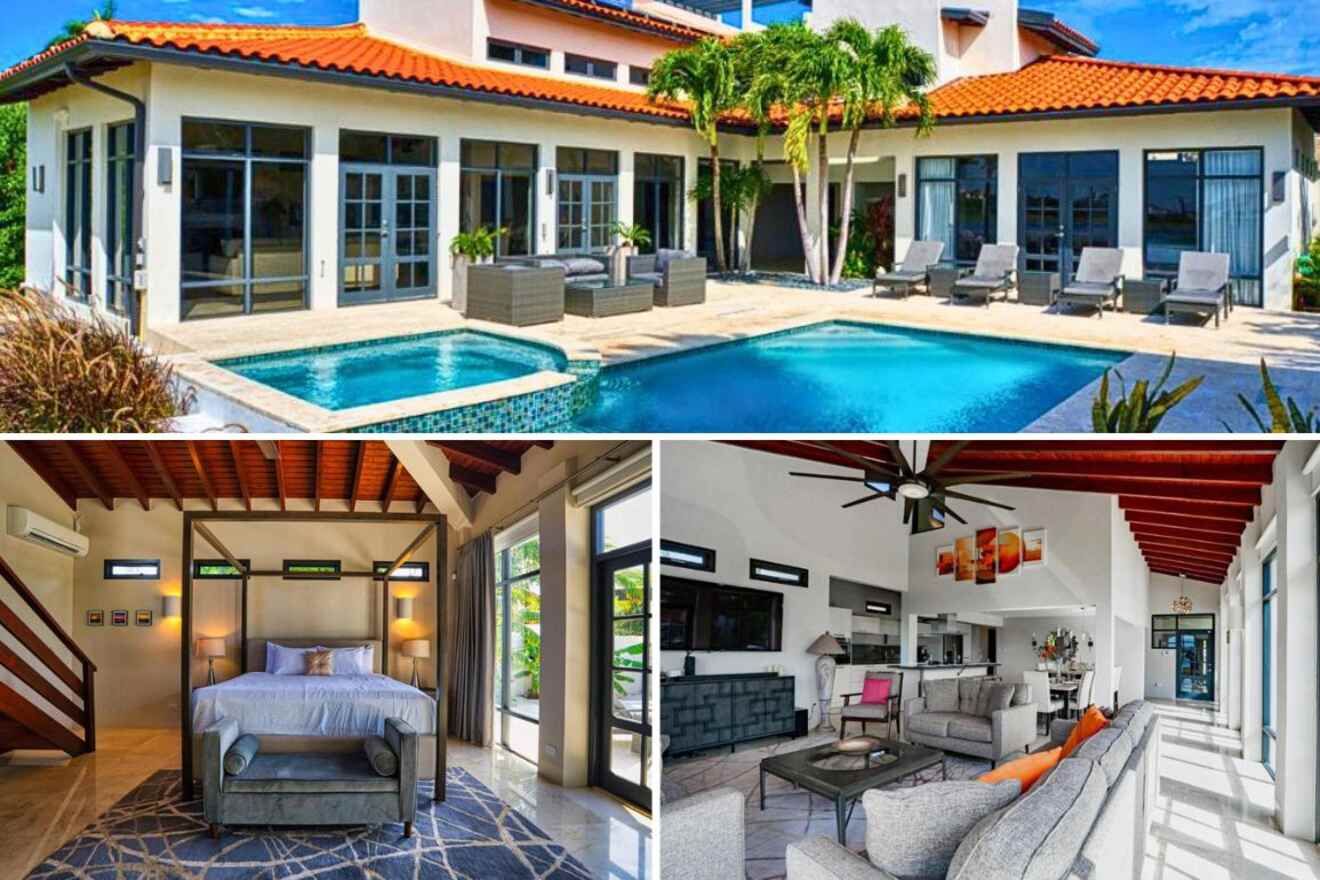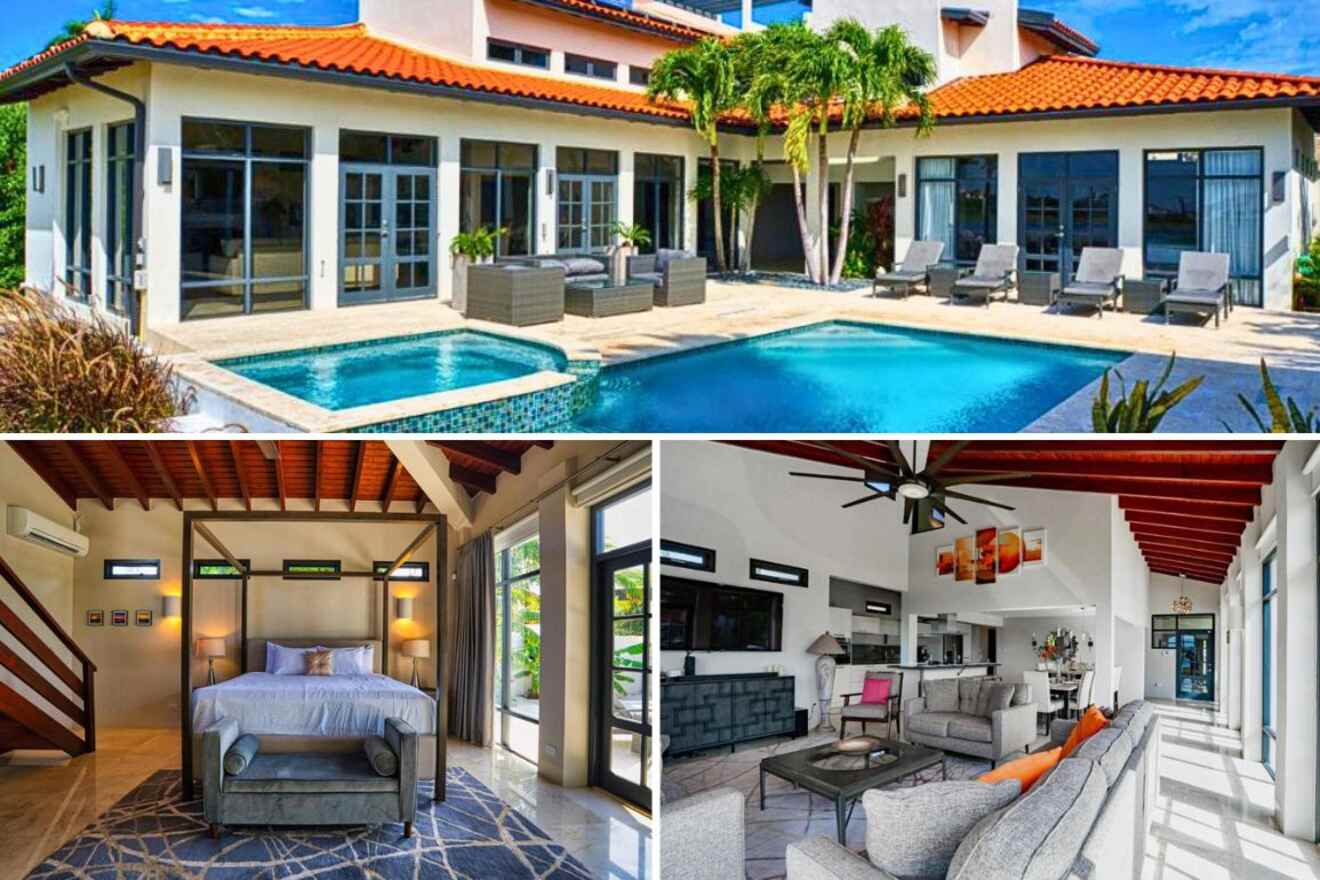 I highly recommend staying in a private villa! This perfect accommodation is located in Palm Eagle Beach and has the beach a few minutes away. The property grounds are incredible, it has an outdoor swimming pool with views and a BBQ area with a grill to enjoy hot dogs and burgers!
The villa has 4 separate rooms and 4 bathrooms and can host up to 10 guests, making it ideal for groups of friends or families traveling together. If you have pets, you can bring them upon request, just check with the property owner about the different fees.
8. Manchebo Beach Resort and Spa – for a spa retreat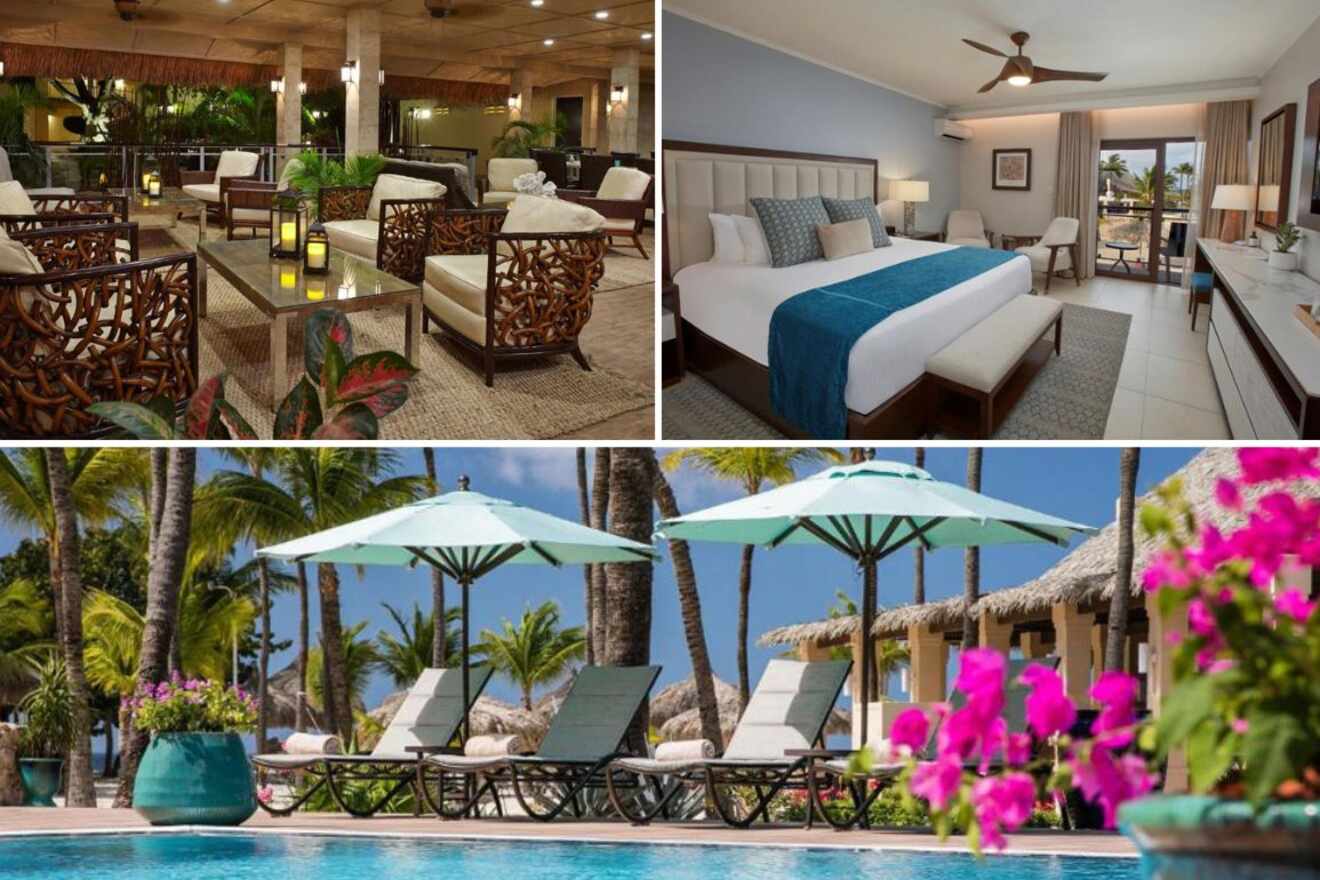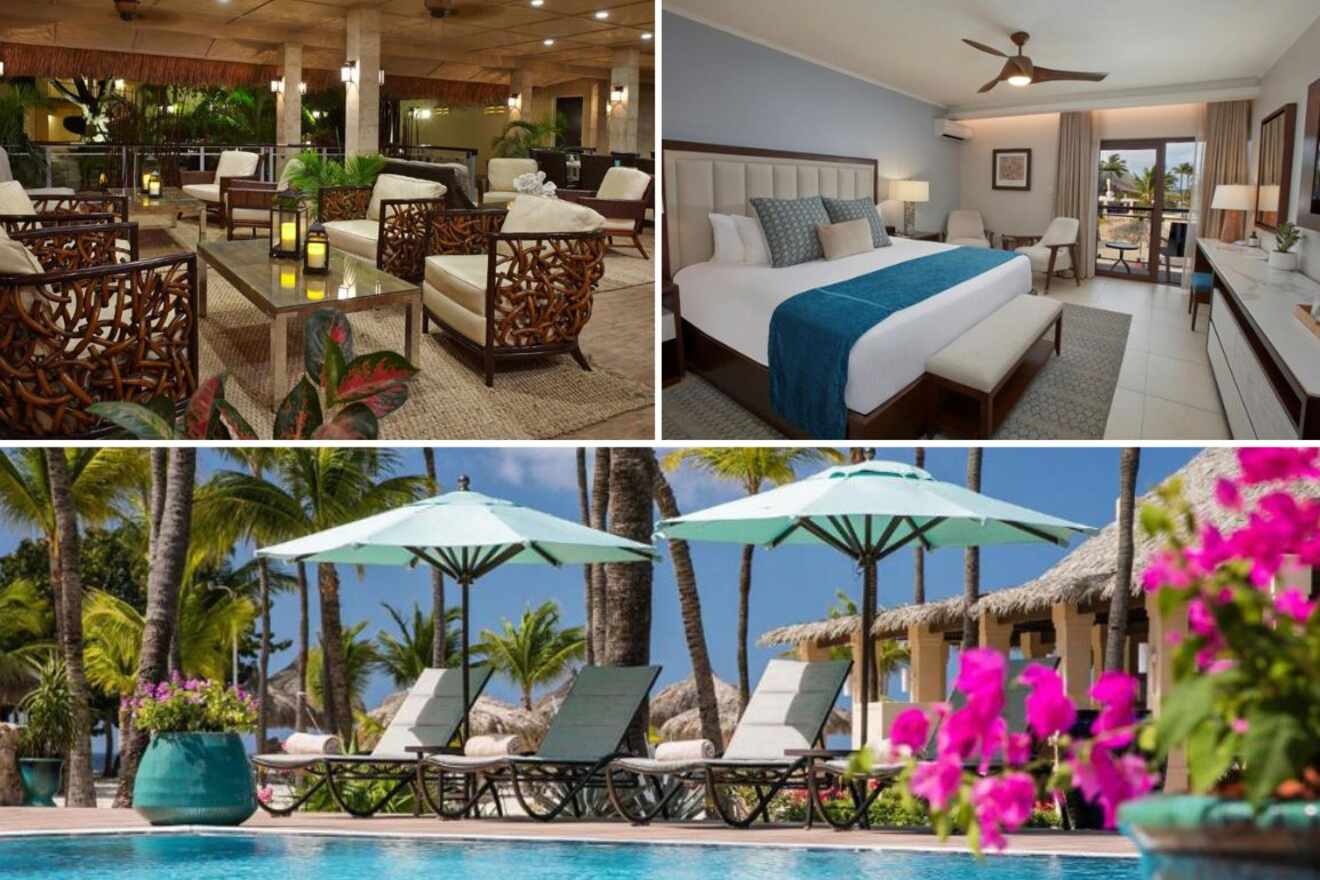 I am in awe of this fantastic property! It has an ideal location by Palm-Eagle Beach beachfront, and there are hammocks and cabanas where you can relax while you listen to the ocean waves. The spa and wellness center comes with a steam room and offers beauty, body treatments, and yoga classes, so you can let go of all your worries and unwind during your vacation.
There are 4 on-site restaurants open to all guests and offering traditional Caribbean dishes and international fare. So whatever you are craving, they've got your back! There are 2 types of rooms on the property, both hosting up to 2 guests; one of them comes with garden views, and the other from the ocean.
9. Amsterdam Manor Beach Resort – for a fun stay!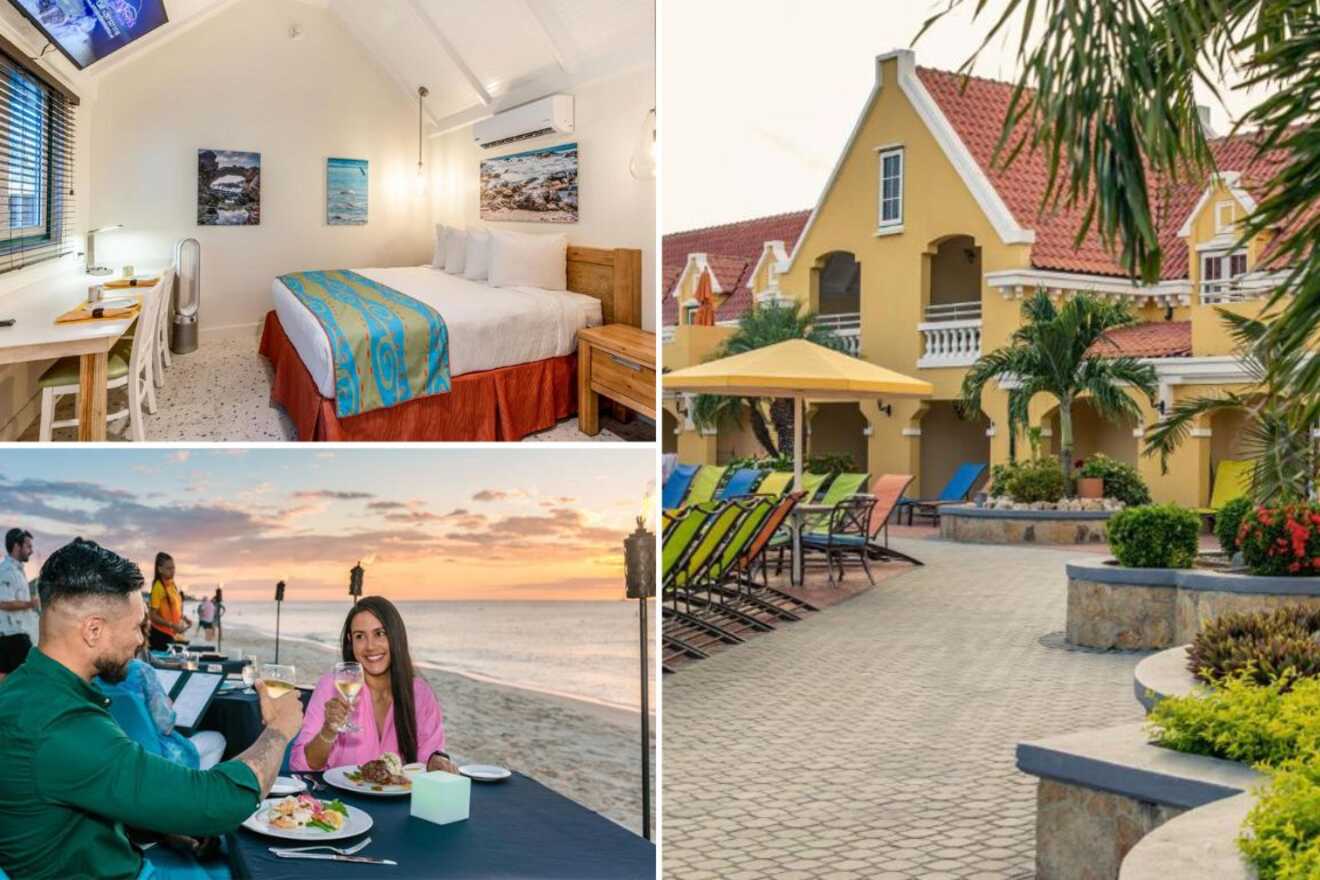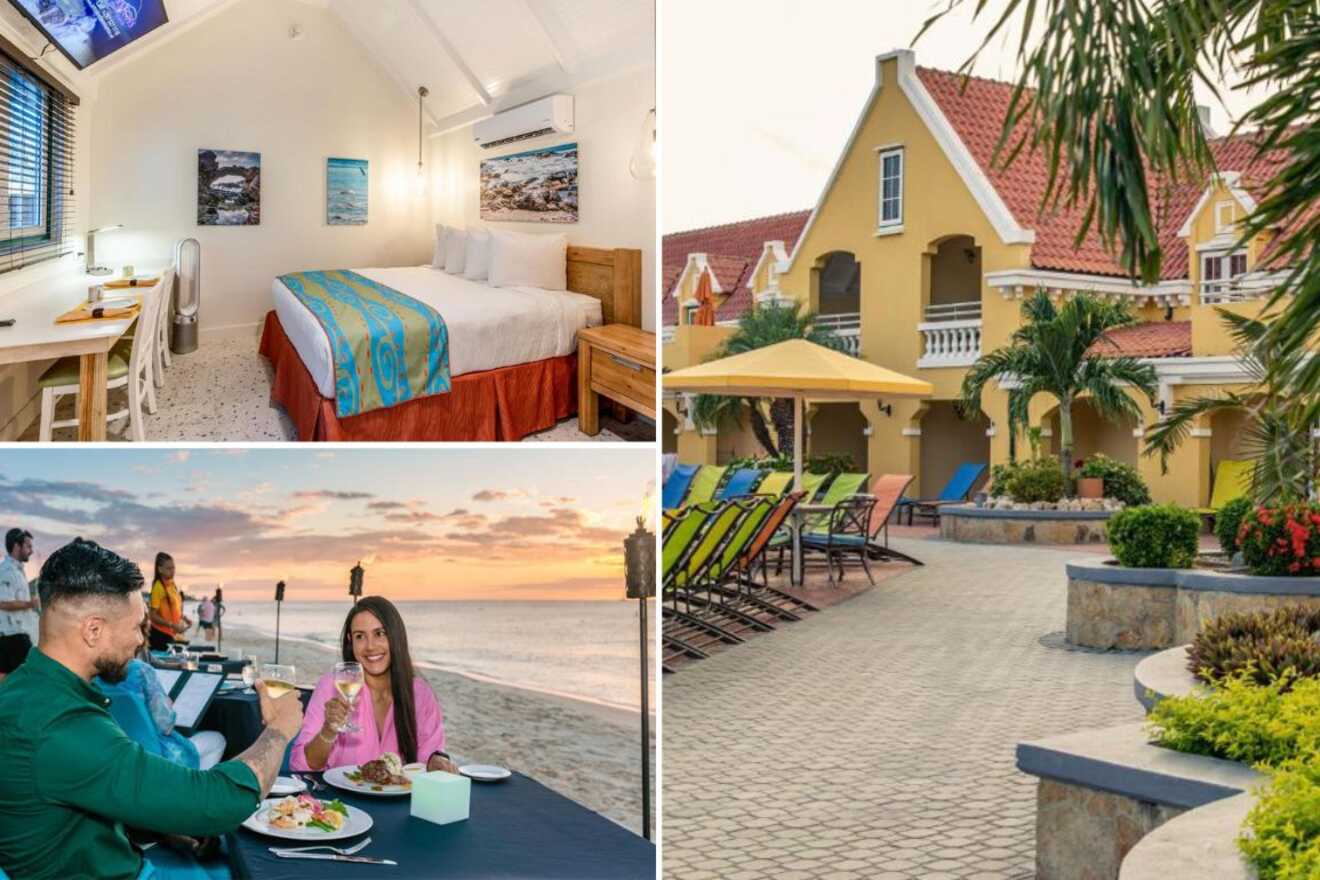 I LOVE this hotel! Something cool about this property is that it is TAG-approved, meaning that it supports the LGTB+ community! The property comes with free parking a refreshing outdoor swimming pool, and there is an onsite restaurant offering Caribbean and International food, with vegan and vegetarian options!
The suites and studios have a homey feel, and all of them come with a kitchen or kitchenette, so if, during your stay, you are looking to make wholesome homemade meals, this is ideal for you! If you're traveling in a group, the 2-bedroom suite can host 4 guests.
10. Holiday Inn Resort Aruba – explore Noord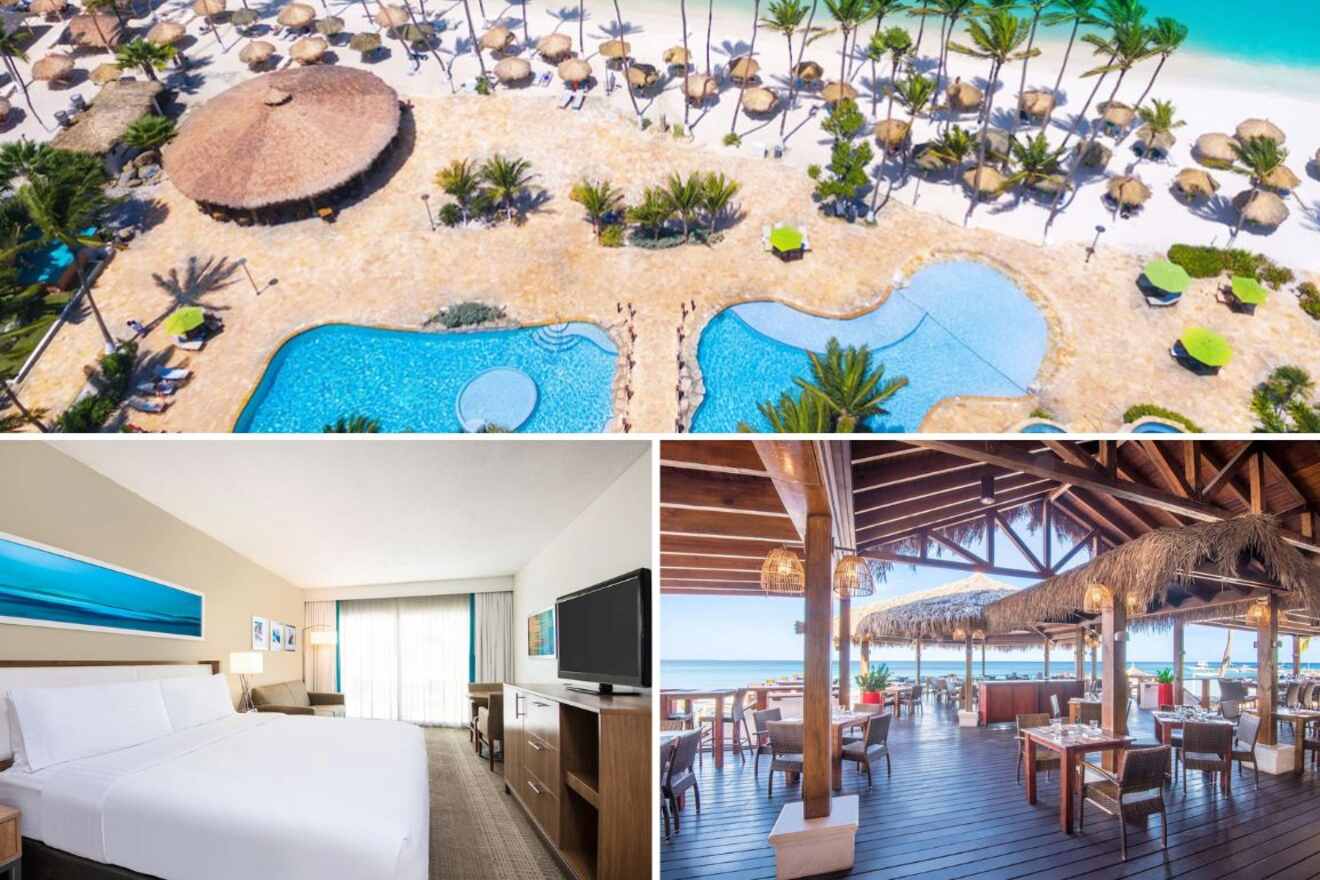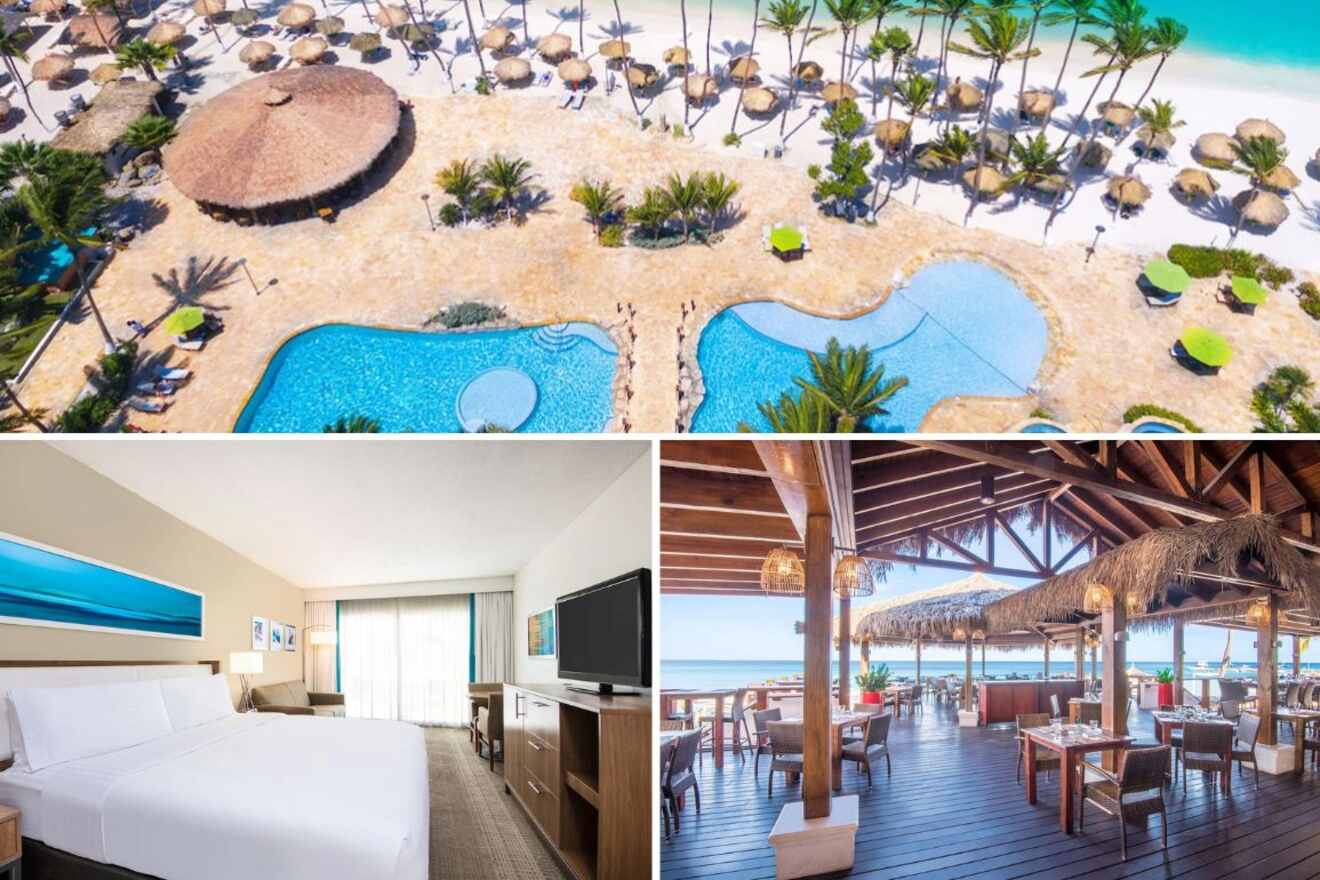 Wow! This property looks like a dream! It is located in Noord, and Palm Beach is only a 3-minute walk away from the property. It has 3 outdoor pools with cabanas, so you can relax and read a book by the water. The onsite spa offers body scrubs and other treatments so you leave Aruba with soft, pure skin!
The onsite fitness center is open 24 hours a day, and guests can try one of the many slot machines the casino has. All the rooms look spotless and luminous. I highly recommend the suite to guests, it has a bedroom, a separate living room, and a private balcony with lovely views.
11. Eagle Aruba Resort & Casino – family-friendly vacation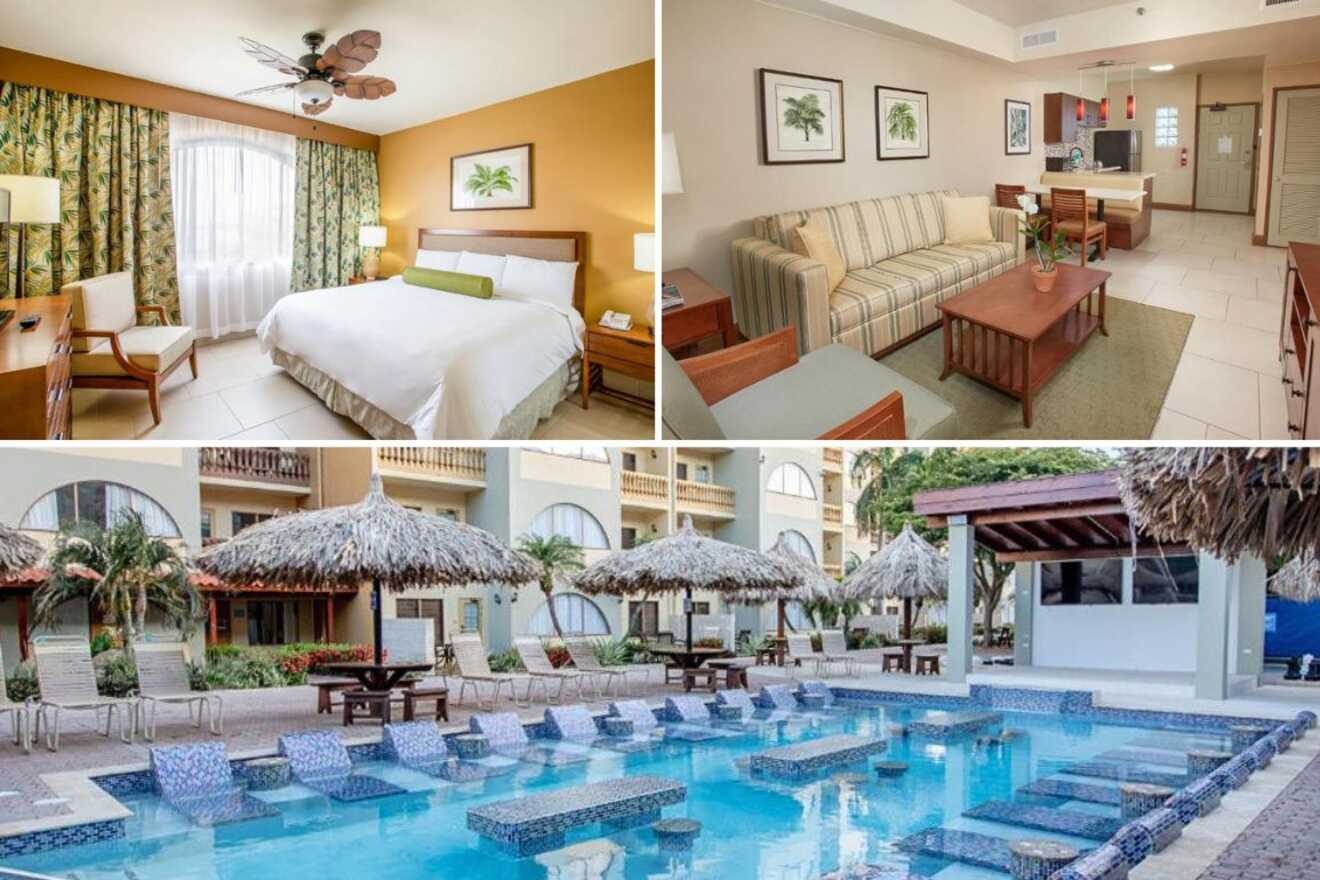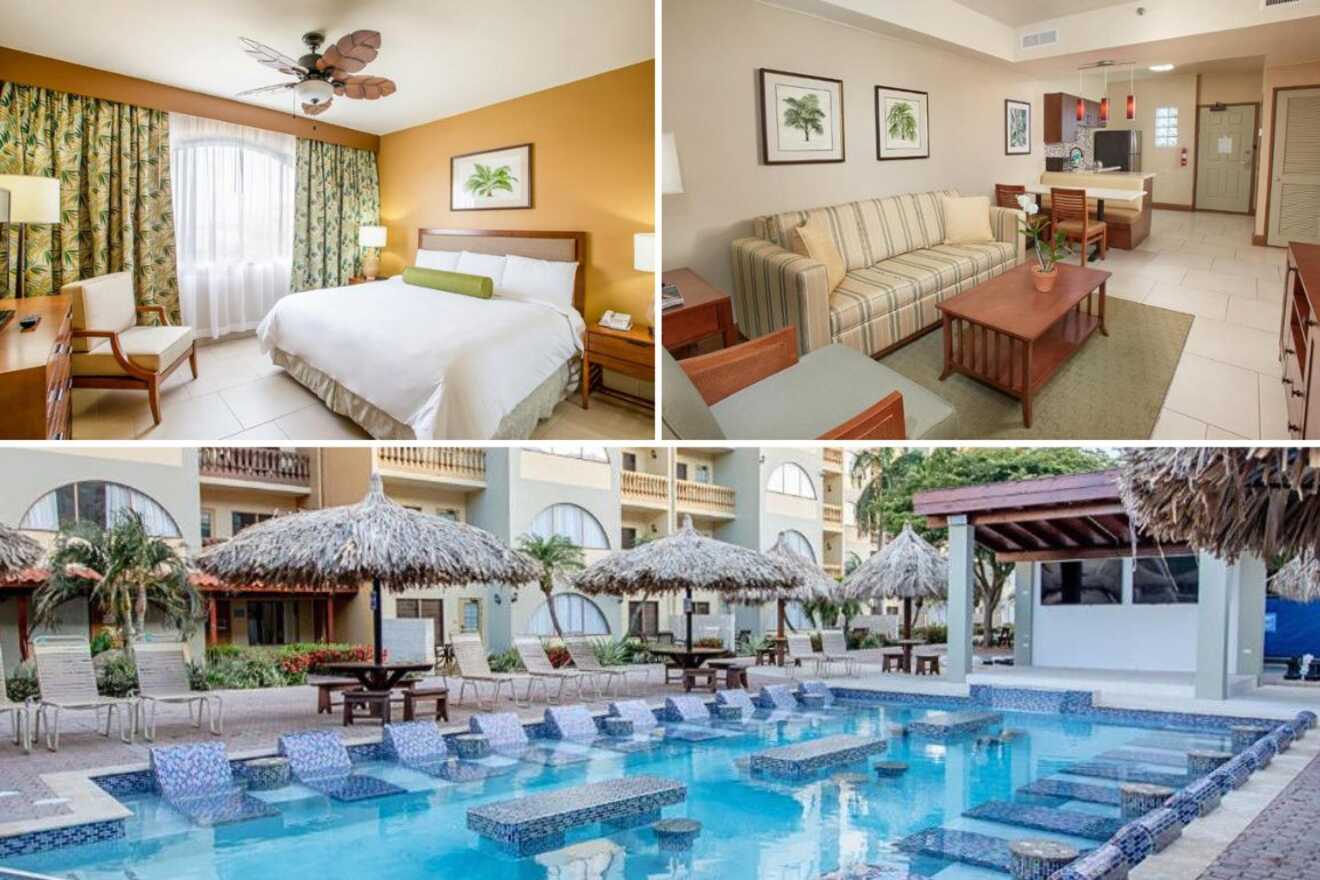 This resort looks like the perfect place for an easy breeze vacation with the whole family. The hotel is located on Palm Eagle Beach and has a private beach area. There are 4 outdoor swimming pools onsite; one of them comes with a water slide, and there is a special pool with a water playground for kids. On top of that, there are 2 outdoor jacuzzis available to everyone!
There are 3 onsite restaurants on the property, and you can enjoy a themed dinner for a fee, which I highly recommend doing! The biggest room is the 2 bedroom premium suite, which has enough space for 6 guests and comes with 2 bathrooms.
12. Villa Bougainvillea Aruba – great for a honeymoon!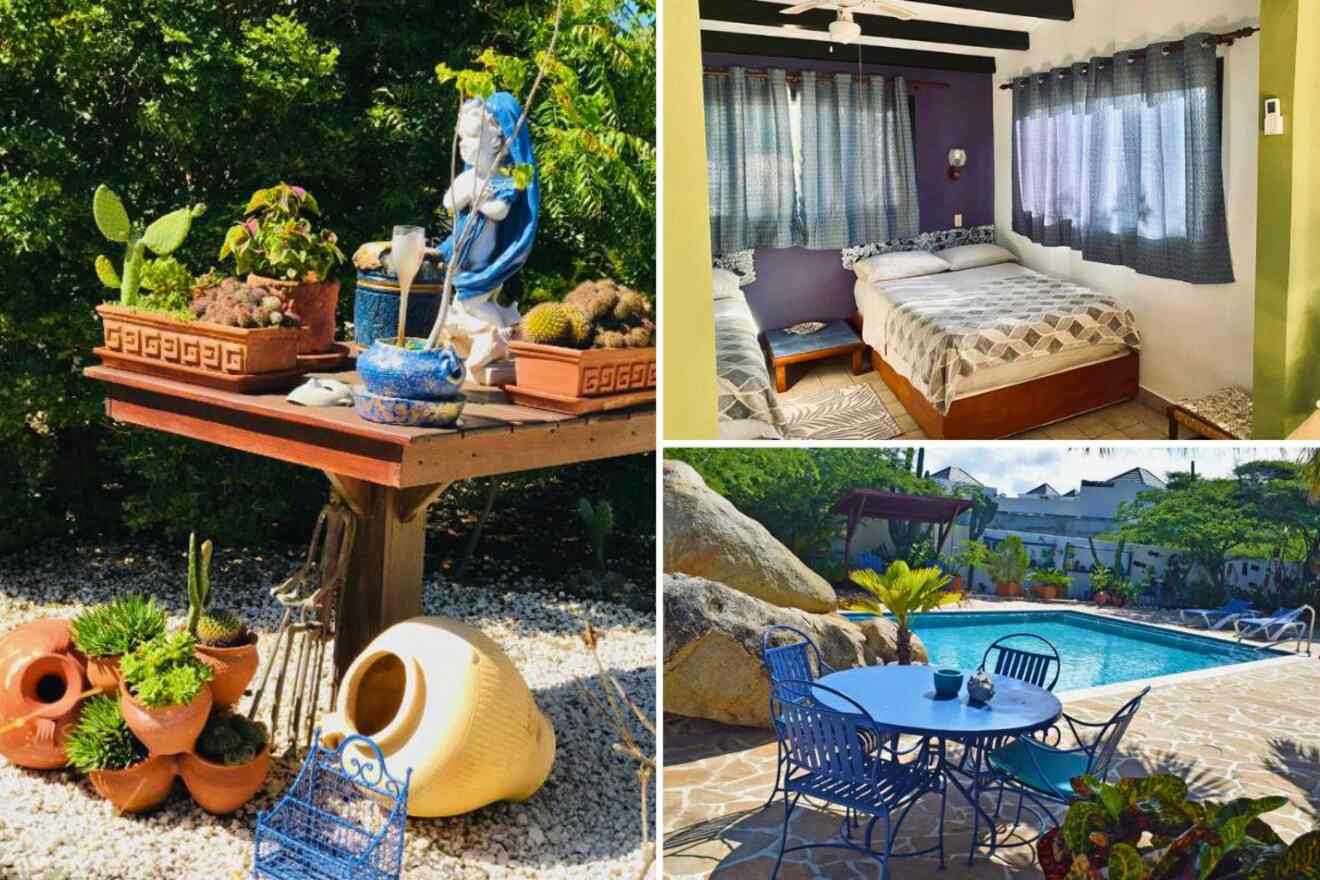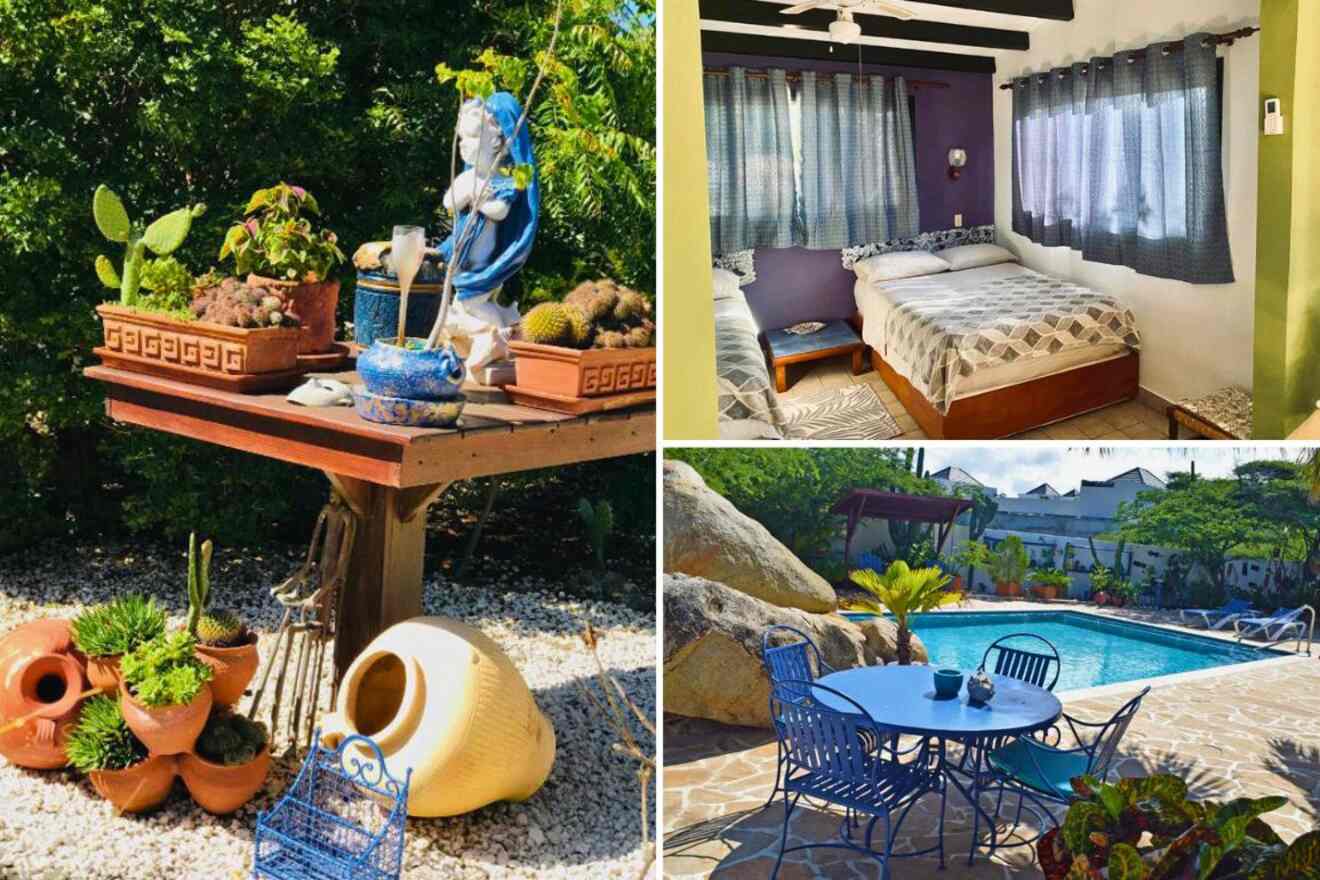 This property has a super unique feel; staying here, you will feel like you are staying in a local house. The villa has a very traditional feel, and the furniture looks vintage and artsy; there are pictures and art on the walls, and it features a beautiful garden with plants and decorations.
The location is ideal, in Palm Eagle, and the beach is only a few minutes walk away. There is an outdoor swimming pool, which is only for you since you will be booking the entire property! The villa can host a total of 2 guests and comes with 2 large beds.
FAQs about Aruba overwater bungalows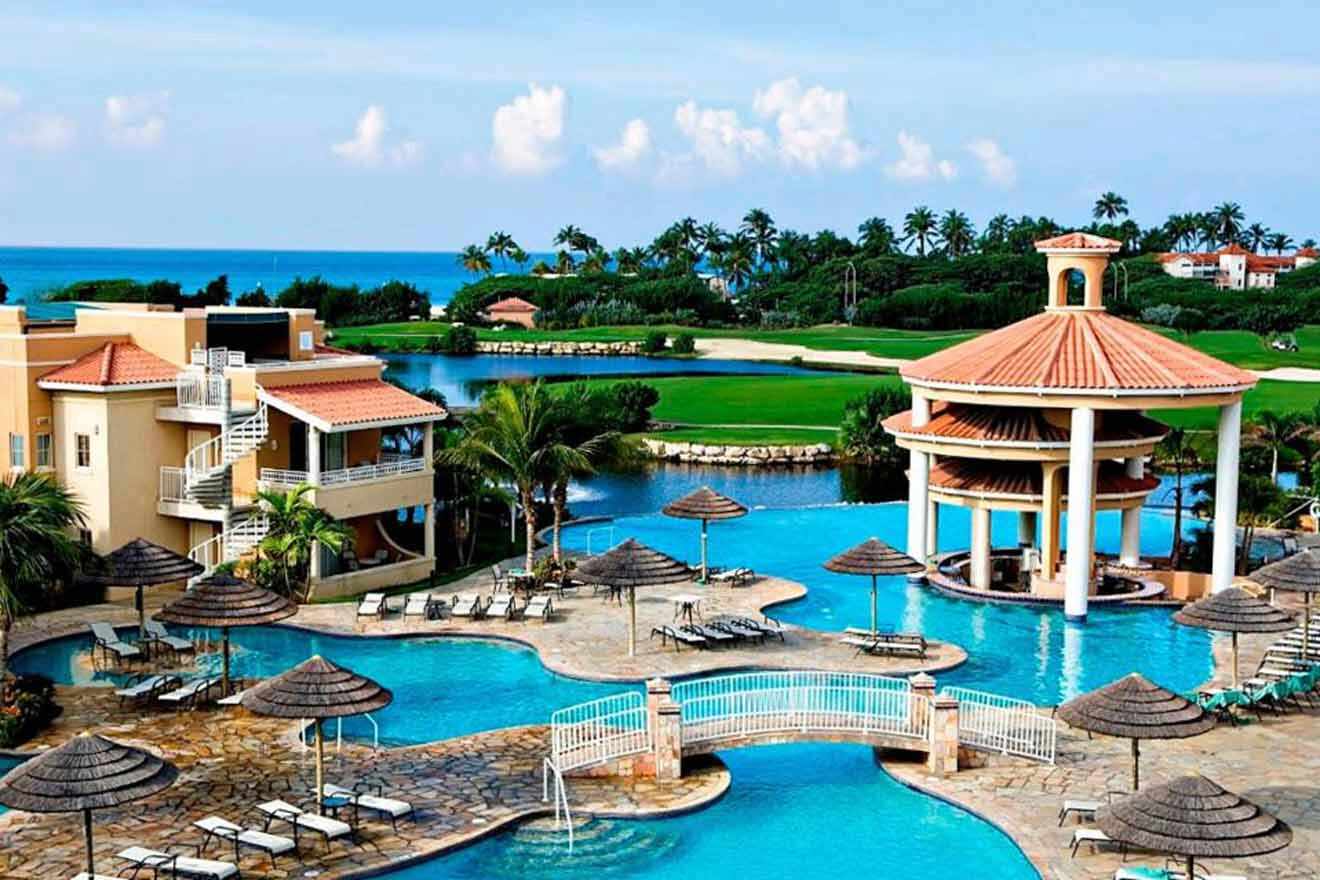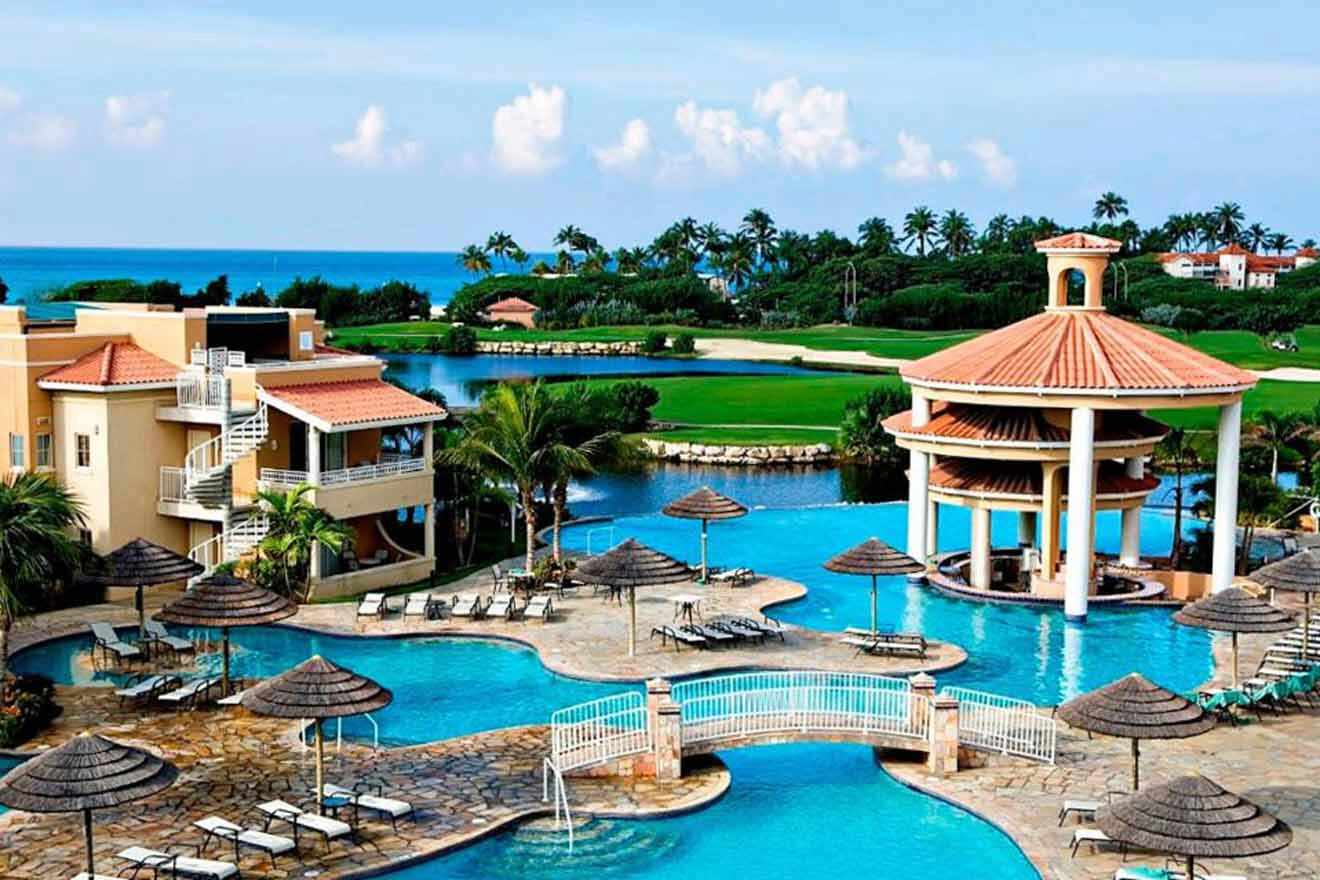 Conclusion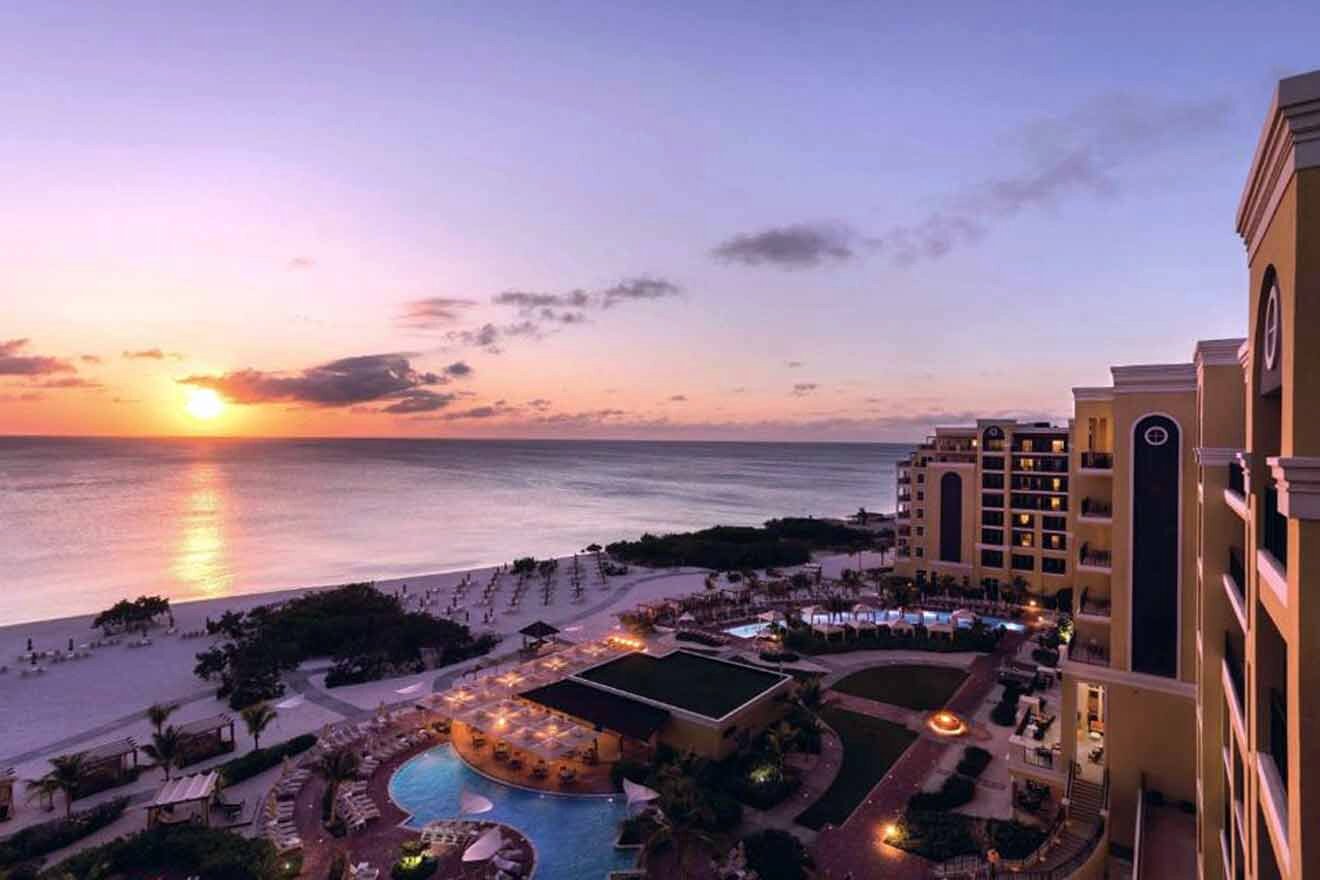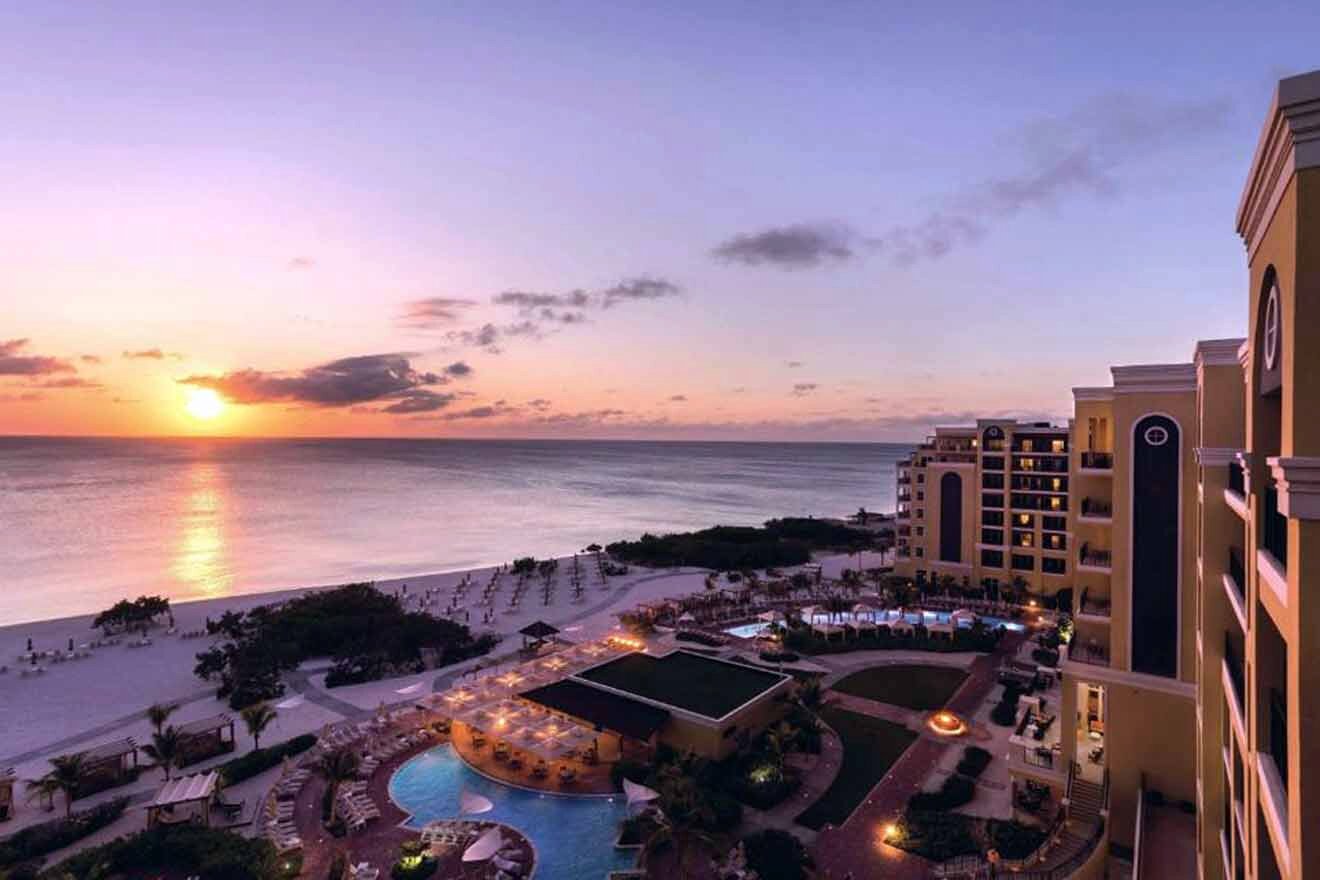 That is all for today! Those were the best Aruba bungalows over water since there is only one in the area: Aruba Ocean Villas. I have also recommended 12 amazing resorts and villas by the beachfront. I am sure by now you know which accommodation you want to book!
Honestly, all the properties in this article look like a dream, but if I had to choose my 2 absolute favorites, I would choose:
Aruba Ocean Villas – This is undoubtedly the best hotel to experience the romance of secluded ocean retreats and stargazing from over-the-water hammocks. So stunning!
Divi Villa Beach and Golf Resort – I love the fact that it is all-inclusive, time to indulge!
All the accommodations in this article are super popular, so the wise thing to do is book your room in advance before someone else does!
Which of these Aruba beachfront resorts and villas was your favorite? Let me know in the comments!
Until the next time,
Daniela
---
Pin it for later!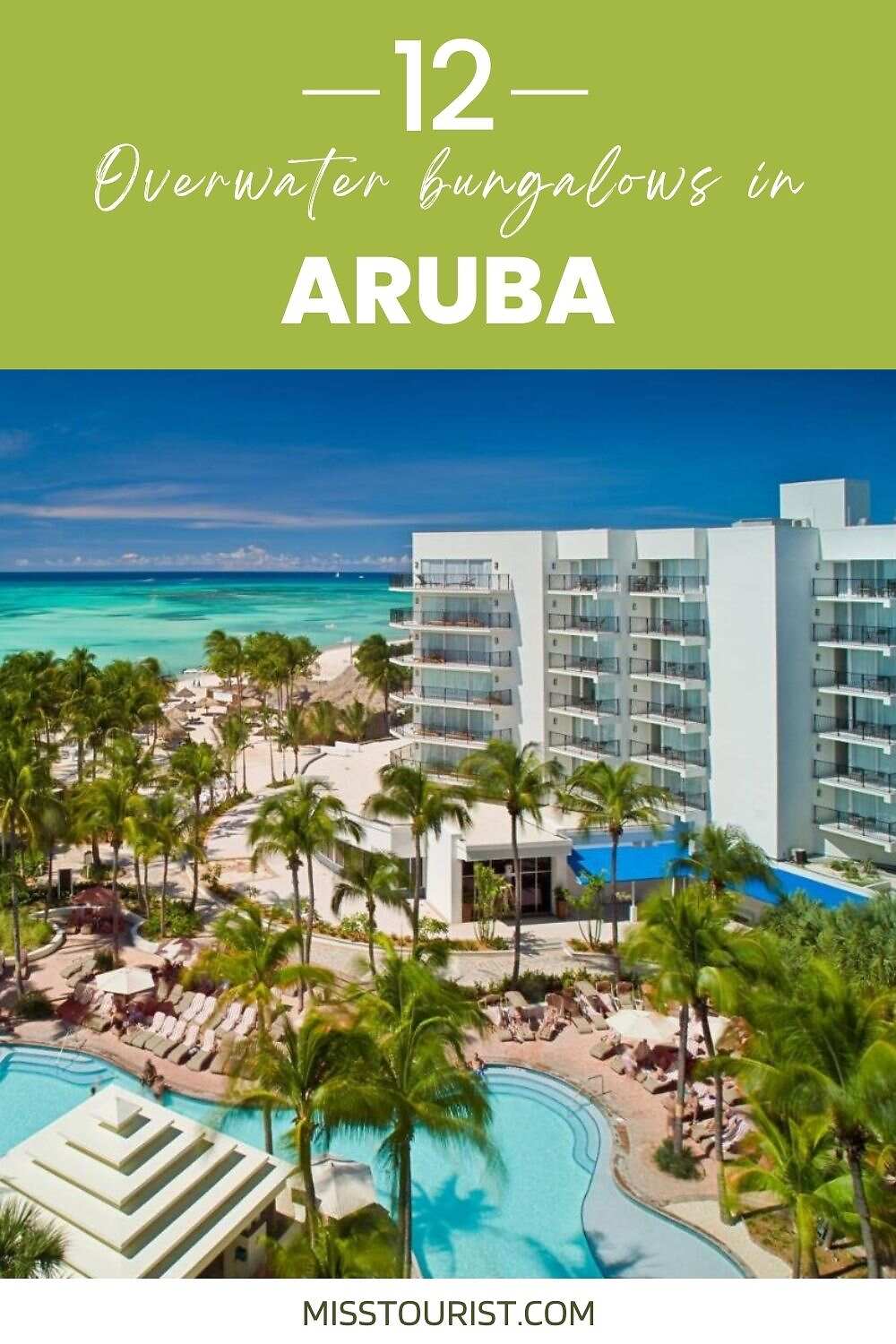 Pin it for later!