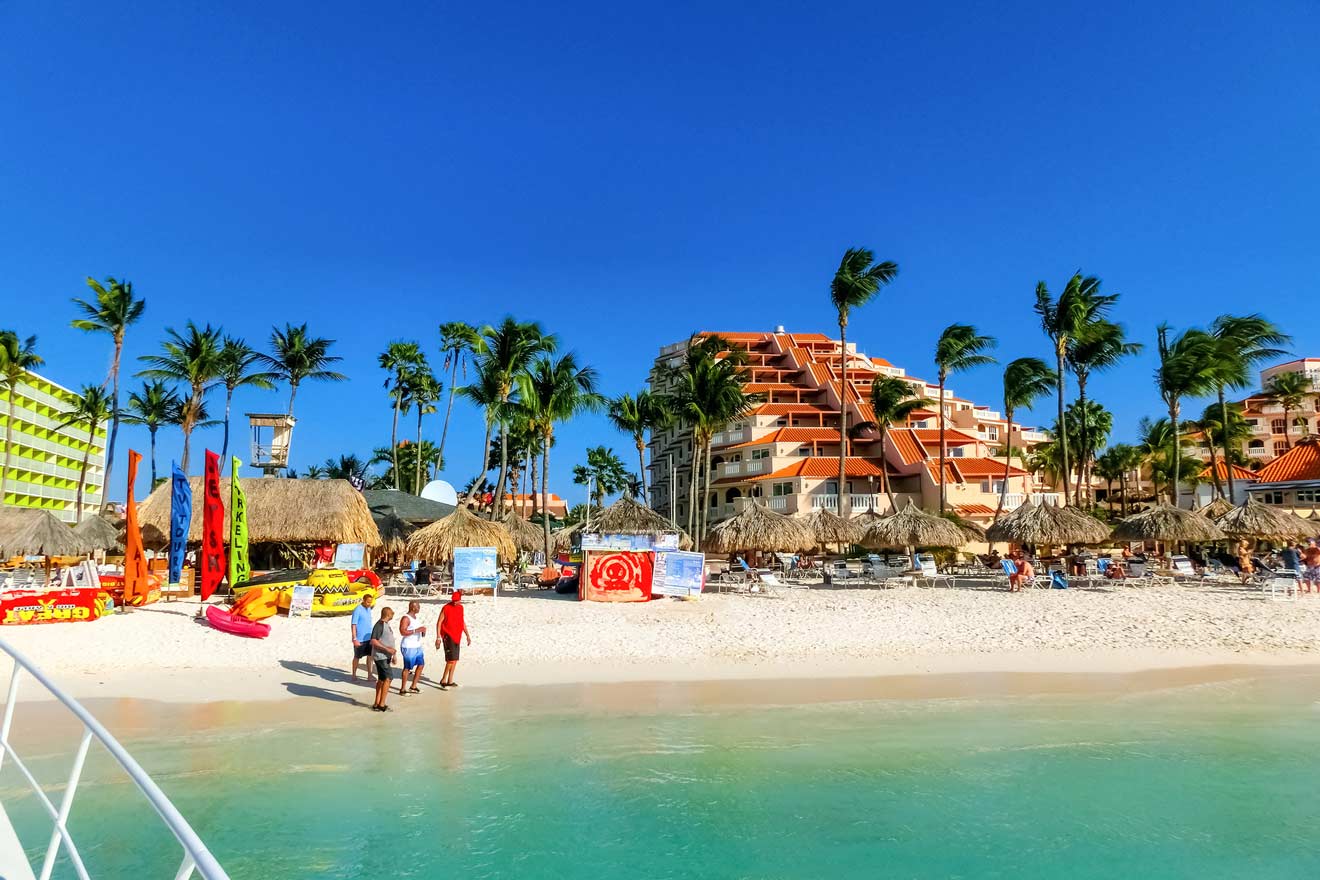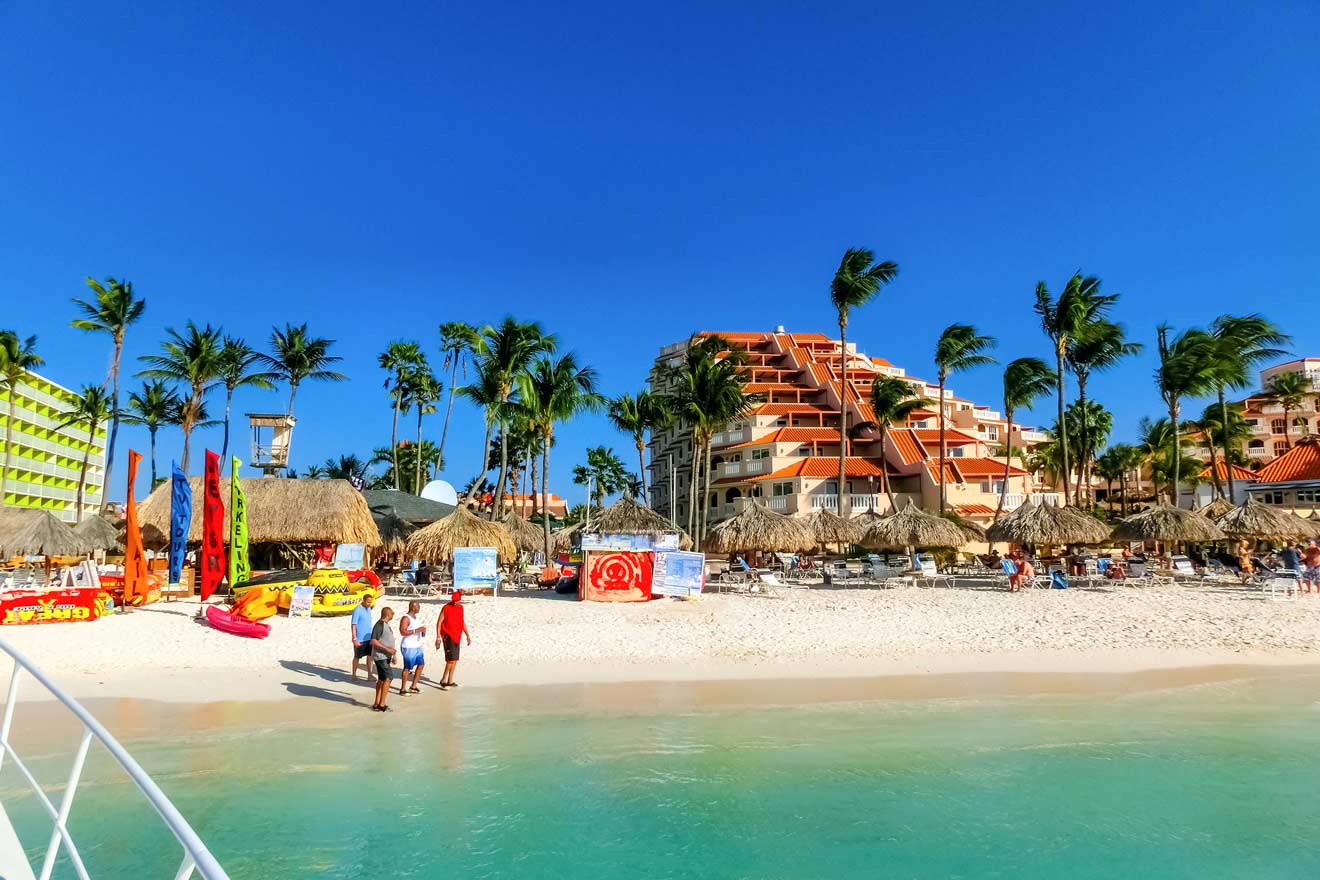 Hola parents! Are you dreading the moment when you'll have to find the perfect resort in Aruba that all members of the family will love? Well, today I'll help you with that!
In this post you'll find the best Aruba family resorts, which I hand-picked from a long list of hotels! I've searched the web and found all-inclusive family resorts, and some affordable places too! And, since the island is packed with other great accommodations I've also added a bonus, with 4 unique vacation rentals, which are perfect for families!
I don't want to keep you too long! So let's start this Caribbean journey! However, before we jump right in, I do want to tell you that it's super important to book your resort in advance! Aruba gets lots of tourists, and the best resorts will always sell out first!
Let's start this fiesta!
If you are in a hurry
Here to quickly book a hotel? Then check out this list of the best family resorts in Aruba for all budgets:
Luxury (US$700 and up)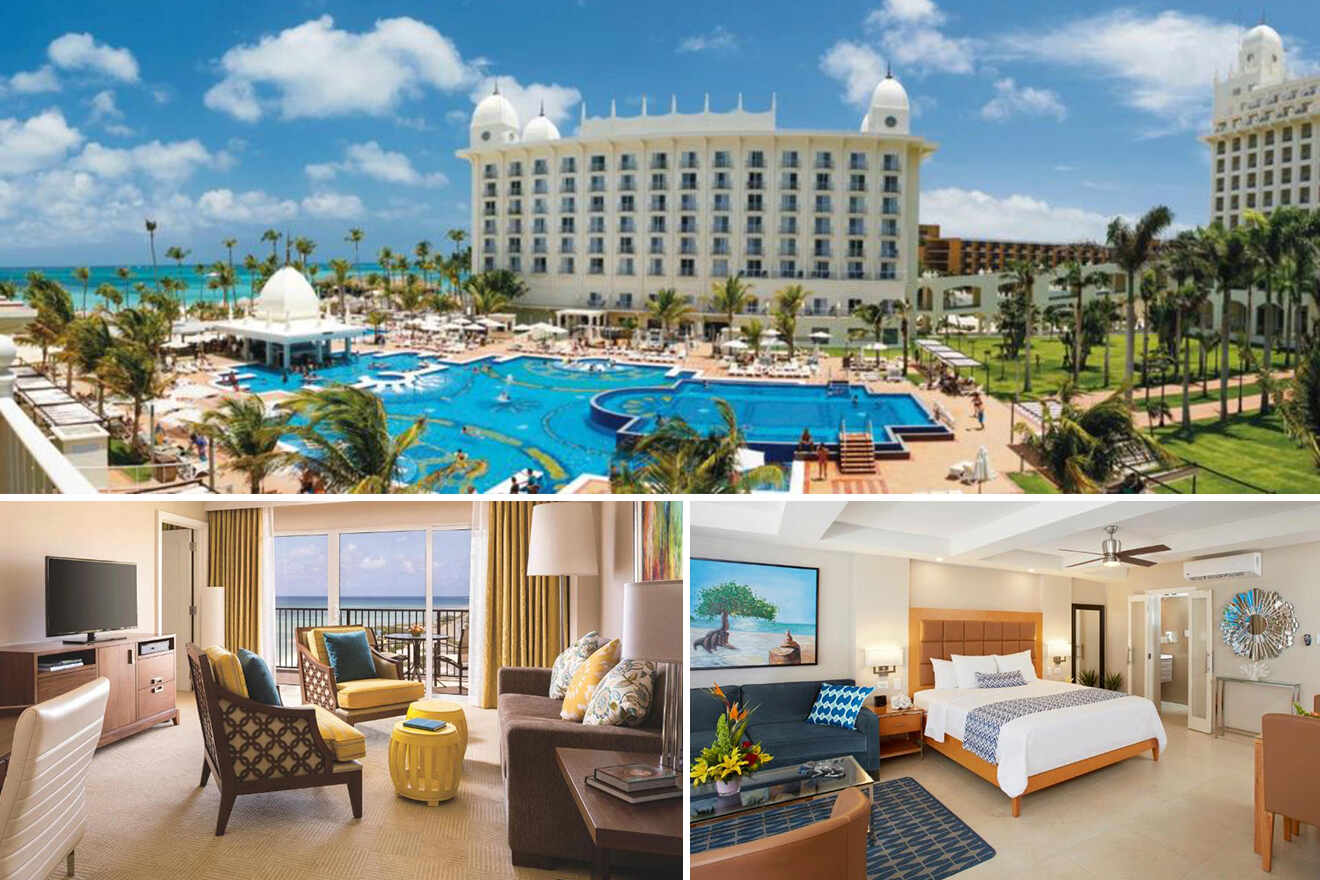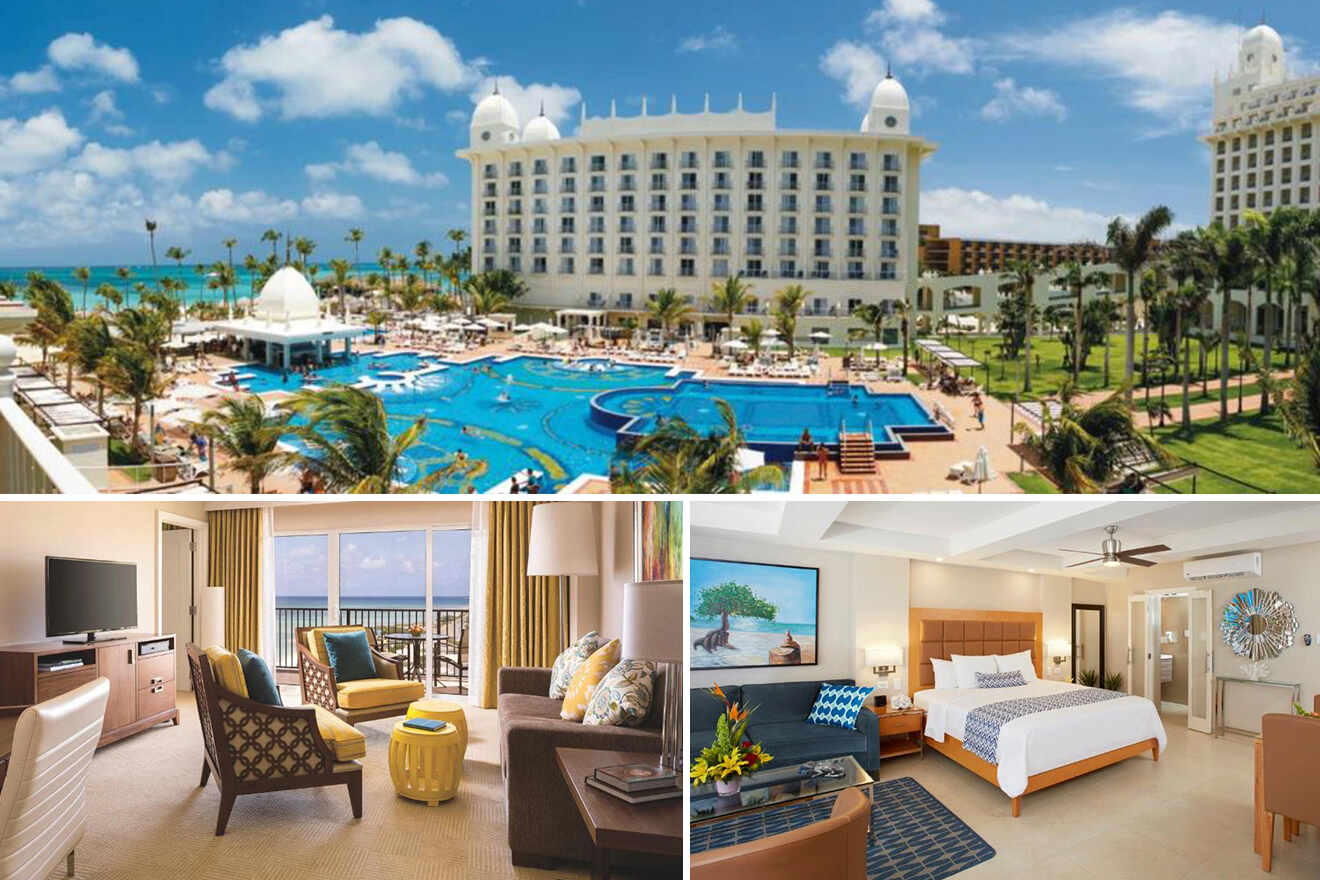 Hotel Riu Palace Aruba – Planning a tropical getaway with the whole family? Well, then you'll need a hotel that offers many fun activities! This all-inclusive resort in Aruba offers babysitting services, cool things to do like snorkeling, a children's playground, and 2 swimming pools! With over 4 restaurants, and direct beach access this hotel is surely a keeper!
The Ritz-Carlton – I hope everyone is ready for an unforgettable family vacation on the white sand beaches of Aruba! This oceanfront hotel on Palm-Eagle Beach is perfect for your stay in Aruba as it has spacious suites with balconies, a swimming pool and 5 restaurants. Plus lots of kid-friendly facilities like water sports and a kids club! Don't worry parents, if you need time off, just head to the spa!
Divi Dutch Village Beach Resort – If you're looking for a place that feels like home then check out one of the best all-inclusive resorts in Aruba, located near Druif Beach! This place has it all: tennis courts, many dining options, and 4 swimming pools! The fun never-ends! Especially at the Divi Aruba children's club. For the days when you need a bit of adventure you can try some water sports, or even go horse riding!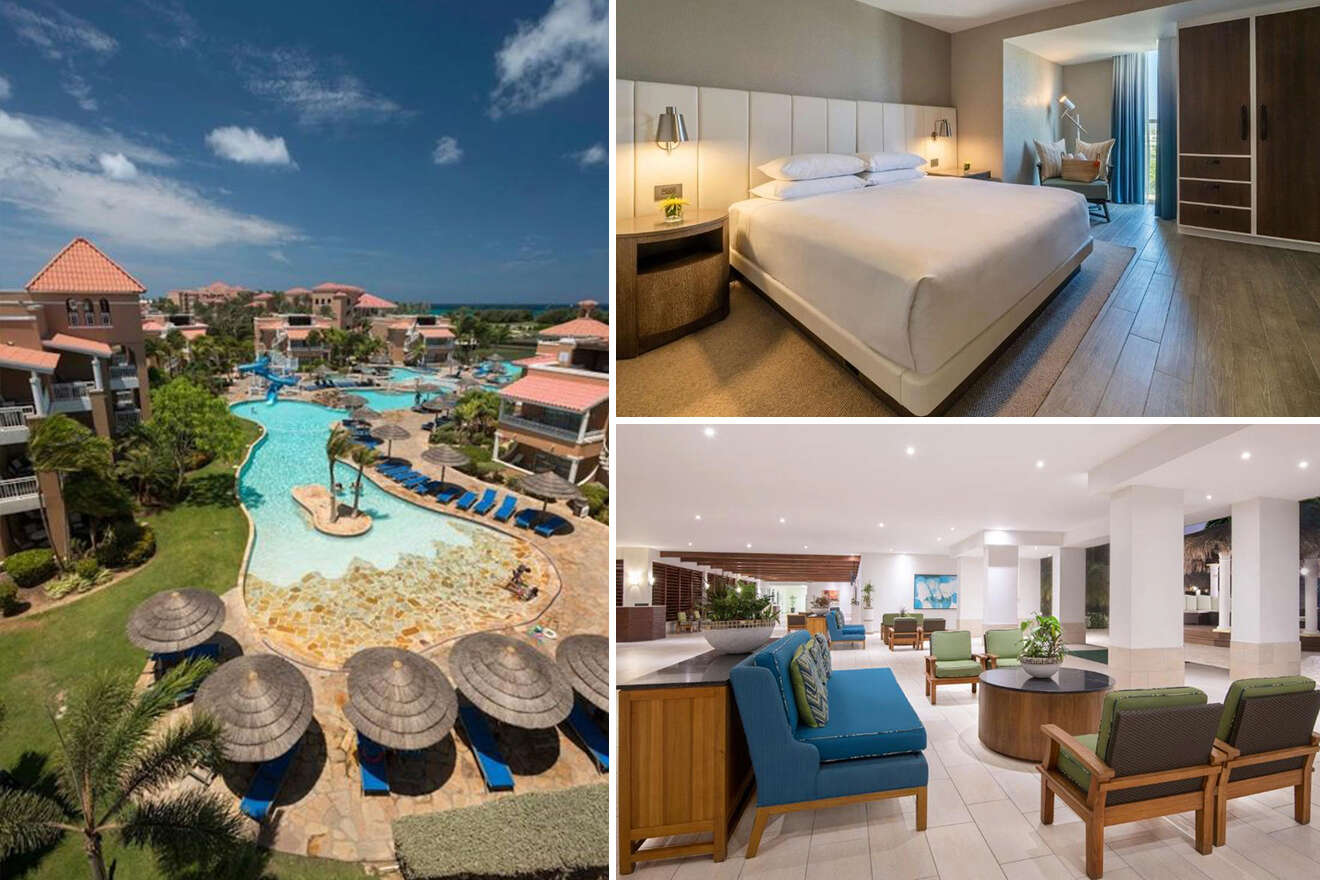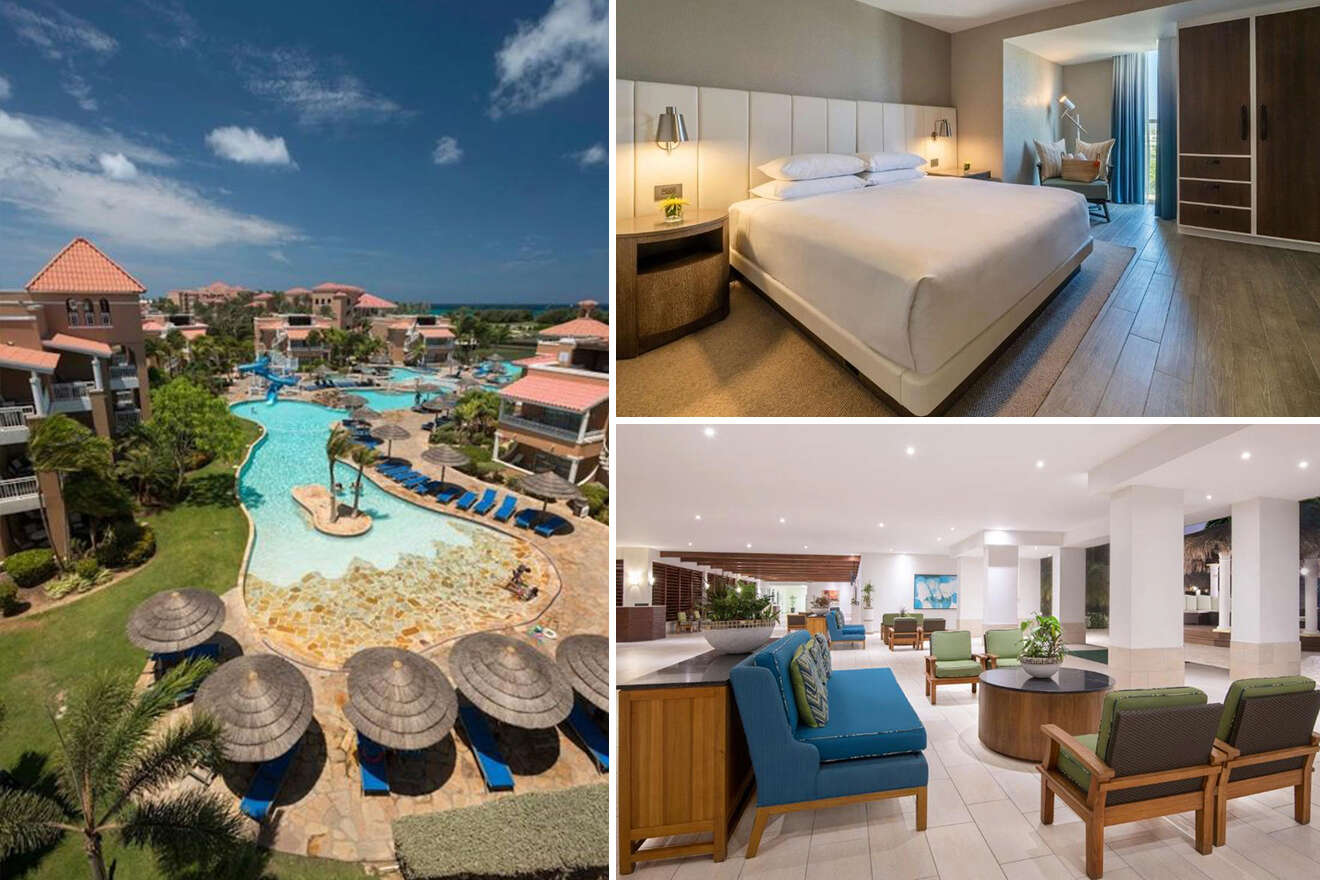 Divi Village Golf and Beach Resort – Set within walking distance of Druif Beach, this family-friendly resort offers everything you need for your stay including leisure activities, and 3 restaurants! With a golf course not too far from the resort, a kids club, and an outdoor pool, Divi Aruba is prepared to give you an unforgettable experience!
Hyatt Regency Aruba Resort & Casino – This Palm Beach Aruba resort is perfect for the whole family! It offers both a kids pool, and an adults-only pool, accompanied by sun lounge chairs if you want to catch up on your tanning! While you're here you can join lots of cool activities like snorkeling, scuba diving, and hiking! But if you prefer a day in, you can also play tennis or hit the spa!
Holiday Inn Resort Aruba – Play with the kids by the swimming pool, relax under the palm trees, and take long walks on the beautiful Palm-Eagle Beach! Oh, to be on holiday! This awesome resort has endless recreational activities including fun snorkeling excursions, playing on the golf course, and hanging by the swimming pool! There are also 6 restaurants (one for each day of your stay)!
Mid Range (from US$500 – US$600)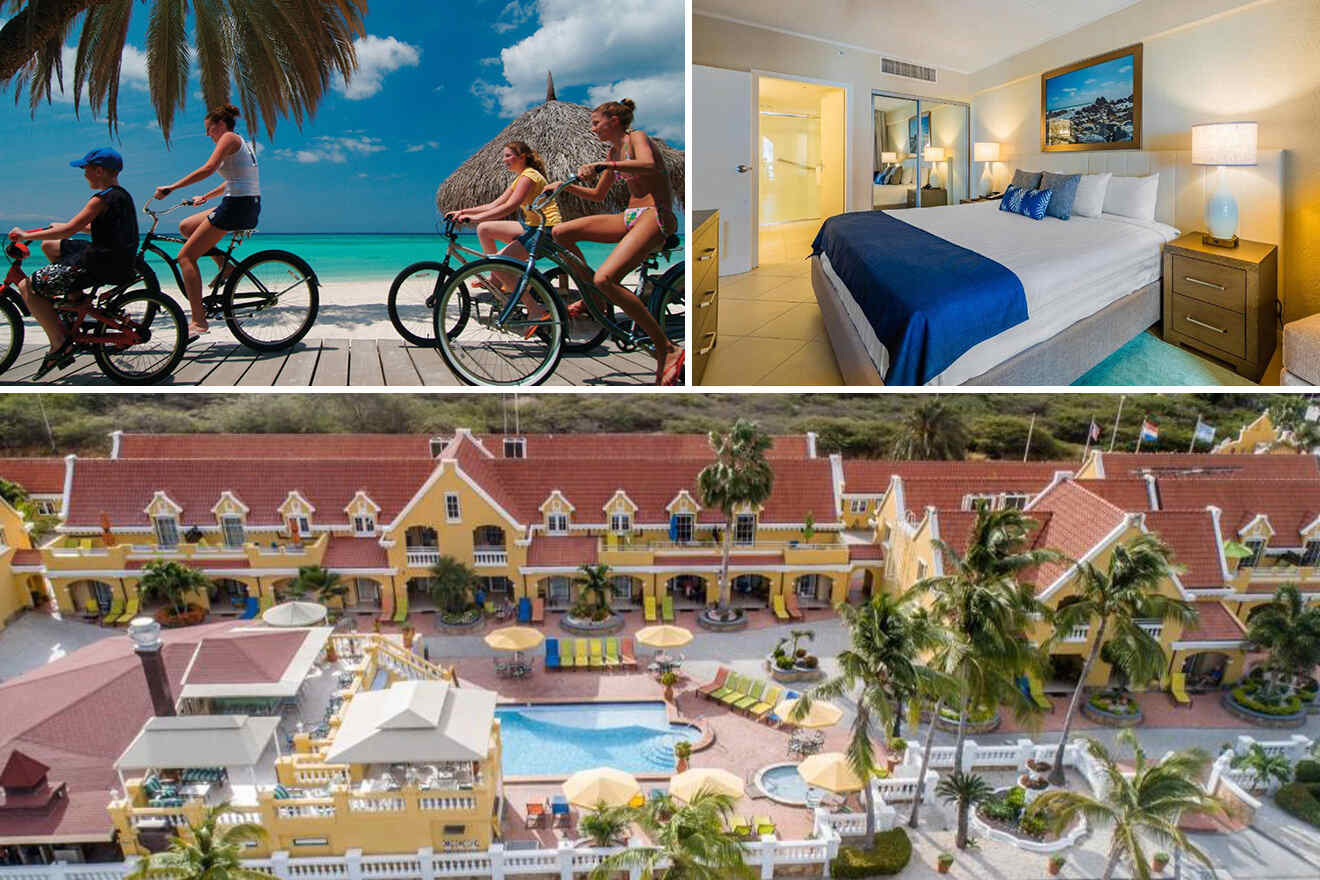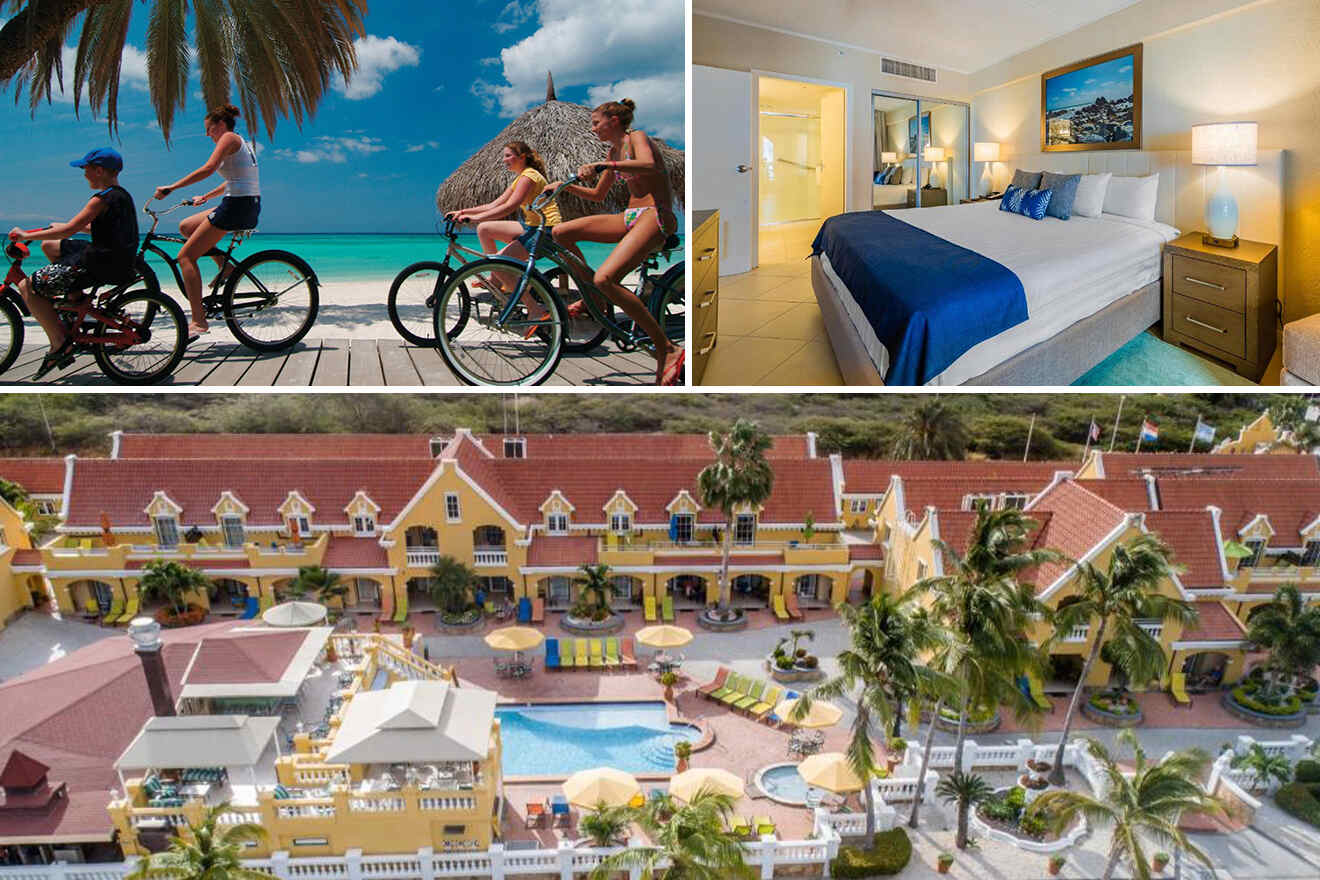 Tamarijn Aruba – Located within walking distance of Eagle Beach, this amazing all-inclusive hotel hosts theme parties and live performances! But lots of other things for the whole family too, like kayaking, windsurfing, and a swimming pool where you can play with your little ones all day long. Shhh, there's also a pool bar for refreshments!
Playa Linda Beach Resort – Wake up to that fresh smell of the ocean each morning while staying at this great Palm-Eagle Beach hotel that has a fitness center, an adults-only swimming pool, and an all ages pool, too. With an indoor play area for the little ones, a kids club, and even movie nights (love it) this resort will become your child's favorite spot!
Amsterdam Manor Beach Resort – Set in the Low Rise Hotel Zone, opposite of Aruba's beautiful Eagle Beach, this stylish resort has stunning Dutch colonial architecture! The rooms are perfect for families, as they are super spacious and come with a flat-screen TV, too. There are 2 swimming pools (one just for the kids), and even a golf course not too far, as well as a beach which is only 2 steps away.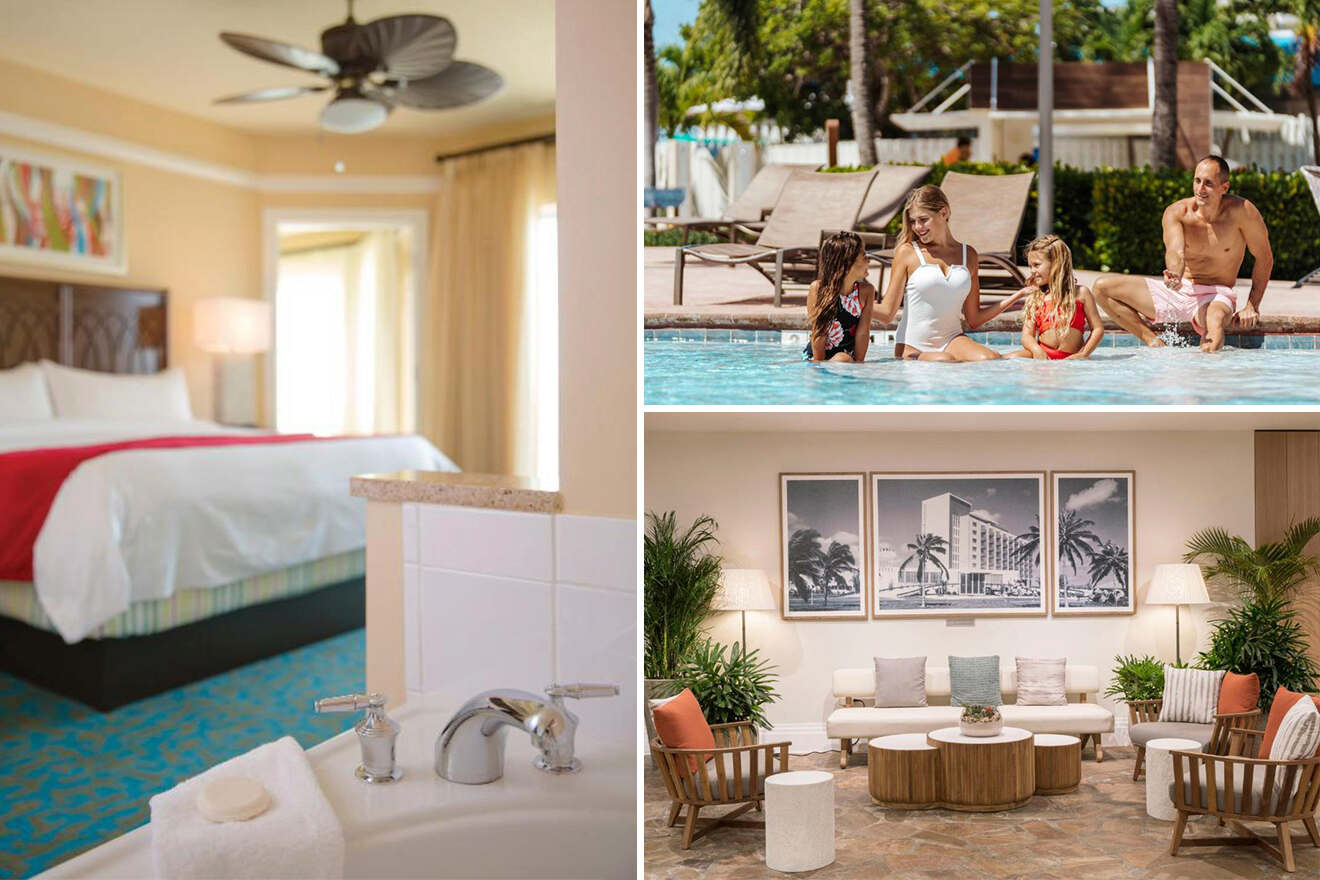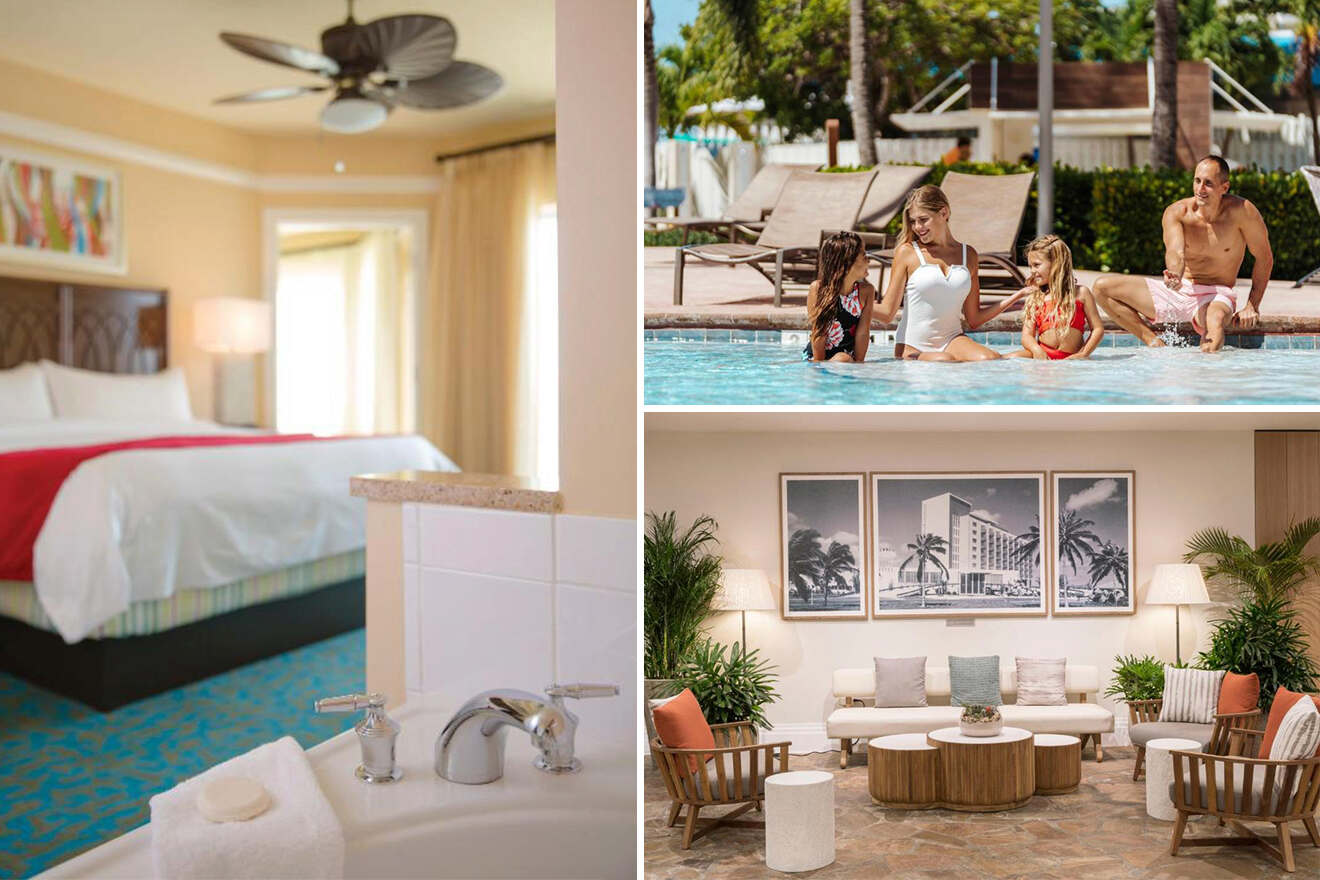 Aruba Marriott Resort & Stellaris Casino – Bye bye stress, welcome vacation! Get ready to embark on a wonderful journey while staying at this hotel set near Palm Beach! Featuring comfortable family rooms with in-room movies (perfect for a chill night in), 5 dining options, and lots of cool activities like diving, air-hockey and windsurfing, this Aruba resort is definitely a favorite!
Hilton Aruba Caribbean Resort & Casino – In the mood for some adventure? Then take out some of the bicycles from this Palm Beach hotel, and go explore the island with the kids! I love the decor of this resort, it puts you in a holiday mood instantly! Plus they've got a long list of fun facilities for both the parents and the children including a spa center, play areas, and family rooms with private balconies.
Marriott's Aruba Surf Club – Set on the famous Palm Beach, this oceanfront resort offers different villas that are equipped with all the necessary facilities including a full kitchen, and a furnished balcony. When you're not out going on adventures and exploring around, you can relax in the lazy river, or play by the kid's pool. Then end your day with dinner at the restaurant, and the hotel's usual movie night!
Budget (up to US$400)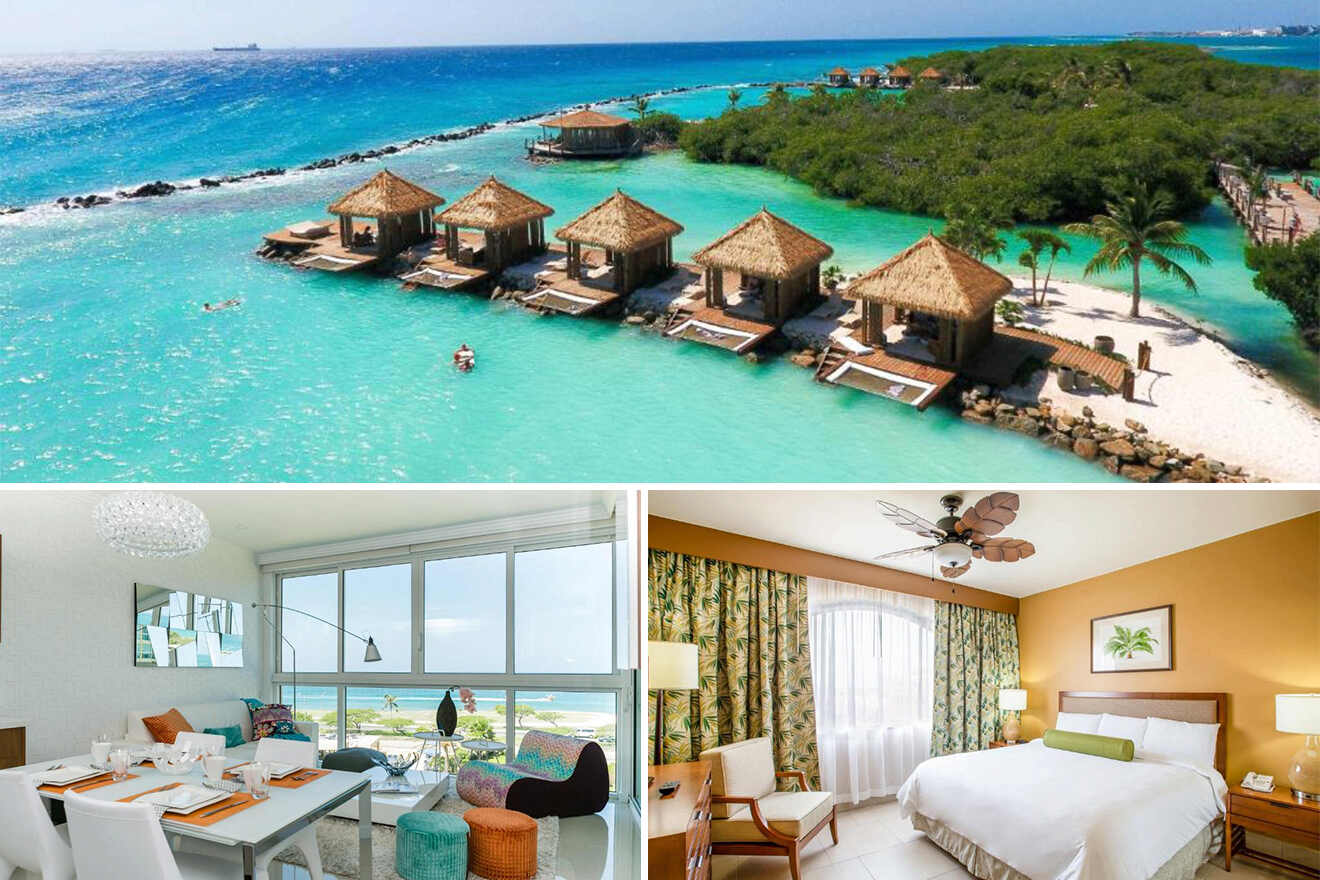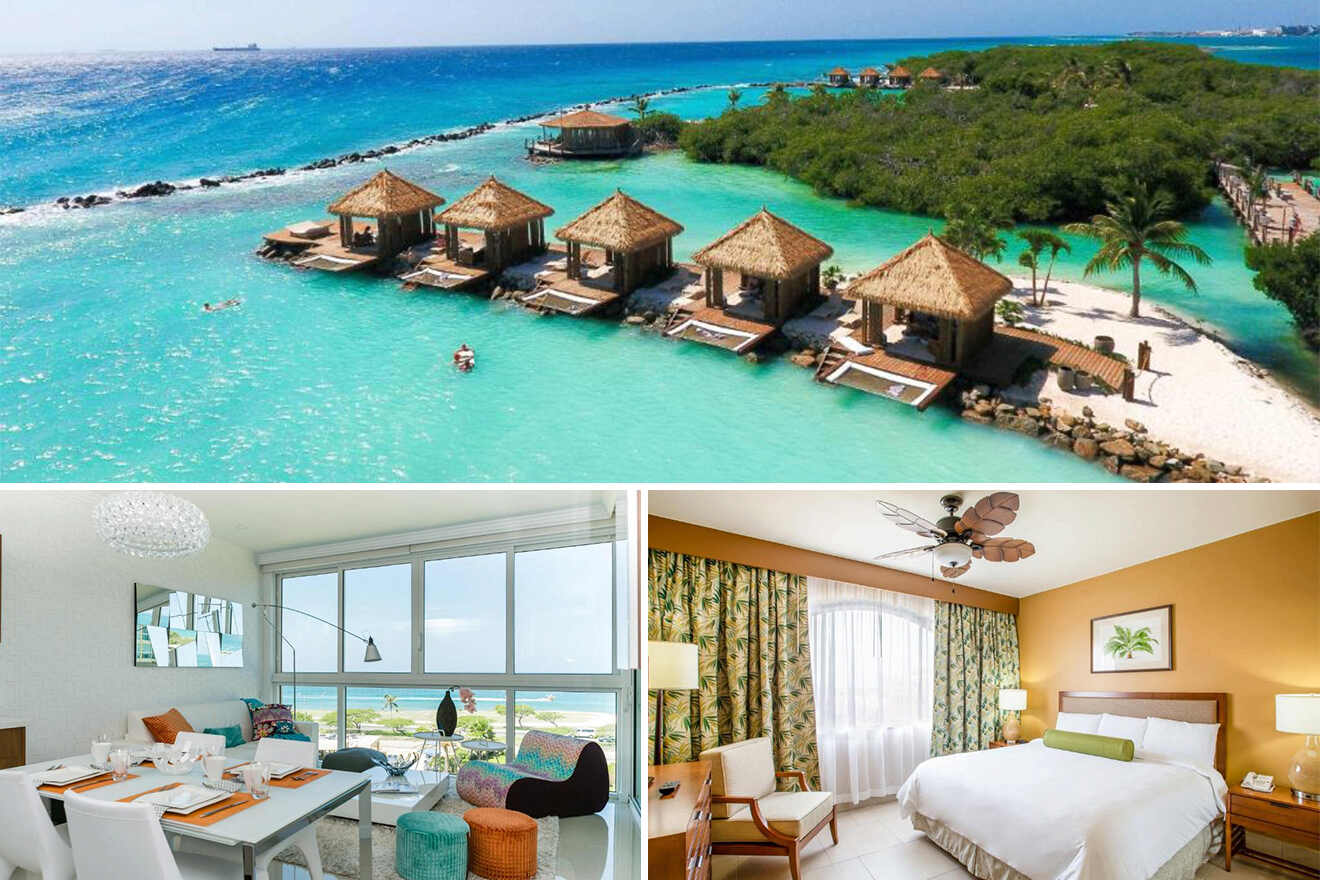 Renaissance Wind Creek Aruba Resort – This place is a favorite of many tourists as it offers access to a private island, and many others incredible facilities like 3 pools, water sports, and a spa center where the parents can relax! You can also explore the area outside of this resort that has a private island, and go on walking tours, or rent a bike and go on a fun family-trip!
Blue Residences – Looking for something a bit more affordable? These apartments come equipped with all the facilities you and your family will need including lots of space, a kitchen, and rooms with balconies, so you can enjoy that ocean view 24/7! I'm sure the kids will be happy to know that they'll have 2 swimming pools, a playground, and even a tennis court!
Eagle Aruba Resort & Casino – Set on a private beach area, not too far from Eagle Beach and Palm Beach, this resort is all about offering you a good time in Aruba! So, get ready to play some beach volleyball with the kids, swim in one of the 4 pools and eat super yummy food at their 3 restaurants. On the day you just want to chill, head to the spa, or maybe play some board games as they offer that as well.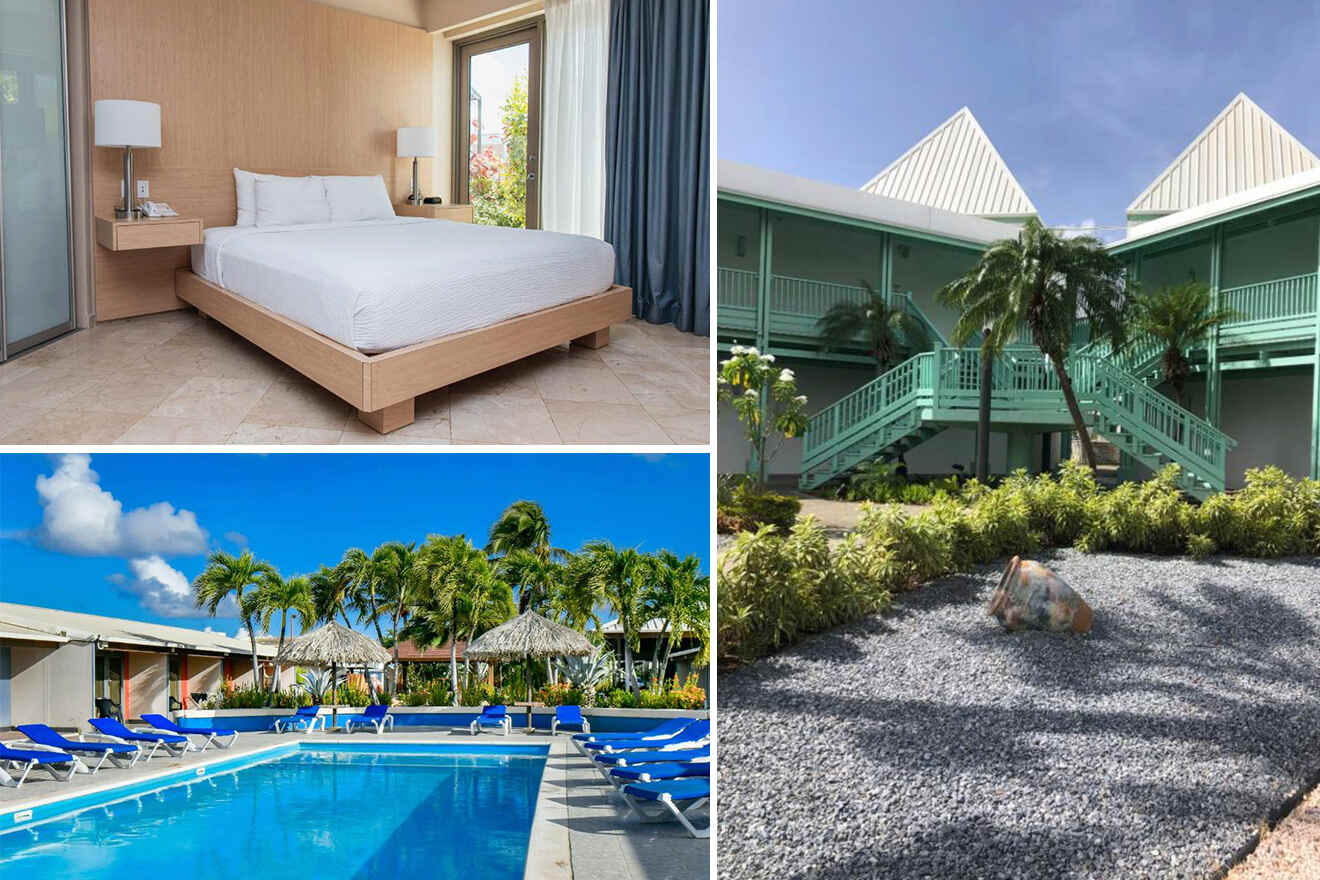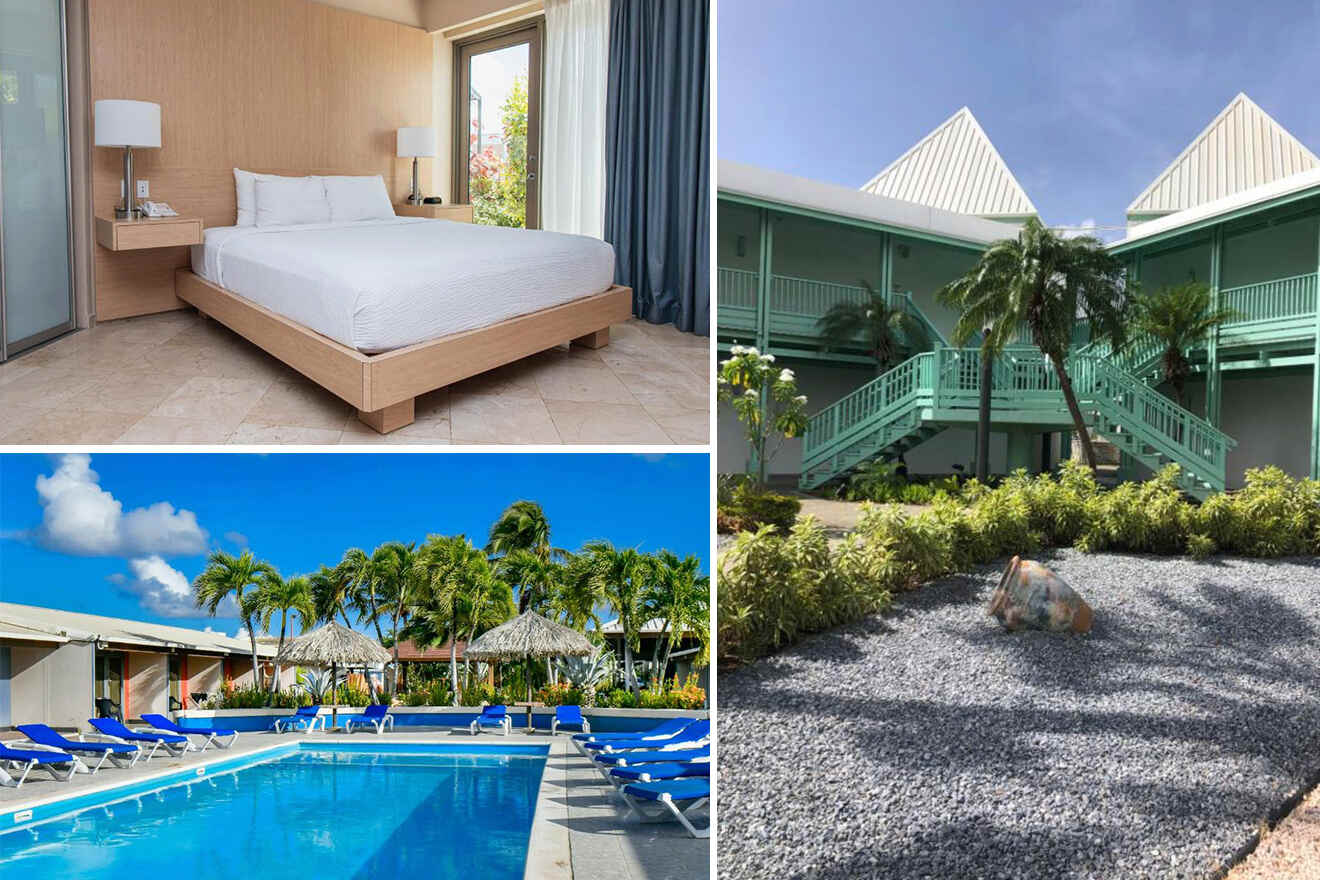 The Mill Resort and Suites – Check out this great hotel set on Palm Eagle Beach where you can rest, recharge and have some fun! How? Well, there are bicycles to rent, a kids club and a swimming pool plus many other cool things! The accommodation also comes with spacious suites that have balconies and a flat-screen tv.
Aruba Blue Village Hotel and Apartments – Time flies when you're having fun, especially while you're on holiday, am I right? Make sure you enjoy every moment while staying at this hotel near Palm Eagle Beach that has a children's playground, and even a little garden and a sun terrace. Start your days with a quick dip in the pool, and some coffee before you start exploring around!
Check the Rates for Your Dates
BONUS: Most popular VRBOs for families
Well, now that we've seen the best family resorts in Aruba, I thought I'd offer you some other options in case these resorts aren't really what you're looking for!
I've looked around the web and found some amazing vacation rentals! These houses have everything you need for your stay plus you'll get to have them all to yourselves. So let's have a look! The accommodations are mid-range and budget with prices from US$300 to US$600: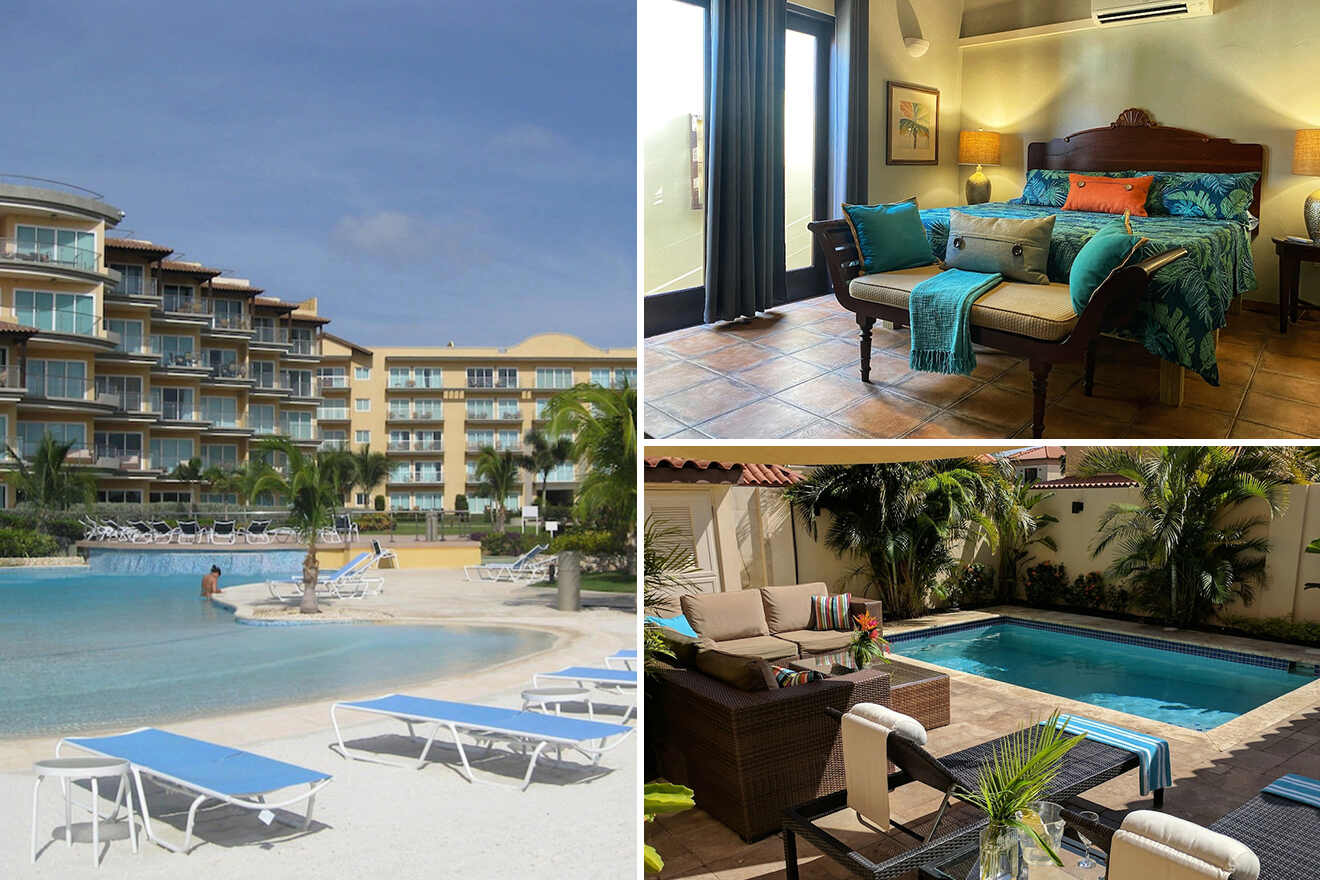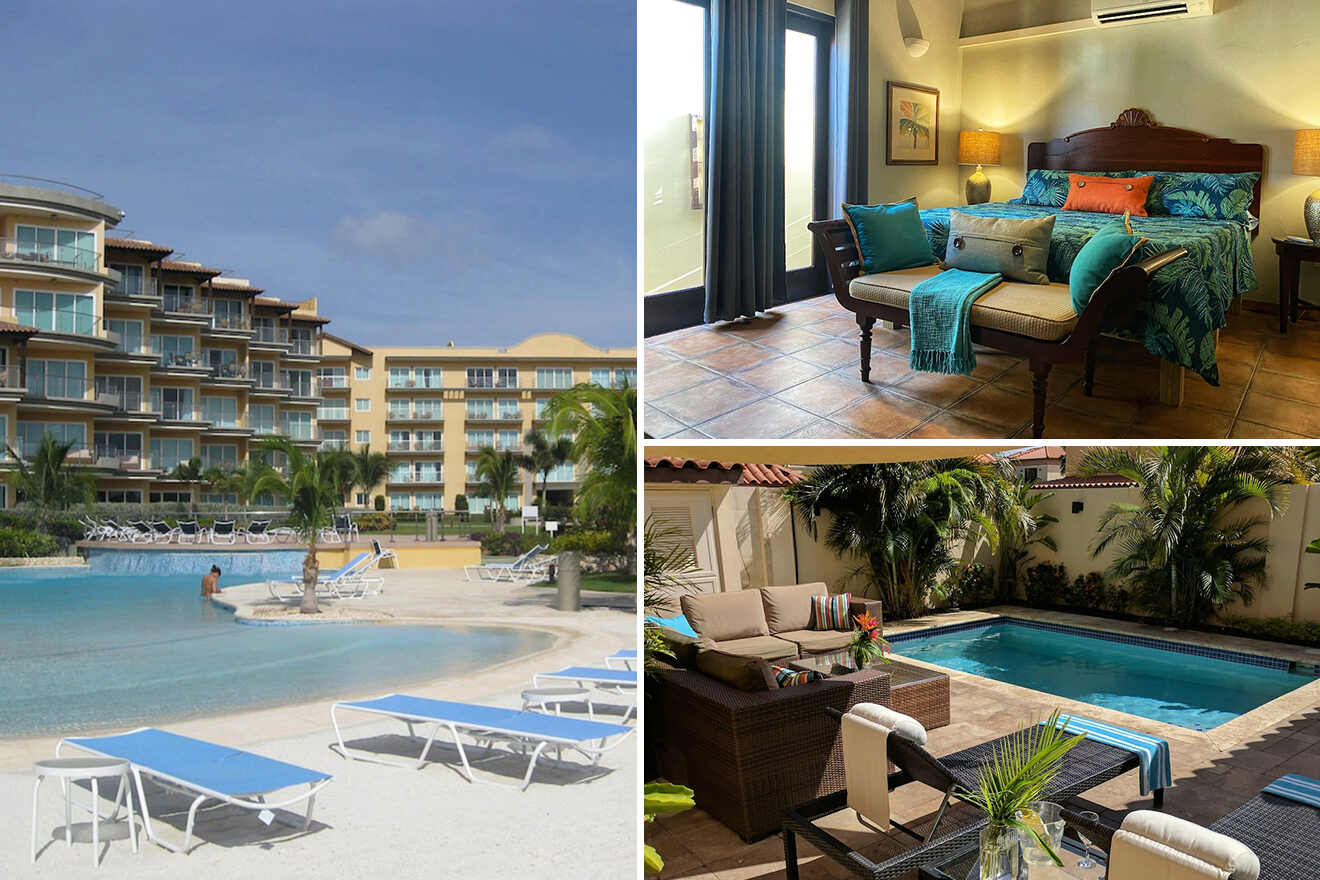 FAQs about Aruba family resorts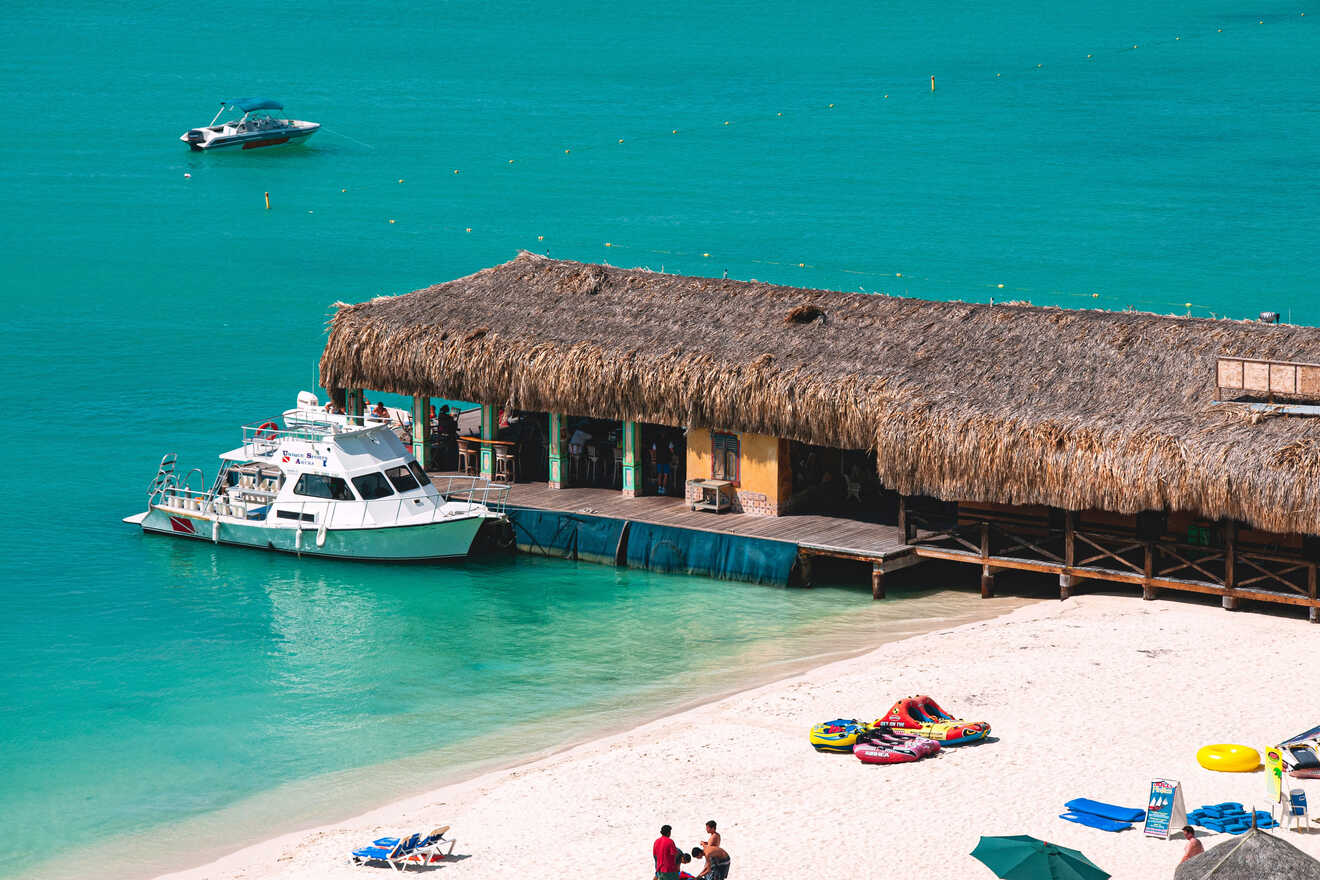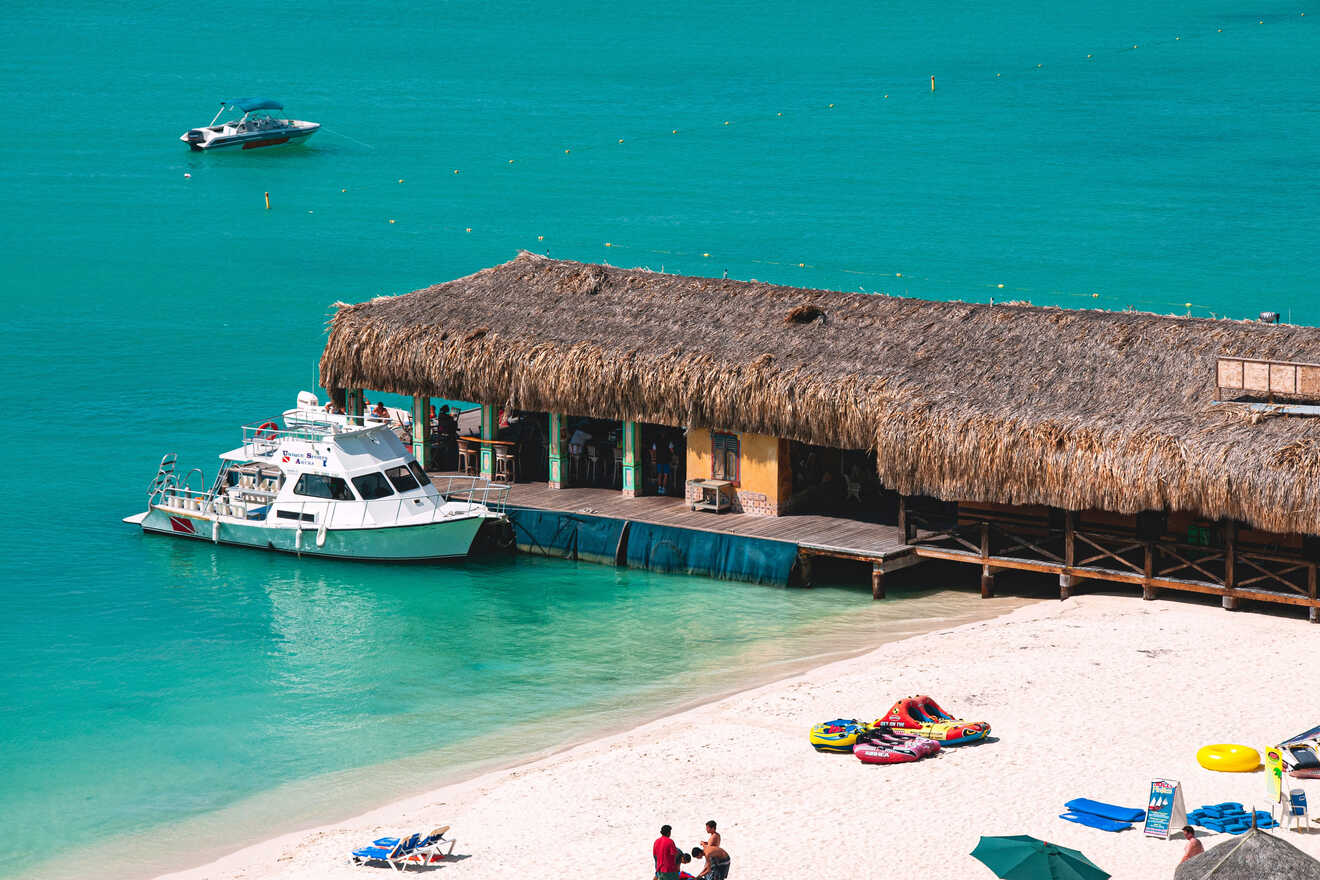 Conclusion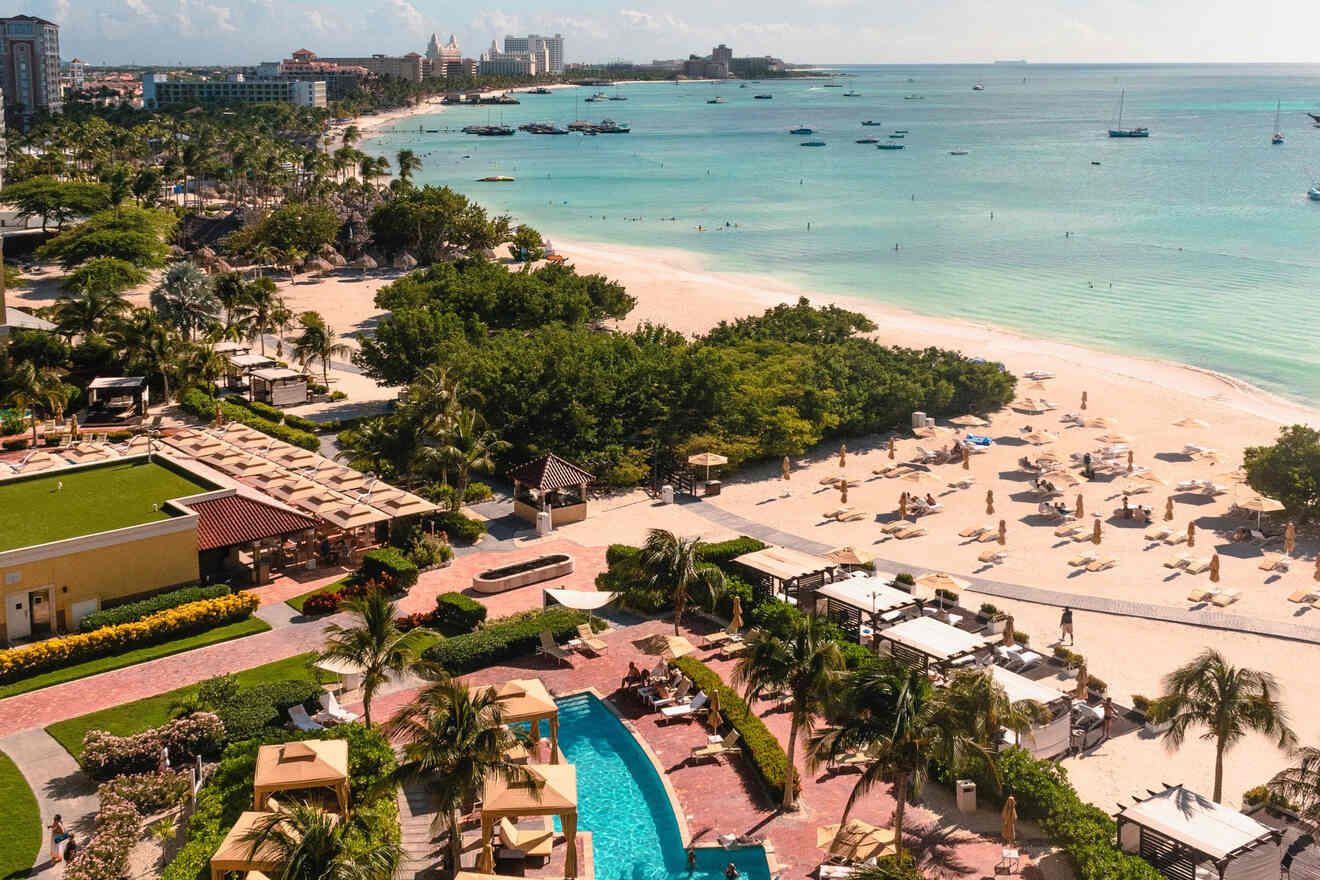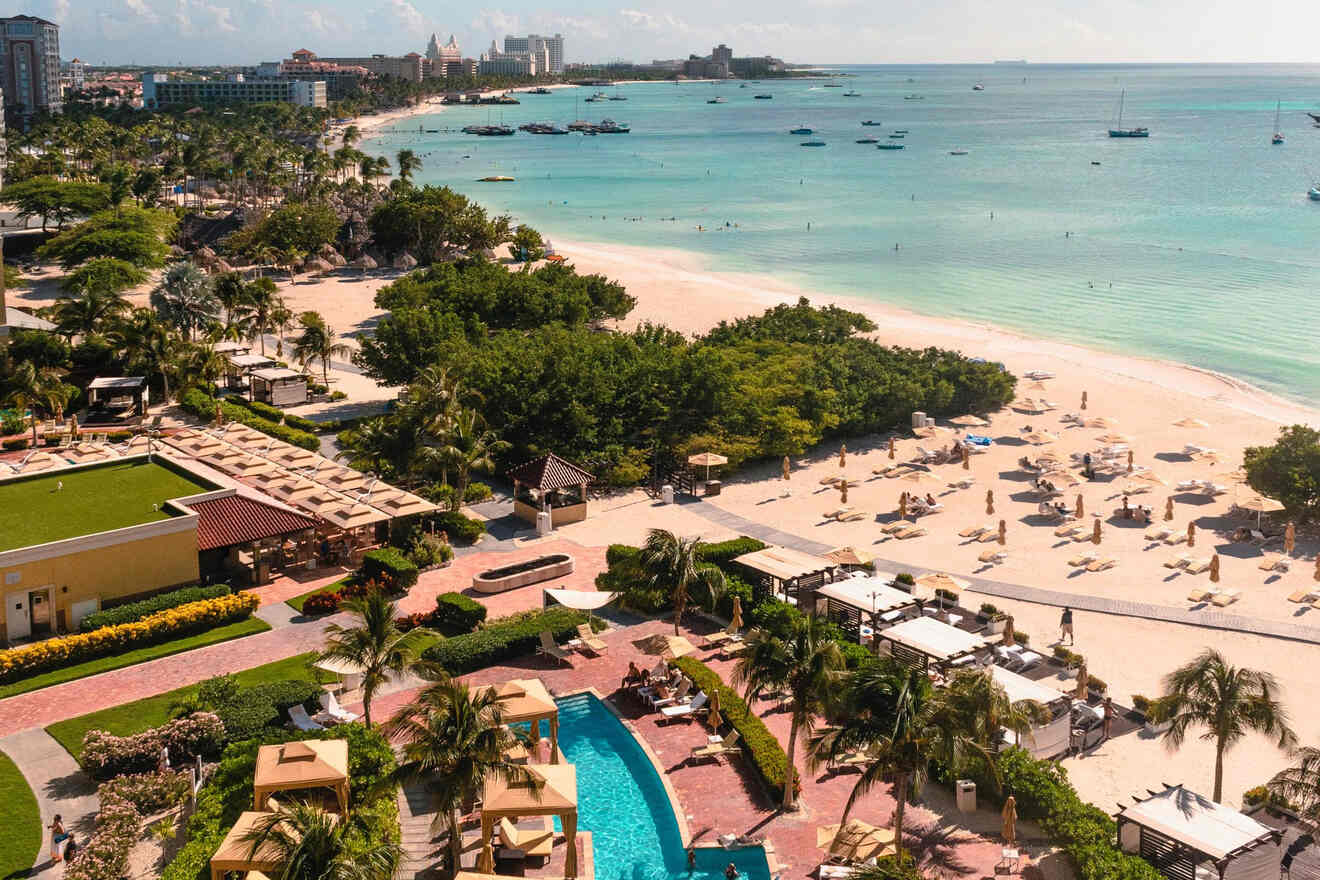 These Aruba beaches are so beautiful that I think you'll never want to leave the island!
Now that we've looked through this long list of Aruba family resorts, and you also saw 4 amazing vacation rentals, we can wrap it up for today.
But you know I never leave without offering my 2 favorite options, so here they are:
The Ritz-Carlton – A fabulous all-inclusive beach resort on Palm Beach that comes with a children's playground, 2 pools and spa
Playa Linda Beach Resort – Set on Palm Beach, this resort offers a kid's club, tennis courts and spacious family rooms
As I mentioned before, it's super important to book your favorite beach resort in advance. Aruba is so popular, and many tourists who come here secure their hotel spot super early, so I highly recommend doing the same! That way you won't be left with the super expensive, and not so-good-looking spots.
It's been so much fun to go on this virtual trip around Aruba with you! As always, I'm here for anyone who has any other questions. All you have to do is drop a comment below and I'll answer ASAP!
Safe travels,
Victoria
---
Pin it for later!
Pin it for later!