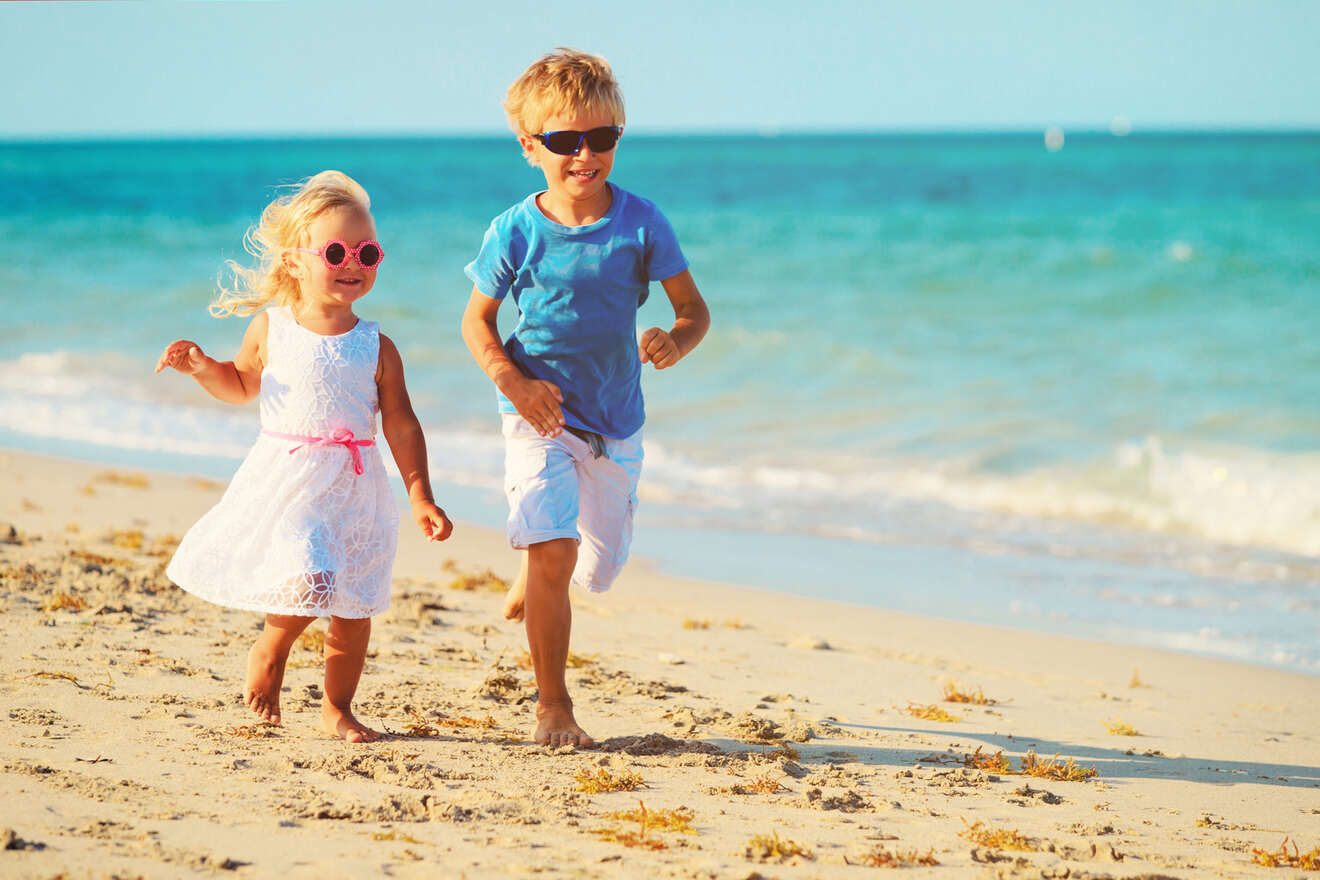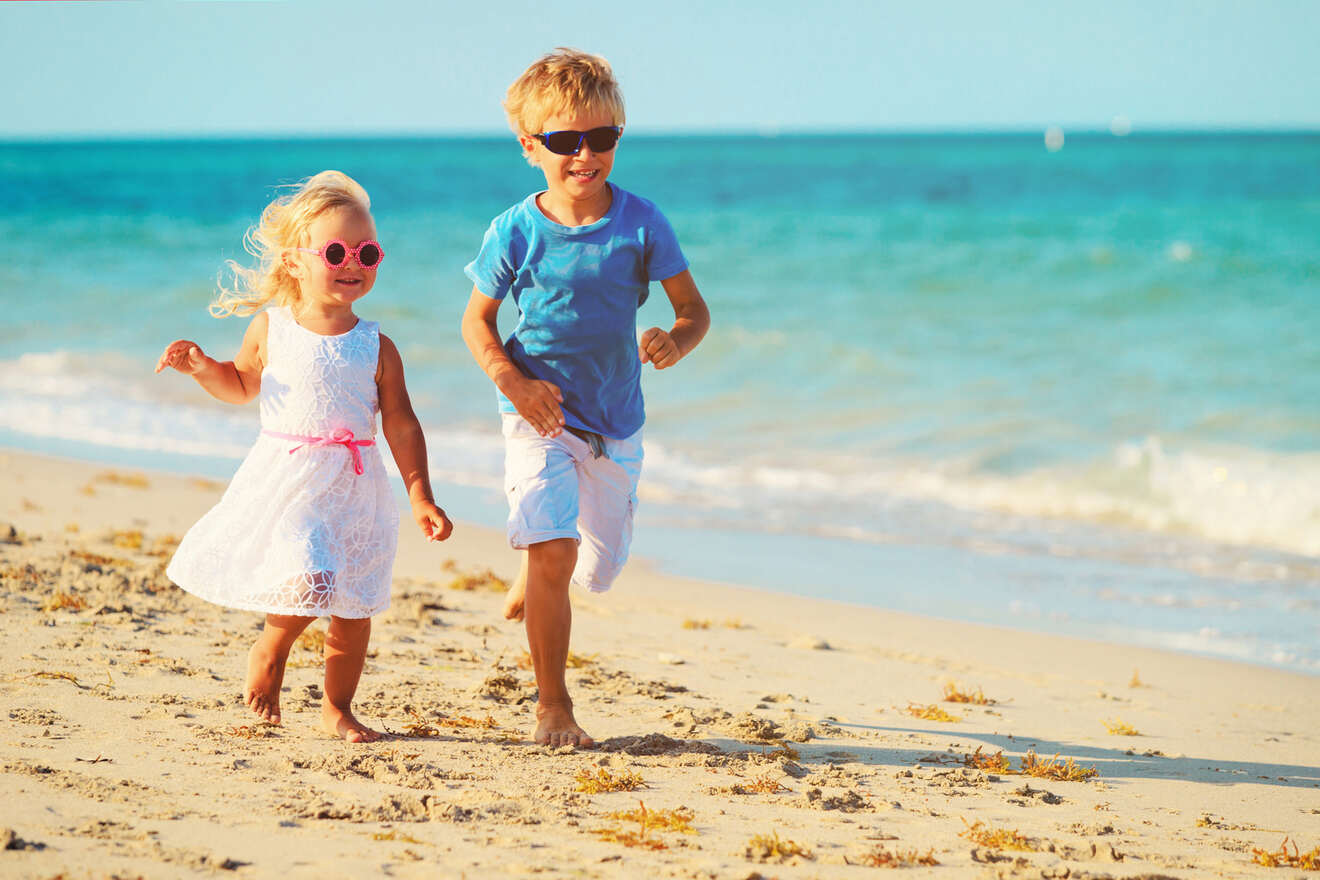 Are you looking for the best Barbados family resorts for your next vacation? Well, I've been looking and researching for family resorts in Barbados for hours, and I've collected the best Barbados hotels and resorts! I've even found some Barbados all-inclusive family resorts! The Caribbean is such a paradise destination, and what makes it even better is choosing the right hotel for you and your family!
I have arranged the list starting with the most expensive and luxurious resorts first. Whichever of these family-friendly resorts you choose, rest assured it will have amazing amenities for a great family vacation!
Barbados is an amazing destination, and everybody wants to relax under the Caribbean sun. So, if you want to stay in one of the best kid-friendly hotels with stunning outdoor pools and all that cool stuff, book your room in advance and stay in the hotel of your dreams!
Are you ready? Let's check out the best family resorts in Barbados!
Let's go!
If you are in a hurry
If you are busy and need to book your Barbados resort but don't have the time to read the entire article, here are the top 3 Barbados family resorts:
Here's a map of all the hotels so that you can easily find each one for your amazing Barbados family vacay!
1. The Sandpiper Resort – relax on a white sand beach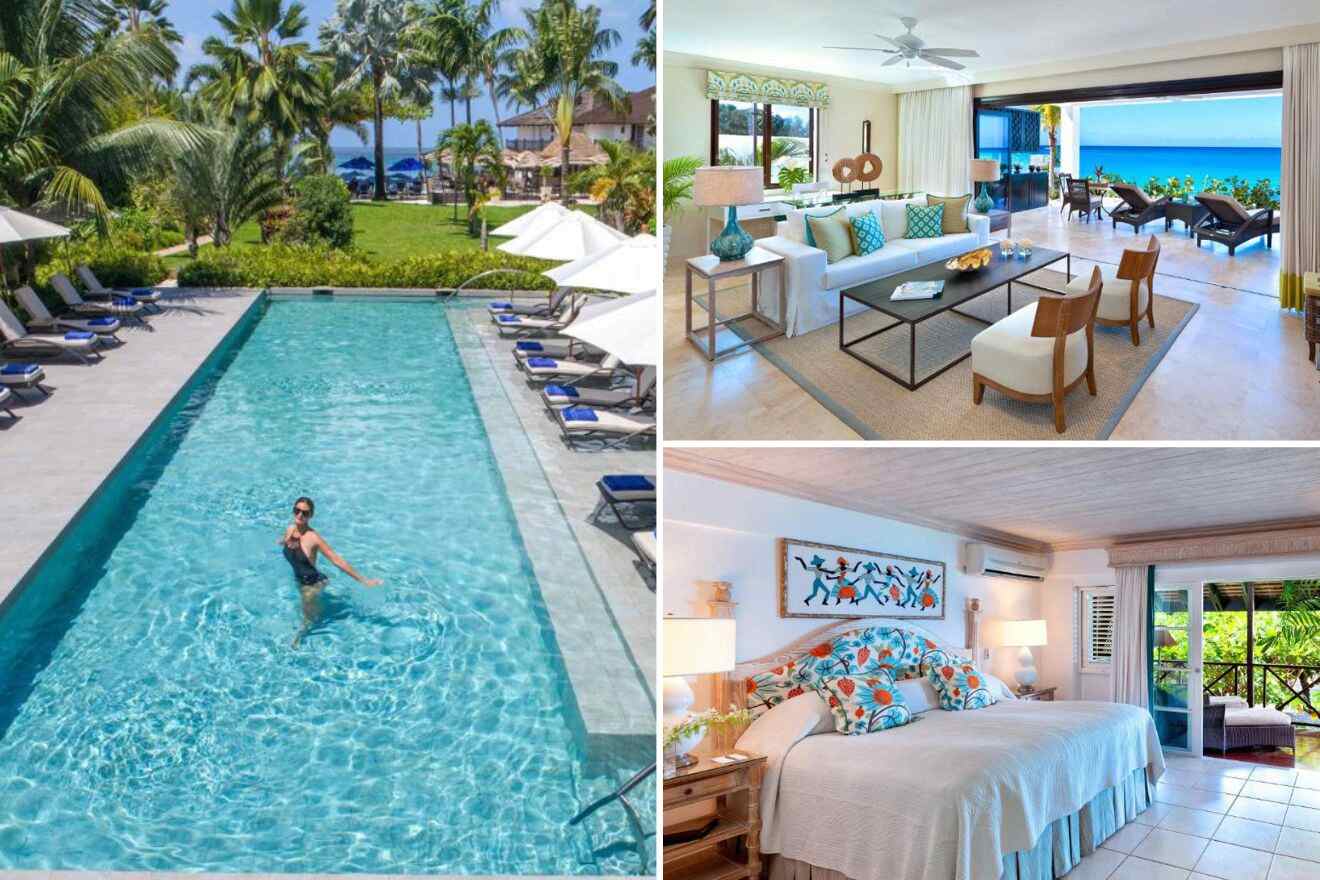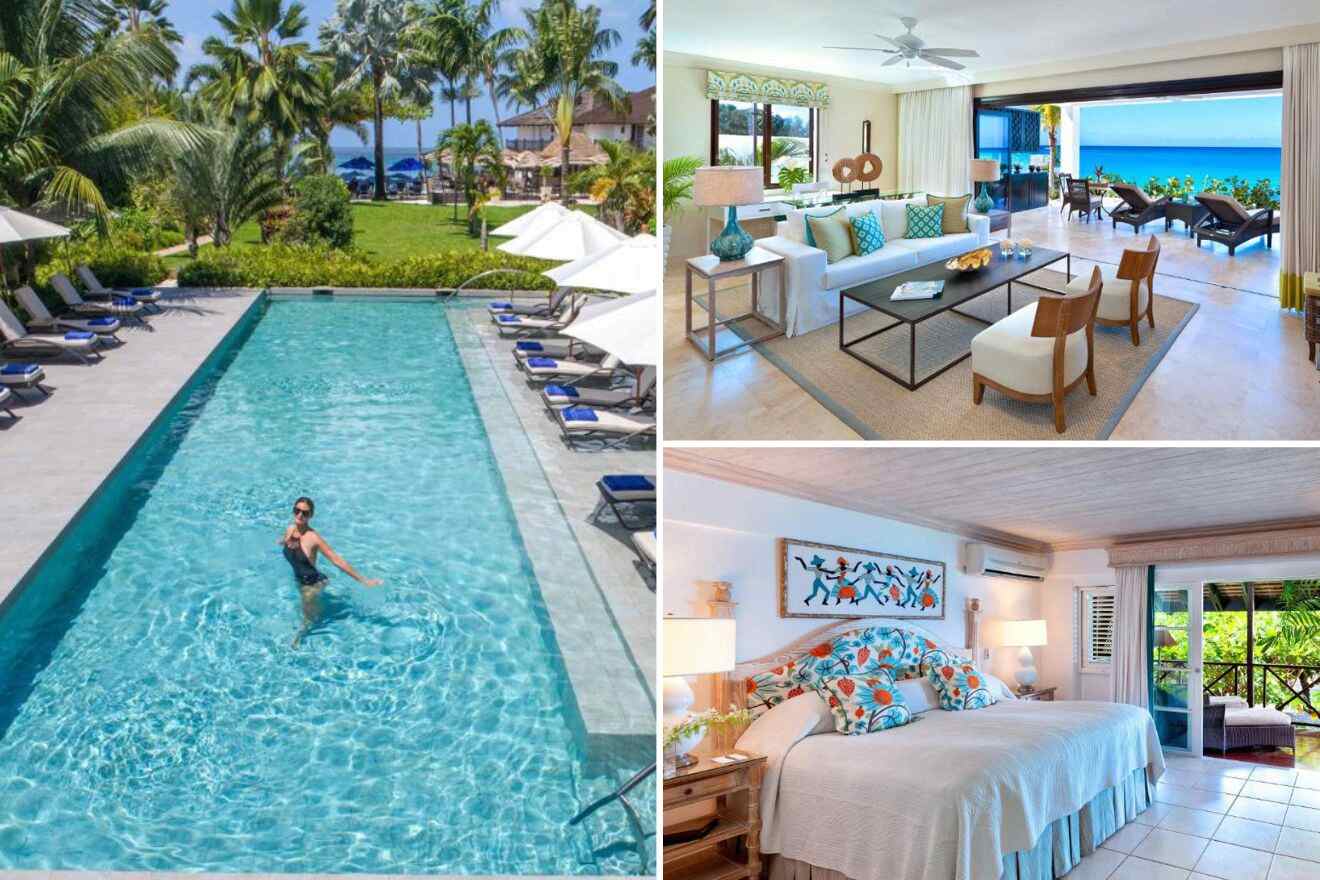 A stay at this resort will leave you and your family relaxed and energized! It's by the beachfront in Holetown, Barbados (a 10-minute walk from Platinum West Coast), which makes it perfect for families to play beach games or just swim in the Caribbean sea! It also comes with an on-site spa, an outdoor pool, tennis courts, an on-site restaurant with a kid-friendly menu, and there are even babysitting services available!
This luxury accommodation comes with many types of rooms, but I recommend the suite for families. This one comes with 2 extra-large double beds and can host families of 5! This suite comes with a private kitchenette and a private balcony to enhance the experience!
2. White Sands Beach Condos – explore Barbados' south coast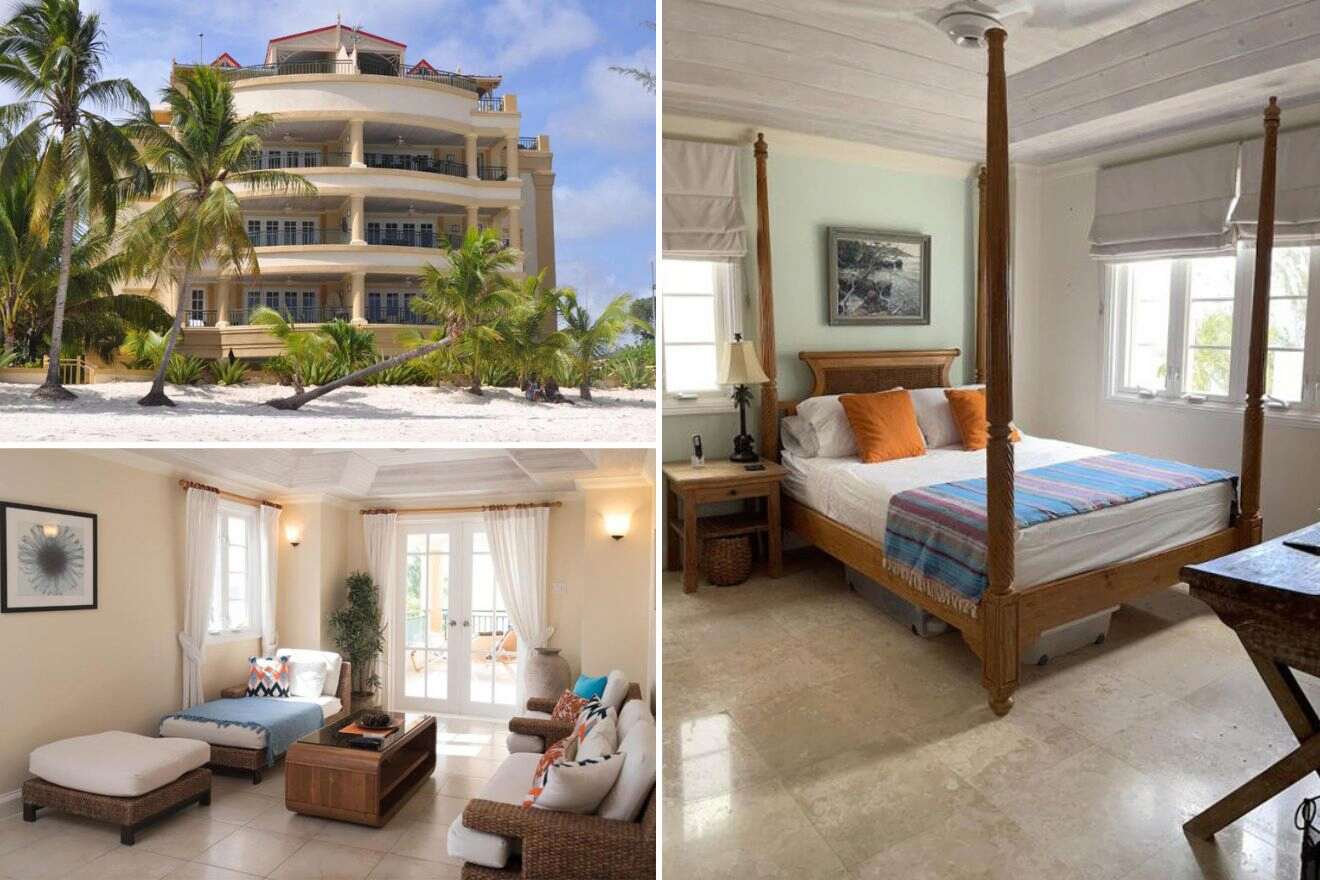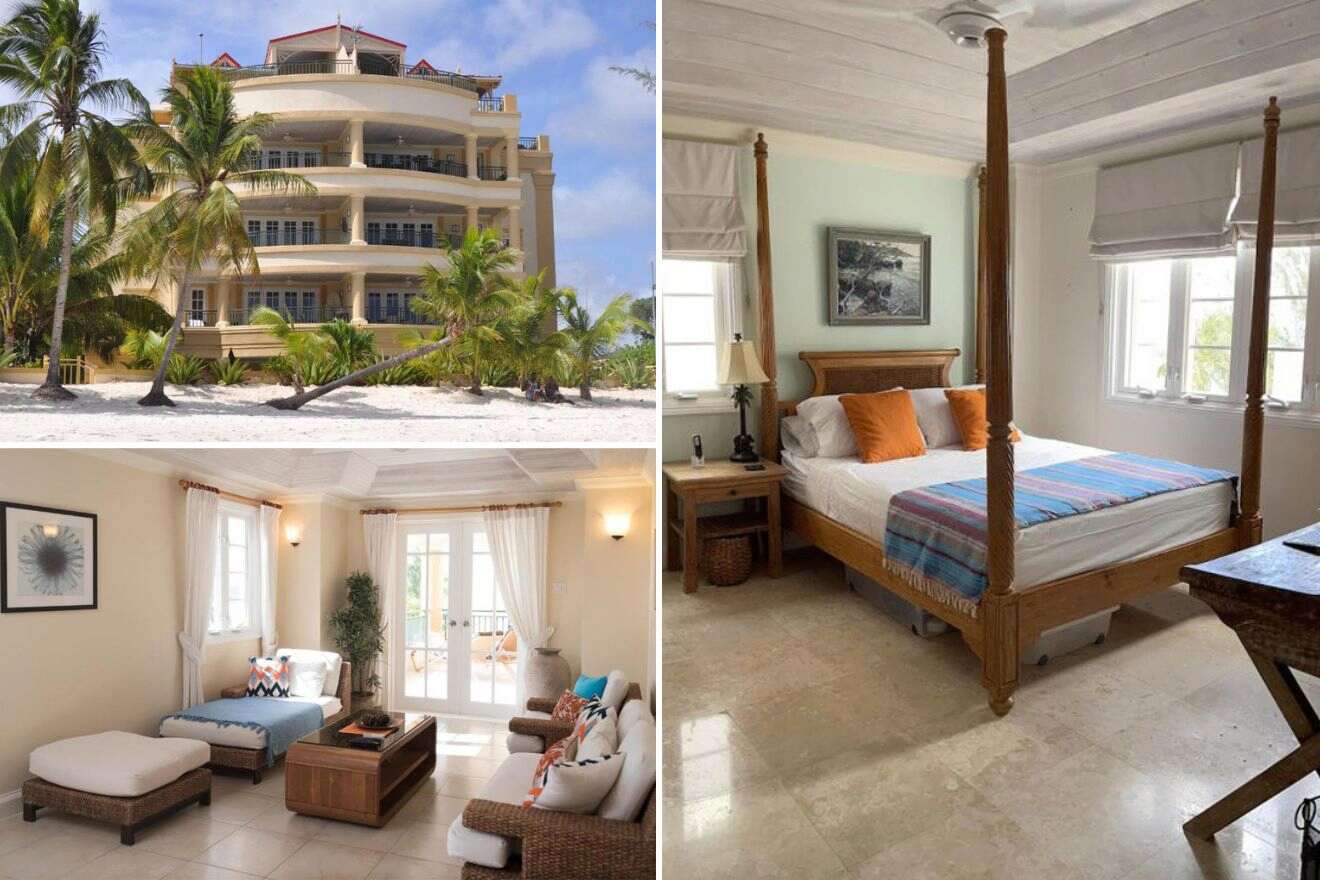 Have an amazing family vacation staying on Barbados' vibrant south coast in Saint Lawrence! This hotel is located by the beachfront and comes with an outdoor swimming pool, a fitness center, and gives guests a chance to practice watersports such as snorkeling or diving. You could also rent a bike and explore the area with your family!
They offer plenty of apartments with 2 rooms which are perfect for families of 4, and all the rooms come with a balcony, terrace, and a private kitchen. I highly suggest that families of 6 stay at their penthouse. It comes with 3 bedrooms, a spacious terrace with a private pool, and a furnished balcony.
3. Sea Breeze Beach House – stay in an elegant hotel chain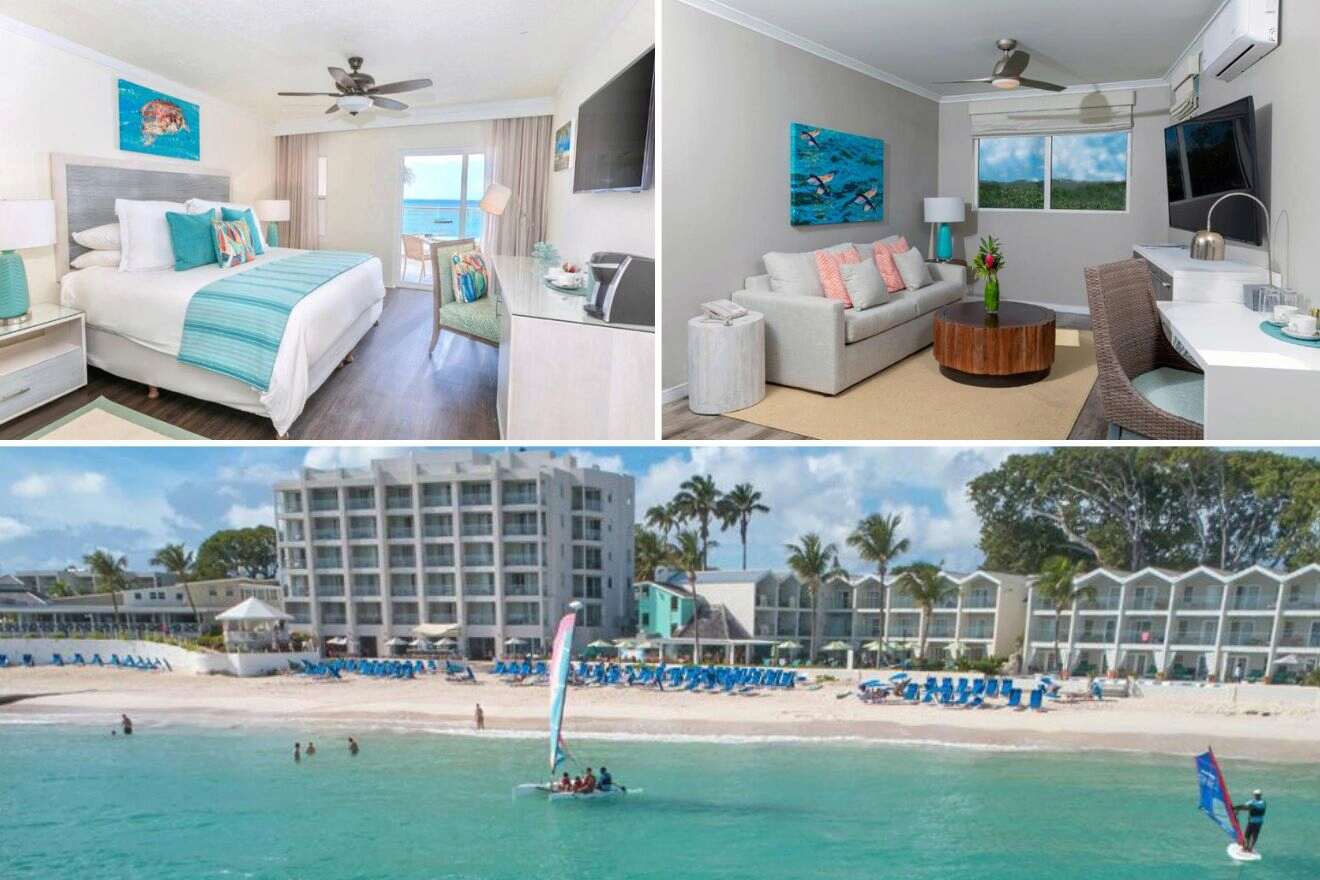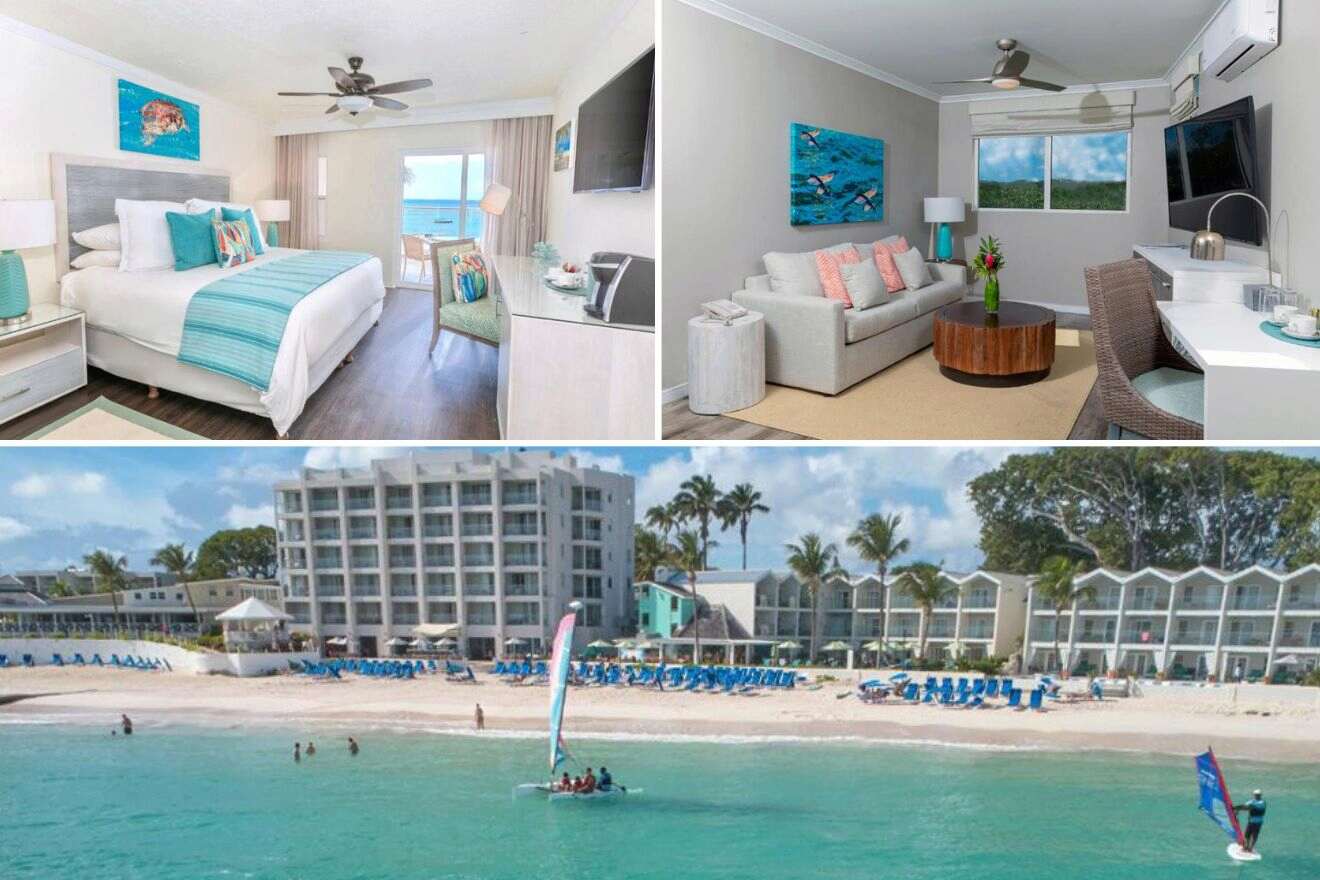 This classic and colorful family-friendly resort in the tropical paradise of Christ Church is perfect for your Barbados Vacation! Right near Maxwell Beach and Dover Beach, less than a mile away (1 km), this resort comes with 3 swimming pools, a kids splash pool, a kids club, a game room, board games, 4 on-site restaurants with options for the whole family, and even banana boat rides!
They offer a wide range of accommodation for families of 3 to 10 members. All the rooms come with air conditioning, a private bathroom, a flat-screen TV with cable channels, and a balcony with fabulous views!
4. O2 Beach Club & Spa – an amazing all-inclusive resort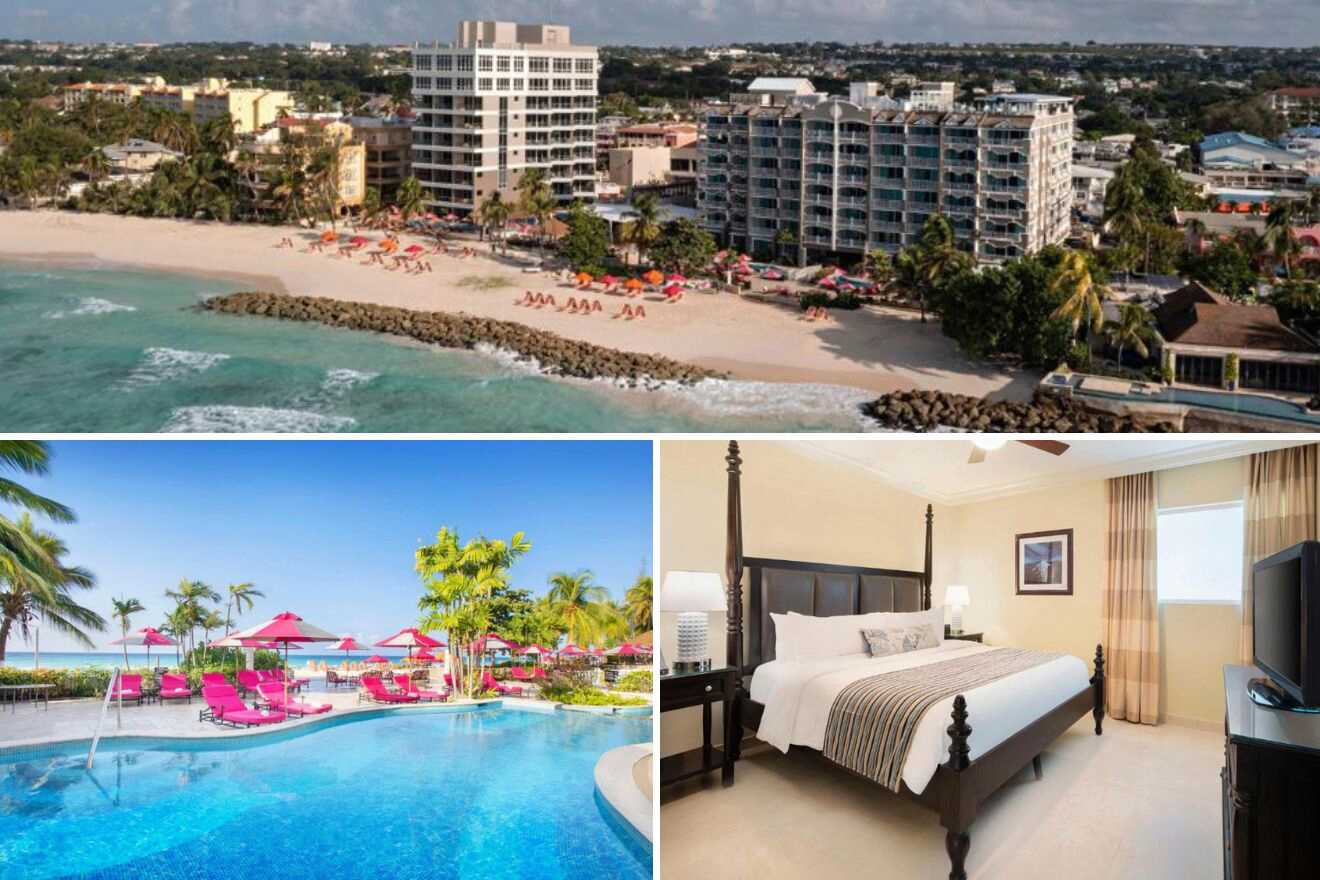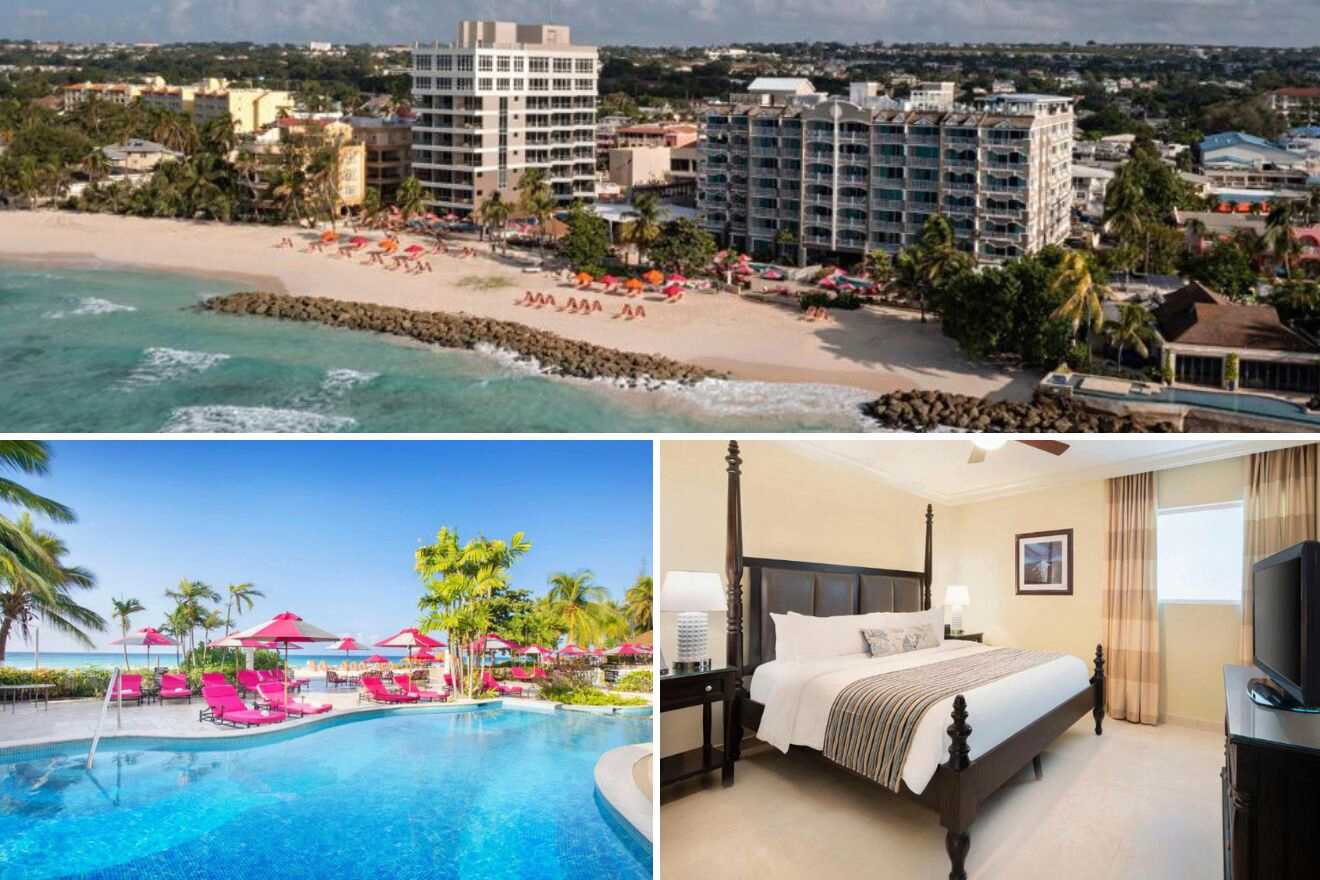 What a treat to stay in this Barbados beach club family resort! The decorations are super fresh and modern, matching the fun Caribbean style! This resort is located on the Saint Lawrence beachfront, so you and your family can build sand castles or swim in the sea! The hotel comes with 3 swimming pools, one of them on the rooftop terrace, another with a swim-up bar, and another one for all ages!
The suite and 2-bedroom suite are perfect options for families! These suites can accommodate 5 guests and come with 2 bedrooms and a living room. The private bathroom comes with a bathtub perfect for relaxing and a furnished balcony with views!
5. Beach View Hotel – for a tranquil and quiet vacation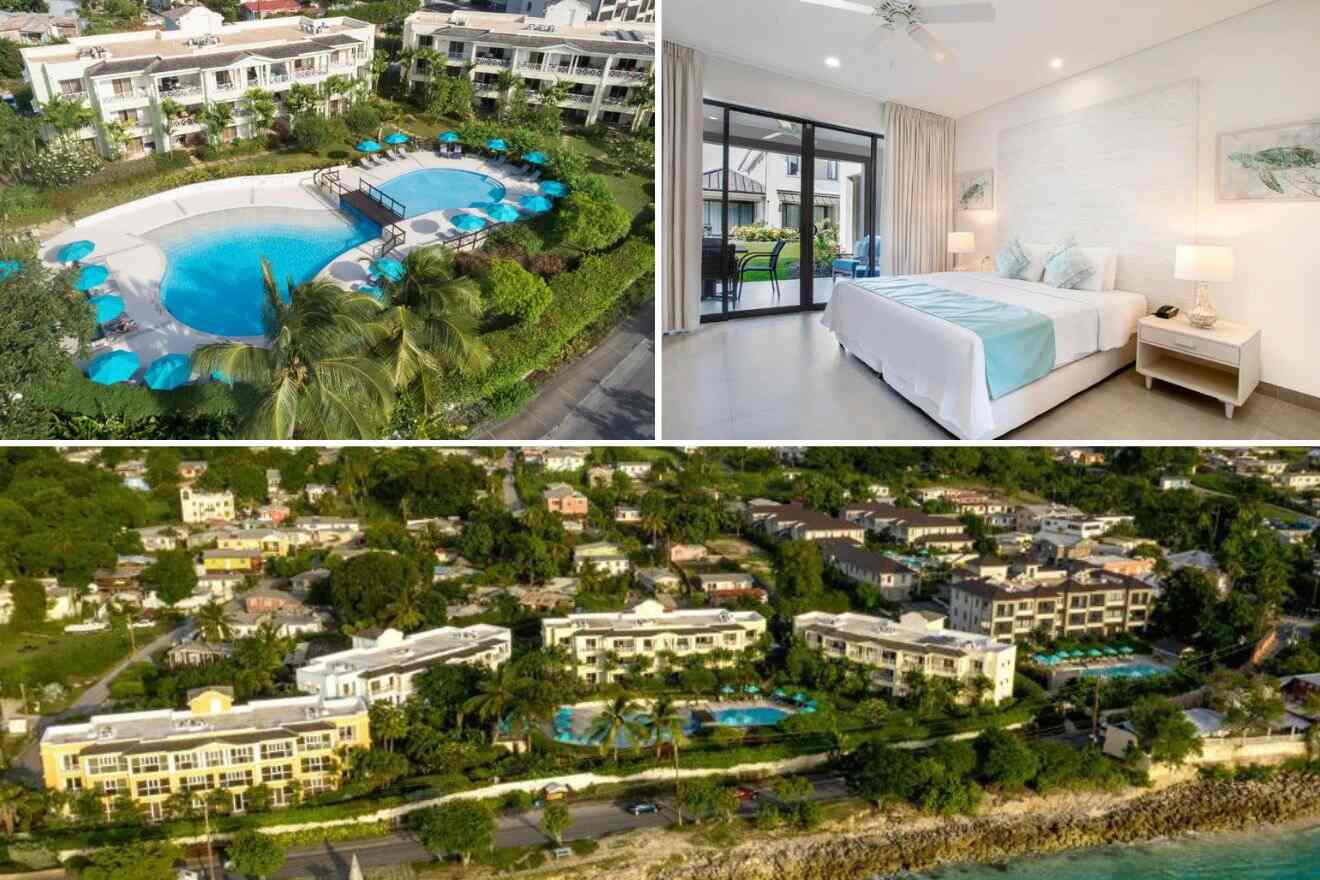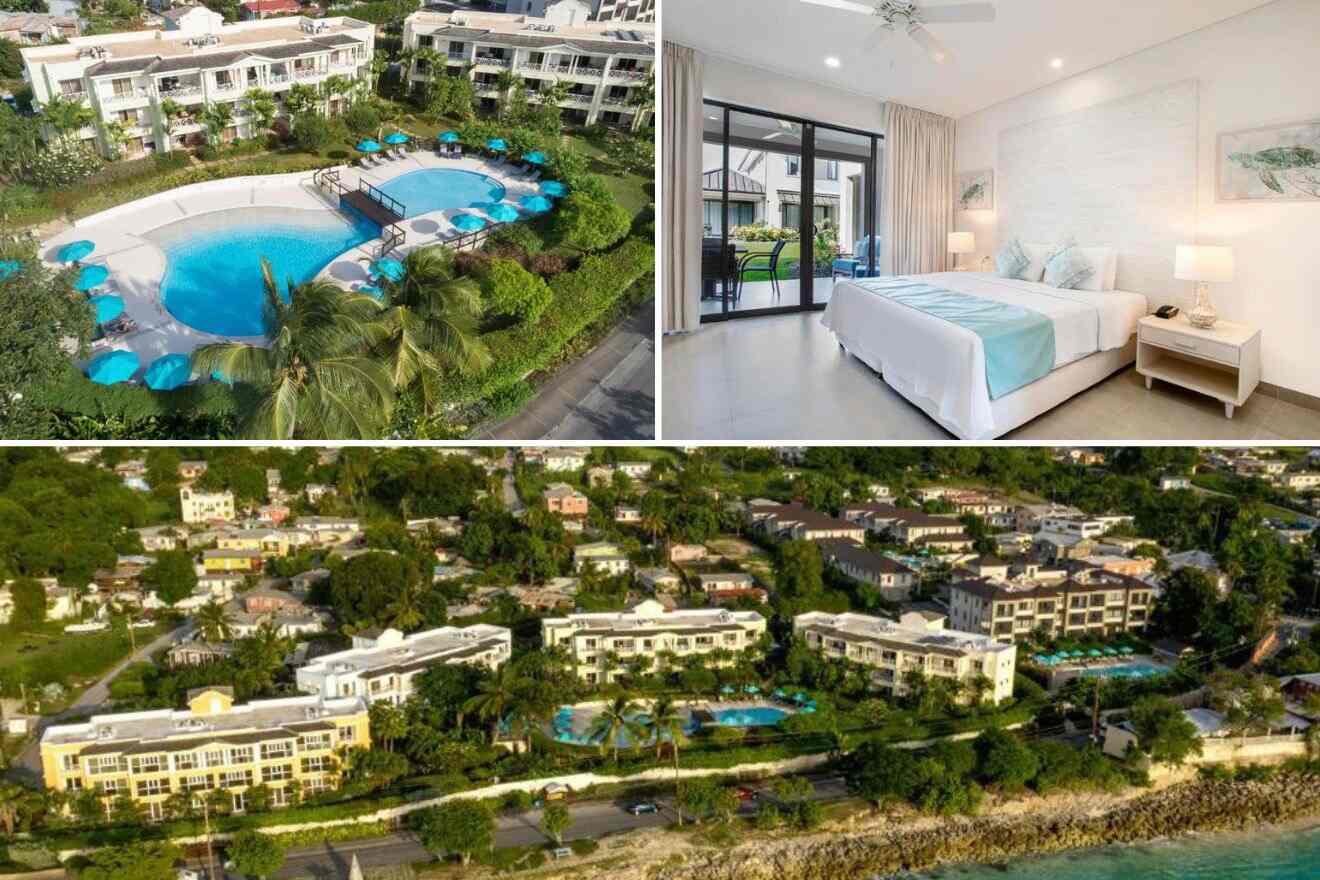 This resort, located by Saint James Beach, will make you and your family feel at home! The decoration and the setting of the hotel resembles a small neighborhood filled up with palm trees, gardens, 4 swimming pools, and sun terraces! This hotel offers a kids club where they can play games with other kids and kid-friendly menus!
There are so many rooms and villas available and suitable for families in this resort, and I want to make special mention of their 3 bedroom villa, which comes with a terrace and garden, a living room with a flat-screen TV, a fully equipped kitchen, and 4 bathrooms. This villa can host families of 6 members!
6. Waves Hotel and Spa – stylish and elegant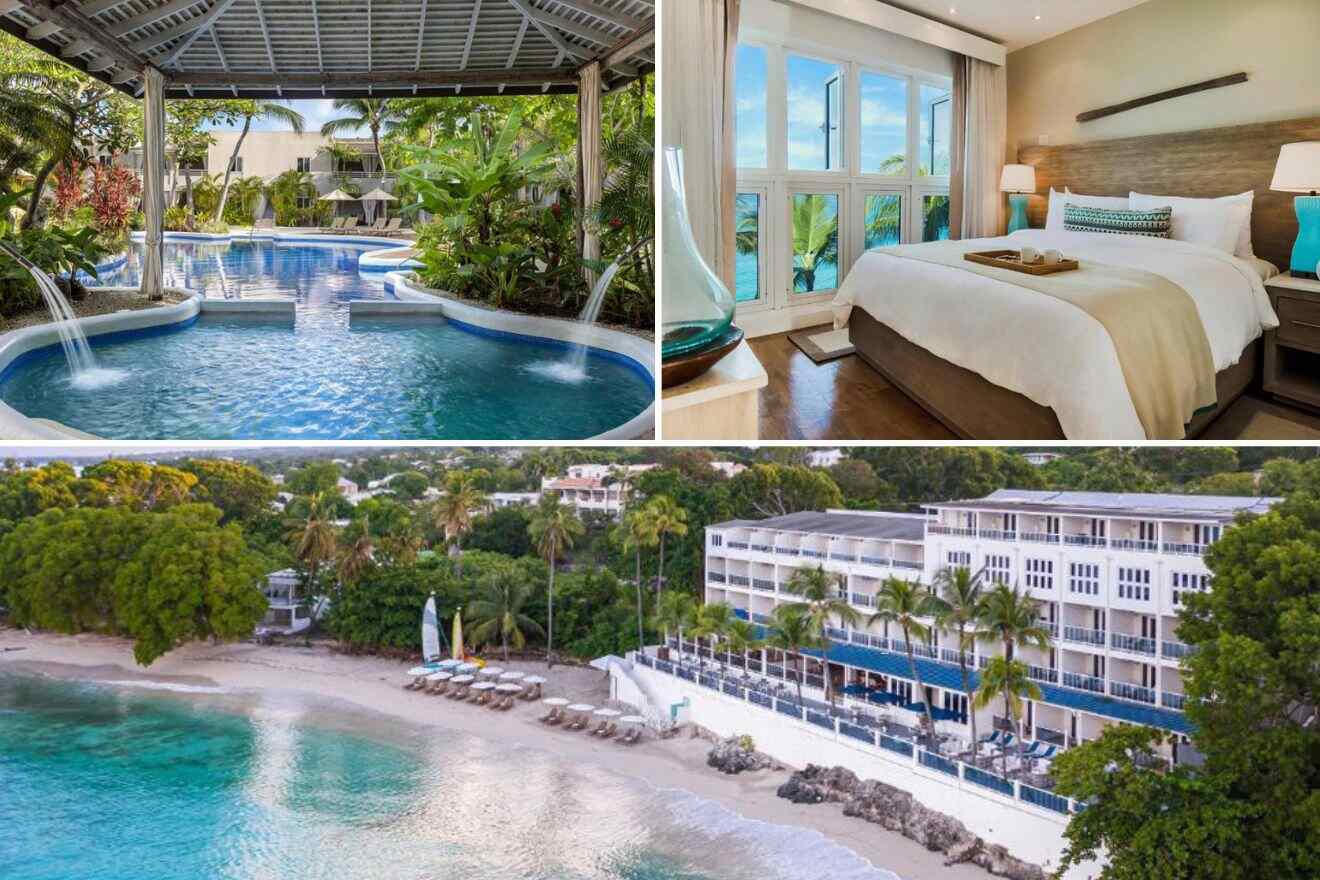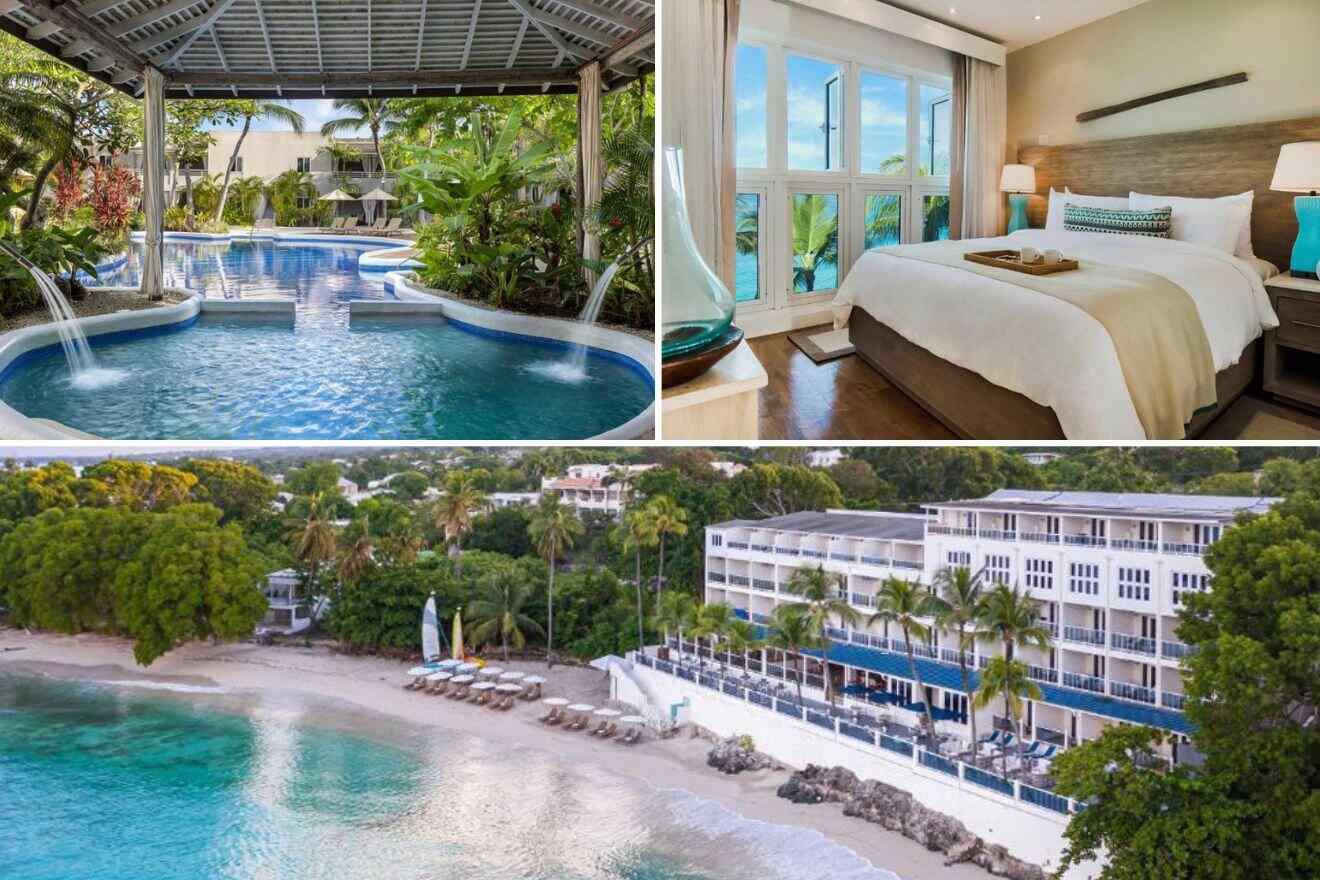 This Barbados hotel has amazing bright decor, wooden furniture and subtle touches of blue in some of the elements of the room, transmitting peacefulness and taste! Located by Saint James beachfront, they offer families the chance to play beach cricket or hang out by the pool!
All of the rooms come with wooden floors, air conditioning, and free Wi-Fi, and some of the rooms have a balcony overseeing the ocean! These rooms and hotels would be great for small families of 3 members, as the biggest room can host 3 guests. If you have small kids, there are babysitting services available!
7. Sugar Bay Barbados – perfect for kids of all ages!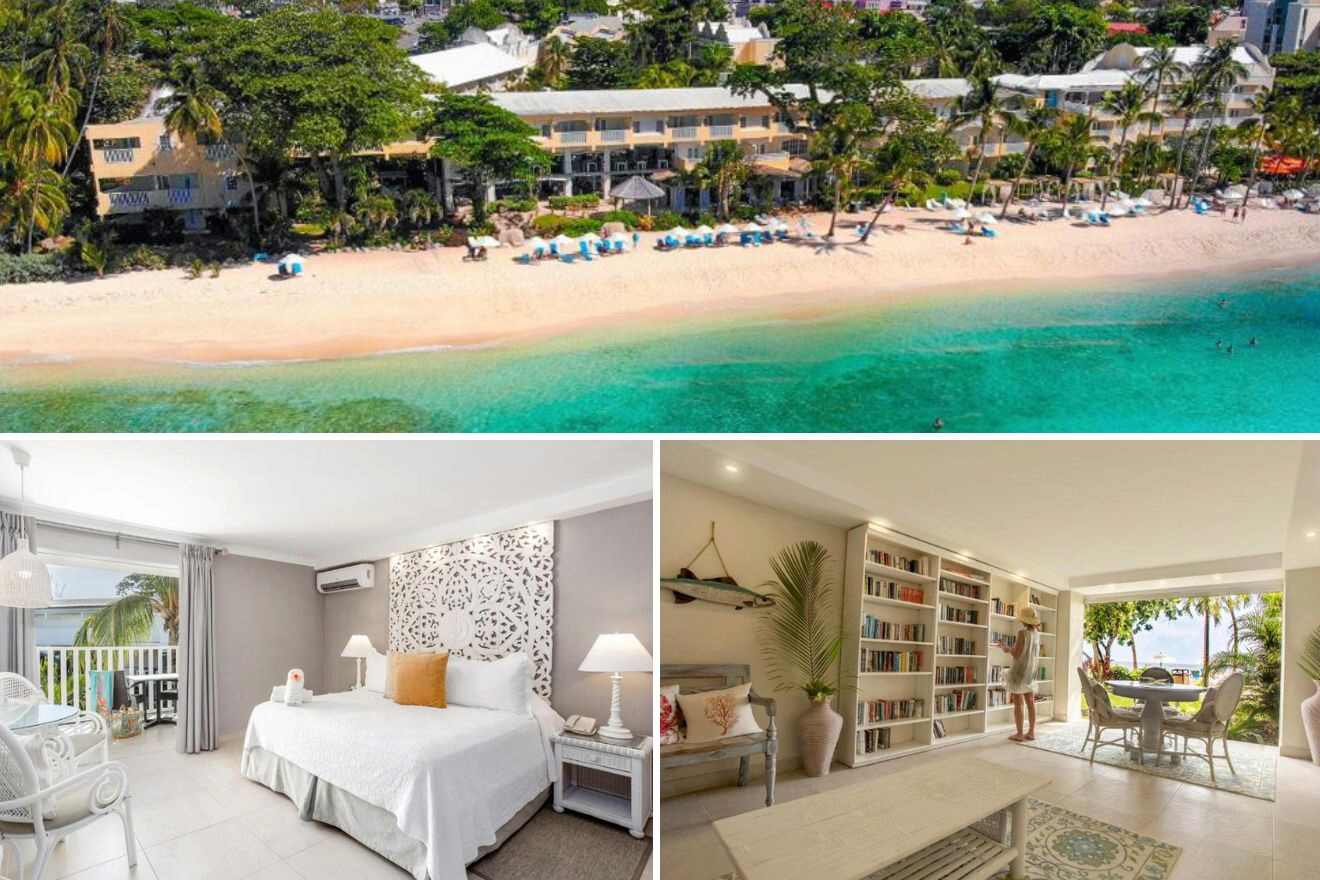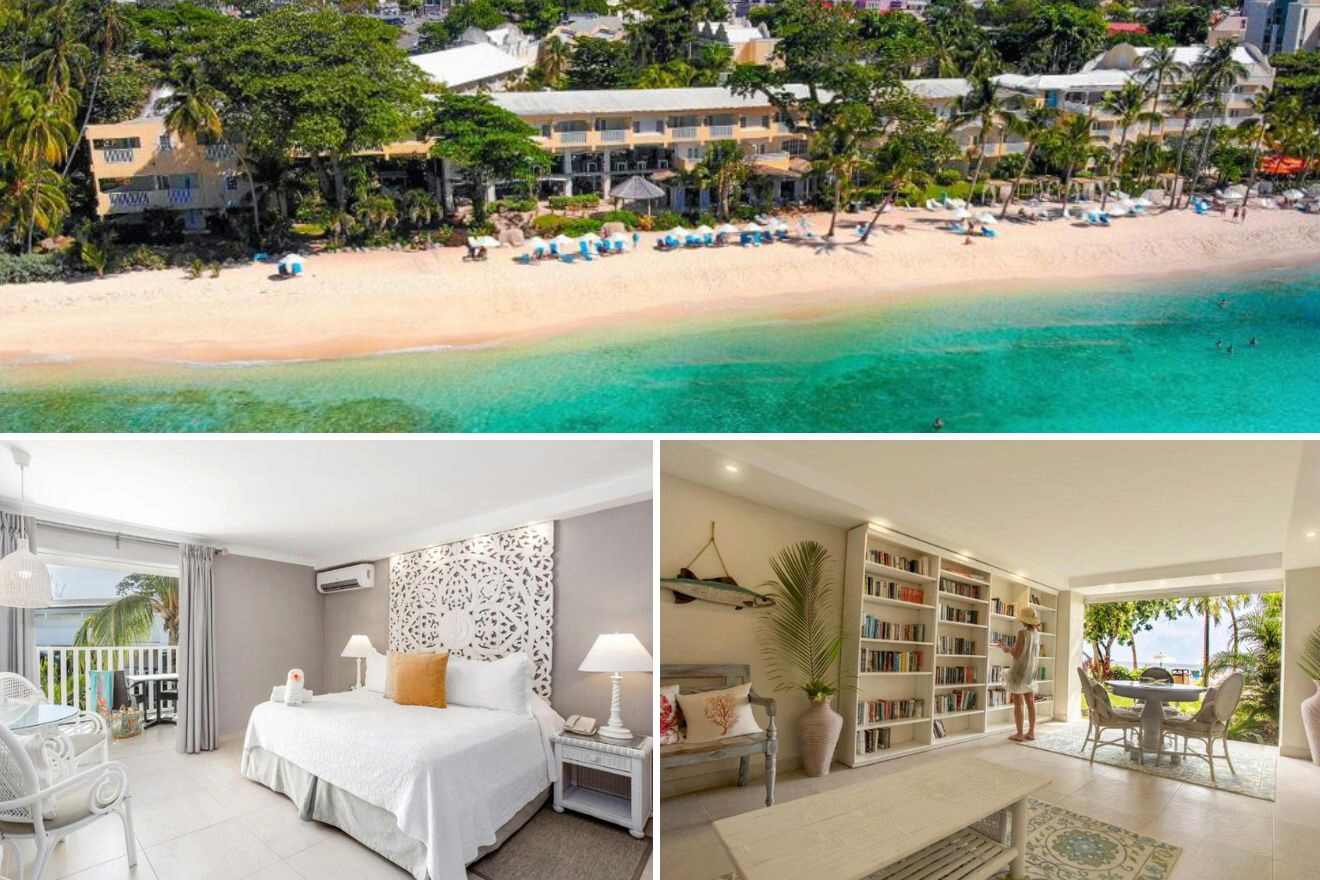 This amazing kid-friendly resort will provide you with all the amenities you need for the most amazing vacation! The resort is located on Barbados' capital city's beachfront and with many of Bridgetown's south coast boardwalk and Carlisle Bay nearby! This hotel comes with two freshwater pools with an area for kids, it also has a kids club with fun activities for them and all sorts of activities like movie nights for the whole family!
This resort offers stylish and comfortable rooms and suites; I suggest the family suite for families! It comes with a double bed and a sofa bed, a balcony with garden views, and a private bathroom.
8. Southern Palms Beach Club – relax in Dover Beach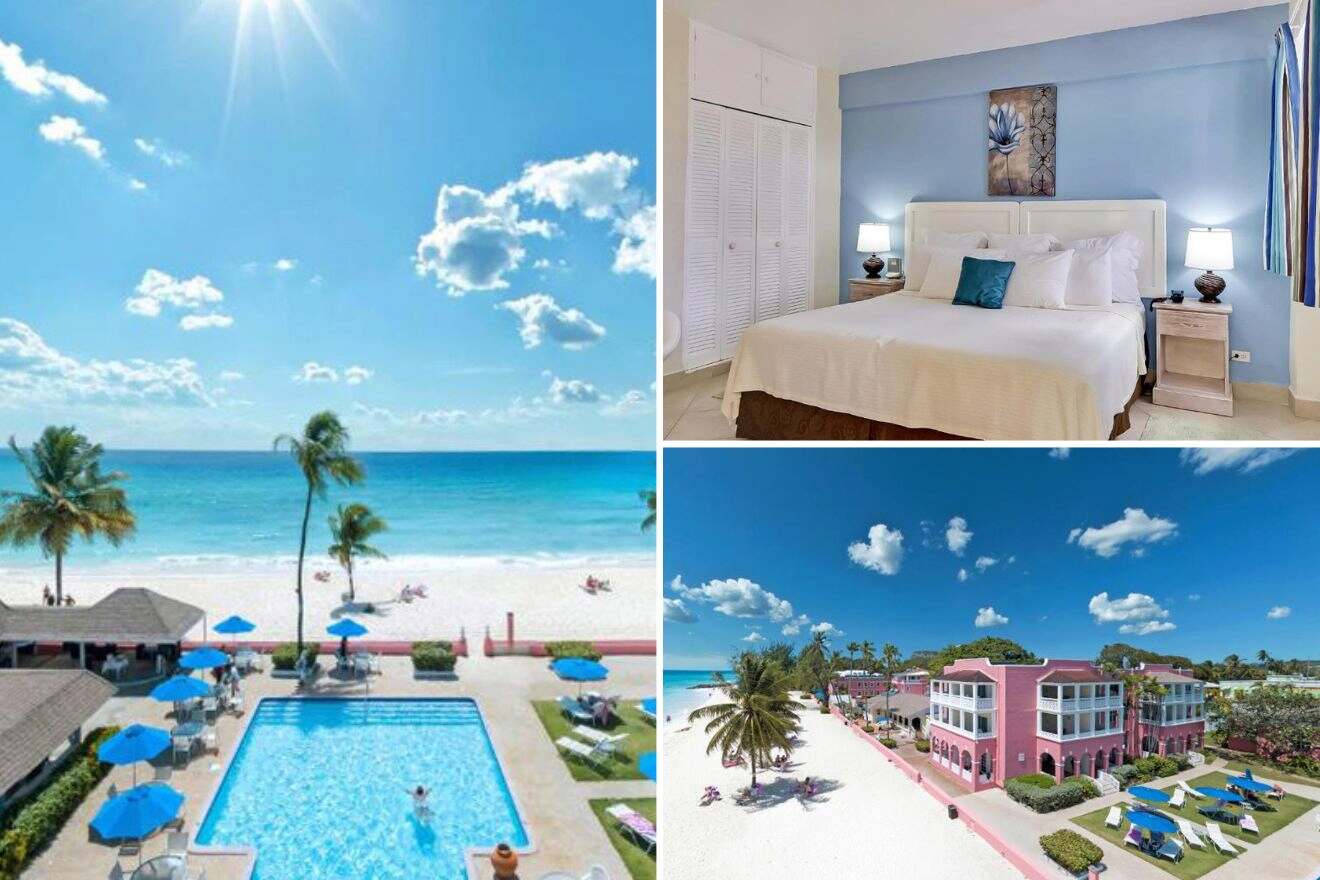 I love this hotel's pink facade and the colorful and homey interior! Located on Dover Beach's beachfront, this hotel comes with an amazing outdoor swimming pool with sun loungers on the terrace! The onsite restaurant offers Caribbean and international food, and you can practice water sports on site, like boogie boarding and water skiing, or mini golf, which kids love!
Every night there will be a local band playing so you can relax listening to amazing music after a long day on the beach. Their suite with a bedroom and separate living room is ideal for families of 4, it comes with a private kitchenette and a balcony with breathtaking views!
9. Sugar Cane Club Hotel & Spa – with a Caribbean villa-style!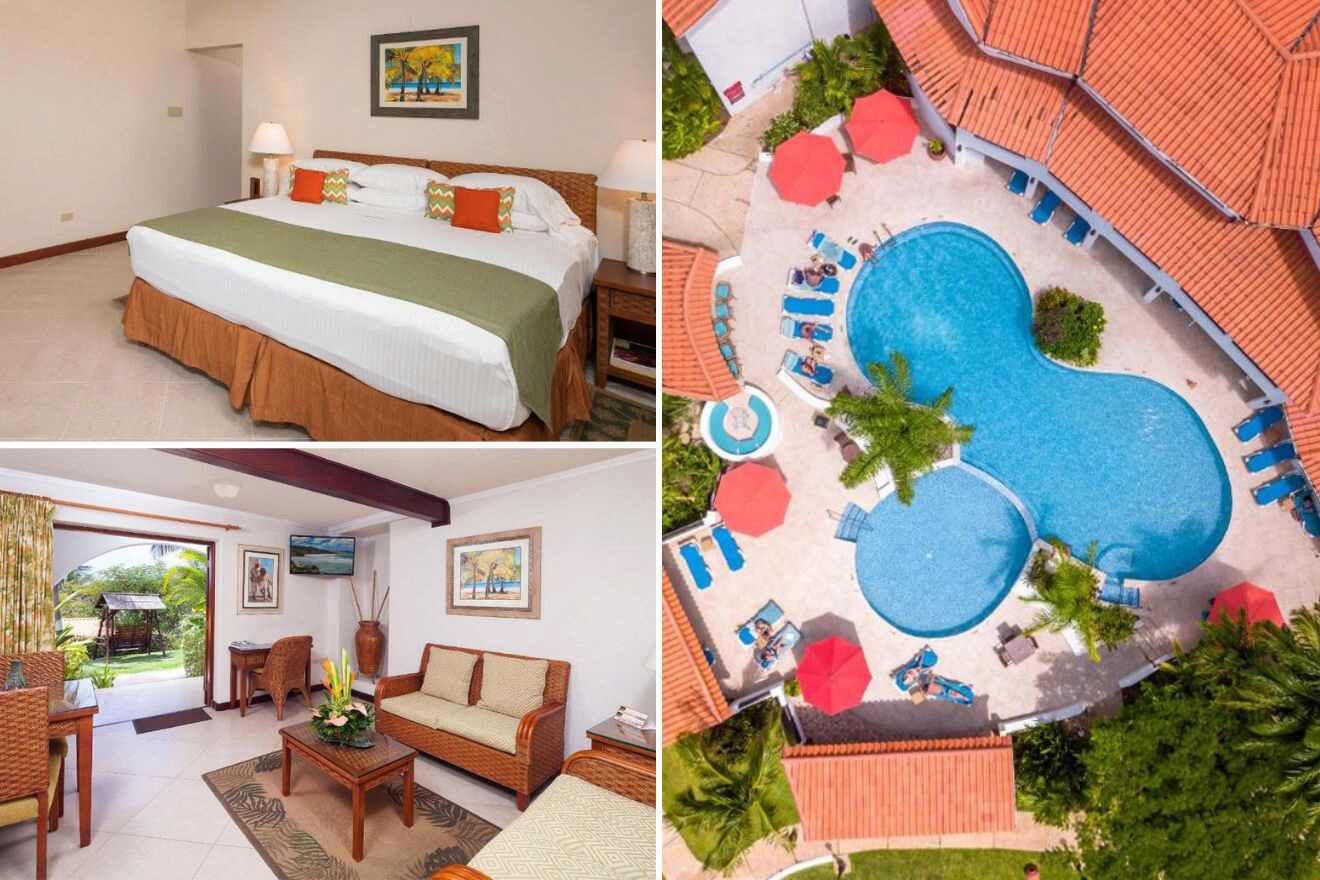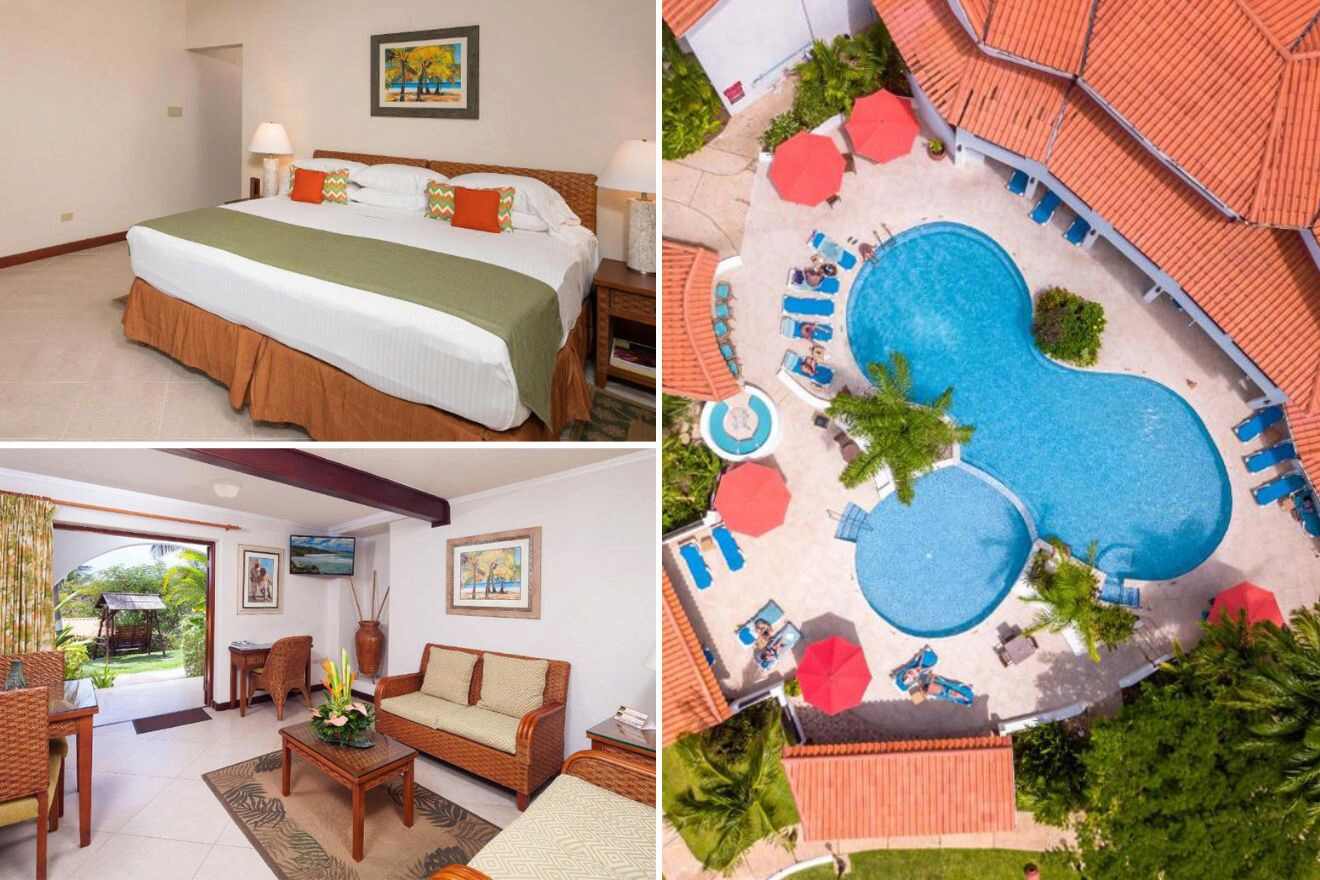 This amazing hotel and spa, located in Saint Peter on the island's platinum coast, has the most delightful Caribbean decor style, wooden ceilings, ceramic floors, and colorful touches! This fantastic hotel has freshwater swimming pools, a full-service spa, a game room for kids, and even live performances on-site!
This hotel only accepts children that are 14 years old and older! The rooms can host 2 guests, but upon request and paying an extra fee, beds can be added to the room! The hotel has 3 types of rooms, 2 suites with a garden or ocean view and a king room with a garden view, and all these come with a balcony or terrace!
10. Santosha Barbados – perfect for groups of families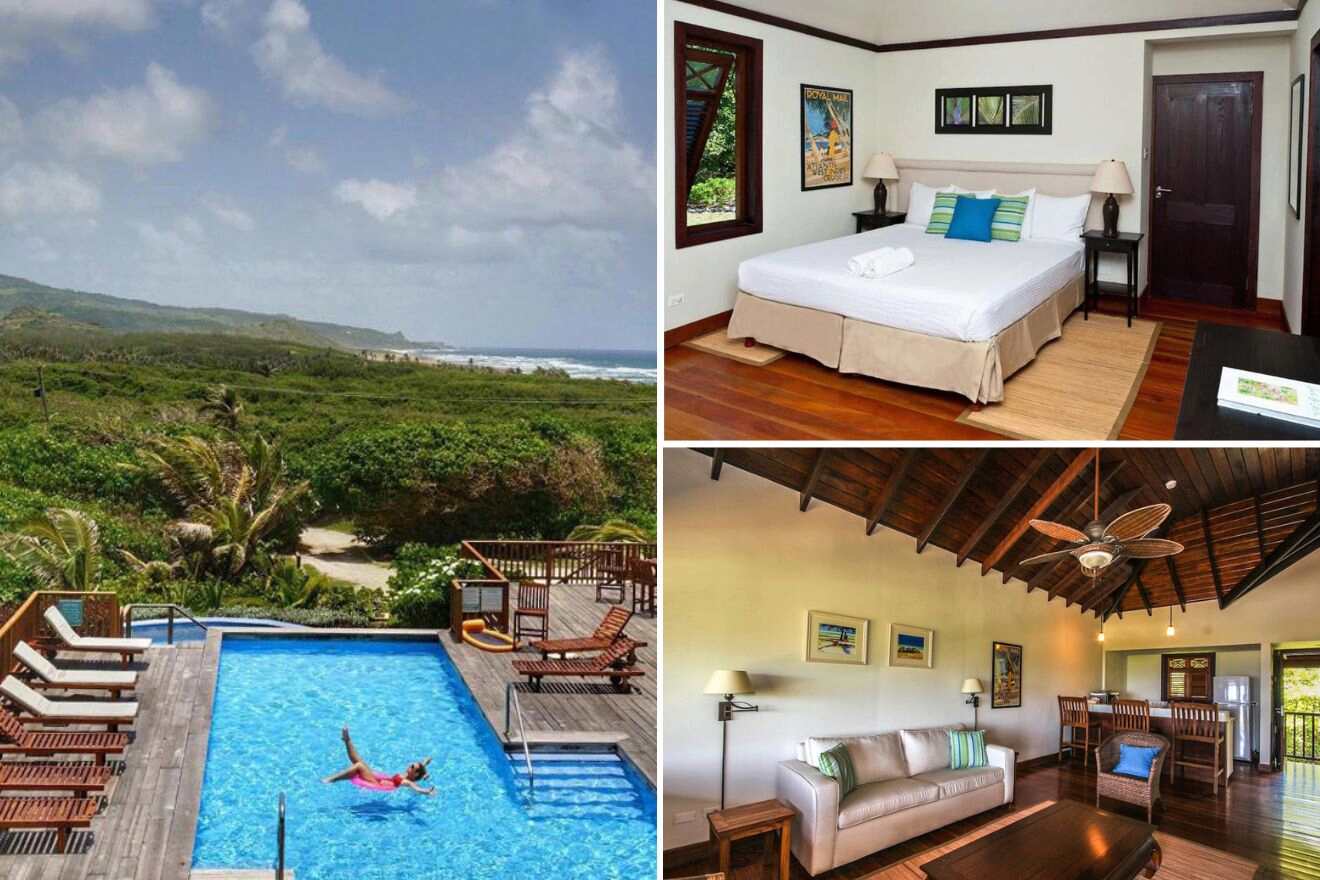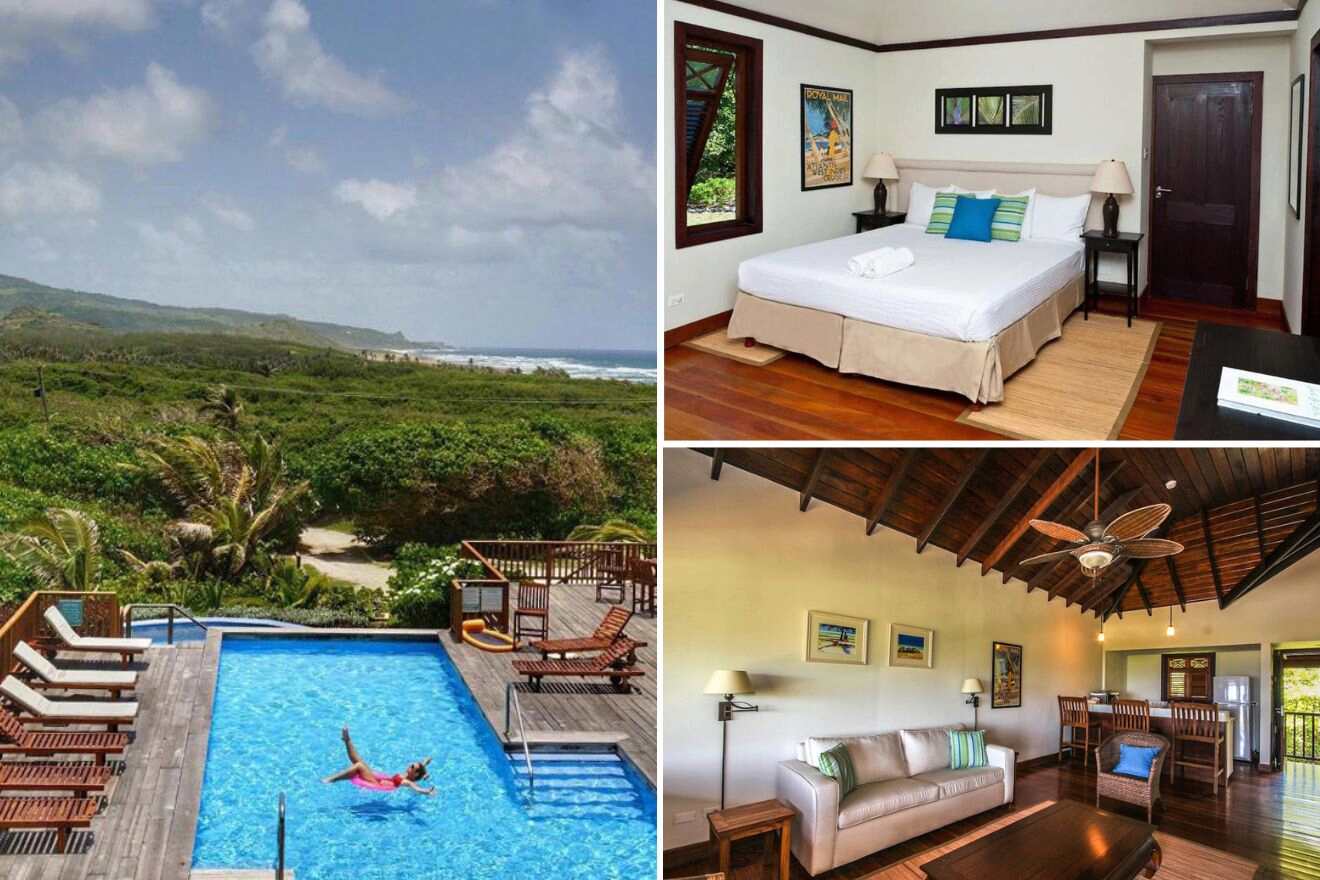 I love how private and secluded this hotel looks! Perfect for a tranquil and easy vacation with your family in Barbados! This hotel has a saltwater pool open to people of all ages, and they offer tours and classes about the local culture, so you and your kids can learn all about the Caribbean! You can also hike in the surroundings or just relax at the hotel's Saint Andrews beachfront!
This hotel is self-catered, but luckily, you can purchase food packages at the hotel so that you have everything you need! The villa hosts 24 guests, has 10 bedrooms, 4 living rooms, 10 bathrooms, and it's right on the beachfront!
11. South Gap Hotel – enjoy Saint Lawrence Gap!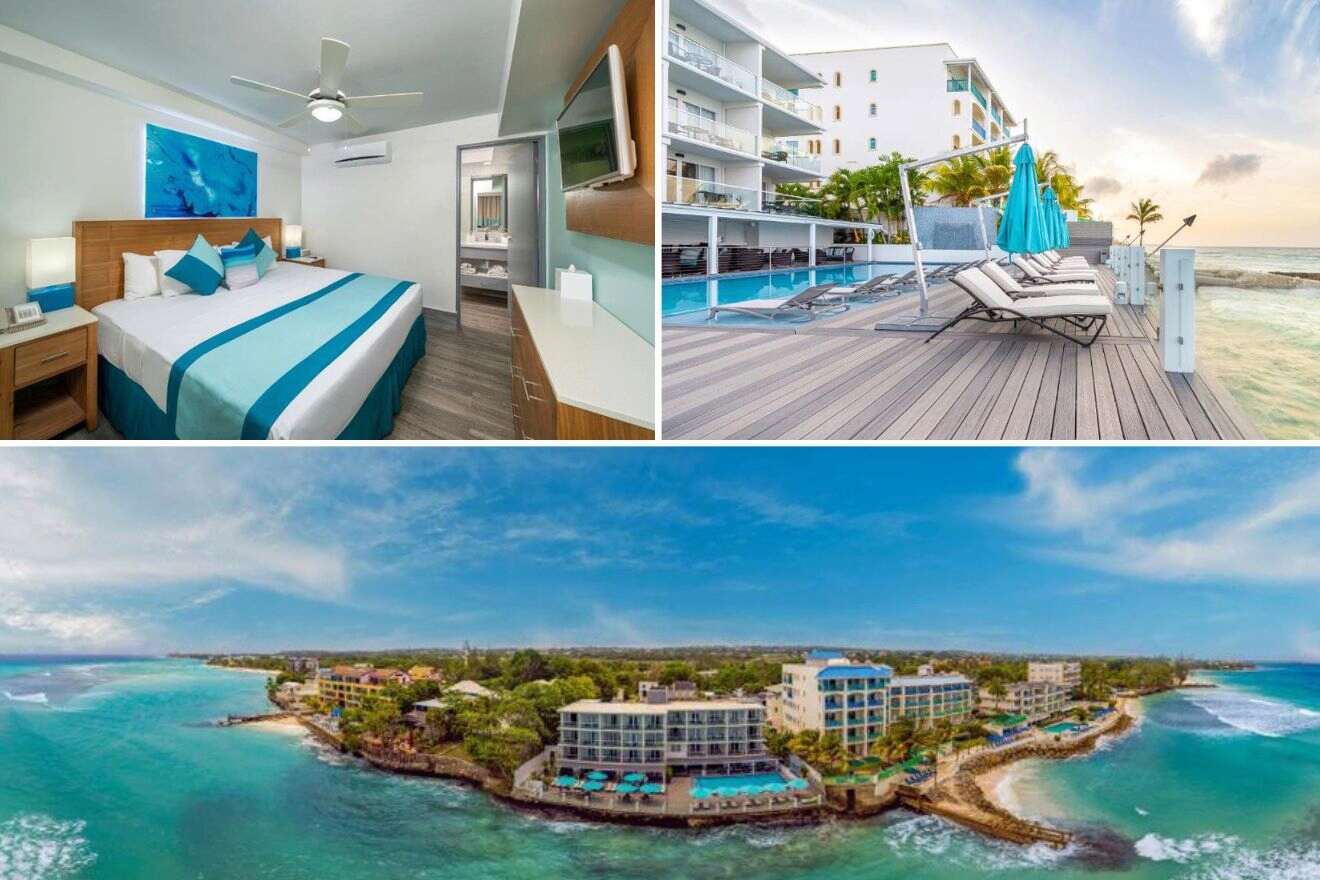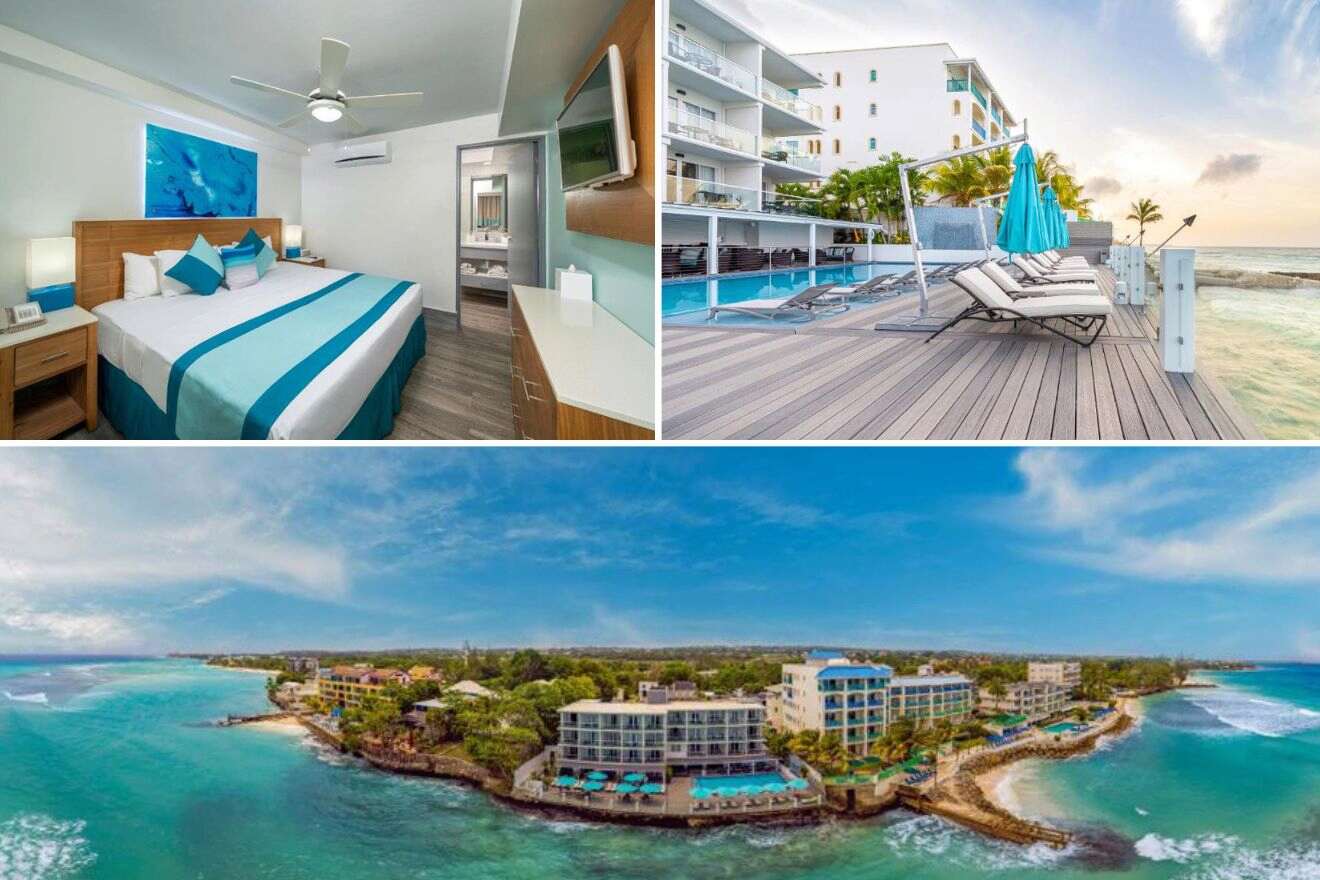 Located in the trendy area of Saint Lawrence Gap and right on the beachfront, this hotel has a classic style with a touch of elegance! All guests will get a complimentary breakfast every morning to fill their bodies and souls with energy to then jump into the hotel's outdoor swimming pool or walk to the beach and play!
The family room this accommodation offers is the "one bedroom suite with ocean view" This one can host up to 4 guests and comes with a balcony overseeing the ocean, a private kitchen, and a living room area with a flat-screen TV!
12. Blue Orchids Beach Hotel – for fun water sports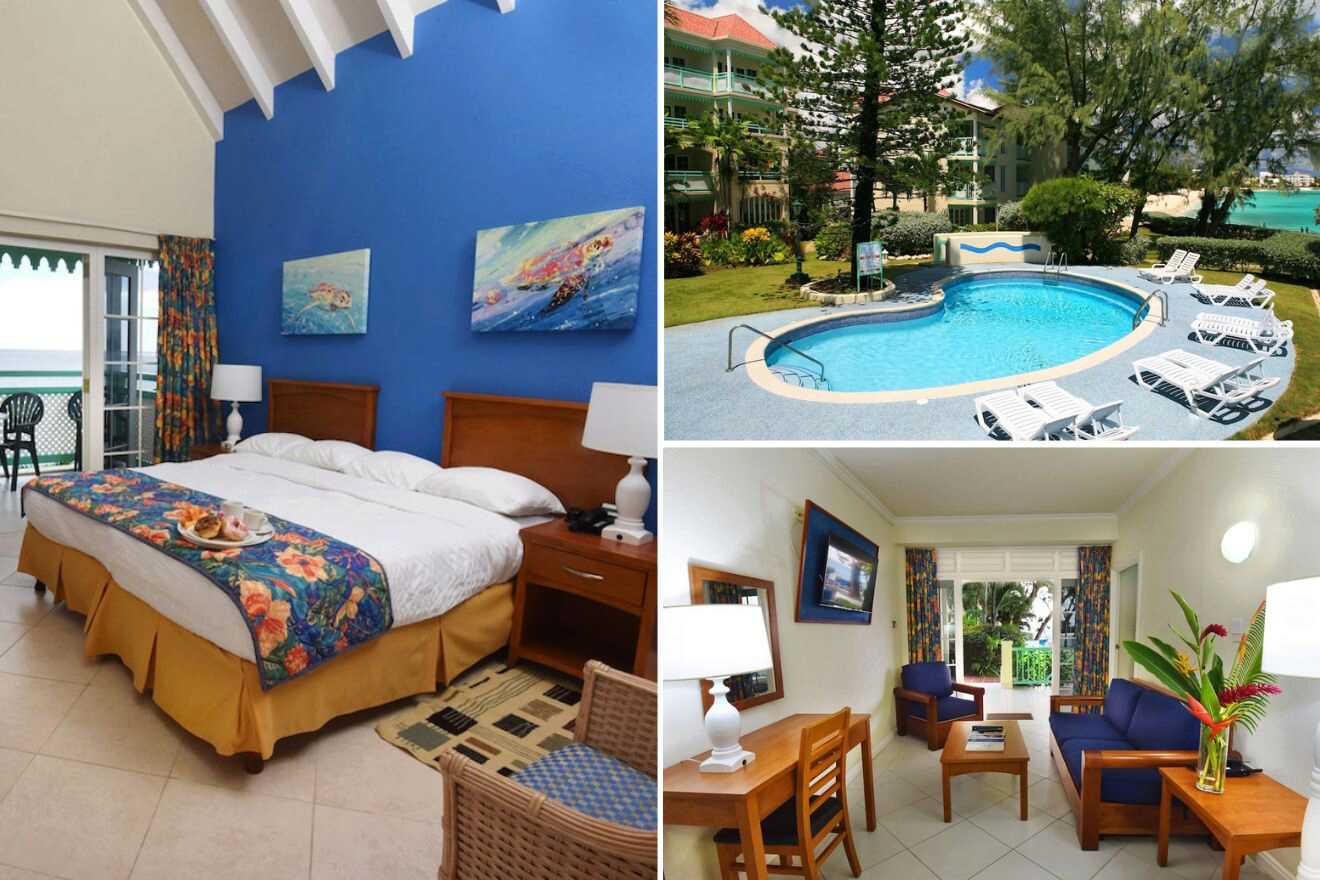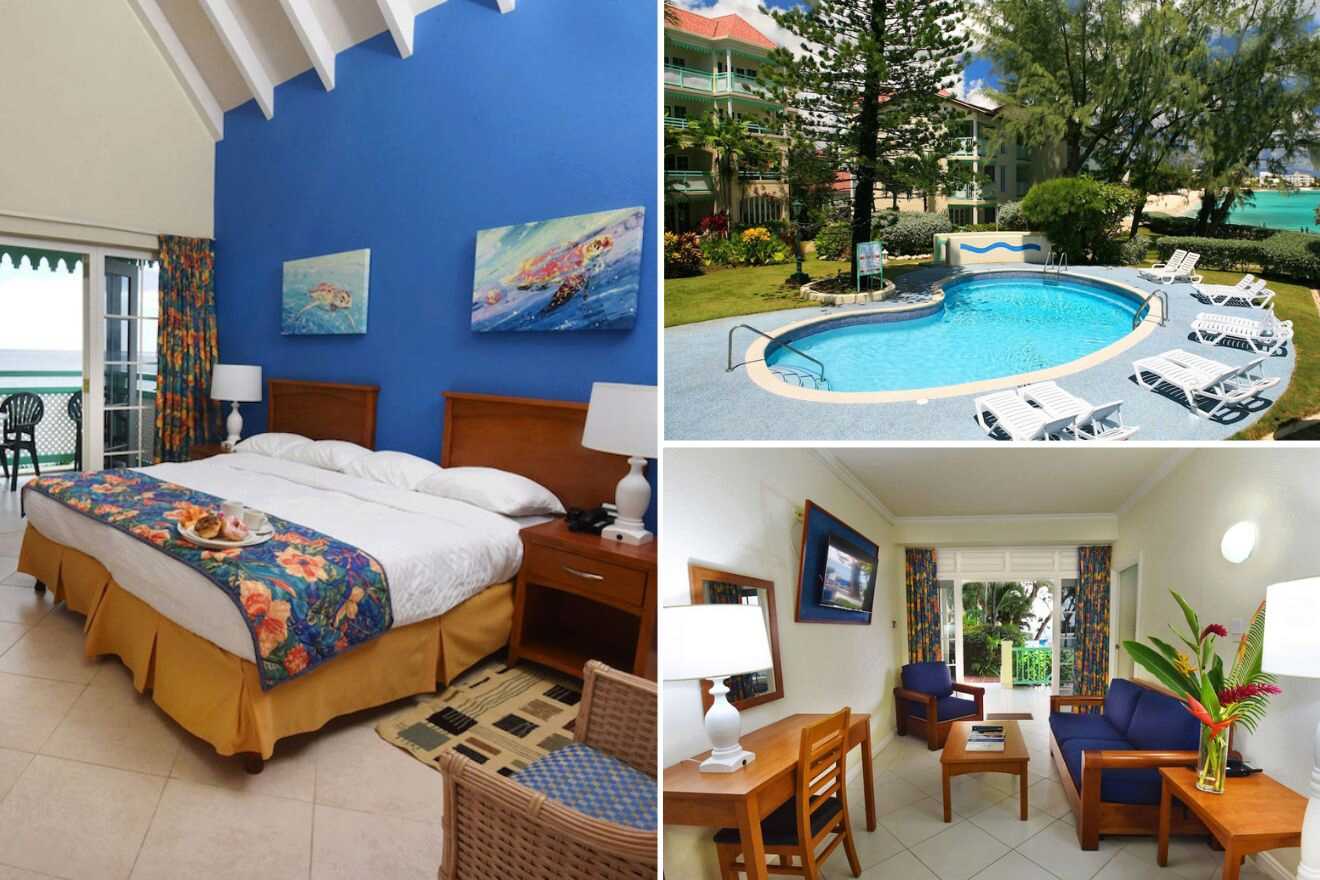 This cute boutique hotel, located in Christ Church by the beachfront, is a great hotel for families looking to spend time together on Dover Beach or swim at the hotel's swimming pool! This hotel has an onsite restaurant and offers the chance to practice water sports like snorkeling or windsurfing. It also has a game room where the kids can meet other kids and play together!
I highly recommend booking the 2-bedroom apartment for families. Iit comes with enough room for 5 guests, a living room with a flat-screen TV, 2 private bathrooms, one of them with a soaking tub, a private kitchen, and amazing views from the balcony or patio!
13. Rostrevor Hotel – for convenience and commodity!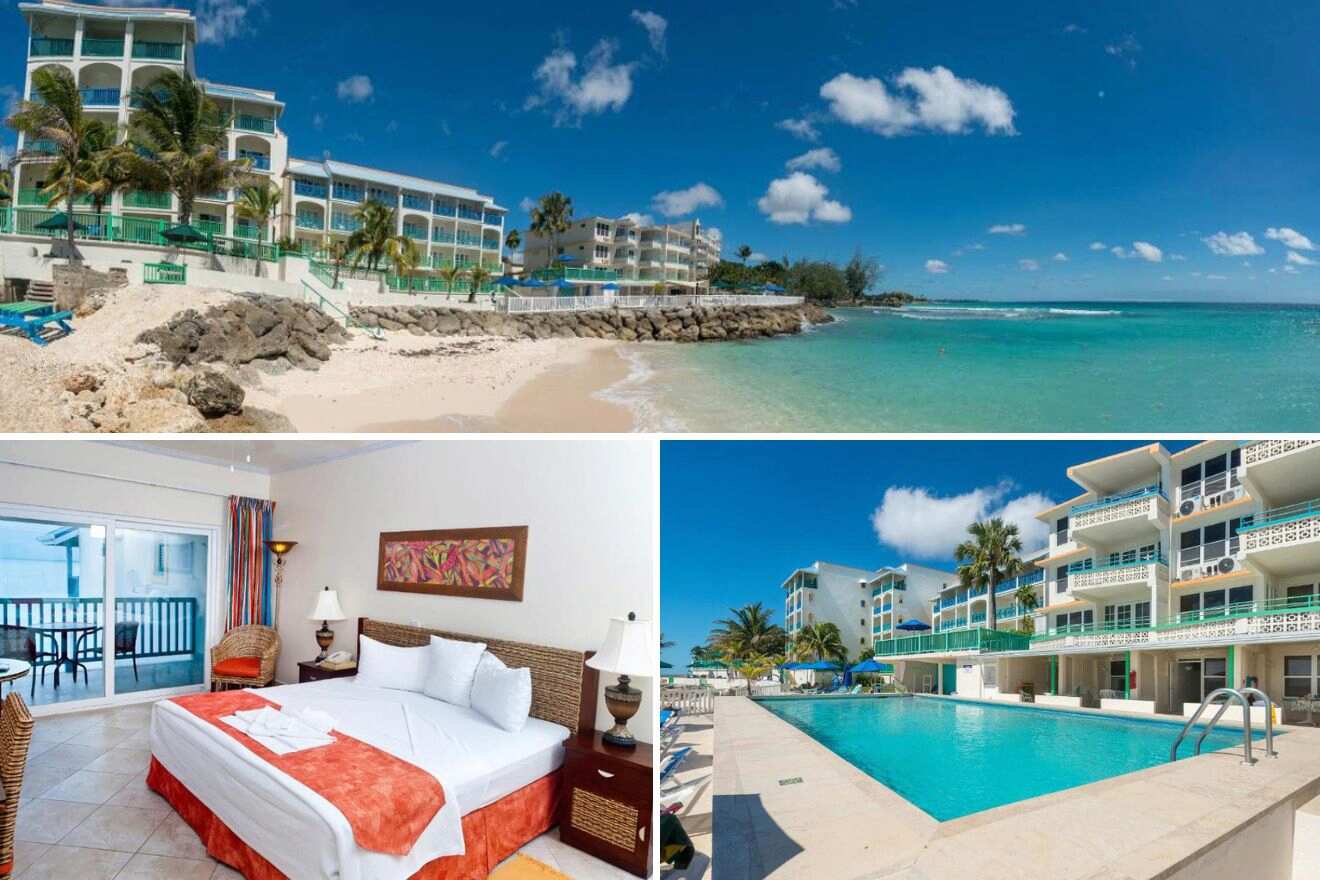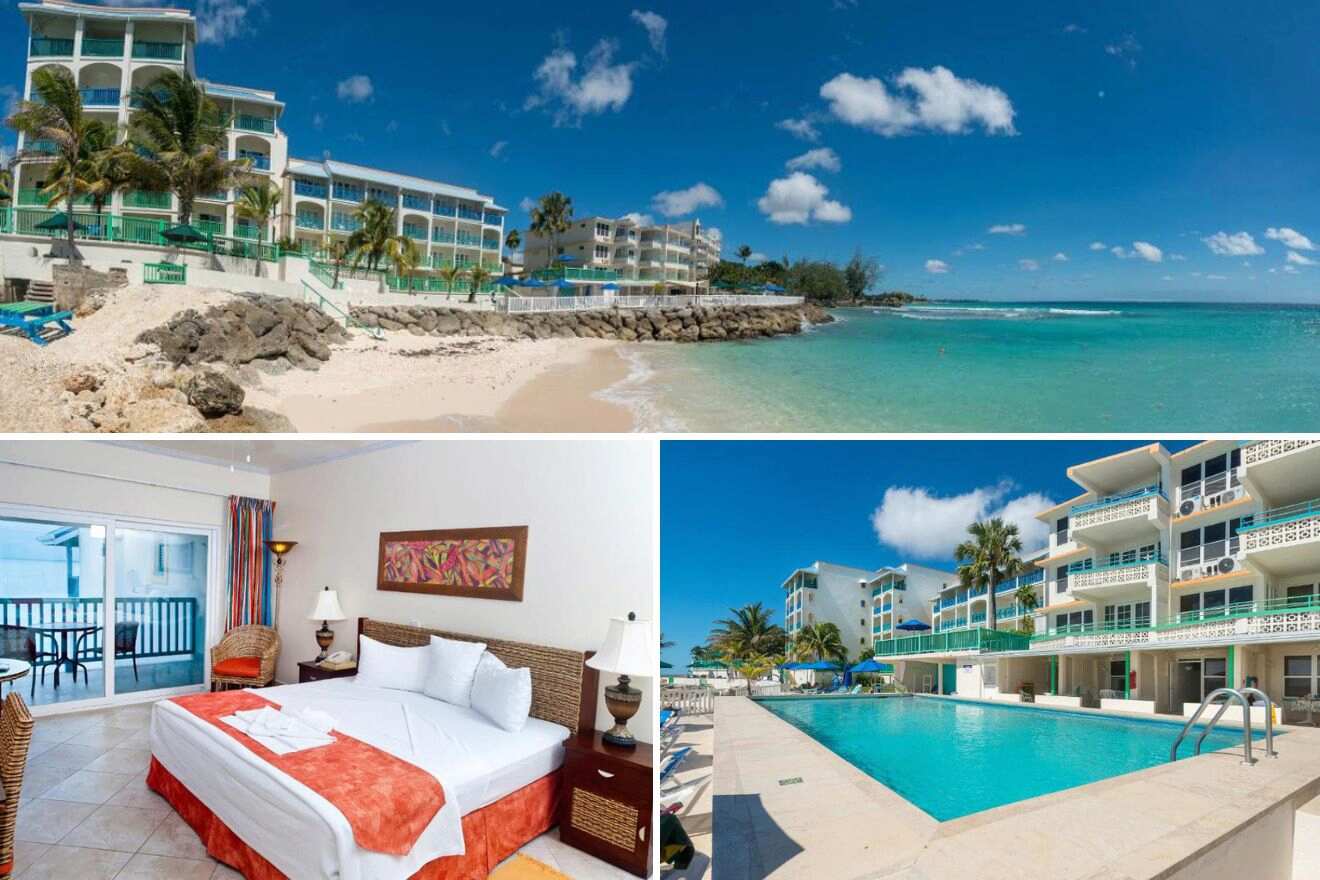 Just looking at the photos of this resort, I go into vacation mode! Located in the Christ Church Parish on the beachfront, this colorful hotel offers its guests an amazing outdoor pool, an onsite restaurant and bar, live events and performances, a fitness center, and board games for the kids to play!
The hotel offers a couple of room options for families. All of them can host a maximum of 4 guests, and all of them come with a private bathroom with a bathtub, air conditioning, a flat-screen TV, free Wi-Fi, a coffee and tea station, and some rooms have a private kitchen! Room service is available in every room!
14. Coral Sands Beach Resort – Caribbean style by the ocean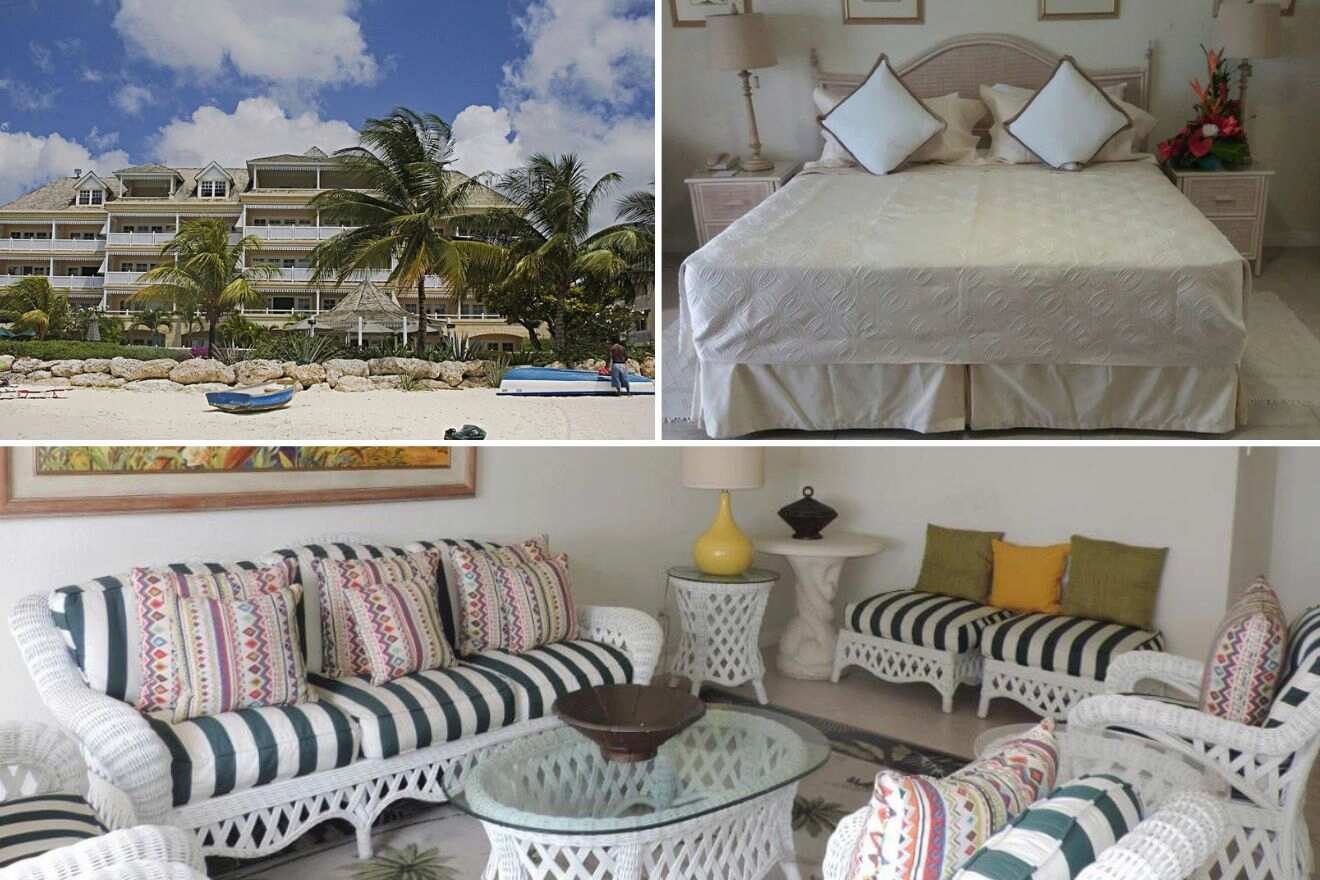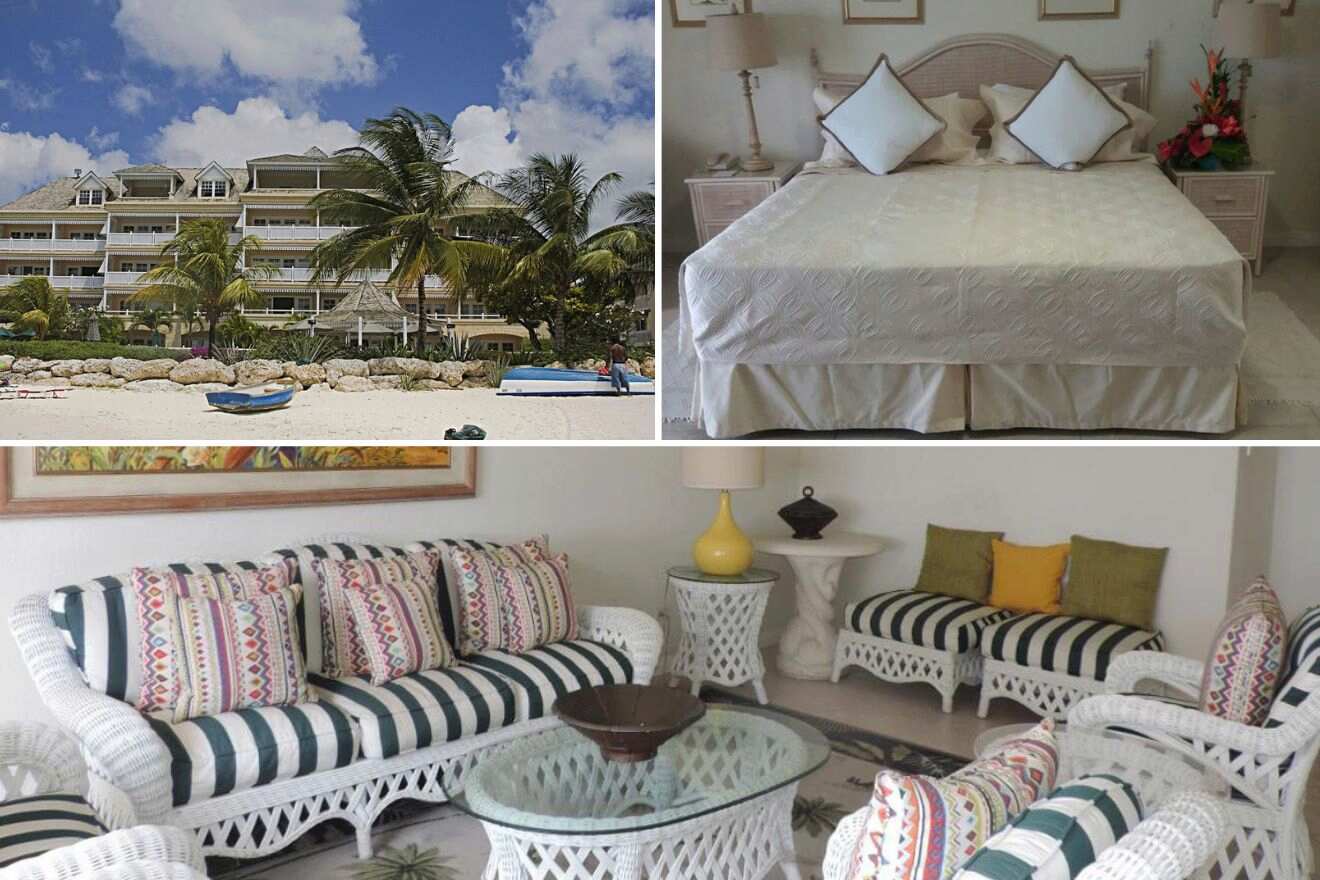 I love this hotel's Caribbean-style decor and architecture, all the colorful touches, and the white wicker furniture, giving the entire place a special touch! At the front of the resort, there is an amazing lush garden that leads into the hotel's beachfront, where you can relax and sunbathe while your kids play in the sand! The hotel has an outdoor pool, and breakfast will be served every morning to guests.
They offer 2 types of rooms, one admitting 2 adults and the other one for 3 adults. By the time of booking, select the number of kids and ages, and the extra fees will be added for them! Both rooms have an amazing view of the ocean, a balcony, and a private kitchen!
FAQs about Barbados family resorts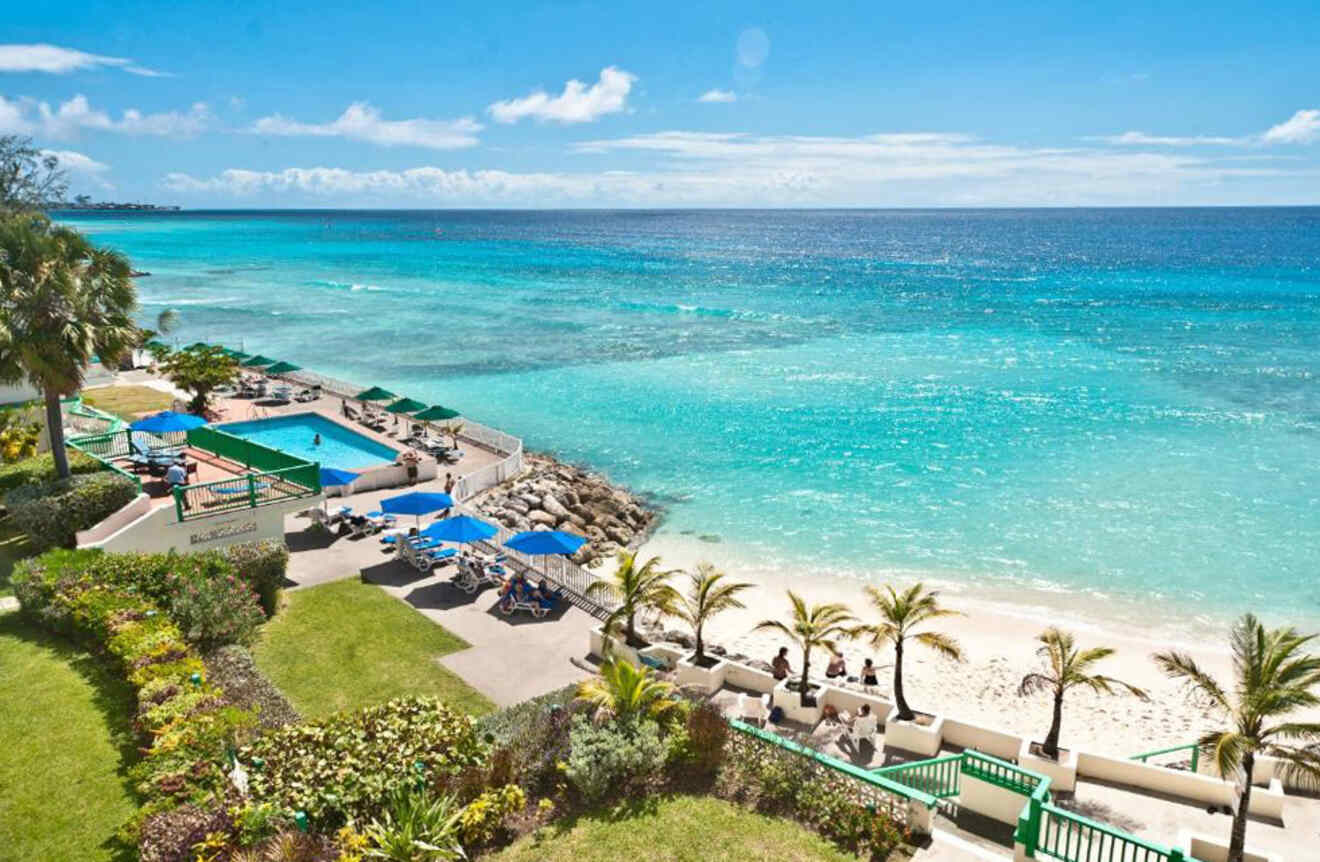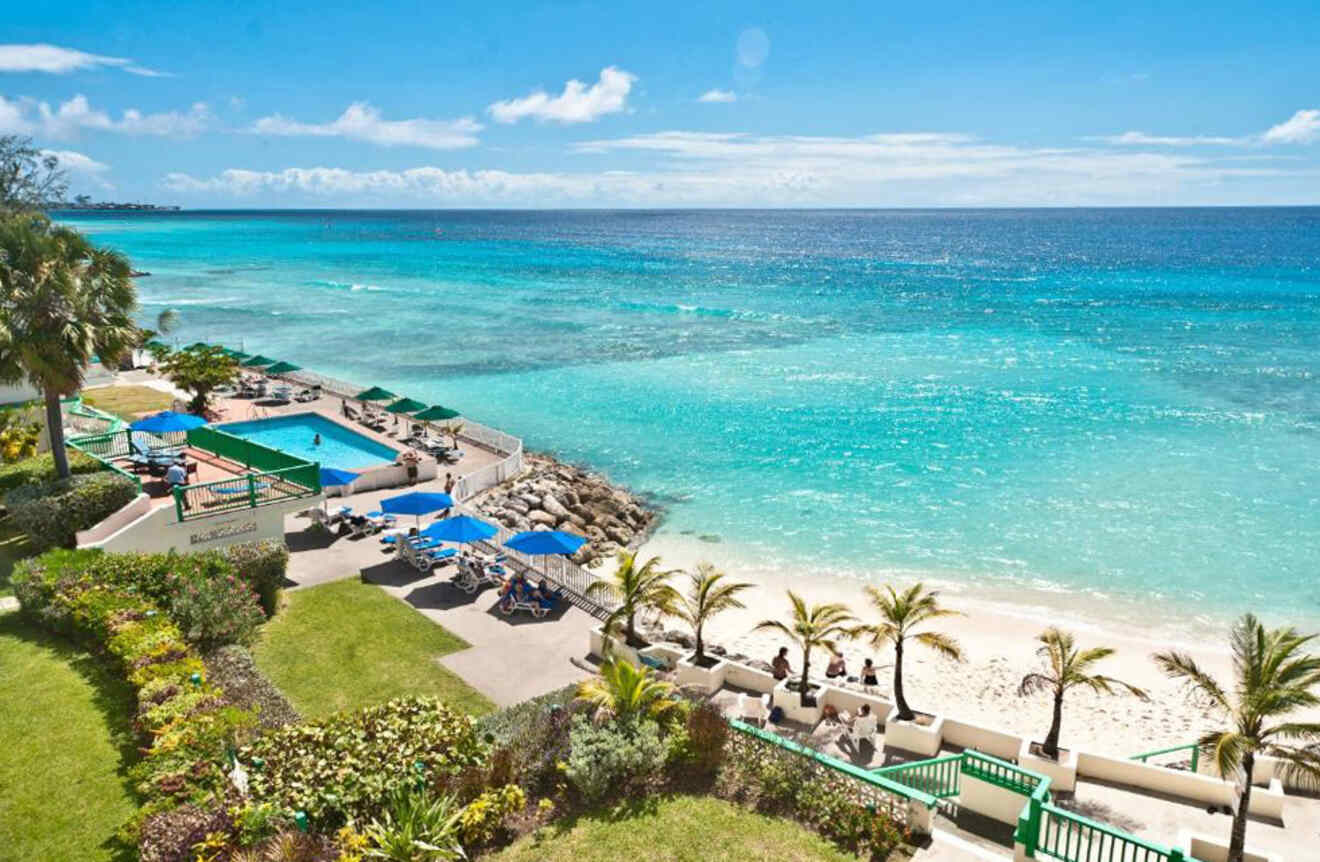 Conclusion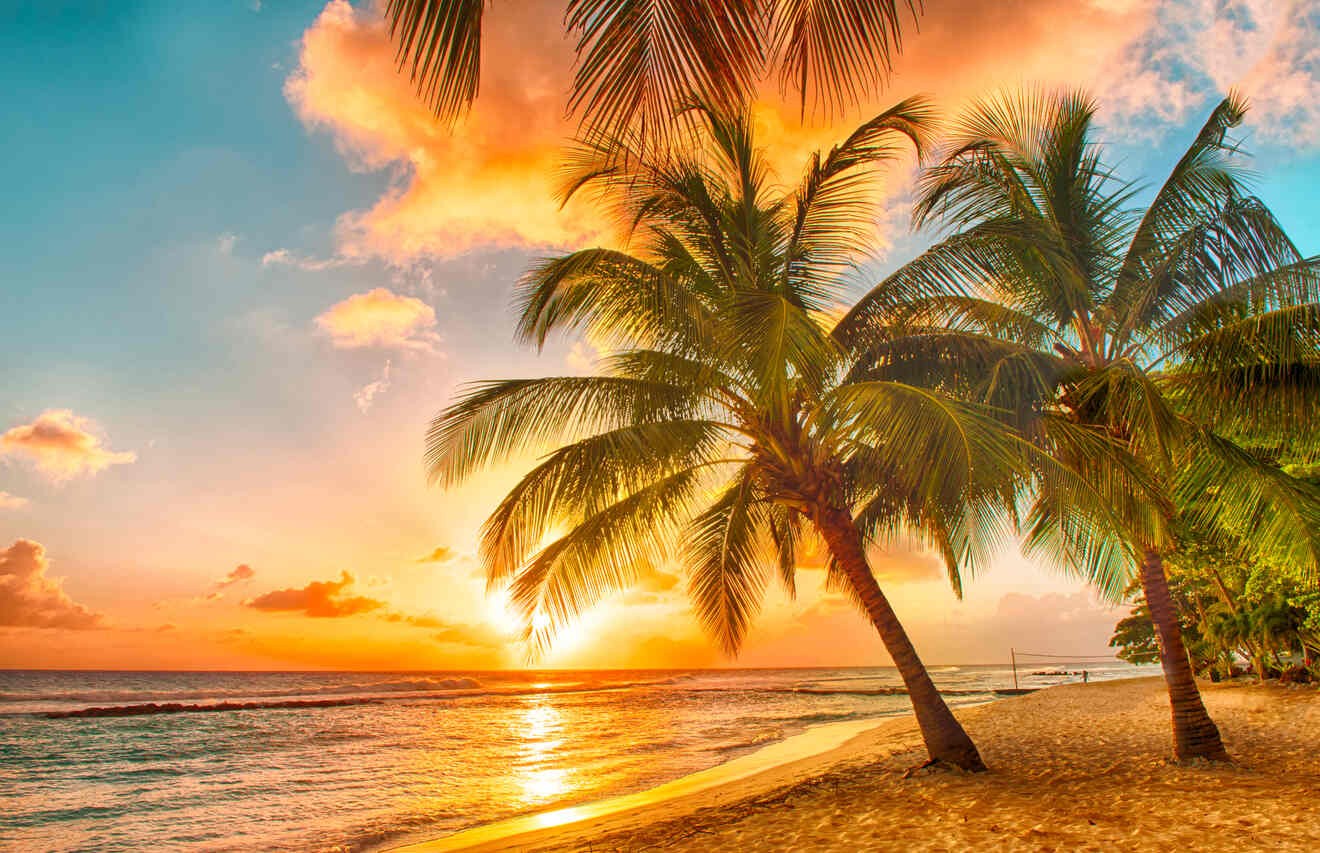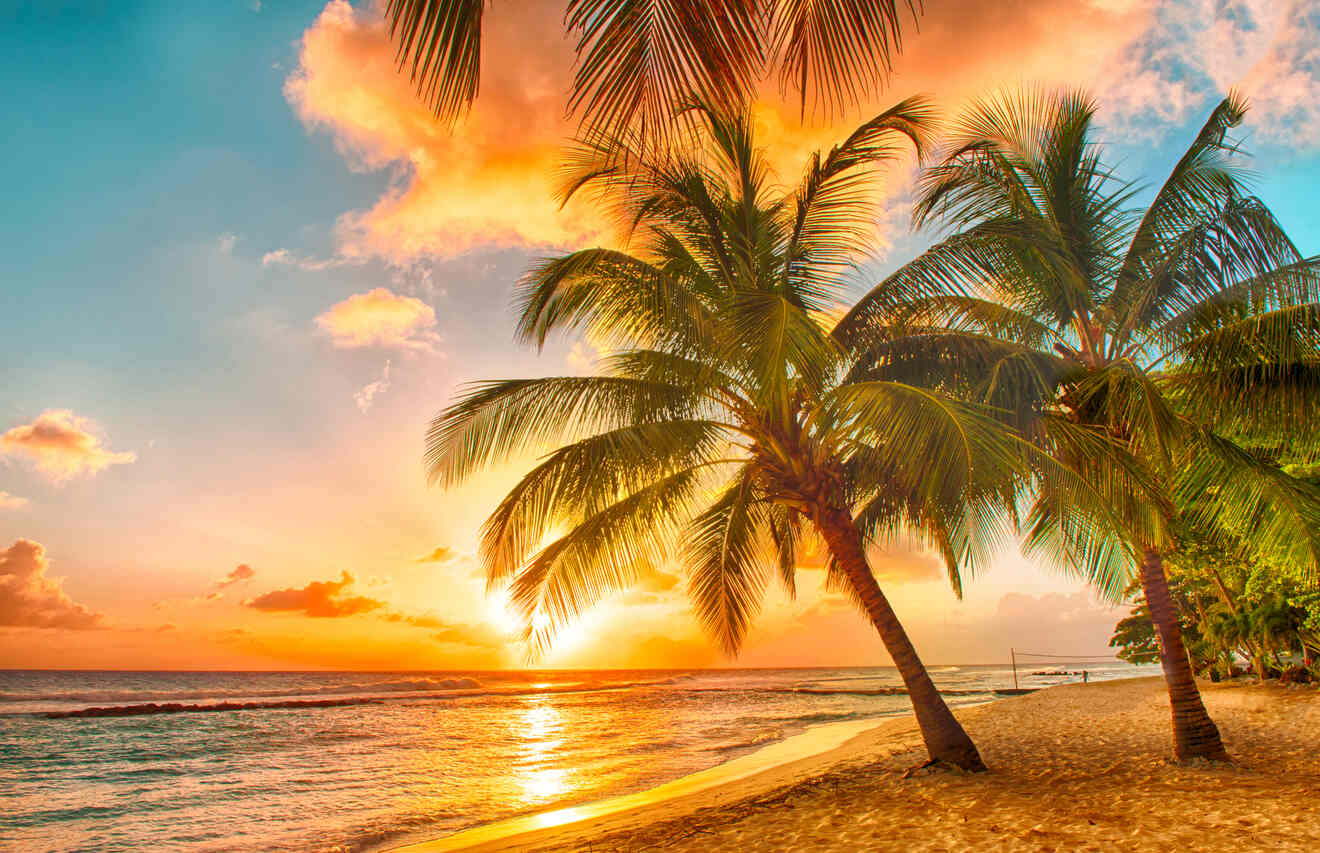 That is gonna be all for today, my lovely humans! Those were the best Barbados family resorts! I have covered a wide range of kid-friendly hotels for you and your family and added a few cool all-inclusive resorts, so I am 100% sure you will find an amazing option that fits your needs on this list!
Honestly, all of these hotels are in a great locations and offer amazing amenities, so I would feel super lucky staying in any of them, but if I had to choose my top 2 favorites, I would go with:
The Sandpiper – This one has an amazing style and top-class amenities, and it is located on Saint James beachfront!
Sea Breeze Beach House – This is one of the best options for families, and the decor is super fresh and chic!
Which of these family-friendly resorts was your favorite? Let me know in the comments, I love learning about your trips! If you have any questions as well, feel free to ask away!
Like I always say, book your hotel rooms as soon as you make a choice! The resorts featured in this post are the best ones in the area, so they get booked super fast!
Have the time of your life with family,
Daniela
---
Pin it for later!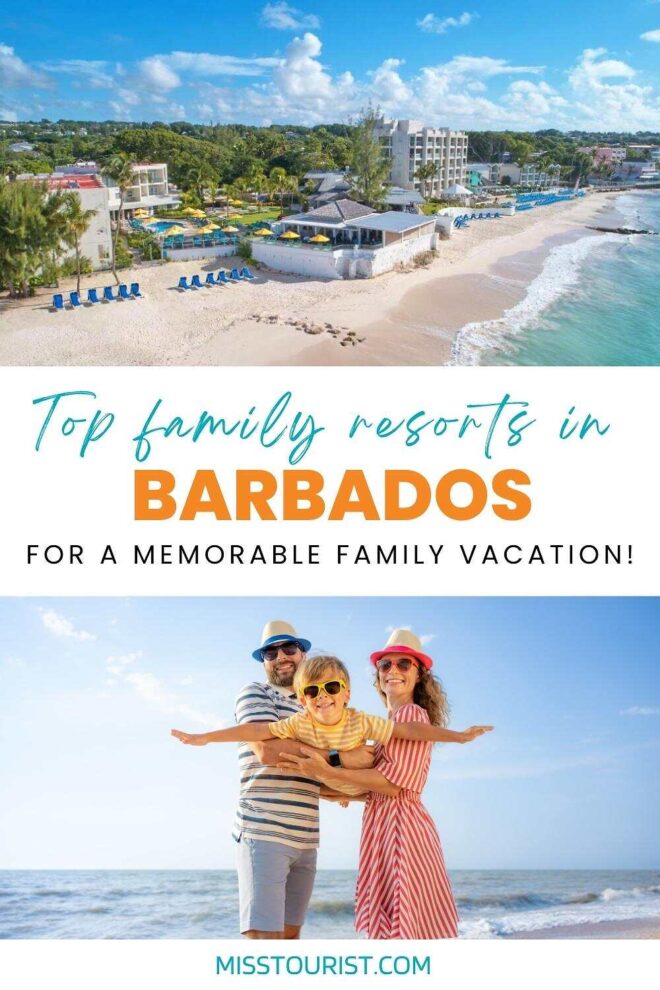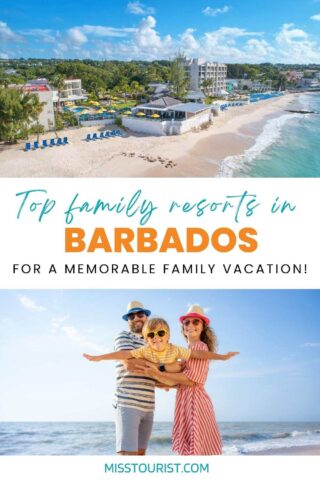 Pin it for later!