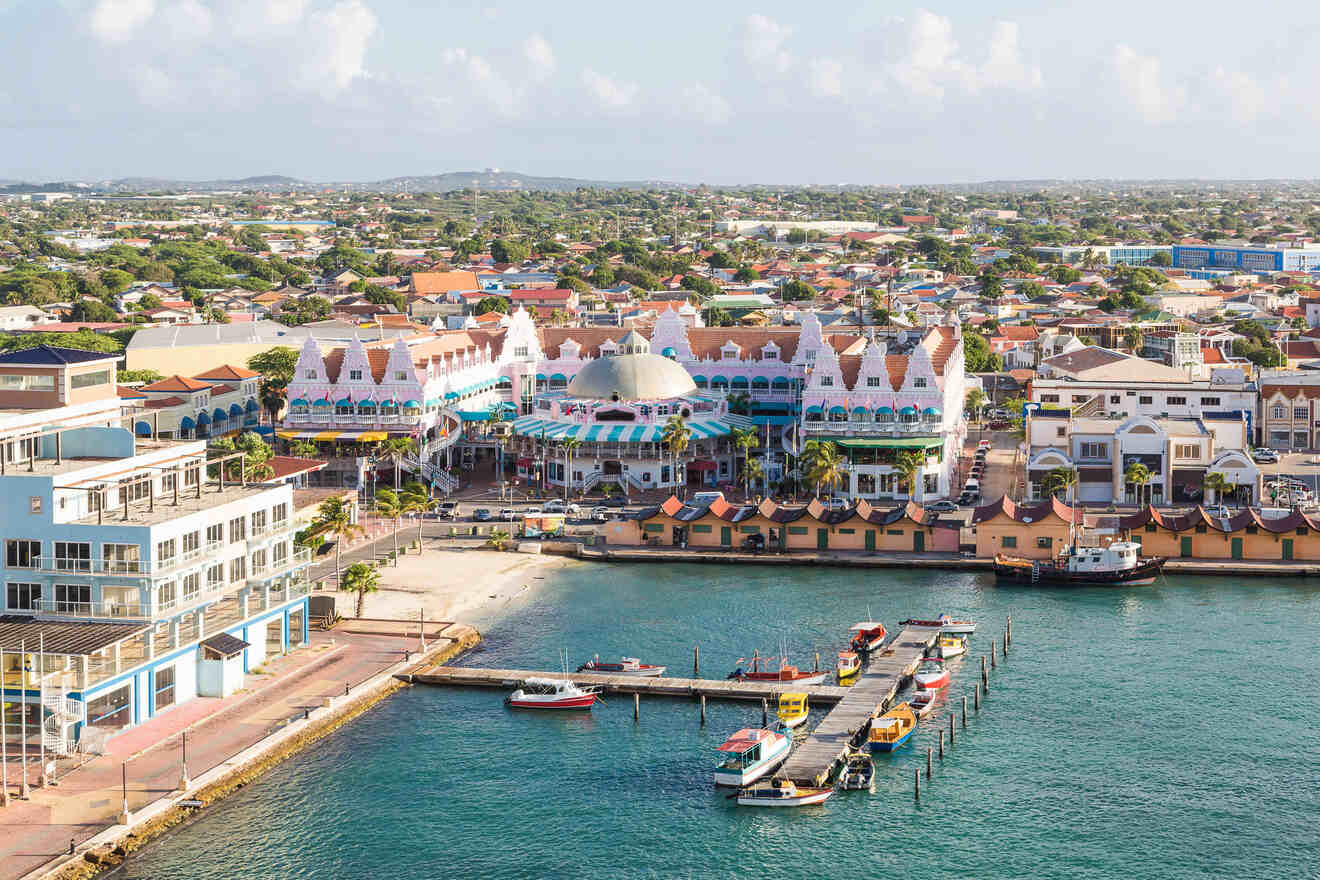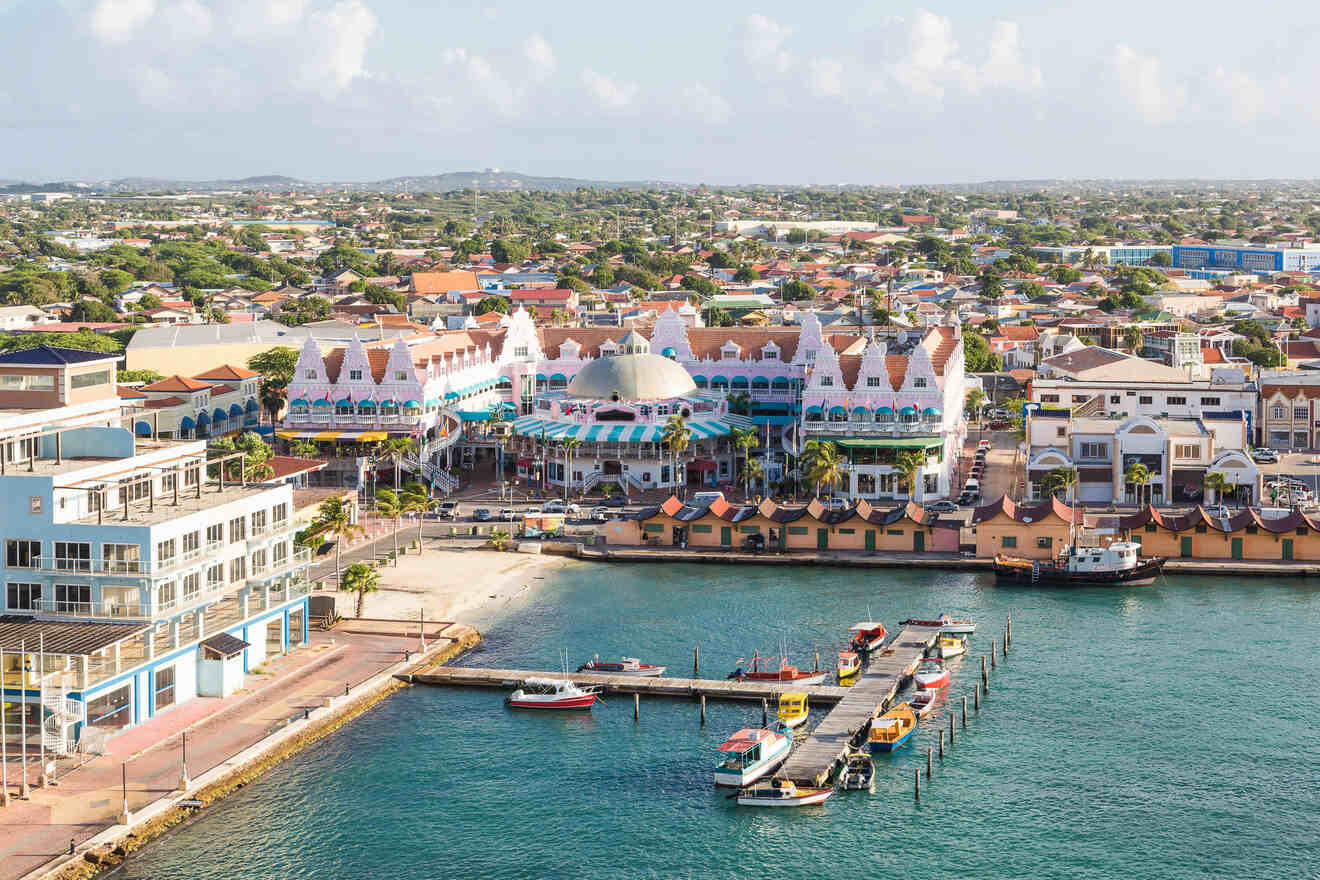 Known for its beautiful clear water and pristine white sands, Aruba is the perfect Caribbean destination for your next trip! Can you believe this place is also known as the "Island of Giants"? The native Caquetío people who traveled from Venezuela to the island are the source for the nickname, although they weren't really giants, the Caquetío were much taller than the European explorers who arrived later on the island.
FUN FACT: Aruba is actually a part of The Netherlands, something many people don't know before visiting this Caribbean paradise!
If you're still having second thoughts about visiting Aruba then I'm pleased to tell you that their slogan is "One Happy Island" so here's to being happy 24/7 somewhere on the beach! But don't worry if you're a person who still wants to see some green nature and animals, you will simply adore the Bubali Bird Sanctuary and the butterfly farm. For those who prefer word-class facilities, the high-rise hotel area in Palm Beach will take your breath away, so you should book in advance as these hotels sell out quickly!
In this article, I will cover the best hotels, beaches, and neighborhoods where to stay in Aruba for each type of visitor. I will talk about which beach is the nicest, what hotel has the greatest reviews, and what casino you should first hit in the city.
Whether you've come here for some island fun or to go on a cruise I've got all the info you need so hop on and let's start!
If you are in a hurry
Here you can find some of the best hotel choices for your next trip to Aruba. Best of all, they are located in the most popular area, Oranjestad (Downtown).
Here is a map that will help you see all the areas in Aruba that I will be talking about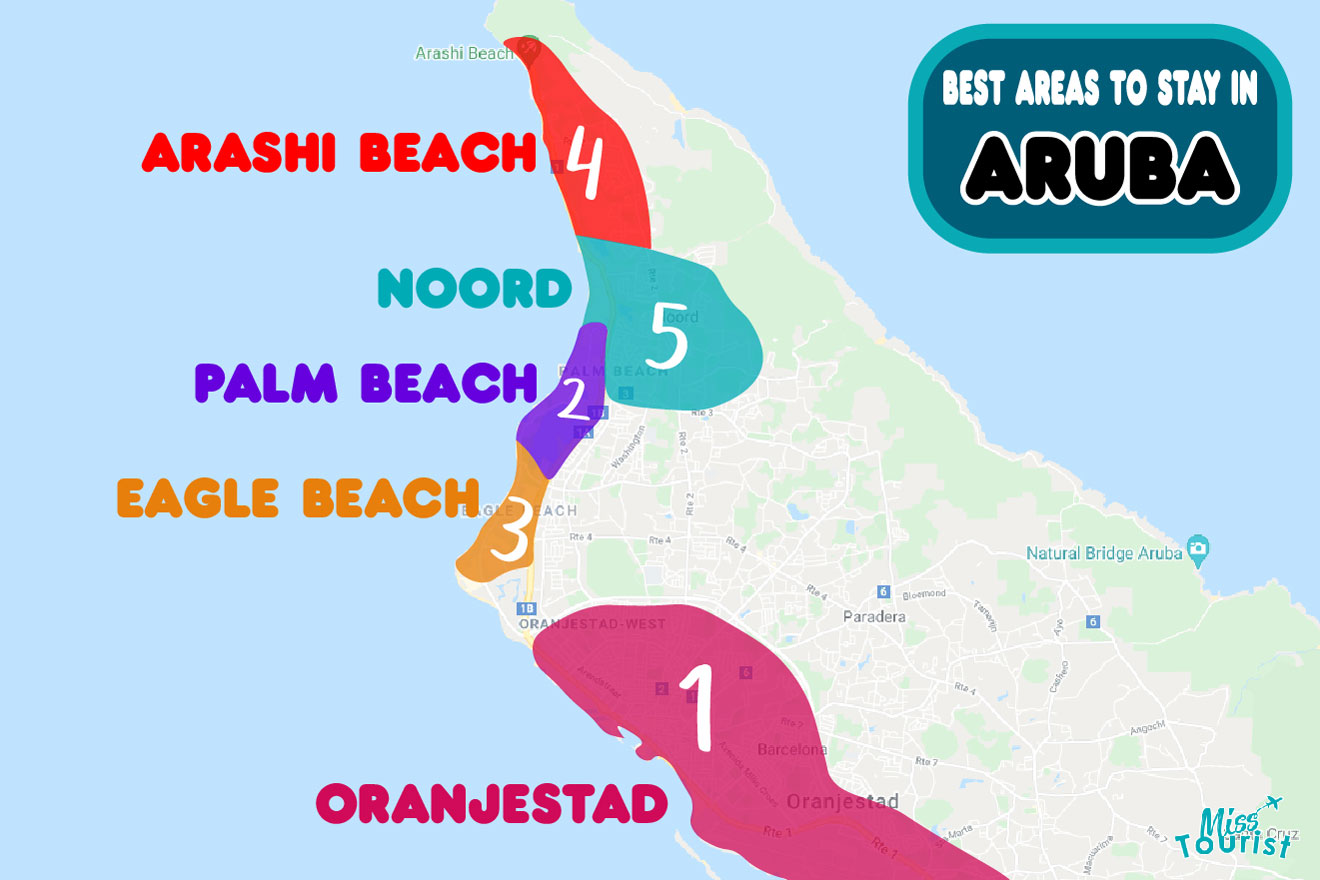 1. Oranjestad (Downtown) – where to stay in Aruba for first-timers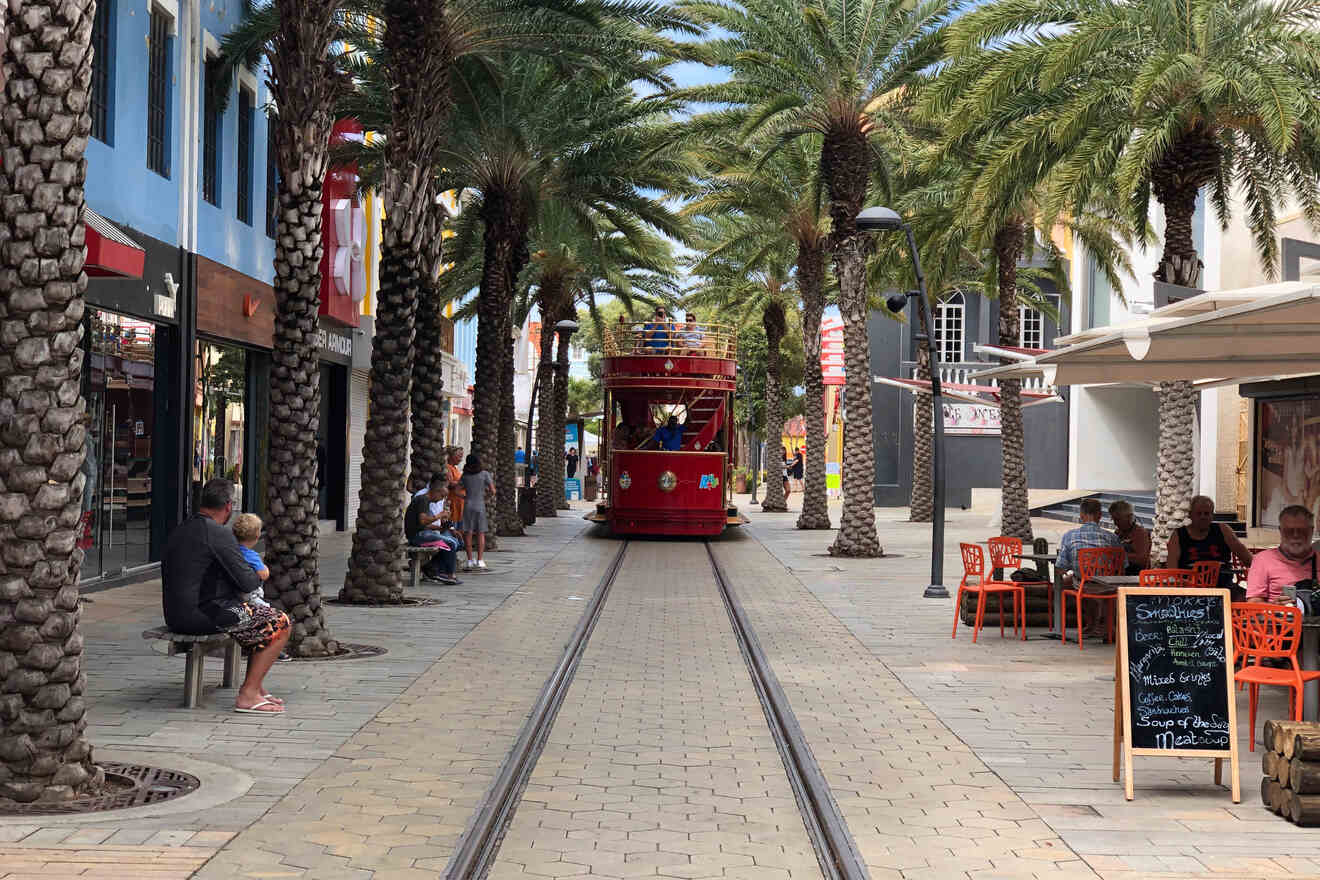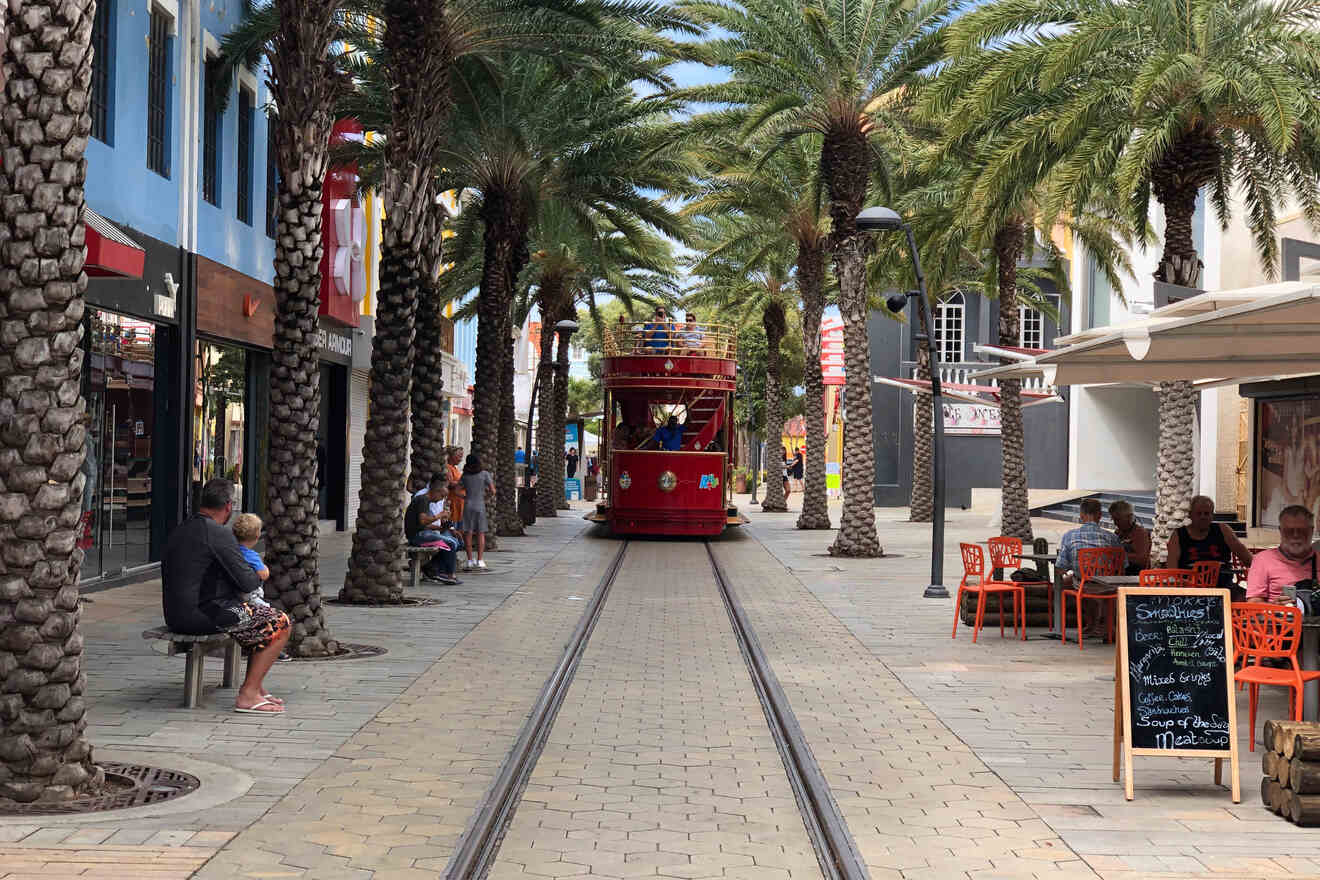 This city located on the coast has both modern and colonial vibes. Oranjestad is the capital of Aruba and it's also known as "Caribbean Amsterdam" that's because it has some of the most colorful buildings you'll ever see! Pink, blue you name it, this city has it all, plus some old-fashioned trolley cars! Get your camera, Oranjestad has some of the best hotels on the island and you can hit the casino anytime!
Set on the southern coast of the island, the town is a dream for history fans. One of the best places to stay if you want to experience the authenticity of the island but also like the urban atmosphere. If this is your first time here and want to have a taste of everything then Oranjestad is the place for you, it has late-night entertainment, nightclubs, casinos, and boutique shopping. There's also a selection of restaurants and bars but as a popular port of call for cruise ships, it can get a little busy at times, so make sure you book in advance as this is a famous area for all tourists!
I'm sure you saw a million pictures of pink flamingos on a beach with beautiful turquoise water, and I'm sure you're itching to go there. Yes, it's in Aruba, but you can only find them on a small private island which is part of the Renaissance Hotel (my choice of luxury hotel). But don't worry if you're not staying at the resort, you can buy daily passes to spend some time with these cute flamingos!
Luxury hotel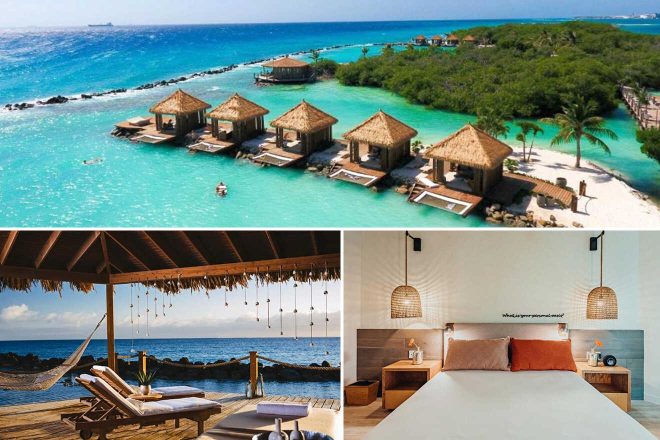 Aruba's corner of paradise, an island beach resort that has many restaurants and the famous pink flamingos. Here you can try scuba diving and kayaking on the beach, they have some amazing swimming pools and a full-service spa! Imagine drinking your morning coffee in the water hammocks with your loved one, a perfect way to start the day. The design at Renaissance Aruba resort is simple and modern, with some ultra-romantic spots
Other accommodation options in Oranjestad
mid-range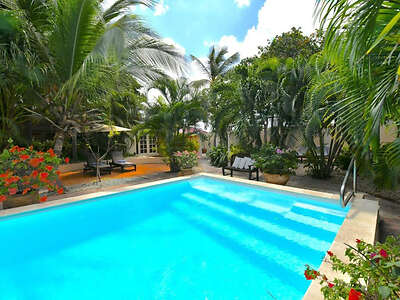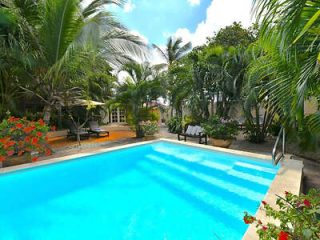 Wonders boutique hotel has a swimming pool, free parking with a garden view, and breakfast
budget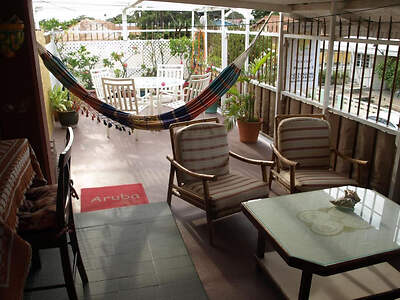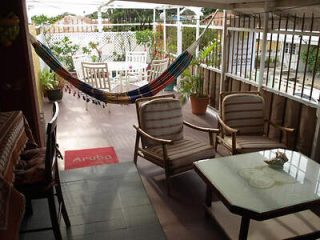 Located within walking distance from the island's coast with a kitchen and restaurants nearby
airbnb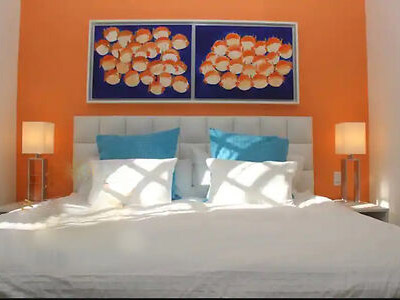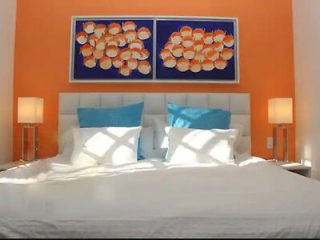 Stunning beachside suites, great for couples with lots of dining options
Things to do in Oranjestad (Downtown)
2. Palm Beach – where to stay in Aruba for the best nightlife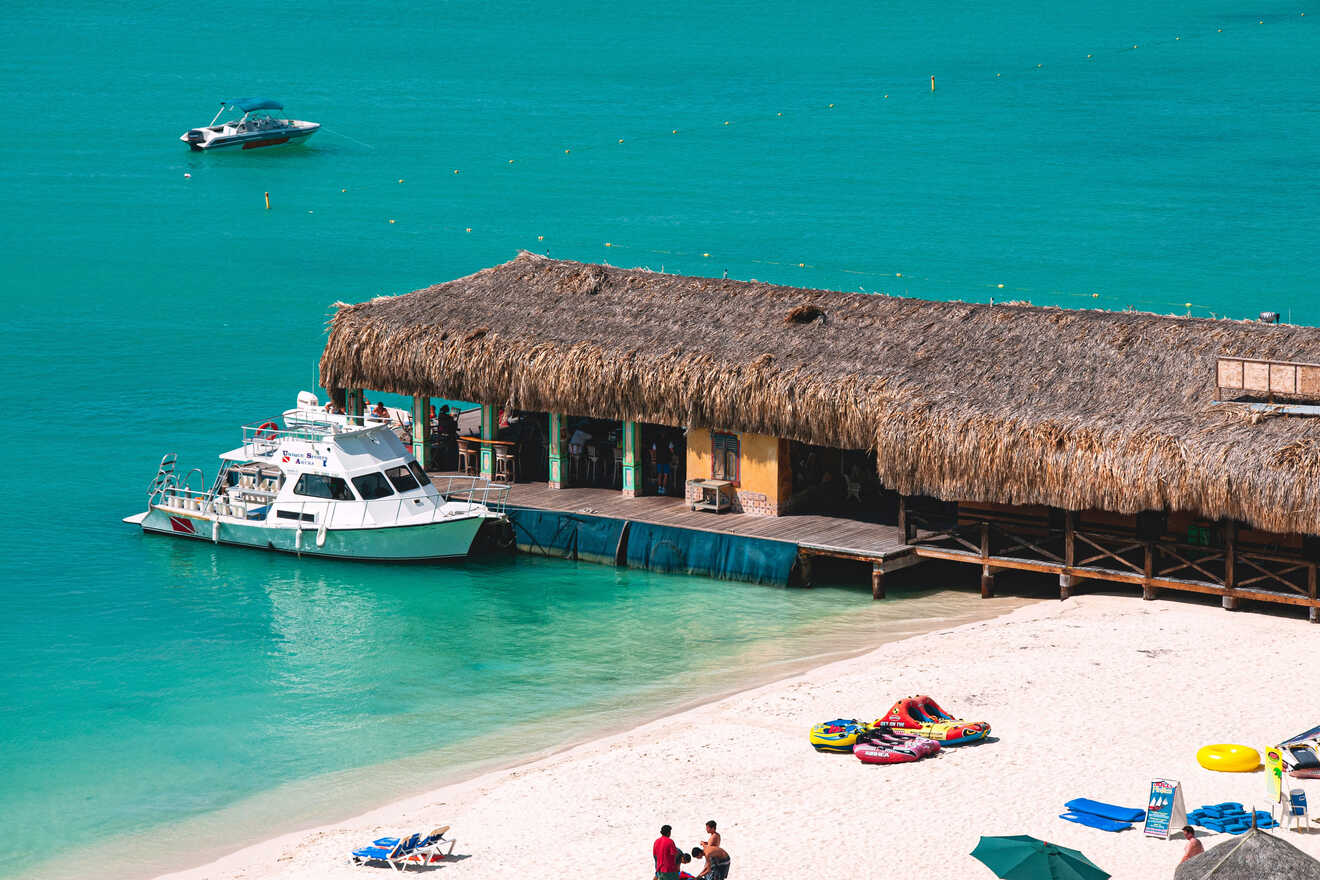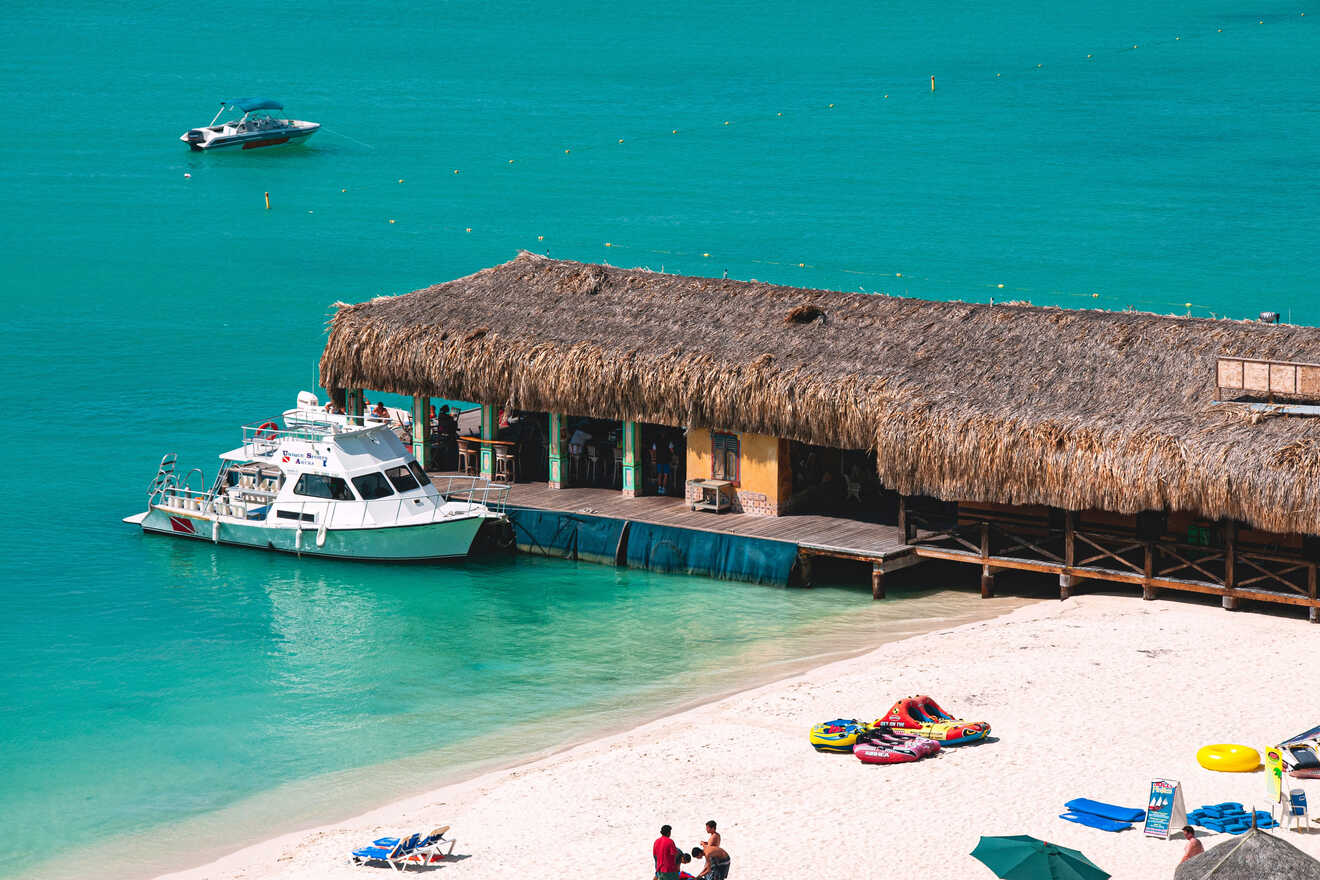 Located on the northwest coast, Palm Beach is one of the best places to stay if you're looking for some beach fun and wild nightlife. I highly recommend this area as you'll find tons of resort hotels and beach bars that are within walking distance of restaurants serving the best fish you'll ever try, plus traditional Caribbean food! If you want to stay in Aruba and you love partying then Palm Beach is the place for you!
Imagine yourself sipping cocktails here, under an umbrella while you admire the beautiful turquoise water and enjoy a pink-colored sunset. You will spend the most amazing fun nights here and I'm sure you'll dance the whole night. The hotels in Aruba are amazing on this side of the island plus there are many water sports for you to try. If you're looking for more island fun check this article with the best places to stay in Punta Cana.
Luxury hotel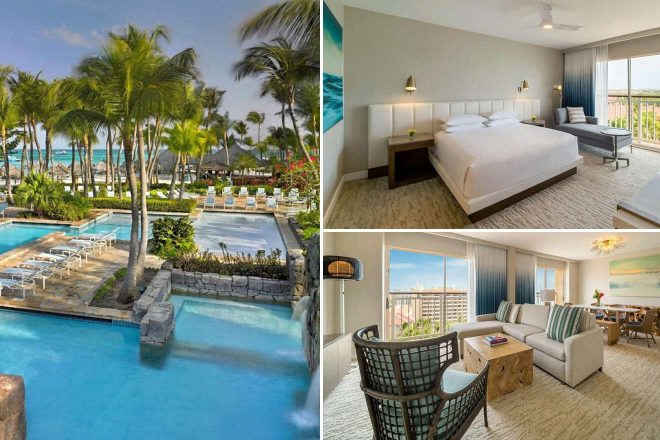 Wake up in paradise at one of Aruba's best resorts, this tropical beachfront hotel is located right on Palm Beach and is a great choice for nature lovers. The private rooms have a minimalistic white decor and I just love the huge plush sun loungers in the pool! Aruba's best vacation spot, adults can buy souvenirs on-site and have access to yoga classes
Other accommodation options in Palm Beach
mid-range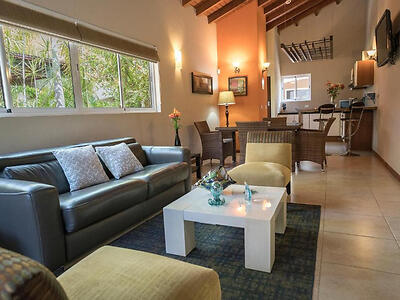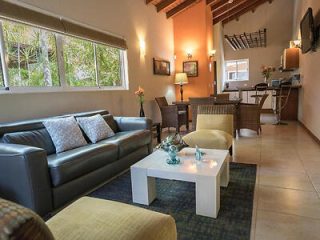 An inclusive tropical hotel that has an outdoor pool and free wifi
budget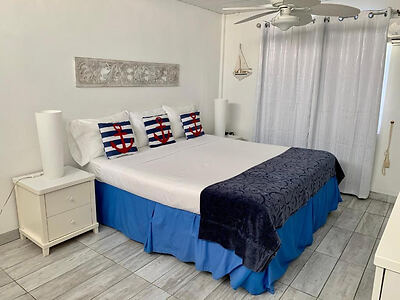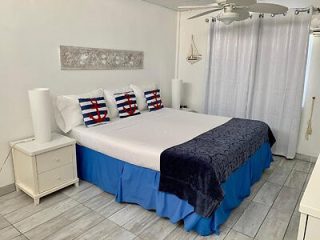 Palm Beach home with patio, pool, garden, and an equipped kitchen
airbnb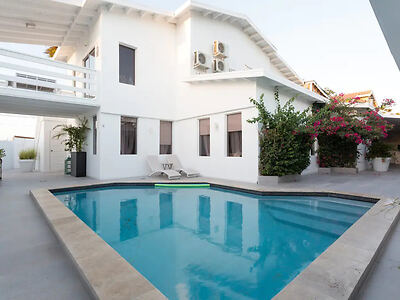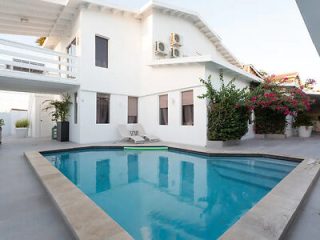 Cozy apartment with air conditioning and a good restaurant nearby
Things to do in Palm Beach
3. Eagle Beach – best place to stay in Aruba on a Budget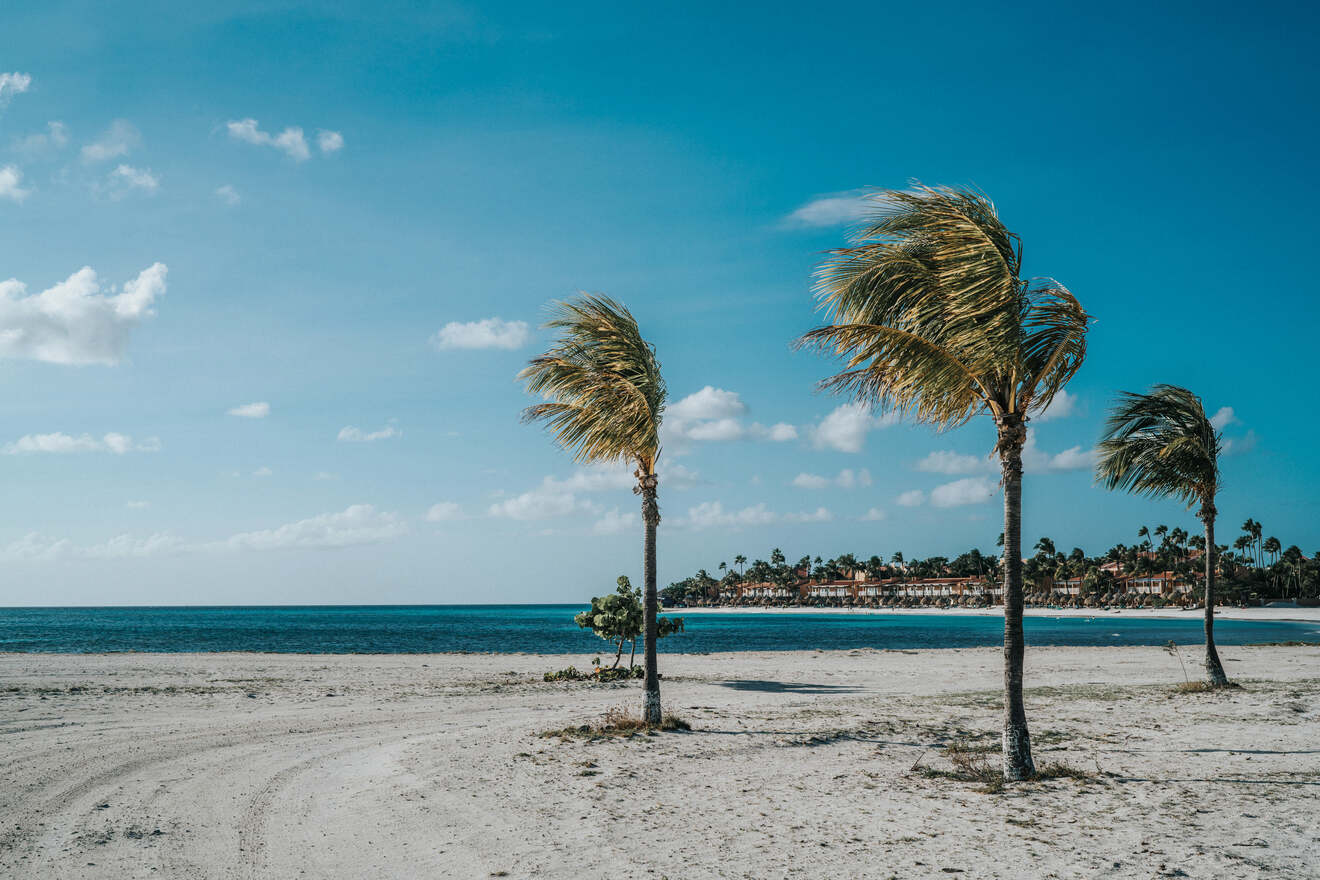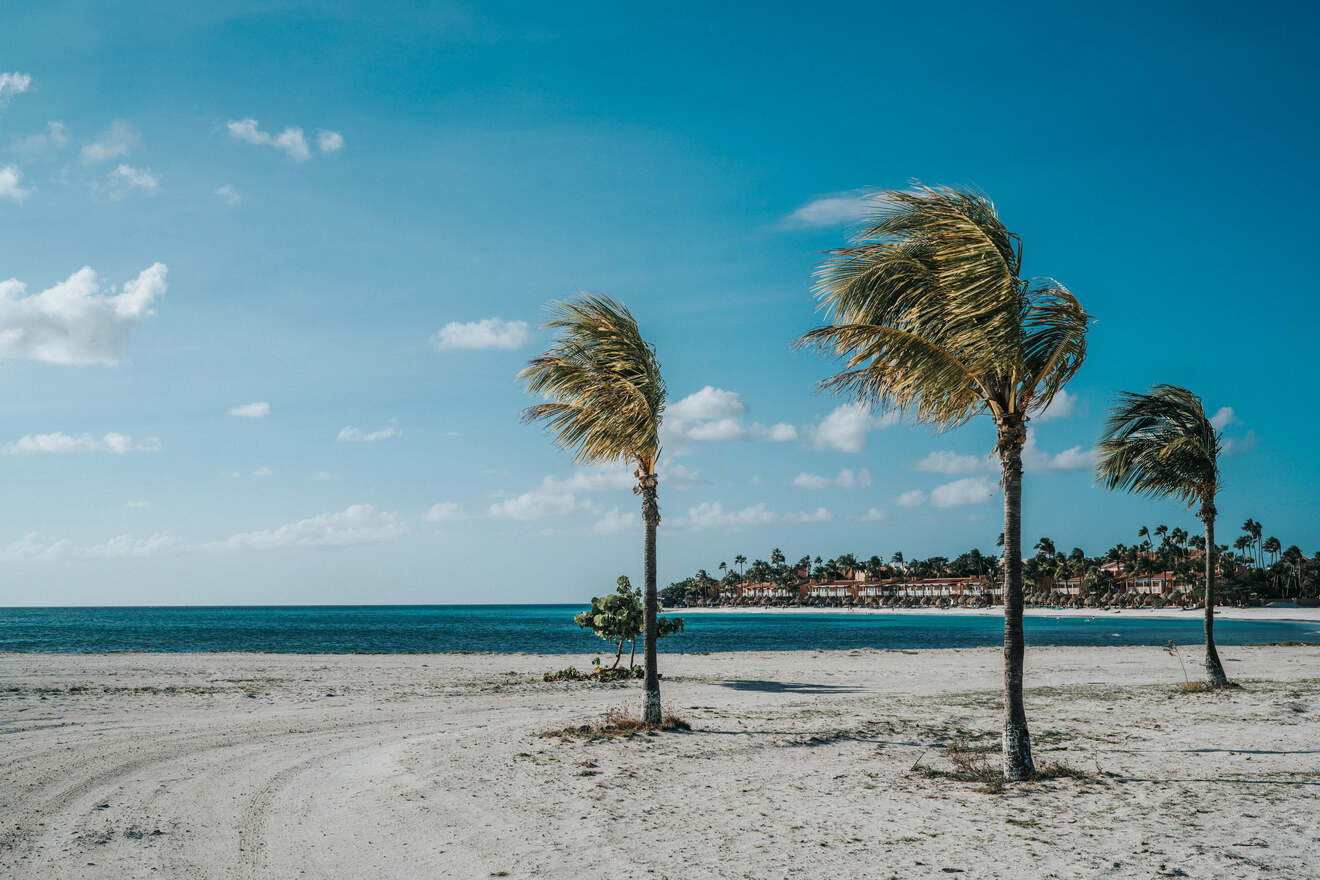 Eagle beach can be your choice if you love a pretty sunset and calm water, located just a 15 minutes drive northwest of Oranjestad. Access to this white sand, west side beach in Aruba is free and open for the public 24/7. Travelers who are coming to vacation here on a budget, you're going to love this warm area and it has some great deals!
All the Caribbean beaches are beautiful but this one is unique in its own way, the atmosphere is very laid back and you'll find the Fofoti Tree, plant enthusiasts this ones for you. Get ready to take some amazing pictures here, the views are the best!
You'll find lots of activities for adults or for families. You can spend some relaxing, quiet time on the white sand or go swimming or snorkeling. Nature lovers don't forget to visit the butterfly farm and the Bubali Bird Sanctuary!
If you're not a big fan of large hotels, Eagle beach and Aruba in general also have some great Airbnbs you should check out for some more authentic houses.
Luxury hotel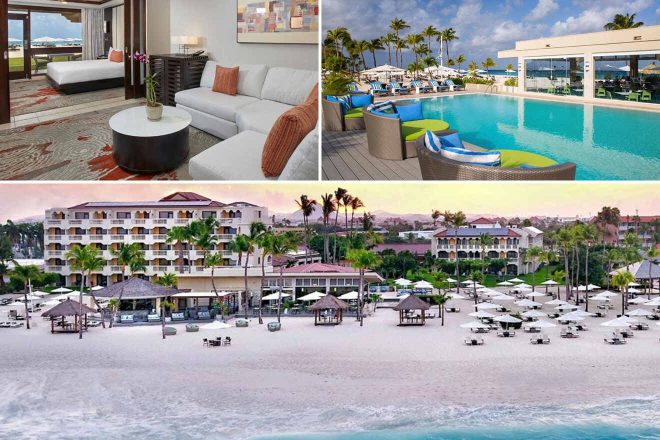 A stunning resort located on the beautiful white sand of Eagle Beach, every adult will love this tropical place. You can always count on the happy hour at the bar or maybe relax at one of the movie nights on the Aruba beach near the crystal clear water. The restaurants are amazing and you can have a romantic dinner in a private palapa! They have unique garden views, outdoor pools, and a spa
Other accommodation options in Eagle Beach
mid-range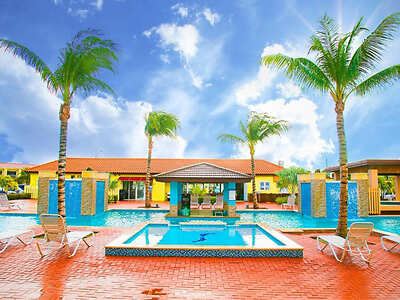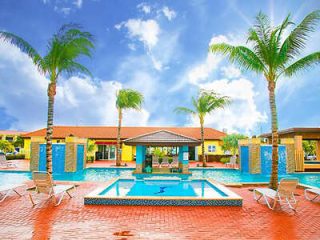 Located 5 miles from the airport, free parking, an outdoor swimming pool, and cozy private rooms
budget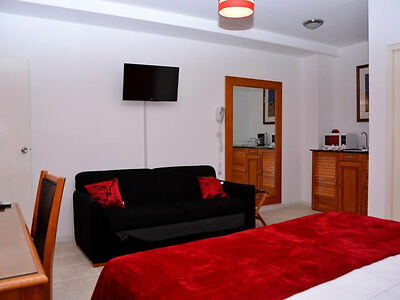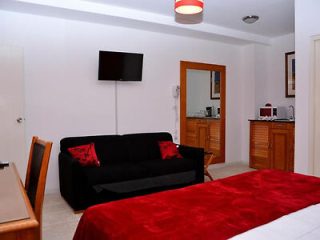 Great apartments for families, it's near the beach and has a kitchen, free wifi, and air conditioning
airbnb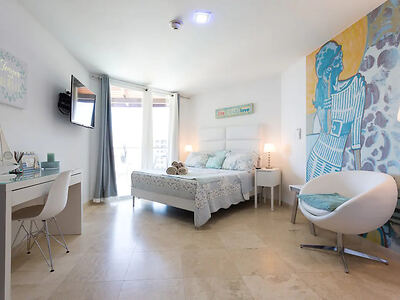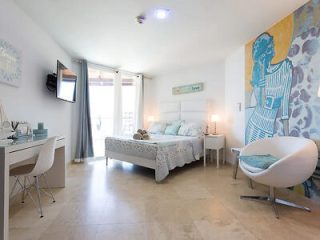 Inclusive rooms great for guests with a shared patio just a walk away from Eagle Beach
Things to do in Eagle Beach
4. Arashi Beach – where to stay in Aruba for water sports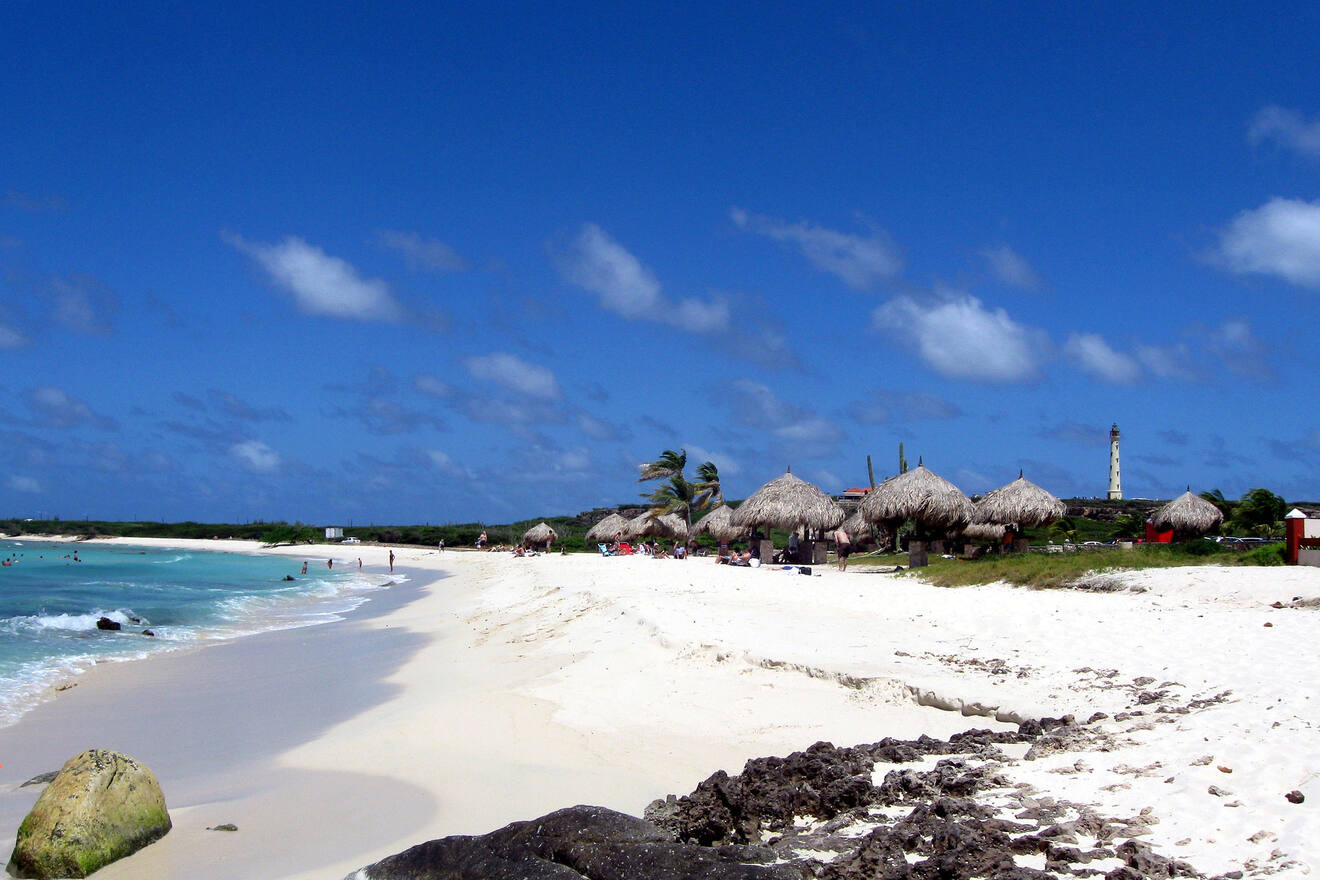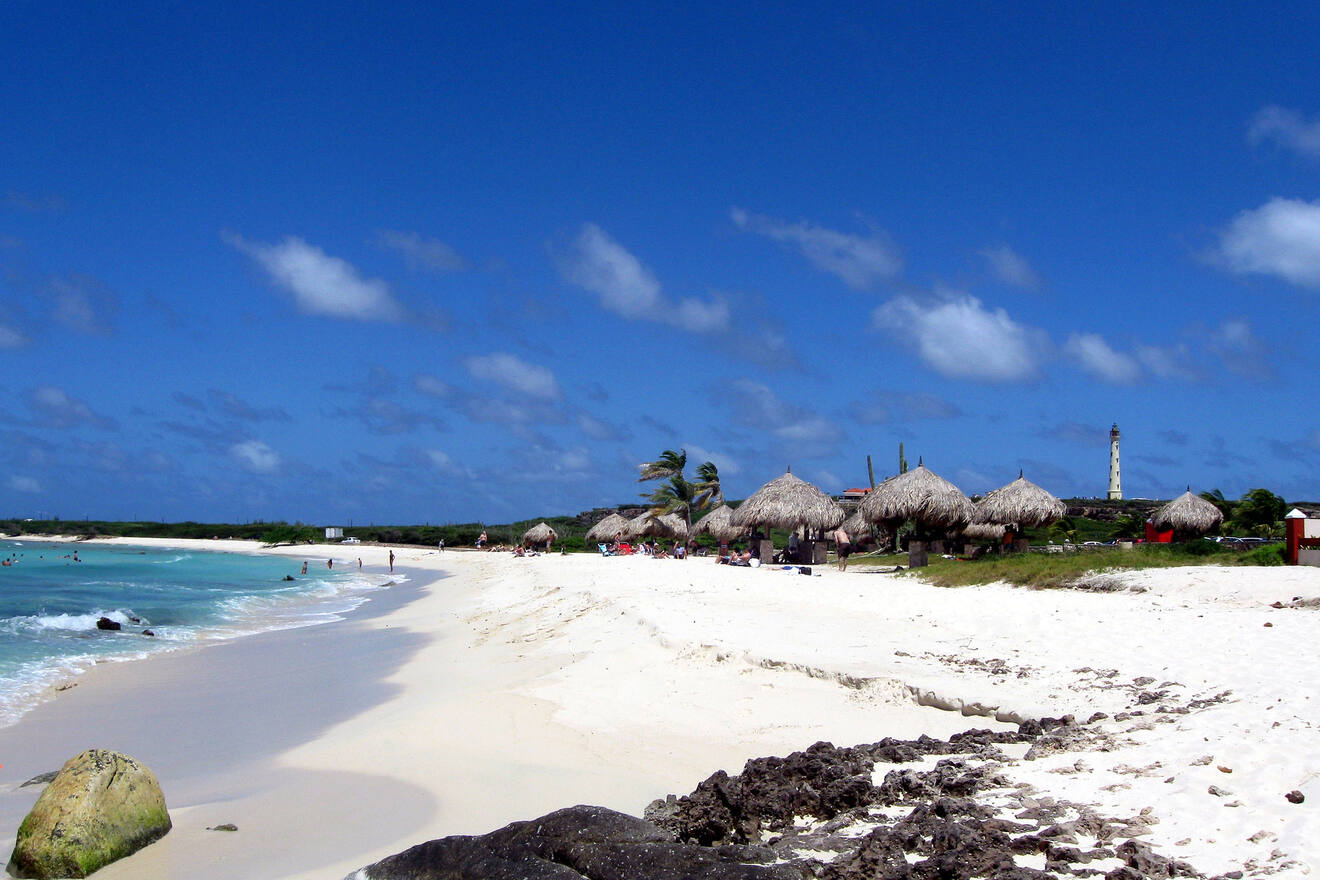 This beach is located on the north coast of Aruba close to the California lighthouse. Locals love this part of the Caribbean island and the beach area, so don't be surprised if you see families enjoying a BBQ or two on the weekends. Arashi Beach has rich marine life and is known as the best place to try snorkeling as the waters are crystal clear and have plenty of reefs, tropical fish, and shipwrecks!
Anyone who is looking for a place on this Caribbean Island to try any water sport, Arashi Beach is the best place for that for sure! Go visit the restaurants as well, try some traditional Caribbean food, and find some good hotels here. Make sure to catch the sunset from the California lighthouse for the perfect end to your day.
Luxury hotel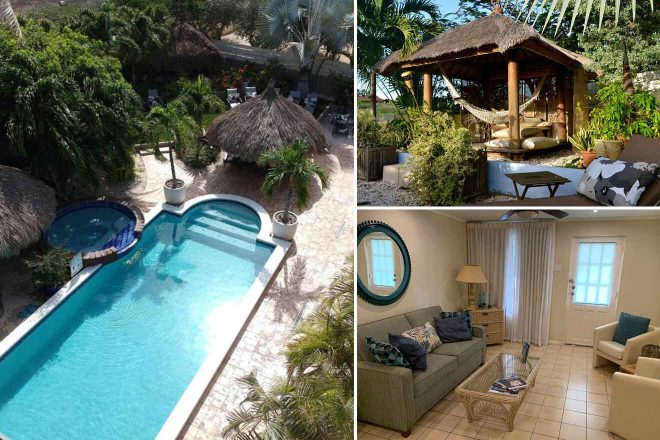 A quiet piece of paradise, these tropical apartments will make you feel like you're living in an island village. You have garden access and a kitchen where you can make breakfast or dinner. The adults will love the outdoor pools, there are also family rooms for travelers who have children. I just love how relaxing and calm this place looks!
Other accommodation options in Arashi Beach
Mid-range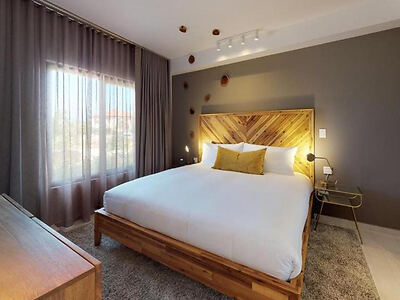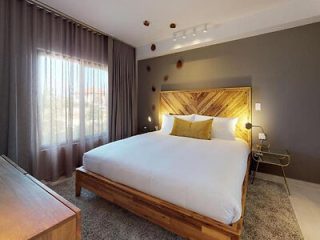 Great private apartments for travelers, with outdoor pool, free wifi, and garden access 
budget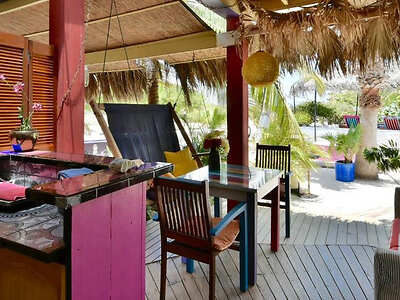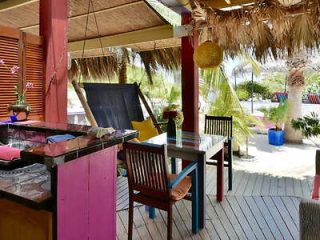 Beachfront villa on a budget that is great for families and has village vibes
airbnb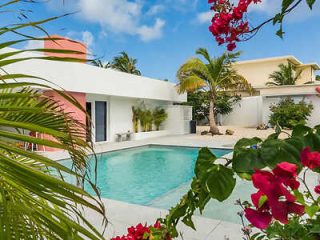 Relax in a hammock and have a BBQ in this modern designed apartment
Things to do in Arashi Beach
5. Noord – most stylish place to stay in Aruba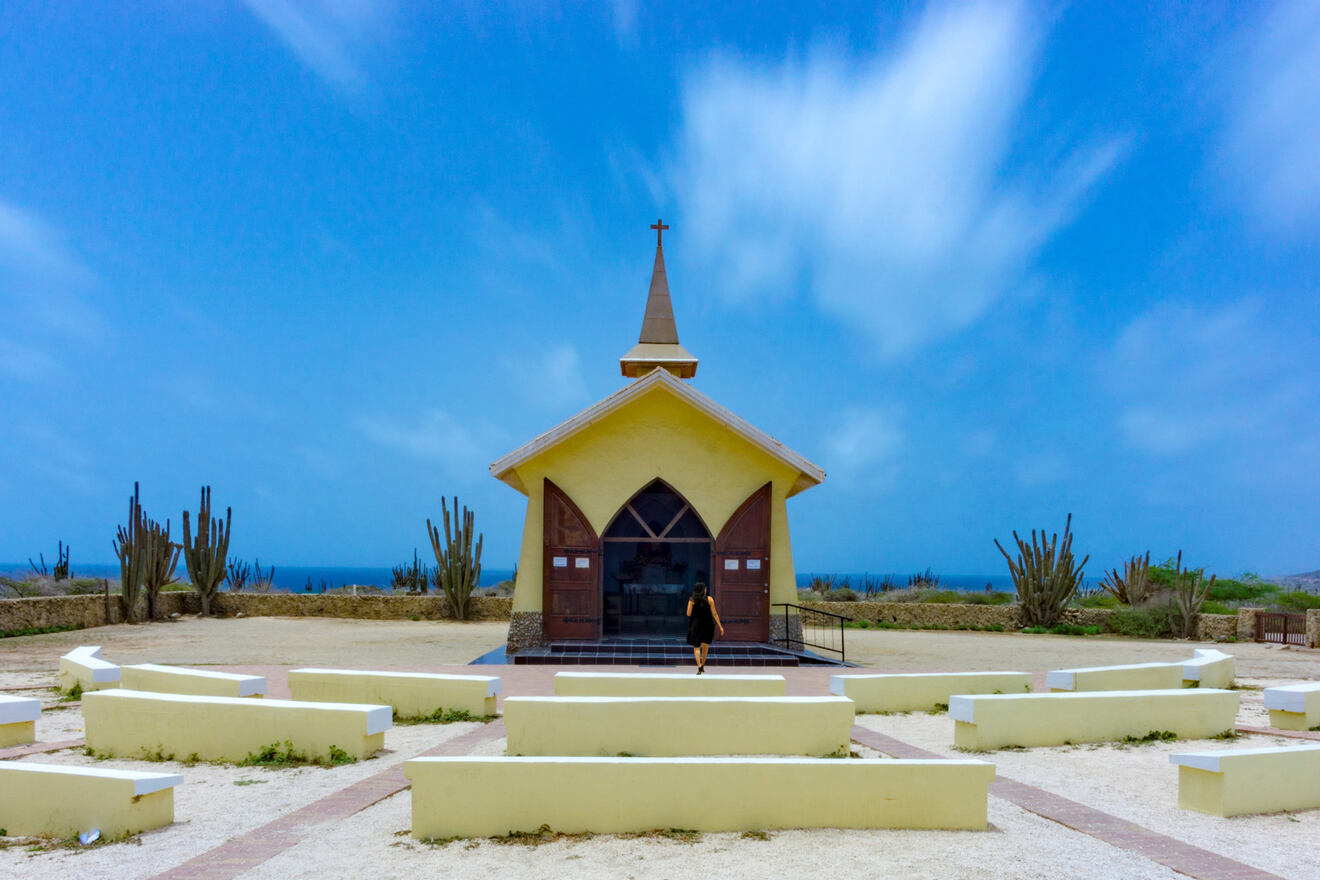 Noord means north in Dutch and although the whole northern part of the island is called "Noord", there is also a small town of the same name and I'm going to tell you guys about this area located northeast of Palm Beach. This part of Aruba is home to high-rise hotels and amazing beach resorts. This Caribbean vacation spot has some of the best restaurants, cafes, casinos, and shopping spots for tourists who like all their needs catered for. Escape in this paradise and enjoy Aruba's free-spirited attitude!
Because this is a former Dutch colony that is still part of the Kingdom of Netherlands, you won't find any language barriers as locals know almost 4 languages.
If we have any golf fans, then you should definitely check Tierra del Sol, it has some breathtaking views of the Caribbean sea and you can take lessons as well. This part of Aruba will always be packed with adventures and nice places to visit for those who want to learn some local history, don't be surprised if you will find guests in Noord all year round.
Luxury hotel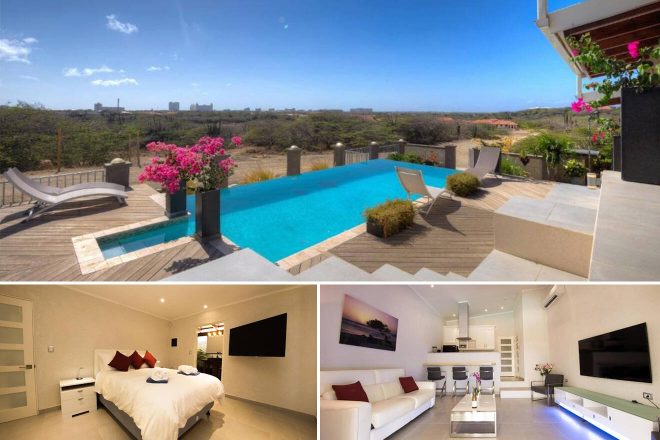 One of the best hotels in Aruba, this local style place is one of the best resorts known for its luxury and amazing city views. I love the outdoor pool and watching the sunset here should be amazing. Guests will enjoy taking a relaxing shower in this cool bathroom after a long day of sightseeing will make you feel like you're in paradise. The place is also very romantic and it's perfect for couples
Other accommodation options in Noord
mid-range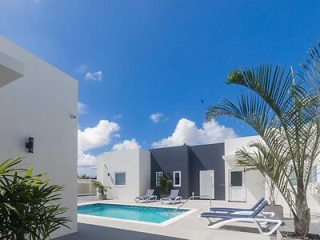 Simple rooms with garden views, the hotel offers shuttle service from the airport
budget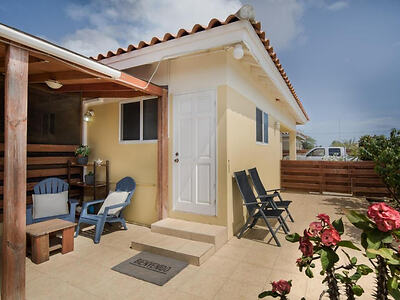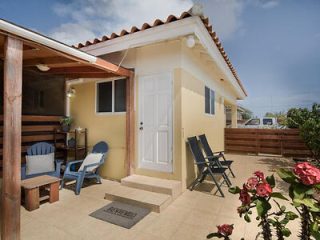 A cozy budget apartment with a kitchen for dining options and a colorful garden
airbnb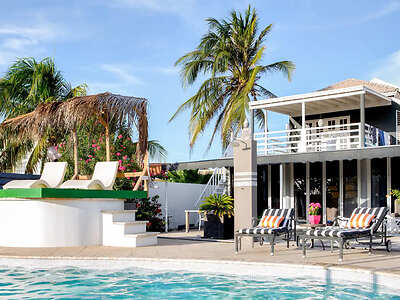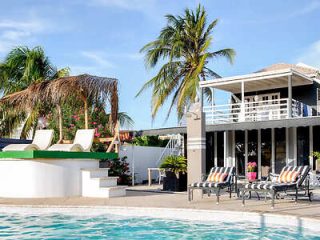 House with wooden accessories that has a pool and a pretty backyard
Things to do in Noord
| | |
| --- | --- |
| 👑 Luxury price: | $250 |
| 💵 Mid-range hotel: | $150 |
| 🛏️ Budget: | $70 |
| 🏠 Airbnb: | $150 |
| 💰 Accommodation prices: | Medium |
| 📍 Best Area: | Oranjestad |
| 🛎️ Best luxury hotel: | Renaissance Resort Casino |
| 👛 Best budget hotel: | A1 Apartment |
BONUS: A foodie's guide to Aruba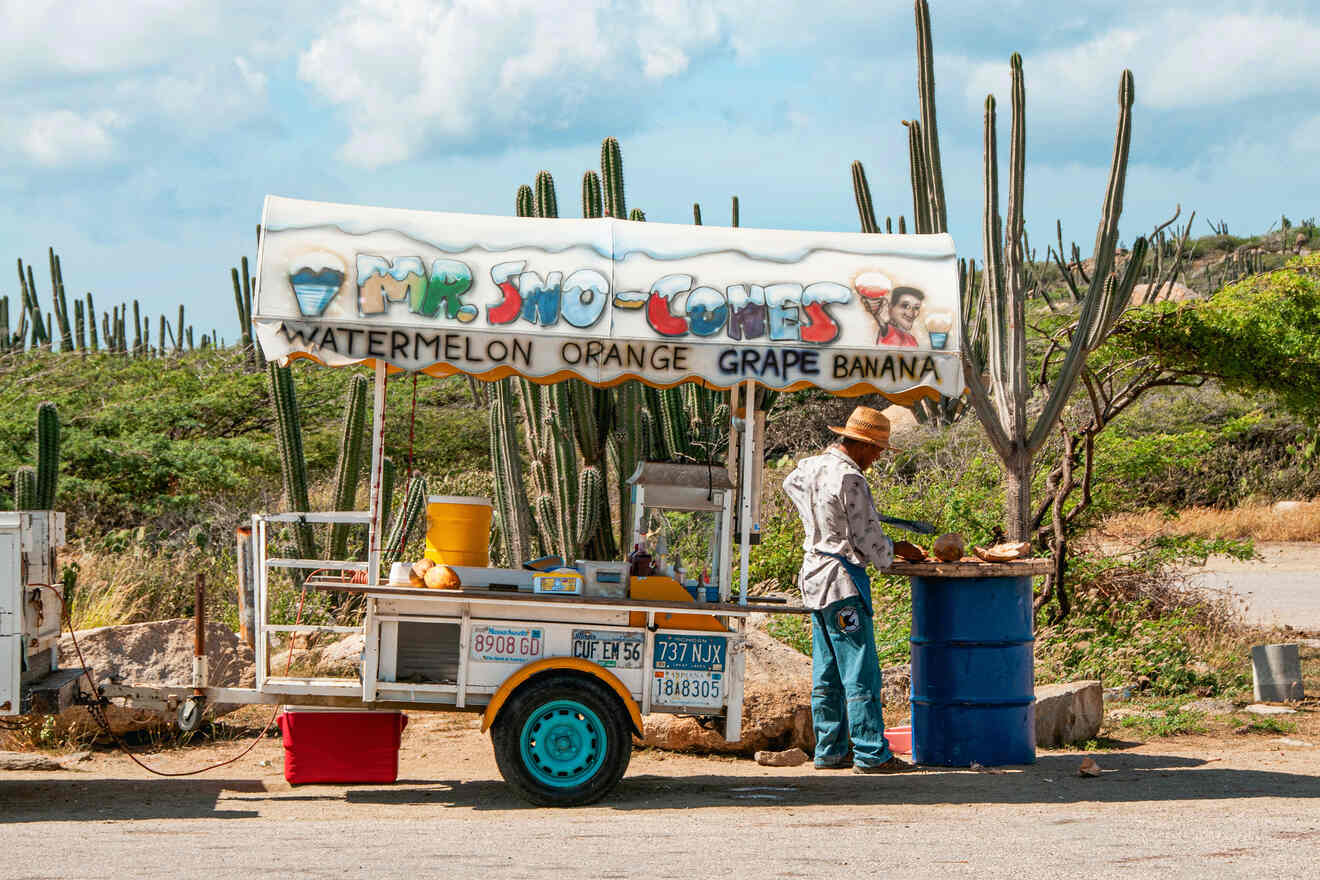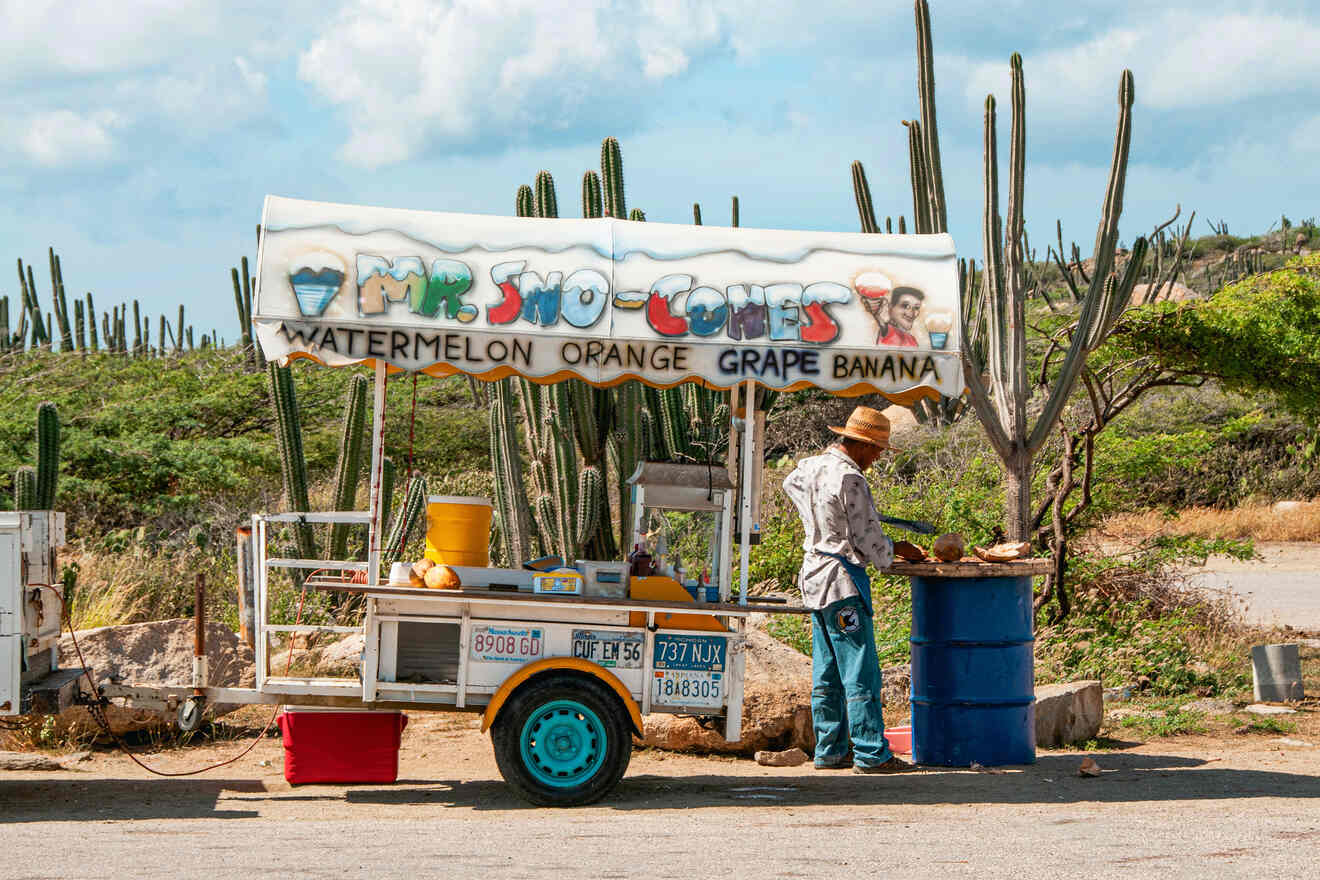 I guess we've all decided that Aruba is one of the best Caribbean islands that travelers can visit, not only for its turquoise sea, or for the amazing nightlife in Palm Beach, and low rise hotel area of Eagle Beach, this dutch occupied island has some of the best restaurants and dining options out of all the Caribbean islands!
Although drinking in the bustling nightlife and bars of Palm Beach may be many people's top choice, travelers can't say they went to Aruba until they have a taste of what this Caribbean island has to offer! So if you're a person who really loves food, I adore it to be honest, here's a list of some nice restaurants near the Caribbean sea.

1. Breakfast at Linda's Dutch Pancakes
Aruba's top choice for travelers, this family restaurant, located in Palm Beach, has been serving authentic Dutch pancakes for some time now! The things they must've seen in this colonial town. Linda's Dutch Pancakes and Pizzas has some of the best crepes in the world!
You can also create your own combination, they have more than 40 toppings, for each preference! Is it only me who's hungry now? A great place for travelers, where you can enjoy some savory Dutch pancakes either with some sweet toppings or, try the gouda cheese one!

2. Eat delicious seafood at Zeerovers
Watch the Caribbean Sea and enjoy some delicious seafood at this restaurant near the ocean, located in Savaneta, a southwestern town on the coast of Aruba. Zeerovers actually means "pirate" in Dutch, it's a lovely friendly place on the beach that will offer you fresh seafood straight from the sea.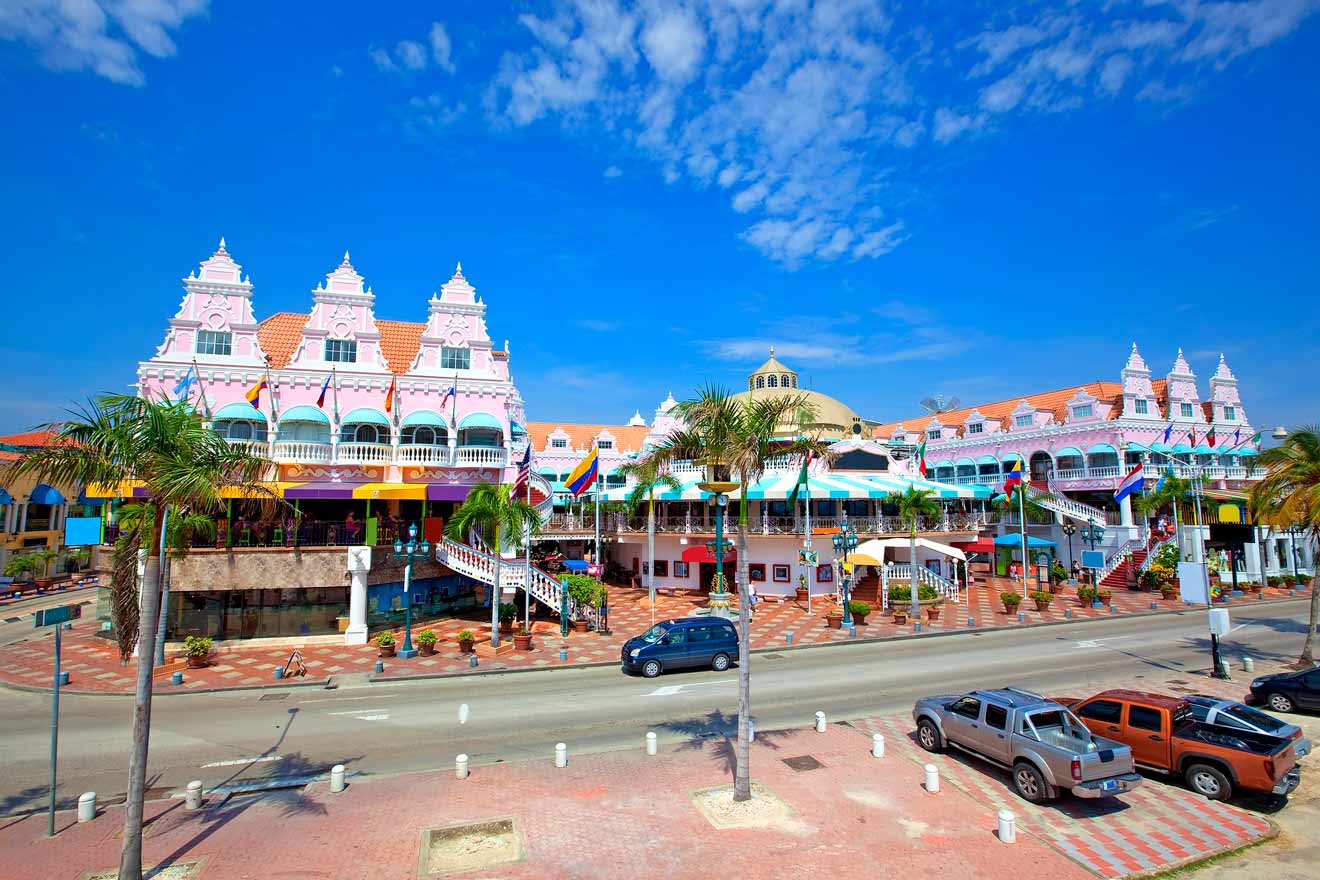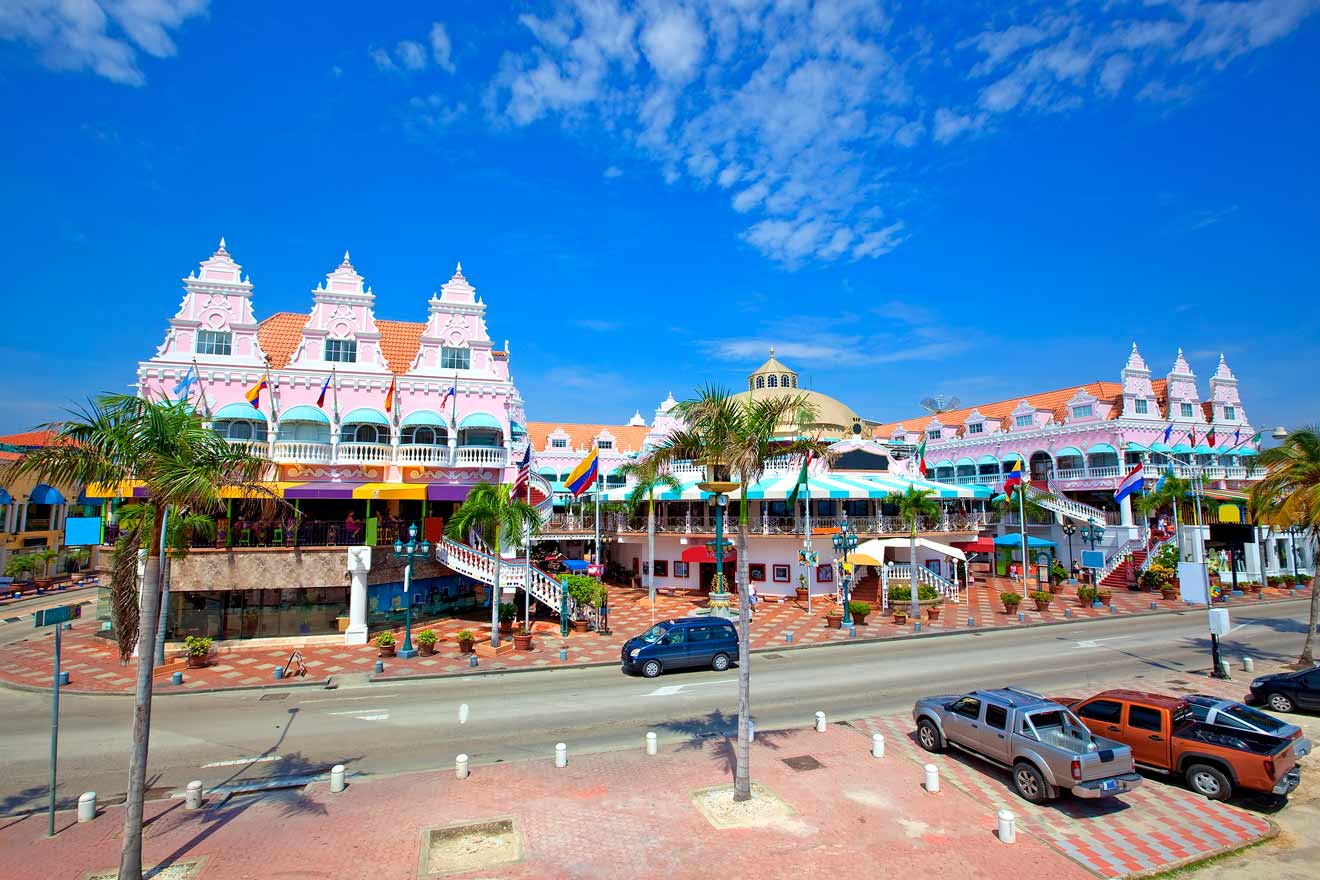 3. Screaming Eagle
Just a walk away from Eagle Beach, this Caribbean restaurant is a great place for luxury lovers and couples. The menu is quite diverse and there are some amazing choices for vegetarian people. Screaming Eagle represents the French cuisine perfectly and has some of the best wine on this Caribbean island.
4. Romantic beachside dinner at Atardi
For those who are looking for a romantic place to eat on the Aruba beaches, Atardi is the restaurant you've been looking for. Travelers will love this beachfront luxury restaurant located on Palm Beach.
Having dinner on the beach sounds so fancy, you can listen to the sound of the waves while drinking some wine and spending quality time with your loved one. It doesn't get any better than that!
5. Papiamento
Dinner at a colonial museum? I love this! Papiamento is located in downtown Oranjestad and is surrounded by a tropical garden, around a turquoise pool, and was built more than 100 years ago! The food here is delicious, it is a great place on the Caribbean island where you can eat some traditional Aruba dishes. All the guests who went here rave about this place.
Frequently asked questions about Aruba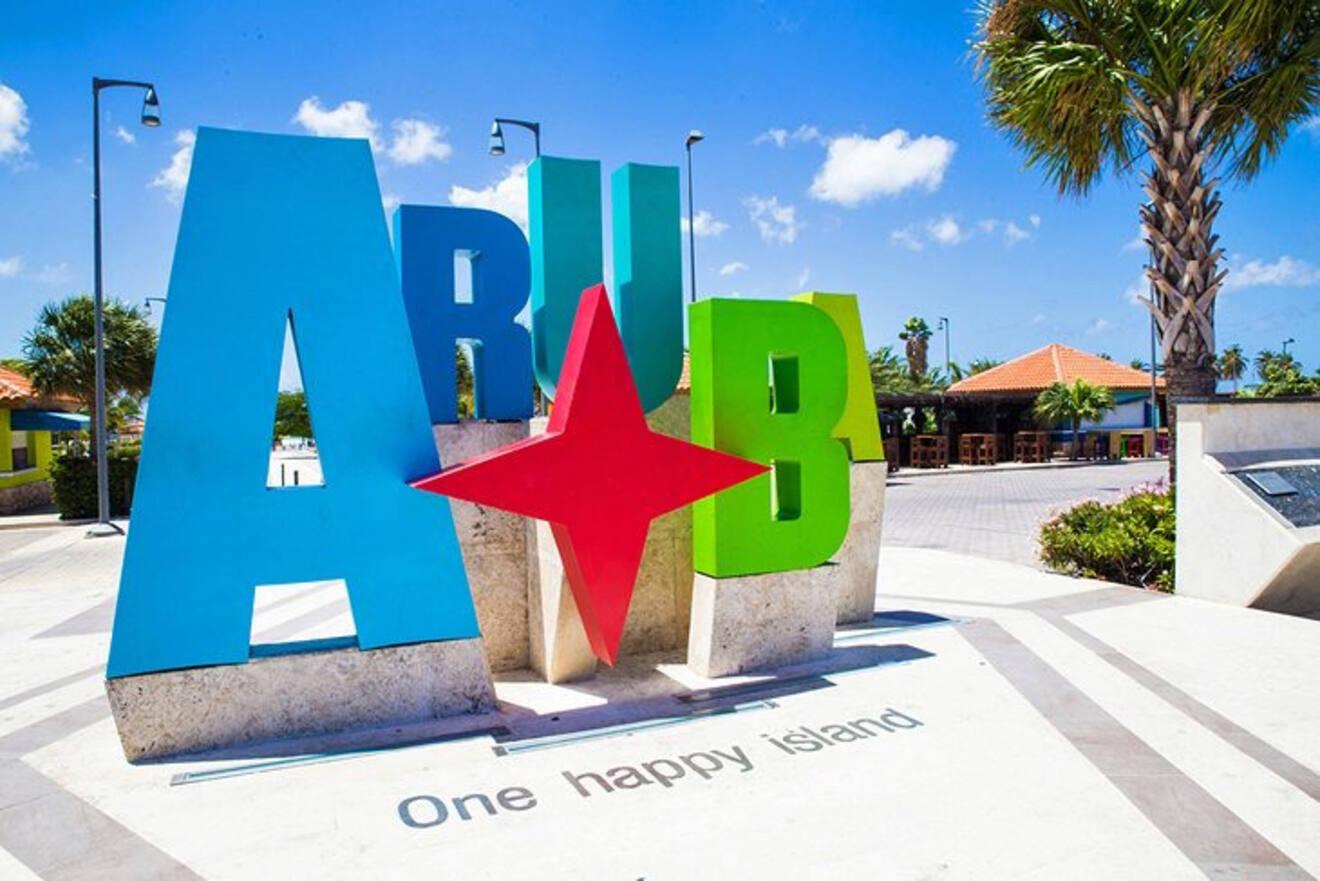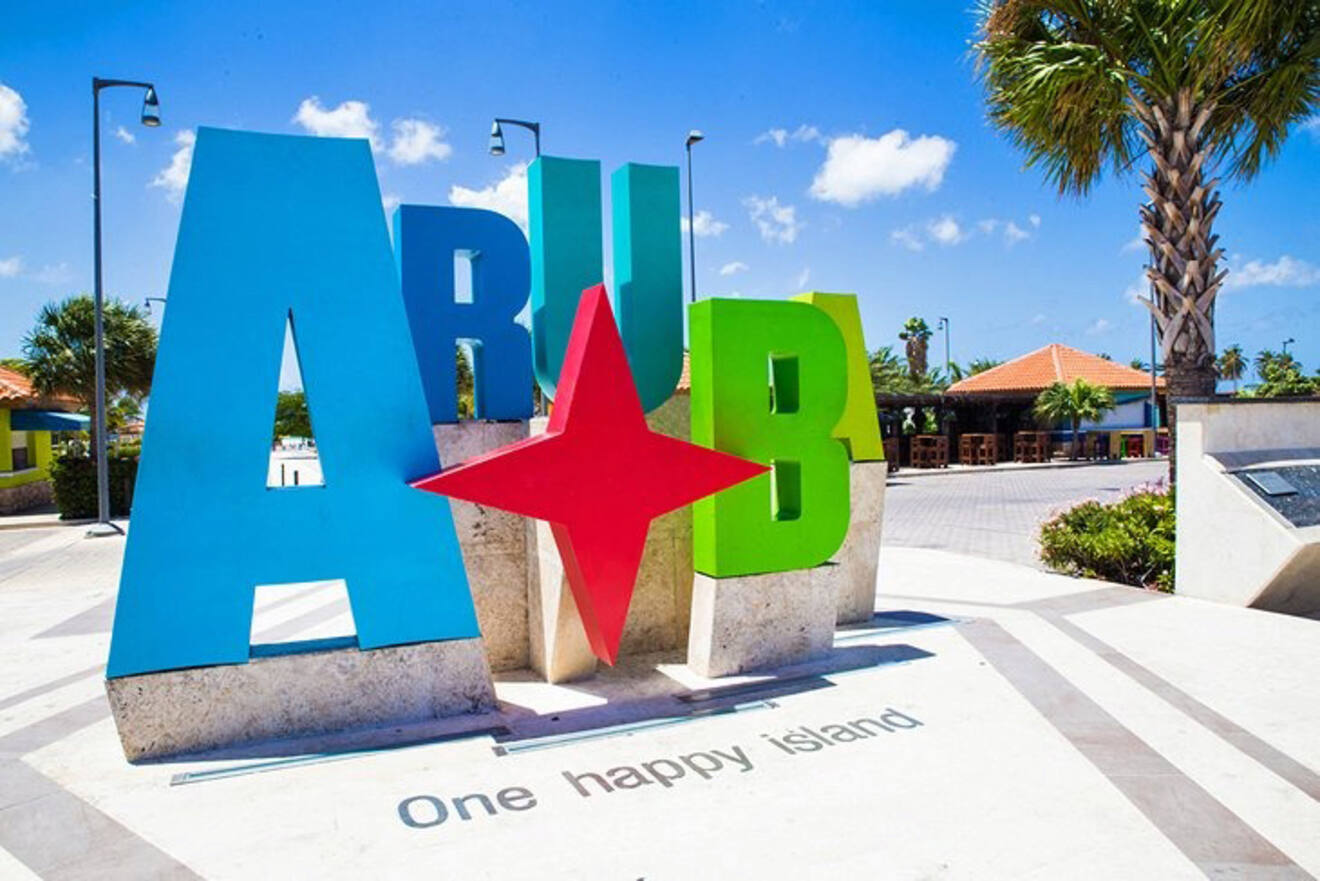 🏝️ What is the best area to stay in Aruba?
The best area to stay in Aruba is Oranjestad, this downtown area has some of the best hotels, shopping areas, casinos and you can admire the architecture of the city and the colonial houses.
🌇 Which side of Aruba is better?
The East & West side of Aruba, where Oranjestad is located, are the best sides as you can find more activities here, you can also shop, hit the bars and restaurants or the casinos.
🇦🇼 What should you avoid in Aruba?
Avoid going to Aruba during hurricane season, which officially runs from June to November but the most active time is mid-September. 
🌊 Which is better Eagle Beach or Palm Beach Aruba?
Although EagleBeach has pretty white sand, Palm Beach Aruba has some of the best hotels and resorts. If you're wondering where to stay in Aruba I think Palm Beach should be your top choice.
Conclusion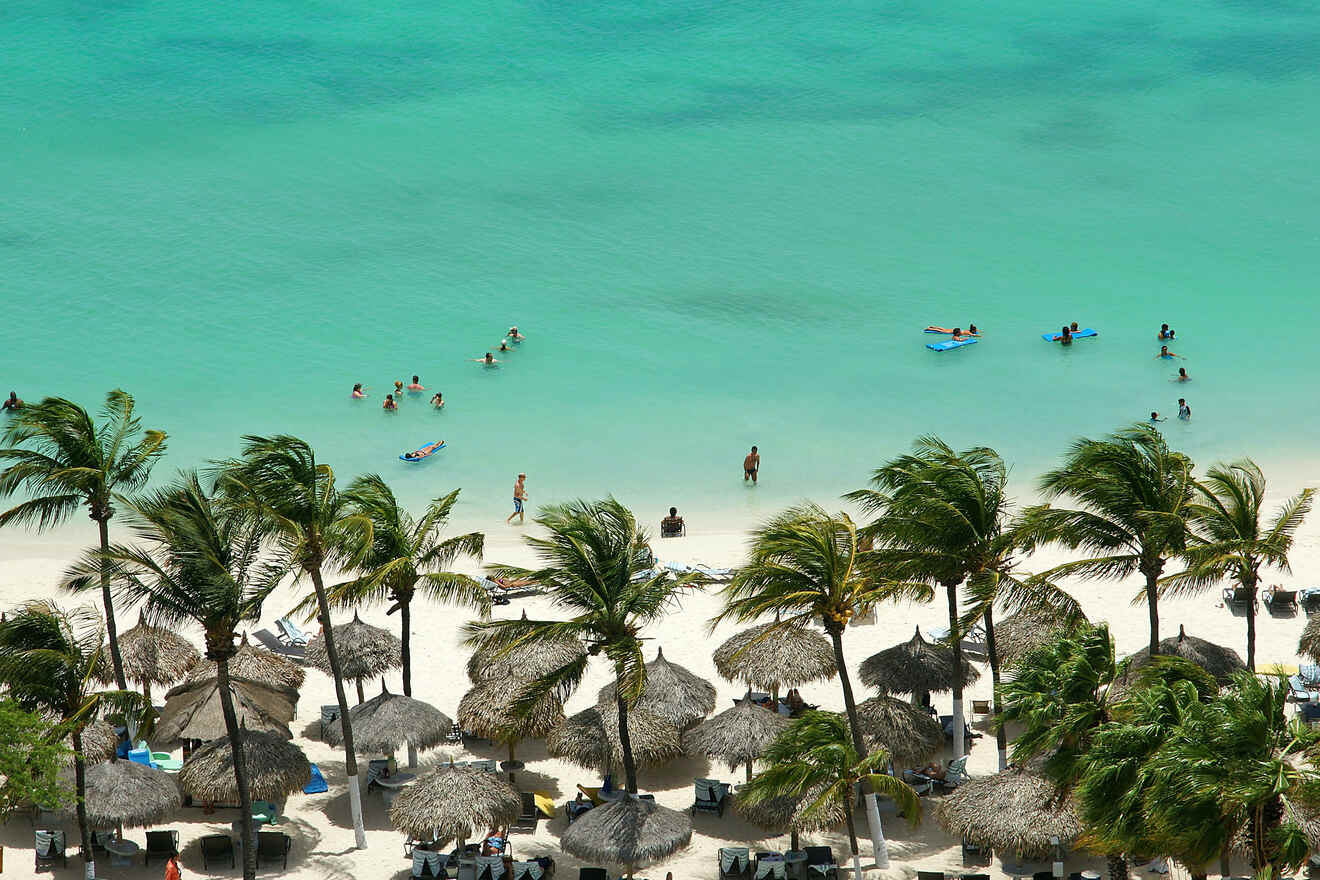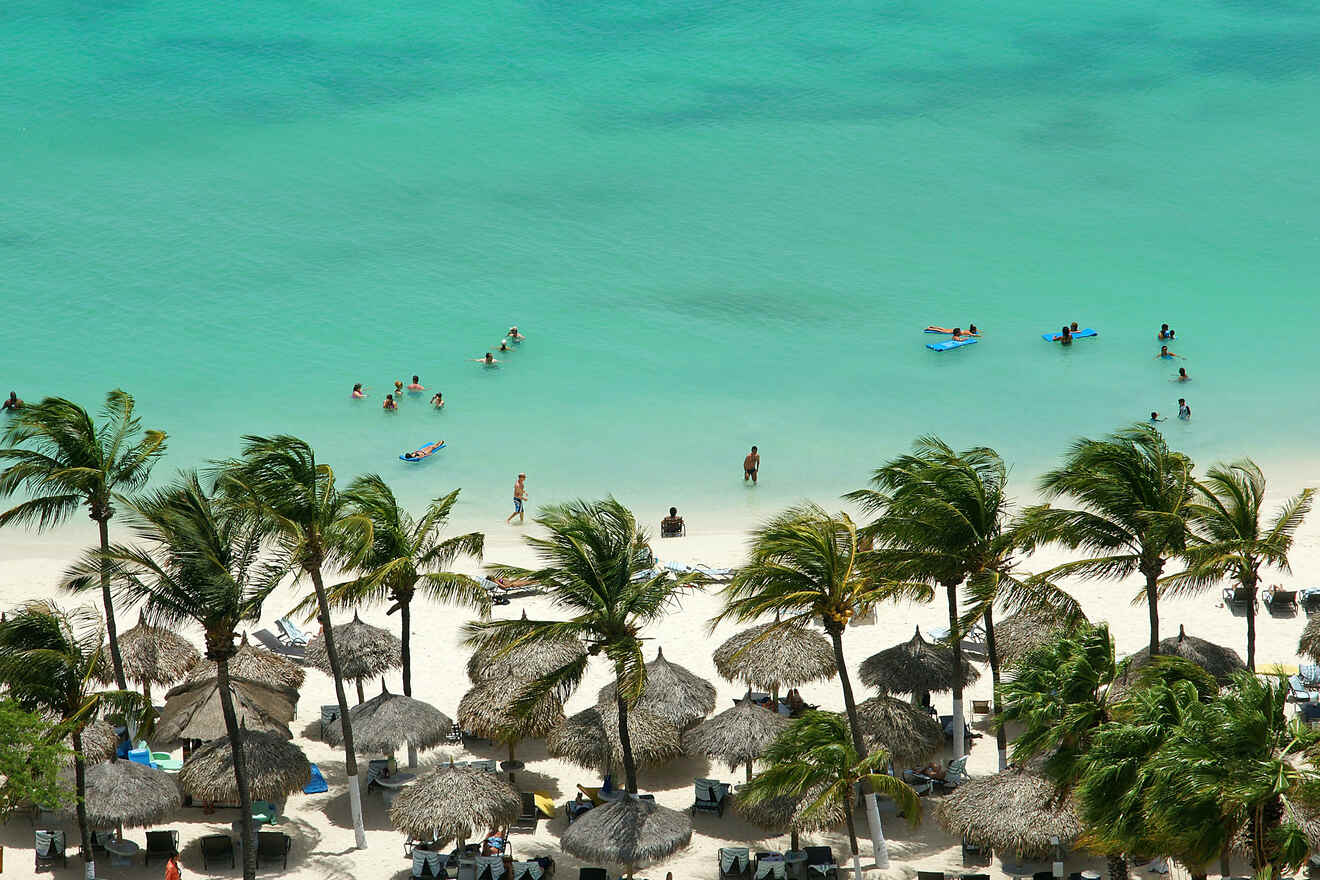 That was fun! I hope you enjoyed reading my post on where to stay in Aruba and which beach you should hit first. I've covered all the best areas and beaches in Aruba for each type of traveler and the best budget hotels or fancy resorts.
The best area to stay in Aruba for people who are traveling here for the first time is Oranjestad (Downtown) with some nice casino choices and hotels. Do make sure you book these in advance as they are the top choice for most travelers!
If you're still quite not sure which accommodation to choose here are my top recommendations:
I hope you take tons of pictures of the colonial village, watch the fancy cruise ships, try your luck at the casino, and do some windsurfing or snorkeling on the beaches. Enjoy the clear waters and your Caribbean adventure!
If you have any other suggestions about which beach in Aruba travelers should hit first then leave a comment below and tell me all about it!
Ayo my friends,
Victoria
---
Pin it for later!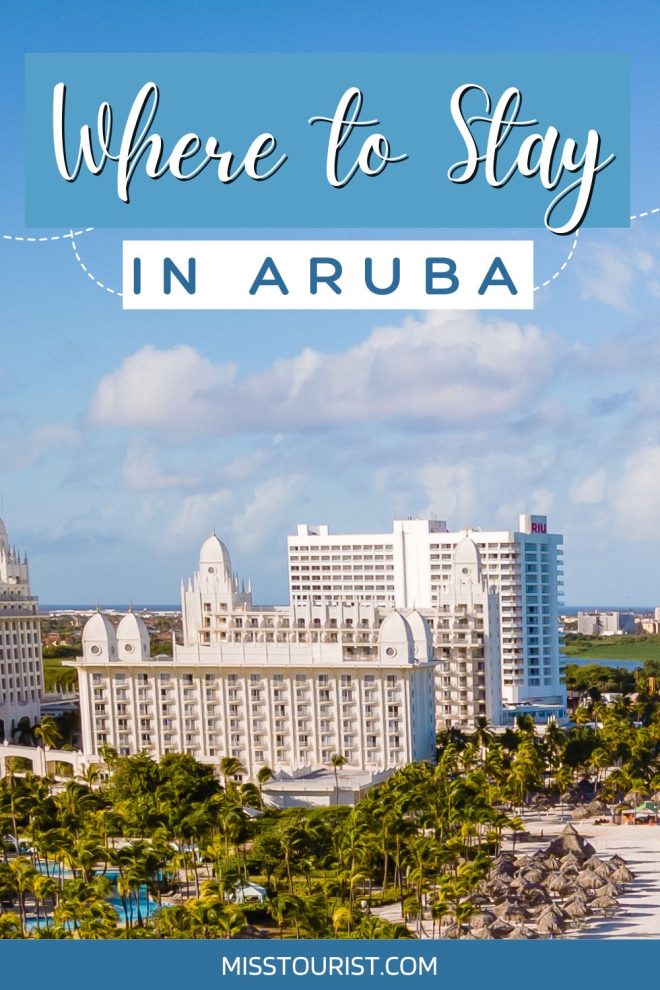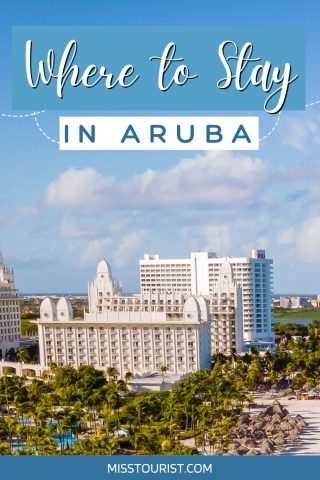 Pin it for later!