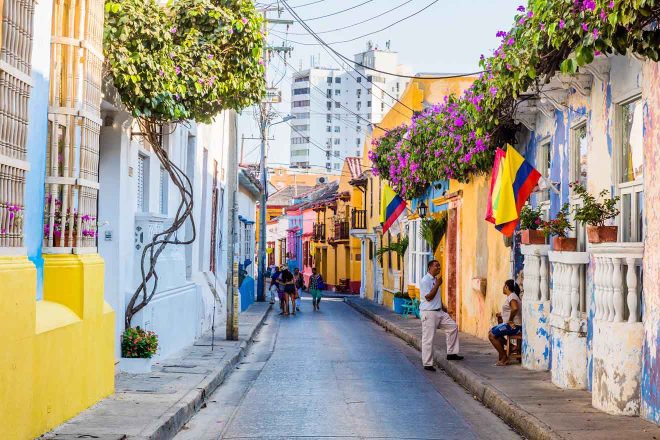 The Colombian city of Cartagena De Indias is known throughout Latin America as the jewel of the Caribbean. This is due to the fact that it is home to a well-preserved walled 'old town' full of history that dates back to the 16th century. In this article I will be taking you through a guide of all the accommodation that Cartagena has to offer in my ultimate where to stay in Cartagena guide!
With just over a million people, Cartagena is Colombia's fifth biggest city, and its story is truly a tale of two cities. Depending on how you arrive into Cartagena, you will most likely be driven or drive through the new city in Cartagena which is where the bus station and airport are located. This area outside the Old Town can be at times dirty, unsafe and uninteresting.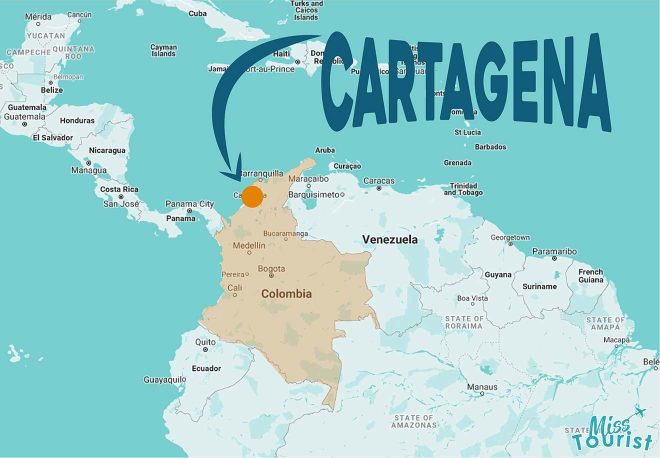 However, where should we stay in Cartagena? It is absolutely recommended to stay inside the Old Town walls as this is truly where Cartagena de Indias comes alive. For this reason, most of the places I have recommended (except for the airport ones and Bocagrande ones) are inside the ancient walled city. There are a few different neighborhoods within the walled city such as San Diego, Getsemaní and Santo Domingo (where you can find the Gold Museum), however, as the walled city is so small, each neighborhood can be reached by walking (and exploring!) in a few minutes.
Due to the size of the walled old town neighborhood, accommodation does tend to book out rather quickly so try to book your accommodation as soon as possible. You don't want to end up staying outside and commuting into the old town everyday as this is where most of the sights, restaurants, bars and nightlife are, as you can see here in my what to do in Cartagena article!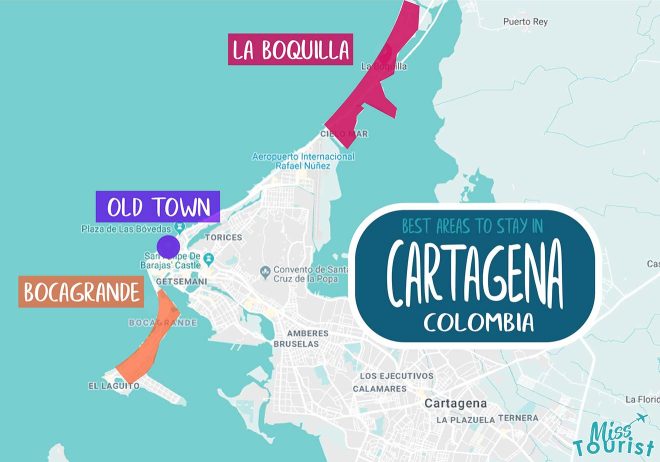 I will be showcasing the best of the best in terms of lodging, apartments and also accommodation options near the airport to make your trip to Cartagena easier. So without further ado, let's get into my article about where to stay in Cartagena, Colombia!
NOTE: Throughout the Spanish speaking world, Cartagena is a popular name for cities/towns etc so make sure you are looking at the right Cartagena when doing your booking. To help minimise confusion, I will be using the word 'Colombia' after Cartagena a lot!
Where to stay in Cartagena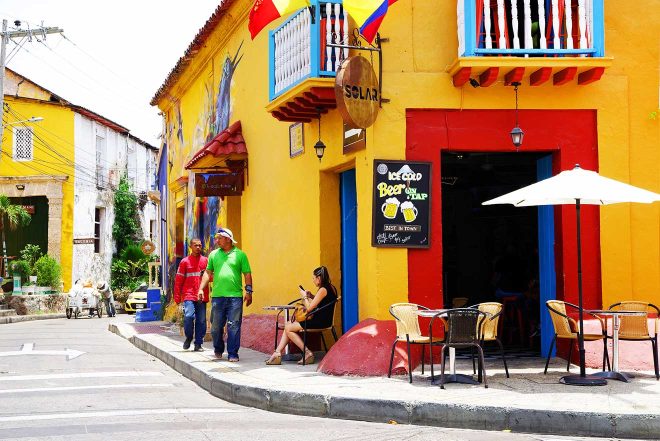 Cartagena's significance as a Colombian and Caribbean tourism hotspot means that it plays host to a plethora of accommodation options, and nowhere is this more evident than in this section. Whether you are coming to Cartagena for the colour and vibrancy, to enjoy the beaches located all around or even as a jumping off point for the rest of the region, there is a place for you. That is to say: one for every budget just like in my where to stay in Bogota list!
Again I will only recommend the best of the best and have broken it down into three different budget sections. So here are the top hotels in Cartagena, Colombia!
Luxury (US$165 and up)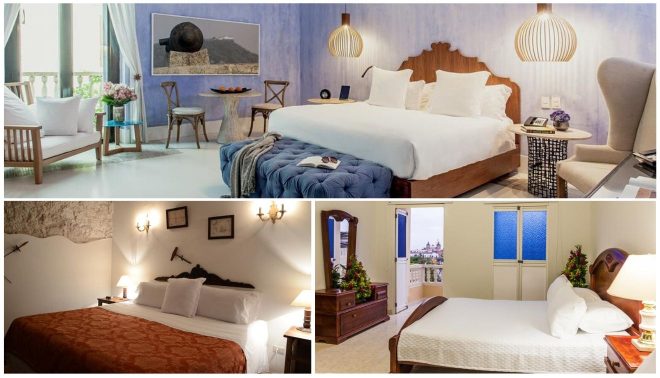 Colombia is a reasonably priced country so you can easily find some great accommodation deals. You can also find high end stays at great prices, and Cartagena is no different. The whole old city in Cartagena has been preserved super well, the colonial buildings are not white but extremely colourful and it's a perfect place to indulge in some luxury. The Cartagena San Diego neighborhood is where you will tend to find these accommodation options. So here are three luxury hotels in Cartagena in Colombia!
Charleston Santa Teresa – One of the top stays in Cartagena, The Charleston oozes luxury. The decor is opulent and matches the colonial architecture of the surrounds. Guests can indulge in facilities such as an outdoor pool, romantic hot tub, on-site restaurant and incredible views across the city of Cartagena. Right in the town center!
Sofitel Legend Santa Clara Cartagena – Another of the best hotels in Cartagena de Indias old city is the Sofitel Legend. This lodging is located in the historical San Diego neighborhood and set in a former monastery dating back to the 17th century! If that's not enough, it's modern and chic style is tinged with colonial touches here and there that will transport you back in time. Located close to cafes and nightlife.
Bantu By Faranda Boutique – Another eye-catching example of the colonial architecture that makes Cartagena so special, this time with a modern twist, The Bantu is stellar choice. This Cartagena hotel, offers a guest an enclosed terrace for dining at the in-house restaurant (yummy food), solarium, Turkish spa, a pool and bike hire, this San Diego property is awesome! The Bantu is also close to restaurants and bars.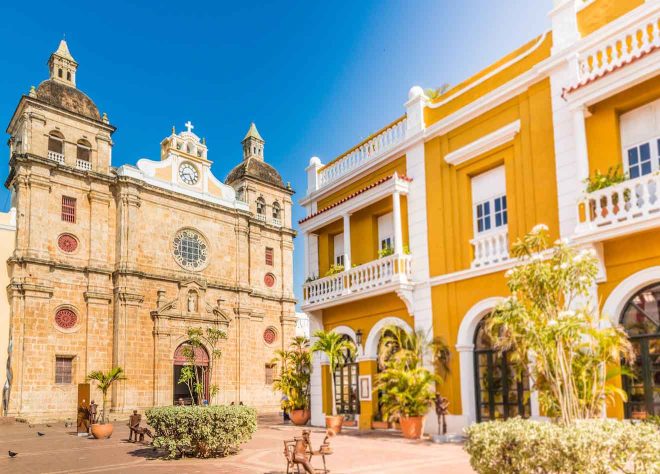 Middle-Priced (From US$55 to US$165)
If you find yourself wondering where to stay in Cartagena but don't have an endless budget to blow on luxury accommodation, then this section will be for you. Due to its popularity as a tourism destination, there is a wide range of boutique hotels in Cartagena and in this middle-priced section you will find some great deals and absolutely great value. I have chosen three hotels that fit this budget that will allow you to stay in luxury and not spend all your pesos!
Alfiz – Alfiz is set in an old colonial building that has been restored to the 4 star stay it is today. The decor matches this typical style and will charm the guest from the moment of arrival. Alfiz also boasts a nice indoor, open-air terrace with a pool, a sunny reading room and a daily buffet breakfast! The property is also close to many bars and cafes in the San Diego neighborhood!
San Pedro Hotel Spa – Another stay in a restored heritage building, the San Pedro sets itself apart by offering guests a massage on arrival! The property also has a courtyard pool and furnishings that match the decor. It is close to some great nightlife. One of the best middle-priced hotels in Cartagena's walled city and a classical boutique hotel!
La Passion Boutique Hotel – Again in a spectacular heritage building La Passion is one of the best stays in Cartagena de Indias. With some suites offering a balcony overlooking the colourful street, a pool, hot tub and in-house dining, guests will have all their needs met all of the time. My favourite part of La Passion is the dazzling marbled floors!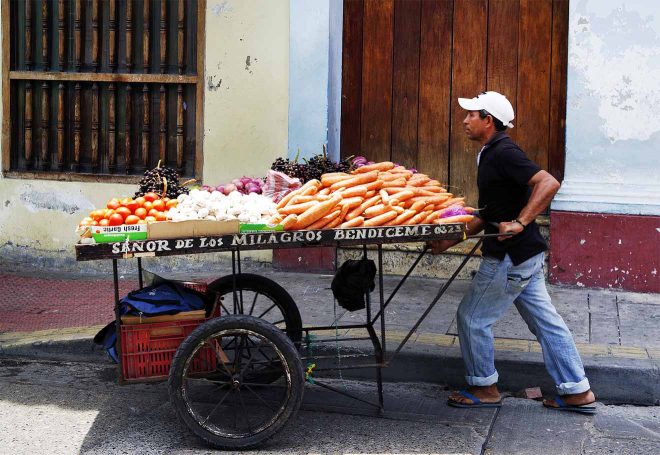 Budget (Up to US$55)
But, where to stay in Cartagena if your budget is a bit low? As with the rest of Colombia, hotel prices can be very reasonable in Cartagena. You won't need to spend most or even a lot of your budget on accommodation in Cartagena as you can find cheap hotels in Cartagena right in the old town. Here are three great budget options in the Cartagena city!
Hotel San Felipe – Clean, comfortable and spacious rooms are what you will find at the San Felipe. This three star stay is located in the walled city and offers guests in-house dining, daily breakfast and some rooms even have great views of the old towns churches and buildings. The location is close to the nightlife and bars. You can't go wrong with 3 stars at this price.
Casa Centenario – The first thing you'll notice about budget hotels in Cartagena is that they are usually not in colonial buildings, Centenario does a great job of masking this with decor and furnishings. The clean rooms also have great views, some have a terrace and all guests can enjoy breakfast daily! There is also 24-hour reception!
El Arsenal Hostel Boutique – At El Arsenal Hostel guests can enjoy private rooms, great views, a swimming pool, daily breakfast for a small price and there is even a shared kitchen if you want to cook your own food. This hostel is located on the edge of the walled city, you will also be in a quieter area but still close to the action, meaning a great night's sleep! Definitely a great hostel option!
Best Apartments in Cartagena, Colombia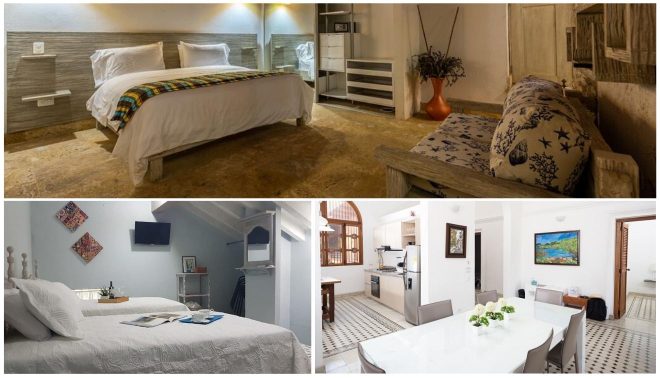 This where to stay in Cartagena post just got a lot better! If you aren't the type of traveller who likes to have all your services provided for you and crave that independence and control over your own life that hotels can't provide, then perhaps an apartment is the way to go.
Even though the walled old city is a small area and the prices are a little higher than those stays in Medellín, for instance, there are some great options for apartment-goers and in this section I have provided my favourites!
Luxury (US$110 and up)
There are some truly luxurious properties in Cartagena, we've already seen multiple hotels in centuries old colonial buildings and the streets are full of colourful and vibrant plazas, shops and houses. The best part is that you don't have to miss out on all this if you want to stay in an apartment! There are some amazing properties in Cartagena! Here are three of my favourite luxury choices!
Apartamento Virrey – This property is my favourite apartment in Cartagena de Indias, the kitchen is simply stunning! As a kitchen is one of the main benefits of apartments vs hotels, we're off to a great start already. The decor is modern with antique touches and suits the colonial feeling perfectly. There is a pool, gym, sauna and more!
Casa Ebano 967 – A two-storey apartment located in an old building with a rooftop terrace and swimming pool? Yes, it does exist and it is this hotel. The apartment is decorated with a modern touch and has a fully equipped kitchen just in case you wanted to do anything from bake a souffle to host a three course dinner! For me, this is always the best answer to where to stay in Cartagena!
Apartamentos El Candilejo – Located smack bang in the middle of the old town, El Candilejo executes apartment living well. Very spacious and comfortable apartments that are modern and cosy at the same time. If you're lucky to snag one with street views then you can enjoy the apartment's dining area and watch life of a Cartagena afternoon pass by!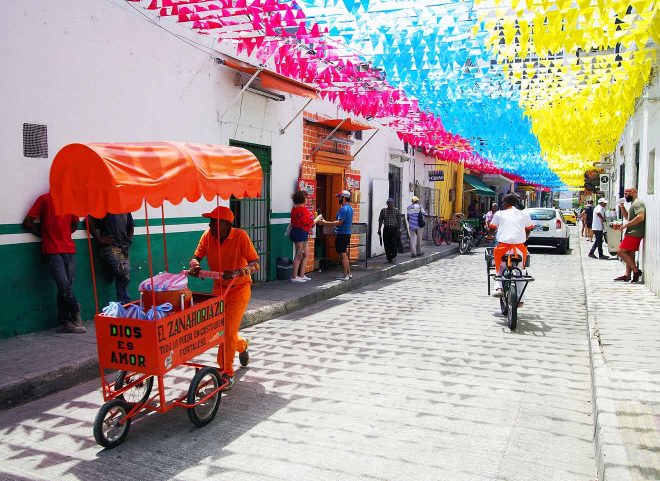 Middle-Priced (From US$70 to US$110)
If you don't have an exorbitant budget at your disposal but also don't want to give up on some of those little creature comforts and luxuries, then look no further. Here I've found three great apartments that will allow you to stay with the freedom to come and go as you please, cook your own food and won't cost an arm and a leg!
Arca Smart Rentals – Another example of the historic colonial architecture that characterises Cartagena, Arca Smart Rentals feels more like a home. The apartments are incredibly spacious (I really mean this, they're huge!), wonderfully appointed and have everything you could need. Oh, and there's a swimming pool for those steaming days!
Apartamento de Pombo – Ticking all the boxes one could want in a self-contained apartment, and then some, is Apartamento de Pombo. Set in a modern marble building, the rooms are clean, spacious, the facilities plentiful (there's even a washing machine) and the views spectacular. Added bonus: the apartments all have a private balcony! My best suggestion for couples!
Hotel Casa Gloria Boutique – Slotting into the hotel/apartment hybrid category is Hotel Gloria. This vibrant and colourful property maintains a subtle motif of white and yellow gold colonial architecture throughout and boasts a swimming pool, hot-tub, rooftop terrace and even a billiard table. There is a 24-hour reception and a morning meal can be purchased for just US$2!!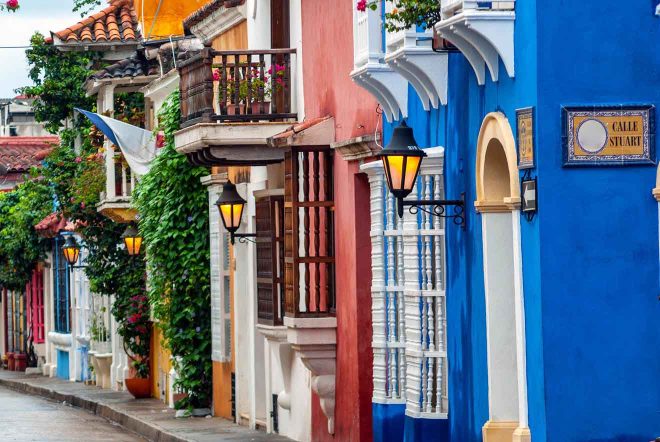 Budget (Up to US$70)
Finding a budget apartment in the walled old town of Cartagena is not as easy as finding a similarly priced and located hotel, however, it is definitely possible and the good news is that I have done the work for you! Because of the scarcity of these properties, the budget has been adjusted slightly to reflect the prices in the available properties. So here are my three favourite budget apartments in Cartagena de Indias!
Casa Anita – Kicking us off in Casa Anita, a cheap and charming apartment located in one of the most colourful sections of the old town. The apartment itself can sleep up to four and has a flat-screen TV with cable channels. Most importantly, the kitchen is well stocked so you won't be caught out halfway through making dinner!
Ganem Lifestyle Suites – This is a property that really should be in a higher price range. The interior is reminiscent of a 5 star hotel, the location is very central and the furnishings scream luxury. The only thing that perhaps lets the apartment down are the kitchen facilities, which are basic. Otherwise, this place is a steal!
Soy Local Centro Históric – Soy Local is another perfect entry to the list. These apartments are hang-over studios, which means above the living area is the bed and I absolutely love these! The decoration and furnishings are of the highest quality, the kitchen is fully equipped and there is a rooftop terrace and pool!
Best hotels near Cartagena Airport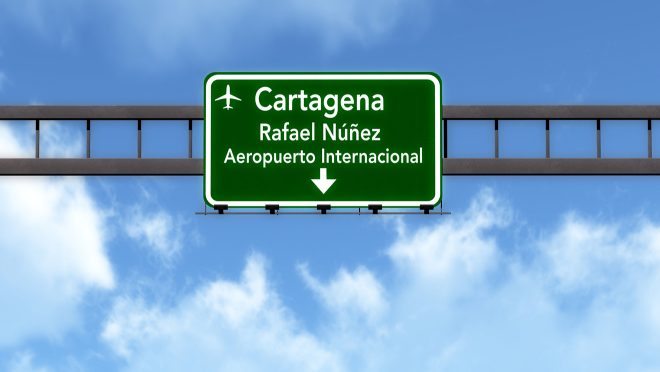 But, where to stay in Cartagena near the airport? Rafael Nuñez International Airport, or CTG, is located only 3 km away from the old town so even though it is rather close, some tourists prefer to stay right next to CTG.  For those of you who are jetting into Cartagena for a few quick days of sun and colour or those of you who have late arrival/early departure schedules might be wanting to choose a hotel close by the airport to ensure a swift departure like James Bond!
The prices of these properties are better than those of the Cartagena hotels in the walled city so you can find some amazing deals. So let's get into the best hotels located near the airport in Cartagena, Colombia. Have a read!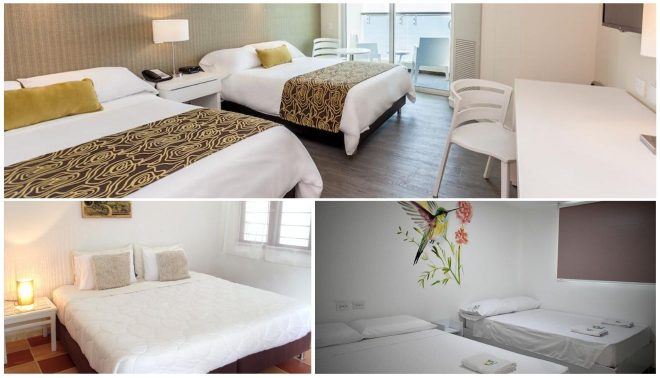 Luxury (US$110 and up)
If you are wanting to stay near the airport but don't want to be without the ease, comfort and luxury of the best hotels in the walled city, then this first section is where it's at. Here you will find three perfect choices right next to the airport and possessing all level of service of 5 star luxury.
GHL Corales de Indias – Kicking us off is Corales de Indias, located right on the beach and near the nightlife. The junior suite with spectacular ocean views is more like an apartment than a hotel room! With separated sleeping and living areas, a balcony overlooking the sea and facilities such as a game room, airport shuttle and more!
Hotel Peira House – The beautiful suite with a spa bath will have you not wanting to leave! This modern hotel has features such as a family room, sun terrace, swimming pool, airport shuttle, daily choice of breakfast and is sandwiched nicely between the beach and the airport. 24 hour reception means checking in is a breeze too (even after a super late check-in!)
Velik Ocean Hotel Aeropuerto – The superior family room at Velik Ocean Hotel is perfect if you travel with the little ones and don't want the hassle of a long trip from the airport. The room sleeps five, includes a morning meal and is right on the beach! They are super flexible with cancellation too which can be a great help when travelling with kids.
Middle-Priced (From US$40 to US$110)
The plus side of staying near the airport and therefore, not in the old town, is that you can be nearby the beach (as well as the airport obviously)! So I have tried to keep that in mind here when selecting my three favourite middle-priced hotels near the Cartagena de Indias airport!
Casa Crespo Beach 65-148 – Tucked away between the airport and the beach is Crespo (approx 10 min walk to the beach)! If the beach is not your jam, there is a pool on site, a flat-screen TV with cable channels in each room and the airport is 4 minutes away on public transport!
Mucura Hotel & Spa – This hotel is again about halfway between the beach and the airport. It is a perfect choice as the hotel has on-site restaurant (with great food) and bar, 24 hour reception, daily meal and even a hot tub! The rooms are classy and modern and there are several different types for all types of travellers!
Wonderland Hostel by GB Collection – Aimed more towards the younger travelers amongst us, the Wonderland Hostel has a great double room option. The hostel features such as free bike hire, swimming pool, table tennis, in-house bar, free daily meal and outdoor dining terrace to enjoy the food, it's hard to go wrong staying here. This hostel's proximity to the airport means it makes my top 3 in this section!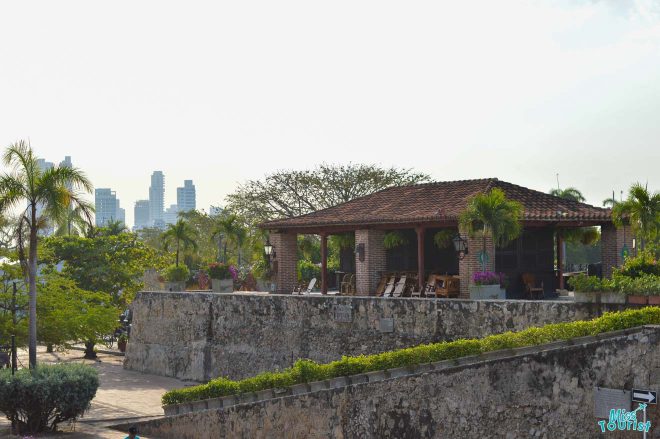 Budget (Up to US$40)
In my experience, it can sometimes be difficult to find budget accommodation near airports and generally one finds oneself having to compromise on something. Well, in Cartagena, that is not the case, there are plenty of budget options near CTG so here I have selected my three favourites!  If you still have doubts regarding where to stay in Cartagena, keep reading:
Casa Ilaria – Starting off this section is the charming Casa Ilaria. Featuring simple, yet ample rooms, flat-screen TV, an outdoor terrace and more, Ilaria is a real winner. My favourite part of this property is the fact that they have a private beach area! You can't beat that in a budget hotels section!
Hospedaje Patricia – Next is the family owned and run Hospedaje Patricia, and that family feeling will have you feeling welcome the whole time. The property includes a flat-screen TV with cable channels, mosquito netting if you want to sleep with the window open and an ensuite bathroom. Best of all: the price is low!
Hotel Casa Cano – Combining the best aspects of the two above is this hotel. Located of course near the airport, the great features include room service, terrace, air-conditioning, cable TV and a shared kitchen! The decor is bright and lively and you will be 2 blocks away from the airport!
Bonus: Best Accommodation in Bocagrande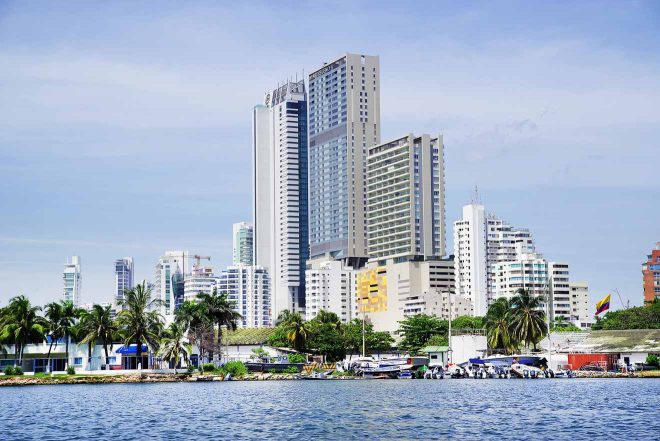 Do you want to know where to stay in Cartagena close to the beach? Immediately to the south of the old town is Cartagena Bocagrande, which is characterised by big, modern high-rise buildings, modern international restaurant chains and casinos. Bocagrande is popular amongst tourists coming to Cartagena because it is home to some of the best beaches close to the city itself.
So here I have chosen some of the best accommodations in Cartagena Bocagrande, take a look!
Luxury (US $160 and up): Capilla del Mar – A classic beachfront stay, Capilla del Mar Bocagrande offers all the bells and whistles you could want from such a property. These include an ideal private beach area in Bocagrande with sun lounges and shade, a beachfront pool, a rooftop terrace overlooking the ocean and room service delivered to the beach!
Middle-priced (between US $56 and US $160): Intercontinental Cartagena – With several different room options the intercontinental has suites for all budgets. This bocagrande stay is 5 stars and in it, you'll find more features included than I could list in a day. The views are insane and guests can enjoy private beach access or relaxing by the pool!
Budget (up to US $56): Blue Concept – A cute little boutique stay located a street back from the beach? This is it. The property is excellent and the rooms modern, spacious and clean. There is a pool and all rooms come with a flat screen TV. In Cartagena Bocagrande, you won't find better for the price!
---
Conclusion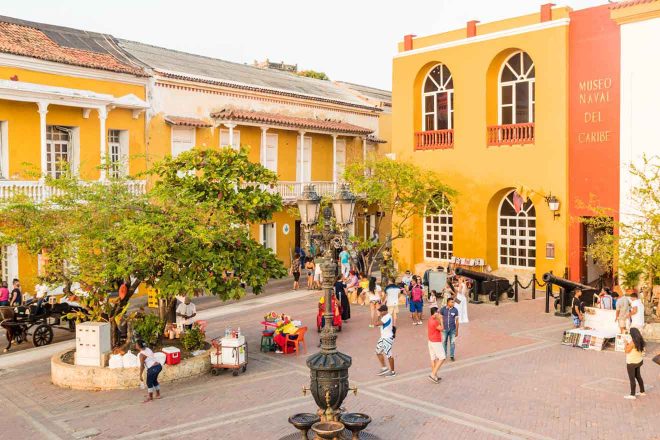 So there you have my complete guide to accommodation in Cartagena – Specifically its Walled City and Bocagrande neighborhood. I've covered everything from hostels, apartments and every type of stay in the old city! The city is truly one of a kind, at least in Colombia with the mixture of Caribbean and latin vibes being at an all time high and leaving all that visit with that burning sensation of wanting more and wanting to return ASAP! I hope you find this content helpful and I have solved all of your doubts regarding where to stay in Cartagena.
If you are returning or coming for the very first time, be sure to check out my article about what to do in Cartagena first then come right back here to pick one of these great accommodation choices in Cartagena de Indias, Colombia, the jewel of the South American Caribbean!
As always, enjoy your trip and please leave a comment below with any questions you may have or general comments on your trip to Cartagena de Indias!
Happy travels!
Arantxa
Pin it for later!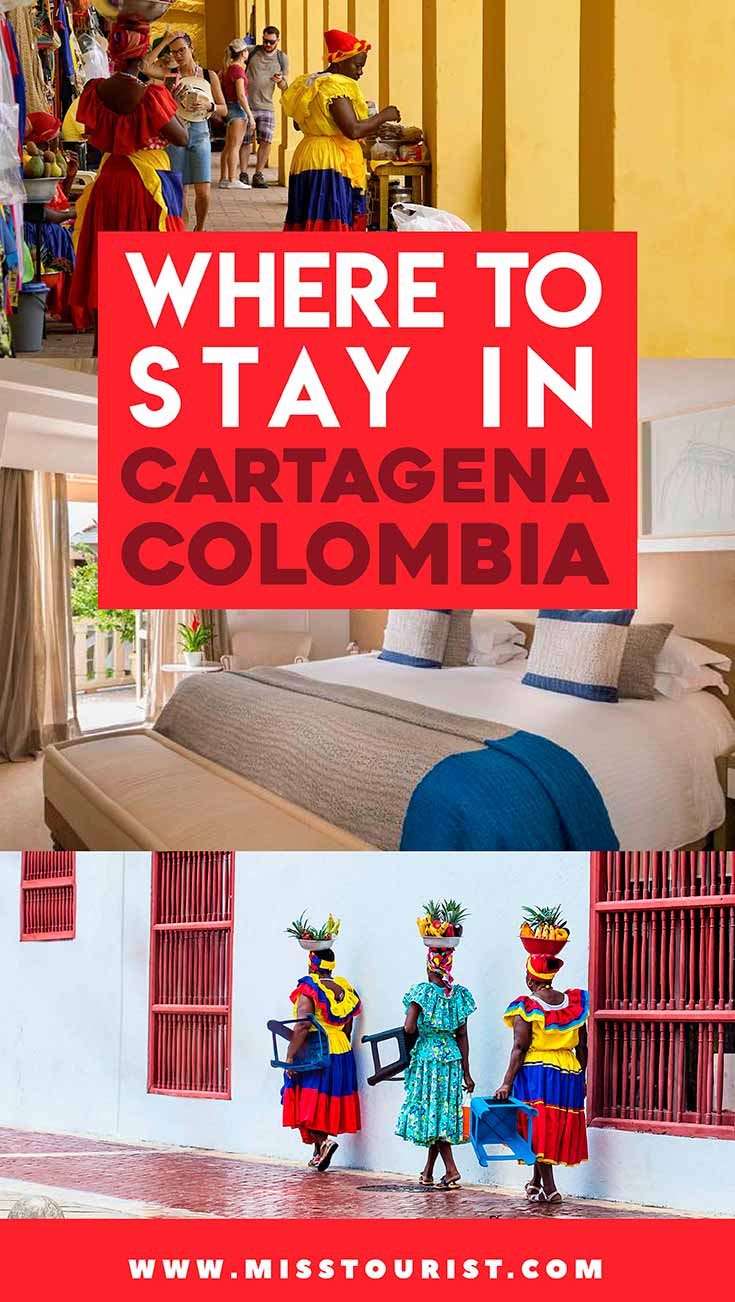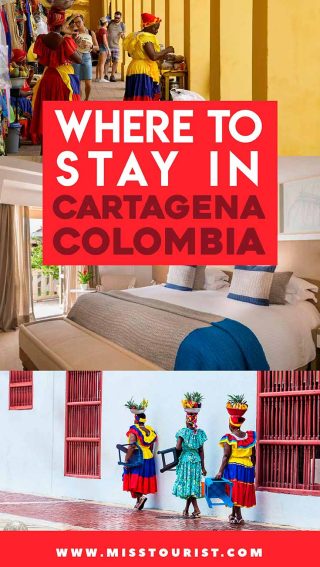 Pin it for later!