Lloret de Mar is a Mediterranean beach town in Costa Brava, Spain only 75 Kilometers away from Barcelona.
As said on Wikipedia, the population of Lloret is 37 000 people.  The small coastal city is characterized by crystal blue waters, a castle that sits on top of a hill overlooking the Mediterranean, and mountains that border the city. If you find yourself in Barcelona and want to retreat from the hustle and bustle of the big city, Lloret de Mar is your destination.
Even though it is a resort destination, you can still go there in September or even November. It's truly got something for everyone!
Whether you are looking for a relaxing day at the beach, a full day of sightseeing, or a wild night out, Lloret has it all. Just take a look at all there is to do for yourself!
Here are the top 5 things to do and see and do in Lloret:
1. Lloret de Mar Beach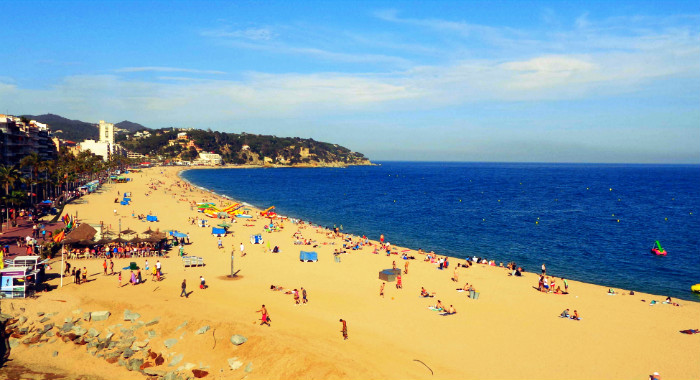 It's inevitable that if you go to Lloret, you have to check out the beach. Spend the entire day soaking up sun and swimming in the crystal clear blue water, or grab a drink and tapas at one of the many beach front restaurants.
If you're feeling adventurous, look no further than one of the water sports stands, that offer everything from water tubing and banana boating, to jet skiing and boats with built in slides for the kids. Just make sure you bring your sunscreen, as the Spanish sun gets scorching hot between the hours of 2 pm and 5 pm!
Oh and, do not forget about Lloret de Mar nightlife, the main street is absolutely full with bars, clubs and pizzerias. just one tip – try to avoid night clubs with many 15 year olds at the entrance (if you are not the one of course! 😉 )
2. Church of Sant Roma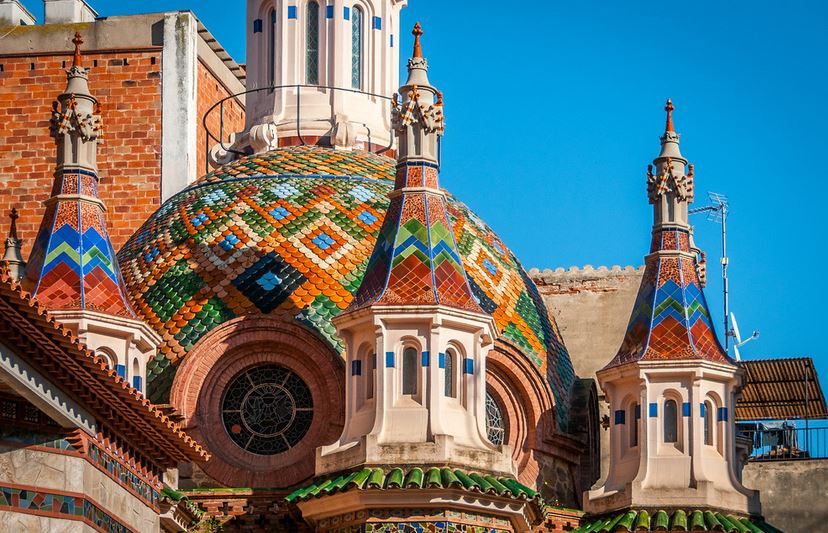 This beautiful church situated in the center of town is characterized by its colorful dome roof and unique architecture. The  Byzantine styles architecture will make you stop in your path and gawk, so don't worry about missing this one unknowingly! You can go inside for free, but keep in mind that it is an actively used city church, so be mindful of the locals.
3. Castle d'en Plaja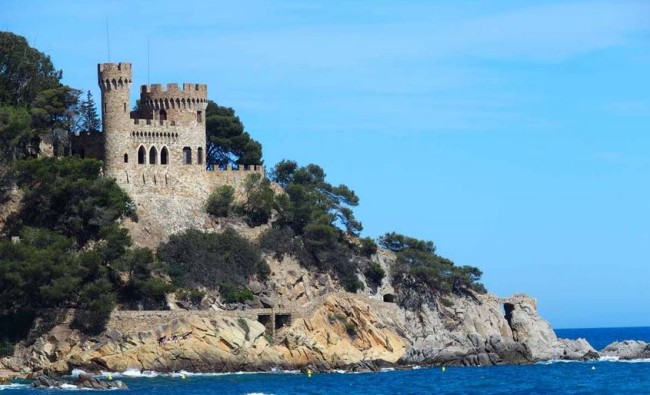 What's more beautiful than a medieval castle…than a medieval castle on the ocean?
(well, technically it is not medieval as it was built in 1930s, but it does look like one, right?)
Castell d'en Plaja is located right next to the Lloret Beach. Take a walk up to the top of the castle and get a breathtaking view of the city meets ocean landscape.
4. WaterWorld aqua park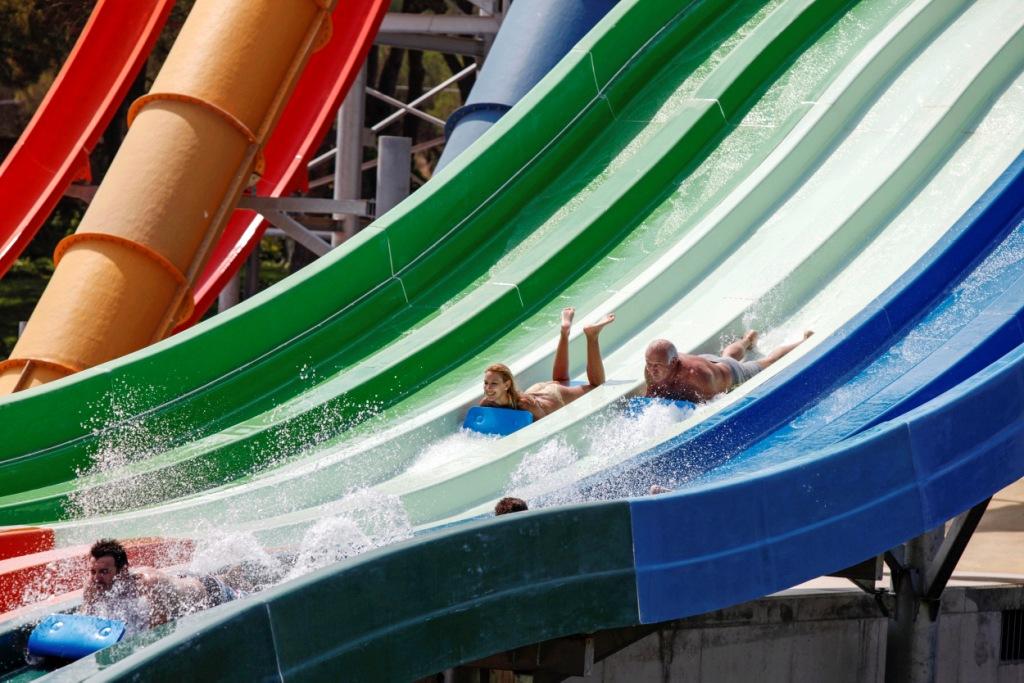 If your traveling with the kids (or just have a young, adventurous spirit), then you must make it to Lloret de Mar Water park! This Travelers Choice 2014 Water Park caters to young and more mature audiences alike.  Grab a tube and slide down one of the high speed, swirly water slides, or cool down in the olympic size pool.
5. Santa Clotilde Gardens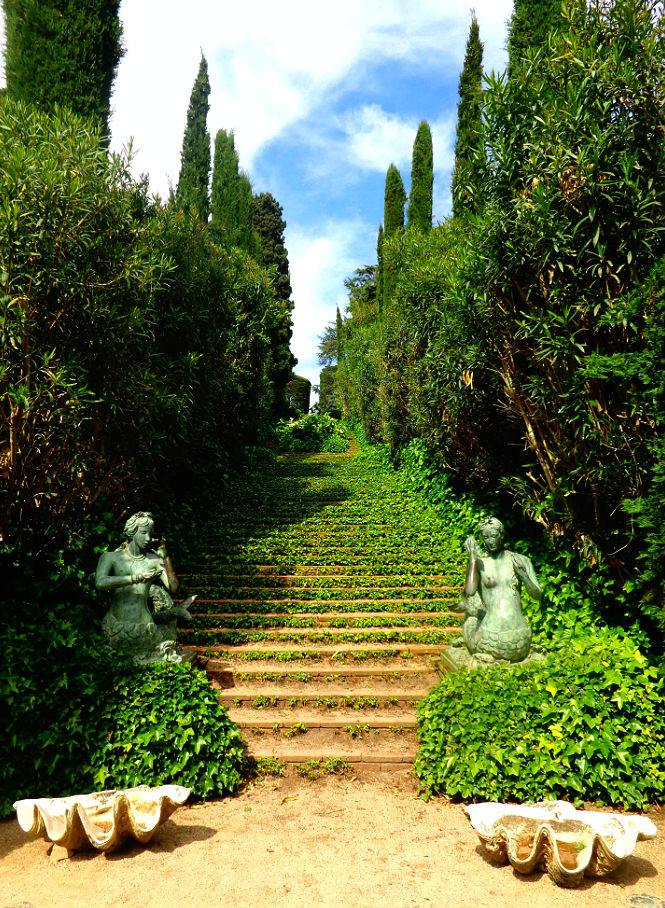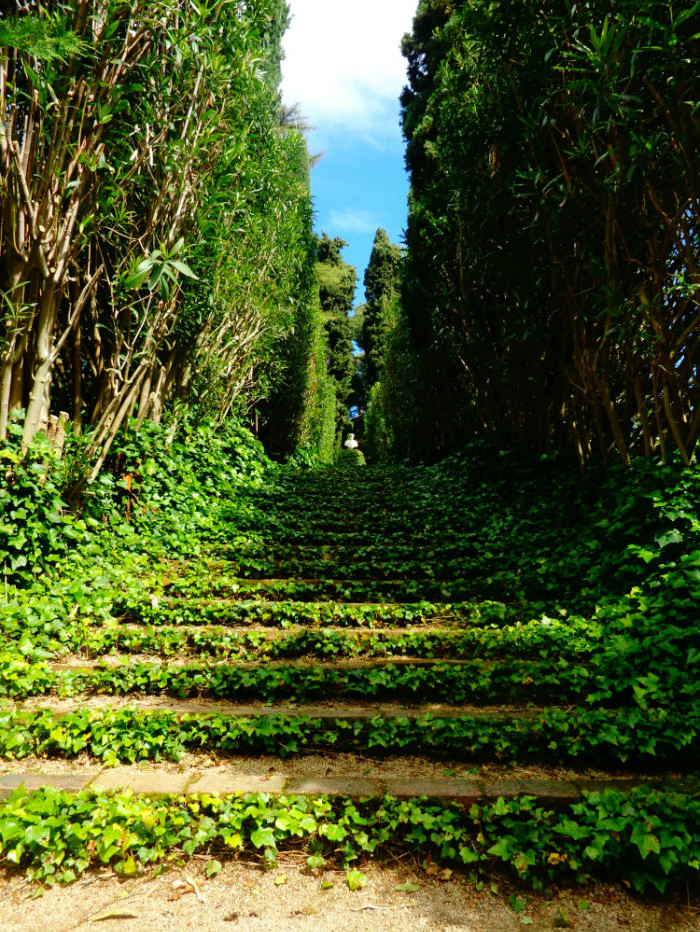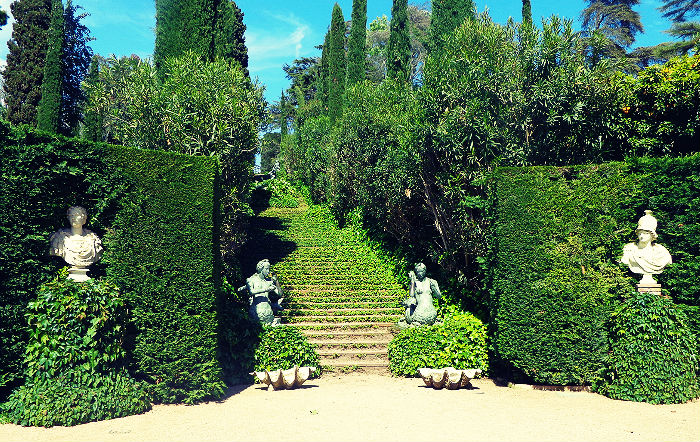 Take a peaceful getaway from your getaway, at the Santa Clotilde Gardens. These lush garden are located on top of a hill, full wit beautifully kept greenery, including all types of exotic plants and flowers. Pack a picnic, and settle down in the greenery with a view of the ocean, or take a photography walk and capture the beautiful nature around you.
The entrance fee is 5€ unless you are a student, a pensioner etc. More info about the price, schedule etc. here.
Now the questions is, which of these 5 are you going to do visit first? 😉
I will include some practical information as well, hope it is useful!
How to get to Lloret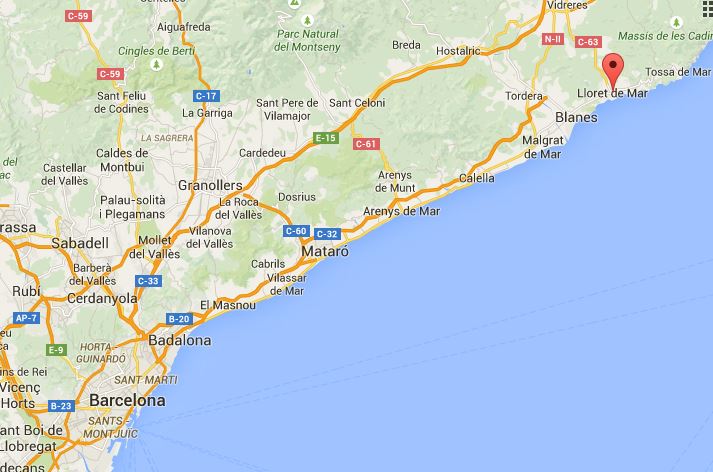 Depending where you are arriving from, there will be most probably 2 ways: from Barcelona and from Girona. The nearest airports to Lloret are Barcelona (75 km) and Girona airports (30 km).
From Barcelona city center
by bus – You can take Sarfa bus, search for schedule here
by train – no direct connection to Lloret. From Terminal 2 of Barcelona Airport take the train to Sants Estació, then change to R1 to Blanes. In Blanes there is a bus every 30 minutes from Blanes to Lloret de Mar, departing every 30 minutes betwen 7:00 to 23:40. The bus takes 20 minutes. A one-way ticket costs 6,15€ for the train, and 1,85€ for the bus (total 8€). Check schedule here
by car – The official website says "Travelling northwards from Barcelona, take the coastal C-32 motorway as far as Palafolls and then drive the last 12 km along the N-II and G-682 roads to Blanes and on to Lloret."
From Barcelona airport
by bus – it stops in both Terminal 1 and Terminal 2. The schedule for Sarfa bus is here. Price – 12,90€
by car – by motorway to Lloret de Mar – Exit 9 AP7 (60 minutes)
From Girona city center
by bus – Take the bus Sarfa at the Airport to Lloret de Mar (Sarbus). This service is offered together with Sagales, and the departures are at 8:50, 10:00, 11:50, 14:30, 15:30, 18:00, 20:20 and 23:20. The bus is approximately 35 minutes and costs 10 Euros. Purchase the tickets on the bus. You will find the schedule here
From Girona airport
by bus – Sarba bus again will be good for you, search for the right time for you here
airport transfer – if you are traveling in 2 or more, you can take Viatges Anubis for 12€ per person, but remember to book it at least 3 days in advance by writing to [email protected].
by car – by motorway to Lloret de Mar – Exit: 9 AP7 (20 minutes)
Where to stay in Lloret de Mar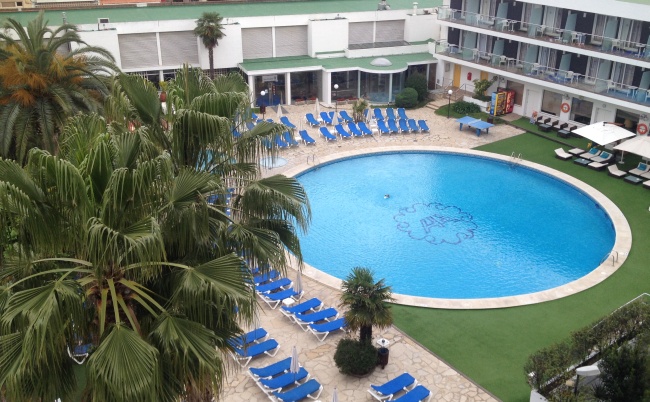 There is a huge range of hotels in Lloret de Mar from hostels for party animals to posh hotels with luxury service. Because I was attending a conference I chose something more like a family resort (calmer) with a great free spa where I could relax after a hectic day! The reviews of Hotel Anabel were good, so I just took it and had no regrets.
My room was big, the amazing view to the outdoor pool made me want to wake up everyday and go eat their all you can eat breakfast. It is also located 5 mins walking from the sea, so I do recommend it!
Click here to see the hotel's rates and book the hotel!
Lloret de Mar Hotels, where to stay
Luxury (US$ 250 and up): Hotel Sant Pere del Bosc is extravagant in every way, offering access to a Spa, and for those who wish, a 1 km walk will take you to the golf course. Playa Sol Costa Brava is the ideal place for testing the local cuisine and finding peace and quiet in a cozy place.
Middle (US$ 50 – 100): Aparthotel Costa Encantada is the dream for people who love both sea and mountain, as it is has views of both. Alegria Plaza Paris will offer you rooms with a view that are perfect for an evening of relaxation and the advantage that the beach is situated in the near proximity.
Budget (up to US$ 50): Hotel Esser is the perfect choice if you want to get away from the busy streets. You benefit from free parking at staff that is always at your disposal. Apartment Remo is ideal for beach enthusiasts as it is situated at approximately 1km from it. Former guests have reviewed it as the perfect place for couples and family
---
Conclusion:
Lloret de Mar has so much more to offer than any regular tourist would be willing to see. But if you are a smart traveler you will truly enjoy everything this Catalonian town has to offer!
Talking about Catalonia, I traveled a little bit around this wonderful region and was absolutely charmed by its beauty, tastes and people. Truly, Barcelona is so much more! You got it, a new blog post is already there waiting for you!
Oh, and the last thing – if you haven't yet, don't forget to try snails when you are in Lloret de Mar! 😉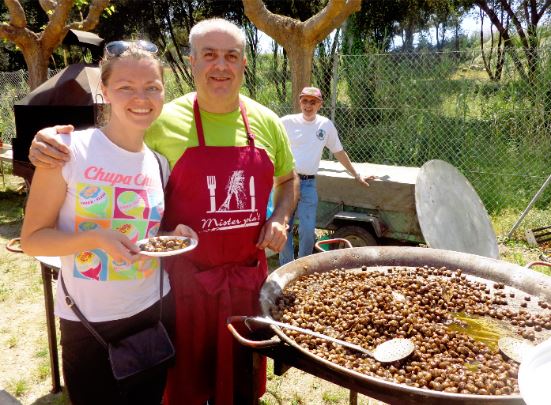 UPDATE: I have just found out that I became a little famous on a local TV. Watch the first 3 minutes where I am giving an interview talking about my experience in TBEX conference and Llort de Mar in general!
My interview to Lloret TV
Thank you so much for reading this article, if you liked it, please don't forget to share it with your friends!
Nothing makes me happier than reading your comments, just leave then in the space below!
Yulia