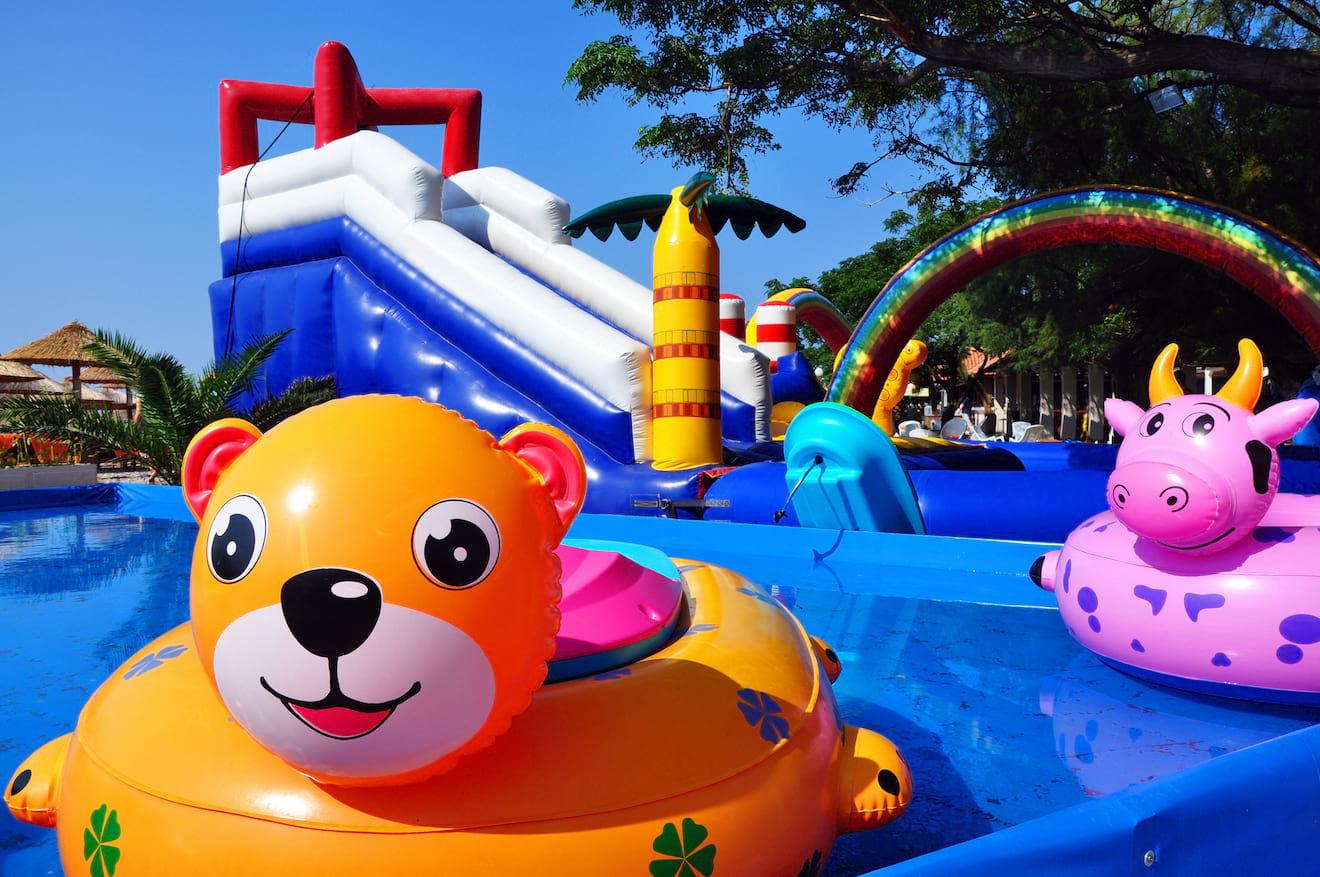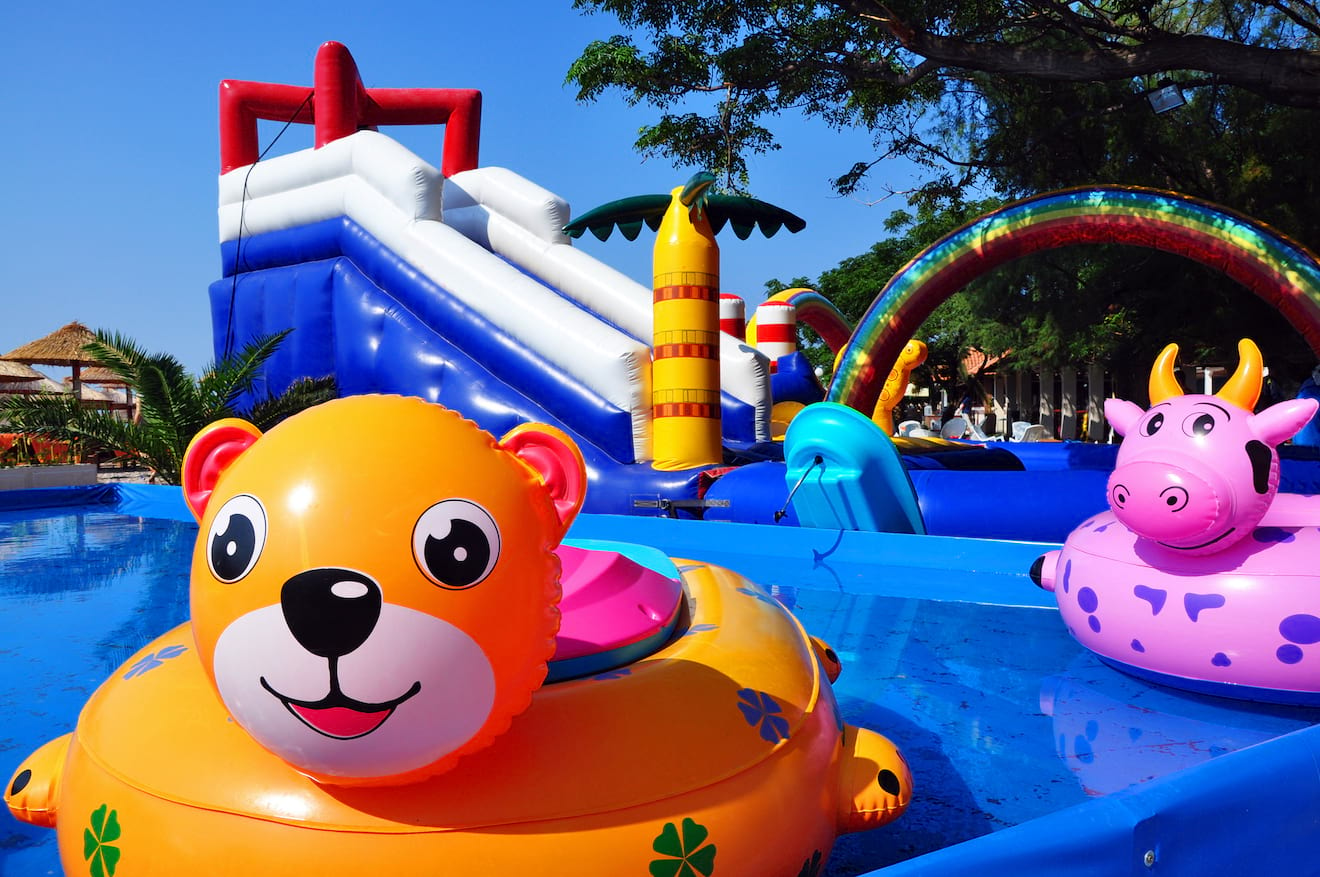 Inflatable water slides have become incredibly popular and this is not exactly surprising considering we are mostly staying at home nowadays. 🙂 With the summer approaching, you kids are surely eager to get out of the house finally and have some fun!
I think it can be a wonderful gift for your little one(s) and they will remember those home outdoor parties for years to come!
Talking about presents – buying an inflatable water slide is a much easier, more affordable, and sensible alternative to building a permanent one! So, if you are searching for the best inflatable water slide, keep reading, you are in the right place.
In this article you will learn how to choose the best inflatable water slide companies for kids all ages (including the older ones, caught – you). Although these slides are a pretty popular thing now, they come in all shapes and prices, so I understand it can be overwhelming to choose.
1. Wow WaterSports Super Slide
Let's start from the simple ones, shall we?
Wow sports tarp water slide helps you organize fun games right in your yard that can easily compete with the best water parks!
The slide is 25' long and 6' wide, which makes it ideal for kids. Place it in your backyard or garden and let your kids chill in the hot summer.
The slide has a zig-zag spray pattern sprinkler system that runs throughout the length of the slide to ensure complete, excellent water coverage. This allows your kid to slide smoothly and enjoy the ride. Also, the slide connects easily to the water hose and has two mega sleds that soften the impact on the ground when in use and offers a slippery ride. The extra-thick, heavy-duty slide is more durable than most of the other options available.
Pros
The customized connection system allows you to connect as many slides and make it as long as you want

Super-slick PVC eliminates the need of adding soap
Cons
Recommended using inflatable rafts to the slide
2.

Bestway Tsunami Waves Summit Inflatable Water Park Play Center
When your kids miss being at the water park, how about bringing the park at home?
Bestway offers a complete package for your kids to help them make this summer truly unforgettable! The design of the whole water playground makes sure it includes everything and even some 'extra'! The slide comes with a water park play center that is perfect for an 'extra' fun demanding birthday party or for the 'extra' entertainment in your backyard. It has two slides to offer many possible water activities for kids.
Also, it has a waterfall tunnel to allow kids to have a cool off from the sun, I mean, how awesome is that?
The play center also has a built-in water sprayer to give additional fun amidst the playtime. When tired of playing, kids can have a chill or splash area in the large play pool attached to it.
PRO TIP: If the above water slide is currently out of stock, please check Blast Zone Pirate Bay Inflatable Combo Water Park and Bounce – it is an awesome alternative!
Pros:
The ultimate pack including climbing wall, basketball hoop, splash pool etc.

Heavy-duty blower inflates it in less than 3 minutes

Mesh shoe holder
Cons:
Quite costly but worth your money
3.

Bounceland Jump and Splash Adventure House Bouncer
Offering a great combination of jumping and splashing, Bounceland presents this beautiful and energetic bouncy water park which fulfills every kids' fantasy, which is to spend unlimited time playing with water.
The bounce house has a jumping area of 4'x4.25' along with a pool area of 6.5'x4.8' and a slide of 6.5'. This makes it a fantastic choice for parents looking for a water slide for kids of 2 to 10 years of age. A maximum of 3 kids can be inside the slide at one time.
The high railings, large supporting columns, and strong mesh enclosure ensure the safety of kids and provide a steady base. It also has an additional Velcro-attached surface for the slide that gives a smoother ride as compared to other slides available.
It also has an inflatable basketball hoop to allow you the dry fun and then lets you relax under the cooling sprinklers.
P.S. This is a portable pool slide that comes with a carrying bag that is very handy to use for storage.
Pros:
Dry and wet play

Extra Velcro sliding surface

Water hose and nozzle

Ensures the safety of kids

Puncture-proof

Powered by strong UL blower (included)
Cons:
Splash pool area seems to be quite small
4. Banzai Sidewinder Falls Inflatable Water Slide
This is the most fun and comprehensive water slide pack that parents could ever find for their kids (and, let's be honest here, themselves!)
If your kids miss the twists, turns and sidewinder falls of the water park, Banzai comes up with a great option as a solution. The Banzai Sidewinder Falls Inflatable Water Slide is one of the Banzai Falls original water slides.
It is one of the best inflatable waterparks and an ideal choice for the backyard fun your kids have been longing for so long. With extremely banked curve sliding ramp and tunnel ramp, your kids are going to be more than satisfied with the experience it would give.
It is 15' L x 16'10" W x 10'5" H. so it is pretty big, make sure you have enough space for this slide.
It is made of heavy-duty dura technology that makes it sturdy enough to surpass your numerous playing sessions. It is long-lasting, safe, and strong enough to invest money into. Are you worrying about assembly? Just unroll, inflate, add water, and you're done!
PRO TIP: If this one is currently unavailable, check Little Tikes Slam 'n Curve Slide, it is a little smaller, but it is also one of the best products on the market with similar characteristics.
Pros:
Tunnel ramp and curve sliding ramp

Long-lasting, safe and strong

Short installation time

Adjustable hood and 2 front pockets

Many kids can play in the same time

Durable rubber print
Cons:
Quite heavy to carry (67 pounds)

Quite costly
5.

Intex Inflatable Water Slide
Intex presents to you a brand new choice that is not completely a slide but serves the purpose. The Intex Water Slide is kind of an inflatable sleeping bag that you are able to transform into a slide when you want it to. This mini pool slide is attached to the pool and helps you convert your pool into a water park play area. It has built-in sprayers to allow a smooth band slippery ride. You need to simply inflate it, attach to the garden hose, and let your kids slide down to the water to experience the endless summer fun!
Can only be used if you have a pool
The slide has multiple chambers that ensure stability and allows kids to climb up to again slide down easily. The climbing handles and steps are to provide the kid support while they move up so that they don't slip down. The slide also features fun wave graphics to give you a complete feel of the water park. Ideal for children over 2 years old.
The pack also includes a repair patch. With an inflatable slide of dimensions 10'11"L x 6'9"W x 3'10"H, get ready to make a splash all summer long!
Pros:
Made of heavy-duty material

Fun wave graphics make it more indulging and fun for kids.

Extremely easy to set up

Affordable price
Cons:
Doesn't come with an inflation pump

Can only be used if you have a pool
6.

Deluxe Inflatable Water Slide Park
Deluxe Inflatable Water Slide Park is the ultimate thing you need to keep your kids entertained and cool during the summer!
Made of premium, heavy-duty nylon-synthetic fabric, this water slide is extremely durable and also puncture-resistant. It has reinforced stitching that ensures a stronghold and keeps it from tearing off when kids jump or slide over it.
It doesn't require any special technology to set up the slide as the built-in air pump does all the job for you. Within minutes, the electric blower does its job and permits the kids to have fun without wait.
The slide pack has a total of three sliding fun features. It has two water slides, each of which ends to a splashdown pool for a soft landing, and it also has a climbing wall and a blower.
Make sure you have enough space in your backyard as this one is quite big – 157.2 x 134.4 x 94.8 inches.
PRO TIP: if this one is not available, I also recommend checking out Little Tikes Rocky Mountain River Race Inflatable Slide Bouncer, it has pretty similar properties and also great rating!
Pros:
3 splashing fun features

Heavy-duty nylon makes it durable and puncture-proof

Quick and nonchalant setup
Cons:
Deflating the slide is a great task as the water gets inside it
7.

Banzai Triple Racer Water Slide
This one is similar to the first one, but in this case kids can actually compete between each other!
Banzai helps you in doing so with its triple racer water slide. Let your kids have fun and teach them to test the speed so that they can challenge each other for the sliding down the race. The water slide kit has three racing lanes, each of them ending to a splashing pool. All three lanes have water spraying bumpers attached to it so that the kids feel the chill while they race and don't feel tired for a long time.
All the three racing lanes are 16 feet long, long enough to satisfy your kids. Just to mention, this is one of the best rated inflatable waterslides available on Amazon.
The only downfall is that the slide is not slippery enough on its own to allow smooth rides. So, adding soapy water is a good strategy! Also, keep in mind that the slide is perfect for kids of 5 to 12 years of age.
Pros:
Three racing lanes

Develops a sense of competitiveness in kids

Good value for money
Cons:
8.

Banzai Plummet Falls Adventure Club Water Park
Last but not least item in our list, Banzai obstacle course water slide has a wide collection, ranging from water slides as simple as lane racers and as adventures as plummet falls.
It includes a huge water slide, a side area to climb up, a large splash pool and a dump bucket for the kids to play. In different areas of the rods and pillars of the pack, you would find water sprinklers that help the slide stay slippery. The end of the slide has a round head on the top that allows continuous water flow.
When tired of climbing up and sliding down, kids can just play and splash in the pool area that is large enough to allow 5-6 kids at once. The powerful motor does the job for you and inflates the pack into a world of fun for kids.
Pros:
Features a "fill 'N spill" water-drenching bucket

Allows 5-6 kids to play at once

Strong and durable

The weight limit is non-existent – the recommended age is 4 years and up
Cons:
The seams tend to sweep out the air during use.
Here are a couple of things to keep in mind beforehand:
1. Age of the kids
Different water slides have different criteria regarding the age of the users. There are water parks for babies, for toddlers, and for older kids. Water slides are available for teens and for adults as well. Is it going to be a slide used for the whole family? Think about that in advance.
So, when you're looking for a slide, do check out the age specified for its use. This is important because the height and weight capacity of the slide is limited, and you will see it ripping off within a use or two if you exceed the limit.
2. Available space
Inflatable water slides are available in different sizes. However, you need to choose one according to the space you have. Do not get carried away, I know those slides can be fascinating, but what's the use of having it if your back yard water slide is too big?
Another thing to know is that different shapes of water slides occupy a different space. For example, a square water slide or a lane racer slide would occupy much less space compared to those that offer adventure falls. So, keep the size in mind before you select a particular product.
NOTE: when you place your new toy in your garden, make sure you follow the instructions and that there are no sharp objects, or the inflatable might get damaged.
3. Material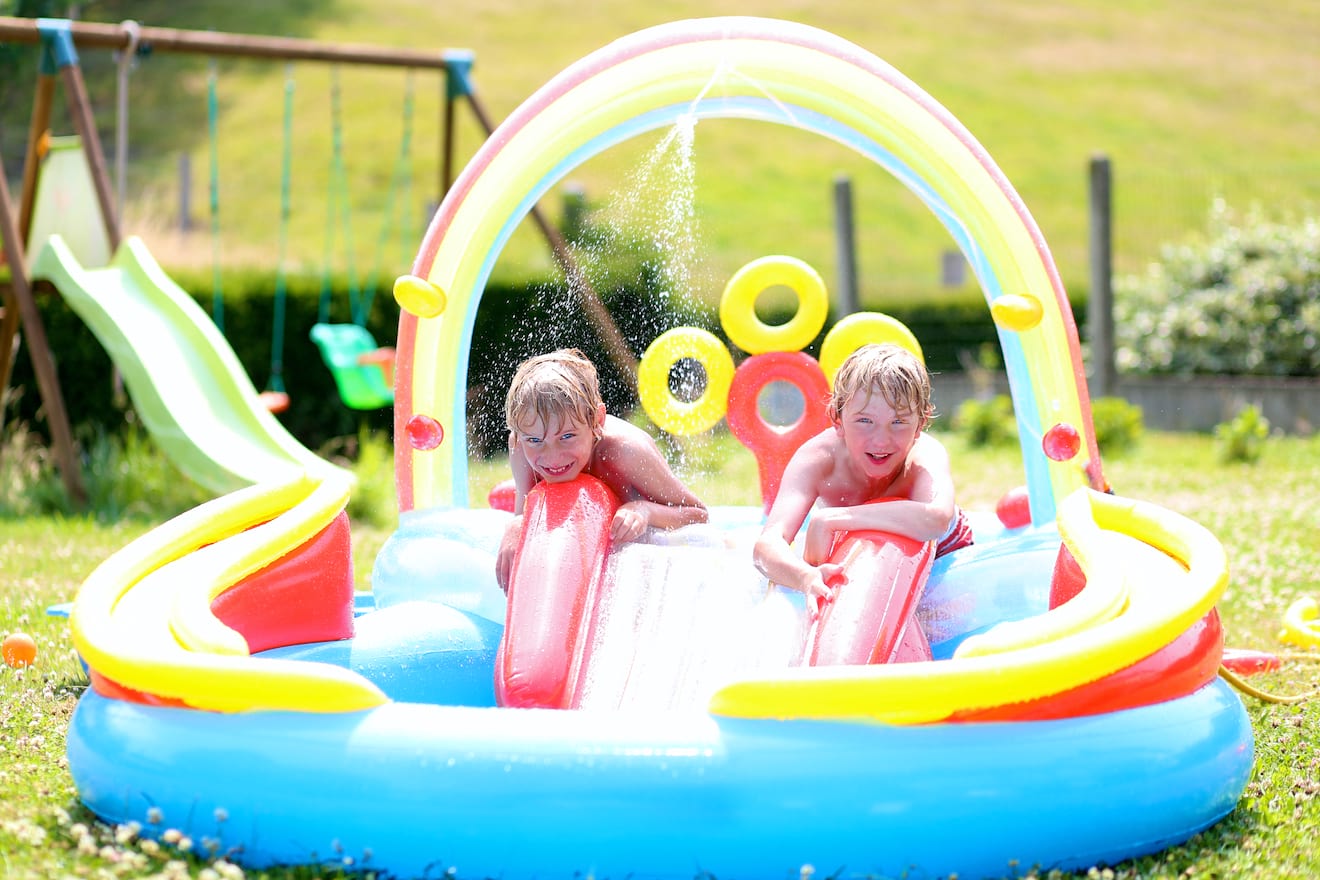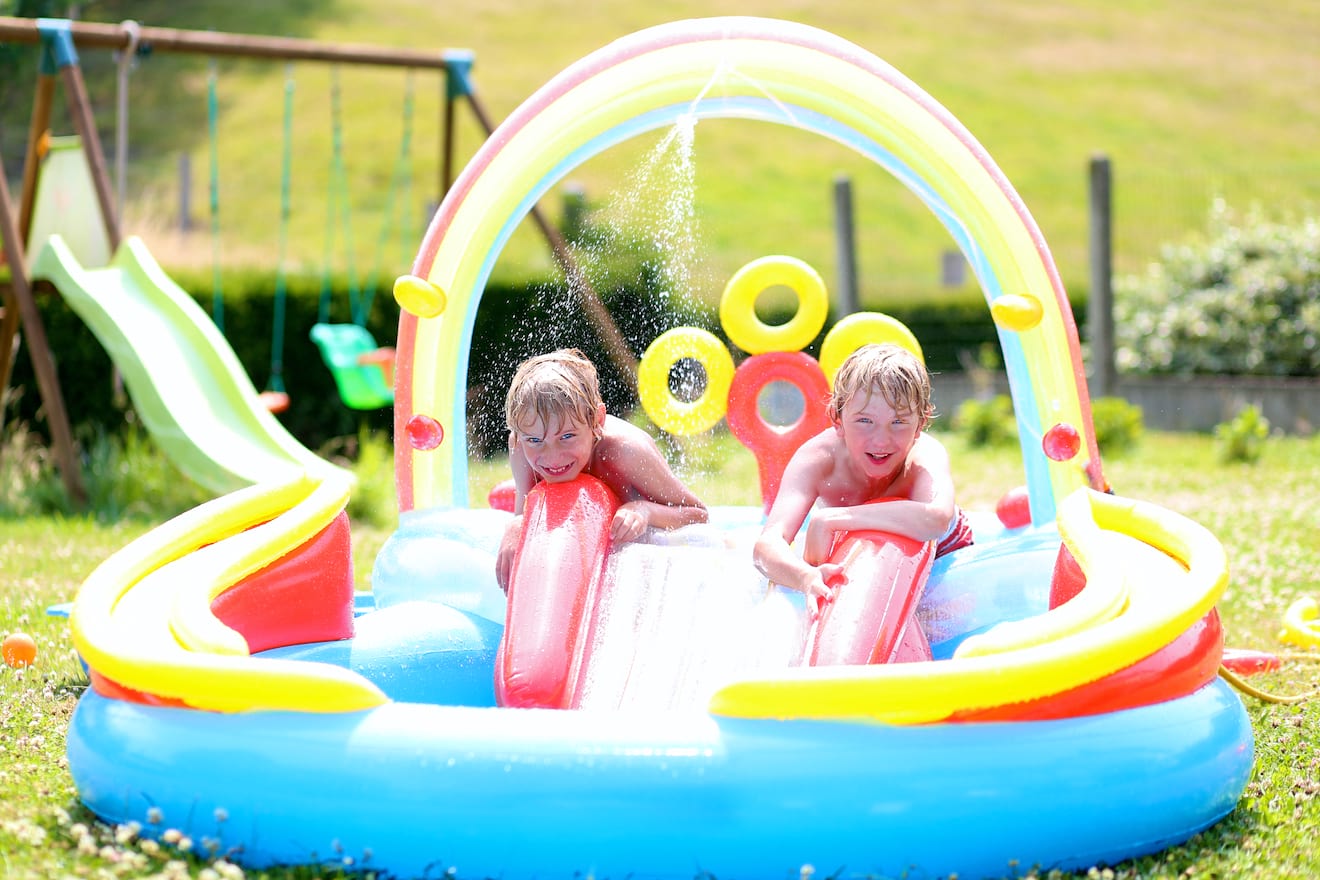 The material used in the manufacture of the inflatable water slide can affect your decision a lot. Why? If you choose super cheap waterparks made from cheap materials (which I do not recommend), it will not only affect the durability, but also stability of the slide, hence, safety.
The materials I recommend are:
PVC (polyvinyl chloride), which is one of the most elastic and preferred materials.

Chemical grade nylon as it is also elastic, durable, and light in weight.
All in all, go for a sturdy yet smooth material that is elastic, durable, and also puncture-free.
4. Price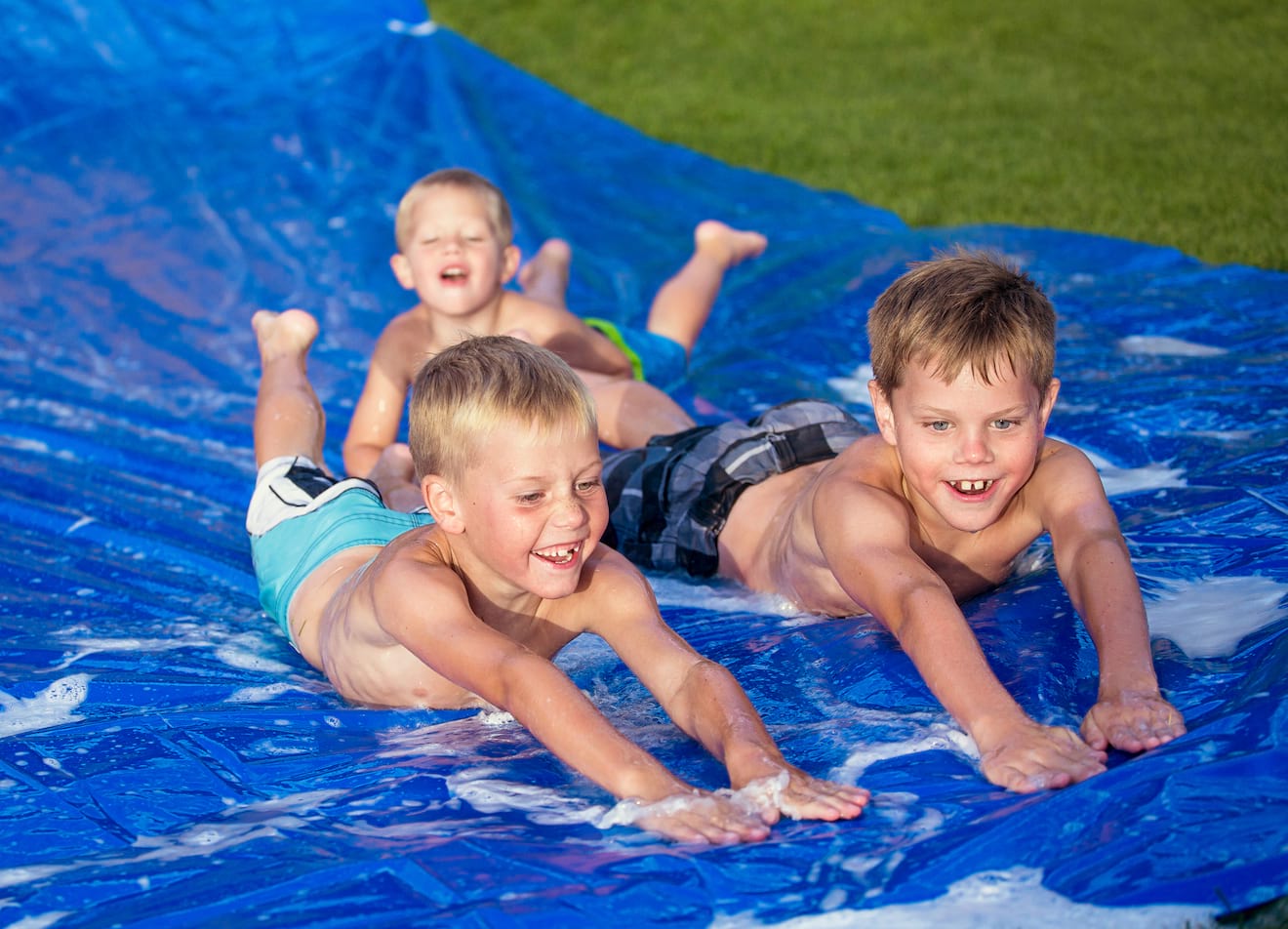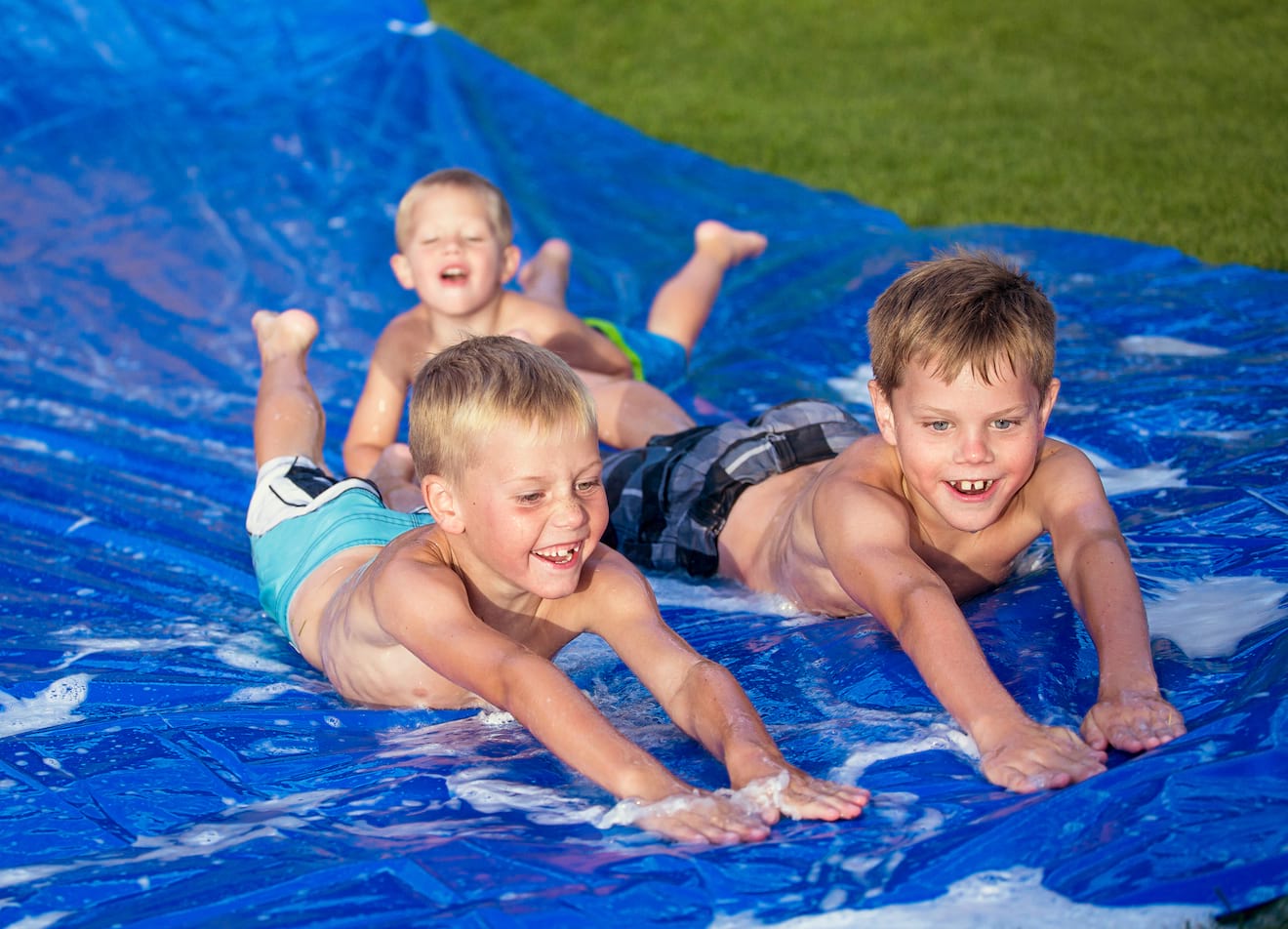 As I mentioned above, buying an inflatable water slide is definitely cheaper than building a permanent one. But you can still see really big fluctuations from anywhere between 200 to 1000 or even 1500 USD – we will go through them below.
Honestly, I do not think it makes much sense to go for an overpriced slide, as it would tear within one or two summer seasons, irrespective of how durable it claims to be. However, at the same time I don't recommend going for the cheapest water slides available since that one might not even last for one season!
5. Installation
From a range of easy to hard installations, you should choose the one that has a motor and sets up within minutes. In short, the one with easy installation is the ideal piece.
6. Design
There are various designs of inflatables available in the market that feature different themes, varied slides, and energizing prints. Yes, there are all kinds of Frozen themed and Cars themed slides, inflatable lazy rivers, mini water parks, and many others you can choose from those according to your kids preference, but opt for the one that you think would be safe.
| | |
| --- | --- |
| Best inflatable water park: | Bestway |
| Smallest waterslide: | Intex |
| Quickest setup waterslide: | Deluxe Inflatable Water Slide Park |
| Best Value for money: | Banzai water slide |
| Best for multiple kids: | Banzai Inflatable Water Park |
Conclusion: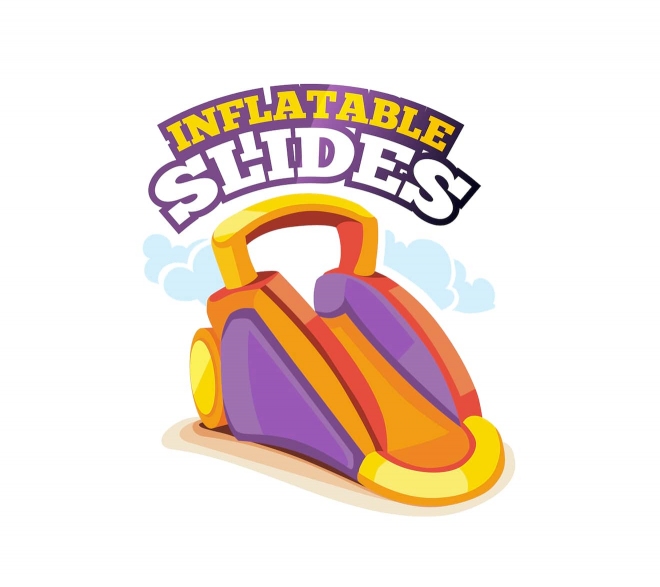 If you want to turn your backyard to a water park to win the summer this year, an inflatable slide is definitely a great choice which your kids will remember for a long time afterwards!
And in case you want to eliminate the choosing part, I recommend going for one of the proposed options above – all of them are quite easy to handle, have great reviews and are safety-approved.
I hope I helped you in your search and you found the best blow up water slide that suits your needs and is within your budget. Be sure to let me know if you need more information!
If you found my review useful, do not forget to give it a "Like" and share with your friends!
Yulia
---
Pin it for later!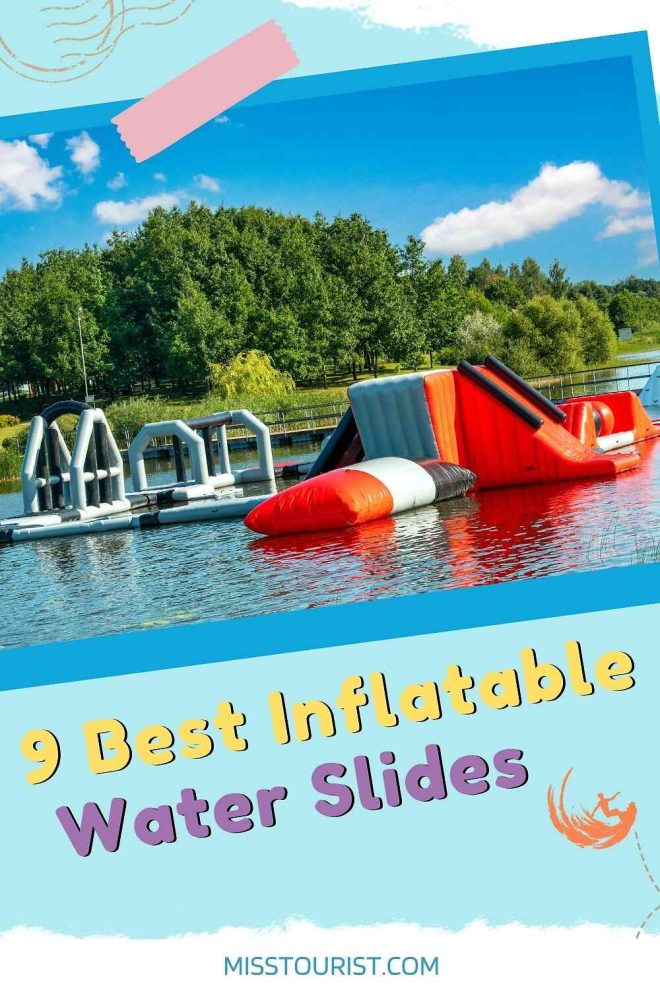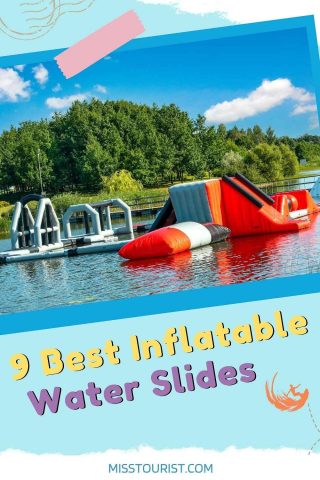 Pin it for later!