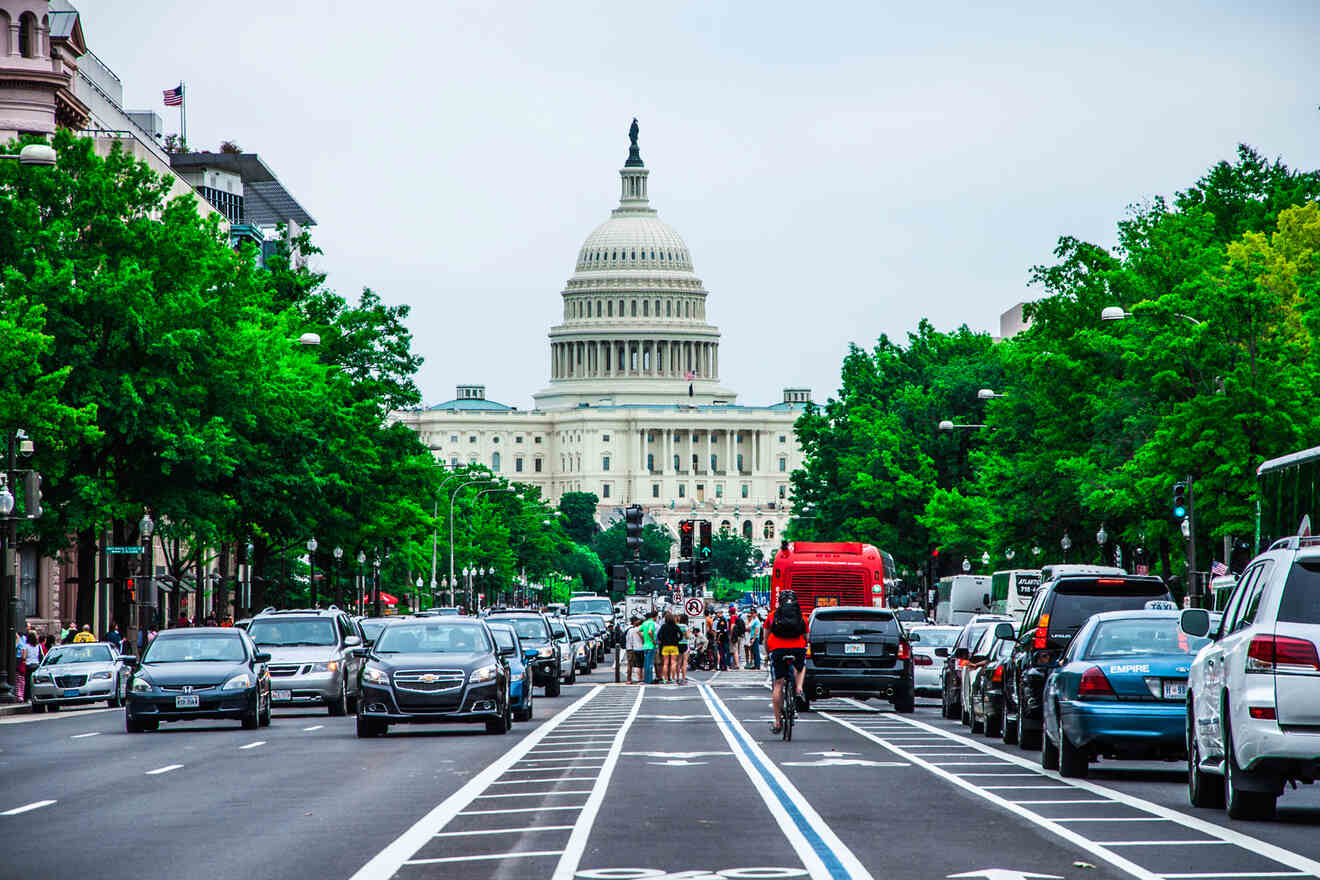 Located at the confluence of two rivers – Anacostia and Potomac, Washington, DC stands out due to its atypical appearance for America (no skyscrapers!), rich history, culture, and amazing food scene. DC is considered one of the most important cities in the country – after all, it has the White House, Supreme Court, Union Station, Capitol Hill, National Mall and is the center of all the 3 main branches of the Federal Government of the United States.
If you are lucky enough to travel to D.C around early-mid April, put Tidal Basin on your list to see the cherry blossoms burst into bright pink colors! Visiting at other times of the year? Don't worry, Washington also offers a great mix of visual and cultural experiences and is home to an incomparable concentration of museums, and best of all – the entry to the museums is generally free of charge. Just because it's home to some of the most important parts of US history, don't worry the city also has its fair share of bars and nightlife. The city is well connected by metro and each of its neighborhoods is conveniently pedestrian-friendly making it easy for travelers to get around.
In this article, I will narrow down the best neighborhoods for where to stay in Washington DC while visiting and highlight the top hotel and other accommodation options in each one for a range of different budgets.
If you are in a hurry
If you need to book something right now, here are the best of the best options for each price category:
To help you get a better idea of the areas I will be discussing in this posts, here is a handy map of Washington DC:
1. Downtown – where to stay in Washington, DC for the first time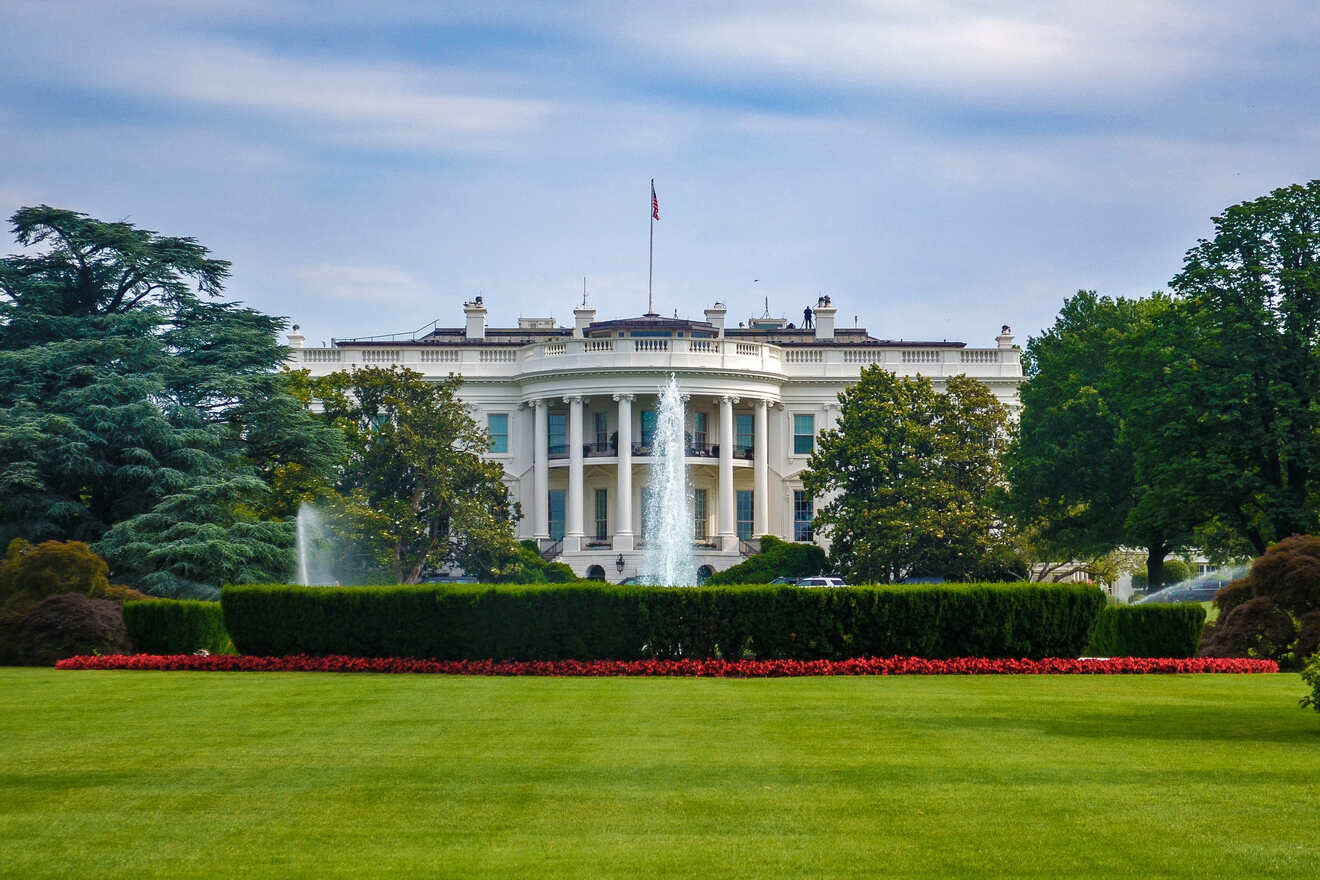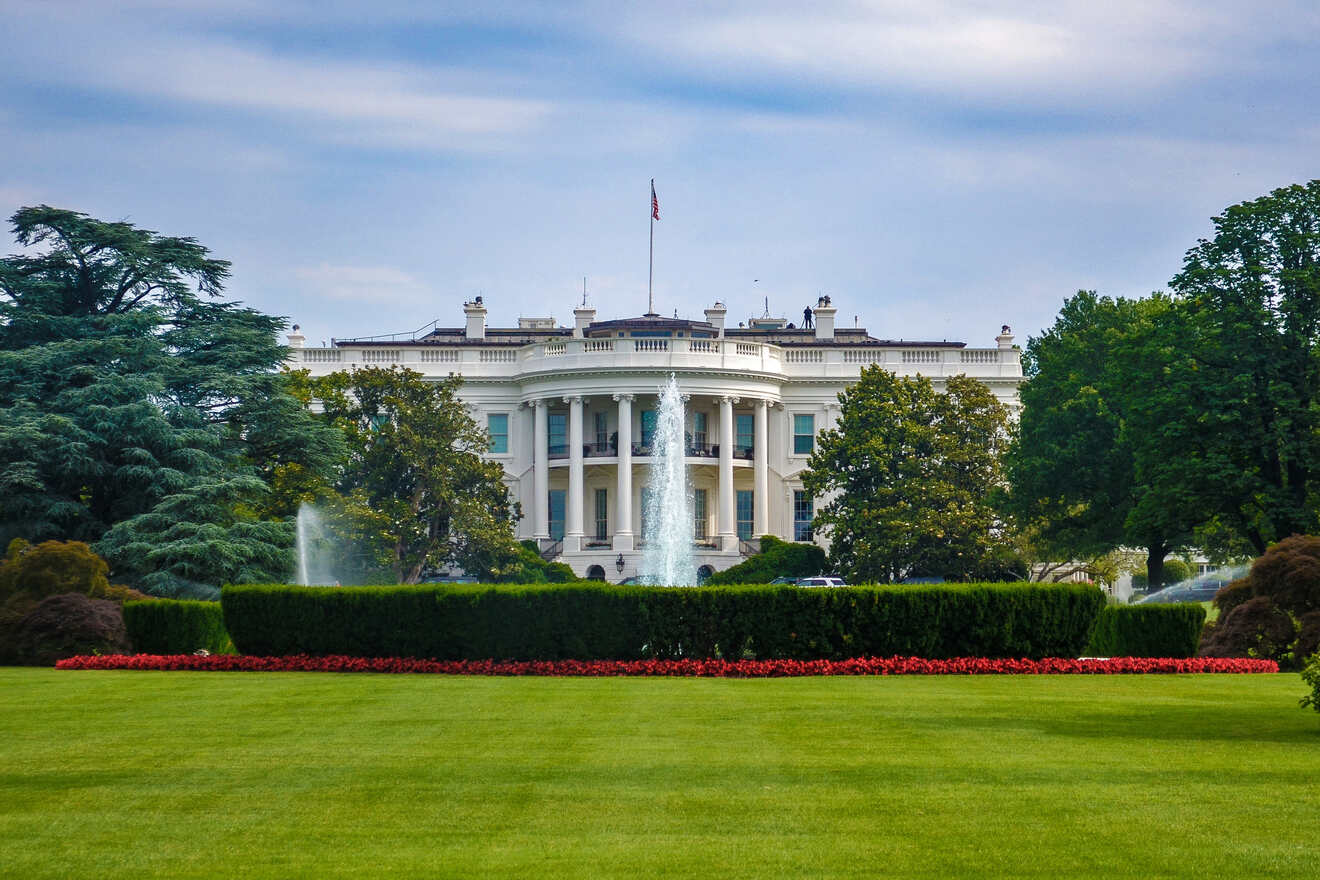 At the heart of all attractions and activities lies the Downtown DC neighborhood. This area is a thriving neighborhood full of interesting business, important monuments, and an abundance of options for wining-and-dining. Staying in this centrally located neighborhood means the famous White House, the National Art Gallery, and CityCenterDC are all located nearby, plus Downtown Washington, DC is very pedestrian-friendly!
While you're in Downtown Washington, you can't miss the National Mall – despite its confusing name, the National Mall is actually a manicured park that is home to some of the best DC museums and memorials. In this chic neighborhood, travelers can find perfect stays for anyone's taste and budget, from boutique hotels, family-friendly hotels to budget-friendly hotels.
Here are the best ones:
Other Accommodation Options in Downtown DC
Things to do in Downtown Washington DC
2. Dupont Circle – the most trendy neighborhood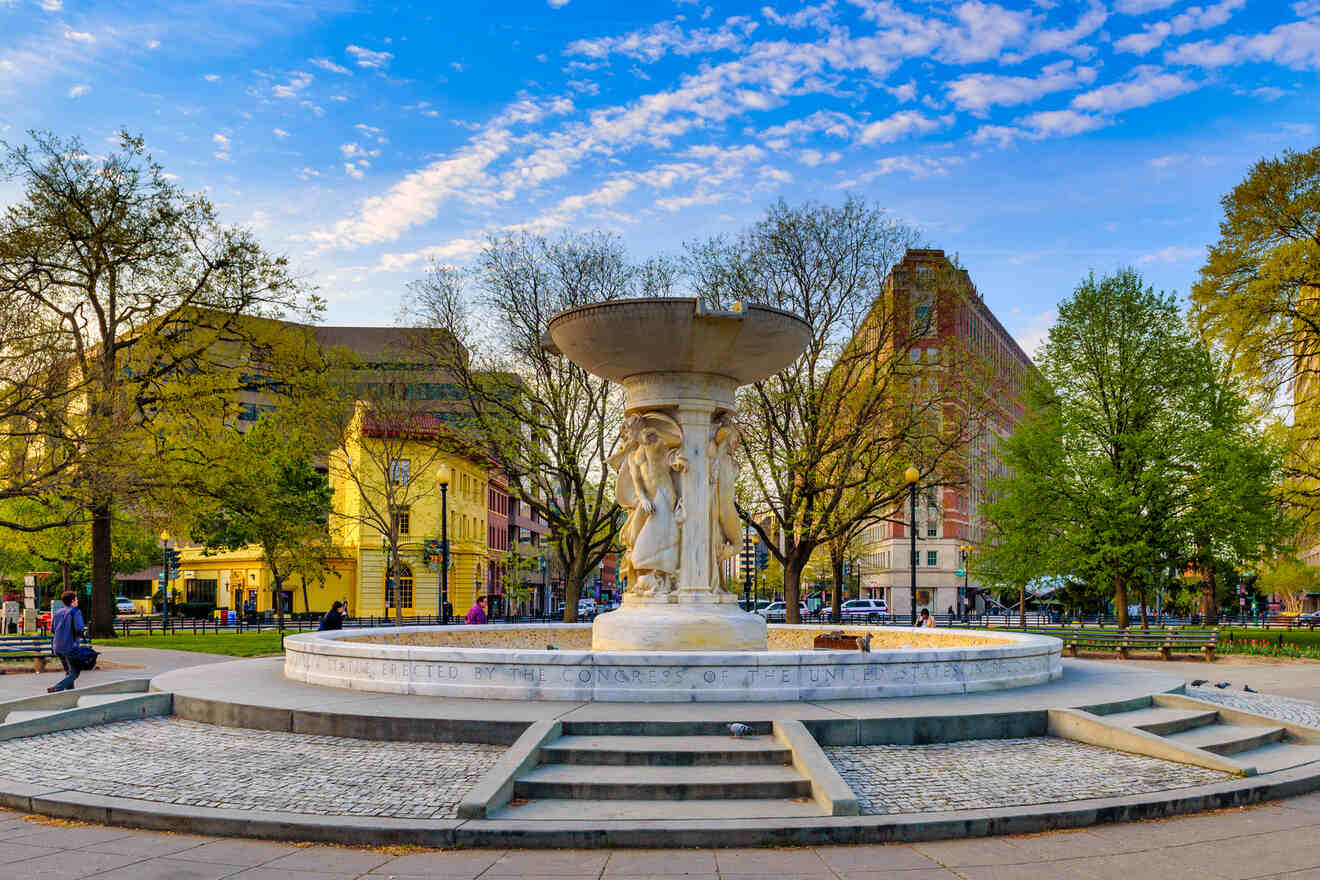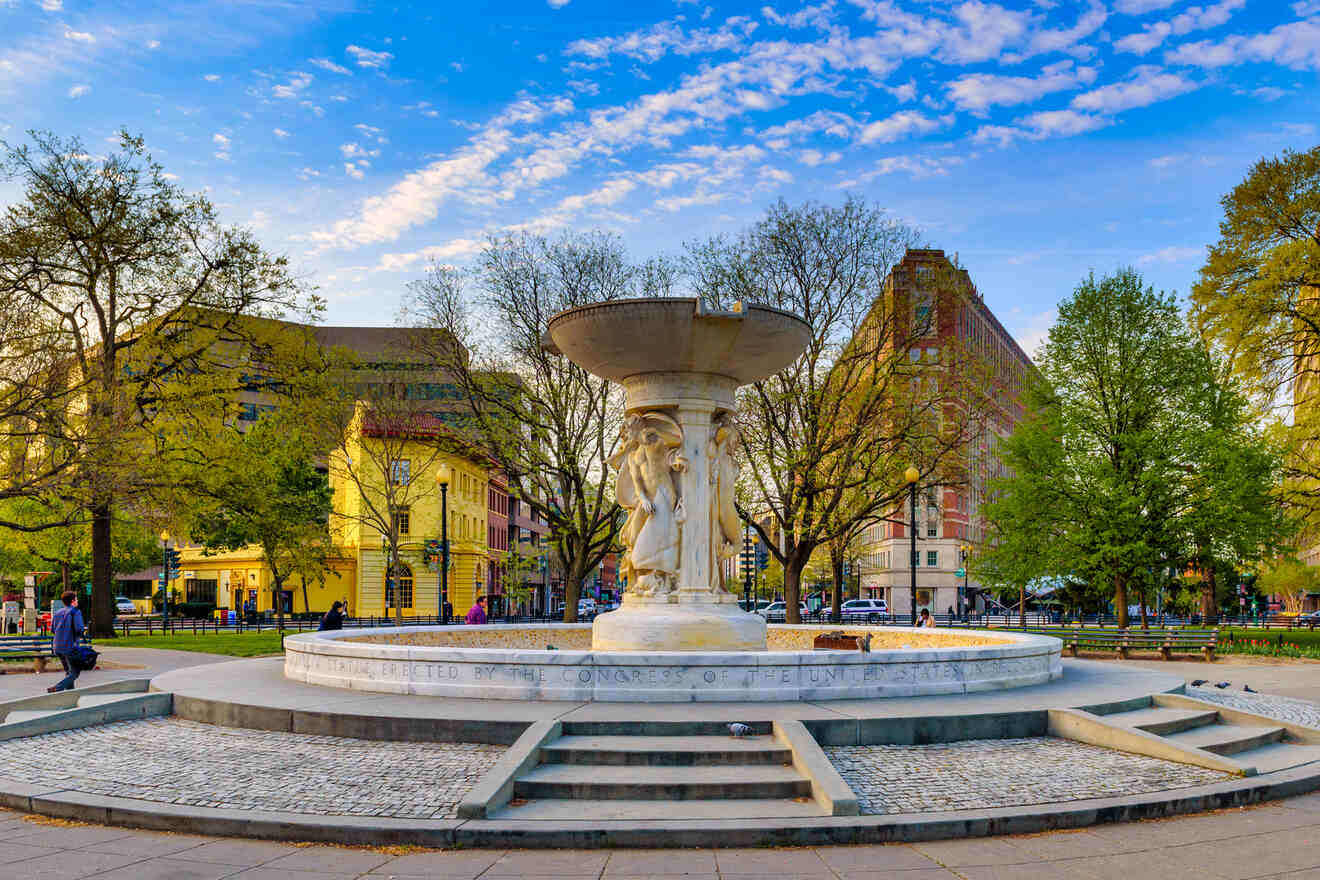 Located just 3 blocks north of the Downtown area, Dupont Circle (not to be confused with nearby Logan Circle) is the trendiest neighborhood in the city and is characterized by numerous art galleries, exclusive shops, bars, and nightlife. Moreover, this neighborhood is famous for the Dupont Circle Fountain, a large fountain where travelers and locals alike love to hang out or have a picnic. It is home to the best museums and institutions in Washington and the heart of the city's nightlife scene. Buildings in the area of Dupont Circle include the Woodrow Wilson House, the Cathedral of the Apostles of St. Matthew, and the Brewery Castle.
If you love to have a good laugh, find your way to DC Improv in Dupont Circle – the most famous comedy club in the city. However, if you are more of a person for a book and a glass of a fine drink, Kramerbooks & Afterwords Cafe – a full-service restaurant and bar combined with an independent bookstore is a must-visit!
Other Accommodation Options in Dupont Circle, Washington
Things to Do in Dupont Circle, Washington
3. Georgetown – where to stay in Washington, DC for families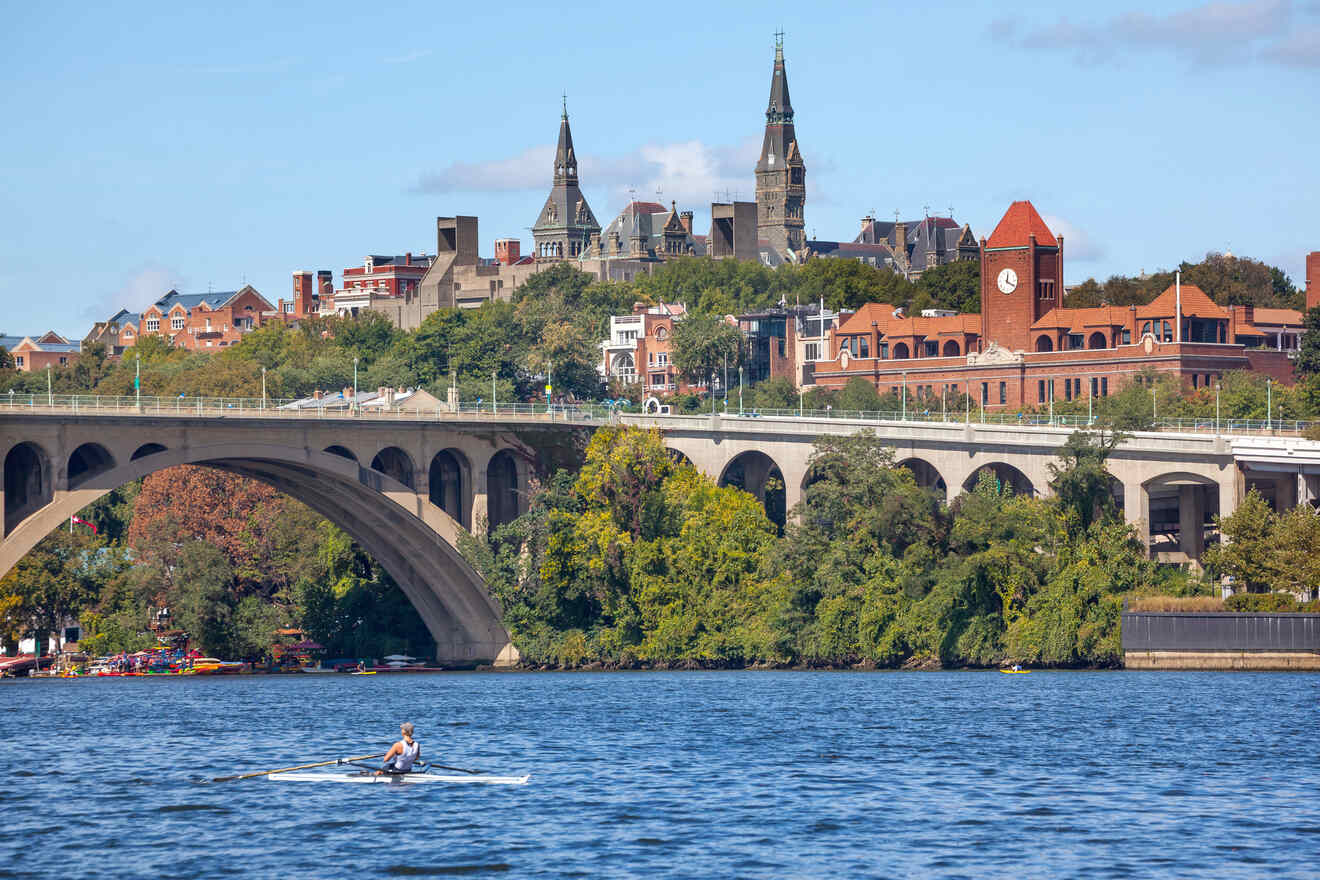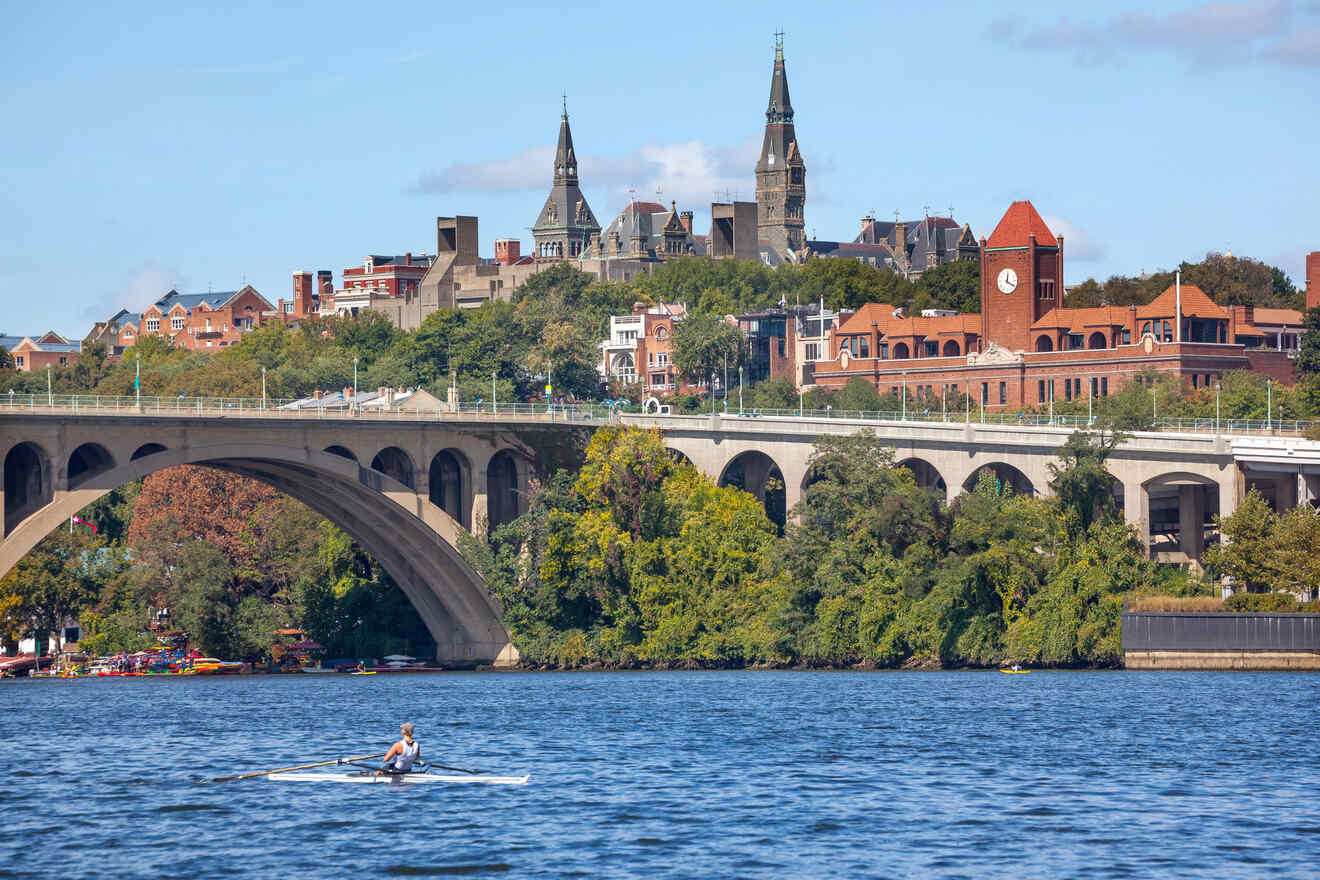 Nestled just north of the bend in the Potomac River, the wonderful residential neighborhood of Georgetown is famous for storybook-style row houses and shady, tree-lined, cobbled streets. With plenty of walkways and metro in its center, the Georgetown neighborhood is very pedestrian and bike-friendly, as well as being one of the safest areas to stay in Washington, so families can easily explore the area. 
Whilst the icons of downtown DC is just a 10min drive east, Georgetown itself is sizzling with urban culture and has plenty of family-friendly activities to enjoy. Take a boat ride down the canal or visit the Georgetown Waterfront Park for a panoramic view of the Potomac River, I'm sure you won't regret it!
Georgetown is well known for elegant hotels and cool places to stay, with most of them within walking distance to many fine restaurants, shops, and all major attractions, here are my top choices ranging from high to low budget.
Other Accommodation Options in Georgetown, Washington
Things to do in Georgetown Washington
4. Penn Quarter and Chinatown – where to stay in DC for sightseeing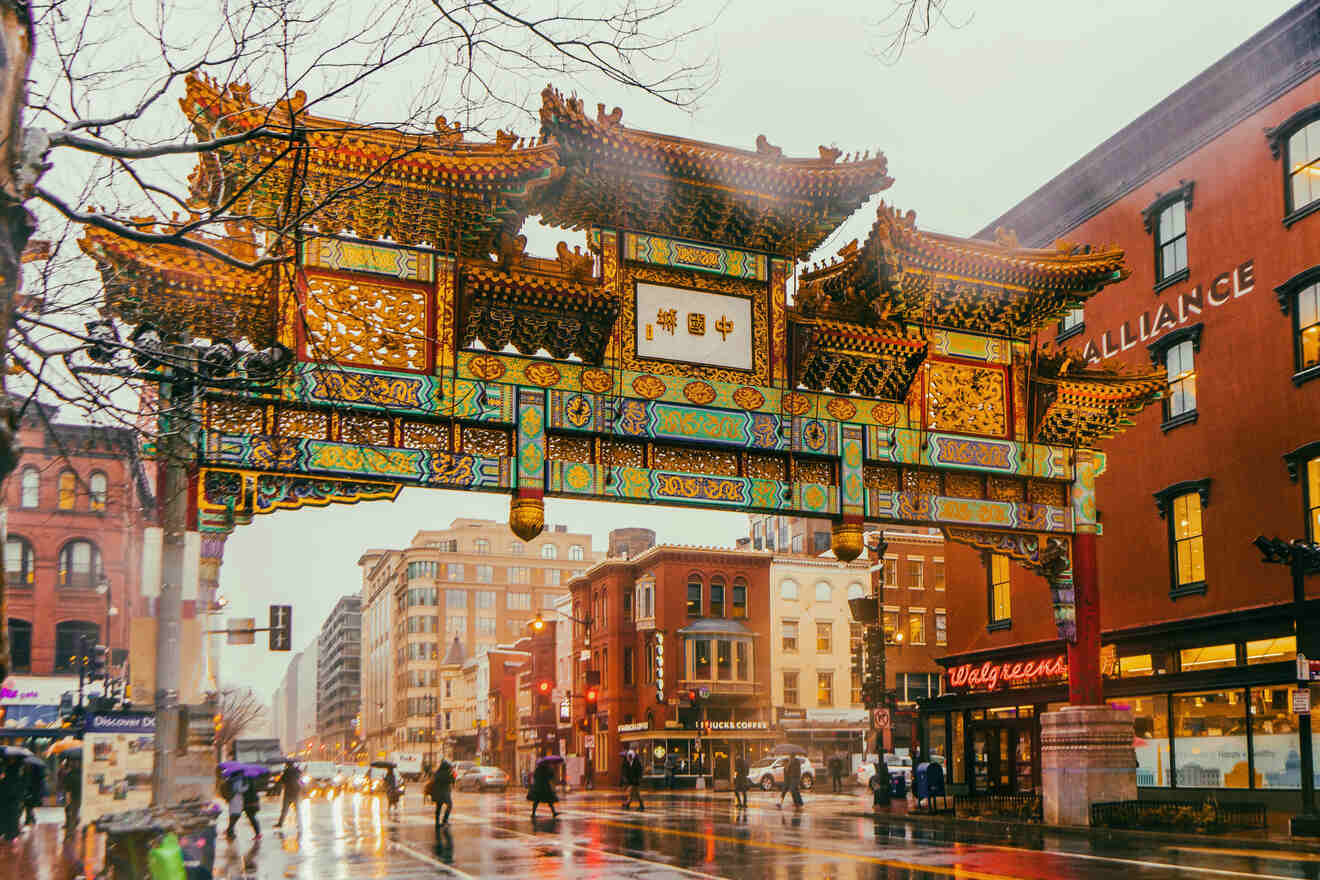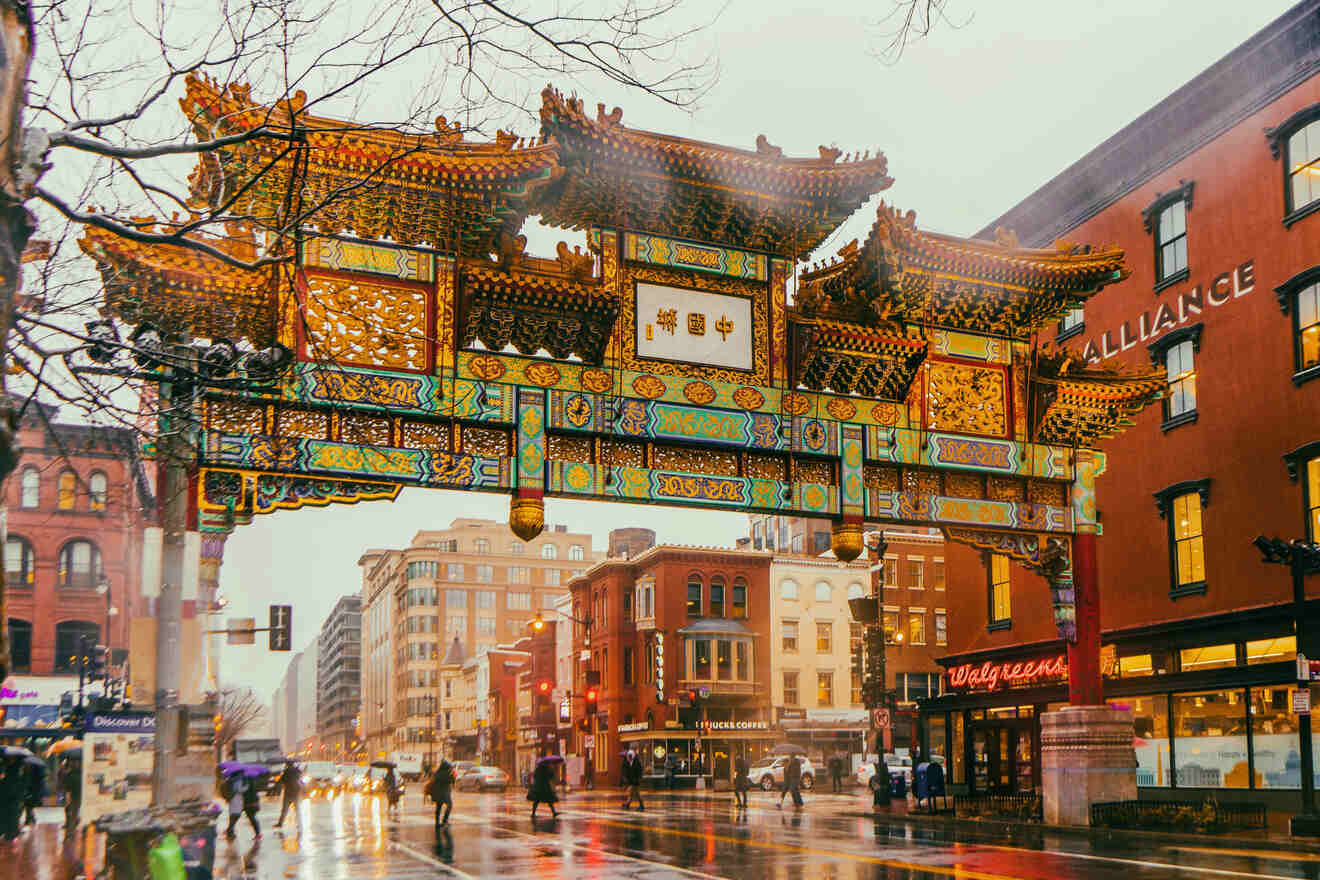 Penn Quarter and Chinatown are two highly central areas sandwiched between the white house and capitol hill meaning it is the perfect place to learn about American History. These areas are popular for a huge variety of reasons including it's sports, entertainment, museums, restaurants, bars, and shopping. It really does have something for everyone!
Check out the most complete set of portraits of U.S.Presidents (outside the White House) at the National Portrait Gallery, enjoy some of the best meals in the country at one of the numerous celebrity chef-run restaurants, enjoy a game of professional sport (or a concert) at the Arena, or shop til you drop for dazzling Dior, Italian cashmere, and other big names at the CityCenterDC.
This is definitely one of the most eclectic places to stay in the city so if you're like me and always want a little of everything, this is the place for you! With so much variety in the area, here are the best hotels to choose from.
Other Options in Penn Quarter and Chinatown
Things to Do in Penn Quarter and Chinatown
5. Adams Morgan – where to stay in DC on a budget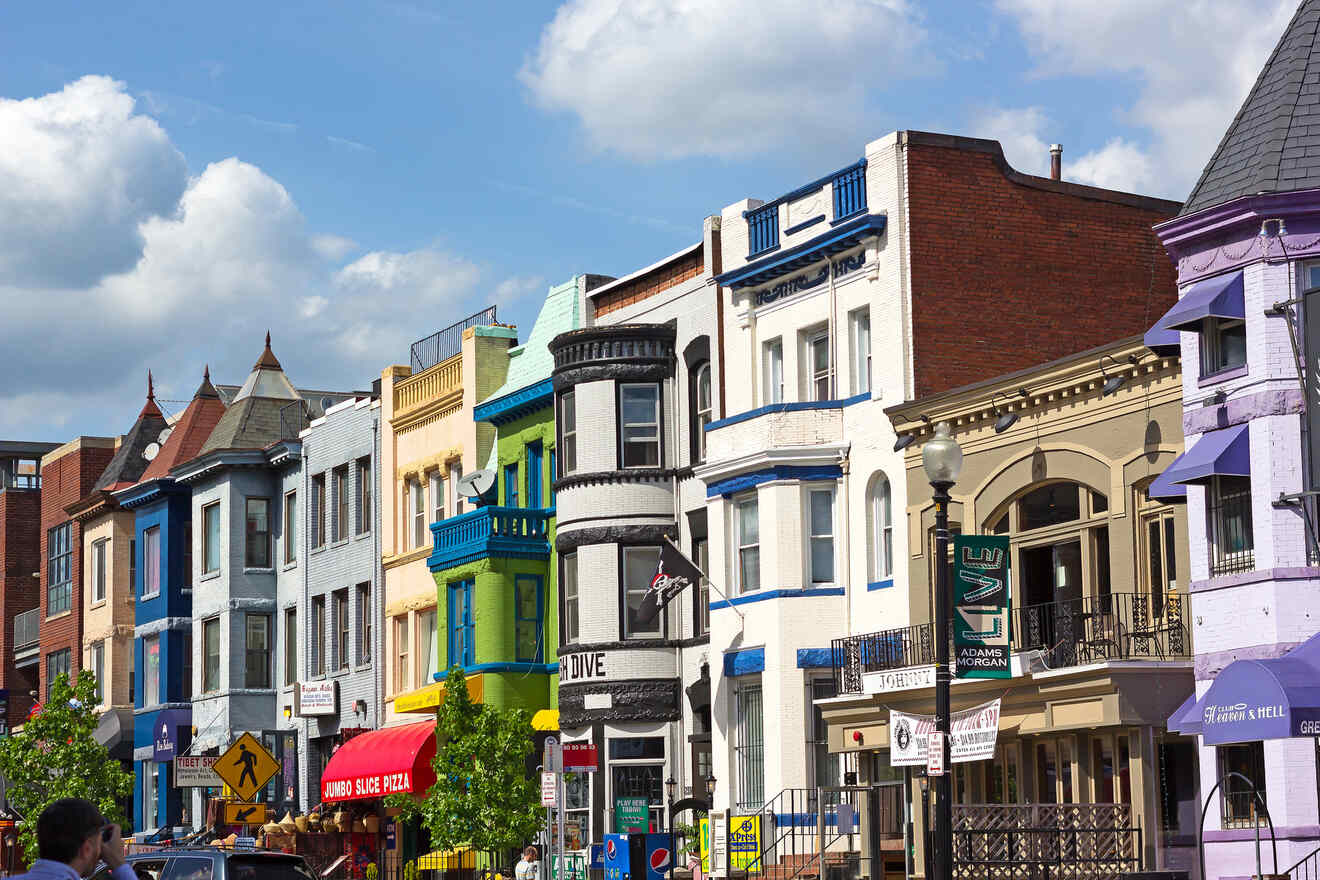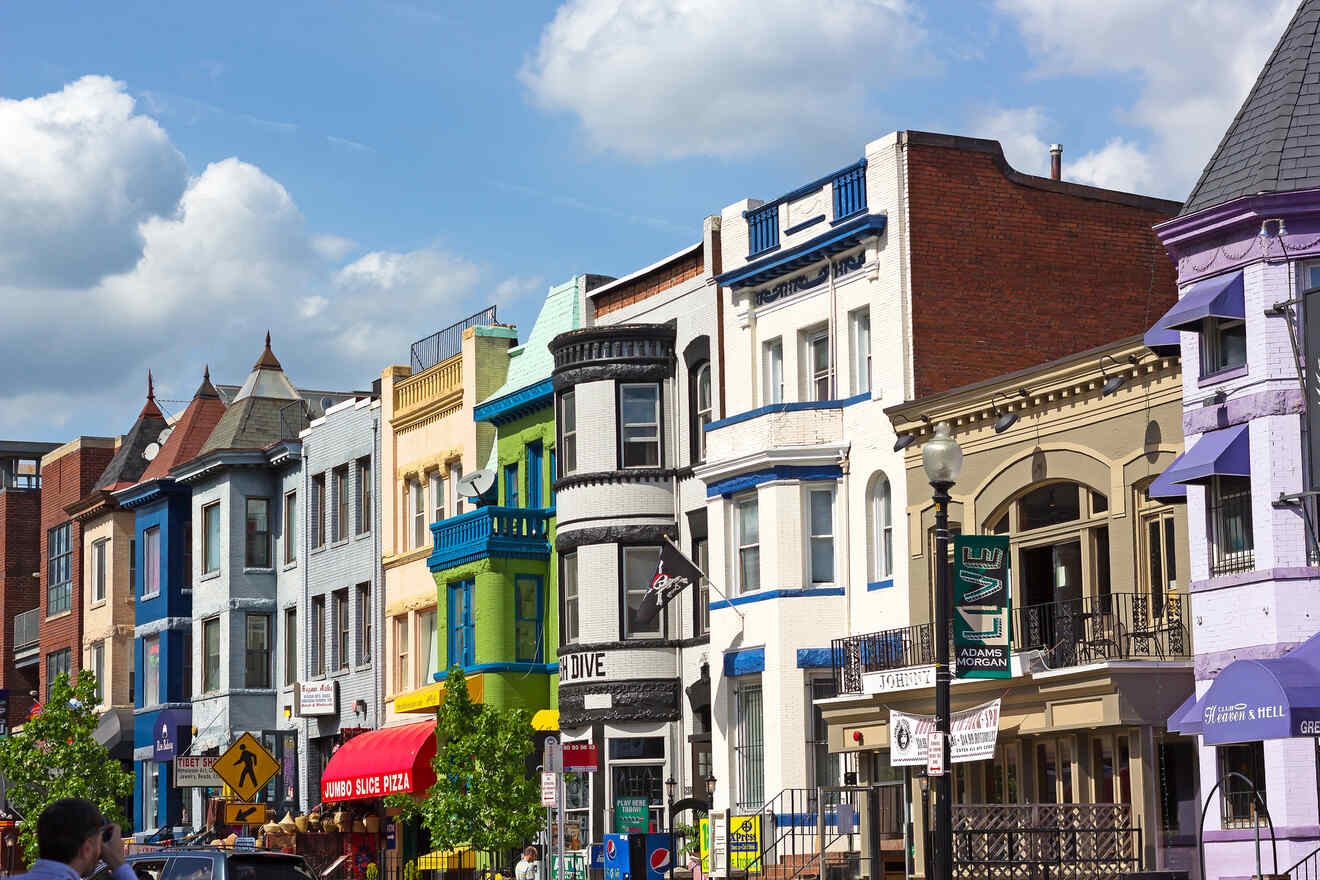 Adams Morgan is the multicultural hub of DC and is just a 10min drive north of the downtown area. Here you will find the best international restaurants and unique shopping. This diverse neighborhood seems to have it all, plus, being a little further away from the center you will find more value for money from your accommodation options.
As well as its own great restaurants, nightlife, and an eclectic mix of people, Adams Morgan is very close to the National Zoo, Rock Creek Park, and the DCA airport. Vintage lovers, remember to check out Meeps, (you'll thank me later), alternatively, If you like a laugh, try late-night Korean-style karaoke at Muzette. If you're renting a car for your trip to DC However, note that parking spots are quite limited in the Adams Morgan neighborhood and is worth factoring into your choice of where to stay.
Other Accommodation Options in Adams Morgan
Things to Do in Adams Morgan
BONUS: Unusual places to stay in Washington, DC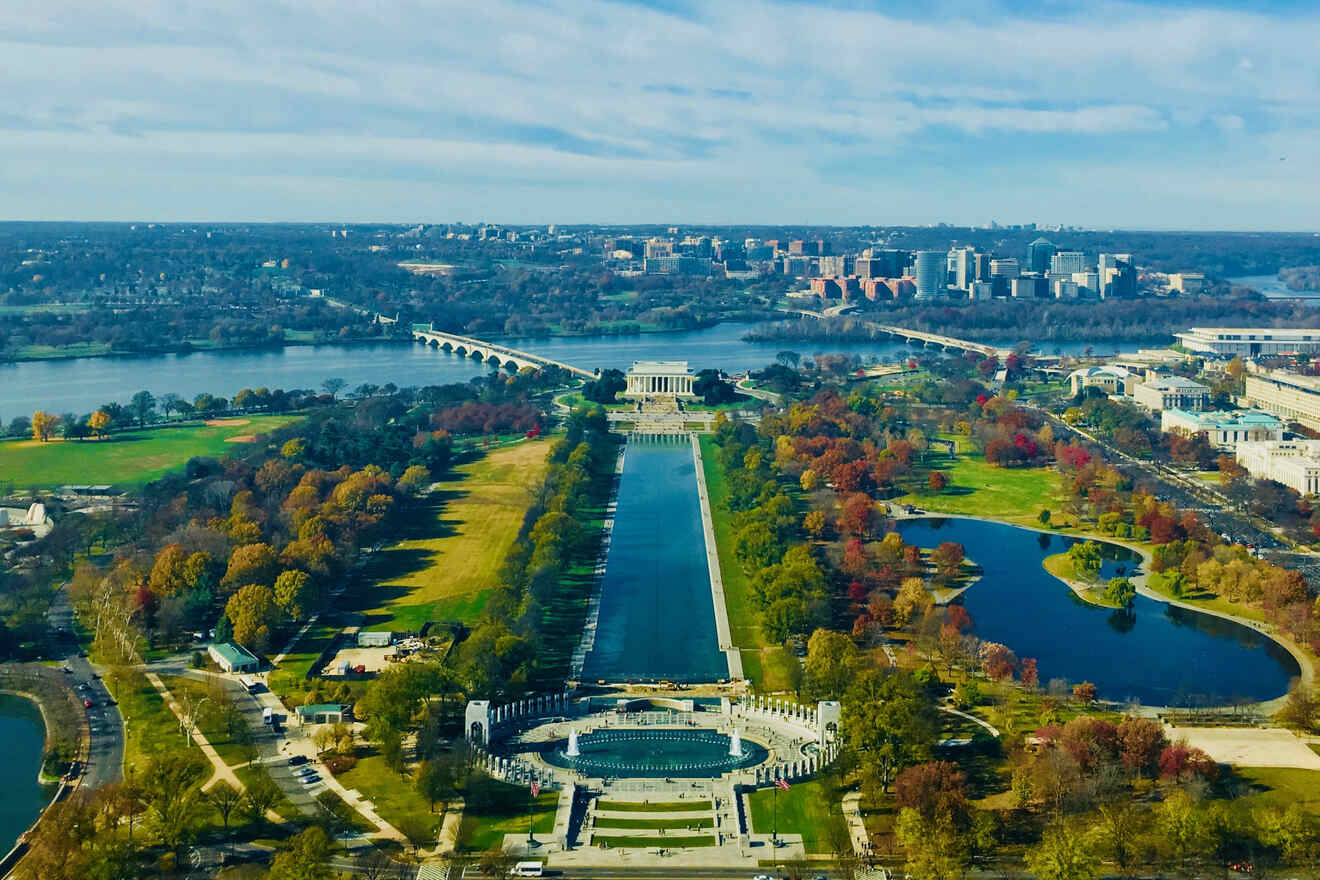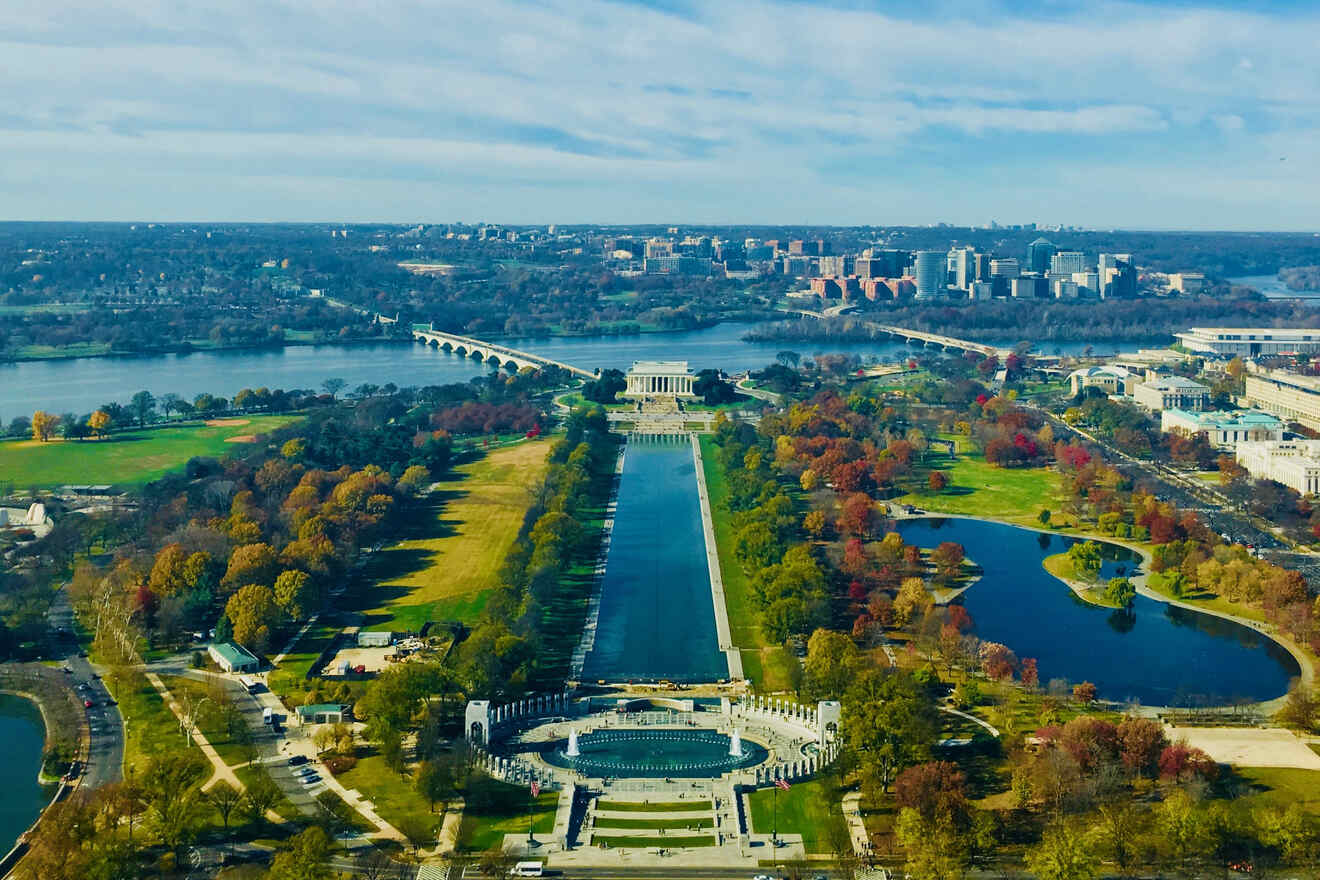 We all appreciate a comfortable bed and a good night's sleep in an expensive hotel, but sometimes we all yearn for something a little bit different. If you are one of those travelers who would think
"Why stay in an ordinary B&B when you can spend the night in a (former) firehouse unit?"
then don't miss to read these last few recommendations.
A mix of charm, history, mystery, and fun is how I would describe these accommodations all located in the center. I have covered a different range of styles and prices, so be sure to check it out, there might be a cool, weird, wonderful, and totally unique experience for you!
Other Unusual Places to Stay in Washington, DC
Conclusion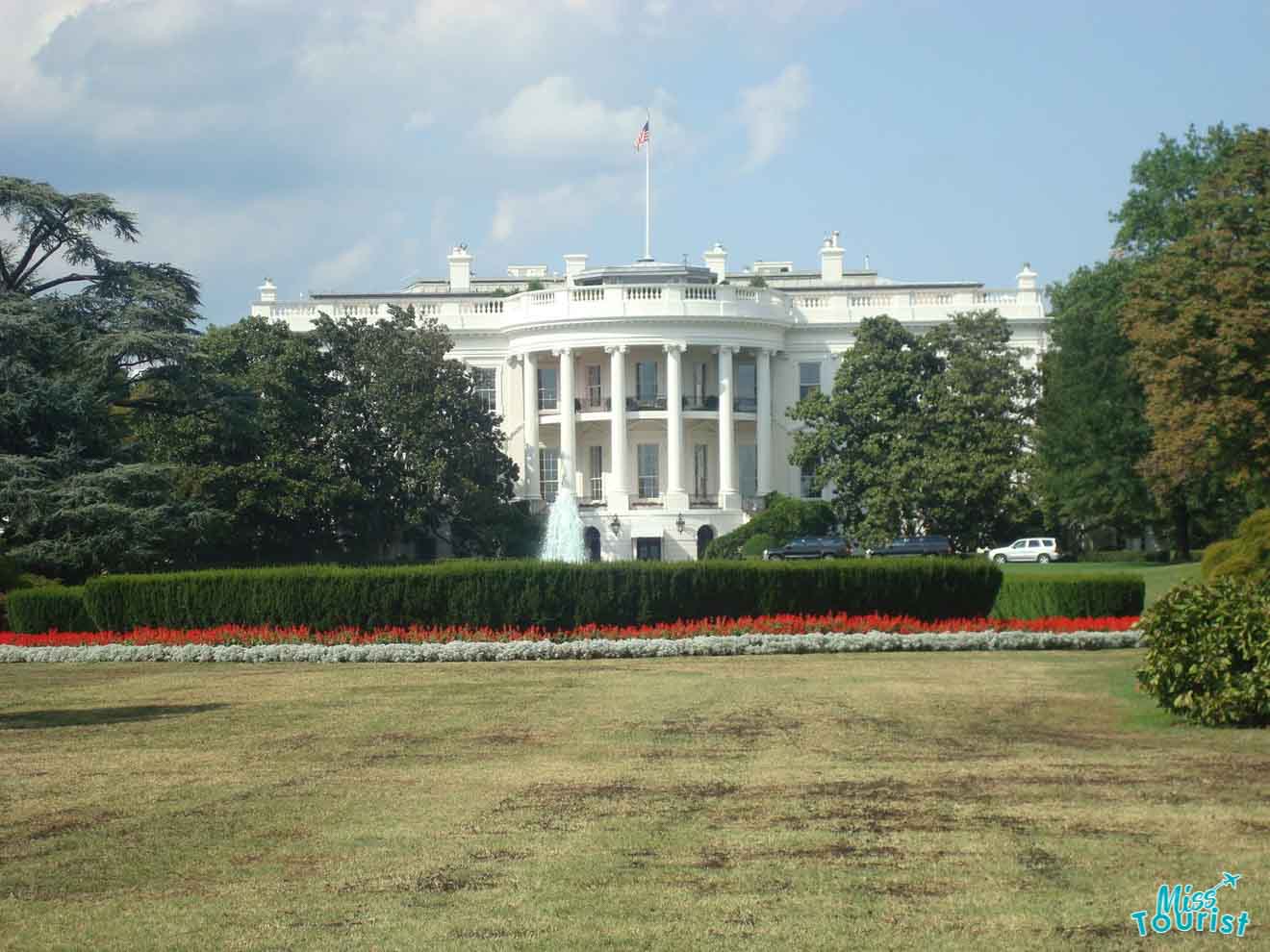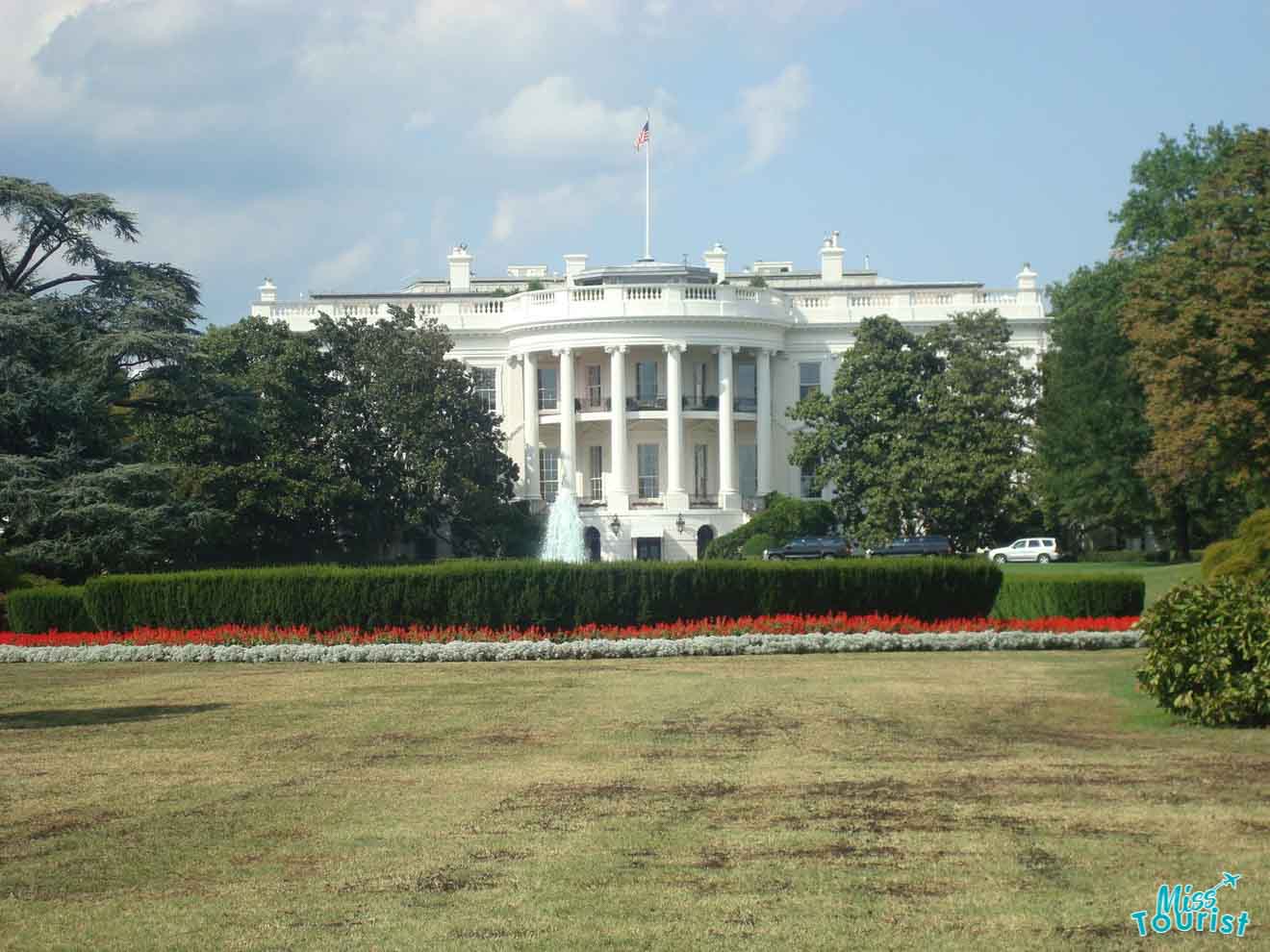 Washington, DC is well known as a political city, but it is much more than just that – with all its awe-inspiring monuments, architecture and historic buildings, gorgeous churches, and enchanting river views, no matter the age, interest, style, or budget, there's something interesting and inspiring for everyone in the nation's capital.
In this post, I've highlighted five of the best neighborhoods and hotels within them. Make sure to book as soon as possible as the best hotels book out quick! If you haven't already decided on somewhere to stay, here are my 2 favorite places to stay in Washington, DC:
So, there you have it – the complete guide for where to stay in Washington, DC with everything you need to know to choose your perfect hotel. Leave a comment if you have any questions about DC, I love reading and replying to them!

Now it is up to your interests to choose which of the neighborhoods are best for you, make a reservation, pack your bags and go on the trip of your life!
Kate
---