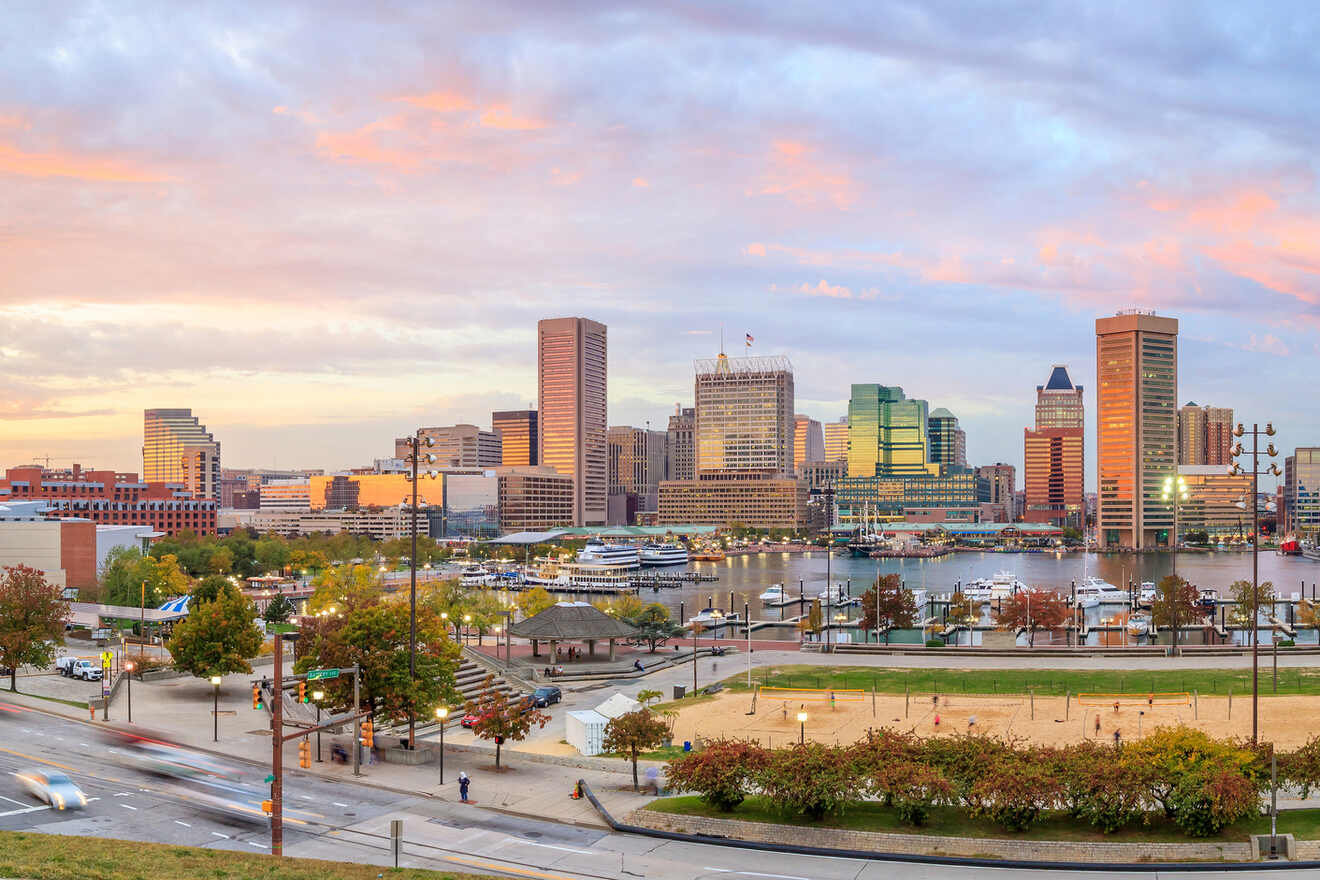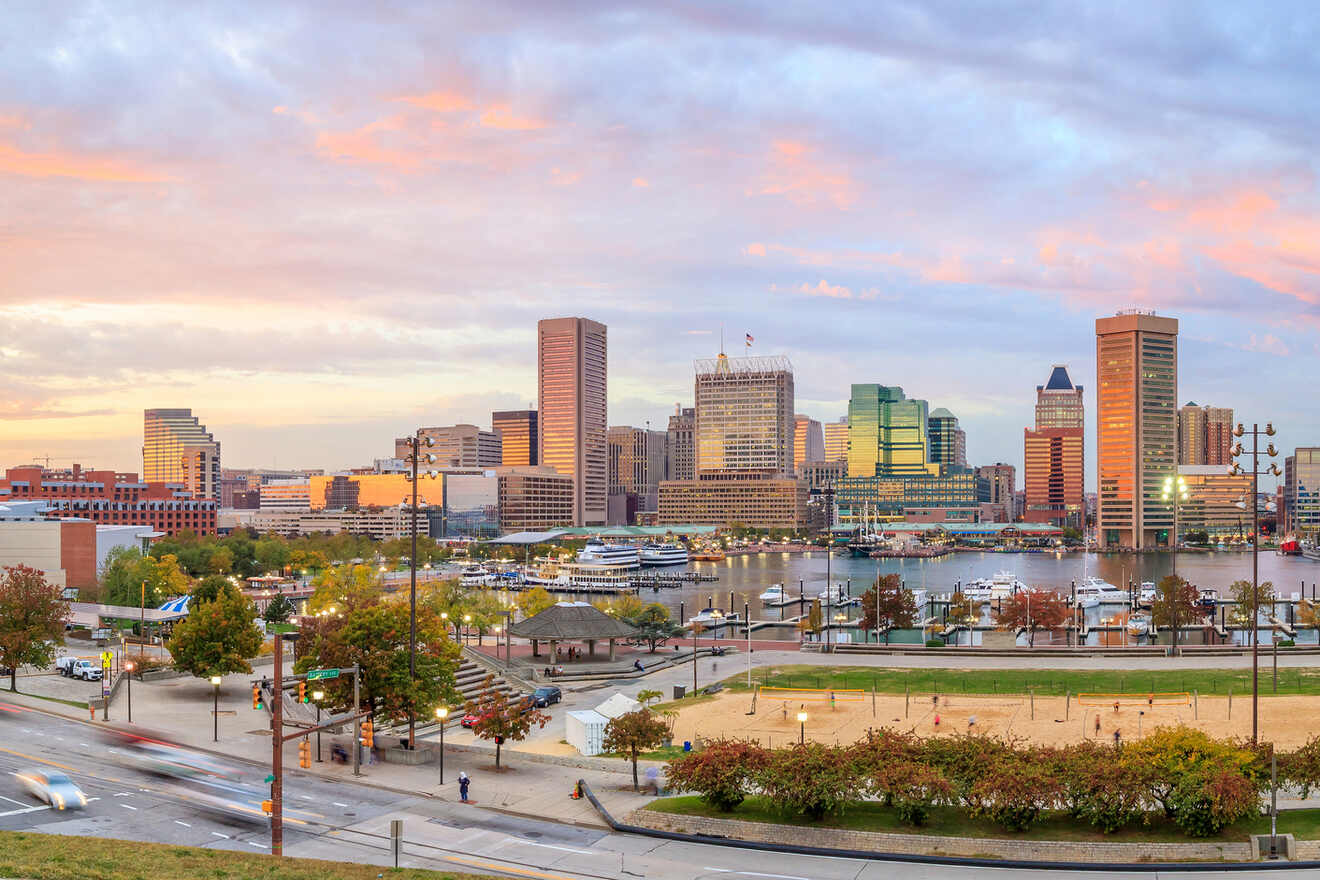 Let's face it, we've all wanted to travel to Baltimore, wake up and belt "Good morning, Baltimore!" out of the window. The quaint city in Maryland, United States, is a neighborly and friendly city. Not only that but if you're looking for an Airbnb, Baltimore has got you covered.
Travel to the great Inner Harbor, where you can take a water taxi, or look at the charming and historic architecture. The city of Baltimore has more to offer than one would think.
The city of Baltimore is a wonderful place to explore whilst also giving one the sense of being home. The Baltimore food and nightlife options are bountiful, as are the cultural attractions and artistic charm.
My list of Airbnbs in Baltimore has a carefully selected group of incredible places. The space, style, and comfort – and even things like parking – were all taken into consideration when selecting highly rated Airbnbs. The list provides options for many budgets and offers many different kinds of experiences.
If You Are in a Hurry: Top Airbnbs in Baltimore, MD
For those moments where time is of the essence and you need to travel to and book an Airbnb as soon as possible, you can check this section out. These selections are sorted by price and are all centrally located.
Top 16 Airbnbs in Baltimore
When the time comes to book the perfect Airbnb, Baltimore has an array of highly-rated townhouses, apartments, and more at your disposal. This list has my favorite picks of Airbnbs in the city of Baltimore, Maryland, no matter if you're staying for a short or long term. All Airbnbs are sorted by price (highest to lowest) and have high amounts of reviews with a high rating.
A Baltimore Airbnb guarantees a home that isn't just cozy, but also enjoyable and convenient. The final price of each Airbnb was calculated by adding the additional fees (cleaning, service, and parking), so you know exactly what to expect.
1. Hottest Spot in Downtown Baltimore / Little Italy
Location: Little Italy
Price: from US$630 per night
Bedrooms: 4
Guests: 11
Brand new and fully renovated, this private rowhouse Airbnb has ample space for large groups who want to experience the best of the city of Baltimore. Whether you want to explore the area of Little Italy, check out the National Aquarium, check the Inner Harbor attractions, or shop at a Fells Point boutique, this Airbnb has got you covered.
Make yourself a lovely meal in the updated kitchen or pour yourself a drink at one of the two wet bars the Airbnb has to offer. Travel to Downtown Baltimore and this Airbnb will have you feeling stylish and at home in no time.
2. Artsy, Historic Row House – Best for Harbor Views
Location: Highlandtown
Price: from US$370 per night
Bedrooms: 4
Guests: 8
A vibrant and stylish living space is what's in store for the guest who chooses this Baltimore Airbnb. The interior has a finesse like no other with its gold-confetti and exposed brick walls. The pops of vibrant colors and natural light all over the place make for a wondrous atmosphere. The host is also a superhost.
The interior isn't the only thing about this 1840's townhouse that makes it worth a visit. Make your way to the rooftop and you will find a deck that has views of the Patapsco River. The inside and outside of this Airbnb provides a perfect, well-rounded city of Baltimore experience.
3. Townhouse Near Camden Yards – Airbnb in Best Area
Location: Ridgely's Delight
Price: from US$340 per night
Bedrooms: 3
Guests: 10
If you are looking for authenticity when it comes to Baltimore buildings, then this is the place for you. This beautiful row house Airbnb boasts a ripe age of 160 years and can be found in a street filled with lush Bradford pear trees. You are also given free parking in case you traveled in a car.
Not only do you get to live in a contemporary loft-style apartment, but you will also be near some great Baltimore hotspots and restaurants. Take a walk for a few minutes and you'll get to places like the Camden Yards, Raven Stadium, and the Inner Harbor, where you can take a water taxi to explore even more of this Maryland city.
4. Spacious Home near Downtown – Best for Art Lovers
Location: Pigtown
Price: from US$260 per night
Bedrooms: 3
Guests: 6
Eclectic and stylish furnishing is what a guest can expect from this private and clean Baltimore Airbnb. The spacious area is perfect for big groups and it's even pet friendly, so your fur baby doesn't have to miss out on this level of comfort. There's parking available on the street, for those of you who traveled here by car.
The space holds such a high level of artistic styling, it seems appropriate that it is just a short distance from the famous Maryland Institute College of Art. Other areas in the city close to this Airbnb are the National Aquarium, Camden Yards, and the Horseshoe Casino. Just take a walk!
5. Charming Home by Water in Historic Fells Point
Location: Fells Point
Price: from US$240 per night
Bedrooms: 2
Guests: 4
This beautiful and clean Airbnb has many notable attributes; location being one of its most attractive features. One block separates this place from the local water taxi, coffee shops in Fells Point, restaurants, and famous Baltimore bars. The host is also a superhost and parking is available in the street.
"But what about the actual Airbnb?". Don't worry, this Airbnb not only provides a perfect location, but it also offers a modern charm and heaps of comfort. Relax in the cozy living room, a comfortable bed, or even outside on the rooftop deck with harbor views to boot.
6. Top of Federal Hill – Townhouse with Rooftop Deck
Location: Federal Hill
Price: from US$210 per night
Bedrooms: 3
Guests: 10
The area of Federal Hill is known to be one of the more hip areas in Baltimore. The place is also in the heart of this neighborhood. With the hips and hearts, the anatomy doesn't make sense, but the feeling of being at home in this clean Airbnb sure does! The host is also a superhost and there is free parking available.
The spacious floor plan provides enough space for a family or a large group of friends. Whoever books this beautiful and private Baltimore Airbnb will enjoy an array of amenities, like a washer and a 49" Smart TV. Sit back, watch some Netflix and enjoy your short- or long-term stay at this Airbnb.
7. Fantastic Estate – Best for Large Groups
Location: Fells Point
Price: from US$210 per night
Bedrooms: 4
Guests: 16
If you are a large group of people, this Airbnb in Baltimore will definitely be the top fit for you. The unique 3,600 sq ft Airbnb is newly renovated and has space for around fourteen people.
There is even free parking in a tandem garage where two cars can be parked. If the guest needs it, there is parking available in the street. Whether you are relaxing on the roof deck or cooking in the fully equipped kitchen, you will feel right at home in this stunning house.
8. Gracious Historic Townhouse – Best for Those Who Love Old Buildings
Location: Charles Village
Price: from US$180 per night
Bedrooms: 1
Guests: 4
As the name would suggest, this Baltimore apartment Airbnb is located within the historic area of Charles Village. The townhouse bears the charm of the old world while still maintaining a modern sensibility. The place is around 100 years old and still has some of the original building details.
Some newly added features include WiFi, a renovated full kitchen, and a TV with a sound system. You'll find the perfect mixture of old and new with this Baltimore gem. After relaxing, you can take a quick walk to the beautiful Baltimore Museum of Art, or check out the local cafes and bookstores.
9. The Yellow Door Brickhouse – Great Airbnb for Sports Fans
Location: Ridgely's Delight
Price: from US$160 per night
Bedrooms: 2
Guests: 5
The modern and minimalistic walls, flooring, and panels have a chic design, and the pops of vibrant color and art gives this place a well-rounded style. You won't just find this private Baltimore Airbnb as nice, it also has all the necessary components to provide guaranteed comfort.
Relax in one of the Airbnb bedrooms – it doesn't really matter which one, because they both have a Smart TV gracing the walls and Netflix is always available. The host is a superhost and the property is near Oriole Park, so watching matches can be easy for those sports fans. You also get parking, so if you did travel to Baltimore by car, there's no need to park at the stadium.
10. Heavenly Home – Walking Distance to Fells Point
Price: US$185 per night
Bedrooms: 1
Guest: 4
After a long day driving and exploring Baltimore, a cozy and homey space in a quiet neighborhood like Heavenly Home is what you'll need.
You'll find everything you will need here, and this Airbnb is top in terms of cleanliness. There's also a fully equipped kitchen if you want to cook for yourself. And if there's something you shouldn't miss in this property, that would be the outdoor hot tub, which will surely make all your stress disappear.
11. Affordable Luxury Townhouse – Best Value for Money
Location: Pigtown
Price: from US$140 per night
Bedrooms: 2
Guests: 5
When it comes to style and ease, this place in Baltimore is a perfect Airbnb on many levels. In fact, the different levels hold the different rooms available in this Airbnb. If you are looking to make yourself a meal, you would go to the first level. After a delicious meal, make your way upstairs and enjoy the creature comforts that this rental provides, such as a luxurious queen bed.
The comfort and efficiency of the Baltimore Airbnb harmonize with its location. Just a brisk walk away from the building, the guest can find the M&T Bank Stadium, Carroll Park, and the area of Federal Hill. The host is also a superhost and parking is available.
12. Studio Overlooking Union Square Park – Best for Park Views
Location: Sowebo
Price: from US$110 per night
Bedrooms: Studio
Guests: 2
Have you ever wanted to feel like an artist or writer working away at your latest masterpiece? Probably not, but if you did, this Airbnb would give off that aesthetic quite easily!
The Airbnb interior has a cozy and homely atmosphere that is unique to Baltimore. Enjoy a book on your bed with the window views of the lush garden, or try your hand at the piano. Live out your artistic fantasy with this beautiful studio apartment Airbnb.
Perfect for two travelers, this Airbnb is ideal for those of you embarking on a couples getaway. When you're not snuggling up in the Airbnb, wander around the quiet residential streets and visit the nearby bars and restaurants.
13. Baltimore's Most Charming Apartment – Best for Business Trips
Location: Guilford
Price: from US$110 per night
Bedrooms: 1
Guests: 2
You might be thinking that the name of this Airbnb is quite a bold statement. However, once a guest has stayed in this one-bedroom apartment, they'll probably agree with the host. The newly renovated private basement apartment can be found in the center of the well-known Baltimore neighborhood of Guilford.
The Airbnb apartment is part of a three-story home, but it provides complete privacy with back and front entrances. So, if you need to leave for meetings, to go to the shops or anything else, it will be easy. It might be in the basement, but you'll feel on top of the world in this Airbnb.
14. Hidden loft in Downtown Baltimore – Best Budget Airbnb
Price: US$155 per night
Bedrooms: 1
Guest: 4
A loft apartment in the heart of Baltimore that provides a relaxing environment while still being at the center of everything? It sounds too good to be true, but it's true!
The place may be small, but it is clean, cozy, comfortable, and quiet, with zen design and lots of house plants and art to make you feel at home. Plus, there is free parking too!
15. Formerly a Fells Point Bar – Best Budget Studio in the Center
Location: Fells Point
Price: from US$90 per night
Bedrooms: Studio
Guests: 6
You might be a lover of nightlife and enjoy going from bar to bar, checking out all the unique places a new city has to offer. Baltimore does not only offer great nightlife and pubs, but you also get the chance to actually live in an old bar.
This private studio apartment Airbnb is converted from a bar that thrived in the mid 20th century. It offers a private street entrance along with all the necessities like the full kitchen and a bed to make sure the home is cozy. The host is also a superhost and has made sure your Airbnb is modern and stylish
16. Bunny's Airbnb in Historic Fells Pt. – Best Budget Room in the Center
Location: Fells Point
Price: from US$90 per night
Bedrooms: 1
Guests: 2
Bunny's is a historic and clean 1840 alley house Airbnb that has been renovated and received a Heritage Award in 2013. This almost 200-year-old home has a room available for individuals who are looking to explore the city of Baltimore and also stay comfortably.
Bunny's Airbnb has all the needed requirements to ensure a home that is both tasteful and relaxing. Travel 3 blocks away to get to the famous Little Italy and the historic Fells Point.
BONUS: Unusual Vacation Rentals around Baltimore
Sometimes you want your Airbnb to be a bit… different. If you are a guest trying to find an unusual Airbnb, Baltimore can definitely provide that for you. These selections are perfect vacation rentals for those prioritizing originality.
Some of these Airbnbs are outside of the city of Baltimore, so, if you like to travel, this would be great for you. But I have made sure they aren't more than a two-hour drive away from Downtown. If you need a ride, you can easily rent a car.
1. Modern Tiny House by the River
Location: Monkton (30-minute drive from Baltimore)
Price: from US$220 per night
Bedrooms: 1
Guests: 2
Situated on a 28-acre wooded property and just a quick walk away from Gunpowder River, you'll find this clean and modern tiny house. The place is compact, as the bright little home is small and has everything you'll need.
Relax and enjoy being transported to this perfect, magical universe where you are surrounded by nature and only have the essentials at your disposal. It's a humbling and sought-after experience. You should also jump if you want to get on this deal as the house is almost booked out – so, don't waste time!
2. Serenity Airstream at Apple Blossom Farm
Location: Orrtanna (1 hour and 20-minute drive from Baltimore)
Price: from US$190 per night
Bedrooms: 1
Guests: 2
A classic way of American living is, of course, living in an Airstream trailer. This clean van has all the essentials needed to ensure a cozy home. A built-in and almost full kitchen and private bathroom along with a comfortable bed will have you feeling like you are in a luxurious studio apartment in no time.
The outside of this Airbnb has a beautiful deck to use at your leisure and there is even a hot tub that you can enjoy for an extra fee. The Airstream is a while from the city of Baltimore, but the private home will be worth it.
3. Canton / Fells Point Private Yacht
Location: Canton, Baltimore
Price: from US$150 per night
Bedrooms: 2
Guests: 5
Believe it or not, one of the top ways to get to know Baltimore, Maryland, is to spend a few nights out of the city and on the water. Explore the Baltimore waterways from the magnificent Fells Point Private Yacht! Whether you unwind on the 42-foot cabin deck or go for a walk along the Canton harbor, this Airbnb is one of the gems in Baltimore.
When it is time to spice up your yacht life, pay an additional fee to go on a cruise throughout the rest of the Baltimore harbors. Enjoy the luxury of living in perfect style on this unique waterway experience.
4. Airbnb Boat Rental in Baltimore – Fells Point Sailboat
Location: Canton, Baltimore
Price: from US$130 per night
Bedrooms: 1
Guests: 2
If a yacht doesn't suit your pirate fantasy, this 36-foot. sailboat absolutely will. The Canton harbors is where this lovely Airbnb can be found. The sailboat is ideal if you're looking to spend the night somewhere distinctive for a special occasion. So make it your temporary home now!
Relax in a cozy bed or make a meal in the small, almost full kitchen. And for an additional fee, the guest can take a cruise around the harbor which will take you to restaurants close by.
BONUS 2: Things to Know When Renting an Airbnb in Baltimore
Before heading out on your adventure in Baltimore, there are a couple of things you need to know. I'm here to best inform you about everything you need to know before you travel to your rental in the great city of Baltimore.
Areas in the City of Baltimore Aren't Always the Safest
Unfortunately, the city of Baltimore is known to be a dangerous city if you are not careful about where you are staying. It is best to avoid staying in areas like Hopkins-Middle East, West Baltimore or Fairfield Area if you are unfamiliar with the town.
Best Places to Go Shopping in the City of Baltimore
Baltimore is quite the shopping hub and tourists can easily spend time enjoy all Baltimore has to offer with these top shopping experiences:
While you're exploring these markets, explore the local restaurants that dot the streets and full yourself up on the most delicious treats!
Top Tourist Attractions in the City of Baltimore
Baltimore is the largest city in Maryland and has a vast amount of great cultural and historic charm for tourists to enjoy. The Fort McHenry National Monument and Historic Shrine, the Walters Art Gallery, the National Aquarium, Federal Hill, and Oriole Park at Camden Yards are some of the most popular sites in Baltimore.
Unsurprisingly, Baltimore has a great selection of museums to check out that will suit any art lover's fancy. Here is my list of the best museums to visit in the city of Baltimore:
Old Buildings and Sites Worth a Visit in Baltimore
You can find a little bit of Hollywood in Baltimore by paying a visit to some areas that can be seen in certain movies or TV shows.
The Baltimore Museum of Art and the Baltimore War Memorial Building can be seen in the TV show "House of Cards".
The Baltimore-Washington International Thurgood Marshall Airport can be spotted in the TV show "Veep".
The Peabody Library is seen in the movie "Sleepless in Seattle".
One of the best things you can do while visiting a new city is to explore old buildings to get a real taste for the city. There are a few really interesting and historical sites one can visit in Baltimore, and the best part is that they're free! Hell House Altar shows off smoky remnants of an abandoned college. While Edgar Allan Poe's grave is a must-see for poetry lovers!
Alternatively, check out the Babe Ruth Sports Museum that only relies on a charitable donation.
There are plenty of great things you can do at the Harbor, too; from taking a walk and soaking up the views to visiting the old historic ship. You might also be able to see the famous Maryland Blue Crab and even learn a bit more about it from the locals for free!
Top 3 Airbnb Experiences in Baltimore
So, you have your Airbnb booked and you are ready to spend some time in Baltimore. However, what is available for you to do? Here is my list of the best Airbnb experiences in Baltimore.
Sunset Sail with Wine and Cheese – Enjoy cheese, crackers, and wine on this sailboat cruise in the Baltimore harbor.
Eat Crab Cakes with a Popular DMV Chef – Make a reservation to cook with a renowned chef who will give you first-hand experience with seafood.
Baltimore Bike Tours – Are you looking for a city tour but with a twist? You can now do it while riding a bike with a tour guide. It's probably the best way to see the city, and it's also great for exercise, so what's not to like?
Conclusion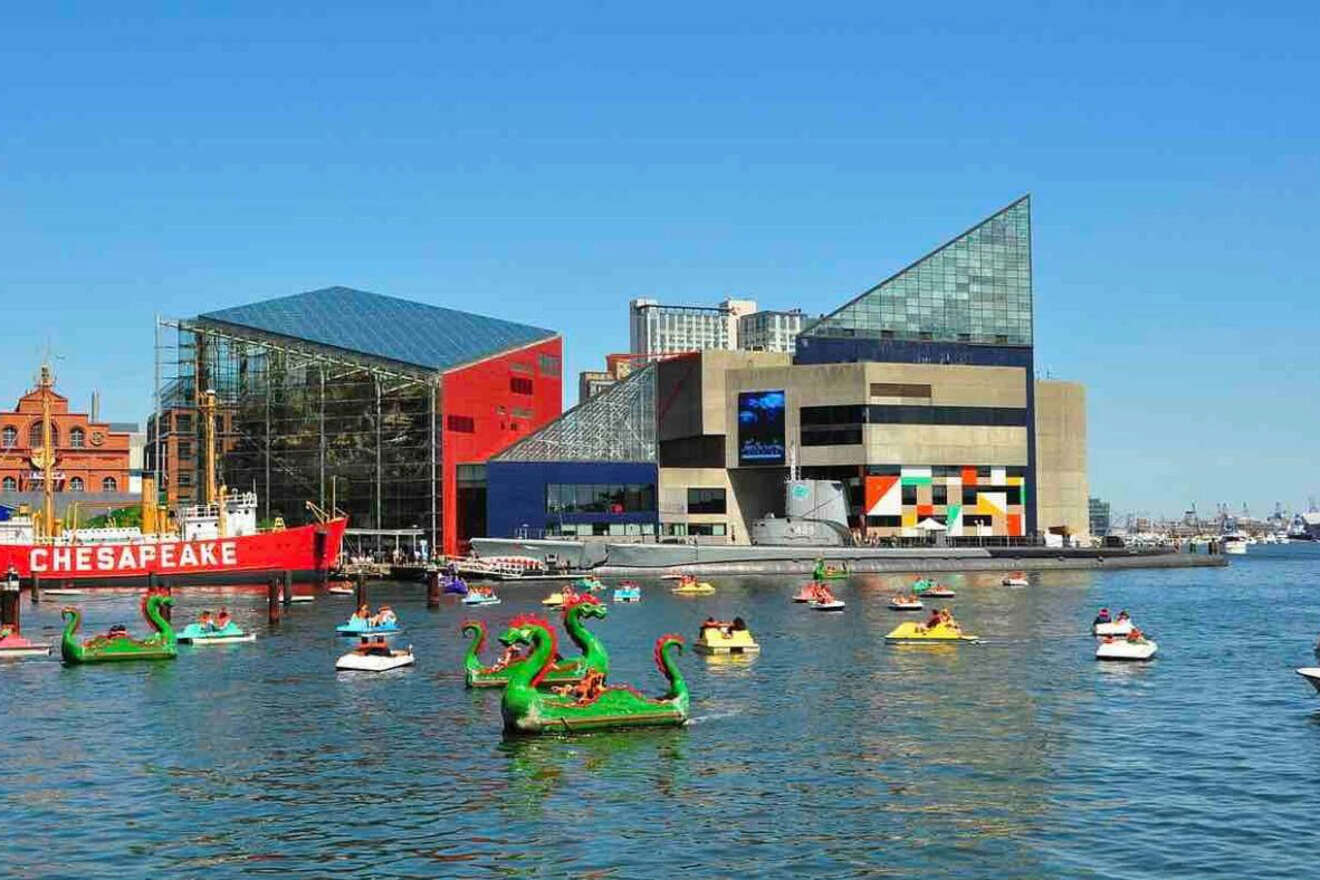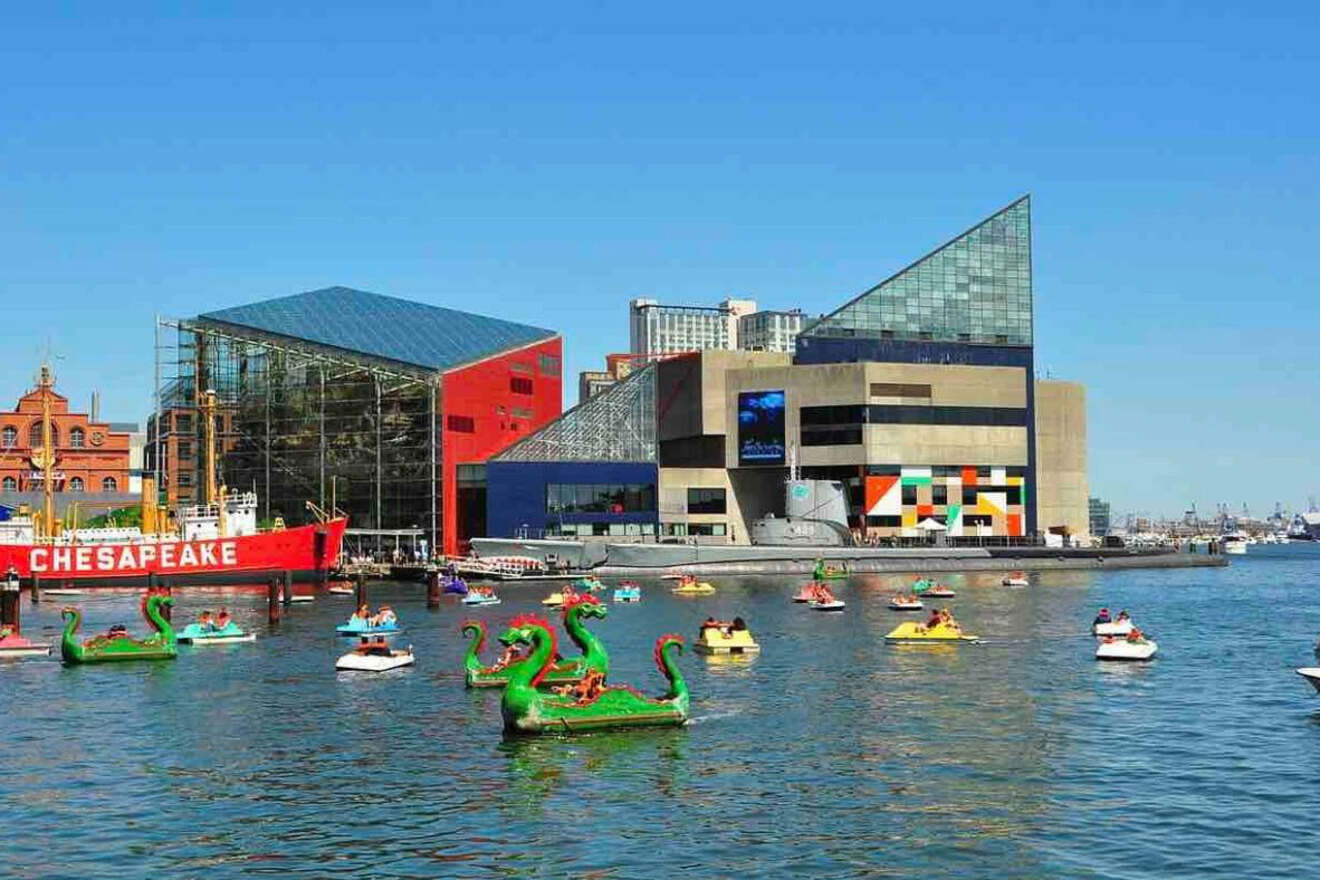 Well, there you have it! My selection of the best Airbnbs Baltimore has to offer. Hopefully, now you will have an idea of what you are looking for when the time comes to booking an Airbnb. From luxury townhouses to budget studio apartments, accommodations of all kinds were added to this selection.
Baltimore is truly a great city and going on a short or long-term vacation here can easily be done in style and comfort. Get ready to have one of the most memorable vacations with great experiences along the way.
If you've been to Baltimore before, please share your recommendations and thoughts in the comments below. If not, tell us which Baltimore area seems to suit your travel needs.
By the way, if you have a travel adventure planned for Washington DC or Philadephpia soon, check out our post on those cities too!
Wishing you a safe and relaxing stay!