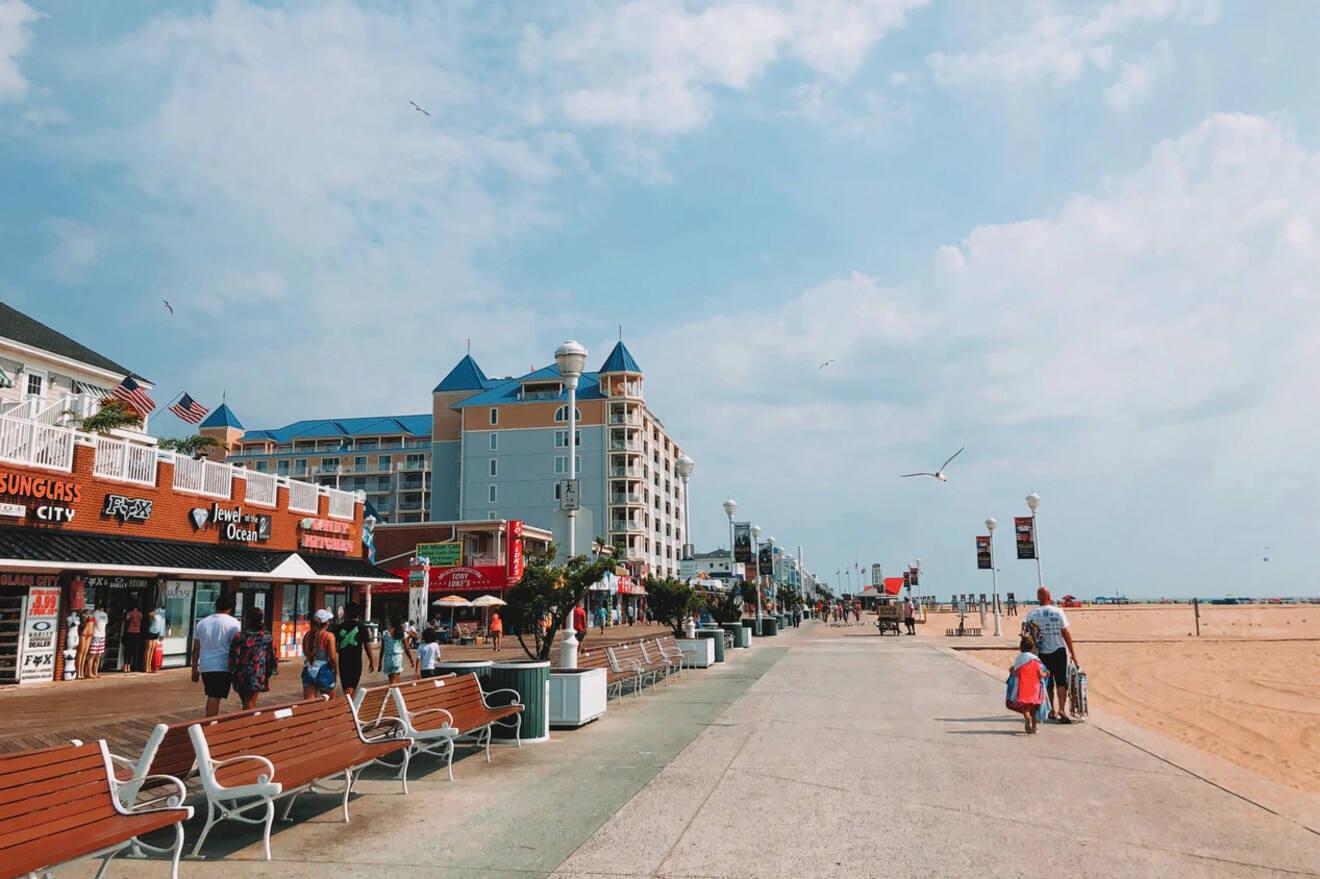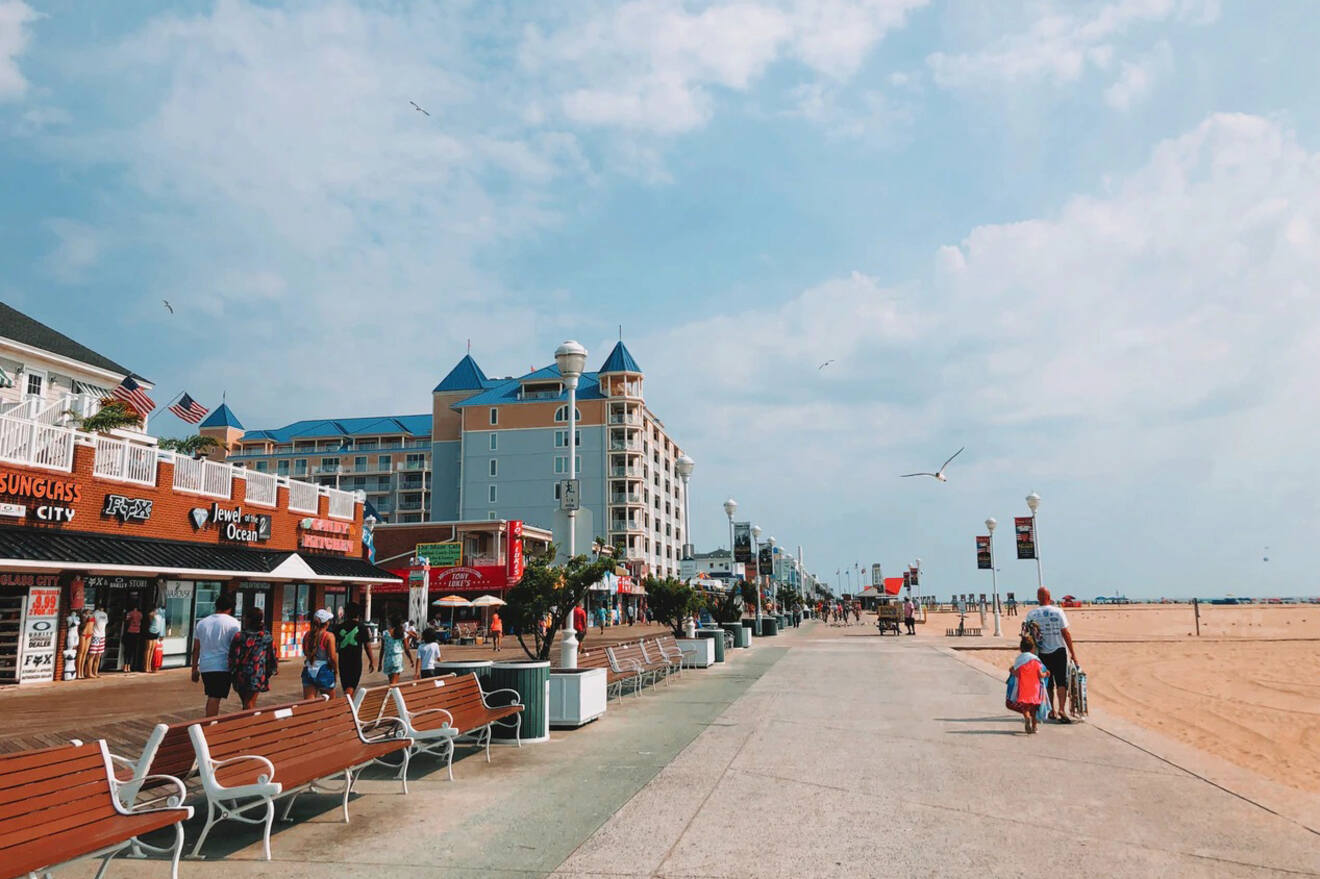 Planning a beach escape in an Airbnb in Ocean City? Look no further. I've put together a list of some of the best Airbnb vacation rentals. These include all-inclusive rates and are arranged from highest to lowest price – all for your convenience!
The White Marlin Capital of the world is well known for its unique geographical layout, scenic beach boardwalk, and saltwater taffy. Not to mention an array of accommodation rentals that allow you to explore all there is to do and see in this seaside settlement. And thanks to this article, booking your Airbnb Ocean City has never been easier.
Located in the mid-Atlantic region of the United States, the resort town is encompassed by coastlines and waterways – just as the name suggests! So expect plenty of coastal views, beach picnics, water-based and activities, and quirky nautical-themed decor throughout the town's 36 square miles.
However, there's more to Ocean City than simply strolling along a white sandy beach or Montego Bay. From tennis courts and amusement parks to exploring museums and cultural landmarks, there's something for everyone. So if that sounds like something you'd be interested in, keep reading for some of the best oceanfront Airbnbs this town has to offer.
If You're in a Hurry: Top 4 Airbnb Ocean City, MD
For the most popular accommodation options in and around midtown Ocean City, take a look at our favorite rentals listed in descending order down below:
Top 12 Airbnbs in Ocean City, Maryland
For those seeking out a relaxing beach getaway from bustling cities like New York or Washington, you're in for a real treat. This list of Airbnbs includes the best and most popular vacation rentals. You can adventure around Ocean City all day and put your feet up at night.
From pet-friendly condos to adorable villas by the sea, this list of Airbnb Ocean City has it all. To make the process even more convenient, I've included all extra costs – like cleaning and service fees – in the final price! So you'll know exactly what you can expect to pay when you book.
1. Beautiful Bayfront Townhouse on the Water – Great for Families
Location: Ocean City
Price: from $610 per night
Bedrooms: 3
Guests: 8
Allow yourself to be welcomed by a charming townhouse that comes adorned with eclectic decor and provides easy access to the beach. This cheerful, homely space is characterized by pinstripes, daisies, and colorful art creations on the walls that make for a lively interior view.
When you're not lounging on the sandy beaches or enjoying the evening entertainment, grab some friends and some cocktails to sip on while you soak up the sunset. A seating area on the outdoor porch is the perfect spot to socialize and entertain with the water right on your doorstep.
2. Light and Airy Oceanfront Condo with Private Balcony
Price: US$370
Bedrooms: 3
Guest: 6
Wake up to the sound of the waves crashing outside your window in this airy and beautiful private condo. This is a perfect place to find peace and also an ideal place for a romantic getaway where you can watch the moon rise over the ocean on your private balcony.
Technically the place has only 1 bedroom with a king-sized bed. However, you can convert the sofa in the living room into a queen bed. And if you're on a workcation (work + vacation), you'll never worry about a strong internet connection here.
3. Downtown Ocean City MD Townhouse
Location: Ocean City
Price: from $350 per night
Bedrooms: 2
Guests: 8
Looking for a peaceful beach getaway well worth the price? This tidy two-bedroom condo is perfect for you. With a cozy, open-plan living room and kitchen area as well as air conditioning throughout the entire house, it's ideal for entertaining.
Guests are only a short walk away from bars, restaurants, and the beach. The home also comes with free parking for two cars in the private garage, so getting around the town will be a breeze.
4. Stunning Newly-Renovated Condo – Just Steps to Beach
Location: Ocean City
Price: from $340 per night
Bedrooms: 2
Guests: 8
Charming, airy, and with plenty of natural light, this classic beach condo has everything you need for a delightful stay in Ocean City MD. The entire space is adorned with simple, homely touches and a neutral color palette that provides a sense of peace and calm.
The home is a short walk from the water's edge, making it the perfect retreat to unwind and collect seashells while soaking up the fresh ocean air. So when you're not paying a visit to the Ocean City boardwalk, retreat to the tranquility of the spacious balcony before putting up your feet for the rest of the night.
5. Island Breeze Downstairs Unit
Location: Ocean City
Price: from $300 per night
Bedrooms: 2
Guests: 4
Just one night spent in this quaint beach condo is enough to highlight the charming character of this beloved town. Find nautical-themed decor and funky white and blue hues inside this Airbnb. Be invigorated by the smell of the ocean breeze slipping in through the window. The entire condominium serves as a miniature ocean city within Ocean City!
Cook up some freshly-caught seafood in the fully-equipped kitchen. Or sip a cold one on the front porch after a long day at the beach. There's no other condo that encapsulates the spirit of the US' mid-Atlantic region quite like this one.
6. Oceanfront condominium – Perfect for Families
Price: US$300
Bedrooms: 3
Guest: 6
Wake up with a beautiful sunrise in this spacious and beautiful condominium in Ocean City! This condo is on the tenth floor with a balcony, so you'll have unobstructed ocean views!
The place is modern and has three bedrooms, one of which has a design specifically adorable for little children. You can also cook a meal for the family in the fully equipped kitchen, and the outdoor swimming pool is something surely the kids will love!
7. 8th Floor Sunset Penthouse – Perfect for Large Groups
Location: Ocean City
Price: from $250 per night
Bedrooms: 3
Guests: 10
Grab your friends, family, and a good quality camera, because this spacious condo boasts ample sleeping space and views of the ocean from every room. The entire apartment space is characterized by a spacious living area, cozy bedroom, and blue hues. Plus, guests have access to the rooftop pool and private balcony overlooking blue skies and a quiet neighborhood.
Its central location means quick and easy access to all the many things to do, see, and taste. From a deli, liquor store, and local restaurants to a dock and fishing pier, skate park, beach boardwalk, and more. In other words, guests will never run out of things to do while they're here!
8. Light and Airy Oceanfront Condo With Balcony – Hotel Room in Ocean City Maryland
Location: Ocean City
Price: from $200 per night
Bedrooms: 1
Guests: 4
Located in Midtown Ocean City, this simple but colorful condo hosts a neat, modern space ideal for travelers looking for a light and bright place to recharge and recuperate. In the morning, guests are treated to a calm breeze on the private balcony overlooking the beachfront. Dip your toes in the gentle waves for an unforgettable start to the morning.
The newly-renovated lodging hosts a cozy sleeper couch and a queen-sized bed that serves as the restful retreat for returning adventurers looking for a place to rest at night. But only after enjoying the town's best restaurants, bars, and entertainment nearby.
9. Large Oceanfront Apartment – Near the Boardwalk for Families
Location: Ocean City
Price: from $190 per night
Bedrooms: 2
Guests: 8
Price, location, and a fresh ocean breeze are the three defining characteristics of this chic beach condo! With two bedrooms that can accommodate up to eight adult guests, it's the perfect spot for a tranquil getaway from the bustling city.
The entire condominium comes neatly fitted with classic, minimalist decor and plenty of bright natural light. While this makes it great for socializing with the family indoors, a private balcony awaits if you need a breath of fresh air. Or you can simply take a few steps to the beach, boardwalks, and the many shops and restaurants in the surrounding area.
10. Isabella 3 – Perfect for Large Groups and Families
Location: Ocean City
Price: from $180 per night
Bedrooms: 3
Guests: 10
Planning a well-deserved getaway with the extended family? Or perhaps a reunion with a group of old friends? This spacious and modern 2400 square foot townhouse is ideal. It has ample space and amenities to cater for a memorable stay for all.
Granite countertops, sleek wooden floors, and bright, contemporary decor throughout ensure that you stay in absolute comfort. The spacious bedrooms each have access to a balcony where guests can enjoy a tasty sunrise breakfast before heading out for the day. And when you return, cozy up to the indoor fireplace on a cold night.
11. Private One Bedroom Condo – Perfect for Small Families
Price: US$180
Bedrooms: 2
Guest: 4
Conveniently located a few blocks from the beach, park, and restaurants, this family-friendly apartment is perfect for your next vacation! The bright and relaxing colors with a mix of modern and vintage furnishings make the place extra homey.
Prepare a delicious meal for the family in the private kitchen and enjoy coffee on the back patio overlooking the canal in the mornings. For the kids, the outdoor pool is a sure hit or you can also let them play at the nearby playground.
12. Tiny House at Good Earth Farm – Unique Airbnb for Small Groups
Location: Ocean City
Price: from $150 per night
Bedrooms: 1
Guests: 3
This unique tiny house is custom-built and is nestled in a scenic garden less than 5 miles from Bethany Beach. It contains 165 square feet of custom woodwork making up the cozy interior, with a private deck area where you can enjoy the fresh air and leafy garden.
Guests are welcome to enjoy the company of the neighboring chickens or visit the studio of the artist and potter next door. The Organic Market is fully stocked with fresh food and produce for you to enjoy during your stay. There's also an on-site restaurant where you can enjoy a cheeky cocktail or glass of wine.
5 Things to Know About Renting an Airbnb in Ocean City, Maryland
So you've booked your Airbnb Ocean City and are excitedly anticipating your upcoming trip! Now you may be wondering if there's anything you need to know before you arrive. Luckily for you, I've compiled a list of interesting facts that can help give you a better idea of what to expect during your visit!

The population fluctuates depending on the time of the year – While Ocean City, Maryland has a population of roughly 7 100 people, the city hosts up to 8 million people annually. Summer weekends alone can bring in up to 345 000 visitors!


Hotels vs. Condominiums – With an ever-changing population, there are two most common condo options one can find in this city. Hotels typically cater to short-term visitors, and condominiums are best for long-term stays. But thanks to our Airbnb list, you can stay for as long (or short) as you'd like!


Expect a subtropical climate in Ocean City, Maryland – Hurricanes and tropical storms may only brush the surrounding area, but hot, humid summers and cool winters are the norm here.


'Senior week' is a thing – This tradition usually begins the first week after graduation, when a host of activities are made available. It sees recently-graduated high school seniors from as far as Philadelphia visit the city for a week of celebration.


A private swimming pool can be rare – As one would expect from a resort town surrounded by beaches and bodies of water, many residents don't feel the need for a private indoor pool in their townhouse. However, if you do need a break from the salty ocean water, a public swimming pool could do the trick!

Frequently Asked Questions
Are there dolphins in Ocean City, Maryland? 
Neighboring dolphins typically spend their summers in the Ocean City waters, so yes, you can expect to see dolphins depending on when you visit. 
What food is Ocean City, Maryland known for? 
Seafood, Fisher's popcorn, candy, and Ocean City's famous Thrasher fries are some of the most popular foods in the city. 
Can you go to the beach at night in Ocean City, Maryland? 
Sunset picnics and stargazing are understandably tempting. But sleeping on beaches at night between 10pm and 6am is prohibited. You have your Airbnb condo for that!
Top 4 Airbnb Experiences in Ocean City, Maryland
Since you're planning out your trip to Ocean City, Maryland, why not take a look at some awesome experiences while you're at it? I've listed some of the more popular pastimes down below.
Conclusion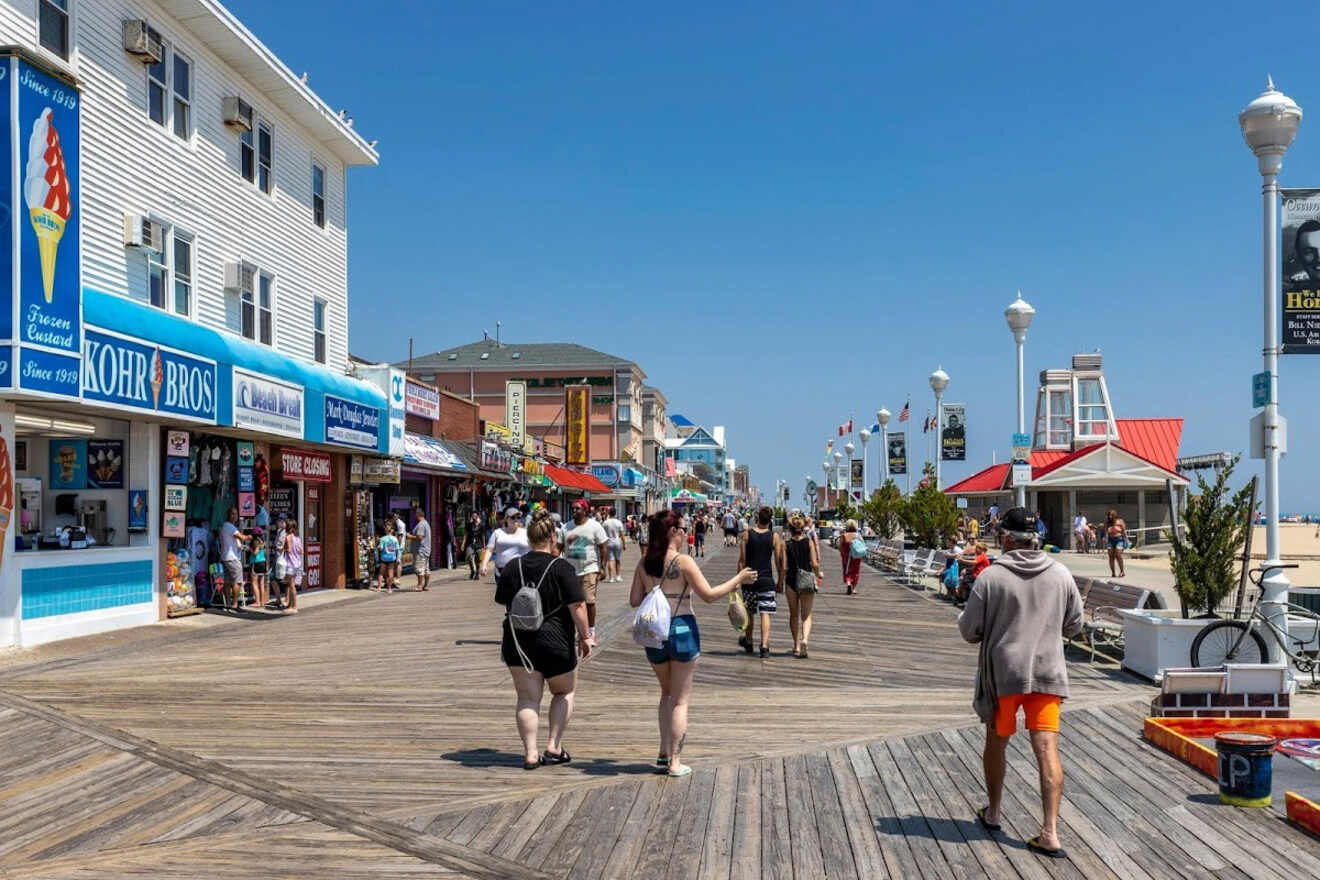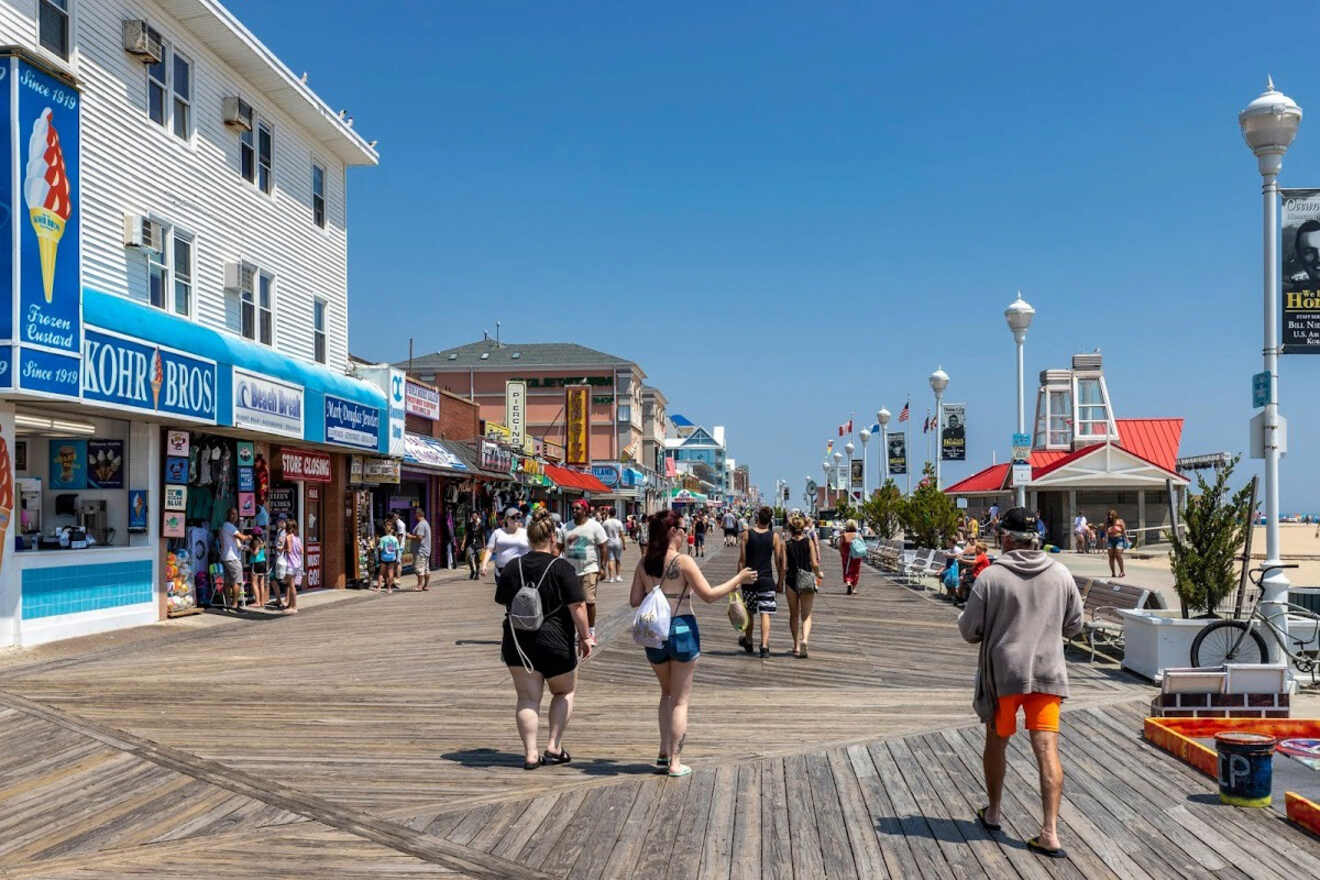 I've listed the best and most popular Airbnb accommodation deals in Ocean City, Maryland to help you find the perfect condo for your visit!
For a pleasantly welcoming stay, the Isabella 3 ticks all the boxes. Not only is it a stone's throw away from the city's most popular attractions, but it's got ample space to accommodate large groups.
Alternatively, the Beach Bum Boutique Hotel Room is ideal for avid travelers looking for a simple but homely place to rest in between their sightseeing and adventures.
Grab your luggage and your loved ones and get ready for an incredible beach vacation in Ocean City filled with an array of activities to enjoy by the seaside..
If you have any special memories or experiences from your trip to Ocean City, we'd love to hear it. Feel free to leave a comment with your thoughts and recommendations in the comments below. If not, you best get booking!
NOTE: Extending your trip to include Philly? Check out this guide on where to stay while you're there.
Wishing you a safe and relaxing journey!