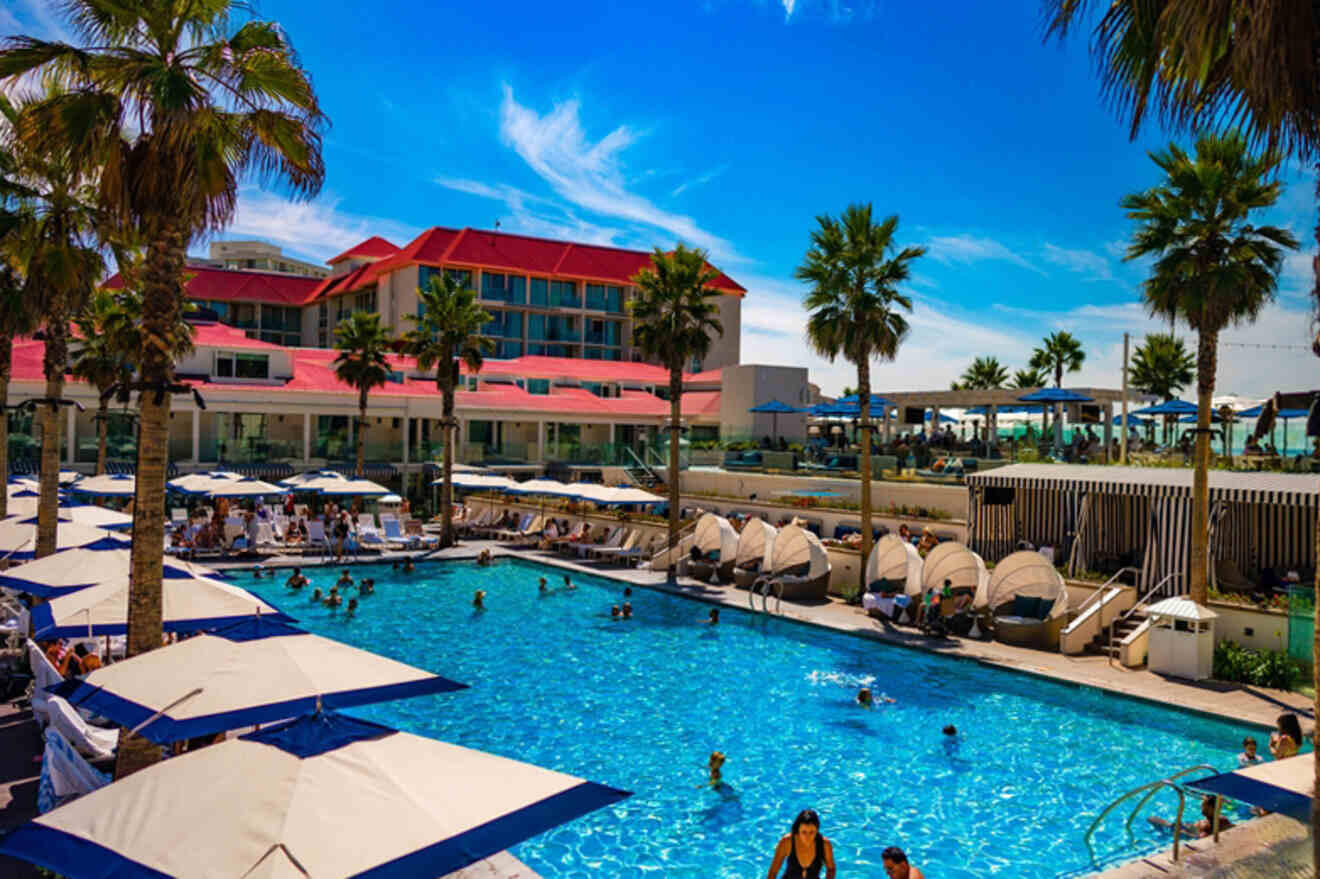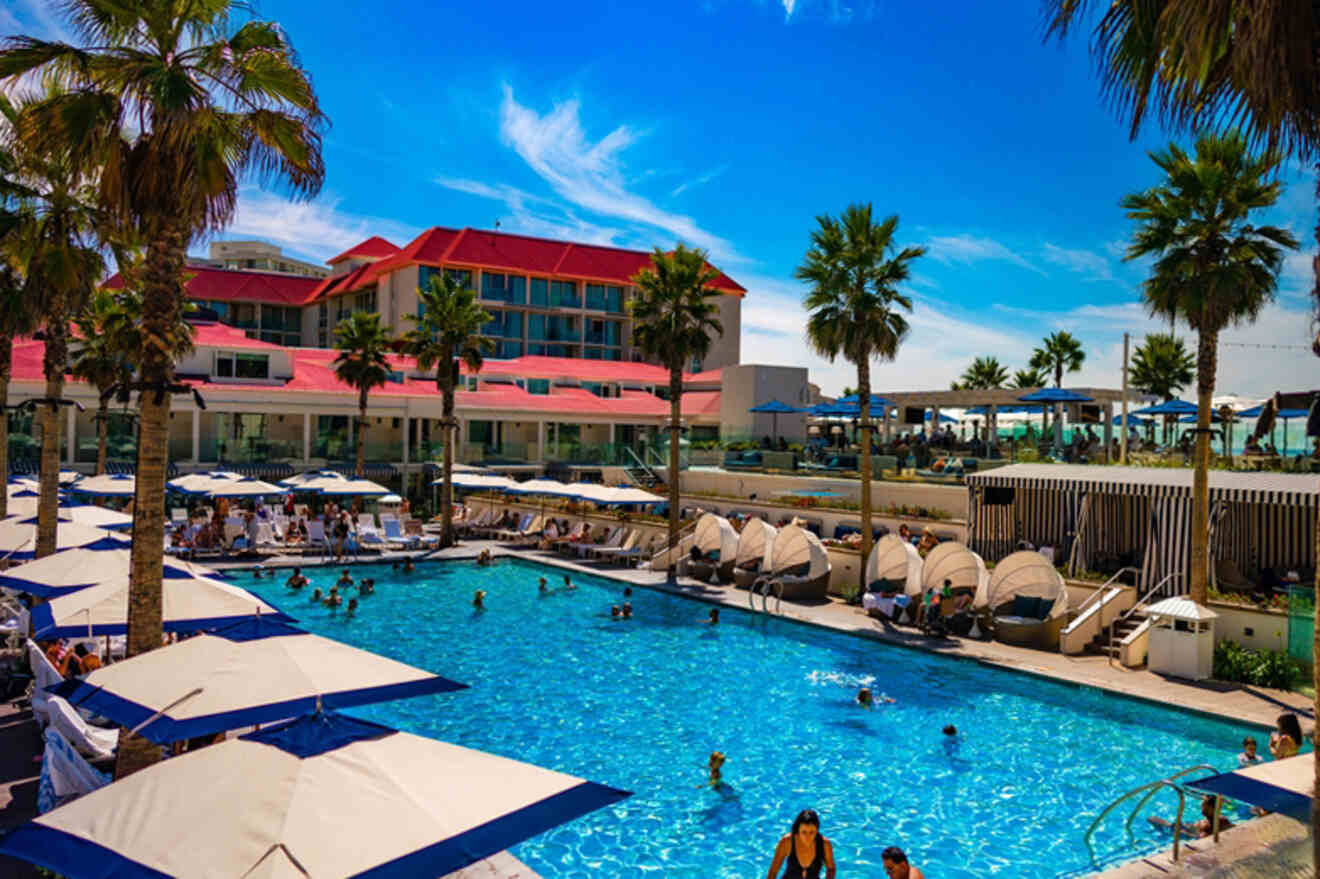 Planning an extravagant trip to one of the most mesmerizing cities in Southern California? It's true, San Diego has it all! Great beaches, bustling cities, and of course, some incredible hotels!
And today, I'll help you find the best San Diego luxury hotel for you! I did tons of research and came up with a list of the best hotels in the city, which I ordered from most to least expensive so that you can easily pick your favorite! And I didn't stop there! I also came up with a bonus section that has some amazing spa hotels in San Diego!
So many to see today, and I'm excited to start, as I'm sure so are you! But before I begin telling you all about these hotels with fine dining restaurants and a golf course, I want to ensure everyone remembers to book their favorite place in advance!
San Diego is super touristic, and these are some of the best hotels in town, which means that they'll sell out fast!
Ready to start?
Vamonos!
If you are in a hurry
Don't have the time to go through the whole post? Then check out this list of the best San Diego hotels:
1. Rancho Valencia Resort & Spa – traveling in-style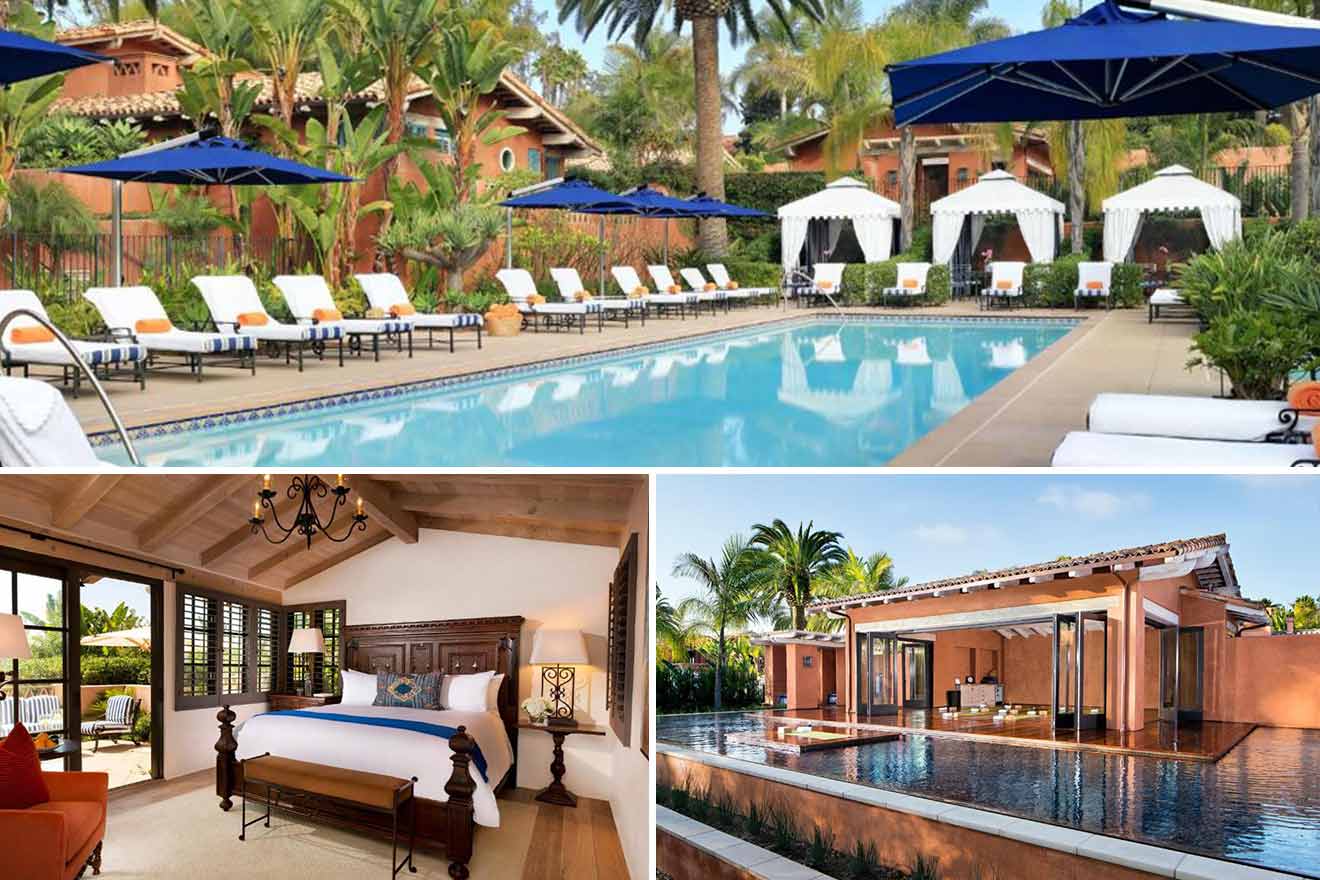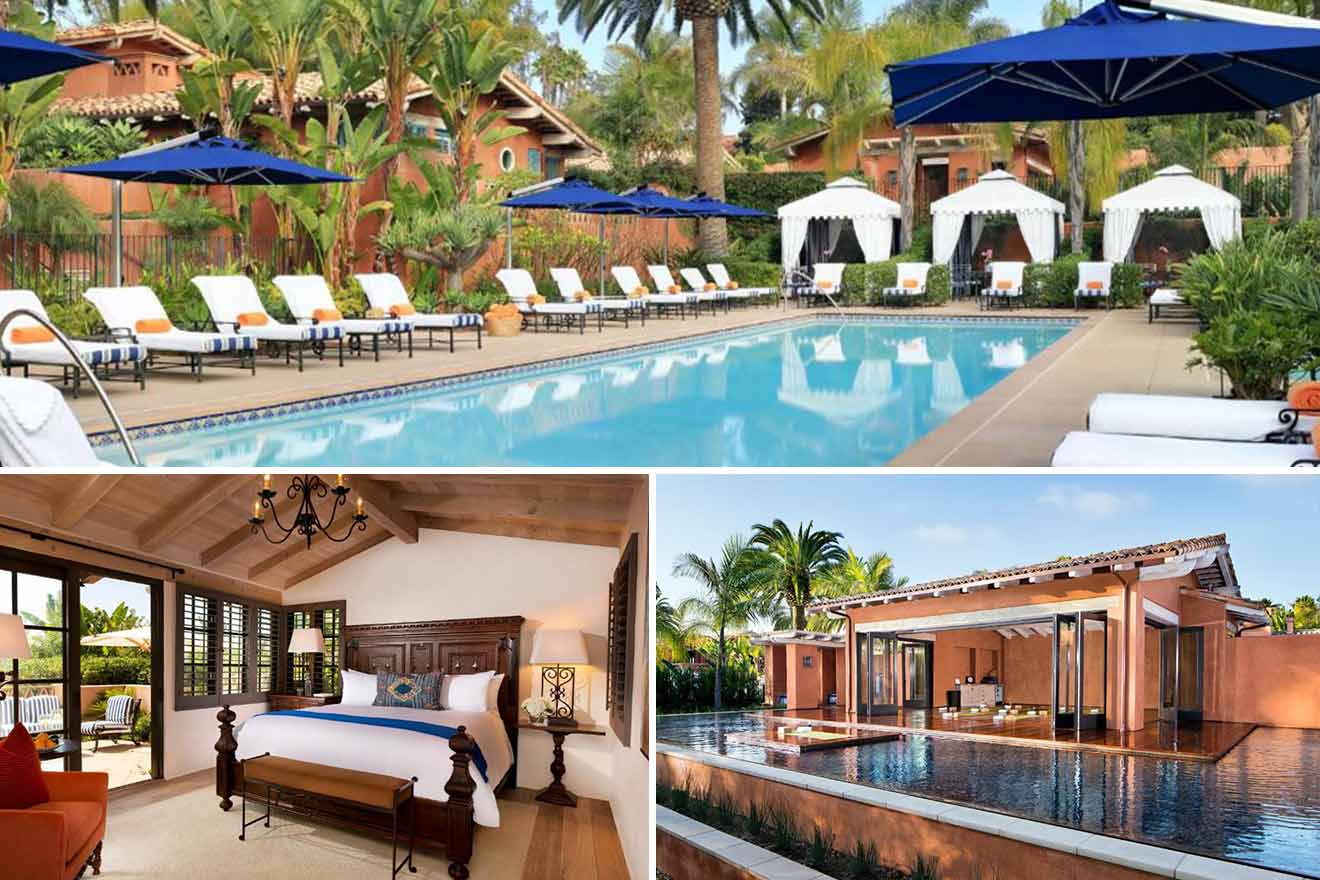 Tucked away between trees and the San Diego wilderness, this amazing accommodation with Spanish colonial architecture is set in Rancho Santa Fe and is just perfect for your holiday! It has the most amazing terrace built in true Californian style with stunning views, which is the perfect spot to enjoy your mornings or evenings!
Inside you'll find even more magic! The elegant hotel has a luxury spa center, spacious suites with sunken living rooms, a deep soaking tub and private balconies, a fitness center, and a restaurant where you can indulge in the most delicious dishes! When you're not exploring places like Balboa Park or La Jolla Cove, you can play on the tennis courts or relax in the heated swimming pools.
2. The Lodge at Torrey Pines – for a relaxing trip to San Diego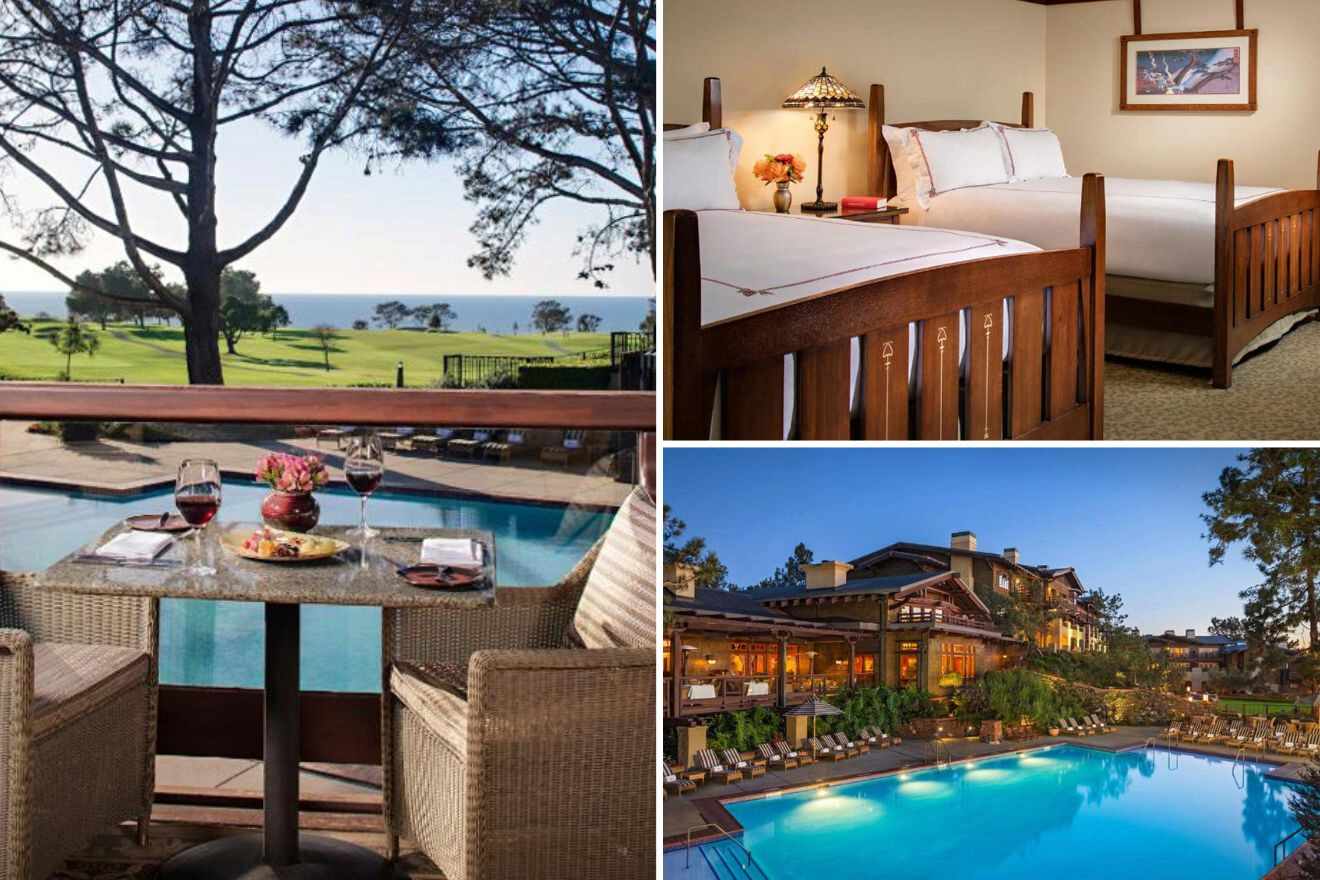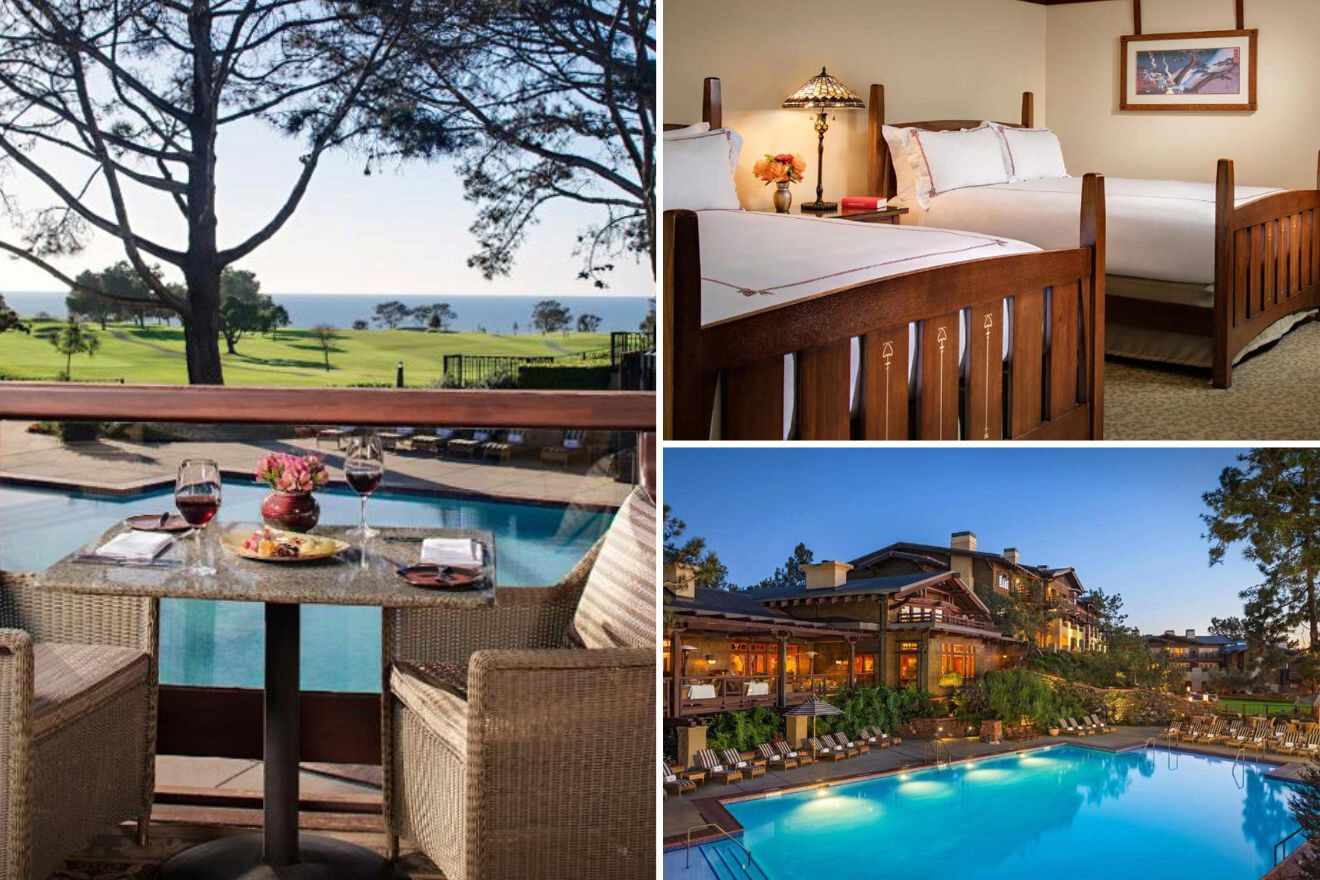 Boasting some breathtaking views of the Torrey Pines Golf Course, this luxury hotel in La Jolla is one of the best boutique hotels in San Diego! It features wooden furnishings, an outdoor pool, and some amazing rooms that are beautifully decorated and come with marble bathrooms and furnished balconies where you can enjoy your mornings.
This place is perfect for those who need a break from everything and just want to spend a couple of days relaxing! You can do that in the spa center, in the garden with a good book, and even go on a slow long hike around the property!
3. Fairmont Grand Del Mar – offers great views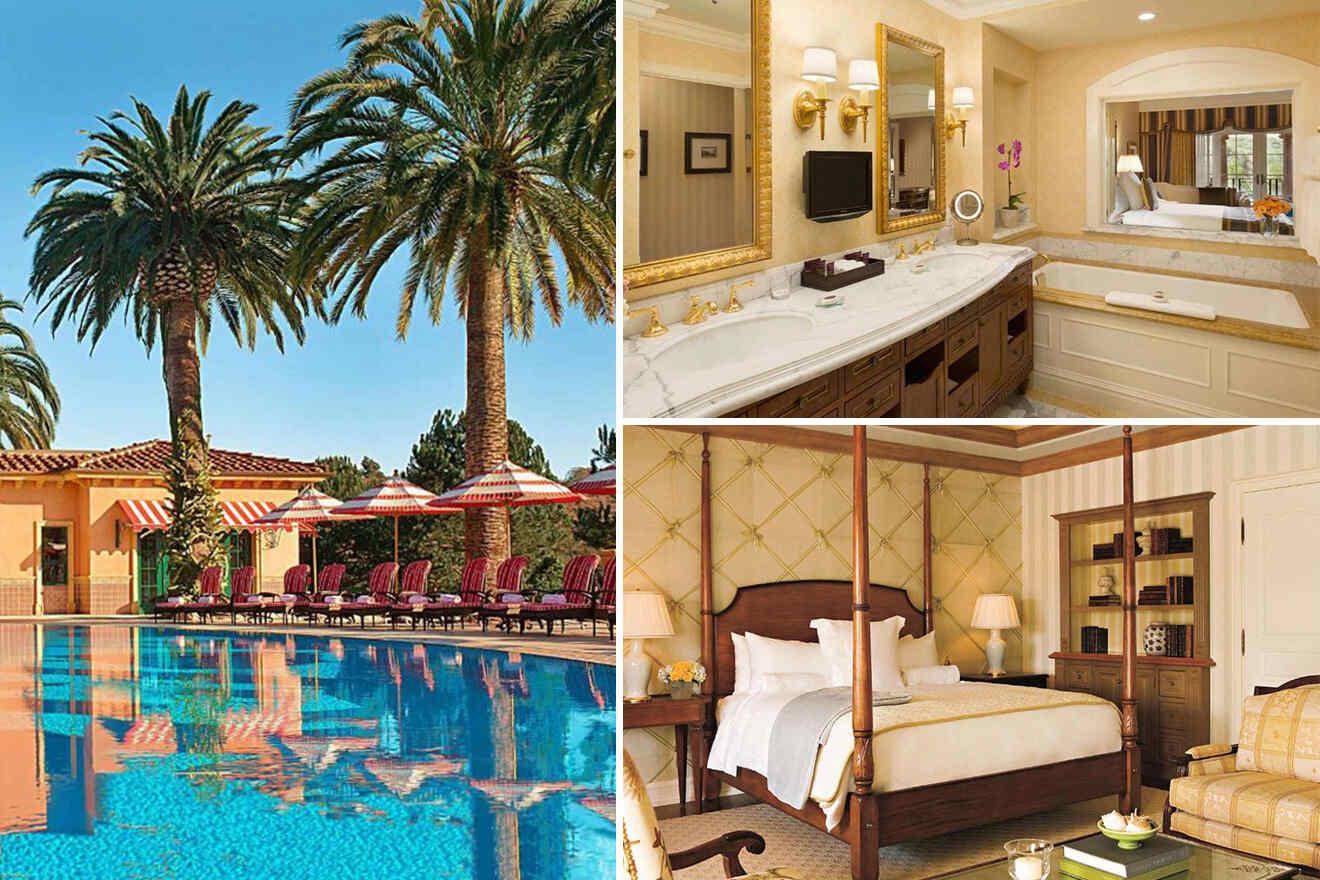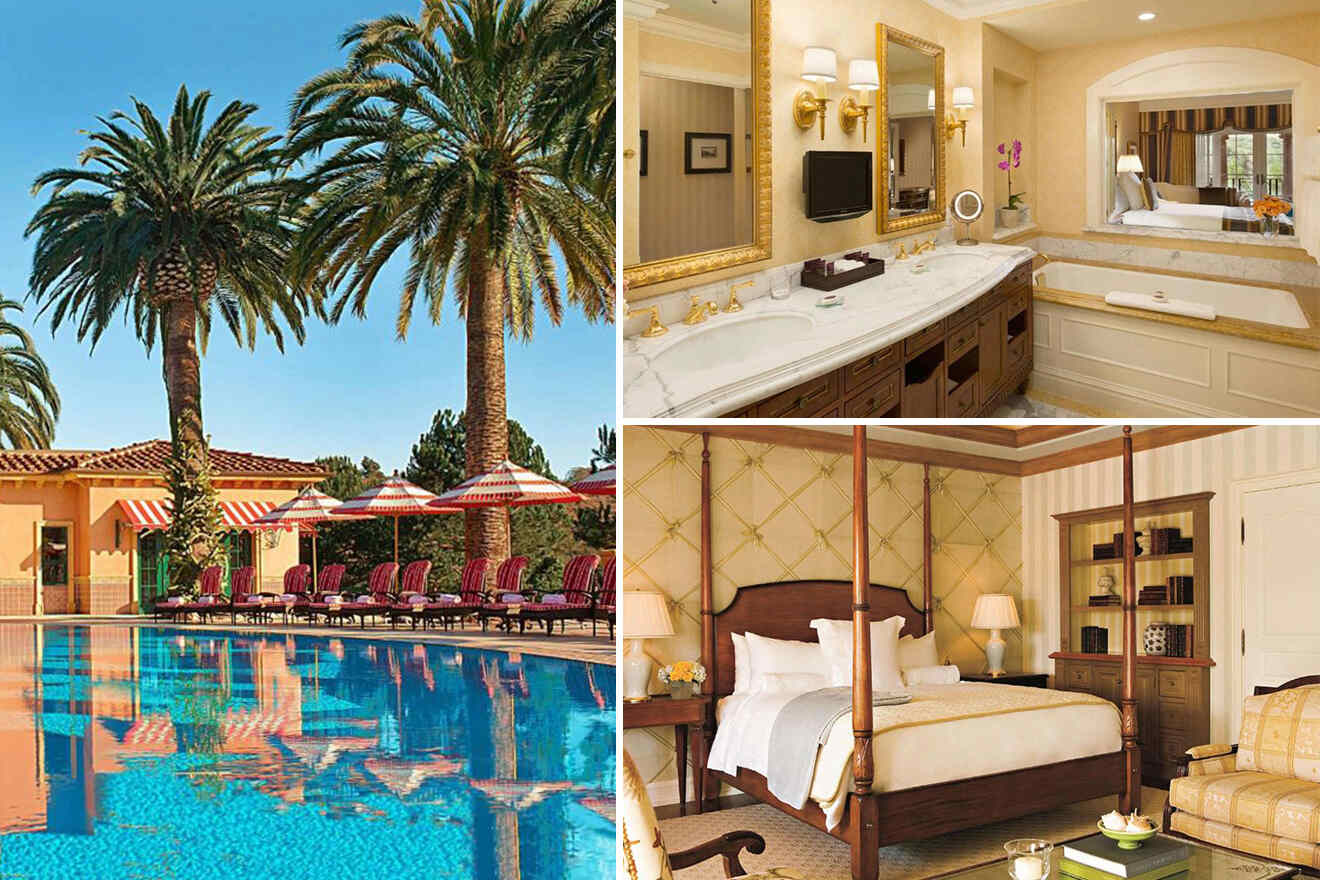 Set in the beautiful Carmel Valley, this Mediterranean-inspired resort will become your new favorite place in the area! During your stay, you'll get to admire all day long the incredible views of the Grand Golf Course and play if you're a fan of the sport. If you're not, fear not, there are a bunch of other amazing things you can do here!
From hitting the ball on the tennis courts to relaxing at the spa, going for a dip in the swimming pools, or borrowing some bikes from the hotel and exploring those abundant hills! The list is endless, and I could go on and on, but I want to leave the element of surprise! You'll find 6 on-site restaurants and rooms that have a European-style soaking tub and a flat-screen TV.
4. Pendry San Diego – for the urban San Diego atmosphere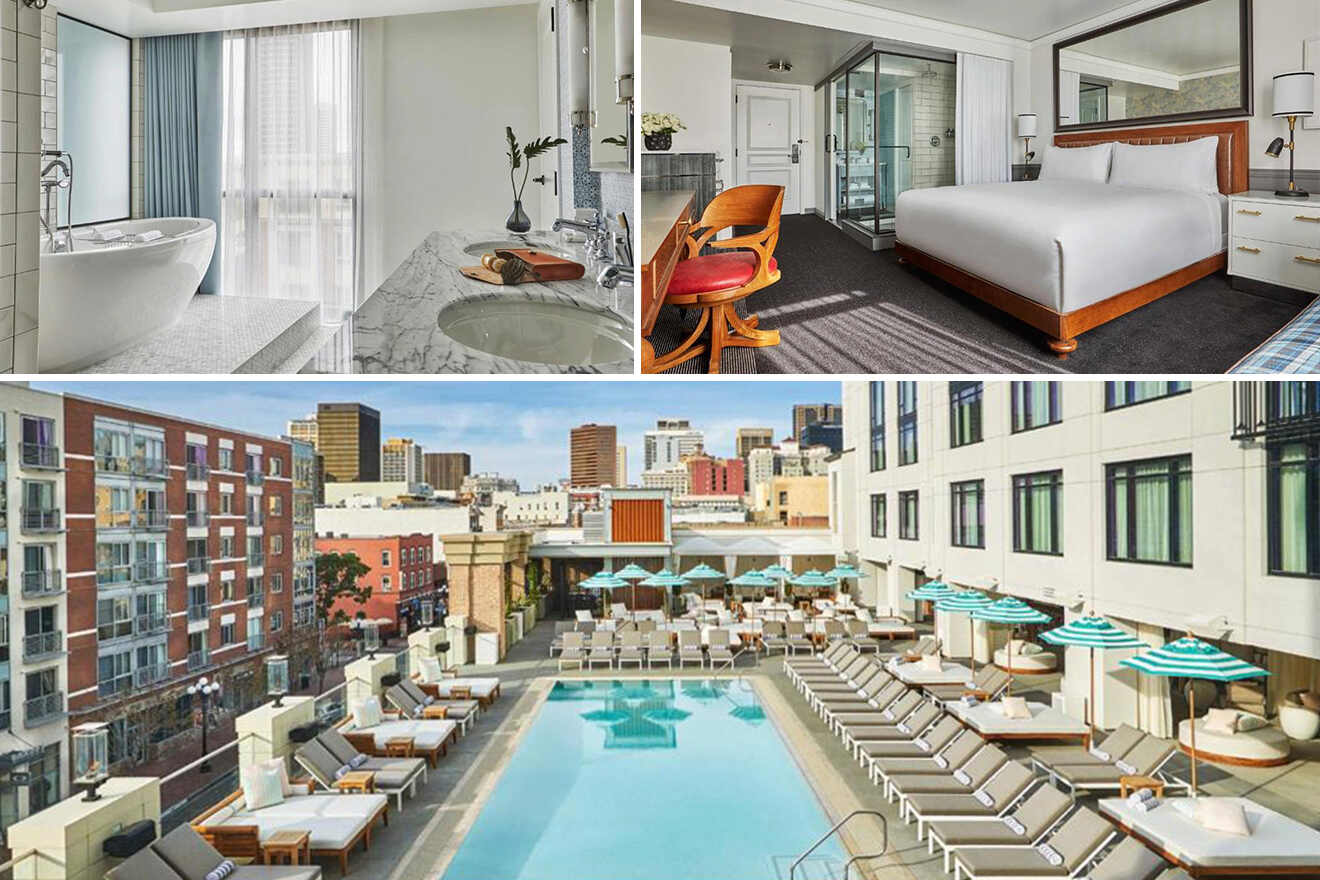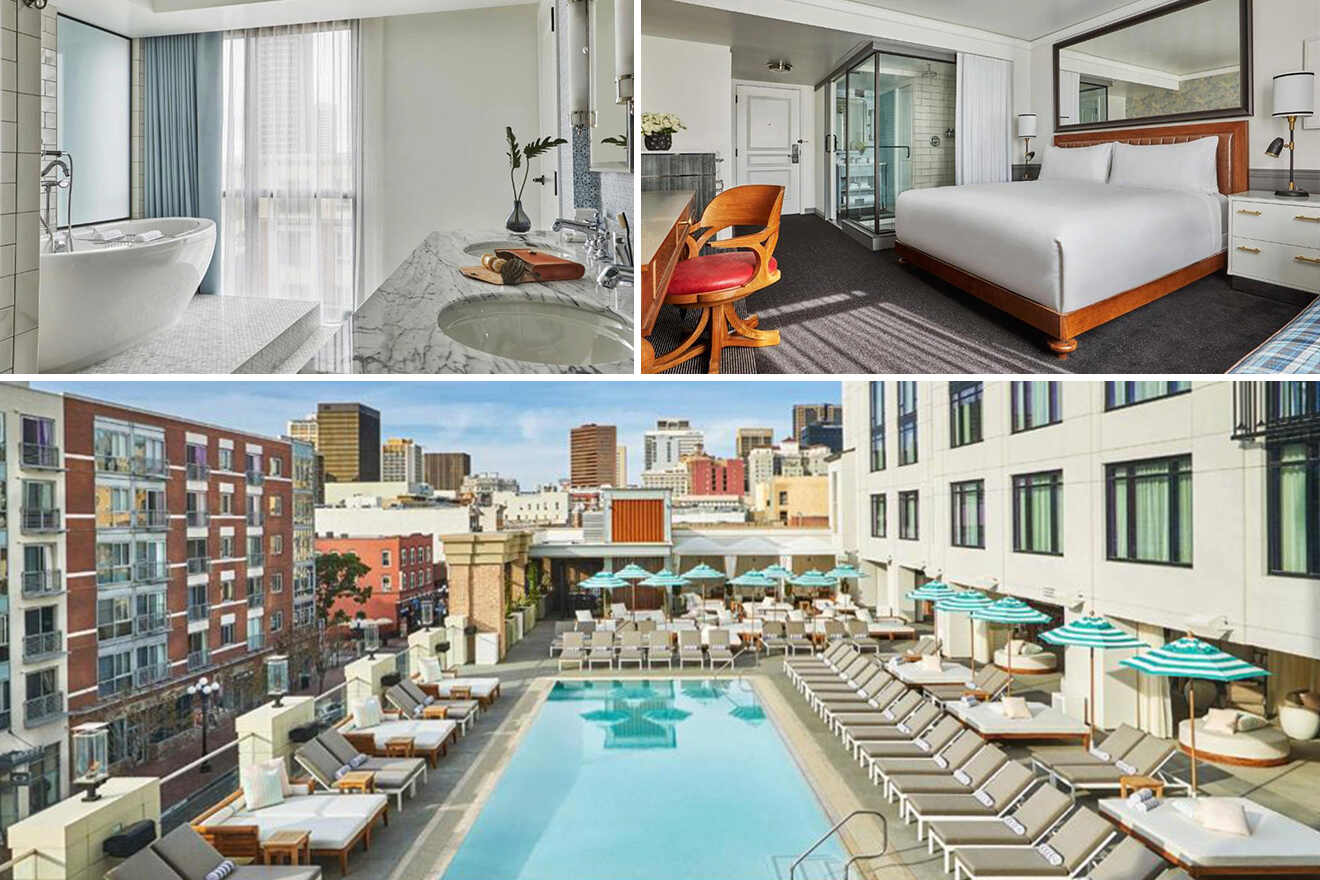 Set within walking distance of the San Diego Convention Center, this modern hotel is a great place to stay in San Diego for those who love that urban atmosphere, cool views of all the skyscrapers, and of course, who want to be close to the attractions in town like Petco Park, Nason's Beer Hall, and the USS Midway Museum.
The accommodation is conveniently located in the downtown area, and it has a fabulous outdoor pool that overlooks basically the whole city! The suites have wonderful decor and unique furnishings (some have floor-to-ceiling windows that overlook the city)! Some people say that San Diego is America's finest city, so I would recommend booking the hotels fast if I were you, as they won't be on the market for too long!
5. Orli La Jolla – unique place with a great location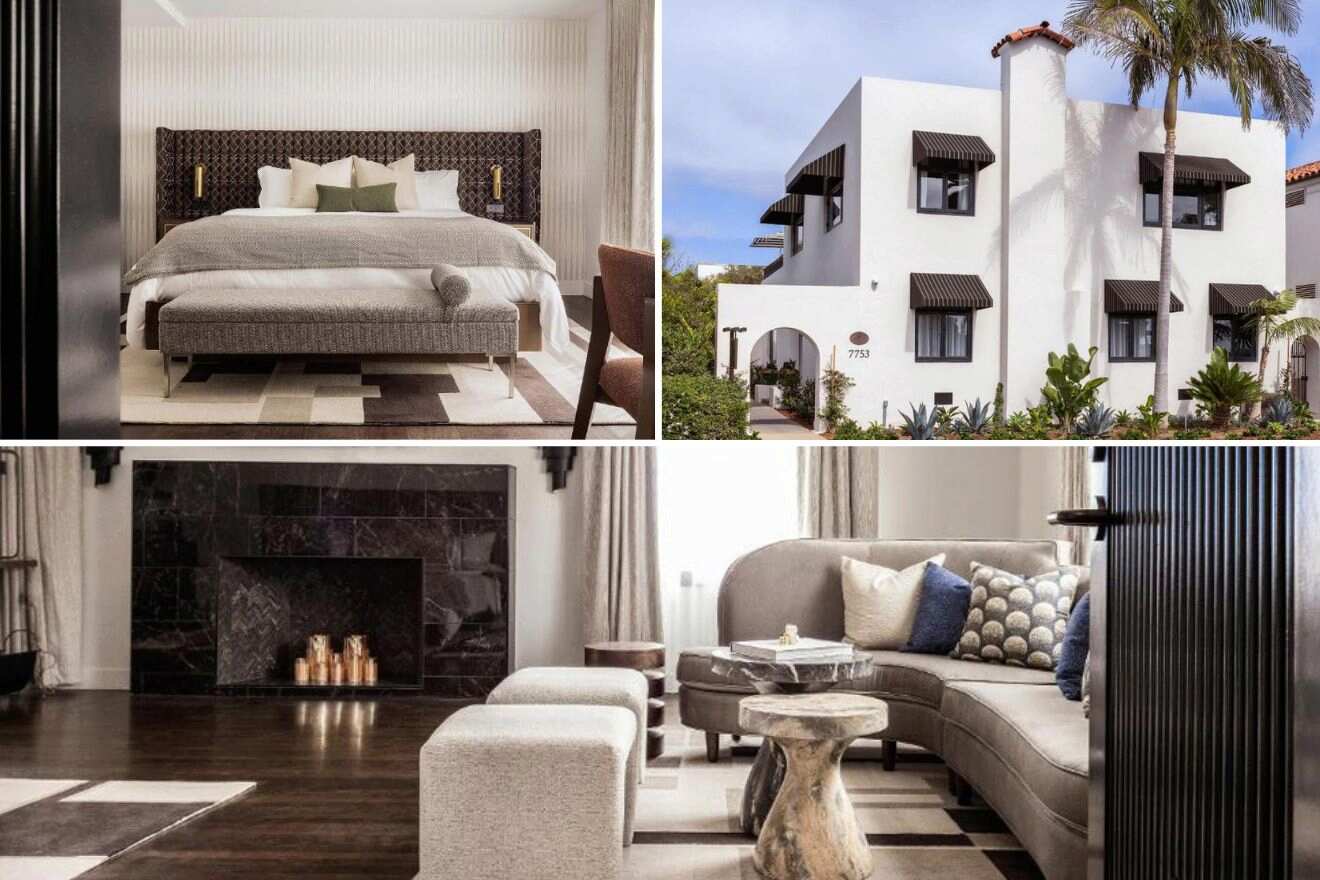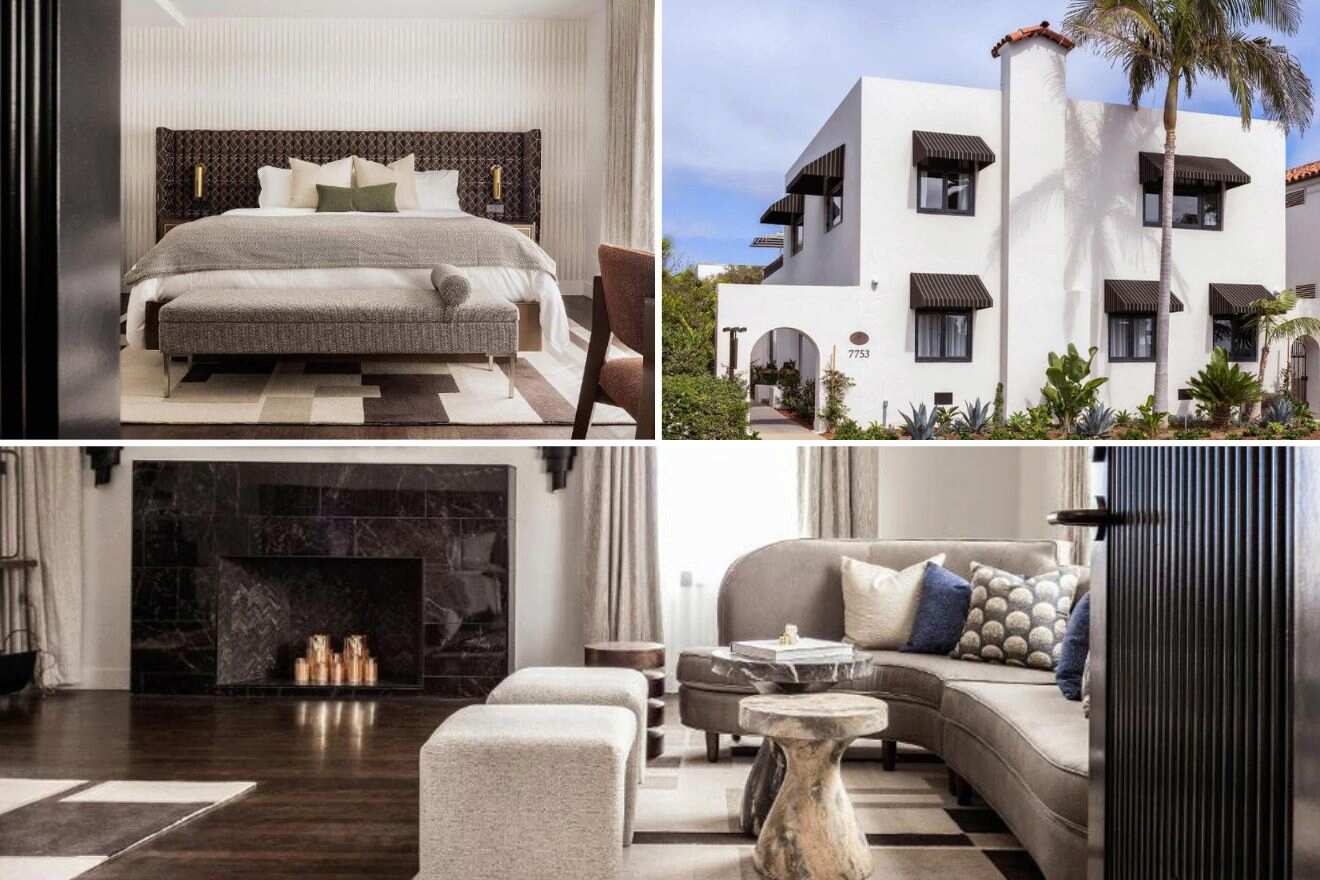 What a fabulous boutique hotel! Don't you just love those places that are designed in such a way to make you feel right at home, yet they are super stylish and feature the most amazing furnishings? Well, this place falls into that category, and I'm sure you'll never want to leave it!
The hotel sits in La Jolla, not too far from the beach, and it comes with large rooms with a super comfy bed, coffee makers, and some even have a private balcony. The boutique hotel also offers concierge services and a lovely terrace where you can catch those scenic San Diego sunsets!
6. Pacific Terrace Hotel – for beach lovers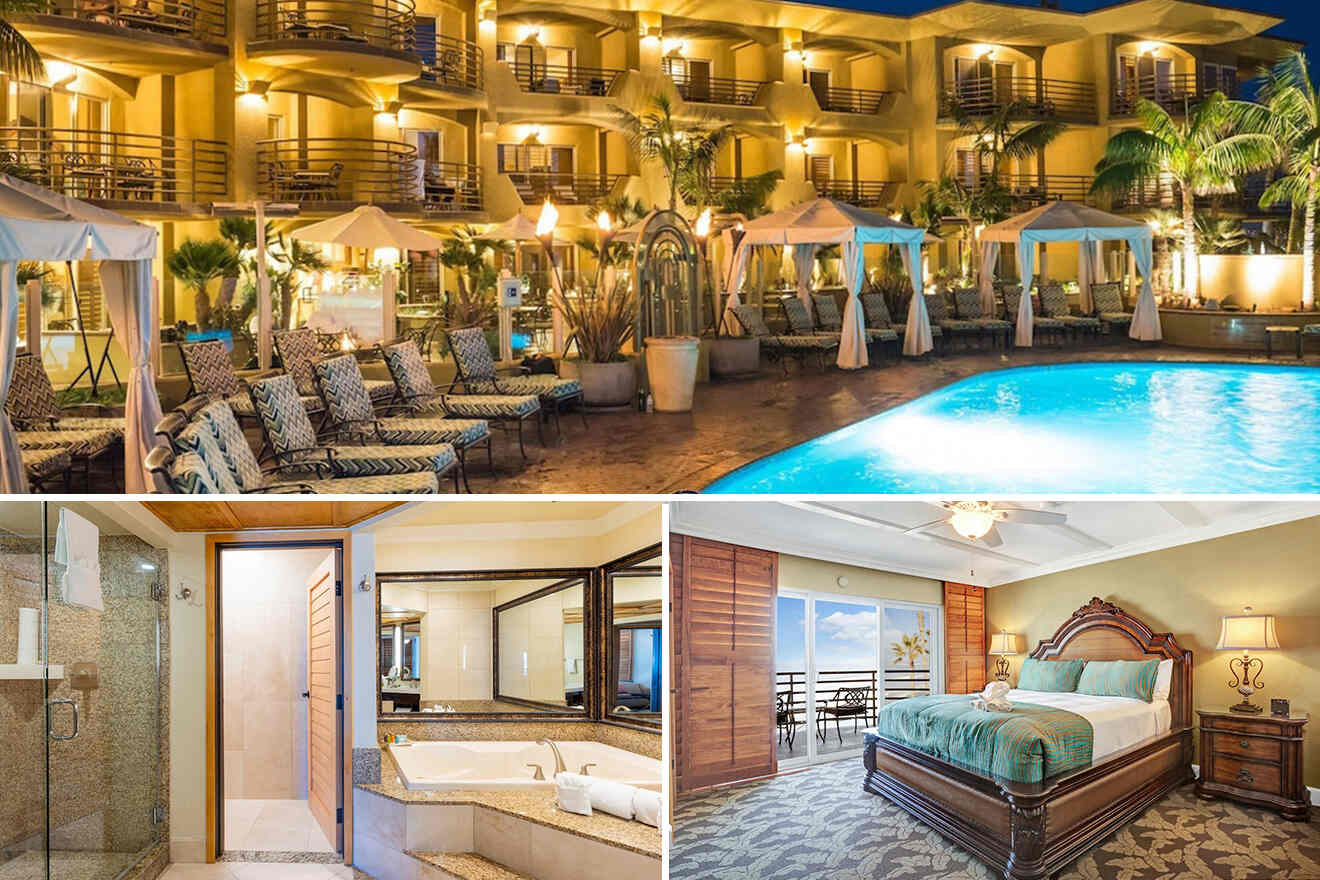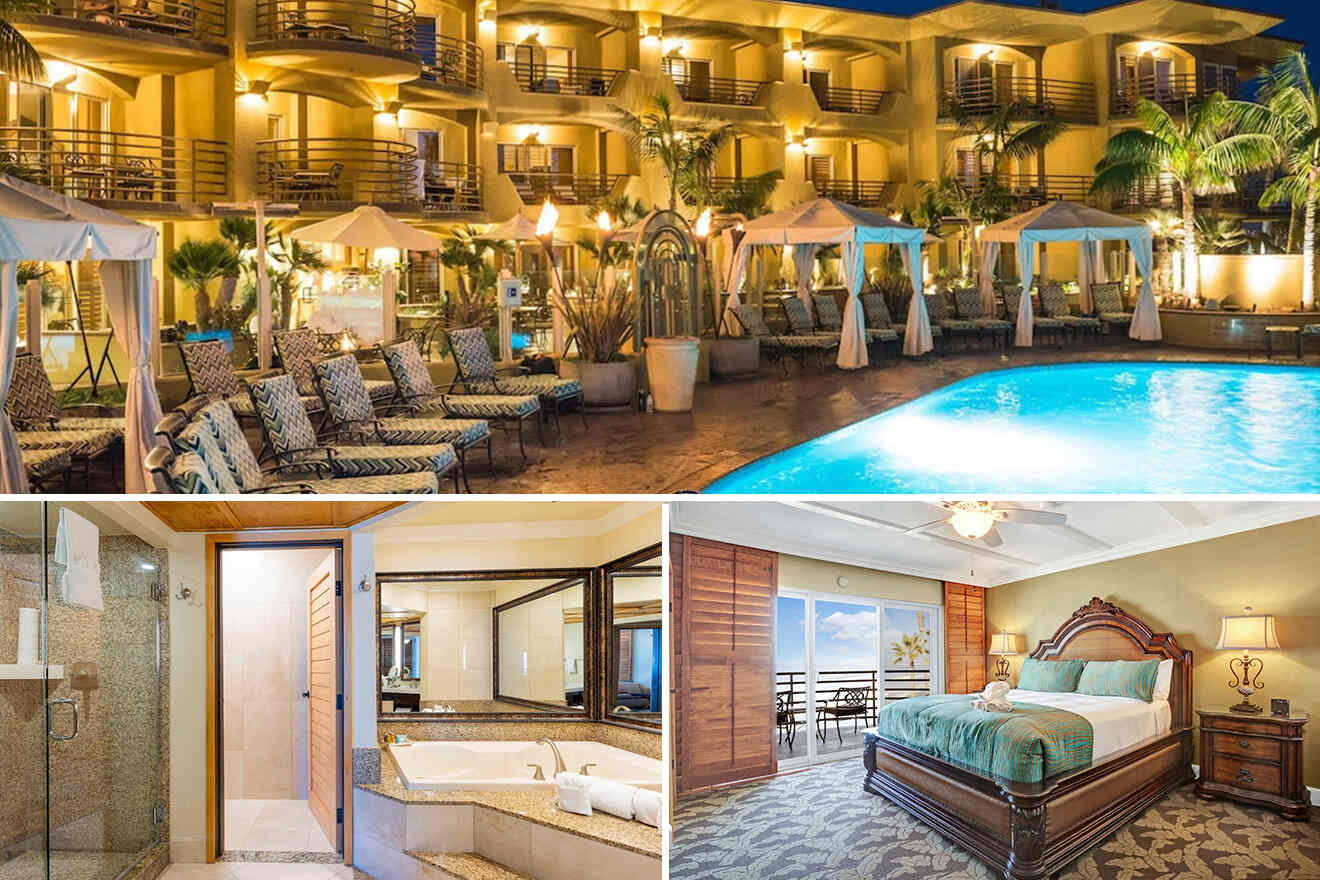 Beach lovers, this place is for you! The waterfront hotel is set in Pacific Beach Park, and it offers the best views ever! I read somewhere that people are happier when they're near water, be it the ocean, lake, or whatever, so waking up to the ocean every day will definitely put you in a wonderful mood!
After you've had your coffee, matcha, or preferred drink, you can hang by the outdoor pool or just hit the beach since it's set within walking distance of the ocean. All the rooms are pretty spacious, and the hotel also has a restaurant, a hot tub, and a fitness center! When you're not out and about in some of San Diego's best restaurants or visiting attractions like Petco Park, you can borrow bikes from the hotel and head out!
7. InterContinental San Diego – has a great location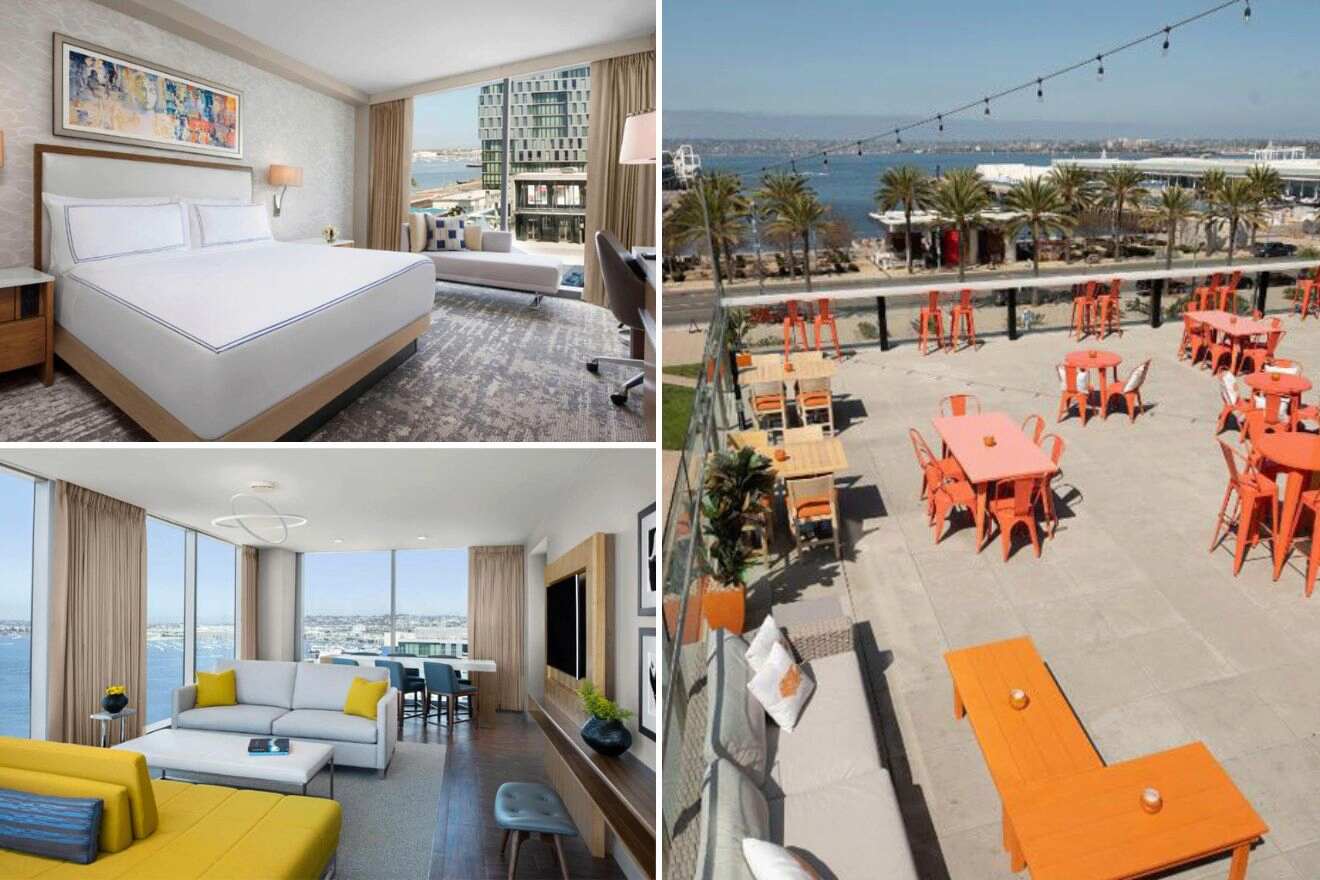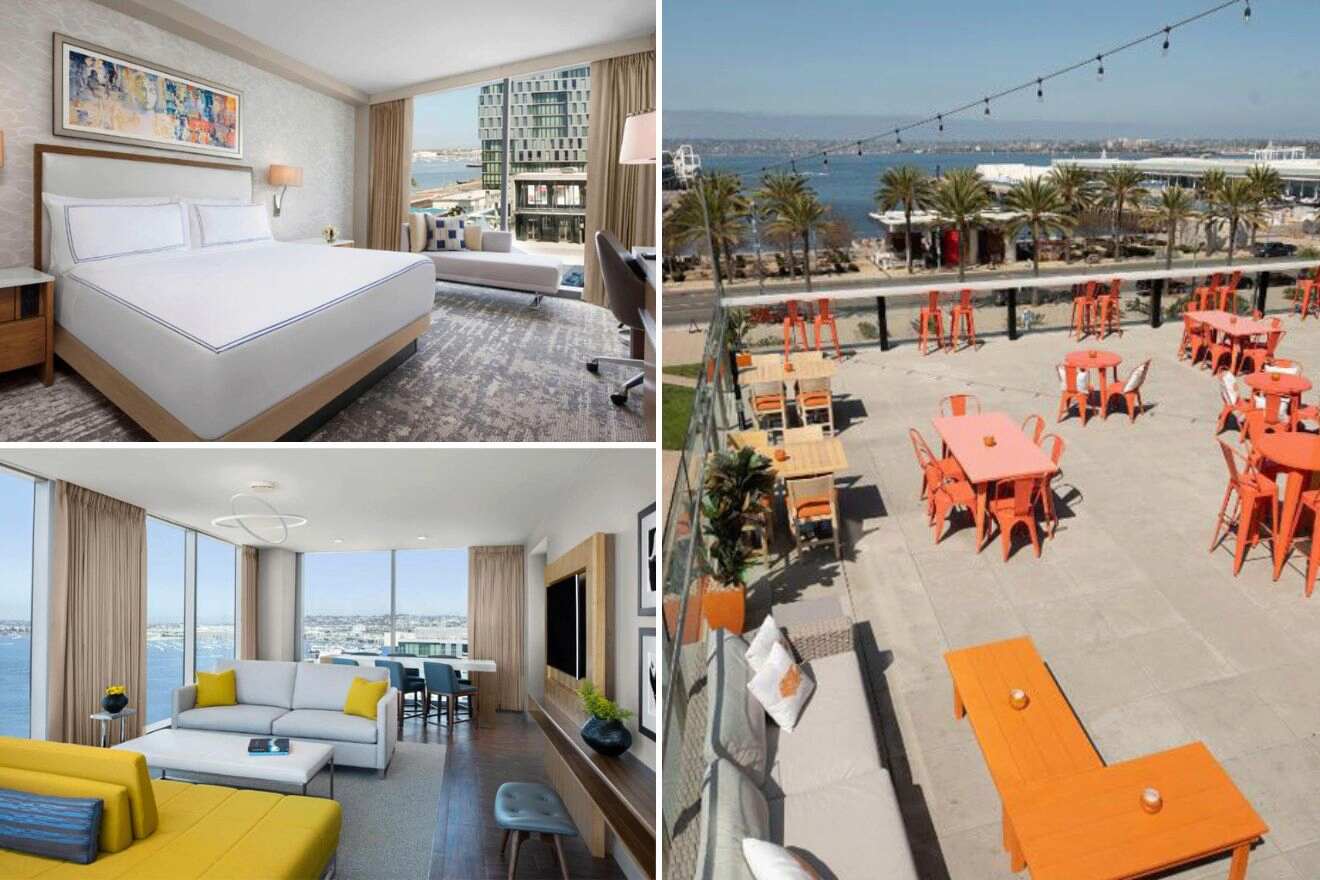 A waterfront hotel set right in downtown San Diego, within walking distance of all the attractions in town? Hold my purse! And I'm not even done! The accommodation has the most awesome rooms with floor-to-ceiling windows overlooking the San Diego Bay.
Guests will have access to an outdoor swimming pool, a fitness center, and bike rentals. Definitely grab dinner at their restaurant, as it features an eclectic blend of cuisine influenced by the Baja Peninsula, the Pacific Islands, and Mediterranean fishing villages. Plus, everything you'll find on the menu is locally sourced.
8. Manchester Grand Hyatt – for a fun trip to San Diego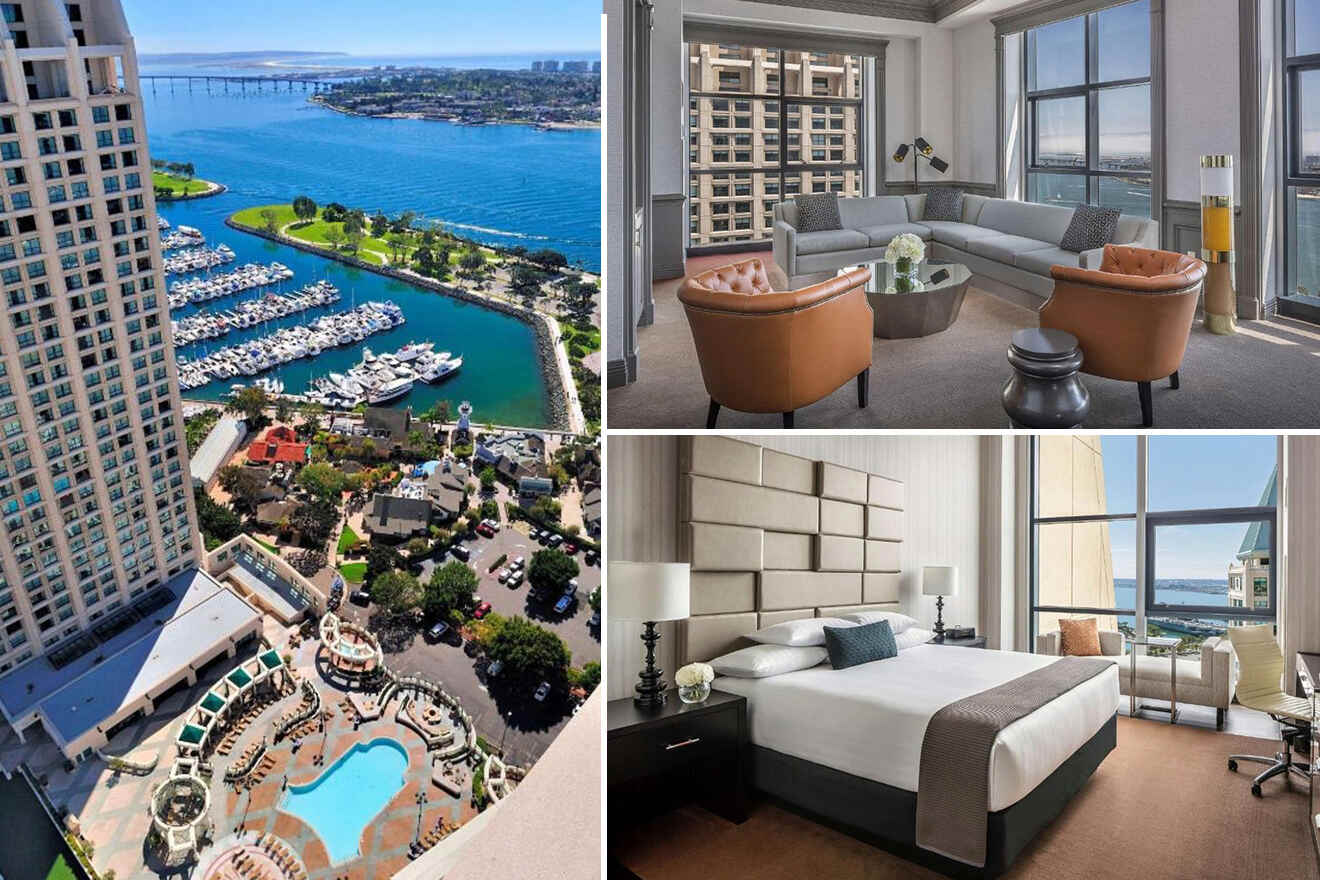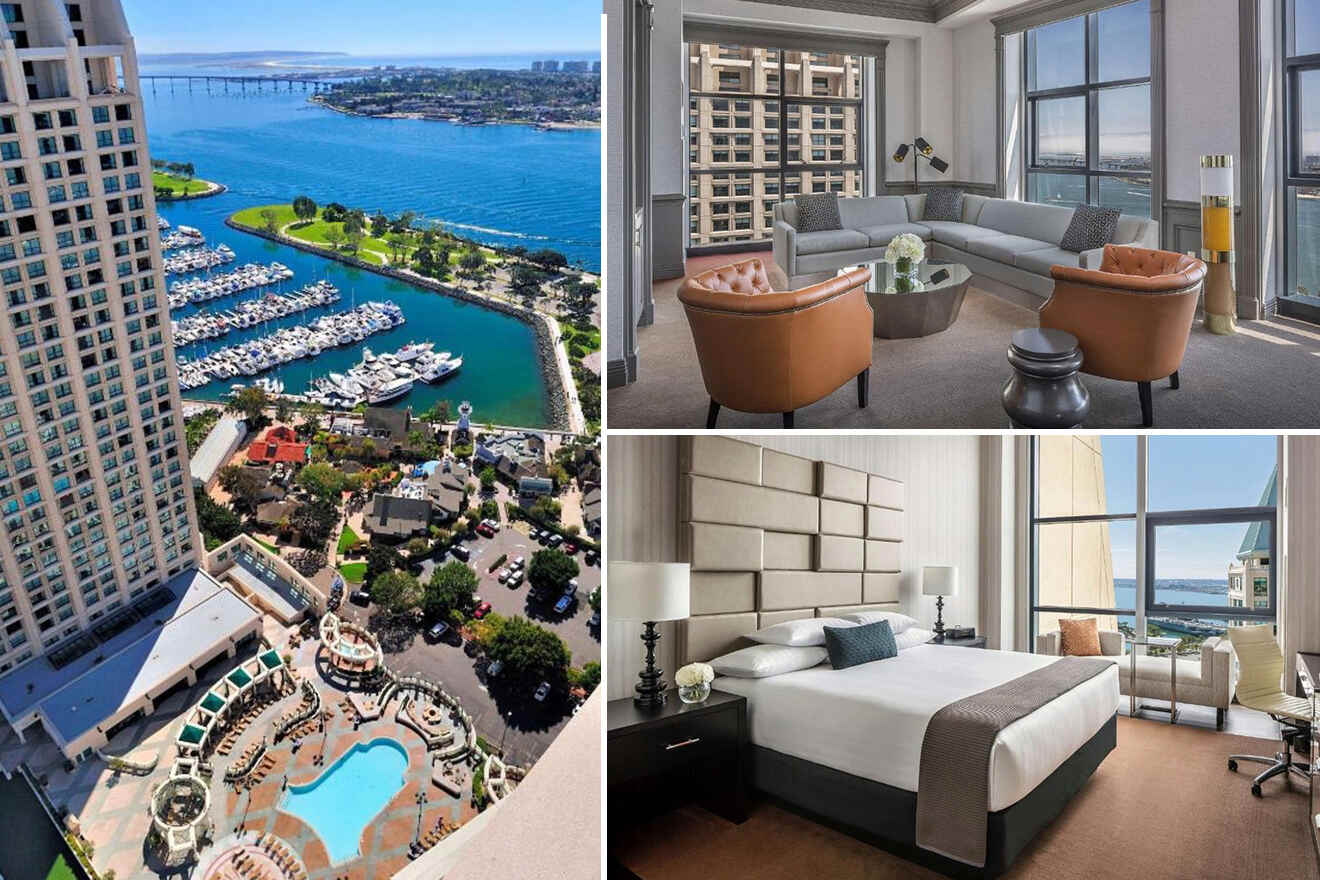 Conveniently located in downtown San Diego and overlooking the Bay, this fabulous hotel has guest rooms with large windows and a flat-screen TV. It also comes with waterfront dining, bars, and lounges.
But I'm sure many of you want to hear also about the 2 outdoor pools (including a family pool and adults-only pool) where you can enjoy that perfect San Diego sun when you're not out and about visiting San Diego Zoo or other attractions like Petco Park. There's also a fitness center for those who can't miss out on gym day and a meeting room for business travelers.
9. Kimpton Alma San Diego – with a fabulous rooftop pool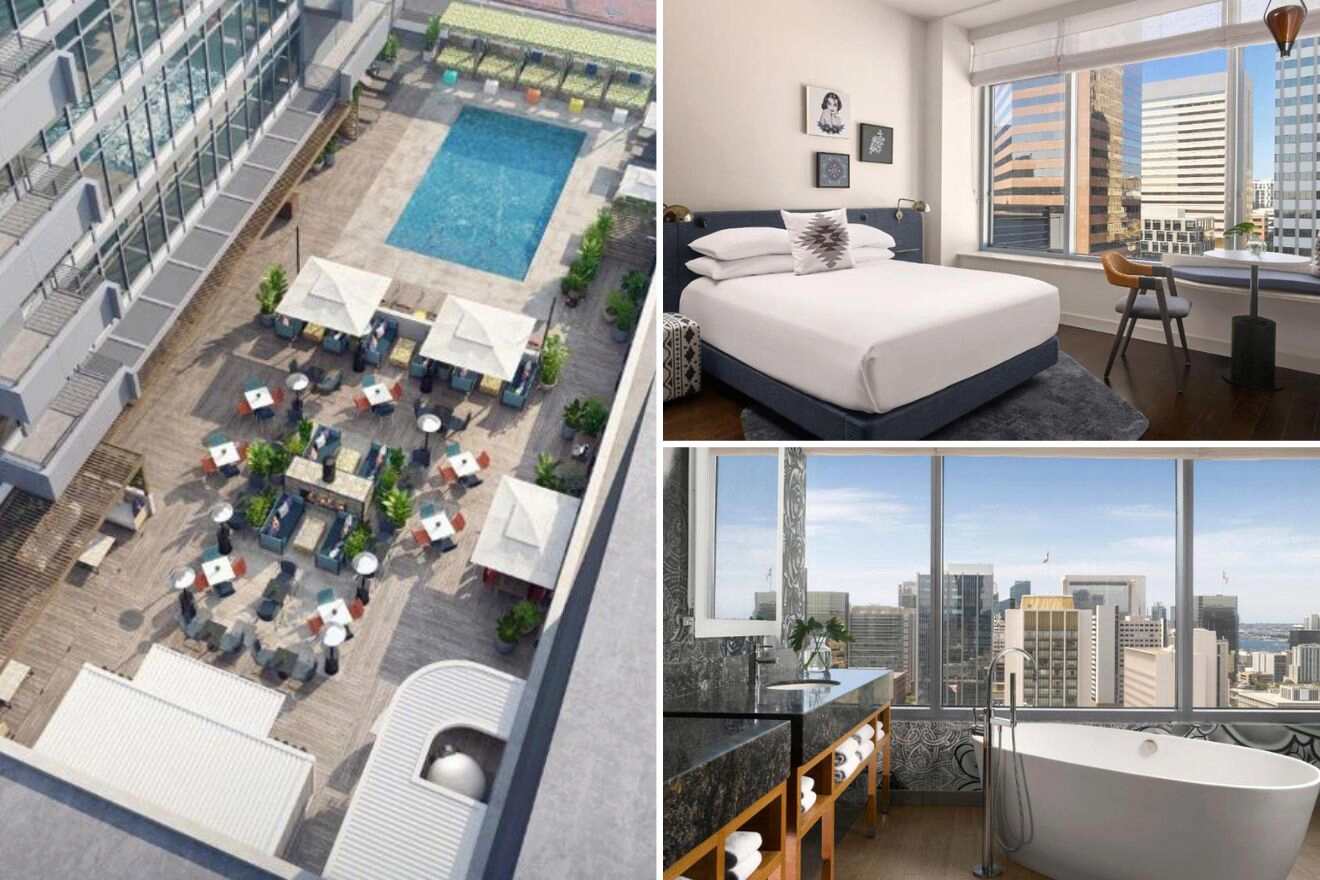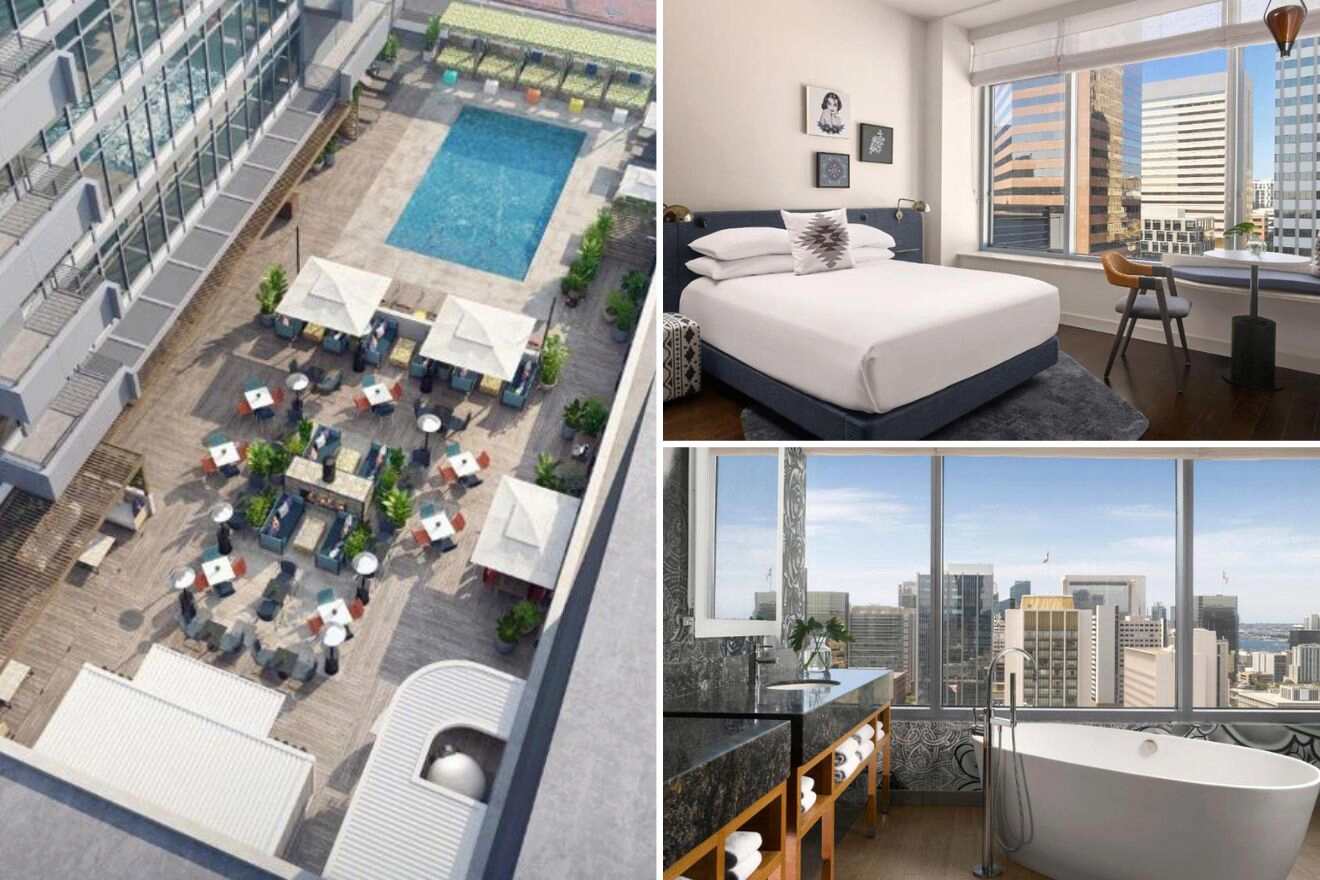 Want to chill by a rooftop pool while admiring the views of Downtown San Diego? Then check out this hotel that has a rooftop bar as well, modern guest rooms with floor-to-ceiling windows, and a restaurant!
Start your mornings with a yummy breakfast, and then head up to the rooftop pool to enjoy the San Diego sun! Then you can hit the fitness center, chill on the sun terrace or even borrow some bikes from the accommodation if you want to explore as much of the city as possible. Don't forget there are millions of attractions in town, like the San Diego Zoo and Balboa Park, and they're not too far from the hotel!
10. The Westgate Hotel – unique hotel with a great design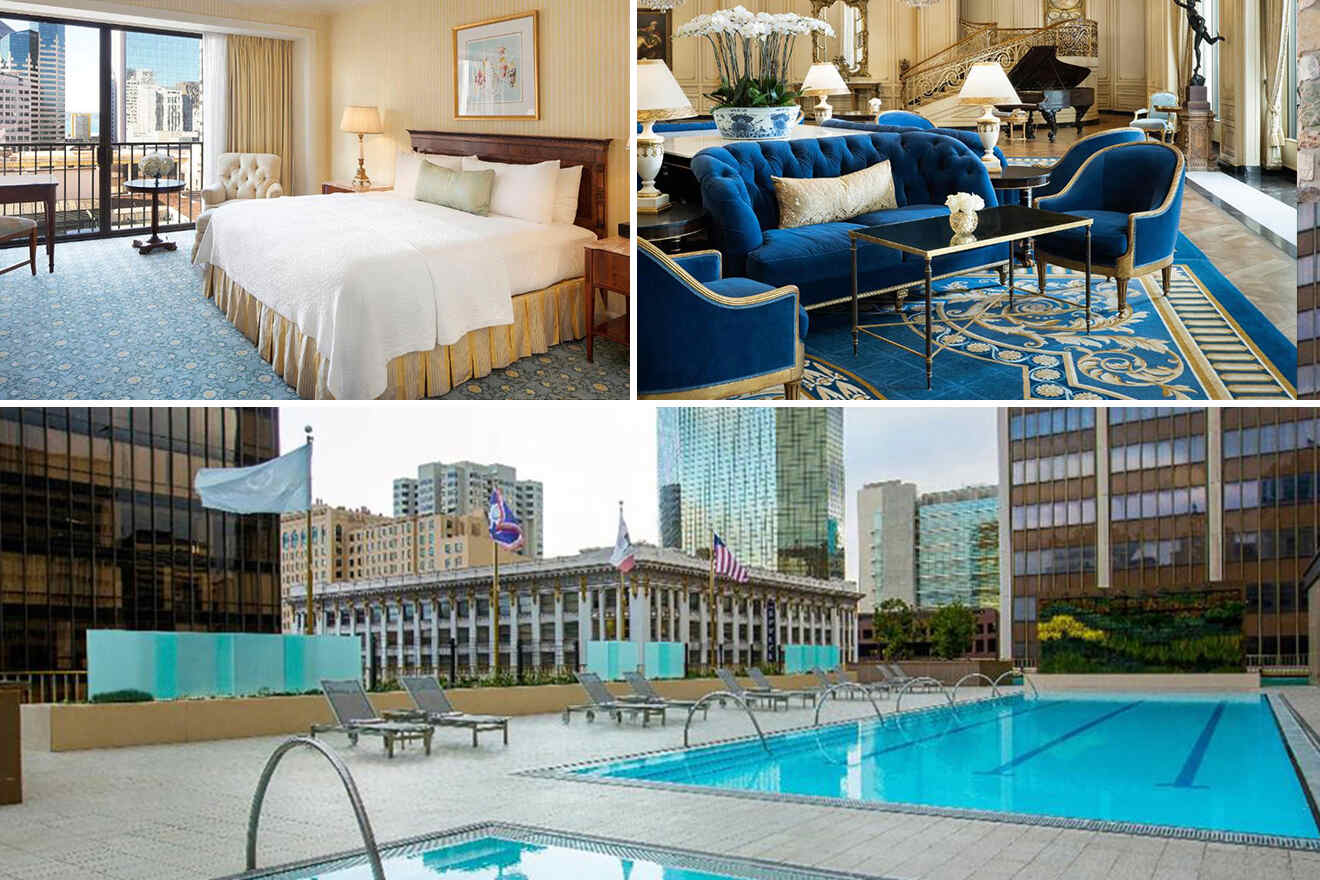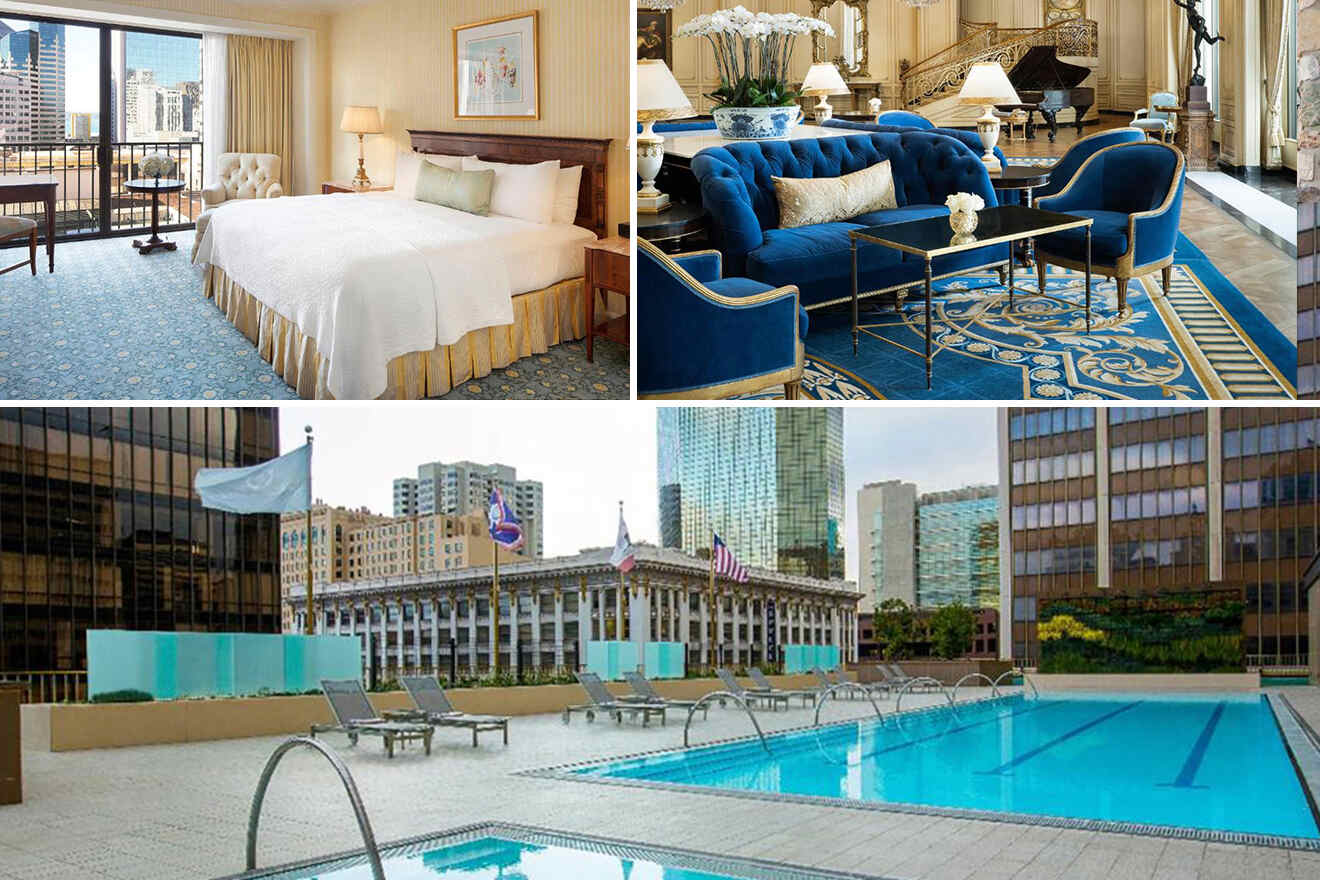 Ever wanted to feel like you're staying in a palace? But one that has modern features like a rooftop pool, a heated pool, a full-service spa, and gorgeous views of the city? Then I've found the perfect one for you! Set in downtown San Diego, the accommodation is decorated with hand-crafted European furniture, and it offers a bar as well.
Their guest rooms are pretty spacious and offer some great city views through their floor-to-ceiling windows. On some days, you can enjoy the afternoon tea alongside the live harp music before you head out to explore San Diego's downtown area.
11. Estancia La Jolla Hotel & Spa – for a tranquil trip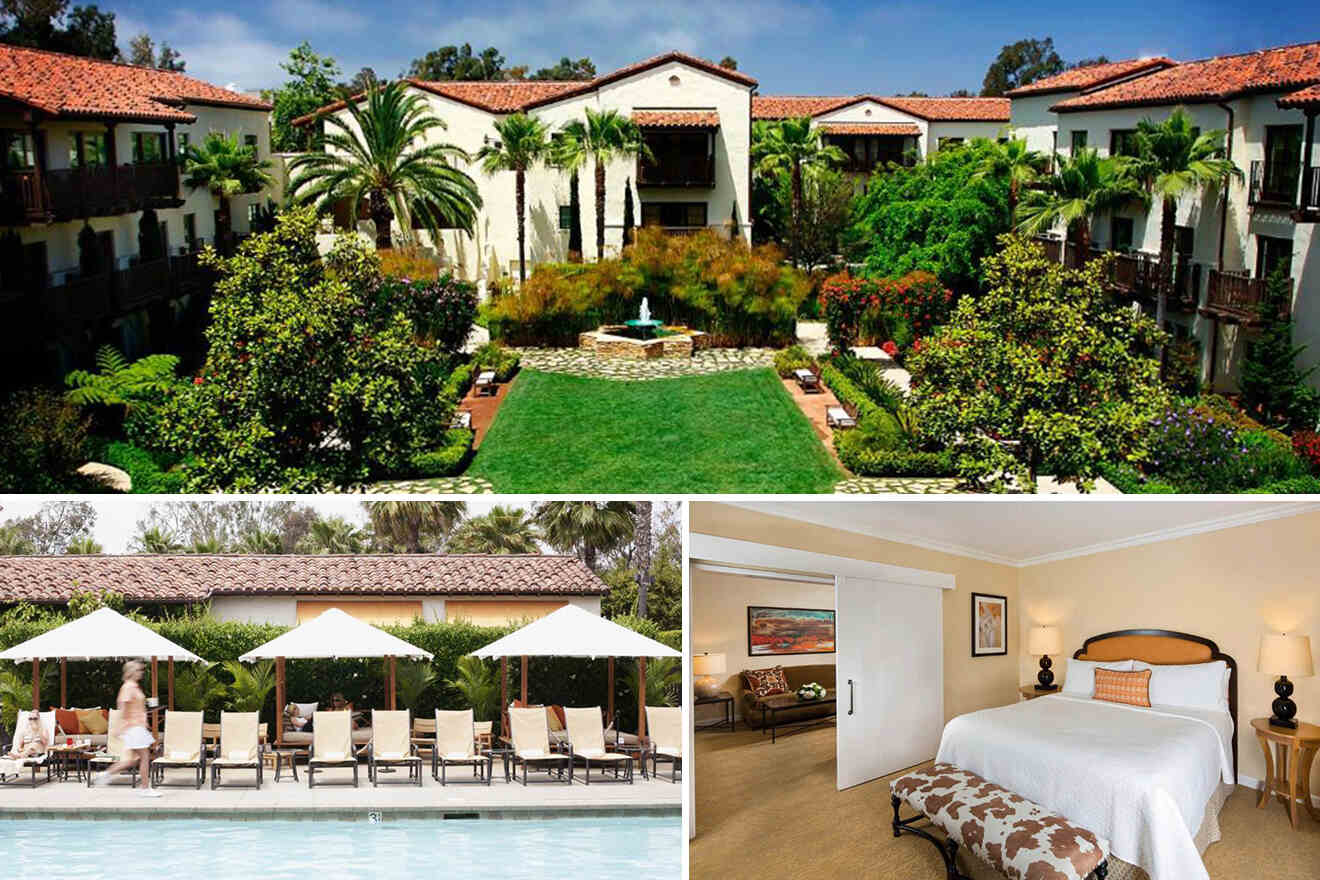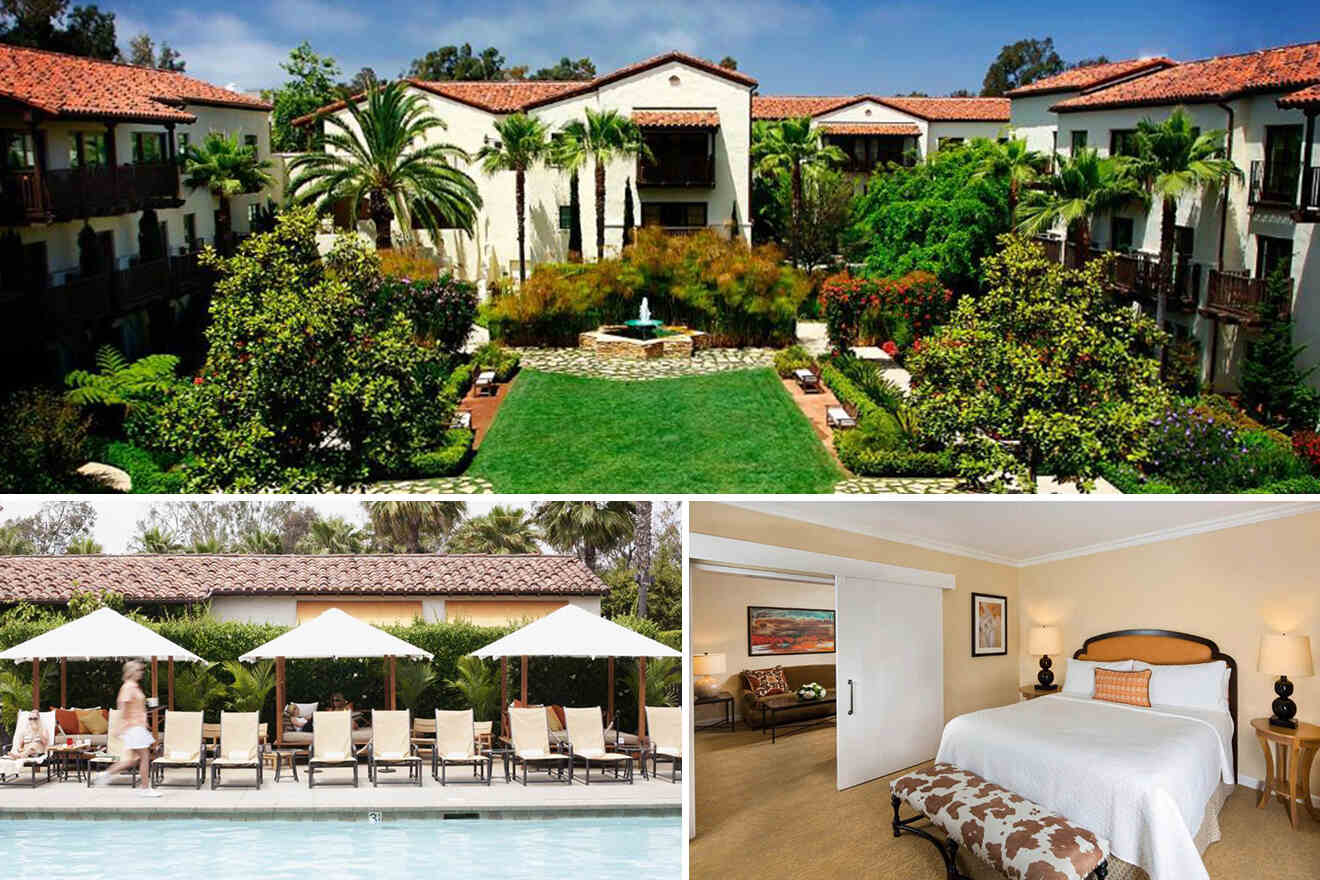 Surrounded by palm trees and greenery, this incredible boutique hotel in La Jolla is super cozy and comfortable, and it has some amazing hotel rooms that have everything you need for your stay, including free Wi-Fi and a flat-screen TV.
During your stay, you can enjoy some relaxing time in the nine treatment rooms at the spa, work out in the fitness center, and of course, eat all the yummy food at the 3 restaurants on-site. The beach isn't too far from the hotel so I'm sure you'll want to spend a lot of time there! After a day of breathing in the salty air and ocean swimming, you can chill by the outdoor fireplace and enjoy a nice glass of wine.
12. The Guild Hotel – stylish hotel with a great location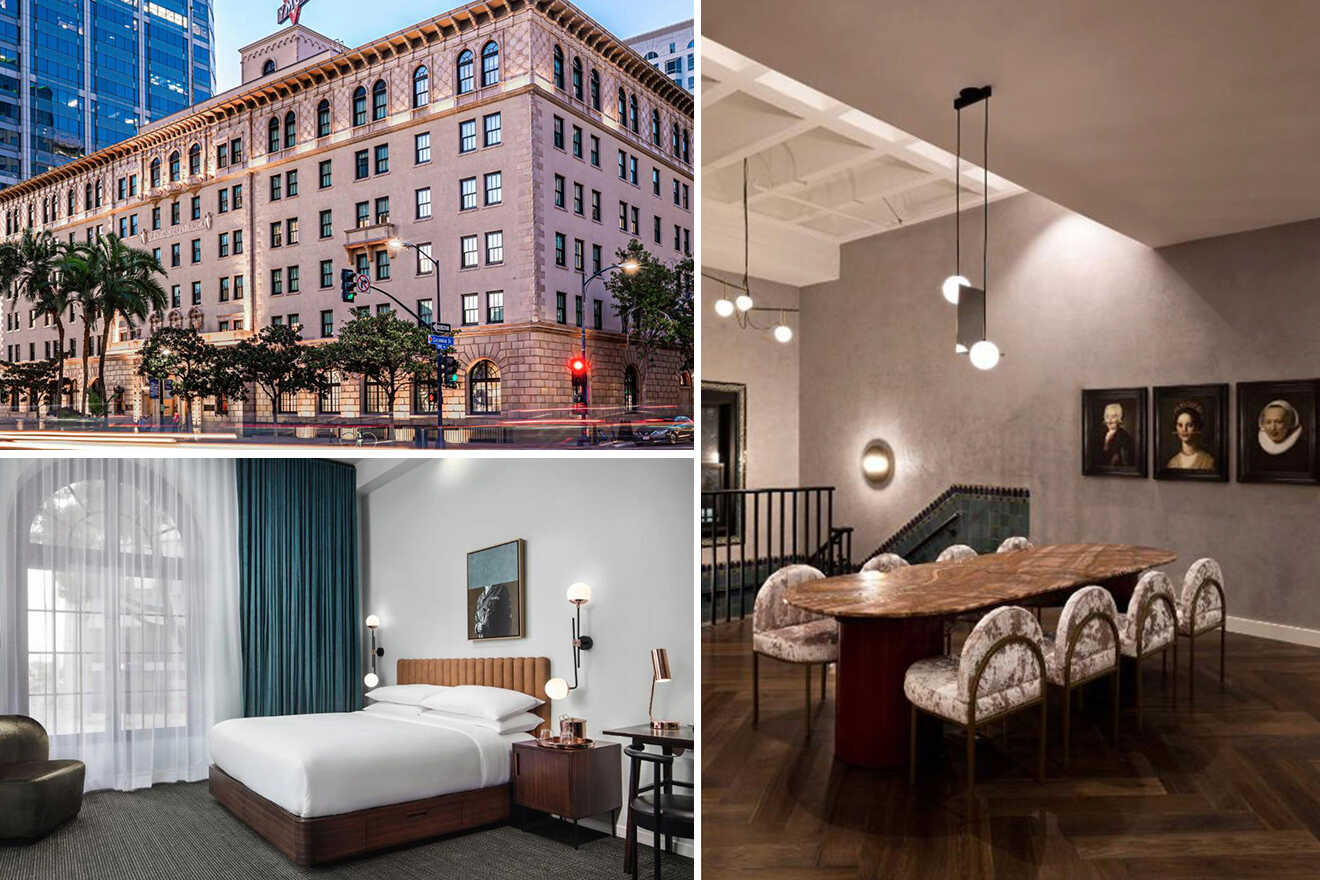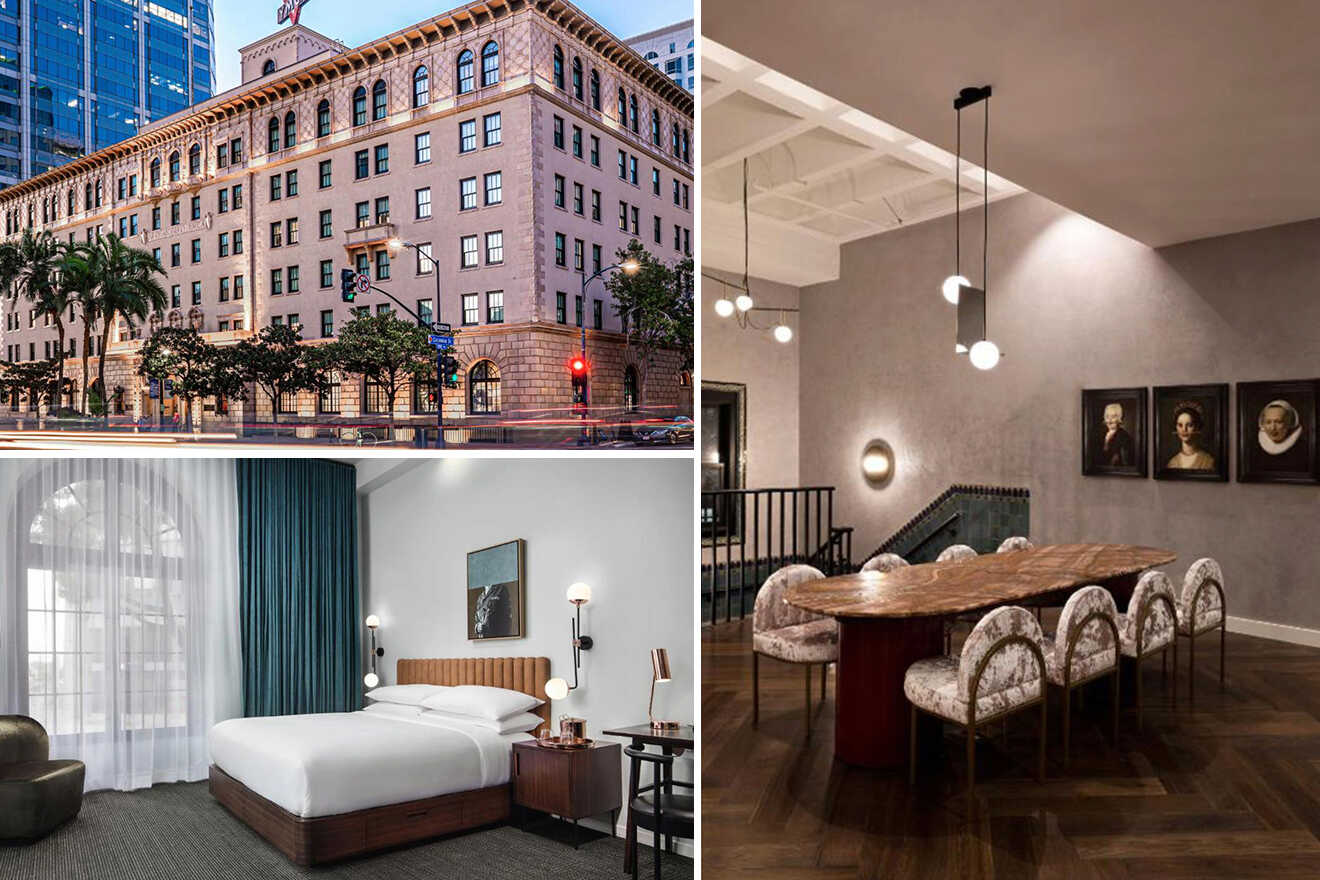 Definitely one of the best boutique hotels in downtown San Diego! The luxury hotel comes with a fabulous European-designed courtyard and many other incredible facilities! Their guest rooms have a simple yet super modern decor made with mostly whites, blacks, and some earthly colors.
Hotel guests will have access to the fitness center and also to a bicycle rental! There are 2 restaurants on-site and a bar where you can have a drink or 2 after a day of cycling around San Diego's avenues or chilling on Pacific Beach.
13. Moxy San Diego Gaslamp Quarter – for party lovers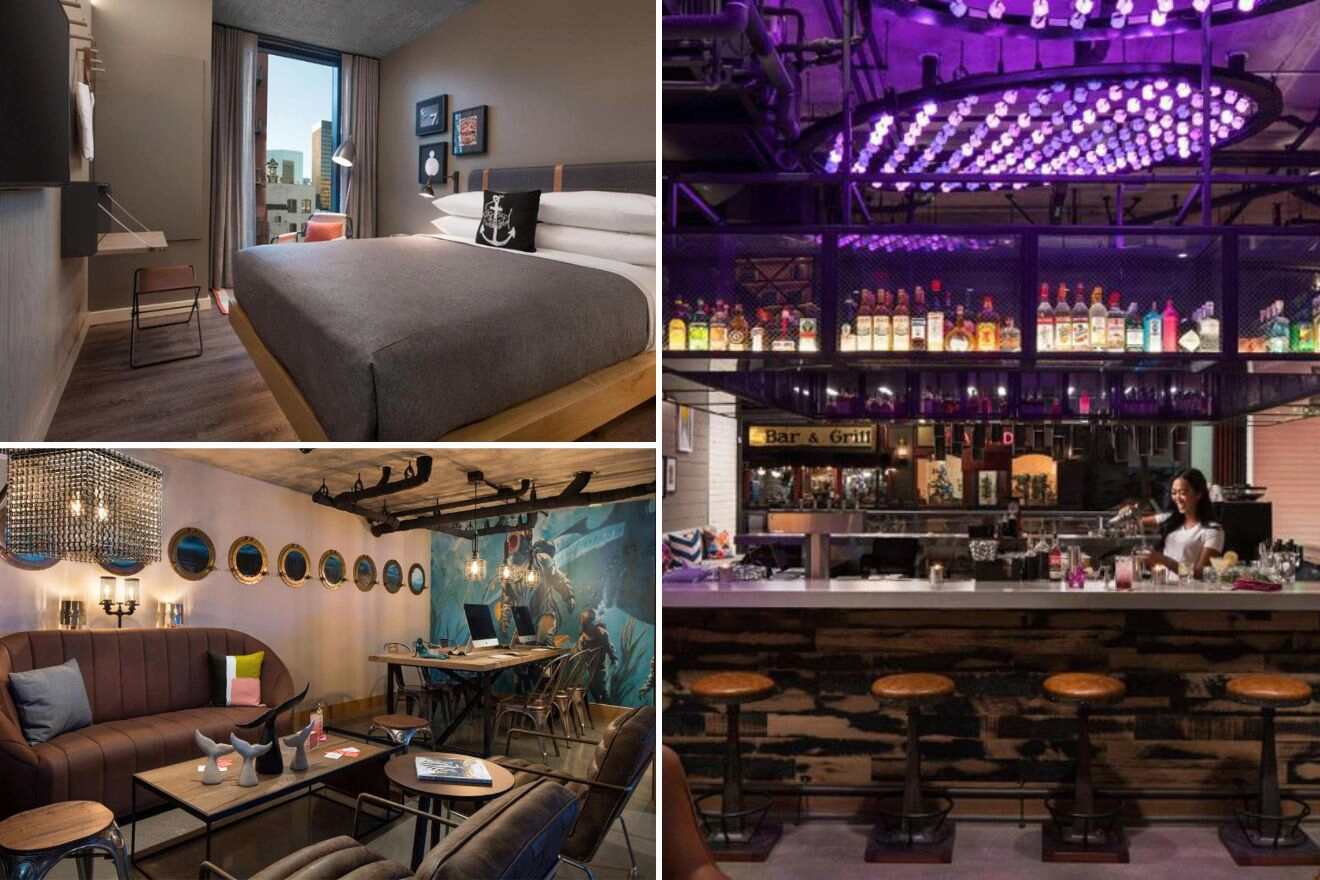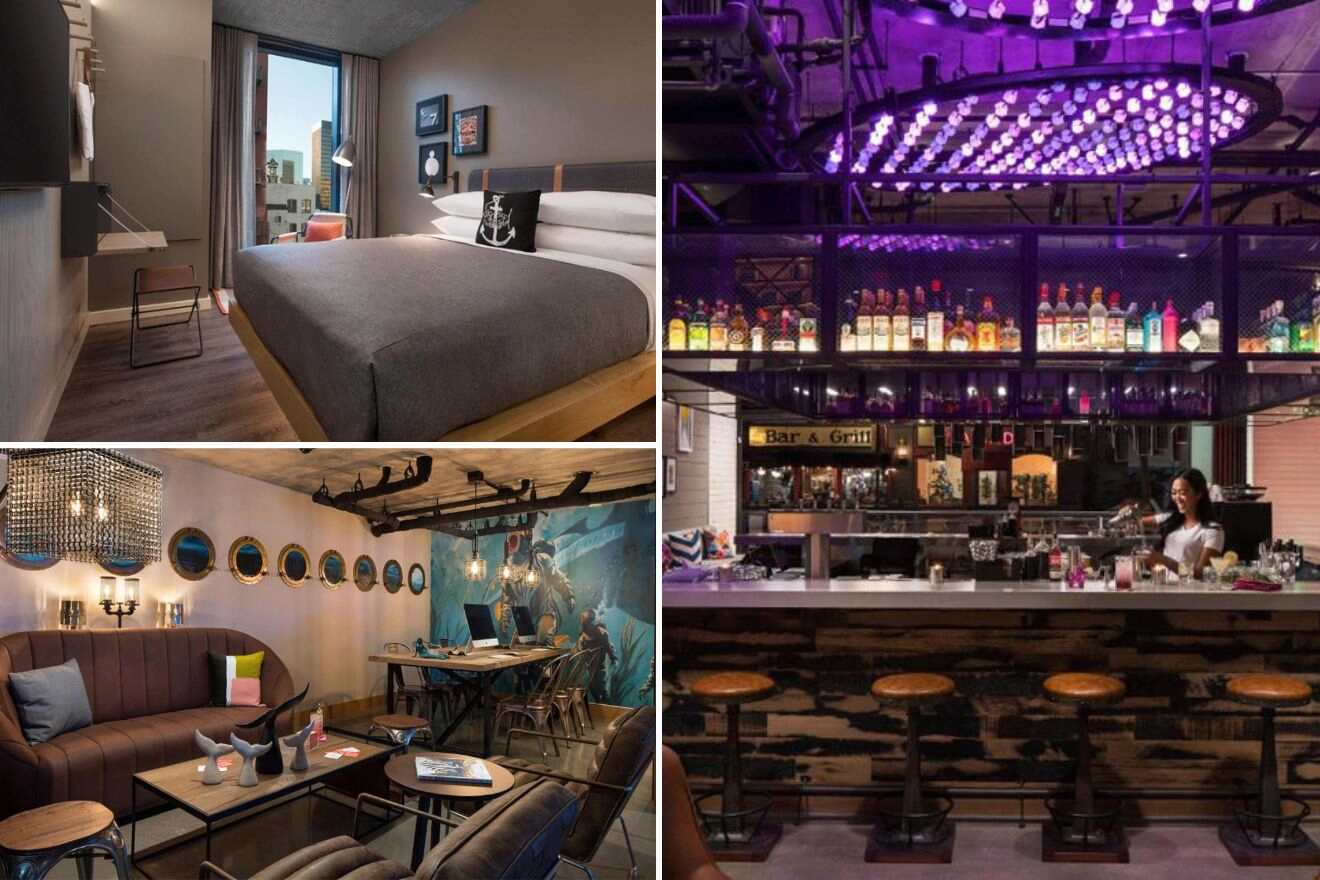 The Gaslamp Quarter is famous for its numerous clubs and vibrant nightlife! So if you're planning to experience as much of San Diego's night scene, then definitely book this hotel! This place has a contemporary design, and it kind of fits in with the whole atmosphere of the Gaslamp Quarter!
It has chic furniture, neon lights, and some great rooms that have comfortable beds (I've actually stayed at one of the Moxy hotels, and I loved the beds), a private bathroom, and a TV. You can also use the fitness center whenever you want, and there's a bar for your pre-drinks sesh before hitting all the bars, or you can head straight to Nason's Beer Hall and then to the famous Oxford Social Club!
14. Grande Colonial La Jolla – right near the beach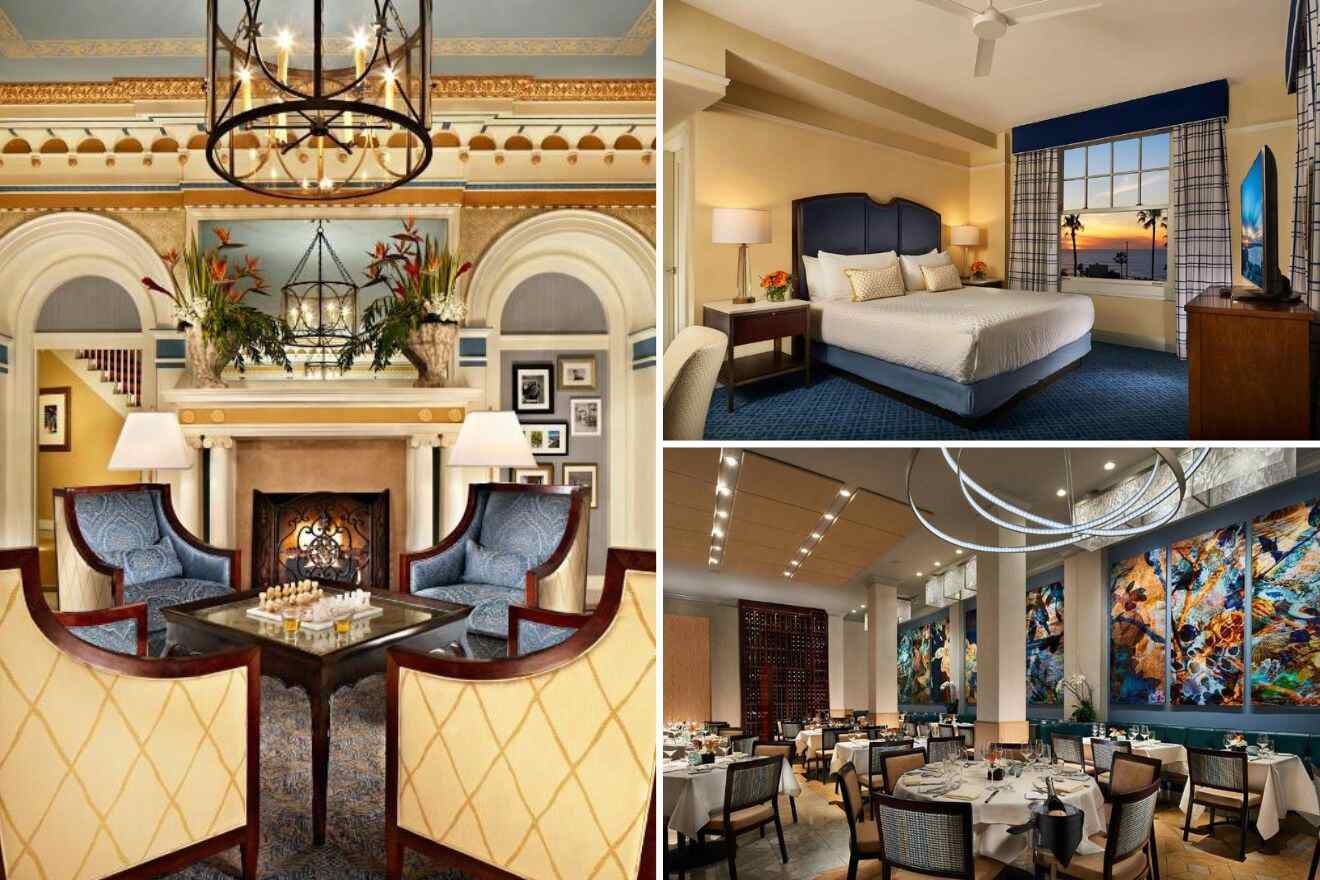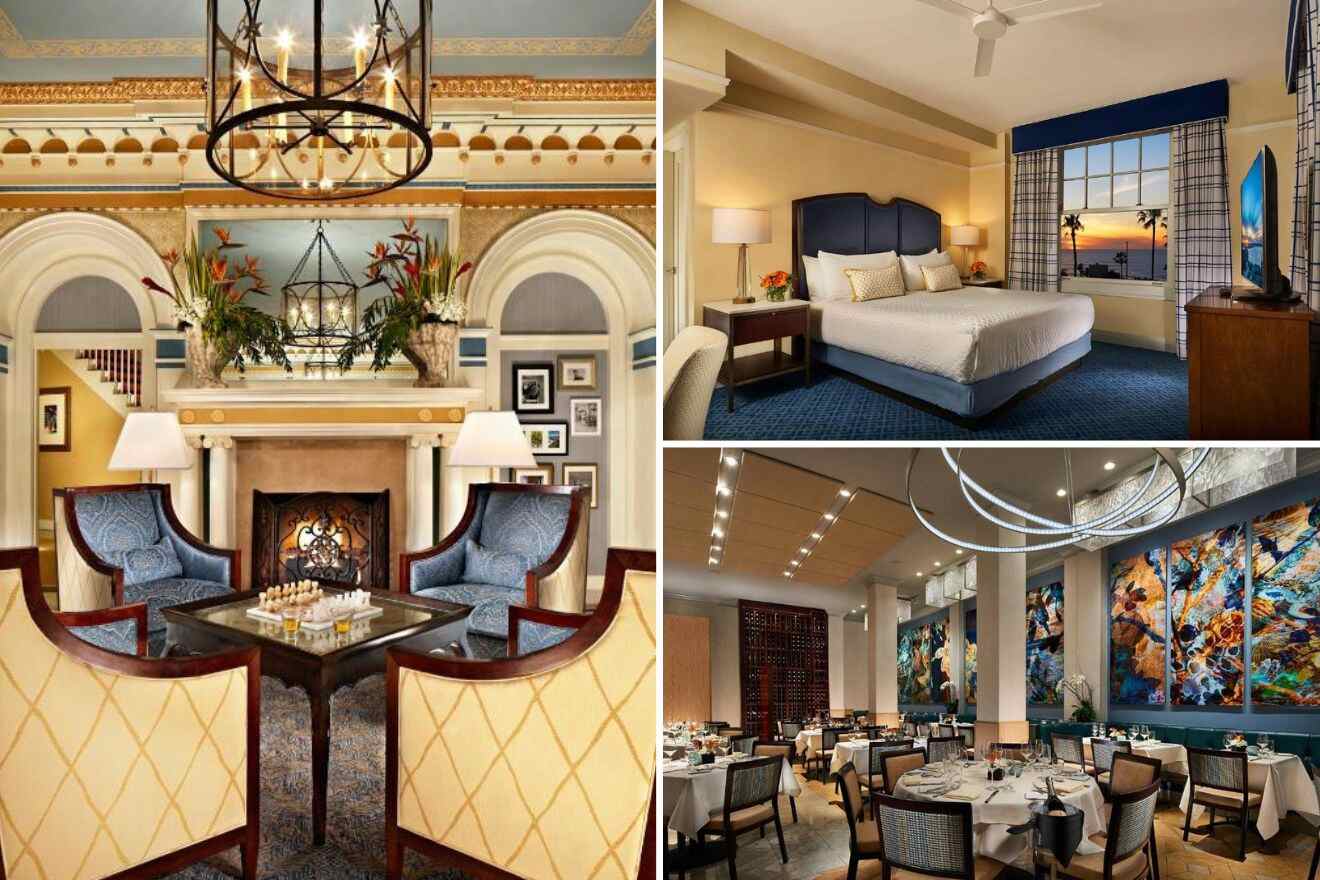 Located just a 5 min walk from La Jolla Cove and the Museum of Contemporary Arts San Diego, this luxury hotel offers spacious guest rooms equipped with all necessary facilities like free Wi-Fi, a flat-screen TV, a work desk, and a private bathroom.
Wake up to a mesmerizing view of the Pacific Ocean and then head down for your coffee and breakfast or just order up to your room. The eco-friendly accommodation has a restaurant on-site, a beautiful garden, and a spa center that offers light therapy, body treatments, and many other cool things that you should try out!
15. Omni San Diego Hotel – city hotel with a great view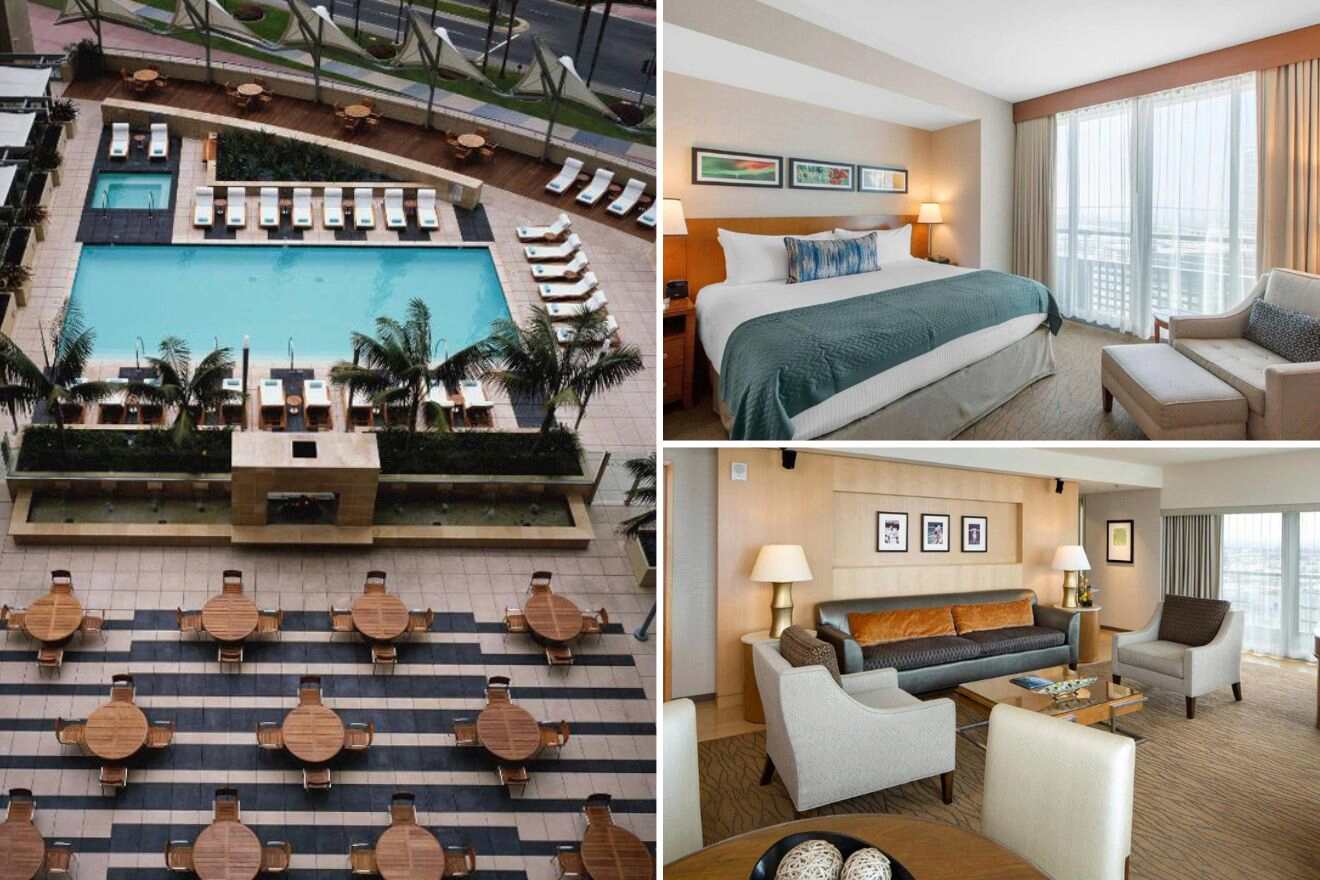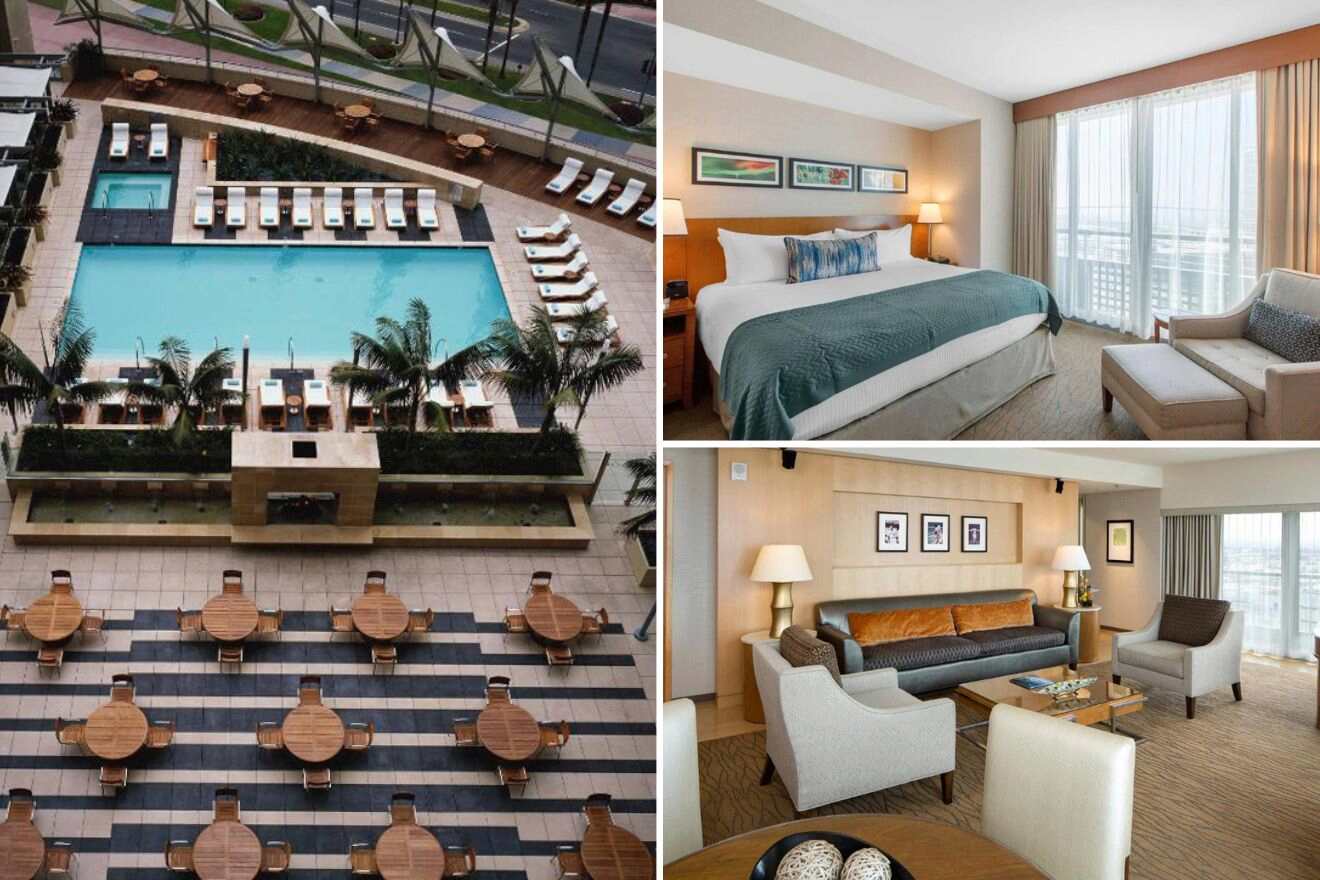 Here's another great place in the downtown area that's just a short walk to San Diego's Petco Park. The accommodation offers super spacious rooms with large windows overlooking the city, free Wi-Fi, and a flat-screen TV.
The accommodation comes with a restaurant where you can indulge in some yummy seafood dishes, a spa center with numerous facilities and treatments, and a gym. When you're not out and about living that fantastic touristy experience in San Diego, you can relax by the outdoor swimming pool and enjoy the sun alongside some cocktails, even though it's just noon!
16. Hyatt Regency La Jolla – for sports enthusiasts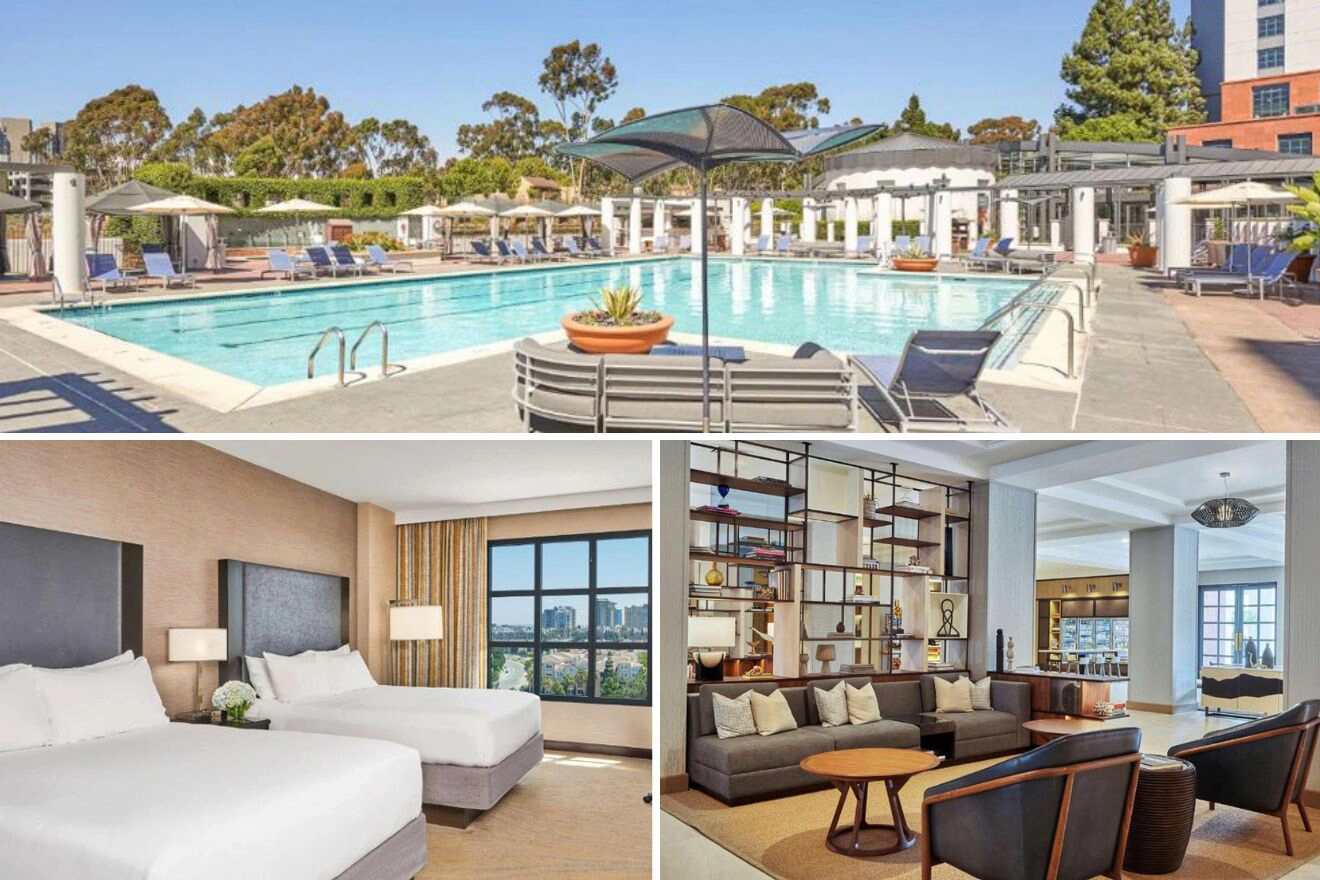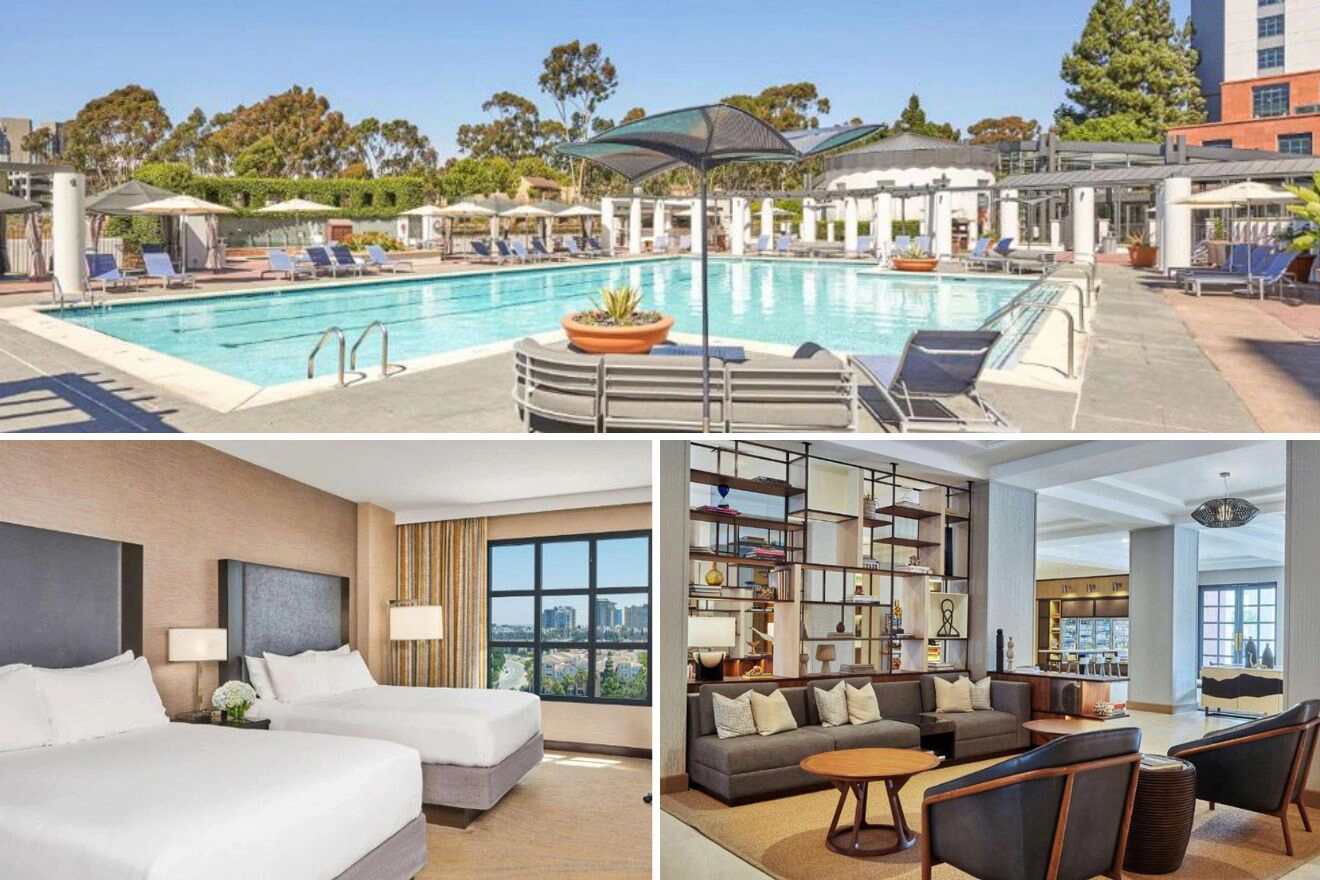 This upscale La Jolla hotel has such a great vibe! The place is modern so stylish, and it has some great spacious rooms overlooking the city! During your holiday you can relax in the heated outdoor pool, swim in the other pool and of course, dine at their 2 on-site restaurants which serve some yummy food!
Whenever you feel like doing some exercise, you can hit the tennis court or even the gym! And after those long days of exploring the city and doing all sorts of activities, you can chill by the outdoor fireplace with your friends or family!
17. Legacy Resort San Diego – a modern hotel with a pool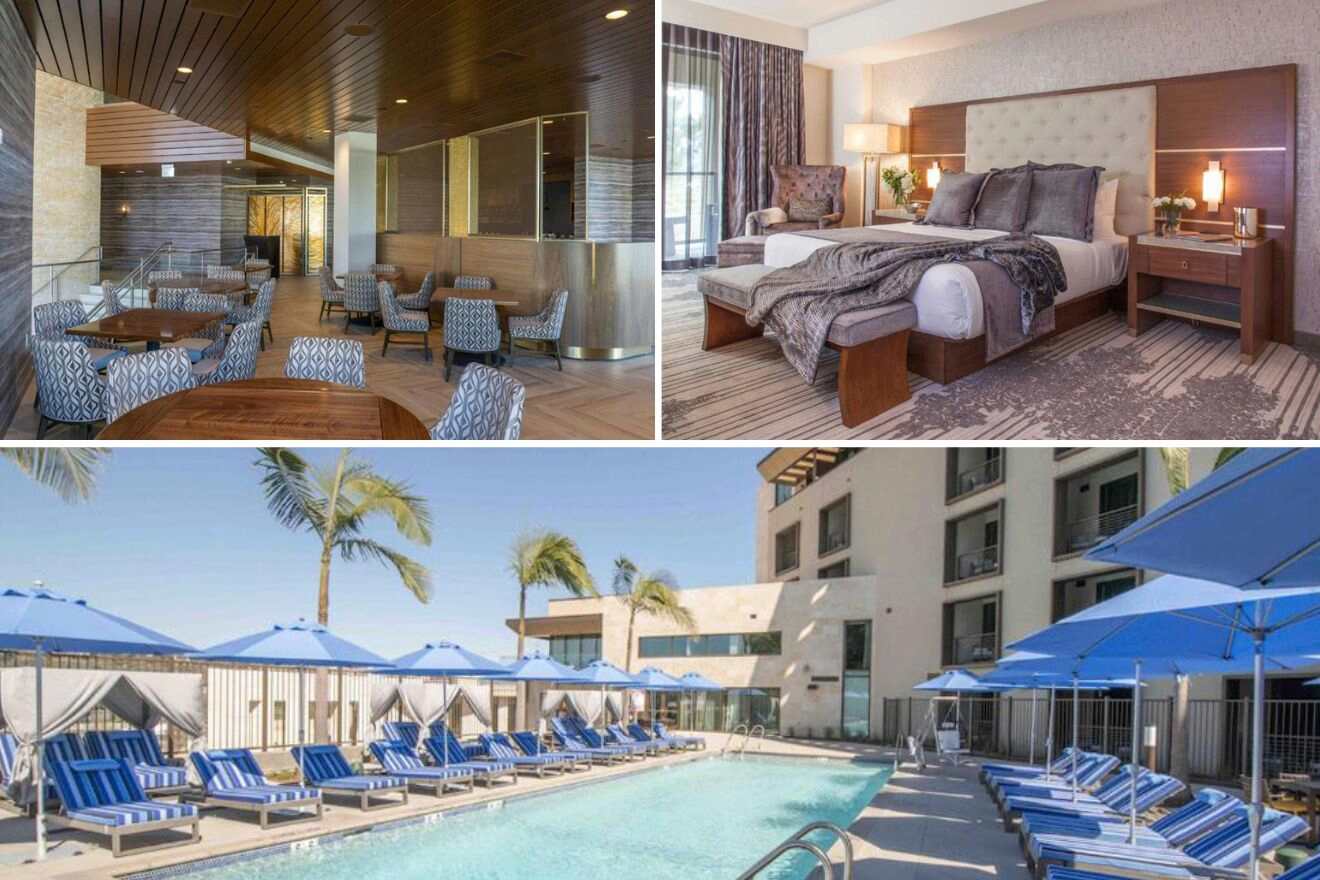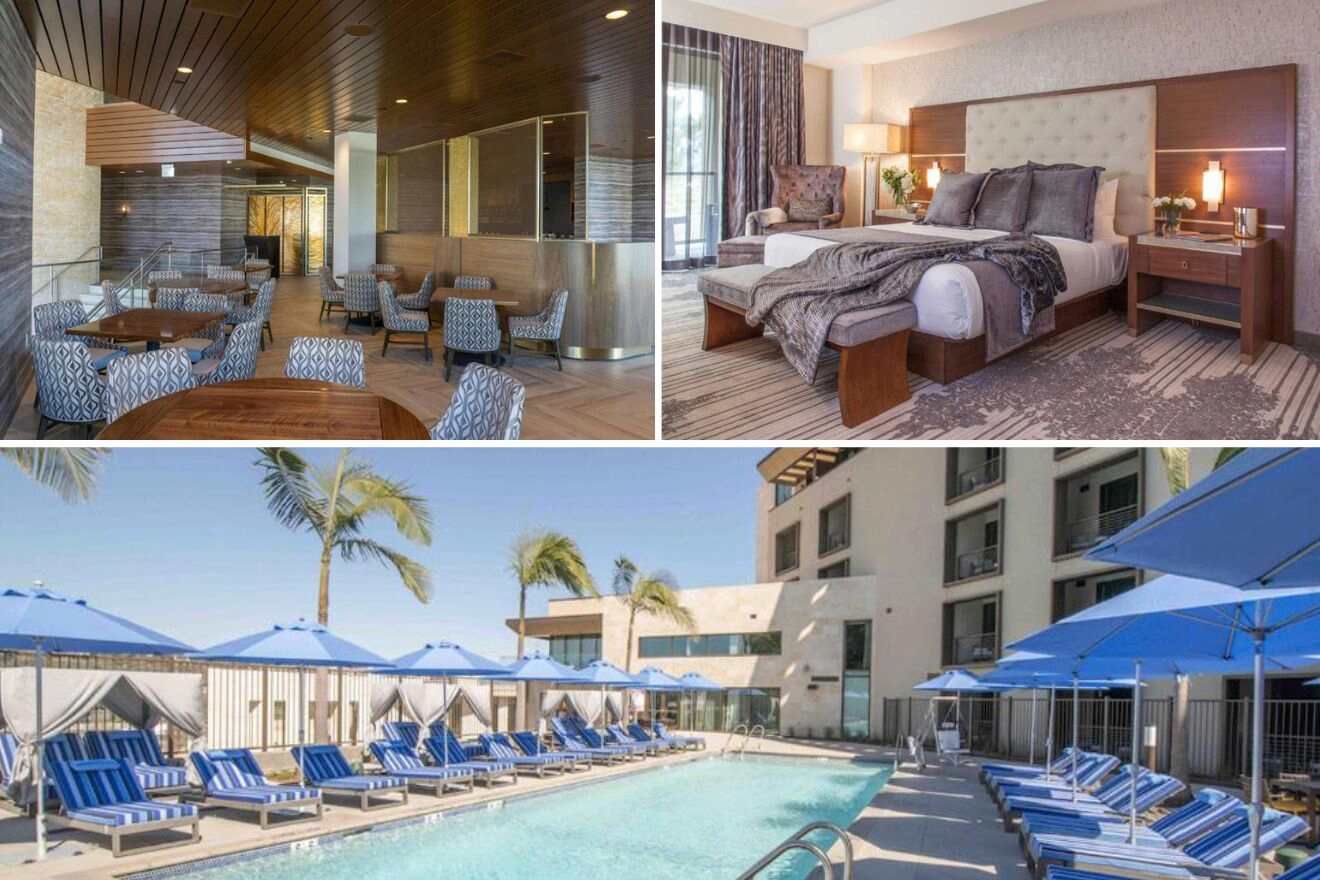 If you're looking for one of the best luxury hotels that's a bit more affordable than the ones above, then check out this place in Mission Valley! The accommodation is simple yet has a contemporary design and lots of cool amenities, including a fitness center and a spa.
You'll find the suites are super comfortable and come with a flat-screen TV, a wardrobe, and some even have a balcony. Start your mornings with a coffee and some breakfast at one of the 2 restaurants on-site, and then head to the spa or maybe for a swim in the outdoor pool!
BONUS: Best spa hotels in San Diego
Now that we've seen the best luxury hotels in San Diego, I thought I'd also treat you with a bonus section since this city has so many amazing hotels! I've looked around, and spa hotels are a big thing here, so I decided to make a list of the top ones!
I've listed them from most to least expensive so you can easily pick your favorite the prices start from US$250 to US$360: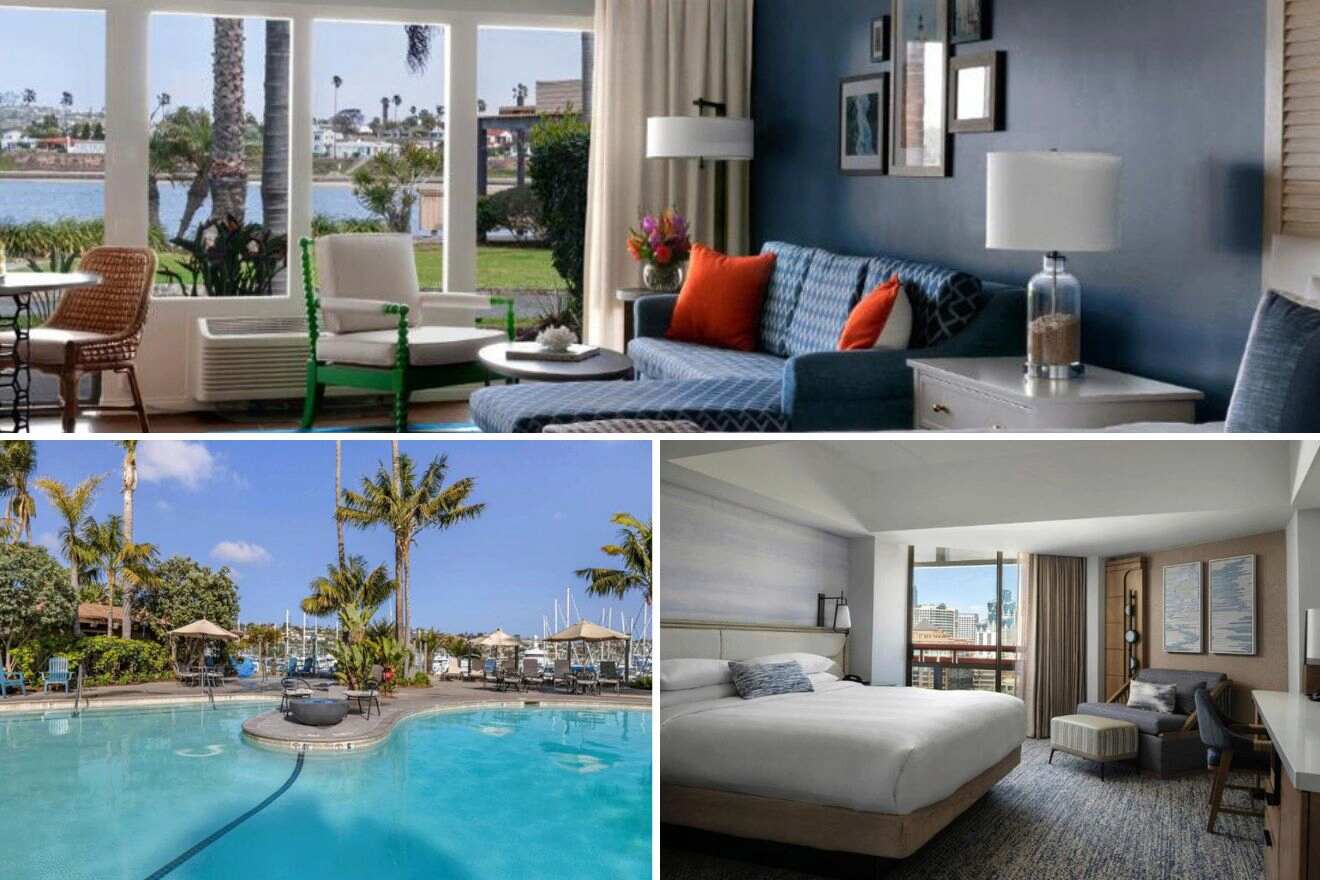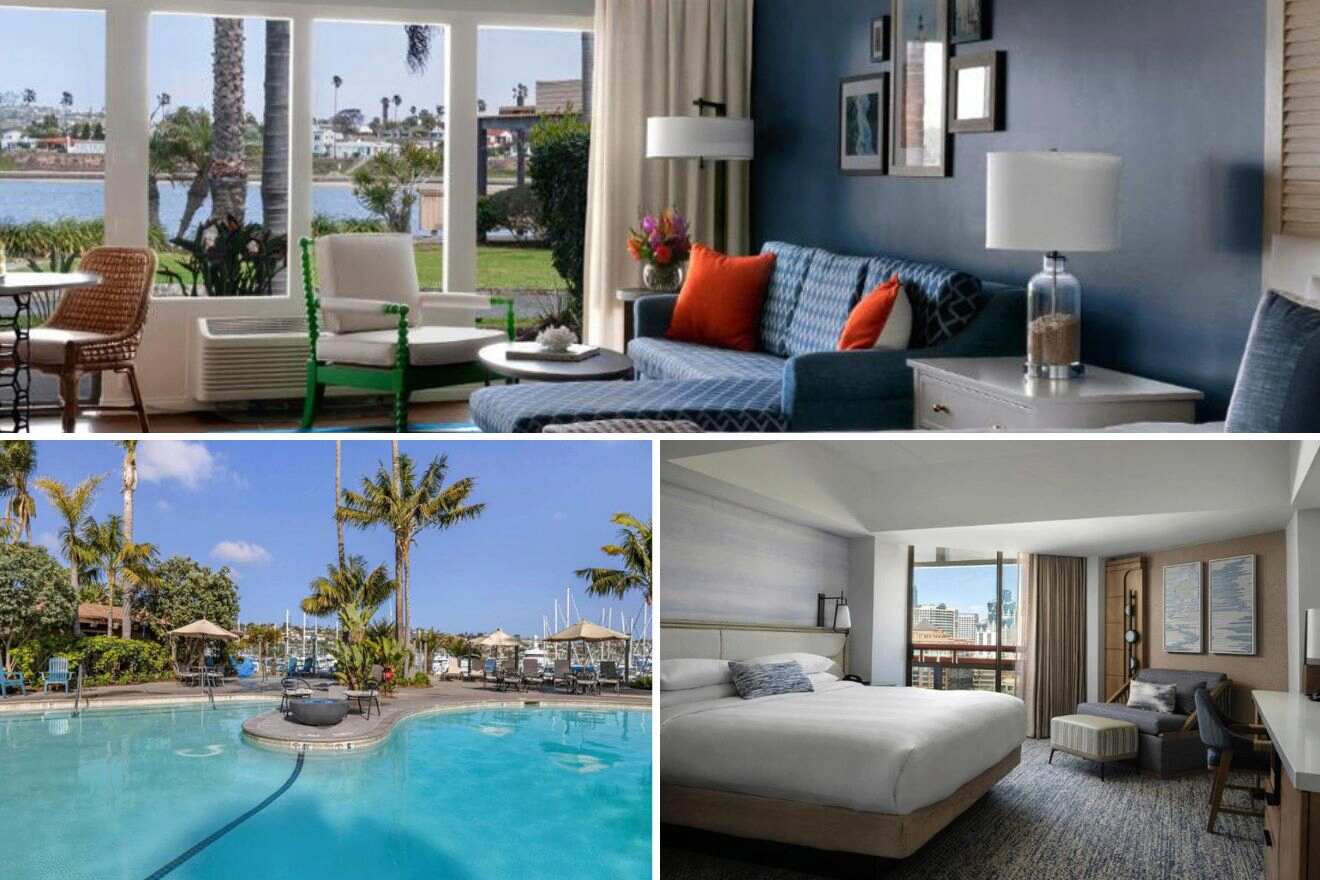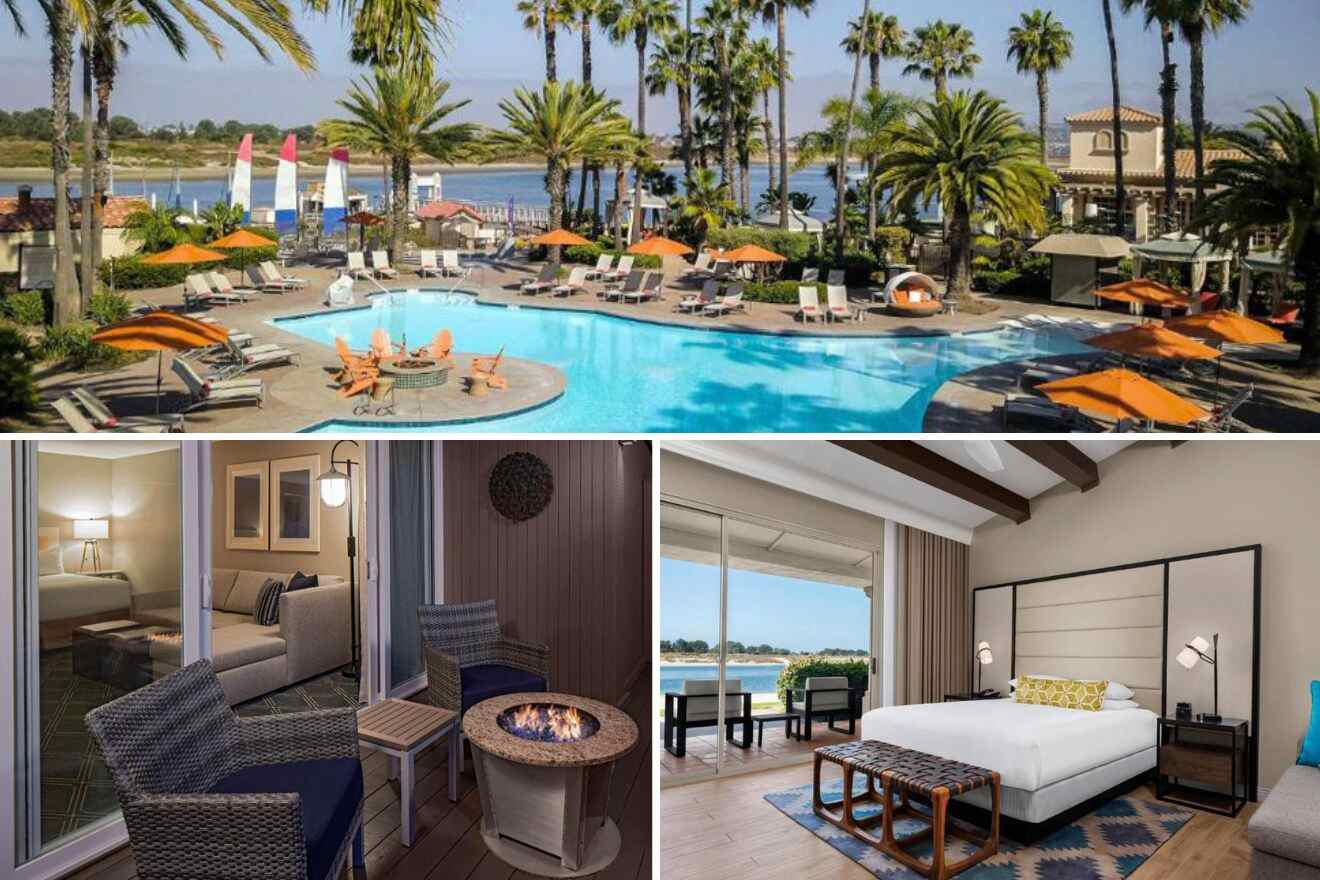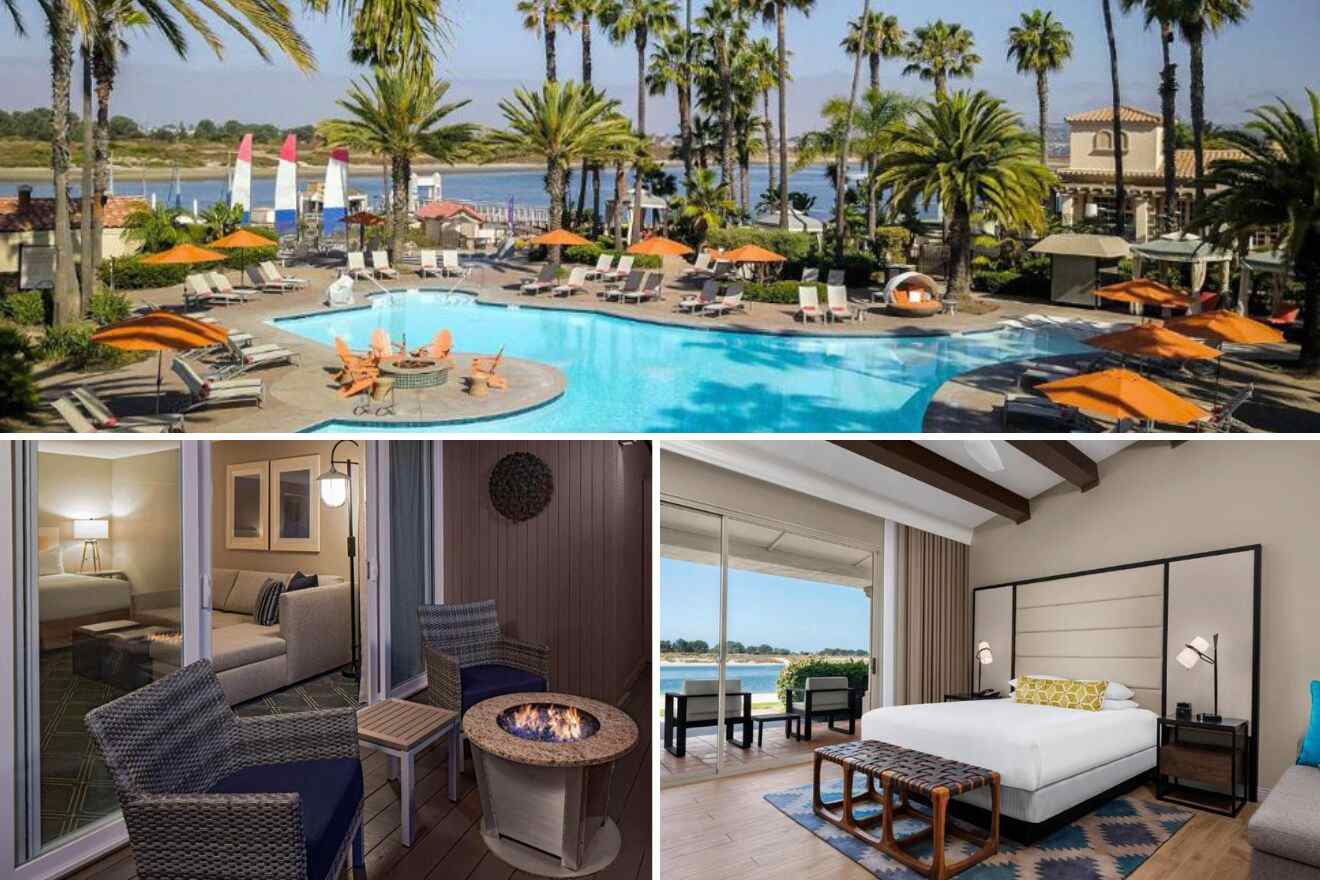 FAQs about San Diego luxury hotels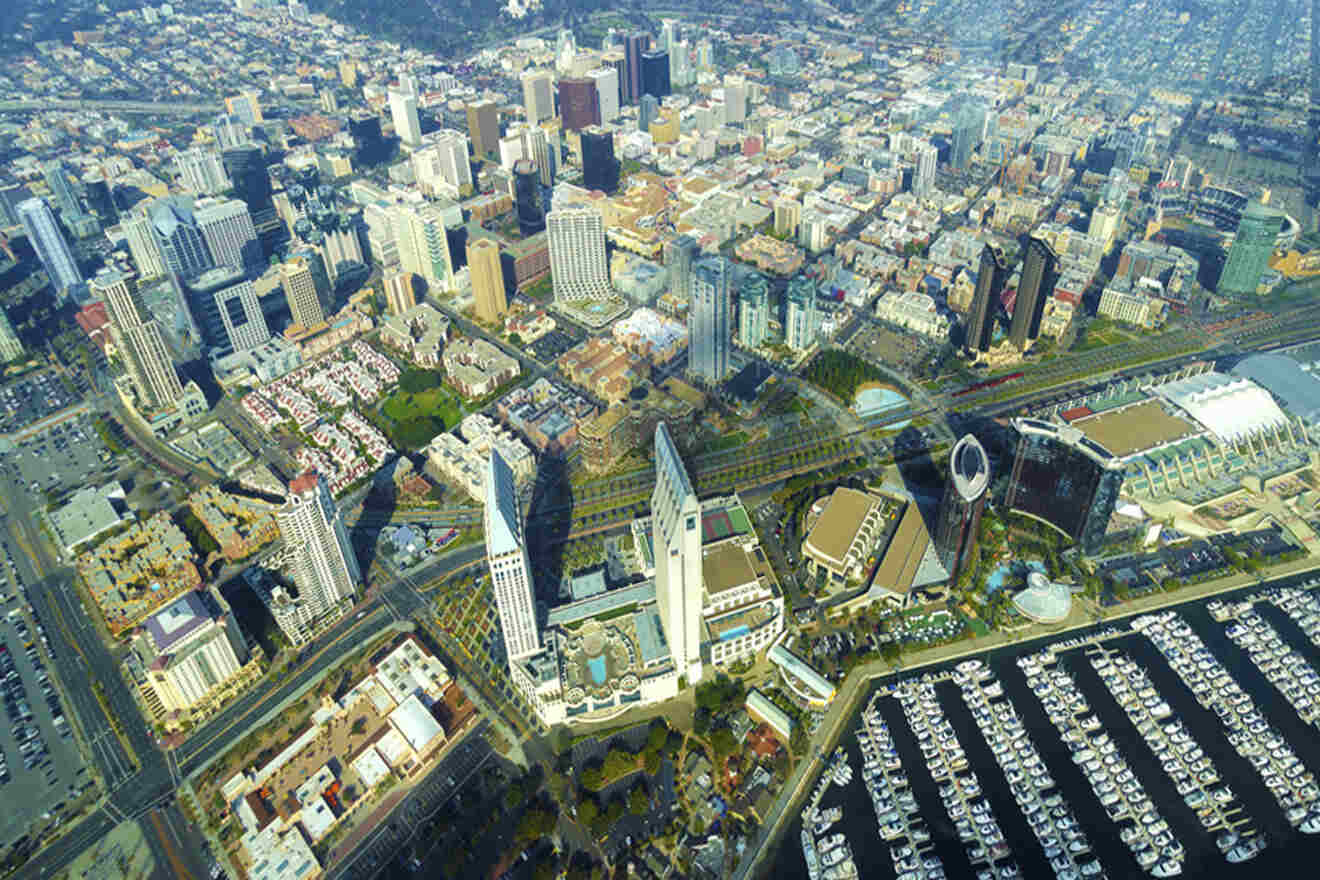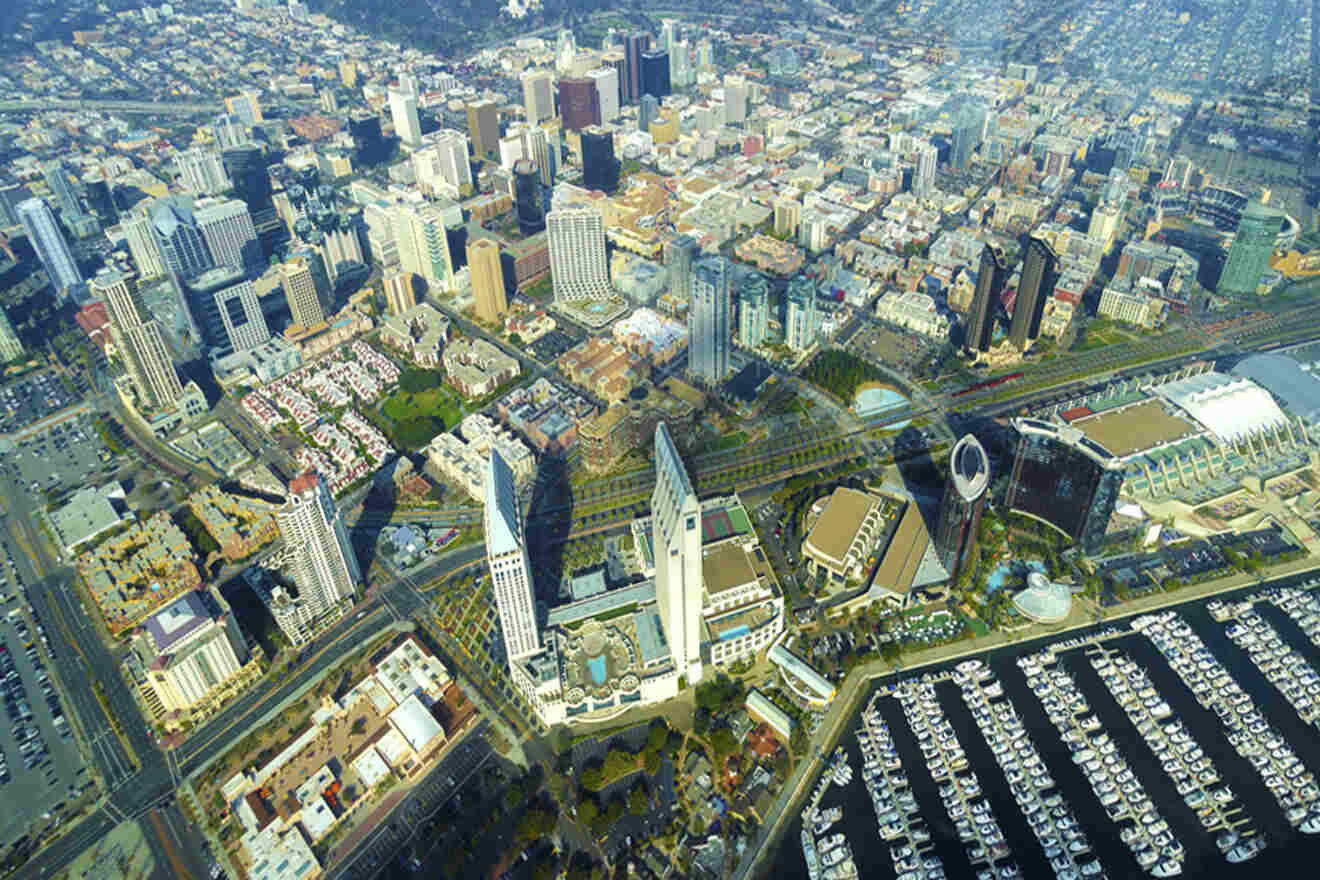 Conclusion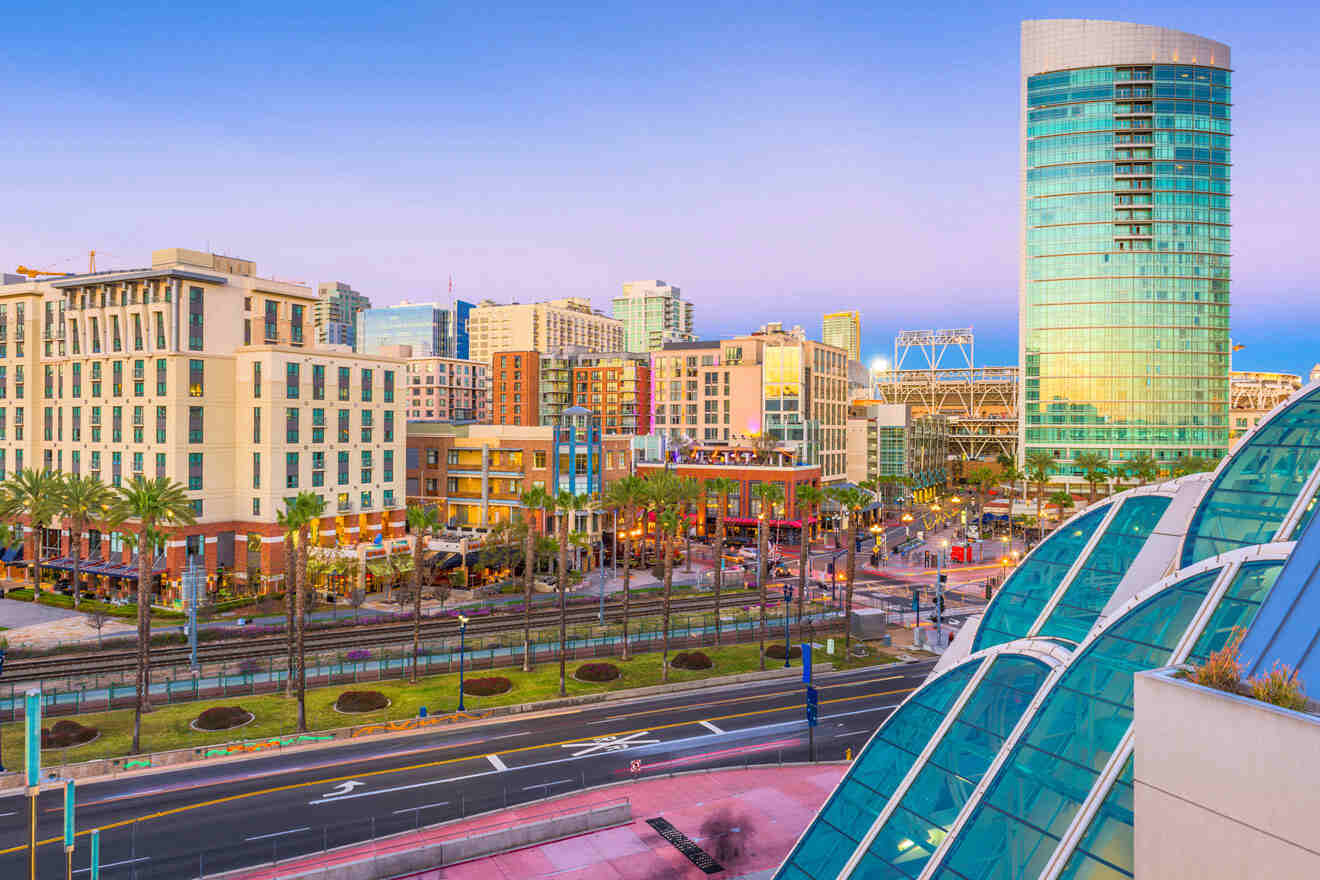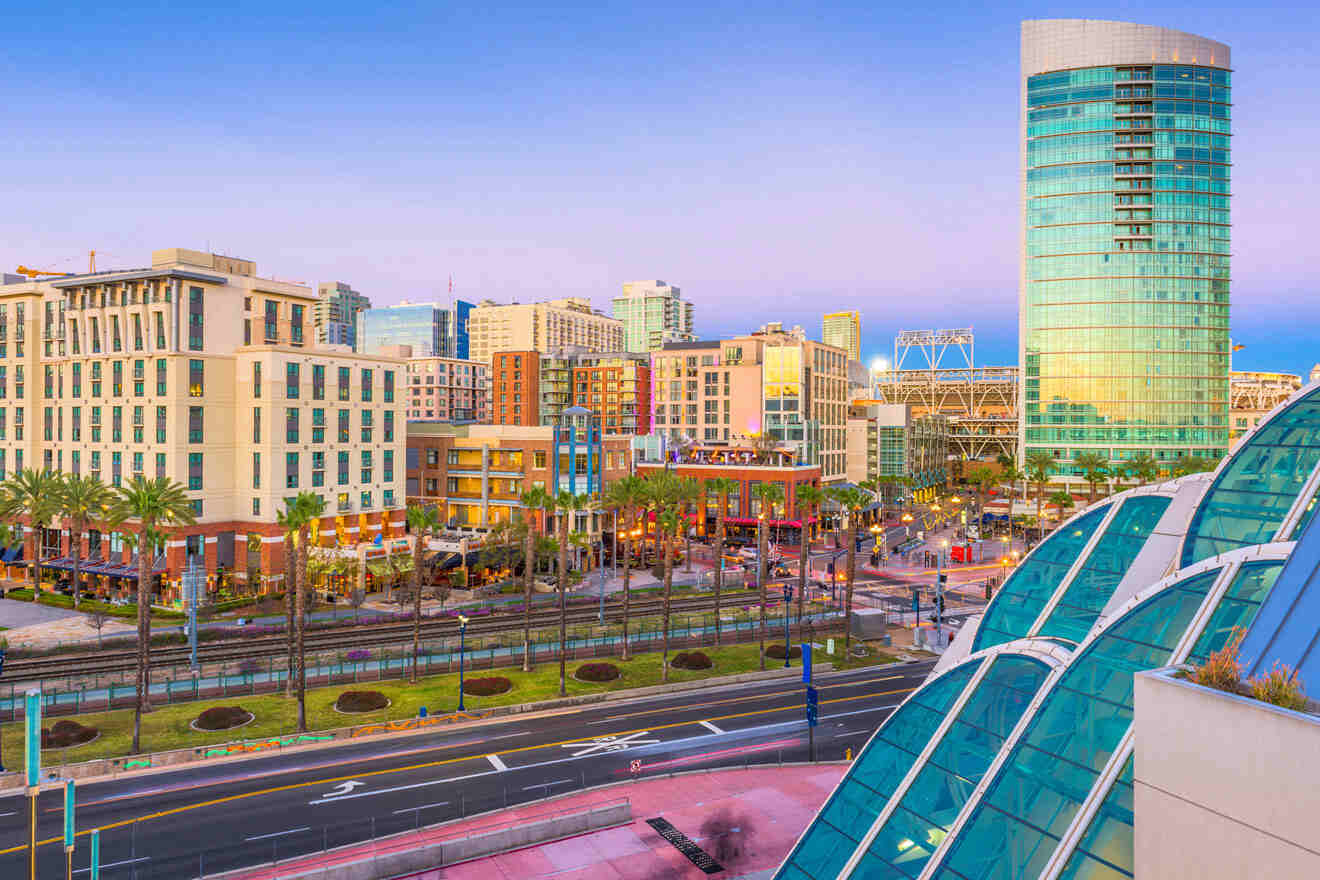 Phew, what a city! And these hotels are surely some of the most amazing ones I've seen!
I hope that after reading this post, you'll know which is the best San Diego luxury hotel for you! Don't forget there's also a bonus section with the top spa hotels in the city for those who are looking for a relaxing getaway!
As I mentioned earlier, it's super important to book your hotels in advance. San Diego is so famous, and it gets many tourists, which means that the top places to stay always sell out fast!
I guess it's time to wrap it up now! But before I leave, I want to leave you with my 2 favorite luxury hotels in San Diego (in case you need a bit of inspiration):
There you have it!
I hope you enjoyed reading this post as much as I liked writing it! As always, I'm still around if you've got any questions. All you gotta do is leave me a comment below, and I'll answer as soon as possible!
Safe travels,
Victoria
---
Pin it for later!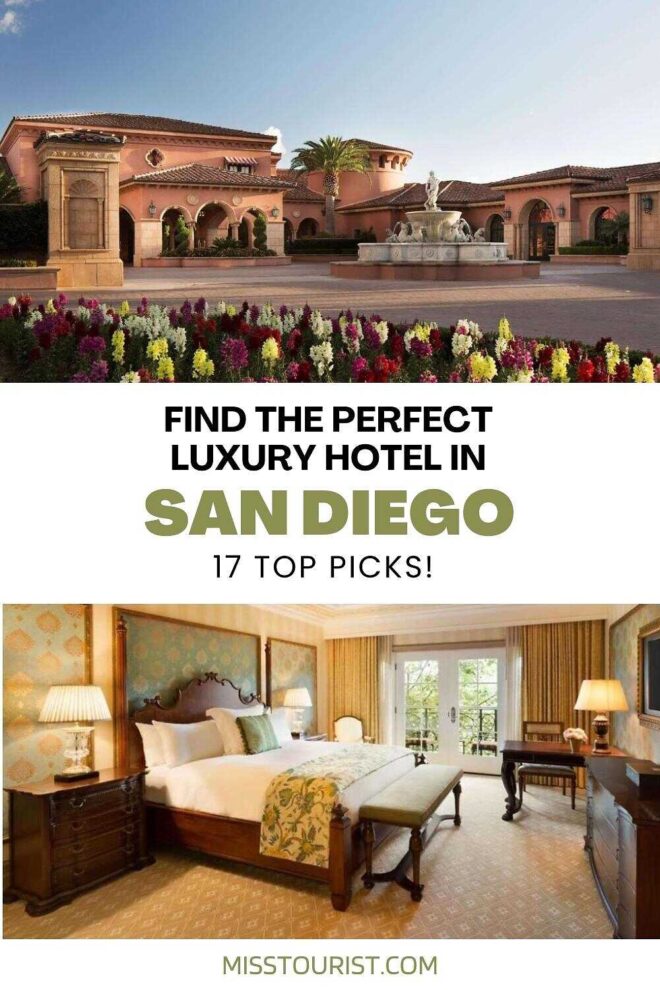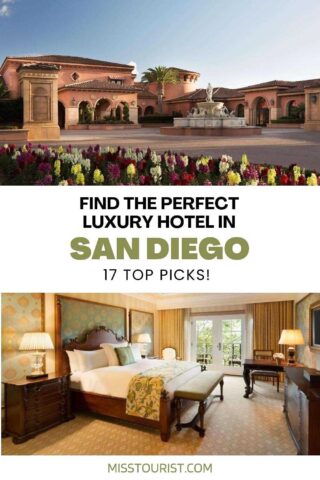 Pin it for later!