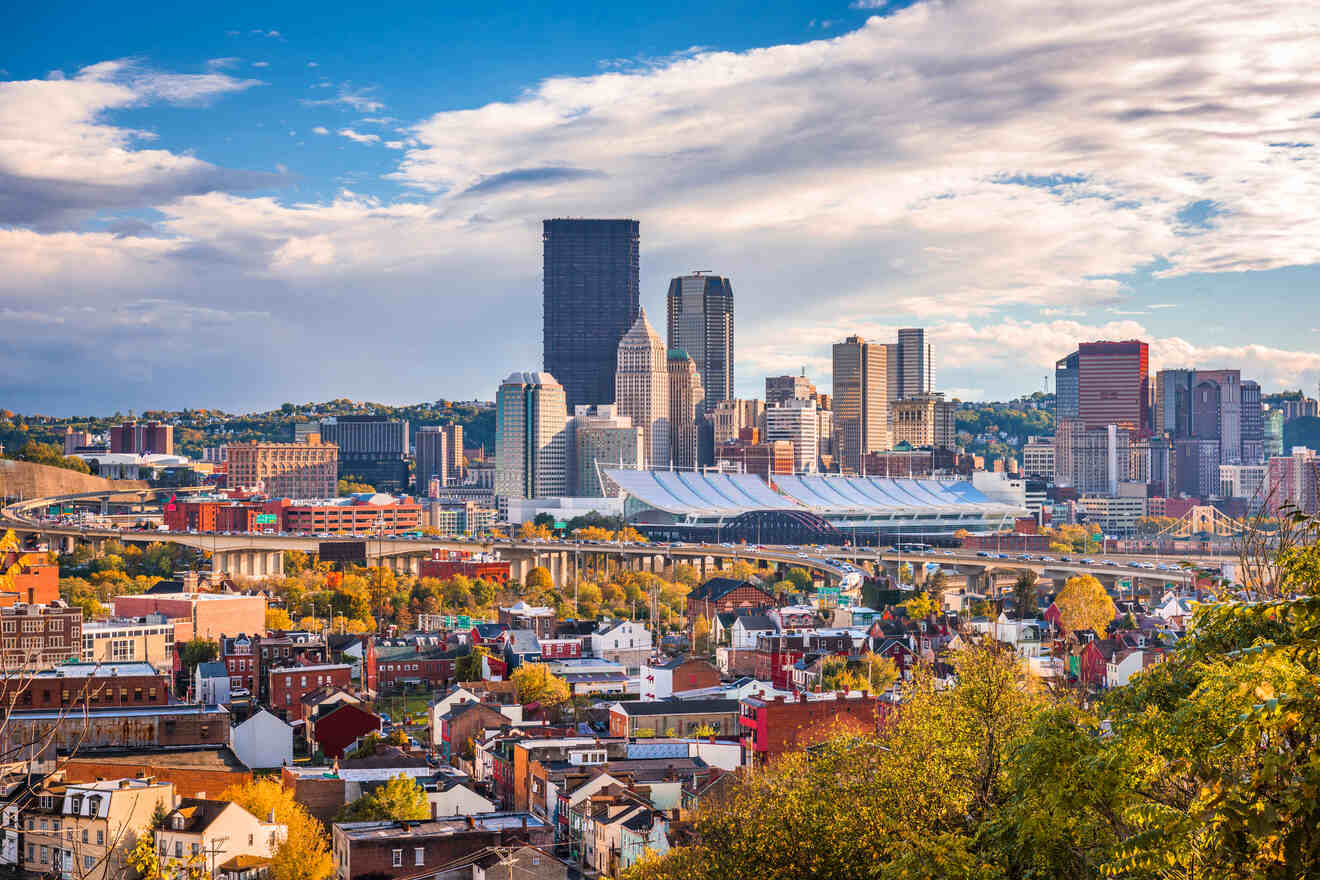 Nestled in southwest Pennsylvania at the confluence of Monongahela and Allegheny River is the shimmering city of steel towers and vibrant neighborhoods that make up Pittsburgh. What was once a heavy industry colossus of the US is now a deindustrialized hub for innovative tech, healthcare, and education. Today this is a true nexus of cultures, a city brimming with magnificent bridges, home to some great sport and a range of exciting museums, making Pittsburgh a fantastic destination to visit.
Pittsburgh boasts some of the best entertainment and cultural attractions that Pennsylvania has to offer. From the famous Andy Warhol Museum to the Botanical Gardens and waterfront walks, grab a drink in one of many breweries, hit the shops, or simply enjoy the greenery of Point State Park. Whatever tickles your fancy, there is something for you on any side of the river.
With 90 different neighborhoods to choose from, it can be challenging to decide where to start! Here I will include an overview of the most dynamic areas for visitors to the city to help you choose where to stay in Pittsburgh. I will also include a shortlist of things to do in some of these districts, just so you can get a better idea of what to expect apart from hotels, suites, and amenities. Are you ready? Let's go!
If you are in a hurry
Let's start things off with a short overview of where to stay in Pittsburgh if you don't have enough time to read the whole post. Here are your best options close to the center of the city:
Since there are so many neighborhoods, here is a handy map showing all the areas I will be talking about in this post.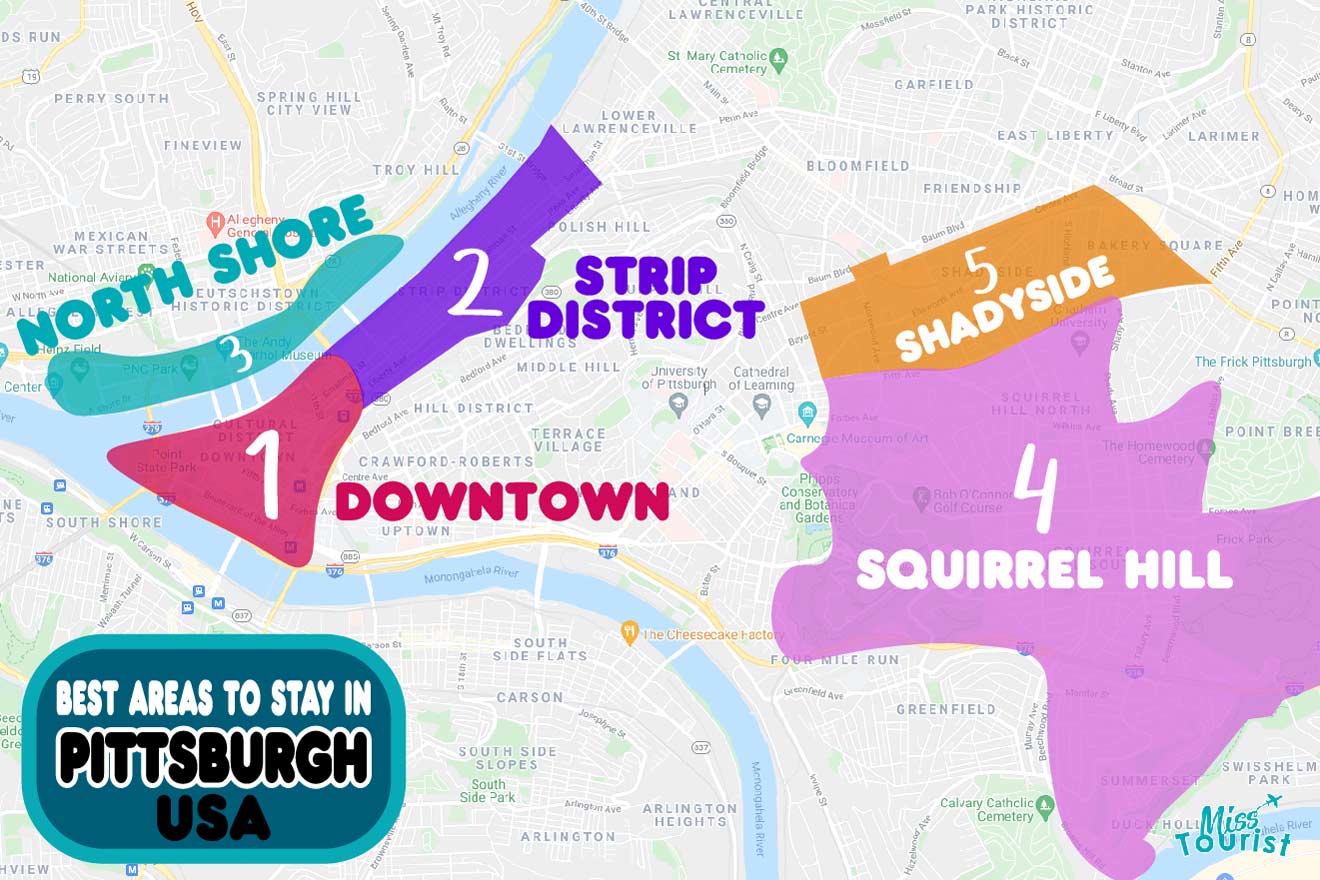 1. Downtown Pittsburgh – where to stay for the first time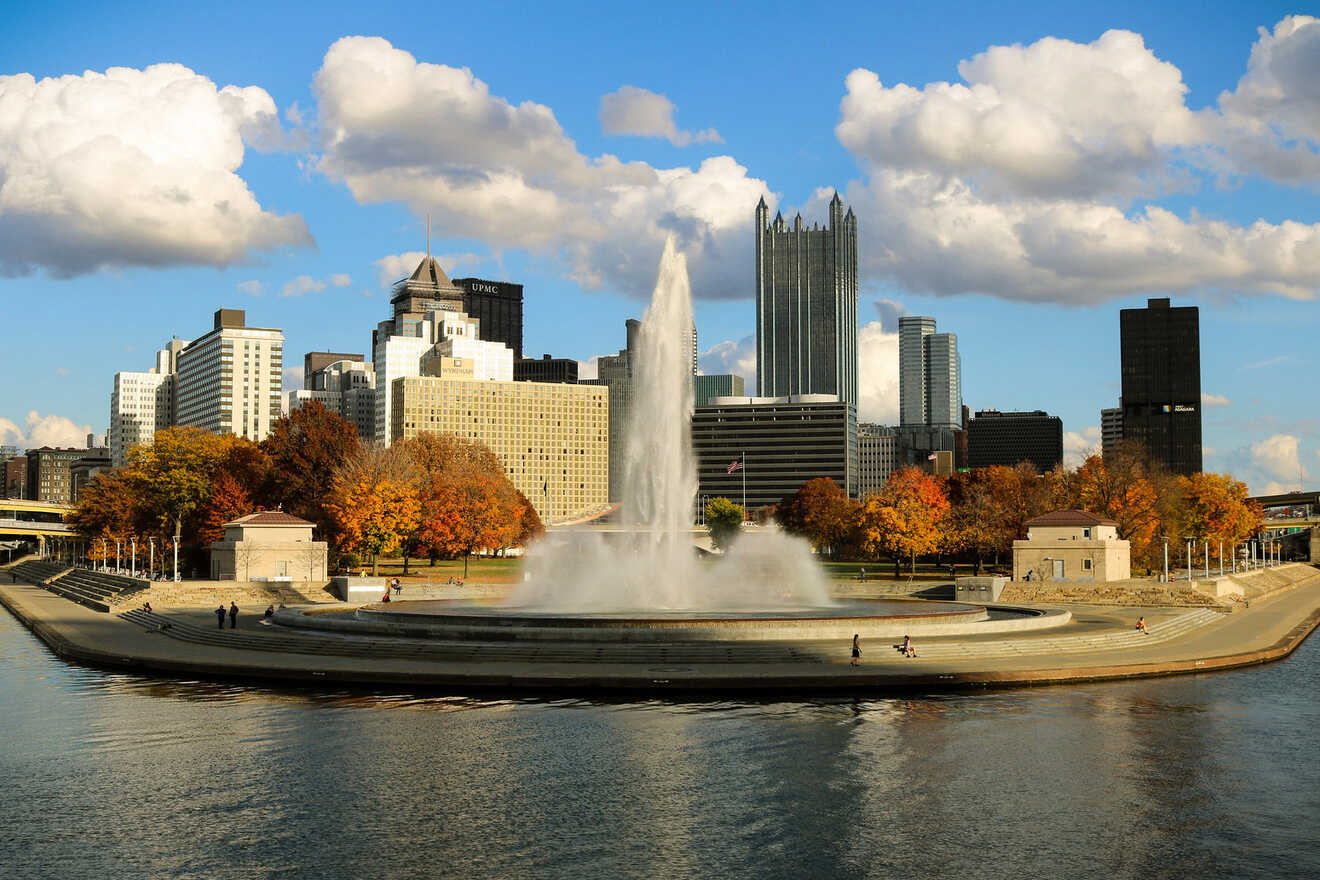 Downtown Pittsburgh is, as you can imagine, right in the middle of the action. Occupying the iconic pointed area of land which splits the Ohio river in two, this area absolutely teems with activities and attractions making it the most popular place to stay for first-time visitors. In Downtown Pittsburgh, you will find a mix of modern skyscrapers that make up the central business district, historical places of interest like Point State Park, as well as great theatres and restaurants in the cultural district (a smaller neighborhood within the Downtown area).
With so many of the city's top attractions located here in this small, walkable neighborhood, you may even think you never have to leave! But don't worry, Downtown Pittsburgh's central location is well connected to all the other parts of the city by a great system of bridges and public transport. I highly recommend you walk across the bridge to ride the Duquesne Incline for an incredible view of the city.
Being such a popular part of the city, it's easy to find great hotels as well as restaurants, bars, and museums. Here are your top options for each price range in Downtown Pittsburgh.
Luxury hotel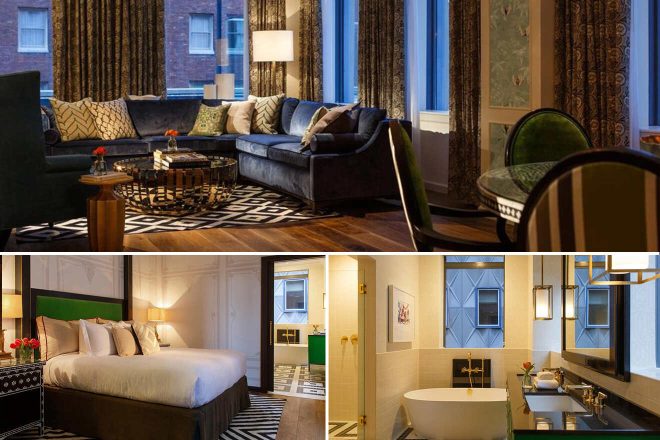 This quirky, guest-focused hotel really has thought of everything! Borrow a bike to roam the city before returning to the rooftop bar for an afternoon beverage, or partake in the evening wine reception before returning to your lush room with a park or city view. This incredible hotel also has an onsite restaurant serving 3 times a day plus weekend brunch. You can even bring your furry friend to this boutique pet-friendly hotel!
Other accommodation in Downtown Pittsburgh
mid-range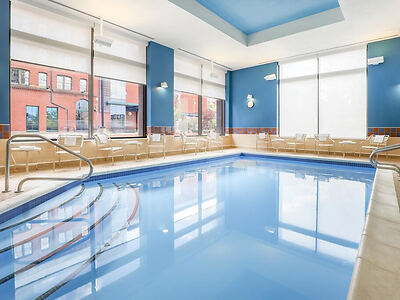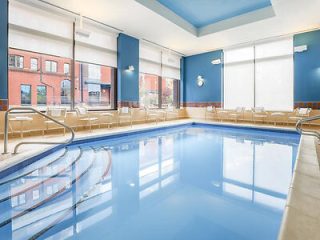 Colourful hotel with free daily hot breakfast, indoor swimming pool, convenience store, and fitness room
budget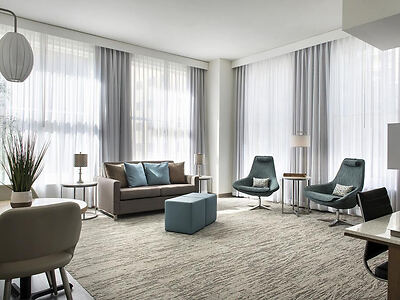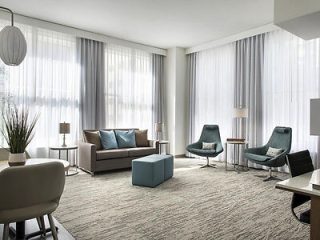 Clean, modern hotel with fitness center, on site restaurant and table tennis plus comfortable beds and workout equipment in every room
airbnb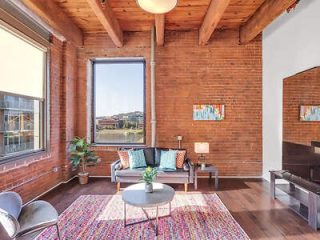 Spacious apartment in the cultural district. This historic building features gorgeous 100-year-old exposed brick
Things to do in Downtown Pittsburgh
Have a picnic in Point State Park
Snap a picture of the PPG Industries Inc building
Learn something new at the Fort Pitt Museum
Go shopping at Market Square
See the Allegheny County Courthouse
Check out the oldest extant structure in Western Pennsylvania – Fort Pitt Blockhouse
Walk the Roberto Clemente Bridge
Enjoy the Wood Street Galleries
See what's happening at the David L. Lawrence Convention Center
Head across the bridge and ride the Duquesne Incline
2. North Shore – where to stay in Pittsburgh on a budget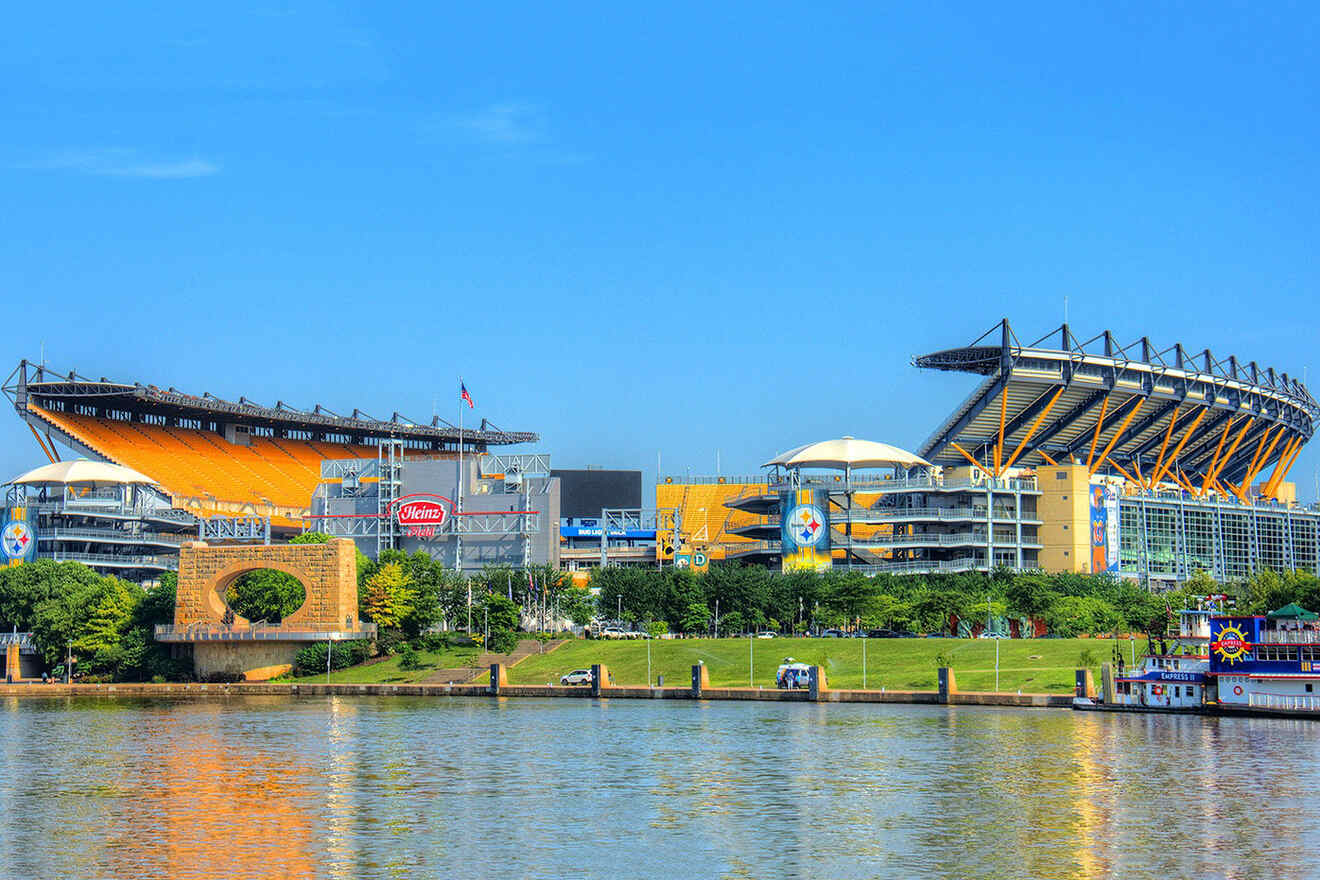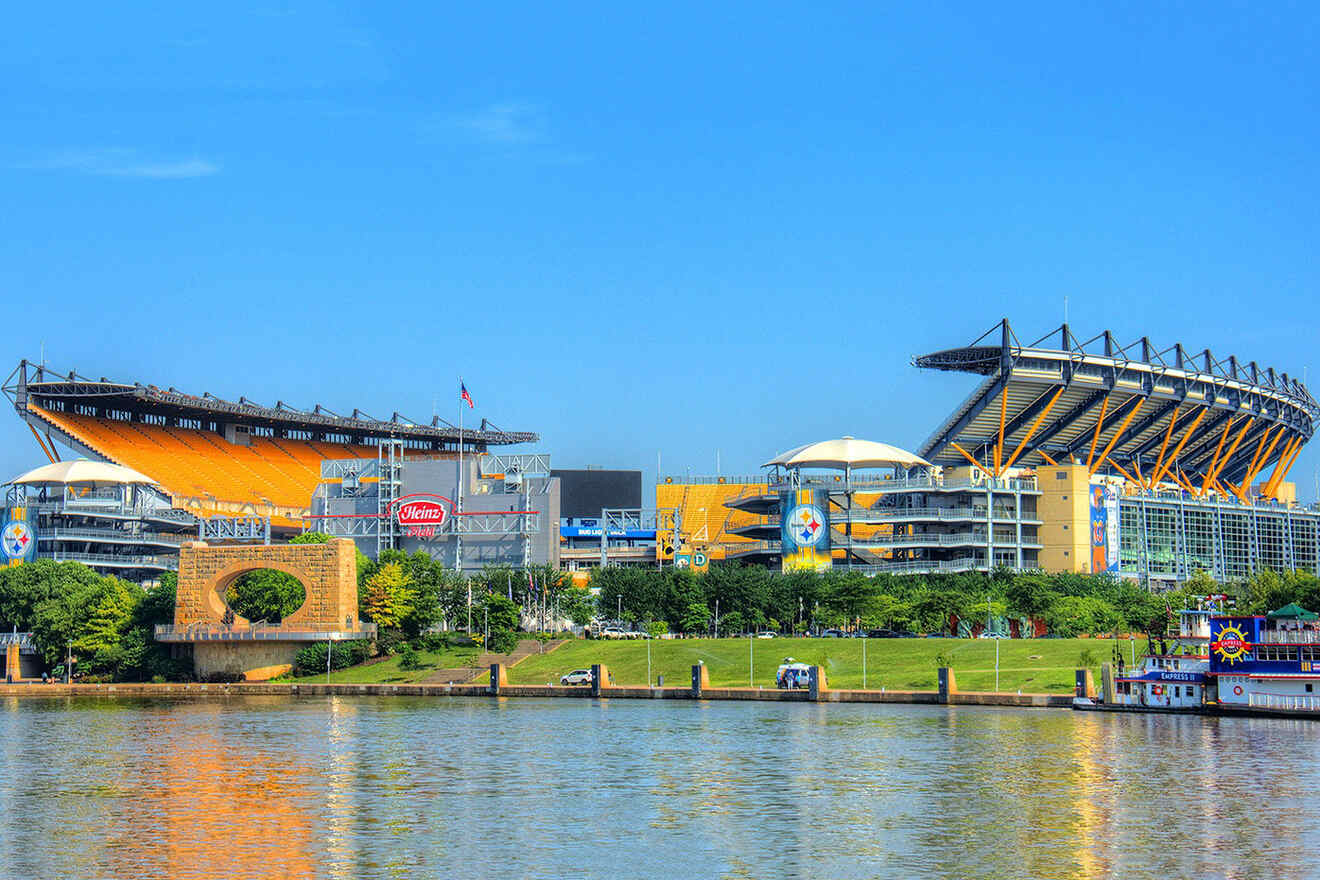 Located just across the river from Downtown Pittsburgh you will find North Shore (also known as North Side). This up-and-coming neighborhood has seen a massive amount of growth and development in the last few years and is now one of the most exciting places to stay in Pittsburgh. Not only is it home to two giant stadiums (Heinz Field home to the Steelers, and the Pirates home, PNC Park), making it great for sports lovers, it is also just a 15 min walk across the bridge from Downtown!

Aside from being overwhelmed with sports fans on game days, this vibrant North Side neighborhood has its own set of attractions featuring interesting art galleries, museums, and beautiful waterfront outdoor areas. This area, of course, also has some great restaurants and sports bars, but it's best to do your research here if you are looking for fine dining.
What's more, prices are significantly lower on this side of the river, so if you are looking to get more bang for your buck while staying close enough to walk to the center, North Side is your area!
Luxury hotel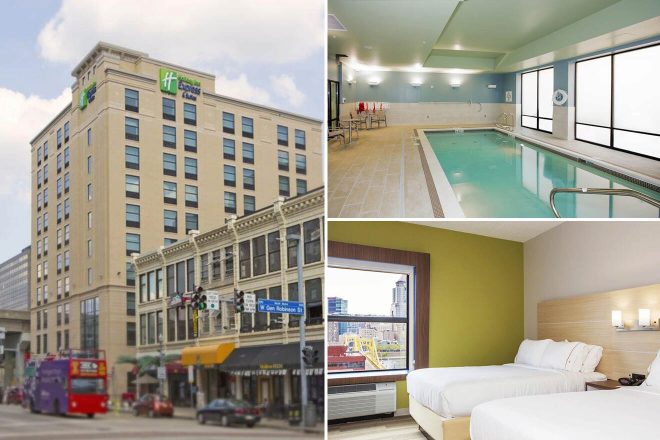 This minimalist, clean, spacious hotel has your whole day covered. Start your morning with a breakfast buffet before heading out to any of the nearby attractions. Spend your afternoon swimming in the indoor pool, working out in the fitness center, or catching up on some work before enjoying a comfortable sleep in the cozy beds before doing it all over again tomorrow!
Other accommodation options in North Shore
mid-range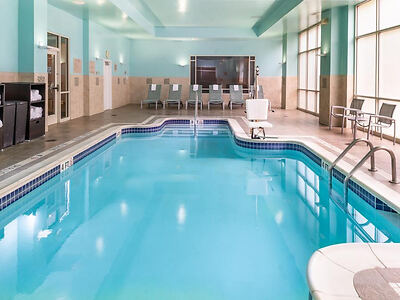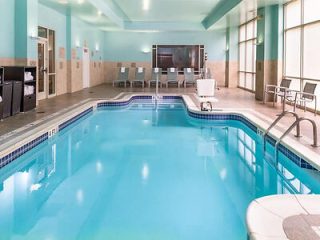 Spacious 3 star hotel with indoor pool, gym, and free transfers to local attractions
budget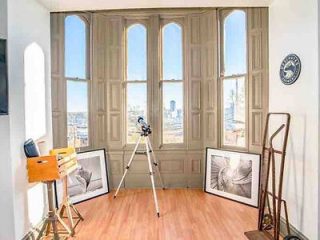 Apartment with super tall ceilings in a historic old castle with spacious grounds, bikes, and a laundry room for your use
airbnb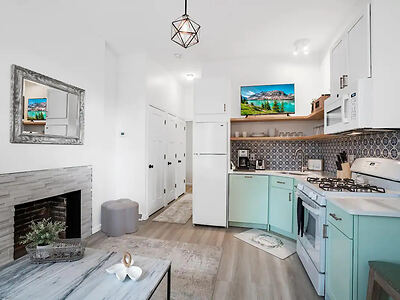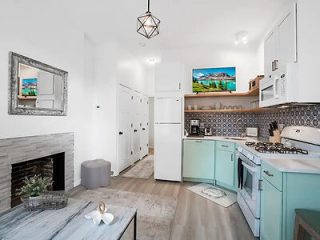 Modern Airbnb with bright, colorful rooms, a fully equipped kitchen, and a great location
Things to do in North Shore Pittsburgh
3. Strip District – where to stay for foodies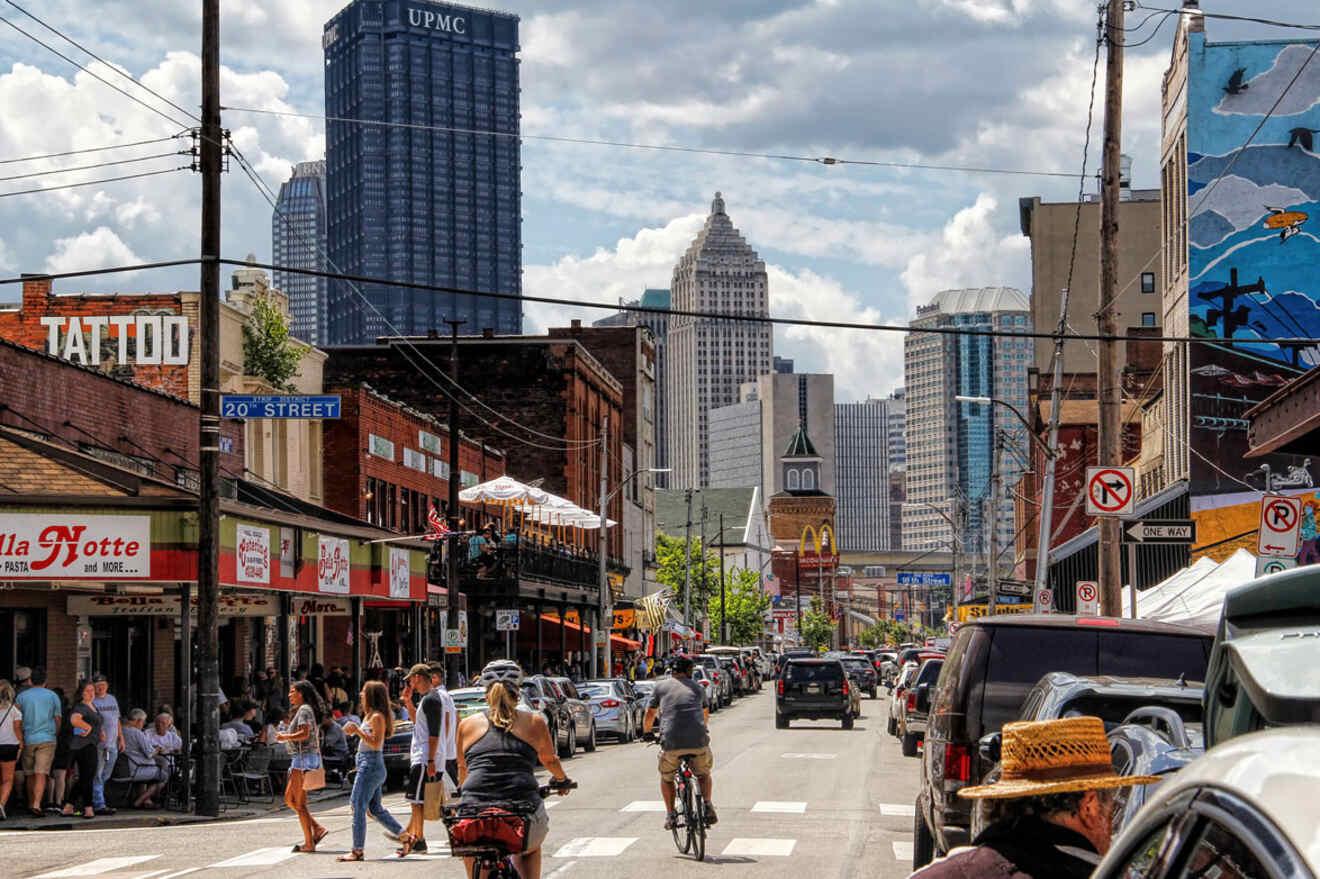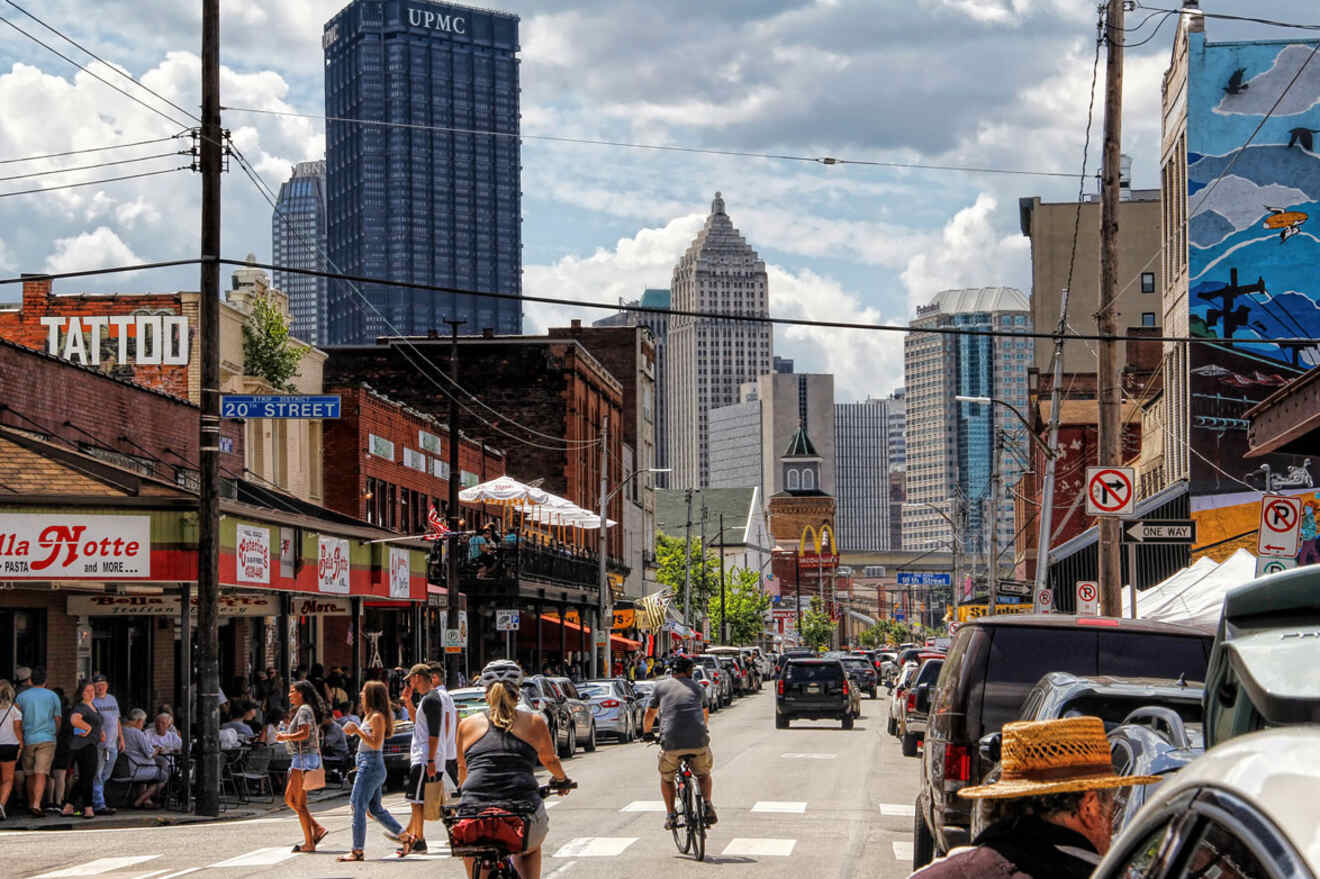 For those of you who love to travel with your stomach while on your vacation, Strip District is going to be a blast! This area is a foodie heaven due to its wide array of different markets, restaurants, cafes, and breweries. Strip District also boasts a decent selection of art studios, boutiques, and antiquity stores, so if you love shopping, the area will definitely keep you busy.
As with many places with an industrial past, many of the original warehouses and factories here have been transformed into hip cocktail bars and hangouts, creating a vibrant new atmosphere that is something you need to experience for yourself.
You will find Strip District on the waterfront, just a 10-minute drive (or 30min walk) east of the cultural area of Pittsburgh Downtown, making it a great alternative location if you aren't so keen on the higher prices of the city center. So I hope you have an empty stomach and are ready to hop between restaurants and markets all day! Here are some of the best hotels in the Strip District.
Luxury hotel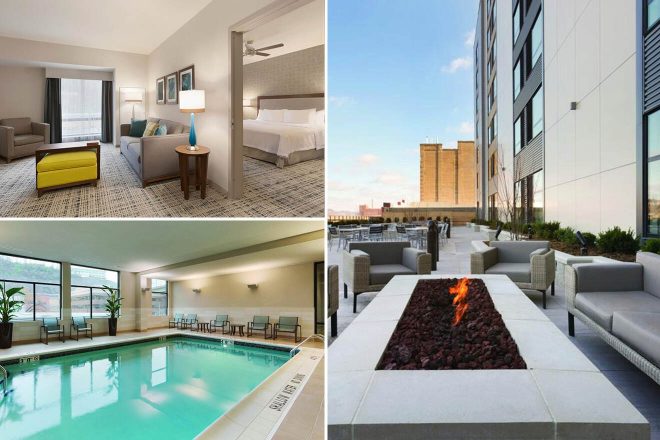 With all of the homey comforts of individual luxury suites plus the added conveniences of a hotel, what more could you want from this excellent accommodation option with friendly staff. Relax around the outdoor fireplace, or hit the down with tips from the concierge after filling up with the continental breakfast at this deluxe, spacious hotel
Other accommodation options in the Strip District
mid-rage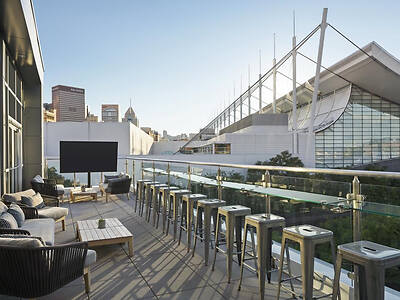 Modern, spacious hotel ideally located between Strip District and Pittsburgh Downtown
budget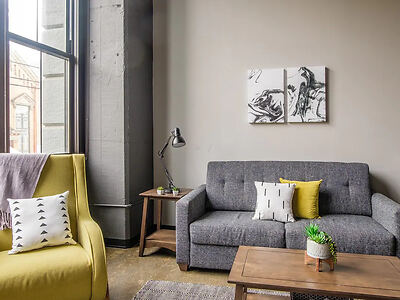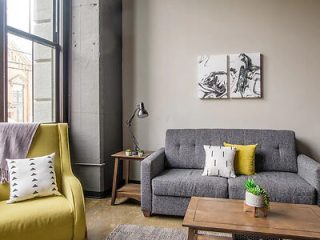 Bright, comfy, modern 1 bedroom apartment with a mid-range3-day pass to local gym included
airbnb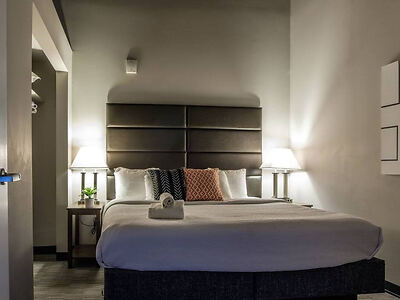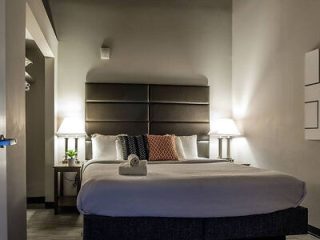 Chic apartment in the heart of the Strip District with 2 comfortable queen size bedrooms, sofa bed, and kitchen
Things to do in the Strip District
4. Squirrel Hill – where to stay in Pittsburgh for families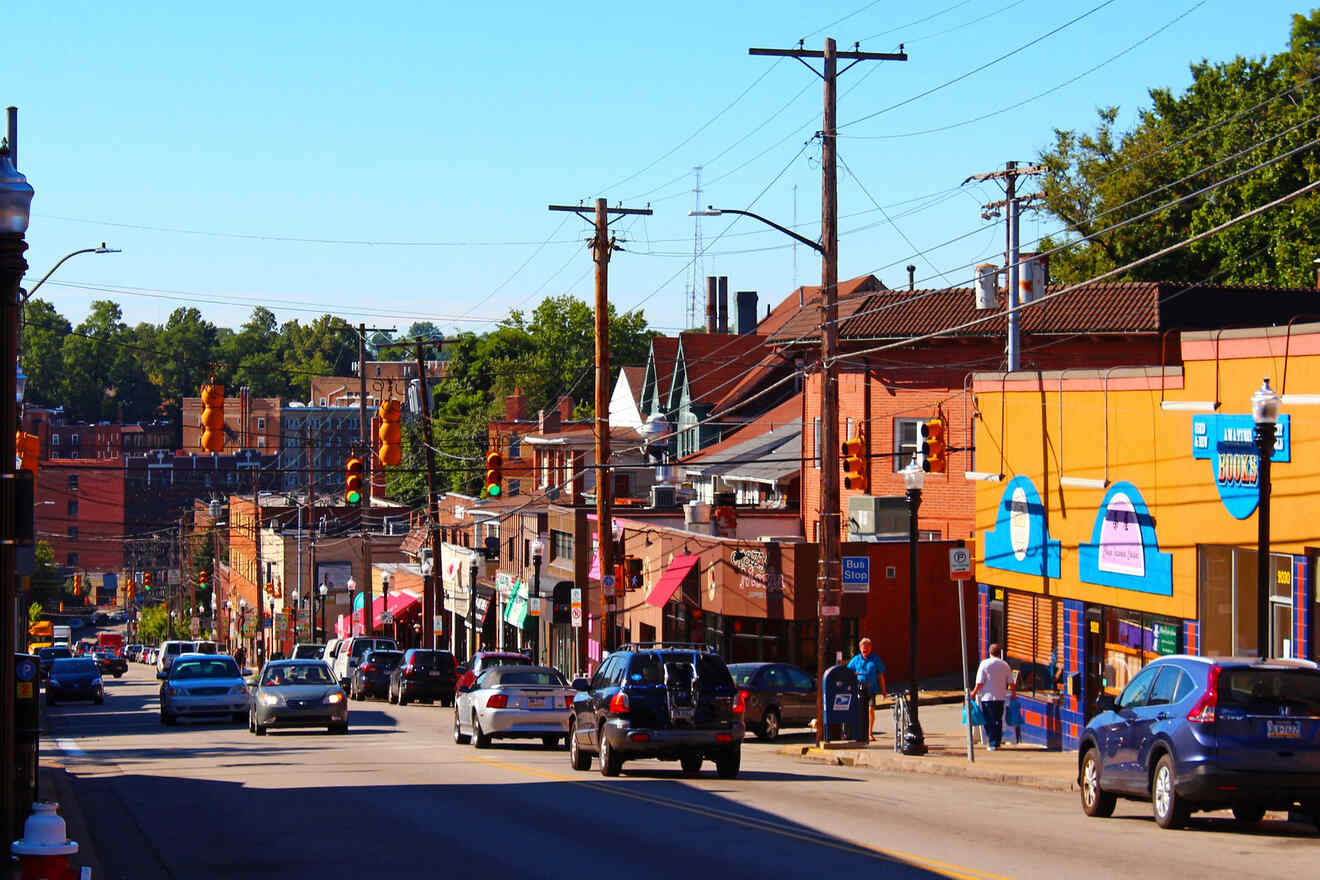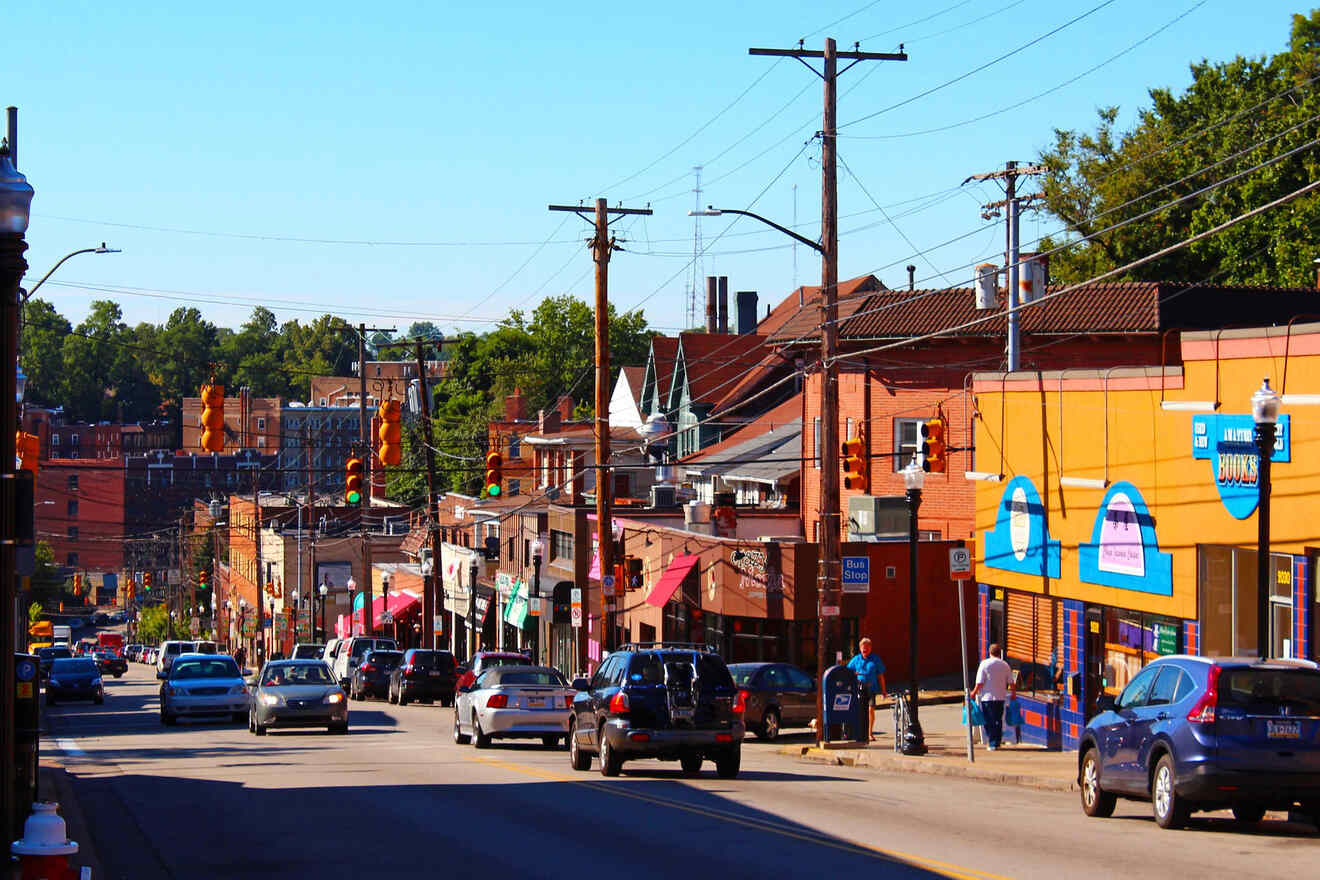 After driving 15 mins east from Downtown Pittsburgh, you find yourself in a quiet, residential area full of beautiful tree-lined streets and expansive parks with endless paths, perfect for an afternoon stroll. This is a great place to stay for families as you can relax in a safe neighborhood with plenty of open spaces to explore with the children away from the busy streets of the downtown area.
While this picture-perfecta neighborhood might look a little sleepy to some, it is actually quite a diverse area full of incredible international cuisine. If you want to try something new, why not dine at one of the kosher restaurants, bakeries, or delis for an international treat!
Although Squirrel Hill is a little removed from the downtown area on Pittsburgh's east side, the skyscrapers, bars, shops, and commercial attractions are still well within reach when you want them. Here are some of the best accommodation choices for the area.
Luxury hotel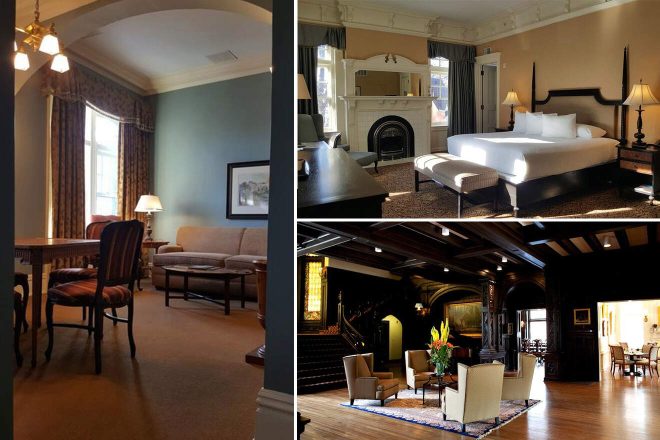 This boutique hotel will definitely make your stay memorable, as it will truly feel like your own getaway mansion. Enjoy their large comfortable suites with historic features such as stained glass windows. It is also conveniently located near some of the notable city landmarks, and you'll have free wi-fi and coffee! What's not to love? 
Other accommodation options in Squirrel Hill
mid-range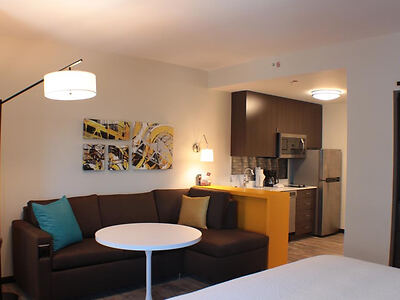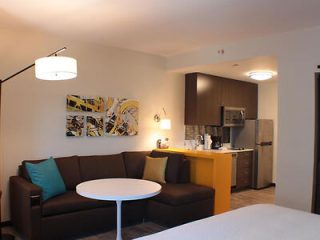 Funky hotel just a few minutes walk from Squirrel Hill with huge rooms, a swimming pool and free shuttle service
budget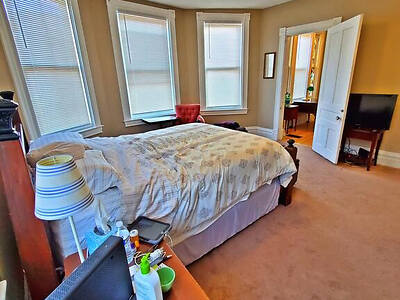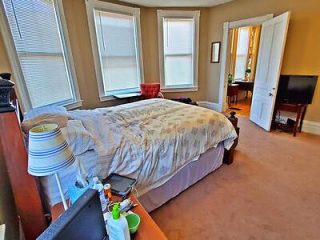 An ideal budget-friendly solution with a room that can accommodate two travelers
airbnb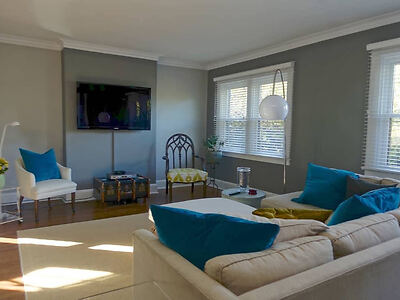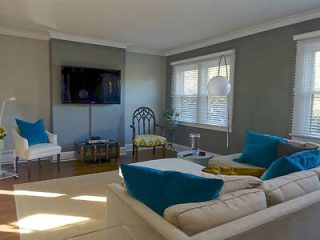 Modern three bedroom home full of light-filled rooms and great communal spaces for families to relax
Things to do in Squirrel Hill
5. Shadyside – cool Pittsburgh neighborhood for shopping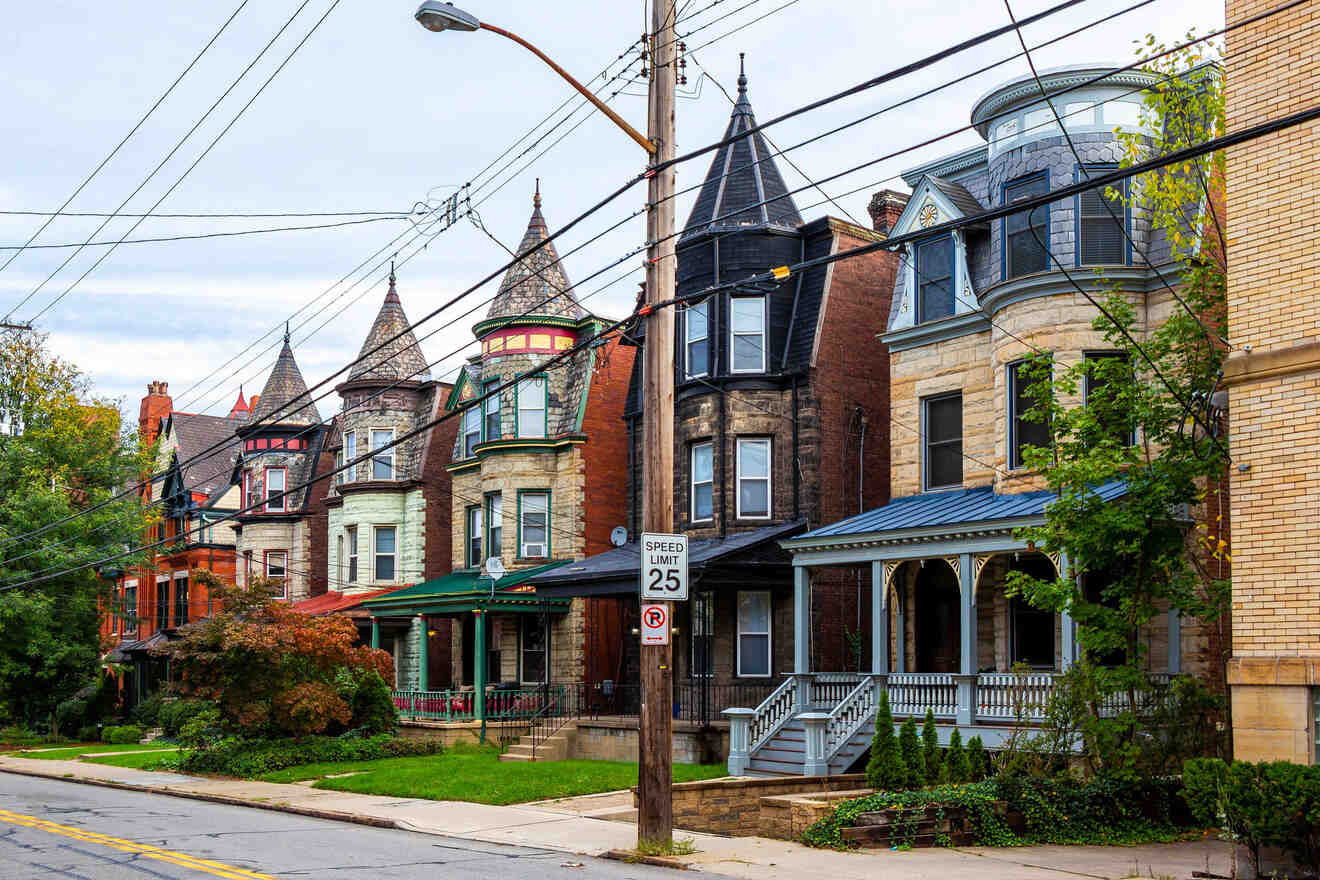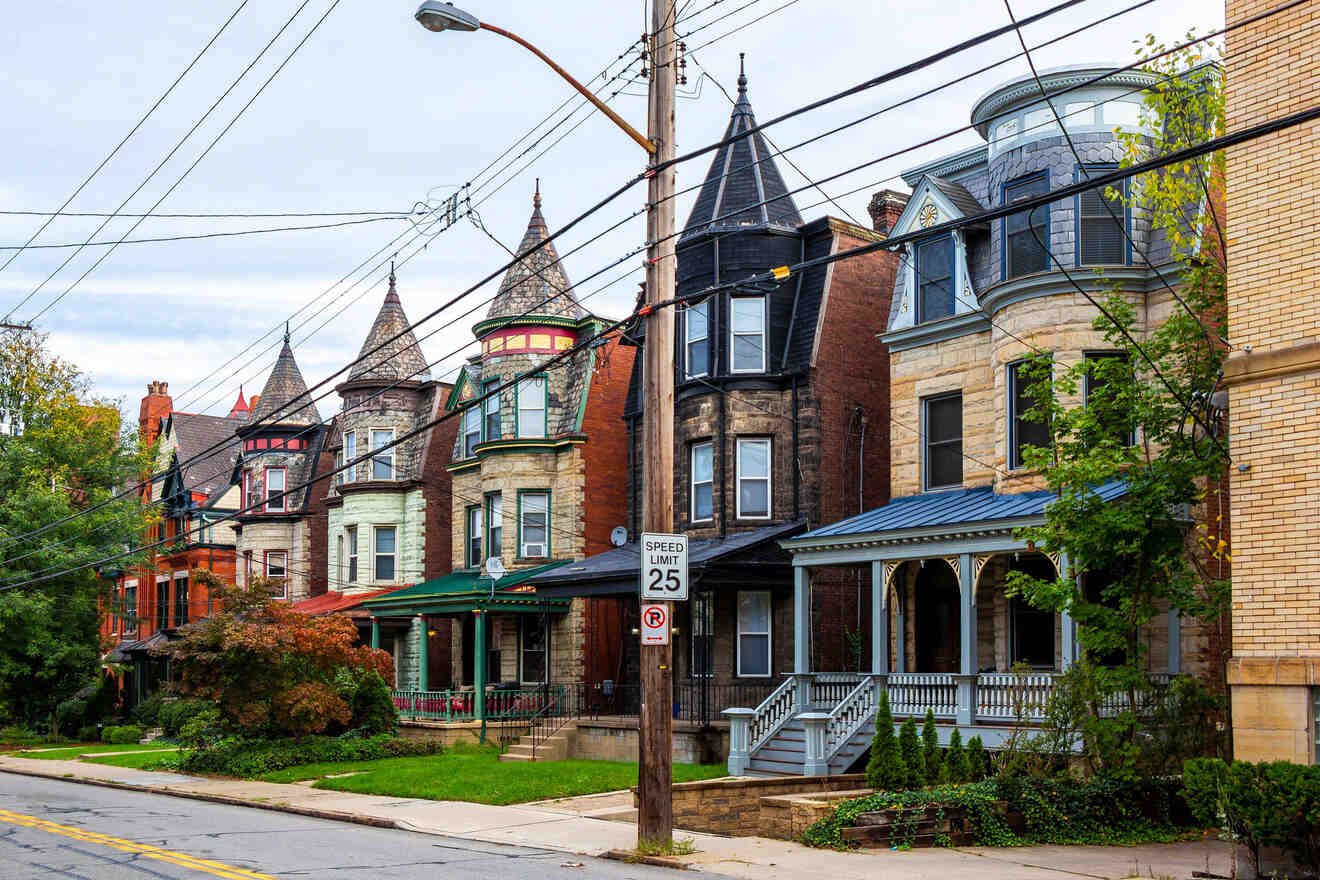 Just north of Squirrel Hill is the Shadyside neighborhood. Despite the name, this area is anything but dodgy. Its streets are lined with Victorian-style mansions and filled with upper-class families and young professionals. Just like Squirrel Hill, Shadyside is much quieter than Pittsburgh's central area and could also be an excellent alternative for families looking for a more youthful vibe. This area in the east is full of unique shops and bars that attract a millennial crowd.
Shadyside is also home to the best shopping in the city. Not only will you find countless boutique shops and local names, but this is also the place to find malls full of huge international designer brands!
TIP: If you're heading to Pittsburgh and looking to shop until you drop, Walnut Street should be your first stop.
Finally, if you're visiting in summer and love live events, make sure that you check Jam on Walnut. People from all over Pittsburgh flock to this summer concert to enjoy live music in the street.
Luxury hotel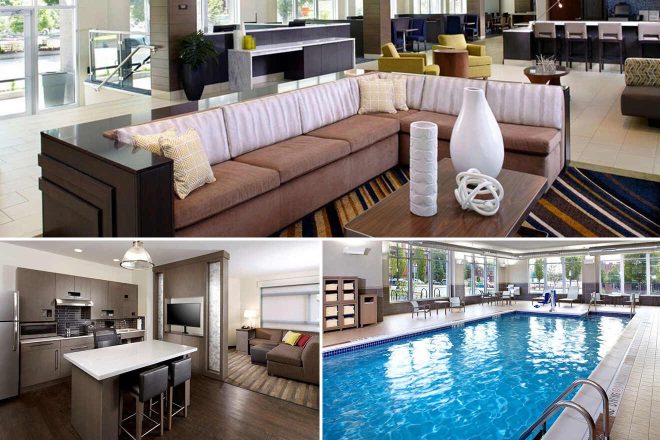 You will find everything you need in the spacious, comfortable suites at Hyatt House. With an equipped kitchen and huge bed, it's just like having your own home away from home but with the added bonus of high-class hotel facilities. Enjoy a daily buffet breakfast, indoor pool, and gym, as well as an onsite bar and free shuttle drop-off service
Other accommodation options in Shadyside
mid-range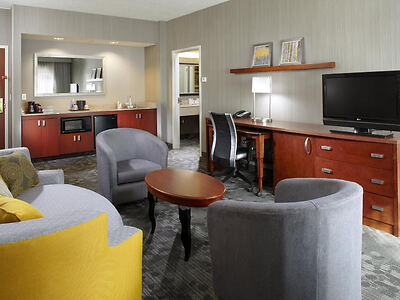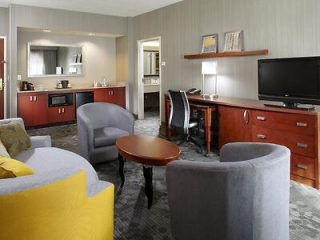 A great mid-range choice with a plethora of amenities. Perfect for business travelers
budget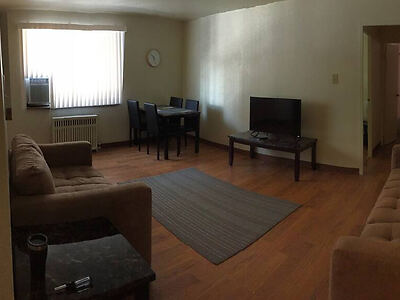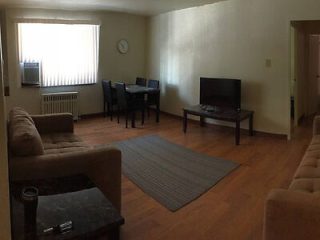 Basic apartment with fully equipped kitchen and designated parking space
airbnb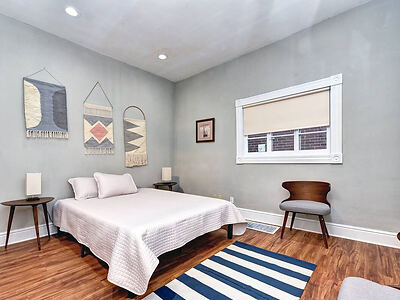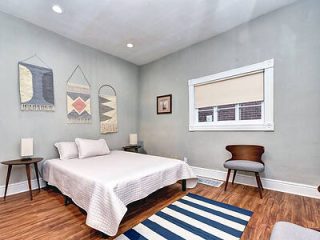 Beautifully renovated apartment near Walnut Street with a deck
Things to do in Shadyside
Go shopping in the designer stores
Visit the Hunt Armory
Snap a picture of the Calvary Episcopal Church
Have a picnic in Mellon Park
Check out the Pittsburgh Center For Arts & Media
| | |
| --- | --- |
| 👑 Luxury price: | $200 |
| 💵 Mid-range hotel: | $150 |
| 🛏️ Budget: | $100 |
| 🏠 Airbnb: | $110 |
| 💰 Accommodation prices: | Medium |
| 📍 Best Area: | Downtown Pittsburgh |
| 🛎️ Best luxury hotel: | Kimpton Hotel Monaco |
| 👛 Best budget hotel: | Even Hotels |
BONUS: Parking in Pittsburgh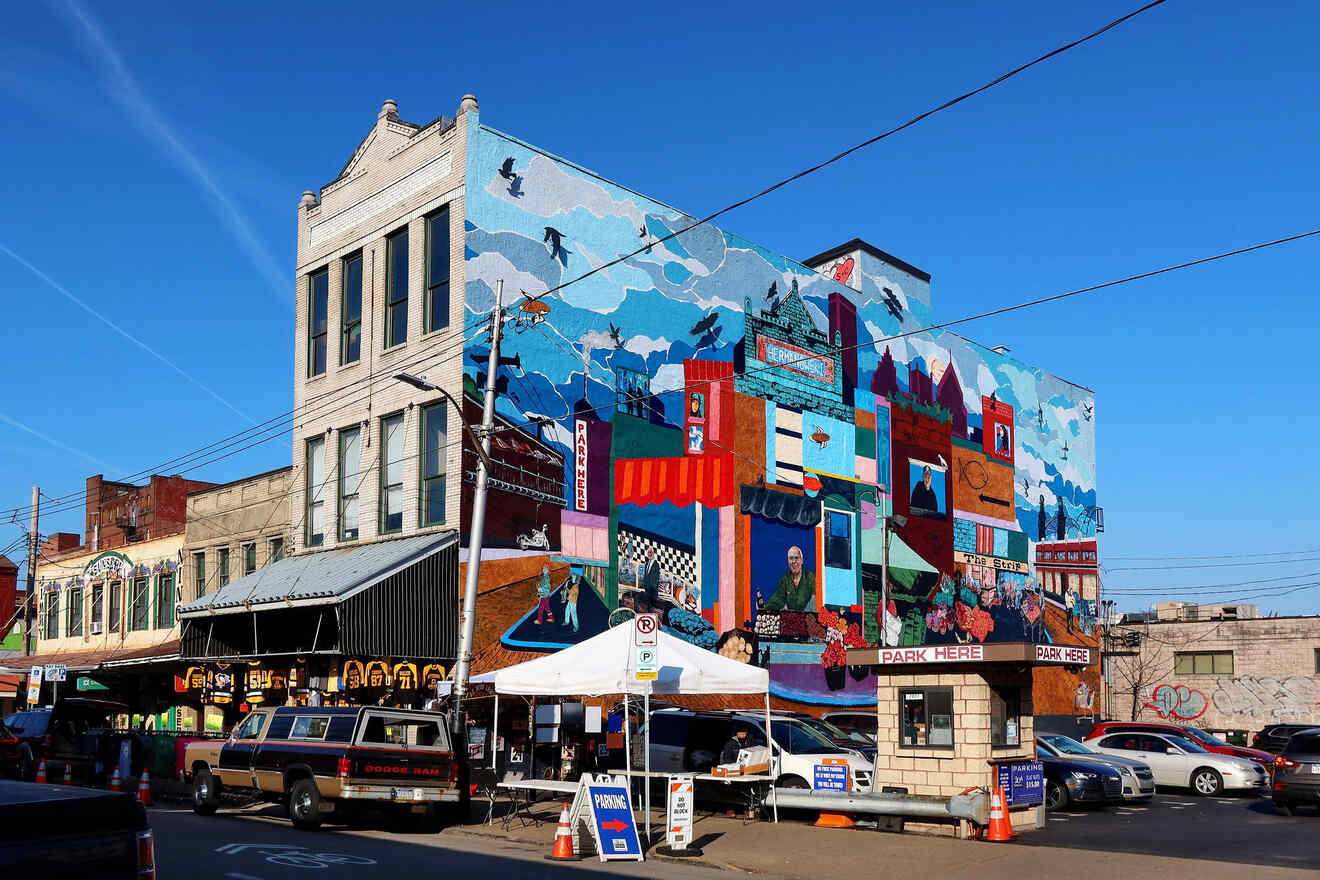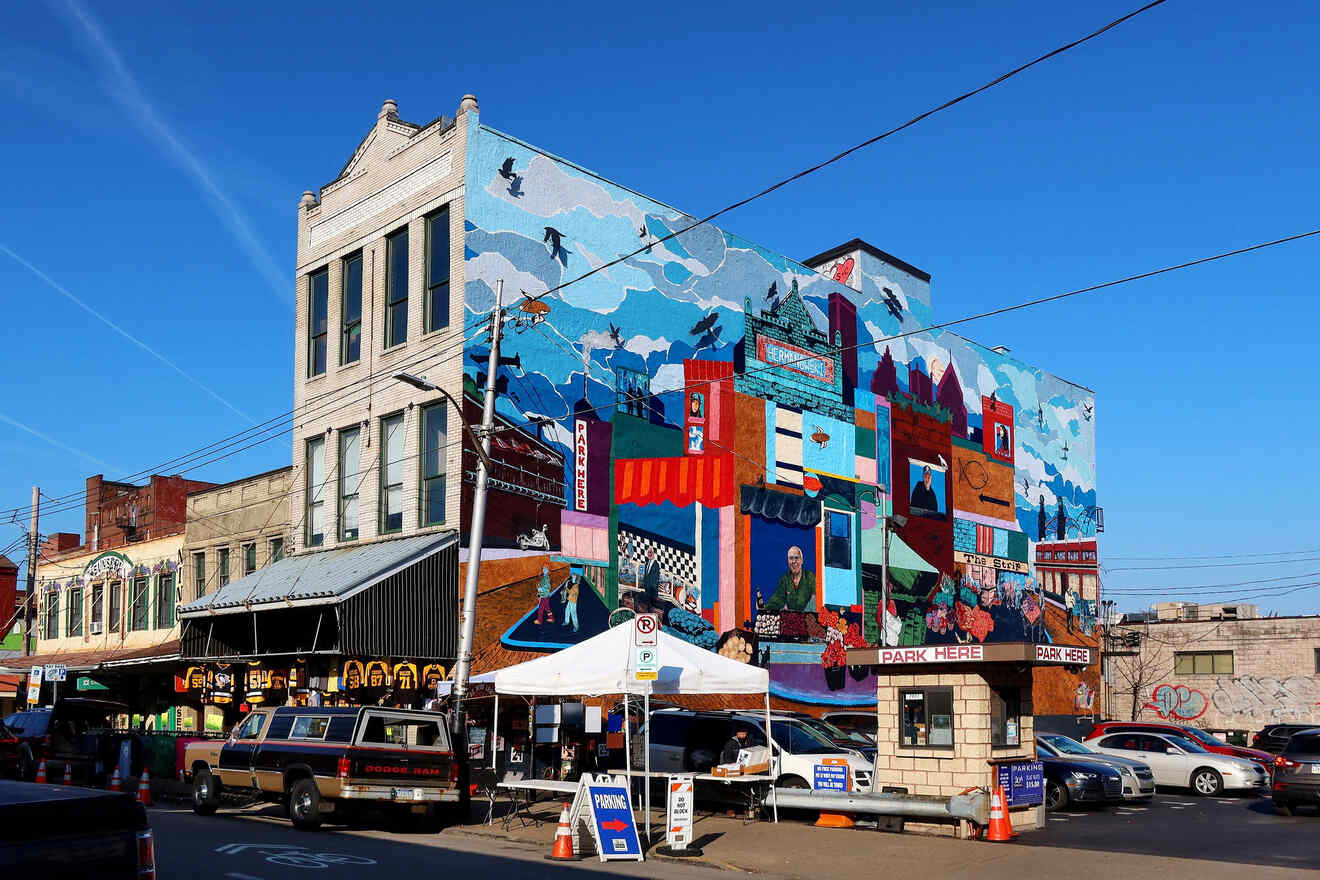 Something that everyone should know before traveling to Pittsburgh is that parking is a nightmare! You may be thinking, yes it's always hard to find a park in any city, well this time I really mean it. Finding free parking is almost impossible in Pittsburgh, and if you are planning on renting a car, it is definitely something you should consider when choosing a place to stay.
Since you have so few options for vehicles in the city, here is a quick rundown of everything you should know about parking in Pittsburgh.
Hotel Parking
Not all hotels have car parking available, so this is one of the first things you should check when looking at hotels in Pittsburgh. For the hotels that do have parking available, it is still not usually free. You can expect to pay around $30 per day to park at your hotel.
Private Parking Lots
Private garage parking is probably the best bet if you are looking to quickly find a spot. You can expect to pay anywhere from $5-$9 per hour. This could be a good short-term option if you are just parking for the day but will probably end up being costly if you stay overnight.
Download the ParkPGH app to see which garages have spots available in real-time to avoid driving in circles around the city.
Downtown Metered Parking
On-street parking is paid by the hour Monday-Saturday, 8 am – 6 pm. Sundays and nights are free, but spaces can be difficult to find. During paid periods, you can expect to find rates between $0.50 – $4 per hour.
This is a cheaper option than private parking garages; however, it may take you much longer to actually find a place.
North Side
If you are looking for a place to leave your car outside of a hotel's private parking, heading over the bridge from Pittsburgh Downtown to the North Side will give you more options and still keep you within walking distance of the city center.
Note that this is also where the sporting stadiums are. If you are arriving on game days, the streets may be gridlocked for a couple of hours before and after the match, and parking could be limited.
Frequently asked questions about Pittsburgh, PA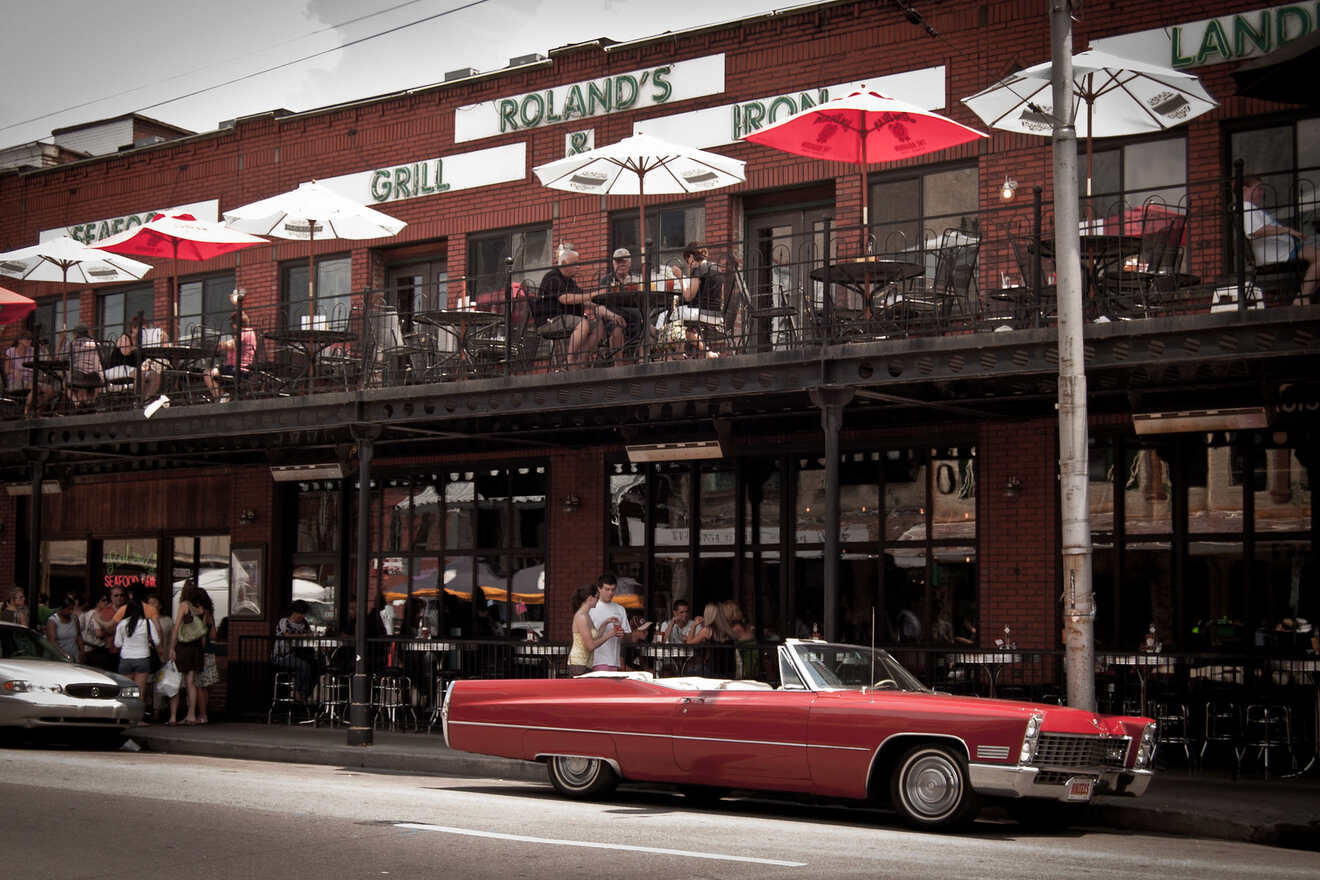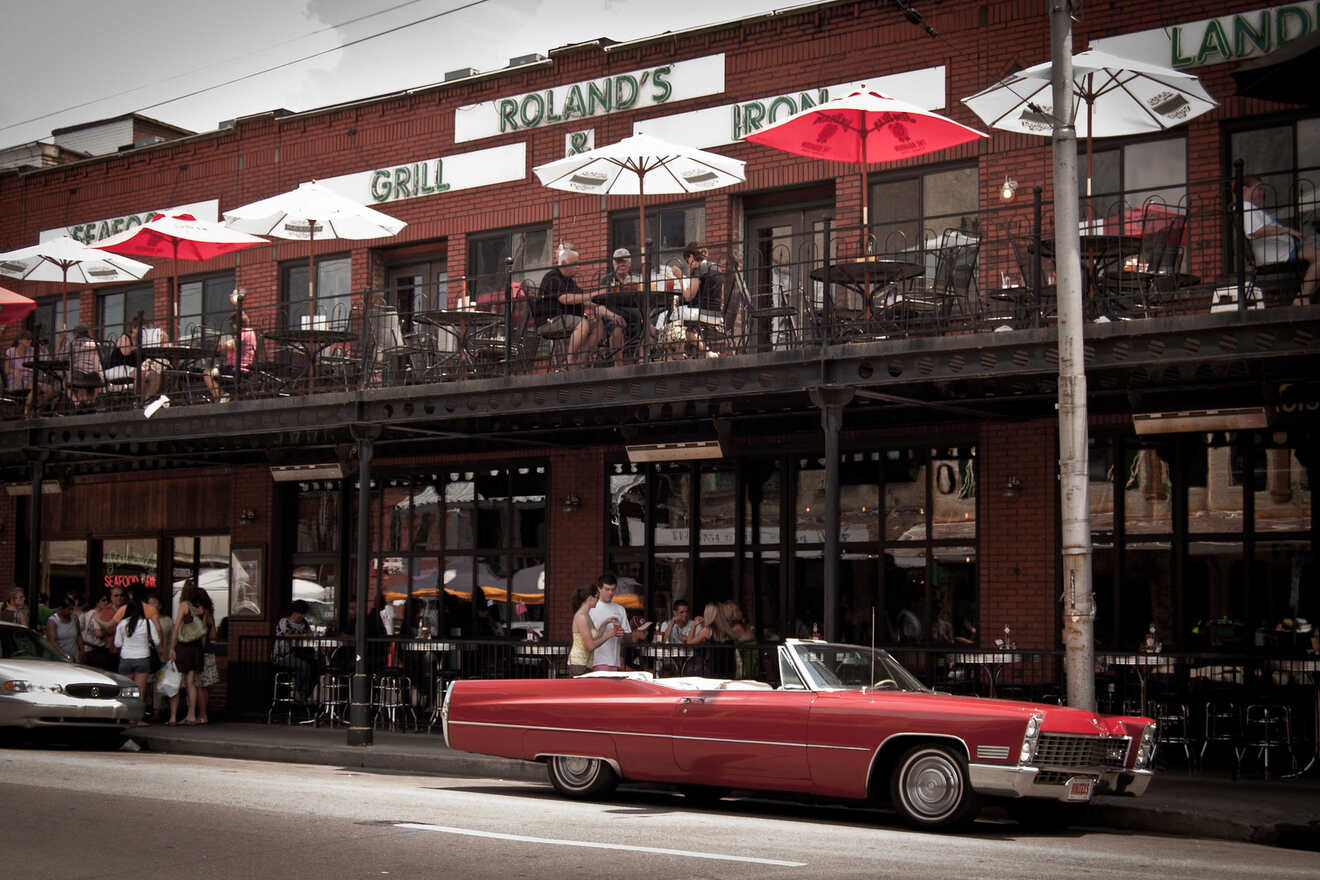 🌆 What are the best areas to stay in Pittsburgh?
Downtown is the best place to stay for most visitors to Pittsburgh due to its overwhelming number of accommodations and attractions as well as its central location. Point State Park is another added bonus that gives you the perfect place to relax right in the middle of the city!
❌ What areas to avoid in Pittsburgh?
The areas around Homewood and The Hill District are best to avoid due to their slightly higher crime rates. This is not hard to do as there aren't many hotels or attractions in these areas, meaning you probably won't have a reason to go there. 
🥾 Is Pittsburgh a walkable city?
Yes! Most attractions are within walking distance of hotels. In fact, it is highly recommended to travel on foot due to the limited options for parking. That being said, the city is still large, so it's best to take public transportation to further out locations. 
🌙 Is Downtown Pittsburgh safe at night?
Yes, as this area is mainly a tourist and business district, it is relatively safe to walk around at night. Of course, you should always be wary of dark alleyways but not more than you would in any other city. 
Conclusion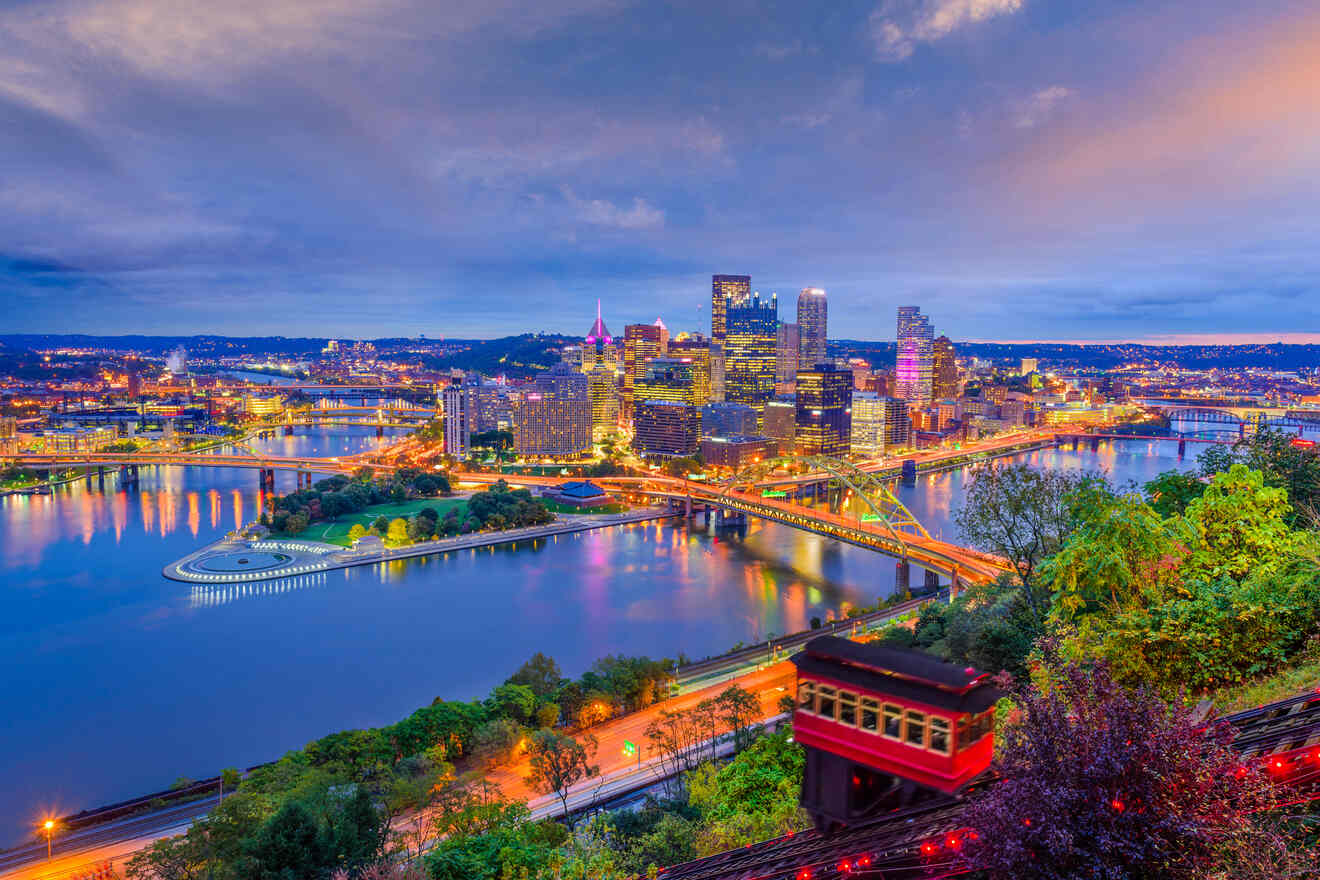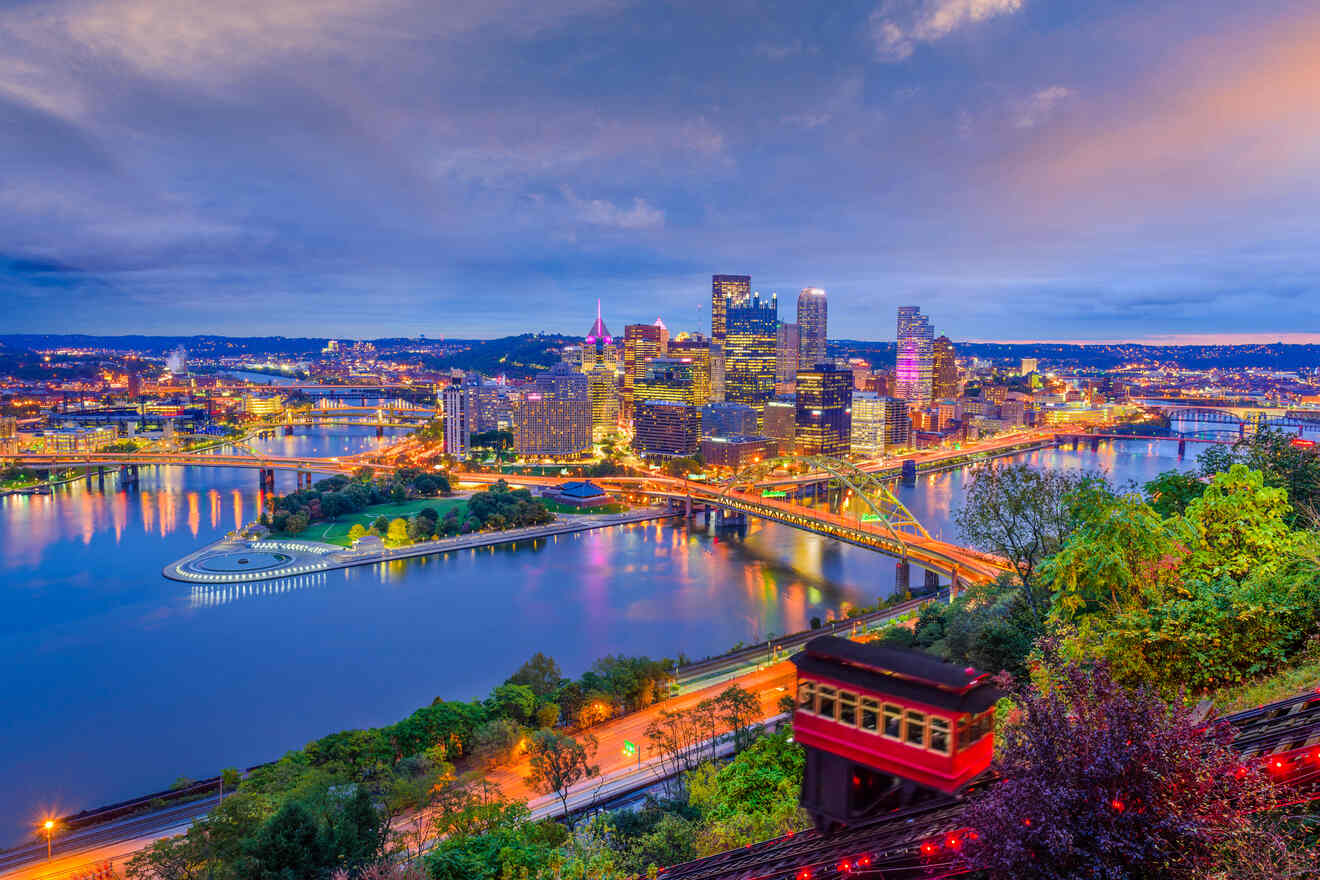 Hopefully, you have found the information here helpful, and you have found the perfect place where to stay in Pittsburgh. There are things to see and explore on both the north side and south side of the city, so finding an ideal place to stay can be really hard.
Whether you desire a secluded neighborhood, with charming parks, where you can simply unwind, or a bustling neighborhood in the city center is more your speed, whatever the case, there will be a Pittsburgh neighborhood for you!

Remember to book early as the best spots in this city do book out fast! If you haven't already chosen somewhere to stay, here are my top two choices of Pittsburgh Hotels:
Kimpton Hotel Monaco – Quirky, guest-focused hotel that really has thought of everything!
AC by Marriott – Modern, spacious hotel perfectly located between Strip District and Downtown Pittsburgh
If you're continuing your travels around the US, make sure to check out my posts for where to stay in Detroit and the best hotels in Washington DC.
I hope you found this post helpful! Feel free to leave me a comment if you have any more questions about neighborhoods, travel, or hotels, and I will be happy to answer them.

Happy travels, and enjoy your trip!
Kate
---
Pin it for later!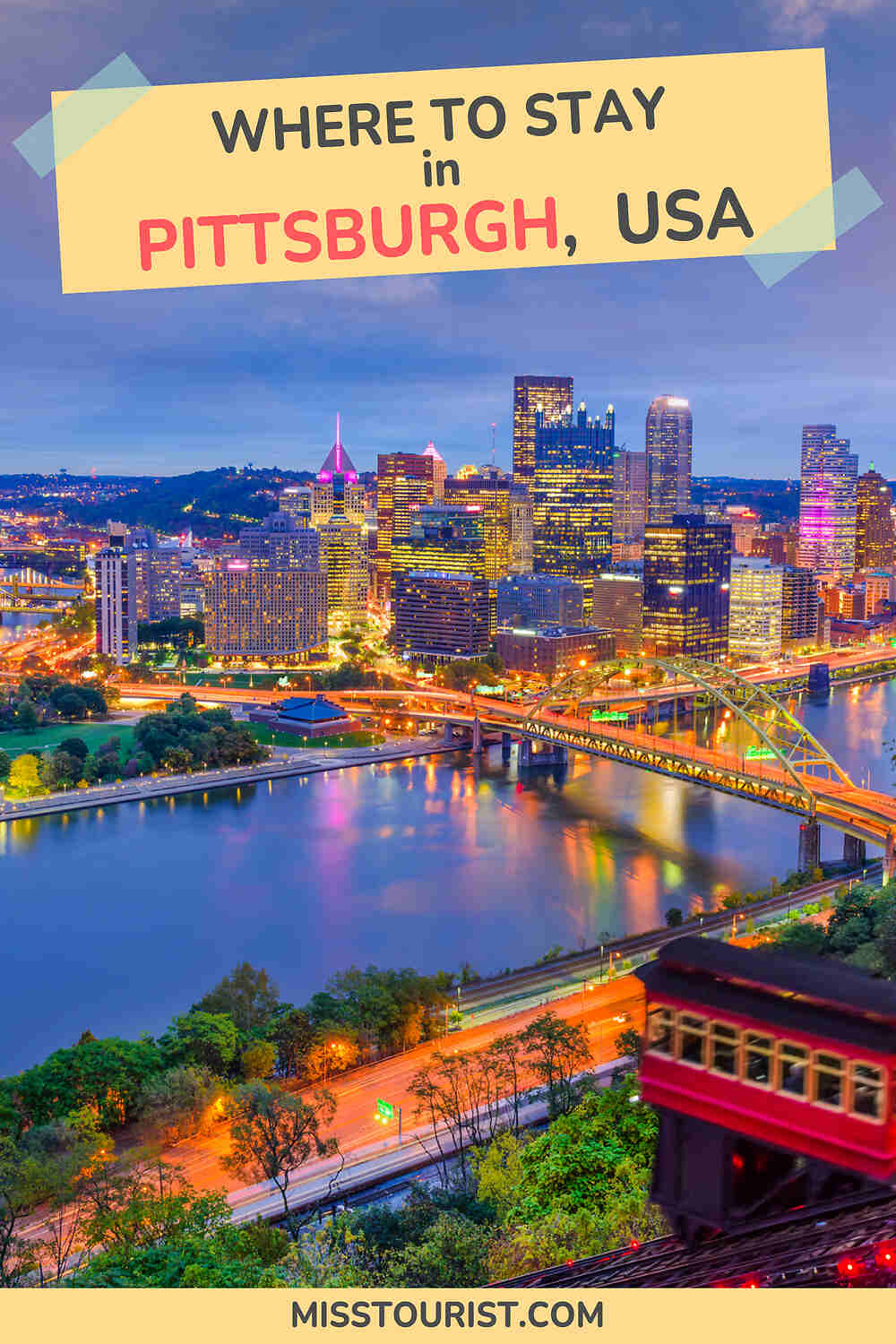 Pin it for later!