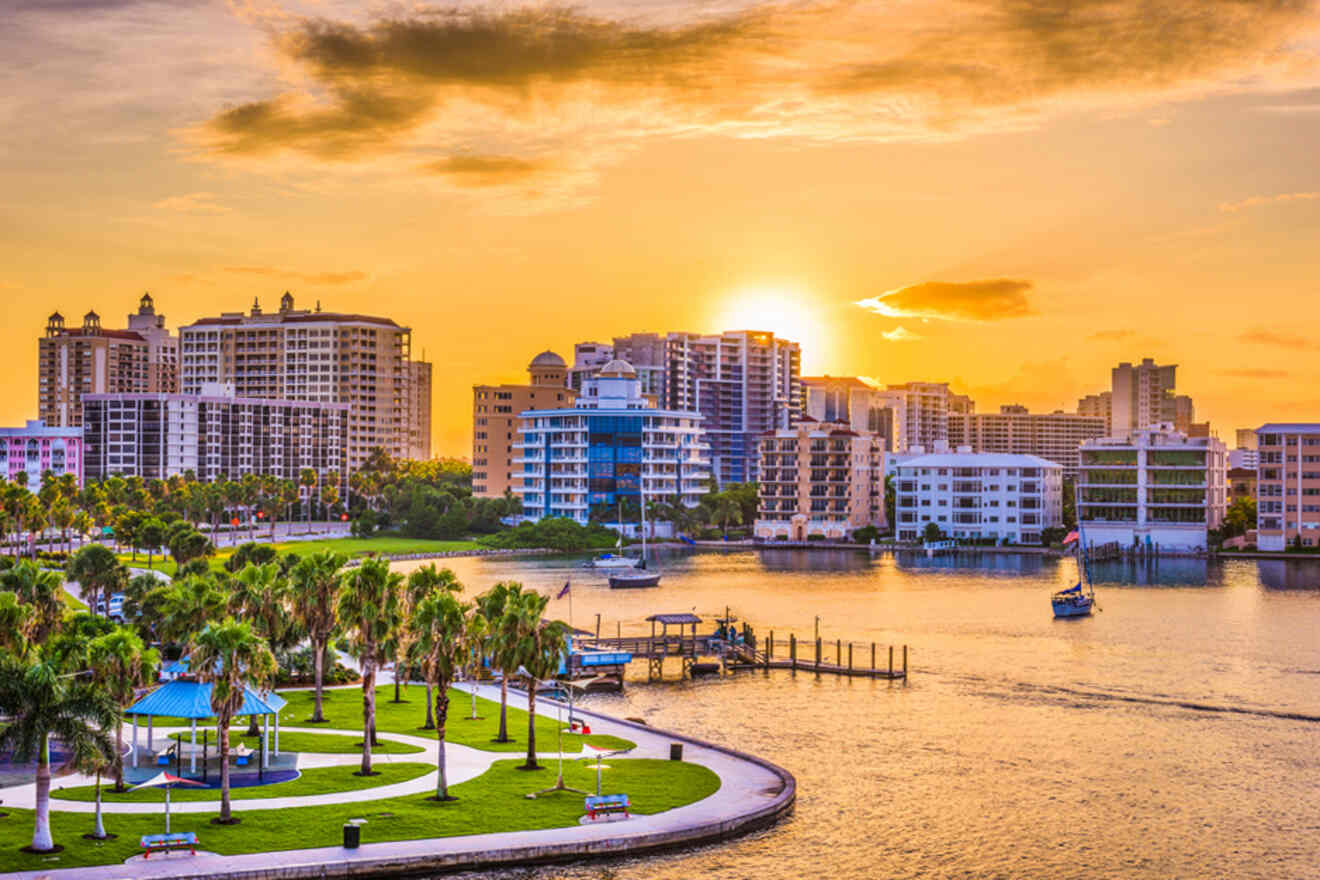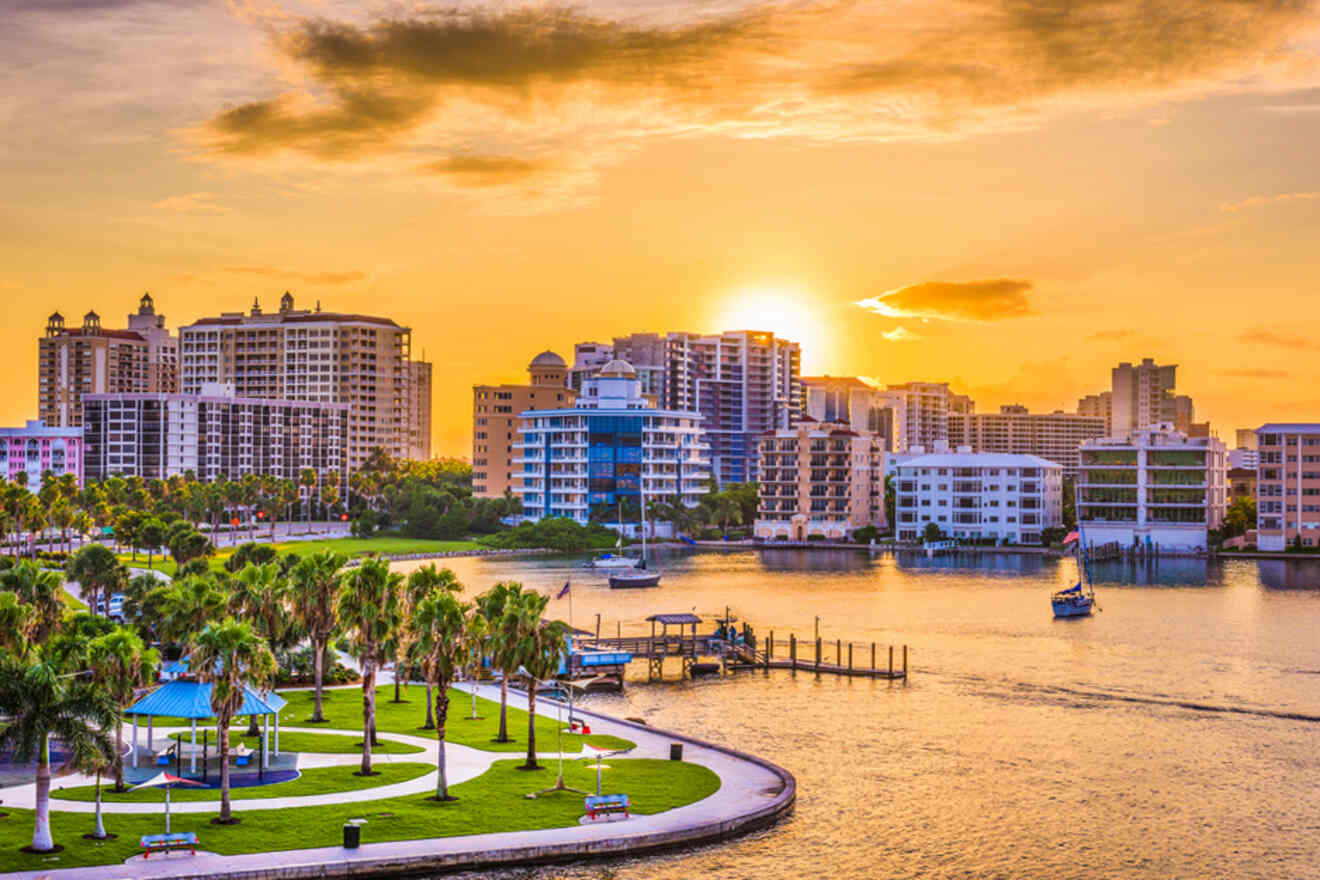 What do you get when you combine some of America's most beautiful beaches, sprawling state parks, a lively arts scene, and the King of the American Circus? Sarasota, Florida, of course! One of the most beloved coastal cities in the Sunshine State, Sarasota is a dreamy vacation destination replete with unique attractions and adventures for everyone.
Today, I'm sharing 23 unmissable things to do in Sarasota (some of which I've personally tried), from world-class museums to incredible encounters with wildlife. There's something for everyone on this list, which is part of what makes Sarasota so special – it doesn't matter if you're traveling solo, with family, or with your significant other, you're going to have the time of your life here.
Let's get started!
If you are in a hurry
Short on time? No worries! There are a few things on our list that you'll want to book ASAP to secure your spot, as they fill up fast:
1. See the sights on a trolley tour of Sarasota
Whenever I visit a new place, I love to kick off my trip with a sightseeing tour. This way, I can get the lay of the land, glimpse the major landmarks, learn about the city's past and present, and plan out what I want to see more of on my vacation. The sightseeing trolley tour is a must-do, especially if it's your first time in beautiful Sarasota on Florida's Gulf Coast!
You'll board a comfortable, air-conditioned trolley that takes you to historic downtown neighborhoods in Sarasota, Florida, including Gillespie Park, Burns Court, Laurel Park, St. Armands Circle, and the Rosemary Design District. This tour will show you the best places for shopping, dining, and entertainment while you learn about the city's colorful history.
Along the way, you'll pass by some iconic Sarasota attractions and sights, like the Sarasota Opera House, Marie Selby Botanical Gardens, Van Wezel Performing Arts Center, the Ringling Museum, and Ringling College of Art and Design.
The city sightseeing trolley tour of Sarasota is extremely popular and fills up quickly! This is definitely a tour you'll want to book ASAP to ensure availability.
PRICE: From US$70 per person
2. Step back in time at the Ca d'Zan Mansion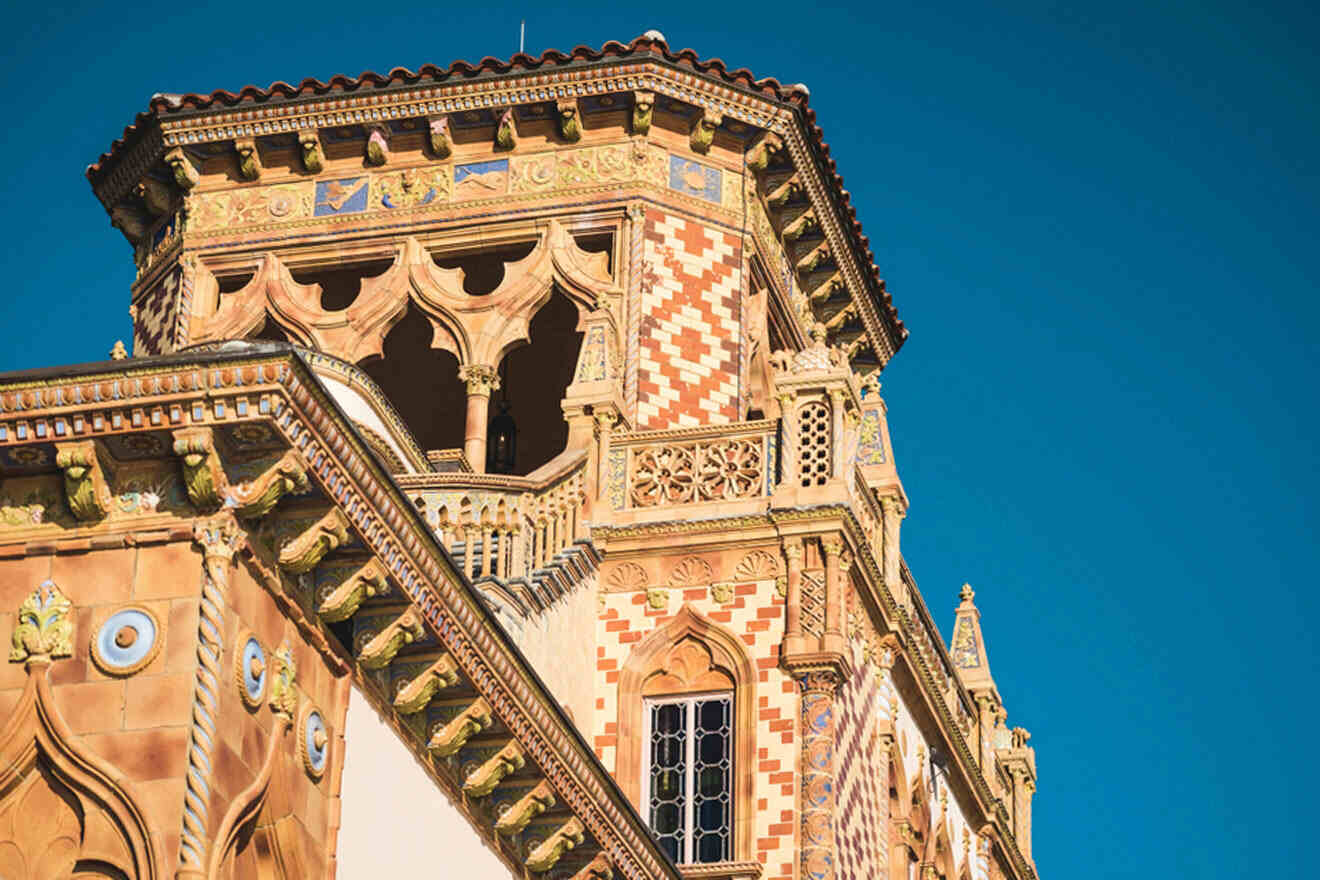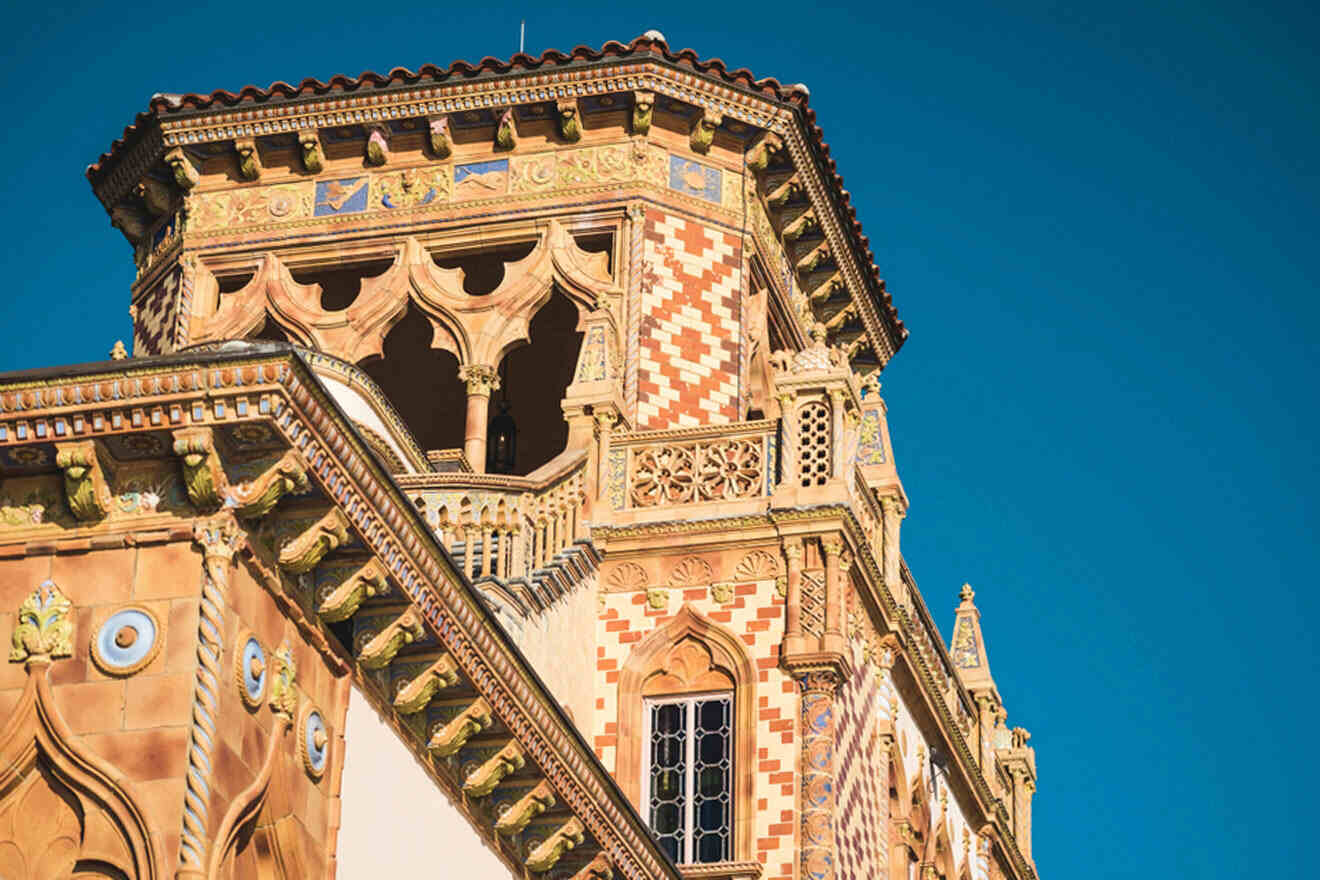 While Sarasota, Florida, is best known for its beautiful beaches, the city has a colorful, storied history you'll want to check out, too! And I'm not talking about typical history here. I'm talking about the circus – the Ringling Brothers Circus, to be exact.
Sarasota was the winter home of John Ringling and his wife, Mable Ringling, for many years, and in 1924, they began construction on a breathtaking 36,000 ft² (3,350 m²) mansion situated on the waterfront, boasting 41 rooms, 15 bathrooms, and a massive, jaw-dropping, multi-colored marble terrace overlooking Sarasota Bay.
Called Ca d'Zan, which translates to "House of John" in Venetian dialect, the mansion was designed by famous New York City architect Dwight James Baum with immense input from Mable Ringling, who drew inspiration from the Venetian Gothic style of palazzos. It's as sumptuous as it sounds, with an extravagant exterior and interior to match!
Today, you can tour this palatial home on Sarasota Bay and immerse yourself in the opulence of the Roaring Twenties at the home of the circus king himself! If you're an architecture enthusiast or history buff, consider this a must-do in Sarasota.
The Ca d'Zan Experience Tour takes you through all 5 stories of the mansion on an intimate tour of just 8 people, where you'll step back in time to explore this magnificent home and learn all about its famous, fascinating residents. Capacity is extremely limited, and many dates sell out far in advance, so book online ASAP.
The Ca d'Zan Mansion is located at The Ringling. We'll talk more about what The Ringling offers in section #5, and I suggest making time to experience as much of it as possible!
PRICE: US$60 per person
3. Stroll through Marie Selby Botanical Gardens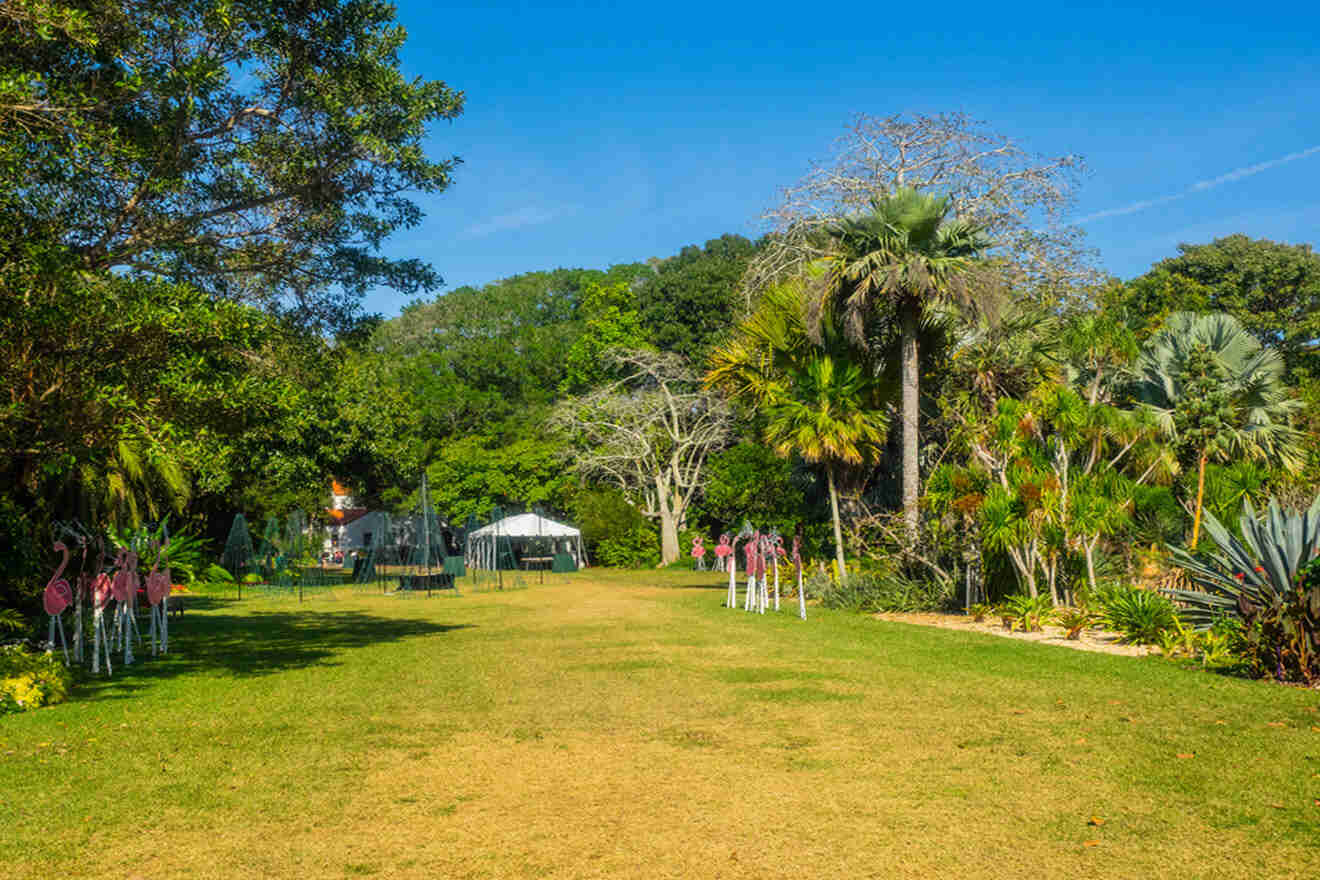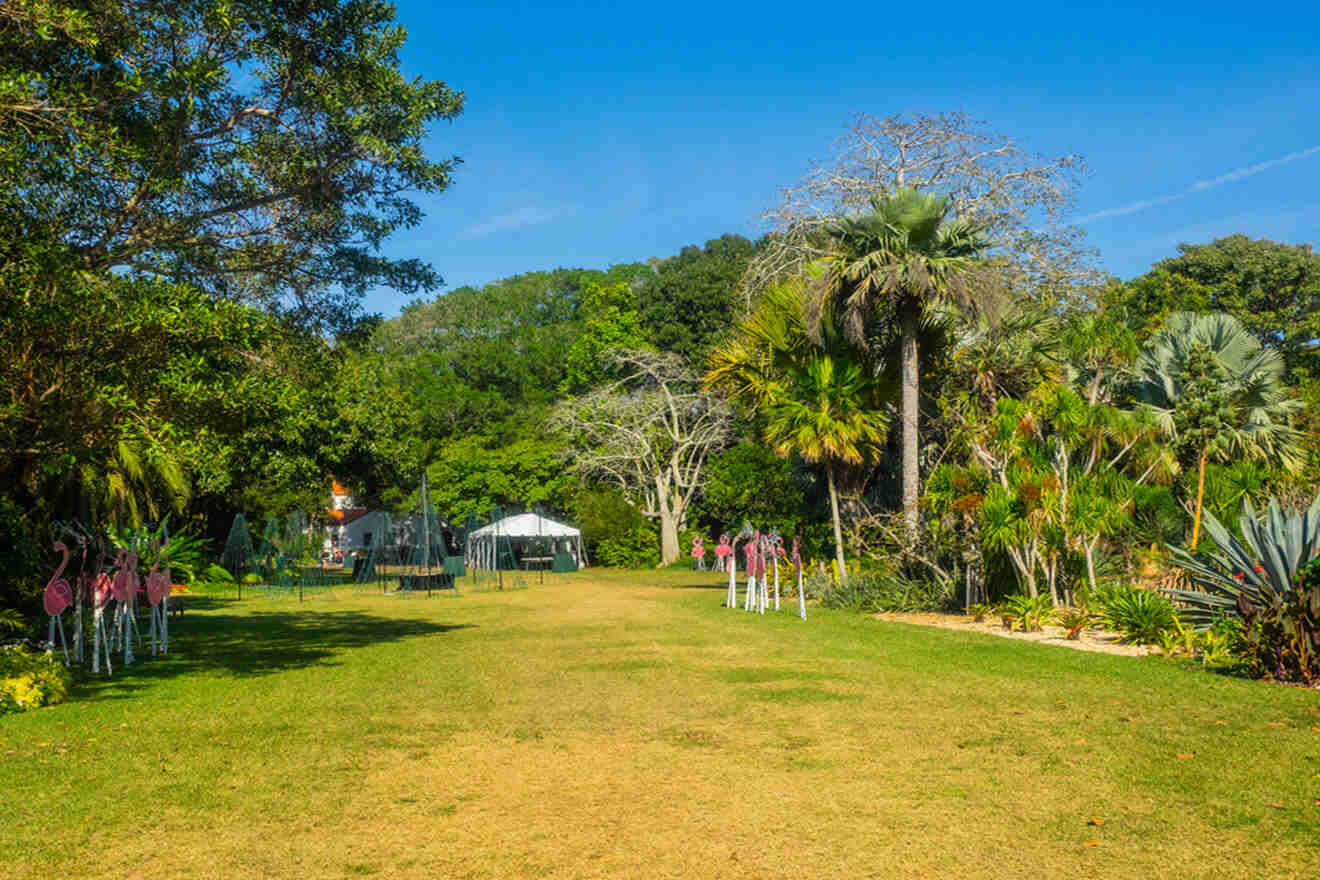 Stroll through lush bayfront sanctuaries at Marie Selby Botanical Gardens in Sarasota. There are 2 separate campuses to explore: one in downtown Sarasota and one in Osprey, FL, which is part of Sarasota County. They both offer unique and relaxing opportunities to connect with nature!
The downtown Sarasota campus of Marie Selby Botanical Gardens is the only botanical garden in the world dedicated to displaying and studying epiphytic orchids, bromeliads, gesneriads, ferns, and other tropical plants. Some highlights include the Ann Goldstein Children's Rainforest Garden, the Steinwachs Family Foundation Mangrove Walkway, and the Museum of Botany & the Arts.
The downtown Sarasota campus offers a variety of guided tours for an additional fee, as well as self-guided tours. Despite being the smaller of the 2 campuses, Selby Gardens in downtown Sarasota has no shortage of amazing things to see and do.
The 2nd campus in Osprey, FL, is at Historic Spanish Point, one of the most archaeologically rich areas in all of Sarasota County and less than a half-hour drive from downtown. The campus encompasses beautifully landscaped acres and boasts the region's only butterfly garden. Choose from 3 adults-only guided tours with the following focuses: history, flora, and fauna, or archaeology. Self-guided tours are available as well.
The Historic Spanish Point Campus also offers boat tours on Little Sarasota Bay, and you can even cruise from one campus to the other on a full-day Campus-to-Campus Boat Tour Experience.
As a living museum, Marie Selby Botanical Gardens hosts rotating exhibitions and exciting special events throughout the year, so be sure to check out what's going on when planning your visit!
DOWNTOWN SARASOTA CAMPUS PRICE: US$26 for adults, US$11 for children
HISTORIC SPANISH POINT CAMPUS PRICE: US$16 for adults, US$5 for children
4. Explore Myakka River State Park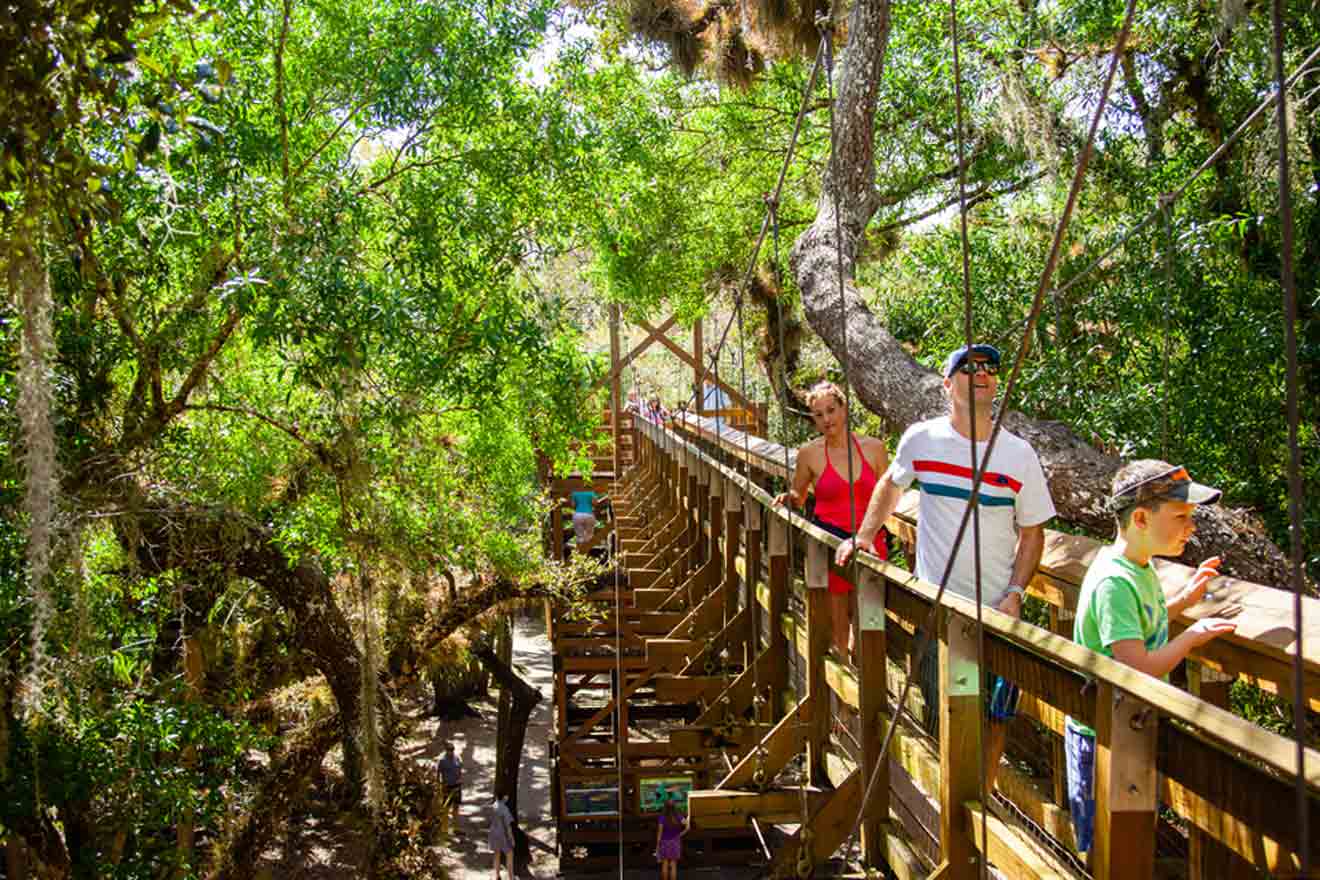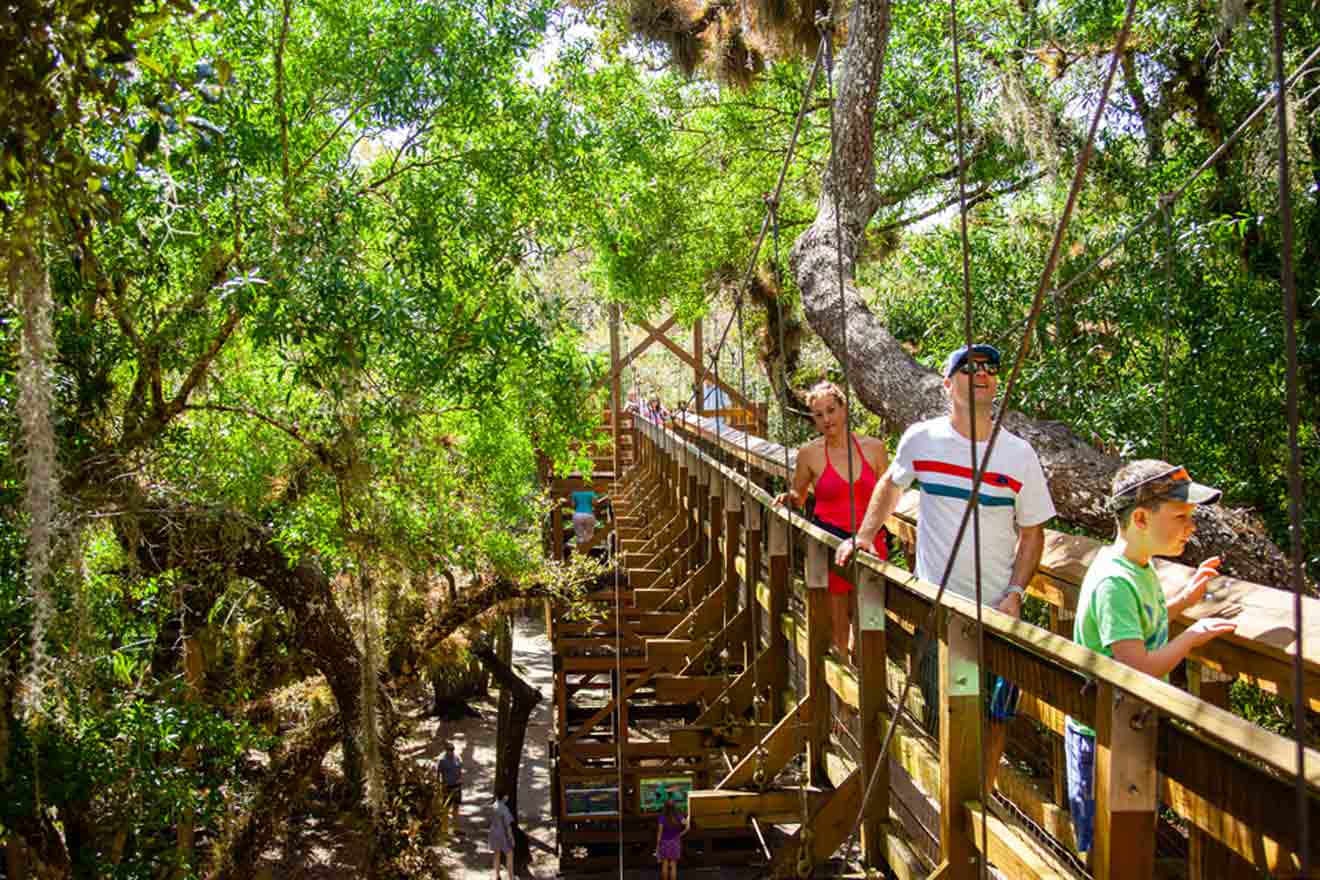 A visit to Myakka River State Park in Sarasota is an absolute must for any nature lovers! The 1st state-designated wild and scenic river in the Sunshine State, Myakka River, flows through 58 mi² (150 km²) of wetlands, pinelands, prairies, and hammocks that you can explore within this stunning state park. At just US$6 per vehicle for entry, it's one of the most fun, budget-friendly things to do in Sarasota.
Hiking, biking, and paddling are all popular ways to experience Myakka River State Park, and the grounds are teeming with native flora and fauna to discover, as it's the 2nd most biodiverse ecosystem in all of North America. Keep your eyes peeled for the wildlife that resides here, like American alligators, bobcats, otters, and over 100 species of birds!
One of the coolest things to do in Myakka River State Park is the Canopy Walkway. It's 25 ft (8 m) above ground, and there's even a 74 ft (23 m) tower that ensures spectacular views of the natural wonder.
If you're looking for a little adventure, check out this e-bike safari led by an expert local guide. I especially love how you can adjust the electric bike's settings depending on how much exercise you're up for – if it's super hot out, you can sit back and let the bike do the work for you. Sounds like my kind of tour!
TOUR PRICE: From US$85 per person + US$6 per vehicle to enter Myakka River State Park
5. Spend the day at The Ringling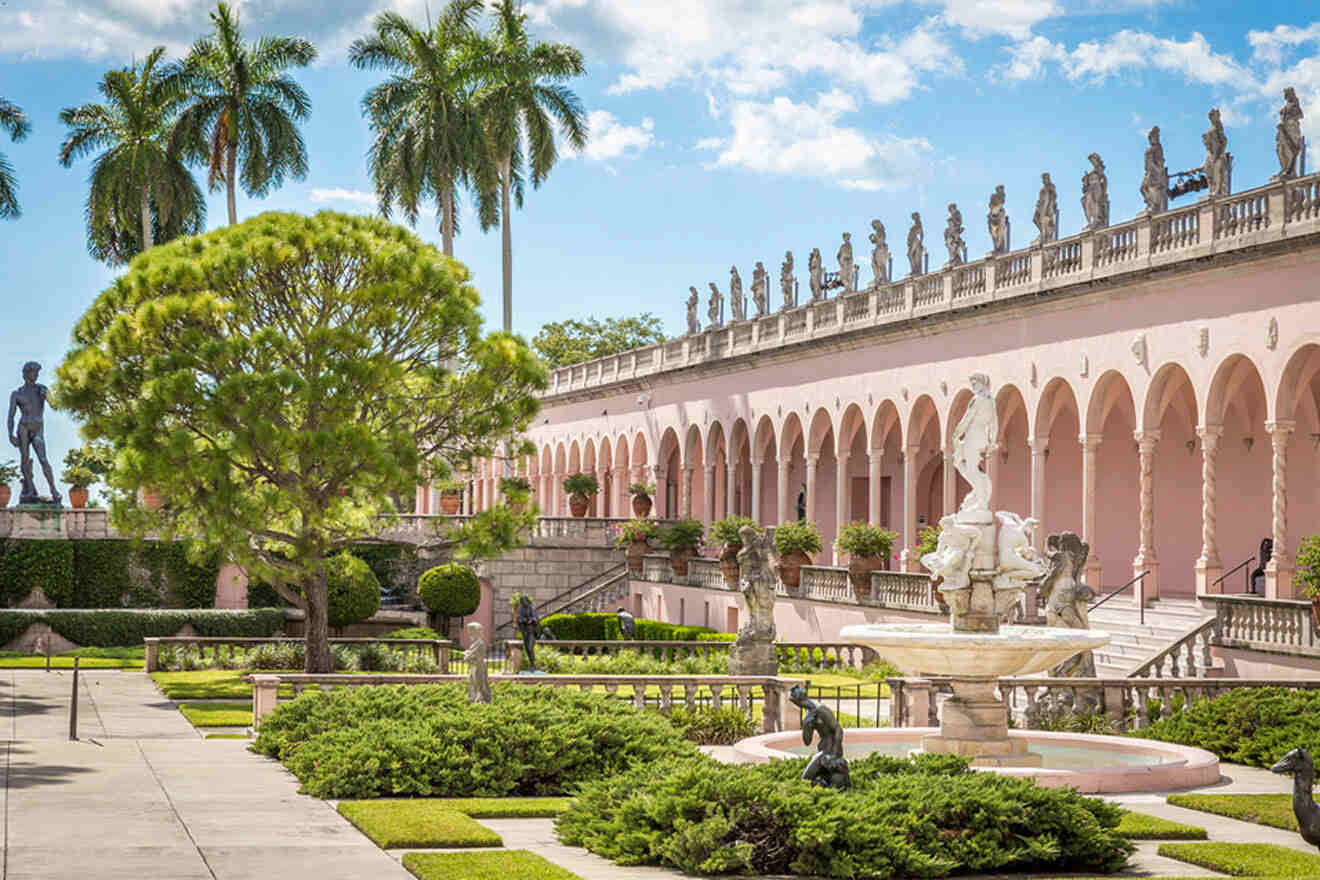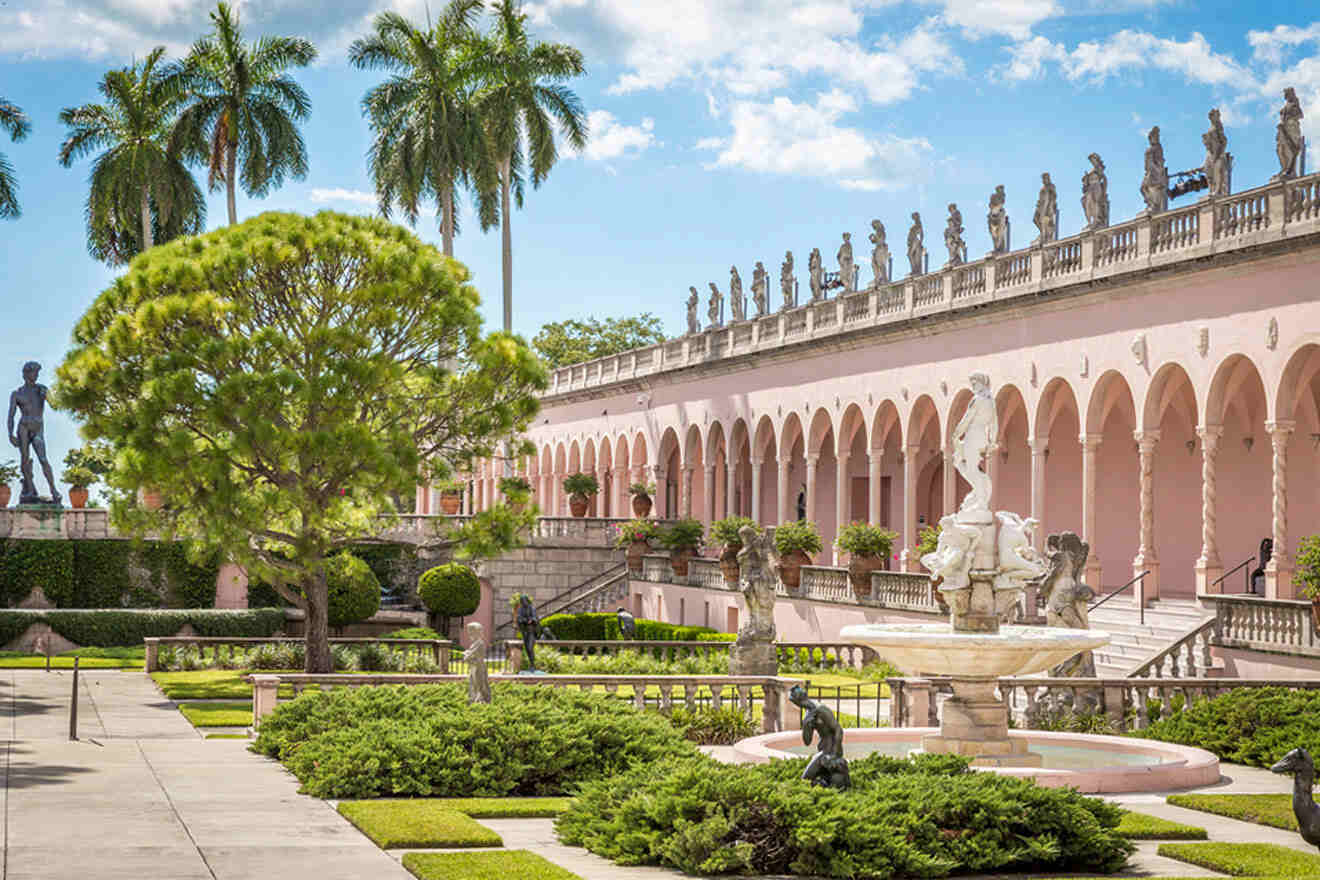 Sarasota is known for its connection to the circus. John Ringling of Ringling Bros. and Barnum & Bailey played an important role in Sarasota's history.
What was once the Ringling's private estate is now the finest Florida attraction, paying homage to John Ringling's accomplishments, contributions, and somewhat eccentric taste?
Think of The Ringling as a museum complex, as it encompasses 66 acres (27 hectares) with several different buildings and areas to explore. In addition to Ca d'Zan, which we covered in #3 on our list of best things to do in Sarasota (since it requires separate admission), here are the must-sees on your visit to The Ringling.
John & Mable Ringling Museum of Art – This museum was originally opened to the public by John Ringling in 1931, who gifted it to the people of Florida right before his death. Today, it's the official state art museum of Florida and home to over 28,000 works in addition to rotating exhibits. The museum is a work of art in and of itself! Tours are complimentary with admission.
Circus Museum – This one has been sharing the joy of the circus and its rich history with guests since 1948. There are so many fascinating things to see here, including performers' wardrobes and props, parade wagons, a cannon that once shot performers out of it, and artifacts documenting the "Greatest Show on Earth."
Bayfront Gardens – While at the museum, explore the beautiful Bayfront Gardens, including Mable Ringling's Rose Garden, the Dwarf Garden, Millennium Tree Trail, and The Ringling Arboretum.
Admission includes entry to the Museum of Art, Circus Museum, Bayfront Gardens, and the Kotler-Coville Glass Pavilion. To save time waiting in line, you can purchase tickets online.
The Ringling is part of the College of Fine Arts at my alma mater, Florida State University. Go Noles!
PRICE: US$25 for adults, US$5 for children ages 6+
6. Go wild at the Big Cat Habitat & Gulf Coast Sanctuary
Next up on our list is by far one of the most unique things you can do here: a visit to the Big Cat Habitat & Gulf Coast Sanctuary. It's a sanctuary in Sarasota that has been rescuing animals in need and providing a forever home for those who cannot survive in the wild since 1987!
As the name suggests, Big Cat Habitat's specialty is rescuing and caring for large, exotic cats, like lions, tigers, ligers, and tigons! Fun fact: a liger is the offspring of a male lion and female tiger, while a tigon is the offspring of a female lion and male tiger.
What really stands out about this sanctuary is how well they love and care for their over 150 animal residents. It's not a zoo or a tourist attraction but a place where the animals' well-being truly comes first.
In addition to observing the beautiful big cats that call this sanctuary home, get to know the other animals who live happily in the Big Cat Habitat, like bears, primates, and birds, just to name a few.
For an unforgettable experience, I recommend booking one of the Big Cat Habitat Animal Encounters, where you can meet and hold a 2-toed sloth, silver fox (no, not George Clooney! 😆), ruffed lemur, or wallaby. These encounters start at US$300 per person, and the price includes a day pass.
Whether you opt to sign up for an Animal Encounter or just stick with a standard day pass, you're going to love Big Cat Habitat – it's also one of the best things to do in Sarasota with kids!
Reserve an Animal Encounter, buy day passes, and check real-time availability on the Big Cat Habitat website.
HOURS: Wednesdays through Sundays, from 12 PM to 4 PM
PRICE: US$25 for adults, US$10 for children
7. Shop local at the Sarasota Farmers Market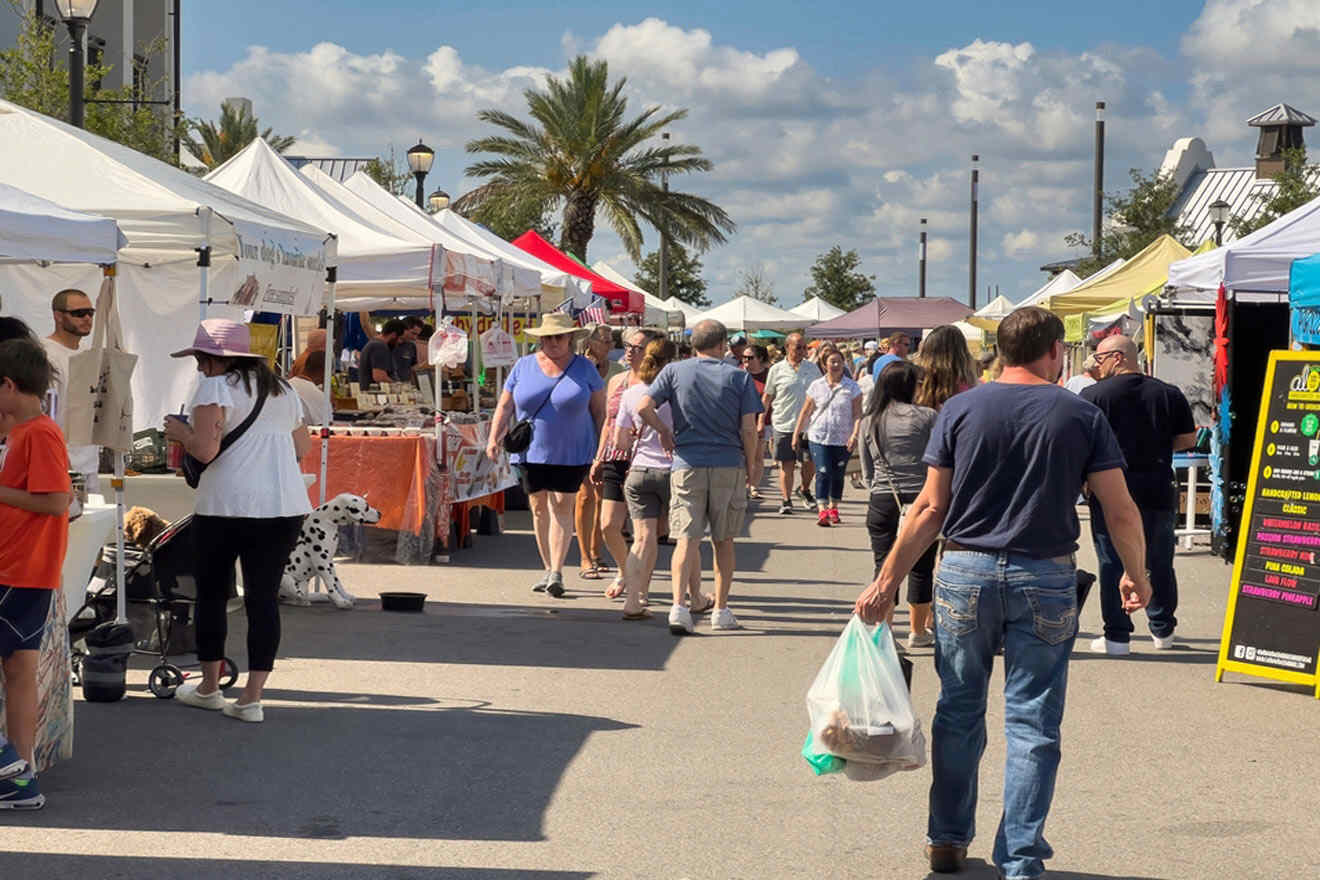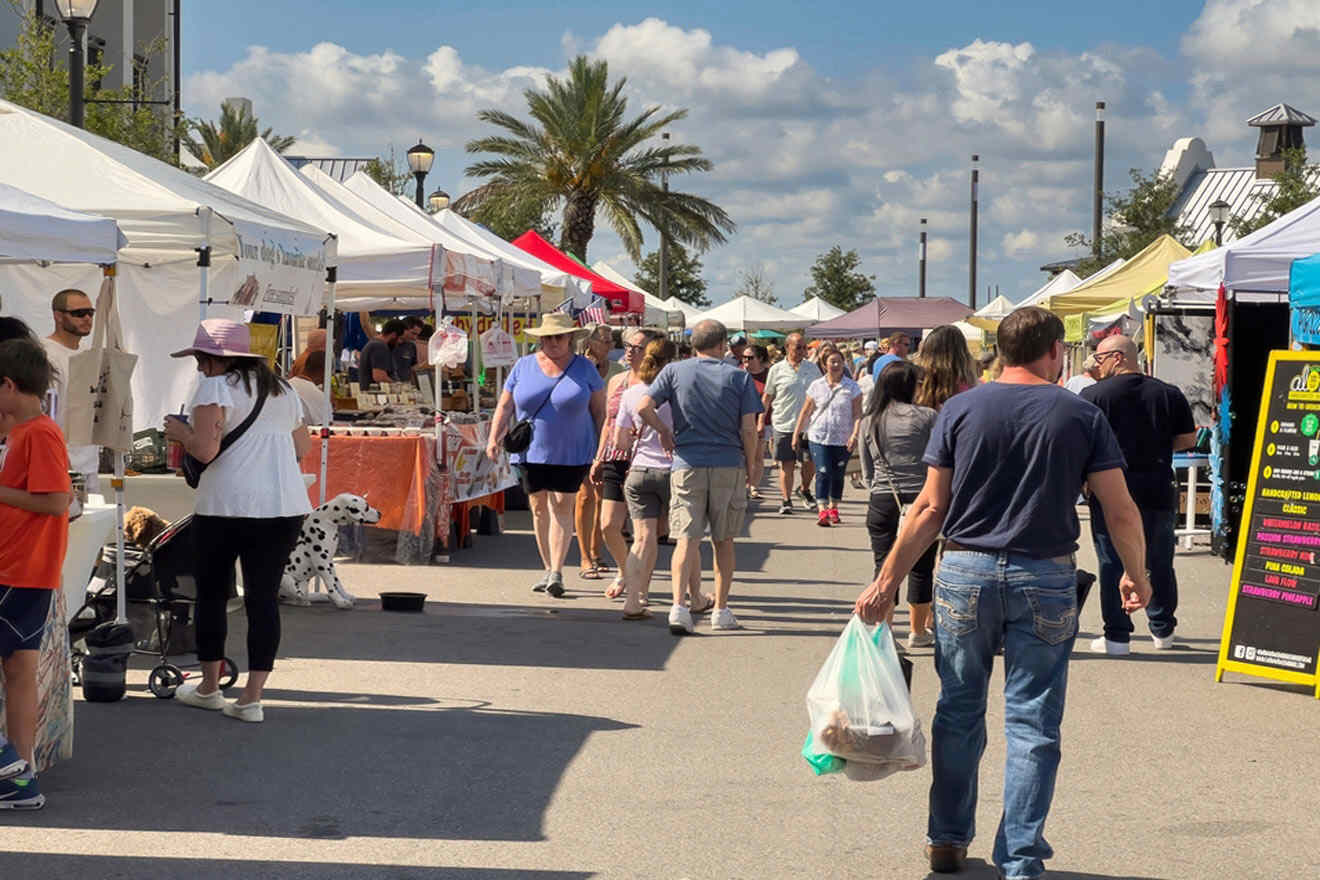 I'm a sucker for a good farmers market on vacation, and if you're the same way, you'll want to add the Sarasota Farmers Market to your list of things to do in Sarasota!
The market has been around for over 40 years and has even been recognized by Southern Living magazine as the best farmers market in Florida! The market's mission is to enhance and improve the quality of life in Sarasota, as well as educate consumers about the products and services of local farmers, local businesses, and local artisans.
There are so many unique, awesome vendors here selling everything from small-batch olive oil to handmade jewelry. You'll definitely find what you need and then some!
The Sarasota Farmers Market is open every Saturday from 7 AM to 1 PM in downtown Sarasota, rain or shine. Leashed, well-behaved dogs are welcome. 🐶
8. Bring your kids to Sarasota Jungle Gardens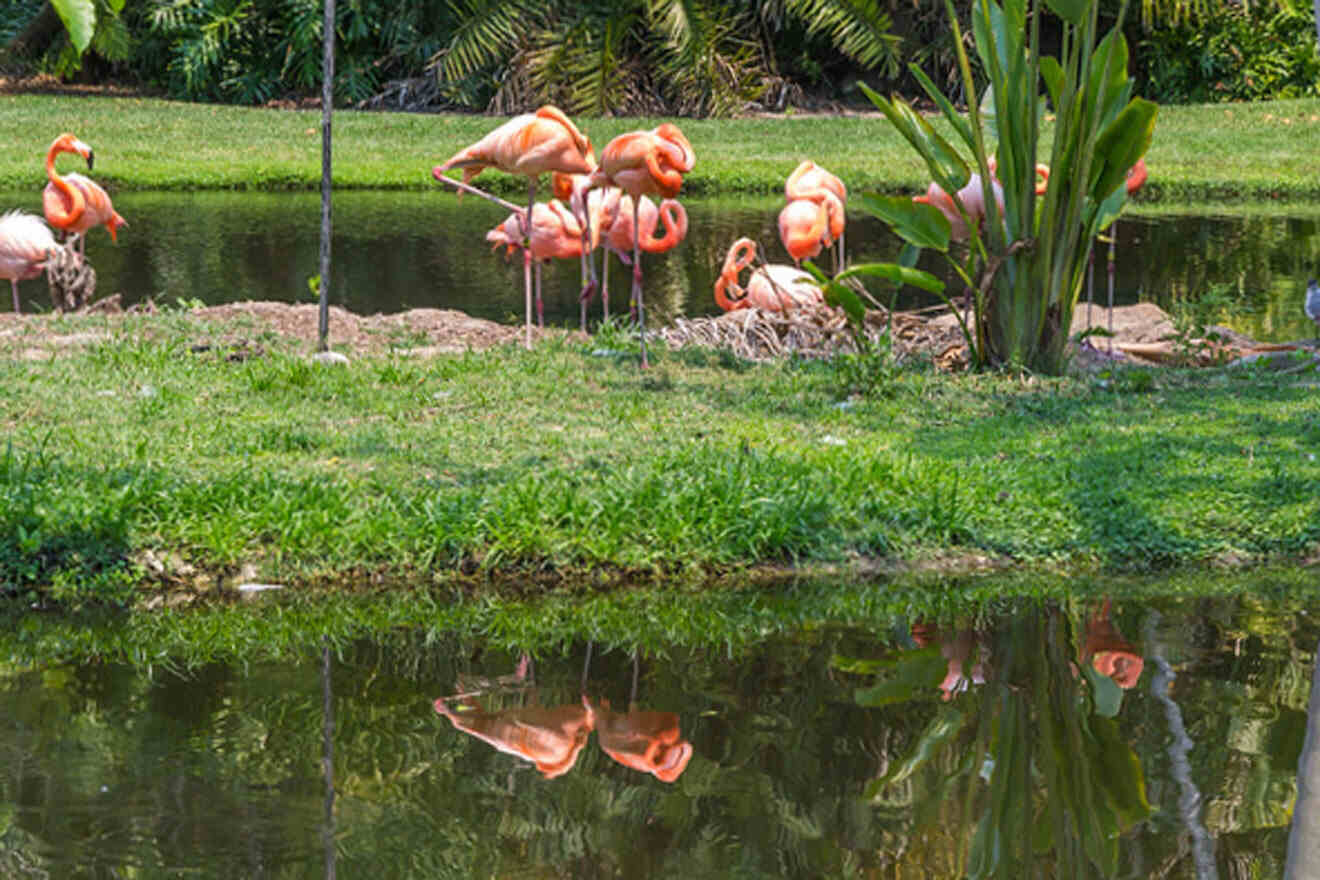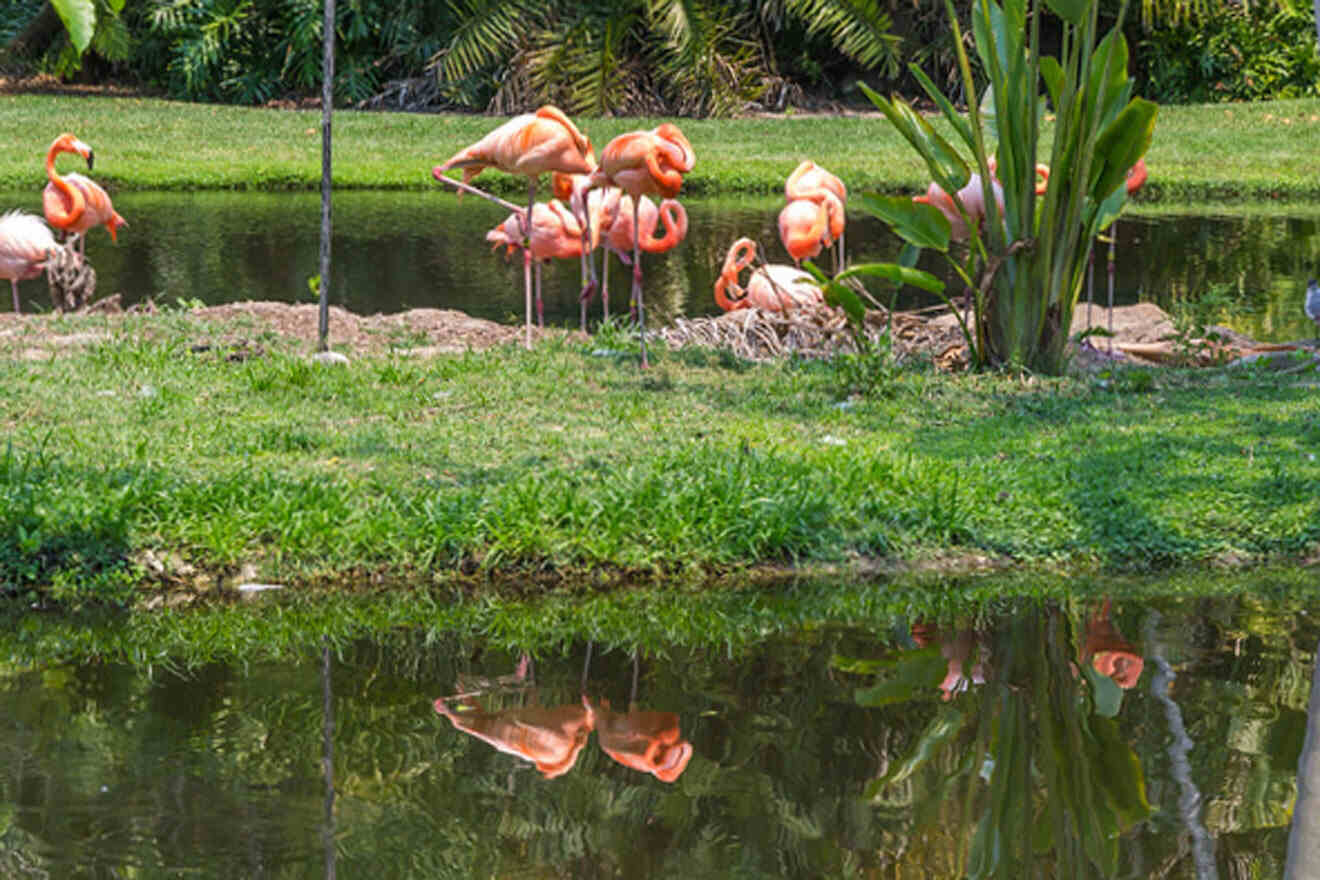 Established in 1939, Sarasota Jungle Gardens is one of Florida's oldest continuously operating attractions and continues to delight visitors with its flora and fauna to this day.
Covering 10 acres (4 hectares) of lush tropical foliage and winding jungle roads, the Gardens are home to 200 native and exotic animals. You can see birds of prey, primates, small mammals, parrots, macaws, alligators, crocodiles, and lots of other reptiles here, but the pink flamingos are the #1 fan favorite – you can even hand-feed them!
In addition to the amazing animal exhibits and adorable furry friends at the petting zoo, Sarasota Jungle Gardens hosts spectacular shows daily that combine education, entertainment, and some of the resident animals.
PRO TIP: Check out the promotions for chances to save money on admission.
PRICE: US$25 for adults, US$15 for children ages 4+
9. Learn car history at Sarasota Classic Car Museum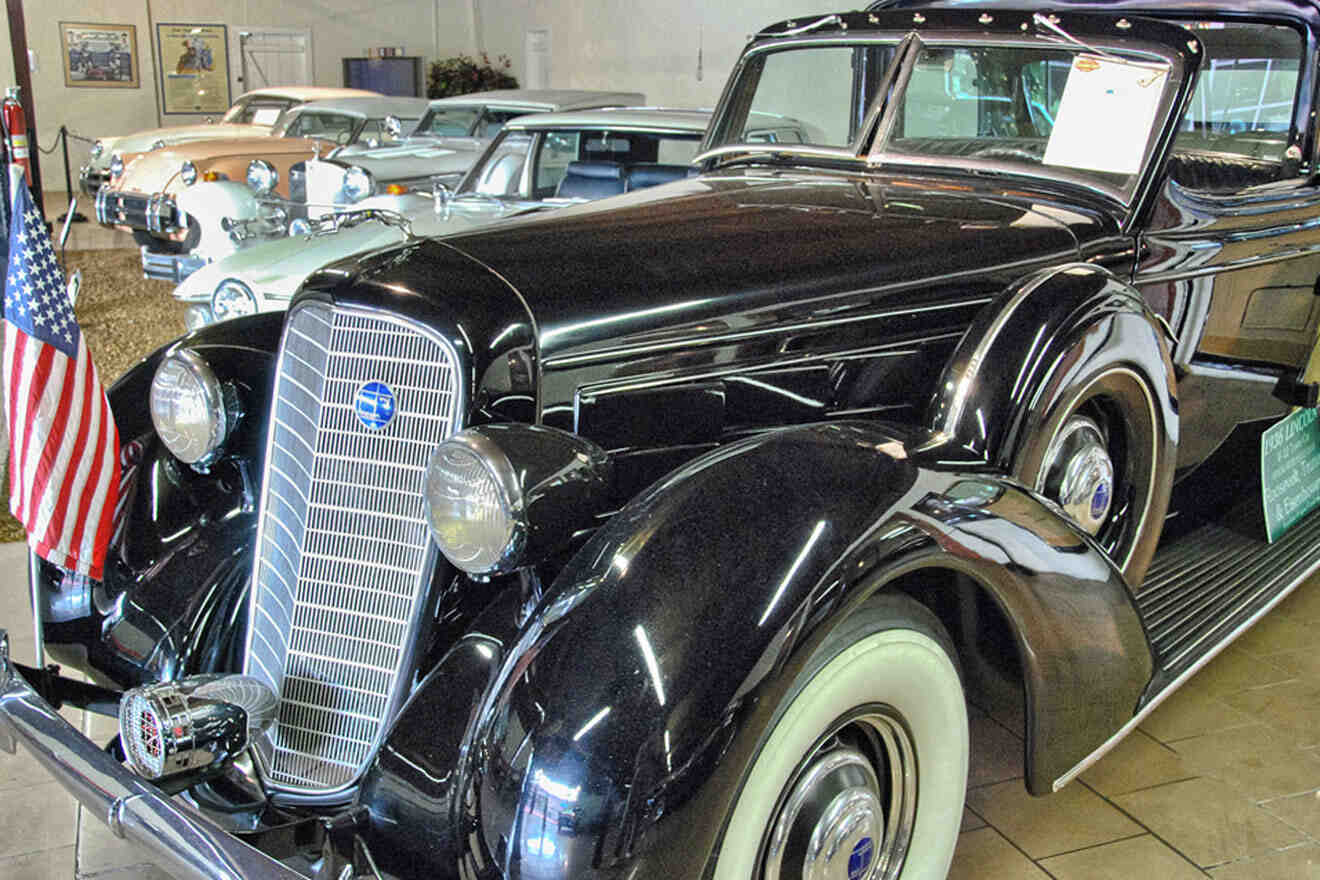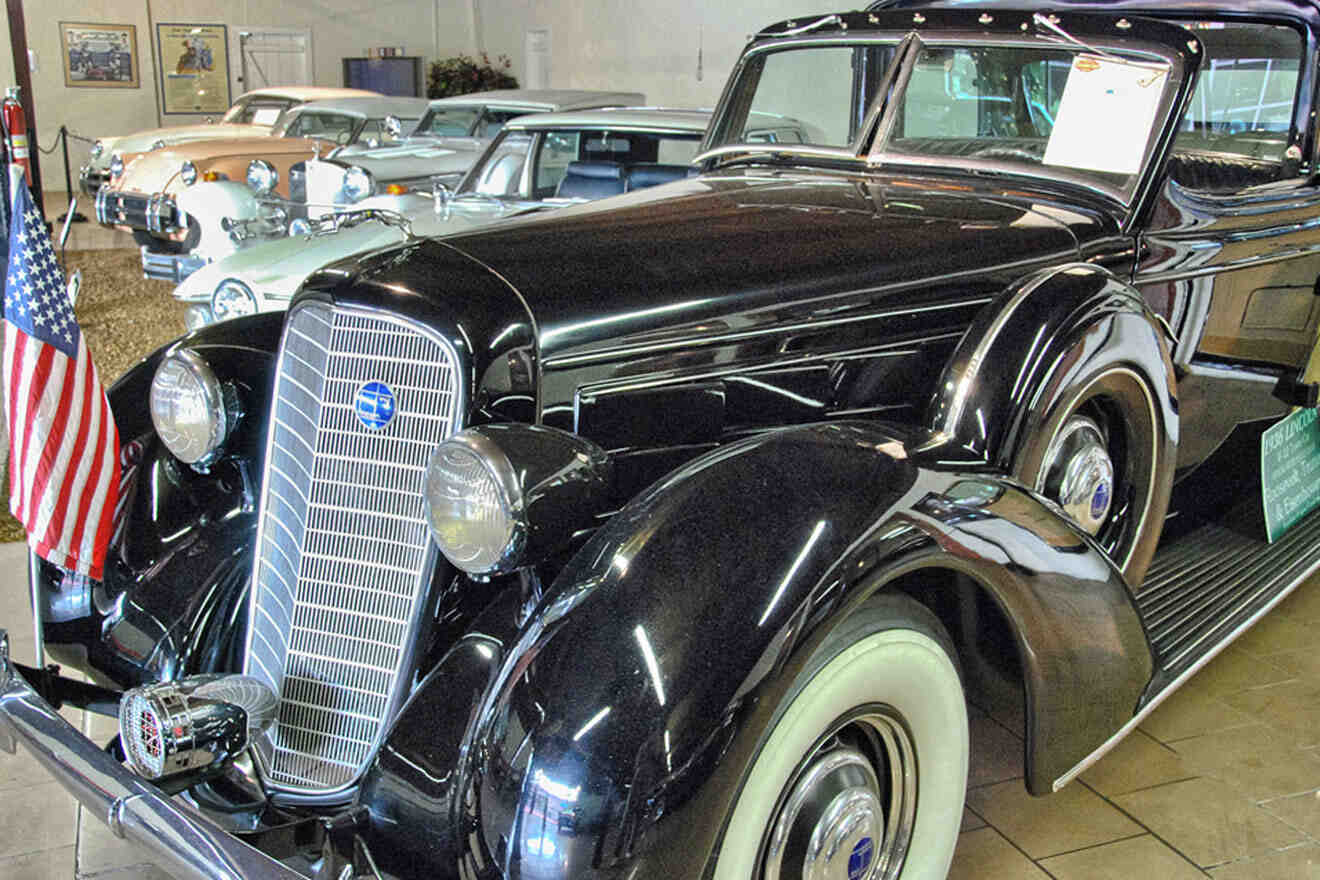 For a one-of-a-kind Sarasota attraction the whole family will love, head to the Sarasota Classic Car Museum, the 2nd oldest continuously operating antique car museum in the country!
Here, you'll find over 75 automobiles, including antique, exotic, European, and rare classic cars on display that represent 100+ years of automotive history. The largest room at the museum, known as the Timeline Room, tells the history of the car, starting from its invention in 1885 to the present and beyond.
In addition to its permanent displays, the museum also features rotating exhibits that celebrate the achievement and innovations of different automotive brands, like Ferrari, Porsche, Cadillac, Bentley, etc.
Only self-guided tours of the museum are available, but there are docents around who are happy to answer any questions you may have!
PRICE: US$19 for adults, US$11 for children ages 6+
10. Shop and dine at St. Armands Circle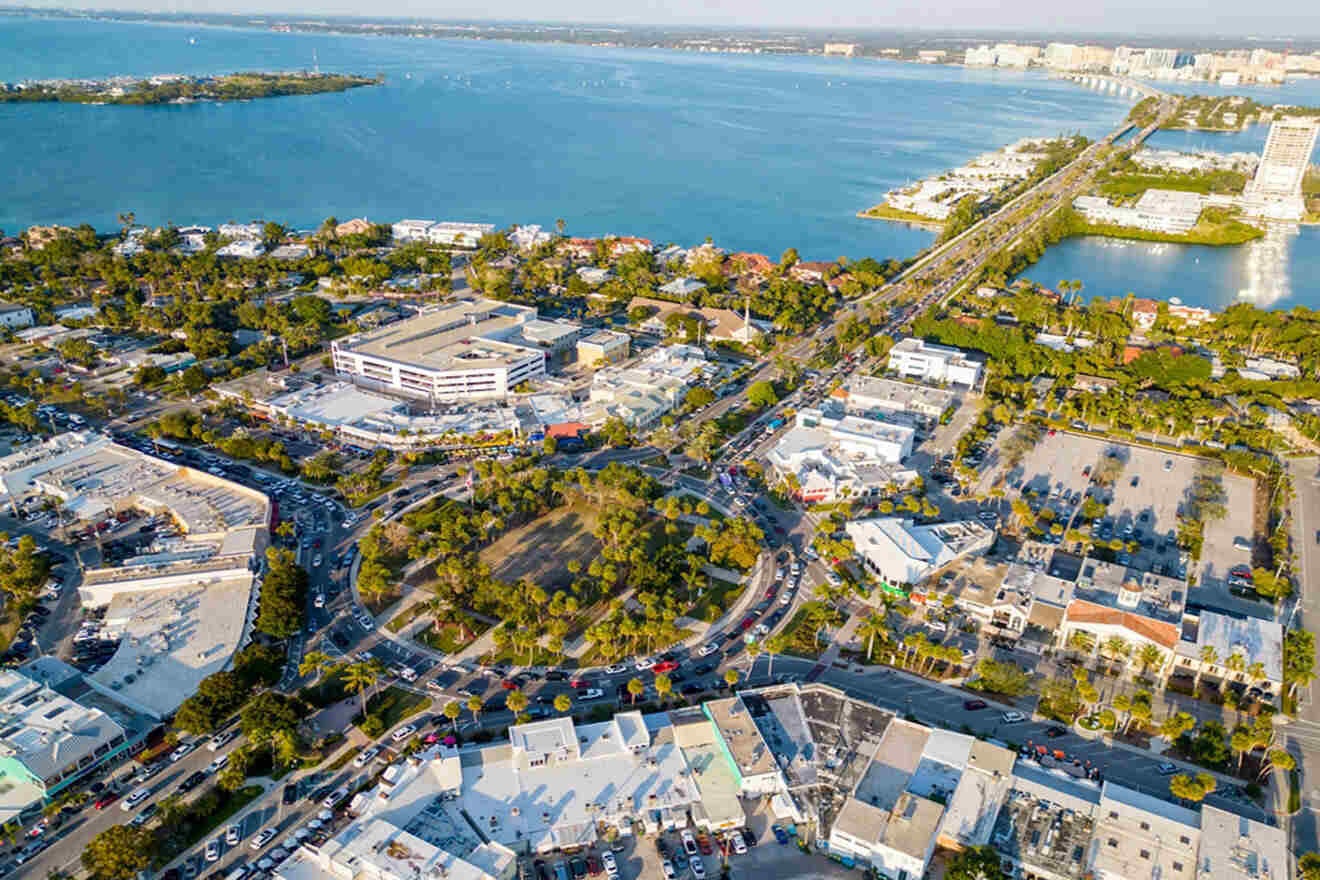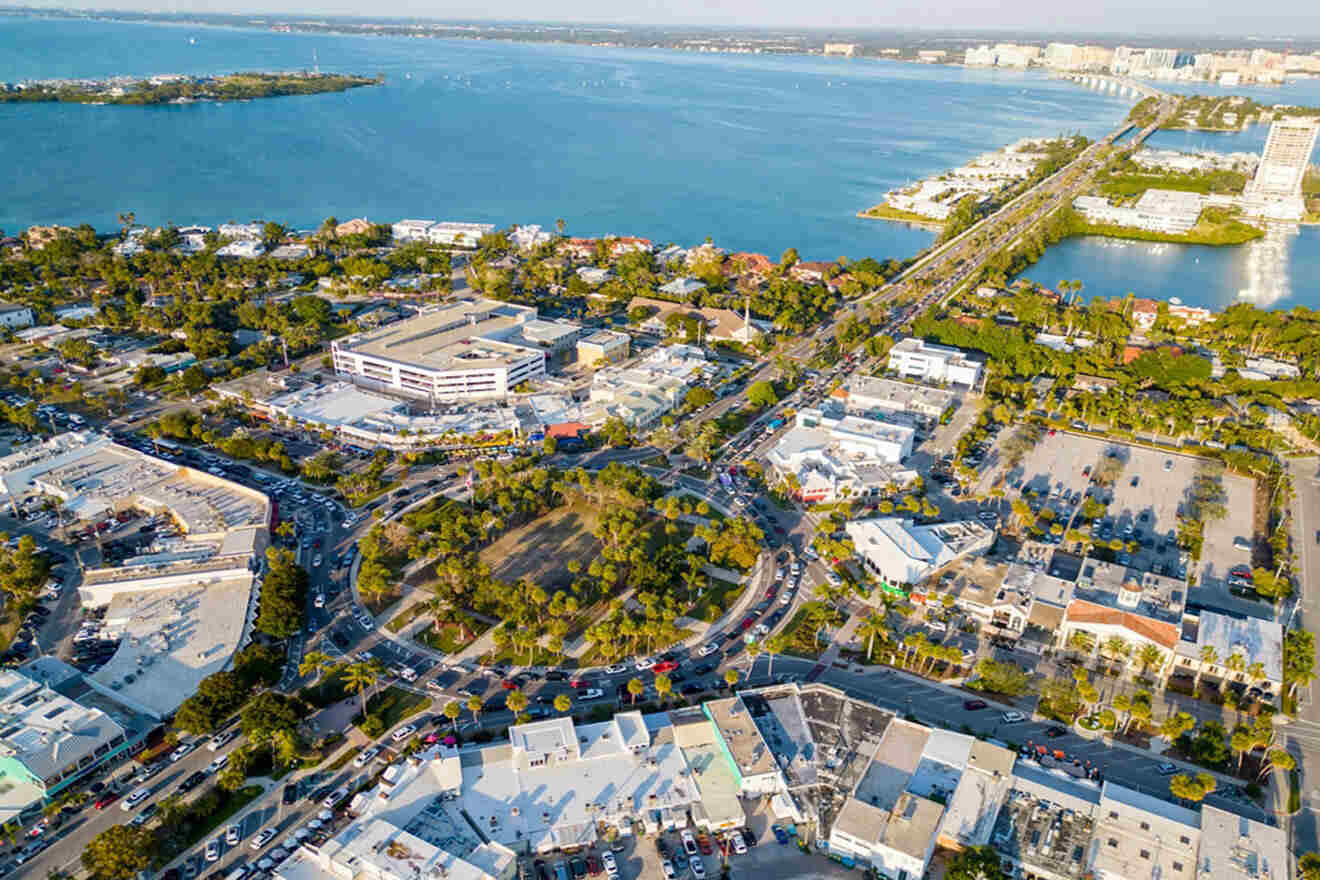 The first time I visited St. Armands Circle, I fell in love with it! This beautiful and historic area boasts over 300 incredible boutiques, restaurants, galleries, and specialty shops, making it a hotspot for shopping and dining in Sarasota.
While St. Armands Circle is in the city of Sarasota, it's actually located on a small island in Sarasota Bay – not to worry, though, you can easily access it by car.
St. Armands Circle is one of my personal favorite things to do in Sarasota. Of course, I'm all about eating and boutique hopping, but I especially love the history of the area: John Ringling purchased the island from Frenchman Charles St. Amand way back when and envisioned an upscale shopping district that would extend from a circle in the center of it – exactly what St. Armands Circle is today!
I highly recommend a meal at Columbia Restaurant while you're visiting. Its original location in Ybor City, Tampa, is Florida's oldest restaurant, as well as the oldest Spanish restaurant in the United States, but all 5 locations are superb and serve up phenomenal food and drinks. Try the sangria – it's unbelievably good.
11. Soak up the sun at Lido Key Beach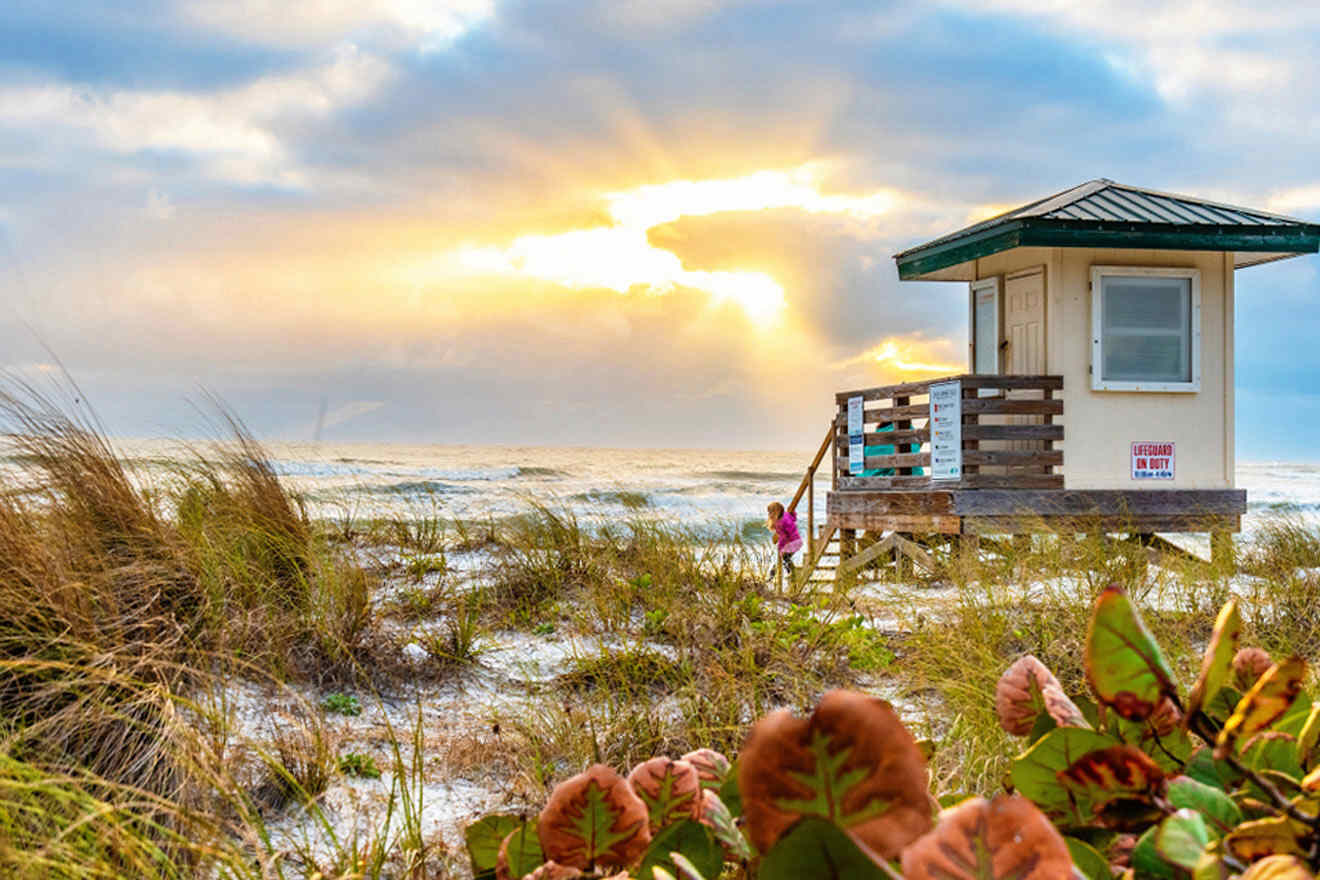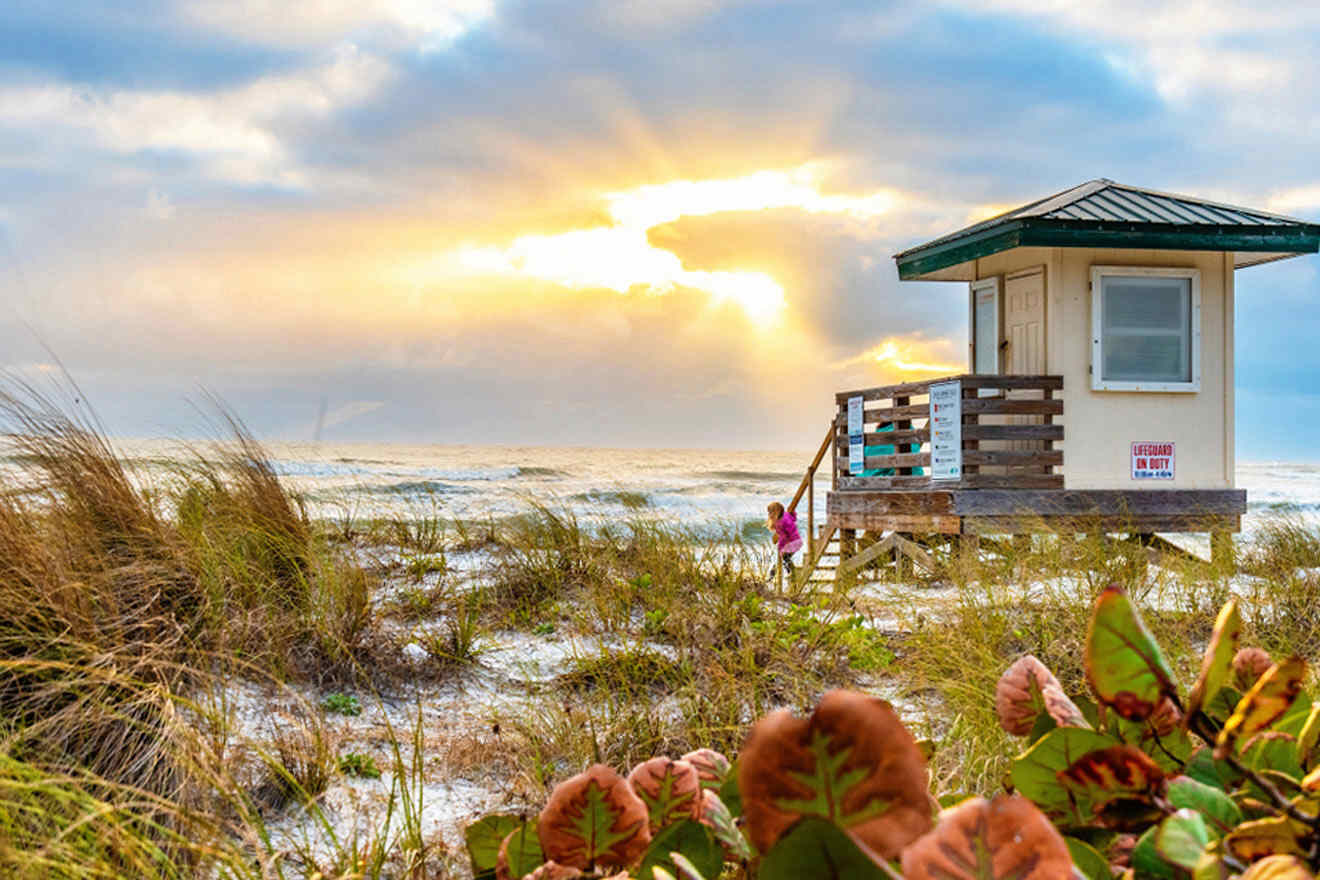 Sarasota, Florida, is a beach lover's paradise, and the first beach we're talking about in today's article is Lido Beach, located just a few blocks away from St. Armands Circle (#10 on our list) on Lido Key. Being able to walk from one to the other is a huge plus in my book, and they're under a mile apart.
Lido Beach is one of the most popular beaches for families in Sarasota thanks to its soft sand and gentle waves, but it's still less crowded than other beaches nearby, like world-famous Siesta Key – we'll be chatting about that up next. 😉
Another thing to love about Lido Key Beach is the convenient amenities. There are restrooms, outdoor showers, a playground, an observation deck, and concessions with umbrellas, chairs, and other beach gear rentals. You don't even need to pack up and leave the beach when you're ready to refuel – you can stop by the Seabreeze Café for a bite.
12. Visit the #1 beach in America, Siesta Key Beach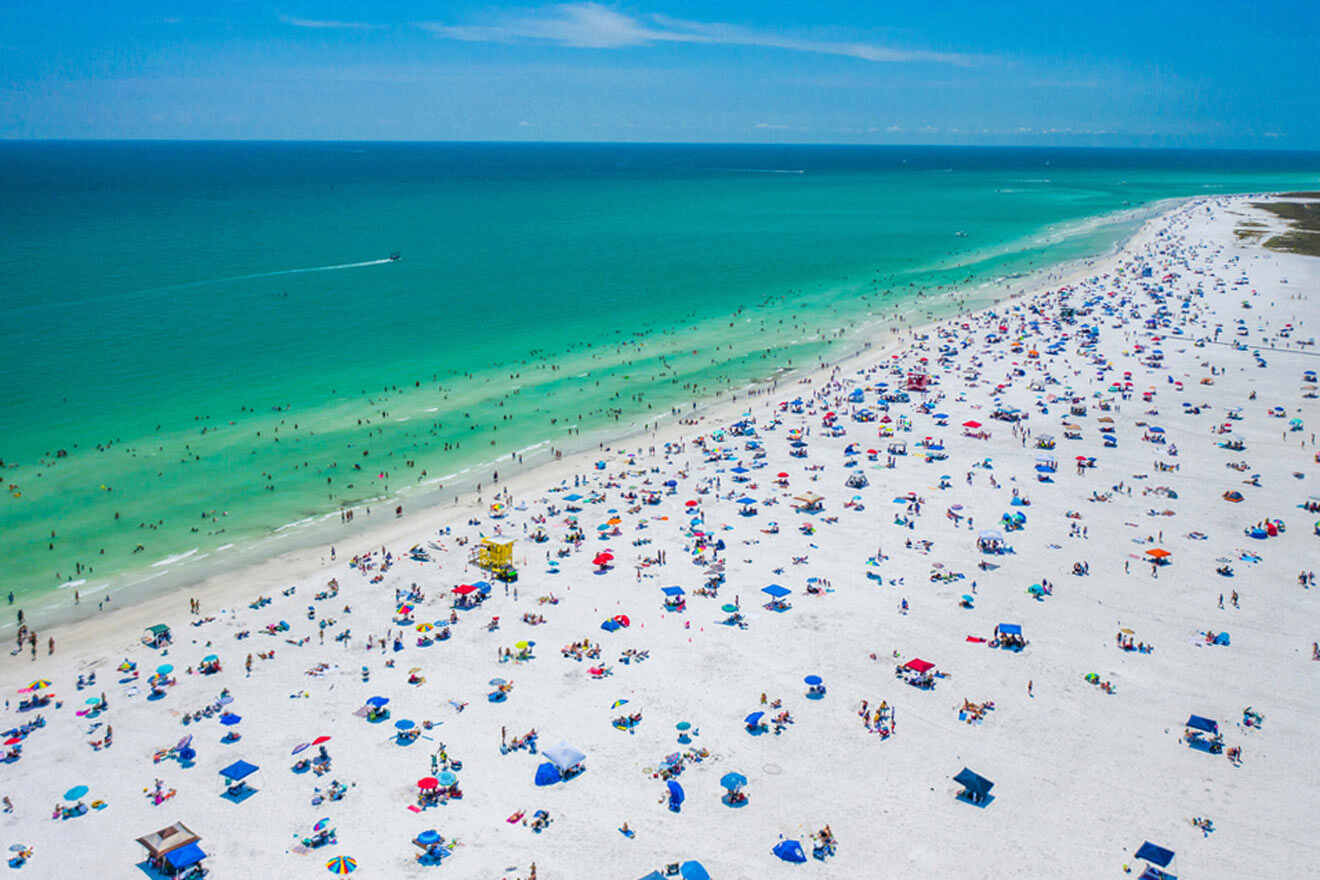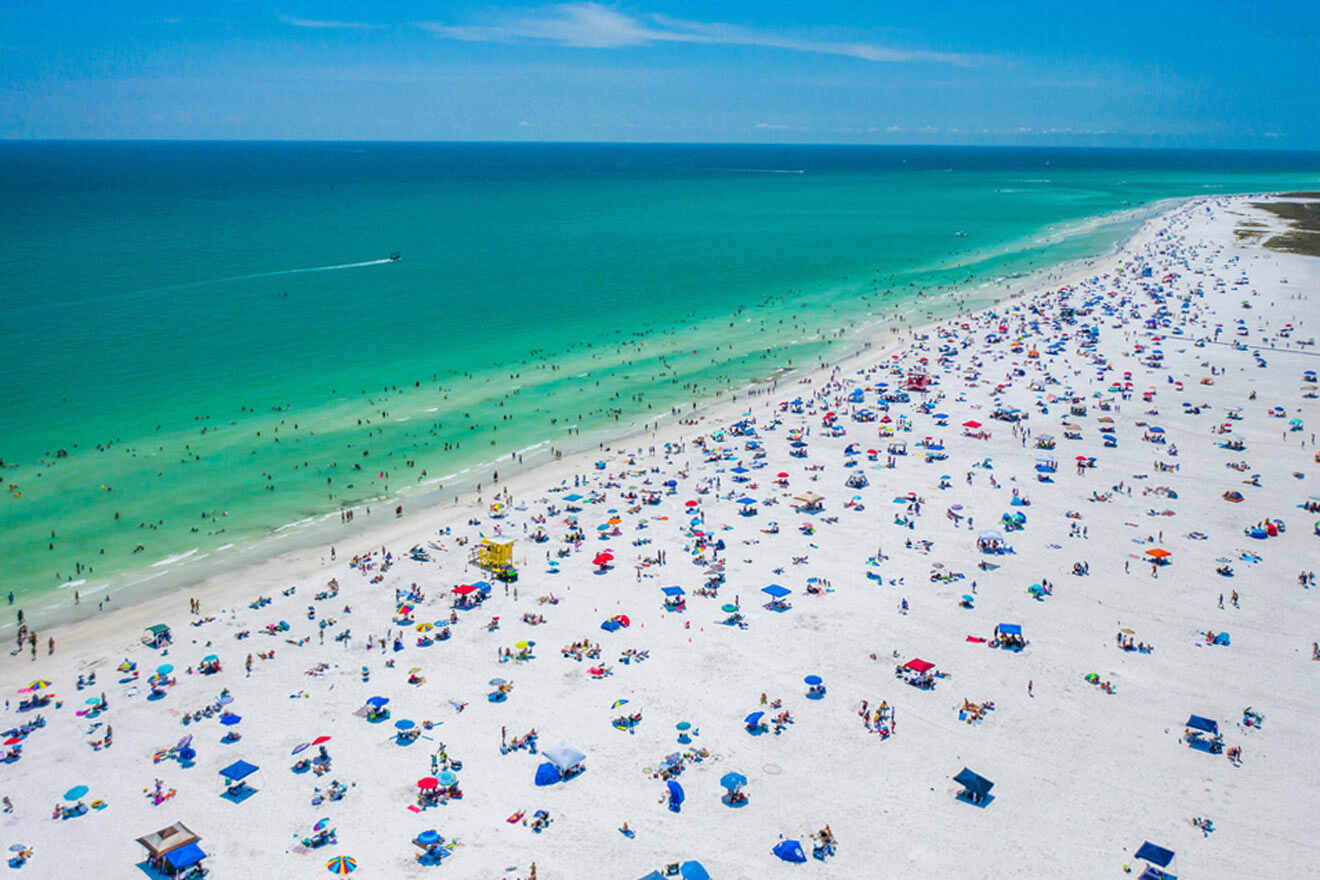 There are a lot of postcard-worthy beaches in Florida, especially on the Gulf Coast, so you really can't go wrong, no matter what beach you end up on. However, there is one beach that consistently reigns supreme above the rest. It's been recognized not only as one of the best beaches in the country but one of the best beaches in the world. That beach is Siesta Key Beach.
You may be wondering what makes it so special. After all, don't most of Florida's Gulf Coast beaches have pretty water and nice sand? But the beauty of Siesta Key Beach is on a whole other level! What other beach has over 22,000 5-star Google reviews?
The sand here is made up of 99% pure quartz from the Appalachian Mountains, which is why it's strikingly white, powdery, and soft. With a composition that is majority crystal, it disperses heat rather than absorbing it, so the sand stays cool to the touch during the hottest months and literally sparkles in the sunshine.
When you're ready to wrap up your beach day, head to the main street on Siesta Key, called Siesta Key Village. You'll find plenty of options for shopping, dining, and entertainment. After the sun goes down, Siesta Key Village is the perfect place for beachfront Sarasota nightlife!
13. Learn and play at the Mote Marine Aquarium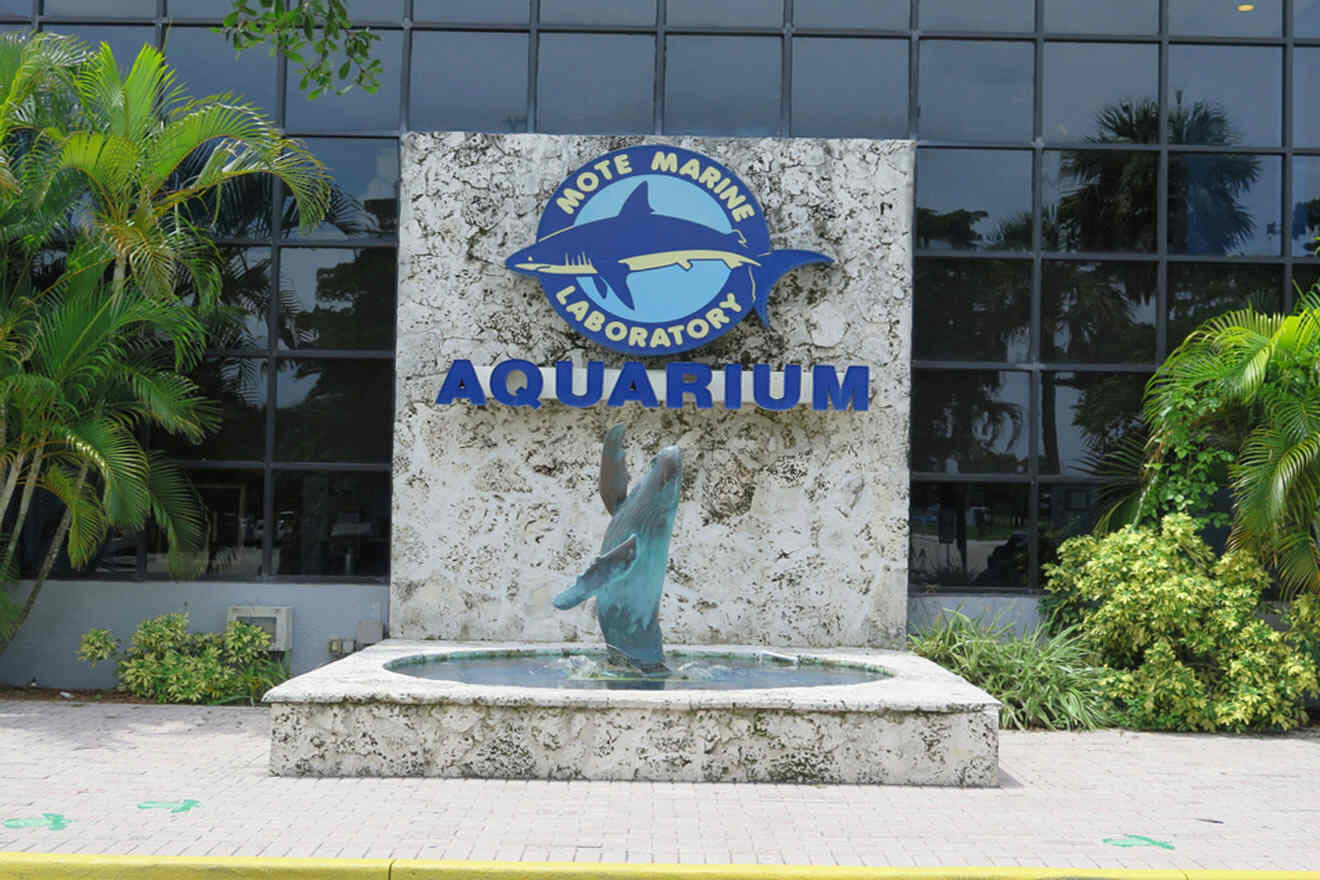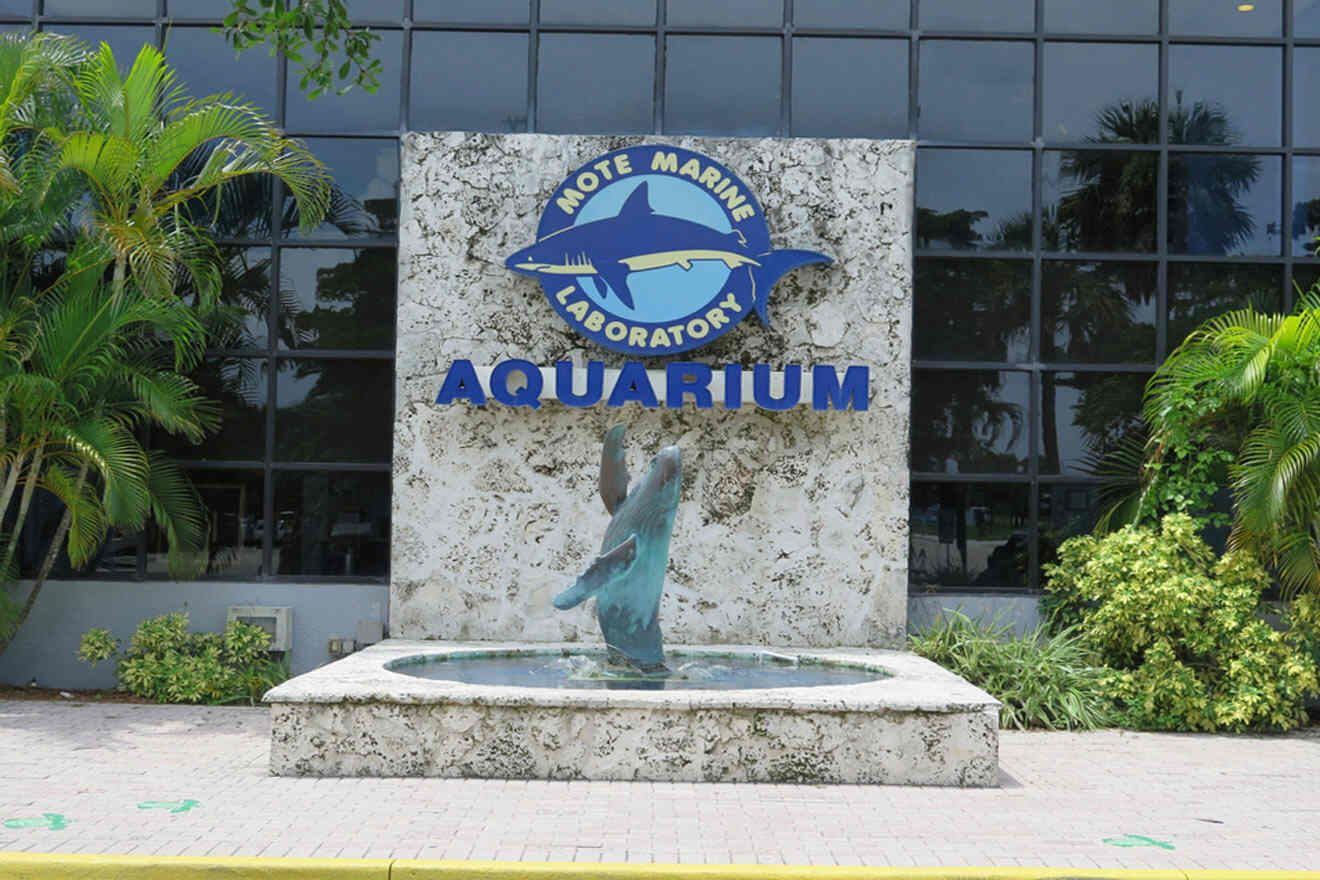 The Mote Marine Laboratory and Aquarium is a must if you're passionate about the ocean and marine life! As the name suggests, the Mote Marine Laboratory and Aquarium is, first and foremost, a research lab and rehabilitation center dedicated to conserving our oceans and the vast life within them.
Visitors are welcome to Mote Aquarium, which boasts amazing animal exhibits, including manatees, sharks, otters, sea turtles, fish, alligators, and other animals, as well as countless other things to do and see.
You can take a photo inside a giant replica Megalodon Jaw, pet stingrays, explore the deep sea in a virtual reality experience, and get to know Molly, the Mote's 27-foot-long (8 m) preserved giant squid. Here, you'll have the most fun you've ever had learning.
PRICE: US$26 for adults, US$19 for children
14. Have fun in the sun at Bayfront Park on Sarasota Bay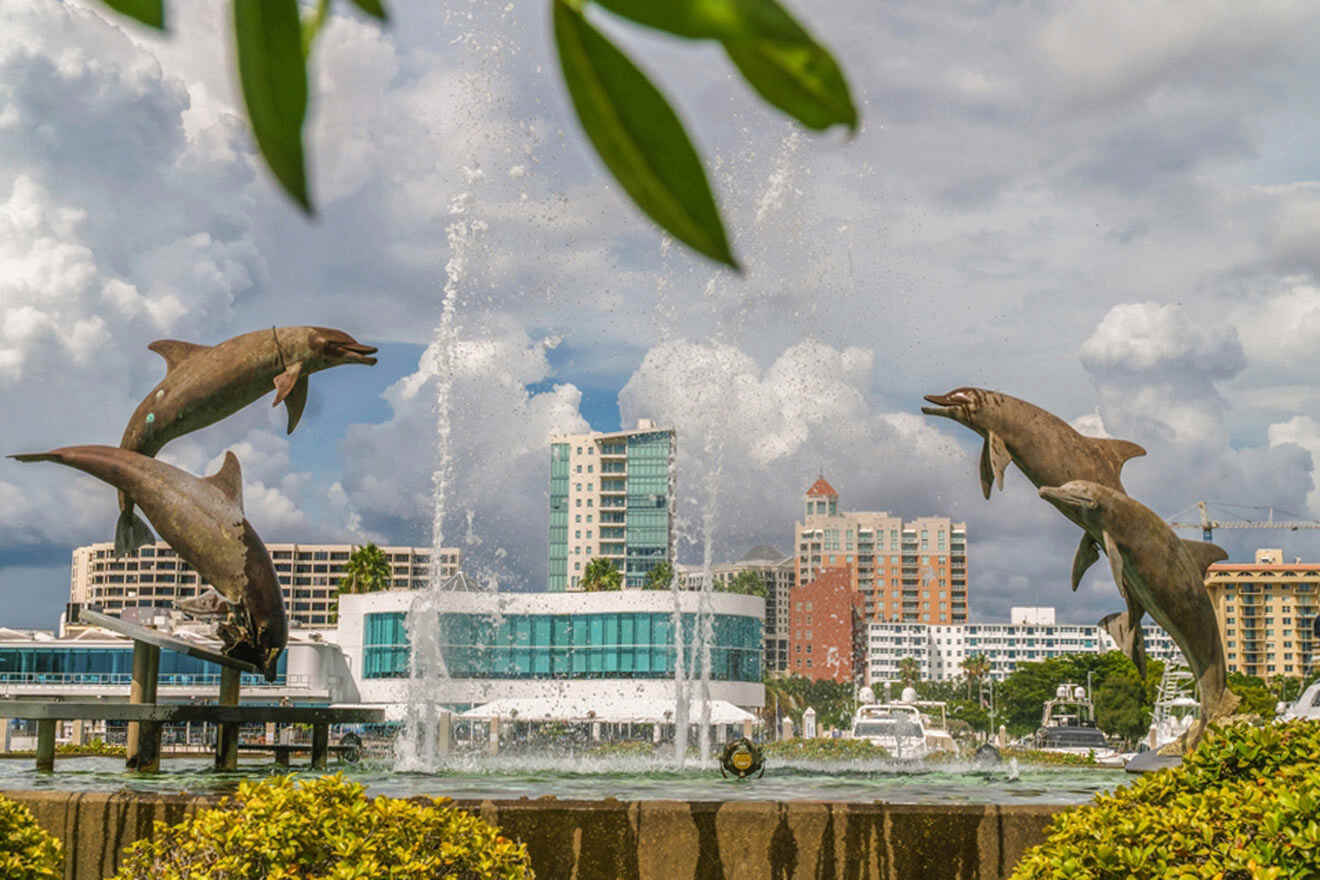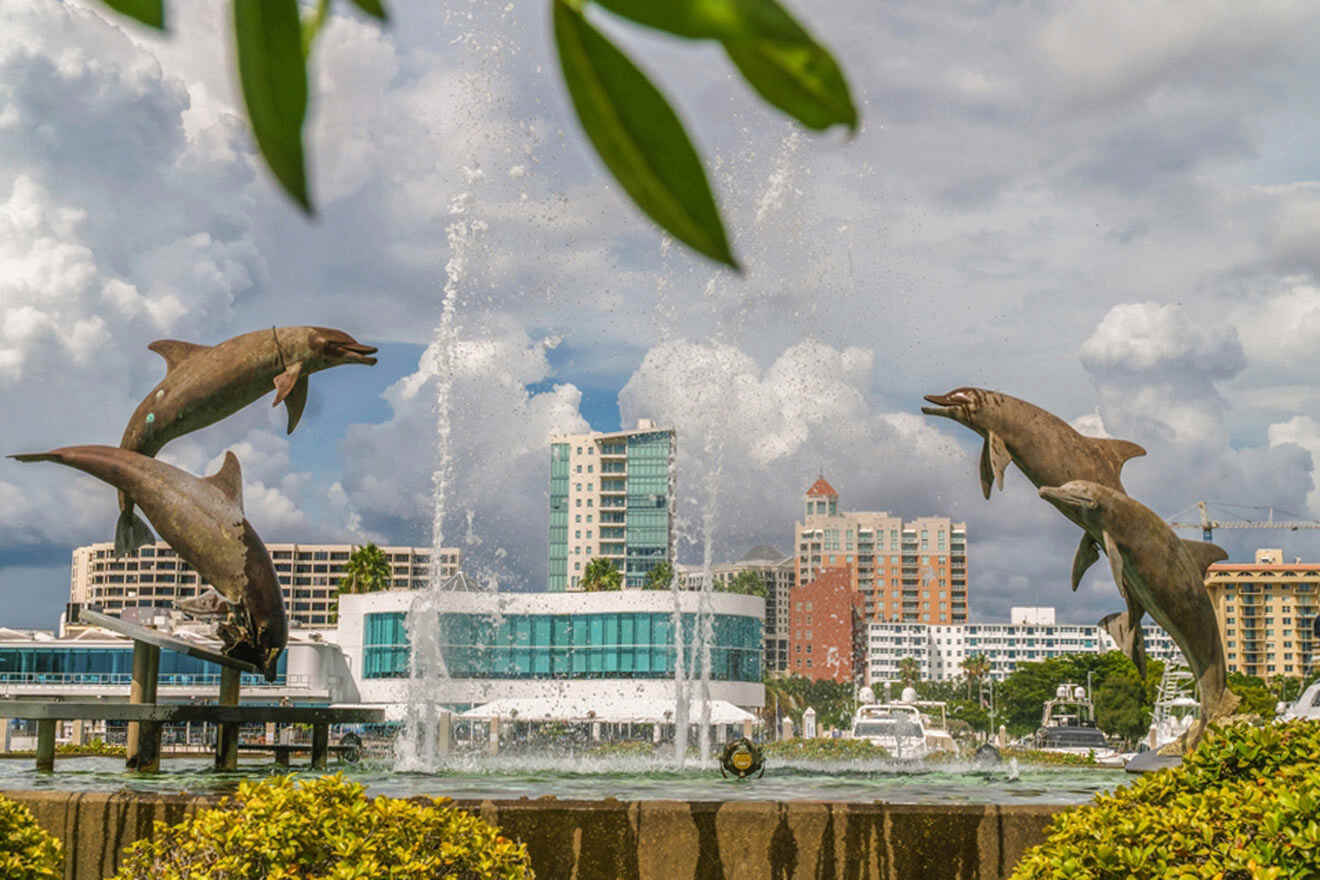 Enjoy some time in the Florida sunset at Bayfront Park in Sarasota. Situated on stunning Sarasota Bay, Bayfront Park is right across the street from downtown, making it a wonderful break from the hustle and bustle.
Take a stroll around the beautiful grounds, watch the boats come in and out of the marina, or grab some grub and listen to live music nearby at O'Leary's Tiki Bar & Grill. The views at Bayfront Park are gorgeous – try to arrive in time for the sunset if you can!
There are a ton of amenities, such as an indoor recreation center, a playground, a basketball court, pickleball courts, picnic tables, restrooms, and everything you need for some fun in the sun.
15. Get inspired at the Marietta Museum of Art & Whimsy
If you're in need of a dose of happiness and love exploring off the beaten path, check out the Marietta Museum of Art & Whimsy. This refreshingly unique museum, sculpture garden, and non-profit organization boast a growing collection of lighthearted, whimsical contemporary art that you won't be able to help to smile at!
Inside its iconic pink building, you'll find delightfully whimsical art at every turn, complete with light and sound effects. Outside, the joyful art continues in the sculpture garden, featuring pink flamingos, pink pigs, and other serotonin-boosting sculptures under a canopy of live oaks.
The Marietta Museum of Art & Whimsy is only open seasonally from November to May, but luckily, those are the absolute best months to visit Sarasota. With a goal of making the arts accessible to everyone, there is no charge for admission, although a donation of US$10 is suggested.
16. Go birdwatching at the Celery Fields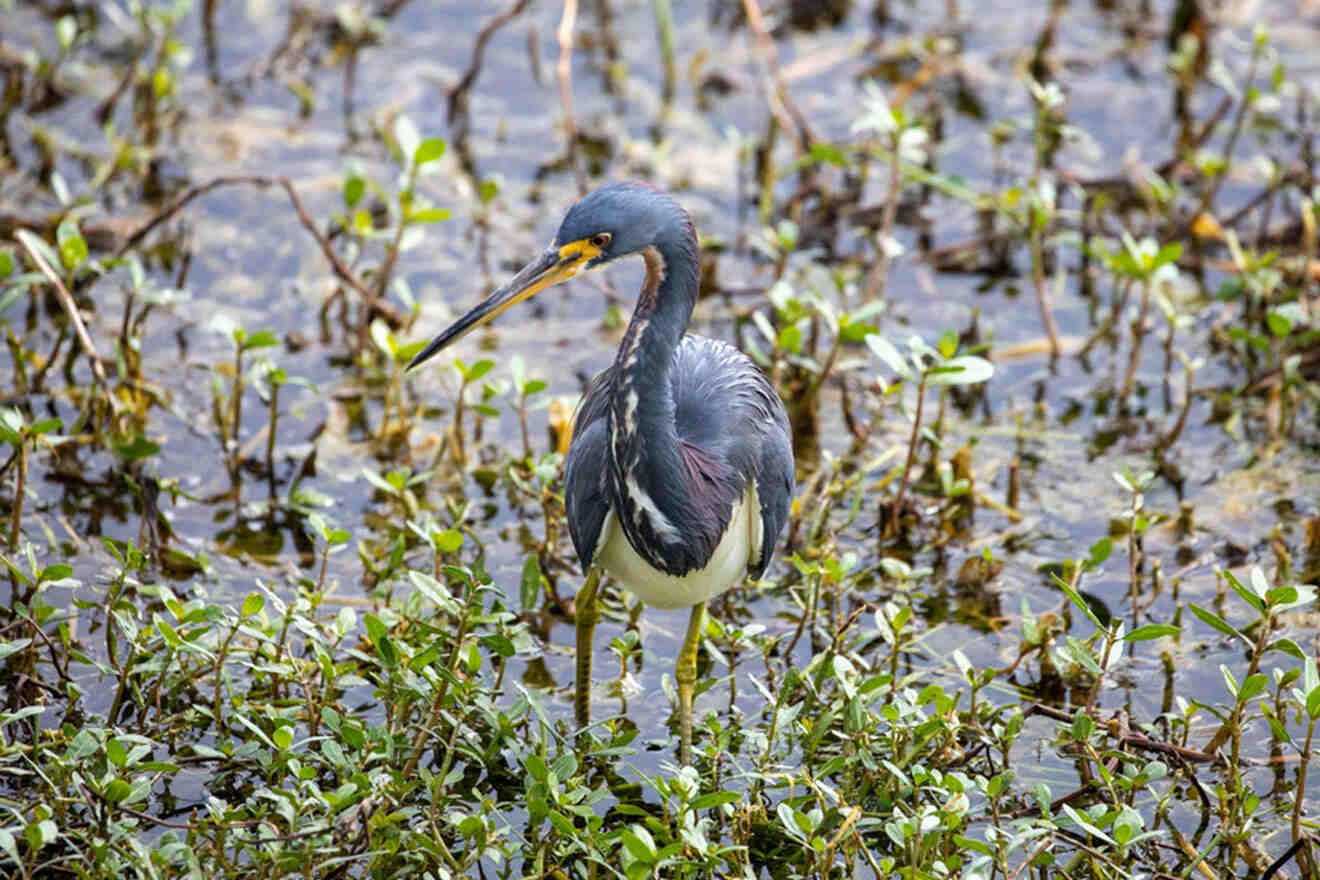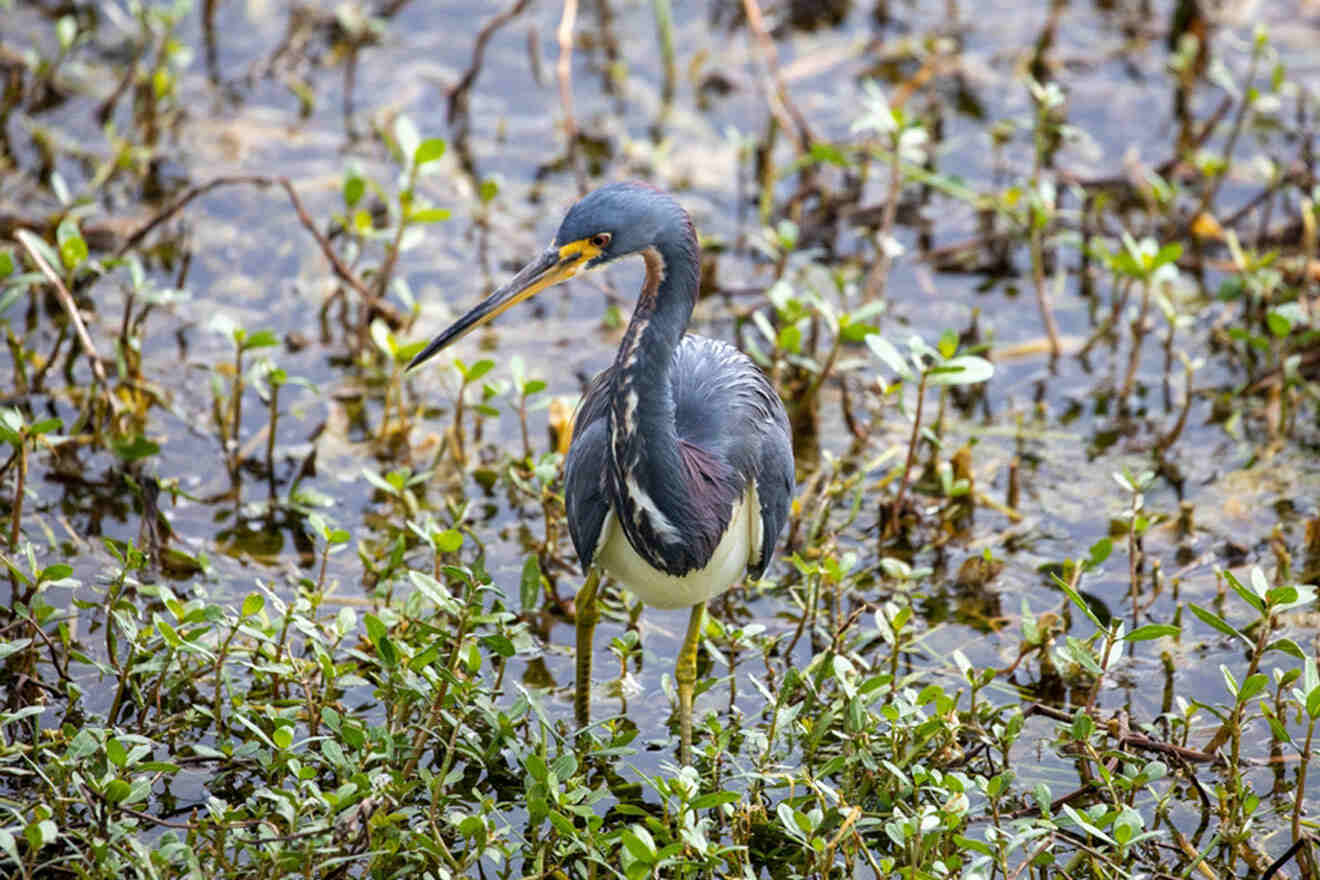 Even though it shares a name with my least favorite food, the Celery Fields in Sarasota are a must-see. Covering 400 acres (162 hectares) of restored wetlands, this area is part of the Great Florida Birding Trail, and it's one of the best birdwatching spots in all of southwest Florida. Over 246 different species of birds have been recorded here!
There are many ways to spend a day at Celery Fields, and popular activities include fishing, biking, kayaking, and exploring on foot. It's such a serene and beautiful place – I've never been anywhere quite like it before. Stop into the Sarasota Audubon Nature Center to learn more about the area and the wildlife that calls it home or to join in on one of their guided nature walks.
17. Catch a show at the Florida Studio Theatre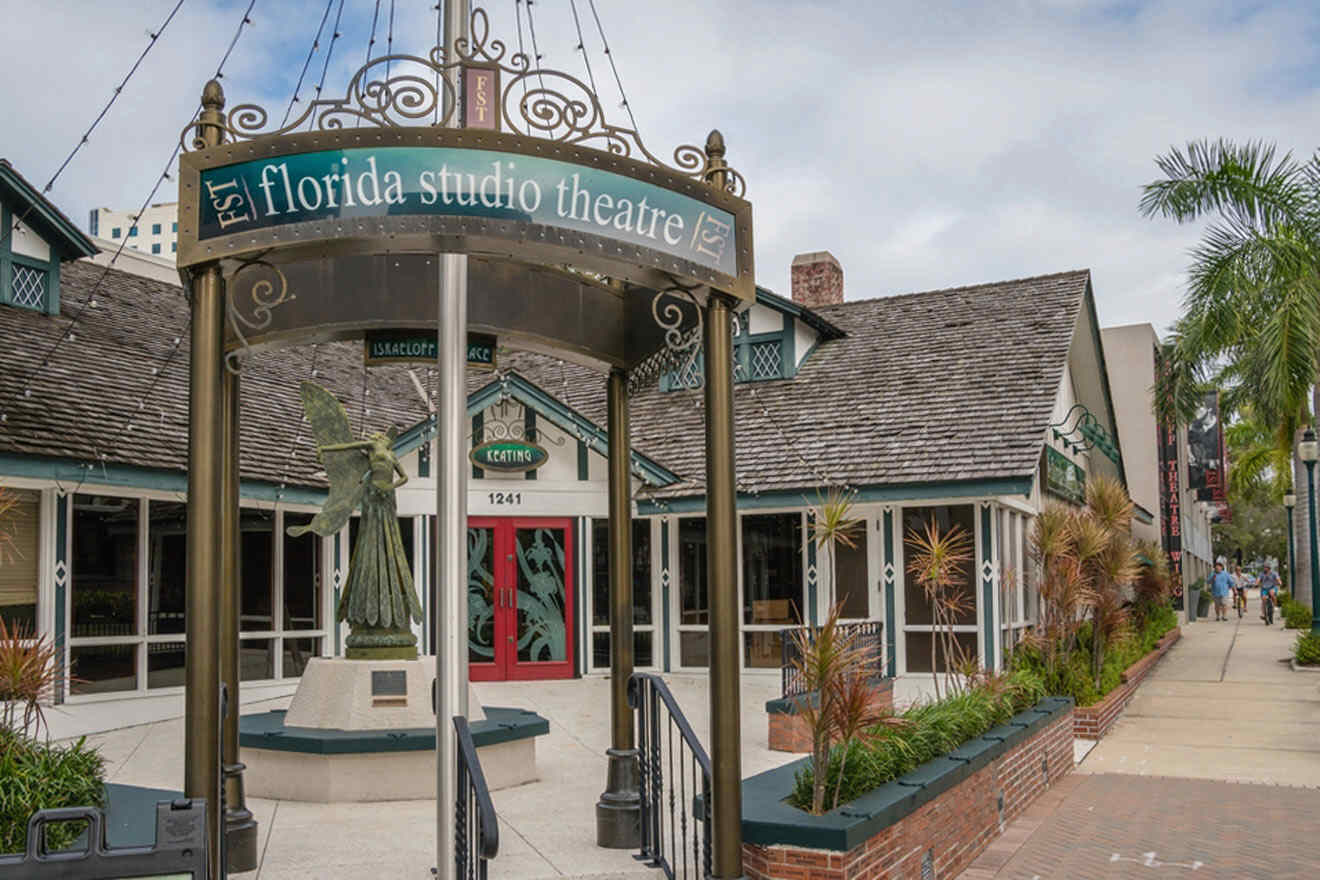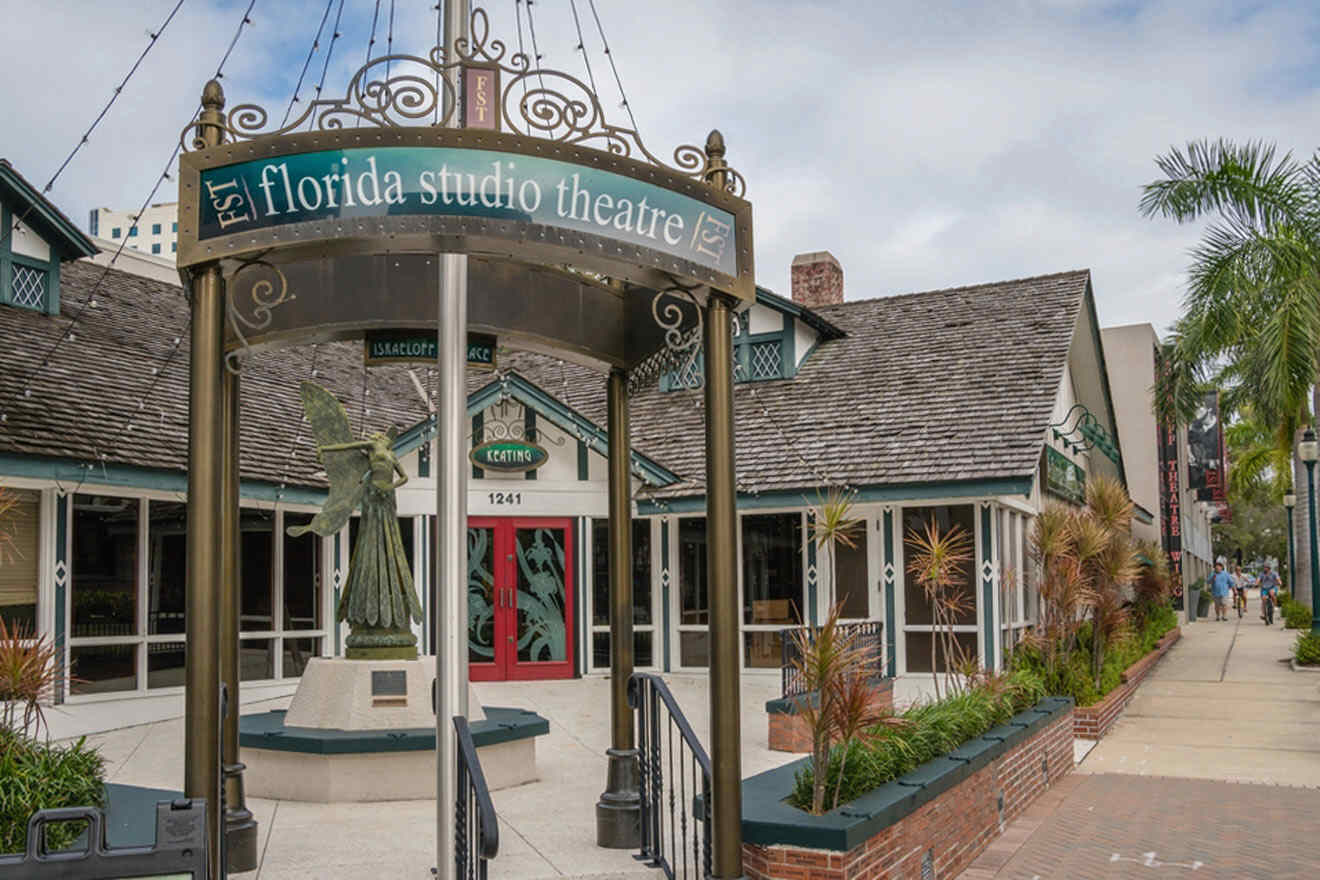 If your idea of a fun night out is dinner and a live show, then you'll love the Florida Studio Theatre! It consists of 5 cozy theatres spanning 2 blocks downtown, and it's known for hosting intimate, high-quality performances.
There's something for everyone to enjoy here, including new works, regionally produced works, and on and off-Broadway productions. The theatre boasts an event calendar packed with amazing performances!
As far as dinner goes, there's on-site dining available, and certain performances even offer in-theatre dining, like the Florida Studio Theatre Cabaret series and improv shows.
18. Go kayaking through the mangroves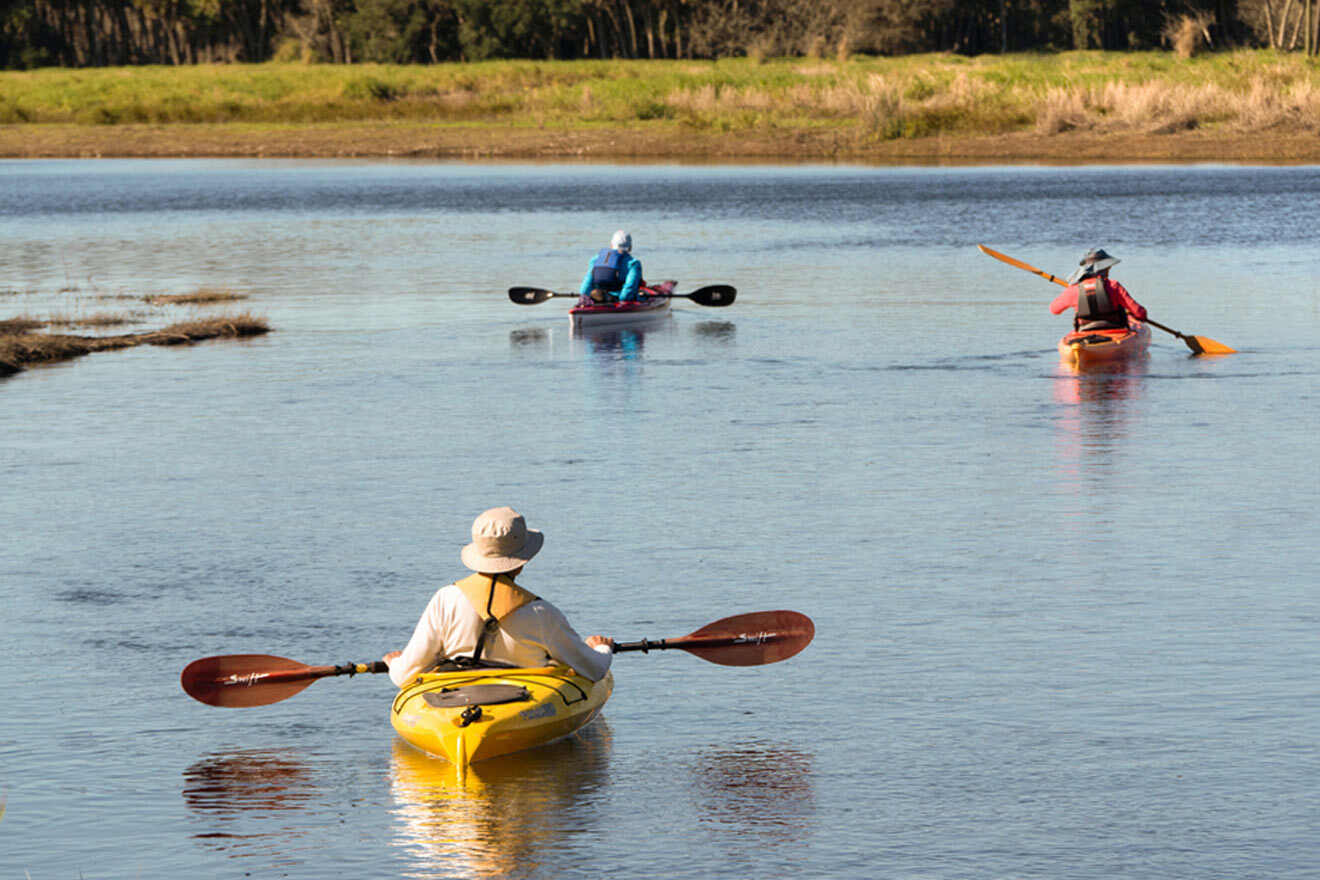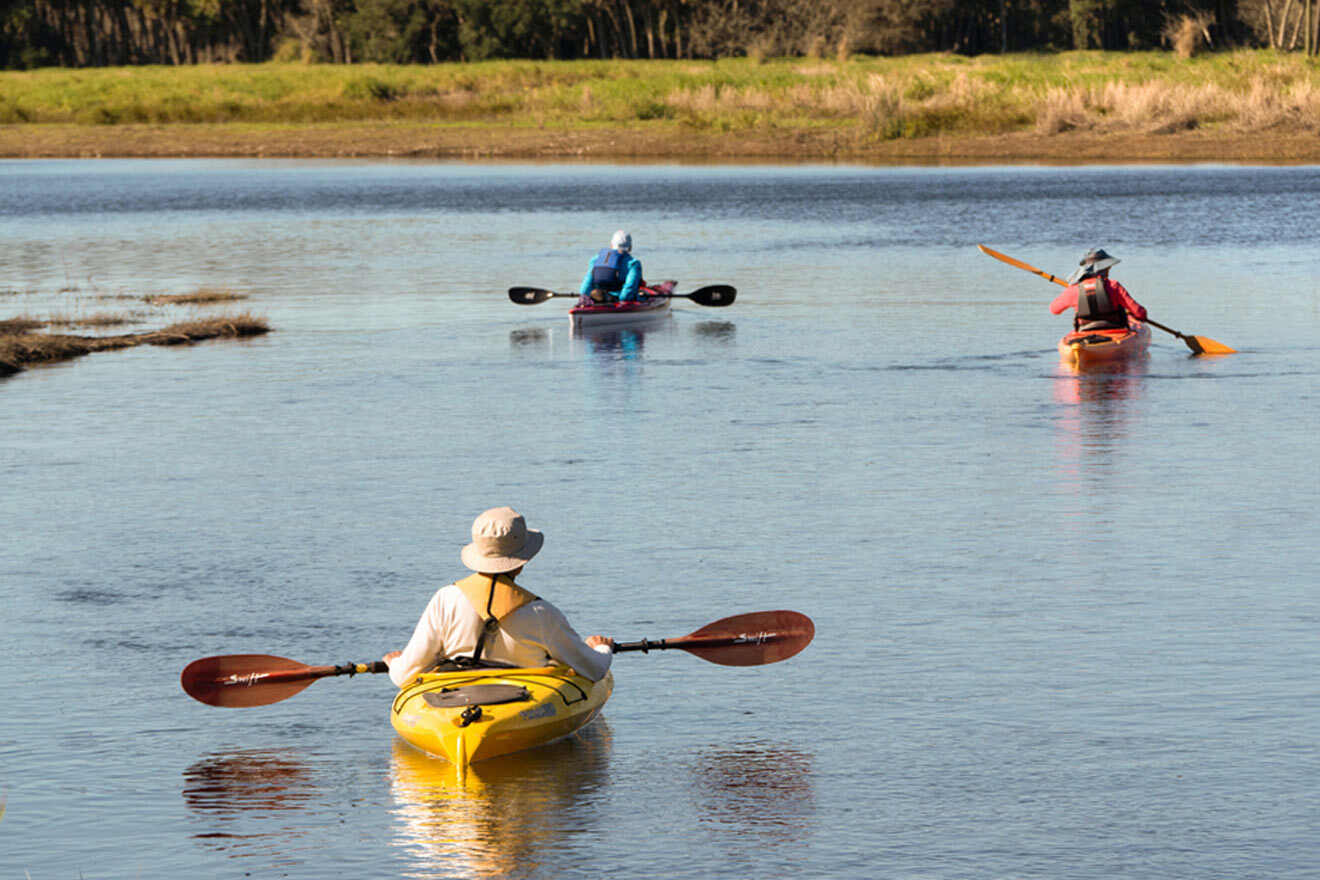 Of course, no trip to Sarasota is complete without getting out on the water! This guided mangrove tunnel kayak tour sets out from picturesque Lido Key and takes you on an adventure on Little Sarasota Bay.
If you've never explored mangroves before, I can't recommend them enough! They're absolutely incredible to see up close, and there are countless opportunities to spot wildlife like manatees, dolphins, birds, and more.
Your knowledgeable guide will be with you every step (or should I say paddle?) of the way, so even if you have no previous kayak experience, you'll be good to go! Bring a camera so you can document your exploration and maybe even get some photos of the creatures you meet!
The mangrove kayak tour is popular, so it tends to sell out quickly. This is another activity you'll want to book ASAP during planning.
PRICE: From US$60 per person
19. Taste your way through downtown Sarasota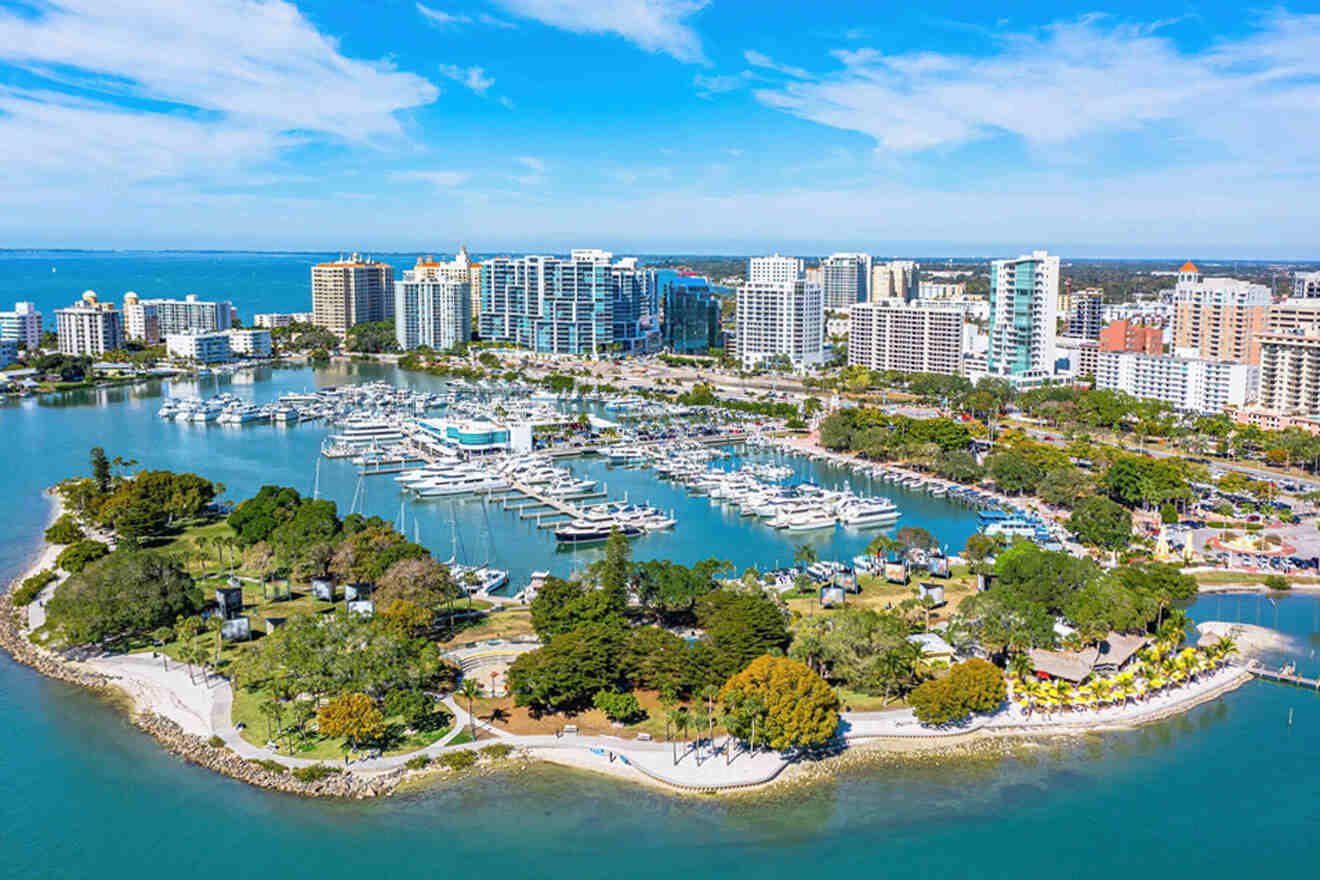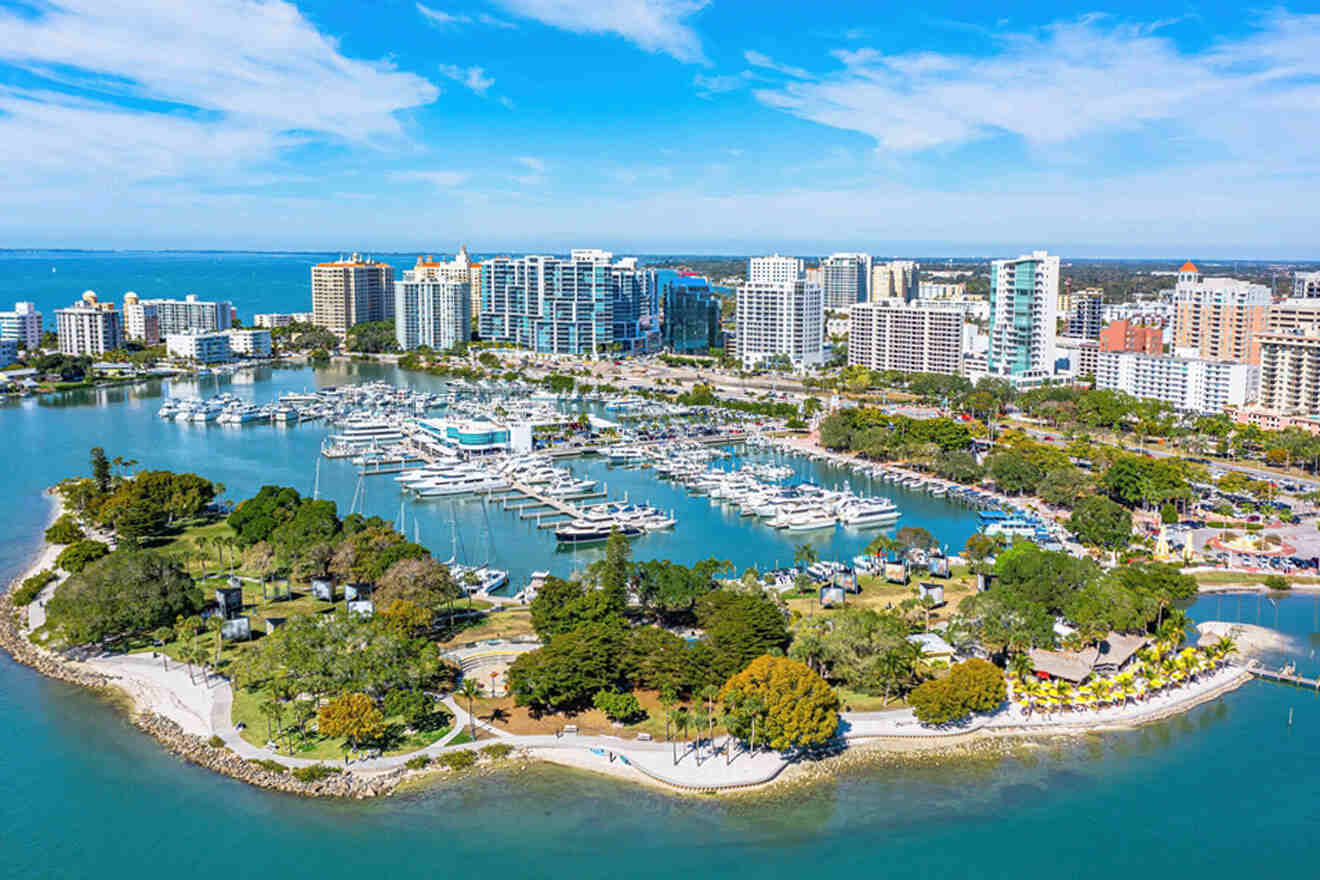 If you've read my other articles, you may have already known there was going to be a food tour on this list! Food tours are one of my favorite things to do on vacation because they show you the best of the best when it comes to Florida life and local cuisine. It's a great way to discover new restaurants and get a feel for the place you're visiting!
On this downtown Sarasota walking food tour, you'll enjoy 8 – 10 hearty samples from unique menus at 5 local restaurants, all while learning about the city's history, art, and culture from your expert guide. If you're looking for things to do in Sarasota on a date night, this would be my pick! The tour lasts 3.5 hours, so bring your appetite and comfortable walking shoes.
PRICE: From US$110 per person
20. Grab a drink at Florida's oldest tiki bar
This one's for my 21+ crowd! I'm a tiki bar fanatic – I swear that drinks taste way better when you're sipping them out of one of those heavy, intricate tiki mugs. And while tiki bars and Florida go hand in hand, it's not every day you're able to stop by the oldest tiki bar in the Sunshine State.
Bahi Hut in Sarasota, Florida, has been delighting locals and visitors alike with handcrafted cocktails since 1954. The whimsical, tropical decor, island vibes, and mouth-watering drinks make for the ultimate tiki bar experience. Bahi Hut is famous for its legendary mai tais, so you won't want to leave without trying one, but as good as they are, they're also dangerous – only 2 are allowed per person!
On Fridays and Saturdays, catch live music at Bahi Hut. Mondays are trivia nights (my favorite!), and on Sundays, they host Drag Queen Bingo, so there's always something fun going on.
21. Spend an evening at the Sarasota Opera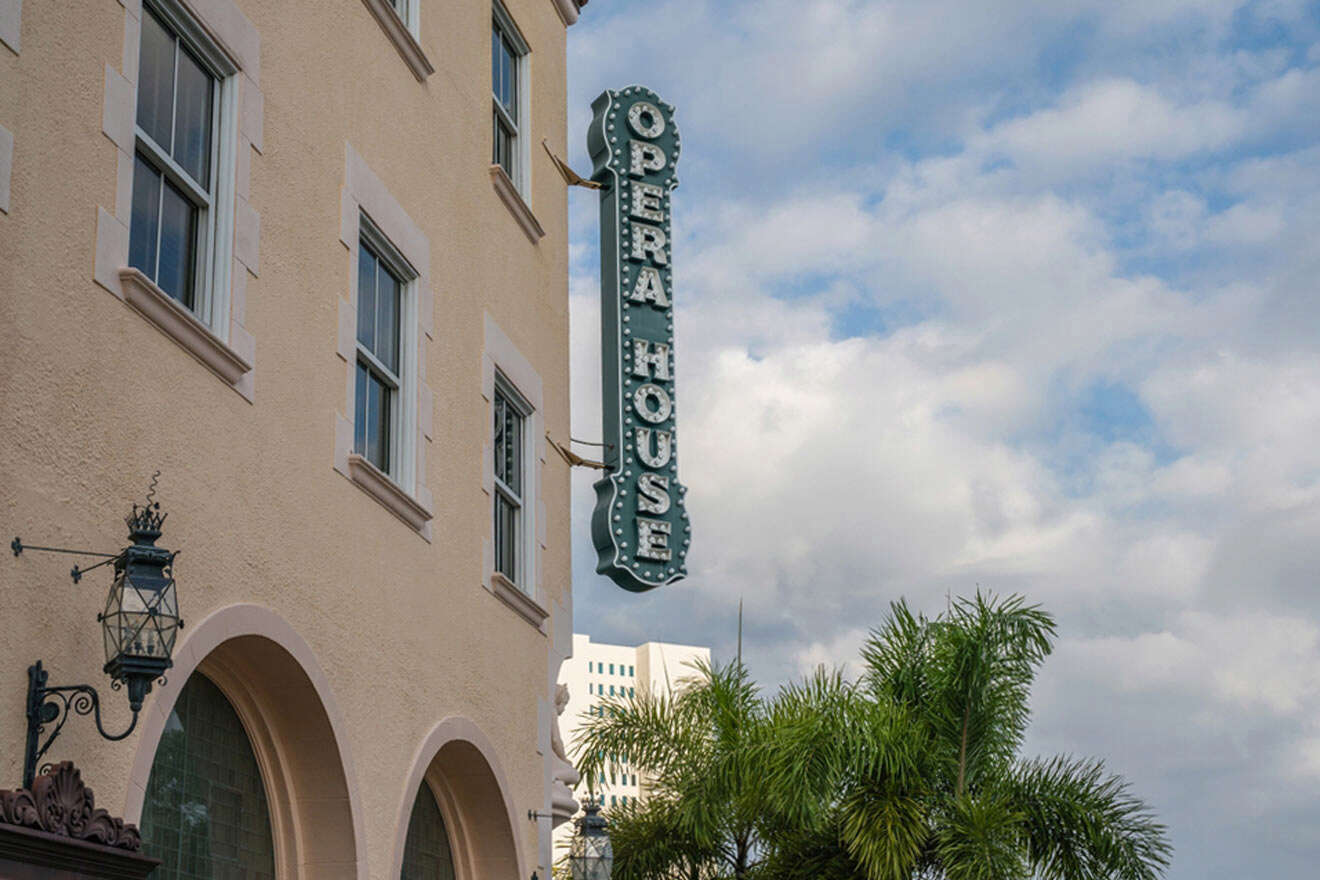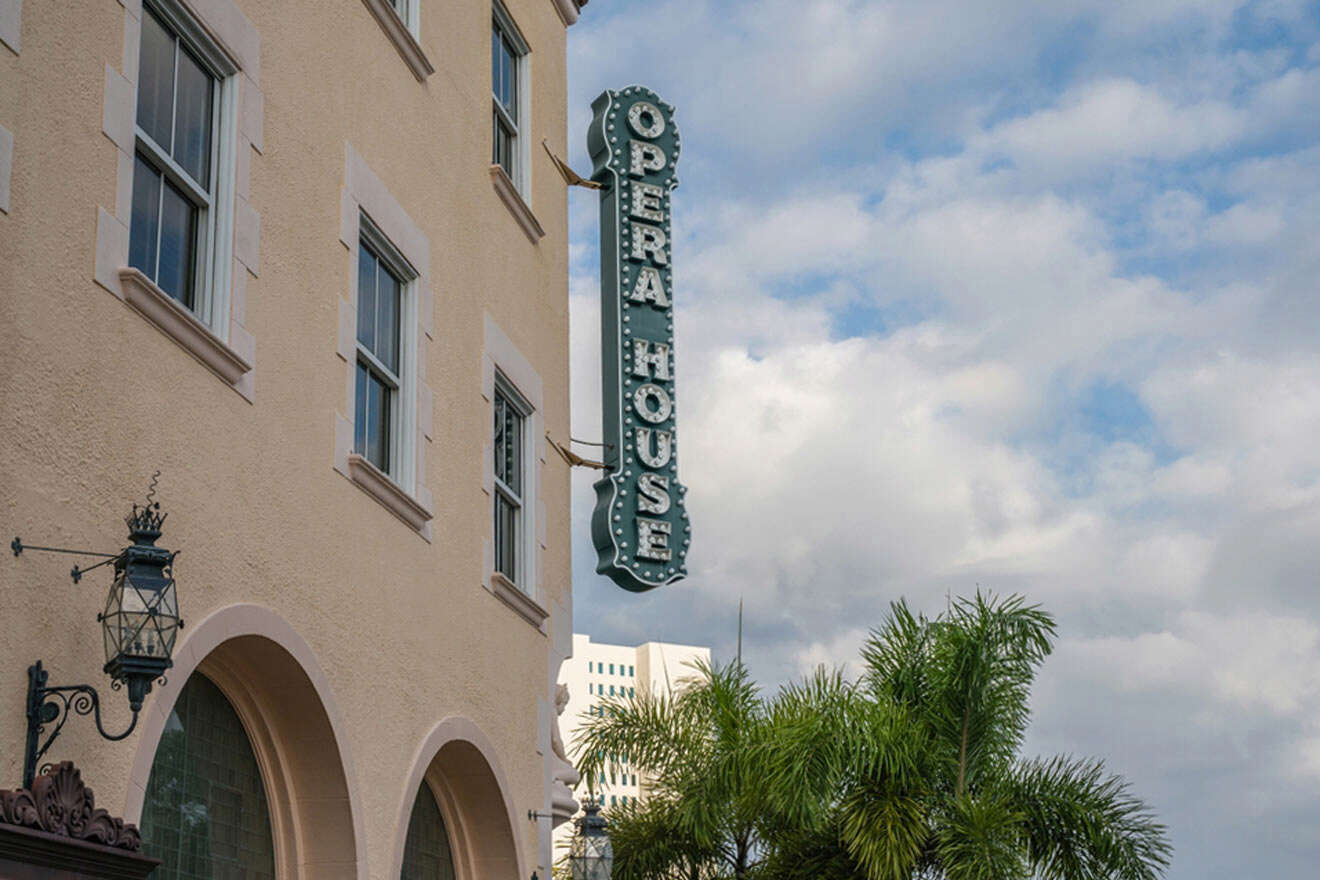 A night at the opera makes for a really special evening out in Sarasota, Florida, and the Sarasota Opera House has been named one of the finest venues for opera in the United States. It's housed in a historic building from the 1920s that was once the Edwards Theater, originally the vision of A.B. Edwards, Sarasota's first-ever mayor.
You can purchase tickets to one of the exquisite performances online, as well as check out their exciting special events hosted throughout the year.
If you're a history buff like myself, you may be interested in taking a guided tour of the historic Sarasota Opera House. The tours are 1 hour long and given seasonally on Mondays at 10:30 AM. They're US$12 per person, and you can sign up by calling the box office at (941) 328-1300.
22. Oscar Scherer State Park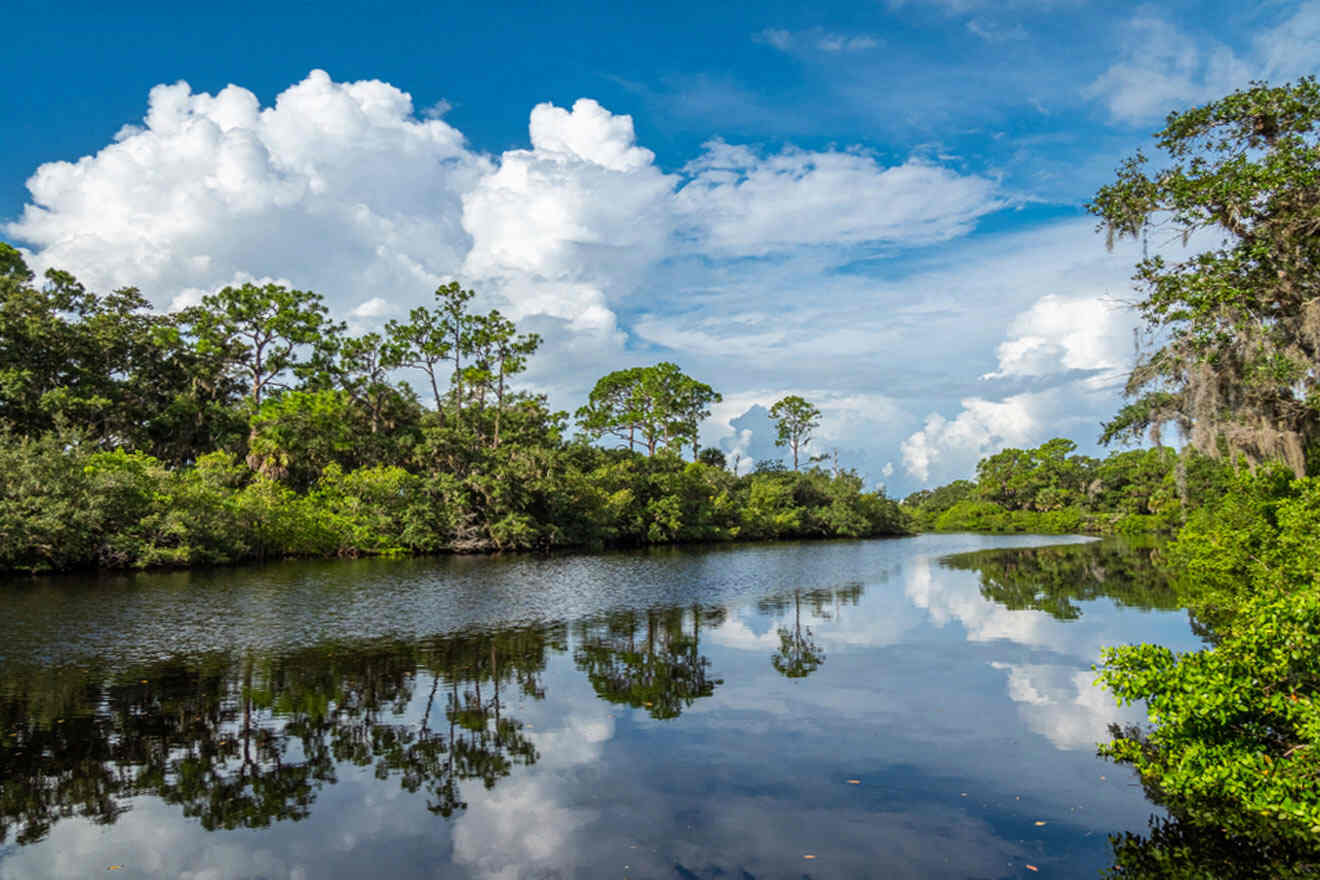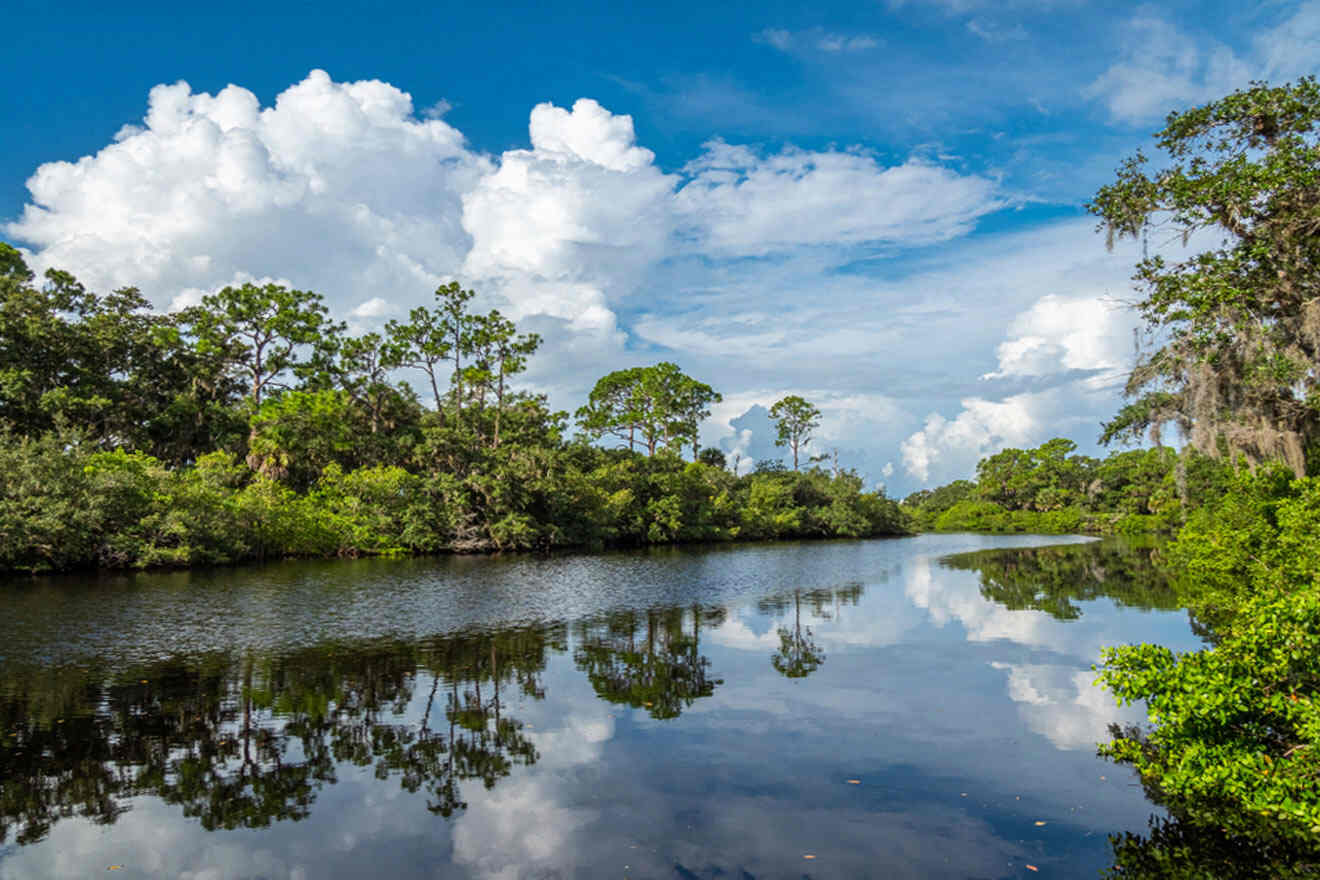 One of the best things to do in Sarasota for outdoor enthusiasts is to visit Oscar Scherer State Park. This hidden gem is an oasis in the middle of houses and highways, covering 1,380 acres (app. 560 hectares) of one of the last remaining scrub habitats in all of Florida.
Like #16 on our list, Oscar Scherer State Park is a haven for birdwatchers. It's known for its large population of Florida scrub jays, as well as over 200 species of birds that either live there or frequent the park. During wintertime, bald eagles build their nests here!
Lake Osprey at Oscar Scherer State Park is a popular spot for swimming, fishing, and snorkeling, and there's even a sandy beach!
There are over 15 miles (24 km) of hiking trails in the park, so if you enjoy exploring on foot, you're in the right place. If you'd rather adventure on the water, canoe, and kayak rentals are available at the park. Visitors love paddling the South Creek to explore its flora and fauna.
PRICE: US$5 per vehicle
FAQs about things to do in Sarasota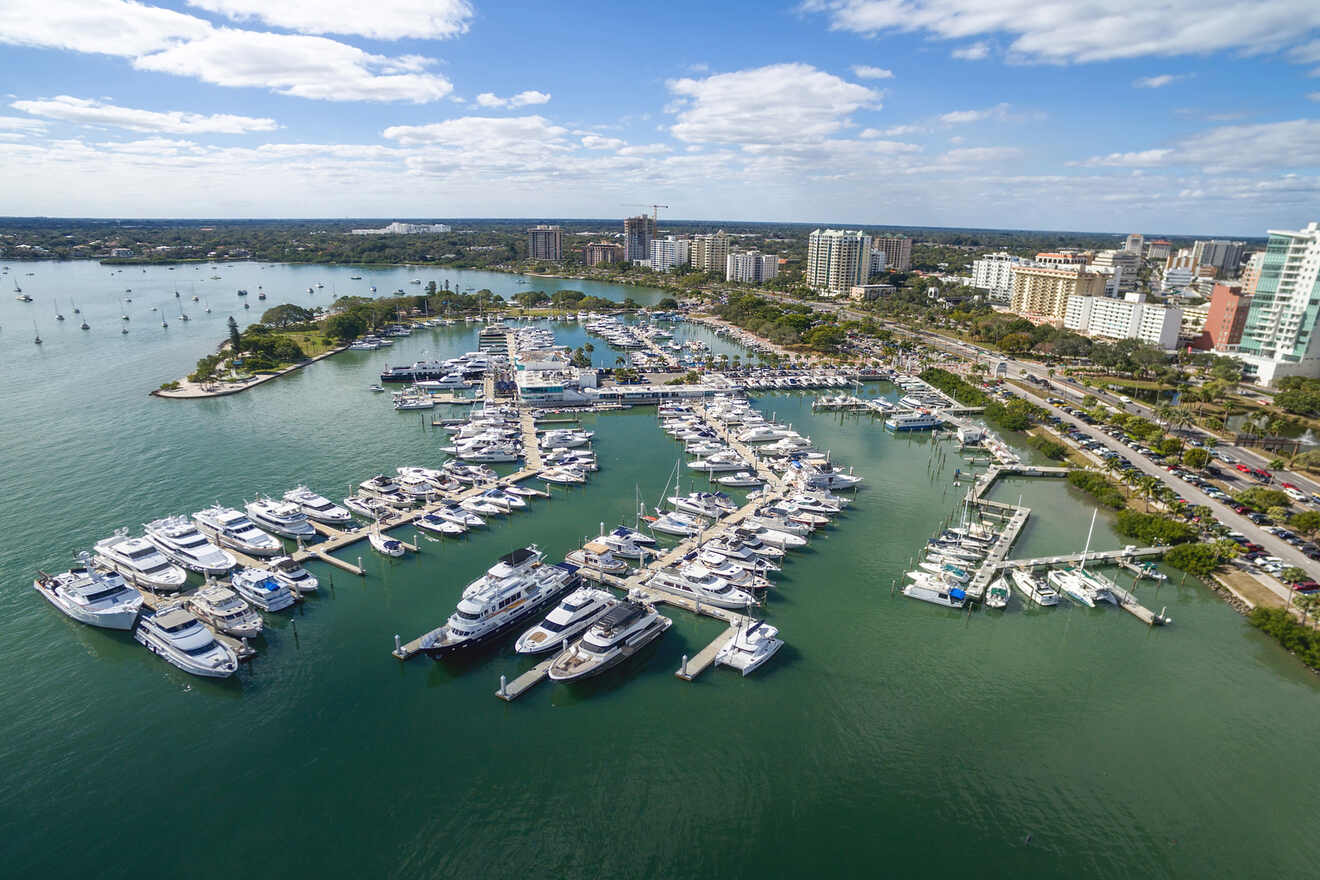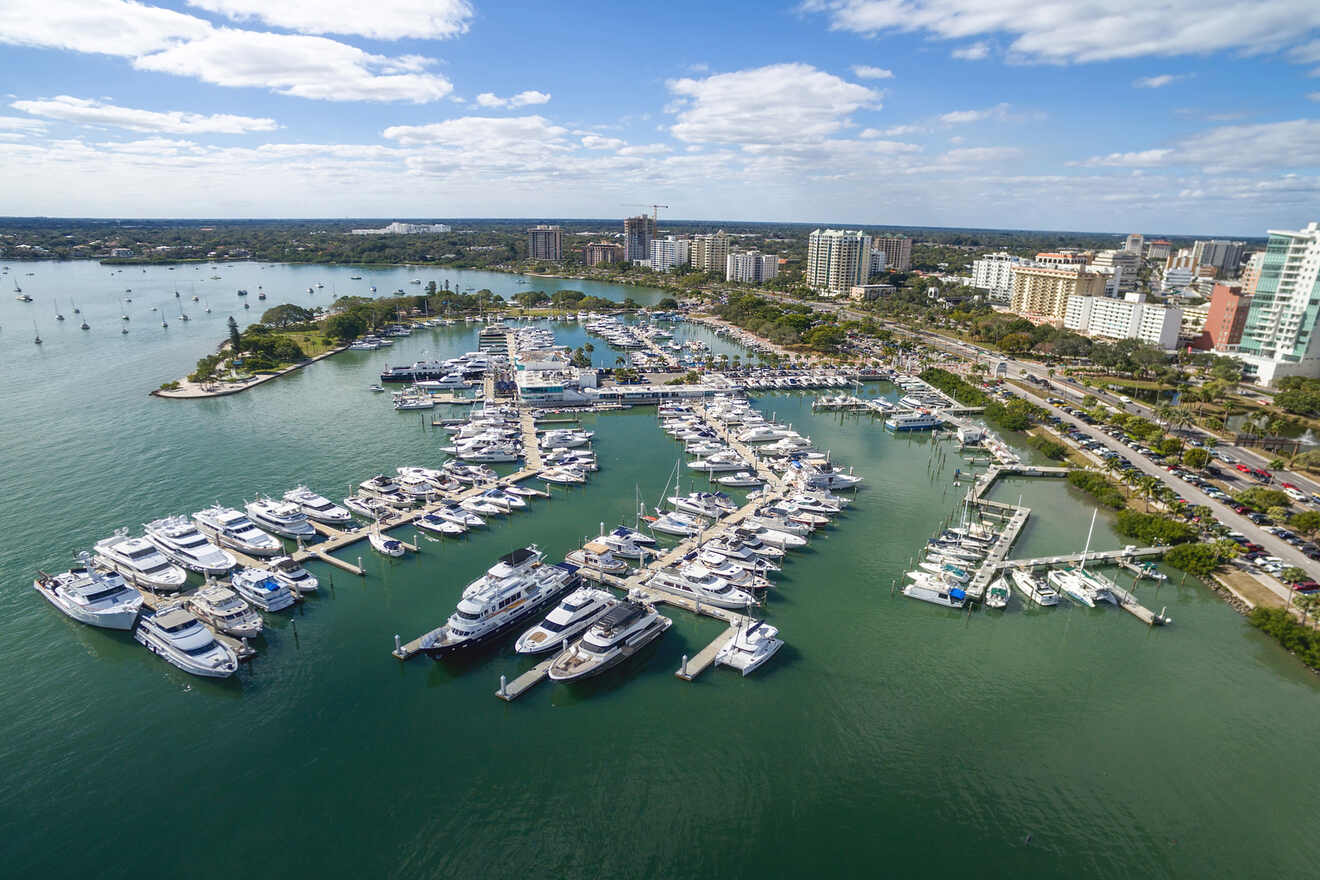 🎪 What is Sarasota Florida best known for?
Sarasota, Florida, is best known for its picture-perfect beaches, arts and culture, rich history, and unspoiled nature to explore, as well as being the winter home of John Ringling of the Ringling Bros.
🌊 How do you spend a day in Sarasota?
In addition to visiting one of Sarasota's breathtaking beaches, you can also check out popular attractions like The Ringling and Marie Selby Botanical Gardens or shop and dine at St. Armands Circle.
🌟 Is Sarasota, Florida, worth visiting?
Yes! Sarasota, Florida, is a dream destination for beachgoers, art lovers, history buffs, and nature enthusiasts. There are many things to see and do there, from beautiful beaches to world-class museums.
🏝️ Is it better to stay on Siesta Key or Sarasota?
It really comes down to what you're looking for! If the beach is your priority, Siesta Key all the way! If you'd like to be right nearby exceptional dining, shopping, museums, and entertainment, Sarasota is for you.
Conclusion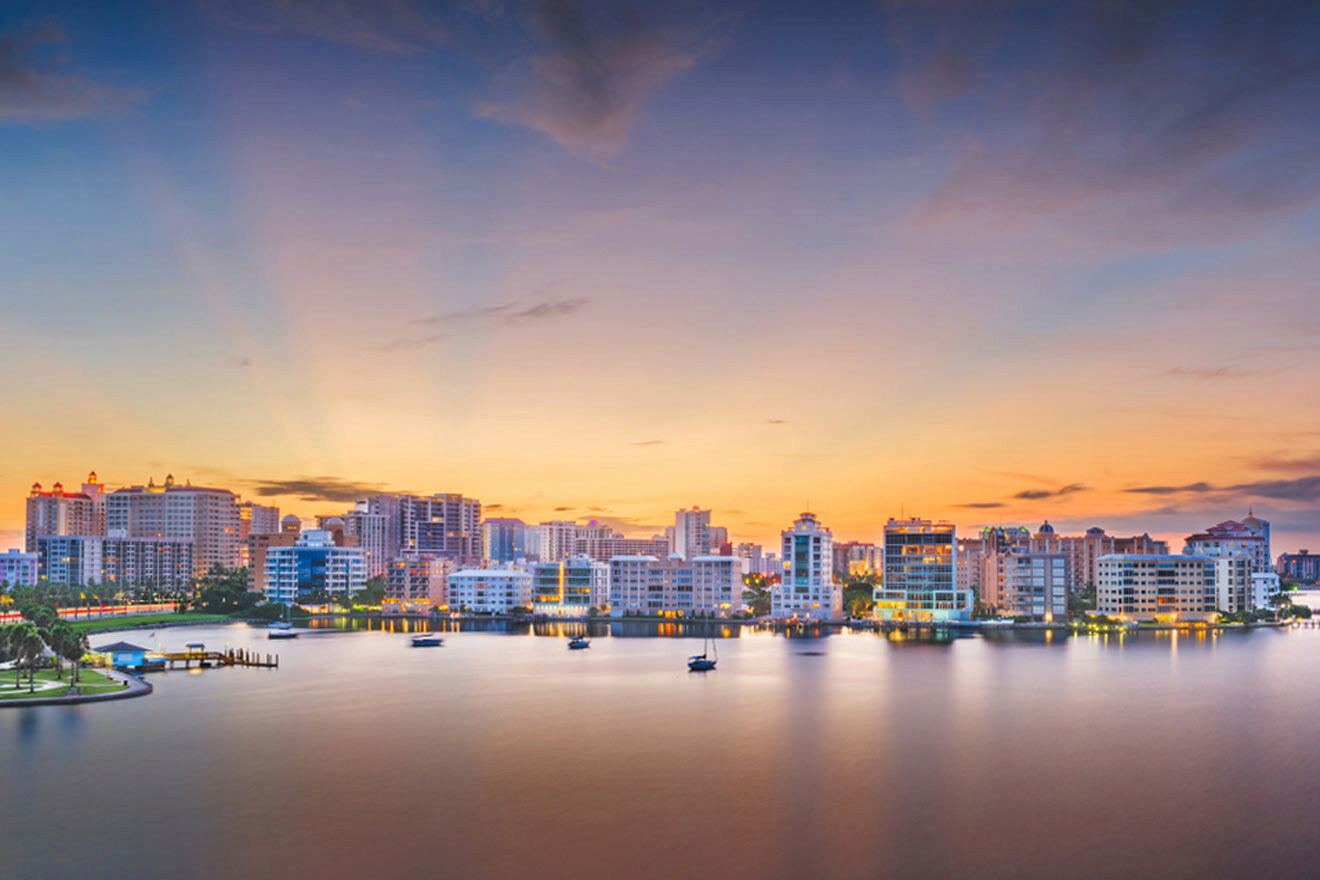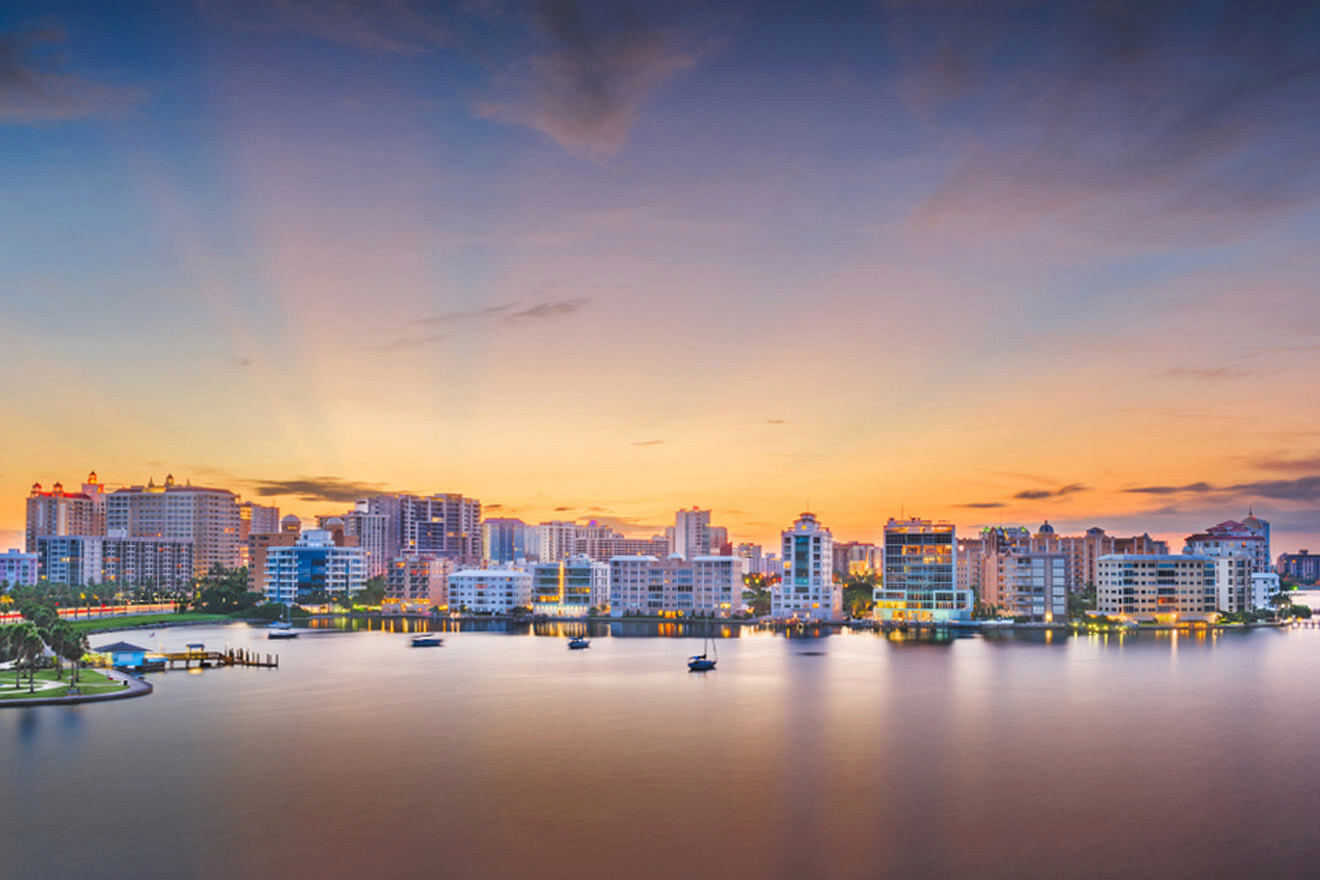 And that's a wrap! I know this was a long one, so thank you for sticking with me all the way through. We covered 23 amazing things to do in Sarasota, from the most popular attractions to some hidden gems well off the beaten path. I hope you found a few things on this list that are perfect for your next trip!
Since we covered so much, I just wanted to remind you of my top recommendations for things to do in Sarasota:
You know where to find me if you have any questions – just leave me a comment below and I'll get back to you in a jiffy. 😊
Happy exploring!
Montana
---
Pin it for later!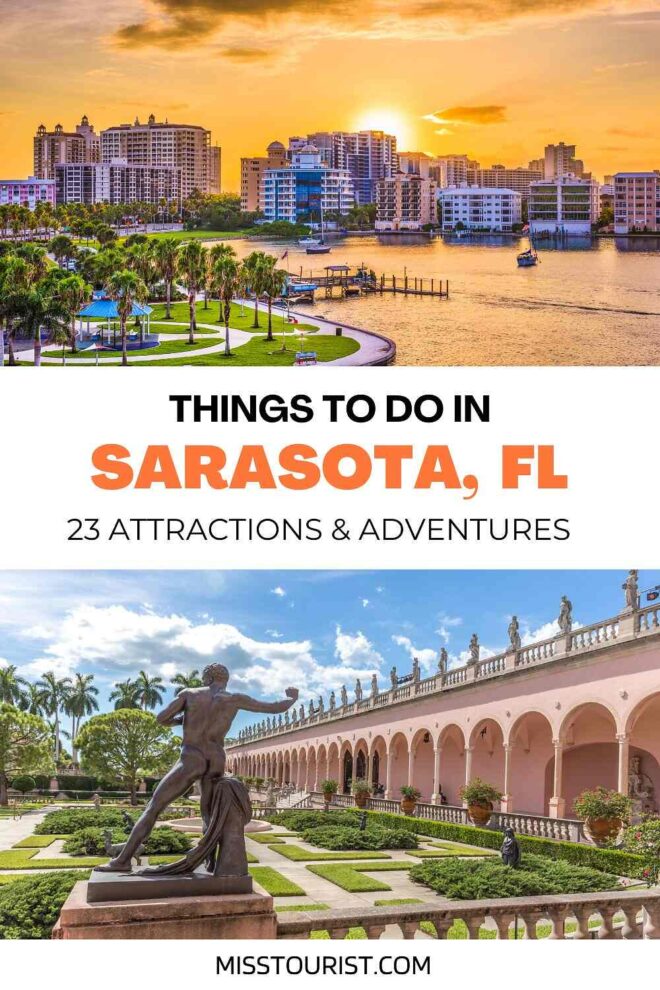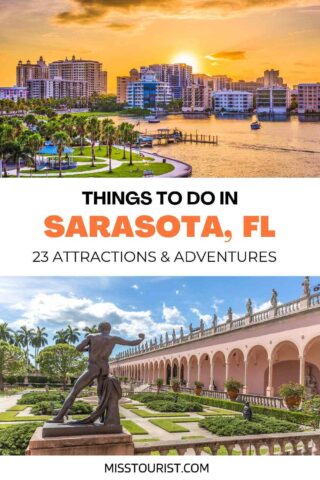 Pin it for later!