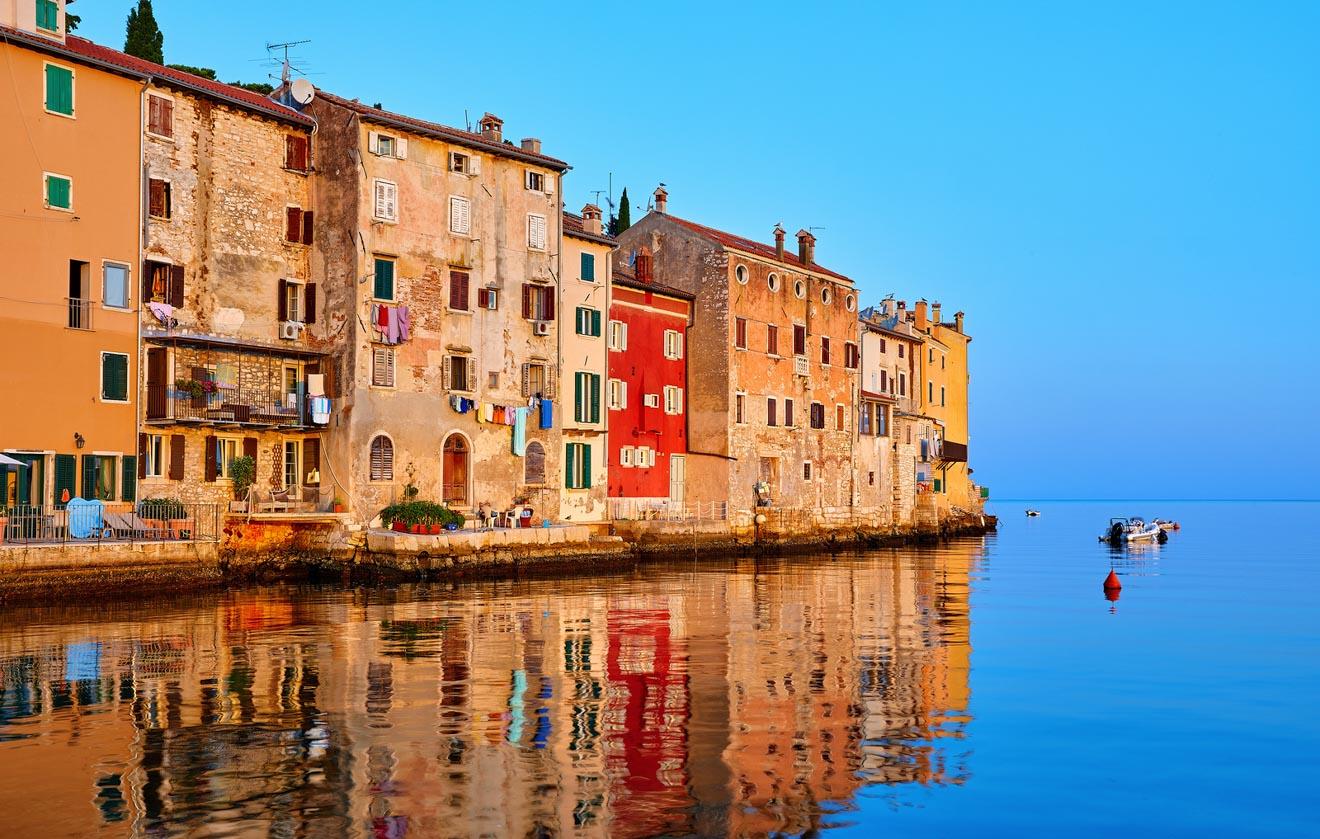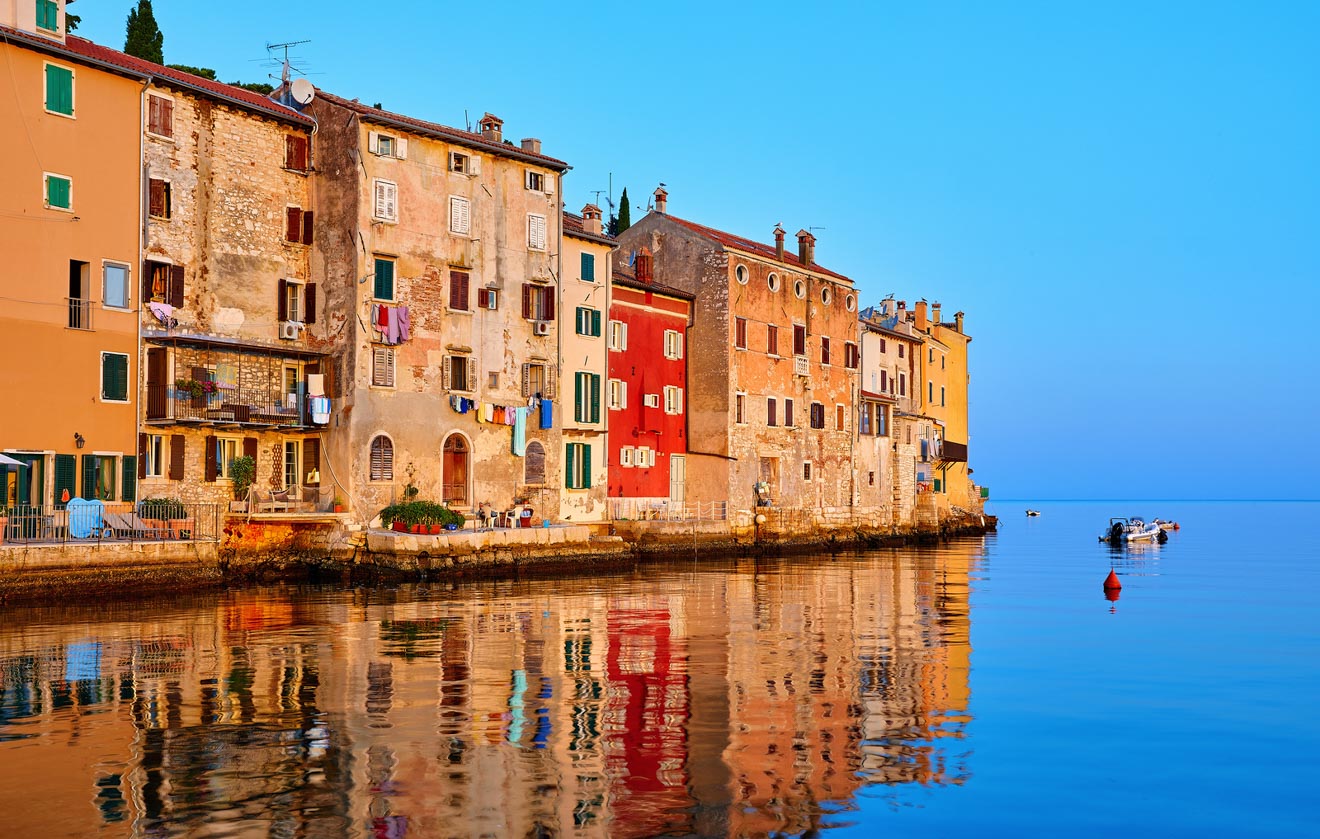 Rovinj is one of the top 8 charming cities I recommend you visit in Croatia and the land of wonderful beaches, cobblestone streets, amazing cuisine, and the perfect place for a romantic getaway!
But even if you aren't heading here with someone special, I also recommend this amazing little city to everyone: couples, groups of friends, and families!
If you are planning to go there in the near future, then you must be searching for great accommodation options where to Stay in Rovinj! And I'm here to help: I carefully selected the best hotels in Rovinj, Croatia, with fabulous reviews and great facilities, and grouped them by price for your convenience!
Just make sure you book early to ensure that you get the place you love during your Rovinj vacation as places do go fast in this incredible town. Stick around to the end of the post if you are looking for apartments, villas, or family accommodation as I have some options chosen specifically for these categories as well!
Let's go!
If you are in a hurry…
In case you don't have time to scroll down, here are the best places to stay in Rovinj, Croatia:
I've also put together a map for you to see my recommendations for Rovinj accommodations in a way you can easily visualize all their locations. As you can see, the city is really small, and you can pretty much walk anywhere regardless of your location, so I didn't break it down into specific areas or neighborhoods. Instead, I picked the best hotels based on their price ranges!
Rovinj Hotels
Because of its beautiful vibe and amazing beaches, Rovinj is a popular destination in Croatia. This means the rooms are selling out very fast and you have to book yours as soon as possible in order to make sure you will stay in your desired hotel!
As I already mentioned, the city is quite small and you can walk practically anywhere, so the neighborhood you choose to stay in doesn't really matter too much. But for those of you who are still interested, in the best neighborhoods of Rovinj, here is a quick rundown:
The best place to stay in Rovinj if you are visiting for the first time is the Old Town, especially if you are just staying for one day. It's full of historic charm, beautiful architecture, great food and art, located in the center of it all. The area immediatly surrounding the Old Town is a little more residential, less touristy but still well connected to all the attractions.
Southern Rovinj will bring you to the best seaside part of the city. With a huge promonade lining the water and large green parks, this area is perfect for families looking for a laid back vacation. The town doesn't have a super bumping party scene but if you are looking for some chilled nightlife, Southern Rovinj is also a good choice thanks to it's number of resorts.
Now, here are the best choices for luxury, middle-priced, and budget hotels for your stay:
Luxury (€200 and up)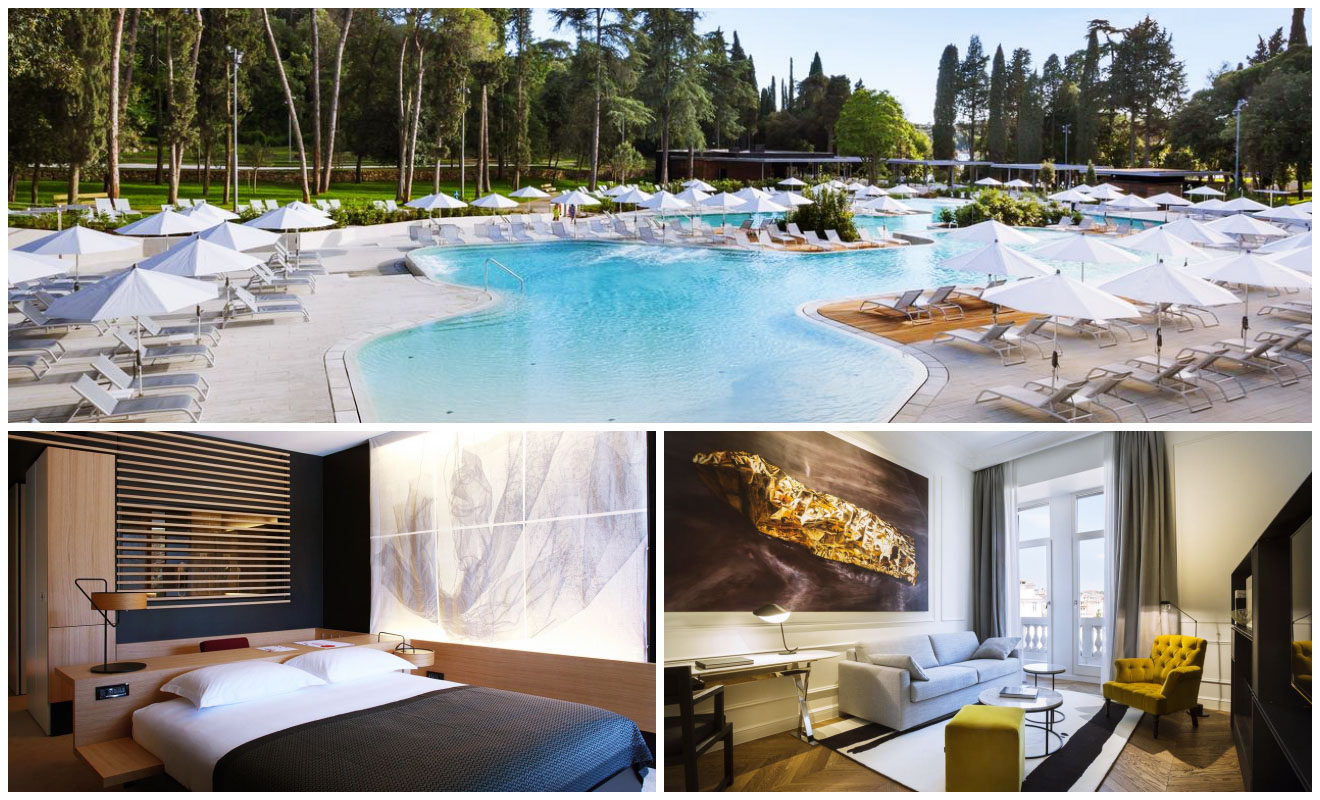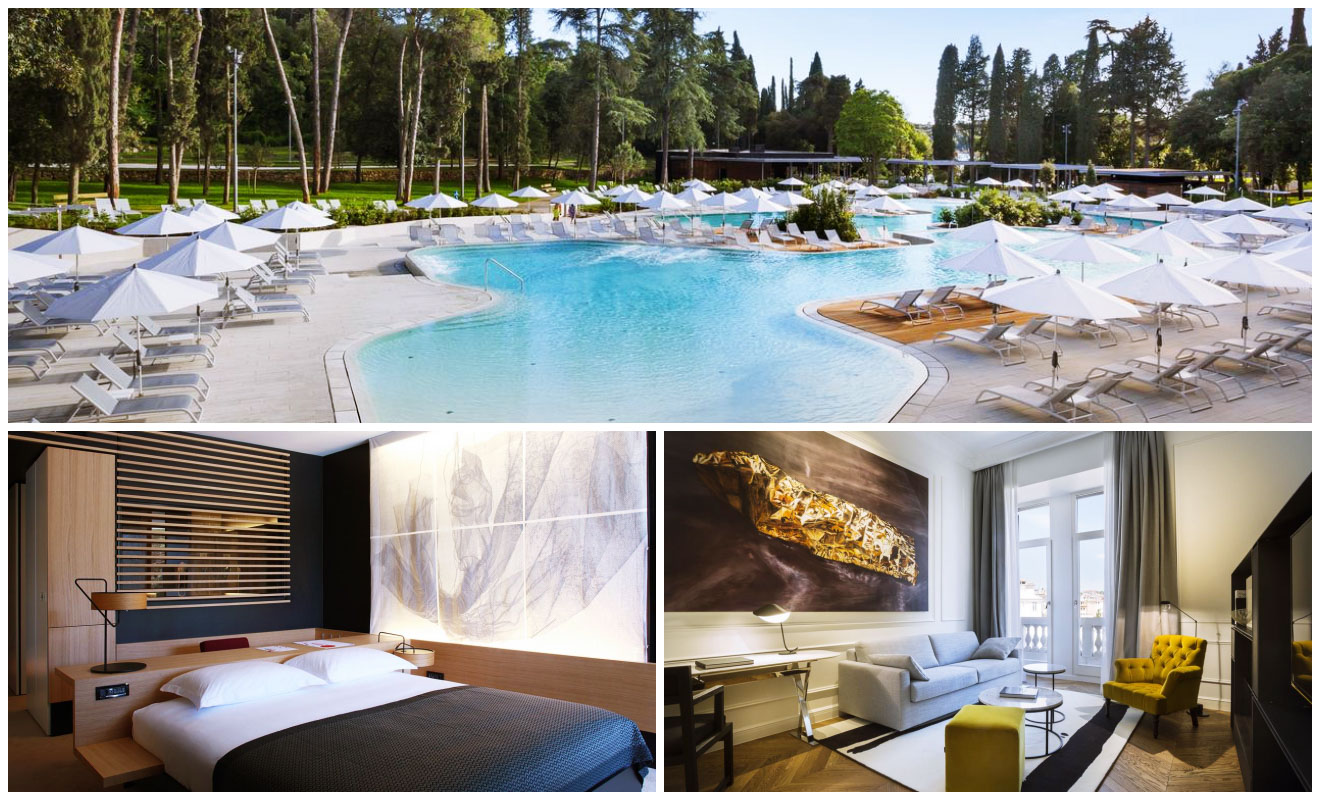 Middle-priced (between €100 and €200)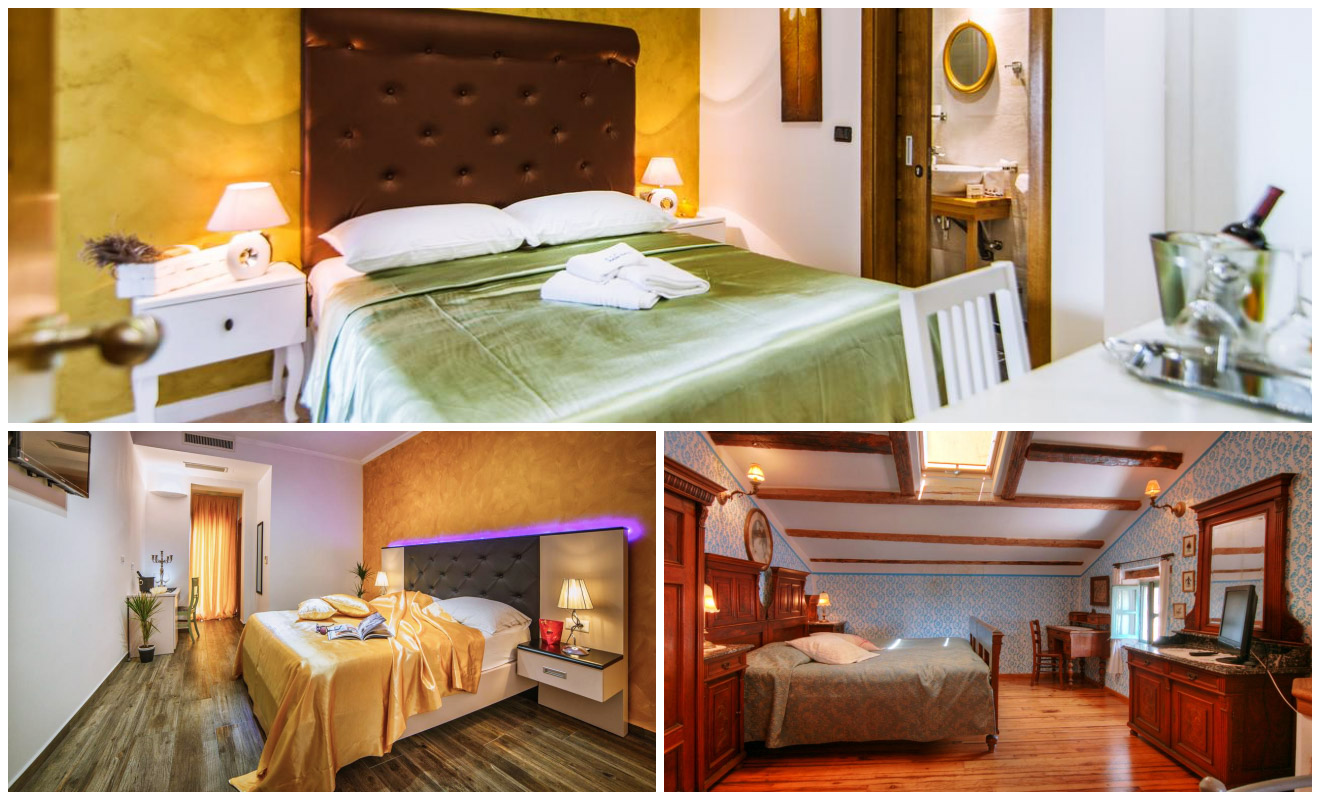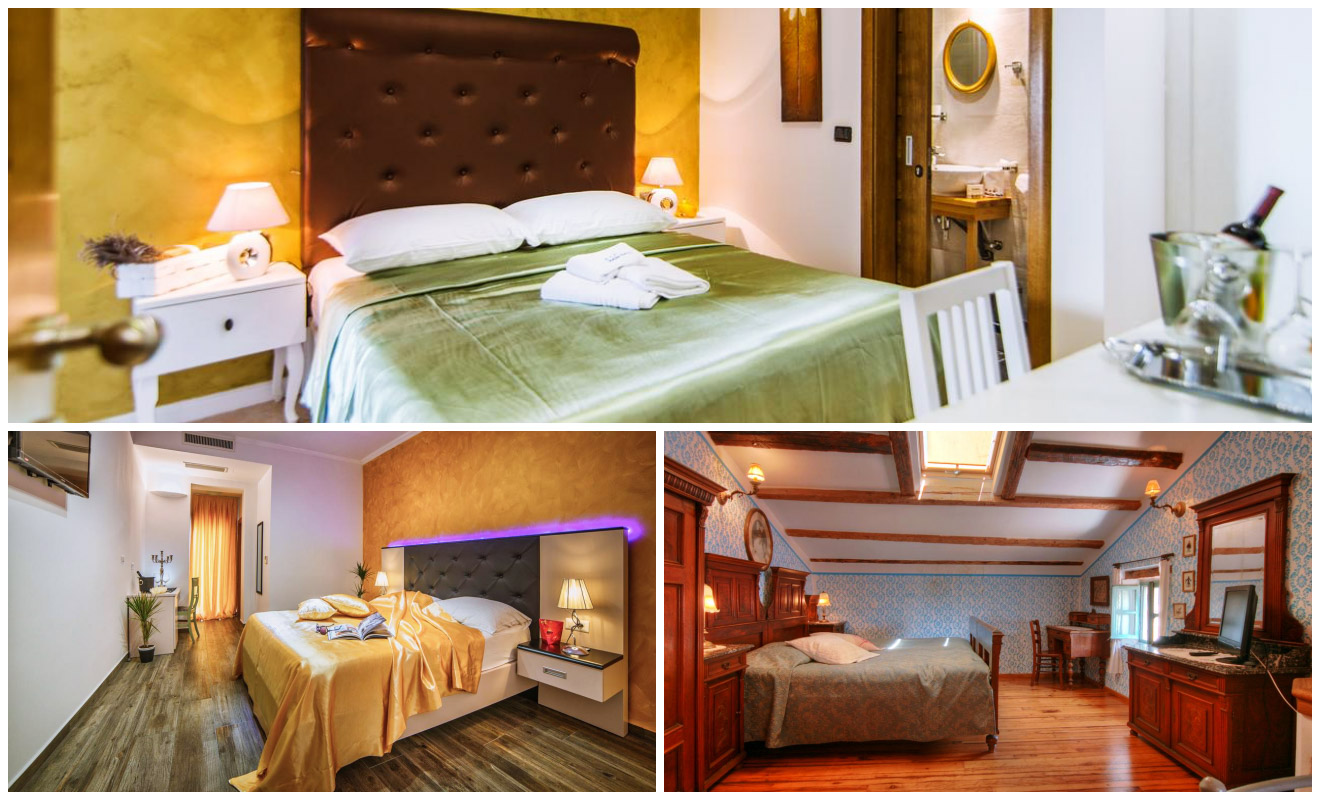 Budget (between €30 – €100)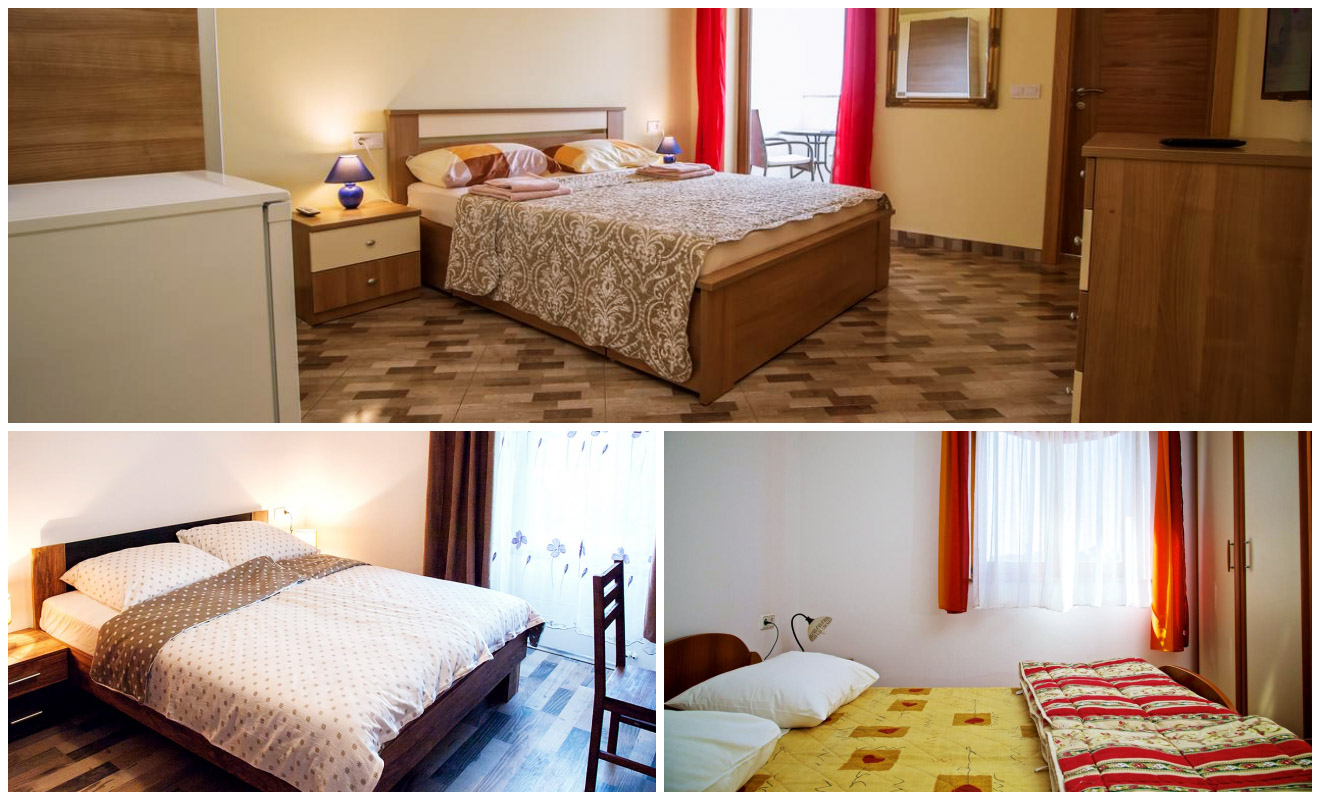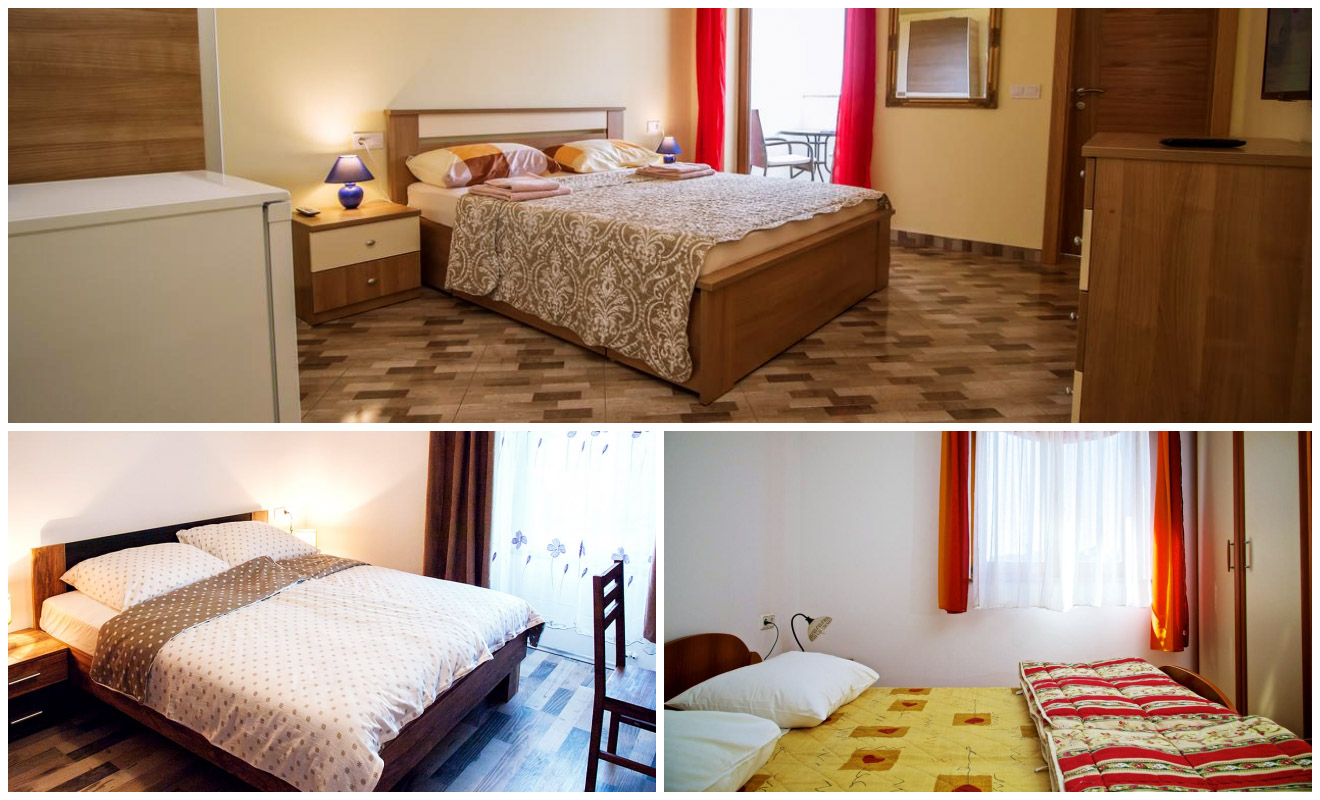 Here are my recommended budget hotels and hostels in Rovinj:
Apartments in Rovinj, Croatia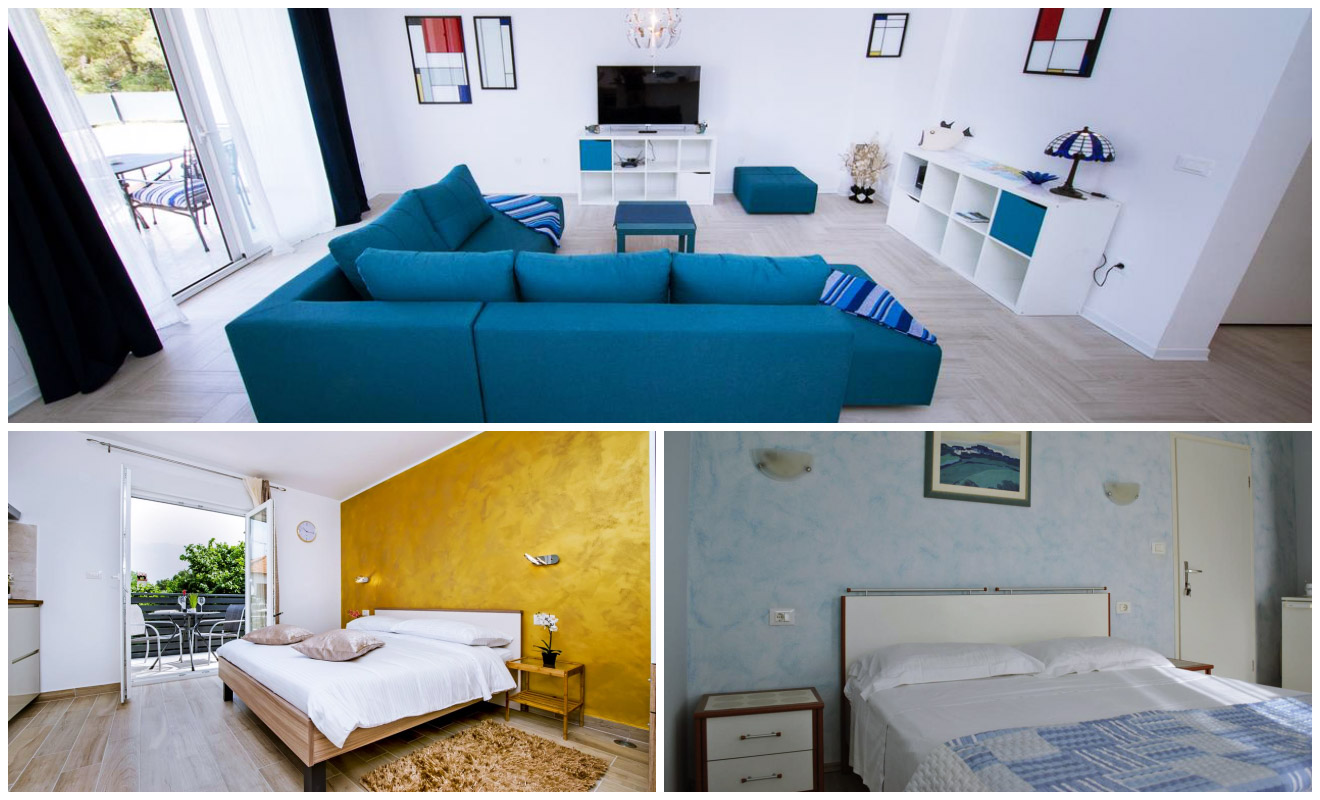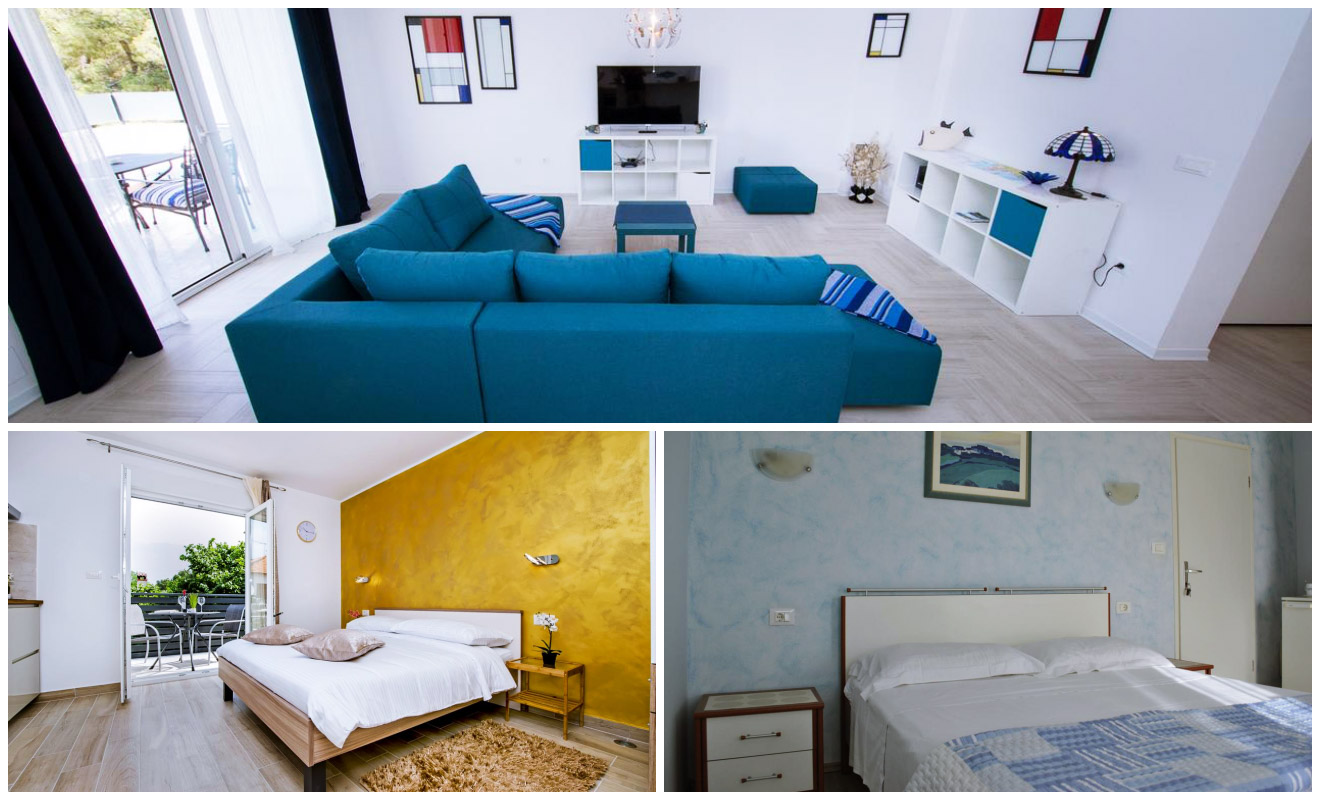 Apartments can also be a great choice for travelers who want to feel at home while visiting Croatia. Apartments give you the comfort and privacy you need, and they are available for any kind of budget. Here are my recommendations:
Luxury (€200 and up)
Apartments Tamburini

is a nice luxury apartment in Rovinj that awaits you with beautiful, ocean-inspired decorations and a wonderful garden where you can relax and unwind. You will find different kinds of apartments available here, suitable for 4 to 6 people traveling to this beautiful city.

Royal Apartments

is an apartment located right in the heart of the historical area of Rovinj and the perfect place where you will feel like a queen or king. The rooms are gorgeous, and the apartment has a stunning view over the sea!

A&D Apartments

offers a variety of choices, from a studio-type apartment perfect for 2 people to a gorgeous apartment with sea view for up to 4 people. Regardless of what you're choosing, you will be greeted with a nice atmosphere and good facilities!
Middle-priced (between €100 and €200)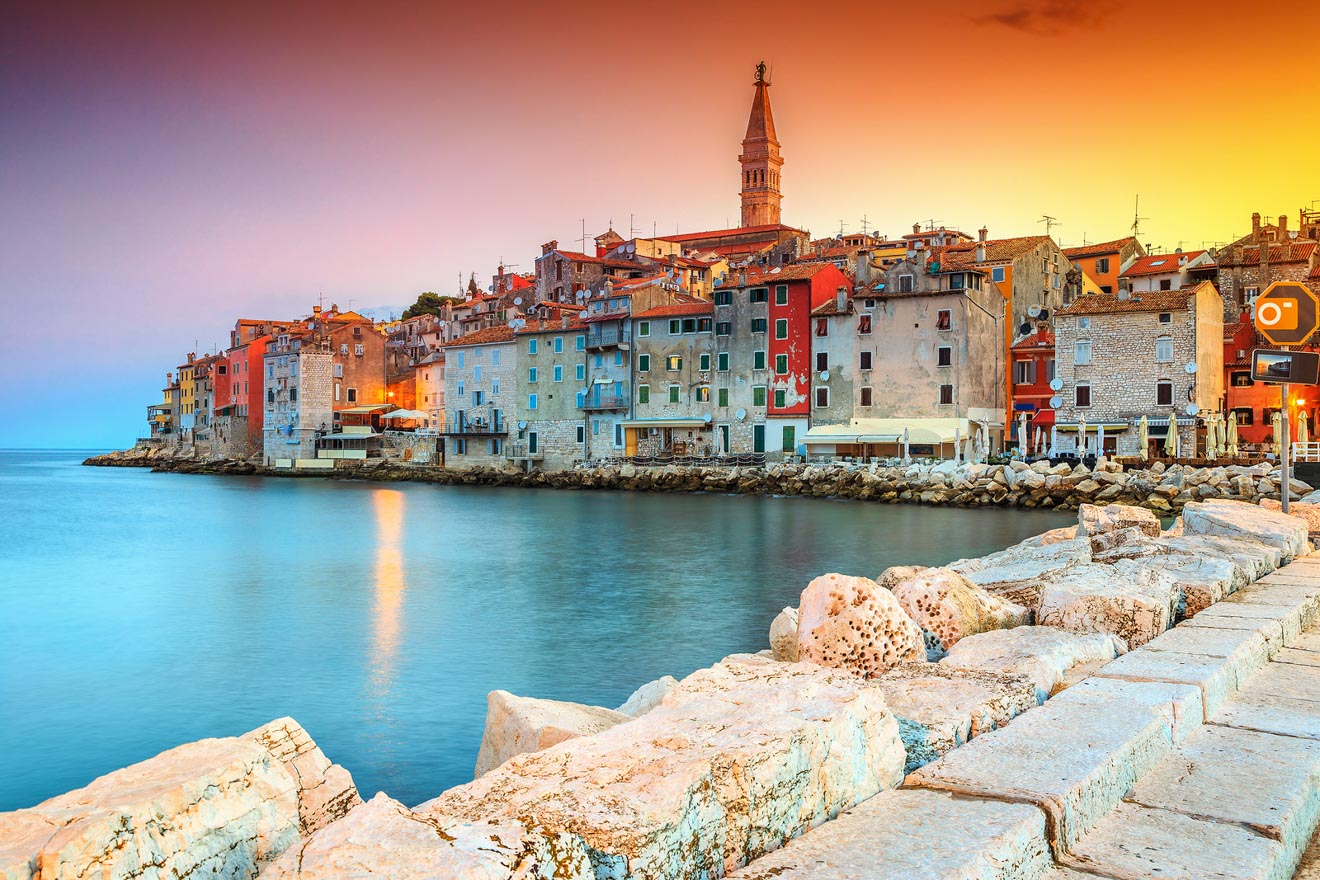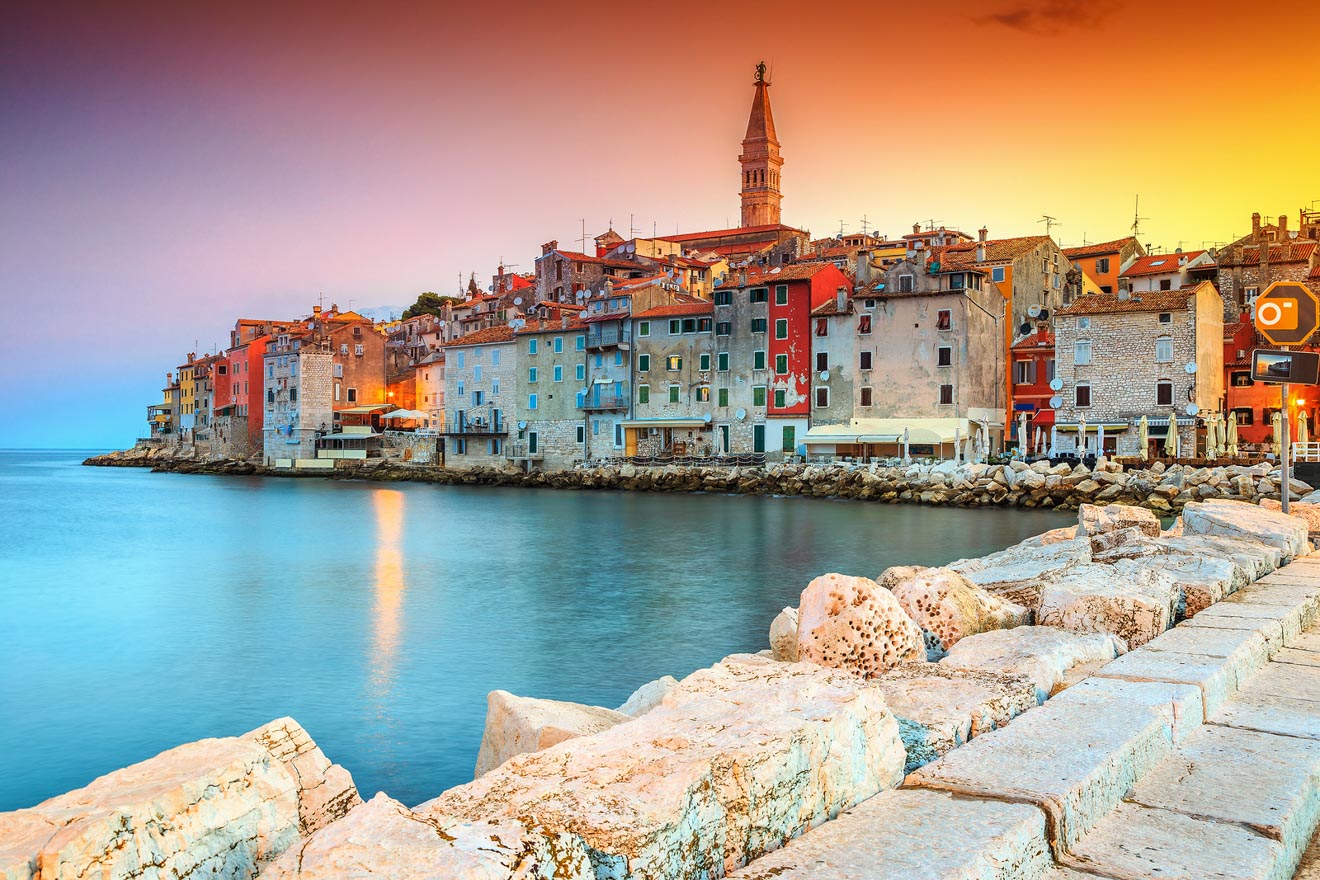 Apartment and Studio Tereza

has many options you can choose from: a studio-type apartment suitable for 2 people, an apartment with a balcony, and one with a terrace, perfect for a group of up to 4 people. The rooms are spotless, and the kitchen is fully equipped.

Grisia 26 Apartment Rovinj

is another great choice to make you feel at home. This apartment is located only minutes away from the beach, and it's perfect for up to 4 people, as there are 2 bedrooms available.

Apartments Aalvar and Aalto

is a clean and cozy apartment located in the heart of Rovinj, with a great value for money. This accommodation in Rovinj, Croatia, has everything you may need, from beautiful decorations to a fully equipped kitchen and facilities. Click the link to check out the pictures of the property!
Budget (between €30 – €100)
Apartment Casa Banko

awaits you with clean and comfy rooms, perfect for relaxation after a day of exploring Rovinj. The apartment also has free Wi-Fi, air conditioning, and access to a beautiful garden, so I'm sure you will enjoy your stay there!

Apartment Iva

has nice and cozy rooms, a fully equipped kitchen, and a nice dining area where you can spend time with your friends. Check the options from the link; you can choose from a studio apartment for 2 people or a bigger one, suitable for 3.

Apartment Kiko

has everything you will need for a pleasant stay in Rovinj. The apartment is close to the beach. It has free Wi-Fi, a flat-screen TV, a washing machine, a fully equipped kitchen, and even a spacious terrace!
Holiday Homes & Villas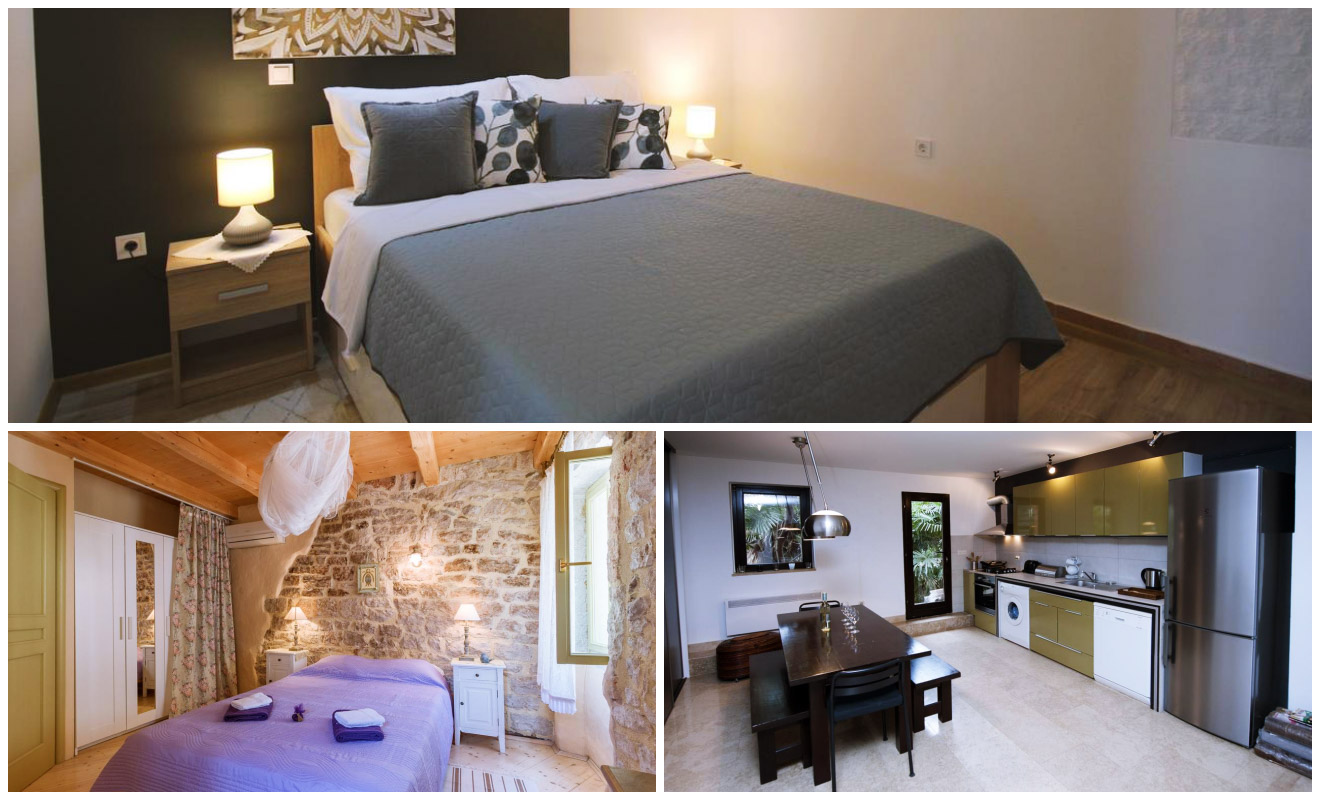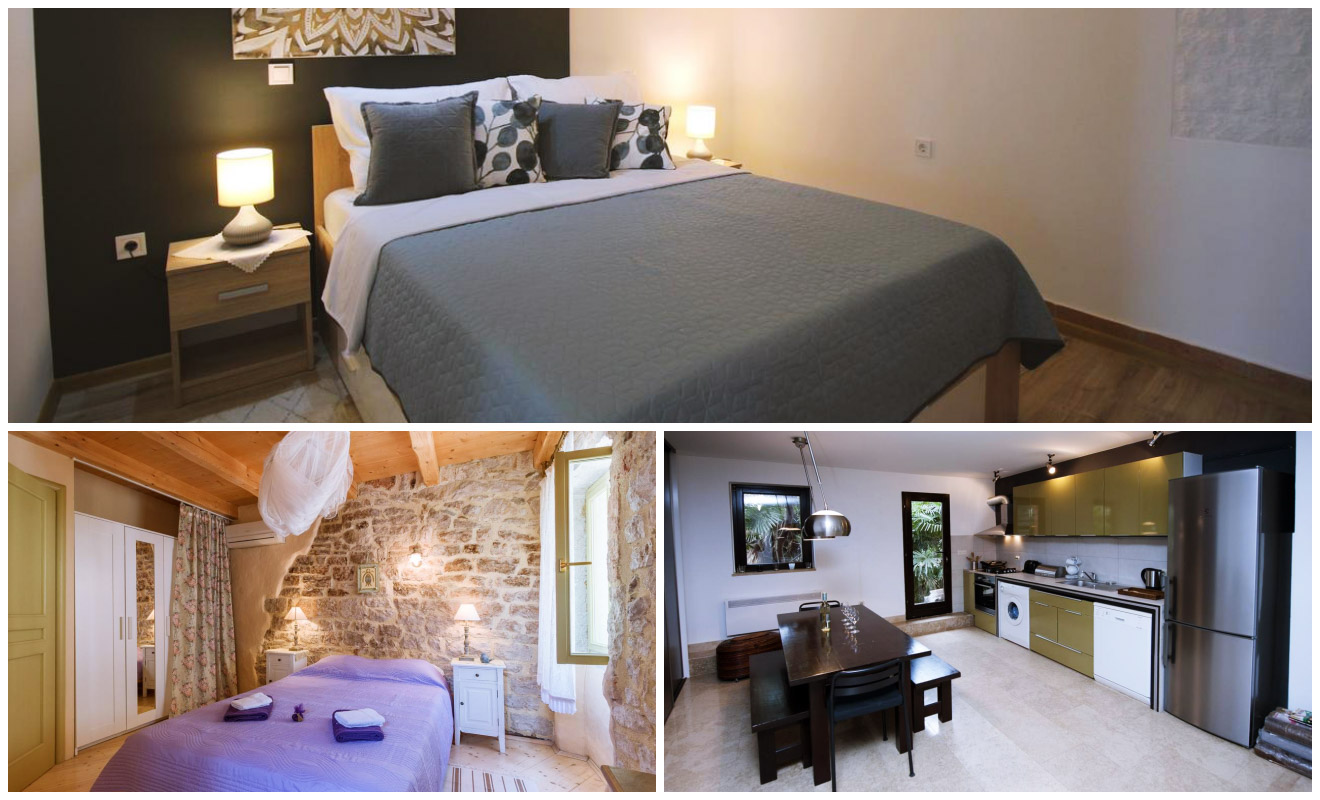 Holiday homes and villas are the perfect choices for people traveling with a large group of friends who want to have their own vacation "playground." Rovinj has some very good choices for villas, so I chose the best of them for you.
| | |
| --- | --- |
| 👑 Luxury price: | €200 |
| 💵 Mid Range: | €120 |
| 🛏️ Budget: | €70 |
| 🏠 Airbnb: | €130 |
| 💰 Accommodation prices: | Moderate |
| 📍 Best neighborhood: | Old Town |
| 🛎️ Best luxury hotel: | |
| 🧳 Mid-range hotel: | |
| 👛 Best budget hotel: | |
BONUS 1: Best accommodation in Rovinj for families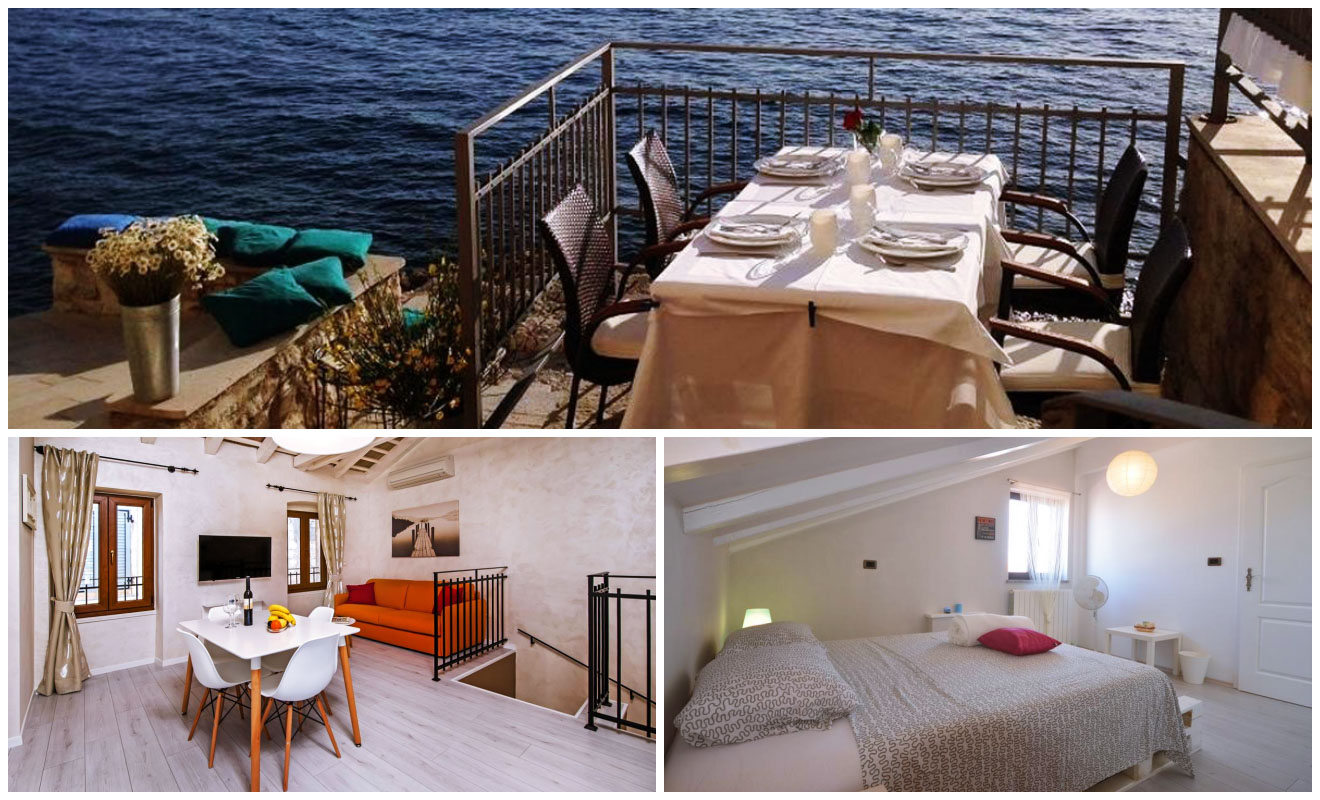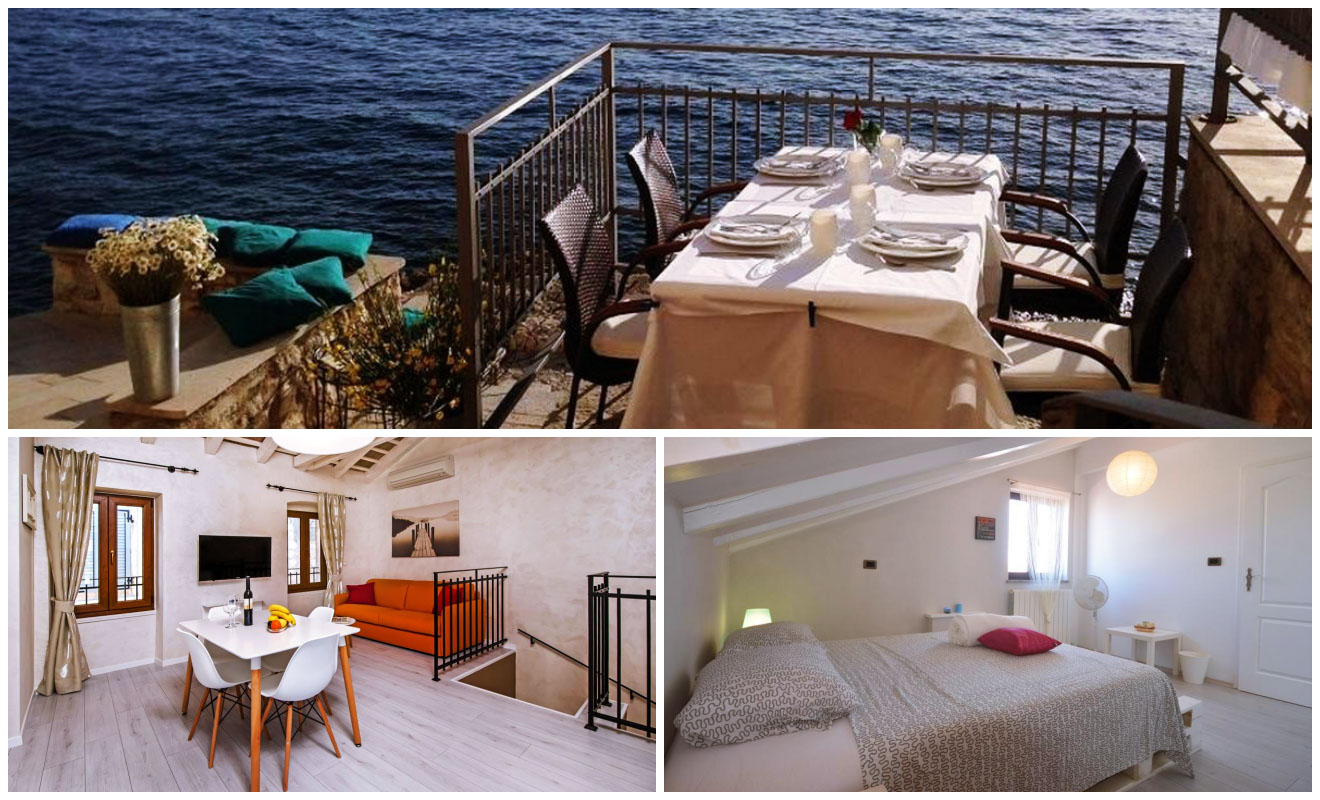 I have carefully selected spacious hotels, apartments, and villas perfect for those traveling in Rovinj together with their family and kids. All of them are child-friendly, with very good facilities and great value for money:
Luxury (€200 and up)
Apartments Casa De Amicis is a luxurious 5-star apartment in the city center. You and your family will love this spacious, classy, and stylish apartment – from the stone walls to hardwood floor down to every single interior design in this place. Additionally, you will have access to everything you need, especially for cooking.

Apartment Art

is my other choice for a great luxury stay in Rovinj together with your family. I recommend it for a family with one or two kids, and I'm sure you will feel incredible during your stay!
Middle-priced (between €100 and €200)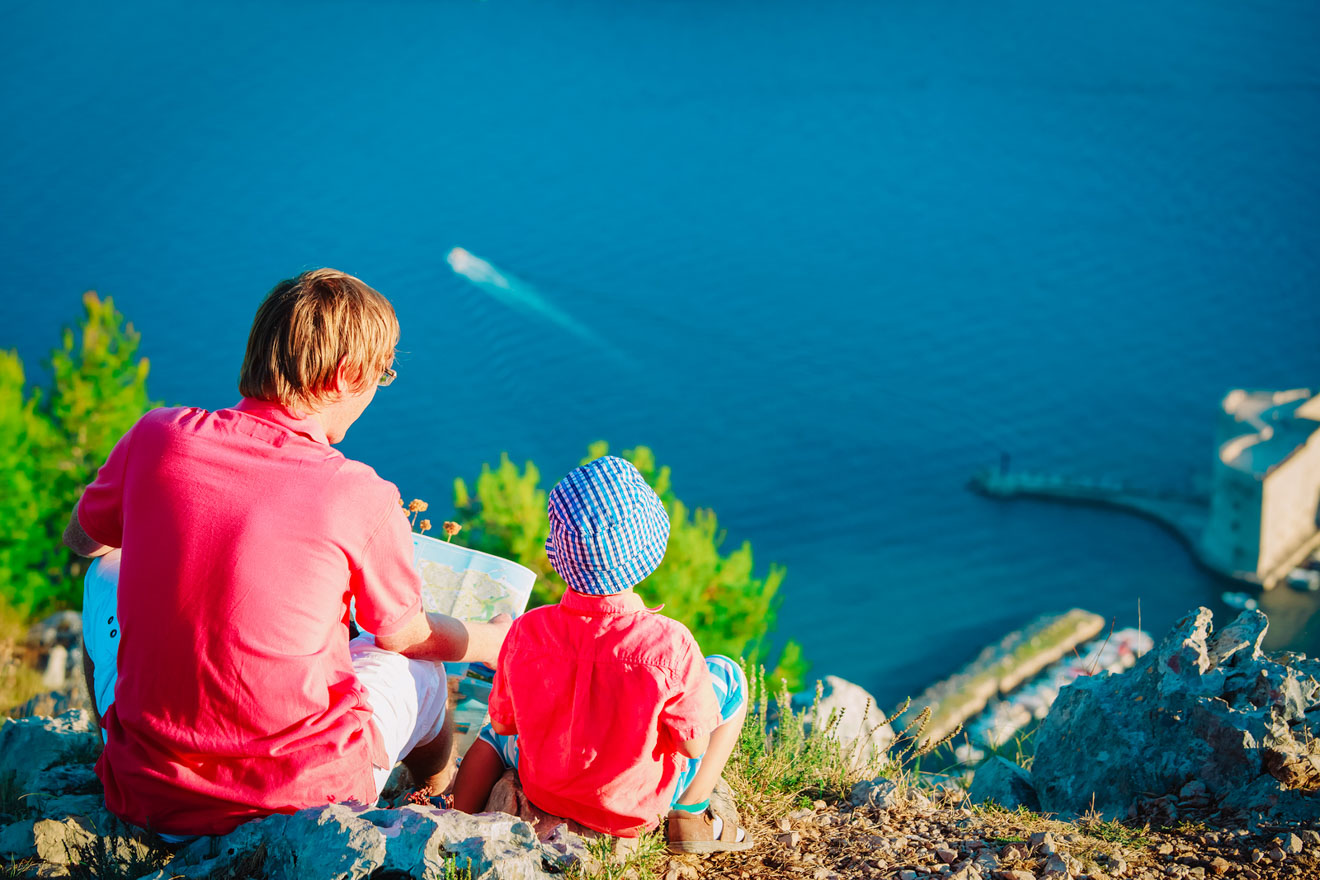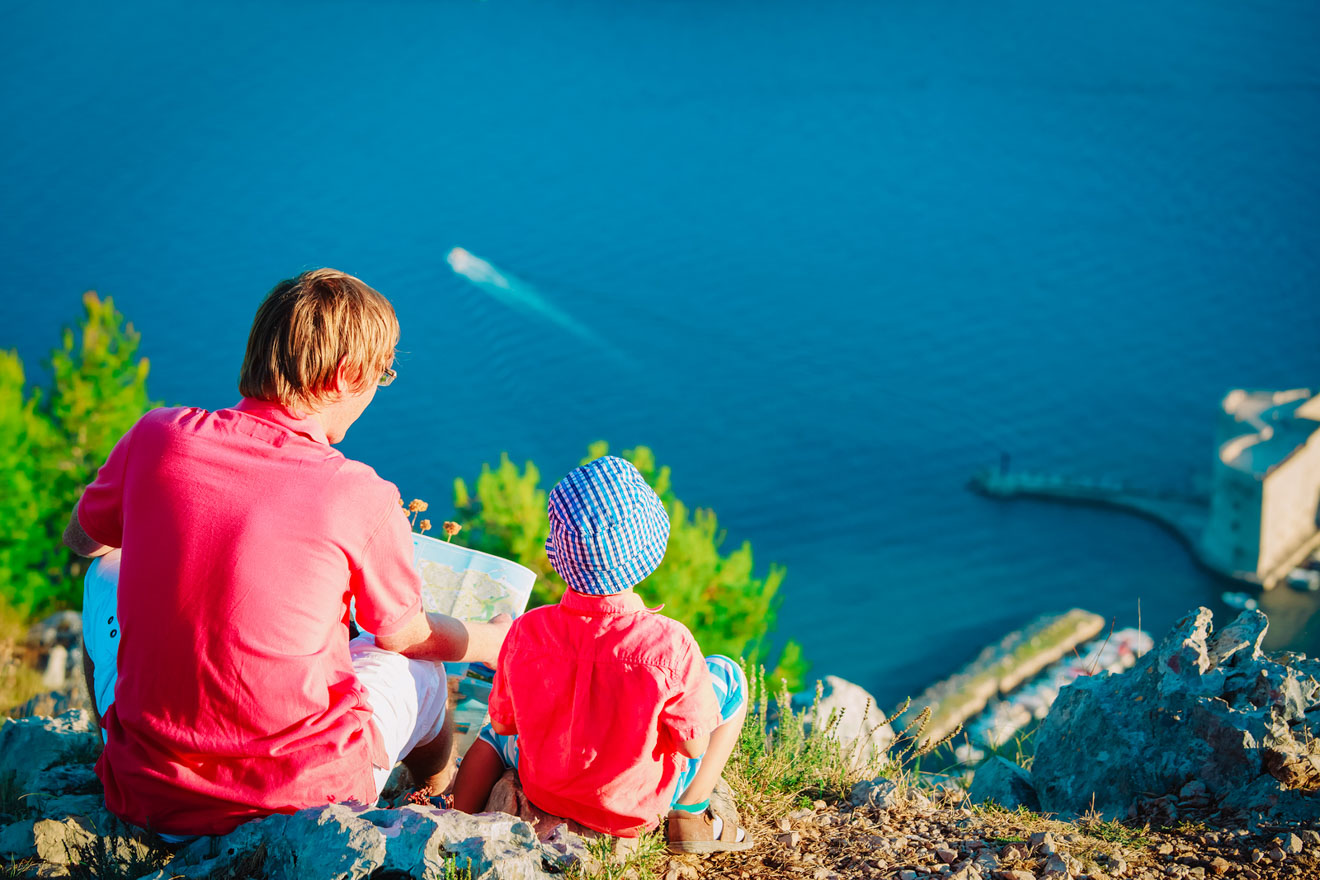 Apartments Cerin is located right in the quiet part of Rovinj, with spacious apartments, free parking, a large terrace, and a kitchenette, making it ideal for families. It is a walking distance to the beach and about 20 minutes to reach the colorful and vibrant town of Rovinj. You can also rent a bicycle to explore the area.

Apartments Cvek

is the perfect choice for a middle-priced accommodation. You will be amazed by the clean rooms, nice decorations, and the great location: right in the heart of Old Town Rovinj!
Budget (between €30 – €100)
Apartments La Casa di Loreto will provide you and your family with a new experience. You will stay in a traditional house with stone wall accents but with modern furnishings for a comfortable stay. You will find everything you may need, especially a fully equipped kitchen. The St. Euphemia Church is 850 m from the apartment, while the main bus station is 100 m away.
Apartments Garden is a cozy and nicely decorated apartment in the city center. Each unit has a fully-equipped kitchen, a patio, a terrace, seating area, free parking, and a garden. It can accommodate up to 6 people, and it also allows pets, so bring your furry friend along!
BONUS 2: Top 3 beaches in Rovinj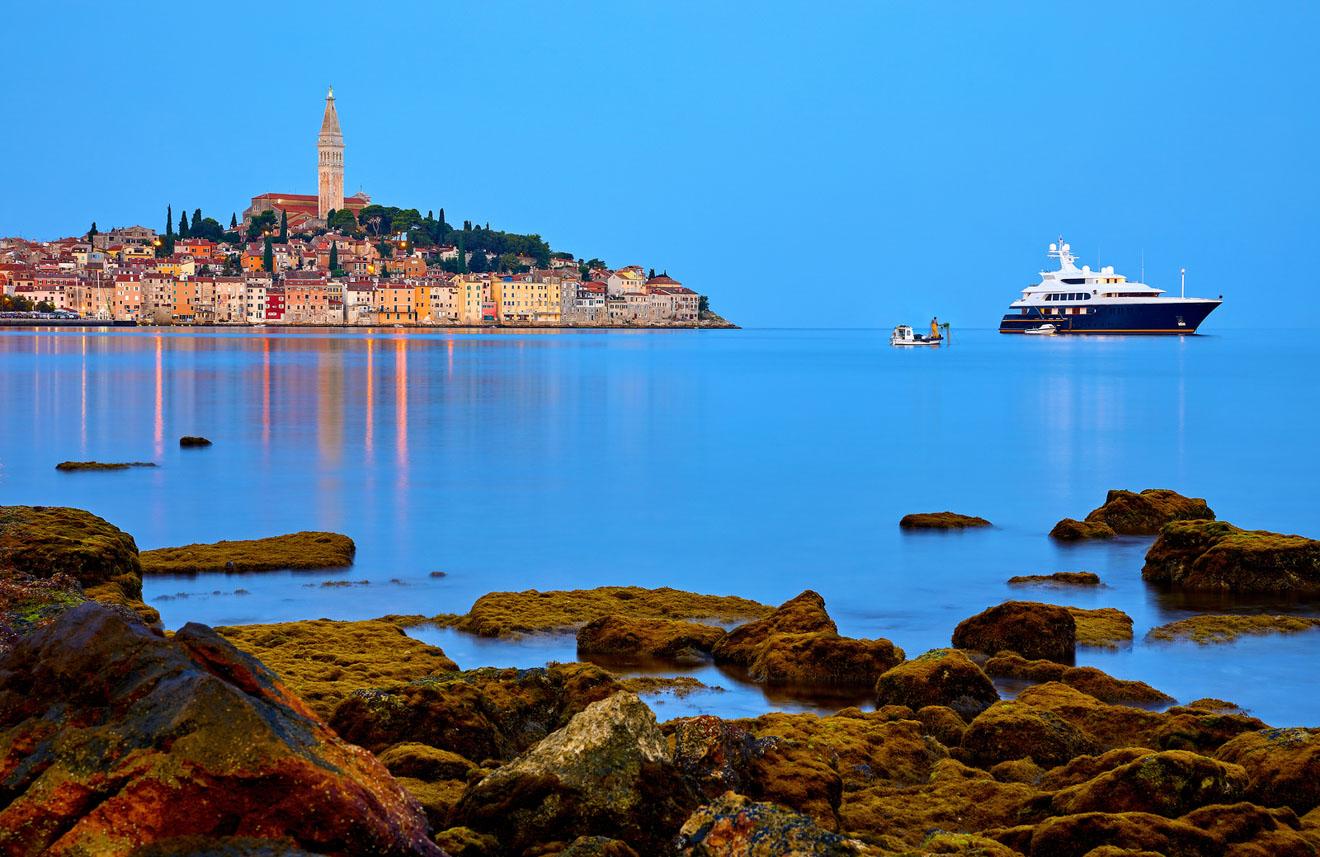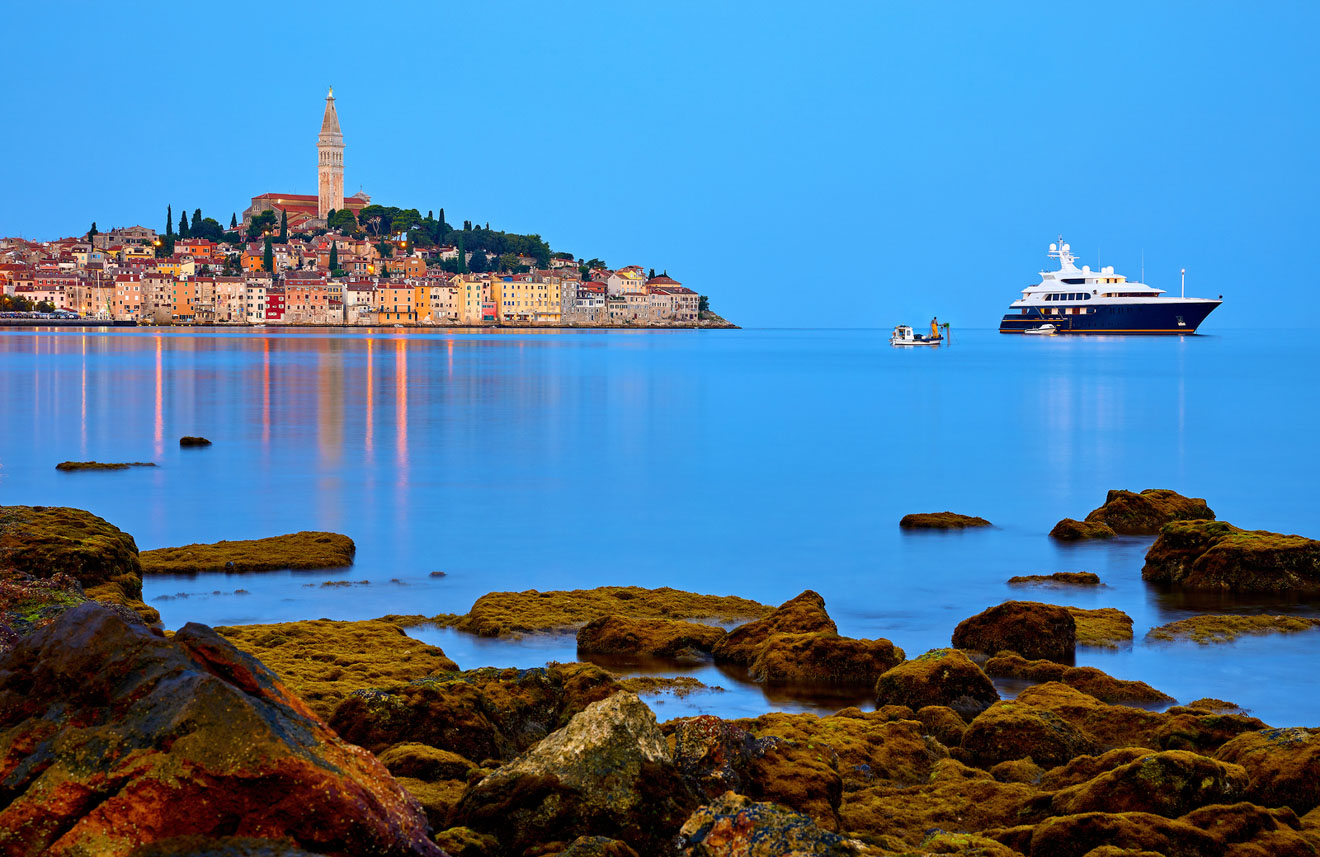 A visit to Rovinj wouldn't be complete without a dip in one of the best and most beautiful beaches in Istria. So here are the top 3 beaches you can easily access during your stay in Rovinj.
Baluota (Monte) Beach
It is a beautiful stone beach located west of the Old Town, below the Church of St. Euphemia. It's great for a quick dip in the summer, but since it's all rocky and steep, it is not ideal for kids or inexperienced swimmers. But one thing is for sure… it is one of the best spots to view sunsets.
Lone Beach
Rovinj's Lone Beach is one of the most popular beaches, also known as "the city's bathing resort." It is just a fifteen-minute walk from the town center and part of the protected Forest Park Zlatni Rt (Golden Cape).
The beach at Lone Bay is covered with pebbles so that everyone can swim and sunbathe here, including children. You can also find one of the most luxurious hotels in Rovinj here: the Hotel Lone Rovinj.
Mulini Beach
Mulini Beach is a beautiful beach close to Rovinj city. It is a walking distance of several luxury hotels as well as Zlatni rt Forest Park.
The beach is open to the public and is good for swimming, sunbathing, and snorkeling. There are also some nearby bars where you can have a drink and relax. Lastly, water activities are available, like boat rides!
Frequently asked questions about Rovinj
🌤️ What is the best time of year to visit Rovinj?
You can visit Rovinj any time of year, but if you want to make the most of the beautiful beach of Rovinj I highly suggest visiting during the warm months between July and September.
📅 How many days will you need to explore Rovinj?
Rovinj is relatively small. If you are only planning to go sightseeing, a day or two should be enough. But if you plan to spend time on the beach and enjoy other activities, I highly recommend at least 3 days.
🛌🏼 Where to stay in Rovinj for the first time?
The Old Town is the best place to start if you're visiting Rovinj for the first time, as it is home to everything from heritage, architecture, food, galleries, museums, and everything in between. Picturesque island views can also be seen from elevated parts of town.
🏖️ What are the top beaches in Rovinj?
Rovinj's beaches are a real highlight of the trip. Visit the famous stone beach, Balouta Beach, located within the old walls of the city, as well as Lone Bay Beach and Mulini Beach, which are both sandy and great places to swim, sunbathe and snorkel.
🎤 What is the language spoken in Rovinj?
There are two official languages spoken in Rovinj: Croatian and Italian. If you do not speak any of these languages, do not worry as English is also widely spoken, especially in hotels and the surrounding area.
Conclusion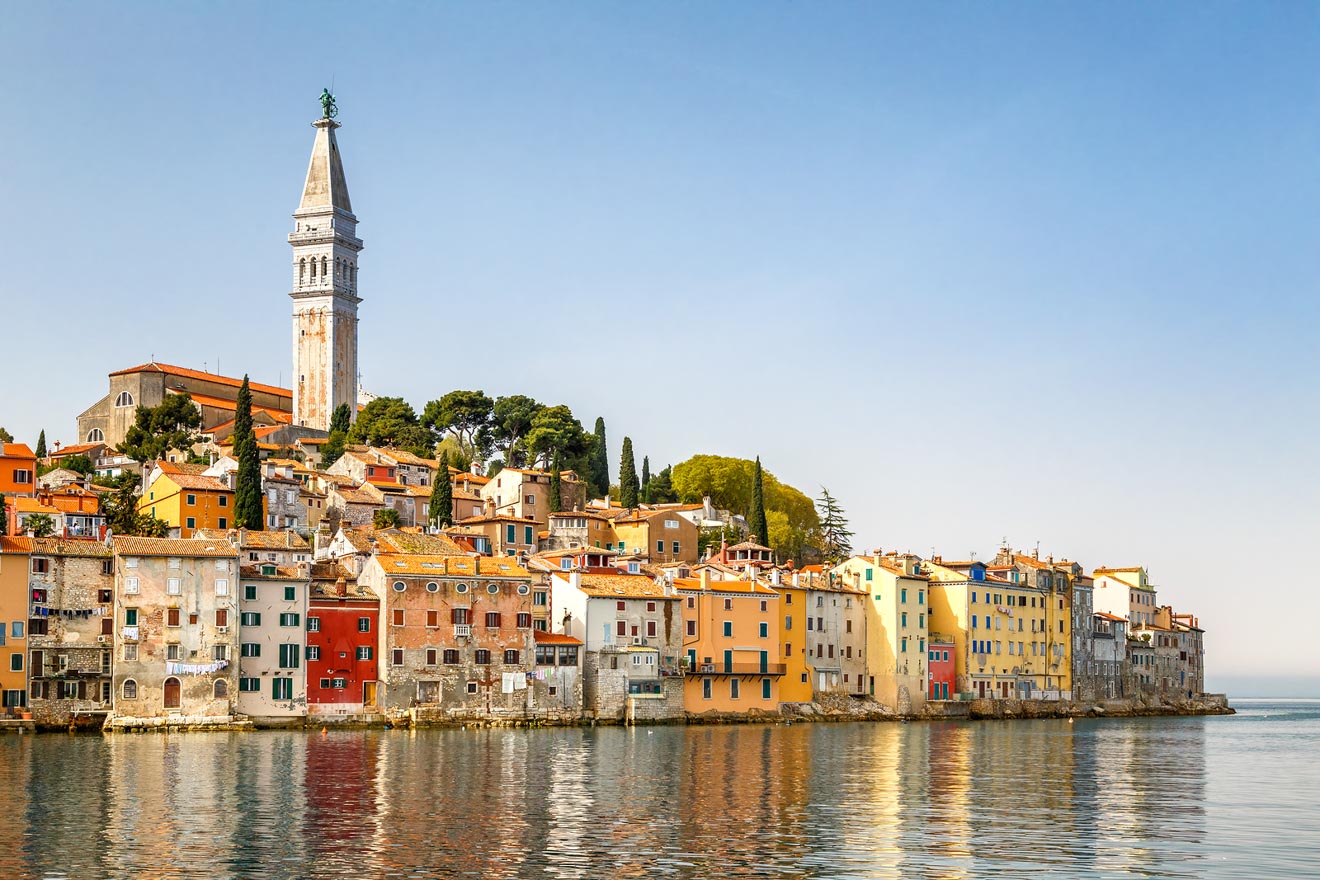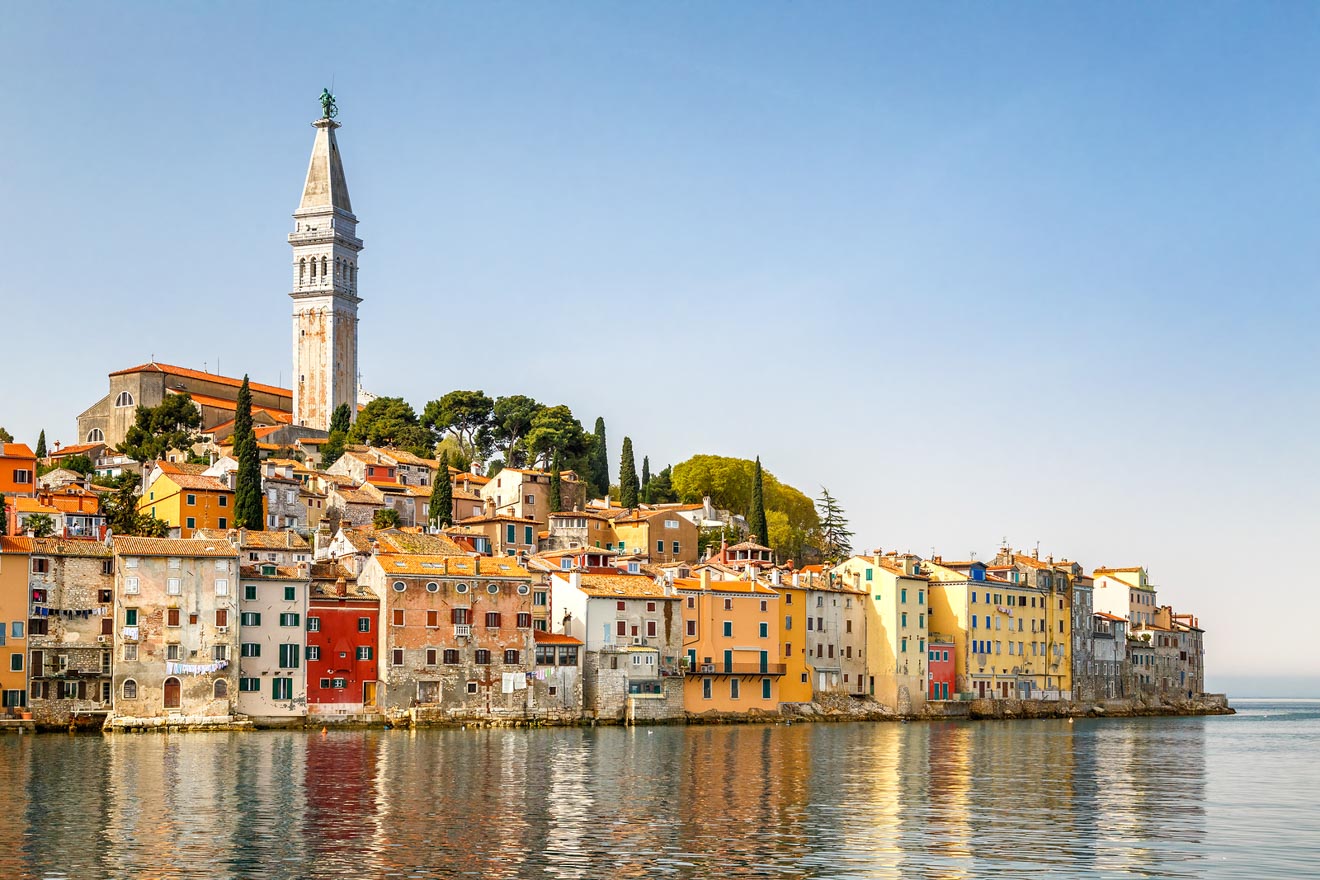 And that's my list of recommendations for Rovinj accommodation. I hope this has been useful to you! In this article you could find accommodation fit for any kind of traveler, regardless of your budget and preference. I have carefully chosen hotels for each budget, apartments and even holiday homes and villas, perfect for your Rovinj holidays!
Because Rovinj is such a popular destination among travelers in Istria, the accommodations are selling out very fast, which means it is always better to book in advance!
If you still can't decide between the many option on my list, here are my two favourites:
In case you want to read more about Croatia, you can find all my articles about this country here.
I hope you will enjoy your stay in Rovinj, Croatia. It is indeed a wonderful city!
As always, if you have any questions or suggestions, you can leave them in the comments. I'm always happy to hear from my readers!
Yulia
---
---
Pin it for later!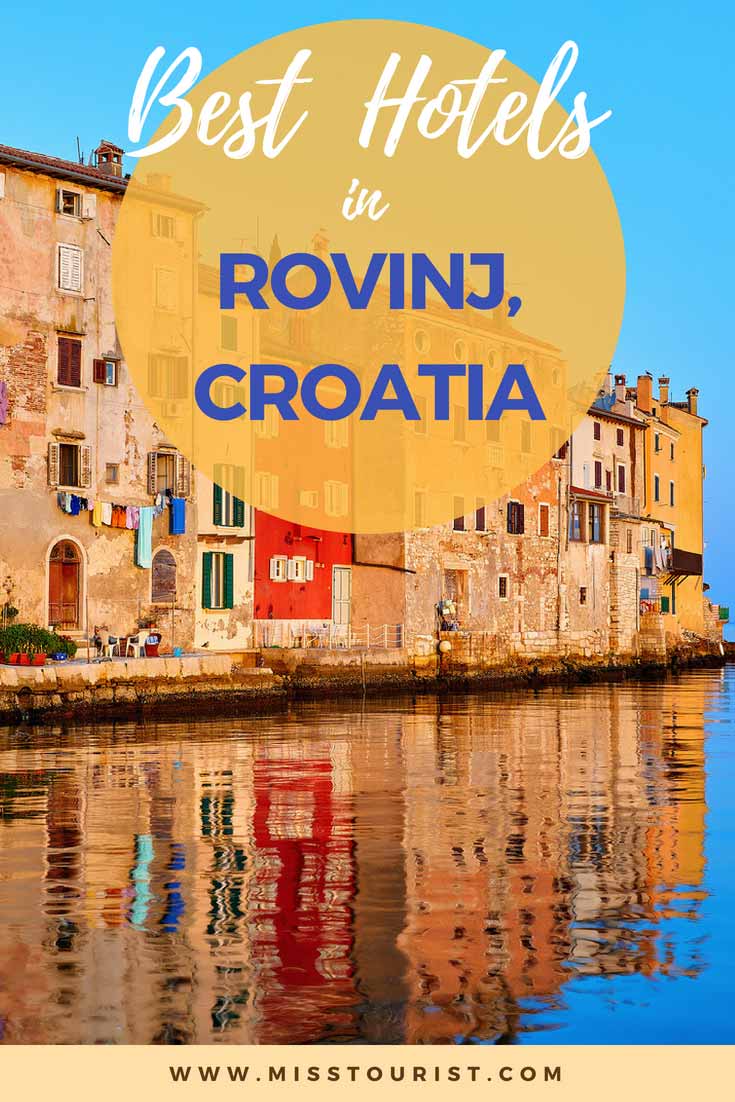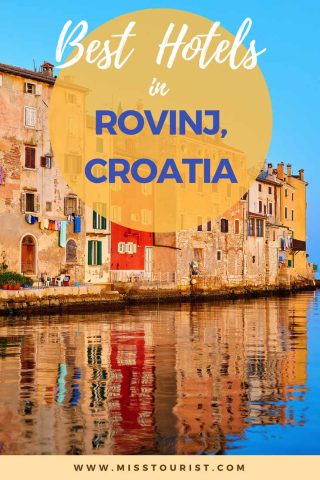 Pin it for later!