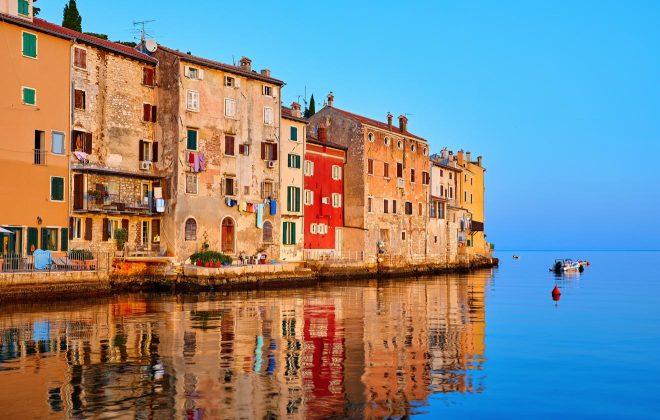 Rovinj is one of the most popular destinations in Croatia and a great place for your next vacation. Rovinj is one of the Top 8 charming cities I recommend you visit in Croatia and the land of wonderful beaches, cobblestone streets, amazing cuisine and a romantic place for a getaway. I recommend this amazing little city to everyone: couples, groups of friends and families!
If you are planning to go there in the nearby future, then you must be searching for great accommodation options! And I'm here to help: I carefully selected the best hotels in Rovinj, Croatia with fabulous reviews and great facilities and grouped them by price for your convenience!
Here are my accommodation recommendations on the Rovinj map:
Rovinj Hotels
Because of its beautiful vibe and amazing beaches, Rovinj is a popular destination in Croatia. This means the rooms are selling out very fast and you have to book yours as soon as possible in order to make sure you will stay in your desired hotel!
In the list below I selected some of the best choices for luxury, middle-priced and budget hotels:
Luxury (200€ and up)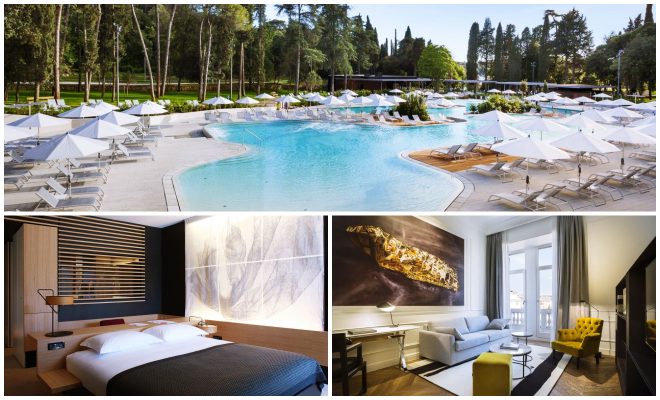 Middle-priced (between 100€ and 200€)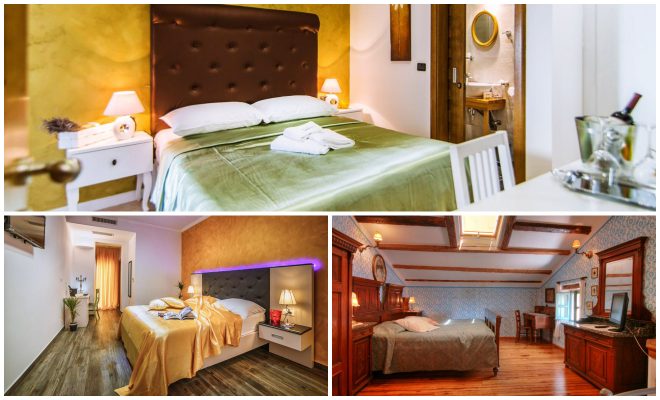 Budget (between 30€ – 100€)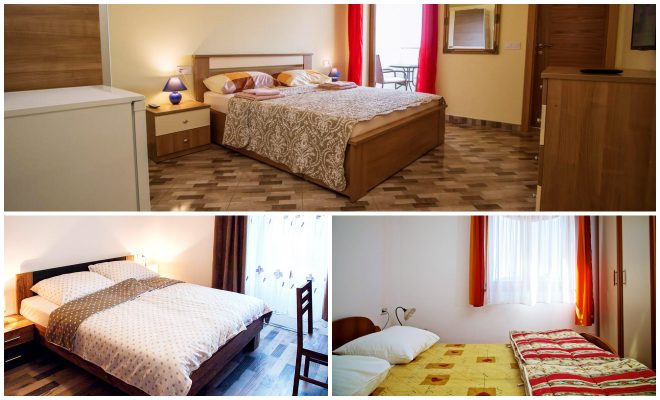 Here are my recommended budget hotels and hostels in Rovinj:
Apartments in Rovinj, Croatia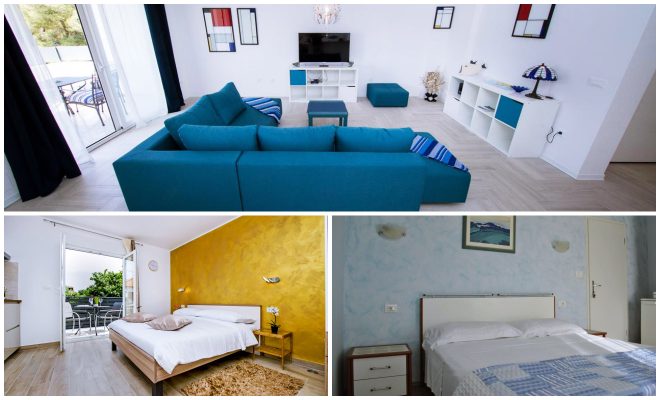 Apartments can also be a great choice for travelers who want to feel at home while visiting Croatia. Apartments give you the comfort and privacy you need and they are available for any kind of budget. Here are my recommendations:
Luxury (200€ and up)
Apartments Tamburini is a nice luxury apartment in Rovinj that awaits you with beautiful, ocean-inspired decorations and a wonderful garden where you can relax and unwind. You will find different kinds of apartments available here, suitable for 4 to 6 people traveling to this beautiful city.
Royal Apartments is an apartment located right in the heart of the historical area of Rovinj and the perfect place where you will feel like a queen or king. The rooms are gorgeous and the apartment has a stunning view over the sea!
A&D Apartments offers a variety of choices, from a studio apartment perfect for 2 people to a gorgeous apartment with sea view for up to 4 people. Regardless of what you're choosing, you will be greeted with a nice atmosphere and good facilities!
Middle-priced (between 100€ and 200€)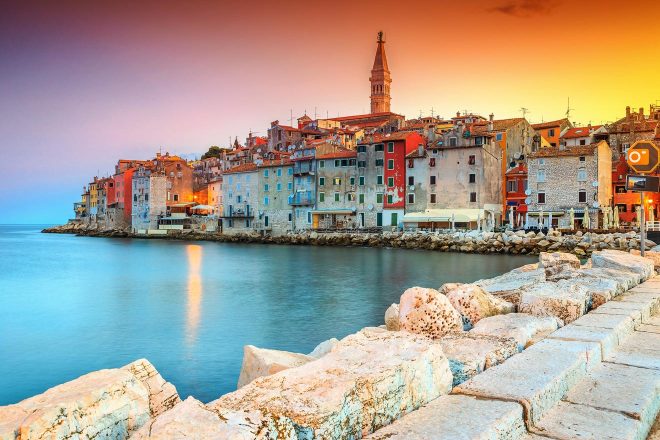 Apartment and Studio Tereza has many options you can choose from: a studio apartment suitable for 2 people, an apartment with balcony and one with terrace, perfect for a group of up to 4 people. The rooms are very clean and the kitchen is fully equipped.
Grisia 26 Apartment Rovinj is another great choice that will make you feel exactly at home. This apartment is located only minutes away from the beach and it's perfect for up to 4 people, as there are 2 bedrooms available.
Apartments Aalvar and Aalto is a clean and cozy apartment located in the heart of Rovinj, with a great value for money. This accommodation in Rovinj, Croatia has everything you may need, from beautiful decorations to a fully equipped kitchen and facilities. Click the link to check out the pictures of the property!
Budget (between 30€ – 100€)
Apartment Casa Banko awaits you with clean and comfy rooms, perfect for relaxation after a day of exploring Rovinj. The apartment also has free Wi-Fi, air conditioning and access to a beautiful garden, so I'm sure you will enjoy your stay there!
Apartment Iva has nice and cozy rooms, a fully equipped kitchen and a nice dining area where you can spend time with your friends. Check the options from the link, you can choose from a studio apartment for 2 people or a bigger one, suitable for 3.
Apartment Kiko has everything you will need for a pleasant stay in Rovinj. The apartment is close to the beach, it has free Wi-Fi, a flat-screen TV, washing machine, fully equipped kitchen and even a spacious terrace!
Holiday Homes & Villas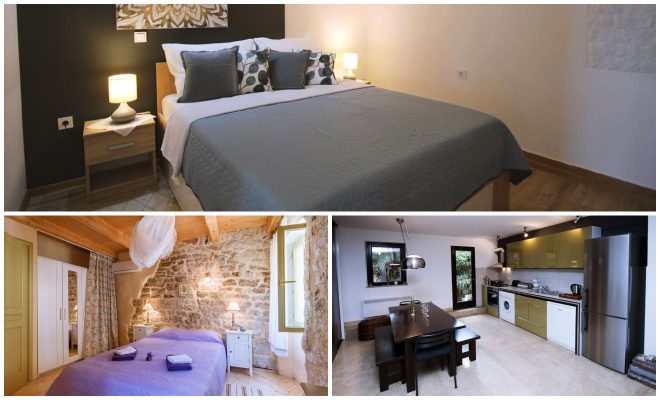 Holiday homes and villas are the perfect choice for people traveling in a large group of friends and who want to have their own vacation "playground". Rovinj has some very good choices for villas, so I chose the best of them for you.
Best accommodation in Rovinj for families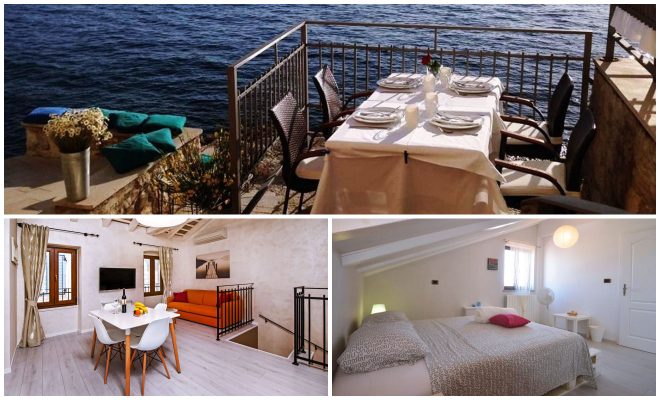 I have carefully selected spacious hotels, apartments and villas perfect for the one that are traveling in Rovinj together with their family and kids. All of them are child-friendly, with very good facilities and a great value for money:
Luxury (200€ and up)
EXCELSIOR Apartments Rovinj is the perfect place for a luxury stay for a family of up to 5 people. This accommodation has an excellent location, in the heart of Rovinj and very close to the beach and to the rest of the attractions in the city!
Apartment Art is my other choice for a great luxury stay in Rovinj together with your family. I recommend it for a family with one or two kids and I'm sure you will feel incredible during your stay!
Middle-priced (between 100€ and 200€)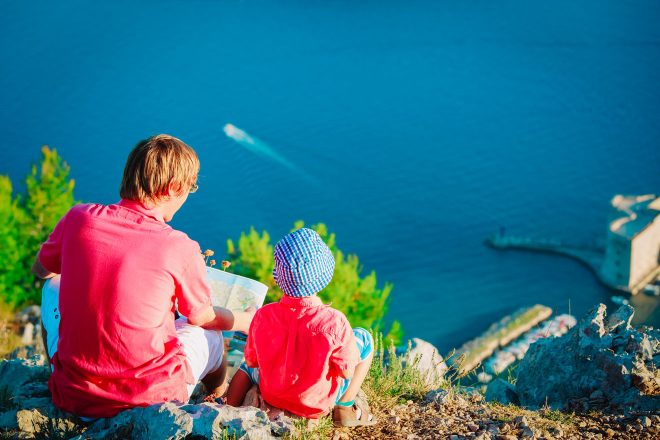 La Fondiaria is an amazing 3-star accommodation with a great value for money. This hotel has free Wi-Fi, a nice terrace, and the best part is that it is only 11 minutes away from the beach!
Apartments Cvek is the perfect choice for a middle-priced accommodation. You will be amazed by the clean rooms, nice decorations and the great location: right in the heart of Old Town Rovinj!
Budget (between 30€ – 100€)
Apartment Antonietta is the perfect budget choice for a family of 3 or 4. The accommodation is not far from the city center and it awaits you with air-conditioned rooms, a cozy seating area, a fully equipped kitchen and more!
Apartmani Gržinić is another great choice for Rovinj. This cozy and nicely decorated apartment will spoil you with a terrace, kitchen, comfortable rooms and even a barbecue where you can enjoy meals together with your family!
---
Conclusion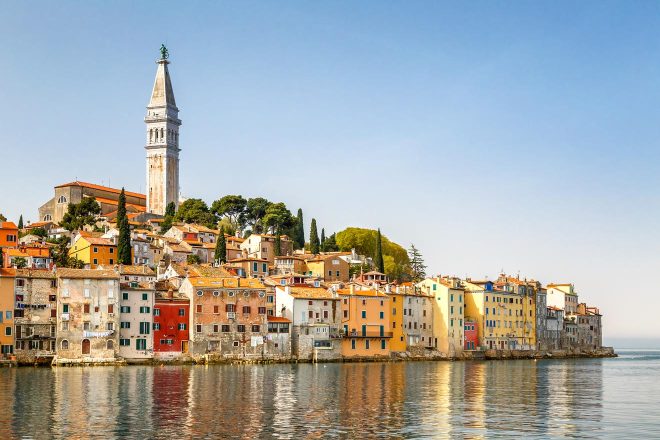 I hope my list of recommendations for Rovinj accommodation was useful for you! In this article you could find accommodation fit for any kind of traveler, regardless of your budget and preference. I have carefully chosen hotels for each budget, apartments and even holiday homes and villas, perfect for your Rovinj holidays!
Because Rovinj is such a popular destination among travelers in Istria, the accommodations are selling out very fast, which means it is always better to book in advance!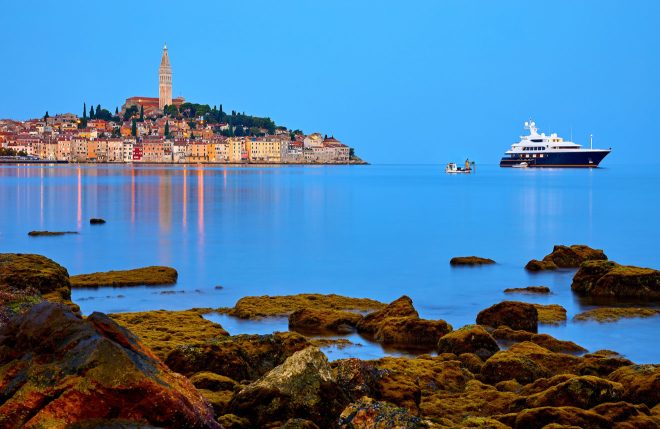 In case you want to read more about Croatia, you can find all my articles about this country here.
I hope you will enjoy your stay in Rovinj, Croatia. It is indeed a wonderful city!
As always, if you have any questions or suggestions, you can leave them in the comments. I'm always happy to hear from my readers!
Yulia
---
RELATED ARTICLES:
---
Pin it for later!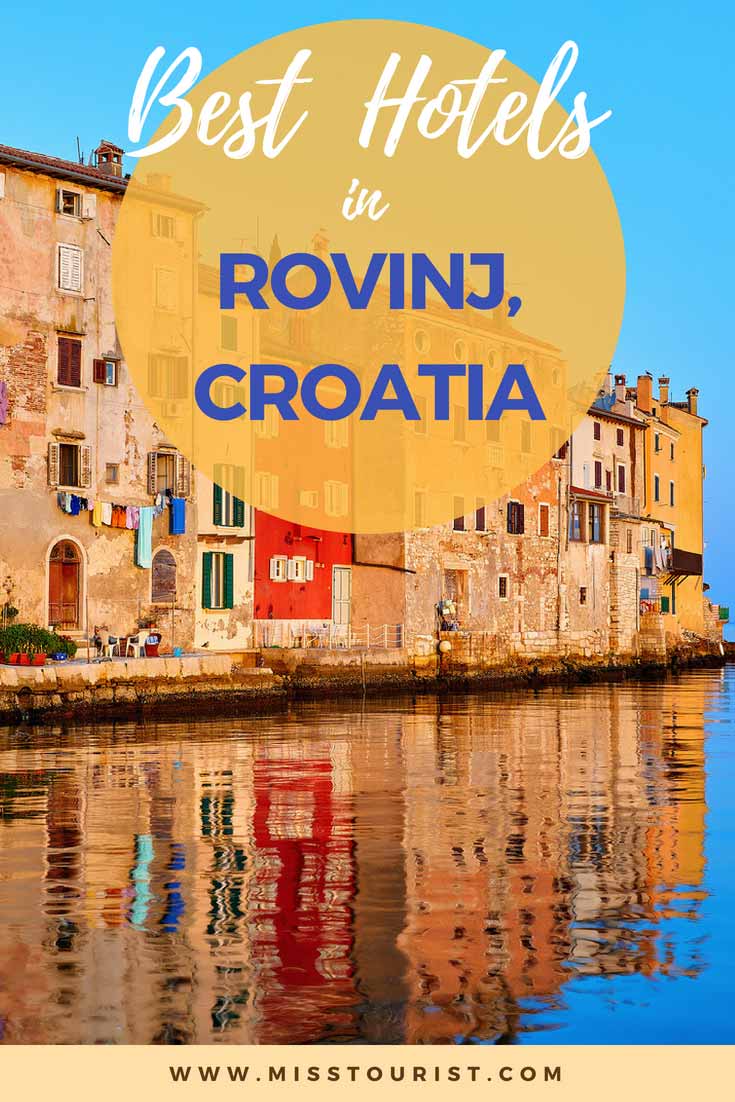 Pin it for later!