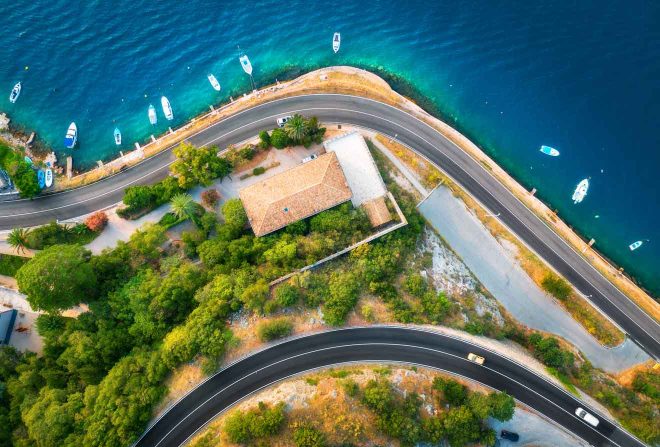 Bok, traveller (that's Hello in Croatian!). I am happy to see you are interested in visiting Croatia, one of my favourite countries!
In my humble opinion, Croatia is one of the most beautiful destinations to travel through by car! Just take a look at the above picture – wouldn't you want to rent a car and drive along that beautiful coastline?
Hiring a car in Croatia gives you the freedom to travel as you please and make impromptu stops along the way, without having to hassle with a tour guide!
Before we even start talking about WHAT you should know before learning everything about car rentals in Croatia, let me make it super clear WHY I think it is the best way to travel in that country:
Why Hire a Car in Croatia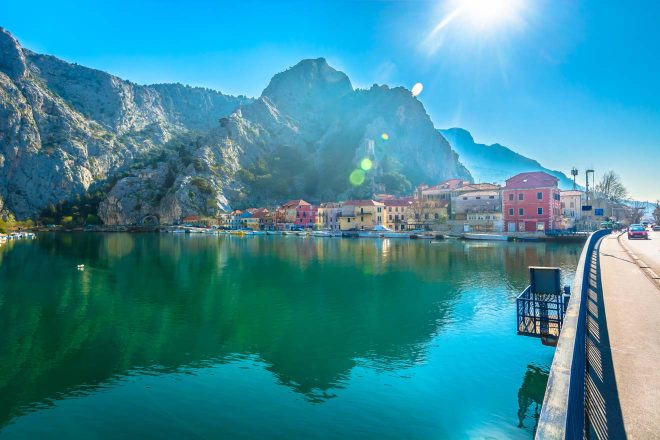 Having the convenience of your own transportation makes a huge difference when traveling in Croatia! You'll feel much more independent without feeling like you need to rely on anyone else.
You'll be able to travel off the beaten track and see sights that many tourists miss!
Having your own rental car allows you to change your plans at any point during your trip and allows for spontaneity.
The vieeeews! The views are gorgeous! Be it coastline, waterfalls, lakes or some stunning landscape, you will want to see it in your own time, not from a window of a bus.
The only problem is, renting a car in a foreign country can be tricky! That's why I've created this guide to help you make informed Croatia car hire decisions. Some of these car rental tips are specific to Croatia, so be sure to pay careful attention so there are no unexpected surprises on your trip!
Here's everything you need to know about renting a car in Croatia!
1. How Much Does It Cost to Rent a Car in Croatia?
One of the most important parts of renting a car in the land of Game of Thrones is finding a price that will suit your budget. Of course, every company charges different rates, so you'll have to do a lot of comparing to find the best and least expensive car hire.
You'll need to compare international and local car rental companies like Alamo, Budget, Europcar, Fleet, Hertz, Last Minute Rent a Car, Sixt, and Thrifty and visit many local sites, search for the discount codes for each of them and compare! But I prefer to use a comparison aggregator like CarRentals or AutoEurope to do the hard work for me (they are basically a Skyscanner for cars-they will check all the prices for your dates for all the car rental companies in the area).
The comparison aggregator can sort by car type, price, and a variety of other options so that you're not left sifting through results for hours.
So how much can you expect to pay to rent a car in Croatia? Well, that highly depends on what type of car you'd like to drive and which season you'll be visiting this beautiful country!
1.1 Average prices to rent a car in Croatia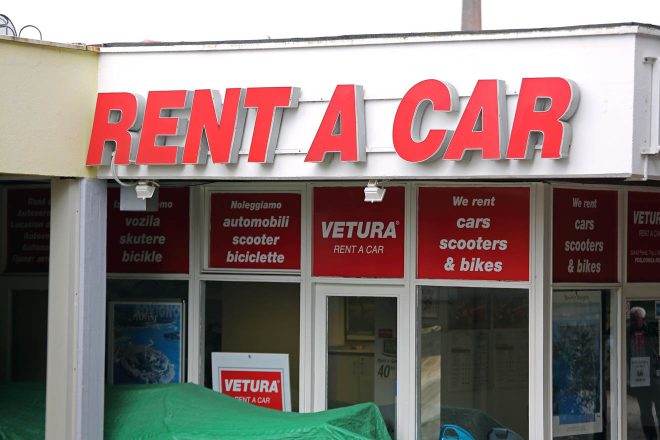 Here are the average prices that you can expect to pay to rent a car in Croatia for a day. I've listed the price in HRK (Croatian Kuna) and USD but please note that the USD exchange rate might significantly change, so make sure to check the up-to-date rates here.
I also listed 2 prices for high and low season, so you're prepared no matter what time of year you're traveling!
Economy car: High Season – HRK 220 (US $32), Low Season – HRK 200 (US $29.5)
Mini car: High Season – HRK 227 (US $ 33.5), Low Season – HRK 200 (US $29.5)
4×4: High Season – HRK 1750 (US $

258

), Low Season – HRK 1700 (US $

250.5

)
RV: High Season – HRK 1003 (US $

149

), Low Season – HRK 662 (US $

97.5

)
It might sound obvious, but in order to find a cheap car rental, you'll need to book well in advance as this lowers the prices dramatically! In certain instances, rental companies offer discounts if you hire at the last minute, but this is a risky move as prices might increase due to demand so I don't recommend it.
PRO TIP: Never try booking at the last minute during peak season in Croatia (which is June to September) as you may not find a vehicle to rent, and if you do, the price will be heavily escalated due to the high demand!
1.2 Car Insurance Price for Rental Cars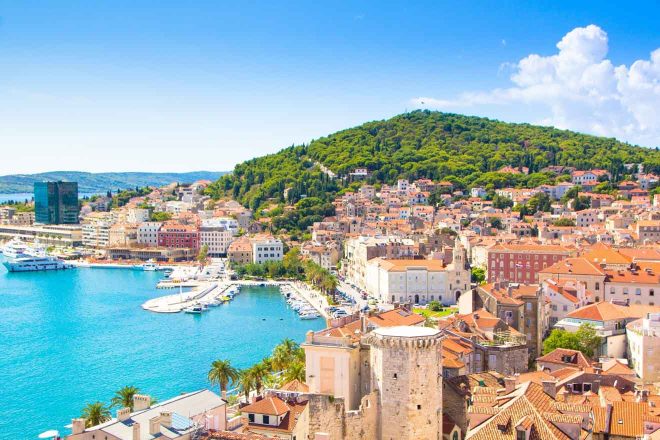 If you have rented cars abroad before, you probably know that most car hire companies offer an insurance policy to go along with the car, but these are generally very overpriced and sometimes cost more than hiring the car. However, buying insurance from them isn't your only option.
There are plenty of companies that offer short term insurance for rented cars, and many of these come in at a much more reasonable price! I highly recommend investigating this option before signing any insurance papers that the car rental company gives you.
Insurance4CarHire has some of the best independent insurance prices and offers very comprehensive coverage! Also, if you are a US citizen, check Bonzah, they offer pretty good prices too!
1.3 Gas Prices in Croatia
A big portion of your traveling budget is going to go towards fuel if you're taking a road trip. Currently, you can expect to pay around 10 kunas (US $1.40 USD) per liter. Be sure to factor these costs into your budget!
NOTE: When renting a car, you have to return it with a full tank of gas or you'll be subject to additional charges (which add up to a lot more than the price of a tank of fuel).
2. What Documents Do You Need to Rent a Car in Croatia
In order to rent a car in Croatia, you'll need a valid driver's license from your home country; an international driving licence is only required if your license is not written with Latin letters (for example, if it is in Chinese or Cyrillic). So, you'll only need to apply for an international driver's license if your current driver's license is not written in Latin letters.
Do not forget to take your credit (not debit) card because you will probably need it for a deposit (that is, if you are not going to purchase the full insurance).
ATTENTION: You'll be able to rent a car as long as you're 18 years or older, but will be subject to extra charges if you're younger than 22 or older than 70.
3. Best Car Rental Companies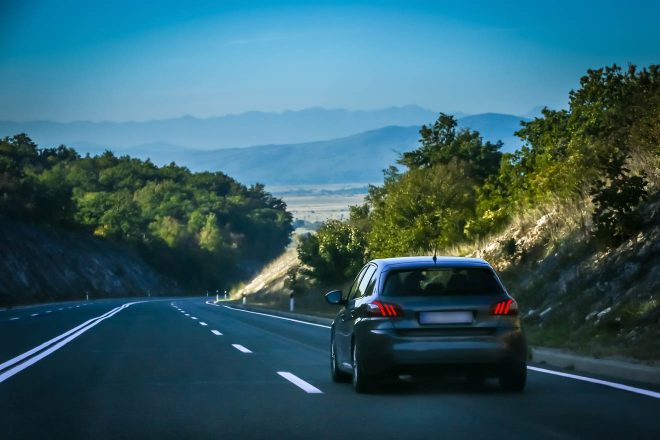 Which car rental company will be best for you depends on what you're wanting to do with your rental car. Are you wanting to road trip across Croatia or do you need to look for car hire companies that allow cross-border travel?
As I mentioned earlier, I recommend looking at RentalsCars.com so you can filter your options to find the best deals for whatever your plans are. Whether you want to travel the country or road trip across the continent, there'll be a car hire option for you!
RentalCars will then compare all the available cars and give you the prices for the city you are arriving in. You can then individually check the reviews for each car rental company. The cool part about price comparison companies is that you can be sure you are protected by the reseller if something goes wrong. while if you were to use a small local company, it might just ignore your claims.
4. Things to Consider When Renting a Car in Croatia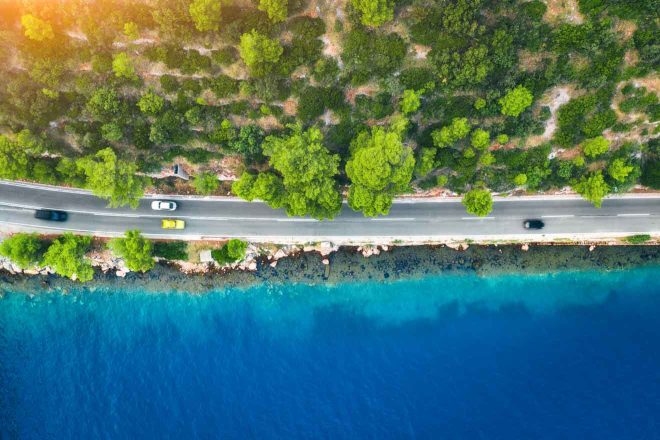 Although looks are great, there are a few other things you should take into consideration when choosing a rental car:
Be sure to ask the rental company whether the car you want to hire has a GPS. If not, you can always download an international offline GPS navigation app, just be sure to keep your phone charged at all times.
Make sure the size of the car is appropriate. Take into consideration the number of people that will be traveling in the car, and the amount of luggage each of them will bring.
If you'll be traveling out of Croatia, make sure the car rental company allows cross border travel. Be aware that if you take a road trip from the north of Croatia down to Dubrovnik, there is a small area of land that is Bosnia and it does count as a border crossing. More on that below in the text.
If you're going to be traveling long distances, make sure the car is equipped with cruise control. This will help you out a lot, especially when driving on the highways!
Location matters. Renting a car from Zagreb can cost almost double the price of renting a car from Dubrovnik or Zadar.
5. Additional Fees for Car Rentals in Croatia
Hidden additional fees that you weren't aware of can leave you way over budget after your road trip.
Here are a few you might encounter:
As mentioned before, if you're under the age of 22, or over the age of 70, you'll be eligible for additional fees (about 25 EUR per day surcharge). The exact sum depends on the company; please check with the company or it will also say on the site right away if you are using any of the price comparison websites
Try to keep the number of drivers to a minimum as most car rental companies will charge extra fees for each person driving the vehicle
Check if the company you're hiring your car from is charging additional fees for one-way drop-offs. If you need to leave the car at a location different from the pick up place, it may be best to switch to another company as there are plenty of car rental companies that don't charge extra fees for this service (set filters on RentalCars to see them)
Ask the car rental company if there are any hidden service taxes that will be added to the fee; basically, ask – "What is going to be my final price including all the additional charges?"
Check if you have unlimited mileage on the car, or if you're paying per kilometer for the distance you drive (unlimited is very much recommended, of course)
Check if there is a fee for picking up the car in premium locations, for example, car hire in Pula airport.
If you choose to rent a car at the airport, it usually will often cost more as the car rental company has to pay extra for a license to operate at the airport. In some cases it may be better to rent a car from a company situated near your hotel and pick up the car only once you've settled in.
Again, tools like AutoEurope and RentalCars can help you figure out the logistics of your trip a whole lot easier. I really recommend these businesses as they've made booking rental cars a breeze whenever I've hired a car abroad!
6. Things to Check Before You Rent a Your Car
It does not matter what country you are renting your car in, before driving the car out of the lot, it's important to do a few checks:
Inspect the car thoroughly for scratches and dents on the exterior. There may be a fault that the company is not aware of. In this case, you should point it out to them before you take the vehicle so that you're not held responsible
Familiarize yourself with the car. Get an assistant to tell you where the lights, aircon, indicators, and other controls are so you don't have to figure it all out on your own. Be sure to adjust the wing mirrors, rearview mirror and the seat to your liking before leaving on your journey
Punch your travel plans into the GPS. This will save you a lot of hassles along the way!
Make sure you ask the rental company what kind of fuel your rental car takes. It may be more than a little stressful trying to figure it out after you've departed
Make sure that your driver's license is with you and valid for at least the next 6 months. If not, you better get it renewed before your trip or the car won't be released to you
If you are traveling with a child that is under 18 kg (30 lbs), you'll need to ask the rental company for a baby seat. If you don't want to pay the extra charges (it can get quite costly, actually) you'll need to bring a baby seat with you
In my opinion, the GPS option is completely unnecessary as Google maps works great in the country and it is available offline if previously downloaded
Check that there is a full tank of gas in the car before you leave, as that is the policy with rental cars.
NOTE: Do not forget to refill your tank when returning the car. Some companies can charge triple the price for gas, so better do it yourself in advance.
7. Book as far in advance as possible!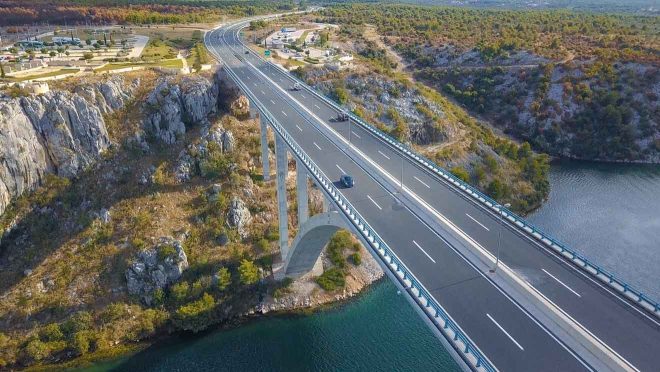 I will mention this a couple more times in this post, and I can't stress this enough – Croatia is a pretty big tourist destination nowadays (for a good reason!) and the rental car rates are not getting any lower, trust me!
This holds true ESPECIALLY if you are visiting in the high or shoulder season (so, May to October). Book early to secure the best rate (same for the extra services you might need such as GPS navigator, baby seat etc.)
| | |
| --- | --- |
| 🚗 Economy car: | €29 |
| 🚜 4×4 price: | €232 |
| 🚐 Campervan price: | €133 |
| ☀️ Best time of year: | May – October |
| 🔞 Minimum age to rent: | 18 years old |
| ⛽ Avg. cost of fuel: | €1.82 |
| 🛣️ Roadside: | |
| ✈️ Cost of traveling: | High |
BONUS – Best Car Types for Driving in Croatia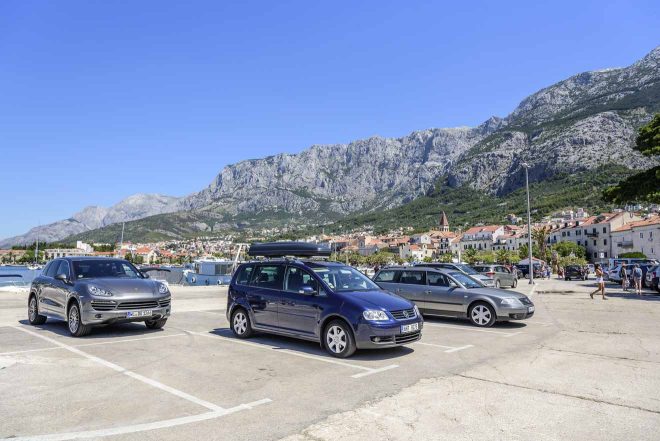 Let me start by assuring you that there is no right or wrong choice here – the road conditions in Croatia are close to excellent, so any car you rent will do. The question is – which one will you be the most comfortable in?
Considering the fact that there are plenty of small towns with narrow cobbled streets in Croatia, the best advice I can give is – the smaller the better! Take into consideration the fact that Croatia has many narrow village streets and tiny back roads that will be extremely difficult to navigate with a big car. Smaller cars also have a much better fuel efficiency which will save you money along the way!
Just be sure there is enough space for all your passengers and their luggage and you should be good to go!
PRO TIP 1: Also, take into consideration that renting a manual car is almost half the price of renting an automatic. If you are not used to manual ones, it will be worth your while to learn how to drive a manual or take someone along who can drive a manual car, as it will save you a pretty penny! If you only want to go with the automatic one, try to secure it as much in advance as possible – there are not that many on the market and they get sold out fast.
PRO TIP 2: Oh, and don't forget to double check if the car is equipped with functioning AC – this is something you will definitely need during a hot Croatian summer!
Here are 4 car types I recommend for different types of vacations:

1. Traveling Between Cities
RECOMMENDED CAR TYPE: If you're going to be doing a lot of long-distance traveling between cities and seeing a lot of open roads, you'll need something comfortable with room for plenty of luggage.
I recommend using an economy car that doesn't guzzle petrol but provides plenty of comforts. A Fiat Panda or a Hyundai i30 would work well in this situation and wouldn't cause too much of a hassle if you decide to drive into a small village.
PRICE: HRK 200 (US $29.5) – HRK 220 (US $32) per day
2. Group of Friends or Family Travel
RECOMMENDED CAR TYPE: If you're traveling with a whole group of people and want to avoid traveling in a convoy, I recommend renting a bigger vehicle that can serve as a home while you're on the road.
An RV or Camper Van is the perfect vehicle to rent in this situation. The only problem you'll have is you won't be able to drive through small villages, but many of them are better to explore on foot!
PRICE: HRK 662 (US $97.5) – HRK 1003 (US $149) per day
3. Exploring the Small Towns and Villages
RECOMMENDED CAR TYPE: If you want to take full advantage of your vehicle and drive it through the many small villages and their back streets, you'll need a small vehicle (especially if you are not planning on going far distances). I recommend driving a mini Fiat 500 or a Fiat Punto as they can easily navigate the tiny back roads without any hassle.
PRO TIP: When driving in cities, both big and small, try to avoid the rush hours – the traffic is absolutely crazy then!
PRICE: HRK 200 (US $29.5) – HRK 227 (US $ 33.5) per day
4. Off-Road Croatian Adventure
RECOMMENDED CAR TYPE: Though this is not the most common type of vacation for Croatia, if you're going to be heading on an off-road adventure, be sure to let the rental company know about it, as extra insurance will be applicable. You'll also need a suitable car for the job!
A Land Rover Discovery or an off-road Jeep is the perfect car for the job. It's able to handle a variety of different terrains while still providing you with the maximum amount of comfort.
PRICE: HRK 1700 (US $250.5) – HRK 1750 (US $258) per day
Some practical info on driving in Croatia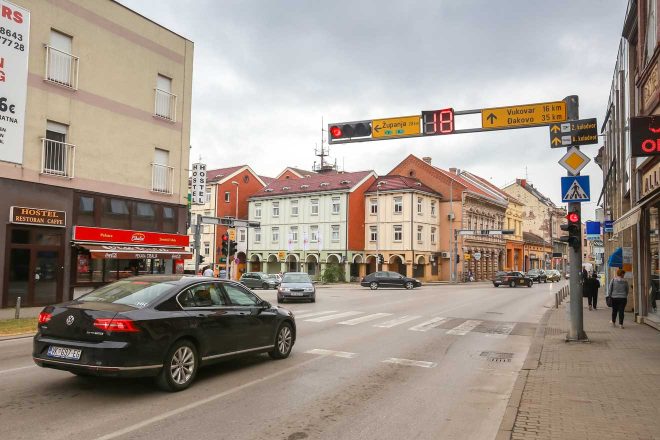 If you're going to be on the road for hours, you're going to need to know the rules of the road and other crucial driving tips to get by. Although most of Croatia is navigable by road, there are certain places you may need to use a ferry. Luckily Croatia has plenty of ferry routes that can transport you and your car, so you can continue your road-trip!
Speed Limits in Croatia
There are a few standard legal limits when driving in Croatia. The speeds are measured in kilometers per hour and your rental car will reflect that, too.
50 km/h – is the standard legal limit when traveling through suburbs or built-up areas
80 km/h – is the standard legal limit when you're traveling on open roads
130 km/h – is the standard legal limit when traveling on motorways
It's a good idea to familiarise yourself with these limits, but as a rule, always keep your eyes peeled for speed limit signs that will guide you according to the appropriate speed limit.
Gas Stations in Croatia
Luckily for us road-trippers, there are an abundance of gas stations throughout Croatia. You can choose from a range of different suppliers like INA, Crodux, Tifon, Petrol, and Lukoil. When planning your road-trip, use this site to schedule which stations you'll need to stop at along the way.
Croatian Driving Rules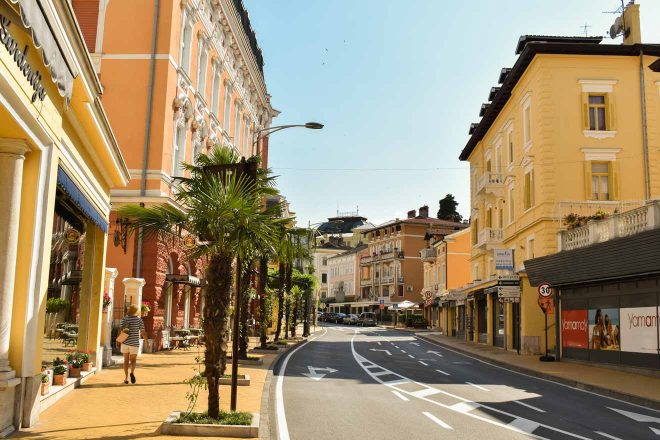 There are a few general rules that apply in Croatia that you should adhere to at all times on Croatian roads. Unfortunately, "I'm foreign" is not going to help you much if you're pulled over for not following the laws of the road.
In Croatia, you drive on the right-hand side of the road and pass on the left
Just like every other country in the world, seat-belts are mandatory so be sure to buckle up each time you get in the car before heading onto the roads
Children under the age of 12 are not allowed to sit in the front passenger seat
Children from the ages of 2-5 must be in a suitable child's seat. As I mentioned before, you can request one from the car rental company for a small extra fee
No drinking and driving is permitted in Croatia! For drivers under the age of 25, the blood alcohol level limit is 0% while driving. For drivers over the age of 25 the legal blood alcohol level limit is 0.05% as long as you don't get into an accident
Using a mobile phone while driving is illegal unless you have a hands-free device
Between the end of October and the end of March, dipped headlights should be used during daylight hours. Headlights should also be used at night and when visibility is less than 100 meters
Winter tires are required from November to March, however, your car rental company should sort this out before you hire the vehicle
Paid tolls
There are tolls on various motorways in Croatia including E59, E70, and E71. There are many others throughout the country, but those are the ones with the heftiest toll fees. You should count tolls into your budget however, the fees are a lot lower than in many other countries.
Here you can check the updated rates for all the highways in the country (in English!). They also have a smartphone app with all the rest stops in the country-check it out on their website!
Here are fare examples for the most popular highways:
from Zagreb to Split is about 200 kunas (~US $30).
Hint: if you are going on the weekend when the traffic is bad, you can also take an older smaller but prettier road – timewise it will take you the same long, but it's charming!
From Split to Dubrovnik is ~ 60 kunas (~ US $8).
Toll fees can be paid in both cash and credit/debit card, which makes life a whole lot easier for those on a road trip! Do not forget the ticket you receive upon entering the toll! You will be able to pay in kunas or in eur and pay in cash or by card.
Crossing the Border with Bosnia – How Does It Work?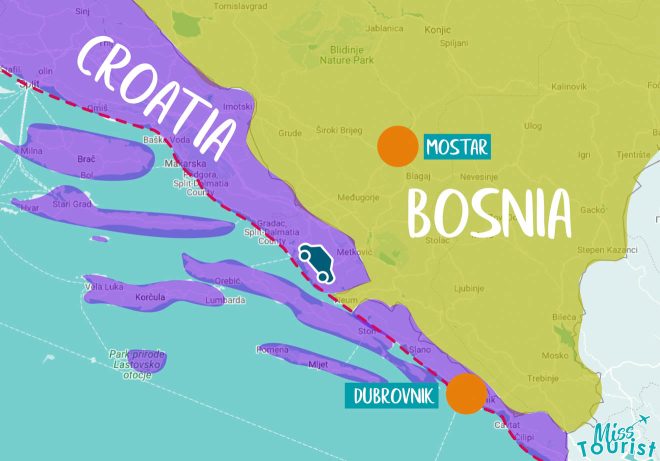 If you are going from Split to Dubrovnik or the other way around by car, you will need to cross a tiny strip of land that is not in Croatia. It belongs to Bosnia, and, thus, it counts as a cross border transfer (yes, even if it is like 6 km).
Here is a video of a fellow traveller that crossed there:
You do NOT need to buy any additional insurance to cross that strip of land, but make sure your car has a green card – a proof that your car has a minimum level of insurance required to be in Bosnia.
PRO TIP: Many car rental companies will try to upsell you extra insurance saying that you need it to cross the border. This is not true – the green card is enough.
NOTE: If you are planning to cross the border through the city of Neum, you do NOT need to pay any cross-border fee.
If you are planning to do a longer road trip and you are thinking of going to other EU countries by car, the green card insurance will also be enough (oh, the beauty of the EU!). 
If you are thinking of renting a car in one country and returning it in another, think twice because it actually might be more complicated than you would expect. Most big chain companies don't even offer that option, and the ones that do charge a lot of money for it and it can only be arranged by advance request.
PRO TIP: If crossing through Bosnia or Montenegro, do not forget to switch off the internet on your mobile – both countries are not part of the EU and the roaming charges are really high!
Aaaand, last but not least, plan for some waiting time at the border, they might have a line (you will have 2 border controls actually – one into Bosnia and one after entering Croatia again).
Taking your car on a ferry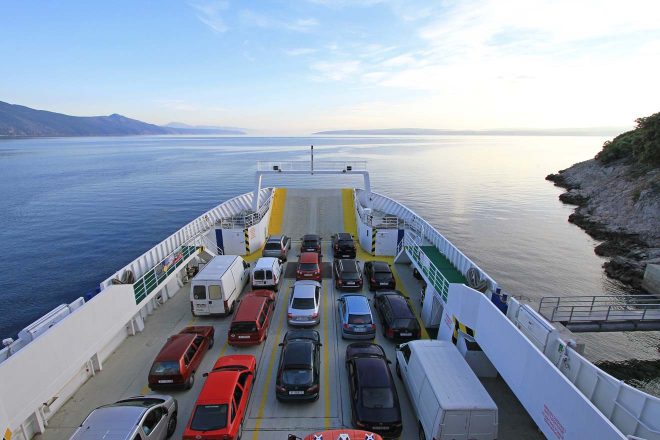 There are many ferries in Croatia and, as you might use that option to get to one of the islands, I decided to write about this as well.
NOTE: In most cases, your car insurance does NOT include possible damages that can happen on the ferry. So, if you don't want to take the risk, extra insurance just for this will be about 15-20 EUR extra.
How safe is it to rent a car in Croatia?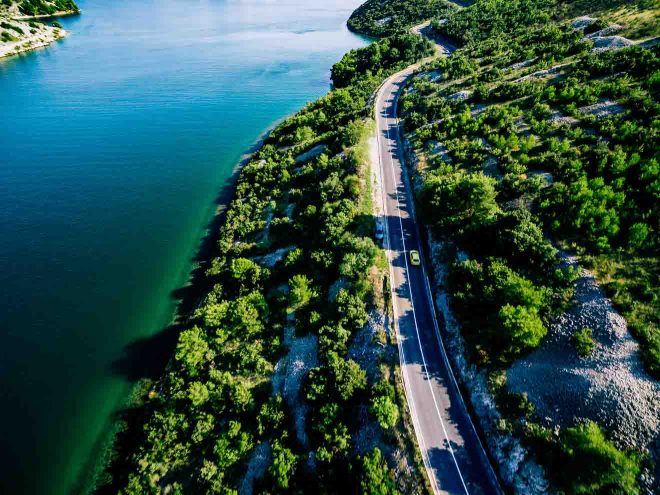 If you are asking in terms of car robberies and other theft-related things, you should not be worrying – it is very safe there! That said, we all should use common sense in any country we travel to, things like locking the door before you leave and not leaving an expensive laptop in the front seat would definitely help. But seriously, just follow common sense rules and you will be fine!
As for the way Croats drive – they might seem a bit too hasty for some foreign drivers, but other than that, they are very polite, so no worries there! Croats might break some speed limit rules here and there, but I do not recommend you follow their example – as locals they know all the ins and outs, where speed cameras are located and all the other tricks. I always suggest you follow the rules and let the locals pass if they really want to. Better safe than sorry!
By the way, Croatia has loooots of road webcams, so it would be hard to trick the system in any way. You can see the updated list of speed cameras here.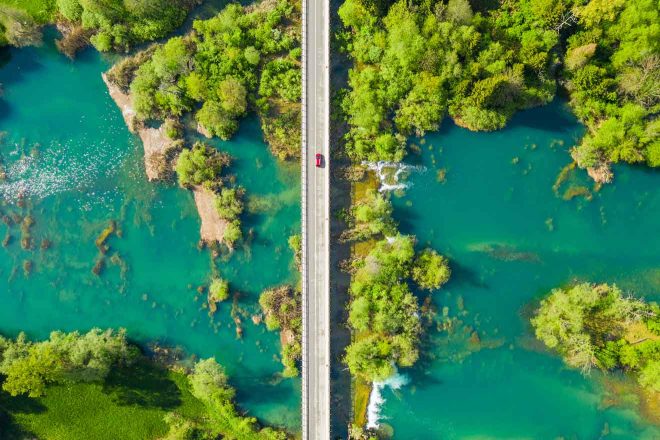 If you are wondering about the road conditions, I can say that they are close to perfect! They have many highways and the views you can catch from a simple 10 km road trip are stunning! Everything is pretty organized and the personnel usually speak AT LEAST basic English.
NOTE: When driving on small countryside roads, pay attention to animals – they can jump on the road completely unpredictably.
To recap on this one, Croatia is probably one of the easiest countries with the most rewarding views to drive through in Europe!
ATTENTION: We all know that the views are marvelous and you want to snap some pictures for your memories, but PLEASE make sure you move your car to the side and you are not blocking the road, ok?
Parking in Croatia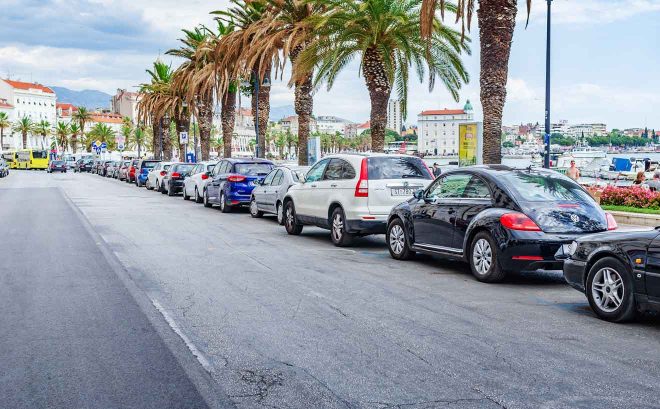 So, what do I do with my car when I arrive at a destination? – you ask.
Parking can be a pain in most European cities and some old Croatian towns are no exception – there are very few free parking spaces and you will most likely not find them in touristy places. Paid parking (marked as P with a blue background) is quite easy to find and it usually costs anywhere between 1 and 2 EUR per hour (parking machines usually accept only coins and in kunas, the local currency).
UPDATE: In big cities you can now pay for your parking via SMS, how cool is that? You would need a local sim card with some credit on it, but once you have that, it is easy-peasy – you just need to send an SMS to a specific number (associated with your parking space) with your license plate as text, and the money will be withdrawn from your phone balance!
There is also this app – it operates in over 60 Croatian cities, can help you find the closest parking to your location and you can also pay for the spot online, too!
NOTE: If your accommodation provides free parking that is an extra bonus-make sure to ask them in advance!
Best Time for a Road Trip in Croatia
In my opinion, the best time to road-trip through Croatia is from May to June or from September to October. During these times the weather is sunny and warm, which means you'll be able to stop off at the best beaches and lakes for a refreshing swim.
You'll also experience less traffic than in the summer months (July and August) which makes a road trip a lot more pleasant! However, if you'd like to travel in the summer, you'll have the benefit of experiencing the warmest weather and you'll meet plenty of other travelers along the way (but be ready to see the higher rates for accommodation and transportation, as in any other country).
Driving in Croatia in Winter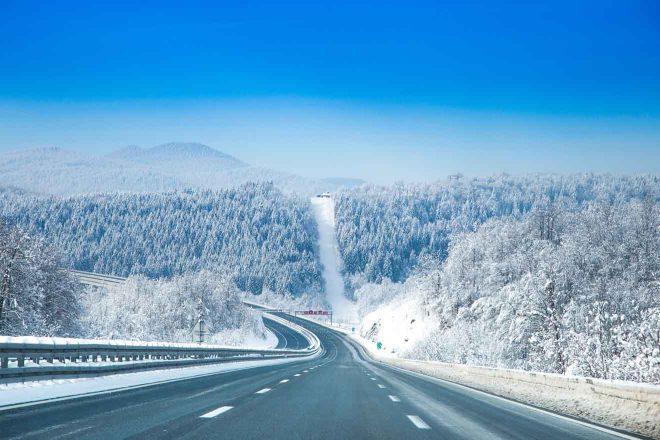 If you decide on a winter road trip in Croatia, my best advice is to stick to the coastal towns. The winters there are a lot milder than inland and the coast will be very quiet as many of the locals go on holiday from October to March.
The only downside is you may not be in the mood for a swim as it gets rather cold, and many of the tourist attractions and hotels will be closed for the winter (though beautiful Plitvice National Park is open during the winter, which is awesome, totally recommended!).
However, if you're not afraid of a little cold, and don't want to hit the tourist hotspots, winter just might be the perfect time to head to the coast of Croatia.
PRO TIP: Make sure you have winter tires on your car rental-they are mandatory from mid- November to mid-April!
Here are a few tips for driving in the cold:
Keep cold-weather gear, a blanket, as well as food and drinks in the car when you're driving. If you break down or have to pull over for some reason, you need to know you'll be able to keep warm and sustain yourself until help arrives
Make sure your tires are properly inflated and have a decent amount of tread
Try to keep at least half a tank of fuel in your tank at all times
Never warm up your vehicle in an enclosed area like a garage, rather wait until the car is outside to warm it up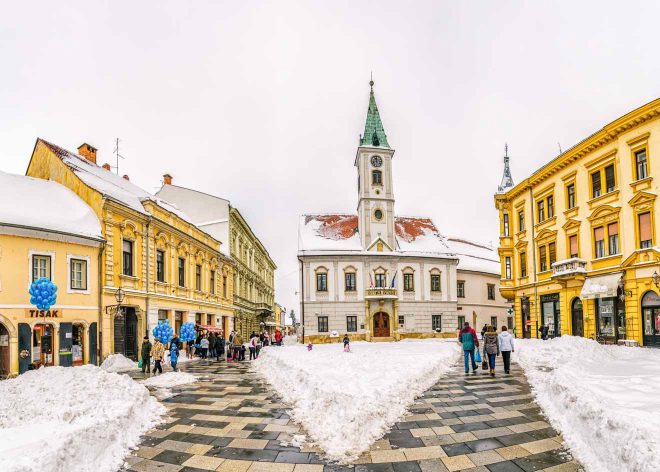 If you're driving inland during winter, you're likely to encounter snow at some point. In fact, snow can be pretty heavy during the winter in Croatia!
Here are a few tips for driving in snow:
Do not use cruise control when driving on ice or in snowy areas. Make sure the driver is in full control at all times
It's important to drive slowly when there is ice or snow on the roads to compensate for the lack of traction your tires will have on the road
Make sure you're accelerating and decelerating slowly. It takes time for your car to get up to speed in snow or ice and it takes longer for the car to slow down. Do not try to take off or stop in any hurry
Do not power up hills. If you press your foot down on the accelerator too hard, it will cause your wheels to spin. Rather, get up a little speed before the hill and keep a steady pace going up.
Emergency numbers – roadside assistance
If something happens on the road (I am sure you will be just fine – the roads are great and the drivers are polite! But it's always good to have all the info just in case, right?), you can call a road assistance number with English speaking operators – 1987.
There is also a free app that will help you keep up to date on road conditions, toll calculator, gas stations map and much more.
---
Conclusion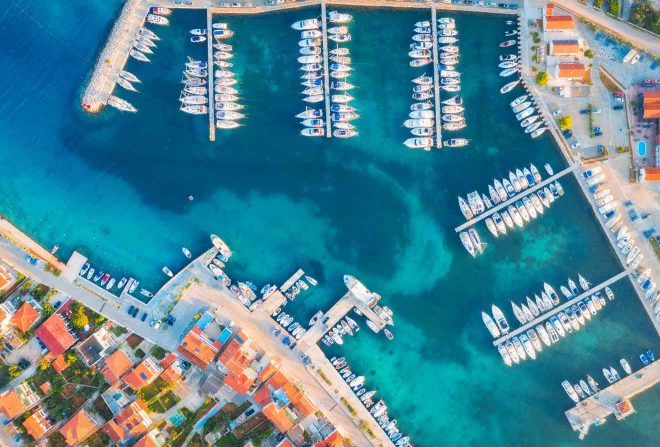 Croatia is an absolutely incredible place to go on a road trip! No matter what time of year you decide to go, there is a range of exciting and invigorating experiences you can have along the way. The roads are in perfect condition and the views are breathtaking!
If you had any questions about hiring a car in Croatia, I hope I've cleared them all up for you! Now that you have a better idea of how you're going to get around this amazing country, you should start looking into the best places to visit in Croatia.
And if it's not on your itinerary already, be sure to add the incredible Istria region to your Croatian bucket list. Oh, and don't forget about Split and Plitvice! So many awesome places in Croatia, I hope you are staying for a long time! 🙂
So, I hope you liked my post, traveler! And now it is time to start booking a rental car for the road-trip of a lifetime!
If you go on your Croatian road-trip, be sure to get in touch with me on Instagram or just follow the rest of my travels. If you have a question, it is always best to drop it in below in the comments – this way other readers can benefit from the answer as well!
Have an incredible road-trip!
Yulia
Pin it for later!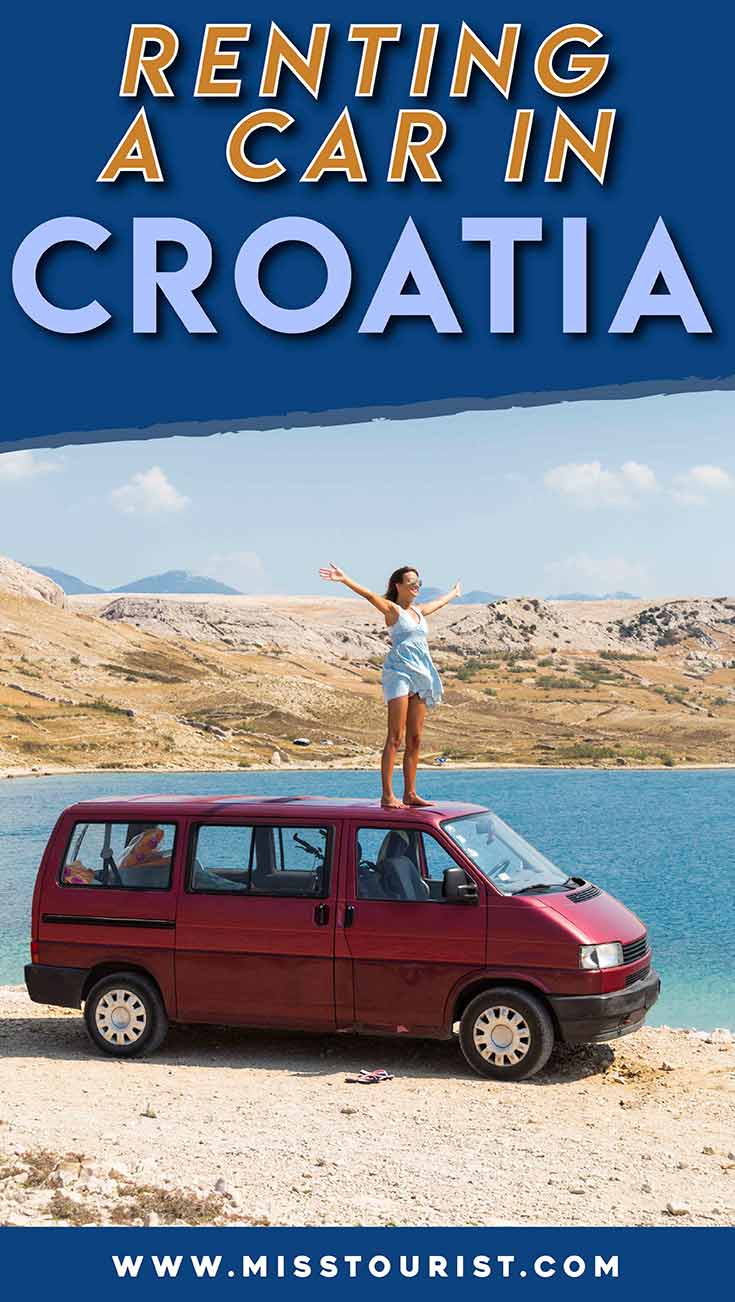 Pin it for later!