Split is the second largest city in Croatia after Zagreb and one of my favorite places in this beautiful country! The city is a unique blend of modern and traditional, located right on the Mediterranean coast. Split is full of great beaches and is surrounded by nice little islands where you can go for a day trip.
Please read a more detailed post about Top 10 Things To Do In Split, Croatia. If you are planning a vacation in this city in the near future, then you must be searching for Split accommodation! No worries, I made a selection of hotels with great reviews and sorted them out by price for your convenience. You will find here carefully chosen recommendations for hotels for all budgets, apartments and even villas in Split, so regardless of where you are planning to stay in the city, you will find something for each taste in this article.
Hotels in Split
Luxury (200€ and up)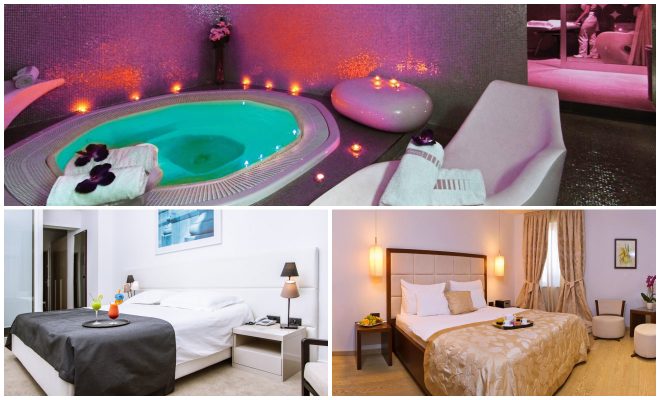 When it comes to luxury hotels in Split, the city knows how to make its travelers feel just like celebrities. Even though the city is not that big, you will find many great 5-star hotels with perfect locations, gorgeous rooms and amazing facilities. Here are some Split hotels that I recommend:
Middle-priced (between 100€ and 200€)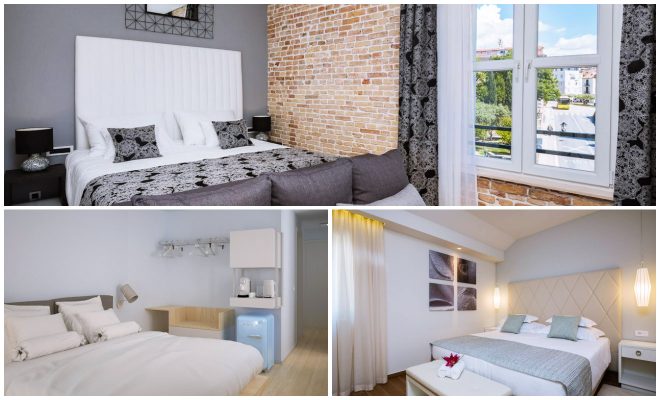 Budget (between 30€ and 100€)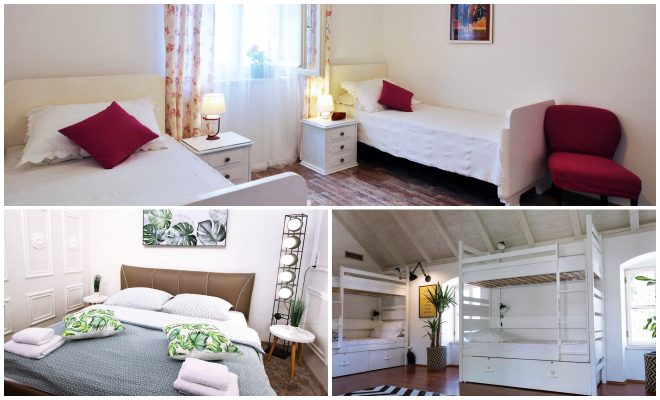 Split has a wide variety of hotels and hostels that are perfect for travelers on a tight budget. Just remember that it is always better to book in advance if you want to make sure you will stay in the best accommodation in Split. Here are my carefully chosen recommendations if you are searching for cheap accommodation in Split:
Apartments in Split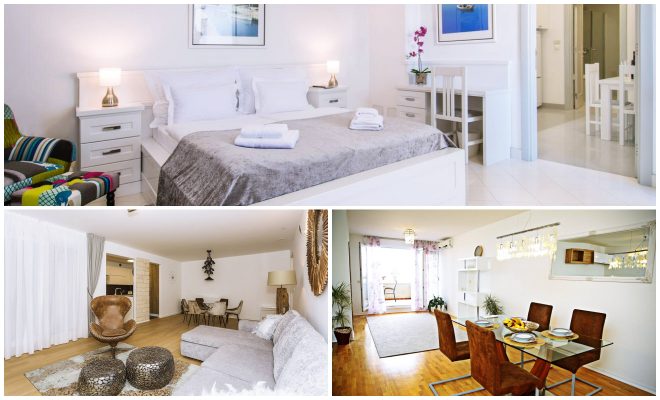 If you're the kind of traveler who prefers staying in an apartment rather than a hotel, you should know that Split awaits you with a wide variety of apartments for different budgets and preferences. As usual, make sure you book your apartment in Split as soon as you can, as the city is slowly but steadily becoming one of the top attractions in Croatia and the rooms are selling out fast.
Here are my recommendations for beautiful Split apartments with amazing reviews, all sorted out by price:
Luxury (200€ and up)
The Whitestone is my first recommendation for any luxury travelers and one of the best apartments in Split, Croatia. Whitestone apartment is ideal for a couple of two friends and it awaits you with an amazing pool, a cozy terrace and daily breakfast. What more can you wish for?
Old Split Apartment is another great option for anyone who wishes to feel like a queen or king during their stay. I recommend this apartment for two people looking to stay in a chic and clean apartment that has a nice décor and is located right in the city center of Split.
Middle-priced (between 100€ and 200€)
Perla Apartmani Split is a spacious middle-priced accommodation in Split, very close to the beach. You can choose from different types of apartments. Each apartment has a nice living room and a fully equipped kitchen, so you can rest assured that you'll have everything you need for your Split vacation!
Apartments Dujam is a nice apartment right in the city center. This accommodation has been recently renovated and it has all the amenities you will need for the perfect stay in Split.
Budget (between 30€ and 100€)
Room With Garden is a very nice and cozy apartment located in the Marjan district of Split. If you decide to stay here, you will be close to Republic Square – Prokurative and to People's Square. This apartment is perfect for two travelers looking for a cozy stay in Split!
Apartman Lucita is only 1 minute away from the beach and it's the perfect apartment for travelers who wish to have a relaxing stay in this wonderful city. The apartment even has a nice terrace where you can enjoy your cup of coffee in the morning.
Villas in Split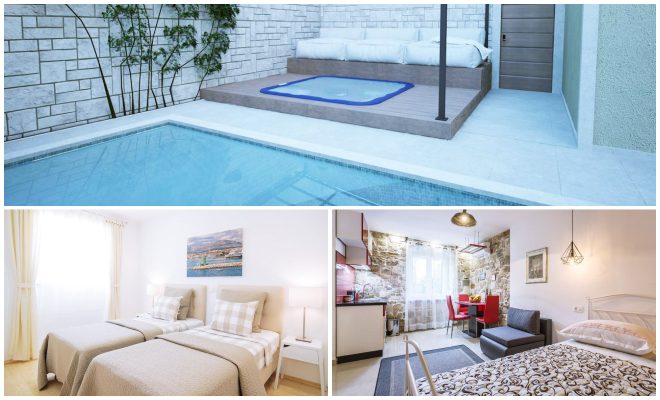 If you are traveling to Split together with a group of friends, maybe a villa will be the best option for all of you. Don't worry, Split has many great villas available for you, the only thing you need to do is to choose the one that fits your budget and preferences! Here are my recommendations:
Amazing SeaView luxury villa is my choice for luxury travelers and of the best villas in Split, Croatia. This extremely gorgeous villa has 400 m² and can fit up to 10 people! This incredible villa has everything you need to feel spoiled in Split, 3 minutes away from the beach: 5 bedrooms, a barbecue, a cool outdoor pool, terrace, kitchen, free Wi-Fi and more!
Holiday Home Aspalathos is the perfect choice for travelers looking for a great middle-priced villa. This beautiful holiday home can fit from 2 to 4 people and is located very close to the beach. You will find there 2 bedrooms, 1 bathroom, 1 kitchen and a beautiful garden.
Holiday Home Riva Promenade is perfect for a group of 3 to 5 people that are on a tight budget. This holiday home is only 6 minutes away from the beach and it awaits you with a fully equipped kitchen, a bathroom and a relaxing seating area. It's one of the best options if you want to feel at home in Split!
Best Accommodation in Split for families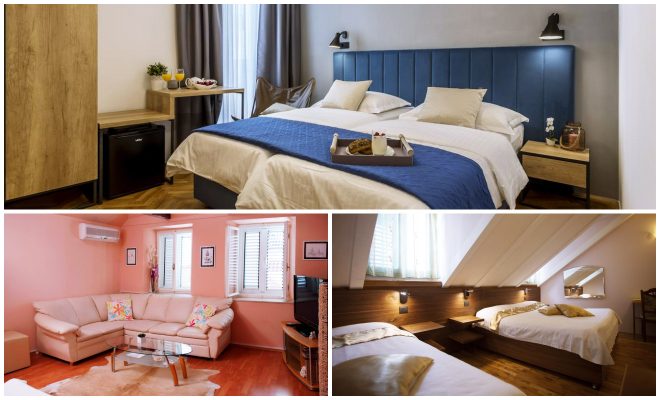 If you are traveling in Split with your family, here are some of the best child-friendly hotels in the city. All of them are located either in the city center, close to the main attractions or on the beachfront, only minutes away from the beach. Here are my carefully chosen recommendations for families:
Luxury (200€ and up)
Apartment Baćo is the perfect family-friendly apartment for your Split stay. It can fit any type of family, from 3 people to 6. You can check out the pictures by clicking on the link and see what are your options. From free Wi-Fi to sea views and a terrace, this apartment has everything you may need!
CAPITAL Apartments is another amazing option for luxury travelers. I'm sure you will love this 4-star beachfront apartment located only a 5-minute walk away from Diocletian's Palace. This accommodation is perfect for your Croatia family holiday!
Middle-priced (between 100€ and 200€)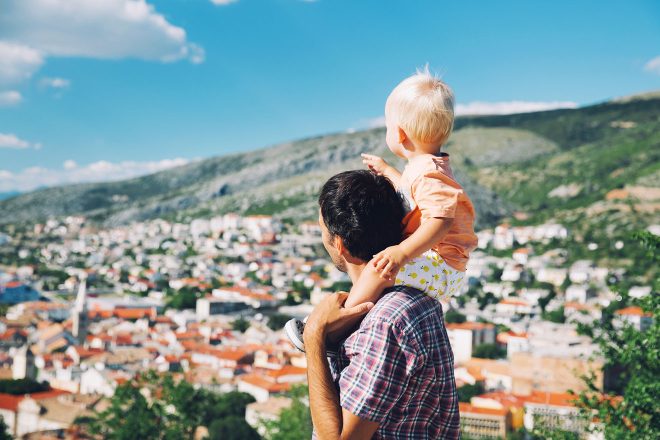 Central Rooms Split is my first middle-priced choice for families traveling to this wonderful city. This beautiful accommodation is located in the city center, very close to Diocletian's Palace and the scenic Riva seaside promenade.
Gold Town Split Apartments is a 3-star self-catering accommodation with a very good value for money. The fully equipped kitchenette and great facilities will make you feel exactly at home while traveling to Split with your family and children!
Budget (between 30€ and 100€)
Hotel Villa Diana is the perfect budget accommodation for a family. I'm sure you will enjoy your stay at this small but cozy family-run hotel, located only 5 minutes away from the beach. The hotel building is actually a part of Split's cultural heritage!
Secret Residence Palace can be your home away from home during your Croatian holidays. This accommodation is right in the heart of Split, very close to all of the main attractions in the city.
---
Type your dates here to see the rates for the available hotels:
---
Conclusion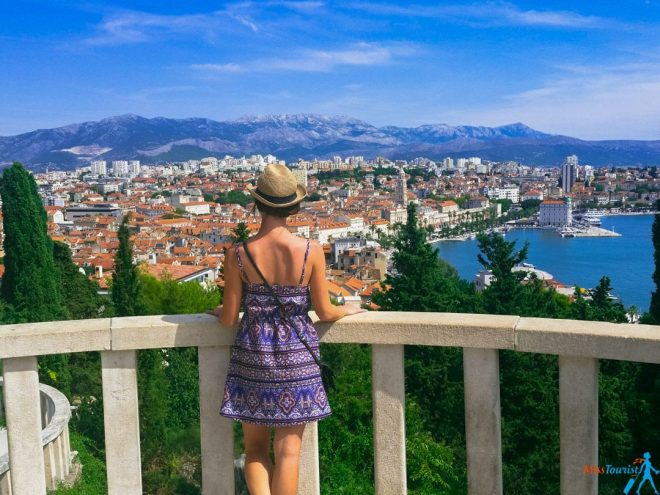 This was my complete list of accommodation in Split, Croatia. From hotels to apartments and holiday homes, you can find anything you need in Split! All the accommodations I recommend were carefully chosen by me and have amazing reviews, modern facilities and they're divided according to different budgets.
Just remember: Split is becoming a popular holiday destination, which means the rooms are selling out fast, so book yours as soon as you can!
In case you want to read more about Croatia, you can find all my articles about this country here.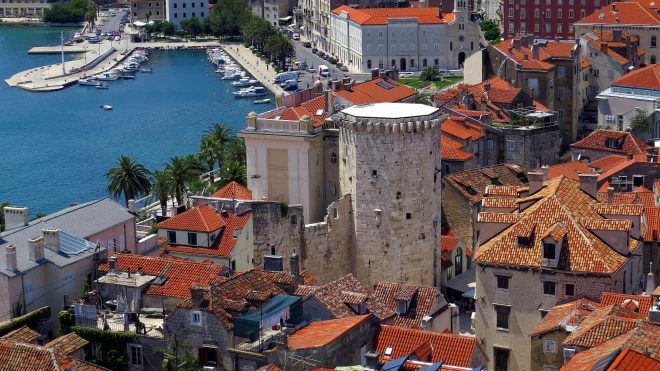 I hope you will have some great Split holidays! If you have any questions, you can always tell me in the comments below, I'm happy to help!
Yulia
---
RELATED ARTICLES:
---
Pin it for later!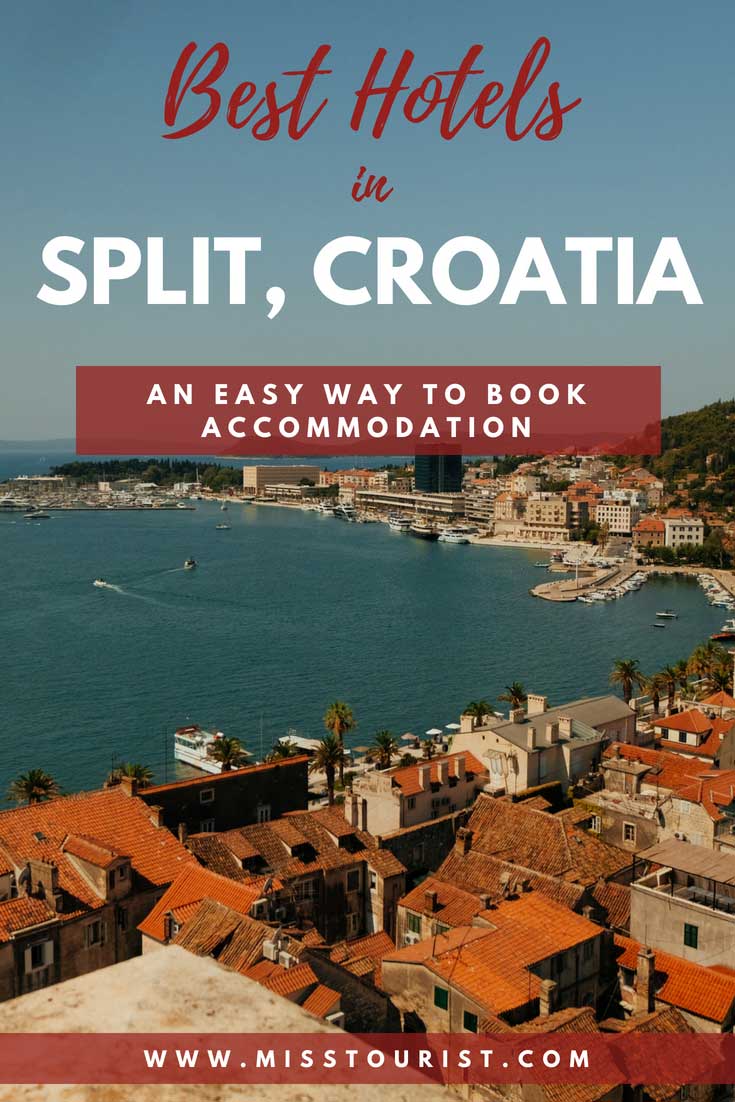 Pin it for later!