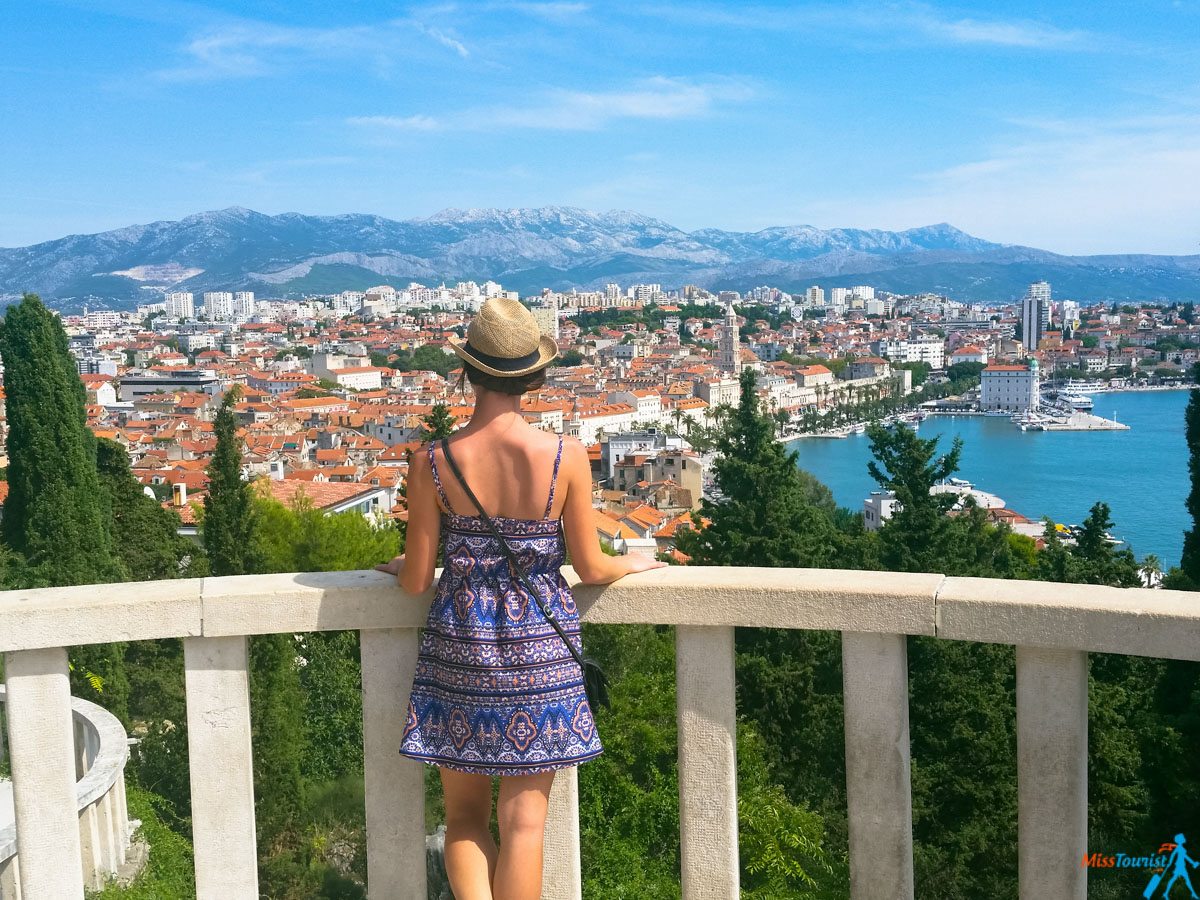 Have you ever heard about Split? No. Not the verb!!
In fact, it is the 2nd largest city in Croatia after Zagreb, its population counting around 180 000 people.
To be honest, I simply loved the place! Believe it or not, I liked it the most from my Croatian trip.
I was not even  planning to stay in Split for a long time, only for 1 day. That would have been such a mistake, my dear Split, please forgive me for thinking so little of you! As the city knew exactly how to get on my good side, I ended up staying for 4!
Dear traveler reading my post, if you are going to Croatia soon or thinking about it as a possible option for your next vacation. Split is a great choice, you have to trust me on this one! Let me give you a few reasons  why this city is worth your attention :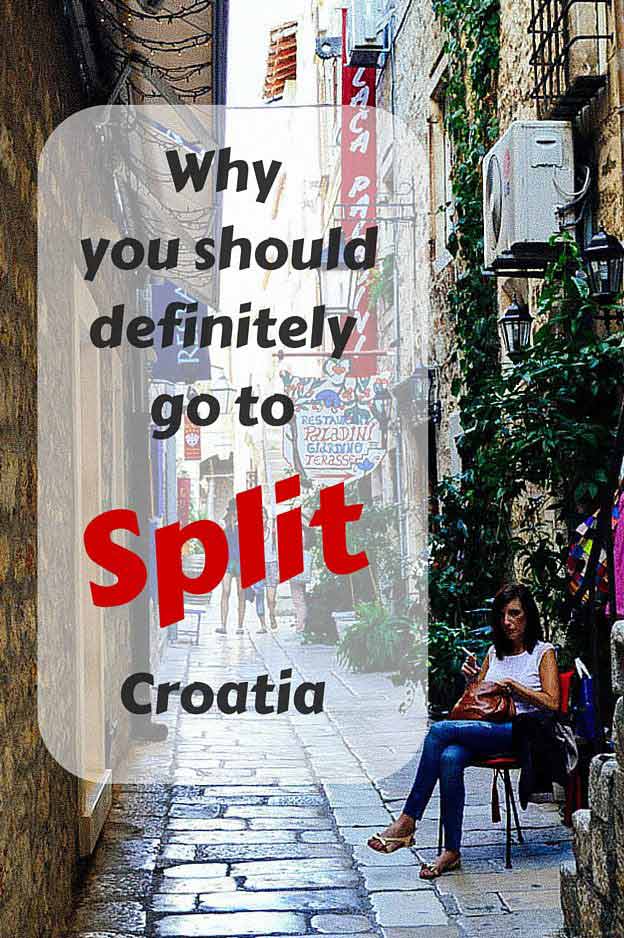 Being a coastal Mediteranean city, the city springs great traditional culture as well while capturing modern influences as well.
Split was under the rule of many empires, including Roman and Austro-Hungarian. It inevitably reflected on their culture, architecture and mentality.
The Old city of Split is one of the oldest in the world, and it is really authentic!
Feel like exploring a bit? Beautiful islands like Hvar, Brac, as well as others, are in close proximity.
Games of thrones was captured there 😉 So for all you fans out there, you yourself can walk the streets of Meereen and Braavos!
All these, plus the fact that the city is less touristy than Dubrovnik (for now) makes it a great destination for your next vacation!
What to do in Split
1. The Old town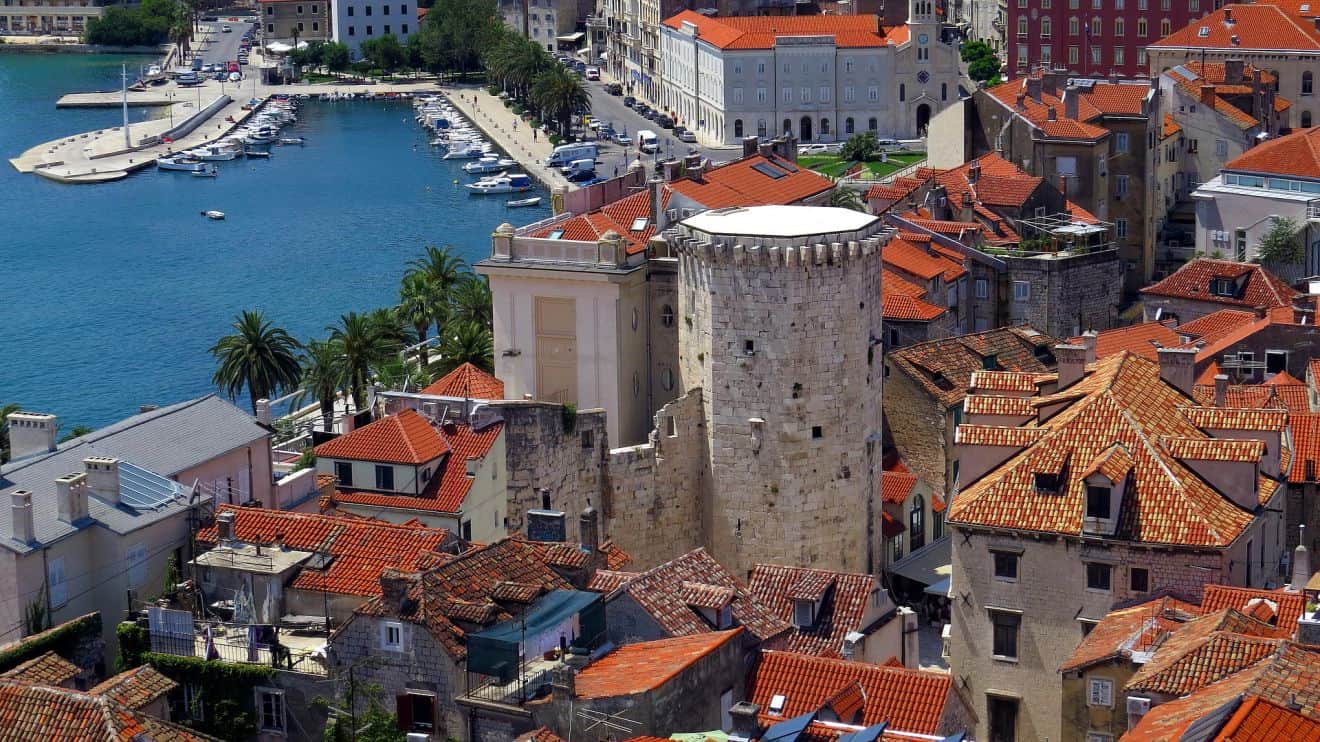 Yes, I know, you will find this advice in many of my other posts. Visit old towns because they are really beautiful and bring he atmosphere, right?
Yes, but this one is THE Old town you need to visit, believe me! Everything is so greatly preserved and you literally have centuries intersect in one place.
The Old town of Split is a UNESCO world heritage and it is such a treasure! It became a UNESCO world heritage in 2014. And because of that, many works have been done around there. For instance, they have cleared the main temple with special lasers. And nowadays you will see it as white as it used to be thousands of years ago, wow!
In the old town, make sure to visit the Diocletian palace. It's a marvelous landmark of the past, and within it's walls people leave nowadays and keep shops. The Roman emperor made it so fancy that you could actually come into the palace by boat!
Don't miss the cathedral of Saint Dominus. It has a truly impressive history! It is also the best well preserved temple in Europe! Entrance price for Cathedral, crypt, baptistery is here.
NOTE: Remember that the cathedral bell will ring at every sharp hour. So, if you don't want to destroy your ears, try not to be going up the cathedral at that time (13 00, 14 00 etc.)
If you want to know which are the greatest hotels to stay in Split, here is my article with Best Hotels in Split, Croatia – Accommodation Recommendations.
2. Go up the hill and see the fantastic view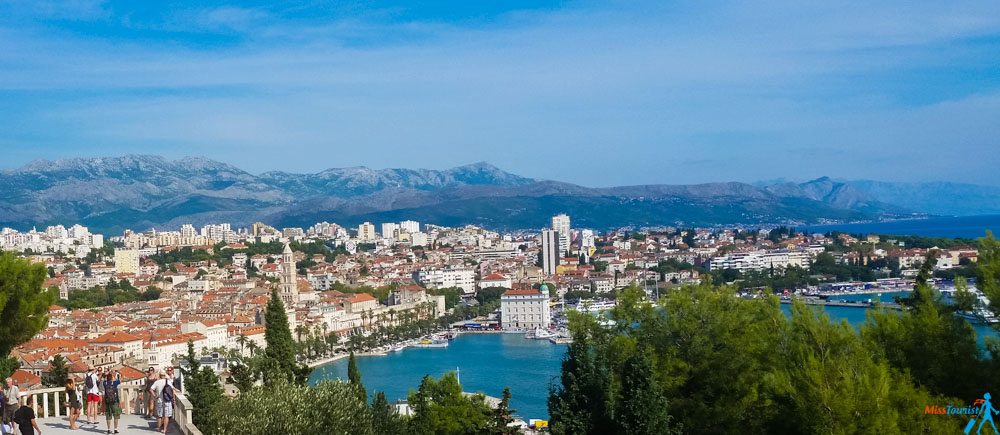 There is this fantastic overlook on the city where I stared in awe for some minutes. You have got to see it!
It is called Marajan Hill and here is how to get there: from the waterfront (Riva) take the steps up (ask for Marjanske skale). In maximum 10 minutes you will understand that you have found the spot which I am talking about, as it will take your breath away with its beauty! It will also make you forget about all the efforts that were needed to get there!
If you want to enjoy it a bit longer this hidden paradise, there is a nice coffee shop right on the top of the hill.
3. Take a Split walking tour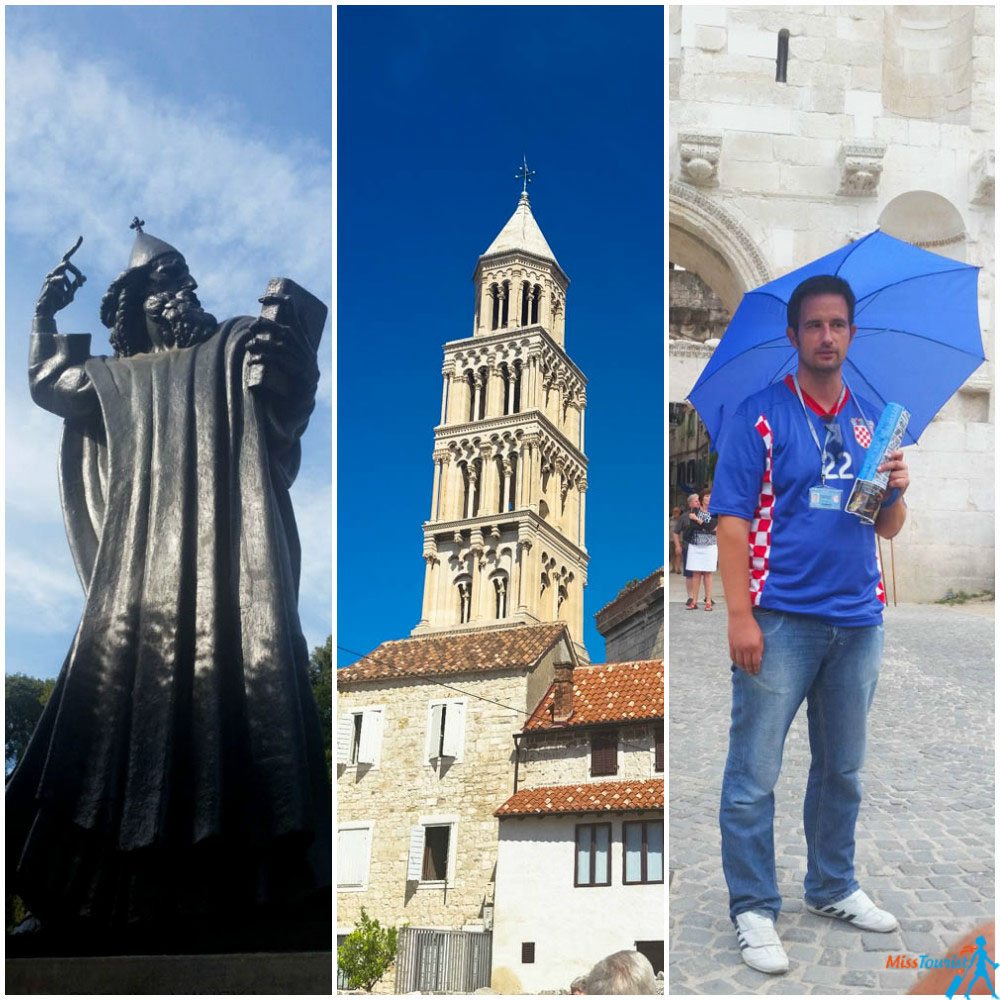 If you want to take a tour of the Old town, go for this one – I strongly recommend it! My visit of Split would miss out on so much if I wouldn't have taken this tour!
Our guide Danko was incredibly knowledgeable of everything that concerns Split and Croatia. He just did not stop giving us interesting (and fun) information for 2 hours straight!
I actually think I will take the tour again if (when!) I am back in Split! Just to refresh all those little fun details he told us about the city.
Now, if you are a Games of Thrones fan, it is time to take notes and pay close attention, as Danko will tell you all about the places in the series too! 😉
They start every day at 6 p.m. near the Gregory of Nin monument, your guide will be waiting for you with a blue umbrella. The price is 14 euros.
4. Go to the beach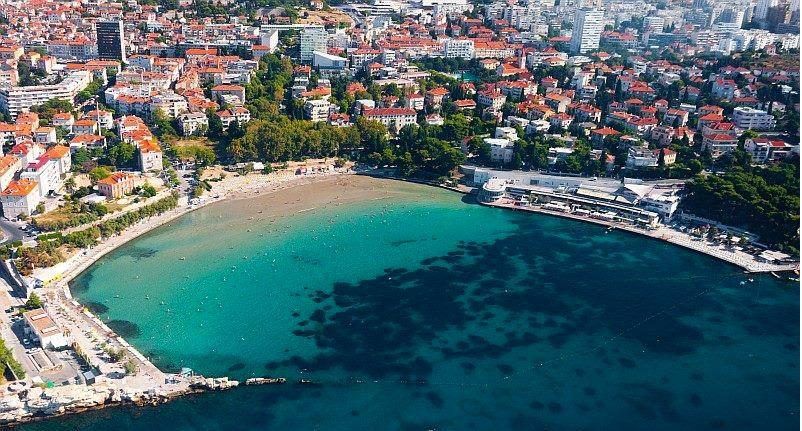 Normally this could be the be number 1 activity across all the Mediterranean! Split is also famous for its great beaches!
Bacvice beach is quite good, it is also the closest to the city center. Check out Zvoncac, Ovcice and Firule that are easy to reach too!
What else?
I would be hiding out some priceless info, if I would not tell you about the islands!
Marvelous Croatian islands are so close to Split, that it is a crime not to go visit them for at least a day trip!
I did not have much time, but I really waned to see the paradise islands for at least a day, so here is  what I did:
A day trip to the islands from Split
There are many companies offering similar one day tours at the Split marina, but I chose this tour.
During the day trip you will visit/do:
The green cave
blue cave
snorkeling on the beach
cliff jumping (if you want)
visit some beautiful cities including guided tour of Hvar town
Biševo, Vis, Ravnik and Budikovac – 5 most beautiful island of Croatia
Does that sound like too much for 1 day?
You get to see many things in one day as the tour is 12 hours, you will have time for everything. It definitely didn't not seem too busy for me!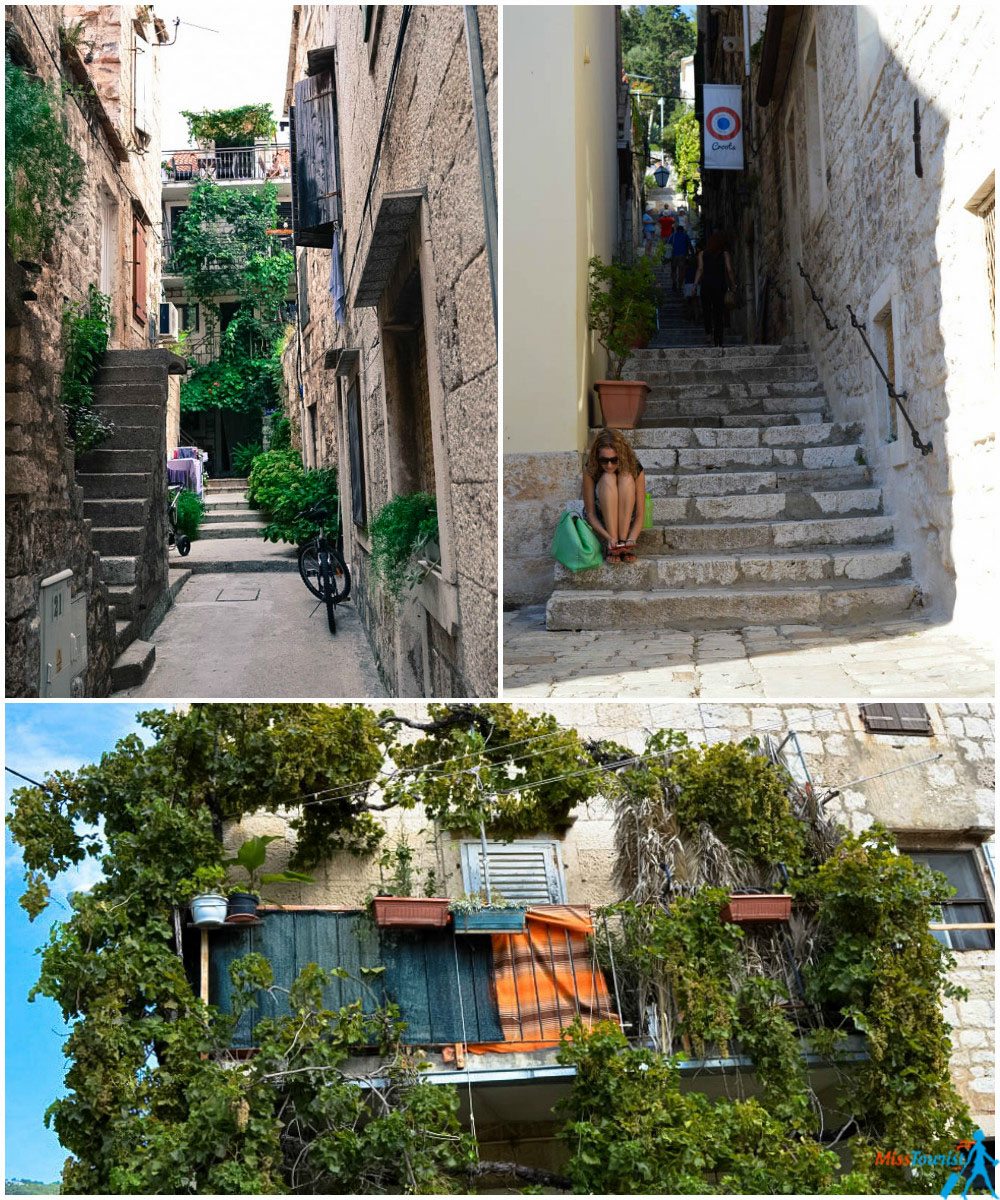 The town we visited is an atmospheric oasis. Its narrow old streets of cobblestone, hanging gardens, old staircases bring up the picturesque serenity of past ages. It has its invisible charm, and I was clicking my camera like crazy!
In Hvar, after your guided tour, you will have some time to roam freely. I recommend that you try to go up the hill, it has a remarkable overview over the whole island!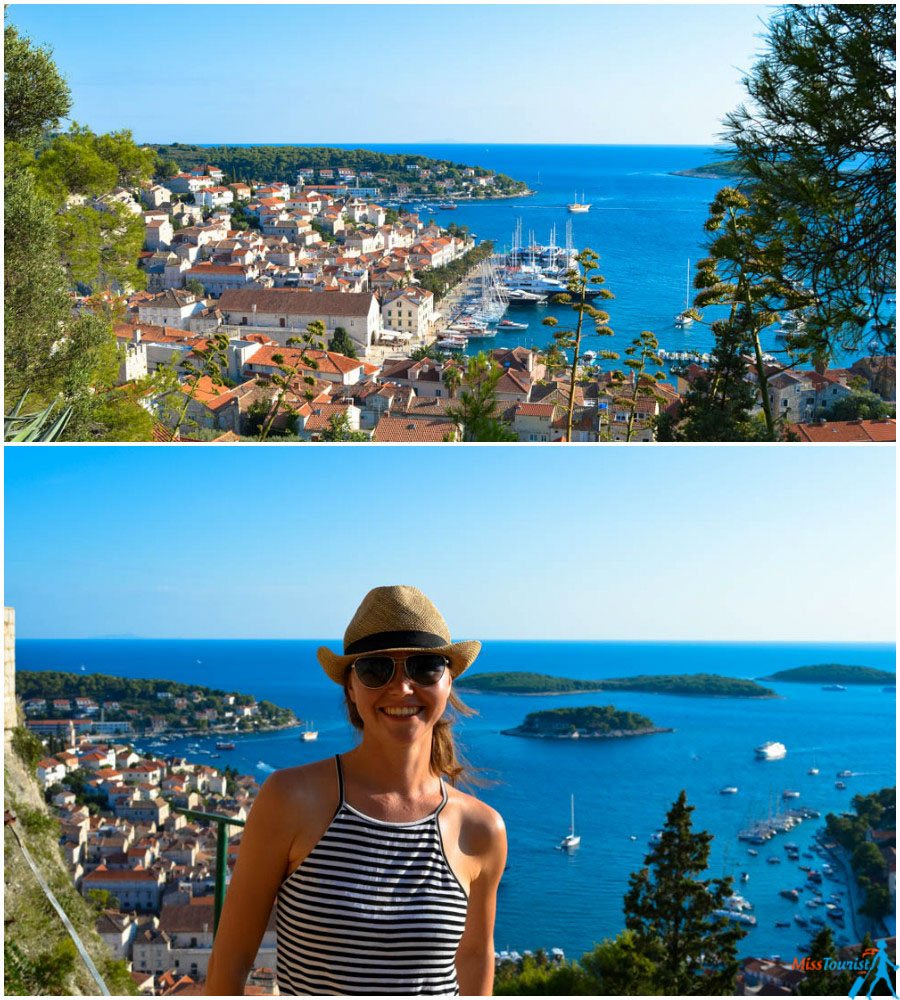 The boat will take you back during the sunset time and you will come back to your hotel full of emotions!
This tour is great for those who don't have time for the full vacation on the islands, but still want to see it. (like me! 🙂 )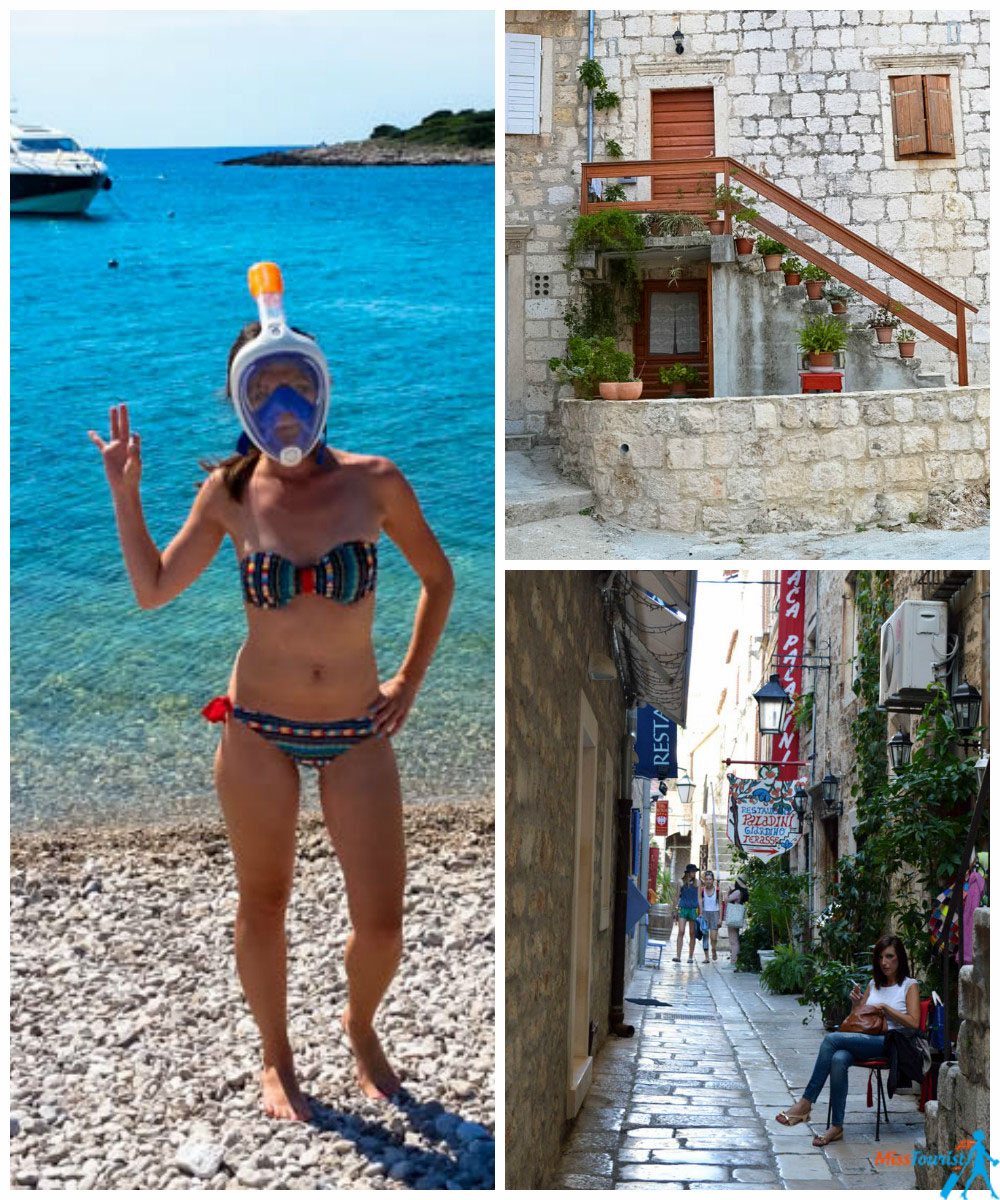 I loved this new type of snorkle mask – it's so much more comfortable. If you want to get your own mask to play around in your trip in Croatia, check its price on Amazon!
Where to stay in Split
There are many places to stay in Split. If you are searching for a place to stay, here is my suggestion:
I stayed in a 4* hotel called Hotel Fanat. It is a pleasant and clean hotel located right in front of the sea. As I was very satisfied with my hotel and wanted to stay longer in Split in any way, I even prolonged my stay!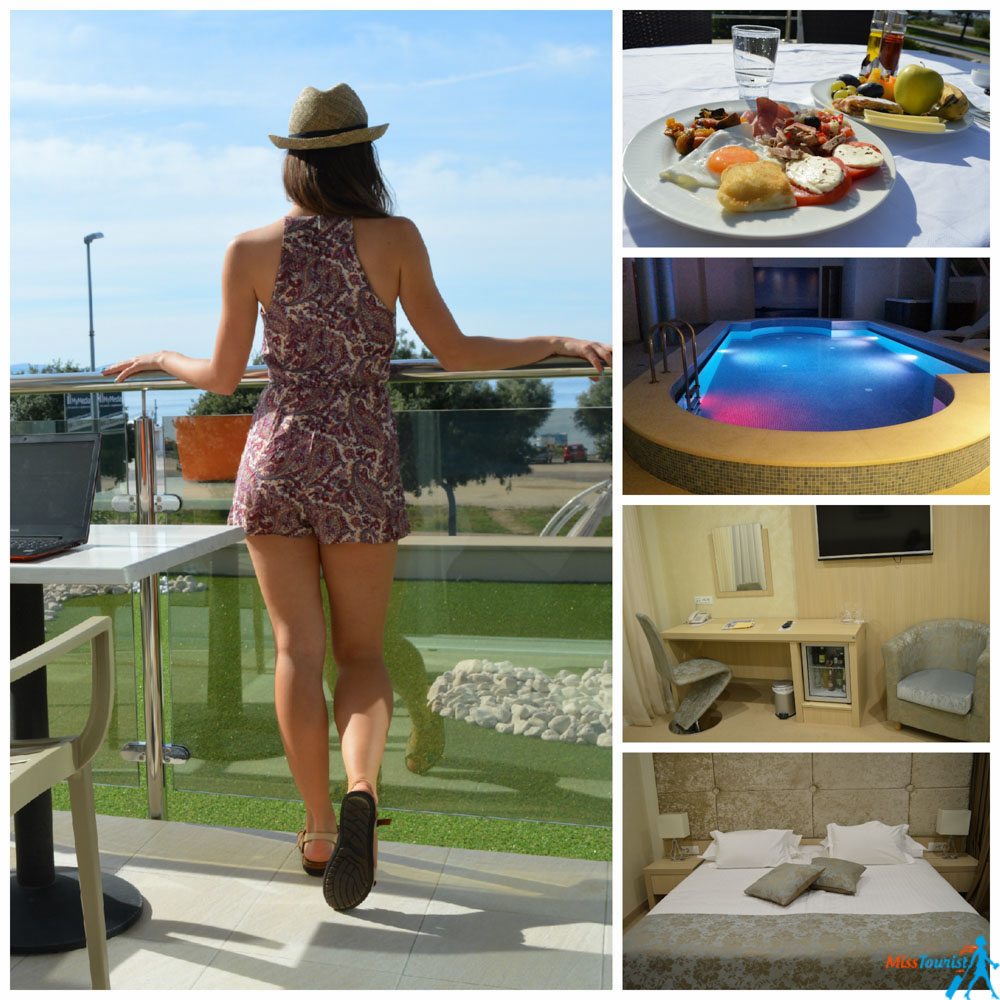 The hotel is just 20 meters away from the sea, just cross the road and you are on the beach. In the evenings, you can pamper yourself in the sauna and the swimming pool which is free of charge for all the hotel's guests. I took advantage of it every day!
Remember, however, that the hotel is located 3 km away from the city center. It is an enjoyable walk along the seaside if you don't mind walking. Alternatively, you can take a bus or a taxi.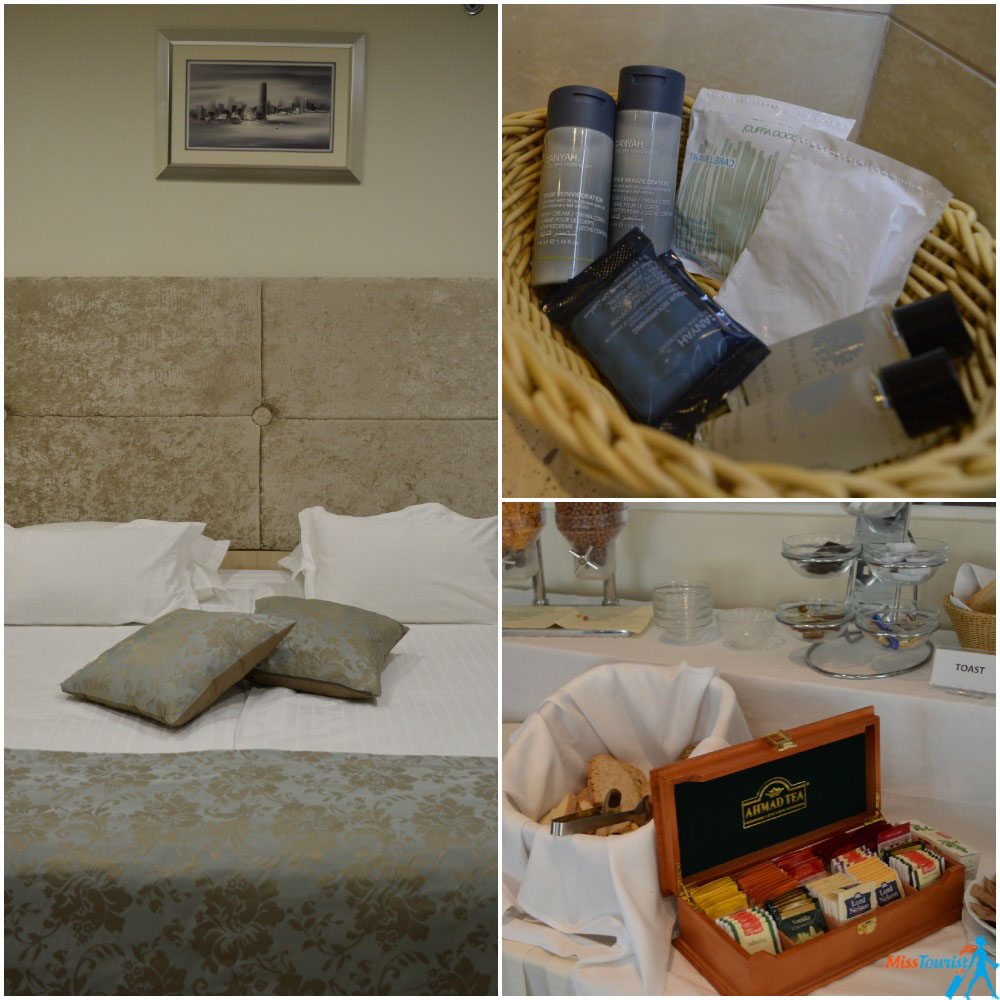 Choose this hotel if you are seeking for tranquility and a high quality of a great hotel and do not mind taking a taxi/bus.
Book your stay with Hotel Fanat here!
Other recommendation for your hotel in Split:
I have combined other great hotels for you in different price categories, all of them have fabulous reviews and are  centrally located!
Luxury stay – (US$ 110 and up) Luxury Rooms Lucija and Luka is located in the heart of the Old City, the rooms feature oaken furniture as well as exposed stone walls, great design! If you are more into apartments, I recommend staying in Guest House Imperial with an amazing sea view patio, this fully equipped spacious apartment is tastefully decorated.
Middle price – (55$ – 110$) Guesthouse Villa Scalaria – pretty and neat rooms, contemporary design, this guesthouse is located steps away from the main attraction – Palace of Diocletian. If you prefer apartments, Apartment Onyx is an ideal choice – central, fully equipped, great decor and WiFi access.
Budget stay – (up to US$ 55) Tchaikovsky Hostel Split is an amazing hostel in the Old Town, great vibes and great prices (if you book in advance), I happen to stay there for one night too. If you are 2 people, a great budget choice would be Studio Apartment Nani Centar – clean, great reviews, fast internet, central location.
Transportation in Split
You can get to Split by train, I was very happy about that fact, as I visited Croatia as part of my Eurail trip.
During 30 days I was traveling around Europe by train and discovered 6 countries and countless cities. Read here if it was worth the money!
Alternatively, you can get there by bus. I recommend checking out Autotrans.  They go everywhere, do it on time and have affordable prices. And Wi-Fi on board! You get a 5% discount if you book it online (click to Offers and Discounts)!
But, if you can rent a car, that would be definitely the best choice as the coast is so beautiful! If you are renting for more than 7 days, you usually can get some great discounts!
Inside the city there are buses that can take you almost anywhere. Alternatively, take a taxi, your driver will most probably speak at least some English.
What to try in Split
I've made a selection of Split's specialties. I assure you they are Miss Tourist approved: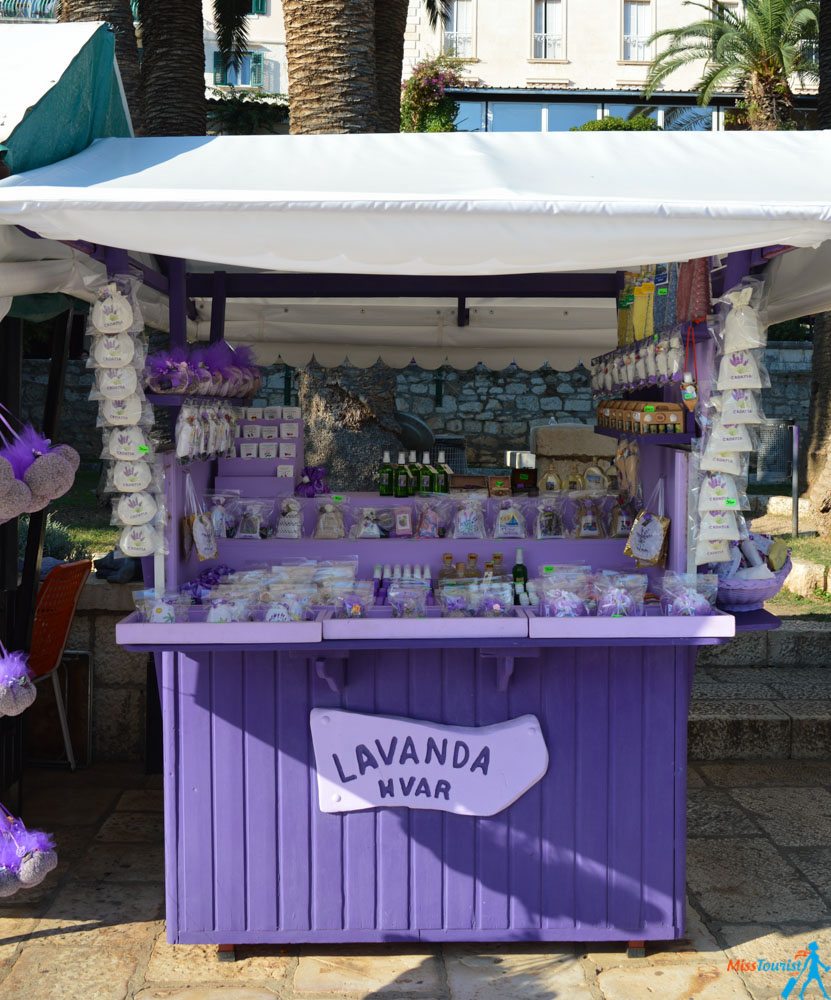 Strukli –  composed of dough and various types of filling which can be either cooked or baked
All types of seafood – they are so close to the sea, it would be a sin not to try some of the fresh catch of the day!
Coffee – Croats are big coffee lovers, you will find all possible variety of coffees here. That can be easily explained by historical reasons: Croats were under the influence of Italy and Turkey for so long, it became their own tradition too!
Lavender ice cream – caution here, this one really depends of your tastes! It has a specific taste (you either hate it either love it)! I was in the first group, but I am glad I tried it just for the sake of the experiment.
What are Croats like?
Before visiting Croatia by myself, I though of Croats as a nation similar to Russians (because we share the same language group). By that I mean a bit close minded and gloomy (no offense to my home country, but we don't really share emotions in public).
I could not have been more wrong! They are exactly the opposite!
As the weather is great, the sea is so close, they are more like Italians – sunny and open people, who know how to enjoy their lives.
They even have their own siesta time, like in Spain. And Italy. And South of France. And Greece :).
Oh, and one word about a special sport from Split…
Do you want to become a world champion in some sport? Try Picigin!
It is a unique (basically self-proclaimed 🙂 ) sport invented in Split. Everyone is invited to participate!
Here is how to play it:
You have to stand in the water, about 1/2 meter deep, and your task is to prevent the ball from falling it into the water by passing it to other players.
The point of the game is to pass the ball in the most artistic way possible. There are referees who will give you points according to your performance, no joke! It is truly a creative and spectacular process!
You will definitely see some people playing Picigin on the beach. Here is a video to make you have an idea:
What should be in your packing list for Split
Here's a small selection of things I found very useful to have in my trip to Split:[/vc_column_text]