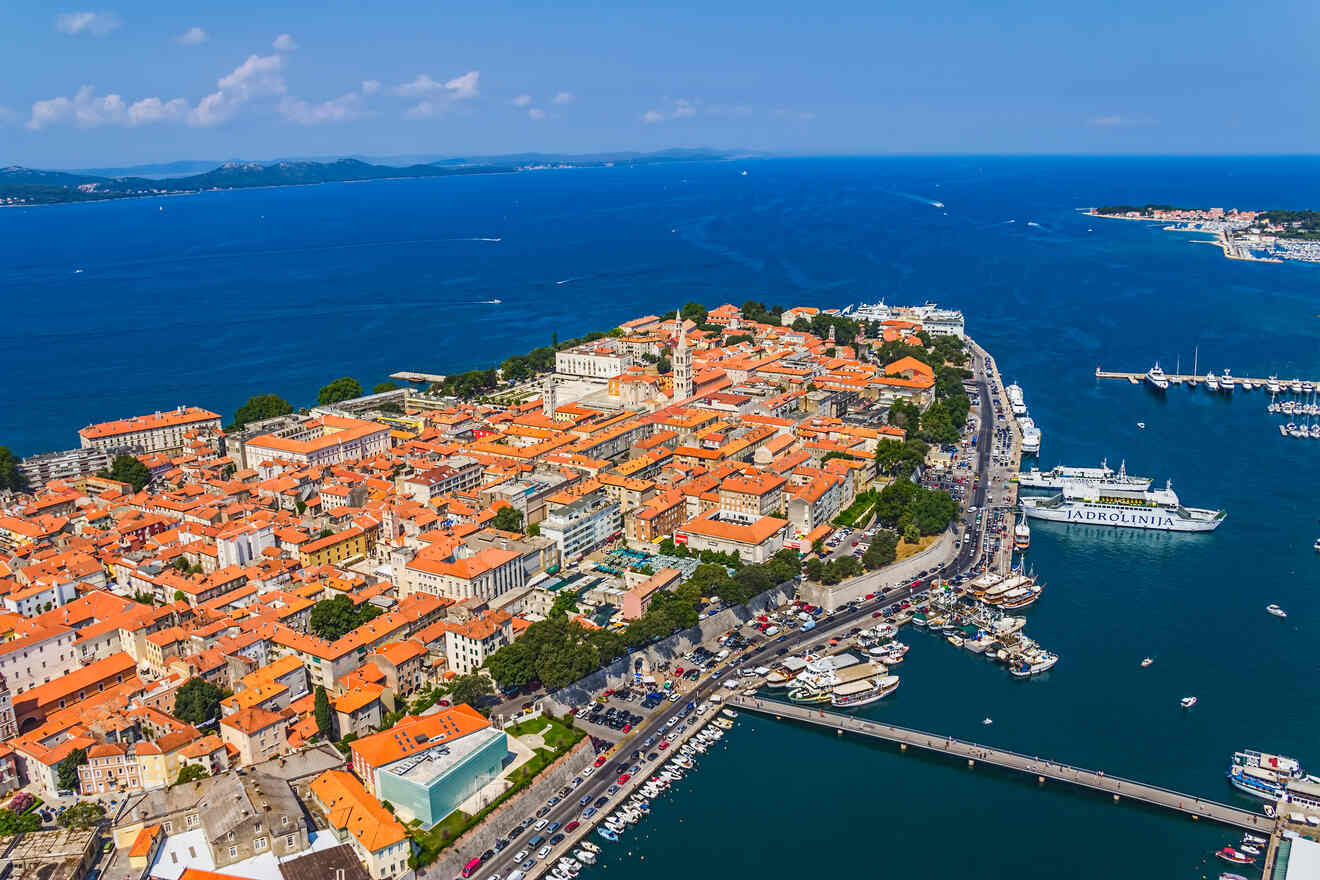 Imagine a small ancient city on a tiny peninsula of the Dalmatian coast, overlooking turquoise waters of the Adriatic sea, with breathtaking sunsets and Mediterranean climate all year round… well, welcome to Zadar! This Croatian gem lies on the northwestern part of the Ravni Kotari region and faces the islands of Ugljan and Pašman, from which it is separated by the narrow Zadar Strait.
Having been under countless empires and influences since its foundation (Roman, Byzantine, Venetian just to name a few) the city benefits from a rich heritage, embodied by charming Roman and Venetian historic buildings in the fascinating historic centre. Its medieval churches, historic sites, and traditional restaurants offering Balkan and Mediterranean cuisine will make you deep dive into Zadar culture as soon as you step into the city.
Zadar is the perfect place to enjoy lazy beach days without having to renounce history and night-outs in its bustling beach bars and clubs. That's why this hidden treasure is the perfect holiday destination for families, friends, or couples, offering distinct areas both close to the city center or on the outskirts, for a more peaceful stay.
There are also myriads of hotels you can choose from, from luxury to cozy Airbnbs and budget hotels… that's why I decided to make your life easier and made this Zadar neighborhood guide with the top Zadar accommodation from the best booking websites. Whatever type of traveler you are, here you'll find the perfect choice to make the best out of your vacation!
Keep reading to discover the best places where to stay in Zadar, Croatia, but don't forget to book your Zadar accommodation in advance if you don't want to lose this opportunity: more and more tourists are discovering this beautiful secret!
Let's go visit Zadar!
If you are in a hurry
If you need to decide quickly where to stay in Zadar and book immediately, I got your back, check this list with the best hotels tin Zadar Old Town:
Here's a map to help you have a mental image of the best 6 areas to stay in Zadar Croatia:
1. Old Town – where to stay in Zadar for the first time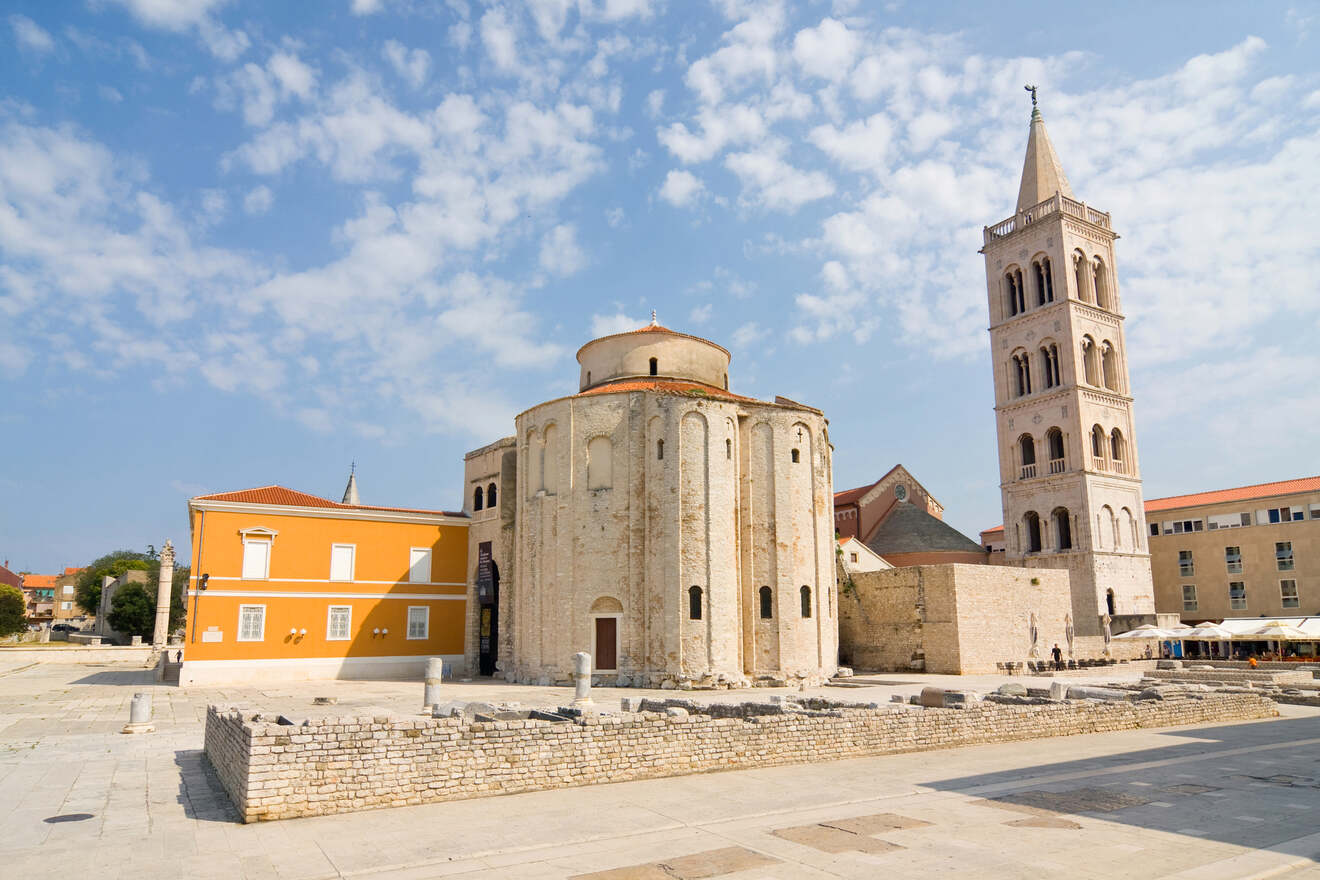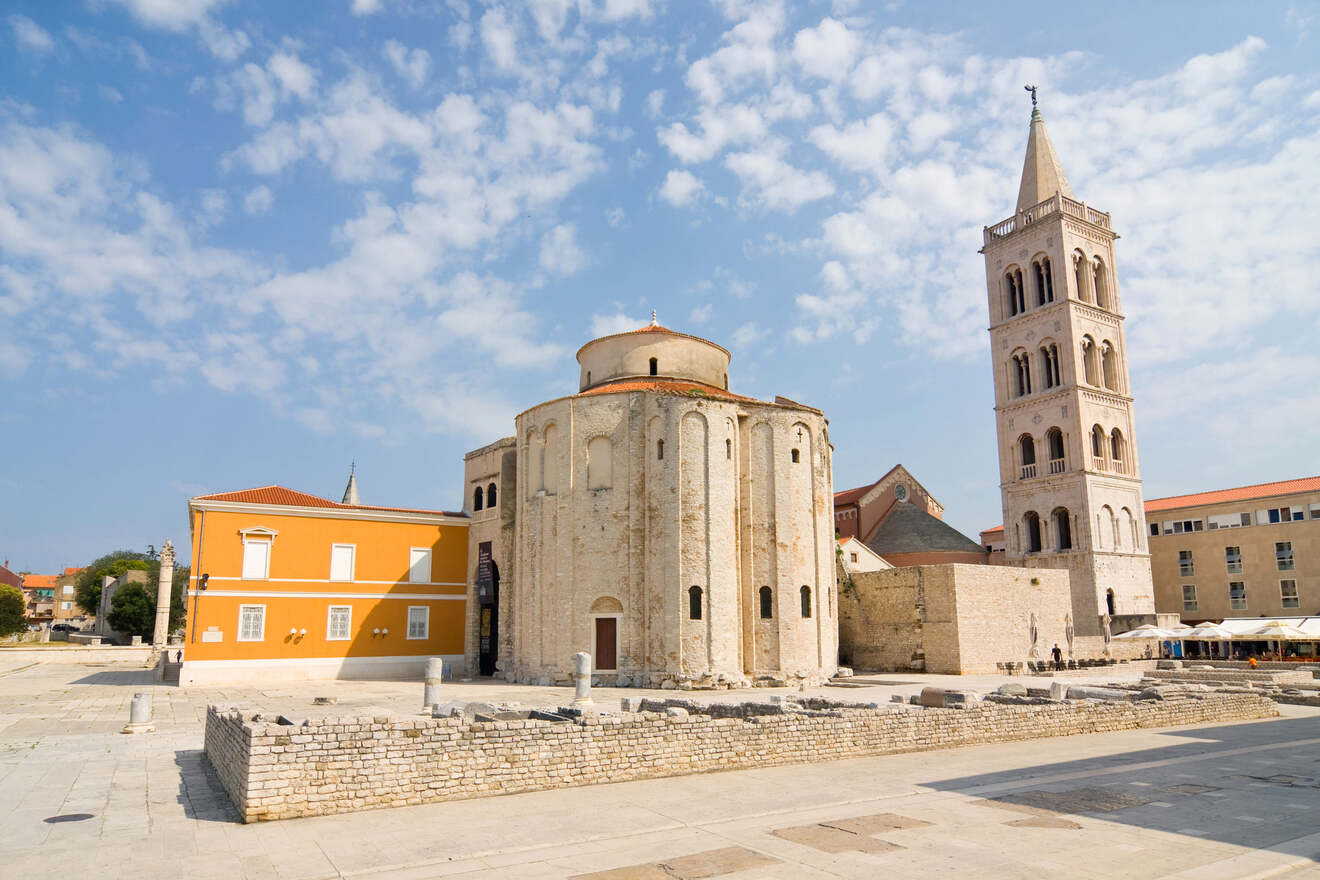 The historic Old Town (called Poluotok by locals) is a charming area of Zadar's protected peninsula, brimming with Roman ruins, Venetian architecture, Byzantine churches, and beautiful boardwalks on the Dalmatian coast. Thanks to the colorful narrow streets of this neighborhood, of typical Roman architecture, everything is within walking distance, which makes it perfect to discover its numerous ancient attractions.
Just wandering through the Old Town you will find the ruins of the Roman Forum, the famous Zadar churches like the Church of St. Donatus, or the happening squares; the People's Square and the 5 Wells Square.
One must of the old center is definitely the world-famous Sea Organ, located close to the other popular monument "Greeting to the sun".
Combining music and architecture, The Sea Organ's harmonic sounds are made by cleaver architectural design which uses the waves and tides. My suggestion? Go watch the incredible sunsets from this spot, where the game of lights by the Greeting to the Sun mixes with the rhythm of the waves and the sounds of the Sea Organ… one of the most magical experiences you can have in your life!
While exploring Zadar's ancient neighborhood you will breathe in its authentic and peaceful atmosphere, hard to find in more touristic Croatian cities like Split. With its small cafes, terraces, and restaurants offering stunning sea views, the Ugljan and Pašman islands right in the front, and breathtaking sunsets, you'll feel in a place far from space and time.
Other accommodation options in Old Town
Things to do in Old Town
Check out the Greeting to the Sun monument on the waterfront
Listen to the famous Sea Organ, architecturally designed steps which play music by way of sea waves!
Watch a glass-blowing showcase at the Museum of Ancient Glass
Explore the city with the Zadar Walking Tour
Have a coffee in the People's Square or the 5 Wells Square
Go visit the Zadar Archaeological Museum
Gaze at the Byzantine St. Donatus Church, the Roman ruins of the Roman Forum, and the ancient City Walls!
2. Zadar New Town – where to stay in Zadar for luxury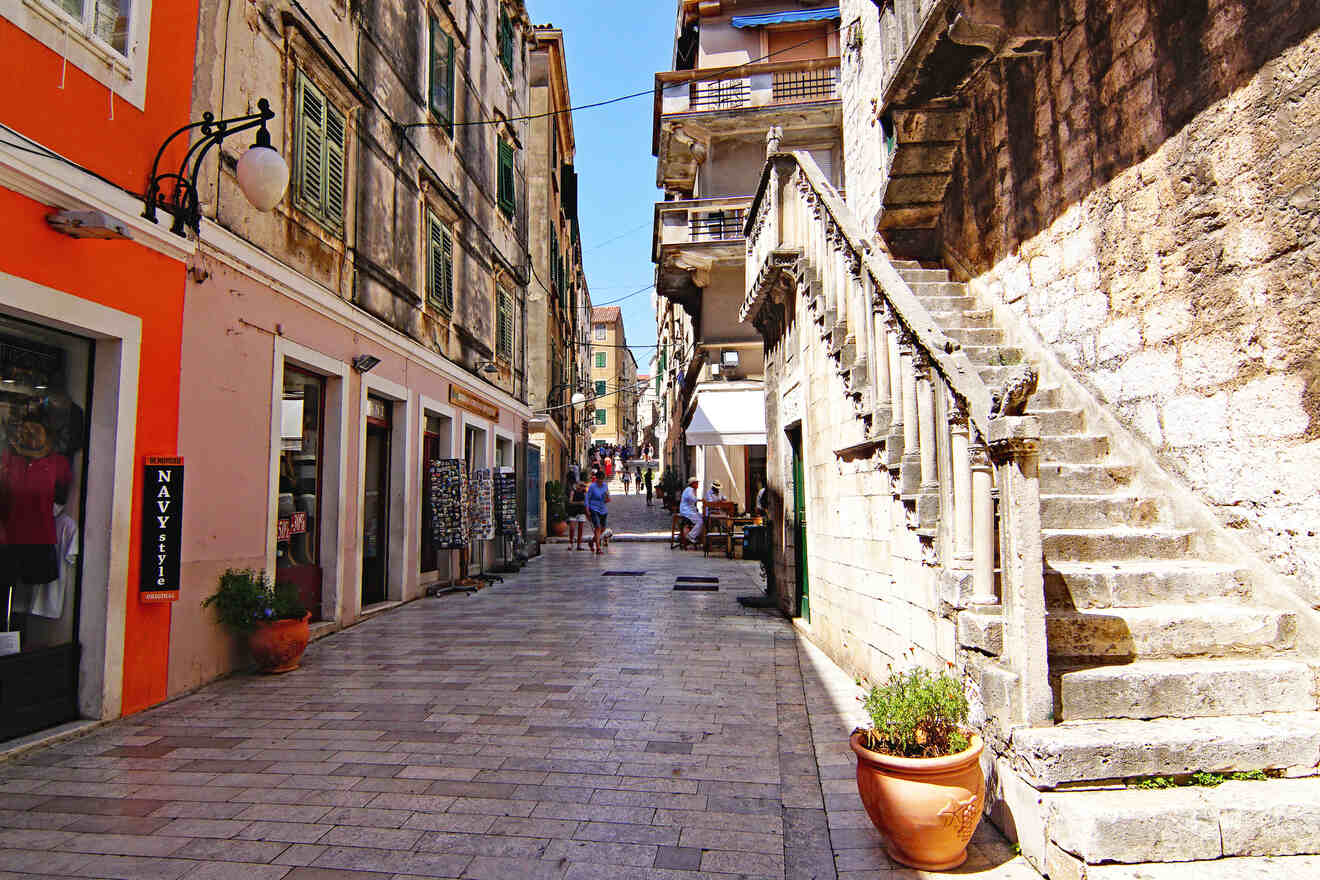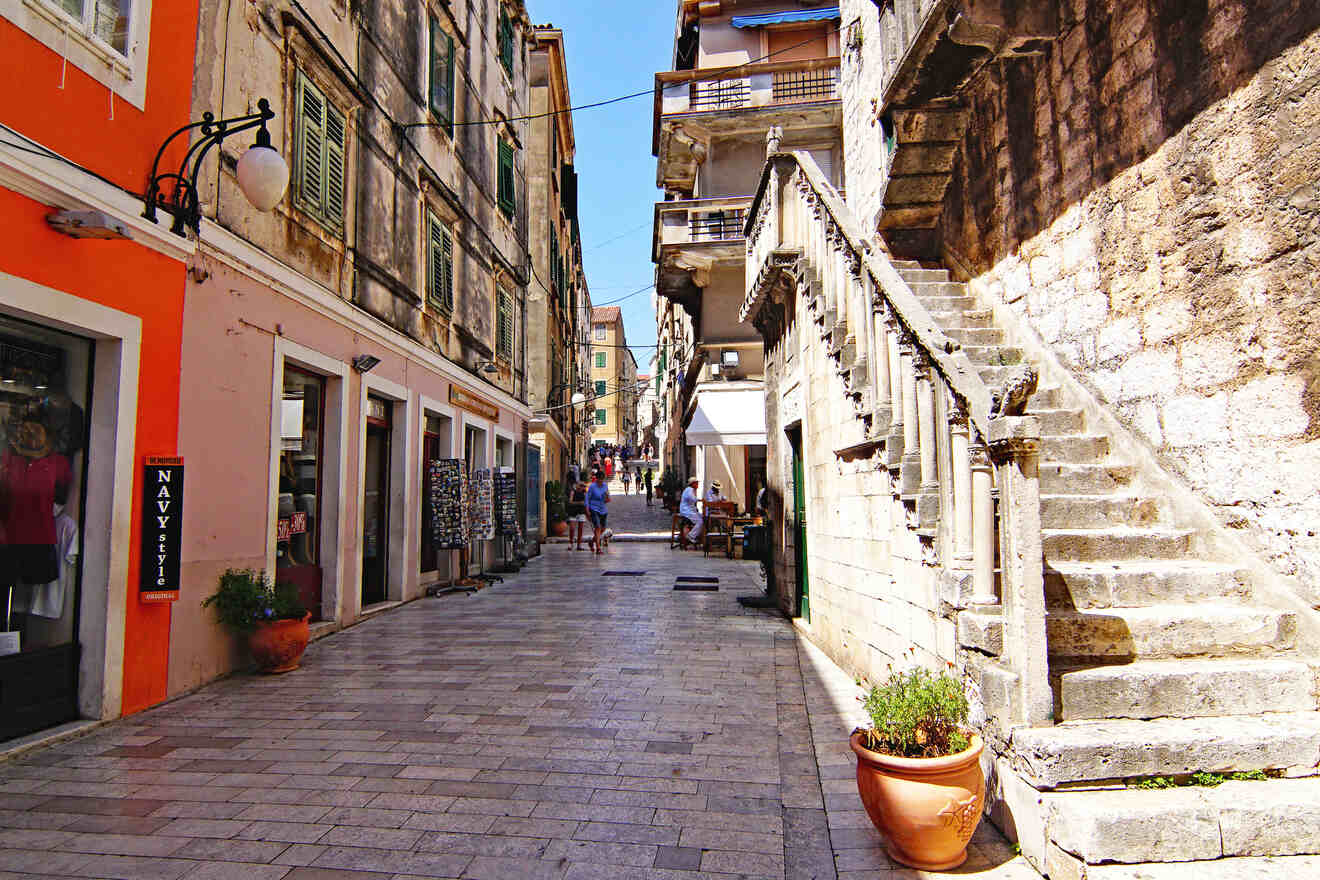 New Town is Zadar's city center, located to the east of the Old Town, exactly between the ancient neighborhood and Zadar's most popular beaches, giving you easy access to everything you need, in an even quieter atmosphere than the more known Old Town.
This is the part of Zadar which was most recently renovated, where you'll find a huge Neo-Tuscan courthouse, municipal landscape parks, and the new town quay: a fashionable promenade with residential and public palaces, which has become Zadar's new asset!
After the introduction of the Quay, the life of Zadar was relocated around it, with many fashionable hotels, restaurants, trendy bars, social events, and public and cultural institutions like the Croatian Reading-room. Also, a large pier was built here, as a place for boat departures and anchoring of picturesque coastal ships (island boats, Bragozzi, two-mast coasters, and sailing boats), which gives the area a fancy coastal charm.
Being at the center of the local Zadar action, the hotels in this neighborhood are a little more exclusive and expensive, perfect for those who want to enjoy luxury and the comfort of being close to everything! Does this sound like you? Then don't waste more time and book your Zadar accommodation immediately, you're not the only one thinking like that!
Other accommodation options in Zadar New Town
Things to do in Zadar New Town
Have a walk through the 19th-century park, Perivoj Vladimira Nazora
Have an evening of shopping at the City Galleria, also home to a farmer's market
Take a walk along the promenade and watch an amazing sunset!
Check out the historic Imperial Fountain
Go for a day tour to the incredible Krka Waterfalls National Park!
3. Kolovare Beach – a great place to stay for nightlife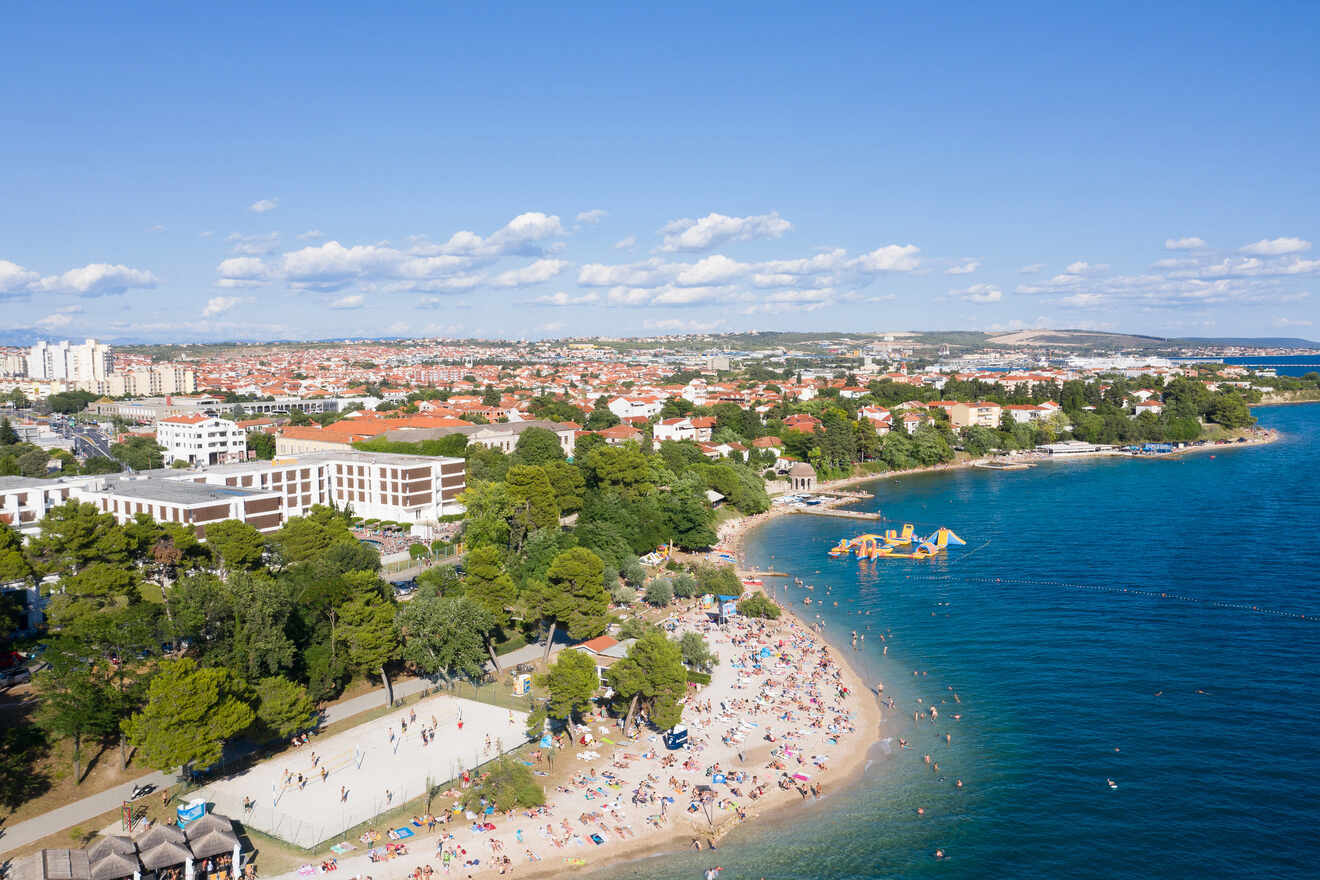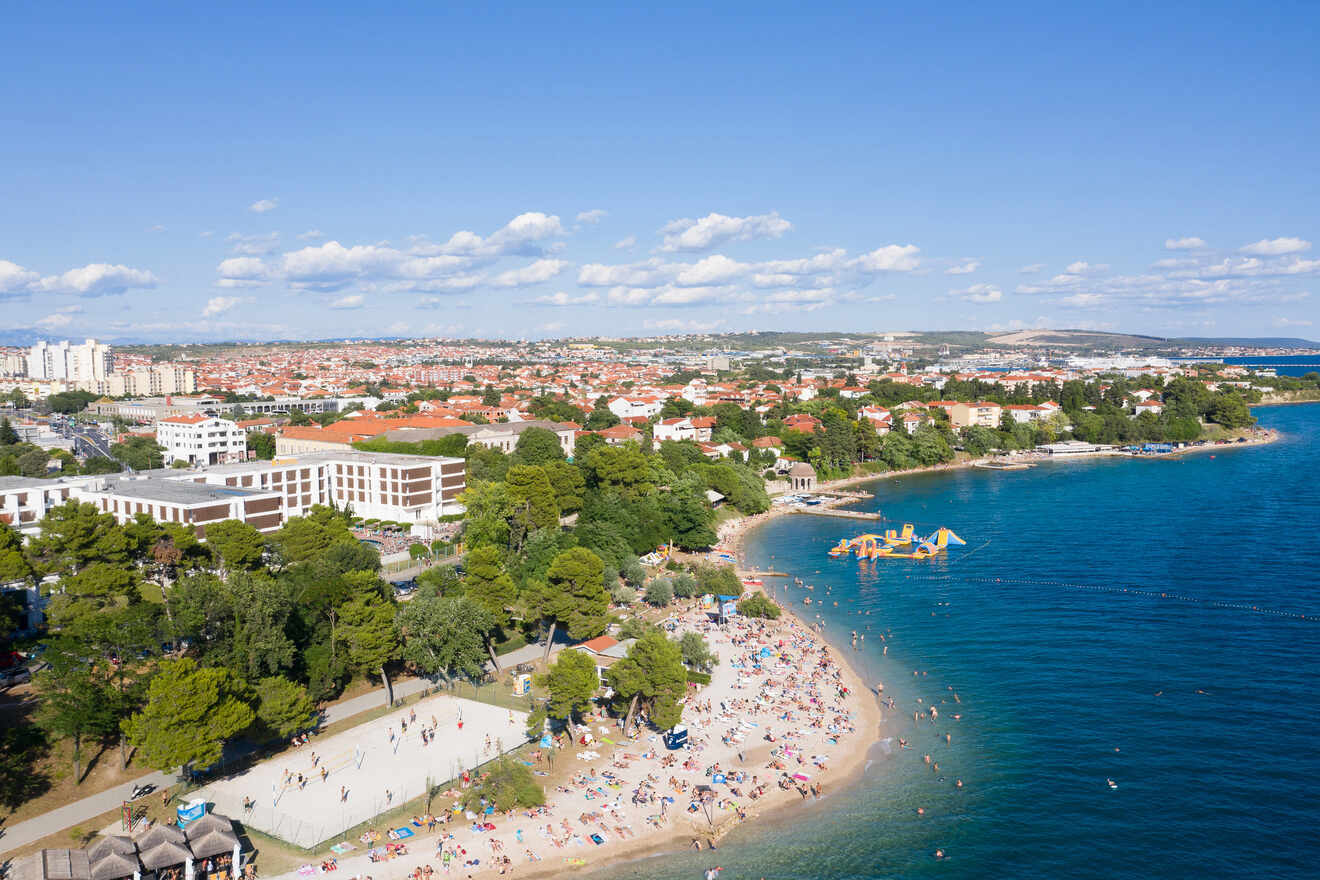 Kolovare is a traditional public town beach, and the main beach in Zadar, located east of the peninsula. The uninterrupted public bathing area starts in the so-called pool (an aqua park in the mediterranean sea) and goes all the way up to Punta Bajlo (Bajlo Cape).
Kolovare beach is surrounded by shops, hotels, beachfront restaurants, live music venues, and buzzing bars, perfect for those looking for fun nightlife and entertainment. In fact, even though a wonderful place to relax, sunbathing and swimming during the day when the sun goes down Kolovare beach takes life, and the vibey beach bars become crowded with young people enjoying drinks while watching incredible sunsets!
With the main bus station close by and affordable taxis available, in a blink of an eye you'll be in the close city center and Old Town, in case you want to visit Zadar's major attractions and you want to party in a different area! In fact, the historic Old town also hosts nice bars and cool clubs for you to enjoy Zadar nightlife and dance until the morning.
Other accommodation options in Kolovare Beach
Things to do in Kolovare Beach
Just lay down on Kolovare beach and relax!
Listen to live bands and DJs sets at the Hitch Bar
Spend a day in Karma beach
Bring your kids to the Acquapark right in the sea waters!
Dance the night away at Podroom, one of Zadar's biggest clubs!
4. Diklo Beach – where to stay in Zadar for families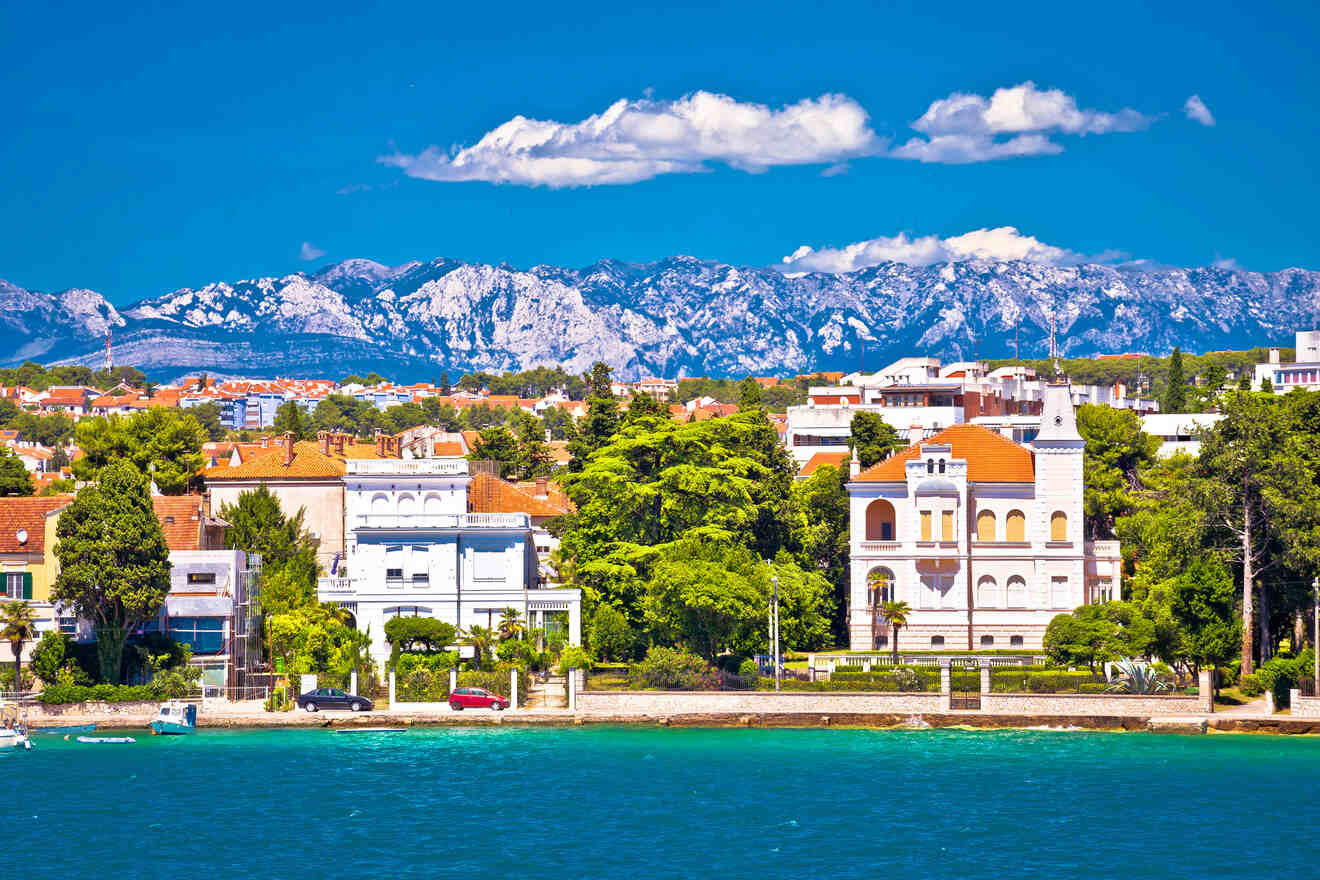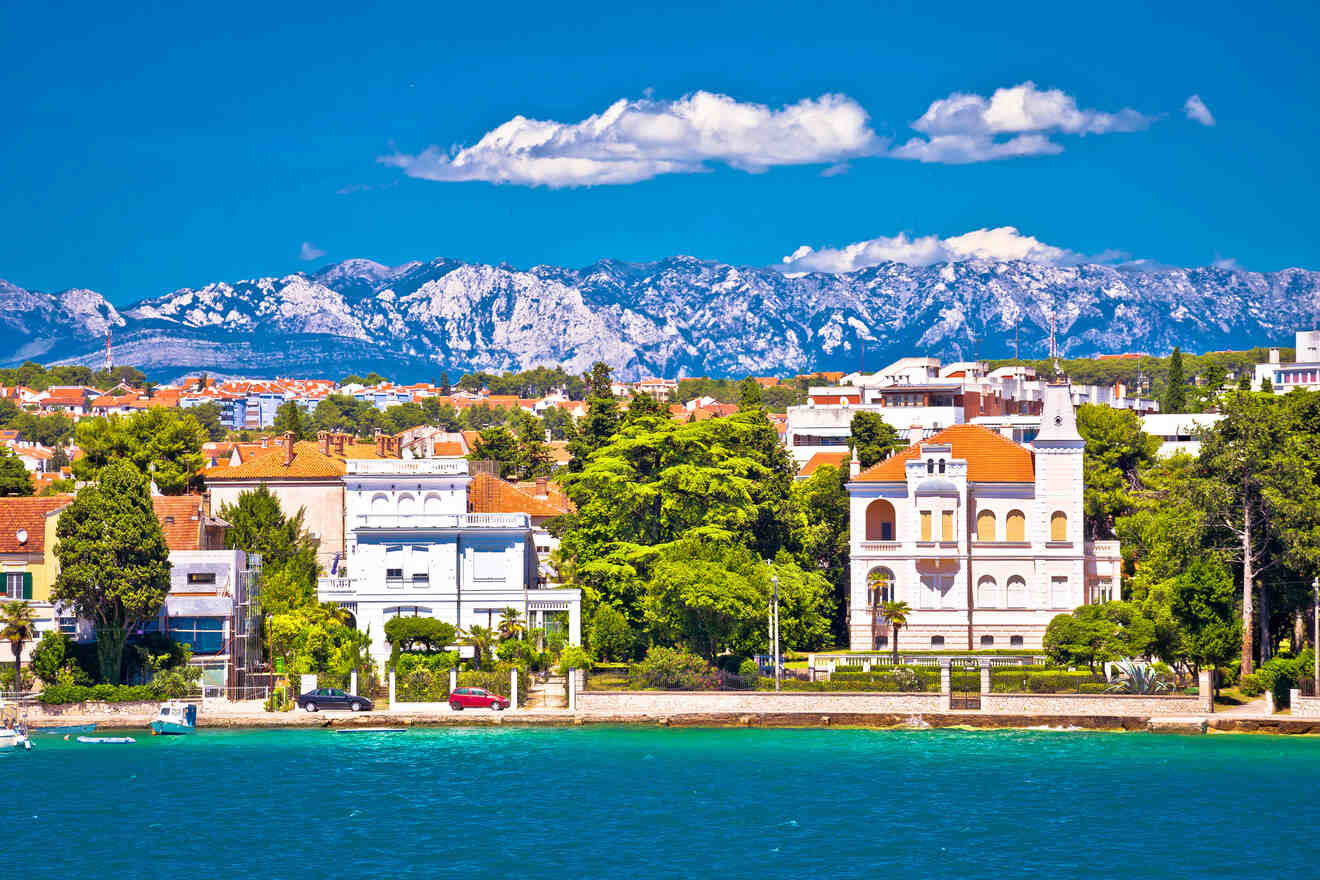 Diklo Beach is Kolovare Beach's quieter sister, located on the north of Zadar, and 3km (2.5 miles) from the city center. Its nice equipped beach and warm and clean waters with far fewer crowds, make it the perfect option for a beach holiday with your family.
Spend relaxing days under the sun or your umbrella (if you cannot stand sunbathing for more than 10 minutes like me) while your kids enjoy water activities such as tube and banana rides!
This is the ideal place for a lovely evening walk, breathing in the pleasant scent of pine trees and the gentle sea breeze while listening to the sound of waves as they hit the rocks.
And when the night comes, there are several beach bars and restaurants where you can enjoy a delicious fish dinner with a great view. If all this wasn't enough, Diklo Beach is also surrounded by beautiful apartments and family-friendly hotels at much more affordable prices… you don't have any excuse to not spend your vacation here!
Other accommodation options in Diklo Beach
Things to do in Diklo Beach
Pack some snacks and drinks to watch the sunset at Diklo beach
Get some adrenaline with a banana boat ride or tube ride!
Take the car and go to Plitvice Lakes National Park, a protected natural area with dense forests, rich in streams, lakes, and waterfalls!
Check out the Puntamika Laterna lighthouse
Rent a jet ski and spend a fun family day on the water
Go swimming at the nearby Plaža Borik beach!
5. Bibinje – where to stay in Zadar on a budget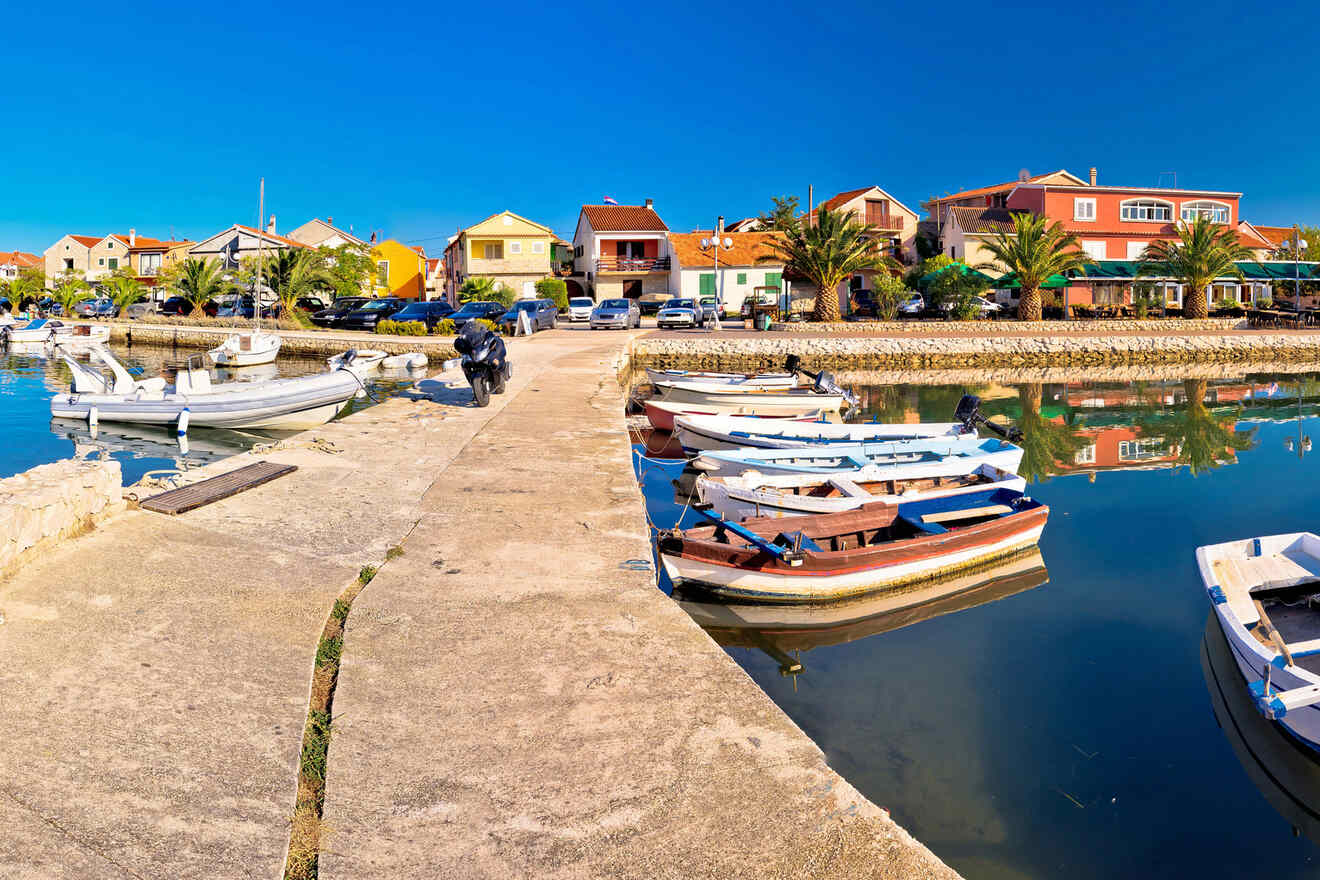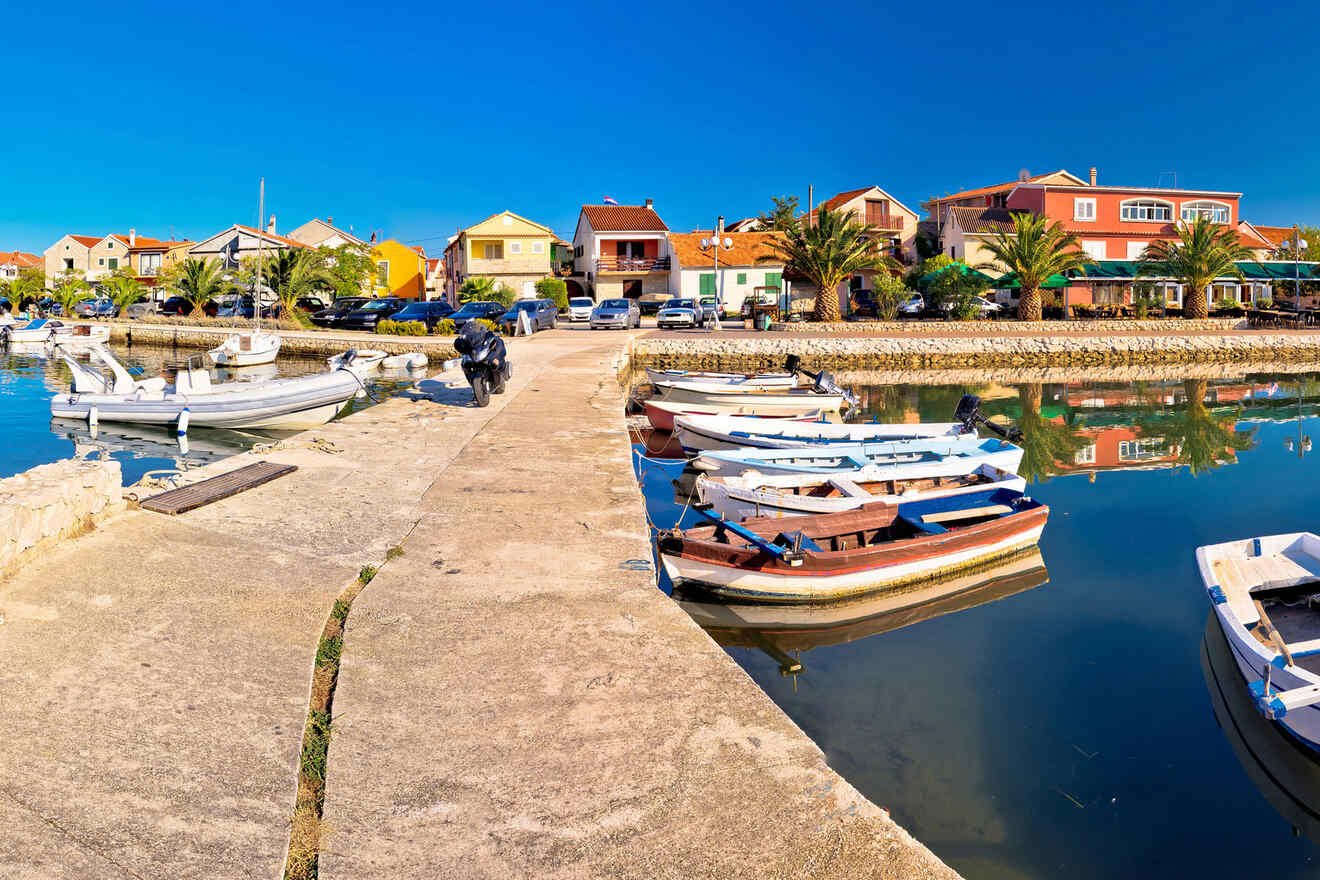 Located southeast of Zadar Old Town, you'll find the lively and charming seaside town of Bibinje, offering the typical peaceful and casual atmosphere of a small city. Once a fishing village, Bibinje experienced economic development and touristic renovation, and today has a lot to offer to its guests!
Bibinje's shore stretches for 5km (3 miles) of rocky and pebble beaches and hosts the largest marina on the Adriatic Sea, a beautiful riviera, and many small shops, restaurants, and cafes. Dive in the clear waters of the many famous Bibinje beaches like Punta Rozica, Punta beach, and Lipauska beach, or dare to try windsurfing when the wind allows!
Bibinje is also blessed with a perfect location close to a real natural paradise: the National Park Kornati, a protected area encompassing the biggest part of the Kornati island group.
Hosting an incredible natural and cultural diversity and a great marine ecosystem richness, the national park covers 21 800 hectares and includes 89 islands, islets, and rocks… all to discover! If I were you, I wouldn't think twice and keep some days of your vacation here… this is a show of nature that you won't find in lots of places!
With far fewer tourists and beach hotels at affordable prices, Bibinje is definitely an excellent and cheaper alternative to Zadar. Here you will even find a few campgrounds close to the shore… for the ultimate budget-friendly vacation!
Other accommodation options in Bibinje
Things to do in Bibinje
Explore all the beaches in Bibinje surroundings like Punta Rozica, Punta beach, and Lipauska beach
Spend some days at the incredible National Park Kornati!
Visit the Church of St Mary's assumption and Church of st Rock
Do some windsurfing!
If you happen to be in Bibinje in July, go to the Folklore festival, where people from all over Croatia come to the city to perform and dance!
6. Sukošan – where to stay in Zadar for great food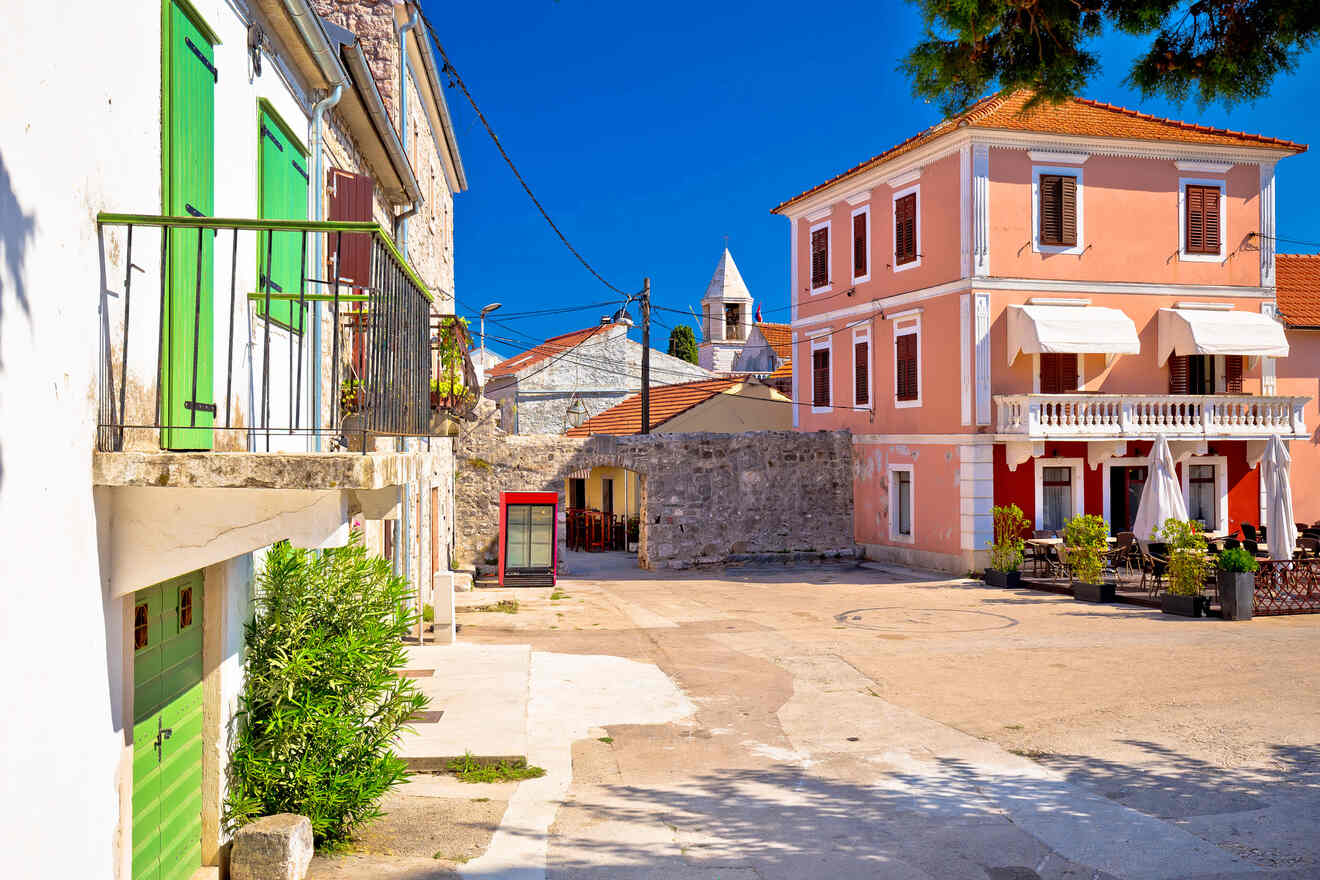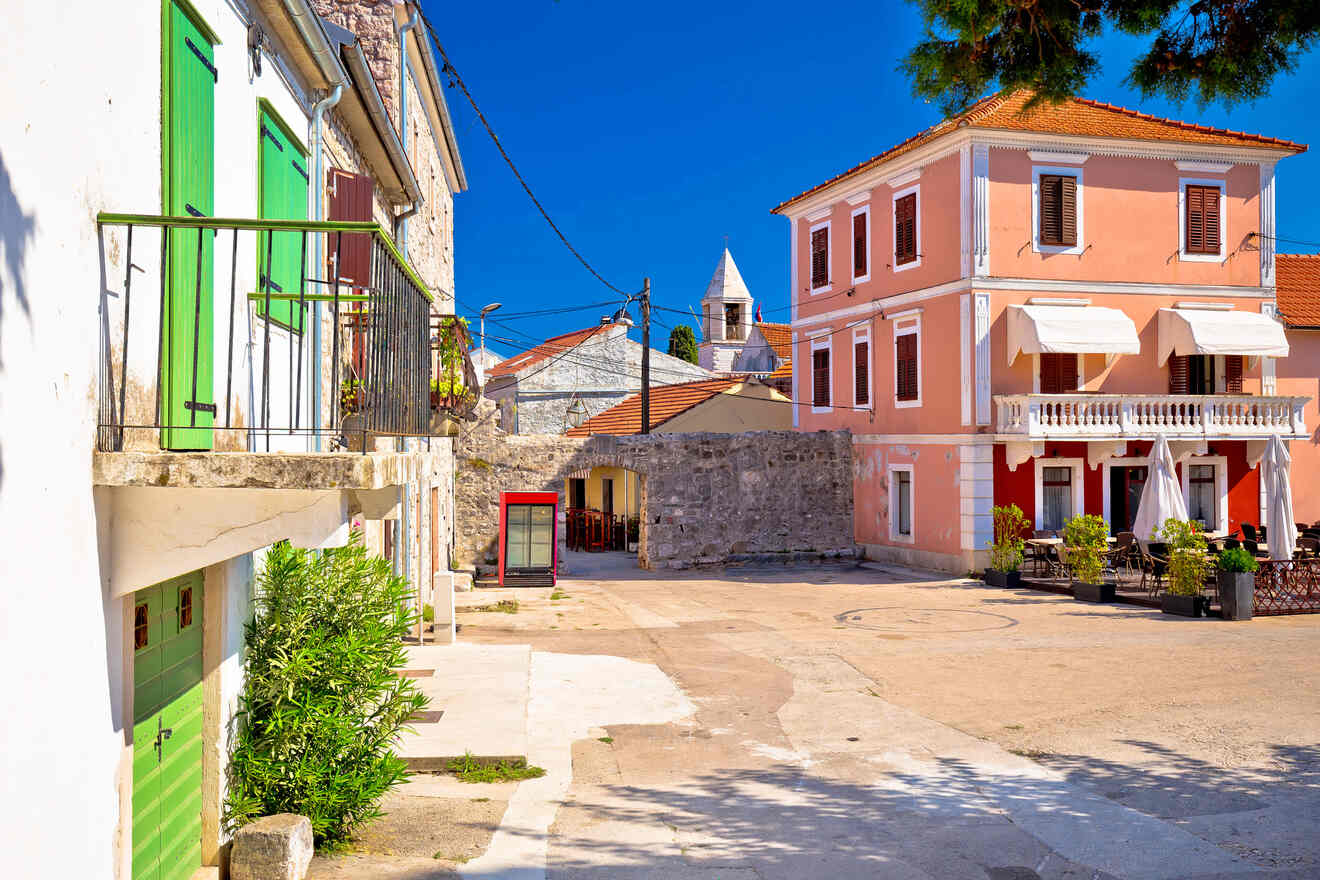 On a coastal Adriatic road, just 3km (2 miles) south-east from Bibinje and 6.5km (4 miles) from Zadar, there is Sukošan, a small town situated in a wide bay called Golden Harbour (in Croatian Zlatna Luka) with dramatic views of the sea. And when I say small, I mean it! With 3,000 residents living here, this is the perfect spot for a quiet getaway with your partner, friends, family, or even alone!
The economy of this cute town is based on tourism, farming, vineyards, olive, and fruit growing… so be ready to enjoy all the 'pleasure' of the Mediterranean diet! Sukošan quality restaurants offer Dalmatian specialties with fresh fish, meat, vegetables, and, of course, their famous olive oil which gives the dishes a special taste, and being Italian I can assure you that this is THE fundamental ingredient!
If you happen to be in Sukošan in July, you will be lucky to attend its traditional and special Summer Carnival, the longest tradition of masks in Croatia! During this time all its inhabitants dress up and gather to dance, sing, eat local food, drink wine and forget all the problems for some time!
Sukošan is also blessed with great beaches with shallow waters. Bring your kids to Dječji Raj (" the Childrens' Paradise") with white soft sand, or to the typical pebble beaches like Zlatna Luka or Makarska to enjoy the shadow and perfume of tamarisk and pine trees! With luxurious apartments, hotels, and numerous campsites situated near the sea, Sukošan is waiting for you!
Other accommodation options in Sukošan
Things to do in Sukošan
Bring your kids to Dječji Raj to enjoy swimming in the sea!
Try some delicious traditional food at the Veseljak restaurant
Dress up and have fun at the traditional Summer Carnival in July!
Enjoy the view from the Marina Sukosan Dalmatia!
Have an amazing dinner with a view at the tavern Joso
Enjoy delicious fish stew and homemade wine at the 'Brudetijada' – a competition in preparing fish stew during late August
Dive into the blue Adriatic waters with one of the many Sukošan diving centers!
Frequently asked questions about Zadar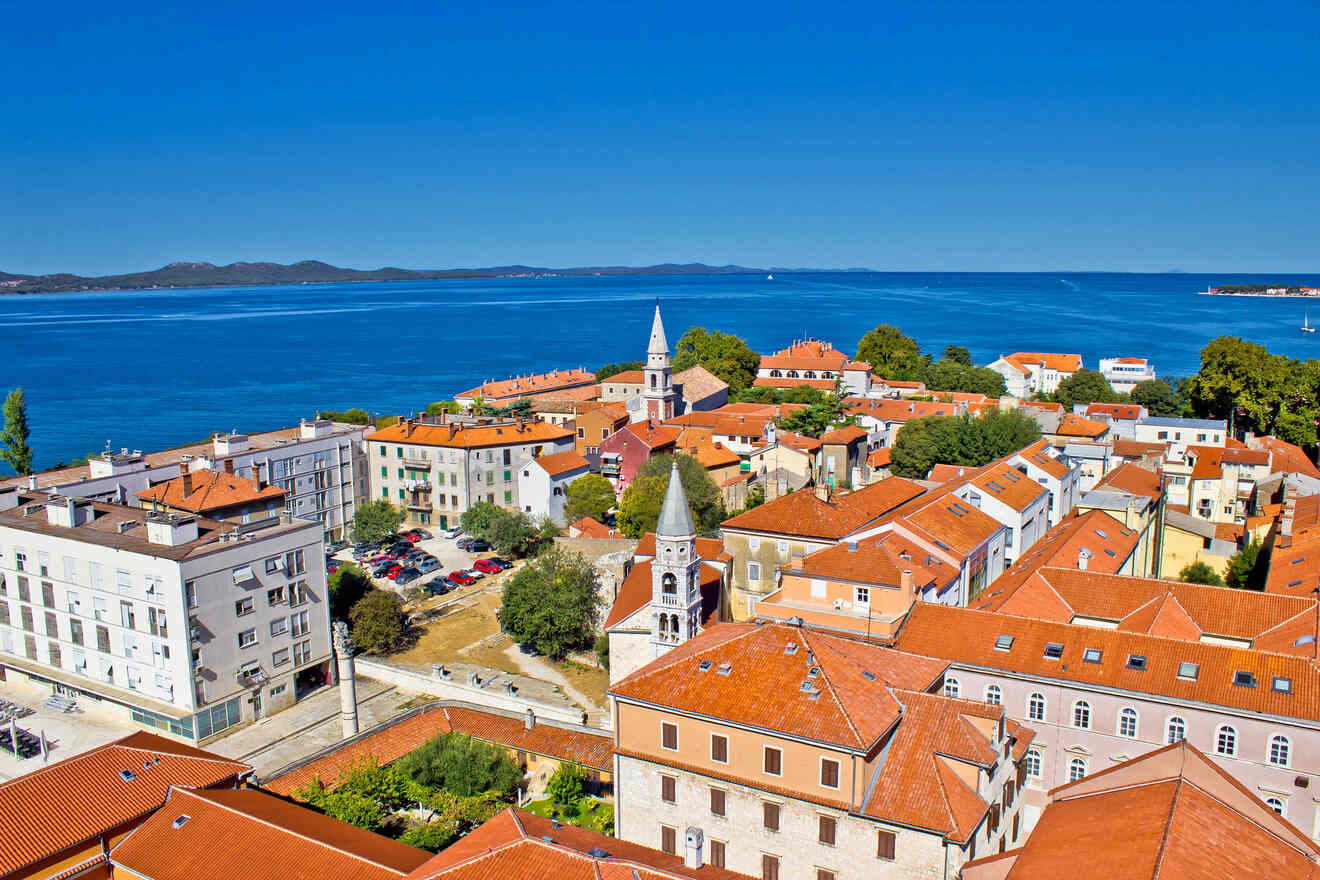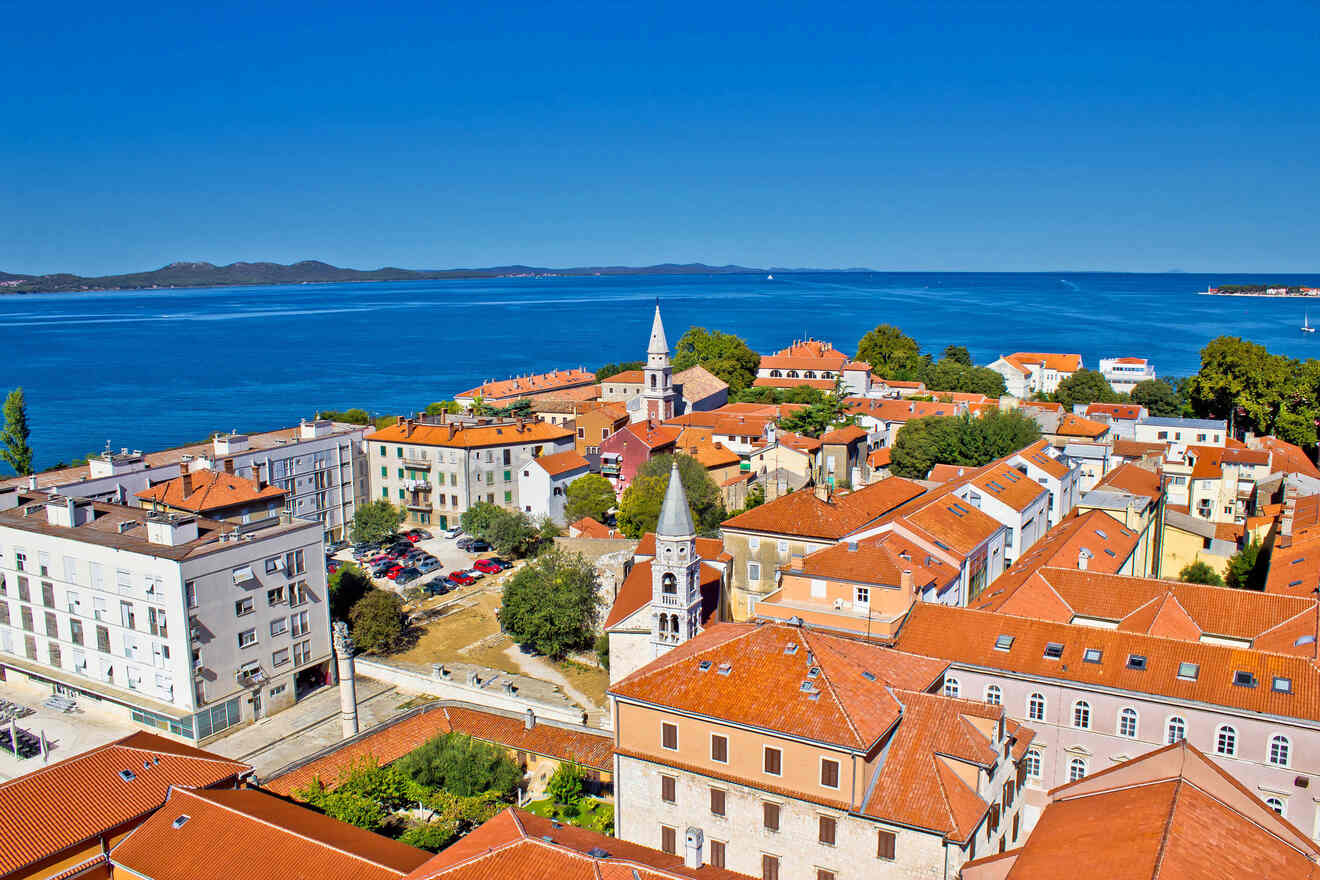 Conclusion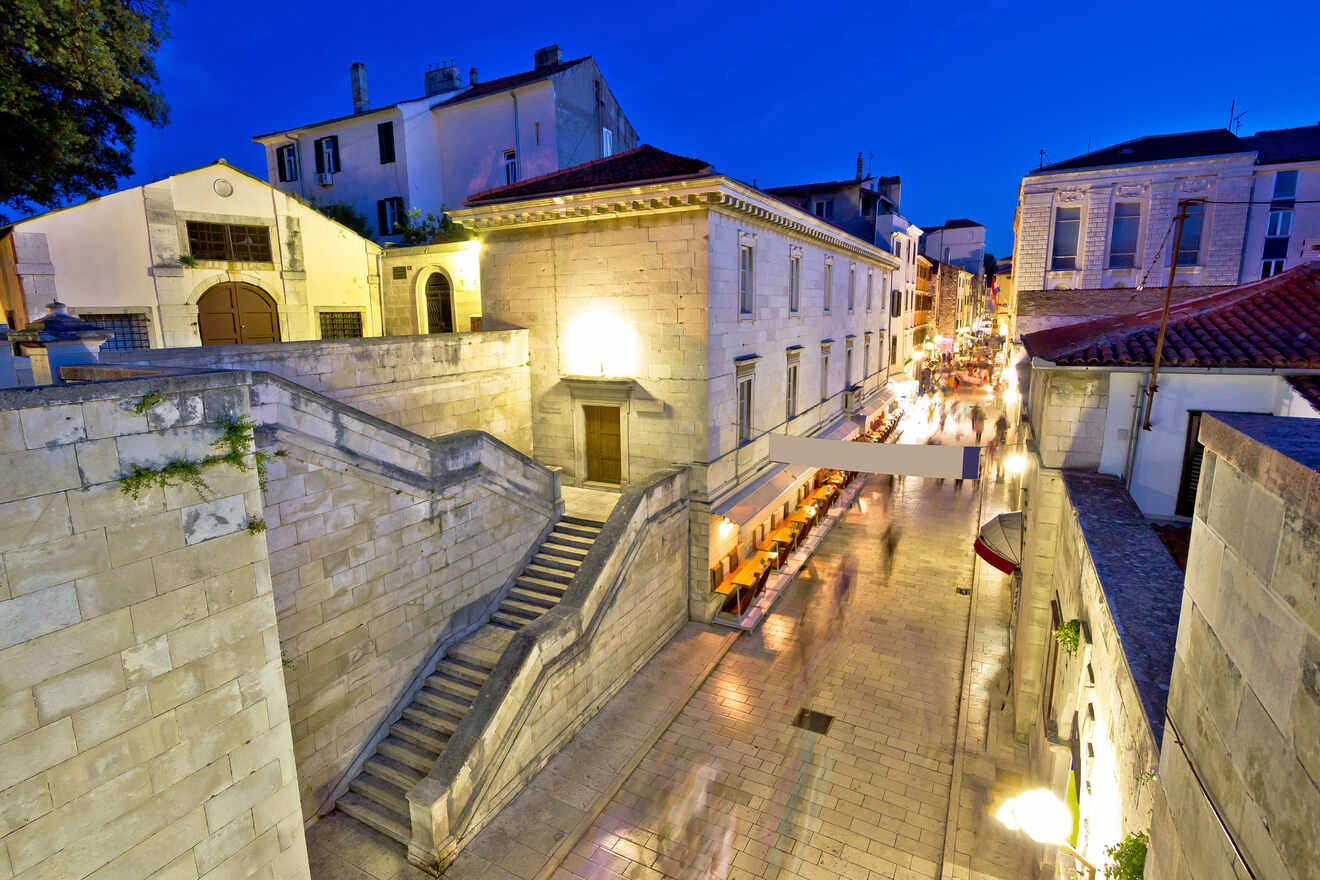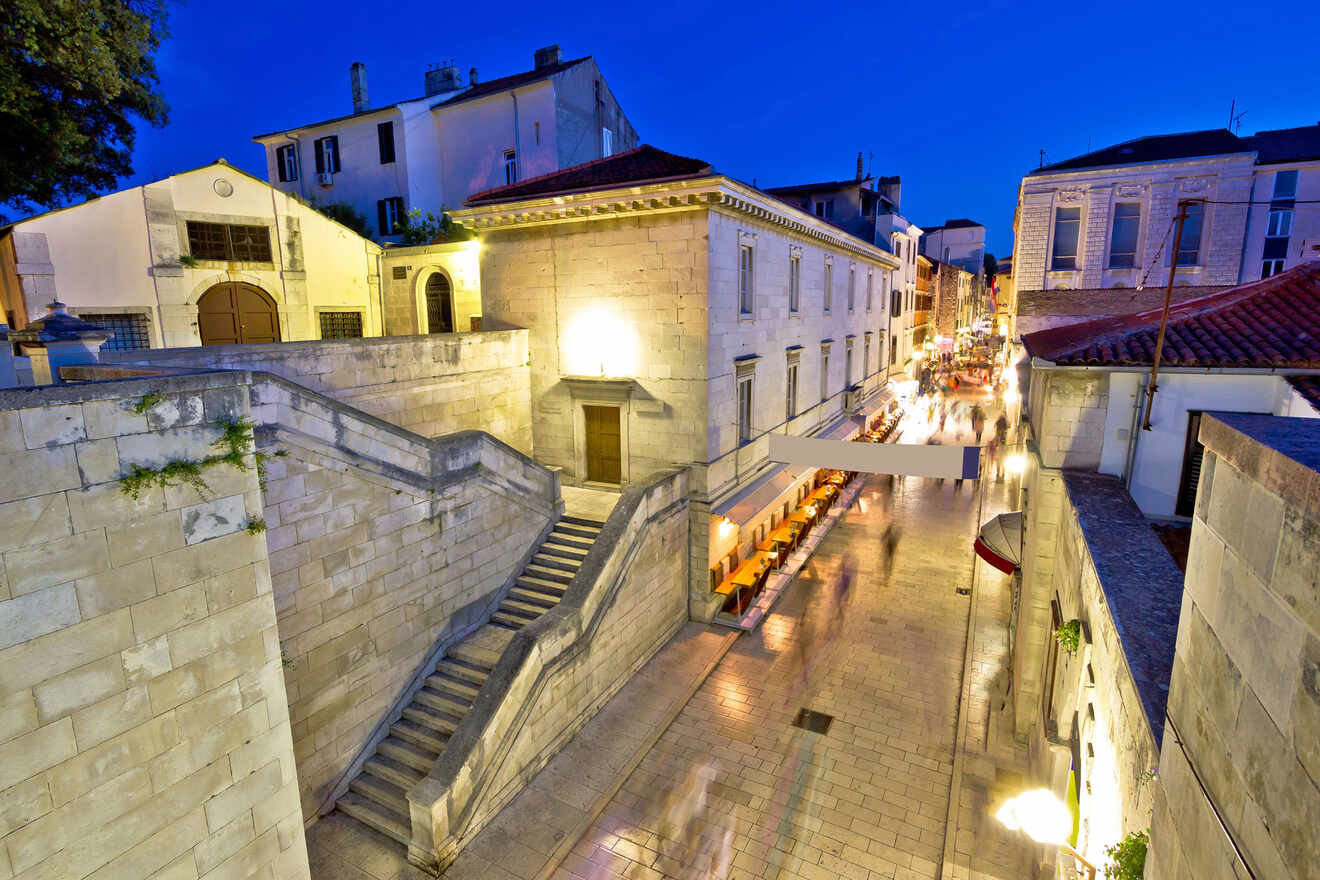 Here we are at the end of our dreamy journey through the best Zadar hotels, Airbnbs, and apartments! As you can see, there is such a big choice of amazing places to stay in Zadar Croatia, surrounded by Roman ruins, pebble beaches, and big pines.
Whether you're looking for seafront hotels with a rooftop pool, family rooms in cozy apartments, or "on a budget" hotels in less touristy areas, you will find the perfect spot where to stay in Zadar. Between the historic Old Town, the popular New Town, the lively Kolovare Beach, the family-friendly Diklo Beach, the affordable Bibinje, and the quiet Sukošan, you are just spoiled of choice!
If you still haven't chosen your Zadar accommodation, here are my absolute favorite hotels:
Almayer Art & Heritage Hotel – Luxurious hotel located in the historic Old Town Zadar offering modern-style rooms with all the comforts
Teatro Verdi Hotel – Spacious and comfortable rooms with delicious buffet breakfast in the heart of Old Town
I hope you enjoyed reading my Zadar neighborhood guide, as much as I enjoyed doing the research to help you find the best hotels! If you are already imagining yourself breathing the sea breeze of the Dalmatian Coast, I strongly suggest you book at least 2-months before your trip, as this is one of the most loved destinations in Croatia!
Have you been to Zadar and have any suggestions or comments for this blog? Then leave a comment below, I'm looking forward to answering you!
Have a great trip!
Elena
---