After you pass by the bBig waterfall, (that has a tremendous amount of tourists by the way),
-> go up the stairs that are located on the right side of the waterfall,
-> at the top of the stairs, take a right
-> follow the road for about 5 mins (you will see the Big waterfall from above) until you get to an asphalt road.
-> turn right and walk straight (2-3 mins) until you pass a wooden bridge,
-> then turn right after the bridge, follow the path for 1-2 min until you see a viewpoint deck and, voila!, you will see THE view!
When I was there, there were only 3 other people, so basically you have the view all to yourself! How amazing is that? Now you know too, but shhh! 😉
5. How do I get around in the national park?
The territory of Plitvice Lakes is huge and you definitely cannot visit the whole park by walking. That is why there is a special transfer service that will take you from point A to point B either by ferry or by train.
Here is the Plitvice Lakes map so that you understand it better:

As you can see in the Plitvice map above, there are different routes for getting to the variou points in the park. The transportion runs according to a schedule and the frequency of runs depends on how busy the park is.
I waited in line for a maximum of 20 minutes, so do not worry about standing in lines for ages! (Yes, avoiding lines are very important to me. I wrote a great post about how to avoid lines in Paris).
By the way, if you want to visit the park with your dog, it is not a problem, I saw many people walking in the park with their dogs.
NOTE: Plitvice Lakes is not extremely wheelchair-friendly, but it can still be visited. For example The Great Waterfall (one of the main attractions of the park) can be seen soon after you enter Plitvice Lakes using Entrance 1, so this is totally doable. There is also a bus that can take you on a panoramic ride to some parts of the park. But there are some spots that cannot be seen because of steps or high water levels during some periods of the year (make sure to check the forecast before going). You can find a guide on how to see as many things in the park with a wheelchair here.
6. How do you get to Plitvice Lakes National Park?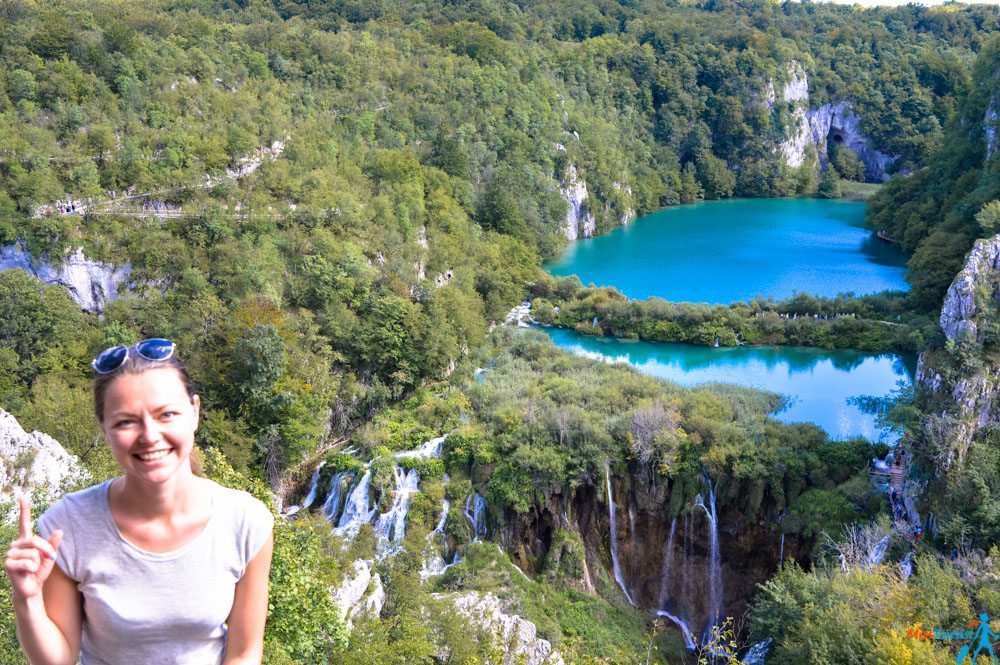 The national park is located on National Route D1 Zagreb–Split between Slunj and Korenica in the vicinity of Bosnia and Herzegovina.
Zagreb Airport is the closest airport to Plitvice Lakes. This is good news as, being the capital, it is very easy to get to Zagreb from abroad. It is 130 km (or about 2 hours driving) from Zagreb to Plitvice.
The best option to get around all of Croatia is definitely to rent a car. The roads are great and you get to see some truly breathtaking coastal views! In the case of Plitvice Lakes, it is also easy; many people arrive with a car and there are parking lots available everywhere! Check the rates and today's discounts for a car rental here.
If you don't want to rent a car, here are some awesome (and convenient) door-to-door tours depending on where you are coming from:
Are you in Croatia, searching for a bus from Zagreb to Plitvice Lakes, for example?
You should know that there are many buses departing from all the major Croatian cities that are quite cheap and they run frequently You can check the schedule and buy tickets online here. There is even a bus that departs directly from Zagreb Airport in case you do not want to stay in the city!
NOTE1: Keep in mind that you will have to pay a small luggage fee similar to the one you pay to low-cost airlines (from 7 to 10 kunas, ~1 Eur). You can usually save about 5% by booking your ticket online for bus companies like Arriva. They also have Wi-FI on board by the way!
NOTE2: the fee for parking once you arrive in the park is 7 kunas/hour (1.3 Euros)

7. When is the best time to visit Plitvice Lakes?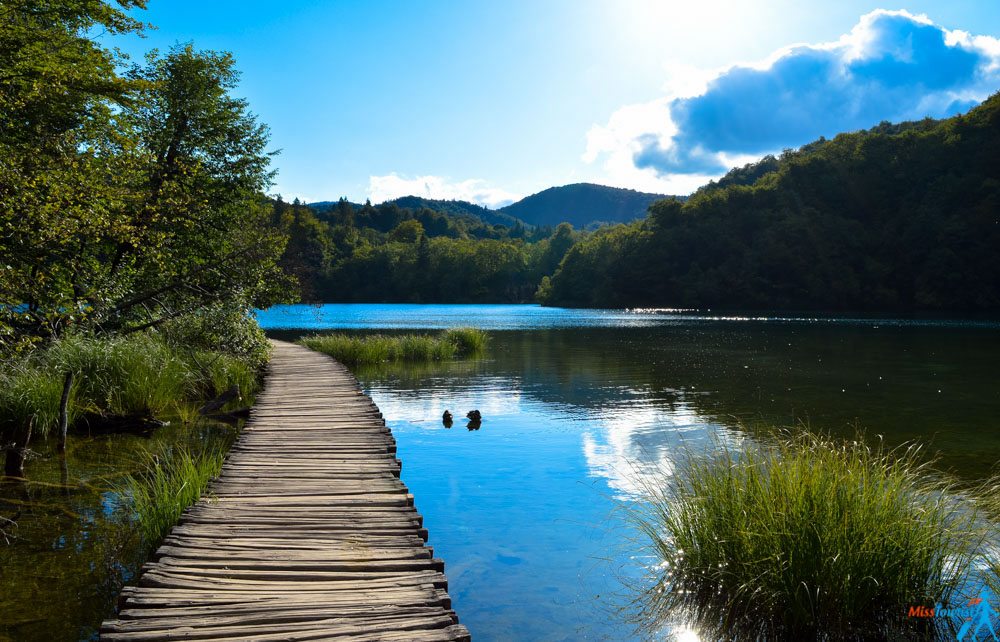 Anytime you can because seriously, as Plitvice weather is almost always nice and welcoming. I wa there in early October when the weather was still nice and the water was incredibly turquoise. But every season is different in its beauty. Thinking of visiting Plitvice in the winter? I bet it looks gorgeous covered in snow as well!
In short, it does not matter when, just go there, don't miss the chance! 🙂
Whatever the season, hiking shoes are not necessary because the road is nicely done and you will be just fine wearing regular shoes. But remember, as Plitvice National Park is located in a mountain area, it gets pretty cold in the evening, so don't forget to take warm clothes!
8. Can you swim in Plitvice Lakes?
Are you in the mood for some Plitvice Lakes swimming? Unfortunately for you, swimming has been forbidden in the park since 2006. But I have some good news, too! In case you really want to swim in some wonderful, turquoise water, you can do so in Krka Waterfall National Park in Dalmatia. This park is only 2 hours away from Plitvice and you can soak there for however long you please, although you can't actually swim under the waterfalls.
So, Krka or Plitvice? My answer is: both, if you have the time!
Both parks have stunning waterfalls, views and nature, but different atmospheres. If you really want to swim, then you should add Krka to your itinerary as well 🙂
| | |
| --- | --- |
| ✈️ Cost of traveling: | Budget |
| 📅 How many days: | 1-2 |
| 👶 Family friendly score: | Great |
| 🍽️ Dinner for 2: | €29 |
| 🏞️ Entrance price: | ~€25 |
| 🚕 Average taxi price: | €10 |
| ☀️ Best time to go: | Summer |
Where can you stay in Plitvice Lakes National Park?
UPDATE: In case you are searching for hotels near Plitvice Lakes, I have written a blog post about the Best hotels to stay at around Plitvice Lakes – they are all hand-picked, have fabulous reviews are sorted by price for your convenience – enjoy! 🙂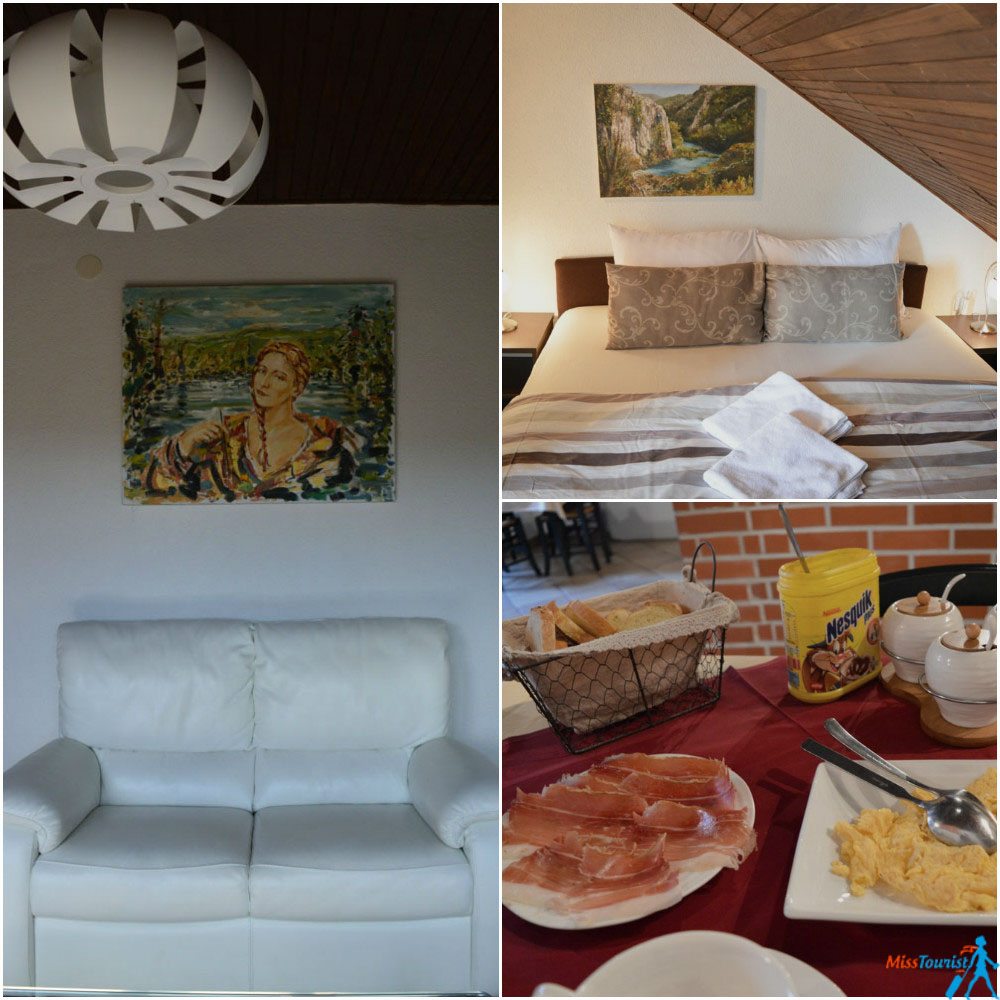 There are getting to be more and more accommodations around the national park and home-stays are popping up like mushrooms after the rain!
I stayed in Villa Mukinja, which I can definitely recommend; it is one of the best places to stay in and the perfect Plitvice accommodation!
This family run hotel has been open for more than 30 years. It was there even before the tourist boom and it is a great value for the money! My room was spacious and clean, all amenities needed were provided.
Dinner is an extra option, but you will miss so much if you opt out since local food is a part of the Plitvice experience! You will get an AMAZING dinner that you will remember for a long time! What I had for my dinner was an appetizer (could have been easily a dinner by itself), a salad, a soup, one of the 3 local specialties of your choice (fresh catch of the day, meat dish or a vegetarian plate) and a dessert. Crazy!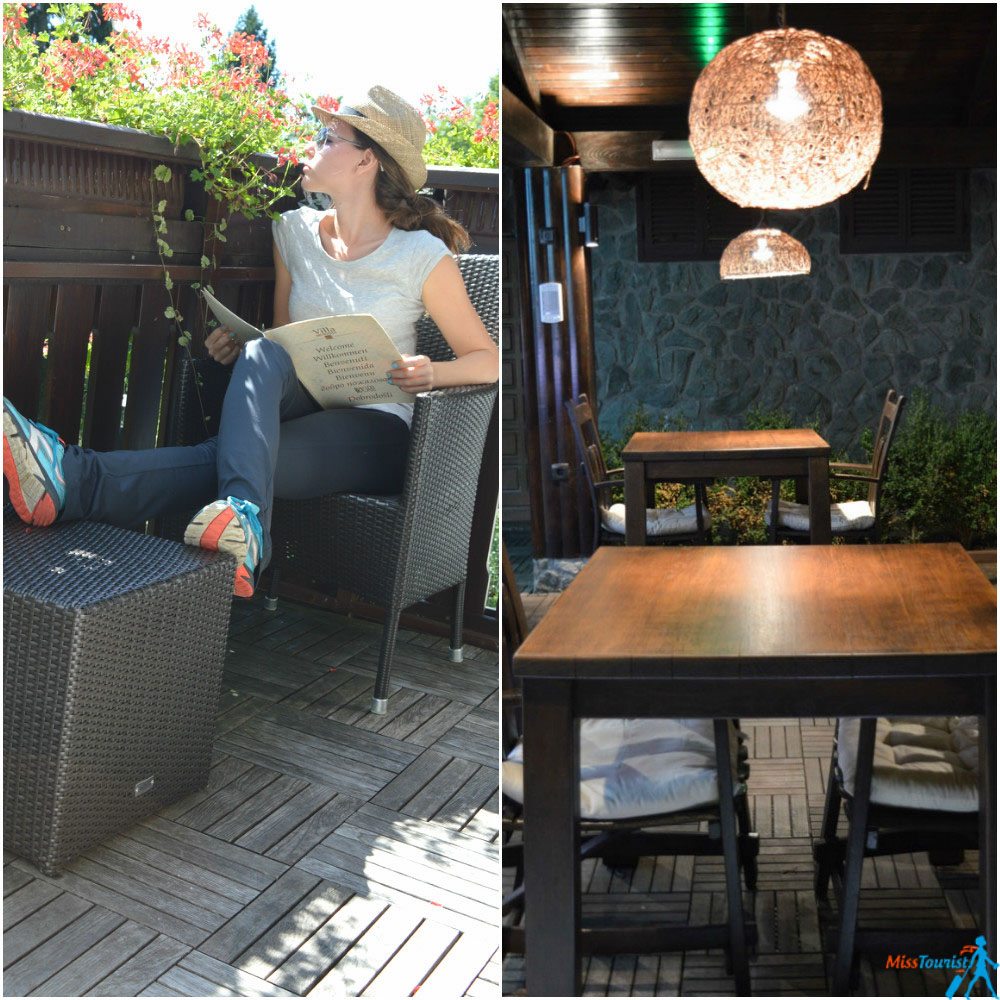 All I wanted to do afterwards was to melt in the Jacuzzi and relax in the sauna, which is free of charge for all Villa Mukinja guests.
The breakfast was another huge meal. I don't think I have ever had a bigger breakfast anywhere else! Just to give you an example –  me alone, I had 5 pitchers of different types of drinks – a pitcher of milk, tea, coffee, water and juice. Did they seriously think I could drink it all by myself?
The owner told me that if their guests stay for 2 days or longer they get used to the amount of food offered, but at first it comes as a shock.
Oh, and by the way, the place is located a 10-15 minute walk from the park. It is an enjoyable walk through the forest. I loved the location!
If you arrive by bus, just give them a call or tell them in advance what time you arrive, and they will pick you up from the bus station.
Here are the other Plitvice Lakes National Park hotels, all rated fabulous:
NOTE: There are 3 hotels located inide the National Park: Hotel Jezero, Hotel Bellevue and Hotel Plitvice. Out of all three of them, Hotel Jezero is the only one that stays open all year round. Bellevue and Plitvice hotels are closed in December, January, and February. More about them below.
Luxury hotels: (US $100 and up) – Hotel Jezero is a great hotel in Plitvice that is actually located inside the park, which is a great advantage! Villa Lika has better room decor in my opinion and the reviews are outstanding!
Medium price: (US $ 50 – US $ 100) – Another great hotel located right inside the park is Hotel Bellevue – the rooms are very cozy and clean and the entire accommodation offers a peaceful experience! Hotel Plitvice is another awesome choice, located right next to the entrance to the National Park and close to Hotel Jezero! Pansion Breza is a perfect choice and one of the best Plitvice Lakes hotels, although it is located 1 km away from the park! It only has 7 rooms, so hurry up if you want to book it! Guest House Nenad is also located minutes away from the park entrance and offers a quiet setting and clean rooms!
Budget accommodation: (up to US $50) – The closer you get to the park, the pricier it is. Thus, if you want to stay on a budget, you will have to walk 4-5 km, or have a car. House Dado is great if you are searching for something close – private bathroom, nice surroundings, book in advance to get that price! If you are driving, Guest House Bruna and Guest House Kolić would be great choices for you – nice prices and amazing reviews!
In case you don't want a hotel near the national park, you should know that there is also the option of Plitvice camping! There are six campsites near the park and all of them are different in terms of comfort and interests. Here you can find a list with the recommended campsites and details for each of them that I hope will help you make the most out of your Plitvice Lakes camping vacation!
---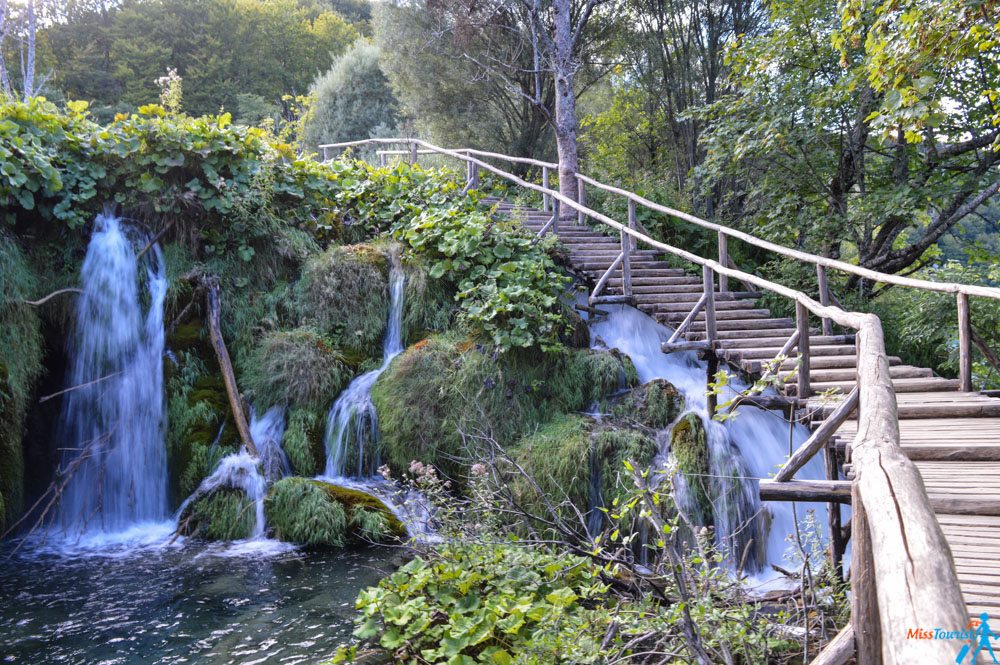 Well, after Iceland, I got spoiled so it is hard to amaze me with waterfalls yet Plitvice Lakes still dazzled me with its beauty. Its turquoise waters are a totally different experience! I really want you to visit this Croatia waterfall park if you are in the country! It would be such a pity if you just passed by!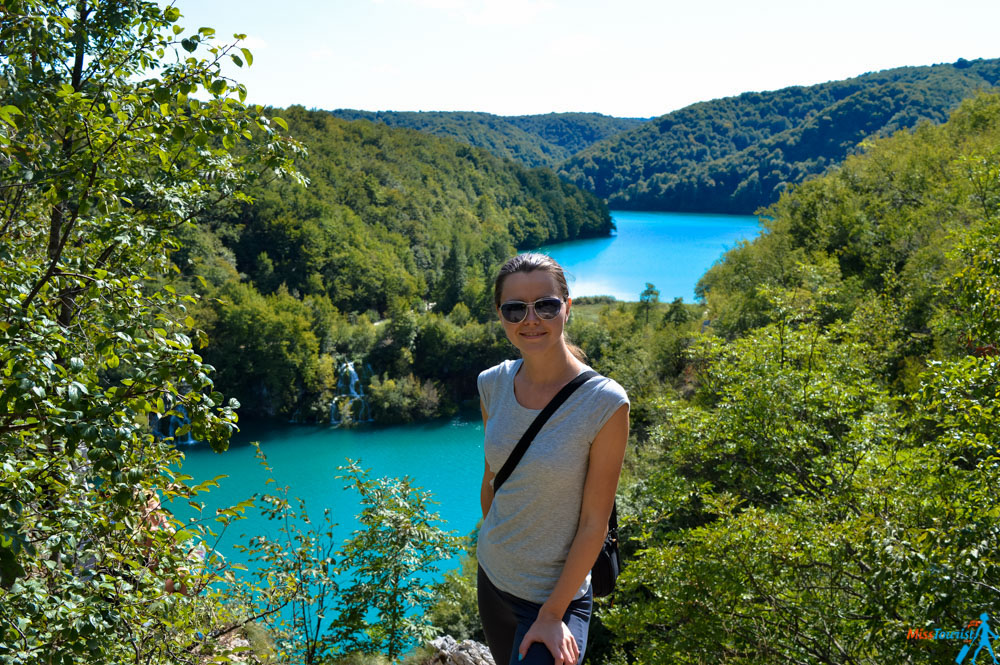 To get an even better (visual) idea of what Plitvice Lakes are all about, watch this video:
Packing list essentials for visiting Plitvička Jezera, Croatia
Conclusion: I have answered some of the most popular questions above, but if you did not find the answer to your question here, be sure to ask me in the comments below. I will be happy to tell you everything I know about it! 🙂
P.S. Even though Plitvice is one of the best natural parks in Croatia, the natural appeal of this country is breathtakingly beautiful. I wrote about my experience in Split here.
If you are heading to the Istrian coast, start with this post, as it is my favorite region in Croatia – simply amazing!
Disclaimer  –  I was invited to Villa Mukinja as their guest, all opinions are my own!
---
Have you been to Croatia? What do you think about adding Plitvice Lakes to your Croatia itinerary?
Feel free to ask me questions in the comments below, I love talking to my readers!
Yulia
Pin it for later!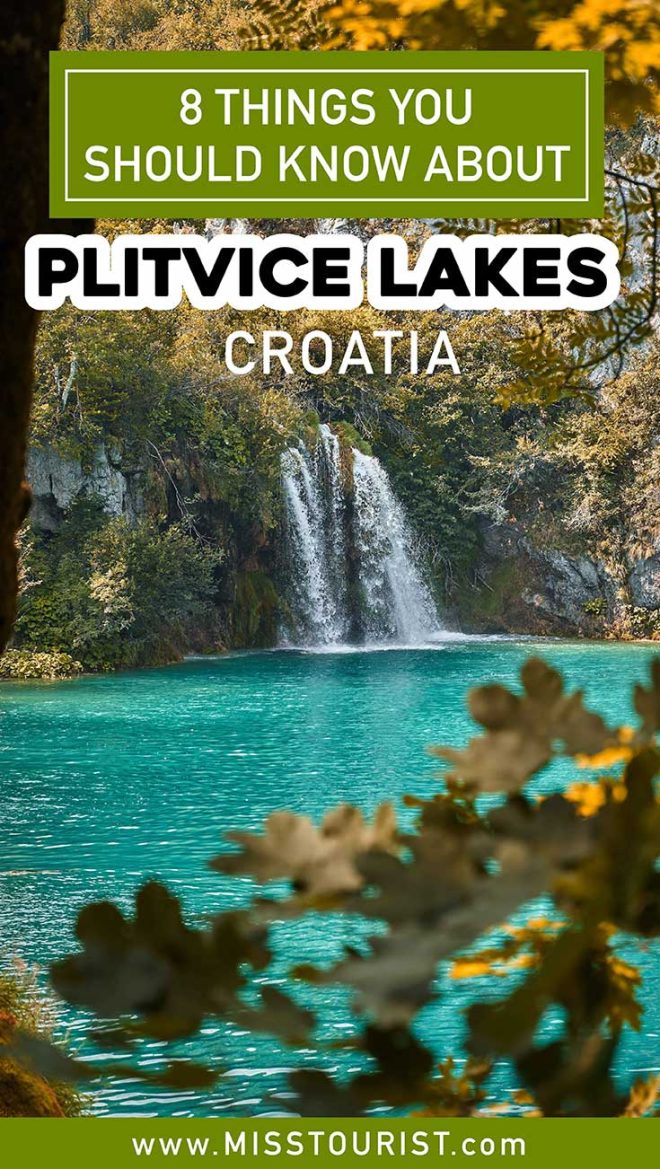 Pin it for later!