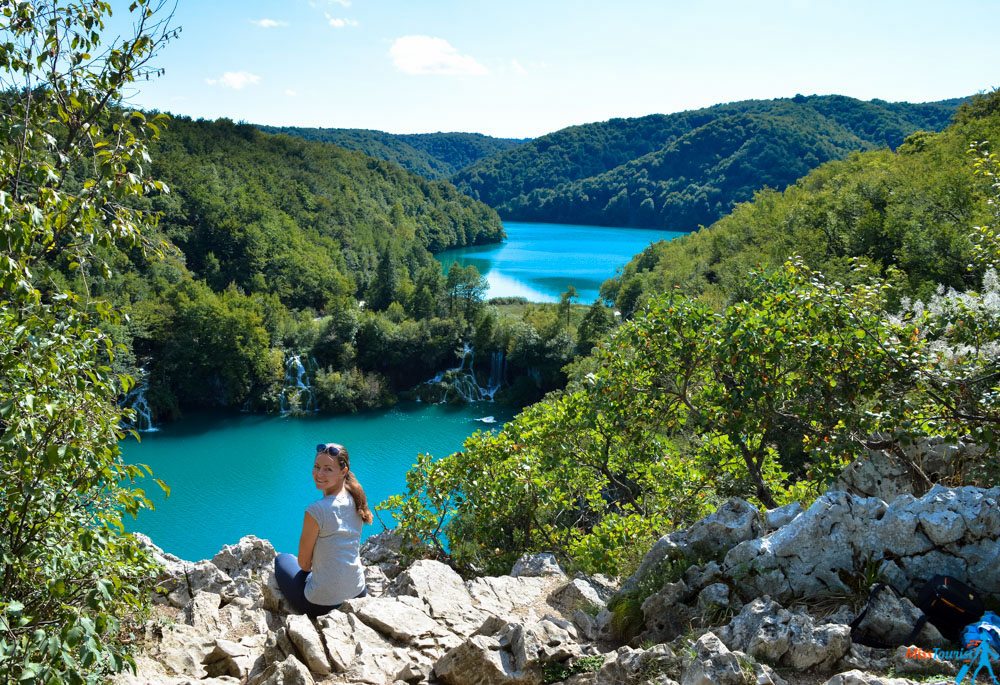 Plitvice Lakes (Plitvička Jezera) is one of my favorite places in Croatia! Located in central Croatia, this incredible park is an amazing vacation getaway full of incredible views, waterfalls and beautiful turquoise water. But it can be a little bit confusing deciding what is the best Plitvice Lakes National Park Hotel to stay at.
Should I stay inside or outside the park? Do not worry, you are in the right place to find out. I will help you choose the best Plitvice hotel for your needs and budget!
In this post, I selected the best hotels and sorted them out by price for your convenience. I also included some bonus section's full of apartments with fabulous reviews and even camping options! But do not forget that good hotels get sold out fast, so it is better to book in advance!
Are you ready? Let's go!
If you are in a hurry…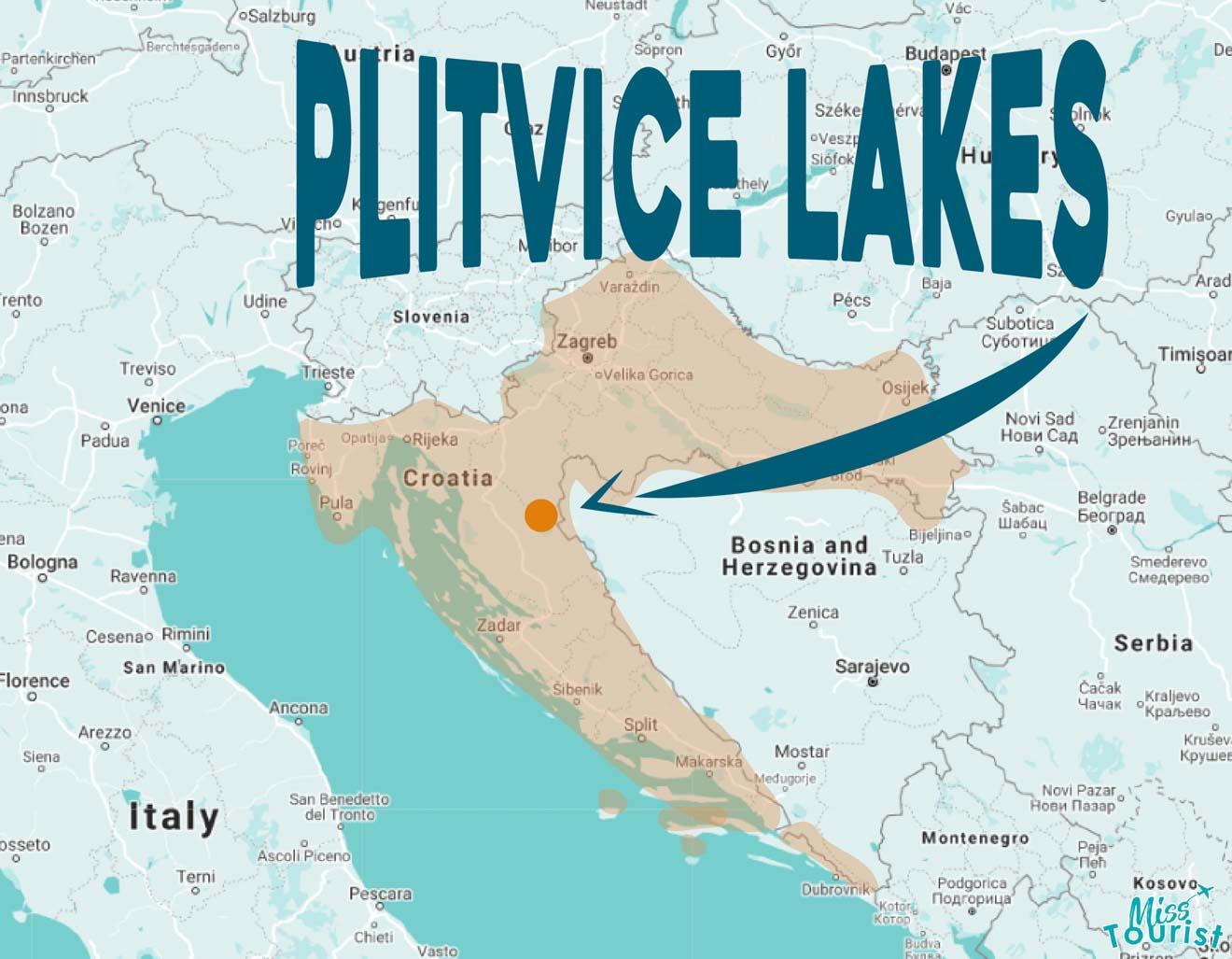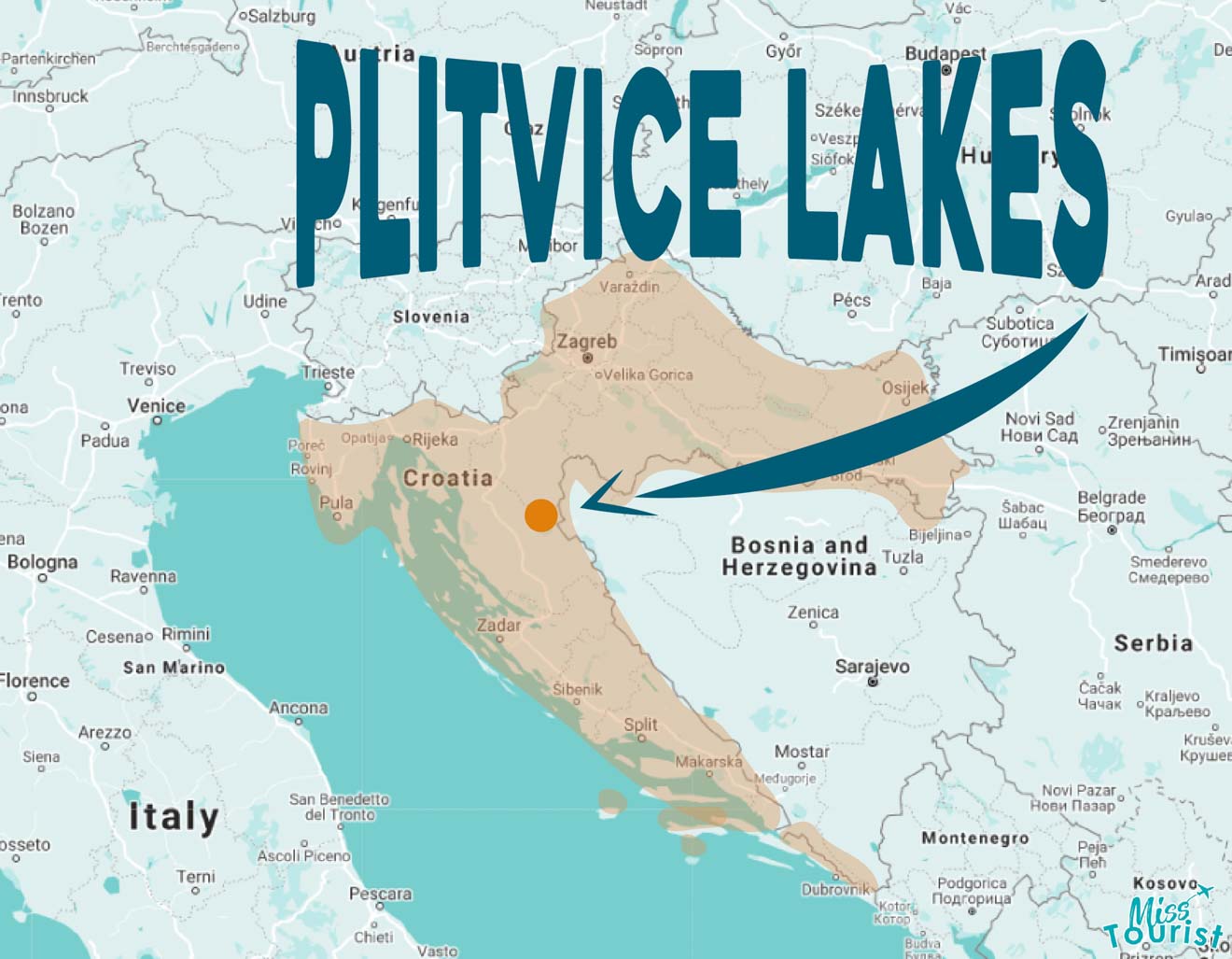 If you are ready to book the best hotel in Plitvice National Park, here are the best of the best:
Here is a map to help you visualize the location of each of the hotels inside the park as well as the different entrances and neighborhoods nearby!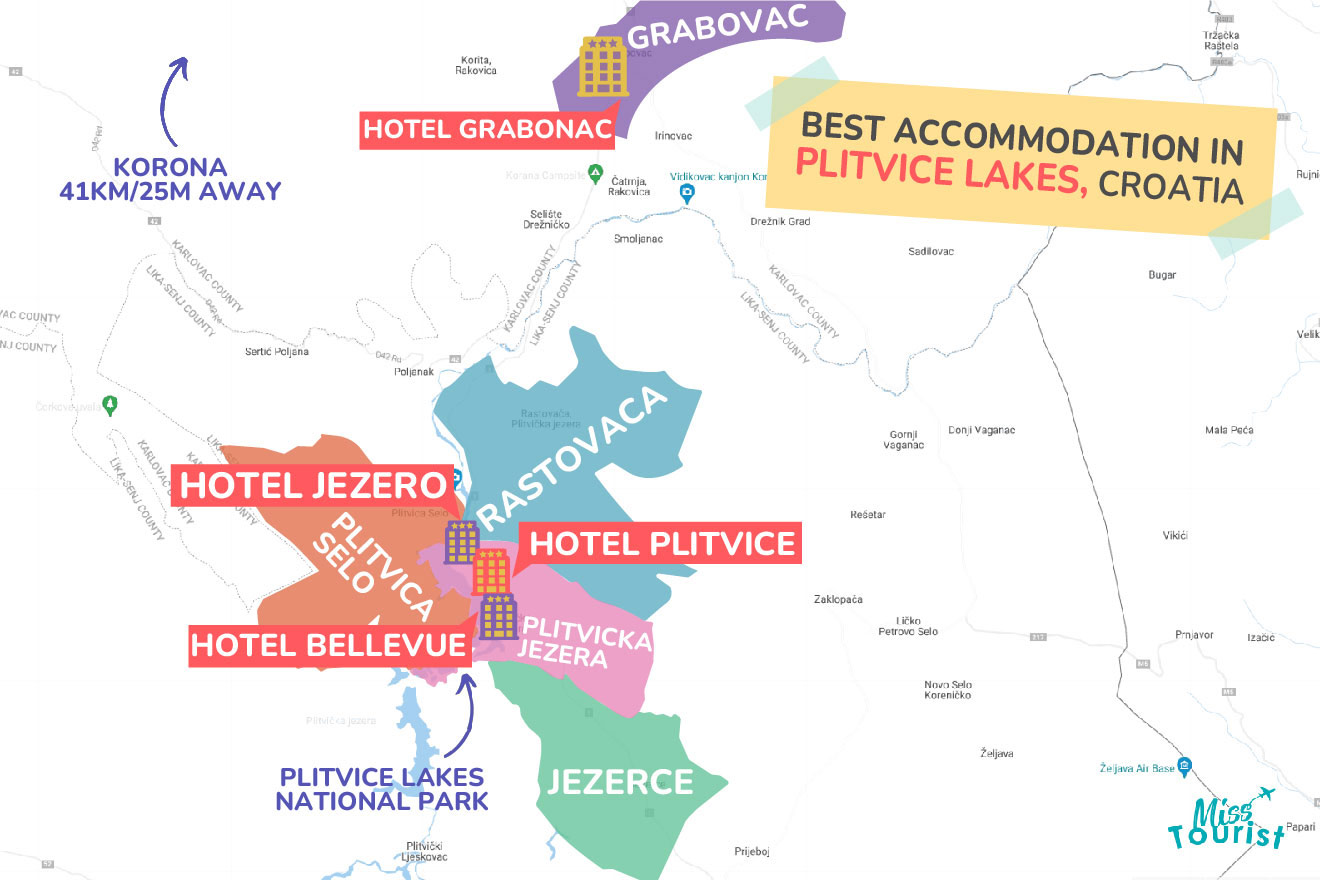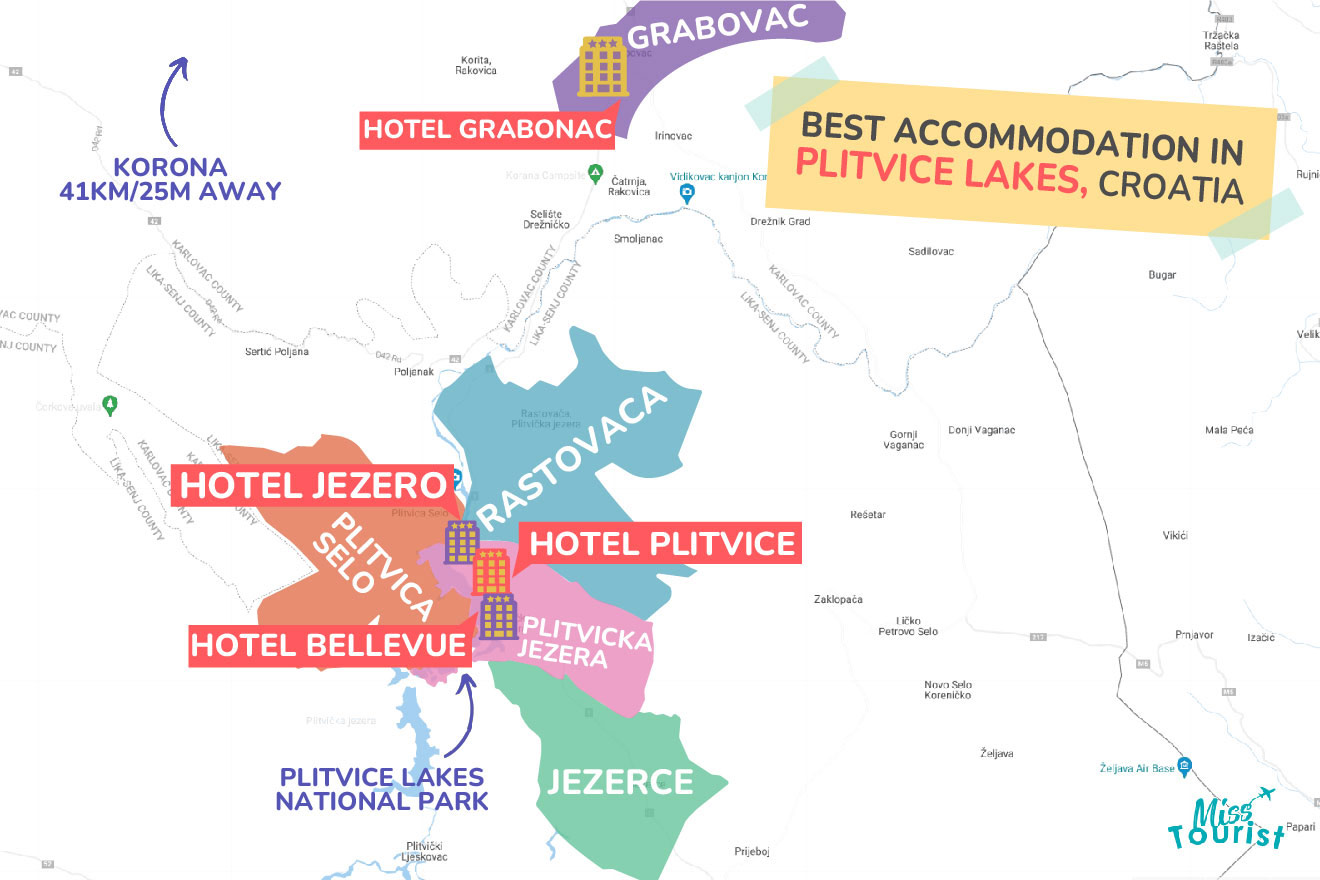 1. Where to stay inside – Plitvice Lakes National Park hotels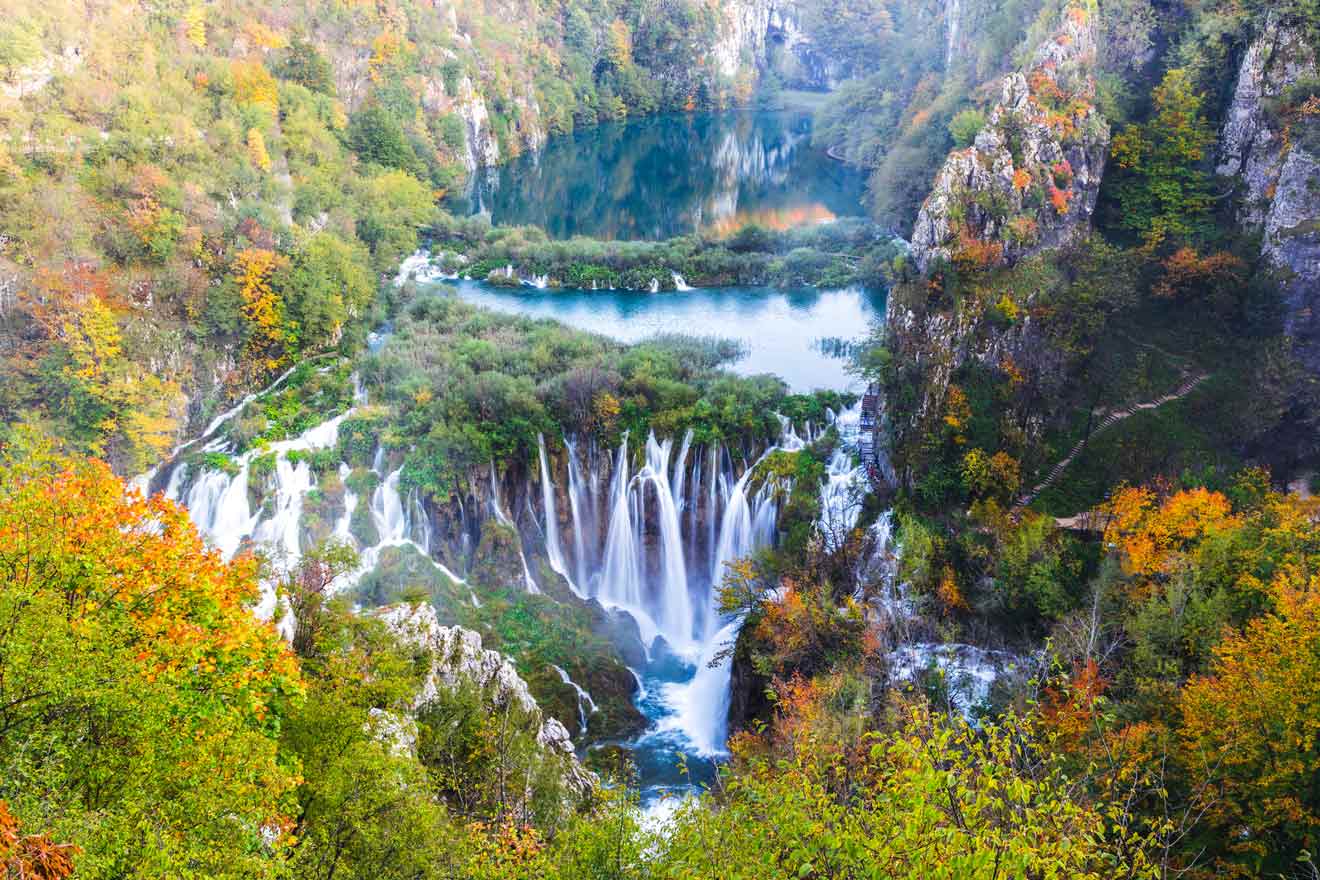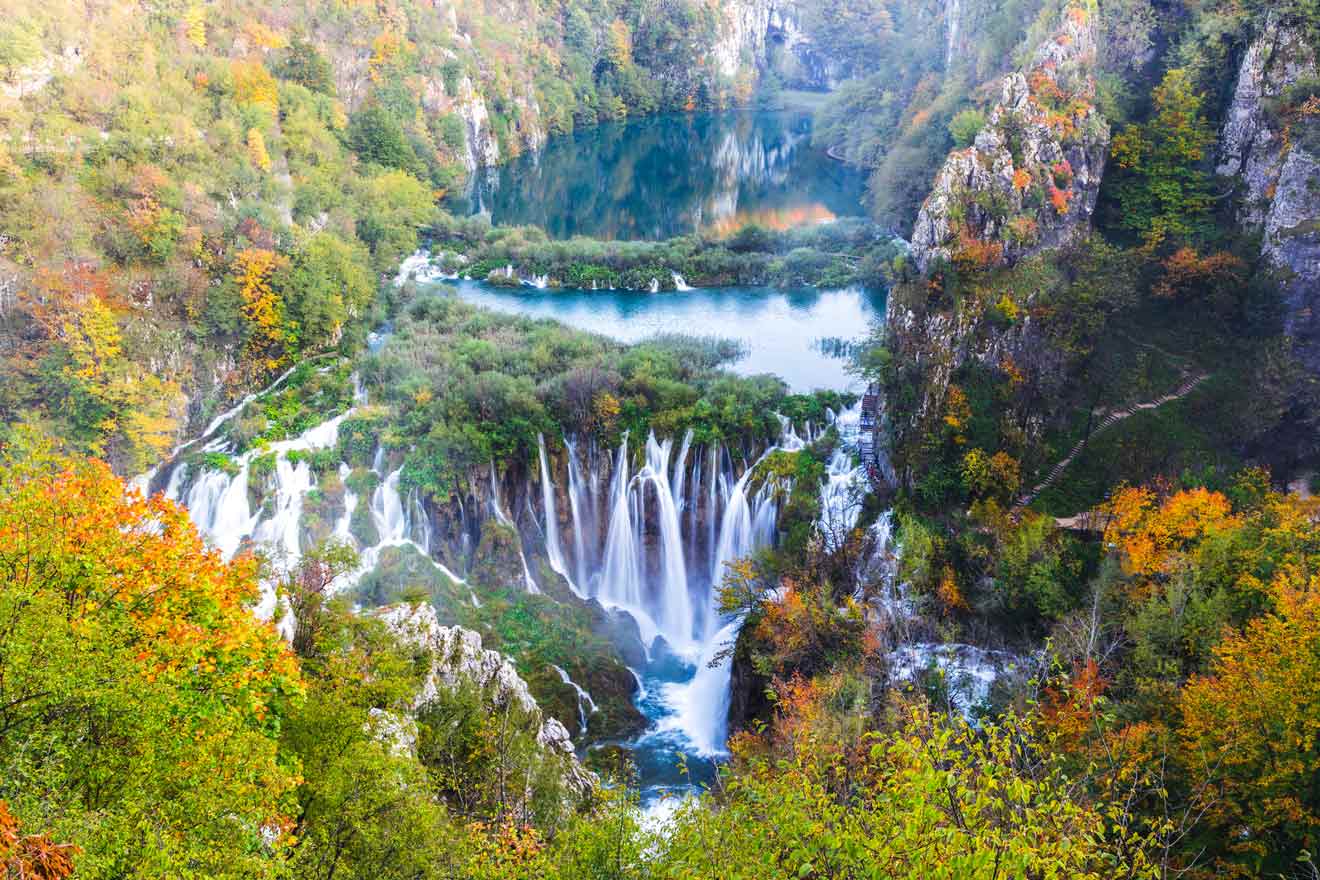 I will tell you right from the start: there are only 4 hotels inside Plitvice National Park. All 4 hotels are pretty good, they are popular hotels in the area, and their prices range from US$100 to more than US$200 per room per night.
NOTE: Out of all four of them, Hotel Jezero is the only one that stays open all year round. The other two hotels (Bellevue, Plitvice, and Grabovac) are closed in December, January, and February.
That being said, let's see which are these 4 National Park Plitvice hotels:
Check the rates for Plitvice Lakes
Is it worth it to stay inside the park?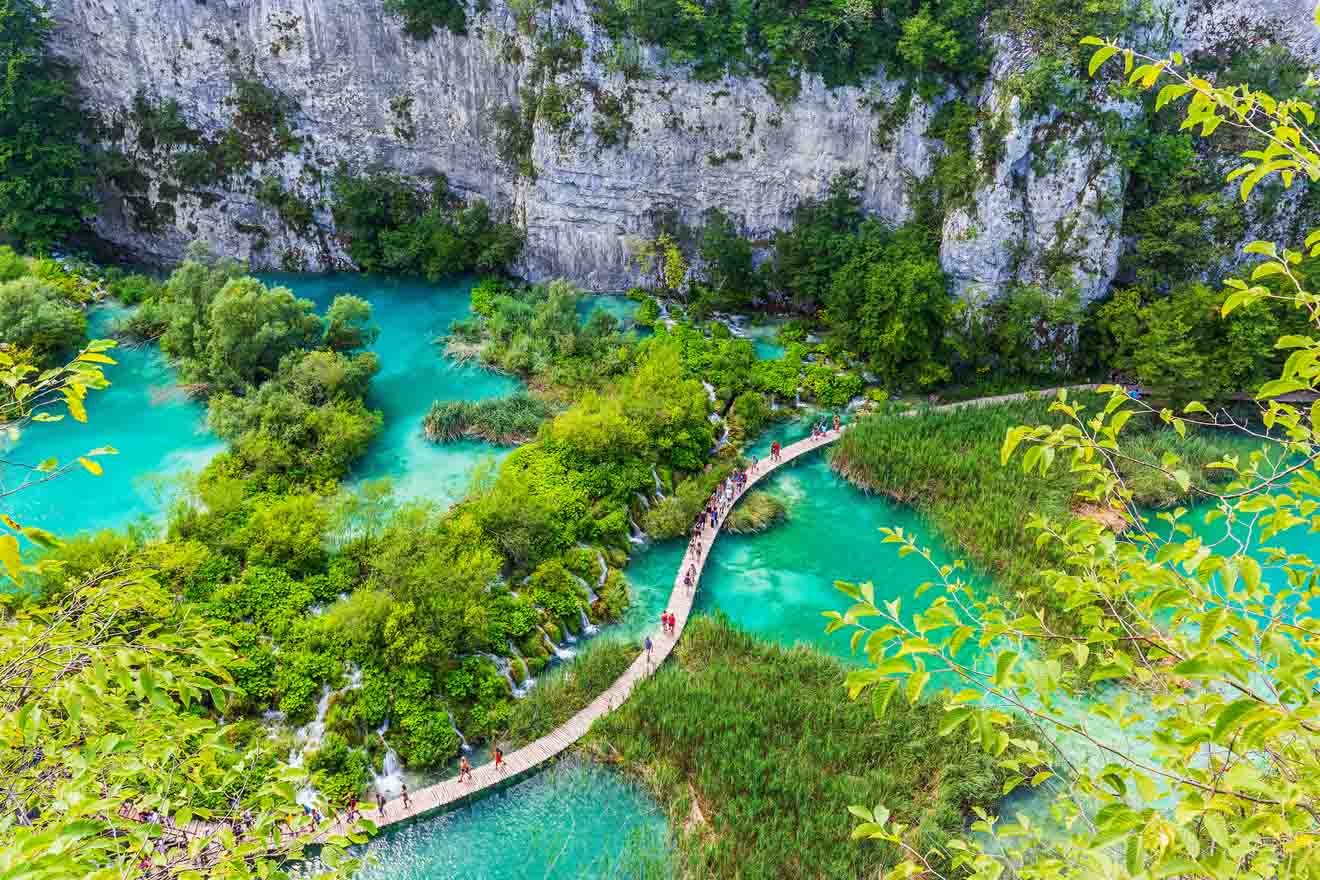 Plitvice is an ensemble of 16 natural lakes and a UNESCO heritage site, and you will be breathless by its beauty!
The main and most important advantage of staying in one of the hotels INSIDE Plitvice Lakes National Park is that you cannot get closer than this – you will be right near the lakes!
This means that exploring this place cannot get more accessible from your accommodation, and you won't need to be concerned about the closing hours, taking a car or a bus to your hotel or waking up super early in the morning to get to Plitvice National Park as soon as possible.
If you stay INSIDE the national park, you'll be there all the time! Please note that the other accommodation options close to the park are at least 1 km from the entrance, so you will need to walk or take public transport/car anyway.
Staying inside the Plitvice National Park is also a very good idea for those traveling to Plitvice Lakes without a car. In case you want to dive a little more, check these 8 things you should know about Plitvice!
PRO TIP: Here's another fantastic advantage that few people know about: the entrance fee to the park can be re-validated on the second day. This means that you can buy your entry ticket to the park for the first day you'll spend at the lodge, and you will be able to use the same entry ticket on the second day as well! That's awesome, especially if you only stay for one night!
2. Where to stay close to Plitvice Lakes – hotels outside the National Park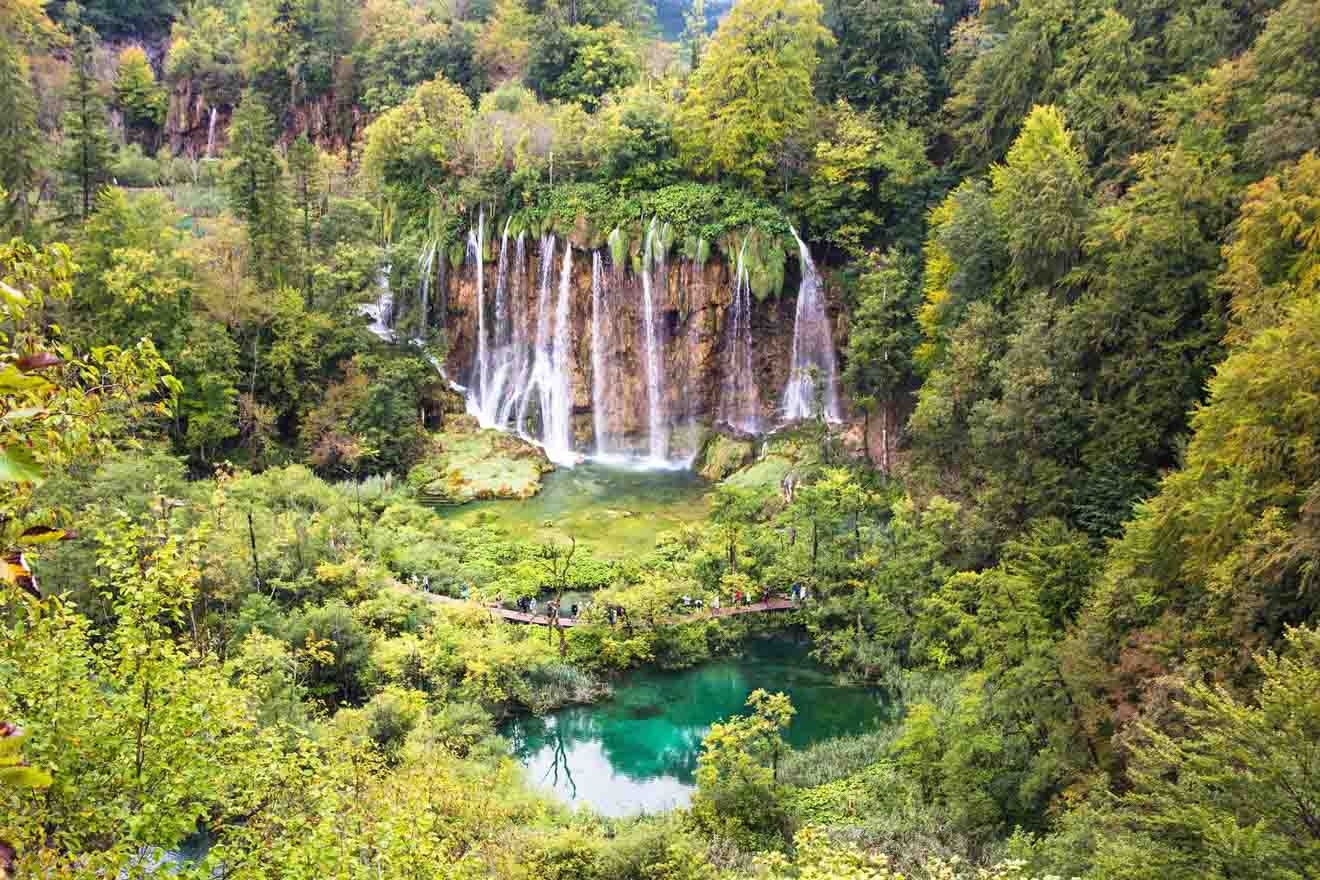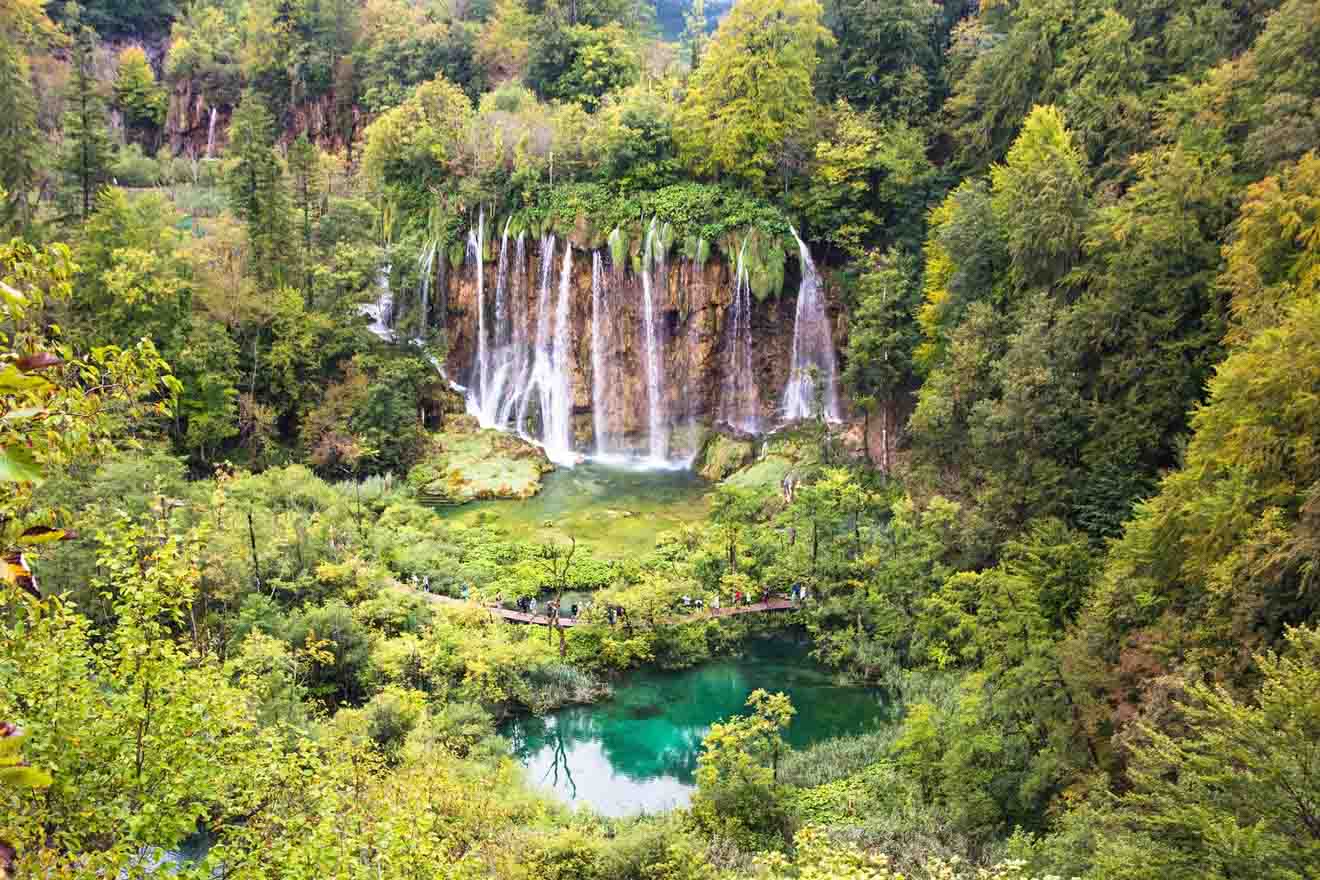 Located in central Croatia, this amazing place is full of incredible views, waterfalls and beautiful turquoise water.
Considering that there are only four hotels located actually inside the national park and their rates are higher than your standard accommodation, naturally not everyone will want to stay there.
Luckily, there are many accommodation options around the park, all catering to different budgets and preferences! Staying in accommodation near the Plitvice National Park is a good idea for those planning to rent a car and drive during your trip, as it will be easy to arrive at the entrance, but even if not, many hotels offer a free shuttle service to the entrance.
Some very good areas where you can search for a hotel around Plitvice Lakes include (check the map at the top of the post to see their locations:
Rastovaca – very close to Entrance 1
Plitvica Selo – your closest option; it's close to Entrance 1
Plitvicka Jezera – close to Entrance 2
Jezerce – a bit more to the south
Grabovac – not far from Entrance 2
Korana – northern part of the park
Here are my top recommendations for those of you that want to stay in Plitvice holiday resort near Plitvice Lakes National Park, all sorted by budget for your convenience:
Luxury (US$130 and up)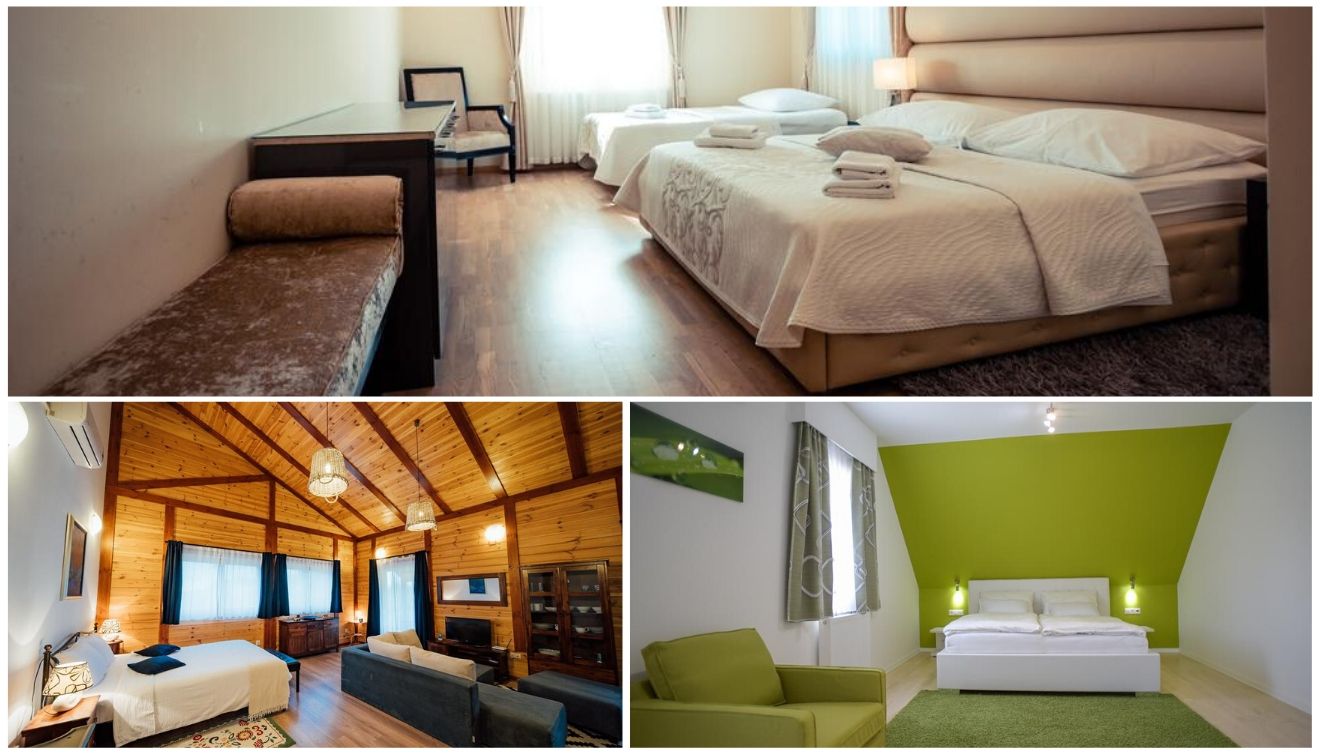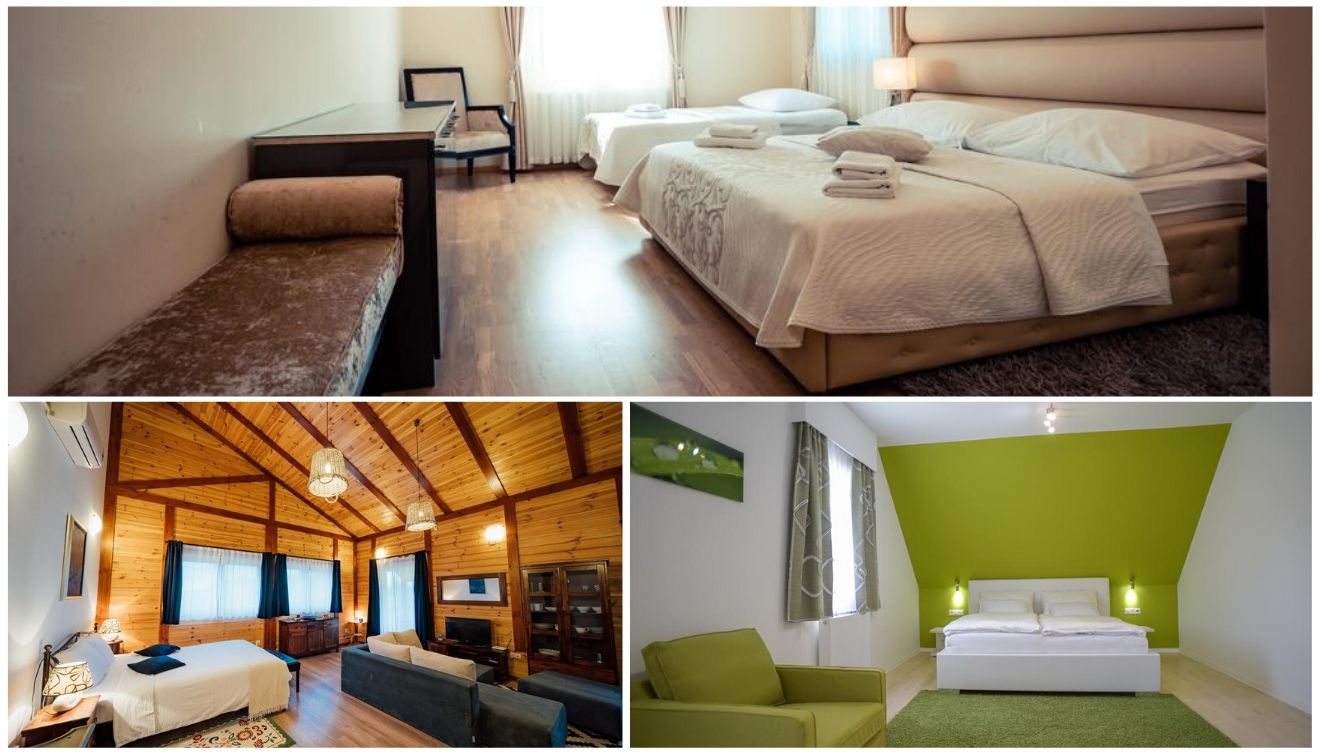 Villa Lika – Are you looking for a luxurious stay at Plitvice National Park? This is the best accommodation for you! This beautiful villa is surrounded by nature, and it has a covered terrace perfect for serving breakfast, lunch or just for relaxation. Plus, the rooms are cozy and modern. Air conditioning, complimentary Wi-Fi and satellite TV – this luxury accommodation near the lakes has everything you will need for a perfect vacation! If you're going there in the winter, make sure to go on the ski track that's located very close to this villa. In the summertime, you can even hike there!
Grand Lakes Rooms – This is another great 4-star luxury stay (one of the best lake houses) located close to Plitvice Lakes (only 2 km / 1.2 miles away). You will also find a grocery store close to this Plitvice hotel, in case you want to buy some supplies. You will appreciate the spacious rooms decorated in pleasant, pastel colors, air conditioning and beautiful seating area where you can relax and admire the view. A great choice if you want to be close to Entrance 2 at the lakes!
Villa Irene Studio Apartments – This villa is situated only 5.7 km/3.5 miles away from Plitvice Jezera National Park and it's my third accommodation recommendation close to Plitvice park. Each apartment option has a nice kitchenette you can use if you want to cook your food at the villa. When you want to relax, you can just sip a glass of wine on the terrace or enjoy your time in the outdoor hot tubs! Villa Irene also has a small playground for children and an outdoor space where you can do your morning exercises.
Mid-range (US$70 – US$130)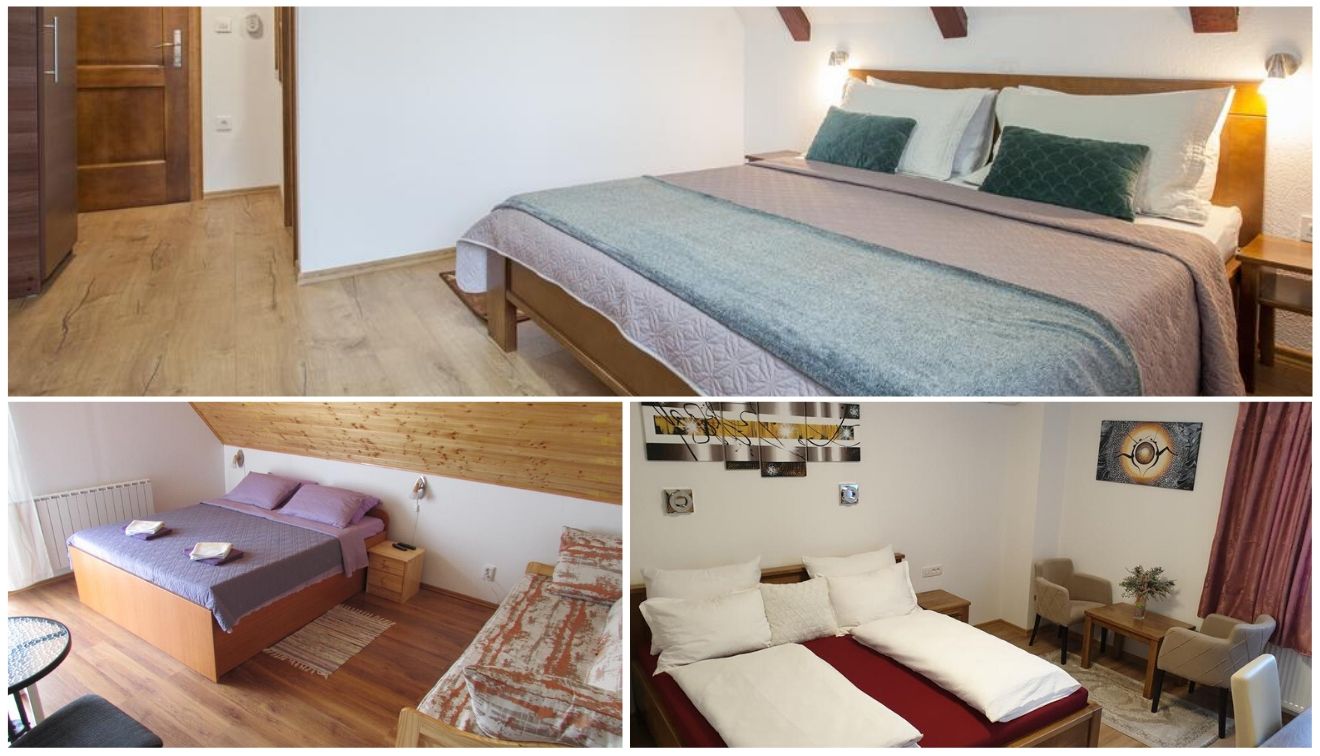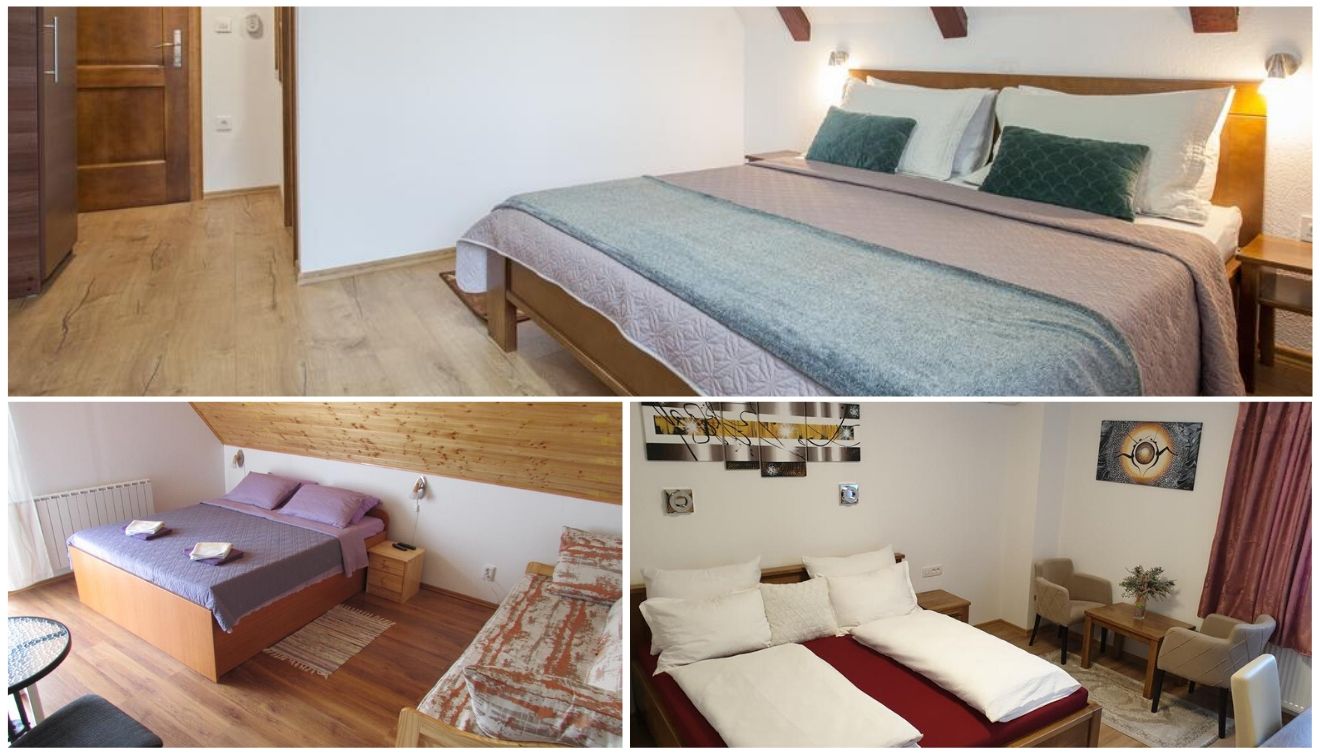 Rooms Imperial House Plitvice – This property is a 4-star modern accommodation close to Plitvice Lakes National Park – only 2.5km / 1.5 miles from Entrance 2. This bed and breakfast offers free use of bicycles, free WiFi, and free parking. The rooms are spotless, nice, and cozy so that you can enjoy your Croatian vacation in style. The best part? Once you get to Rooms Imperial House, you will be greeted by friendly hosts and feel at home! I'm sure you'll like this accommodation!
Pansion Breza – This is a perfect accommodation and one of the best Plitvice Lakes hotels, although it is located 1 km (less than a mile) away from the park, in Plitvica Selo! It only has seven rooms, so hurry up if you want to book it! It's not located far from Entrance 2 to Plitvice and offers excellent service. Some advantages of staying in this accommodation include a peaceful location close to the park, parquet flooring, a parking lot, and more!
Rooms Imperial House – This Plitvice holiday resort is within walking distance from entrance 2 of the Plitvice National Park. It offers a quiet setting and clean rooms! I'm sure you'll love it, regardless of if you are spending one night or one week here! It is one of my top choices out of the Plitvice Lakes hotels that offer excellent value for the money you'll be paying! I recommend it to those of you that want to be close to the park while also enjoying free Wi-Fi, free on-site parking, and an onsite restaurant.
Budget (up to US$70)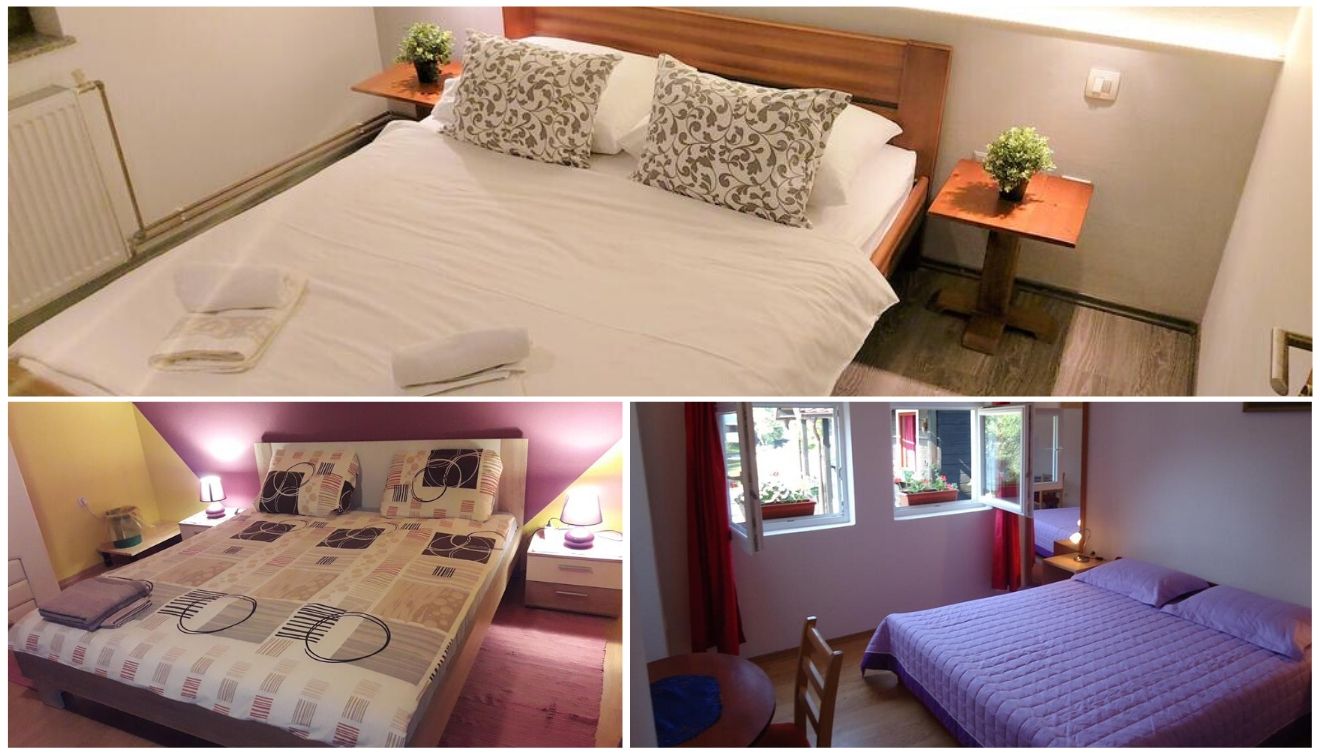 Check the rates for Plitvice Lakes
BONUS 1: Best Airbnbs near Plitvice Lakes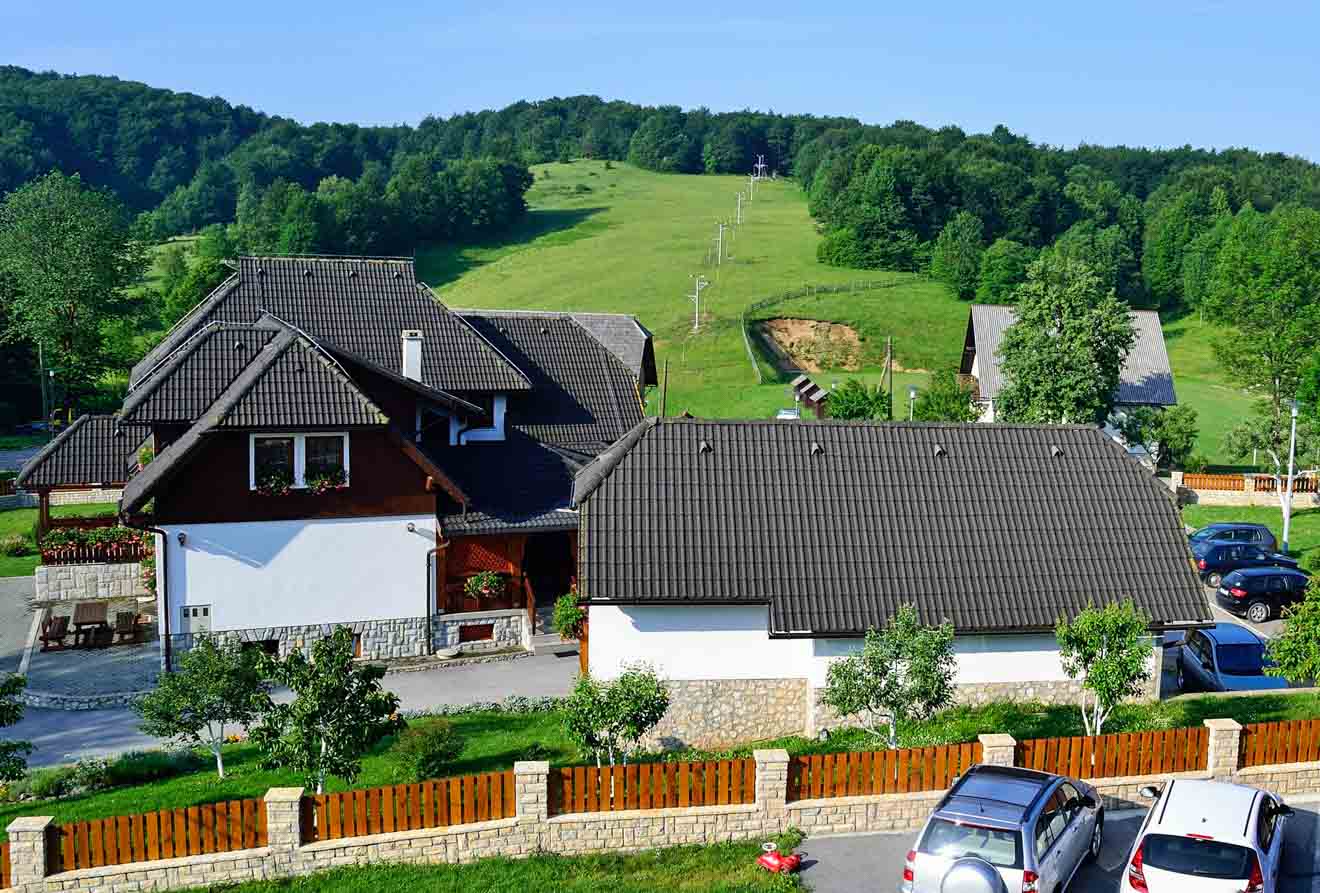 Sure, there are plenty of hotels and Booking accommodation options close to the park, but what about those of you that prefer staying in an Airbnb? Ah, no problem, there are quite some fantastic opportunities for you, so many that it may become hard to choose!
Airbnbs are a great idea for two types of travelers especially: for those of you traveling with their family or in a bigger group (as you'll have plenty of space to roam around) and for travelers that are planning to save some money (yep, Airbnbs tend to be cheaper than hotels!)
Below you can find my top selection for the best Airbnb close to Plitvice Park. Enjoy!
Luxury (US$100 and up)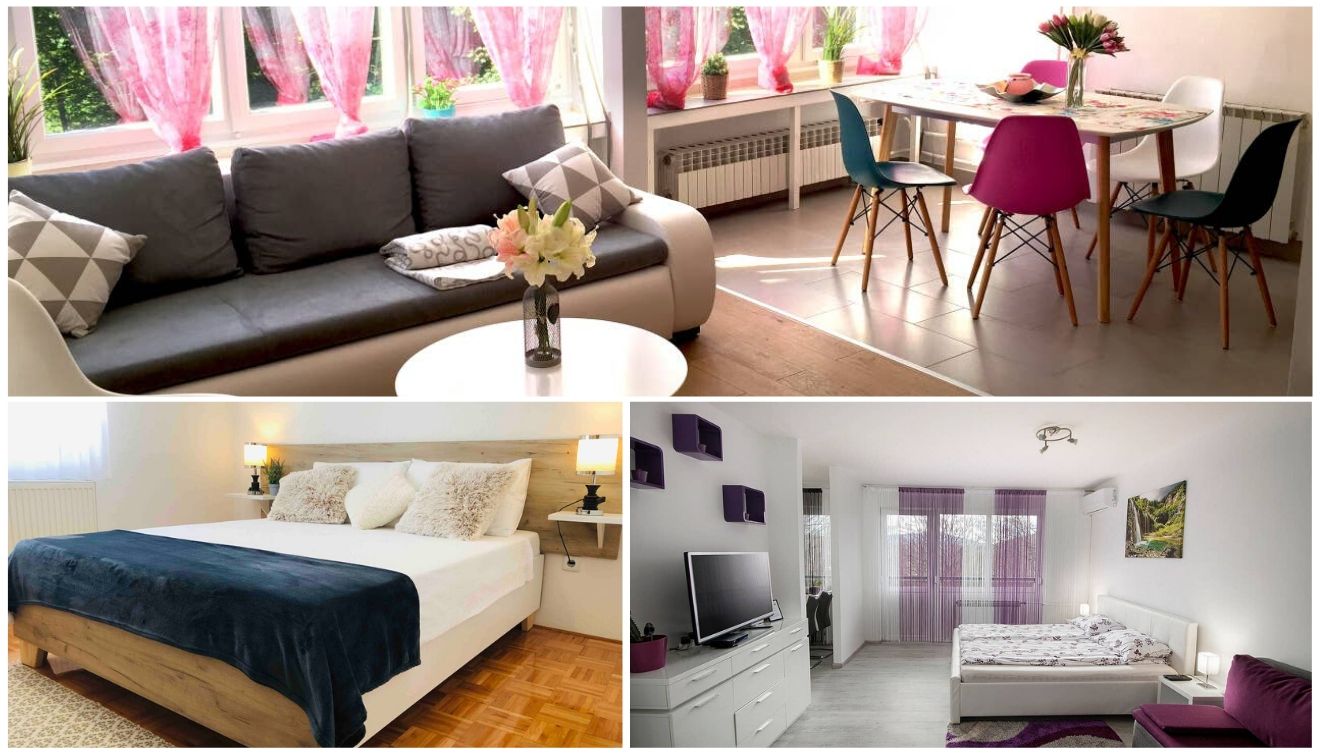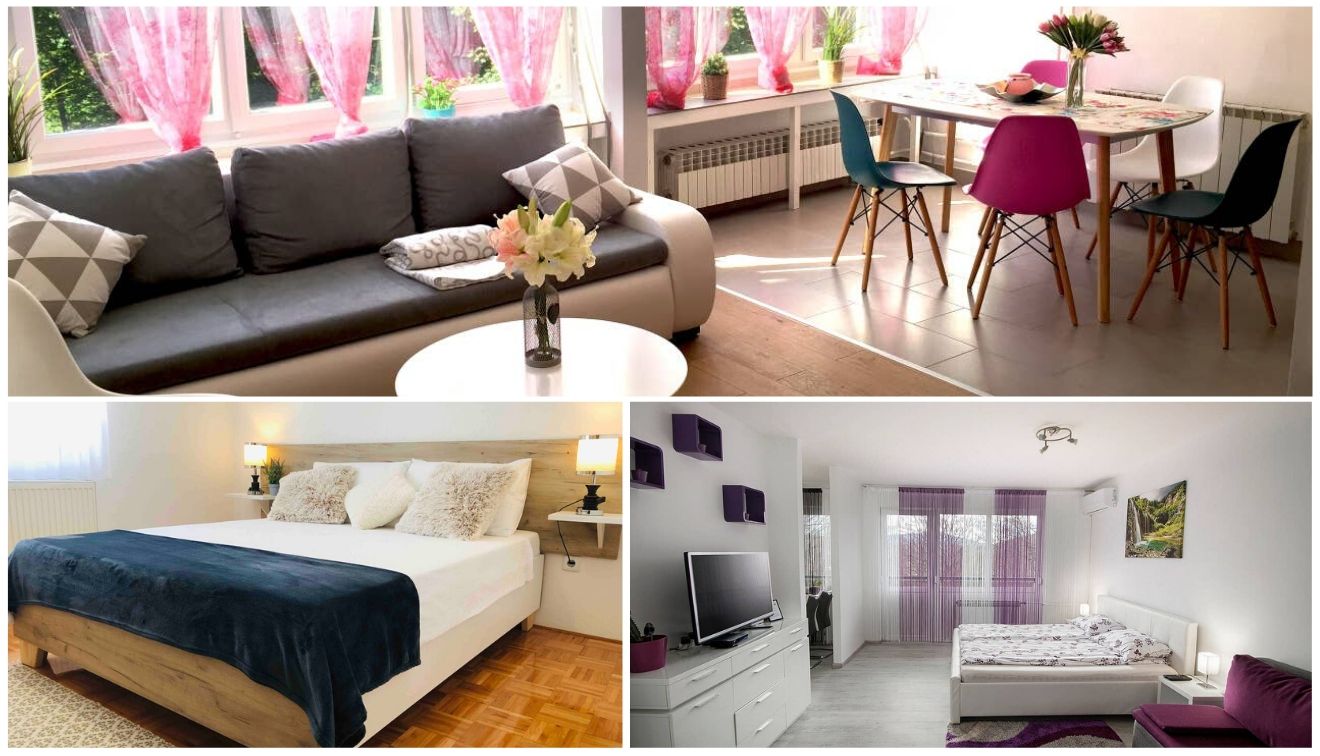 Mid-range (US$50 – US$100)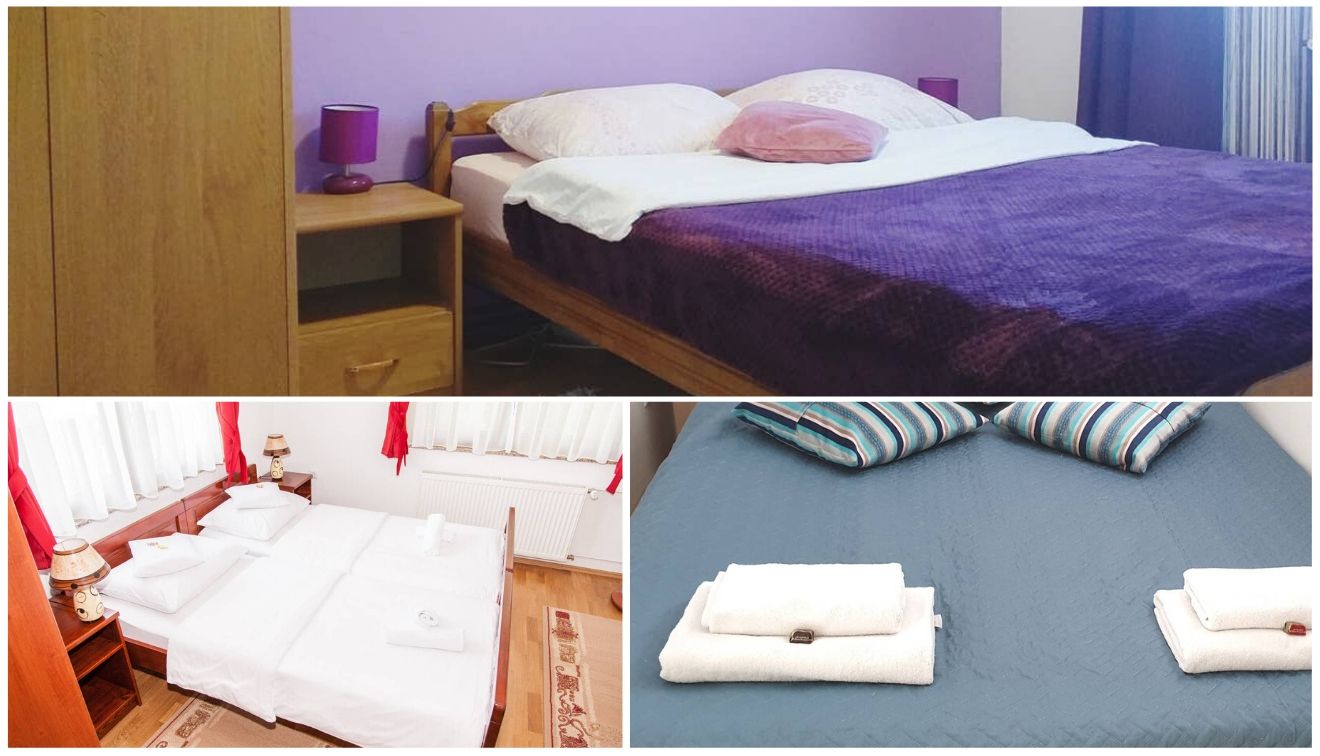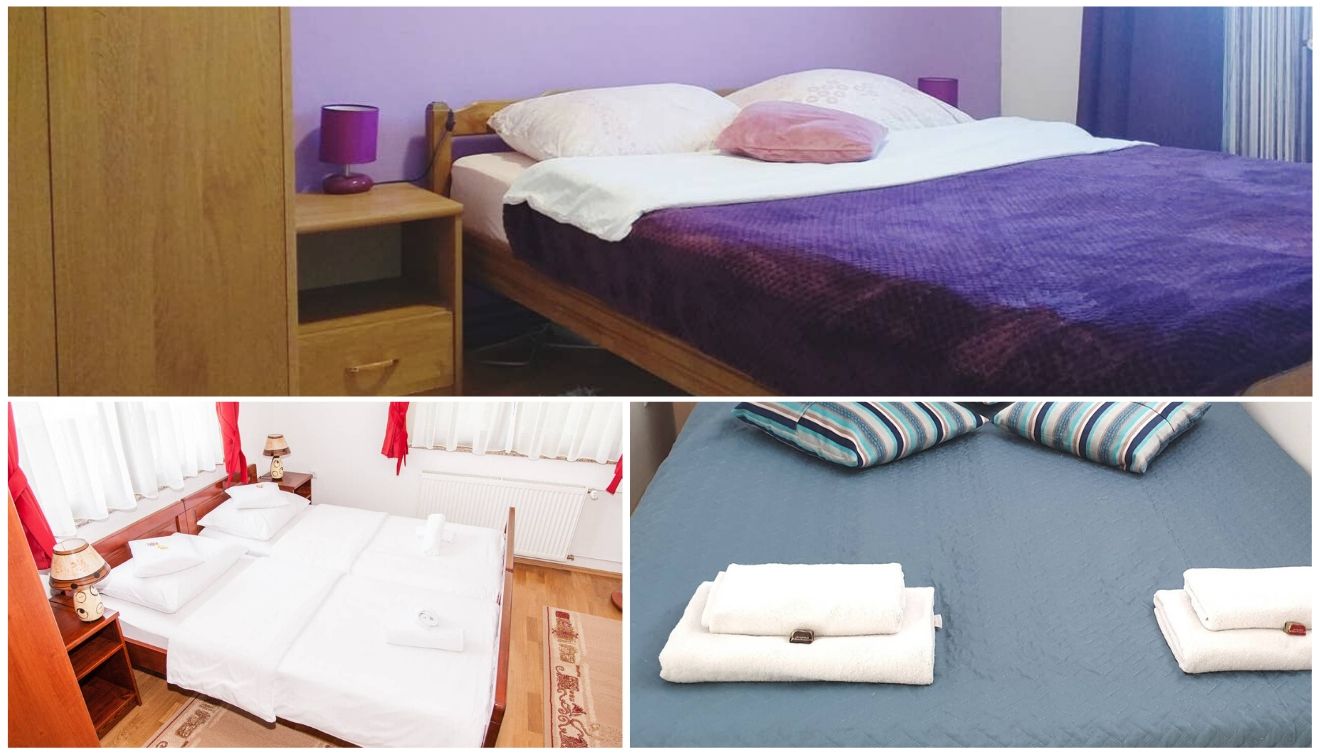 Near the lakes and bus stop apart – In case you're looking for a comfortable place located 10 minutes from Entrance 2 to Plitvice Lakes park, bus stop, and accommodation that offers a very good value for the money you'll be paying, search no more! You just found it! This one is pretty ideal to spend your nights as close to Plitvice park as possible; you'll also enjoy the fact that it is sparkling clean, and you'll also have a grocery store just across the street!
Dreamy apartment – Twin Studio near Plitvice – Here's an excellent choice if you want to be located 5 km from Entrance 1 to Plitvice Park! So in case you're still looking for the ideal Plitvice Lakes accommodation for you, don't waste any more time and make sure to book this one! It offers a very good service for every traveler, the decor is very nice and you can also use the barbecue area!
Apartment Sučić for 4 persons – This awesome apartment has two bedrooms, and it is big enough to host up to 4 people! The distance to the park is not big – only 4 km to entrance 1, so if you have a car, you won't have any problems (or you can just take the bus!). Staying here means you'll be able to enjoy complimentary Wi-Fi, a nice dining room, the use of a washing machine (for 40 KN more), and an overall clean space!
Budget (up to US$50)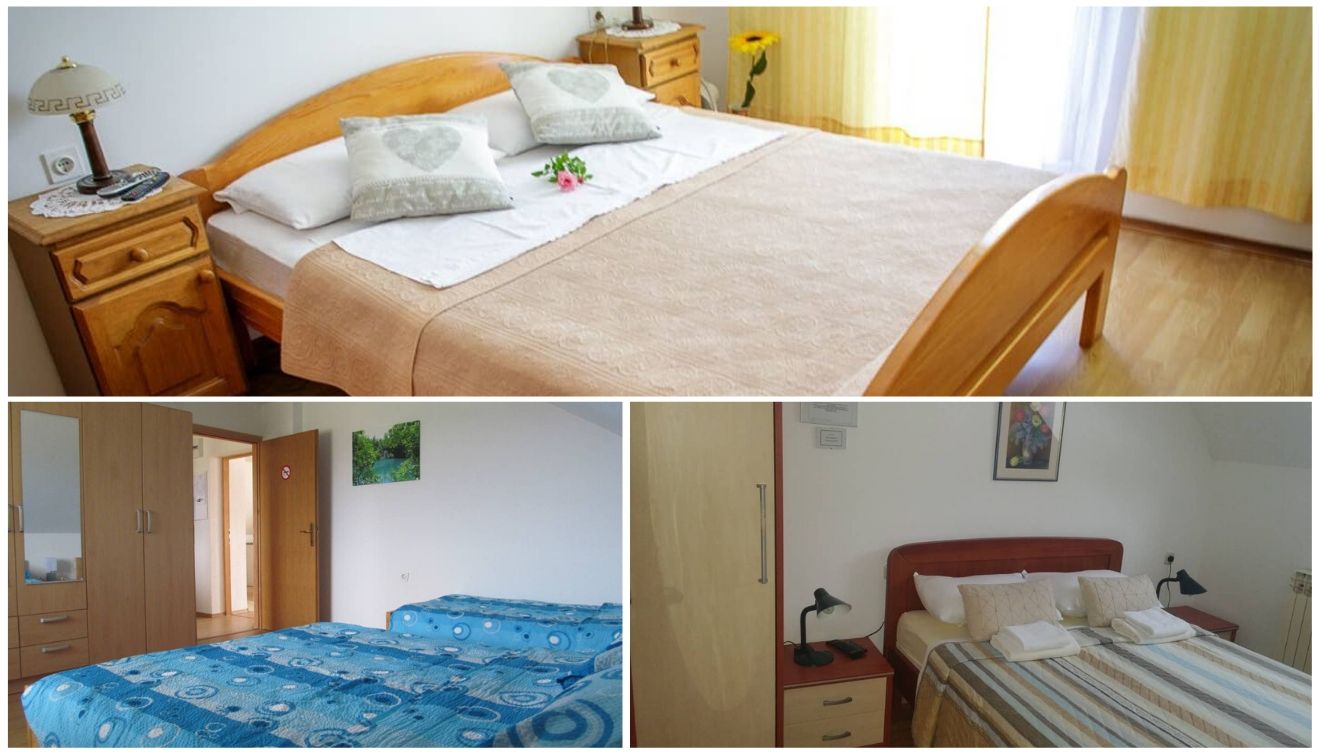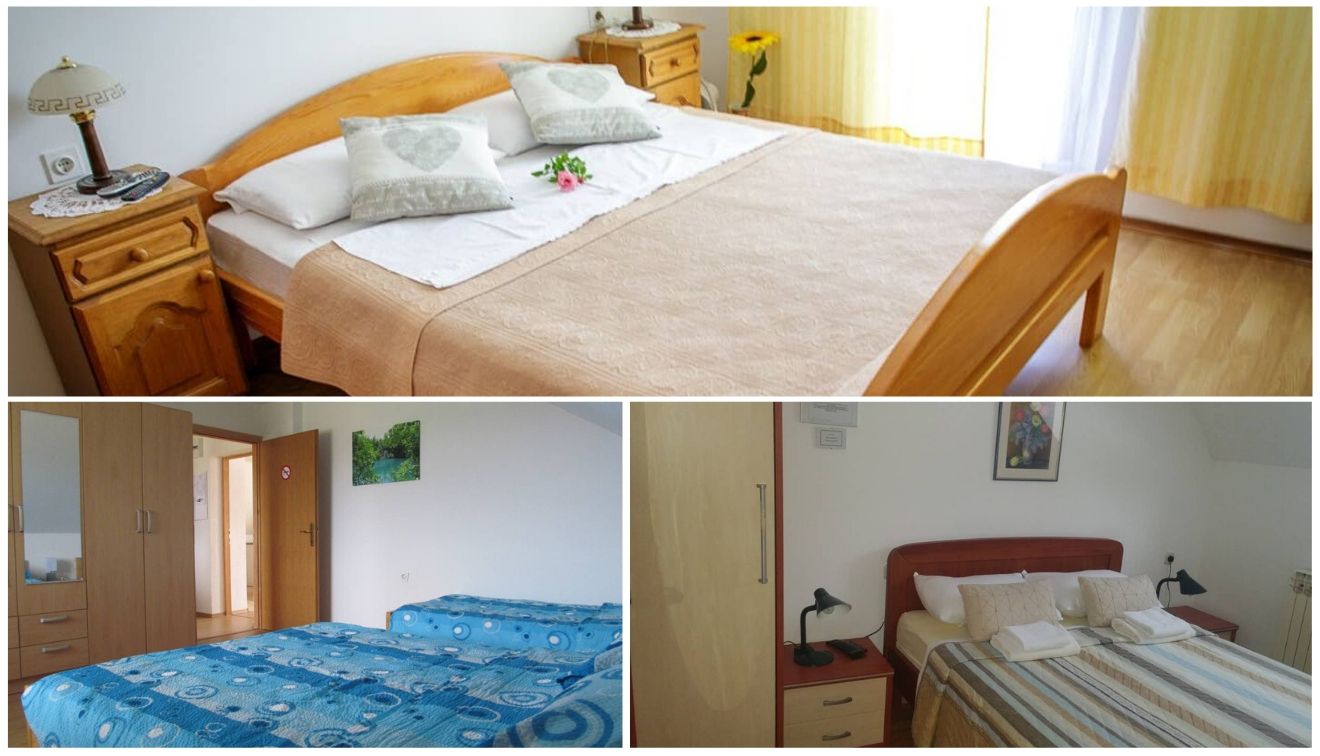 Little House – A perfect idea to save on the cost of your stay would be to book a room in an apartment or guest house not far from the park! For example, this place is close to Plitvica Selo, only 5 minutes walking to Entrance 1, and super close to the bus station which can take you to the nearby villages! So if you'd like a guest house type of accommodation, this one's for you! I recommend it to all of you traveling on a budget to Plitvice Lakes park!
House Flora – Located within 700 m from Plitvice National Park Entrance 1 (close to the bus station), this vacation rental is perfect for exploring the park on a budget. This house offers a backyard patio where you can enjoy the picturesque views and free parking space if you decide to rent a car.
Marica Gračan Rooms – In case all the other budget-friendly apartments above were sold out during your dates, there's this option as well! This private room in a house is simple but immaculate and perfect for a comfortable night's sleep after a full day of exploring the natural wonders in the park! The neighborhood is quiet, you'll have three restaurants and two markets nearby, you'll be 4 km away from the lakes – what more can you wish for?
Check the rates for Plitvice Lakes
BONUS 2: Camping at Plitvice Lakes National Park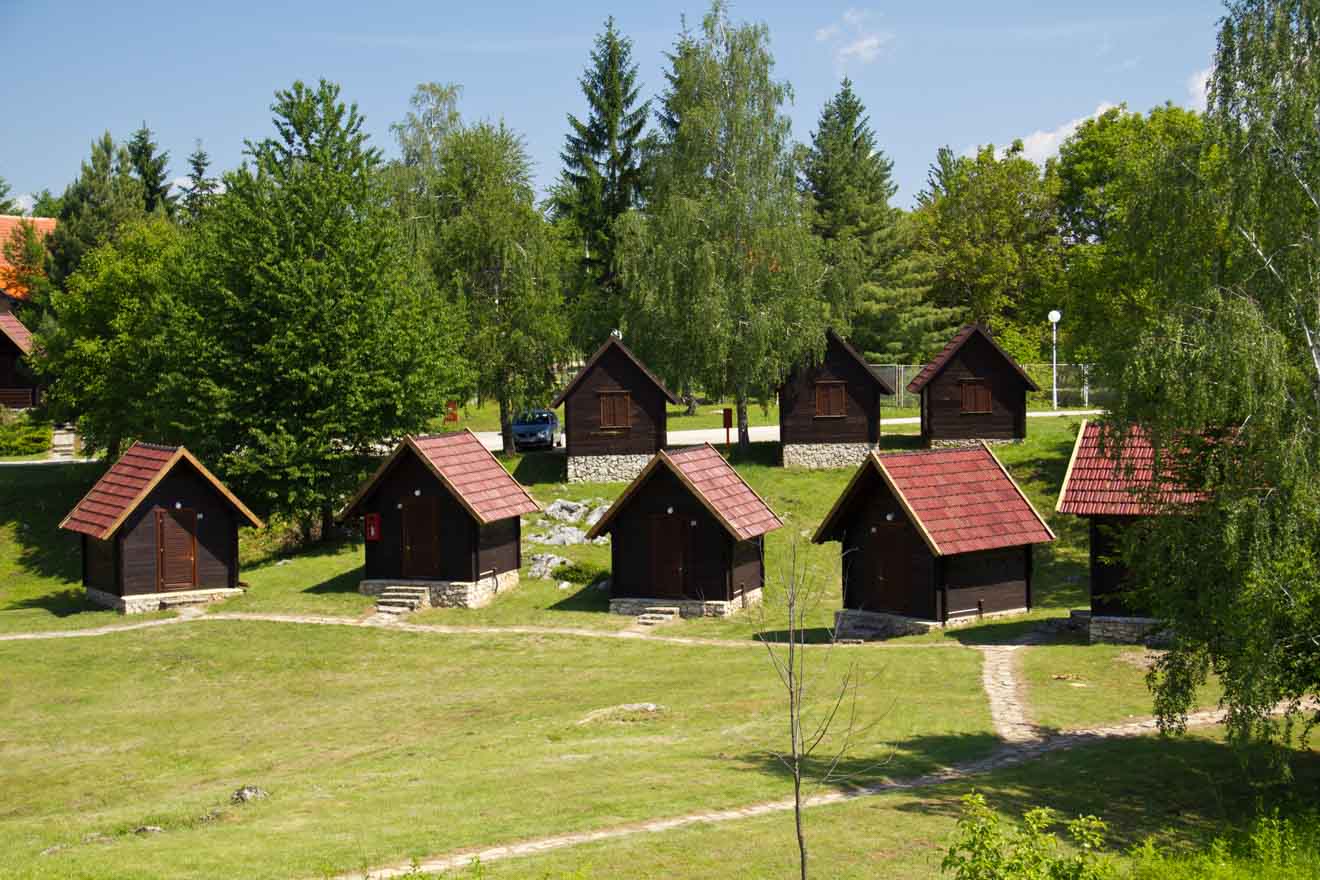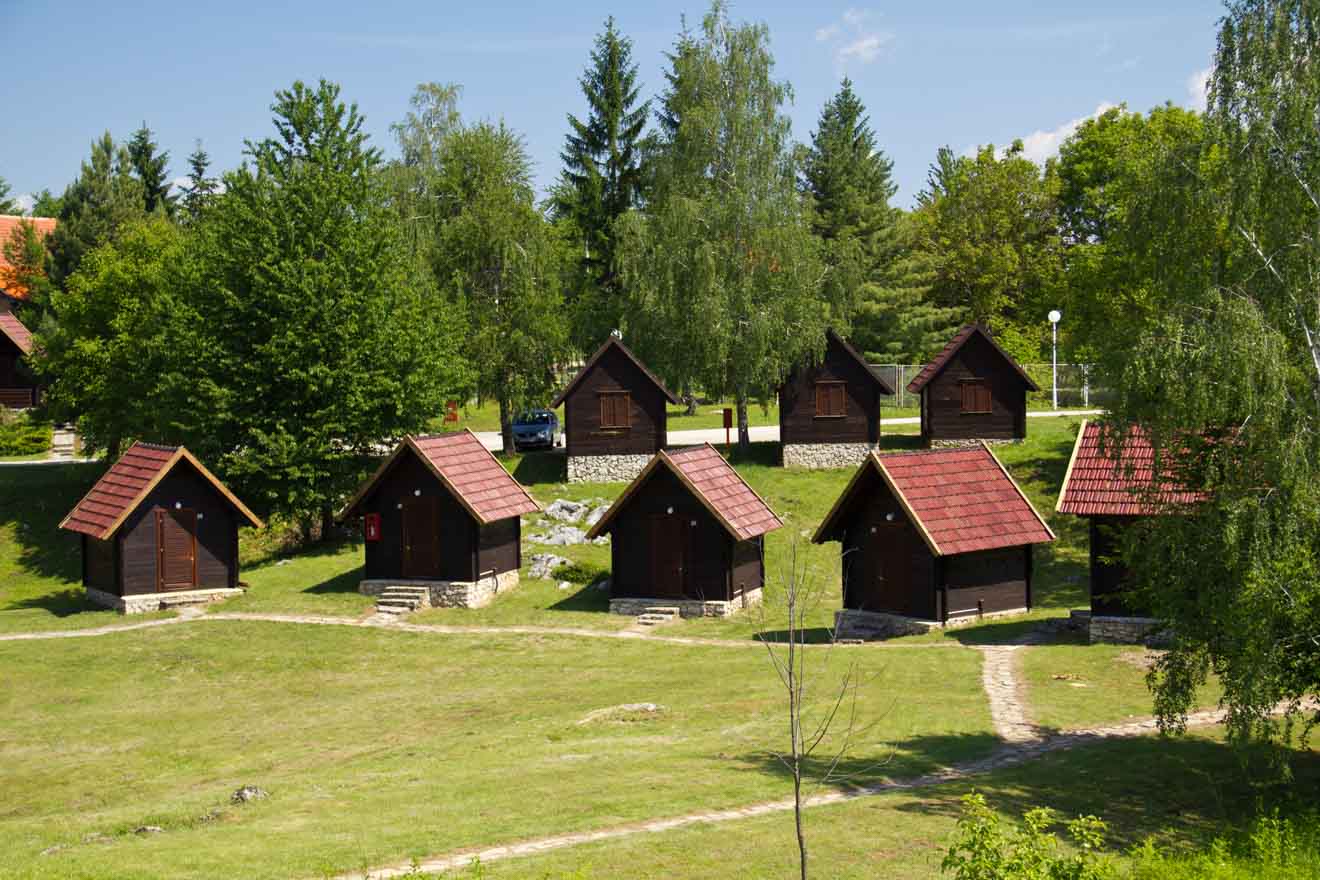 Yes, you can also go camping if you don't want to book a hotel or an apartment within or near Plitvice National Park! Here are your options:
The camping sites have more accessible prices than the hotels close to Plitvice Park, and they offer different services depending on which one you'll close. You can find more details about each camping site by accessing this website.
FAQs about Plitvice hotels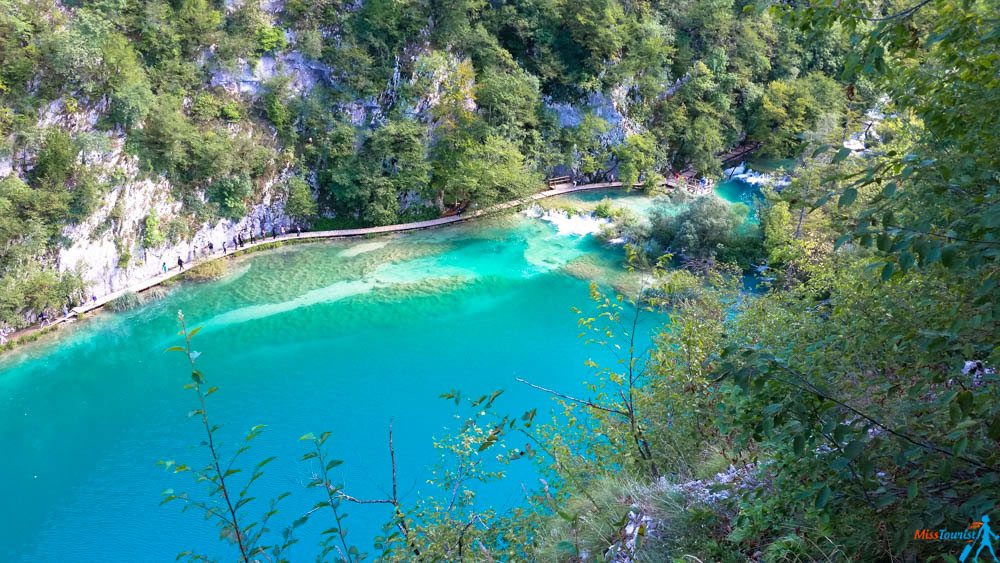 🏞️ Should I stay inside or outside the Plitvice Park?
Both options are okay! If you do not have a car, I recommend staying inside, but if you want to save some money, outside hotels are the best choice for you!
🚗 How to move around Plitvice lakes?
The easiest way to get around Plitvice is to rent a car, but there are also many bus connections!  
📅 How long should I stay in Plitvice?
2 days is more than enough time to explore the area – plus the 2-day ticket is a much better value!
🏊‍♀️ Can I swim in the Plitvice lakes?
No, you can't. But you can swim outside of the national park, to the north of the park in the Korana River.
🚶🏻‍♀️ Where should I start my hiking adventure?
All the tour groups start at the Lower Lakes, but I highly recommend to actually start in the Upper Lakes, you will have them mostly to yourself during the first hours in the morning!
Conclusion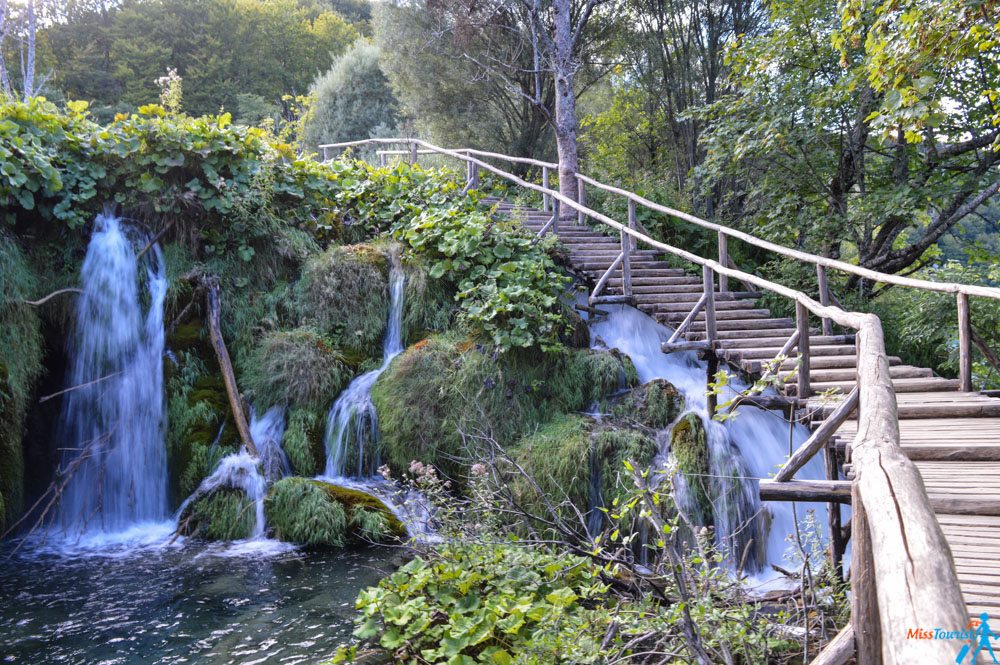 As you can see, Plitvice Lakes National Park is one of those unique places you should add to your must-do list for your trip to Croatia!
I hope this ultimate guide for Plitvice Lakes accommodation was helpful, and I wish you a great stay and experience visiting Plitvice!
Most of the Plitivice Lakes National Park hotels I found for you near the park are guest houses, apartments, or Plitvice holiday resorts. Still, they all have excellent reviews, modern facilities, and cozy rooms where you can rest after a day of exploring Plitvice National Park.
But if you need help deciding, here are my top Plitivice Lakes National Park hotels options:
Rooms Imperial House Plitvice – definitely one of the best options to stay in Plitvice! You will be so close to the park without breaking the bank.
Pansion Villa Cancar – one of the best options if you not only want to visit the Plitvice park but also taste the fantastic local food!
Are you traveling to Plitvice Lakes park soon? If you have any more questions, don't be shy and tell me in the comments below. I'm happy to help!
Yulia
---
Pin it for later!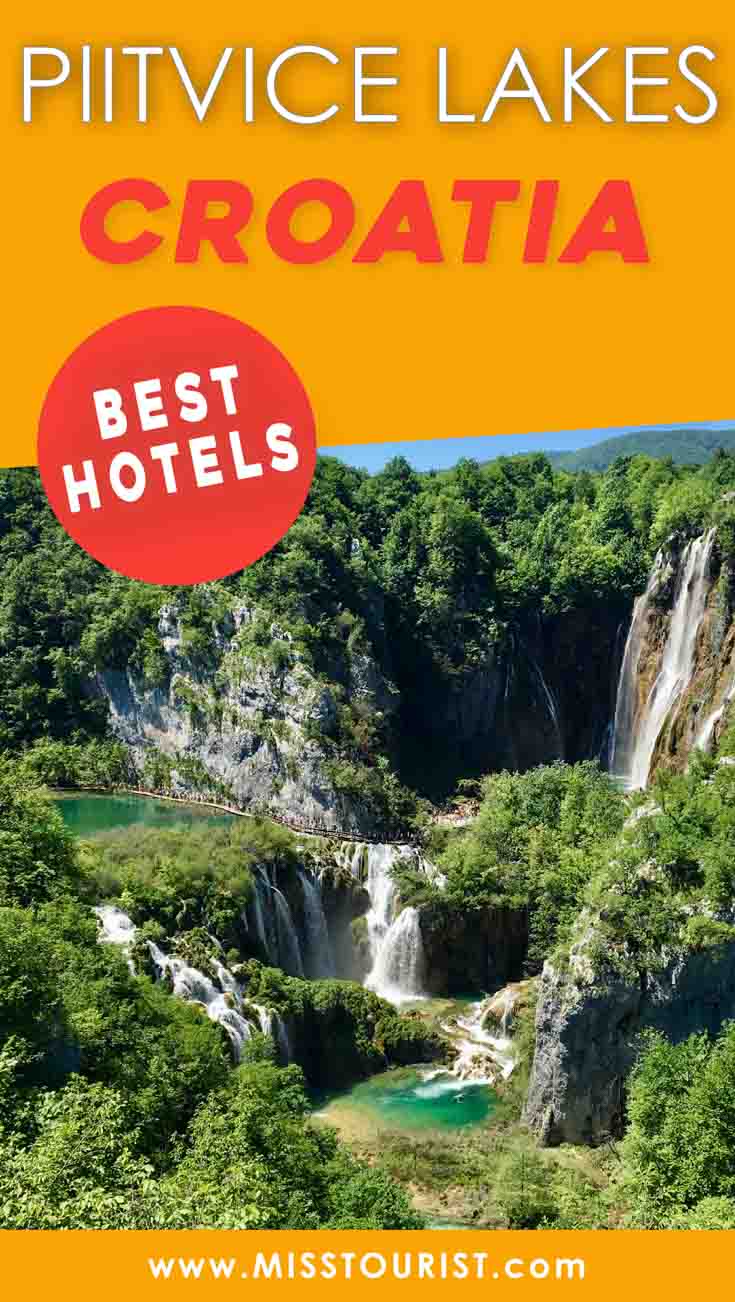 Pin it for later!