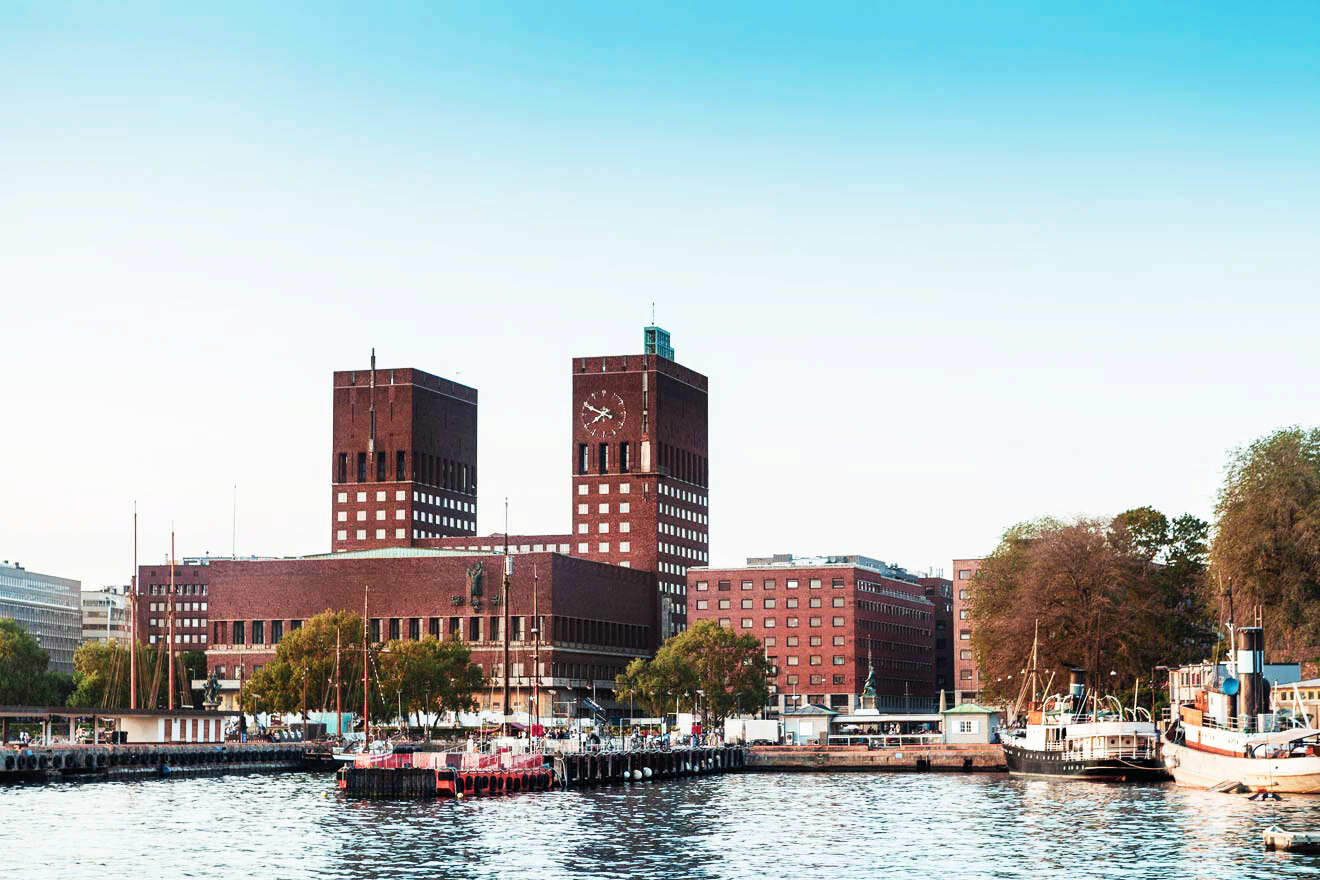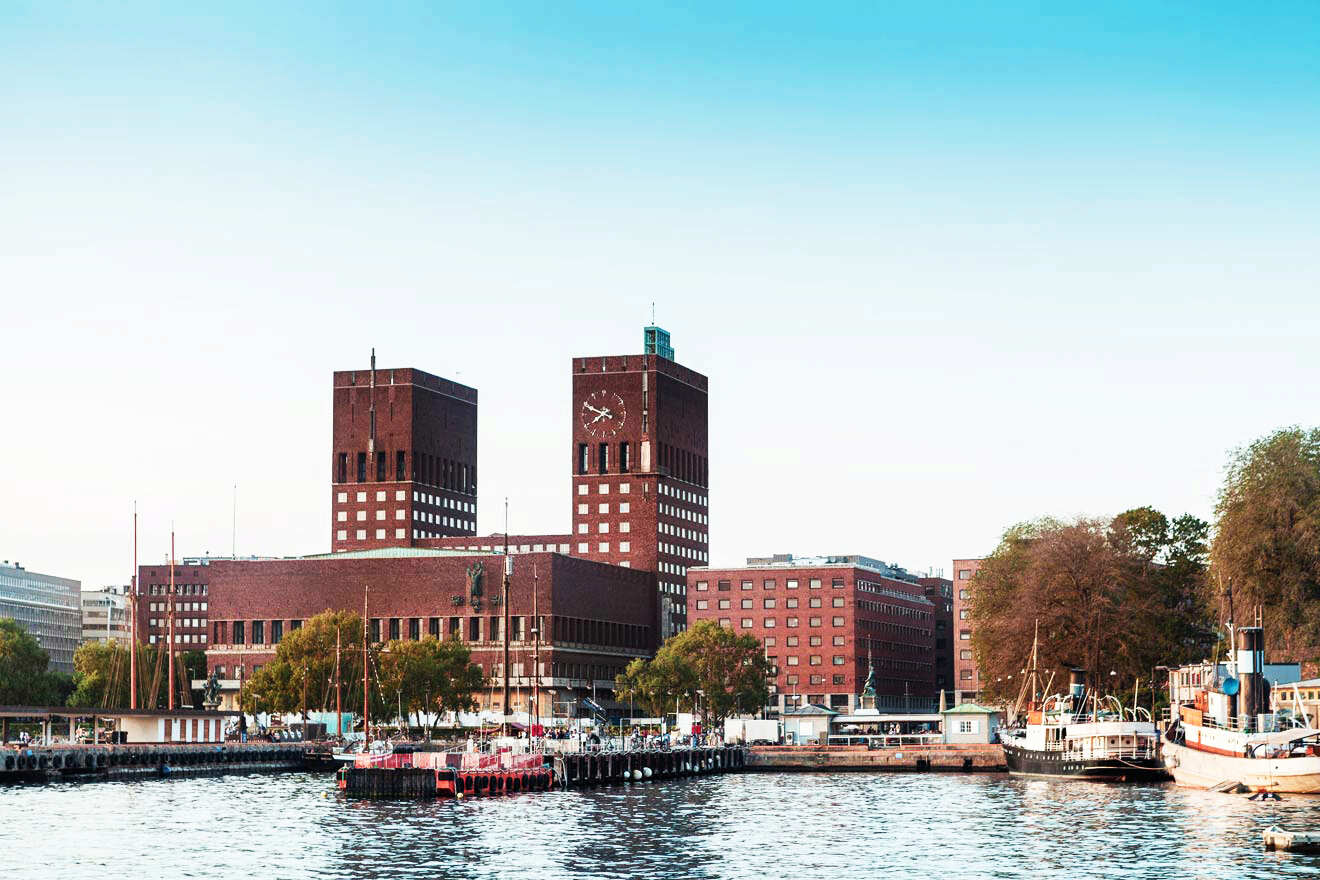 Norway's capital city is a popular destination for tourists and ex-pats due to its beautiful fjords, a large number of outdoor spaces, seasonal festivals, and numerous museums and art galleries. While the city is relatively small on the international scale of capital cities, Oslo is quite spread out and even includes eight islands in its greater region. That being said, many of the city's attractions are in the same general area, but it is still helpful to know the best neighborhoods for the specific things you want to do.
Oslo has been regarded as one of the more expensive travel destinations in the world, but fortunately, this has changed in recent years. There are various hotel options for any traveler with a specific budget in mind. If you carefully plan your trip in advance, it will be as affordable as other Western European destinations.
Luckily for you, I live in Norway and have done the legwork for you! I've rounded up the best places where to stay in Oslo, so you can just decide where to go and which hotel/Airbnb to choose (oh yes, all of the properties have amazing reviews and are sorted by price for your convenience, enjoy!).
If you are in a hurry
For those of you who don't have the time to read the whole post and just want to book something right away, here are some great hotels in the center of Oslo:
To help you get a quick visualization of the different areas of Oslo I will be discussing in this post. Here's a handy map: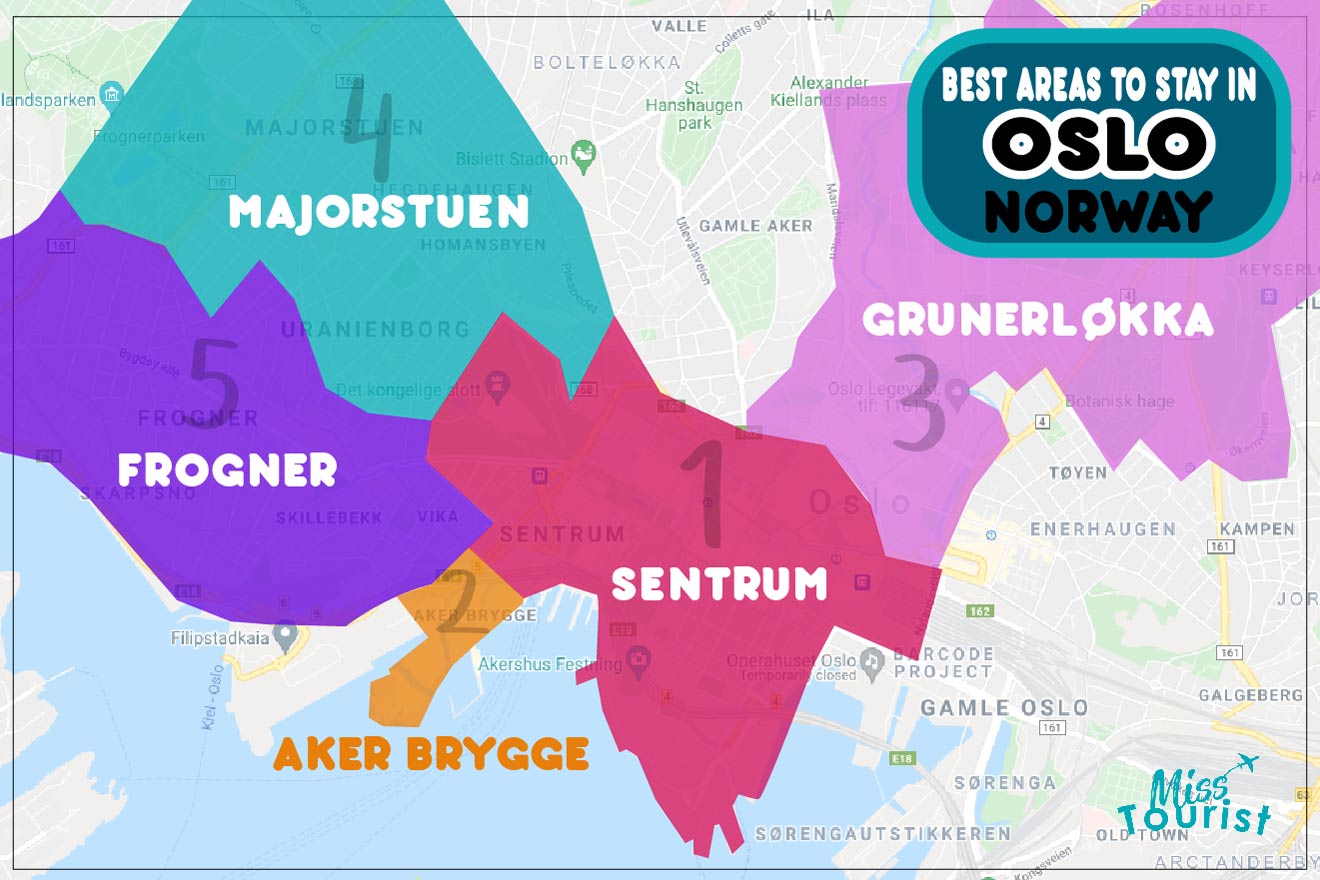 1. Sentrum – where to stay in Oslo for first-timers
The city center of Oslo (or, as locals call it, Sentrum) might just be the best area to stay if it's your first time visiting the city! It is a unique mix of modern and historic architecture (like the city hall) that acts as a gateway to unforgettable adventures and sights throughout Norway. Oslo's endless options for shopping, attractions, and fine dining can be found here. Everyone will find something suitable to make the best out of their trip in Oslo, plus, everything is within walking distance. And if you'd like to explore more, the Central Station is here as well!
Sentrum is where you can find the royalty of Norway. The current monarch lives in the Royal Palace, situated at the top of the Karl Johans gate, and the Royal Palace Park surrounds the whole palace. Something that you will notice right away is that there is no gate or guards surrounding the Palace, and you can practically walk up and knock on the door! If that doesn't show you how honest and respectful Norwegian people are right away, you're sure to find out quickly!
Here are your best accommodation options in the city center of Oslo.
Luxury hotel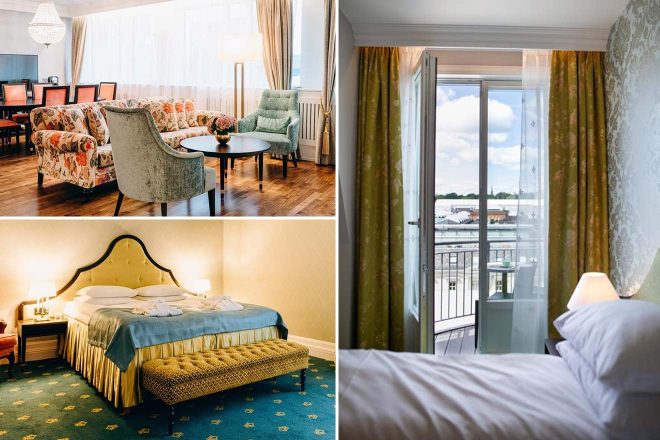 Ultra elegant hotel with free gym and sauna included in the room price. With its antique furnishings and upper-class feel, this hotel will have you feeling like a celebrity from the 1920s. In fact, this historic hotel includes the library bar, which has been a popular meeting spot for high-class Norwegians for decades. Definitely one of the best places to stay in Oslo!
More accommodation in the city center of Oslo
mid-range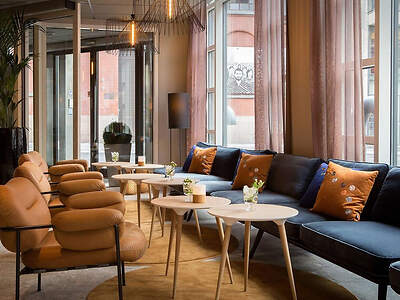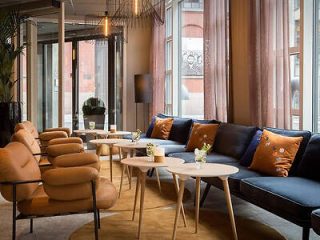 One of the newer hotels located close to the Oslo train station and Karl Johans Gate offering a gym, great dining options, and a central location
budget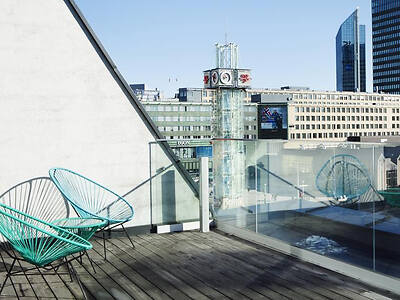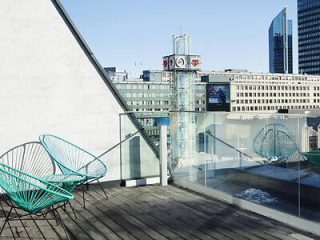 Located right next to the central station, this hotel is perfect for those who prefer convenience. Everything is within walking distance
airbnb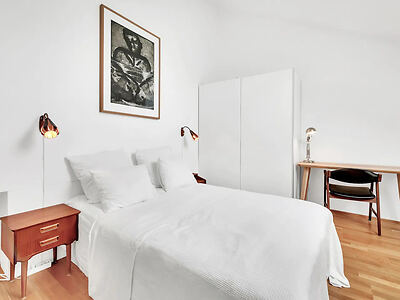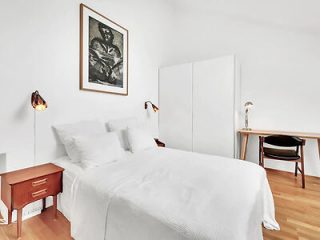 Unique apartment with a fantastic light design and modern features, close to all of Oslo's best central attractions
Things to do in Oslo Sentrum
Pssst. I found this great video for you that gives a great overview of not only areas in the city important for tourists, but also the main things to do there, check it out:
2. Aker Brygge & Tjuvholmen – best waterfront location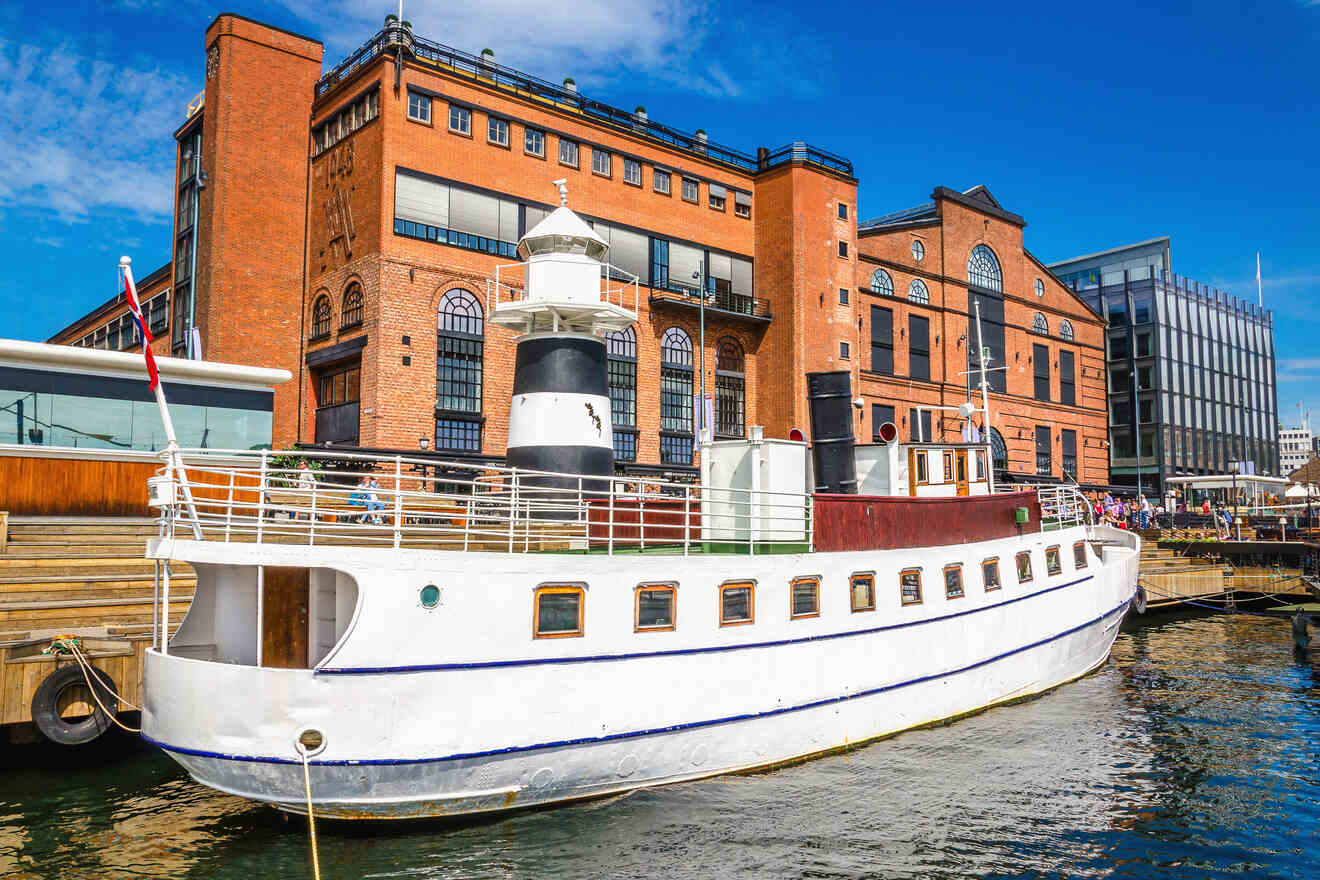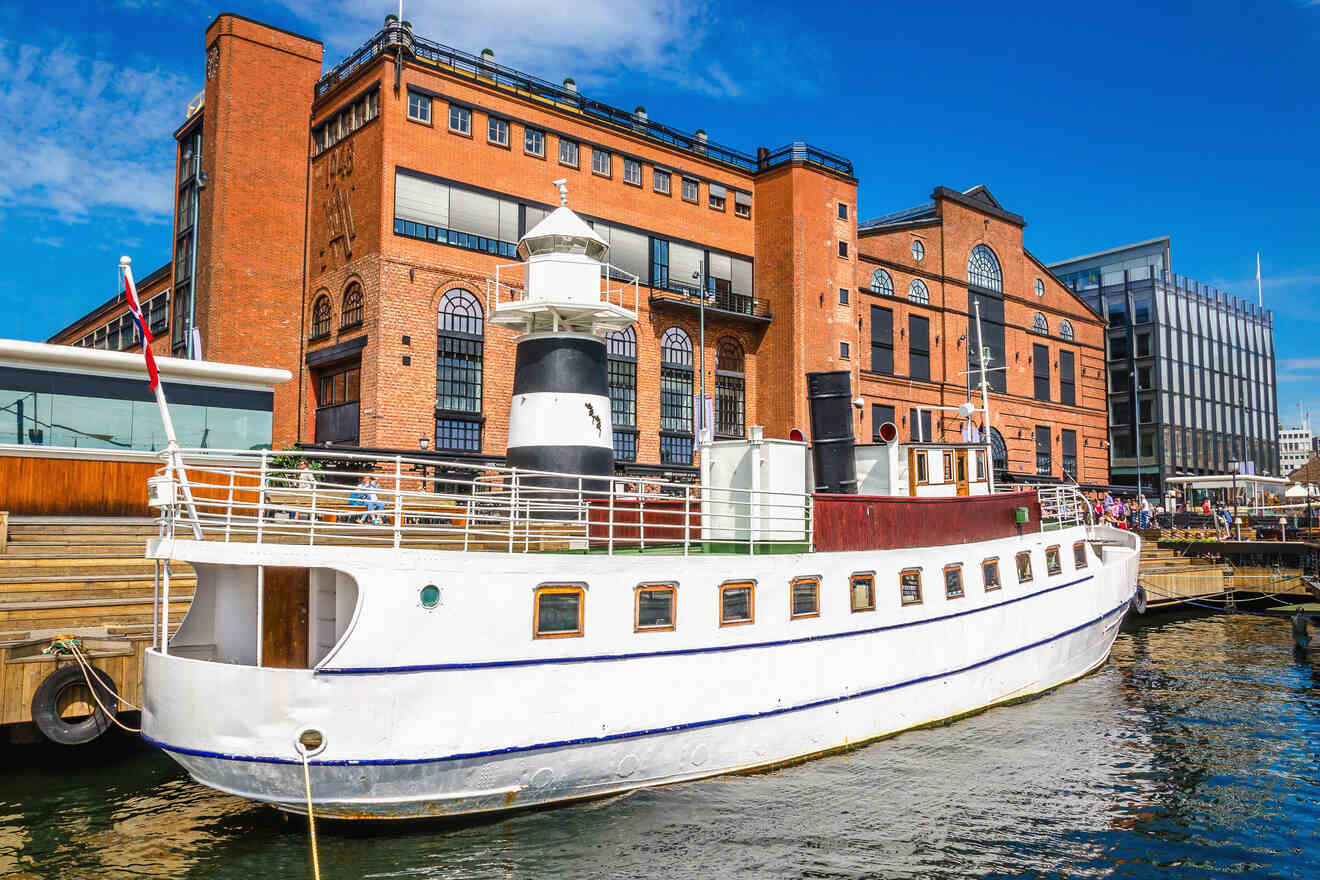 Aker Brygge is another best area to stay in Oslo and my personal favorite part of the city. It offers stunning views of Oslo and a unique experience where you can walk along the sea and watch ships passing by. This is one of the most trendy, modern areas of the city with waterfront restaurants dotted along the pedestrian-only area (it actually reminds me a lot of Vancouver). The shorefront area has undergone a facelift and is now home to some of the cities most instagrammable spots like the opera house. Aker Brygge is one of the best areas to stay to start exploring the city's main attractions!
If you want to see more of nature, take a short walk across the bridge (Aker Brygge) and you will reach Aker Brygge T-banen station which takes you all the way to Nydalen station (When going from Sentrum).
Tjuvholmen is another popular place in Oslo – a small island connected to the mainland by a bridge. Once there, just walk a few minutes along the seaside to reach Aker Brygge. Tjuvholmen is perfect for any traveler looking to explore Oslo and have a great time outside! There are lots of coffee shops, restaurants, nightclubs, and homes of Norwegian celebrities.
Luxury hotel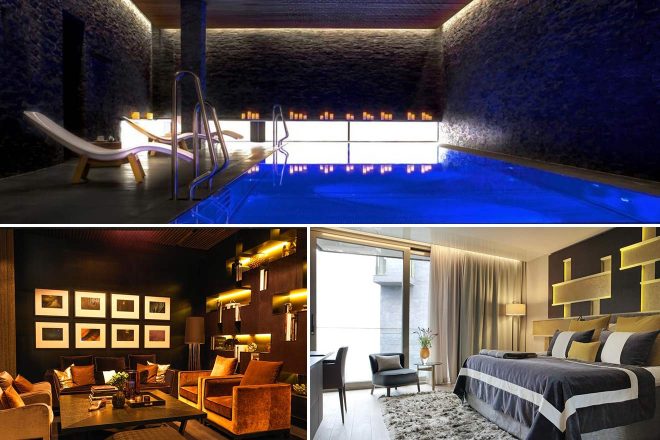 A luxurious hotel that offers in-room spa treatments, a swimming pool, and a free gym. The promenade of Aker Brygge is within a short walking distance from the hotel. The thief has spacious rooms with a built-in sound system and a private balcony. Another perfect perk – all guests get a free entrance to the Astrup Fearnley Museum (Modern Art Museum). After the tour, you can enjoy a spa treatment in a Turkish Hamam bath and relax on the rooftop bar.
More accommodation options in Aker Brygge
mid-range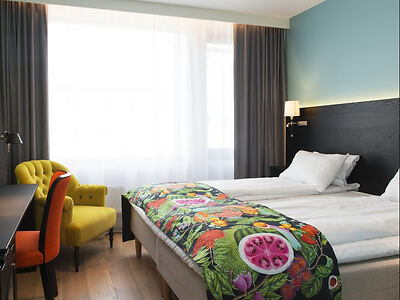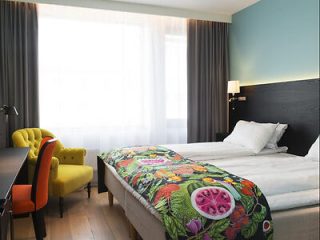 offers clean and comfortable rooms with free wi-fi and flat-screen TVs and is a short walk from the Nobel Peace Center
budget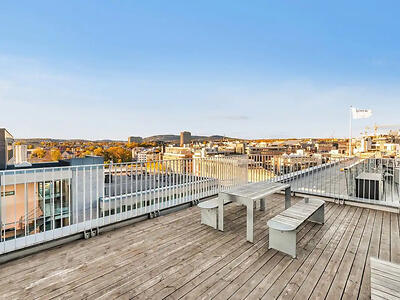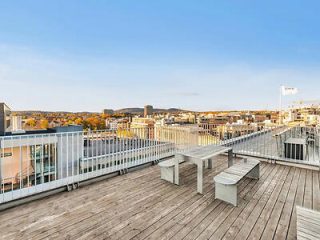 Classic Norwegian design with a Fantastic rooftop with 360-degree views of the city in a central location
airbnb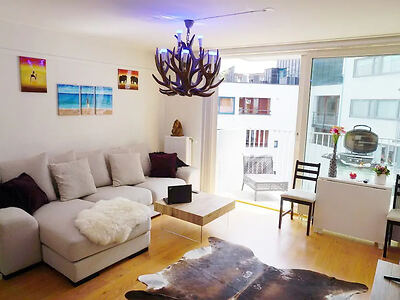 a luxurious 1-bedroom apartment with a sea view. A lovely place to stay close to the bars and restaurants
Things to do in Aker Brygge
3. Grunerløkka – the most trendy area in Oslo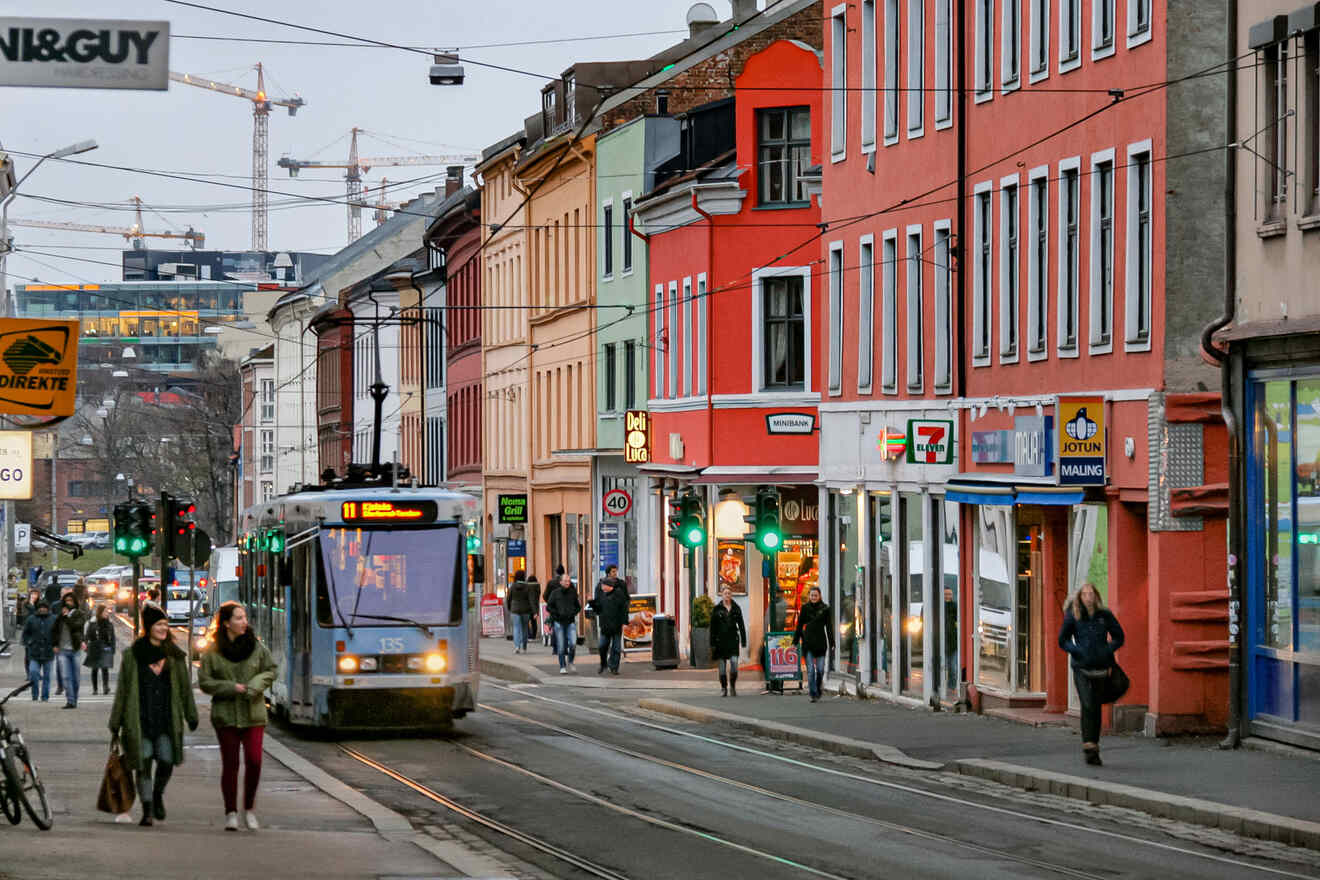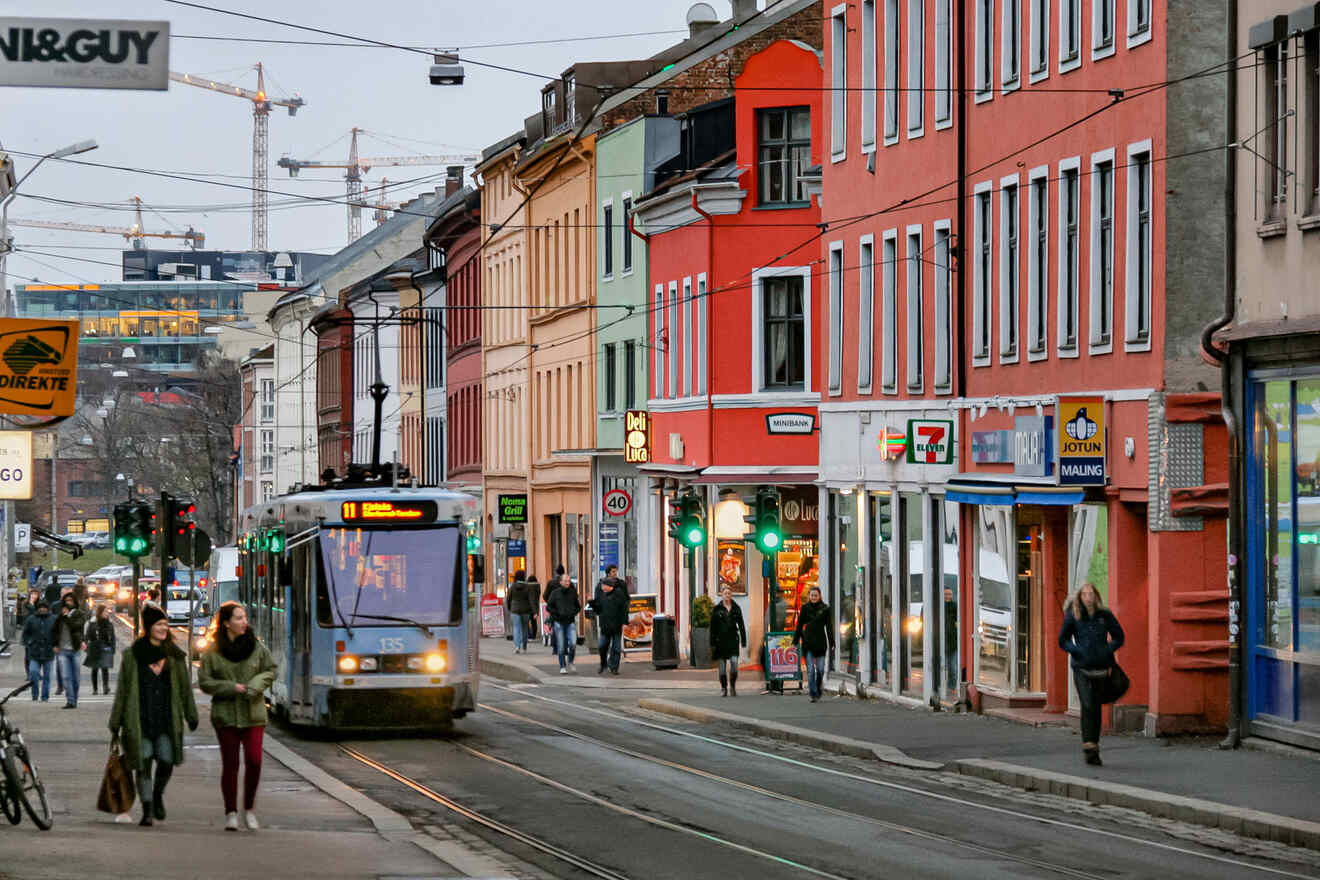 The name in Norwegian translates into Green Hill Slope, a reference to the gentle hill the neighborhood sits on. It is located immediately north-east of the city center. Grünerløkka experienced significant investment in recent years with new restaurants, cafés, cultural venues, and nightlife places which made it now one of the trendiest places to stay in Oslo! If you're looking to spot young Norwegian celebrities, this is one of the best places to stay for you.
The main artery is the Grünerløkka 'strip', a bustling boulevard dotted with restaurants, pubs, and cafés. Grünerløkka was one of the first areas in Oslo to experience a population explosion when 19th-century industrialization brought many people from all over Norway to be close to their jobs. This also means that there are a lot of international cultures in this area. I love walking the streets of Grunerløkka and smelling all the different authentic restaurants of cuisine from all around the world. One of the best parts about Grunerløkka is that even though it's extremely popular, it is still quite affordable. You'll want to stay here if you're looking for the hip, residential area of Oslo city.
Luxury hotel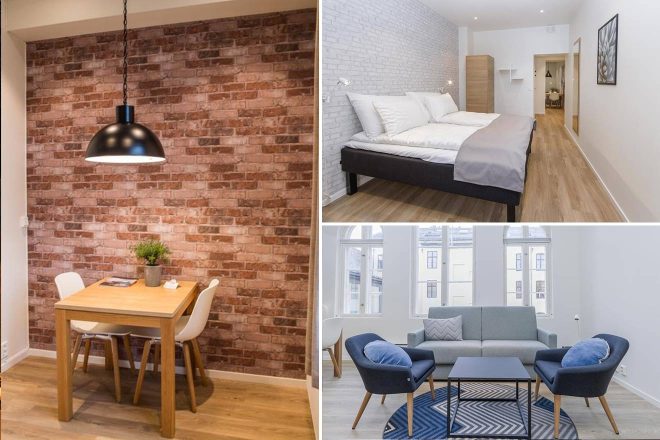 Deluxe, modern apartments with all of the luxury Scandinavian facilities you may want on your holiday in Oslo. Located in a beautiful-looking building with a great location, choosing any of the Maua Apartments will ensure you have a comfortable, private stay in this incredible city.
More accommodation options in Grunerløkka
mid-range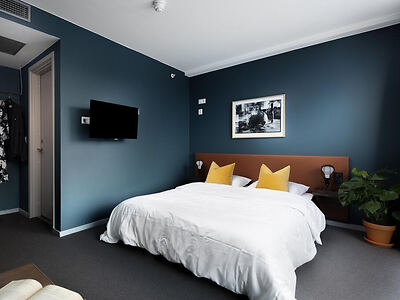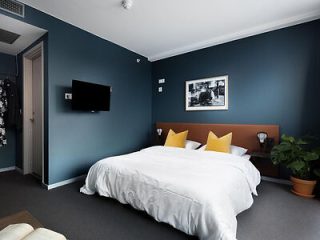 A 4-star hotel with big windows and glass doors just across the road from the famous Mathallen Food Hall!
budget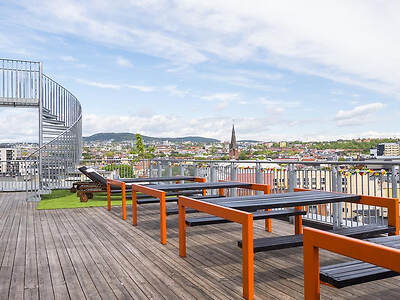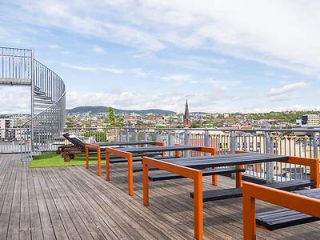 Stylish modern hotel with budget rooms close to many attractions
airbnb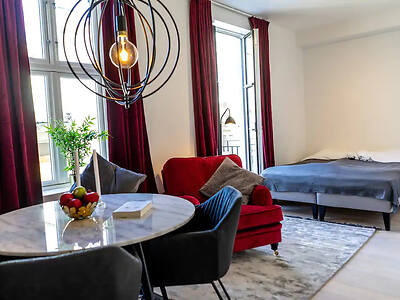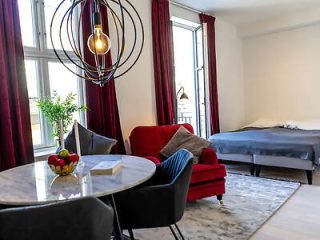 A Spacious Studio for 2 guests with all you need to stay for a while
Things to do in Grunerløkka
4. Majorstuen / Majorstua – where to stay for shopping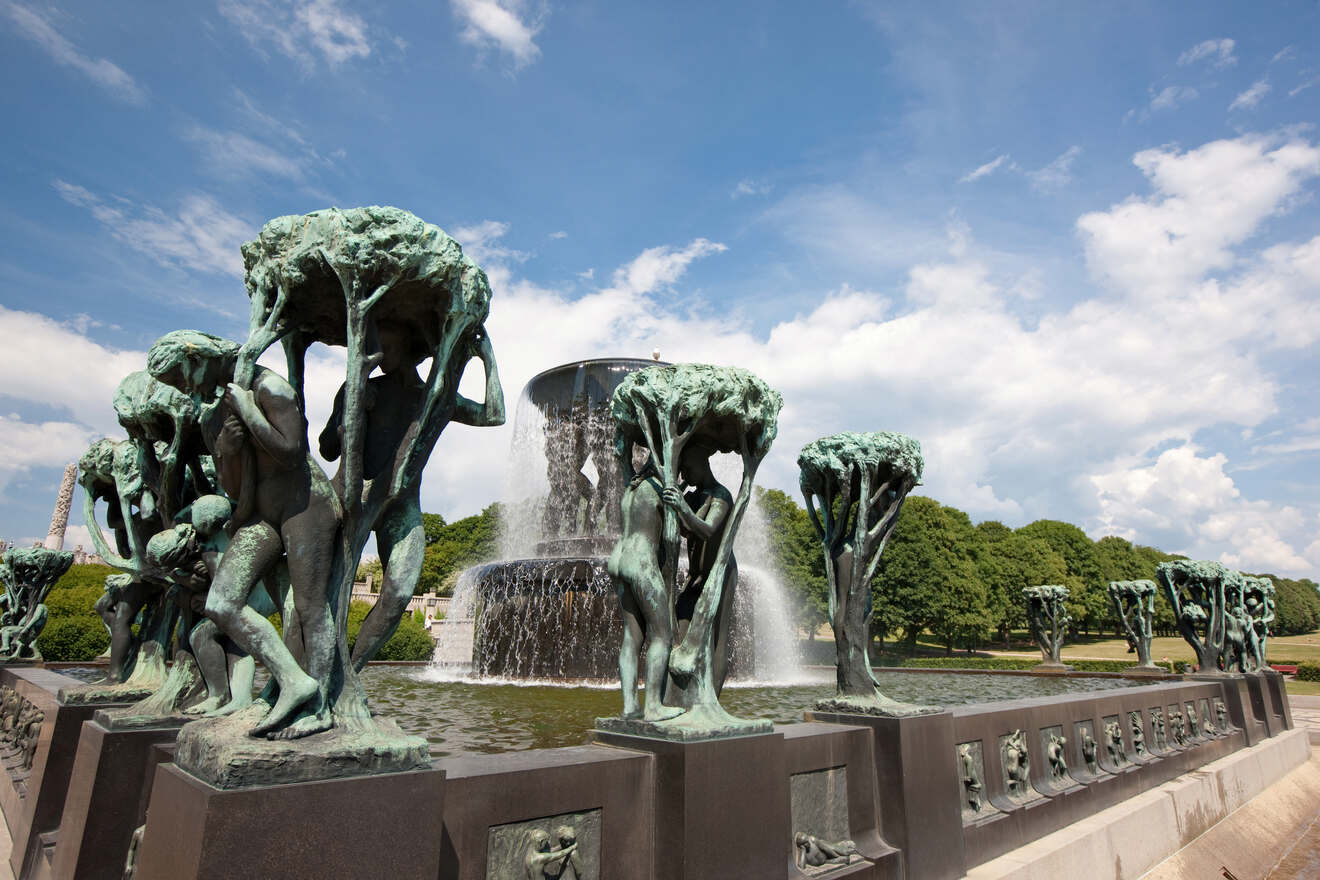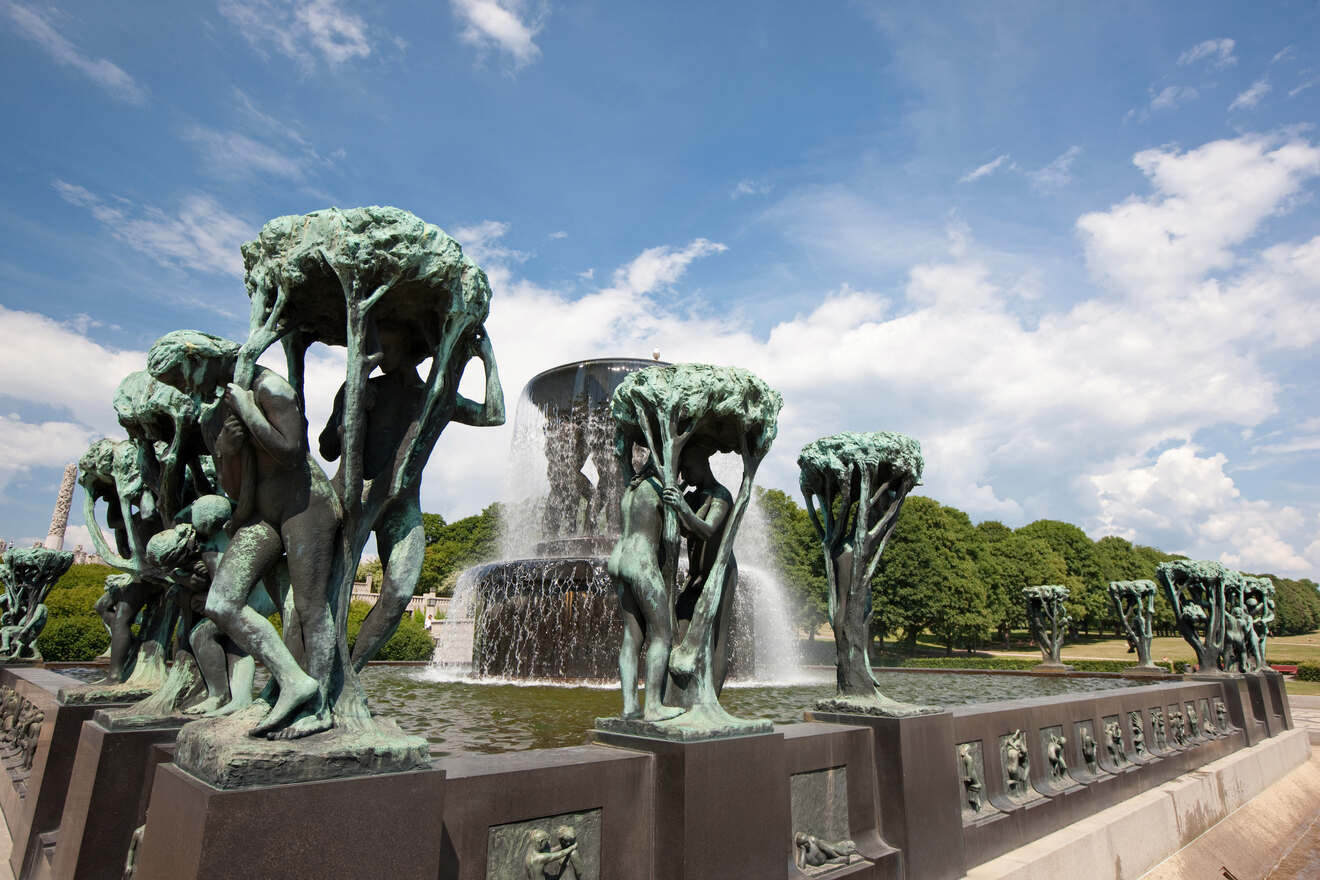 The neighborhood of Majorstua lies northwest of the city center. It is a popular green area with many parks, sports facilities, good restaurants, and pubs. It is about 10 minutes from the city center by transport (or ~25 walking) and right next to Frogner. You will notice that Oslo is a city full of nature. If you didn't guess it already by seeing pictures of Norway's incredible mountains and fjords, Norwegian people love the outdoors, even in the city! Majorstuen is right next to one of the biggest parks in the city. I spent hours here exploring all the statues and sculptures!
The Majorstuen neighborhood is a home for the upscale Bogstadveien shopping street and the Vestkanttorvet vintage market. It is also known for its vibrant nightlife. The main street of Bogstadveien is the most popular choice for avid shoppers. Although there aren't a lot of options for hotels here, its chic designer atmosphere and endless boutiques make it perfect for those looking for a luxurious stay in Oslo.
Luxury hotel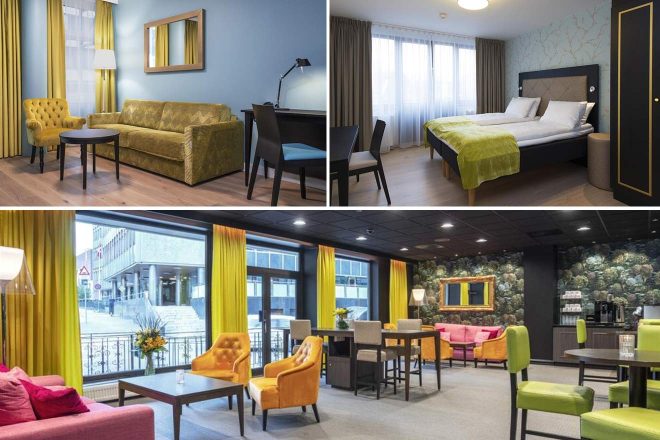 This hotel offers great rooms with all the necessary amenities and a modern interior design. The style of the hotel is minimalist and pleasing to the eye. It is located close to many attractions you might want to visit during your stay in Oslo. It is one of the best hotels in the Majorstua area.
More accommodation options in Majorstuen
mid-range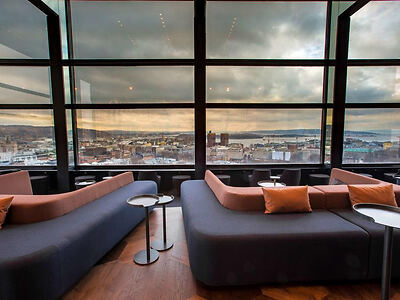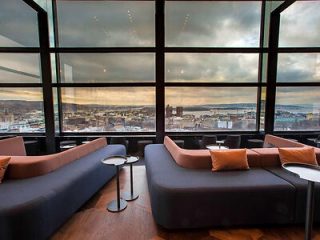 budget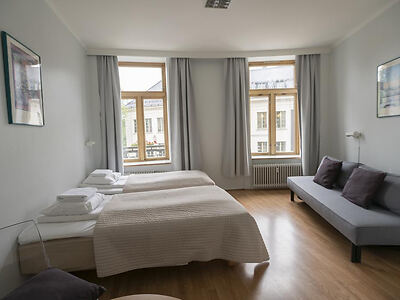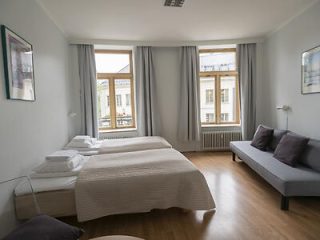 nice, clean, modern rooms and excellent staff nearby everything the area has to offer
airbnb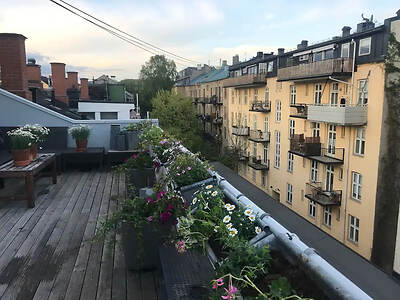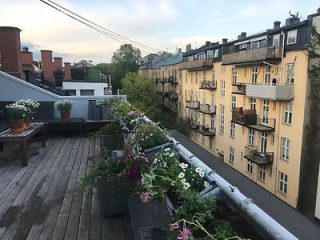 a budget-friendly one bedroom apartment within a short walk from the main street
Things to do in Majorstuen
5. Frogner – where to stay in Oslo for families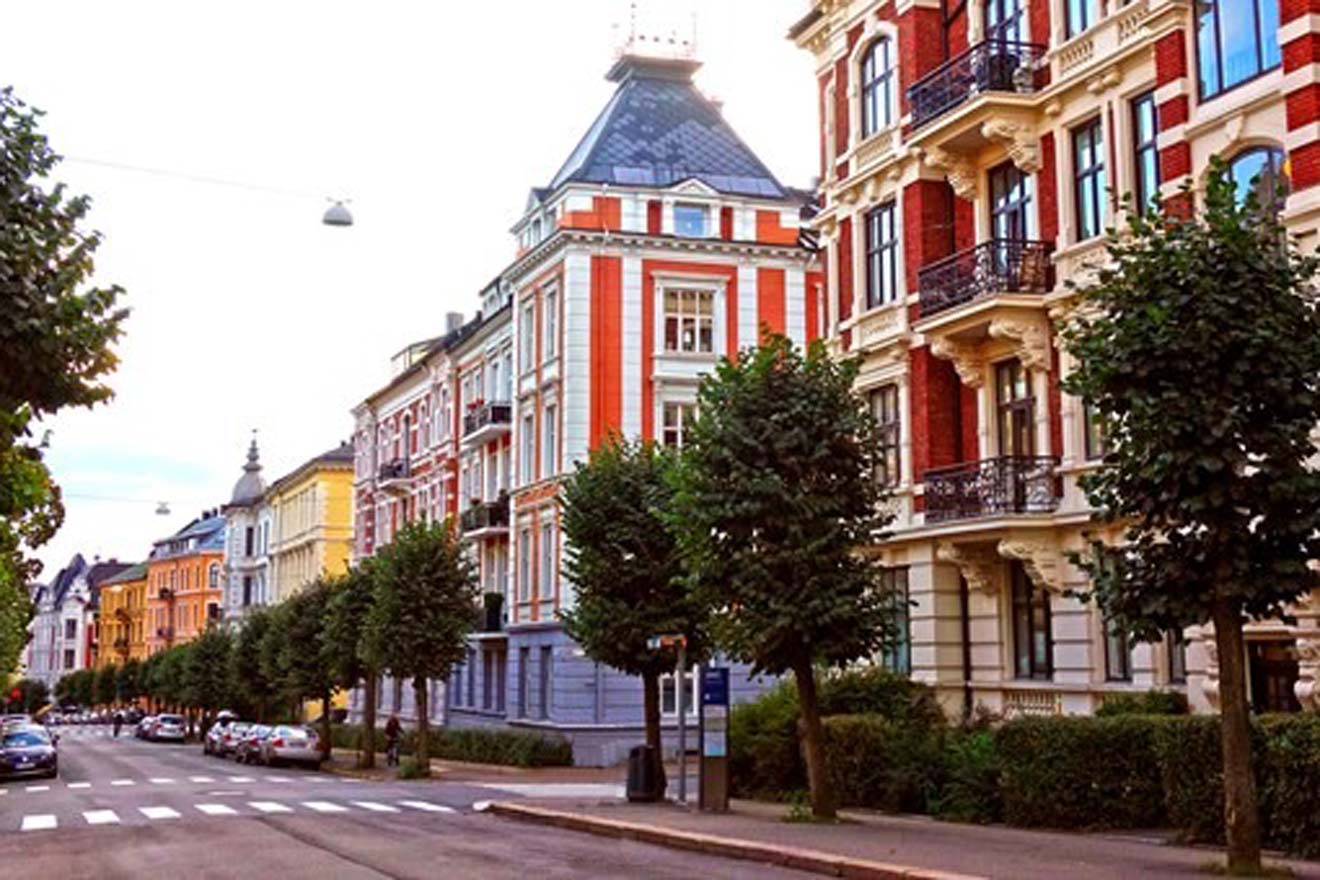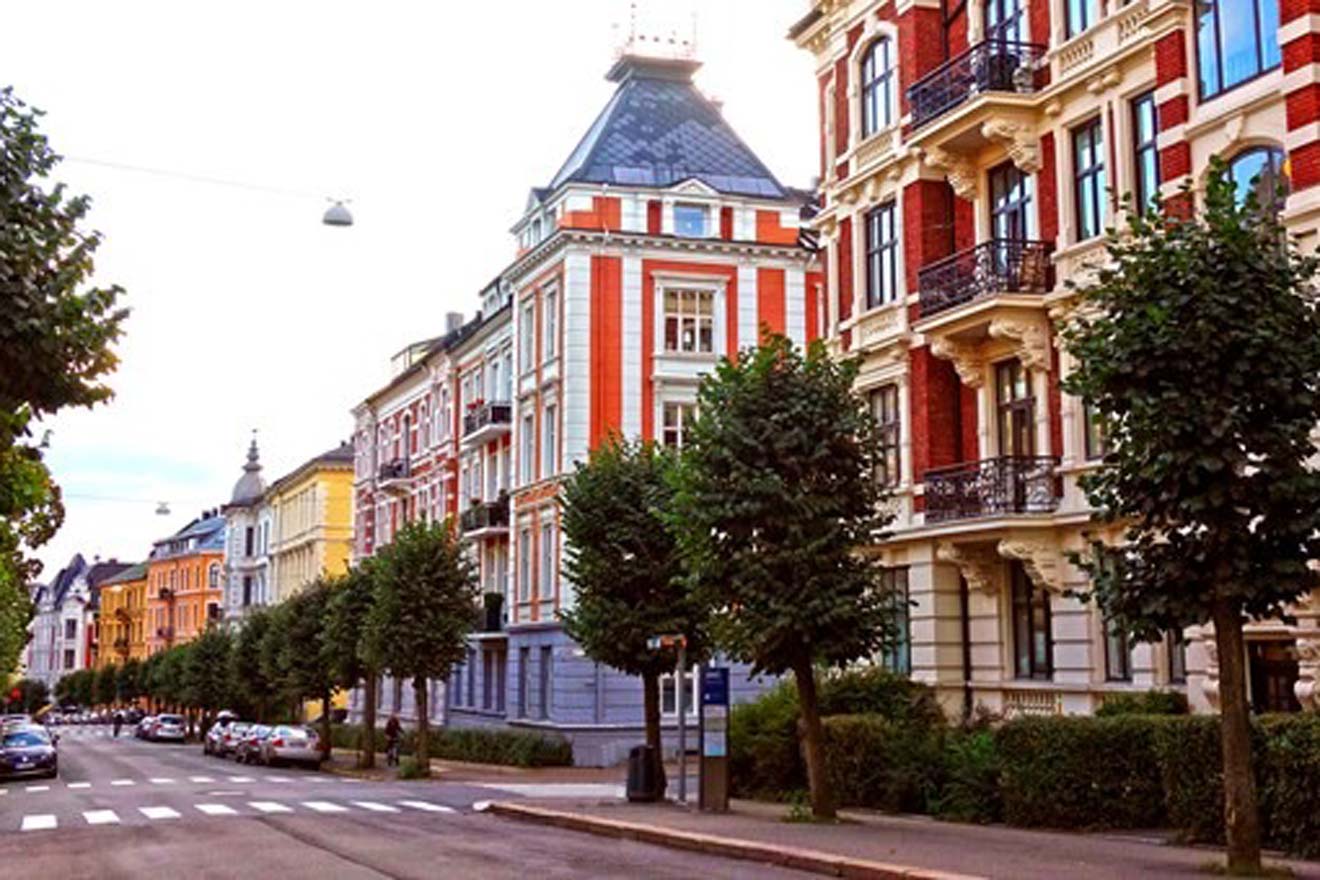 Frogner is another great district to stay. Just like Aker Brygge, it offers superb views of Oslo but from a different angle! Frogner is also great for nature lovers and families! It has a huge, manicured park that you can explore during the day and relax in at night. The area around Frogner also offers plenty of shopping and good restaurants whilst being a little further away from the city center's hustle and bustle, making it the perfect place to stay for families!
Frogner is one of the most luxurious parts of Oslo, structured out of expensive real estate and hotels. It is named after the Frogner Manor, built by Ludvig Holberg in the 18th century. Frogner Manor and Park are a highlight from this part of Oslo. The park was designed by city gardener Hans Schou from 1852 to 1865. It is also filled with statues of mythical creatures, authors, and artists, and a prominent monument, "The Lion of the 'Nidaros'".
Luxury hotel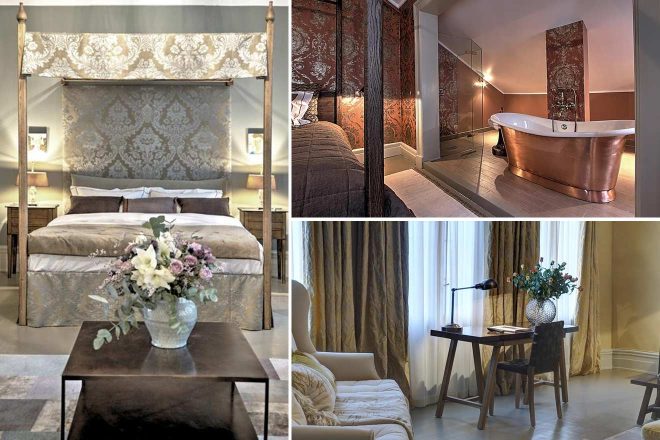 you can enjoy a luxurious stay at the hotel of Camillas Hus. They are located in the heart of Oslo near the best entertainment options. They offer great cozy rooms with everything you might need during your stay in Oslo. The hotel serves continental and à la carte breakfast options every morning along with exceptional service and all necessary amenities.
Other accommodation options in Frogner
mid-range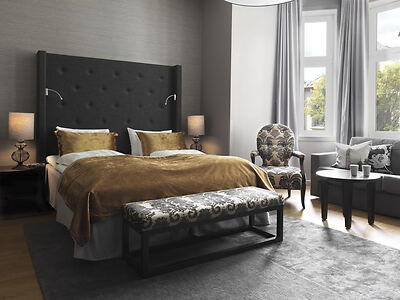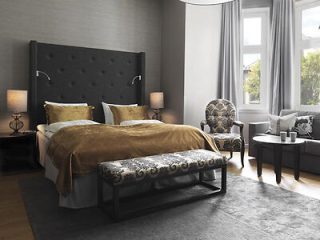 offers comfortable rooms with unusual exterior designs. It is located 500 m away from the Royal Palace and 15 min away from Frogner Park
budget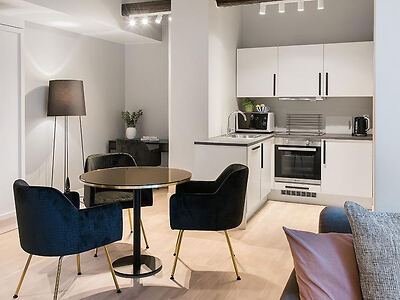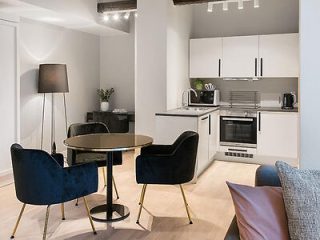 stylish apartments with a fully equipped kitchenette, bathroom and heated wooden floors. A packed breakfast can also be ordered
airbnb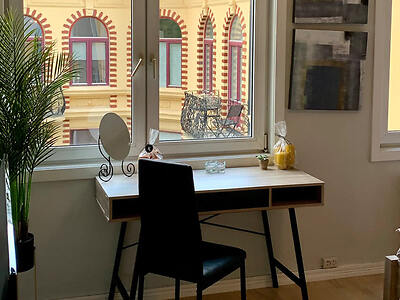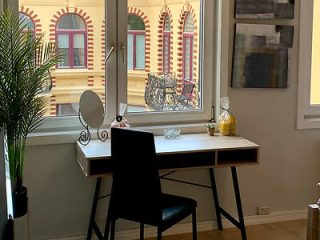 nice very well located beautiful apartment with access to a shared games room, laundry room and rooftop terrace
Things to do in Frogner
| | |
| --- | --- |
| 👑 Luxury price: | €200 |
| Mid-range hotel: | €150 |
| 🛏️ Budget: | €60 |
| 🏠 Airbnb: | €100 |
| 💰 Accommodation prices: | Medium |
| 📍 Best Area: | Sentrum |
| 🛎️ Best luxury hotel: | Hotel Bristol |
| 👛 Best budget hotel: | Comfort Hotel Xpress |
BONUS: How to see the northern lights in Norway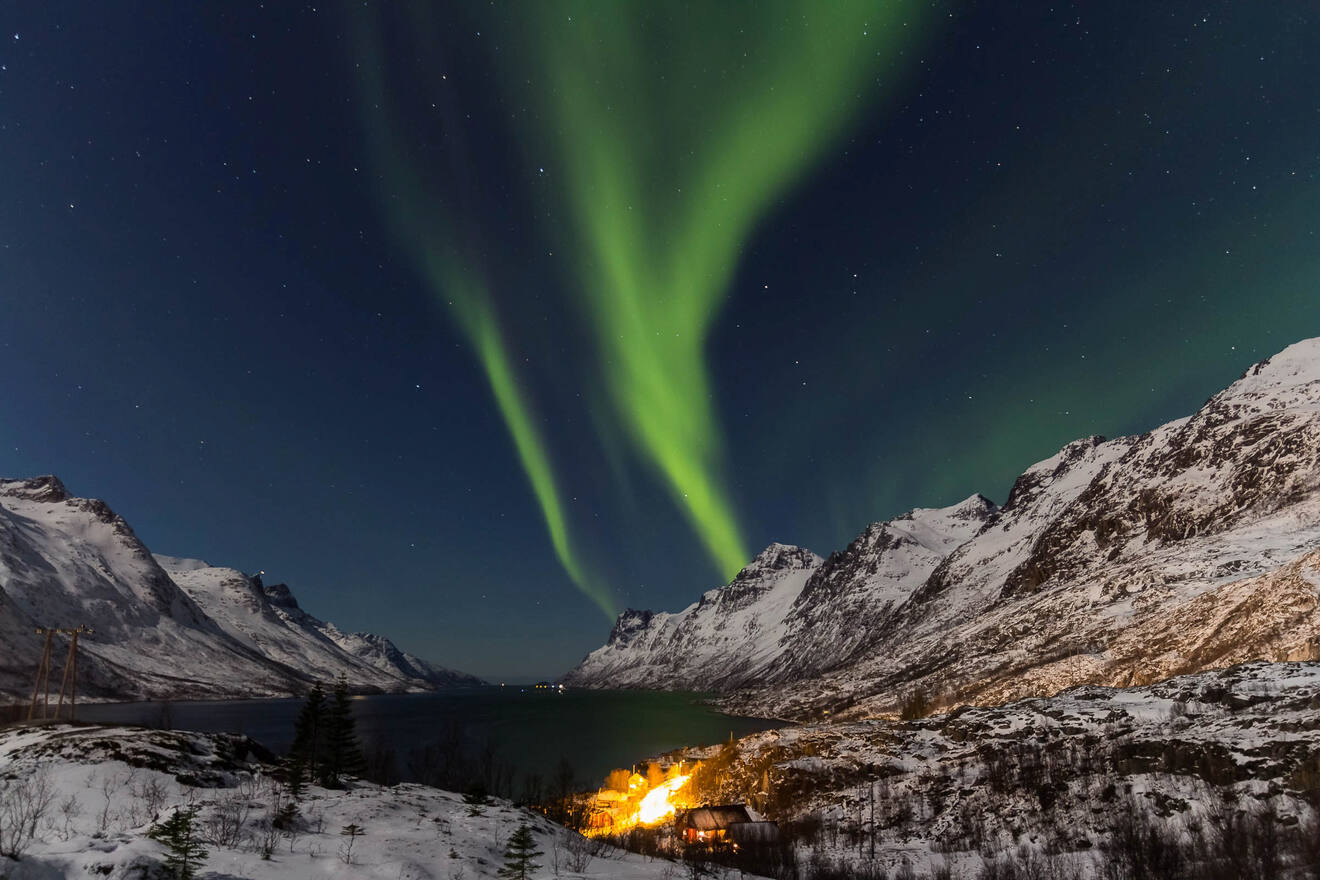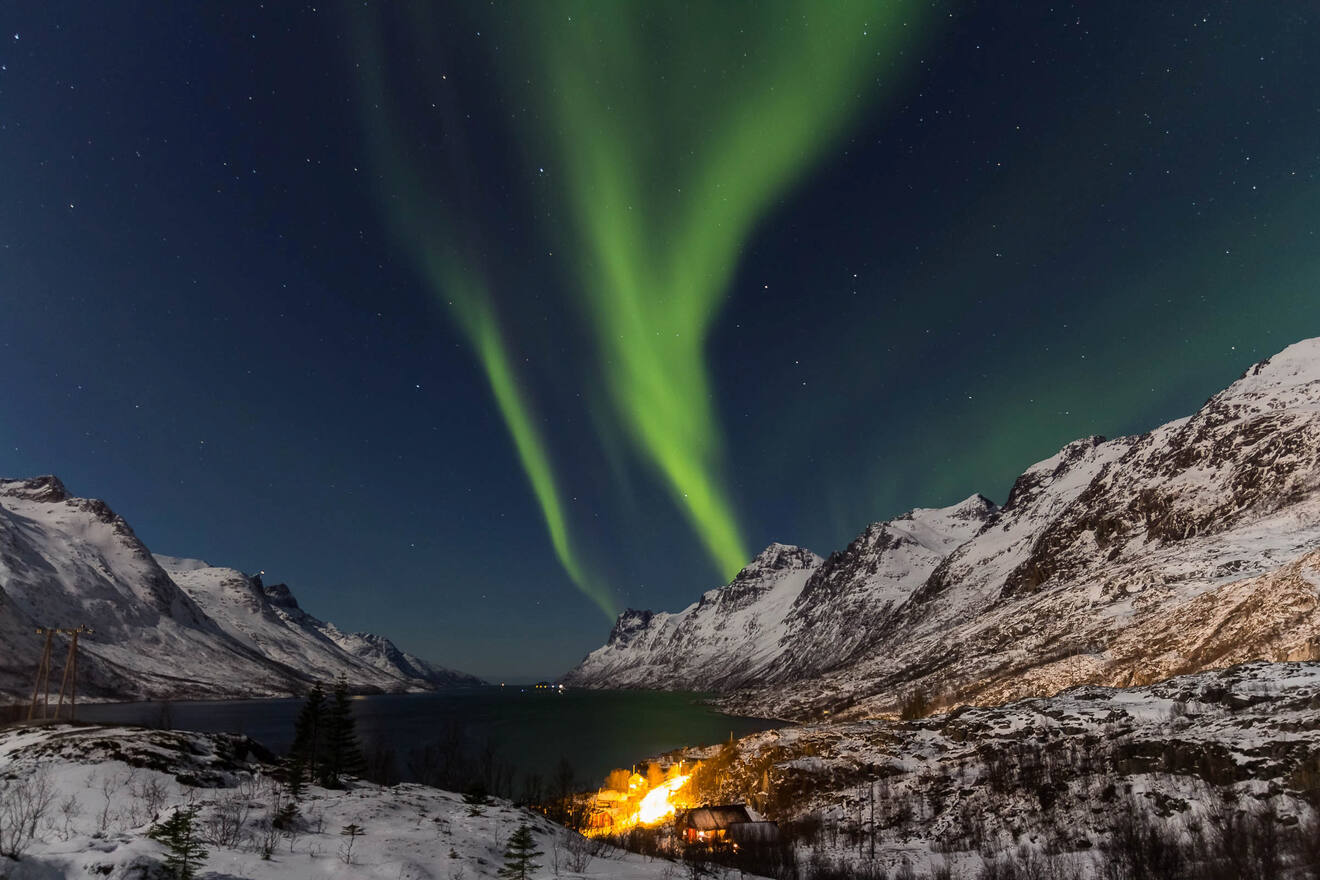 The Northern Lights, also known as the Aurora Borealis, is one of the world's most elusive natural spectacles. You might think that you need to travel to places such as Alaska or Canada to see them but in fact, Norway is one of the best places in Europe to see this beautiful phenomenon (ok, ok, also Iceland!)
You don't need a telescope or fancy camera equipment either; just a clear sky and some patience will suffice!
The Northern Lights are best viewed between October-March, after that, you'll have daylight all day. The best place to catch them is probably outside Tromsø, the northernmost city in Norway and a popular place for Arctic observations. Oh, and Tromso has loads of hotels, hostels, and campsites – check them out here.
My best advice on spotting them would be to try and stay in Tromsø for a week (at least 3-4 days if you can't!) and keep your fingers crossed! I also can highly recommend going with a tour because they KNOW places where/if it happens, so you don't freeze your butt for nothing. Check out the tour here.
How to get from Oslo to Tromso
There are direct flights from Oslo to Tromsø at least once a day, the flight is a bit less than 2 hours. Check the rates for your dates here.
It will take muuuch longer, but you could get to Tromsø by train (1d 3h) or car (22 h). The north coast road (E6) is open all year round and is well worth the trip even if you don't see the lights.
Conclusion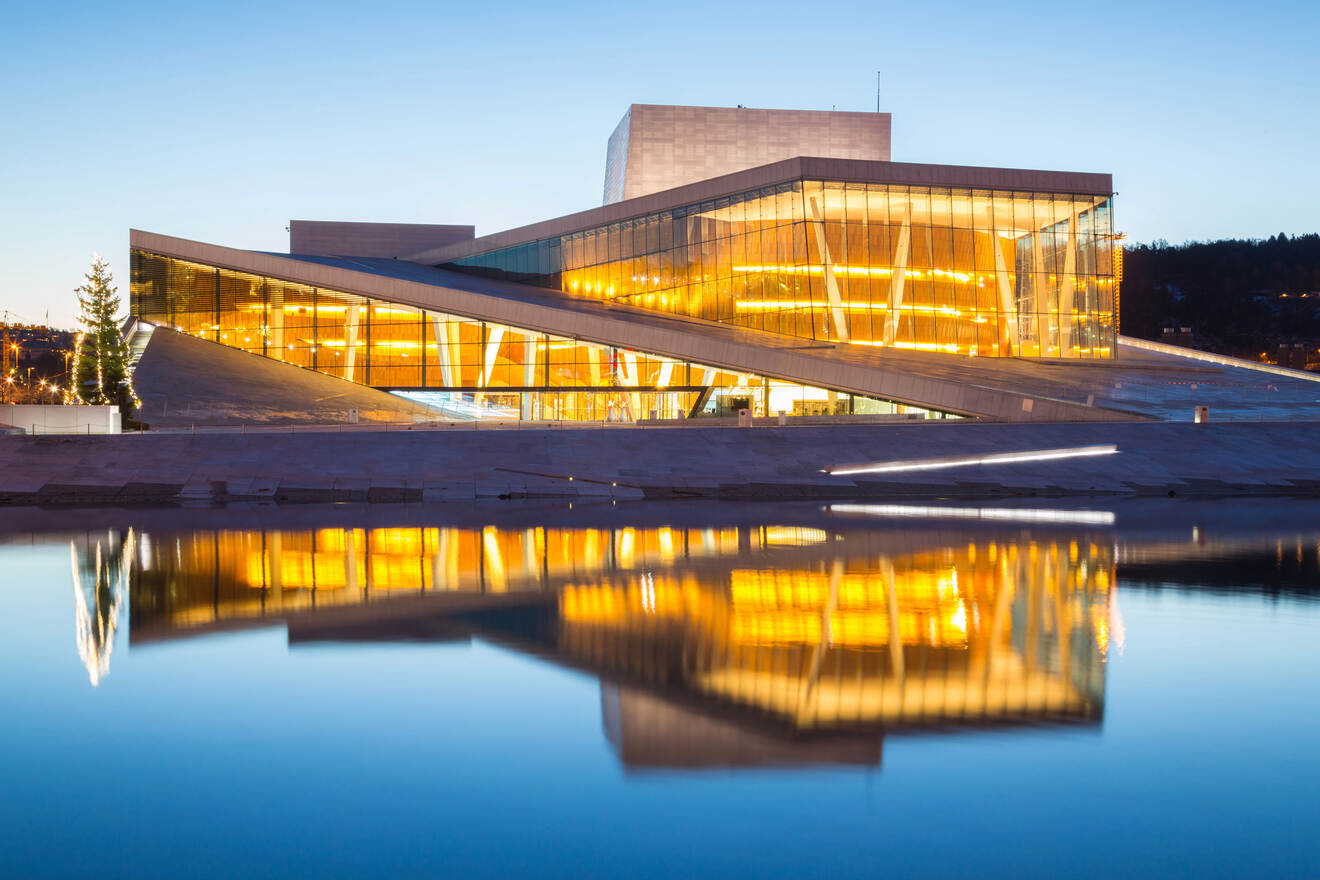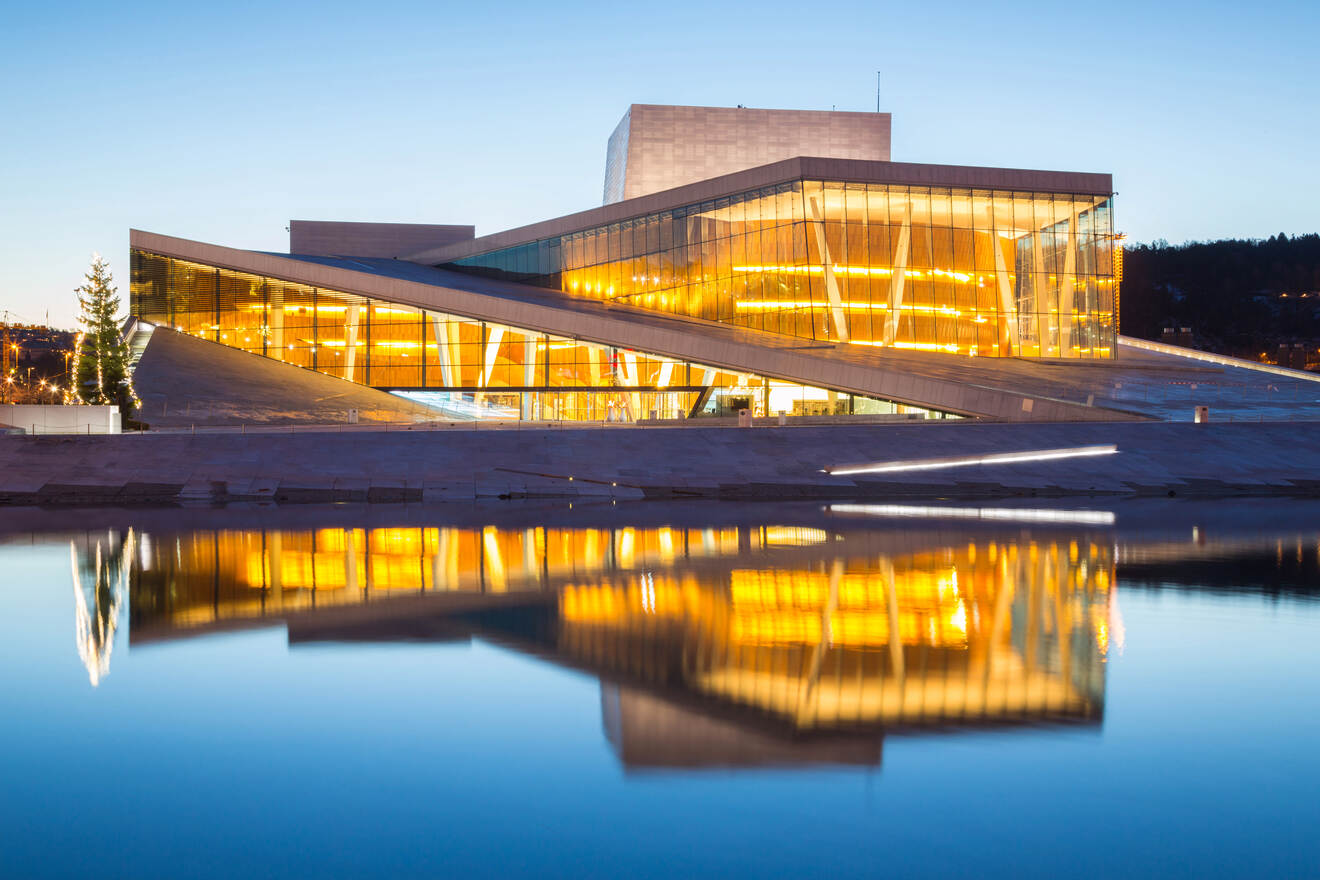 That is it, guys, here you have the complete guide of all the best areas to stay in Oslo, Norway. I hope this will help you to find the best neighborhoods for spending your vacations!
Oslo is a unique Nordic city and it is a perfect destination for everyone. Just make sure to pack warm clothing during the winter months! I hope you found this guide useful and you are already planning your trip to Norway.
PRO TIP: Remember what I told you at the beginning of the post? Book as much in advance as possible, the prices in Scandinavia are not getting any cheaper with time. If you are not sure your trip is taking place, I would just go for something with free cancellation, so that if you find something even better, you can always cancel it.
If you haven't chosen something already, here are my absolute top 2 hotel recommendations in central neighborhoods:
If you're continuing your trip around the nordic countries, make sure to check out my post on Stockholm. Have a great trip, feel free to leave me a comment if you have any questions or found this post helpful for your trip to Norway!
Kate
---
Pin it for later!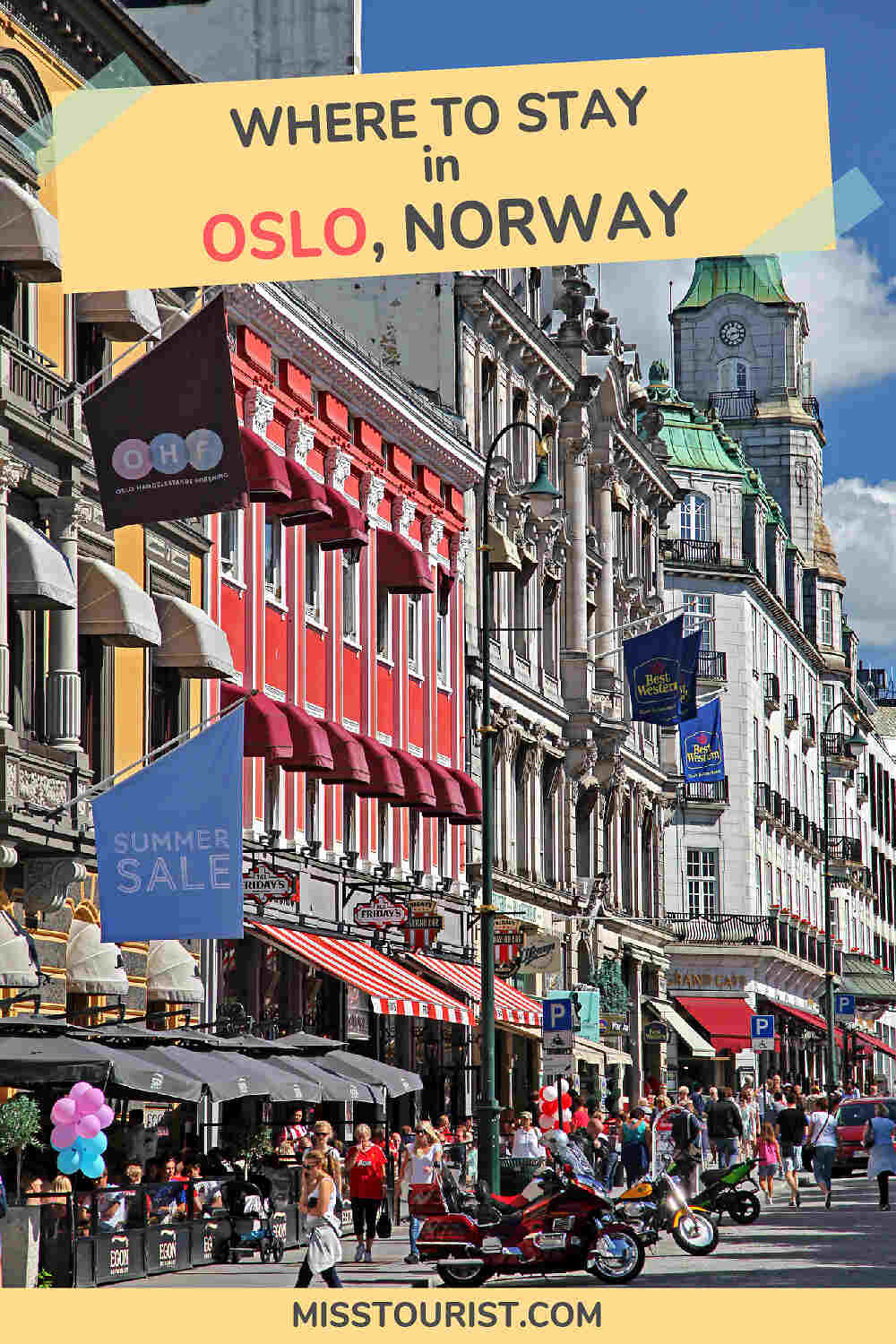 Pin it for later!