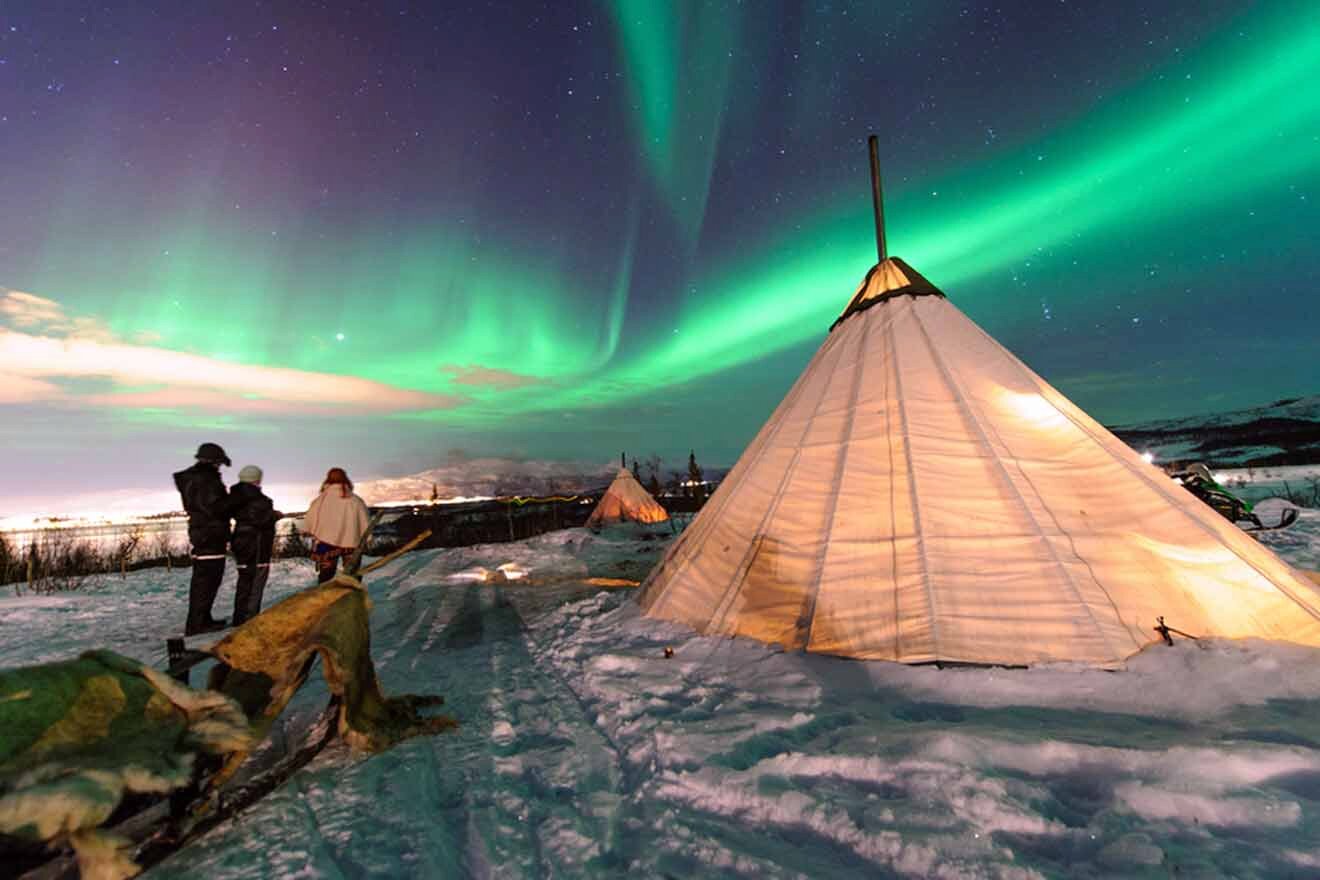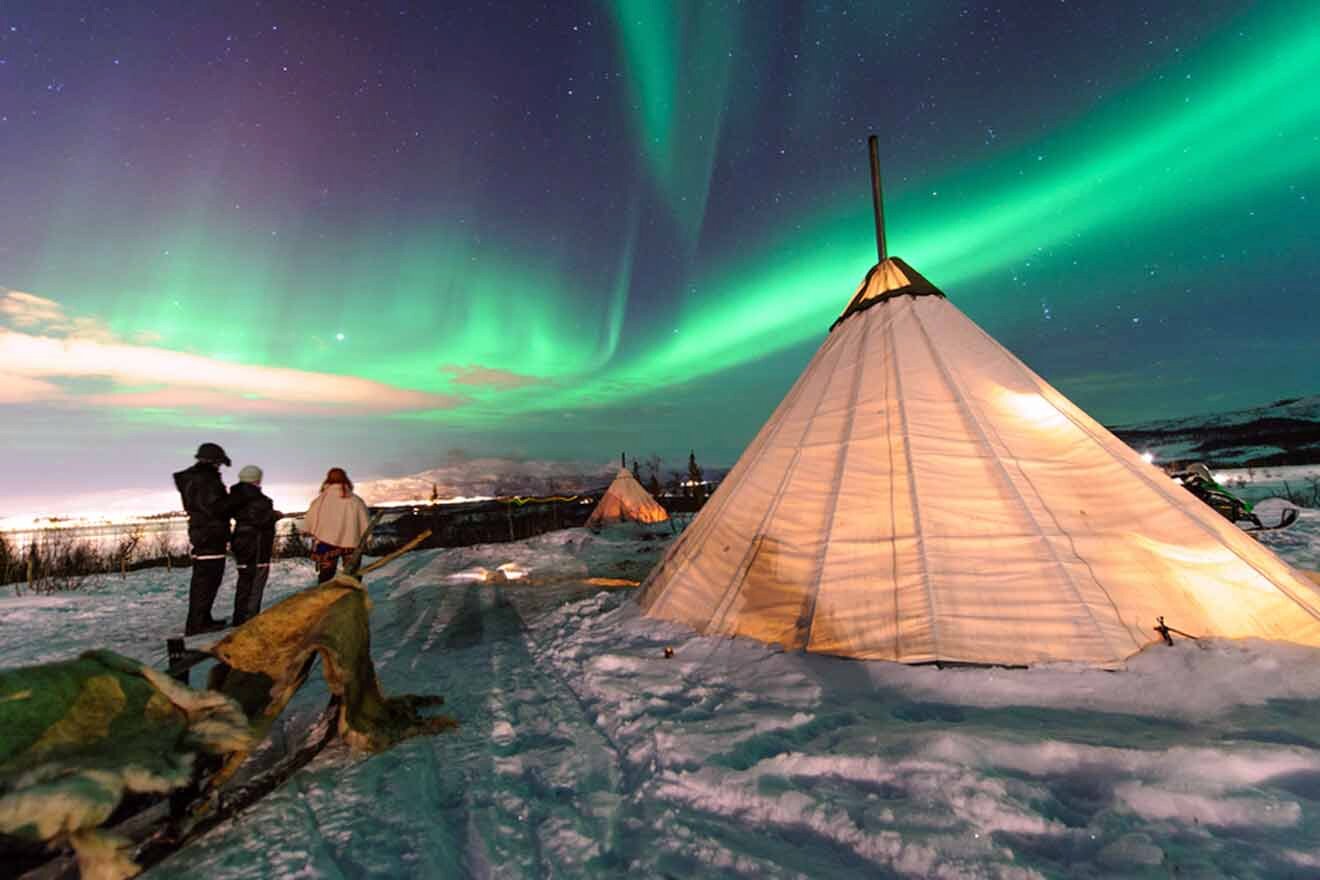 Tromsø Auroras Boreales sights are an experience no nature lover, and a good aesthetic appreciator can't miss. It's a constant reminder of just how amazing Mother Nature truly is and just how lucky we are to have a chance to witness its greatness and beauty.
Northern Lights are a treat for travelers who love winter activities, as the combo tours and packages often offer additional fun activities that completely enrich the trip and the viewing experience. So, I decided to investigate it more intensely, read reviews and find you the best tours you could possibly take.
The result is this long list that is sure to offer you an option to suit your travel needs. There are also some multi-day options for daring explorers who like in-depth tour experiences.
As far as the reservation goes, I feel like there is no need to emphasize how popular the Northern Lights trips are among travelers. The spots are always sure to fill out quickly. So, make sure to book in advance!
Let's start!
If you are in a hurry
Here are the best Northern Lights tours from Tromsø:
1. Take a Tromsø Northern Lights tour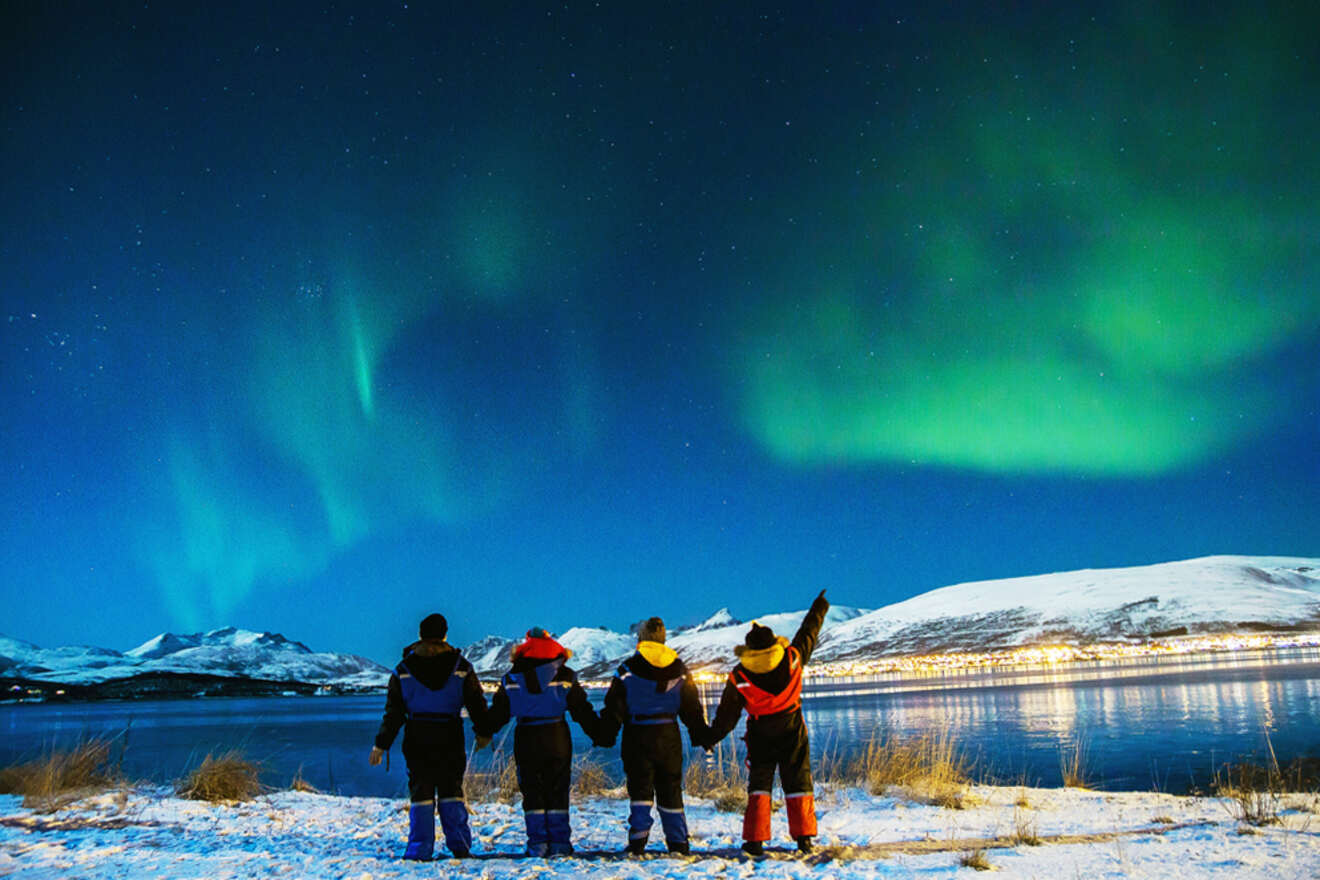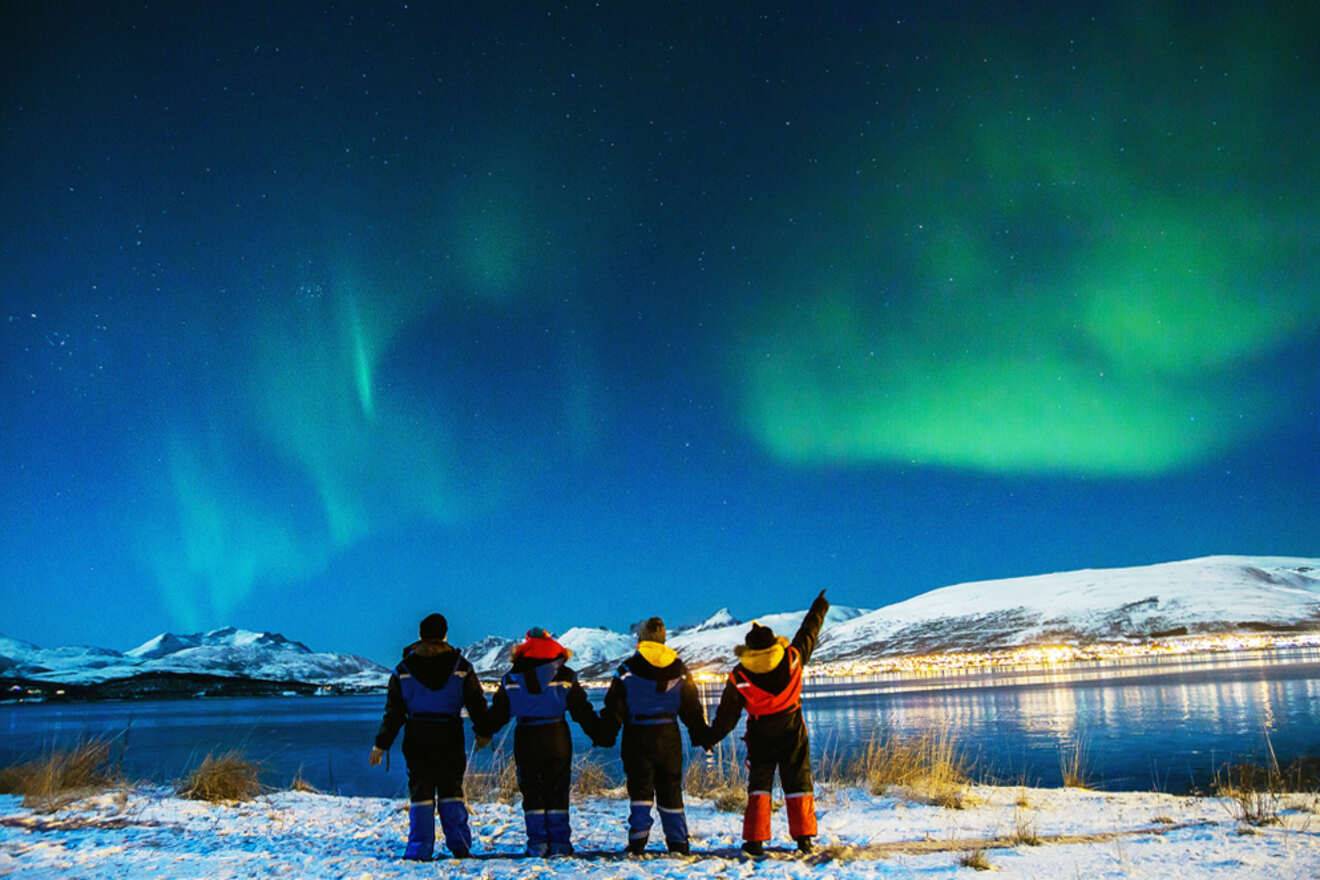 Duration: 5 to 9 hours
Price: from €17
Why you should take it: the most popular aurora borealis tour
If you want to discover Northern Lights dancing from the Tromsø region in Northern Norway, this small group tour for up to 15 travelers is the way to go! Set off on a 7-hour trip from Tromsø with a guide across the Finnish border in search of the Aurora Borealis.
You'll witness bright lights of the incredible natural phenomenon with thermal suits provided as part of the tour. Once you find the best location, they'll give you tips for taking photographs and snapping some shots as souvenirs! You won't have to struggle with getting the right camera settings for your Aurora photography since the pros are there to help you on this guided tour.
After that, settle down around a campfire with a warm meal – it doesn't get any better than that. It's easy to see why this Tromsø Northern Lights tour is the most popular one.
2. Enjoy an all-inclusive Tromsø Aurora tour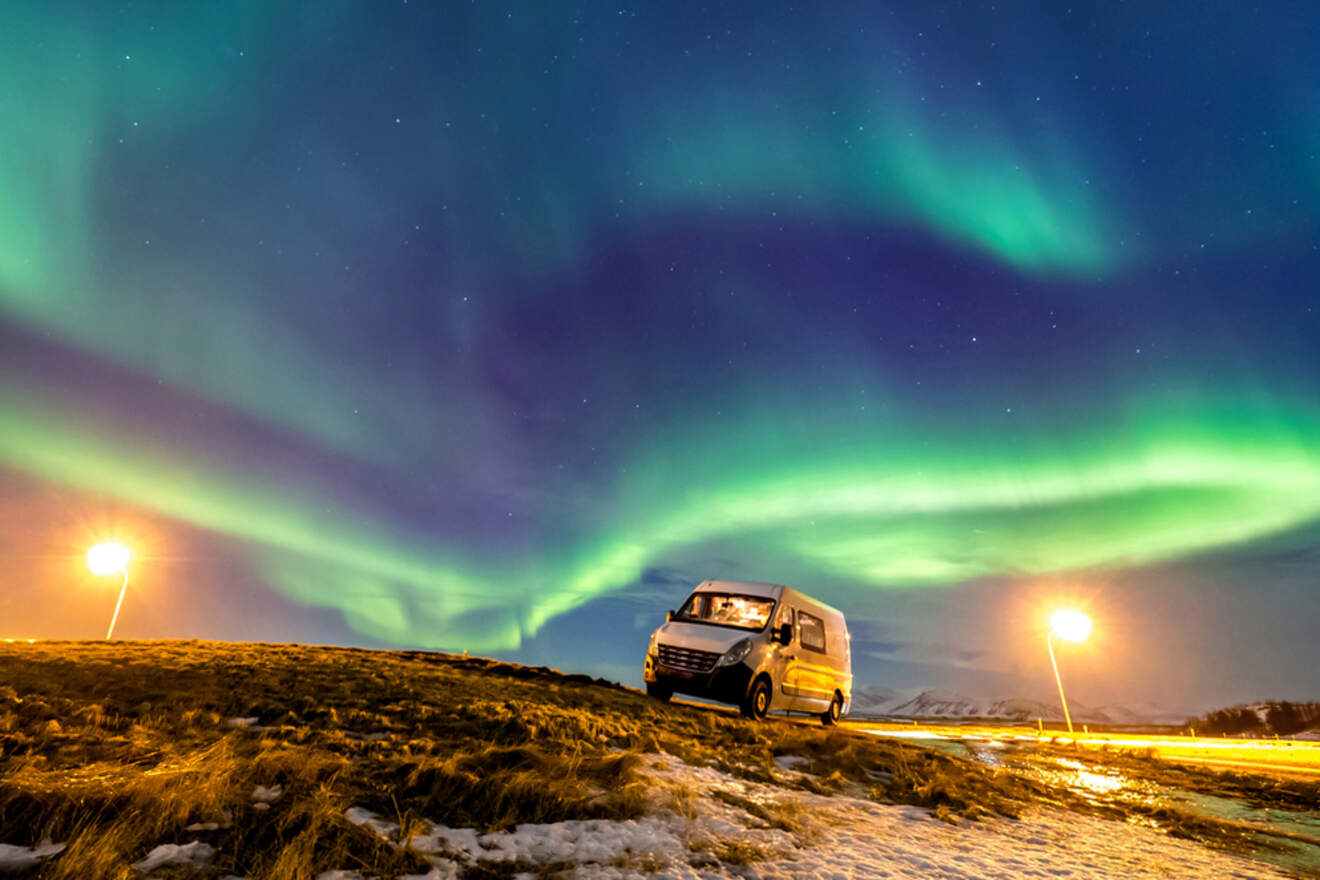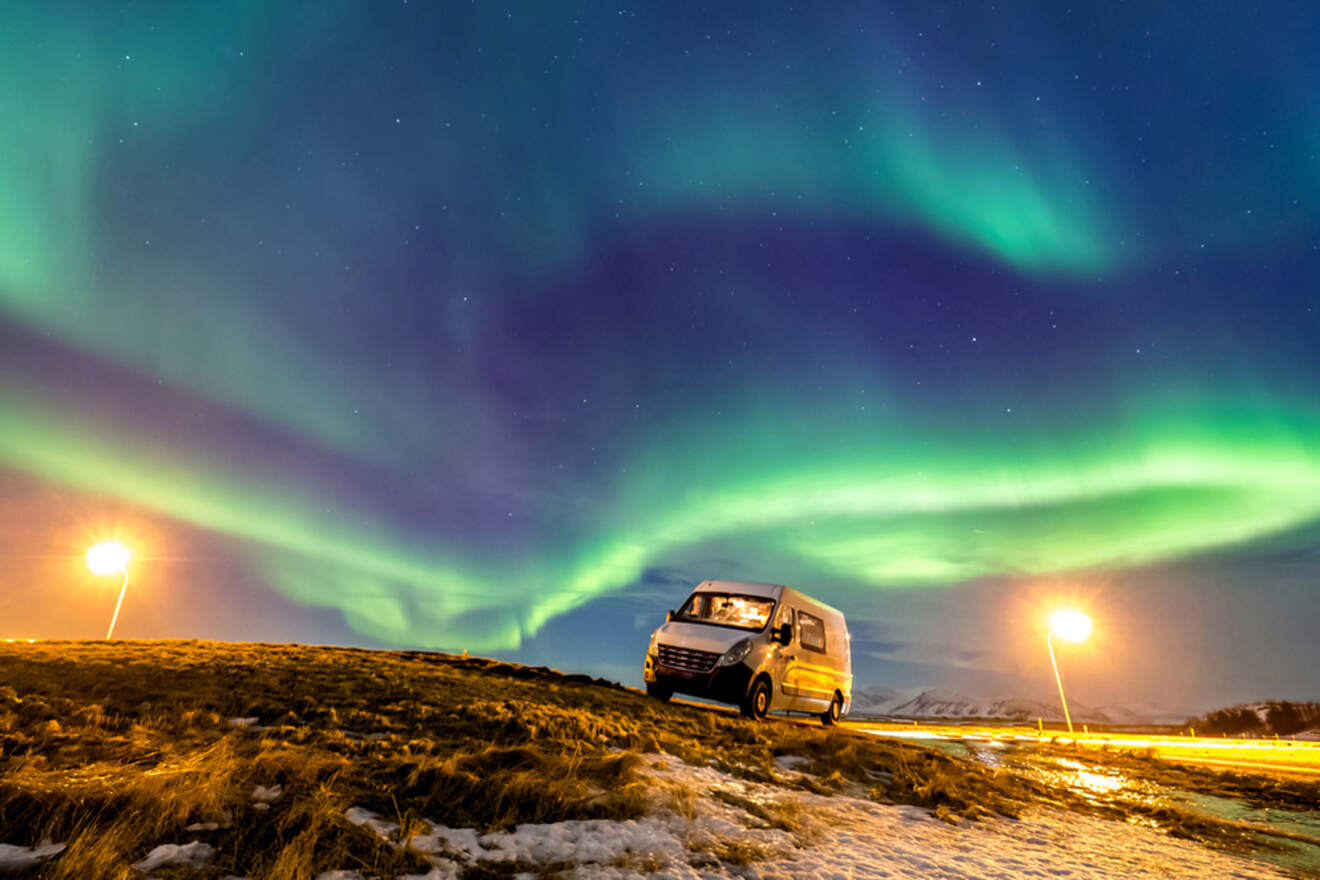 Duration: 7 hours
Price: from €123
Why you should take it: top bus tour
If you visit Tromsø, it's not hard to notice the light pollution and bustling, sometimes overwhelming city lights, even from the comfort of your hotel room. This bus tour, however, will take you away from all that and embark you on an unforgettable journey to see the Northern Lights.
You'll wander around looking for the heavenly sparks that light up the completely dark skies. Locals will tell you tall tales of what this mysterious phenomenon represents and share some theories on why it may be happening scientifically. The tour will take about 7 hours, but they are well worth it as the trip is full of fun activities.
You can boost your energy with warm drinks such as hot chocolate, some delicious snacks, and sumptuous stew made locally. Roast sweet marshmallows with friends over a smoky bonfire. The tour provides you with thermal winter suits and roundtrip transportation. This trip, however, isn't wheelchair-accessible.
3. See the Northern Lights dance on a combo tour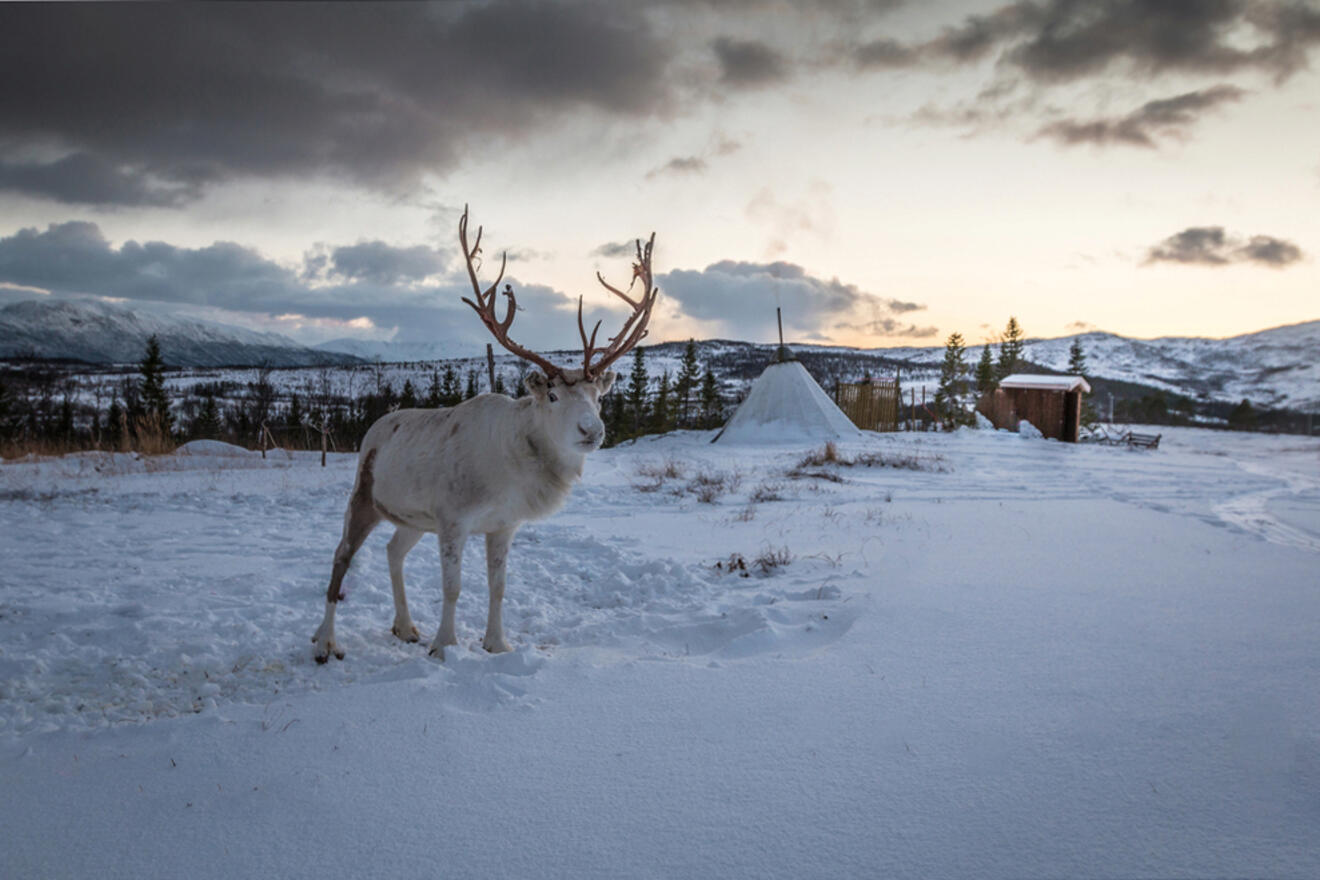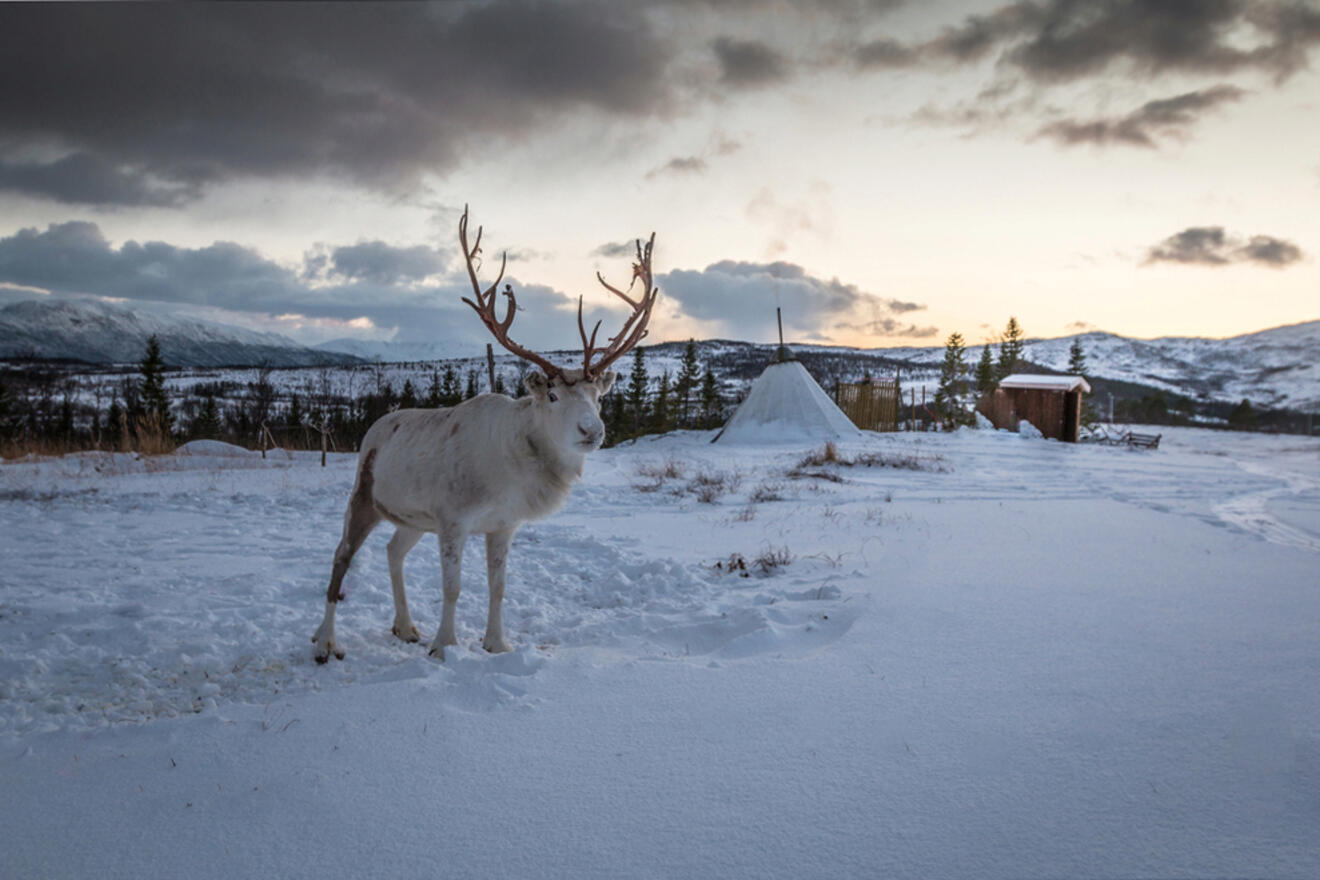 Duration: 4.5 hours
Price: from €150
Why you should take it: awesome combo trip
Dog sledding is one of the most popular winter activities, and this tour will give you an opportunity to enjoy it together with seeing the Northern Lights. You'll also learn about the Sami culture while you taste your buds with the very traditional dishes from the area. The dish will be cooked over the open fire. Local tour guides will accompany you, so you'll get an in-depth experience!
Enjoy a cup of warm tea, coffee, or hot chocolate while cozying up around the campfire! You'll delight your taste buds further with a 3-course meal, including bidos cooked over an open fire. This scrumptious Sami stew is traditionally served at nuptials and other special occasions, and now it's being prepared just for you!
One tip tho; make sure to wear warm clothing.
4. Sail through the Northern Lights on a cruise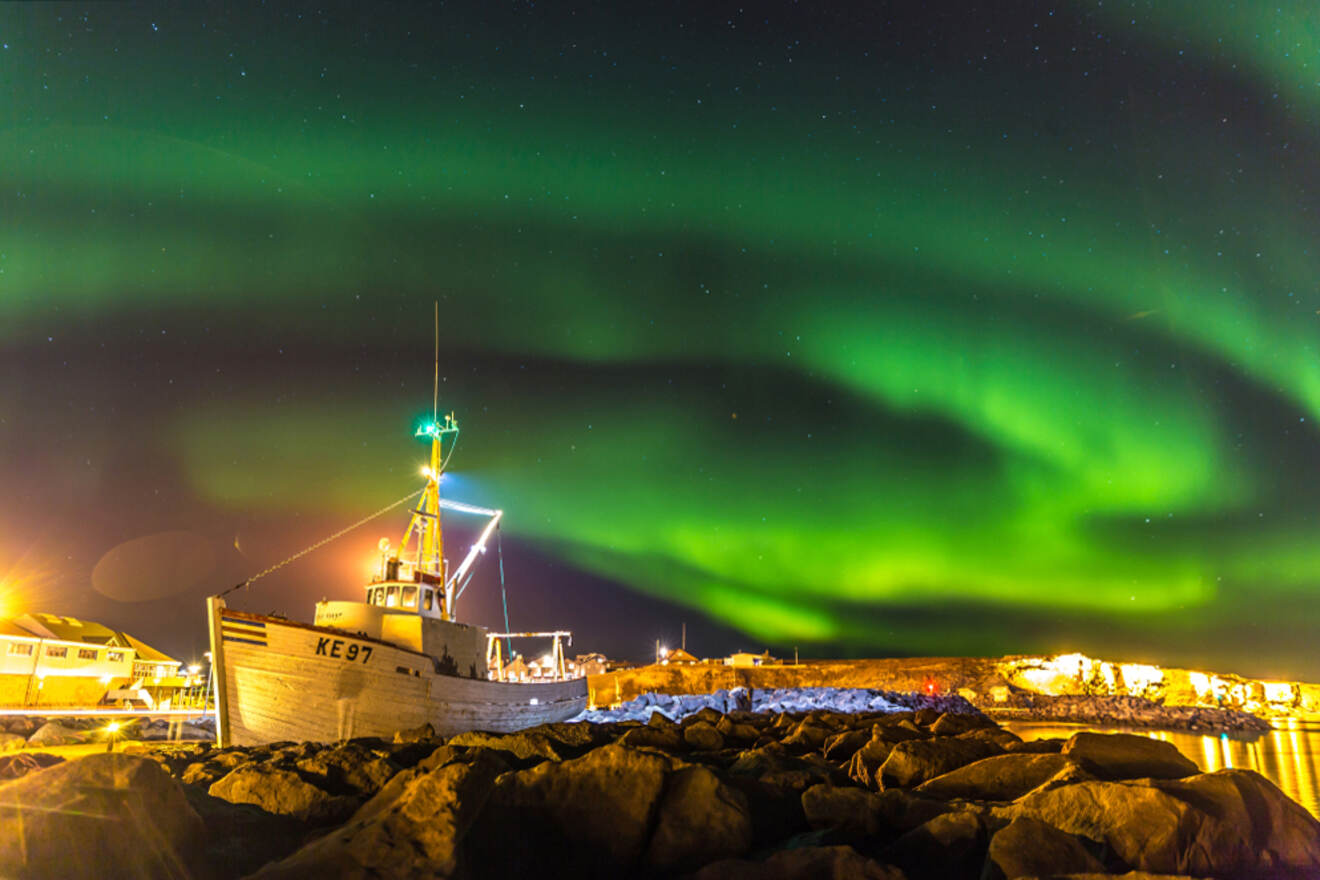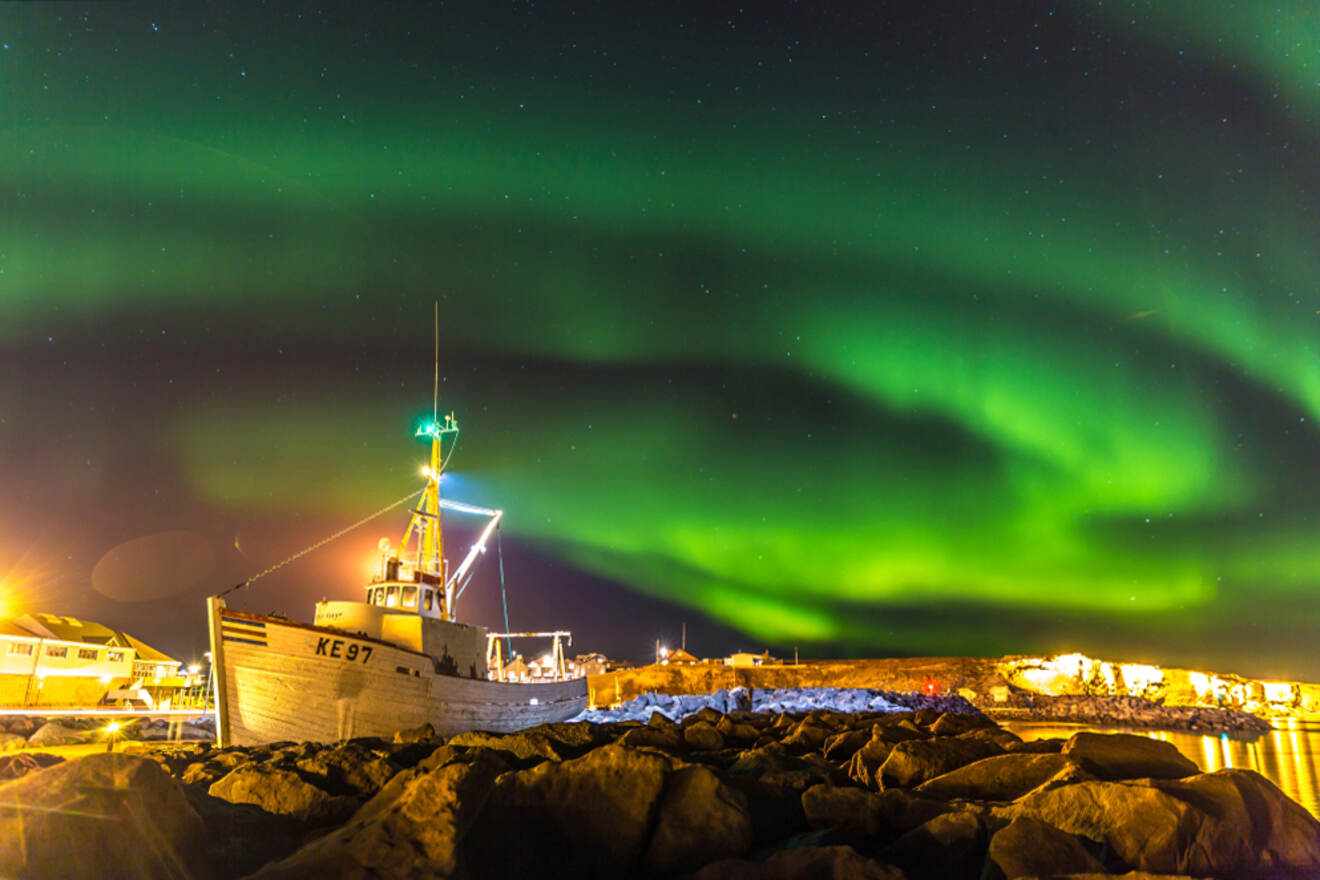 Duration: 4 hours
Price: from €100
Why you should take it: tour on the boat with a photo guide
Boat trips are one of the most popular Tromsø Aurora tours, and you should definitely embark on at least one when you're visiting Tromsø. One more great addition to the tour is that it is photography-themed.
Soak up all that your cozy ride at sea has to offer with a stroll along its upper deck or enjoying the interior comforts of the cabin – it's all yours for the taking. As you set sail, the knowledgeable guide will show you around, so don't hesitate to ask away.
Enjoy the stunning tales of the Northern Lights whilst savoring your cup of tea or coffee in the luxurious lounge. Explore the grand outer deck to speak freely with nature, or stay indoors for a calmer atmosphere.
One important thing is checking the weather forecast because clear skies and better weather are needed for seeing the auroras with the naked eye.
5. Embark on an epic Aurora hunt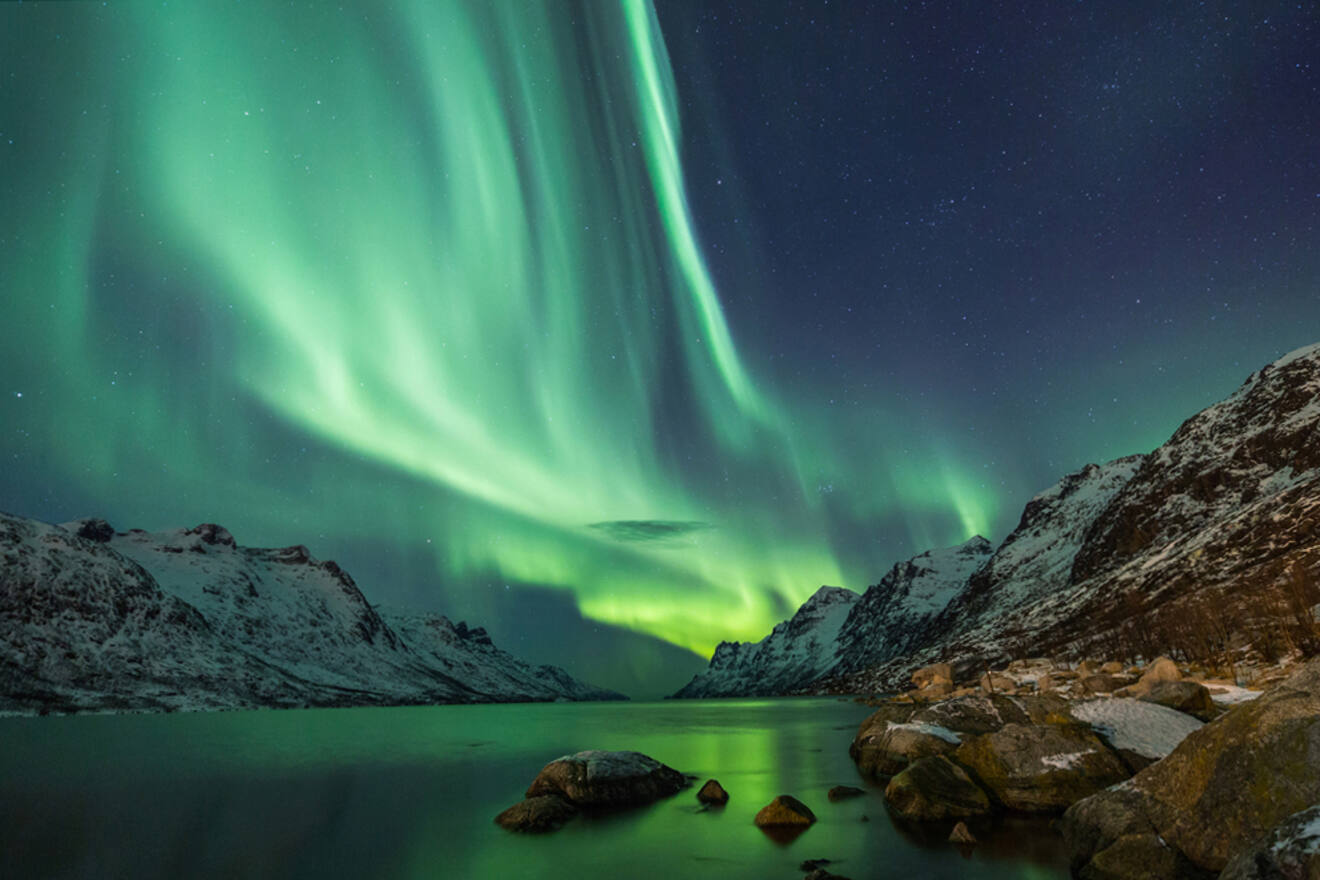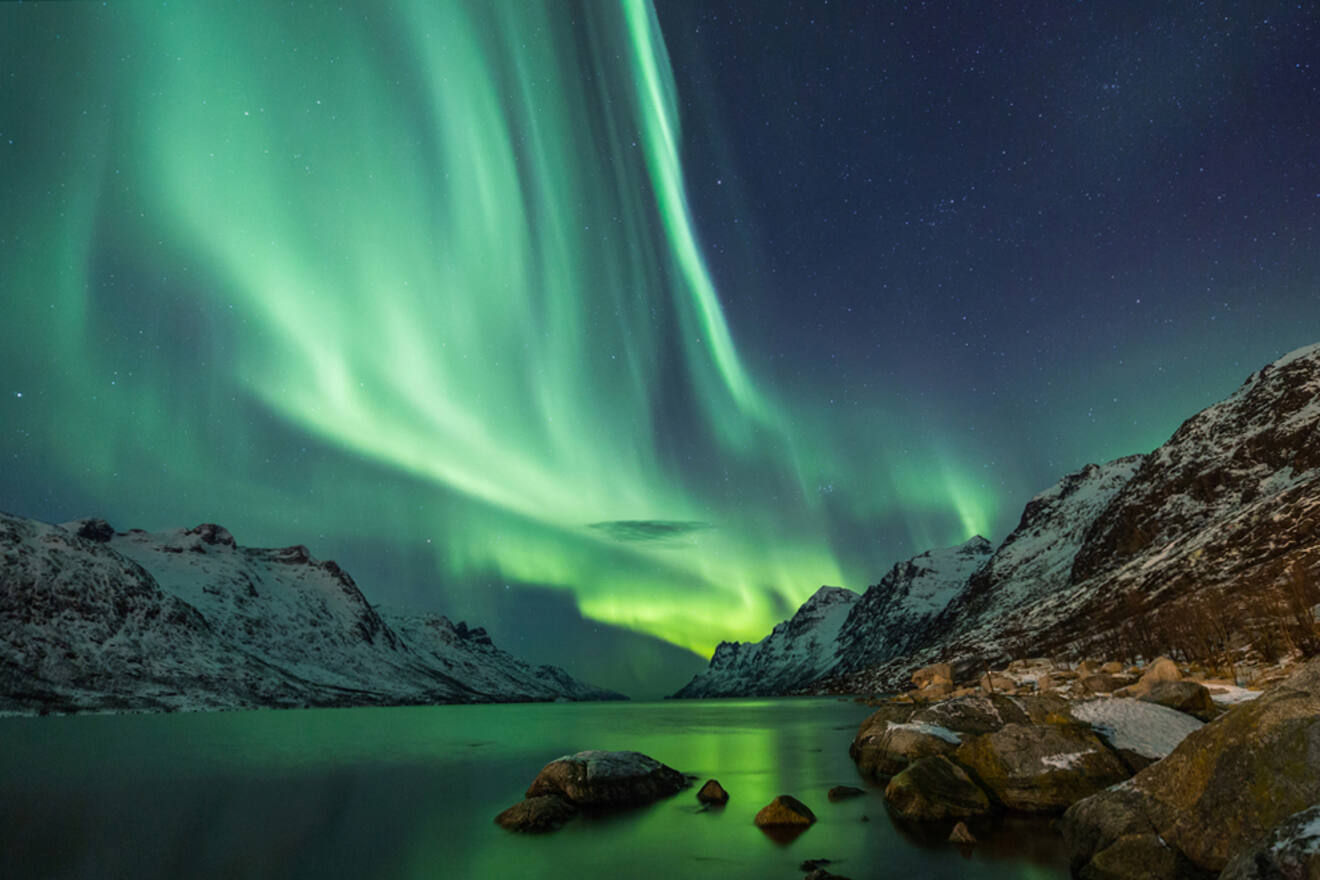 Duration: 6 to 7 hours
Price: from €127
Why you should take it: for curious nature lovers
On this tour, you can discover the Arctic Circle and experience a hunt for Northern Lights. It will whisk you away from the crowded city center, so you can marvel at mountains, fjords, and valleys.
Don't worry, tour operators will provide you with appropriate attire to stay warm and fuel up with snacks and hot drinks throughout your journey!
The tour has small group sizes, which will automatically give you more flexibility. You can go see the Northern Lights near Finland's or Sweden's borders if conditions favor it. Fingers crossed, you'll get to see the Northern Light during the polar night. The tour guide will be there to seize the moment and take Insta-worthy pictures of you.
This tour option is perfect for daring adventurers who want to see the Aurora Borealis from different spots. You'll get to share that unique experience with up to 21 fellow adventurers.
6. Get free pro photos and see the Aurora Borealis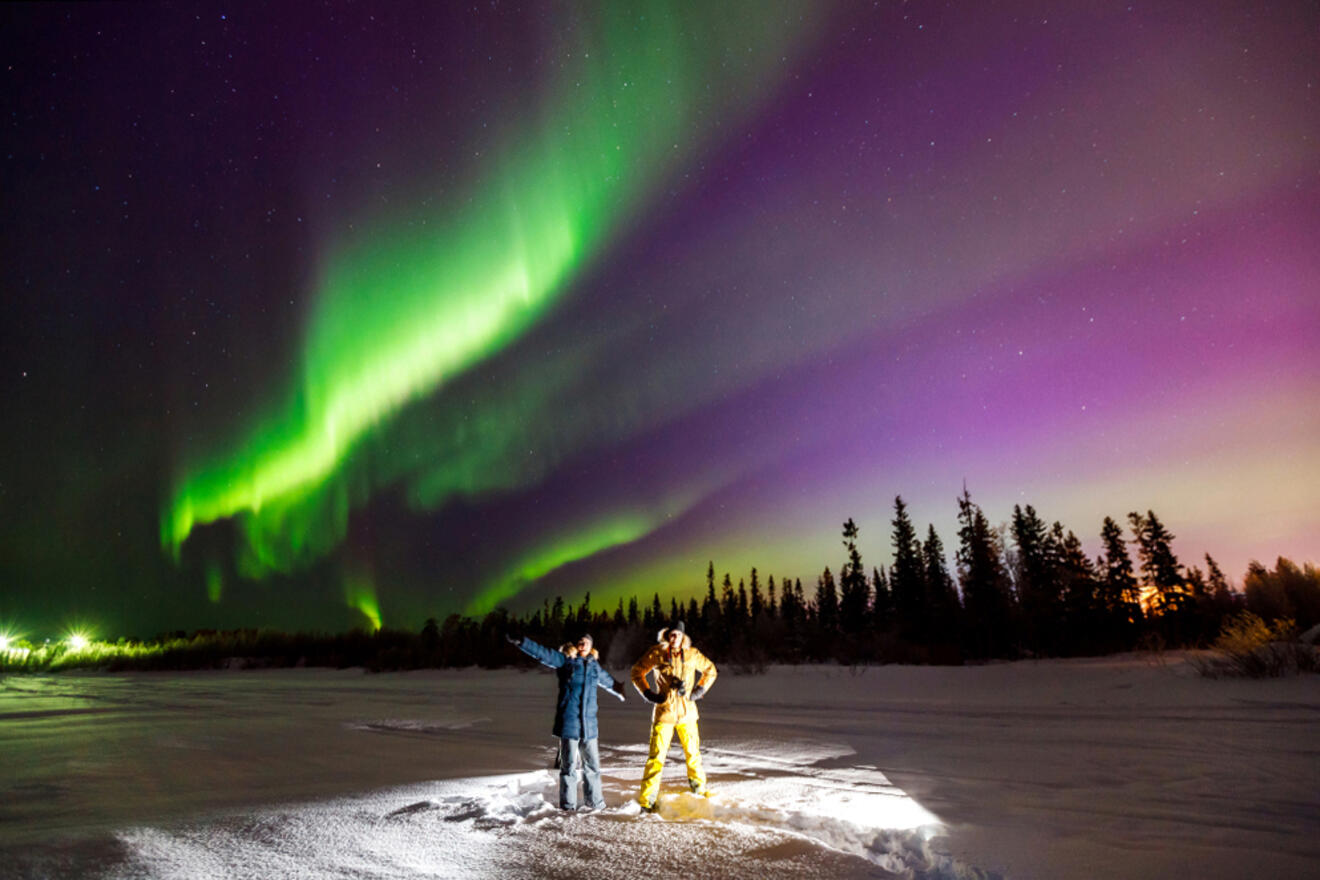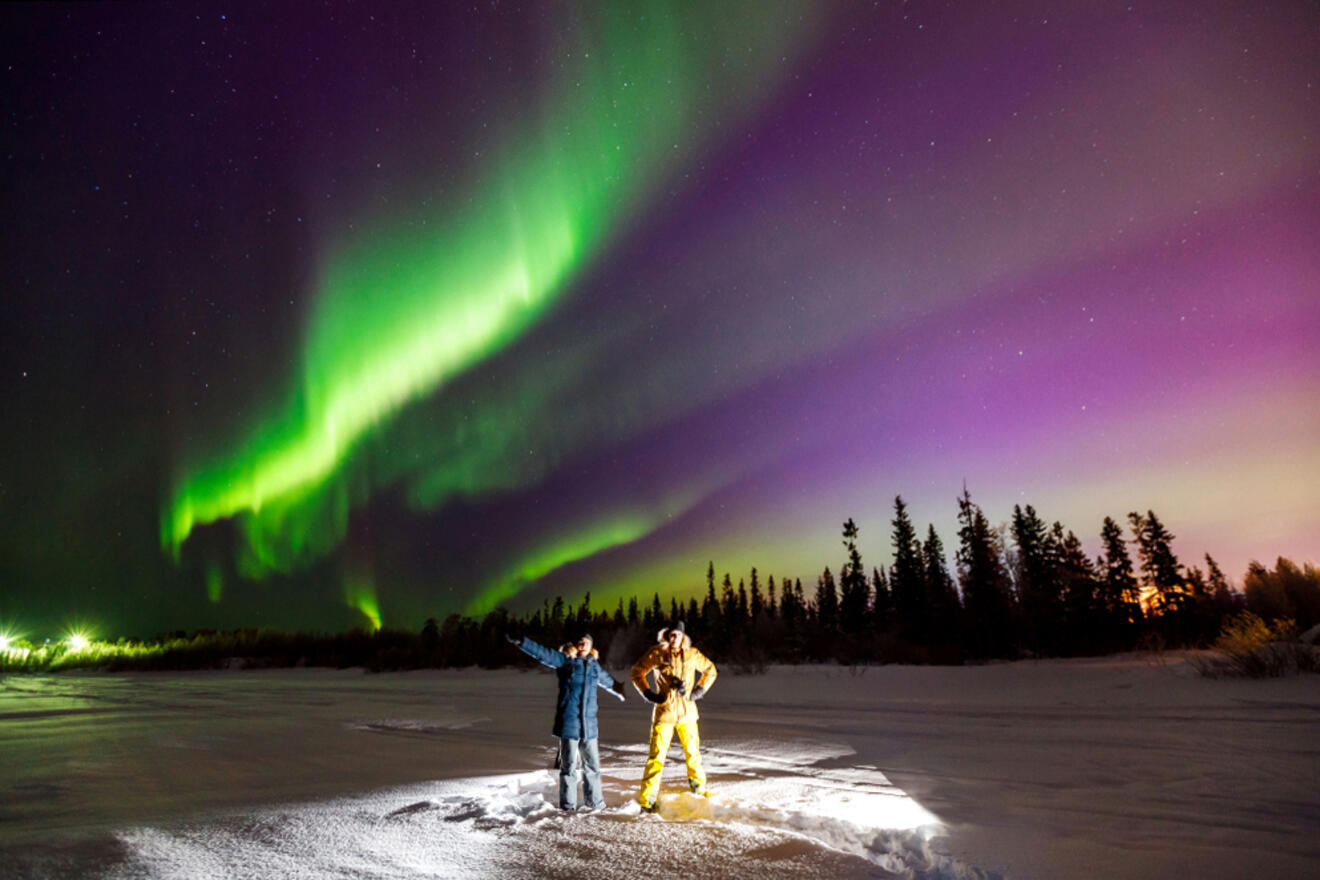 Duration: 5 hours
Price: from €120
Why you should take it: offers hotel pickup and fun Aurora chase
This is an exclusive chase as the Auroras change location every time, so you'll have fun trying to catch it. Hopefully, you'll also see the full moon in the clear sky for an all-encompassing experience.
Let your guide lend a hand with the camera settings, and you take stunning shots of these lights in no time. You'll also enjoy a hot cuppa and some cookies as you watch the sky, waiting for them to soar past. Experience a truly unique pursuit with only 16 of your fellow adventurers!
As mentioned earlier, warm clothes are essential, you don't wanna feel chilly and miss the experience. What's also really awesome about this trip is that it offers a hotel pickup from the central hotels, so you won't only get fun exploration, high-resolution photos, and a guide, but you'll also get the ultimate comfort.
7. Hunt down the Northern Lights sights on a minibus trip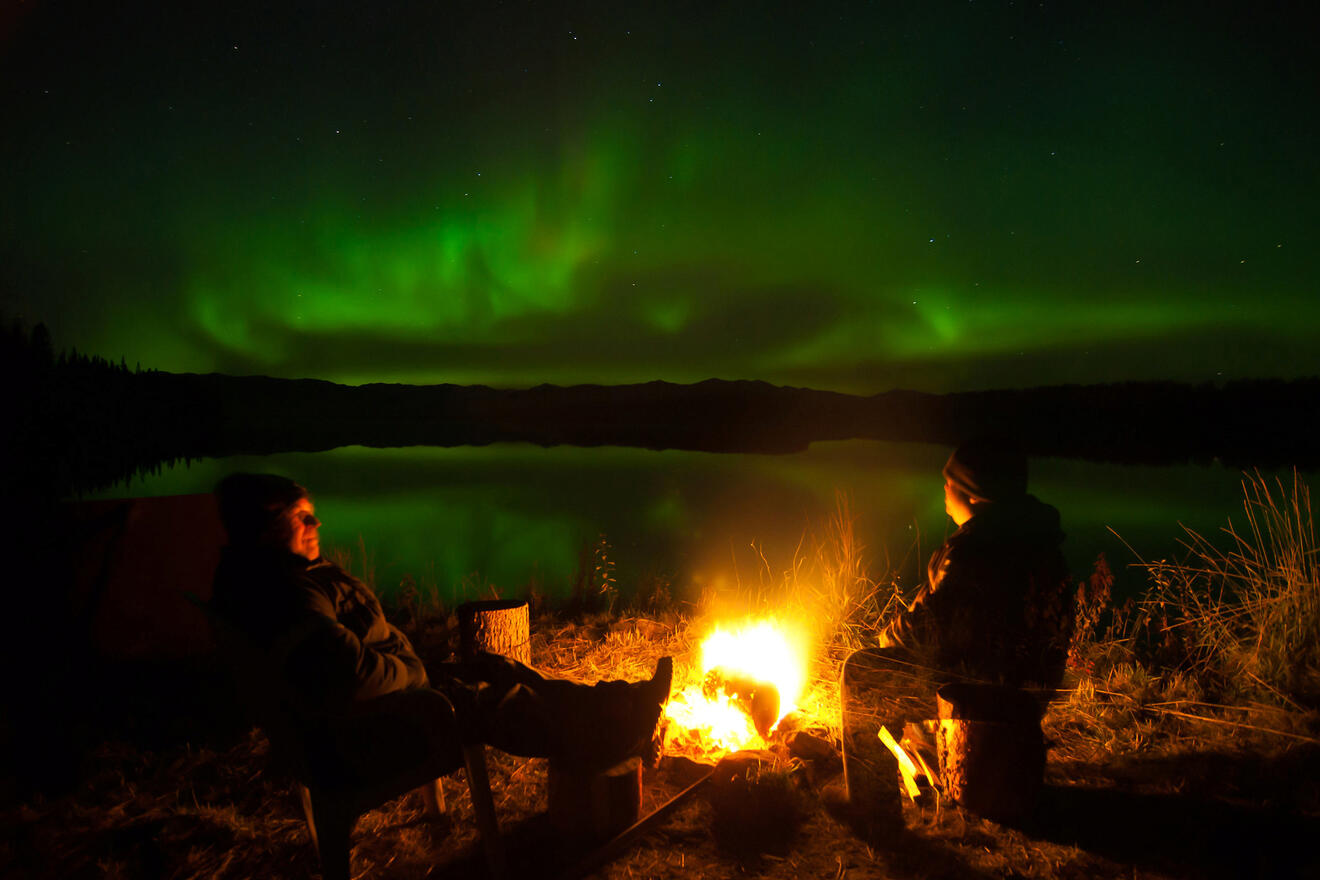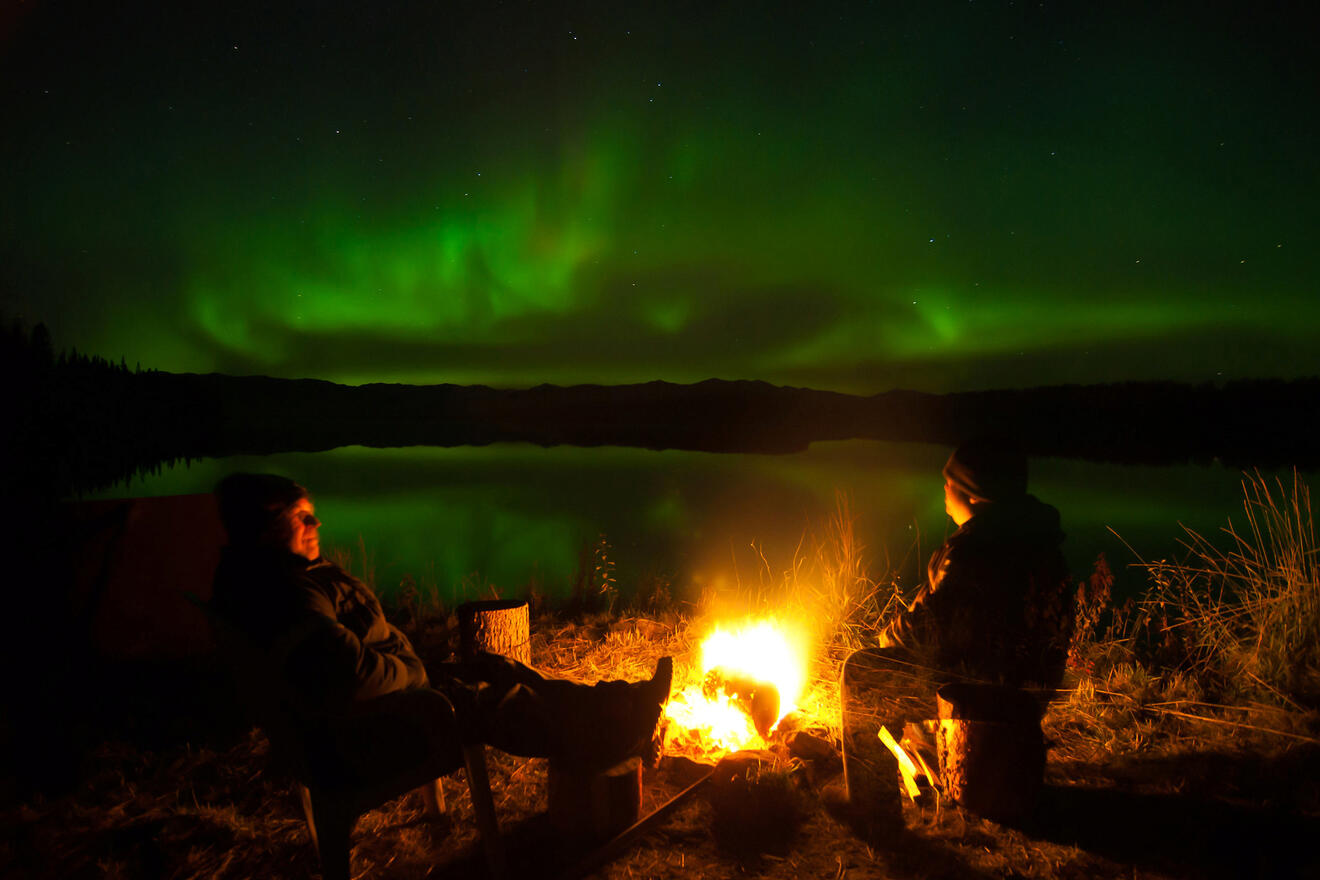 Duration: 6.5 hours
Price: from €140
Why you should take it: a truly romantic atmosphere
Although the Tromsø area is popular for activities such as ice fishing and whale-watching, its number 1 spectacle is and always will be a Northern Lights one, that can be seen even during the darkest time. And with this tour, you can up the odds of seeing the domineering Northern Lights with a guide who's tallied over 1,000 sightings of the jaw-dropping spectacle!
This tour is the perfect choice for romantics who like intimate atmospheres and making sweet memories rather than paying for high-luxury experiences.
Sitting around the campfire, munching on knekkebrød and gulrotcake, with a steaming mug of something hot to keep your hands warm while dressed in a snug thermal suit. What could be cozier? But if it's still too chilly for you outside, hop on the heated bus instead.
Still, I recommend that you check out the Aurora forecast so that you know exactly what to expect.
8. Dare to join a reindeer feeding tour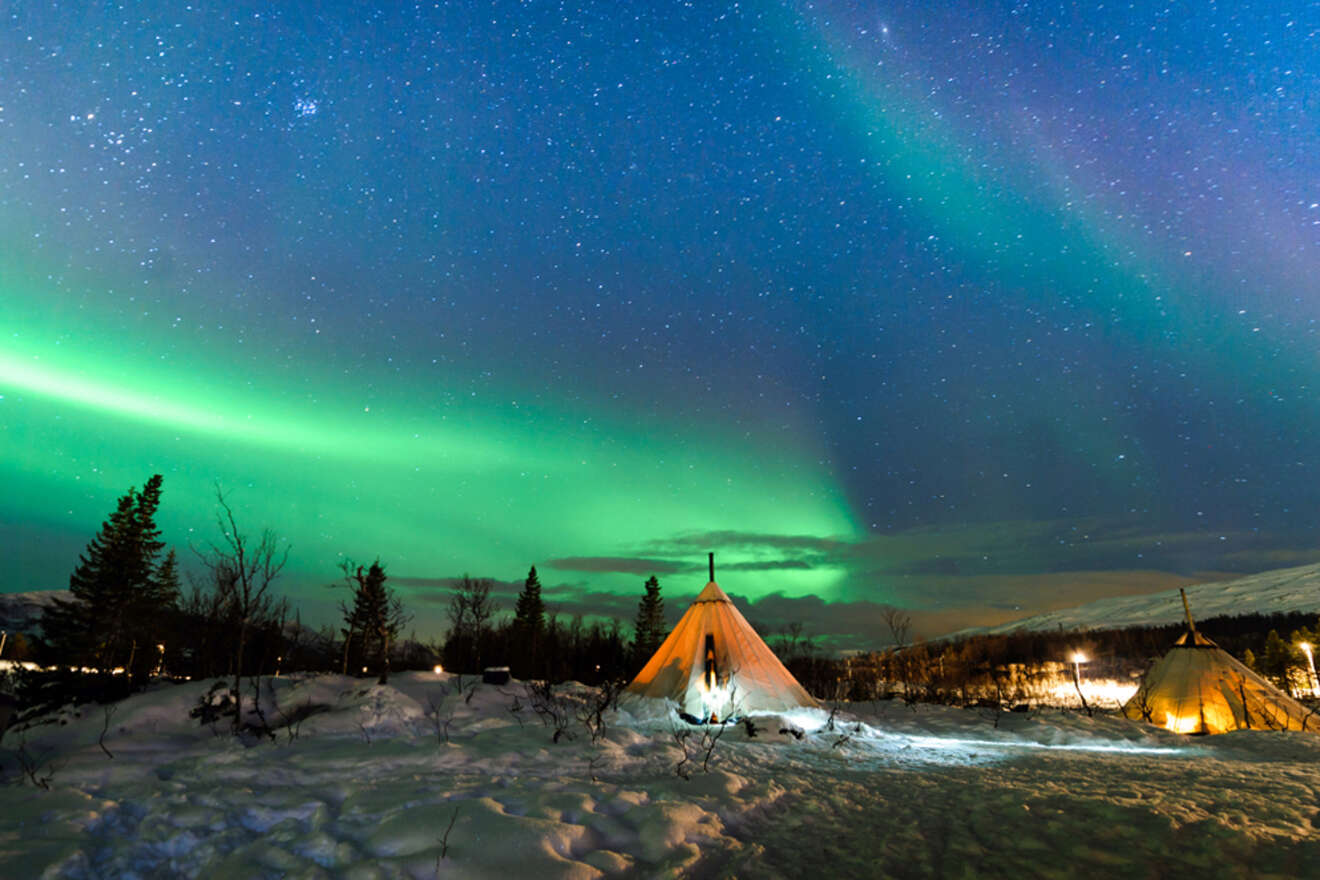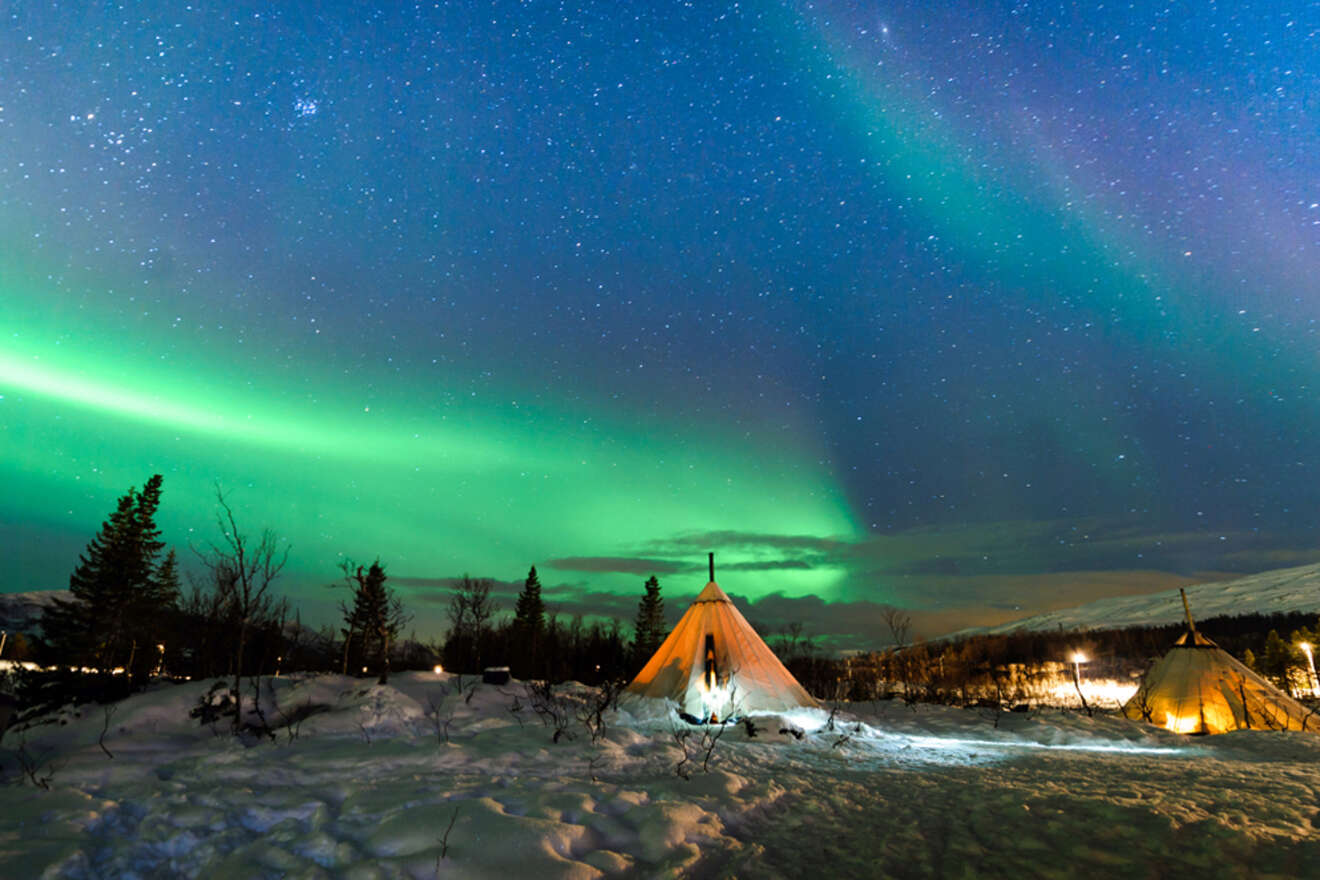 Duration: 4.5 hours
Price: from €144
Why you should take it: feed wild reindeer and stay in the transitional lavuu
Embark on a journey to discover the traditional Sami way of life while spending the day away from the Tromsø city centre! It's a great tour to treat yourself to a truly unique experience by having dinner with reindeer herders and learning about the culture, beliefs, and local stories. Not only will you get up close and personal with these animals, but you also have an opportunity to feed them.
Feel the thrill as you feed around 300 wild reindeer, with some so daring they risk coming close enough to eat from your very hand.
You can also cup inside a lavuu (a traditional Sami tent) illuminated by candlelight while sipping hot tea, coffee, or cocoa over an open fire. It's a special experience, and you'll feel like you're staying in the 5-star ice hotel or Tromsø Ice Domes.
There is also a dinner composed of bidos, an ancient Sami stew.
9. Spend a magical time on the boat tour
Duration: 3 hours
Price: from €136
Why you should take it: see the Northern Lights from the electric catamaran
On this tour, you can soak up the incredible Arctic night from a hybrid-electric catamaran, enjoying the scenery. Cozy and warm inside, you'll get to cruise around magical Tromsø island with snow-capped mountains shimmering through frosty waters.
Witness the journey below the surface as the crew launches an underwater drone into the deep sea abyss where sky can reflect its sights. Mirroring points of light above, like glassy scales. If you're fortunate enough, you might catch the heavenly Aurora Borealis!
Finally, savor the Arctic's atmosphere and get ready to feast on some amazing tapas. This local cuisine is prepared with fresh ingredients that truly blend modern-style creations with traditional dishes, it's such a treat! Of course, there will be a tour guide throughout the whole journey to tell you everything you're interested in learning about the local culture.
10. See the adorable huskies & witness Aurora Borealis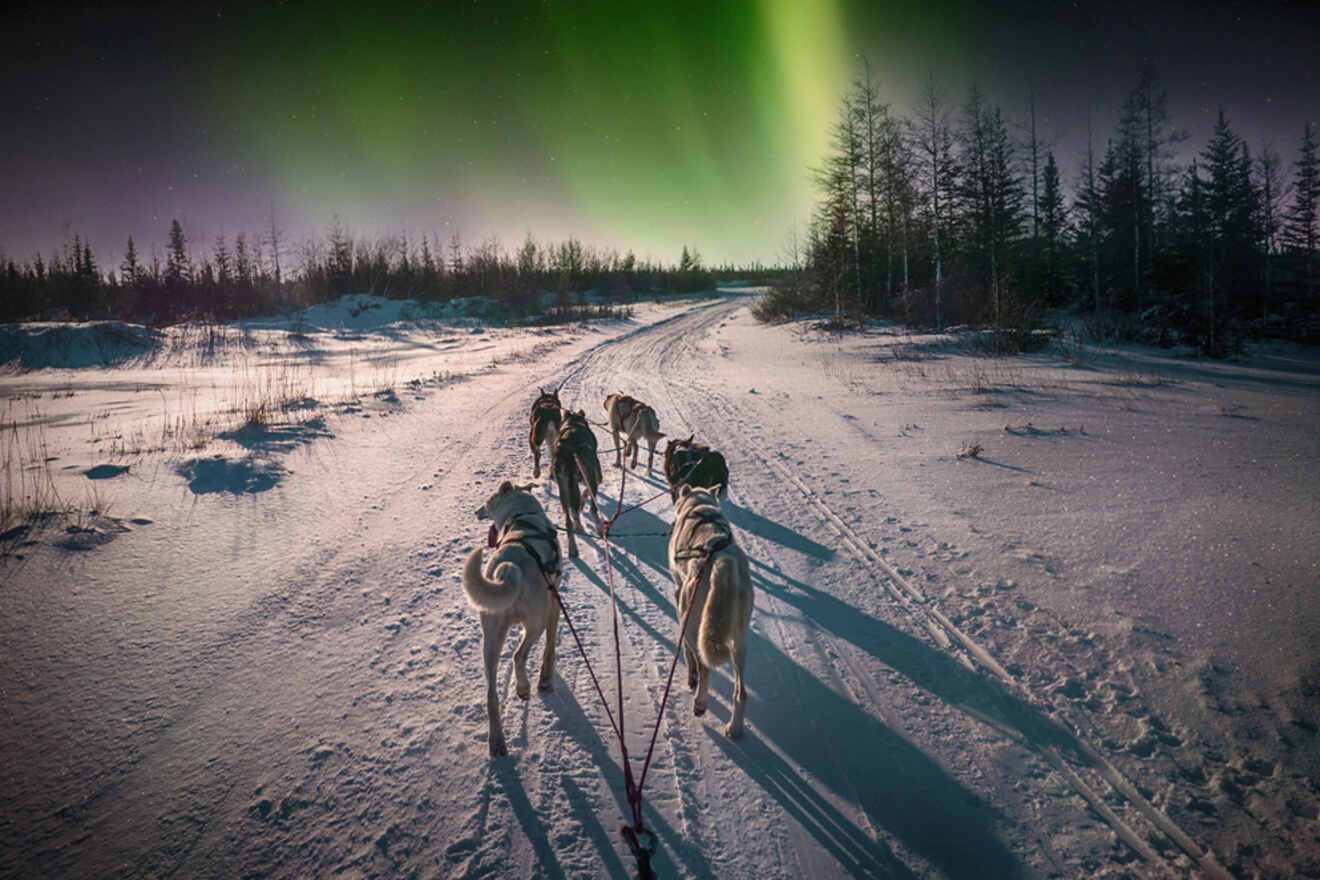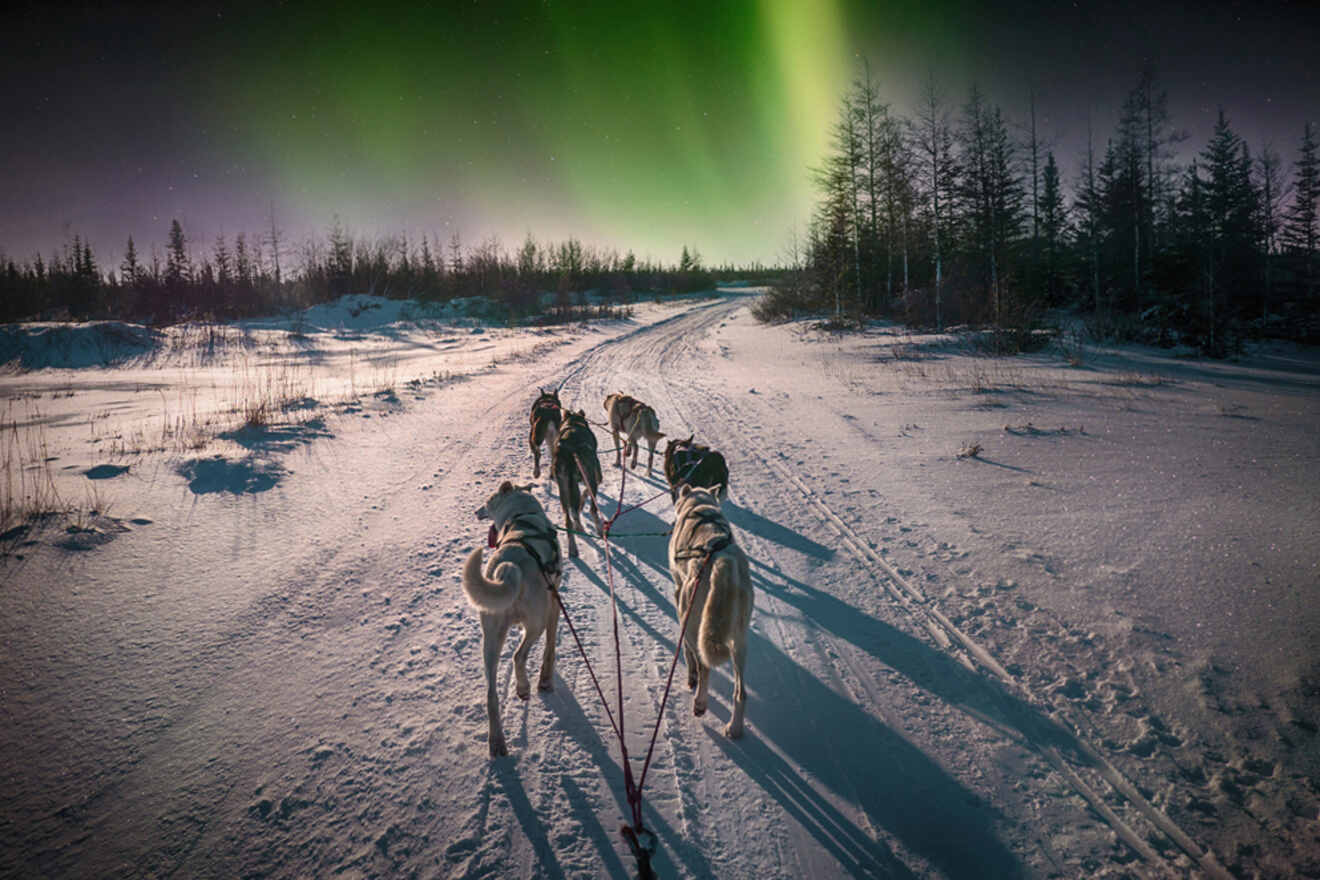 Duration: 4.5 hours
Price: from €110
Why you should take it:
Escape the hustle and bustle of everyday life and explore Norway's countryside on this all-inclusive Aurora Borealis experience. This tour is a special treat for animal lovers.
You'll take a trip from Tromsø to cozy campgrounds in the dark corners of Norway, where you can take in natural beauty untouched by city lights. Watch for magical displays dancing across the night sky while warming up to dinner (tasty local fish) around a crackling campfire. There are veggie options also available, so it's quite a convenient tour.
But the real highlight is the visit to friendly huskies as they curl up near your feet, then bundle into included snow overalls before hopping back onto the bus. It's important to note, however, that this tour doesn't offer the dog sledding option or the Aurora chasing, so you'll have the opportunity to see the Northern Lights only from one location.
11. Go on a sámi reindeer sledding trip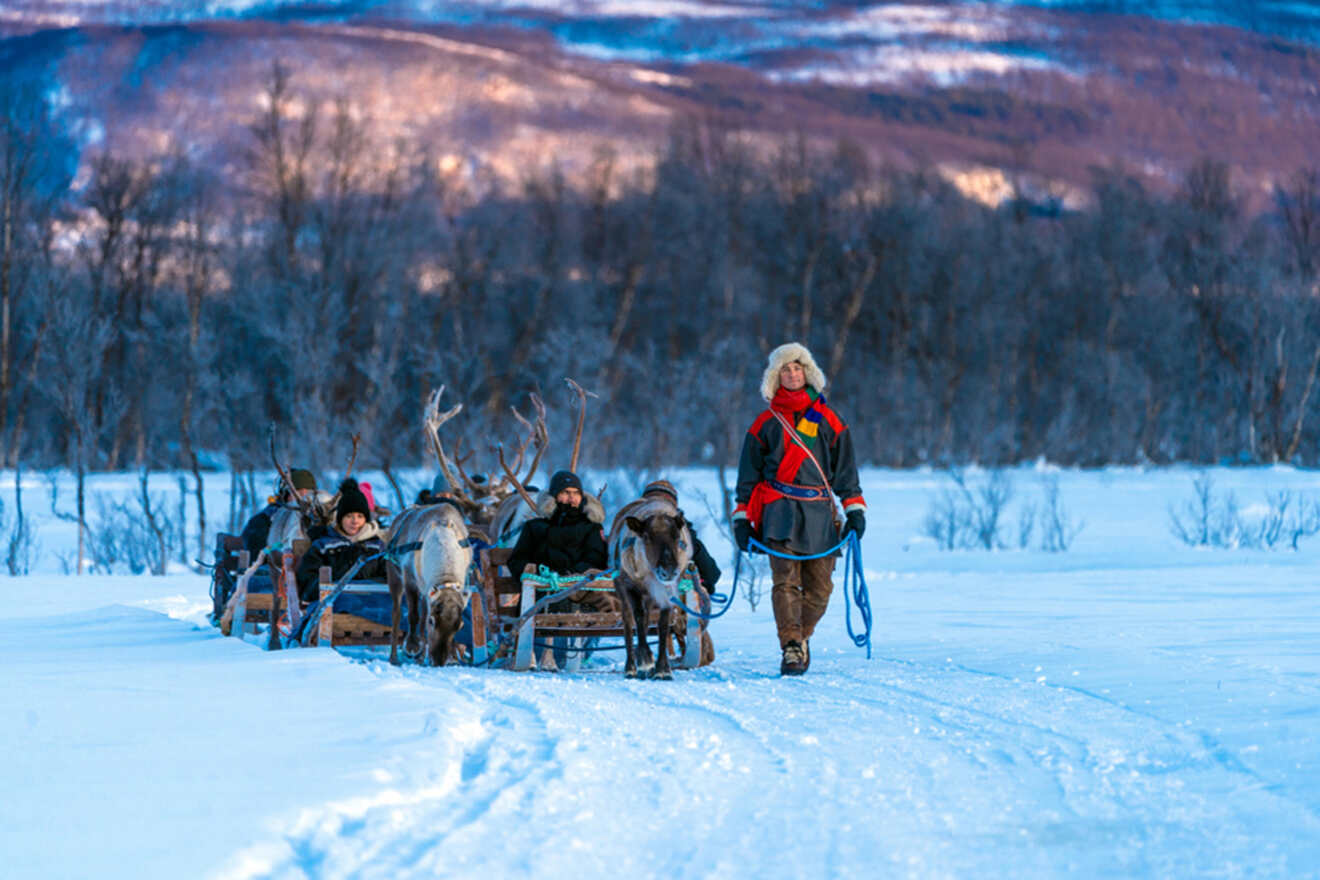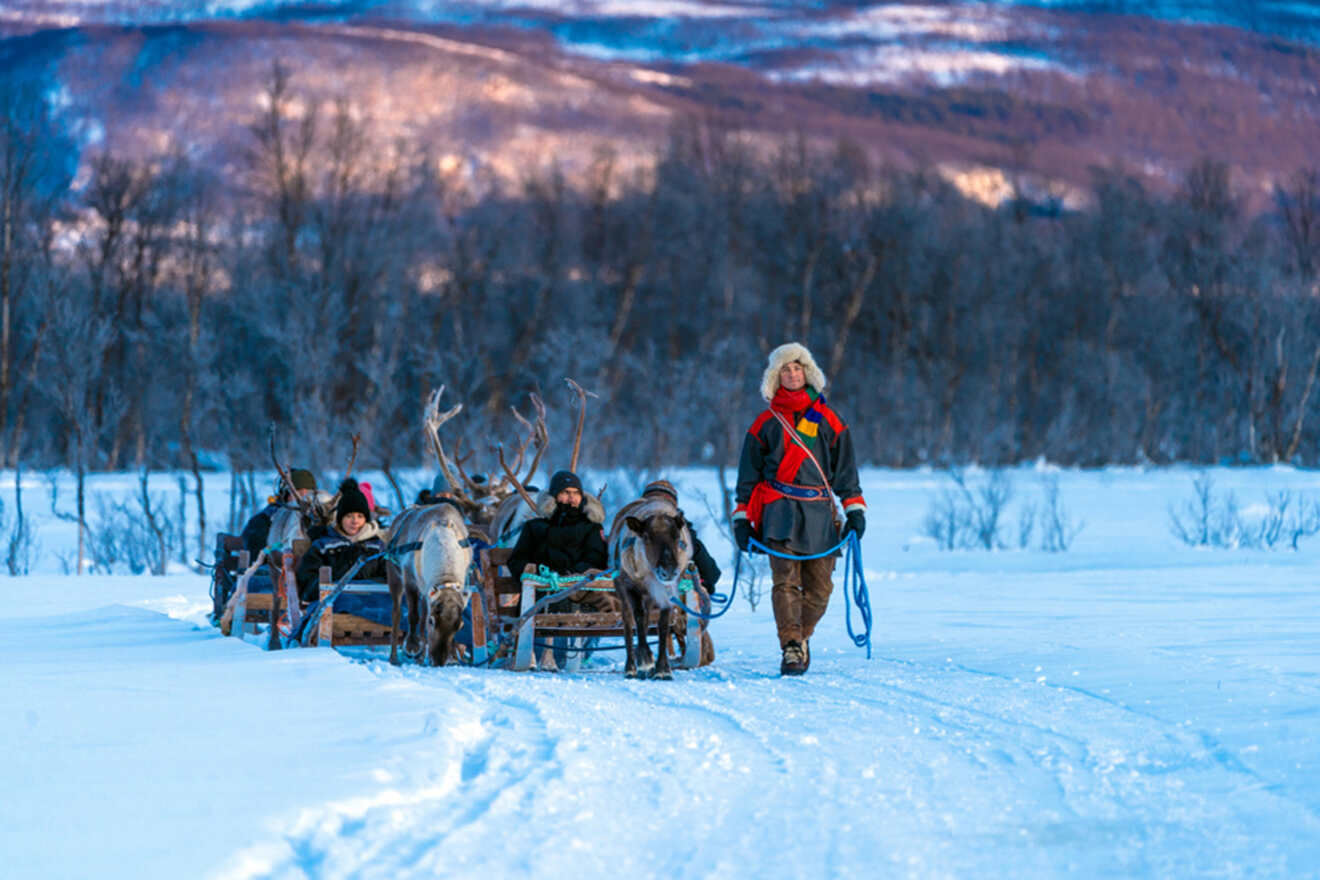 Duration: 4.5 hours
Price: from €153
Why you should take it: in-depth local experience perfect for history buffs
This tour is an incredible adventure that includes a reindeer sleigh ride through the wintry whiteness of the Norwegian landscape and is coupled with the dazzling Northern Lights. You'll get to learn about Norway's Sámi culture and treat yourself to a traditional meal prepared by your guide.
It's a great tour to soak in the stunning scenery that is enough to take your breath away. You'll also get an authentic local experience with reindeer sledding, the oldest known form of transport in Sami culture.
You'll get to know the history, both ancient and current, of the indigenous Sámi people from your knowledgeable guide. See artifacts firsthand and discover their traditional stories, a key part of their culture. It's an amazing trip for history buffs as well as those who are passionate about learning other people's cultures.
12. Get enchanting Northern Lights views from the boat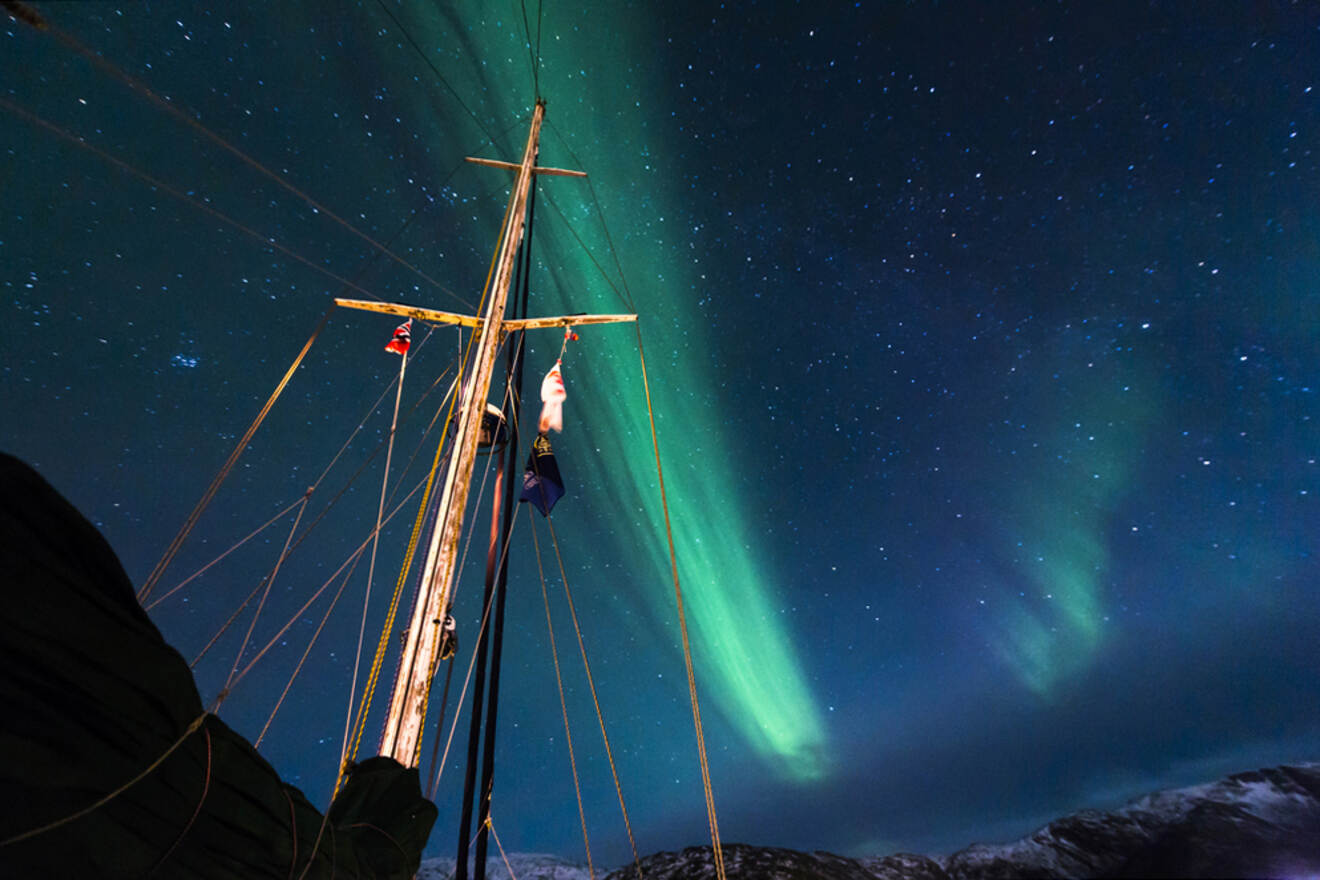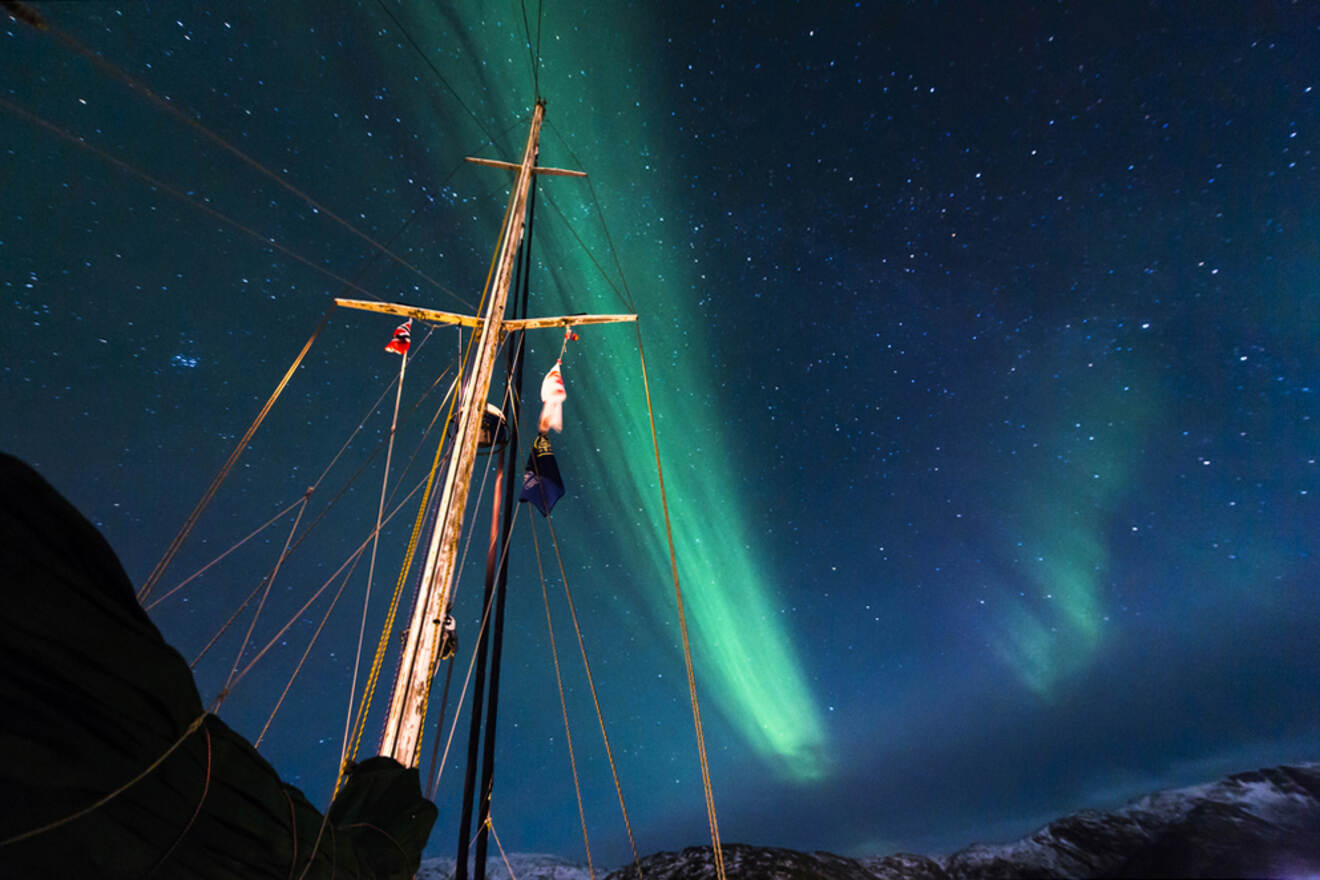 Duration: 3.5 hours
Price: from €73
Why you should take it: offers a free ride in case you don't see the lights
Starting at the dock in the heart of downtown Tromsø, you'll embark upon a truly magical boat trip.
As you step onto the deck, you'll get to choose from a variety of warm and cold beverages. You'll also get to stuff your face with as many cookies and steaming cups of coffee as you please! For those chilly winter nights, you can suit up in a thermal for extra warmth. Nothing beats having an extra layer when the temperature takes a nosedive.
The crew can help get your camera and phone all set up so you can take snapshots of the Northern Lights. They'll be more than happy to give any guidance or advice as needed. Another thing that makes this trip unique is that it is convenient for those who might miss the lights on the first week, as you'll get a free tour to try again.
13. Have an overnight stay in the Northern Lights heaven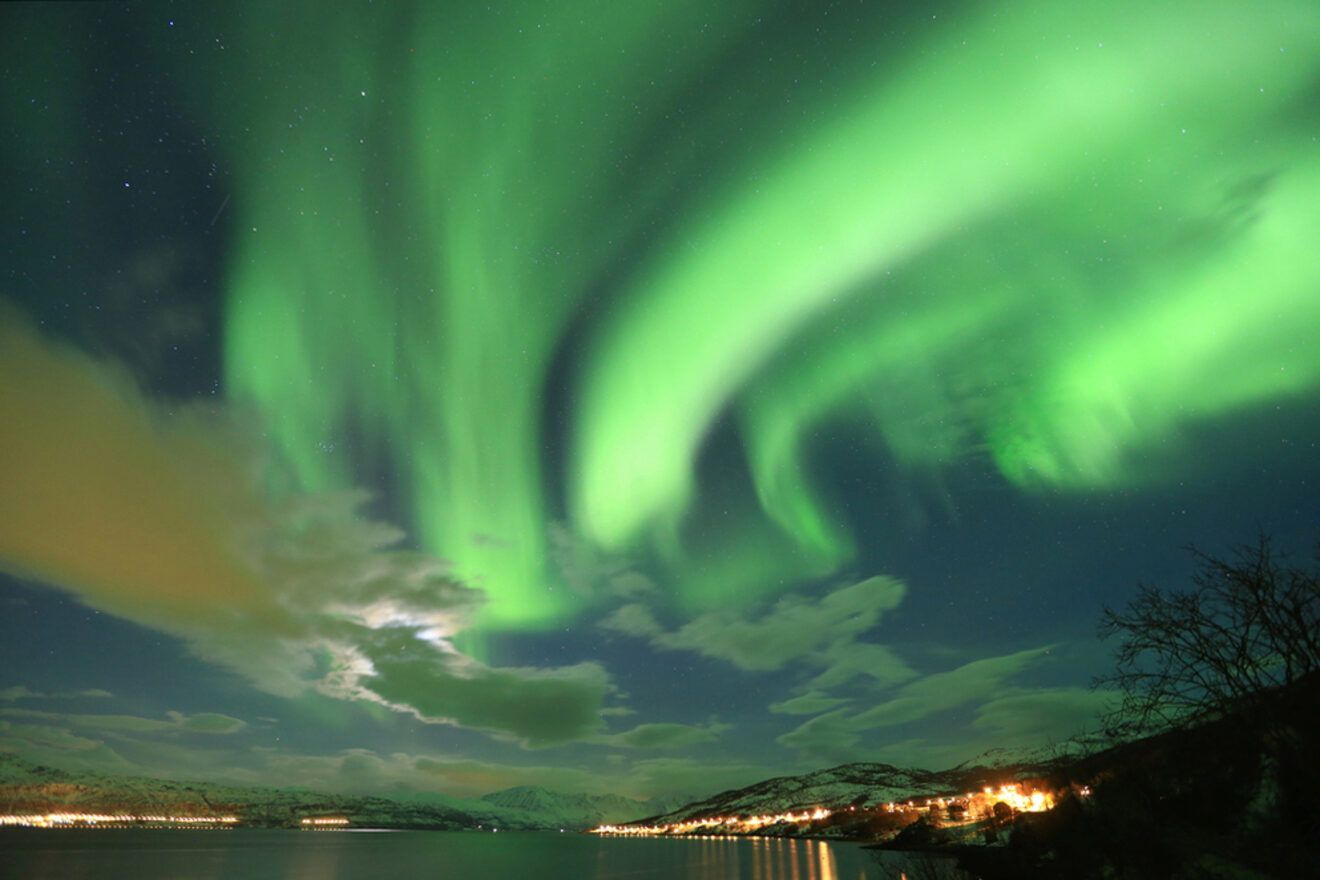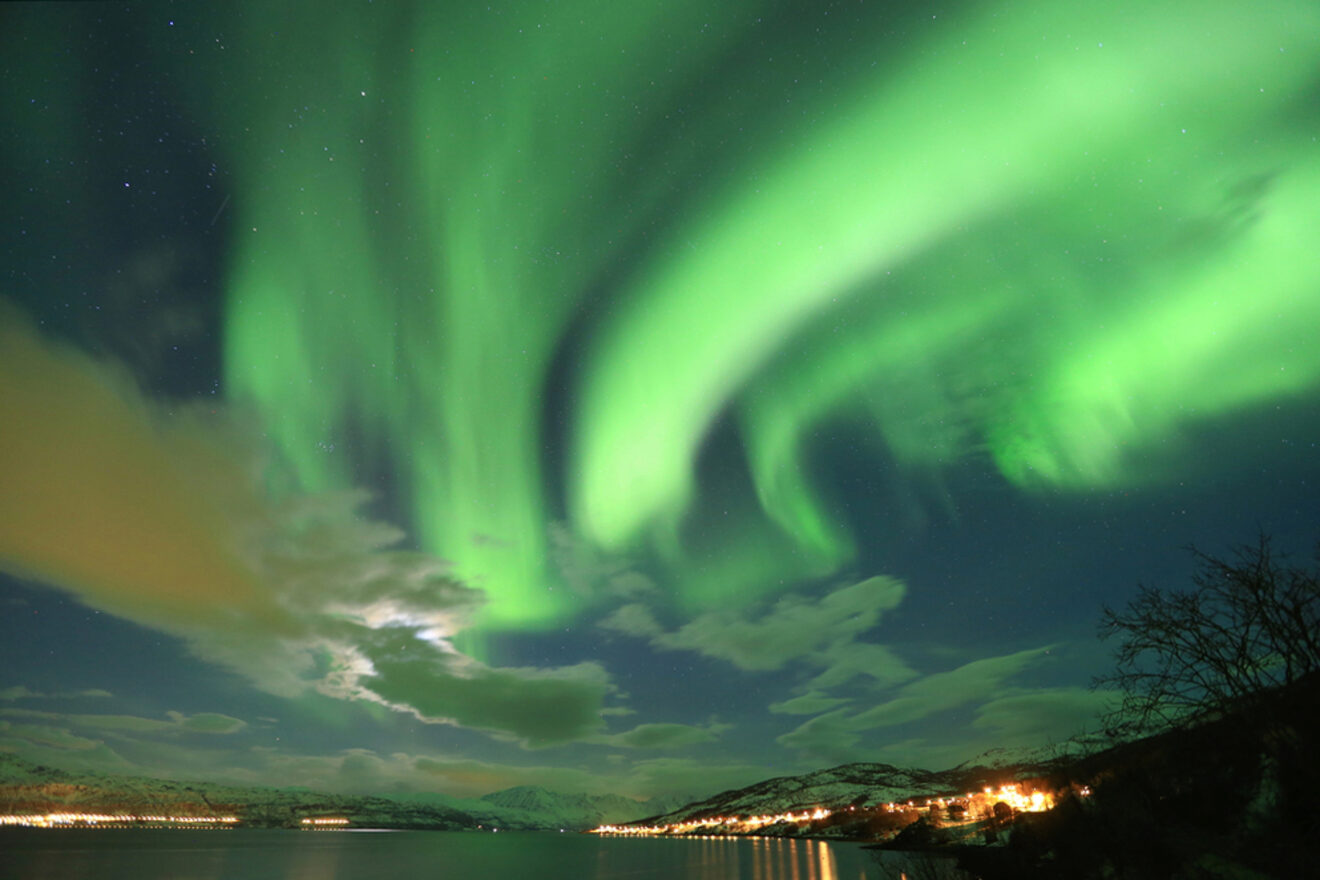 Duration: 17 hours
Price: from €350
Why you should take it: spend the night in the camp
Take an overnight camping tour to the island of Kvaløya near Tromsø and you'll be in for a treat! You'll get the unique experience of slipping into a traditional Sami lavvu tent, and if all your stars are aligned, admire nature's spectacular show – the Northern Lights.
And that's not all, this awesome tour also offers a reindeer sled ride for refreshing escapades and the opportunity to savor some age-old ancestral flavor with authentic dishes as you take lessons on indigenous culture from your knowledgeable Sami guide.
This secluded spot's lack of artificial lighting makes it the perfect place to take in the dance of those dazzling Northern Lights!
When you're sleepy, you'll get to go in the cozy lavvu and drift peacefully into a deep sleep on the warm winter-insulated sleeping bags. In the morning, you can refuel with breakfast before being shuttled back down to Tromsø.
14. Witness the Northern Lights from the open-air jacuzzi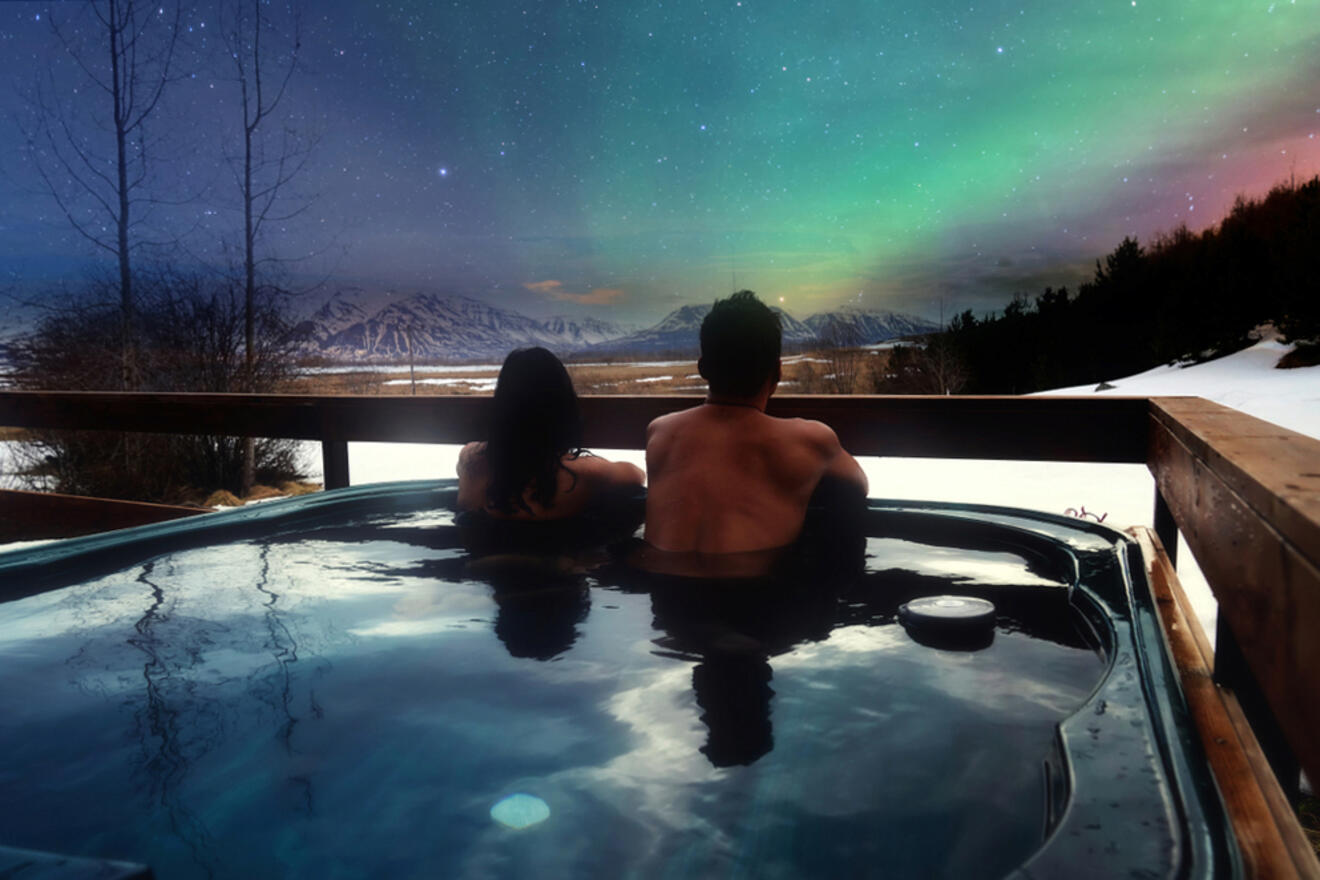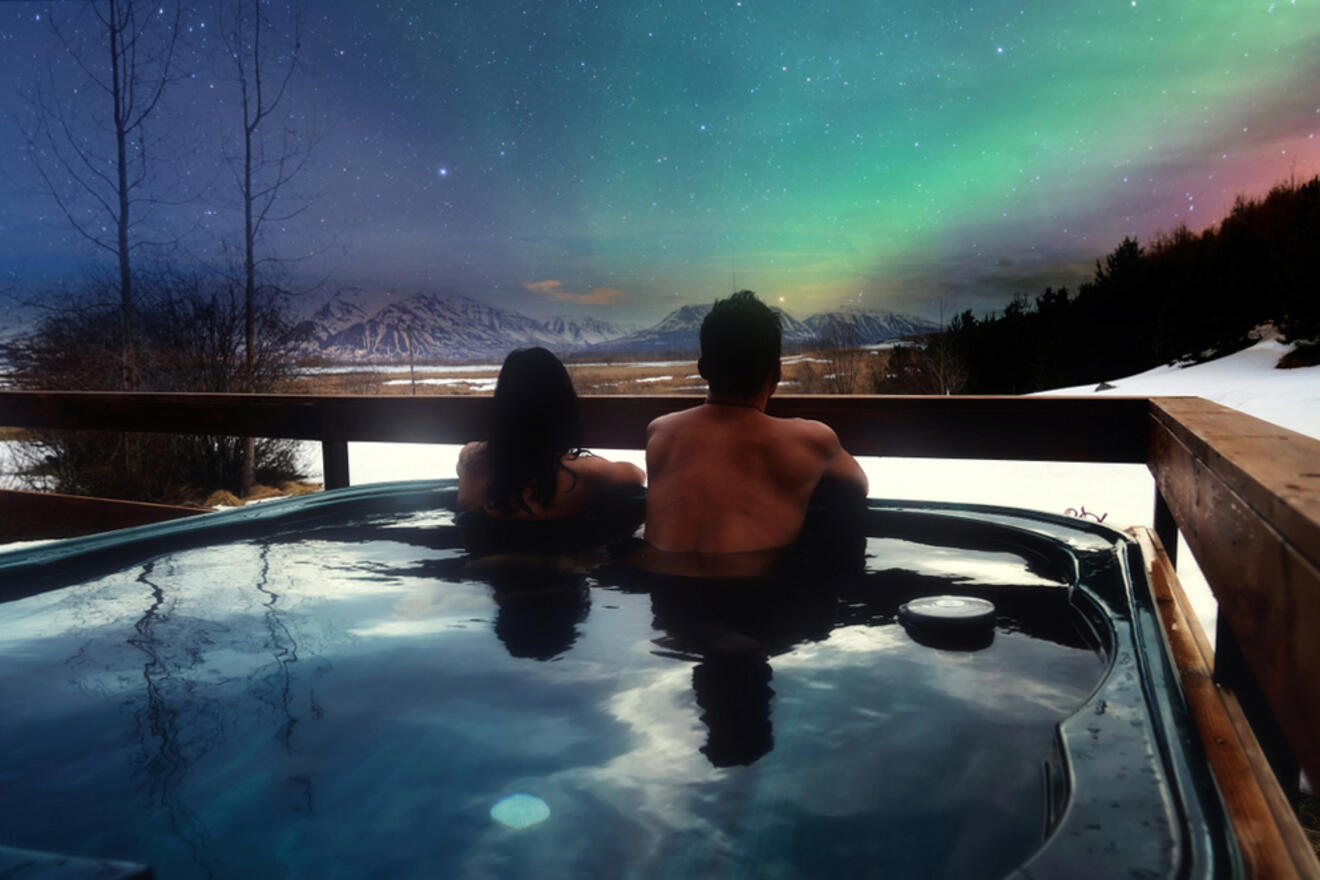 Duration: 4 hours
Price: from €213
Why you should take it: relaxing spa experience
If you're itching for a relaxing cruise and stunning sights, this tour will give you an opportunity to jump in the hot tub and explore nature's light show.
It takes you to remote places where you can witness the delightful Northern Lights up close. Those kinds of places are the best for the Northern Lights viewing, and you'll have the highest chances of seeing them there. This tour's a real treat for everyone itching to find this natural wonder! Whether you're traveling as a couple, with the fam, or in a gang of your best pals.
You can get comfy on the top deck of the yacht, snuggled up in some cozy blankets while sipping warm drinks. And for the true hedonists, you can now take your pick for a peaceful soak in the open-air jacuzzi. There's truly no better way to remain warm and catch heavenly glimpses of the Auroras!
FAQs about Tromsø auroras boreales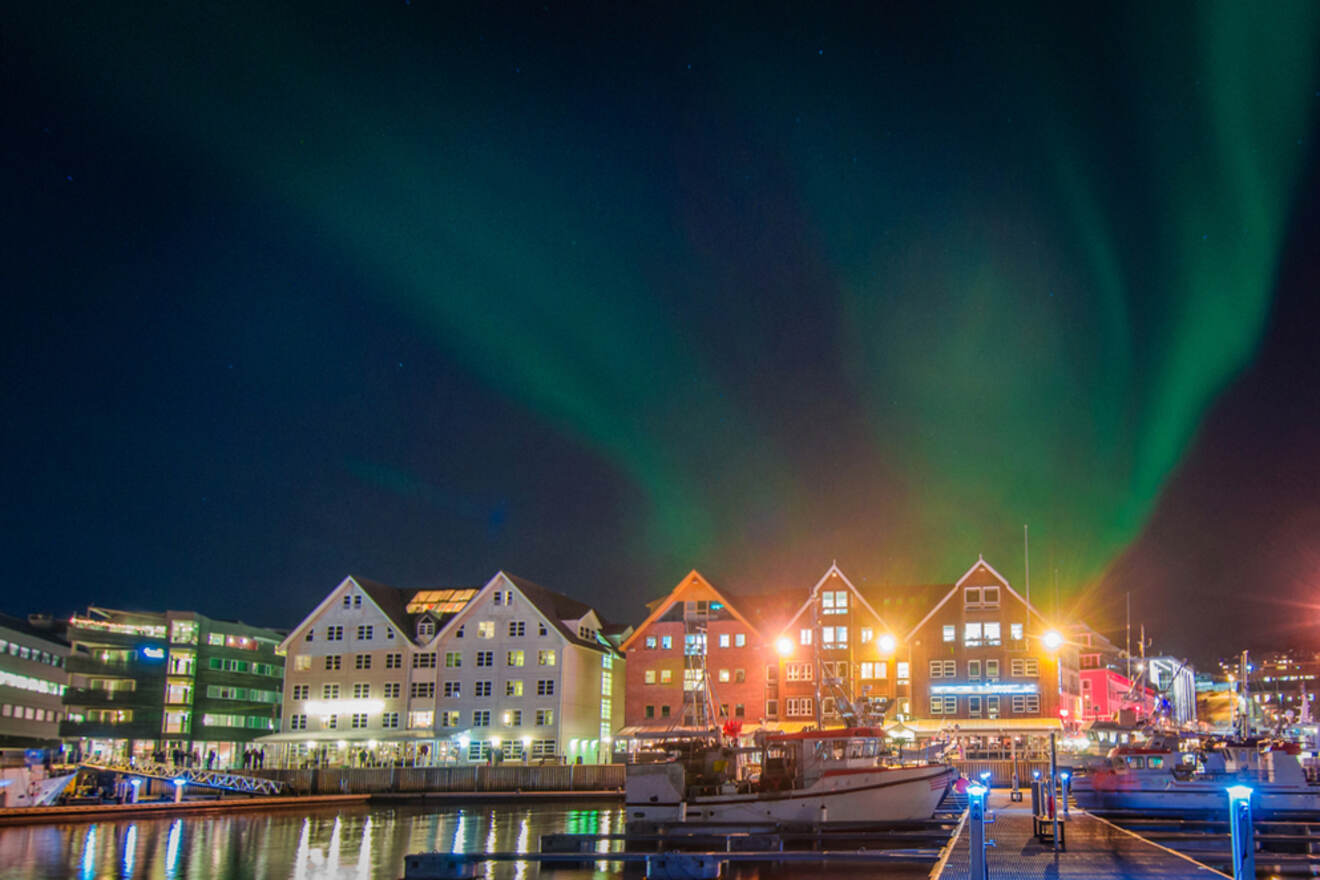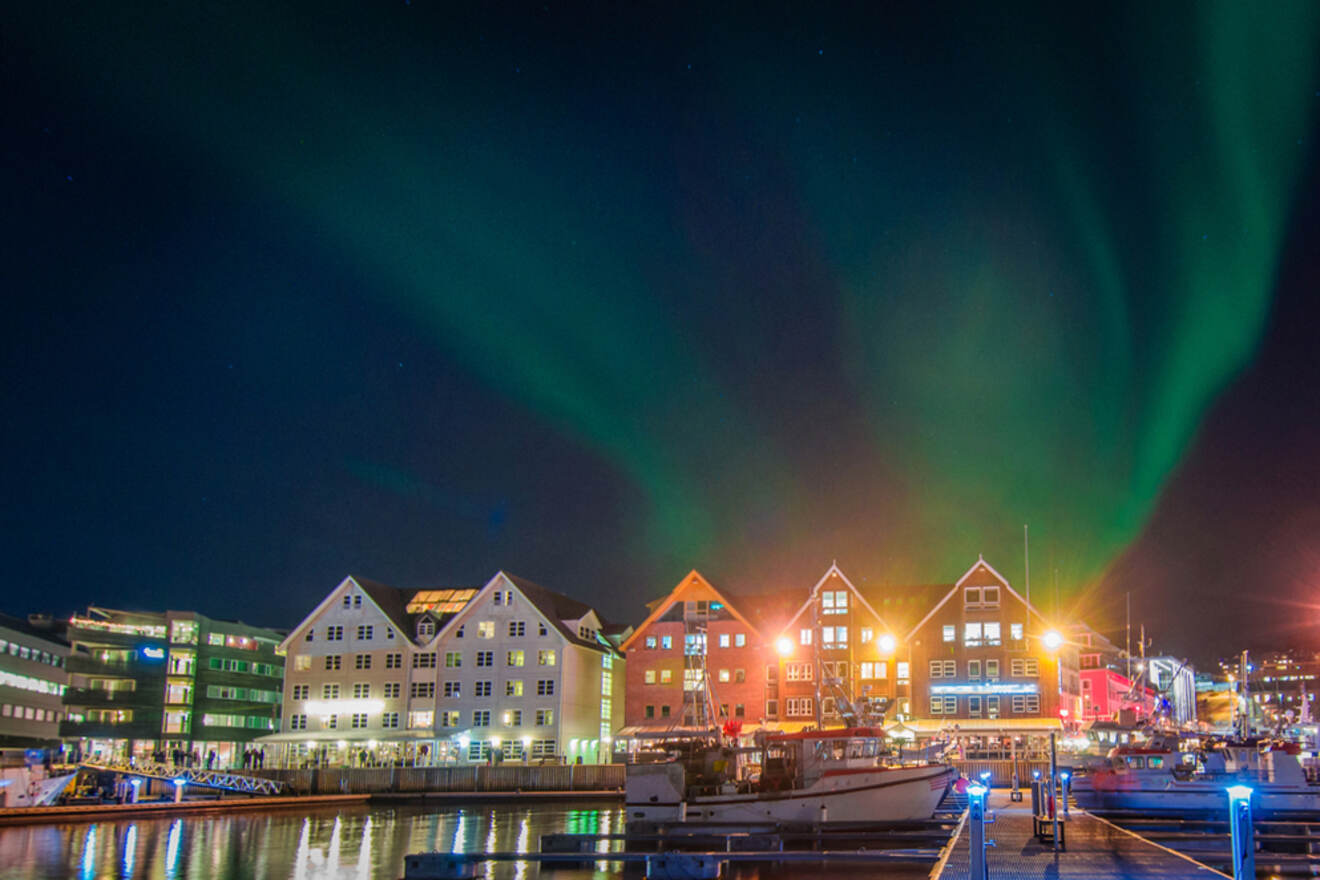 📍 Is seeing the Northern Lights in Tromsø worth it?
Absolutely. It's one of the most popular activities in the area, and many travelers come specifically to experience that. Make sure to check out the most popular and well-rated Tromsø Northern Lights tour.
📅 When can you see the Aurora in Tromsø?
The best time to see the aurora in Tromsø is during the winter months, from late September/early November to early March/mid-April.
❔ How likely are you to see the Northern Lights in Tromsø?
Tromsø is considered one of the prime locations for aurora viewing, so the chances are pretty high. In case of bad weather or light pollution where you might miss a sight, this boat tour can offer you a second free ride.
⏳ How many days to stay in Tromsø to see the Northern Lights?
The best way to see the Northern Lights is to stay from 4 – 8 days in the area so you have multiple chances to catch the sights. This tour package offers 5 days of exploration with additional fun winter activities.
Conclusion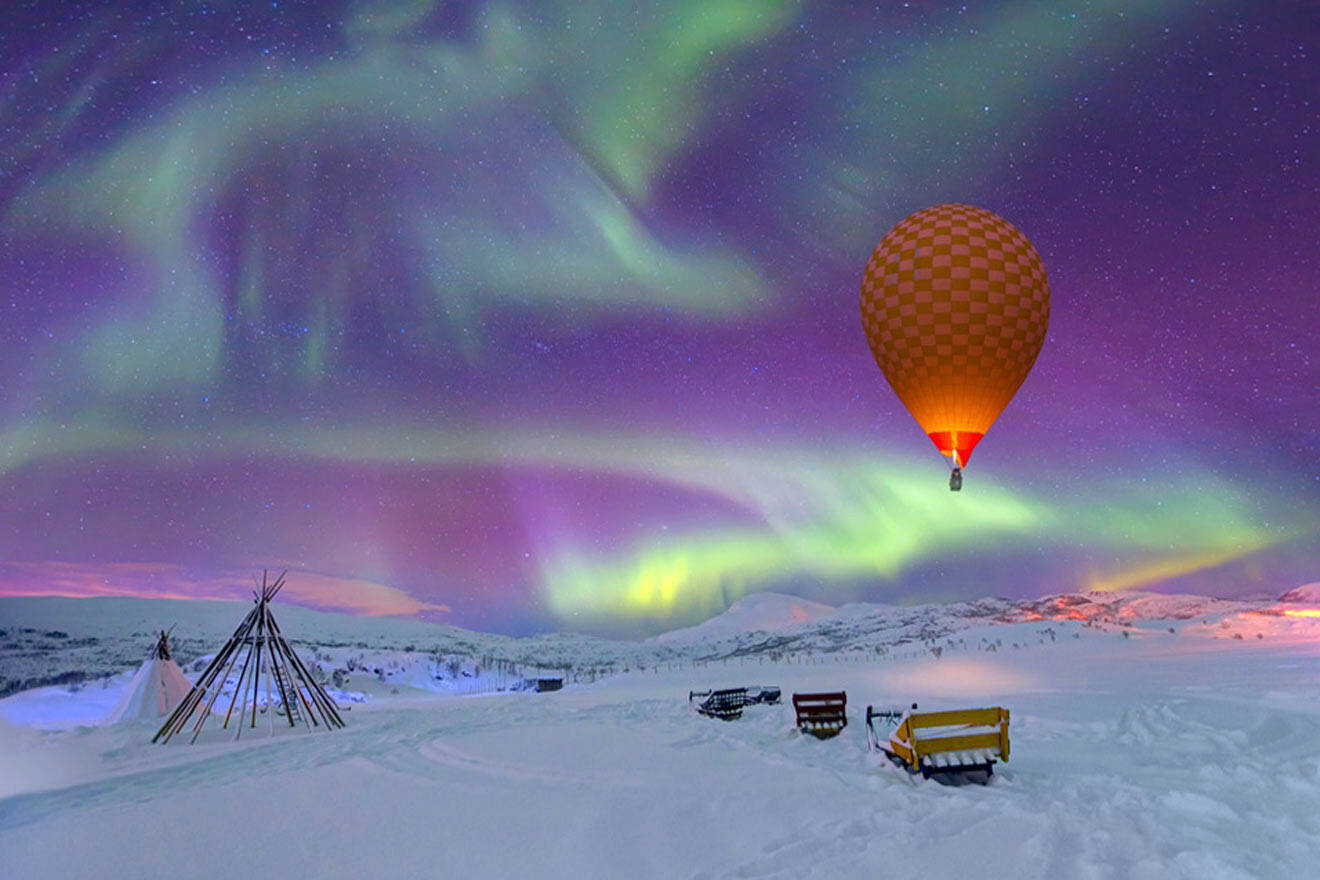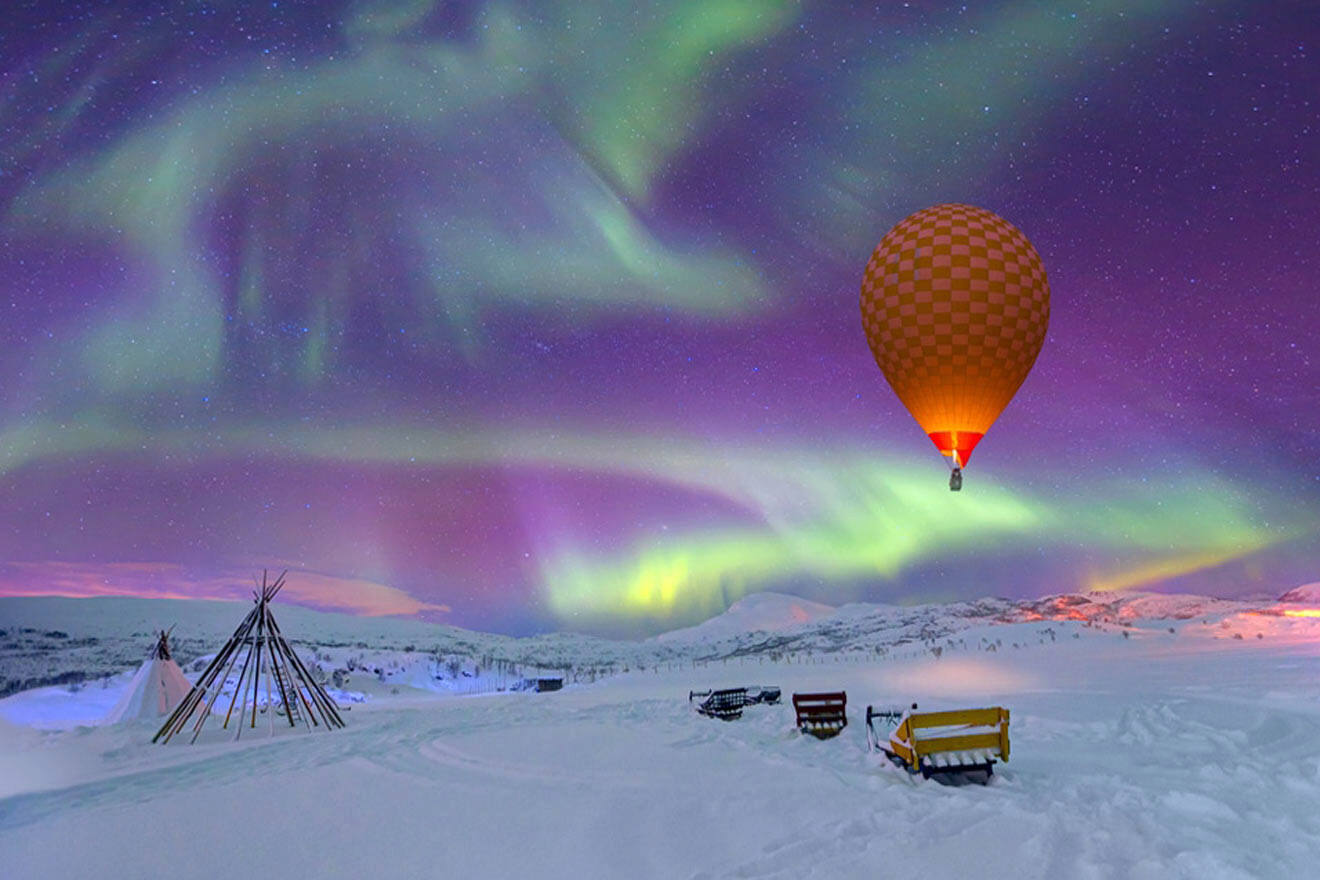 With this all-encompassing list, the Tromsø Auroras Boreales experiences are closer to you than ever before. Don't miss out on this unique adventure!
The list can help you opt for the best possible option. From all-inclusive tours to boat cruises, spa experiences, and multi-day packages, there is no shortage of amazing offerings to choose from!
Just don't get carried away and forget the fierce competition you have for all those trips. Thousands of travelers want to witness this natural wonder each year, and spots tend to fill out quickly. So make sure to book your tours well in advance!
In case you have already got to see these amazing sights, I'd love to hear about your adventures. Did you embark on a combo trip? Or perhaps stayed overnight? Also, if you have anything to add or ask, don't hesitate to leave a comment below!
Happy Aurora viewing,
Angelina
---
Pin it for later!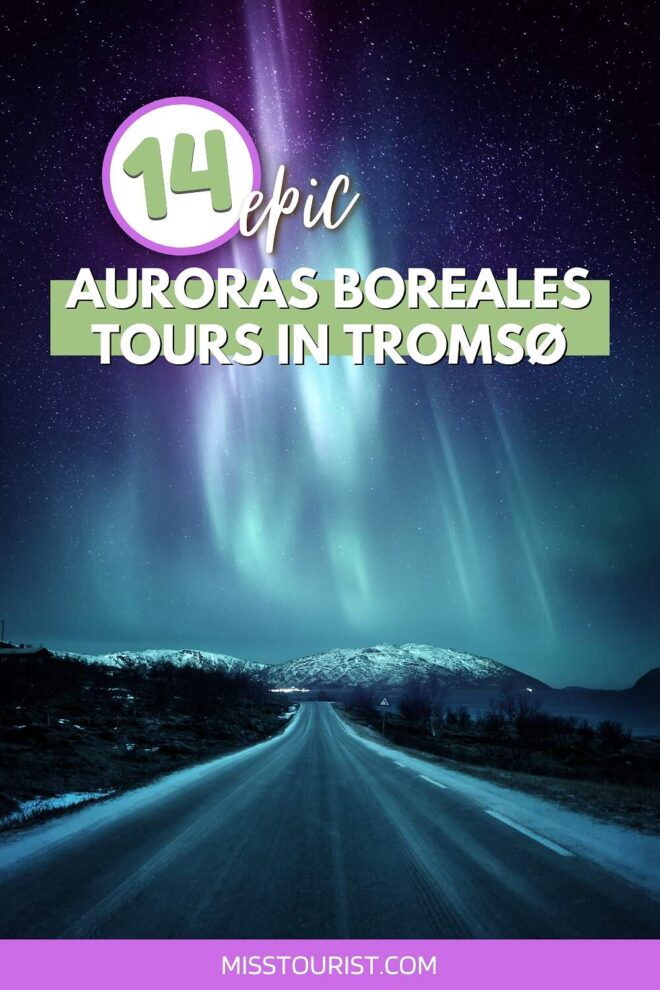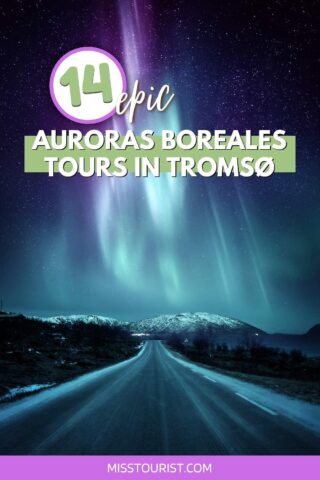 Pin it for later!