Going to Iceland and looking to book fast all the hotels you need for your itinerary? This article has accommodation recommendations for all budgets – you'll find here some of the best luxury Iceland hotels, 5 star hotels in Iceland and middle-priced ones with great services. Oh, you're looking for hotels in Iceland at cheap prices? Don't worry, I got you covered too!
This article will help you book fast all the hotels you need for my 14 days Iceland itinerary!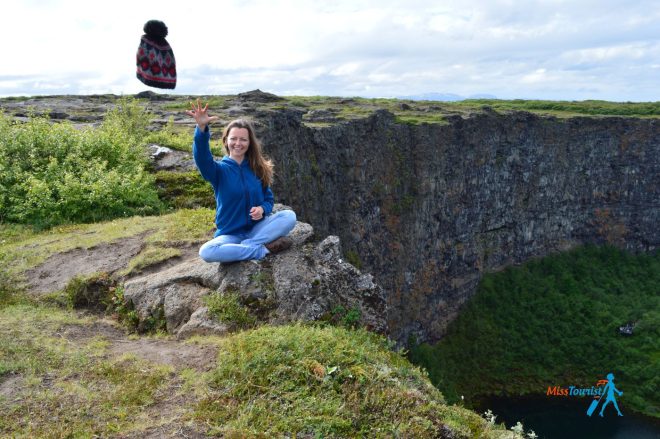 You just need to choose your budget preferences (luxury, middle or budget) and click on the link with one of the recommended hotels.
No worries, all hotels have great reviews and they are manually picked by me!
NOTE: Because Iceland is a very popular destination I encourage you to book the hotels as soon as possible because the rooms are booked quick and prices are never going lower!
Iceland Hotels
DAY 1 – Hotels in Reykjavik, Iceland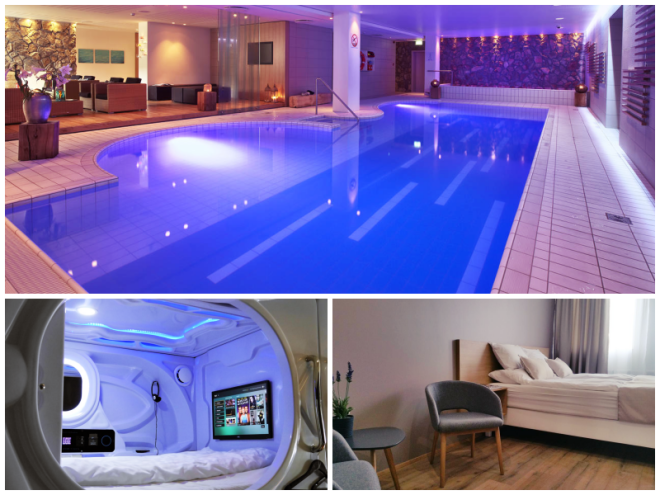 When you start searching for accommodation in Iceland, Reykjavik should be the first city on your list, because your journey begins here!
Here's my selection, but if you need more options I actually have an article about 9 Best Hotels in Reykjavik City Center.
Luxury (US$230 and above)
Reykjavik Natura Icelandair Hotel is one of the best in Iceland! They offer 4-star services and an eye-catching design, free gym access and more! This is a great spa hotel in Iceland because of the awesome spa facilities. Oh, and you can even see the Icelandic Modern Art Exhibition there! I honestly think this is one of the top Iceland hotels! Plus, the distance between this hotel and Blue Lagoon Iceland is only 4.5 km!
Eyja Guldsmeden Hotel is an incredible luxury Reykjavik hotel in Iceland! Organic food, Balinese-style furnishing, flat-screen TV, organic toiletries, fitness center, bike rental – what more could you wish for?
Iceland Hotel Borg is another amazing 4 star accommodation with art deco decorations, spa, gym and many more!
Middle (US$110 – US$230)
City Park Hotel is a good 3-stars hotel with flat screen TVs, free WiFi and stunning views of the sea or mountains (depending on the room).
Another awesome option is Central Guesthouse Reykjavík. This is basically a super charming 1920s-era guest house that offers free WiFi and coffee – you could even consider it to be one of the boutique hotels in Iceland. The staff is super friendly and the location is great!
Budget (up to US$110)
Galaxy Pod Hostel is the perfect choice if you're looking for cool hotels in Iceland that won't make you rob a bank – this special hostel offers futuristic-designed sleeping capsules and rooms. Each capsule has its own safety deposit box. One of the best things about this hostel is the VR arcade with plenty of games to choose from, such as Google earth VR! This is really one of the unique hotels in Iceland.
Retro Hostel – situated in the East District of Reykjavík, this simple but cozy accommodation will offer you all your necessities. Plus, it's only 1-km away from the airport – so it's a good option if you want to get some rest right away!
DAY 2 – Hotels in Hella, Iceland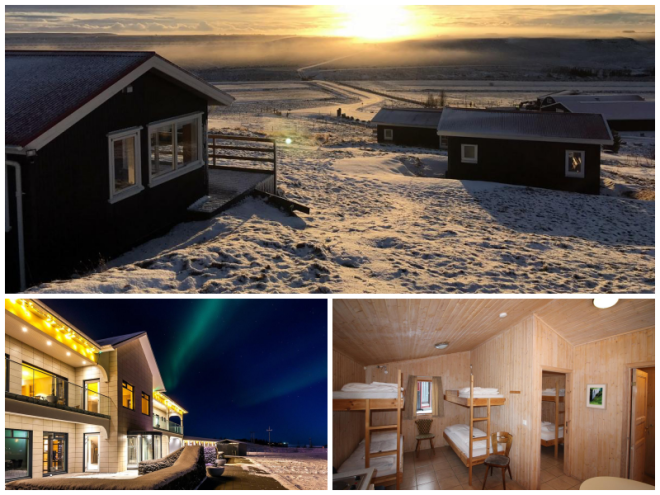 Now we'll begin searching for hotels in Southern Iceland, starting with Hella.
Luxury (US$230 and above)
Hestheimar – this luxury hotel looks incredible and it is a family-run business that offers a traditional Icelandic restaurant, great views, outdoor hot tubs and an amazing terrace. The owners can even arrange some horse riding tours if you want (this is one of the must-do activities that I recommend for Iceland!)
Another amazing luxury accommodation in Hella is River Hotel. This one has a great outdoor hot tub too and also free WiFi. Besides this, the heated floor and private bathroom will transform your stay here in a vacation by itself! Oh, and this is also a great hotel in Iceland for Northern lights watching!
Middle (US$110 – US$230)
I stayed in Stracta Hotel Hella and it was super nice! This hotel is situated along the Golden Circle. It has a very tasteful and minimalist design and you can even choose between shared and private bathrooms.
Kanslarinn Hostel is another good middle-priced hotel with great money value – free WiFi, on-site restaurant, flat screen TVs, plus daily buffet breakfast!
Budget (up to US$110)
Cafe Arhus Hella is a very good budget option because it has an in-house restaurant and bar. There's also the possibility of choosing between private and shared bathrooms. Cafe Arhus is surrounded by nature and is situated right near Ranga River.
If you can't find any good budget hotels in Hella, I recommend trying some Selfoss Iceland hotels. Selfoss Hostel is a convenient choice because it even has shared bedrooms for great prices, free WiFi and free parking.
DAY 3 – Hotels in Vik, Iceland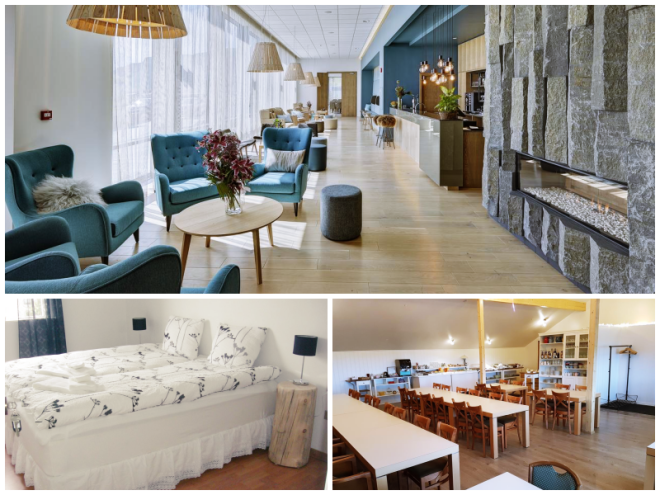 As I mentioned before, I strongly advise anyone that's planning a road trip in Iceland to book the hotels as soon as possible, otherwise you'll be surprised to see the prices go up!
Luxury (US$230 and above)
Hotel Icelandair Vík is a great accommodation in Vik, Iceland because of the good service and Reynisdrangar sea stacks view! The rooms are very bright and pretty and you will even get access to a bar, daily breakfast buffet and even satellite TV!
Another amazing option is Kría Iceland hotel in Vik– extremely close to the Black Sand beaches, this new hotel awaits you with a nice garden, a bar, private bathrooms and more! If you feel adventurous, you can even try hiking in the area near the hotel.
Middle (US$170 – US$230)
Guesthouse Galleri Vík is a nice middle-priced hotel in Vik located only 6 minutes away from Black Sand Beach. It offers a shared kitchen, BBQ and you can even hike in the area close to this hotel.
Skammidalur Guesthouse is another good hotel in South Iceland. This one is not located in Vik, but in Skammidalur, 7 km away. It has a simple design but you will appreciate the nice view and the sitting area.
Budget (US$110 – US$170)
Unfortunately, there aren't any budget hotels in Vik, so I will recommend a couple of other options that are very close to this city! For example, Guesthouse Steig is a very good place to stay in Steig, only 9.5km away from Vik. This is actually a farm and they offer traditional Icelandic food and you can see lots of cute animals there!
Another option is Sólheimahjáleiga Guesthouse. Situated in Solheimahjaleiga, this place is 17.6 km away (20 mins) from Vik and it awaits you with free WiFi, free parking and daily breakfast.
DAY 4 – Hotels in Hofn, Iceland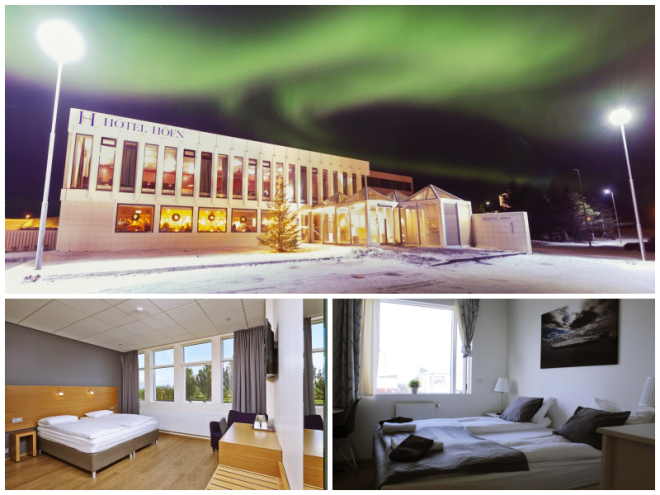 Luxury (US$230 and above)
Hotel Höfn is an amazing luxury hotel in Hofn, Iceland. I recommend it if you want to enjoy traditional Icelandic dish every day (including lobster!), free on-site parking and free WiFi. The décor is also stunning and the staff can organize hiking trips for you if you ask for it!
Even though it is not situated in the center of Hofn, Lilja Guesthouse is a great option for any luxury traveler. You will fall in love with the mountain views and the very good service!
Middle (US$110 – US$230)
I recommend you to take a look at Hotel Jökull – I'm sure you will appreciate the seafood buffet! Jökulsárlón glacier lagoon is only 50 minutes away by car from this hotel.
Seljavellir Guesthouse is another good option. You will also enjoy the great terrace and – best of all – you can even rent cars from this property if you didn't do it yet! See here why I think a car is the best way to visit Iceland.
Budget (up to US$110)
Höfn Guesthouse is a very good budget option with a nice dining area, free WiFi and incredible view! If you're in for some swimming, you should know that Höfn swimming pool is very close to this hotel.
Old Airline Guesthouse – this one is located near the harbor, only 1-hour away from Jökulsárlón glacier lagoon! Oh, and one of the best things about this place is that they offer you access to a washing machine – great for people who don't want to carry a lot of clothes with them.
DAY 5 – Hotels in Egilsstadir, Iceland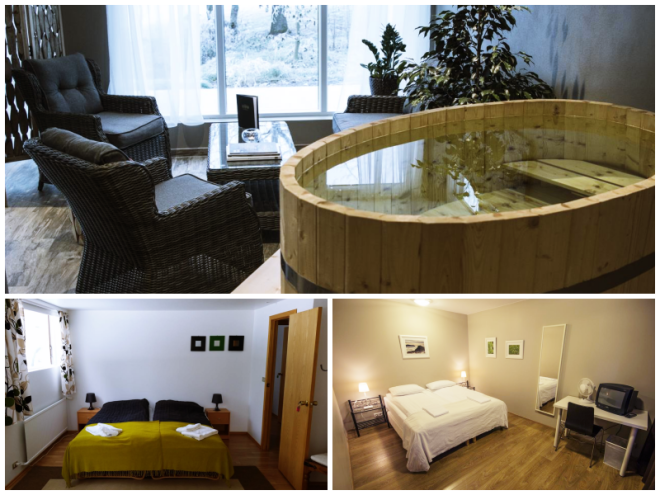 Luxury (US$230 and above)
If you're looking for a very relaxing luxury stay in Egilsstadir, then Gistihúsið – Lake Hotel Egilsstadir is the answer! They have a very good restaurant, the rooms are nice and cozy and each one has a private bathroom.
Skarðás Country Cabins is an incredible luxury vacation home perfect for up to 6 people! This accommodation is located only 6 km away from Egilsstadir and you can even enjoy board games with your friends there – plus an amazing natural view!
Middle (US$110 – US$230)
Lagarfell Studios is a perfect middle-priced accommodation for a couple! It is very simple but cozy and it will offer you a much-needed night's sleep during your journey through Egilsstadir.
You can also take a look at Skipalaekur Cottages – you'll enjoy the beautiful terrace with BBQ facilities and the panoramic view over Lake Lagarfljót.
Budget (up to US$110)
Lyngás Guesthouse is a fabulous budget accommodation in Iceland because it has very simple but clean rooms for accessible prices! Plus, you will find a supermarket very close to this hotel in case you ever need some supplies!
You can also book a room at Birta Guesthouse – this is a very nice family business. You can relax in the small but cozy garden and enjoy the free parking!
DAY 6 & 7 – Hotels in Akureyri, Iceland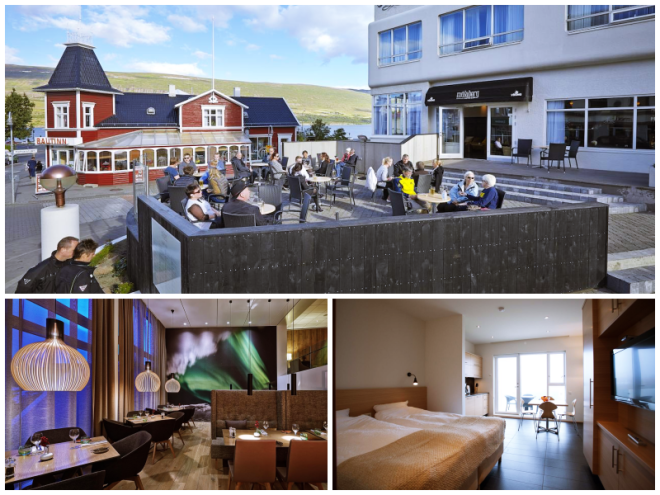 Luxury (US$230 and above)
Hotel Kea by Keahotels is an amazing 4 stars hotel in Iceland! This luxury accommodation awaits you with dry cleaning services, delicious traditional dishes and an exquisite wine list!
Pearl of the North Apartments is another great place that I recommend for a group of friends (5 or 6 people). Tasteful and cozy design, modern kitchen, great terrace, private hot tub – this place has it all!
Middle (US$110 – US$230)
Lava Apartments & Rooms is my first recommendation for anyone who wants to enjoy some comfort and great services with a middle-priced budget. This accommodation has some rooms that are perfect for two people.
Icelandair Hotel Akureyri is an amazing 3 star hotel in Iceland with a personal restaurant and lounge bar. I am sure you will love the modern décor and great international dishes, the fireplace and even the fact that Hlídarfjall Ski Resort is only 5 km away!
Budget (up to US$110)
Saeluhus Apartments & Houses is a great budget accommodation which will offer you the comfort you need! This place awaits you with free WiFi and a fully equipped kitchenette. If you feel bored, you can always visit Akureyri Botanical Garden (500 m away from the accommodation.
Akureyri Backpackers is the go-to option for any budget traveler that passes through this city. The on-site bar, communal kitchen and daily buffet breakfast will help you enjoy your stay there! The staff can even arrange different tours and activities for you!
DAY 8 – Hotels in Husavik, Iceland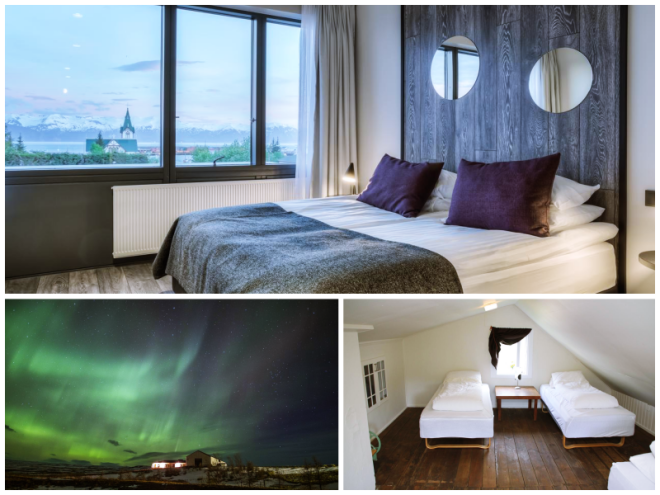 Luxury (US$230 and above)
Fosshotel Husavik is my first luxury recommendation for this town. This hotel is simply awesome and it's situated right in the city center. One of the best things about this hotel is that Husavik Harbour (where the whale watching boats depart from) is super close to this hotel, only 1 km away. You'll also like the marine-themed décor!
Húsavík Cape Hotel is a wonderful 3-star hotel in Husavik situated very close to the city center. Buffet breakfast every morning, free coffee and free cookies!
Middle (US$110 – US$230)
Skógar Sunset Guesthouse is a good middle-priced accommodation which will offer you great service. This place is situated 13 km from Husavik city center and it can be a great hotel in Iceland for Northern lights watching
Guesthouse Brekka is another good option only 30km away from Husavik. This is also a good place for horse riding tours and even hiking near the volcanic landscape.
Budget (up to US$110)
Hofdi Guesthouse is the only good accommodation I found in the city of Husavik. This place is very simple but clean and it will help you regain your strength for the next day on the road.
DAY 9 – Hotels in Varmahlid, Iceland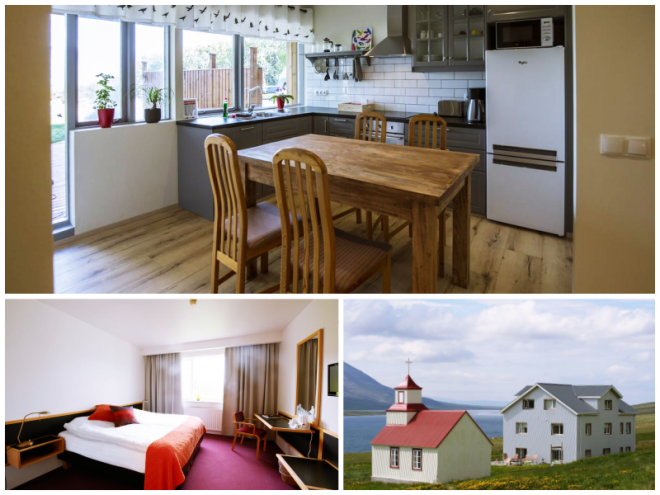 Luxury (US$230 and above)
For a great luxury stay in Varmahlid, I suggest you take a look at Hestasport Apartment– perfect for a group of 4 people who want to roadtrip around Iceland in style! You'll definitely enjoy the surrounding garden, the terrace and all the facilities of this place.
Another luxury option is Hestasport Cottages – a very cozy and private place, this accommodation is situated near a geothermal hot pot and it's only 1 km away from Vermahlid. I totally recommend it for a couple – super clean and nice!
Middle (US$110 – US$230)
I stayed at Hotel Varmahlíd and I really enjoyed my experience there! The breakfast is good and you'll also get some nice landscape views. The restaurant uses only fresh produce from local farmers and fishermen and that's always a big plus!
Syðra-Skörðugil Guesthouse is another nice middle-priced hotel with free WiFi, BBQ and a nice garden. There's also an awesome hot tub outside!
Budget (up to US$110)
I have two good recommendations for budget travelers. First one is Guesthouse Svinavatn – this one is 24 km away from Varmahlid. The rooms are very simple but clean with shared bathrooms and a kitchen. Free fishing in the lake near the hotel!
My second suggestion is also outside Varmahlid. Helluland Guesthouse is located 19 km away from the city and you'll get a wardrobe, shared bathroom, nice sitting area and overall a pleasant stay for a very good price.
DAY 10 & 11 – Hotels in Ísafjörður, Iceland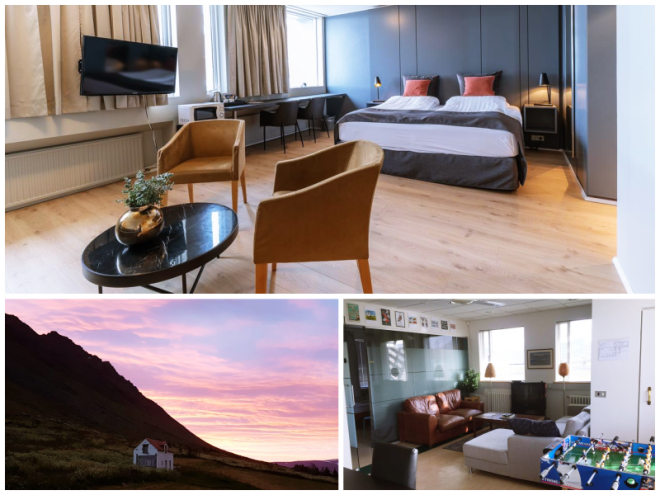 Luxury (US$230 and above)
Hotel Isafjördur is one of the best bets for a luxury stay in Ísafjörður. This hotel is right in the city center, it offers free WiFi, free parking and a great restaurant. I'm sure you'll enjoy the contemporary design of the rooms.
I stayed at Hotel Horn and it was a very good experience! You'll love the bright rooms and the colorful sitting area – I think it's just perfect for 2 people! A bonus is that all the rooms' designs are inspired by the surrounding nature!
Middle (US$110 – US$230)
Sigurhæð – Lovely Apartment with Mountain View is the perfect choice for a couple – it also has an equipped kitchen and a friendly dog that will greet you! If you want to cook your own meals you'll be happy to find out this accommodation has a small equipped kitchen!
GentleSpace Guest Apartments Ísafjördur is a very cool apartment – free WiFi, parking, washing machine and an overall tasteful design. It's also very close to the Ísafjördur airport in case you want to leave after this (only 8 minutes away).
Budget (up to US$110)
Síma Hostel & Apartments is a good budget accommodation, not exactly in the city but only 18 km away from Ísafjörður. A great location for fishing and relaxation! The fully equipped kitchen is also a bonus!
Bryggjukaffi Hostel is also 18 km away from the city and it awaits you with nice mountain views. They also have a nice restaurant where you can serve breakfast, lunch or dinner!
DAY 12 & 13 & 14 – Hotels in Husafell, Iceland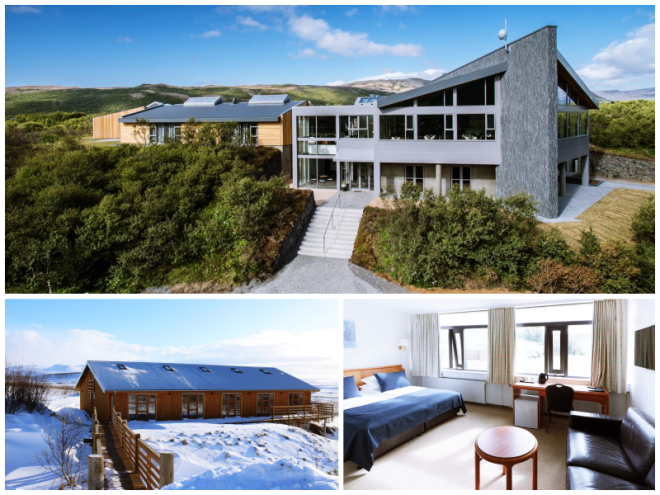 Luxury (US$230 and above)
I stayed at Husafell Hotel (from my experience, this was one of the top hotels in Iceland that I stayed in, honestly). Great 4-star hotel with golf course, outdoor hot tubs, garden, bar and a good restaurant. Totally recommended!
Harpa Holiday Home – a great luxury place for 6 people. Awesome outdoor hot tub, kitchen and BBQ facilities. Tour buses to the glacier Langjökull depart 800 m away from this hotel.
Middle (US$110 – US$230)
Hótel Á is located 10 km away from Husafell and I think it's worth booking a room there for the breakfast buffet, TV lounge and nice terrace.
Hrísmóar 2 is an incredible holiday house for two. It has a bedroom and a kitchen and you'll also enjoy the outdoor hot tub and the barbecue. This accommodation is 15 km from Husafell.
Budget (up to US$110)
Fosshótel Reykholt is a 3 star accommodation 20 km away from Husafell. It has great design taste, a very good restaurant and some lava caves are only 30 minutes away. You will find options for many budgets here, including luxury and middle-priced, but also some budget rooms.
Hotels in Keflavik Iceland (near the airport)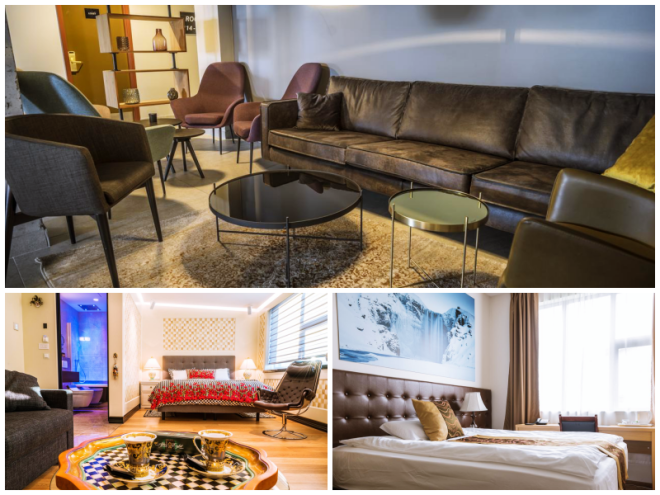 After these 14 days full of traveling and adventure, you can go back to Reykjavik and stay in the city to discover it some more if you want.
Otherwise, you can just stay in a hotel in Keflavik, Iceland and leave the next day without spending any more time in the city.
Bed and Breakfast Keflavík Airport Hotel is a very good airport hotel in Iceland that will offer you a 3-star accommodation but with some good budget options.
Diamond Suites is one of Iceland 5 star hotels– perfect if you want to end your vacation in style!
One of the middle-priced hotels in Keflavik Iceland is Hotel Jazz – flat screen TVs, free airport shuttle and lots of other services!
---
Special Hotels in Iceland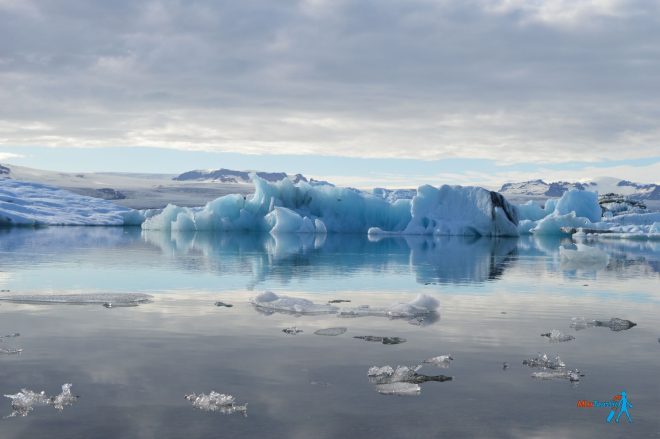 I'm sure you would expect to find some great, unique ice hotels in Iceland just like in Finland or Sweden – or at least one pretty igloo Iceland hotel! Unfortunately, I didn't find anything like this there (maybe not yet? Let me know if it appeared and I will update the post!).
But if you really want to try a very similar experience, I recommend you Into the Glacier tour in Reykjavik. It's basically an awesome man-made ice cave which will offer lots of photo opportunities!
But here is a list of out-of-the-ordinary hotels in Iceland: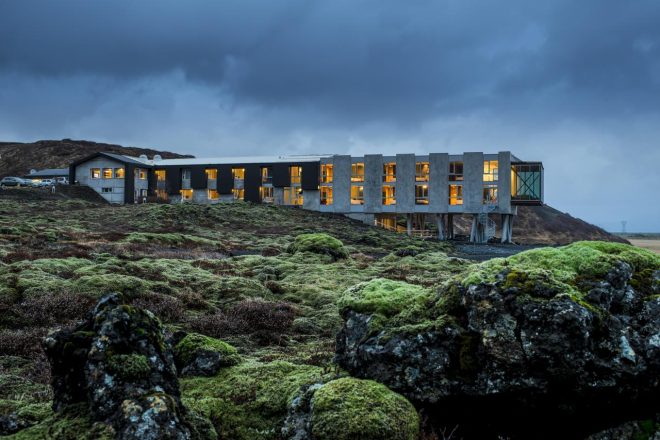 This adventure hotel is only 45 minutes away from Reykjavik. I totally recommend it for the organic bedrooms, excellent restaurant and breathtaking Icelandic views! It also has an amazing and award-winning bar with Northern lights view and it's super close to Thingvellir National Park (a UNESCO World Heritage Site).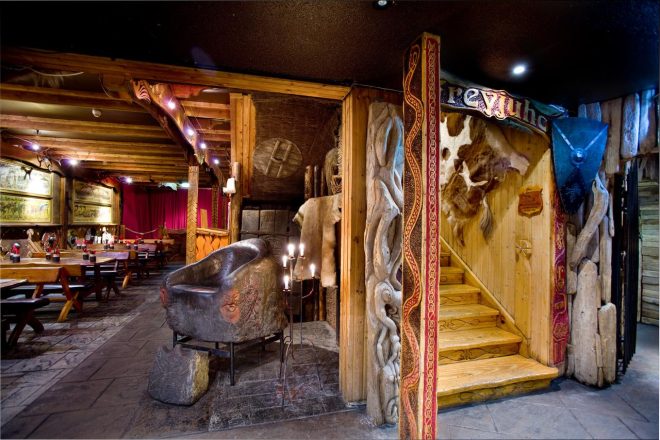 Located only 10 km away from Reykjavik, this special hotel will actually make you feel like a viking! All the furnishings and décor elements are inspired by the Icelandic culture and of course, you will enjoy some very traditional dishes there!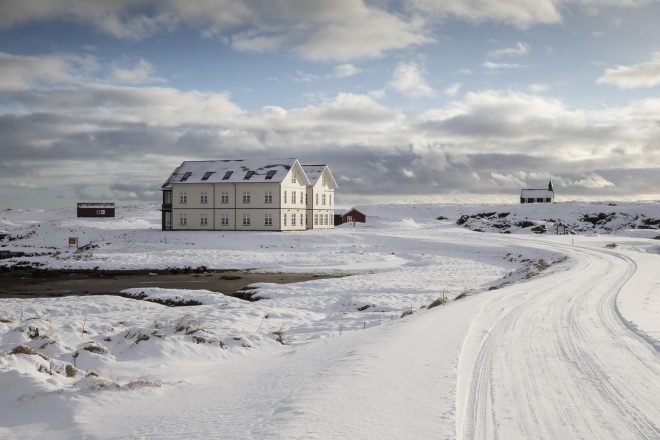 If you still have some time to explore, you could also pass by Hotel Budir. This one is located 23 km east of Snæfellsnes National Park and it's the perfect accommodation near Snæfellsjökull Volcano. Each room has either sea, glacier or even lava fields views!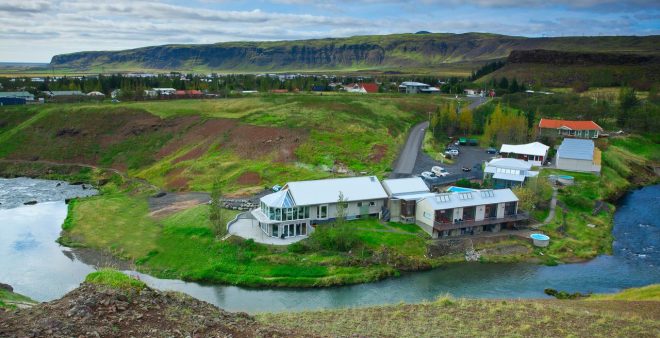 This unique hotel in Iceland is situated near the bubbling geothermal springs in Hveragerdi. You will be happy to find out that they have a great outdoor pool and a restaurant based on the slow food concept. It's also only 45 km away from Reykjavik. On-site activities include fishing, snorkeling, horse riding, jeeping – all these are must-do's for Iceland!
Conclusion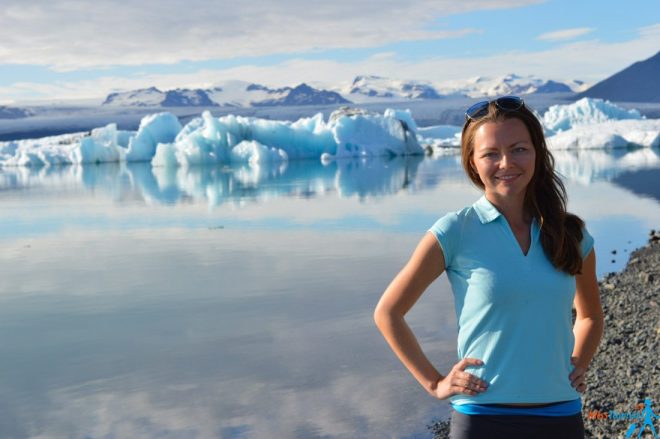 That's it, guys! This article was a fast and easy way of finding great places to stay in Iceland during my recommended 14 days itinerary around the country!
I tried to give you good recommendations that will fit all kinds of travelers, regardless of their budget!
Want to visit Iceland but cheap accommodation is a problem? Not anymore!
This article covers a lot of accommodation options that are easy and fast to book!
Was this article helpful?
Let me know if you have any other questions in the comments below! I always love to hear from you!
Yulia
---
Pin it for later!
Pin it for later!