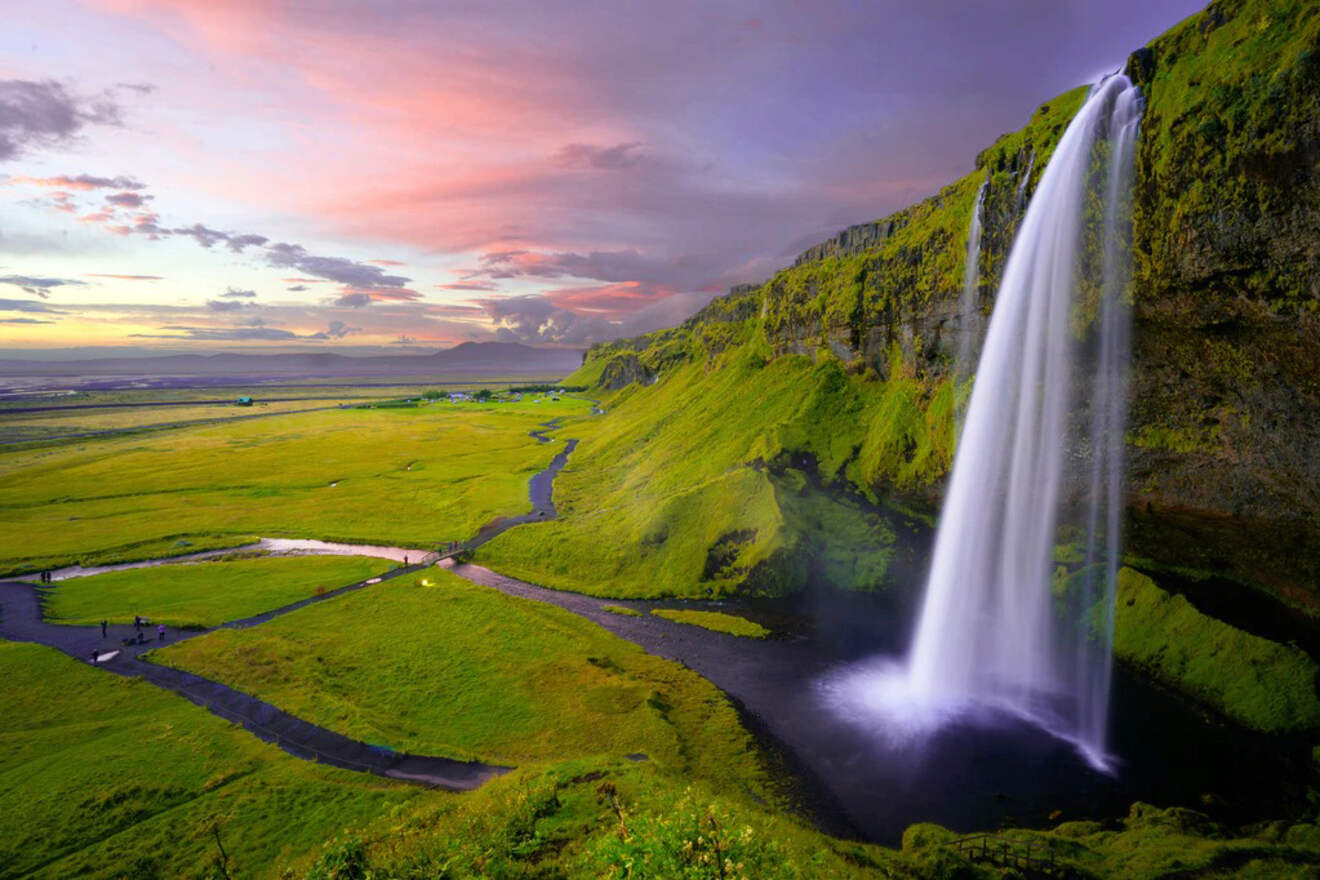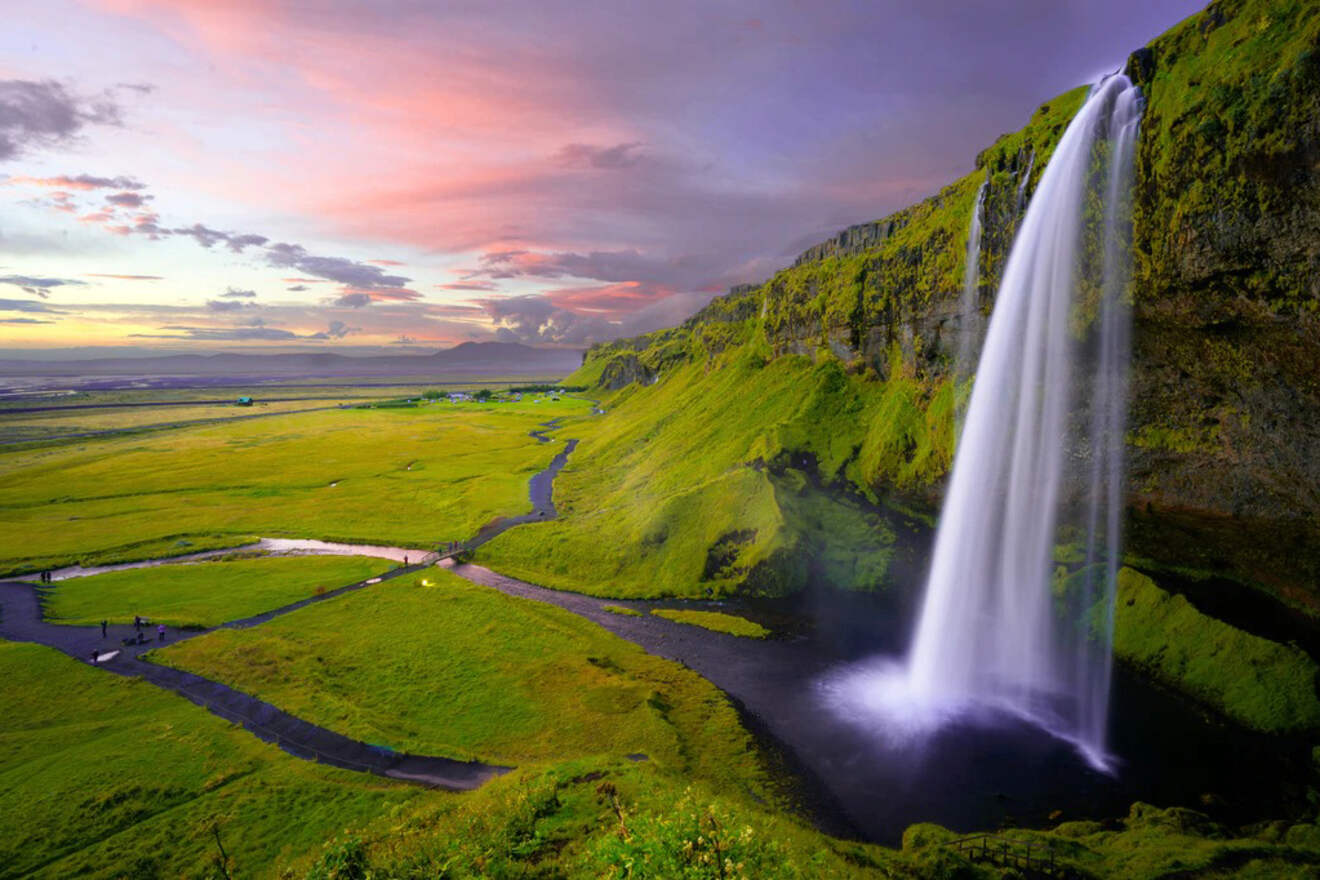 If you are looking for a detailed resource on where to stay in Iceland with links to hotels and airbnbs, have it sorted by prices and cities, you are in the right place!
I'll help you choose which areas to skip and those not to miss depending on your time frame and help you book all your accommodation for anywhere on the island in literally minutes! Each of the different areas in this guide are separated by around 3 hours of driving on average leaving you plenty of time to stop and see all the sights.
I'll narrow down the best Iceland hotels and accommodations for all of the different areas you must visit on your trip to Iceland! Whether you're looking for luxurious, mid-range, or budget, you'll find it here.
Even though it isn't known to be a cheap travel destination, it doesn't mean that traveling on a budget in this country is impossible. Hopefully, you'll get to choose which Iceland hotels are perfect for you, and once you do that, remember to book them immediately, lots of people want a spot here!
So, where to stay in Iceland? Read on and find out.
If you are in a hurry
No time to check everything out? Here are some quick links to the best place to stay in Iceland for each budget that I'll discuss in this post:
Here's an Iceland map with and areas I will highlight in this post, so you can visualize the best places to stay in Iceland:
NOTE: Because Iceland is a very popular destination I encourage you to book the hotels as soon as possible because the rooms are booked quickly and prices are never going lower!
1. Reykjavik – your first stop in Iceland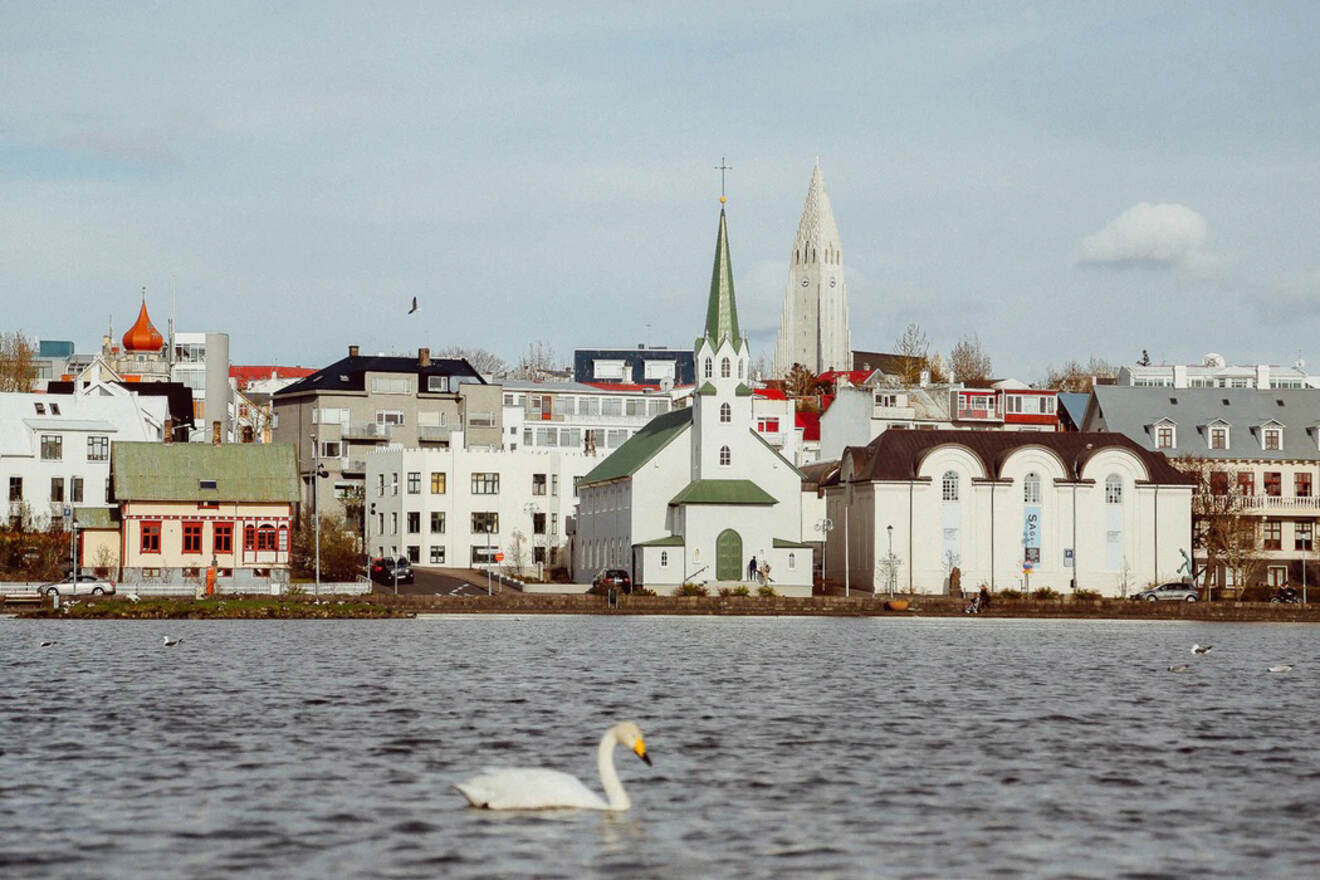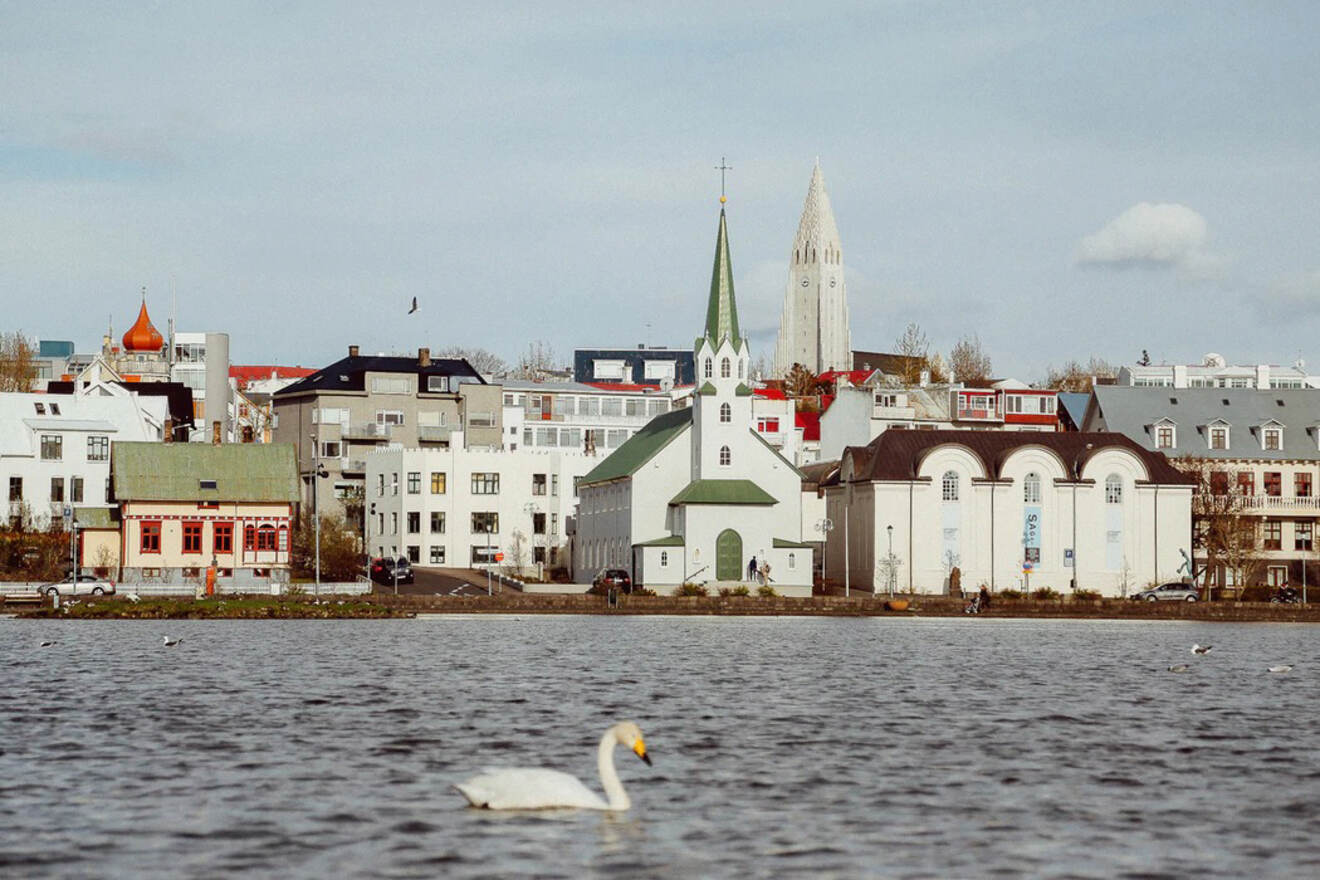 You'll most likely pass through Iceland's capital city, Reykjavik, once you've landed at Keflavik International Airport, making it the perfect place to stay at the start of your adventures in Iceland.
The city itself is a must-see if it's your first time visiting! With Mount Esja as the backdrop, enjoy the colorful buildings brightening up the streets as you stroll the shops or enjoy a delicious meal in any of the world-class restaurants during your stay in Reykjavik. Don't miss the chance to see the view of the colorful town center from the top of a modern cathedral, Hallgrimskirkja Church Tower.
The fun doesn't end at night as Reykjavik locals know how to have a good time, living up to their vibrant nightlife. Plus, you don't even have to leave Reykjavik if you want to see the dancing lights of the northern lights (although I recommend you do!).
There are several hotspots with less light pollution in the city including the Grótta Lighthouse in the most northwestern point where you have a chance of spotting the aurora borealis.
I recommend you stay in the capital city of Reykjavik at the start of your trip to dive right into the Icelandic culture. Here are the top 4 hotels in Reykjavik for each budget, but if you are looking for even more options, check out my full guide for best places to stay in Reykjavik.
Other hotels in Reykjavik
Things to do in Reykjavik
Shop on one of Iceland's oldest shopping street, Laugavegur
Visit various museums like the National Museum of Iceland
Snap a picture of the Hallgrimskirkja Church
Check out the interesting sculpture Sun Voyager by the sea.
Head to Seltjarnarnes to try and see the northern lights
Enjoy some fine dining at Perlan, a glass domed restaurant.
Feed the birds at Reykjavik lake, Tjörnin
Take a day trip for a soak in a geothermal tub at Kvika Foot Bath near Grótta Lighthouse
Looking for more? Check out the best things to do in Reykjavik on a budget!
2. The Golden Circle – Icelands most popular sights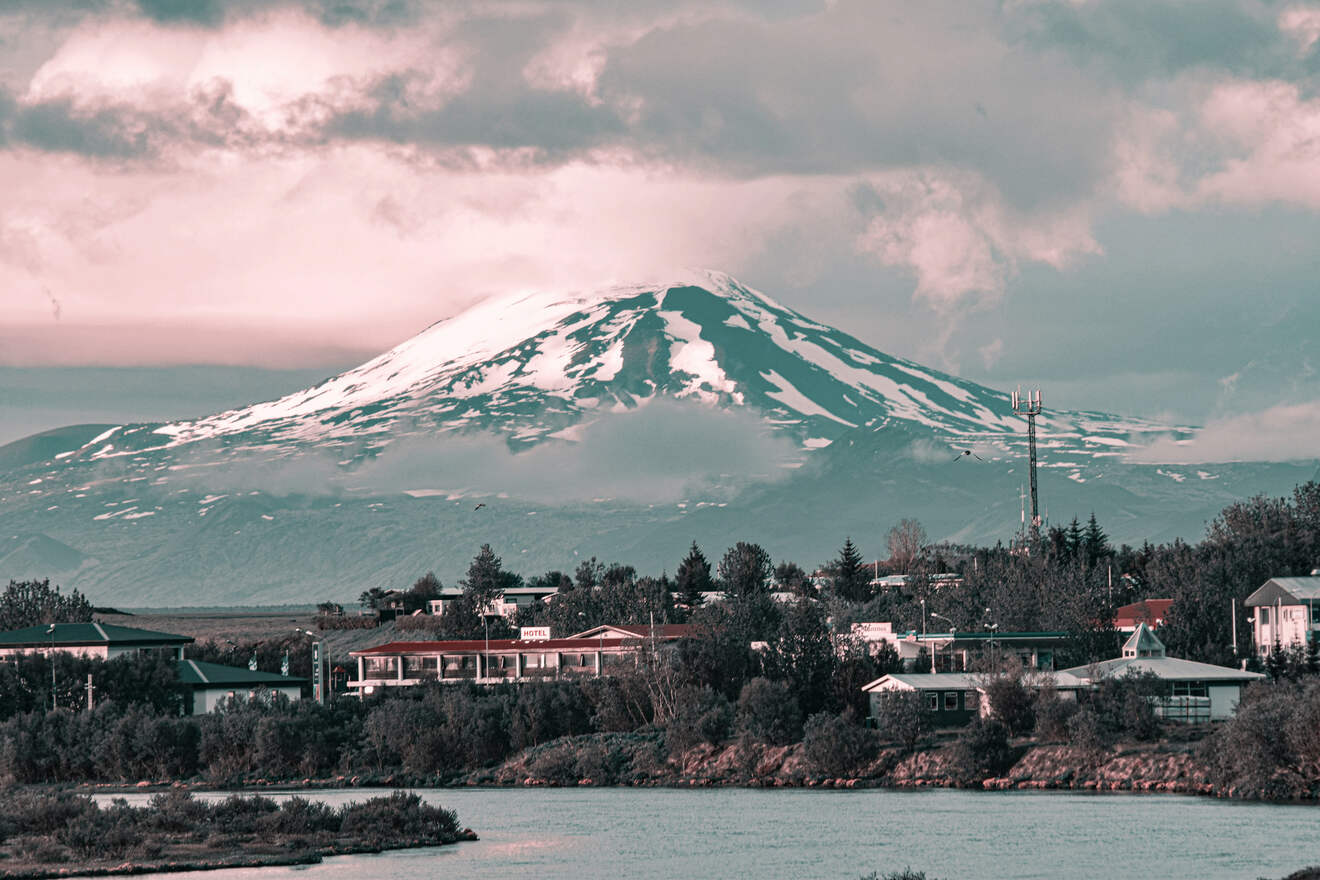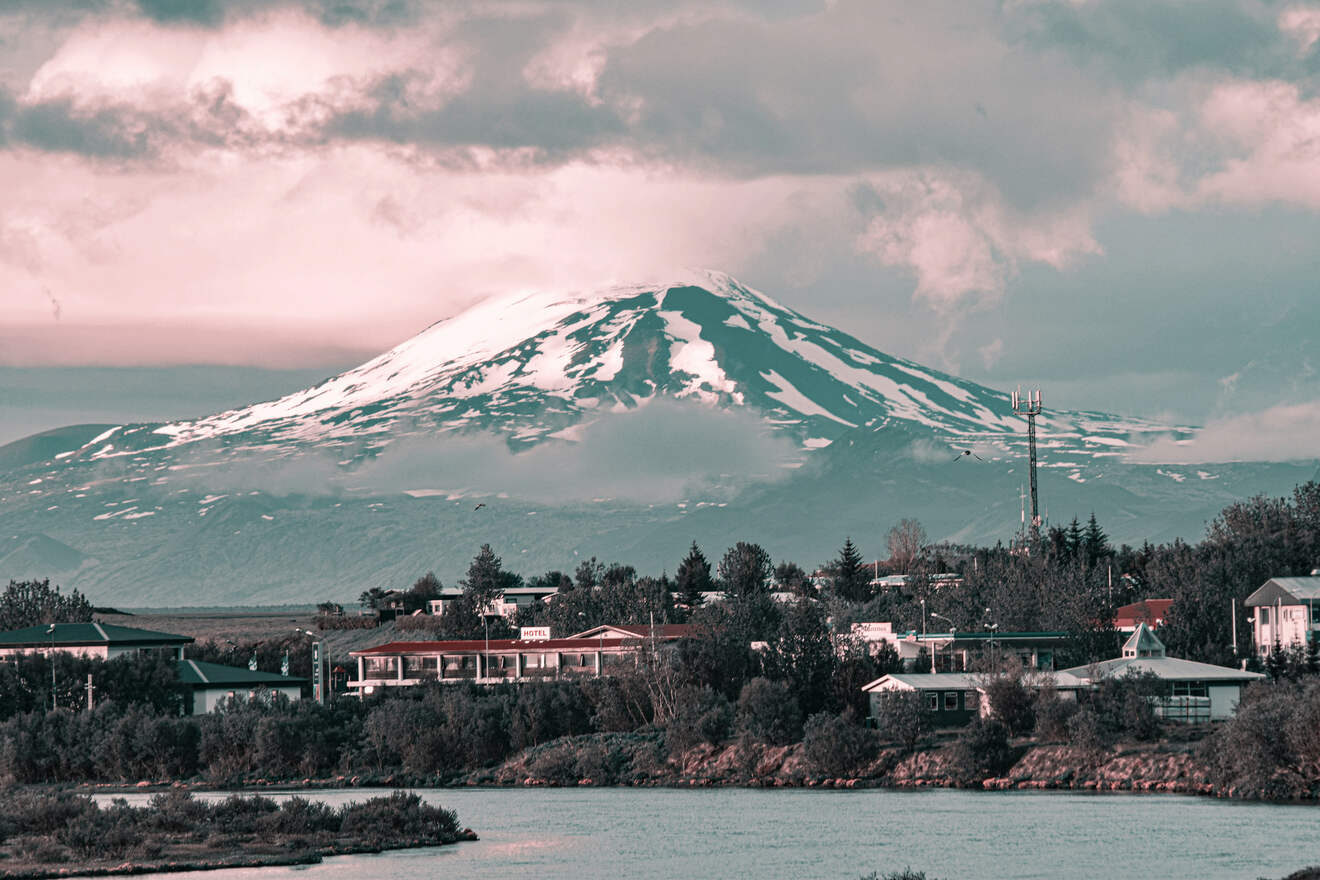 The Golden Circle is a famous tourist route on the coast of South Iceland, and a road trip you shouldn't miss regardless of how much time you have in Iceland! This 300-kilometer expedition will take you past three main attractions: Þingvellir (Thingvellir) National Park, Geysir (and Strokkur) geothermal region, and Gullfoss waterfall.
Imagine picturesque landscapes, glacial rivers, black sand beaches, and horse farms – you'll clearly see this country's vast richness of nature. You might take a tour, but if you can, renting a car is a much better option!
If you have less than a week in Iceland, this leg can be done in as little as a day if you stay in Reykjavik. If you can, make sure to take 2-3 days and spend the night in either Hella, Hveragerdi or Selfoss.
I have chosen the best Iceland accommodation overall in this region for different budgets below. If you're continuing your road trip on the ring road, this will be your first stop for the night and you'll have plenty of time to stop and check out the incredible scenery of the southern coast of Iceland.
For all the details, make sure to read this post for all the must-visit places on the Southern Coast of Iceland where I describe things to visit step-by-step.
Other accommodation in Hveragerdi, Selfoss & Hella
Things to do in Golden Circle
Join a day trip or drive the Golden Circle route
Marvel at the Strokkur Geysir that shoots 40 meters (131 feet) high
Check out the Kerið crater
Visit Iceland's first National Park and a UNESCO World Heritage Site, Þingvellir (Thingvellir) National Park
3. South Coast (Vik or Skogar) – the famous black sand beaches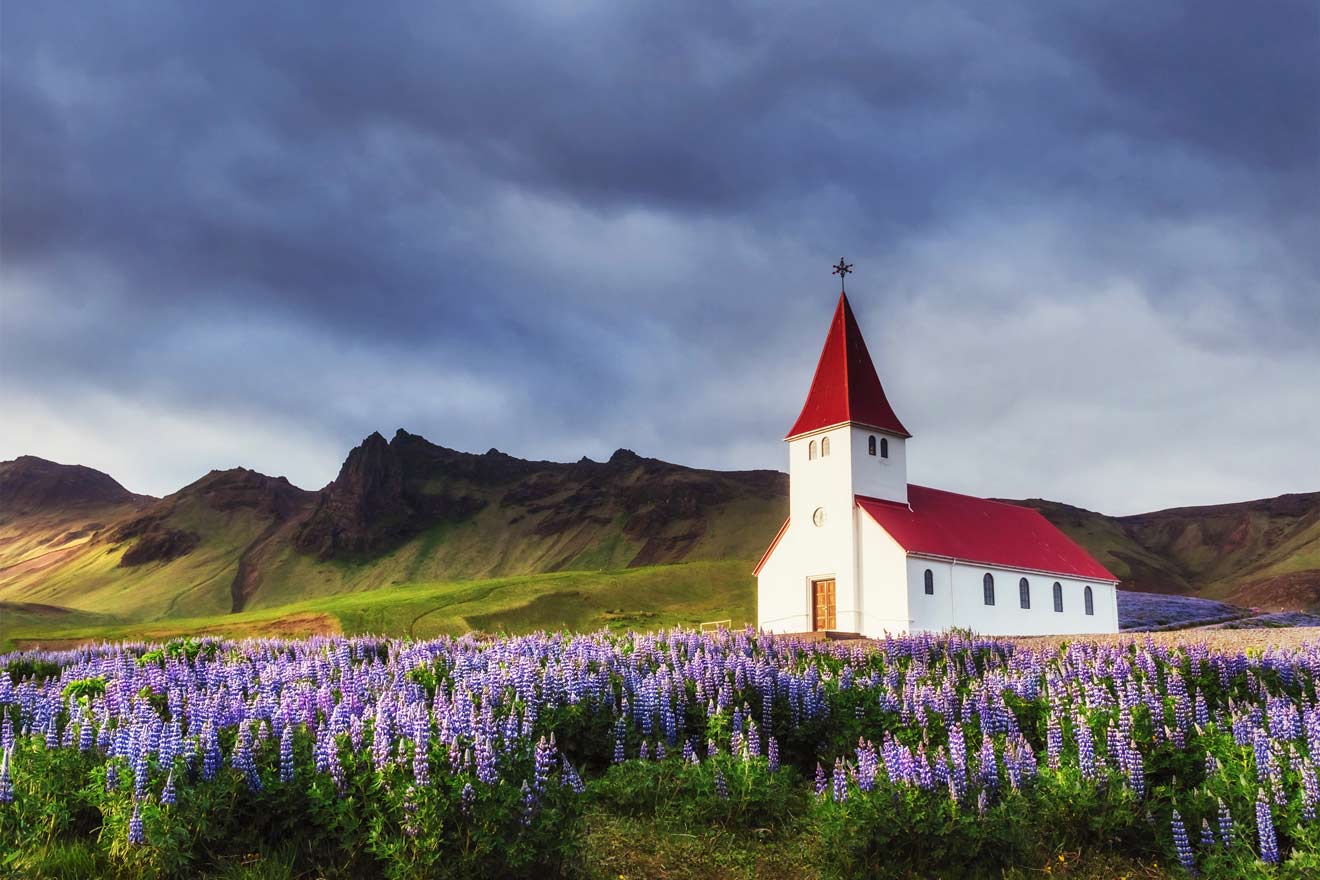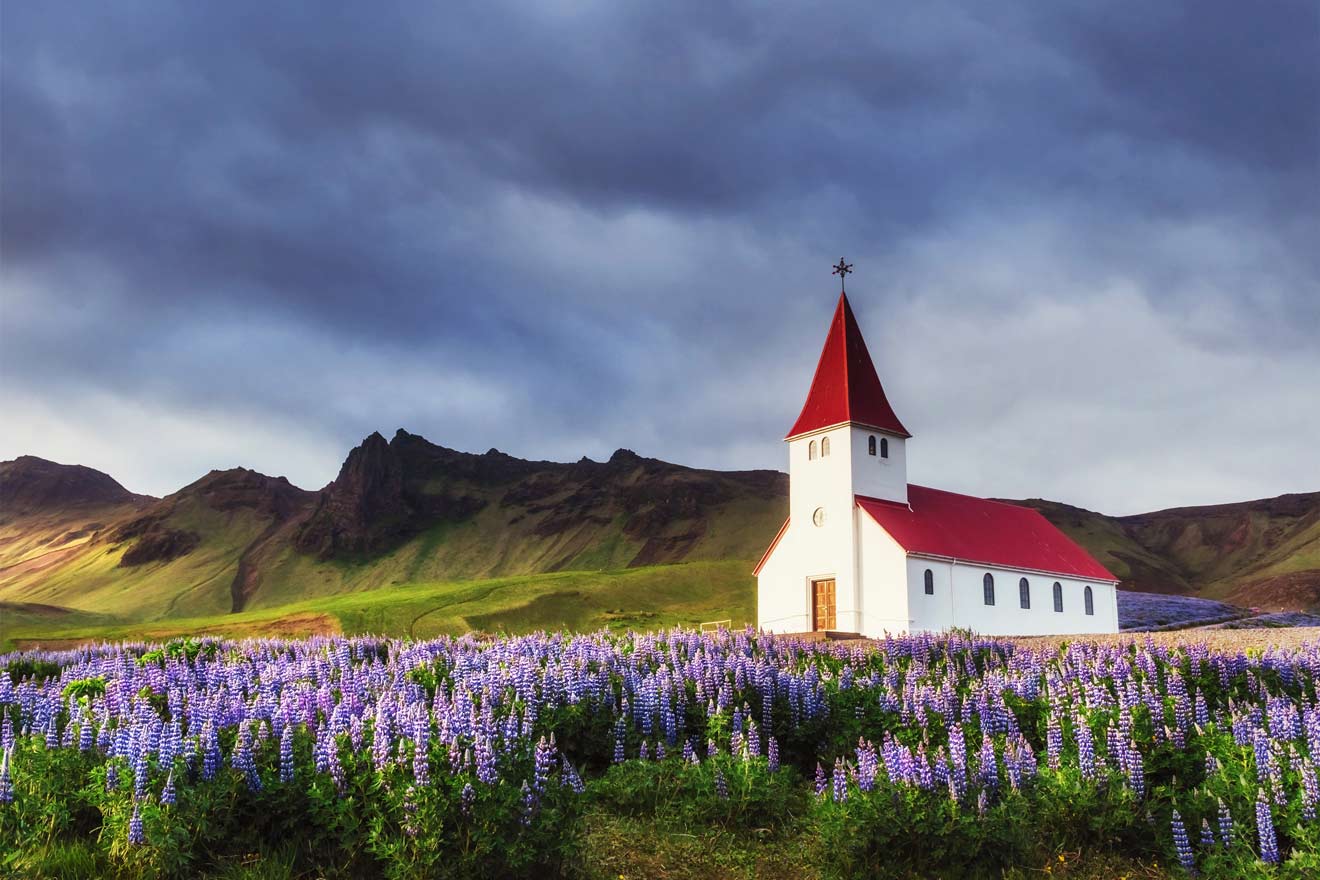 Often included as part of the golden circle for those who don't have enough time to explore the entire country of Iceland, the South Coast of Iceland is a popular area defined by stunning natural beauty.
Stretching from the village of Vík to the west to the fishing village of Höfn to the east, the South Coast is lined with black sand beaches, mountains, impressive waterfalls, and glaciers. This is where to stay in Iceland for easy scenic drives, for a hike, or for a swim.
Since there are so many incredible things to see along this stretch of coast, we will break it down into two stops. For your first night in the south, the best towns to stay in are Vik or Skogar.
Other accommodation options in Vik and Skogar
Things to do on the South Coast
See the northern lights from the black sand beach of Vik
Drive to see Seljalandsfoss, Skogafoss and Gljúfrafoss waterfalls
Snap a pic on the very instagramable Reynisdrangar sea stacks
Explore the Dyrhólaey peninsula
Admire the Eyjafjallajökull volcano
Take a dip in the Seljavallalaug Swimming Pool
4. South East Iceland (Skaftafell & Hofn) – near the glaciers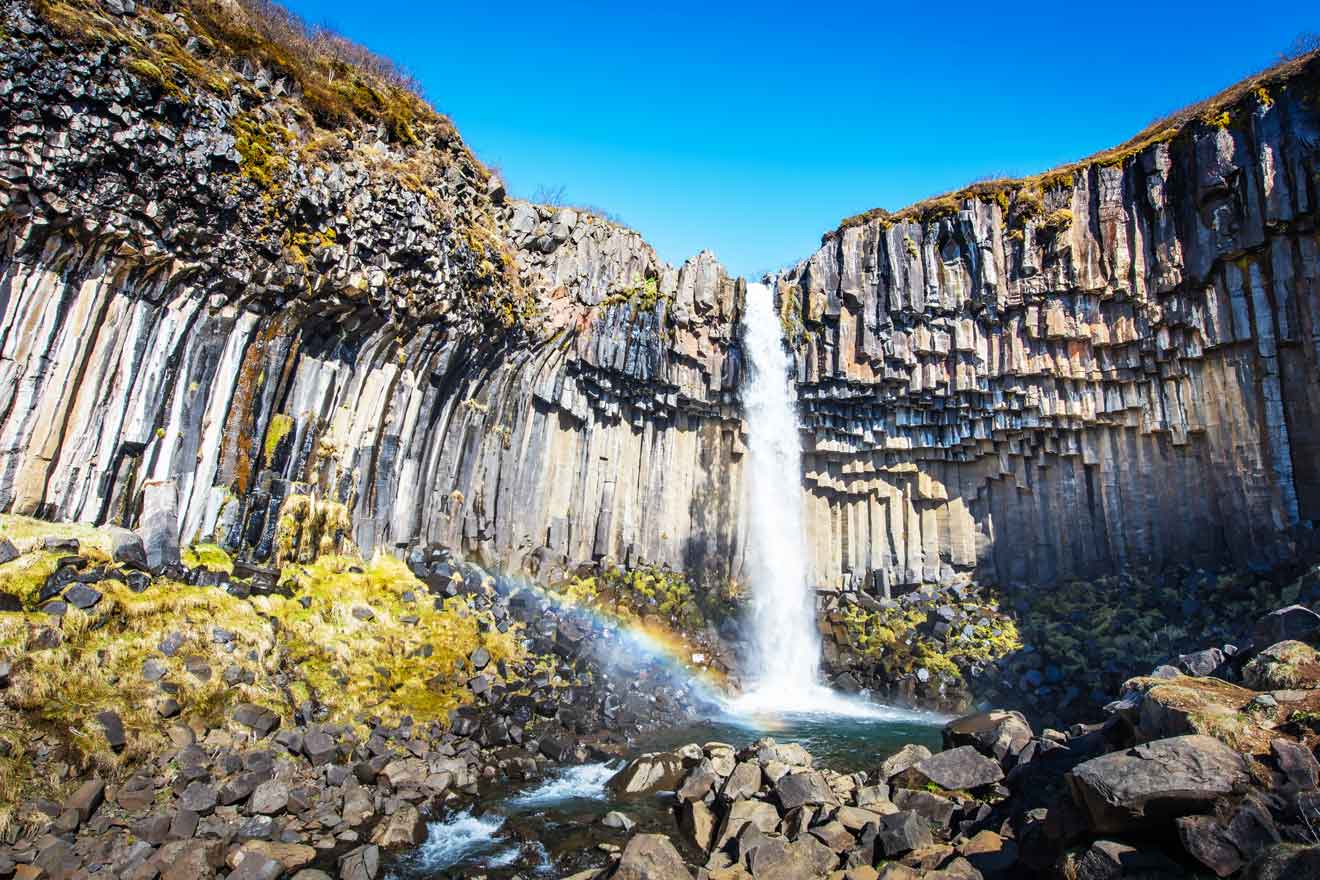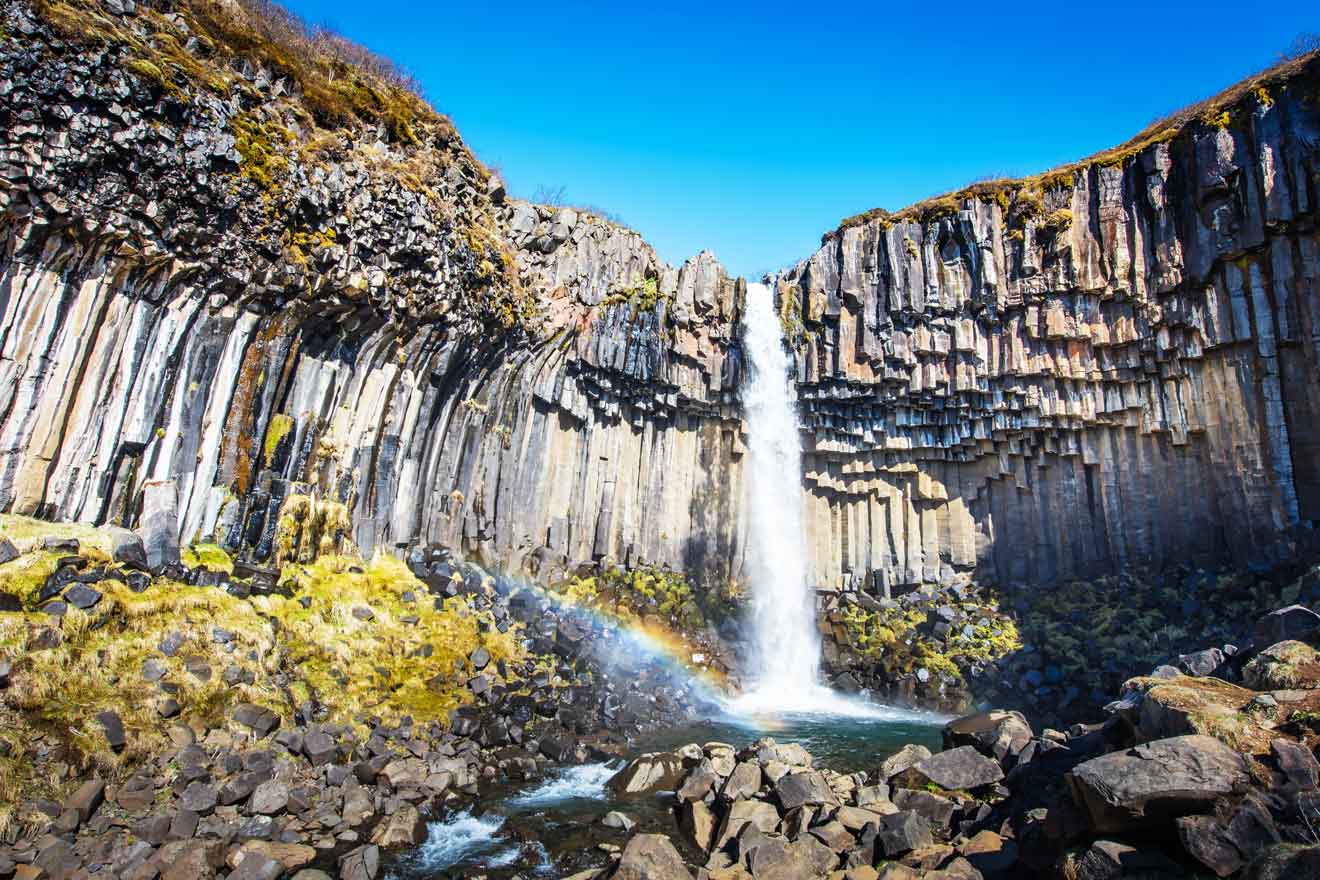 Many people turn back after they visit the Golden Circle and the South Coast, but if you're following my road trip itinerary, you've only just begun! From here, we will continue to drive the rest of the ring road, the 1000-kilometer-long (621 miles) road that circles the country (also known as Route1).
Iceland's ring road can be driven in less than a week, but there are plenty of stops to take along the way, including some of the most beautiful waterfalls, incredible geological formations, awe-inspiring views of the Icelandic coast, and a glacier lagoon or two. If you haven't checked my guide on car rental tips in Iceland, you should do it now!
Southeast Iceland is famous for being the home of the Jokulsarlon Glacier Lagoon, and the Diamond Beach where icebergs wash up on the shore. So make sure to rug up and put on your sunscreen for your adventures here, it will be cold but it's worth it!
The best towns to stay in for this part of your trip are Skaftafell or Hofn, here are your best options:
Other accommodation options in Skaftafell and Hofn
Things to do in South East Iceland
Go for a guided hike on Skaftafell glacier
See the incredible reflections in Jokulsarlon glacier lagoon
Visit Mountain headland of Stokksnes with its black sand beaches and dramatic peaks
See the icebergs of Diamond Beach
Explore Fjaðrárgljúfur Canyon
Admire the Skaftafell waterfall
Go for a hike in Vatnajökull National Park
Visit the Askja crater
5. East Iceland (Egilsstaðir & Seydisfjordur) – for lava caves & fjords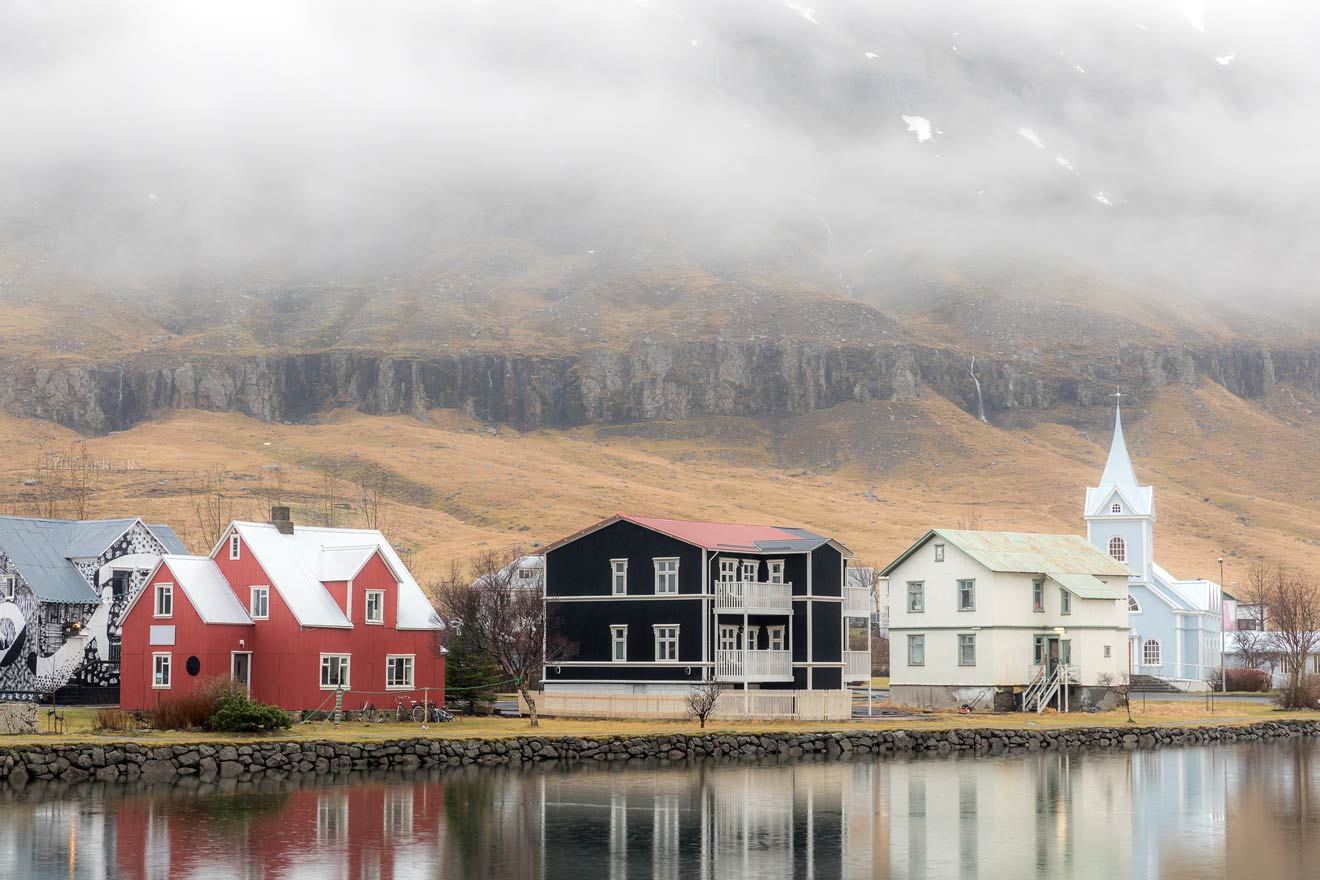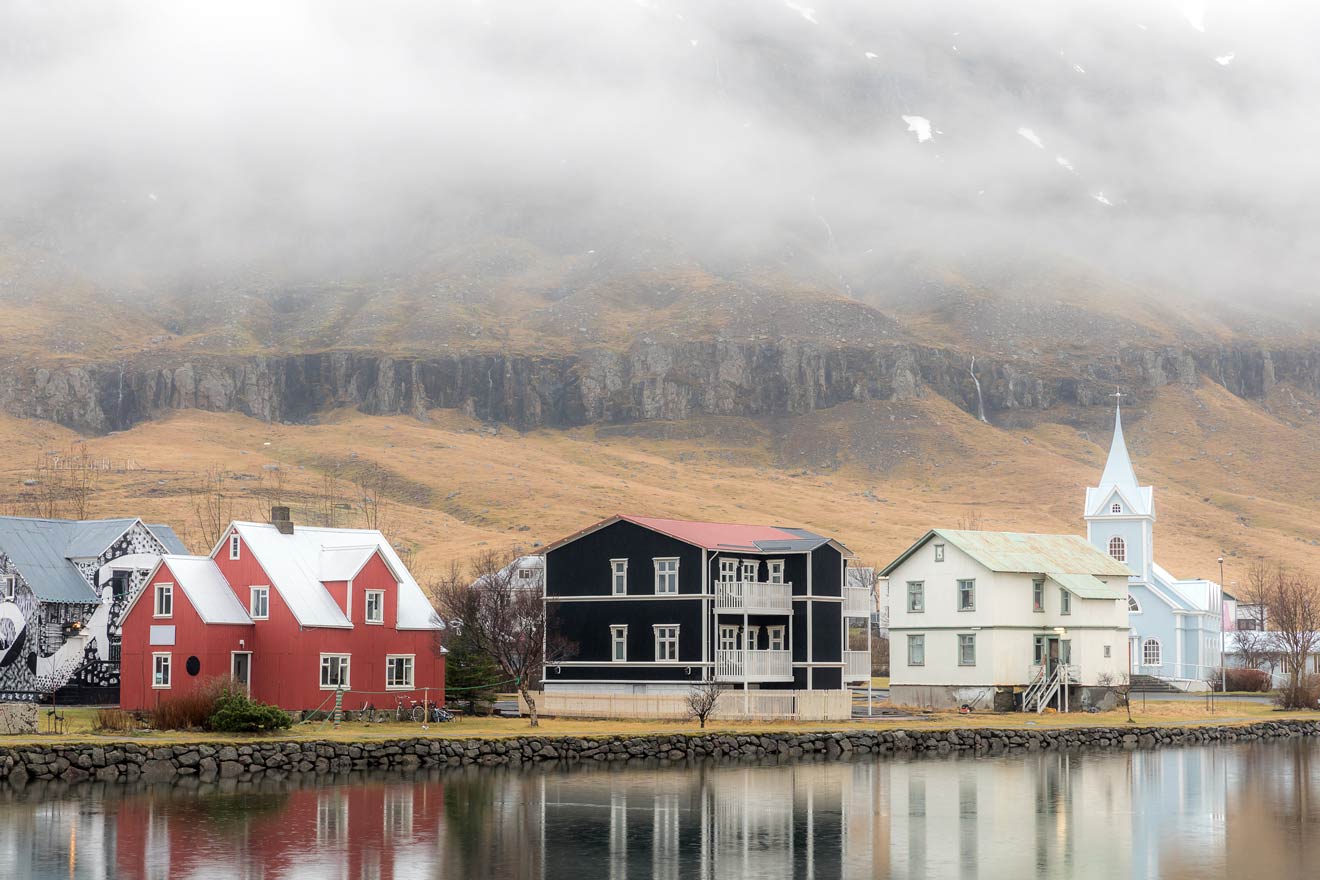 Ready for more canyons, lava fields, and fjords? I hope so because we're heading up the east coast after covering all of Southern Iceland.
You will be heading towards an area best known for its charming fishing villages, amazing wildlife, mountains, and tranquil atmosphere. This is where to stay in Iceland for the chance to get to see reindeers roaming freely in the wild!
Make sure to go for a hike in the East Fjords to find jaw-dropping waterfalls and discover stunning lava caves. Of course, there are tons of hotel options in the east of Iceland but I recommend you stay in one of these ones in Egilsstaðir & Seydisfjordur:
Other accommodation in Egilsstaðir & Seydisfjordur
Things to do in East Iceland
Don't miss the Litlanesfoss waterfall over basalt columns
Visit canyon
Learn something new at the Skriduklaustur museum
Marvel at natural Hengifoss and Gufu waterfalls
Explore the gravel roads of the East Fjords
Take a trip to Papey Island
6. Northern Iceland – where to stay for whale watching
As you travel north on the ring road, the trip begins to become more flexible with many different options of things to do and places to stay depending on your time and interests.
Are you over waterfalls yet? I hope not because there's plenty more of them to see in Goðafoss as well as the bird cliffs of Dyrhólaey, volcanoes of Lake Mývatn, lava fields of Dimmuborgir, the black beaches of Reynisfjara and not to mention the chance to go whale watching in Husavik!
I have broken down north Iceland into two sections, North East and North West. If you are following the full 2 week itinerary I recommend you choose two places to stay in North Iceland. A stop in both of the areas of the North will reduce your driving each day and give you much more time to fully explore the natural wonders of North Iceland.
If you have a little less time and you don't mind driving for longer on one of the days, I suggest staying in the North-East part since it has all the activities I mentioned earlier.
6.1 North East Iceland – Akureyri, Mývatn or Husavik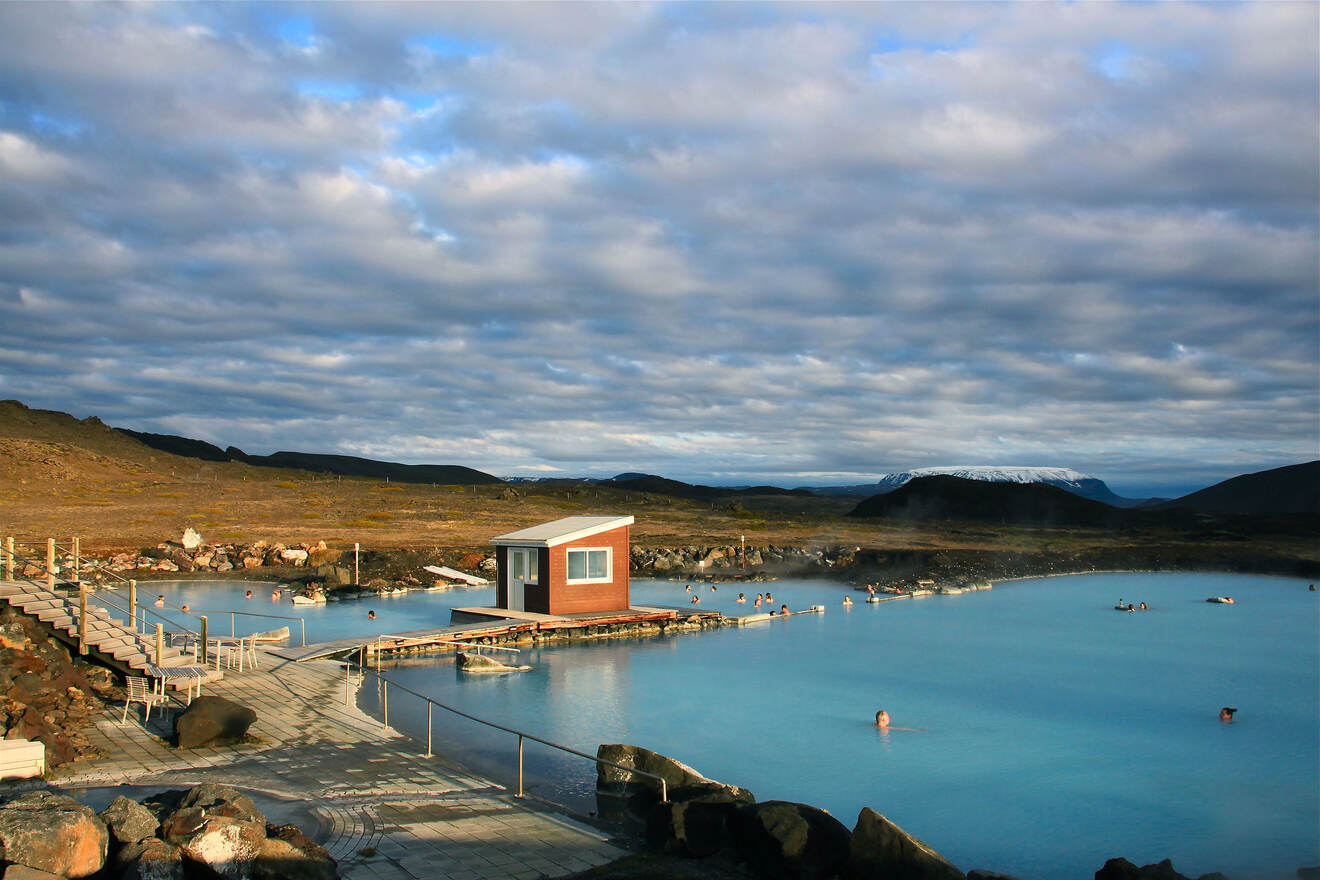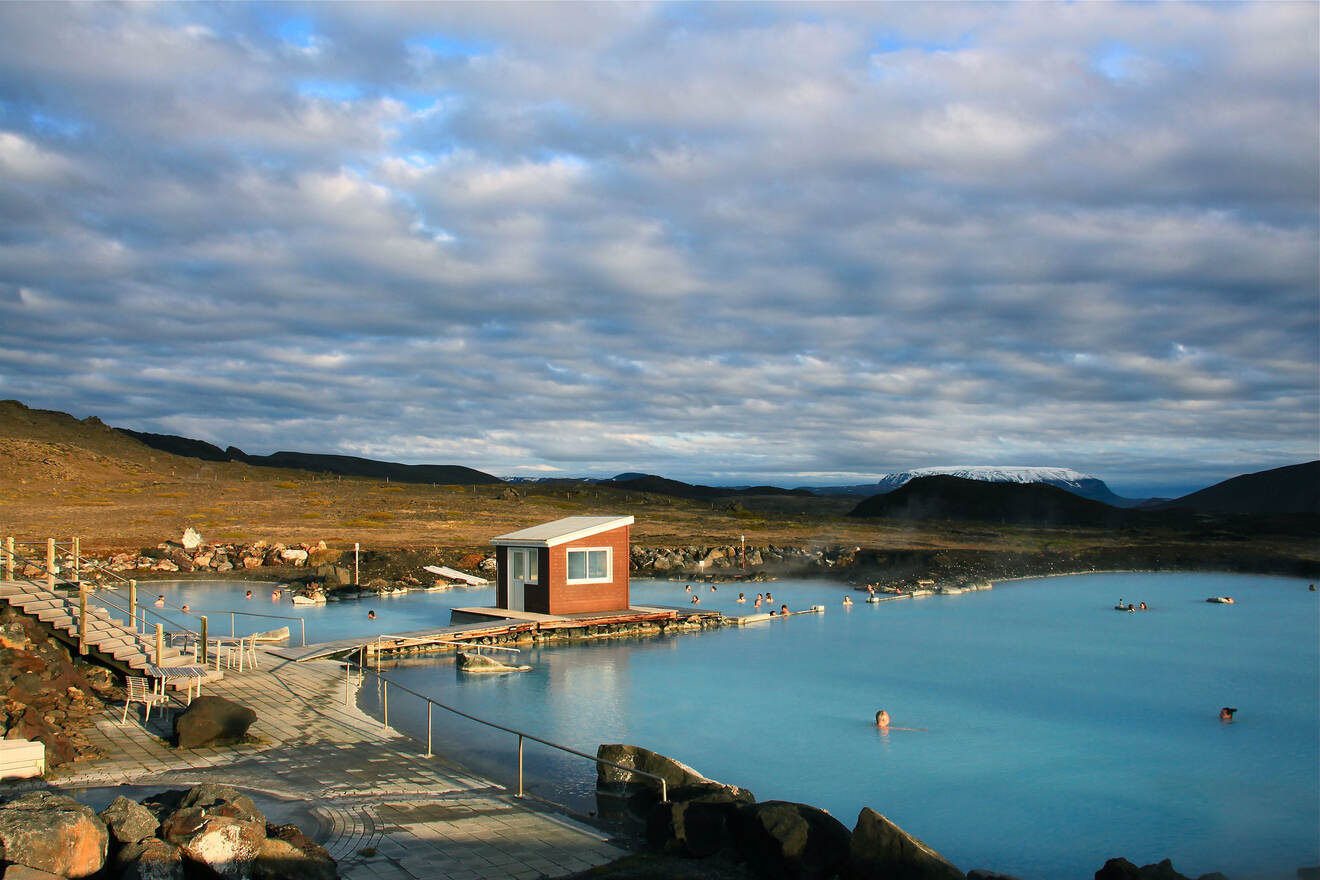 As you head north you will be heading towards the second biggest city in Iceland and what locals consider the capital of the north, Akureyri. Art, culture, and history enthusiasts will be delighted by a stay in Akureyri due to the number of museums and galleries in the area, plus there is an extensive selection of hotels and accommodations to choose from here.
I recommend basing yourself in Akureyri for a couple of nights to explore the city as well as heading even further north to the colorful, coastal town of Husavik for some whale watching. Husavik and Mývatn are also great alternatives to Akureyri if you prefer to spend time outside of the city.
Here are your best hotels and other accommodation options in Akureyri:
Other accommodation options in Akureyri
Best accommodation options in Mývatn and Husavik
Mývatn is another great option for places to stay in North East Iceland if you are looking for somewhere a little closer to nature. Alternatively, if you're really keen to see some whales, Husavik is the whale watching spot to be! Here are my recommendations for the best places to stay in these two towns:
Things to do in North East Iceland
Check out Safnasafnið, an Icelandic folk and outsider art museum
Rejuvenate in Mývatn Nature Bath (equivalent to the Blue Lagoon)
Chase waterfalls at Dettifoss
Join a whale-watching boat tour
Hike on of Ásbyrgi Canyon's great trails
Visit a wooden church – Húsavíkurkirkja
See the Arctic Henge
Go skiing at Hlíðarfjall
6.2 North West Iceland – Skagafjörður or Varmahlid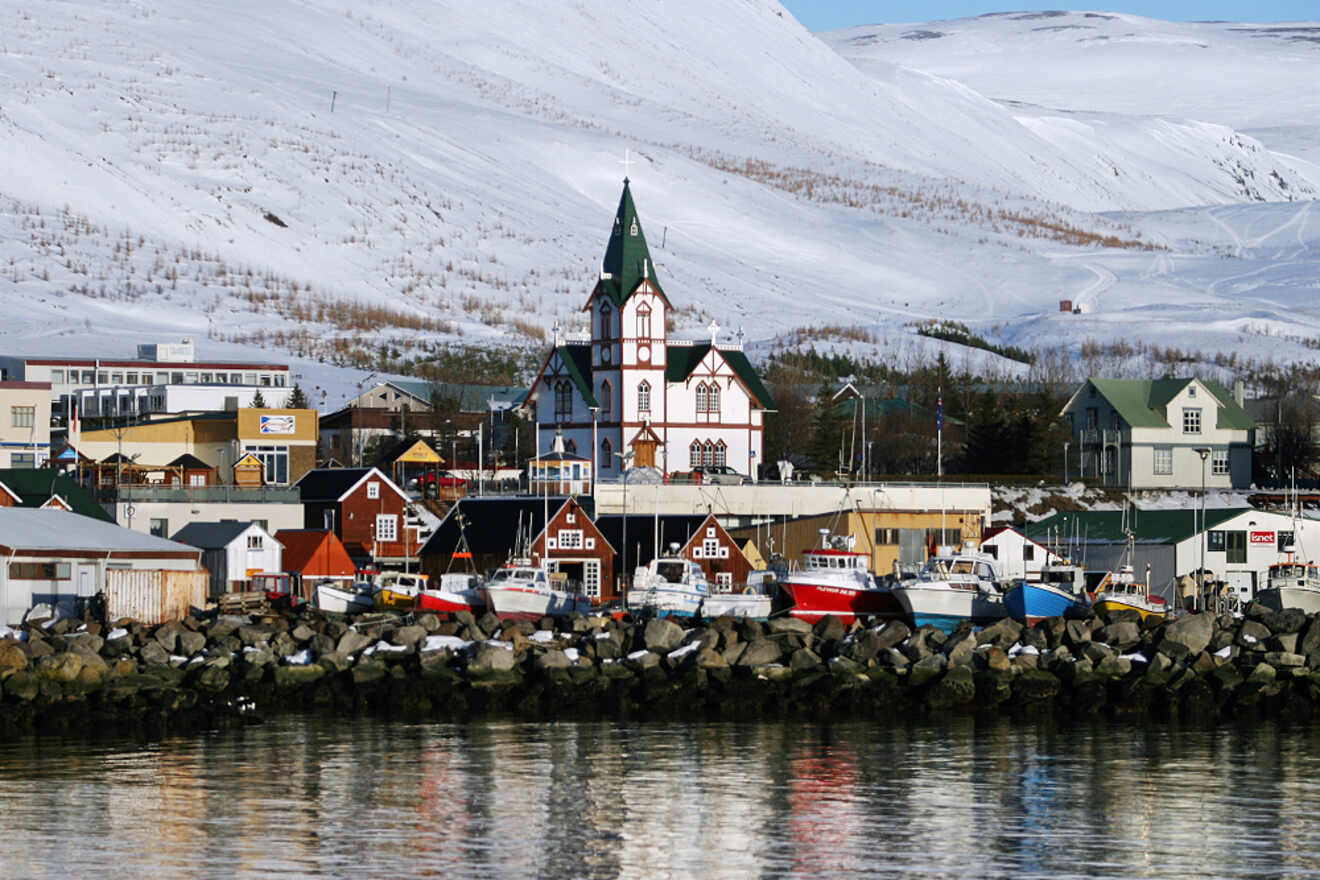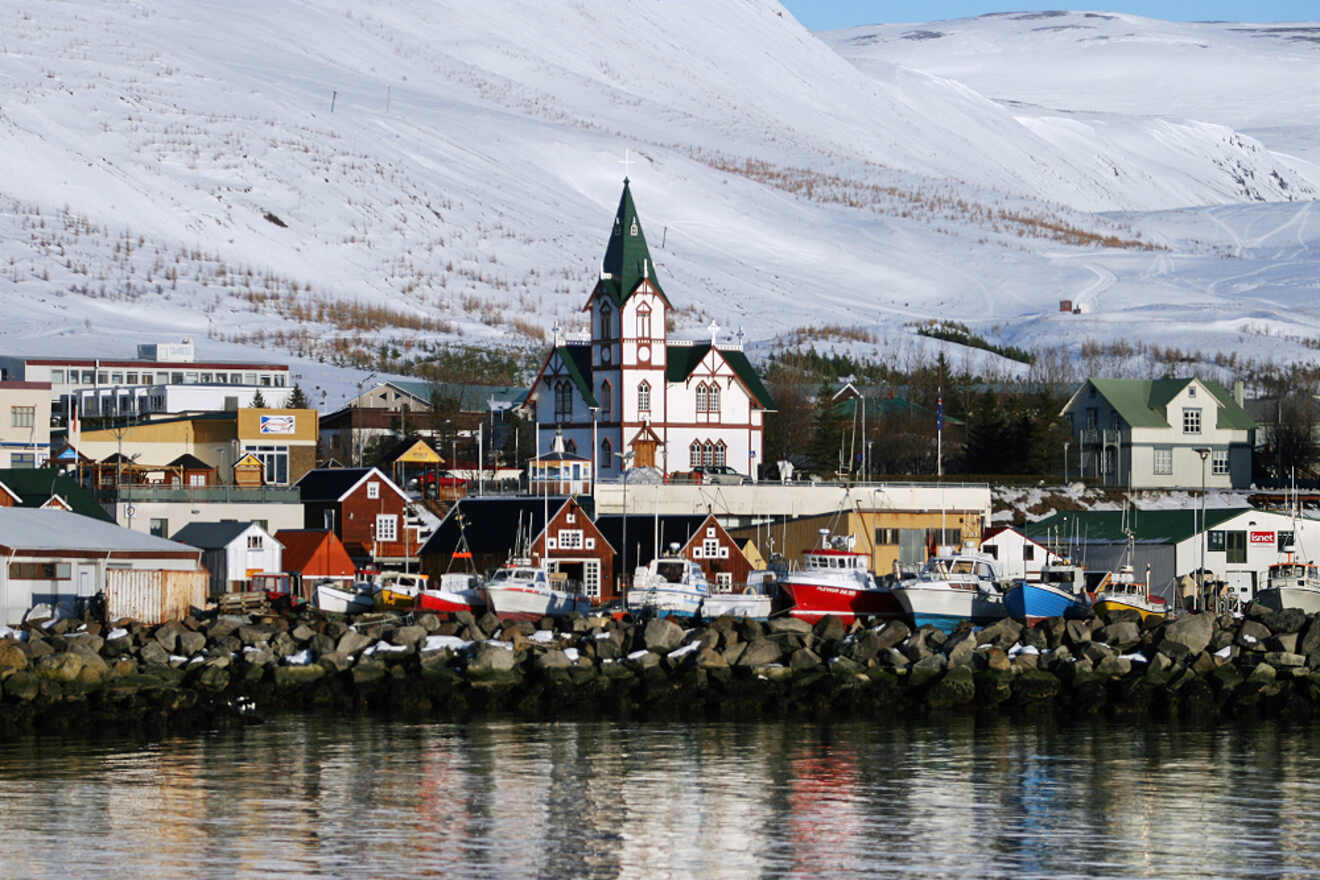 After you've finished watching the whales and exploring the North East, it's time to move onto the North West.
If you're planning on visiting the West Fjords after this, stopping for a night in either Skagafjörður or Varmahlid is almost essential to cut down your driving time.
You also have the option of veering off the ring road here and driving the Arctic Coast Way instead for a bit of a change of scenery. You will find typical Icelandic wilderness and gorgeous geothermal pools similar to the Blue Lagoon along this incredible stretch of coastline.
Here are the best places to stay in northwest Iceland in Skagafjörður and Varmahlid.
Other accommodation in Skagafjörður & Varmahlid
Things to do in North West Iceland
Discover how Icelanders lived for centuries at the well-preserved historical farm, Glaumbær Farm & Museum
See the animal shaped rock called Hvitserkur
Take a dip in Grettir's Pool
Look for puffins on the coast
Check out Reykjafoss waterfall
7. Westfjords (Ísafjörður or Patreksfjörður) – off the beaten path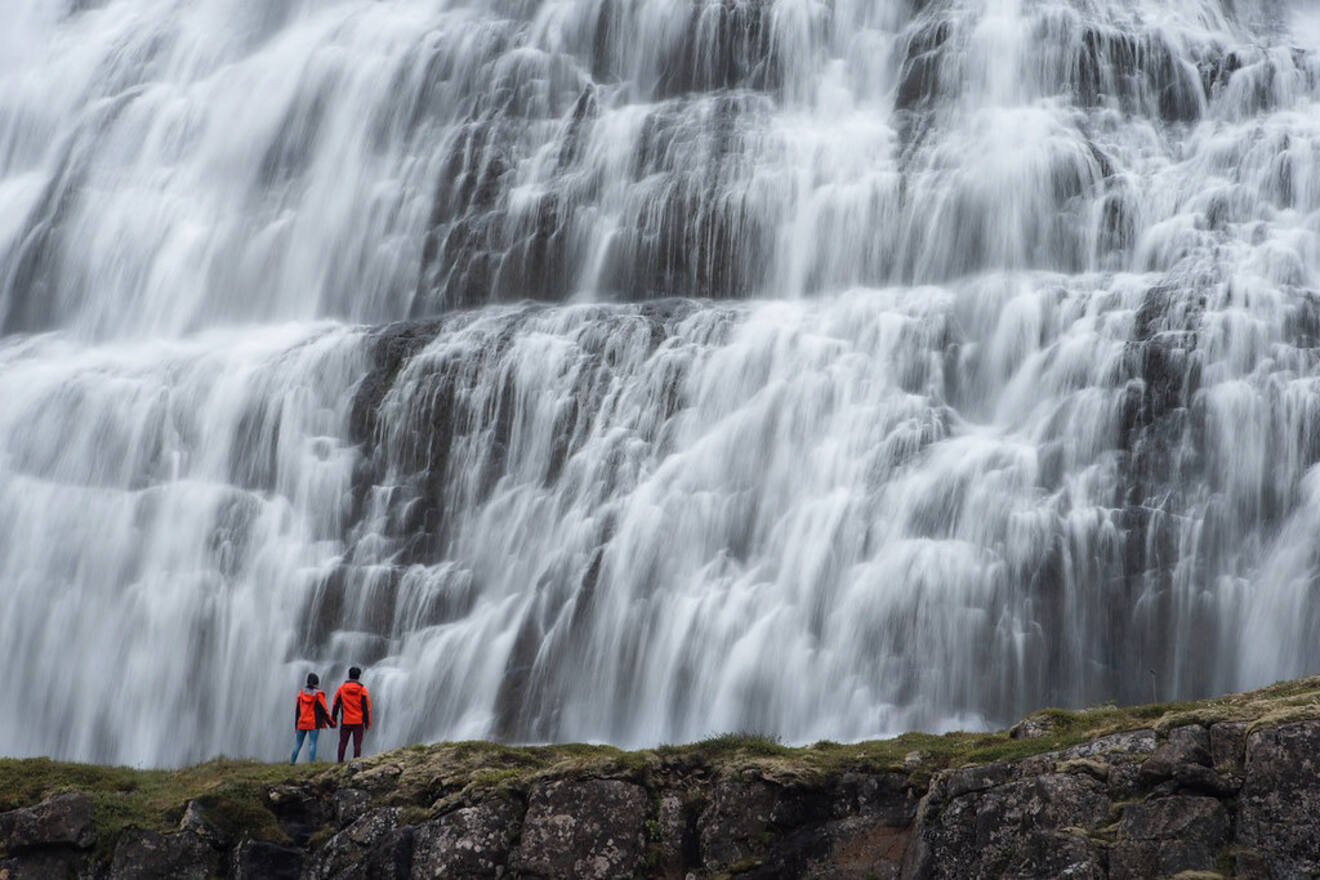 Many tourists who are short on time skip the fjords part and drive straight back to Reykjavik from the north. This is a good option for you if you have less than 2 weeks, but make sure to squeeze in a night at stop number 8, West Iceland, and the Snæfellsnes Peninsula if you can! Otherwise, Akureyri to Reykjavik is about a 5-hour drive without stops (which means you will probably miss some truly gorgeous spots!).
For those of you who are lucky enough to have the time, the Westfjords is a region that deserves so much more recognition than it gets and it is definitely one of the best places to stay in Iceland for its incredible, dramatic landscapes. When looking at a map of Iceland, you may notice the hand-shaped piece of land that sticks out to the left.
This area is the Western Fjords (the most western point of Europe) and a place that only 10% of Iceland's tourists visit!
This remote area has rougher roads than what you have become accustomed to but I assure you that this incredibly captivating region is something not to miss!
Note that the reason I say this area is only for those with enough time is that it takes around 6 hours to drive from Varmahlid to the tip of the Westfjords due to the road that zig-zags its way around the mountains. (Plus, remember that you have to drive back again to continue on the Ring Road). This is definitely where to stay in Iceland for those who love interesting driving and off-the-beaten-path adventures!
Here are your top choices in the Westfjords.
Other accommodation in Westfjords
Things to do in Westfjords
See the astonishing Dynjandi waterfall
Visit the most western point of Europe – Bjargtangar
See cute puffins and go on a coastal hike at the Látrarbjarg cliff
Explore all the tiny colourful fishing villages of the fjords
Eat some delicious seafood
Take a long stroll on the reddish sand beach, Rauðisandura
8. West Iceland (Borgarnes & Husafell) – the Snæfellsnes Peninsula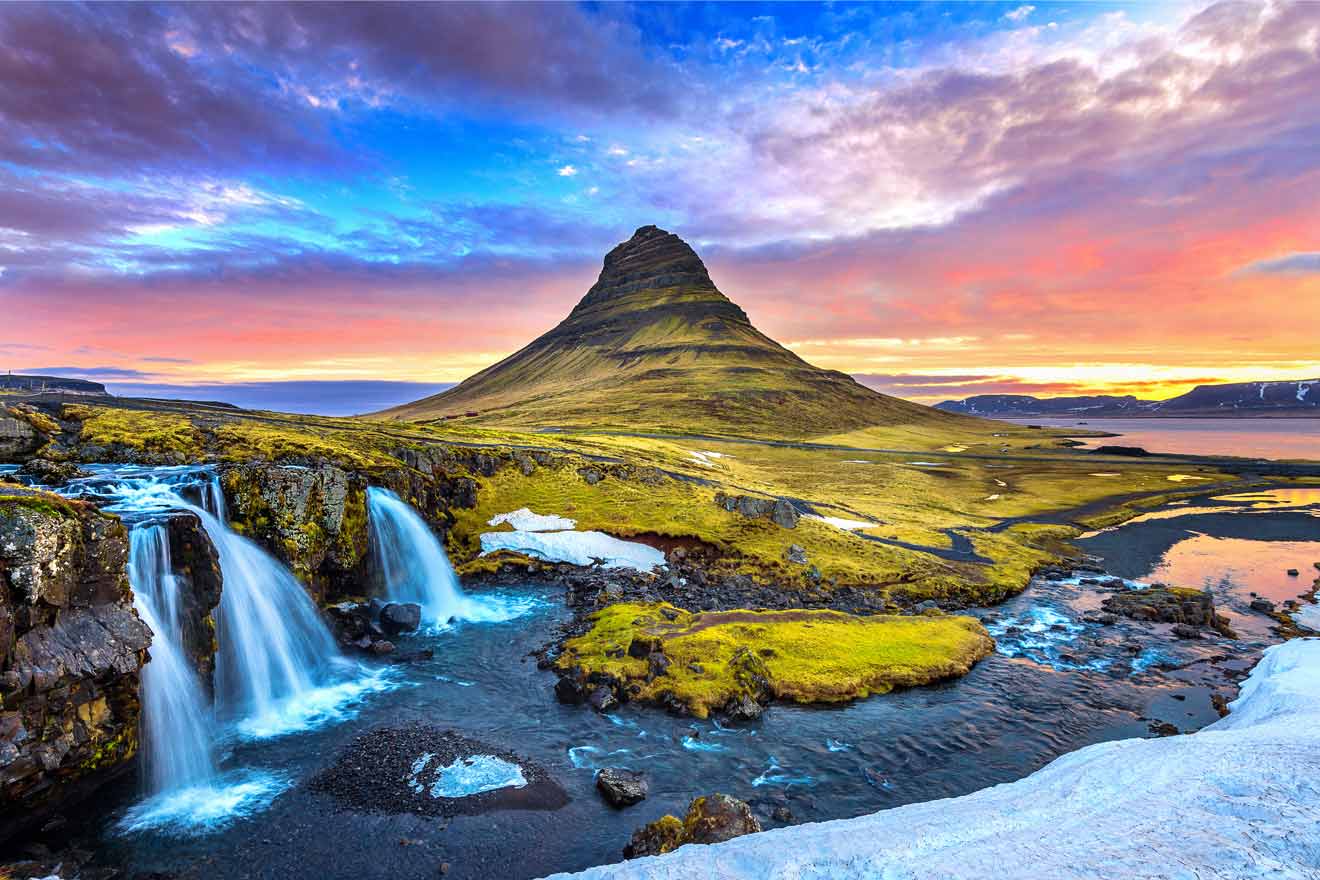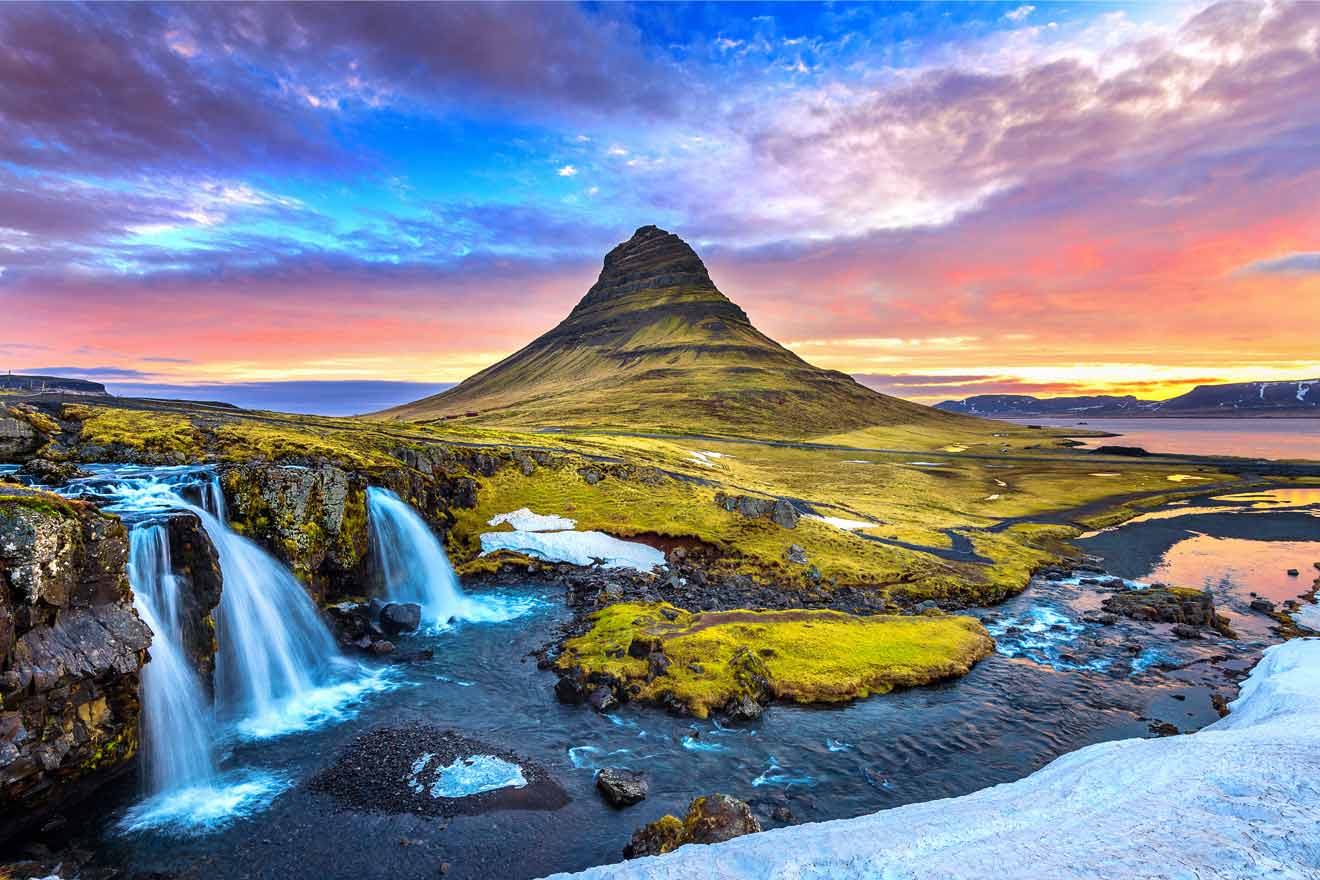 As you start to head south along the west coast, you are now on the home stretch. Moving on you will come across the 100 kilometer-long Snæfellsnes Peninsula bounded by the Borgarfjörður Fjord and full of active volcanoes!
Compared to the West Fjords, it's an easier place to access and closer to Reykjavik so if you're running short on time for the west, the Snæfellsnes Peninsula is the one to choose of the two. Check out my detailed post on this section of the road trip for more details.
Now, here's where to stay on the Snæfellsnes Peninsula for each budget:
Other accommodation in Borgarnes or Husafell
Things to do in West Iceland
Enjoy the beautiful scenery of the Snæfellsnes Peninsula
Hike to Eldborg Crater
See the active volcanoes in Snæfellsjökull National Park
Snap a picture of Kirkjufell mountain
See the geothermal pools of Deildartunguhver
Relax in the Canyon Baths of Husafell
9. Reykjanes Peninsula – best place to stay if you have more time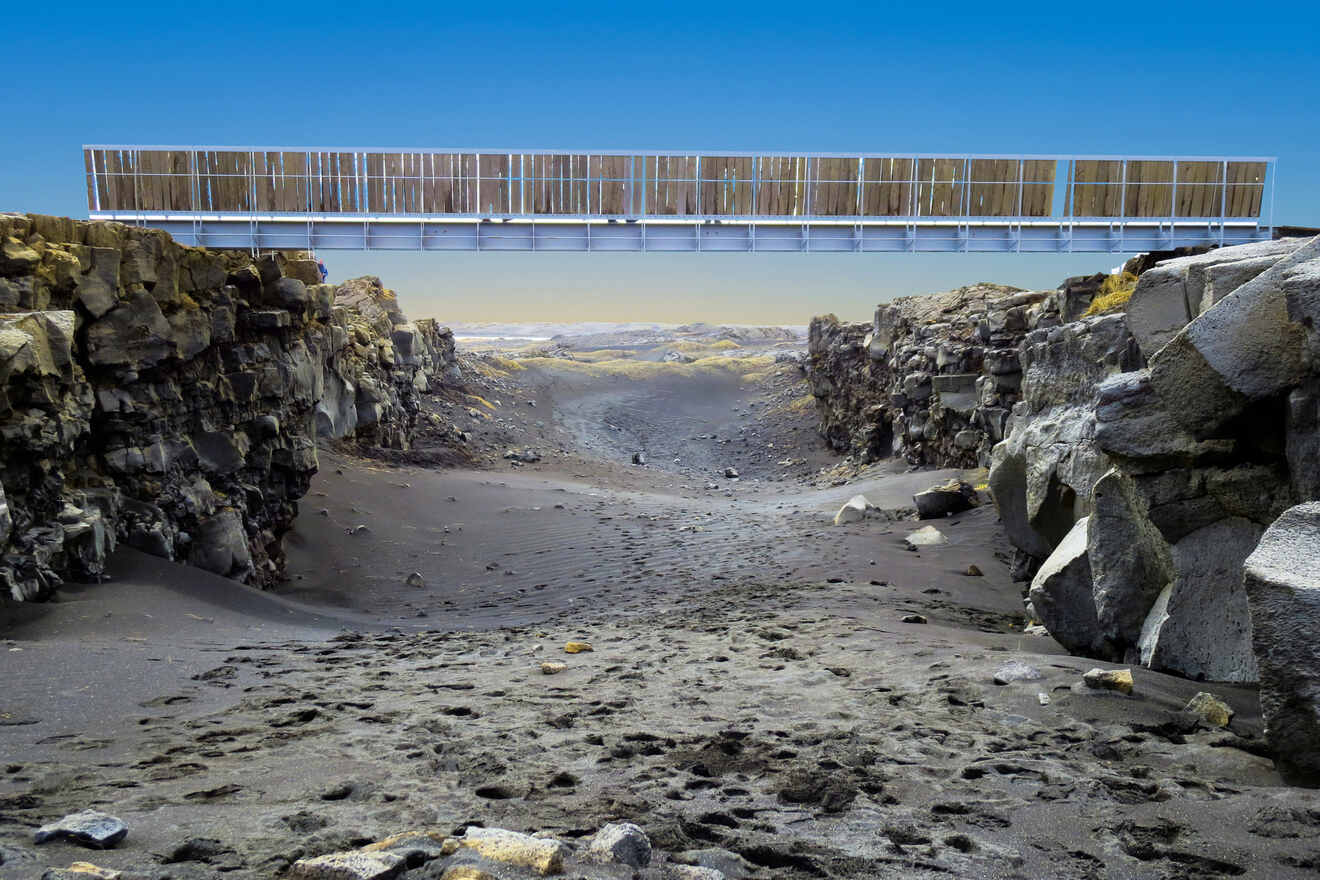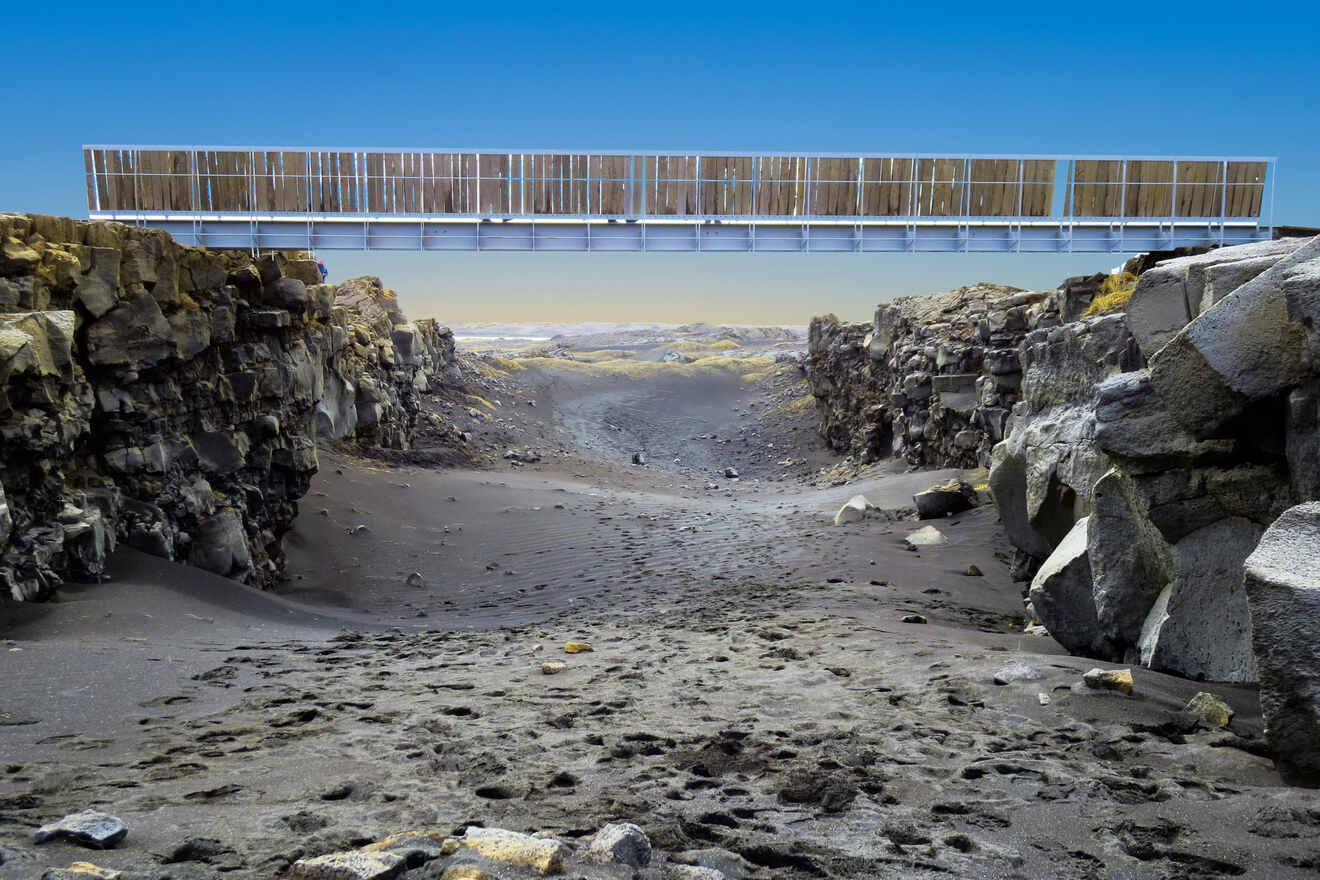 If you've got less than 2 weeks in Iceland, it's probably time to head back to Reykjavik after an epic trip around the country on route 1. If you're lucky enough to have more time or it's your 2nd, 3rd, 4th, 50th time visiting Iceland, just wait, there's more!
Continue on from the Snæfellsnes Peninsula to Reykjanes Peninsula, the home of the famous Blue Lagoon, and Keflavik Airport, the major point of entry of Iceland. The Icelandic landscape of Reykjanes is what the tourists first see when they touch down in Keflavik Airport. What a beautiful first impression, right?
Although nearly every person who visits Iceland passes through here, what many tourists miss is that there's more to this region than relaxing in the mineral waters of Blue Lagoon.
As you might have already guessed, this area is full of geothermal activity with an abundance of volcanoes, craters, lava fields, and caves for you to explore. Reykjanes Geopark is also a UNESCO World Heritage Site. Its rugged mountain peaks and sharp ridges offer unique hiking trails to those who dare and if you really just want to relax, you actually have 3 alternative geothermal pools to the blue lagoon to choose from.
Other accommodation options in Reykjanes Peninsula

Things to do in Reykjanes Peninsula
Hike the loose, but not too steep terrains of Mount Keilir
Go lighthouse hopping, (they outnumber the villages in Reykjanes Peninsula)
Cross the Bridge Between Two Continents (Europe and North America)
Enjoy a relaxing day at the Blue Lagoon
Check out the Viking Museum
See the Stekkjarkot cottage
Check out the The Icelandic Museum of Rock 'n' Roll
Walk the Hafnarberg Sea-cliffs
Check out the brand new alternative to Blue Lagoon, Sky lagoon
Best Places to Stay Near Keflavik International Airport
If you're wondering if there are worthy hotels and accommodations nearby Keflavik International Airport, there are plenty. Many tourists decide to stay for a night (or two) in this area since it's close to the popular Blue Lagoon (which is pretty much in every Iceland visitor's itinerary) or simply if you just need a place to crash for the night while waiting for a flight in the wee hours of the morning.
Luxury: Hotel Duus – A popular hotel by the sea with spacious rooms, an on-site bar, and a restaurant with a kid-friendly breakfast buffet. Airport drop-off avaliable (5 mins drive).
Mid Range: Sandgerdi Cottages – Cottages with ultra-clean rooms, a kitchenette, outdoor dining area, and hot tub on the terrace. 10km from Airport
Budget: A. Bernhard Guest House – Guesthouse with a garden and walking distance to the main street, airport drop-off service (5 min drive)
BONUS 1: Where to stay in Iceland for the Northern Lights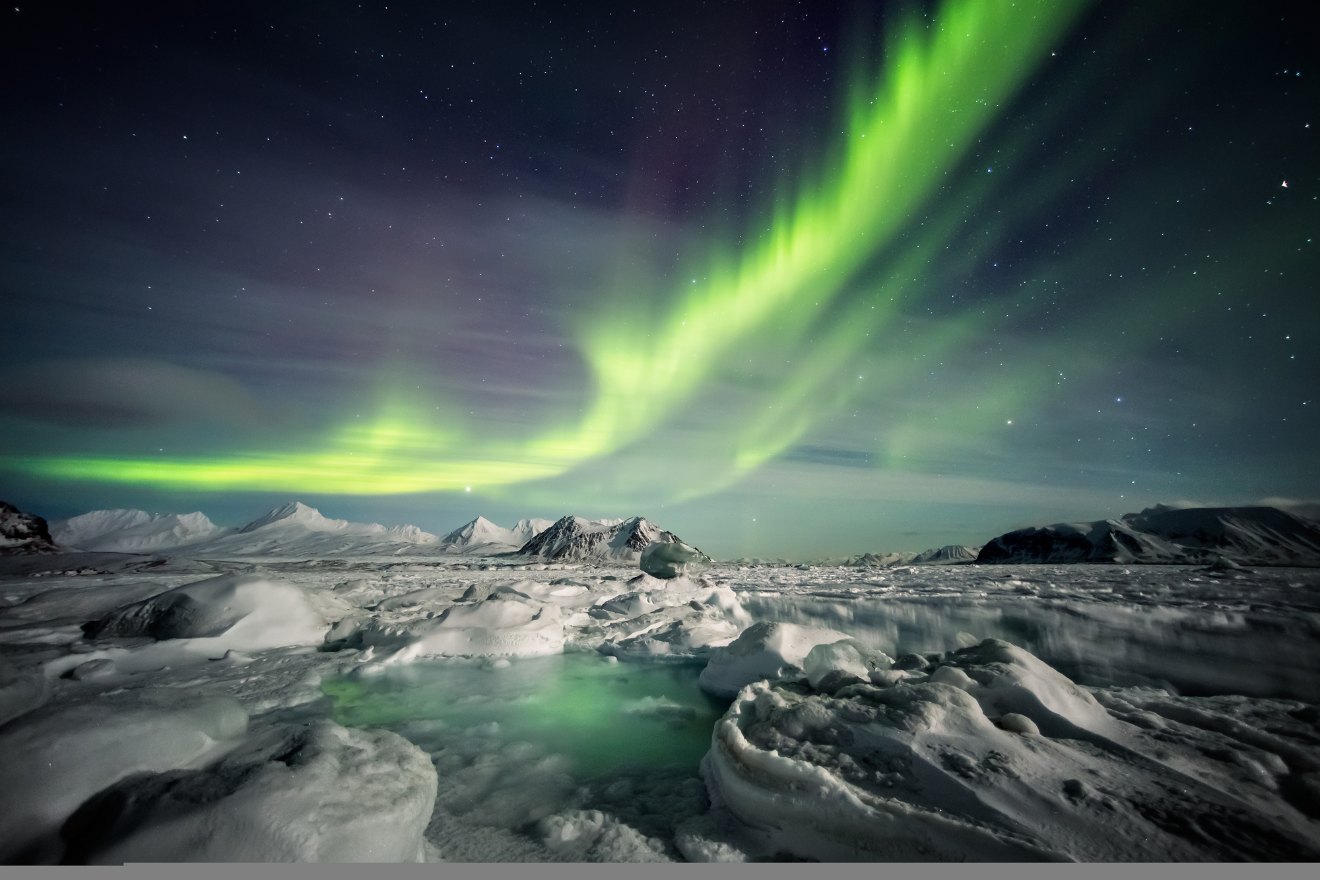 Iceland is so far north that given the correct conditions, you can actually see the northern lights from pretty much anywhere in the country without light pollution!

Yep, that's right, even just a little bit outside of the cities you have a chance of spotting the glorious aurora borealis dancing in the sky. That being said, if you really want to have the best experience, you're going to want to get as far away from civilization as possible.
But that doesn't mean you have to suffer, here are the best hotels to see the Northern Lights in Iceland, featuring rooftop observatories, thermal baths, and the best position to enjoy one of nature's greatest spectacles!
Ranga Hotel – This luxury hotel, nestled in an idyllic remote location nearby the Rangá salmon river, offers wake-up calls when the Northern Lights appear and turns off all lighting for a perfect viewing experience! Featuring a stargazing on-site observatory, outdoor hot tubs, and even rooms with a spa bath, you have absolutely everything you need here!
Hofsstadir Country Hotel – This lovely family-run guesthouse will offer you intimacy in the middle of remote countryside, and plenty of darkness at night to see the aurora in their full glory! Some of the cozy rooms also have a veranda out the front and back, so you can find the best view and still enjoy your privacy!
Grand Hotel Reykjavík – If you're looking for a more standard accommodation to see the Northern Lights in Iceland, you should opt for this stylish hotel located only 2 km from Reykjavik city center. Enjoy its huge outdoor swimming pool and get relaxing massages, facials, and pedicures at the amazing wellness spa!
BONUS 2: Unique places to stay in Iceland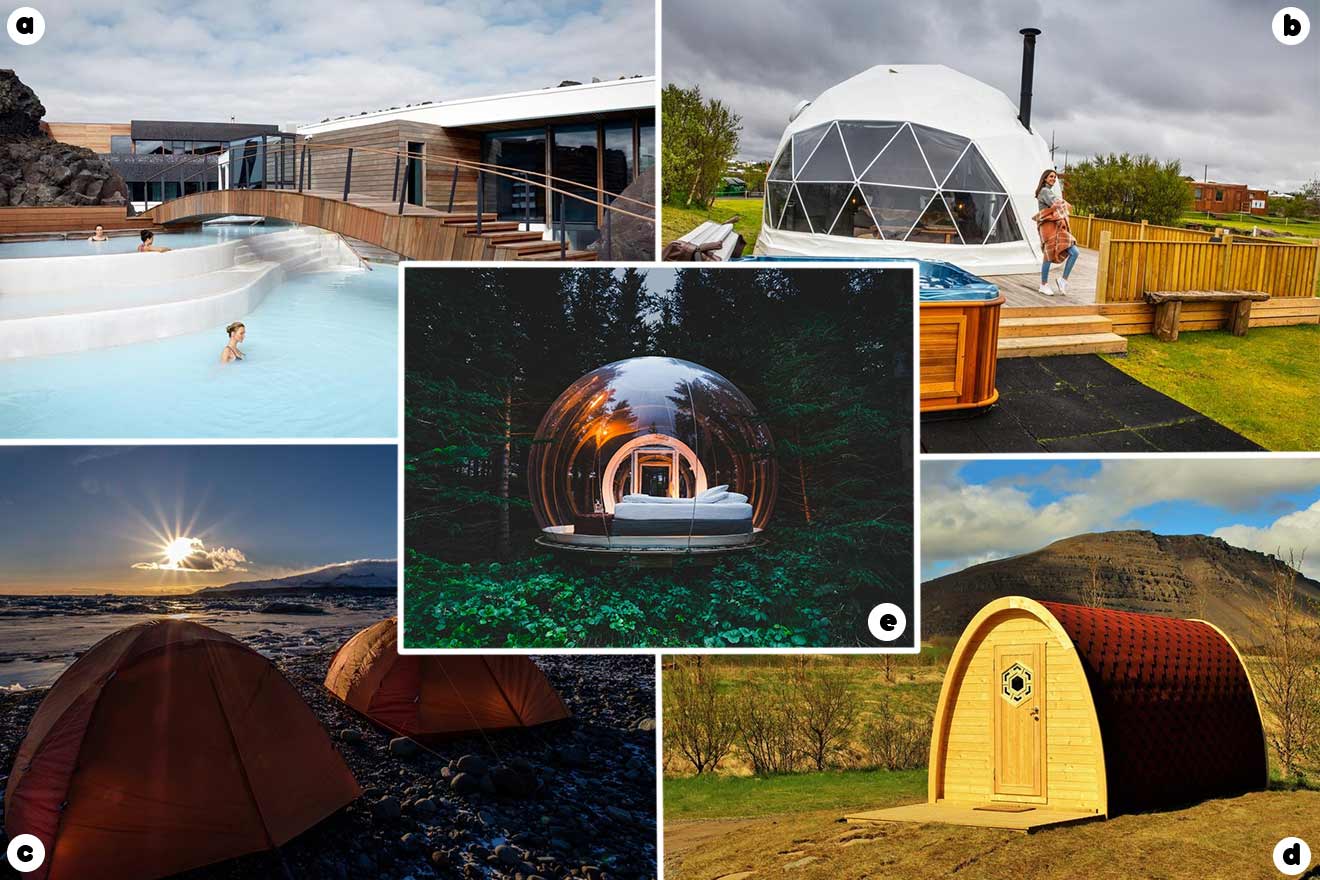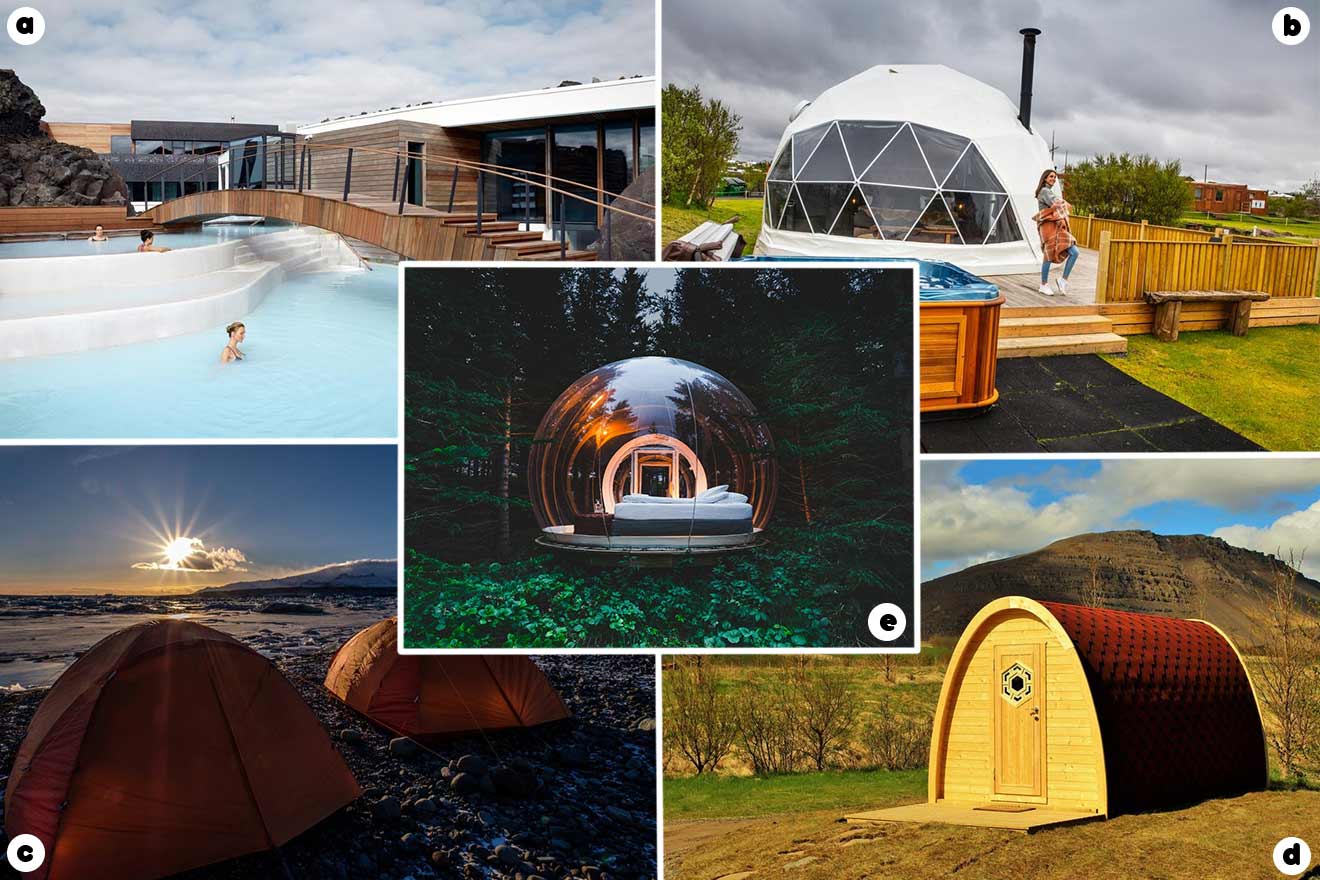 With so much to see and do in the country, why not pick Iceland accommodation which lives up to the same standards? Despite the fact that it's in the name, unfortunately, there are no ice hotels in Iceland, but luckily you still have some other unique hotels to choose from. Here are some of the most unique places to stay in Iceland to help make a memorable trip, even more magical! 
a) The Retreat at Blue Lagoon
Everyone visiting Iceland knows about the Blue Lagoon but did you know that you can actually stay there? The Retreat is a 5-stay luxury resort with stylish, spacious suites where guests can truly relax with unlimited access to the hotel's Retreat Spa and Lagoon, plus the Blue Lagoon itself. Go on an adventure and join their daily group hikes, and cool down with a yoga session afterward at this relaxing boutique hotel in Iceland.
b) Reykjavik Domes
Tuck yourselves in a romantic, open-style dome near Reykjavik. Your home for the night comes with a fireplace, garden, hot tub and terrace along with the perfect windows for stargazing. Choose this romantic escape for something a little different during your stay in Iceland.
c) Stay in an Ice Cave
Not exactly an ice hotel in Iceland but this winter camping experience has you spend a night in a real ice cave! With different locations every year because of the unknown nature of ice, your guide for the night will make sure you have a memorable experience including a campfire to stay warm and comfortable.
d) Camping Pods
Get back to basics in a Fossatun Camping Pod. Experience a bit of glamping by sleeping in a wooden arched pod. There are different sizes available for larger or smaller groups and all the pods are heated and insulated, perfect in summer or winter too. Don't forget to make use of the outdoor hot tubs!
e) Buubble Hotel
You may have seen pictures on Instagram of plastic, bubble-looking domes seemingly in the middle of the most scenic locations. Those are Iceland's 5 million star Buubble hotels. Sleep under the northern lights or suspended in the trees with an uninterrupted view of nature. Surprisingly, the Bubbles are heated so you can have this one-of-a-kind experience in this boutique hotel, any time of year (even winter)!
BONUS 3: Camping, Campervans and RV's in Iceland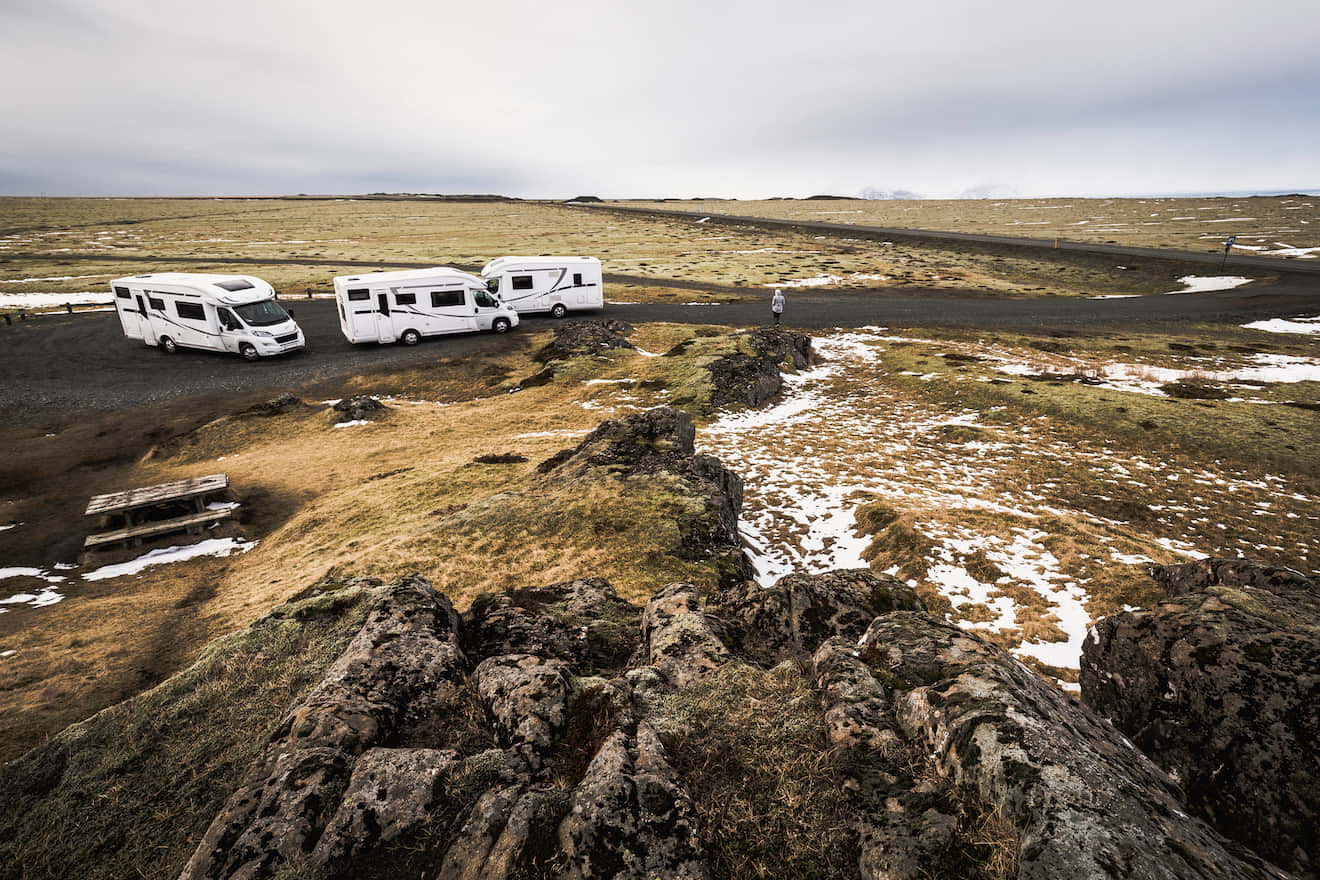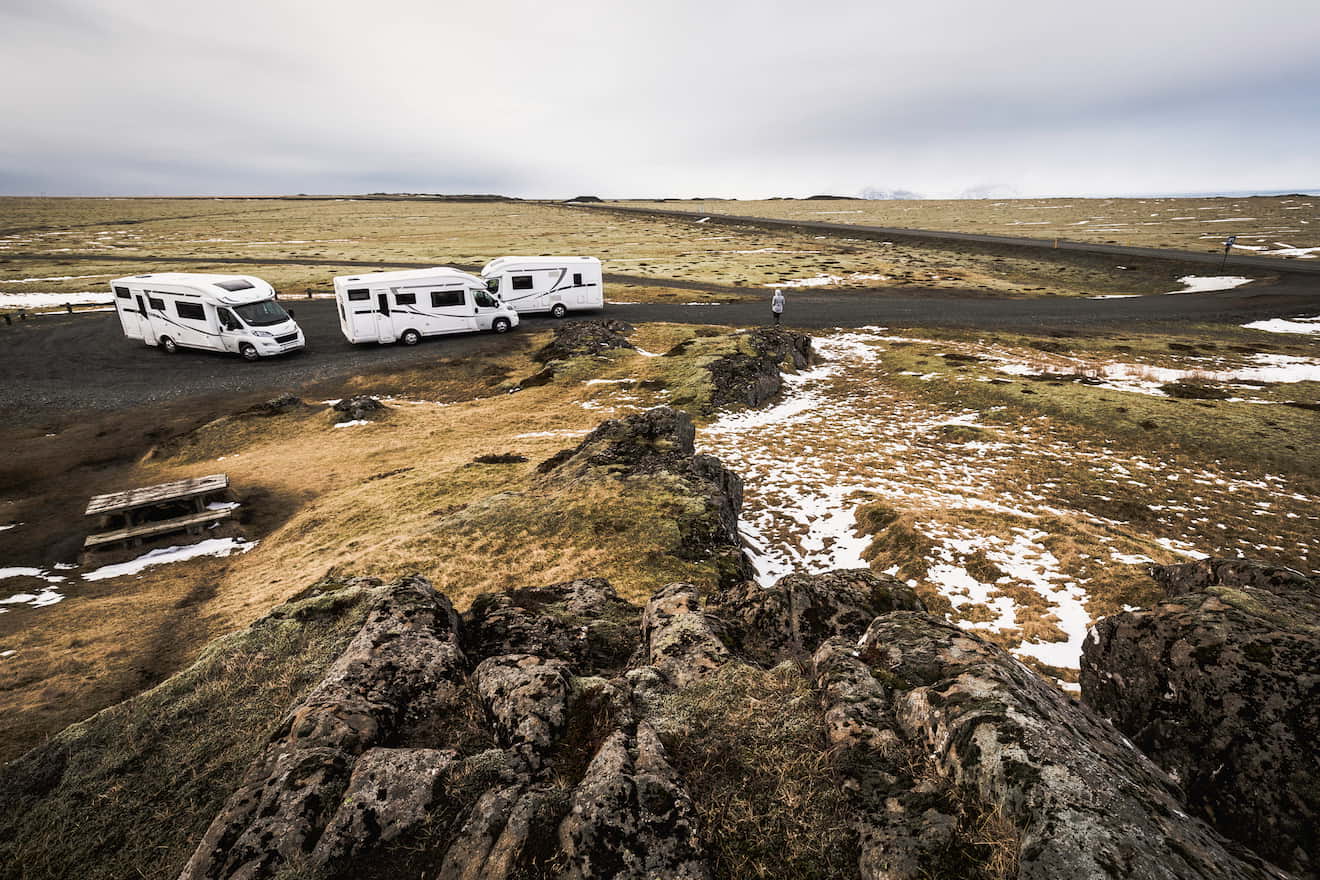 So you've decided to book your trip to Iceland, you've picked out your route, and had a look at all the hotels in Iceland on this list but you're still not feeling convinced? Don't worry. There is another way for those of you who want ultimate flexibility or are looking for a way to get ever closer to those Icelandic views!
Whether you're considering camping in a tent, campervan or RV here are some things to consider when planning where to stay in Iceland on your ultimate adventure.
1. Wild Camping
Before you get too excited about the idea of renting a campervan and pulling over on the side of the road for the night, wherever you please. It's important to note that camping anywhere other than a designated campsite is strictly illegal in Iceland.
In an effort to preserve the country's incredible nature, the Icelandic government introduced a law in 2015 which prohibits everyone from spending the night on the side of the road, in a car park, or wherever you may stop regardless of if they are in a car, van, RV, caravan, tent etc.
2. Campgrounds
Since it's illegal to camp outside of designated campgrounds, no matter if you decide to rent a camper or simply set up a tent, you will want to purchase a camping card. The Iceland camping card gives you access to nearly all of the country's campgrounds for an entire summer for the cost of 19,900 KR ($160). One card covers 2 adults and up to 4 children in the same tent/camper/Rv.
NOTE: This card isn't available in winter and you may have to pay a small camping tax or additional fees to use extra amenities such as washing machines.
Since you will find campsites all over Iceland, where to stay shouldn't be a problem. The campgrounds are generally open between April-September and whilst it's always best to check online that each specific campsite you choose is open, it's not necessary to book in advance since they rarely fill up.
3. Weather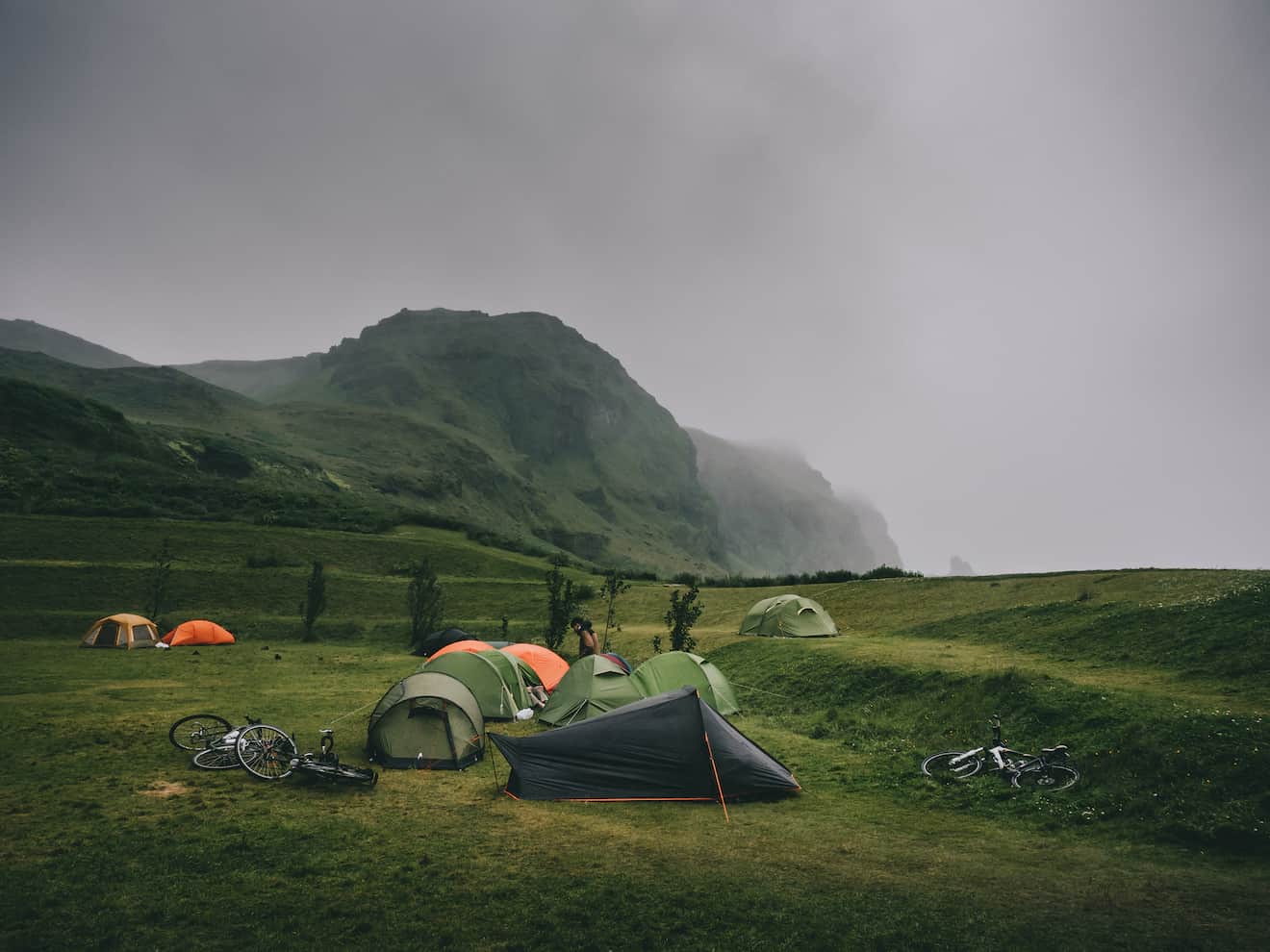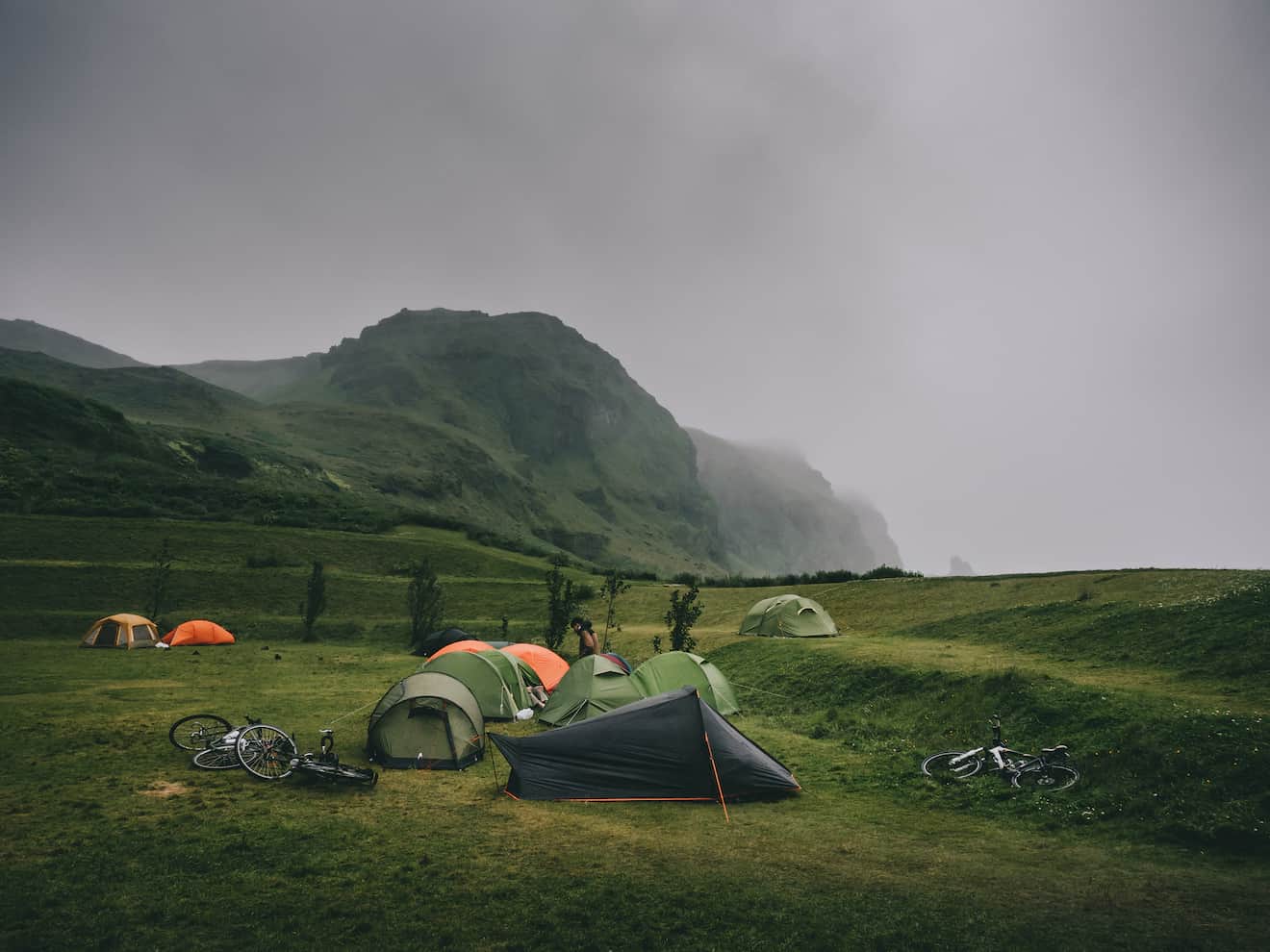 Another factor to consider when choosing to camp in Iceland is the weather. Iceland's climate is much cooler than much of the rest of the world (it's even in the name) and is quite unpredictable.
The best months to travel are between May and August but even then, don't expect brilliant sunshine every day. Be prepared for days of rain, clouds, and maybe even snow, even in the summer months.
If camping in a tent, be prepared with highly rated sleeping bags and extra clothes. If this sounds a little bit much for you, renting a camper van might be a better fit for you but remember it's not a hotel, you'll still have to deal with the elements.
If you are thinking of visiting in winter, note that camping/caravaning is not advised since the temperatures are much colder and most campsites are closed.
4. RVs and Camper Vans
There are many options to choose from when thinking about a camper road trip around Iceland. You can rent anything from big RV's to compact campervans or 4×4's with rooftop tents. Some things to consider when picking your adventure rig include the roads and fuel availability.
If you are planning on sticking to Iceland's ring road, you should be fine to navigate the roads in any vehicle you choose. If you are looking for something a little more off the track, note that many of Iceland's regional roads are a bit more rugged and Rv's are not advised to travel many of them.
If you wish to go even further off the main road, you may want to consider renting a 4×4 to access every inch of Iceland possible. Even if you rent a 4×4, remember that driving off-road in Iceland is also strictly prohibited and comes with hefty fines.
When planning your road trip, always make sure you know where the next gas stations are. You will find long stretches of road without the option to fill up and you don't want to run out of gas. Carrying a spare jerry can of fuel is also a great idea! Also, if driving at night, make sure not to get distracted by the northern lights.
Before heading off on your epic summer road trip, make sure to read these 8 Things You ABSOLUTELY Need to Know Before Renting a Car in Iceland.
Frequently asked questions about Iceland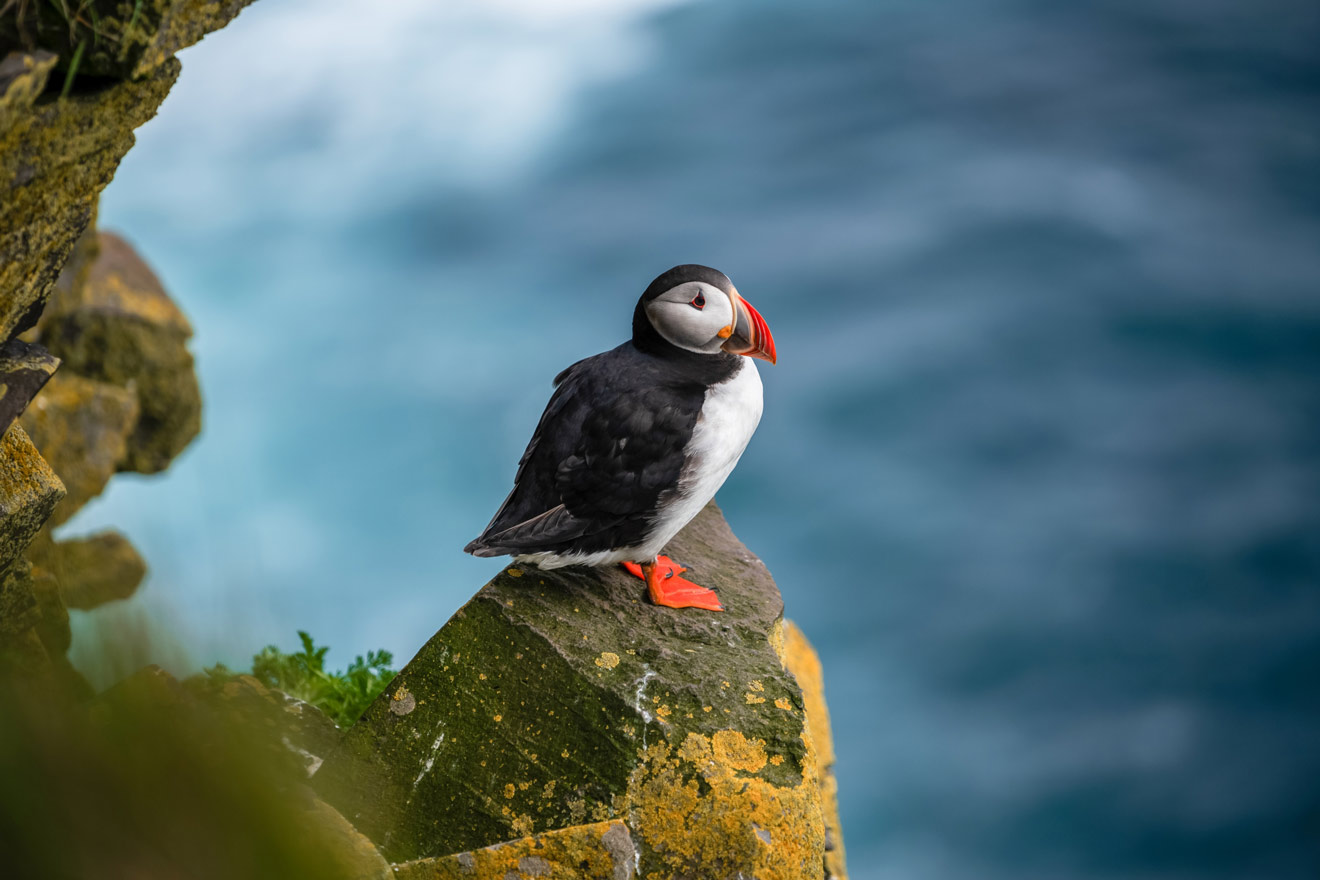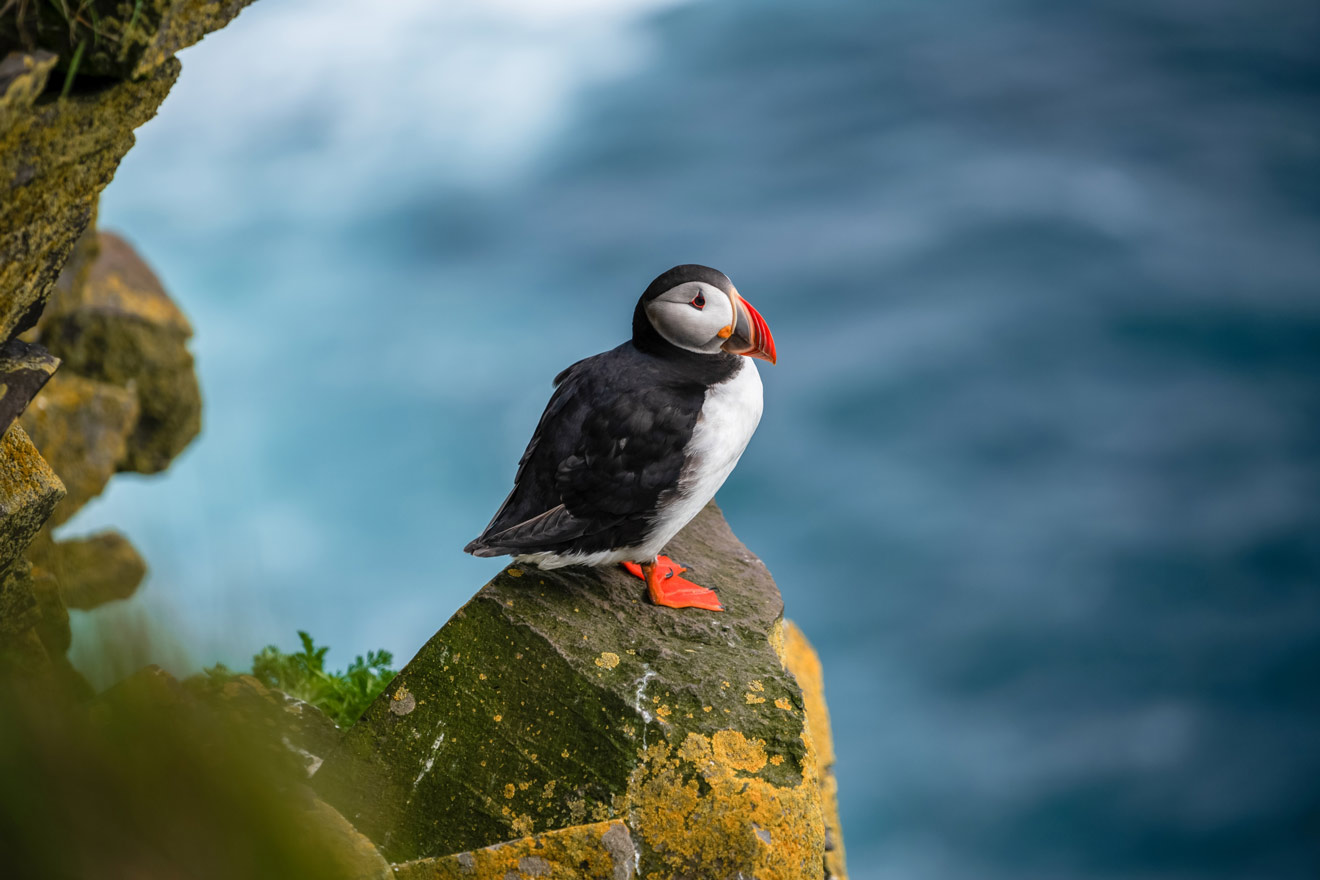 Conclusion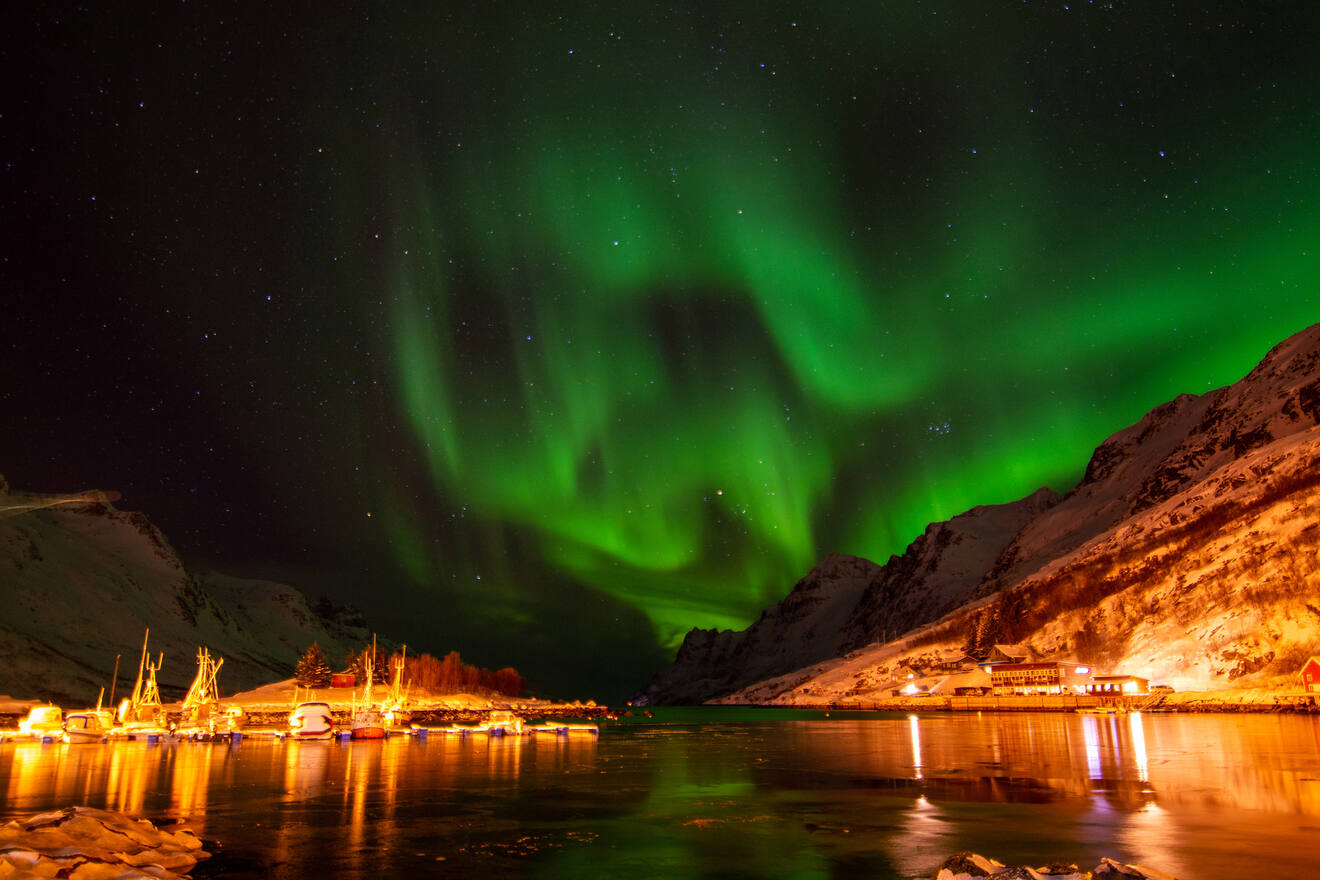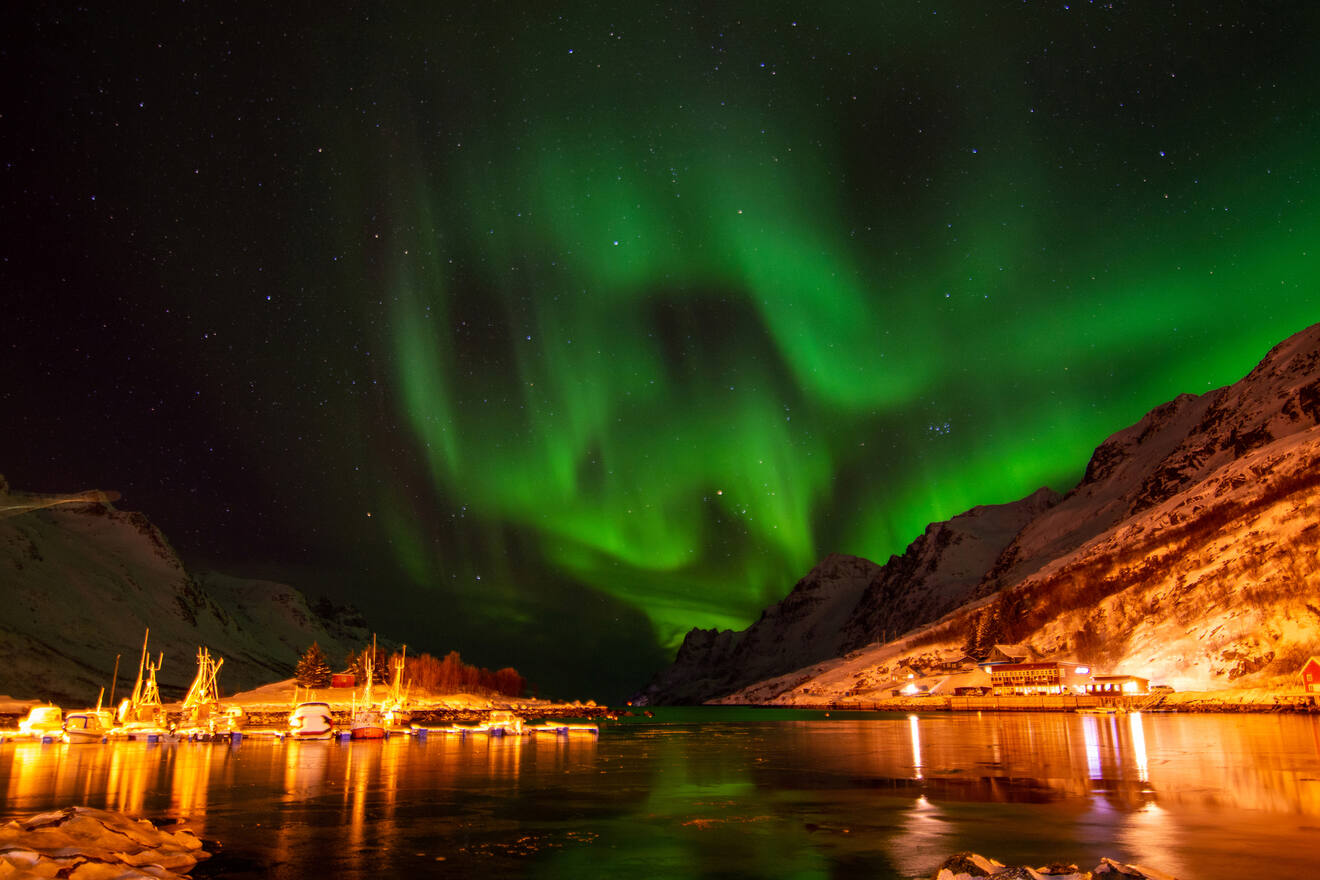 I hope this was a useful guide to the best Iceland accommodation options for you and your family or friends. Traveling here really is full of magical adventures and often feels like you're living in a fairy tale (especially when the northern lights grace you with their presence). The Land of Fire and Ice definitely lives up to its name and will make you realize why real life is better than fiction. You can say that a trip to Iceland is one for the books!
I already gave you a rundown of the best luxury, mid-range, budget hotels and accommodations across Iceland, but if you still don't know where to stay in Iceland, these are the ones that topped my list:
Planning a trip all across Iceland? Check out our ultimate travel guide for Everything You Need to Know About Iceland!
As Iceland isn't the cheapest travel destination, it pays to book well in advance to get the best deals on some amazing hotels! Have an incredible stay in Iceland! Make sure to leave your questions about Iceland in a comment down below and I will answer them as soon as possible!
Happy travels,
Yulia
---