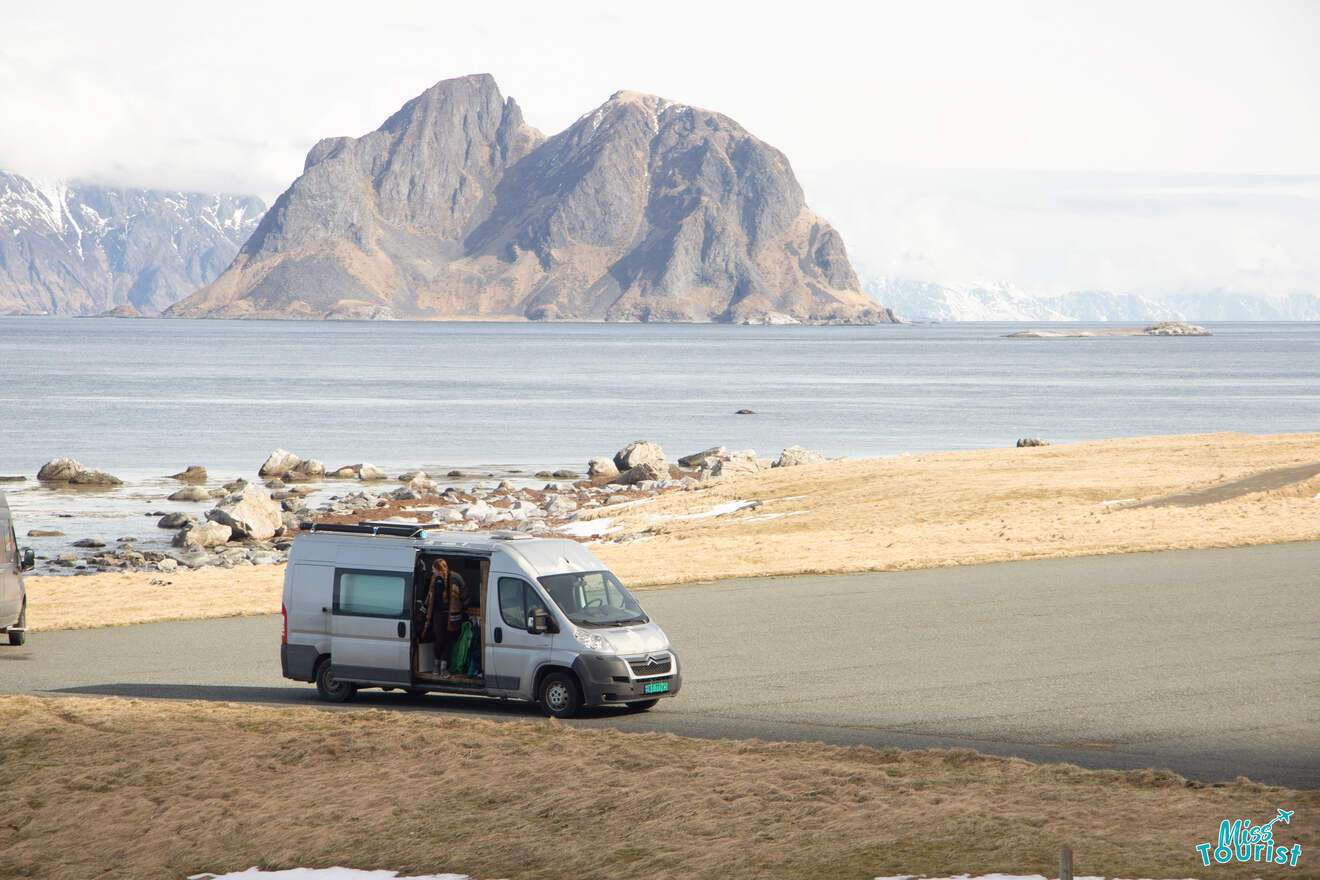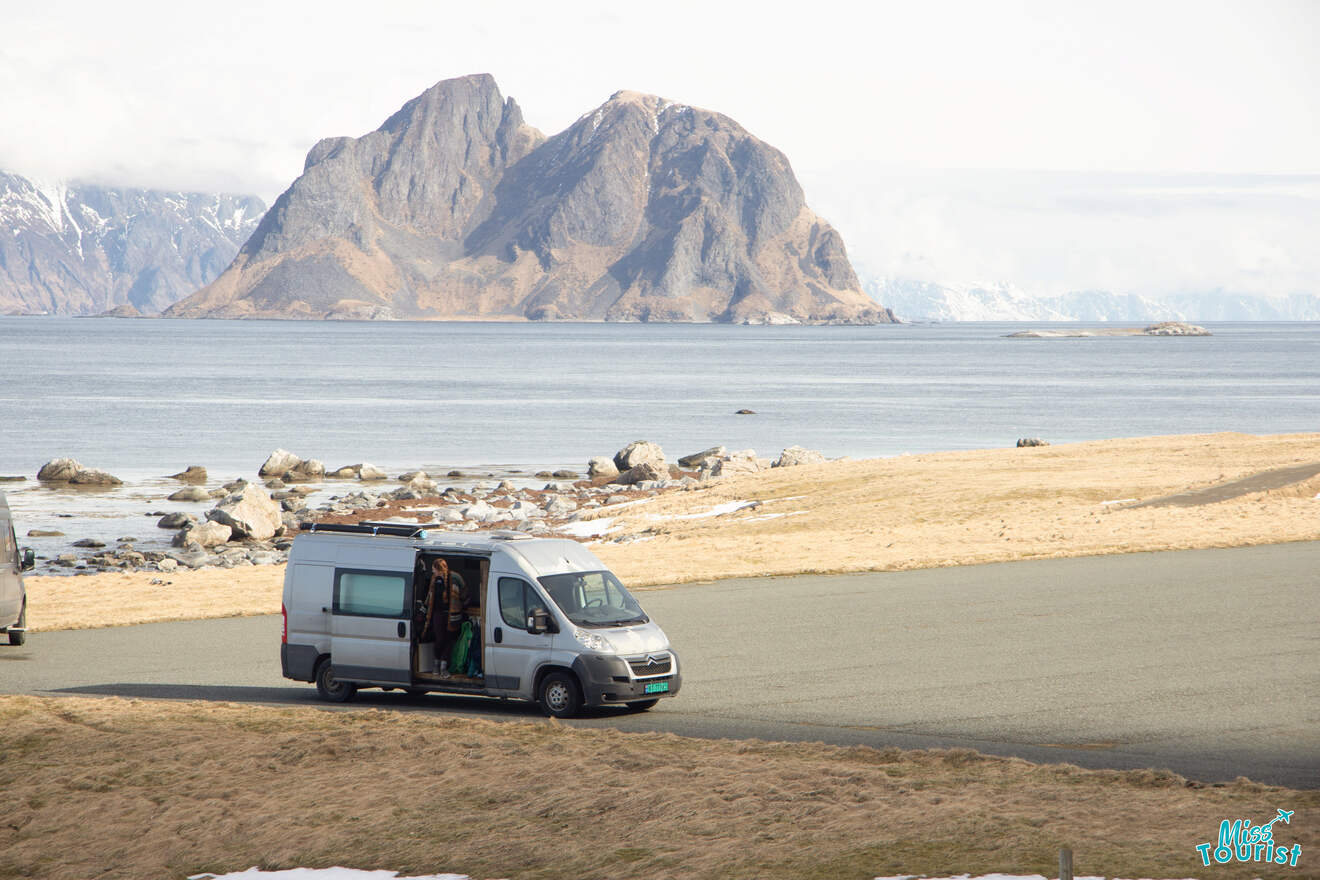 After living in Norway for over a year and driving the entire length of the country, I can say with certainty that driving here is not your average daily commute…But enjoying a road trip around Norway in a great rental car is certainly the best way to see the country!
This incredible mountainous land is full of extremes in all ways… weather, altitude, and landscapes just to name a few. That means there are a few crucial things to know before renting a car in Norway!
But don't worry, I won't let my expertise go to waste! I am here to walk you through everything you need to know before driving in Norway. In this post, I'm going to go through all the details of where to rent, what type of rental car you should hire, prices, speed limits, road rules, winter driving in the snow, and a bunch of other things I wish I had known before arriving to help you prepare for your visit!
Let's hit the road!
| | |
| --- | --- |
| Age | 19+ |
| Documents needed | Valid driver's license + Credit Card |
| Driving license requirements | Full driver's license for more than 1 year, written in Roman characters |
| National Speed limit | 80 km/h (50 miles) |
| Which side of the road | Right |
| Children rules | Under 125cm (4.5 feet) must use correct restraints for weight |
| Where to book | Compare prices here |
1. Where to rent a car in Norway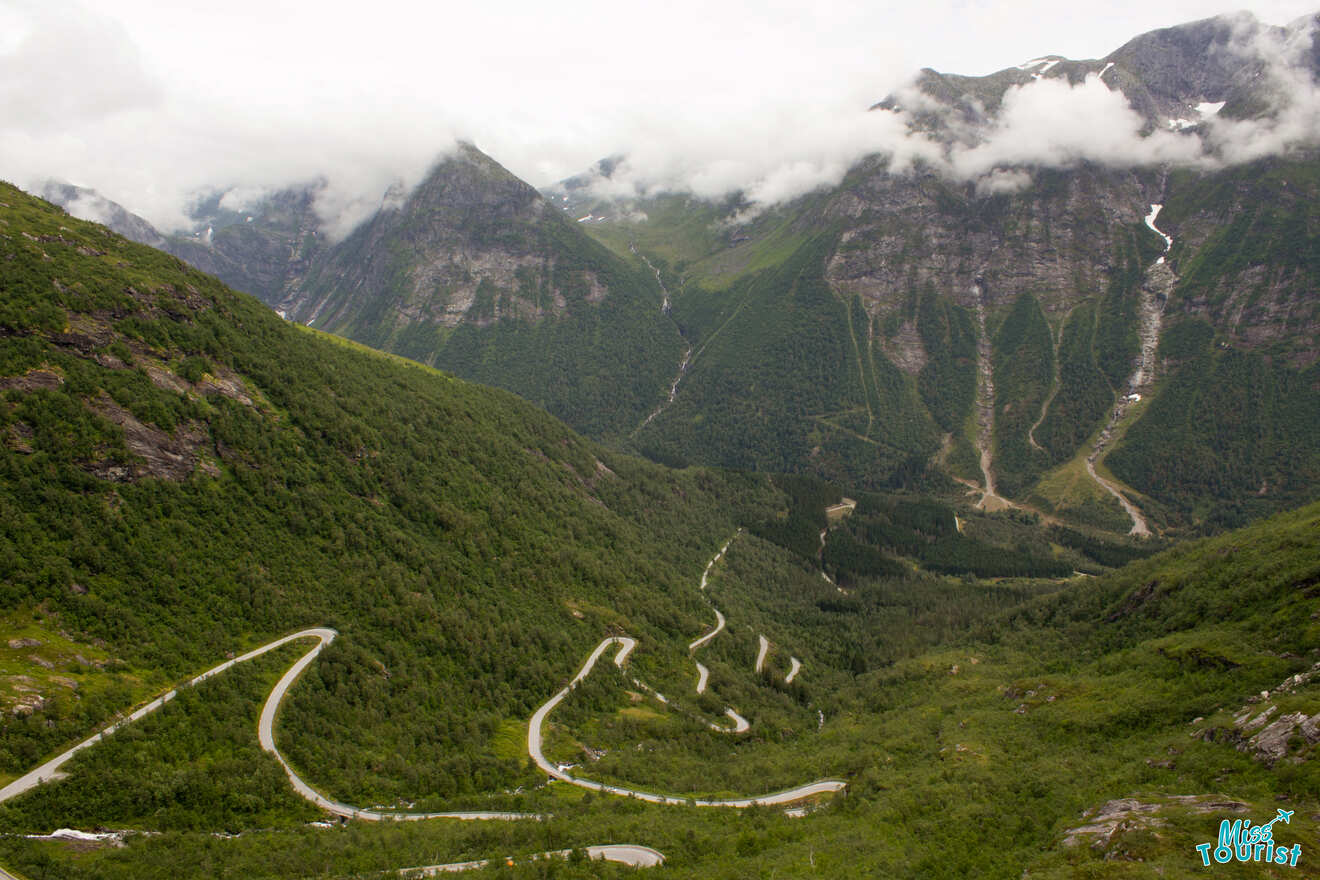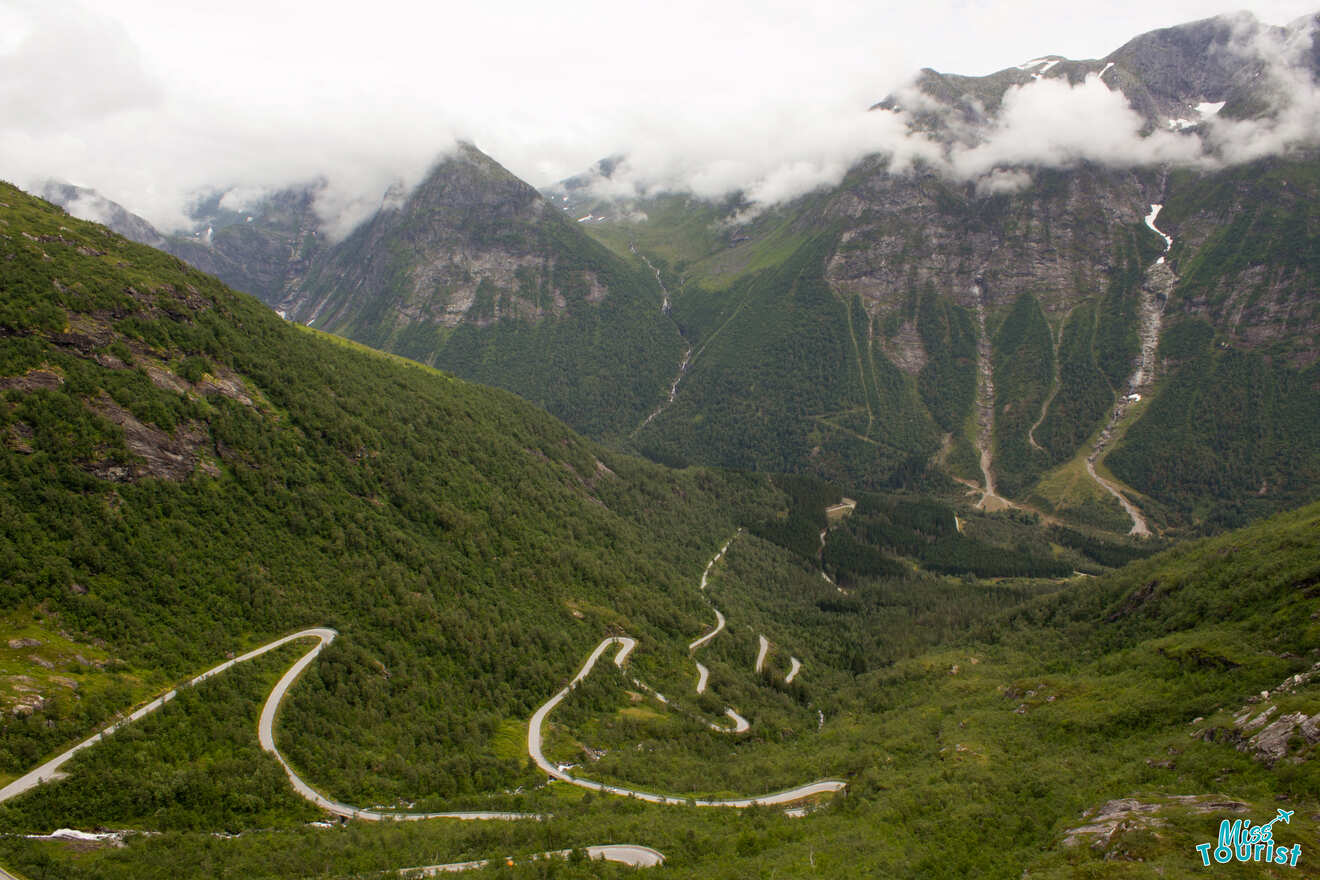 The first thing you will need to decide is where you are going to pick up and drop off your rental car. You may be thinking, surely that's not the first thing I need to know? Well actually yes.
As you may know, while Norway may not be a huge country in terms of landmass, it is super long (over 1,600 km / 1,000 miles drive from Oslo to Tromsø in fact).
That means unless you have an absolute minimum of 3+ weeks for your vacation, you probably won't have time to drive all the way from Oslo to Tromso and back. So you should have a rough plan and timeline before deciding where to rent your car.
For those of you with a shorter time frame, it is sometimes possible to drop your rental car off in different cities to where you picked it up, however, you have to consider that this usually comes with a huge extra fee, and in a country as expensive as Norway, it's a good idea to save where you can.
For shorter trips, consider choosing to explore only part of the country on a round trip (south or north), or split your time up and fly between the destinations (renting cars in different locations).
You can check all the rental car locations with this website but here are some popular routes I can suggest with rental car hire companies and airports in the cities at either end:

Southern Norway:
Oslo – Bergen – Oslo
Oslo – Stavanger – Bergen
Oslo – Bergen – Trondheim
Northern Norway:
Tromsø – Lofoten – Tromsø
Bodø – Loften – Tromsø
2. Types of cars to rent in Norway
You have a few different options when renting a car in Norway, and some of these options are quite different from rental cars you will find in other countries. Here is where you can compare all the different types of cars and prices
2.1 Two-wheel drive cars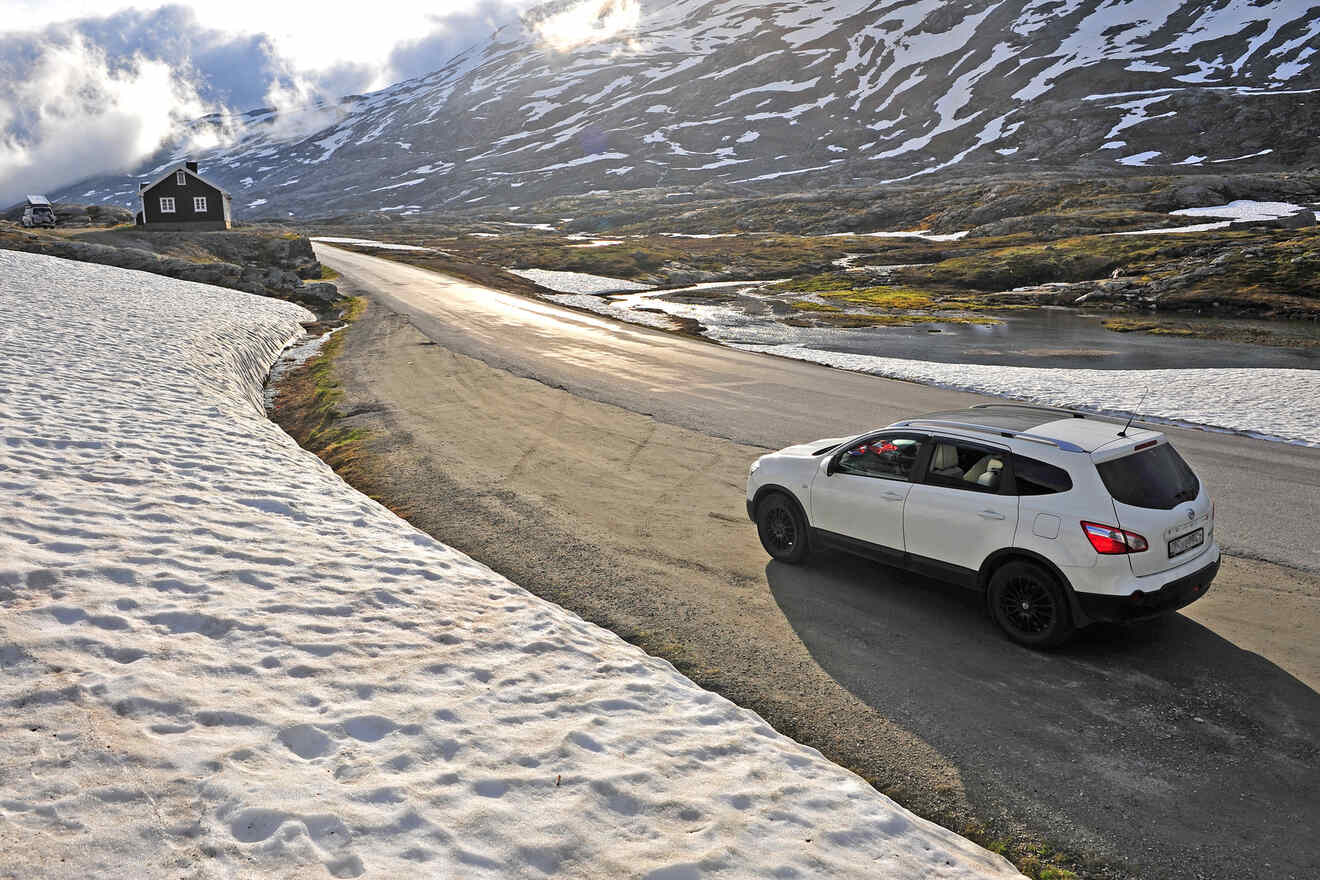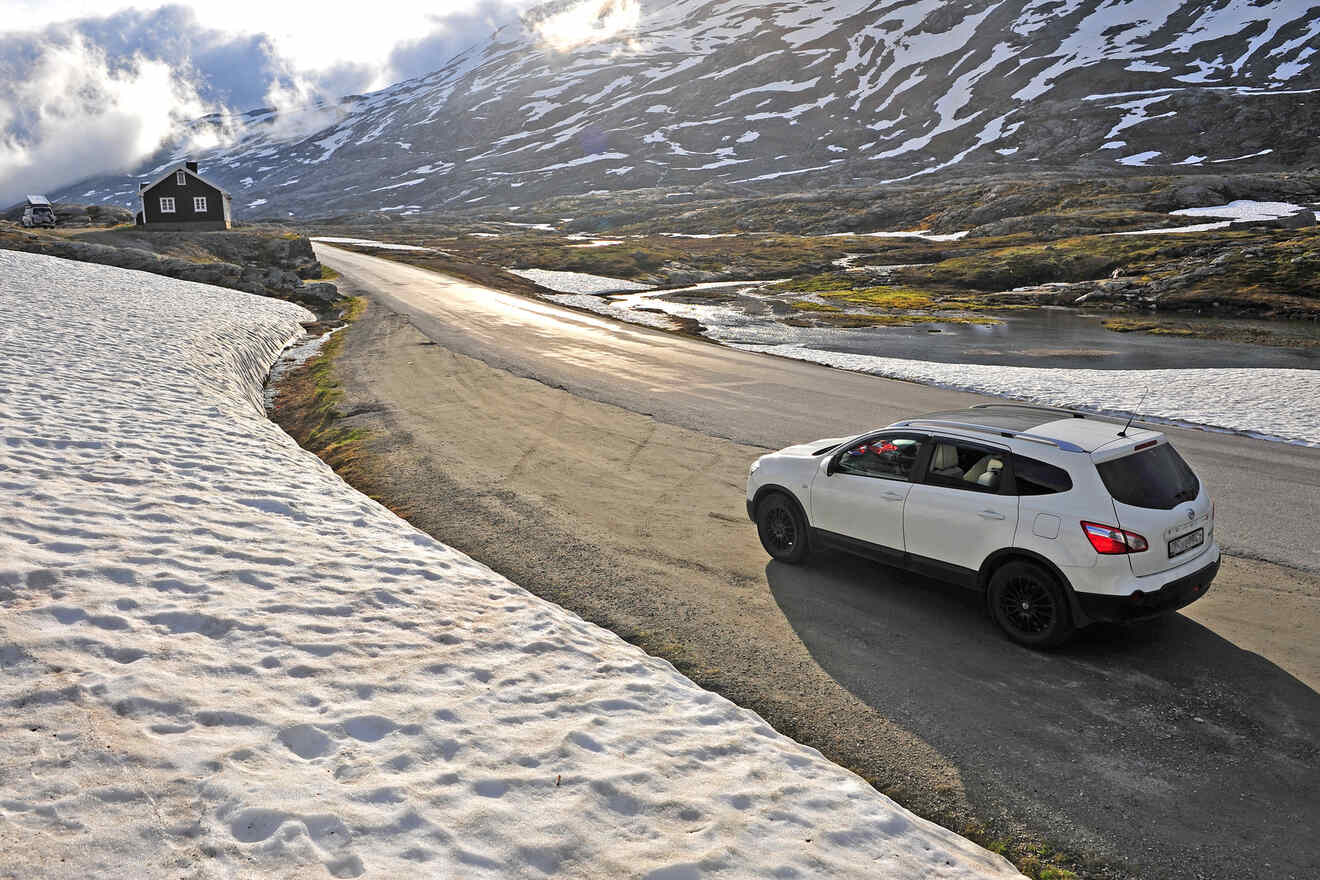 Regular two-wheel drive cars are the most popular type of rental car in Norway and will be the best solution for most people.

There are many different types of cars you can choose from small economical cars (from €40 per day) to mid-sized (€50) and people carriers (€100) for the whole family.
Normal cars can get you pretty much everywhere in Norway so you don't really have to worry about accessibility in this country!
2.2 Electric Cars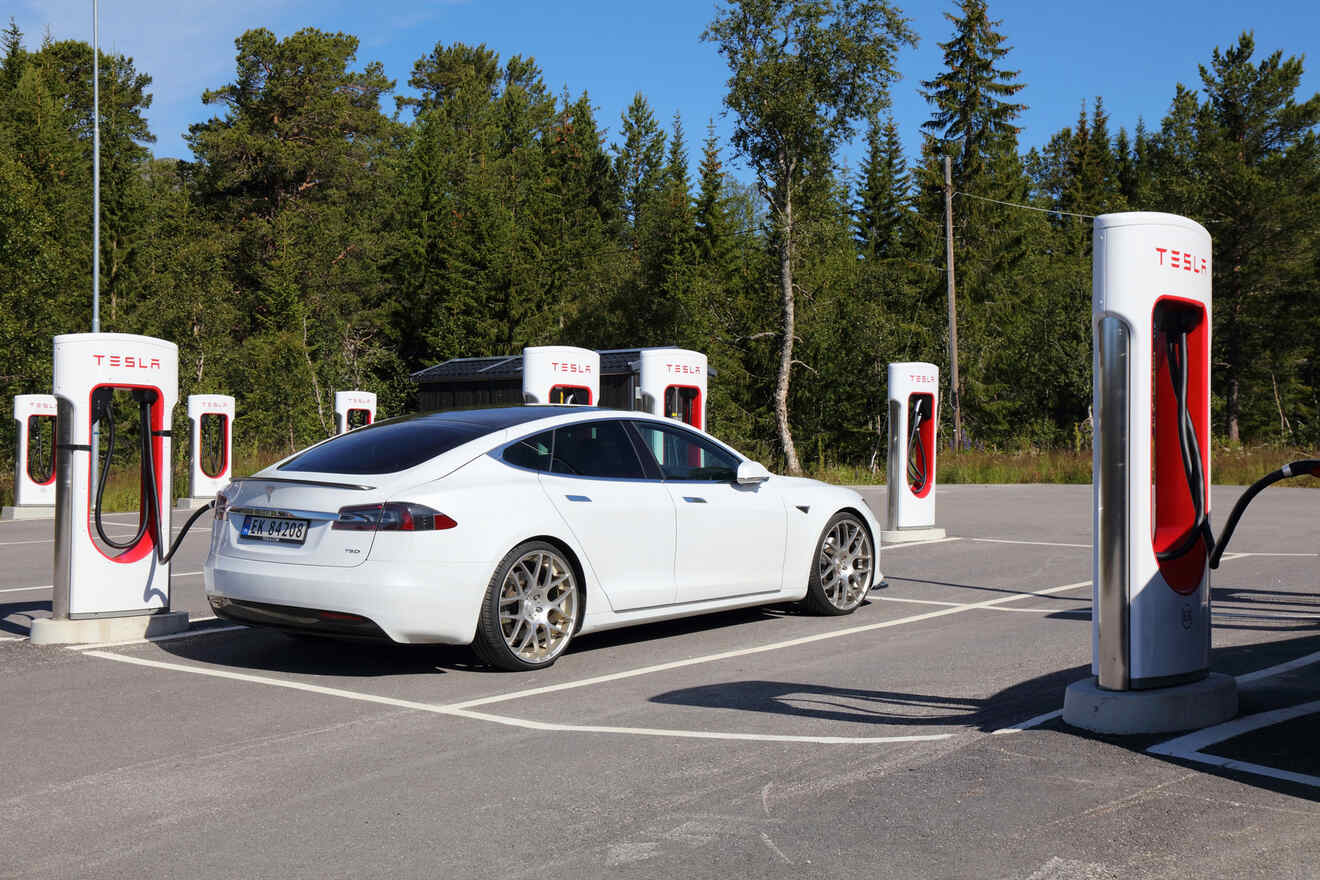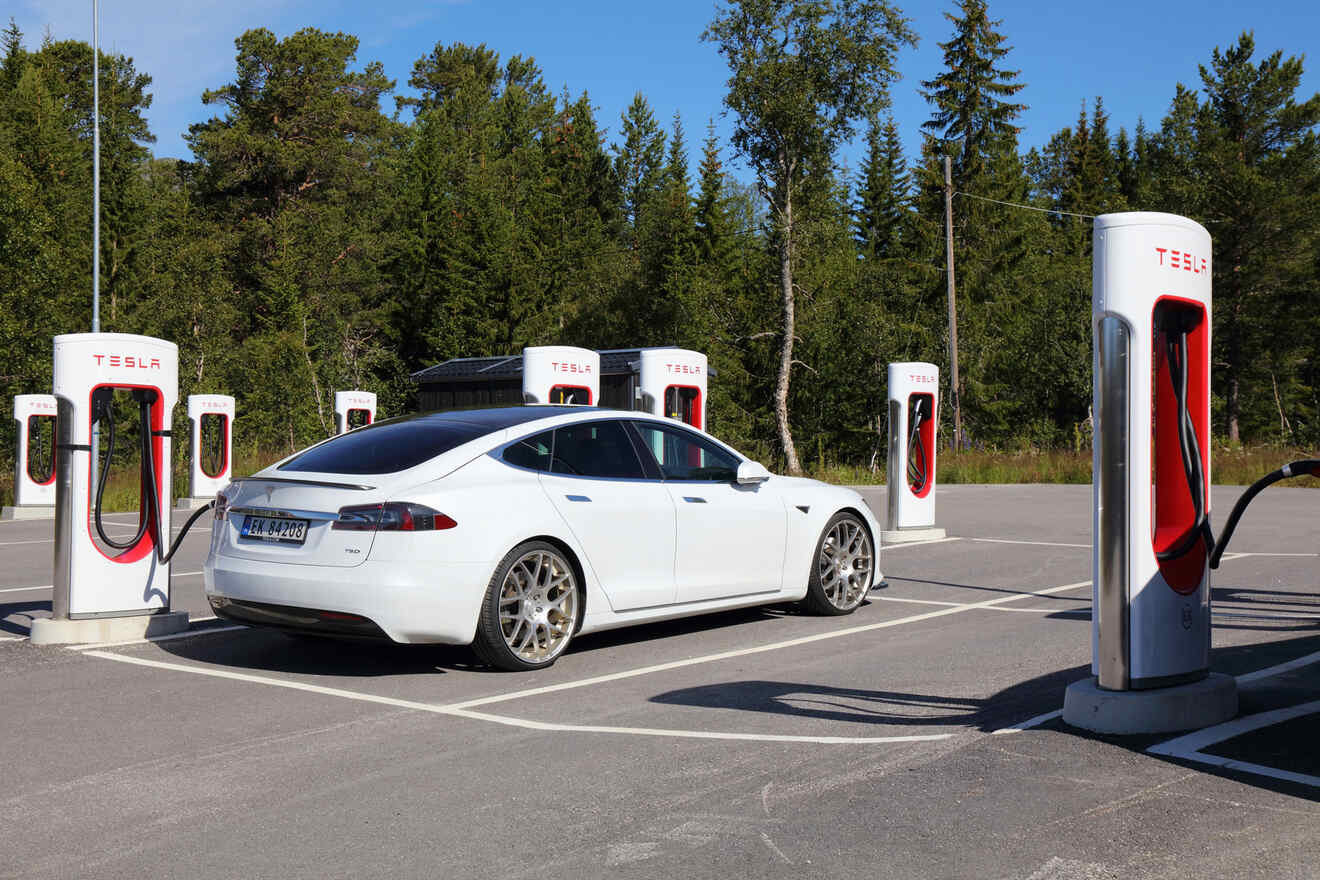 One of the first things you will notice when you hit the road in Norway is that there are sooo many electric vehicles!
This is thanks to a government scheme a few years back which subsidized purchases of electric cars as well as provided free charging for the following two years! This initiative made it quite affordable for Norwegians to buy electric and contributed to the number of them you see on the road today.
Since so many people drive electric cars here, it makes sense that there are plenty of quick-charging stations all over the country making it a great place to travel green (they are nearly as common as gas stations). Last summer our friends drove all the way from Oslo to the Lofoten Islands (1,300 km / 800 miles) with a fully electric car and only needed to charge 5 times!
What's more, electric cars are super quiet, making the road trip that much more enjoyable! So if you've always wanted to drive electric, I highly recommend getting an electric rental car in Norway!
2.3 Campervans and RVs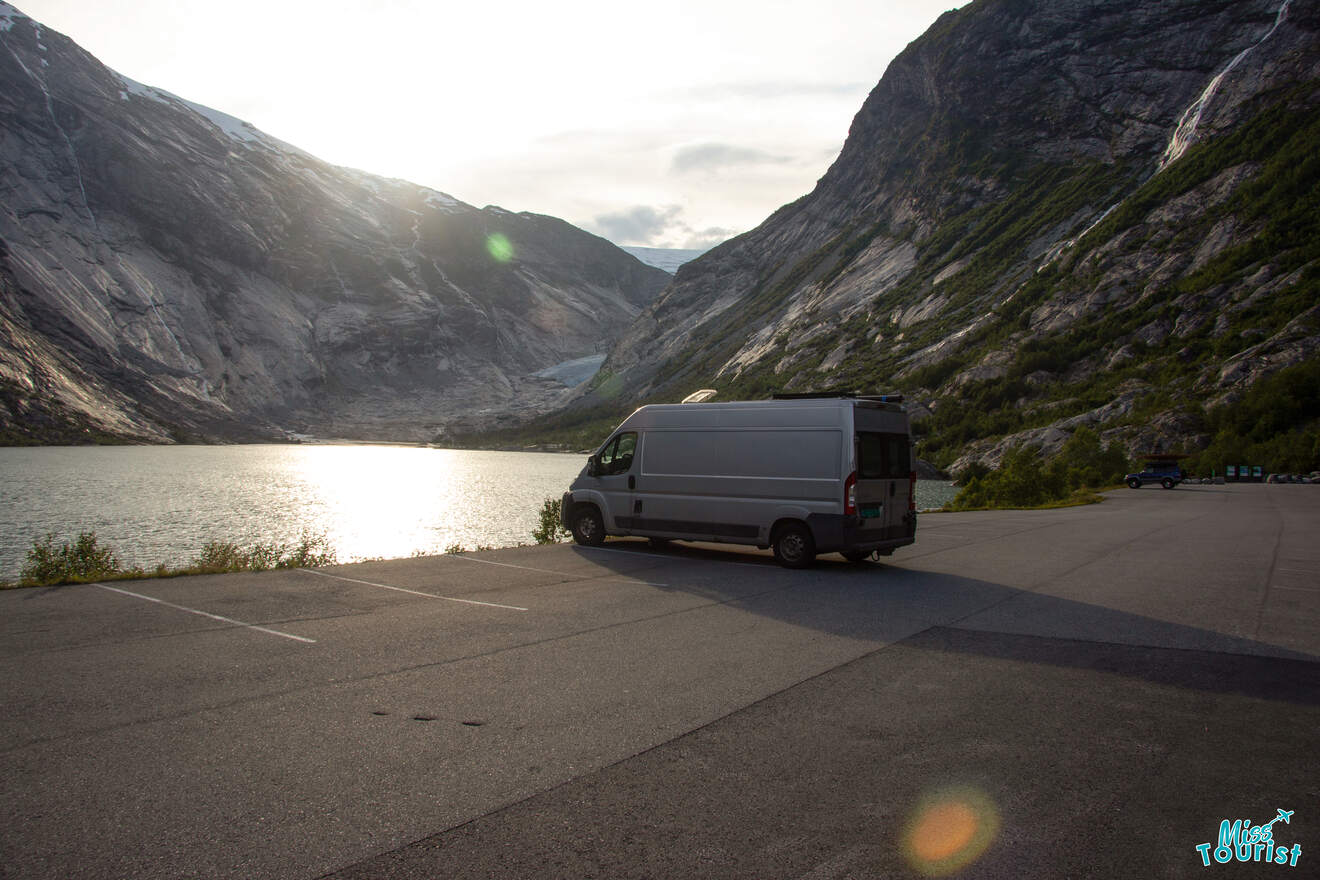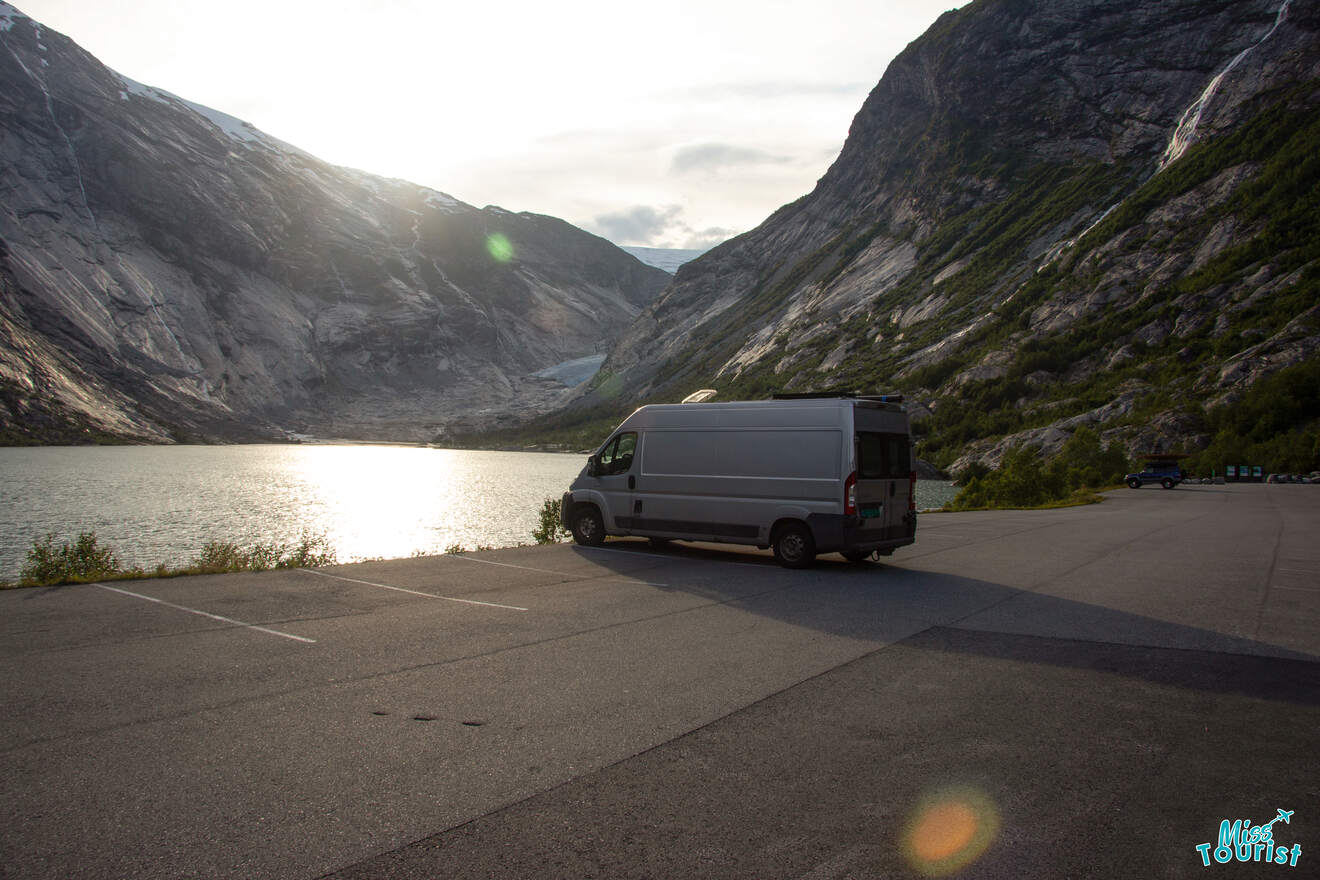 Another thing you may notice (especially if you're traveling in summer) is that every second car you will see is a campervan or an RV! If you've ever considered traveling this way, Norway is the best country to try it!
We converted our own van into a campervan and have been living and traveling in it full time for over a year now and can say with certainty that #vanlife in Norway is a breeze!
Thanks to the "right to roam" laws in Norway, you are allowed to wild camp practically anywhere you want as long as you are more than 150 meters from houses and there are no signs saying it is prohibited. This means that in most places you can easily find somewhere to park your campervan for free and not only be right in the middle of Norway's beautiful nature but also save a lot of money on expensive hotels!
Campervans are not cheap to rent, starting at around €200 per day for a smaller campervan. But if you can share it with a few people, it can still work out cheaper than hotel rooms + car hire.
2.4 4x4s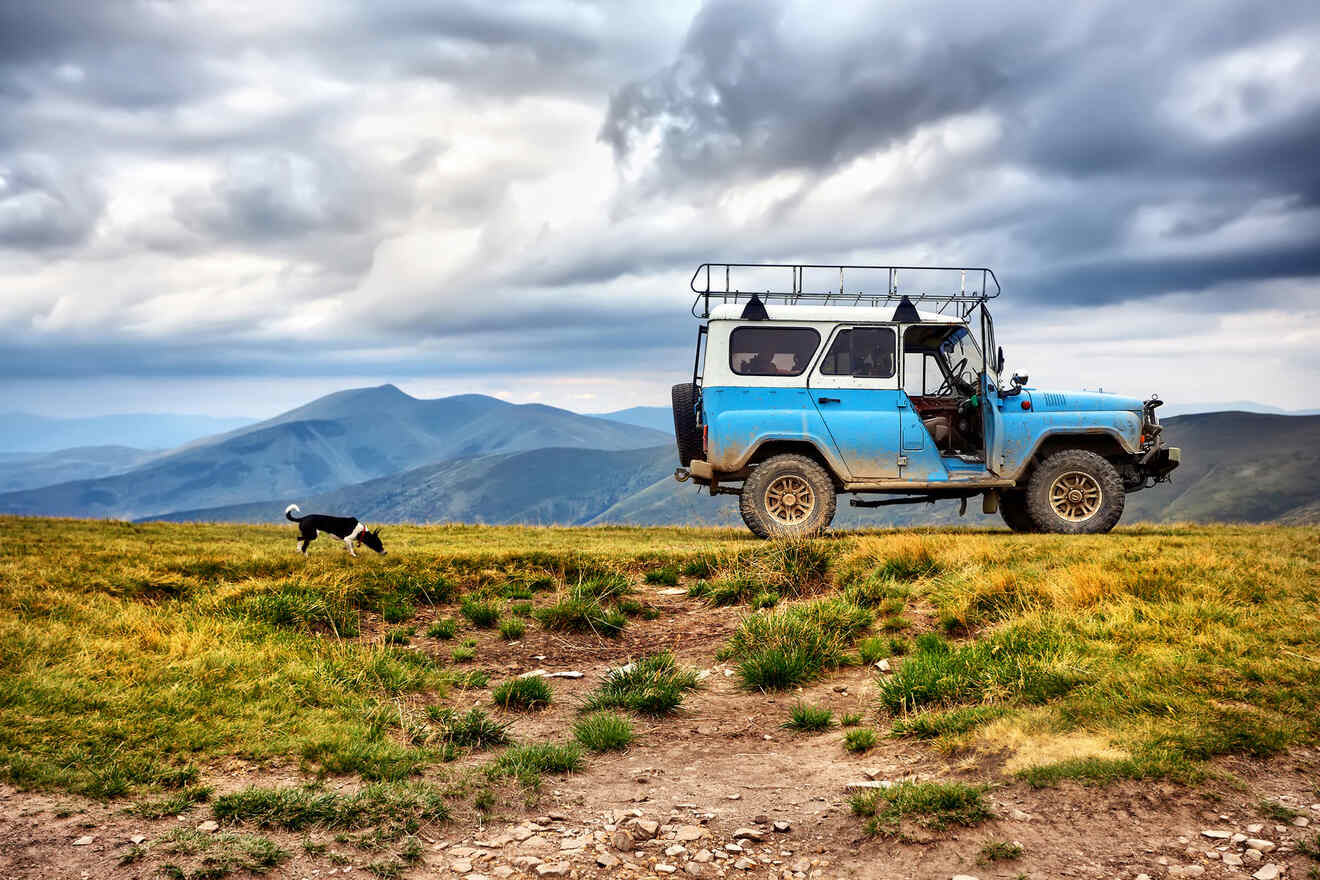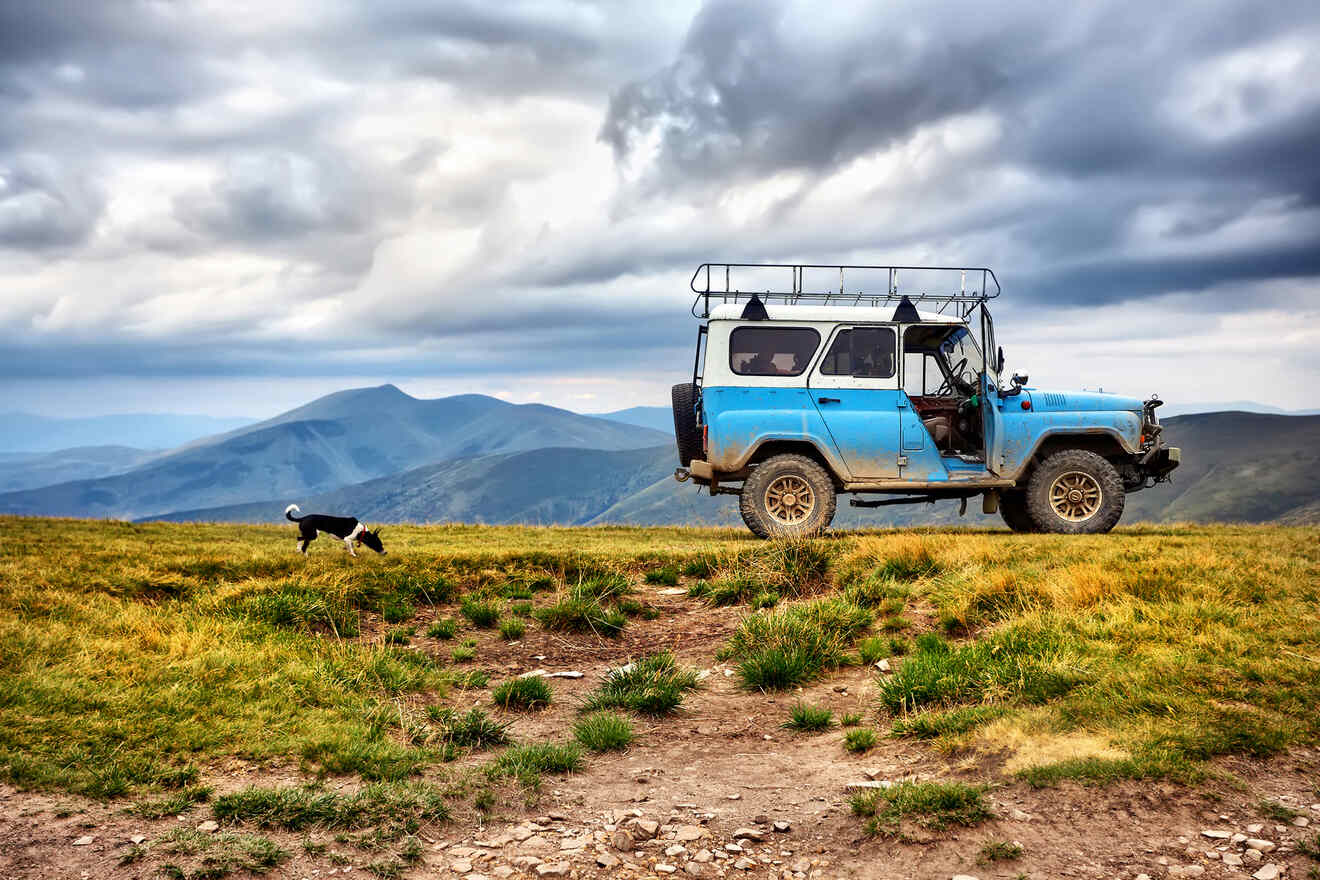 While Norway is famous for its mountains and does have some crazy mountain passes, there aren't really any places that you would actually need a 4×4 rental car to access.
We drove the entire country in our old, definitely not 4×4, Citron Jumper van just fine!
Of course, it's always nice to have this capability in winter or if you are planning on trying to camp in some super remote places, but honestly, it's not even really needed in winter.
At around €200 per day, in my opinion, the price difference between a 4×4 and an economy rental is not really justified since Norway makes it pretty easy to access nature as well as all the attractions you are going to want to see, because the mountain passes are all well maintained!
So, which car to choose for you?
Here are the most common trip types in Norway with the most popular car model for each of them in parenthesis:
Classic road trip – Medium-sized car (Volkswagen Golf, Toyota Corolla)
Family trip – People carrier (Peugeot 5008)
Close to nature – Campervan or RV
Environmentally friendly – Electric Car (Tesla or Audi E-tron)
Winter adventure – SUV (Mazda CX-30, Suzuki Vitara)
3. Who can rent a car in Norway?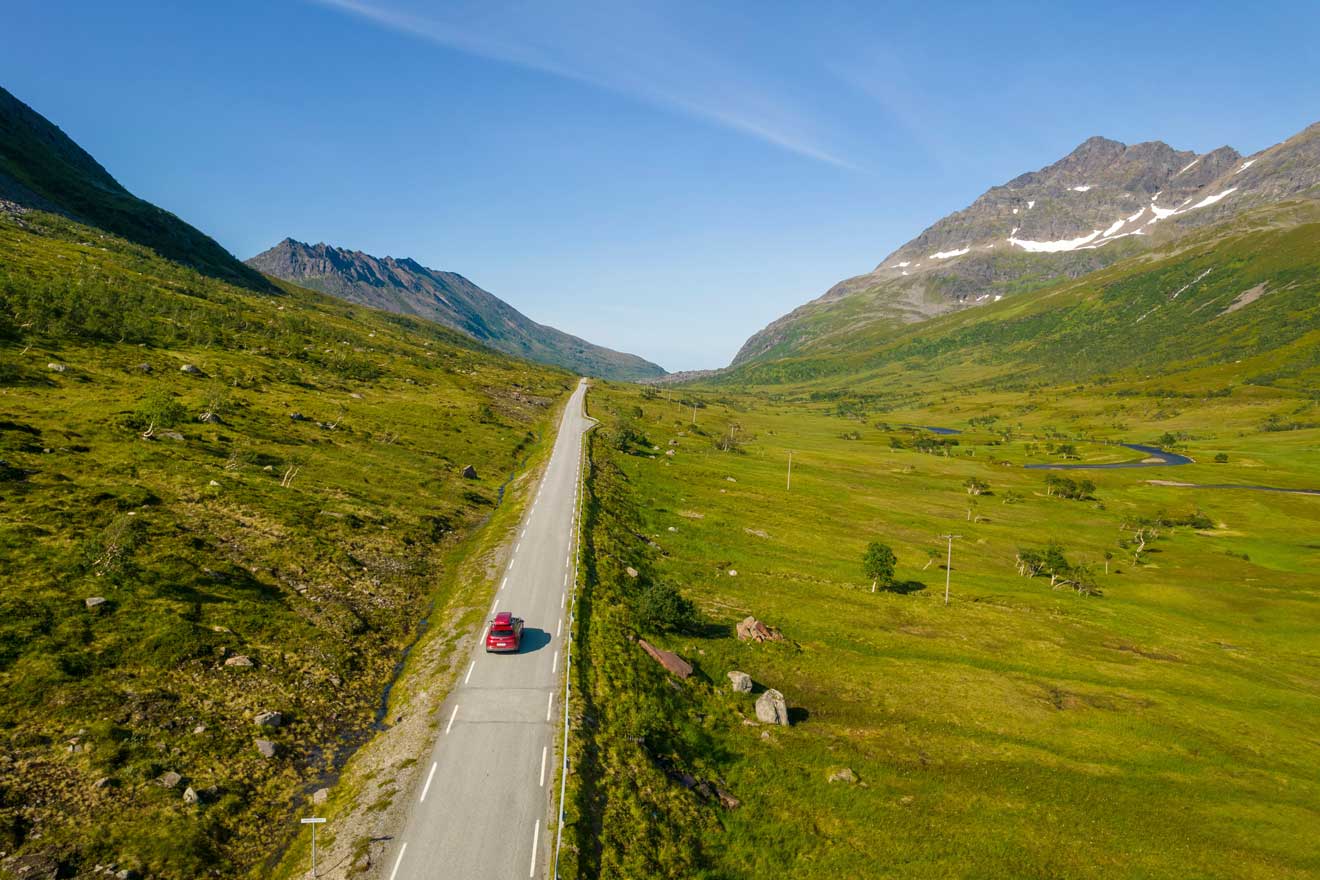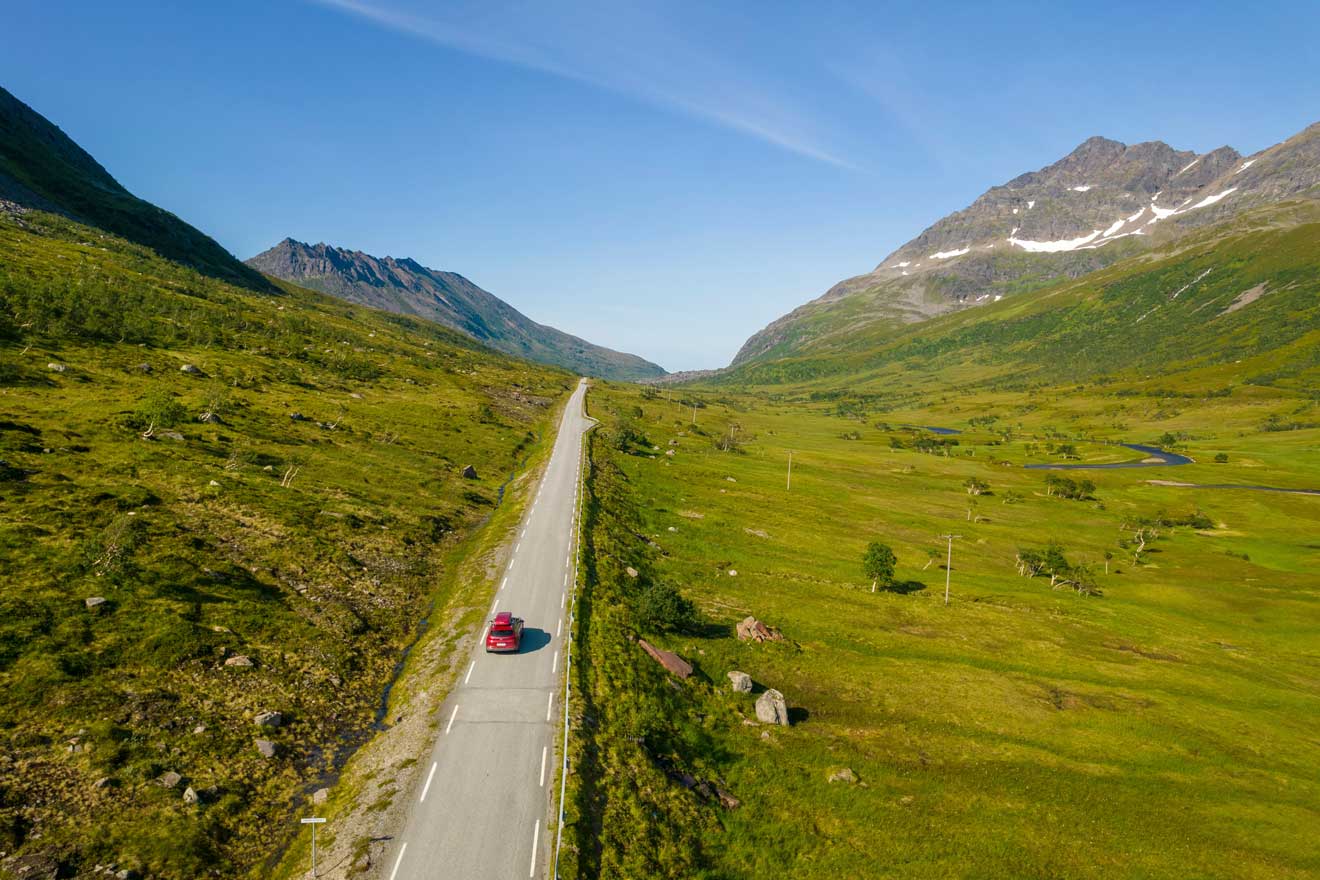 You must have a valid, full drivers license and have held this license for at least 1 full year. As long as your license has a picture and is written in the Roman Alphabet, you do not need an international license to drive a rental car in Norway.
You also must be over 19 years of age to rent a car here, plus if you are under 25 there may be additional fees for young drivers, and you may be restricted to the types of cars you can drive on your road trip (you probably can't rent a huge RV for example).
4. Tolls & Ferries
Okay so what else do you need to consider?
Ferries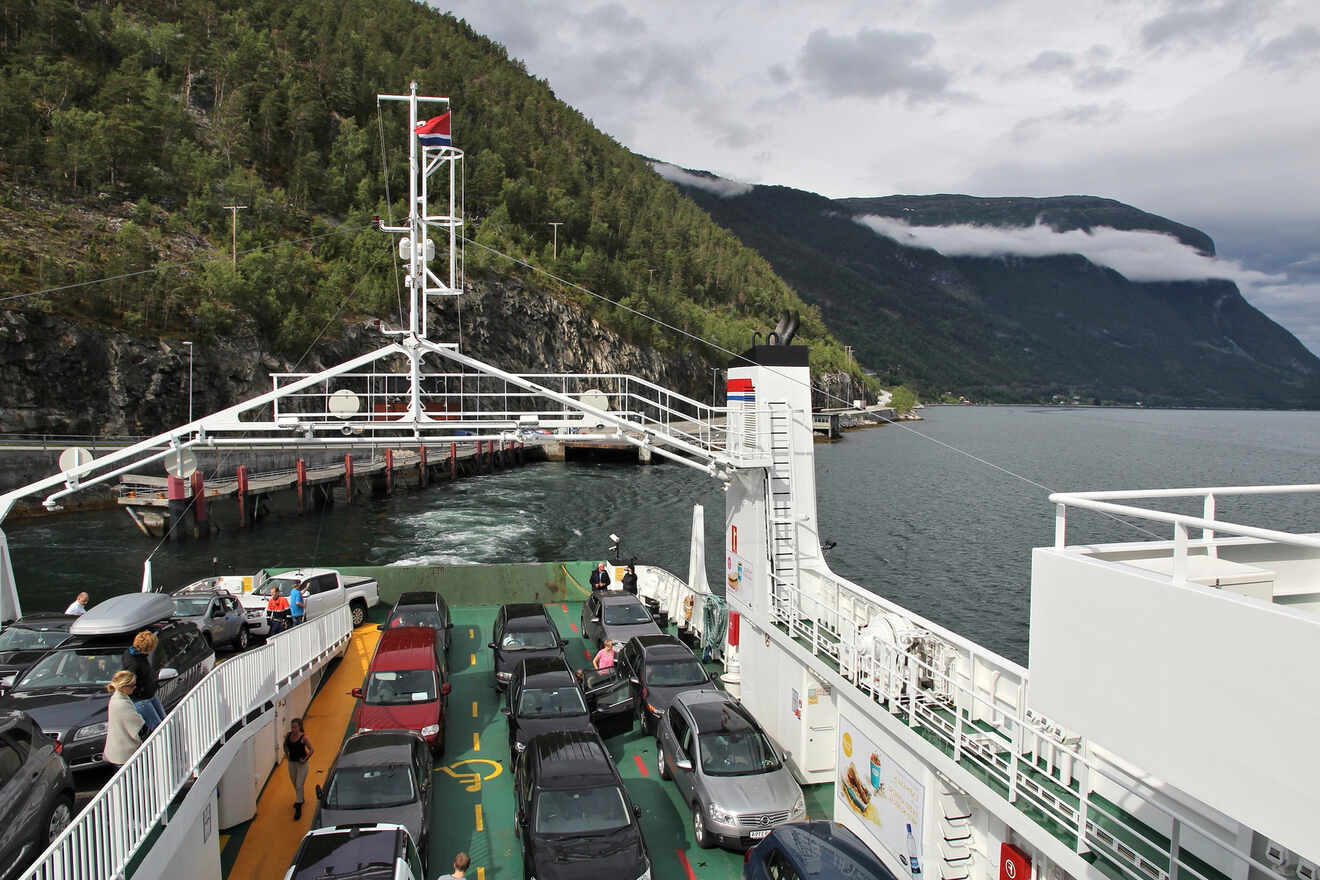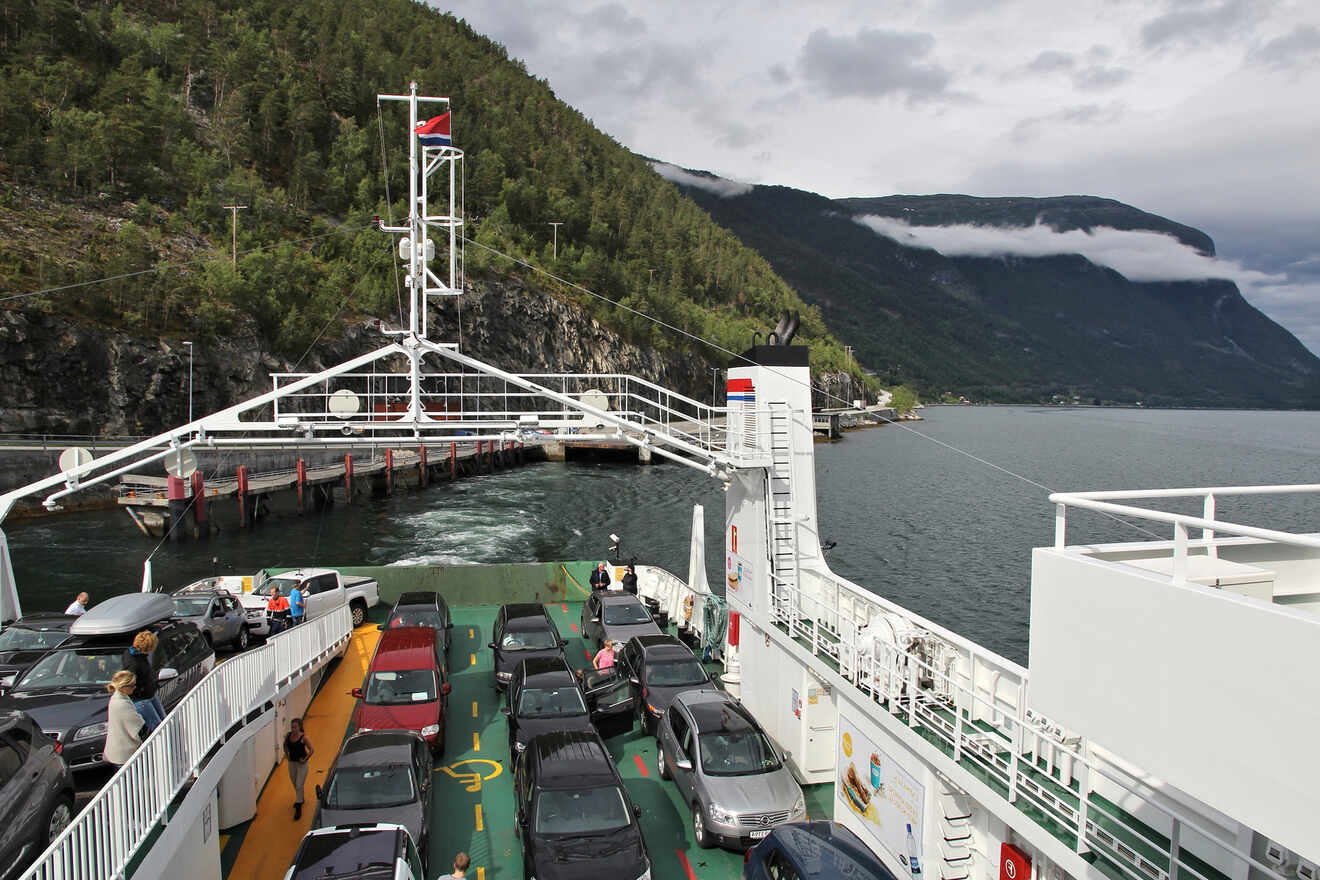 In a country full of fjords, you can probably imagine that there are hundreds of ferries. It's pretty much impossible to drive any long distance in Norway without taking at least one so if you are thinking of renting a car, it's something to take into consideration!
Thankfully, since they are so common, ferries are super frequent and relatively cheap when compared to other countries and basically serve as a low-budget cruise during your trip (around €10 per car for a 15-20 min ride).
If you're on a tight time frame or traveling at night, it's a good idea to check your route in Google Maps for ferry times in advance, but otherwise for shorter ferries (under 1 hour), simply turn up at the terminal and get in line underneath the sign for your destination. On average, these routes run around every 10-20 mins.
The lines are painted on the ground 1,2,3,4 etc. and this is the order in which the cars will be loaded onto the boat (line 1 goes first, then they start from the beginning of line 2 etc).
PRO TIP: Cars are categorized by length and anything over 6m (20 feet) costs nearly double to take on ferries. So if you're renting a campervan, try to pick one under 6m long!
For most ferries (aside from a few privately owned ones), you do not need to pay in advance. All rental cars will already be fitted with an automatic AutoPASS chip (something which sits in your windscreen and is scanned as you pass through), and it is either this or a photo of your number plate that will be used to register the journey.
Toll Roads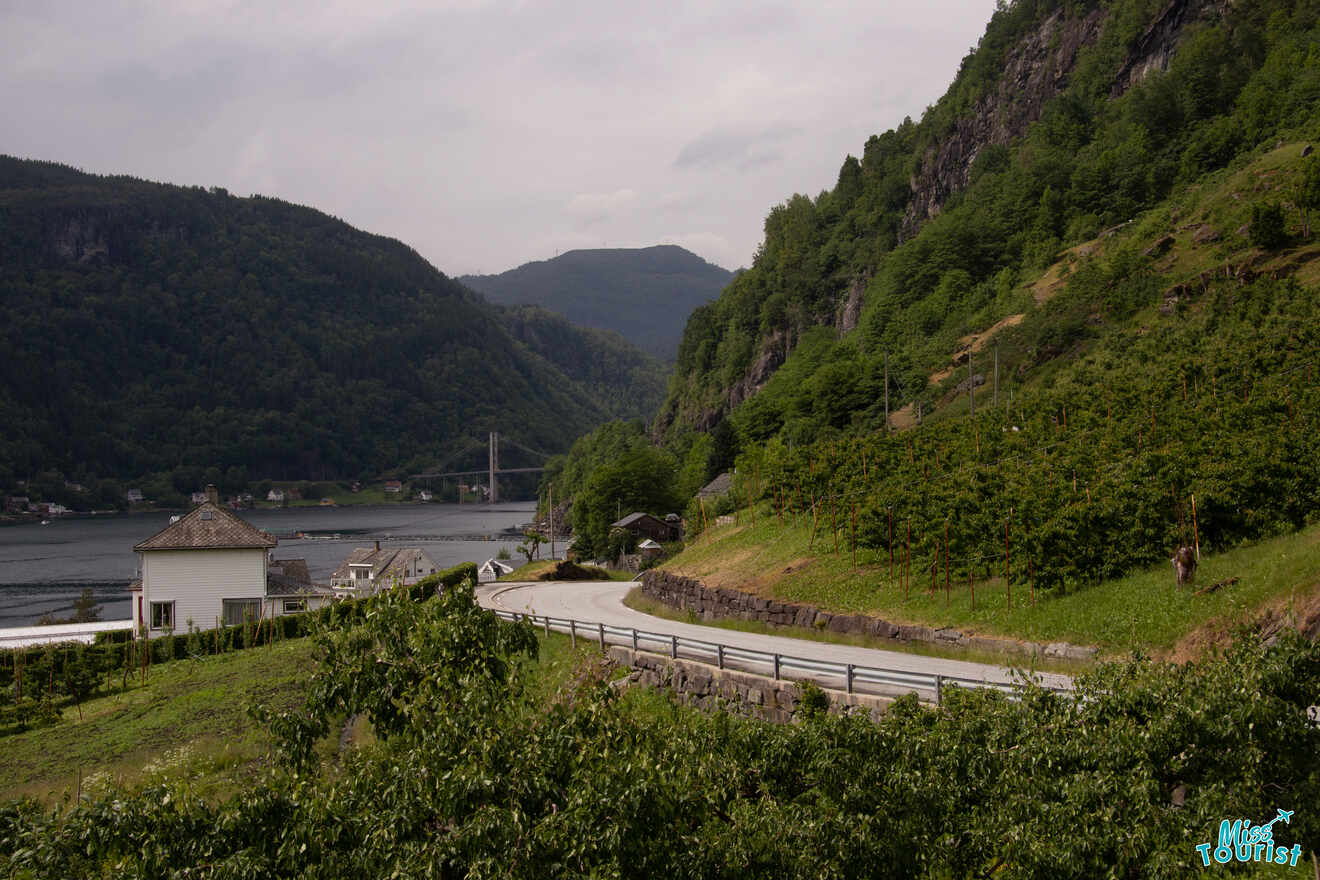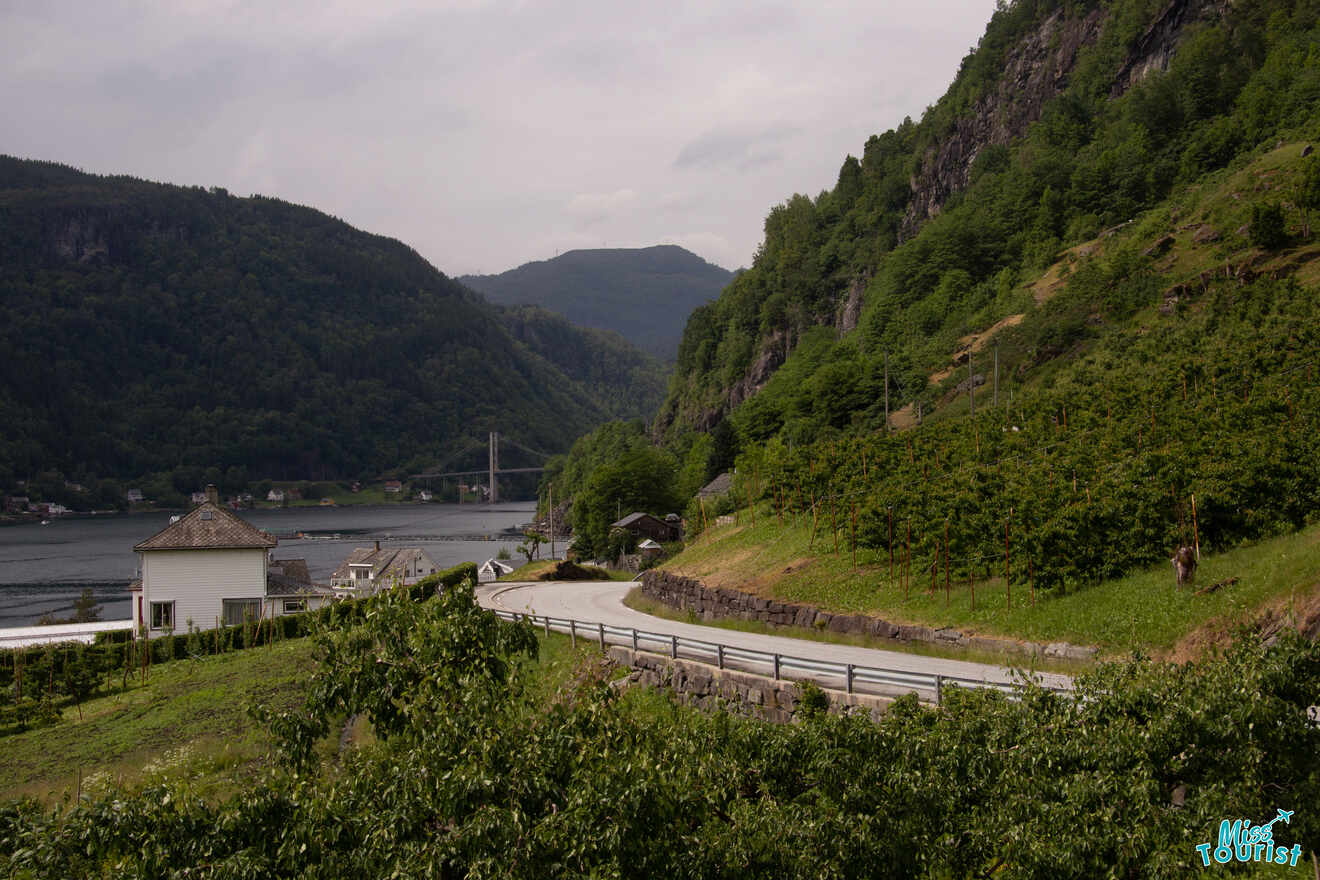 Similarly, Norway has quite a lot of toll roads and some of which cannot be avoided (traveling into Oslo and Trondheim for example). Tolls are not too expensive and will also automatically be added to your bill using the same AutoPASS as the ferries, so no need to worry about these when renting a car!
For a full round trip across the entire length of the country and back, you will probably pay around €70 in tolls in total.
For both tolls and ferry charges, the Norway car rental company will be billed for all trips taken so you don't need to worry about keeping track. When you return your car you will be provided with a summary of all the charges and the fees added to your total payment.
5. How much does renting a car in Norway cost?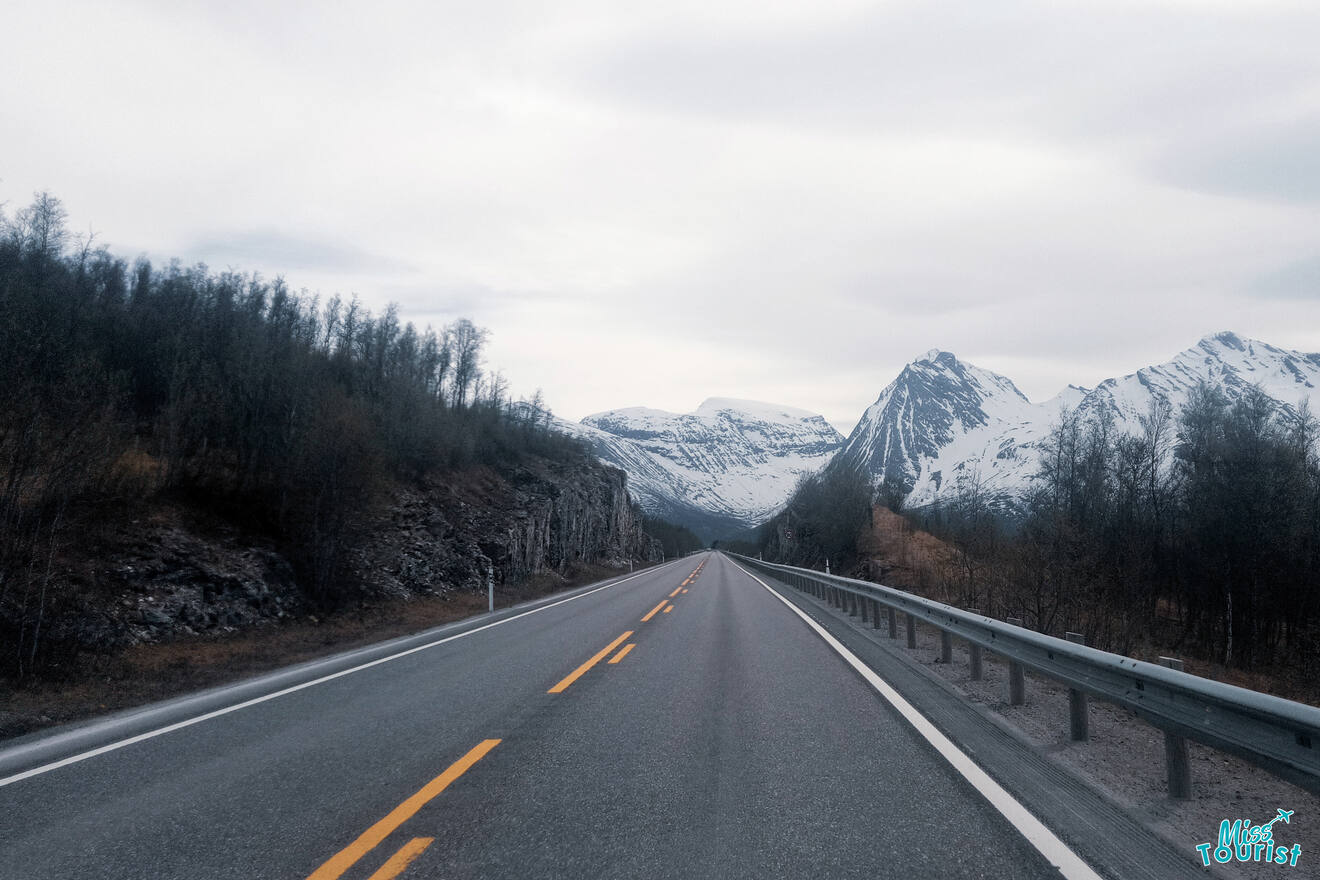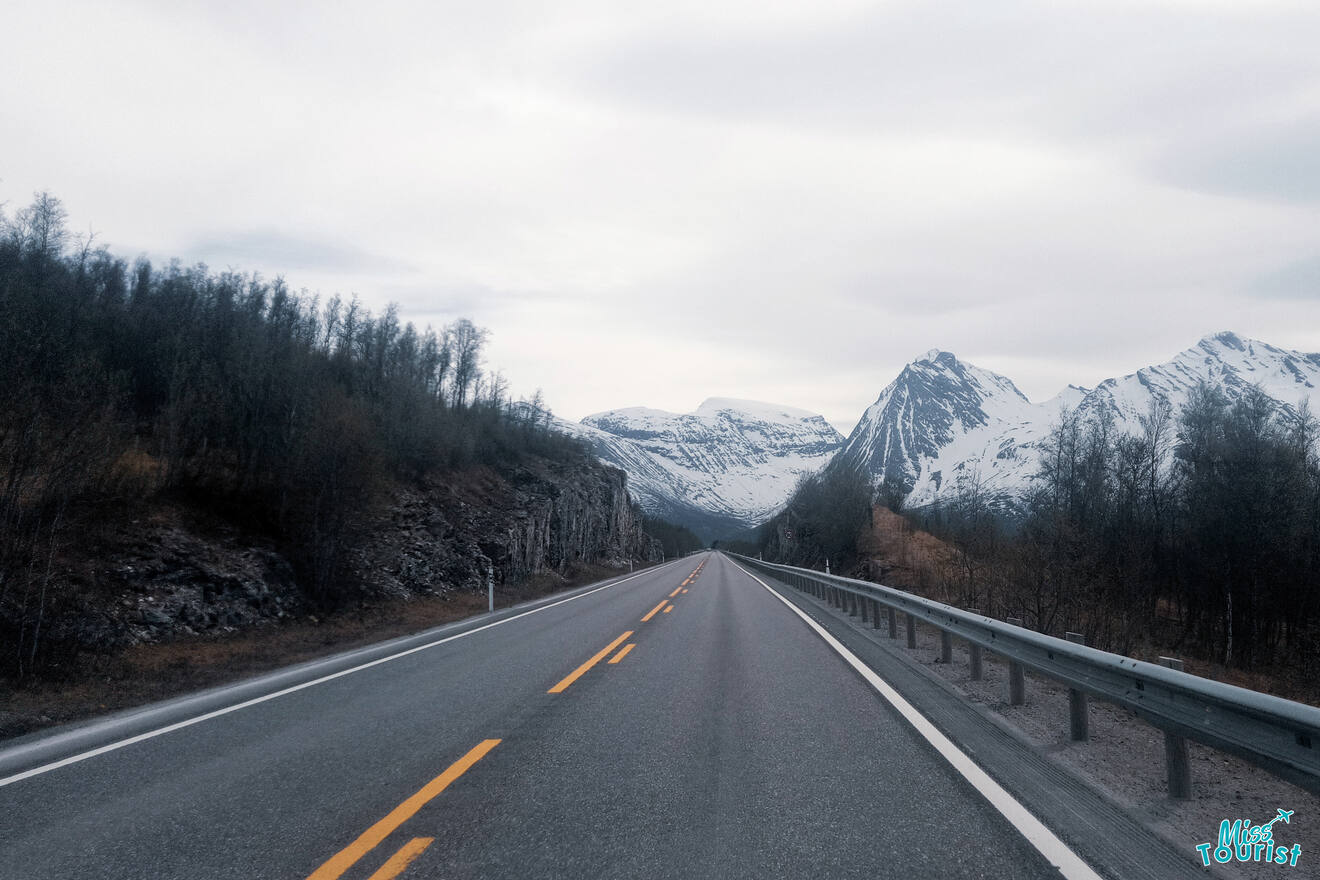 There are a few prices that you need to take into consideration when renting a car and many of these will depend on your budget, the length of your trip, and which roads you drive. (Check out the prices for rental cars here)
Here I will go through the general costs associated with renting a car so you can budget for yourself, and then do a quick calculation based on a 10-day trip to give you an idea of a daily total.
Car rental ~ from €40 per day
Insurance ~ from €35 (with an excess amount)
Fuel ~ €2 per liter
Tolls ~ €1-10 each
Ferries ~ €10 per 15 – 20 min ferry
Sample calculation prices for Toyota Yaris from Oslo – Stavanger – Bergen – Oslo (1,330km / 830miles):
Car rental (€335) + Insurance (€65) + Fuel (€2×71.5 liters = €143) + Tolls&Ferries (€85)
10 days = €63 per day!
PRO TIP: I found this cool website that calculates all the tolls and ferry prices on your route!
Insurance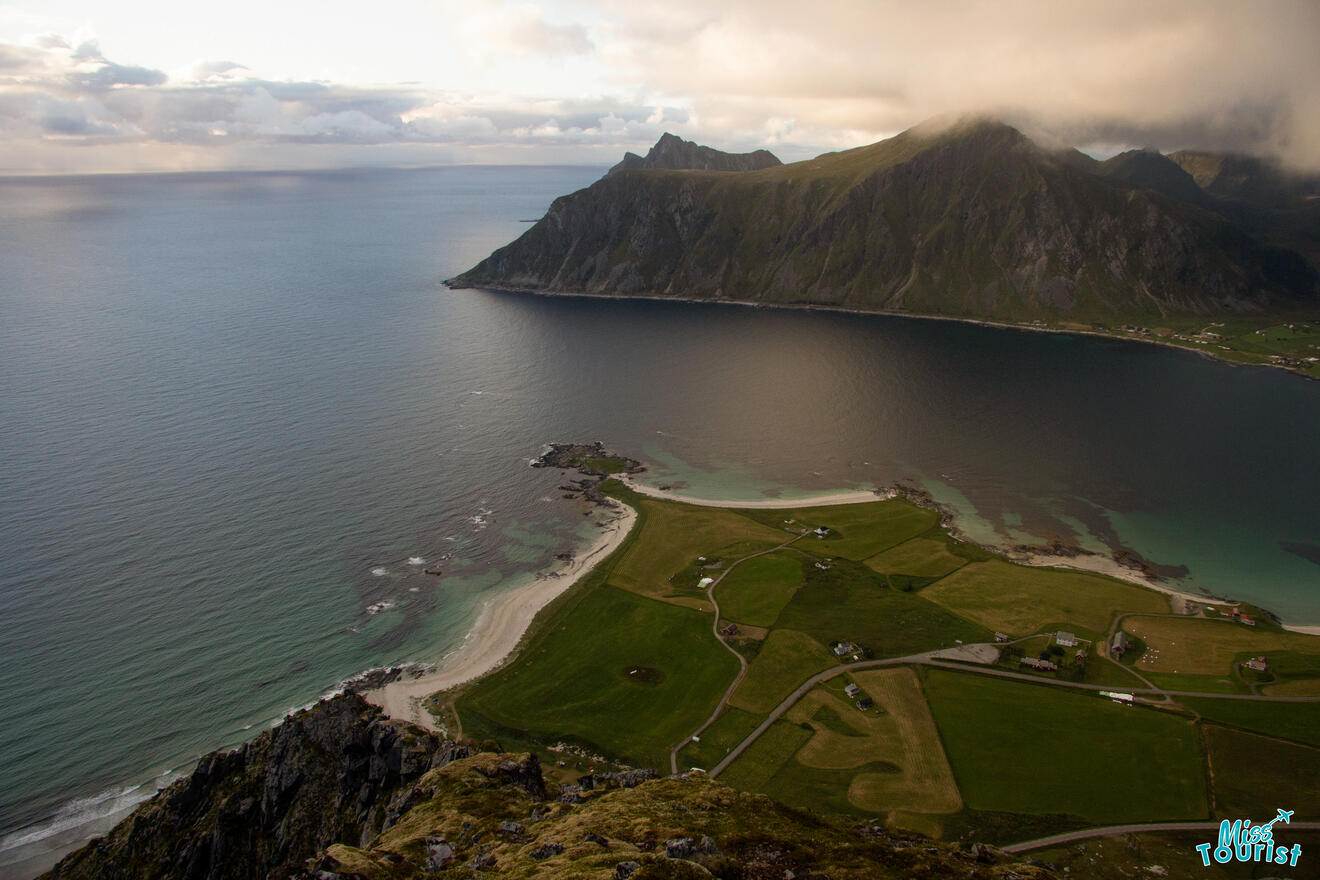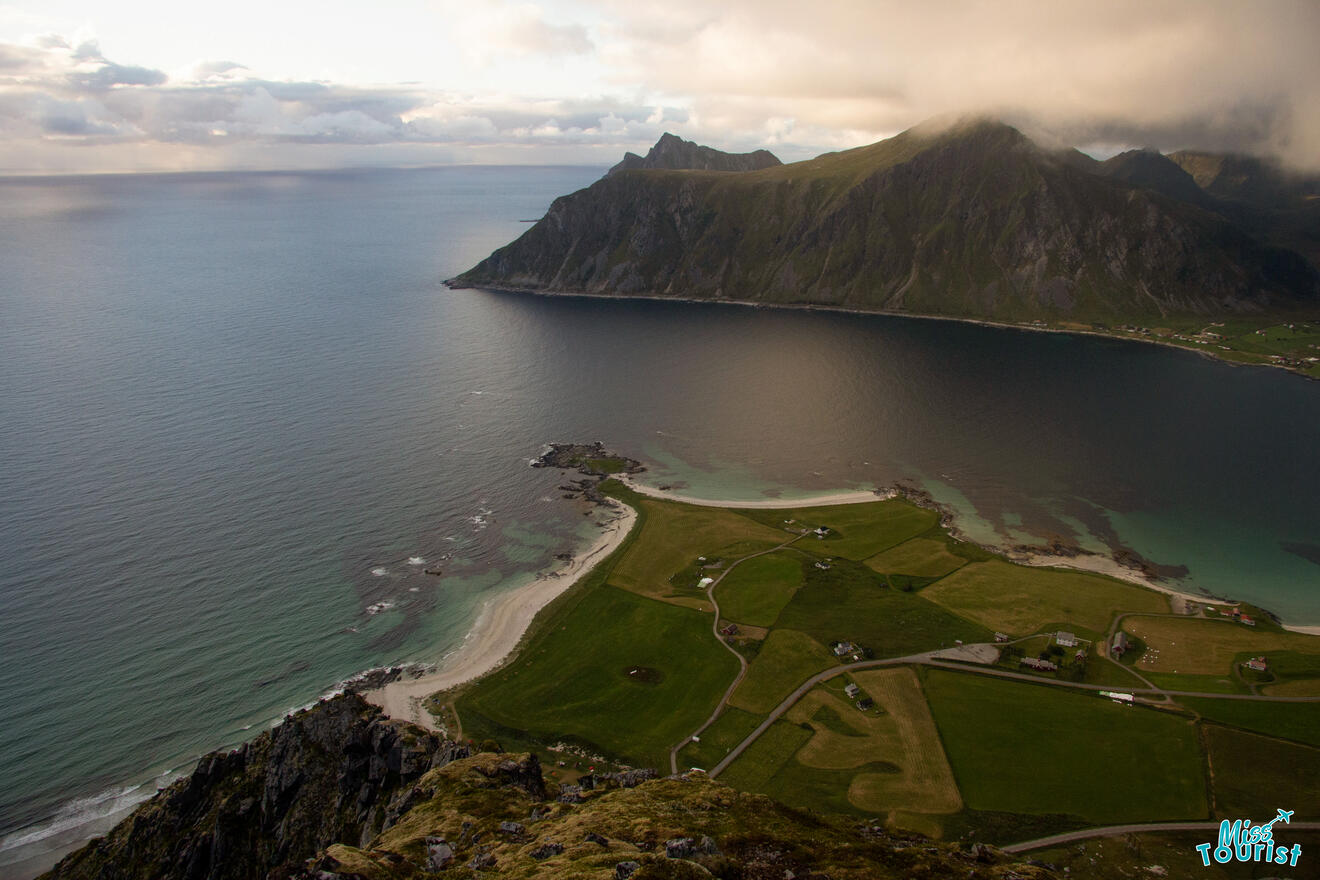 It is compulsory for all cars on the road in Norway to have 3rd party insurance. It's always a good idea to double-check with the car rental company but this should automatically be included and cover any damage done to the other person's car if you hit someone after the excess has been deducted (you would pay around €950 in excess).

In addition to this, I still recommend you get covered for any additional damage which is not covered under 3rd party insurance because you never know what might happen! Full insurance also covers the excess, meaning you would pay nothing in the event of an accident.
Check with your credit card company and travel insurance to see if this is already covered. If not, I recommend purchasing the additional insurance option that will be offered with your rental car. It is not too expensive if you're renting for multiple days (~€60 for 10 days) but could save you a lot if you get into trouble.
Parking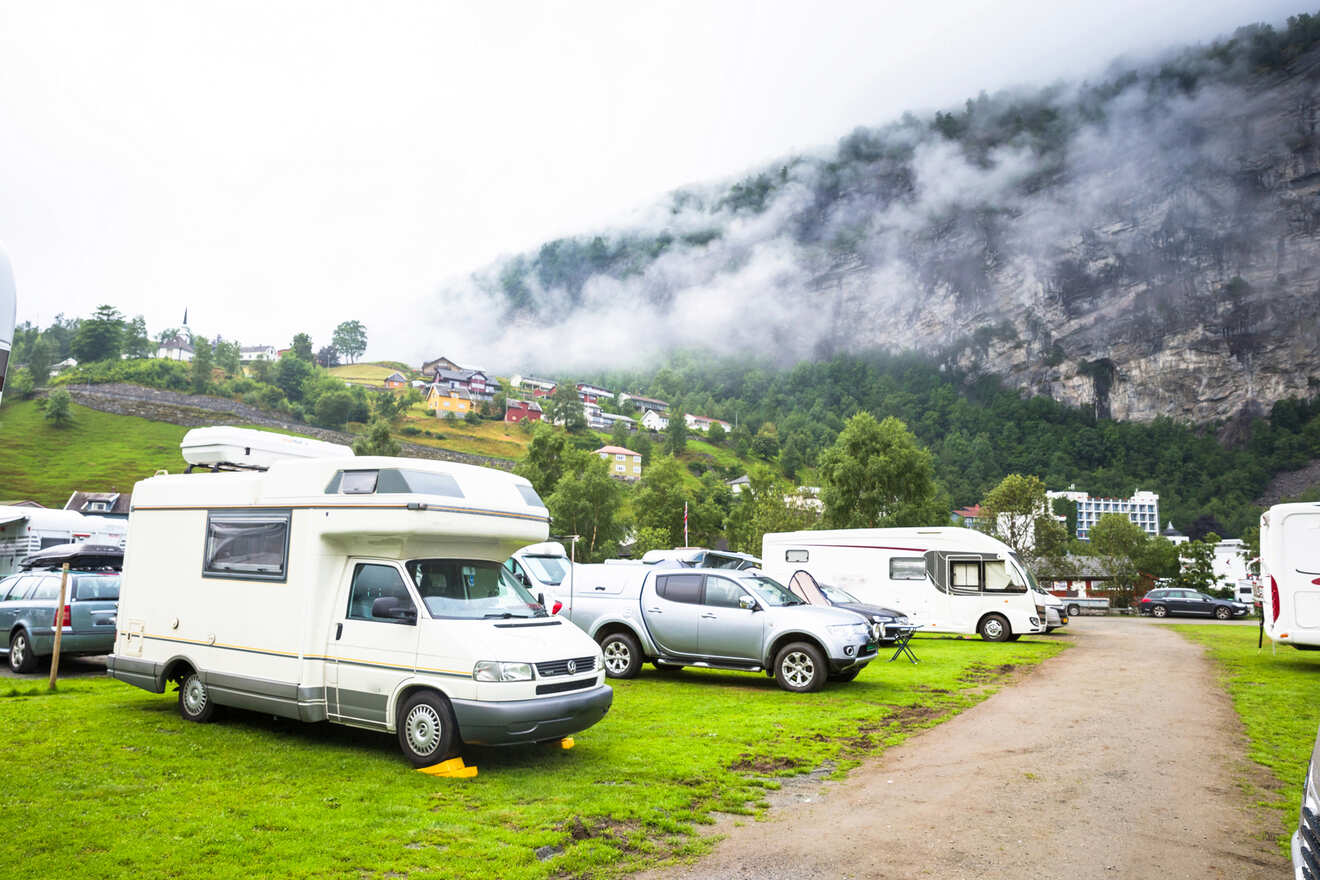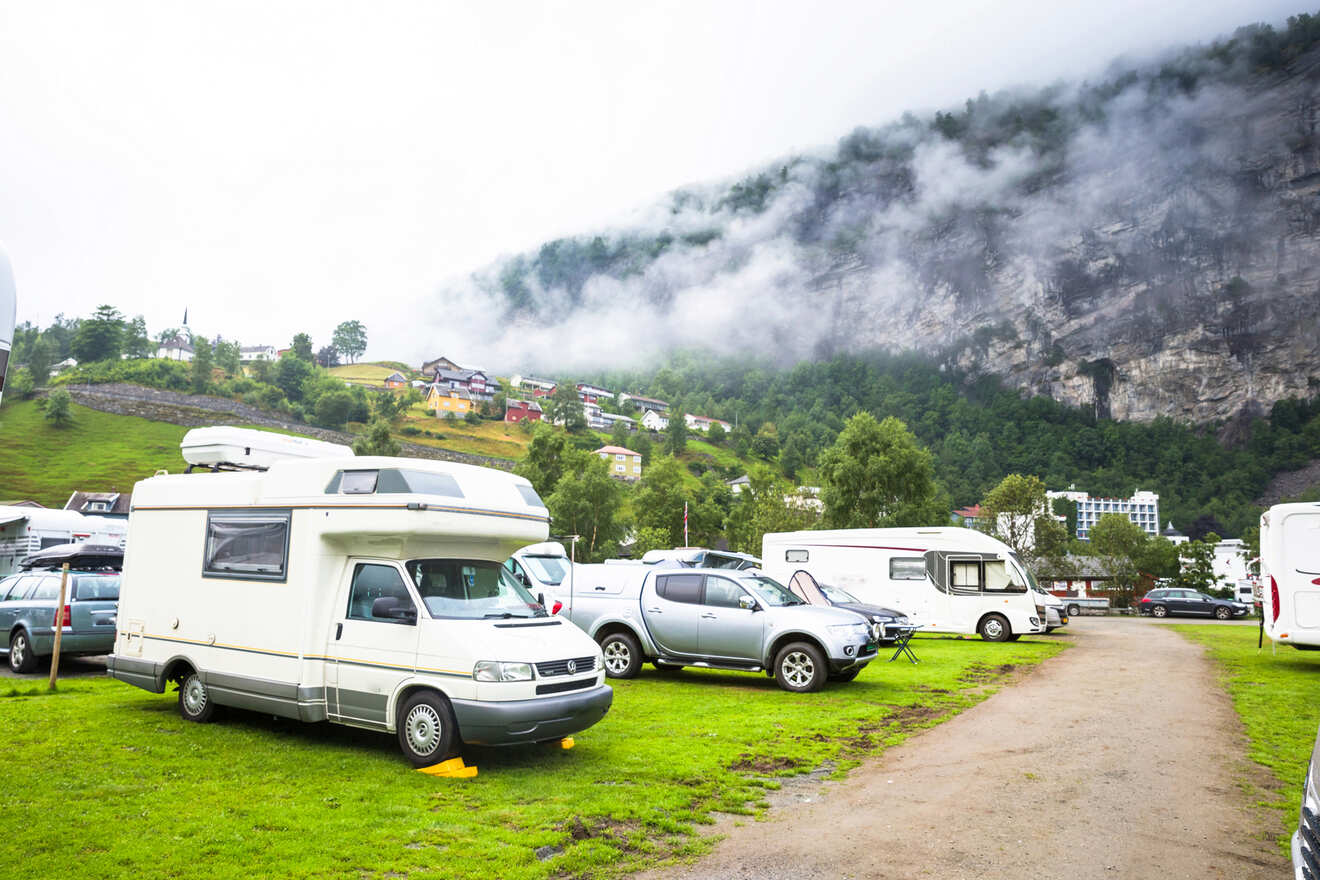 Parking fees vary hugely from city to city and even from the car park to car park in Norway, so there really is no way of estimating prices for this.
You can pretty much expect that you will always need to pay to park in the city centers. Parking prices can vary from €1 to €5 per hour, but sometimes can even be free on the weekend! As a general rule, the further away from the city center you drive, the cheaper the parking will become.
The reason for the variation in prices is that there are many different companies that control paid parking (including street parking) in Norway. Each one of these companies has its own app that you can download to monitor and pay for your parking (great if you want to extend your time without returning to the car).
EasyPark is the one that we have used the most often, but since every city has its own company and its own app (plus some of them are not available for foreign accounts), it's not really worth downloading them all. You can always pay with a card at normal parking meters in all parking lots.
Be prepared to sometimes also have to pay to park at major tourist attractions outside of cities such as national parks or famous hikes. Since Norway has had a fairly recent surge in tourism, this is how they pay for facilities to accommodate tourists such as public toilets, maintained trails, and bins.
PRO TIP: If you really want to be thrifty with finding free parking outside of the regular car parks, download the Park4night app. It's mainly for campervans but is a great place to find secret spots.
6. Road closures on your road trip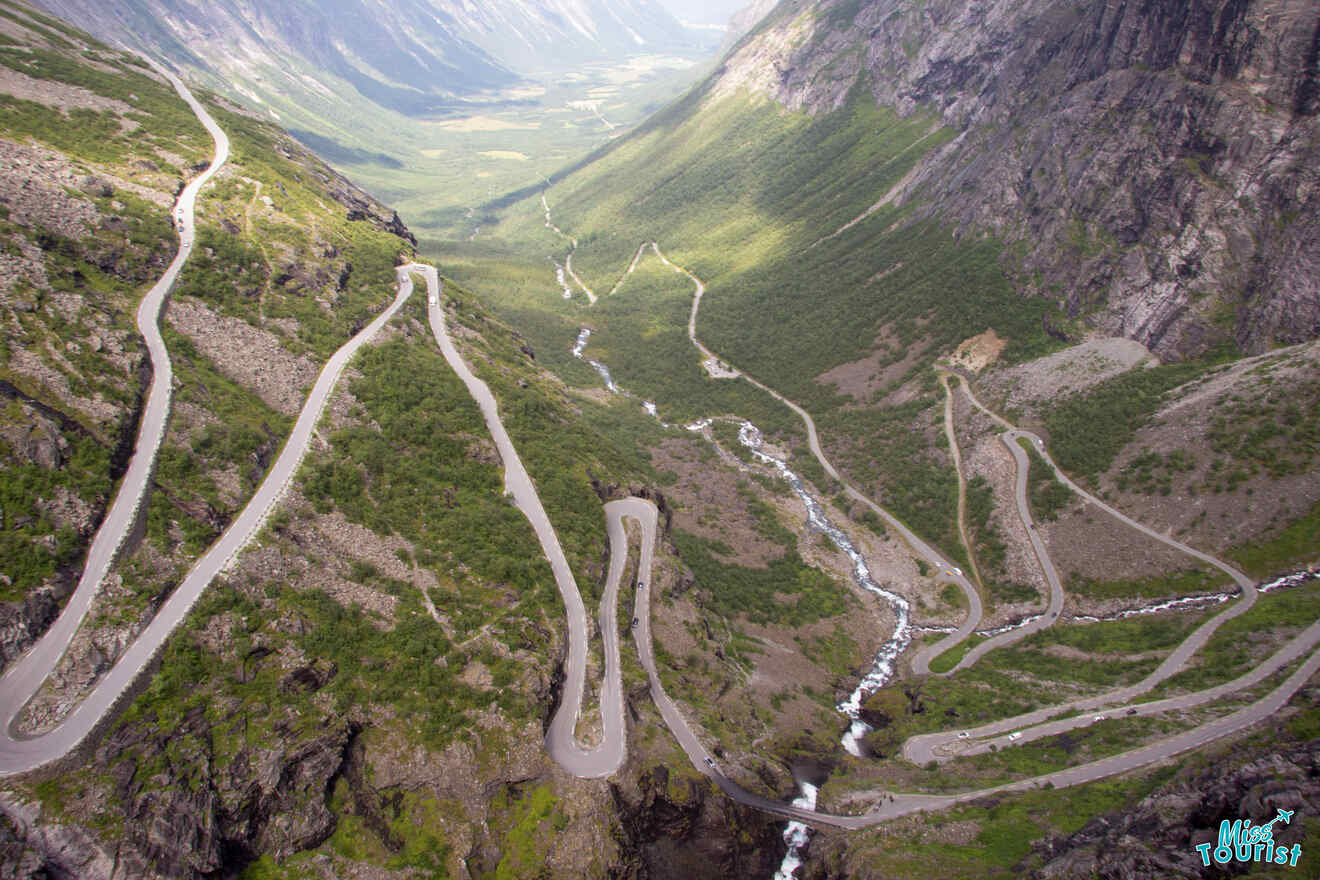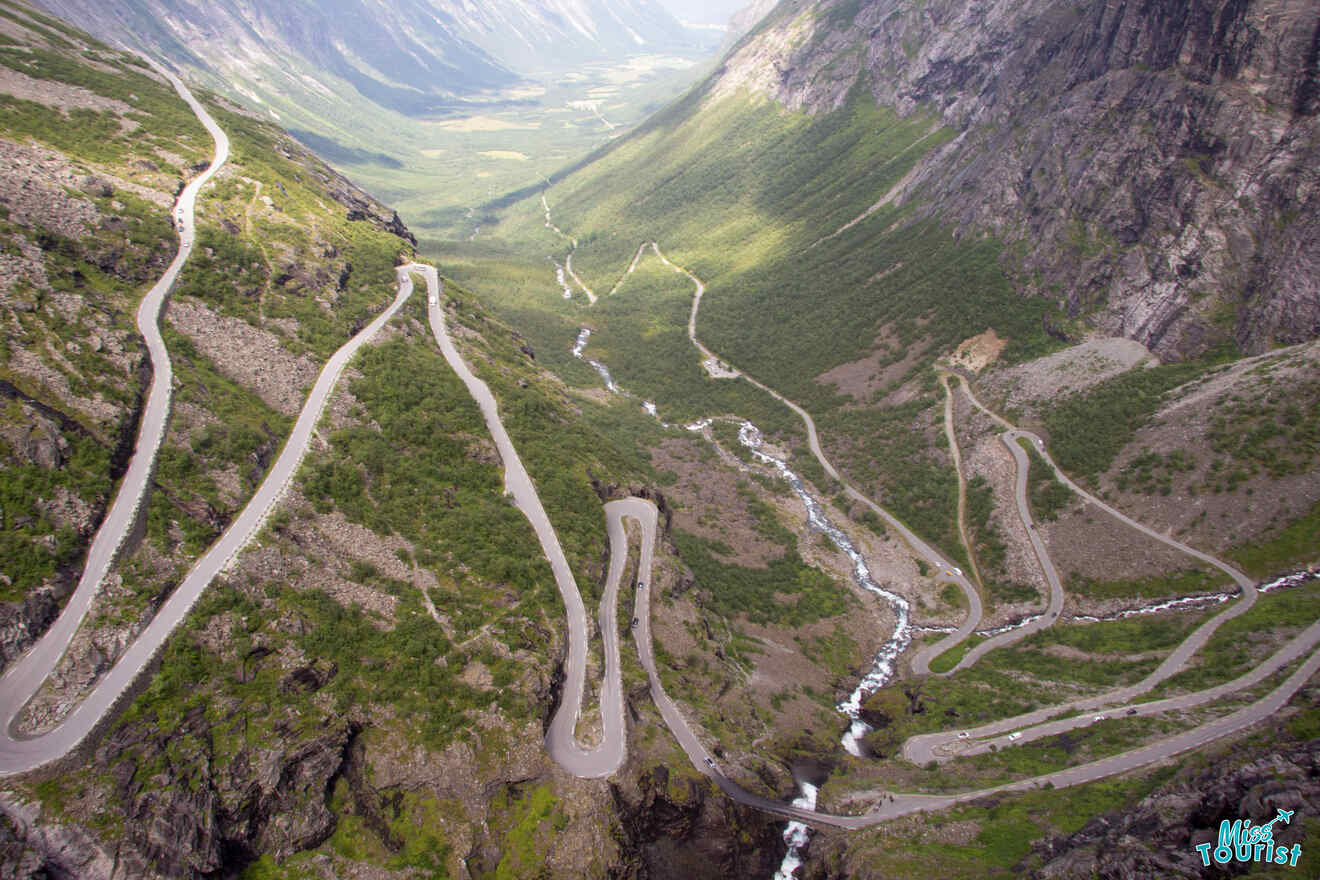 This is possibly the #1 most important thing to know about driving which is quite unique to Norway.
As I have already mentioned, Norway has a lot of mountainous roads. These roads are beautiful but can be super steep and quite high in altitude. Because of this, it's not uncommon for roads to be closed at short notice, even in the summer months.
During winter, there are many summer roads all throughout the country which are permanently closed between November – April. This includes some popular tourist routes and the opening and closing dates are season dependent. Check the mountain roads here (Norwegian only).
If you are traveling outside of June – August, at night, or if the weather is particularly volatile, It's important to check your route online in advance to be aware of any road closures.
This is because there are a number of reasons why roads can be closed in Norway. In addition to wild winds, avalanche danger, snow cover, and accidents, due to the battering Norway gets during the winter months, the roads often need to be fixed or upgraded in spring/summer. We have spent countless hours waiting for roads to open over the last year! (It's probably the most traffic you will see here!)
PRO TIP: Here is a map where you can check all the current road closures in Norway. It is only available in Norwegian but you use google translate to understand or look at the symbols which indicate full and partial closures. Click on the marker to see the times/dates when the road is closed (sometimes it is periodic).
NOTE: Roads marked "kolonnekjørings" mean "convoy". You can still travel these roads but you will have to wait at a barrier until there is a group of cars waiting to cross (this can take hours sometimes). You will usually be escorted by a plow truck at slow speeds safely through the danger zone.
7. Winter driving in Norway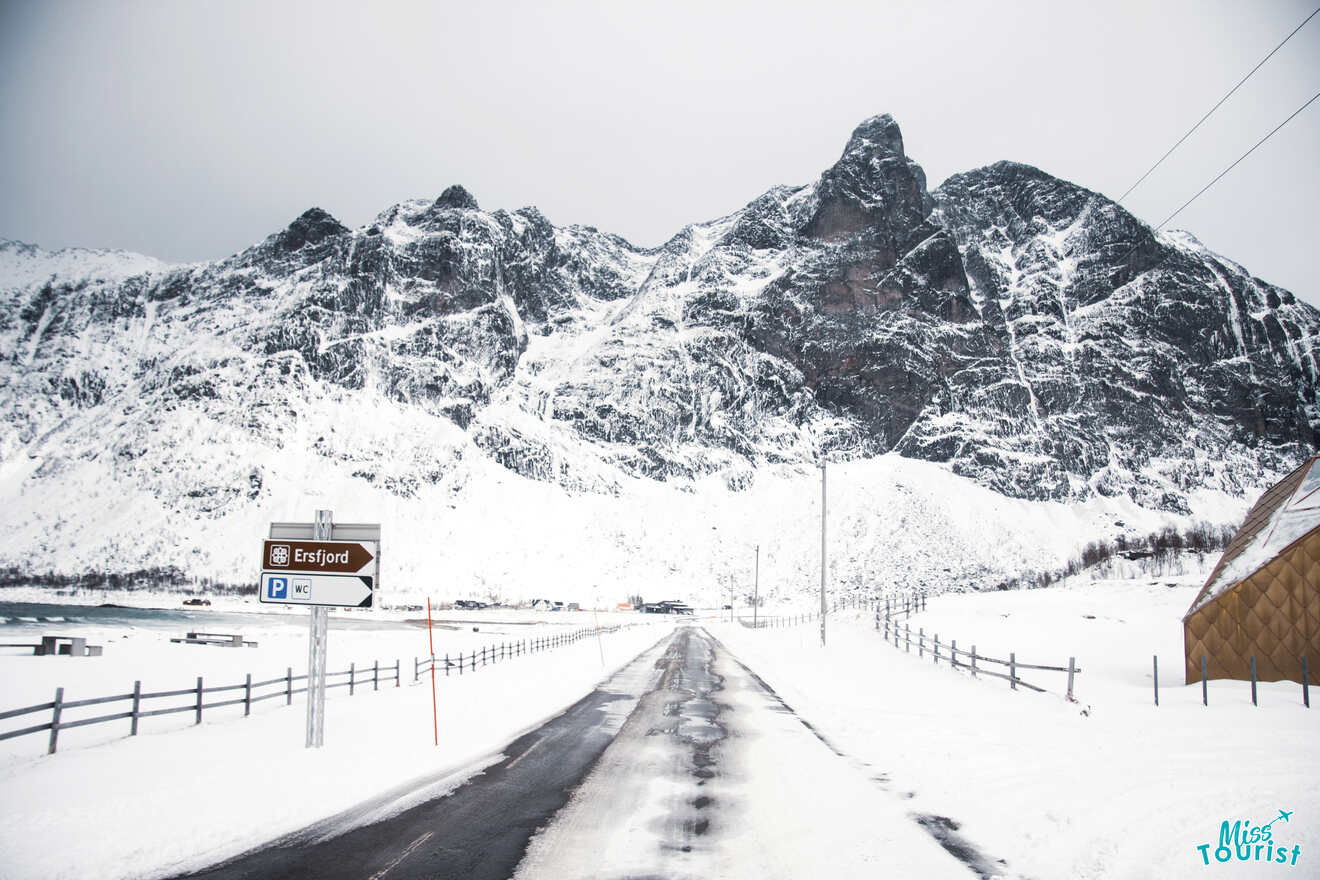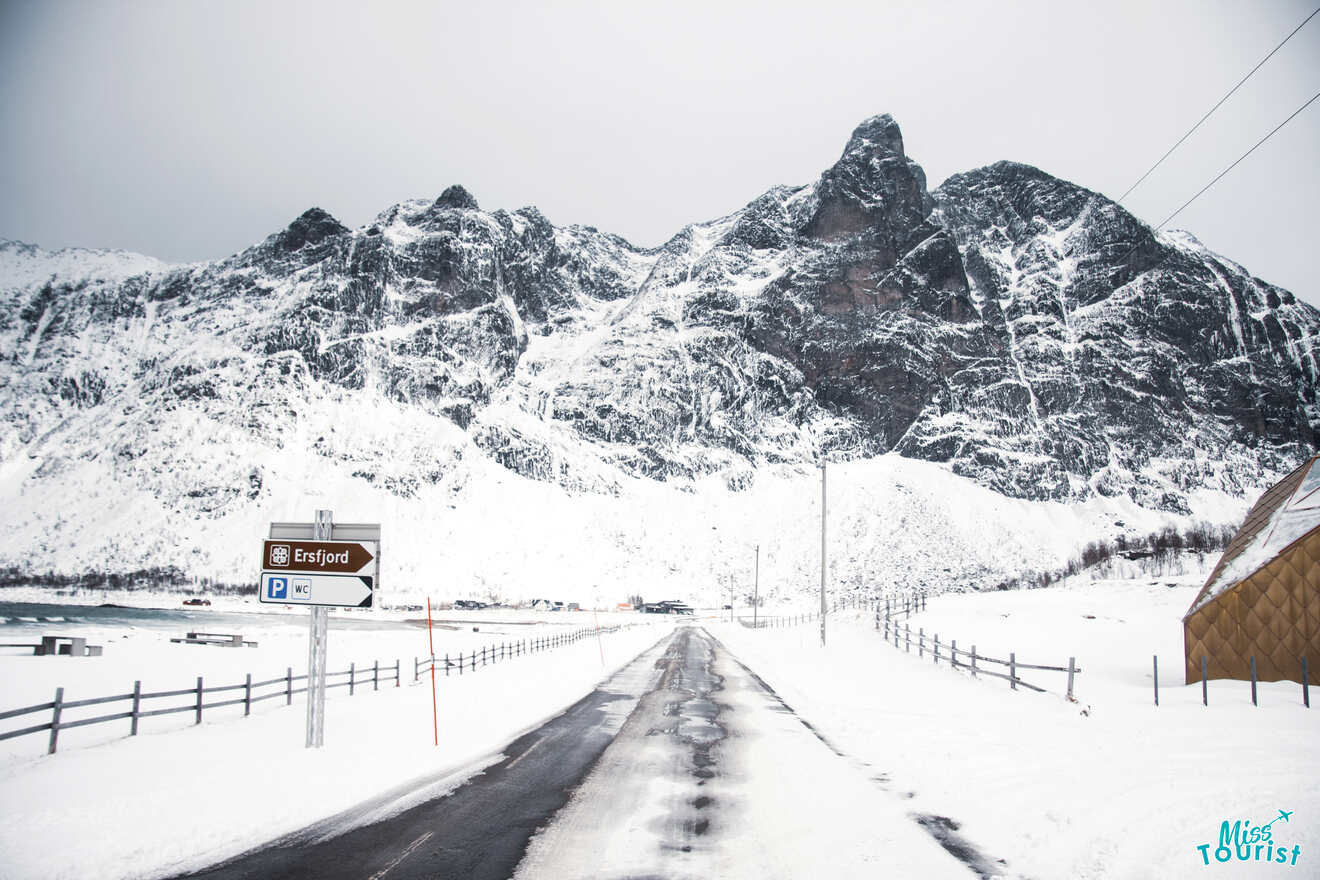 The first thing to know about driving in winter in Norway is that "winter months" in Norway can be very different depending on the year and which part of the country you are in.
For example, here in the North in the arctic circle (where I am writing this post from), locals swap to the winter tires in October and we had snow at the end of May! That being said, at the same time, it was 20 degrees Celsius (68F) and full summer mode in Oslo…
In addition to the winter road closures I mentioned above, there are a few more things to know about driving in Winter.
Firstly, you are legally required to have winter tires on your car from the 1st of November – Easter. In the North, however, as I mentioned before you quite often need them well outside of these dates as well.
All rental car providers will provide winter tires if traveling between these dates but it always helps to double-check your route with them, especially if you are driving from the south to the north in Spring/Autumn when conditions can vary greatly.
PRO TIP: While in cars with studded tires, it is not really necessary to carry snow chains, if you are traveling in a campervan and plan to go a little off-road (some car parks are not cleared of snow very often), it never hurts to carry them just in case.
8. Beware of wildlife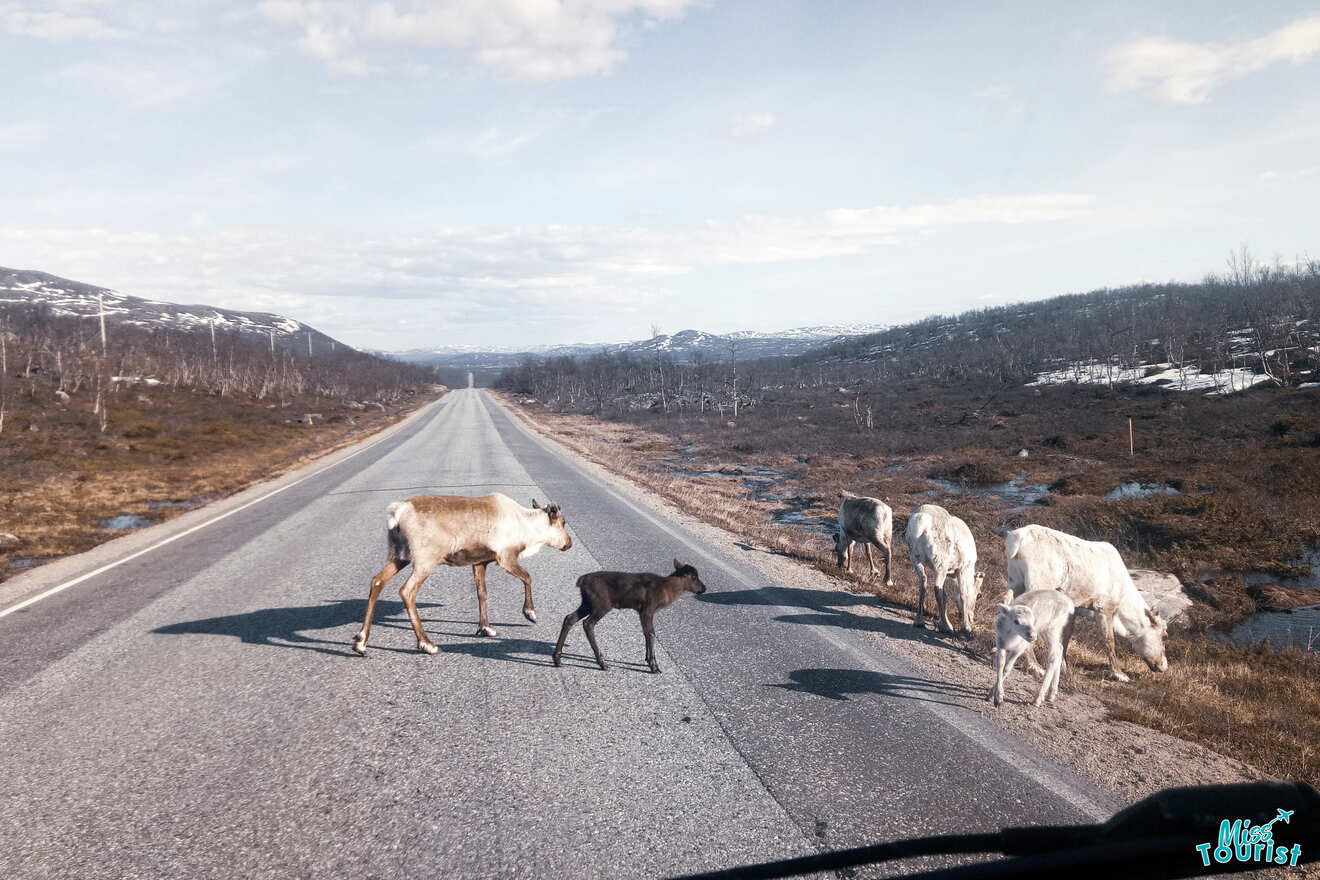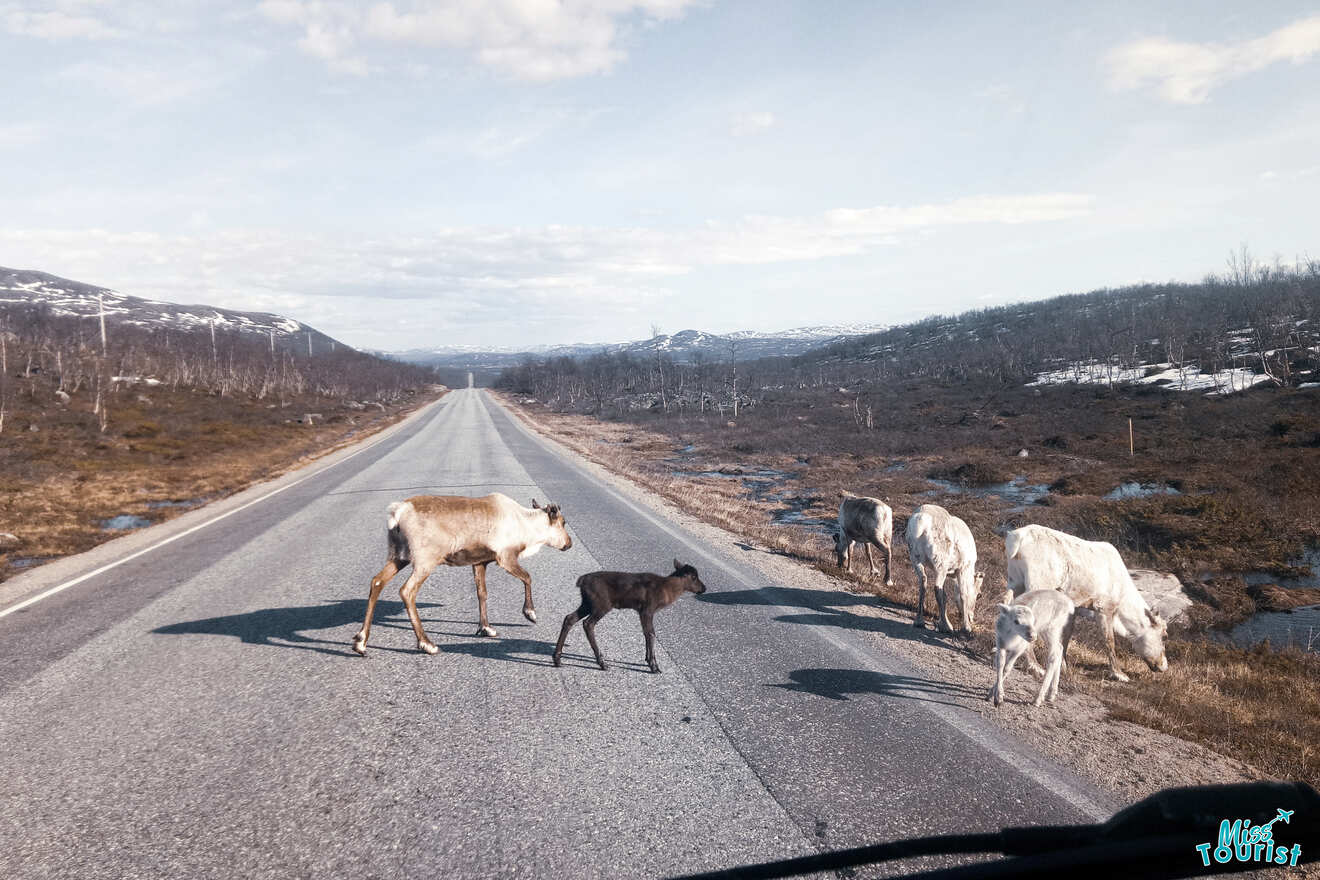 With nature all around, it's no surprise that you will also come in contact with lots of wildlife on Norwegian roads. Just last week we saw a lost little reindeer wandering around the suburban streets just outside Tromsø!
You will see a number of road signs depicting everything from skiers (yes human skiers) to moose and reindeer, indicating when you are passing through an area with higher numbers of sightings.
Constantly keep a lookout because firstly you do not want to hit a 700kg moose, but secondly, you have the unique chance to spot some beautiful wild animals!
PRO TIP: Avoid traveling at dusk and in the dark as this is when it is hardest to spot animals on the road.
9. Take care in the tunnels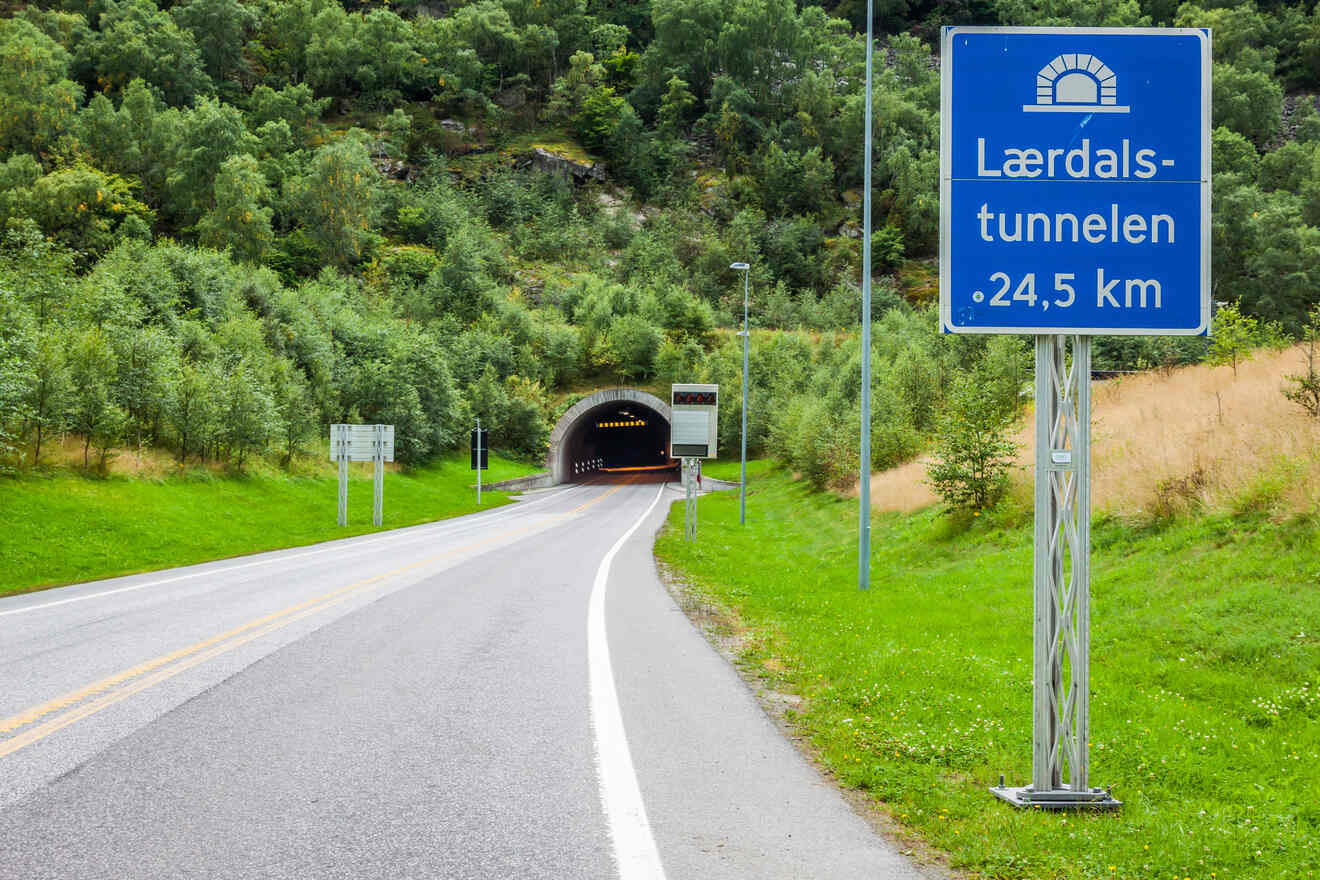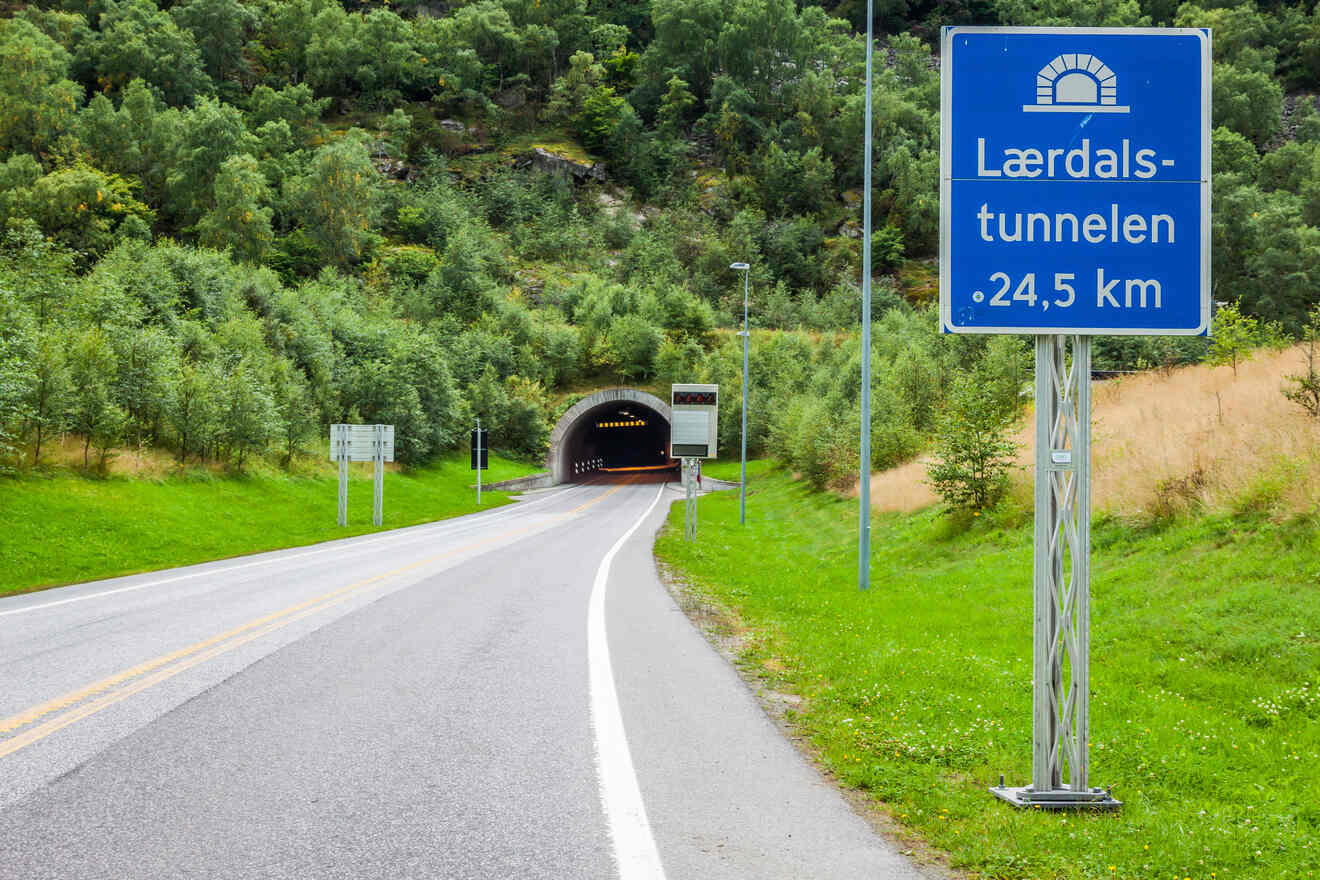 Something that surprised me a lot when we first arrived in Norway is the number of tunnels they have. There are literally over 1000 tunnels here including the longest tunnel in the world!
What surprised me even more from this super modern country is that the majority of Norway's tunnels are not the fancy modern, concrete tunnels that you find in central Europe.
PRO TIP: In fact, most of the tunnels we have come across outside of the major tunnels are simple tunnels blasted through rock with a handful of lights strung up inside. It can take quite some time for your eyes to adjust when going in and out of the tunnels so it's important to have a pair of sunglasses on hand at all times, even when it's overcast!
What's more, some tunnels in Norway have intersections and roundabouts, inside the tunnels! Crazy, right?
Even though these points are always well signposted, it's always good to know where you are going before entering a long tunnel since you won't have any reception inside to check your map!
10. Driving rules for your car hire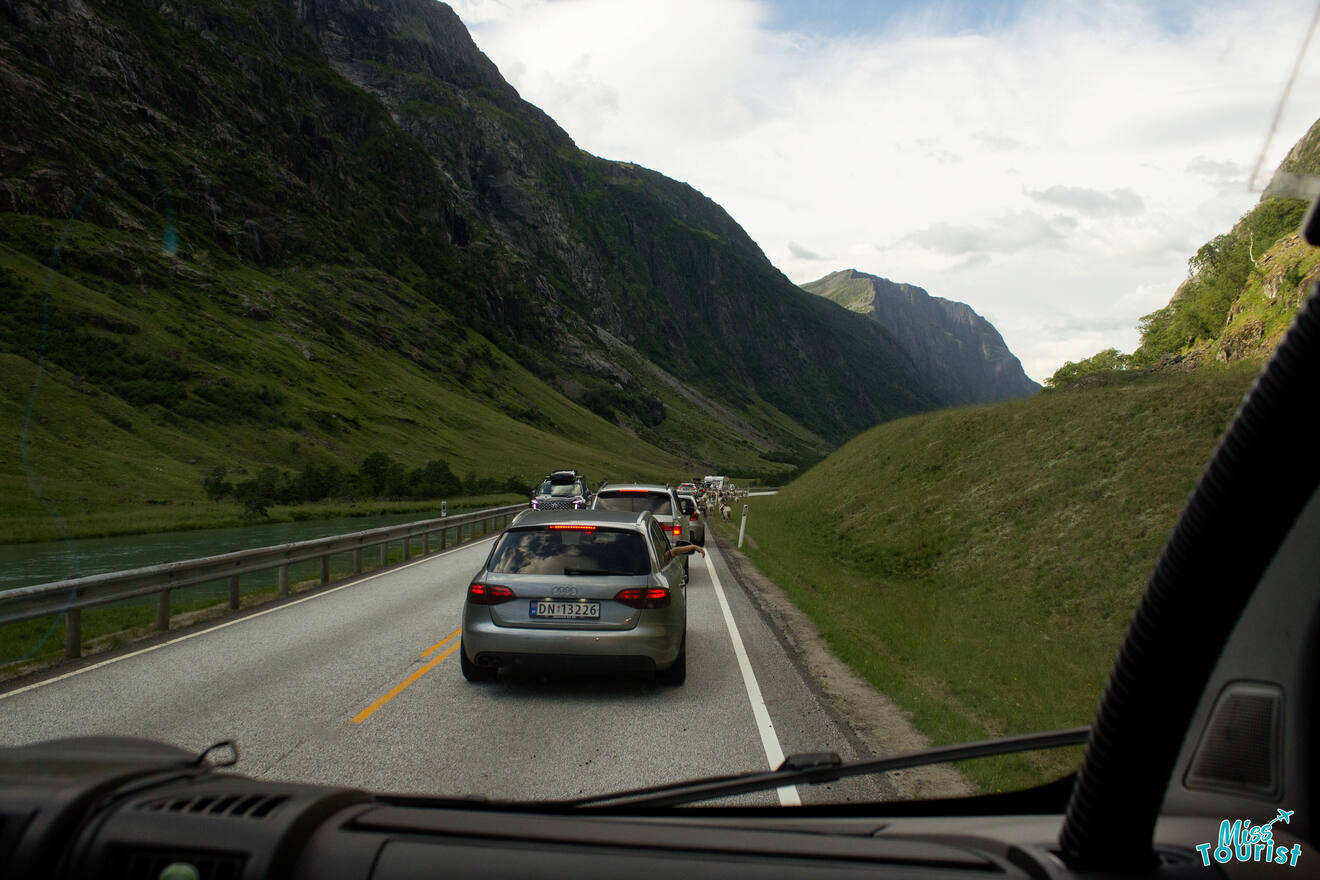 Alrighty, last but not least, there are some important driving rules that you need to know about in Norway. You can see a full rundown of the rules here, but otherwise, let's go through some of the most important ones:
Drive on the right-hand side
As with most of Europe, in Norway, they drive on the right-hand side of the road. This means you also give way to your left at roundabouts.
Speed limits & Fines
Norway is very strict when it comes to following rules and this of course also applies to speeding! There is a 0 tolerance policy when it comes to going over the speed limit and you will get a ticket for going more than 3km over the limit. Fines can be up to 10% of your annual income (the standard fine is €230 for 5-10km over the limit!!), so make sure to know where you're driving and stick to it. 
Norway doesn't really have highways that you may be used to in other countries and the speed limits are relatively low due to all the twists, turns, and mountains.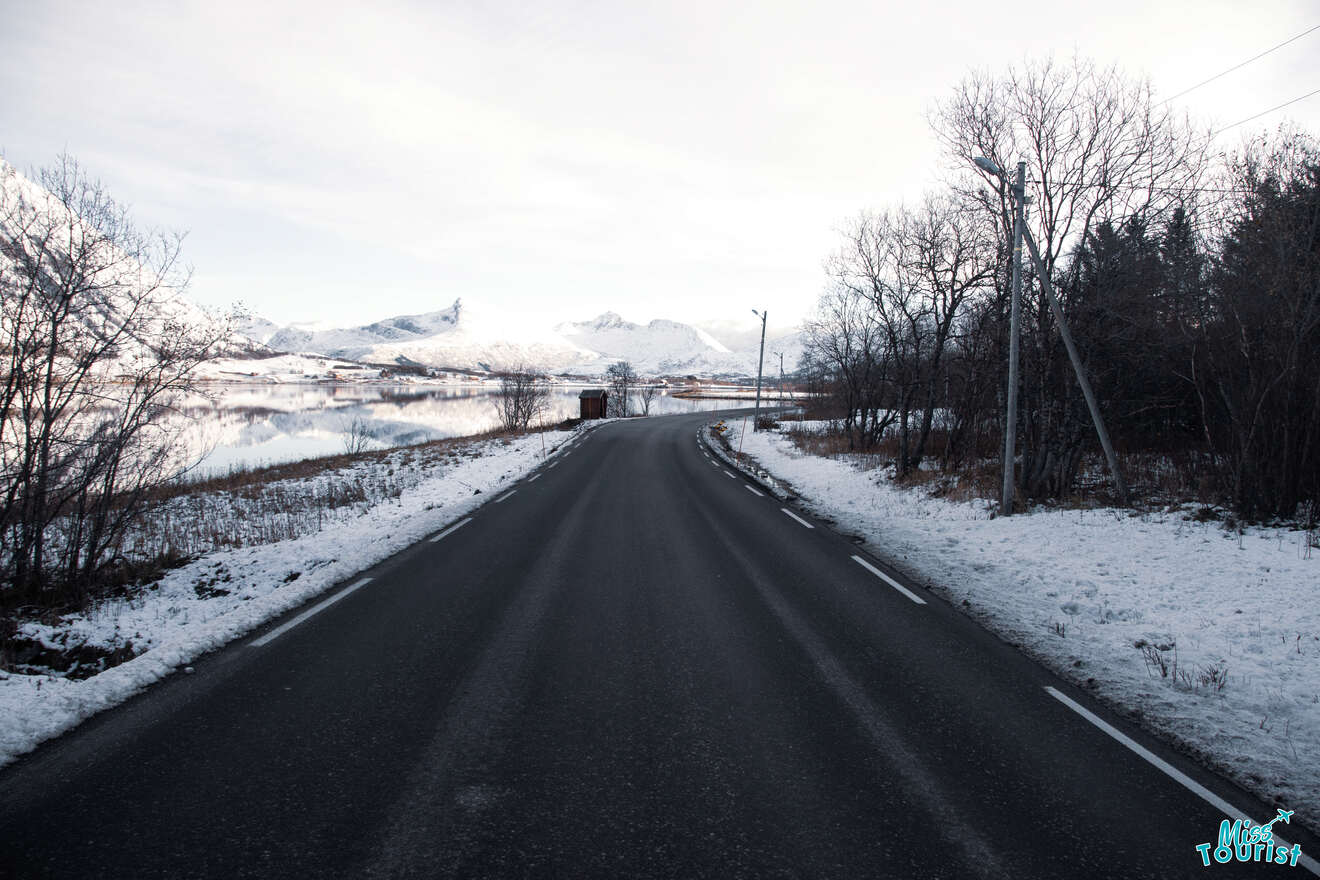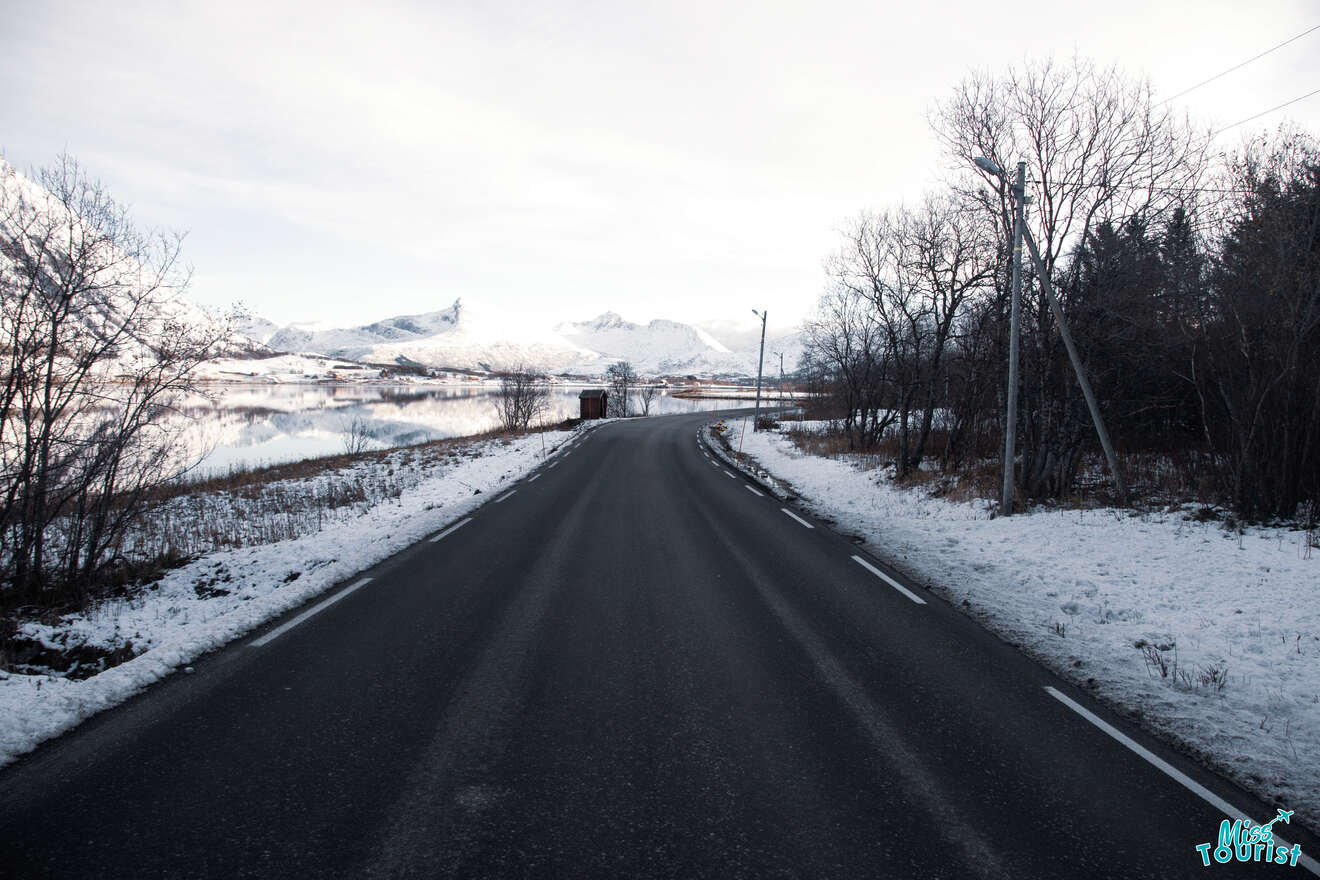 Here are the general speed restrictions:
General speed limit – 80km/h (50 miles)
Built-up areas & urban areas – 50 km/h (30 miles)
Other signposted speed limits – 30 km/h (18 miles) – 110 km/h (68 miles)
NOTE: You will often not see a new speed limit sign when you are re-entering the general speed limit area. Instead, you will simply see the current speed limit with a cross through it. You may already know this if you're from one of the cities in Europe, but coming from Australia this was quite confusing for me.
Must have your headlights on when driving
In Norway, you legally must have your headlights turned on when driving at all times of the day and night. It doesn't matter if it's the middle of summer and you are enjoying the midnight sun, your headlights must be on low beam!
Alcohol and driving
As with speeding, Norway is one of the toughest countries in the world when it comes to drunk driving. The absolute legal limit is just 0,02%, which is actually less than one drink for most people, and Norwegians take this so seriously that they basically treat it as 0.00.
By now you probably understand that the road network in Norway is quite interesting and not so straightforward, so I advise you to do the same to stay safe, don't drink an excess amount (or at all), and avoid ruining a great holiday!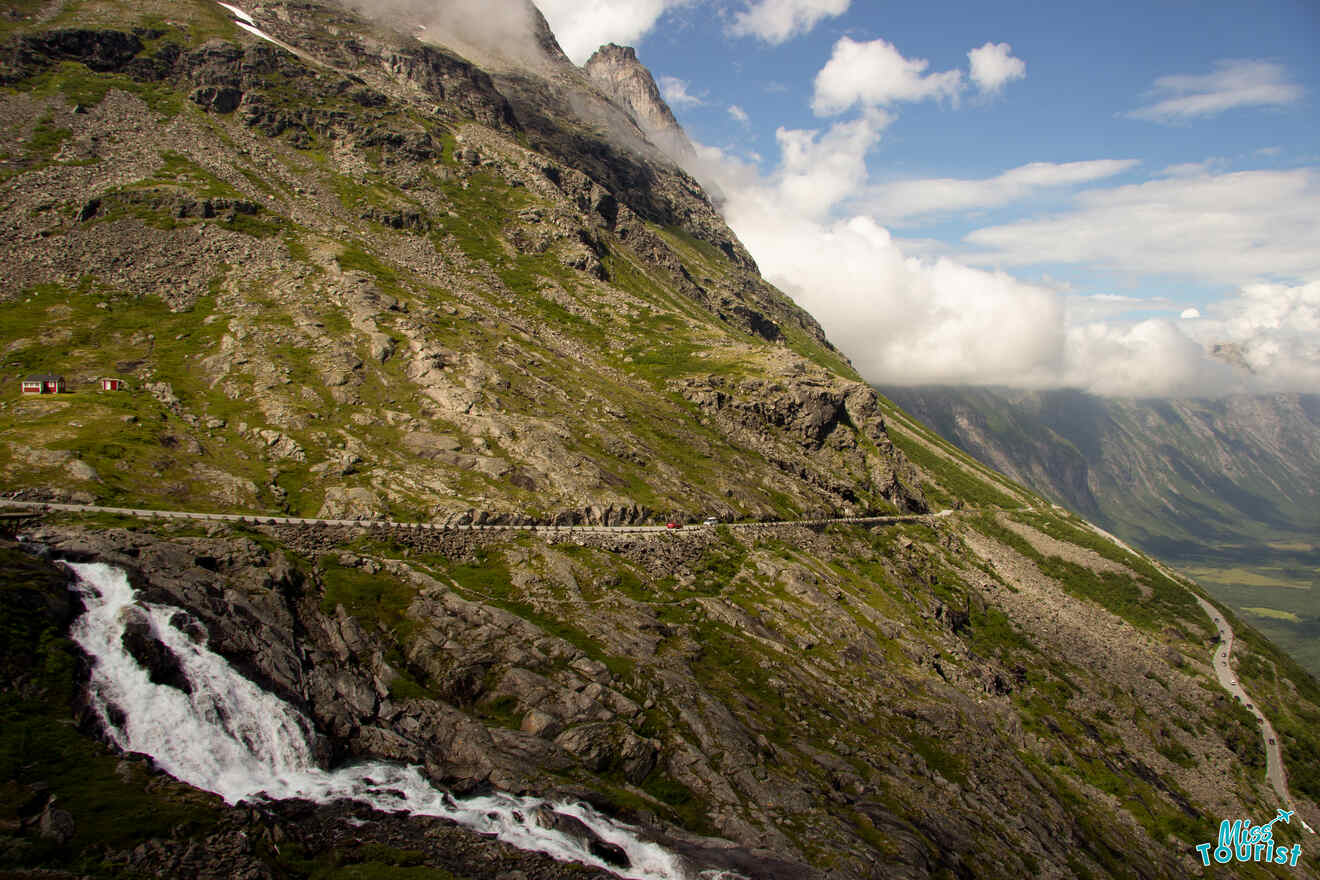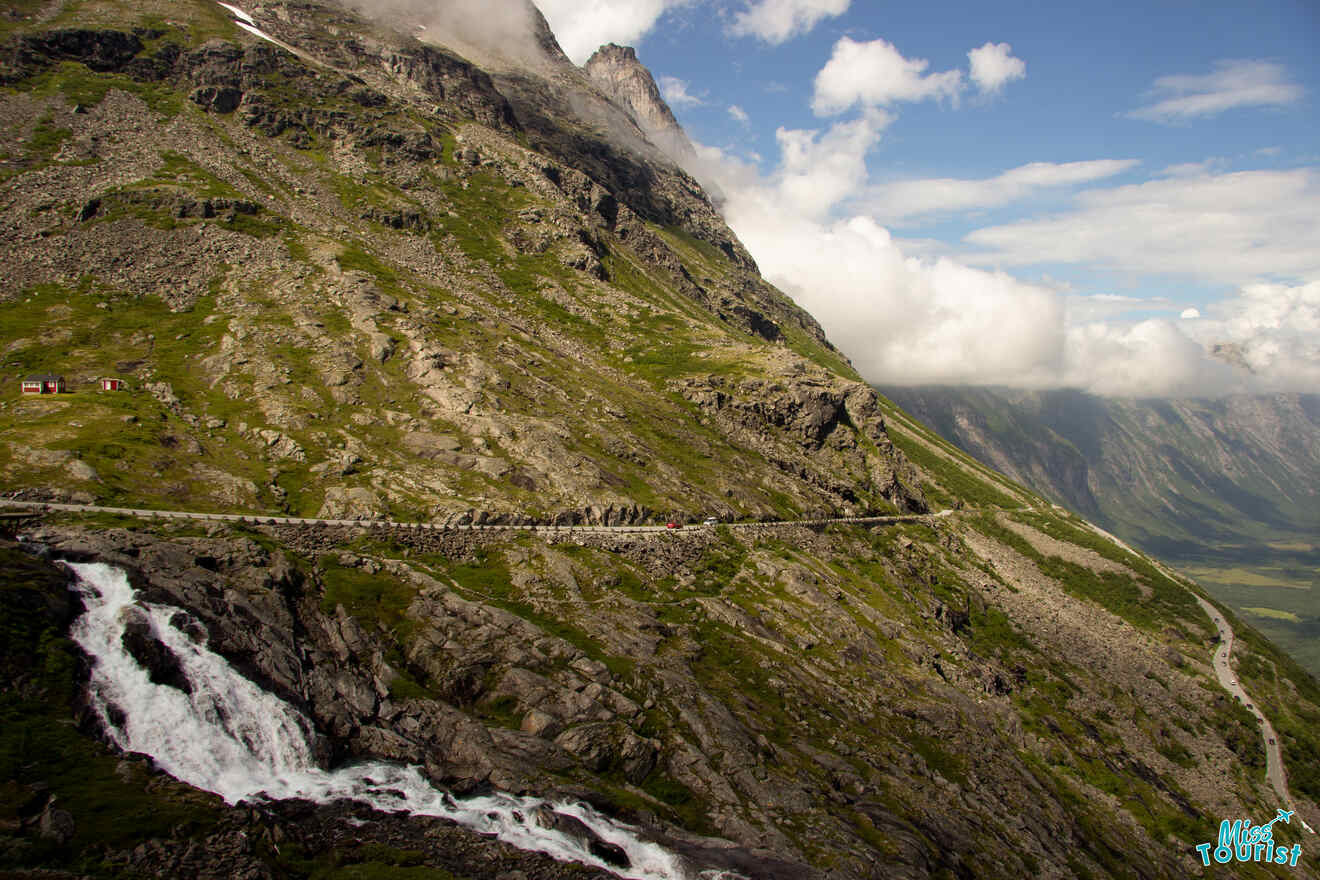 Hi-vis vest and warning triangle
You must carry a hi-visibility vest and a warning triangle at all times in your rental car in Norway. If you are in an accident you should wear the vest and place the triangle a couple of meters behind your rental car to warn oncoming traffic.
Intersections
Occasionally you will come across some intersections in built-up areas where it can be quite difficult to understand who has right of way (honestly we still don't know sometimes).
As a general rule, unless otherwise indicated or if you are traveling on a major road (indicated by a yellow diamond sign) with an obviously minor road intersecting, the traffic on your right-hand side has right of way!
It seems counterintuitive but if your road is not explicitly marked with the right of way, you must always stop for traffic from your right, even if you are driving on a major road and the traffic from your right is on a minor road.
This rule actually originates from the Vikings who had their rudders on the right-hand side of their boats! But if in doubt, just stop and wait your turn, someone will let you go! 😉
| | |
| --- | --- |
| 🚗 Economy car: | €40 per day |
| 🚜 4×4 price: | €200 per day |
| 🚐 Campervan price: | €200 per day |
| 👶 Renting age: | 19 |
| ⛽ Gas price: | ~ €2 per liter |
| ✈️ Cost of traveling: | High |
| 🛑 National Speed Limit: | 80 km/h |
Frequently asked questions about Norway car rental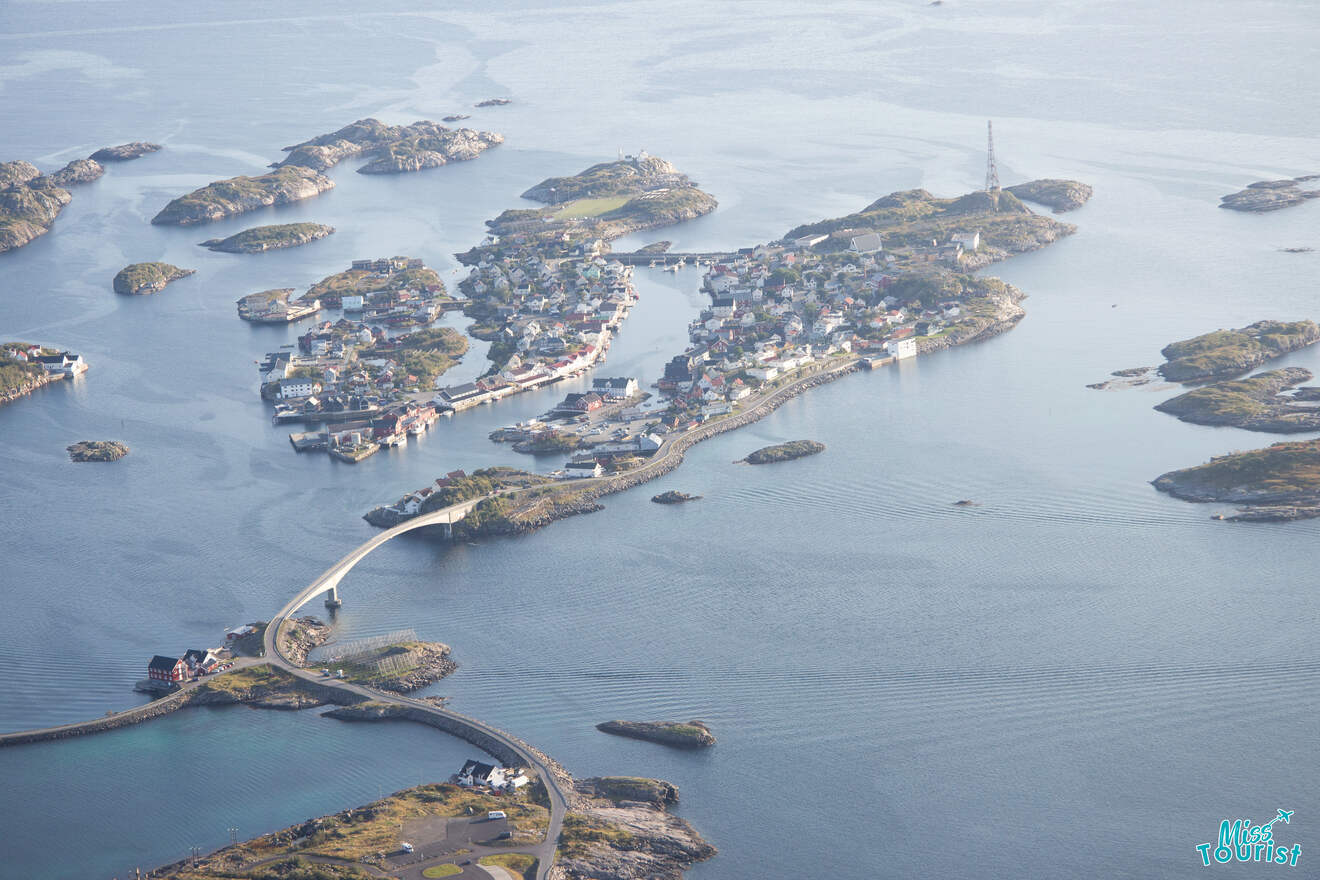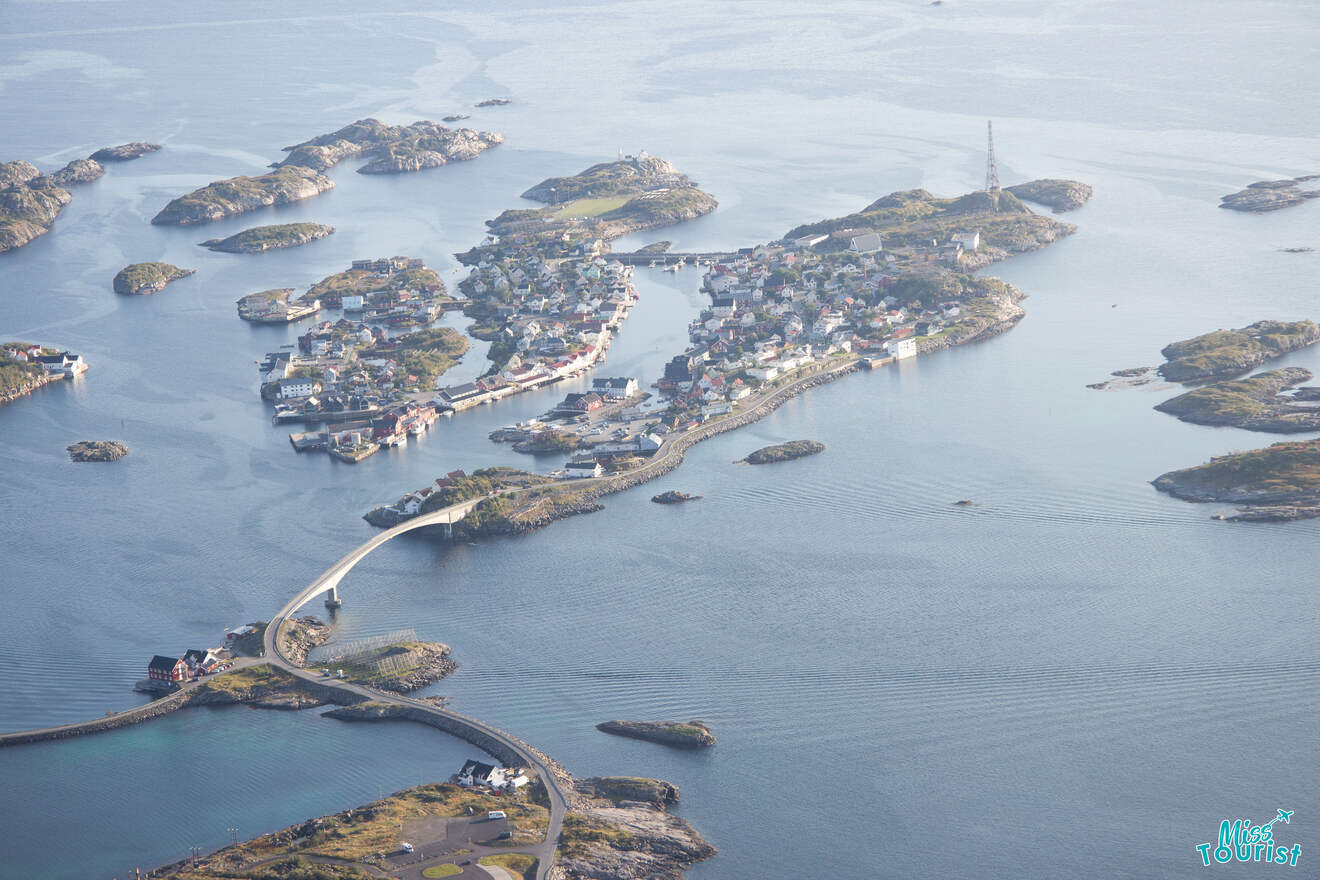 🔞 How old do you need to be for renting a car in Norway? 
You must be over 19 years old to rent a car in Norway and have held a full driver's license for at least 1 year. If you are under 25, additional young driver fees may apply to some rental car companies. 
💲 Is car hire in Norway expensive? 
No, the best prices for renting a car vary depending on the rental car but if you book in advance and choose a small car, a 10-day trip from Oslo – Stavanger – Bergen – Oslo can be just €63 per day including insurance, tolls, ferries, and fuel! 
💳 Do you need an international license for renting a car in Norway? 
No, as long as your license has a photo and is written in the Roman alphabet, you do not need an international driver's license to hire a rental car. 
🤔 What should I know before renting a car in Norway?
● Between Nov 1st – Easter, it is compulsory to have winter tires
● Look out for wildlife on the road
● There are a lot of low light tunnels – bring sunglasses
● Fines for speeding and alcohol are high
● You will ride on a lot of ferries
Conclusion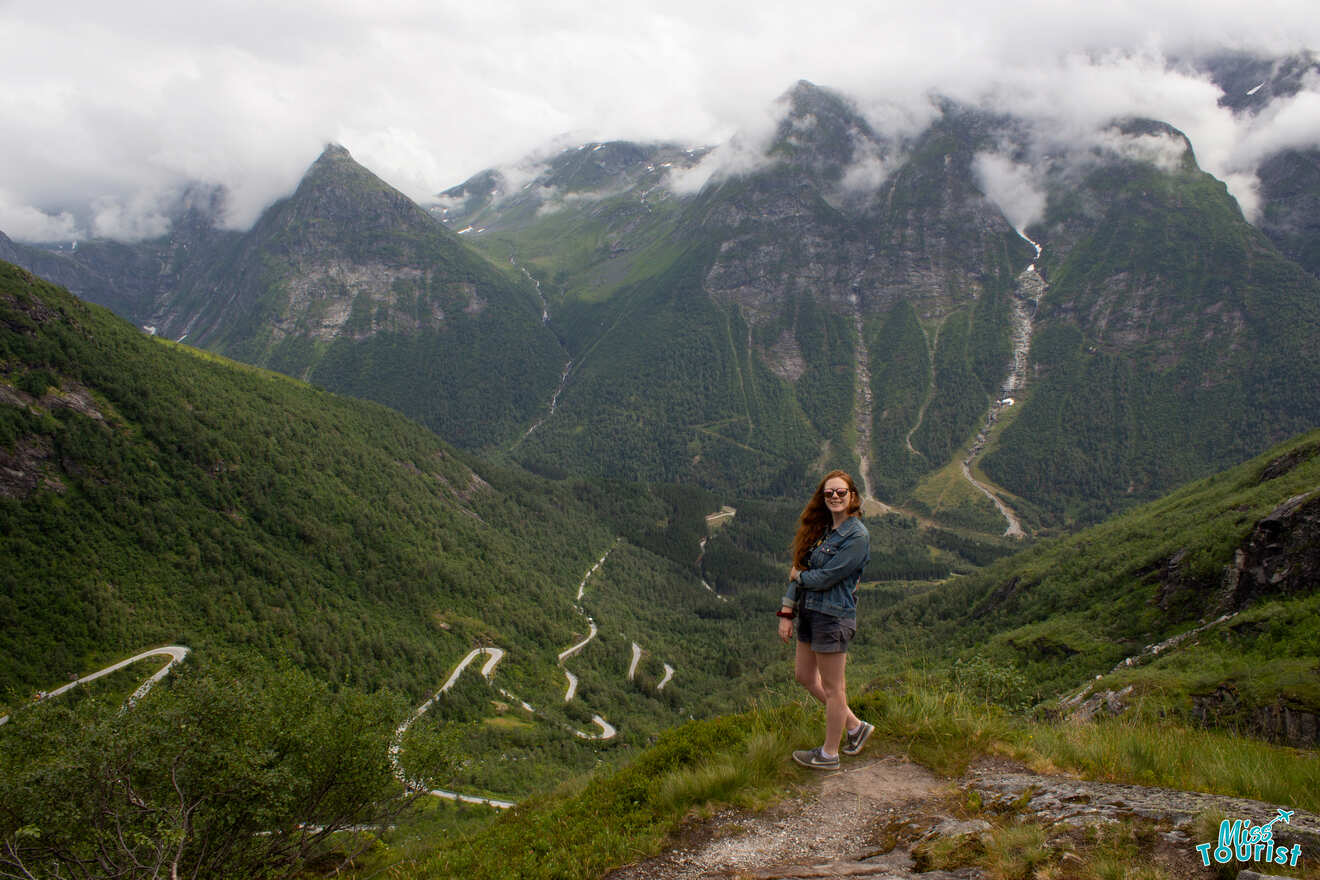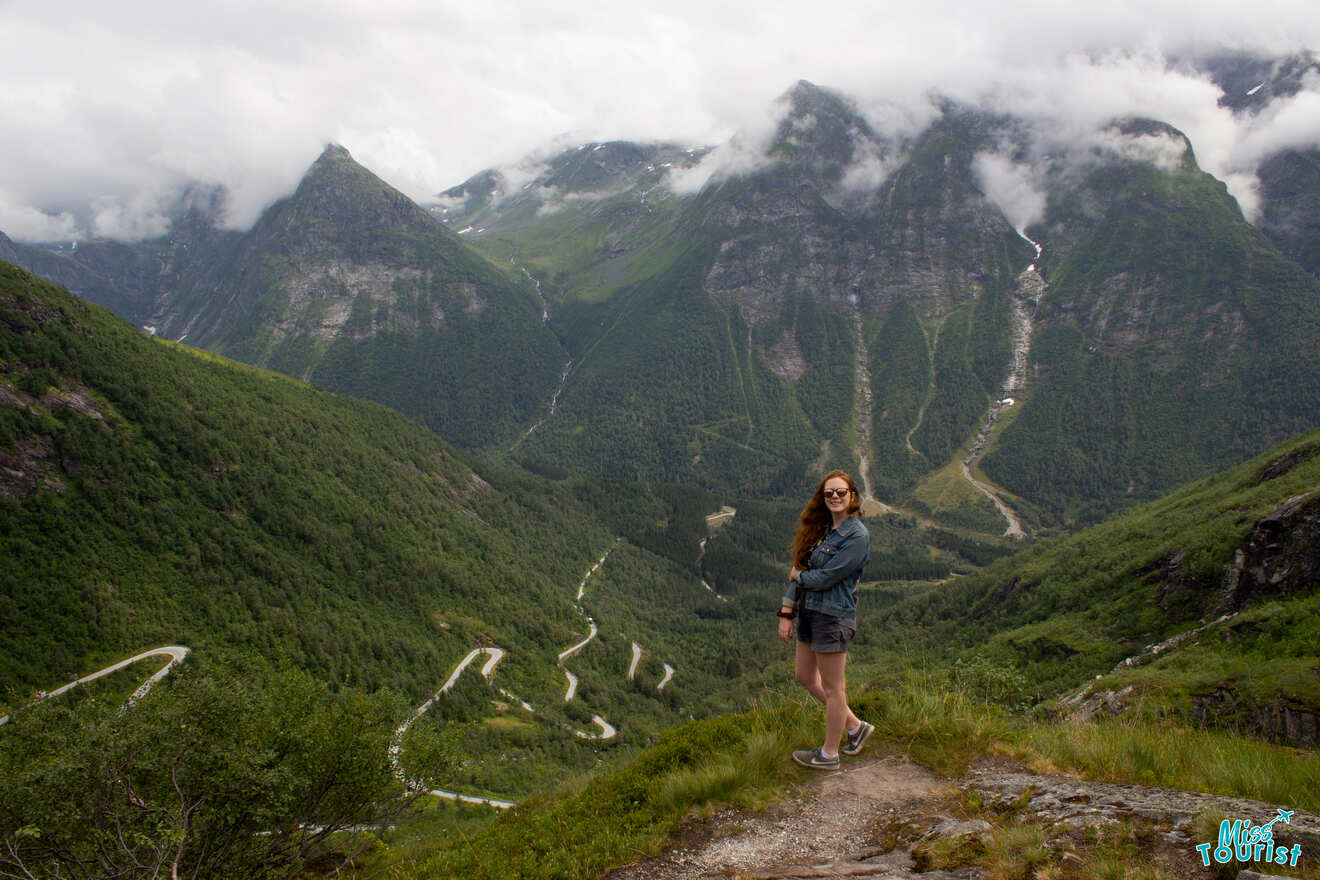 Wow so there you have it, now you should be a professional Norwegian driver (or at least ready to rent a car during your visit)!
I hope with all these tips you will be able to avoid some unnecessary road rage or frustration and your vacation will be a breeze! Remember that Norway is one of the most incredible countries in not just Europe, but in the world. It's full of stunning nature, so take the time to enjoy the road trip, visit all the cities and stop at every single viewpoint! (You certainly made the right choice to drive rather than take public transport!)
Since it's not the cheapest country in Europe, remember to book your rental car as far in advance as possible (at least a couple of months during summer), and let me know in the comments if you have any other questions before your visit!

Happy adventures,
Kate
---
Pin it for later!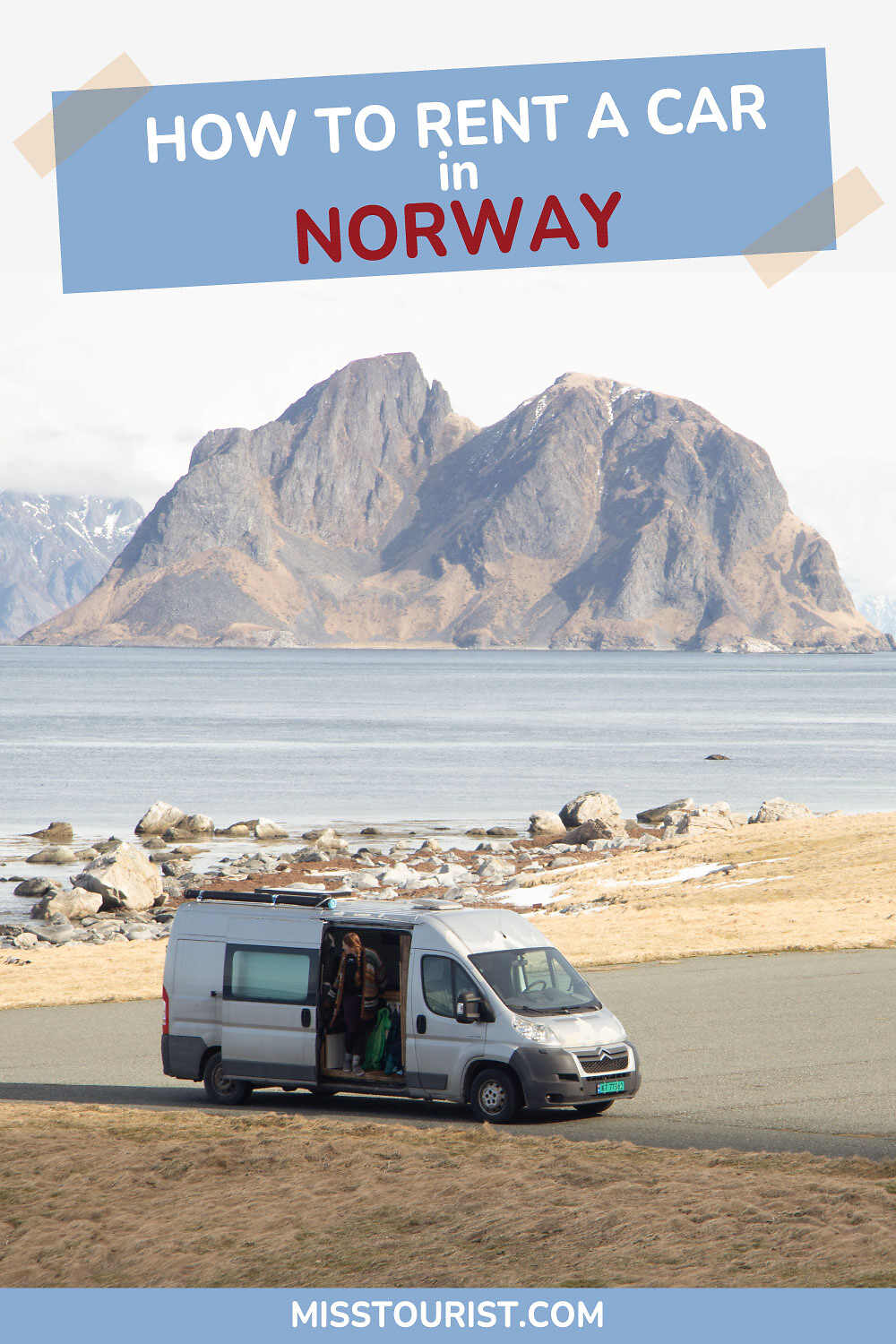 Pin it for later!