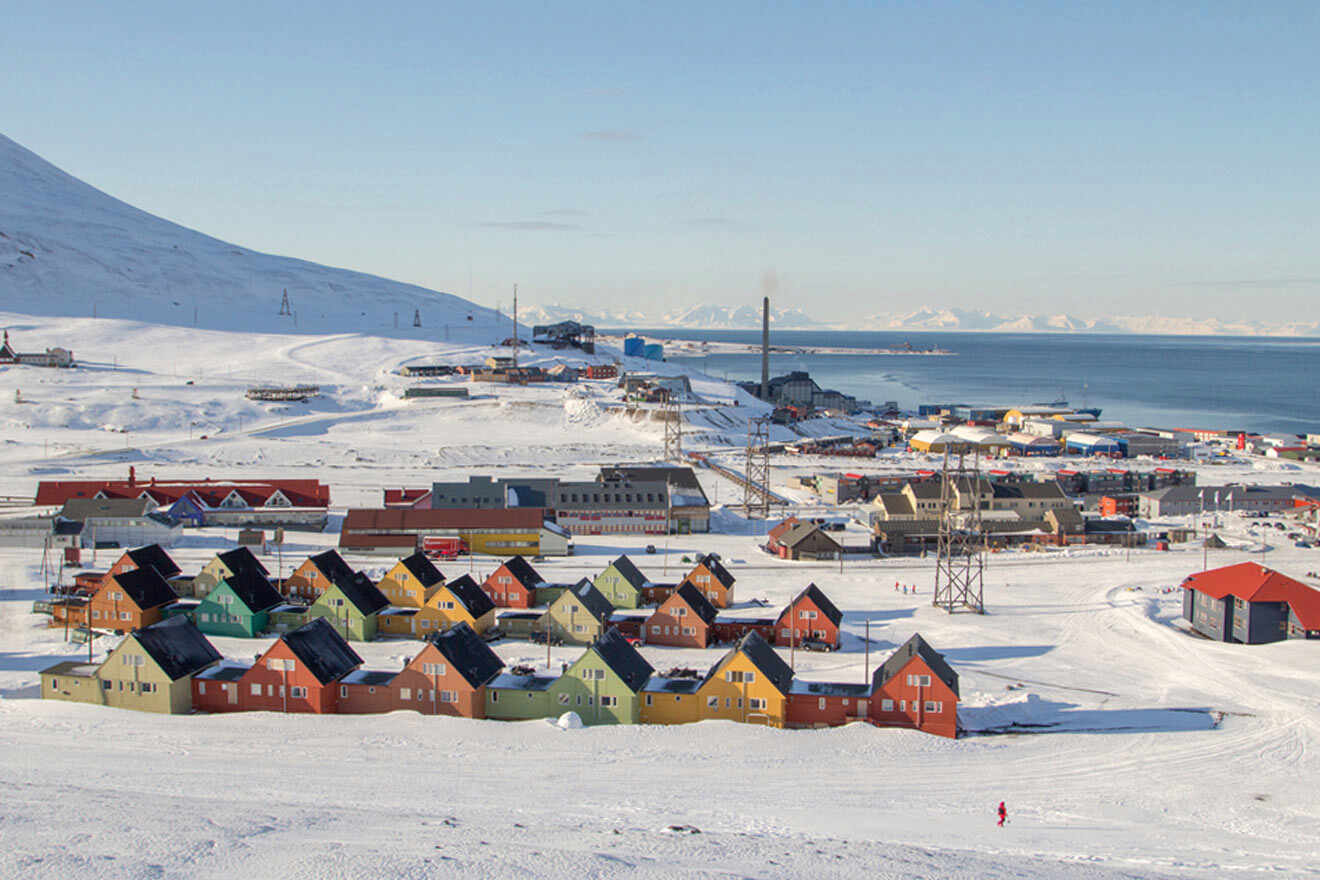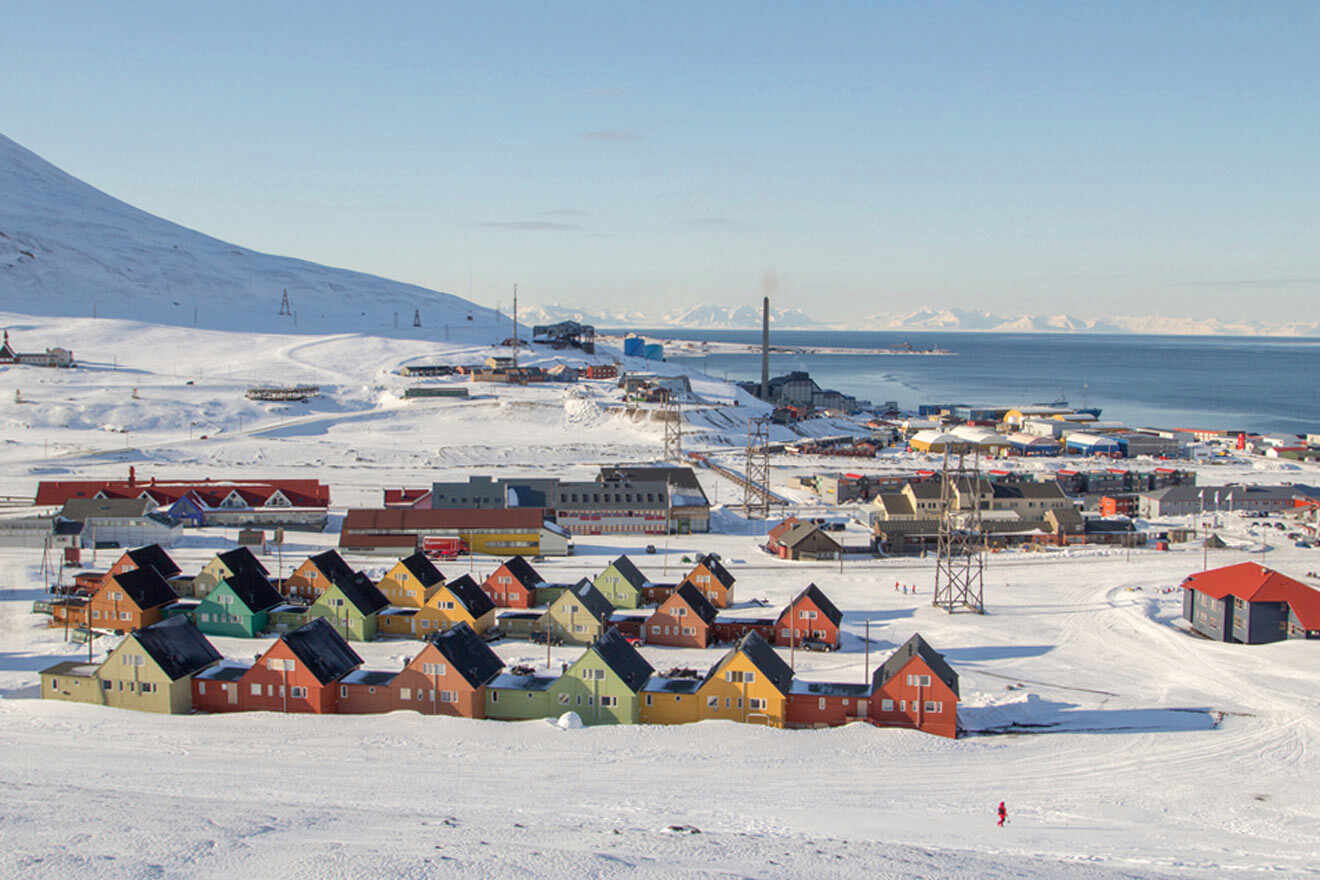 Finding a great place to stay in a land like Svalbard, where you're surrounded by wildlife, glaciers, and dramatic landscapes, is definitely a challenge! But I'm here for it!
Today you'll get to check out some of the best Svalbard hotels! I've looked on the web for hours and made sure only to add the most incredible places, which I ordered from most to least expensive, so you can easily pick your favorite! Since there aren't so many hotels here, I also made a bonus section with some great Airbnbs that I'm sure you love!
A quick warning, though, most Svalbard hotels sell out super fast as there isn't such a wide range of options. That's why I highly recommend booking your favorite one in advance, especially if it's set in the Longyearbyen town center, where most tourists stay!
Come on, let's see a polar bear together!
If you are in a hurry
I know it's a long post, so if you're rushing to book your hotel right now, then check out this short list of the best unique Iceland hotels:
1. Svalbard Hotell Polfareren – with gorgeous views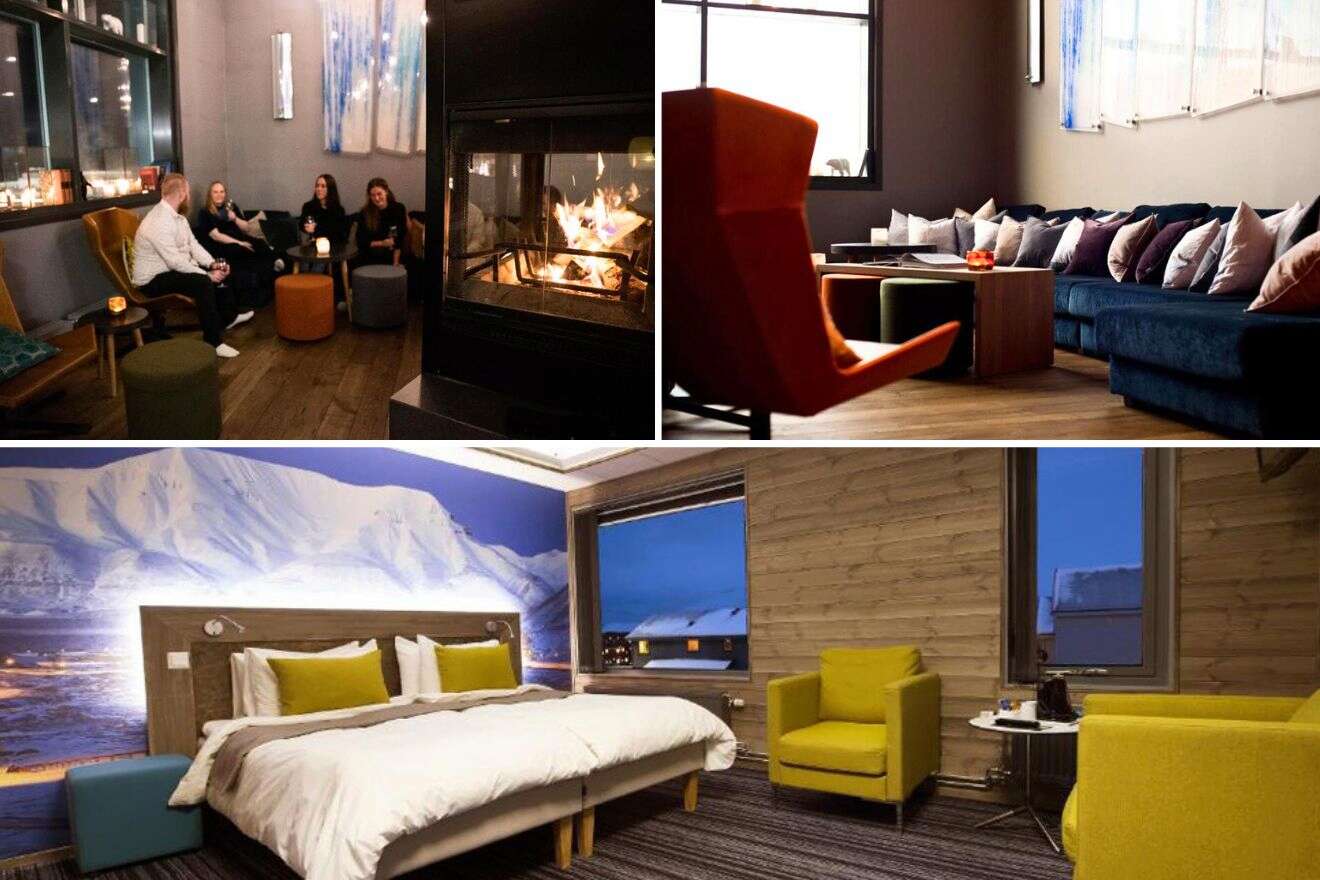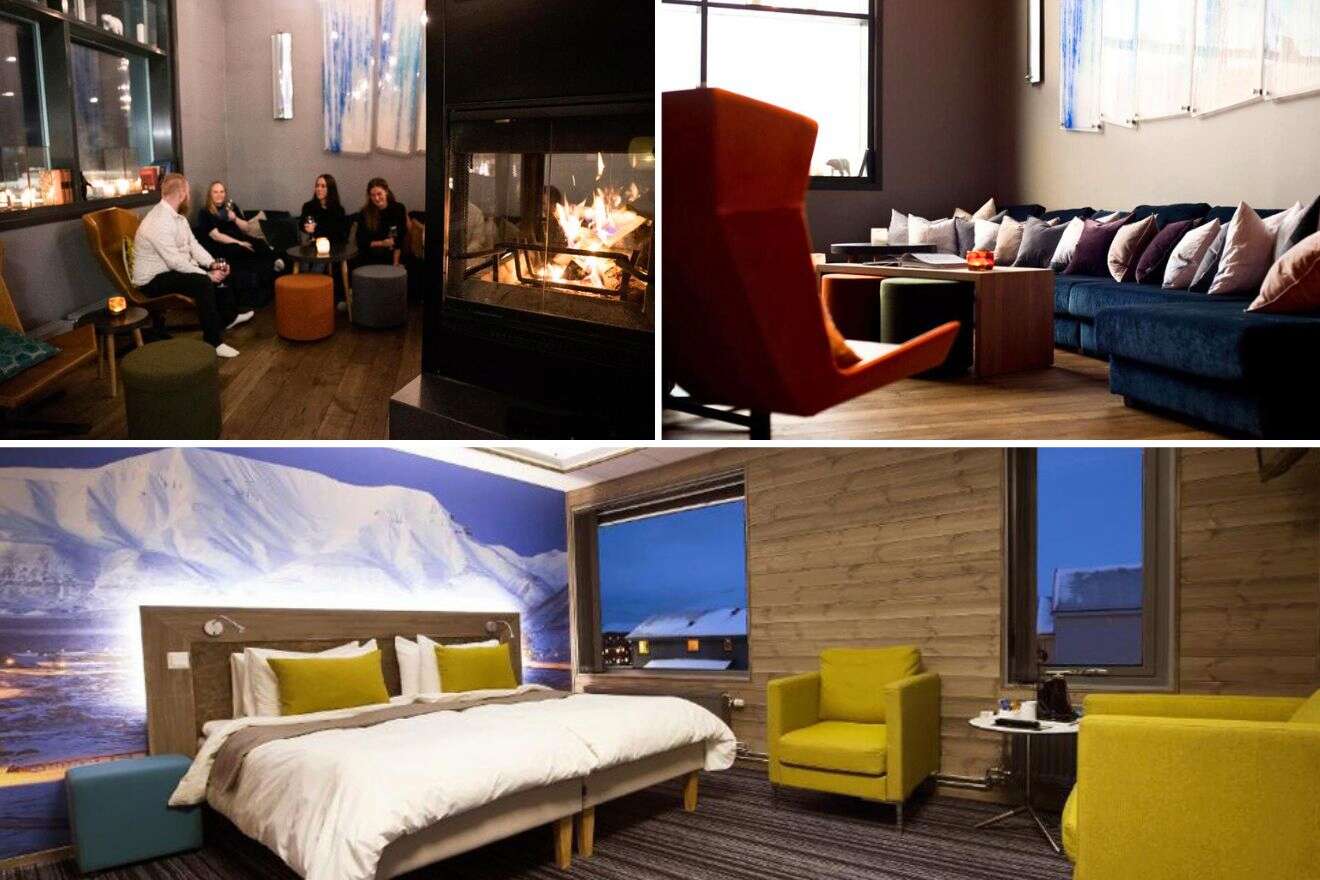 Wake up to the most amazing views in this fabulous hotel that has the perfect location in Longyearbyen! Surrounded by Svalbard's natural beauty, this accommodation offers modern rooms with free Wi-Fi, a comfy bed, and a flat-screen TV! This Svalbard hotel is actually spread over multiple buildings where you'll find a restaurant, a bar, and a terrace!
Start your morning with free coffee (which you'll find in the lobby) and a delicious breakfast that you can order up to your room if you're too lazy to go to the on-site restaurant. If you're looking for fun things to do in Svalbard, like dog-sledding or snowmobile safaris, then ask the hotel staff for help!
2. Funken Lodge – for a relaxing holiday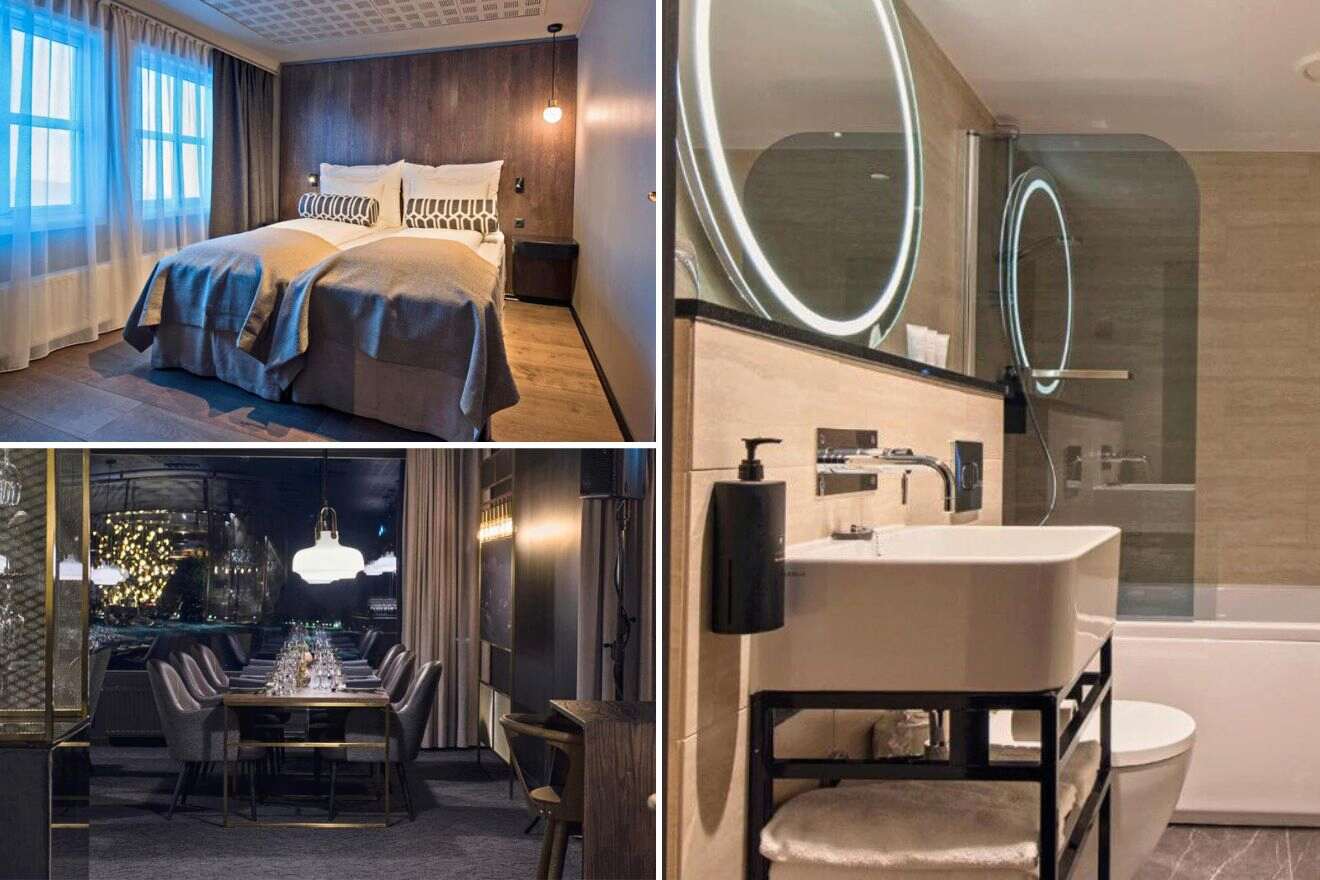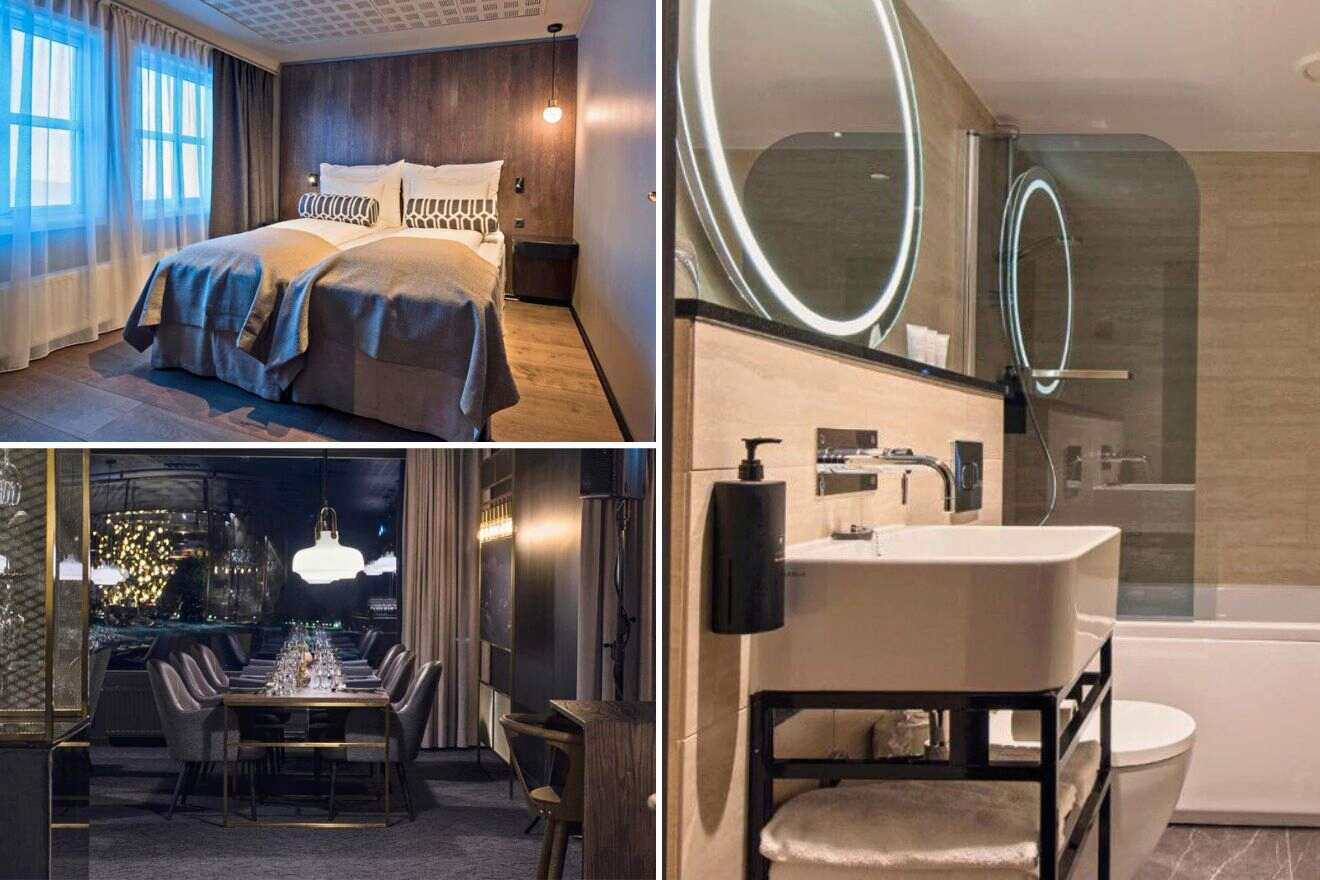 What can be better than spending some cozy time indoors after a day of trying fun activities in Svalbard? Set a 10 min drive away from Svalbard Airport, the accommodation offers a restaurant with views of the Adventfjorden and Hiortfjellet Mountains that serve Arctic specialties.
There are many other cool things, like a good breakfast, and a lounge area with a fireplace where you can enjoy a cup of tea and relax! The rooms at this Svalbard hotel are also super welcoming and come with free Wi-Fi and a mini-bar!
3. Basecamp Hotel – with a great location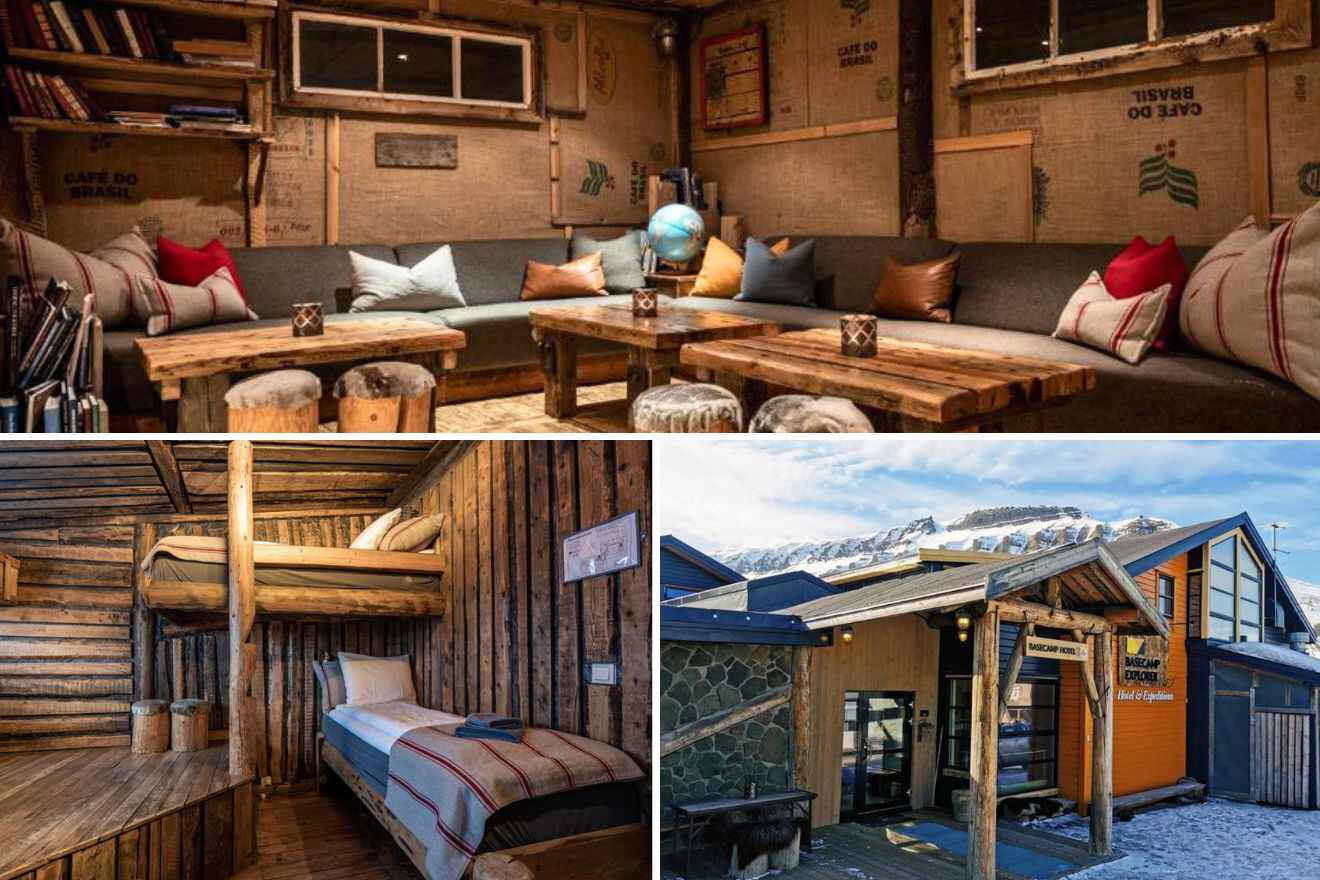 Ever wanted to stay in one of those cute Norwegian lodges? Then this is your chance! Centrally located in Longyearbyen, the accommodation is mostly decorated with wooden furnishings, and it has great reviews from all its former guests who loved the traditional design, the atmosphere, and the friendly staff!
They've got triple rooms, singles, and family ones as well! All come with all the facilities you'll need, such as free Wi-Fi, a private bathroom, and other cool things like fur rugs! When you're not out and about visiting attractions like Svalbard Museum and Svalbard Global Seed Vault, you can enjoy a drink at the hotel pub and relax! You'll also be happy to know that the Svalbard Airport bus stops right outside!
4. Radisson Blu Polar Hotel – unique place with a restaurant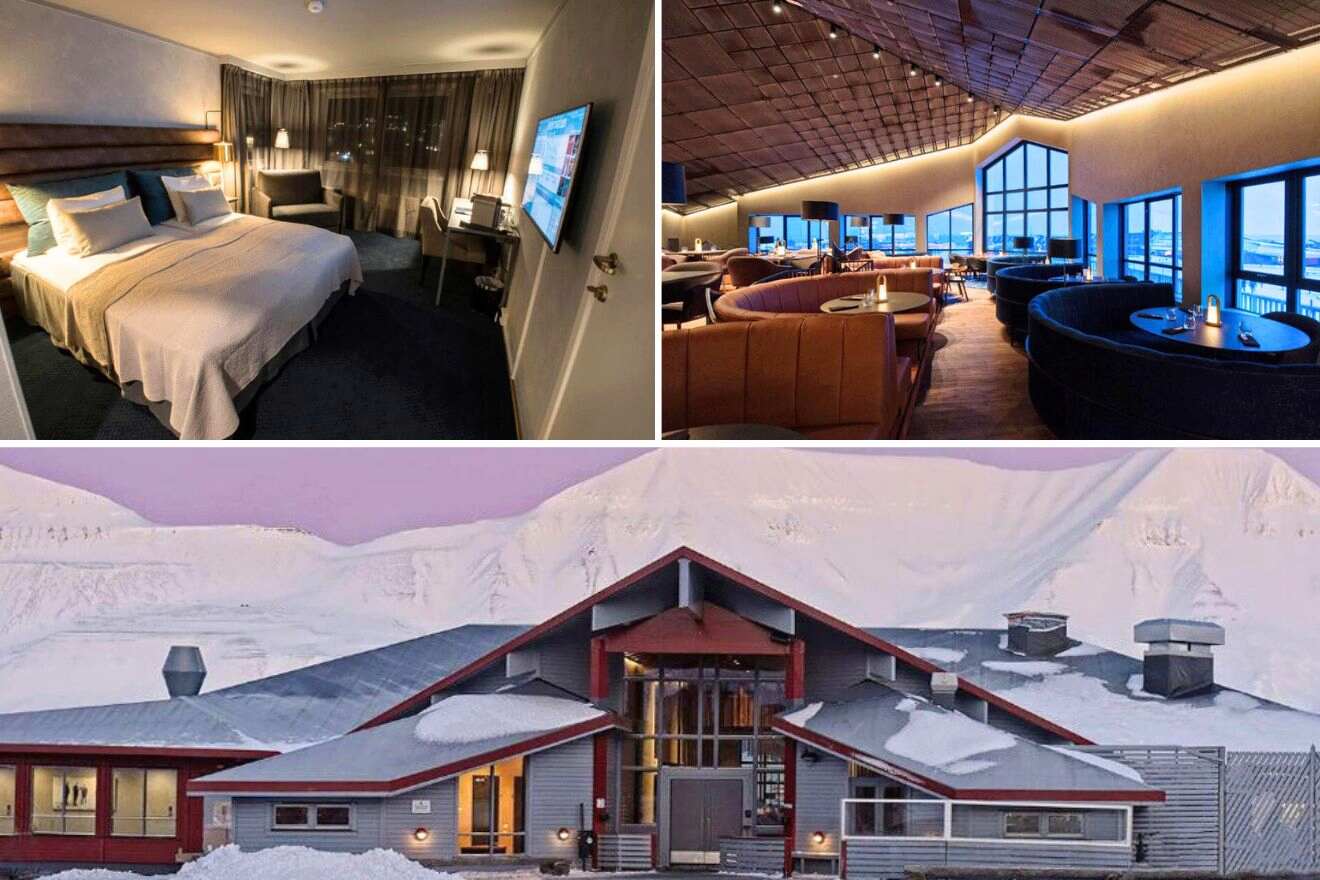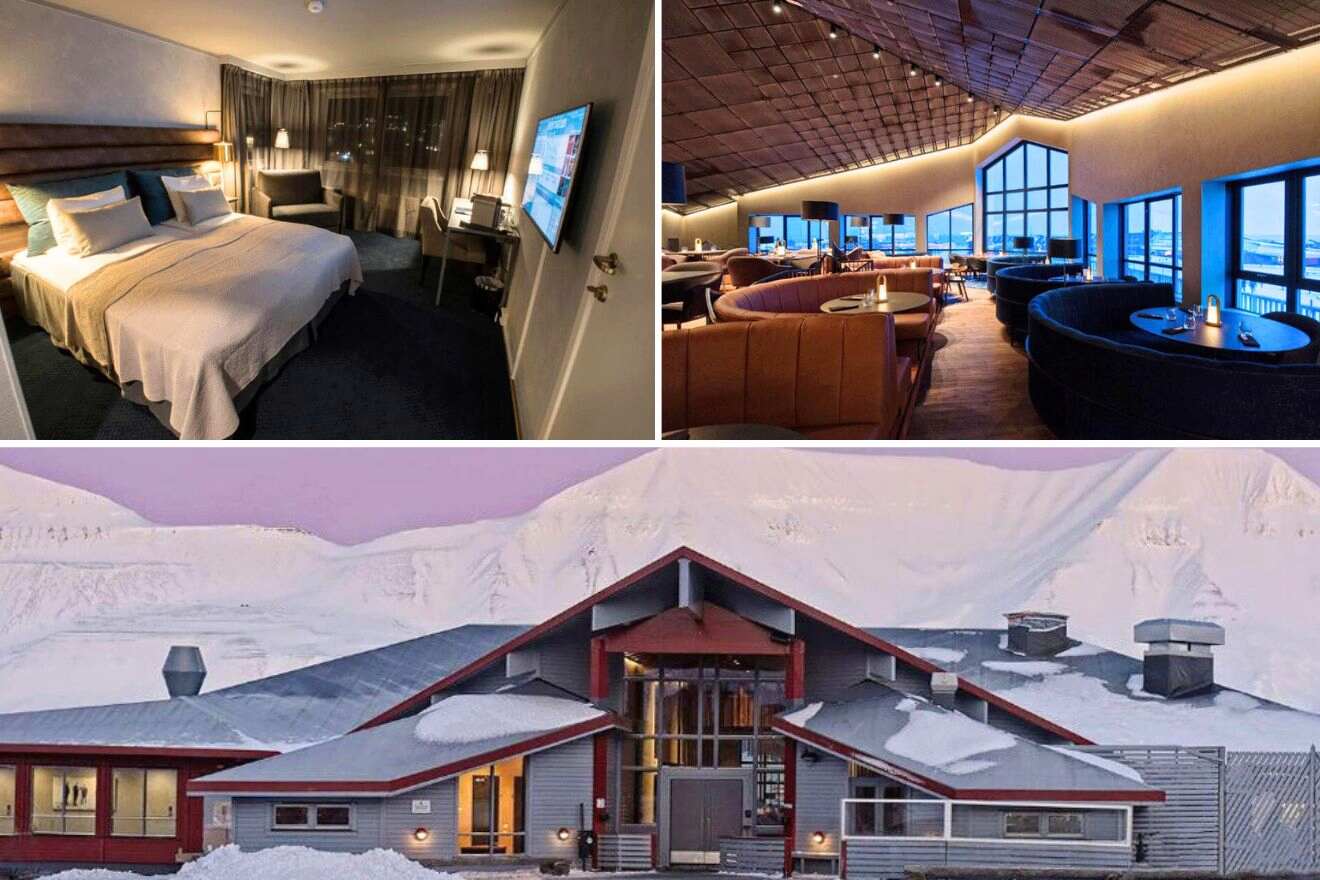 Set right near the Svalbard Museum, this gorgeous accommodation is the northernmost full-service hotel in the world! So you can imagine the views that you'll be getting at the Radisson Blu Polar Hotel Spitsbergen from pretty much anywhere in the hotel, like the sauna or outdoor restaurant.
The Spitsbergen hotel rooms are simple, yet they are fully equipped, and some offer gorgeous views! Indulge in all the Arctic specialties and international dishes at their fabulous restaurant and definitely arrange tours with the hotel staff who can help you with details or book some yourselves through GetYourGuide or Viator.
5. Svalbard Hotell | The Vault – for a fun getaway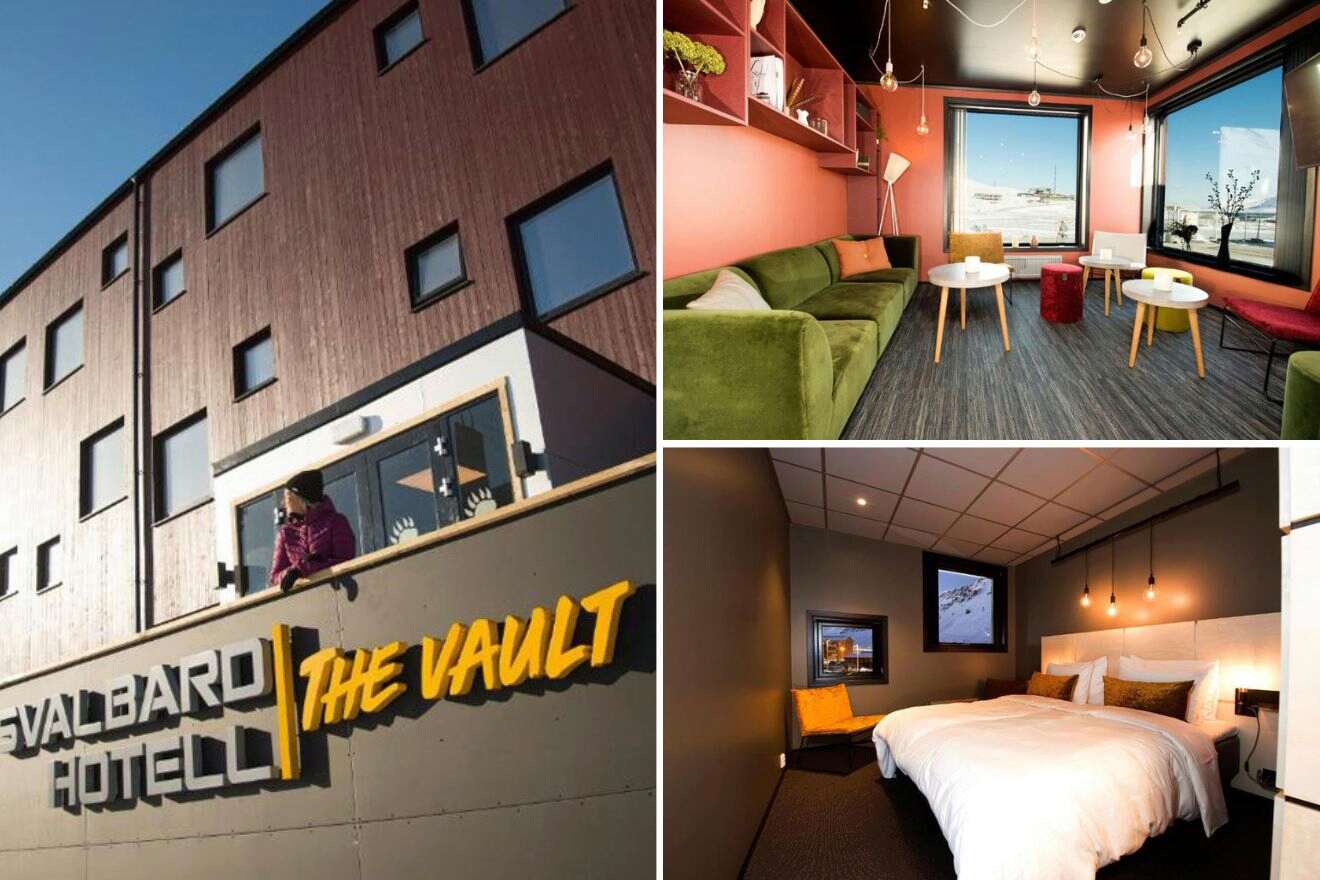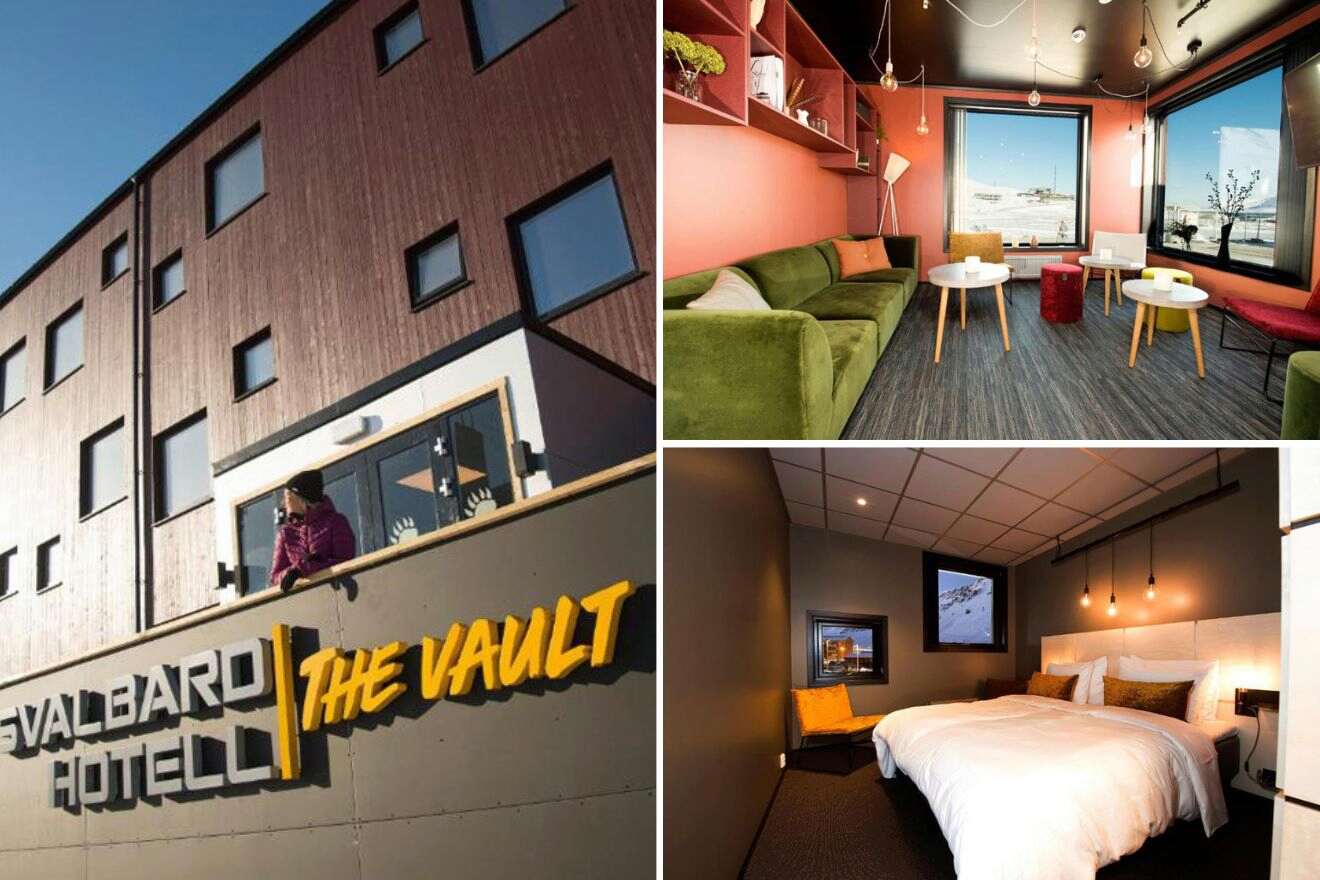 Are you ready to see the Northern Lights, go snowmobiling, and dog-sledding? Yes, Svalbard sure is an unforgettable place, and you'll definitely need to look for hotels in advance (and book them early). Here's another great one that's set in Longyearbyen and offers a terrace and free bikes!
With incredible views of Svalbard's raw nature, this Longyearbyen accommodation has small but comfortable rooms with a seating area and a flat-screen TV. You can start each day with a continental breakfast and then head out to visit the famous Pyramiden Ghost Town on a tour!
6. Pyramiden Hotel – for history enthusiasts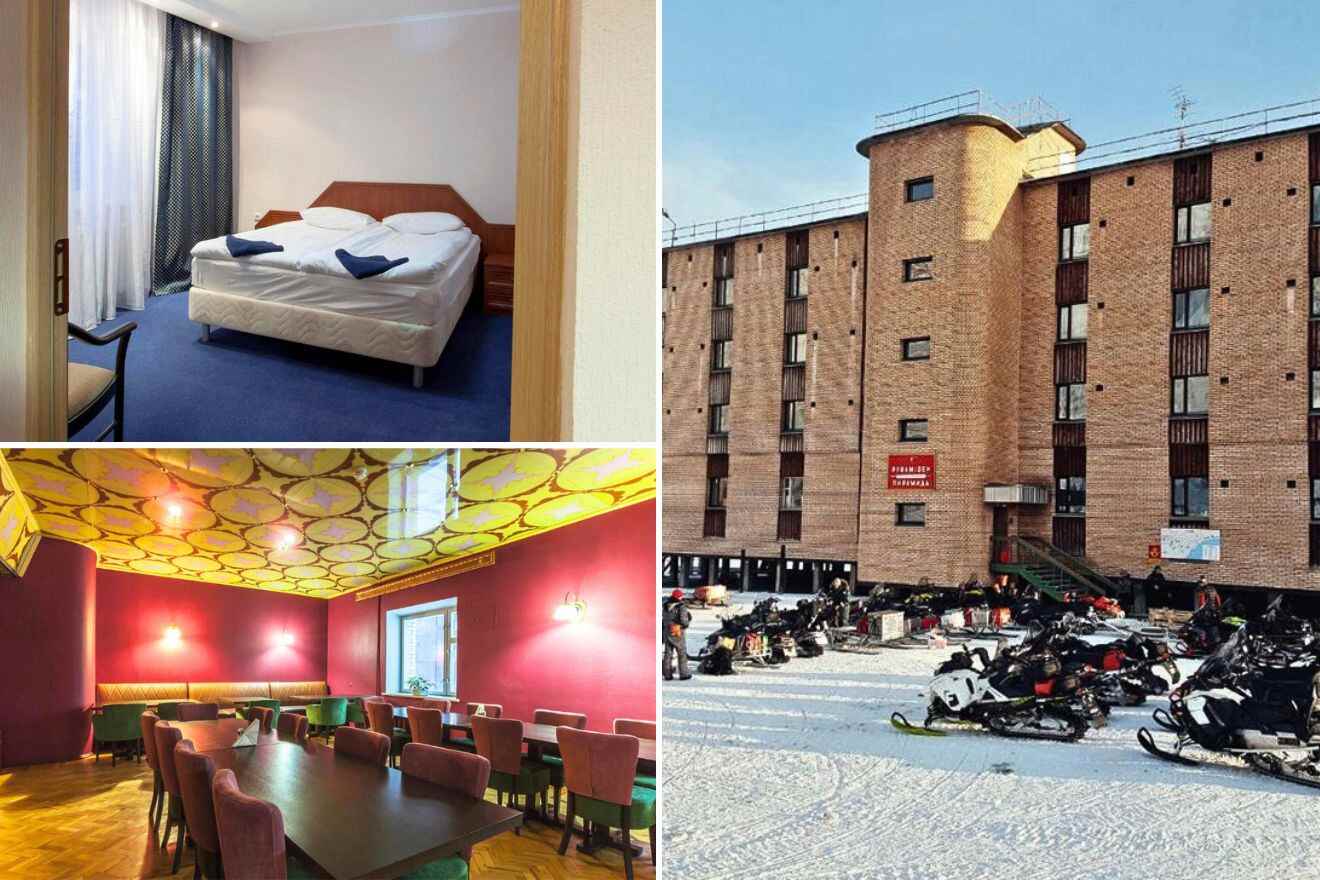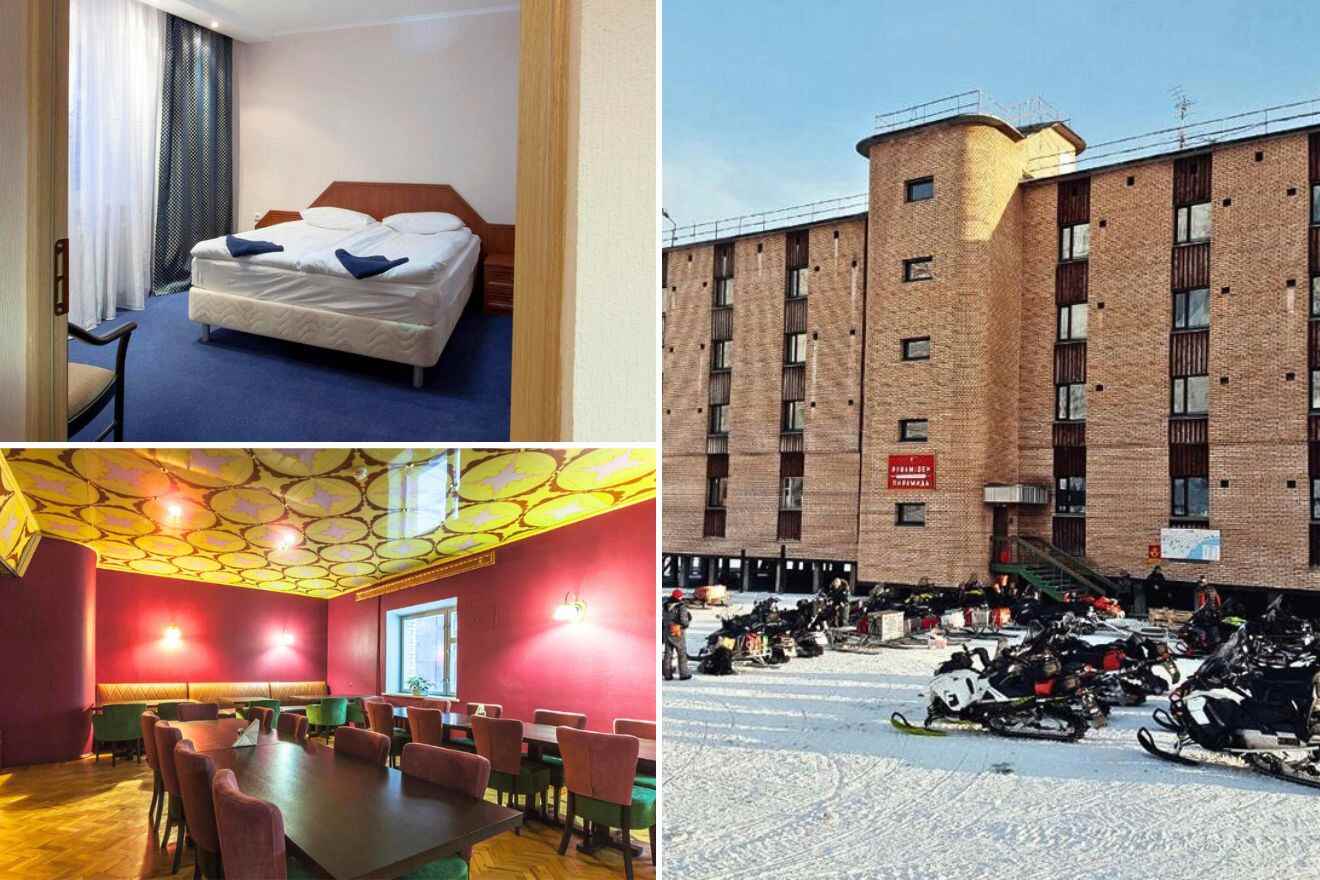 Fancy staying in a town where the population is more or less than 10 people? This place is set in Pyramiden, a town which you can only reach by snowmobile or boat! Since this town was once occupied by Russian communists, you can imagine the hotel has a bit of that feeling to it!
Nevertheless, it looks good, and it does make you feel as if you've traveled back in those times. The Svalbard Hotel has a restaurant, a lounge with a flat-screen TV, and spacious rooms which have private bathrooms!
7. Mary-Ann's Polarrigg – for a family getaway in Svalbard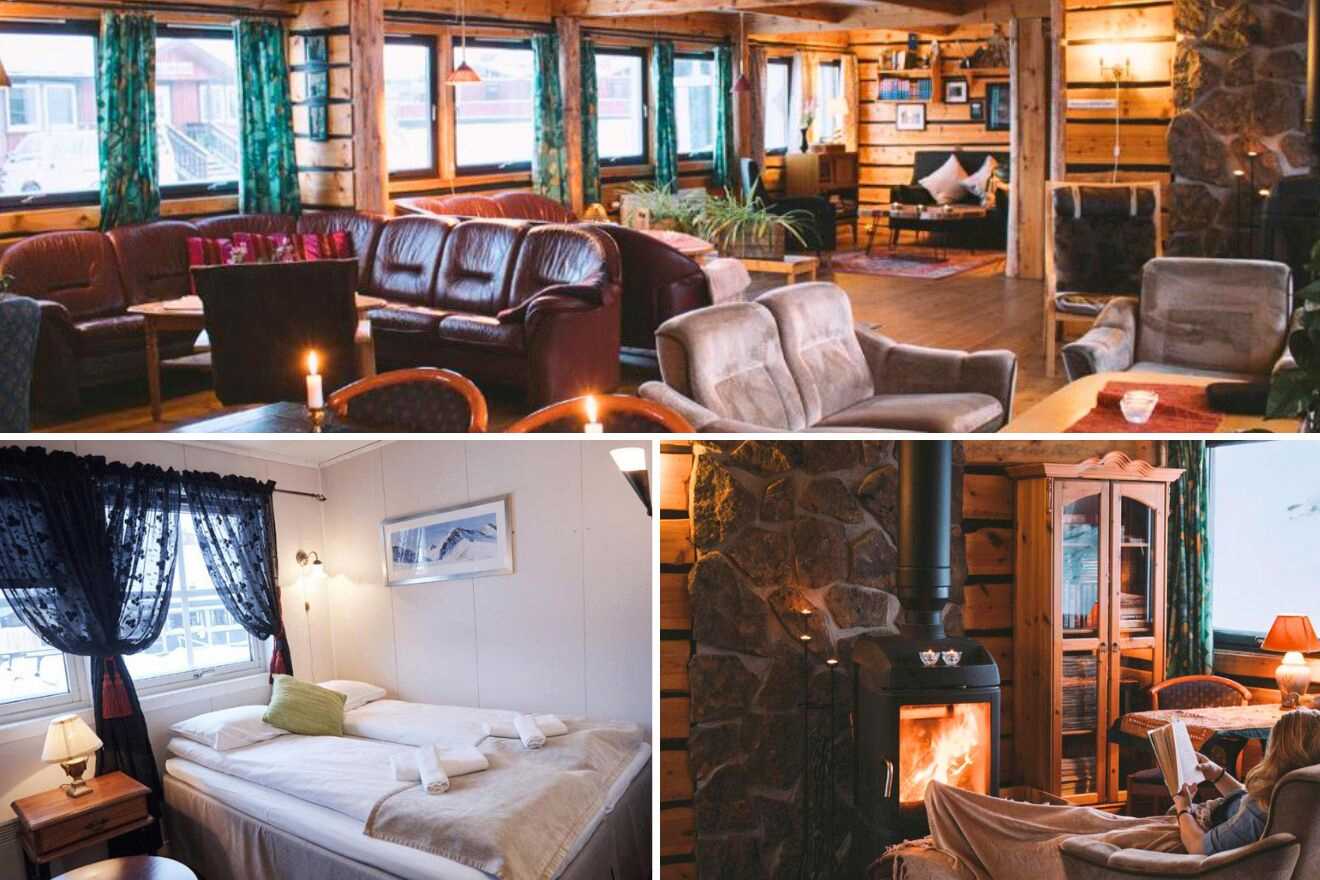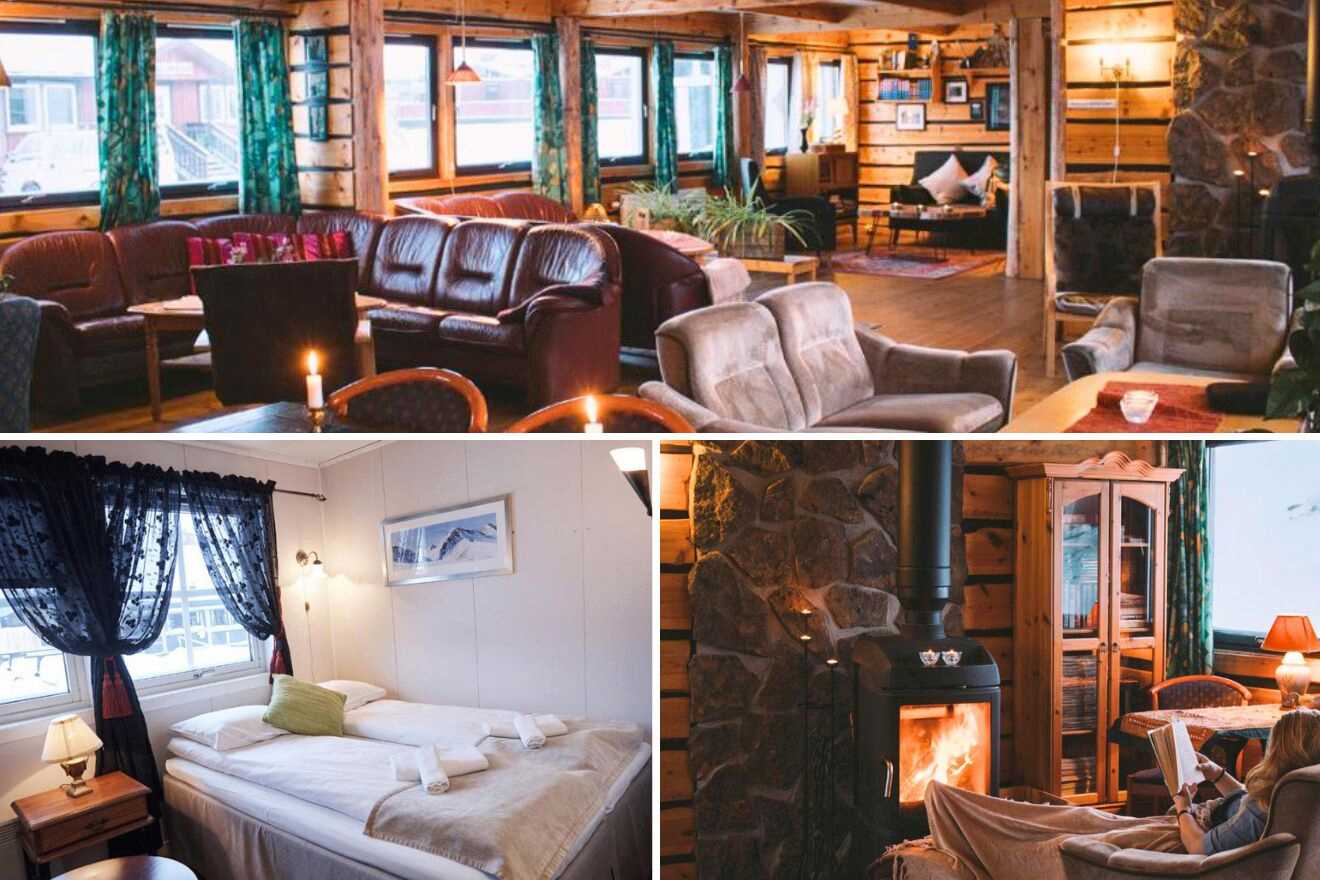 With a very different vibe from the other hotels in the area, this Longyearbyen accommodation has some really amazing wallpapers with flowers! They sure bring a touch of color among all the white snow that surrounds the area!
All guests will have access to a shared kitchen, and each morning you can eat breakfast at the on-site restaurant (called the Winter Garden) of this Svalbard hotel which serves Arctic-inspired dishes! There's also a common dining area with a TV where guests can go to relax and a fun game room equipped with a pool table, foosball, and darts!
8. Russkiy Dom – for tourists traveling on a budget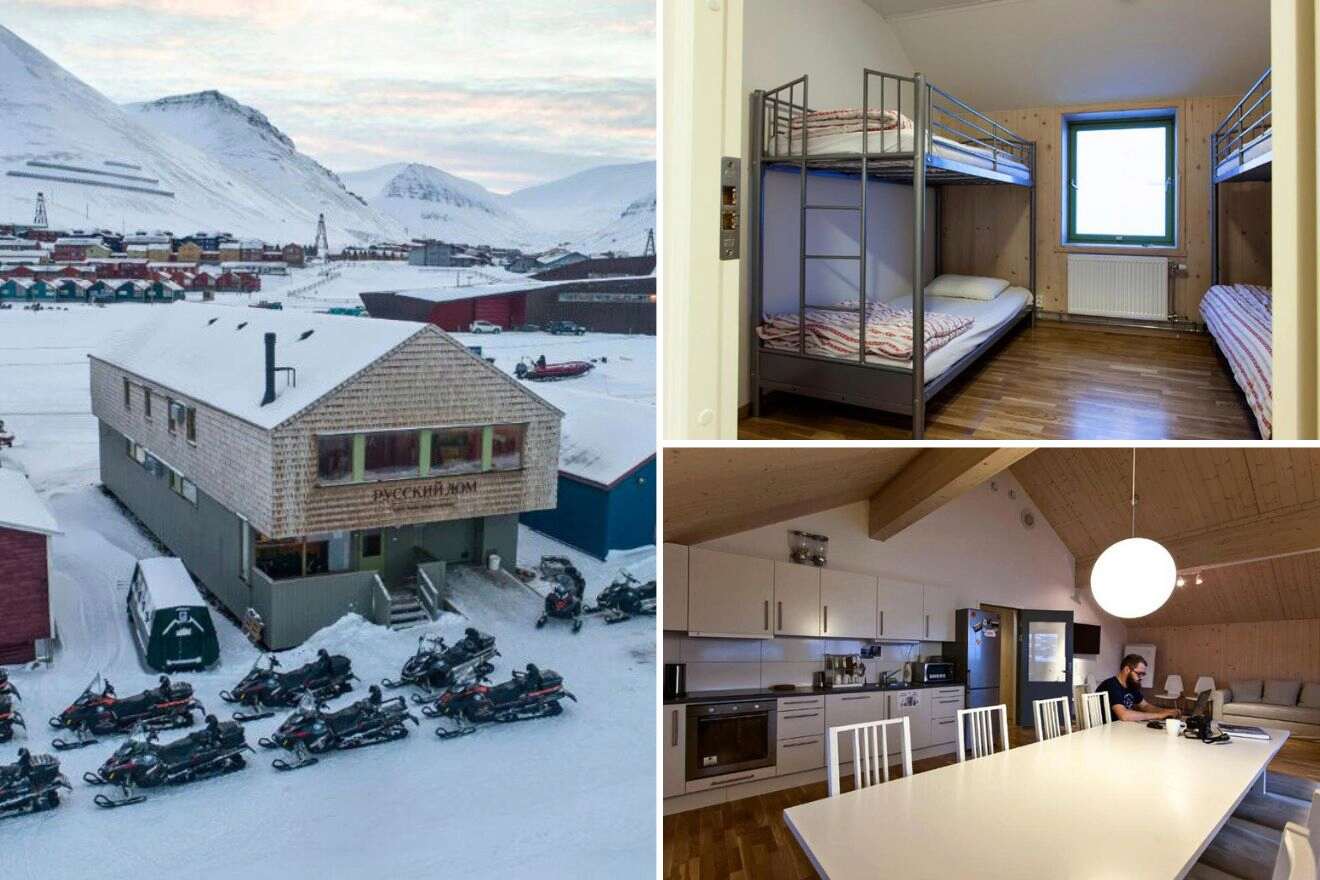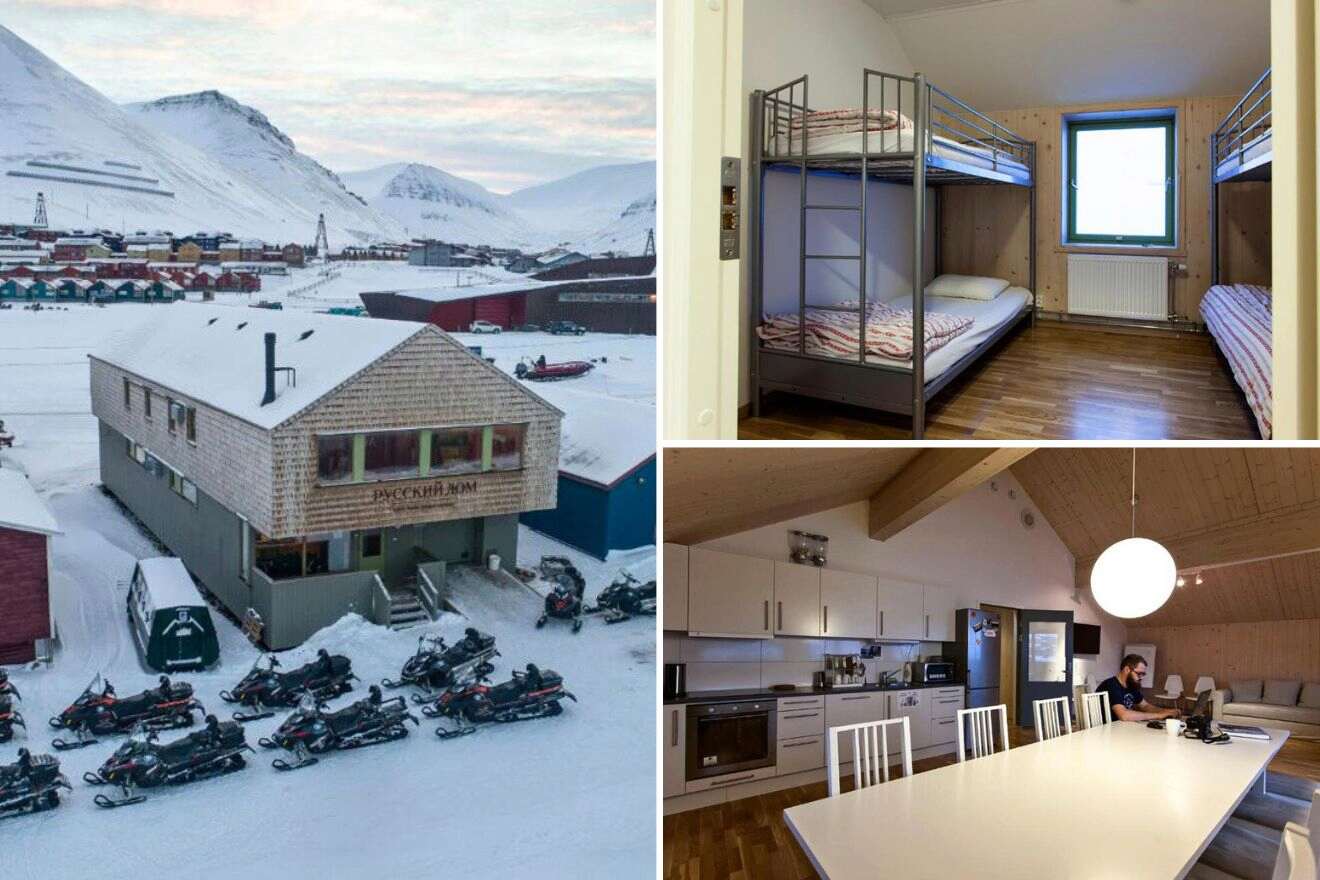 Looking for a budget-friendly place to stay in Svalbard? Then check out this accommodation that's set less than a mile away from Svalbard Church! Although it's a simple one with not much but the basics, the accommodation is perfect for your trip to town!
They offer shared and private rooms, which come with a shared bathroom, and some even have a small kitchen. If you need help getting here from the airport, definitely talk to the staff, as they offer a shuttle service and also tours for all guests who are visiting Svalbard!
9. Haugen Pensjonat Svalbard – a great place for families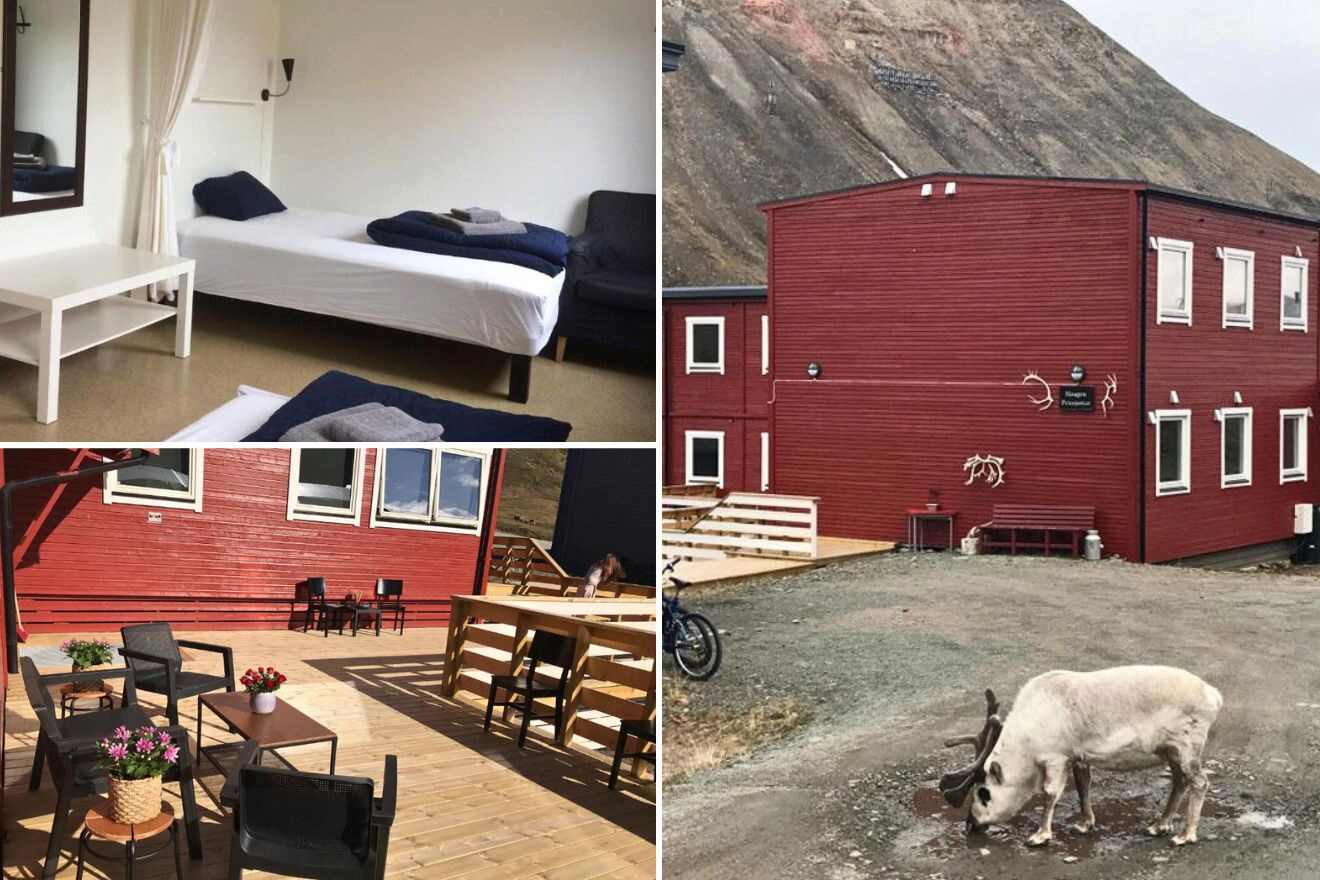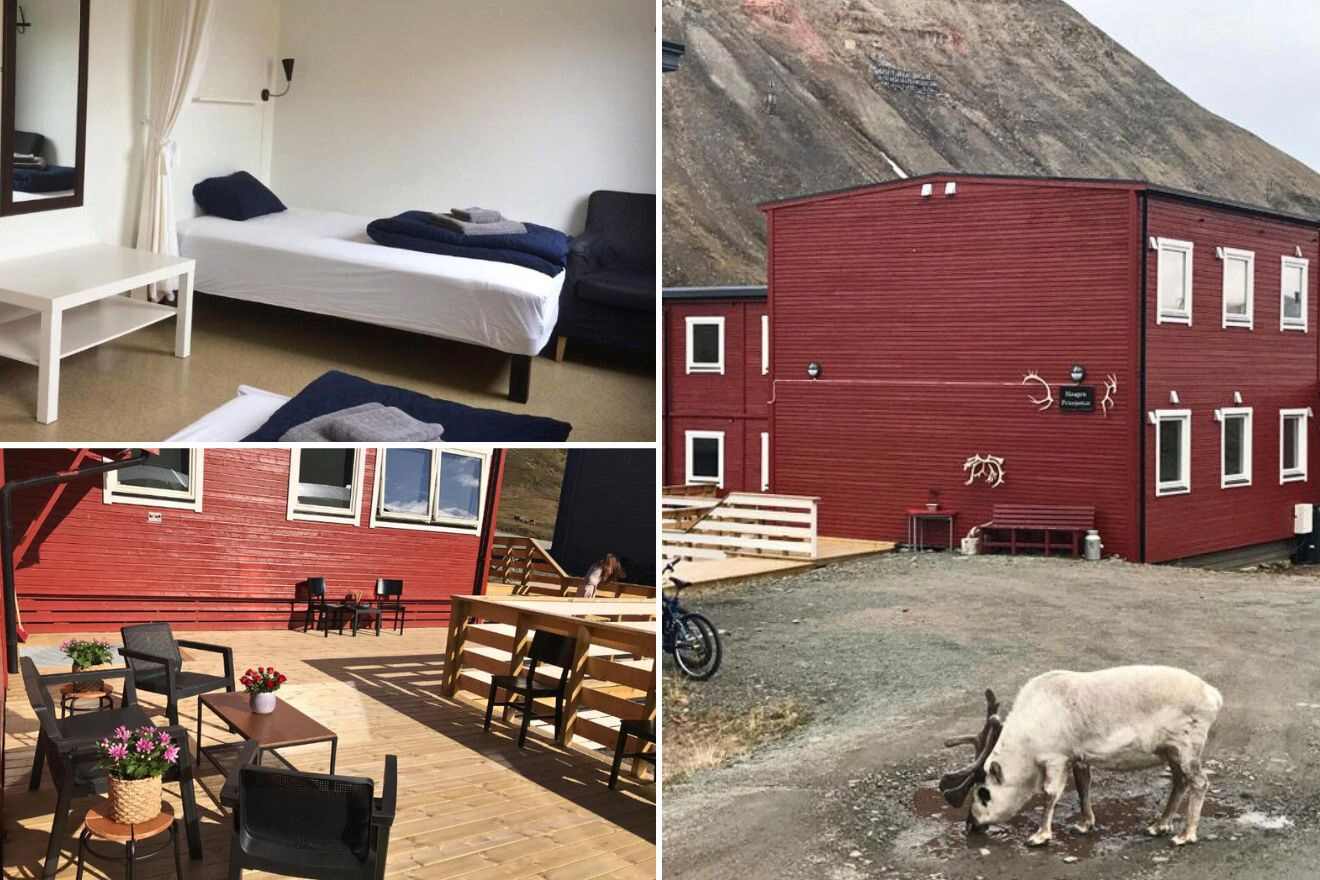 Feel at home in this super cute and comfortable hotel that's set near Svalbard Church! The perfect spot to relax and unwind after a day of going on tours and visiting attractions, this accommodation is surrounded by a beautiful landscape!
Offering family rooms and apartments with a seating area and a kitchen, the hotel is definitely a keeper! Not only is it budget-friendly, but it also offers this oasis of silence where you can recharge your batteries and enjoy the wild nature of Svalbard!
10. Coal Miners' Cabins – great for nomads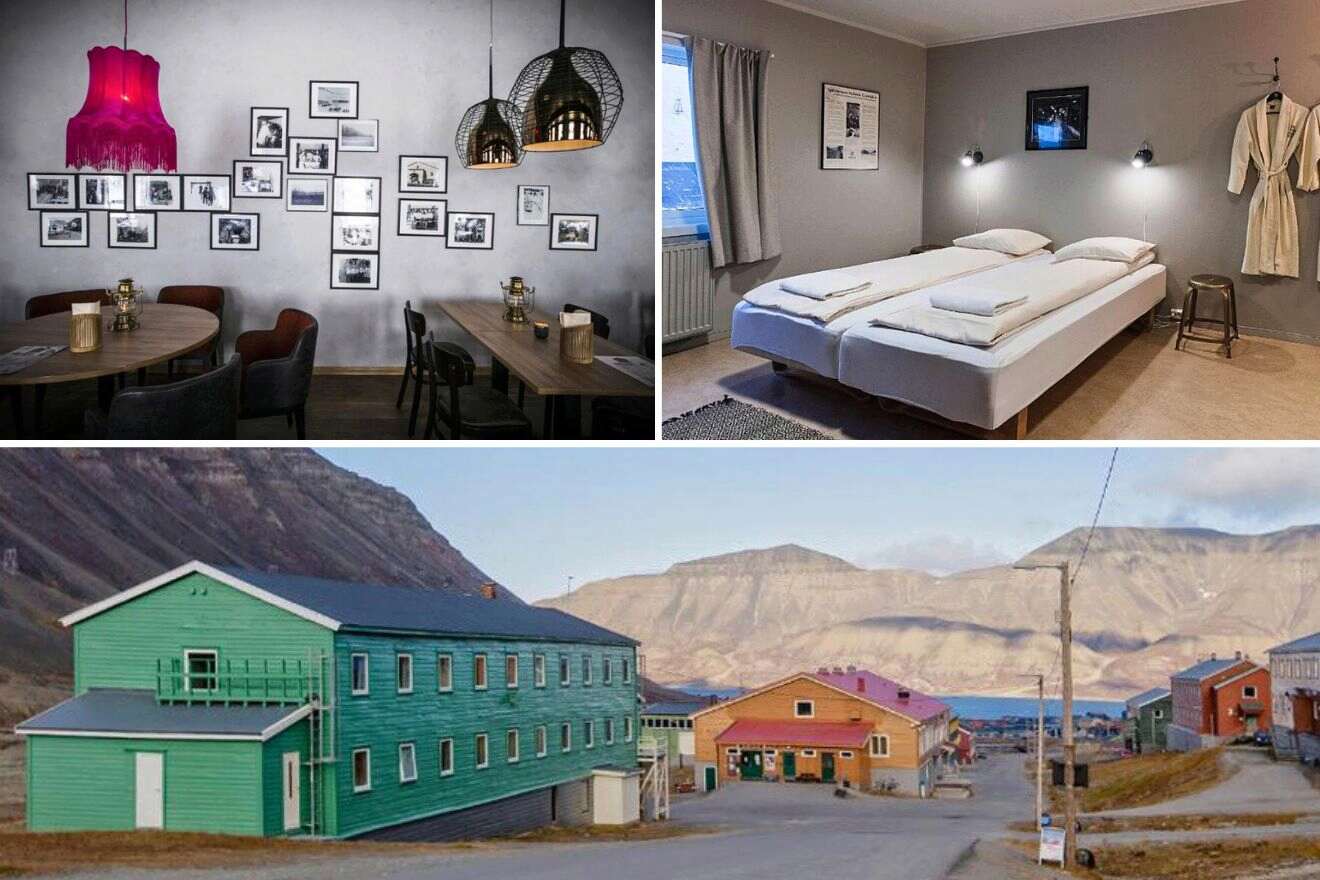 We're continuing with our last few options of places to stay in Svalbard with this great hotel which has some incredible room rates! Set a 20 min walk from Longyearbyen town center, the accommodation comes with a restaurant, a bar, and free Wi-Fi.
They also offer this living room where you can chill and maybe make new friends with whom you can explore the Svalbard wilderness. And speaking of wilderness, if you need help arranging tours, the staff at this Svalbard hotel can help you with all that!
11. Barentsburg Hotel – has some spa facilities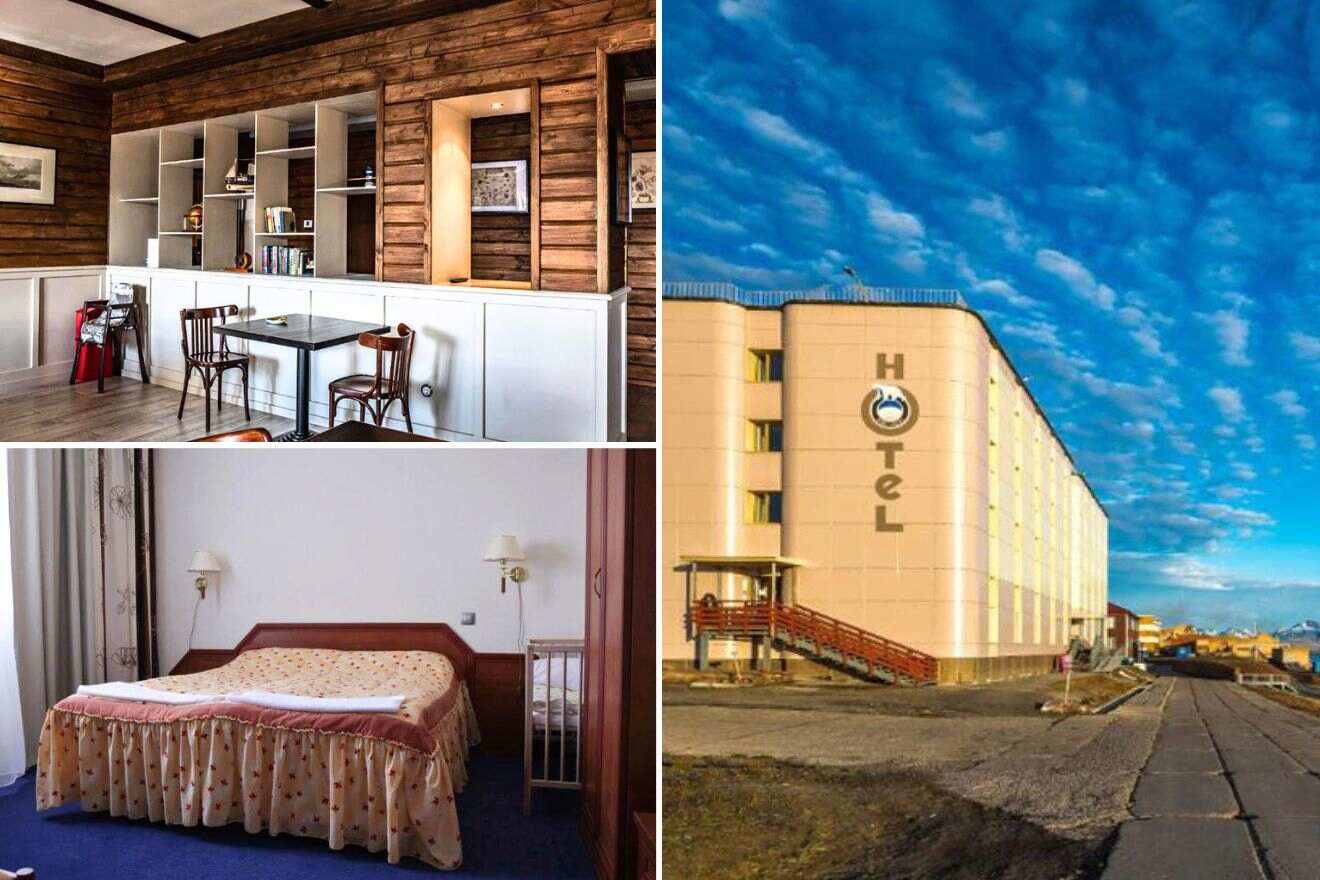 If you're looking for a place to stay that's not located in the main town, then check out this hotel, which is set in Barentsburg! Just like all the other Svalbard hotels, this one is also pretty simple, but their rooms offer some incredible views of the snowy mountains!
Whether you're coming with your family, friends, or partner, the hotel has all the facilities you need during your holiday, including a tour desk, a restaurant that serves breakfast, and a bar. Plus a small wellness center where you can enjoy some time in the sauna or in the hot tub.
12. Pomor Hostel – for outdoor enthusiasts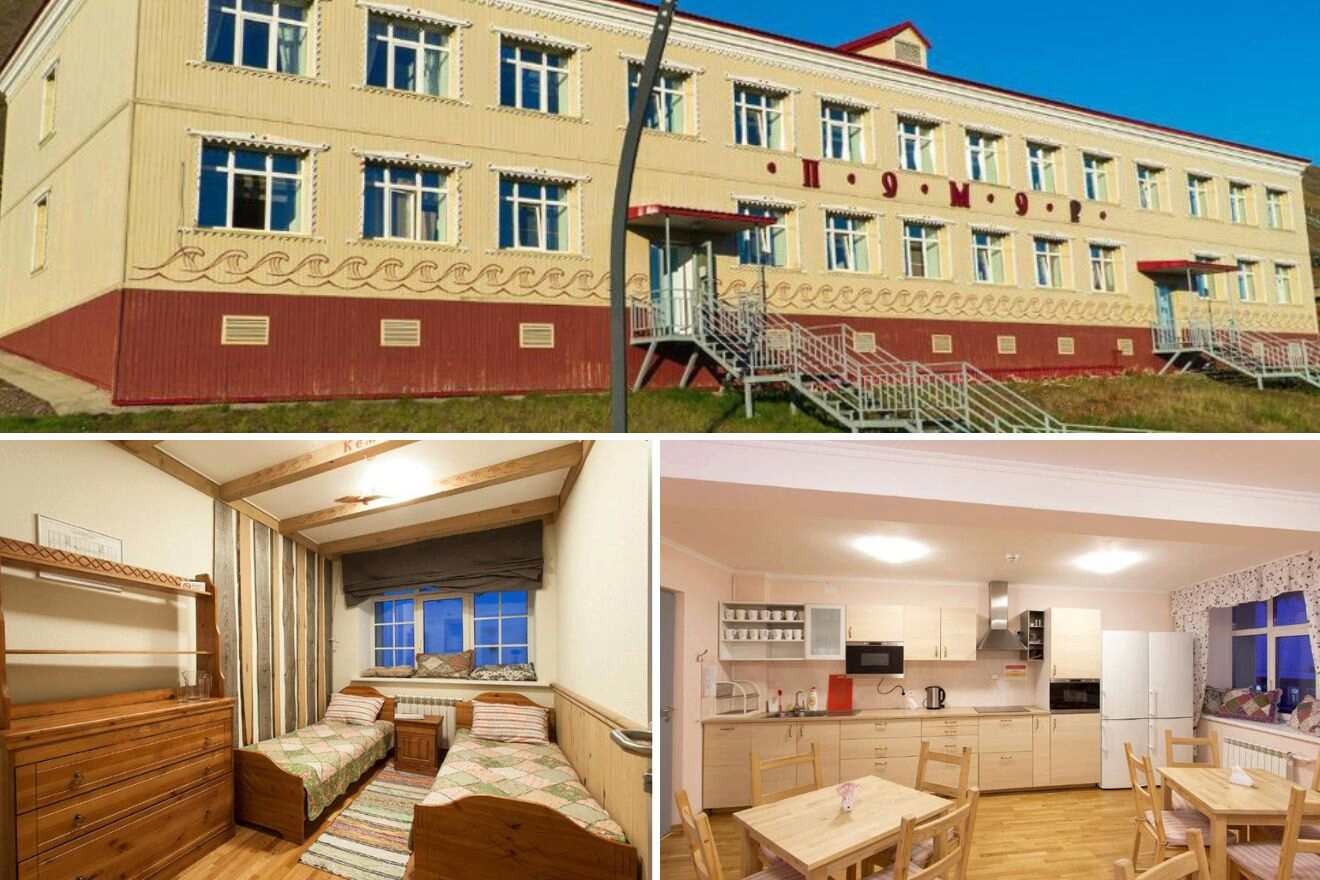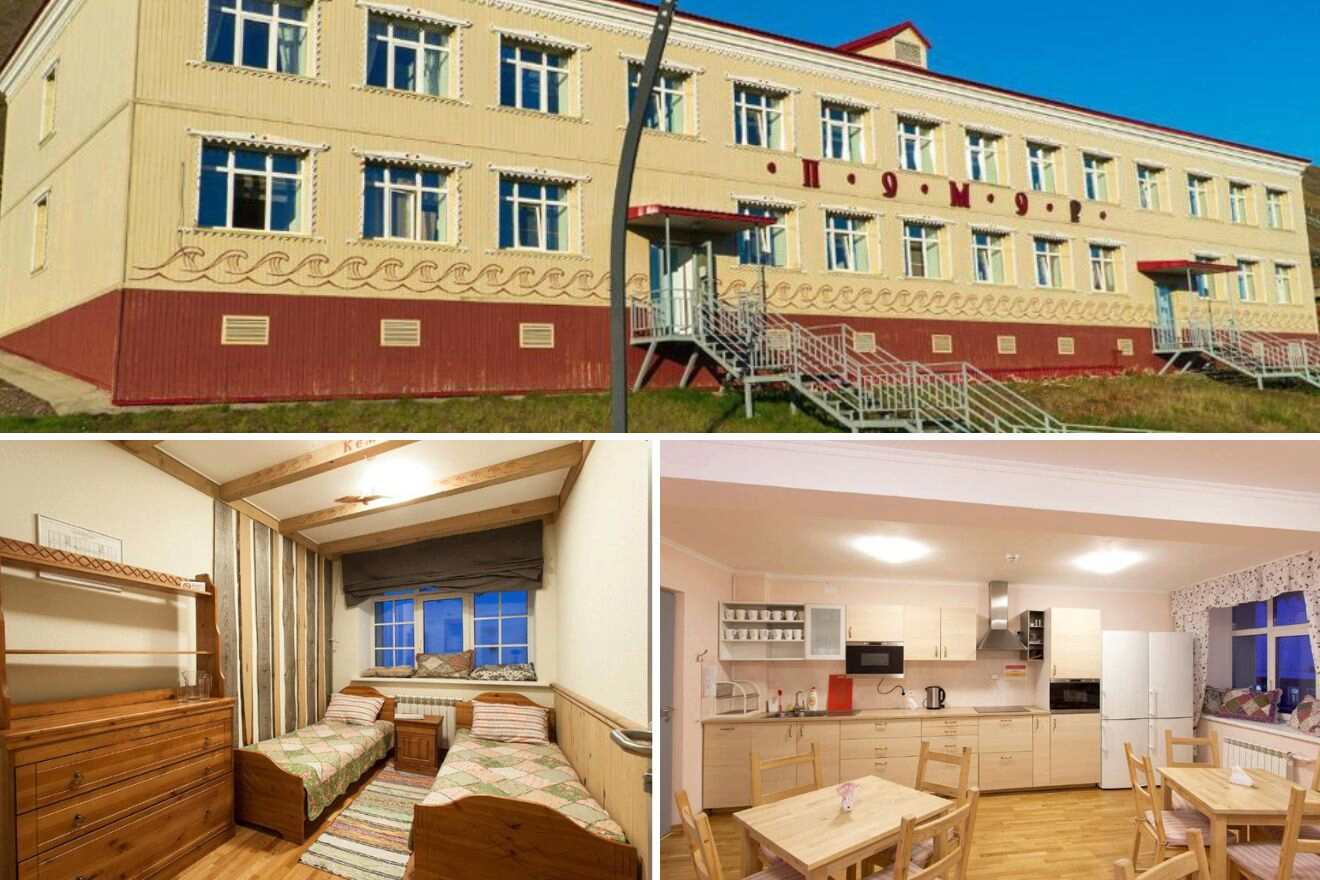 Barentsburg is the second largest city in Svalbard, and it's a popular day trip destination, so if you want to stay here, then check out this affordable accommodation which offers a shared kitchen and a shared lounge!
With a homie atmosphere, the budget accommodation offers twin and triple rooms that have a kettle, free Wi-Fi, a shared bathroom, and sea views! During your holiday here, you can go hiking, rent out bikes from the hostel to explore around, and play some board games on those days when the weather is just impossible!
13. Gjestehuset 102 – with a friendly atmosphere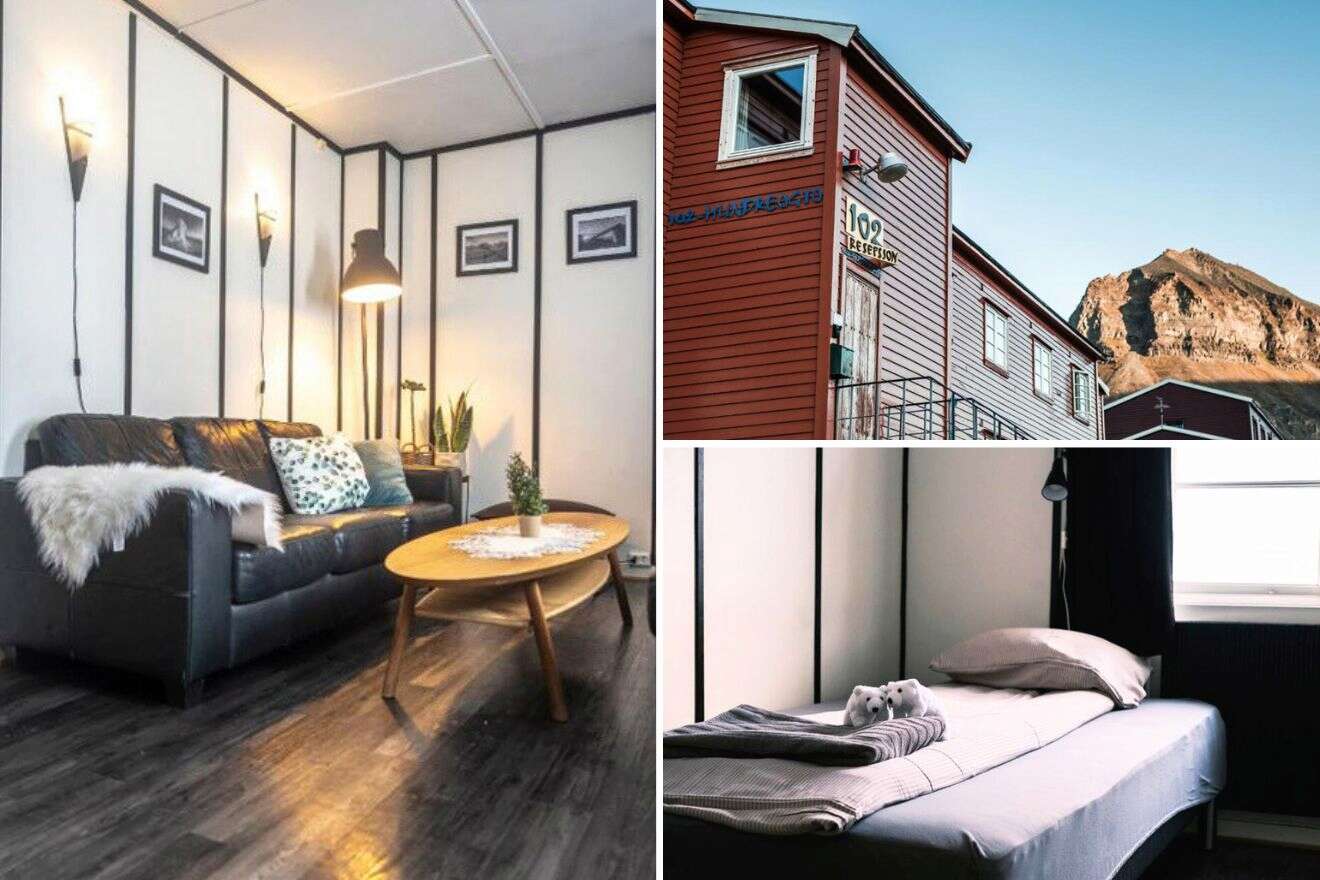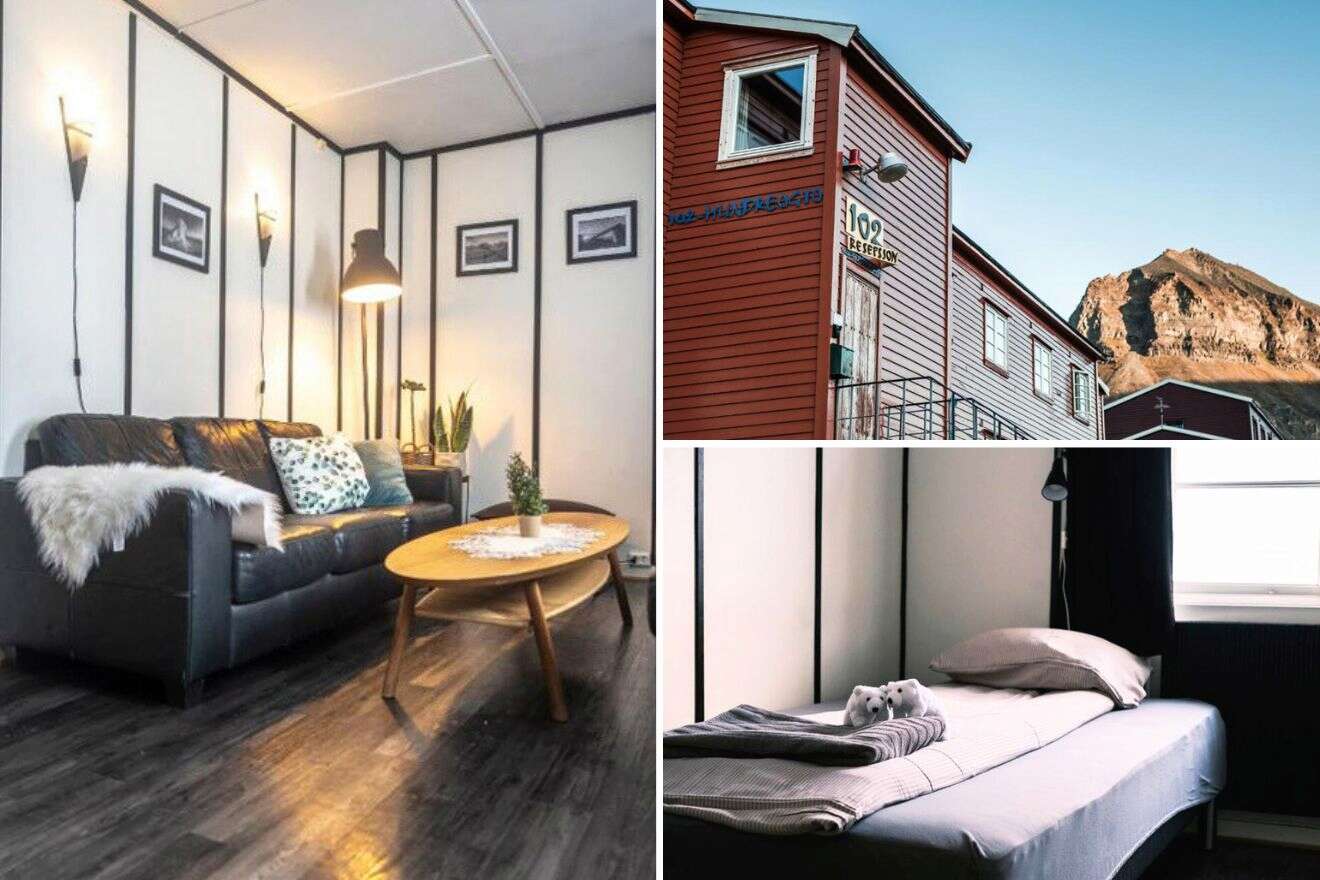 We're back in Longyearbyen, Svalbard's main touristic town, where I found this great budget accommodation where you can spend your unforgettable holiday! Featuring a super friendly atmosphere, rooms with a shared bathroom, and free Wi-Fi, this hotel is set 1 mile (2 km) away from the town center.
All guests will have access to a shared kitchen, and there's also a place inside from where you can buy snacks and drinks, but for the times when you need a nourishing meal, you can head to the restaurant across the street! Once you've rested after your flight, rent out some bikes from the hotel and go exploring!
14. Longyearbyen Camping – for nature lovers
Feel like camping in the middle of nowhere? Yep, it's possible in Svalbard! I found this really cool camping site in Hotellneset where you can bring your tent (or not, as you can rent one from them) and spend a few nights under the starry Northern skies – what an incredible feeling!
The campsite has all the necessary amenities like a kitchen and dining room, bathrooms and you can even book excursions from the staff! What a fabulous way to spend your holiday in Svalbard!
BONUS: Best Airbnbs in Svalbard
We've seen a fair amount of popular hotels in Svalbard, but with a place like this where things get booked out pretty fast as lots of tourists come here, you can never have enough options!
That's why I thought I'd make a bonus section with some fabulous Airbnbs where you can spend your holiday! I've ordered them from most to least expensive, and the prices start from €125 to €875: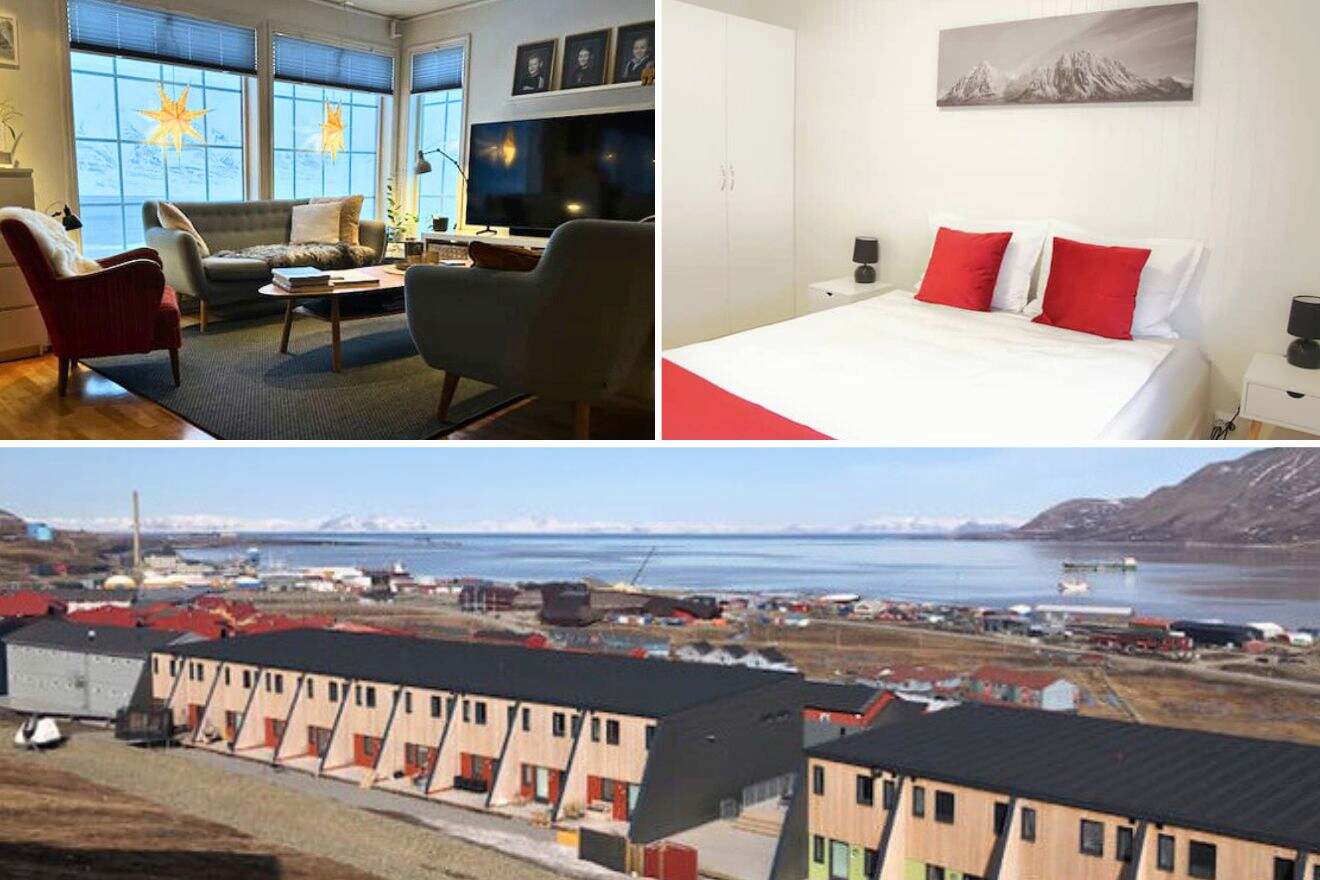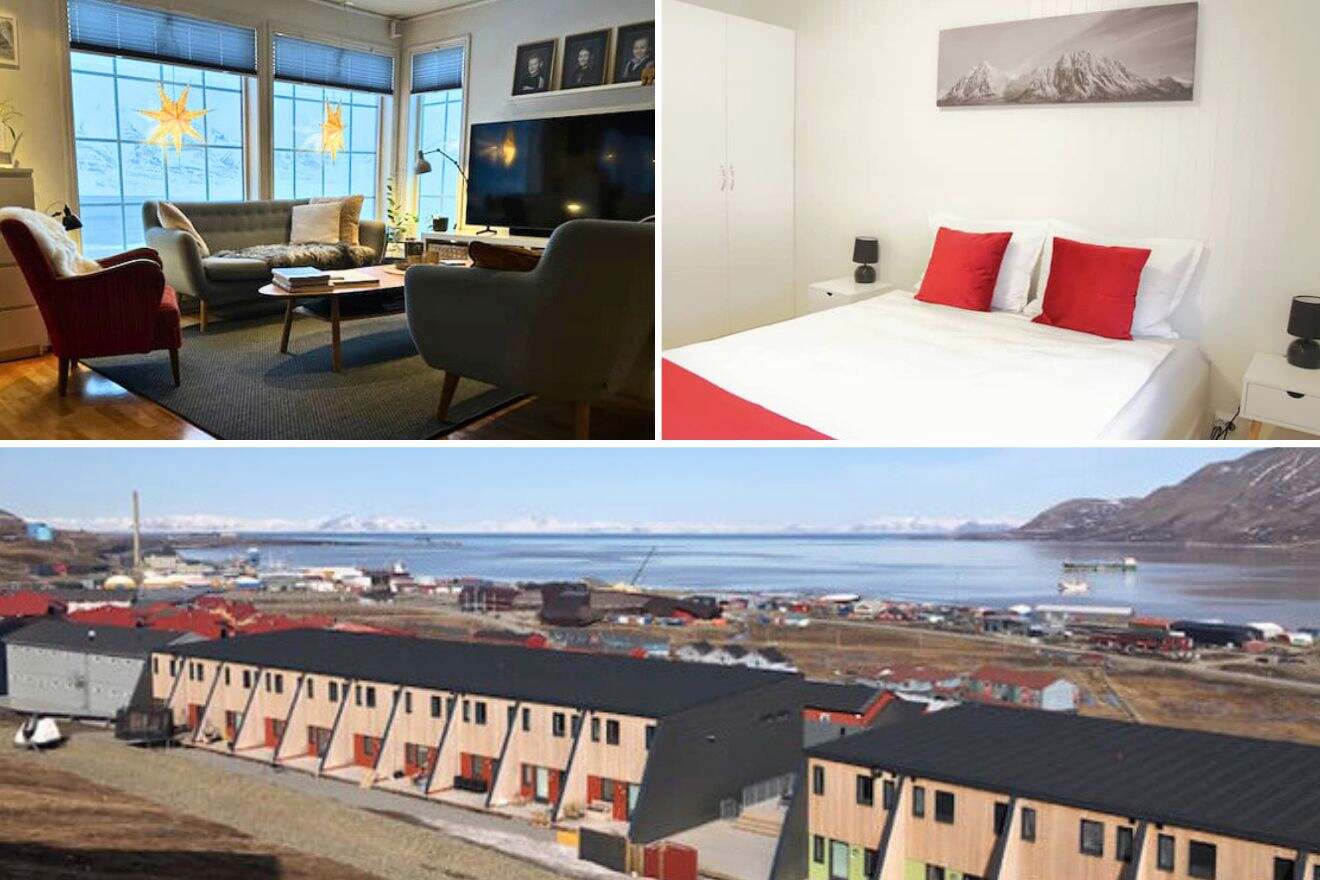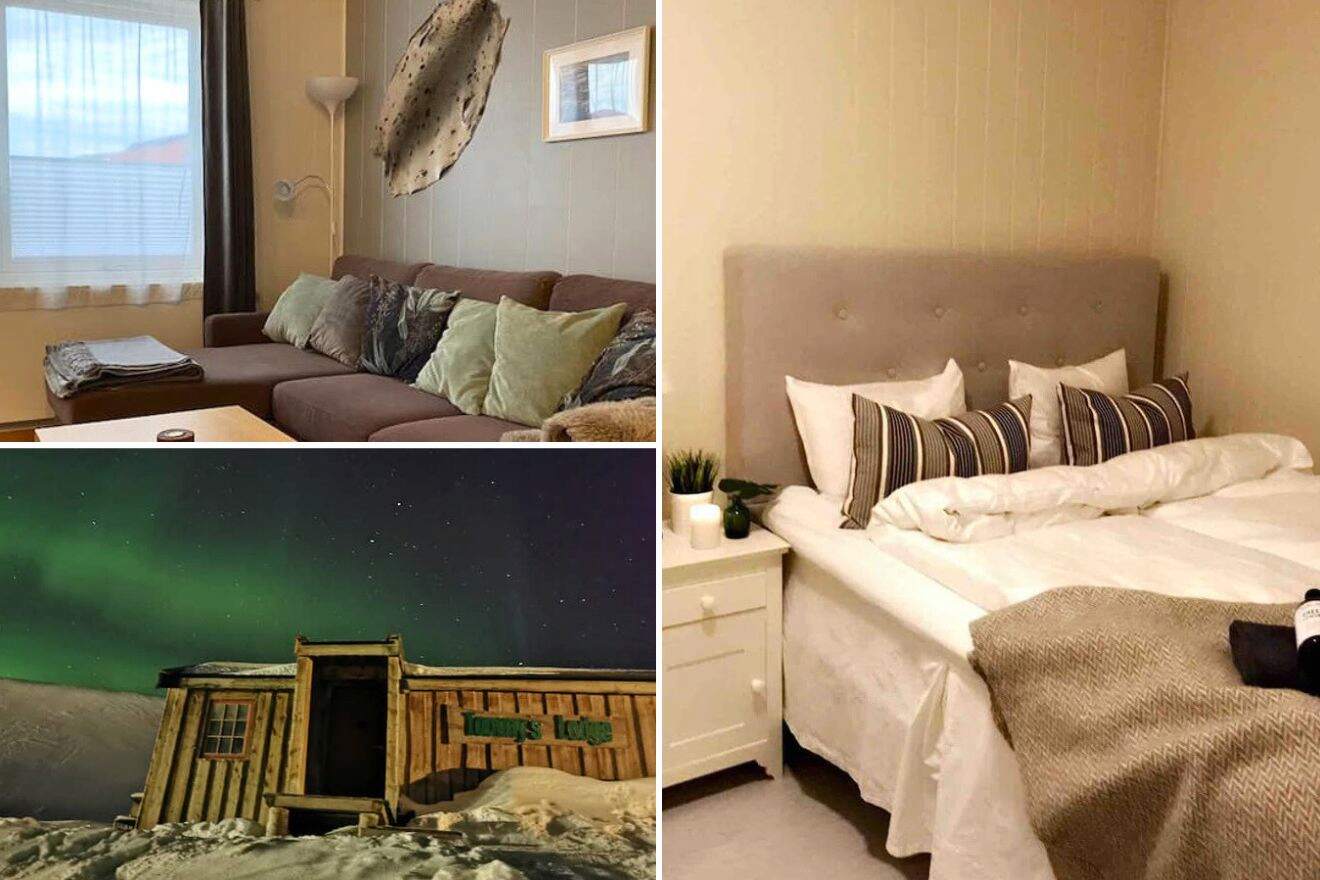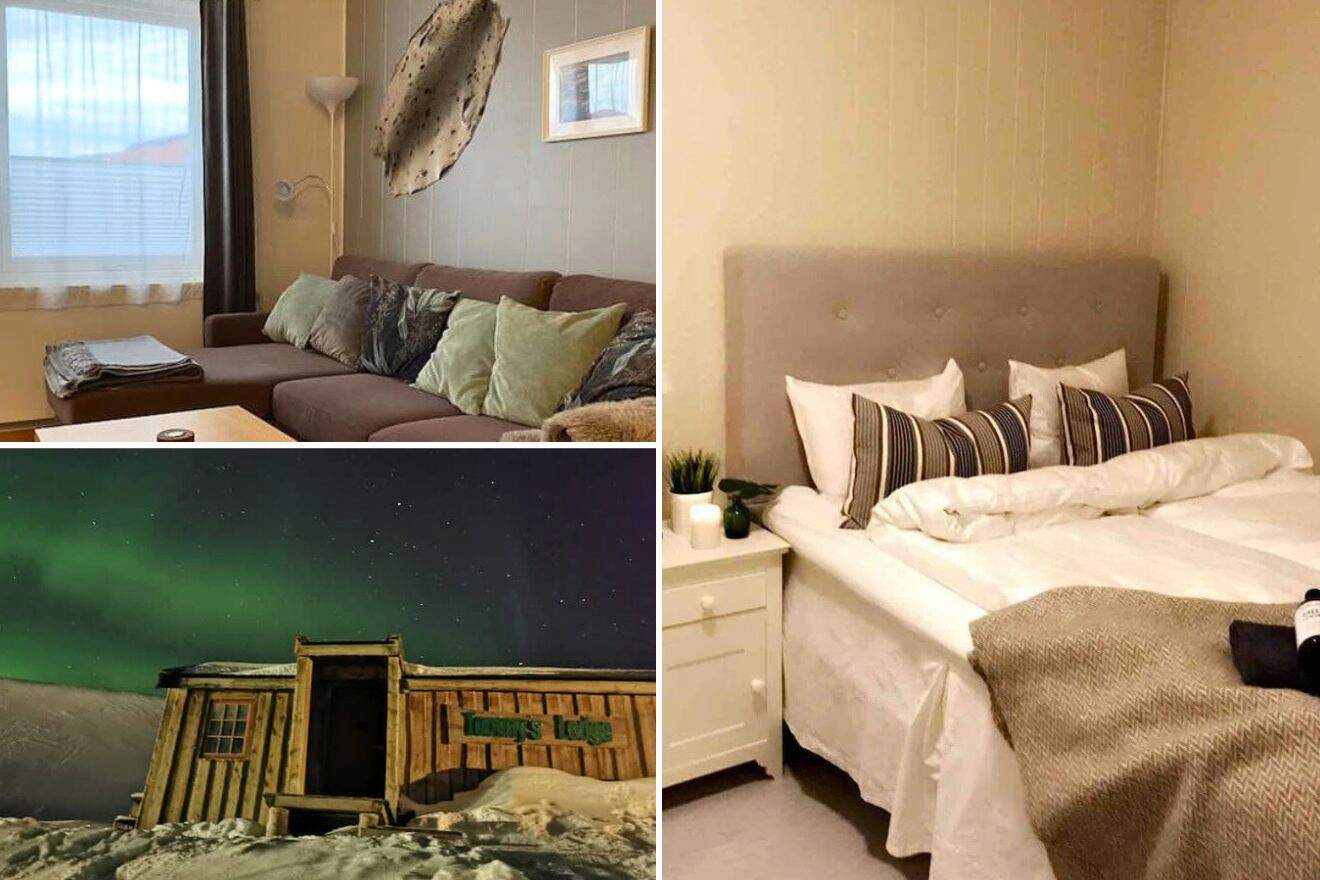 FAQs about Svalbard hotels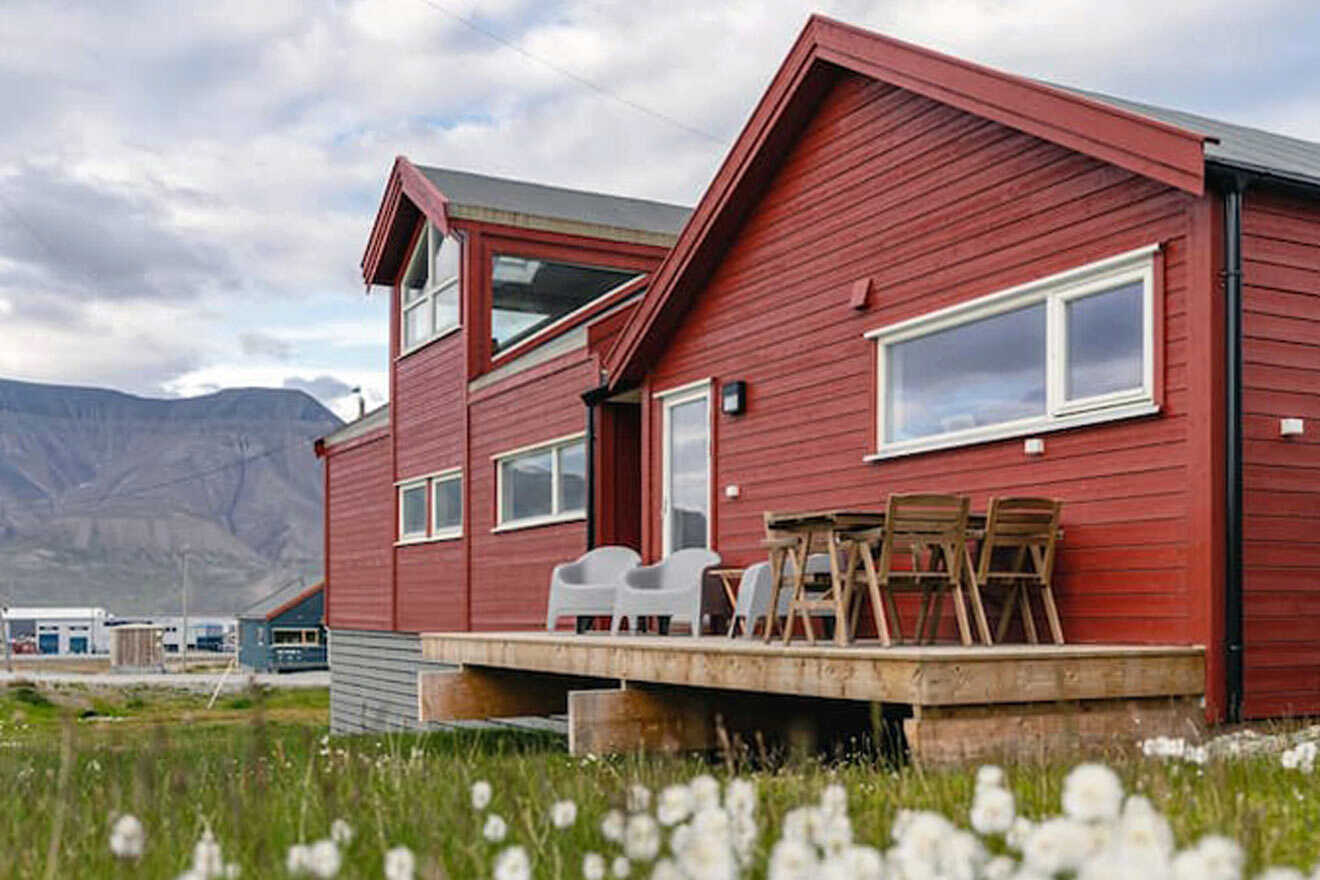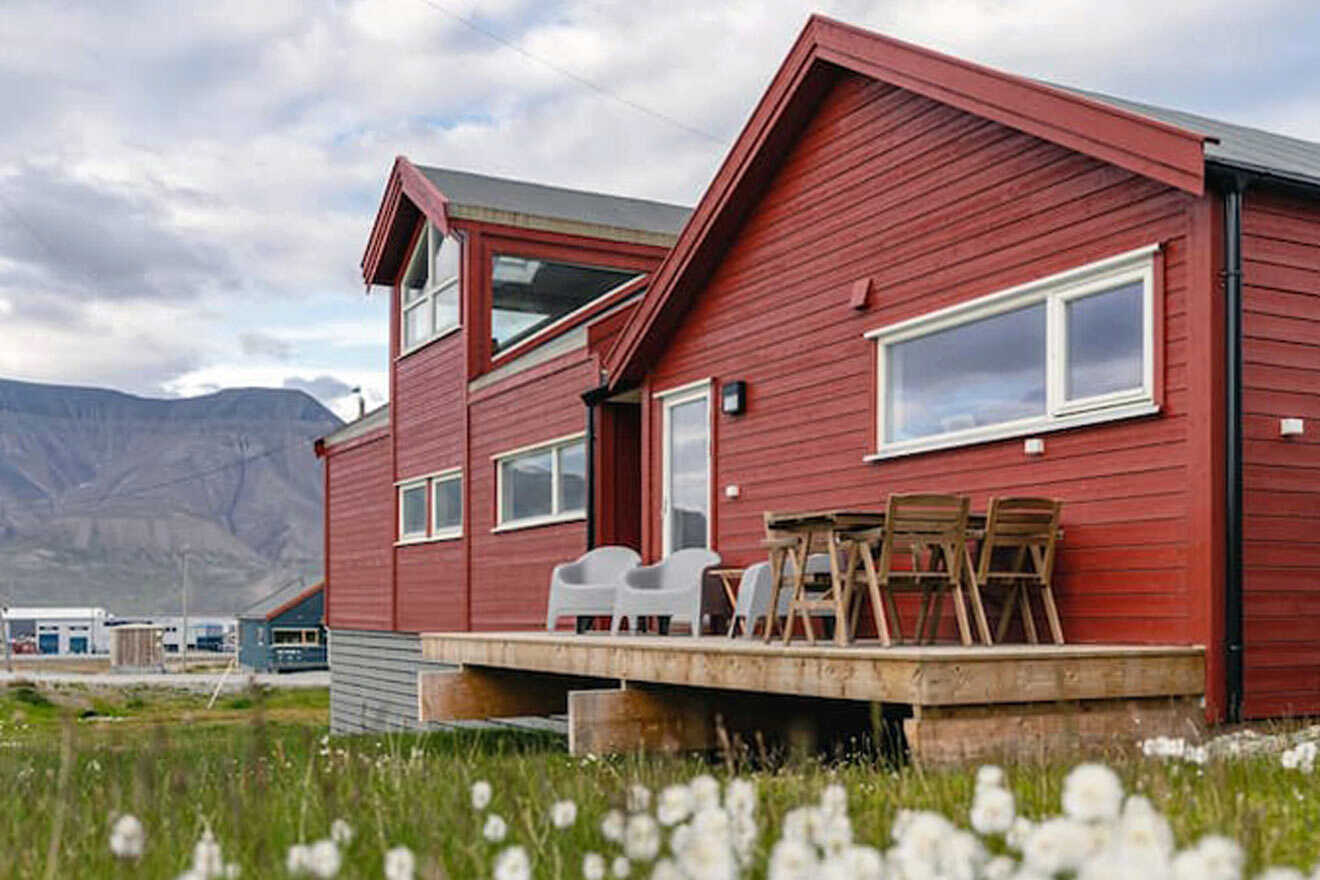 🥶 Can you stay in Svalbard?
Yes! There are many tourists who come to visit Svalbard! You'll find great hotels and lots of tours to join as it's the main way in which you can explore the area!
🏔️ Is it worth going to Svalbard?
Yes! Svalbard is a stunning place that you should visit, especially if you love spending time in the great outdoors, watching some polar bears, and a Svalbard reindeer!
🧑‍🤝‍🧑 Can anyone visit Svalbard?
Yes! You don't need a visa to visit Svalbard, but if you're traveling through mainland Norway and come from a place that needs a visa to enter the country, then you'll have to get one.
🏨 Which are the best hotels in Svalbard?
Conclusion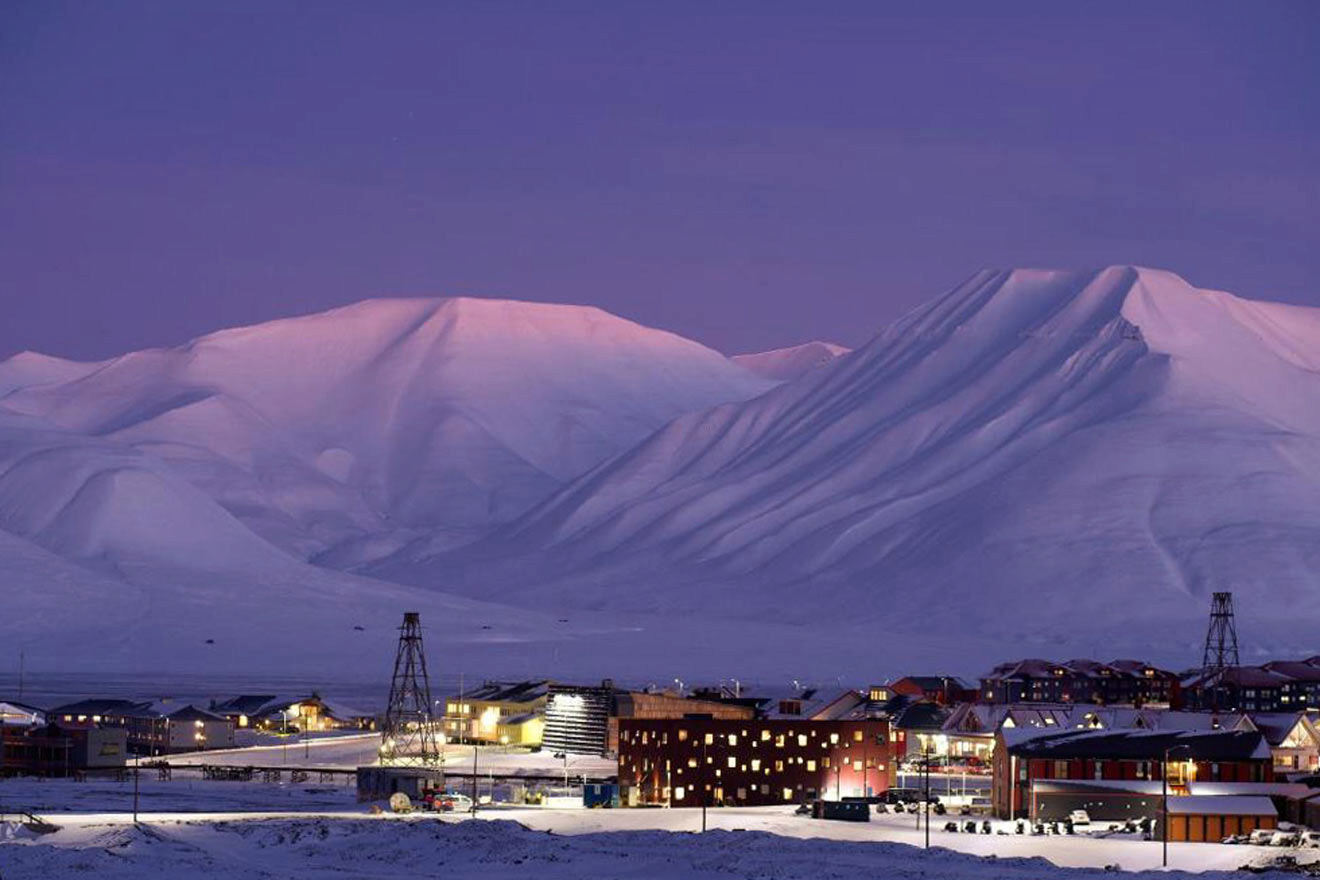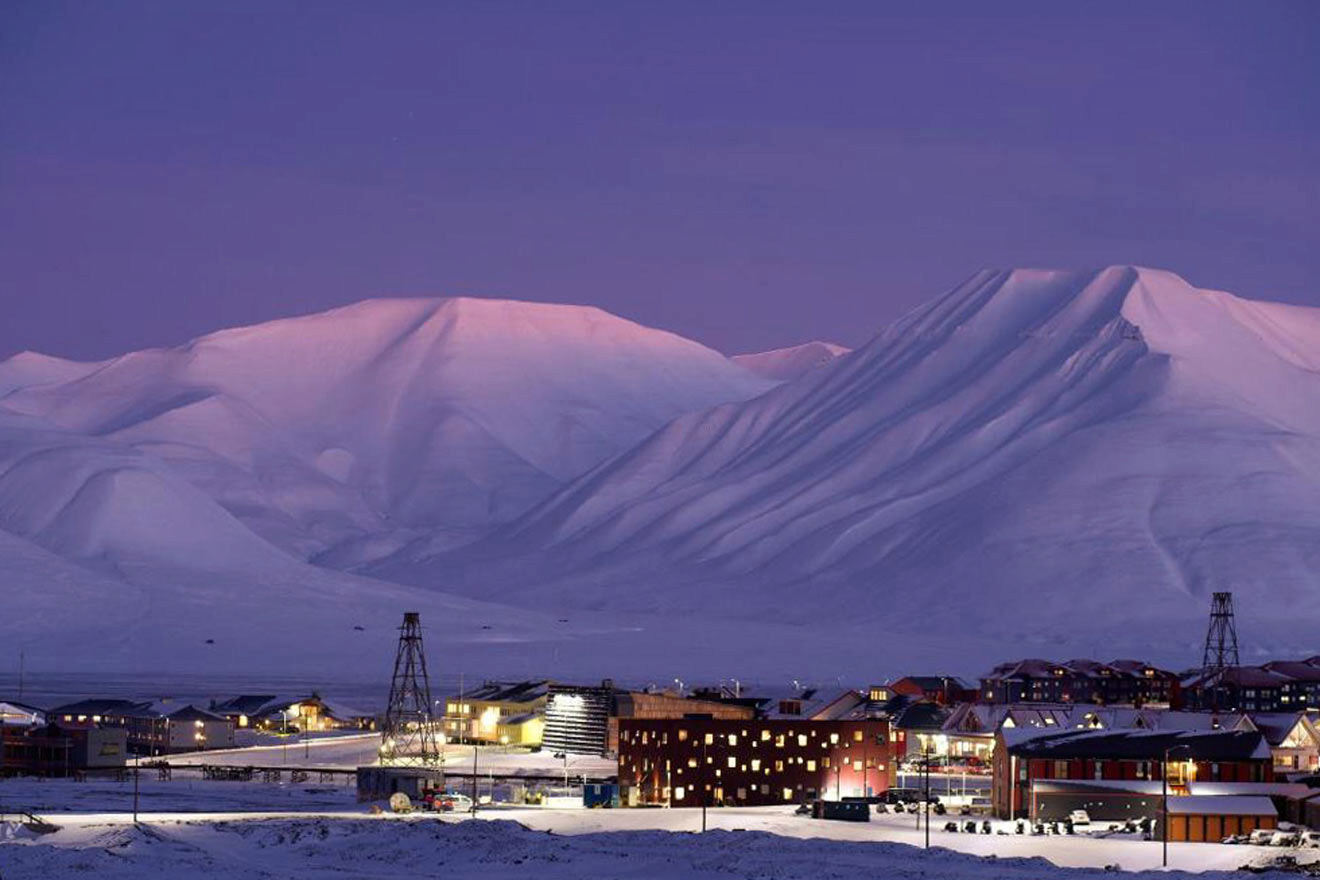 Wow! Svalbard is absolutely stunning, and I'm so happy I got to help you today with planning your trip!
In this post, I've made sure to add the most amazing Svalbard hotels and also some Airbnbs, which I'm sure you'll love!
As I mentioned earlier, Svalbard has a limited number of hotels and accommodations, that's why I recommend booking your favorite one in advance and securing your spots.
If you need a bit of help picking your hotel, then check out my 2 favorite hotels in Svalbard that I listed below:
Alright, everyone! I hope you enjoyed this guide on the top hotels in Svalbard! Have a wonderful trip, and let us know in the comments how it was to meet a polar bear!
Safe travels,
Victoria
---
Pin it for later!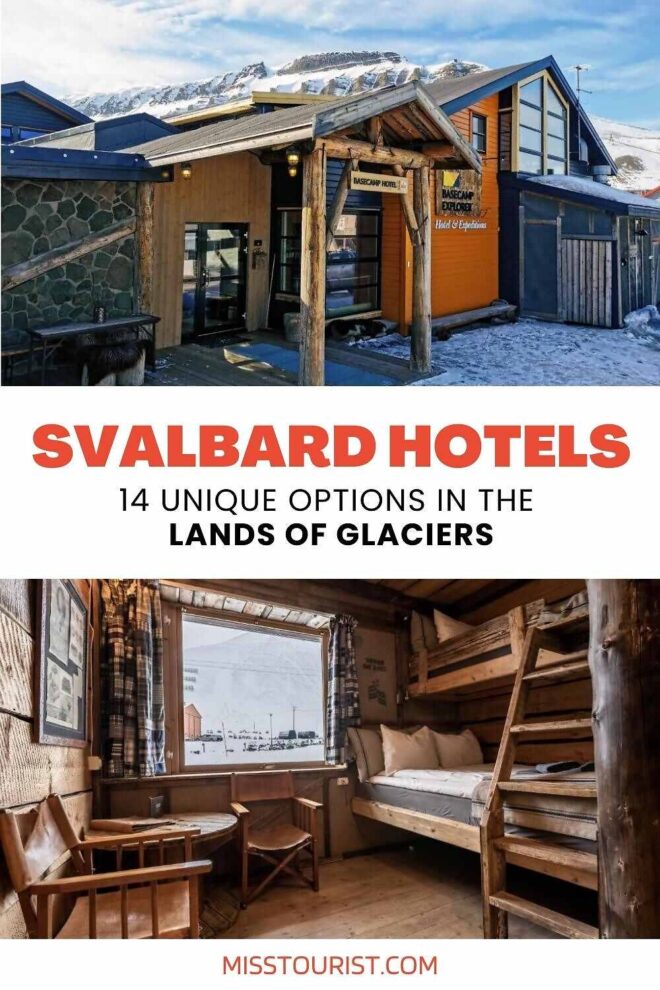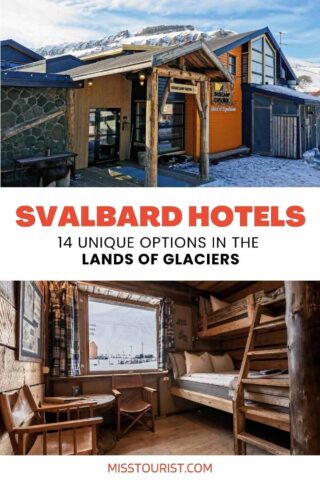 Pin it for later!