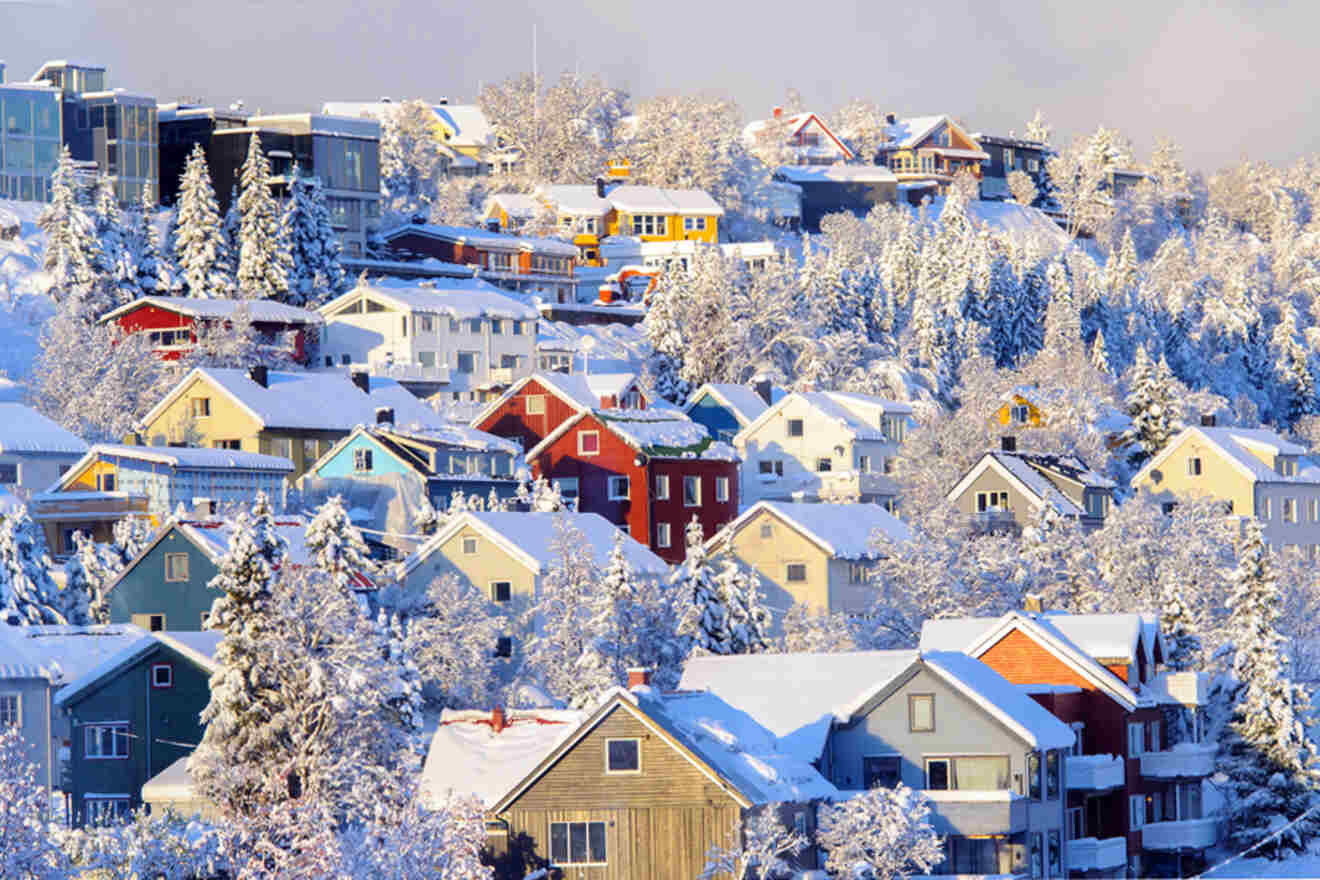 This small but charming town in Northern Norway will become your new favorite travel destination! But before you get there, you really need to find a place to stay, and this is where I jump in to help you!
In this post, you'll find the top Tromsø hotels that I ordered from most to least expensive so that you can easily find the best price per night for you! And since Tromsø is such a popular place to see the mesmerizing Northern Lights, I also included a bonus with some great hotels set in locations around the region where you can see them!
Since we're talking about the famous Northern Lights, you should know that in their season (which is from December until April), hotel prices tend to get higher by €100 to €150.
So keep that in mind when booking your hotels in Tromsø, and do it in advance (especially during that period), as the best hotels always sell out!
Get a hot cocoa or tea, and let's go!
If you are in a hurry
Don't worry if you're in a rush and can't read the whole post! I made this short list of the best Tromsø hotels just for you:
Luxury (€180 and up)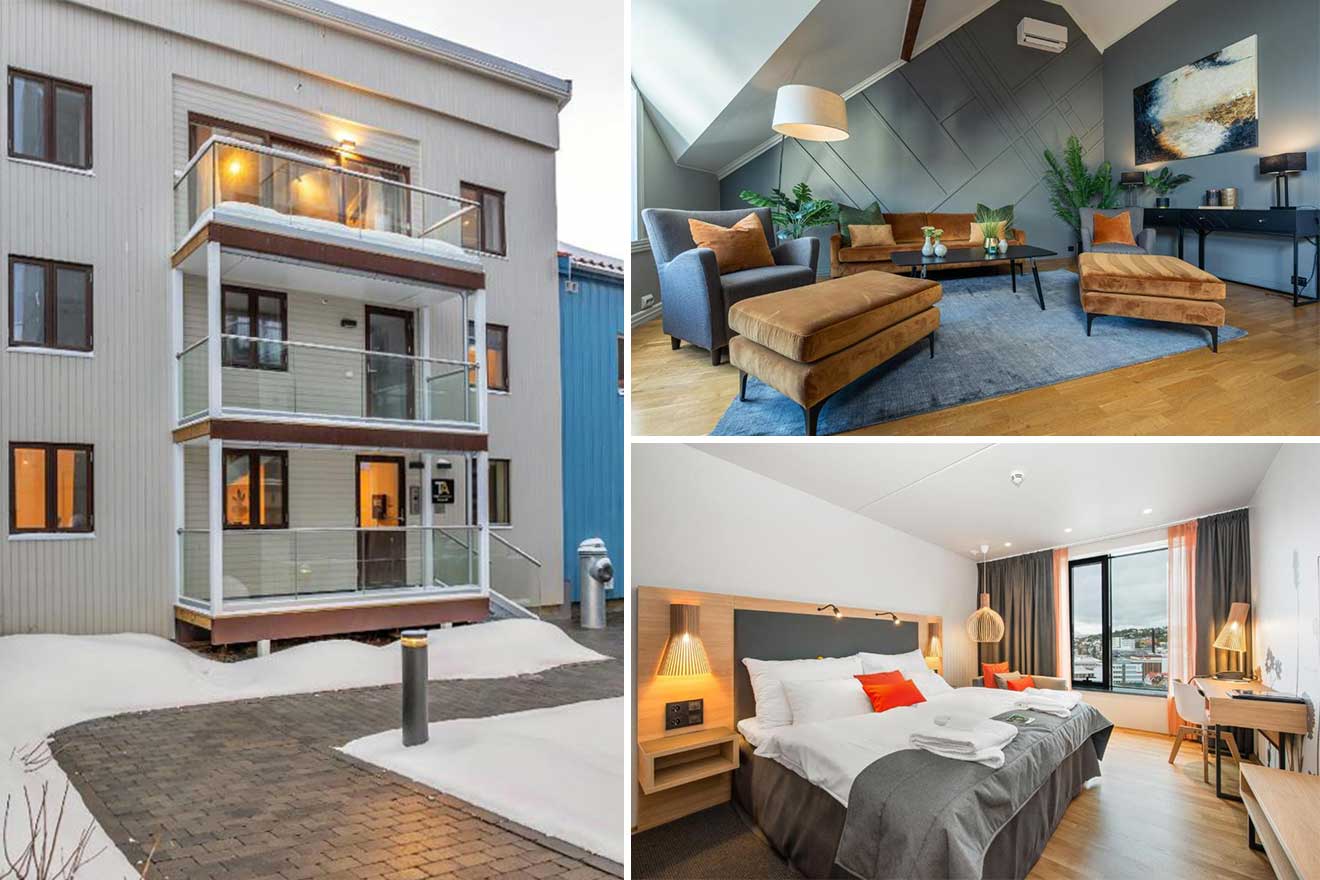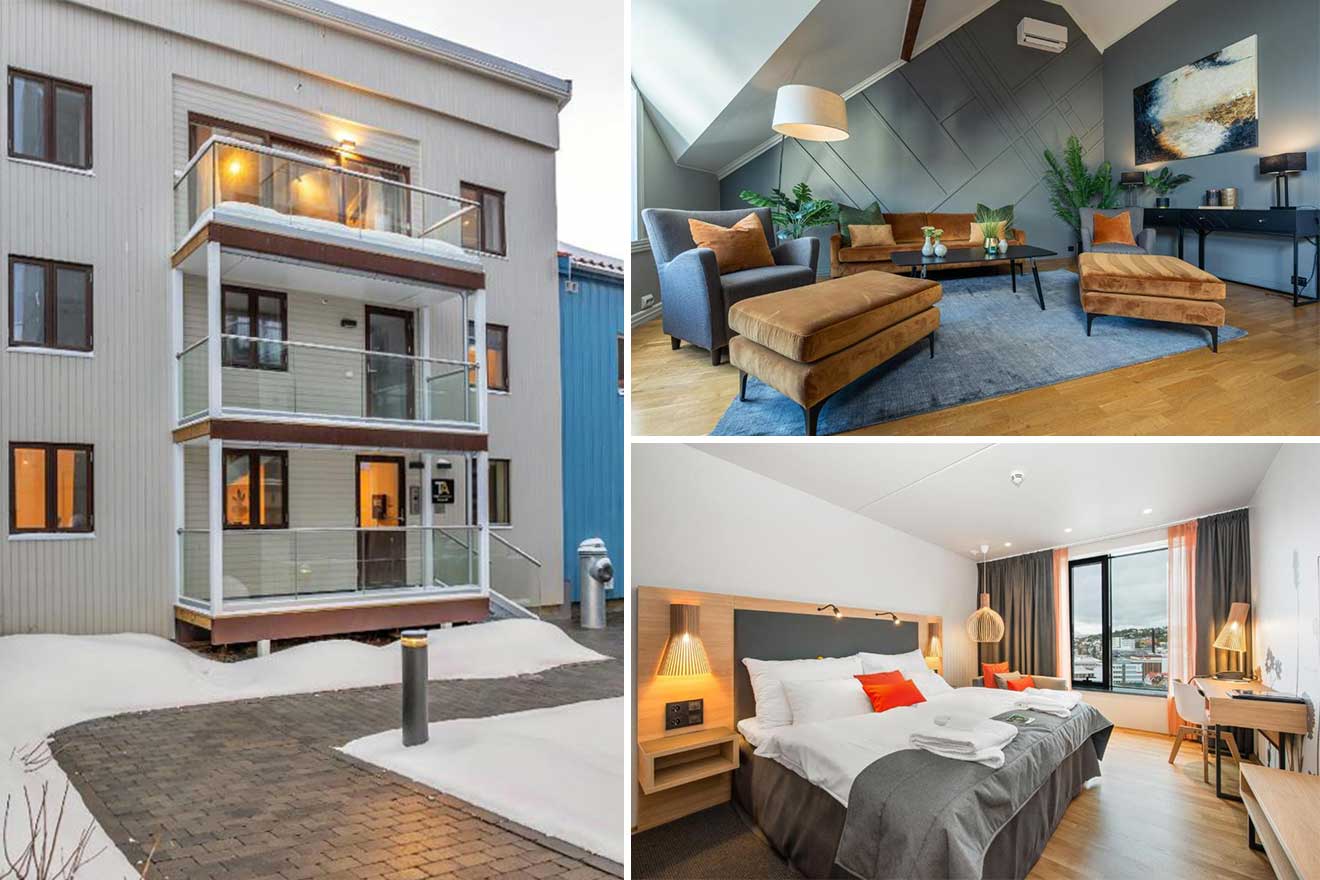 Enter Tromsø Luxury Apartments – If you love interior design and staying in places that are aesthetically pleasing, then definitely check out this hotel that has a great location near many attractions and fabulous amenities like a sauna, a hot tub, and a fitness center. The hotel rooms have such stylish furniture and lots of space, plus a bunch of modern features like a flat-screen TV and a kitchen.
TA Storgata City Apartments – Set right in Tromsø city center, right within walking distance of Storgata, the main shopping street in town, this gorgeous hotel features a modern design and various apartments that come with a fully-equipped kitchen, a dining area, and some also have a balcony where you can enjoy your morning coffee!
Clarion Hotel The Edge – Breathtaking waterfront views, comfortable rooms, and an incredible sky bar where you can enjoy some drinks and an unforgettable sunset! This Tromsø City Centre hotel is a keeper! Book a room here and have your breakfast included in the price! Make sure you book your accommodation in Tromsø in advance, especially if you're coming during the Northern Lights season!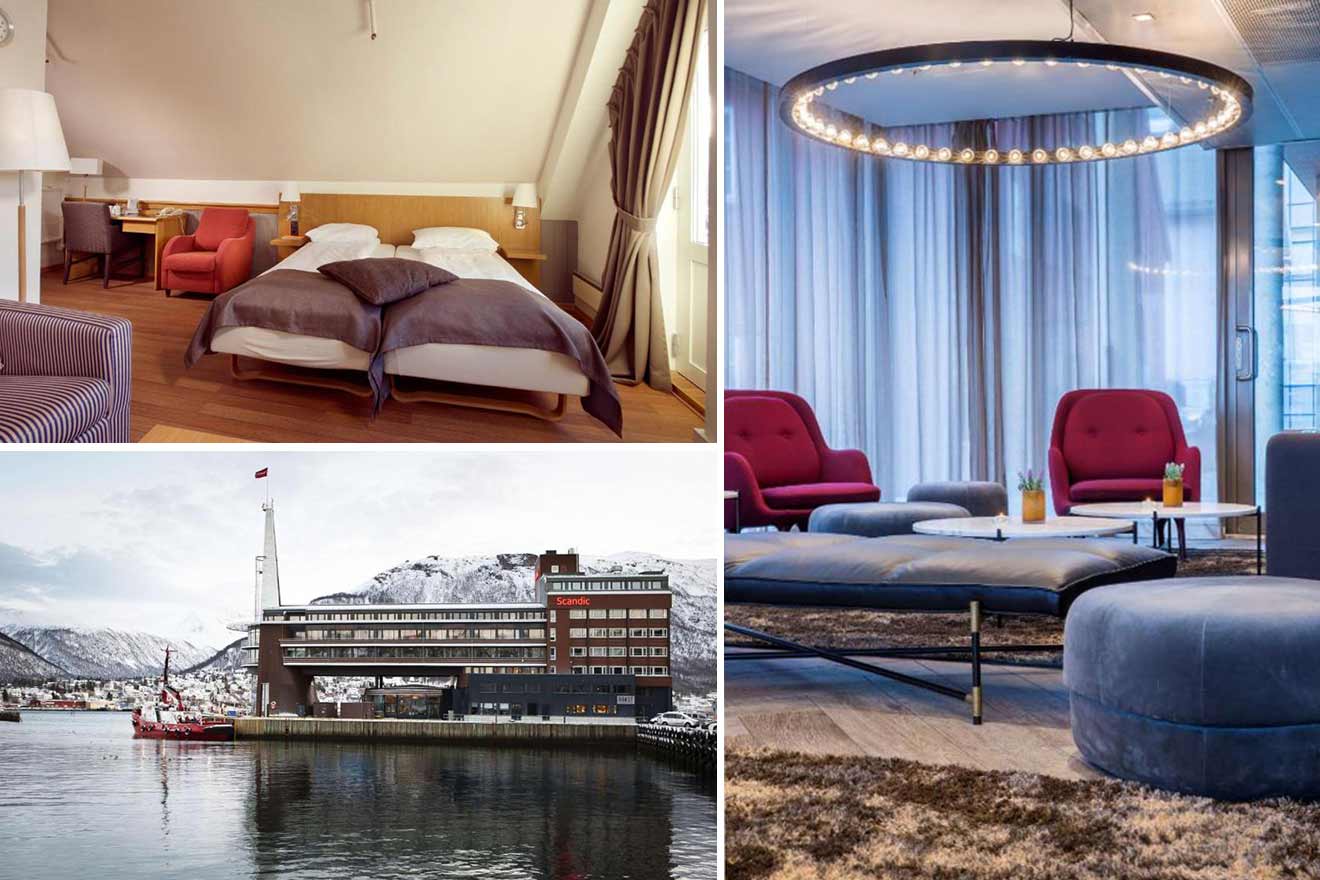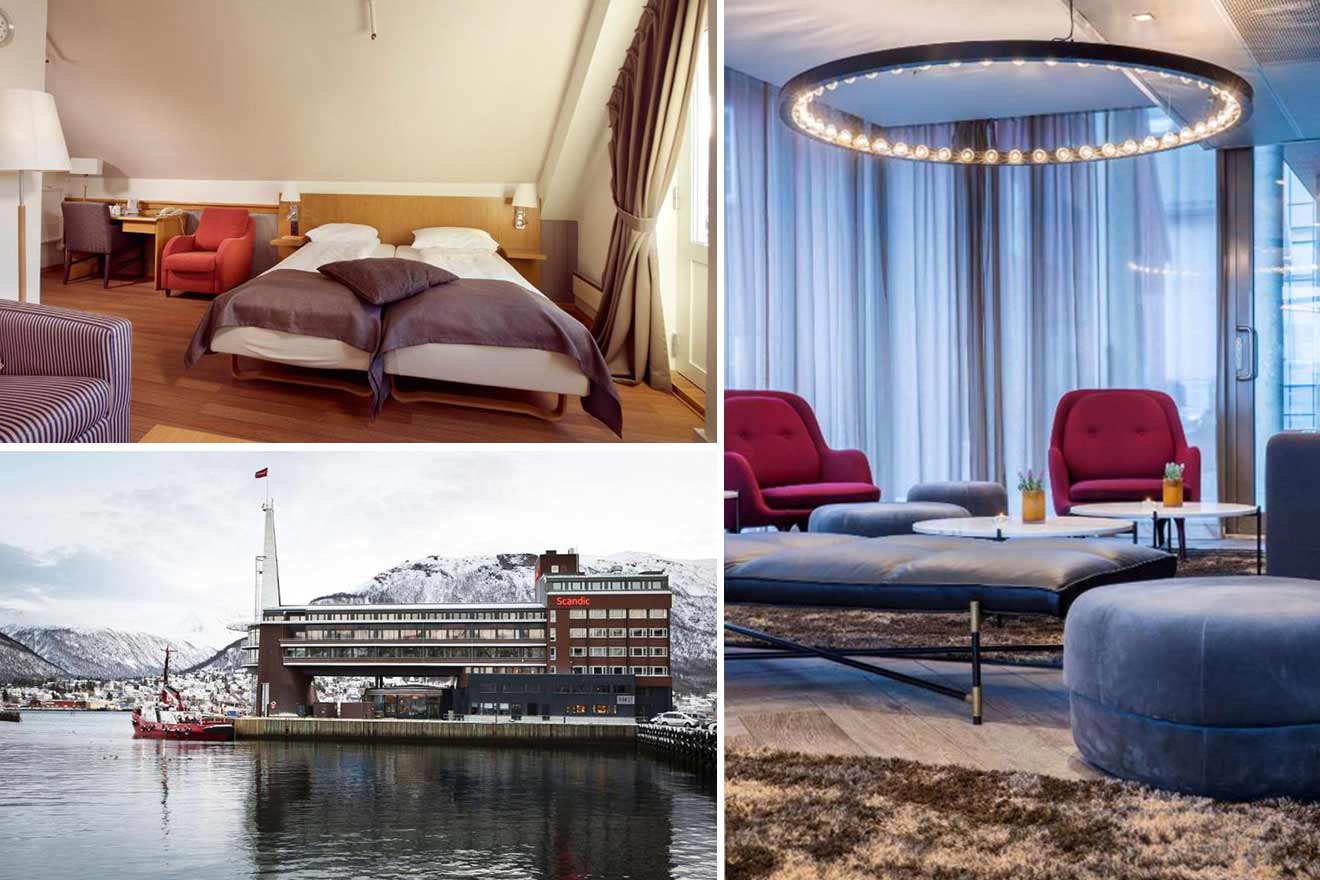 Radisson Blu Hotel Tromsø – Wake up, order some room service (breakfast is included in the price), and admire those stunning sights of the Tromsø harbor while relaxing in your room at this great accommodation that has the best location! Guests will have access to a sauna which is the perfect spot to unwind after your flight or after a day spent visiting all the attractions in town!
Scandic Ishavshotel – Although simple, this Tromsø hotel boasts lovely decor and rooms overlooking the water and ships! Start your morning with a yummy breakfast at the accommodation's restaurant, and then head out to explore all the areas in Tromsø! The accommodation also offers bikes to all guests so you can see as much of the city as you want!
Clarion Collection Hotel – Here's another great City Centre hotel that offers views of the Tromsdalstinden Mountain! Each room at the accommodation comes with a flat-screen TV and air-conditioning! But what you'll really love is their relaxation area that has a sauna where you can spend a few moments of tranquility after a hectic day out!
Mid Range (from €100 to €165)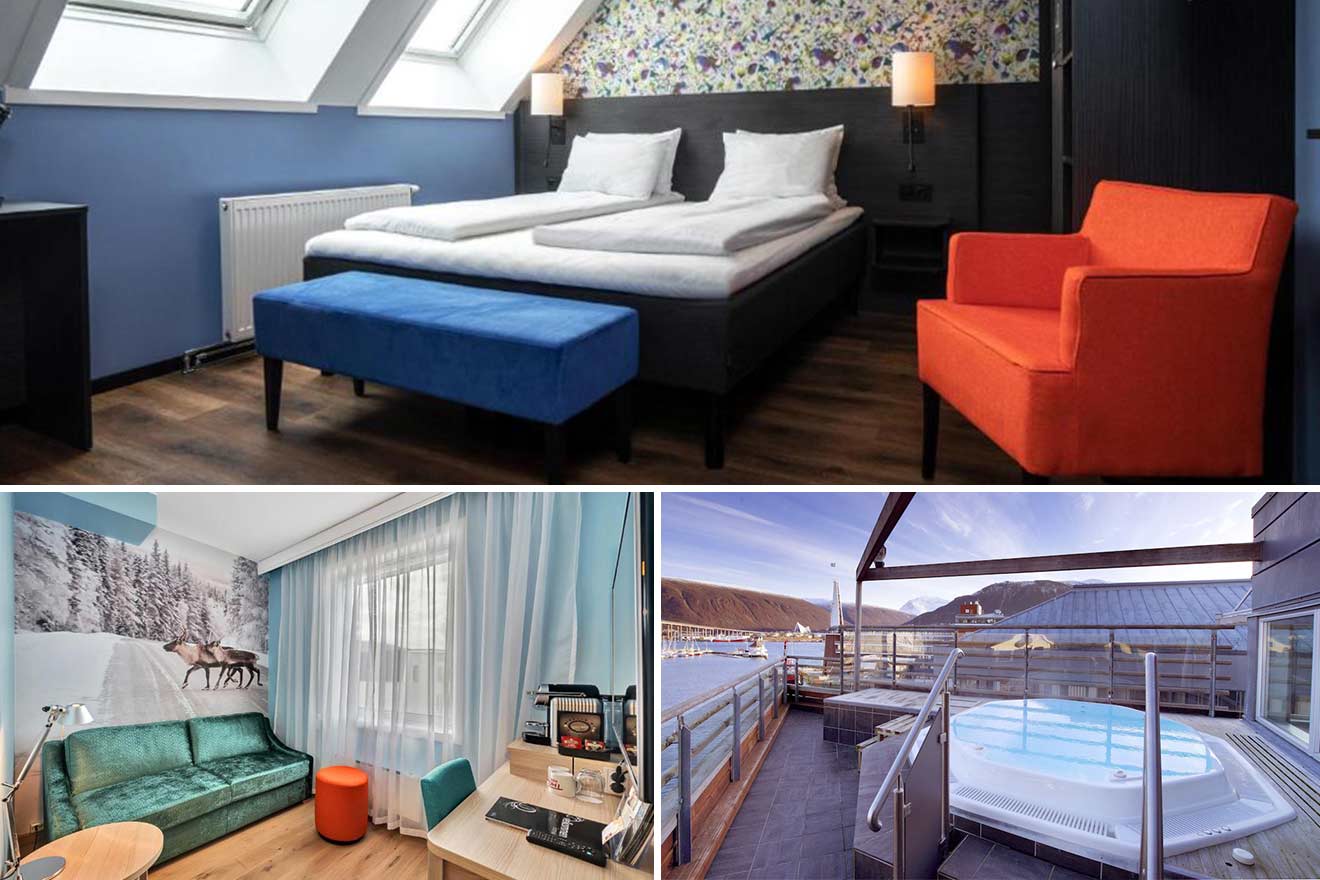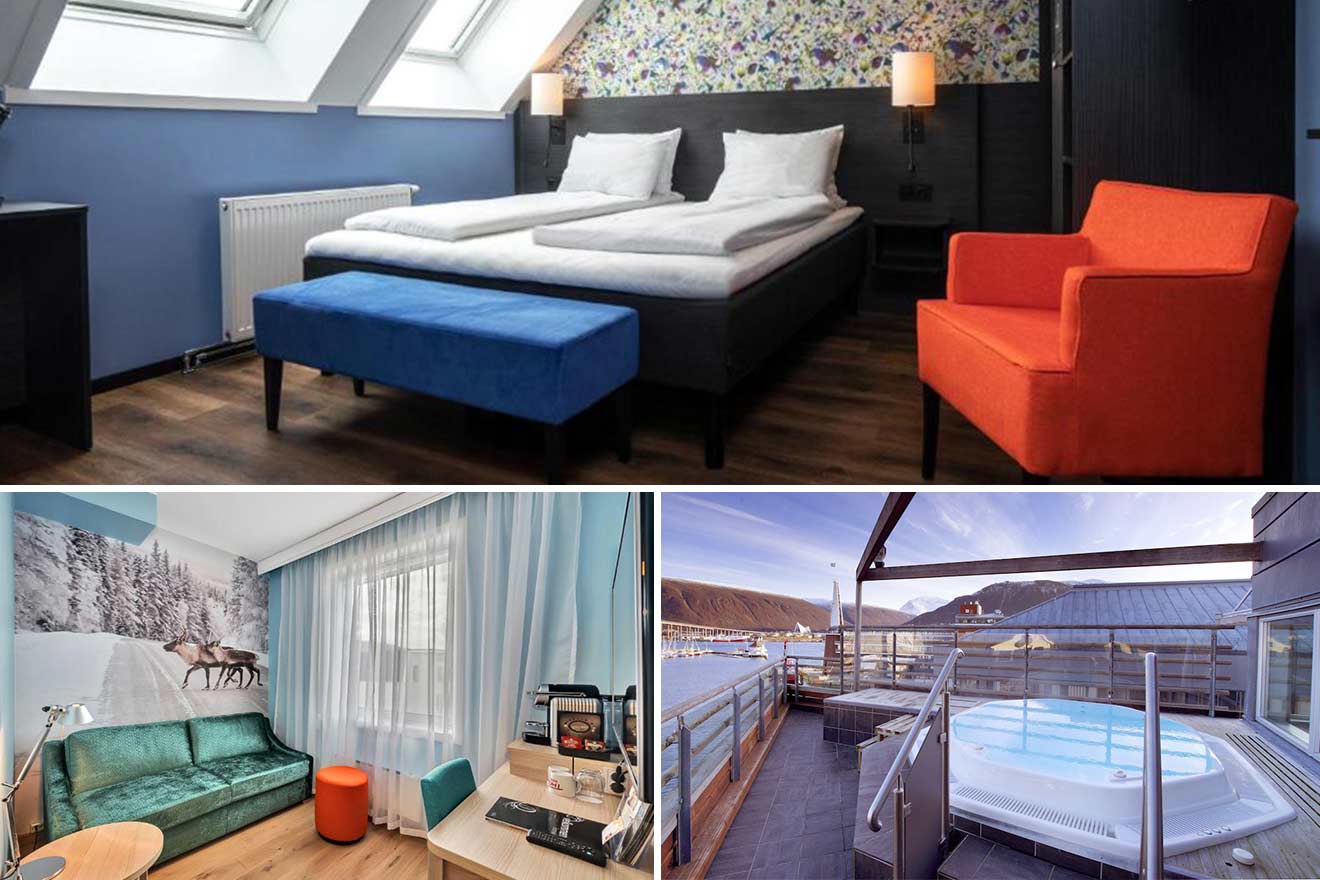 Thon Hotel Tromsø – Set right around Storgata, the main shopping street in Tromsø, this hotel is super chic and has fabulous rooms with colorful wallpapers, a private bathroom, and free Wi-Fi. Each morning, guests are invited to indulge in yummy food and coffee before they embark on their adventures in and around the city!
Thon Hotel Polar – Sleep like a baby after a night of seeing the Northern Lights on a tour at this gorgeous hotel that has spacious rooms for families with a private bathroom. During your stay, you can use the fitness center whenever you want and dine at the restaurant on-site, which serves traditional dishes in a very rustic ambient!
Clarion Collection Hotel Aurora – Admire the waterfront views while relaxing in the outdoor hot tub of this good hotel that's located just a short walk away from Tromsø Cathedral and the Polar Museum. Enjoy your mornings in the garden, and don't miss their yummy free breakfast. Each room has all the amenities you need, including workspaces and free Wi-Fi.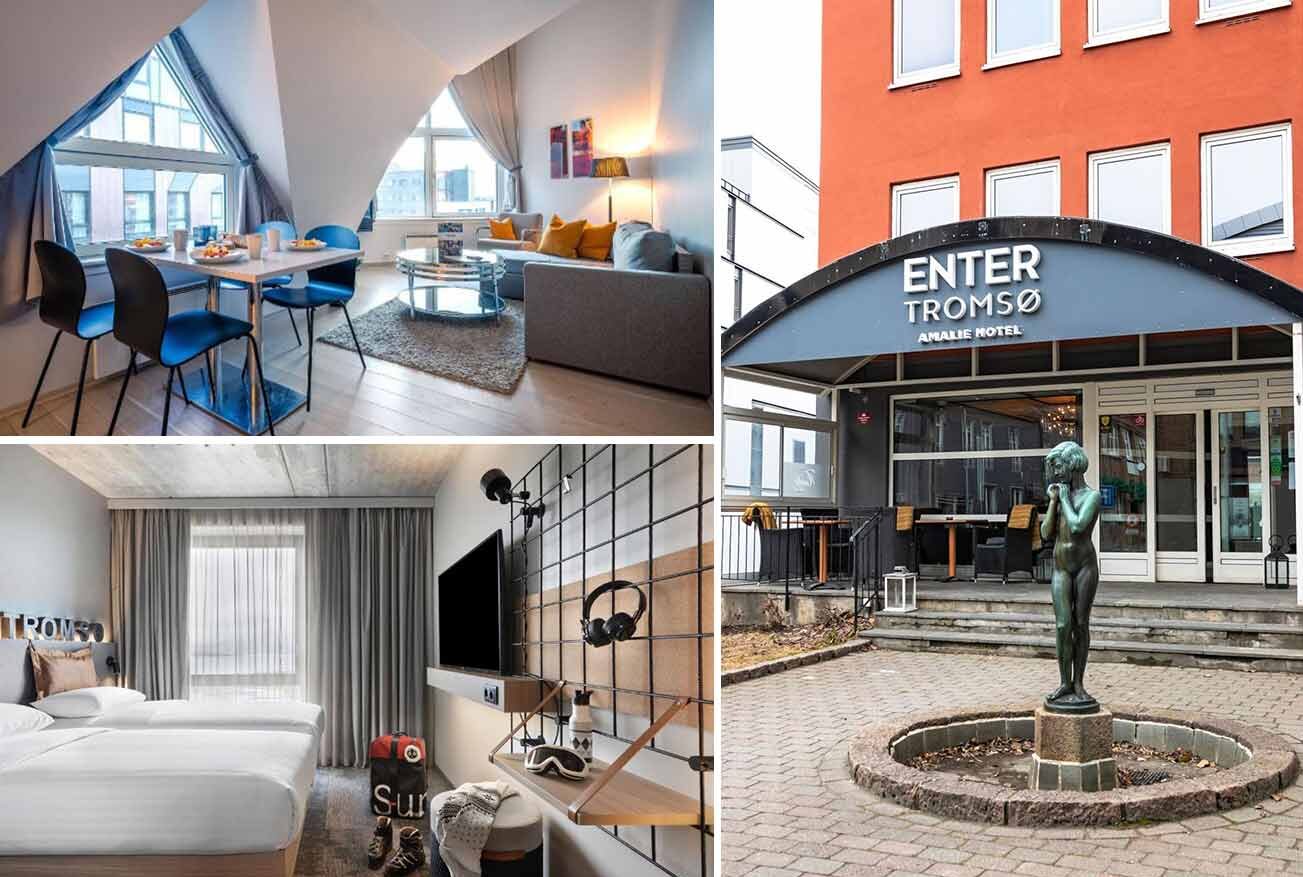 Moxy Tromsø – If you're looking for a place to stay near the airport, then check out this accommodation which is less than a mile (1 km) away from it! I love the Moxy brand (I stayed in one once), as they have a super fun design, their rooms are super cozy, and they also offer these lounge areas where you can chill and have a drink after a day out visiting all the attractions like the Arctic Cathedral!
Enter City Hotel – Some of the most popular hotels in Tromsø are set in the City Centre since most tours leave from here! Just like this one which comes with rooms that have a small kitchenette and a flat-screen TV, a fitness center, and a snack bar. You can also arrange for airport transfers with the staff for an additional cost.
Enter Amalie Hotel – Gotta love a hotel that keeps it simple while at the same time offering all the amenities you need for your holiday! Located in the city center, not too far from the Arctic Cathedral, this hotel offers great value! Most of their rooms have city views, and all guests get a free buffet breakfast in the morning! If you need time off to relax, read something, or catch up on work, head to their on-site library!
Budget (up to €100)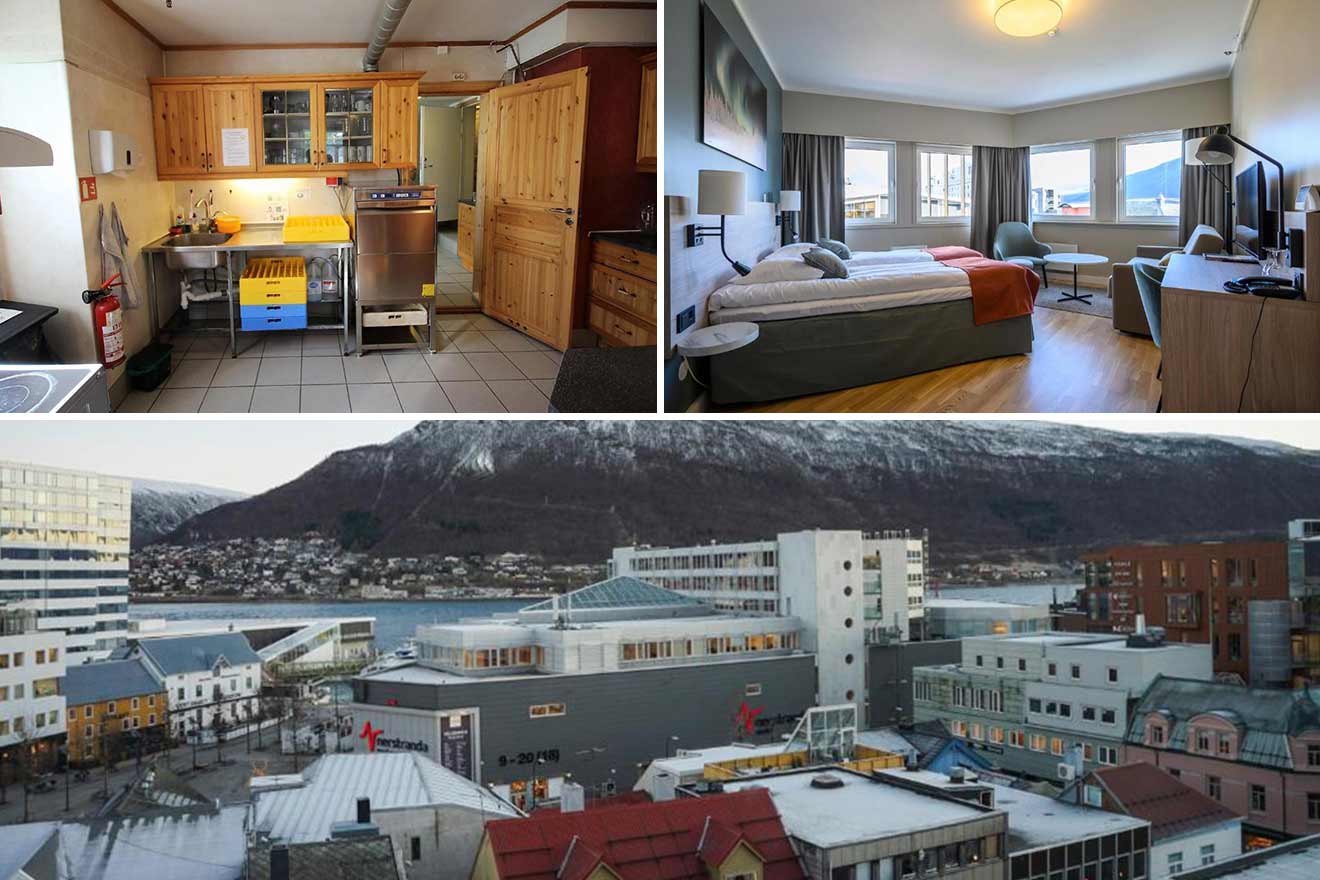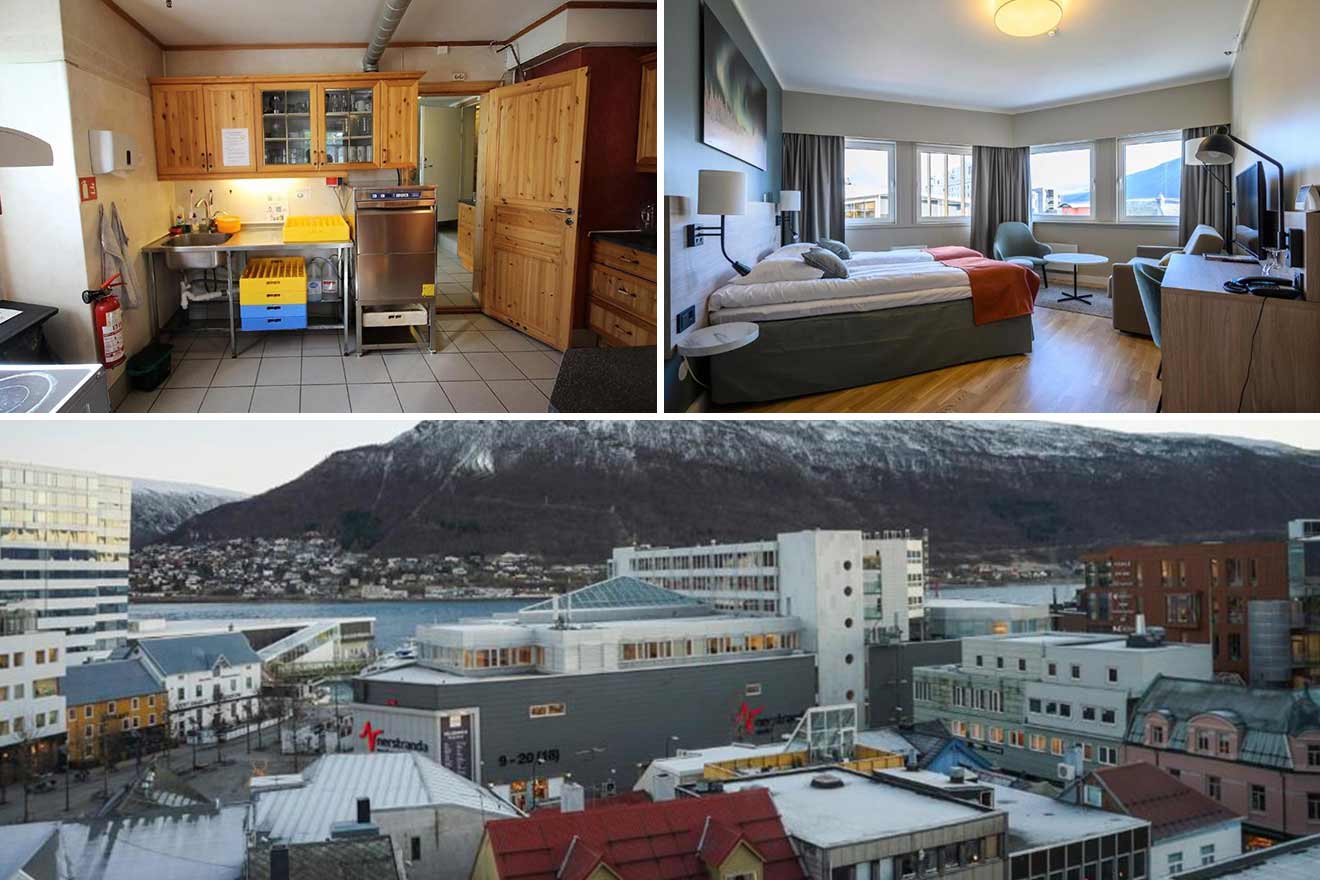 Quality Hotel Saga – Yummy food served in the morning, comfortable, clean rooms that have a flat-screen TV and offer views of the harbor, Cathedral, or mountains. This accommodation looks like the perfect place to stay in this small town. If you're around in the afternoon, they also offer free coffee and tea for all the guests, and there's also a restaurant where you can dine on-site.
Ami Hotel – Feel at home at one of the best cheap hotels in Tromsø! This place offers such a nice atmosphere, and it comes with spacious rooms with shared or private bathrooms, a fully-equipped shared kitchen, and a TV lounge where you can get warm and enjoy some free coffee!
Comfort Hotel Xpress Tromsø – Ever wanted to stay in an eco-certified hotel? Then check out one of the very best hotels in town that has such fabulous decor, simple but so chic and modern! Some of their rooms offer sea or city views and have these lovely wooden floors and a work desk. If you still have some energy after a night out, borrow some board games from the staff and play with your travel buddies!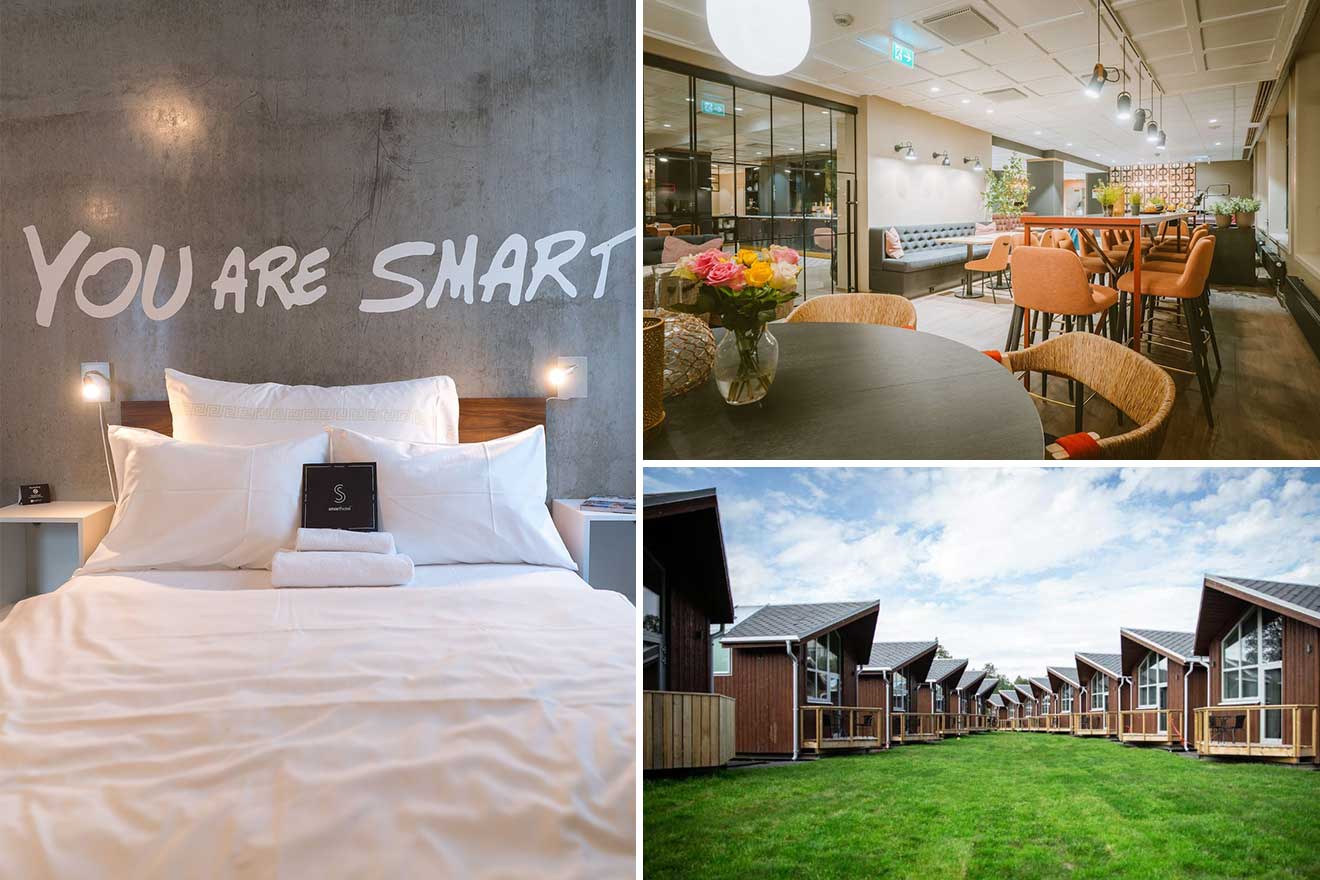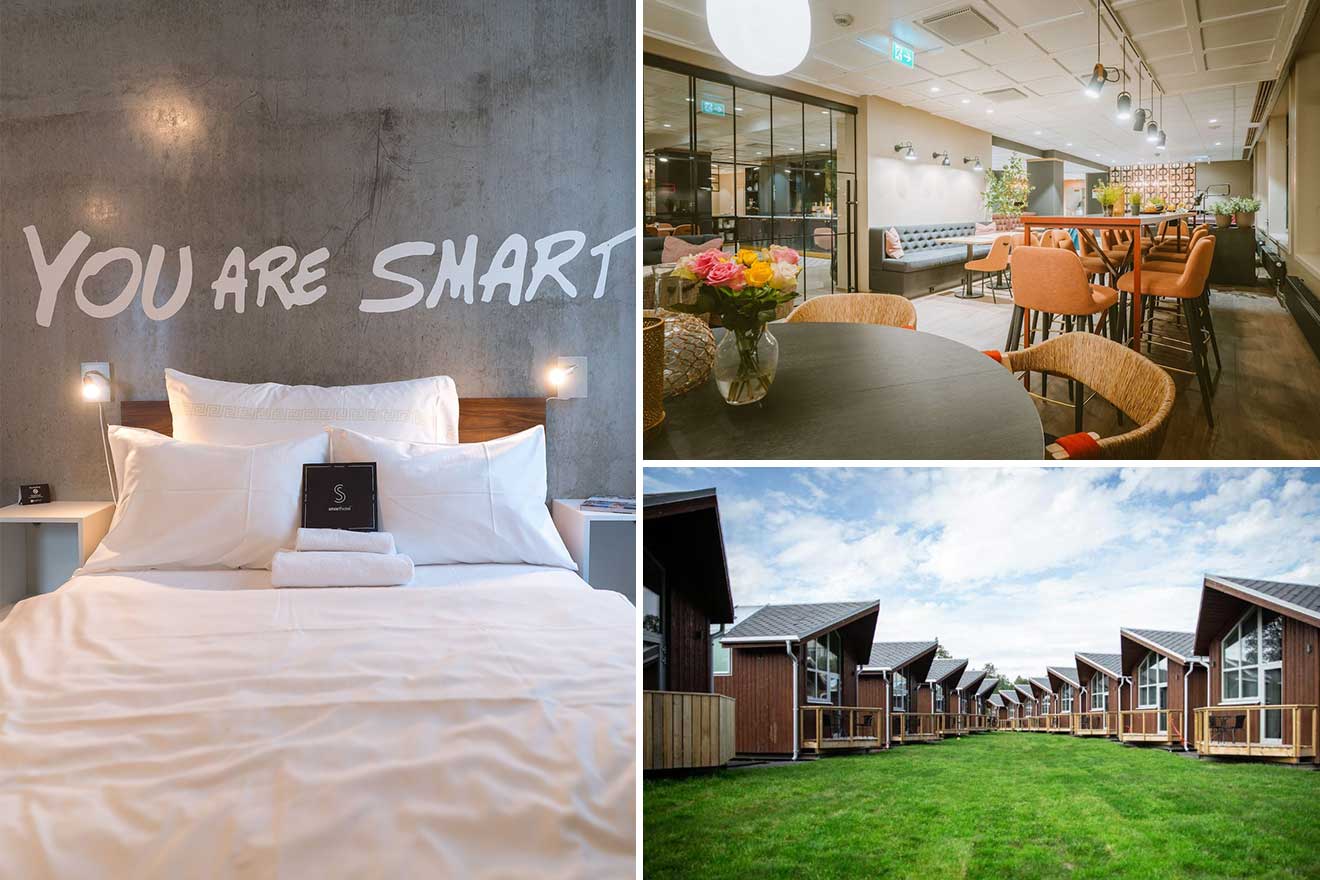 Tromsø Lodge & Camping – A great place for a getaway in Tromsø for people who enjoy spending as much time as possible out in nature! This accommodation offers lodging and camping facilities! Their cabins and shared or private bathrooms, along with a seating area and a TV. Here you'll also find a football field, a sauna where you can relax, barbecue facilities and a bar.
Scandic Grand Tromsø – Looking for an affordable hotel in the city center? I know, they're rare! But this one looks really cool, and it has these super comfy rooms with a TV that boast city views. Guests will also get a free breakfast buffet and even a nightclub! So, if you can't say no to a good party while traveling, definitely book your room here!
Smarthotel Tromsø – Want to see as much of the city as possible? Then check out this hotel which offers free bikes to all guests that will allow you to explore as much of Tromsø as possible. Offering double rooms and single rooms, this affordable accommodation has a bar, a coffee shop, and a restaurant that serves a daily breakfast buffet!
Check the Rates for Your Dates
BONUS: Best hotels to see the Northern Lights
Tromsø is popular for many reasons, but one of the main ones is that you can see the dreamy Northern Light from certain parts of the region, usually outside the city center, as the urban pollution makes it hard to see them.
That's why I thought I'd make a bonus section with some other hotels in Tromsø from where you can see the Northern Lights. The hotels are ordered from most to least expensive, and the prices start from €140 to €360: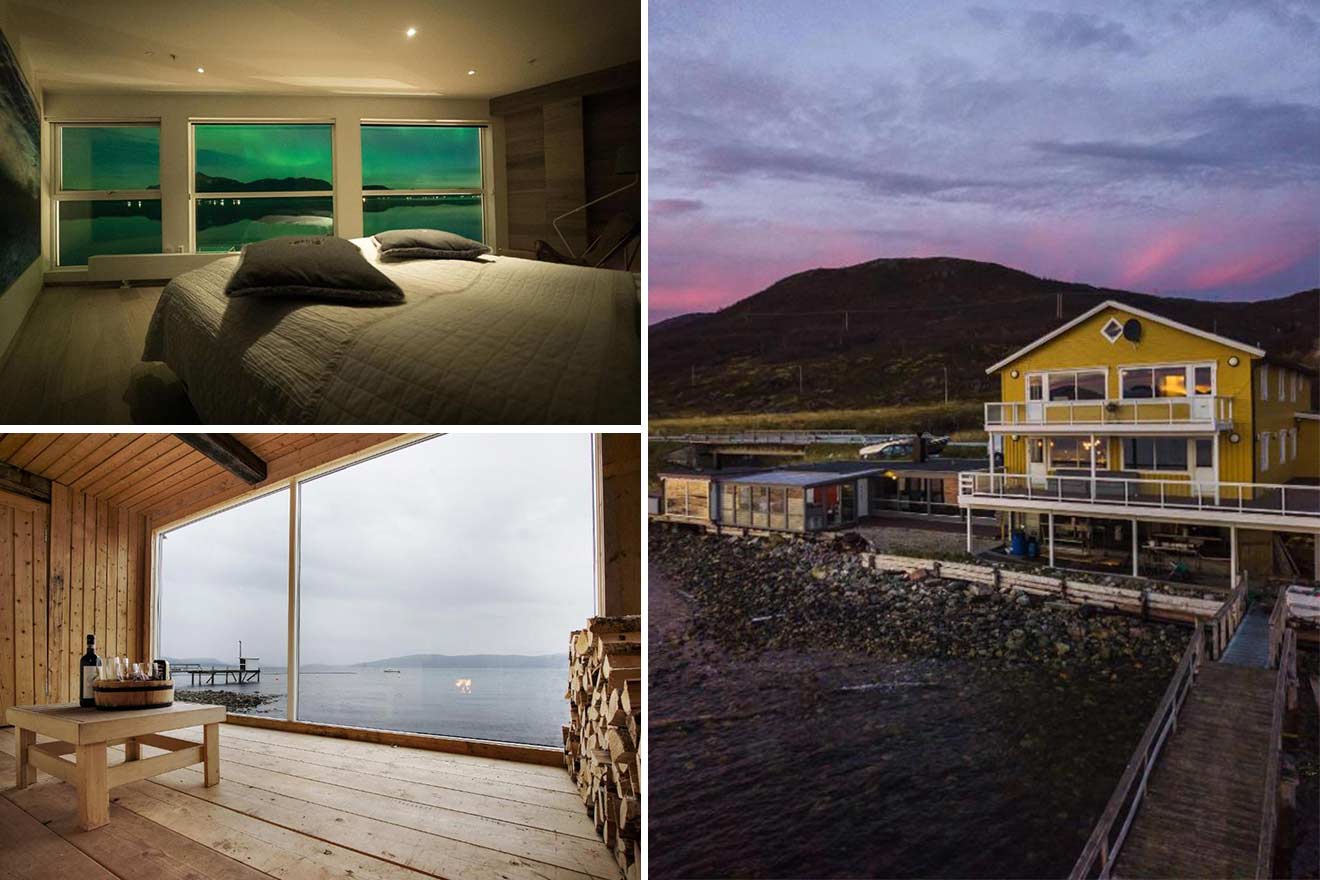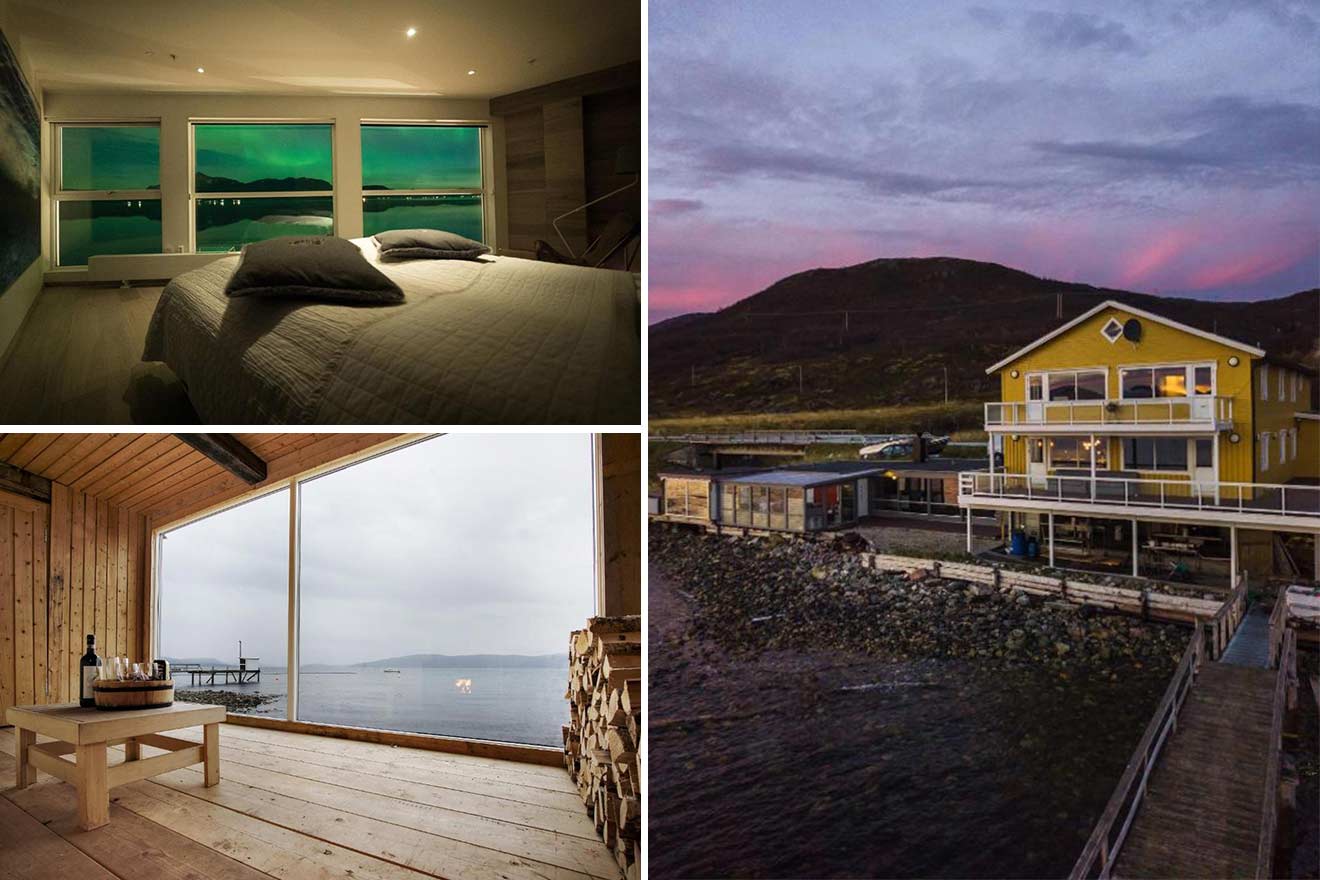 Tromsø Ice Domes – Ever wanted to stay in an ice dome? Then check out this hotel, where you'll feel as if you've landed in a movie! The rooms have the usual bed with a mattress, but definitely make sure you bring warm clothes while here! You'll also get lots of things to do here, from seeing the Northern Lights to going on dog-sledding tours!
Buvik Sea Lodge – Set in an idyllic location, this modern hotel offers incredible waterfront views, a spa tub, and a sauna where you can end a full day of activities and see the Northern Lights! Each apartment has a small kitchen and a balcony.
Malangen Resort – Admire the Northern Lights from your comfortable room at this hotel, an outdoor hot tub, and a sauna! They offer different accommodation options, from rooms to cottages, an airport shuttle, and a restaurant.
FAQs about Tromsø hotels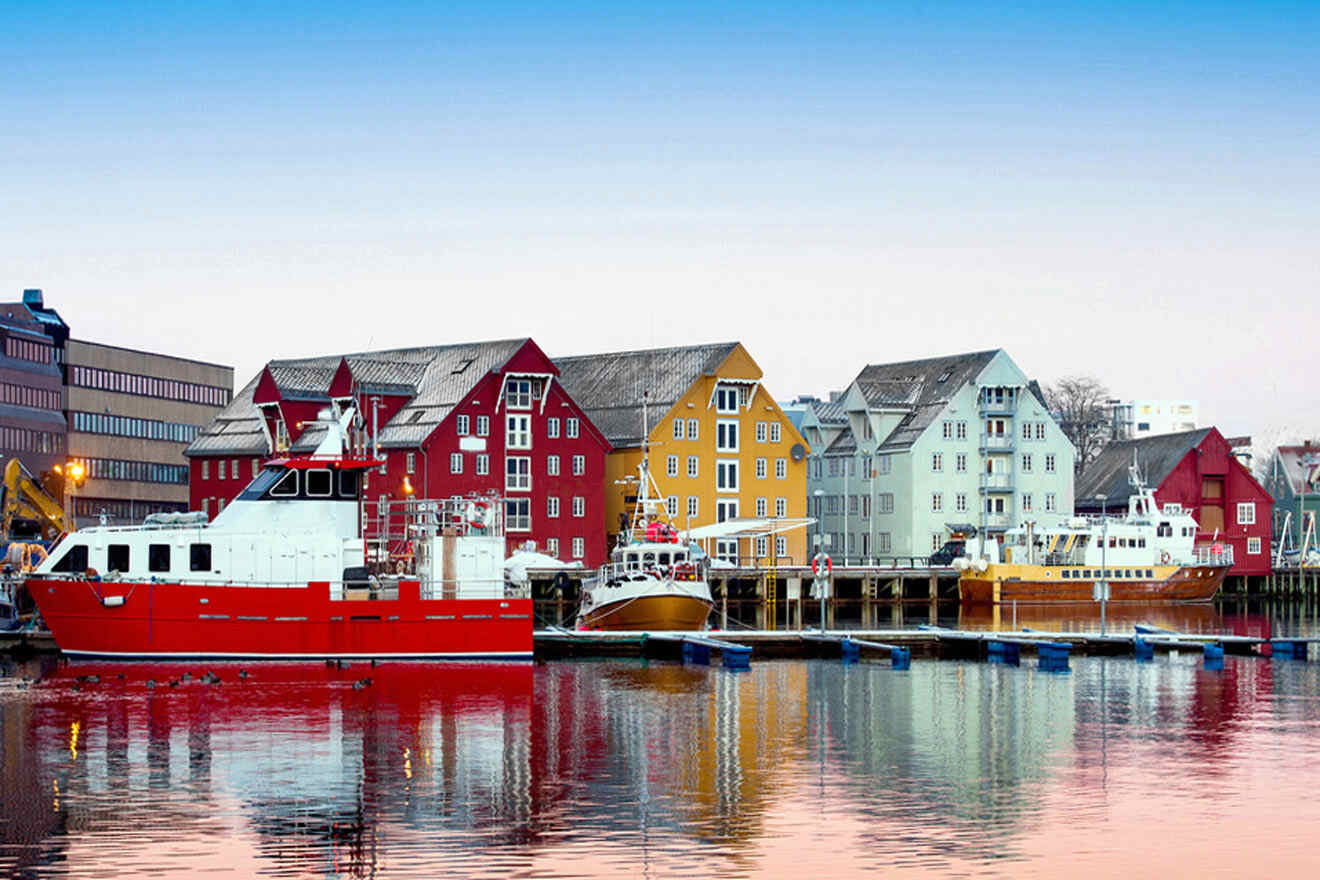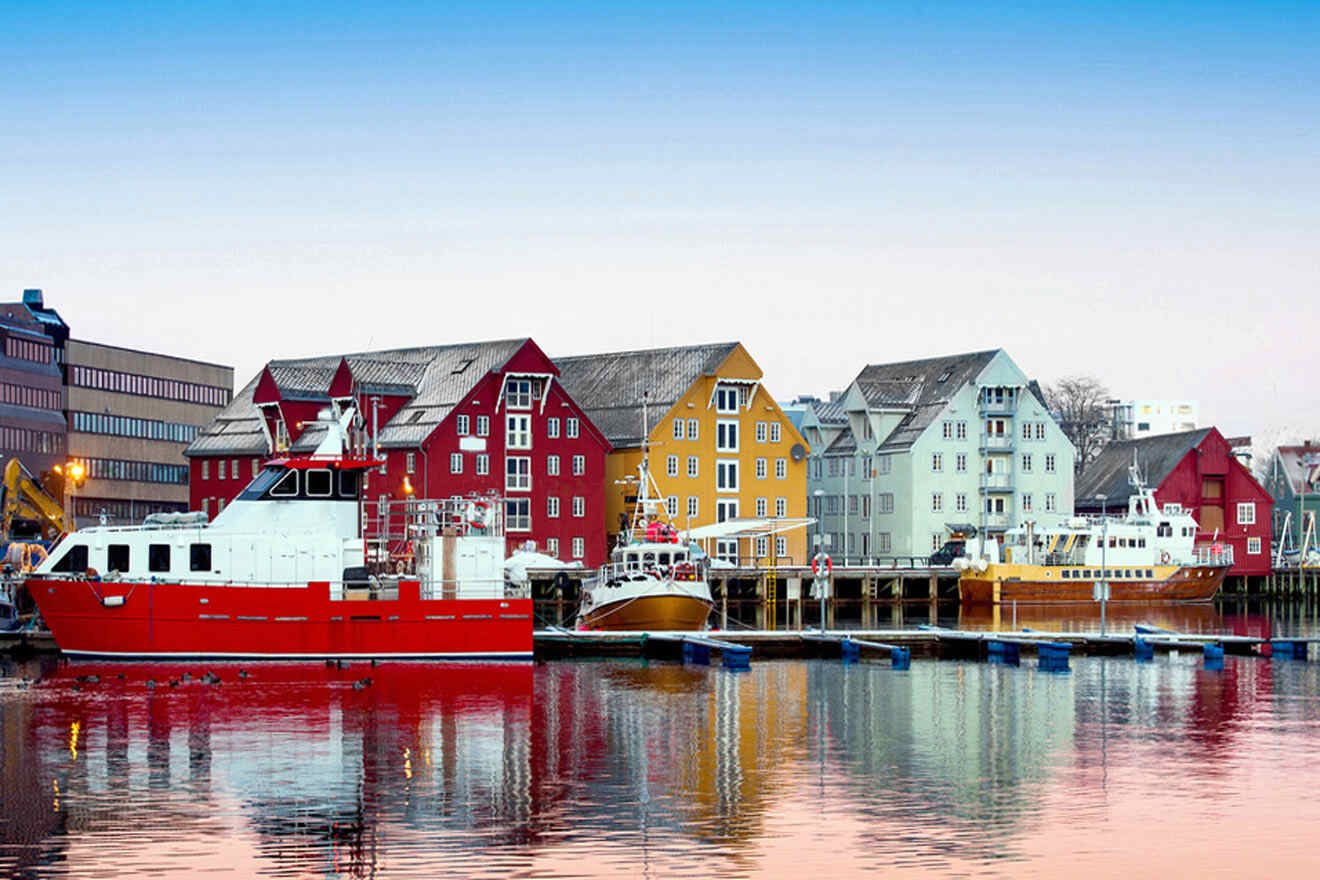 📅 How many days do you need in Tromsø?
You could spend around 4 to 5 in Tromsø as that way you'll have enough time to visit all the attractions like the Arctic Cathedral, the cable car and also go on some tours.
💰 How expensive is Tromsø, Norway?
Tromsø is fairly affordable! You can expect to pay around €180 for a luxury hotel, €160 for a mid-range one, and €100 for a budget place. But bear in mind that during the Northern Lights season, hotel prices increase by €100.
🏨 Which are the best hotels in Tromsø, Norway?
💚 When to visit Tromsø to see the Northern Lights?
You can visit Tromsø between September to April if you want to see the famous Northern Lights.
Conclusion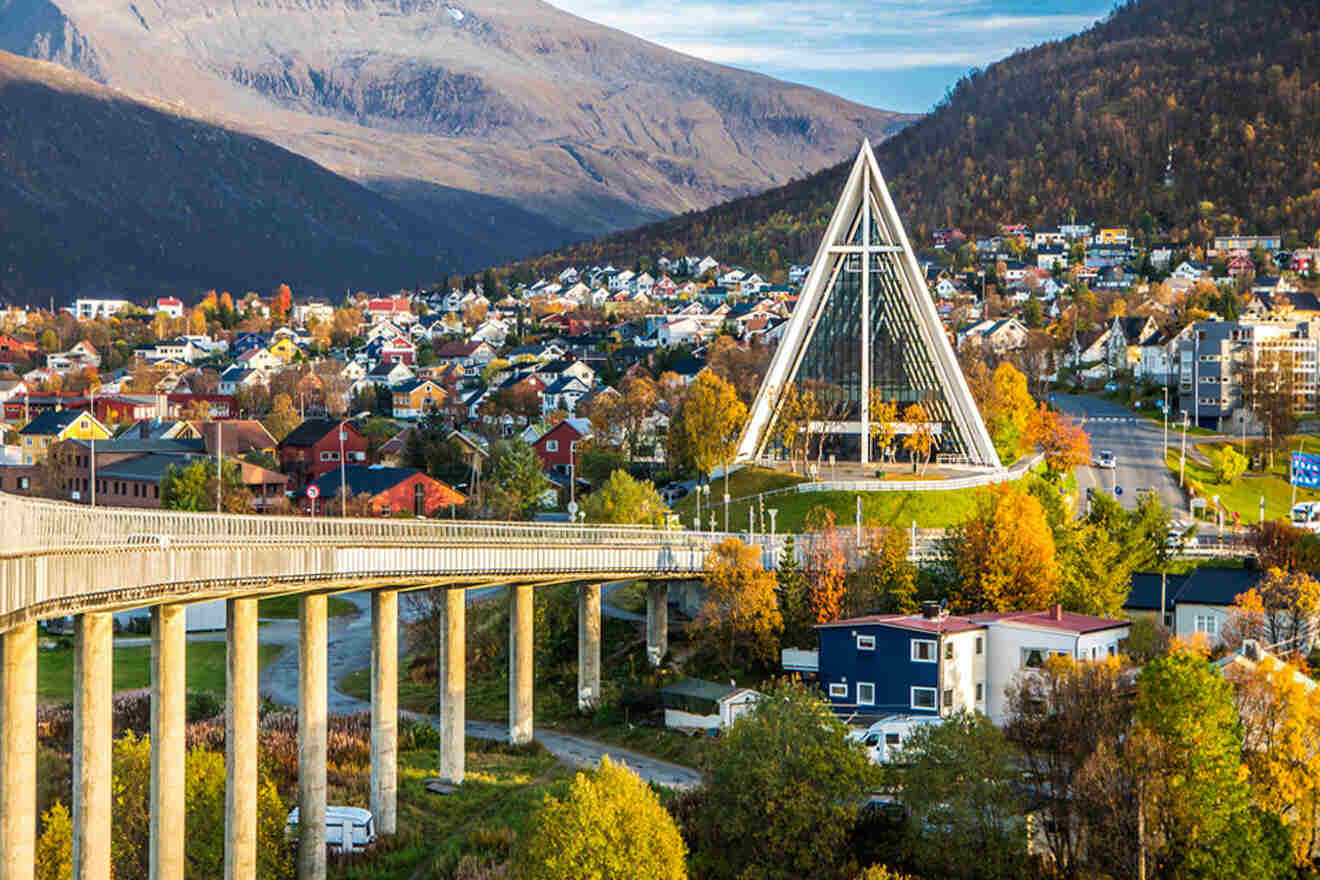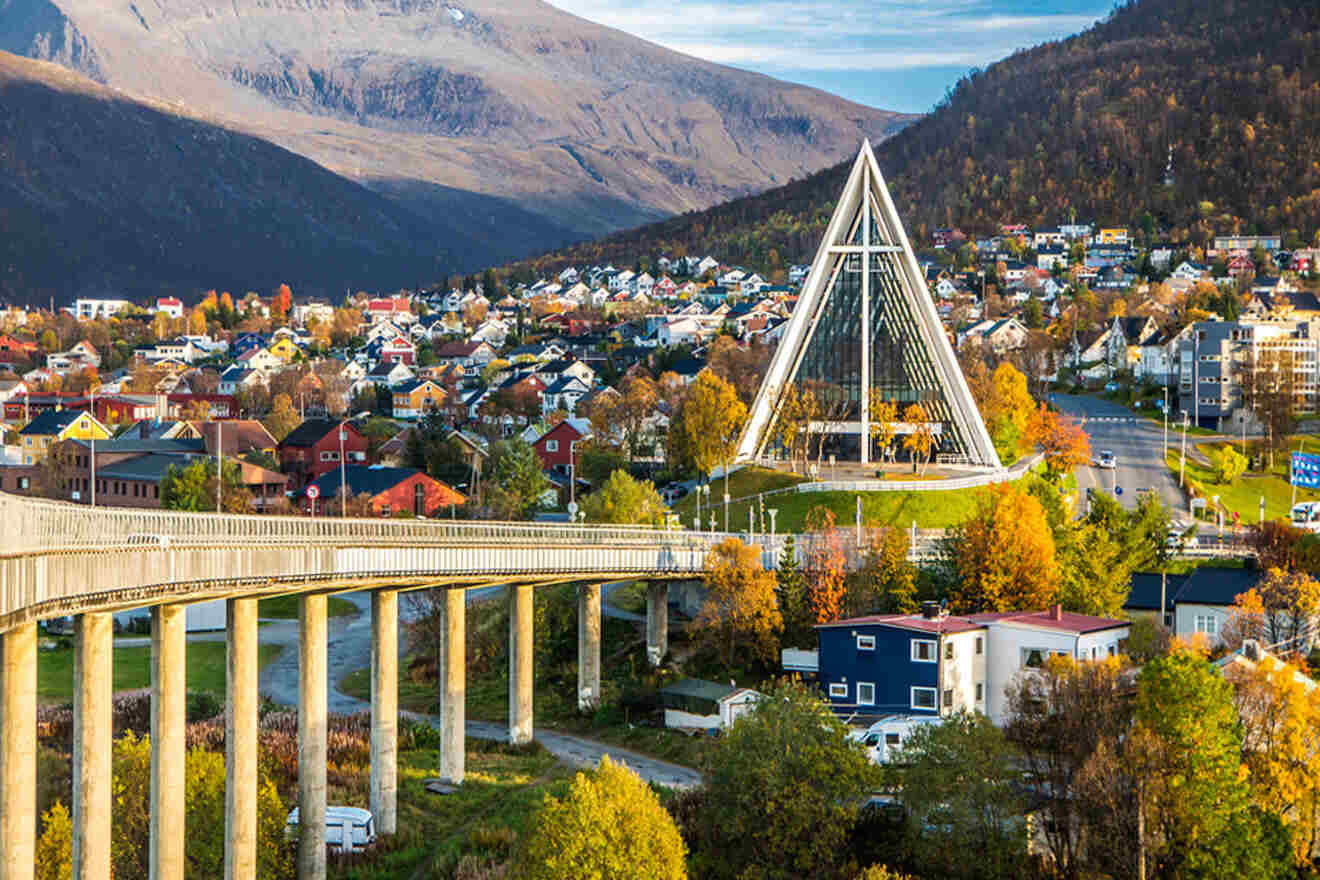 What a gorgeous location!
Now that you've read this post that has the best Tromsø hotels and the top accommodations in the region where you can see the Northern Lights, I think you're ready to embark on this adventure!
But before we part ways and you start packing, I wanted to leave you with my 2 favorite hotels in Tromsø, which looks pretty amazing and have the best price:
TA Storgata City Apartments – A modern hotel set in the city center area that has spacious family rooms with stylish furnishings and a balcony.
Thon Hotel Polar – This hotel offers a yummy breakfast prepared with organic ingredients and a fitness center.
Remember what I said earlier about booking your hotels in Tromsø early? This town can get super crowded, especially during the Northern Lights season!
On that note, enjoy your holiday, and if you want to share with our community how it all went for you, drop me a comment below, and I'll answer ASAP!
Safe travels,
Victoria
---
Pin it for later!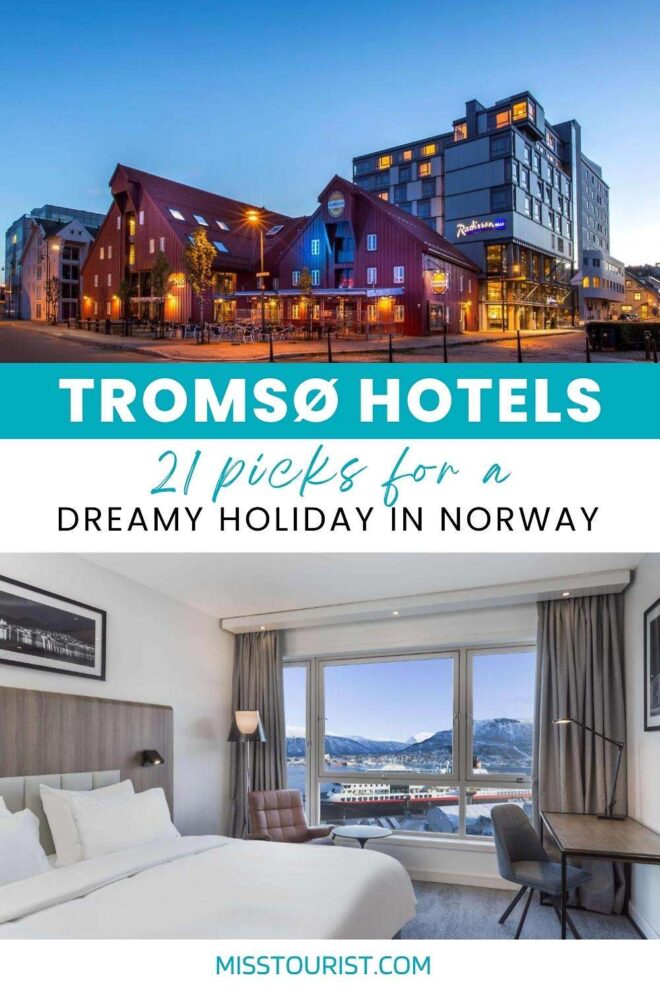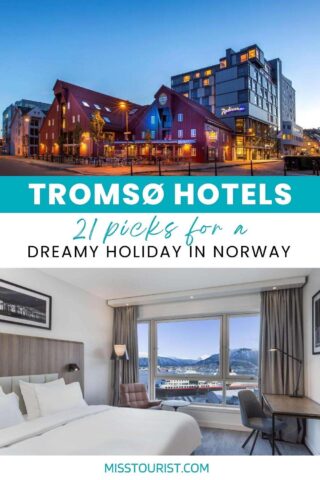 Pin it for later!