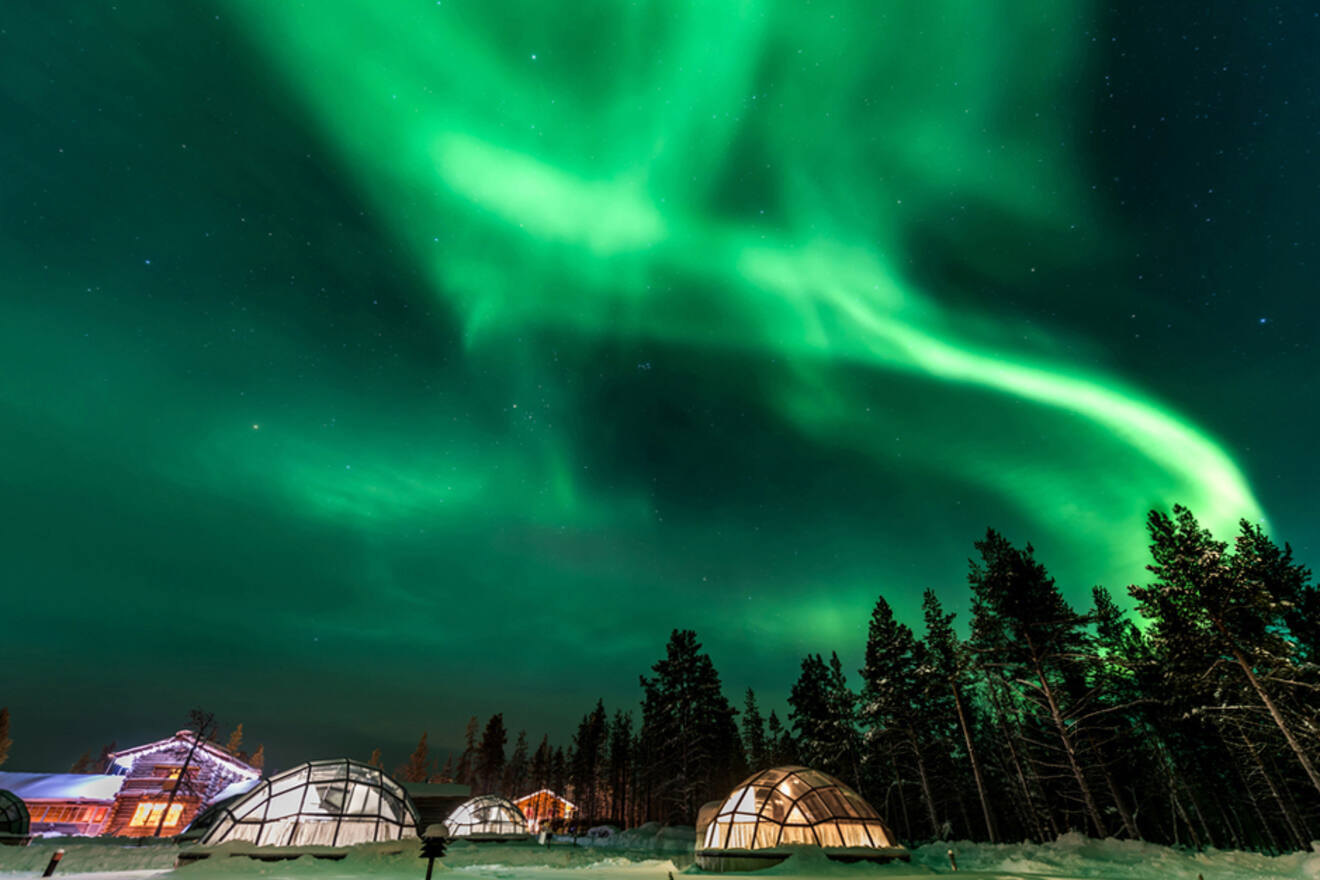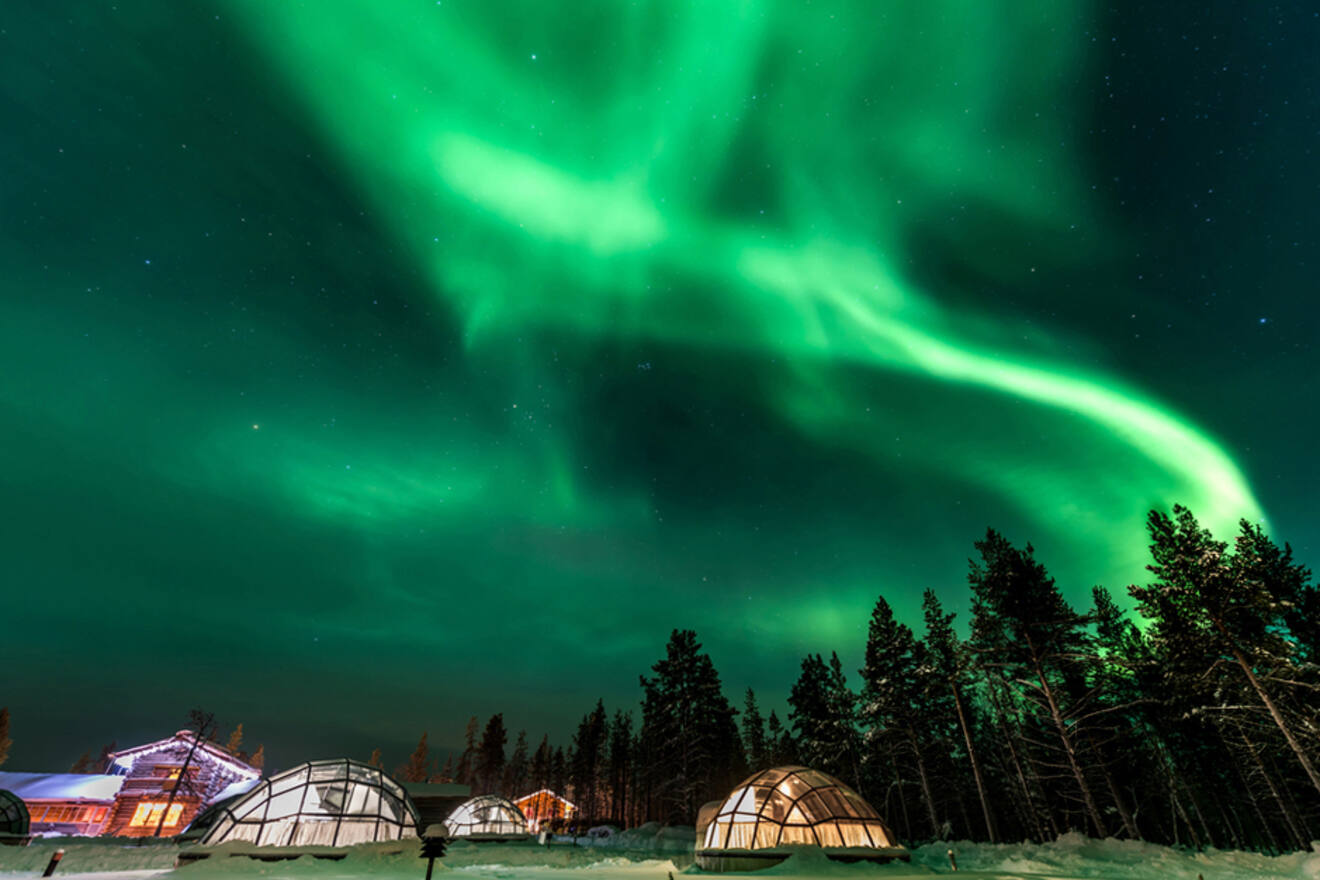 Welcome to the most magical lands of mesmerizing Northern Lights and mystical forests! Today we're going to discover some pretty unique places to stay in Finland!
This post has the best igloo hotels in Finland! I've made it my top priority to search the whole web for the most incredible glass igloos, which have amazing reviews! And I didn't stop there. I've also added 2 bonus sections, one with some unique hotels in Finland and the other one has the top luxurious accommodations in Finland.
There's a lot of content waiting for you, but honestly, since there were so many incredible options, I wanted my readers to have them all!
Just make sure, though, that you book your favorite glass igloos in Finland in advance. These accommodations are super popular, and most tourists who visit Finland want to stay in a place like that!
Are you ready to jump on a sled drawn by reindeer?
Then let's go!
If you are in a hurry
Although I highly recommend checking all these fabulous glass igloos in Finland, if you don't have the time, then I've come prepared with a short list of the top ones:
Since we're talking about the best glass igloos in Finland, I've decided to make a map for you so you can easily find all the locations
1. Arctic Land Adventure Glass Igloos – for nature lovers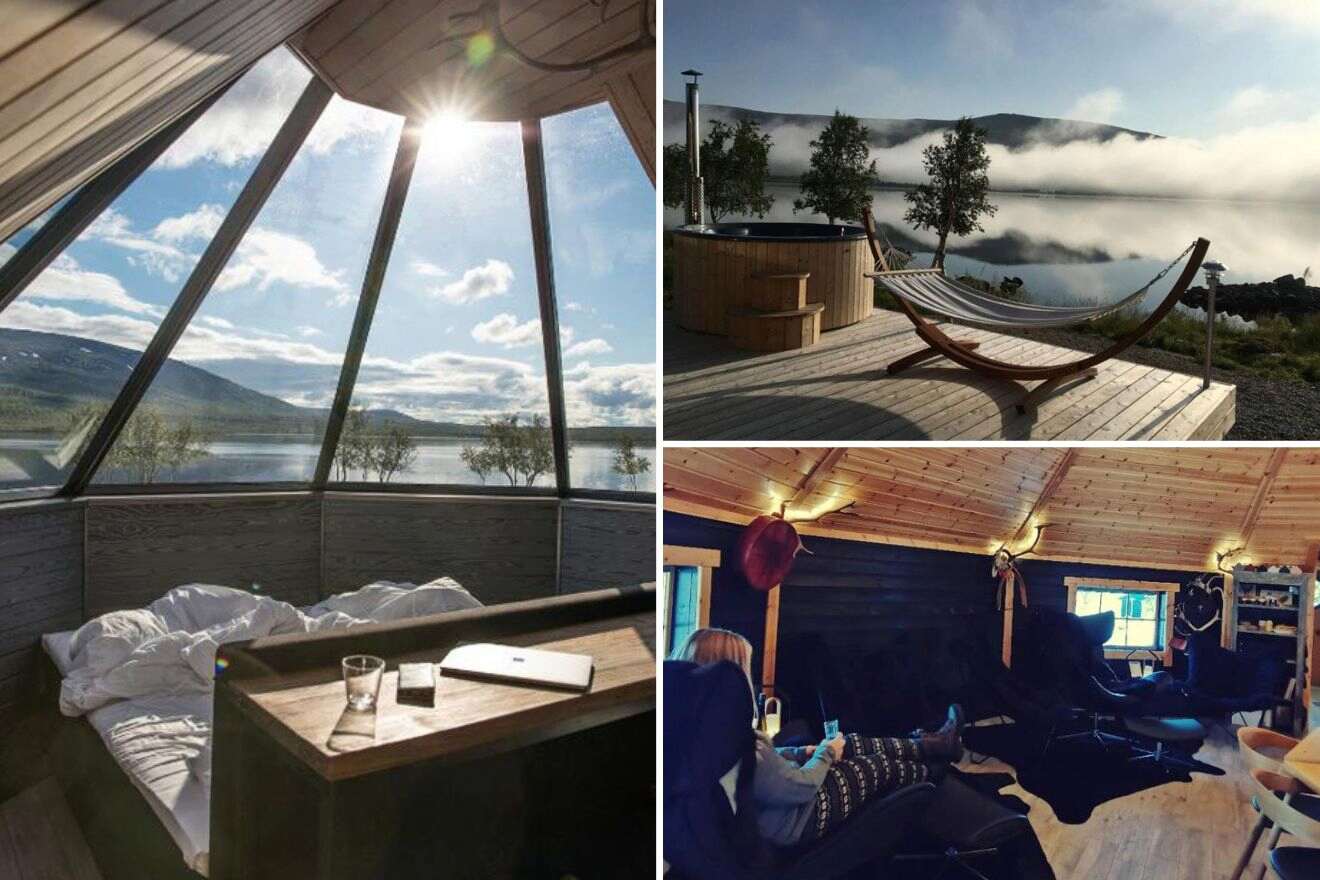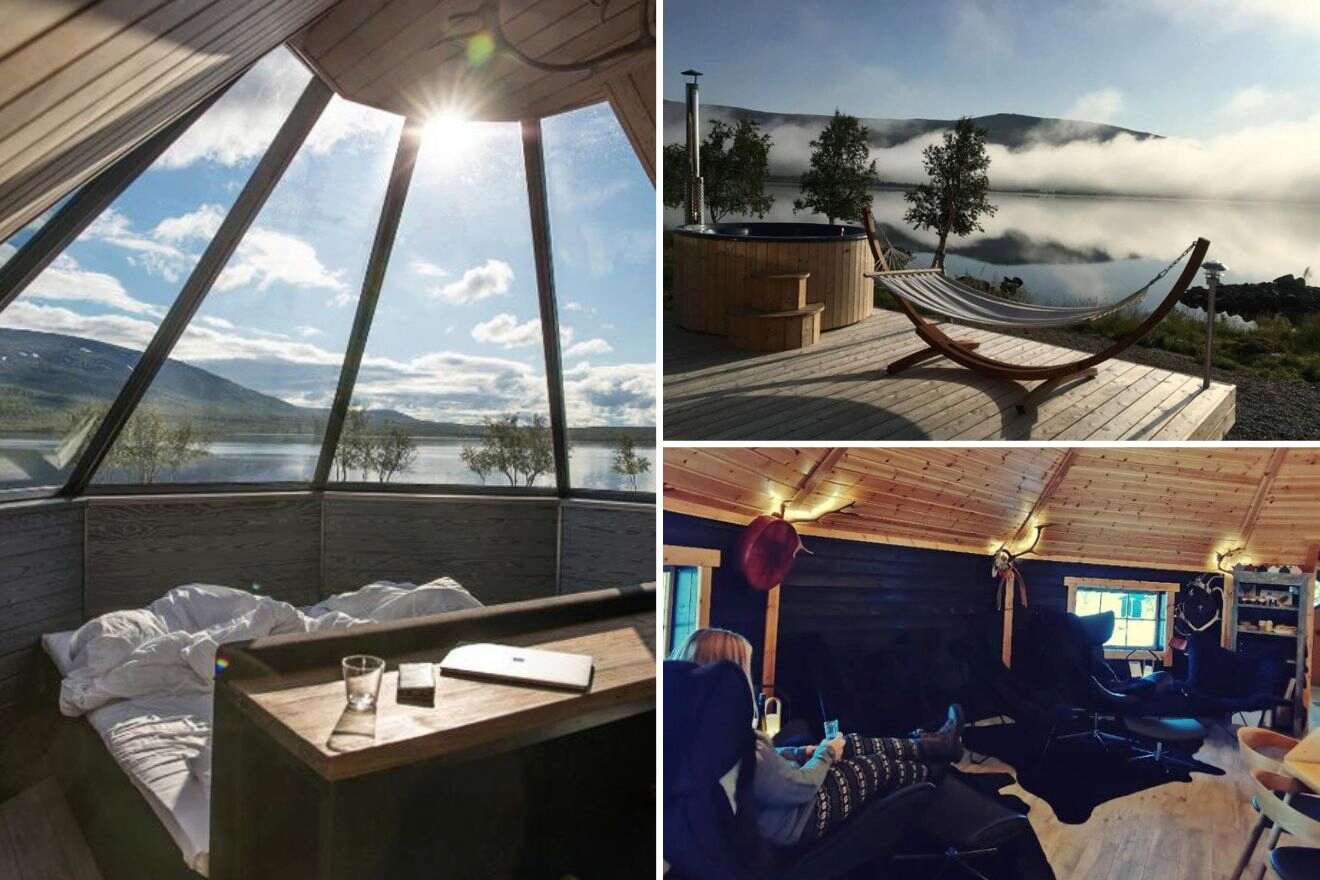 Located beside the Vasara Reindeer Ranch, next to the Kilpisjärvi wilderness area, this incredible glass igloo will become your favorite hotel ever! It's also equipped with everything you need for your stay, from free Wi-Fi to a flat-screen TV and a private bathroom!
Wake up every day to a stunning view from your glass igloo, and get ready for some incredible adventures like snowmobiling, skiing, snowshoeing, and ice fishing! And make sure that at the end of the day, you go see the Northern Lights, which make an appearance sometimes in this area! Or head straight to the sauna if you've had enough of the cold!
2. Aurora Village Ivalo – a room view of the Northern Lights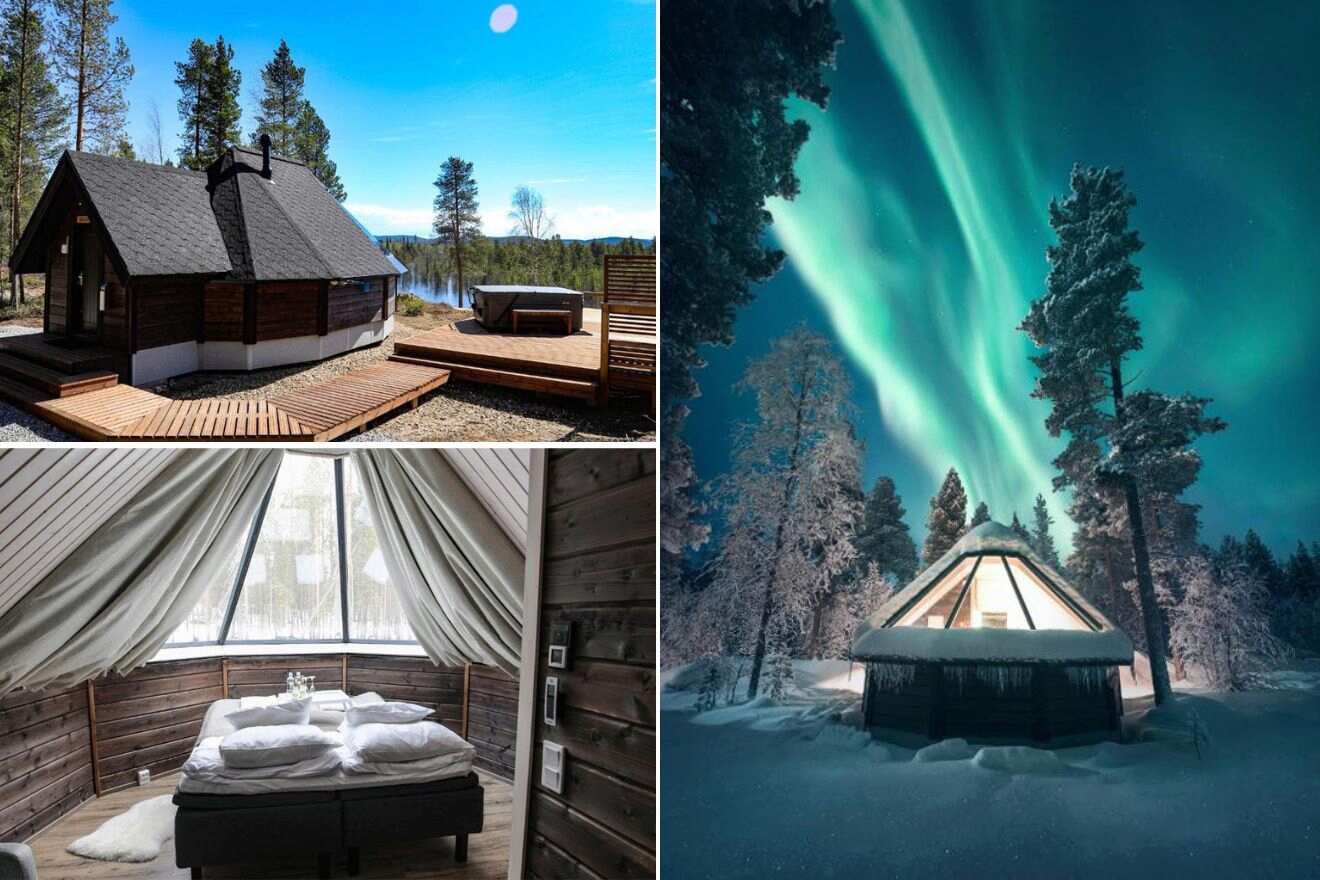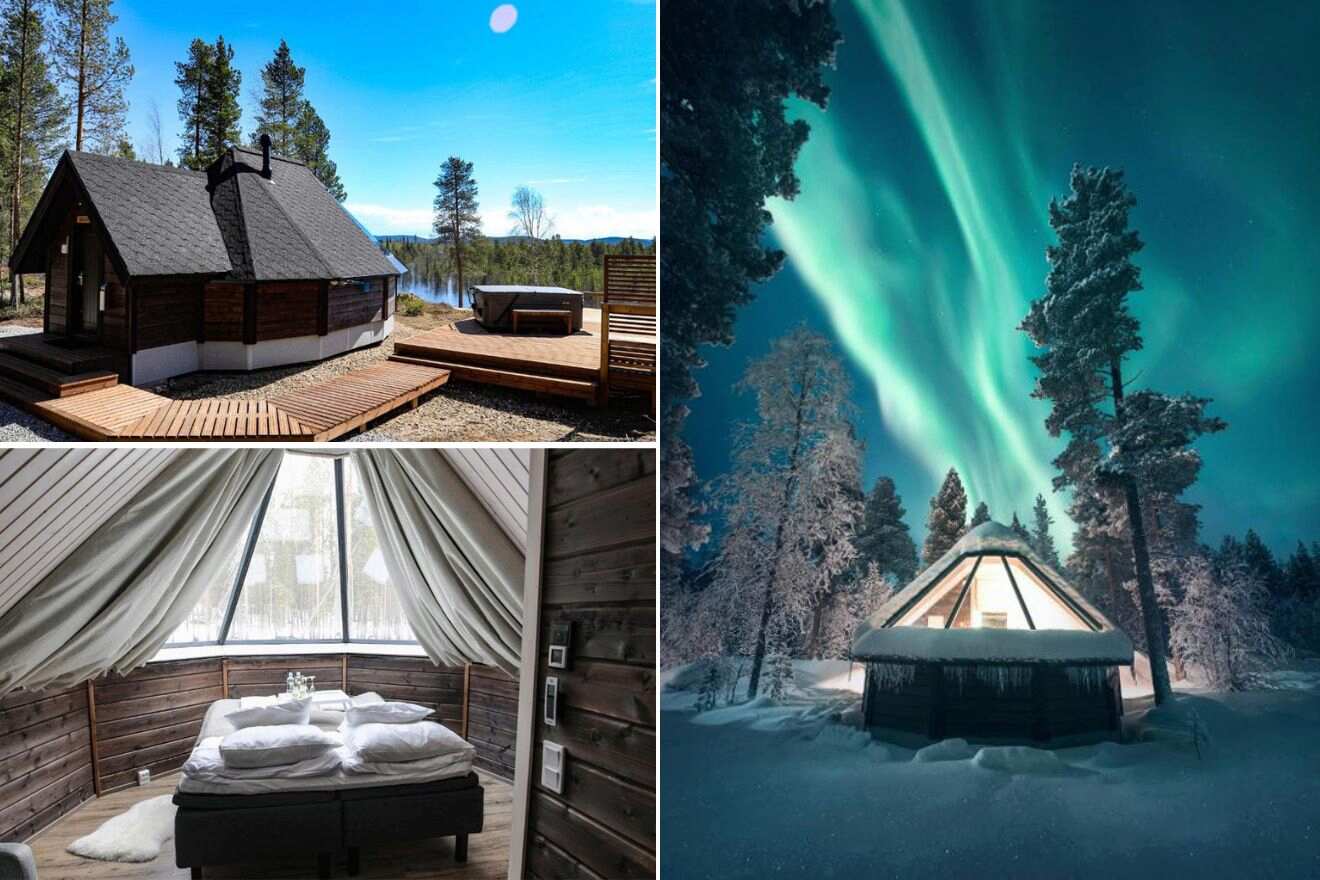 What a scenic location! Nestled between the forest of Ivalo, these stunning glass igloos come with a seating area and a coffee maker. Admire the night sky or the early morning sky through your glass ceiling from your comfortable bed and a cup of freshly made coffee in your hand!
Sometimes you can even spot the Northern Lights without having to leave your glass igloo or even your bed! What a treat! This Finland igloo hotel also has a restaurant on-site and offers breakfast each morning. Make sure you nourish yourself with food because there are lots of things to do, from skiing to going on Northern Lights tours!
3. Northern Lights Ranch – for a relaxed trip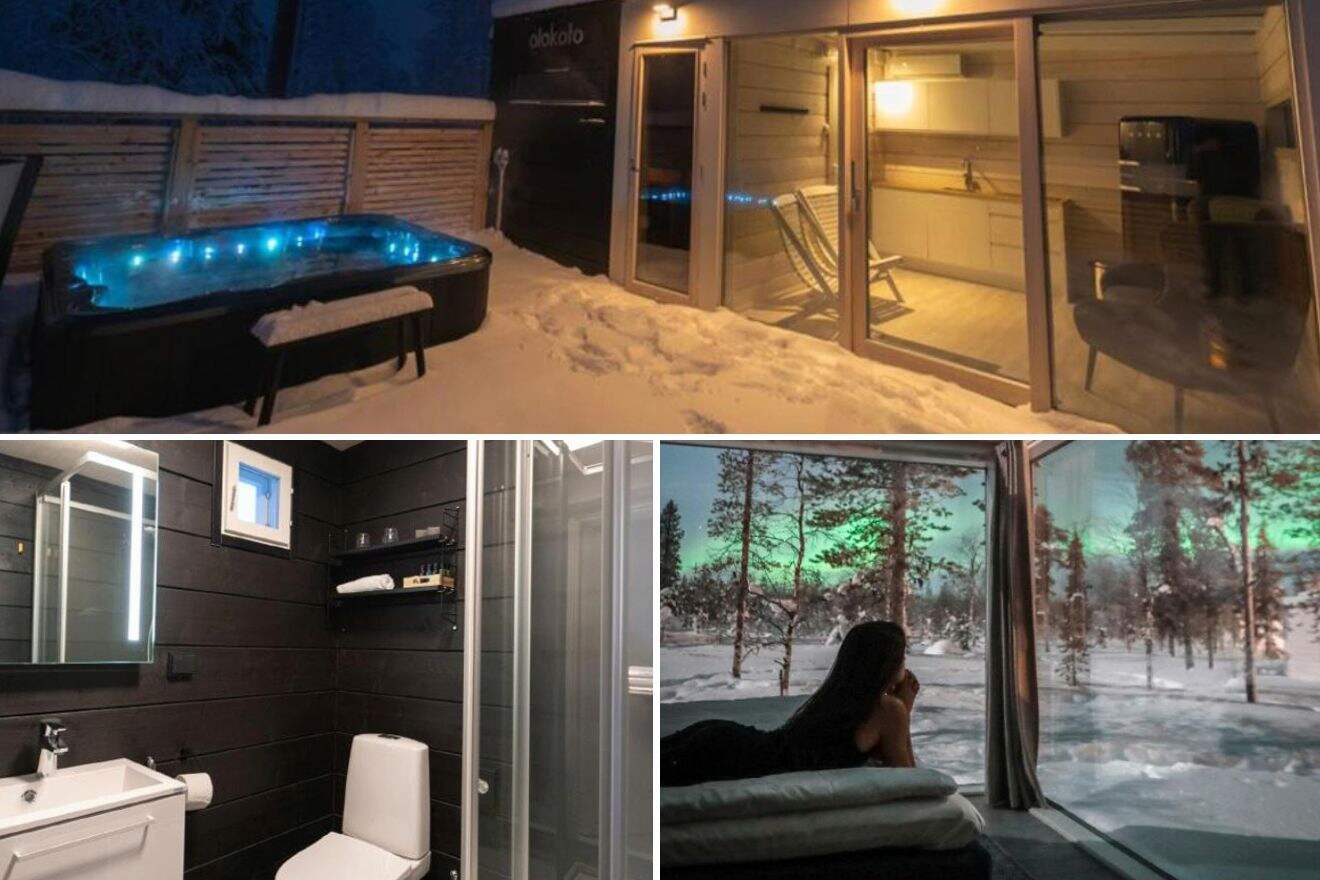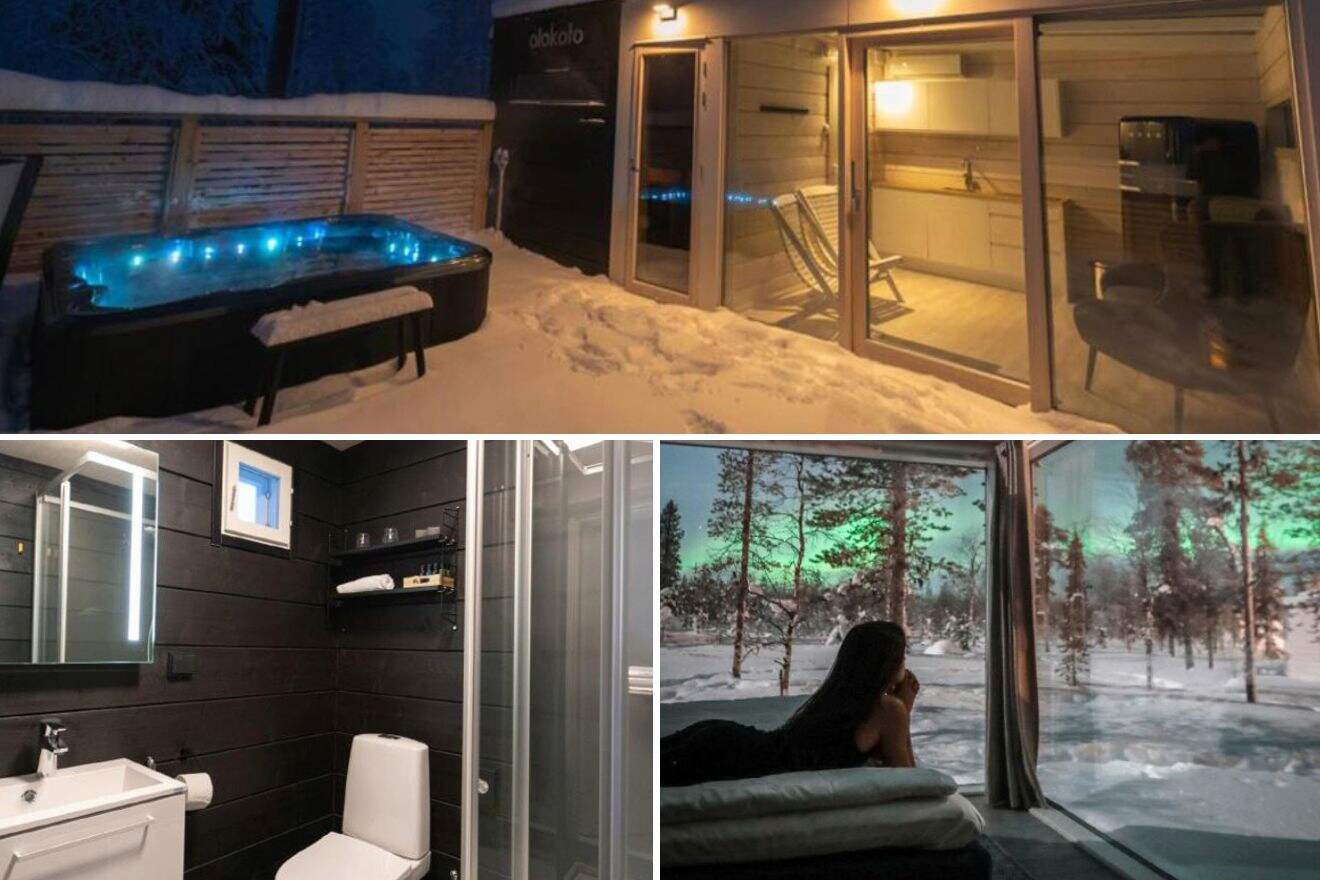 Featuring cabins with large windows and a heated glass roof, this hotel is set in a beautiful location in Köngäs! Spend your nights admiring the breathtaking Northern Lights from your glass igloo, which has a patio with garden views and free Wi-Fi.
When you're not out and about trying all the fun activities like snowmobiling, cross-country skiing, or downhill skiing, you can relax at the sauna on-site. And finish your night with a yummy dinner at the restaurant. I'd recommend booking your Arctic snow hotel early! They're super popular and will sell out fast!
4. Pyhä Igloos – a great place for ski lovers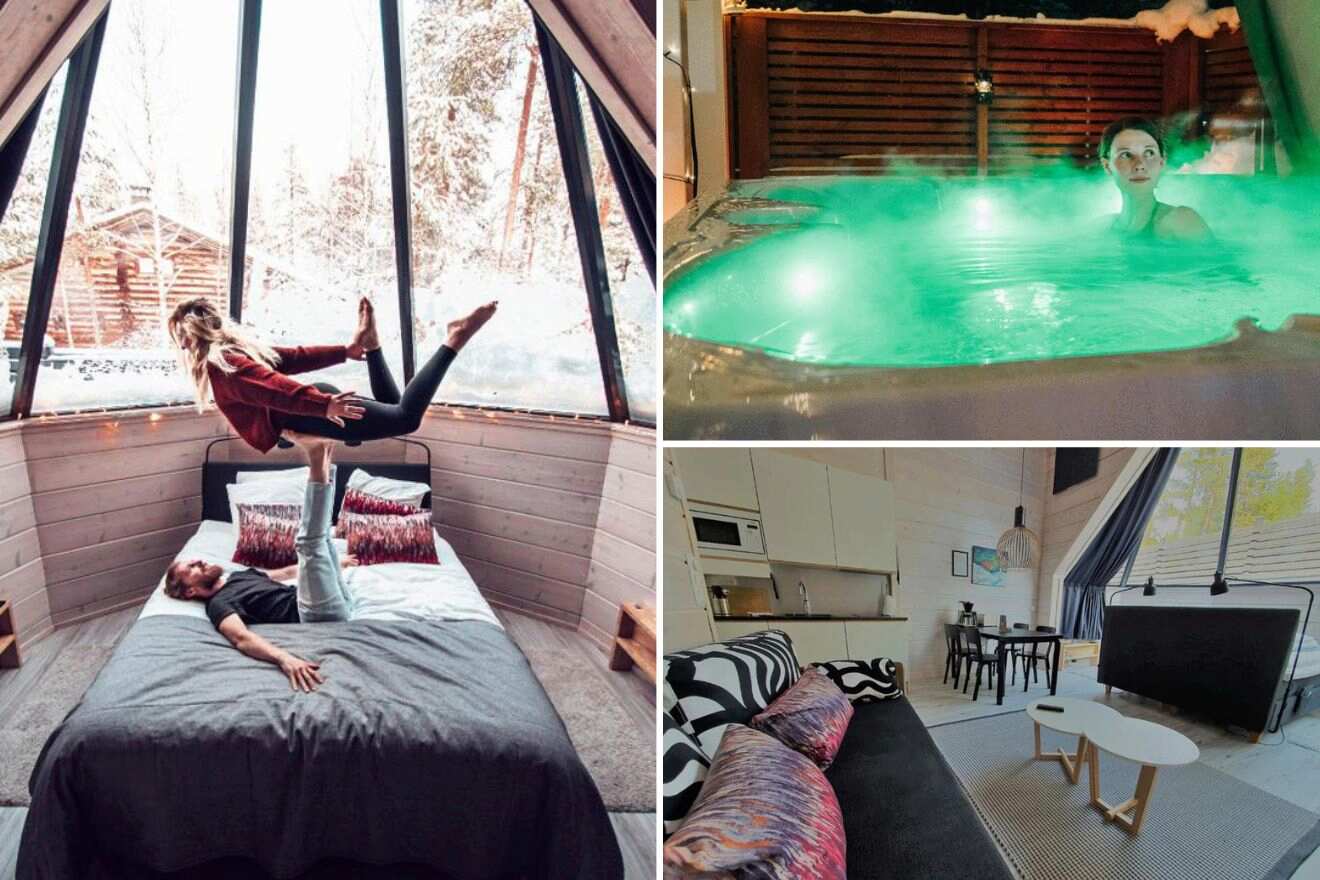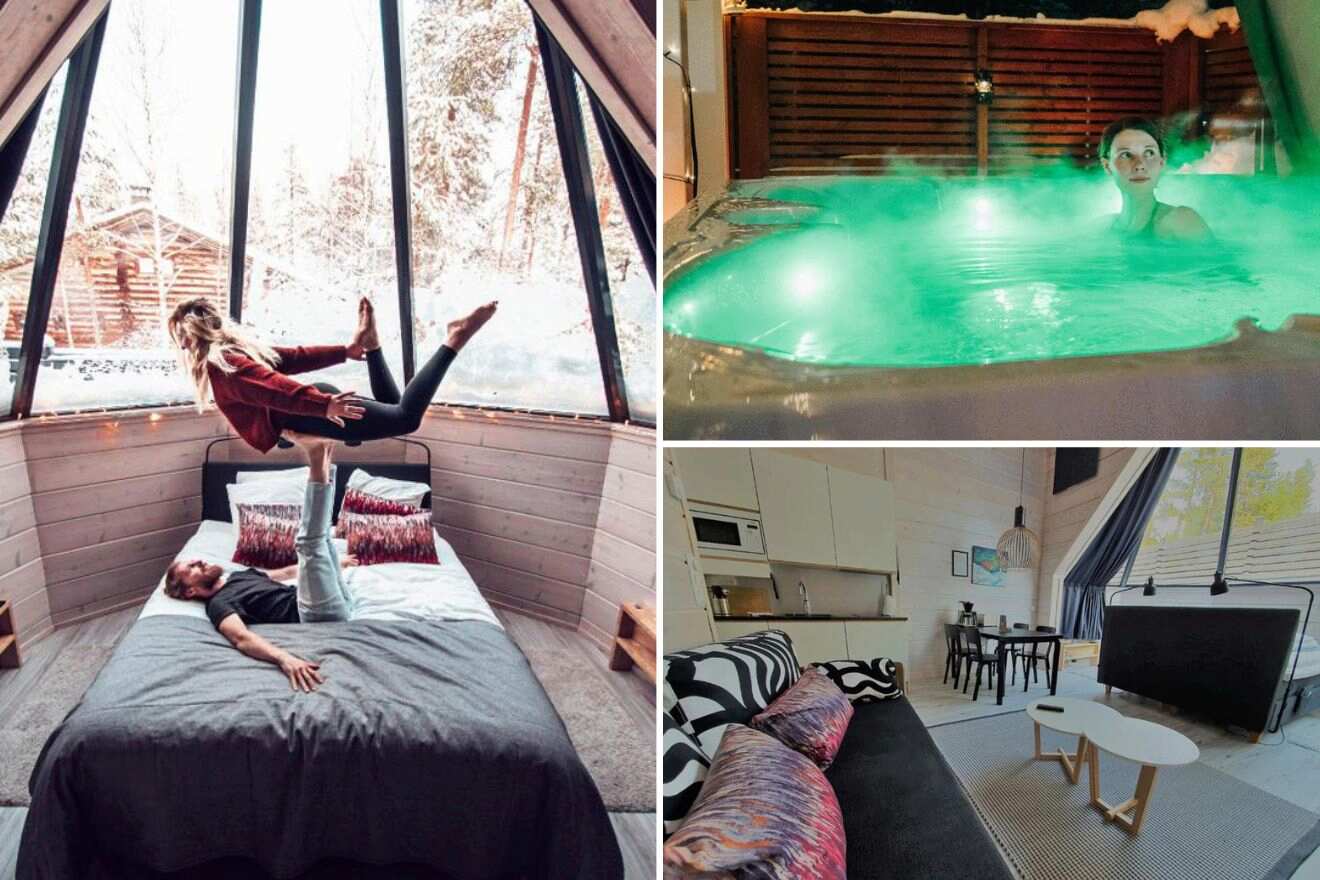 If you're planning to do some serious skiing during your holiday then check out this accommodation that's located in Pyhätunturi and offers some amazing heated igloo glass hotels! Each cabin has a flat-screen TV, a small kitchenette and of course a great view of the surroundings!
I know you'll be skiing most of the time, but definitely bear in mind that there are many other cool activities that you can try, like going ice fishing or walking and Northern Lights tours when there's no light pollution. The accommodation also offers a sauna and a hot tub, which, trust me, will feel amazing after a day spent in the great outdoors.
5. Golden Crown – glass roof igloos with a private hot tub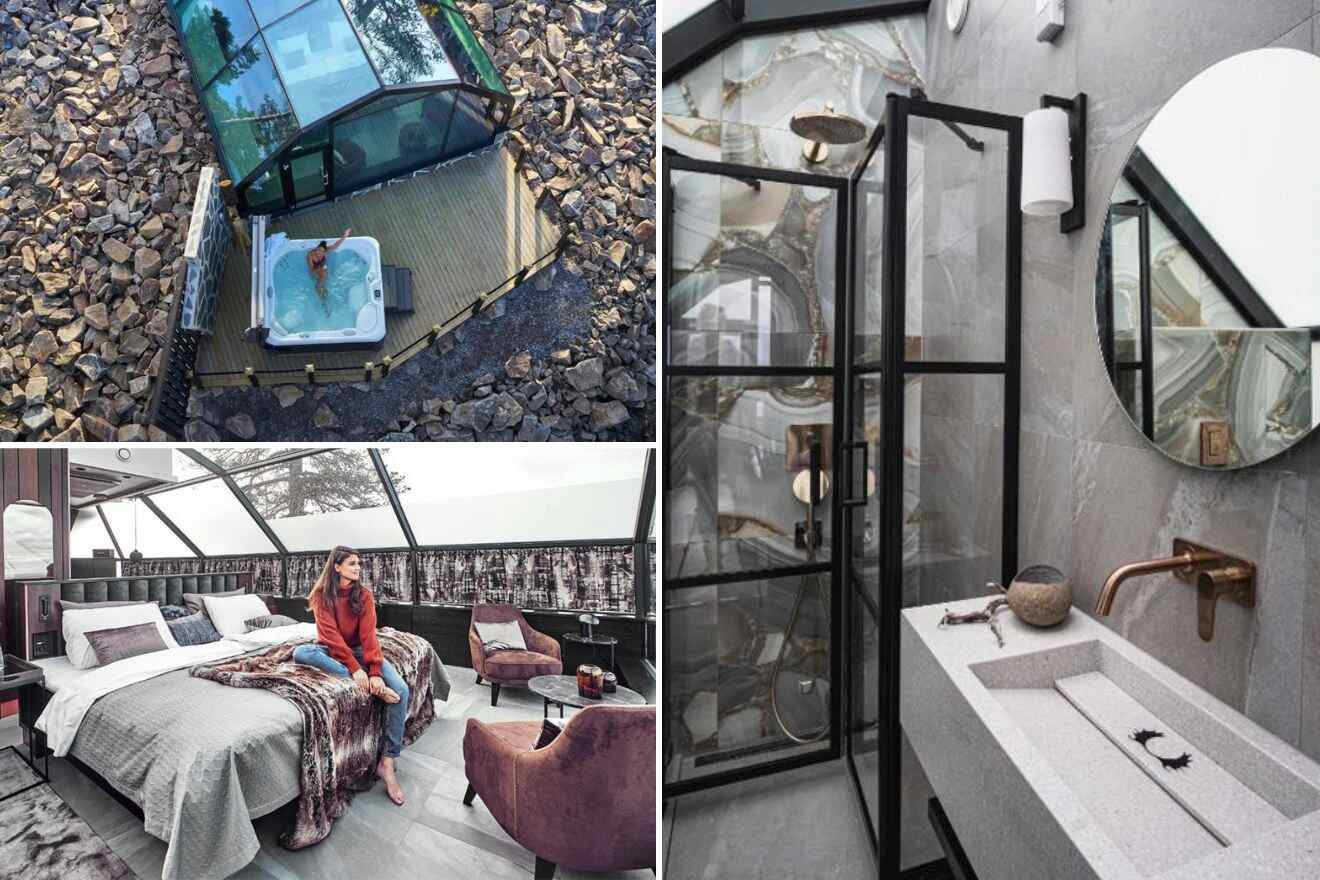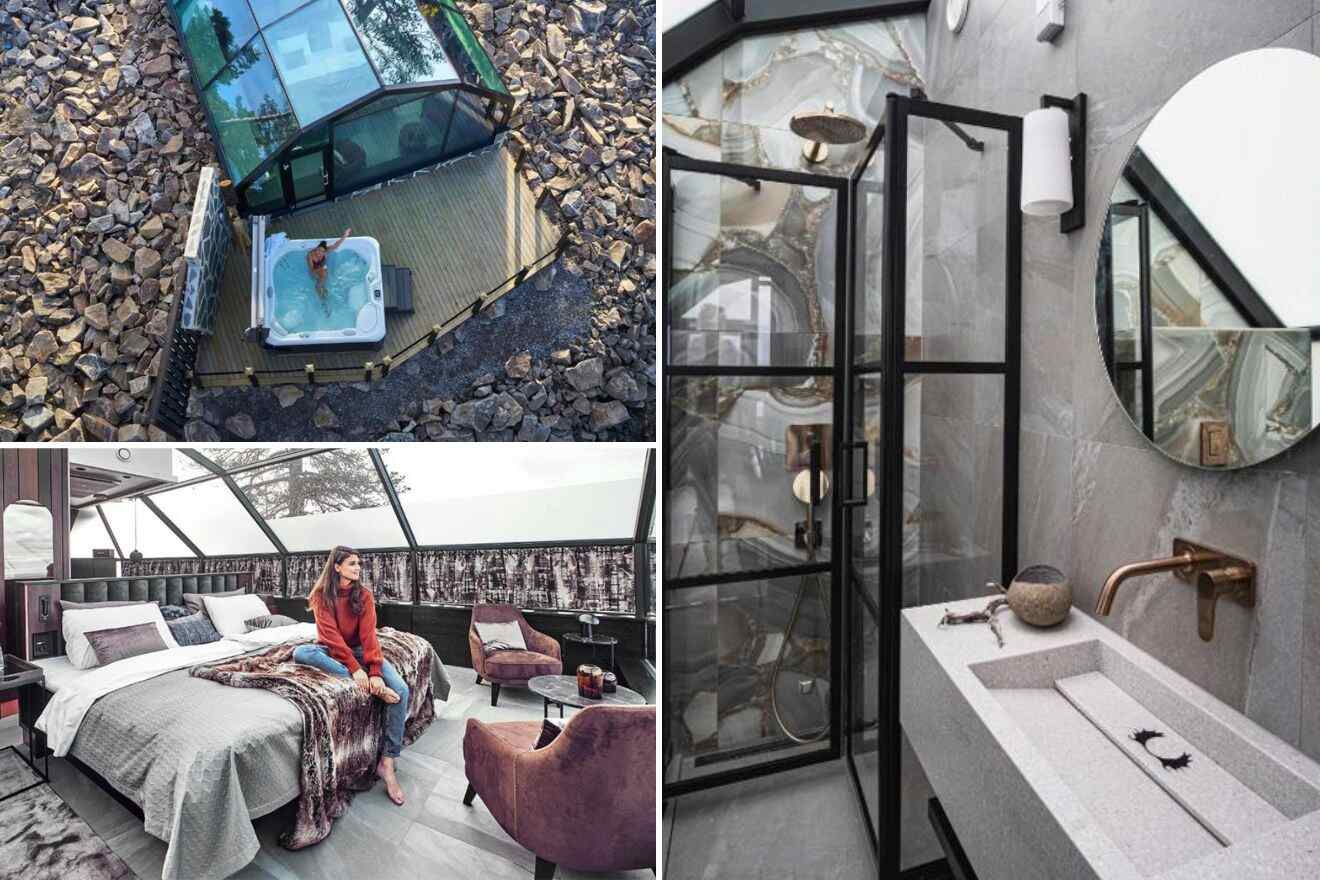 You'll never want to leave this place! Set in one of the most breathtaking locations in Finnish Lapland, these beautiful glass igloos offer a great mountain view. Spend your morning in bed looking through the glass roof, and definitely make sure to check at night for the Northern Lights, as they can be seen from there sometimes!
Some Finland glass igloos come with their own private hot tub and a terrace where you can enjoy your coffee! If you're too lazy to get out of bed, just call some room service but definitely check out their restaurant, as it has a glass roof!
6. Wilderness Hotel Inari – glass ceilings igloos with a view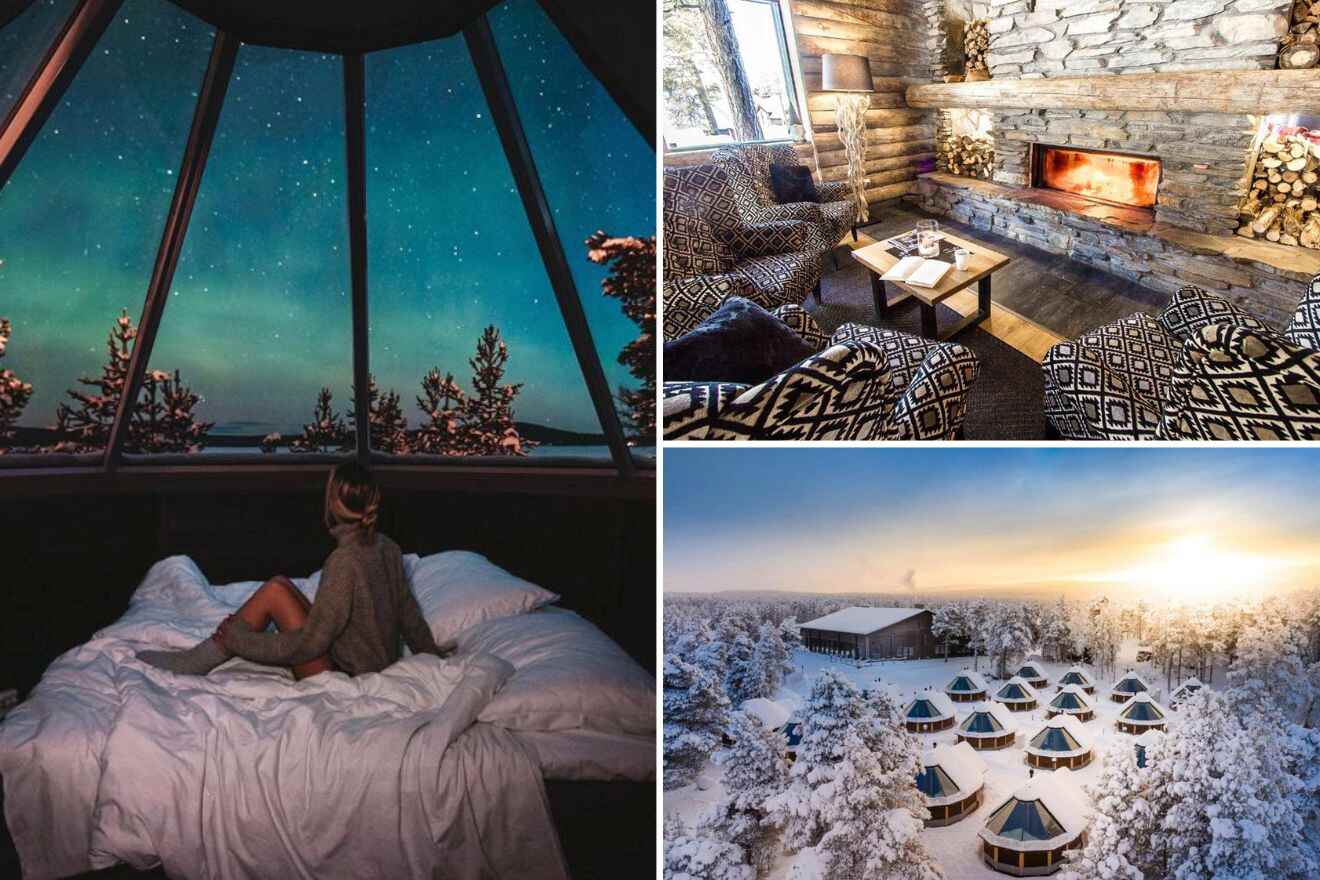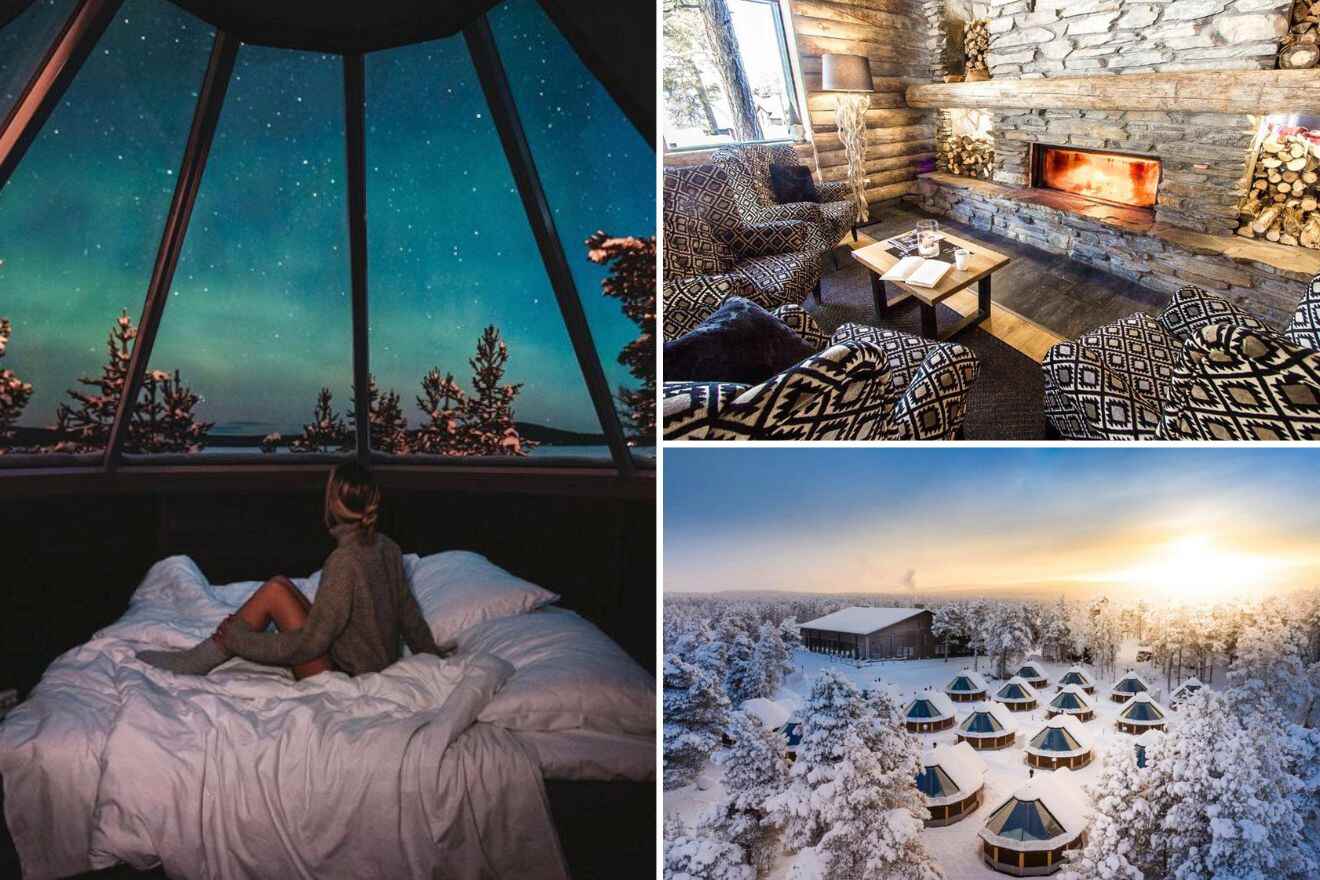 Relaxing at the sauna, spending your nights admiring the Northern Lights, and going on husky and reindeer safaris! Oh yes, this holiday in Finland will be unforgettable! And especially if you pick one of the igloos with glass ceilings at this resort which is set near the shores of Lake Inari!
Their Aurora dome cabins offer free Wi-Fi and a private bathroom, but the resort also offers some log cabins where you'll get your own private sauna! Start your morning with a yummy (free breakfast) and then head out to explore the area! At night you can gather up by the outdoor fireplace to warm up.
7. Levi Northern Lights Huts – unique resort with a sauna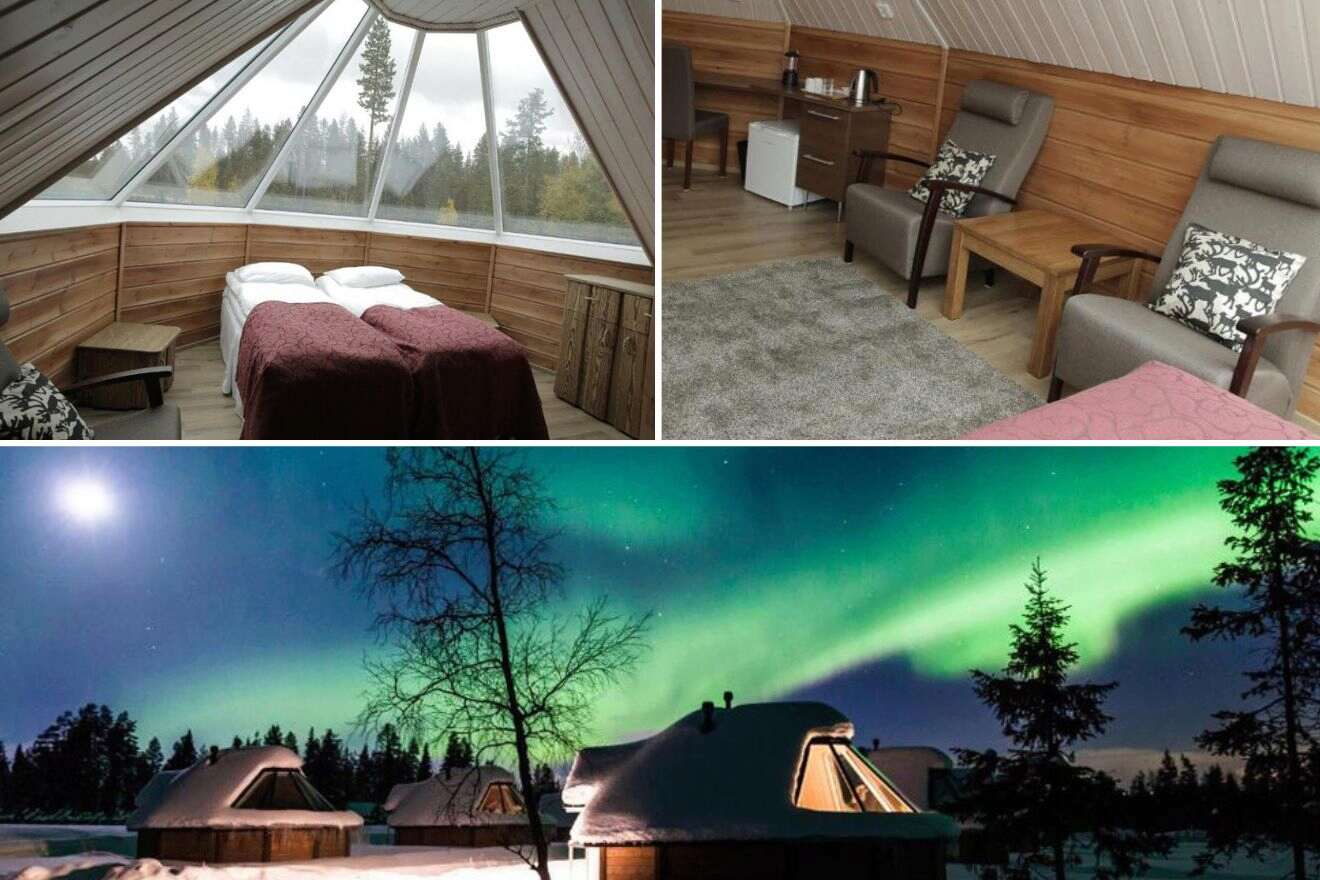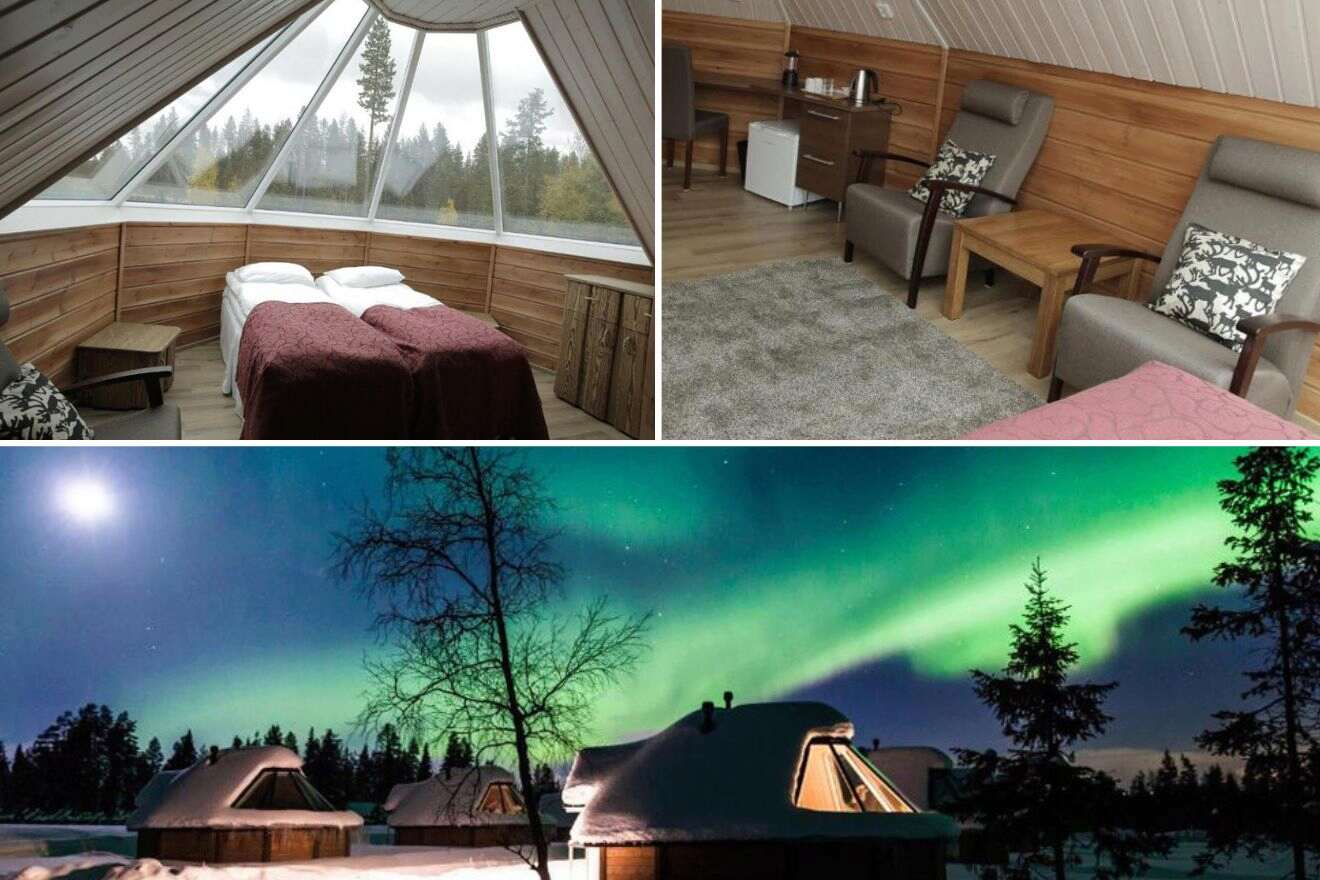 This super-unique resort in Levi has such an interesting past! It's actually located on an old reindeer farm that has been run by the same family for 170 years, WOW! Their glass-roofed igloo comes with mountain views, free Wi-Fi, and a cozy atmosphere that you'll want to keep with you always!
The accommodation, which is set near the Levi ski resort, has a restaurant on-site where you can enjoy a free breakfast, an outdoor fireplace, and a garden too! At night when you're not hunting for the famous Northern Lights, you can head to the sauna for a bit of "me time" and to get warm after spending your day out in the woods hiking or doing other activities!
8. Northern Lights Village – for animal lovers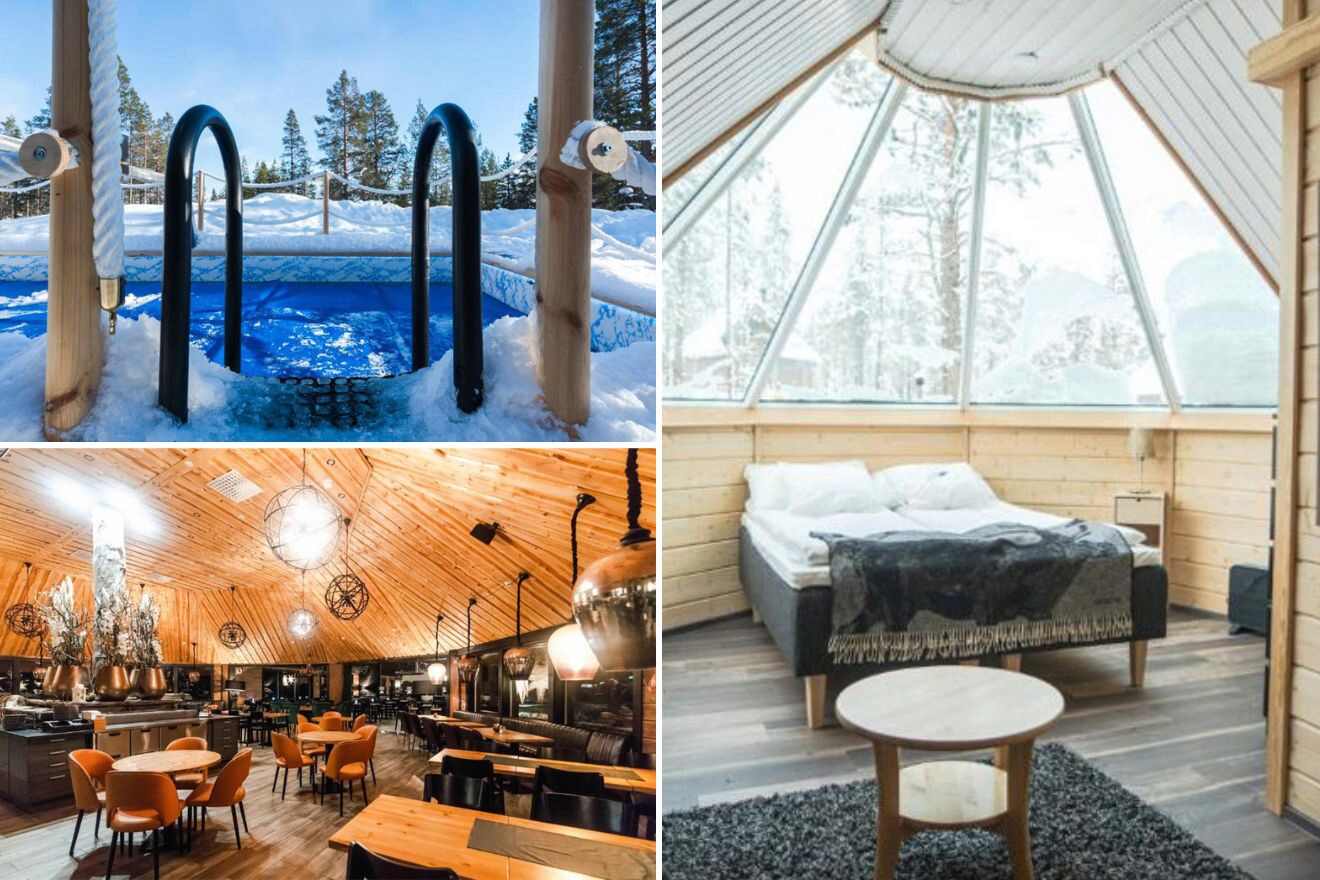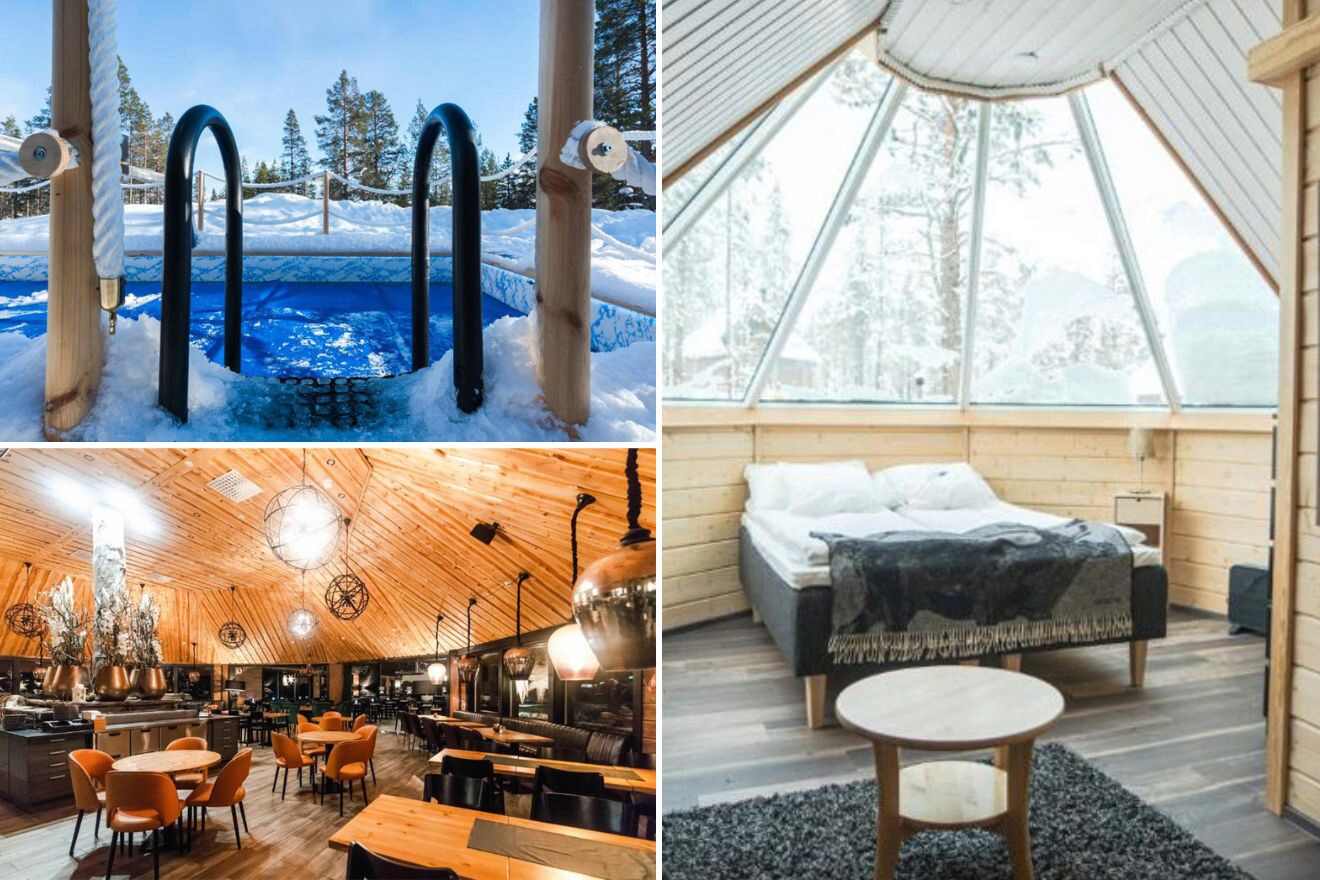 Who wants to make some new animal friends? This amazing resort in Saariselka has its own reindeer paddock where you can go and pet cute animals! And, of course, you can be sure that you'll find here some of the best glass roof igloos!
Each cabin is super cozy, and it has simple yet cute decor that will make you feel just at home! Be on the lookout at night because you may have a chance to spot the Northern Lights right from your bedroom's glass walls! After a day of trying activities like cross-country skiing or ice fishing, head to the restaurant on-site, which specializes in local food from Lapland.
9. Wilderness Hotel Muotka & Igloos – for outdoor enthusiasts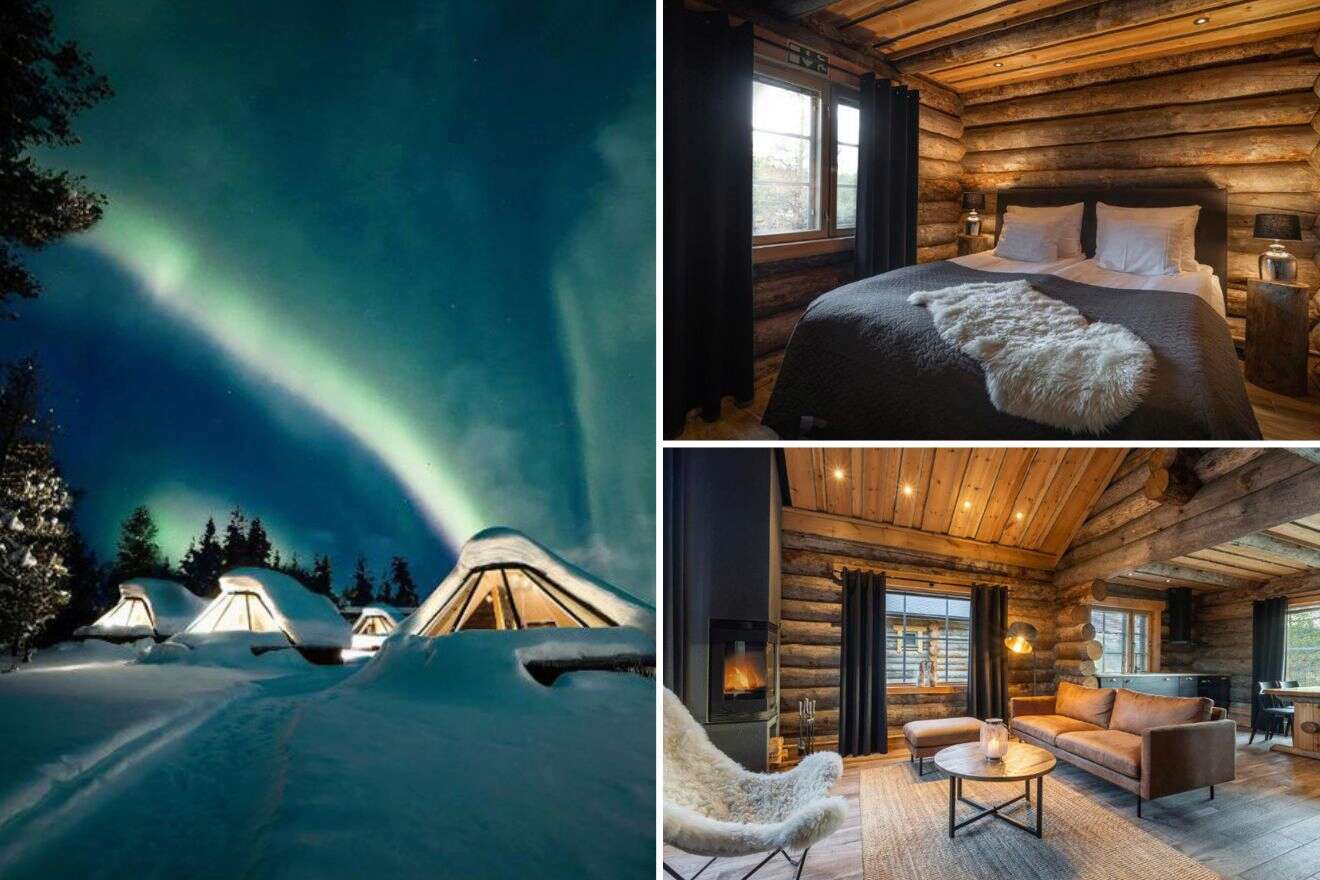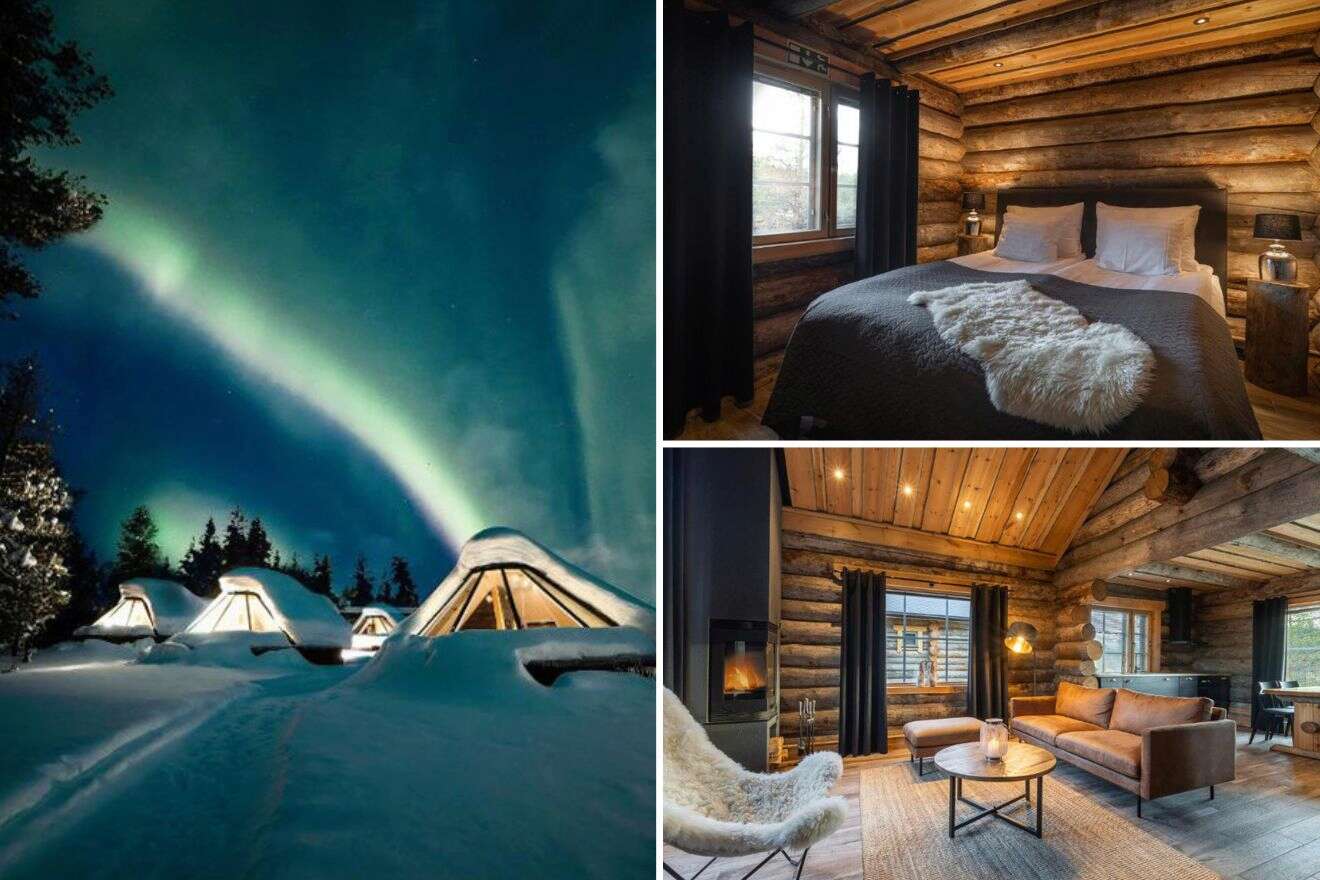 Located in Saariselka, this resort offers different types of accommodations, including some fabulous Aurora Cabins that come with a private bathroom, and of course, a glass roof through which you can see Northern Lights right from your bed!
While staying here, you'll feel as if you've stepped into another universe (especially if you come when everything is covered in snow)! That's when you'll also get to try some fun activities like ice fishing and go on different tours! But if you just want to relax after you've had dinner at the restaurant on-site, definitely book some time at the sauna!
10. Star Arctic Hotel – a Lapland igloo hotel with wine tastings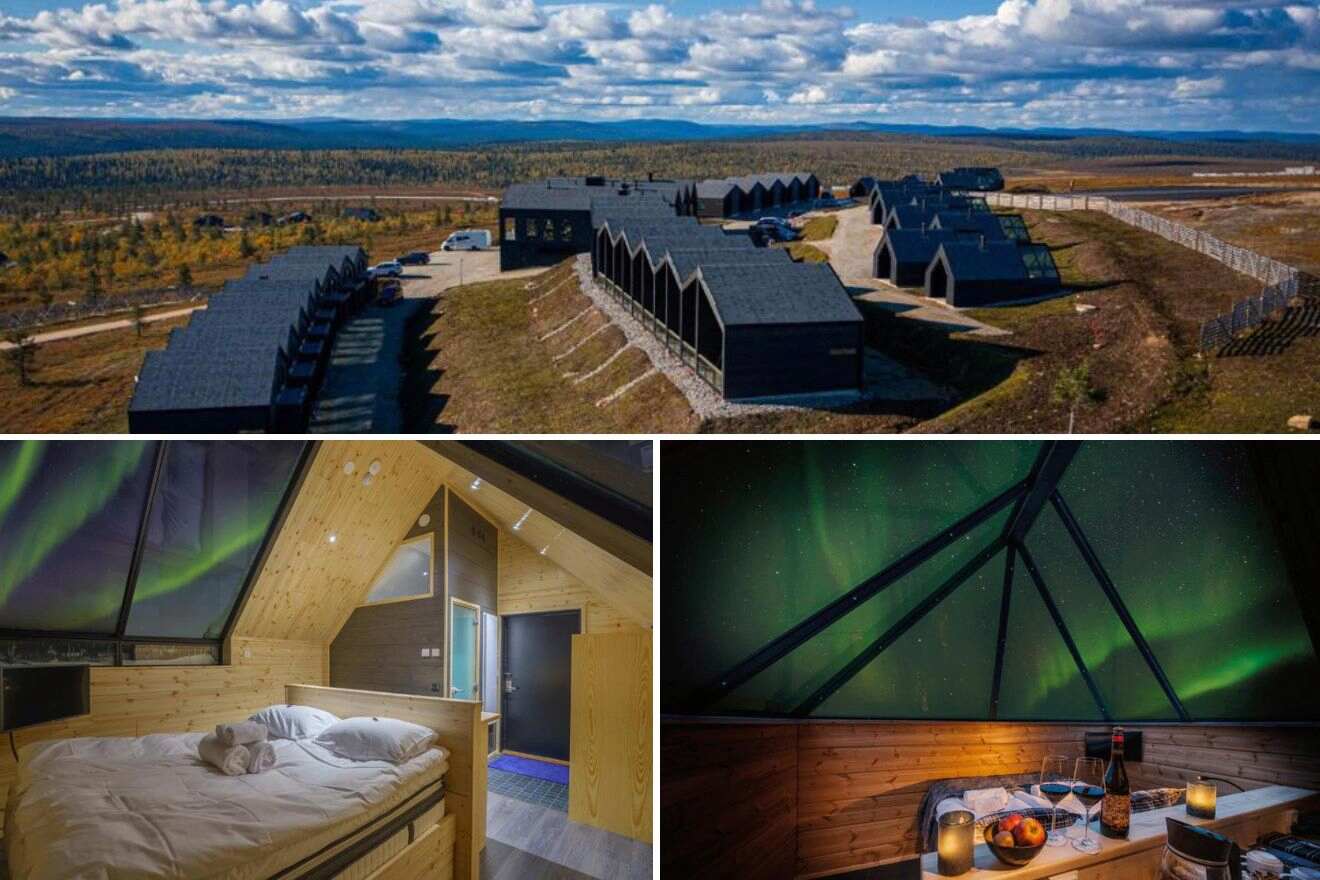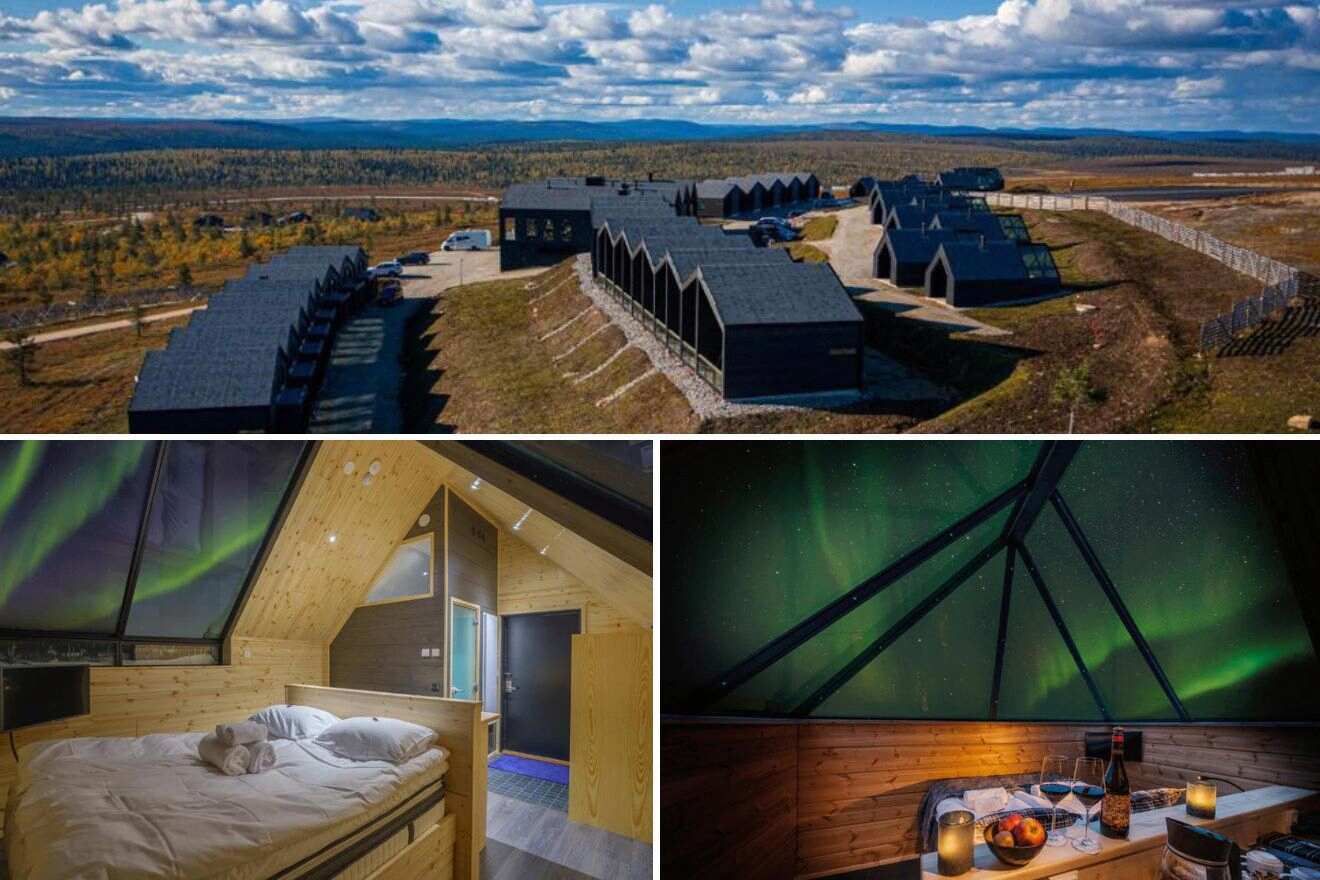 Skiing during the day, going on dog sledding adventures, and fishing! Those are just some of the fun activities that are waiting for you at this resort in Saariselka in the Finnish Lapland Region! And you haven't seen the best of the best: their glass-roofed cabins from where you can admire the night sky and see the Northern Lights!
Just picture yourself in that comfy bed, all cozied up with blankets and a cup of tea! The resort has its own restaurant, which serves a mix of traditional Lappish cuisine and modern dishes. Sometimes they even offer wine tastings by the fireplace!
11. Wilderness Hotel Nellim – cozy hotel with many activities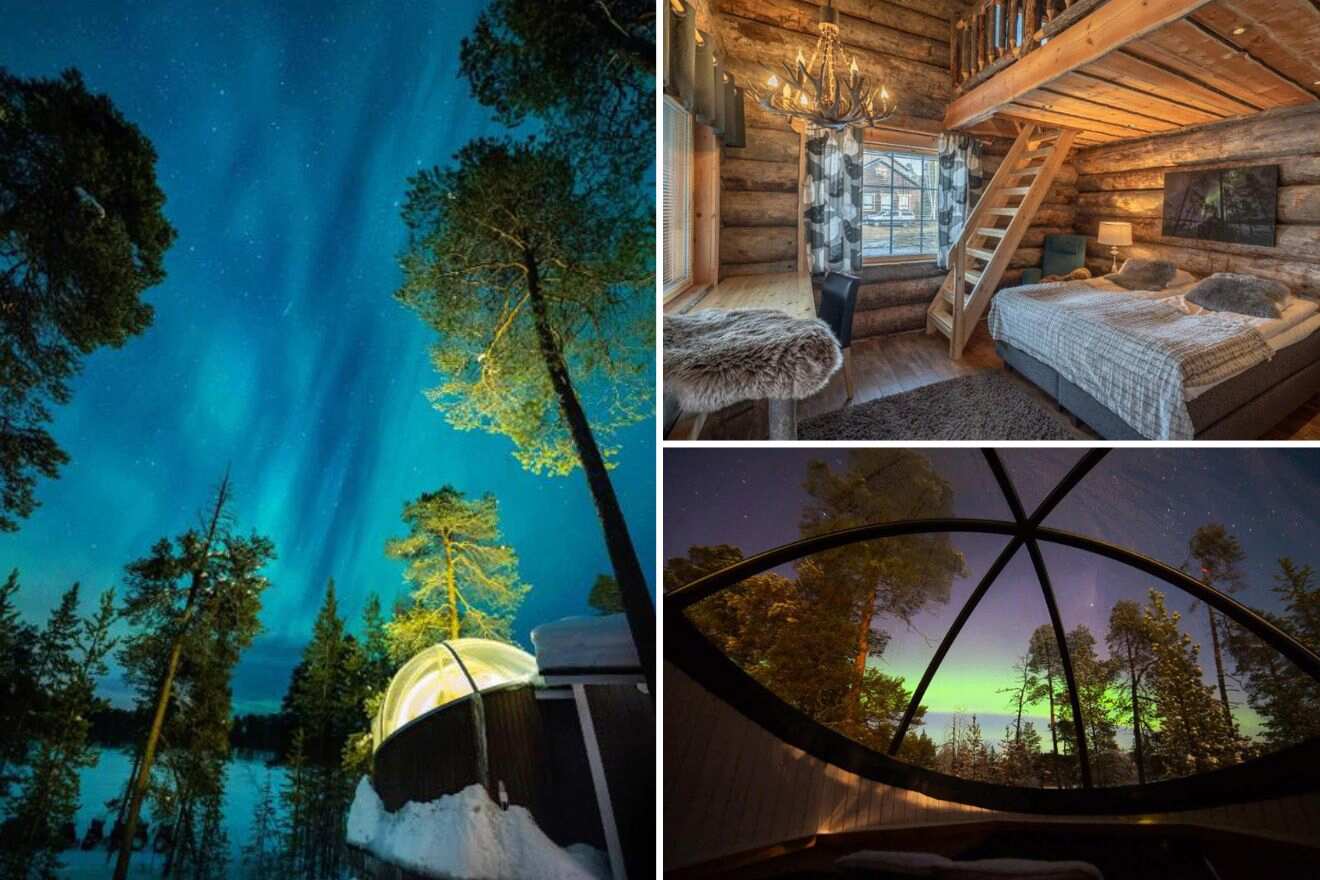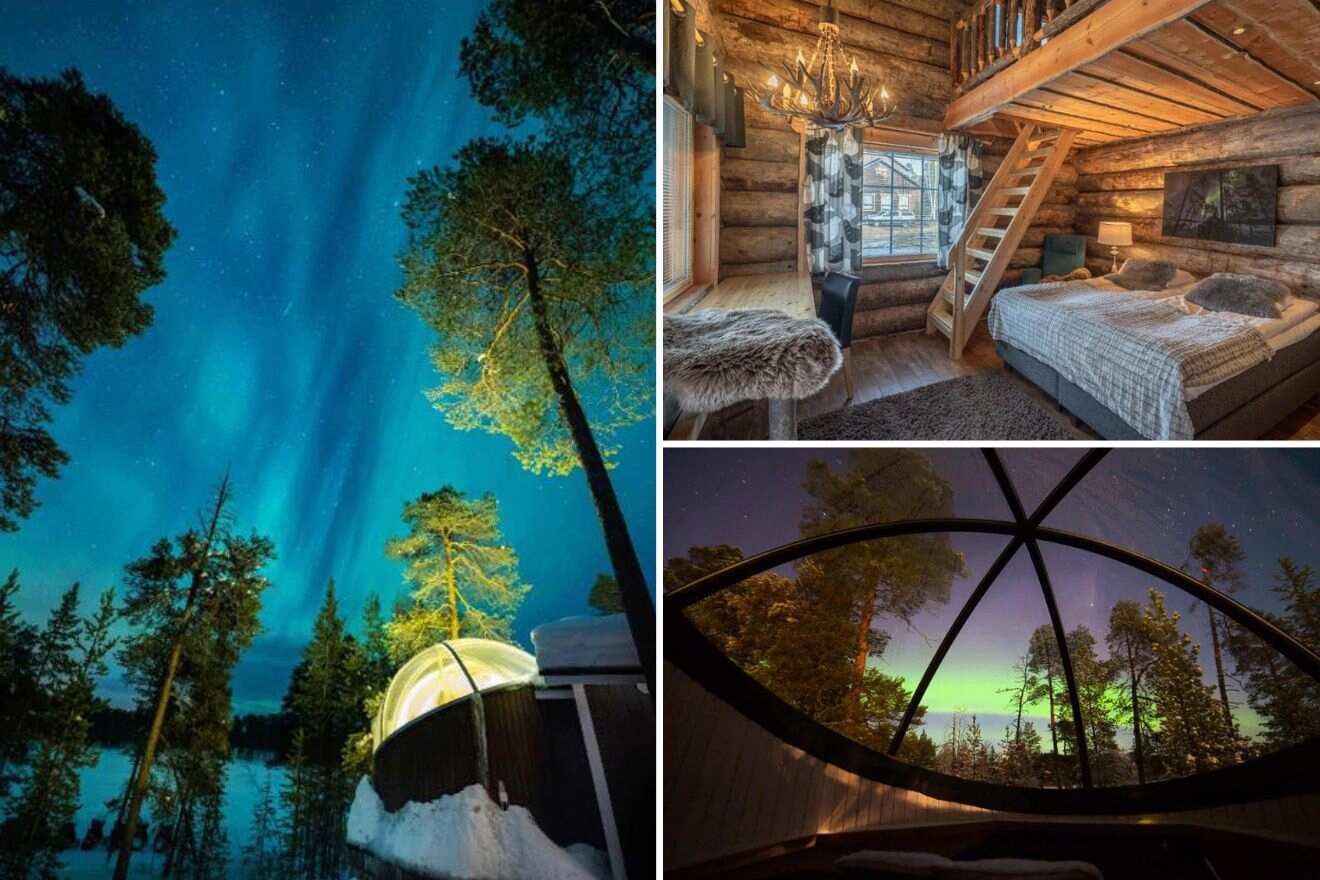 Overlooking the beautiful Lake Inari and the beautiful Finnish Lapland, this resort offers fun things to do, like husky and snowmobile safaris, nightly hiking trips, and visits to a reindeer farm! And cross-country skiing and ski slopes are found nearby the accommodation.
Their thermal glass igloos have a simple yet cozy decor and have all the facilities you need, like a private bathroom! All guests will get a free breakfast and dinner (yay), and you can also borrow some ski equipment from them. On the lazy days when you don't feel like doing anything, you can play some board games or relax by the outdoor fireplace and admire the infinite night sky!
12. Arctic Fox Igloos – modern igloos with a private sauna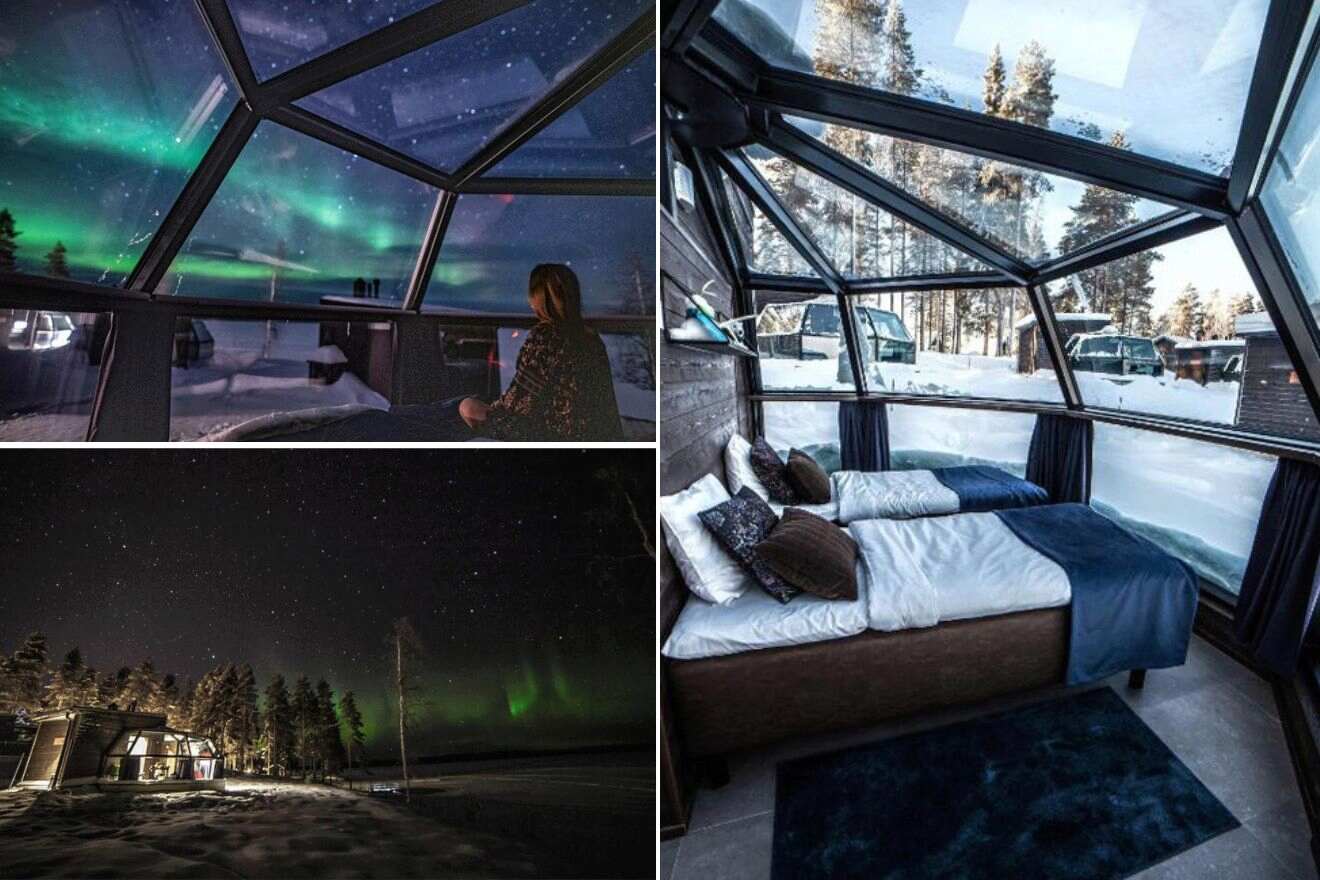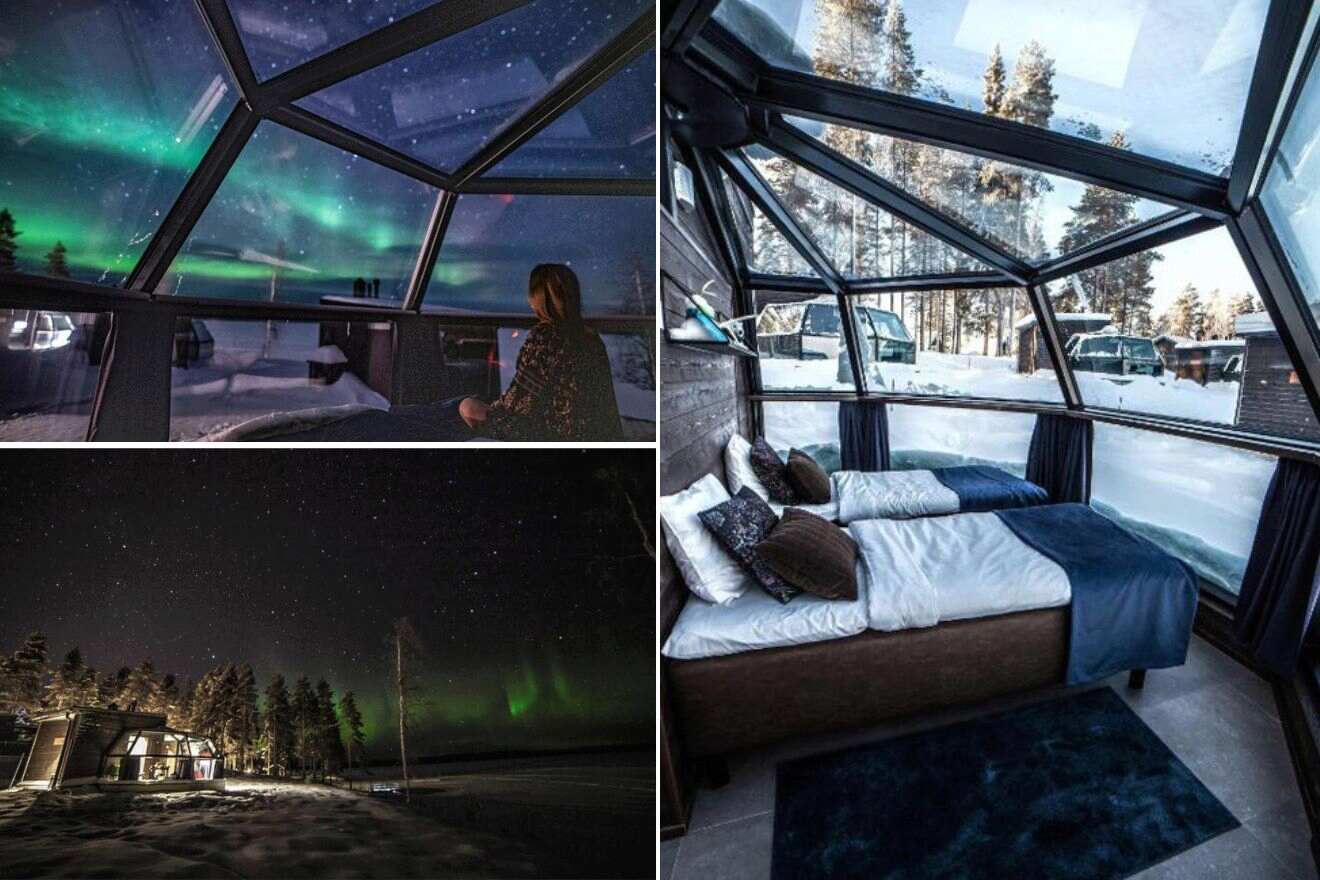 Fancy a glass igloo with its own private sauna? Then check out this accommodation in Ranua that offers incredible views of the Finnish Lapland and the neighboring Lake Ranuanjärvi! Spend your nights admiring the Northern Lights from your glass igloos and wonder about this incredible natural phenomenon!
All the sky-view cabins come with a small kitchenette, a private bathroom, and free Wi-Fi. The igloo hotel also has a restaurant and a bar. The staff can also arrange some of the tours for you, from safari activities, to hiking, and skiing!
13. Apukka Resort – stylish glass igloo hotel with saunas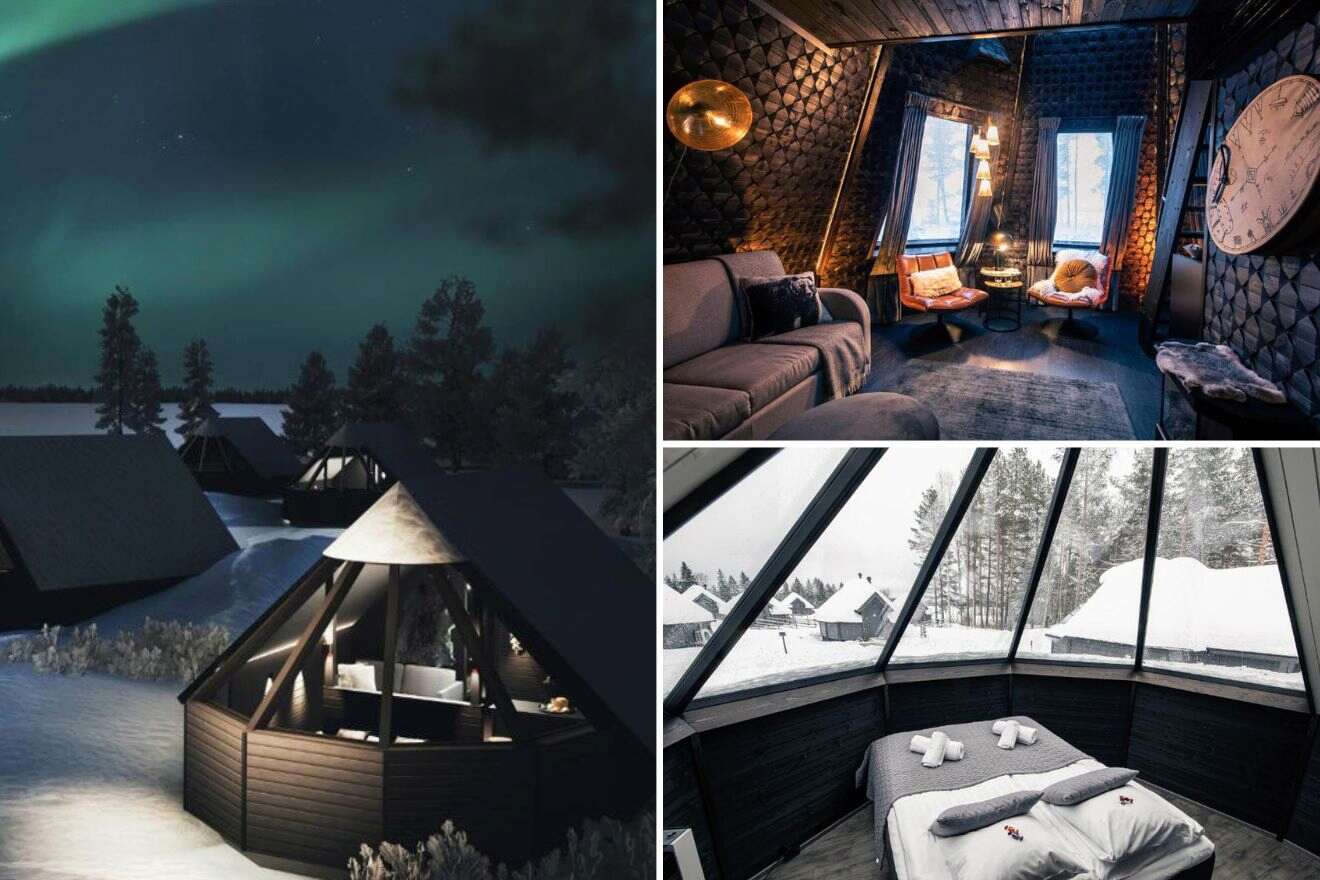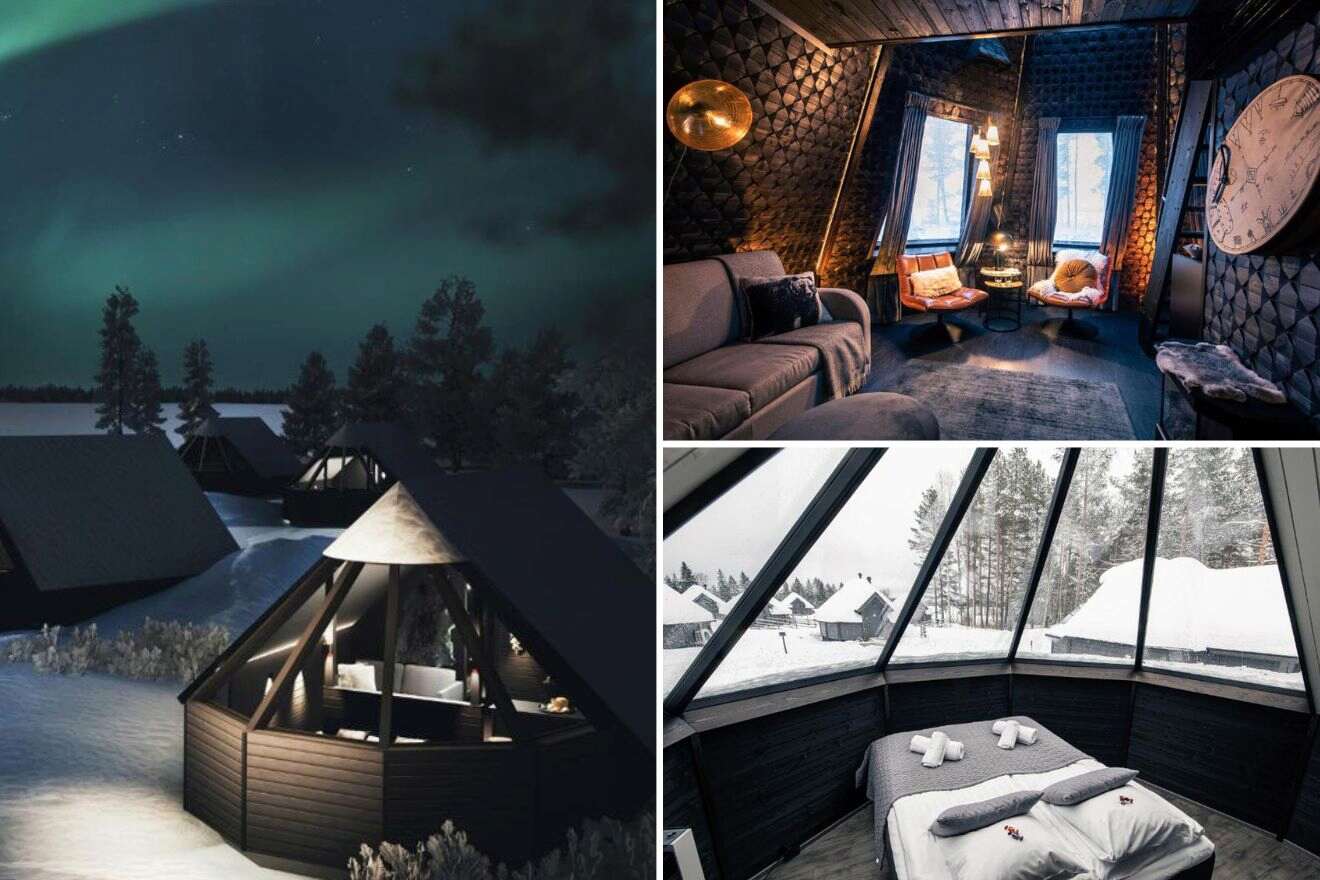 Gotta love these glass igloos! They've got an amazing design plus all the facilities you need for your stay, including free Wi-Fi. Located in Rovaniemi, the resort offers lots of cool features such as multiple saunas (ice sauna, igloo sauna, and movable saunas) and a restaurant.
When you're not letting your worries melt away in the sauna or admiring the beautiful Northern Lights, you can try some of the many activities that they offer, like snowmobiling, husky safaris, Northern Lights safaris, and reindeer sleigh rides. Or if you want to learn something new, sign up for the fishing and cooking course in nature!
14. Santa's Hotel Aurora & Igloos – a great place for ski fans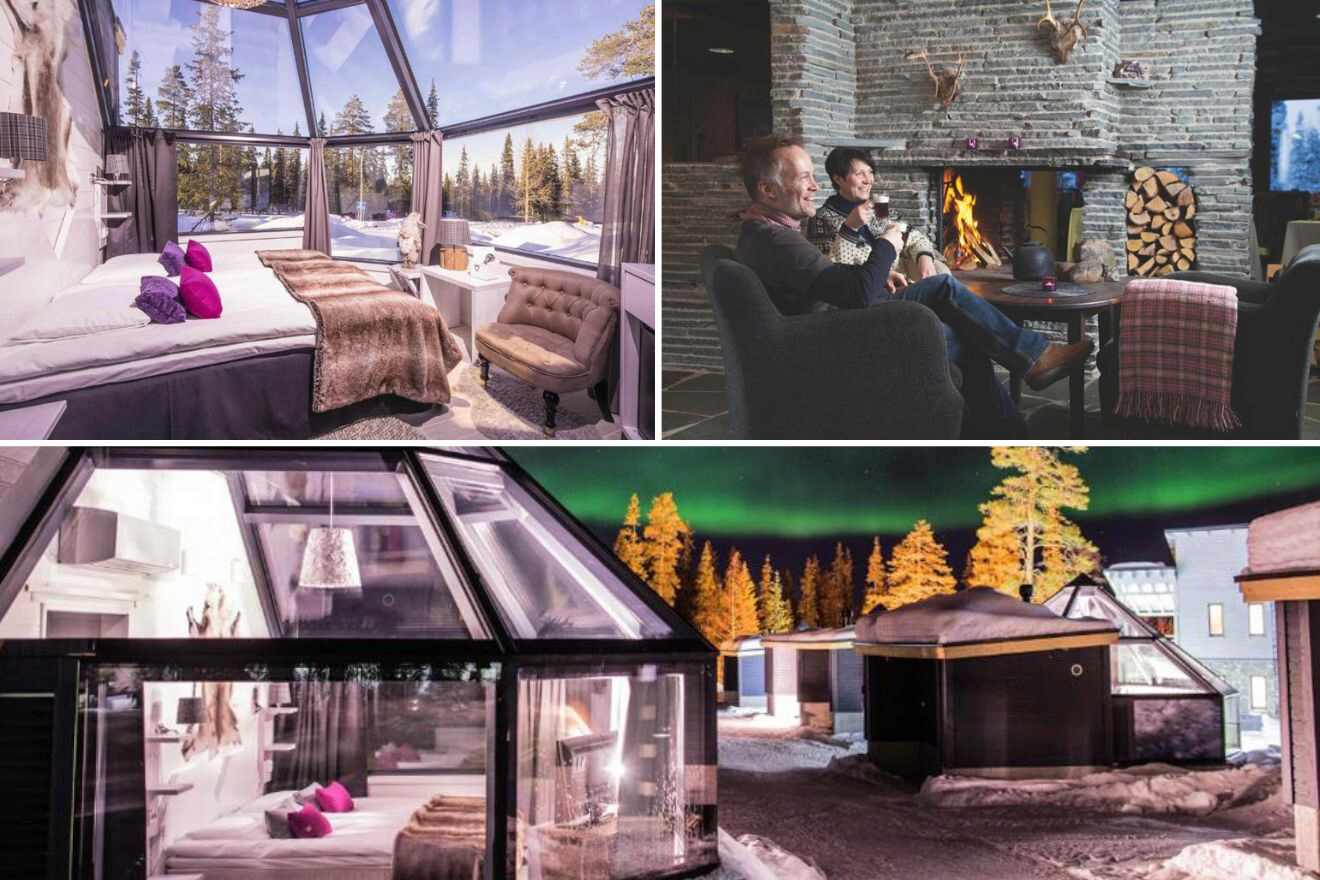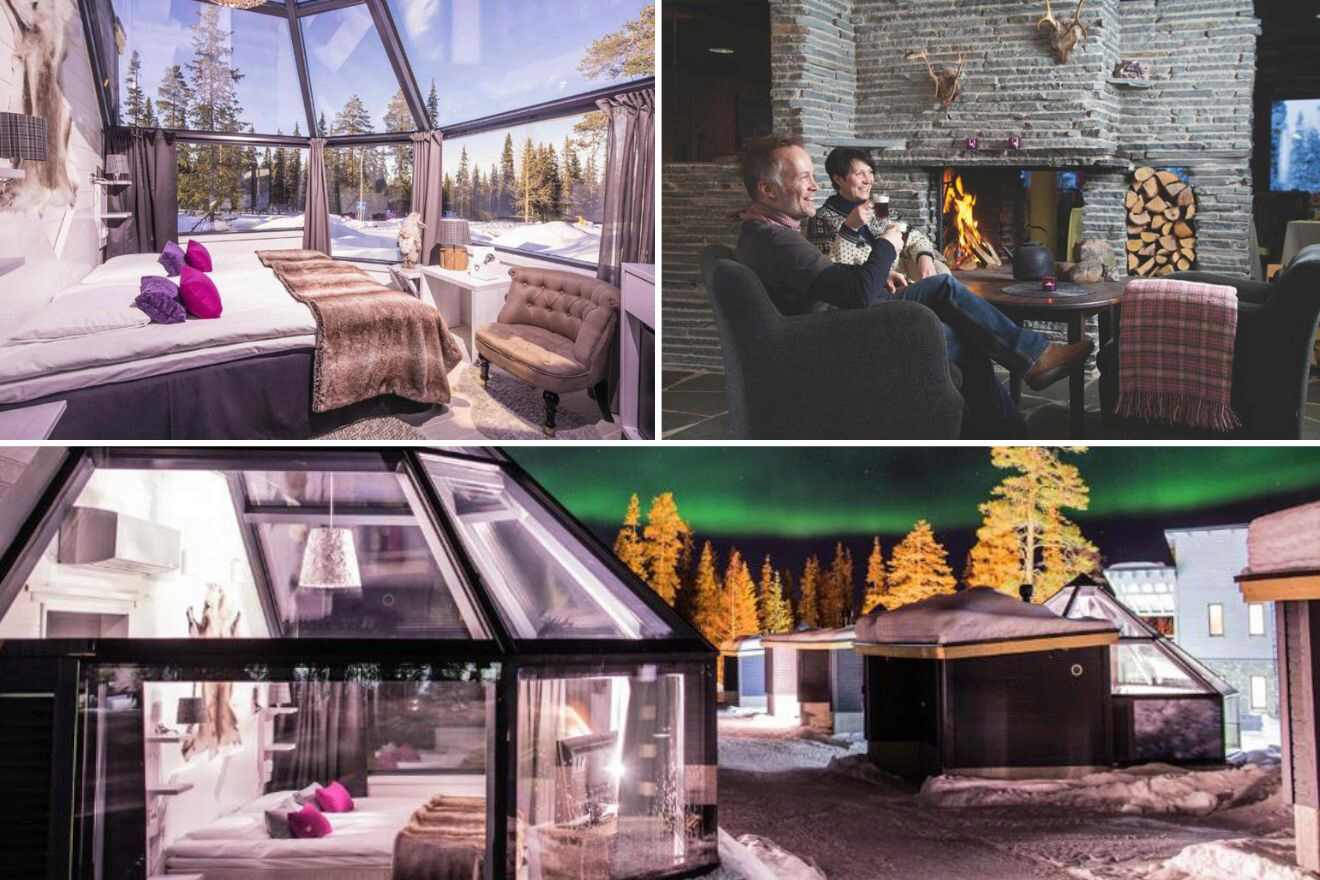 Don't let the name fool ya! I don't think Santa Claus owns this hotel (given that he has so many things to do and responsibilities)! But don't let that upset you because trust me, you'll love the glass igloos in this Luosto hotel!
The accommodation even has a unique Northern Lights alerting system via mobile app, so you can be prepared and head to your glass igloo if you want to see them from there. There are many ski lifts only a short walk away from the hotel, and you'll also find a bar with a fireplace and a restaurant that has an à la carte menu.
15. Pyhän Asteli Aurora Igloos – for a family getaway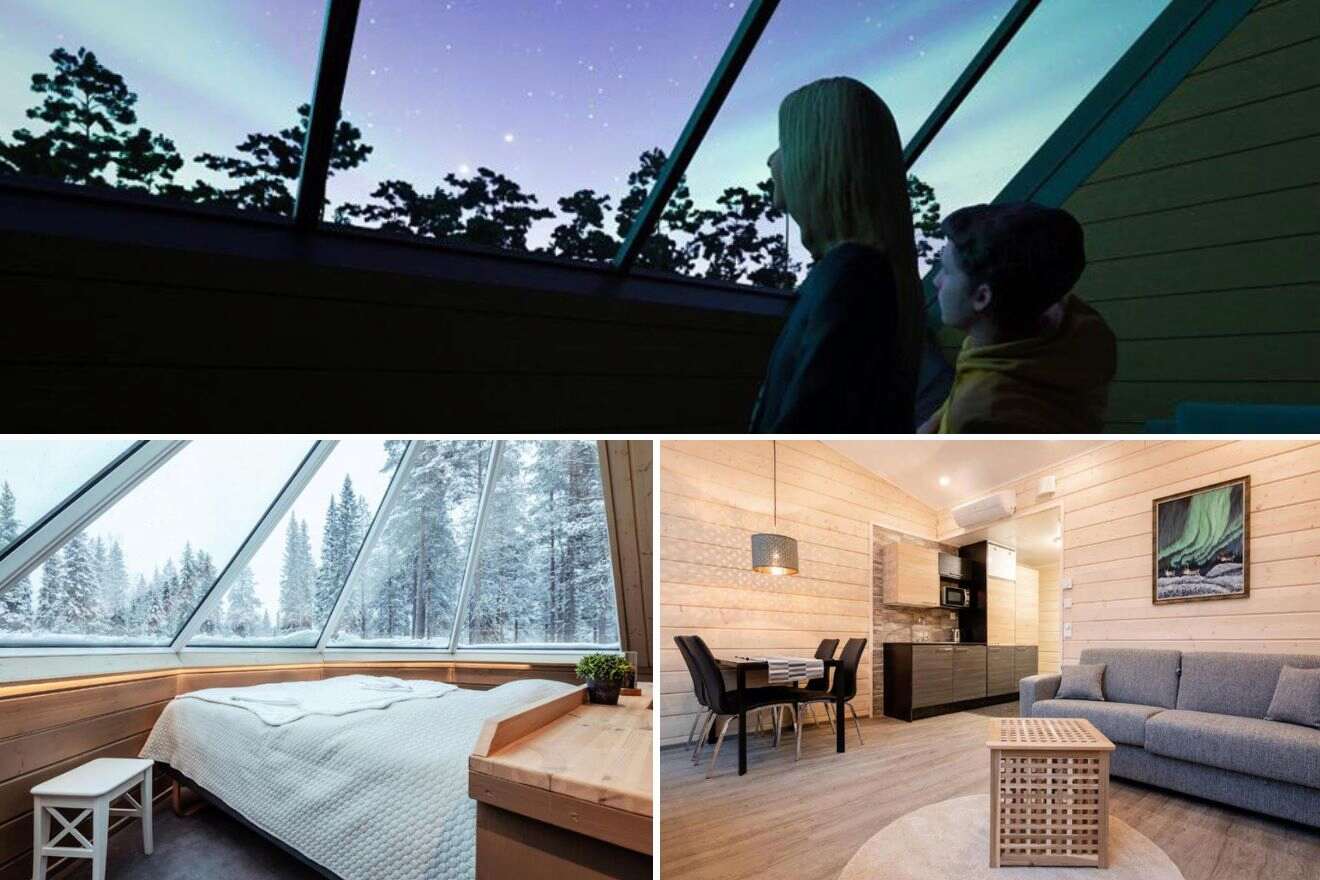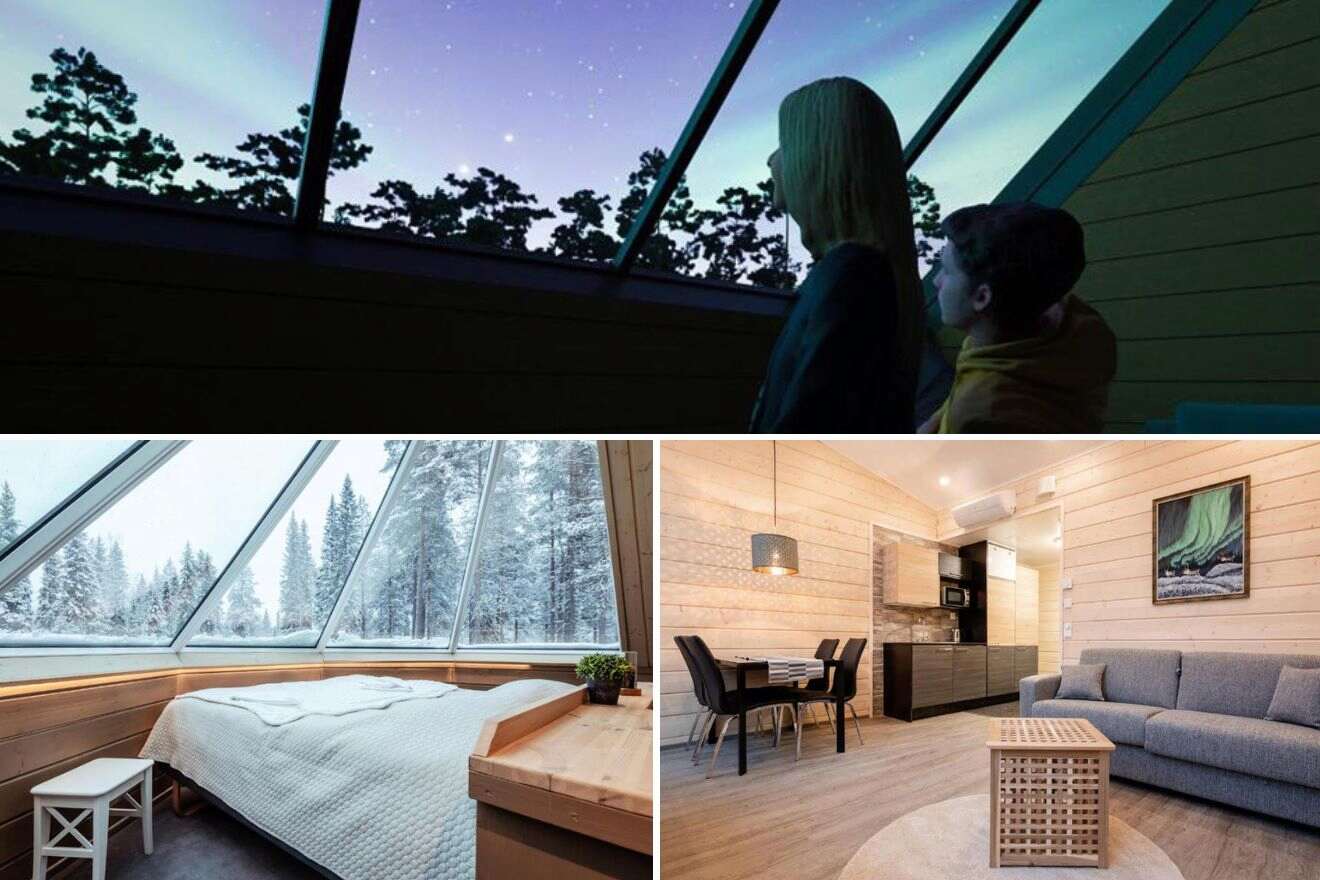 Planning your Finland trip? Then check out these amazing glass igloos located in Pyhätunturi! Offering views of the Northern Lights, free Wi-Fi, and a private bathroom, these accommodations will become your new favorite places to stay! I'm sure of that!
This resort is perfect for families as it offers a wide range of facilities, from indoor and outdoor play areas to activities like archery, tours, and hiking! Plus, they also have a spa center where you can relax and enjoy a massage, an open-air bath, and a sauna.
16. Santa's Igloos Arctic Circle – for winter sports lovers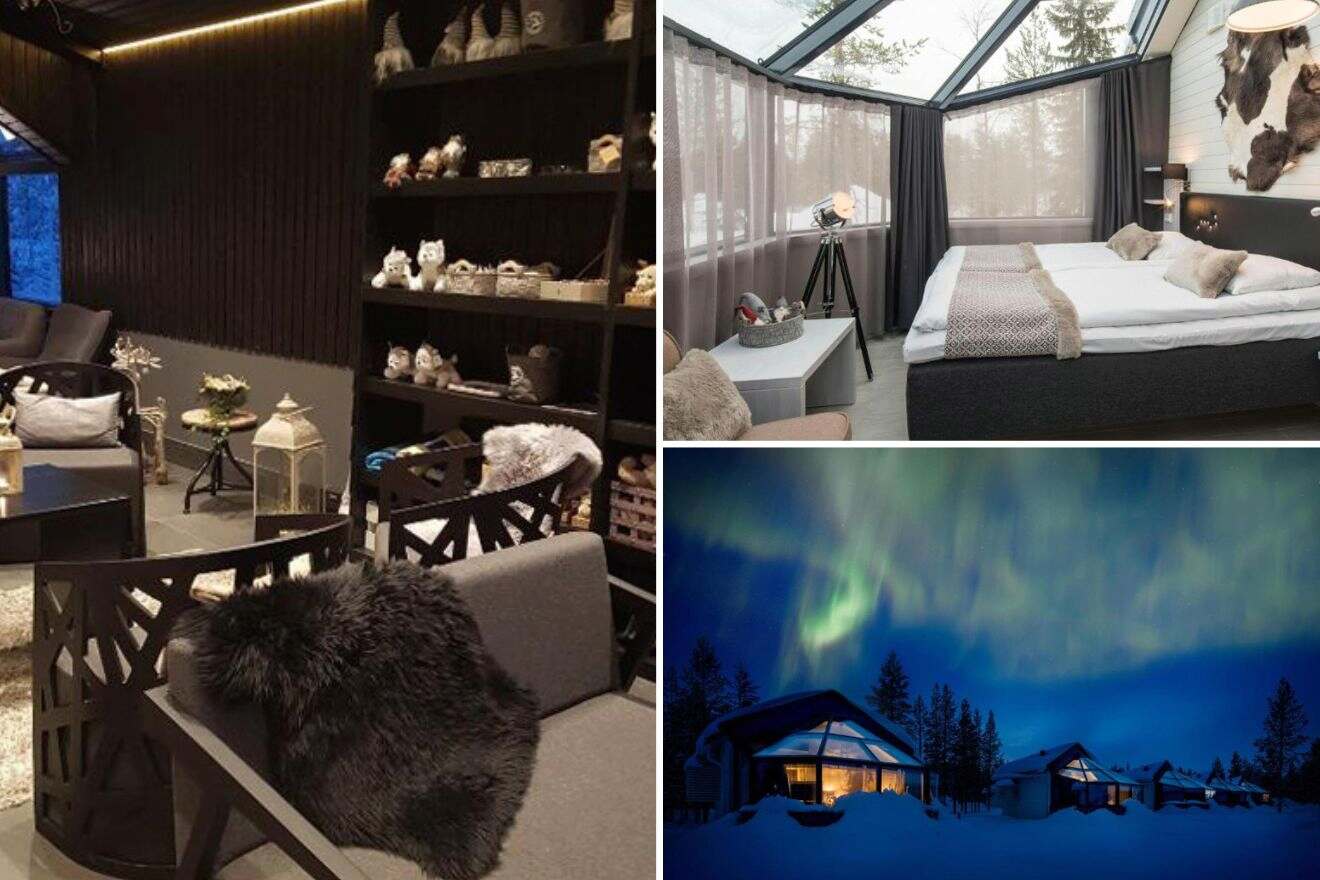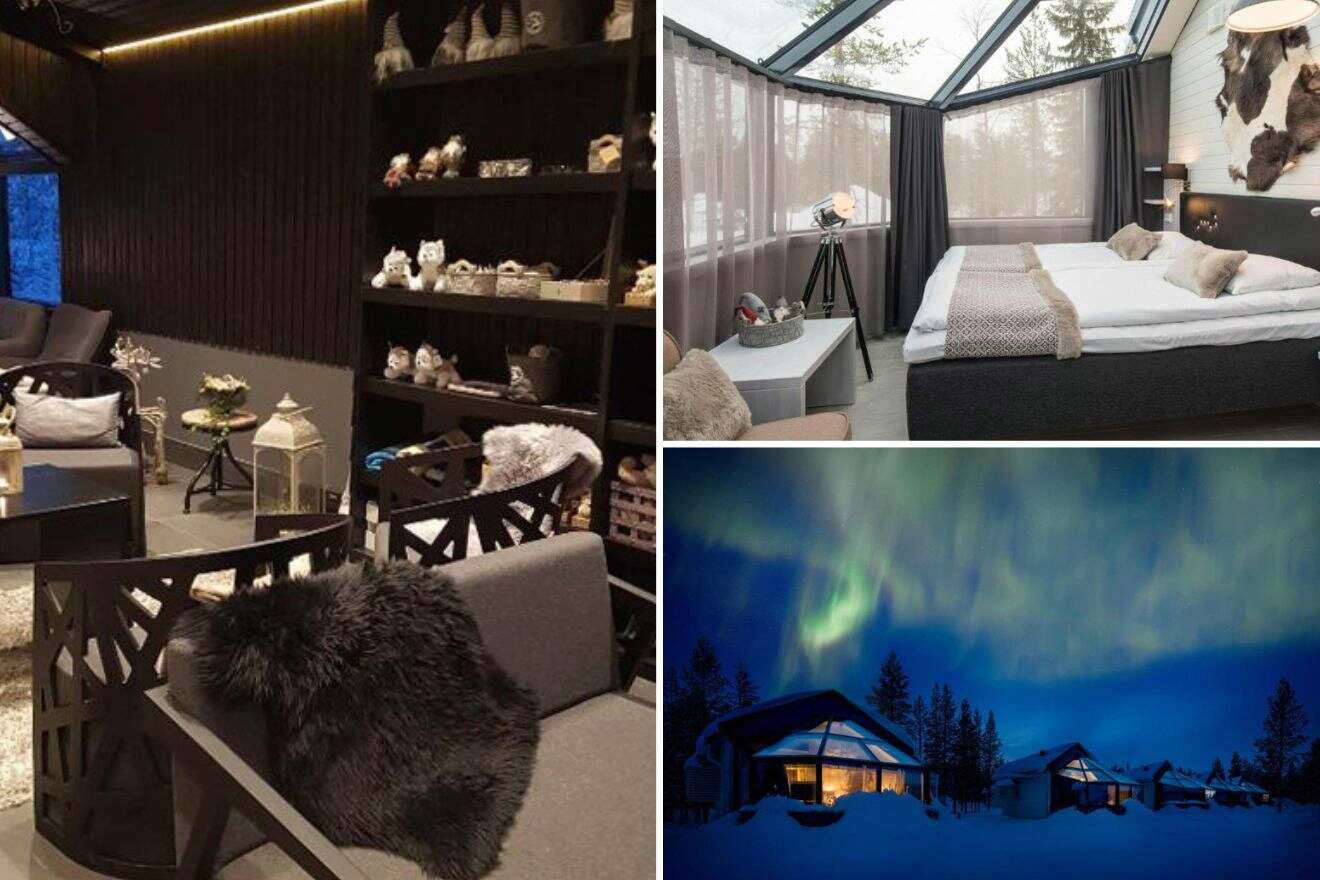 Are you ready for a trip to Finland's Winter Wonderland? Make sure you pack lots of warm clothes as you'll spend a lot of time skiing, hiking, and exploring around the Rovaniemi, which is where our next hotel is located!
It features different glass igloos, which have a private bathroom with a rain shower, sleeping masks, and a tablet through which guests can contact the reception and receive an Aurora alarm! That means you can be on the lookout and admire the Aurora Borealis from your room! You can also order room service up to your glass igloo and serve it in bed while admiring the views!
17. Holiday Village Inari – has a great view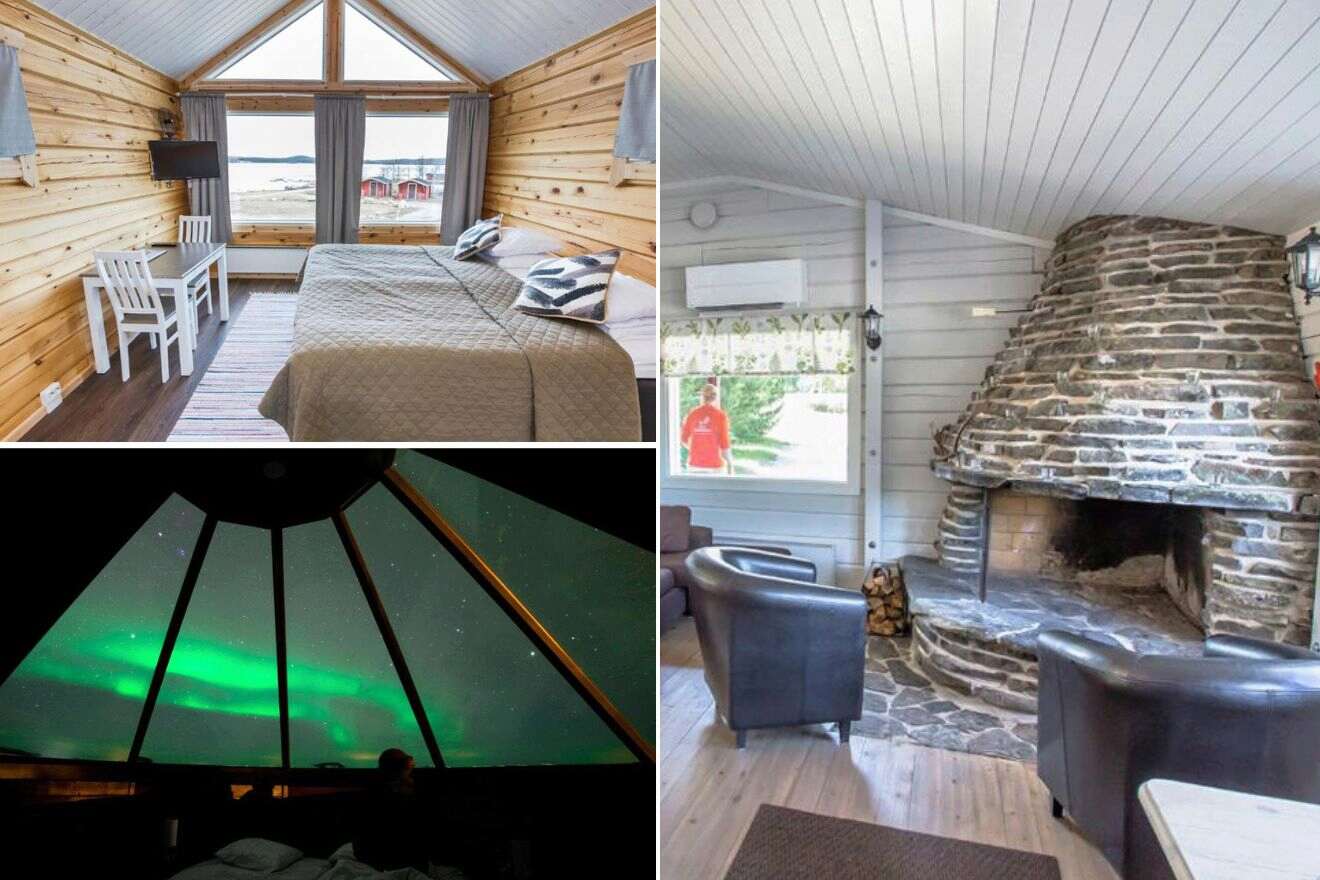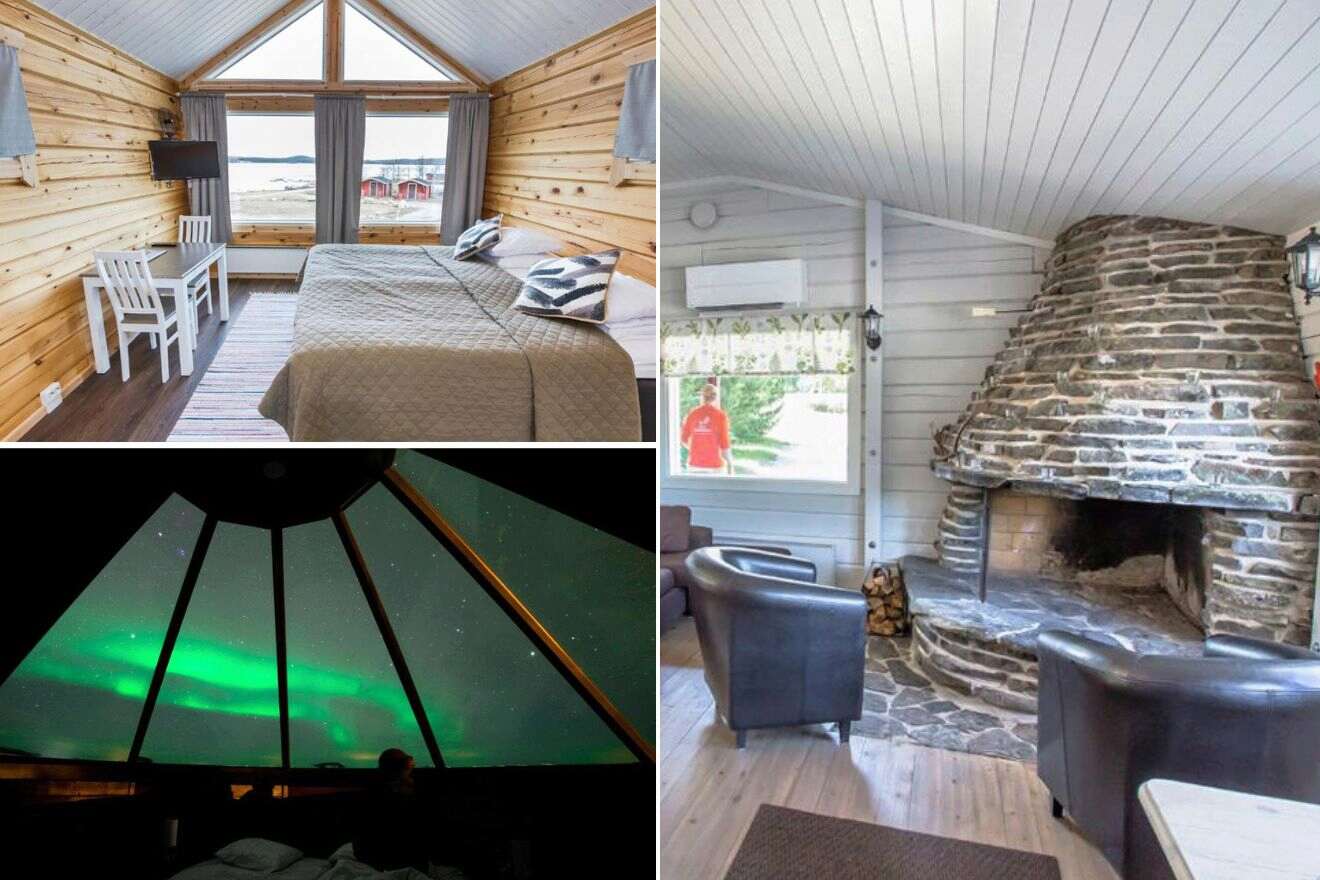 Book one of the glass igloos that overlook Lake Inari and enjoy the incredible views of both the Lake and the Aurora Borealis! Each glass igloo has a bathroom, a comfy bed, and coffee facilities because, let's face it, what's better than drinking your coffee in bed while you're admiring those views?
The accommodation also has a café, a hot spring bath, an outdoor fireplace, and even a children's playground! So if you're coming with your little ones, you'll find more than 1 way to keep them entertained! Although I'm sure, they'll also love the tours and skiing!
18. Kakslauttanen Arctic Resort – for fun activities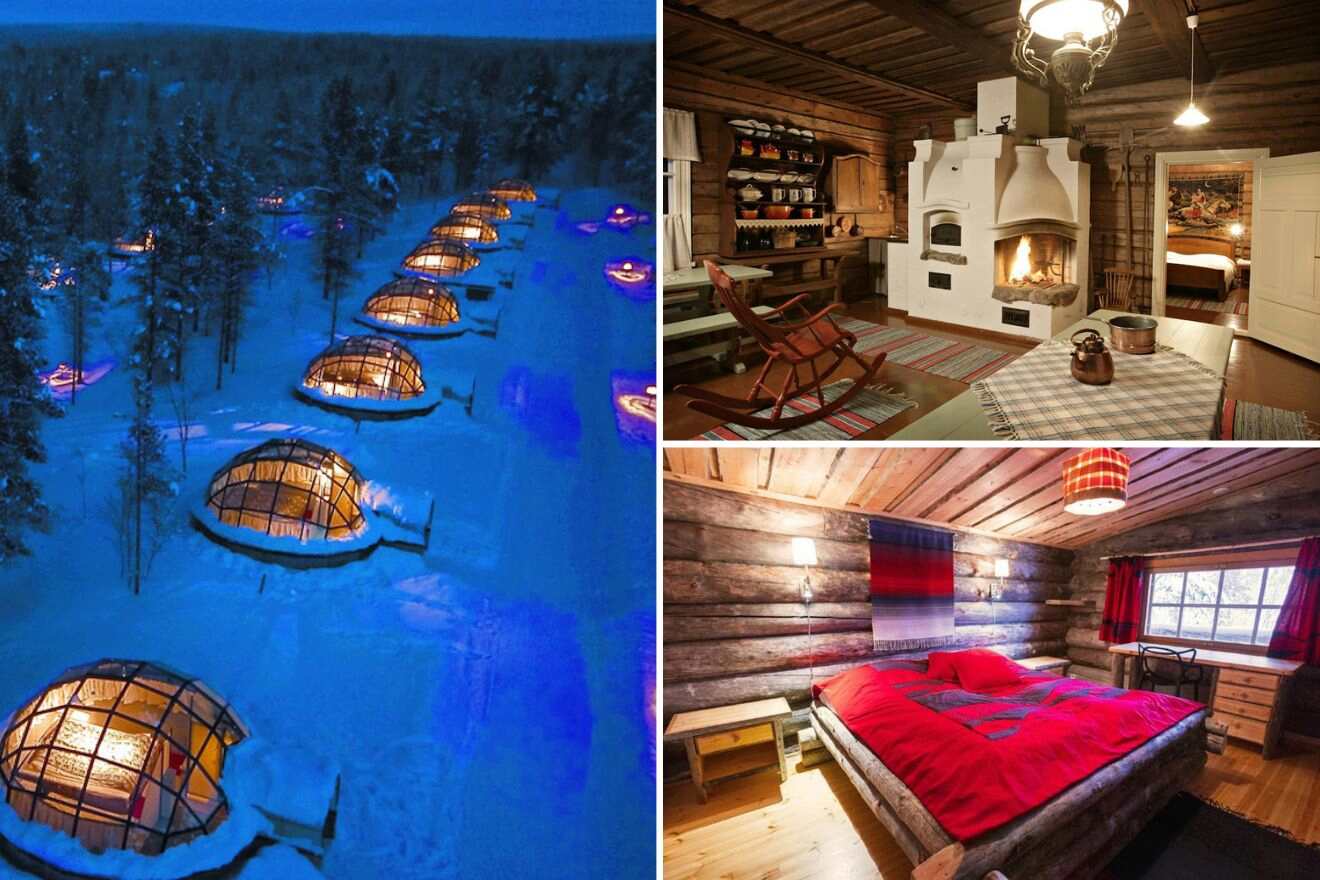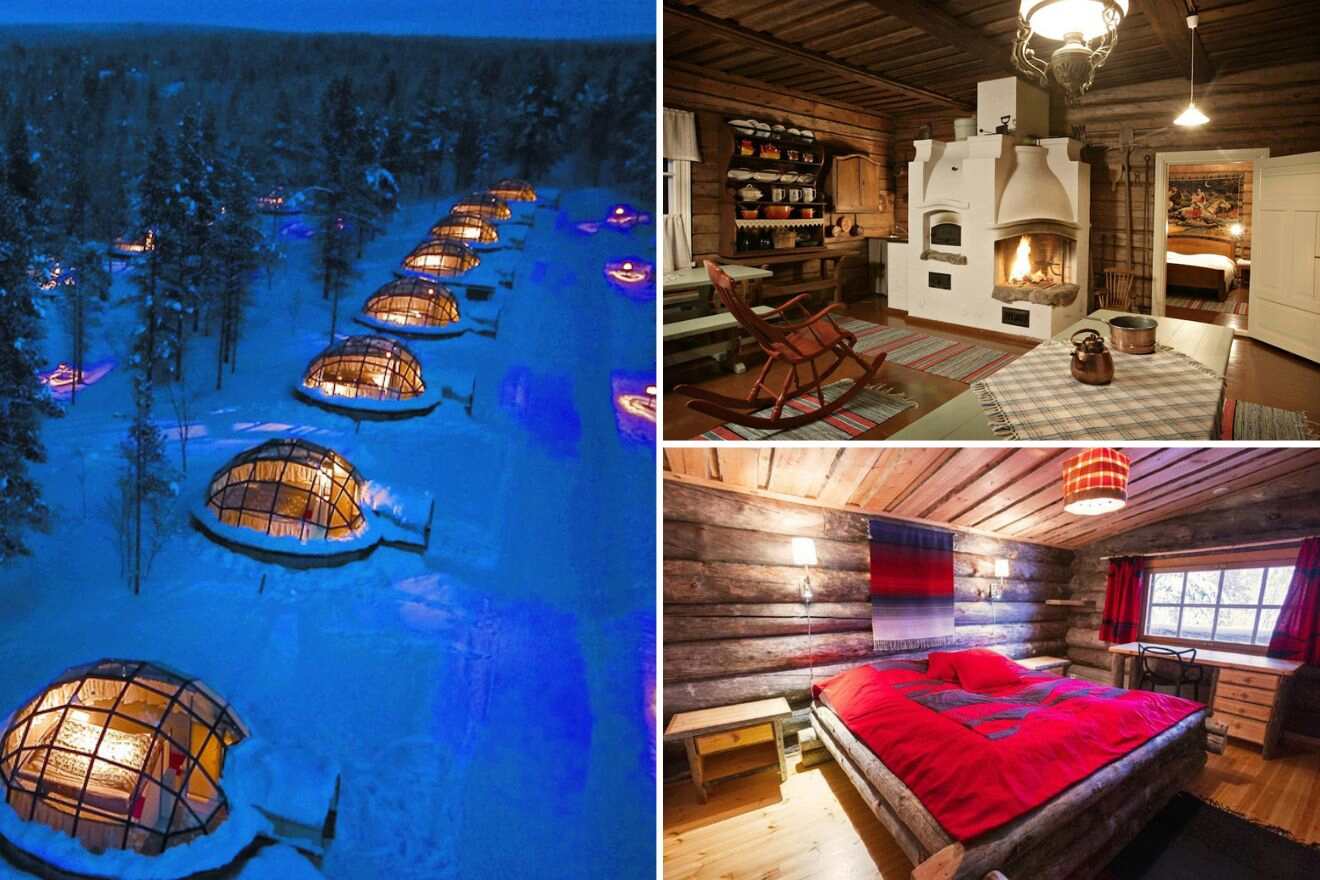 Warm up by the fireplace while drinking a glass of wine after a long day of fishing and hiking at this fabulous glass igloo hotel in Sodankyla that offers the most incredible cabins! Some are made entirely out of glass, while others have just a glass roof.
The glass igloos are tucked away between the trees, and they are perfect for admiring the Northern Lights! You'll also find at the resort a restaurant and a sauna where you can unwind after your fun-filled day of activities like dog sledding and skiing!
19. Glass Resort – the best place to stay with the kids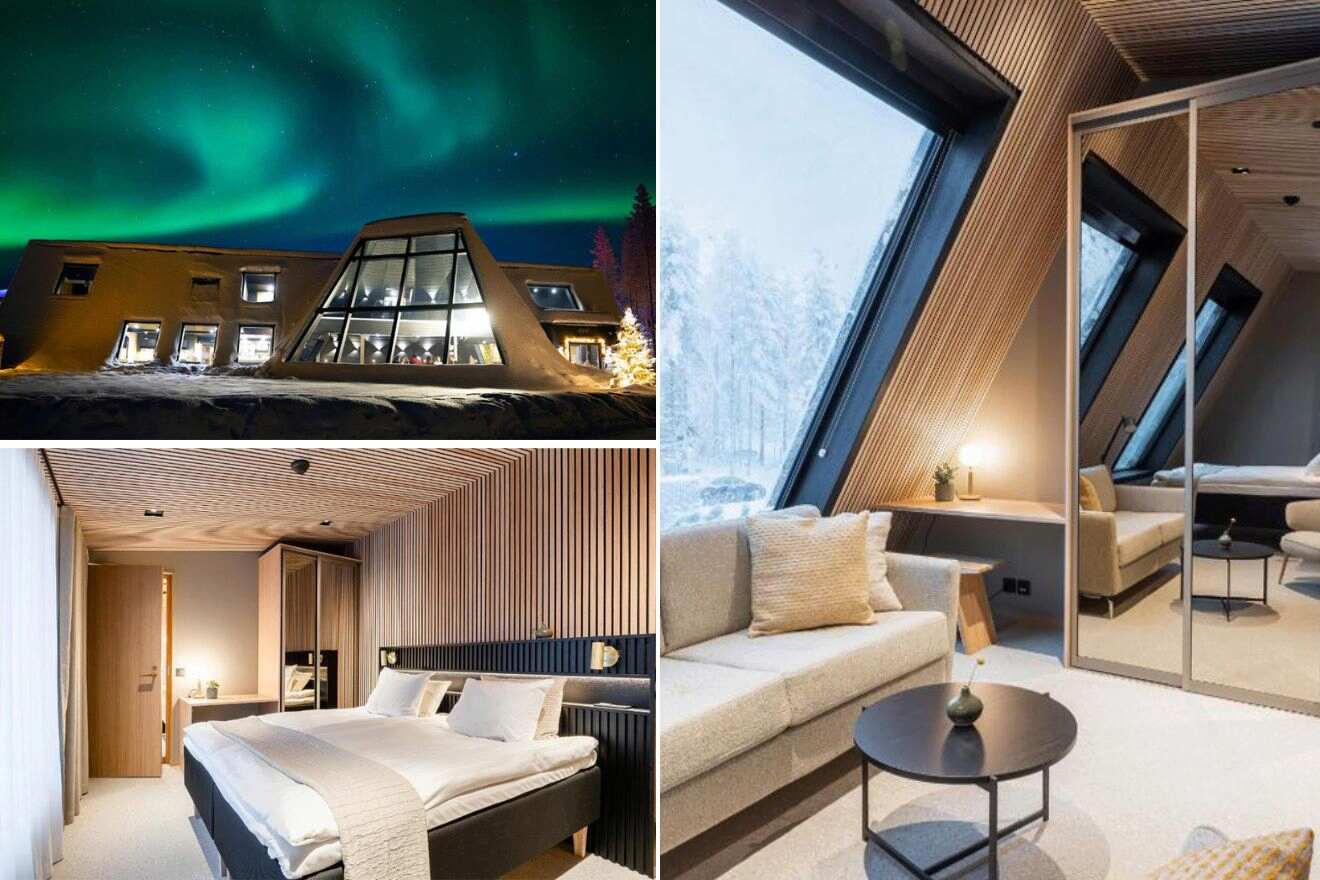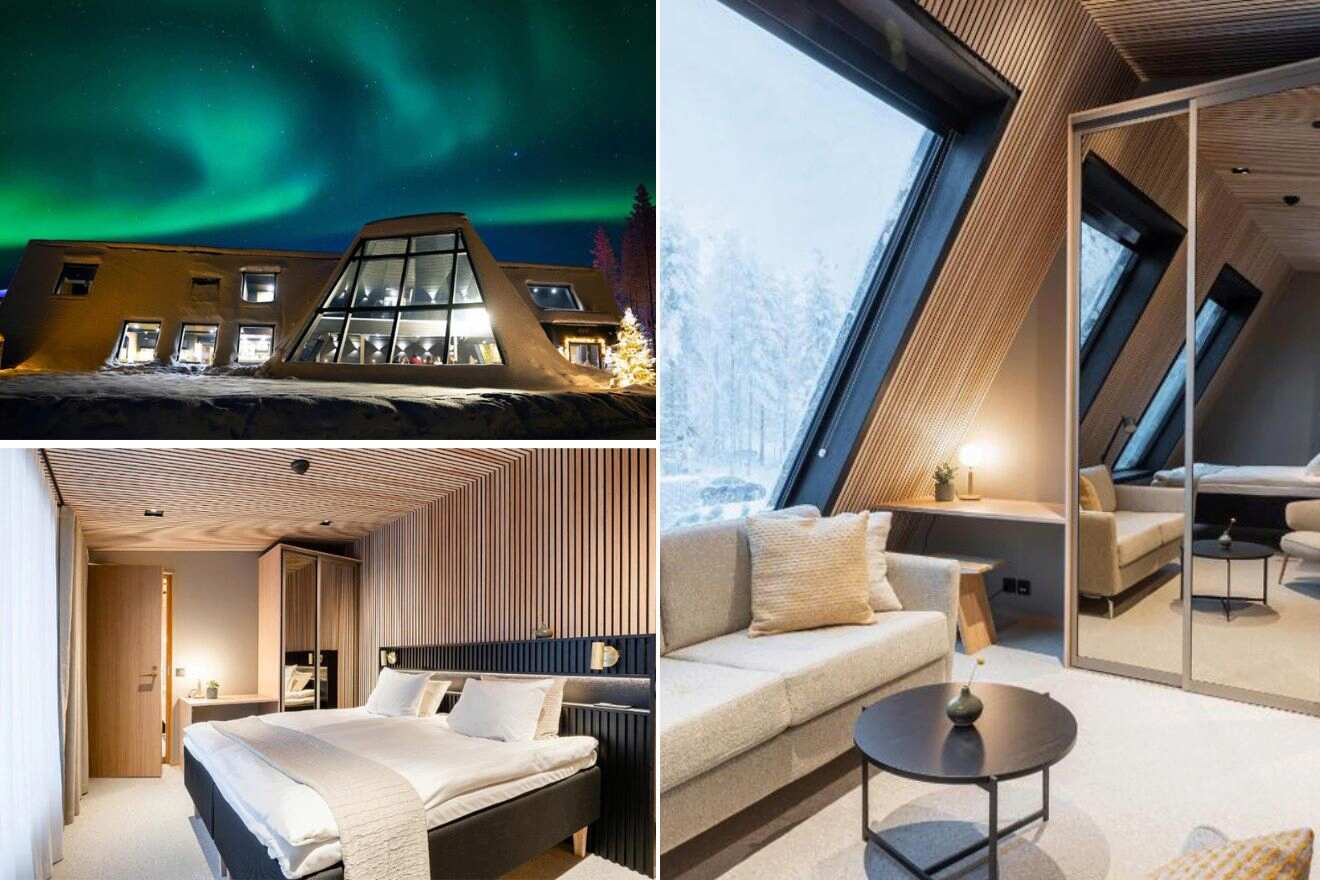 Set in the Santa Claus Village in Rovaniemi, this resort will become your kid's favorite place in the whole wide world as it is only a short distance away from Santa Park, which is basically the home of Santa Claus!
And while for them that will probably be all that matters for you, it's going to be the amazing glass-roofed cabins that, by the way, have an incredible design and lots of facilities like a kitchen, free Wi-Fi, a sauna, a spa bath, and a flat-screen TV. Start your mornings with a yummy free breakfast (dinner is also included in the price), and then head over to visit Santa!
20. Aurora Queen Resort Igloos – for a peaceful holiday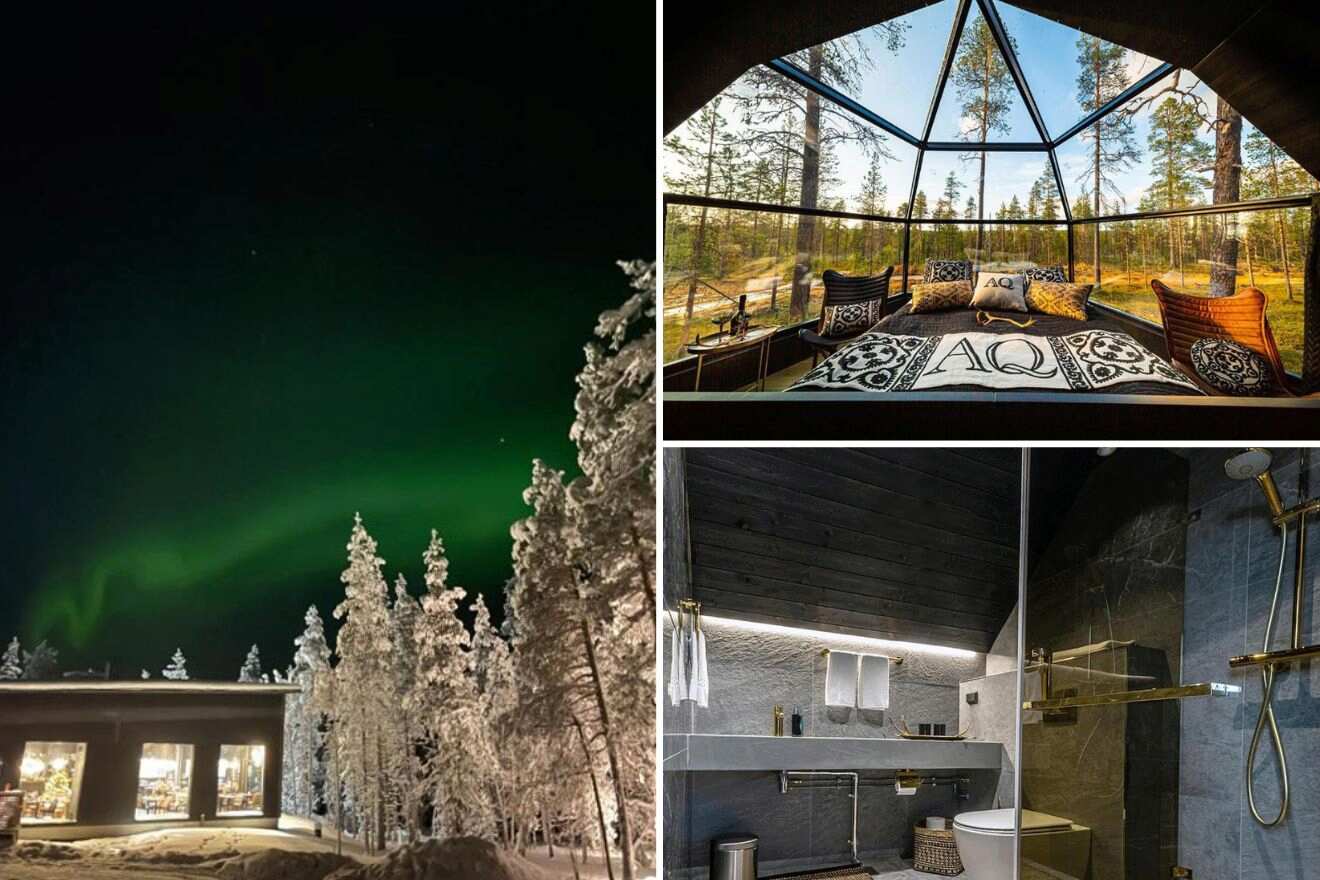 Although Finland is outrageously beautiful during the winter months, you'll find that during the warmer months, there's also a sort of uniqueness to the place, especially in summer when the magical midnight sun takes reign over the lands! And you can best admire it from the comfort of your Aurora Cabins like these ones!
The glass igloos come with a bathroom and free Wi-Fi. Located in Saariselka between trees, the accommodation also has a restaurant on-site and a bar, and it offers an airport shuttle for the guests. Each morning before heading out to hike or cycle, enjoy a yummy continental breakfast to set you up for the day!
21. Aurora Hut Igloo – a beautiful place for couples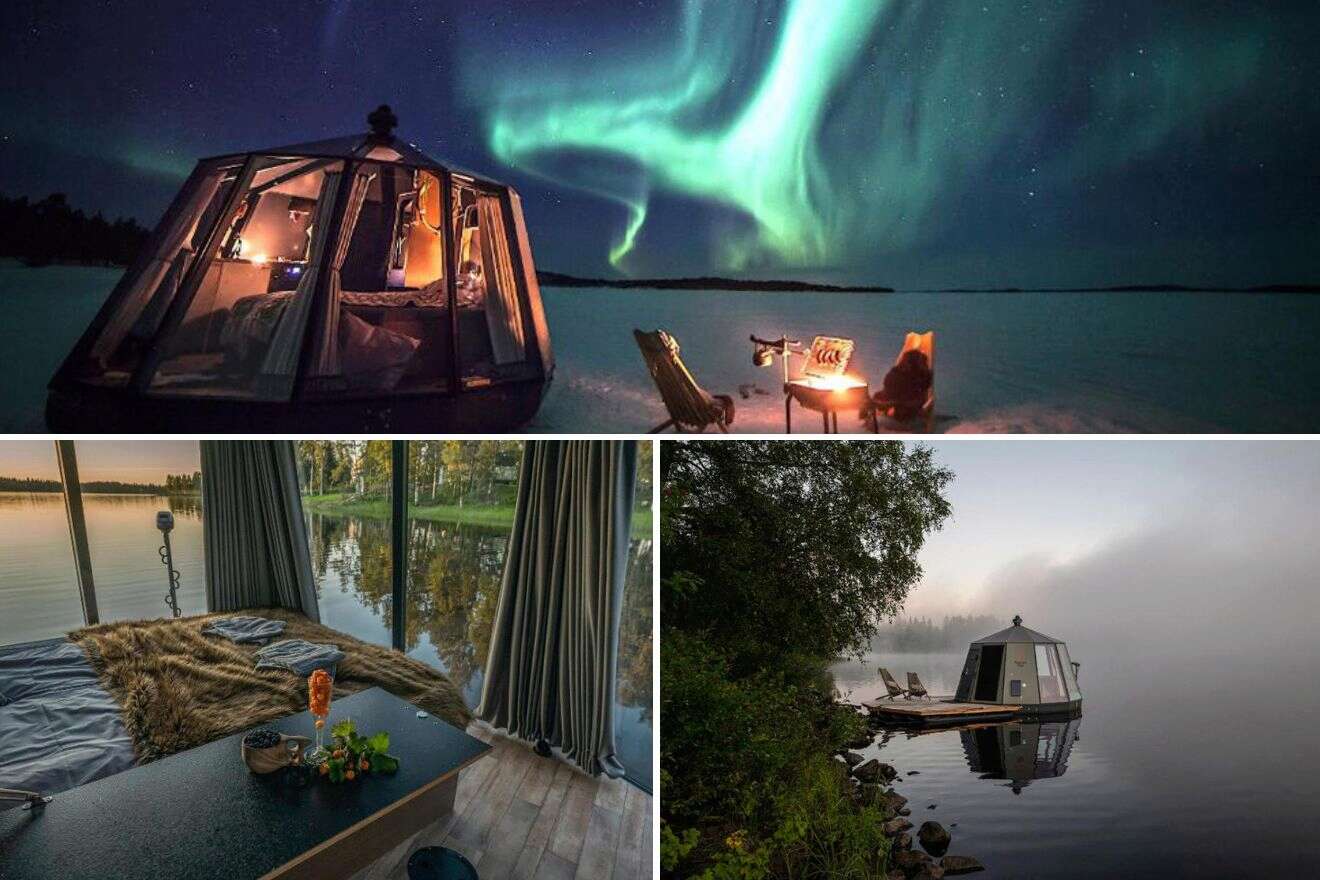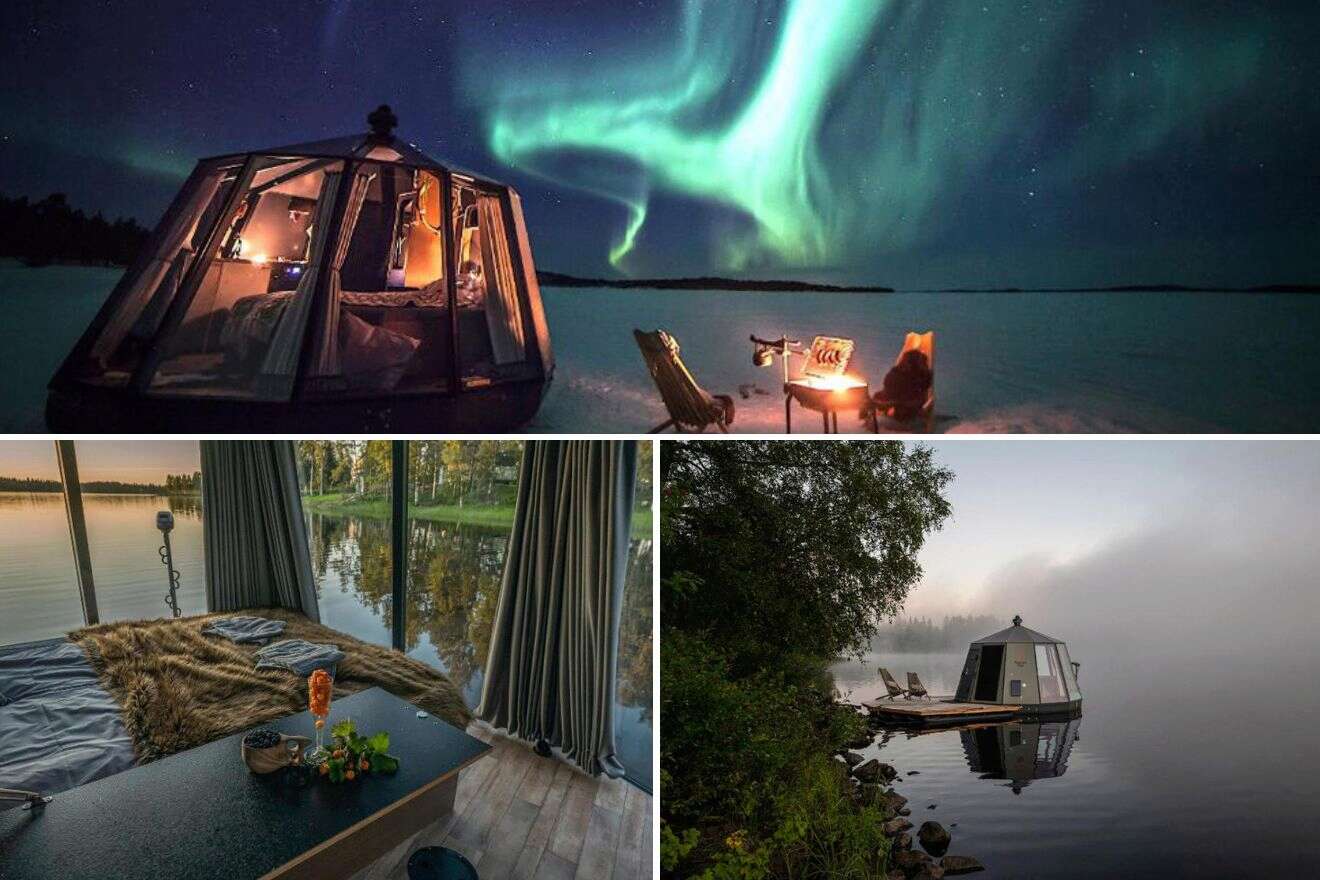 Planning a romantic getaway? Then check out this cool glass igloo which is super secluded and offers river views! Set in Rovaniemi, the accommodation has only room for 2 people, and it provides heating, coffee makers, and a comfortable bed.
Enjoy a few days of complete silence, tranquility, and the magical Aurora Borealis or the midnight sun if you're coming during that time of the year! Wake up early in the morning, make yourself some coffee, and afterward get ready to go on adventures in this mystical place!
BONUS 1: 3 Unique hotels in Finland
Since Finland is packed with incredible places to stay I've decided to make a bonus section with some unique hotels that will definitely catch your eye!
I ordered the hotels from most to least expensive, and the prices start from US$300 to US$400: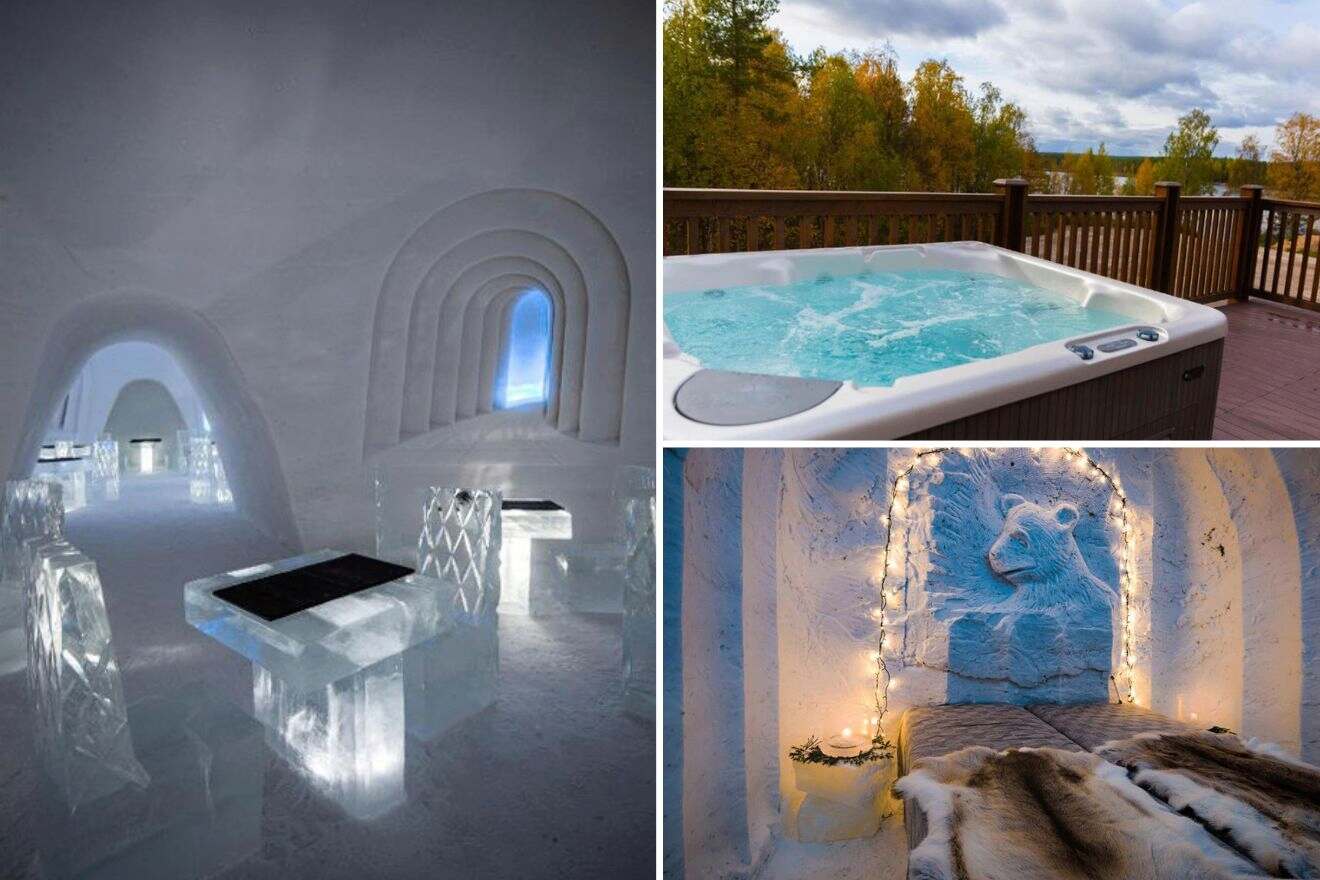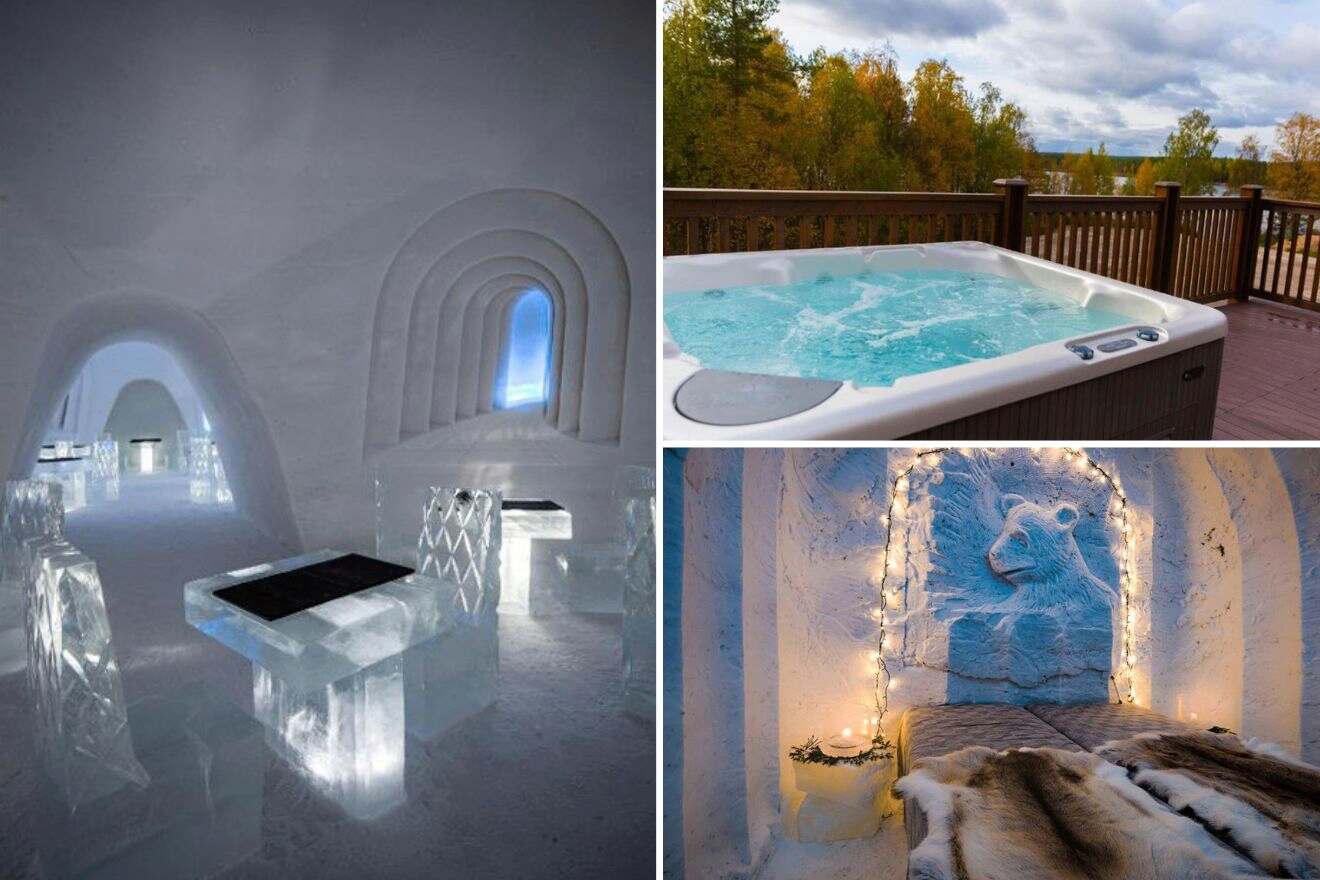 Lucky Ranch Snow Igloos – Ever wanted to stay in a snow igloo? Well, now it's your chance! This ice hotel is located in Pyhätunturi, and it features a terrace, a restaurant, and a bar! And, of course, you'll also get to relax in a traditional Finnish sauna and eat yummy local food!
Arctic Snow Hotel & Glass Igloos – Welcome to the biggest ice hotel in the world! Located in Sinetta! You'll find some of the best glass igloos here, which have heated floors, thermal-glass roofs, and an Aurora alarm that will notify you when the Northern Lights appear! The resort also offers an outdoor hot tub, a snow sauna, and 3 restaurants.
Lapland Hotels Snow Village – Featuring unique ice sculptures, entire rooms made out of ice, and lots of activities, this snow hotel is surely a keeper! The accommodation features spacious ice rooms with a comfy bed, shared bathroom facilities, a heated indoor log restaurant, and an ice bar.
BONUS 2: Best luxurious hotels in Finland
Now that we've seen some of the best glass igloos hotels in Finland, I thought I'd offer you a list of super luxurious and fancy accommodations! This country is packed with incredible places and I wanted my readers to have all the possible options, so let's check them out:
I've ordered them from most to least expensive, and the prices start from US$200 to US$300: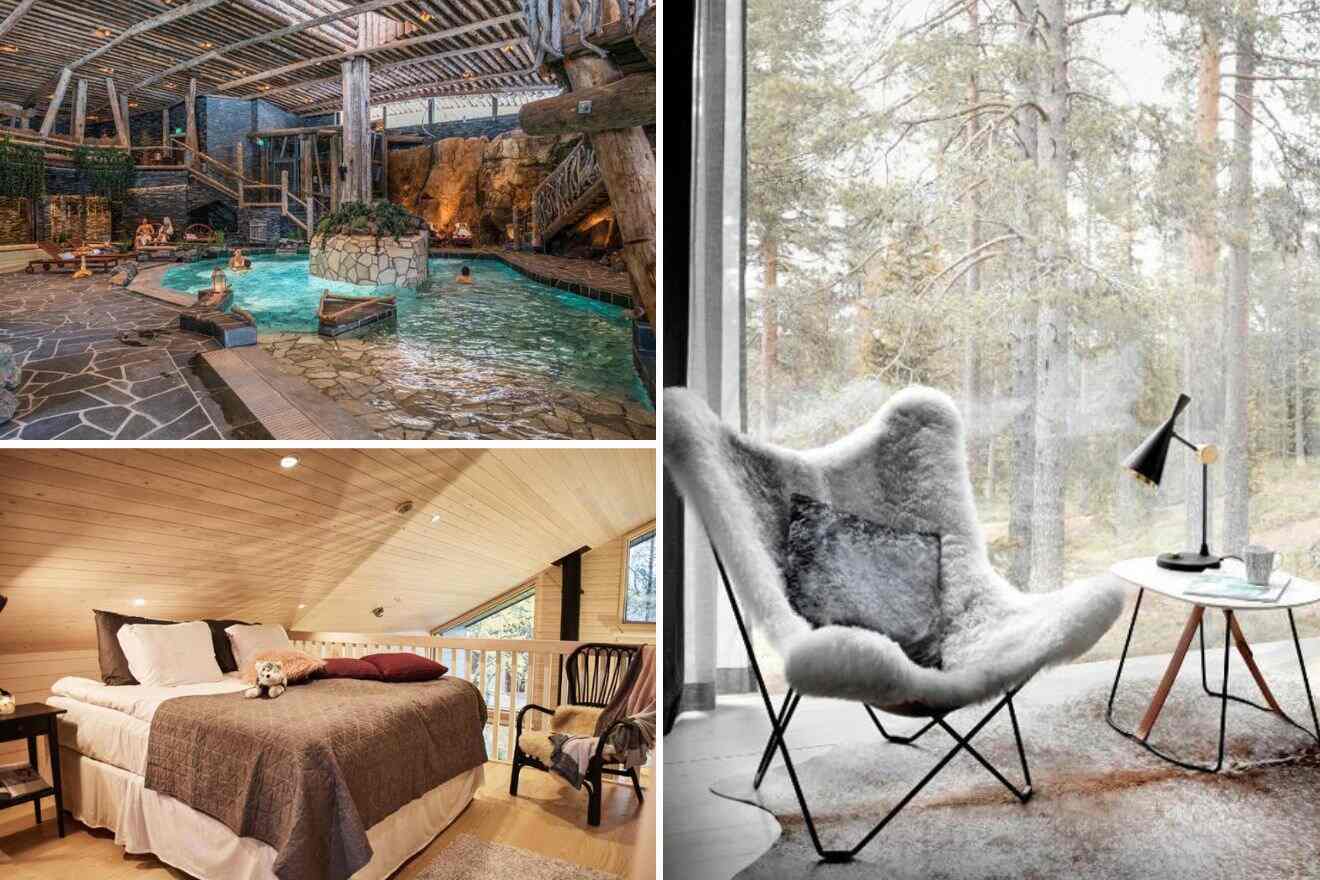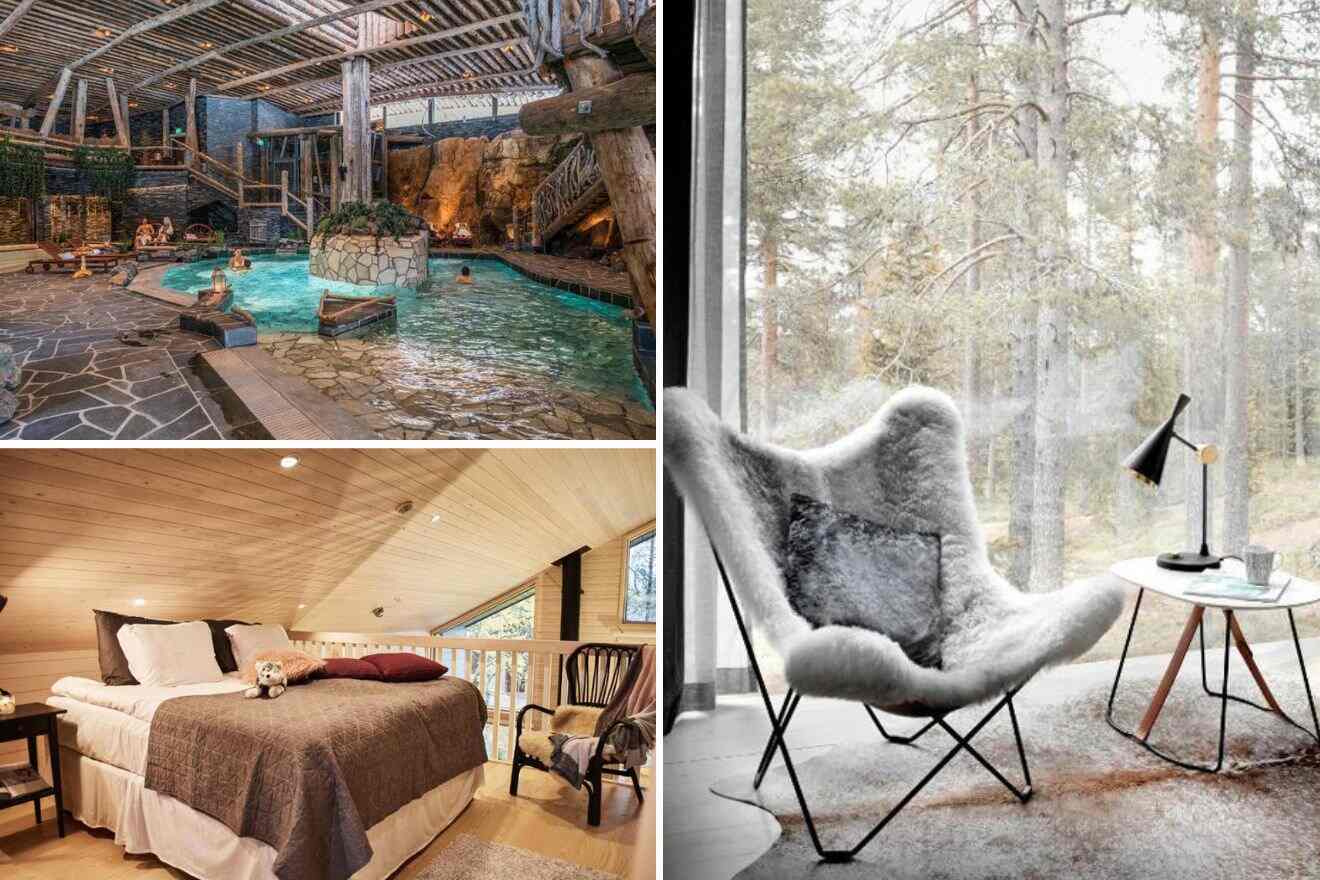 Hotel & Spa Resort Järvisydän – Hope you're ready for a few days of non-stop pampering at the spa, yoga, and spending time in nature! This incredible hotel located in Rantasalmi offers some beautifully-decorated rooms which have wooden furnishings and large windows with great views.
Arctic TreeHouse Hotel – Tucked away between the trees, this fabulous hotel in Rovaniemi has rooms with a gorgeous Nordic design and breathtaking views! The accommodation offers a restaurant, a bar, and an outdoor fireplace from where you can admire the Northern Lights at night if there's light pollution.
Nova Skyland Hotel – Located in Santa Claus Village within the Arctic Circle, this hotel is super stylish! All the rooms feature a Scandinavian design and have large windows from where you can see the Northern Lights. Each morning you can enjoy a yummy breakfast at the hotel and then sign up for adventures like husky safaris, reindeer farm tours, and snowmobile safaris!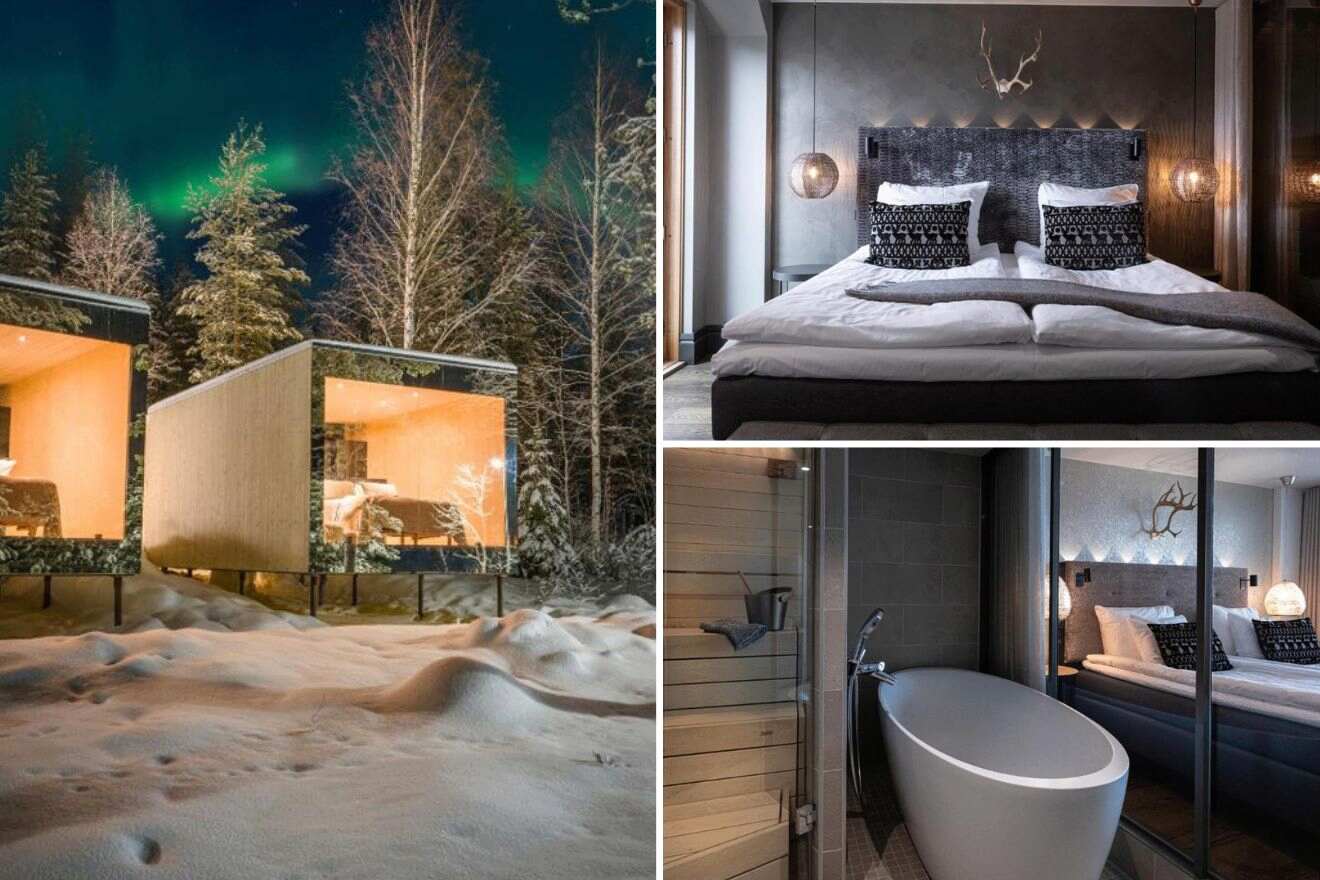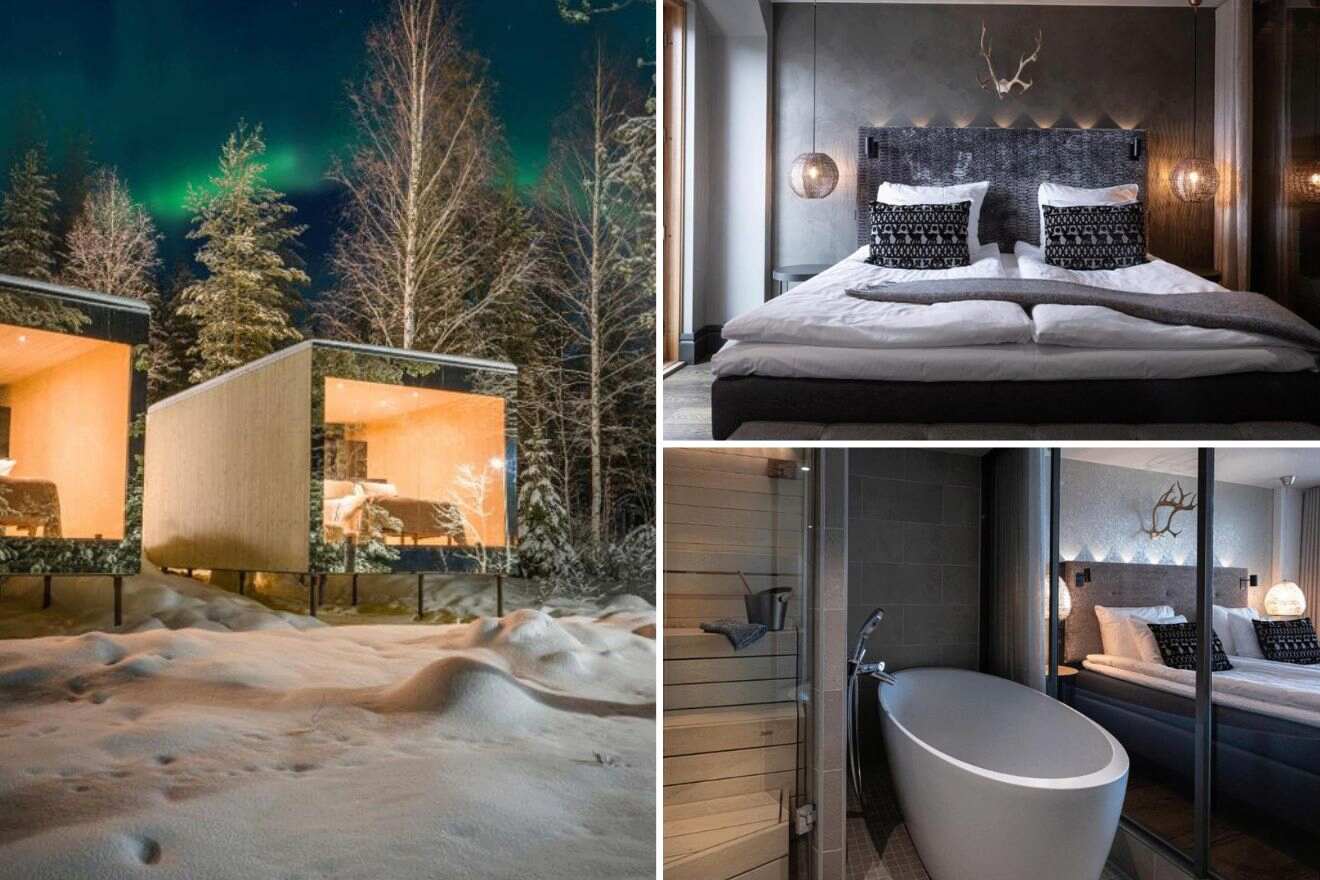 Lapland Hotels Bulevardi – Still looking for a place to stay in Helsinki? Then check out this hotel which offers some amazing city views! The accommodation offers rooms with a sauna or a terrace, a restaurant, and a restaurant as well.
Kuuru Lakeside – Nature lovers, this one's for you! This hotel has a beautiful location in Salla, in a mesmerizing forest where you can see the Northern Lights or admire the magical midnight sun. Each unit comes with large windows, a small kitchenette, and free Wi-Fi.
FAQs about Igloo hotels in Finland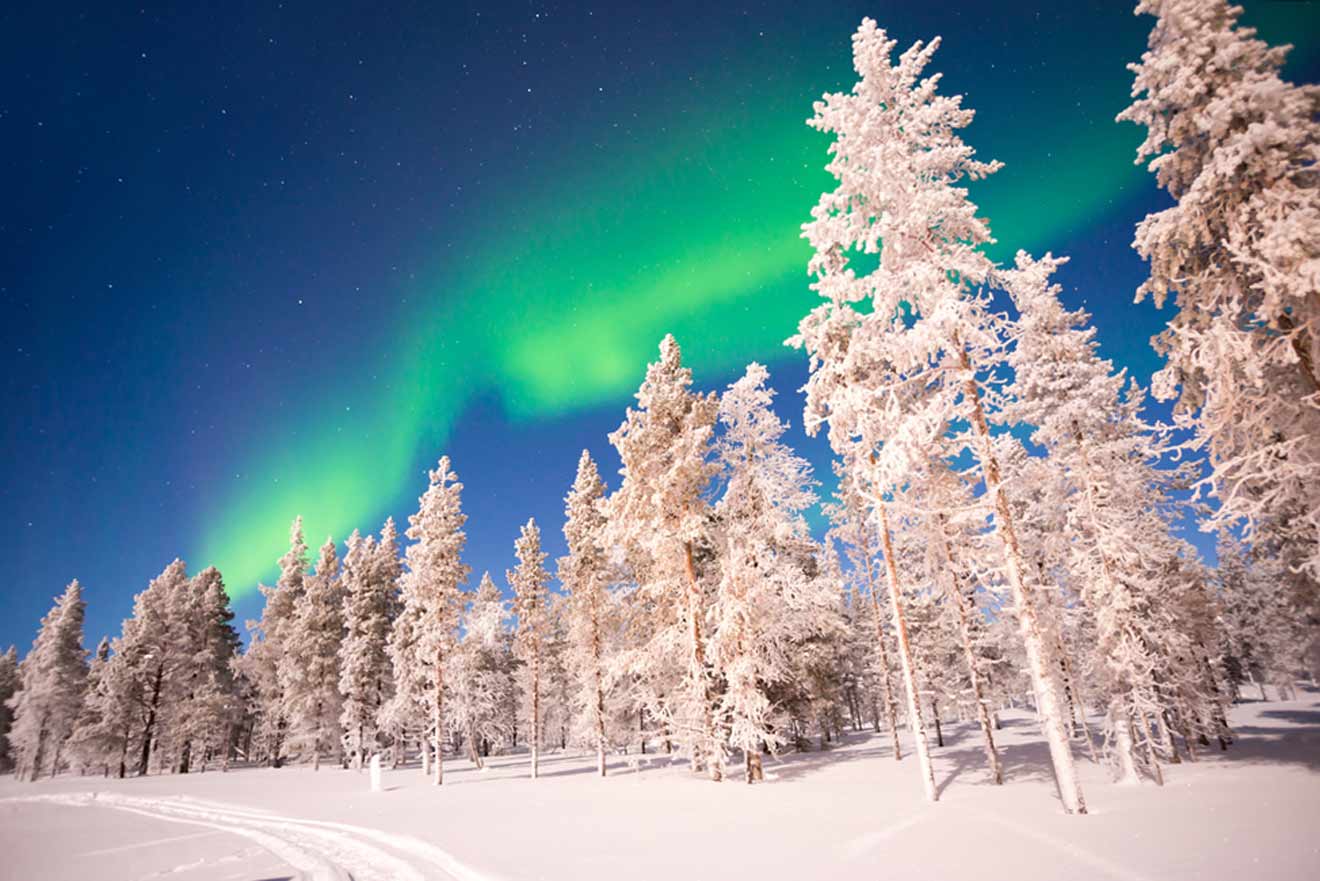 💰 How much do the glass igloo hotels in Finland cost?
Usually, a budget glass igloo hotel costs around US$200, a mid-range is US$400, and a luxury glass igloo hotel costs US$600.
🚻 Are there bathrooms in the Finland igloo hotels?
Yes, most of the glass igloo hotels come with a small bathroom.
🌌 What is the best time to see the Northern Lights in Finland?
The best time to see the Northern Lights starts at the end of August, when the nights get darker, and ends at the start of April when the nights start to get lighter.
🧊 Which are the best glass igloo hotels in Finland?
Conclusion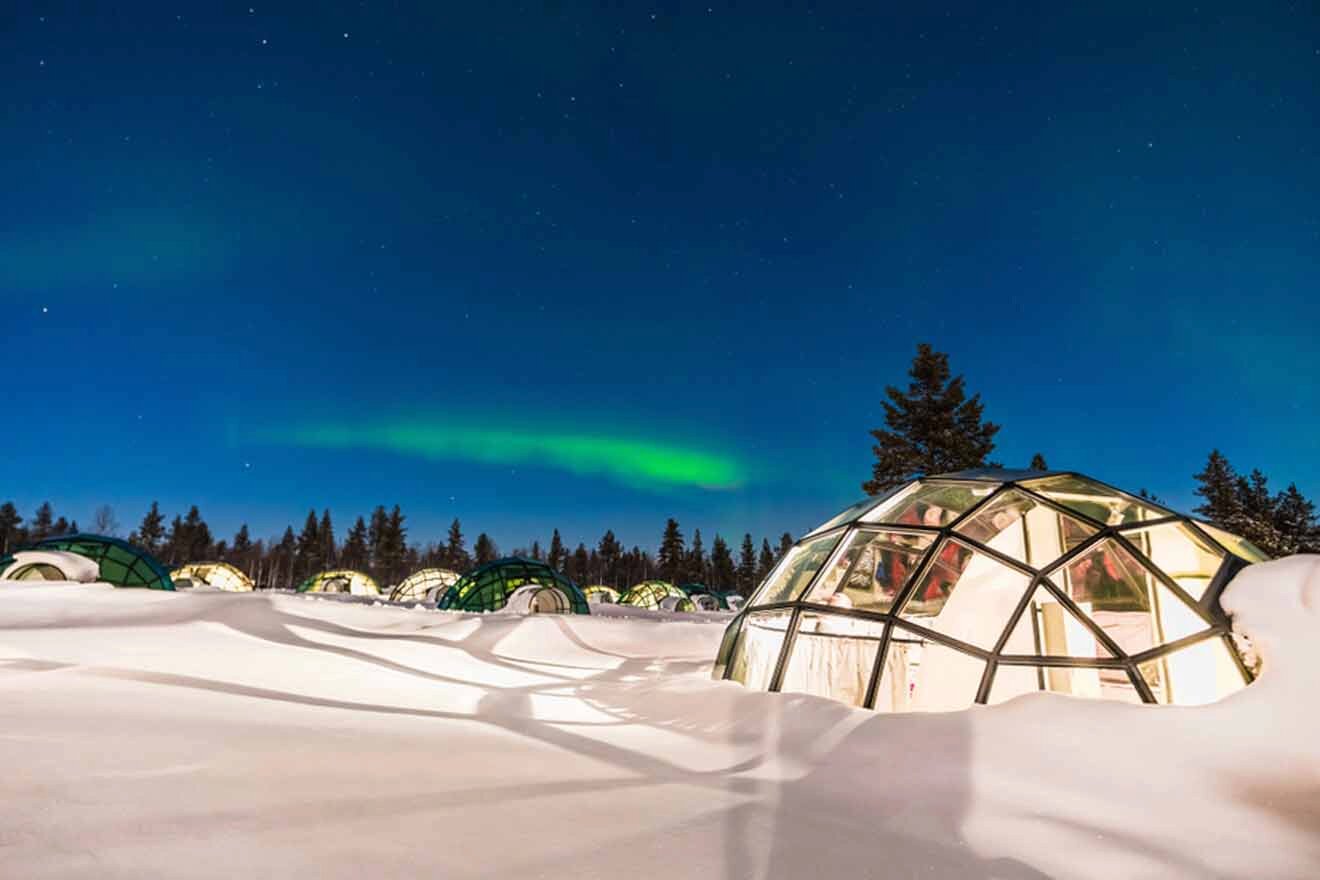 What a beautiful country! You're so lucky to be heading down there, and now that you've got this list of the best igloo hotels in Finland, plus 2 bonus sections with some unique hotels there and the top luxurious hotels in the country, I'm sure it'll be much easier to plan the trip!
But as I mentioned, I recommend booking your glass igloo resorts in advance! These are some of the most popular accommodations in the country, which means that they'll sell out pretty fast!
And since we're on this chapter I wanted to leave you with my 2 favorite Finland igloo hotels:
Glass Resort – Located within Santa Claus Village, this resort is one of the best luxury glass igloos, and it offers a private outdoor hot tub, a delicious breakfast, and a sauna
Aurora Queen Resort Igloos – See the Northern Lights dancing from your igloo at this resort that offers a restaurant and a bar
Well, this is my queue to leave! Enjoy your adventures, the ice climbing, and the beautiful Northern skies! And don't forget I'm always around for extra questions. All you've got to do is leave me a comment below, and I'll answer ASAP!
Safe travels,
Victoria
---
Pin it for later!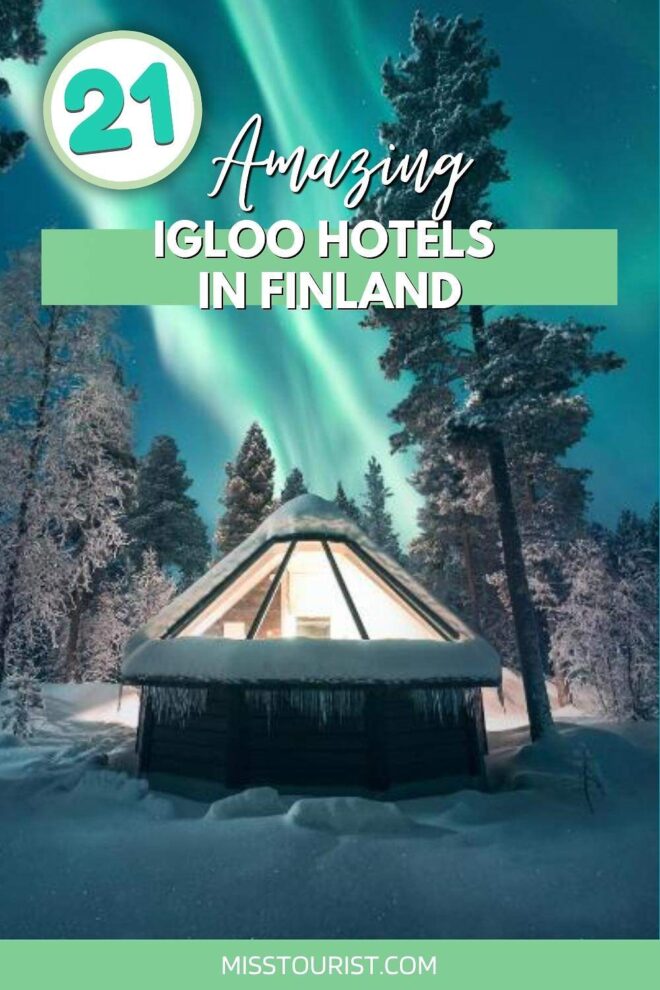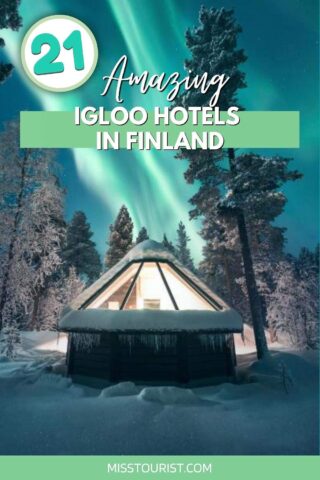 Pin it for later!