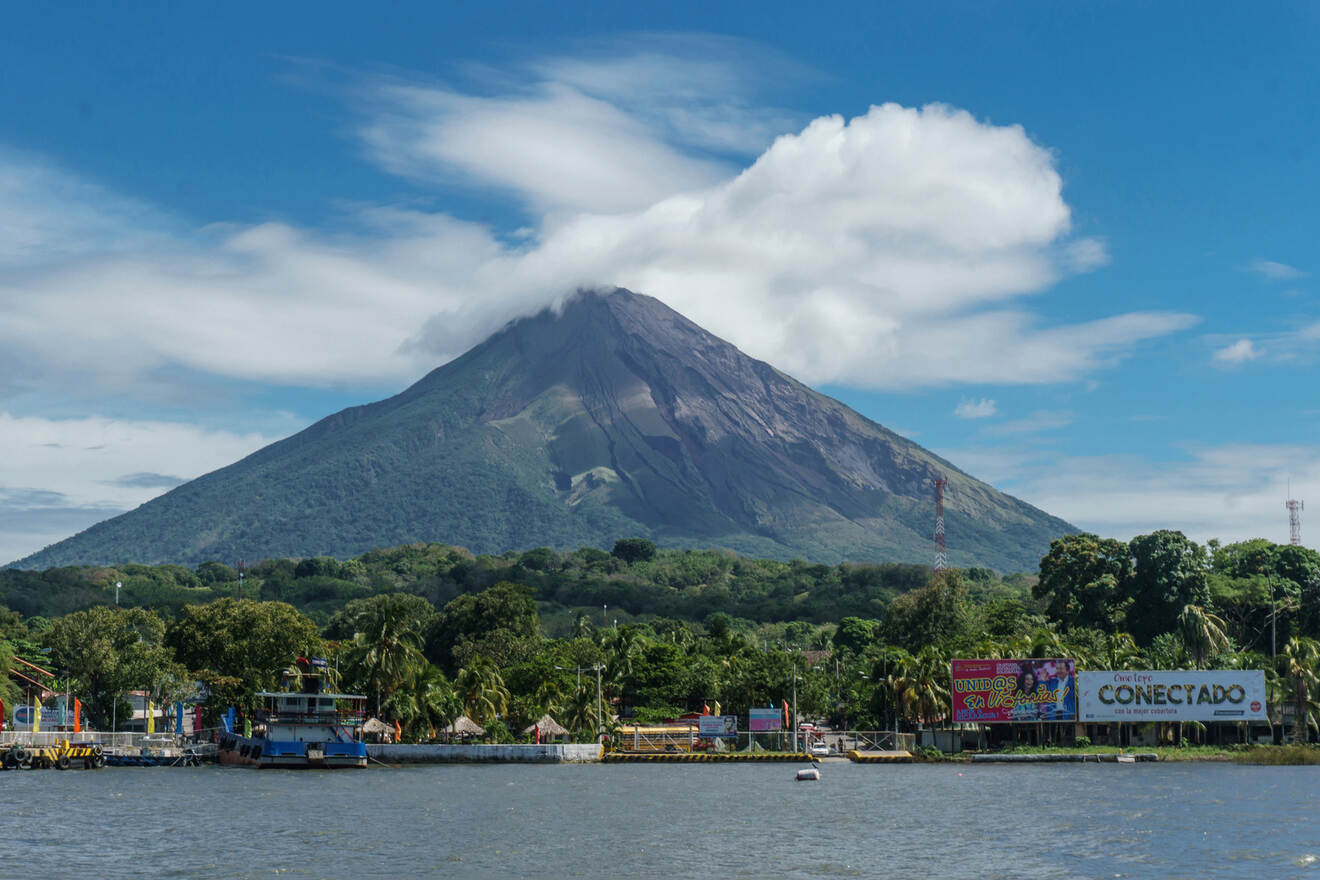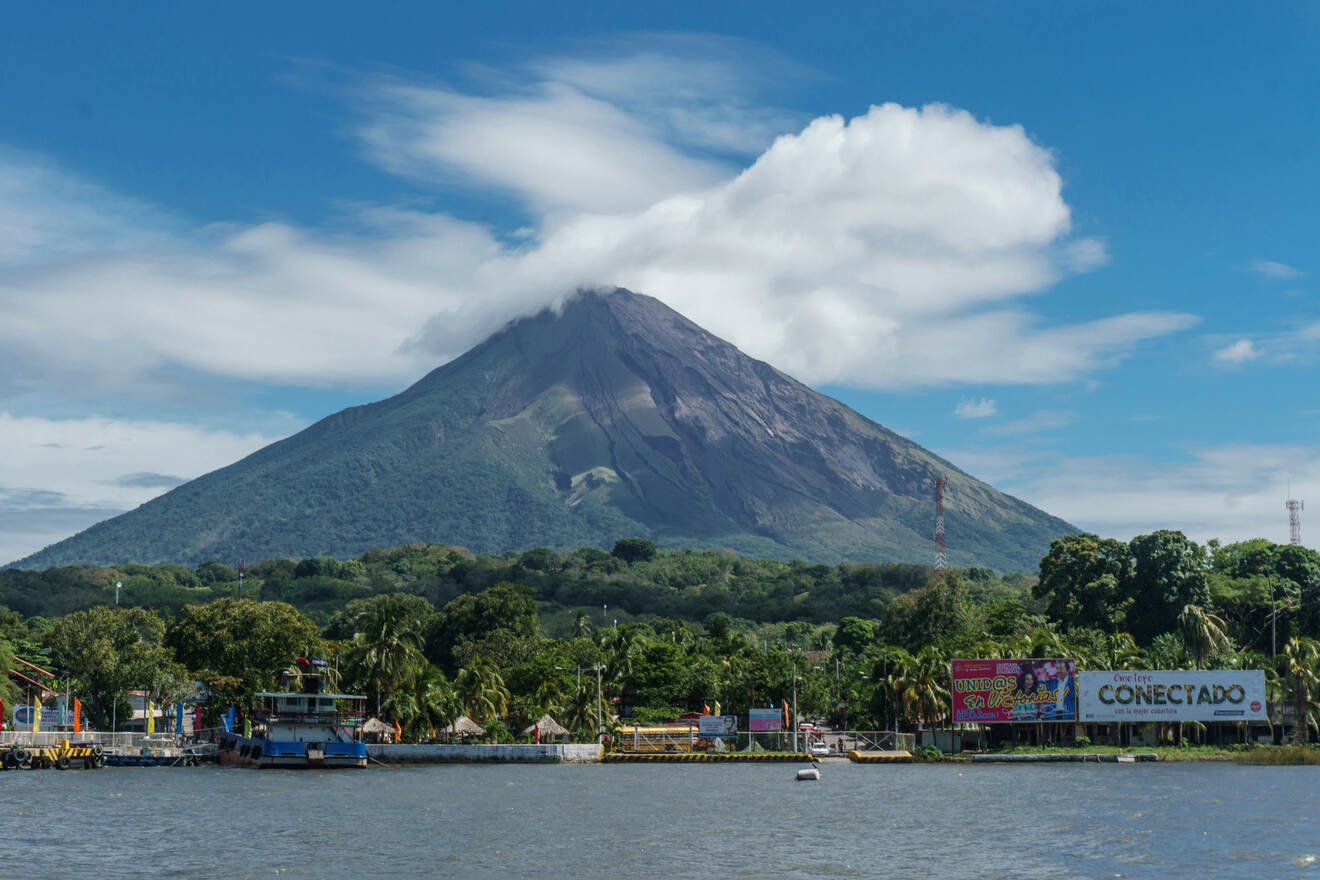 Ometepe is a magic island made of two volcanoes and located inside Nicaragua's big Lake. The active Concepción Volcano lies on the north of the island, while south you'll find Maderas Volcano and the stunning San Ramón Waterfall.
At first sight, you may never imagine that you could actually stay here, surrounded by the most incredible natural landscapes, but good news: you can! That's why I made this guide with the best areas where to stay in Ometepe Island, including some great hotels and hostels for different budgets.
Moyogalpa, the island's main town, is the best place to stay in Ometepe if it's your first time on the island, but there are other areas where you can enjoy beautiful nature, incredible sunsets every night, and the unique culture, like in Balgue, Altagracia or Merida!
After reading this post, you will know exactly which area of Ometepe Island fits your travel and budget needs and you'll be ready to book the perfect hotel or hostel for your vacation in paradise!
But make sure you don't wait too long to reserve your accommodation. In such a secluded destination, places sell out super fast! Are you ready?
Let's start!
If you are in a hurry
If you need to take a quick decision and book immediately, I got your back, check this list with the best hotels located in Moyogalpa:
Here's a map with the 4 best areas where to stay on Ometepe: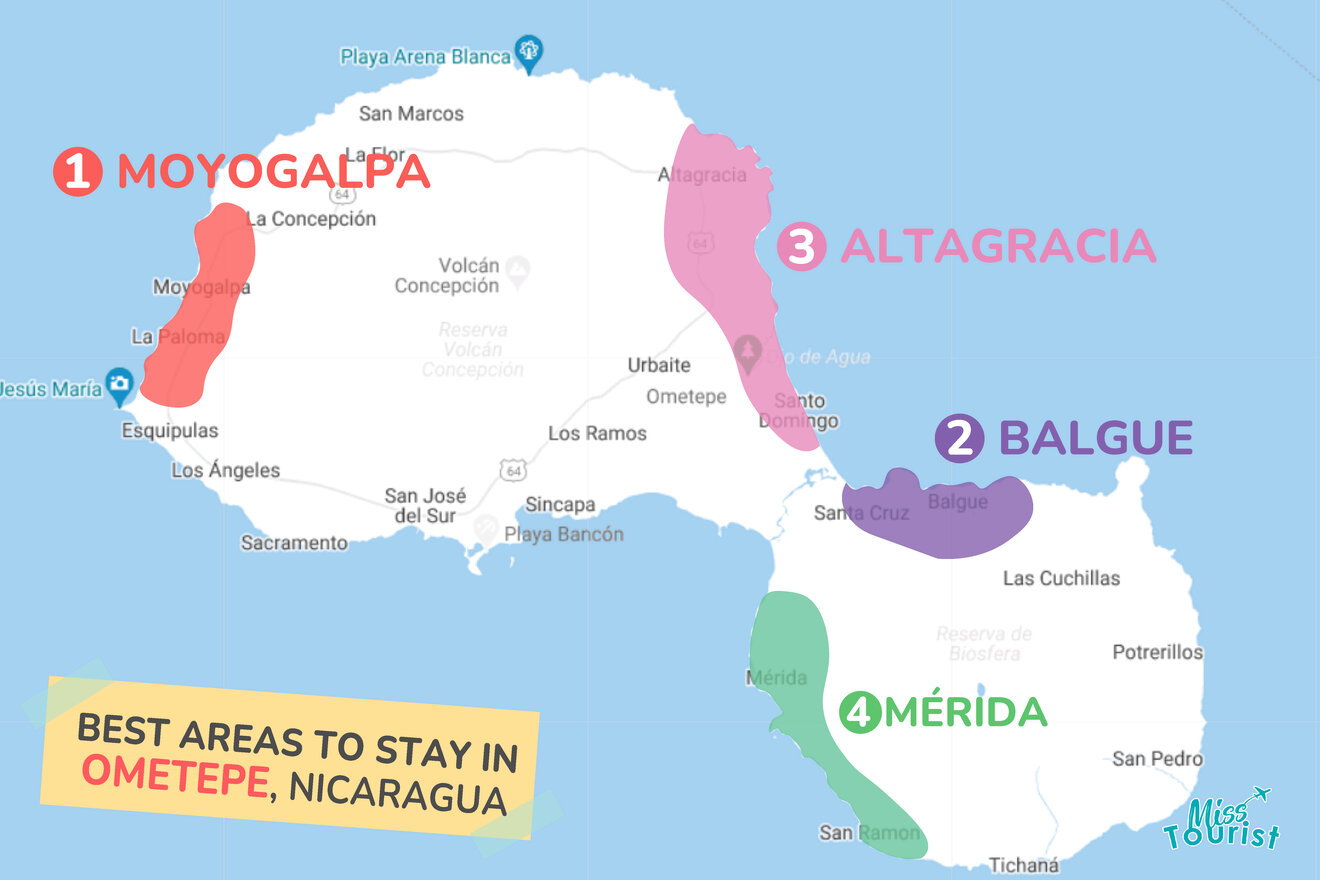 1. Moyogalpa – where to stay in Ometepe for the first time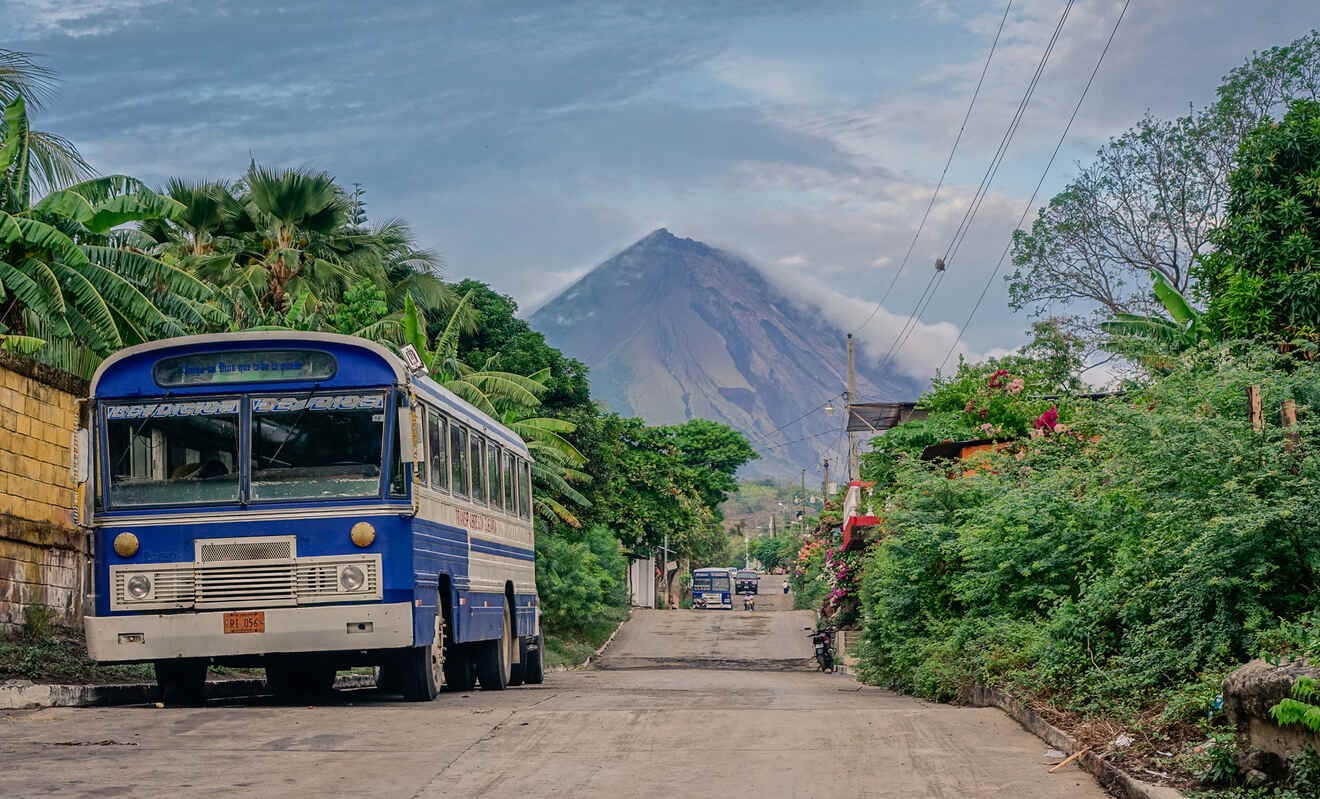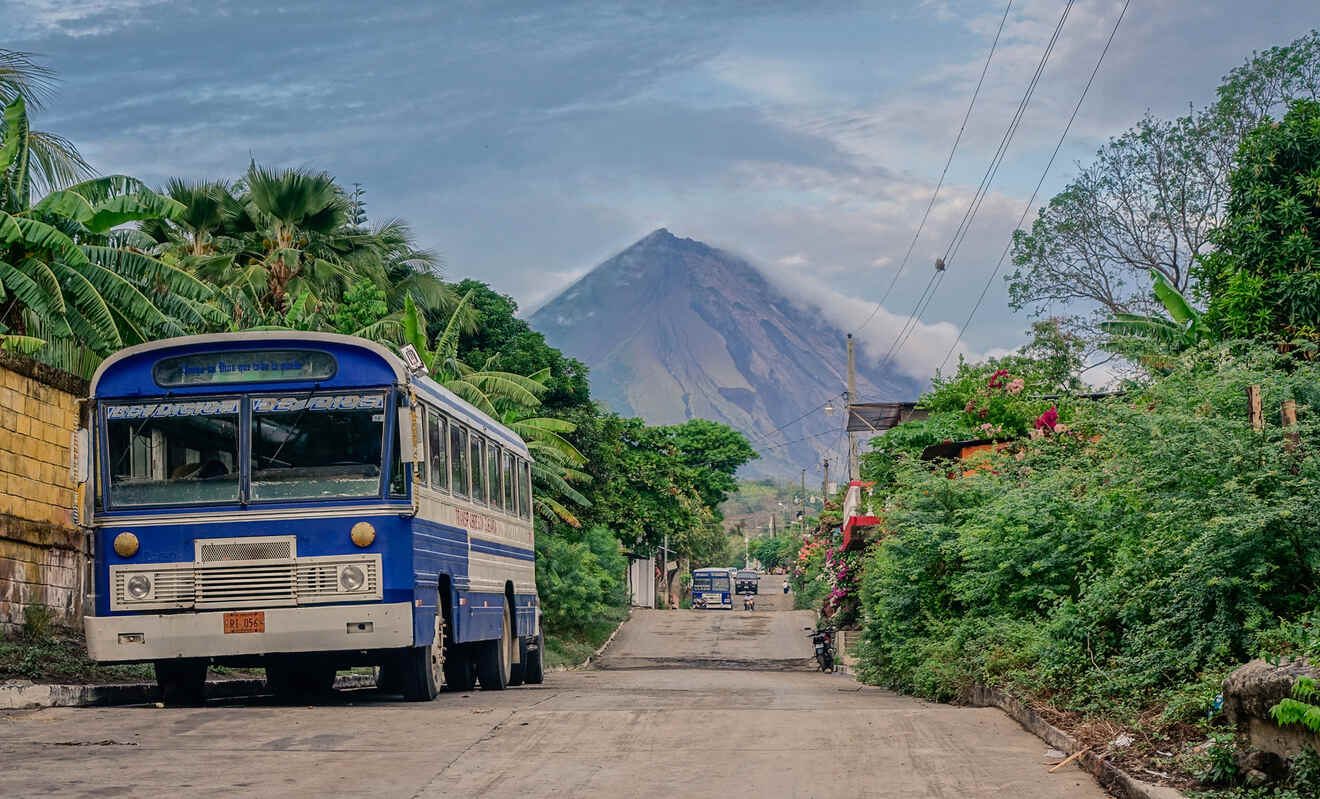 Moyogalpa, located in the northwest of Ometepe, is one of the oldest towns in Nicaragua and the main gateway to Ometepe Island, hosting the main ferry port.
This is the most touristic place on the whole island: here you'll find the biggest number of accommodation options, restaurants, tour operators, bars, and even a club (all within walking distance from each other), making it the perfect spot to stay in Ometepe for the first time.
The town itself doesn't have anything really special to offer but is the best base to explore the island from, either with the countless tours or also by yourself… you'll just need to rent a scooter!
If you're here, I suggest you check out the stunning natural landscapes nearby, such as the Concepción Volcano, the Chico Largo Natural Reserve, Punta Jesús María (the westernmost tip on the island), and several quiet beaches such as the beautiful Charco Verde.
Moyogalpa is the most convenient and budget-friendly place to stay on Ometepe… check out its great hotels below (and make sure you book them some months in advance if you want to secure a spot there).
Luxury hotel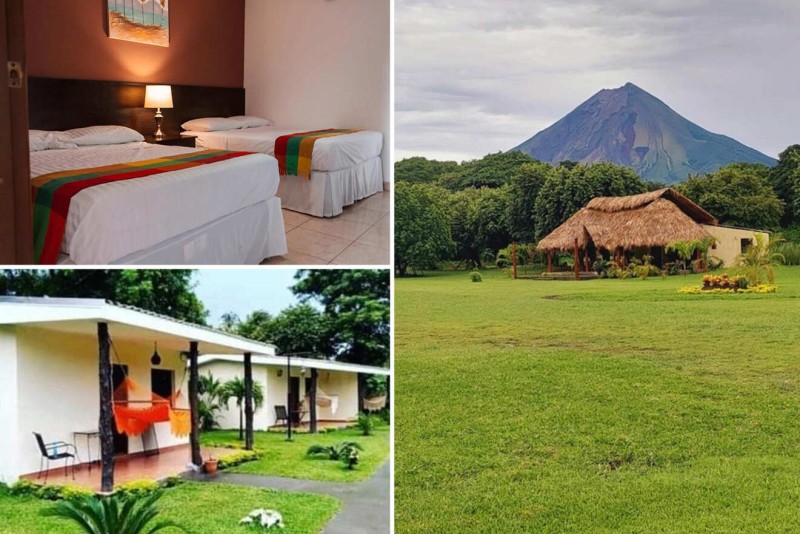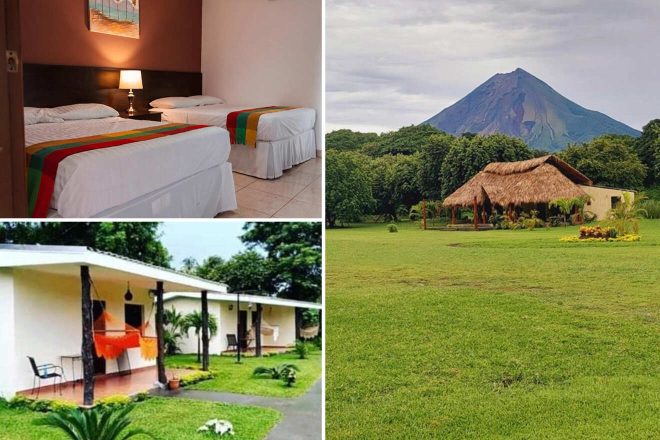 Hospedaje Soma Ometepe Hotel has all the comforts you need for your stay on Ometepe! Enjoy the restaurant serving delicious food, an outdoor swimming pool where to relax, and a bar for amazing cocktails! Other pluses? Booking a room here will give you access to a continental or à la carte breakfast, free parking, and free wifi! Guests particularly love the service!
Other accommodation options in Moyogalpa
Mid-Range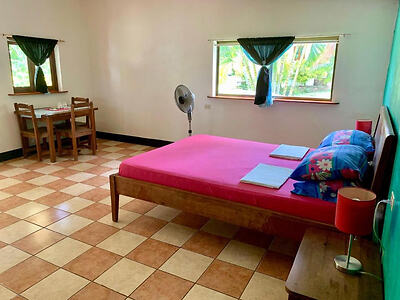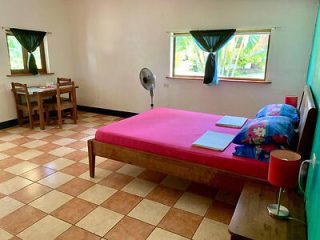 Enjoy your spacious private room with access to free WiFi and an amazing continental breakfast!
Budget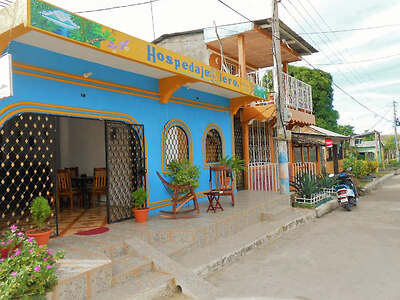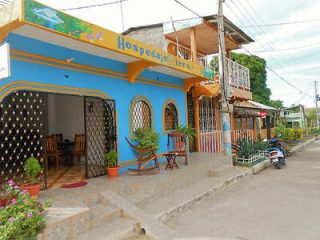 Great hostel in a great location, offering clean guest rooms or beds in a dorm, and views of the volcano from the balcony!
Airbnb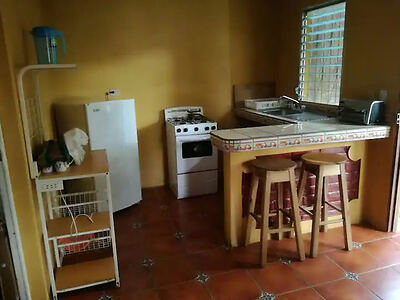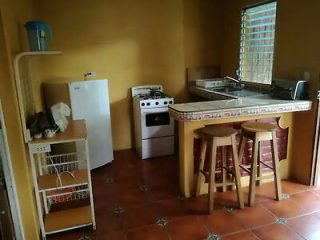 One of the best places to stay in Ometepe if you're searching for complete privacy, located just near the ferry port!
Things to do in Moyogalpa
Challenge yourself and hike up to the Concepción Volcano
Hike in Chico Largo Natural Reserve and learn about its legends
Relax in the beautiful quiet beach of Charco Verde!
Explore the Island of Ometepe with this great day tour!
Check out the archeological collection of Museum El Ceibo
Bring the family to Parque Municipal De Moyogalpa
2. Balgue – where to stay in Ometepe for nature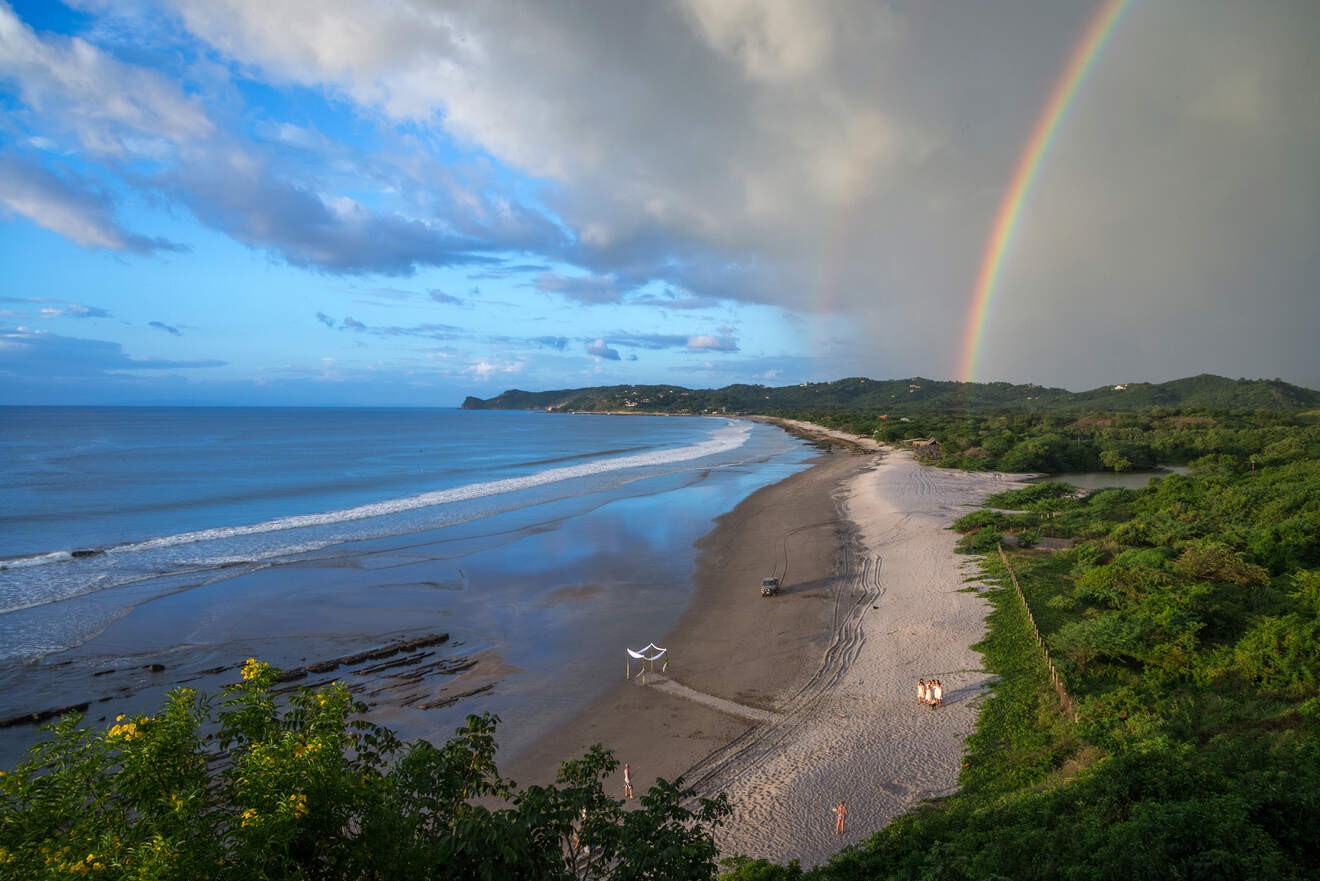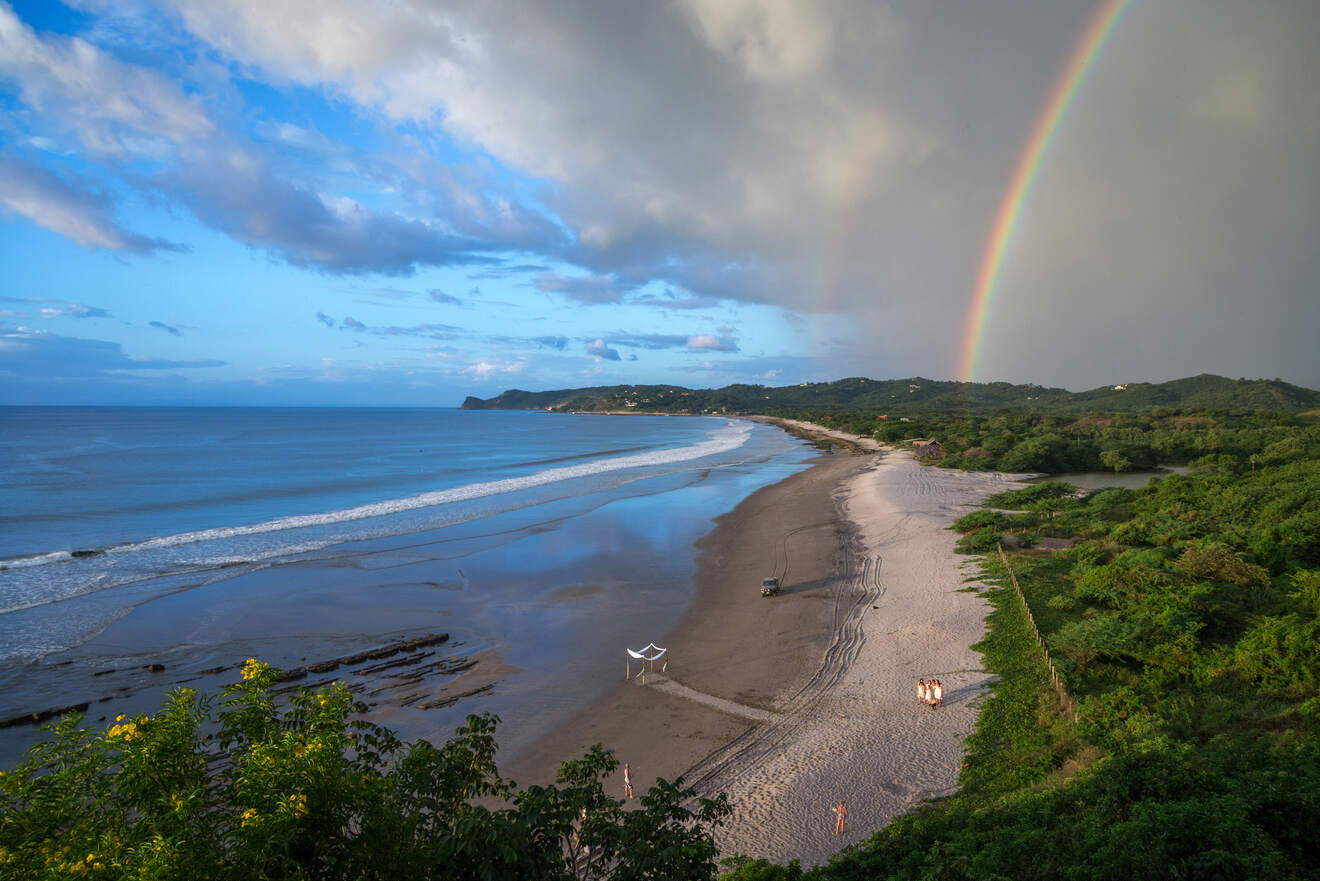 Balgue is a small village located on the southeast part of the island, north of the Maderas Volcano. With only three restaurants, a handful of hostels, and a couple of small tiendas (tiny convenience stores), Balgue is Moyogalpa's quiet counterpart.
This remote part of Isla Ometepe is actually a long known destination for Central American backpackers and one of Nicaragua's prime destinations for ecotourism.
In fact, Balgue residents strive for a life in total harmony with nature: here you'll find many farming projects dedicated to permaculture or environmental education, eco-hotels, communities using regenerative technologies, growing organic vegetables, and so on!
But apart from this healthy and laid-back lifestyle, this charming town offers the most scenic views of the Concepción volcano and gorgeous sunsets, with howler monkeys and birds sounds in the background (coming from the forest of the Maderas volcano).
Anyways, the things you can do here are countless, from hiking up the Maderas volcano to exploring the intriguing pre-Columbian petroglyphs dispersed all over the city or taking a river bath in the forest at the foot of a natural spring.
If you love nature, this is definitely your spot! And if you want to explore more volcanoes, green jungles, and forests, I suggest you extend your trip to Costa Rica!
Luxury hotel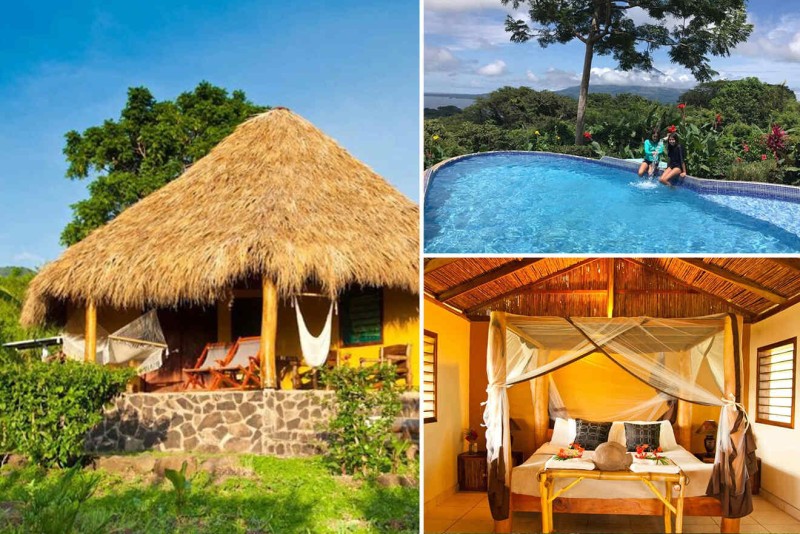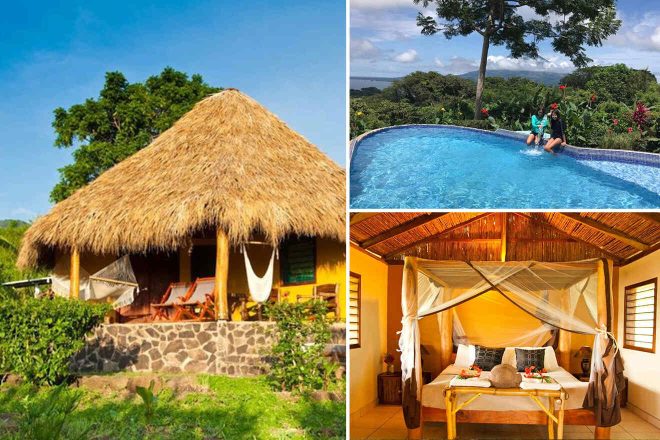 This Eco-lodge located in the middle of the tropical forest is THE place to stay in Ometepe island if you search for luxury and comfort! Offering an outdoor swimming pool, a restaurant, and Free WiFi, here you'll have everything you need for an amazing holiday. Guests particularly love the rooms in the bungalows with wooden furniture, a mosquito net, and big private bathrooms! This eco-hotel is very environmentally friendly, offering programs to help the local communities.
Other accommodation options in Balgue
Mid-Range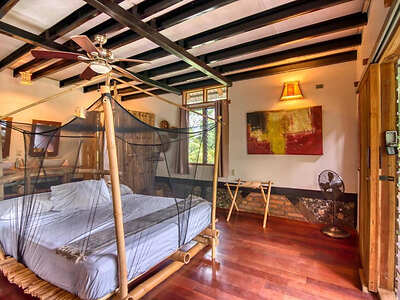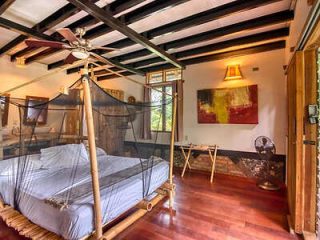 Enjoy your rustic room in Balgue with private outdoor showers and the on-site honesty bar for cocktails!
Budget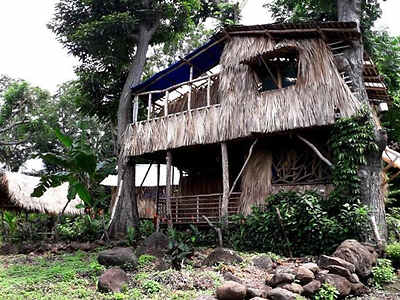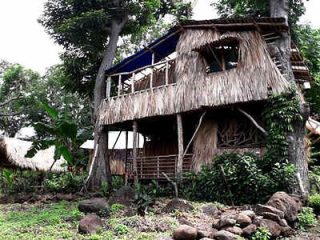 These amazing apartments in Ometepe come with a private patio with lake views and fully equipped kitchens
Airbnb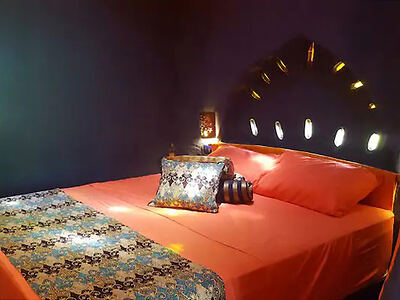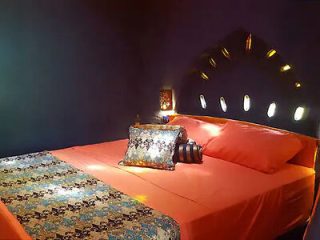 Spend some nights in this secluded and elegant Eco-lodge offering all the comforts in Ometepe
Things to do in Balgue
Find pre-Columbian petroglyphs dispersed all over Balgue town!
Go relaxing in the nearby Santa Cruz Beach
Take a river bath in the forest at the foot of a natural spring
Have an amazing hiking experience on the Maderas Volcano
Enjoy the most scenic views of the Concepción volcano
See gorgeous sunsets every night with your special one!
3. Altagracia – the best area in Ometepe for culture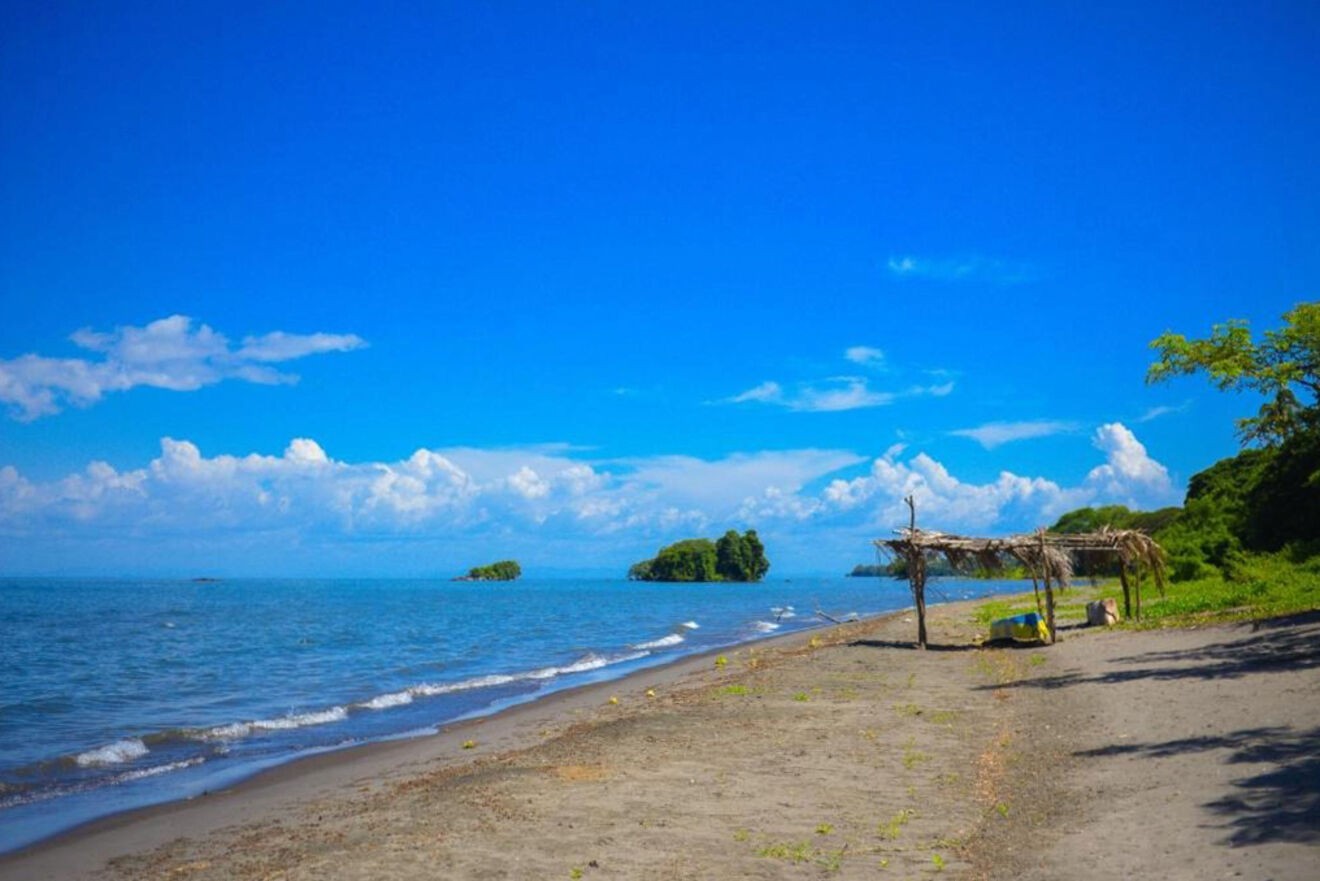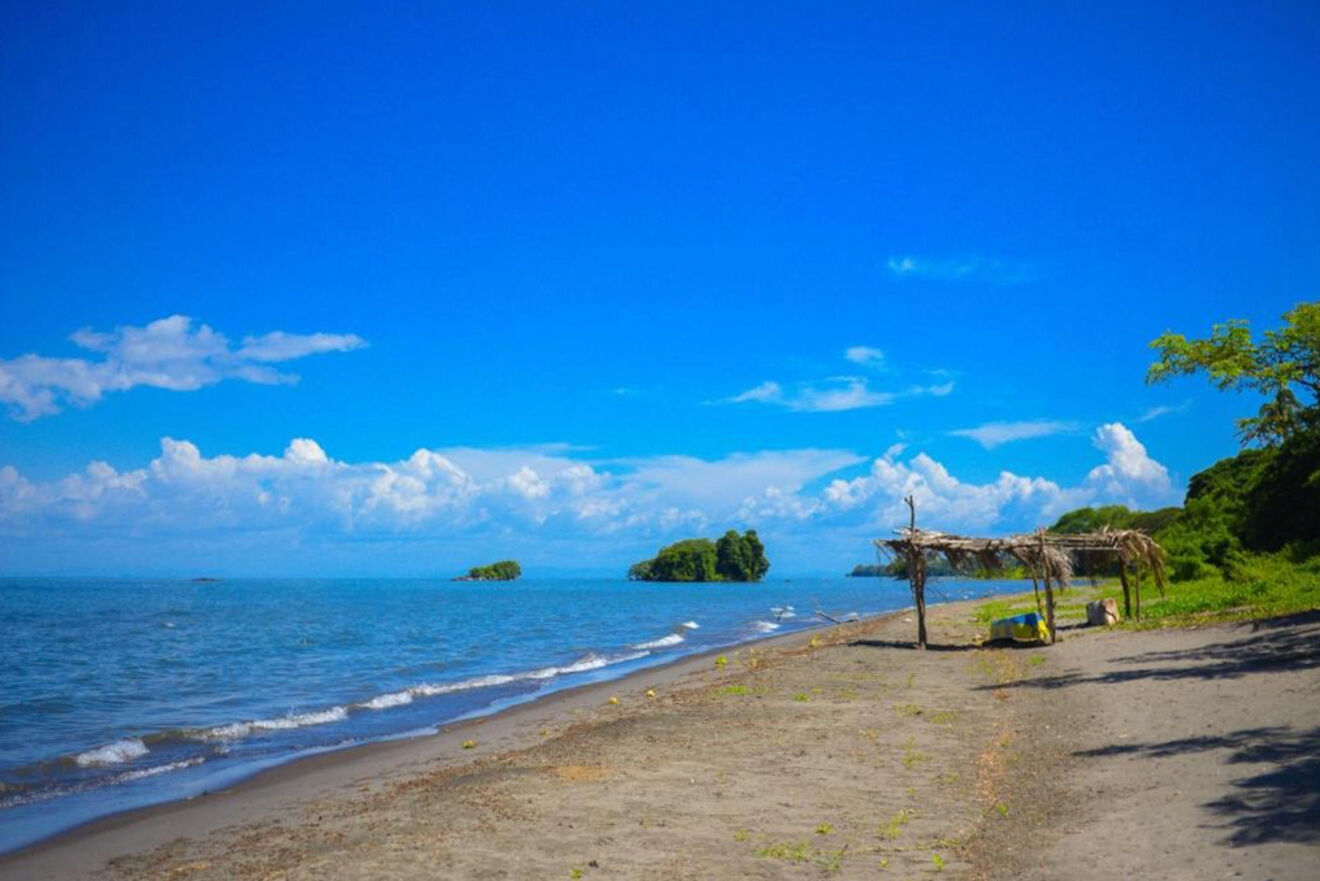 The municipality of Altagracia, on the northeast of the island, covers most of Ometepe. Here you'll find the perfect balance between cultural attractions and natural landscapes in the close surroundings.
In Altagracia town there is a central park surrounded by several colonial houses and the church of San Diego, where you can see the famous petroglyphs: representations of the gods worshiped by the tribes populating the island.
If you're enchanted by history, near the central park you can also visit a super interesting archaeological museum, featuring a collection of pre-Columbian crafts found on the island, like pieces of statuary, utilitarian artifacts, and so on.
As I said before, Altagracia is also the perfect base to explore stunning natural attractions! My suggestions?
Hike up to the San Ramón Waterfall and splash in its pool, surf in Santo Domingo Beach and check out the natural waterhole Ojo de Agua, one of the most magical places in Nicaragua!
Luxury hotel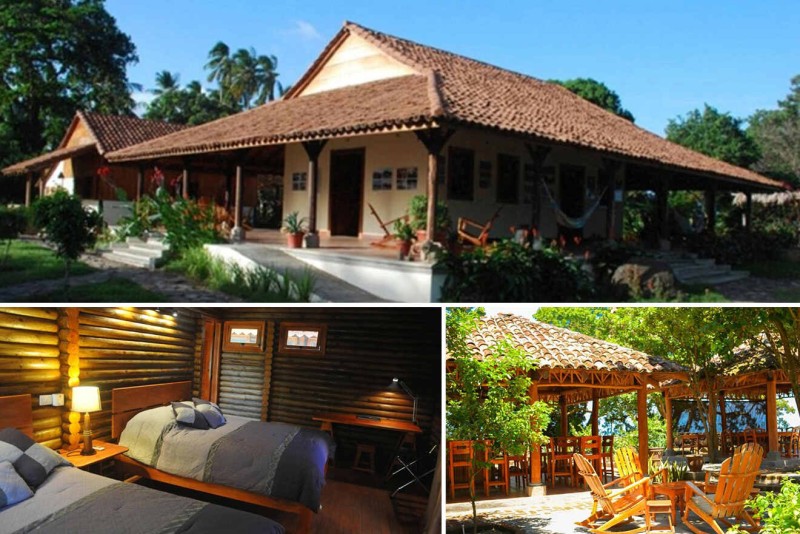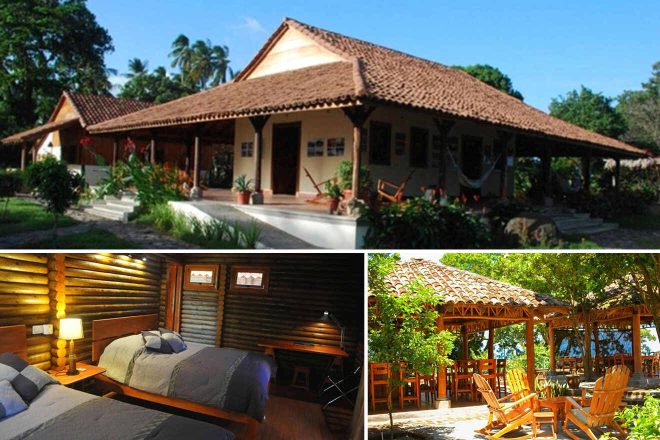 Enjoy your lakefront room in this amazing luxurious hotel in Ometepe, with air conditioning and a private terrace. Guests love the very flexible bar and restaurant, serving some of the best food in Ometepe! But the strength of the hotel is its beautiful location on the water, very quiet and secluded, with views of the Concepción volcano and the surrounding Lake Nicaragua!
Other accommodation options in Altagracia
Mid-Range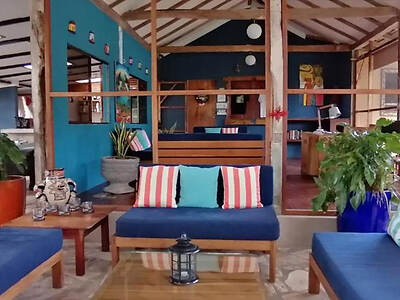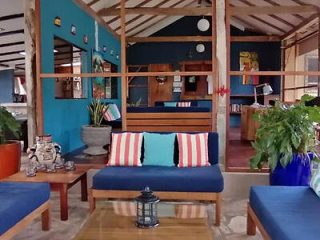 Book a private and spacious room with access to a delicious breakfast and a cool bar in Ometepe!
Budget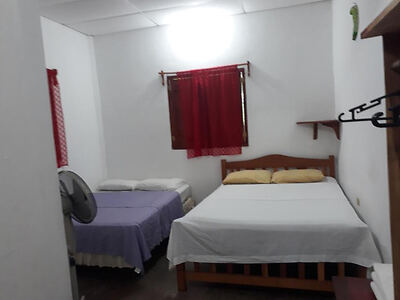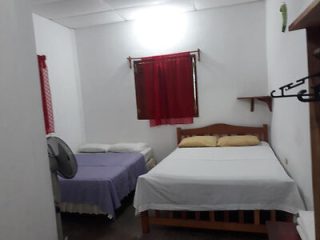 room with access to a delicious breakfast and a cool bar in Ometepe!
Airbnb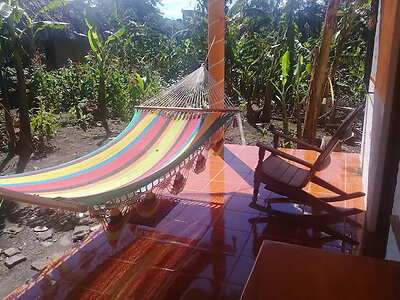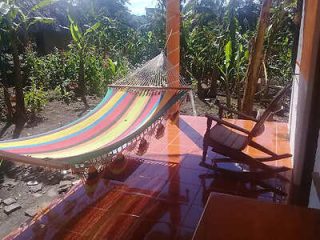 This amazing guest house will offer you a room with a private patio and incredible mountain views
Things to do in Altagracia
Hike to the San Ramon waterfall, a beautiful gem in the middle of the jungle!
Take a walk in Altagracia central park!
Visit the ancient Iglesia San Diego de Alcalá to see beautiful petroglyphs
Check out pre-Columbian crafts in the archaeological museum Altagracia
See the traditional dance "El Zompopo" during the patron festivities in November
Surf in Santo Domingo Beach!
Visit the natural water hole Ojo de Agua
4. Merida – the best place in Ometepe for families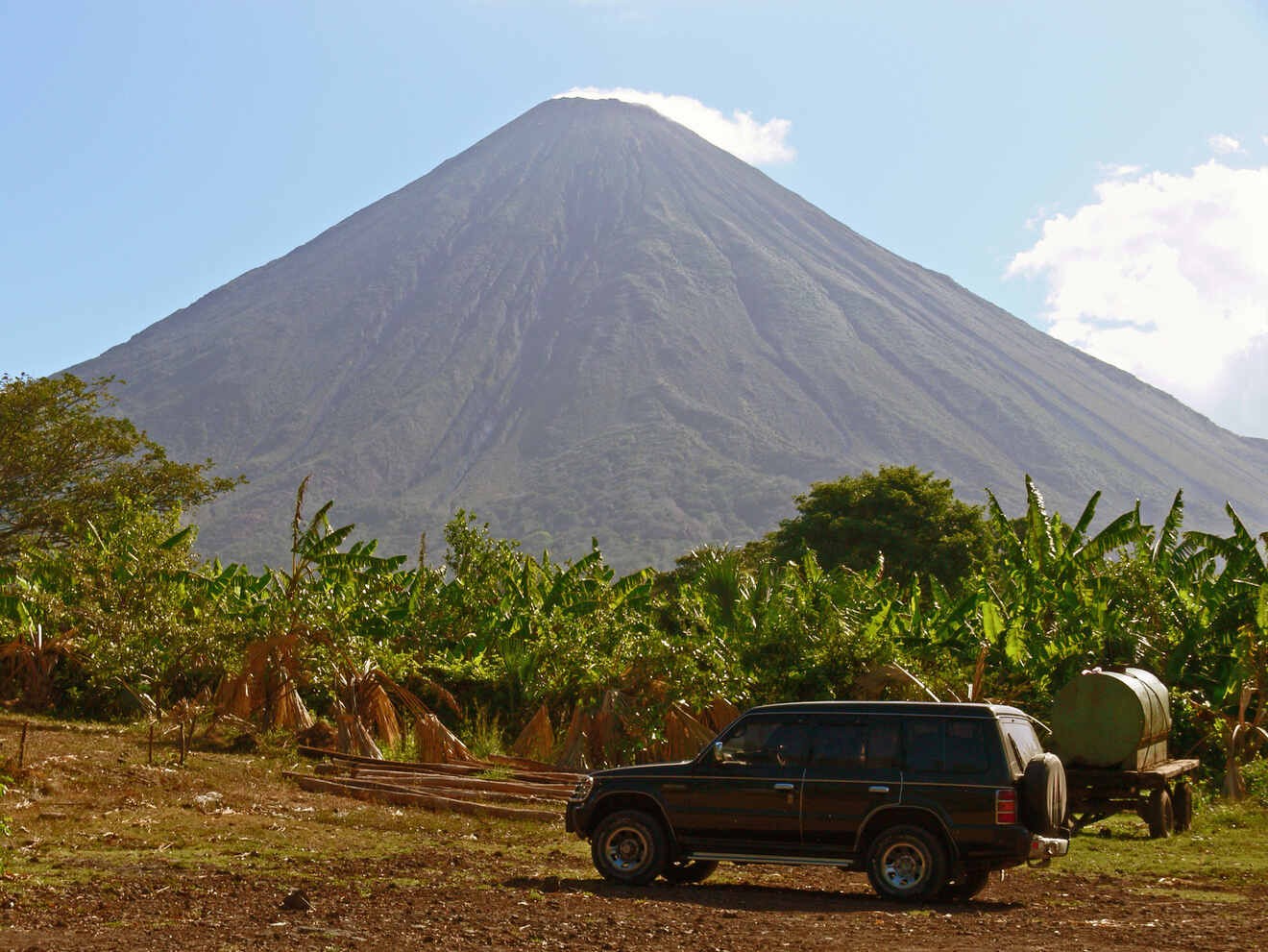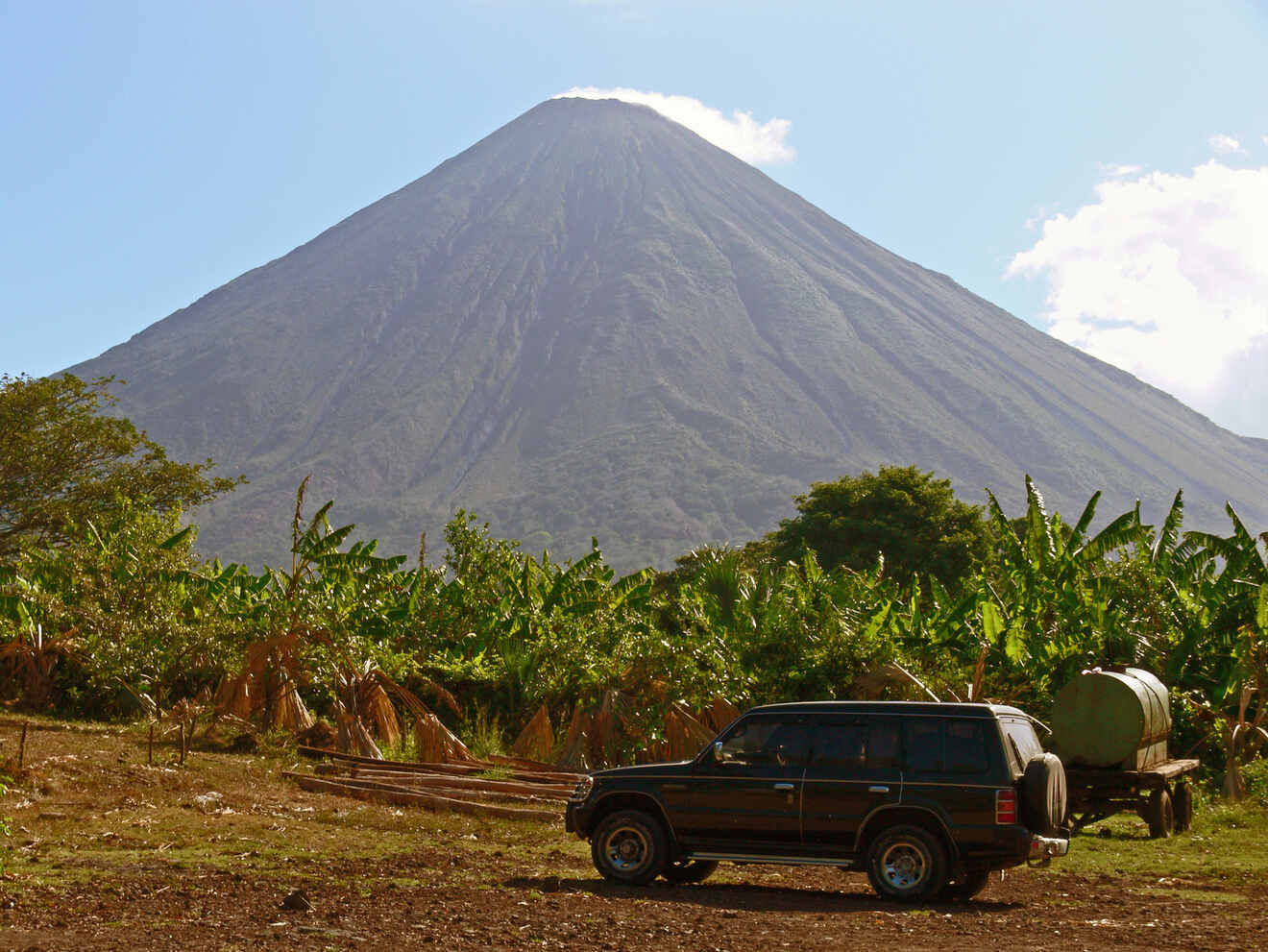 Merida, located on the southern side of volcano Maderas, is a quiet and rural community where locals live a life of fishing and farming. This area has a super laid-back vibe, perfect for a tranquil getaway with the family or your couple!
Since it lies in the close surroundings of the Volcano, Merida is the most biologically diverse area of the island, offering countless endemic plants and a rich wildlife and many activities completely nestled in nature.
Join a kayak trip to the stunning Rio Istián on the isthmus of Ometepe, go hiking from the Biological Station to the San Ramon waterfall in the forest of volcano Maderas or explore the many sites with petroglyphs that are found in the area (like the one of Hamilton Silva Monge).
The only "downsides" of the area is that it is pretty humid, and if you want to reach the most touristic Moyogalpa, there is just one bus per day, which takes around 3 hours so it's best to rent a car if you're staying here.
But in Merida you won't have any problems finding accommodations, from rustic beachside dorms and cabins to beach resorts and eco-hotels… let's check them out:
Luxury hotel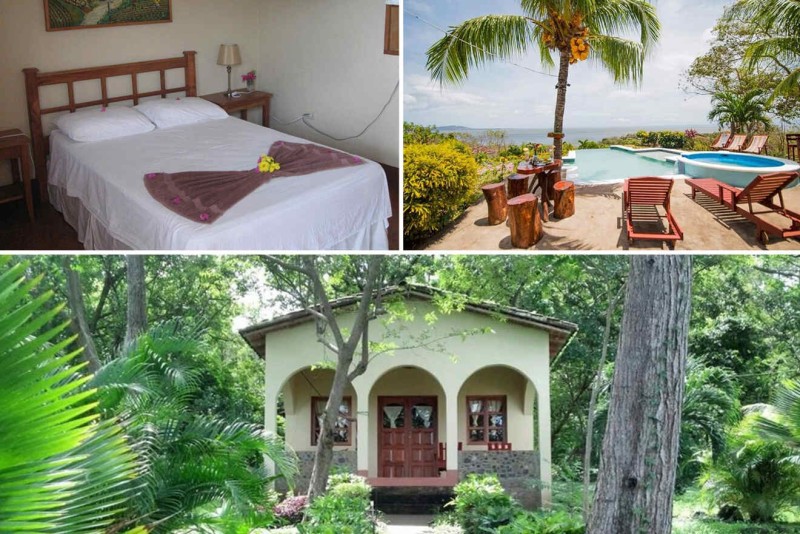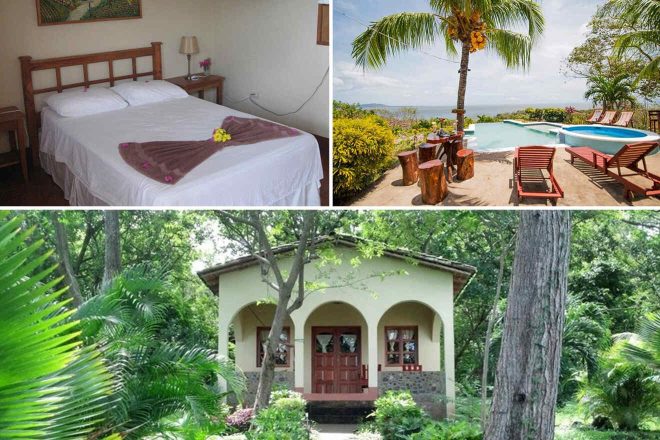 This is an incredible hotel if you search for luxury and comfort! As a guest here, you will have access to a year-round outdoor pool and terrace, and an on-site restaurant serving delicious local food. In your room, you can even enjoy a private seating area to relax after a busy day with views of the lake or garden. The location is perfect for exploring the area and engaging in activities like horse riding, cycling, and hiking.
Other accommodation options in Merida
Mid-Range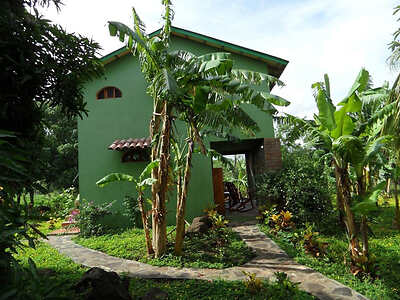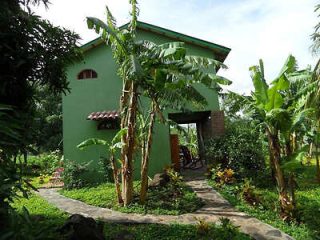 Sleep in comfy rooms with access to free breakfast and free wifi: one of the best places to stay in Ometepe
Budget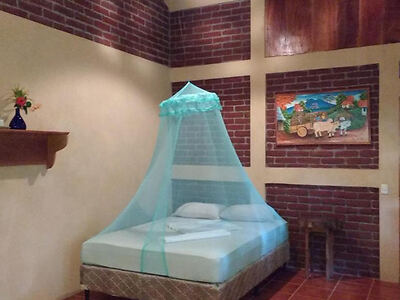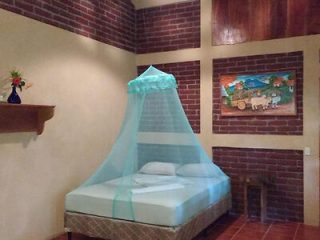 If you search for good value for money, check out this hotel with an on-site bar, garden, and private terrace.
Airbnb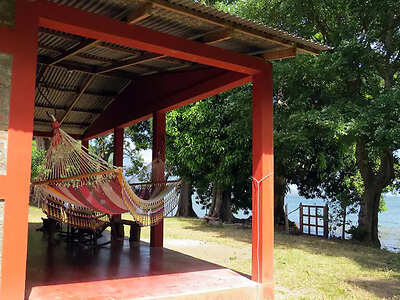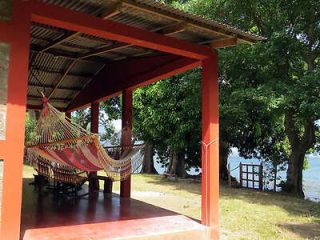 Your home base for exploring Ometepe island. They even provide a bike to guests at no extra cost!
Things to do in Merida
Climb up to the Maderas volcano and see its crater lagoon
Explore the carved stones half-submerged in the lake in Tichana
Visit the ancient cave paintings in Corozal
Check out the petroglyph site of the archeology specialist Hamilton Silva Monge
Frequently asked questions about hotels in Ometepe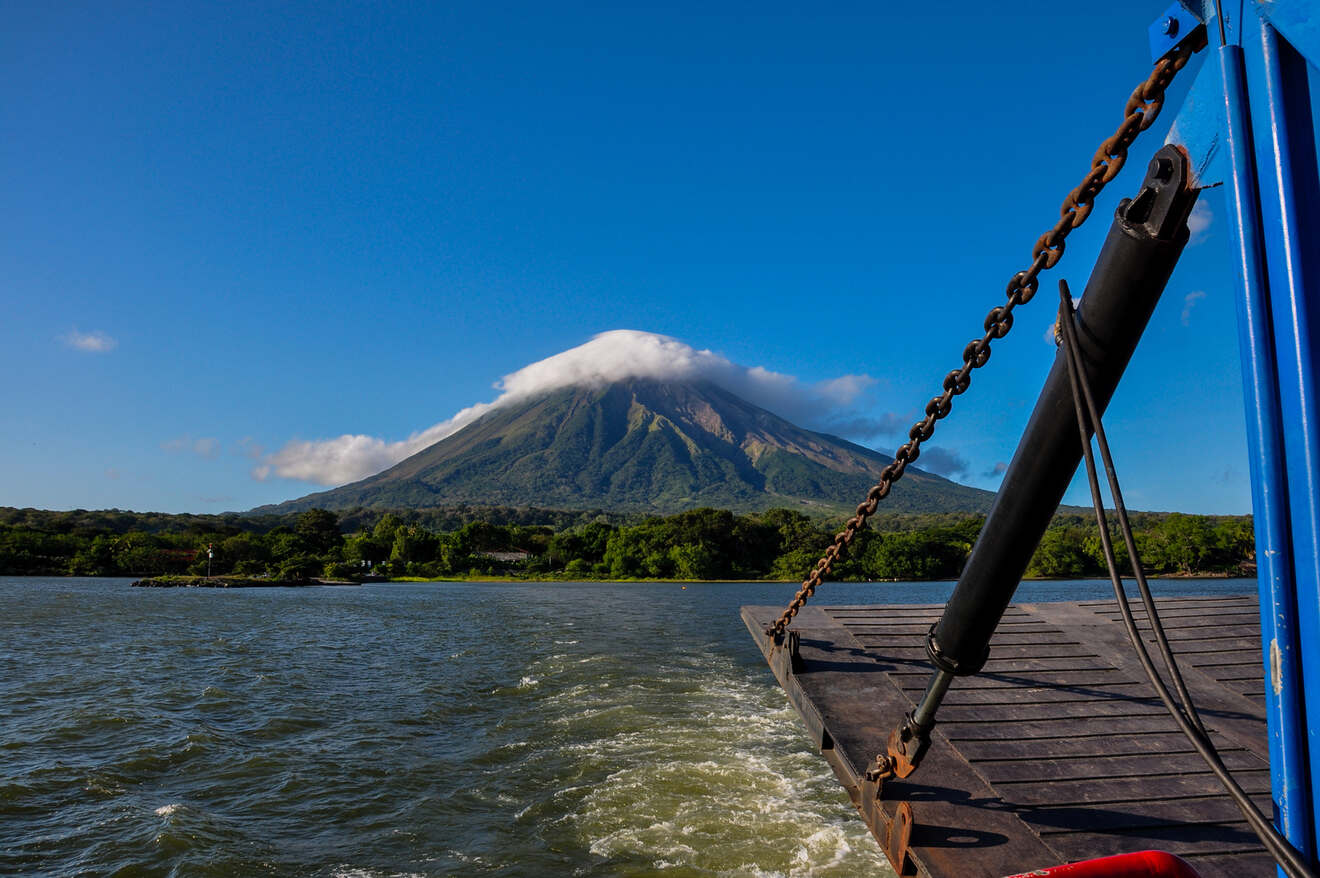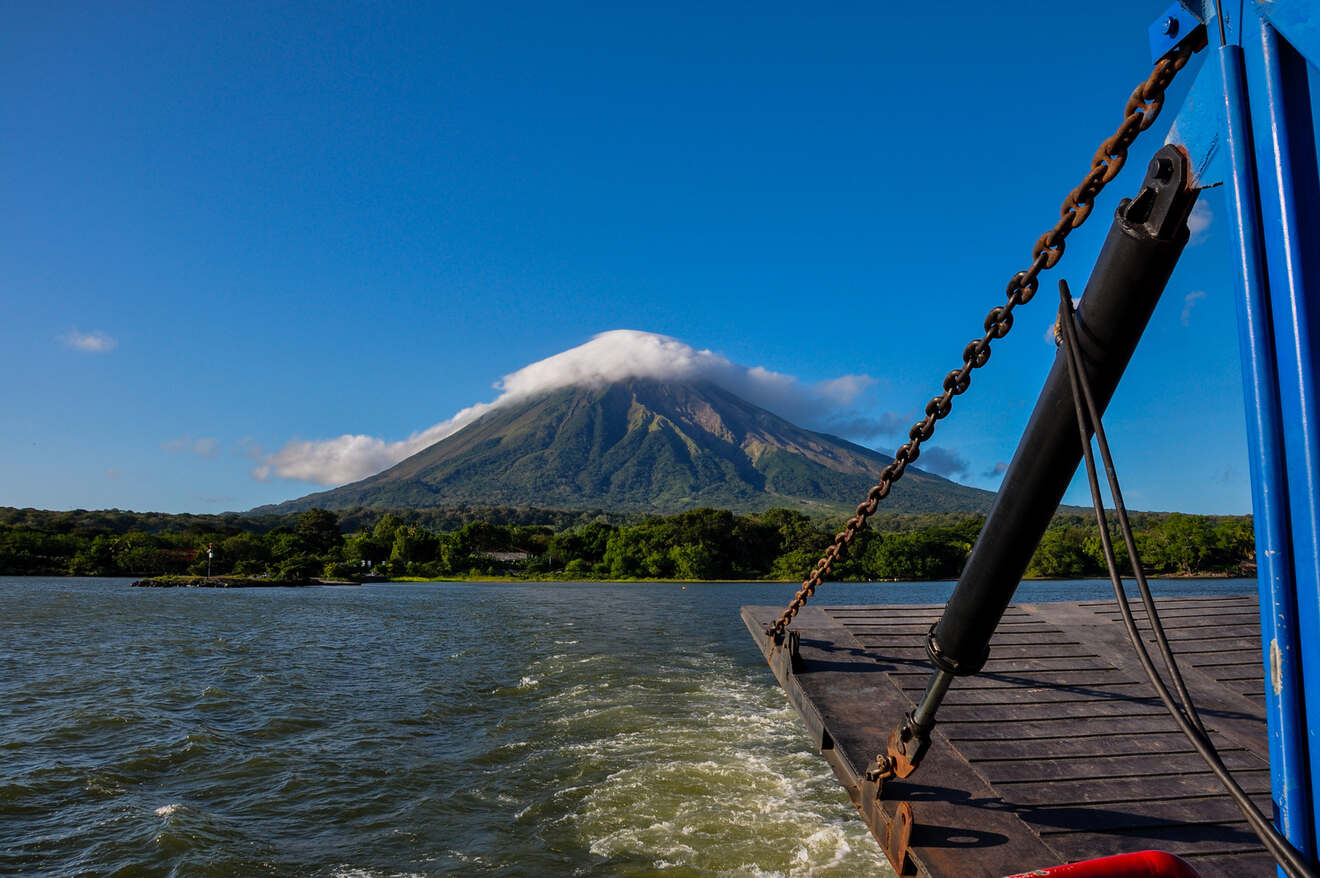 📍Which is the best area where to stay in Ometepe?
The best area to stay in Ometepe island is Moyogalpa, either in the luxurious accommodation Hotel Victoria, featuring a pool where to relax, or in the budget hostel Hospedaje Siero, perfect for both solo travelers or families!
👪 Where to stay in Ometepe with the family?
🧳 Why visit Ometepe Island?
Ometepe is known for its incredible nature like the jungle, beautiful landscapes, the two volcanoes, rich archeological background, and relaxing beaches. You can explore it by renting a bike, car or by bus!
🛏️ Which are the best hotels to stay in Ometepe?
Conclusion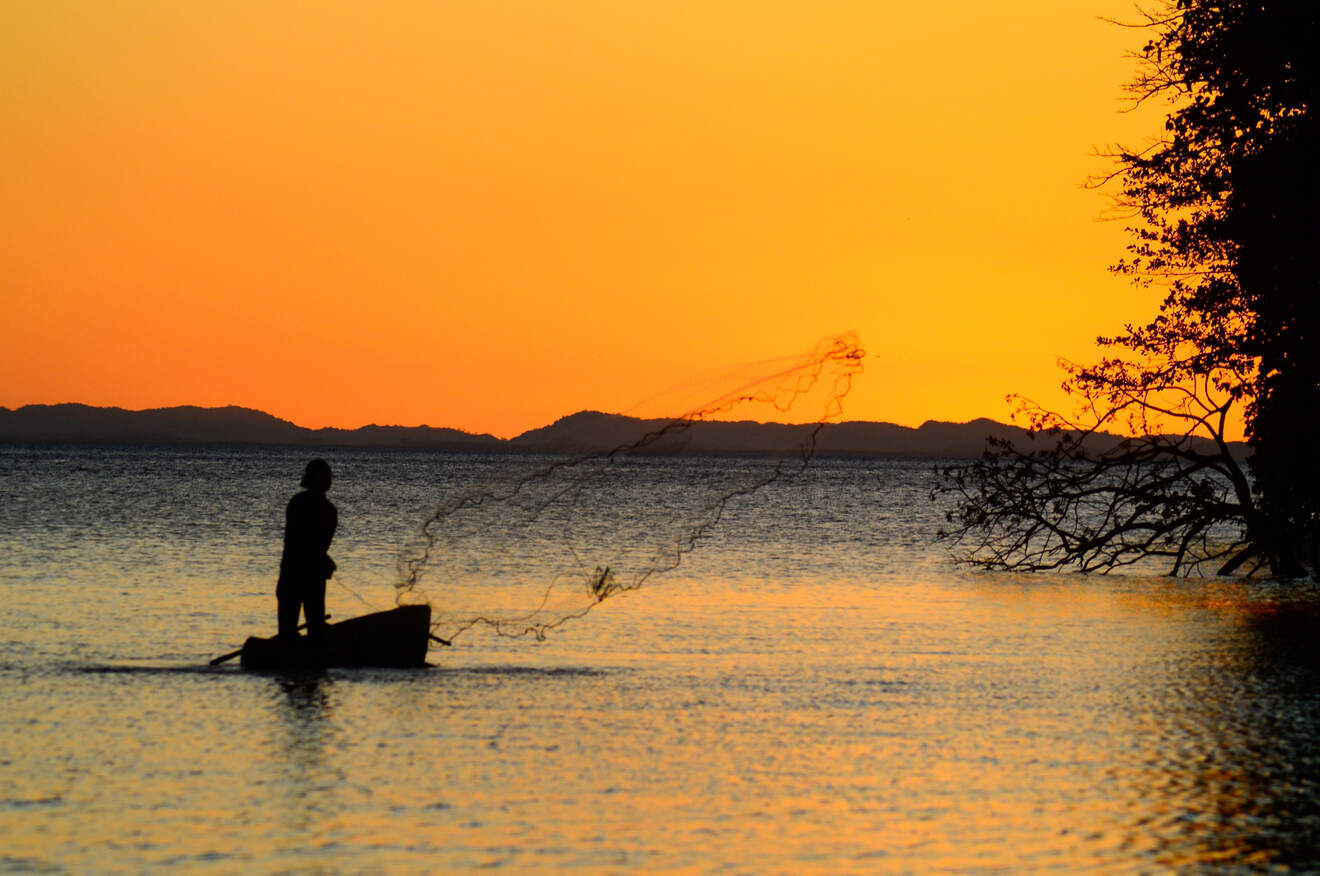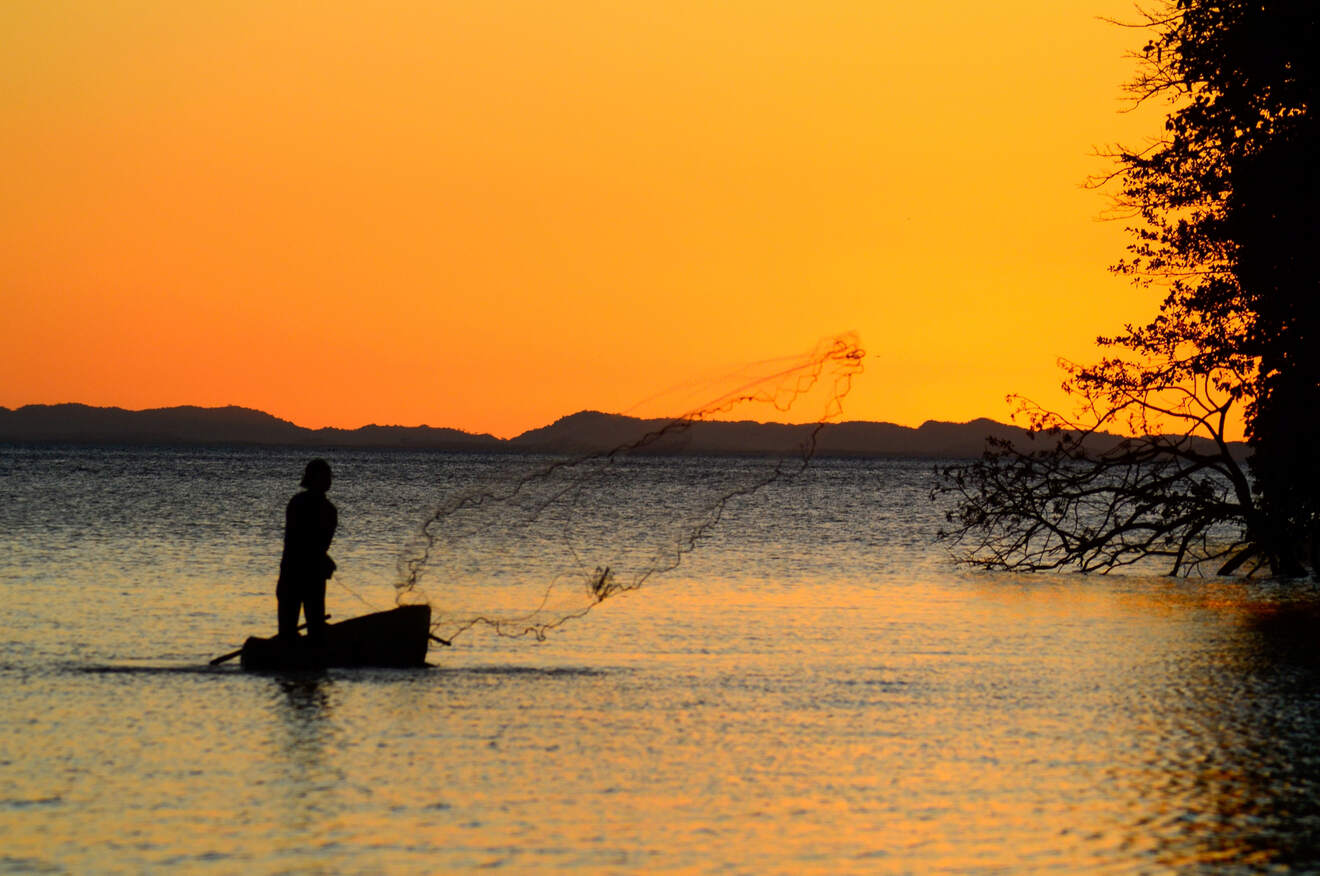 Here we are at the end of this extensive guide about the best areas and hotels in Ometepe, Nicaragua: one of the most unique places in the world!
On this island, there are areas for any kind of taste and accommodations for different budgets: whether you're looking for a hotel, a dorm in a hostel, a typical "hospedaje" or an eco-lodge, I'm sure you'll find what you're looking for on your dreamy vacation!
But if you are still not sure about where to stay in Ometepe, I'll give you my two absolute favorite hotels located in Moyogalpa, with great guest reviews:
Hotel Victoria – an amazing luxurious hotel with access to a pool, an on-site restaurant, and free wifi
Hospedaje Soma Ometepe – enjoy your room with access to free WiFi and an amazing continental breakfast!
I really hope this article will help you find the right accommodation for your interest and price range, and that you had fun reading it!
If you still have any questions or doubts about where to stay in Ometepe (or maybe you just want to share your experience) please do just that in the comments below. I am looking forward to reading your thoughts and answering you!
And I want to remind you again: make sure you book your hotel as fast as you can (I would say at least some months in advance), so you can secure yourself a spot in paradise!
In the meantime… have an amazing trip!
Elena
---
Pin it for later!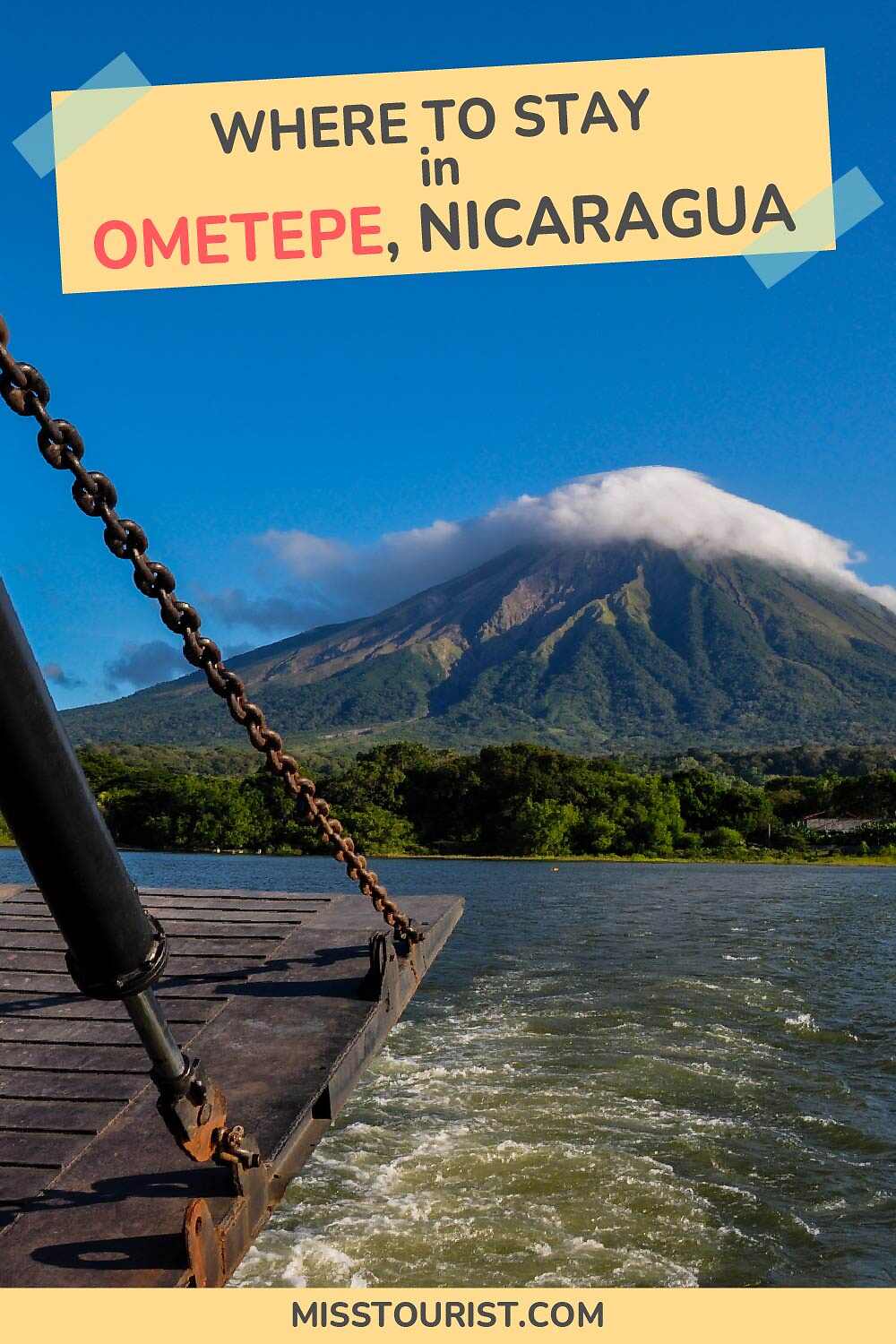 Pin it for later!