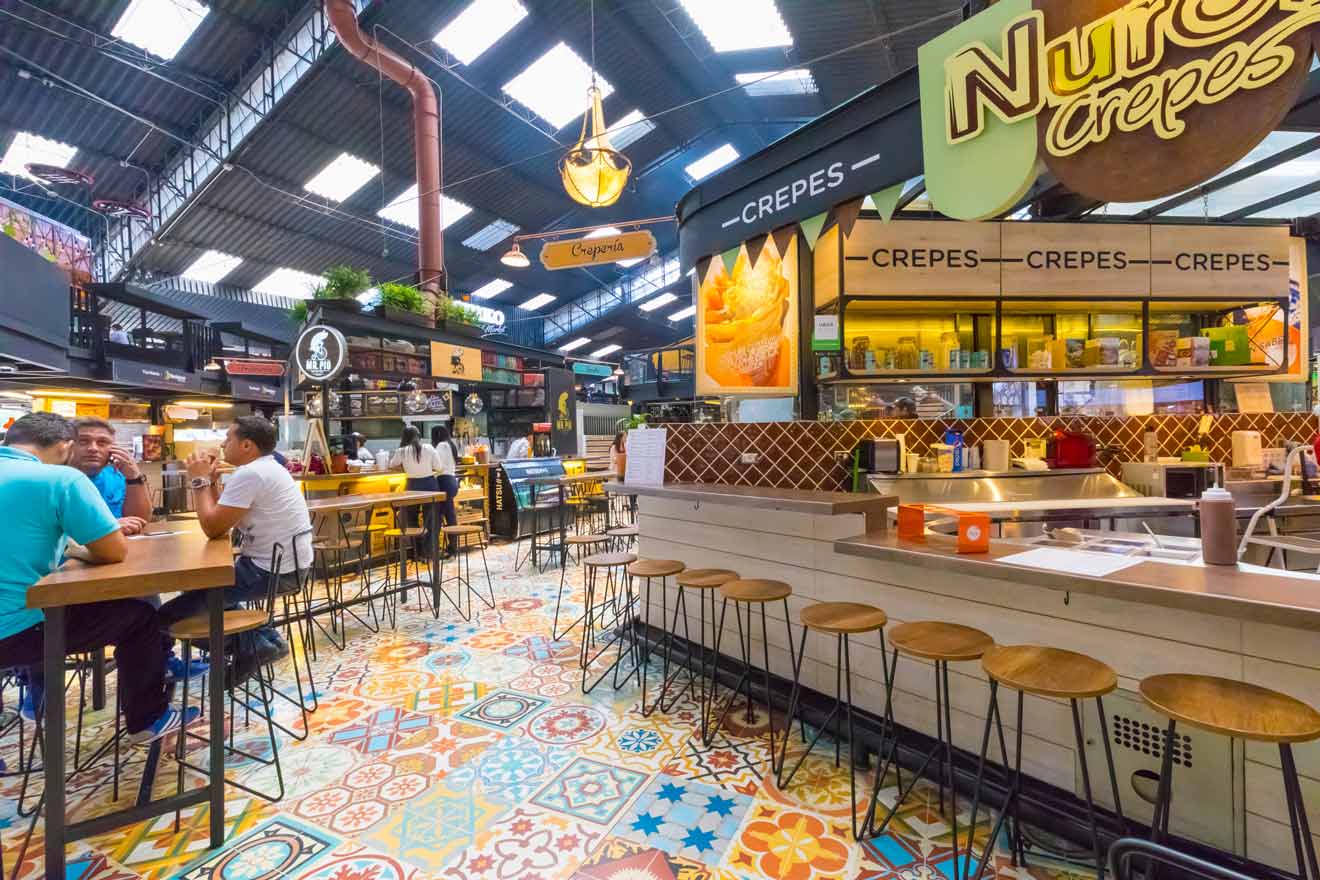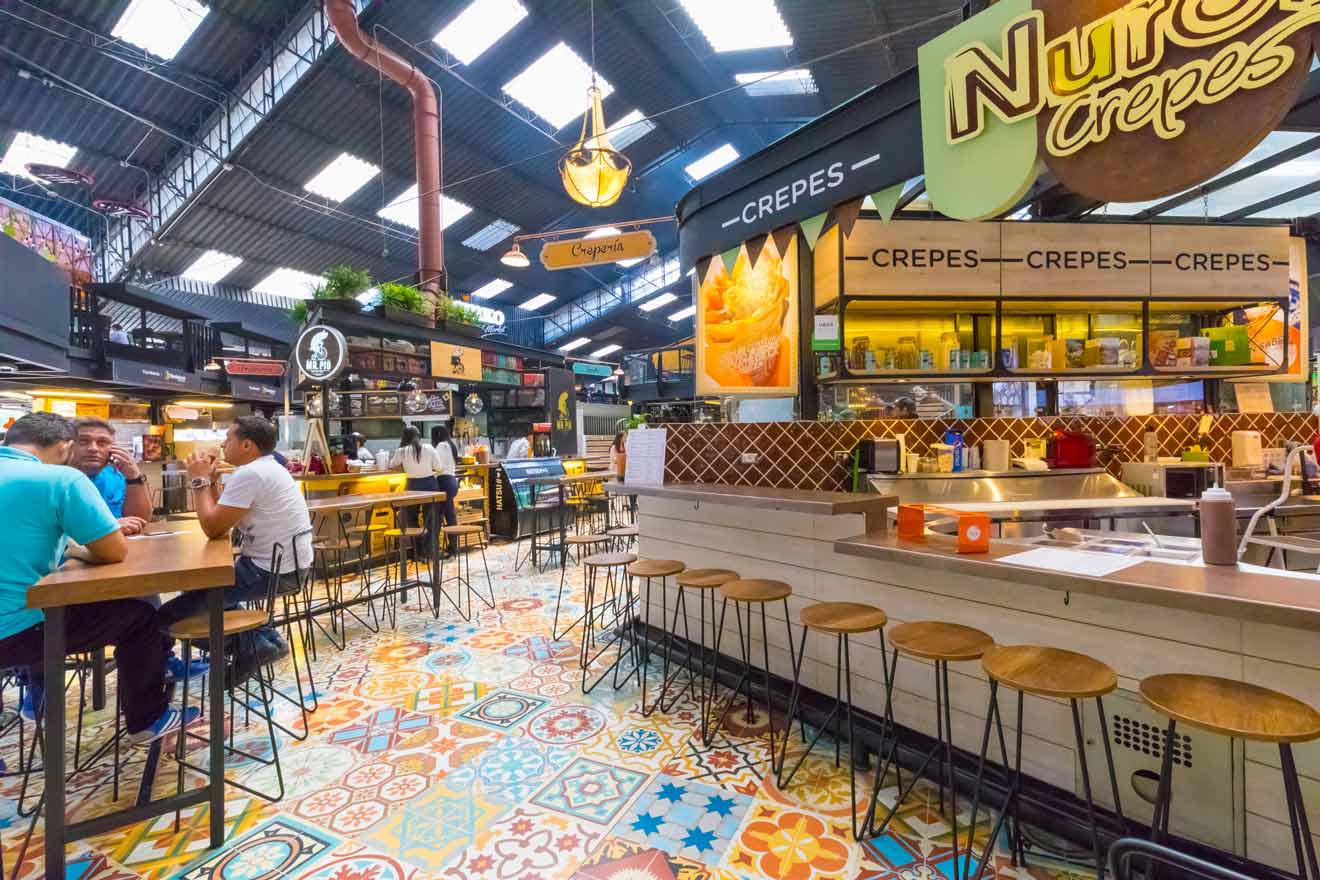 If you are looking for some good places to eat in Medellin, you'll be happy to know that the restaurant scene is soo diverse and delicious here, offering something literally for anyone!
In this amazing city, you can find any kind of food possible: from traditional Colombian eateries to Michelin-star restaurants, international food, vegetarian restaurants, incredible cafes and much more.
Since I am currently living here, and I am a BIG foodie, I tried quite a lot of them, so I decided to gather the best restaurants in Medellin in this post, hope you like it!
NOTE: Most of them are located in the 2 most popular and safe areas of Medellin: El Poblado and Laureles, where you'll find the biggest concentration of dining options for tourists.
I also included a section about restaurant prices in Medellin (spoiler alert – it is way cheaper compared to the EU/US) and about some Colombian food you MUST try before leaving the city!
Well, enough talking… are you ready to go on a yummy journey with me?
Let's go!
If you are in a hurry
Here is a quick summary of the best restaurants in Medellin divided by category:
1. Traditional Colombian restaurants
If you are in Medellin, it goes without saying that you need to try the traditional Colombian dishes (check out the bonus about it at the end of the post)… and which better place to do that than in local restaurants? Here are the TOP ones in the city:
Hato Viejo ($$$) – If you want to have authentic Colombian cuisine surrounded by a very lively and local atmosphere, check out this amazing restaurant located on a hill in the Buenos Aires neighborhood. It is open all day and offers generous portions of home-style food (try the traditional chicken soup… the best one in town!). The place is located only 15 minutes from the airport… perfect for a farewell dinner to Medellin!
Mondongo's ($$) – This Medellin restaurant has great reviews and is one of the most loved places by local diners for Sunday lunch, and I recommend it to recover your energies after a big night out in Provenza (the party zone of the area). Here they serve you enormous portions of traditional food, like the Bandeja Paisa or the mondongo soup: a hearty tripe soup served with avocado, fried plantain, and arepas (a Colombian corn cake).
Alambique ($$) – This is my favorite restaurant in El Poblado, serving high-end Colombian food with a modern twist and delicious cocktails in a super cool setting, with live music most nights of the week. A friend of mine recommended this place to me, showing me the picture he took and the food looked amazing… but I assure you it tastes even better! My tip? Start your lunch or dinner with a buñuelo shrimp appetizer!
Don Magolo ($) – This cheap local restaurant in El Poblado, one of the best areas in Medellin, is located right by a popular coworking space in Medellin (Open Space), so it is perfect for a quick lunch break. In fact, here you can get a daily fixed menu for only $14,000 COP ($3 USD) with a soup of the day (try the pumpkin one!), a protein or veggies, rice, and salad… and the service is super fast!
2. Best breakfast/brunch places in Medellin
If you enjoy breakfast as much as I do, here are the best places in Medellin where to start your day in the best way:
In Situ ($$) – This restaurant, housed in a modern and minimalist villa, is one of the most aesthetically attractive eateries in El Poblado, and is particularly famous for its delicious breakfasts: either you want a full English breakfast, a Colombian traditional option or eggs served in any style, you will find it here… have them with a cup of hot coffee!
Hija Mia Coffee ($$) – If you want to start your day with a healthy and delicious breakfast, this is the place in El Poblado for you, serving unique coffee, fresh bowls, avocado toasts, and much more. But what I love the most here are its cakes and desserts: try the soft chocolate chip cookie (they serve it warm!) it will give you the right energy to get some work done!
Delmuri Cafe ($) – This small and rustic cafe is located in Laureles and offers both indoor and outdoor seating, as well as super fast wifi (462 Mbps), perfect if you also need to get some work done. You can come here for breakfast (they have delicious menus with big portions and vegan options) or to just a coffee with cake: the red velvet is to die for!
3. Best coffee in town
Colombia has a very eradicated coffee culture, so you will find countless places to try the traditional and delicious Colombian coffee… here are my 3 TOP favorites, all located in El Poblado:
Urbania Cafe ($$) – If you are really a fan of coffee, you will love this place, where they serve many different types of coffee grains (ask the staff for suggestions, they are super helpful!) and they treat seriously the process by which they brewed. They even offer a coffee experience for you to learn more about the full process of how your coffee is made… definitely recommend it!
Cafe Velvet Medellin ($$) – If you want to have a high-quality coffee in a very relaxed atmosphere, this is the place to be; offering a big open room where I love to sit and read a book! They are famous for their huge cups of cappuccino and chococino, and they also have some vegan snacks and cakes. It is also a great place for digital nomads, with good Wi-fi and power outlets!
Pergamino Cafe ($$) – This is one of the most loved and popular coffee chains in Medellin, especially among digital nomads, serving delicious cakes and breakfasts. Here the coffee blend is particularly strong (and almost bitter), but it is typical from Colombia so I honestly think you need to try it at least once… let me know if you like it!
4. Fine dining restaurants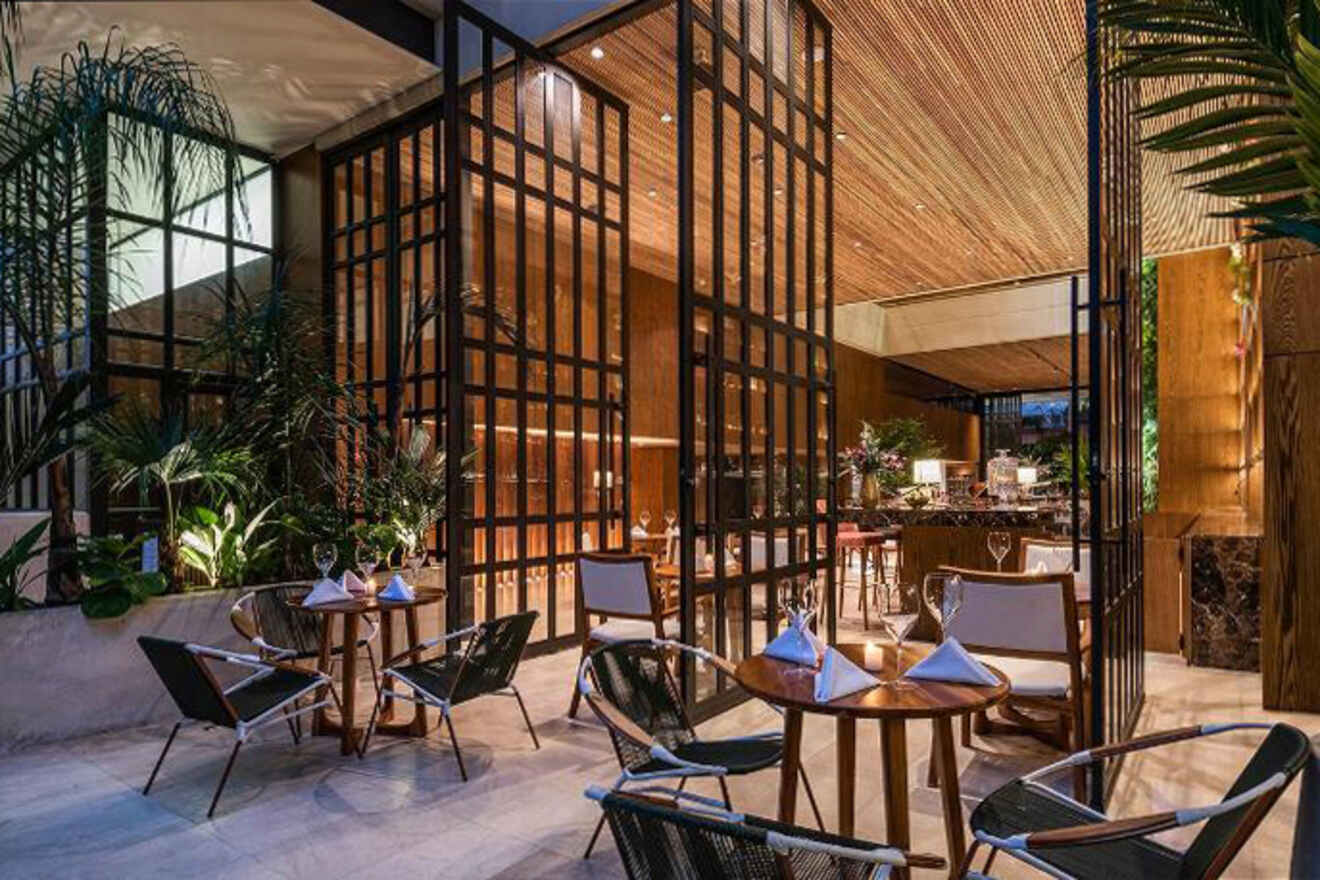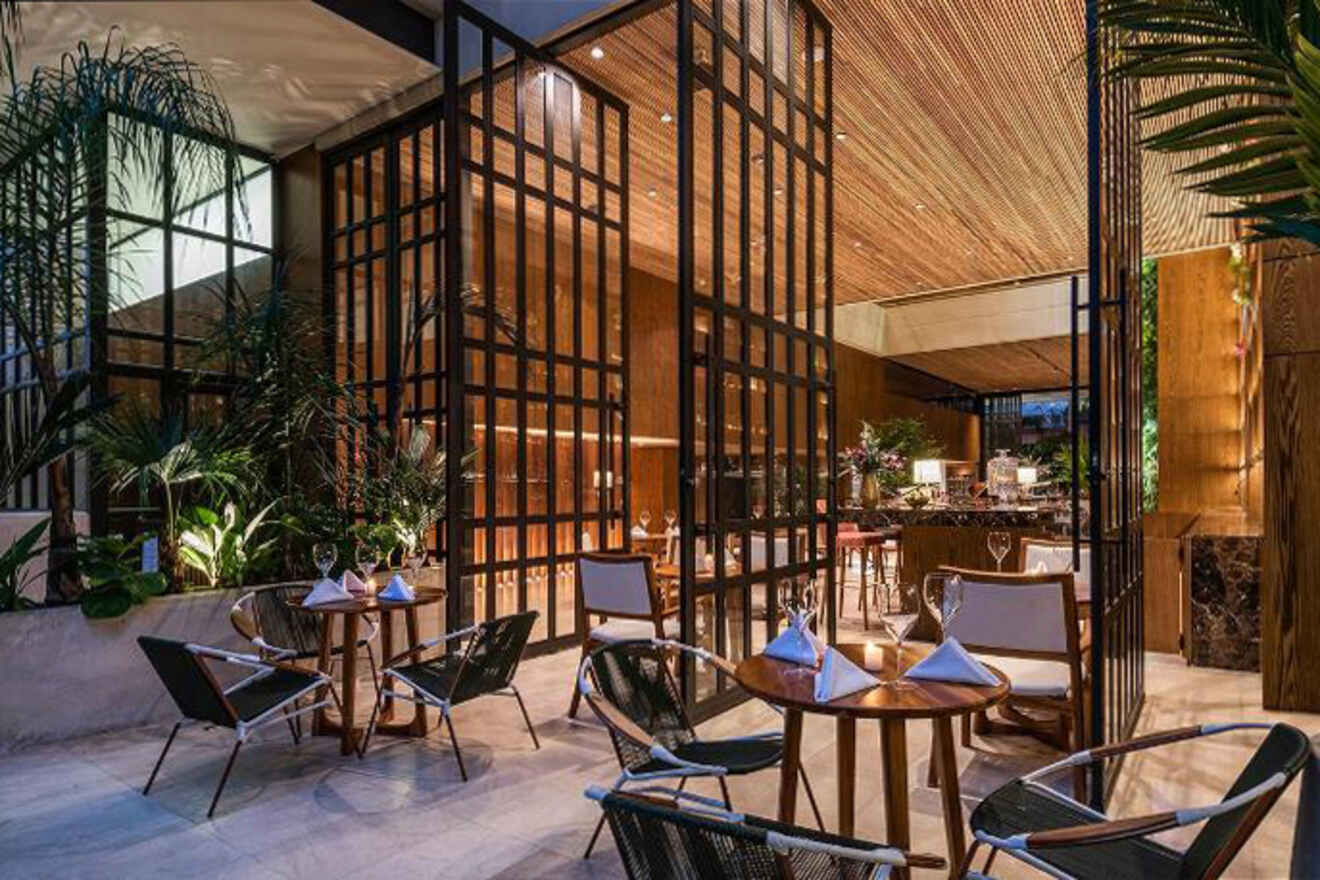 Looking for a fine dining experience in the city? Then here below you have the best upscale restaurants in Medellin (all located in the El Poblado neighborhood) serving incredible food:
El Cielo ($$$$) – This coveted Michelin-star restaurant was nominated one of the 50 Best Restaurants in Latin America from 2013 to 2015. Here you will find a fixed tasting menu offering creative and innovative dishes prepared with local ingredients… they last 3-hours so get ready to have a full experience!
NOTE: Make sure you book your table at least a week in advance!
Carmen restaurant ($$$$) – If you want to surprise your special one with a fancy date night, this is the best restaurant for you, offering intimate tables with polished wine glasses. Here the 7 dishes tasting menu melds Colombian flavors with an international influence, and the elegant dining room overlooks the kitchen… so you can see the whole cooking process!
OCI.mde ($$$) – If you are a meat lover, you NEED to eat in this contemporary restaurant, offering an industrial-style and cool setting. People come here to try the most famous ribs in Medellin, braised for 12 hours in lemon and chili caramel sauce, and served with sticky rice and peanuts… a savory flavor bomb in your mouth!
5. International restaurants – Italian, French, Asian food
If you get tired of Colombian cuisine (sometimes can be quite heavy), here are some amazing international restaurants located in El Poblado to try some different flavors:
Pizzeria Olivia ($$) – This restaurant offers amazing food (word of an Italian) and is my first choice if I miss my traditional dishes. In fact, here they serve the best pizza in town (try the one with fresh burrata), only handmade pasta, and also some incredible desserts… My favorite one is the chocolate volcano!
Cafe Zorba ($$) – If you want to have another great pizza, but in a cooler setting, I really recommend this restaurant (open only for dinner) supporting local artistic talent! In fact, here, they offer different events every day, from fringe theater to live music (funk, jazz, or salsa) and art exhibitions. You can even come here just for a coffee or their delicious smoothies.
Mekong ($$) – This is the best restaurant in El Poblado if you love Asian food, serving a South-East Asian menu, from curries to Pad-Thai, Buddha Bowls, and spring rolls: all delicious and coming in veery generous portions. Here the restaurant's interior gleams with Thai-style lamps and furniture: you will feel like you changed the country!
La Provincia ($$) – If you feel like having some European flavors, this restaurant and wine bar offers the perfect mix of Italian and French-inspired cuisine, focusing particularly on seafood and fish dishes. My suggestion is to try either the squid ink risotto or the lobster fettuccine and end your dinner with a creme brulee… you will go crazy!
6. Vegetarian /vegan/gluten free food in Medellin
If you are vegan or vegetarian and you're worried you won't find any options in Medellin, no worries: the city actually offers many vegan-friendly restaurants (again, especially in the El Poblado neighborhood, which is more tourist).
I gathered here below my favorite ones, including also a gluten-free option:
El Herbario ($$$) – This trendy restaurant is not properly vegetarian, but puts an emphasis on delicious vegetable-based dishes, from generous green salads to flavorful soups and veggie risotto… but my favorite one is definitely the coconut veg curry! The perfect place for a more wholesome lunch option or dinner.
Taco Veg ($$) – Do you love Mexican food, but you are vegan… and you are in Colombia? I have the perfect option for you. This casual and small restaurant offers high-quality Mexican food, and everything from the menu is vegan: tacos, nachos, burritos, and much more, accompanied by the juice of the day. NOTE: The restaurant is open only for dinner.
Veg Station ($) – This restaurant offers some of the best food for vegans: everything you'll choose from the menu is vegan, fresh, and gluten-free… and soo yummy! They serve both Colombian and international dishes, from soups to asian noodles and italian pastas and the staff is super friendly and always ready to help you with suggestions.
7. Top rooftop bars in Medellin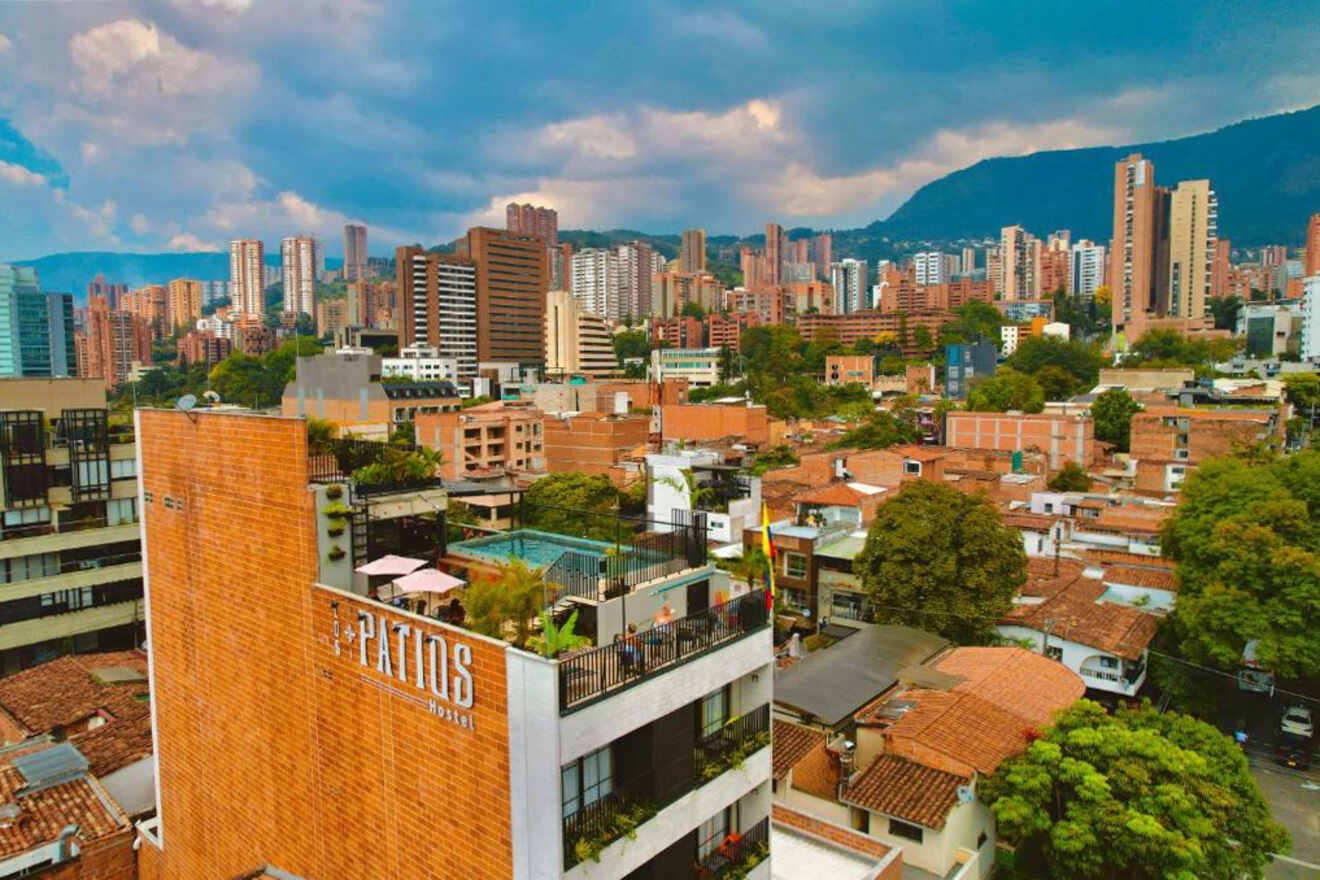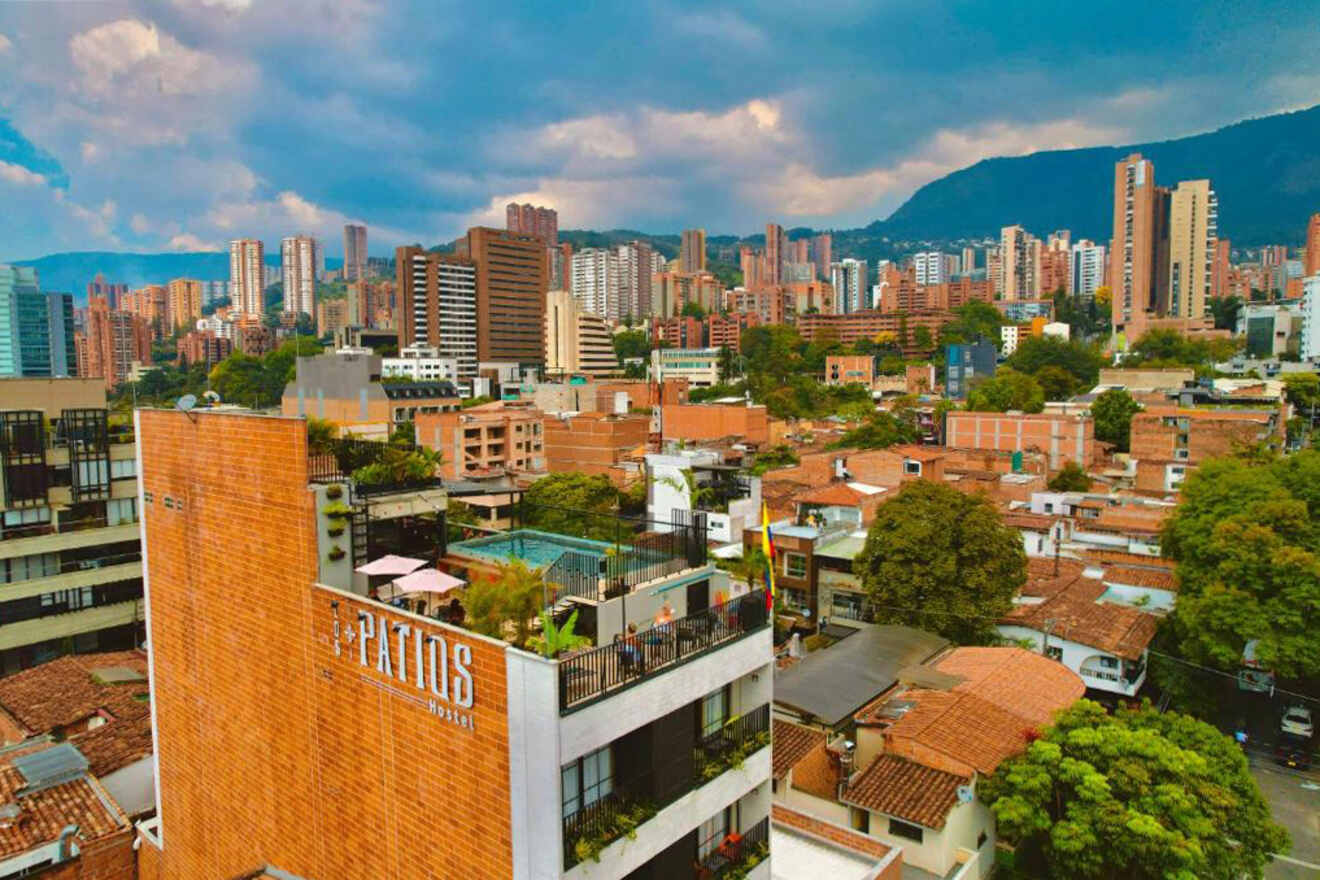 The Medellin skyline is one of the best ones I've seen in my whole life, especially at night when the city gets completely illuminated by the lights (they literally look like stars!).
There are many rooftops where you can have this great views while you listen to music or you have a good cocktail, check out my favorites:
Los Patios ($$) – This is the hostel where I spent most of my stay in Medellin, and it offers an amazing rooftop terrace hosting different events from Wednesday to Sunday, from DJ sets to salsa nights and pool parties. Also, every day there is a special offer of 2×1 for different cocktails, and they are VERY good… go try them!
Masaya ($$) – This is another hostel in Poblado, more fancy compared to Los Patios, offering a rooftop terrace and bar with some of the BEST views of Medellin. If from the rooftop you climb to the staircase, you will get to an incredible hot tub open until 9 pm: I suggest you go there from Monday to Thursday, so you won't find many crowds!
Envy Rooftop ($$$) – This rooftop bar and lounge, located on top of the Charlee Hotel, is the most luxurious and expensive one of the 3, but it is perfect if you are looking for a trendy place where to spend the night! Here you can have delicious sushi or crafted cocktails in an upscale atmosphere, swim in a cool aquarium-style swimming pool and enjoy live DJ sets.
8. Cafes to work from
Medellin is one of the most digital-friendly cities in the world, so you will find soo many cafes you can work from, offering high speed wifi and delicious coffee/food. Here are my favorite places where to get some work done in Medellin:
Cafe 11:11 ($$) – This cafe in Manila, Poblado, is not the most famous among digital nomads, but this makes it perfect to work because it is never crowded and has a veery relaxing and quiet atmosphere, as well as good wifi. Here you can either sit on the rooftop terrace or in the coworking space inside and have a good coffee with cake!
Semilla Cafe ($$) – Semilla is the best place to work remotely in Laureles, offering both a cafe and coworking space (on the 2nd floor). I love it because it has the perfect mix between foreigners and locals, so it is also good to meet other digital nomads like you, and it serves some of the best coffee in Medellin.
Ojala Brunch ($$) – This is my favorite place ever in Medellin if I want to get some work done and have a delicious breakfast at the same time! In fact, this cafe has a tranquil terrace where nobody really goes, so you can work undisturbed, fast wifi, amazing coffee, and healthy food options… honestly they are ALL delicious so you can try anything from the menu!
| | |
| --- | --- |
| 💰 Restaurant prices: | Cheap |
| 🍽️ Dinner for 2 with wine: | US$30 |
| 💱 Service fee: | 10-15% extra |
| 😋 Traditional food: | Hato Viejo |
| ⭐ Fine dining restaurant: | El Cielo |
| ☕ Best coffee: | Pergamino Cafe |
| 🌱 Vegan restaurant: | Veg Station |
| 🥟 Must try food: | Bandeja Paisa |
BONUS 1: Must-try food in Medellin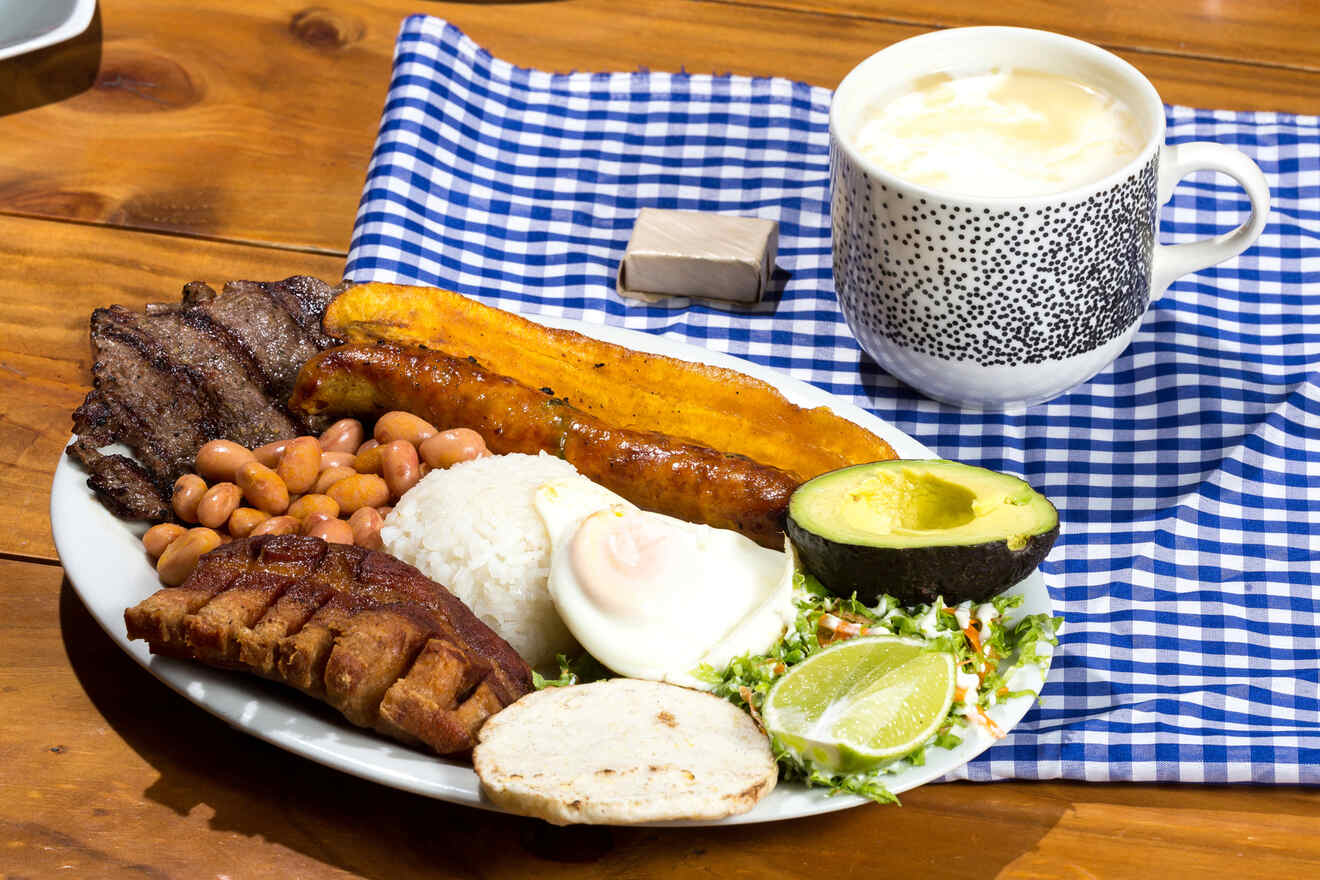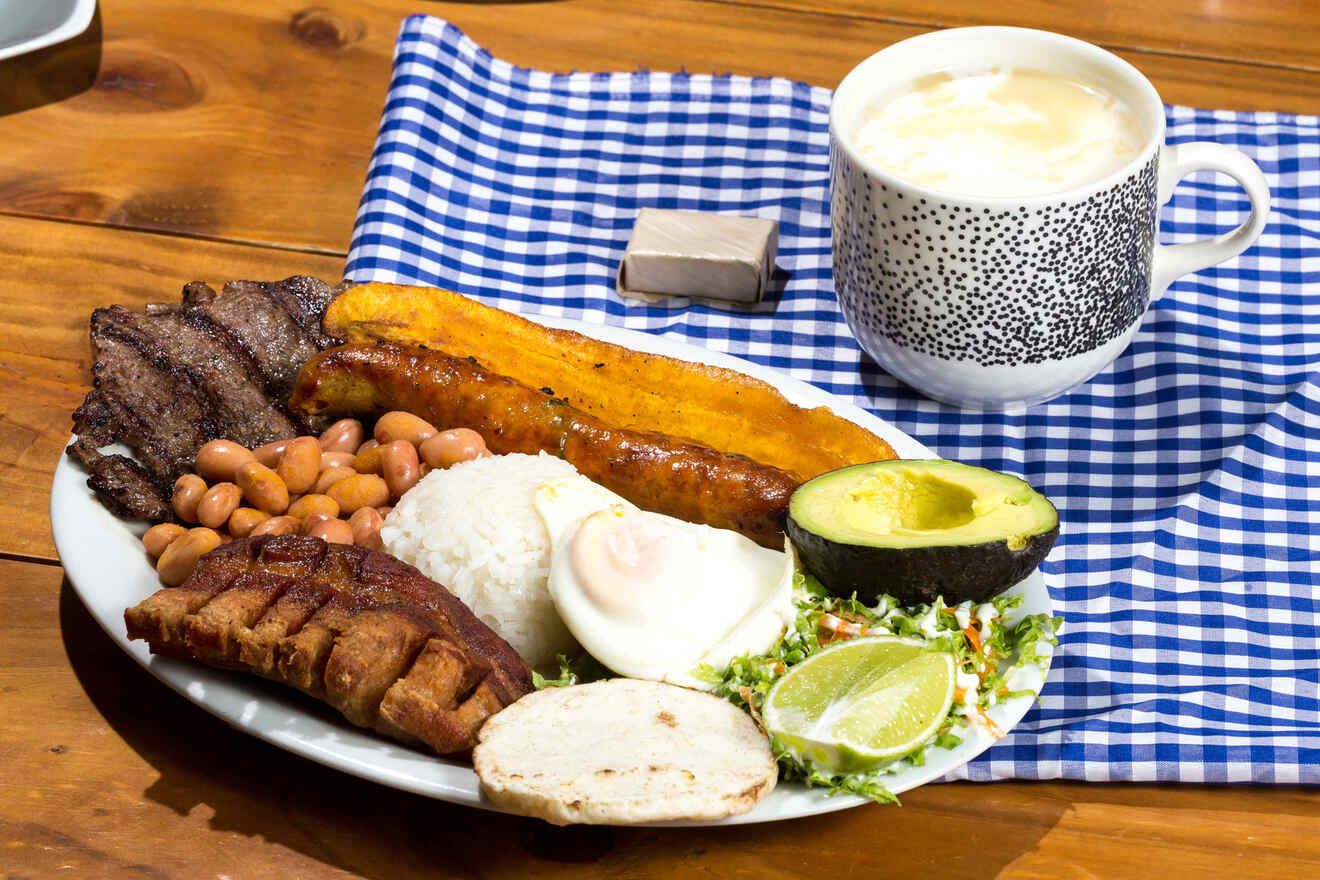 Even if Colombian cuisine is not really known around the world, it actually offers some great food, made of fresh local ingredients, like the typical frijoles (black/white or red beans) or the sweet plantain.
You will find street food at any corner of the city, but there are also some traditional dishes you cannot miss in Medellin… here are some must-tries:
Bandeja Paisa: This dish is the most typical in Medellin and you will find it literally at any local restaurant in the city. It consists of rice, red beans, chicharrón (fried pork rind), grilled beef, sausage, arepa, plantain, a slice of avocado, and a fried egg: it is super fulfilling and perfect for a late breakfast or lunch!
PRO TIP: If you are vegetarian and you go to a very local Colombian restaurant, chances are you won't find any veggie option named like that on the menu. Just ask to remove the meat from the Bandeja Paisa, and it will still be a very fulfilling and delicious meal!
Pan de Bono – This is my favorite street food not only in Medellin but in the whole world: it is a small ball made of bread and cheese (blended together) and served warm… so simple but SO delicious! It is literally my everyday breakfast: try them at any proper bakery in the city!
Empanadas – This is another super popular street food in Medellin, made of cornmeal dough stuffed with meats, potatoes, veggies, cheese, or fish and fried. I am not a fan of fried food but this is honestly good, toasty on the outside, and soft on the inside… always ask for it warm!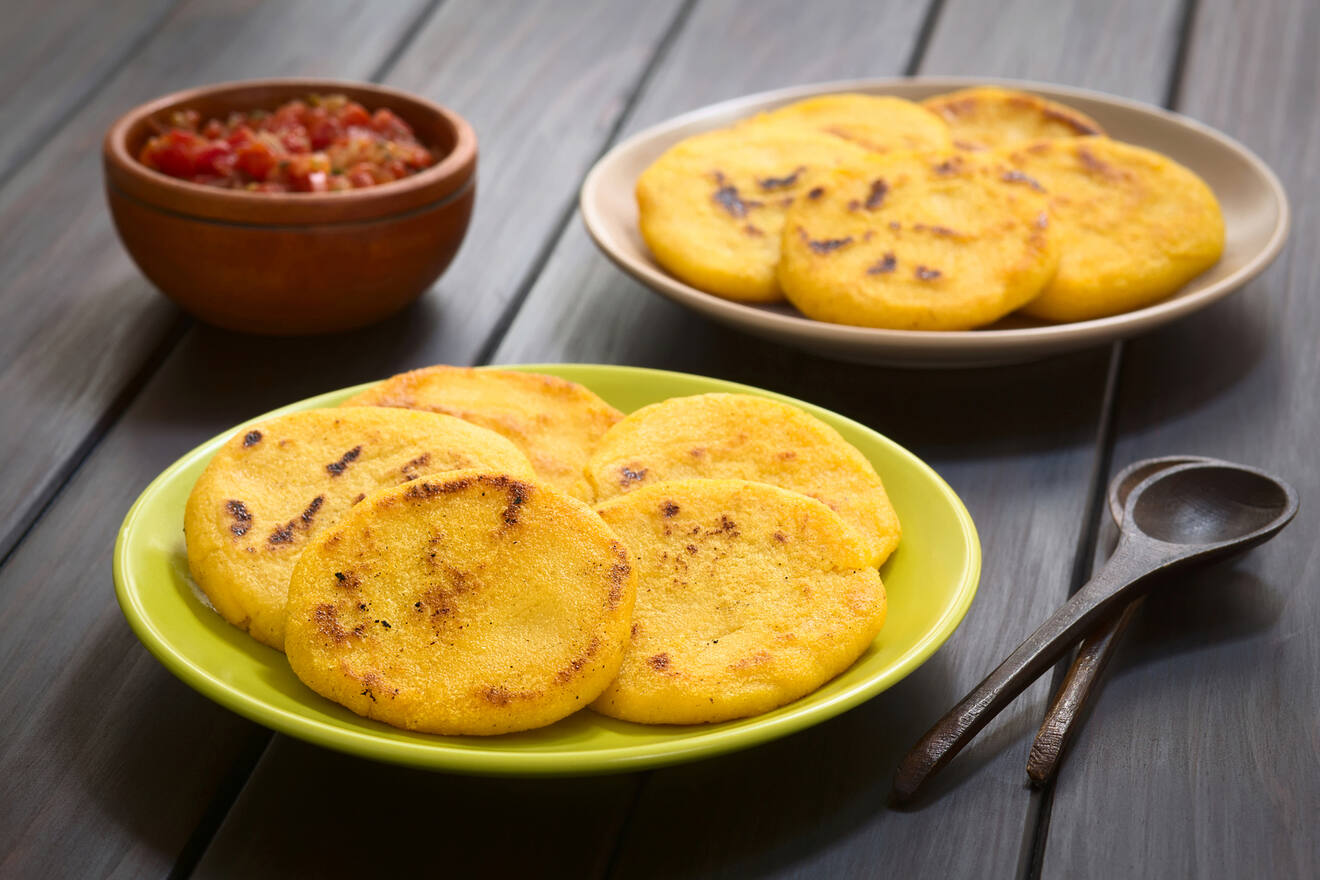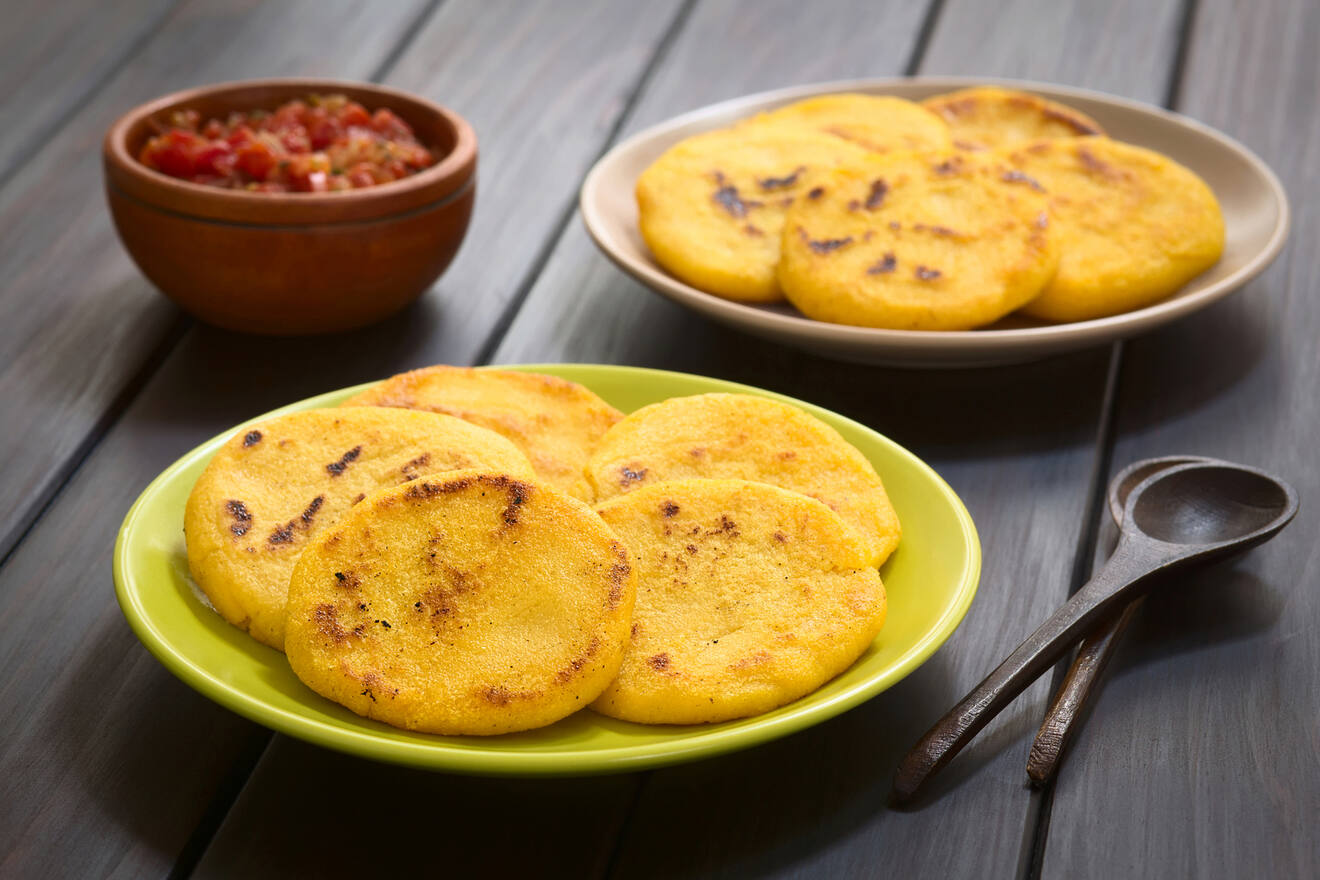 Arepas – Arepas are a type of cornbread made of cornflour and grilled, and used basically as the Colombian substitute for our table bread, so they usually serve it as a side for dishes. You also find the street food "arepa de queso", which has a lottt of cheese on top… if you love cheese like me you cannot miss it!
Mondongo – If you love soups (and you eat meat) you need to try this traditional hearty soup from Medellin, made of potatoes, yuca, chicken, sausage, and tripe. The perfect way to warm yourself up during a rainy day in Medellin.
Exotic Fruit – As in many places in Latin America, Colombia offers many delicious and weird fruit that I have never tried before, like the super sweet guanabana, the pitaya (a kind of dragon fruit, but tastier), or zapote, which to me tastes like a sweeter papaya!
BONUS 2: Restaurant prices in Medellin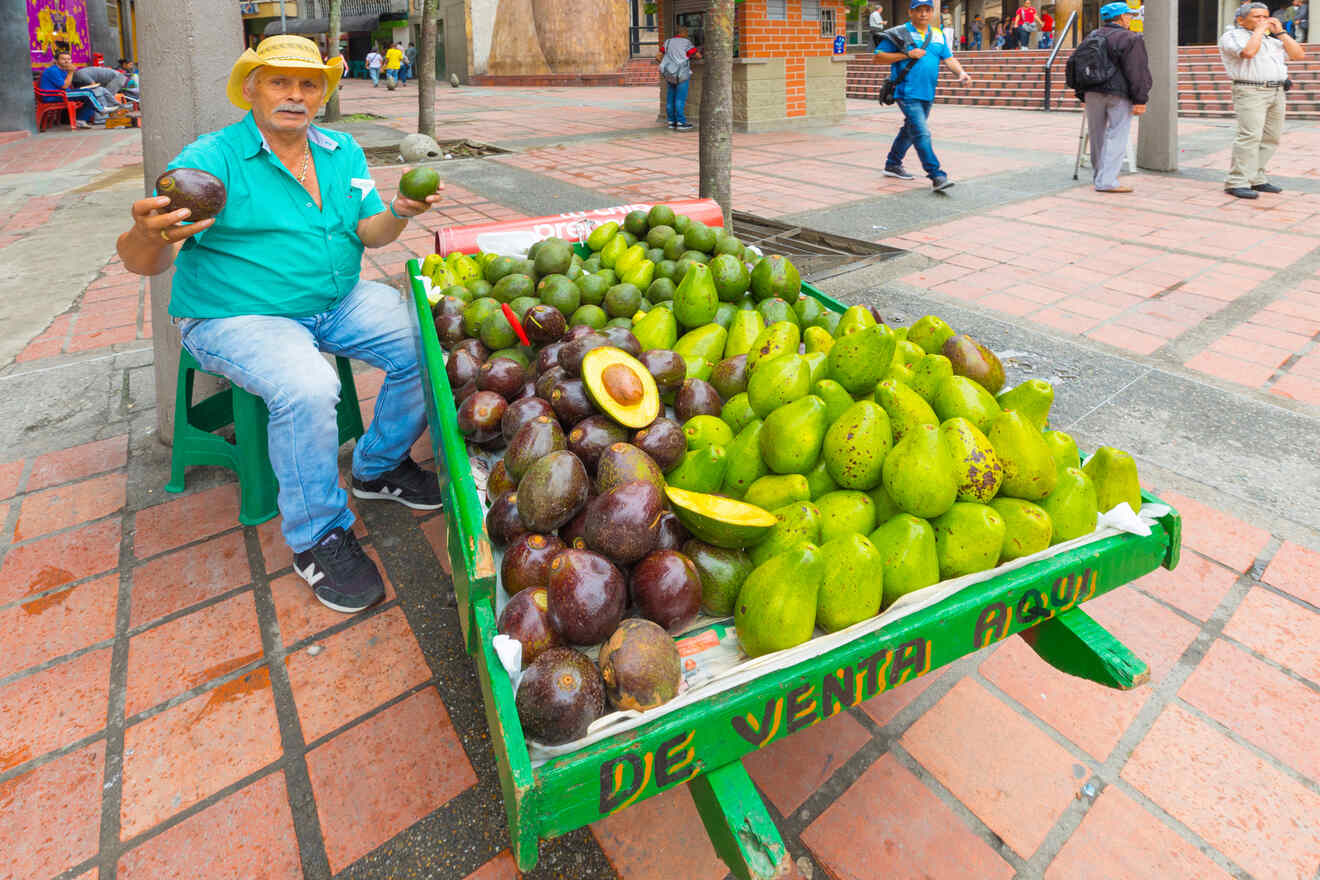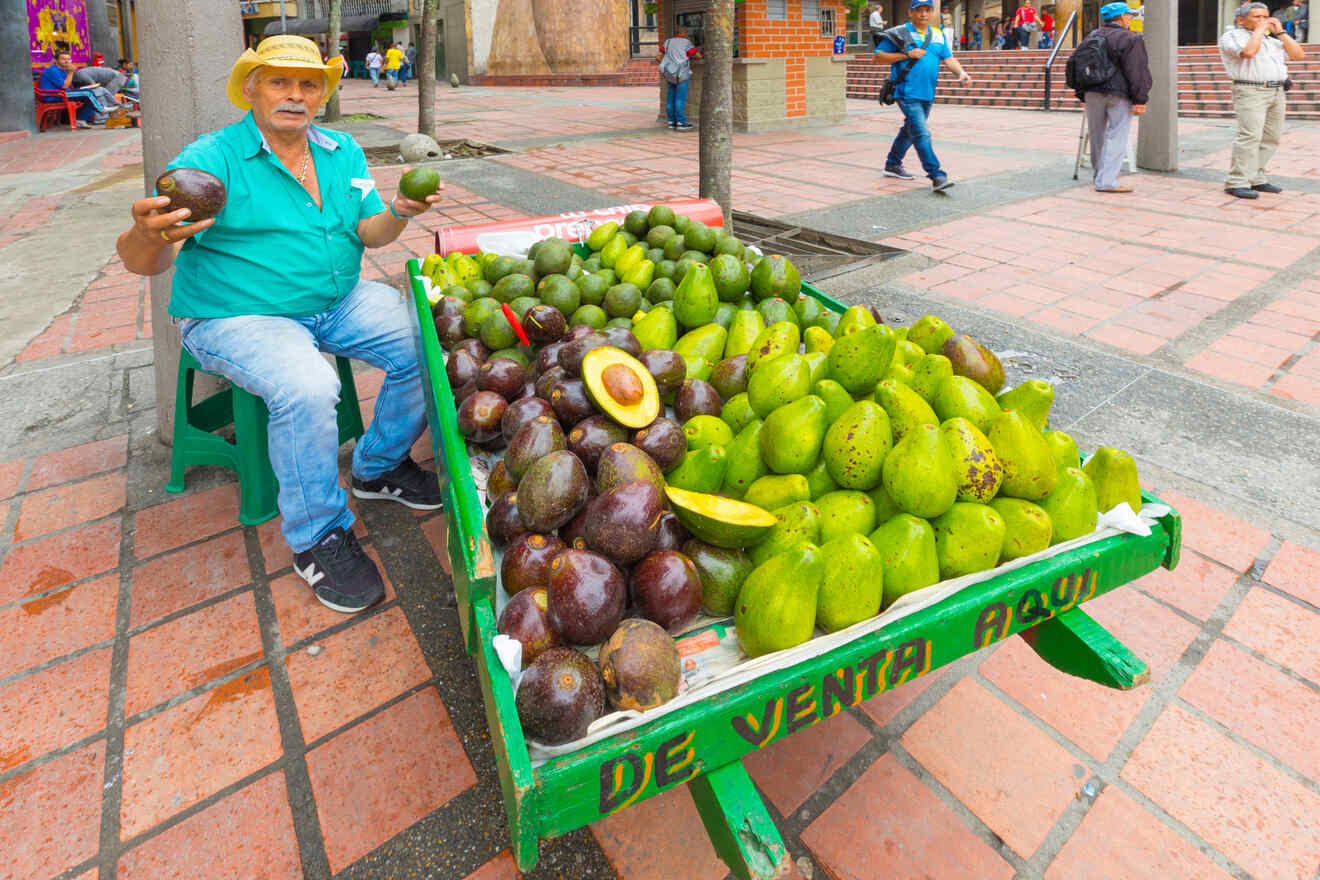 Prices in Medellin are quite cheap compared to most countries, especially if you come from Europe or the US, so expensive restaurants could still be in the affordable range for you.
Of course, it always depends on the place you go to eat: some dining places are targeted for tourists, so prices are higher (especially in El Poblado), while you can find local restaurants offering a big meal for $5,000 COP ($3 USD) or less.
Let's check out the price categories in Colombia:
Cheap restaurants ($) – Depending on the restaurant, a meal in a cheap restaurant can cost between $15,000 COP and $20,000 COP ($3.5-$5 USD). And if you have a street food snack, you'll pay less than $1 USD.
Mid-range restaurants ($) – This is the most common price range you'll find in El Poblado, where you usually pay from $25,000 COP to $45,000 COP ($6-$11 USD) for a meal in a cool cafe or international restaurant.
High-end restaurants ($$+) – If you want to splurge, there are many fine dining restaurants in Medellin offering dishes for $50,000 COP to $100,000 COP ($12-$20 USD). And for tasting menus, prices can go up to $355,320,000 COP ($70USD).
Daily Menus
If you are on a budget, most of the local restaurants in Medellin offer the typical "menu del dia" (menu of the day), that will offer you a big plate for your lunch break for very cheap prices, usually including rice, veggies, beans, a meat of choice and soup, but it can change depending on the place and on the day!
Generally, prices for a daily menu go from $14,000 COP to $20,000 COP ($3 to $5 USD)… don't expect anything fancy, but the food is usually delicious.
FAQs about best restaurants in Medellin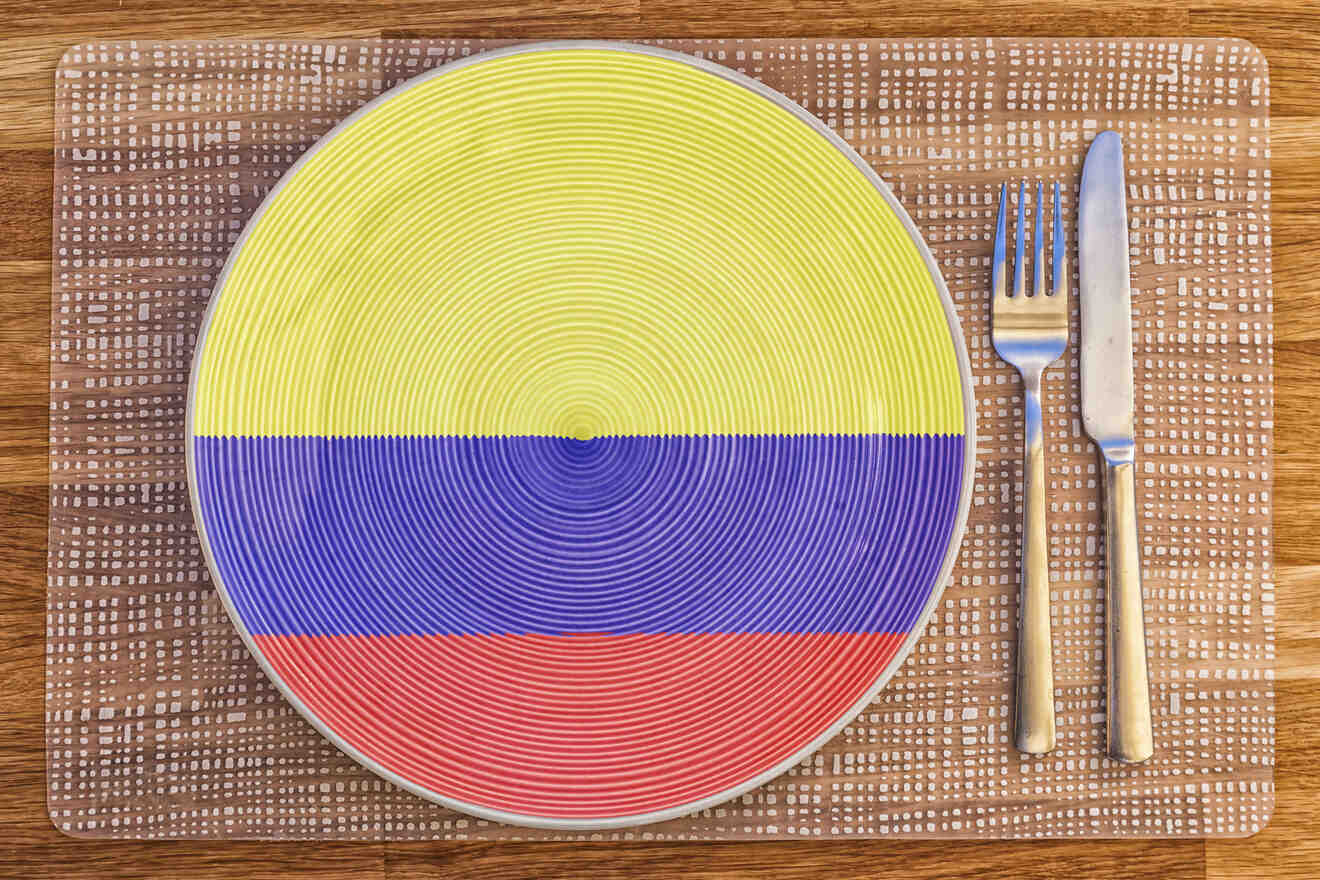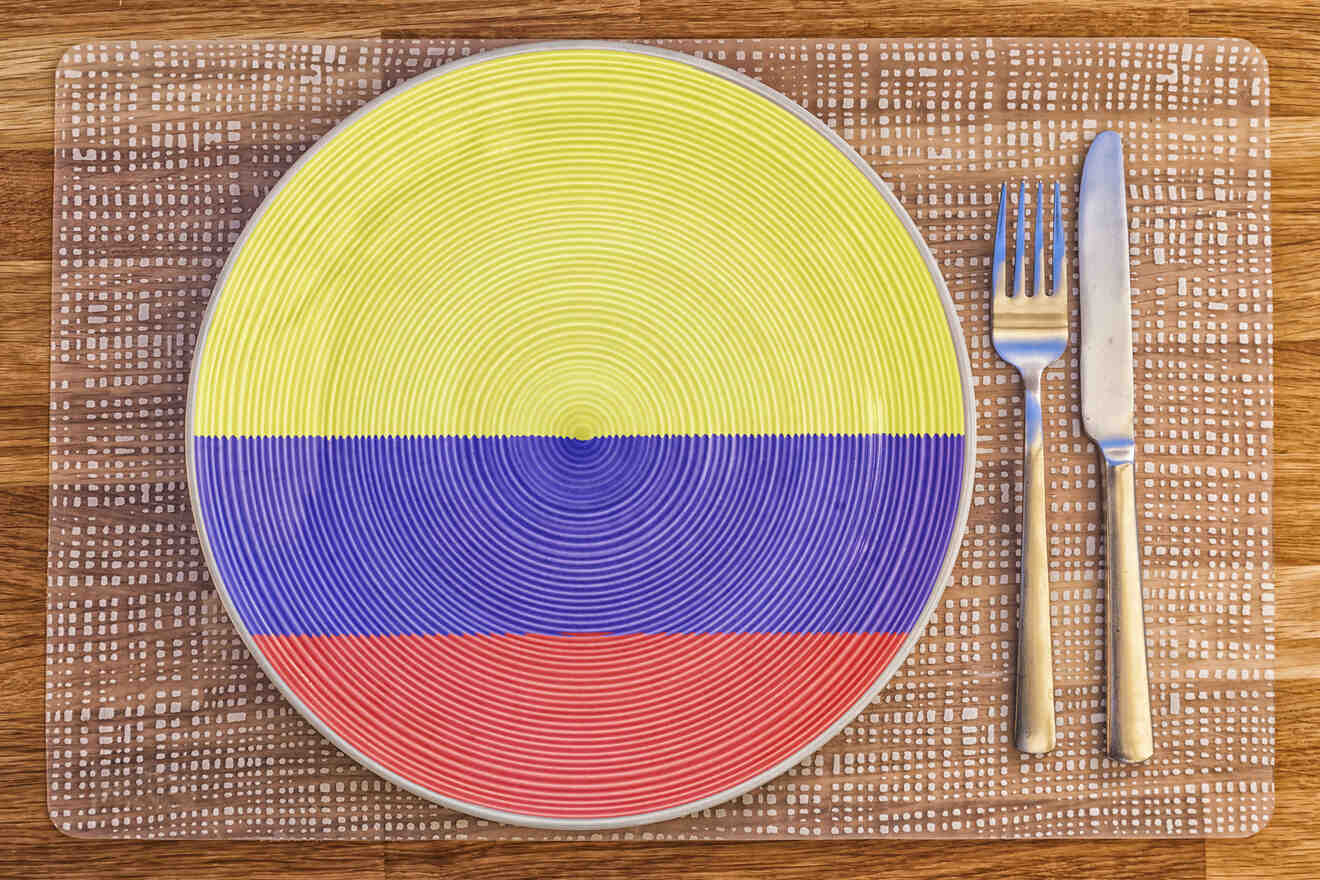 😋 Which are the best restaurants in Medellin?
The best restaurants in Medellin are Hato Viejo if you want to try the local food or El Cielo for a fine dining experience, offering an amazing 3-hours tasting menu.
💸 Which are the best restaurants in Medellin for cheap prices?
The best restaurants in Medellin if you are on a budget are Don Magolo, where you can get a daily menu for only $3, or Delmuri Cafe, serving big portions and vegan options for very cheap prices.
🥟 What food is Medellin known for?
Medellin is known for the traditional Bandeja Paisa, a fulfilling meal perfect for lunch, the Mondongo meat soup, and for many street foods like the fried empanadas, and the Pan de Bono cheesy bread.
🌇 Which are the rooftop bars in Medellin?
The rooftop bars in Medellin are Los Patios, hosting daily cool events, Masaya featuring an incredible hot tub with the BEST views of Medellin, or the trendy Envy Rooftop for sushi and craft cocktails!
Conclusion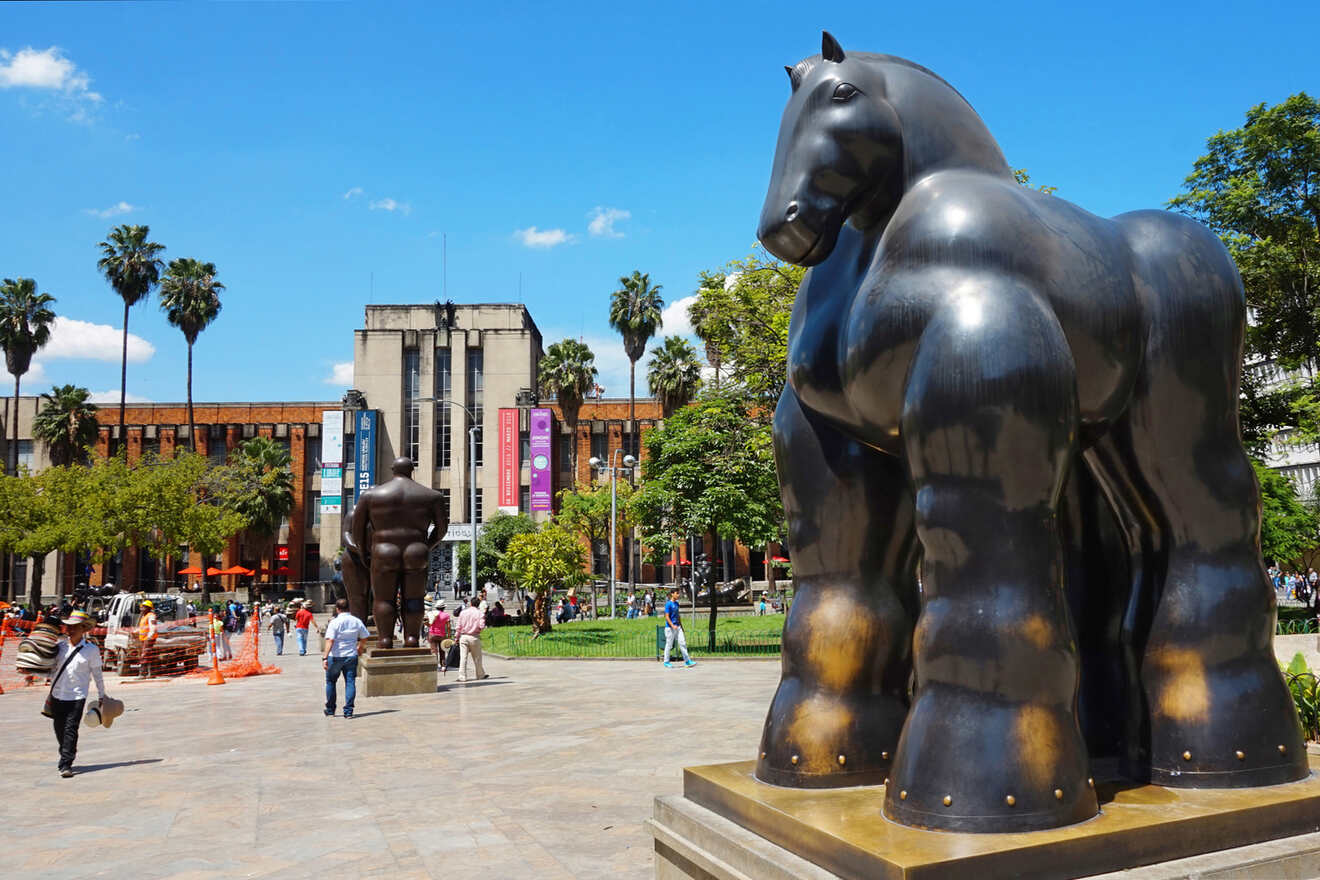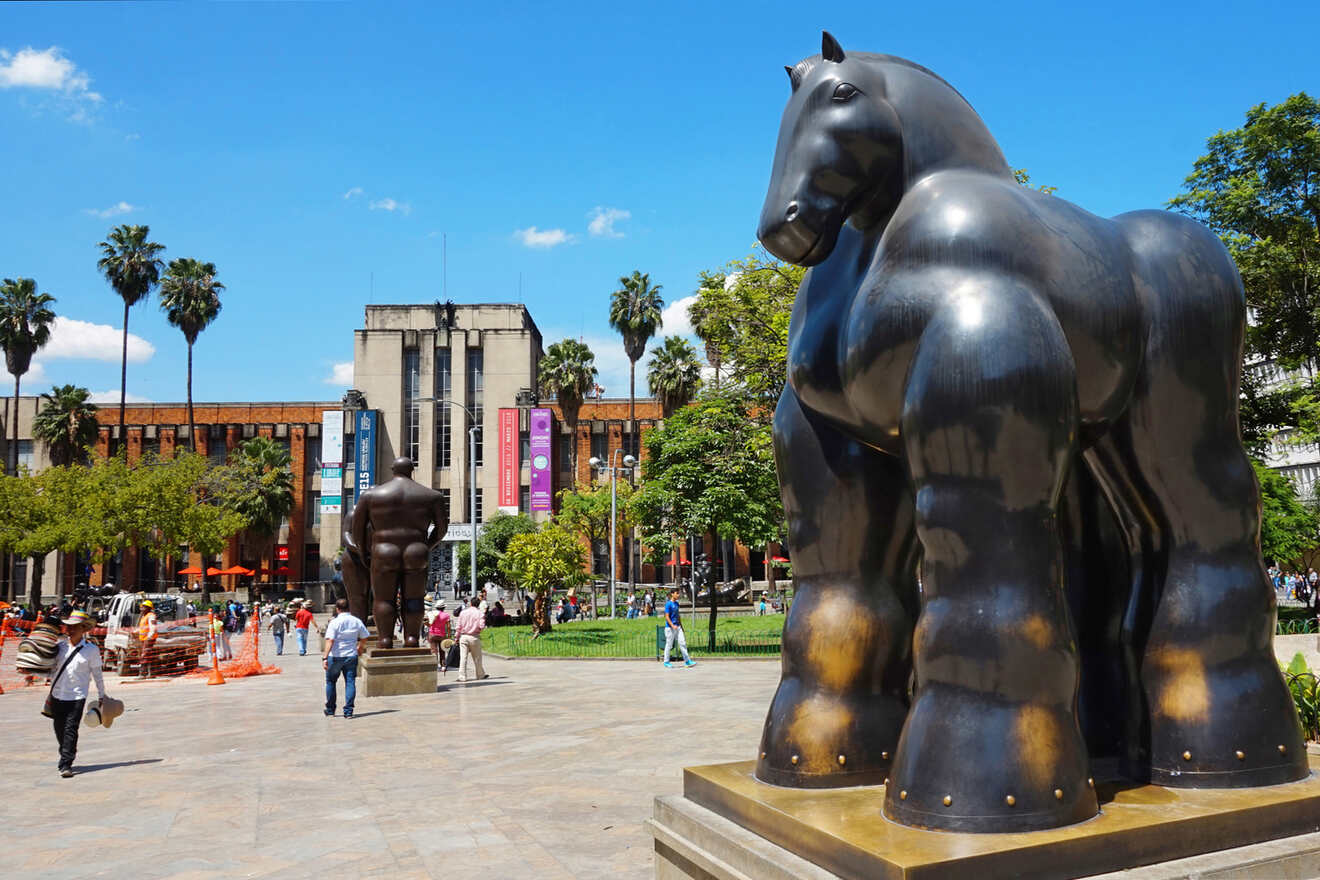 Can you believe it? You made it to the end of this extensive guide about the best restaurants in Medellin, where I am currently living, including also a bonus with some Colombian must-try food and one about prices in Medellin.
As we saw, the Medellin restaurant scene is so wide: whether you're looking for traditional eateries, high-end restaurants, international food, vegetarian options or Asian cuisine, you'll find this and much more in the city! Do you want to refresh your memory?
Then check out my favorite ones here below:
El Cielo – This Michelin-star restaurant serves fixed tasting menus with creative and innovative dishes
Hato Viejo – The perfect place to try authentic Colombian cuisine in a very lively and local atmosphere!
I hope you enjoyed my guide as much as I did sharing my tips with you, and if you have any suggestions or doubts about my travel guide, please share them in the comments below!
Have some yummy meals!
Elena
---
Pin it for later!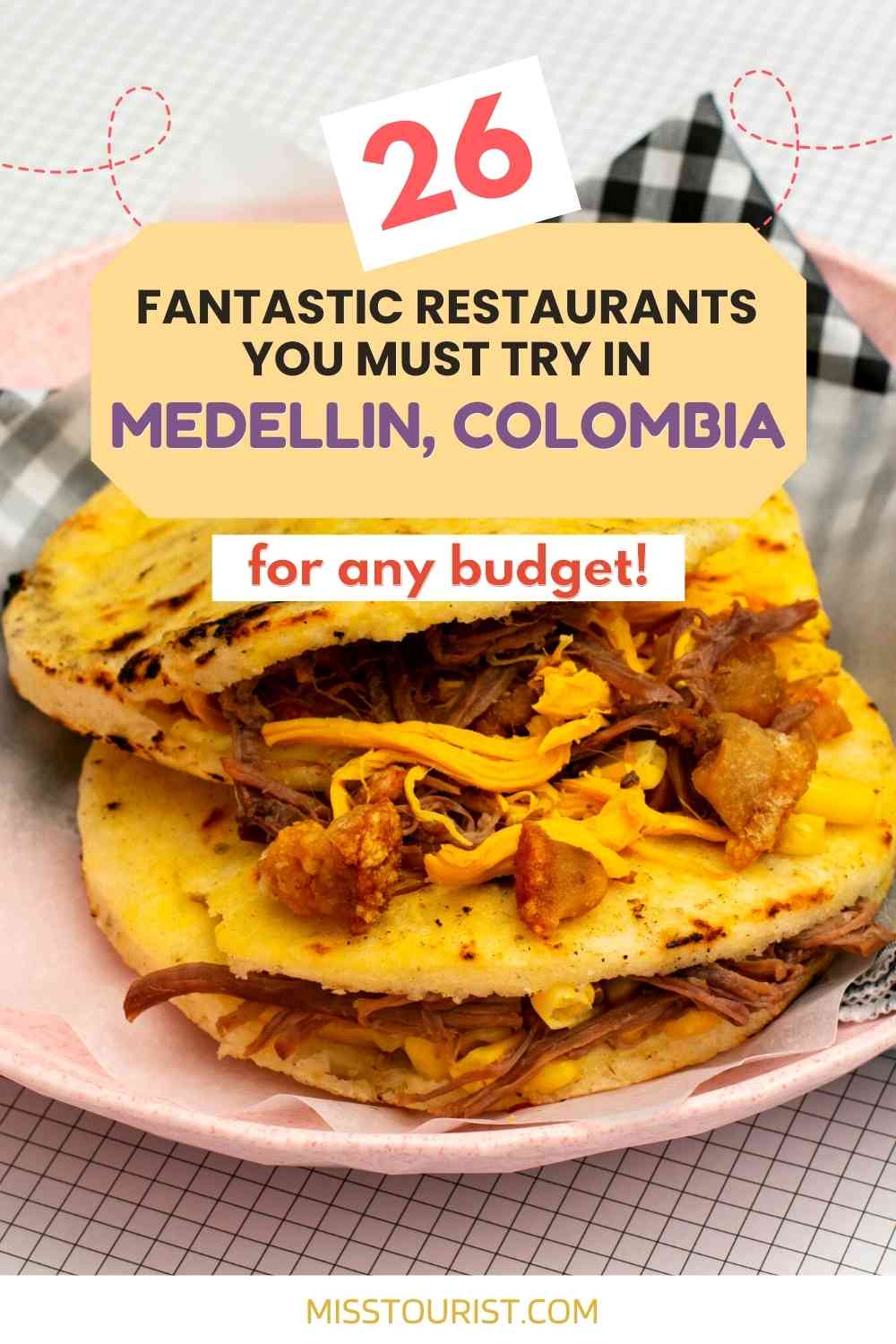 Pin it for later!