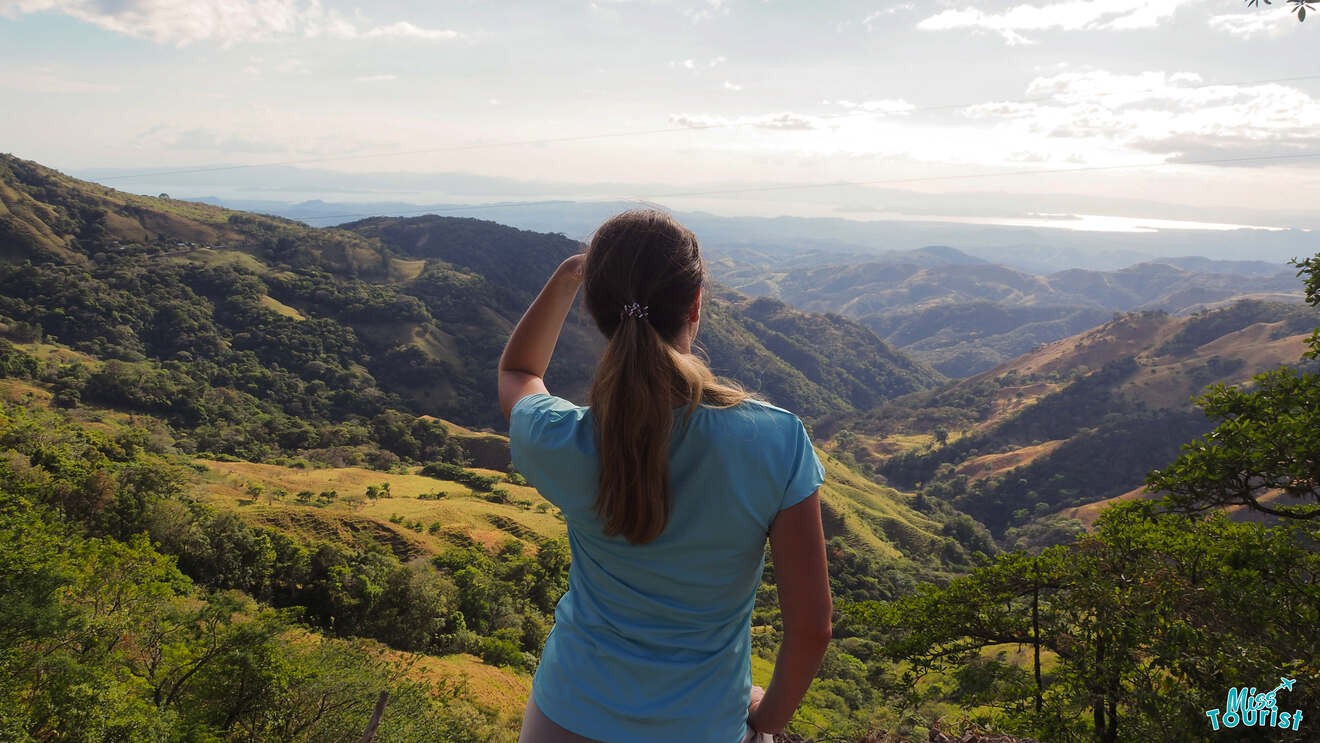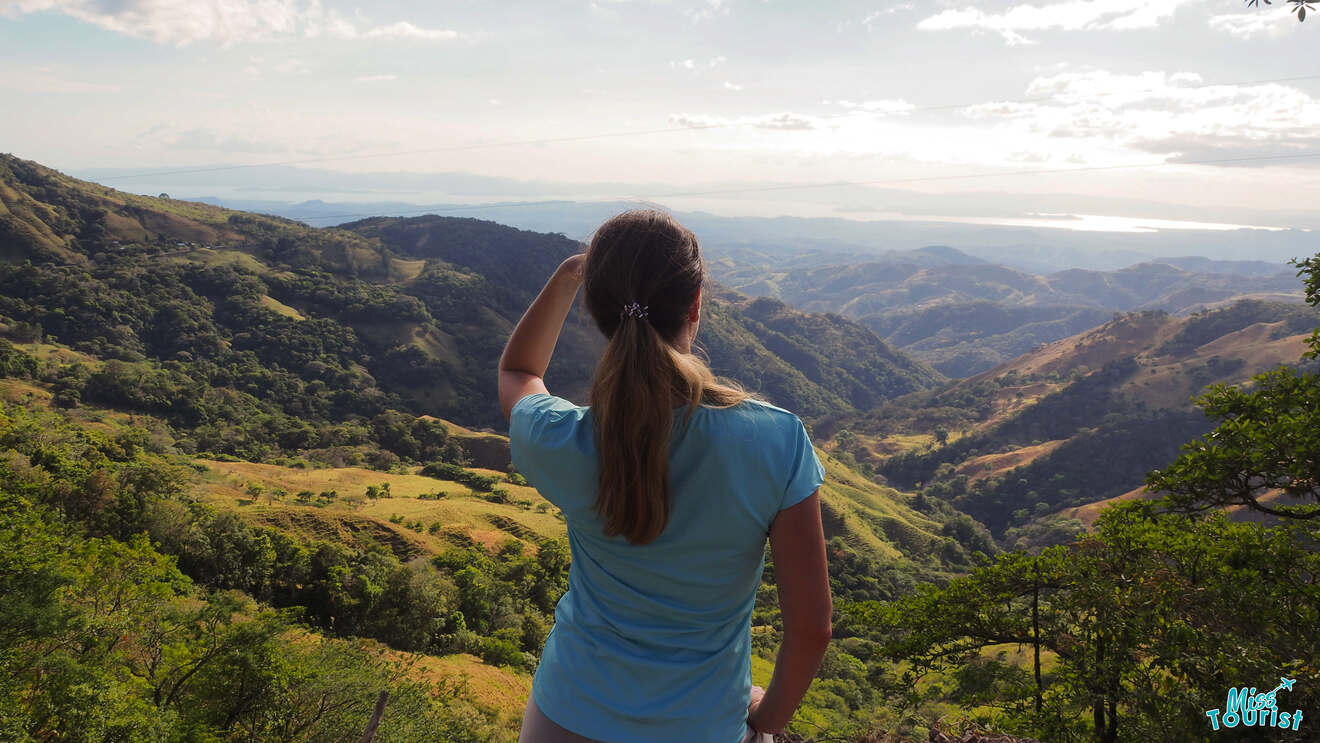 Hola amigos! Monteverde is set in the heart of the Cordillera de Tilaran mountain range, and it's super famous for the Cloud Forest of the same name.
In this post, you will find a fully-detailed guide to the best things to do in Monteverde, Costa Rica. Plus some extra sections (trust me, you'll need them) that will help you find the best tours and places to stay in Monteverde. Aaand more info on how to get there and some top restaurants that I liked!
I've had the best time discovering all the wildlife in the cloud forest, walking across hanging bridges, and learning about Costa Rican culture, and I'm ready to tell you all about it, vamonos!
1. Check out the cloud forest
Thinking about how to start your list of things to do in Monteverde, Costa Rica?
Look no more, I've got you covered on this one, and my top choice is (drum rolls, please): the cloud forest!
Monteverde has 3 cloud forests: Monteverde Cloud Forest Reserve ($25), Santa Elena Cloud Forest ($16), and Children's Eternal RainForest ($15)
In this section, I'll talk mostly about the Monteverde Reserve which is the most famous (and most expensive too ) one, and the one that I visited. But you'll find some info on the other two as well if you scroll down.
1.1 Monteverde Cloud Forest Reserve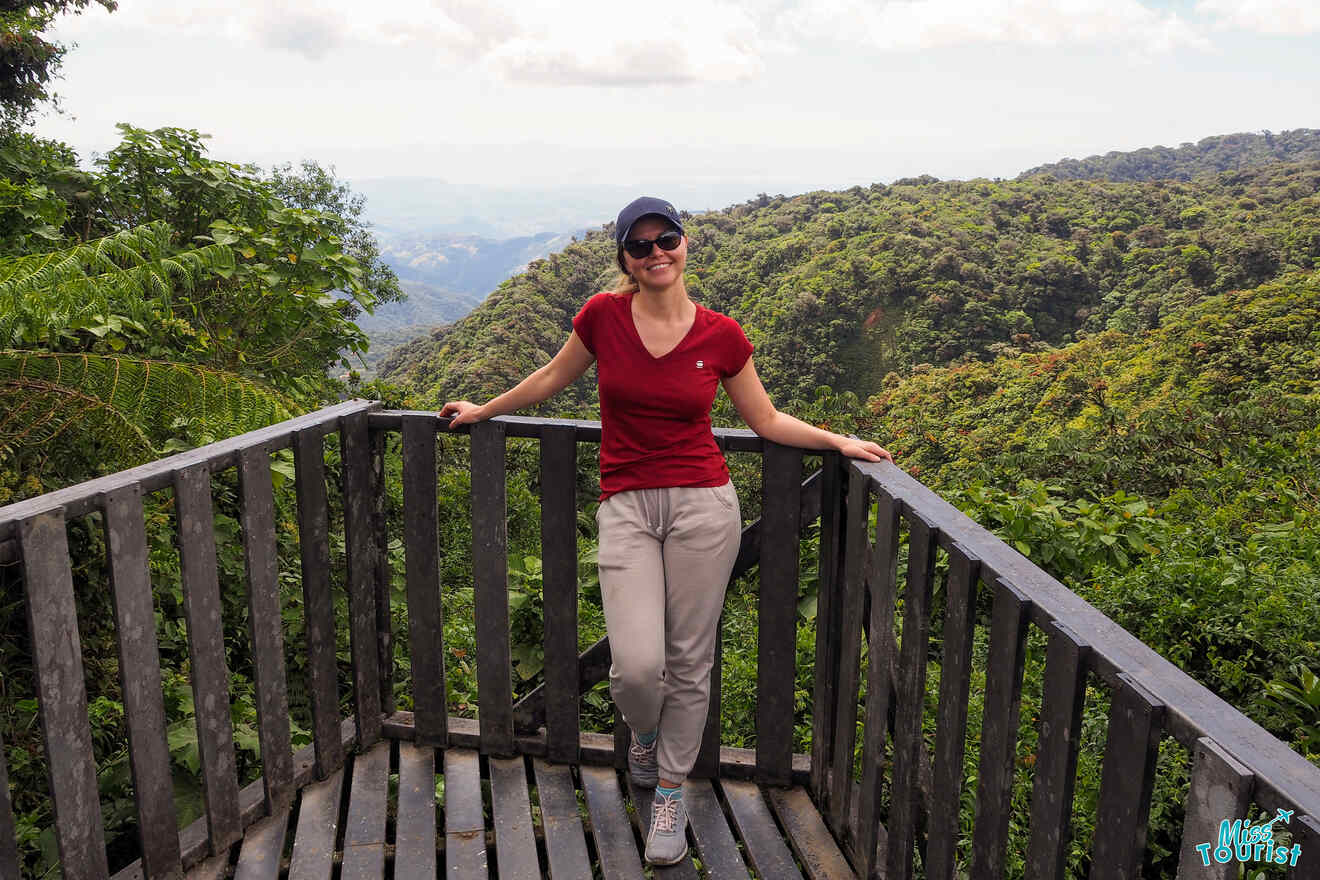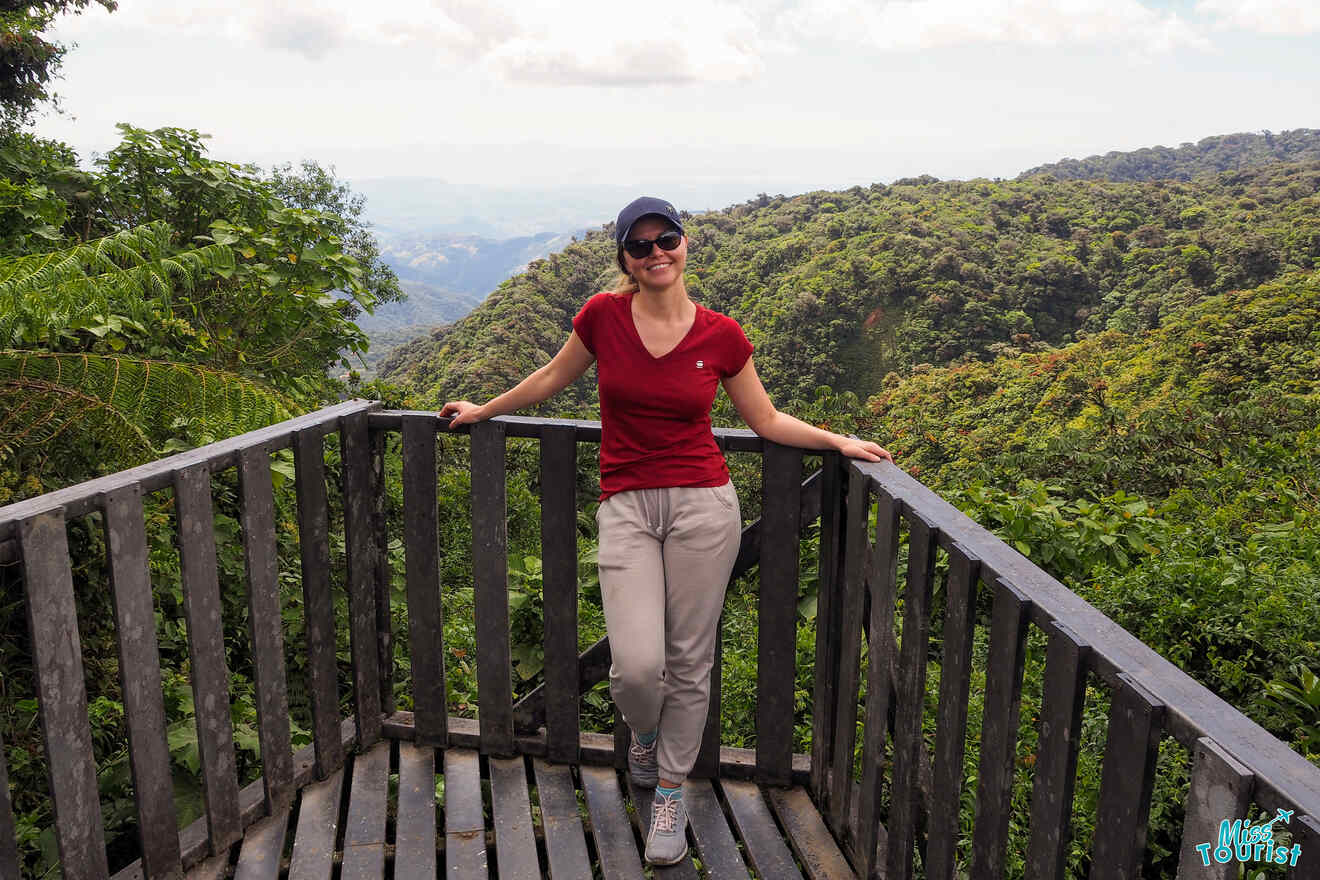 Usually, people spend just a few days in Monteverde and have time to visit just one cloud forest.
If this is your first time in Monteverde and you're looking for the classical experience, I would choose Monteverde Cloud Forest Reserve, it's super unique, and the fauna and flora are simply breathtaking!
Get ready to spot some fascinating birds, butterflies, and mammals!
NOTE: Come as early as you can! 8 am is a perfect time as usually there are no people. Also, keep in mind that the ticket line is usually unnecessarily long – they give lots of information, so count that time as well.
Some things that you should take with you are lots of snacks and some warm clothes (it gets super windy at the viewpoint). It will take you 3-4 hours to do the hike (depending on which trail you choose, you can easily stay for longer if you want!) and there are no snack stations on the way. However, there is a restaurant with food/snacks at the entrance.
PRO TIP: The official parking lot is 1 km away from the entrance, and it costs US$5 to park your car, which also includes the price of the shuttle bus that will take you from there to the entrance. However, you can also drive your car up to the entrance and park it on the road. There is plenty of space, and you'll see many cars. If the guy at the entrance asks you about your parking ticket, just say you walked (it's a 20 min walk from the official parking)!
PRICE: US$25
1.2 Santa Elena Cloud Forest Reserve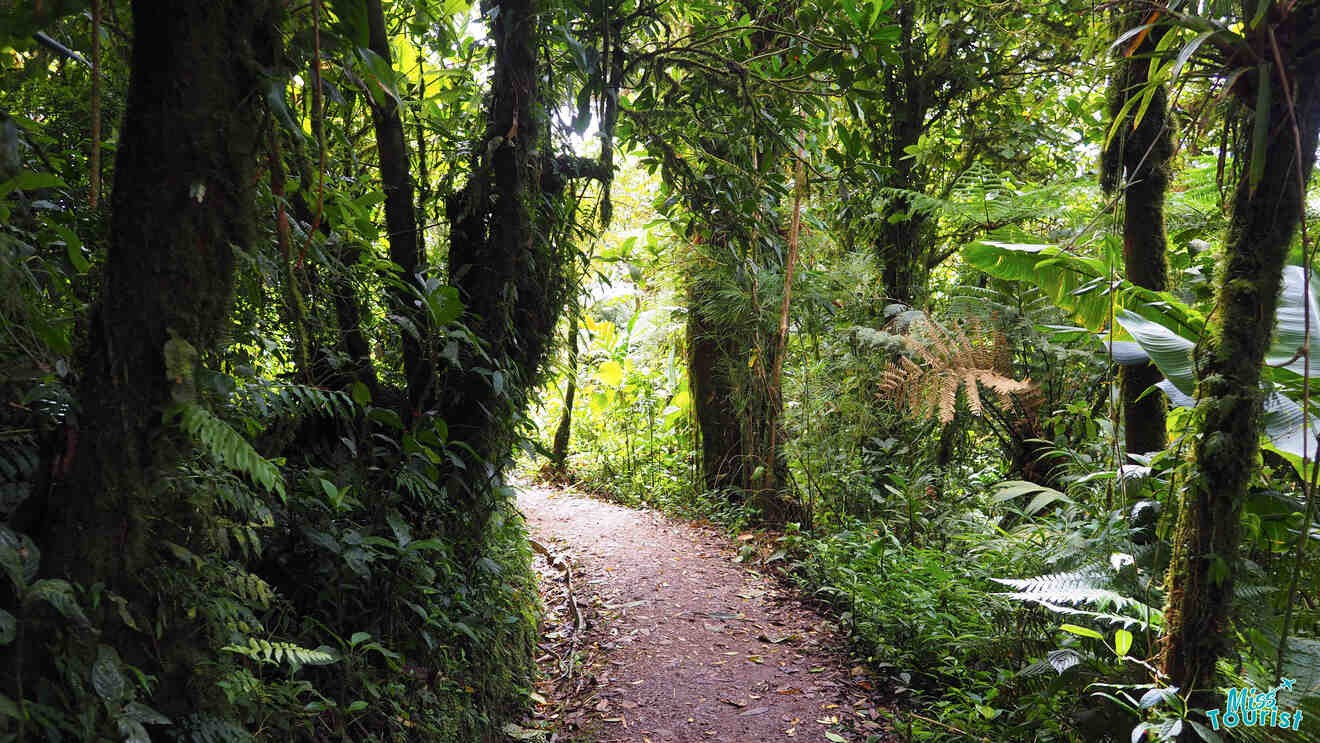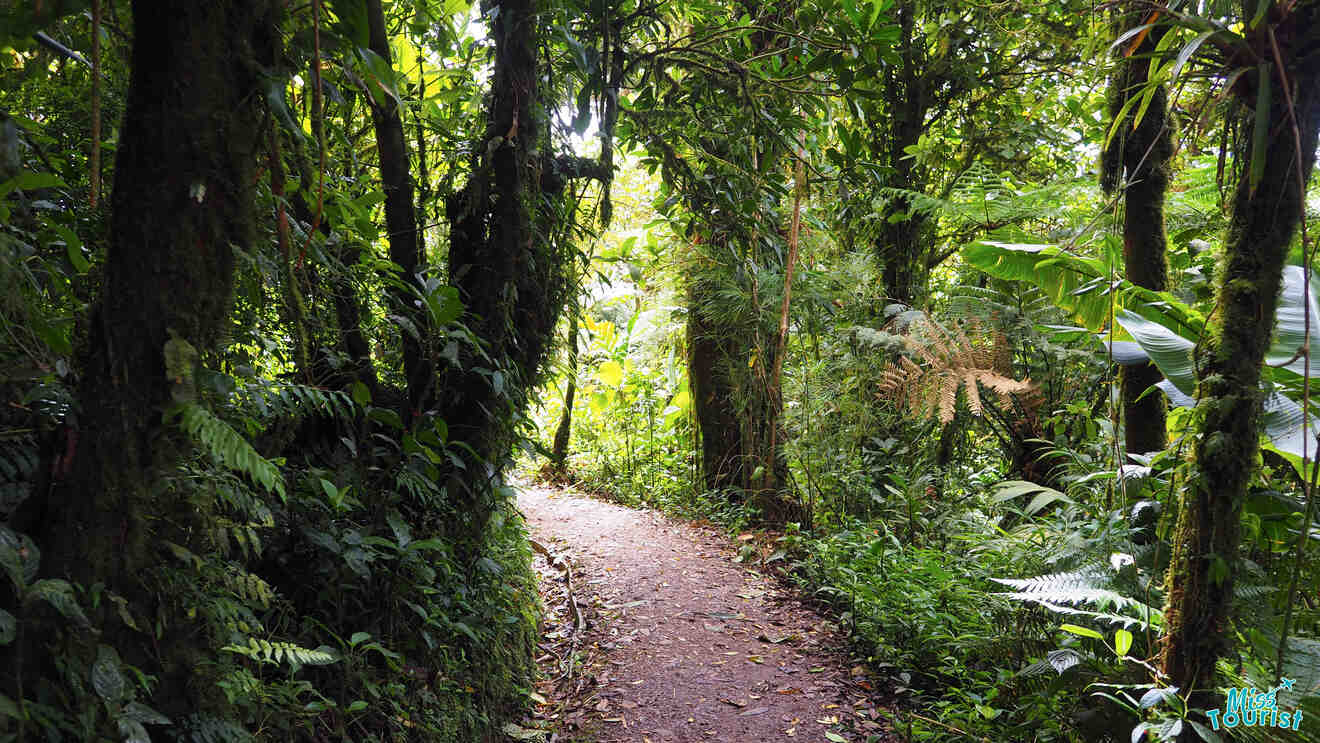 This cloud forest is higher in elevation than Monteverde and it's also wetter and cloudier. The trails are much longer here so if you're an avid hiker I think you'll like it. Santa Elena Cloud Forest Reserve is less crowded, and I would recommend it to people who just want to walk and explore rather than spot animals (you may not see as many here).
PRICE: US$16
1.3 The Children's Eternal Rainforest
Welcome to the largest private reserve in Costa Rica – Bosque Eterno de Los Niños!
FUN FACT: Monteverde Conservation League runs this forest but it was actually founded by some children from Sweden who raised money to create the reserve! It's thanks to that that the land was never used for hotels/plantations etc.
The Children's Eternal RainForest is perfect for people who like going off the beaten track, and it's also awesome for families traveling with kids as the trails are super easy.
PRICE: US$15
2. Enjoy the adrenaline rush while ziplining in Monteverde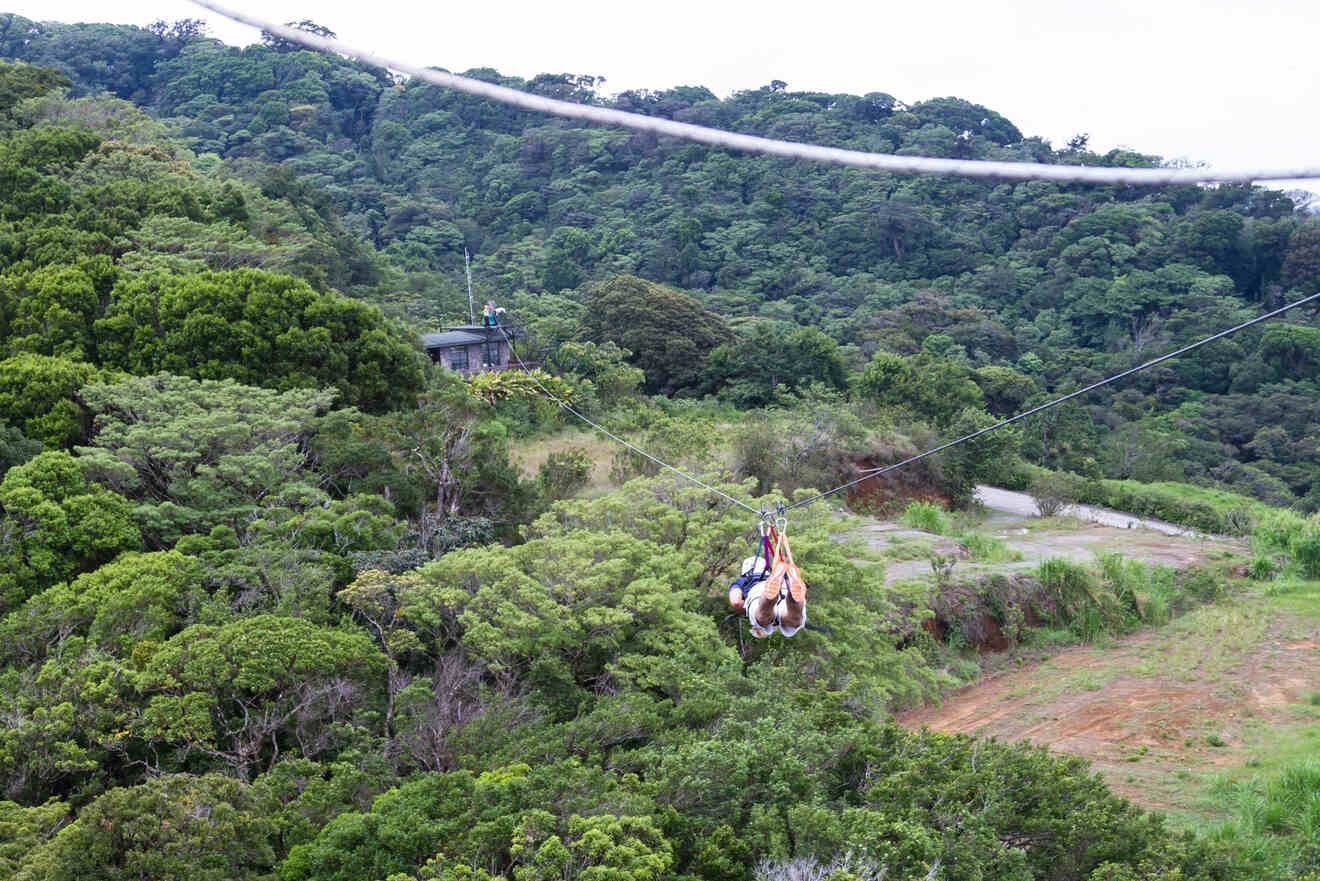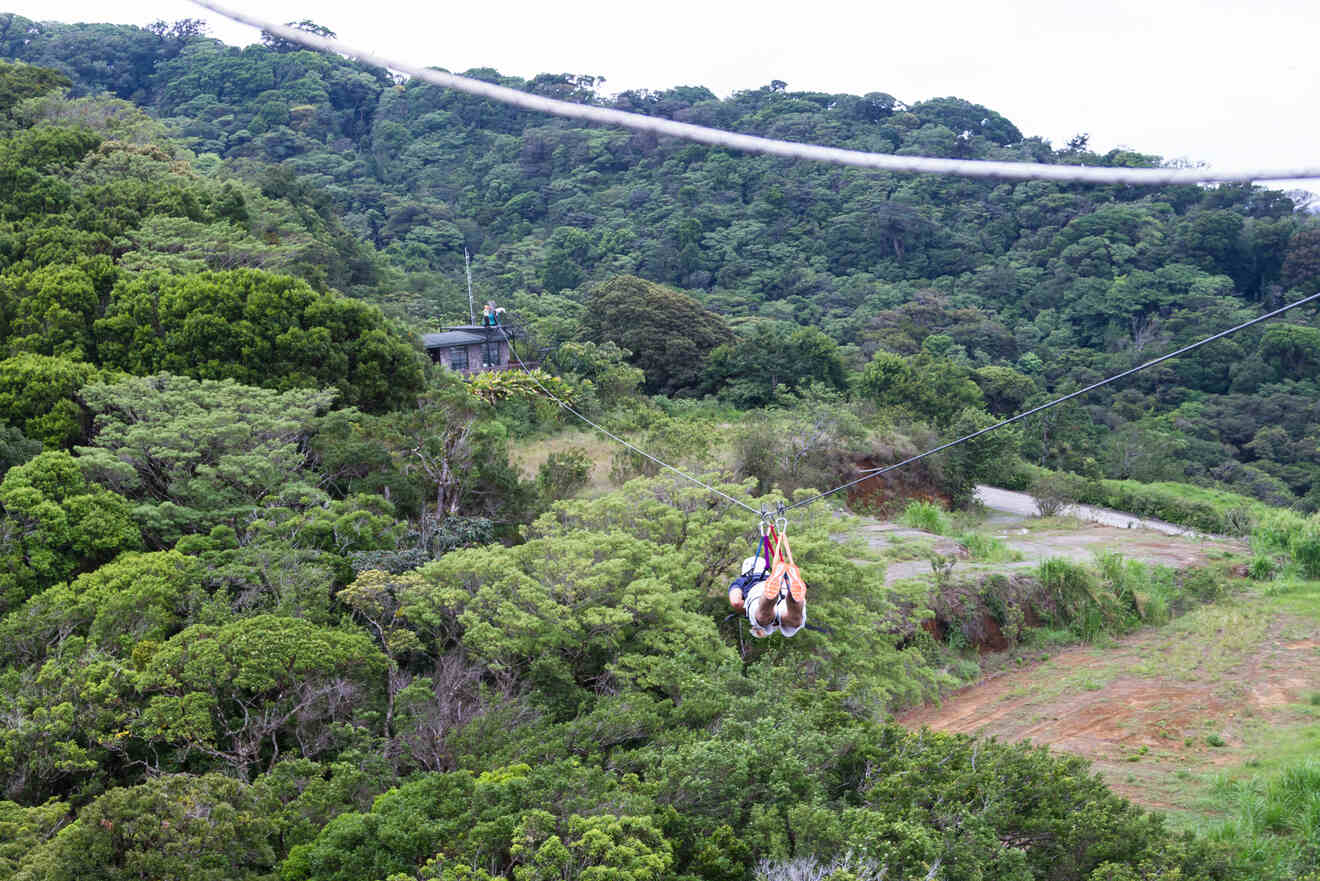 Costa Rica is the home of some of the world's best cable runs, and you'll find many of them (including the longest zip-line in Latin America) in Monteverde Cloud Forest Reserve.
In case you need something stronger than exploring the hiking trails and admiring the fauna, I recommend a session of zip lining through the cloud forest. That ought to get your blood pumping!
What better way to start your day than to fly over a cloud forest? Here are some companies that offer great services:
Selvatura Park – We went to this one, and I'll talk more about it in section #5. The park sits 20 minutes away from Santa Elena. They have tons of different packages which are pretty confusing, I will explain the costs in section 5, but the pricing starts at US$57.
Sky Adventure – A great company that I also talk about in my Arenal post too. The nature park is located 15 minutes away from Santa Elena (the main town), and they provide transport from your hotel to the parking area. Book your ticket with Sky Adventures in advance, as you'll need to present your reservation at the park entrance. The pricing starts from US$41.
Aventura Canopy Tour – Ever wanted to feel like Supermen? Well, now you can! For US$50 you can fly like the famous character over the cloud forests in Monteverde with the Aventura Canopy Tour! The park is located 10 minutes away from Santa Elena. Here you can go on a hanging bridge tour and go zip-lining too!
3. Admire the unique birds & animals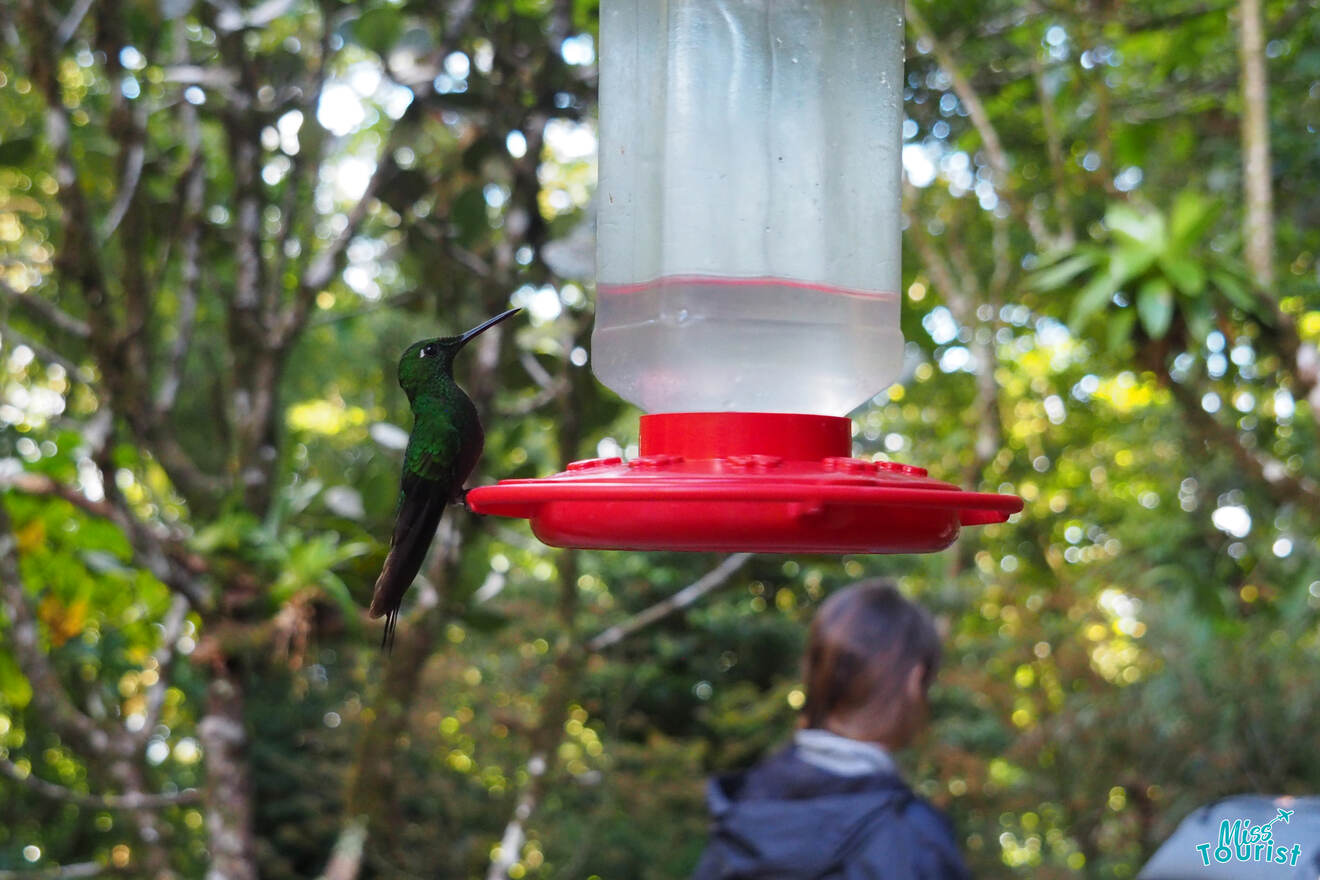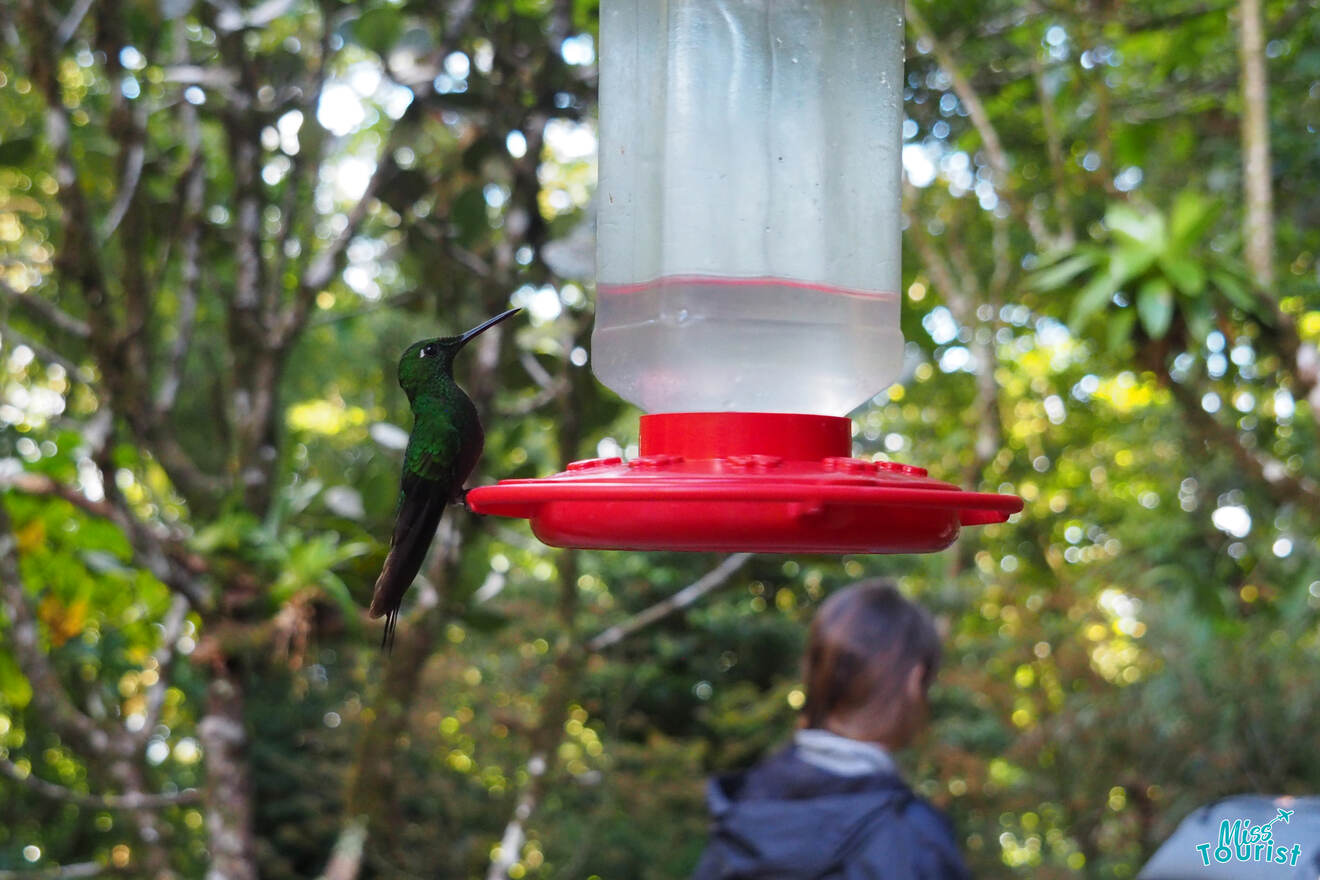 It goes without saying that Monteverde hosts some of the most beautiful species of birds and animals in Central America!
One of the most popular things to do in Monteverde, Costa Rica is bird watching. If you're a bird nerd and want to spot as many as possible, I recommend taking a canopy tour early in the morning at the Curi Cancha Reserve, which is located a 10-minute drive away from Santa Elena.
You can spot birds like the famous quetzal, scarlet macaw, and even the endangered curassow in these parts! Just drink lots of coffee on that day to keep your attention focused on them!
Although the beautiful birds are the stars of the show, they're not the only participants! Here come the agoutis and bats, other important characters in the Costa Rican environment which you can spot during night tours!
PRICE: US$20
4. Try the highest bungee jump in Central America
I know I've said you can get your shot of adrenaline while zip-lining through the cloud forest but if you're looking for something even more extreme (I would count this as 50 shots of adrenaline) then stick around for a few minutes!
The bungee jumping in Monteverde is the highest one in Costa Rica and Central America (definitely not for the light-hearted)!
But this one is a little different to other bungee jumps. How does it work? Well, you basically jump (while wearing a secure harness of course) from a streetcar that takes you out over the canyon on cables located 143 meters above the ground! Told ya, this is some hardcore stuff!
The 60-meter fall and the surrounding natural beauty make this one of the most unique things to do in Monteverde.
Extremo Park, located 20 minutes away from Santa Elena, offers this activity and you can book your tickets in advance on their website.
5. Explore the hanging bridges in Selvatura Adventure Park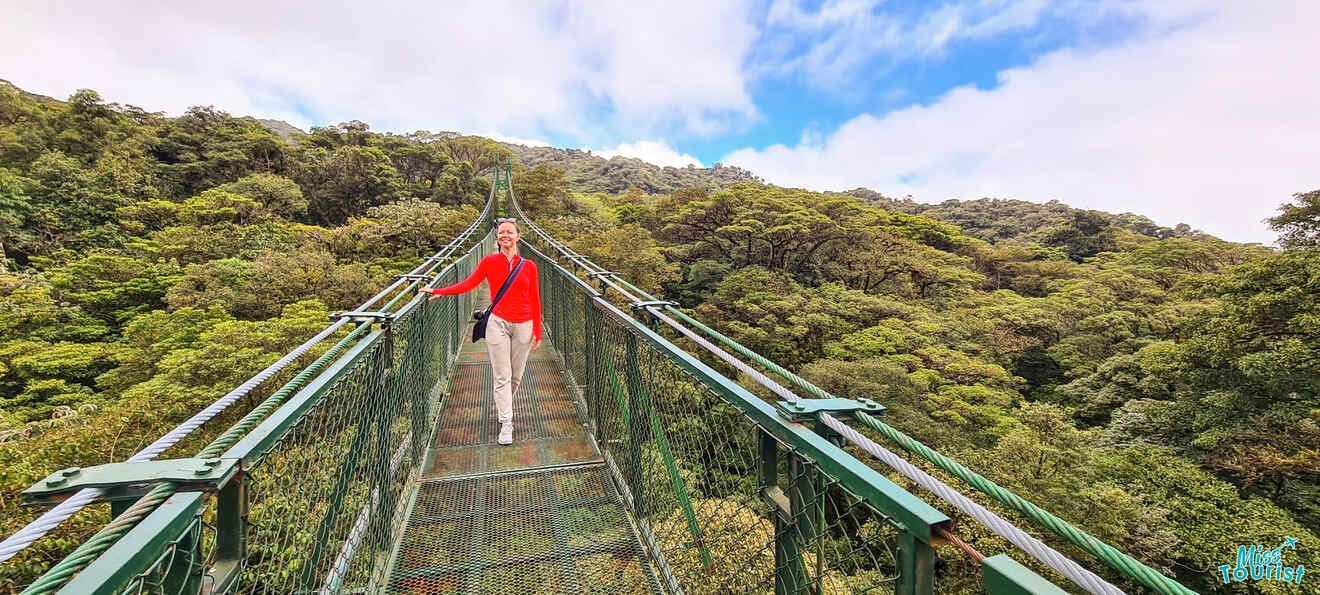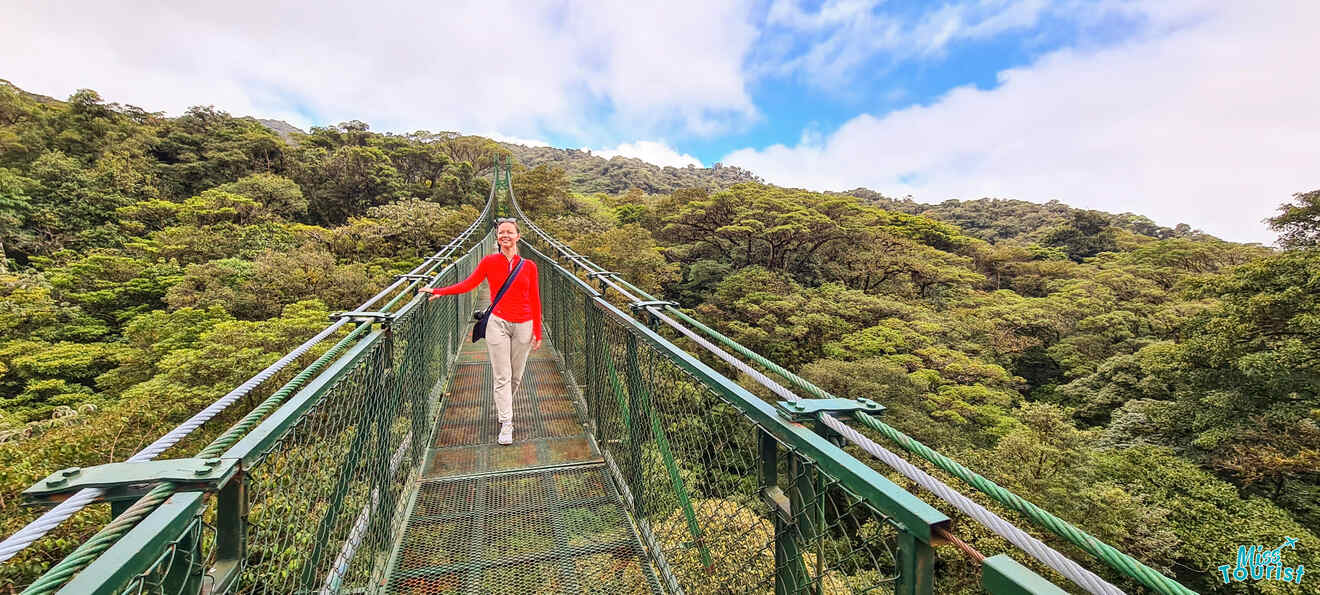 I know I've mentioned Selvatura Park briefly in section #2, but this place has so many incredible things to see that I've decided to tell you more about it! Selvatura Park is located 20 minutes away from Santa Elena town.
NOTE: You'll need a 4×4 or a sturdy car to get to the park, so in case you're renting a car, make sure to keep that in mind
It's not only the beautiful hanging bridges and the views of the forest canopy that will keep you occupied in Selvatura (these are waaaaay longer than the ones in Arenal!), you'll also find a hummingbird garden, ziplines, a sloth center, and more!
Come along and let's explore all of these:
Hanging Bridges: This will give you a chance to admire the views of the forest canopy (pretty unbelievable), walk among the treetops, and spot some howler monkeys. There are 8 suspension bridges and 1.9 miles of hiking trails.
Hummingbird Garden: It costs an extra US$6 to visit the garden but it's so worth it! Here you'll see many hummingbirds (if you can keep an eye on them, they're super fast). PRO TIP: Walk to the gift shop and you will see the hummingbirds for free, they have a feeding station there!
Ziplining: Everywhere you go in Costa Rica, you will find a zipline, told ya! If you haven't done it yet, this is your chance!
Sloth Sanctuary: Watch these cute mammals in their natural environment and try not to fall asleep while walking around! It costs US$35 to visit the center
Butterfly Garden: Take lots of pictures of these innocent creatures in the garden at Selvatura Park. You'll spot over 30 species of Costa Rican butterflies there!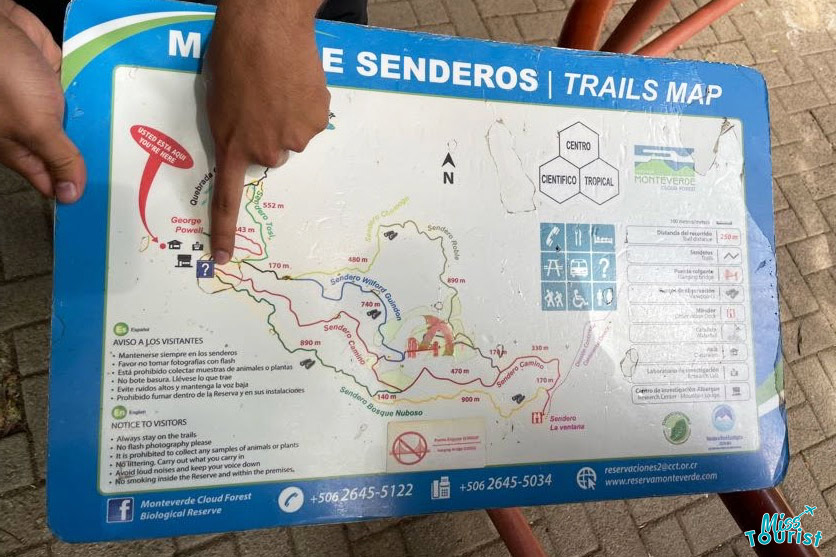 PRICE: They offer different packages, you can find the updated version on the website. But here are some prices to give you an idea:
57$ for Hanging bridges + Butterfly garden (Wooden Pack)
73$ for Ziplining + Butterfly garden (Bronze pack)
141$ for Hanging bridges + Ziplining + Butterfly garden + Sloths Sanctuary (Black Diamond pack)
169$ for Hanging bridges + Ziplining + Butterfly garden + Sloths Sanctuary + Reptile sanctuary + Lunch (All day pack pack)
Pricing for kids is different, they also have special packages that include lunch, so as usual, please refer to the site for updated info.
6. Visit the cool attractions near Santa Elena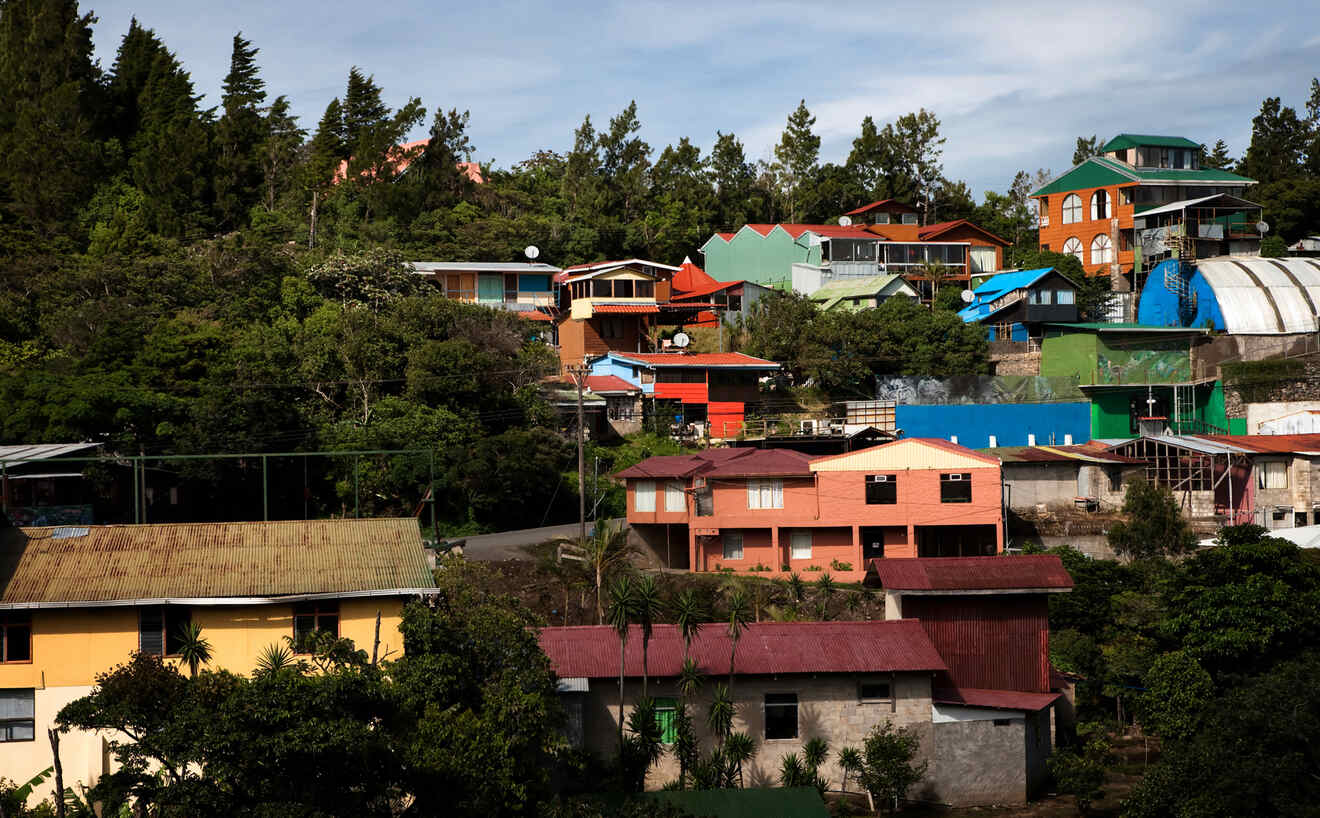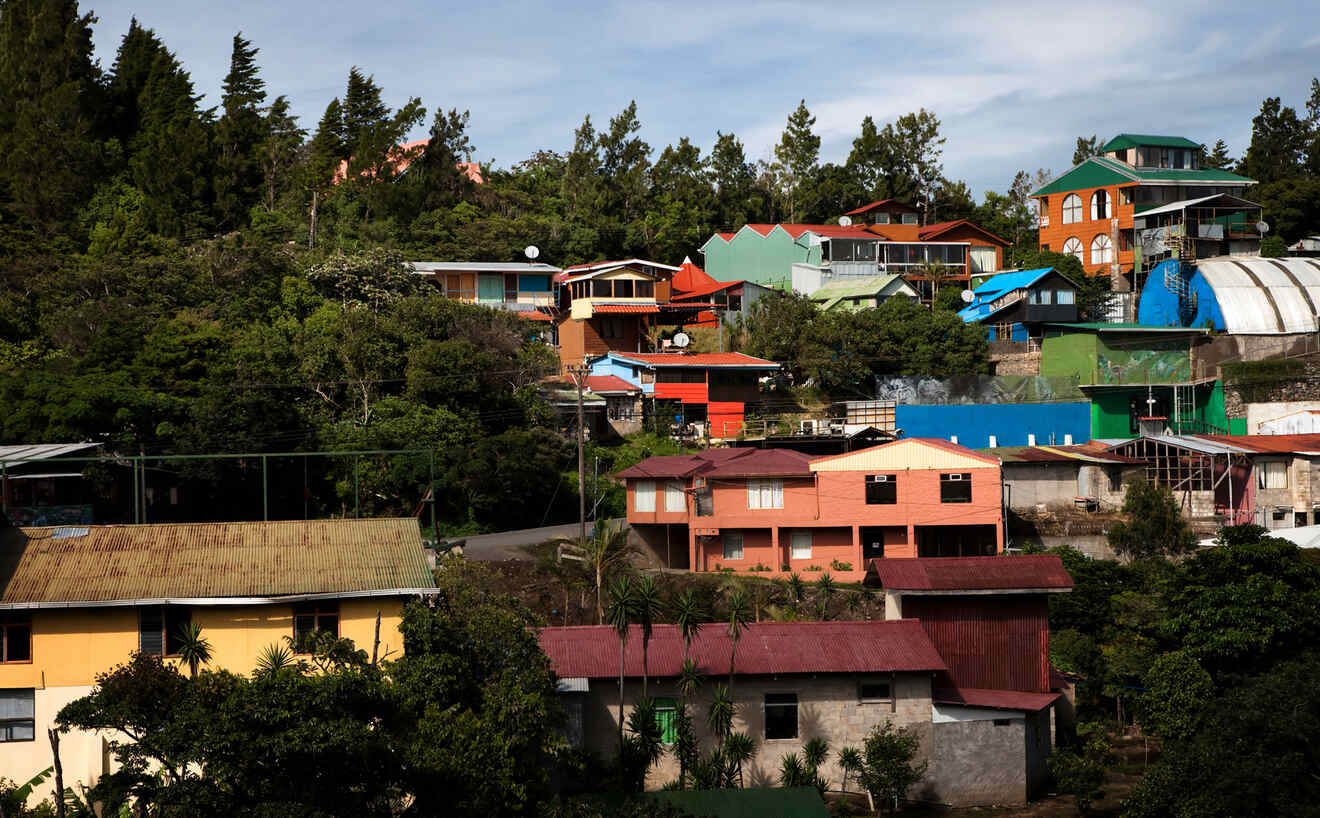 The small town of Santa Elena sits 4 miles (6 km) away from the Monteverde Cloud Forest Reserve. Over the years it has become a great spot for tourists who usually look for accommodation here or stop for a quick bite before heading to the forest reserve.
But I recommend taking some time to really explore around and discover some of its attractions!
The downtown area has all the restaurants, bars, hotels, and tour offices of various travel agencies. Then along the road from Santa Elena to Monteverde Cloud Forest, you'll find so many places that you should visit!
They're pretty close to each other so you can check them all out on the same day!
6.1 Monteverde Orchid Garden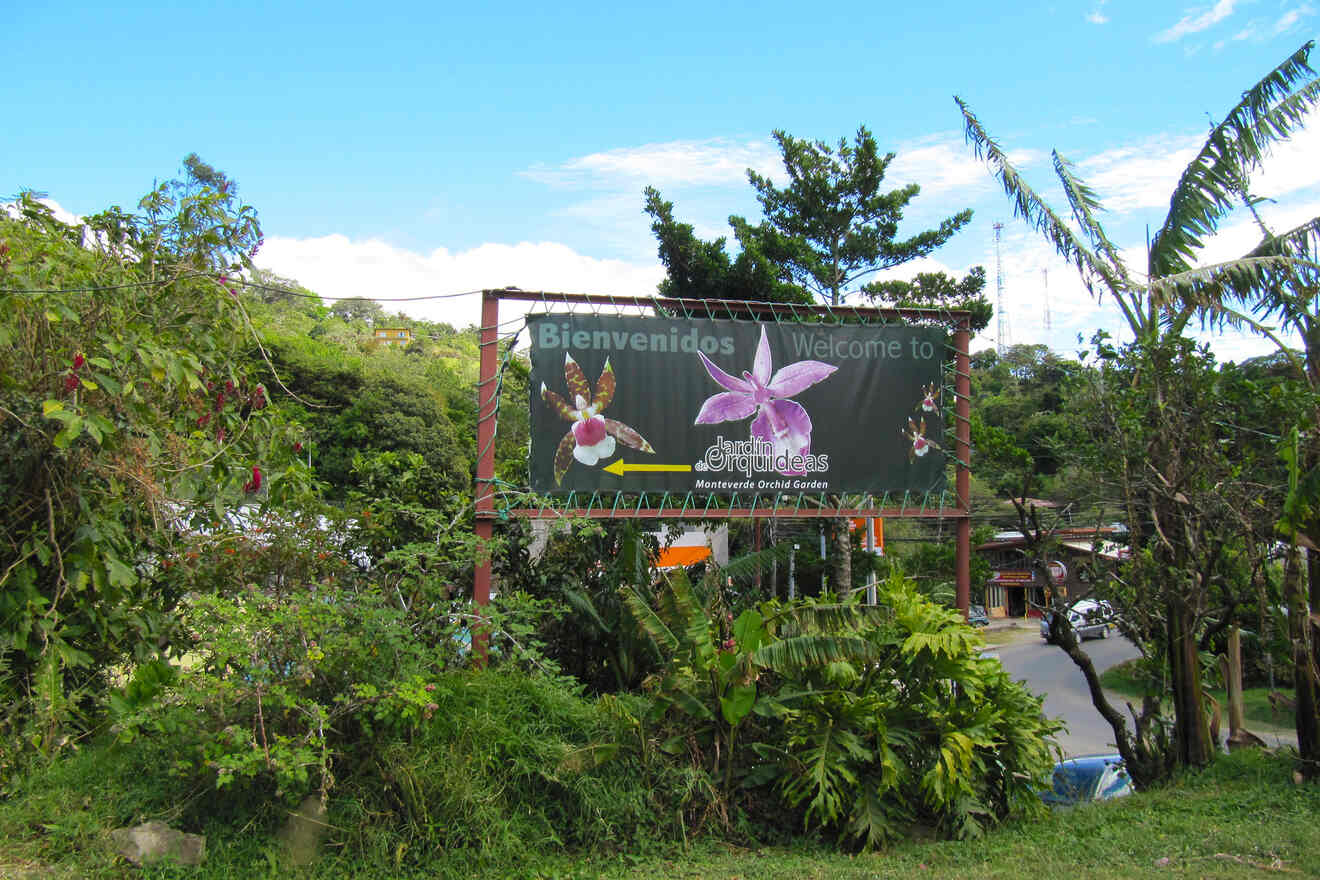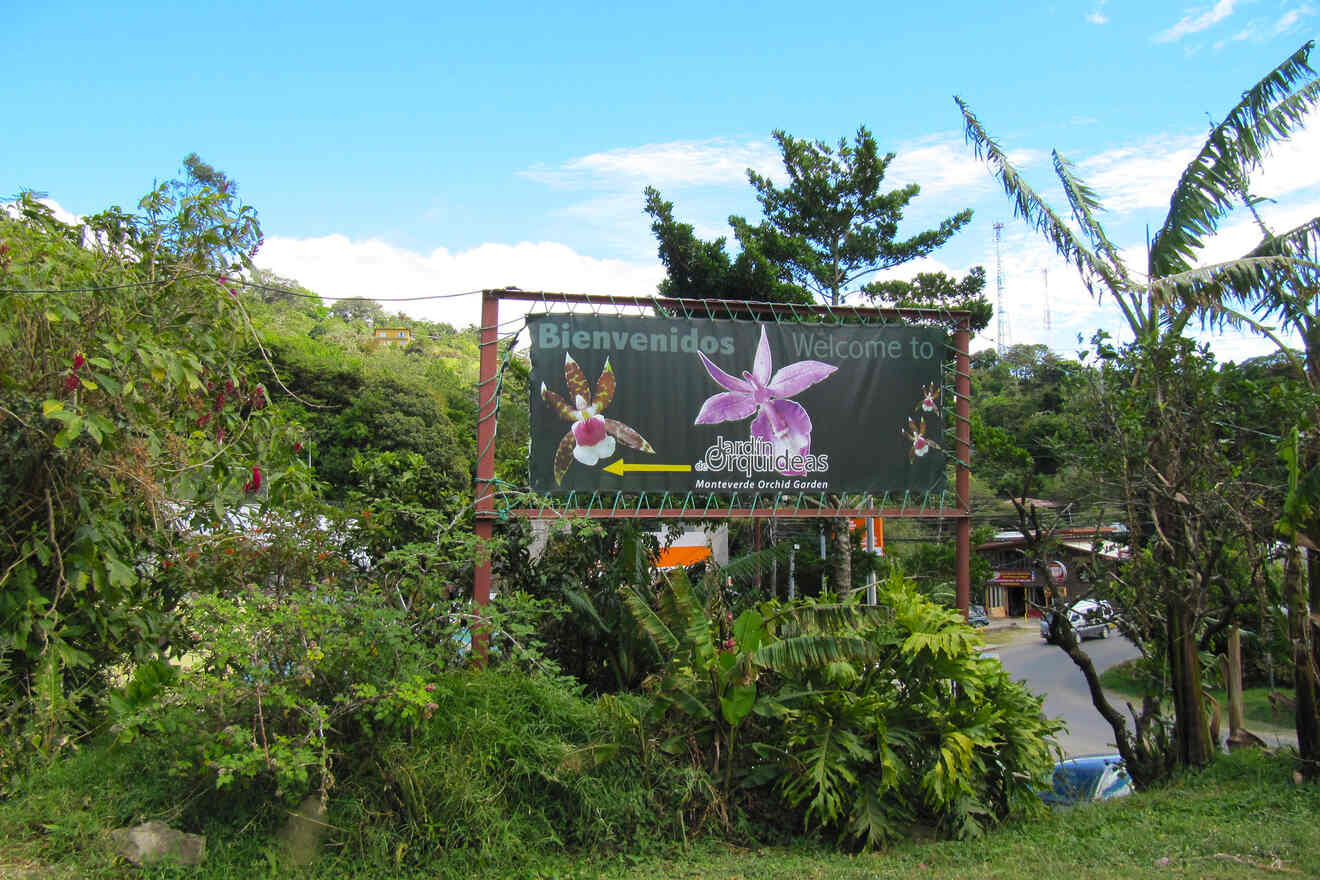 Flowers are such delicate creatures that you could spend hours looking at them and admiring every little aspect! If you're a fan of that, I've got just the place!
On the way from Santa Elena to the Monteverde Cloud Forest, there's a stunning place called the Monteverde Orchid Garden, which hosts more than 450 species of orchids (wow)!
Almost 120 different orchids bloom every day, and to be honest, this is such a great place where you can take a break. Many of you will hurry from attraction to attraction, trying to do all the things on the list, so if you need a breather, definitely come here!
NOTE: Around the Orchid Garden, there used to be the Monteverde Serpentarium but unfortunately, they've shut it down.
PRICE: US$14
6.2 Frog Pond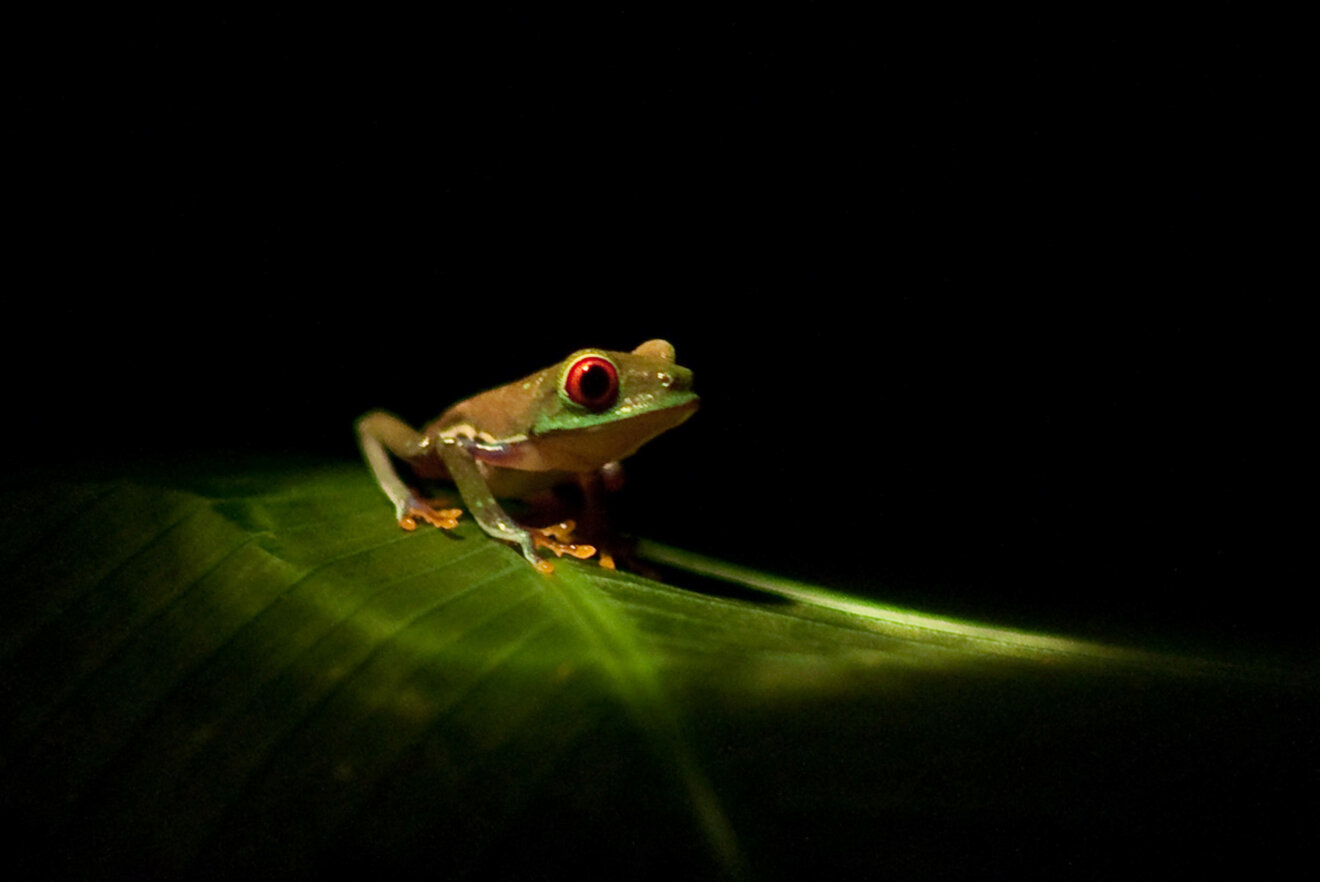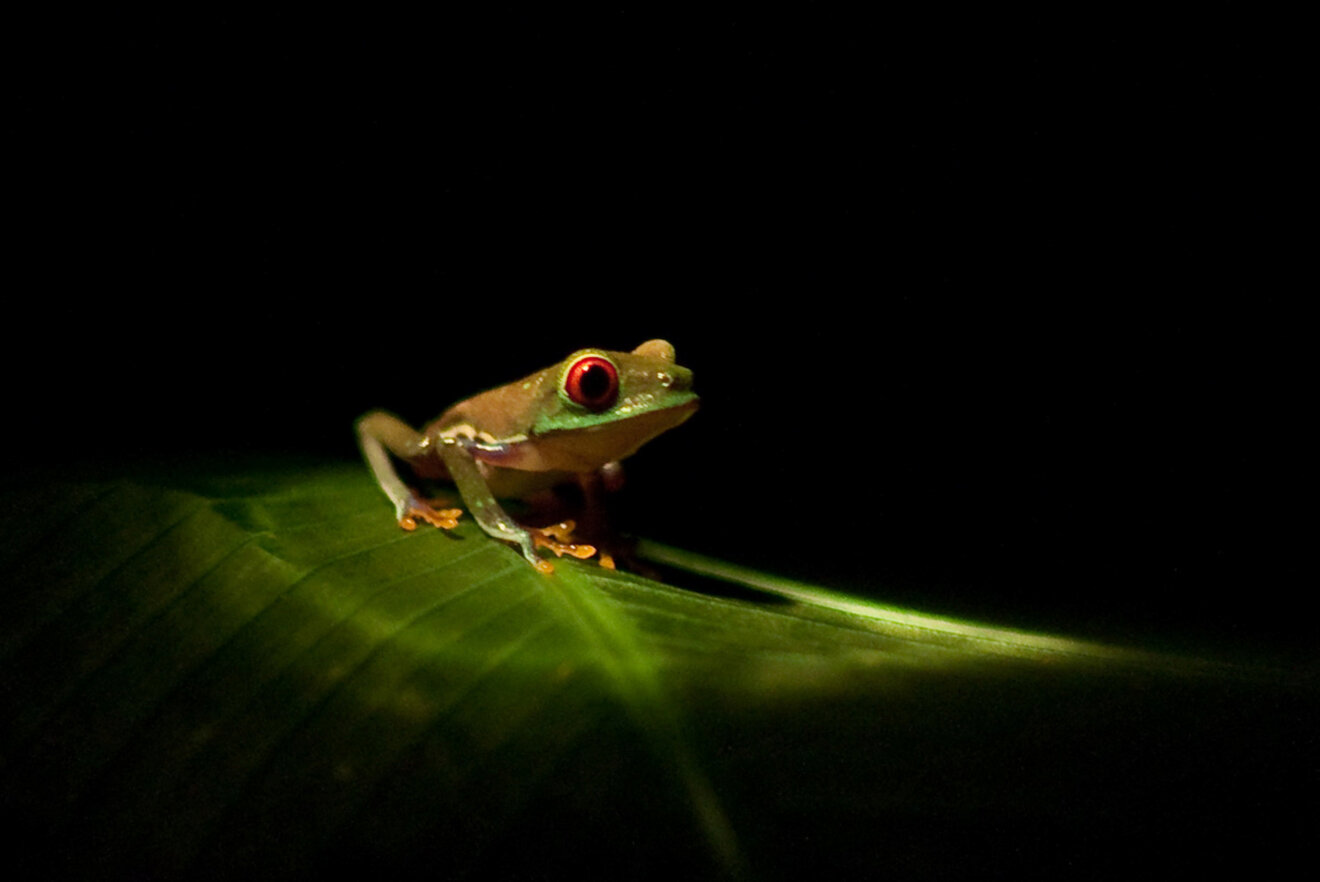 Ready to make colorful and tiny friends?
The Frog Pond is located right in Santa Elena, just a 15-minute drive away from Monteverde Cloud Forest Reserve, and it's home to so many unique species of amphibians from all over the country. Recently, they've also added an exhibition of insects as well!
NOTE: You can visit the Monteverde Frog Pond twice with your ticket, once in daylight and then again at night. Some species are nocturnal, and it's so much fun to see how the whole pond turns alive!
PRICE: US$12
6.3 Butterfly Garden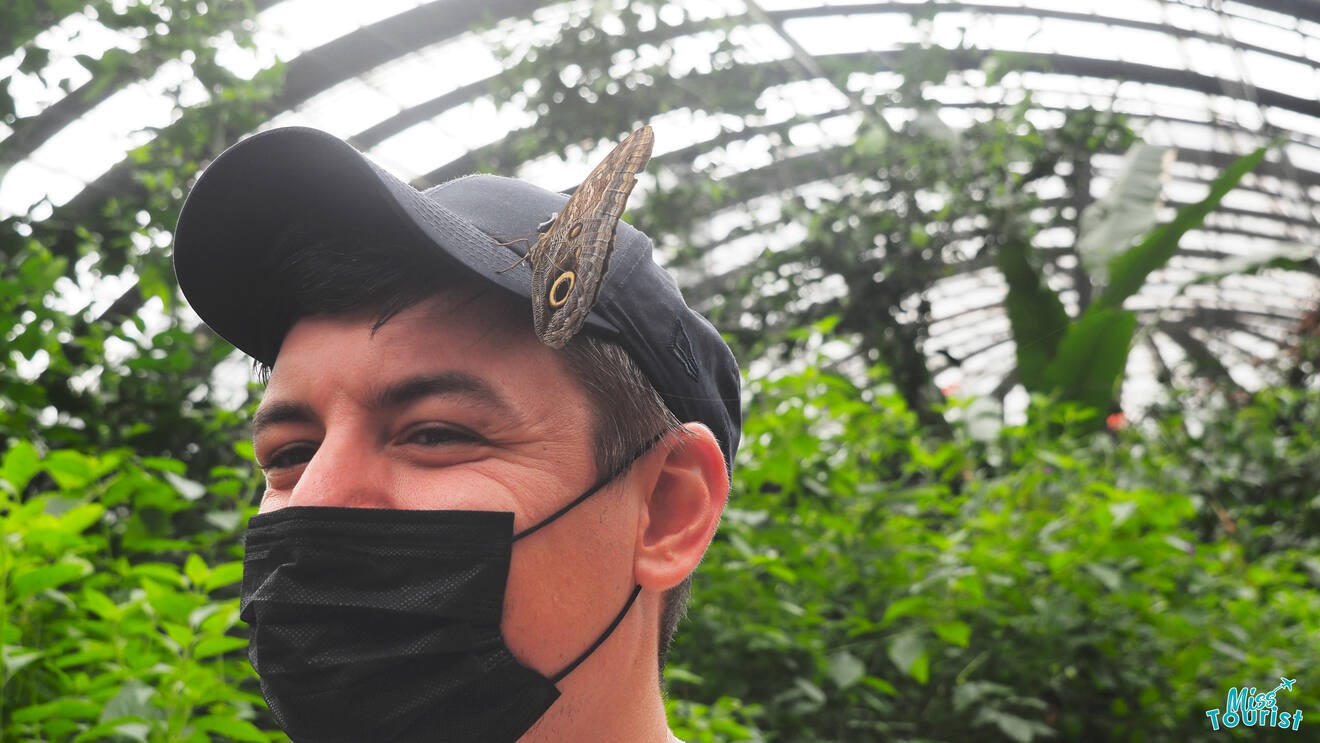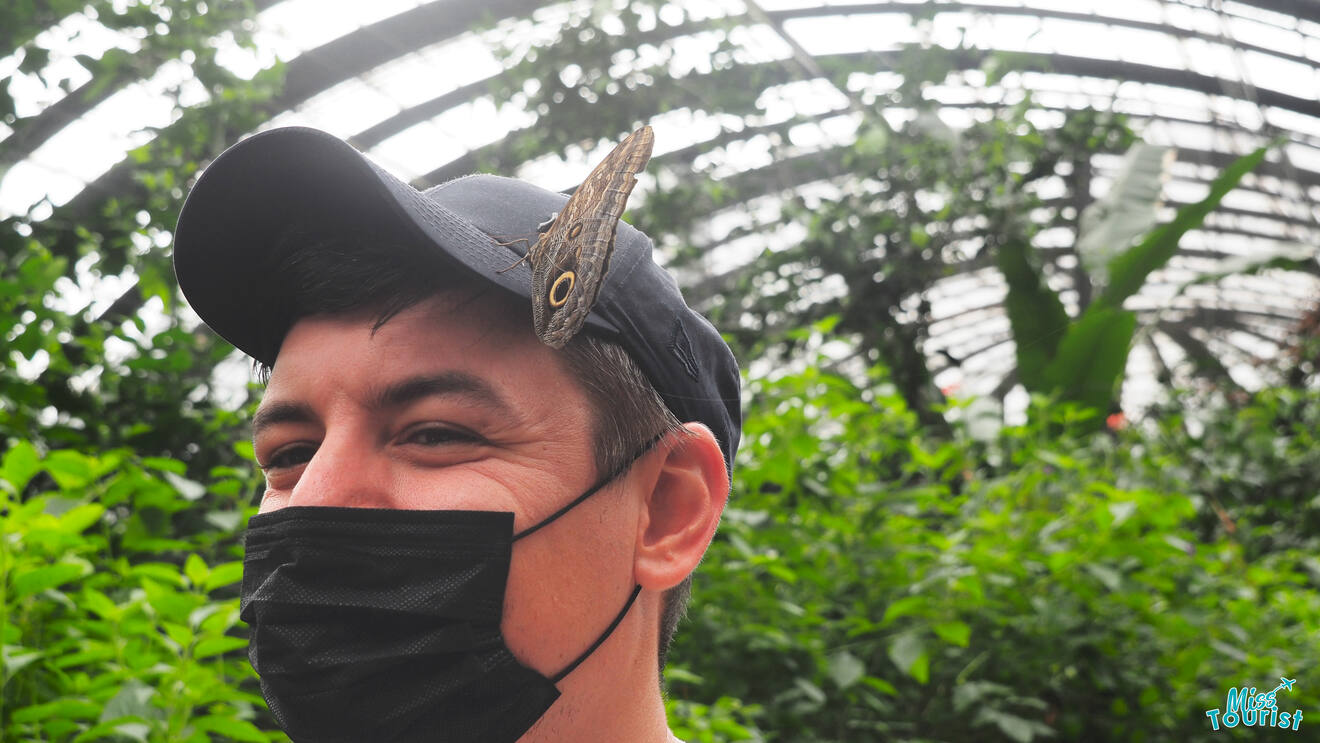 Not too far from the Frog Pond and also just a 15-minute drive from the Monteverde Cloud Forest Reserve sits the beautiful Butterfly Garden.
This natural oasis is home to 30 different species of butterflies. Watching them fly at once, all having different shapes and colors feels like you've landed in paradise. The garden also hosts some insects and monkeys who live in the treetops!
PRICE: US$15.50
6.4 Bat Jungle
Discover the fascinating world of bats at this great place that's located 10 minutes away from the Monteverde Cloud Forest. The Bat Jungle offers an insight into the world of these creatures that usually scare people. When in fact, they help our planet a lot and are necessary for Costa Rica's ecosystem!
The jungle is super cool, and you can see the bats, fly, eat, and sometimes even give birth (okay, that may be too much).
PRICE: US$12
7. Have a unique dining experience among the treetops
After all the hiking, climbing, and walking along the hanging bridges in Monteverde, Costa Rica, you'll need a few hours just to relax (probably eat as well as you'll be famished) and just enjoy where you are!
If you want to eat dinner in true Costa Rican style, then check out San Lucas Restaurant, where you'll dine among the treetops!
How cool is that?
I think it's incredible! The food is delicious and each table (which is located high among the treetops) has its private booth! The place is located near Santa Elena, just a 10-minute drive from Monteverde Cloud Forest.
You'll have to book your spot in advance, and the whole experience lasts 2.5h. This place is a bit pricey, but the tickets, which cost US$116 per person, include a 7-course menu without drinks. If you wish to buy the wine experience as well, it will cost US$55 for 6 glasses.
As I said, the place is pretty expensive, but hey it's a once-in-a-lifetime opportunity. So if you can afford it, go for it!
PRICE: US$116 + $55 for alcohol
8. Take a day trip to El Tigre Waterfalls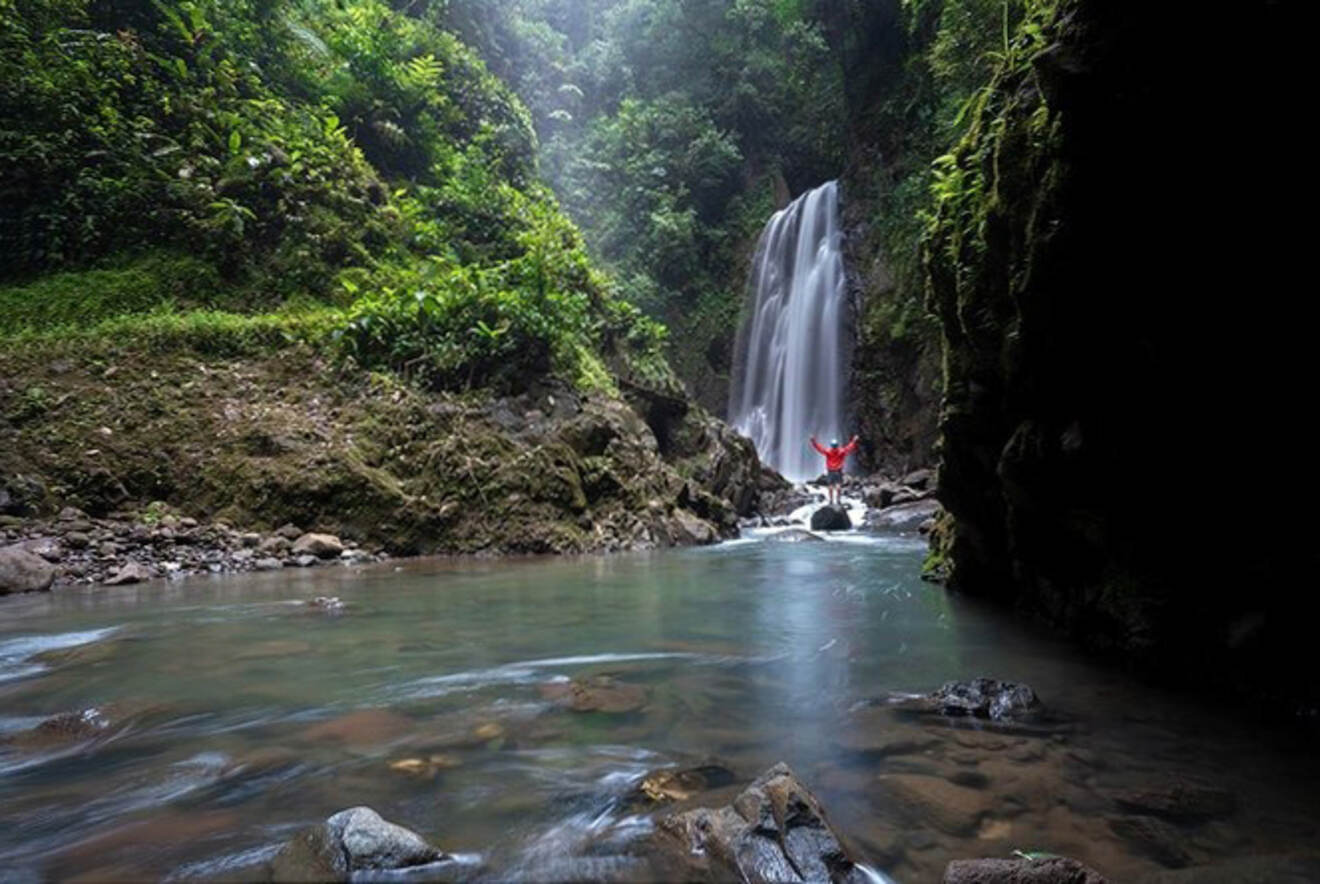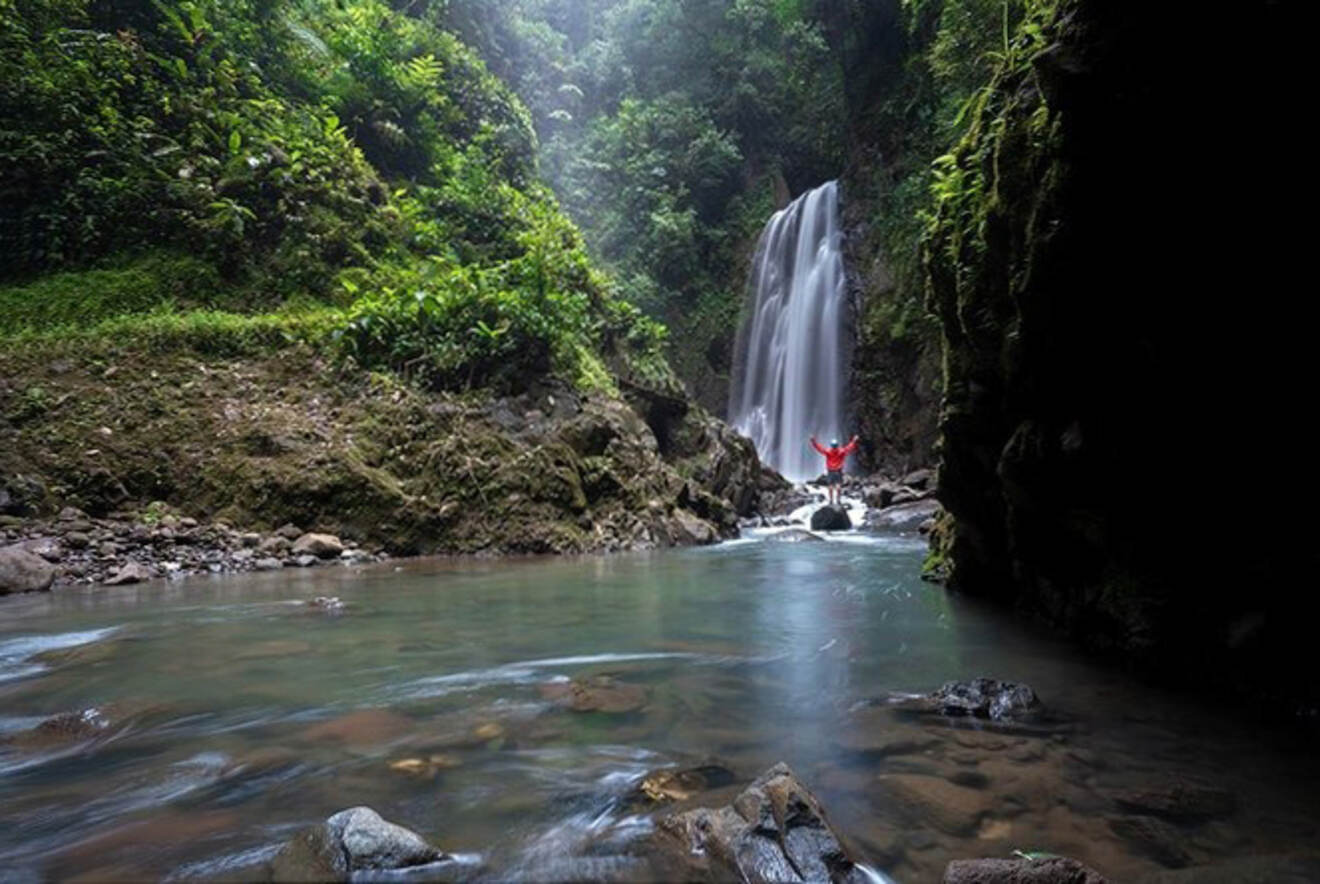 Not too far from Monteverde (a 50-minute drive), you'll find one of the most spectacular places in the area: El Tigre Waterfalls!
In order to see these 4 big waterfalls, you'll have to hike through the jungle and walk over 10 hanging bridges which have heights from 15 to 30 meters. The 3-mile long (5km) hike is self-guided, so you'll have to make your own way there, but don't worry, you can't get lost as the area is super well-signed.
There's no time limit for the hike and when you reach the last section of the trail (which is up the hill and a bit harder) you can go horseback riding, or have a member of staff drive you in a 4×4 jeep. Alternatively, if you're up for the hike you can just do the 2 extra uphill miles on your own.
The name is for real! Natives called it "Los Bajos del Tigre" because hunters frequently met majestic jaguars here, who they called "tigers"
The entrance price depends on which option you pick. The 1st one (horseback riding or 4X4) is called the Full Package and it costs US$59, and the 2nd one (which includes hiking the last section on your own) is called the Big Hike and it costs US$29
PRO TIP: Go early in the morning and always be prepared for rain, as you might get soaking wet (bring a jacket and hiking shoes, of course)
The trail is quite steep, and it's also made from dirt, so in case it rains it can get super slippery. Also, you can bring a snack to eat in the forest, in case you get hungry!
PRICE: US$59 (with horses) or US$29 (without horses)
9. Treat yourself at the cheese factory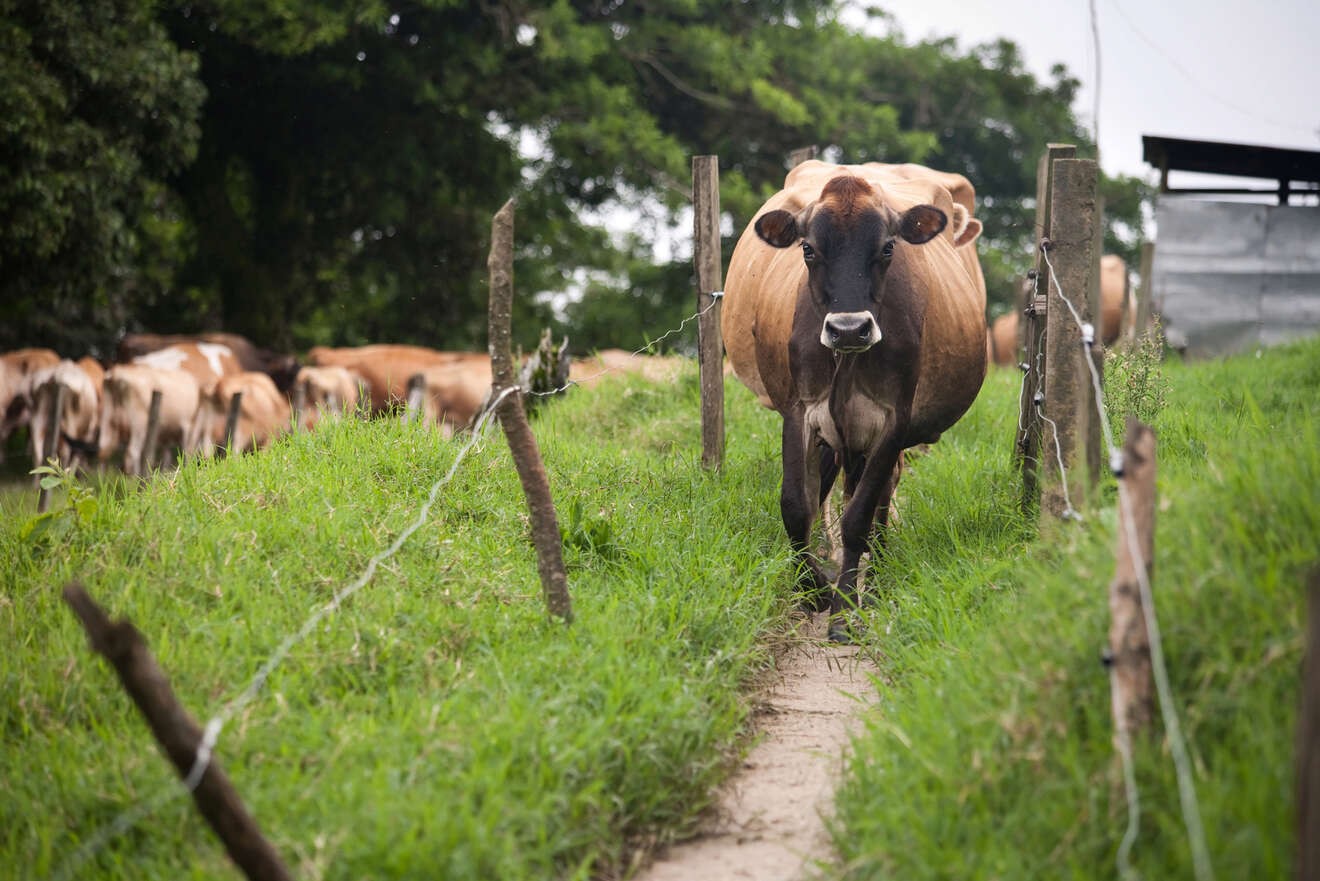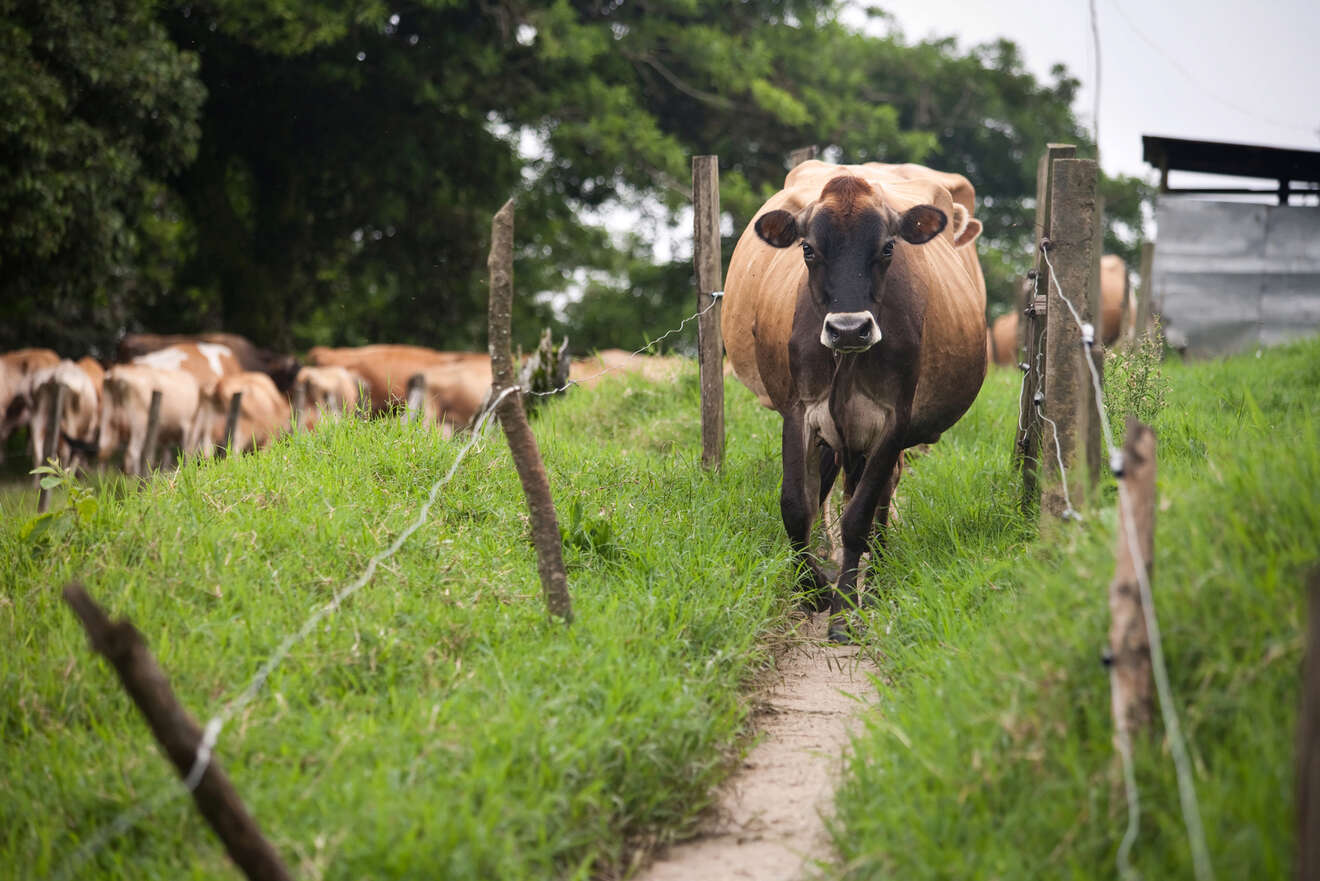 Big fan of cheese? Who isn't?
While you're in Monteverde, you can visit their local Cheese Factory and see how cheese is made in Costa Rica!
Cheese-making goes way back in these parts of the country. The Monteverde community was formed by some families who made their living from dairy farming. They relied on this for jobs, money, and to sustain the community.
Although you can't take tours around the factory nowadays (but maybe it will change soon, so I'm still including it!), you can look through the glass windows to see how cheese is made. Of course, you can buy some, plus drink some delicious milkshakes and eat ice cream while you're here!
10. Catch a sunrise at the Cerro Plano viewpoint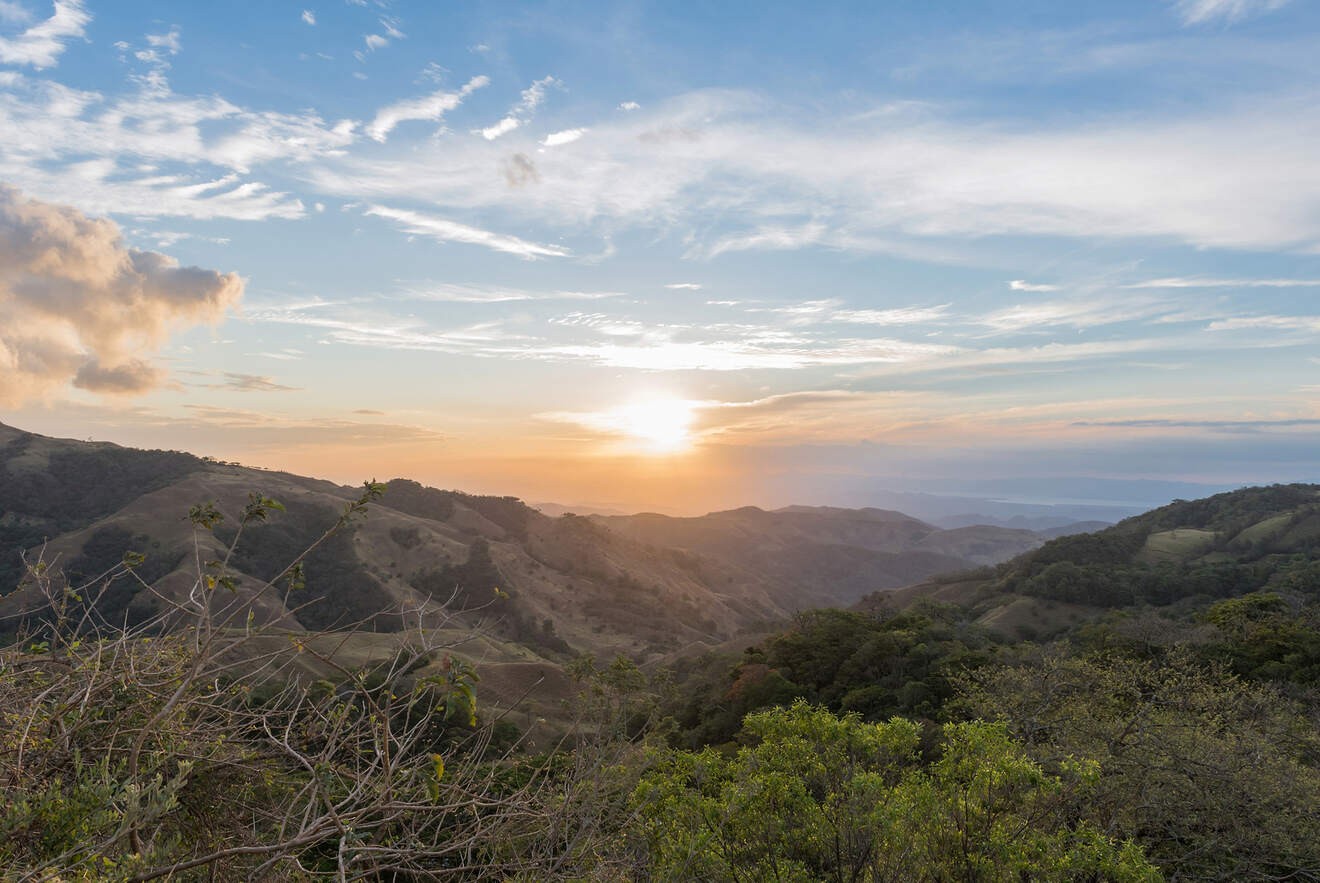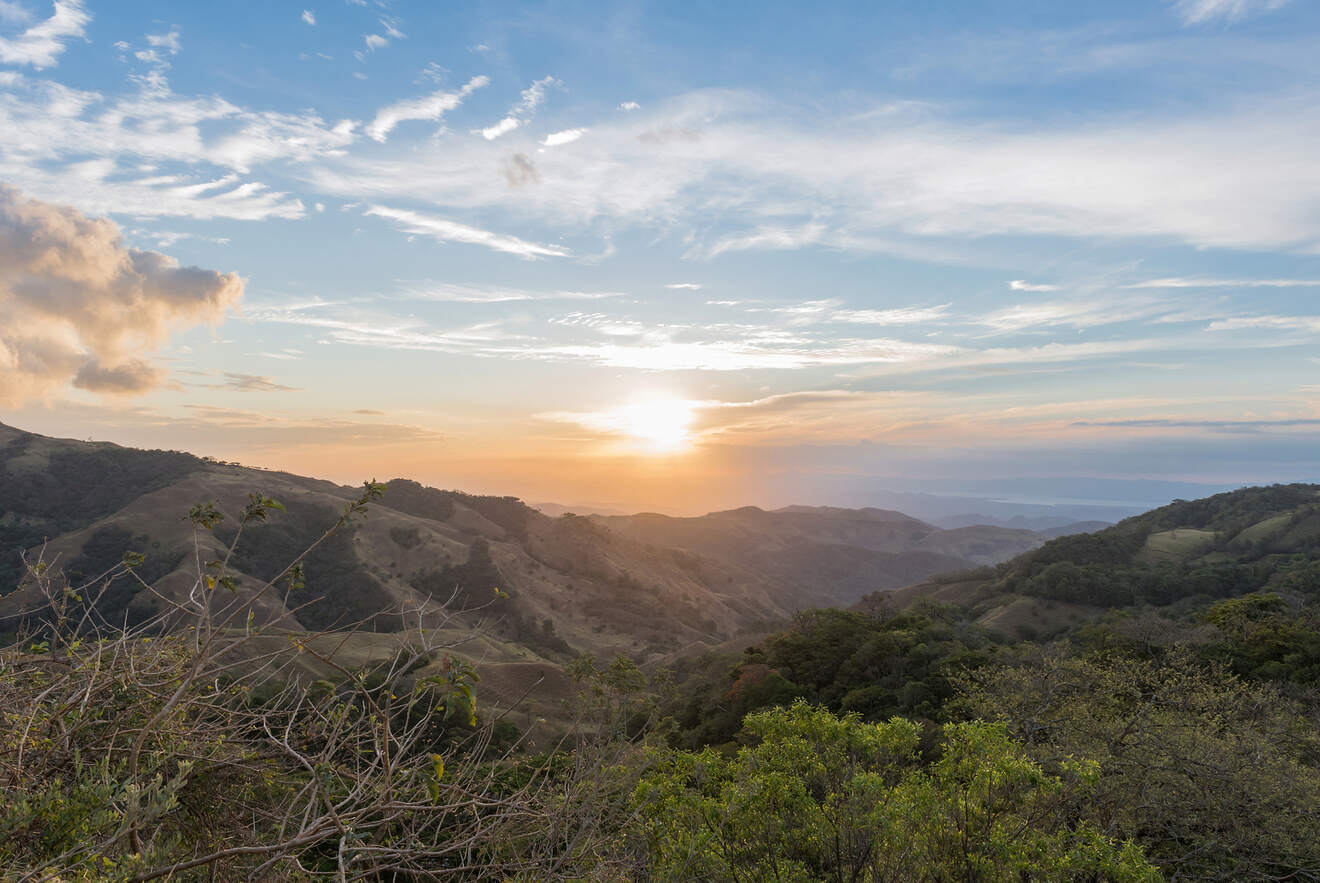 If you're looking for some things to do in Monteverde for free, I would add this one at the top of the list!
When people visit Monteverde, they usually miss out on this unique spot but I'm here to do its justice! There are several benches where you can sit to admire the sunrise. However, if you're not an early bird (you're on holiday after all) you can go during the day. The views are still pretty spectacular!
Getting there: The Cerro Plano Viewpoint is on a side road that branches off of the main road that runs from Santa Elena to Monteverde. Here is the google maps link to help you find it quickly.
11. Climb the cool ficus tree (with extra caution)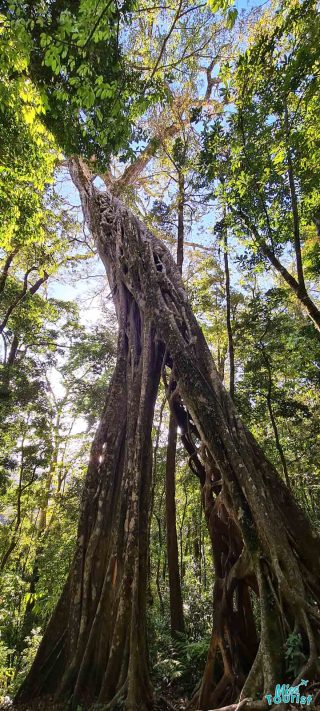 NOTE: The Santa Elena ficus tree is closed at the moment.
Ficus trees grow in different unique shapes, and in Costa Rica, there are many of them! There's one in Monteverde, not too far from Santa Elena (here's the map pin to help you find it) that's pretty extraordinary!
The tree is hollow from the base to the top, and the roots look exactly like a spider web! It's such a stunning view!
Before tourists could go visit the tree, climb it, and even take pics! Unfortunately, they closed it now but maybe they will reopen it sometime! If you do get to visit it (I know that people just climb over the fence), take extra caution if you climb it, and be mindful!
BONUS: Best tours to try in Monteverde, Costa Rica
You didn't think I would let you start planning your trip without offering something extra, right?
In case you don't want to rent a car or you're a fan of tours (they're a great way to explore an area like Monteverde), stick around for a few minutes and check the list below. It has some of the best ones in the area: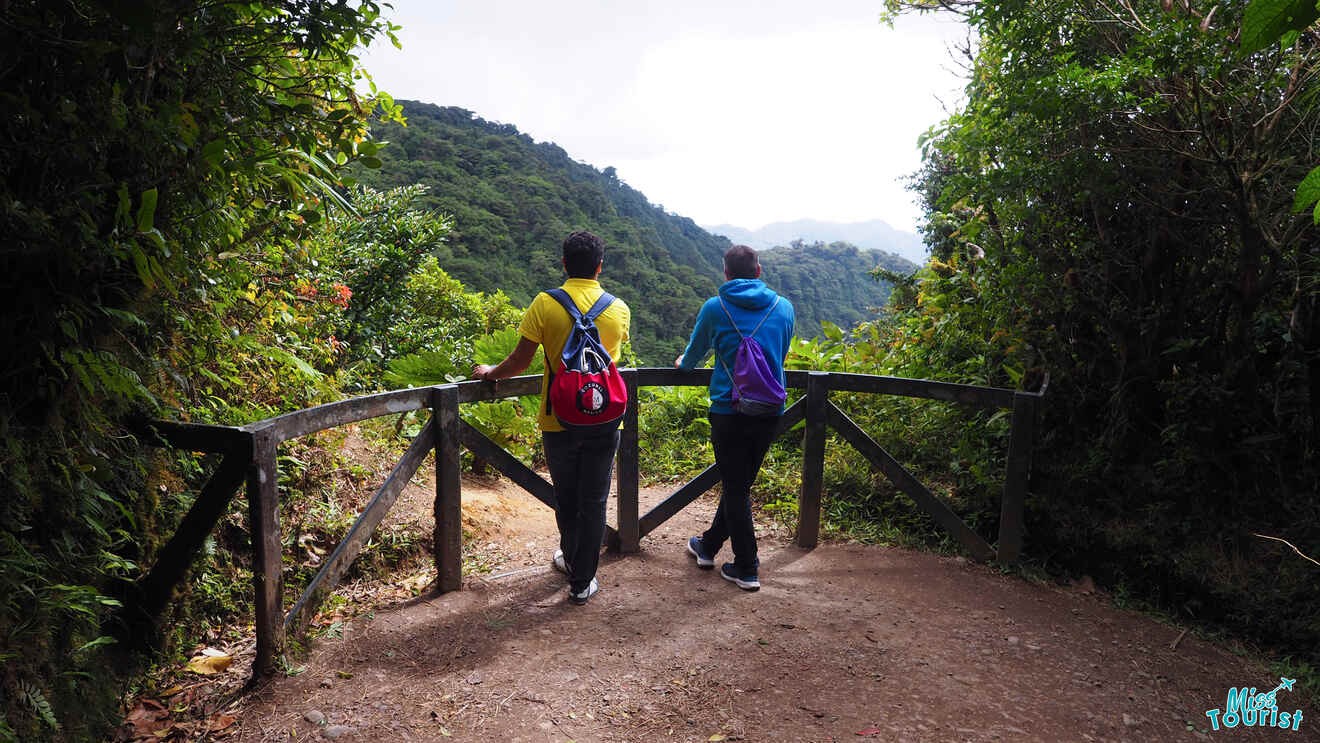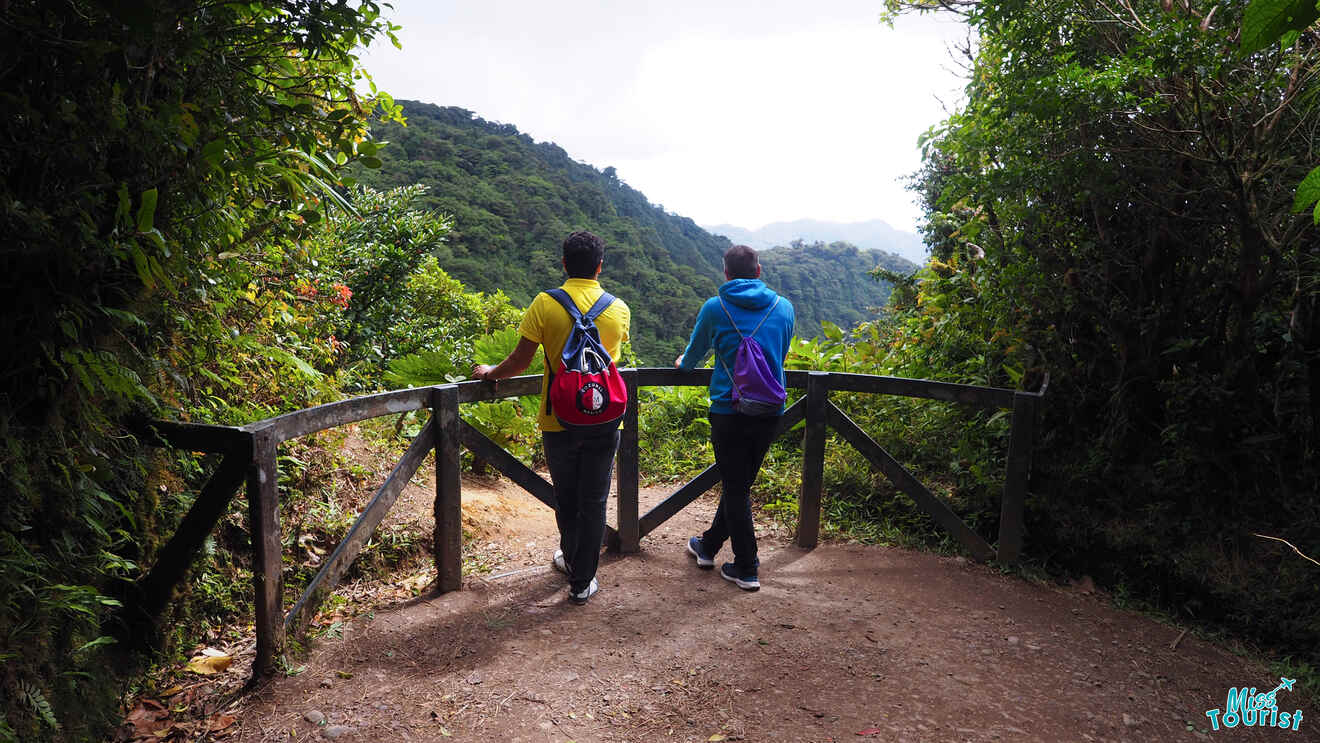 | | |
| --- | --- |
| 💯 Top attraction: | Monteverde Cloud Forest |
| 🍽️ Best restaurant: | San Lucas |
| 🍫 Must-try food: | Chocolate |
| 🌋 Best day trip: | El Tigre Waterfalls |
| 👶 Top attraction for kids: | Children's Eternal Rainforest |
| 🤑 Best free activity: | Cerro Plano viewpoint |
| 🦜 For bird watching: | Curi Cancha Reserve |
Where to stay in Monteverde, Costa Rica
If you did stick until the end, I'm glad because I'm about to offer you a list of some really nice places to stay in Monteverde, Costa Rica. These are just a few options but if you're looking for more accommodations, check our latest post on the best hotels in Monteverde.
Santa Elena is the closest town to the Monteverde Cloud Forest Reserve, just 3 miles (5 km) away from the entrance. As you'll see, the hotels are scattered around the area. You'll find many in the town but also on the road from Santa Elena to the forest.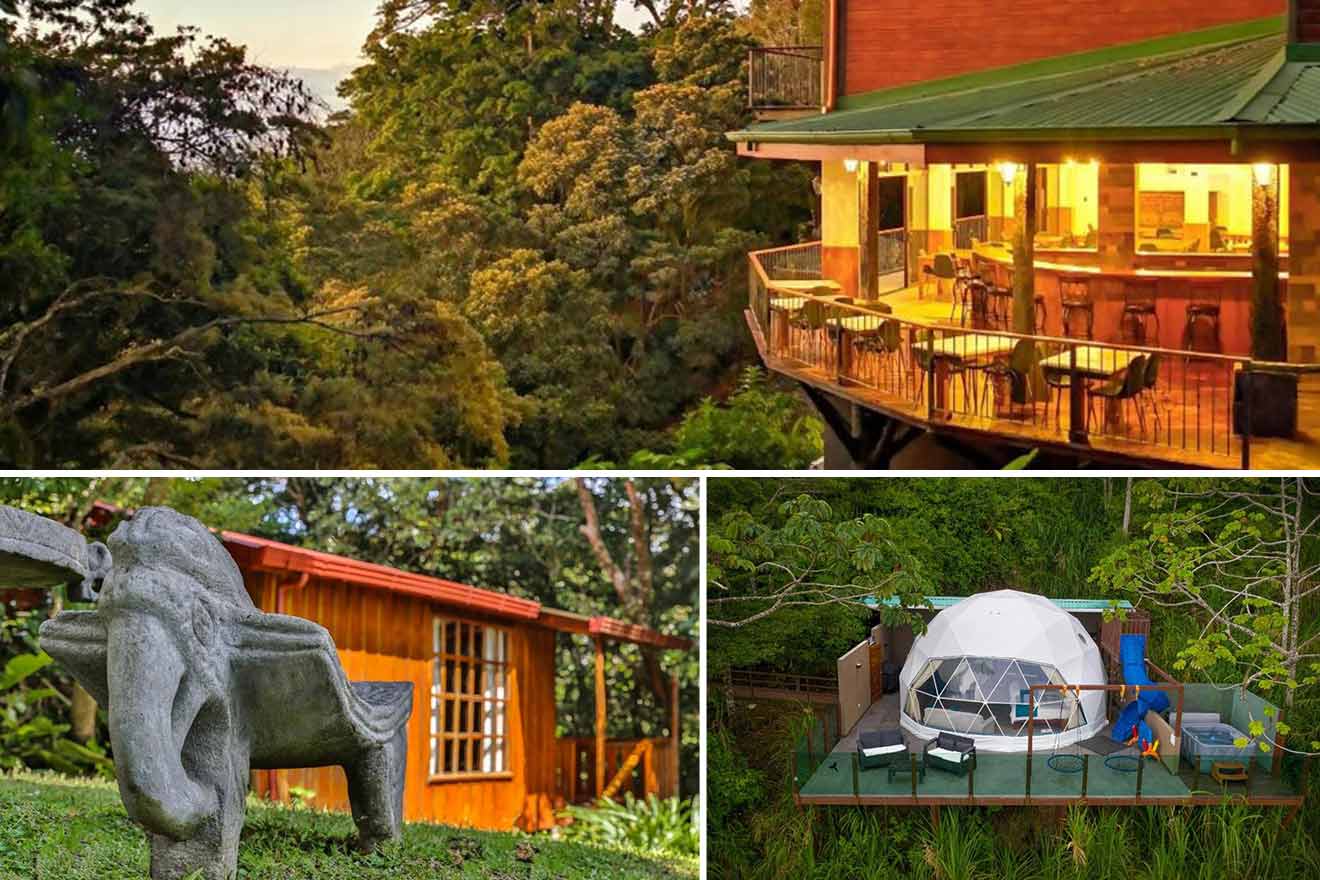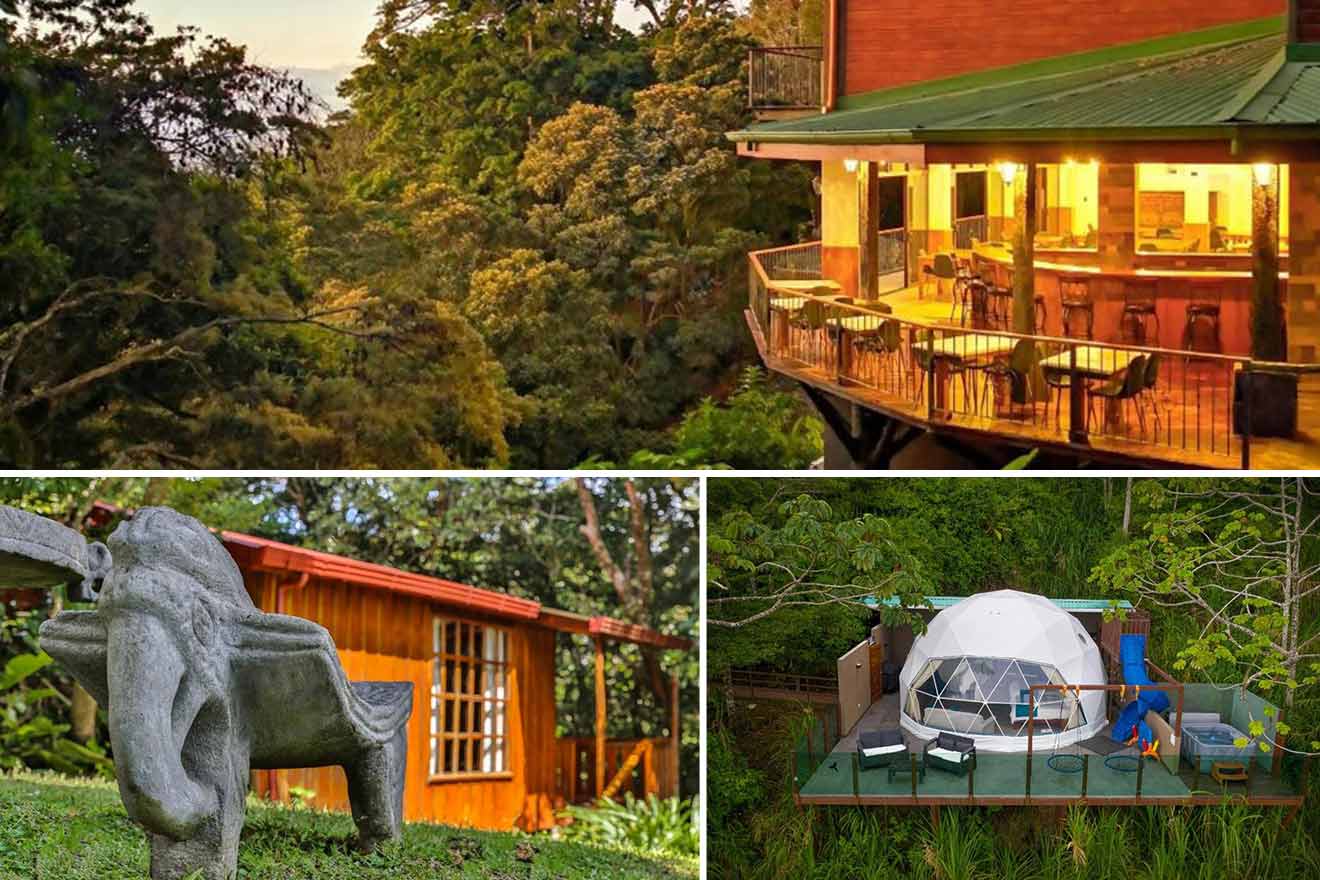 Luxury (US$350 and up)
Chira Glamping – I love this accommodation, it fits the surrounding forest perfectly! Wake up to a breathtaking view of the garden and get ready for a new day of Monteverde tours. Each unit has a kitchen and a private bathroom.
Koora Hotel – Enjoy a delicious cup of Costa Rican coffee on the terrace at this hotel that's located within walking distance of the Monteverde Orchid Garden. There's a restaurant on-site where you can indulge in the local food.
Mid Range (US$70 – US$90)
Hotel Montaña – Grab a quick bite in the morning (they offer complimentary breakfast) and then get ready to visit Monteverde and go bird watching! The accommodation has family rooms and a restaurant.
Arco Iris Lodge – Chill on the sun loungers all day long at this cool lodge that offers free wifi, comfortable rooms, and different activities like hiking and horse riding.
Budget (up to US$70)
Monteverde Eco Lodge – Admire a beautiful sunset on the balcony of this B&B that offers free parking and family rooms.
La Guayaba – Ceiling-to-floor windows in a place like Monteverde, Costa Rica? Yes, please! This cute accommodation serves a daily continental breakfast and has tea and coffee makers in all the rooms.
Practical info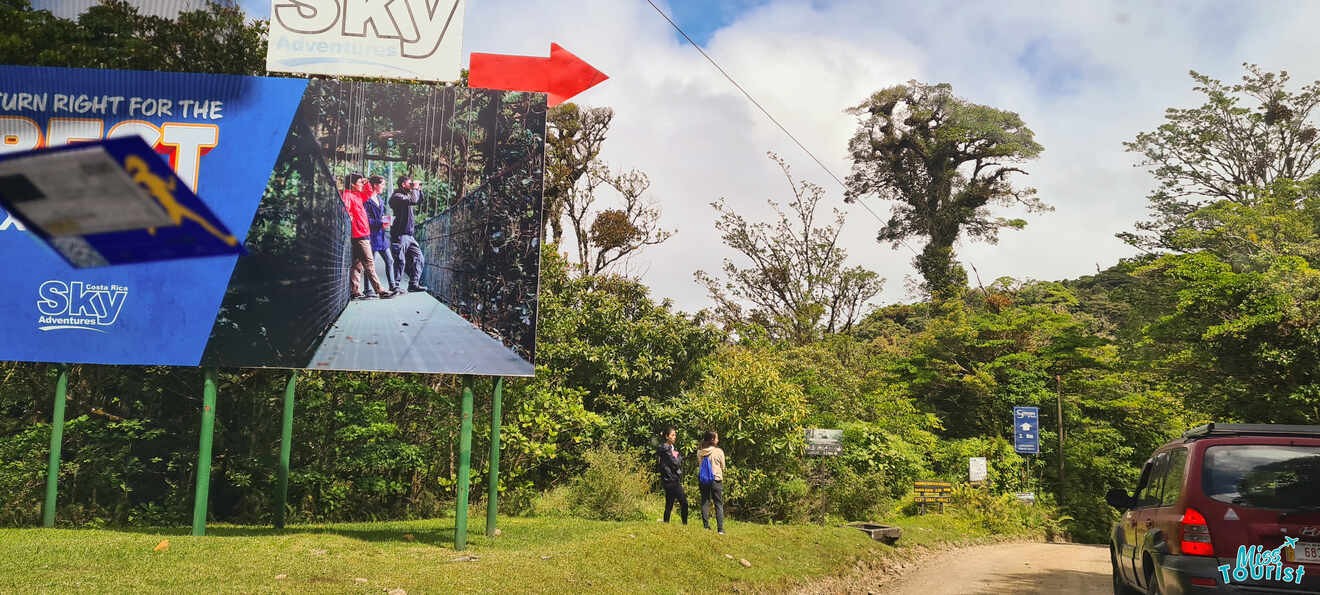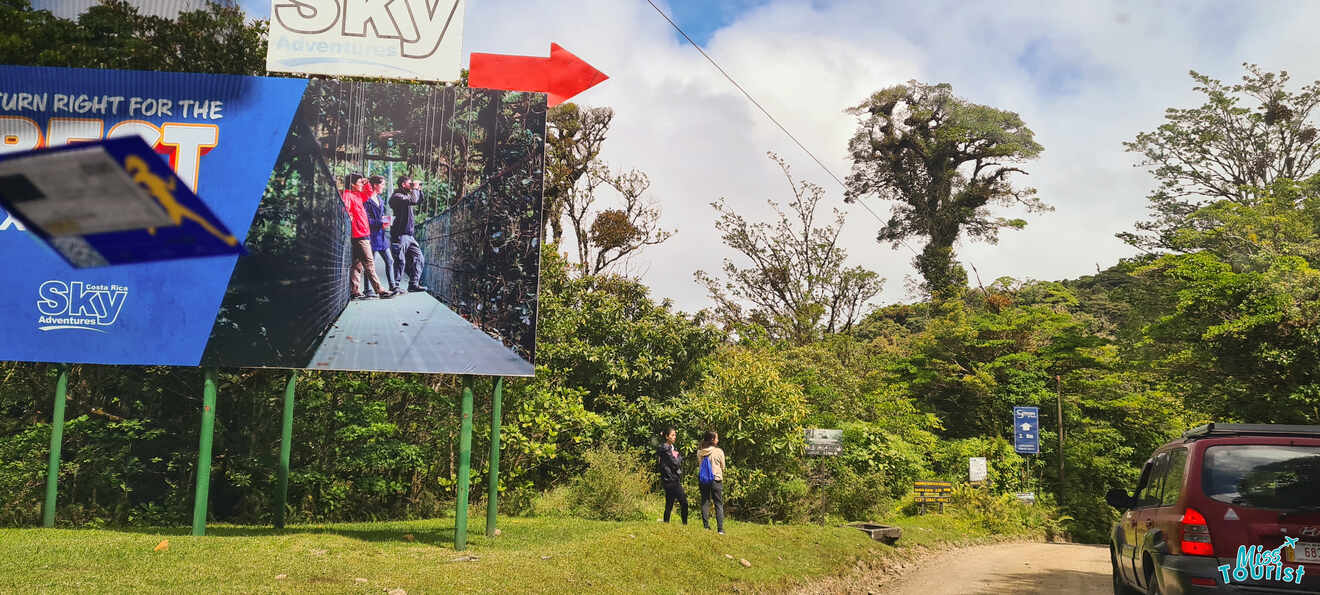 We'll wrap up with some important information which I'm sure you'll find useful!
How to get to Monteverde from San Jose
Find out all the ways to get to Monteverde from the capital city of San Jose, where most people usually come from.
NOTE: People say you need a 4×4 to get to Monteverde but we didn't find it to be that way. The road from San Jose to Santa Elena was completely fine, a bit windy, but we had no issues. I would say you should avoid driving there at night, though, as there are no fences to mark the road. You might need a 4×4 depending on where you go IN Monteverde, true, but if you are parking your car at the hotel and taking tours from there, you are going to be fine.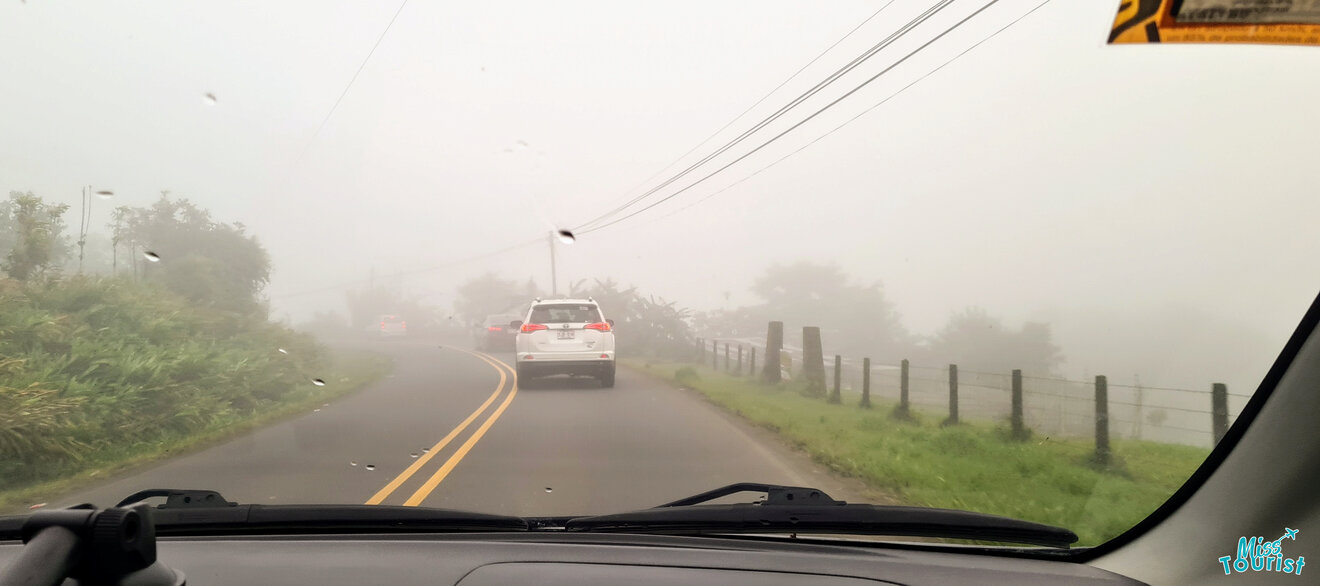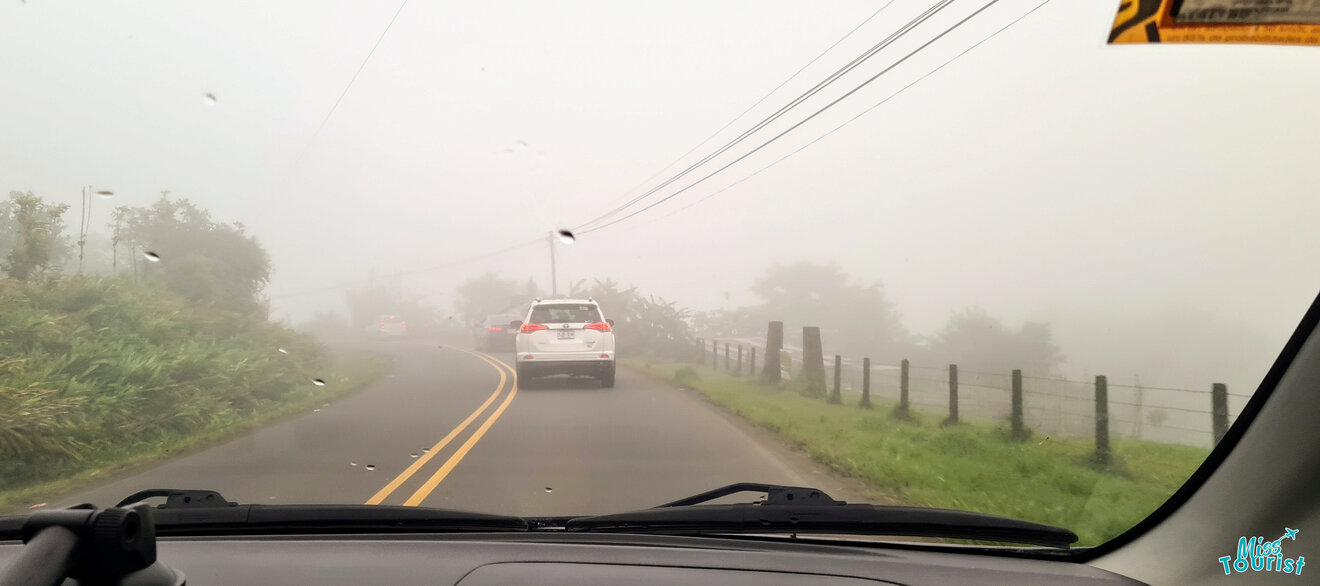 By car
Surely, this is the most comfortable and easy way to get to Monteverde from San Jose. You can use a rental car service and be there in ~3 h. Take Highway 1 towards San Ramon and then Liberia, past Esparza and Puntarenas. Take the exit to Sardinal and follow signs to Monteverde. Rental cars start from around US$65 per day (read my super detailed useful post on renting a car in Costa Rica).
By public bus
Buses are not as comfortable as cars but if you're traveling on a budget they will help you save a lot of money! Transmontverde offers trips from San Jose downtown to Monteverde. A ticket costs around US$6 and the journey lasts approximately 4,5h.
How to get to Monteverde from Arenal
I know that Monteverde looks as if it's very close to Arenal on the map (12 miles away), but that would only be the case if there was a road through the volcano. Otherwise, it takes ~3 hours by car or about 2 hours if you go by ferry across the lake and then hit the road again.
Where to eat in Monteverde, Costa Rica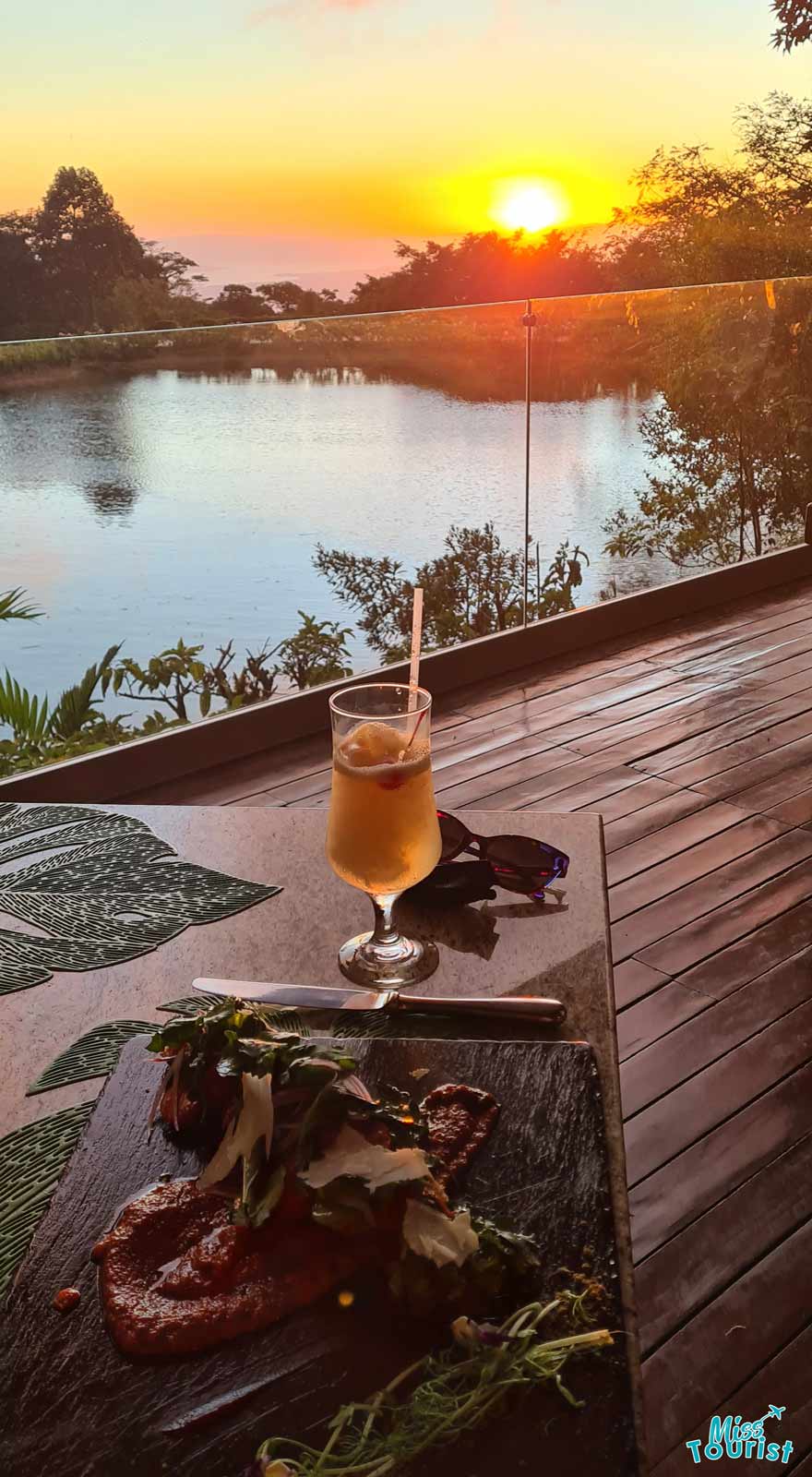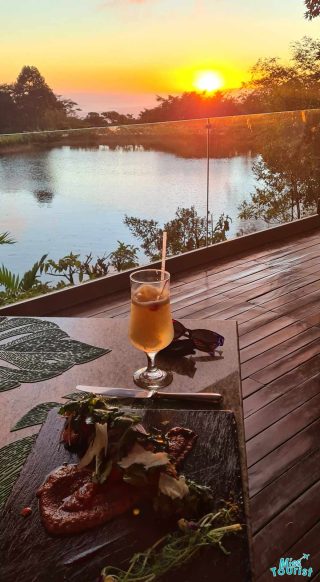 Are you super famished after exploring the cloud forest reserves in Costa Rica and doing all sorts of intense physical activities? Who wouldn't be?
Well, fear not, I've made it my mission to make this post as well detailed as possible so here are some restaurant recommendations that I think you'll really like.
Laggus Restaurant – An amazing place to watch the sunset! It's actually part of a big hotel but the prices are not that fancy. Expect to pay around US$15-20 per dish
The Green – This place uses natural ingredients and their food is super yummy! Order some wine as well and relax for a bit!
Celajes Restaurant – Looking for a place that serves organic food? You've come to the right place, food and views are awesome here!
Frequently asked questions about Monteverde, Costa Rica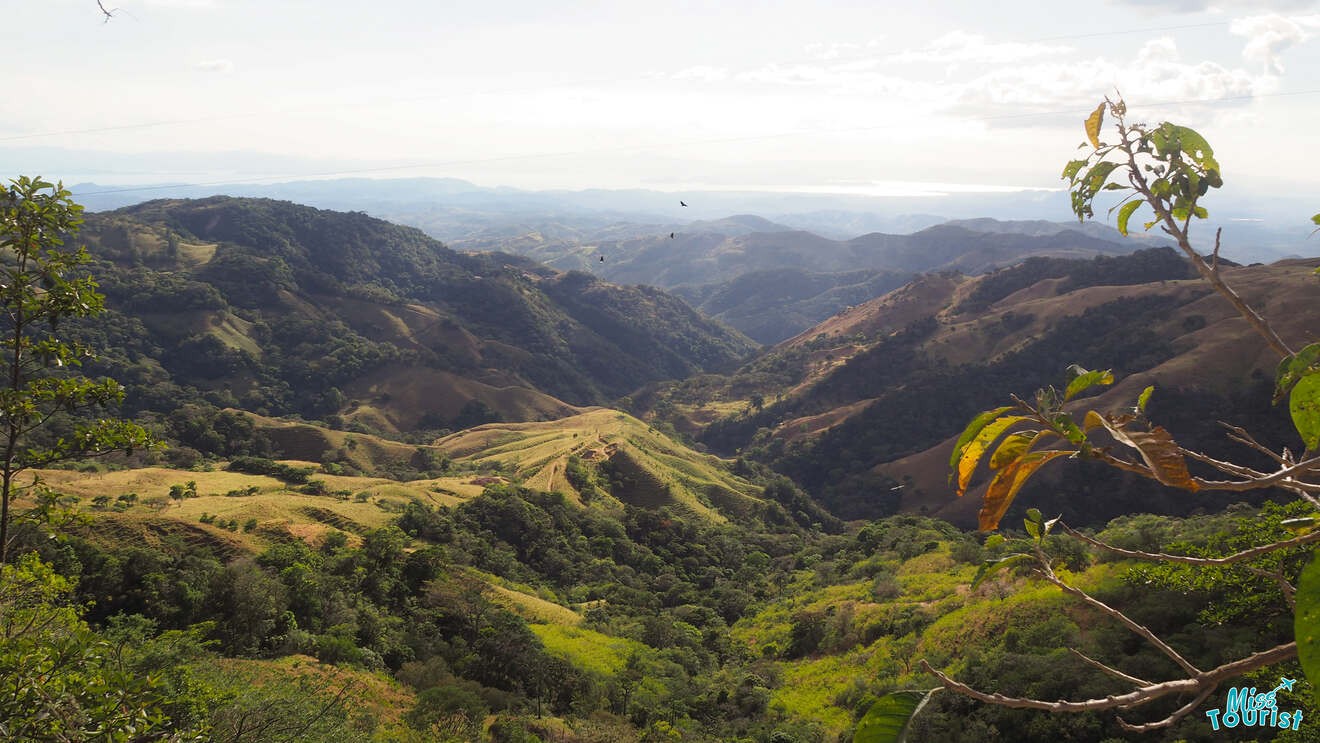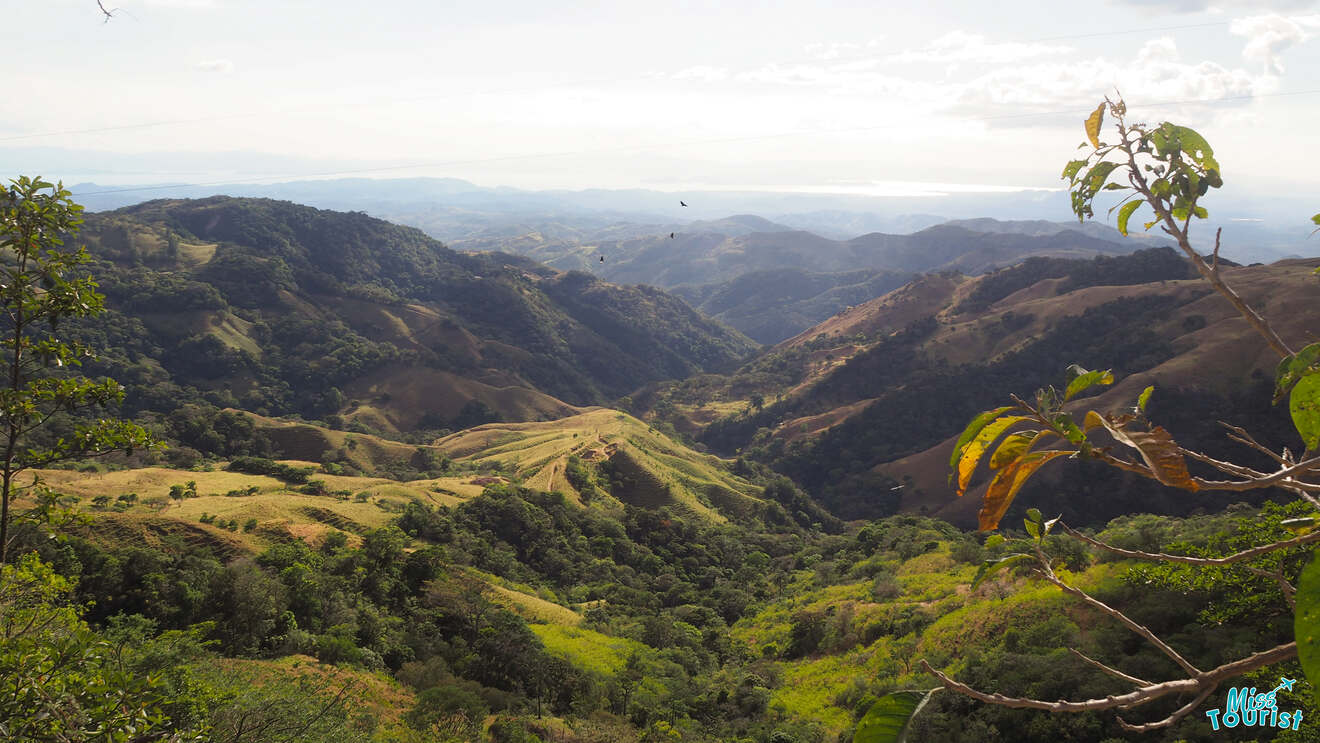 🔝 Is Monteverde, Costa Rica worth visiting?
Yes, Monteverde is the best example of sustainable tourism and a stunning place in Costa Rica that you shouldn't miss. There are so many unique things to do in Monteverde and you'll have the best time ever!
🏞️ What is there to do in Monteverde?
You can start by visiting the Monteverde Cloud Forest Biological Reserve. Then you can try ziplining, going on coffee tours, or on a night tour and spot some cool nocturnal animals! 
🌿 What is Monteverde Costa Rica known for?
Monteverde is known for its cloud forests (there are 3) with Monteverde Cloud Forest being the most famous one. It's also known for its hanging bridges, ziplining, and wildlife. 
📅 How many days do you need in Monteverde?
You'll need from 2 to 4 days in Monteverde, 2 being an absolute minimum. If you stay for 4 days, you can visit the biggest attractions in the area and maybe have time for a day trip or two. 
Conclusion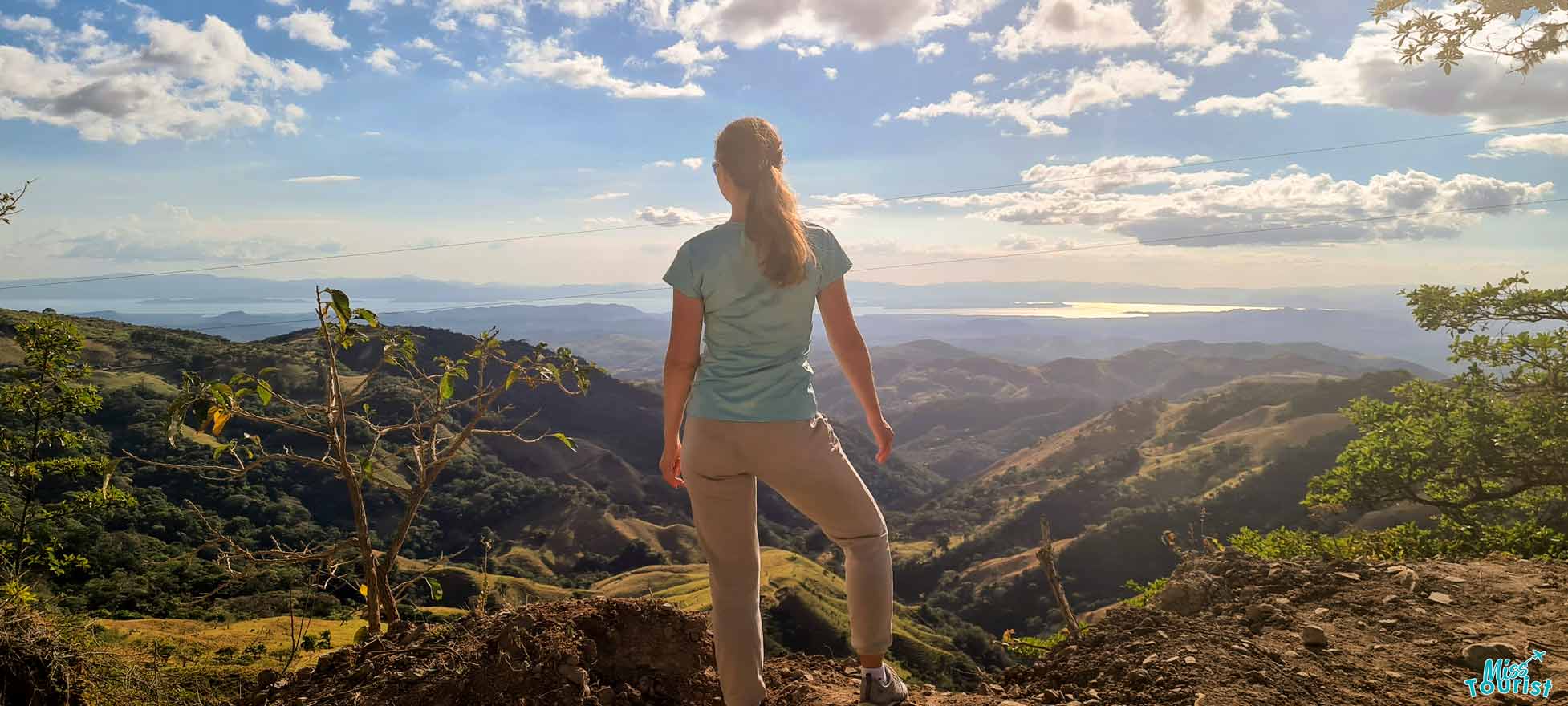 Honestly, Costa Rica is such a unique location! It never ceases to surprise you!
I had such an incredible time discovering one more incredible location (besides La Fortuna) in Costa Rica and I hope this post will help plan your trip.
You'll find all the information you need on the best things to do in Monteverde, Costa Rica in this travel blog. Plus some useful tips on which tour company to choose, where to stay and eat and how to get to Monteverde town.
I'm sure this holiday will be like none other! Have fun in the national parks of Costa Rica and enjoy every minute of it. And if you have any questions about Monteverde Cloud Forest or more suggestions of things to do in Monteverde for our community, leave me a comment below and I'll make sure to answer it ASAP!
Buen viaje,
Yulia
---
---
Pin it for later!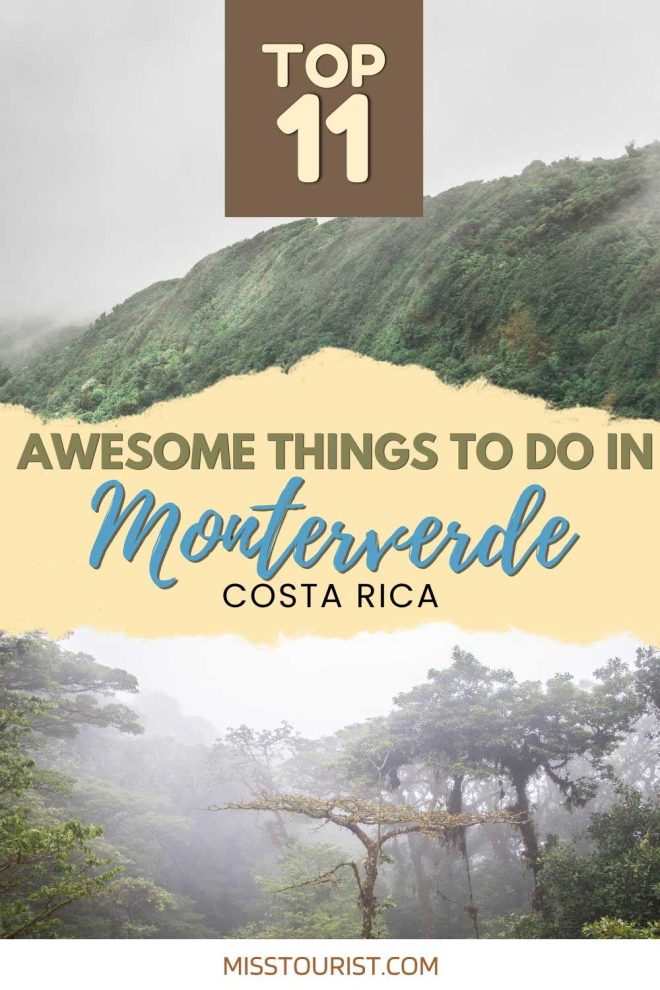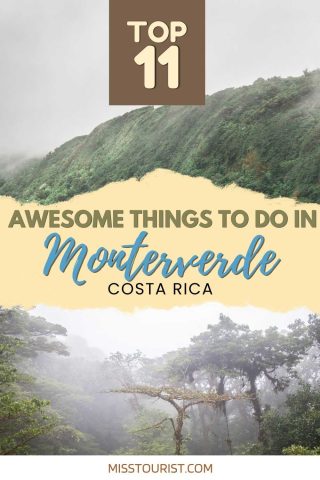 Pin it for later!