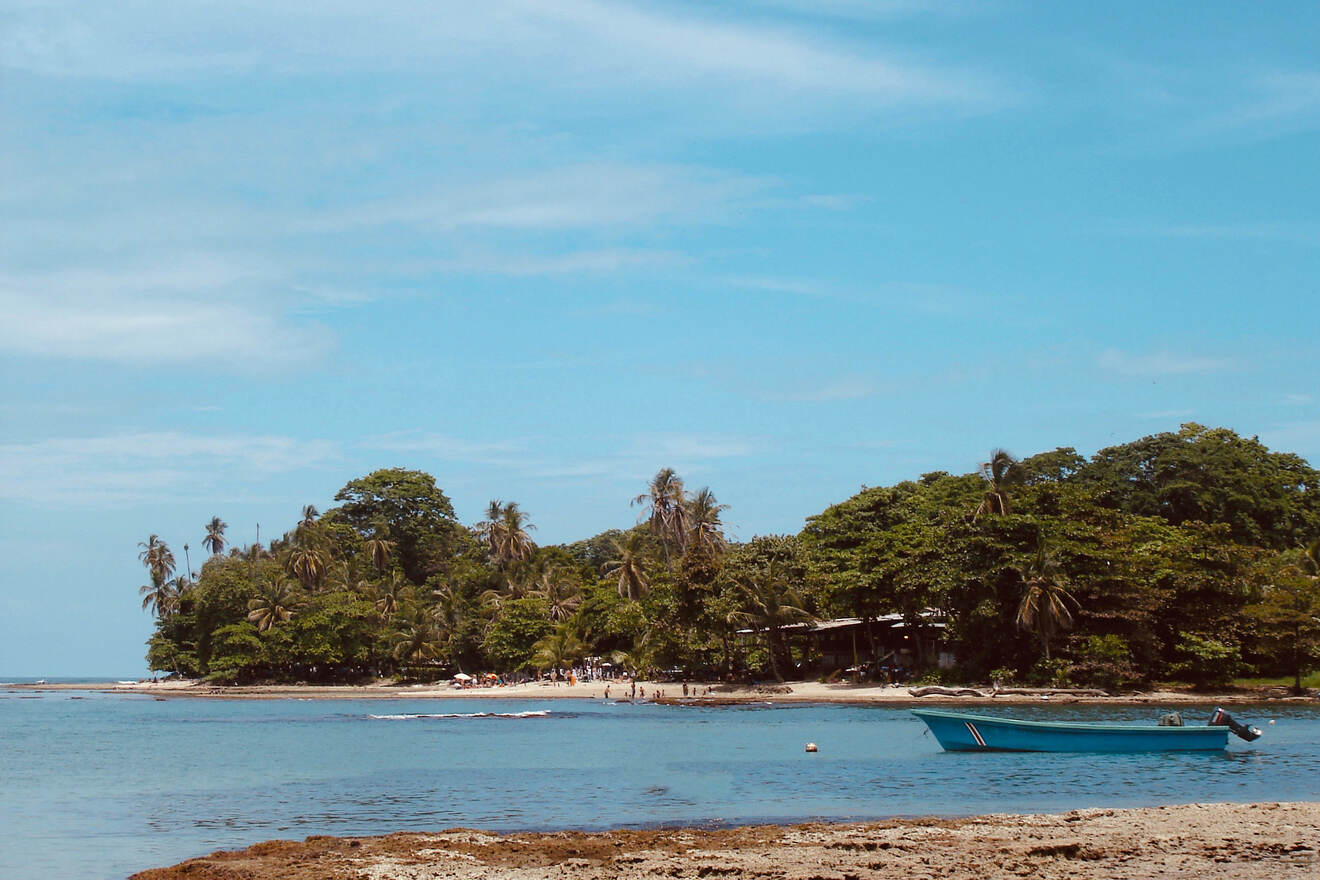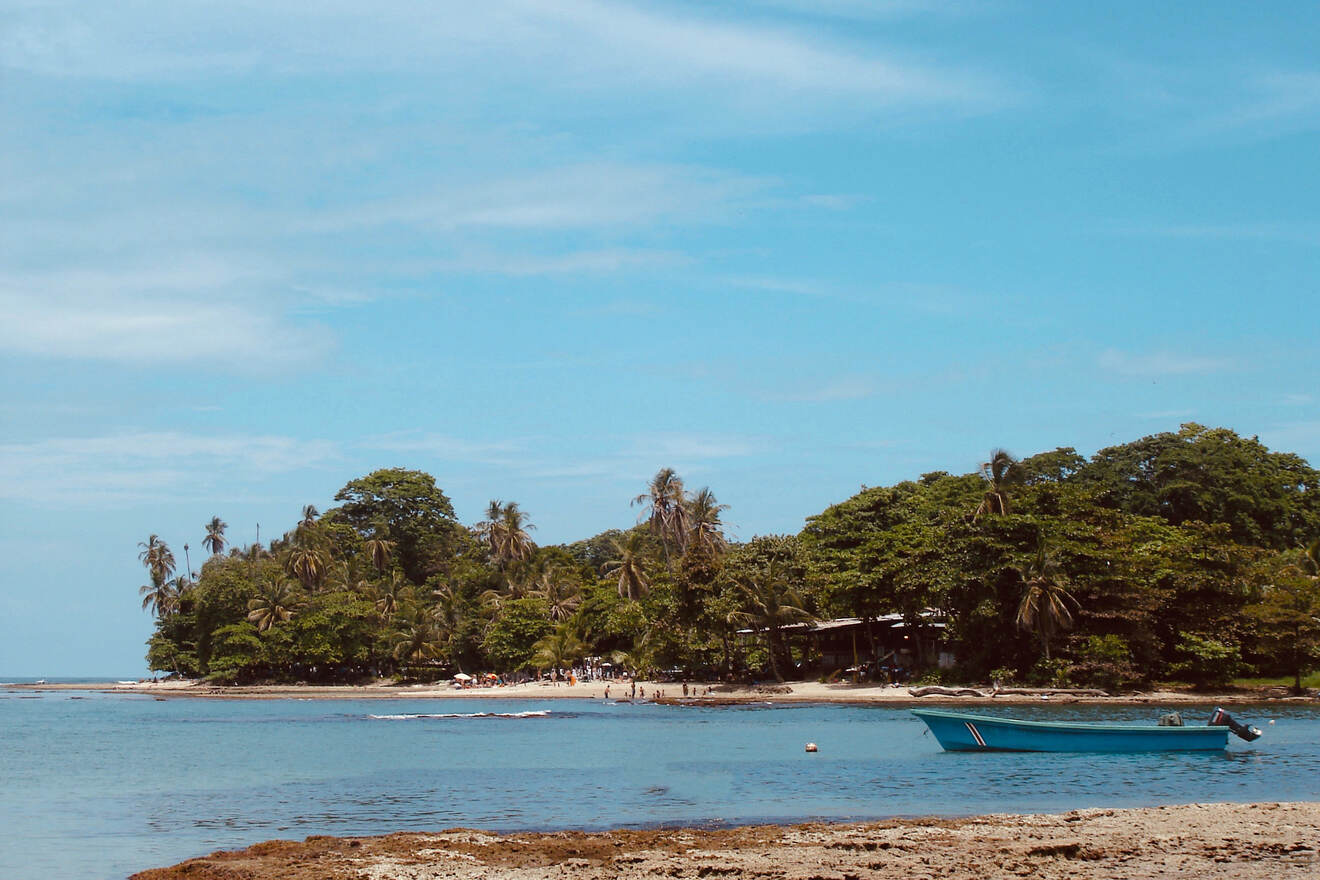 Costa Rica is a piece of heaven, which makes sense since it's categorized as one of the happiest countries in the world! Home to over 500,000 species of wildlife, 200 volcanoes, and some of the best resorts, this rainforested Central American country will steal your heart and make you want to move there, ASAP!
Have you ever heard of the phrase "Pura Vida"? Well, in Costa Rica, that's how they describe their free lifestyle, one that is very laid-back and all about relaxing somewhere in the forest or in a resort. This is great because Costa Rica is home to the best springs, resorts and villas you will find!
Are you already planning a trip here? That's the easy part, choosing an area for where to stay in Costa Rica can be quite hard but don't worry, I'm here to make your life much easier. Costa Rica has so many amazing parts like the cloud forests or the Central Valley, so tough but I'll help you to find the best ones and the greatest on-budget accommodations.
In this post I'll talk about the 6 best areas for where to stay in Costa Rica, along with the best hotel, resorts and other recommendations that I've chosen for you, dear reader. Do make sure to book these accommodations in advance, as they go so fast, especially if you want to get some good deals.
Let's go! Some beautiful places await you in Costa Rica!
If you are in a hurry
We all want to save time these days, so here's a list of the best places to stay in the city center, while you stay in Costa Rica, they have some amazing reviews.
Here is a map with all the areas where to stay in Costa Rica that I will be talking about in this post:
1. San Jose – where to stay in Costa Rica for first-timers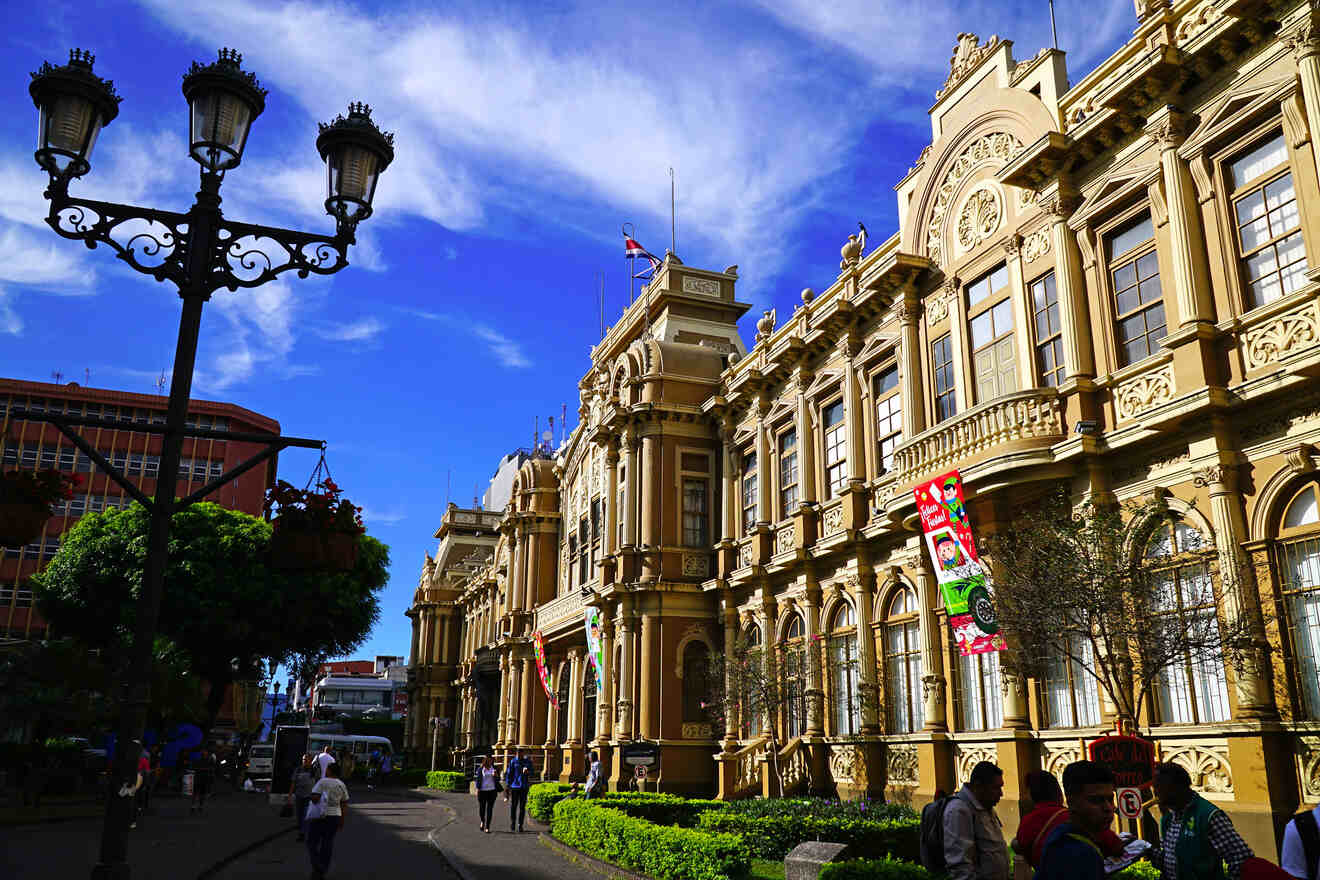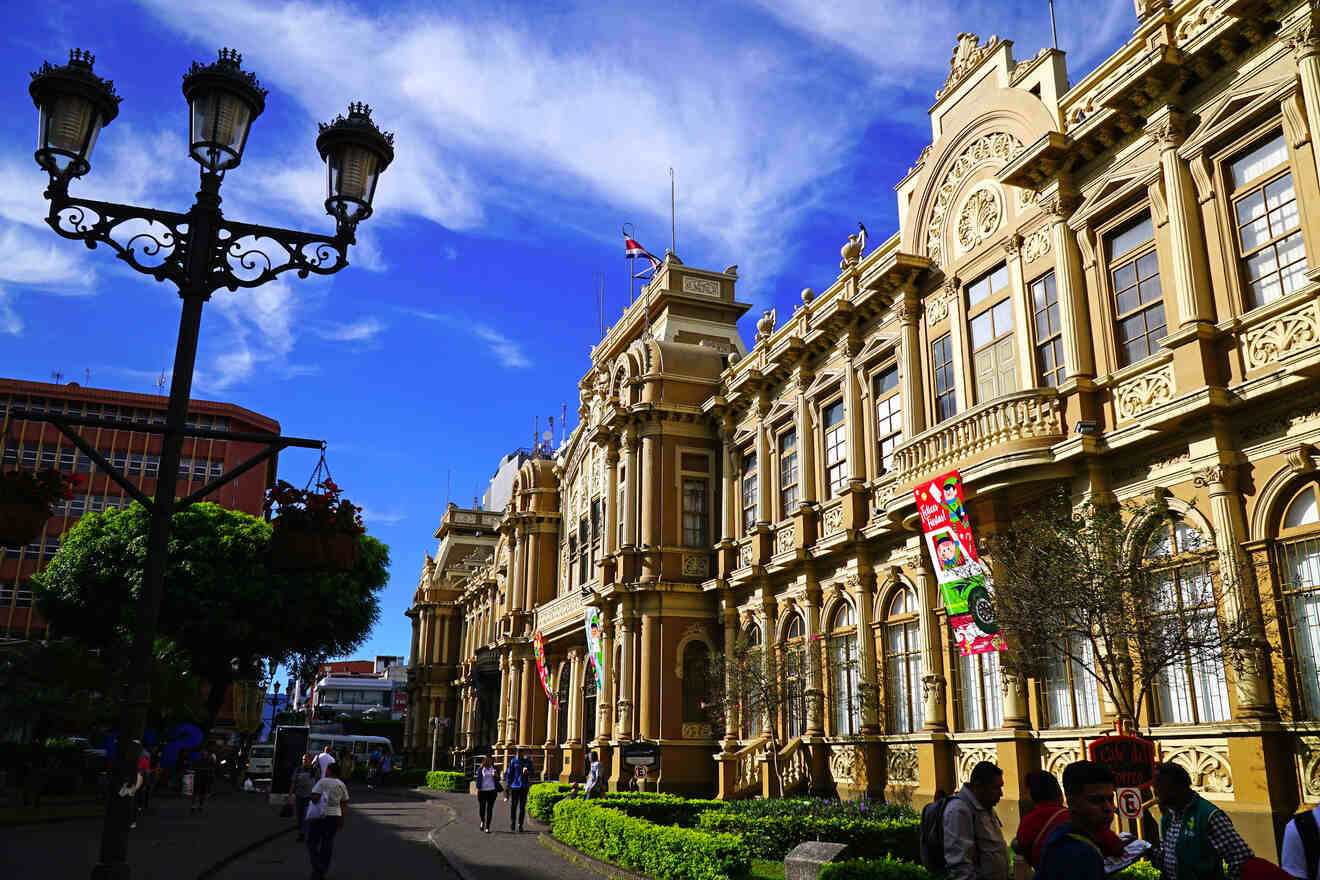 The capital city of Costa Rica and the largest city in the country, you can start your adventure here as it is practically in the center of the country! If you're looking for a place to stay in Costa Rica, this city is very friendly and easy to get around. You can catch up on your history or architecture lessons, and find out more about the country's past and their culture. Located in the center of the country, the town is just 20 minutes away from the airport and just 85 miles away from Monteverde (another great place to stay, #3 in my list).
Plan a whole day of museum visits and picnics in the park, where you can admire the beautiful tropical plants and enjoy the weather. Go downtown and walk around Central Avenue, where you can mingle with the locals, many of them sell items on the street.
You will make the most unique memories here. I'm sure you won't forget the late nights in the club dancing to live music with your friends until your feet hurt! Once you spend a few days in the capital city you'll begin to understand people's fascination with Costa Rica's cultural capital. Here you can find some very spacious and luxurious hotels, they are famous for their unique designs.
Once you've finished exploring the city, this is the best place to stay for excursions to explore the beauty of Costa Rica.
Other accommodation options in San Jose
Things to do in San Jose
2. Arenal Volcano – where to stay for adventure junkies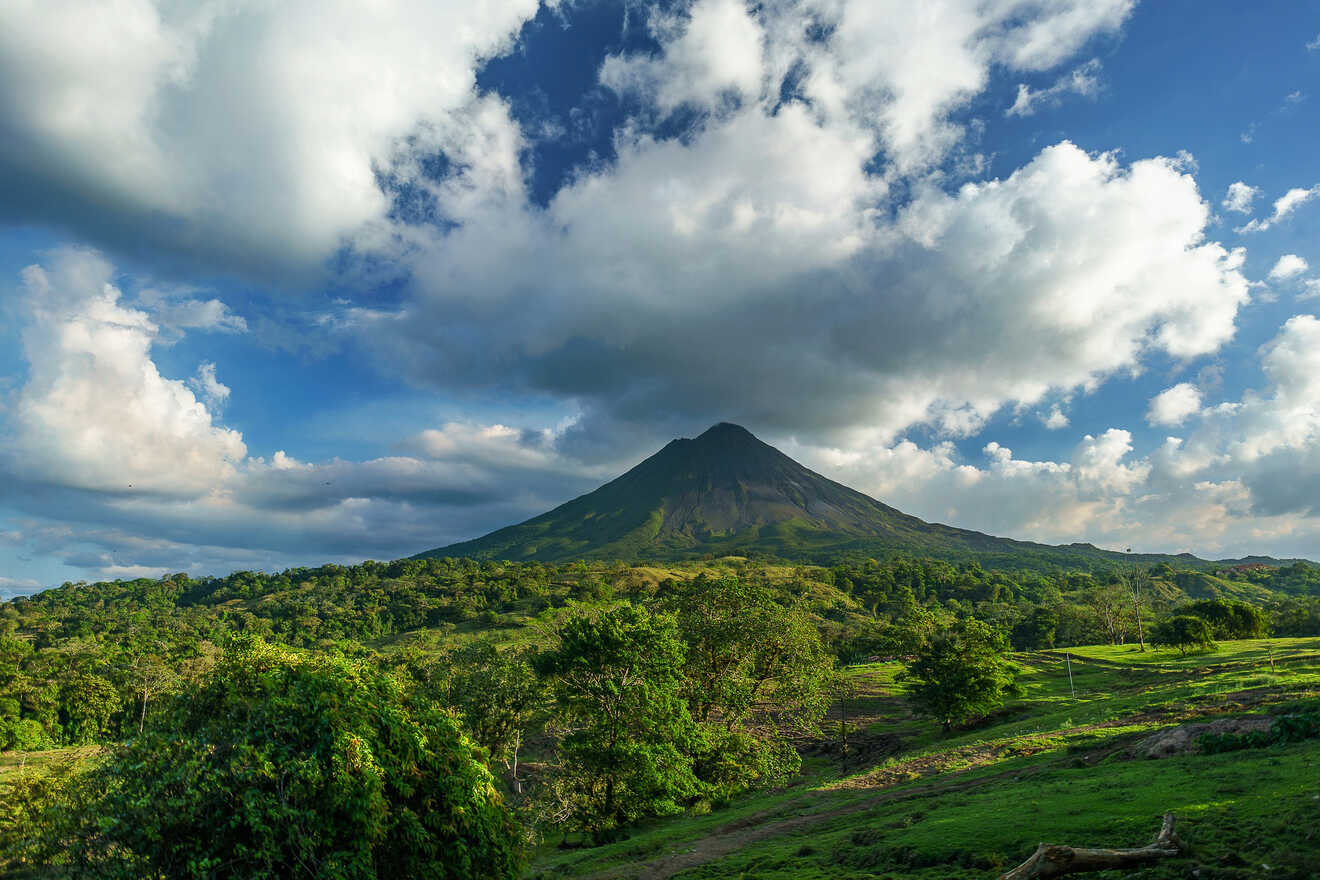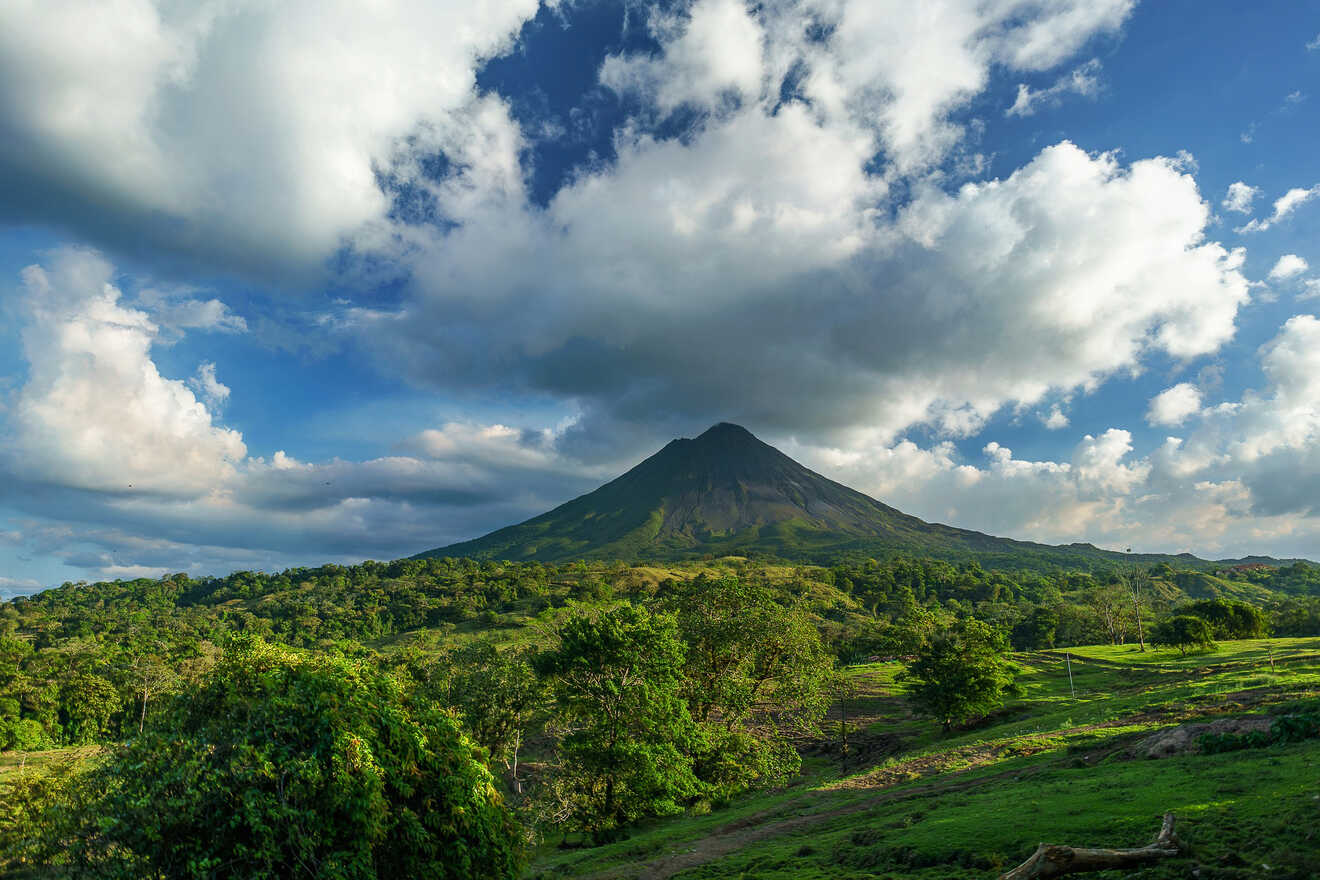 Arenal Volcano is a one-of-a-kind part of Costa Rica, it has some of the best resorts and eco friendly villas and if you're looking for that adrenaline rush, Arenal is the place for you my friend!
You can try canyoning, ziplining, whitewater rafting and admire the waterfall, not to mention the national park Arenal Volcano! It's located 3 hours away from San Jose in north-western Costa Rica, so even if you choose to spend most of your vacation in San Jose I highly recommend booking at least 1 night in Arenal for some adventure!
Are you still having second thoughts about booking this trip to Costa Rica in advance? Just remember that Arenal Volcano is active and sits at the heart of the Arenal Volcano National Park. You can see the lava rocks and trails from the big eruption while you have fun in the national park. Hold my purse!
To see the La Fortuna rain forest waterfall you have to hike 15 minutes but it is so worth it! Afterward, you can swim and snap some pics of the amazing views. La Fortuna is one of the most amazing places in Costa Rica where you can explore around and enjoy a hot spring bath. Stay in Costa Rica, Arenal and you will not regret it!
Other accommodation options in Arenal Volcano
Things to do in Arenal Volcano
3. Monteverde – one of the best places to stay for hiking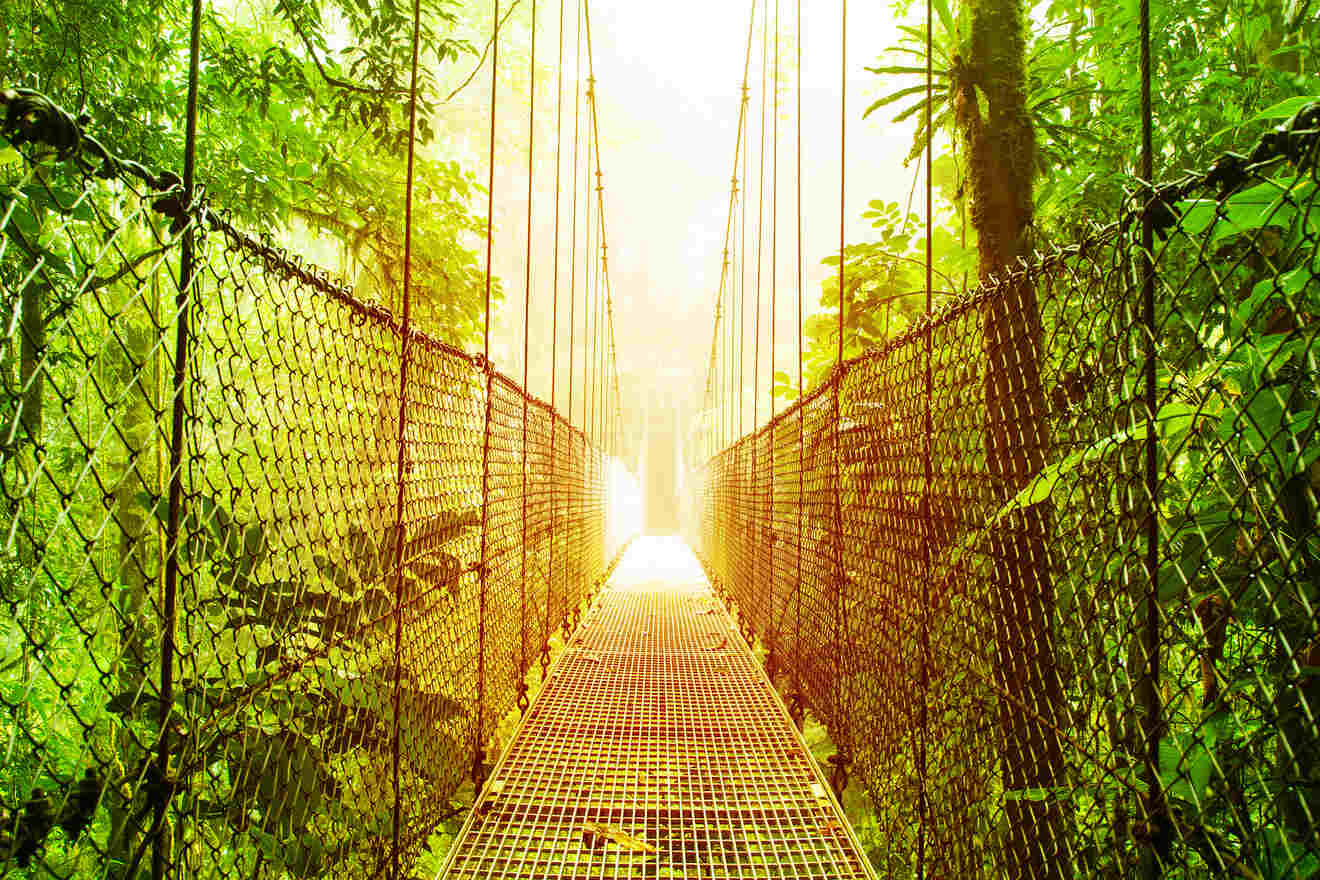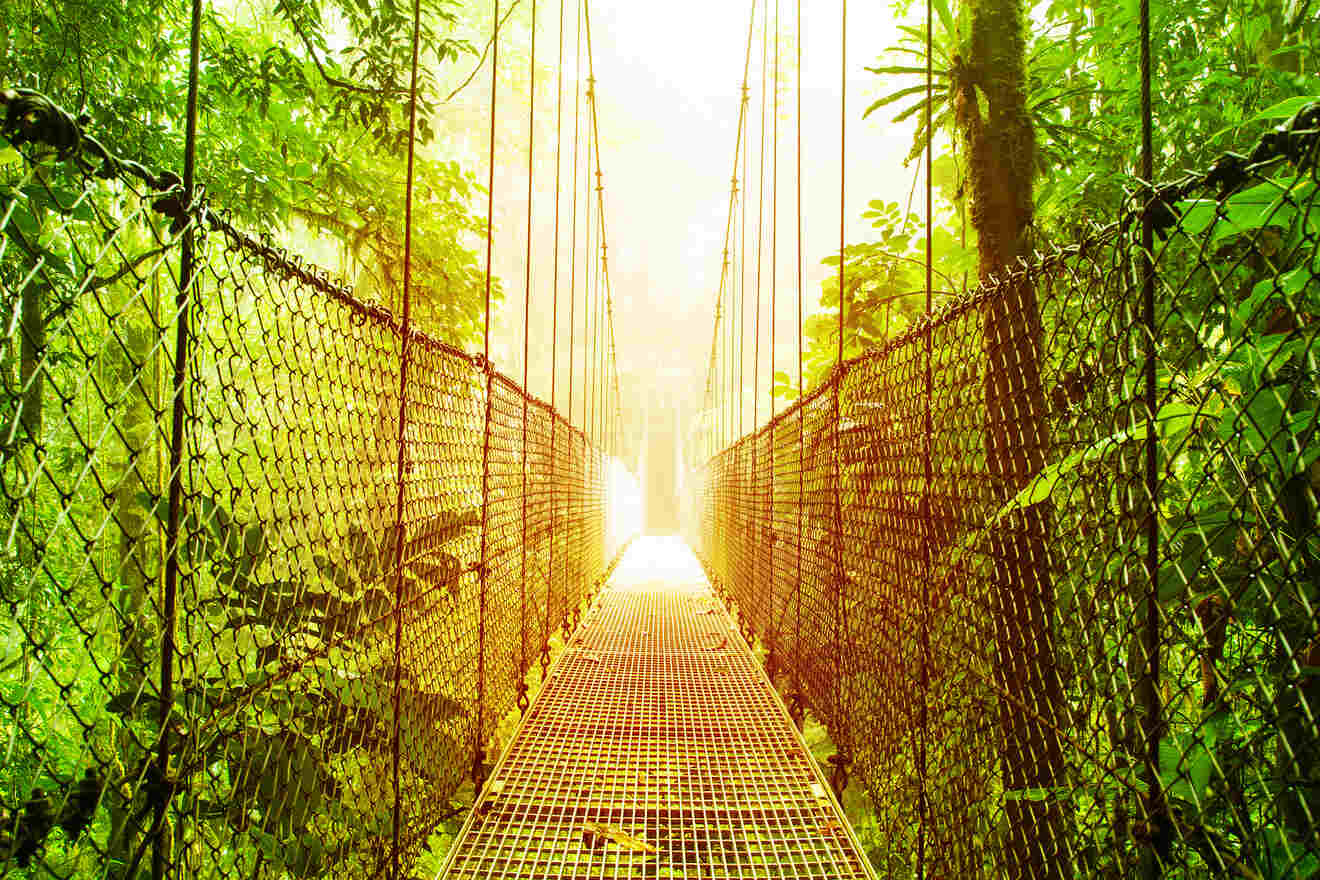 Well known for its cloud forest, which are named this way for their constant immersion in a layer of clouds! A great place for nature and animal lovers looking for where to stay in Costa Rica. The Natural Reserve is home to various species, like jaguars, ocelots, and the famous quetzal bird and there are tons of tours you can take in the jungle.
Wildlife photographers will love this cloud forest, if you're one of them then you should book a trip to visit Costa Rica and this town. Monteverde is misty and foggy and located in Puntarenas. There are plenty of activities for hikers, such as zip-lining, horseback riding, and trekking in a forest canopy or you can just relax and enjoy one of the hot springs. Located just 85 miles northwest of San Jose and home to some of the best resorts, you can find luxury hotels and some budget accommodations.
Do we have any coffee or chocolate lovers here? Besides me of course, if I didn't have a single shred of self restraint I'd probably be drunk on coffee all day. Let me tell you a little secret, Monteverde is the best place to stay in Costa Rica if you want to see how chocolate and coffee are made, very family friendly. You can take a Chocolate Tour and see the whole process. Guys, please send pics if you're going here!
Other accommodation options in Monteverde
Things to do in Monteverde
4. Puerto Viejo – best places to stay in Costa Rica for couples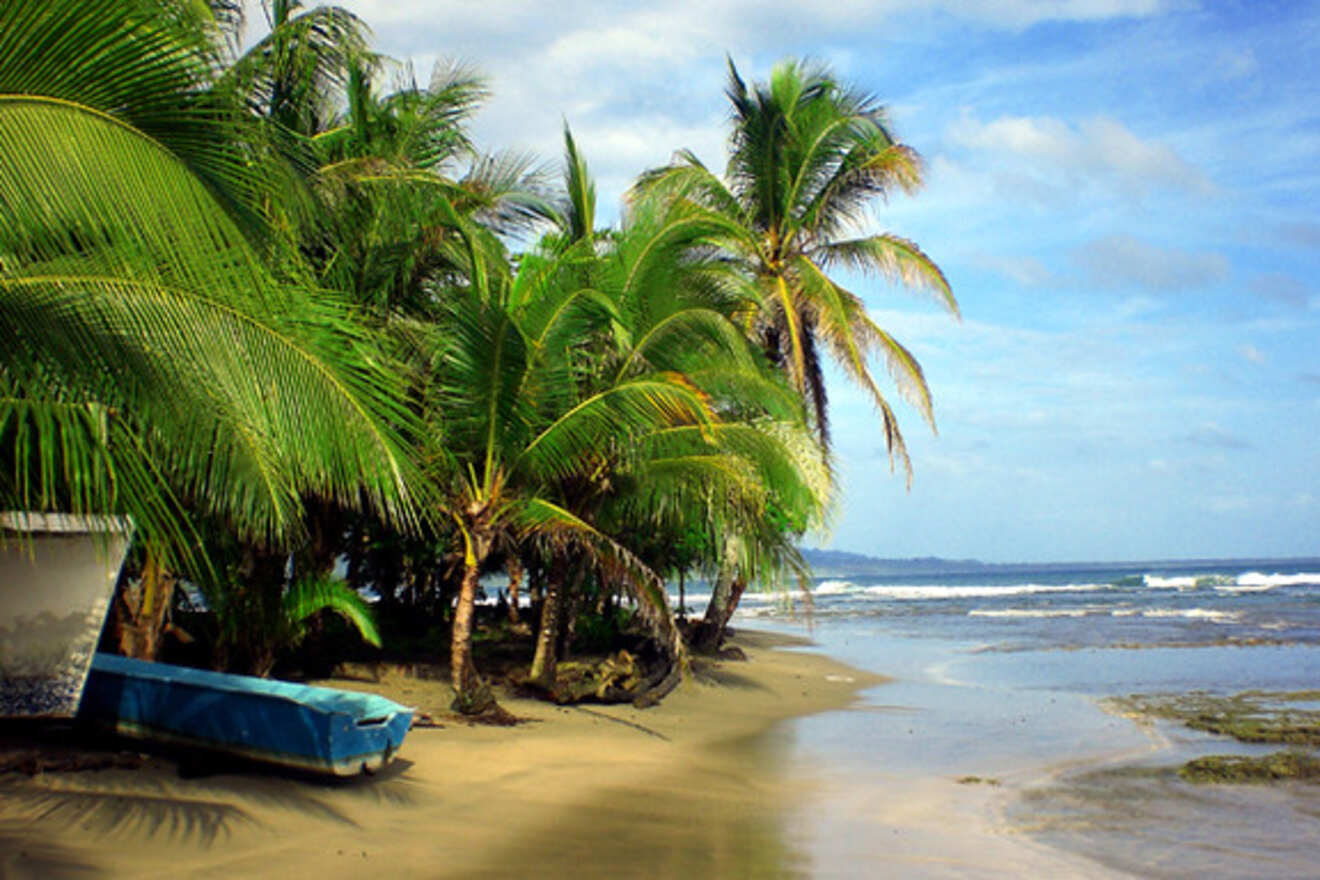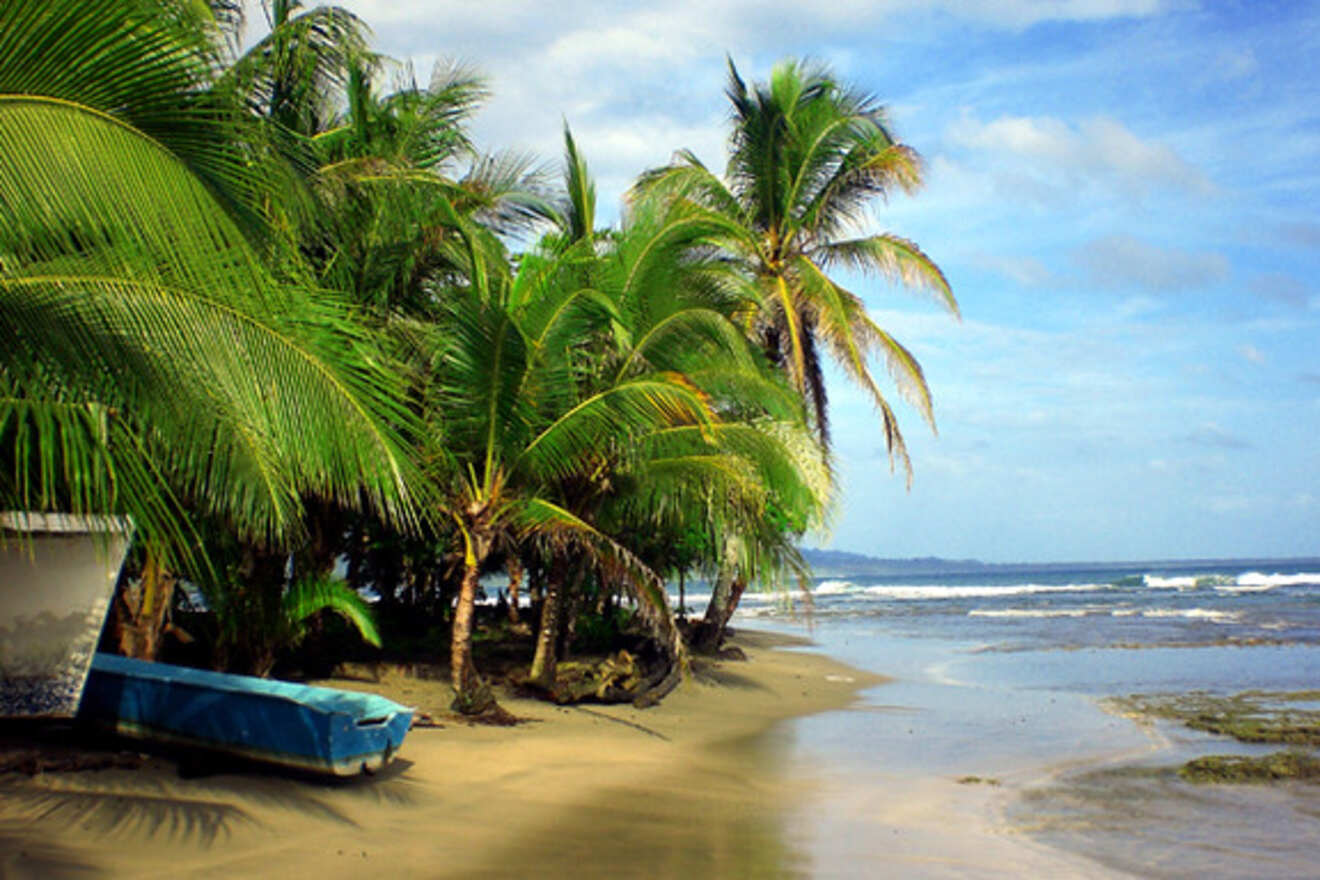 Puerto Viejo has some of the best beaches and hotels in Costa Rica, located in southeastern Costa Rica, close to the Panama border and right on the breathtaking Caribbean coast, this area of Costa Rica is well known for its black sand beach. However, you can still spot some rainforests and mangroves in the area. This is a perfect place for a romantic getaway and adults will love this Costa Rican gem! It will take you almost 5 hours to get here from the airport.
If you're looking for where to stay in Costa Rica, where you can get the full local experience then Puerto Viejo can be your top choice. It has locals of both Afro-Caribbean and indigenous descent.
I'm always looking to get that local vibe when I'm traveling and here you can explore around, maybe do some hiking, visit the indigenous communities and find out more about their traditions and language.
Other accommodation options in Puerto Viejo
Things to do in Puerto Viejo
5. Manuel Antonio – best region to stay in Costa Rica for wildlife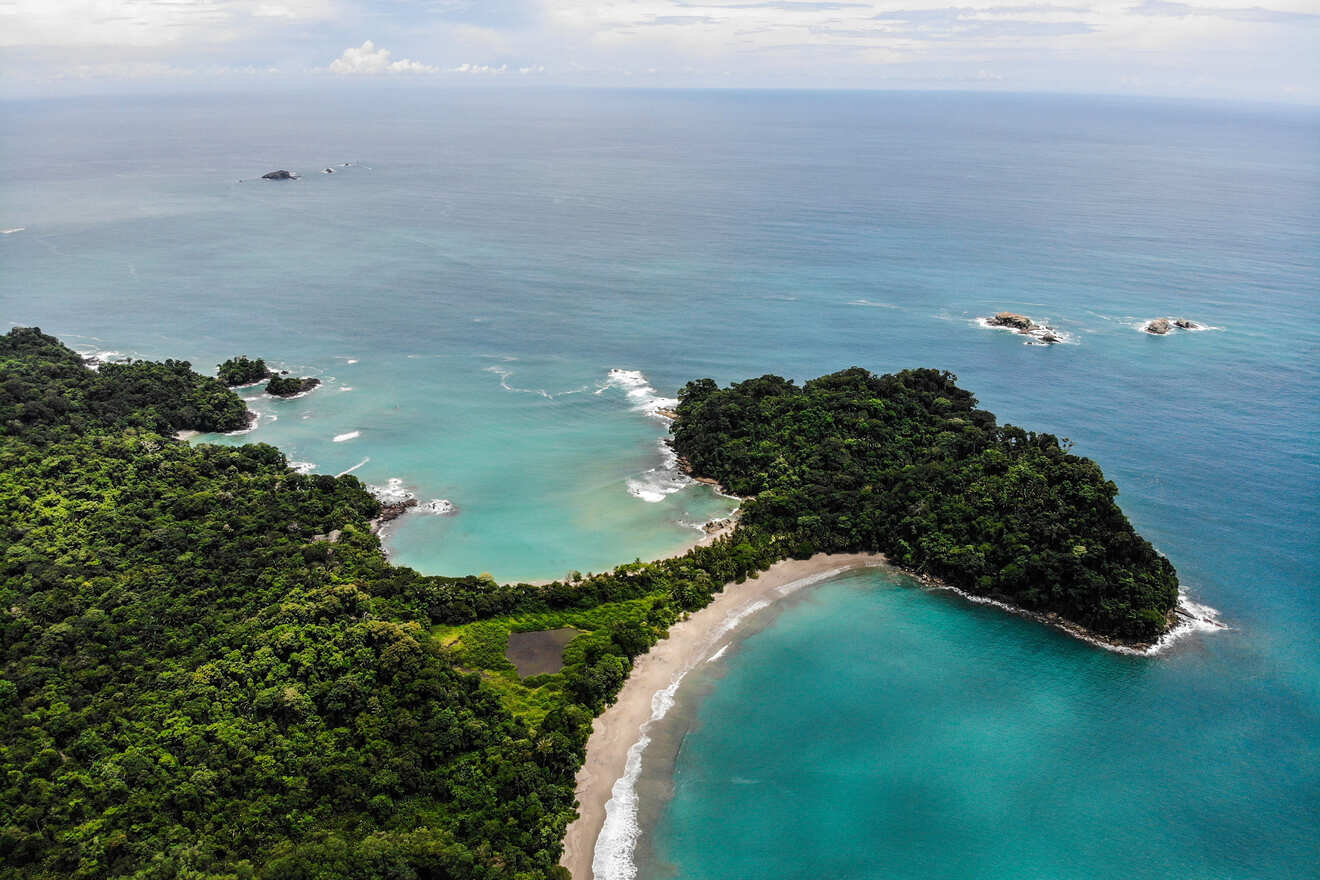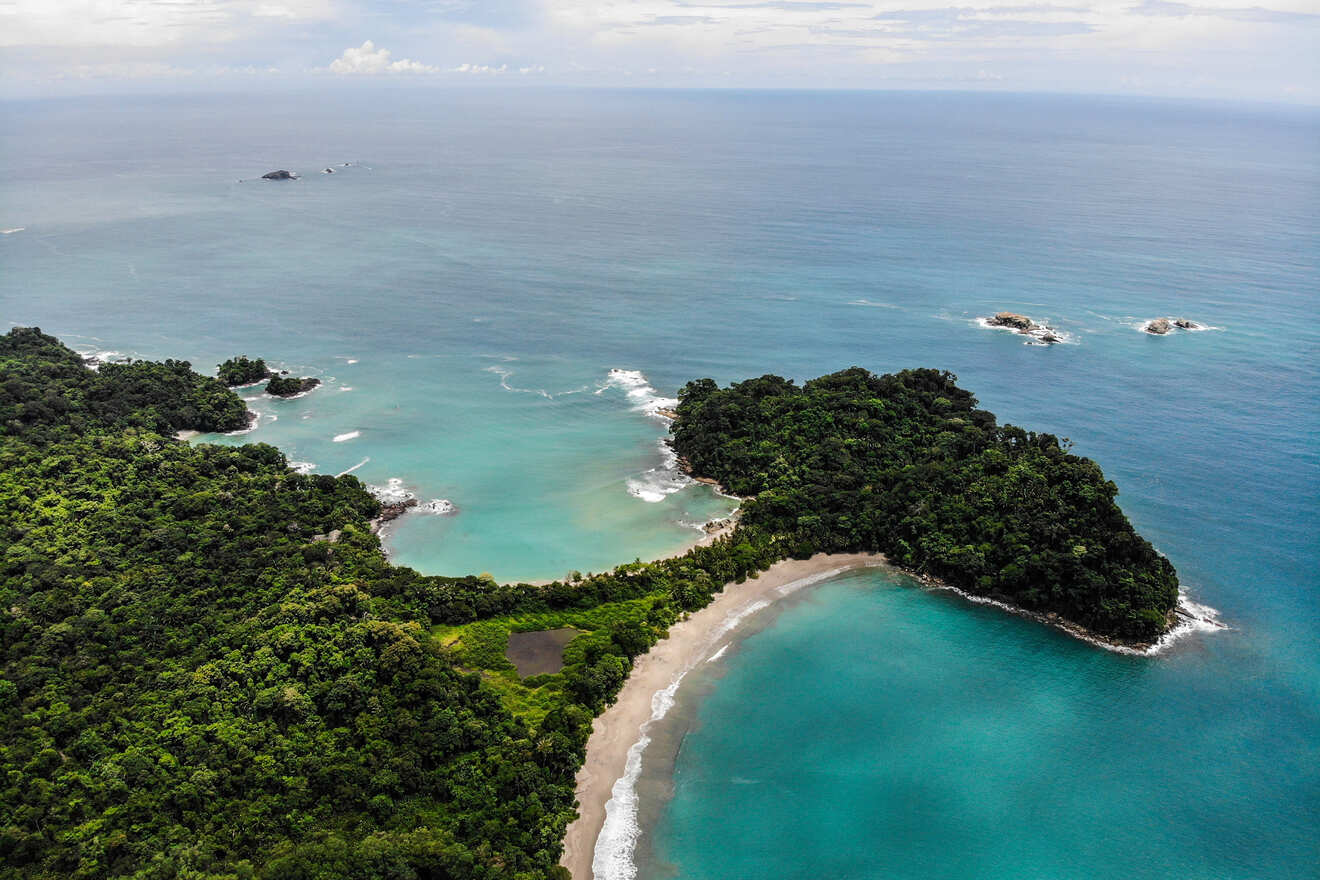 If you're looking for where to stay in Costa Rica but you don't want to travel from one area to another, or you have the whole family with you, then Manuel Antonio could be the right choice for you. Manuel Antonio is located on the Central Pacific Coast (West) of Costa Rica, just 2 hours and a half drive from the airport. The area has a rich biodiversity, restaurants, tours and tons of activities perfect for your vacation plus some of the best hotels and villas.
The main attraction is the Manuel Antonio National Park which has beautiful beaches, forest trails and a rainforest full of wild animals. Hey, you might even meet a sloth! Get your camera ready because recently it was named by Forbes one of the world's most beautiful parks! This place is great if you are in Costa Rica with your family members.
While you can hike the trails within the Manuel Antonio National Park to get some pretty cool views, sometimes too much walking can get boring, especially for families. Don't worry, I've got you covered! You can choose from easier trails, which are perfect for travelers of all ages, or try something a bit more challenging if you're feeling like going on an adventure.
PRO TIP: If you are booking super last minute and there are no good options left in the town of Manuel Antonio, check out Quepos, this town is about 15-20 minutes by car/bus from the park (and most tours include the transportation from Quepos in any way).
Other accommodation options in Manuel Antonio
Things to do in Manuel Antonio
6. Tamarindo Beach – popular place to stay in Costa Rica for surfers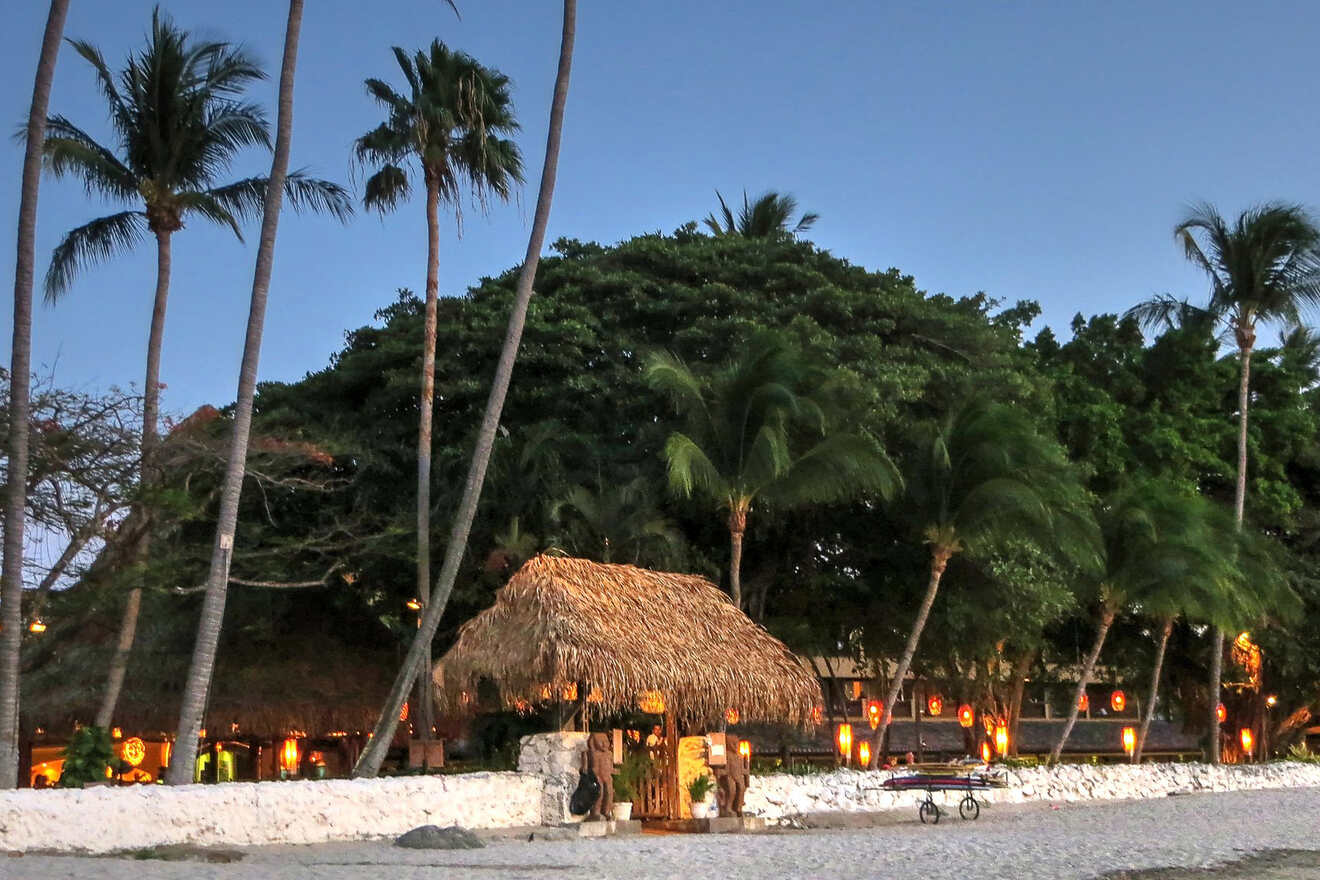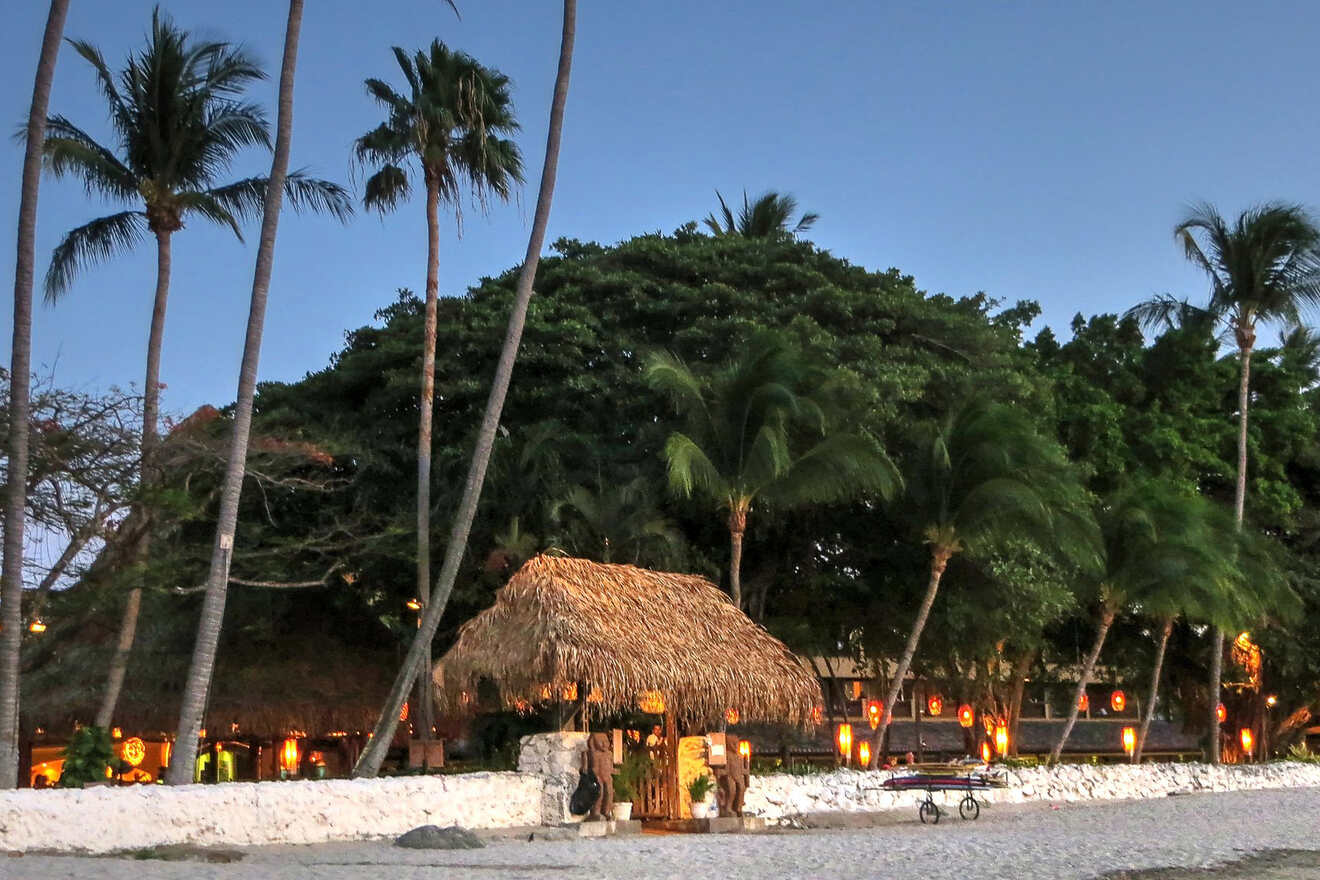 Surf lovers, I've found the most gorgeous spot for where to stay in Costa Rica for you! Tamarindo beach is located in Guanacaste, northwest Costa Rica. One of the best places to stay if you're a surfer or someone who's into surf and really wants to learn about this amazing sport, plus it has some great hotels too! If you wanna have a good time while you stay in Costa Rica then check the hotels in this area.
Besides surfing you can also try diving, fishing or if you're visiting Tamarindo beach between October and May you can watch how leatherback turtles build their nests along the beaches. How cute is that? This place should definitely be your next vacation spot!
I love going out at night for drinks when I'm on vacation and trying all the exotic combinations. Here you will experience a wild nightlife so you should check this area out, which is easy to get around, if you're in the mood for some partying. This place has a wild party scene by the way!
Hey but you're still in Costa Rica, so even if you're on a beach, you're super lucky because Tamarindo is situated right in between two national parks! This means you'll still have some amazing views of the jungle and fauna and it's a good place to stay if you don't want to move a lot. This area has some amazing budget hotels and resorts.
Other accommodation options in Tamarindo Beach
Things to do in Tamarindo Beach
BONUS: The 6 best beaches in Costa Rica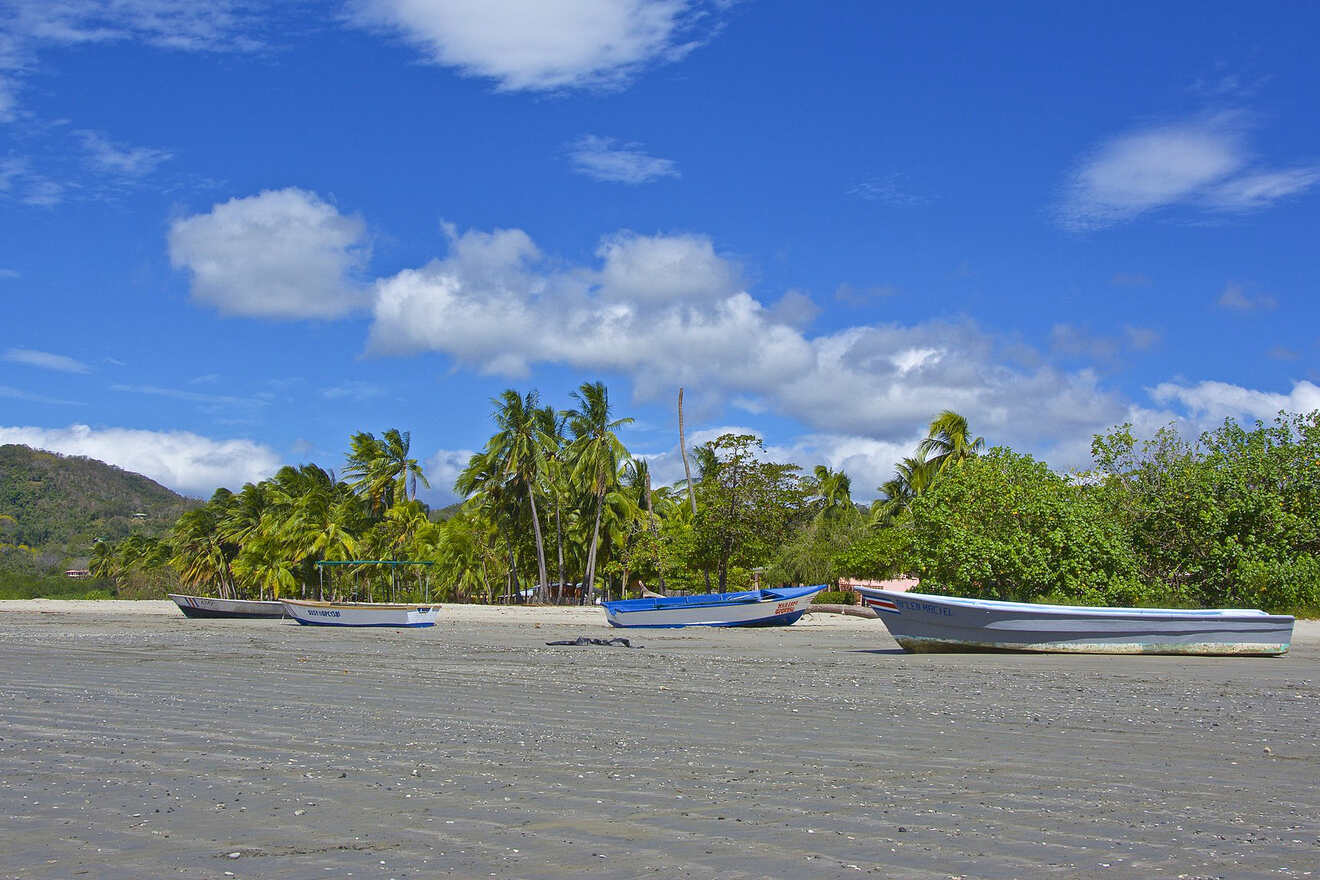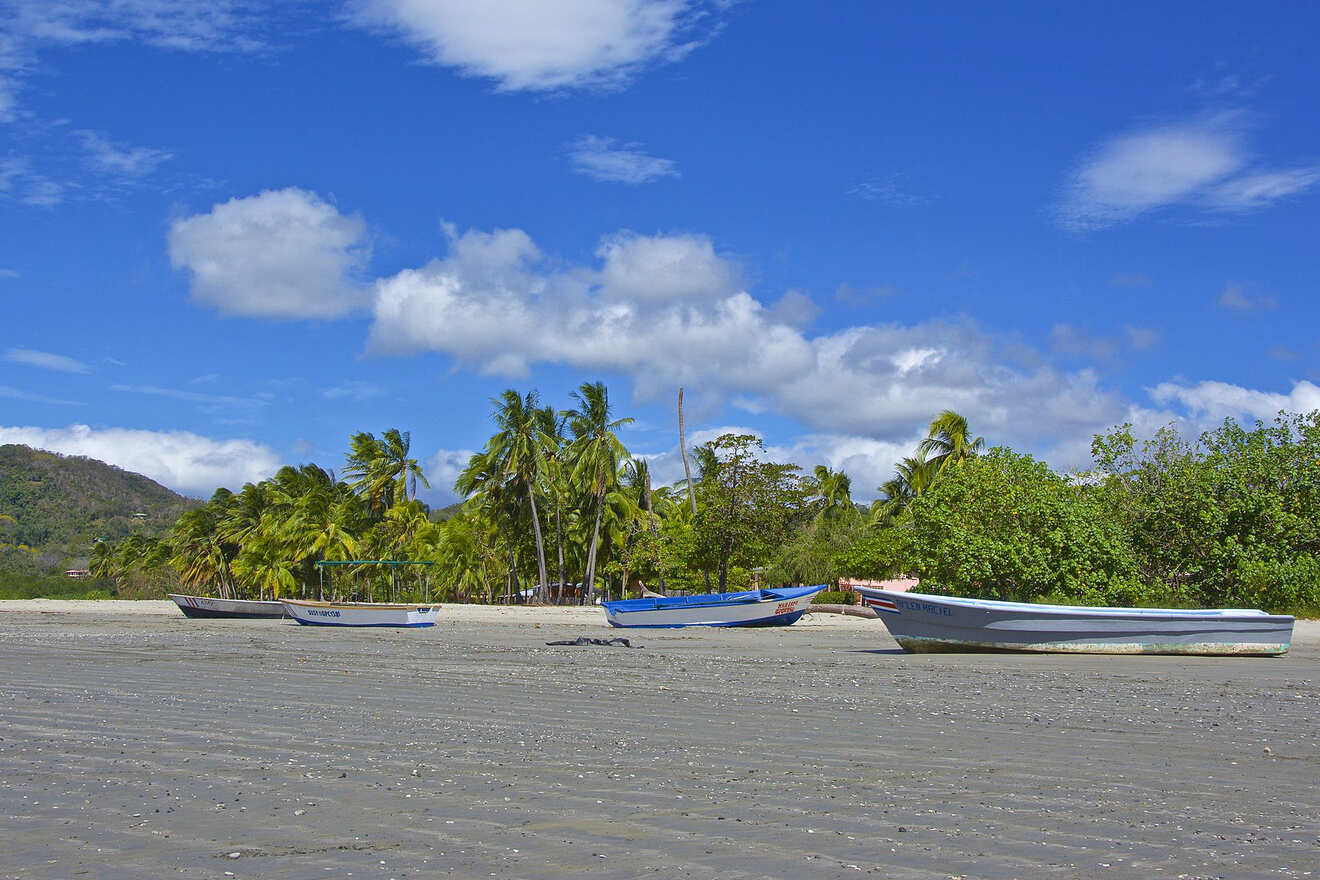 There are so many things to see in Costa Rica but the beaches are well known, and I don't want you to miss any opportunity to find all the right spots for either surfing, tanning or some good old Instagramming, so here's a top of the best beaches in Costa Rica.
I highly recommend renting a car as that is the easiest way to get around. Plus you can find some good on budget hotels in these parts of Costa Rica, so if you are planning a longer trip or want to experience some more off the beaten path destinations, these areas are some great choices for where to stay in Costa Rica. Whether you choose to stay nearby or not, here are the best beaches in Costa Rica!
1. Playa Bahía Ballena
The name is not ordinary, from an aerial view this coastal park looks like a whale tail and if that wasn't enough, humpback whales come to breath every year from August through October and December through April! If you're a photographer or whale fan looking for where to stay in Costa Rica you should check out this beach! It is also situated nearby the Marino Ballena National Park and is a nice family friendly place.
2. Playa Langosta
Playa Langosta is located in the northwestern Costa Rica area just 160 miles from San José. There are domestic flights and buses that are available to take you to the town but renting a car definitely gives you the most freedom.
This is a great place where to stay in Costa Rica if you surf. The beach is quite long and the surfing conditions are ideal for beginners and for more advanced practitioners. The sands have a darker, volcanic look. Bahia Ballena is located on Costa Rica's Central Pacific coast (West). You can take a 4 hours bus from San Jose to Dominical and from there you can get a taxi to Playa Bahia Ballena or you can rent a car, that might be easier.
Playa Langosta offers some beautiful surfing conditions and backpackers will particularly enjoy this Costa Rican beach. While you're here, make sure to take in a sunset over the Pacific Ocean and find some of the best places to stay. Watching the sun melt into the horizon will help you relax and fully understand the carefree optimism of pura vida.
3. Flamingo Beach
A great place to stay in Costa Rica for sunset lovers. Sorry if you won't see an actual flamingo here, they chose this name because of the pink-hued sand. But that means watching a sunrise here will be breathtaking!
This pristine beach is one of Costa Rica's Pacific coast jewels, with the most amazing blue crystal water and sparkling white sand. The beach is located in the province of Guanacaste, northwest Costa Rica and it will take you half an hour to get to Playa Flamingo from Tamarindo by bus and just 7 minutes by car. The Costa Rica hotels are great here and in the neighboring Playa Hermosa. Taking some pictures here will be a must!
4. Samara Beach
A friendly place where to stay in Costa Rica for families located on the Nicoya Peninsula on the west side of Costa Rica. At Samara beach you can do kayaking, snorkeling, scuba diving and sportfishing. There are different ways you can get here, either from San Jose International Airport or from Nicoya, by bus. Samara beach is a quiet place with great hotels so if you're looking to spend some time just relaxing on the beach this can be the perfect place for you, especially if you're traveling with your family.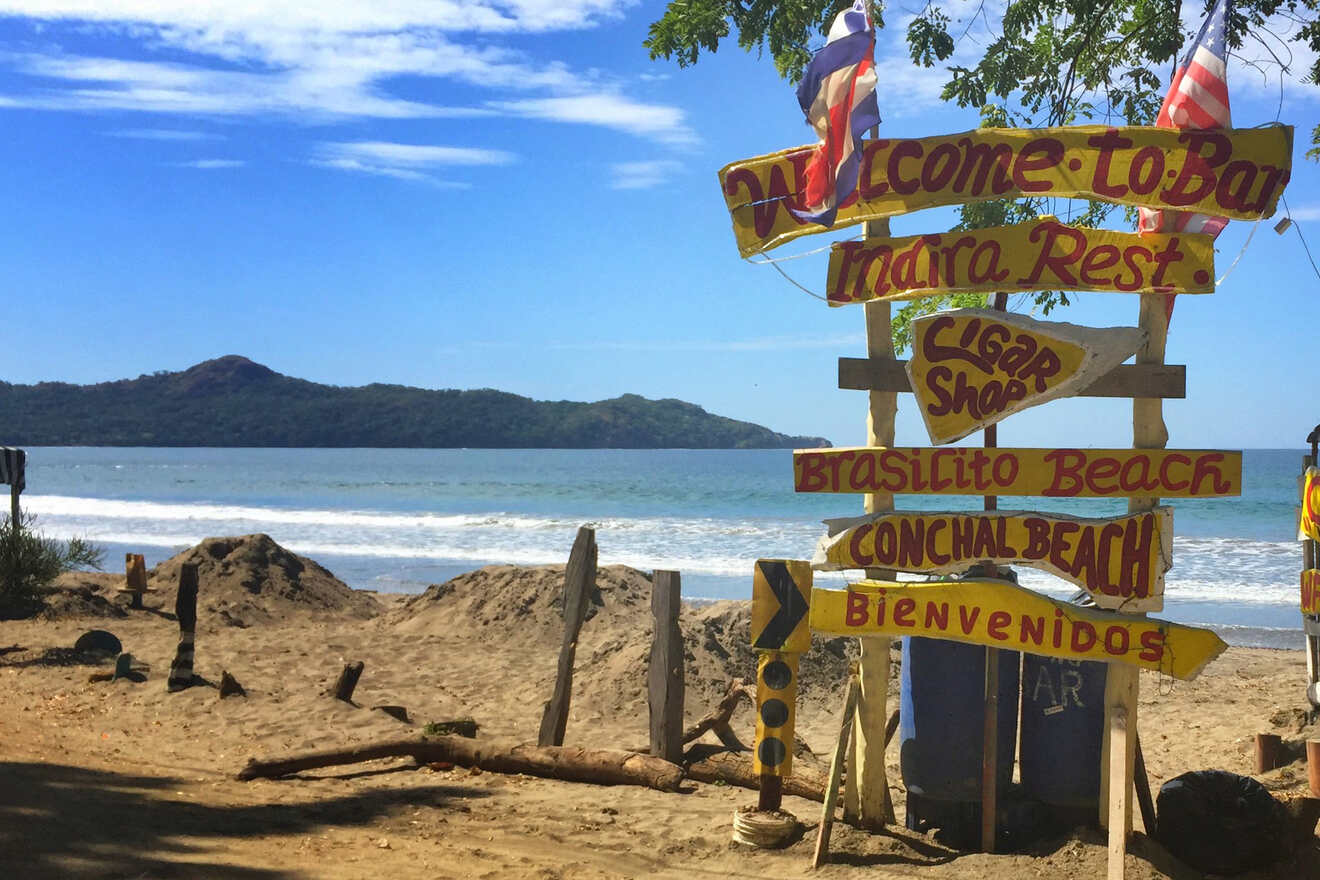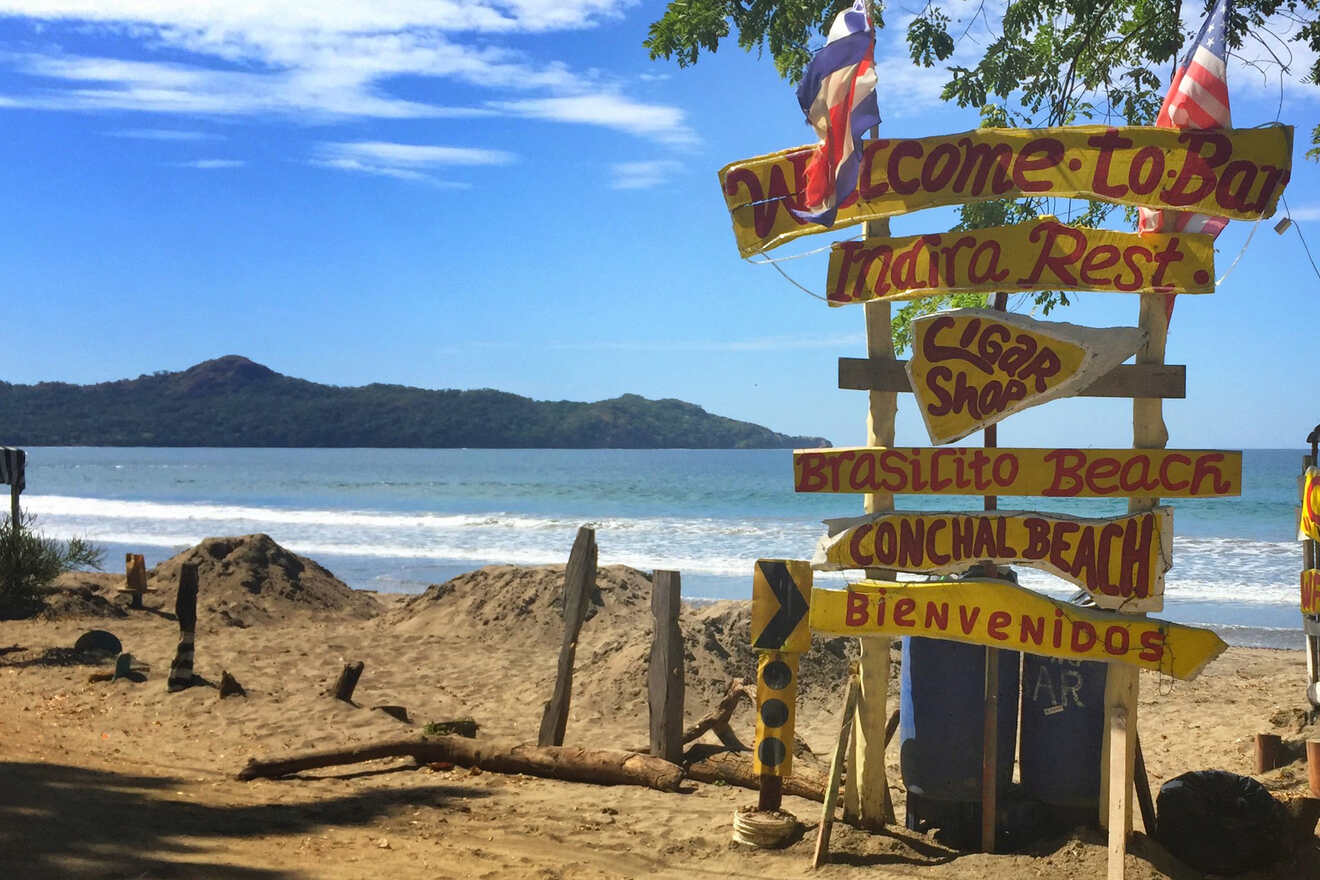 5. Dominical Beach
If you're looking for where to stay in Costa Rica for a day or two, Playa Dominical can be your choice, a great spot for backpackers. It's a four-mile long brown sand, rocky, uncrowded beach bordered by green forests – one of the best places to stay in for those who like to hide from the sun under the big palm trees and admire mother nature.
Although the water looks amazing it is not recommended to swim as the currents are really strong. Dominical is actually a beach town so there are tons of activities like yoga classes, eating at some good restaurants. You can sample some of the best craft beer in Costa Rica at the Fuego, a local hot spot for delicious food and some cold craft beer and is a good place to stay if you're on a budget.
You take a bus from San Jose to Dominical or you can rent a car to get there by yourself. This beach is located on the South Pacific coast (southwest) of Costa Rica.
Enjoy the beach and the great hotels, play with the shells and take in the amazing views and ocean breeze. Conchal beach is situated in Guanacaste, the northwest province of Costa Rica. The closest airport is in Tamarindo, just 30 minutes away from the beach and you can get a cab from there.
Frequently Asked Questions About Costa Rica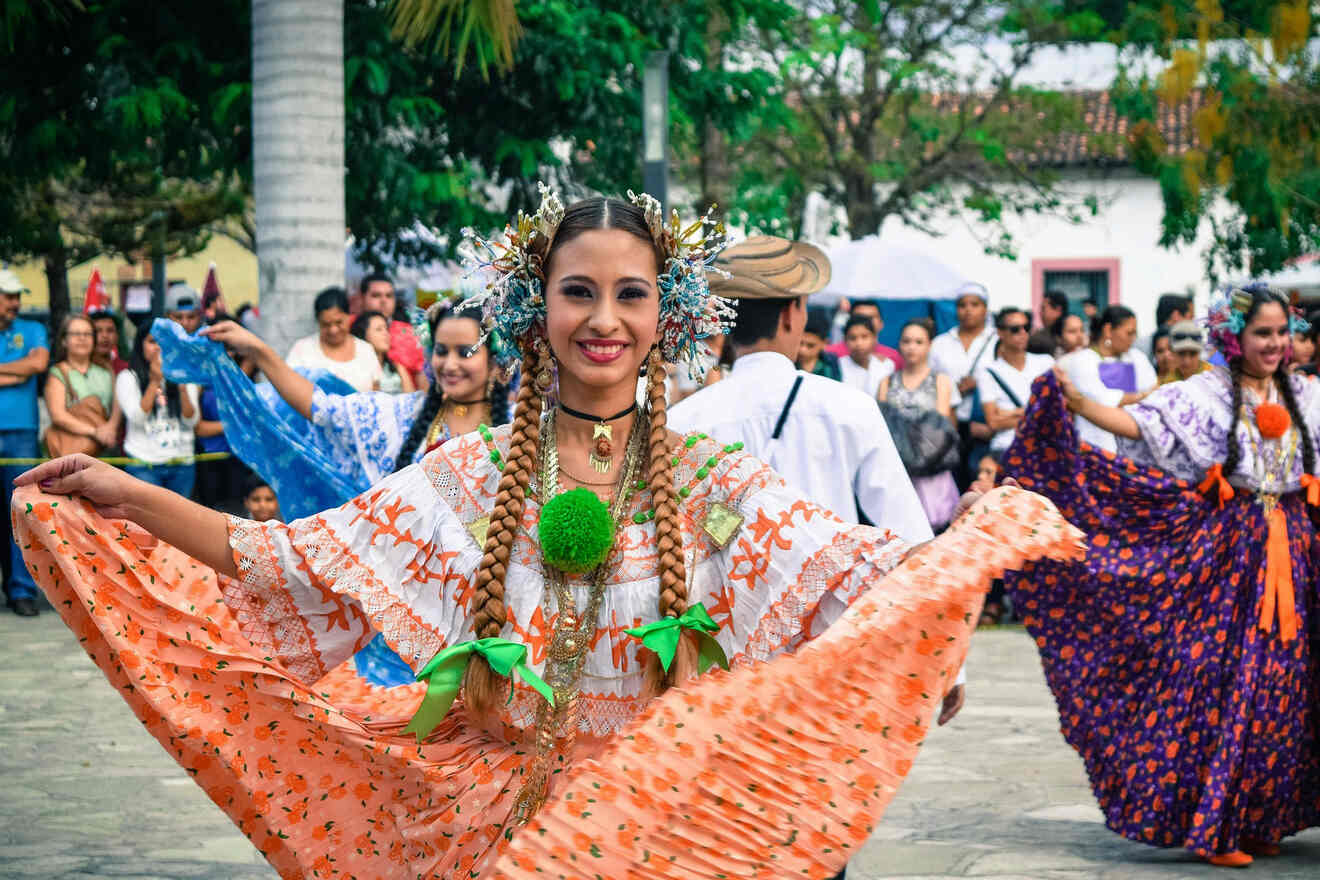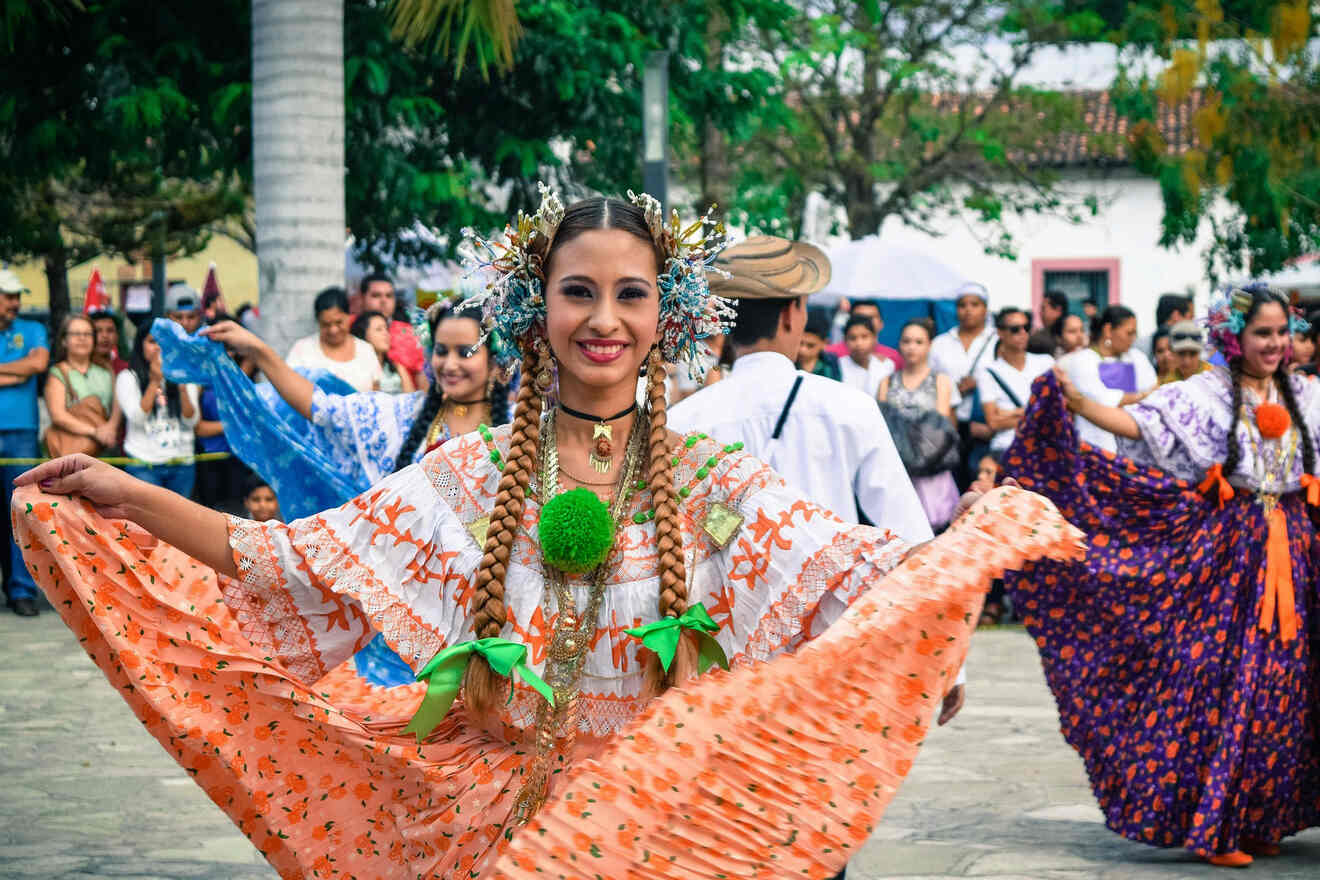 Conclusion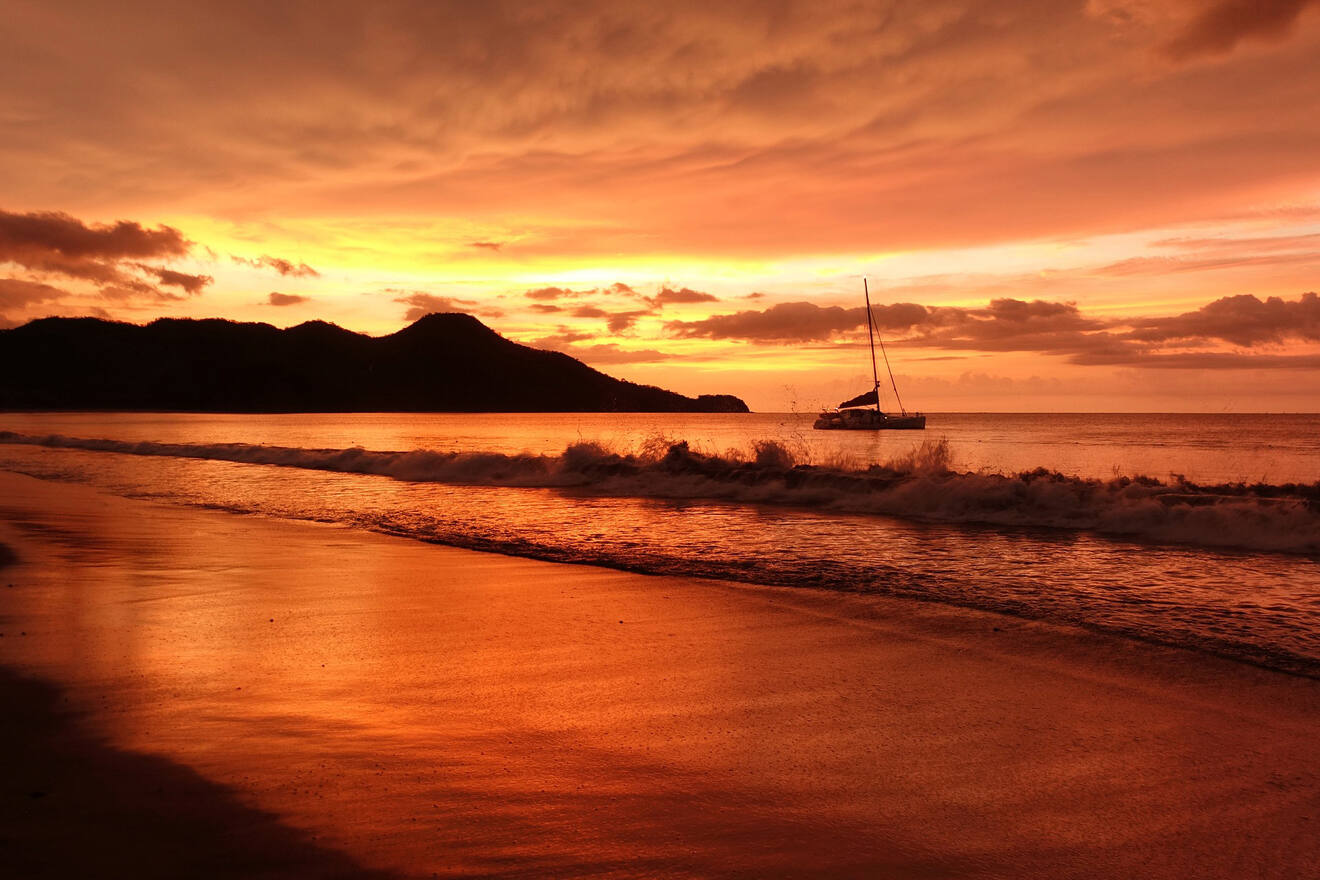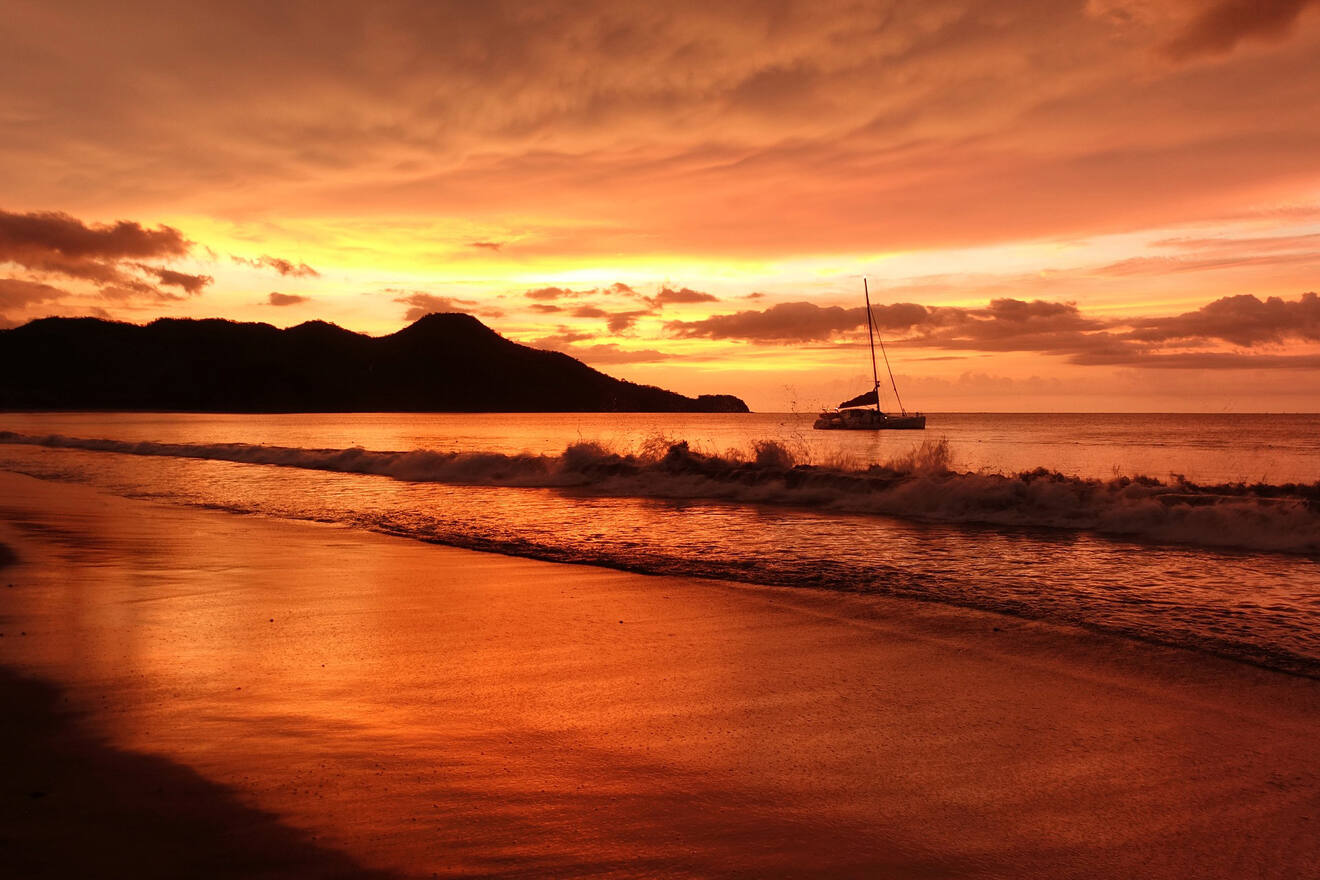 I'm sure everyone is busy now buying their plane tickets, I hope this guide will help you find where to stay in Costa Rica. In this article I talked about the best areas to stay in and suggested some really cool hotels and Airbnbs to stay in for each place,
To conclude, here are 2 of my top hotel choices for your stay in Costa Rica, they are both located in the city center and have some amazing reviews from former visitors. Make sure you book these hotels in advance if you want to get some good deals. When you decide where to stay in Costa Rica, choose one of these hotels, they are the best places to stay in.
I hope you have the time of your life during your trip to Costa Rica, who knows, maybe you'll run into one of the Kardashian-Jenner sisters or the actress Emma Stone, we all know how much celebrities love traveling here for the holidays! If you want to visit another celebrity's top choice country then check this article about the top 5 areas to stay in Puerto Rico, you'll find some nice hotels here too.
I hope this helped you decide where to stay in Costa Rica. Enjoy the Pura Vida lifestyle, the cloud forest, hotels, restaurants and forget your problems at home, wake up, enjoy the hot springs and surf. Once you come back from here (if you don't decide to stay there forever) you'll look so much younger!
Do leave a comment below if you have any other suggestions for our readers or questions about Costa Rica! I'll do my best to help you.
Buen viaje mis amigos,
Victoria
---