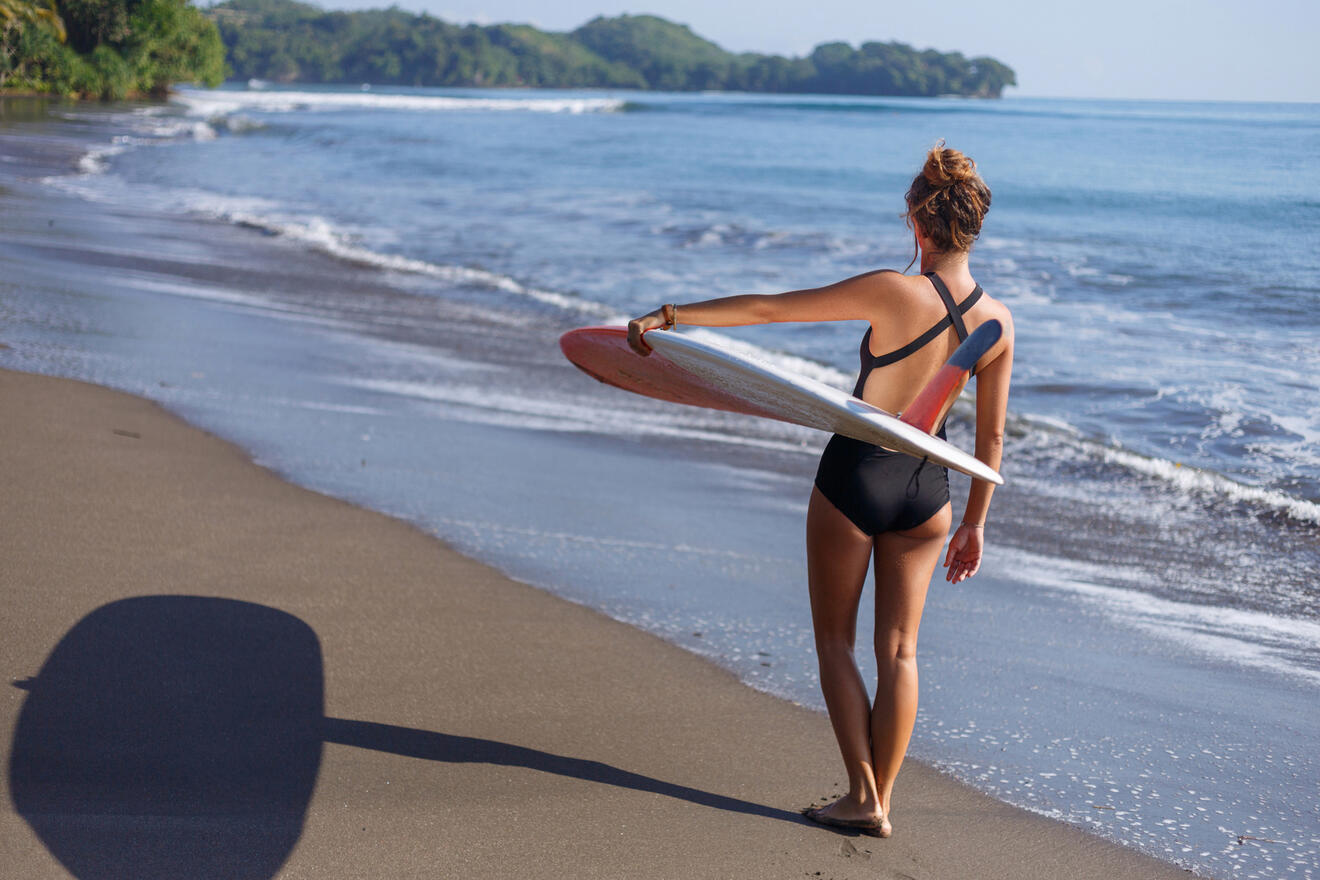 We all know Costa Rica is an ultimate surfing destination for ocean enthusiasts, it doesn't matter whether you're on the Caribbean or Pacific Coast, you will find world-class waves for advanced surfers (like the Salsa Brava break) and many more gentle swells for beginners!
Since surfing is my favorite sport ever, Costa Rica beaches have always been on my surf bucket list… And I bet they are on yours too!
With 800 miles (1,290 km) of coastline in Central America, Costa Rica has so many hotels in front of the best surfing spots that you won't know where to start! Well, you don't need to worry about figuring it out yourself… because I have already done it for you!
I did a tonne of research amongst all the best booking websites and found a collection of the best Costa Rica surf hotels, hostels, and best surf resorts for you. I've even included a bonus with some amazing surf camps for the ultimate surf retreat!
NOTE: The prices you will see in the post are from the high (dry) season in winter, which is when the good swells come (and so do the crowds), so they are more expensive than during summer. If you are visiting in the low season (summer), the prices can be up to $100 less for the same rooms.
If you are in a hurry
If you don't have time to read the whole post and you need to book right now, here's a quick list of the best surf resorts and hotels in Costa Rica divided by price range:
Here's a map for you to see where all the best surf resorts and hotels in Costa Rica are located exactly:
Luxury (US$360 and up)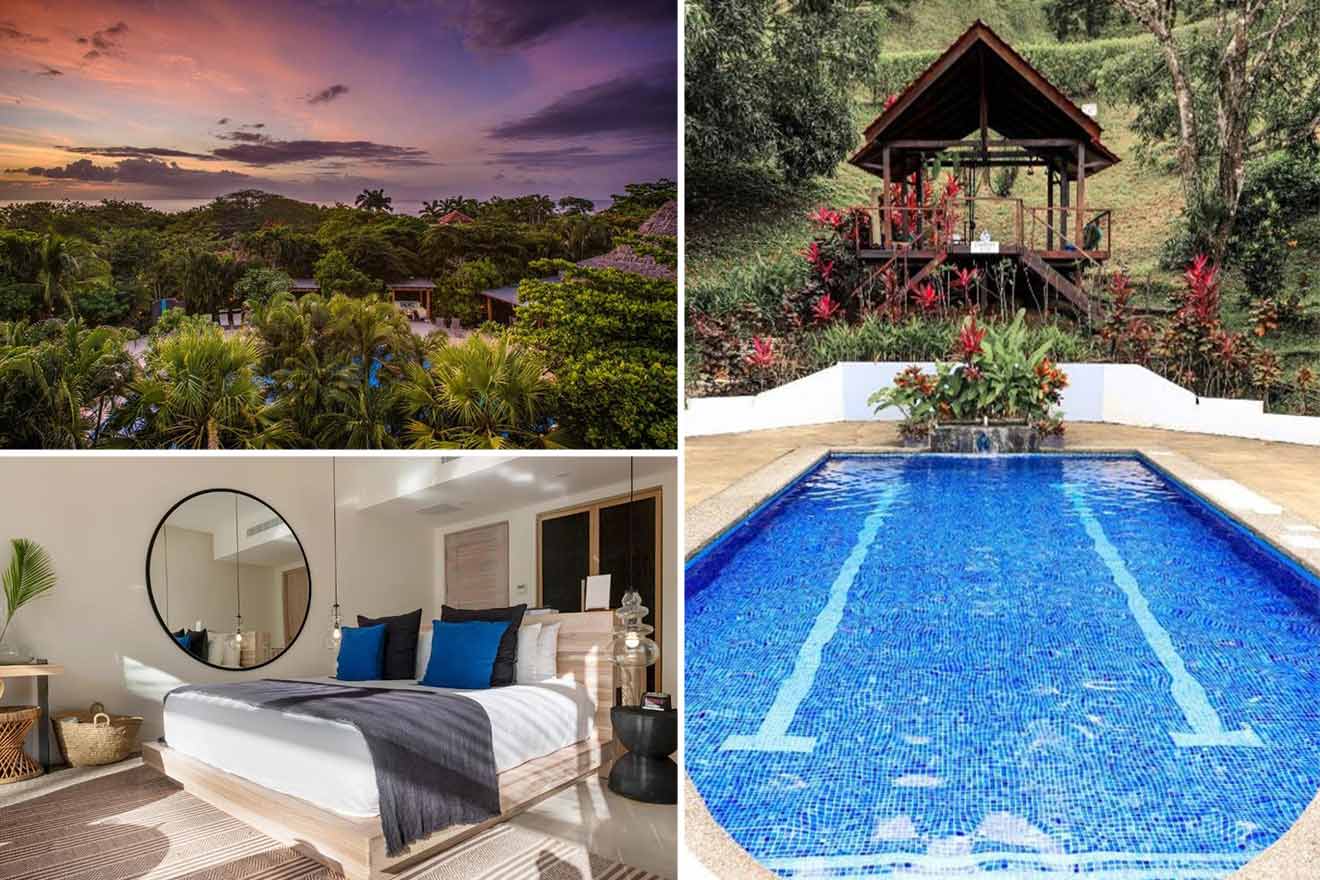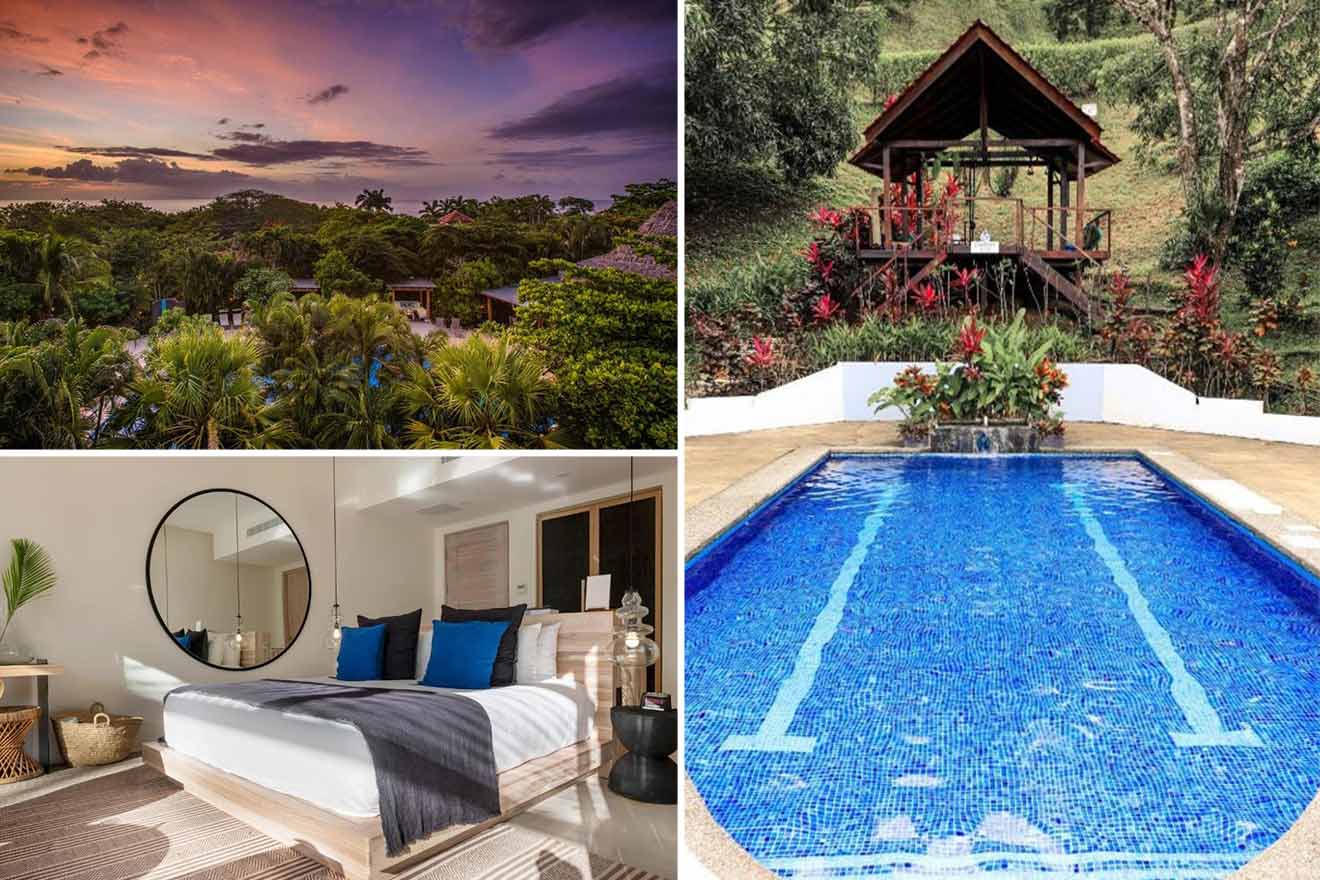 Mid Range (US$150 – US$300)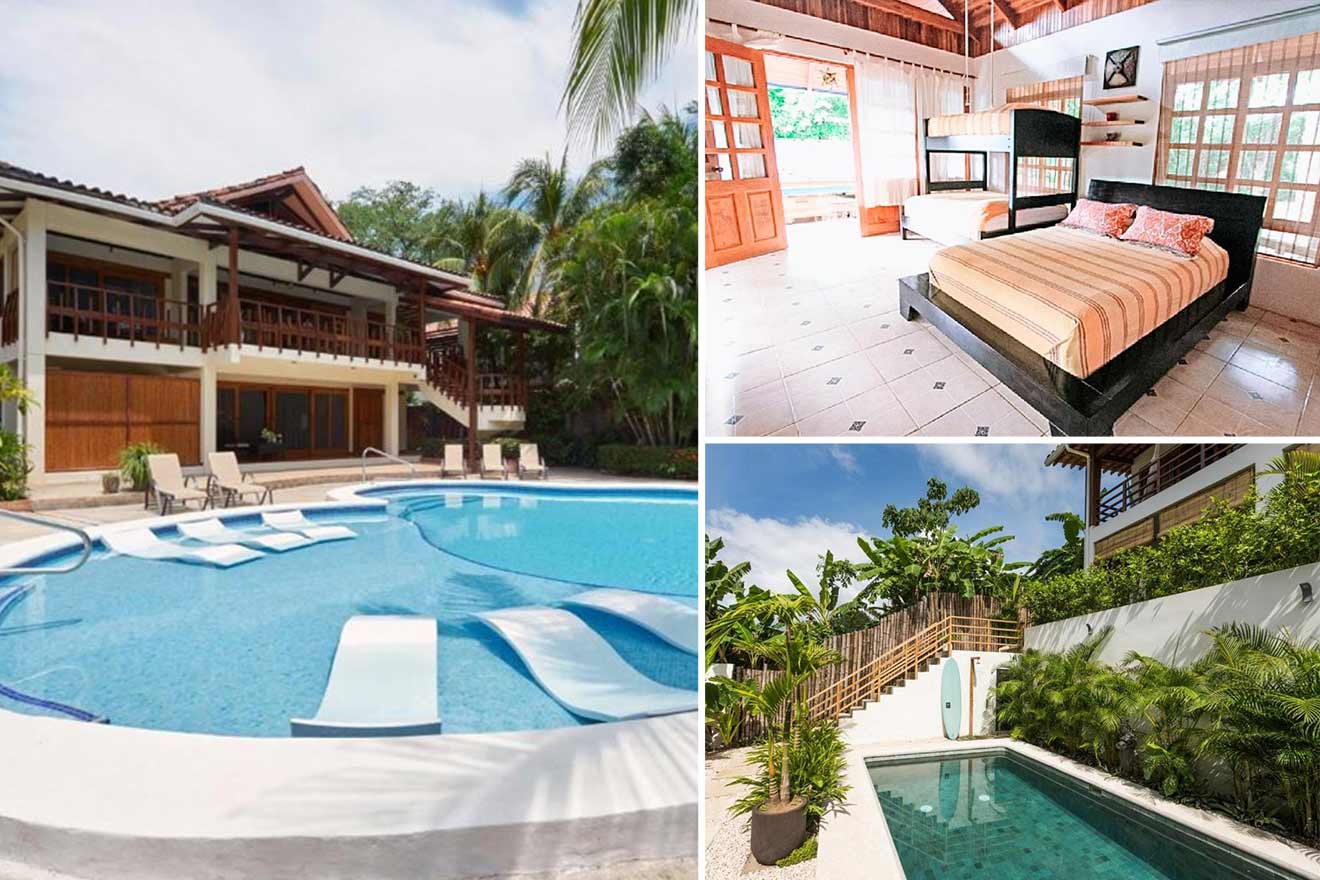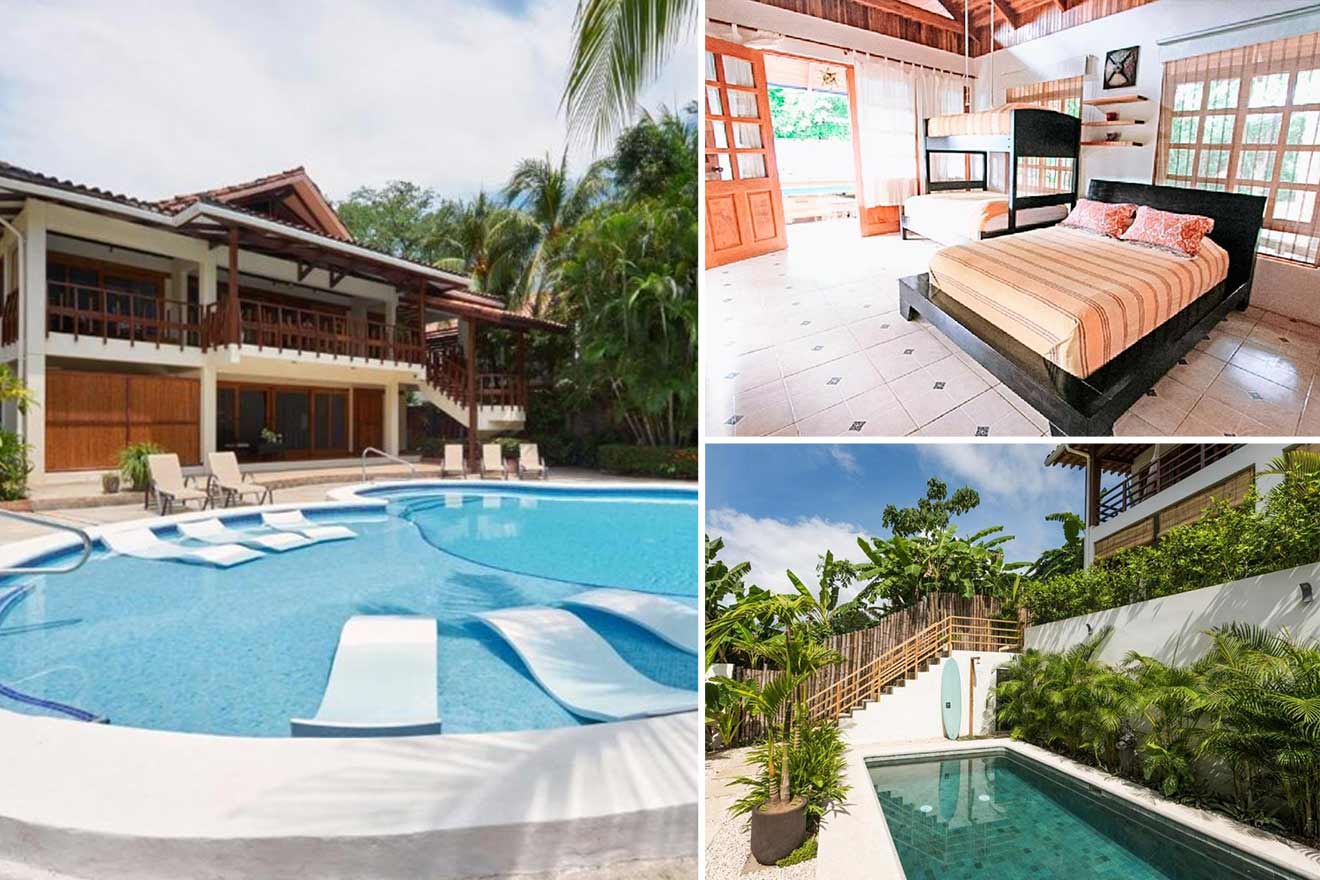 Budget (up to US$110)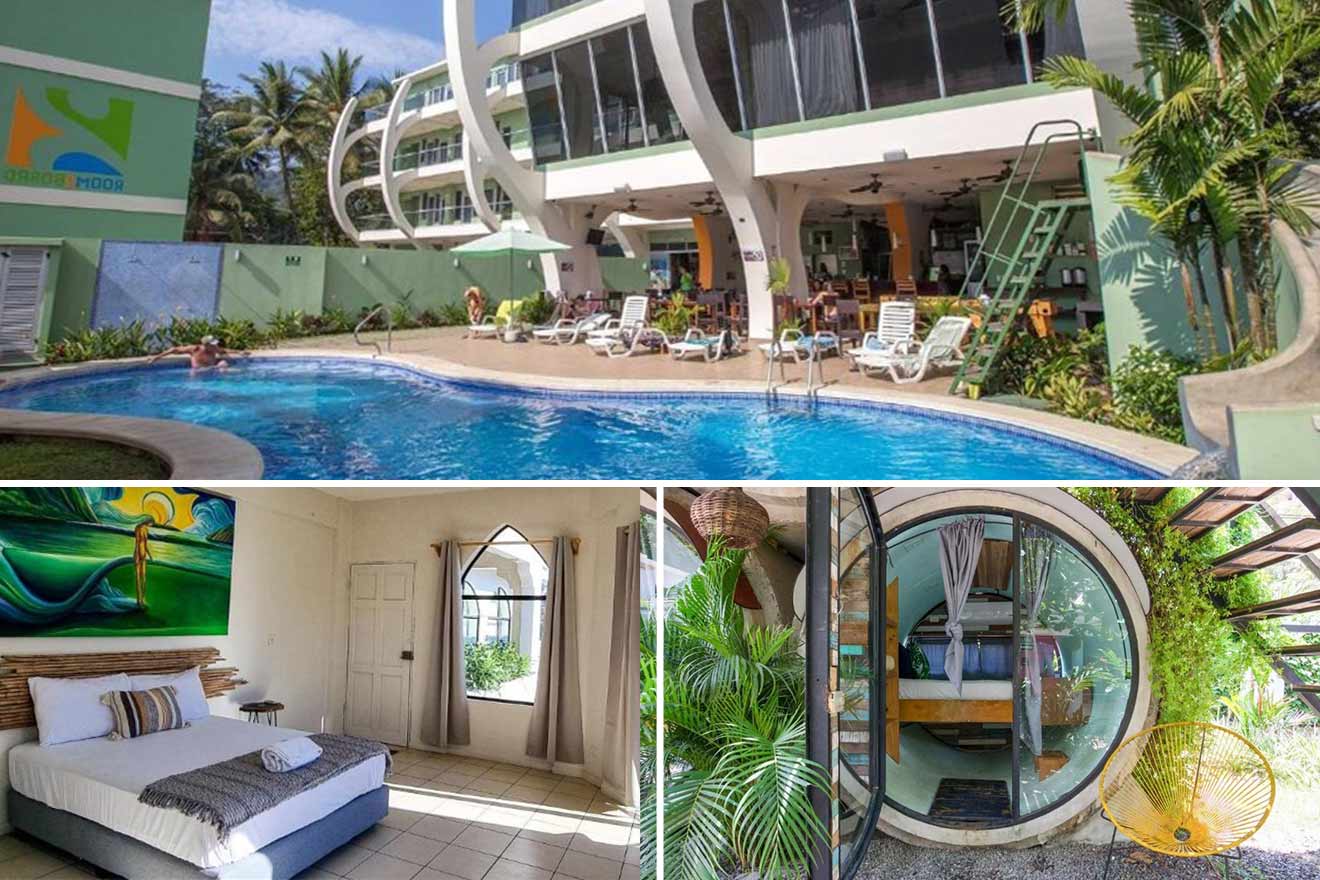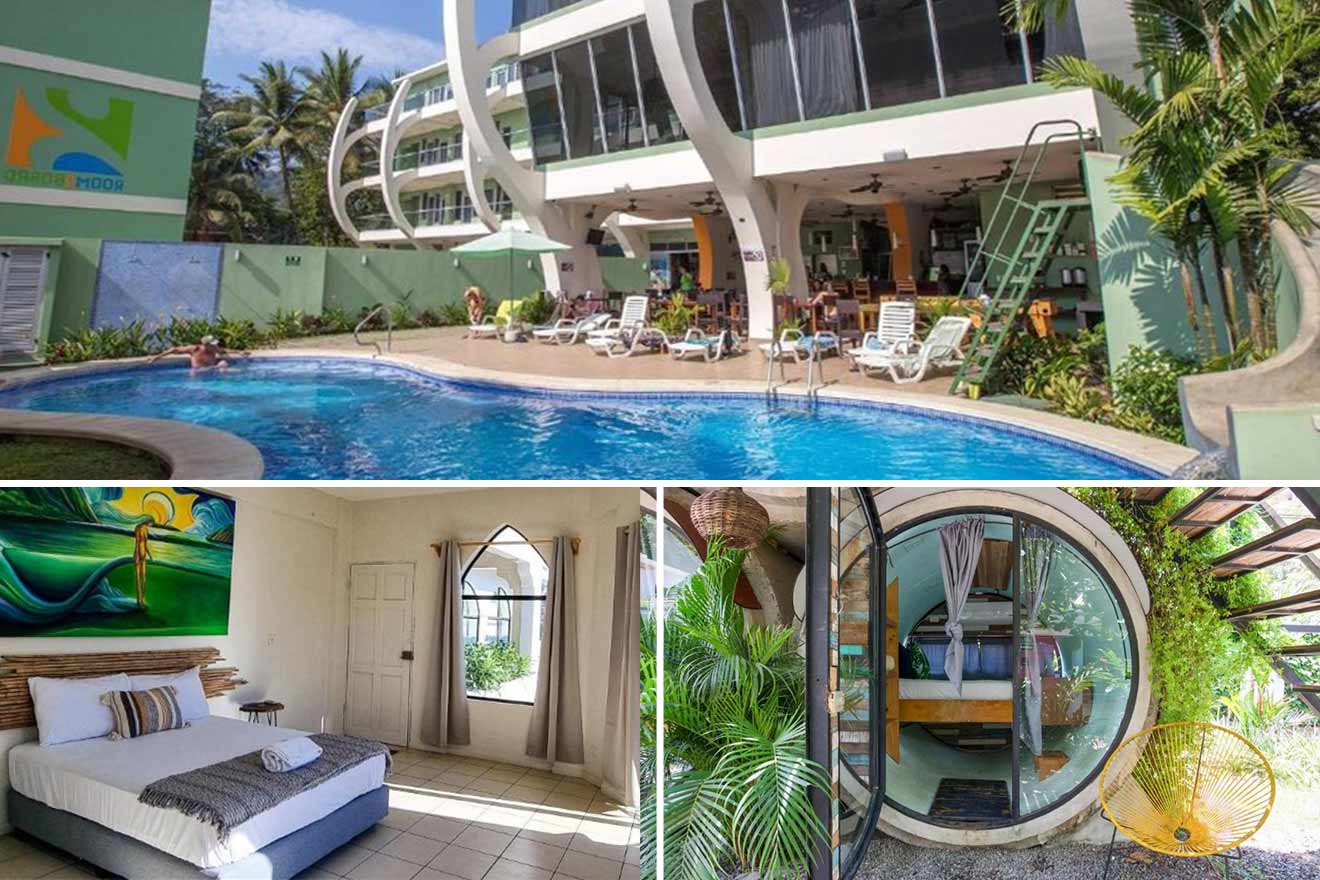 | | |
| --- | --- |
| 👑 Luxury price: | $400 |
| 💵 Mid Range: | $250 |
| 🛏️ Budget: | $90 |
| 💰 Accommodation prices: | High |
| 📅 How many days: | 5-7 |
| 🌅 Top sunsets view: | The Sunset Shack |
| 🏄‍♀️ Best surf camp: | Witch's Rock Surf Camp |
| 🌊 Advanced beach: | Salsa Brava or Puerto Viejo |
| 👶 Beginner waves: | Playa Santa Teresa |
| ☀️ Best time to go: | December – April |
| 🧘 Best hotel for yoga: | Surf Bikini Retreat |
| 🌆 Best surf town: | Jaco |
| 🏖️ Best surf resort: | Kalon Surf |
| 👛 Cheapest surf hotel: | Selina Jaco |
BONUS: Top surf camps in Costa Rica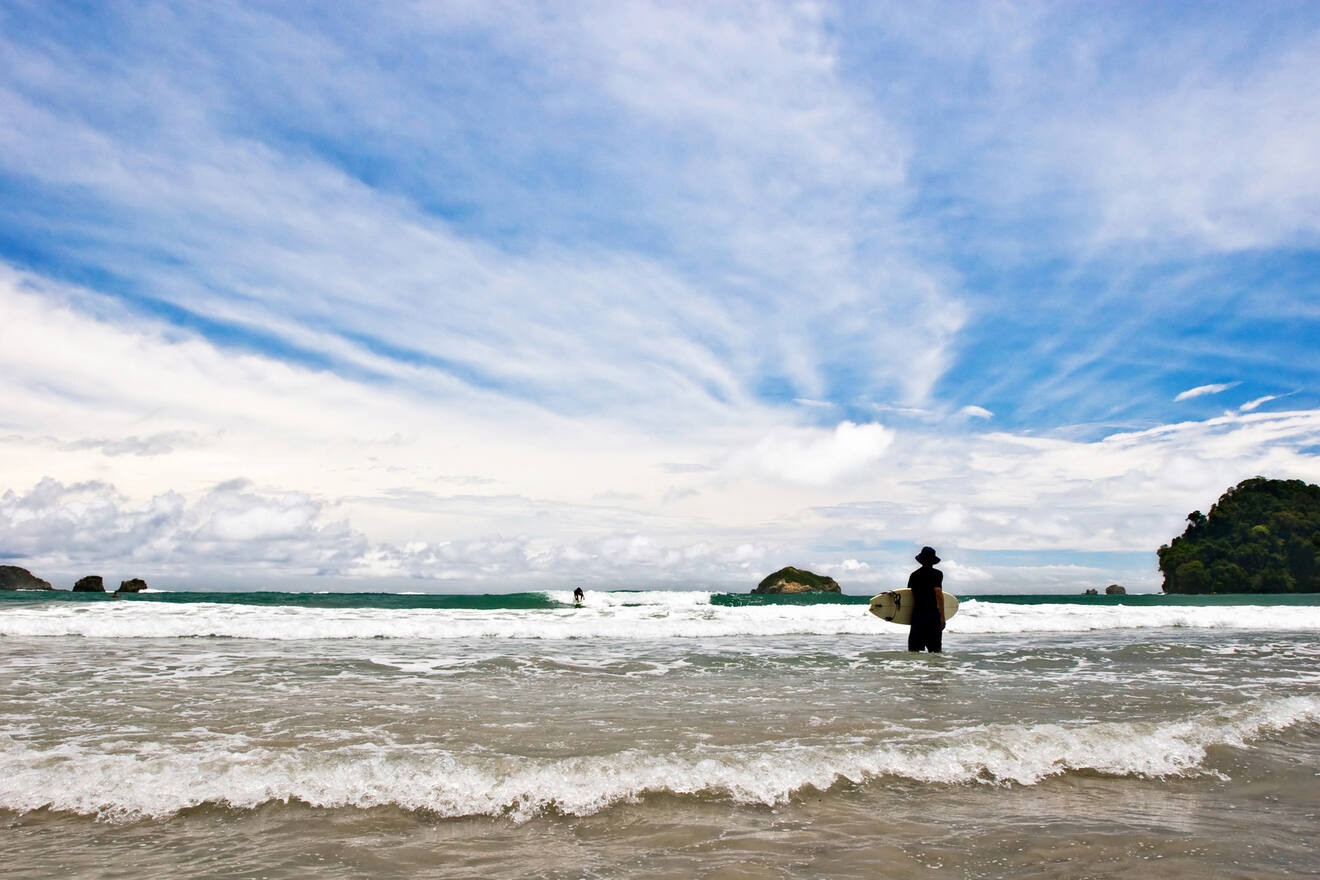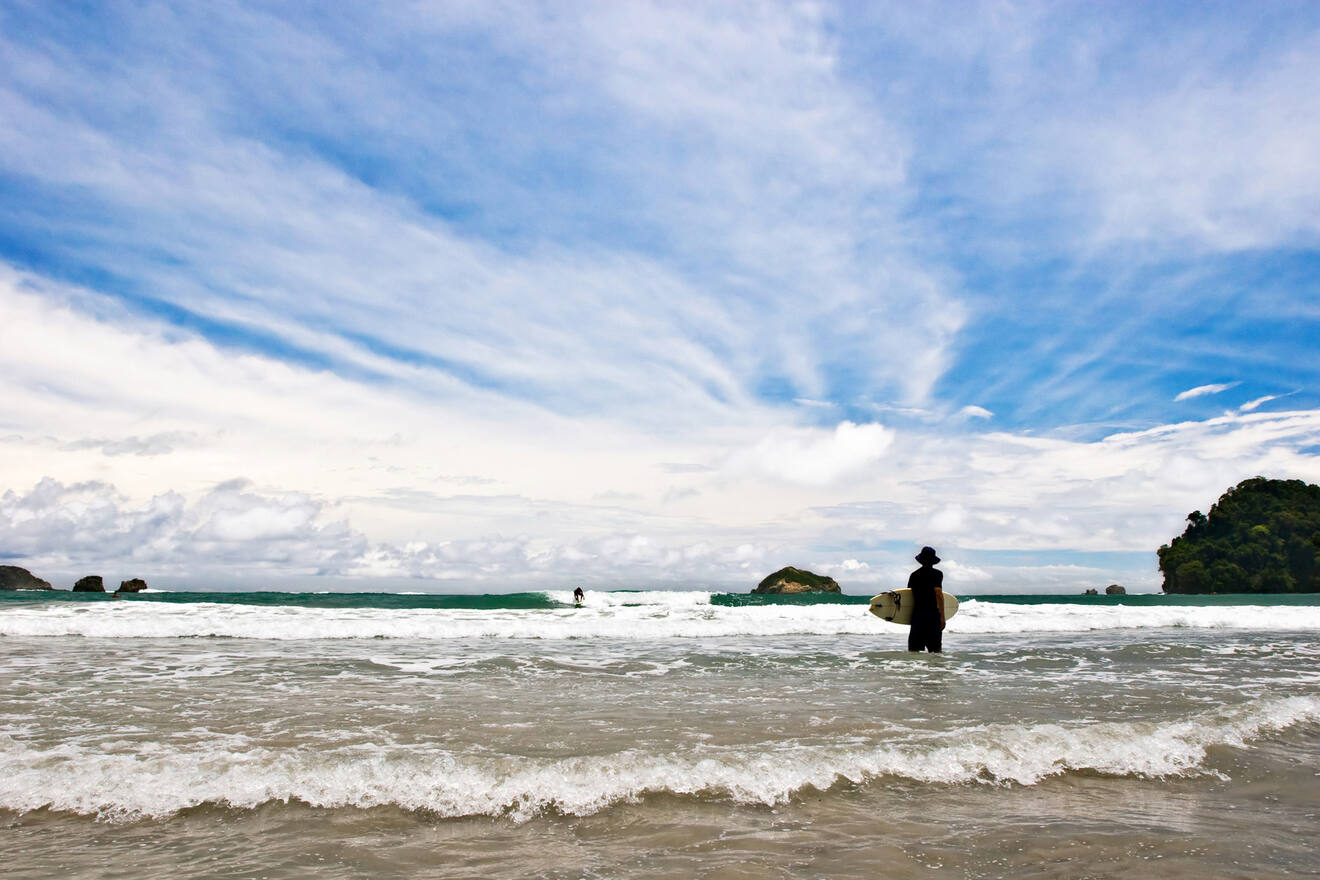 If you are looking for a place where you can dedicate yourself completely to learn (or improv) how to surf, you'll be happy to know that the country of Costa Rica offers countless surf camps!
A surf camp usually offers all-inclusive packages that include daily surf lessons, yoga classes, meals, and many cool activities during which you can meet other travelers and aspiring surfers like you.
Sounds amazing, right? That's why I decided to give you this bonus with the best surf camps I could find in Costa Rica (maybe you will find me in one of these!).
Whether you want to surf every day under the supervision of an expert surf instructor, join a yoga and surf retreat with only women, or stay in one of the best surf resorts in Costa Rica, here below you will find the perfect stay for yours!
Kalon Surf – The Luxury Surf Resort – This amazing surf resort is located in the middle of the green jungle, in the Osa Peninsula, at only a 15-minute drive from the best surfing spots in Costa Rica (they will bring you there, no need to organize a car rental). You can book 1 week of all-inclusive stays, including surf coaching, yoga, pilates and massages, and gourmet meals, and decide if to join also extra activities from fishing, horseback riding, and waterfall viewing to zip lining and canopy tours! All this for around $4,000 per person.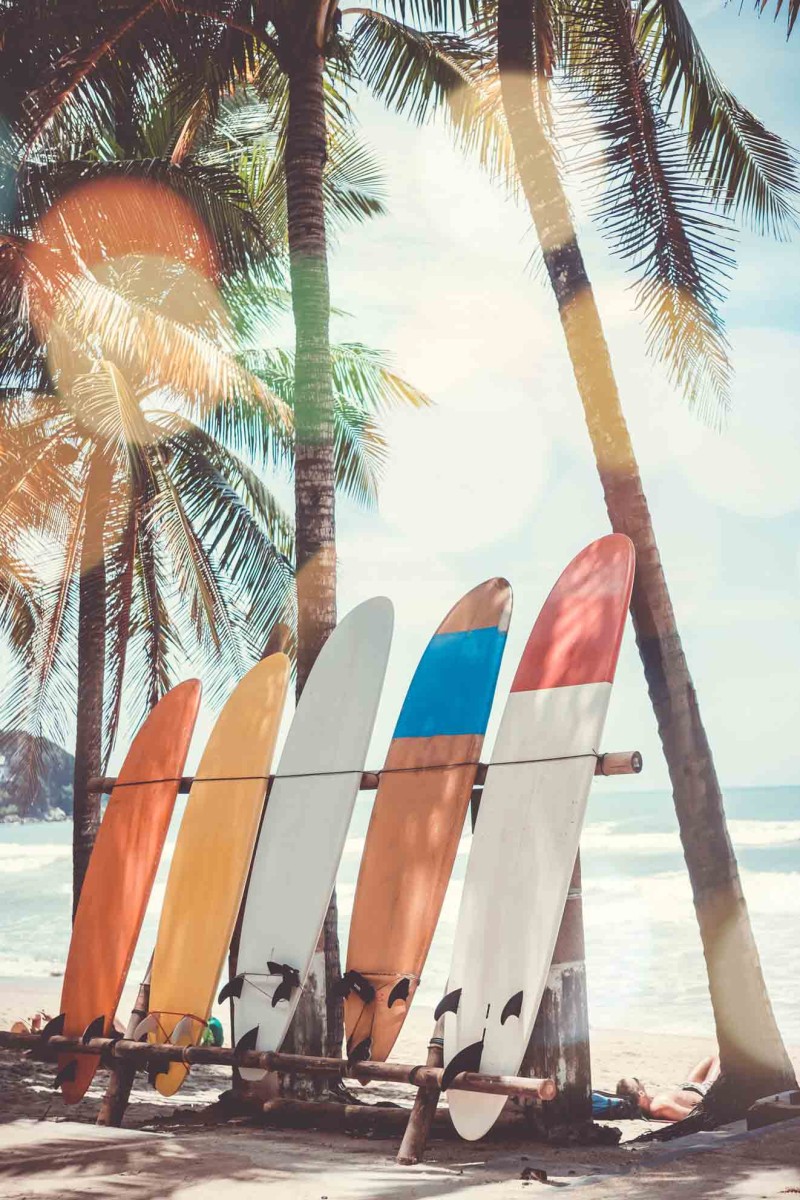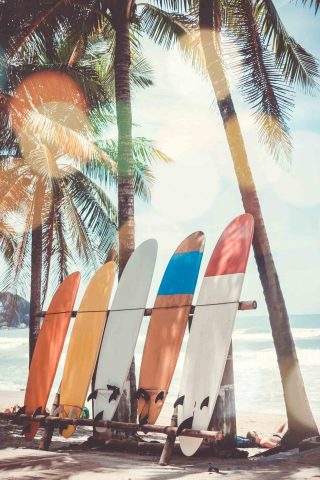 Surf Bikini Retreat – Are you ready to ride some waves with adventurous women like you? This surf resort, located in the beautiful setting of Nosara, offers an immersive 7-day experience with personalized surf coaching daily, yoga classes, and delicious organic meals prepared by talented local chefs. Whether you are a beginner, intermediate or advanced surfer, you will find the program for you and contribute to building a community of women surfing! This retreat has great deals if you come with your friends with prices from just $2,250 per person!
Shaka Costa Rica – Get ready for the surf trip of your life in this surf camp in the heart of Playa Hermosa, one of the most beautiful beaches in Costa Rica! Here they will give you daily and personalized lessons based on your experience, spacious rooms with air conditioning, wifi, and private bathroom, and yoga classes nestled in the tropical surroundings of the jungle… sounds like a dream, doesn't it? Prices start from $1,800 for singles.

Witch's Rock Surf Camp – This surf camp is located in Tamarindo, a Costa Rican surf town surrounded by many types of surf breaks. The property offers many different packages: for beginners, intermediate and advanced surfers, solo travelers, and even families with different surfing abilities that want to learn this amazing sport together! Regardless of which package you choose, you'll have airport transportation to and from Liberia Airport (LIR), 7 nights at the beachfront hotel, unlimited surfboard rentals, surf lessons, and more included… check out this one if you're on a budget, packages start from just $900 per person!
FAQs about Costa Rica surf hotels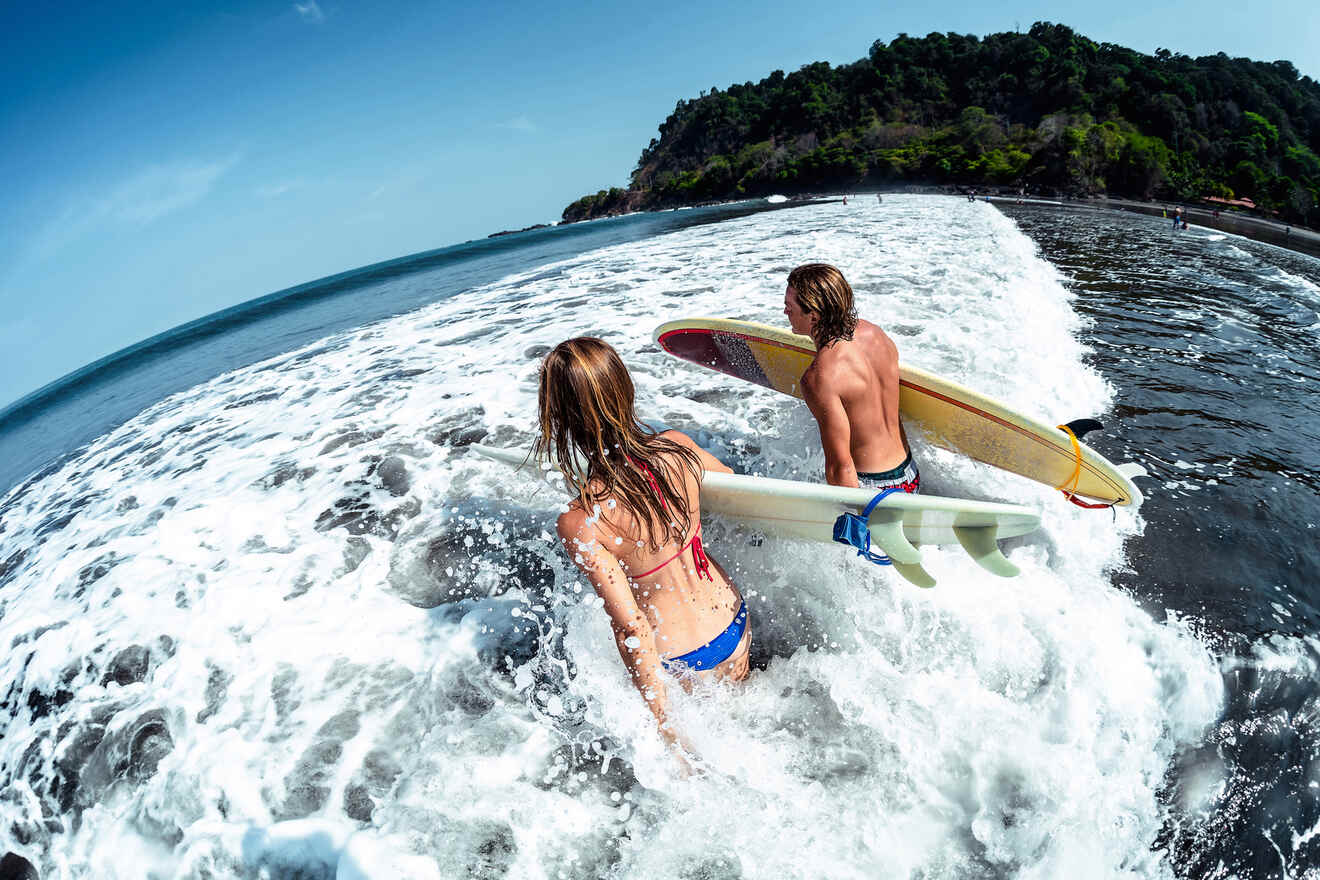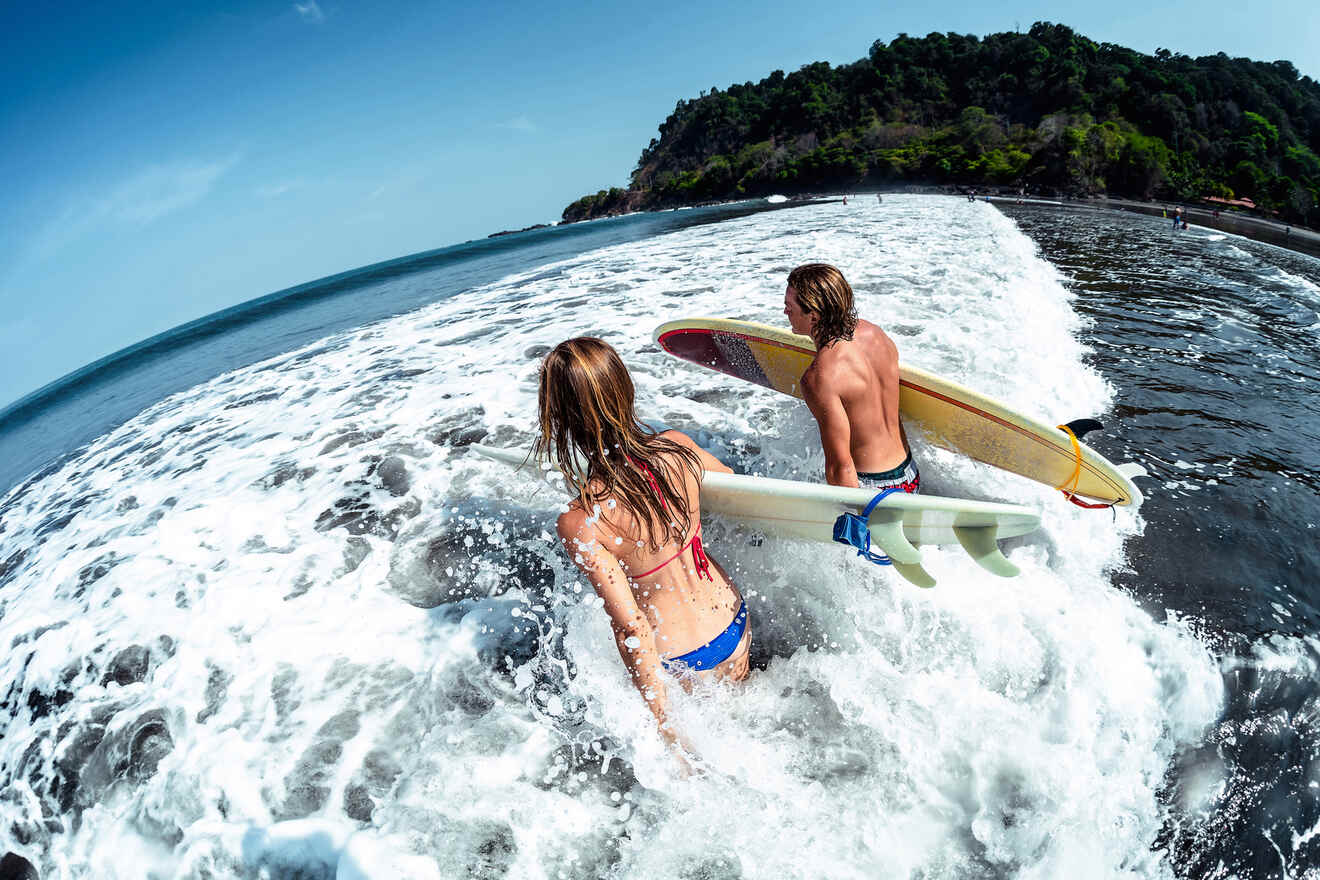 🏄‍♀️ Which are the best surf camps in Costa Rica?
The best surf camps in Costa Rica are the Kalon Surf surf resort, located a 15-minute drive from the best surfing spots in the country, or Surf Bikini Retreat, a surf and yoga retreat thought specifically for women!
🏖️ Which are the best surf hotels in Costa Rica?
The best surf hotels in Costa Rica are the luxury Surf Synergy Surf Camp, offering easy access to Jaco surf beach and some great facilities, or the more affordable Room2Board hostel and Surf School, a 3-minute walk from amazing waves and one of the best hotels for budget travelers!
🌊 Which are the best surf spots in Costa Rica?
The Costa Rican coast offers countless surf spots, so it depends on your experience. Puerto Viejo and Salsa brava are good for advanced surfers, while Santa Teresa Beach, Jaco, and Playa Carmen are perfect for beginners, offering more mellow waves. 
🌴 Which are the best things to do in Costa Rica?
The best things to do in Costa Rica, apart from surfing, are visiting the charming town of Puerto Viejo, enjoying the night in the capital San Jose, practicing yoga, and exploring the stunning nature of the Osa Peninsula.
Conclusion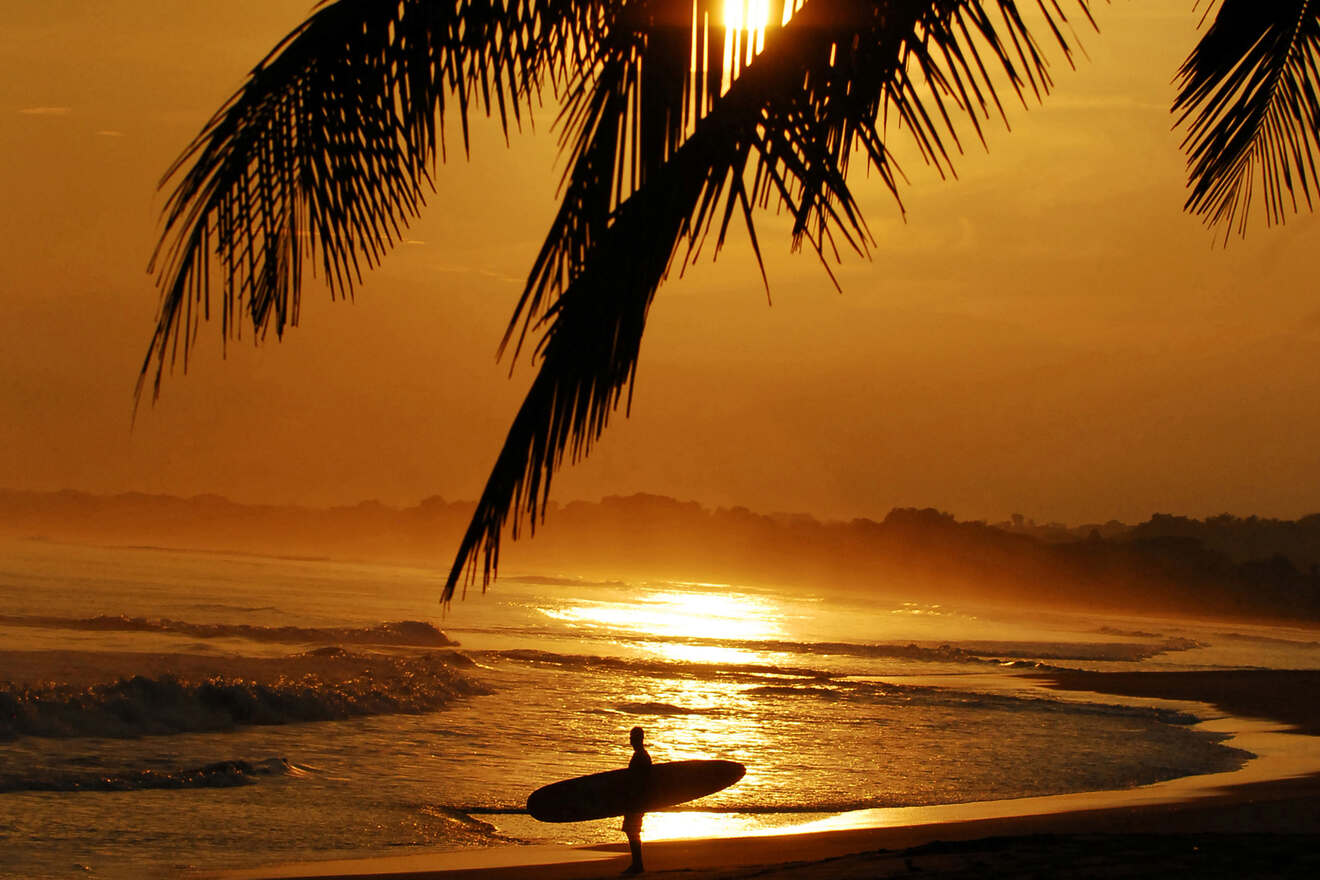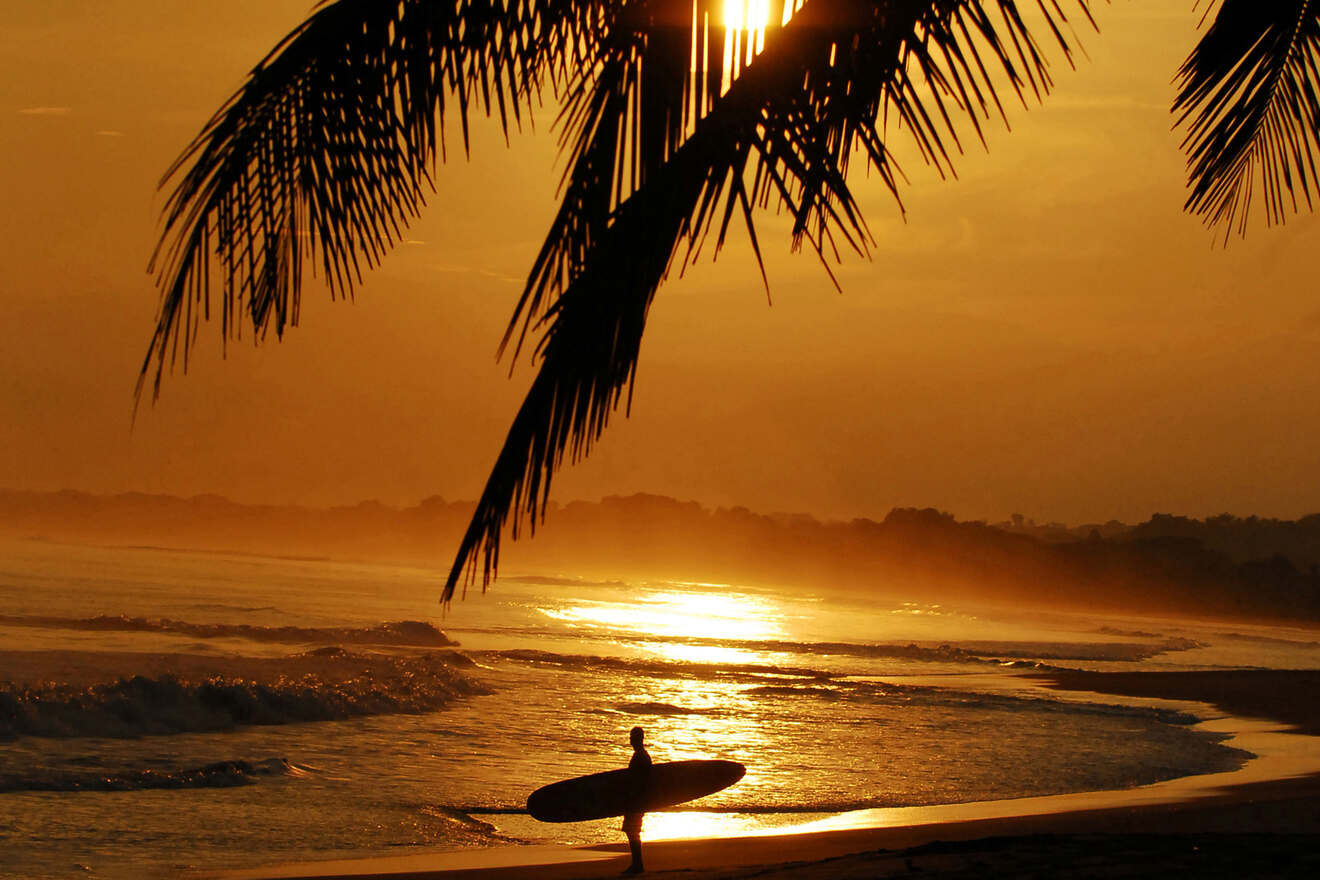 So… who's ready to catch some waves? I am! And if you arrived at the end of this article, I bet you are too!
We have just seen the best surf hotels, surf resorts, and surf camps on the Costa Rican coast, perfect for beginners who want to learn this amazing sport or advanced surfers looking for accommodation for their surf adventure!
If you are still undecided about which surf accommodation is the best for your travel and budget needs, here are my 2 favorite surf hotels:
Make sure you book them as soon as you can… surf hotels get booked super fast, especially in the peak season (December – April) and I wouldn't want you to miss out!
I hope you enjoyed reading this guide and that it will help you find the perfect accommodation for your surf retreat. And if you have any questions for me, please share them in the comments below. I will answer you as soon as I can!
Have an amazing time!
Elena
---
Pin it for later!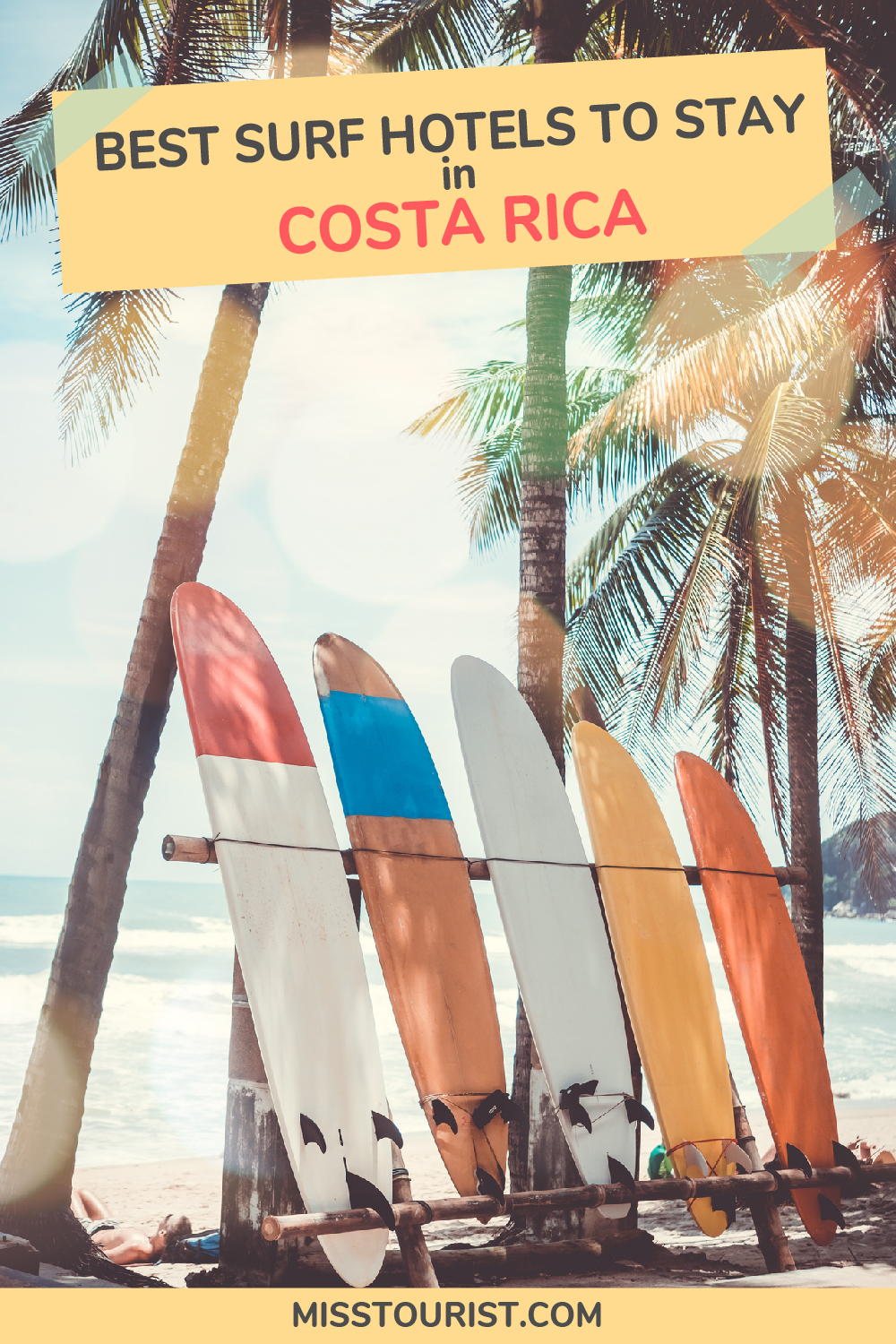 Pin it for later!