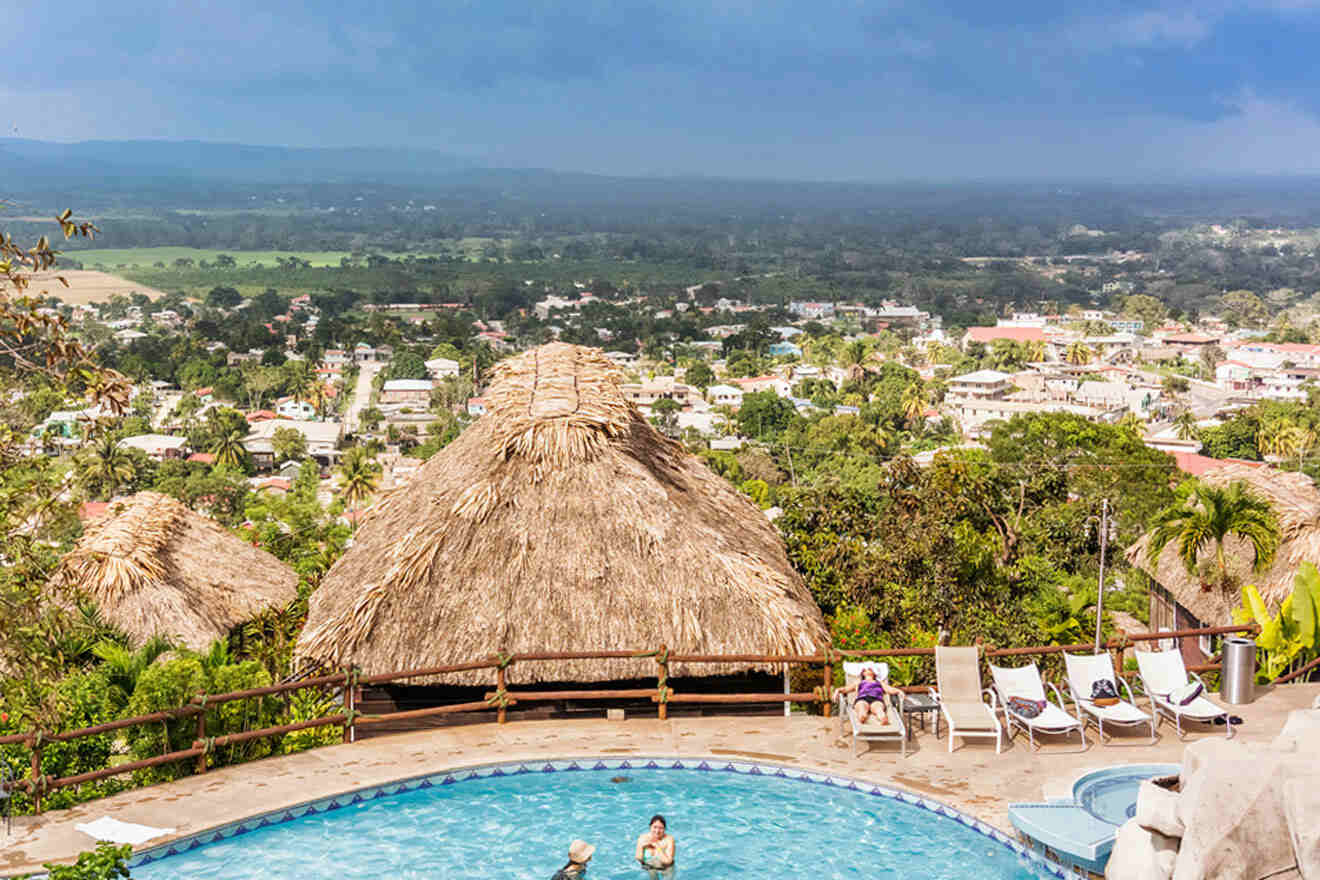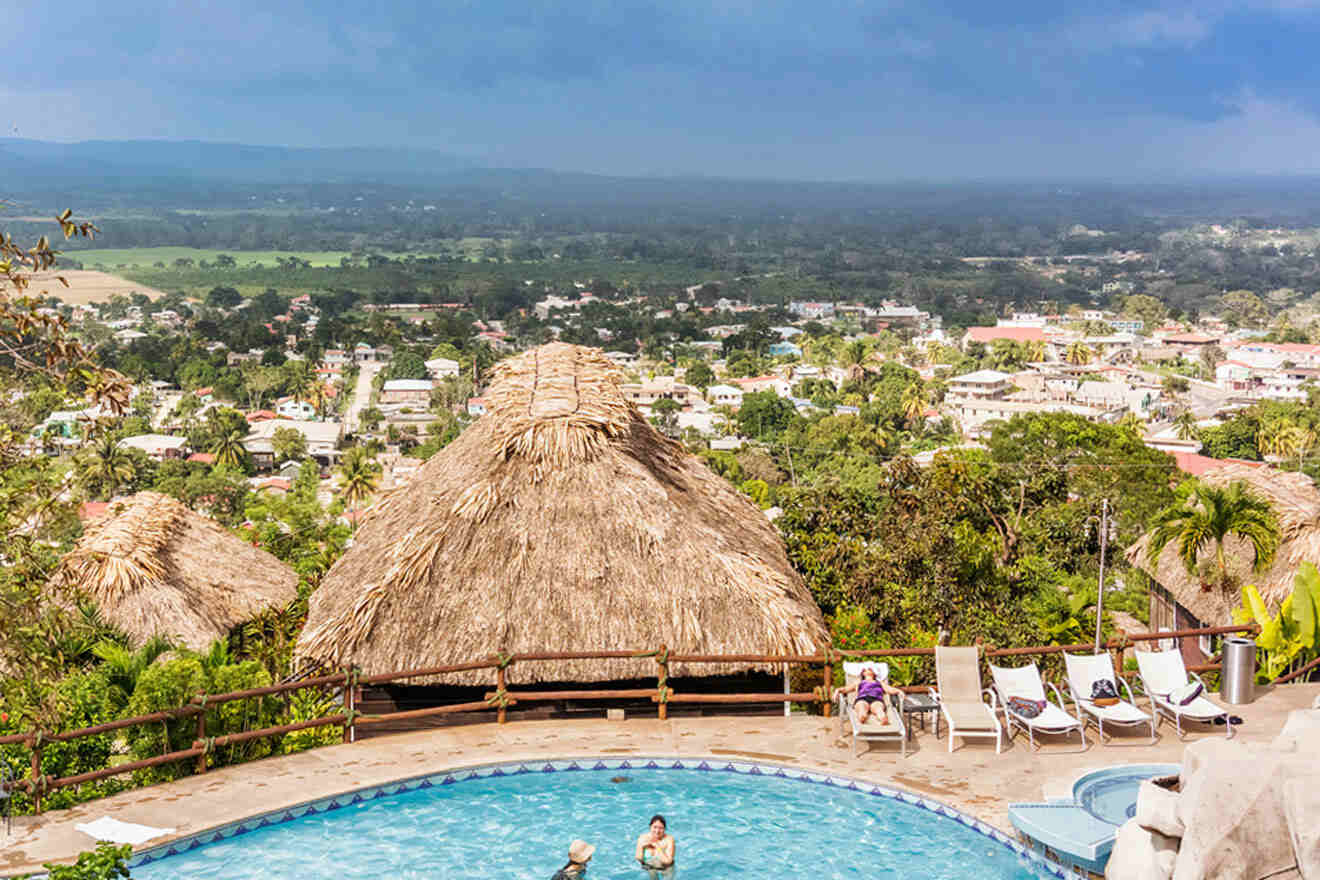 Are you planning a family trip to Central America? How about a family vacation in Belize? Sounds like the perfect spot for relaxing and having fun family times, right? Well, it is, and I have been looking for the best Belize resorts for families, comparing every and all the beachfront resorts and every nearby beach with the others until I came up with an amazing list of the best resorts!
This post is arranged to start with the luxurious options first, but let me tell you, all of the properties featured here are top quality, and whichever you choose, you will have an amazing vacation!
Belize is a paradise destination and attracts travelers from all around the world, so the wise move is to book your hotel room as soon as you make a decision. You don't want to end up without the resort of your dreams!
Now, without further ado, let's check out the best Belize resorts for families!
Let's go!
If you are in a hurry
I know not everyone has the time to read the entire article; some of you need to click and book right away! So just for you, here are the TOP 3 best Belize resorts for families!
Since the resorts are in different areas of the country, here you have a map to help you understand where everything is!
1. Blancaneaux Lodge – explore western Belize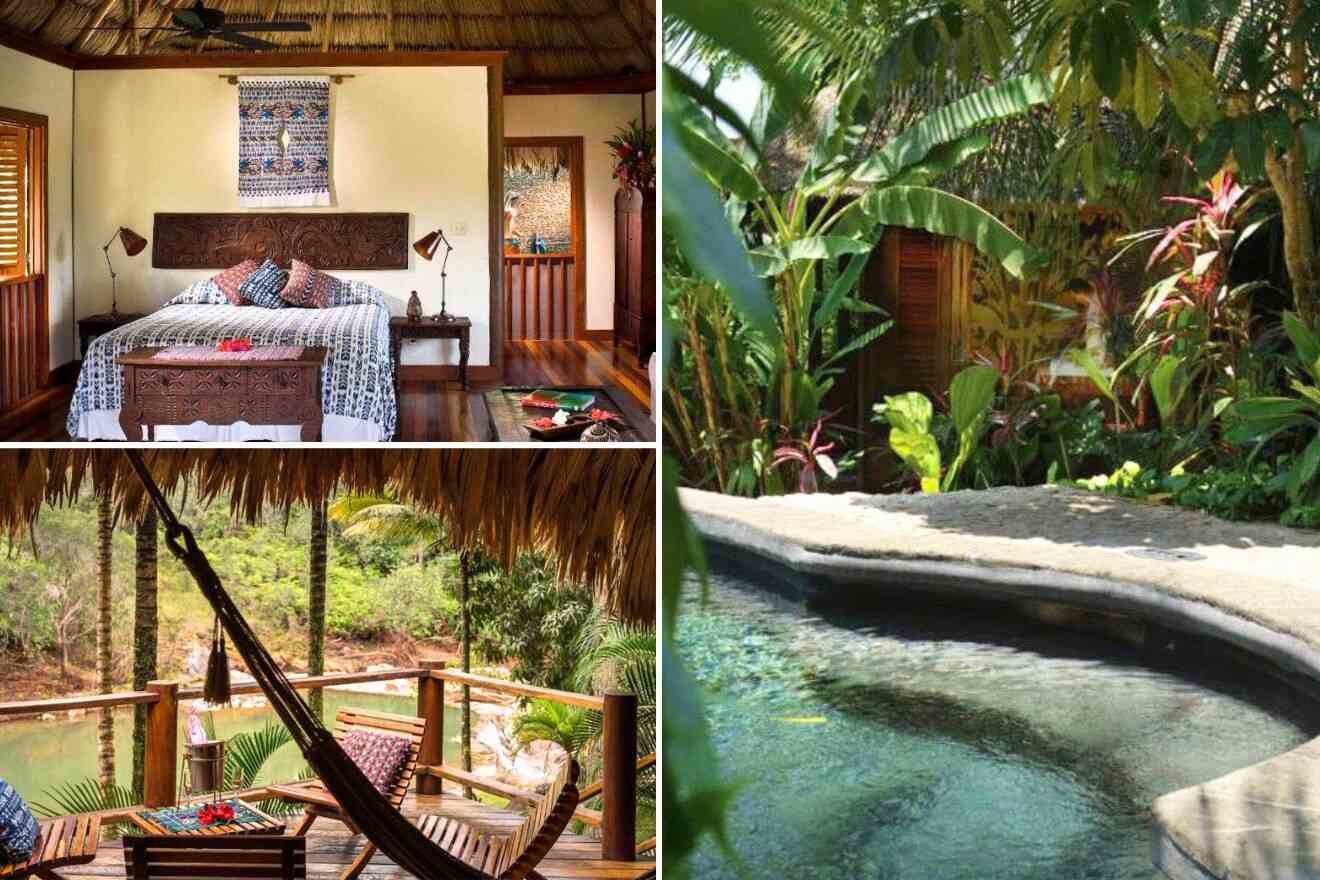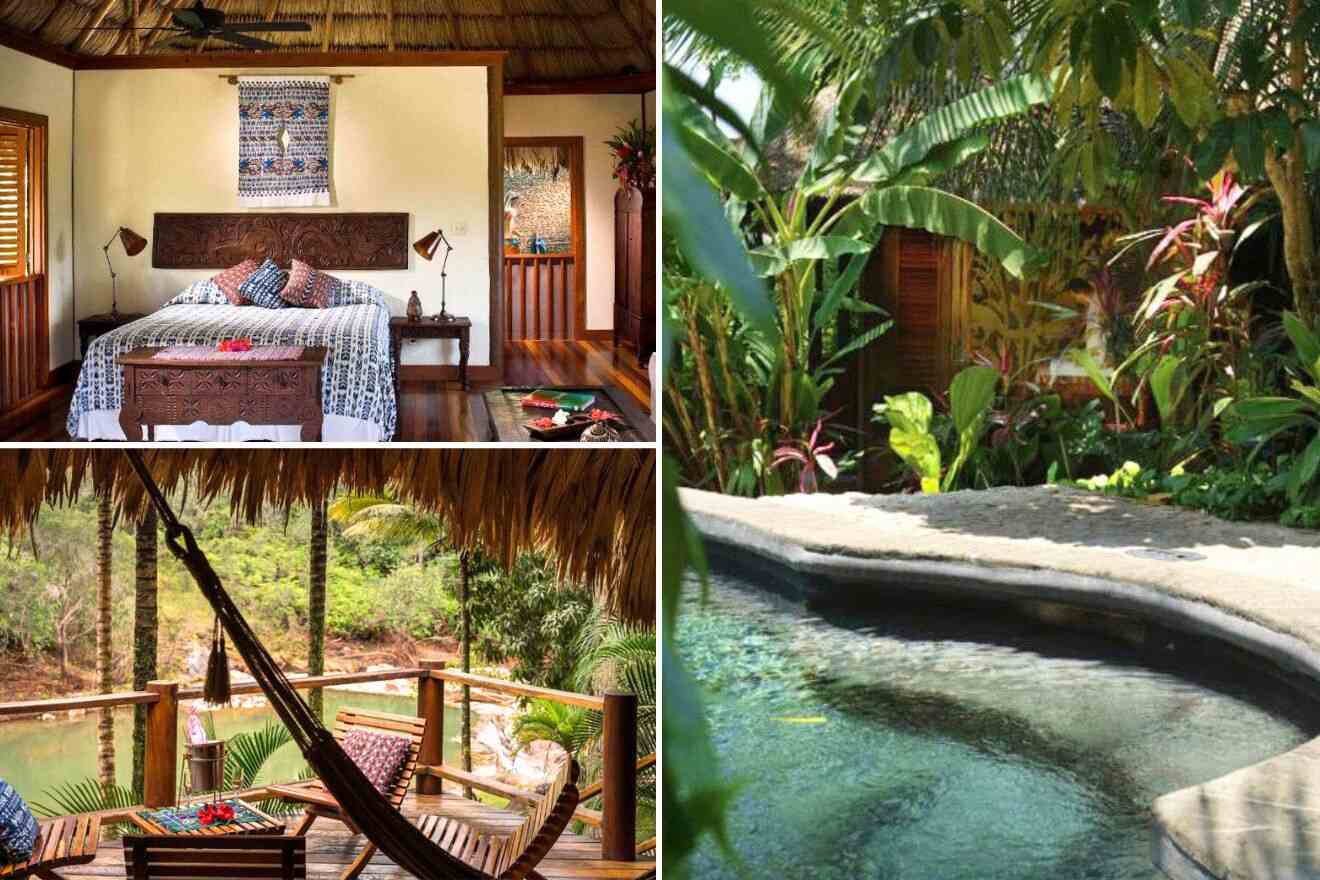 Blancaneaux Lodge is located in San Ignacio, Belize, with the Maya ruins just 2 hrs drive away, and it really is worth the drive! This hotel really sets you up for the most wholesome family vacation, surrounded by a beautiful landscape within the Belize River Valley in the Maya Mountains. You'll be able to enjoy the swimming pool, horseback riding, and mountain biking!! If you're looking to keep your kids entertained, they will love the kids club!
The most amazing thing about this property is that all the accommodations are beautiful villas, cabanas, and cottages, so you will feel like you are staying in a little village in the mountains! The cottages and Cabanas can host 3 guests, and the 2-bedroom villas can host up to 6 guests.
2. Grand Caribe Belize – discover San Pedro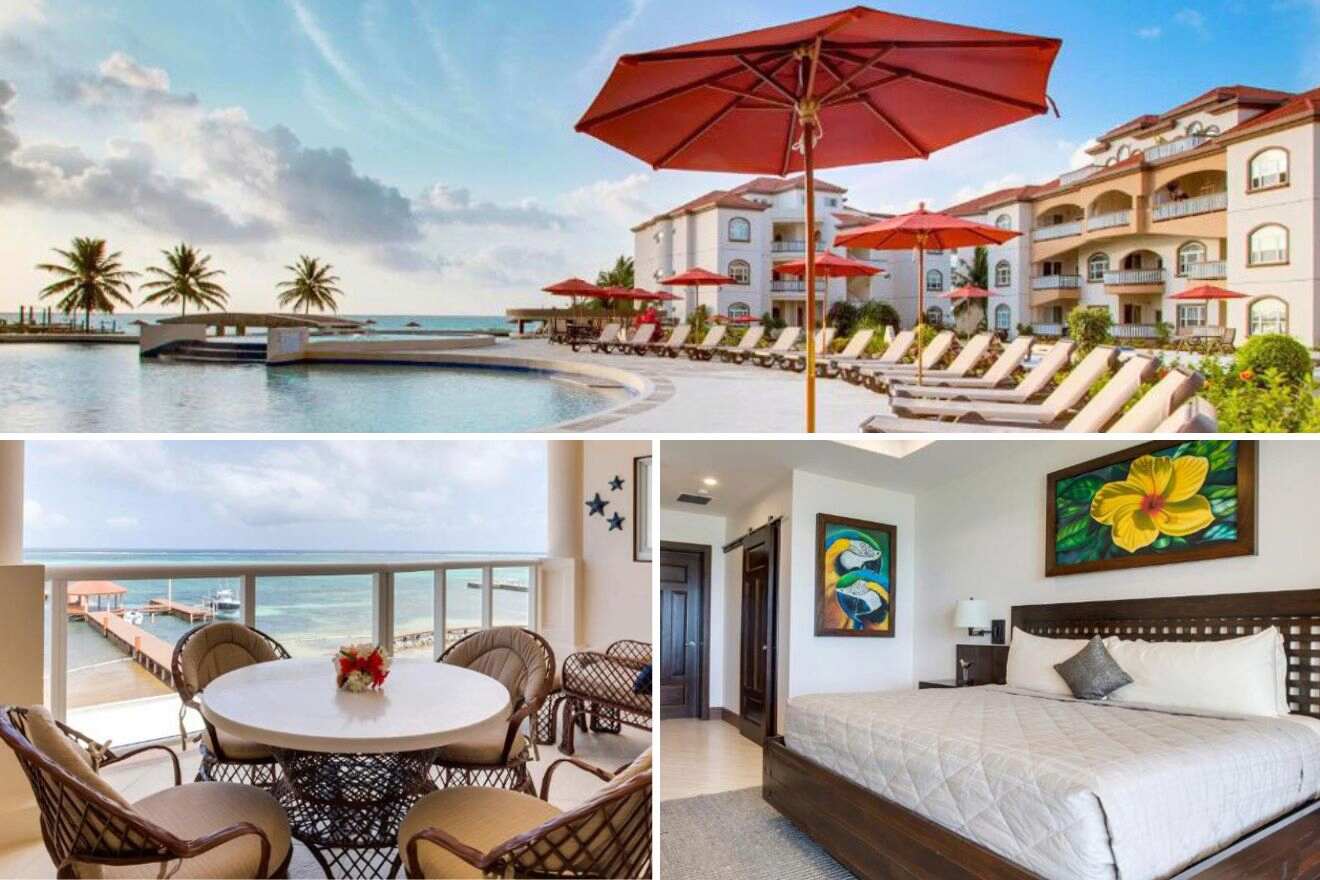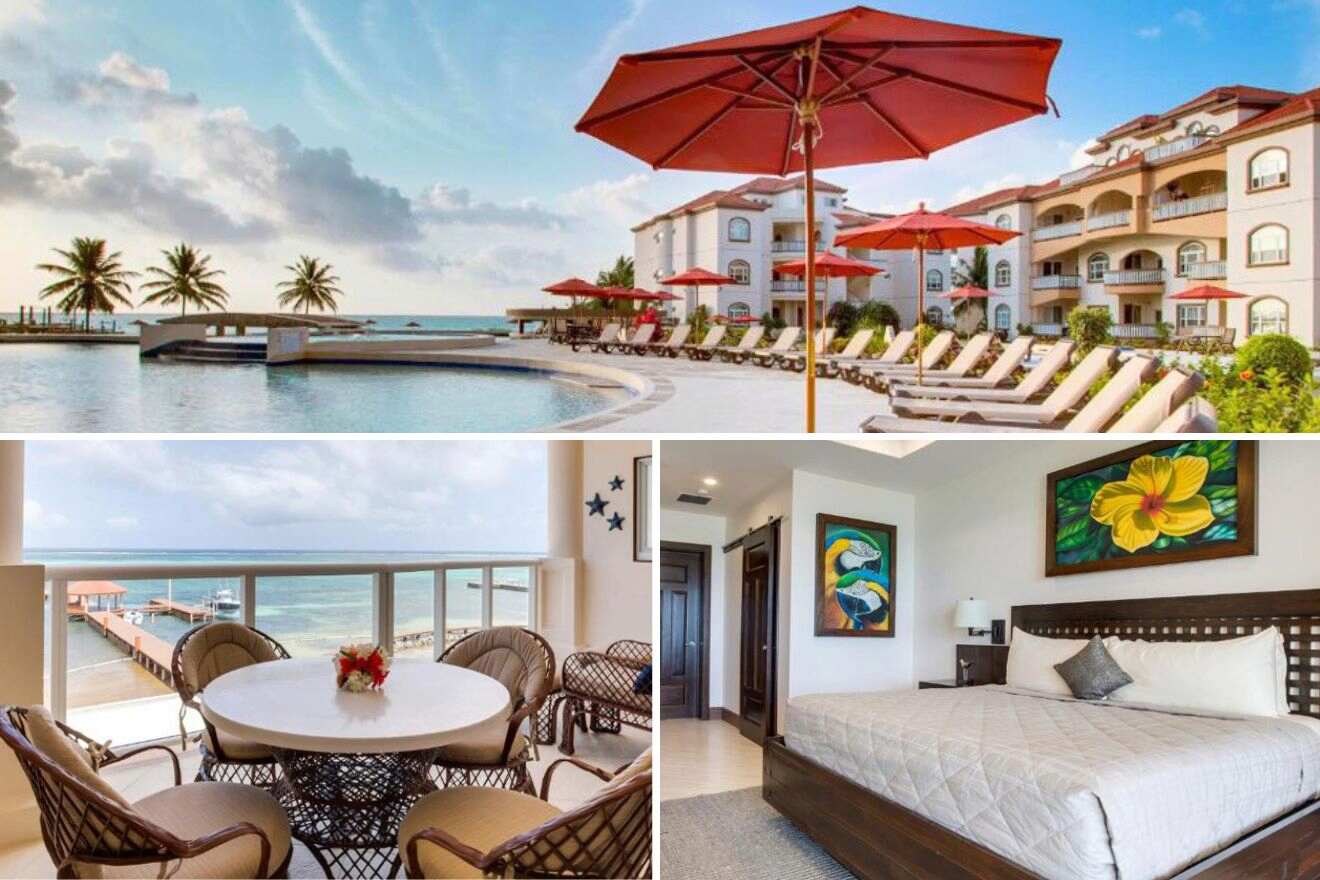 This incredible Ambergris Caye beachfront property is an amazing option for your family trip! It comes with amazing views of the Caribbean Sea and all the amenities you need on your family vacations. This Belize family resort comes with an open-air restaurant located on the rooftop terrace serving delicious food, an infinity pool with a swim-up bar, and the opportunity to go cave tubing.
Whether you want to spend time on the sandy beach, kayaking with the hotel's complimentary kayaks, scuba diving, discovering the Ancient Mayan Ruins, or relaxing in the hot tub in the wellness center, amazing times are guaranteed! Some of the rooms come with a private balcony, and the biggest rooms, the 3-bedroom condos, come with living rooms and can host up to 6 guests.
3. The Lodge at ChaaCreek – with an infinity pool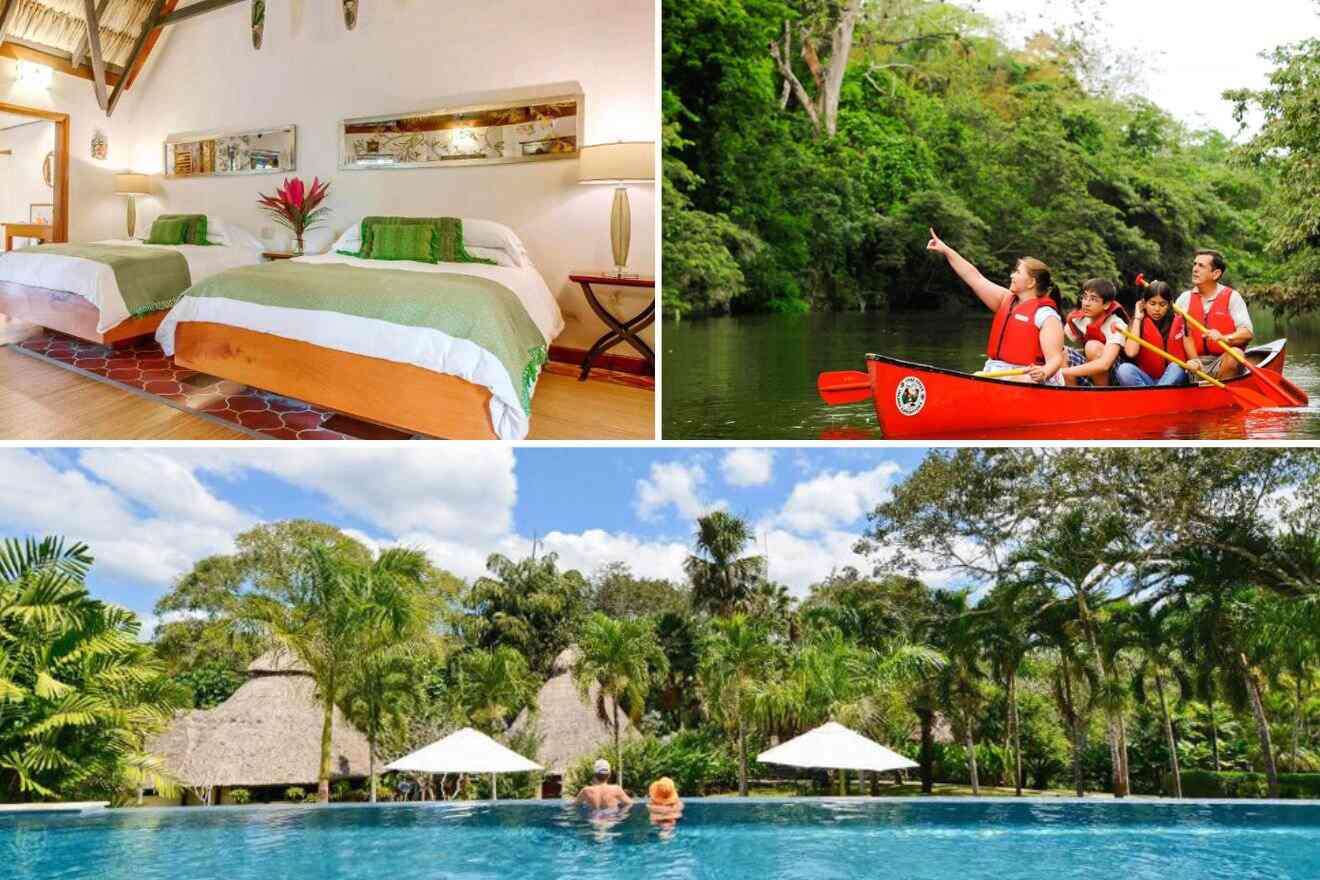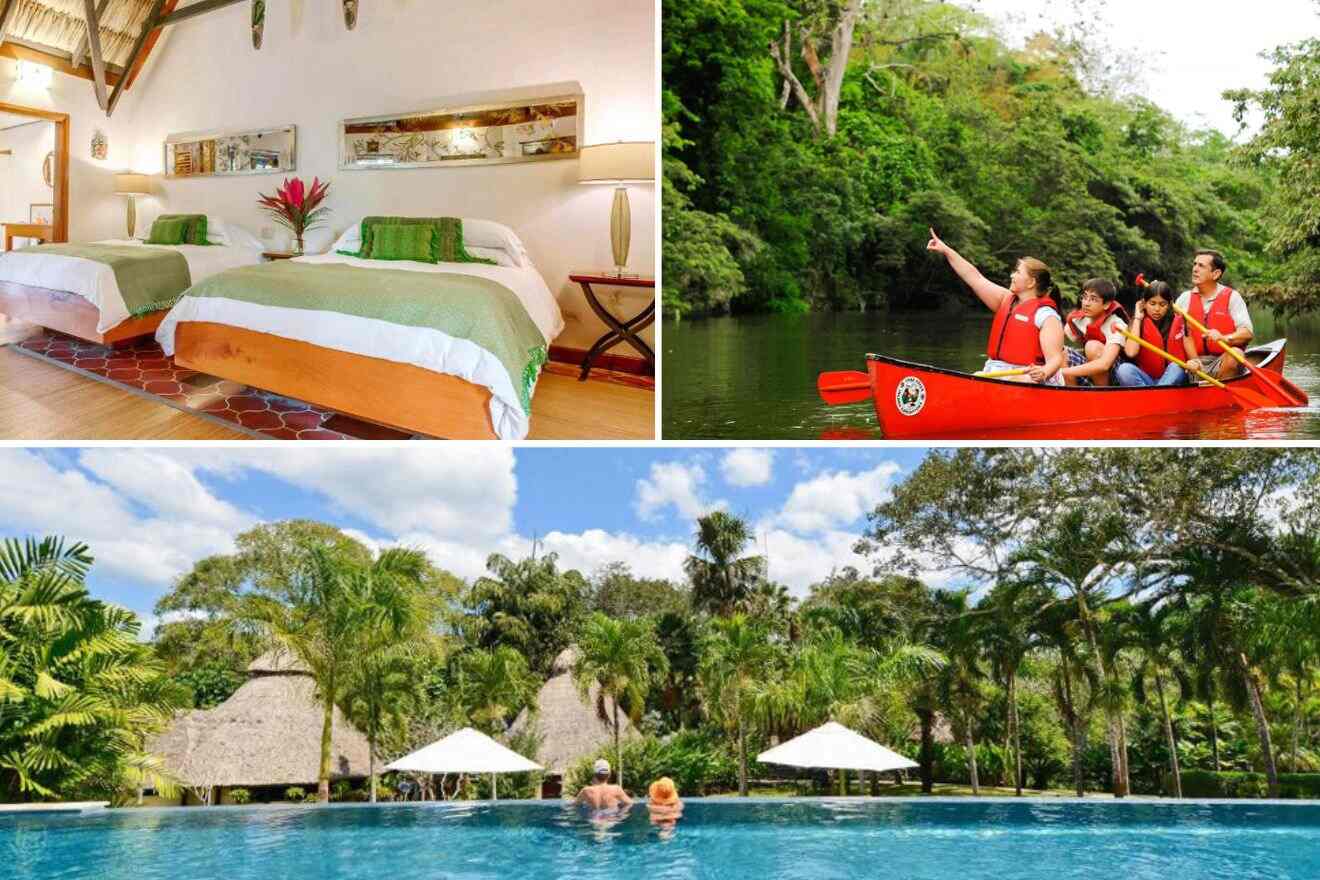 Spend an amazing Belize family vacation staying at this luxury resort located in San Ignacio and surrounded by a thick and beautiful jungle nearby Macal River! Imagine waking up to amazing wildlife and having the opportunity to jump into an infinity pool first thing in the morning! Guests can enjoy a complimentary breakfast every morning.
This accommodation offers cottages to all their guests, these cottages come with 2 double beds that can host families of 4 members. You can enjoy a patio with an outdoor shower, perfect for refreshing in the summer! You can find private balconies in the cottages and spacious bathrooms with dual vanities! The decoration in this property is elegant and tasteful!
4. Xanadu Island Resort – for white sand beaches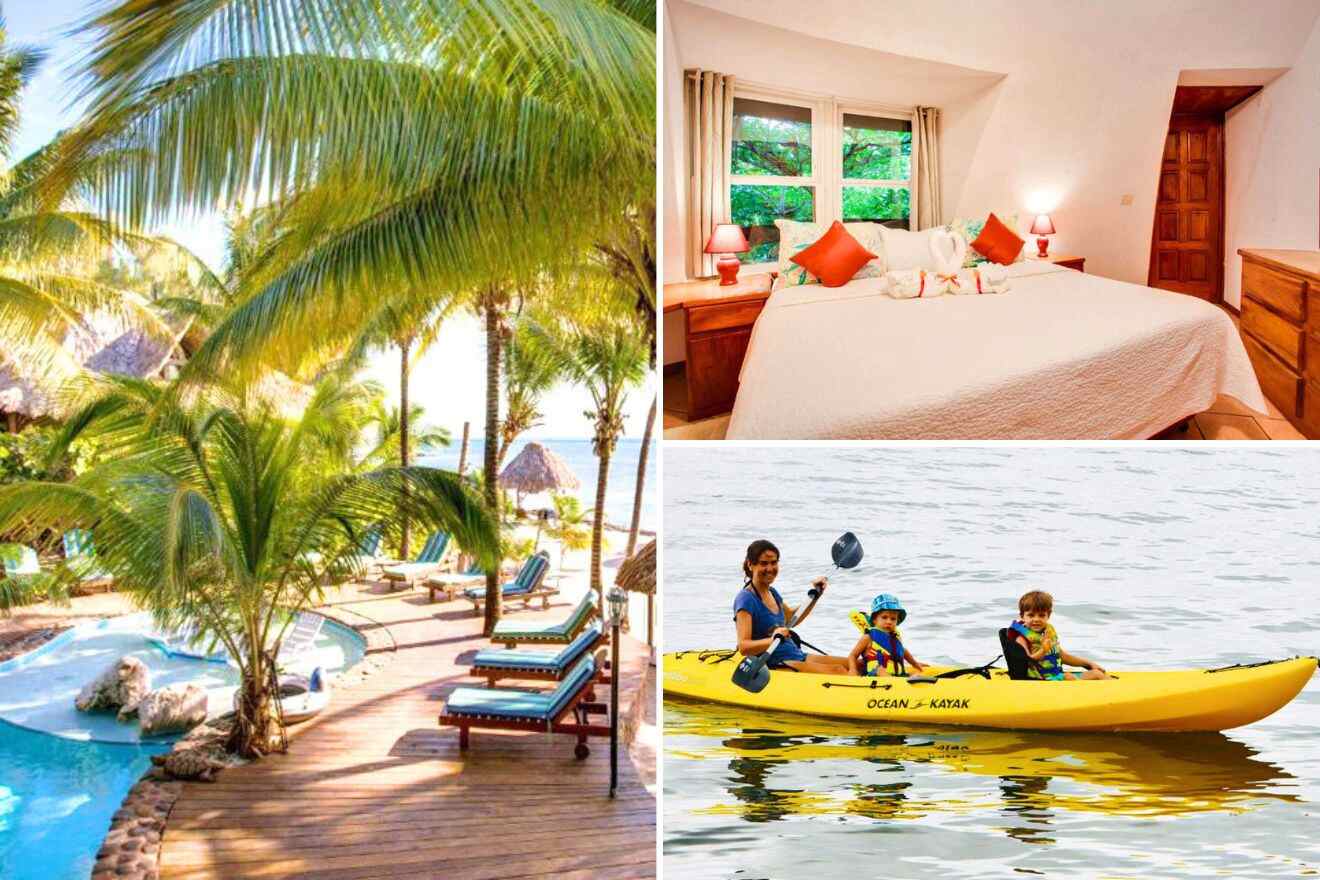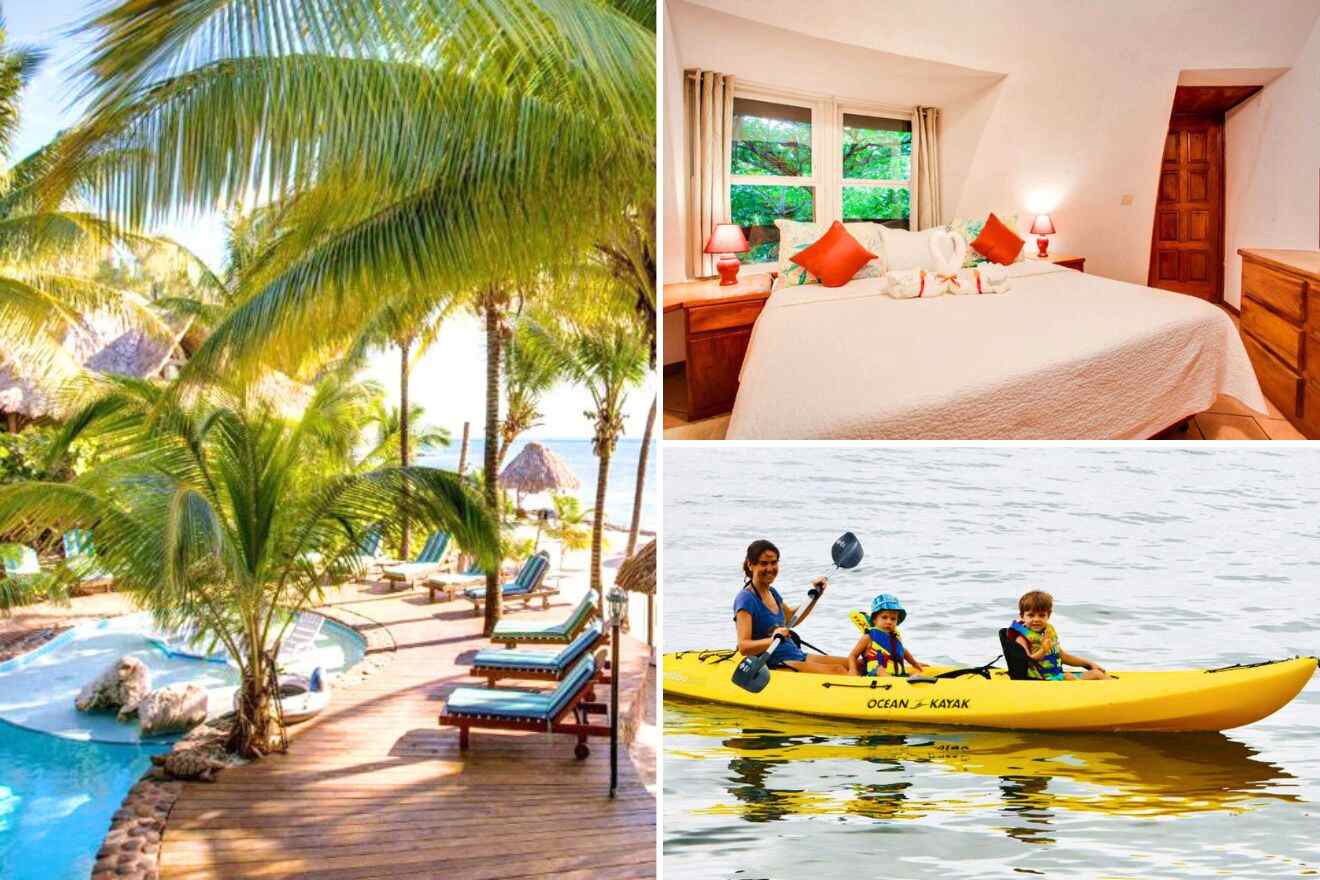 What an amazing luxury beachfront resort for a Belize family vacation! Its amazing location will give you and your family the chance to see the Belize barrier reef on a diving trip, which is the second largest barrier reef in the world! This resort on Sea Grape Drive comes with an outdoor swimming pool and an outdoor jacuzzi, and free bicycle rentals to explore the surroundings.
This property offers family suites! There are 2-bedroom suites for families of 4 members, which come with air conditioning, 2 bathrooms, a fully equipped kitchen, and a furnished terrace. The 3-bedroom suites can host up to 6 guests; the only difference with the other suite is the number of bedrooms and a number of guests, so pick one depending on your personal situation!
5. The Lodge at Jaguar Reef – step into southern Belize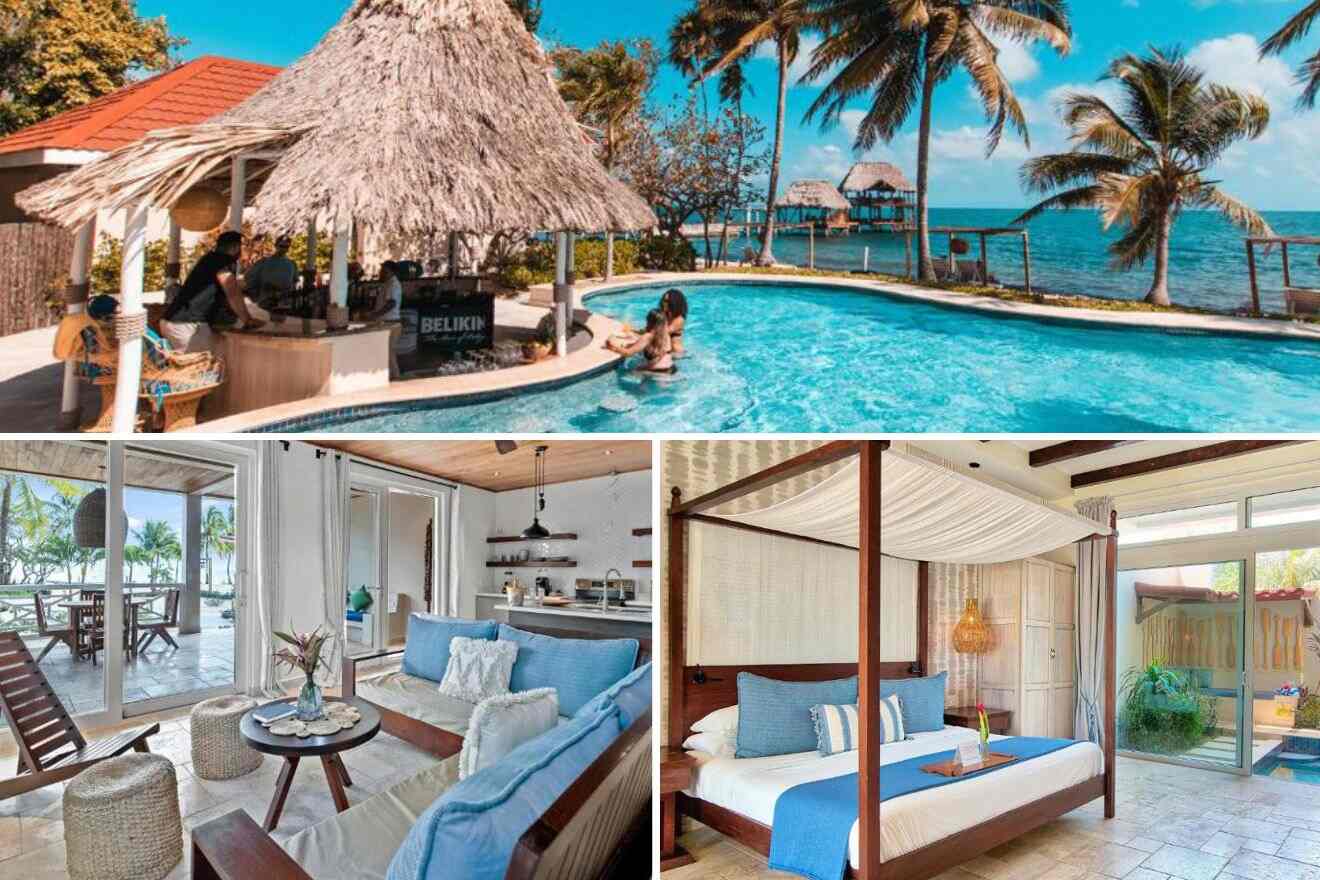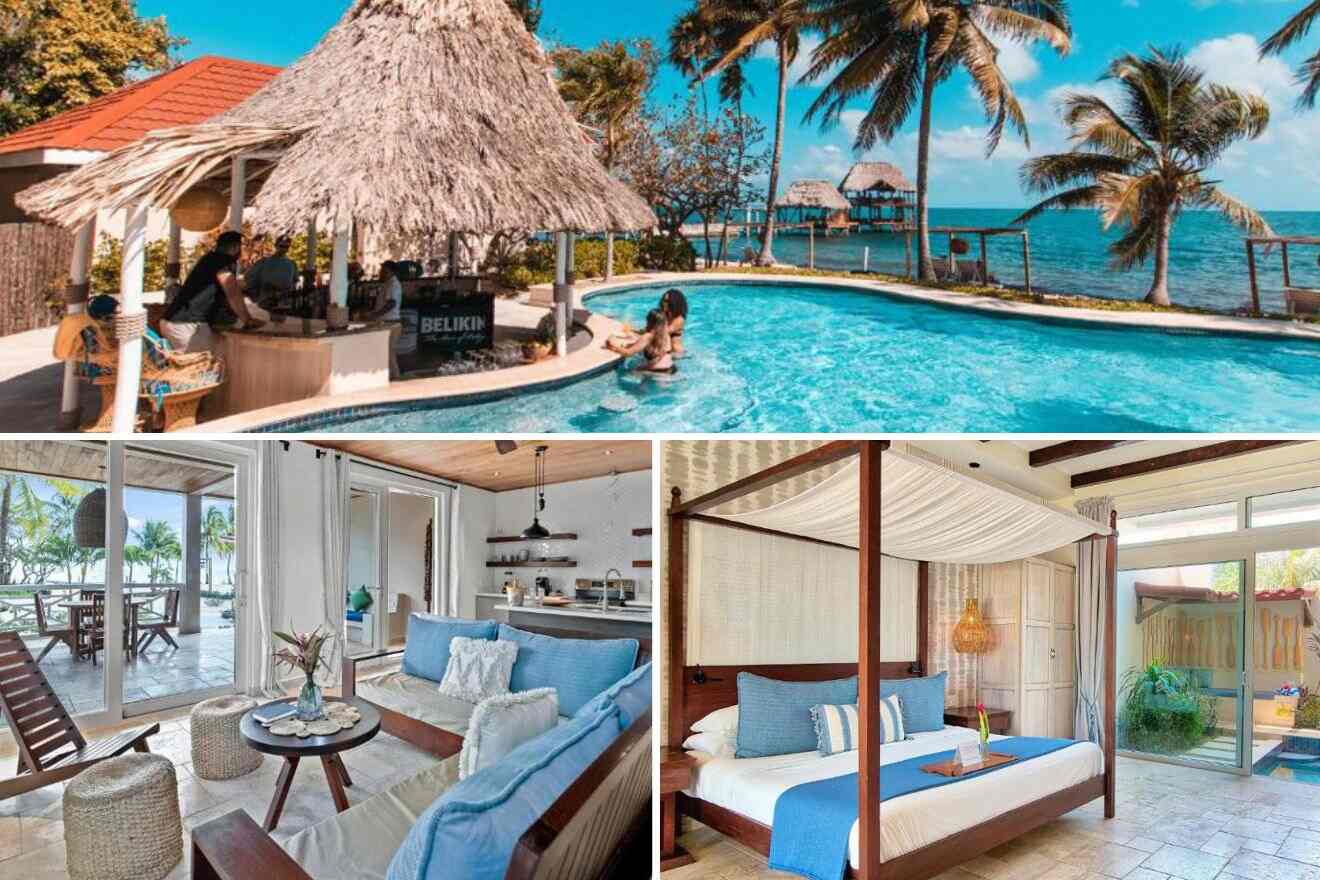 Wow! This resort is the perfect place to absorb Belize's natural beauty! Located on the beachfront and with Belize Zoo just 1-hour car drive away, it features a private beach. This hotel is the perfect place to try out or practice several water sports, such as diving, canoeing, and snorkeling! The paddle house is the resort's onsite restaurant and offers local cuisine with vegetarian, vegan, and gluten-free options!
I recommend staying at the penthouse or villas with your family since these accommodations can host up to 4 guests. Some of these come with private swimming pools, which is perfect for having some private time and enjoying your time with family together. All the villas and penthouses have a private kitchen, a living room, and a private balcony.
6. Beaches and Dreams – colorful stay by the beach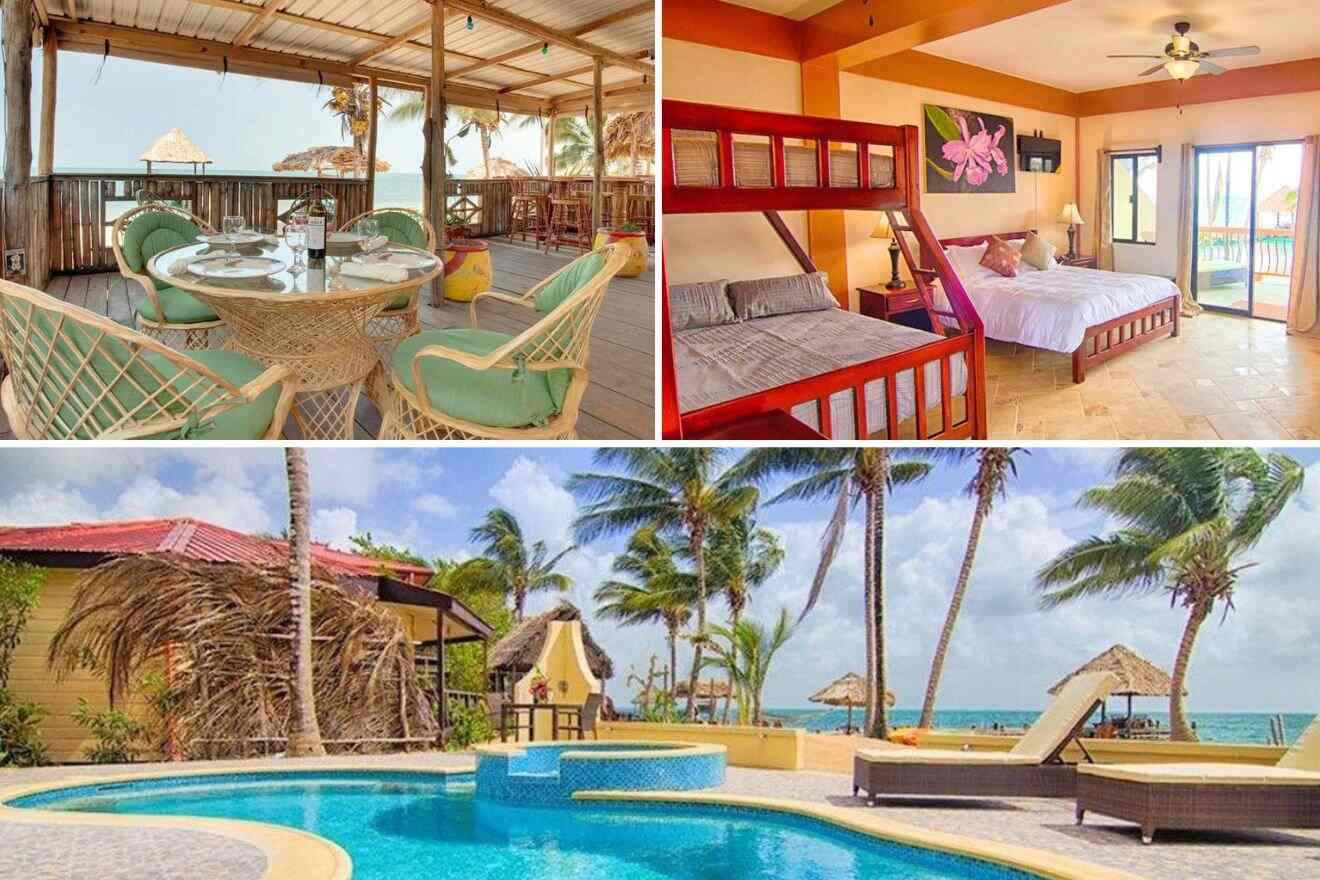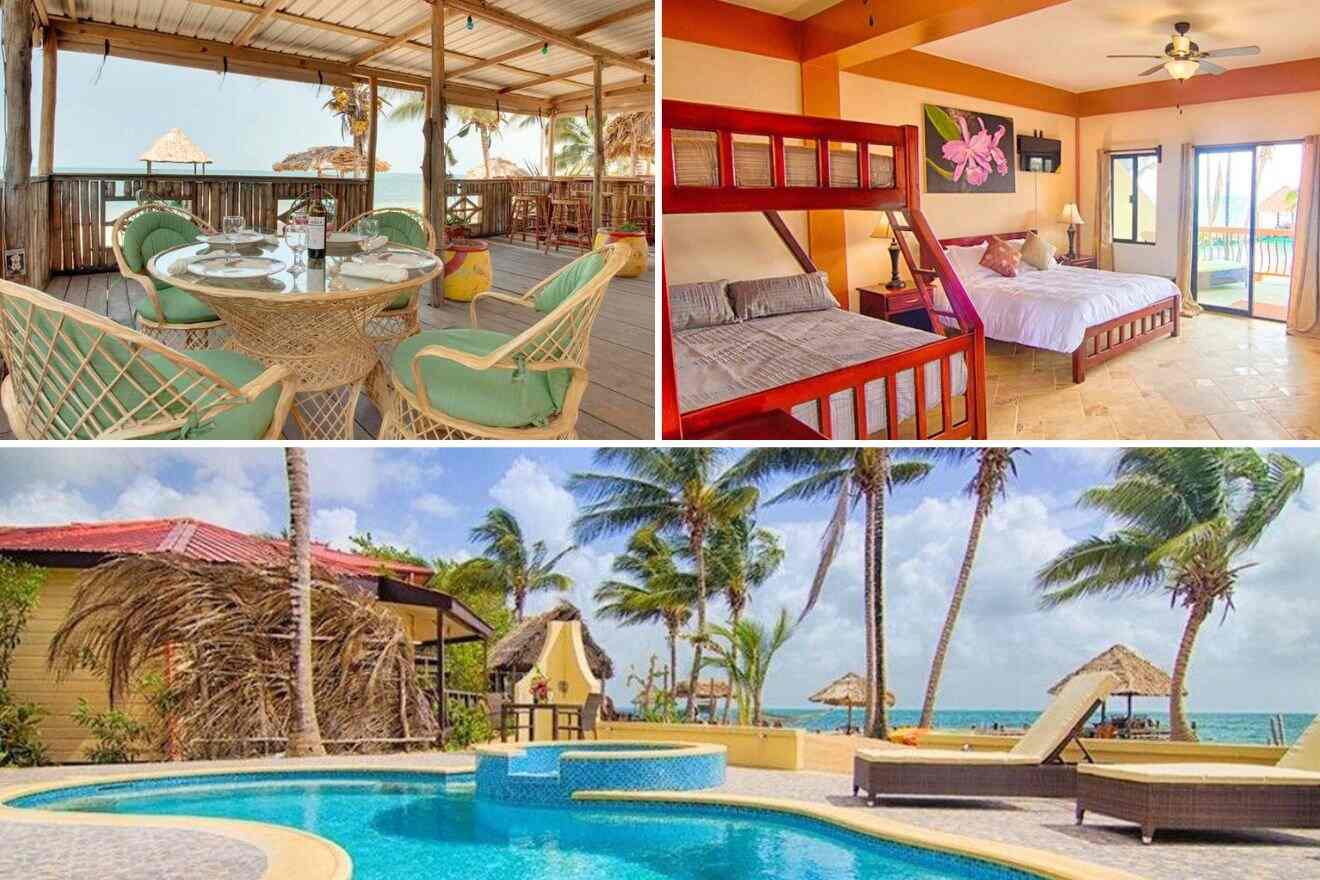 OMG! What a cute colorful hotel! Staying here will feel like a nice family party, the decor of the hotel features paintings of local wildlife and soft sandy beaches! It's the perfect theme for the perfect family vacation! This hotel is located by the beachfront, and its swimming pool is located just steps away from the ocean, there is an onsite restaurant, and breakfast is served every morning and offered to guests for a fee.
The suites at the hotel can host up to 5 family members; if you are traveling with a bigger group, I recommend booking 2 suites. The suites come with a private terrace, air conditioning to keep you fresh during the summer days, and a flat-screen TV in case you and your family want to have a movie night!
7. Chabil Mar Villas – stay in Placencia Village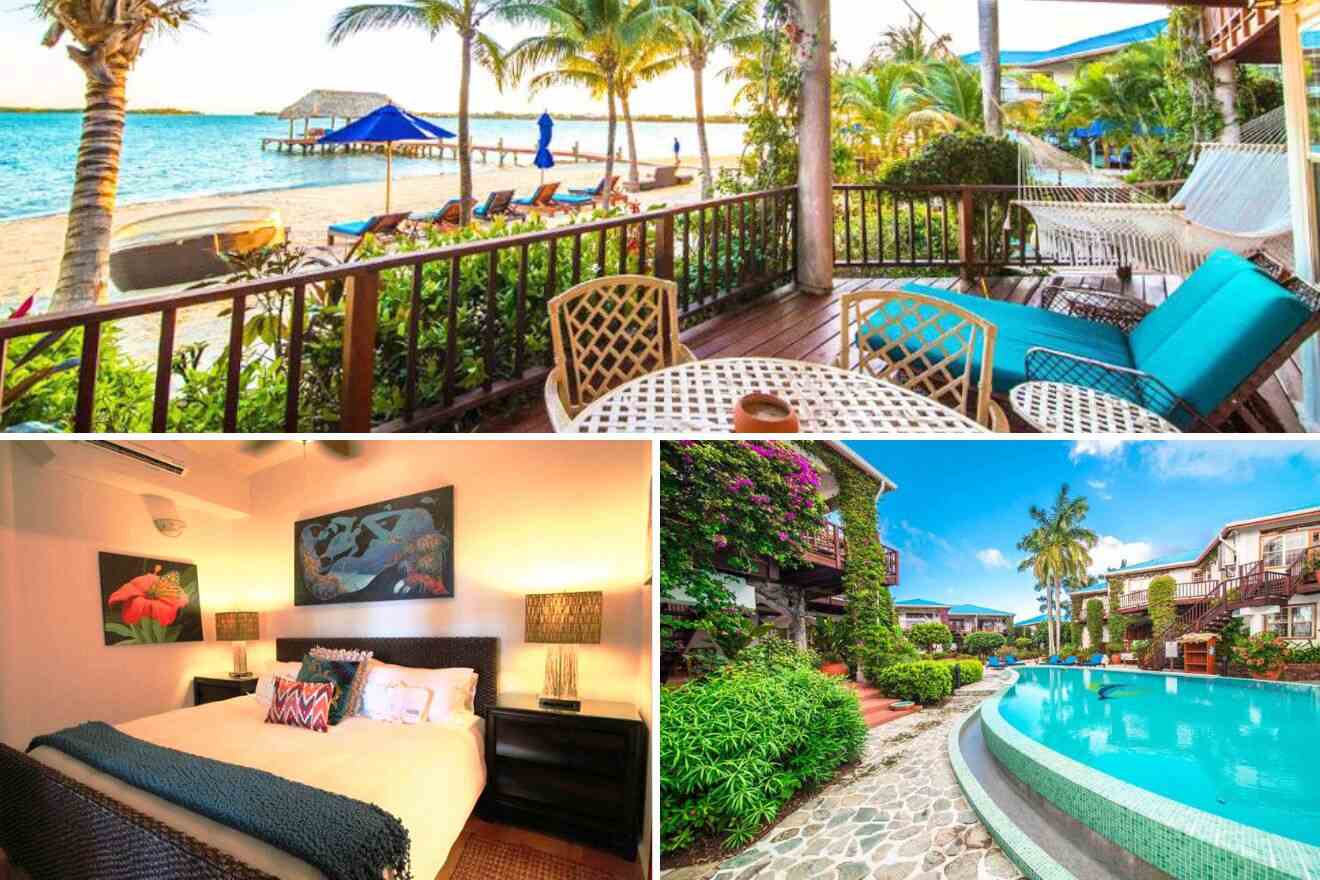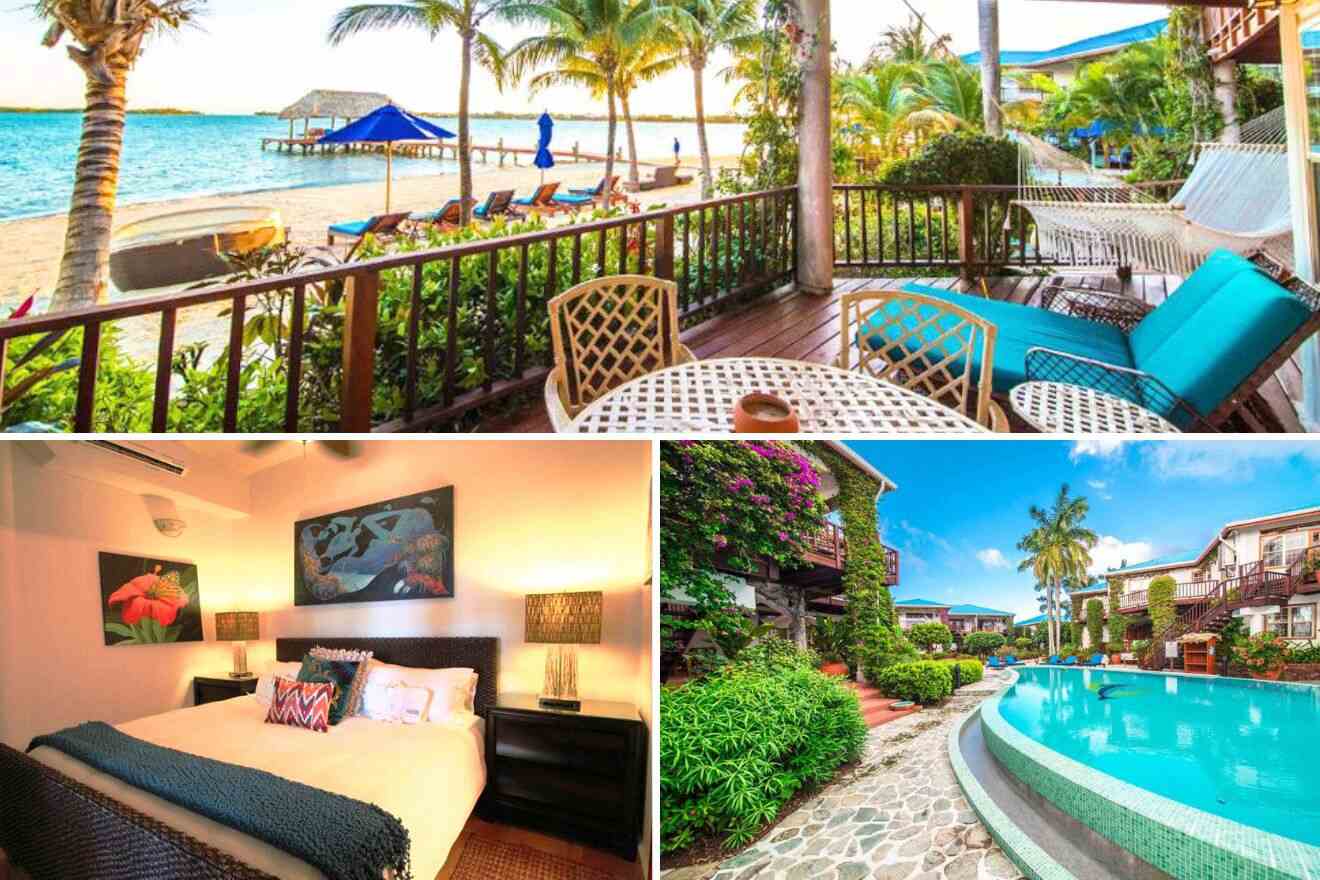 This beautiful resort is located on Placencia Beach and offers a private beach area that is accessible from the resort and open to practice water sports! The accommodation has a fantastic style, with elegant and classy decorations, and comes with great facilities and amenities, such as 2 outdoor swimming pools, a spa and wellness center, and onsite restaurants!
If you and your family like to stay active during your holidays, I recommend using their complimentary bike rental and exploring the beautiful area where the resort is located, alternatively, you can join tours and classes about the local culture. I recommend the 2-bedroom villa for families, which can host 4 people. I recommend booking the one that comes with an ocean view to enhance the experience!
8. Caribbean Villas Hotel – with a private beach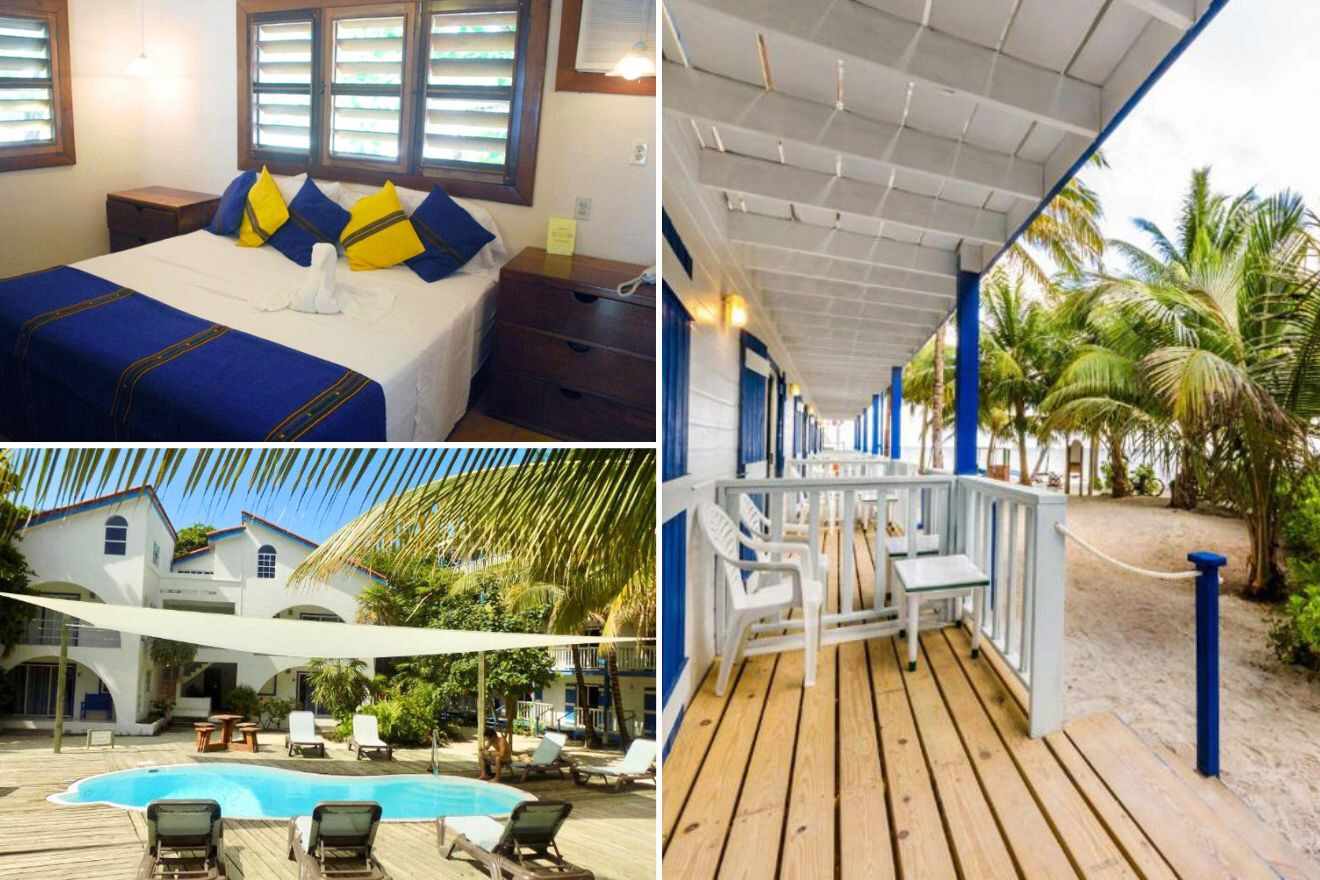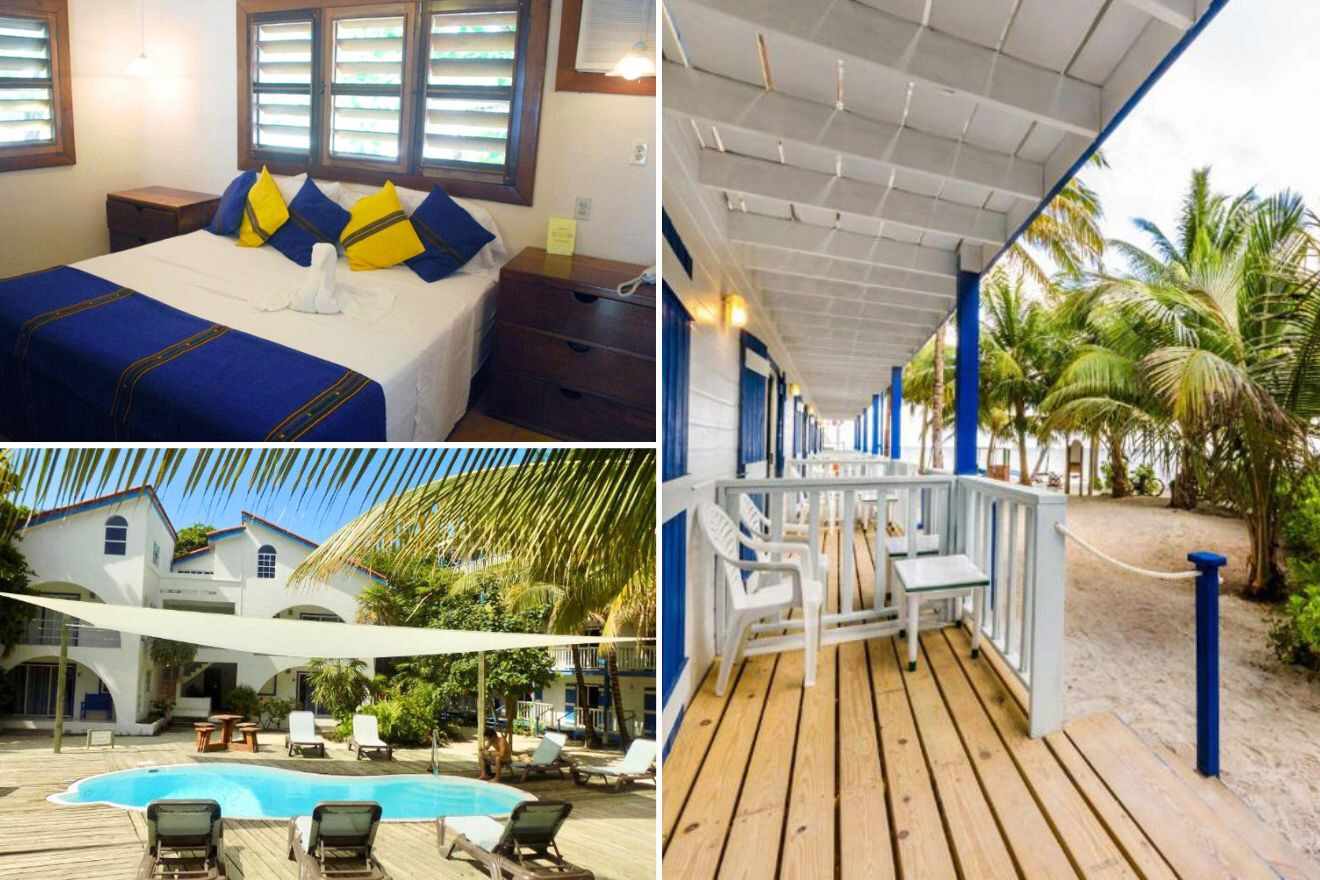 Located in San Pedro, Belize, this hotel has a very calm vibe and super simple decor, but with all the amenities you need for a mindful and blissful family vacation. It is set on the beachfront and has a private beach area where all guests can sunbathe, play beach volleyball, or jump into the blue ocean for a lovely swim! This hotel comes with 2 outdoor swimming pools located on the beachfront and has a deck with beach chairs and tables.
There are 2 onsite restaurants in the facilities, and one of them serves a complimentary breakfast to all the hotel's guests. This property features 4 types of rooms, but for families, I recommend the loft suite, this one hosts families of 6 members.
9. Almond Beach Resort – a little piece of paradise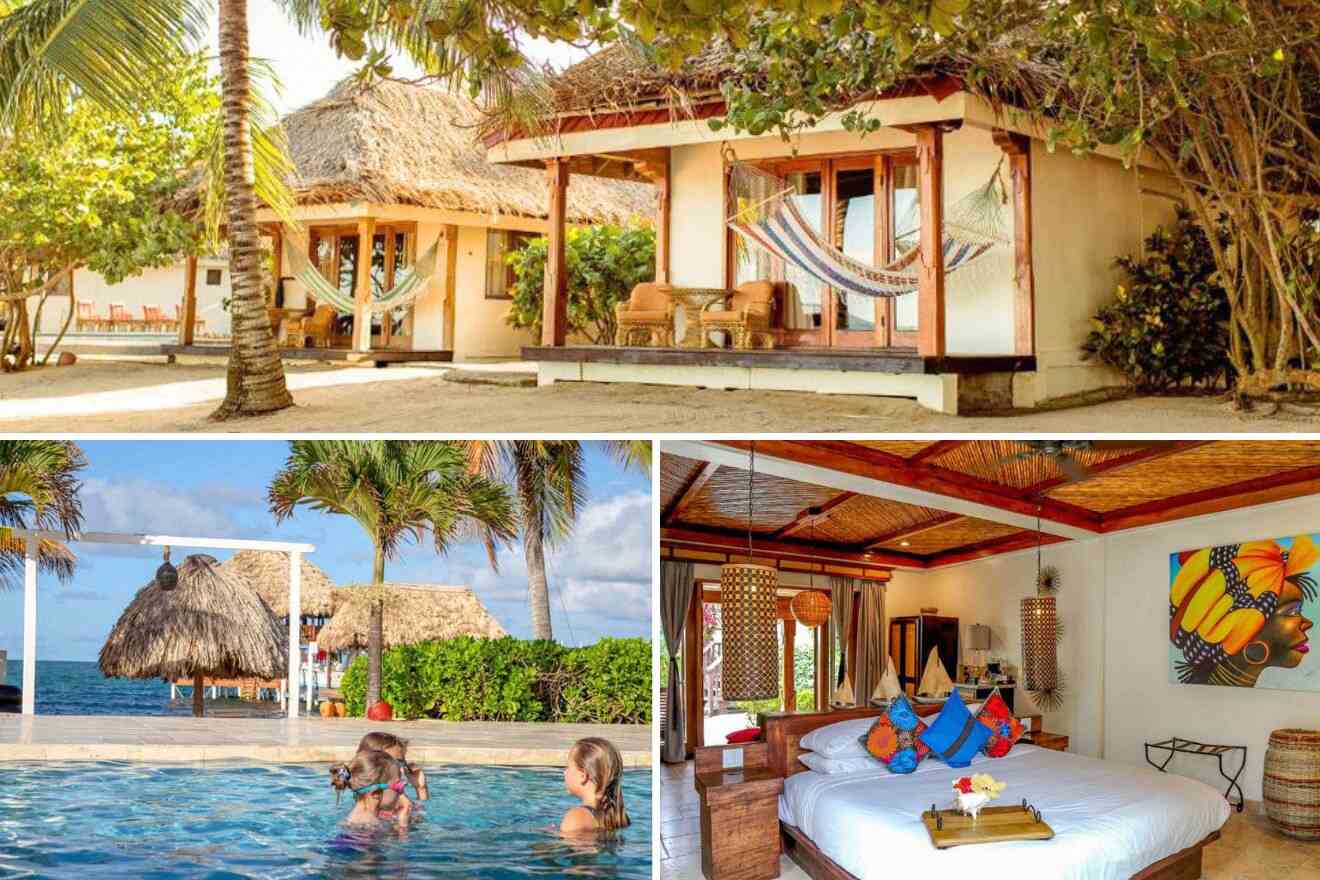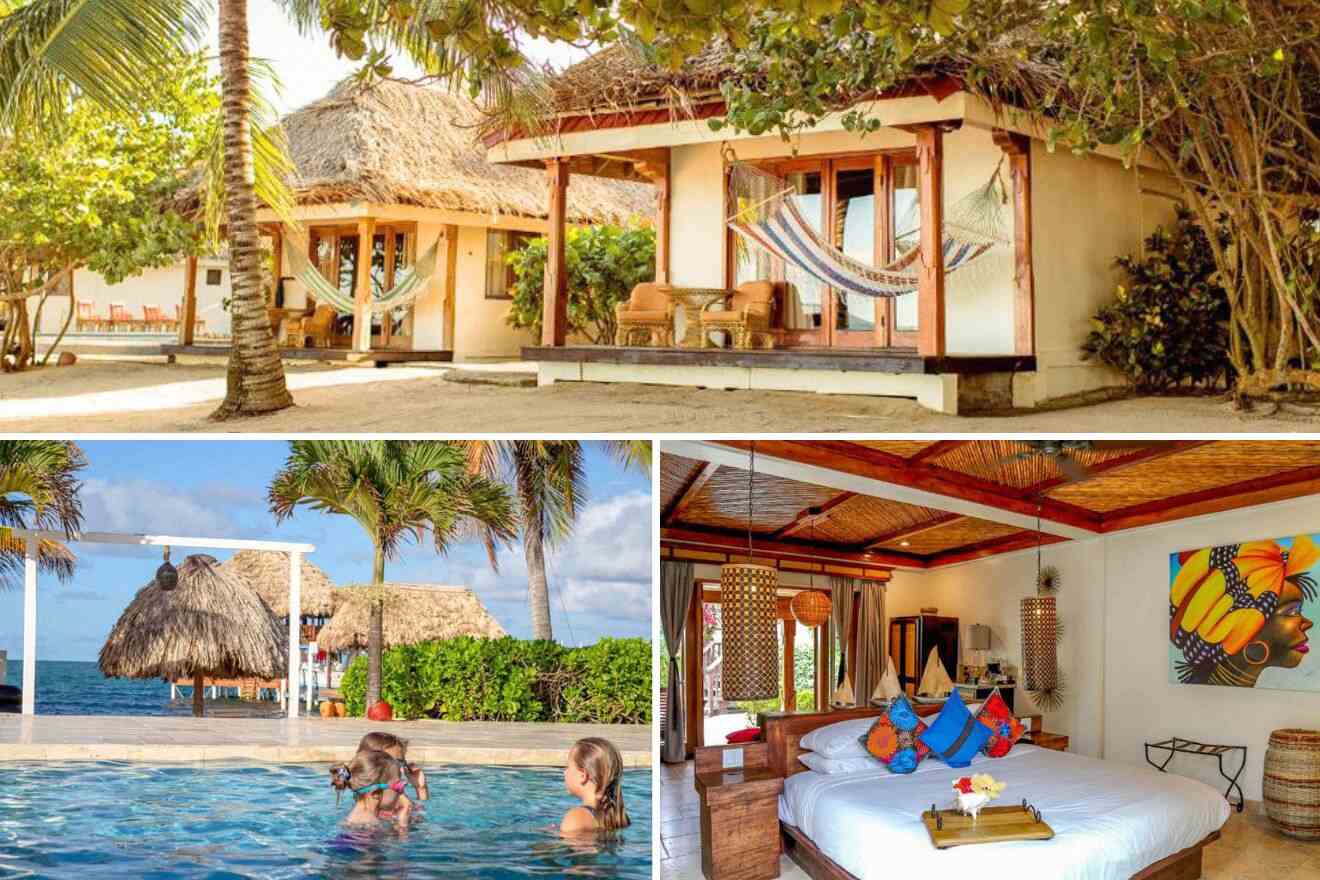 This hotel looks stunning! With an amazing traditional style, with many art pieces made by local artists and furniture made with natural materials to give that perfect beach vibe decor! Staying at this hotel will give you access to the private beach area where the hotel is located, the outdoor infinity pool with views of the ocean, and the onsite bar and restaurant that serves Caribbean-style cuisine.
All the rooms at this resort are completely amazing; some of them come with hardwood floors, and some of them with beautiful tiles. The 2-bedroom suite comes with a living room, 2 bathrooms, and a private terrace. The house comes with 3 bedrooms and a living room, this one can host 8 guests maximum.
10. Coco Beach Resort – with a life-size chess board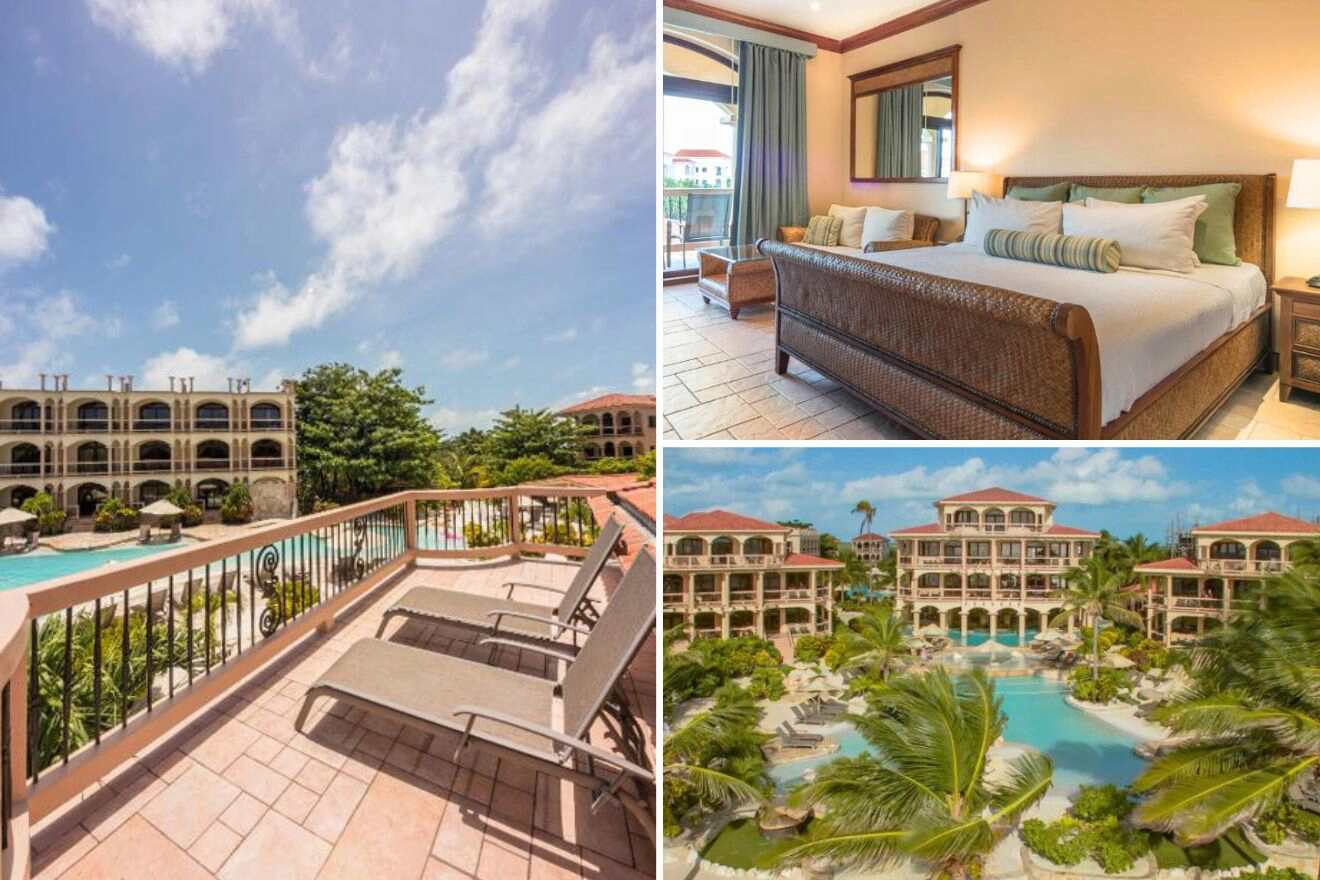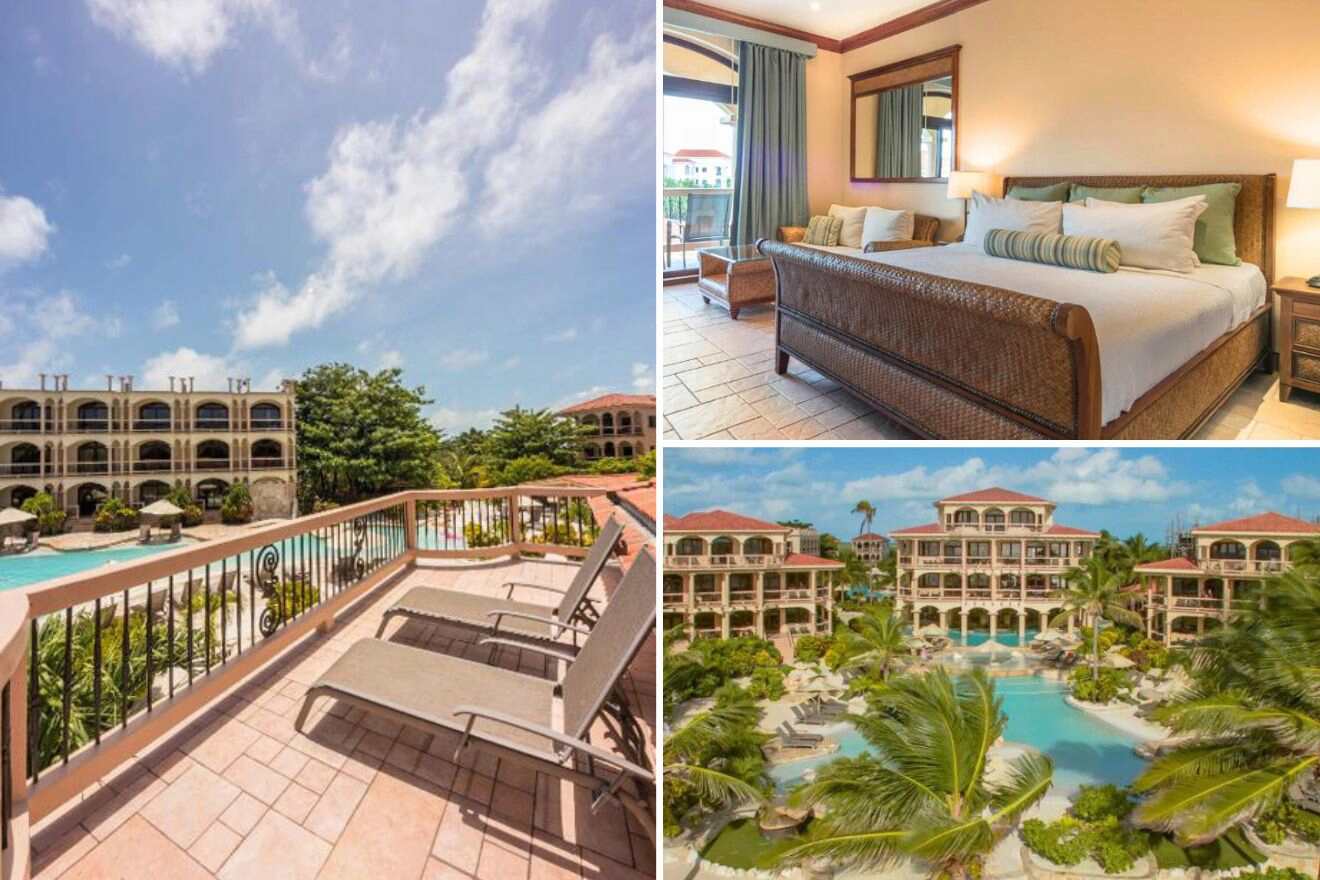 Amazing! I am blown away by this amazing resort, it has the most amazing Caribbean decor filling up the property's space! This lovely resort comes with the most amazing set of pools with a nice terrace deck with beach furniture and is located by the beachfront! Its beachfront location makes it the perfect spot for families to try different water sports, like snorkeling, kayaking, and paddle boarding (these are available for an extra fee).
The hotel's onsite restaurant will cater to you all day every day! All the rooms at the resort come with fantastic amenities; for families, I highly suggest booking any of their 2-bedroom villas, suites, and penthouse; these are for 4 or 5 guests.
11. Ramon's Village Resort – for family entertainment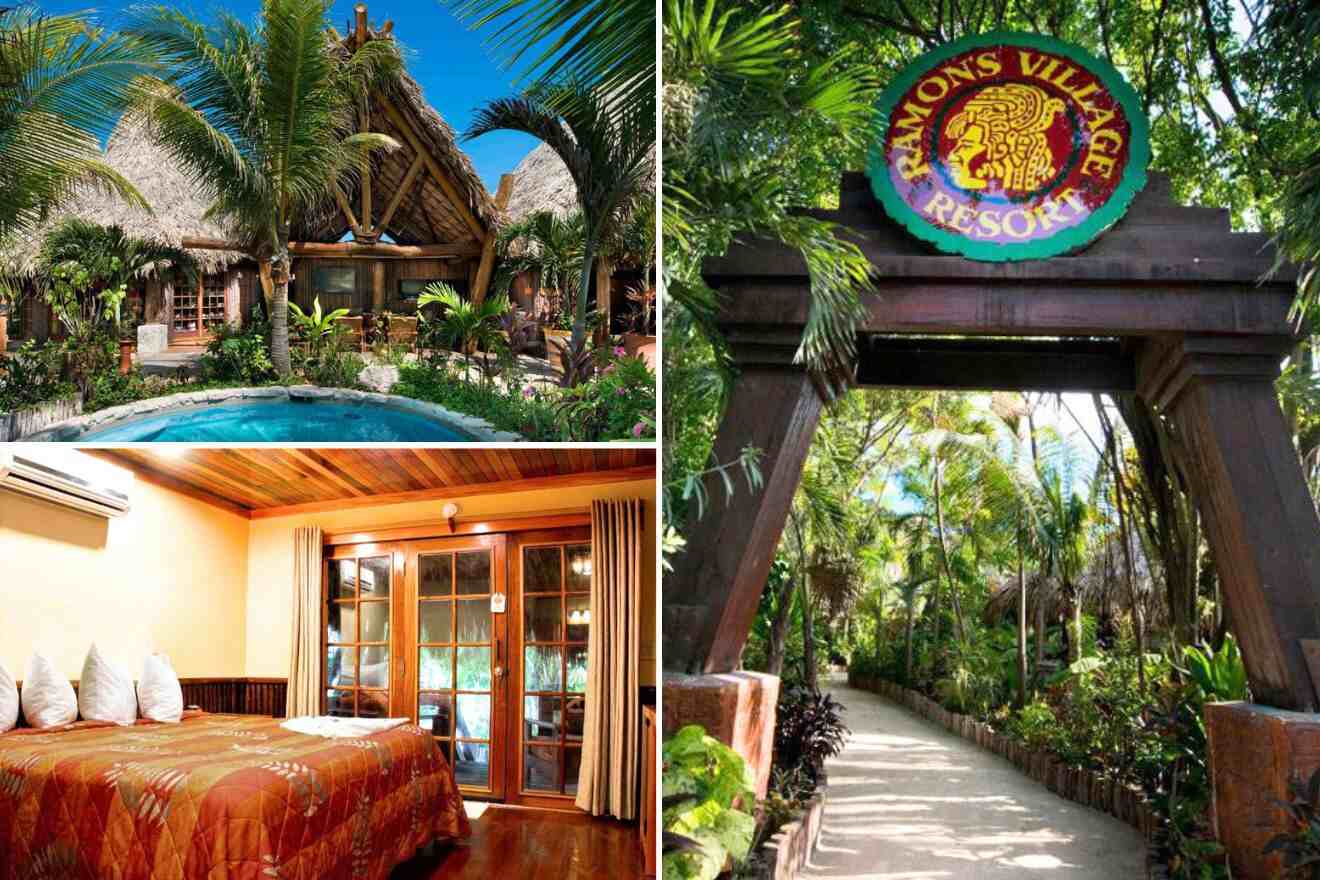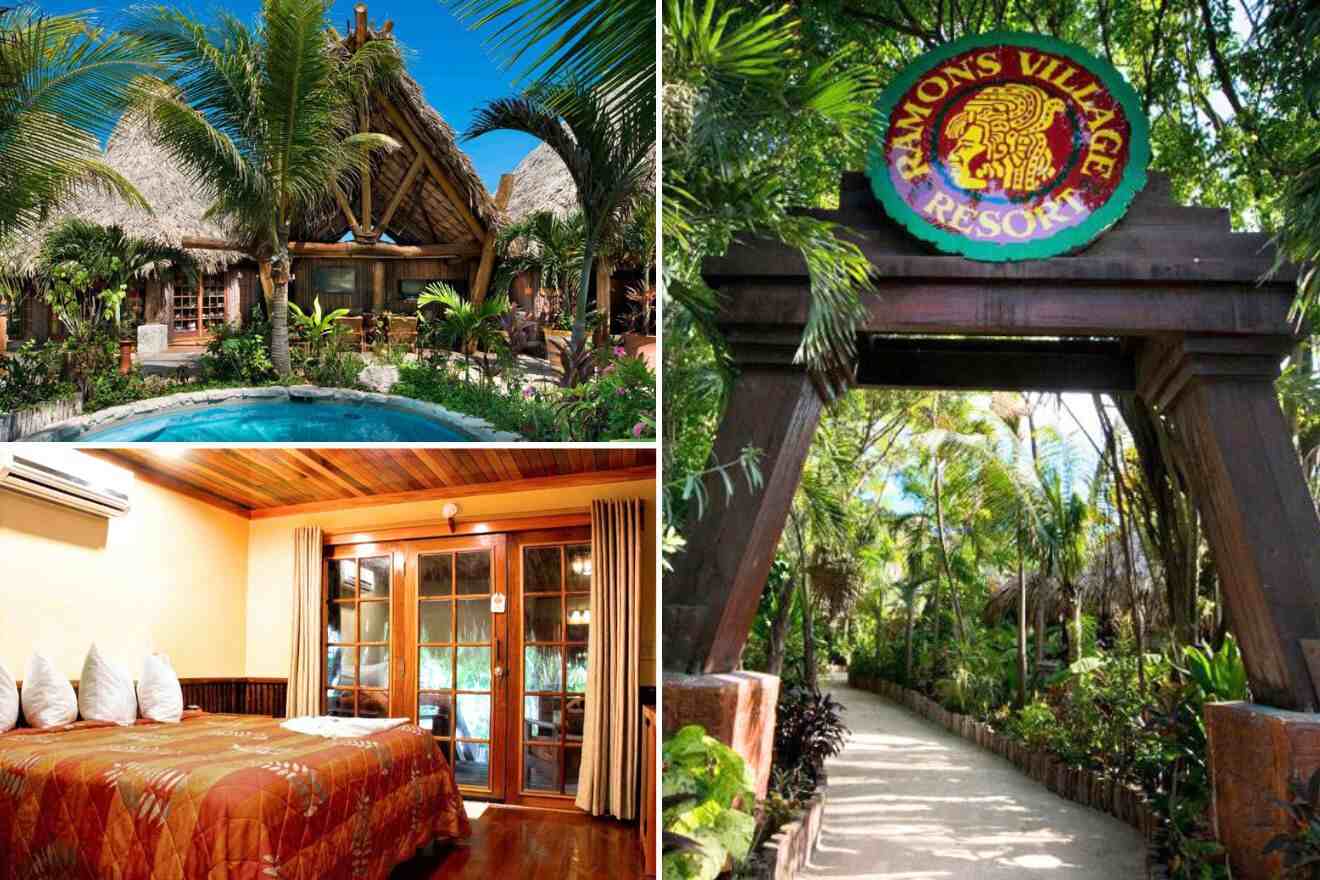 Oh my god! I love this resort's style! It looks like it is part of a movie set; everything looks perfect, and it feels like they were in every detail with the decorations. This resort offers to all its guests an onsite restaurant that serves a complimentary breakfast every morning and has evening entertainment in the nighttime, an outdoor swimming pool, and a spa and wellness center.
All the rooms and cabanas have jungle or beachfront views and feature lush green vegetation and soft sandy paths. They offer family rooms like the jungle deluxe family, which comes with an amazing view of the jungle, which you can admire from the terrace and the balcony, a pool with a view, and enough room to host families of 4 members!
12. Captain Morgan's Retreat – for a Caribbean feel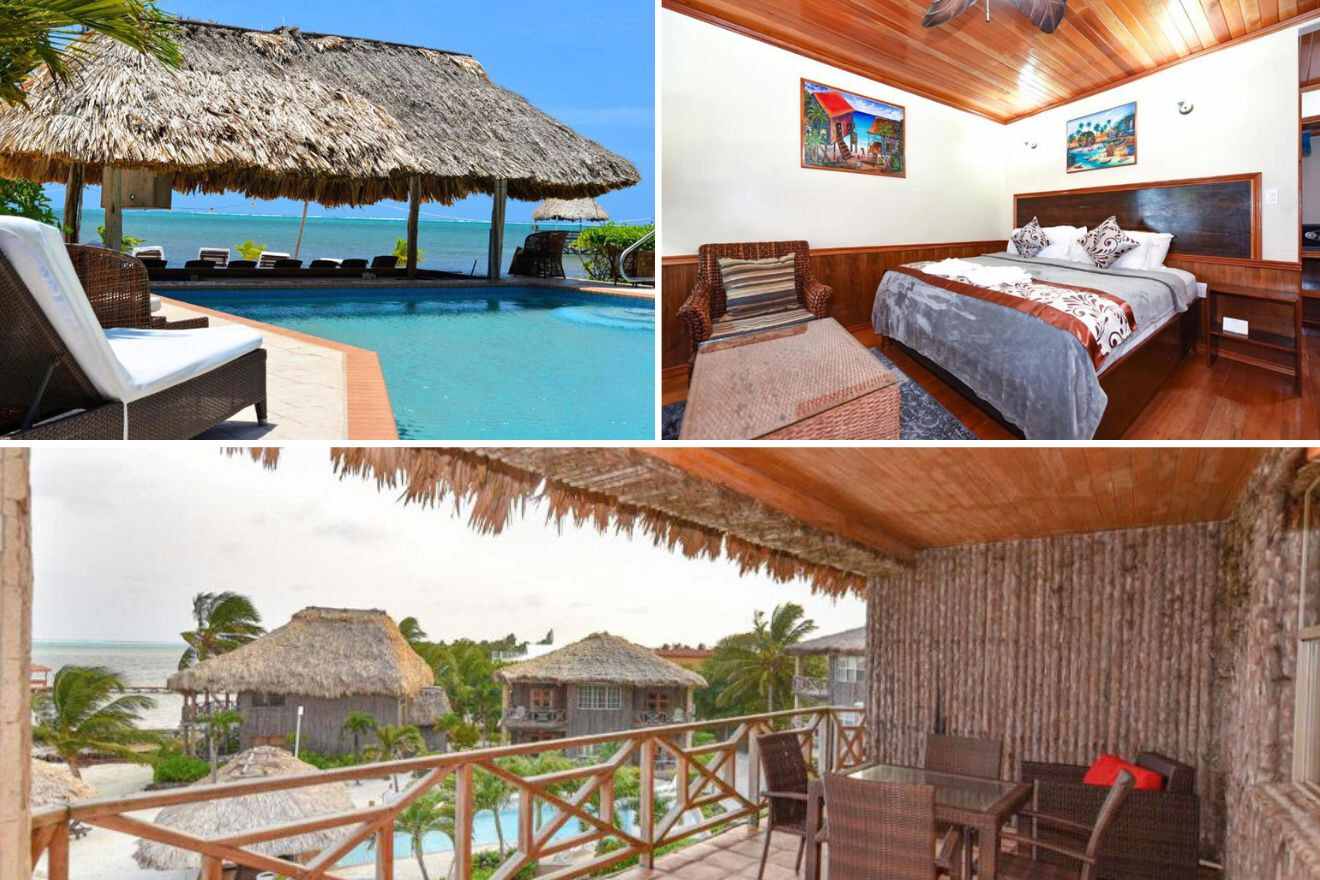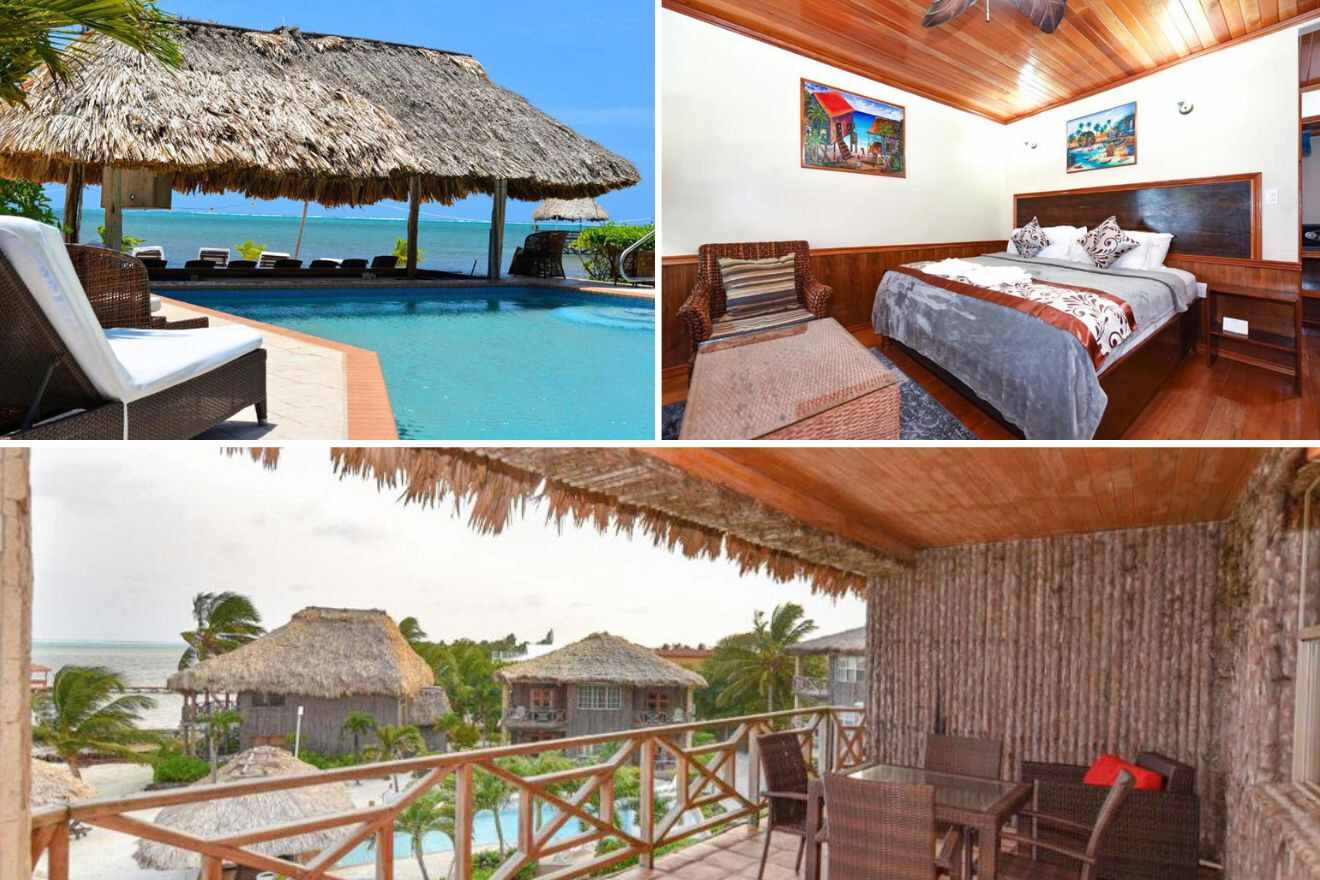 This hotel's decoration is a little bit different from the other ones; this one has earthly tones on the walls and floors, giving it a traditional, arty touch! This property is located in San Pedro by the beachfront, and with a private beach area, guests can relax by the beach or go for a swim in the outdoor swimming pool.
No need to go far for a lovely dinner since the hotel has its own onsite restaurant serving local dishes, Latin American, and American dishes as well! The 2-bedroom suite is ideal for families; it comes with 2 bedrooms and a separate living room and has a spa bath in the bathroom. This property can host 4 guests!
13. Hopkins Bay Belize a Muy'Ono Resort – fun guaranteed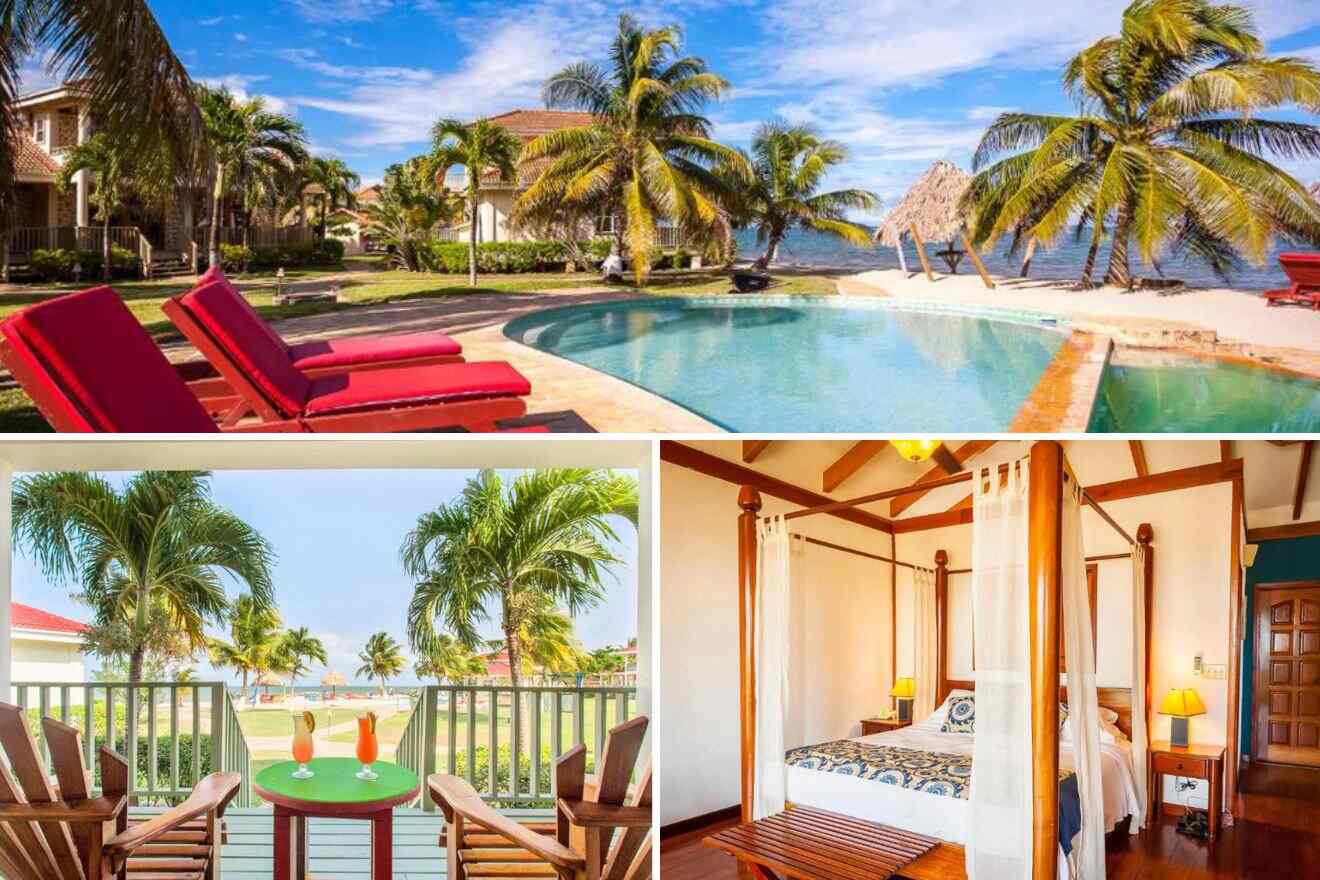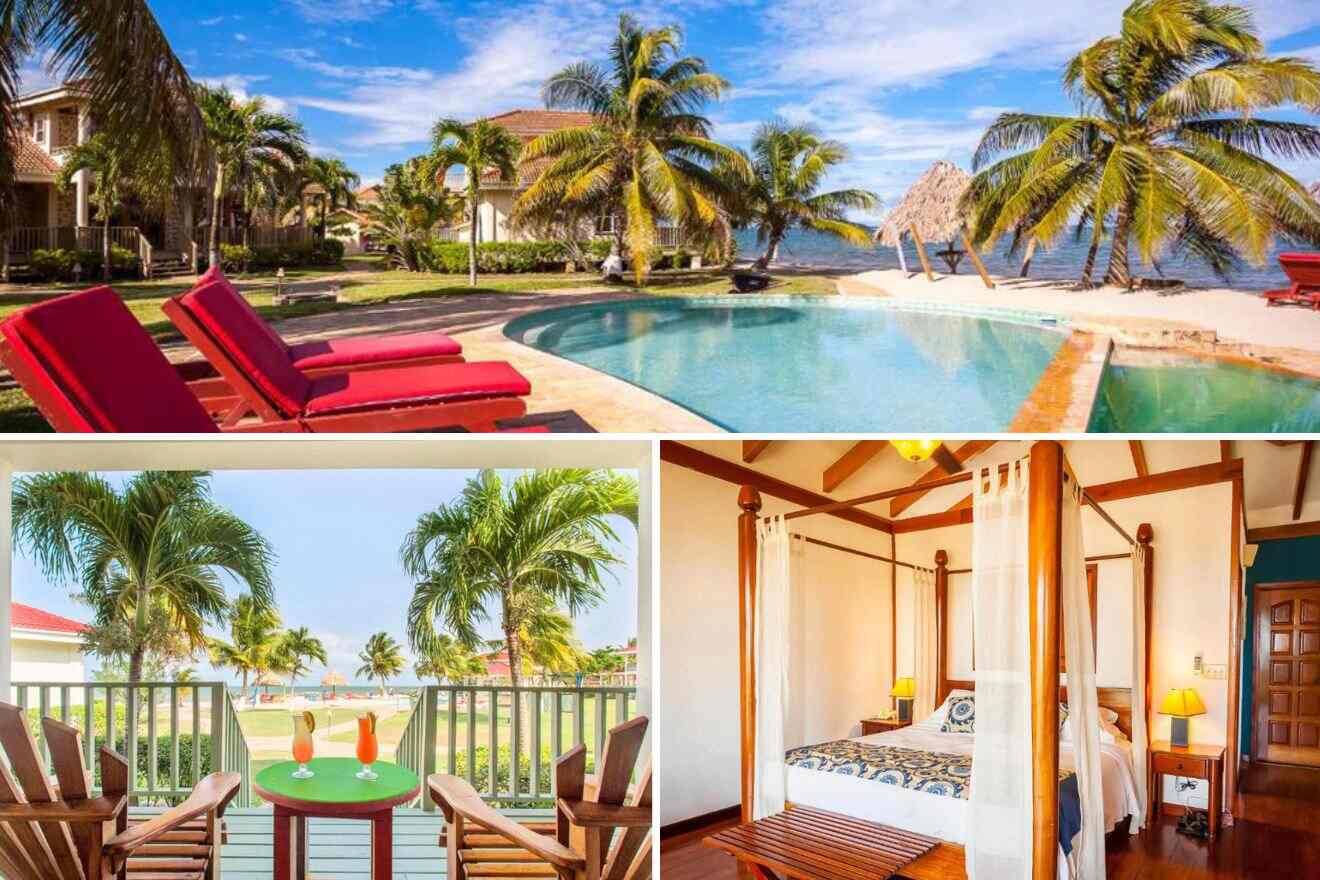 Ah! I love this resort, it looks like it is a little private piece of paradise for all the people staying here! Apart from a lovely private beach area to play beach games and water sports or have a drink at the beach bar, it has 2 outdoor swimming pools located right by the beachfront, so you can swim and sit on the sand while admiring all the beauty Belize has to offer! The 2 onsite restaurants are family-friendly and serve Caribbean and local dishes.
This hotel features 2-bedroom villas for families of 5 members, and the 3-bedroom villas are for families of up to 8 members and come with a private kitchen and 3 bathrooms. Both villas have ocean views and their own private terrace or balcony.
14. Mahogany Bay Resort and Beach Club – luxurious and modern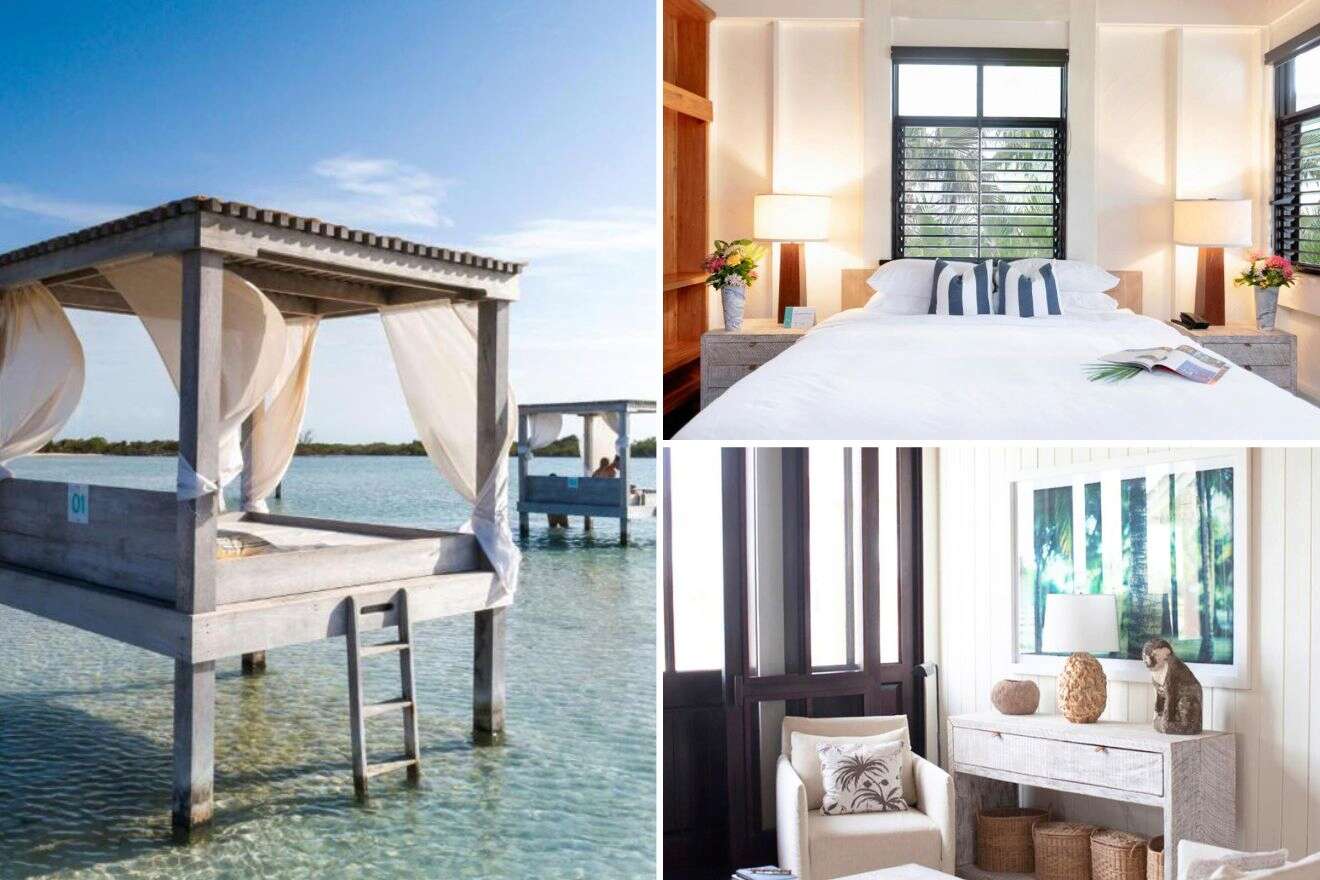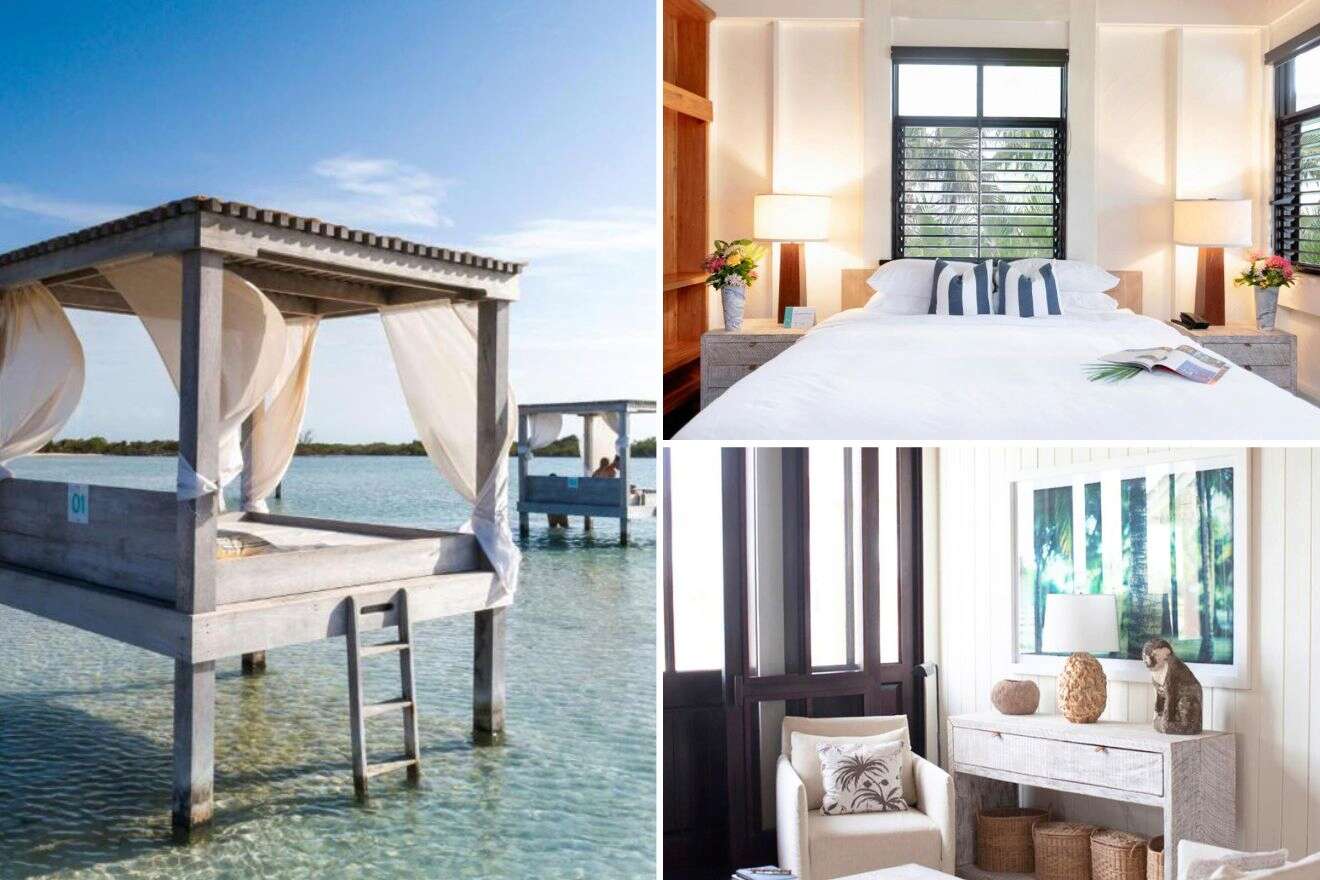 Oh, la la! What incredible style and decor, this resort is super modern and has an exquisite, elegant look! The hotel comes with a private beach area for all guests where they can relax in hammocks and cabanas over the water, and you can enjoy a swimming pool with beach furniture and tall palm trees surrounding it. The onsite restaurant serves American cuisine, and every morning they offer guests a complimentary breakfast.
There are free bicycles for rental available at the hotel, perfect for families who love to explore! I recommend the Family Cottage with a Pool to all families; it hosts 6 people and comes with 2 double beds and bunk beds for kids. The outdoor private swimming pool is a big plus to enhance the vacation experience!
FAQs about best Belize resorts for families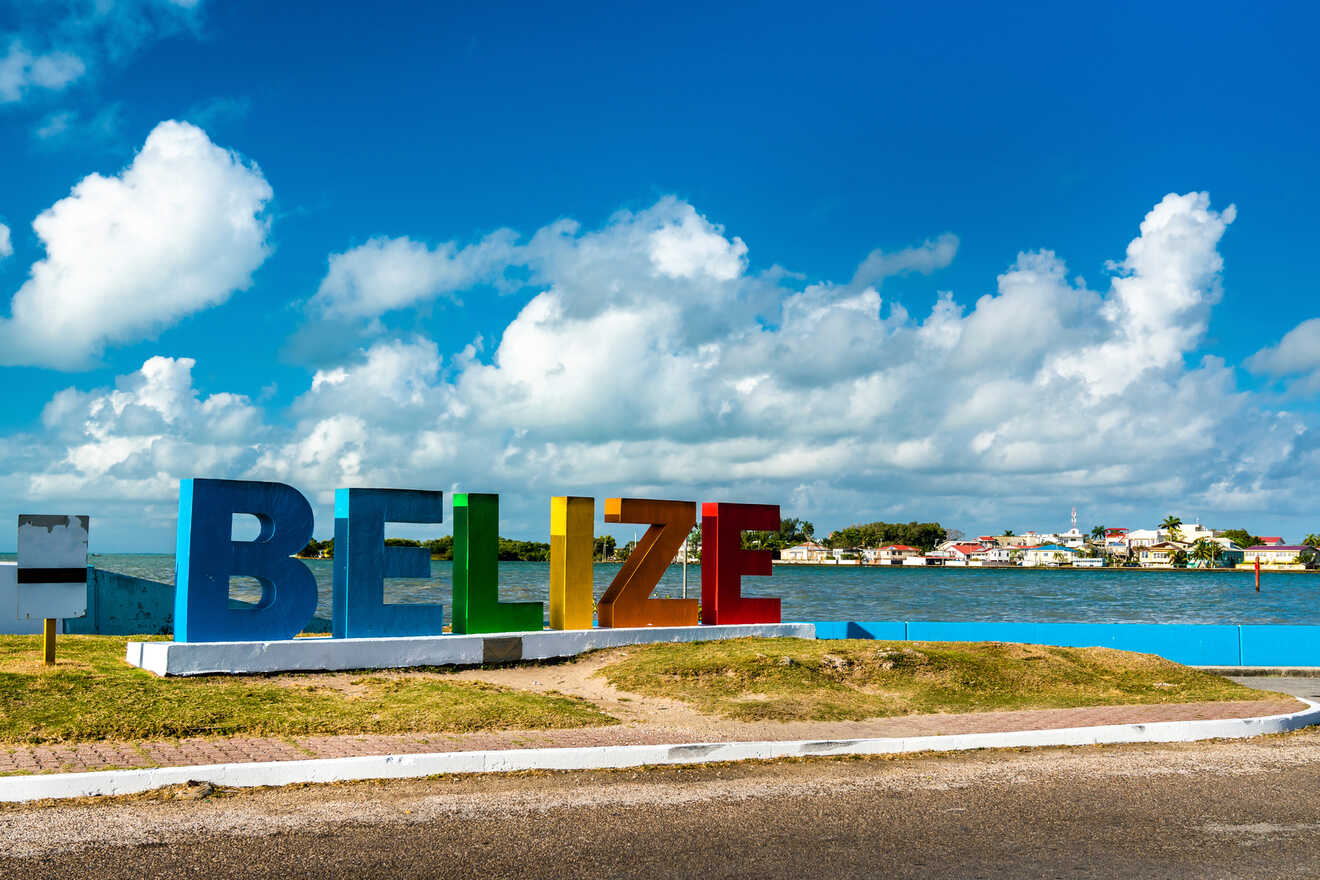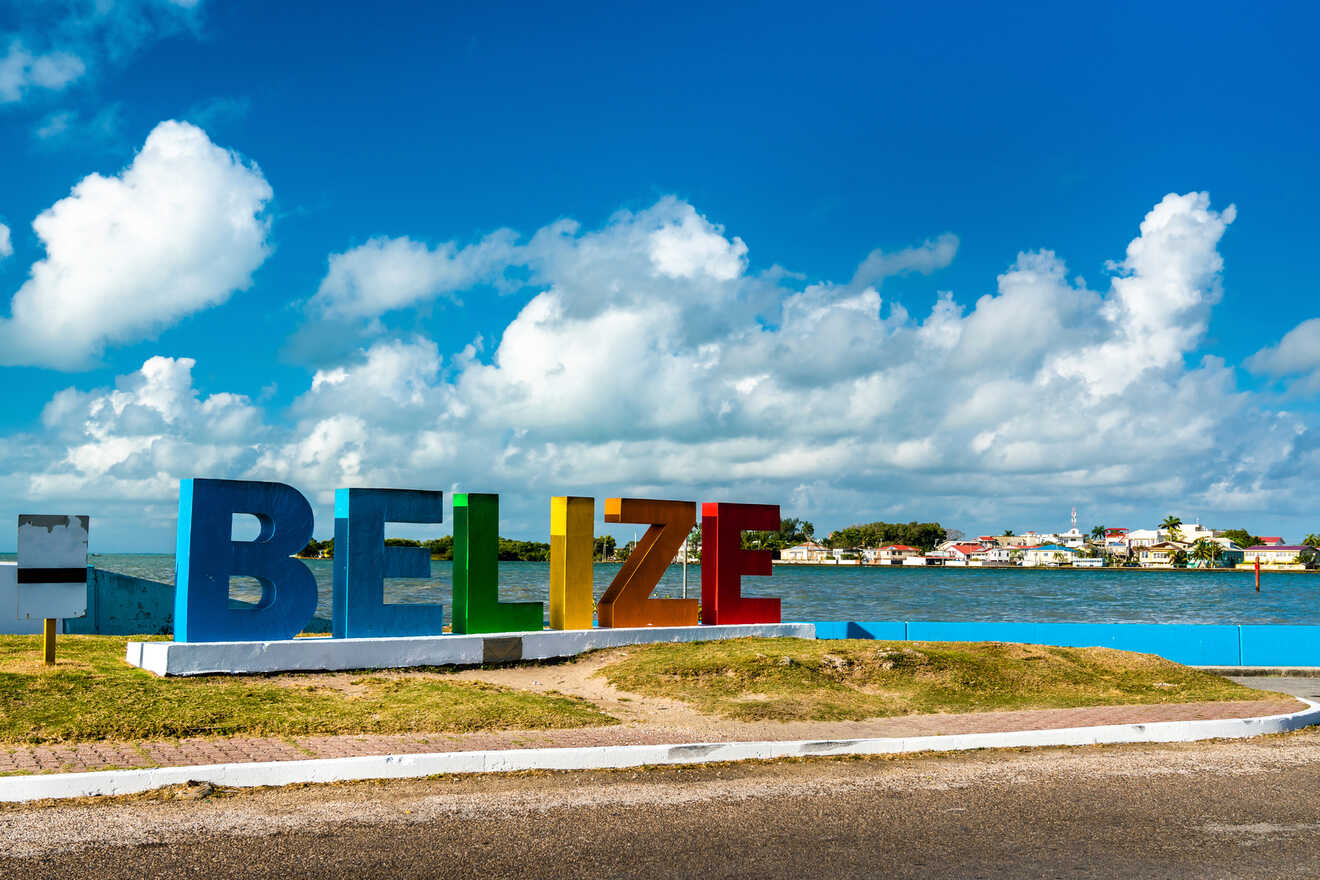 Conclusion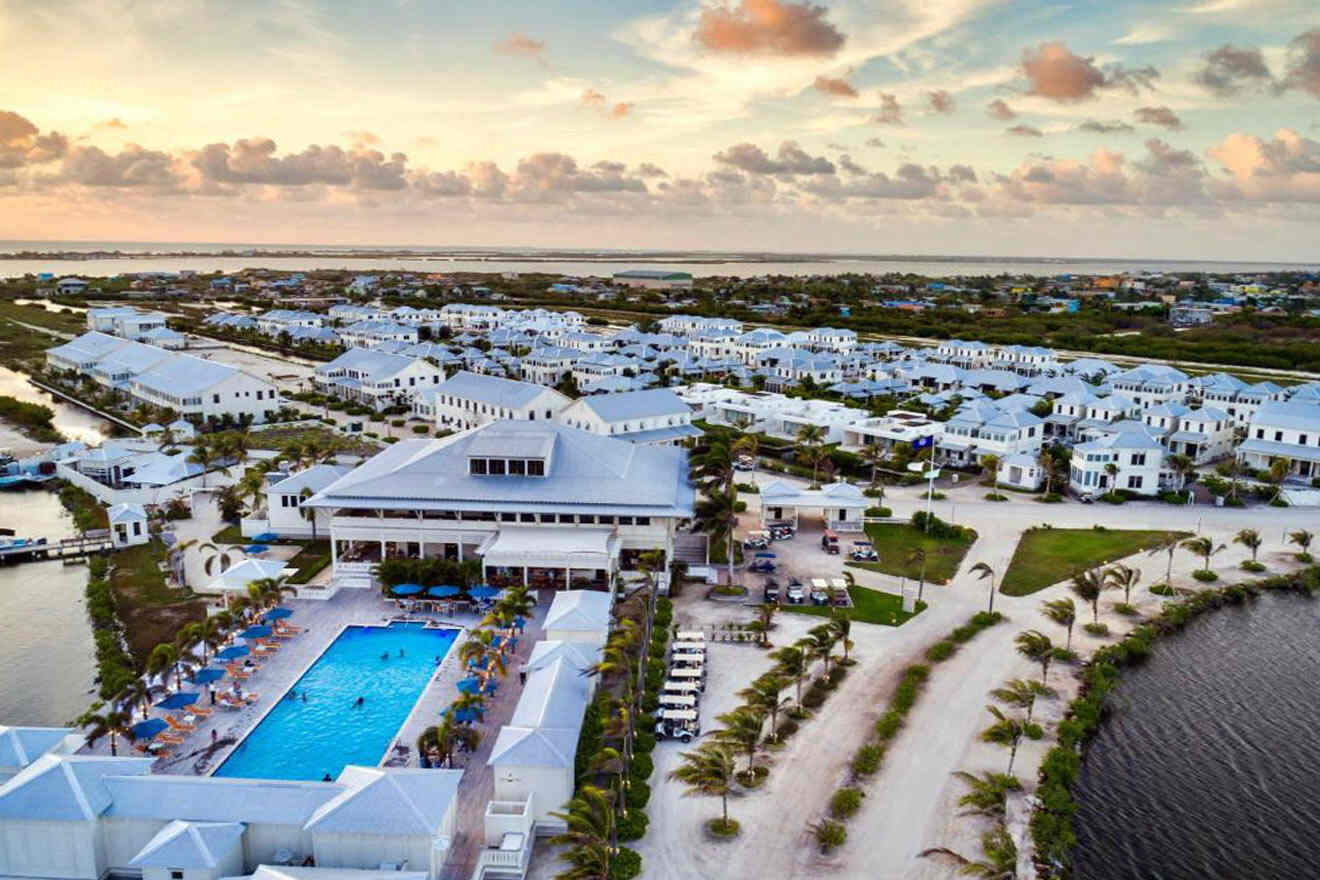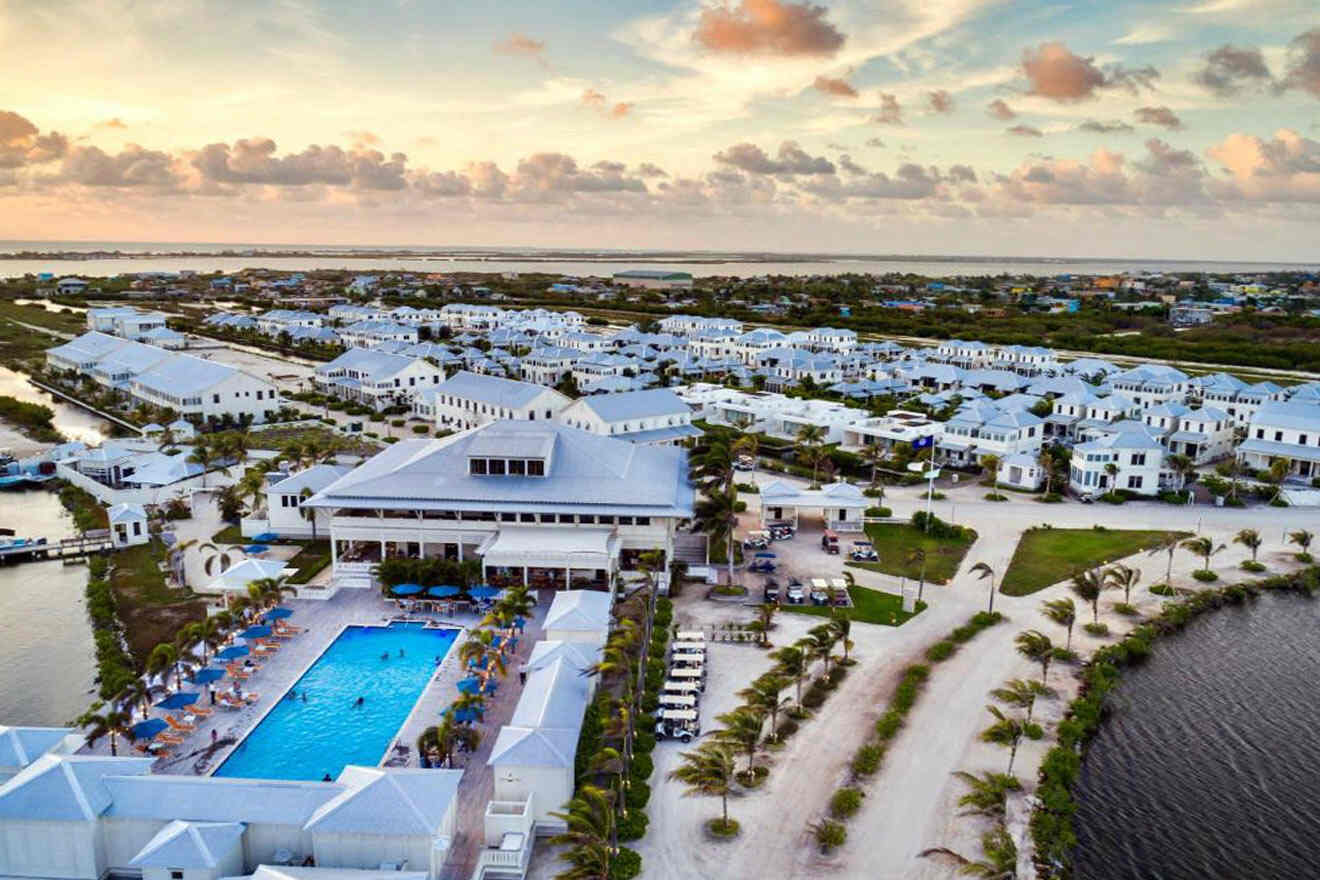 That is all for today's article, my lovely people! I have covered the best Belize resorts for families, and I have to say I am super happy you are going to stay in any of the resorts mentioned; they are all amazing and are in beautiful natural places!
As I said, all the hotels are pretty unique, so it's quite difficult to choose my favorite one, but if I had to choose my 2 top options, I would go with:
Blancaneaux Lodge – I love that it is in the area of the Maya Mountains with the beautiful jungle surrounding the hotel. Looks like the perfect sport for a family retreat!
Mahogany Bay Resort and Beach Club – looks super chic and modern, and I would love to relax on the overwater cabanas!
Which one of these Belize family resorts was your favorite? Have you ever stayed in any of these? Let me know in the comments! And, after leaving the comment, go and book the hotel room, villa, cottage, or suite of your dreams before someone else does!
Until the next family adventure,
Daniela
---
Pin it for later!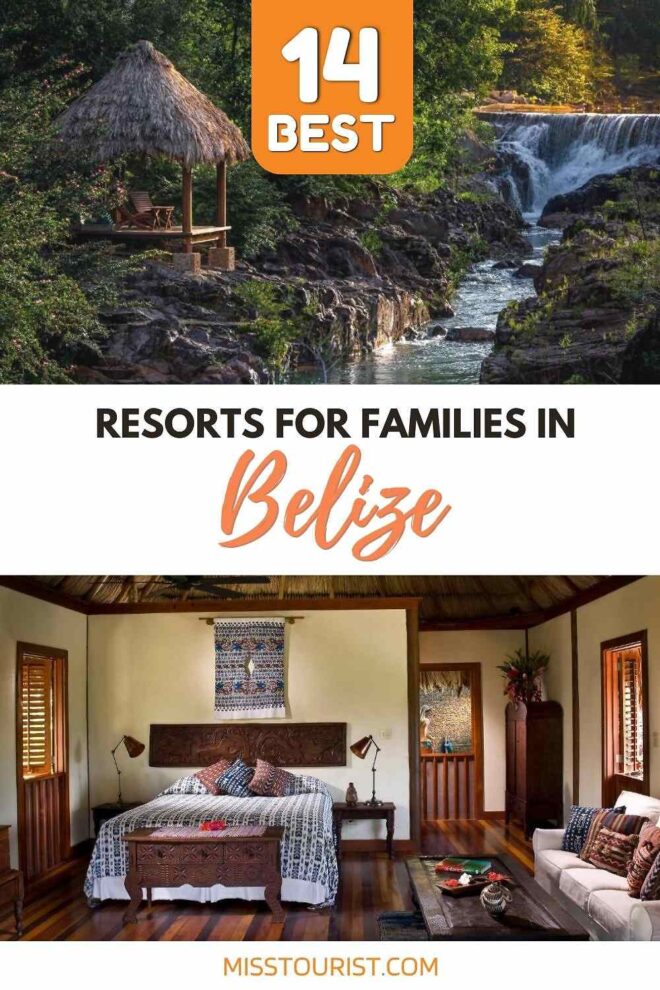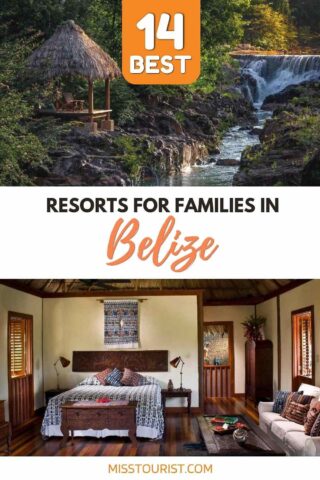 Pin it for later!