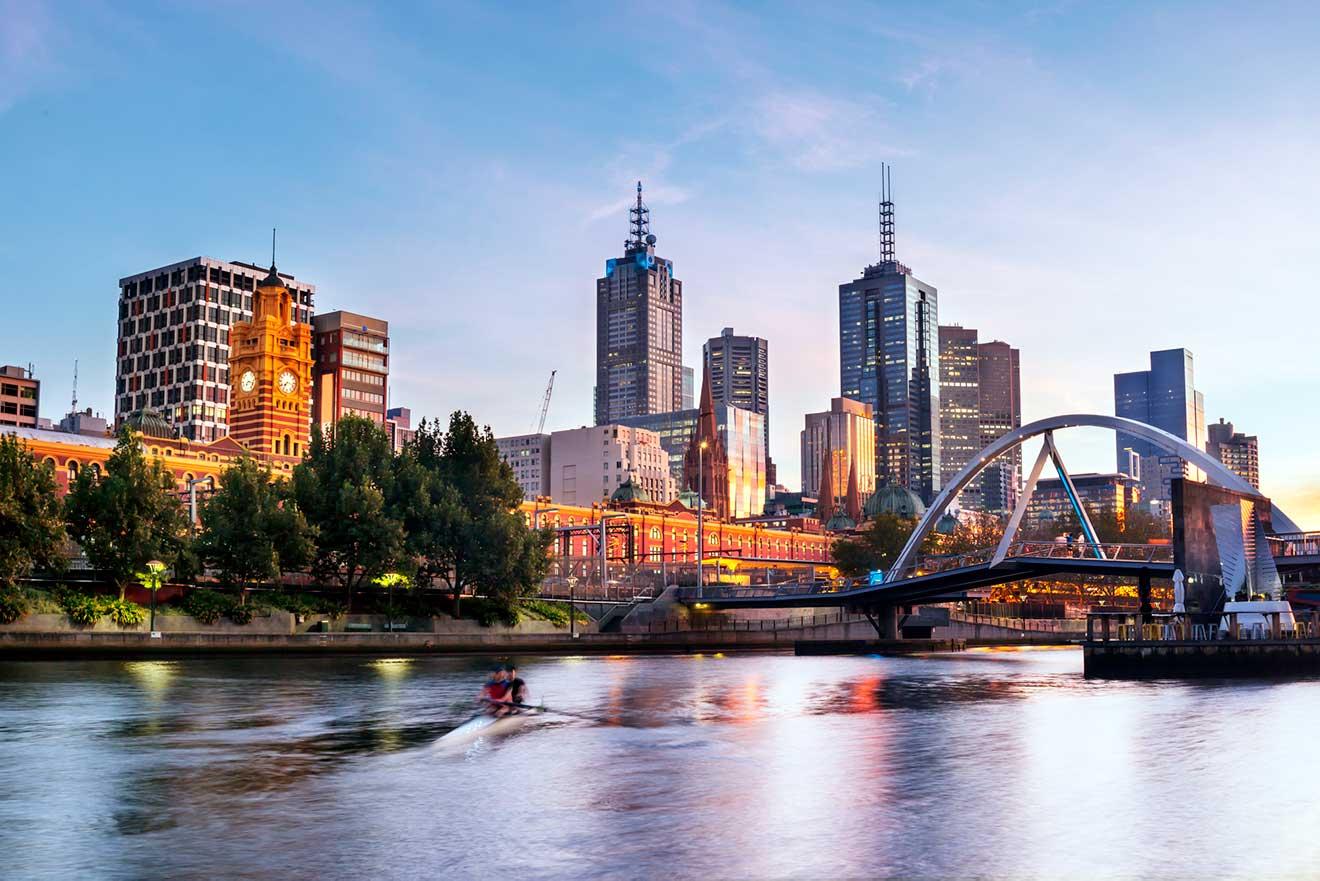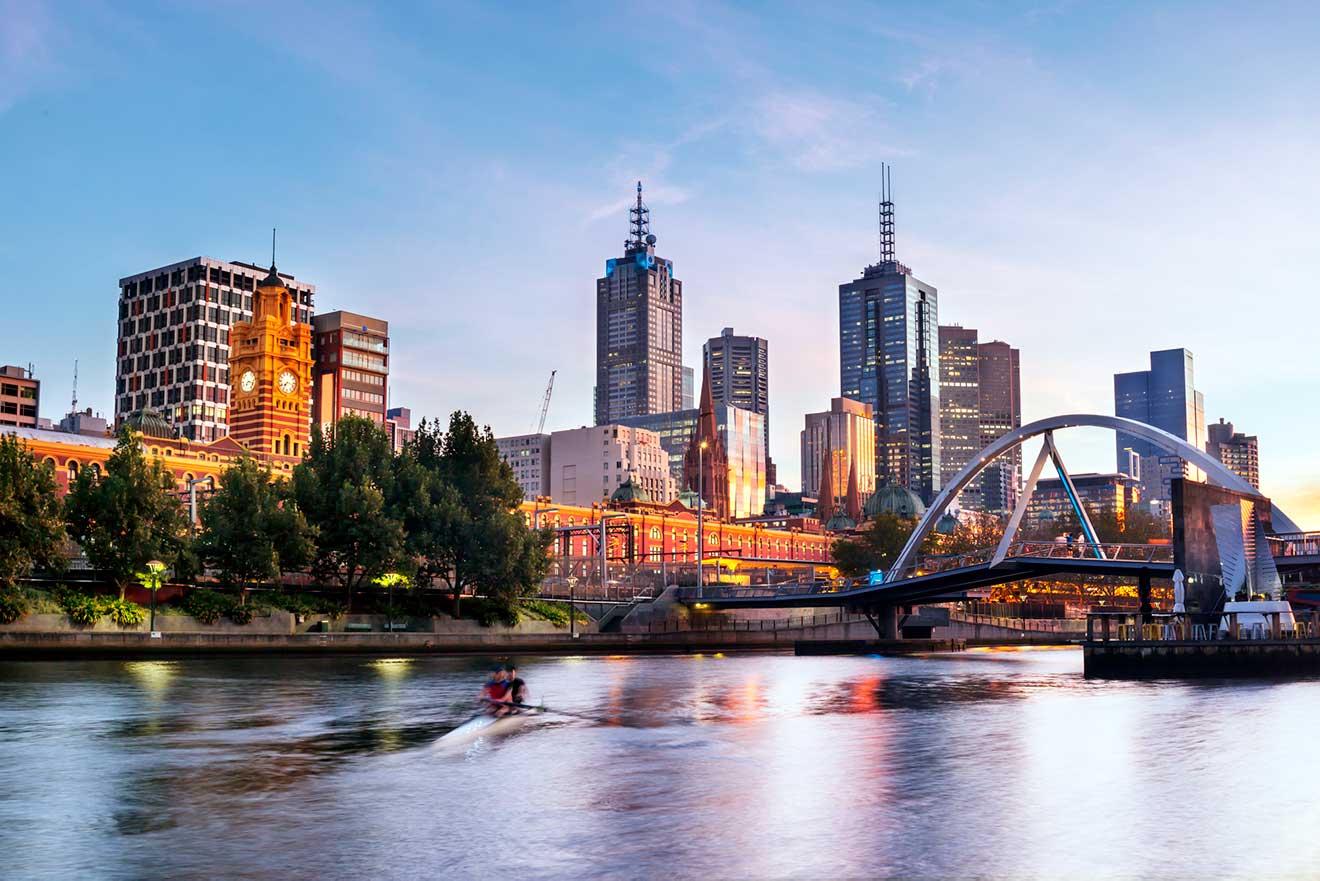 Melbourne, the food, cultural and sports capital of Australia, is a top destination for those heading to this wonderful continent and looking for a bit of city life! In fact, my home city is a bohemian and multicultural gem with countless things to offer to travelers of all ages and budgets.
Major international sports events like tennis, cricket, rugby or Australian football, big green parks, beaches, vibrant street art, cool nightlife, museums, art galleries, theatres… I could keep going for hours! There's a reason it was named the most livable city in the world multiple years in a row! 😉
If you're looking for a touch of Europe down under, you might be wondering where to stay in Melbourne, am I right? I am here to help you find the best possible hotels in Melbourne in this post with my hand-picked neighborhoods to help you get the most out of your trip depending on your interest.
Being the second biggest city in Australia, there is no shortage of quality Melbourne accommodation. However, as there's always something going on in Melbourne, places get fully booked often, so make sure you book it in advance!
That being said, let's find out where to stay in Melbourne!
If you're in a hurry…
If you need to take a quick decision and book immediately, I got your back, check this list with the best hotels located in Central Business District:
First of all, which area should you choose?
Which neighborhood is the best one to stay at in Melbourne? It is such a spread out city, that you'll find places to stay all over! However, there are a few neighborhoods where great accommodation prevails. Let's have a look at them: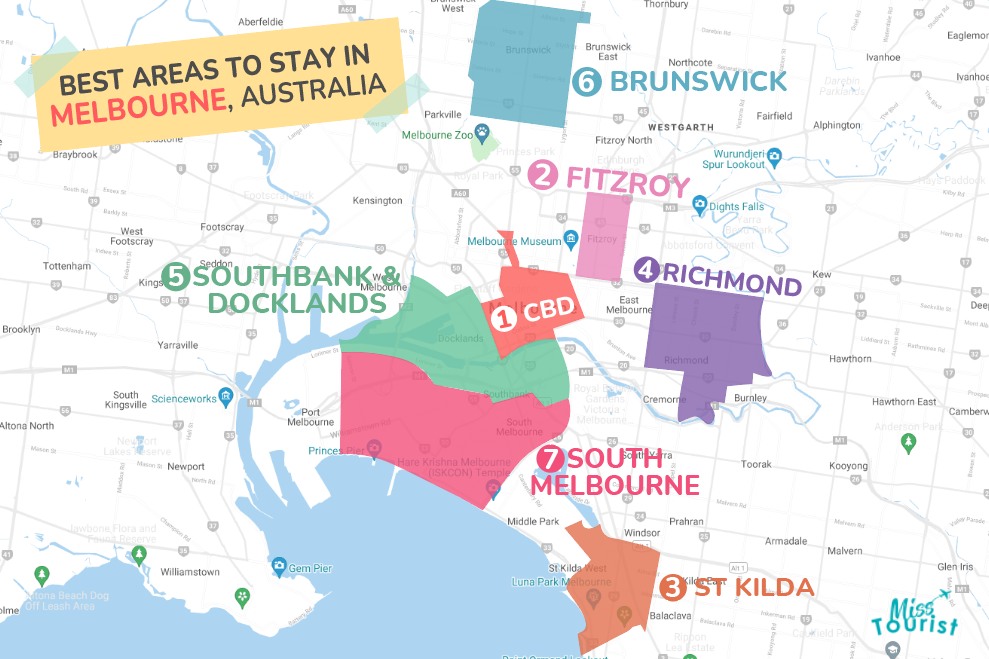 1. The CBD – the best area for first-timers
The Central Business District (also called CBD), is the heart of Melbourne and the best area to stay if it's your first time in the city. Being a short walk away from restaurants, bars, shopping, and landmarks, and well connected to the entire city, there's no better spot if you want to see everything!
The CBD is the first stop in the city for most travelers and locals alike. When you step out from the Famous Flinders St Station you will find vibrant streets and narrow laneways full of graffiti art, street performers, and people from all walks of life. Despite the name, the CBD isn't just for businessmen!
As I mentioned before, the CBD is the most well-connected part of the city. If you're tired of walking you can simply jump on a free tram that will bring you wherever you want in the center, or take a train to reach the destinations a little further away!
The CBD is where you will find most of the big hotel chains, so If you feel like this is the place for you, check out my hand-picked hotels in the area below and make sure you book them at least 2 months in advance if you want to secure yourself a spot:
Luxury (US$250 and up)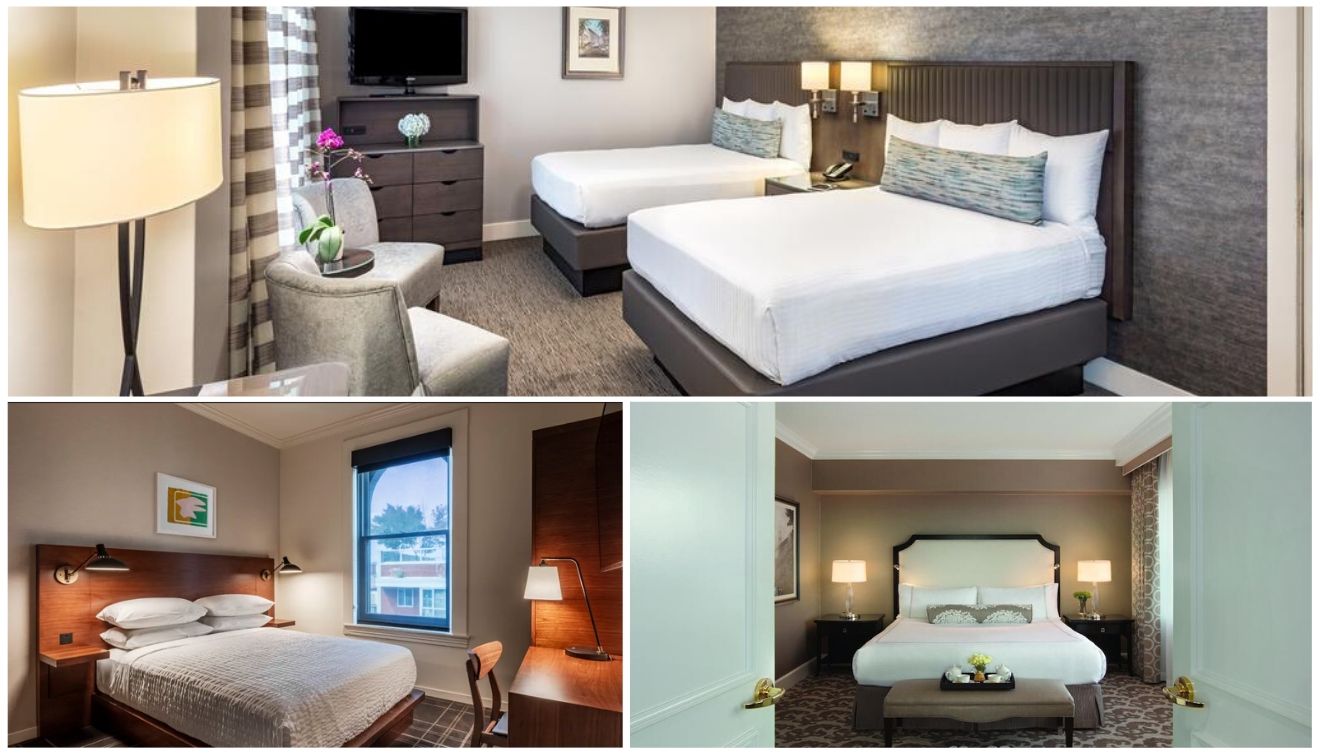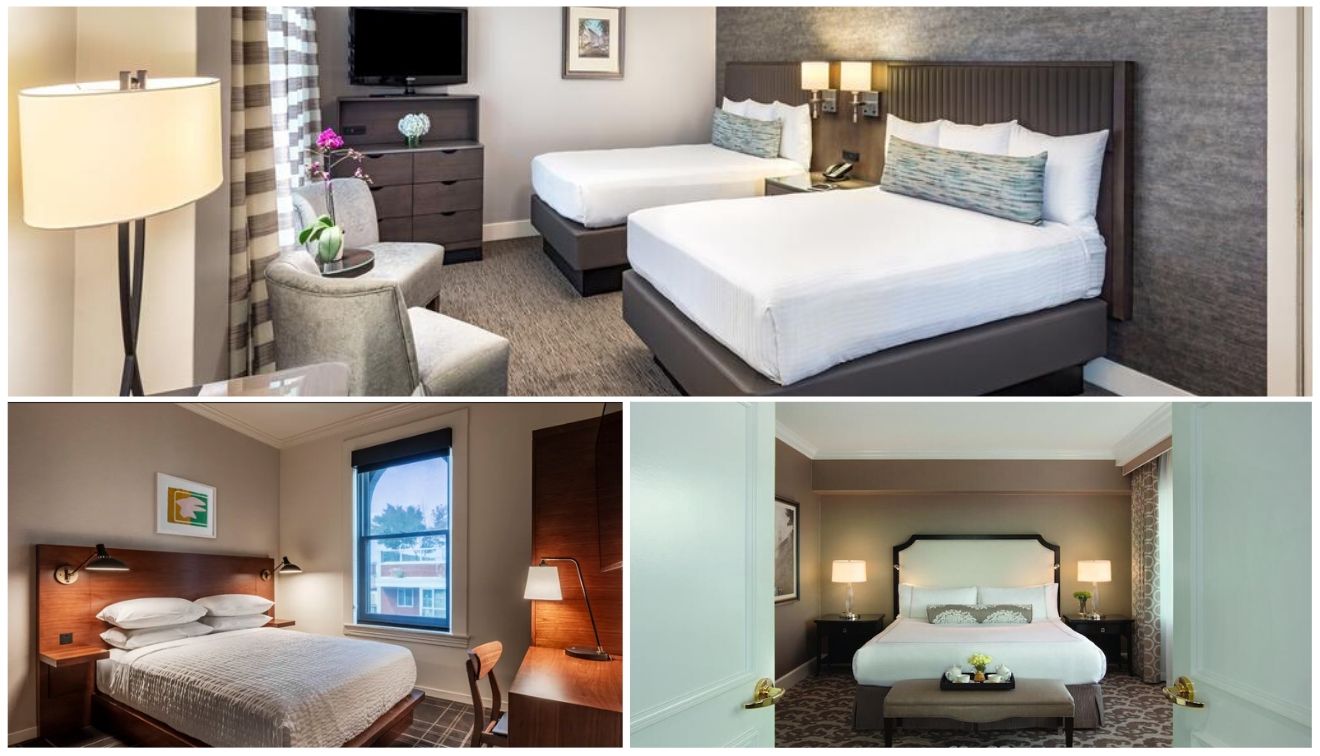 Qt Melbourne

– Wondering where to stay in Melbourne for luxury? You can enjoy a classy stay at Qt Melbourne, just 200 m from the Regent Theatre you can entertain yourself with a play and then have a drink at their wonderful rooftop terrace. The ambiance and décor is as elegant as it gets in this stylish city! I think this is one of the best luxury places to stay in Melbourne CBD!

Grand Hyatt Melbourne

– Still looking for where to stay in Melbourne for the ultimate spoiled experience? The design and architecture of the Grand Hyatt will leave you breathless. Moreover, the location, right in the heart of the Melbourne CBD is pretty much unbeatable and makes it a favorite amongst travelers! Enjoy a drink at their club located on the 31st floor, providing you with outstanding views of the city!
Middle-priced (US$150 – US$250)
Novotel Melbourne Central

– With an unbeatable location right in Melbourne's city center, the Novotel Central Hotel is one of the best boutique hotels in Melbourne. Rooms are located between the 20th and 35th floors, which means a great view is guaranteed. Make sure you check out their onsite steakhouse, don't worry, you can burn the calories later at their gym! I surely recommend it for a superb stay in Melbourne!

Mantra on Russell

– Even though I am from Melbourne, I have actually stayed here! Even though it is located right in the heart of the Melbourne CBD, once in your apartment, it will feel like an oasis in the middle of the chaos! Make sure you enjoy their swimming pool, spa, and sauna and take a day off from sightseeing!
Budget (up to US$150)
Victoria Hotel Melbourne

– Are you wondering where to stay in Melbourne for a very good value? The historic Victoria Hotel in Melbourne is a landmark by itself. This old Melbourne hotel is one of the very first luxury hotels, it was opened in the 1920's. This is one of the best places to stay if you're looking for a pool and a sauna! Plus, you will only be a short walk away from some interesting sights.

Selina CBD Melbourne – This incredibly stylish new hotel could not be located in a better place. Across from the iconic Flinders st station, Selina CBD provides chic rooms, a shared kitchen, and even has Netflix in the communal chill-out space!
Things to do in the CBD:
Go shopping at Bourke Street Mall!
Check out the Melbourne Aquarium!
Have a famous Melbourne coffee
Ride the historic city circle tram
Explore the street art
Visit the Queen Victoria Market
Go to the Sky Deck at the top of the Eureka Tower
2. Fitzroy – where to stay in Melbourne for nightlife
Welcome to the coolest area in one of the coolest cities in the world (if I do say so myself)! Not far from the city center, the Fitzroy neighborhood in northeast Melbourne is a magnet for hipsters and party animals.
In the area you'll find the biggest concentration of artists, hipsters, trendsetters, creatives… and even more galleries, independent boutiques, vintage stores and eclectic bookstores, creating a bohemian and lively vibe!
But one of the best things Fitzroy is famous for is its amazing nightlife centered around Brunswick st. While you will find fun bars and nightclubs in all areas of Melbourne, this is where all of us the locals in the know go to party!
Brunswick Street is bursting with vibrant resturants, bars, and clubs and runs all the way to the neighboring area of Brunswick which I will talk about later. Don't worry, there are also endless amounts of brunch spots here to choose from to cure your hangover!
Luxury (US$250 and up)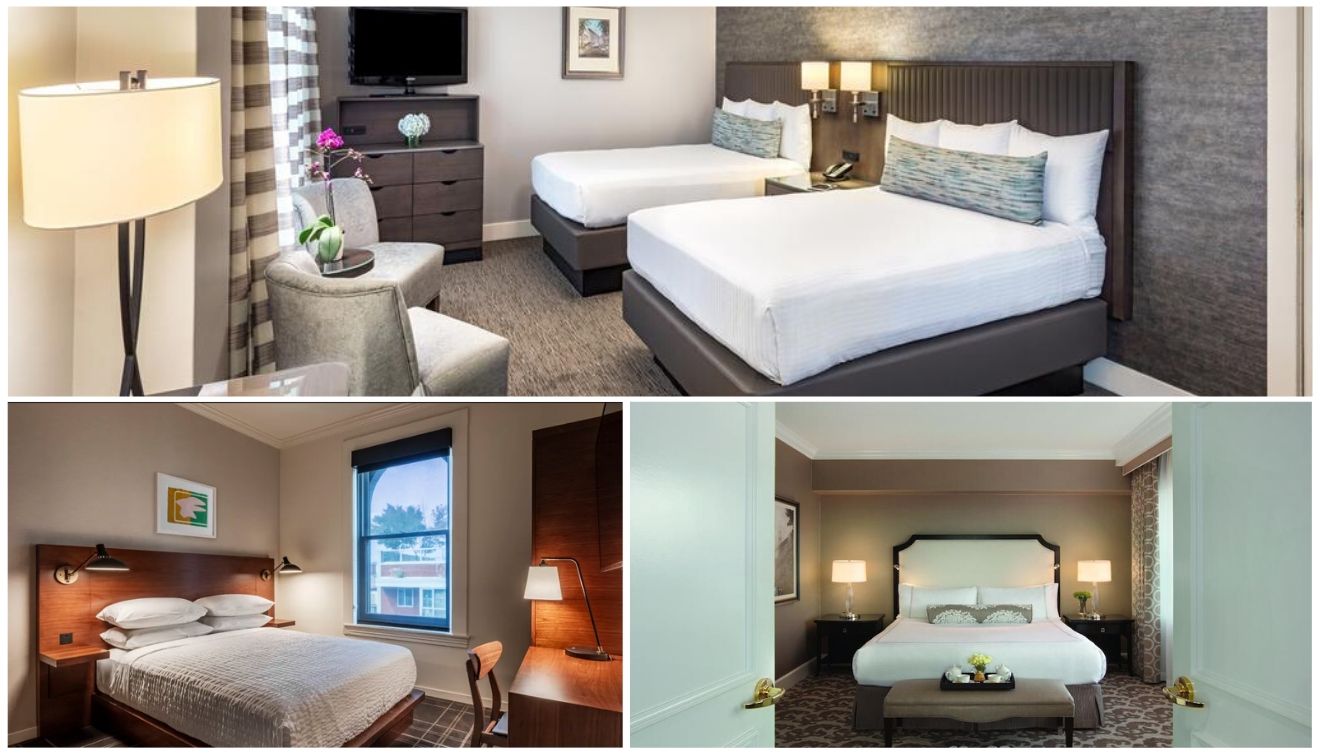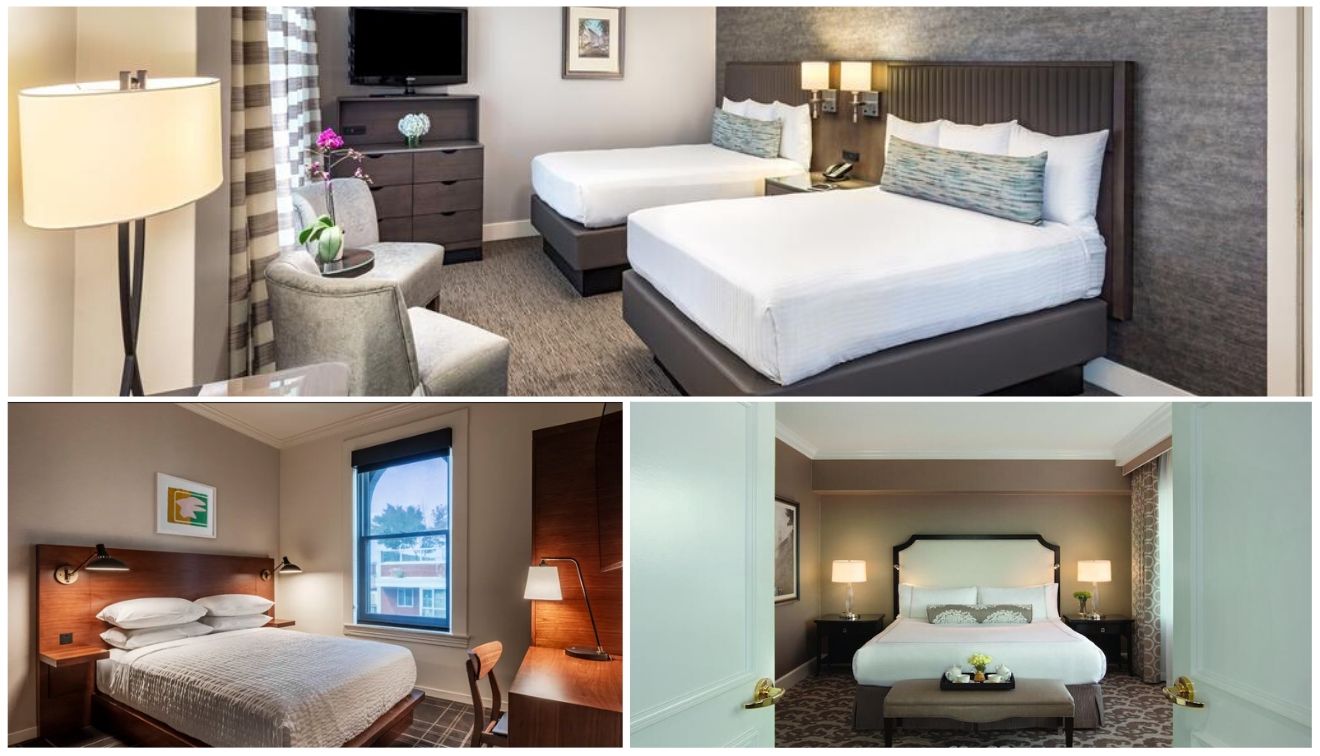 District Apartments Fitzroy – Check out these beautifully clean and spacious apartments with wonderful facilities, for the ultimate stay in Fitzroy! With a very convenient location close to many restaurants, cafes, and public transportation, you'll be able to experience the great nightlife of the area!
Zagame House – This 97-rooms hotel will surprise you with cool modern interior design, luxurious amenities, and sustainable architecture. Enjoy a unique experience at the amazing restaurant, work out in the gym and try the delicious breakfast every morning!
Middle-priced (US$160 – US$250)
Tyrian Serviced Apartments Fitzroy – Have a luxurious experience for a great value for price without in these stylish, modern, and clean apartments featuring air conditioning, a fully equipped kitchen, a dining setting, and a private bathroom. The location is also great, right in the heart of the vibrant Fitzroy!
Comfort Apartments Royal Gardens – Located at walking distance from Melbourne city center, these apartments are ideal for guests looking for spacious self-catering accommodations (with a living and dining area, a fully-equipped kitchen, and laundry facilities) in a peaceful garden setting
Budget (up to US$160)
Central Fitzroy, spacious room – Make the most of your time in Fitzroy, Melbourne's cultural epicenter, from this great accommodation! This bright double bedroom is just moments away from Melbourne's best bars, cafes, pubs, and restaurants, and only a 20-minute walk from Melbourne CBD.
Things to do in Fitzroy :
Bar crawl your way down Brunswick street
Check out the rowdy party bar Black Pearl!
Enjoy a drink with a view at Naked in the Sky
Visit the quickly Mr Wow's Emporium
Cure your hangover with famous Melbourne Brunch
3. St Kilda – where to stay in Melbourne on a budget
This iconic and historic suburb, located on the coast just south east of the CBD, has been a favorite neighborhood for tourists for more than a century but is almost always the winner for backpackers!
St Kilda not only has tonnes of hostels to choose from, it's right by the beach and packed full of quirky brunch spots, bars, and resturants, many of which occupy gorgeous historic buildings. What's more, just a few blocks away you will arrive on Chapel st, another street famous for some of the cities best nightlife!
But I cannot forget the icon of St Kilda and one of the most famous attractions in Melbourne, Luna Park. While it can't compare to the modern theme parks on the Gold Coast, Luna Park boasts the 2nd oldest functioning rollercoaster in the world (it's wooden and forms the fence of the park) and is a great activity for the whole family!
NOTE: While St Kilda is a fun family day out, I don't recommend families stay here as is also known as the cities "red light district". Totally safe but not the nicest location for kids.
Luxury (US$250 and up)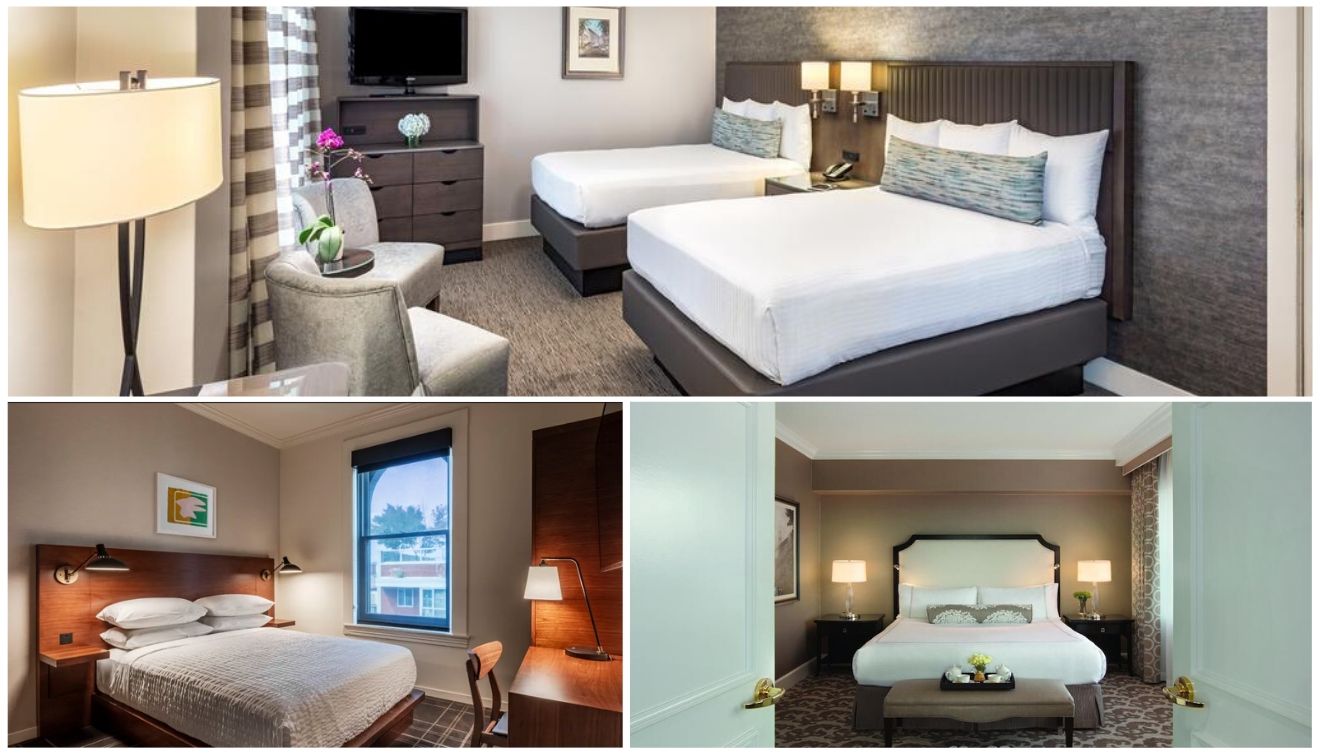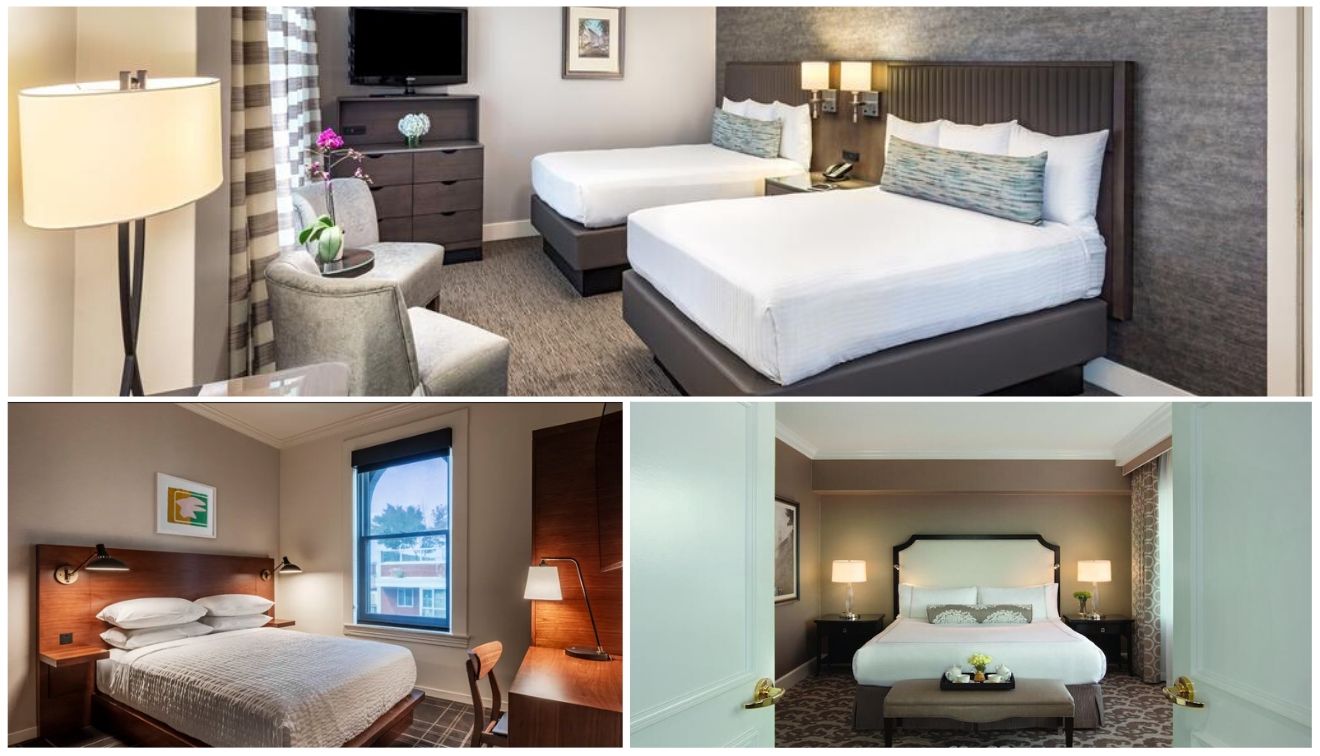 Luxury St Kilda Penthouse with Spa

– Yep, luxury isn't always found in hotels, but in apartments as well! This one is a great place to stay in Melbourne if you want to be super close to St. Kilda and Chapel Street as well. The level of service here is simply incredible and the design is superb! You will have many cool spots around you, including amazing places to eat!

Art Series – Be ready to fall in love with this 5-star St Kilda hotel, featuring trendy rooms with ultra-modern design, a fully contained kitchenette, and a wide variety of drinking and dining options, including Mediterranean cuisine and authentic Chinese cuisine!
Middle-priced (US$180 – US$250)
Comfortable, Well-Stocked Apartment Very Close to St. Kilda Beach

– Wondering where to stay in Melbourne so you can enjoy a mid-range place that offers an excellent service? Well, I have to tell you that this one is one of the best places to stay near St. Kilda beach! You will be on a beautiful street and you will also have plenty of places to eat or drink nearby. Definitely one of the best choices!

The Prince – Relax in style at the spa or the sauna of this wonderful boutique hotel, located in the cosmopolitan St Kilda neighborhood, just 5 minutes walk from the beach. The property offers luxury and comfort and three on-site great restaurants!
Budget (up to US$180)
The St Kilda studio – If you're wondering where to stay in Melbourne on a budget, super close to St. Kilda, this one is your answer! This is one of the best places to stay if you want super affordable rates. It's located on a calm street close to many interesting sights, restaurants, and trams!
Kimberley Garden Hotel – If you're looking for a place to fully relax without spending too much money, you found it! This budget hotel features spa facilities, an indoor pool with a glass ceiling, and a private balcony or open courtyard in all rooms!
Things to do in St Kilda:
Go for a stroll along the St Kilda Pier
Spend an exciting afternoon at the Luna Park!
Catch the St Kilda Market
Enjoy a cocktail at Vineyard
Head to Chapel St for a fun night out
Visit the St Kilda Botanical Gardens
4. Richmond – the best area in Melbourne for sports fans
Located very close to the center (CBD), on east Melbourne, this inner-city suburb has everything you might need for your stay – excellent shopping streets, amazing restaurants, entertainment, landmarks, and even street art!
But if you're a sport enthusiast, you'll love Richmond for the world-famous Melbourne Cricket Ground (MCG), Melbourne Park (home of the Australian Open), and AAMI Park (for rugby union, rugby league, and soccer).
Yep, I meant it when I said Melbourne is the sports capital of Australia! I have worked at all the major sporting events over the years and can tell you, the atmosphere at any match/game/tournament you attend will be amongst the best you ever experience!
Get ready to watch the best matches of your life and to celebrate the win (or lose) in one of the hip local breweries!
Luxury (US$250 and up)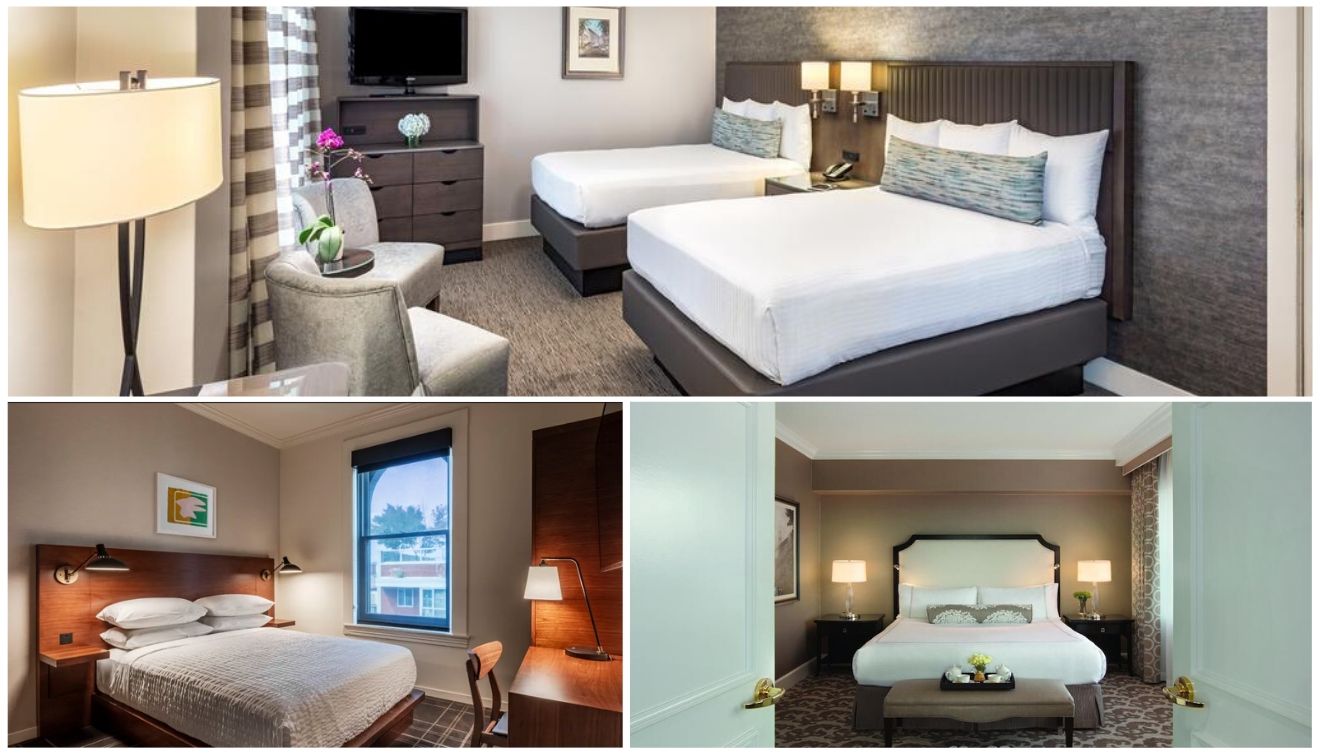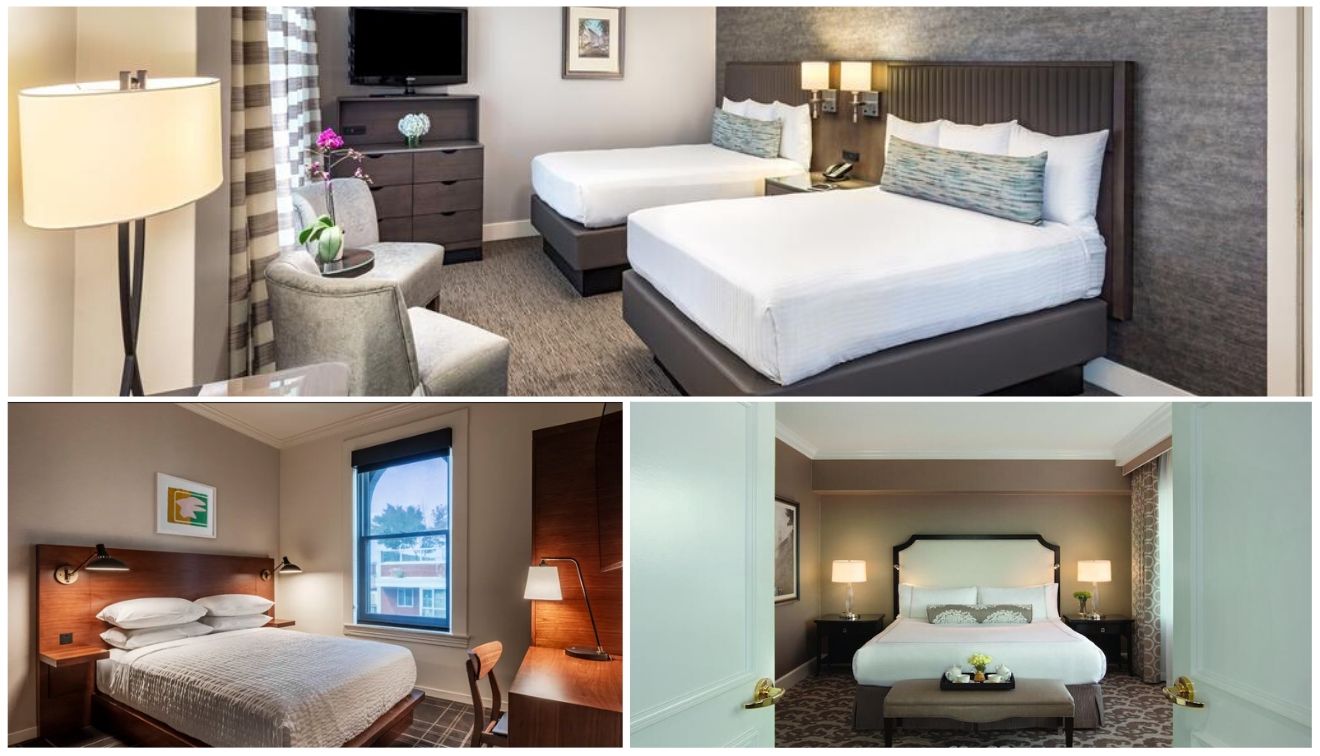 Lanbruk Richmond Hill

– These minimalistic apartments are a delight for those looking for a new open space. Very tastefully decorated, the studios are clean, bright, and spacious. Conveniently located right next to the hospital and just 50m away from their closest tram stop, this apartment has all the facilities necessary to make it just like a home to you!

Amora Hotel Riverwalk – I am sure you will love this luxurious hotel, located on the banks of the Yarra River, and at the same time very close to Melbourne CBD. With deluxe rooms, spa suites, and townhouse apartments to choose from, here you are just spoiled of choice!
Middle-priced (US$180 – US$250)
Quest East Melbourne – Enjoy the unique, refurbished apartments featuring an art-deco design of this beautiful hotel, where you can sit in the stunning rooftop garden and gaze at the panoramic views of the Melbourne skyline and parklands.
Element Melbourne Richmond – Here is another option with great value for the price! In this hotel, you'll have access to private parking, a bar, and a shared lounge. Other pluses? The family rooms are spacious and the staff is super friendly!
Budget (up to US$180)
View Melbourne – Find the best service at affordable prices in this hotel, featuring a rooftop spa and sauna, a great on-site restaurant, and spacious lovely rooms… what do you need more?
Adara Richmond – Who says that you have to renounce comfort if you travel on a budget? Located close to lots of shops and trams, this hotel will offer you comfortable beds, clean sheets and towels, and excellent service!
Things to do in Richmond:
Have a beer at the famous Moon Dog Craft Brewery!
Watch a match at the Melbourne Cricket Ground
Eat exquisite seafood at Richmond Oyster Bar
5. Southbank & Docklands – best for art & culture
Melbourne's Southbank, located on the other side of the Yarra River from downtown, is a neighborhood full of cultural venues, great restaurants, designer shops, and home to the extraordinary Crown Casino complex, so get ready to be entertained from day to night!
While it's right next to the CBD, Southbank has a much more upscale, modern vibe. Starting from the Art Center (Melbourne's Eiffel tower) and the botanical gardens, the Southbank of the Yarra River is where you will experience the architectural, artistic, and cultural side of the city thanks to the many fashionable art galleries and great concert venues.
Just adjacent to Southbank there's Docklands, a rejuvenated and affluent inner-city suburb facing a lovely marina, and surrounded by harborside bistros and a big football stadium, that will offer you as many attractions as its neighbor! From the many cycling paths to The District Docklands shopping center, and the amazing Melbourne Star observation wheel, you are only spoiled of choice!
Luxury (US$250 and up)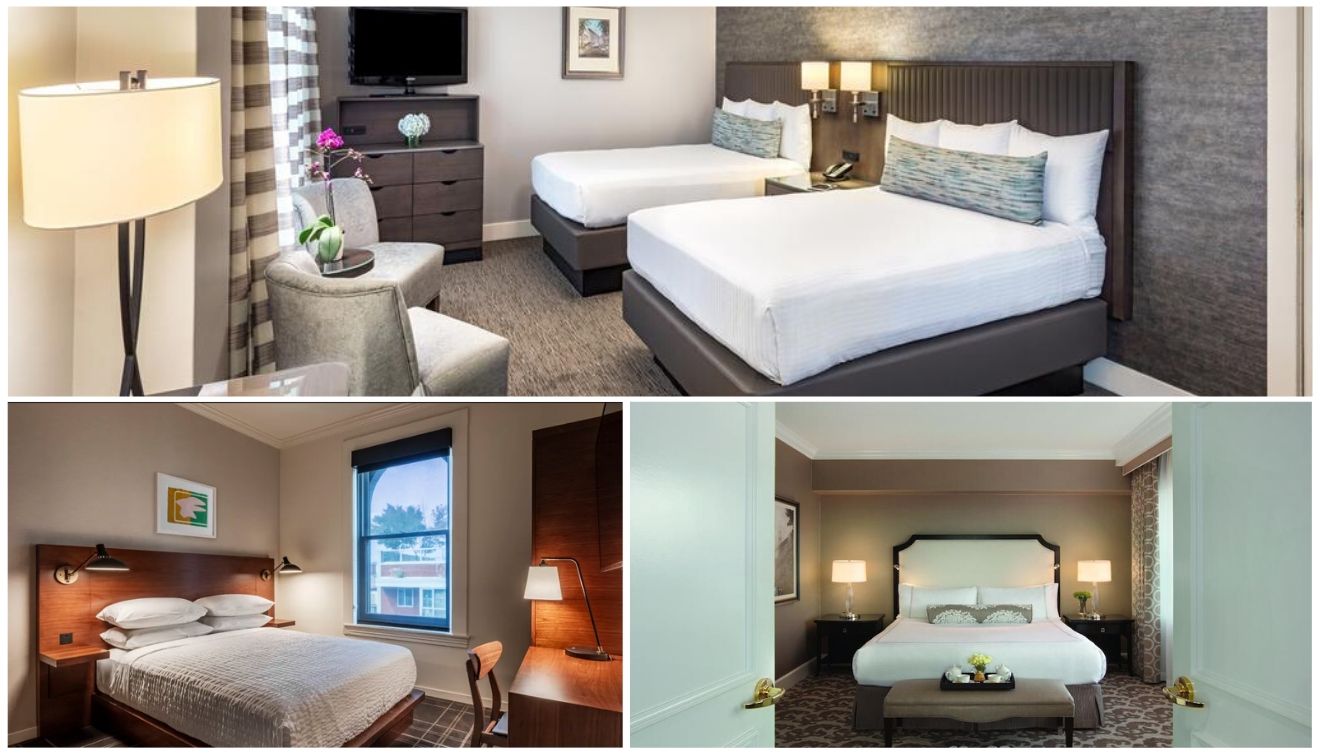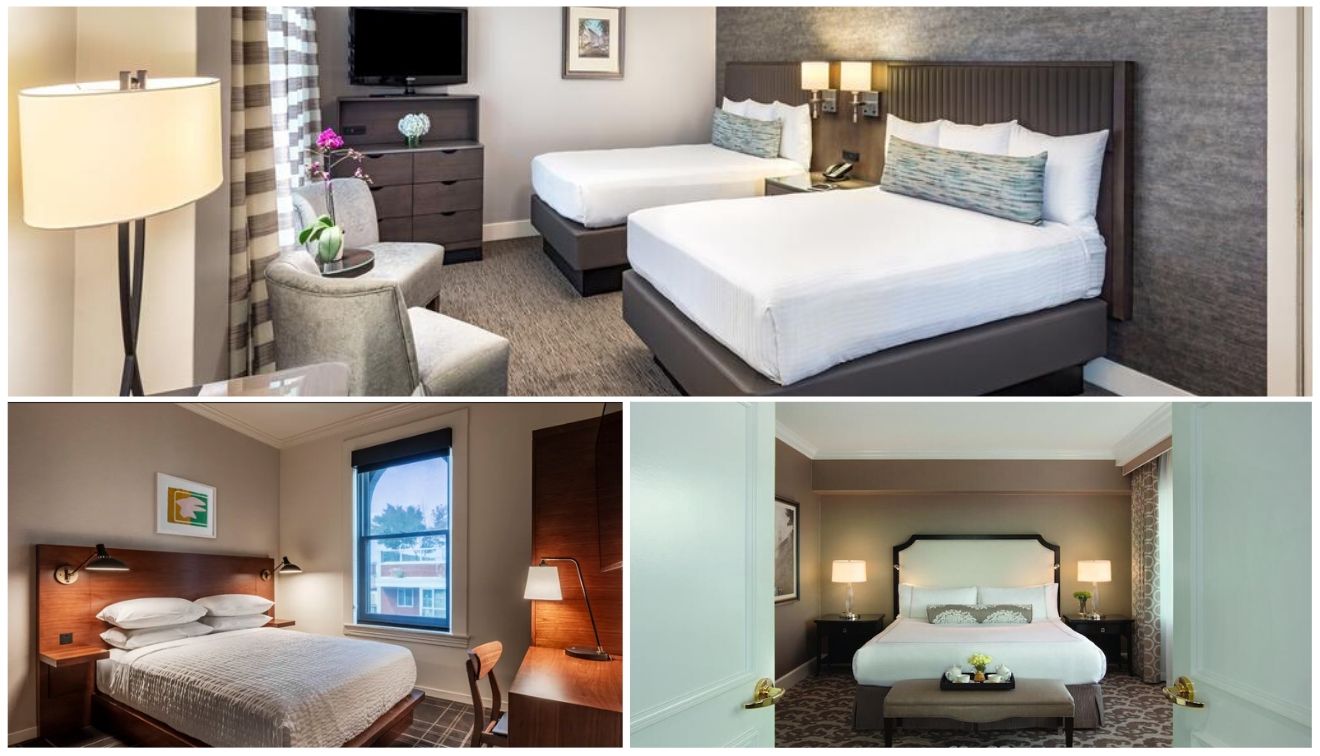 The Langham Melbourne

– The finesse of The Langham Hotel is something otherworldly. Its American décor and subtle sophistication make it a unique choice for your Melbourne holidays. Rooms have a spectacular view of the Yarra River. Plus, another advantage is that you will have free wifi and you will be on a street right in the center, close to tons of food and bar options!

Crown Towers Melbourne – Enjoy pure luxury in this 5-stars hotel, offering spacious elegant rooms with views of the city and the Port from the floor-to-ceiling windows. Relax in the heated indoor pool, steam room, sun terraces or stay in shape in the fully-equipped fitness center!
Middle-priced (US$180 – US$250)
Pan Pacific Melbourne

– A favorite amongst the Melbourne boutique hotels, the Pan Pacific is one of the best places to stay and it offers you a superb stay for a middle-priced cost. With panoramic views of the city from your room's floor-to-ceiling windows, enjoy a room serviced breakfast from their super comfortable beds while you watch the city go by! One of the top Melbourne accommodations in the mid-range category!

Saint Domain

– A 10-minute' walk from the National Gallery of Victoria, this apartment satisfies every Pinterest's users dream! You can choose to stay at the apartment with a city view so you can relax on the couch while admiring the Melbourne skyline. The fully-equipped kitchen is a dream for those amateur chefs that love making their own meals! Close to Flinders Street Station as well!
Budget (up to US$180)
Imagine Marco – Enjoy a lap pool, sun terrace, onsite parking, and a 24-hour reception desk at very affordable prices! This budget hotel also has a great location close to the Crown Casino, with the Southbank precinct close by!
Ink Hotel Melbourne – Great fun hotel featuring cool art, fun rooms, and nice ambiance. Here you can start your day with a delicious breakfast and finish it with some good happy hour drinks!
Things to do in Southbank & Docklands:
See the art at the National Gallery of Victoria
Watch a performance at the Arts Center
Take a river cruise
Hop on the Melbourne Star observation wheel
Spend a crazy night at the Crown Casino!
Enjoy the Botanical gardens
6. Brunswick – the hipster area where to stay in Melbourne
Brunswick is a multicultural suburb with a laid-back vibe, where you'll find young and alternative people, a lot of live music, upbeat pubs, and beer gardens.
This place is a real mecca of diversity and inclusivity, everyone here is free to express him/herself so you will never feel out of place, and this characteristic reflects in the area itself!
You'll find amazing street art, local theatres, multi ethnic restaurants, independent galleries and live music bars in every corner, but I suggest you to check out Sydney Road, Brunswick's heart, if you want to really immerse yourself in the hipster spirit of the neighborhood.
In this street you can visit the artist's studios and see what they do, and chat with shop-owners and bartenders while you're checking out the several venues and stores… everyone is so friendly here!
Luxury (US$250 and up)
The Barkly – If you want to have a luxurious stay in Brunswick, I recommend you this modern apartment, evocating a warm and bright feel with a sophisticated touch! Here you'll have open space, comfort, tranquility and prime position, at only 7 minutes to the City Centre!
Middle-priced (US$180 – US$250)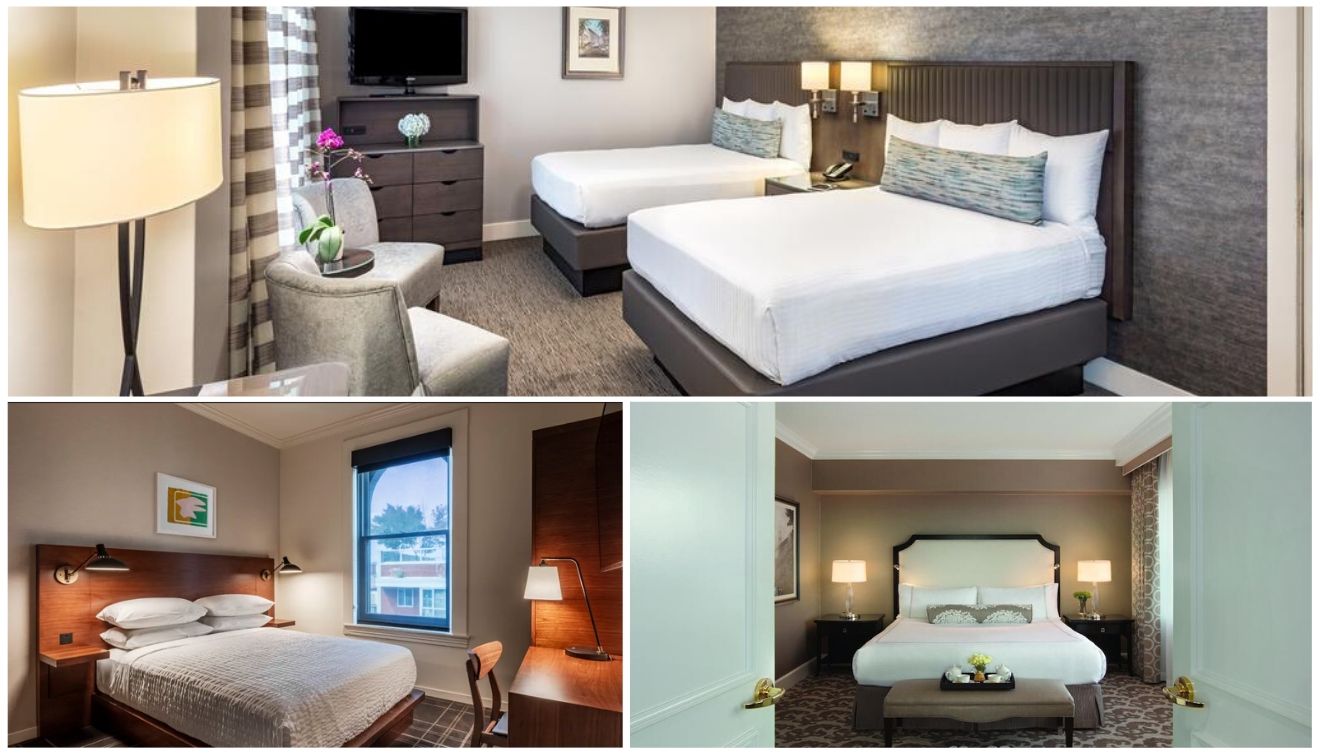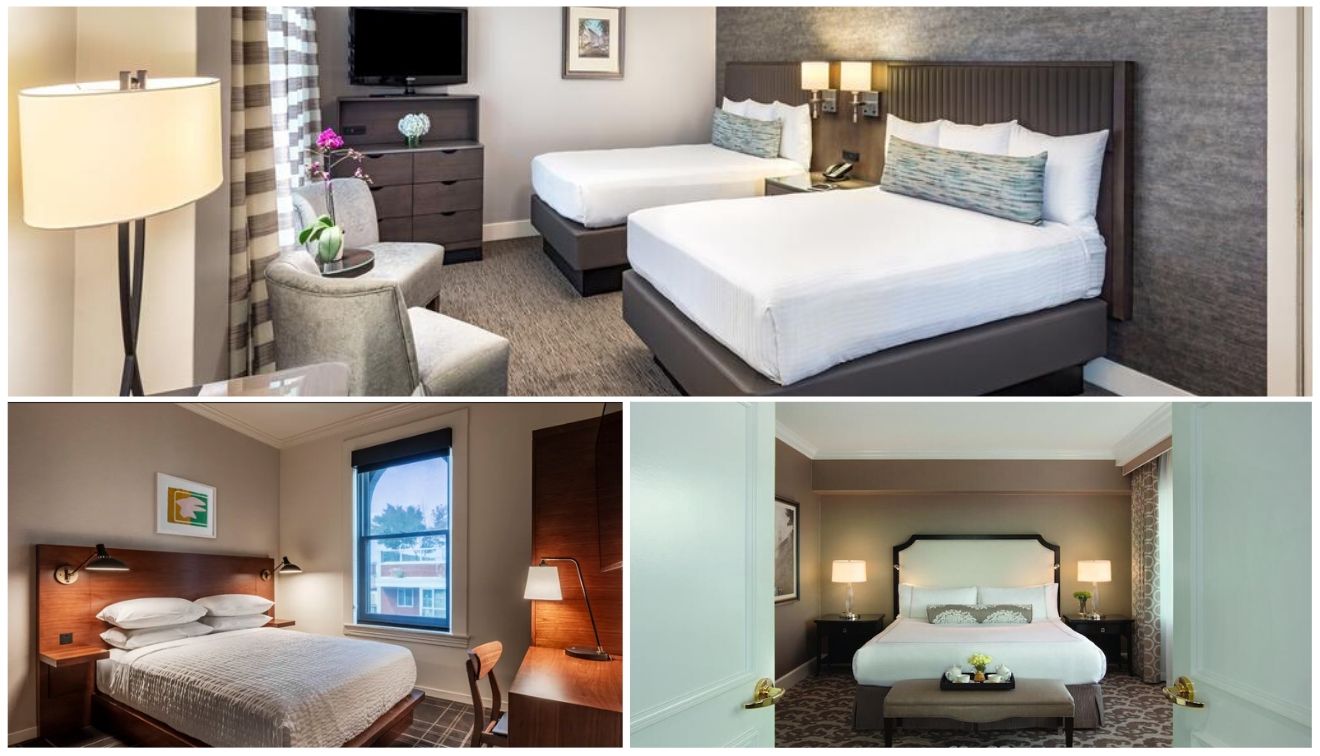 Quest Flemington Central – If you're looking for top service and treatment, then you should check out this hotel, where you'll have access to beautiful facilities, including an infinity pool, fitness centre, BBQ, and a rooftop terrace… what do you need more?
Quest Moonee Valley – Have all the comfort you need in these spacious 4-stars fully-equipped apartments. Here you can cook breakfast in your private kitchen, relax on the balcony, have a barbecue with friends in the communal area, or even have a swim in the outdoor pool!
Budget (up to US$180)
Royal Hotel by Nightcap Social – In case you're looking for cheap places to stay in Melbourne, this one is a great place where you can book your room! Here you'll find air-conditioned accommodation, a restaurant or a bar where you can have the best drinks!
Brunswick B & B –

Are you looking for cheap accommodation in Melbourne? No worries, I got you! This bed and breakfast is one of the best places in the best area, offering accommodation with free WiFi, air conditioning, a garden, and a terrace.
Things to do in Brunswick:
Check out the "Brunswick Kind" mural, near Sparta Place!
Attend the cool Sydney Road Street Party in March!
Visit the Squishface artist Studio
Shop local in the New Model Beauty Queen's warehouse
7. South Melbourne & Port Melbourne – for a stay with the family
South Melbourne and Port Melbourne are two south-central suburbs, located between the Yarra River and Port Phillip Bay, home to Victorian-era terrace houses, clean calm beaches, and a lazy Sunday afternoon vibe.
These upmarket residential areas not only has affordable prices but are littered with delicious bunch spots and open beer gardens leading their way down to the beach.
While St Kilda is the most famous beach near Melbourne CBD, I much perfer Port Melbourne!
Here you can enjoy the best panoramic views of the city's skyline, check out the traditional South Melbourne Market, or visit the magnificent Royal Botanic Gardens. The relaxing tranquility here makes it the perfect place to spend a vacation with the family!
A little further south, there is also the famous Albert Park surrounding a lake, where you can walk, have picnics, shop at the arts and crafts during the weekends or maybe even catch the Australian F1 Grande Prix … all the members of the family will be happy!
Luxury (US$250 and up)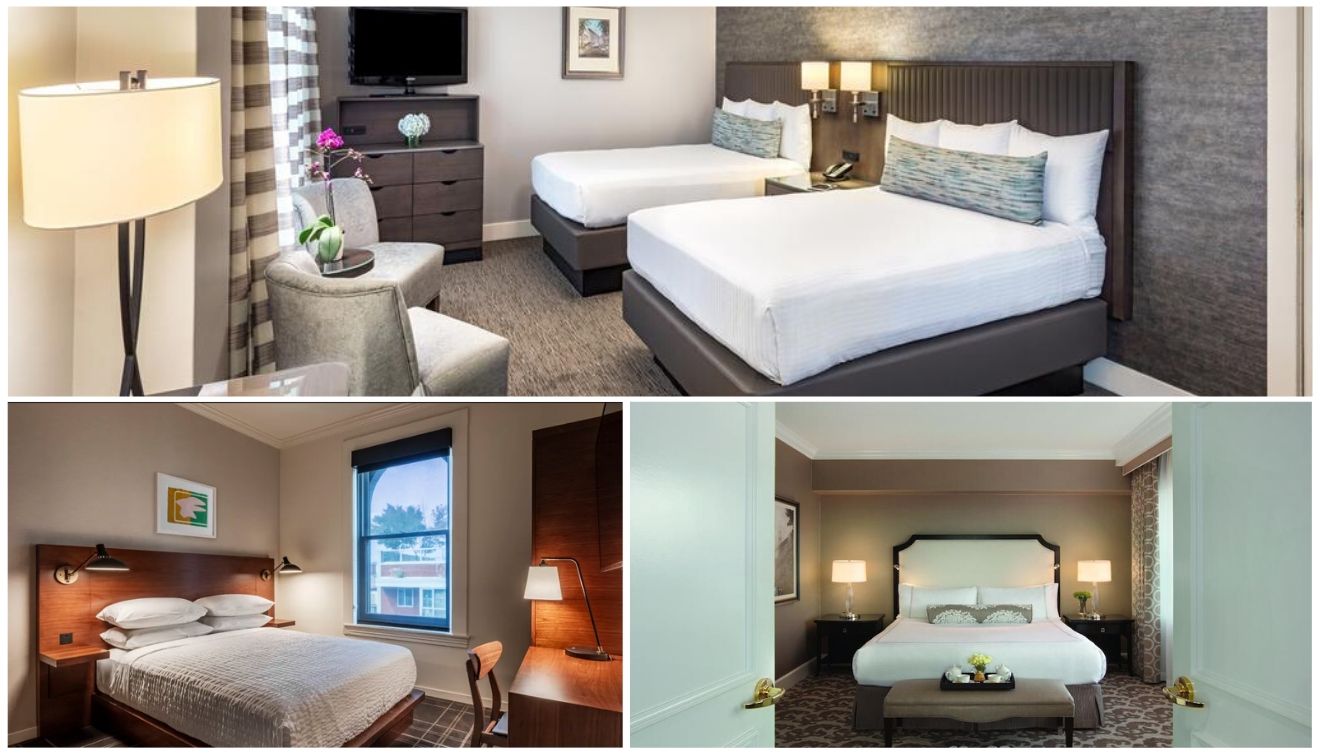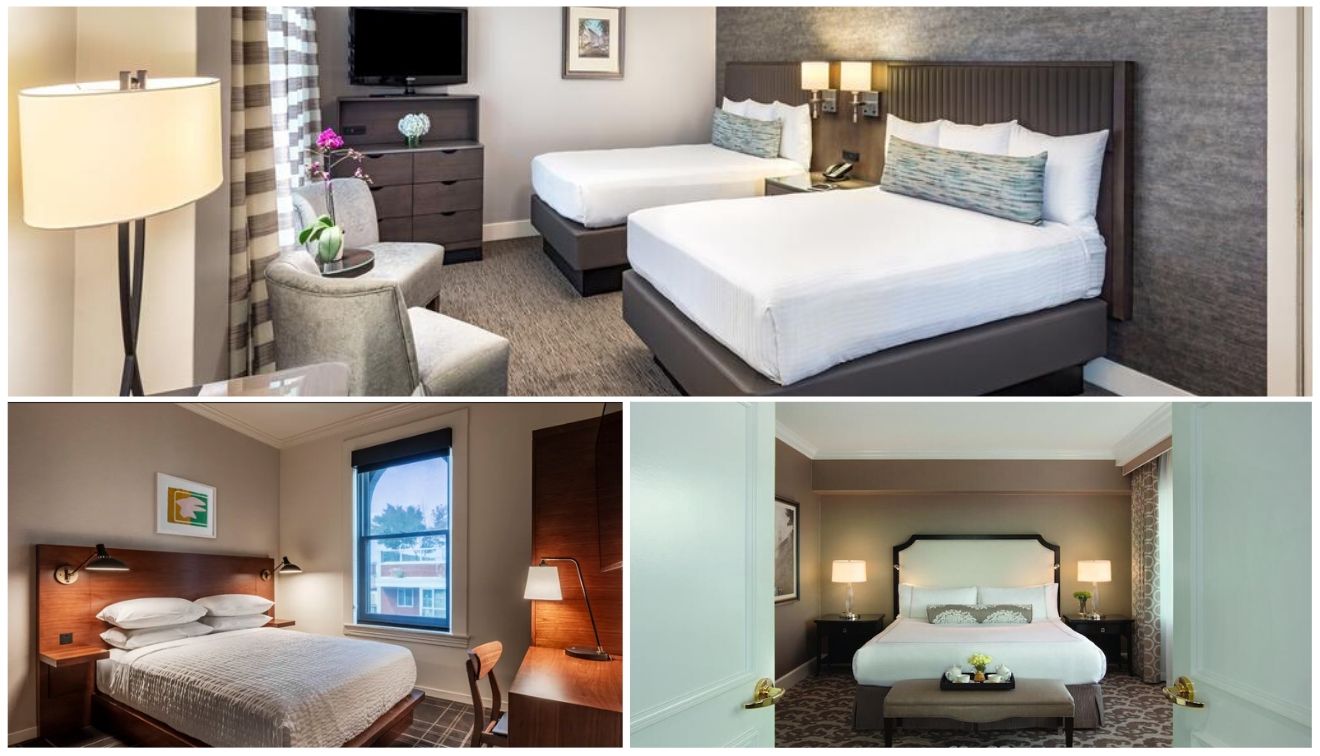 Crown Metropol Melbourne – Do you want to stay in one of the most luxurious hotels in South Melbourne? You have just found one of the best places to stay for a spoiled vacation! This 5-star hotel awaits with an on-site gym, a spa, and a beautiful swimming pool!
Novotel Melbourne South Wharf – Are you ready for another amazing luxury choice? If yes, the 4 stars Novotel Melbourne South Wharf is waiting for you with an on-site fitness center, an amazing restaurant, and a top bar where you can have some drinks!
Middle-priced (US$180 – US$250)
Adina Apartment Hotel – Here's another superb hotel located in one of the best areas to stay in Melbourne. Make sure to book a room here if you want to benefit from the sun terrace, indoor pool, fitness center, and family rooms. Definitely, a great place to stay!
Holiday Inn Express – Here's another great place located super close to Yarra river. Aside from the beautiful and super clean rooms, you will have access to an amazing breakfast, a fitness center, and a bar. So great!
Budget (up to US$180)
Quest on Dorcas – If you're looking for great value for money, you should check out this lovely hotel. The property offers spacious rooms, a great location, access to a fitness center, a cafe, and secure covered parking, for a perfect stay in two or with the family!
Clarendon Hotel Melbourne – In case you didn't find the best budget place to stay in Melbourne yet, I have another excellent suggestion that might help you! If you choose to stay here you'll be less than 1 km from Crown Casino and some of the best restaurants!
Things to do in South Melbourne:
Have a picnic at Albert Park
Enjoy a beach day on Port Melbourne Beach
Look for the pink lake in Westgate park
Relax with a long brunch
Check out the traditional South Melbourne Market!
---
Frequently Asked Questions about Melbourne
🏨 What is the best area to stay in Melbourne?
😎 What is the coolest suburb in Melbourne?
The coolest neighborhood to stay in Melbourne is Brunswick, a multicultural suburb with a laid-back vibe and hipster vibe!
💃🏻 What is the best part of Melbourne for nightlife?
👪 Where to stay in Melbourne with the family?
Conclusion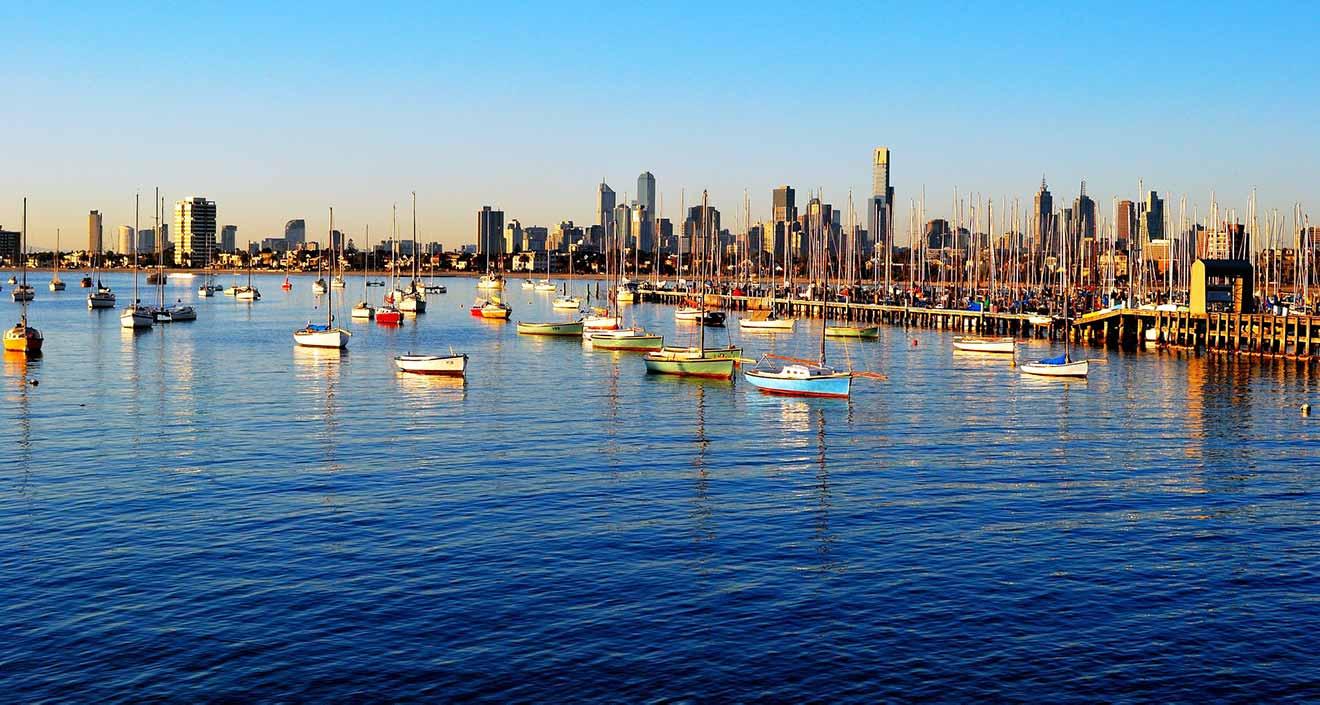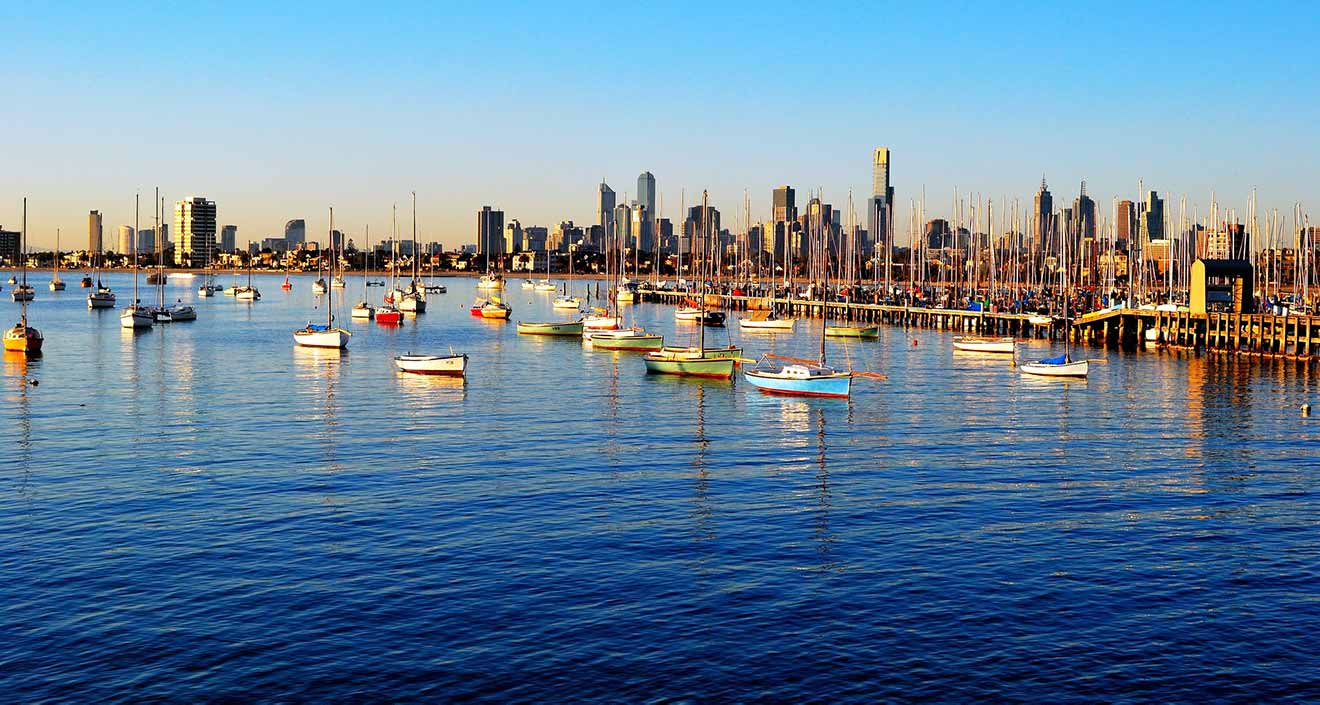 Thank you for reading my Melbourne accommodation guide! Writing it makes me want to go home for a visit, no one does brunch quite like Melbourne!
I hope that you have finally found the perfect neighborhood where to stay in Melbourne Australia and booked your ideal hotel.
I know I gave a lot of options so in case you're still undecided about which accommodation is best for you, here are my absolute favorite hotels, both with great location and reviews:
Grand Hyatt Melbourne

– One of the best luxury hotels right in the heart of the Melbourne CBD, great option for a stay full of comfort!

Novotel Melbourne Central

– With an unbeatable location right in Melbourne's city center, this boutique hotel offers great value for the price!
But bear in mind that there is almost always a big event happening in Melbourne so accommodation is usually in high demand, make sure you book it as soon as possible!
By the way, if you need help in planning your trip, I recommend checking out our article about 12 Best Things to Do in Melbourne and here is all our content about Australia!
Let me know in the comments below if there are any other questions you might have, I am happy to help!
Happy travels,
Kate
---
Pin it for later!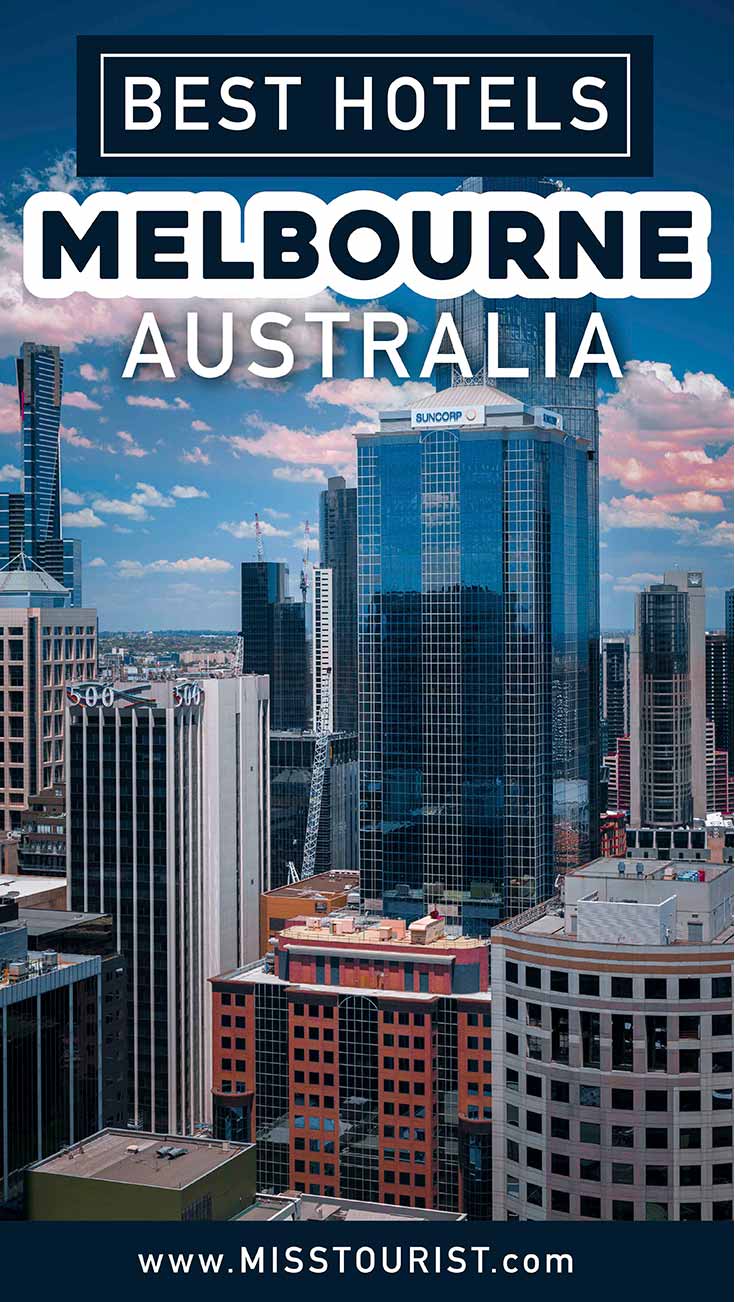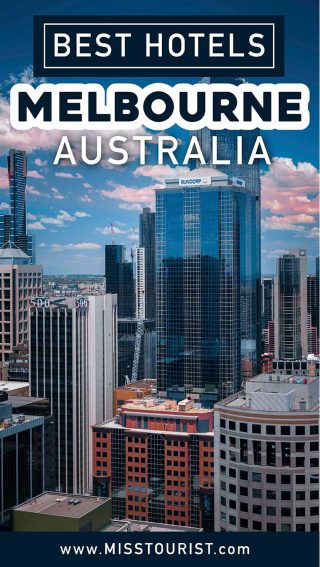 Pin it for later!