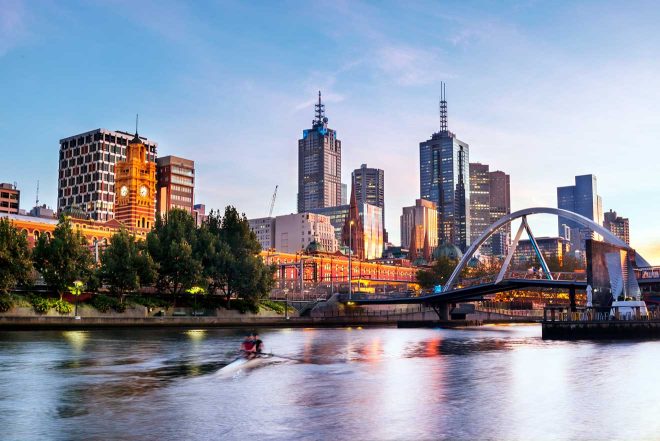 Melbourne, the cultural capital of Australia, is one of the favorite destinations for those heading to this wonderful continent and looking for a bit of city life!
If you have decided to head to this stunning city, with a touch of Europe down under, I am here to help you find the best possible hotels in Melbourne!
Being the second biggest city in Australia, there is no shortage of quality Melbourne accommodation however, as tourism in Melbourne rises year by year, places get fully booked often, and even more on important dates or summer and winter holidays, so make sure you book it in advance!
But which neighborhood is the best one to stay at in Melbourne? It is such a spread out city, that you'll find places to stay all over! However, there are a few neighborhoods where great accommodation prevails. Let's have a look at them: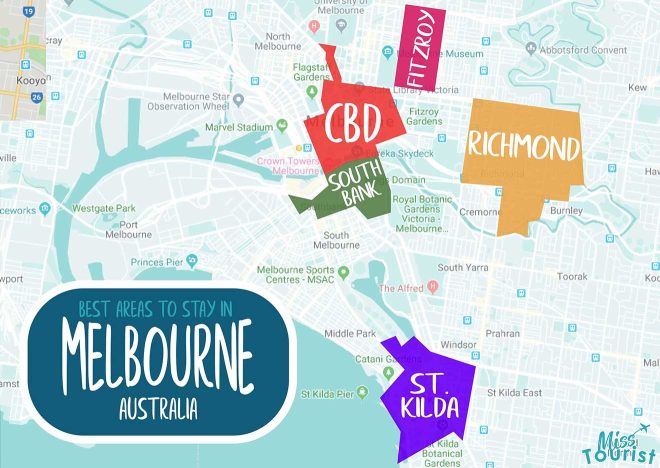 The CBD – or Central Business District is the most central part of Melbourne, where you will find most of the big accommodation providers. Perfect for those looking to be close to amenities, shopping and landmarks!
Fitzroy – the coolest area in one of the coolest cities in the world! Not far from the city center and a magnet for hipsterism, you will bump into countless vintage stores and coffee shops!
St Kilda – this iconic Melbourne suburb has been a favorite neighborhood for tourists for more than a century! Right by the beach, enjoy its historic buildings and wide variety of amazing seaside restaurants!
Richmond – located very close to the center (CBD), this area has everything you might need for your stay – discount shopping streets, landmarks and even street art!
South Bank – this area is full of cultural venues, great restaurants, designer shops and more!
These are the main Melbourne neighborhoods where tourists stay at. You can obviously stay all over the city, Melbourne has really hip suburbs such as Collingwood, however, they're not as popular amongst tourists!
So, without further ado, let's get to it, check out my favorite hotels and apartments in Melbourne below:
Best Hotels in Melbourne, Australia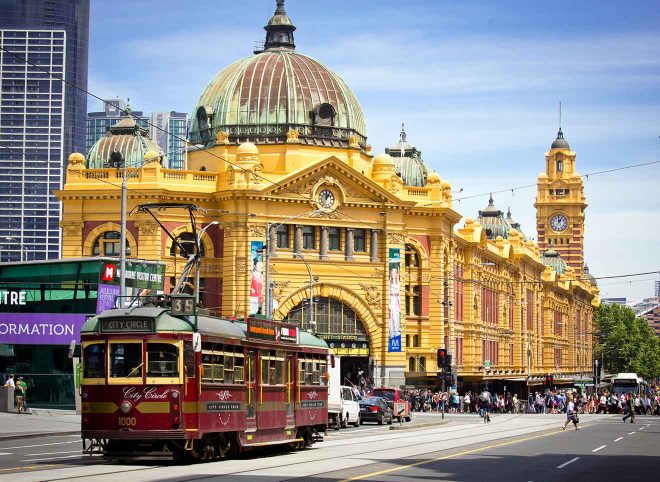 With the overwhelming array of available hotels, finding the best place to stay in Melbourne can be a daunting thing to do! Fear no more, I have selected the best of the best Melbourne city accommodation for you, so your search is officially over!
Let's get straight to it: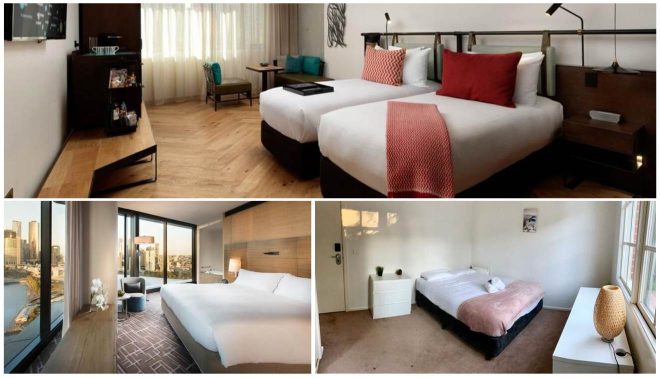 Luxury ($160 USD and up)
If you are looking to stay at an upmarket hotel in an outstanding location, check out the luxury hotels in Melbourne that I have selected for you down below. They all have the best reviews and I consider them the best of the best 5-star hotels in Melbourne.
Qt Melbourne – Enjoy a classy stay at the Qt Melbourne, just 200 m from the Regent Theatre you can entertain yourself at a play and then have a drink at their wonderful rooftop terrace. The ambience and décor is as elegant as it gets in this stylish city! The best luxury accommodation in Melbourne!
The Langham Melbourne – The finesse of The Langham Hotel is something otherworldly. Its American décor and subtle sophistication makes it a unique choice for your Melbourne holidays. Rooms have a spectacular view of the Yarra river and their long-term staff will genuinely make you want to go back as many times as you can!
Grand Hyatt Melbourne – The design and architecture of the Grand Hyatt will leave you breathless. Moreover, the location, right in the heart of the Melbourne CBD is pretty much unbeatable and makes it a favorite amongst travelers! Enjoy a drink at their club located on the 31st floor, providing you with outstanding views of the city!
Middle-priced (from $55 USD to $160 USD)
Even though Australia, and specifically Melbourne can sometimes be an expensive city, there are still plenty of options for the traveler looking for middle range prices.
These options are more often than not almost as good as the luxury stays, so I encourage you to have a look at my three top picks below:
Pan Pacific Melbourne – A favorite amongst the Melbourne Hotels, the Pan Pacific offers you a superb stay for a middle-priced cost. With panoramic views of the city from your room's floor to ceiling windows, enjoy a room serviced breakfast from their super comfortable beds while you watch the city go by! The only problem is that you might never want to leave!
Novotel Melbourne Central – With an unbeatable location right in Melbourne's city center, the Novotel Central Hotel is one of the best boutique hotels in Melbourne. Rooms are located between the 20th and 35th floors, which means a great view is guaranteed. Make sure you check out their onsite steakhouse, don't worry, you can burn the calories later at their InBalance Gym!
Victoria Hotel Melbourne – The historic Victoria Hotel in Melbourne, is a landmark by itself. This old Melbourne hotel is one of the very first luxury hotels, it was opened in the 1920's. However, this doesn't mean that you need to give up on conveniences, for instance, checkout their onsite pool and sauna, the best cure for a tiring day of sightseeing!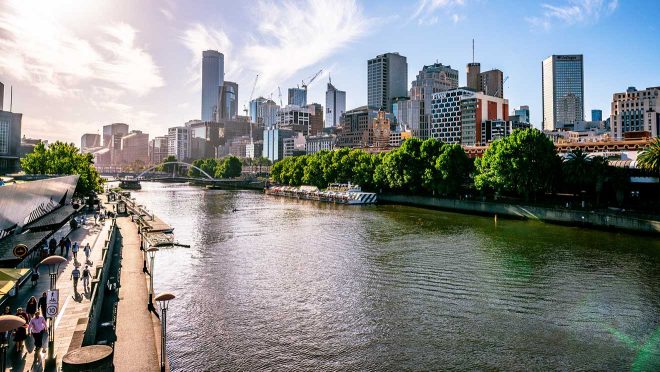 Budget (up to $55 USD)
Finding cheap hotels in Melbourne City can be a bit of a hard task! However, don't panic! There is always an option for the budget traveler and I would hate to leave you out of the picture!
If you would like to see the best cheap hotels in Melbourne (CBD or not), keep reading:
Hub Hostel – If you are looking for a good hostel in Melbourne, stop looking, this is it! Just a couple of km from the CBD and conveniently located in front of a tram stop, the Hub Hostel is a clean hostel located in a heritage listed building. Don't forget to check out its awesome common areas and fully equipped kitchen!
Bev and Mick's International Backpackers at Mcmahon's – Set in the West Melbourne district, this backpacker's is a great option if you are looking for cheap places to stay in Melbourne! The staff will make you feel like this is your home away from home. Make sure you hang out at their onsite pub; it is the perfect place to make friends!
Central Club Hotel – If your budget is tight but hostels are also not your thing and you would like something a bit more grownup, head to the Central Club Hotel. Just 2km away from the main Melbourne landmarks, the rooms are private rooms and the only thing you share are the bathrooms! Phew! A great choice of cheap accommodation in Melbourne.
Best Apartments in Melbourne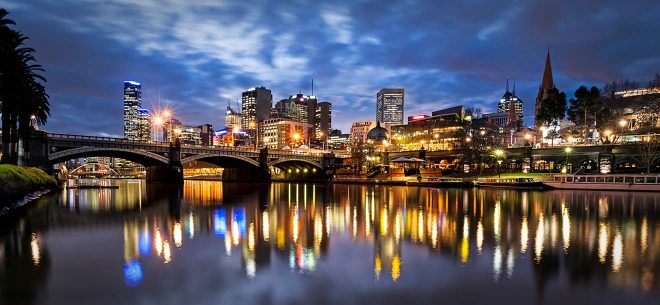 There is nothing I love more than the freedom of having a fully equipped kitchen in my accommodation, even if I'm planning not to use it, there are always some snacks that need storing or some eggs that need cooking! Going out for every meal of the day ends up being exhausting for me, and it just loses its uniqueness when you do it all the time!
All these are reasons why I sometimes choose to stay in an apartment, that was my experience in Melbourne and I am really happy it worked out that way!
I have selected the best Melbourne short stay apartments to stay at, divided by price and all with the greatest ratings. Let's go!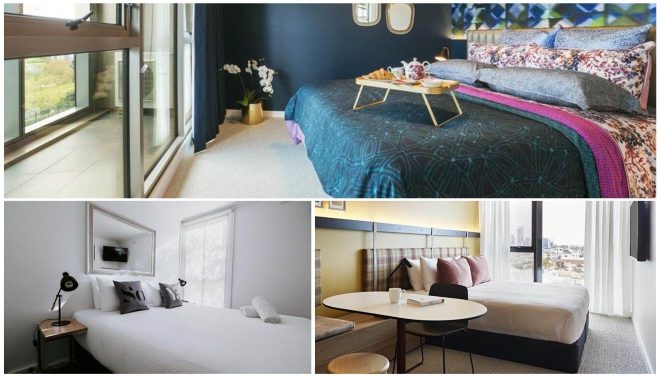 Luxury ($160 USD and up)
When you hear apartments, or "being able to cook your own meal", it is usually not a symbol of luxury. But it couldn't be further away from the truth, at least in Melbourne!
There are several Melbourne holiday apartments because more and more people have started to appreciate what it is like to feel at home while traveling and they are looking for that! Keep reading for the best luxury apartment hotels in Melbourne:
Lanbruk Richmond Hill – These minimalistic apartments are a delight for those looking for a new open space. Very tastefully decorated, the studios are clean, bright and spacious. Conveniently located right next to the hospital and just 50m away from their closest tram stop, this apartment has all the facilities necessary to make it just like a home to you!
Quest St Kilda Road – The modern Quest St Kilda Road Apartments are a favorite amongst people that travel frequently to Melbourne! Its clean-cut décor and contemporary rooms are one of its strongest points apart from its convenient location! Check out the onsite gym for a workout session to start your day ahead on the right foot!
Mantra on Russell – My personal favorite amongst all the Melbourne apartments! They are located right at the heart of the Melbourne CBD, but once in your apartment it will feel like an oasis in the middle of the chaos! Make sure you enjoy their swimming pool, spa and sauna and take a day off from sightseeing!
Middle-priced (from $100 USD to $160 USD)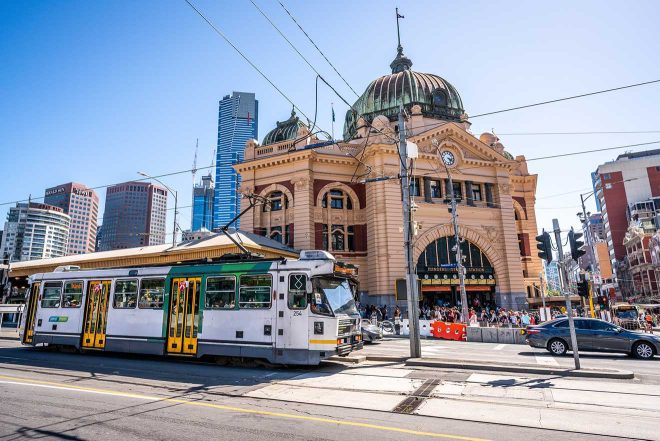 Middle-prices apartments in Melbourne are definitely quite unique. You can choose from apartments with thematic décor or others with just the best city views available, there's a choice for everyone!
Check out my list below of the best middle range apartments that you will ever find in Melbourne:
SoYa Apartment Hotel – Just 100m away from the train station and a 10 minutes' drive from the CBD, the SoYa Apartment Hotel will probably be the most cinematic apartments you have ever stayed at! The apartments are decorated just like an Andy Warhol painting, perfect for those looking for a little bit of eccentricity in their lives!
Saint Domain – A 10 minute' walk from the National Gallery of Victoria, this apartment satisfies every Pinterest's users dream! You can choose to stay at the apartment with a city view so you can relax on the couch while admiring the Melbourne skyline. The fully-equipped kitchen is a dream for those amateur chefs that love making their own meals!
The Jazz Corner Hotel – As a jazz fan myself, I must admit that the Jazz Corner Hotel is really close to my heart! The décor is just so jazzy that it will make you feel like you are in a 1960's American condo. Additionally, rooms have floor to ceiling windows where you can enjoy the city views from while you have a drink!
Budget (Up to $100 USD)
Finding budget apartments in Melbourne is quite the quest, however I have managed to find some of the best ones for you! Find below the best cheap apartments in Melbourne, you are welcome!
Quest Flemington Central – Even though the Quest Flemington Central is located a 15min drive from the city center, it makes up for this with its magnificent views of the Melbourne skyline. Head home a bit earlier, and enjoy a beverage while you admire the city views from the infinity pool as it gets darker and darker!
Pegasus Apart Hotel – Even though it's in the budget section, the Pegasus Apart Hotel is of great value because it still is a 4-star hotel in Melbourne! Located right in the CBD, you can get home for a home cooked meal, a nap and a swim and then head back to town in time for enjoying the rest of your day!
Adina Apartment Hotel St Kilda – Just like the Adina apartments that we talked about in

our Brisbane post

, their St Kilda branch is an epic choice! With a more modern vibe, these apartments are located just 10 minutes' walk from the St Kilda beach, and it is a great choice in that picturesque area of Melbourne!
Best Hotels near Melbourne Airport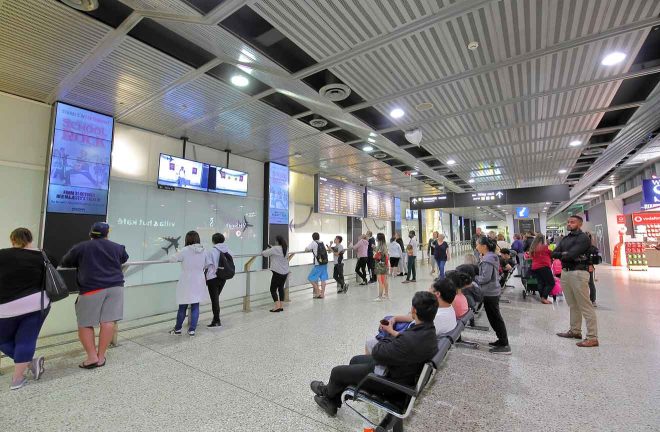 Whether you are spending just a few hours in Melbourne, a whole day or even a whole week, you might be looking into hotel accommodation in Melbourne that is close to the Tullamarine Airport (MEL). I feel you; I can be quite annoying to go from the city to the airport so this type of accommodation comes in very handy!
This is why I have elaborated this list of the best stays in Melbourne that are close to the airport, all arranged by price and review score: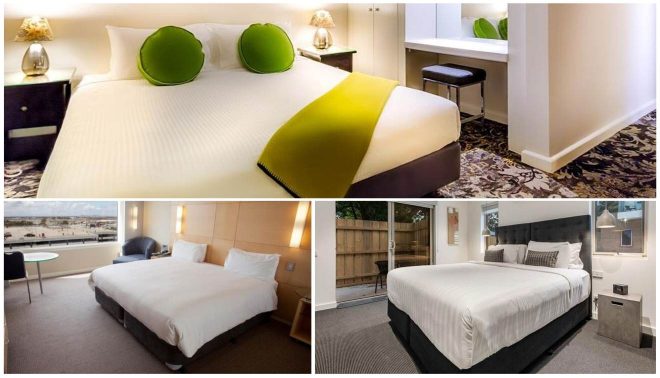 Luxury ($160 USD and up)
There is definitely no need to give up on luxury when you stay close to the Melbourne airport. These hotels are used to weary travelers that are just looking for comfort, convenience, a good sleep and a good meal. So, they make sure that they can provide all these for you.
Check out below my three favorite luxury airport hotel choices:
Parkroyal Melbourne Airport – If I told you that Melbourne Airport has a luxury hotel connected to its terminal, would you believe me? That's the Parkroyal Melbourne Hotel! Literally 2 min walk from the airport, you can jump in their spa pool right after you land! A perfect oasis in the middle of Tullamarine Airport!
Holiday Inn Melbourne Airport – Located just 400 m from the airport, the Holiday Inn Melbourne Airport is a favorite amongst frequent travelers to the cultural capital of Australia. There won't be need to leave the hotel as you can enjoy their modern Australian restaurant and diverse facilities. Make sure you take advantage of their free 24/7 airport shuttle!
Mantra Tullamarine Hotel – Offering a free airport shuttle, the Mantra Tullamarine Hotel, just like most of the hotels from this chain, doesn't disappoint! With spacious and bright rooms, you will wake up nice and fresh and without a hint of jet lag! The staff is fabulous and they give you a free drink on arrival! What else do you need?
Middle-priced (from $100 USD to $160 USD)
You want the convenience of being close to the airport, but you also don't want to break your pocket in the meantime? Mission accomplished! These are some of the best middle range hotels by the Tullamarine Airport:
Melbourne Airport Motel – Don't be fooled by its name, this motel contains clean and sophisticated studios to make you feel at home before or after your flight! The bed is comfortable and the space is spotless clean! In addition, the extremely accommodating staff makes the airport transfer quite smoothly with their free airport shuttles!
Quest Melbourne Airport – This 4-star hotel in Melbourne has all you ever going to need during your stay! Super clean and spacious, guests are particularly impressed by their straightforward amenities and comfortable beds! Check out their onsite fitness center in order to stretch those legs before or after the flight, such a convenient facility!
Best Western Melbourne Airport – Just 10 minutes' drive from the airport, the Best Western Melbourne Airport is one of the top hotels in Melbourne next to the airport in terms of staff, guests rave about them! They have renovated rooms and it is such a relaxing stay despite its proximity to the airport! Also, check out their saltwater swimming pool!
Budget (up to $100 USD)
It is definitely a challenge to find budget accommodation in Melbourne within the Tullamarine area, however it is possible! Whether it is at the vicinity of the airport or it's got an airport shuttle I have got you covered! Check the best three below:
City Limits Hotel – This quirky little hotel is a great choice for when you want to save a bit of money on accommodation, so you can have some spare for your Melbourne activities! With fabulous reviews and a great location, the staff can organize an airport shuttle for you and they will go way beyond their limits to help you!
Ciloms Airport Lodge – Ciloms Airport Lodge is a comfortable and conservative choice for your Melbourne stay! It offers clean spacious rooms, indoor swimming pool and all the amenities necessary for you to have a perfect time, they even have a sauna! Make sure you get in touch with them to book their free airport shuttle!
Ibis Melbourne Swanson Street Hotel – The Ibis chain is always a good option for when you are looking for a safe choice, they never disappoint! Also, a great option when looking for cheap accommodation in Melbourne. The tram is right outside their door and it's got a 24-hour reception! There couldn't be a more convenient choice!
---
Conclusion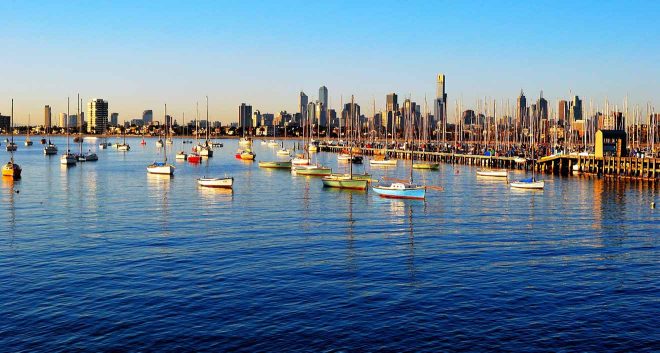 Thank you for reading this Melbourne article!
I hope that if you were doubting on where to stay in Melbourne Australia, you have just decided! Above I have covered from the best Melbourne city hotels to the best Melbourne holiday apartments so you can choose the right one for your stay!
I have also talked about places to stay near Melbourne Airport, for those that just can't be bothered to travel to the city or are just going to be in Melbourne for a night, there is no need for you to suffer with the tedious "getting into the city" business!
But bear in mind, that Melbourne tourism is getting bigger by the day so accommodation is on high demand, make sure you book it as soon as possible!
By the way, if you need help in planning your trip, I recommend checking out my article about 12 Best Things to Do in Melbourne!
Let me know in the comments below if there are any other questions you might have; I am happy to help!
Happy travels,
Arantxa
Pin it for later!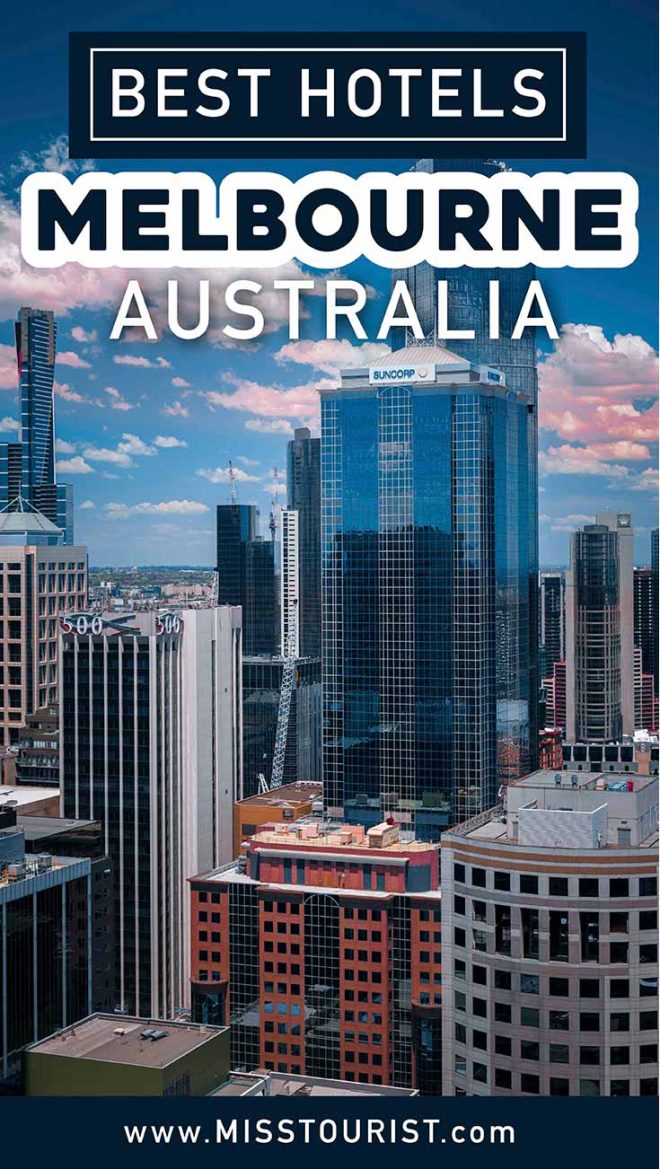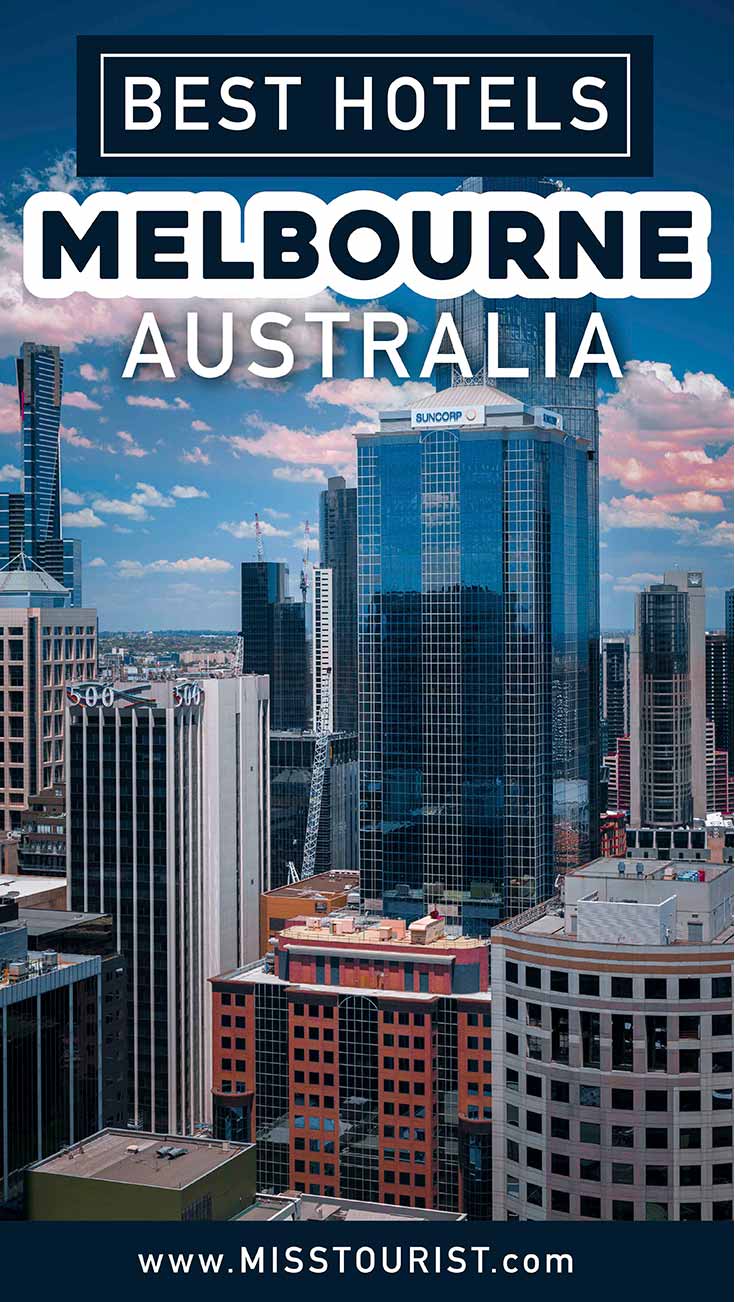 Pin it for later!