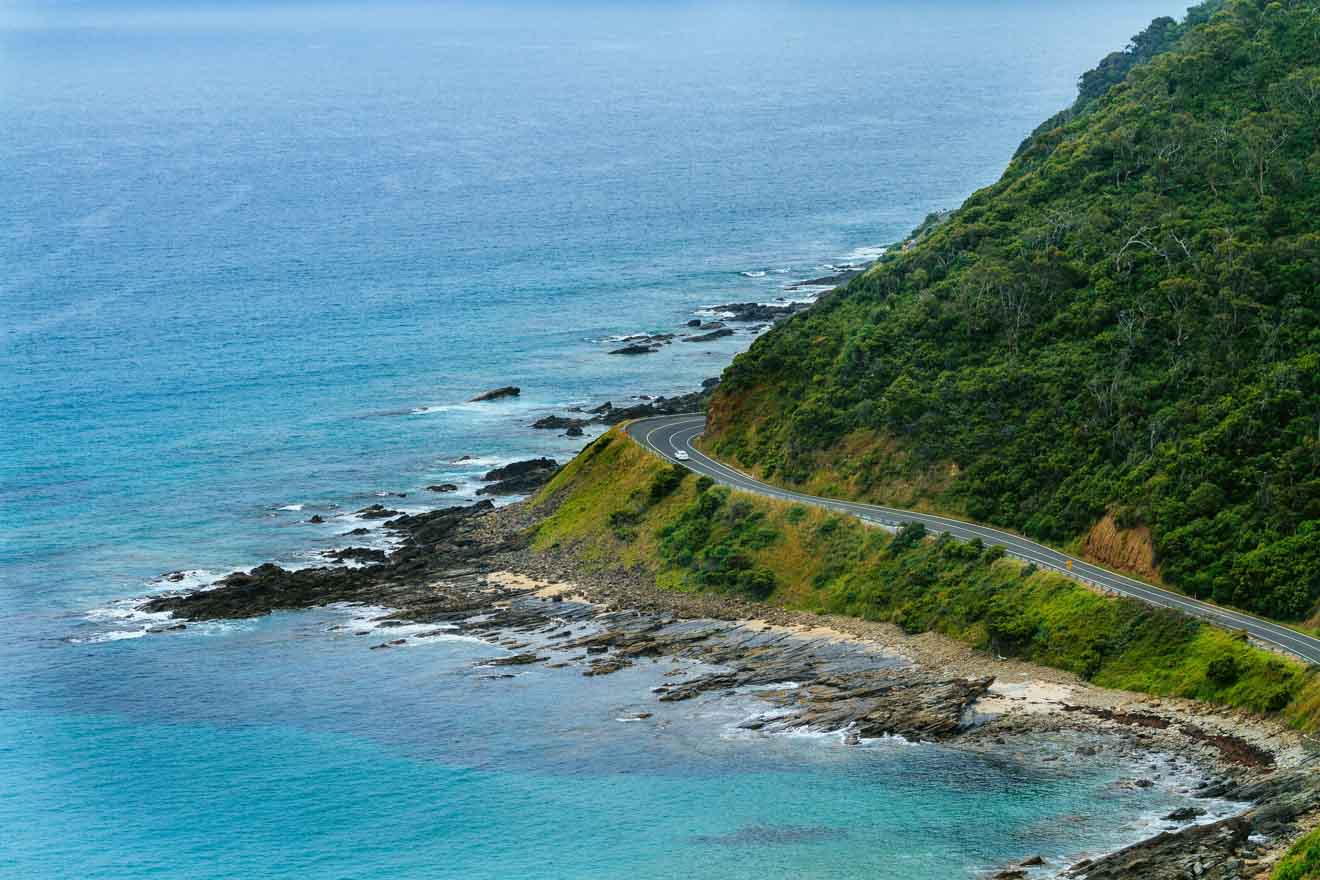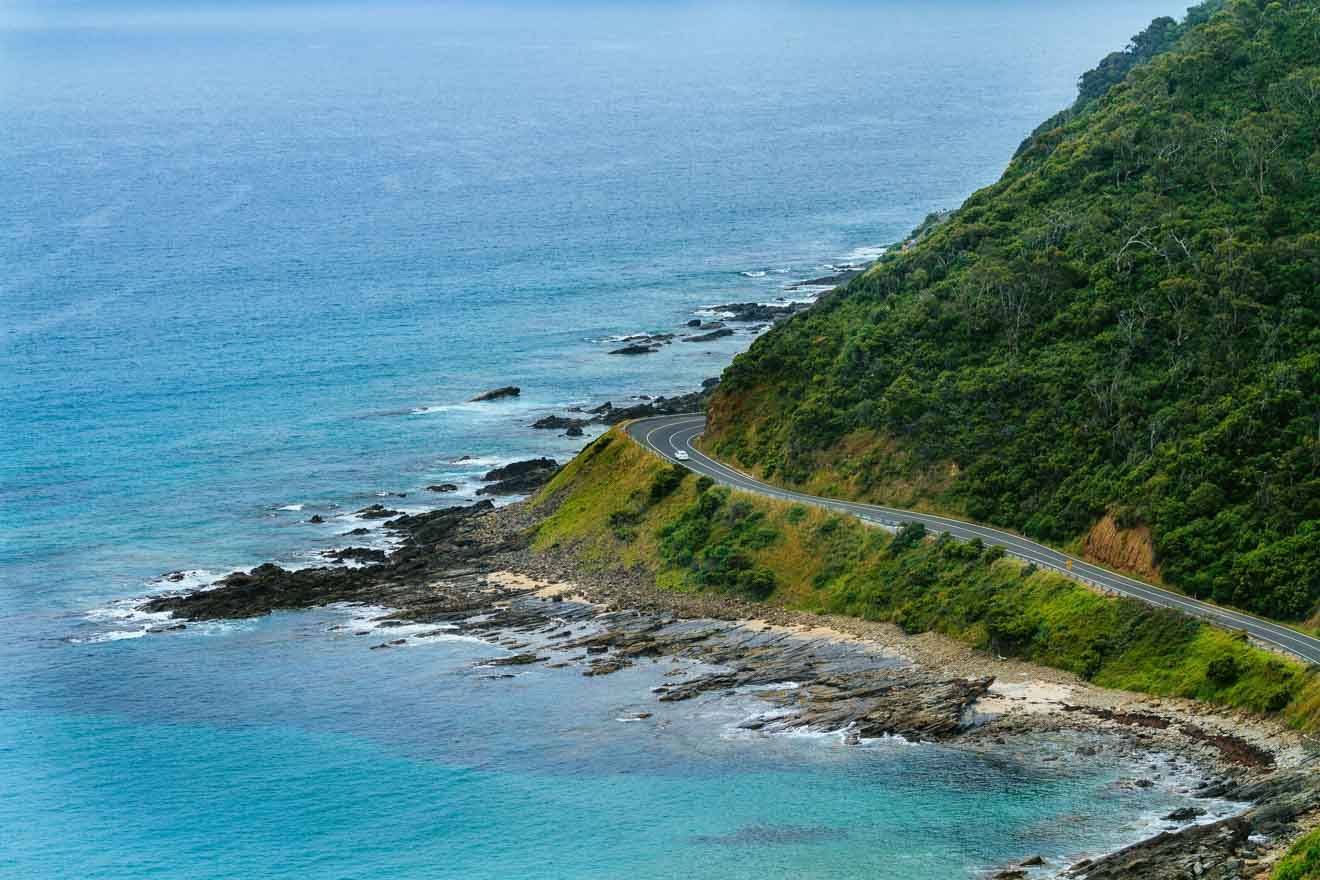 A road trip down the Great Ocean Road should be on every one's bucket list! It was on mine before I moved to Australia, and I ended up driving it three times! This road tripping paradise is a winding coastal road in Southern Victoria, full of wildlife, stunning ocean views and world-famous rock formations! For me, it sums up the beauty of Australia in just 243km!
In this day-by-day Great Ocean Road itinerary, I'm going to break down exactly how to spend three days exploring this popular coastal road. This includes detailed information on all of the essential stops along the way, how many kilometers you'll be covering each day as well as hotel recommendations in some of the most popular towns. Most people spend at least a couple of nights along the Great Ocean Road, but if you're squeezed for time or want to add a few more nights, this itinerary can be adapted to your needs too!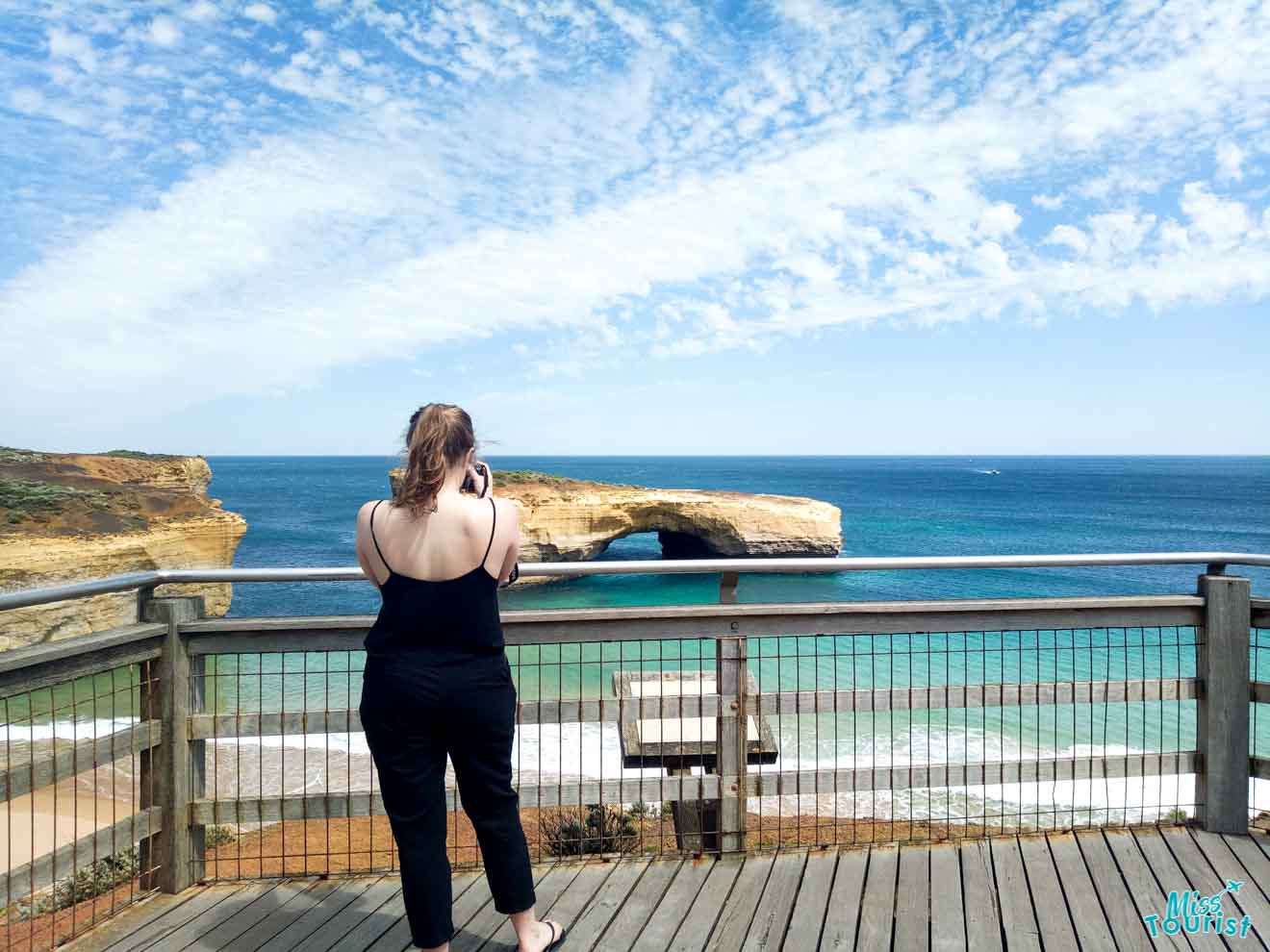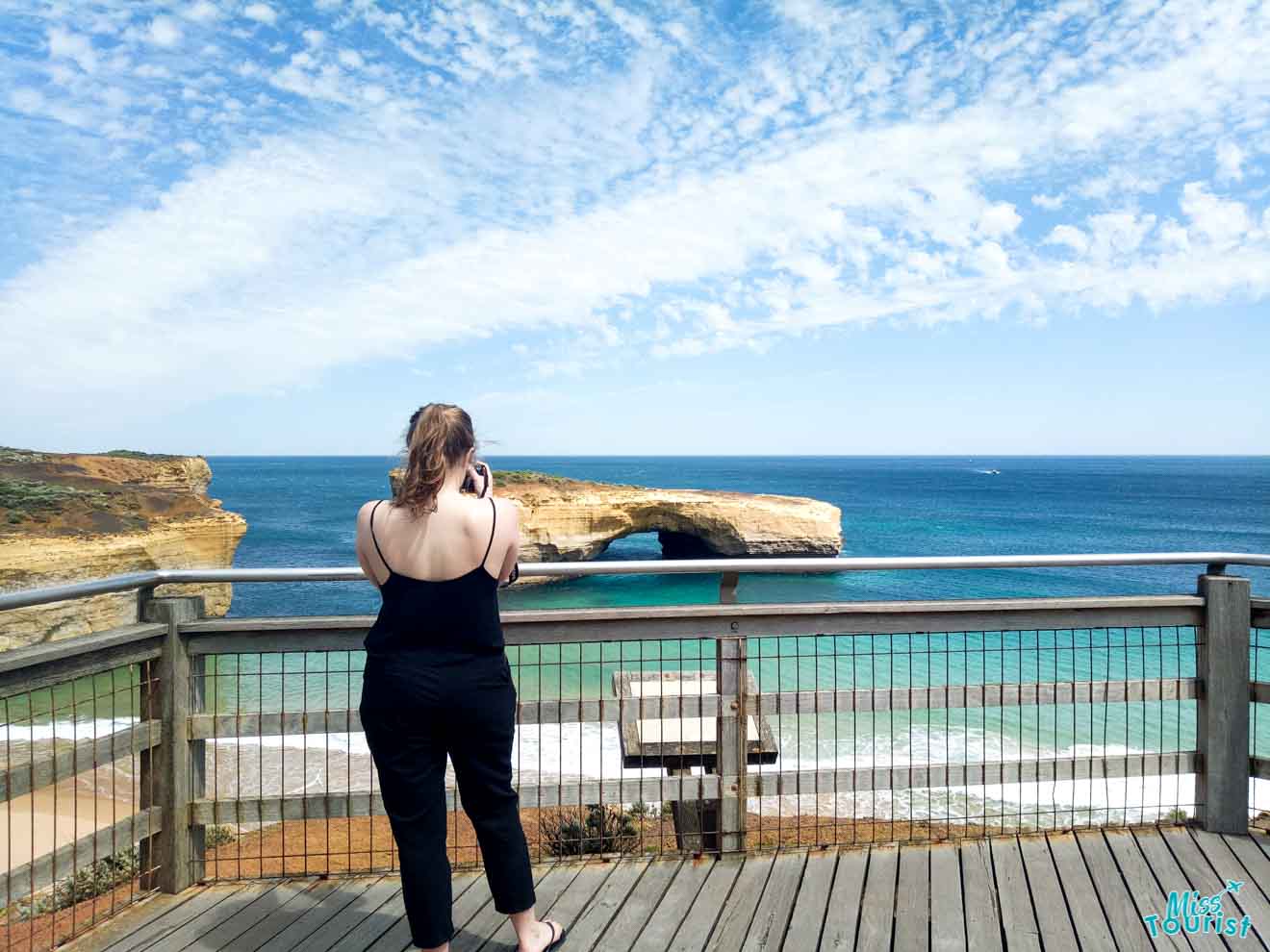 When I lived in Melbourne, the Great Ocean Road was my favourite spot in Australia, and I actually completed the drive on three separate occasions!
During my first trip, I took my time and spent a week driving from Adelaide to Melbourne, exploring every single nook and cranny! The second time, my friend was visiting, and we went on a whirlwind day trip along the Great Ocean Road – it was still beautiful, but it was far too much driving on one day for my liking! On my third visit, I put together a 3-day Great Ocean Road itinerary, that fitted just perfectly into my long weekend off work!
But before I delve into the fun stuff, here are some helpful things to know about the Great Ocean Road before you travel!
Where is the Great Ocean Road and where do you start?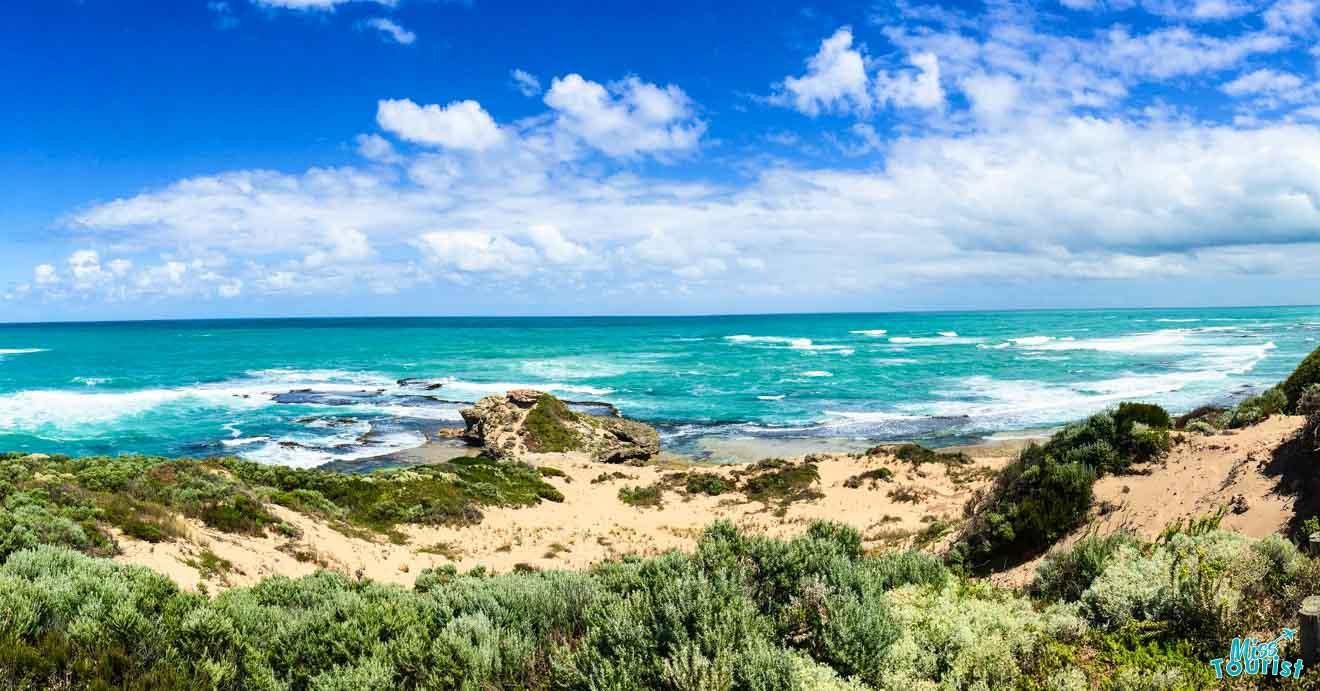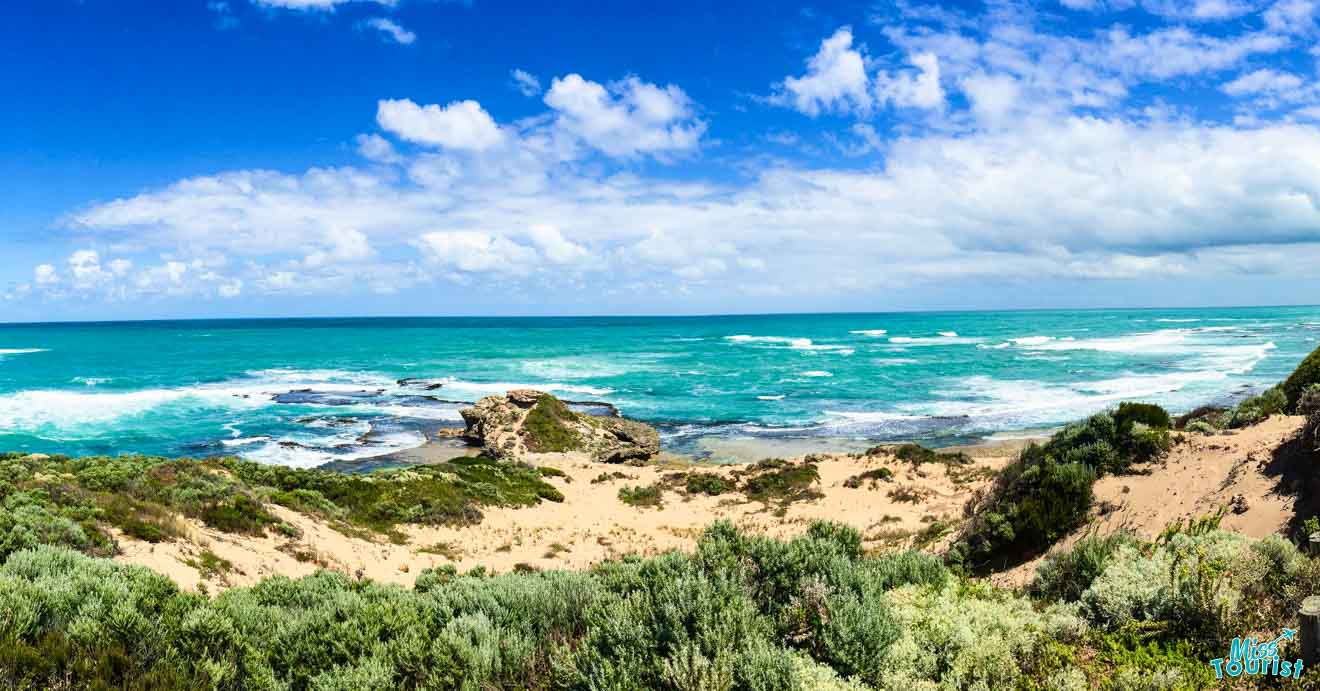 Everyone has their own version of where their Great Ocean Road itinerary will take them. Officially, the drive stretches 243km between Torquay and Allansford, on the picturesque southern coastline of Victoria.
This part of Australia is also known as The Shipwreck Coast as nearly 650 shipwrecks have occurred between Cape Otway and Port Fairy!
Most people choose to begin their trip from either Melbourne or Adelaide. I've done the trip in both directions and although it doesn't make too much difference, I'd recommend starting from the eastern side if you can (i.e. Melbourne/Torquay).
The reason for this is simple! Starting on the east means you'll be on the ocean side of the road (they drive on the left in Australia!) so you'll get all the best views and be able to pull over into lookout for some awesome snaps!
What's so special about the Great Ocean Road?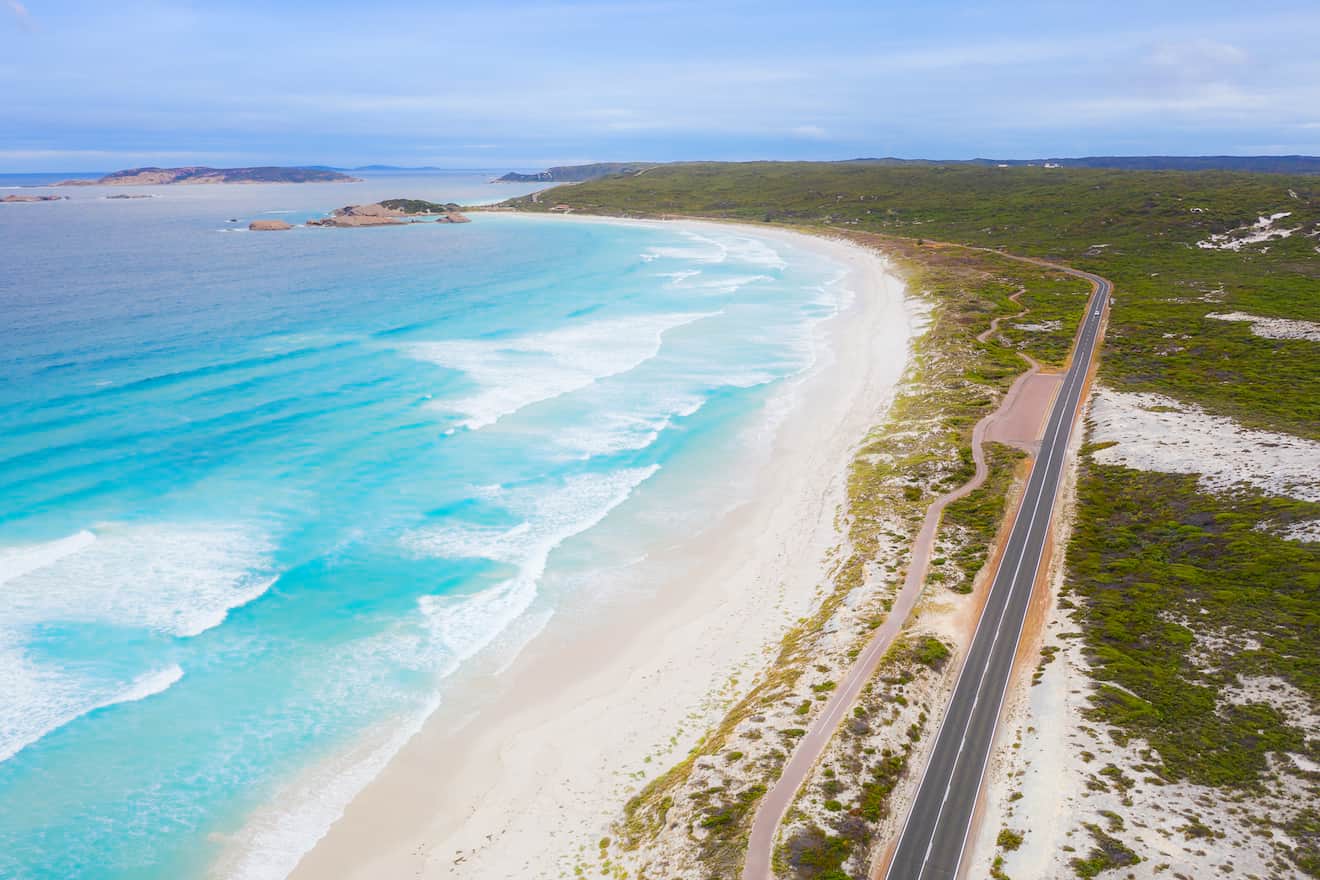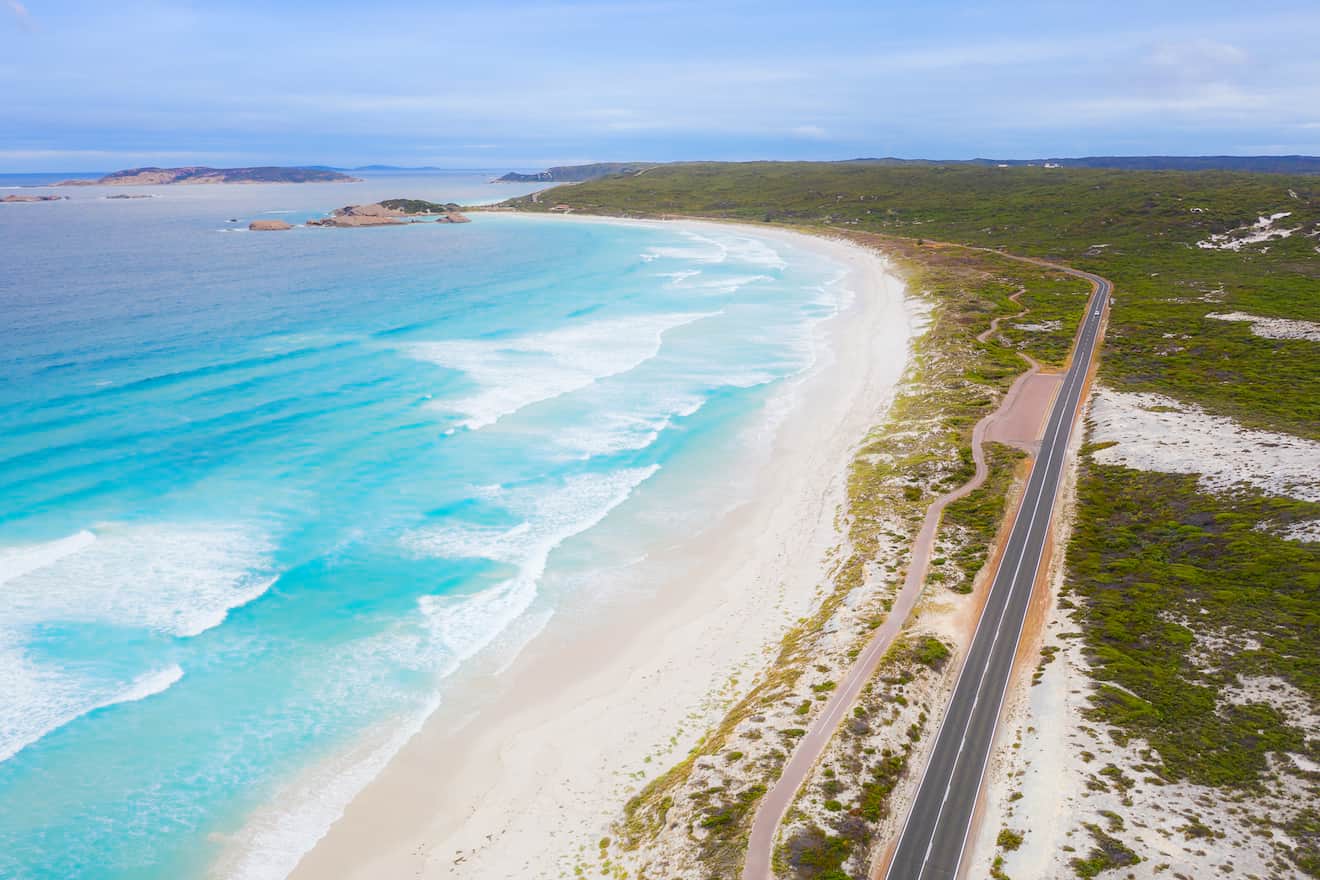 When they began building the Great Ocean Road in 1918, this part of Australia was completely untouched, with a rugged coastline and wild rainforest. With no direct route, travelling between the few coastal towns in the area was only possible via the slow inland road.
At the same time, hundreds of men were returning to Australia, after fighting in World War I, with no job to go to. In an effort to solve both problems, a plan was devised to build the Great Ocean Road – this would provide employment for the war veterans and solve the problem of travelling between towns.
Incredibly, it took more than ten years for the men to build the road into what we see today!
At the start of your trip, just down the road from Torquay, you'll see a huge monument that arches over the road and pays tribute to the men who built the Great Ocean Road and those who sacrificed their lives for their country.
Day 1: Melbourne to Apollo Bay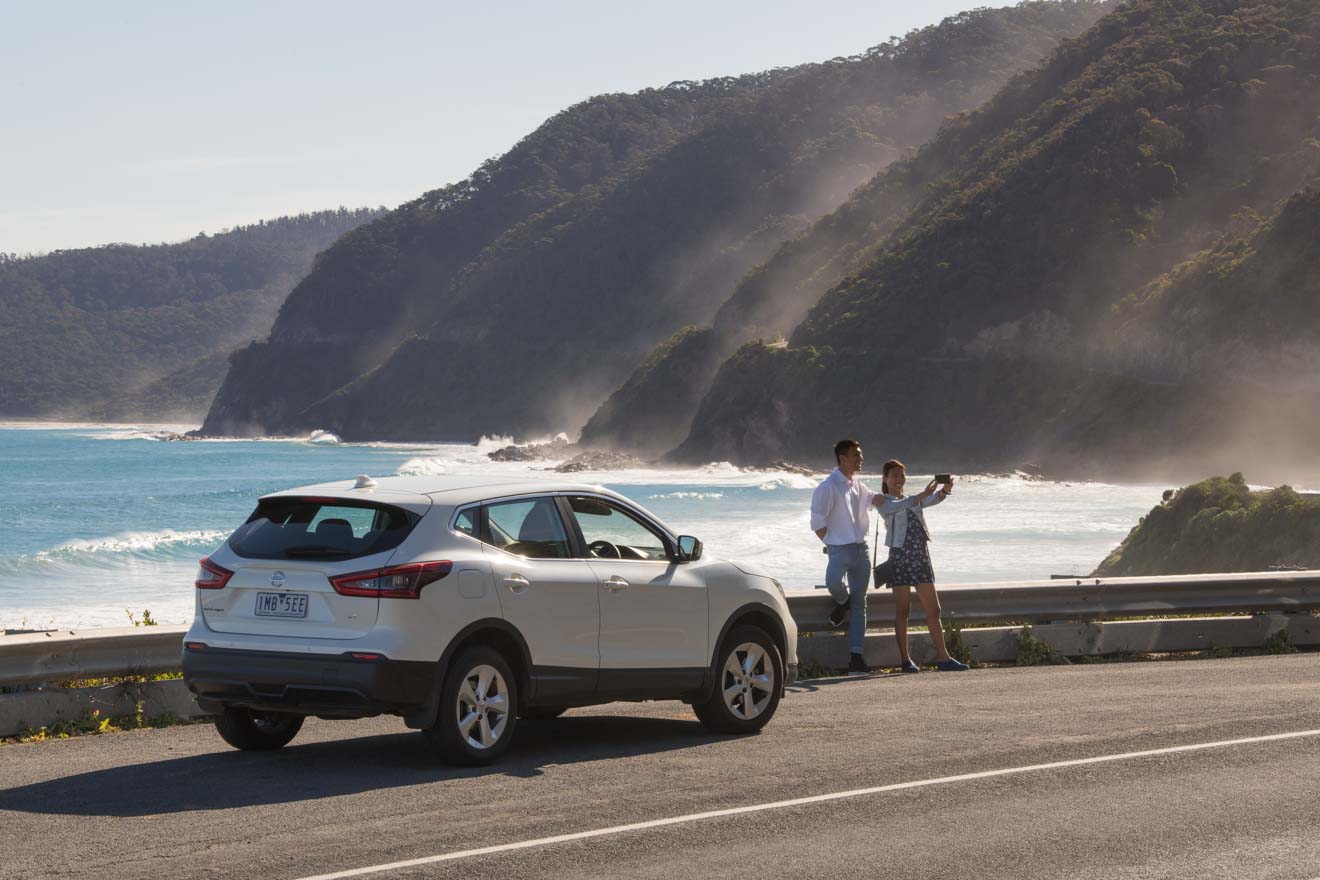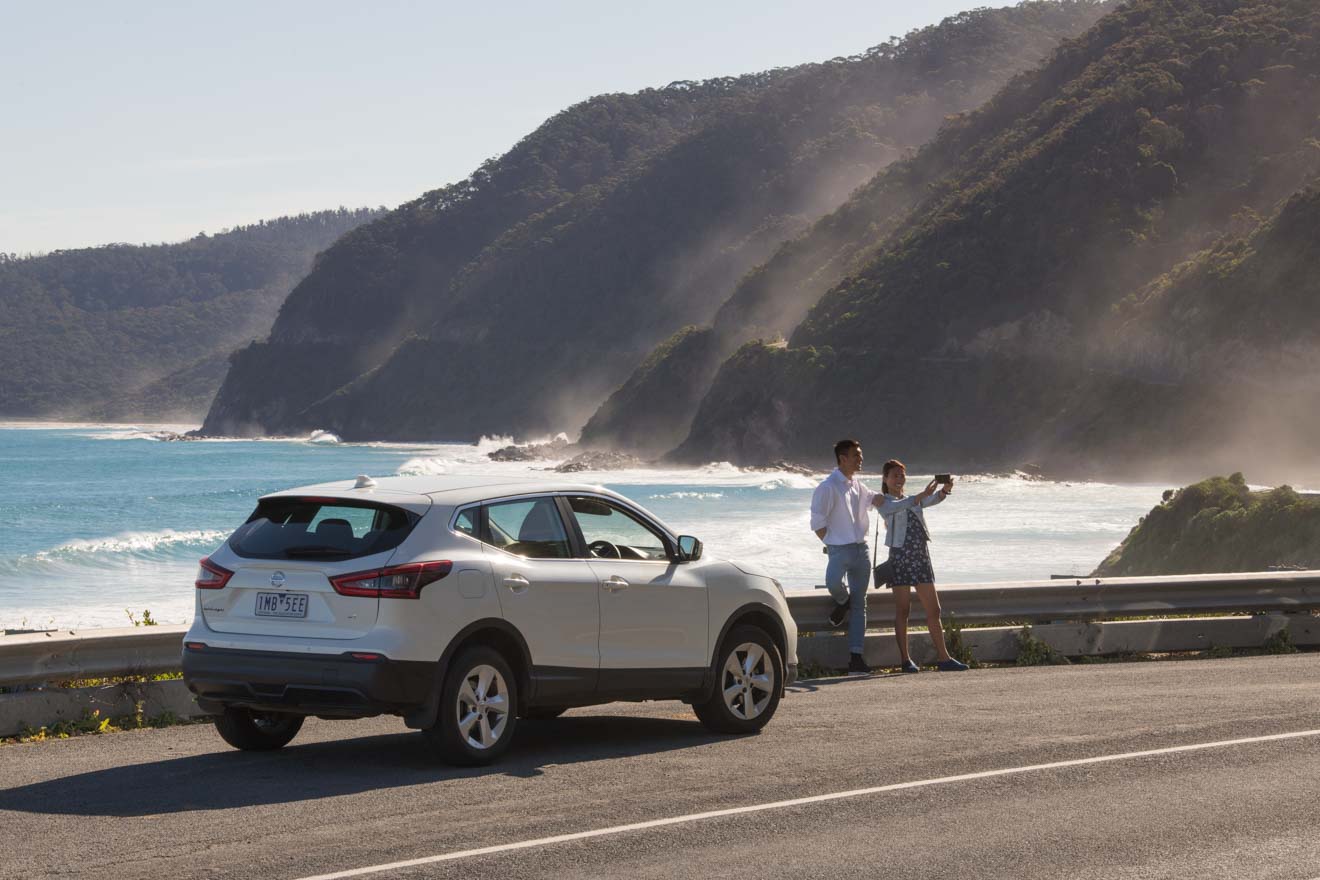 Whether you're starting from Melbourne or Torquay, Day 1 on the Great Ocean Road offers up some quaint seaside towns, historic hot spots and unique wildlife encounters. Day 1's driving was actually my favourite because the crowds are a little less, and Kennett River is truly magical if you love koalas!
Driving time: 3 to 3.5 hours
Distance covered: 190km
1. Get started in Torquay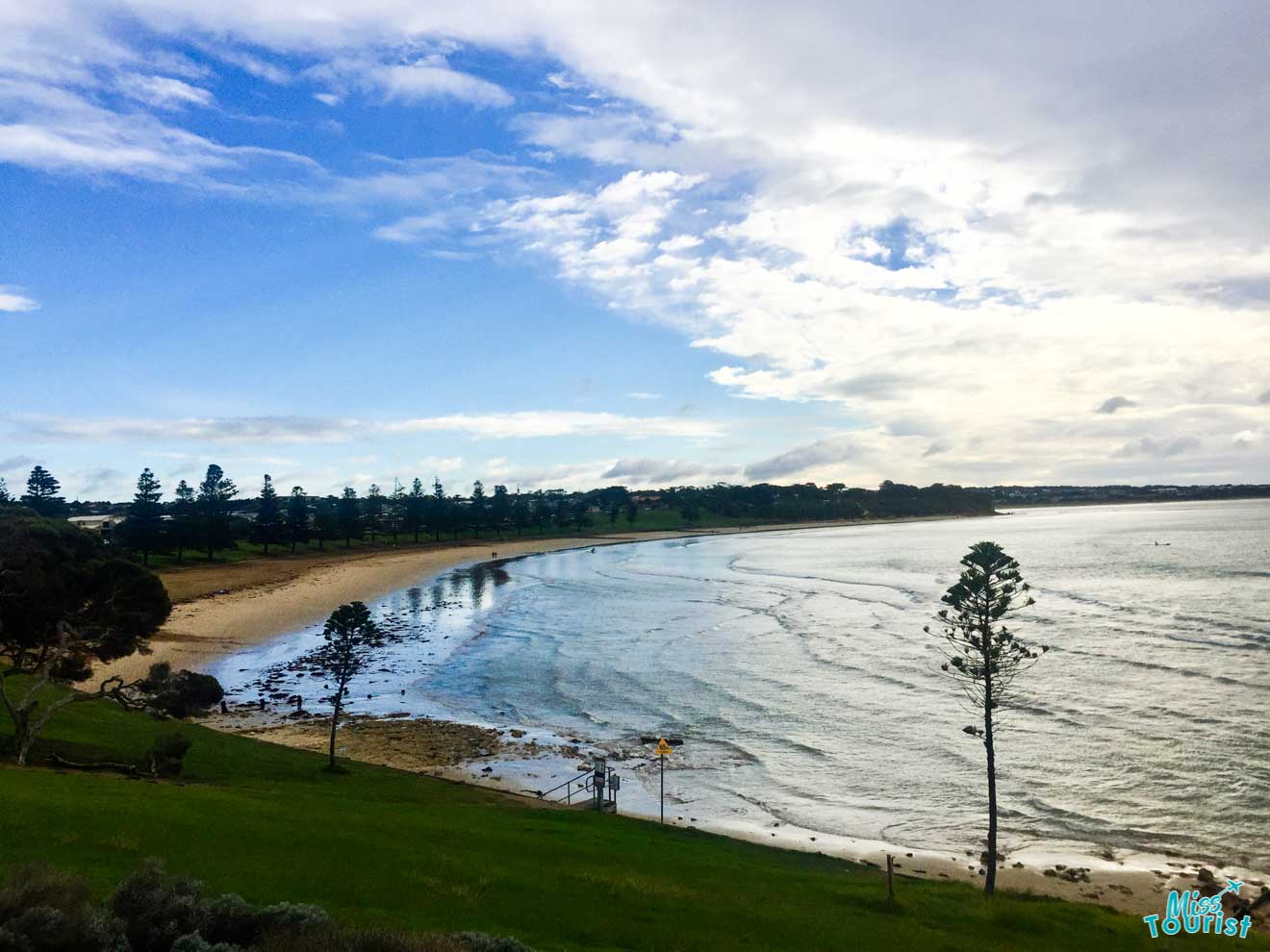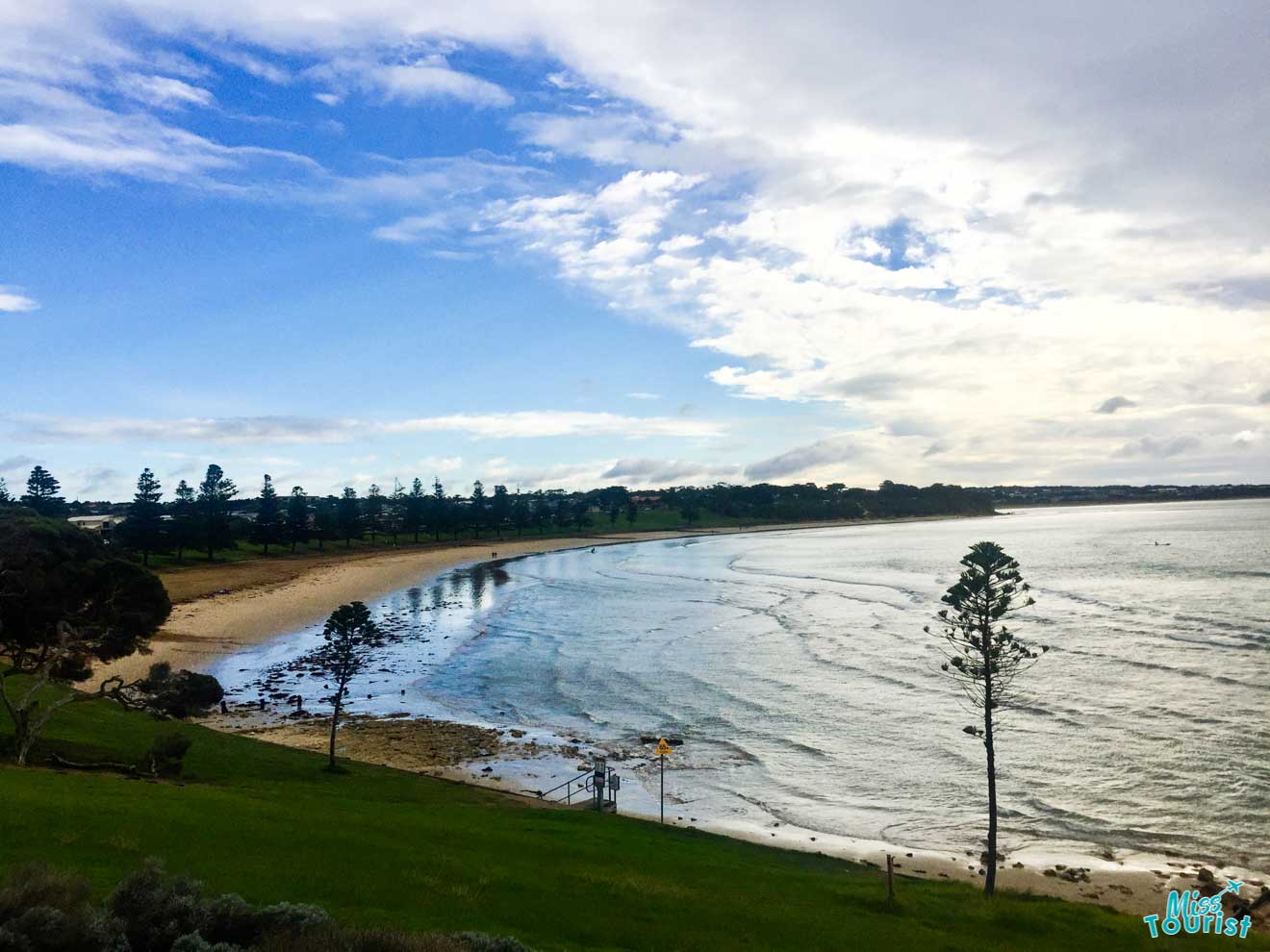 It'll take just over an hour to reach Torquay from Melbourne, giving you your first glimpse of what this stunning coastline has to offer. Torquay is the official starting place of the Great Ocean Road and one of many seaside towns you'll come across with independent eateries and sweeping bays. Torquay is actually home to one of the most famous surfing beaches in Australia, Bells Beach, but you'll want to be a pro before you tackle the waves here!
TOP TIP: I'd highly recommend popping into Pond Cafe is you're after a Melbourne-style barista coffee to gear you up for the drive! It's definitely the best in town.
Okay, so this is a small detour from Torquay but I couldn't write a Great Ocean Road itinerary without mentioning the fact that you can SKYDIVE over it!
The skydive drop zone is in Barwon Heads, a town on the Bellarine Peninsula that's just past Geelong. It's only a 20-minute drive from Torquay and during the jump, you can enjoy amazing scenes over the famous Bells Beach and the beautiful coastal road that you'll be driving along soon enough!
PRICE: $249 to jump from 10,000ft, $349 to jump from 15,000ft
2. Learn to surf in Anglesea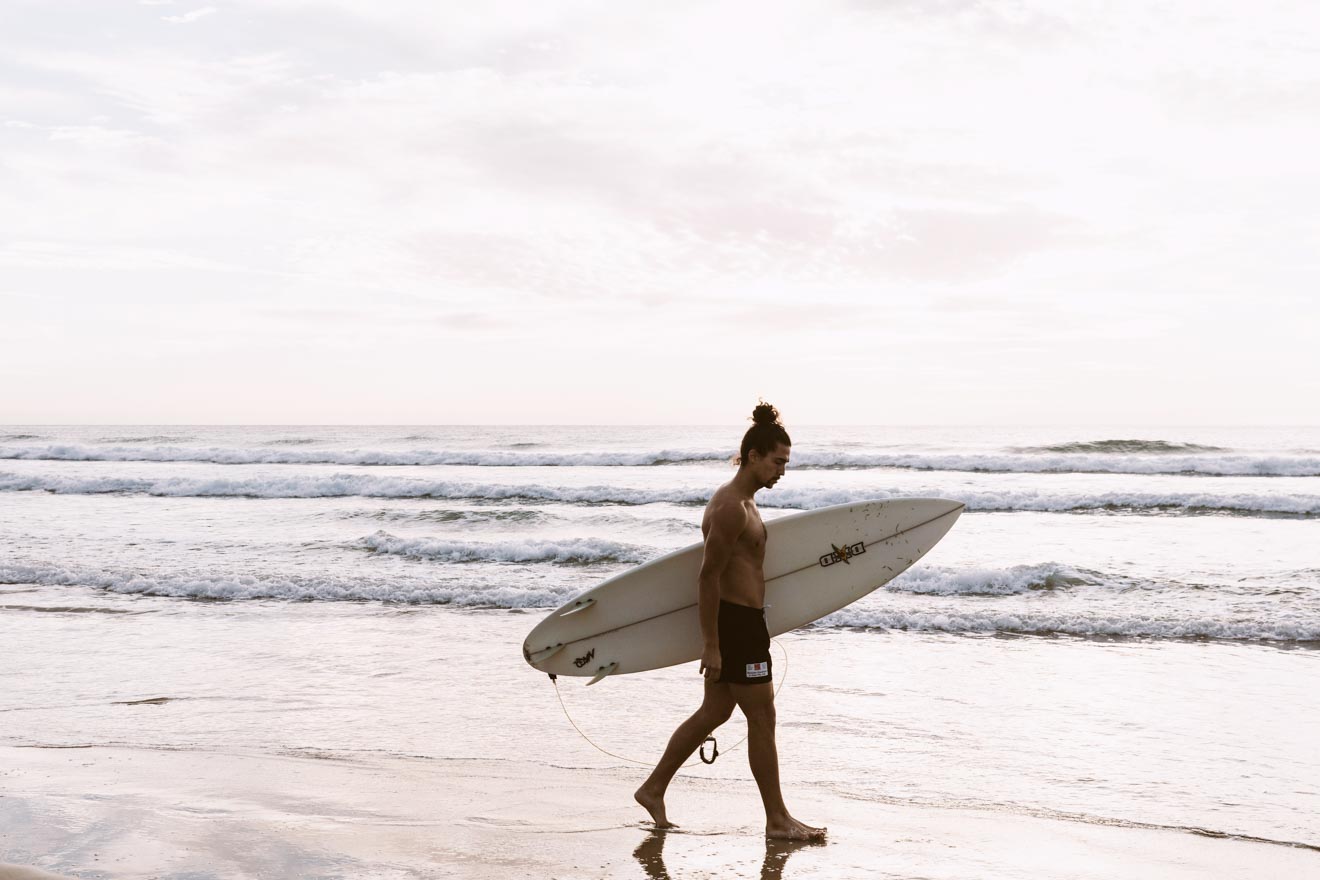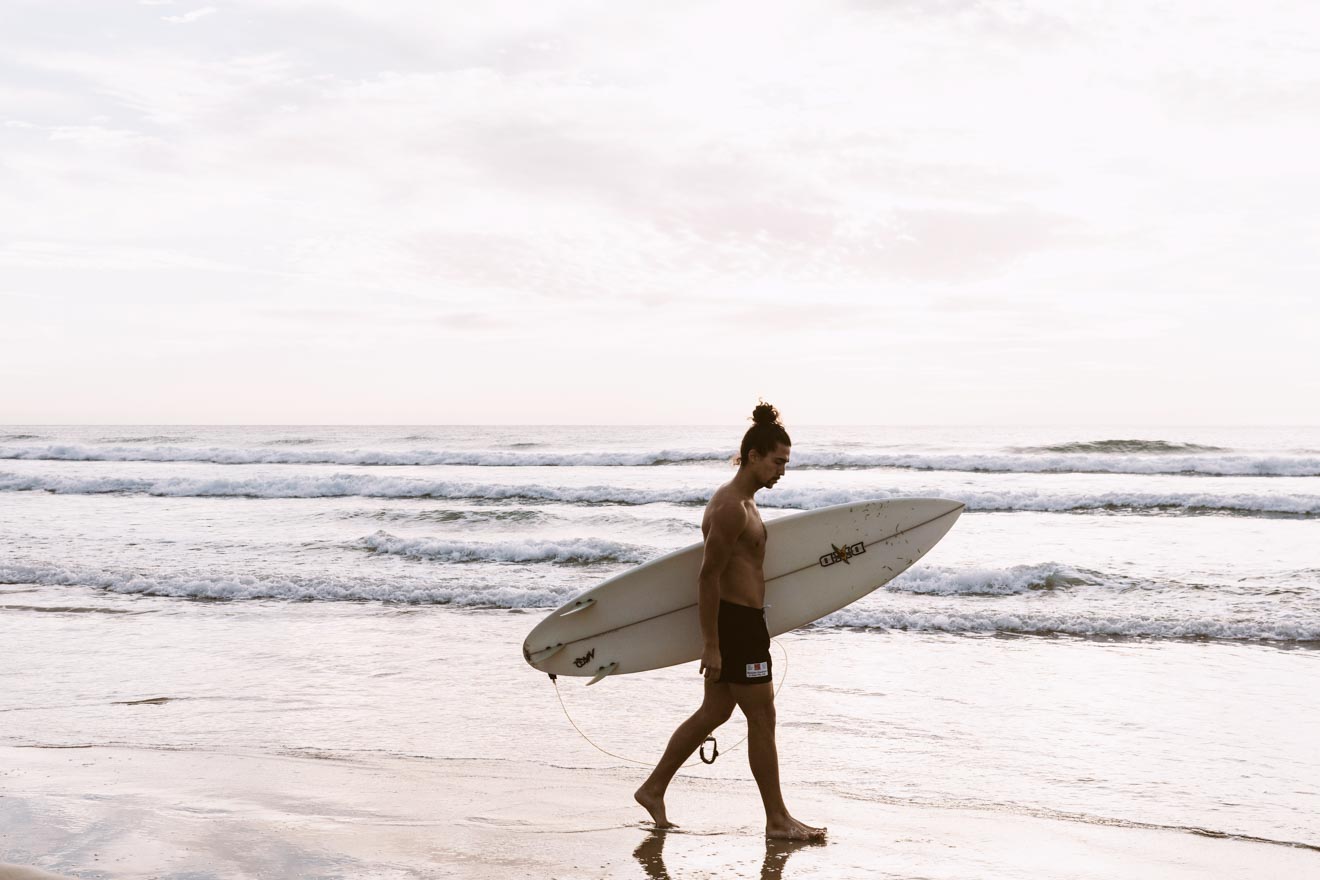 Anglesea is just a half an hour drive from Torquay, so you might choose to miss this town out if you're eager to get onto the big sites!
Along with the usual waterfront and huge array of fish and chip shops, Anglesea is the perfect place to learn to surf! It's not as popular as Torquay's Bells Beach, which means more room for you! Plus it's sheltered waters means waves are nice and gentle, perfect for novices!
PRICE: $70 for a two-hour class
3. Climb to the top of Split Point Lighthouse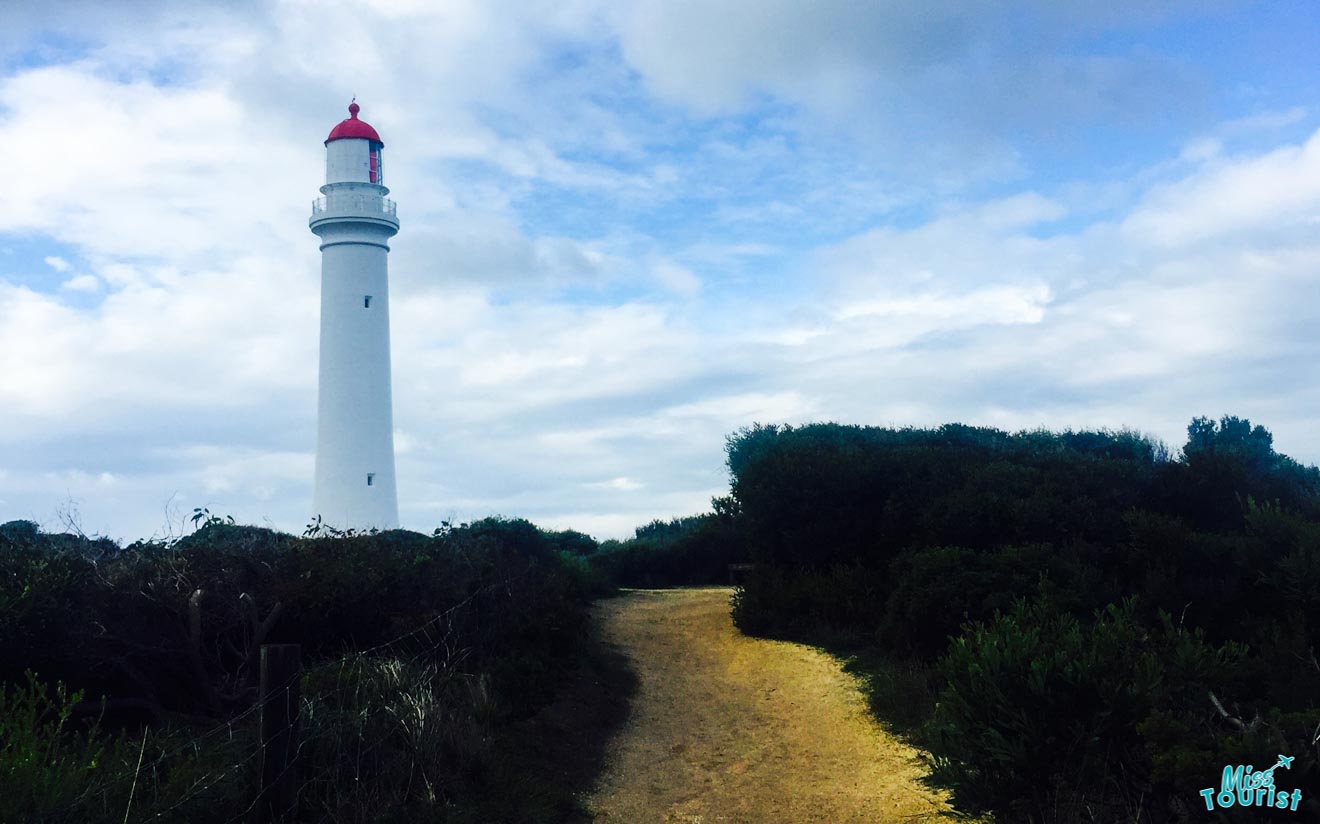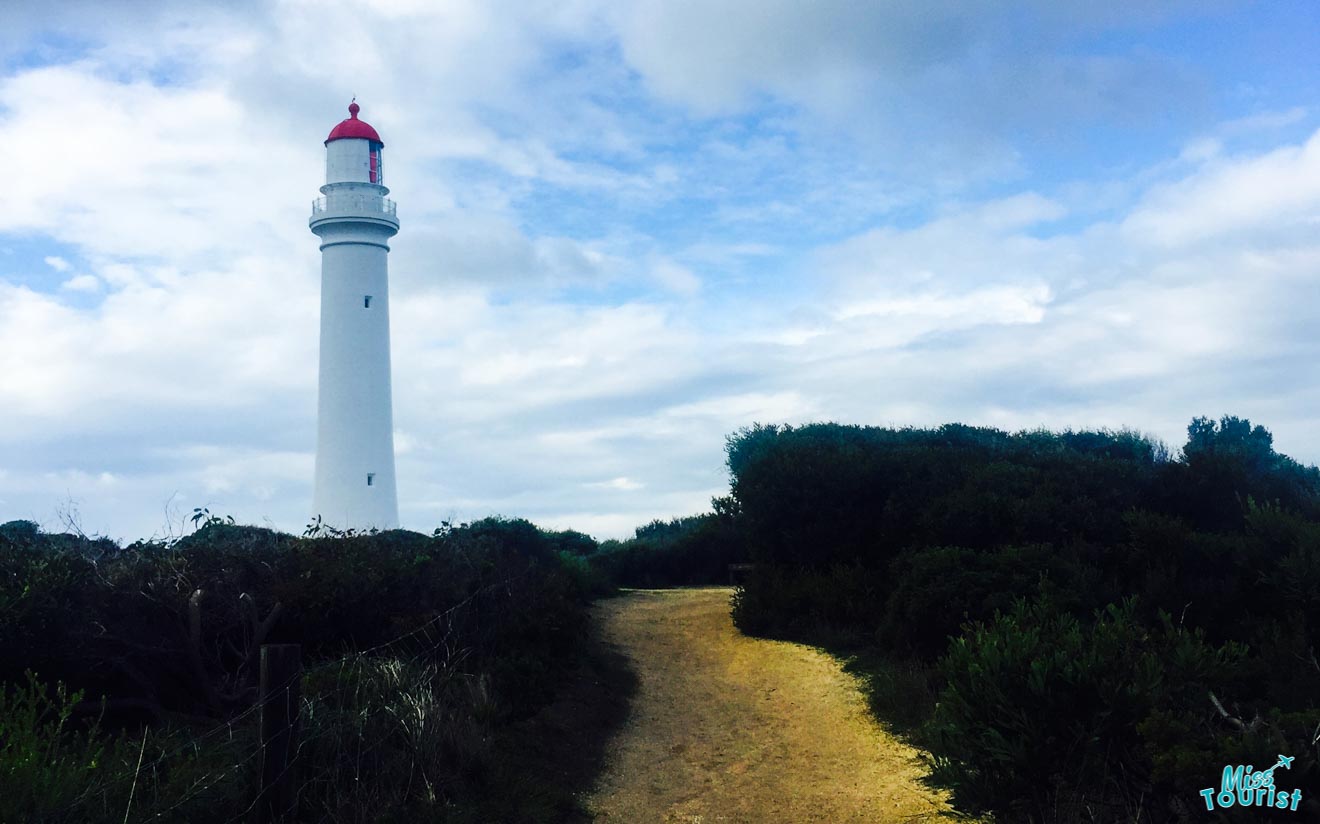 This is where the hit 90's TV show Round the Twist was filmed!
Whether you've watched the TV show or not, Split Point Lighthouse should definitely be a stop on your Great Ocean Road itinerary! You'll only need half an hour to take the short walk from the car park to the lighthouse and admire the views out to sea (unless you want to explore inside the lighthouse).
As this is still a working lighthouse, heading inside is only possible on a tour. There are about five tours a day with times that vary depending on the season. Make sure to check out the tour schedule so you can time your visit right!
PRICE: $10 for a 30 to 45-minute tour
4. Take a moment of remembrance at the Memorial Arch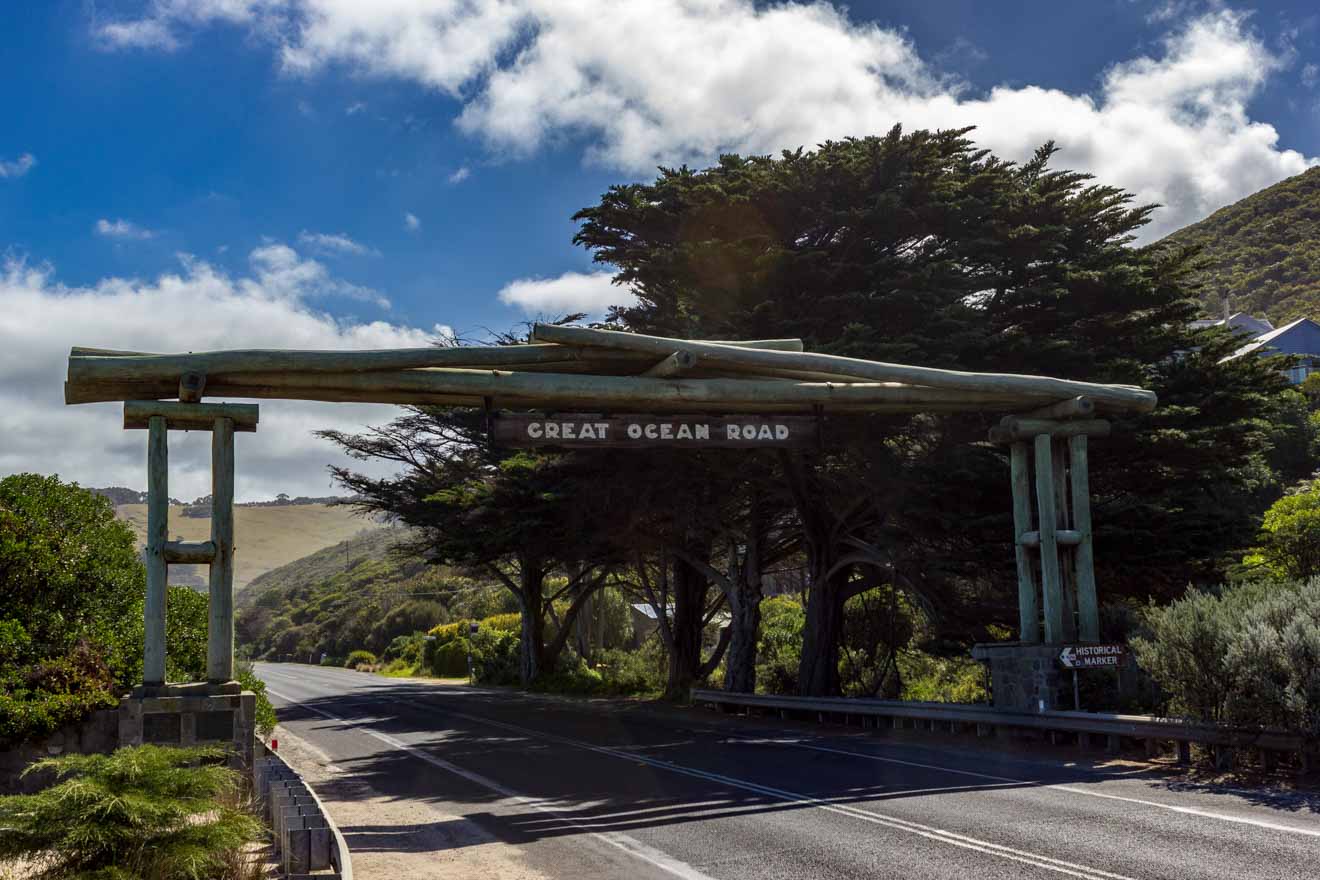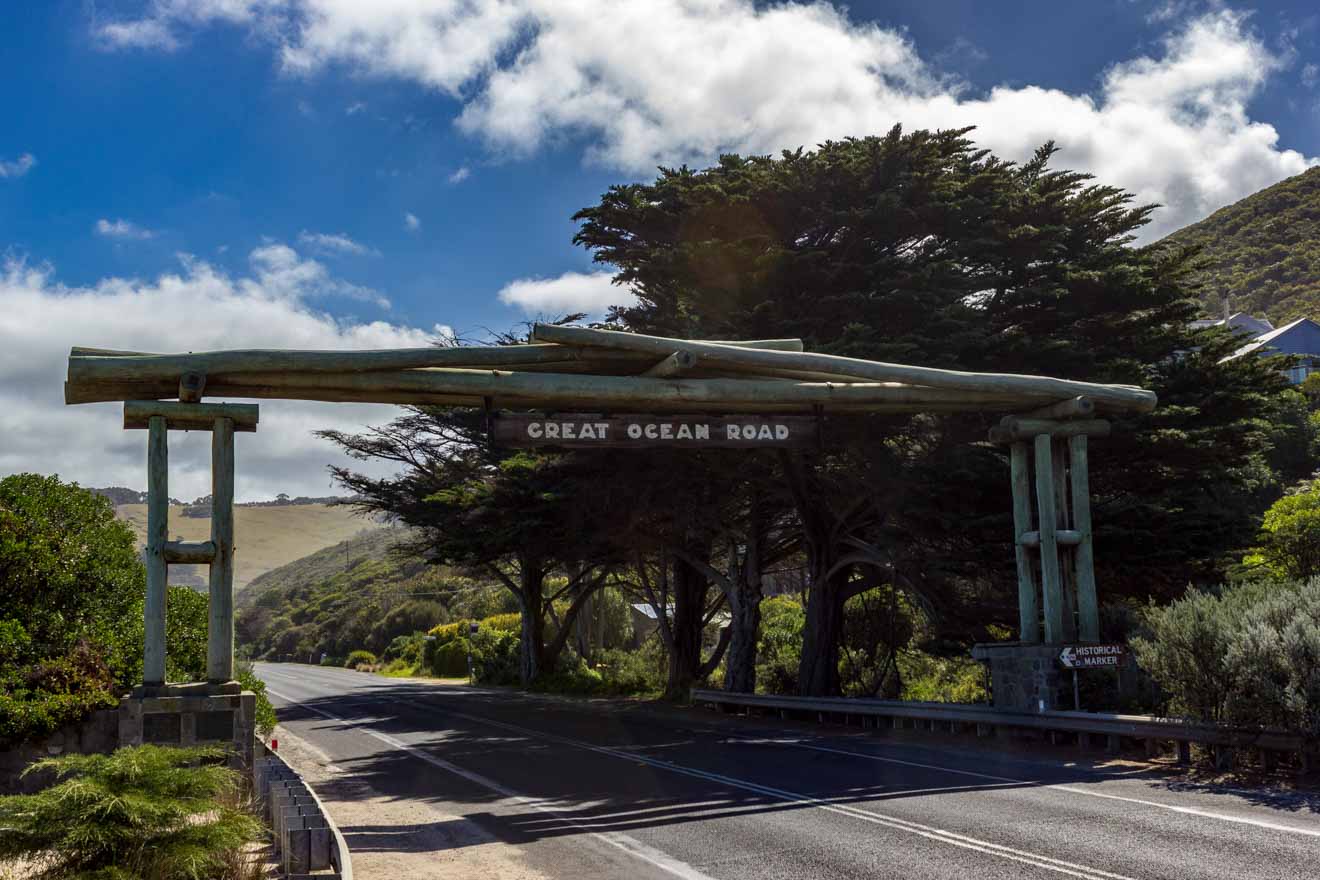 The poignant Memorial Arch is only a five-minute drive from Aireys Inlet and requires just a few minutes of your time! This amazing arch depicts the war veterans who dedicated their services to the country in World War I and then built the Great Ocean Road on their return. There's an informative plaque near the car park too that can tell you all about the history of the Great Ocean Road.
TOP TIP: Lots of people like to stop here to take a picture of the arch, which can cause a few issues on the road. The earlier you arrive the more likely you are to be pulled up in the lay-by and get a picture without anyone else in it!
5. Grab some lunch in Lorne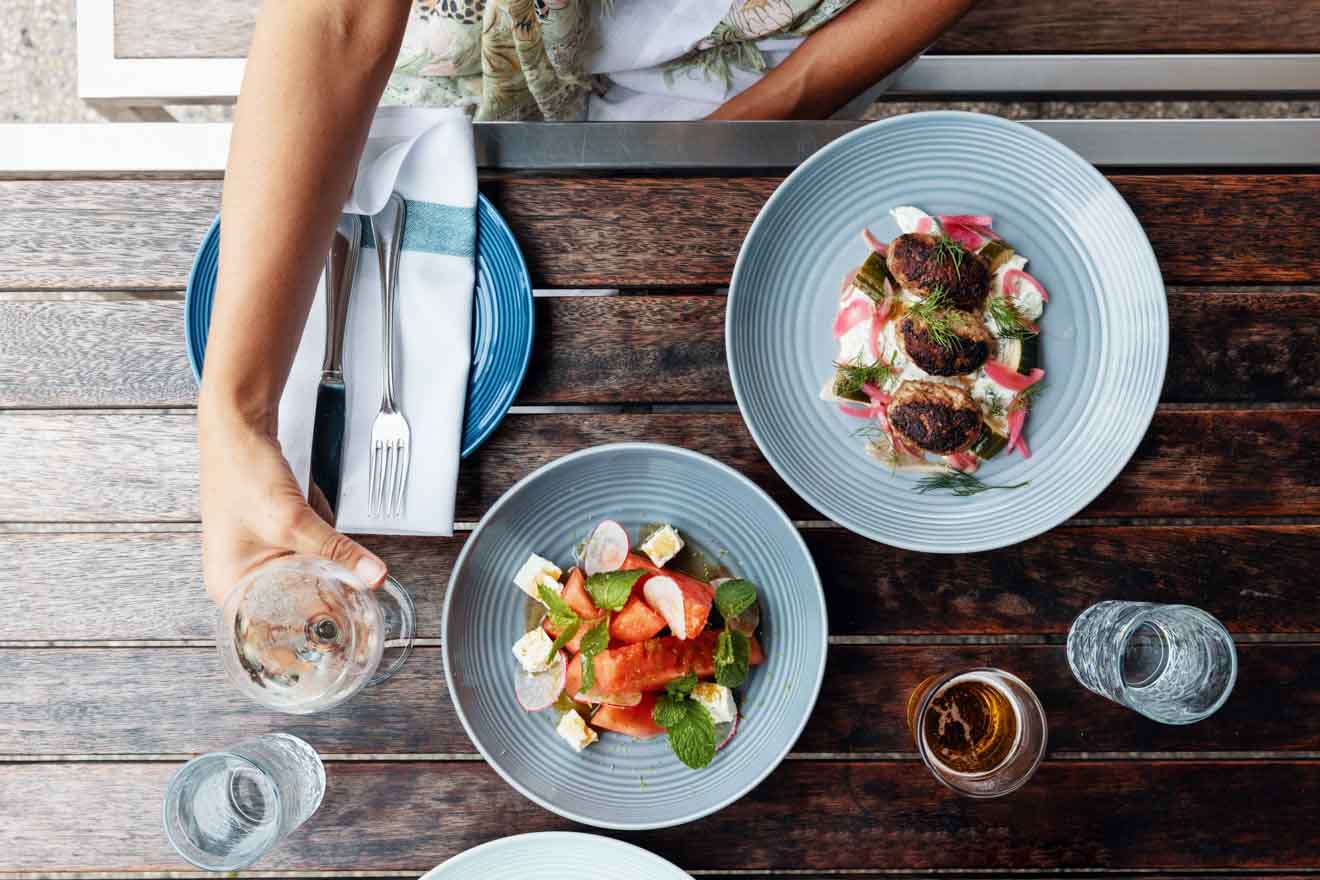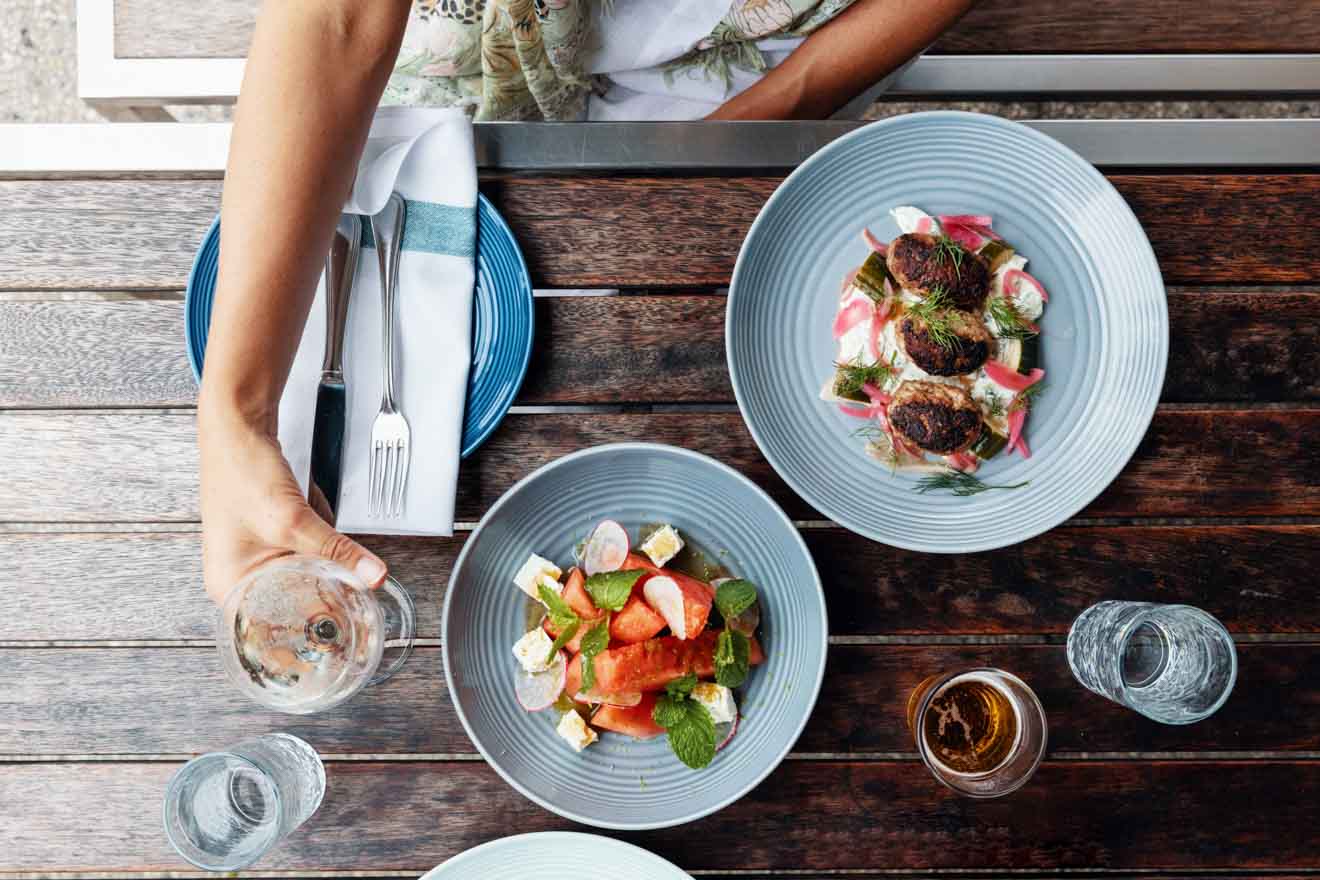 Lorne is definitely one of the most popular towns along the Great Ocean Road, and if you have another night to spare during your drive, I'd definitely recommend spending it in Lorne!
Second to Bells Beach, Lorne has some of the most stunning stretches of sand along this coastal route, as well as lots of famous eateries! These include the burger joint, Bottle of Milk, which is great for lunch, and MoVida that serves up delectable tapas dishes all evening long!
TOP TIP: On your way out of town, don't forget to stop off at Teddy's Lookout! I only discovered this hidden gem on my last drive along the Great Ocean Road, and what a find! It gives you an awesome view out to the sea and along to the next stretch of your journey!
6. Spot wild koalas in Kennett River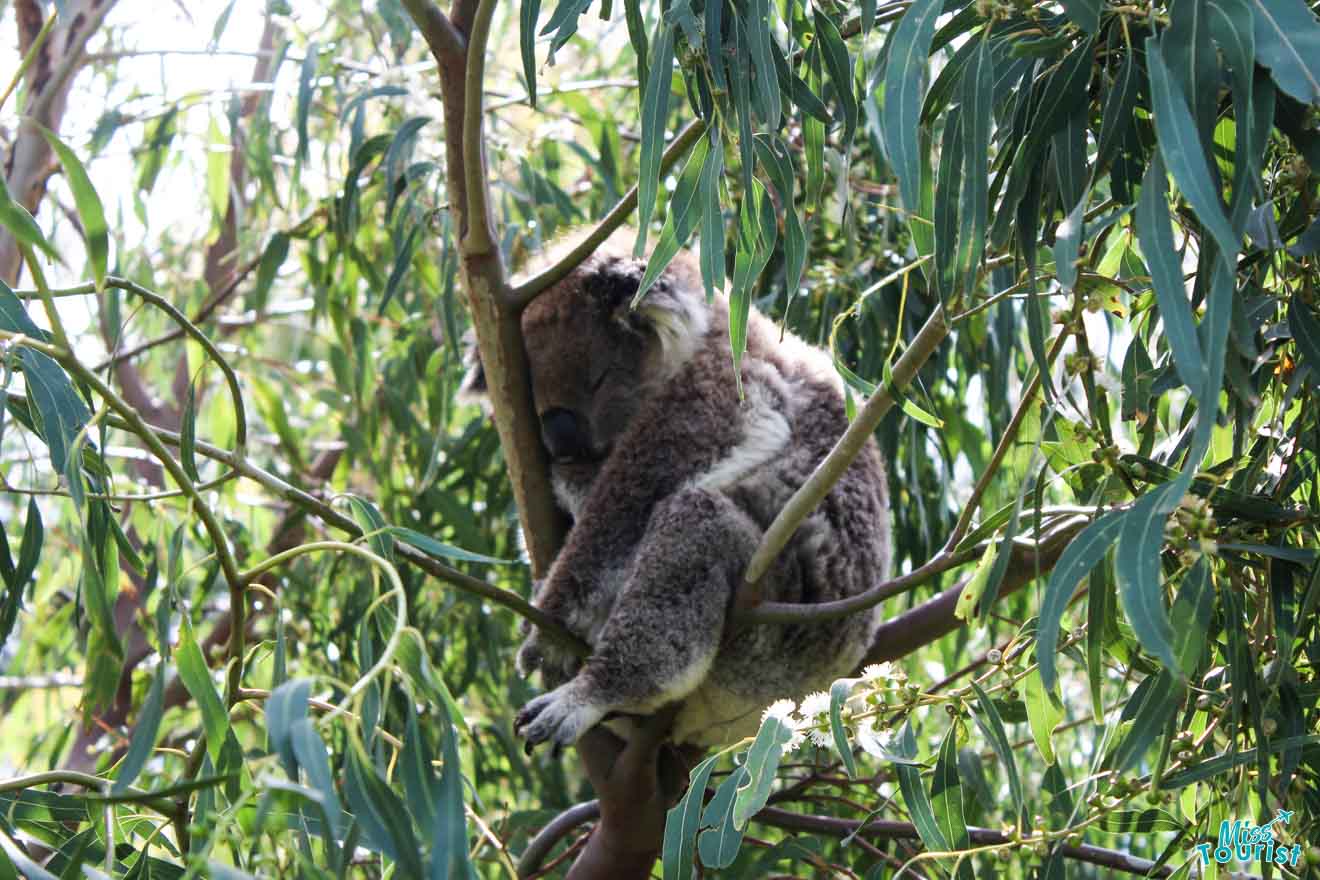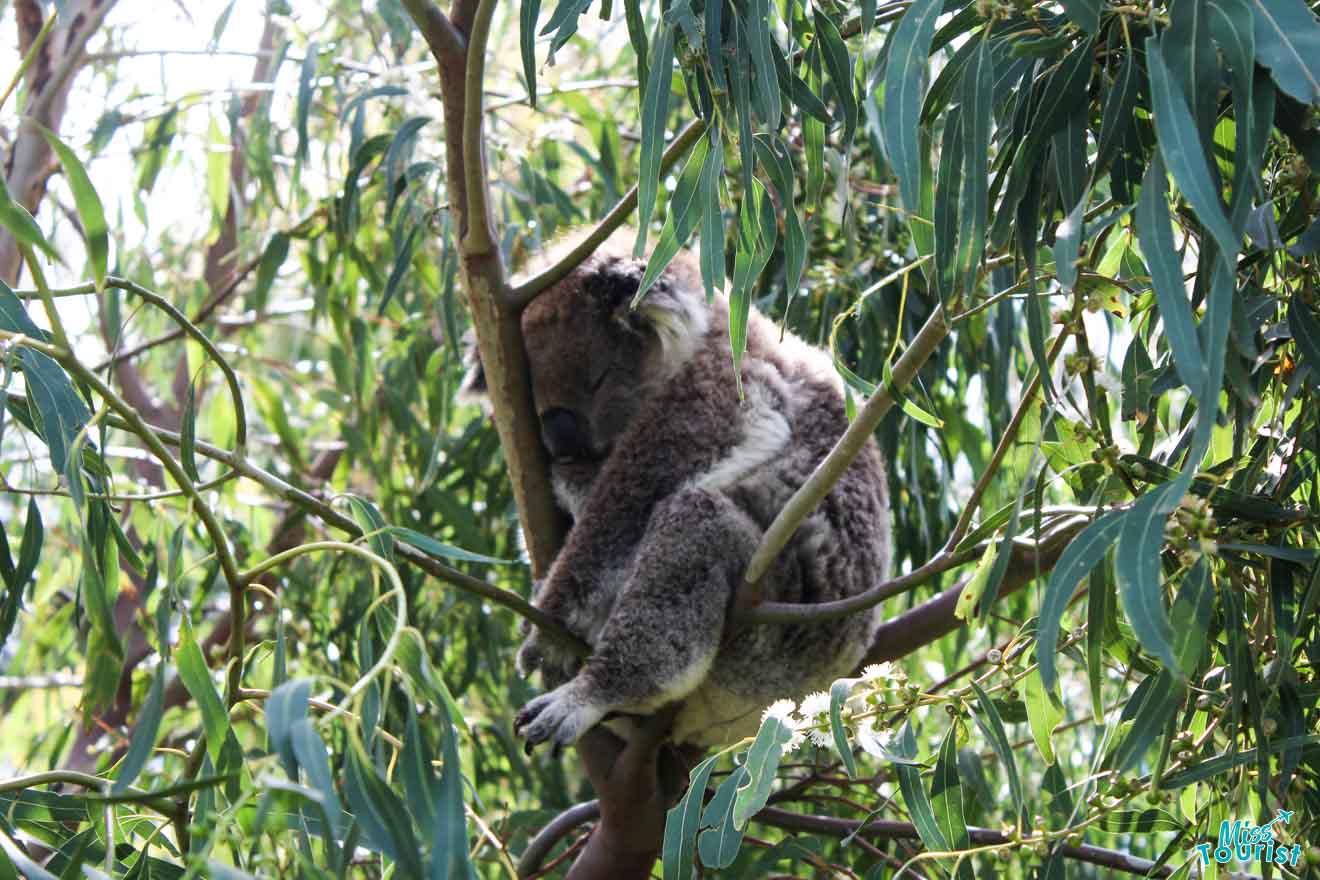 I was absolutely set on seeing wild koalas in Australia and I was not disappointed when I reached Kennett River. Take the small turning off the Great Ocean Road to Kafe Koala and then a quick left and you'll begin the ascent up Grey River Road which is surrounded by eucalyptus trees – koalas' favourite food!
Koalas sleep for around 20 hours a day, so chances are most of the ones you see will be sleeping!
Once you're on the right road, keep your eyes peeled for anything moving in the trees or big round lumps having a nap! Once you see one, you'll start seeing loads! I visited this place twice, and saw at least five koalas each time!
TOP TIP: For your best chances of seeing a Koala on the move, try to visit in the afternoon when temperatures are cooler and the animals are looking for a feed!
7. Spend the night in Apollo Bay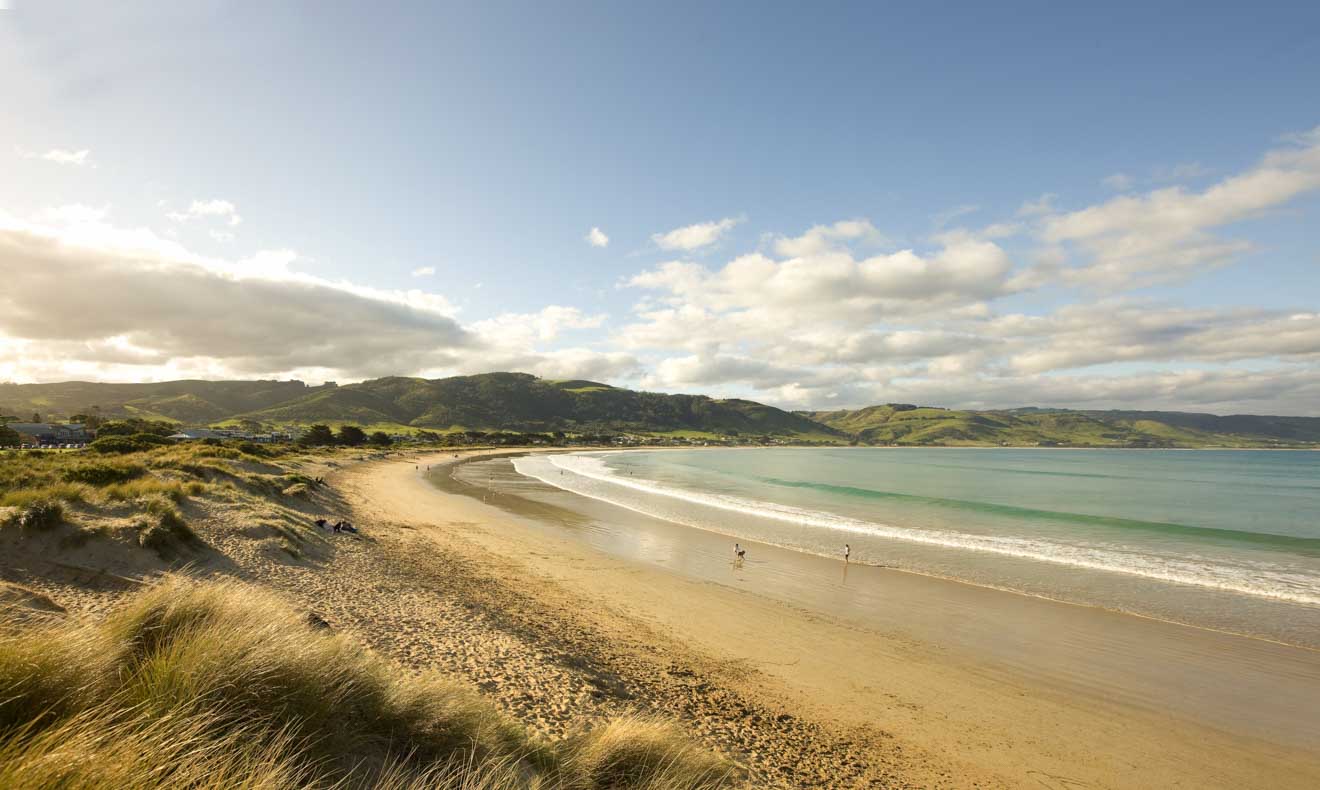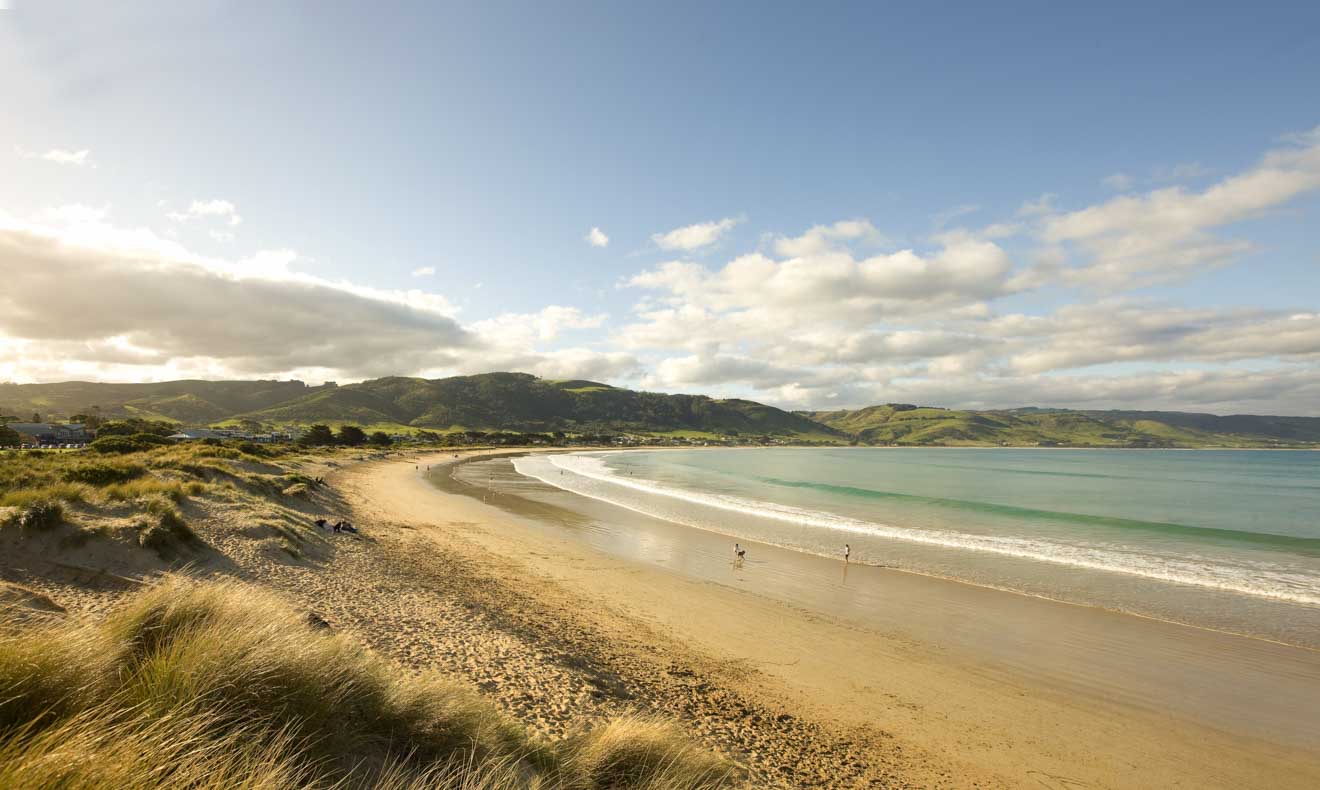 Apollo Bay is a great mid-way point on the Great Ocean Road and is perfectly placed just before the incredibly popular Port Campbell National Park. There's not heaps to do in town except eat delicious seafood, kick back on one of the most beautiful beaches in Australia and get ready for Day 2 of adventures in the morning!
Where to stay in Apollo Bay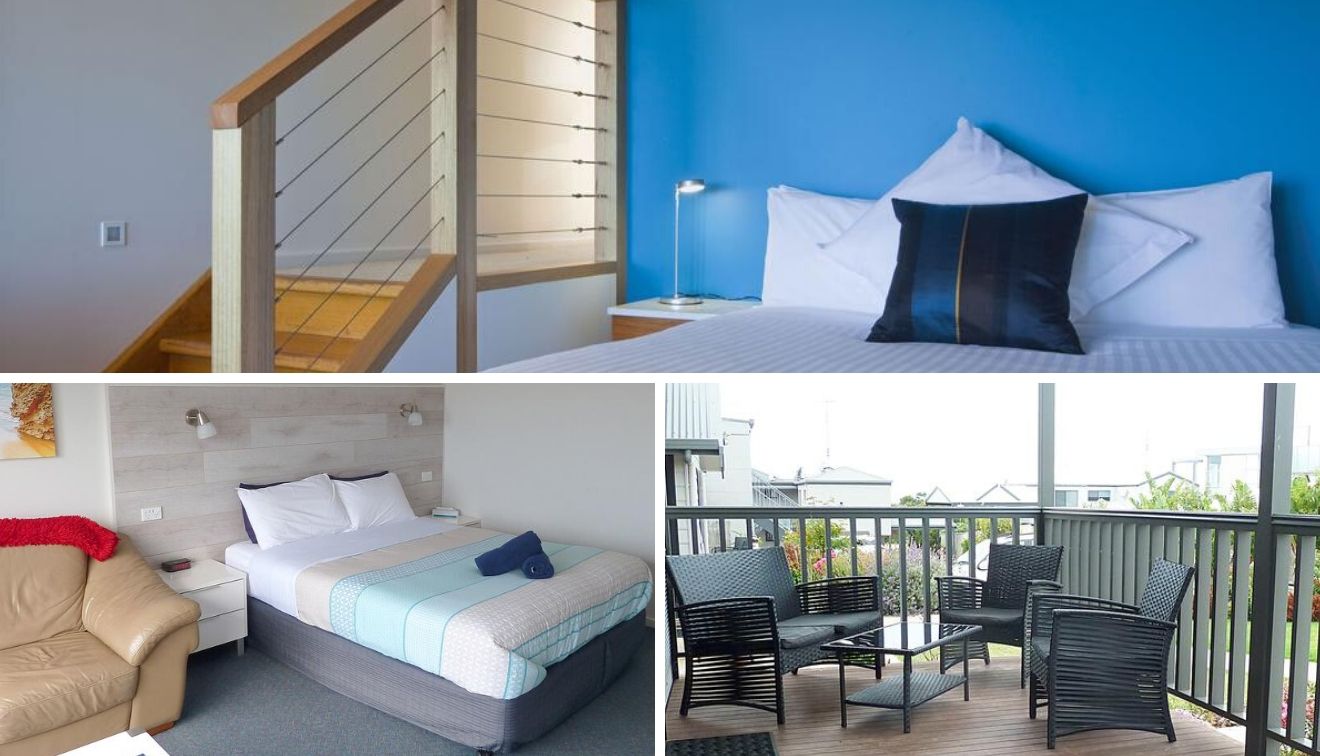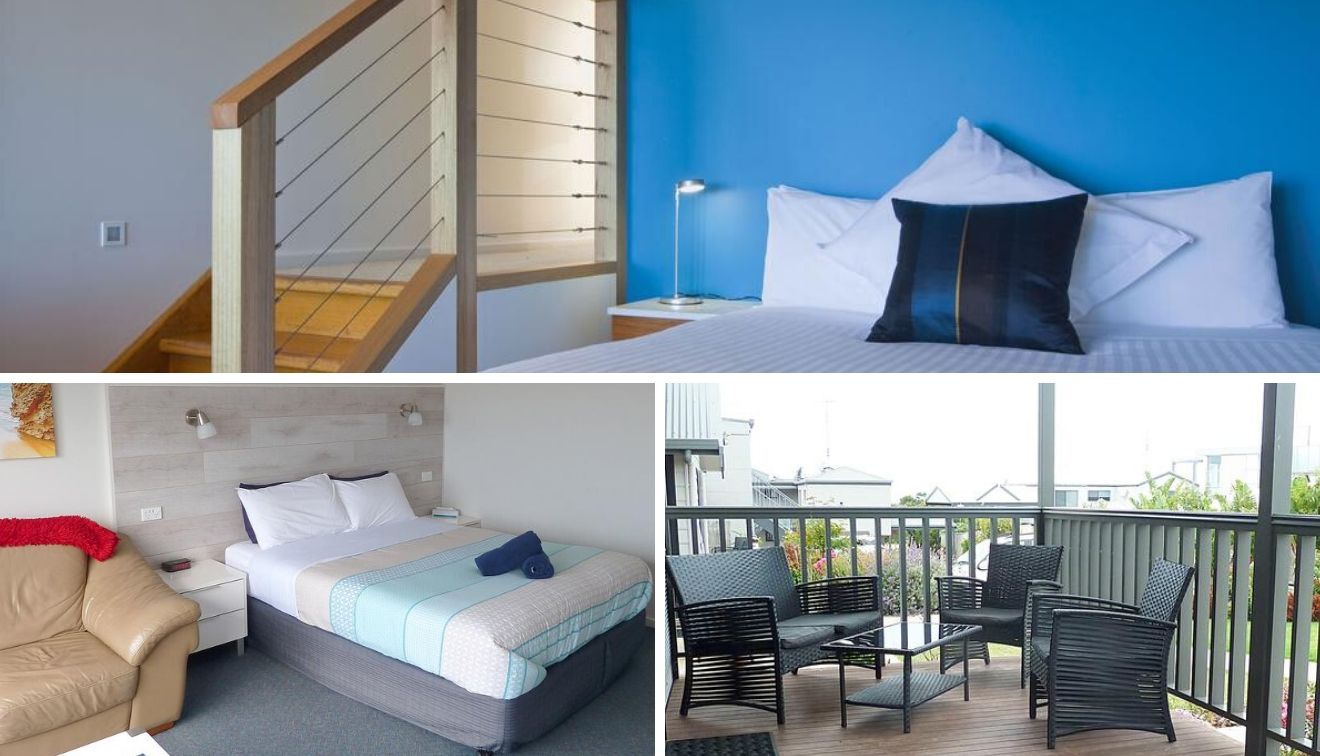 With so much choice in town, choosing where to stay in Apollo Bay isn't difficult. But, to make it even easier, I've hand-picked some of the best hotels and hostels in town just for you!
Luxury (240 AUD and up): Most of the luxury style accommodation in Apollo Bay comes in the style of holiday homes and luxury flats, as is the case at Chris's Beacon Point Villas. Sitting at the top of Beacon Point, rooms overlook the stunning Great Otway National Park. Even better, the restaurant on-site serves up fantastic Mediterranean food that makes the most out of local seafood!
Luxury doesn't get much better than the Chocolate Gannets Seafront Villa on Airbnb. Not only do two spacious bedrooms look out onto the Southern Ocean, but there's a relaxing spa hot tub next to a roaring fire with beach views too!
Middle (80 to 200 AUD): There's no doubt you'll be spending plenty of time along the waterfront in Apollo Bay, so where better to stay than the Apollo Bay Waterfront Motor Inn. Sitting just across from Apollo Bay Beach, guests are offered a choice of ocean or garden view double rooms with free Wi-Fi access and kitchenette facilities.
Budget (up to 80 AUD): Apollo Bay is home to a few hostels, but none come better recommended than the Apollo Bay Eco YHA. Sitting equal distance from the Great Otway National Park and Apollo Bay Surf Beach, there is tonnes to do in the area. Dorm rooms are spacious and communal facilities include two large lounge spaces, two kitchens, a TV and reading room and even a rooftop viewing area!
Day 2: Apollo Bay to Port Campbell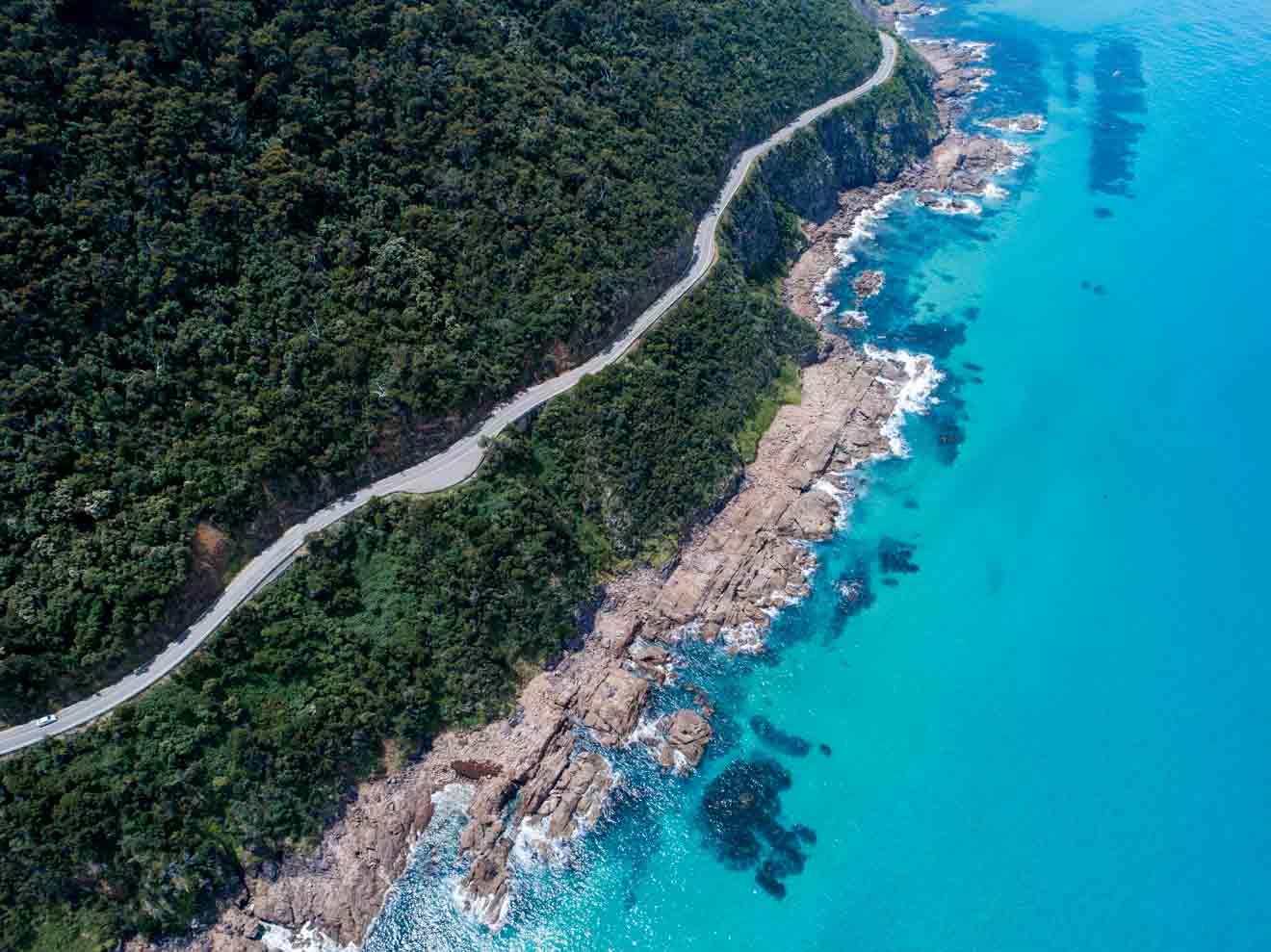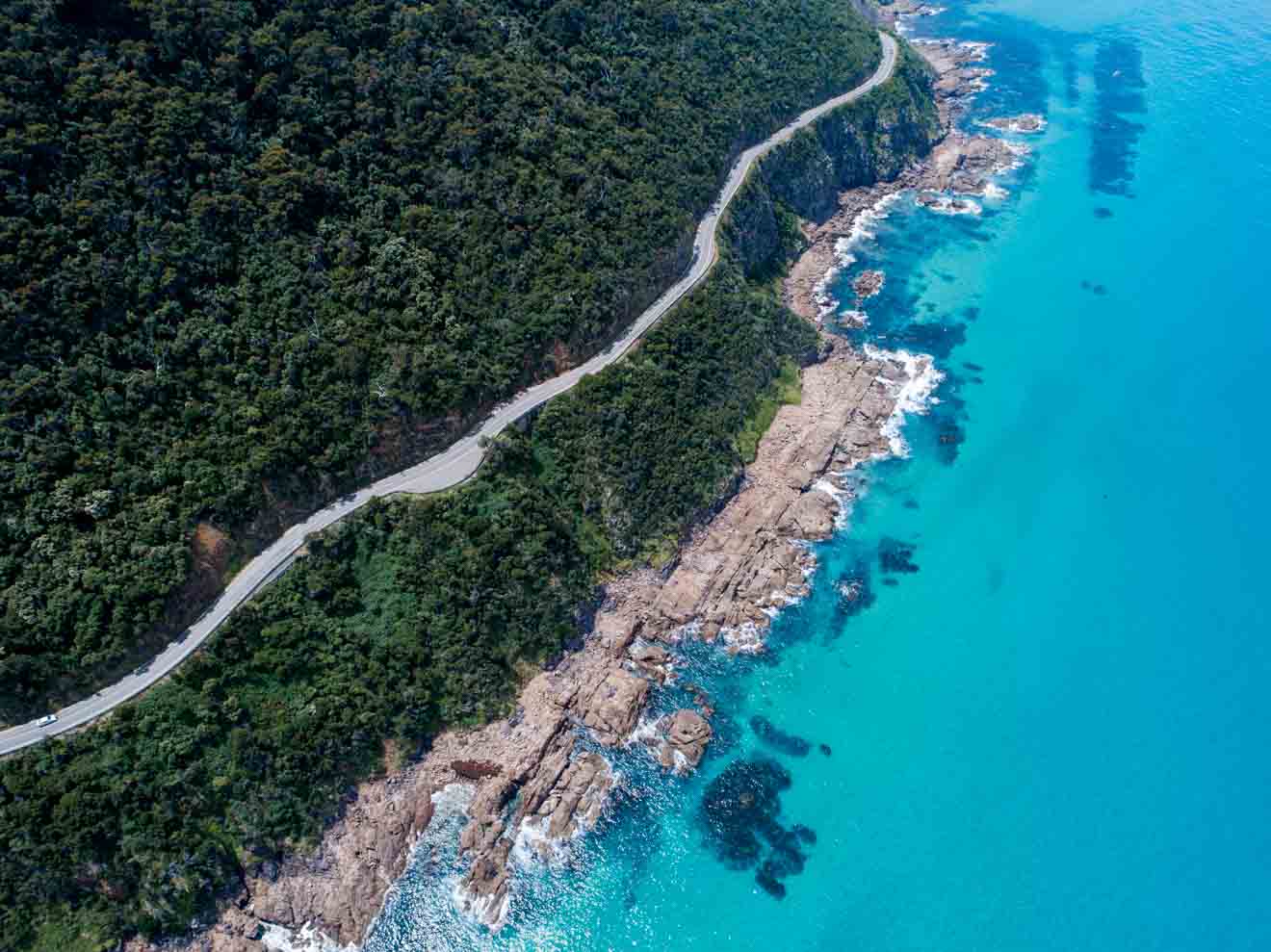 This is the day you've been waiting for on your Great Ocean Road trip! The stunning rainforest of Great Otway National Park and the coastal rock formations of Port Campbell National Park. Day 2, which takes you from Apollo Bay to Port Campbell, will be one of the most scenic stretches on the drive so get that camera ready!
TOP TIP: You'll want to bring a packed lunch with you for today's drive as you won't be passing through many big towns until you reach Port Campbell.
Driving time: 2 to 2.5 hours
Distance discovered: 120km
1. Explore the Great Otway National Park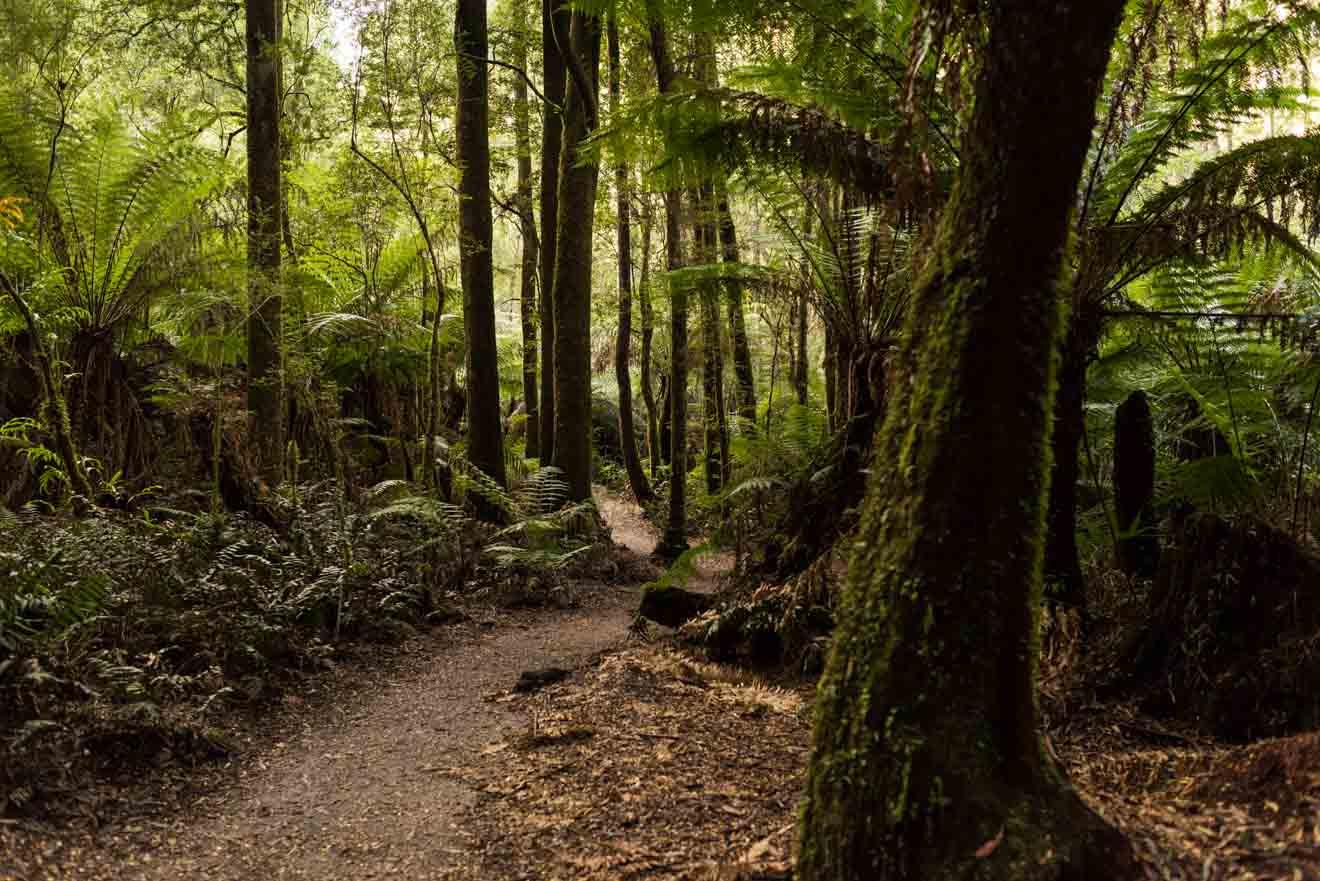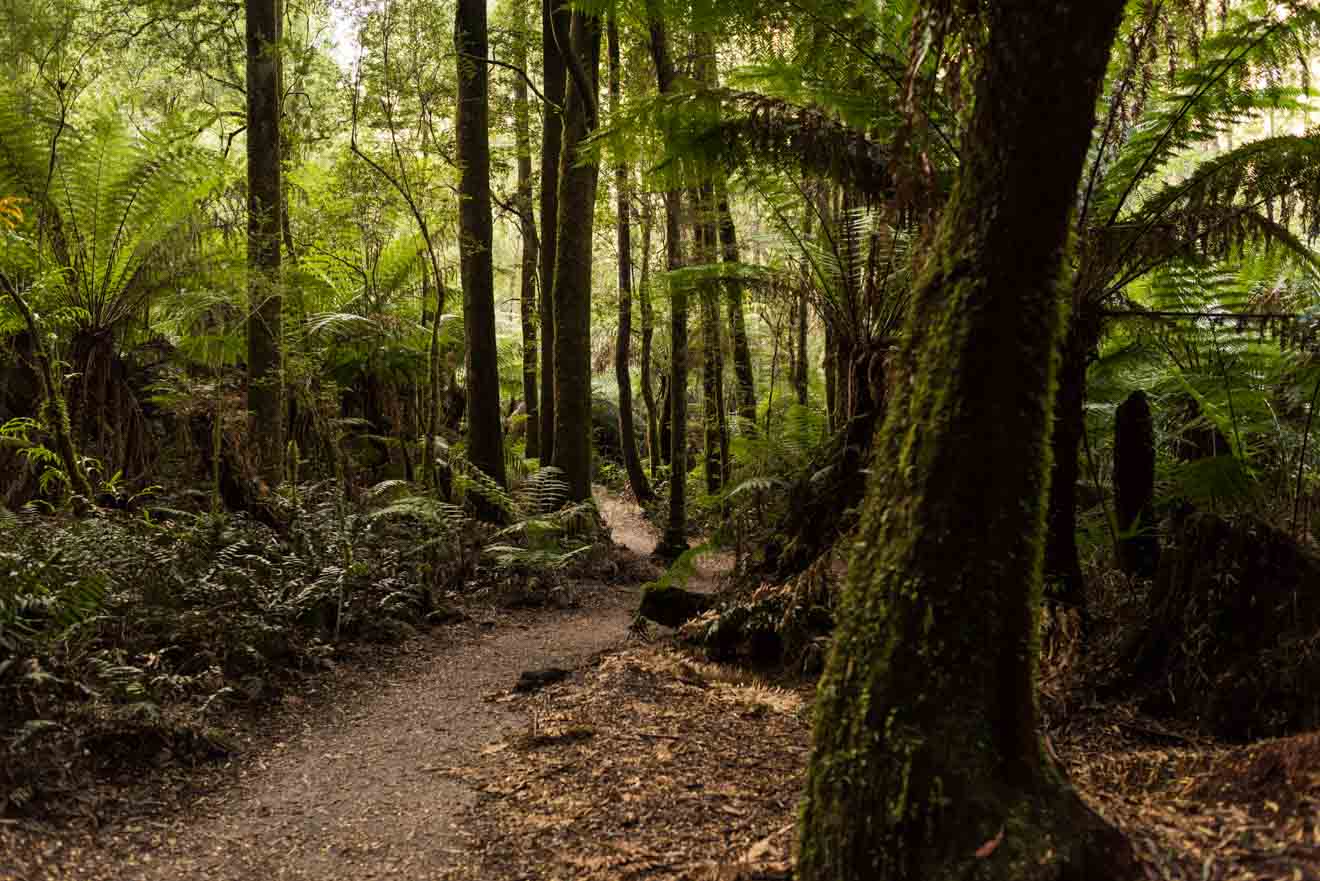 Unlike the rest of the Great Ocean Road, this is the only section of road that takes you away from the beach and into the rugged rainforest. The winding road leads you into the heart of the 1,000 square kilometre Otway National Park, where there's plenty awaiting! Cascading waterfalls, tranquil lakes, mountain bike trails and redwood forests can all be found here and are easily accessed on one of the many bushwalks that take you through Otway National Park.
Actually, one of the most popular ways to explore the park is via a zip line tour or the Otway Fly treetop walk. Both take you up into the heady heights of the rainforest canopy where you can get to know the native flora and fauna a little bit better!
PRICE: $120 for 3.5 hours of zip lining fun!
TOP TIP: For the purposes of this itinerary, I've allowed a morning to explore, but, if you can, I'd dedicate a whole day to discover the wonders of Great Otway National Park! Some longer walks, like the 5km Little Aires Falls walk can take a morning to complete in themselves! Putting aside a whole day will give you a chance to do walks around lakes and waterfalls as well as enjoy an afternoon of zip lining.
2. Join the crowds at the Twelve Apostles and descend the Gibson Steps!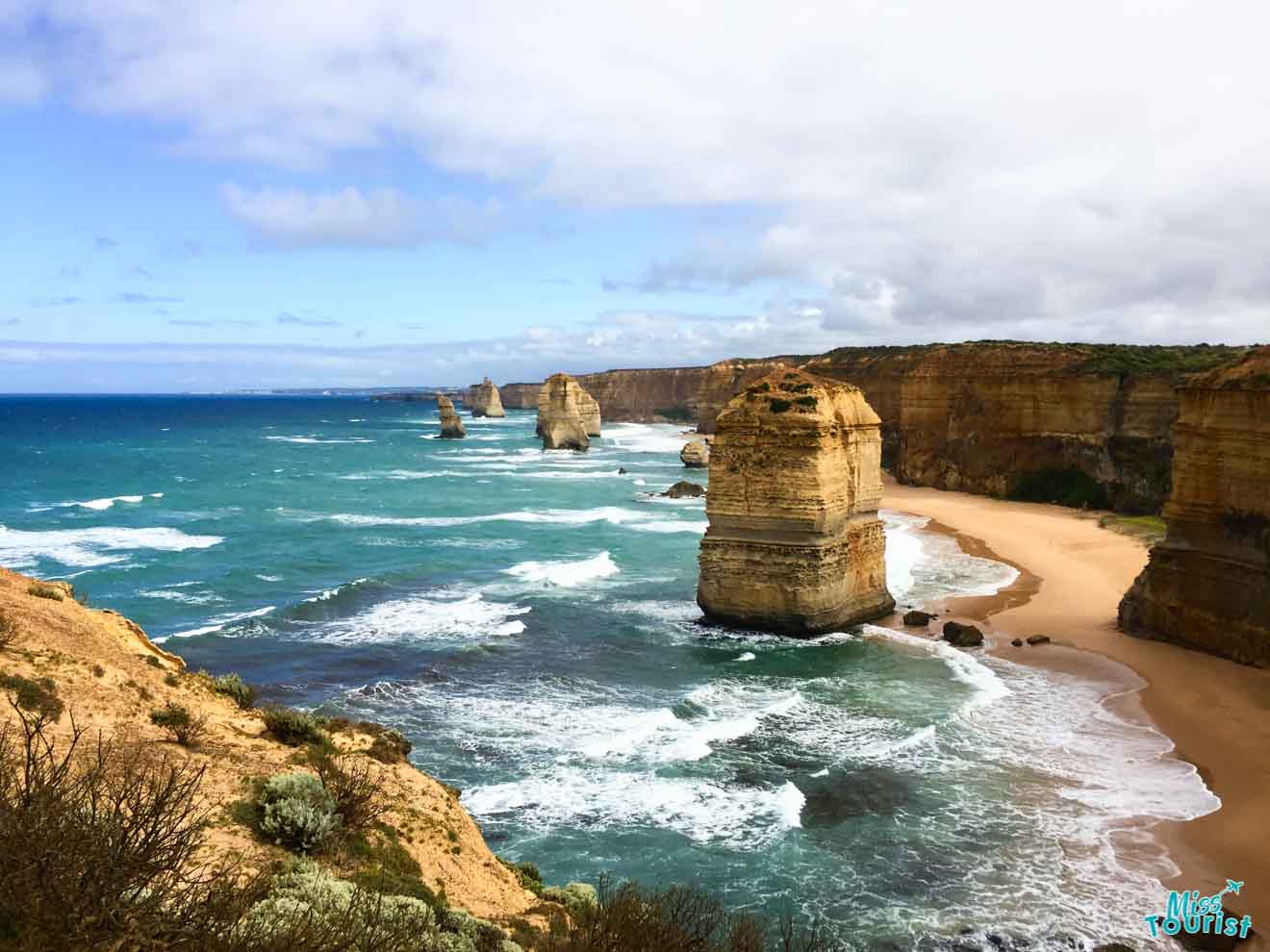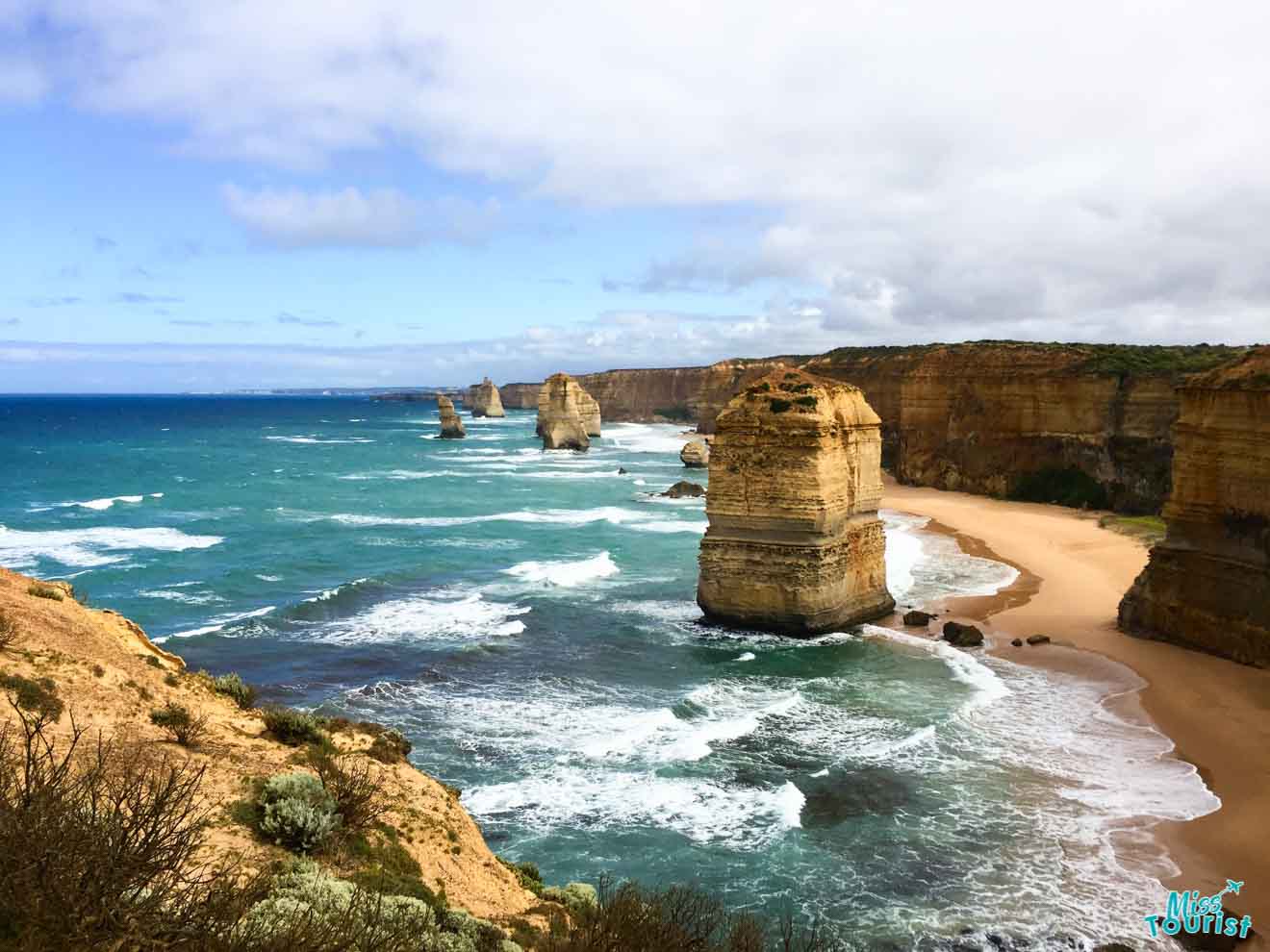 Well, this is what we've all been waiting for – the 12 Apostles!
These iconic rocks were once a part of the mainland, that was slowly eroded by the Southern Ocean to create caves, arches and eventually the stacks we see today. The mighty powers of the Southern Ocean are still at work today, and instead of the original Twelve Apostles, there are now only seven left! Still, they are stunning to visit and a real must-see during your road trip.
TOP TIP: There's a huge car park here as well as a visitors centre and a small shop. This is also one of the only stops with toilets on this stretch of the drive!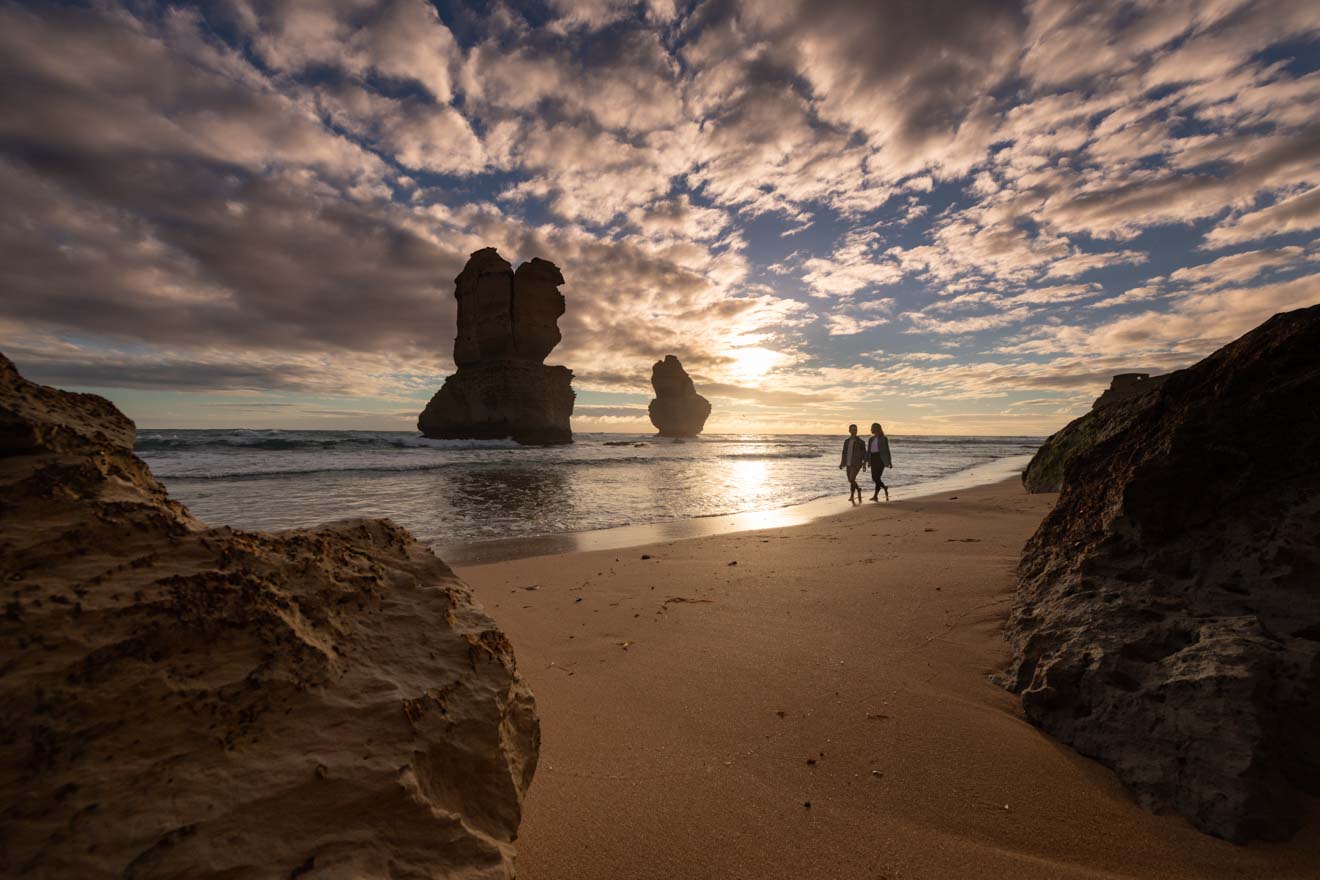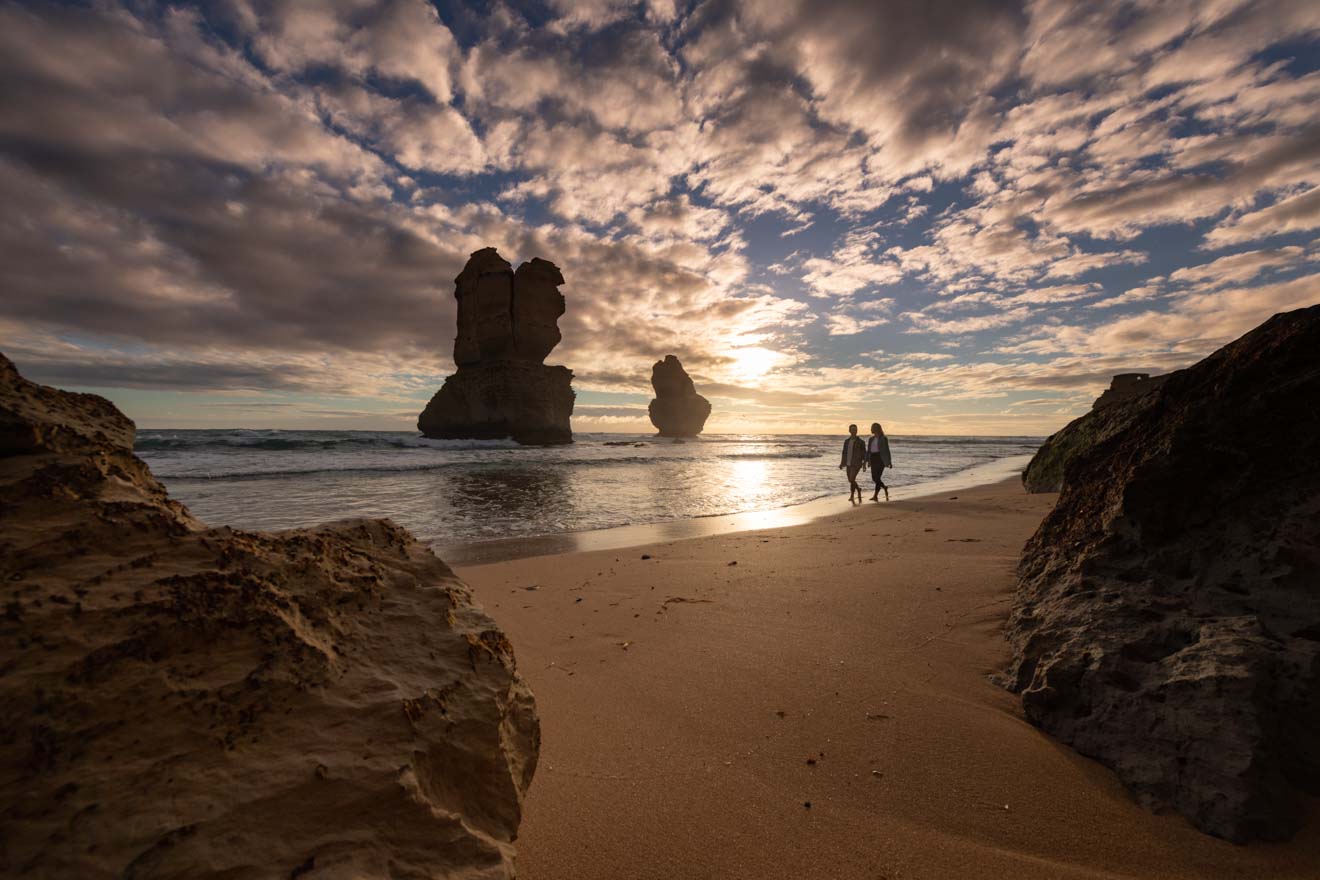 From the 12 Apostles, it's only a fifteen-minute walk to Gibson Steps. There's parking here too but it's super limited and I couldn't get a space the first time I visited. The Gibson Steps lead down to a huge stretch of beach which gives you another view of the Twelve Apostles. Here, you'll realise just how huge and magnificent they truly are!
TOP TIP: As one of the main attractions, not only along the Great Ocean Road but in Australia too, the Twelve Apostles are never without a crowd! If you do want to go when there are fewer tourists around, aim for just after sunrise, and definitely avoid early afternoon when all the tourist buses arrive!
3. Discover the history behind Loch Ard Gorge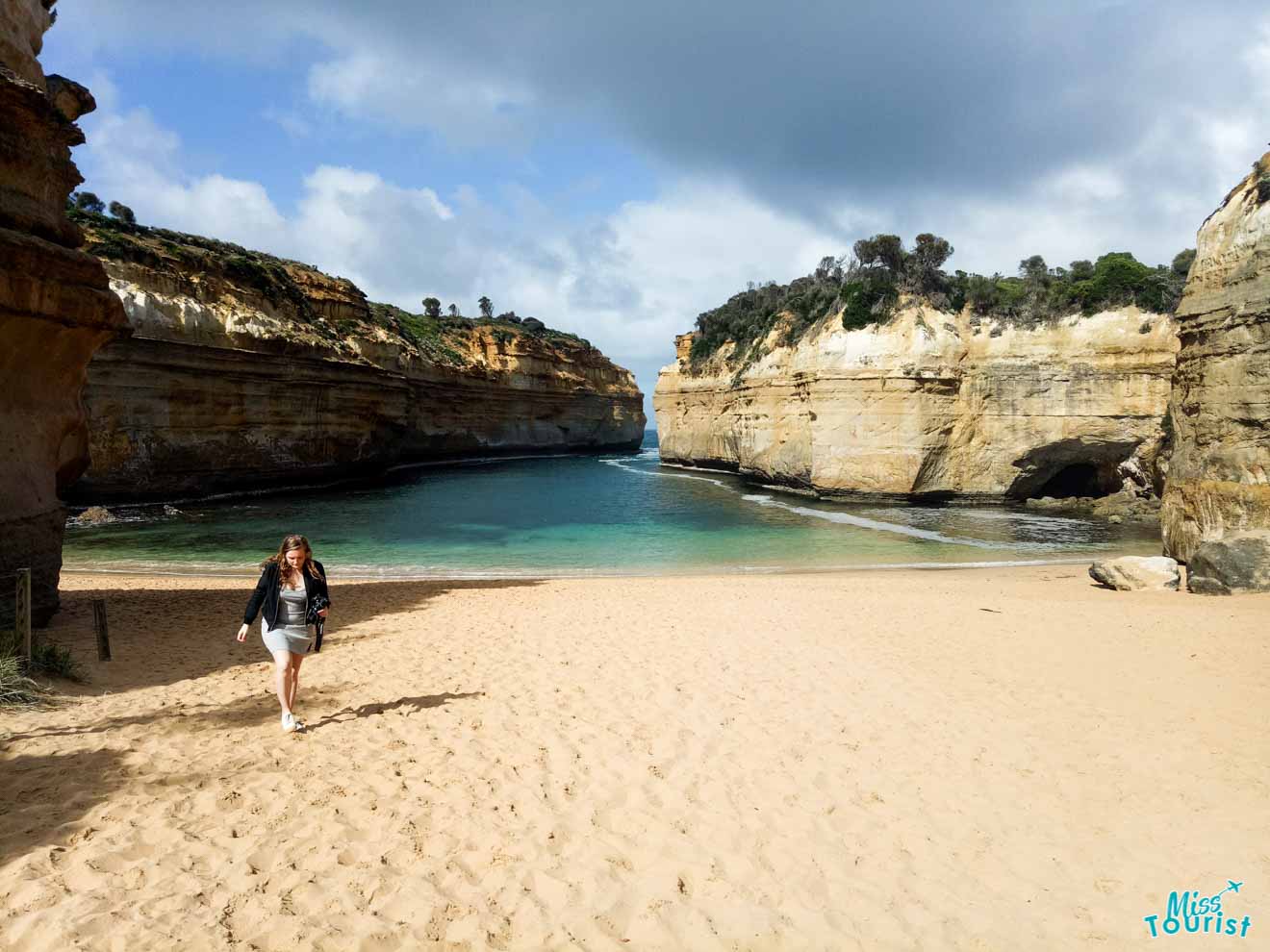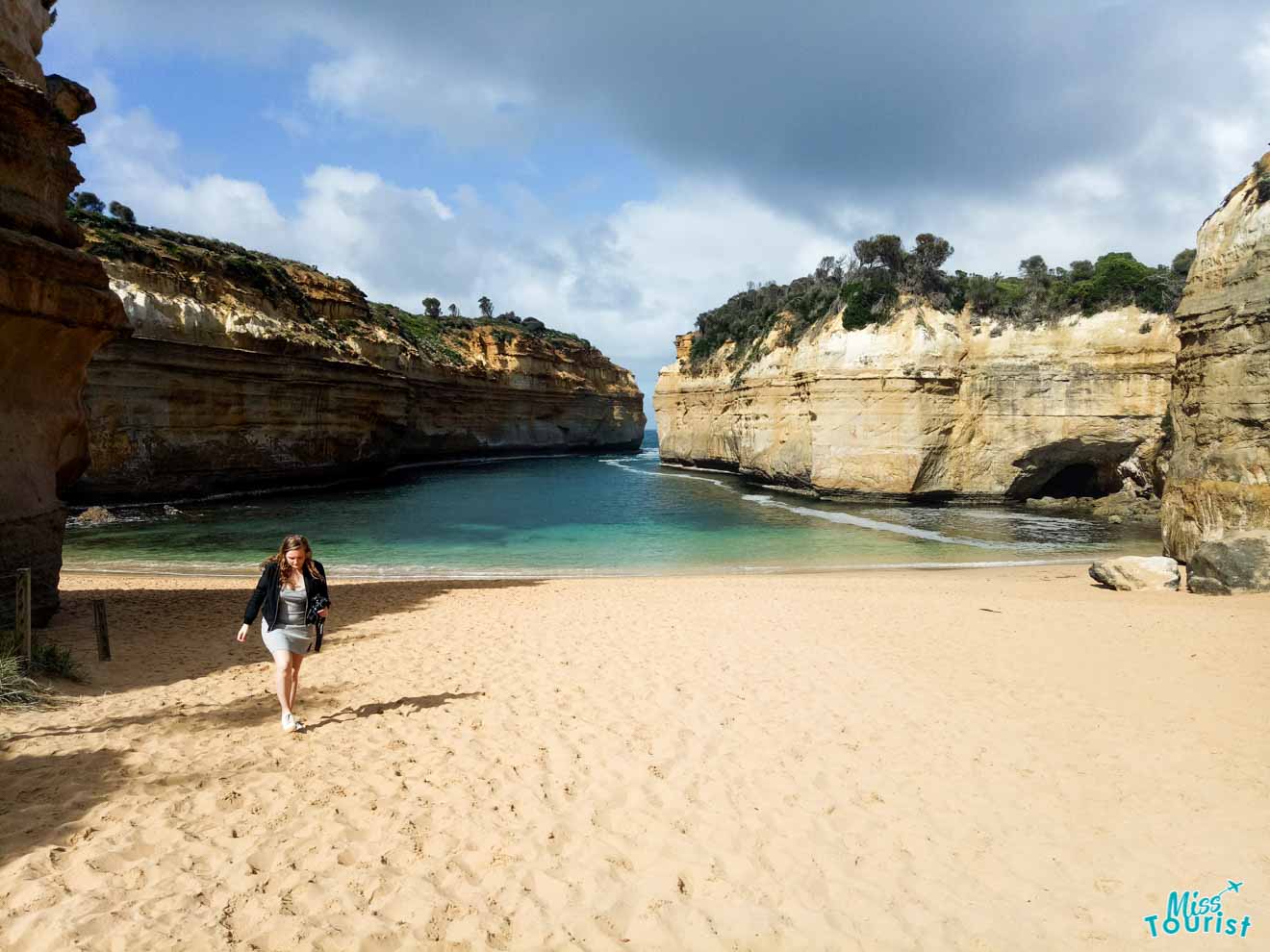 Port Campbell National Park isn't just about the Twelve Apostles. There are LOADS of other stunning coastal landscapes that are worth checking out too. One of these is Lord Ard Gorge – a small beach that's surrounded by beautiful limestone cliffs!
Loch Ard Gorge is named after a boat, Loch Ard, that was shipwrecked here in 1878 and had just two survivors, Tom and Ella. You can learn more about these two at any of the information boards.
If you haven't got long to explore, it's only a short walk from the car park to a viewpoint that looks over the top of the cliffs. During my visit, I took a walk down the steps to the right of the viewpoint and had an explore of the beach too!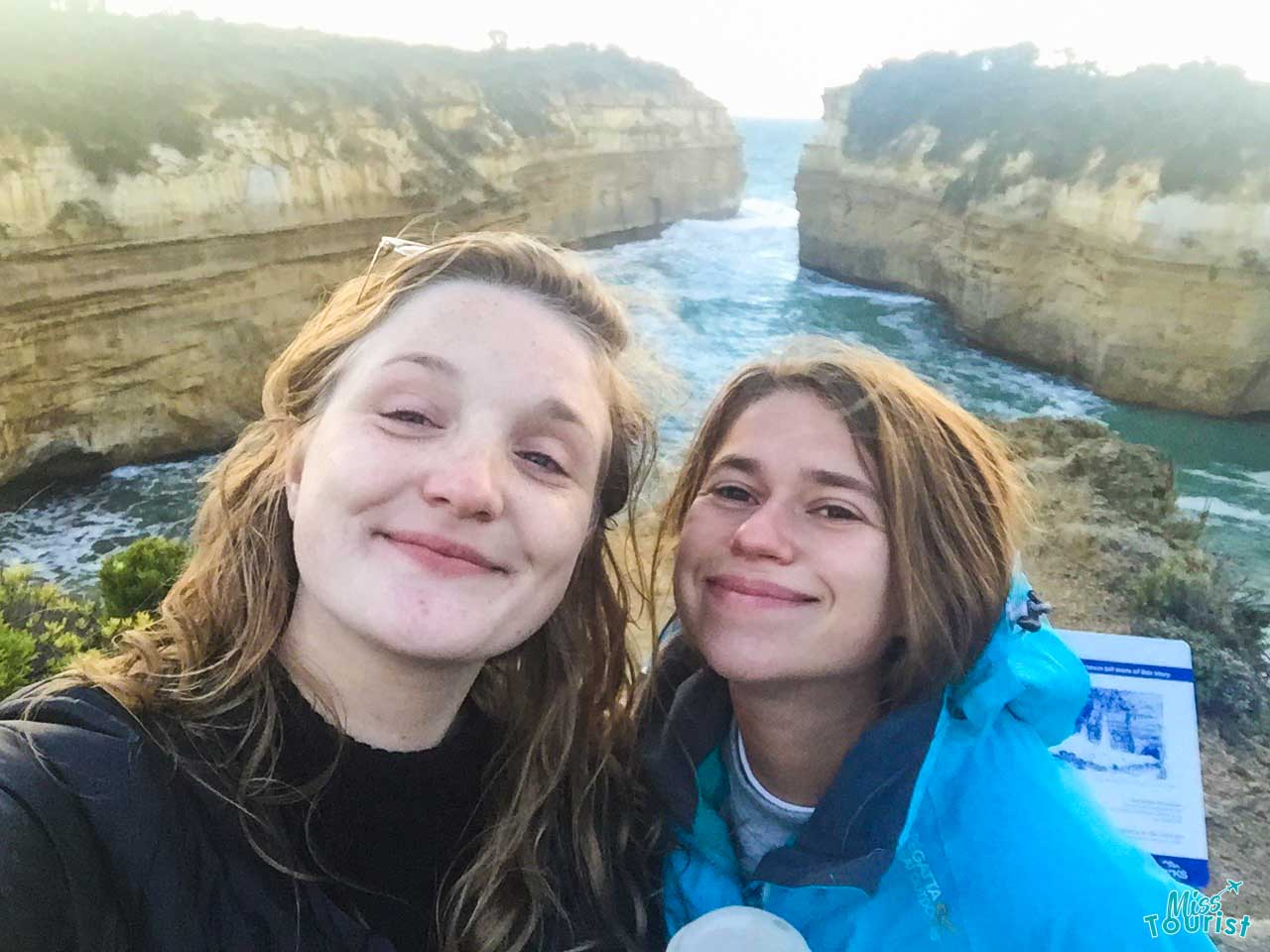 From this viewpoint, there are loads of short walks that take you away from Loch Ard Gorge and along the cliff heads to other beautiful viewpoints. Through my various experiences driving the Great Ocean Road, I walked along all of the trails, and would definitely recommend the 1km Geology Walk to The Razorback if I had to pick just one!
TOP TIP: London Bridge and The Grotto are just five minutes up the road from the 12 Apostles and Loch Ard Gorge, but hardly anyone visits them! If you can spare five minutes, I'd really recommend popping in to see them!
4. Stay the night in Port Campbell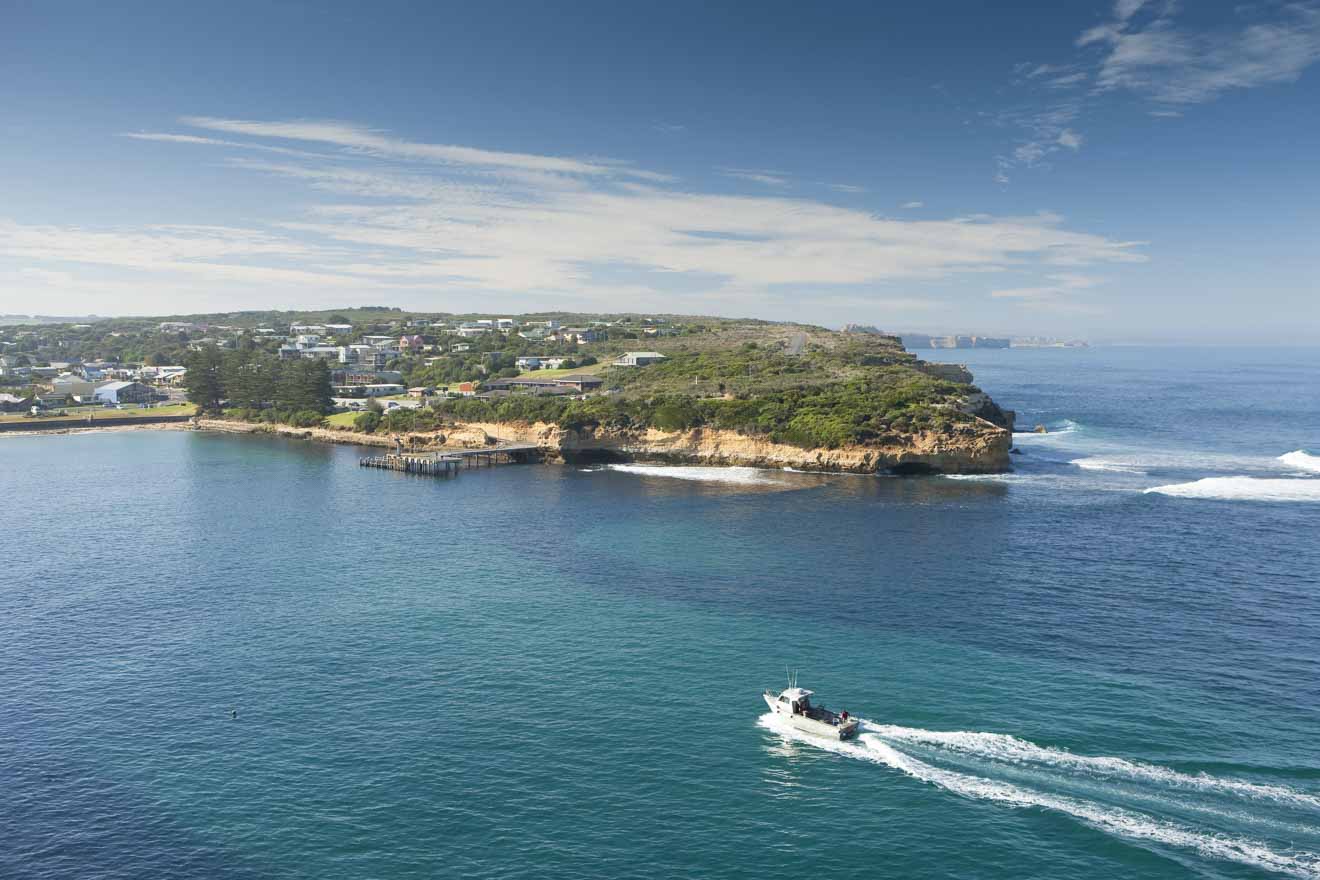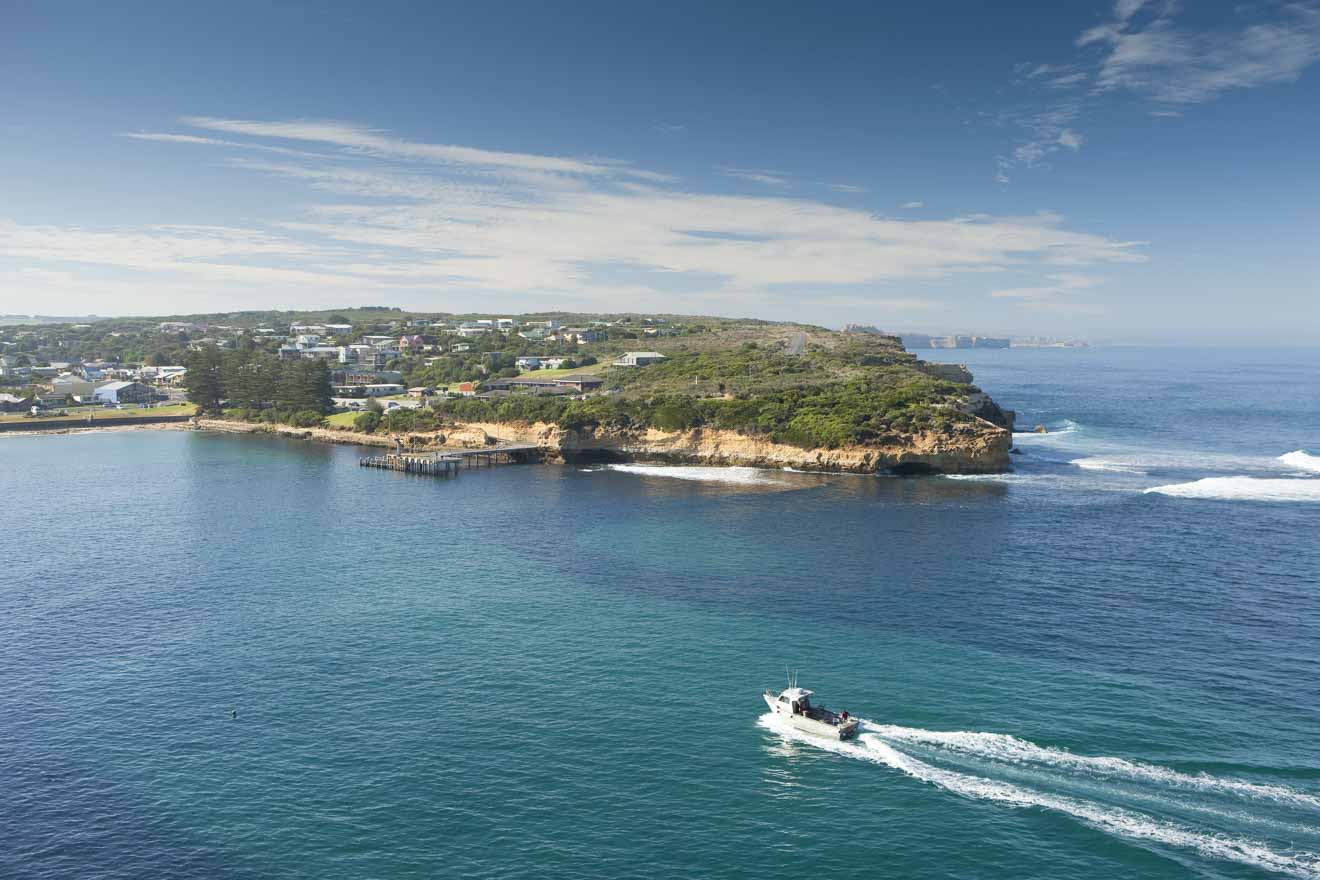 After all of that exploring in Port Campbell National Park, I guarantee that you won't want to drive too far away from the 12 Apostles to find somewhere to rest your head. Luckily, Port Campbell is just a ten-minute drive away from the Twelve Apostles and has a huge selection of accommodation options, the best of which I've highlighted below!
Luxury (240 AUD and up): Stylish and immaculately clean are just two of the words you could use to describe the spacious double rooms at Port O'Call Motel in Port Campbell. Sitting just five minutes away from the 12 Apostles and Loch Ard Gorge, this place harbours the perfect balance between convenience and luxurious comfort.
Middle (80 to 200 AUD): There's no end of middle-range accommodation to choose from in Port Campbell, most of which have great ratings. Port Campbell Parkview Motel & Apartments really stands out above the rest though thanks to its large apartment-style motel rooms, equipped with a kitchen and balcony with views over the Southern Ocean.
Budget (up to 80 AUD): The Port Campbell Hostel is pretty much the only choice in town when it comes to budget accommodation. I actually stayed here on my first Great Ocean Road drive, and it was great! The dorms were spacious, the communal space was huge, everyone was really friendly and there's even a microbrewery on-site if you fancy a beer that's been brewed in Port Campbell itself!
Day 3: Port Campbell to Port Fairy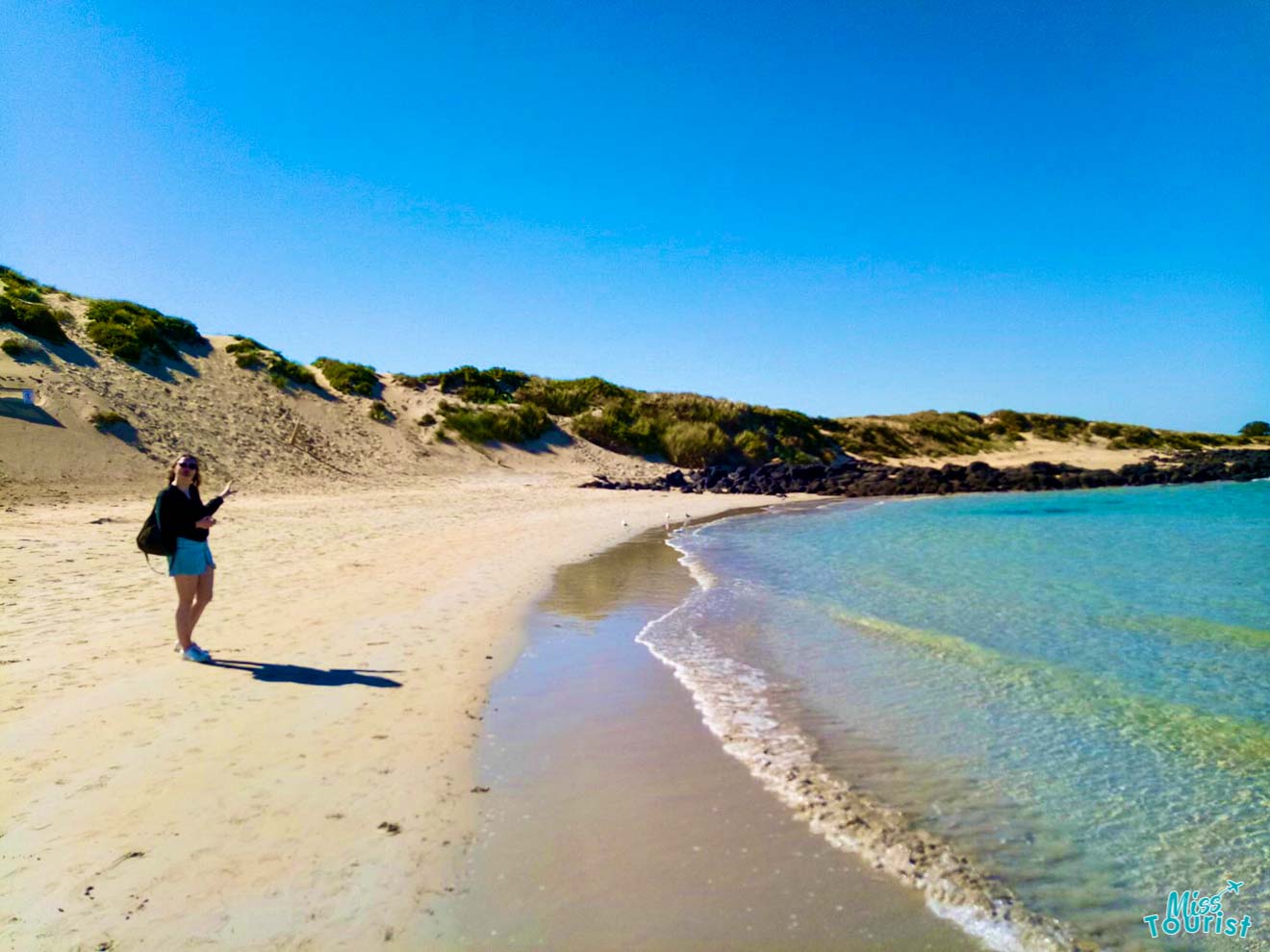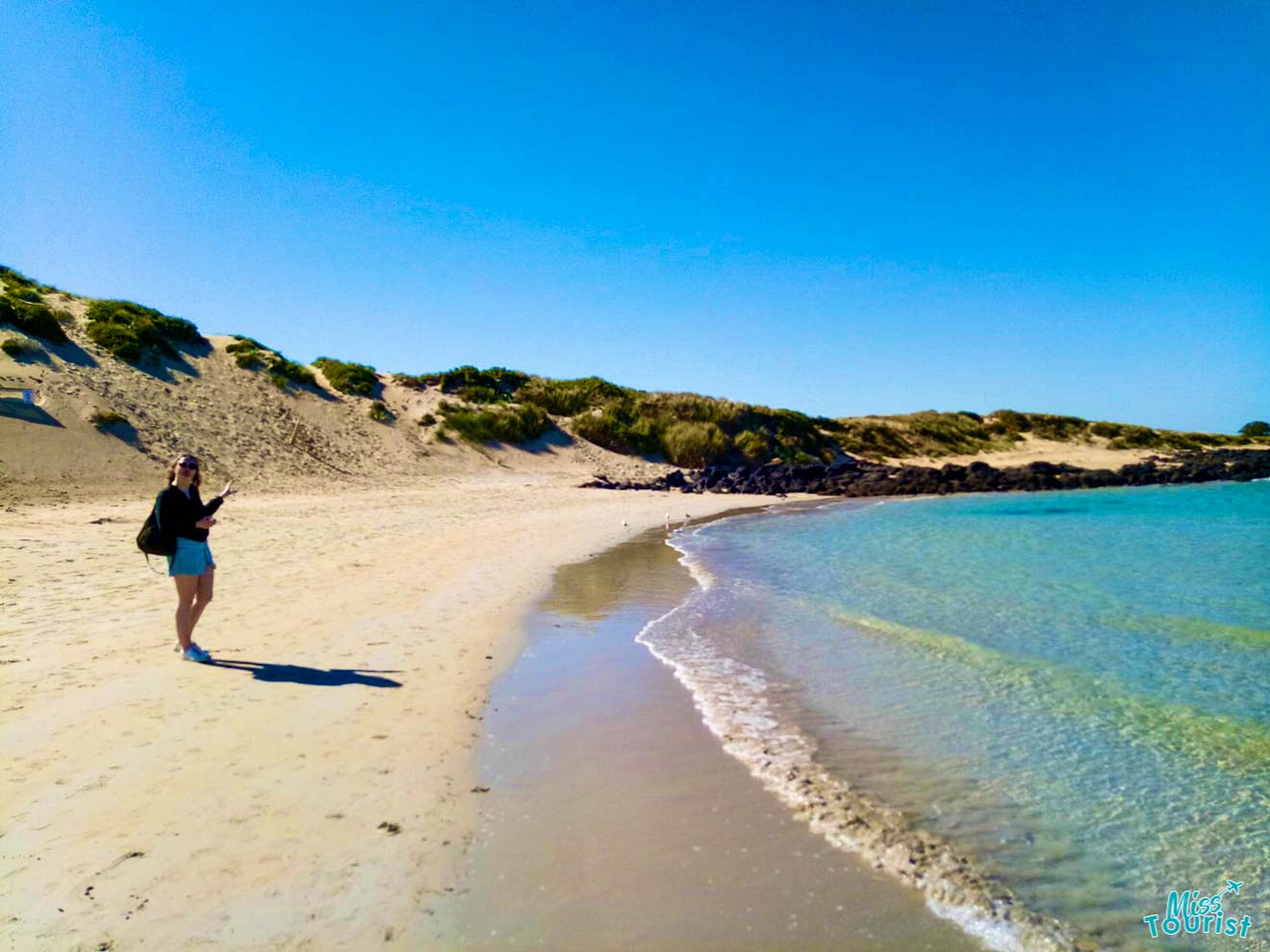 Day 3 of the Great Ocean Road itinerary is all about squeezing in some last attractions, waving goodbye to the road trip of a lifetime and heading back to Melbourne.
NOTE: If you want to stay just one more night, I've also included a few suggestions for hotels and hostels in Port Fairy.
Driving: 1 hour (+ 3 hours to return to Melbourne)
Distance: 60km (+240km to return to Melbourne)
1. Bay of Islands Coastal Park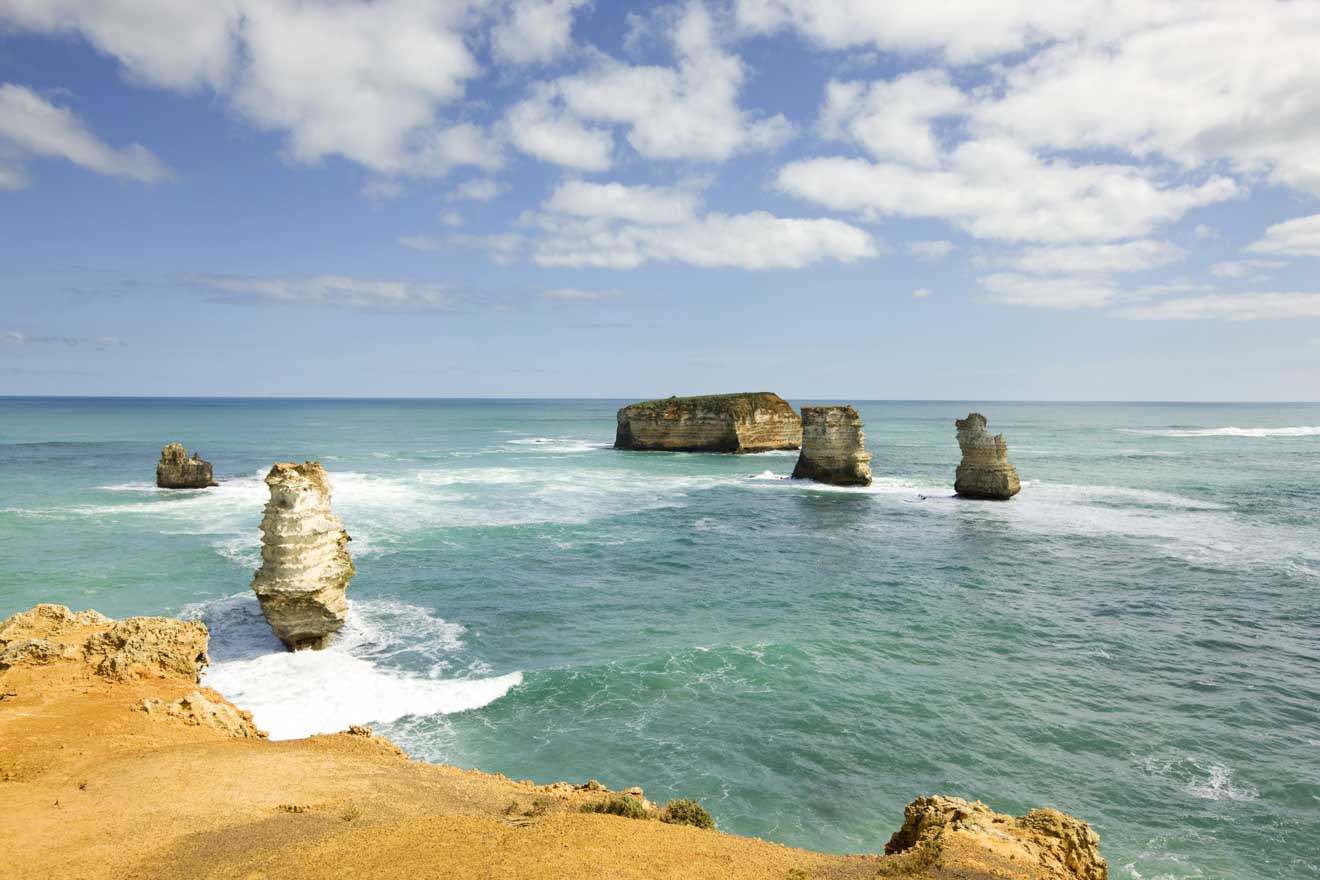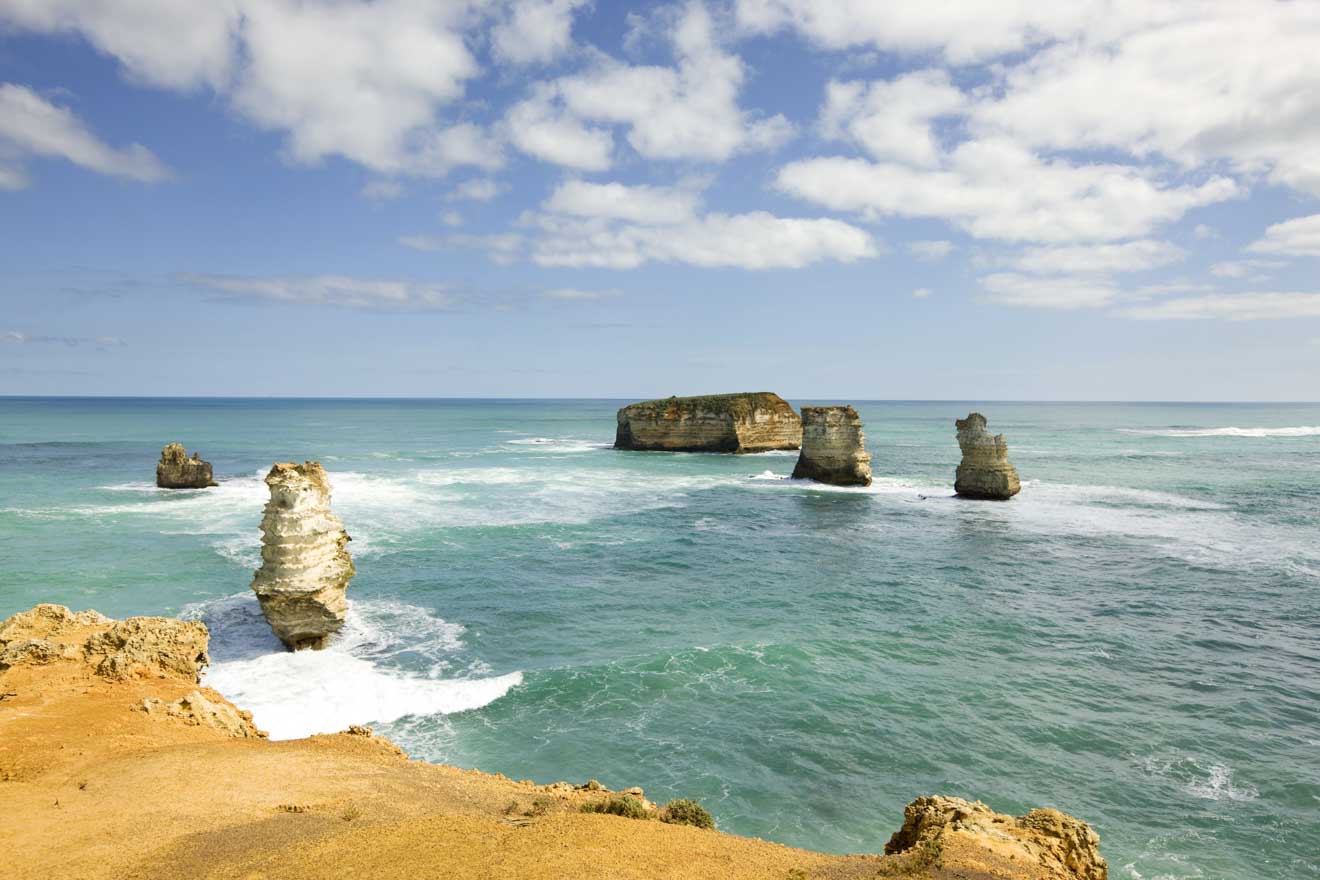 The Bay of Islands Coastal Park in Australia (not to be confused with Bay of Islands in New Zealand!) is like the quieter alternative to the 12 Apostles, Loch Ard Gorge and all of the other fantastic rock formations that are so popular along this drive! Stretching 32km across the southern coast of Australia, from Peterborough to Warrnambool, the Bay of Islands provides stunning views for the whole drive!
The easiest way to enjoy the scenery at the Bay of Islands is from two handy viewing platforms that can be accessed from the main car park. As well as rugged sea stacks and limestone cliffs, make sure you also pay a visit to the beach here/ Almost every beach you'll find in the Bay of Islands is much quieter than the more popular Bells Beach, and you may even find a beach to enjoy all to yourself!
TOP TIP: If you want to watch the sunset over the Great Ocean Road, here's the place to do it! Rather than fighting through the crowds on the Gibson Steps at the 12 Apostles, there will only be a handful of people on the viewing platforms here!
2. Enjoy a morning seeing the sights of Warrnambool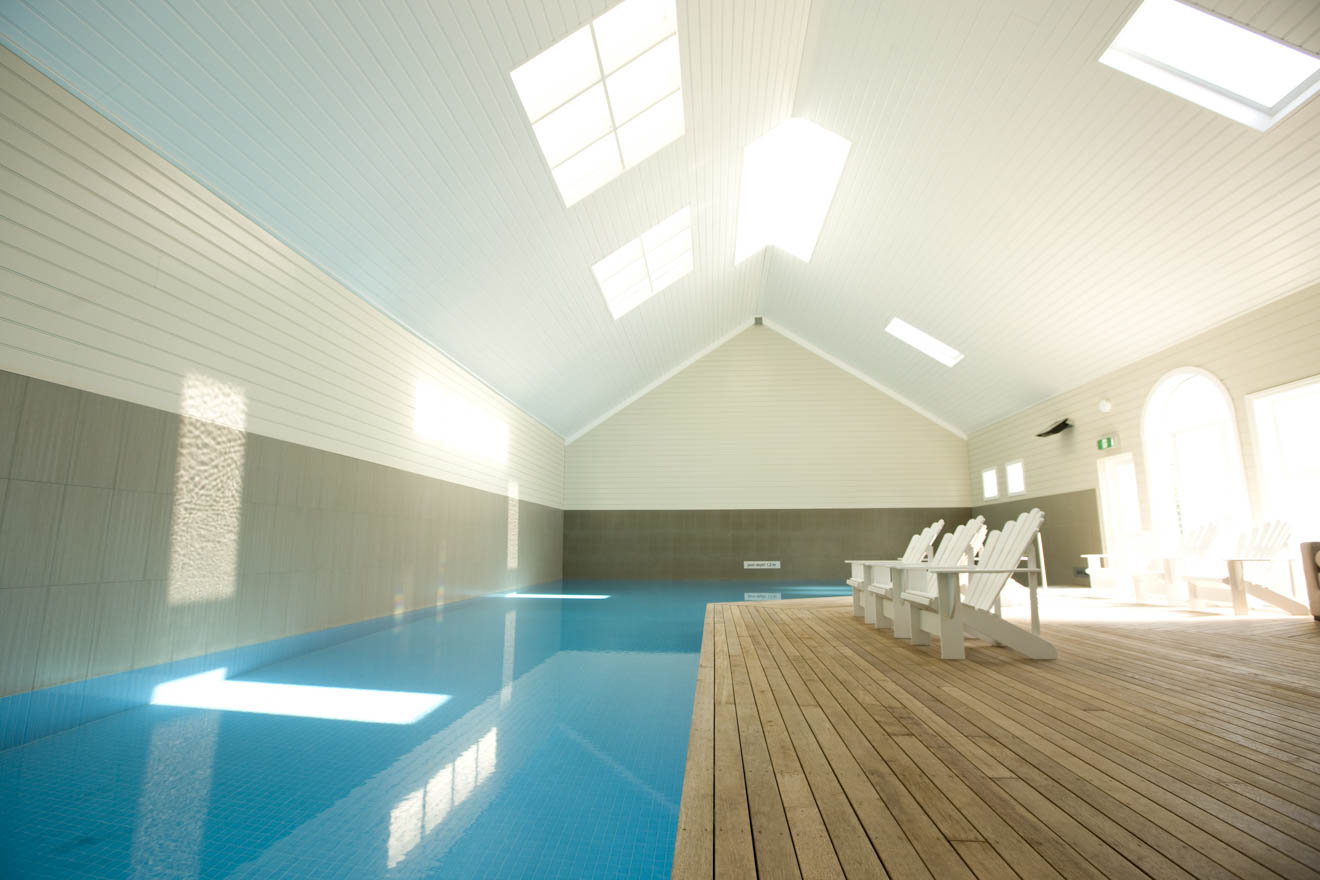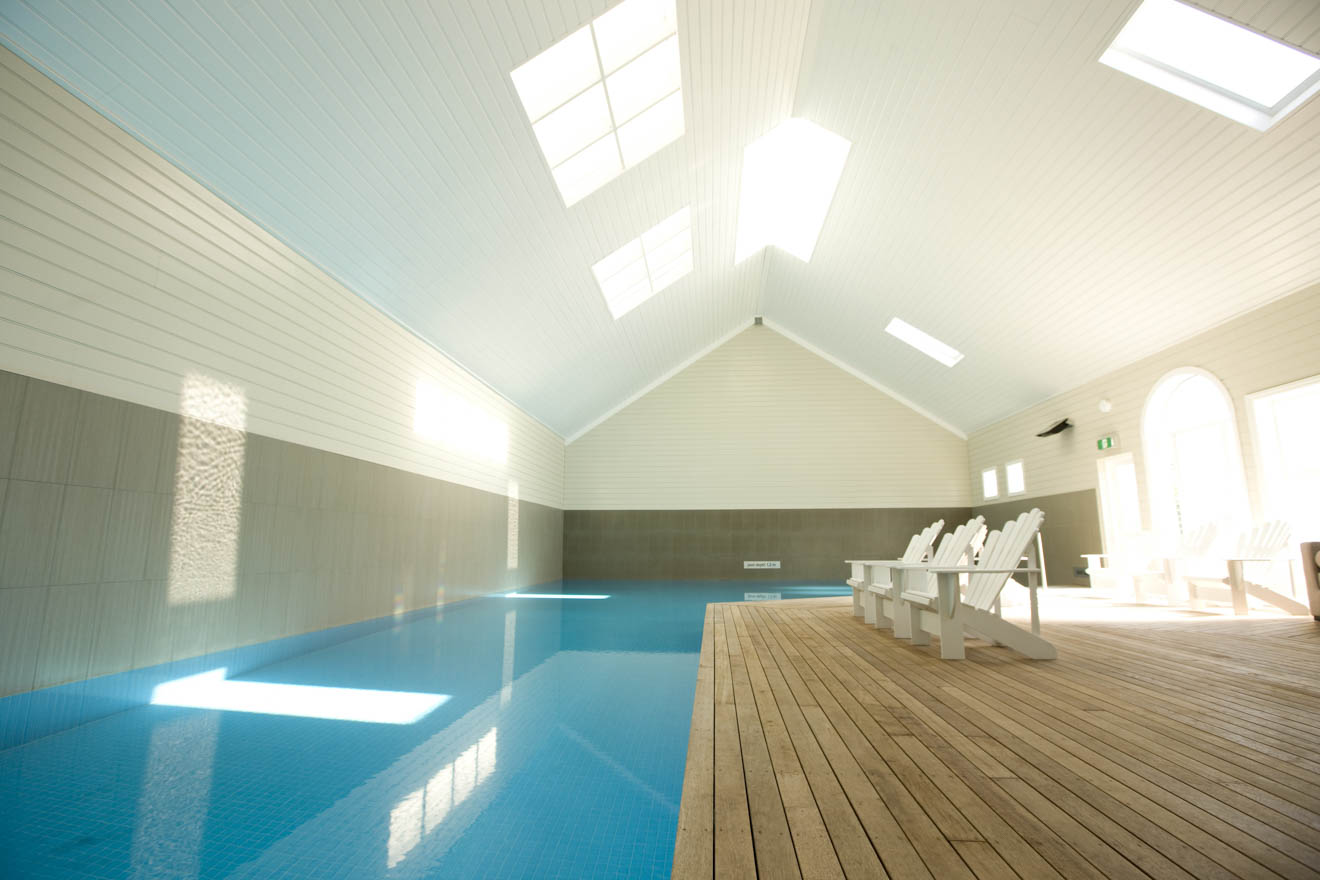 By the time you've driven into Warrnambool, you will have already passed Allansford, which is the official ending point of the Great Ocean Road map. There's tonnes to do in town, but here's a few suggestions to keep you busy for a day!:
So this is where the Great Ocean Road officially finishes, but If I were you I'd extend the itinerary by just a couple more hours to end your journey on a high at Port Fairy!
3. Watch wildlife roaming freely through Tower Hill State Game Reserve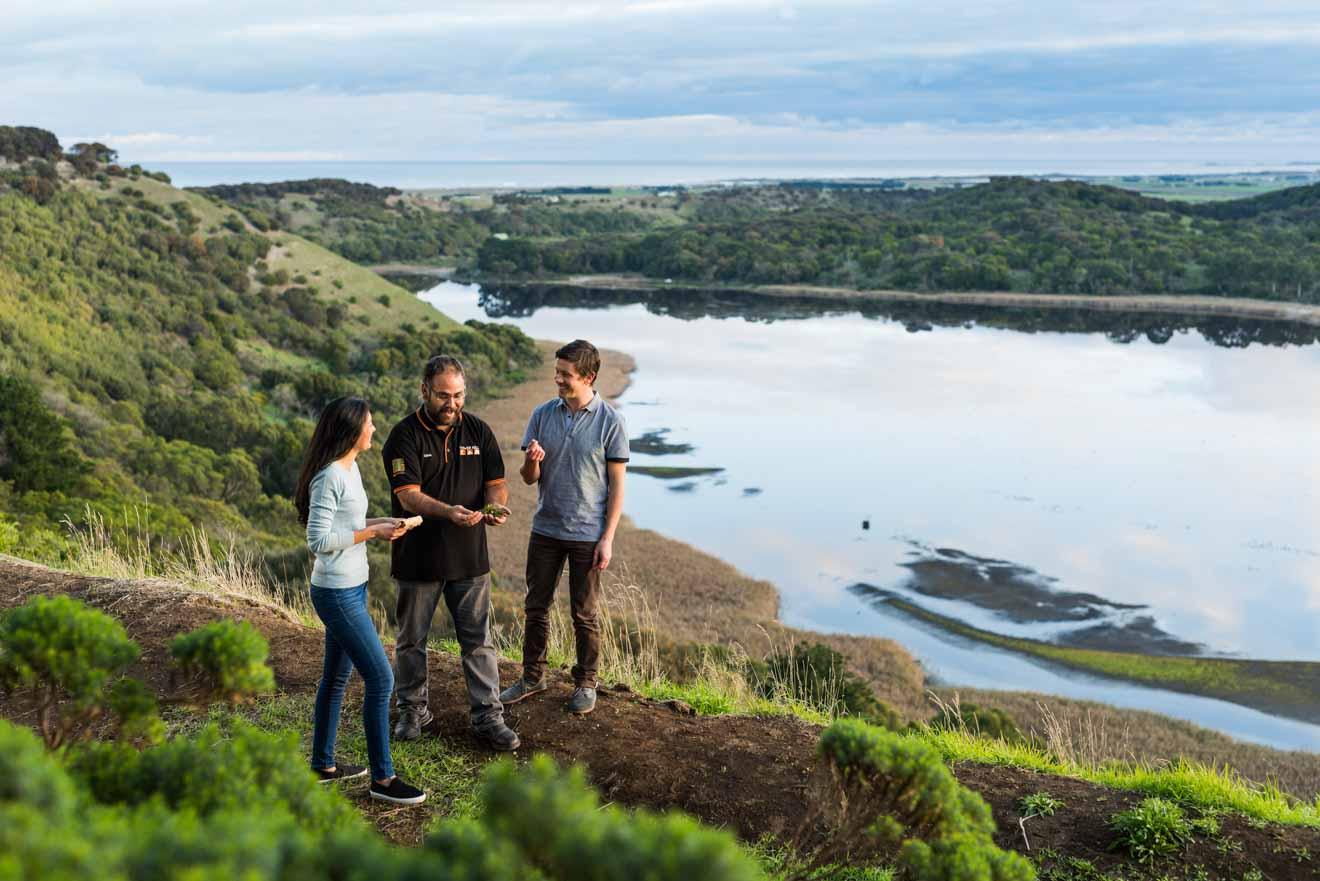 In 1892, Tower Hill State Game Reserve was the first place to be declared a national park in Victoria and one of the first in Australia!
Sitting in a nutrient-rich volcano crater, Tower Hill State Game Reserve is one of the best places in Australia to spot emus, kangaroos, koalas, echidnas, wallabies and other native species! Just on the drive into the park, I'd already spotted a few wallabies and a couple of emus pottering around.
You can explore the grounds by yourself for free, but I'd definitely recommend a tour if you have the time. The guides are super informative, and I learn more about Australia's animals here than I did anywhere else during my travels!
PRICE: $80 for a three-hour tour
4. Stay over in Port Fairy or head back to Melbourne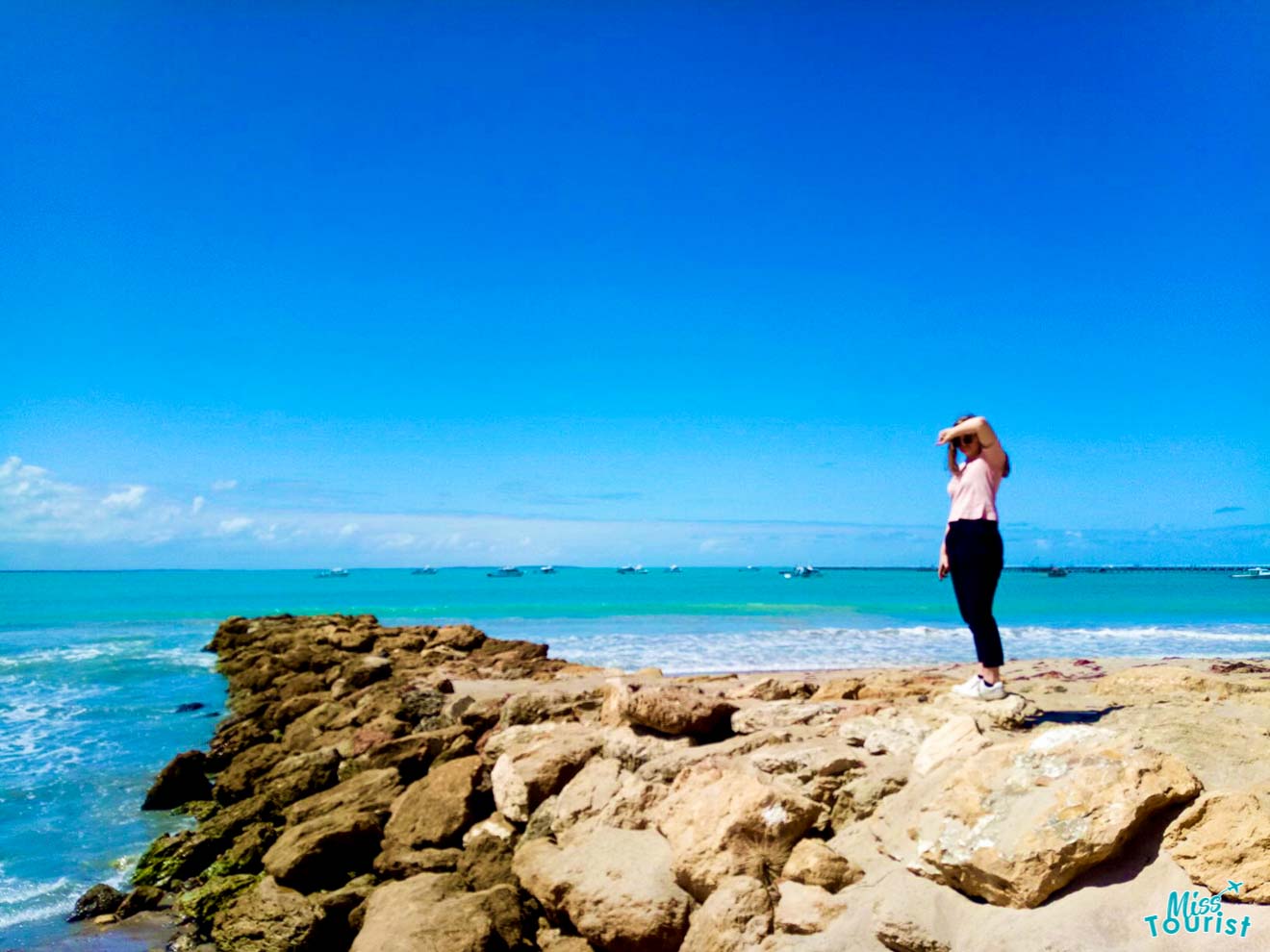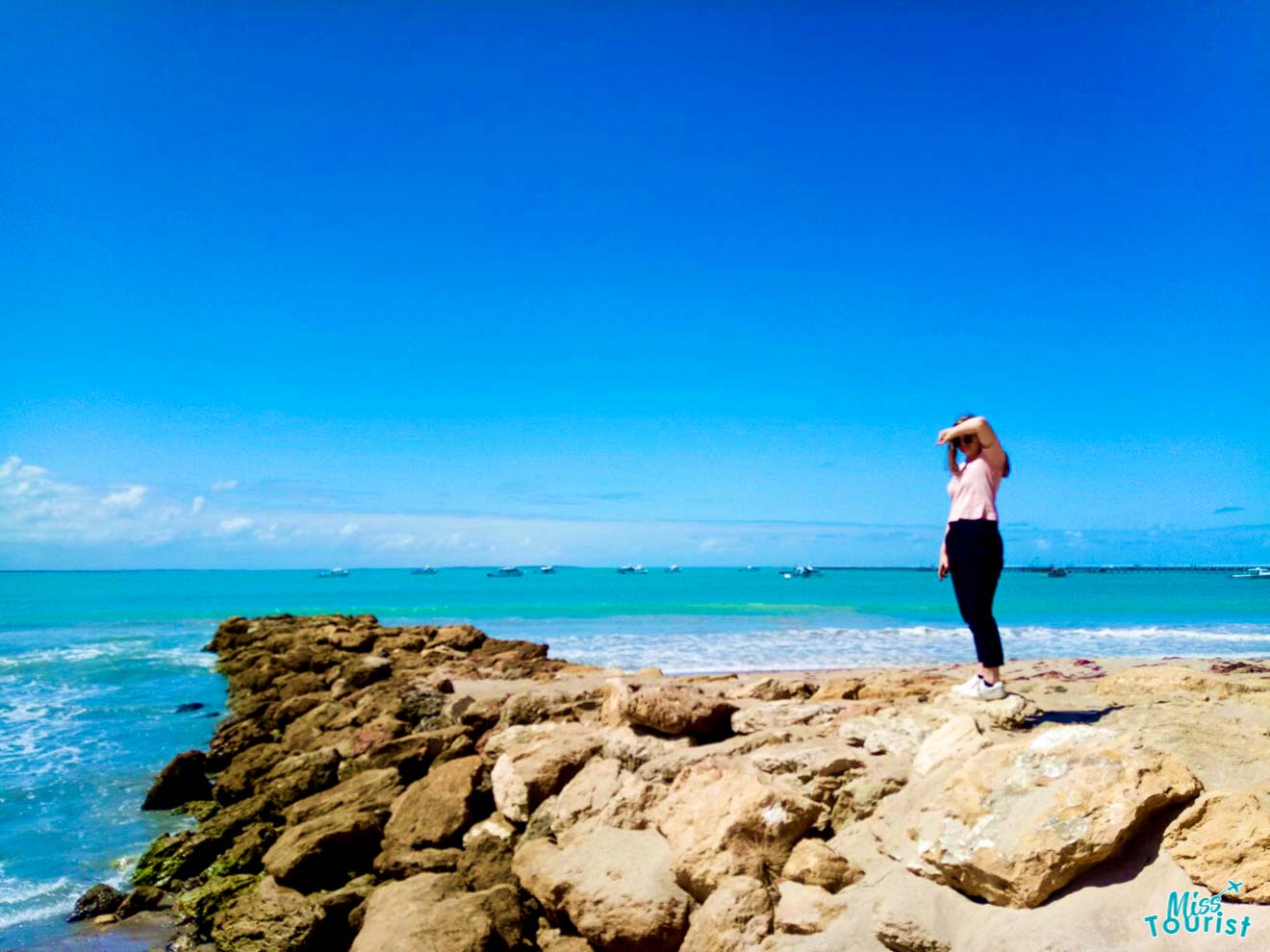 Where to stay in Port Fairy
I have to say… I absolutely LOVED Port Fairy! It's only a small town with a quiet little beach and a few shops, but it had this great atmosphere and everyone was just so friendly. If you can, I'd really recommend spending a night here to just unwind from your trip and reflect on the awesomeness of the last couple of days!
Luxury (240 AUD and up): 54 on Bank may not look like much from the outside, but it sure is lovely from the inside. A selection of self-contained cottages and apartments are up for grabs here, all complete with a cosy fireplace for those cold evenings and a muscle-easing spa bath for the ultimate relaxation.
Middle (80 to 200 AUD): Built in 1847, the historic Seacombe House Motor Inn provides guests with comfortable and affordable double rooms, situated just ten minutes from the town's main beach.
If you're travelling in a group, booking an Airbnb is always great to get value for money! This swanky Boutique Apartment in the heart of Port Fairy has two huge double bedrooms, a modern interior and access to a Day Spa next door.
Budget (Up to 80 AUD): The Port Fairy YHA is actually housed in one of the oldest buildings in town! There's a choice of private, or low-cost dorm rooms, along with a pool room, which is great for socialising and a large kitchen to cook up any food. And all of this, just moments away from the beach!
Getting back to Melbourne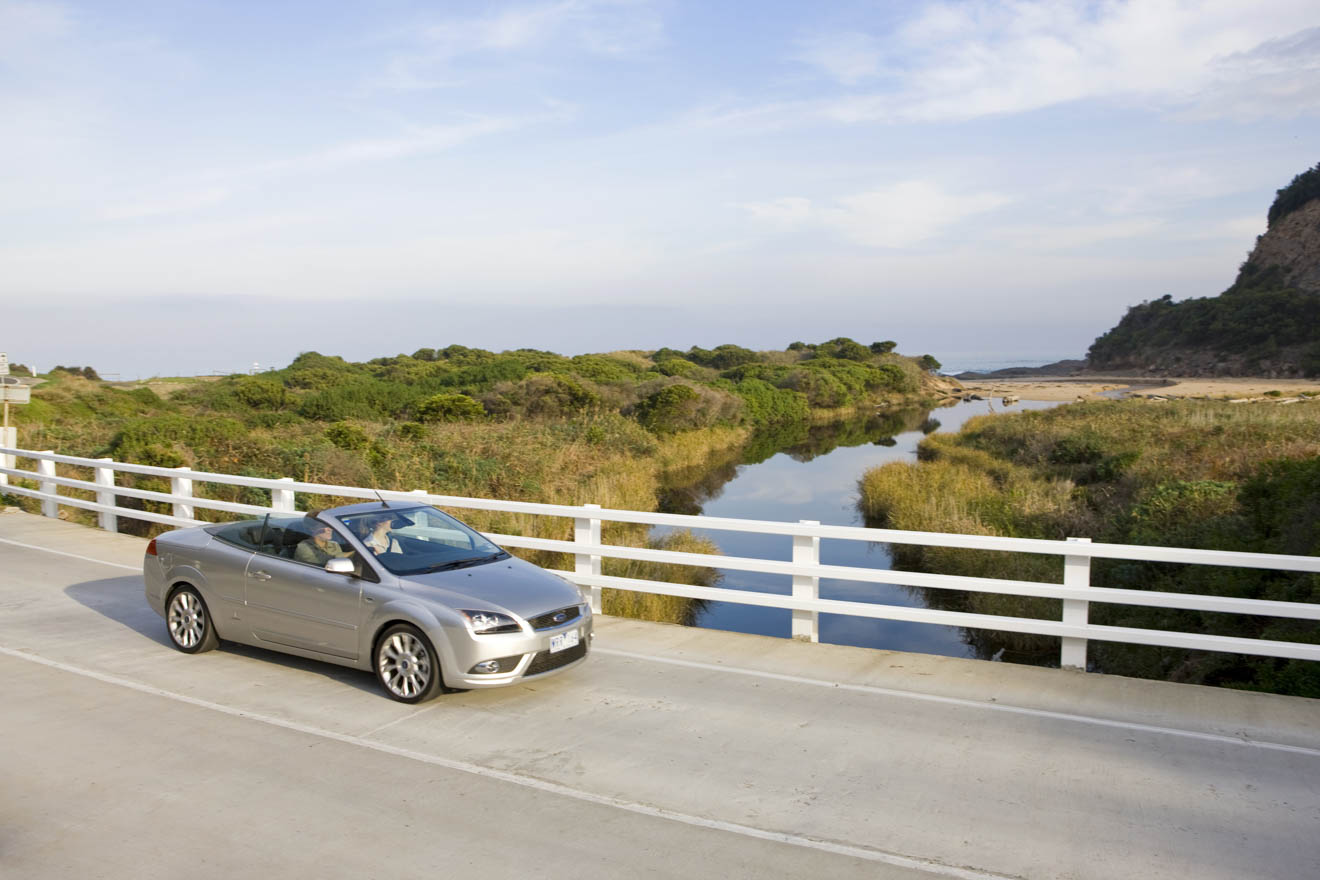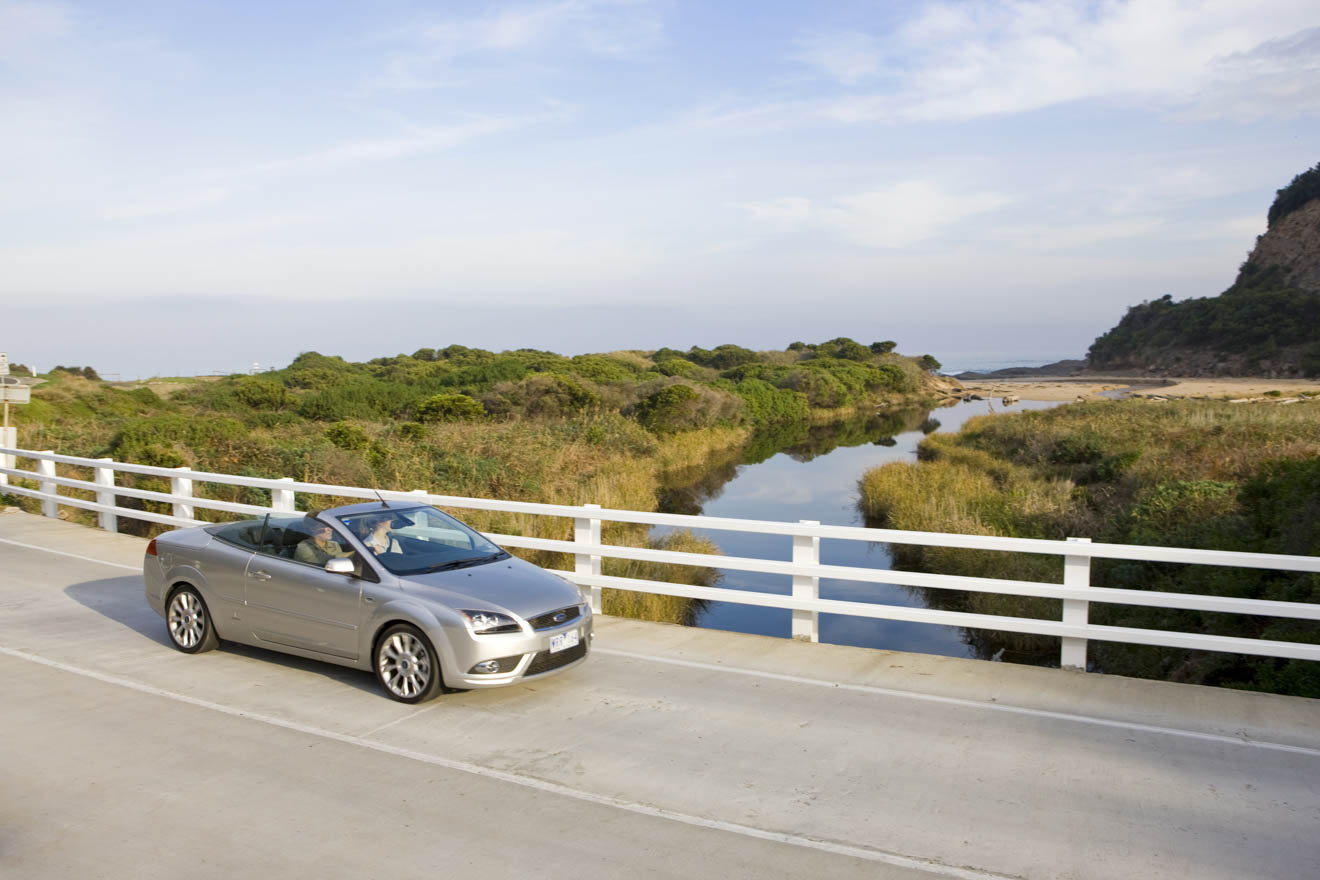 Finding your way back to Melbourne (or Adelaide) at the end of your trip doesn't mean that you have to drive those winding roads again!
Of course, you can if you'd like! But, there's actually a quicker, inland route that'll take you back to the start of the Great Ocean Road in just three hours via the A1 and M1.
Sadly, this is where your journey will end :(. Don't worry too much though, as there are plenty of other road-tripping opportunities in Victoria, like the stunning Great Southern Touring Route that takes you up to The Grampians or a route that takes you past the Mornington Peninsula to find the penguins on Mornington Peninsula. 
| | |
| --- | --- |
| 📍 Start: | Melbourne or Torquay |
| 🛣️ Distance covered: | 240km |
| 💵 Avg hotel price: | $140 |
| ☀️ Best time to visit: | Late summer (March-April) |
| 📅 How many days: | 3 |
Practical Information
How to do the Great Ocean Road drive
a) By Campervan/Car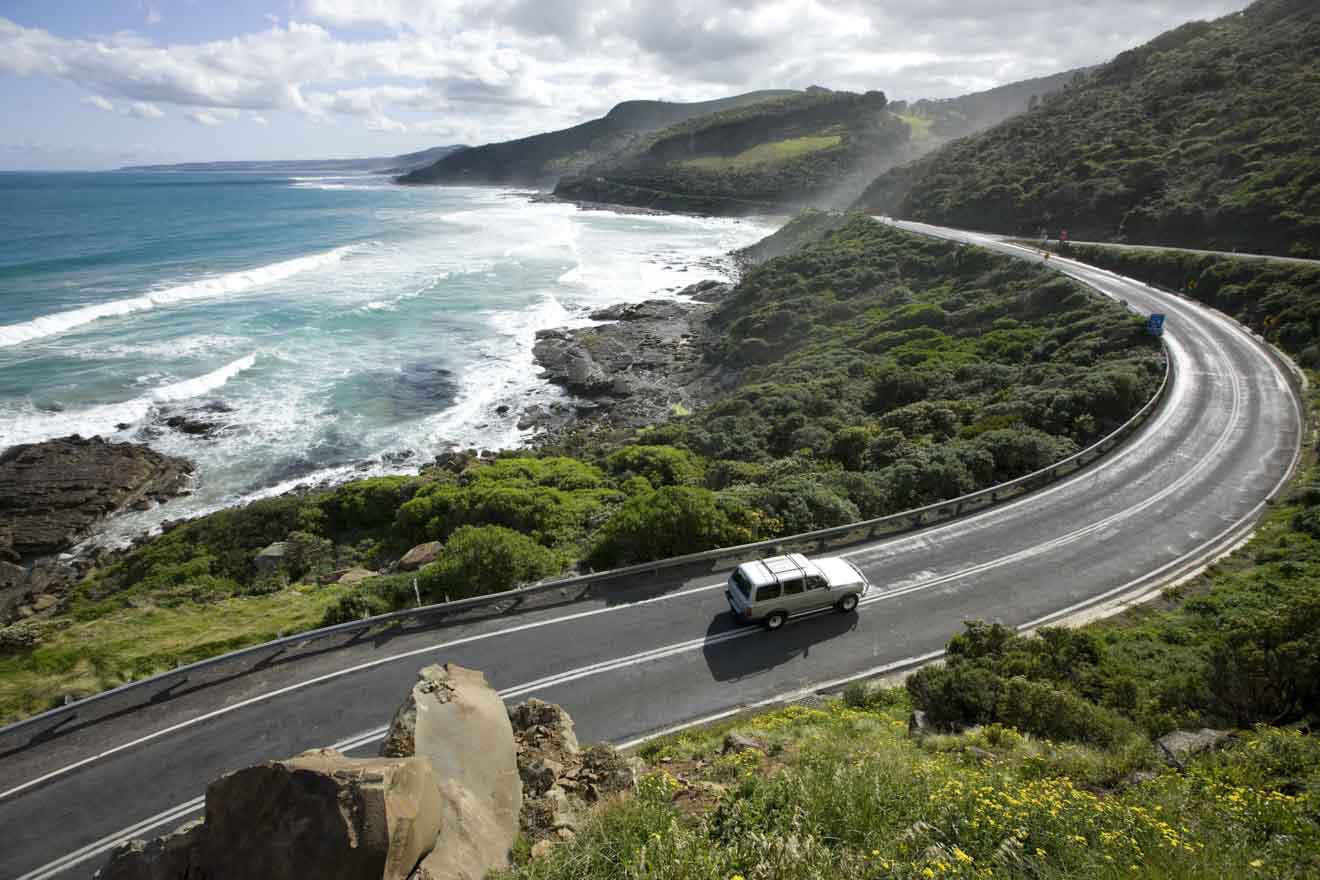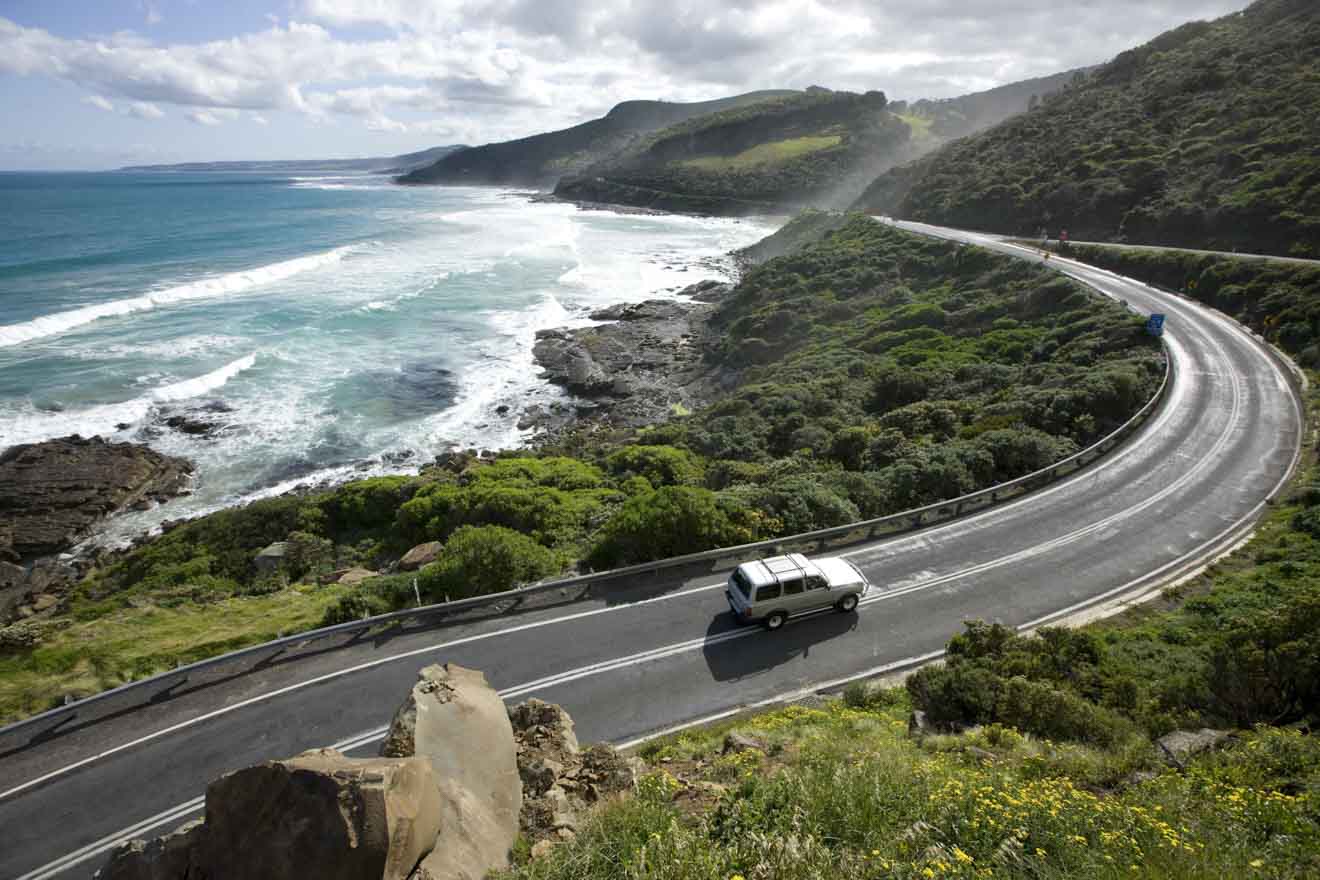 Most people chose to drive the Great Ocean Road because it gives you way more flexibility with your itinerary and the chance to stop off at any point to take a photo. All three times that I visited, I drove there and back in a rental car, staying in hotels and hostels along the way. To save costs, or to experience something new, lots of people chose to drive the route in a campervan too!
Renting a car can cost anything from $25 to $150 depending on your preference and the insurance cover. If you're considering renting a campervan, however, it will cost around $90 for a 3-berth van that comes with kitchen and dining equipment and a gas cooker.
TOP TIP: If you're not from Australia, I would avoid driving at night along these roads. Kangaroos and wallabies are active at nighttime and are attracted to headlights!
b) With a tour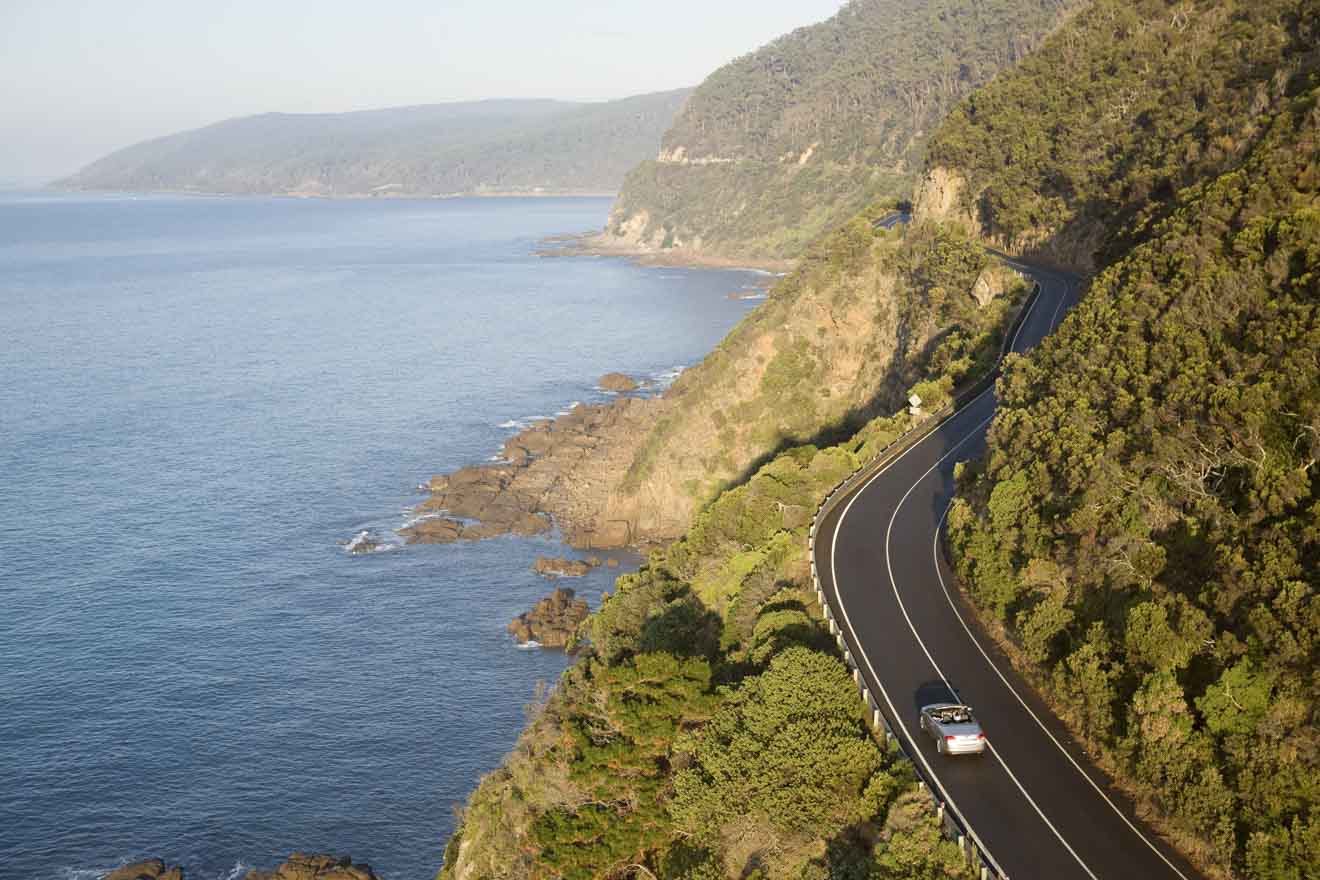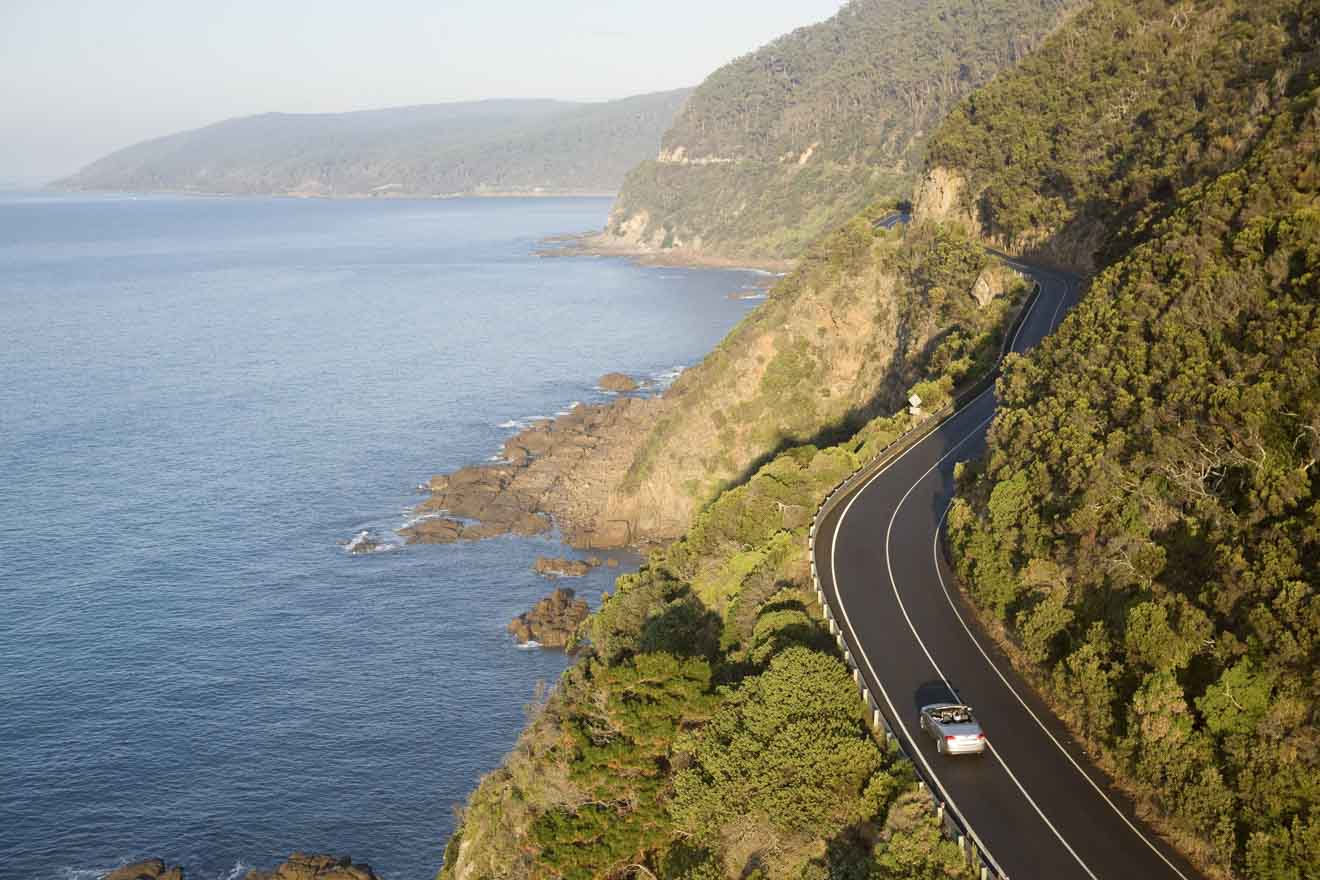 If you're not a confident driver or prefer to explore by tours, there are plenty of options for this too! An advantage of taking a tour is that the itinerary is completely planned for you, so you can just sit back and relax, jumping out to take photos and enjoy the sights.
Day tours are available from both ends of the Great Ocean Road, including Melbourne and Warrnambool. If you'd rather enjoy a longer itinerary along the Great Ocean Road, there are two-day tours and three-day tours available too.
Alternatively, if you have an exact itinerary in mind of what you want to see and do, you can cater your experience to your wants and needs with a private day trip from Melbourne.
с) By Bike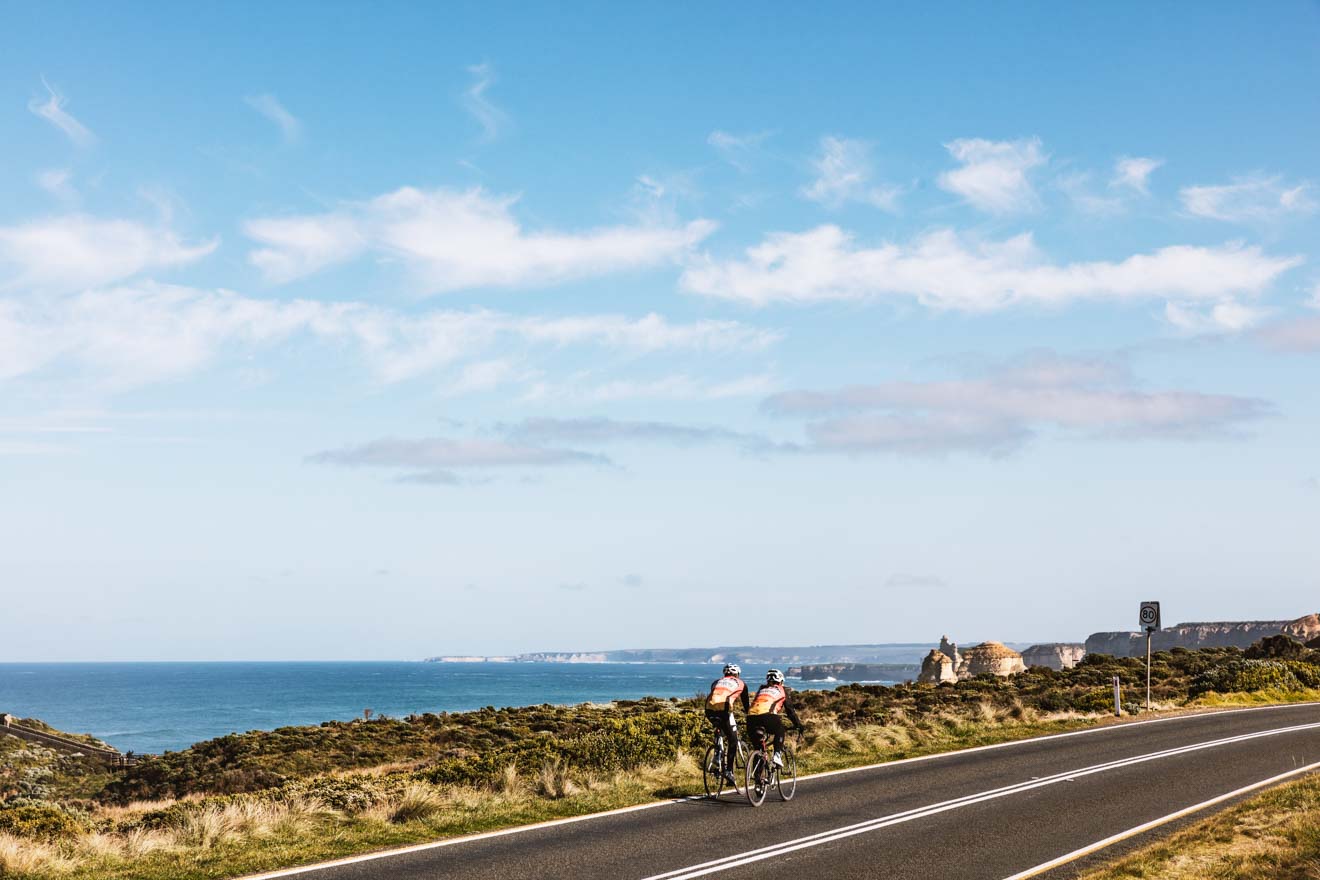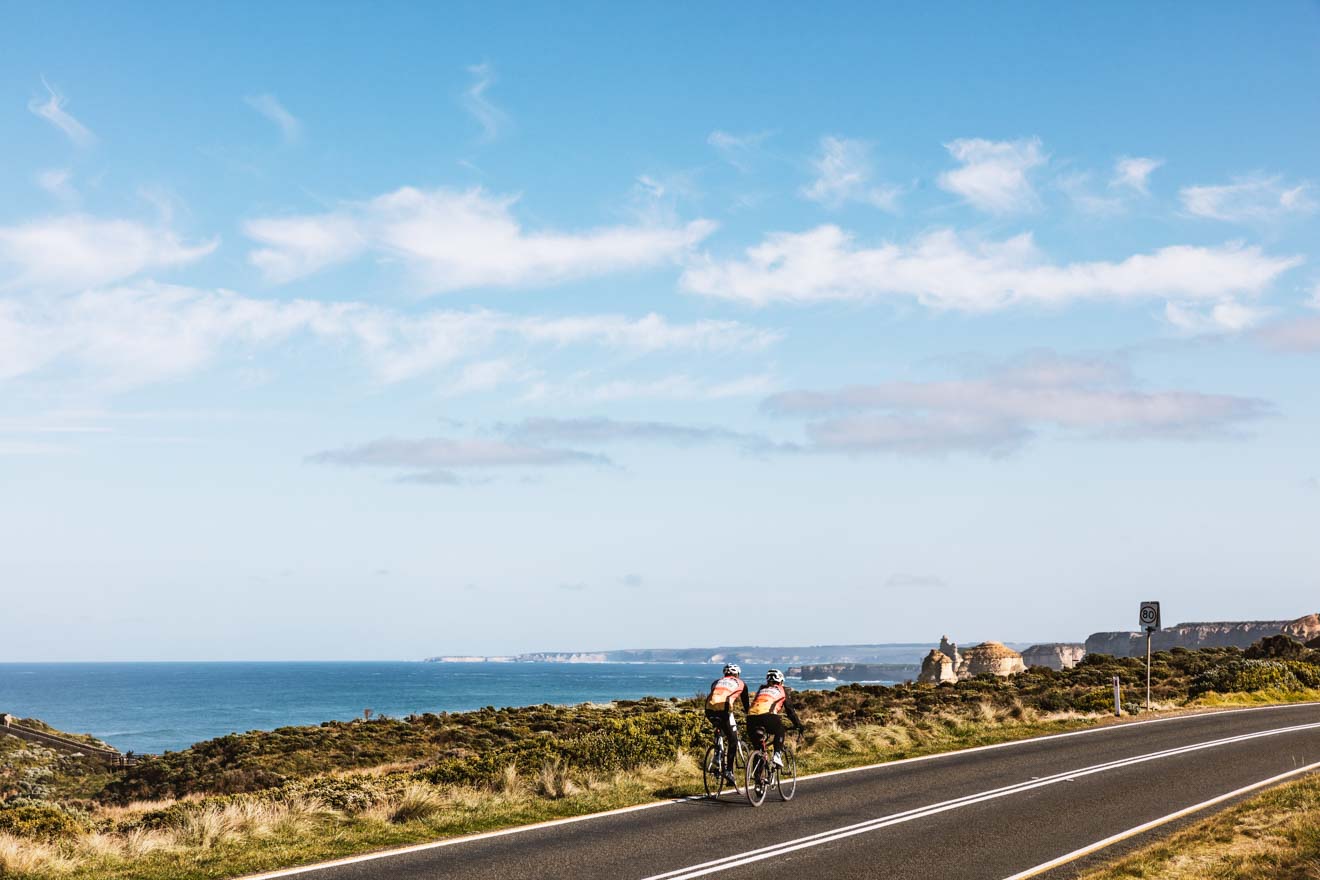 Cycling along the Great Ocean Road and back is no easy feat, but it must be incredibly rewarding! Tackling this route by bike will take you on a magical 243km journey past stunning beaches you'll be taken right through the heart of Cape Otway National Park and past the Bay of Islands.
It's about 15 hours of non-stop cycling to get from one end of the Great Ocean Road to the other, so you might want to think about extending this itinerary by a few more days. Renting a bike varies across companies, but will cost on average $30 a day for a sturdy bike.
в) Walk it!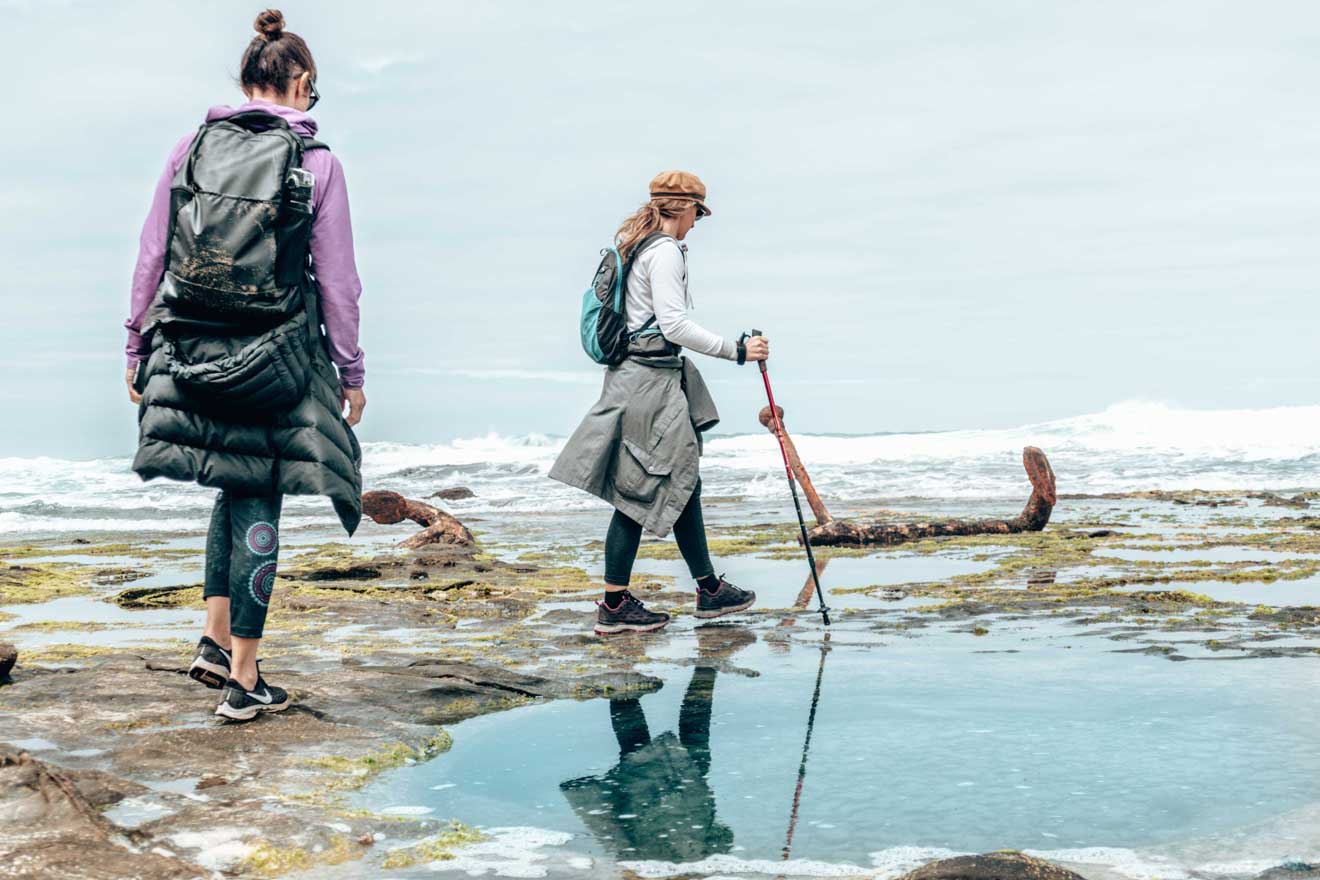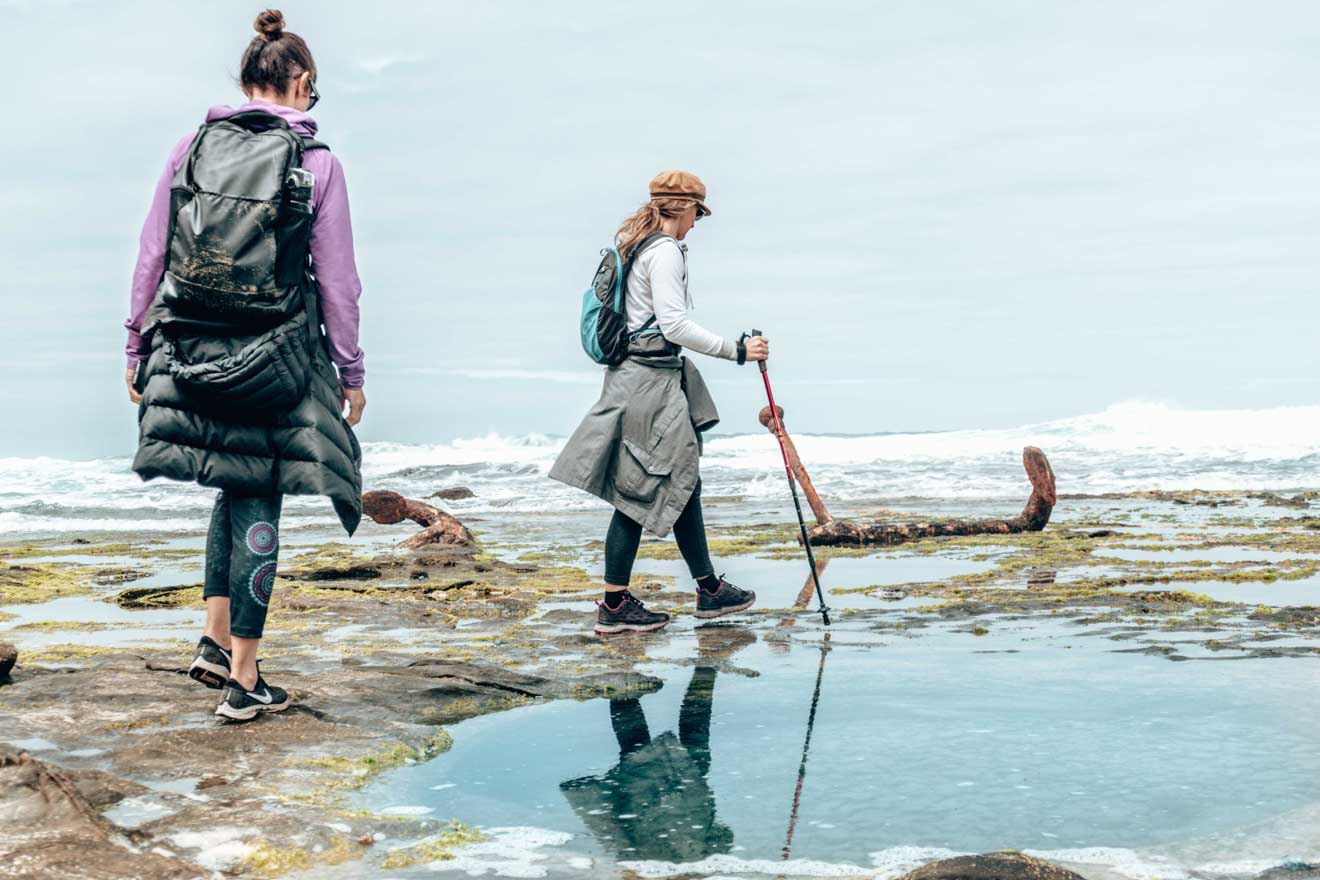 Have you got eight days to spare? Then why not go on an adventure of a lifetime and walk the Great Ocean Road Walk. The terrain isn't difficult, but it's around 100km in total. The walk begins from Apollo Bay and makes its way along the beach to Cape Otway before finishing at the famous bay that's home to the 12 Apostles. There are seven designated camping spots along the route that can be booked in advance and help to break down the route into five or six-hour walks each day for a total of eight days.
Best time to travel to the Great Ocean Road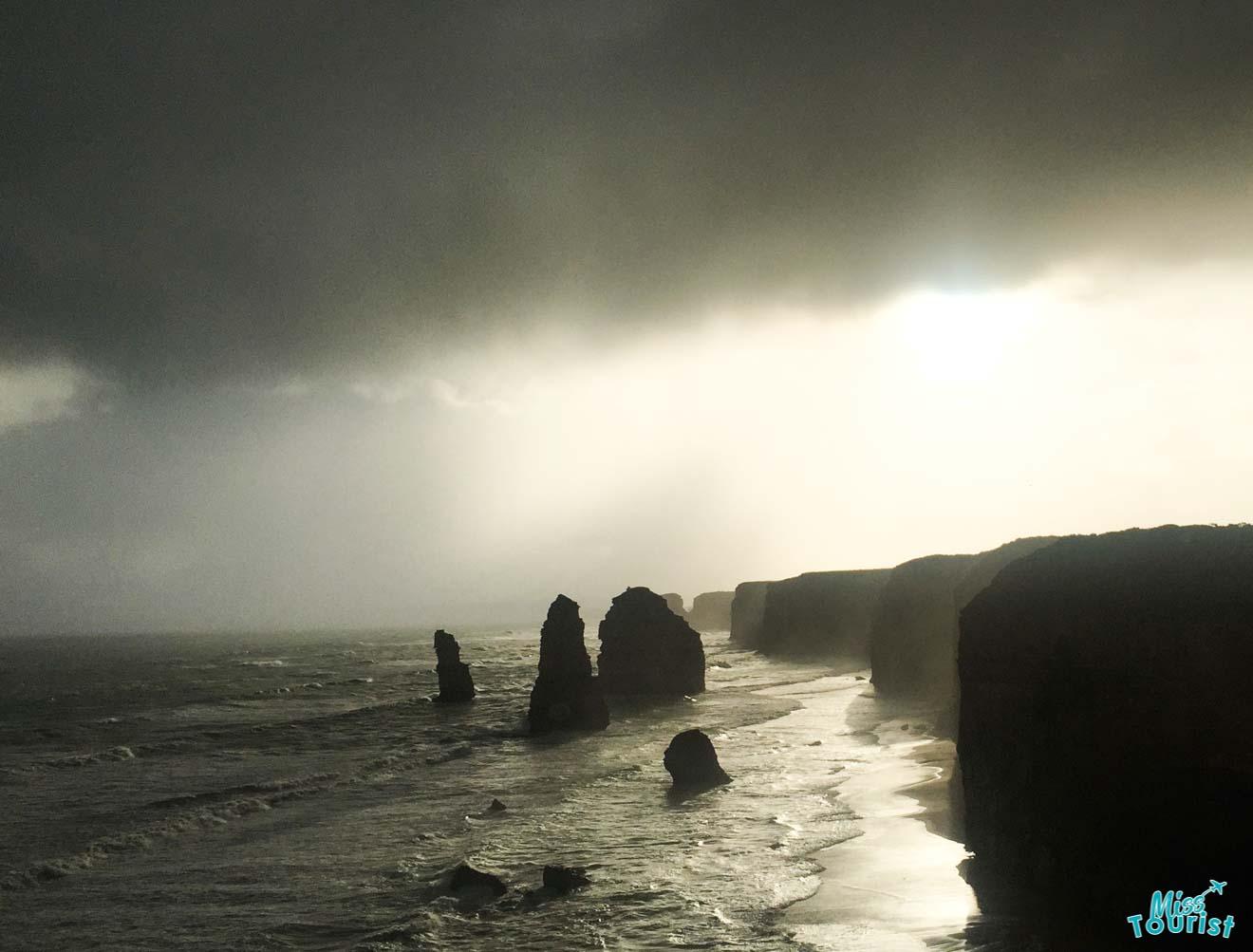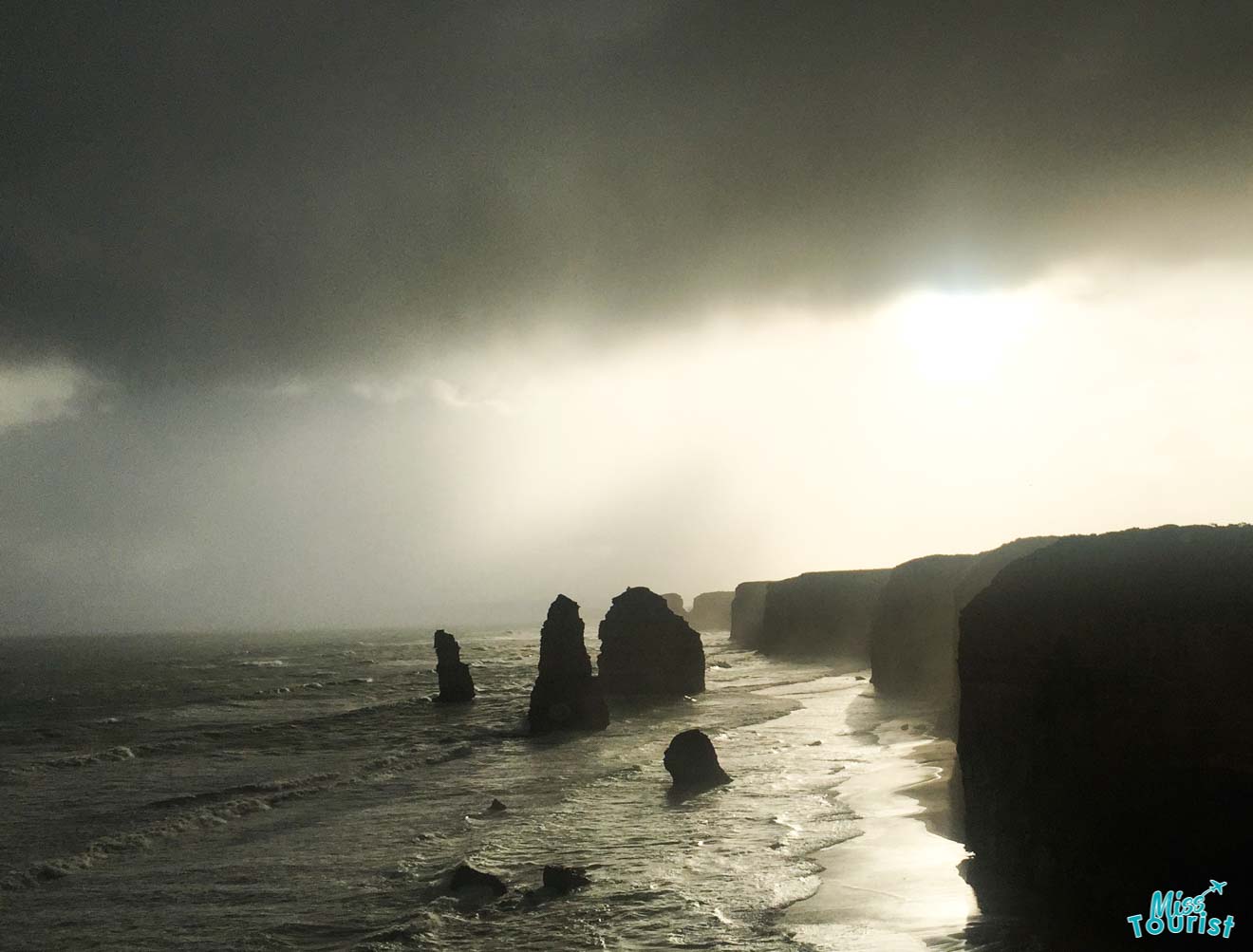 In my opinion, there's not a bad time to travel to the Great Ocean Road. My trips took place in February, May and July, and all offered their own perks and pitfalls to travelling at that time.
Summer (December to February) is the best time to travel the Great Ocean Road if you want great weather and a chance to sunbathe on the beach. Unfortunately, great weather also comes hand in hand with huge crowds and high prices I found out during my February road trip.
Autumn (March to May) sees milder weather in this part of Australia, but still warm temperatures. By this time, crowds have thinned out a little and you'll find cheaper accommodation prices. My day-trip along the Great Ocean Road in May was a very rainy one, but I did get some great stormy shots of the Twelve Apostles!
Winter (June to August) is a time when you'll want to wrap up warm in Victoria! Despite the colder weather and warnings about low fog, I still decided to tackle the Great Ocean Road in July and it was great! There were hardly any cars on the roads, and at some viewpoints, it was just me and my camera. Yes, it's definitely chilly and jumping in the sea is out of the question… but it's still beautiful and in my opinion, more than worth it.
Spring (September to November) definitely wins the award for the most scenic season to travel along the Great Ocean Road. Waterfalls are at their fullest, wildflowers pepper the cliff sides, animals are starting to get active and it's just about warm enough to chill out on the beach! This season is also great for off-peak prices and fewer crowds! I'm determined to go back in Spring to see how different it all looks.
Conclusion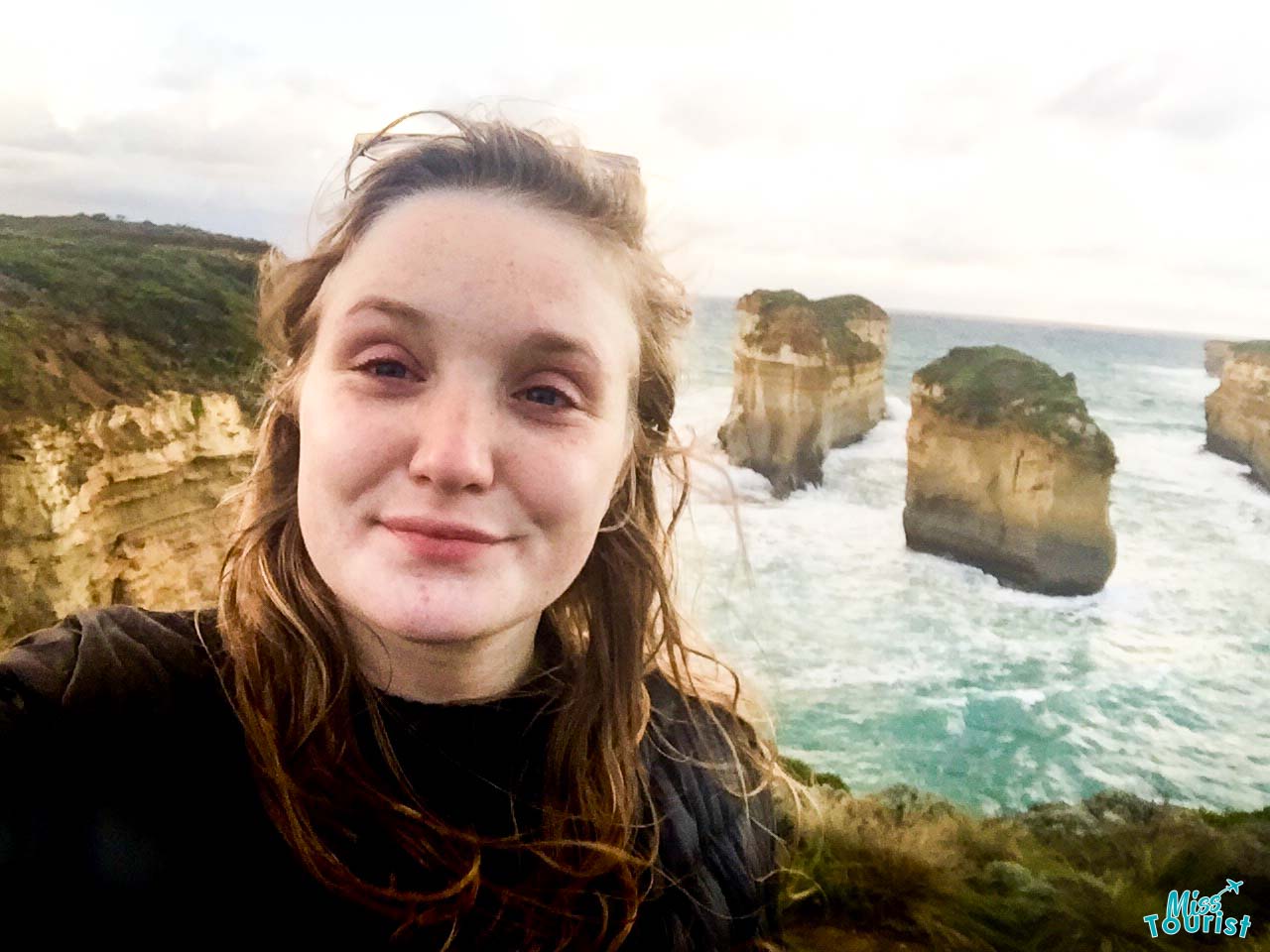 The Great Ocean Road is to Melbourne is like the Blue Mountains are to Sydney – a fantastic excuse to escape the madness of the city and slow down a little, taking time to appreciate the great outdoors! The reason I visited the Great Ocean Road so much is exactly this – it gave me time to just CHILL OUT!
In this 3-day Great Ocean Road itinerary, I've outlined what I think is the best way to spend your time road-tripping along Victoria's favourite coastal road, including stops in several national parks along the way. I've also highlighted the best places to stay in Apollo Bay, Port Campbell and Port Fairy if you want a bonus night!
If the Great Ocean Road were in a quiz about Australia, then it would be my specialist subject! I'll happily answer any questions and queries you have about taking this road trip when you leave a comment below.
Have a wonderful time road-tripping!
Lily
---
Pin it for later!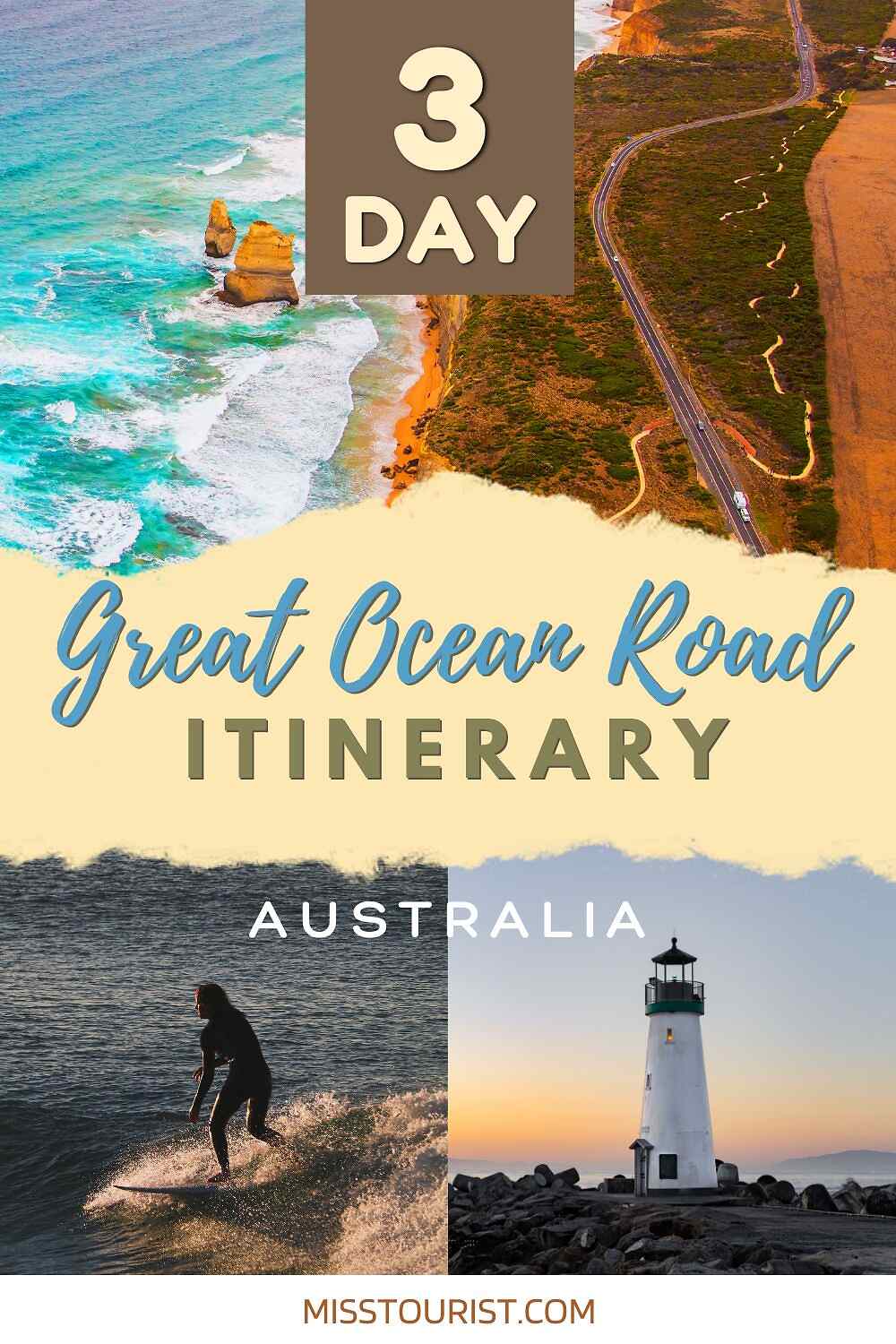 Pin it for later!