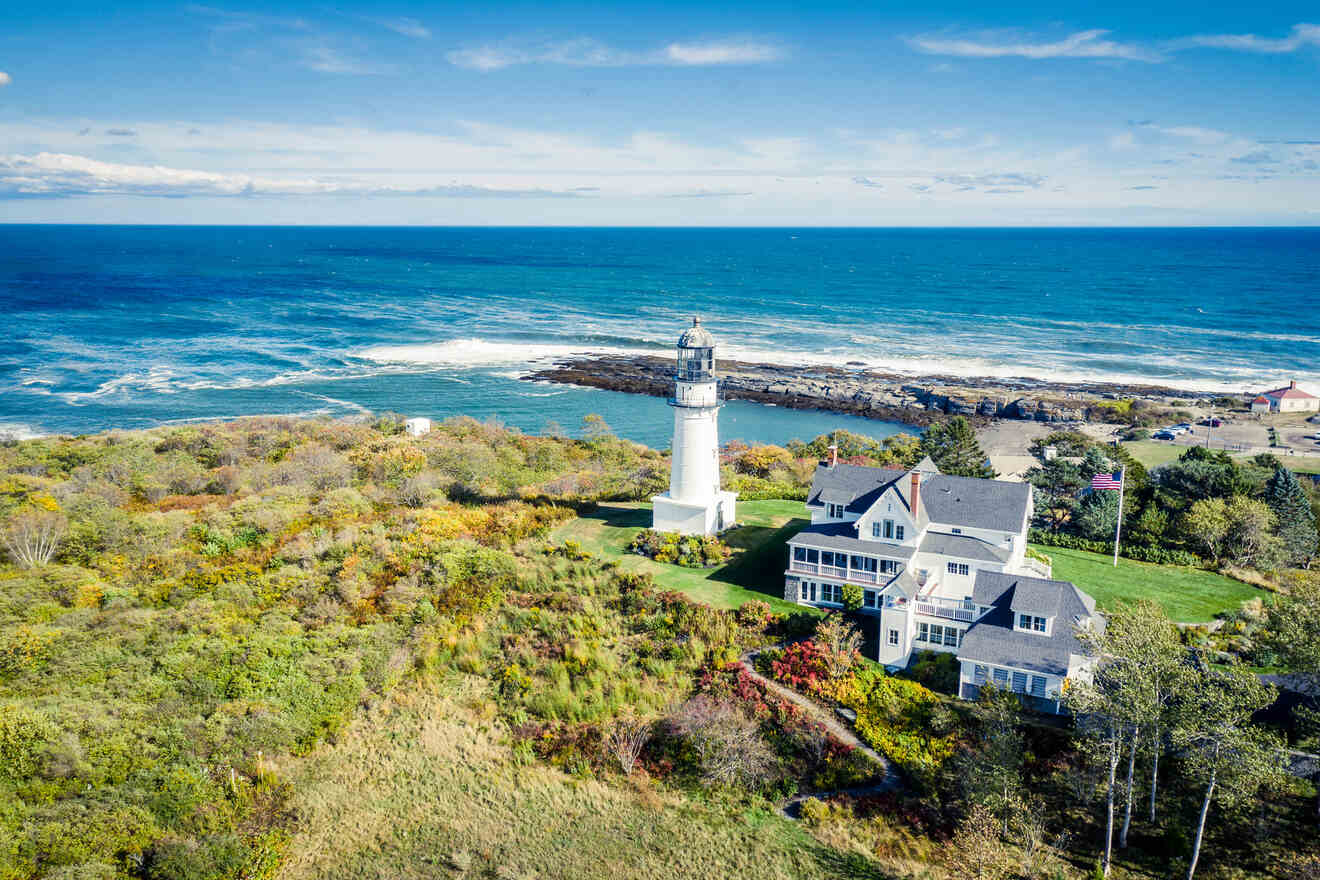 Maine is a charming state located in the northern part of the country and has a rich maritime history, great cuisine, and lots of places that you'll fall in love with during your trip! I hope you like seafood because this area is all about lobster, and it's understandable since 90% of the country's lobster supply comes from Maine!
Maine is a piece of heaven (I mean have you seen Acadia National Park?)! It's always a good idea for a holiday destination for anyone who wants to escape the busy city life. Who doesn't love visiting a place that's all about nature and relaxing?
Now let's see all the amazing places where to stay in Maine. I'm proud to say that I've made a top-notch list of all the awesome hotels in Maine with amazing services and facilities that include hot tubs, tennis courts, a swimming pool, a heated outdoor pool, or even both.
Keep in mind that although it's a big state, all the good hotels sell out in a second, especially during the high season (June-August) so I highly recommend booking your accommodation in advance!
Let's go!
If you are in a hurry
If you want to book now, then quickly go over this list of the best hotels for where to stay in Maine, all located in Portland:
Here's a map of all the areas that I will be talking about in this post:
1. Portland – where to stay in Maine for the first time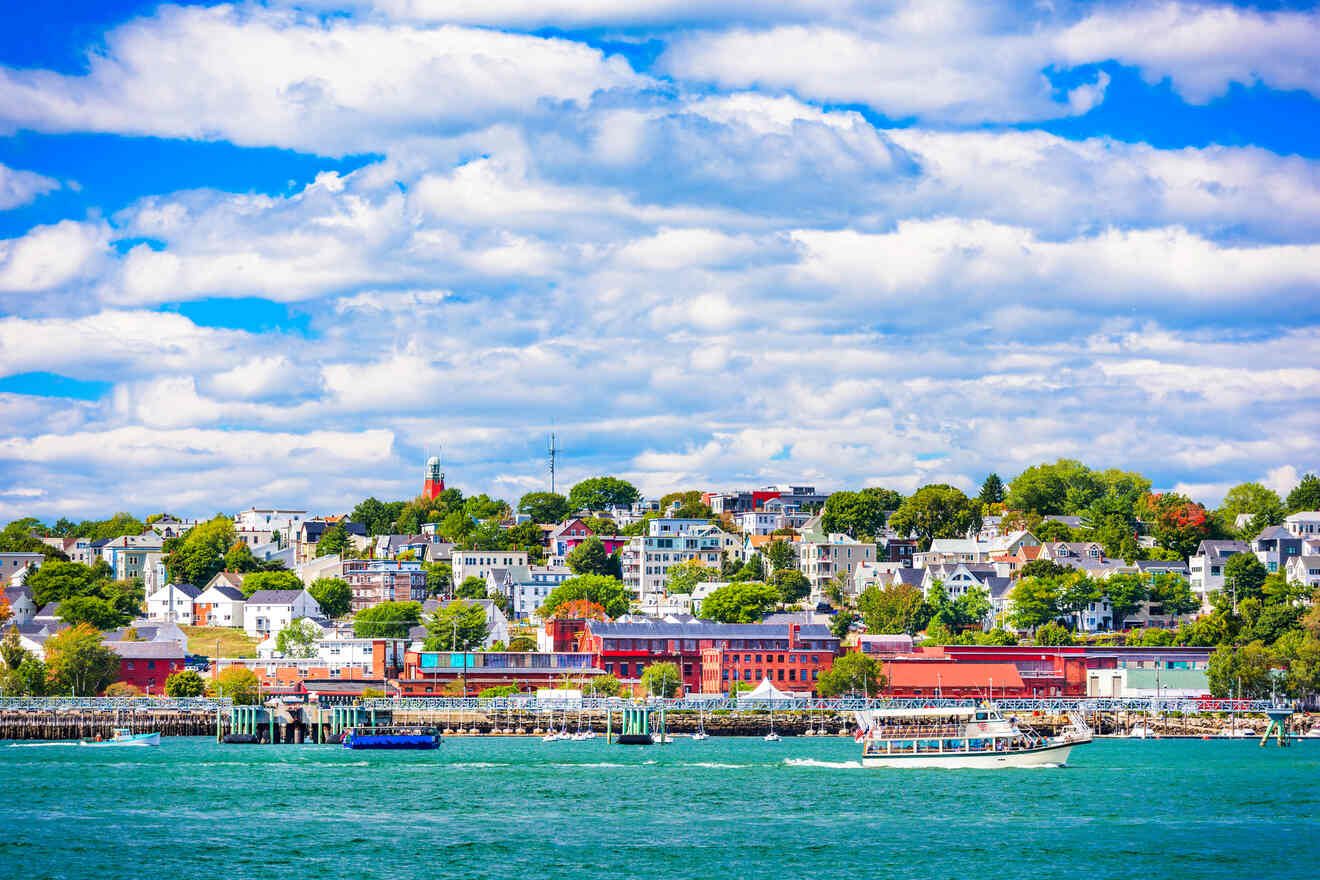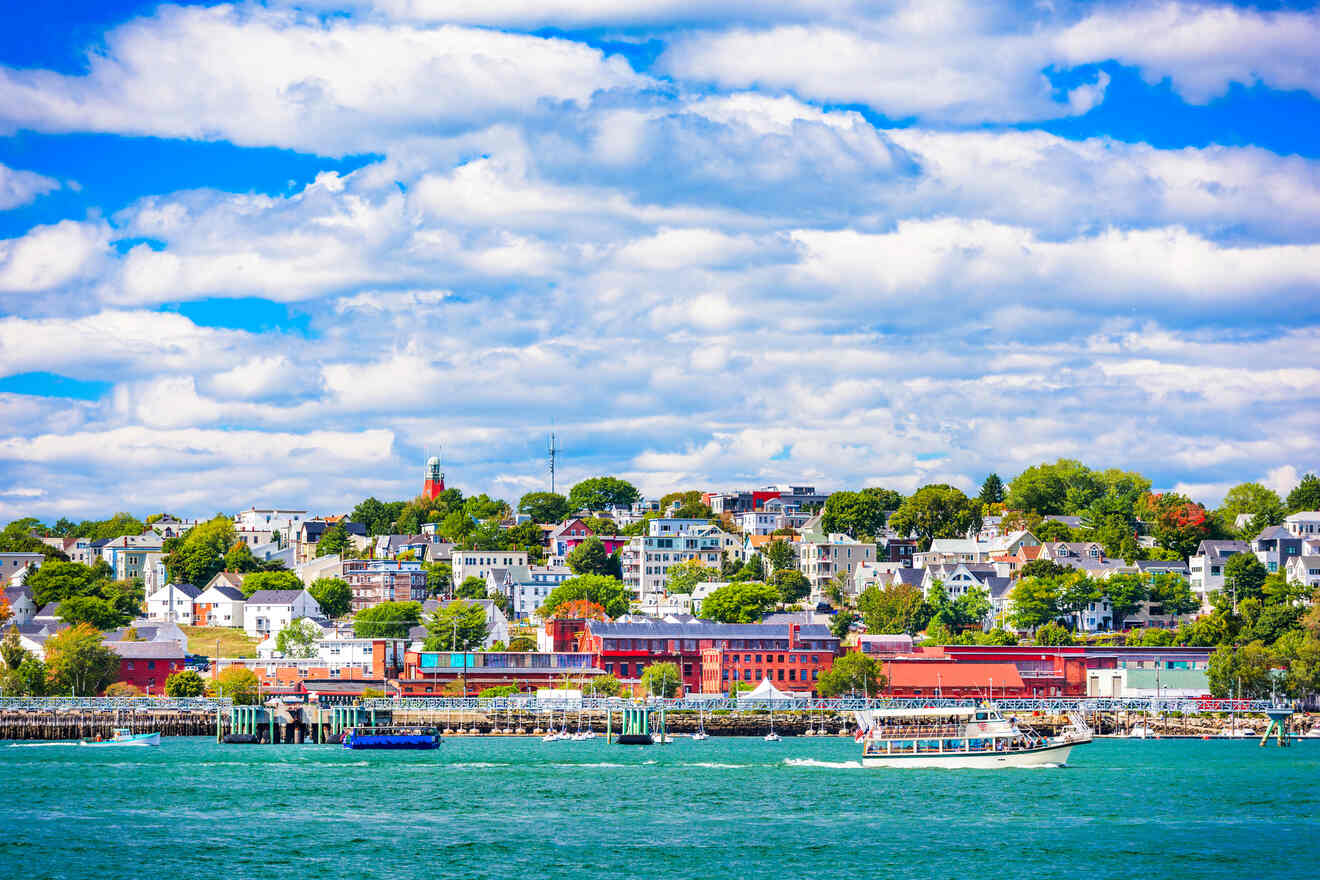 I know what you're thinking! But no, we're not talking about Portland, Oregon (we have a different post about that Portland), and although many people get confused by these 2 towns, they couldn't be more different! Firstly, Portland, Maine, is such an underrated place. I mean, have you seen its natural beauty and stunning views? And let's not forget those beautiful ports!
Situated in a peninsula extending into Casco Bay, this city has a fabulous fine dining scene, historic buildings, and many places where you can enjoy the scenic rocky coast! Overall, Portland is the best place to stay in Maine if you're traveling for the first time!
All the areas here have different atmospheres and vibes, but you'll find interesting spots and amazing restaurants even in the less crowded neighborhoods. There is such a wide range of attractions for all types of visitors.
Certainly, history buffs will love a tour of the Victoria Mansion. It's such a fine piece of architecture! But you'll also find other things like the Portland Museum of Art and the Children's Museum & Theatre of Maine. And if you're in the mood for some road-tripping, Boston is just 2 hours away!
Your Maine vacation travel guide wouldn't be complete without a list of the top budget and luxury accommodations. But don't forget that late booking can be risky, as all the good hotels sell out super fast, so if you want to get your hand on your favorite one, I highly recommend booking in advance!
Other accommodation options in Portland
Things to do in Portland
2. York – the best place to stay in Maine for nature lovers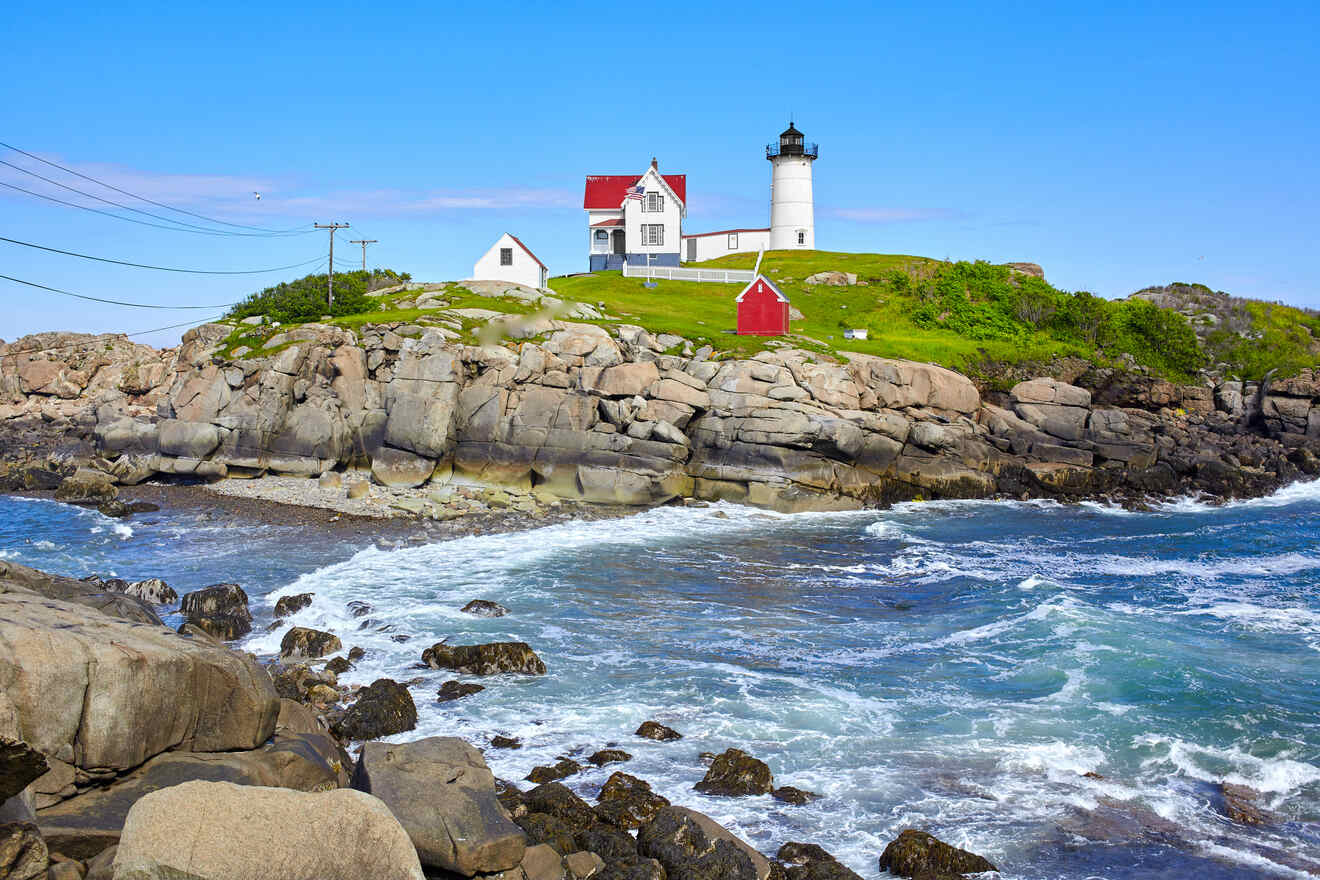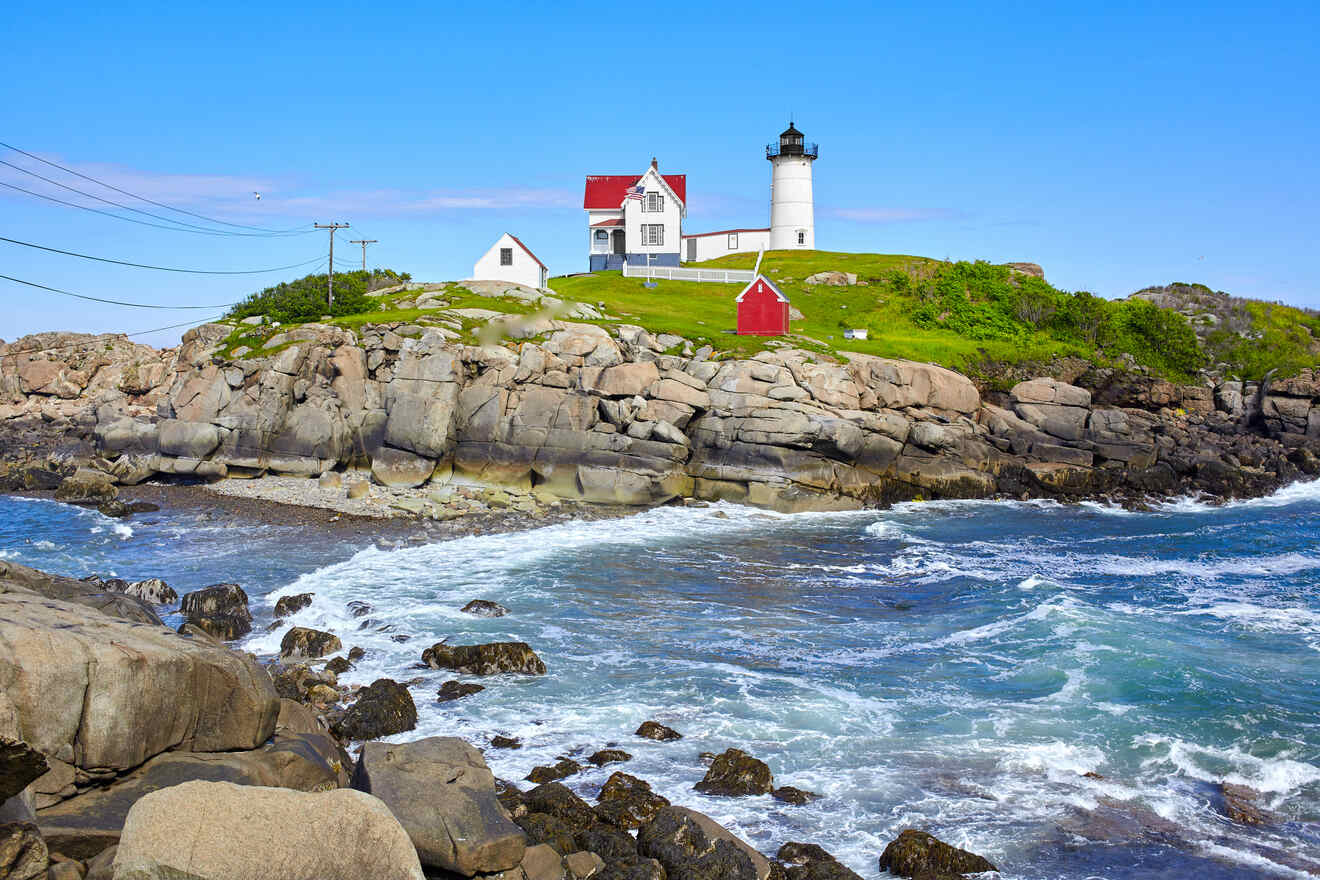 Located 45 miles (70 km) south of Portland, this charming coastal town has some of the most stunning scenery in Maine! Just imagine a white lighthouse placed on a hilly piece of land surrounded by nothing but the ocean! It looks just like a postcard!
York is known as Maine's hidden gem, and once you discover its magic, you'll understand why! If you love spending your time exploring all the natural spots and beaches and prefer a laid-back atmosphere, then this is the perfect place for you!
The Nubble Lighthouse is for sure the biggest attraction here, and the scenery is just breathtaking! It looks straight out of a movie, so I would definitely go there at sunset to admire the beautiful scenery.
Although there are a handful of museums and art galleries, I'm sure you'll want to spend most of your time by the beach, and I've got the perfect one for you: Long Sand Beach, which is a great place where you can enjoy some peace and quiet. But we've also got Short Sands Beach that's smaller than the first one, and it also has some shops around if you're looking for something more.
Other accommodation options in York
Things to do in York
Catch a sunset by Nubble Lighthouse and snap a picture for memories
Have fun with the kids at York's Wild Kingdom Zoo
Get some vitamin D and relax on Long Sands Beach
Visit the York Historic District
Take a stroll around Ellis Park
Explore the Steedman Woods
3. Bangor – where to stay in Maine for families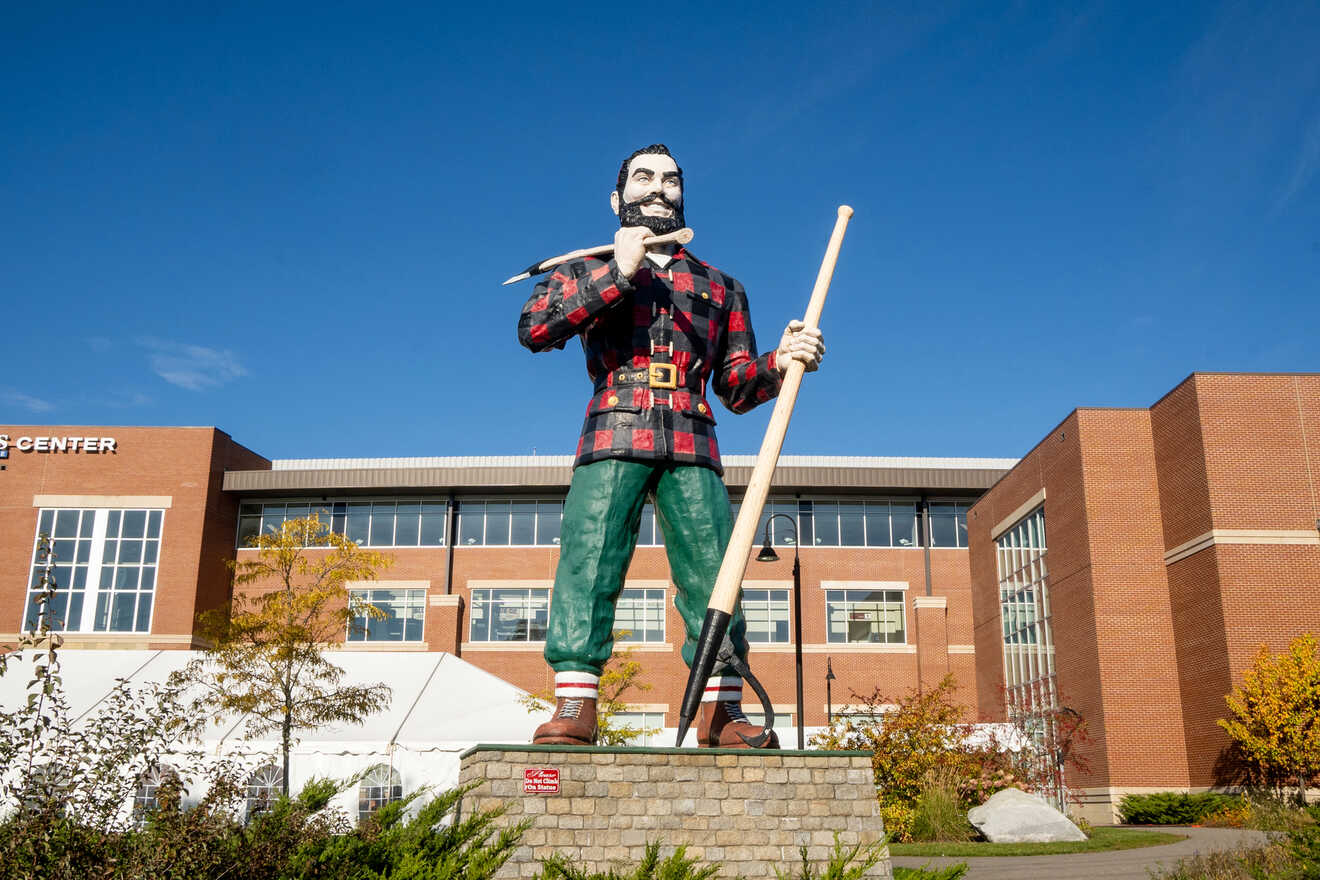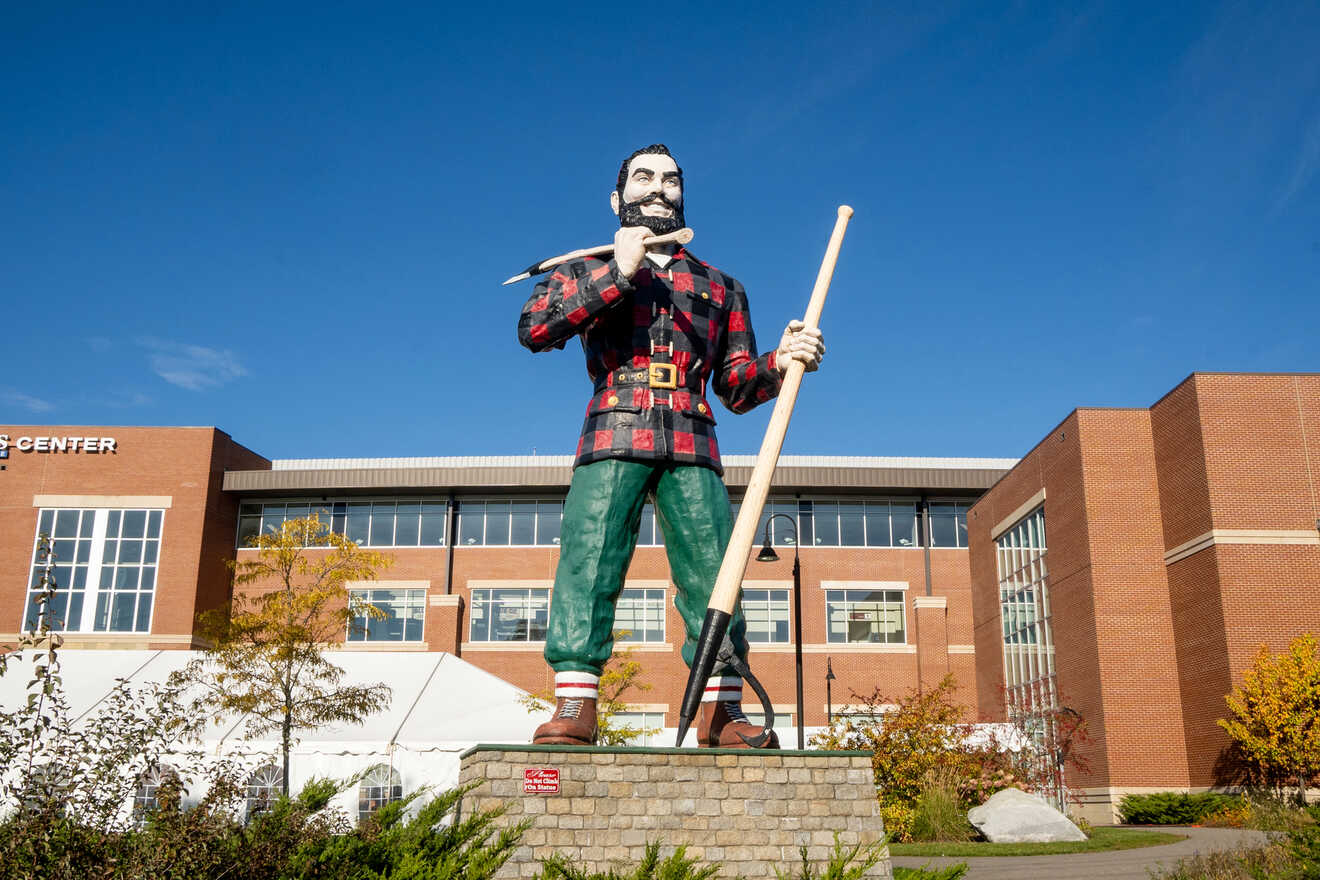 Located 130 miles (210 km) north of Portland, this tranquil town is filled with attractions for all age groups, and it's also super accessible as it has its international airport. Therefore Bangor can be a great place to stay in Maine for people traveling with their families!
The Bangor Municipal Golf Course is one of the big attractions in town, and I'm sure anyone who's a fan of this game will be happy to spend a few days playing at the 27-hole championship golf course!
While many parents will be happy to visit the golf course, I understand that the kids will be looking for something more entertaining. The Maine Discovery Museum is the largest museum for children in the state, and it has tons of cool exhibits! And if looking for a new destination for your family road trip, I highly recommend visiting Quebec City. It's just 4 hours away from Bangor!
You can visit some historical museums too, but Bangor also offers some natural spots if you guys want to spend some quality family time outdoors. The Indian Trail Park and Saxl Park are some of the best choices for that, and the kids have lots of space to play and run around!
Other accommodation options in Bangor
Things to do in Bangor
Pay a visit to the Bangor Municipal Golf Course and play all day long
Take the kids to the Maine Discovery Museum
Check out the cool paintings at ​​Zillman Art Museum
Enjoy some family time in the Indian Trail Park or Saxl Park
Snap a picture of the Paul Bunyan Statue
See if there are any concerts at Bangor Waterfront
4. Bar Harbor – best place to stay for Acadia National Park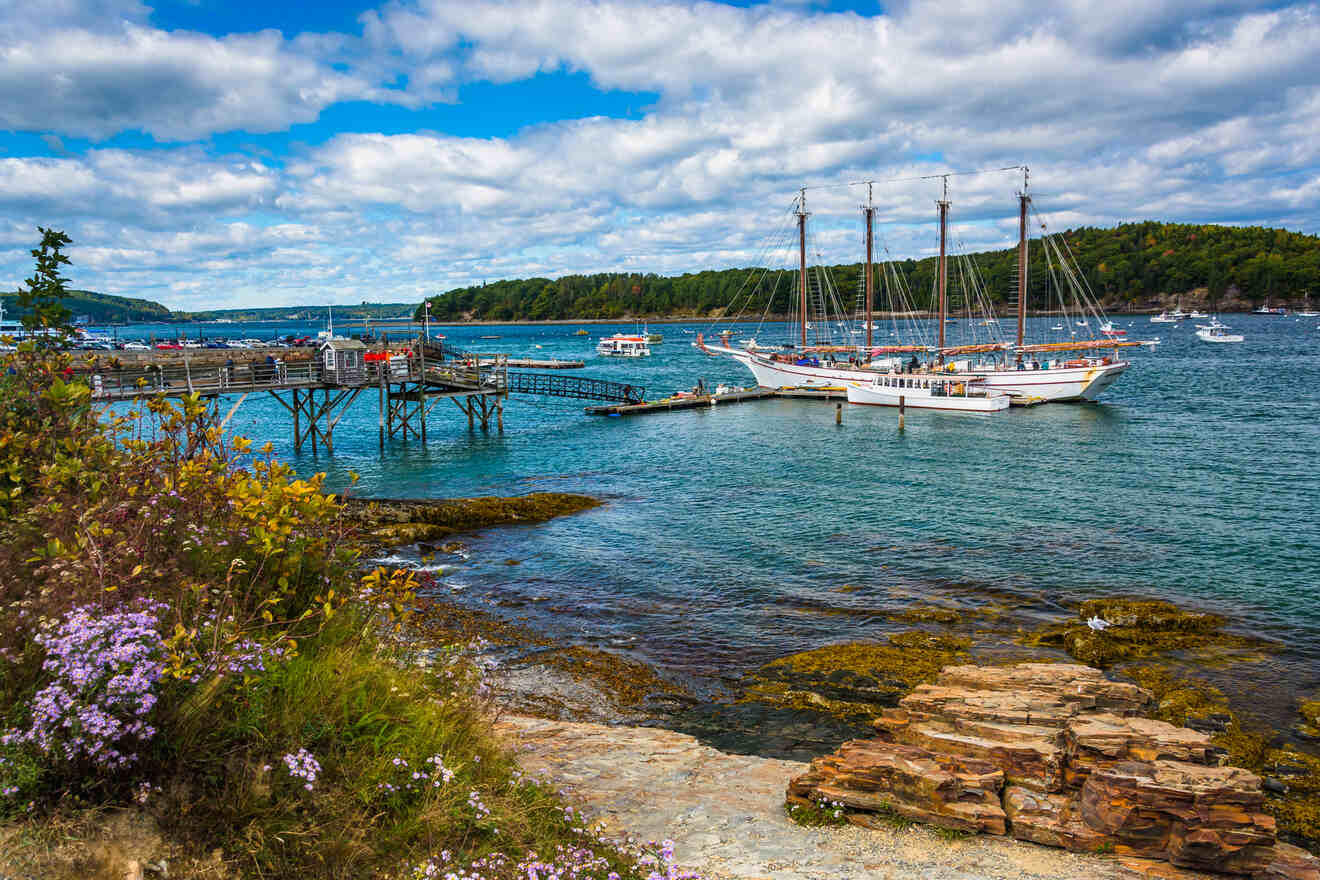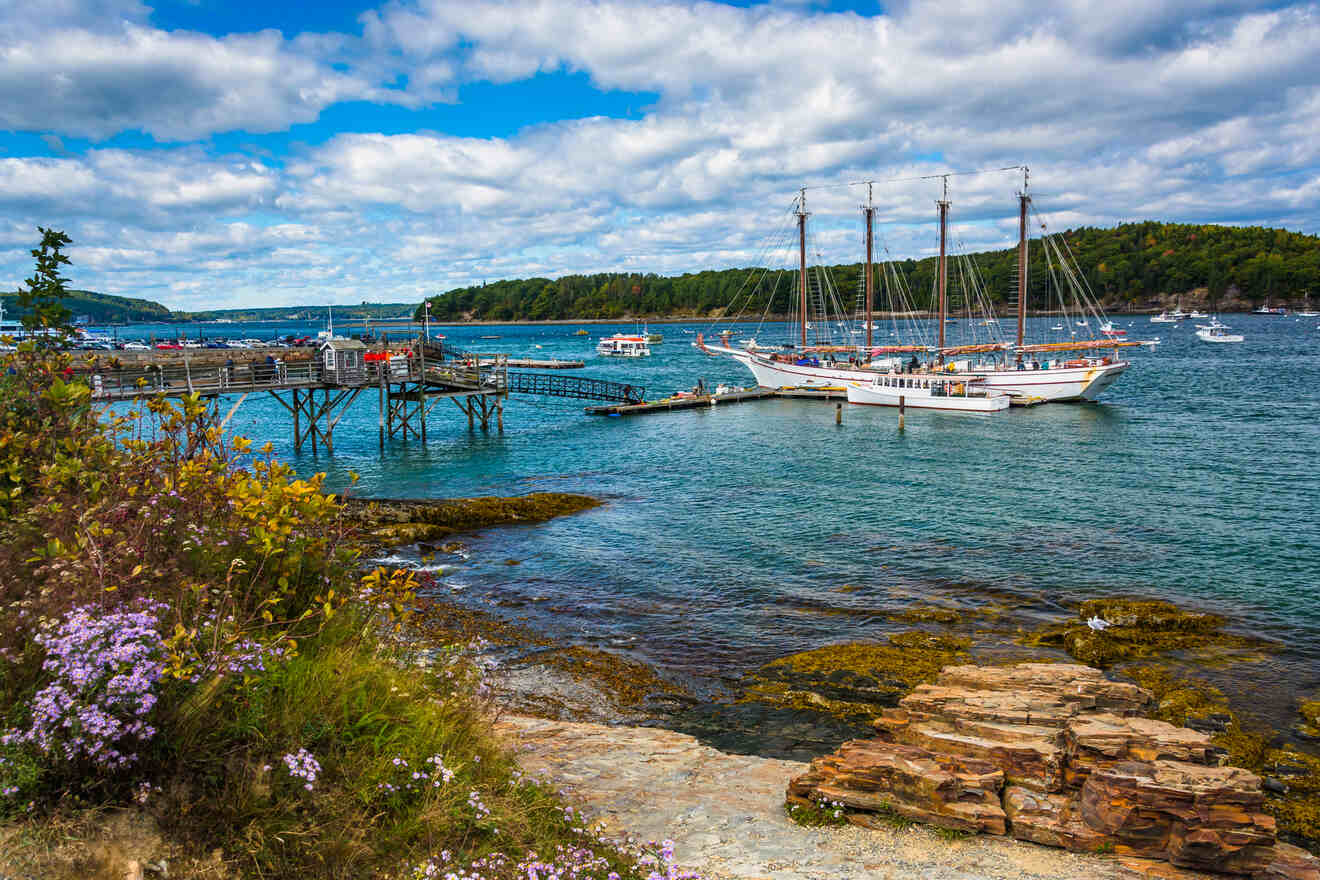 Located 175 miles (280 km) north of Portland, this coastal town is a wonderful place to visit in Maine that also serves as the gateway for the Acadia National Park!
Bar Harbor is not only the perfect base for your trip to Acadia National Park, but it's a beautiful town to explore, so if you book your accommodation here, you're super lucky! Besides that, it's a super picturesque town with lots of nice spots that you can explore in nature. There are also many attractions that you can visit and learn more about the town's history, like the Abbe Museum or the Bar Harbor Historical Society.
Acadia National Park is situated just 1 mile (2 km) away from Bar Harbor. Its beauty has brought people from everywhere to visit it and see Cadillac Mountain, the highest coastal point on the U.S. Atlantic coast!
There are tons of hiking trails that you can explore in Acadia National Park, and it's open all year round so you can enjoy the stunning views and even some skiing in the winter! So whether you're coming to Bar Harbor with the family, for a romantic getaway or specifically to visit the Acadia National Park, you'll have the best time ever!
Pssst! We actually have a whole new post dedicated only to Bar Harbor and Acadia National Park – click here to see more options all sorted by price and with great reviews as usual!
Other accommodation options in Bar Harbor
Things to do in Bar Harbor
Enjoy the ocean views in Agamont Park
Go skiing or hiking in the Acadia National Park
Have a cup of coffee in Village Green, the center of the town
Visit the harbor and enjoy the views of the Frenchman Bay
Learn more about the town's history at the Abbe Museum or the Bar Harbor Historical Society
5. Kennebunkport – where to stay in Maine for history lovers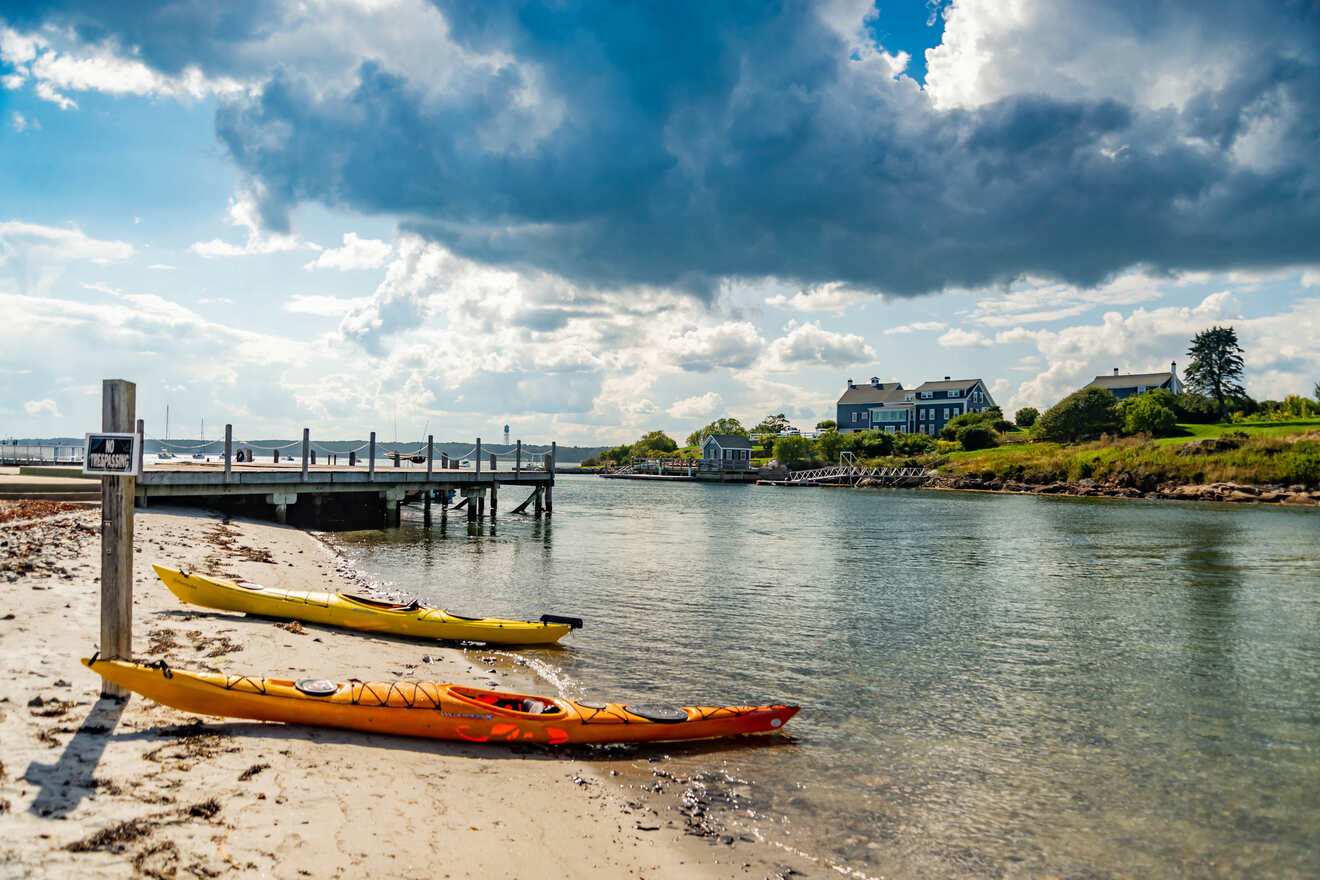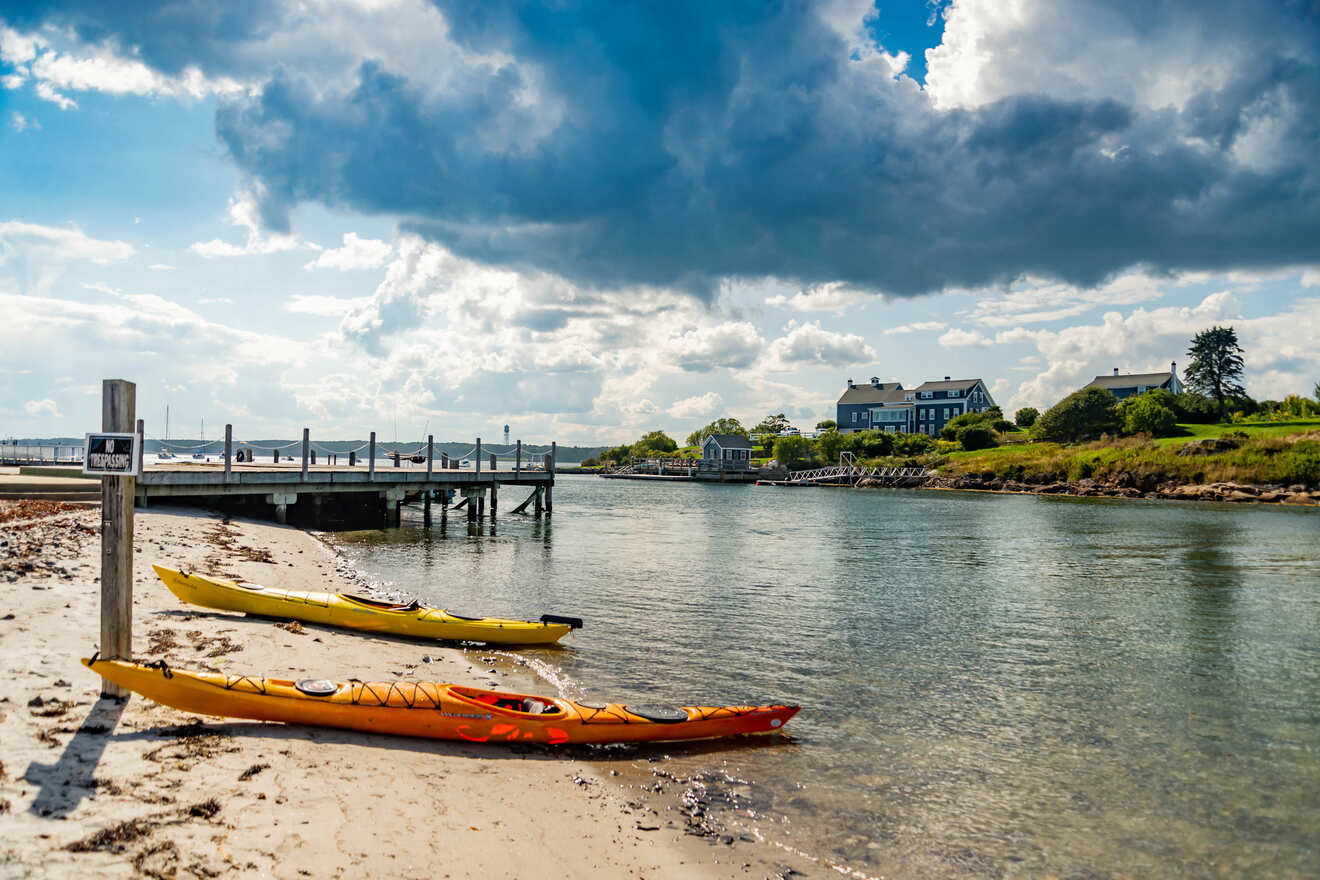 Located 30 miles (50 km) south of Portland, Kennebunkport is a historical town that's perfect for your coastal Maine holiday! Dating back to the 1600s, this city which sits along the ocean and Kennebunk River, is famous for its shipbuilding.
The riverbanks saw many sea captains setting off on their adventures, but many also came back and built beautiful mansions which now serve as inns, and have that lovely vintage charm!
Almost 100 years ago, Kennebunkport became a popular resort town and a place to visit all year round. It has managed to keep this reputation up to this day with people coming from all over the country to discover its fascinating history and awesome beaches.
The town's historic area is perfect for anyone who's into history and wants to admire the old architecture. Around there you'll also find some nice restaurants and coffee shops where you can stop for a small break between your visits.
But that's not all, Kennebunkport's beaches are perfect for any type of visitor! Some of them, like Mother's Beach, even have a playground for the little ones, but there are also a few of them where you can enjoy some quiet time while admiring the stunning scenery, such as Colony Beach.
Other accommodation options in Kennebunkport
The Nonantum Resort – For those of you who want to stay in an oceanfront hotel I have another special option just for you! Can you believe the views that you'll get from the comfort of your own room? The waterfront accommodation has all the elements needed for a perfect holiday! An awesome swimming pool, a lovely terrace where you can eat, have a drink, and relax and small patios perfect for catching those beautiful sunsets!
Things to do in Kennebunkport
Admire the old architecture in the historic district of the town
Have a fun family day at Mother's Beach
Visit the First Families Kennebunkport Museum
Enjoy a moment of peace and take in the views on Colony Beach
Explore the area around St. Ann's by-the-Sea Episcopal Church
See the crashing waves at Blowing Cave Park
6. Camden – best place to stay in Maine for outdoor enthusiasts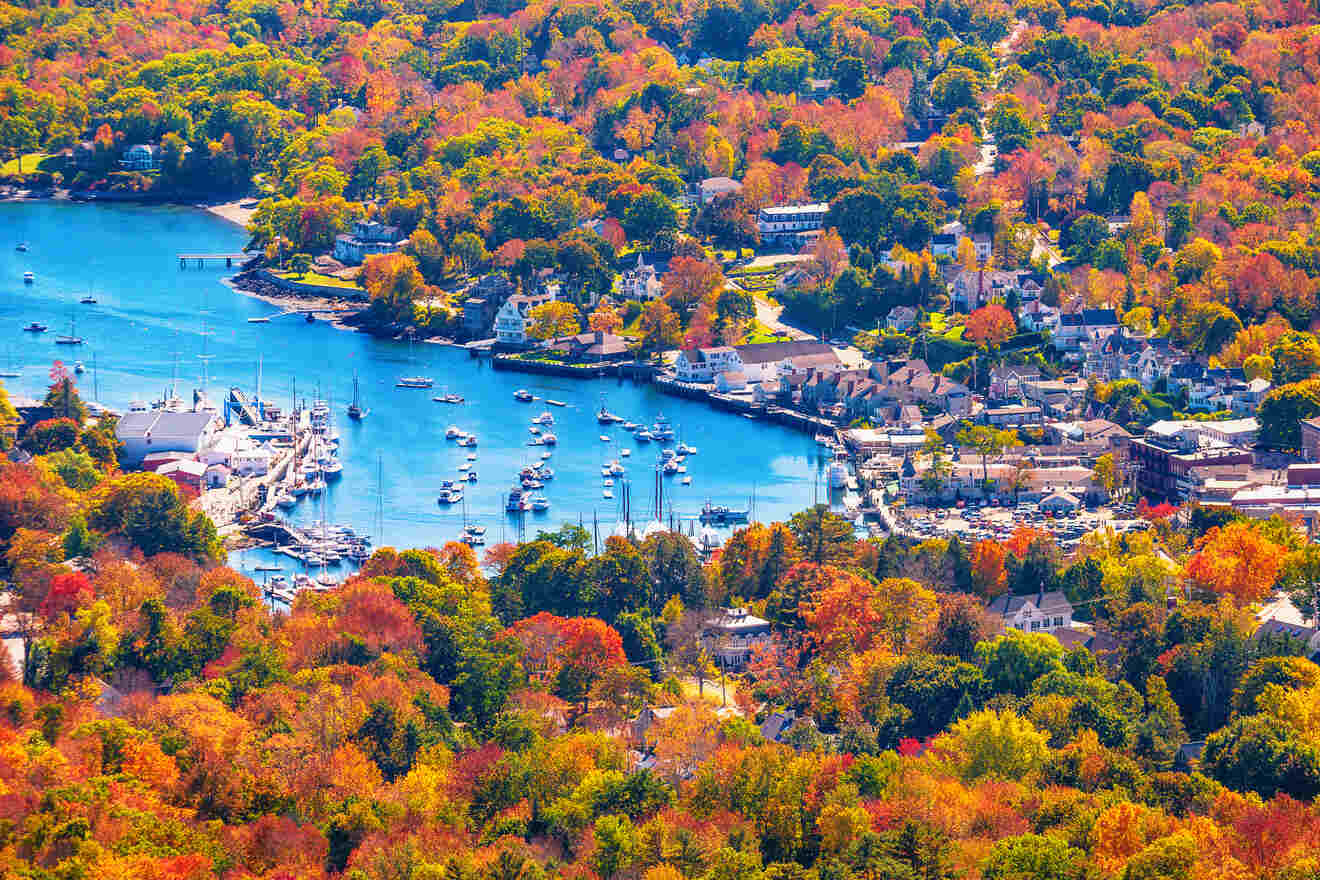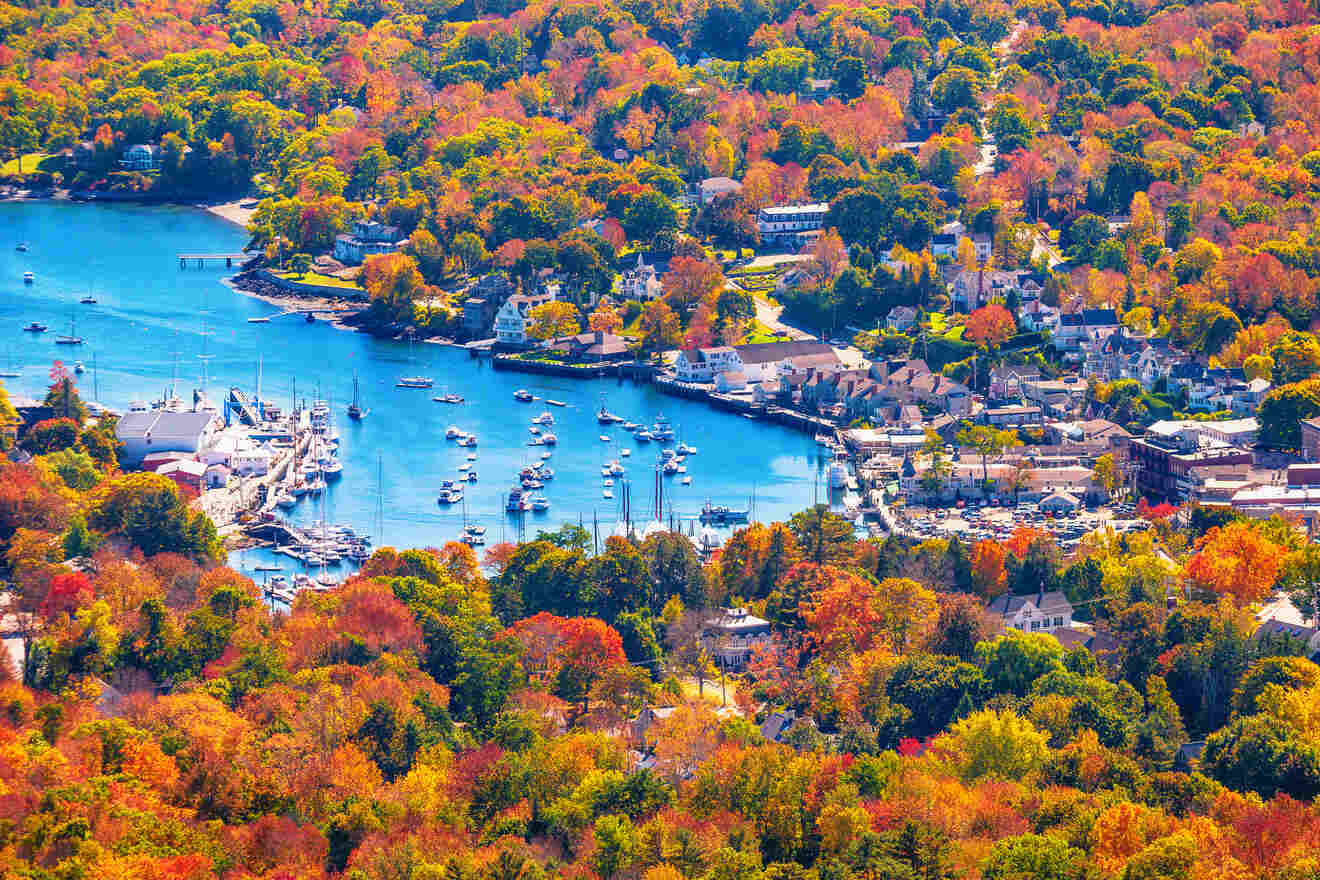 Located 80 miles (130 km) north of Portland, this town is a piece of heaven for anyone who loves the ocean and spending time outdoors!
So get your hiking shoes on, some comfortable hiking clothes, and let's get to business! Because you won't have just the town and all its natural spots to see, there's also the Camden State Park, which is situated a few minutes north of Camden.
The park is famous for its amazing views of Camden Harbor and a great place for anyone who loves hiking and exploring the woods as much as I do! I got to tell you. There's nothing more refreshing than being outside and breathing that mountain air!
And that's not it! There are tons of boat tours by Camden Port that you can get on, so if you're a fan of sailing, I highly recommend jumping on board and enjoying that ocean breeze.
Now let's find some amazing hotels to stay in Camden:
Other accommodation options in Camden
Things to do in Camden
Go hiking in the Camden State Park
Explore the High Street Historic District
Spend a whole day under the sun at Laite Memorial Beach
Admire the beautiful Megunticook Falls
Learn about the town's history at Camden-Rockport Historical Society
Visit the Camden Port and go on a boat tour and enjoy the views of the lovely Penobscot Bay
Frequently asked questions about Maine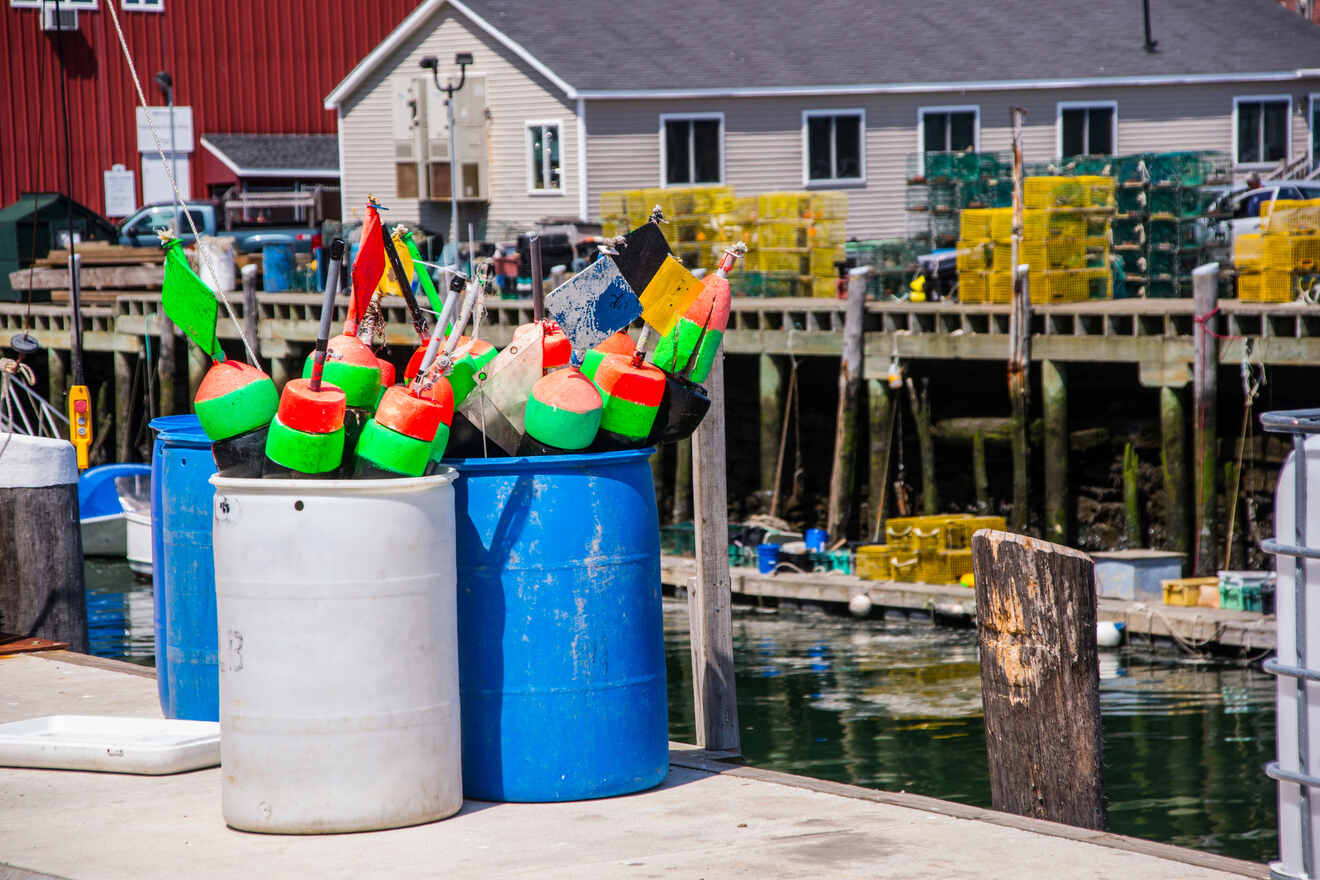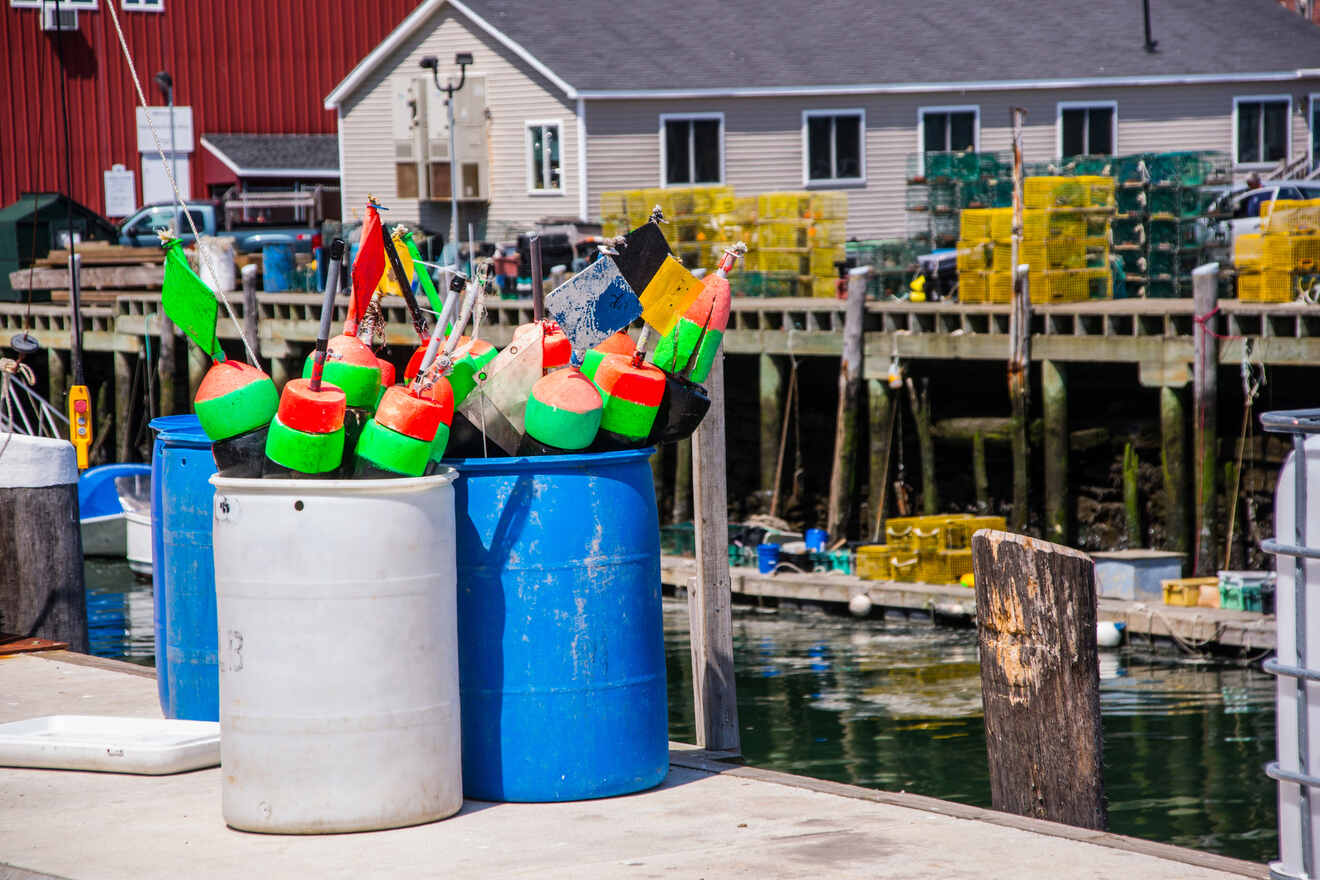 Conclusion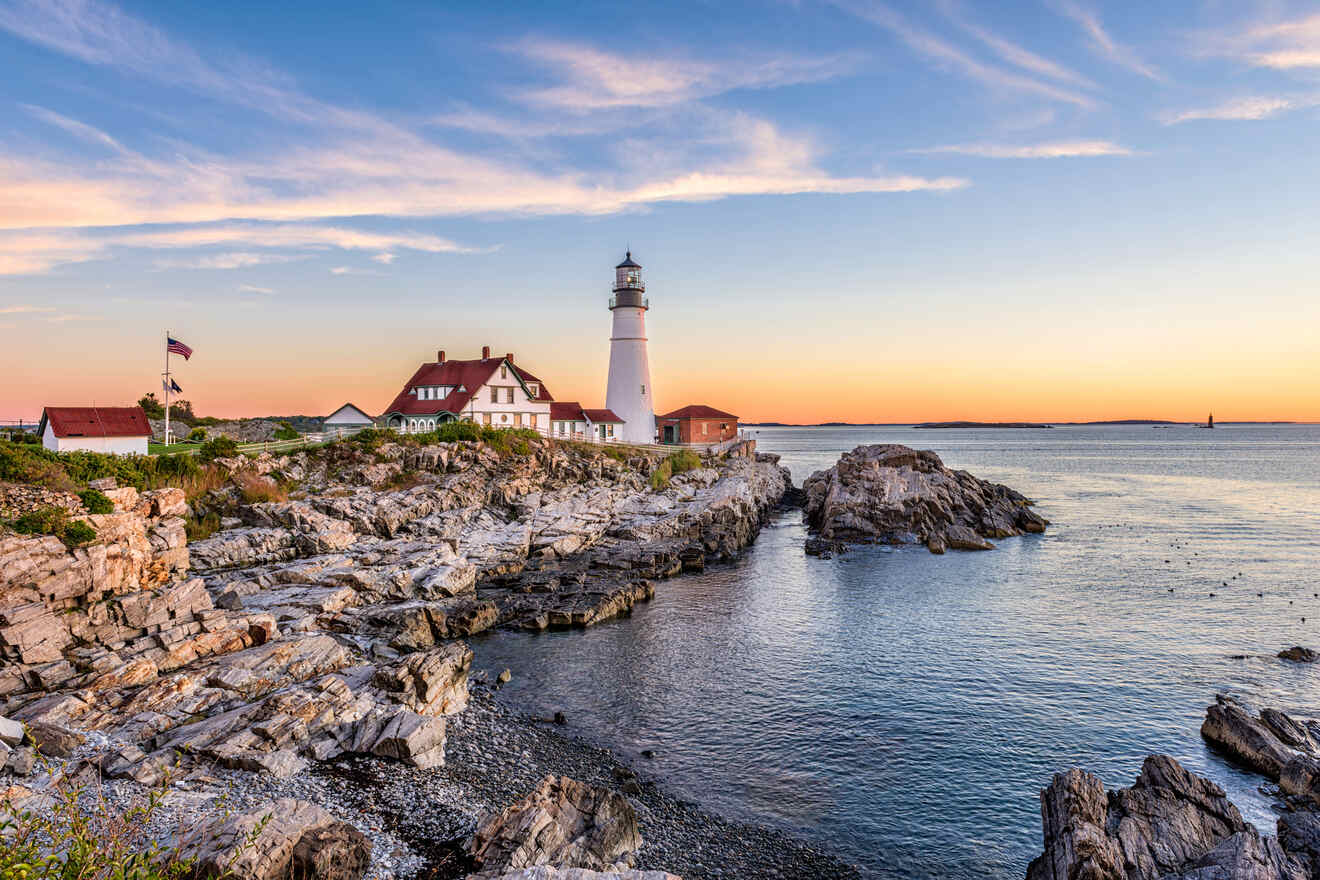 What a charming place! I hope this place helped you decide where to stay in Maine and which hotel to book.
I know there are so many options in the post, but here are my top 2 favorite ones, both located in Portland:
One thing to take into consideration is that the hotel will probably sell out super fast. Although we're talking about a whole state, Maine, it's a super popular holiday spot, and many come here every year, so I highly recommend booking your hotel in advance!
Have fun and go on many adventures in Acadia National Park, relax in the hotels, swim all day in the swimming pool, and warm up by the fireplaces! At the moment, there's no place I'd rather be than in Maine!
Don't forget to leave me a comment if you have any questions or thoughts that you want to share about Maine!
Safe Travels,
Victoria
---