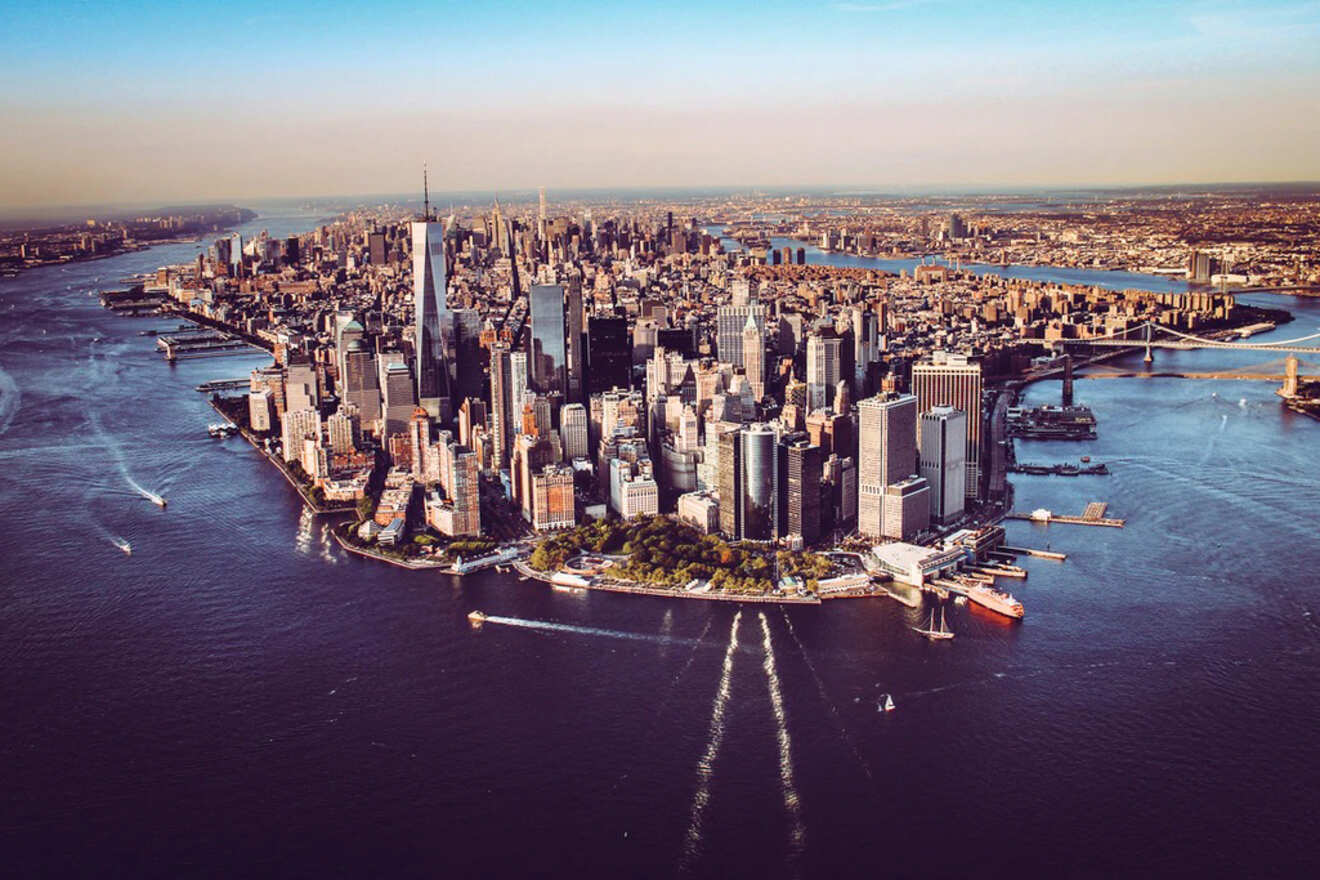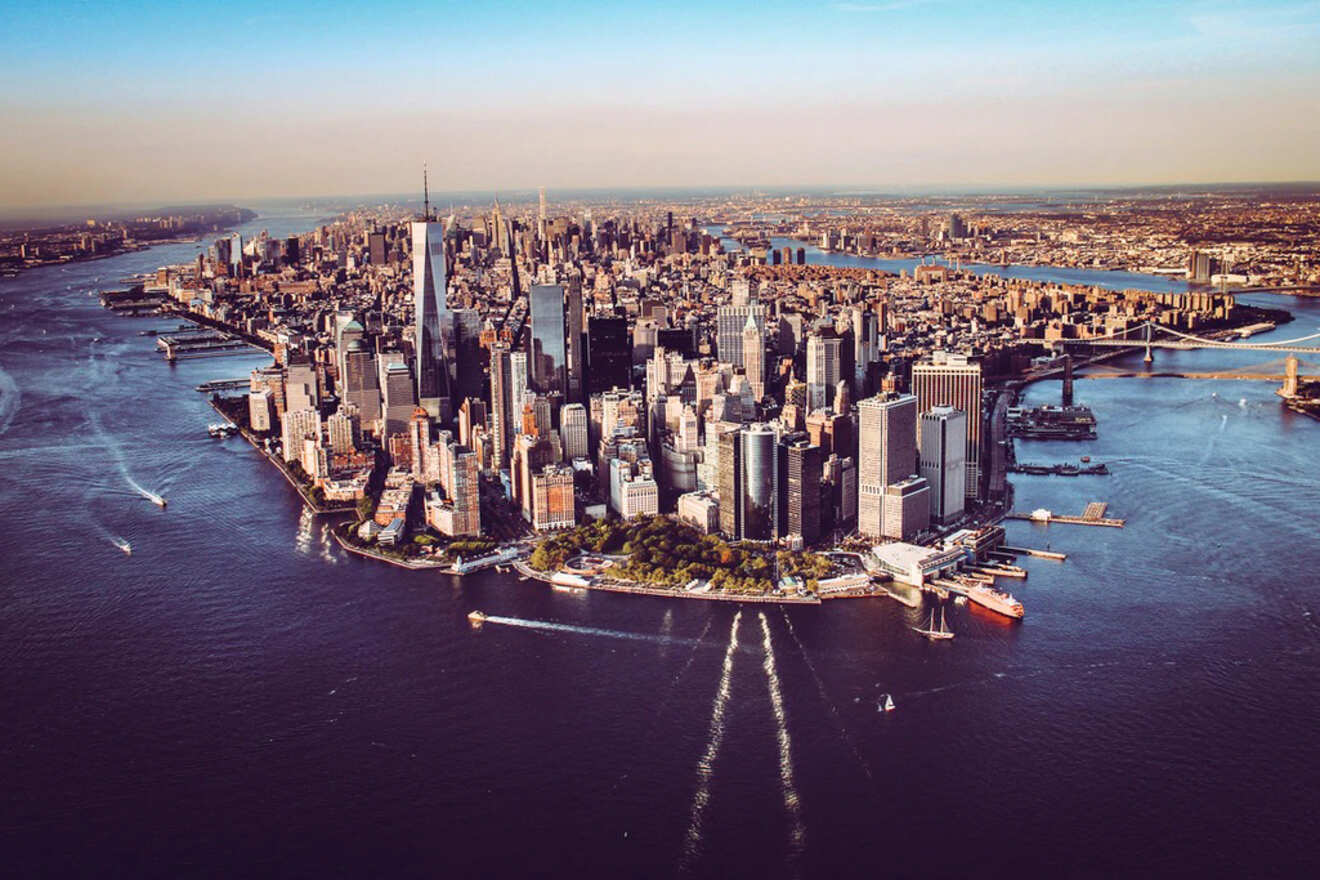 Looking for the best Airbnb in New York City for your upcoming trip? The city is home to a selection of great Airbnb rentals – but some are a cut above the rest. In this post, I've put together a list of the coolest and most unique accommodation options available.
New York really needs no introduction. As a cultural melting pot, historical centerpoint, urban marvel, and pop-culture paradise, it's an outstanding city by practically every measure. Each year, many millions (yes, millions) of tourists flock to the city for a taste of The Big Apple.
Among its historic streets and futuristic structures, you can discover a myriad of flavors, find endless entertainment, and shop yourself silly. The nightlife is non-stop, the landmarks are iconic, and the scenes are wonderfully diverse.
As if that wasn't enough, the city offers some stunning rentals for all tastes and budgets. The best Airbnbs in New York City can transform your vacation experience.
NOTE: For some great insights into the city's best neighborhoods, be sure to check out this guide.
If You Are in a Hurry: Top rated Airbnbs in New York
Looking for a quick fix? Here are the best four Airbnbs in Manhattan's finest neighborhoods. They're all as central as can be and sorted by price for your convenience.
NOTE: Extending your trip to include Philly? Check out this guide on where to stay while you're there.
Top 11 Airbnbs in New York City
After searching high and low, and sifting through the abundance of Airbnbs in New York, I finally arrived at this distilled list of stunners.
To make things easier, I've calculated the average price per night for a three-night stay at each property, by including cleaning fees and other costs. So you can see what you'll really be paying.
The list is also sorted by price (high to low) to keep your search nice and simple. So let's dive in.
1. Luxury Loft Apartment in New York City
Price: US$1770
Bedrooms: 1
Guest: 4
You can play hide and seek in this extremely spacious (215 sqm) luxurious apartment in the heart of Soho. Yes, that's how huge the place is, which is rare to find in the city. With soaring ceilings, and exposed brick and piping, you'll feel like you've stepped into a designer version of Andy Warhol's studio.
It's not only spacious and well-designed but also has practical features like a full chef's kitchen as well as a washer and dryer for your laundry. On top of all that, it has a private rooftop deck all to yourself. What more could you wish for?
2. Architect Loft – A Stylish Apartment in Manhattan
Price: US$920
Bedrooms: 1
Guest: 3
With its high ceilings, thriving plants, and vintage furniture, this loft's living room is an oasis of comfort after wandering New York's streets all day. Bohemian accents like surfboard decoration and beachy wooden accents, and hammocks contribute to the overall feel.
Feel free to get some work done as the place has an internet and two comfy working desks. Afterward, you can enjoy a home-cooked meal at the hefty stone table and gather around with friends on the sofa watching movies.
3. Brooklyn Brick & Brownstone – A Modern Masterpiece for Groups
Location: Brooklyn
Price: from US$940 per night
Bedrooms: 5
Guests: 10
Nestled on a tree-lined Brooklyn street, this modern, five-bedroom home is stunning from top to bottom. With an artist and an architect as its owners and designers, the Airbnb will strike you with splashes of art and design.
You'll be in the heart of Brooklyn, surrounded by funky cafes, small stores, and plenty of restaurants. And just a subway ride away from the likes of Times Square in Manhattan.
After a day of exploring, head up to your own private terrace for a sunset drink in the trees. With high-end amenities and a queen bed in each room, everyone in your group will be in for a great night's sleep.
4. Luxurious 2-bedroom Apartment – Centrally Located
Price: US$850
Bedrooms: 2
Guest: 4
Stylish, luxurious, and conveniently located – people say you can't have it all, but checking out this property will prove them wrong! This apartment is centrally located, well-furnished, and spotlessly clean, with great views of the Hudson from all three rooms.
This 2-bedroom apartment is perfect for small families visiting New York. The kitchen is stocked with everything you might need, and the rooms are quiet at night. Plus, you'll have easy access to attractions like Central Park, Time Square, Empire State, Rockefeller center, Hudson Yards, and more.
5. 5 Million Dollar Townhouse – Perfect for Large Groups
Location: Harlem
Price: from US$500 per night
Bedrooms: 5
Guests: 13
It's exceedingly rare to find a place in Manhattan with as much space as this wonderful home. If you're the claustrophobic type, you'll feel as comfortable as ever among the lofty ceilings, spacious rooms, double-height windows, and backyard.
The wooden floors are warm underfoot and the chef's kitchen will be a dream if you're a passionate cook.
Step out onto the secluded wooden deck in the backyard for candle-lit dinners, evening drinks, or delightful breakfasts among the trees. Or hop on the subway to reach any one of Manhattan's attractions in around 15 minutes.
6. The Louvre Meets The Heart Of The East Village – Quirky Airbnb Apartment in the Center
Location: East Village
Price: from US$260 per night
Bedrooms: 1
Guests: 2
Located in the core of the lively and ever-popular East Village, this charming apartment is a dream for history buffs and admirers of European culture. Historic paintings, furniture, and decor pepper the space and make for a curious stay. But the real magic with this Airbnb apartment is being so close to the best of everything NYC has to offer.
You'll feel like you're staying in an Airbnb apartment in Paris until you step out right into the heart and soul of New York City. With one bedroom, one bathroom, and excellent amenities, it's the perfect spot for a loved-up couple.
7. Cozy, Quintessential Brooklyn Carriage House – Perfect Studio for Cozy Couples
Location: Brooklyn
Price: from US$240 per night
With a private entrance and bathroom, air conditioning, wood-beamed ceilings, and plenty of charm, this modern studio Airbnb is perfect for a happy pair. You'll want to melt into the luxurious queen size bed, but try to resist; the best of Brooklyn will be at your doorstep.
The tiny house is located in the celebrated Boerum Hill area, just a brief walk from all subway lines and a wealth of things to do.
Start your day off right with some sunrise yoga using the mats and equipment provided before heading out to explore New York City at its best.
8. Budget-friendly Apartment in Harlem
Price: US$155
Bedrooms: 1
Guest: 4
A perfectly budget-friendly apartment in the heart of Harlem. Expect a fully-furnished condo where you can cook to save some money, or if you prefer to dine out, there are plenty of restaurants nearby. This place has free WiFi too!
You will be staying at the garden level (ground floor), and for privacy, you have a separate, private entrance. Also, the hosts live upstairs and are more than happy to assist you throughout your stay.
9. Private Studio Apartment – Minutes to the Airport
Price: US$133
Bedrooms: 1
Guest: 4
Catching an early flight? To save time and energy, I found you a chic apartment in Queens, just 2 blocks from LaGuardia airport. With parking and a private entrance, you will have the apartment to yourselves.
With its theme and colors, the space looks classy and cozy at the same time. Technically the place has one bedroom with a queen-sized bed, however, the living room sofa can be converted to a sofa bed for an additional two guests.
10. Modern Rooftop Loft with City Views – Budget-Friendly Airbnb for a Pair of Friends
Price: US$100
Bedrooms: 1
Guest: 2
This apartment loft is designed to impress, from the layout, and choice of furniture to the modern decor. Your room is filled with natural light from the large glass windows overlooking Brooklyn.
If you plan to stay in this luxurious yet budget-friendly apartment, please note that this is a walk-up building, so there's no elevator, and the loft is on the 4th and 5th floors. Either you pack light or think of it as exercise and don't mind walking up and down the stairs.
11. Sunny, Modern Room in East Village! – Charming Spot with a Rooftop
Location: East Village
Price: from US$110 per night
Bedrooms: 1
Guests: 2
Looking for a sunny, central spot to rest your head? This comfortable private room is part of a stunning duplex in East Village. You'll be sleeping in a queen-size bed, facing a window that pours in the sunlight.
The apartment is peppered with plants and it has an almost unbelievable private terrace. Here, you can sink into deluxe outdoor furniture and enjoy the sunset with views of the city skyline.
You'll also be treated to a quirky kitchen, a beautiful shared bathroom, and a TV equipped with entertainment galore.
BONUS: Best Airbnbs Around New York City
While NYC is a vibrant destination filled with life and energy, sometimes a bit of peace and escapism is the right medicine.
Fortunately, NY State is home to some incredibly unique getaway homes. Here are some of the coolest Airbnbs around NYC, with driving times included.
1. Willow Treehouse – Secluded, Unique, & Romantic
Location: Willow (driving time from NYC: 2 hours)
Price: from US$470 per night
Bedrooms: 1
Guests: 2
Slide into your own secluded slice of nature with this spectacular treehouse Airbnb in Willow. It's a truly unique Airbnb space that's part-log cabin and part-utopian sci-fi structure.
Perched on the edge of a natural, swimmable pond, and encircled by trees, you'll feel at one with nature without foregoing your favorite creature comforts.
There's a reason why the living room couch faces the windows rather than a TV; the views are out of this world. You'll find your eyes glued to the glass for hours on end as you stoke the indoor fireplace and cozy up with some wine.
2. A Black A-Frame – Sustainable Catskills Cabin
Location: Kerhonkson (driving time from NYC: 1 hour 45 min)
Price: from US$390
Bedrooms: 2
Guests: 4
Nestled in the Catskill Mountains, at the end of a secluded, forested road, you'll see this dreamy, two-bedroom Airbnb in the woods.
The New York Post called it 'New York's coolest A-frame' for good reason. It's a clean, off-grid, solar-powered gem that immerses you in stunning natural surroundings and caters to every comfort.
Fire up the outdoor grill and light up the fire pit for a magical evening beneath the stars. Or, in the colder months, get busy in the chef's kitchen and enjoy your meal amid the splendor of the dining room's original woodwork.
3. The Glass House – A Hudson Valley Tiny Home Escape
Location: Marlboro (driving time from NYC: 90 minutes)
Price: from US$390 per night
Bedrooms: 1
Guests: 2
In recent years, publications and press, from the New York Times to The Today Show, have featured this unique Airbnb for its almost-unreal aesthetic allure. With three walls of glass, air conditioning, and an impeccable design (inside and out), the place is small but stunning.
You may have seen pictures of it floating around social media and thought of it as a fantasy place. Yet it's available for booking on Airbnb, and impressively close to NYC.
Enjoy the seclusion of having a 30-acre farm as your backyard. Cozy up in the luxury queen size bed with a view, cook up a treat in the fully stocked kitchen, or huddle around the fire pit for s'mores.
Top 4 Airbnb Experiences
Airbnb Experiences are a perfect way to get to know a city with a passionate, local host. Here are some of the best experiences available in NYC.
Conclusion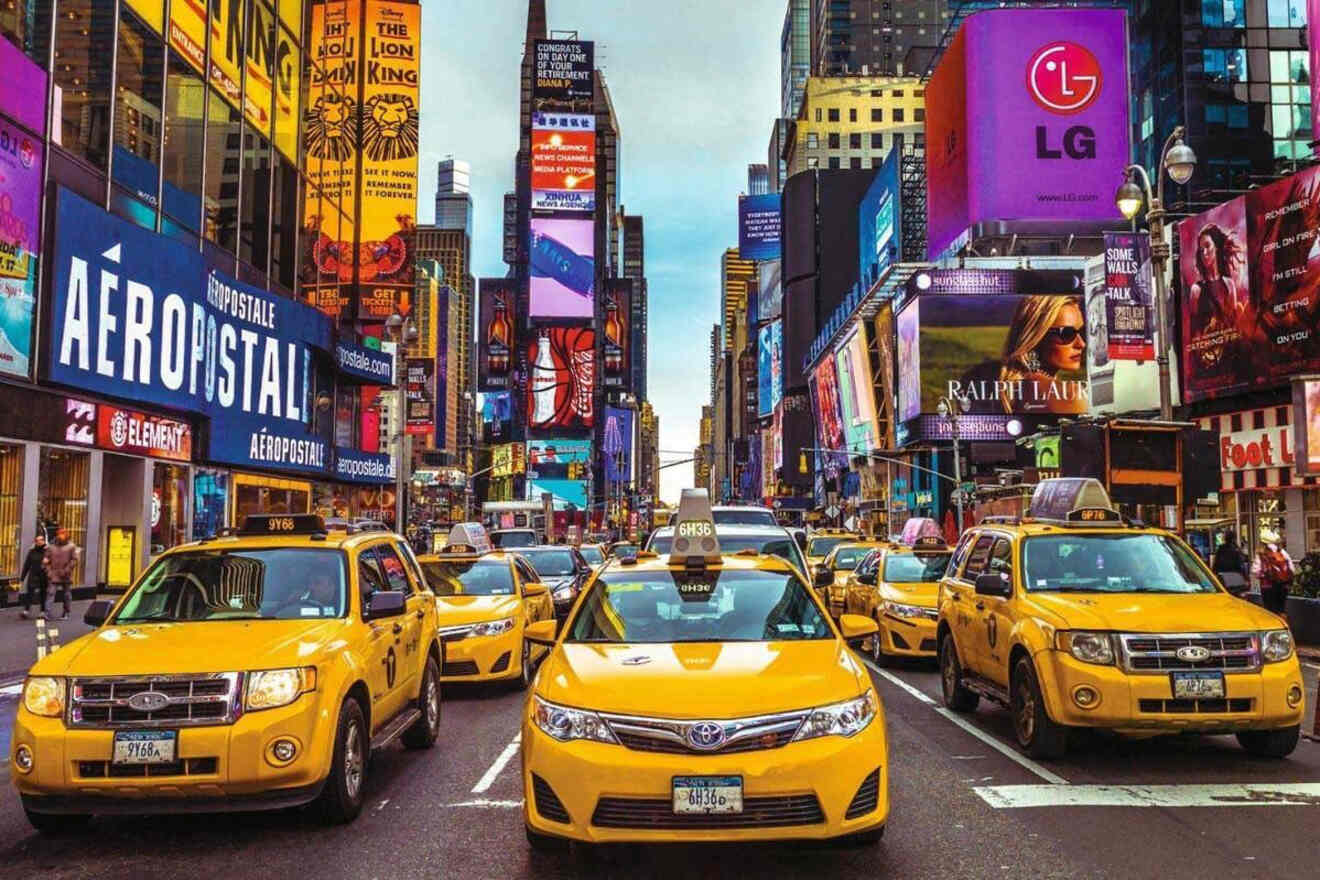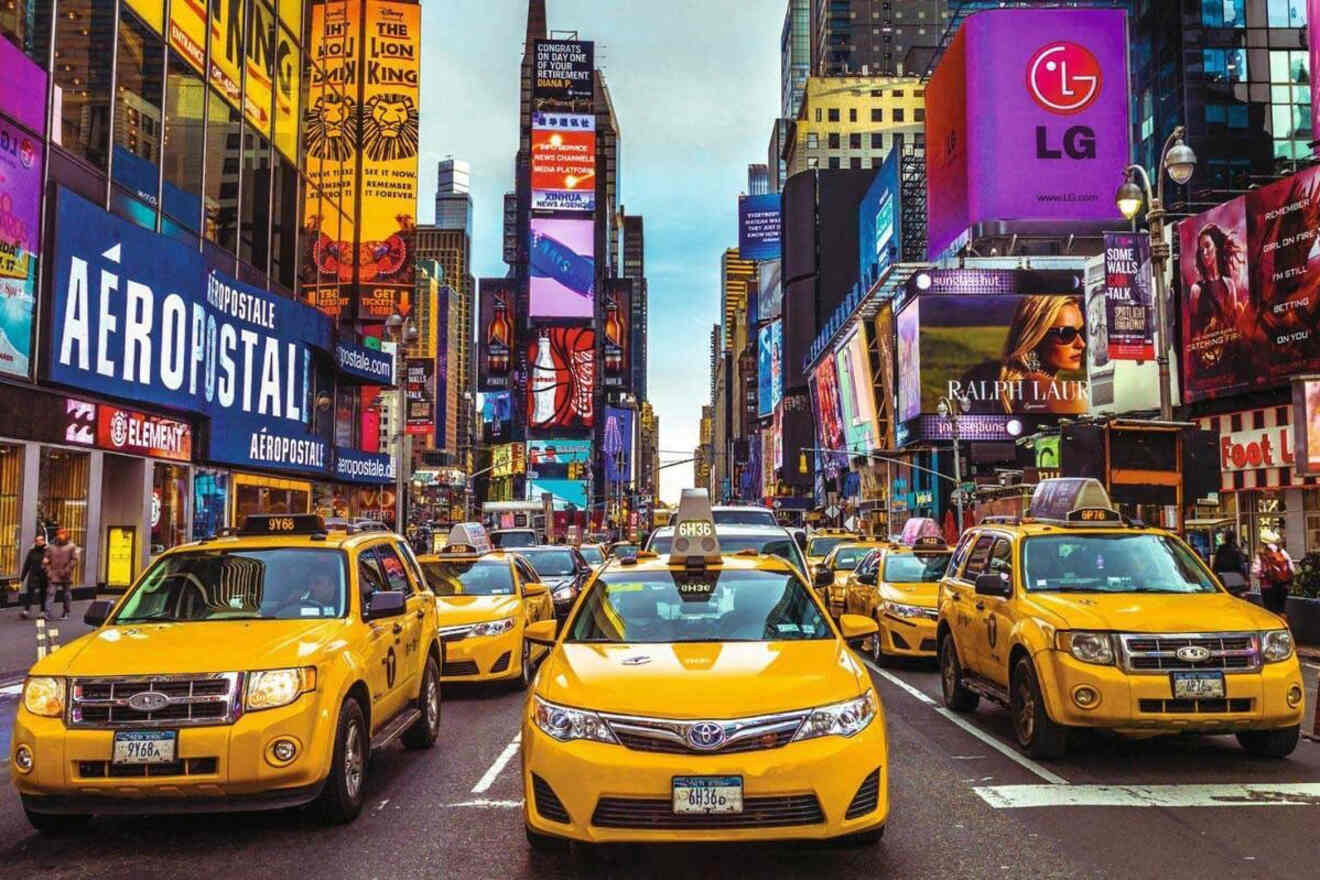 New York will sweep you off your feet with its lively atmosphere, endless things to see and do, and stunning places to stay. If you want to stay in one of the best Airbnbs in the city, be sure to book it swiftly. The coolest spots get booked up fast!
For a classy group vacation, I recommend that you book Brooklyn Brick & Brownstone. It's flawlessly stylish, clean, and plenty large, as well as being located close to the heart of Brooklyn's action.
If you're a budget-conscious couple, check out this Private Studio Apartment, Bath, & Balcony. It's a slick, central studio that's impressively easy on the wallet.
Whether you're after a loft on the Lower East Side, a cozy cottage outside the city, or a groovy apartment in Brooklyn, Airbnb has an option for you!
Have you stayed in New York Before? If so, I'd love to hear your thoughts and recommendations in the comments section below. I hope you have a wonderful and safe trip that leaves you smiling long after you return home.