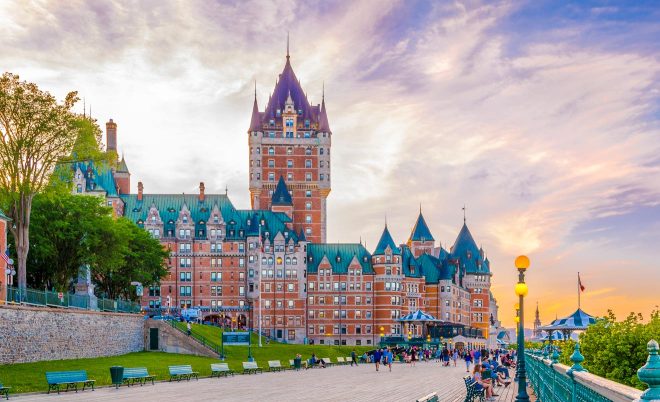 If you're visiting the province of Quebec in Canada, Old Quebec City is definitely one of the places you should add to your itinerary! To help clear up any confusion from the get go, Old Quebec City is the historic neighborhood found inside the City of Quebec, in Quebec Province. (Original right!?)
Old Quebec City is hands down the best neighborhood to stay in Quebec City and that's why I am focussing on this area here. Scroll down for a carefully chosen list of the best hotels sorted by price, as well as some gorgeous apartments and villas in the city to help you find the perfect accommodation for you!
PRO TIP: Please note that, in case you are traveling to Quebec City, you should take care of the hotel beforehand, as the rooms are usually sold out very fast!
Old Quebec (or "Vieux Quebec" as they call it) is a gorgeous part of the city and a UNESCO World Heritage site, and I am sure it will be a pleasure walking on its cobbled streets!
Not only will you find some of the best Old Quebec City hotels in this article, but I'm also going to give you some valuable suggestions about other areas where to stay in Quebec City as well as airport accommodations, in case you are thinking about staying somewhere a little different!
Let's begin!
If you are in a hurry…
When visiting Quebec for the first time, staying in Old Quebec City is the best choice as everything you need is pretty close by. It is also home to historic buildings and top tourist attractions.
Here is a map to show you exactly where Old Quebec is located within the city. If you are looking for alternative areas to stay in, check out section number 3 below:

1. Best Old Quebec City Hotels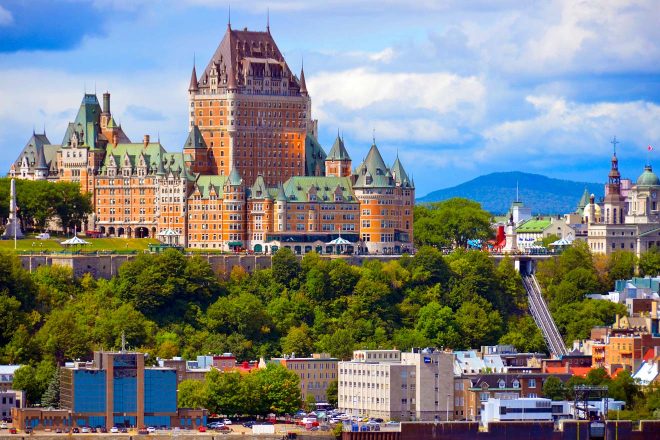 The city of Old Quebec has all kinds of hotels, fit for every taste, preference and budget – all you need to do is find the perfect one for you! It is the liveliest part of the city and also a historic district where all the main attractions are located, such as Notre Dame Cathedral, Chateau Frontenac and more!
By the way, you can find out more about my 2-weeks road trip in Canada and the things to do in Quebec City, where to eat etc, in this article.
The Old Town in Québec is perfect for all types of people, regardless if you are searching for a calm and relaxed atmosphere, for cool bars and restaurants or even if you are traveling with your family and kids!
Here are some of the best hotel options in the city, all sorted by price:
Luxury ($200 and up)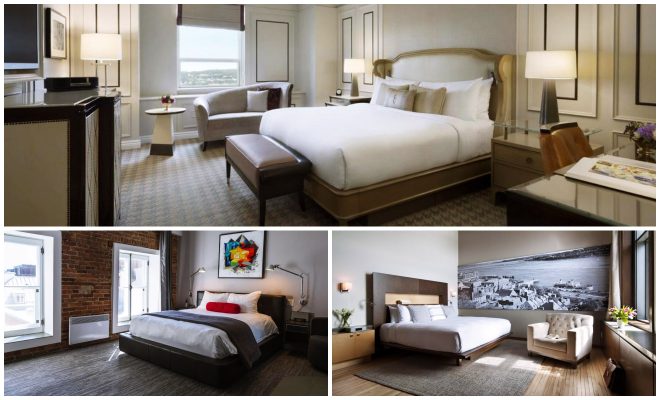 Old Quebec City has a lot to offer in terms of luxury accommodations that can make you feel spoiled and relaxed after a full day of exploring the area. You just need to make sure to book yours in advance in order to make sure they won't all get sold out! Here are some of the best luxury hotel options in this area:
Fairmont Le Château Frontenac – If you're looking for one of the best 5-star hotels in the neighborhood, then you won't go wrong with Fairmont! It is a

famous hotel in old Quebec city located in a historic

building and one the most important icons in the city. It is a fabulous accommodation that features beautiful views of St. Lawrence River, an indoor pool, hot tub, a fitness room and even steam rooms. You will definitely feel like a queen/king as this is an amazing place to stay!
Here's a video tour of the hotel rooms at this important landmark-hotel:
Hotel le Priori – One of my favorite luxury hotels and and another historic building too! It is a World Heritage Site and the home of architect Jean Baillairge in 1734 which was transformed into a fancy boutique hotel. St. Lawrence River is just a short walk.
Hotel 71 – Another great 4-star hotel, this accommodation is located in the Old Port of Quebec near the Old City and it is definitely one of the best places to stay in Quebec City! It combines a historic aesthetic with modern facilities in order to create the perfect atmosphere! The rooms are beautiful and clean and the service is simply amazing! By the way, this one is located super close to Lawrence River as well!
Hôtel Le Germain Québec City – Located incredibly close to the Old City and the Old Port, this is the perfect place to stay if you want a relaxing atmosphere with luxury service! Enjoy the 24-hour fitness center, free expresso and cappuccino, incredibly cozy lounge room and much more!
Middle-priced ($120 – 200)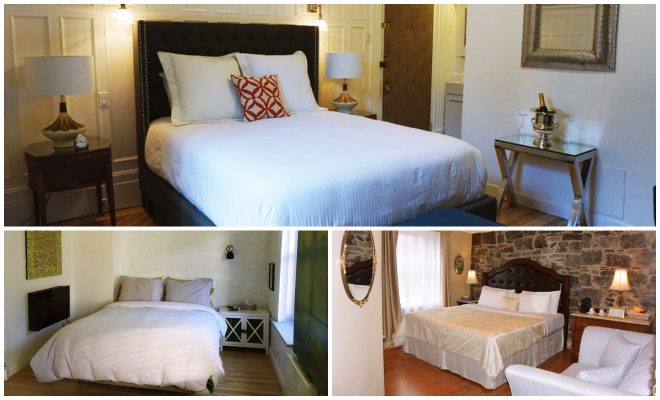 Le 253 – A 3-stars bed and breakfast in Quebec City with great service for a very reasonable price! It's a great place to stay with comfortable and nicely decorated rooms, a shared lounge area, and a sunny terrace.
Auberge du Trésor – A gorgeous hotel in the style of Old Quebec with brick wall rooms and a view of Château Frontenac. The cozy, French bistro restaurant is a must-try!
Hôtel Marie-Rollet – Are you looking for a hotel close to the center and Citadelle de Quebec and Port de Quebec? Then search no more! Hotel Marie-Rollet awaits you with a rooftop terrace and sparkly clean rooms with outstanding quality of the services!
Budget (up to $120)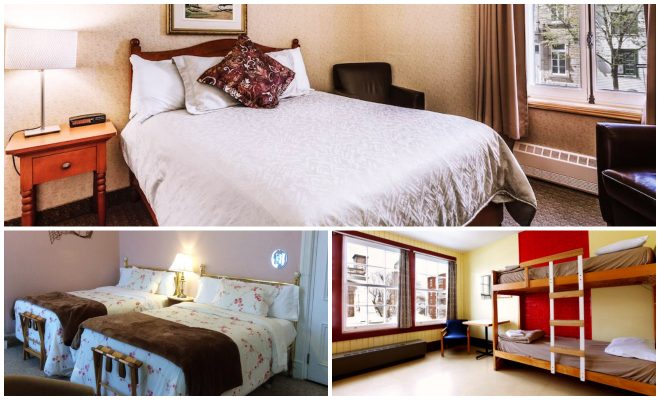 Finding a good cheap hotels in old Quebec city is not always easy, but definitely not impossible! I have made my research and I have selected only the best accommodation options for those traveling on a tight budget! Here is what I am recommending:
2. Old Quebec City Apartments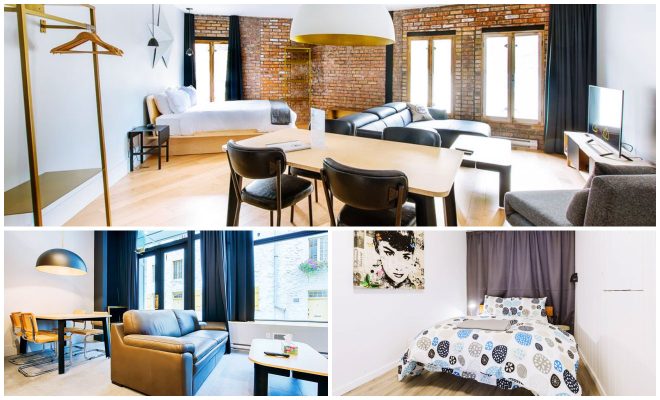 If you want to spend your nights in an apartment and not in a hotel, I got you covered as well! Choosing an apartment over a hotel might be the perfect solution for those traveling with a bigger group of people, as the prices are more accessible! There are a couple of good apartments for rent in Quebec city for all budgets and tastes, and I have selected the best ones for you:
Luxury:
Les Lofts du Trésor by Les Lofts Vieux Québec City

– A luxury 4-star apartment right in the heart of Quebec. You will get free wifi, a flat-screen TV, a fully equipped kitchen, and more! Plus, you will be only 100m away from Notre Dame Cathedral and Fairmont Le Chateau Frontenac!

Les Lofts St-Pierre by Les Lofts Vieux Québec

is another great luxury apartment building ideal for 2 to 4 people! They have different types of apartments and offers which will suit every taste and preference! Free wifi, comfy and clean rooms, modern design – what more can you wish for?
Mid Range:
Les Lofts Champlain by Les Lofts Vieux Québec – Are you looking for some middle-priced apartments located close to all the main attractions in the city? This is a perfect option that guests 2 people. You will benefit from free Wi-Fi, modern and high-quality amenities and more! Plus, you will only be 13-minutes away by foot from Fairmont Le Chateau Frontenac!
Les Lofts Notre-Dame by Les Lofts Vieux Québec City – Another amazing option similar to the one above is Les Lofts Notre-Dame, located less than 1km away from the Basilique! This apartment is ideal for a group of up to 4 people and it features a very modern and unique design that you will surely appreciate!
Budget:
Place des Arts

– Of course, there are some apartments in Quebec city for people traveling on a tight budget as well! For example, this stunning, modern apartment that's super affordable and perfect for two people! The apartment has a bedroom, a fully equipped kitchenette, a seating area, and a shower bathroom!
3. Other good areas where to stay in Quebec City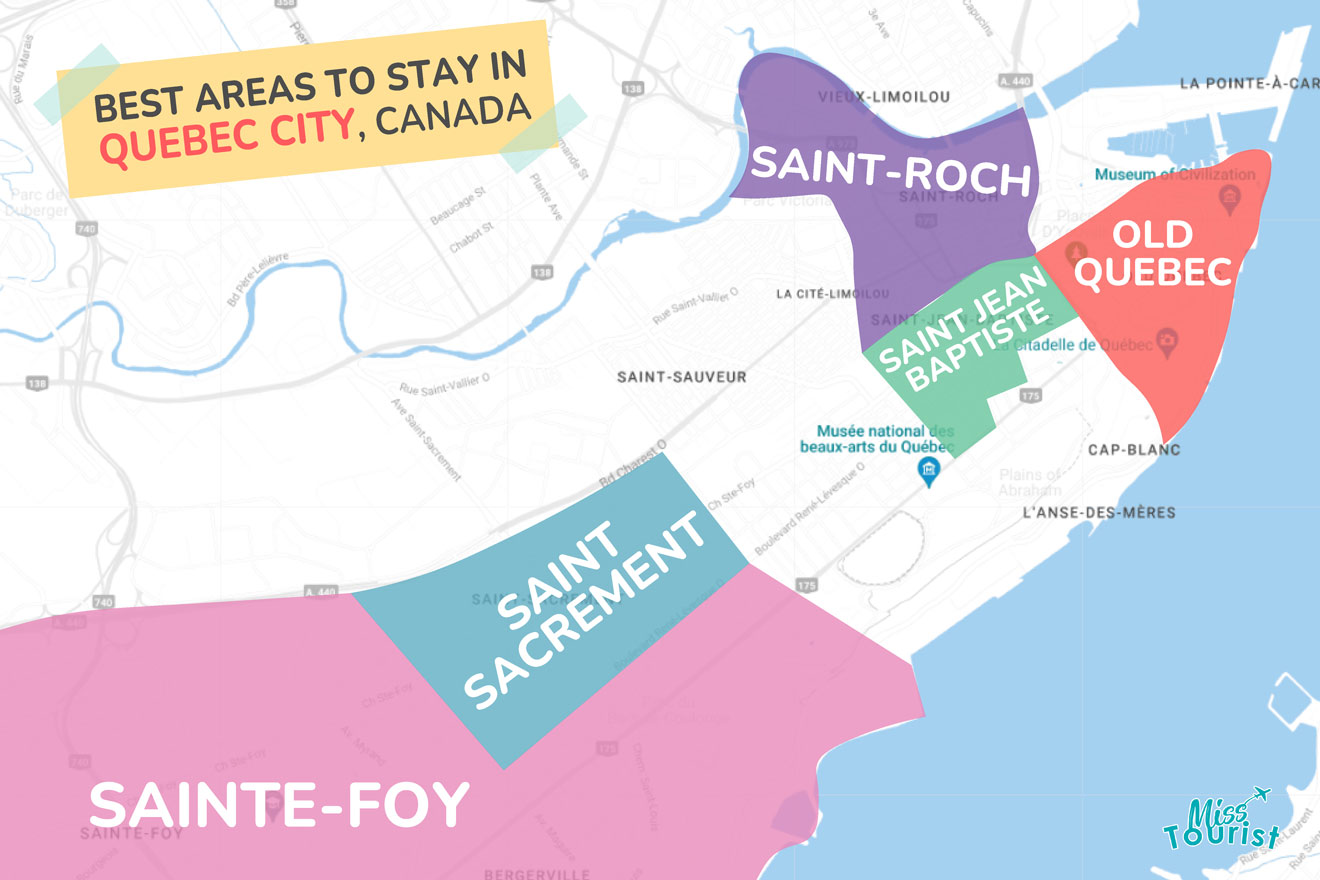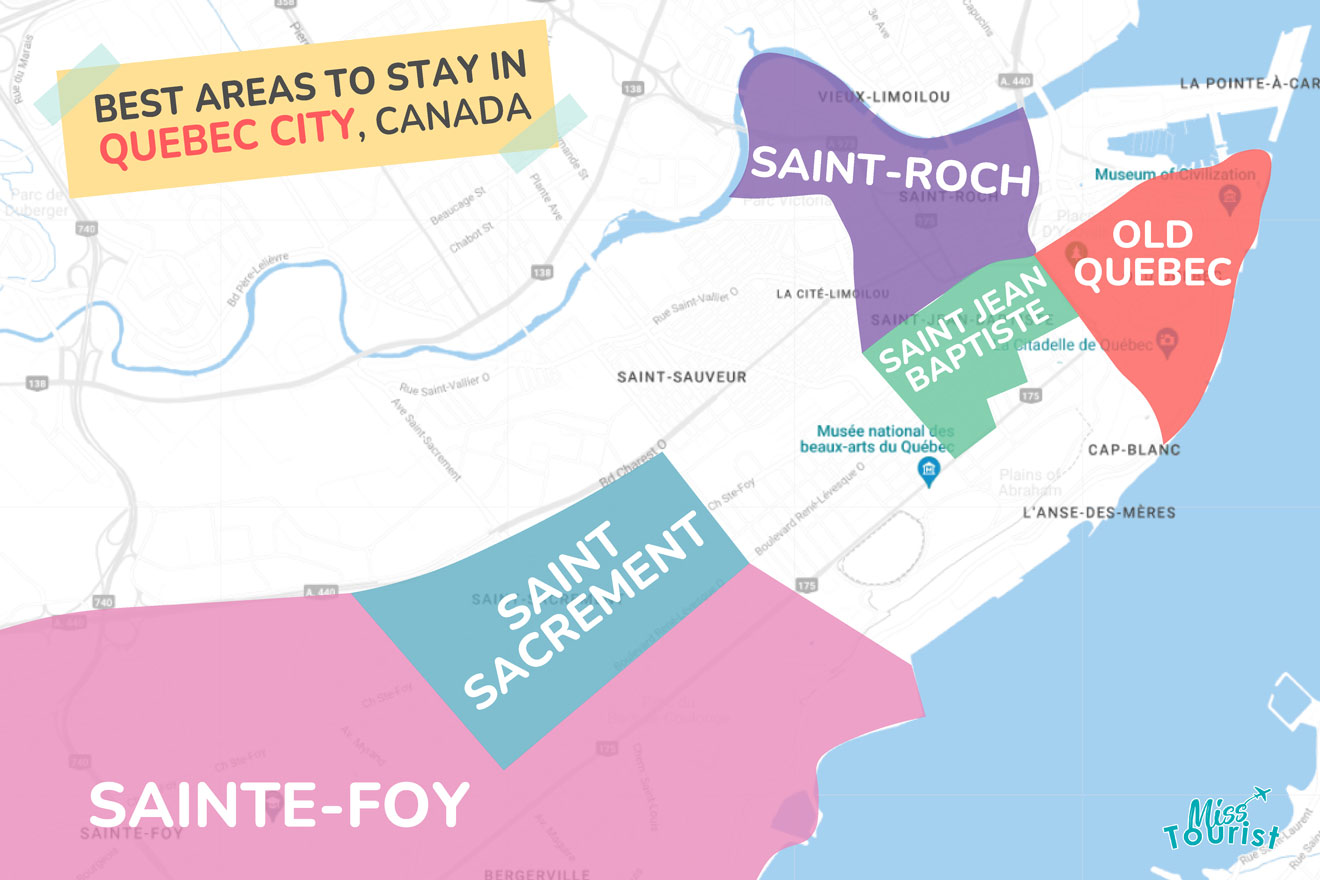 There are, of course, some other great neighborhoods and district areas as well! Your choice depends on your preferences and budget, of course. Here are four more areas for a great stay in Québec.
3.1. Saint Sacrement – for a laid-back holiday
Located on Quebec Hill, this neighborhood is perfect for travelers looking for a relaxed and laid-back atmosphere. It's near the Old Town, so you'll be close to all the most important attractions in the city!
In case you want to see how locals live in Quebec, here are 3 best hotels in Saint Sacrement: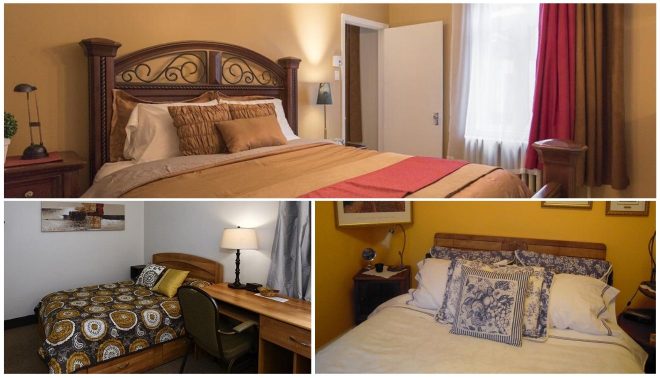 (Luxury)

–

L'Arvidienne Couette et Café Québec City

– This luxurious hotel is hosted in one of the most beautiful buildings around, and it offers upscale suites that you can choose from for an unforgettable spoiled stay. Plus, the view it offers over the city is superb!

(Middle-priced)

–

Acacias Bed & Breakfast Québec

– The rooms are simply charming, and the service is outstanding – just check out the pics! I definitely recommend it to two travelers who want to explore everything Quebec has to offer.

(Budget)

Gîte le 812

– This awesome budget accommodation can be your home away from home during your trip to Quebec! It's just perfect for a comfortable budget visit to one of the best neighborhoods in this wonderful city!
3.2. Saint Jean Baptiste – fun-loving neighborhood
Saint-Jean-Baptiste is another great choice for those of you that want to avoid the hustle and bustle of the city center. This area is not far from Old Quebec either, so that you will be within walking distance to the most important landmarks in the center.
By the way, this neighborhood is full of incredible food places, bars, and shops, so you will never get bored around here!
(Luxury)

Auberge J.A Moisan

– This 4-star hotel features luxury everywhere you look: from the living room with fireplace, dining, and kitchen areas to the room designs and furniture options. You can also get a continental breakfast every morning!

(Middle-priced)

Chateau Des Tourelles

– This superb mid-range hotel has a great location and comfortable rooms. If you ever get bored, you can take a walk around the neighborhood – it's so pretty and special!

(Budget)

B&B Le Transit Québec

– If you're traveling to this area on a tight budget, look no further than this cute bed and breakfast! It has some unbeatable rates, great reviews, and excellent service. The staff is super helpful! Just check out the pictures; you may fall in love!
3.3. Saint Roch – best area for young travelers
Saint Roche is the perfect place for young travelers looking for some adventure! It's also within walking distance to all the major sights. This district is full of life regardless of the time of day and has something to offer for all types of travelers.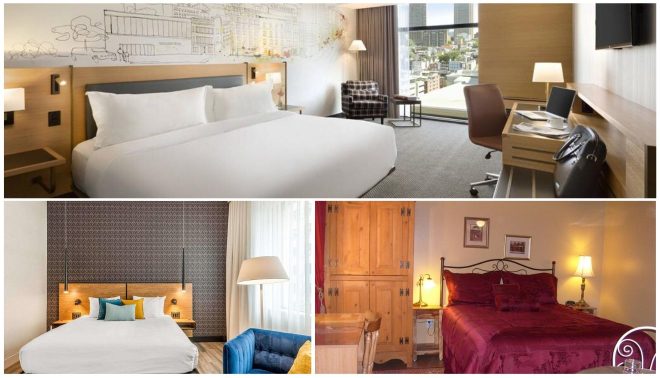 (Luxury)

Les Lofts St-Joseph by Les Lofts Vieux-Québec

– It's a stylish, modern decorated apartment in the upper town with beautiful lighting and modern furniture for your stay in Saint Roch. Expect a fully equipped kitchen, dining area, laundry facilities, and a rooftop terrace with a city view.

(Middle-priced)

Hotel Royal William, Ascend Hotel Collection

is a pet-friendly hotel with clean, comfortable, and spacious rooms. There is a fitness center, business center, and on-site parking. It is near various art galleries, restaurants, and shopping areas.

(Budget)

Hotel Le Bloc

– This apartment offers a modern and stylish design with comfort and convenience in mind. It also uses a code instead of a key, making accessing the apartment safe and easy. Nearby attractions are also easily accessible.
3.4. Sainte-Foy – best place for shopping
Sainte-Foy is another notable recommendation for all travelers that want to live where the locals do! This neighborhood is larger than the Old Town, so you'll have plenty of cool things to explore around. Ah, by the way, this is also a great place to stay for people interested in doing some shopping during their stay in Quebec.
In case this sounds like the perfect place for you, here are some of the best hotels in Sainte-Foy: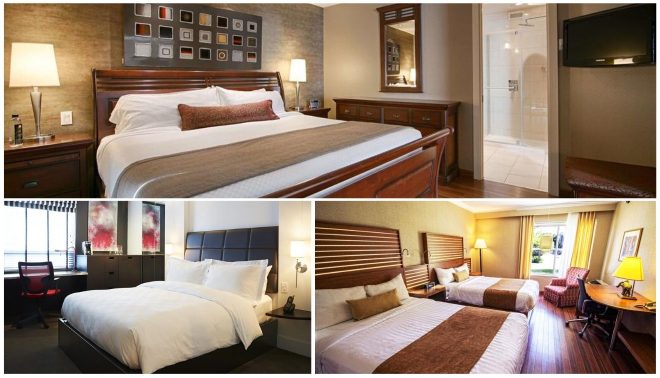 (Luxury)

Best Western Premier Hotel Aristocrate

– Are you looking for the ultimate luxury in the Sainte-Foy area? No worries, I got your back! This hotel has to be your destination for the ultimate luxurious stay! Just take a look at the pictures, and I'm sure you'll fall in love with the superb, clean rooms. Check it out, and I'm sure you'll love it!

(Middle-priced)

Hôtel Alt Québec

– If you're looking for a comfortable mid-range hotel instead, this is for you! I totally recommend this to solo travelers, couples, friends, or families, as it offers very good service and has a pretty good location! Ah, and the staff is super friendly and always willing to help you with anything you might need!

(Budget)

Holiday Inn Express

– A nice, clean, and modern room await you in the Holiday Inn Express! The hotel also features a fitness center, pool, indoor and outdoor parking, and a continental breakfast every morning!
Bonus 1: best hotels near Quebec city airport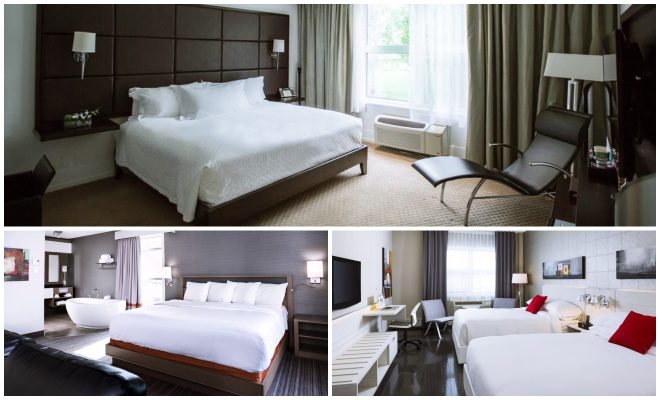 In case you are staying in Québec city only for a short time or if you want to be as close to Quebec City Jean Lesage International Airport (YQB), I have selected some gorgeous accommodations for you as well! Check them out below:
(Luxury)

Hôtel Le Bonne Entente

– Located only 7km from the airport, this hotel provides great service! During your stay, you can enjoy an indoor pool, a great restaurant, a bar, and even a laundry service! Browse the photos…you'll be amazed!

(Middle-priced)

Hôtel Cofortel

– Only five minutes from the airport, this beautiful 3-star hotel offers spacious rooms, a fitness center, and a continental breakfast. Great value for money!

(Budget)

Hotel Sepia

– Welcome to this luxury-looking, budget hotel located 8km from the airport. The place is so elegant, yet it is one of the cheapest hotels in Quebec city! It has free parking, a fitness center, and an on-site restaurant!
Bonus 2: hotels outside of Quebec city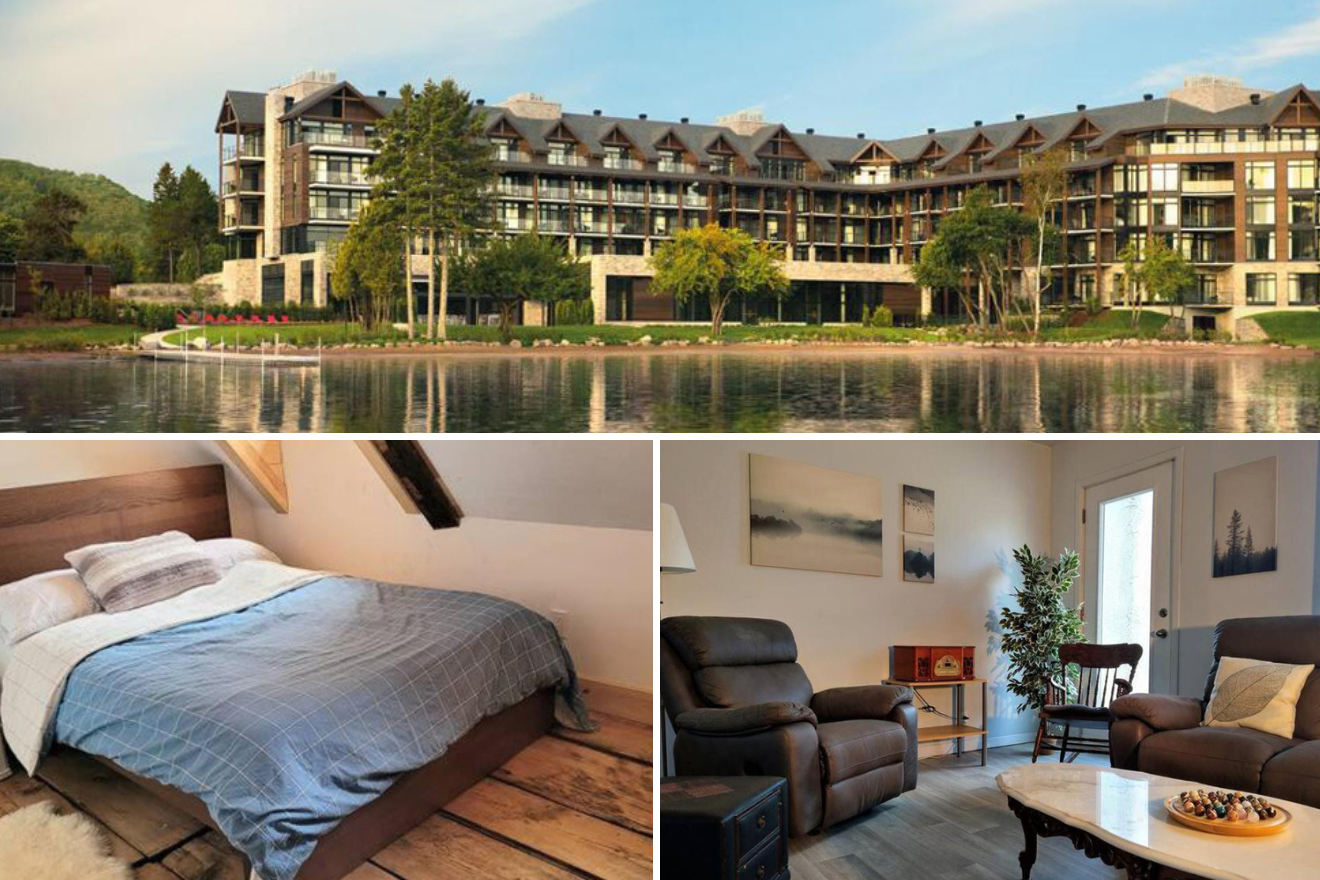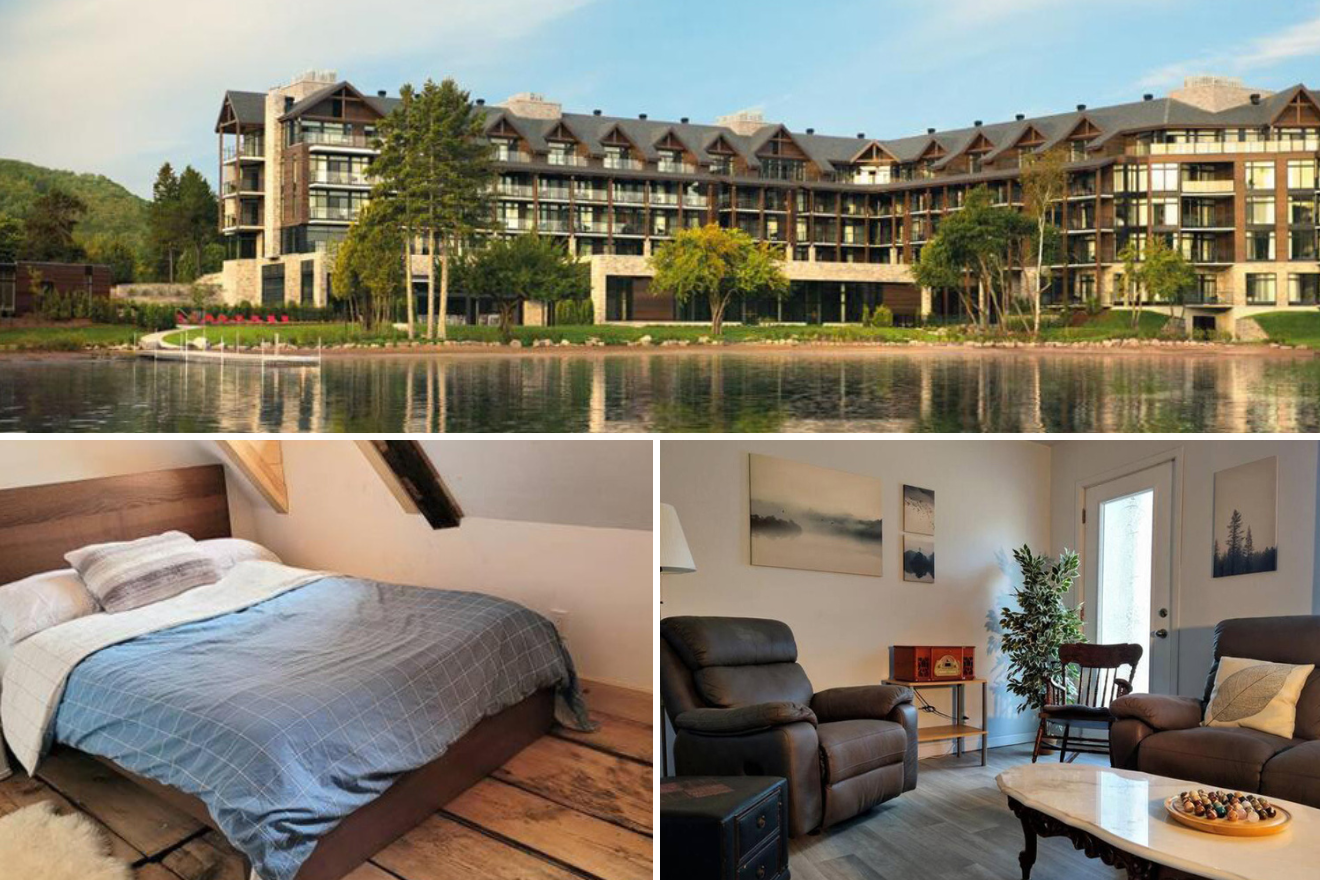 If you are looking to stay outside of Quebec city and enjoy everything that its surroundings have to offer, then here are 3 amazing accommodation options to choose from:
(Luxury) Entourage sur-le-Lac – This 4-star hotel in Lac-Beauport near Le Relais, offers private beach access, 24-hour service, free WiFi, and a restaurant. Rooms include amenities like TV, coffee machine, and some have balconies. Enjoy breakfast options, local cuisine, fitness facilities, and pool.
(Middle-priced) L'Ancestrale en beauté – This accommodation features a terrace, patio access, free parking, WiFi, 3 bedrooms, 1 bathroom, garden-view balcony, and hiking options.
(Budget) Om chalet 1 avec spa face au fleuve – Just 31 km from Quebec, this chalet offers sea-view accommodation with free WiFi, parking, and a terrace. The 4-bedroom hosue has a kitchen, a bathroom with a hot tub, and a garden to enjoy the nature.
FAQs about Quebec city lodging
🏨 What are the best luxury hotels in Quebec?
💵 What are some cheap places to stay in Quebec city?
🚗 Where to stay in Quebec City without a car?
The best area to stay in Quebec without a car is in the Old Town of Quebec City for convenient access to attractions and public transportation. What are some of the best hotels in Quebec downtown for couples? The best Quebec hotels in downtown for couples include Fairmont Le Château Frontenac or Hôtel Marie-Rollet.
🧳Where to stay in Quebec for the first time?
👩‍👩‍👦 Where to stay in Quebec with the family?
🕐 What's the best time to visit Quebec?
Experience the city's lively festival that usually takes place during the winter and summer seasons, specifically between June and September and December and February.
Conclusion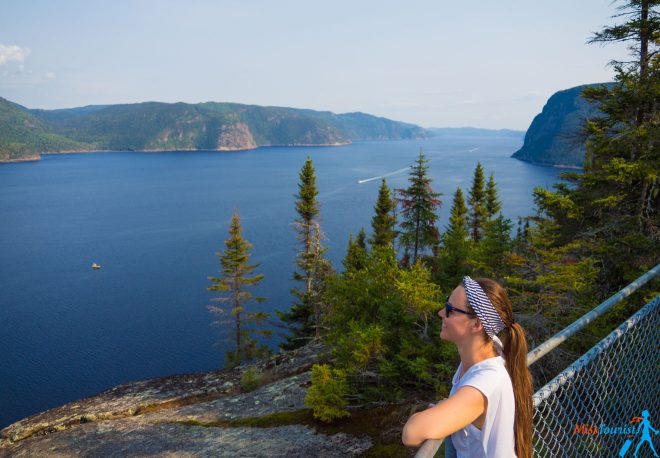 This was my complete list of Old Quebec City hotels and apartments. I also gave recommendations for the rest of Quebec City! All of the hotel options that you will find in this article have stunning reviews, beautiful décor, and all the facilities and amenities you might need for your stay! My top favorite hotels are:
I hope that this article has helped you in case you were wondering where to stay in Old Quebec City, and I also hope you will have a great time in this beautiful city! Again, when it comes to Quebec hotels, I always recommend booking in advance! You can always cancel, but you won't find good rates and accommodation choices if you wait until the last minute. In case you want to find out more about my 2-weeks road trip in Canada as well as some unmissable spots and cities to see in this country, you can check out this article. As usual, if you have any questions or suggestions, don't be shy and leave them in the comments below!
Yulia
---
Pin it for later!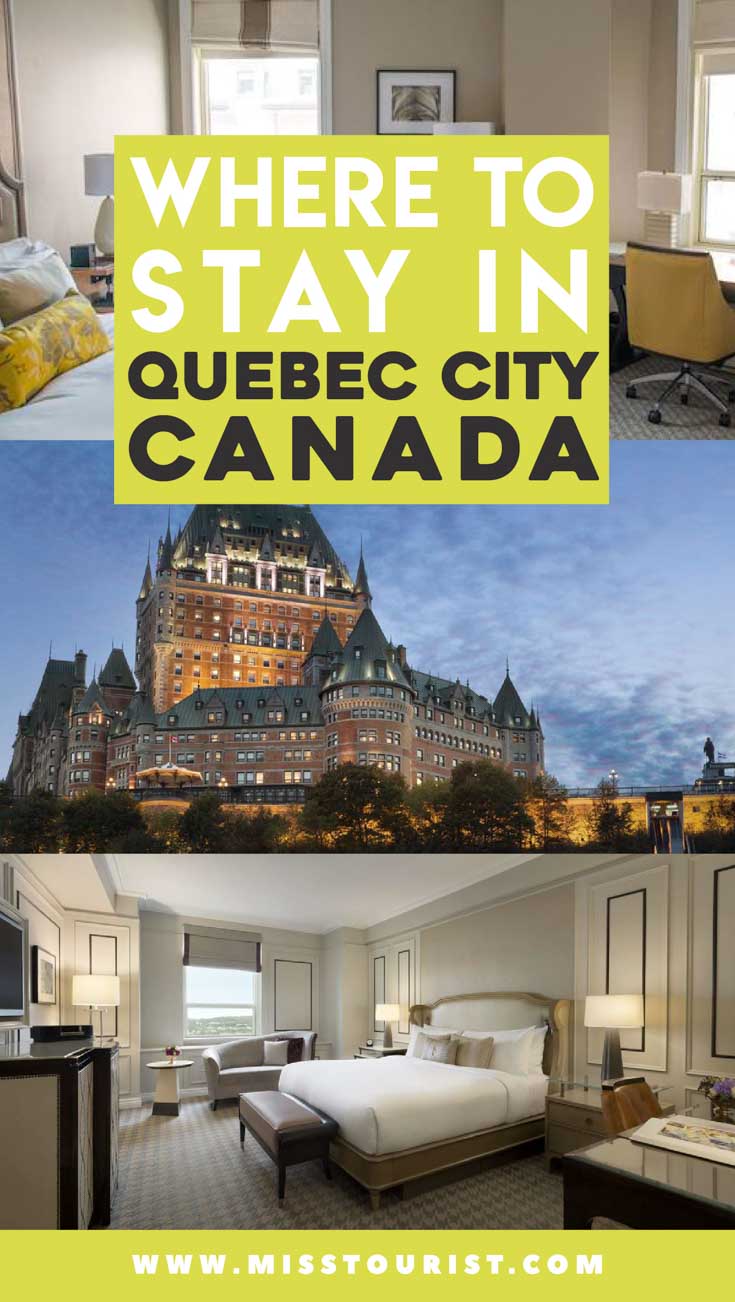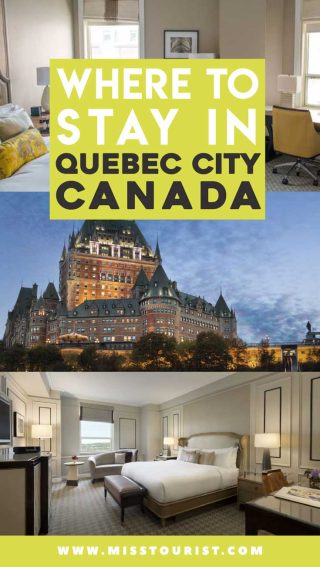 Pin it for later!