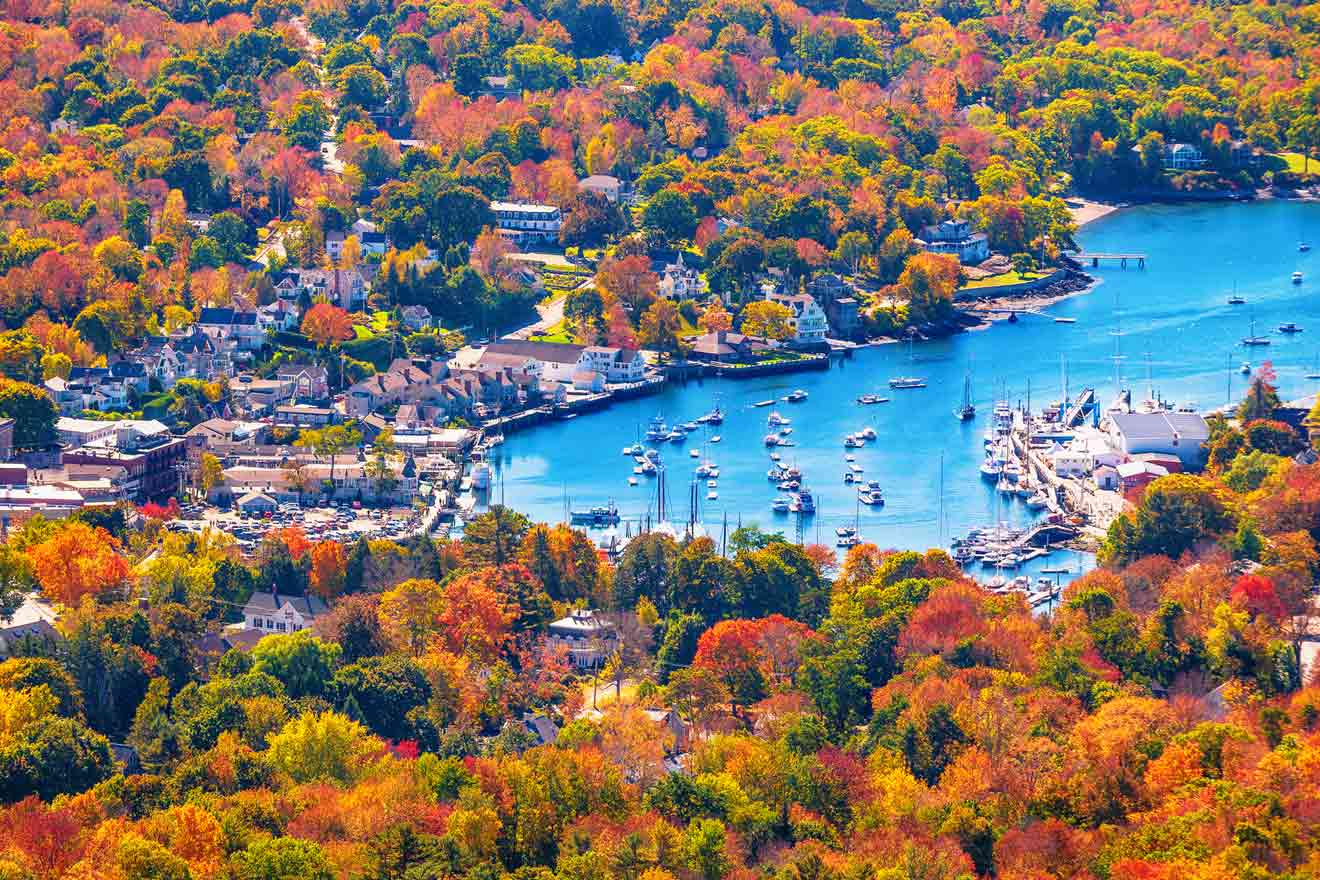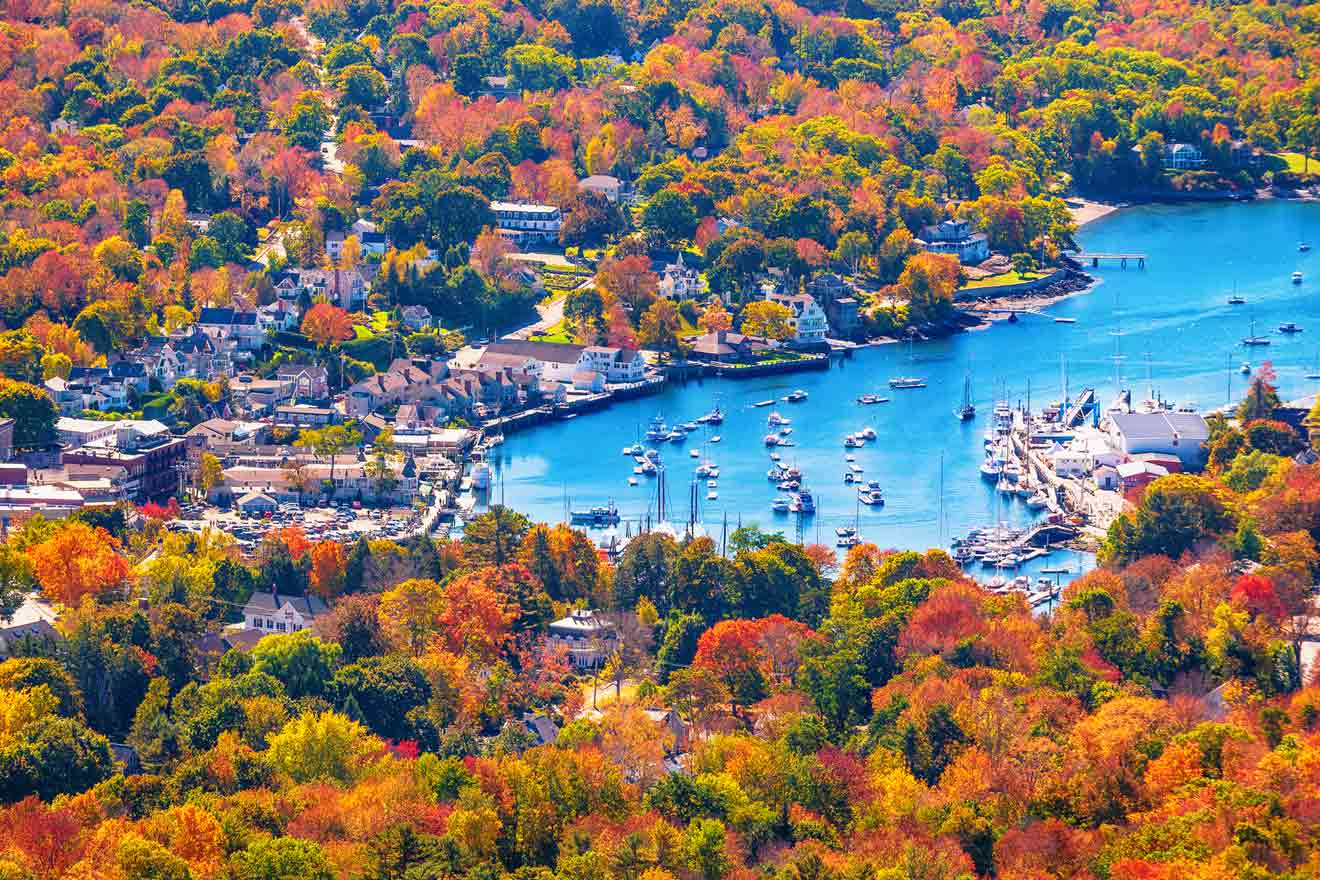 Planning a fun holiday in beautiful Maine? The land of fine dining, fascinating maritime history, and incredible places? Then stick around because you've just found gold!
In this post, I'll point you to the best luxury oceanfront hotels in Maine. Listed from most to least expensive, these accommodations feature fabulous views of the Atlantic Ocean, excellent facilities like a spa and an indoor heated pool, and a great location!
I'm confident that after reading this article, you'll find your dream oceanfront hotel to stay in Maine in one of its beautiful spots like Boothbay Harbor or Orchard Beach Pier!
But enough chit-chat. Let's get straight to business!
Before we begin, I feel like it's my duty to let you know that hotels in Maine sell out super fast. Many tourists favor this dream holiday destination so that's why it's really important to book your oceanfront hotels in advance!
Now let's go. The superb Southern Maine Coast is waiting for us!
If you are in a hurry
Here's a map that will help you visualize all the luxury oceanfront hotels in Maine that I will be talking about in this post:
1. Cliff House Maine – fabulous hotel with a spa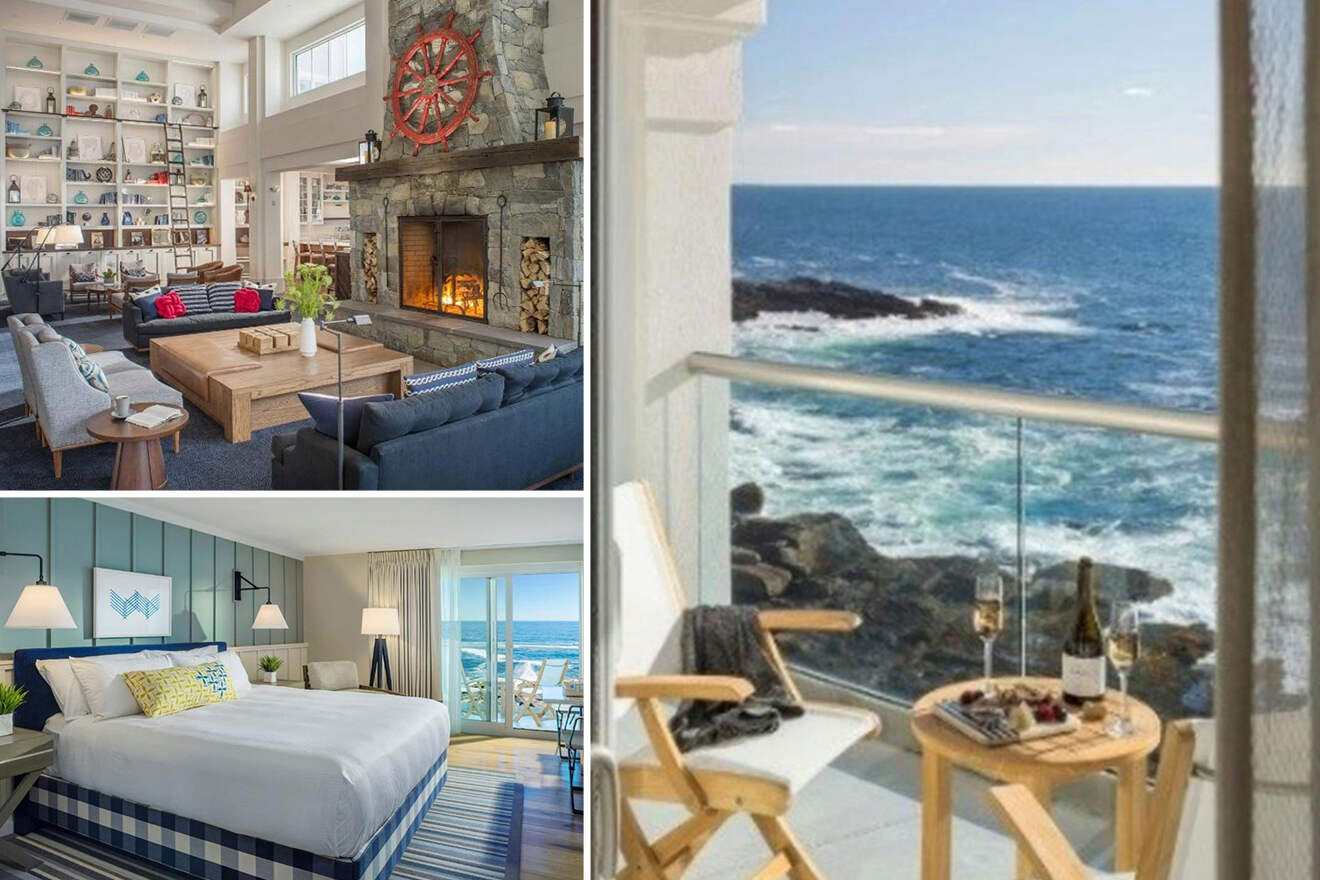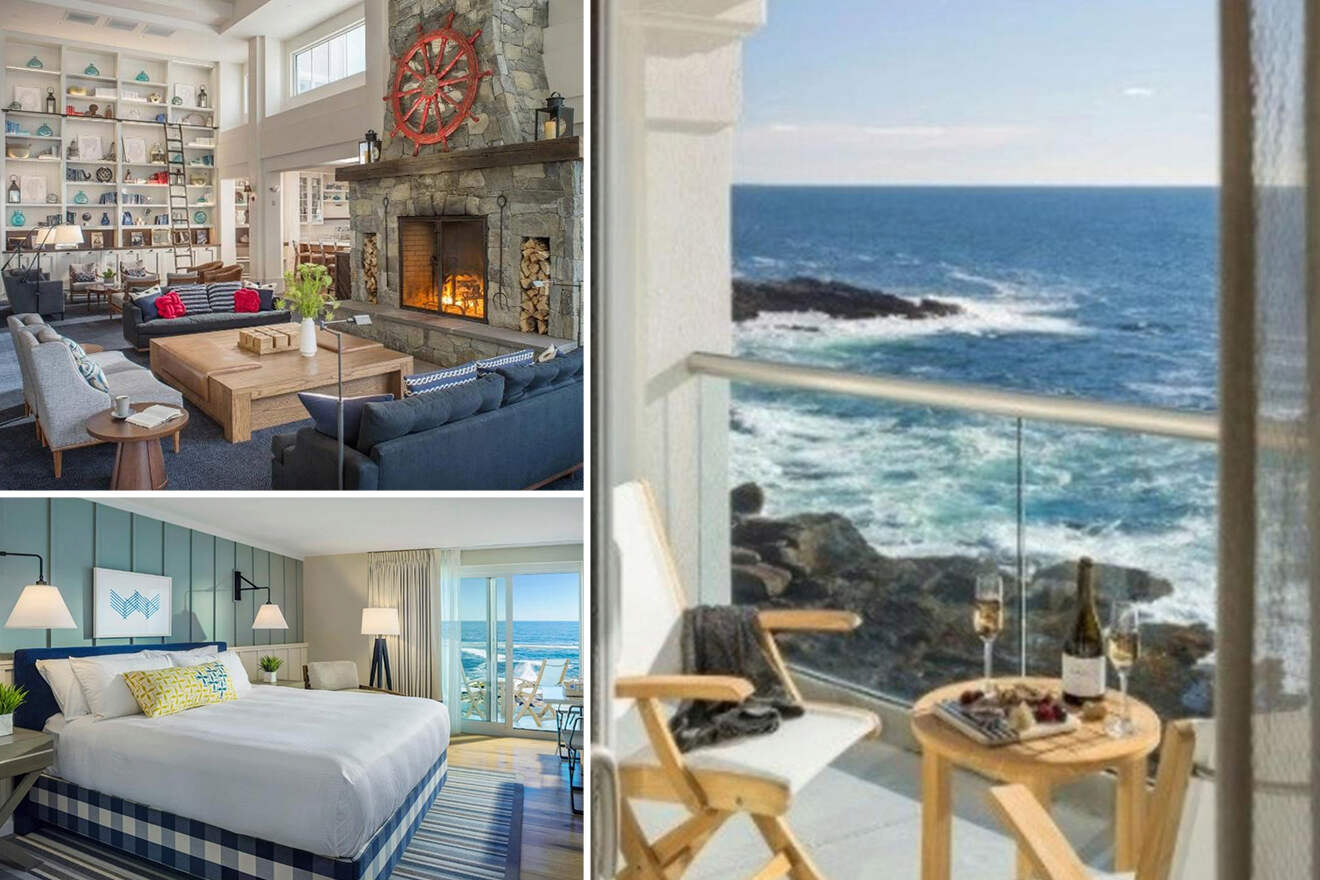 The ocean breeze, the sound of the waves crashing on the shores, imagine waking up every day to that! Set on a cliff in Cape Neddick not too far from York Harbor, this resort features amazing ocean views and spacious suites with a private balcony facing the sea.
The resort is the perfect holiday spot, offering plenty of activities like games, golfing, and movie nights.
If you just want to relax, head over to the full-service spa for a nice massage, sit in the hot tub, or sunbathe by the seasonal outdoor pool all day long. Don't forget to leave the hotel (although it may be hard with all these cool facilities) and go explore Cape Neddick!
2. Sebasco Harbor Resort – great family option with activities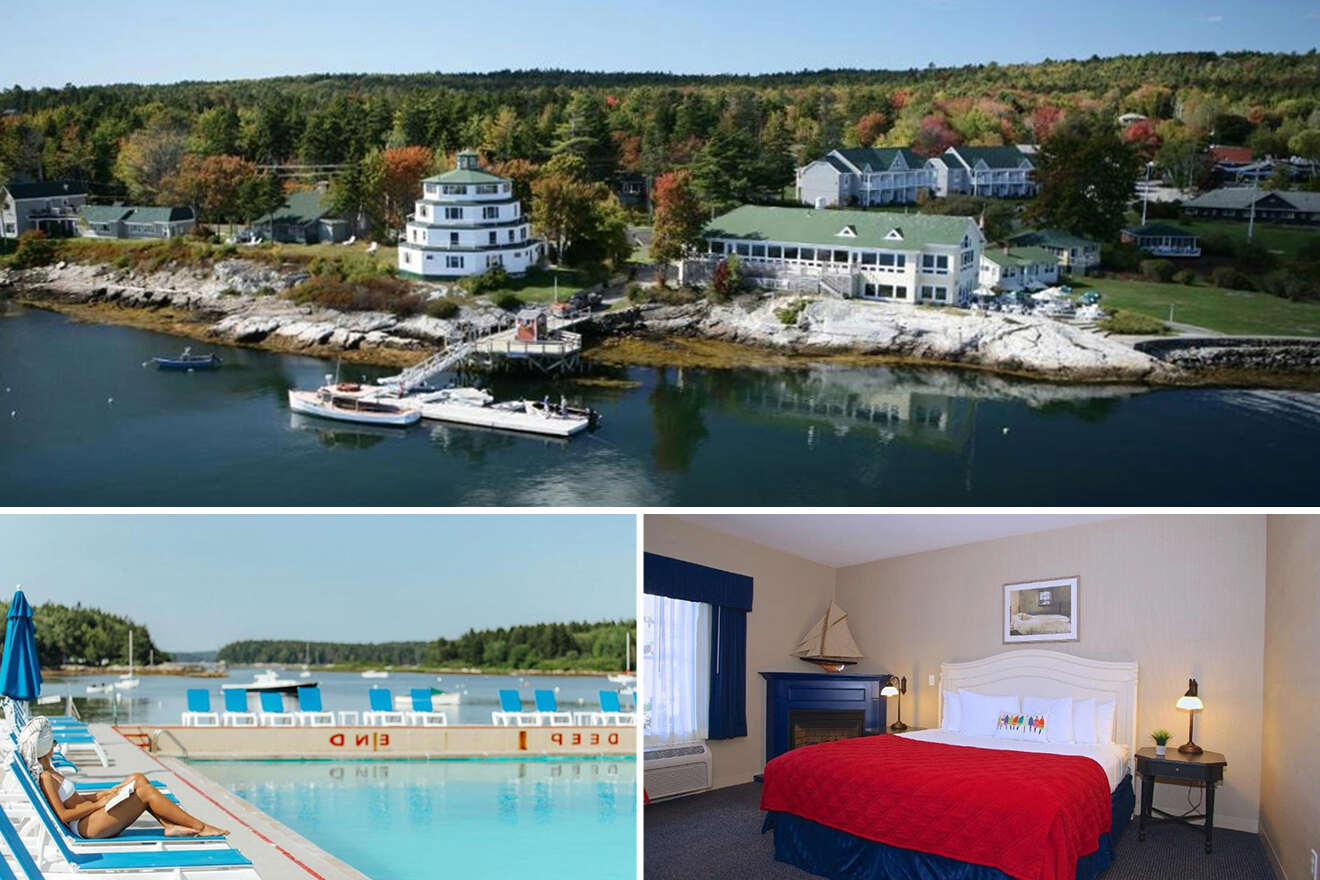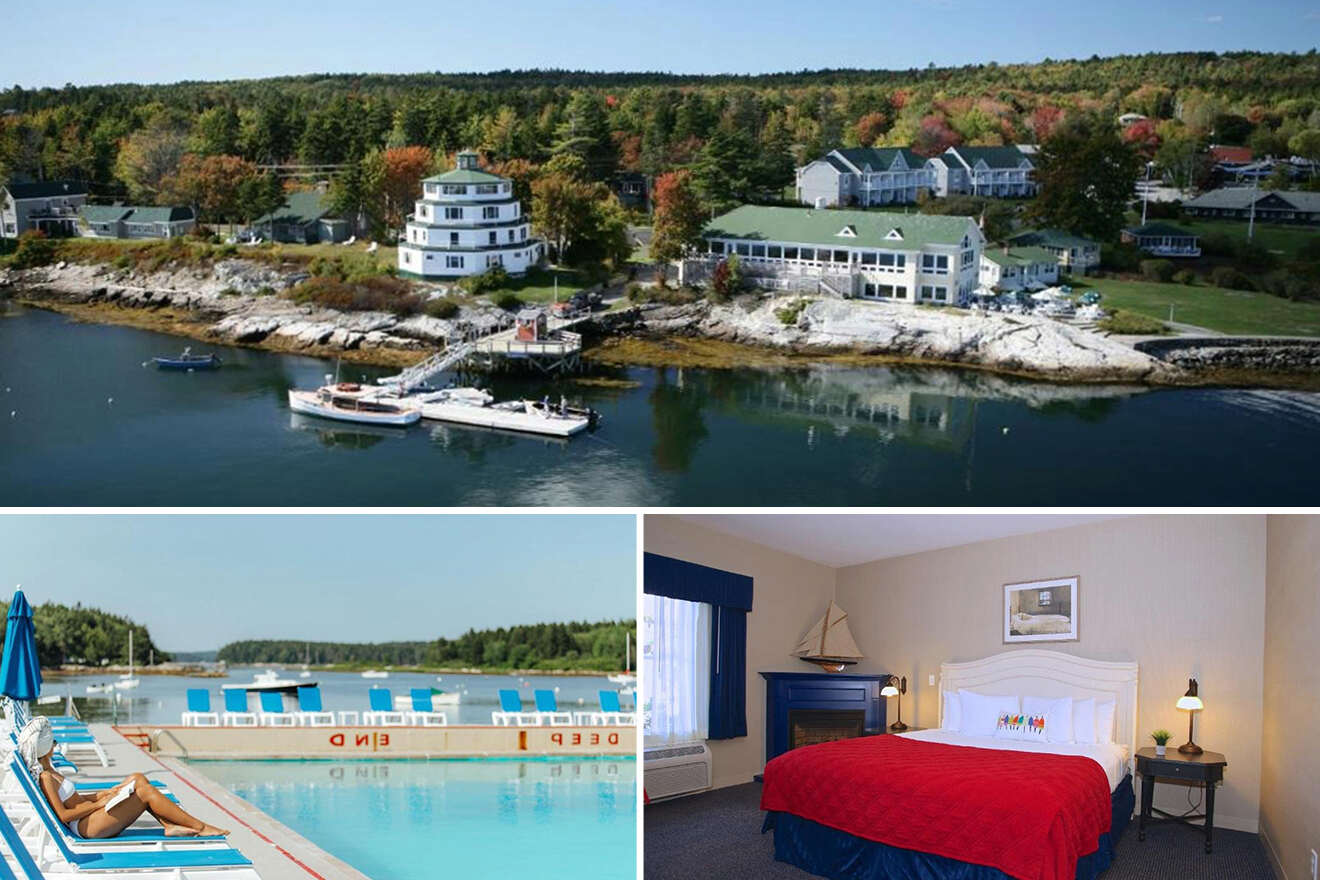 Start your holiday in Maine the right way, with a kayak tour or canoeing! This gorgeous hotel in Sebasco offers so many other activities like golfing and live music performances that you won't know what to do first! But I recommend starting with the salt-water pool! No better way to relax than this one!
Families will be happy to know that there's a kid's club on-site and a games room! All the rooms at this resort are pretty spacious and come with free Wi-Fi and cable TV. You'll also find some great attractions like a theatre and museums just a short drive from the hotel.
3. The Tides Beach Club – stylish hotel with a private beach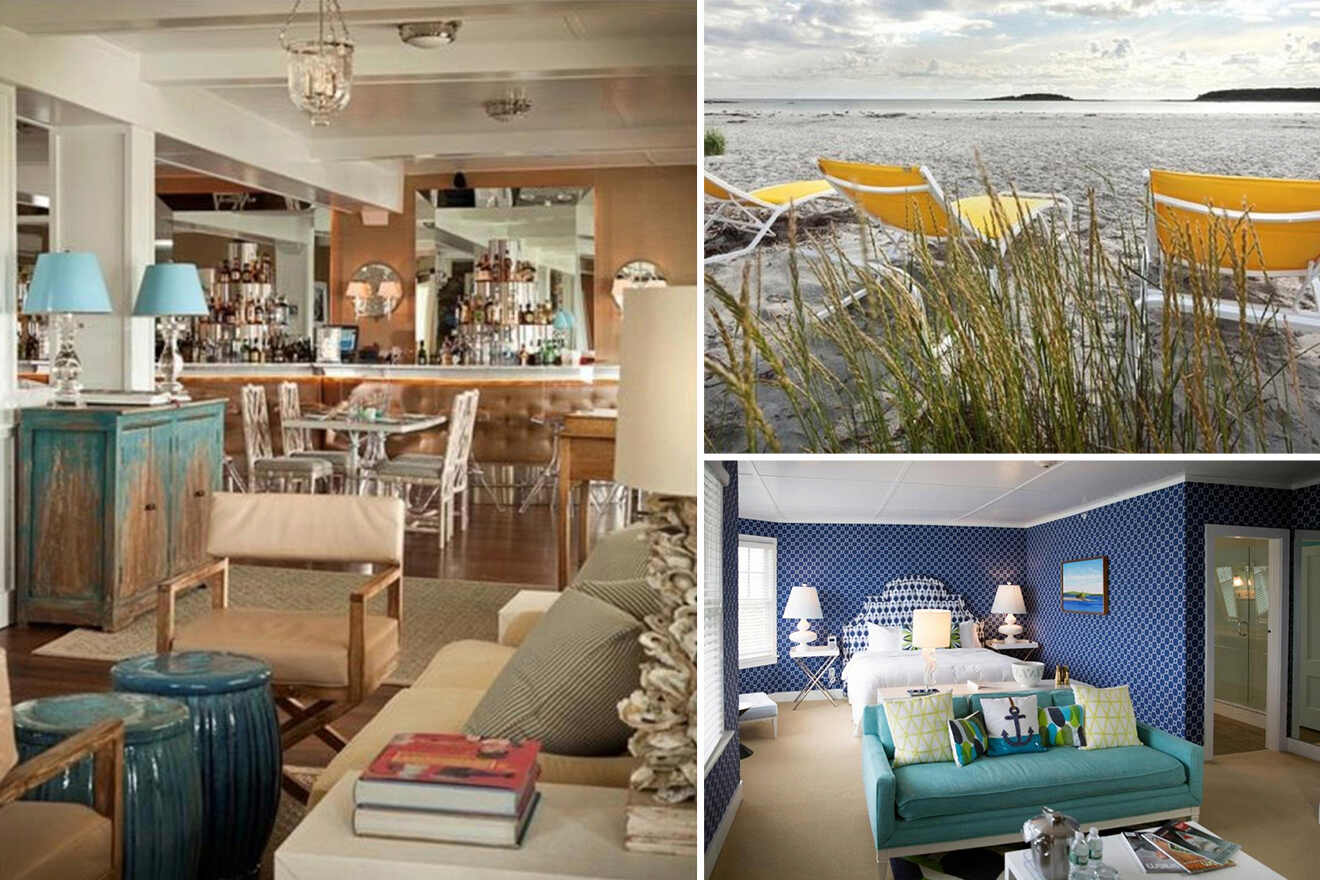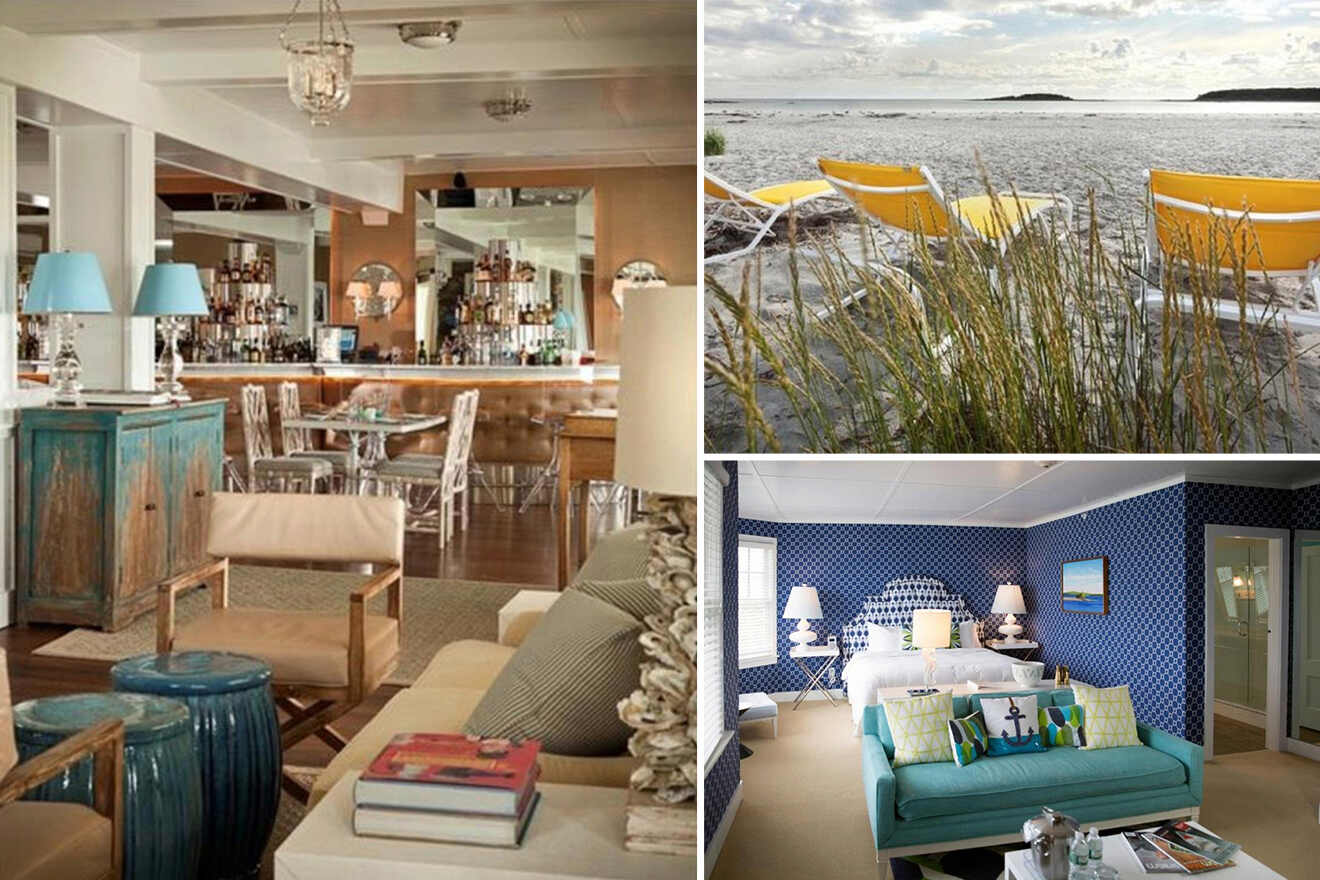 Spend your coastal Maine vacation in this modern house on a sandy beach in Kennebunkport. At the on-site restaurant with gourmet seafood and cocktails, plus everywhere else you can relax here, you'll be surrounded by natural beauty and stunning ocean views!
All the guest rooms are super spacious, and the hotel's quaint terrace is perfect for sunset watching or reading a book. You'll also have access to a free shuttle bus to a nearby location with a spa center, an outdoor pool, and a fitness center! But make sure you book this hotel in Maine in advance, it gets so many tourists all year long!
4. Captain Nickels Inn – a historic inn with unique decor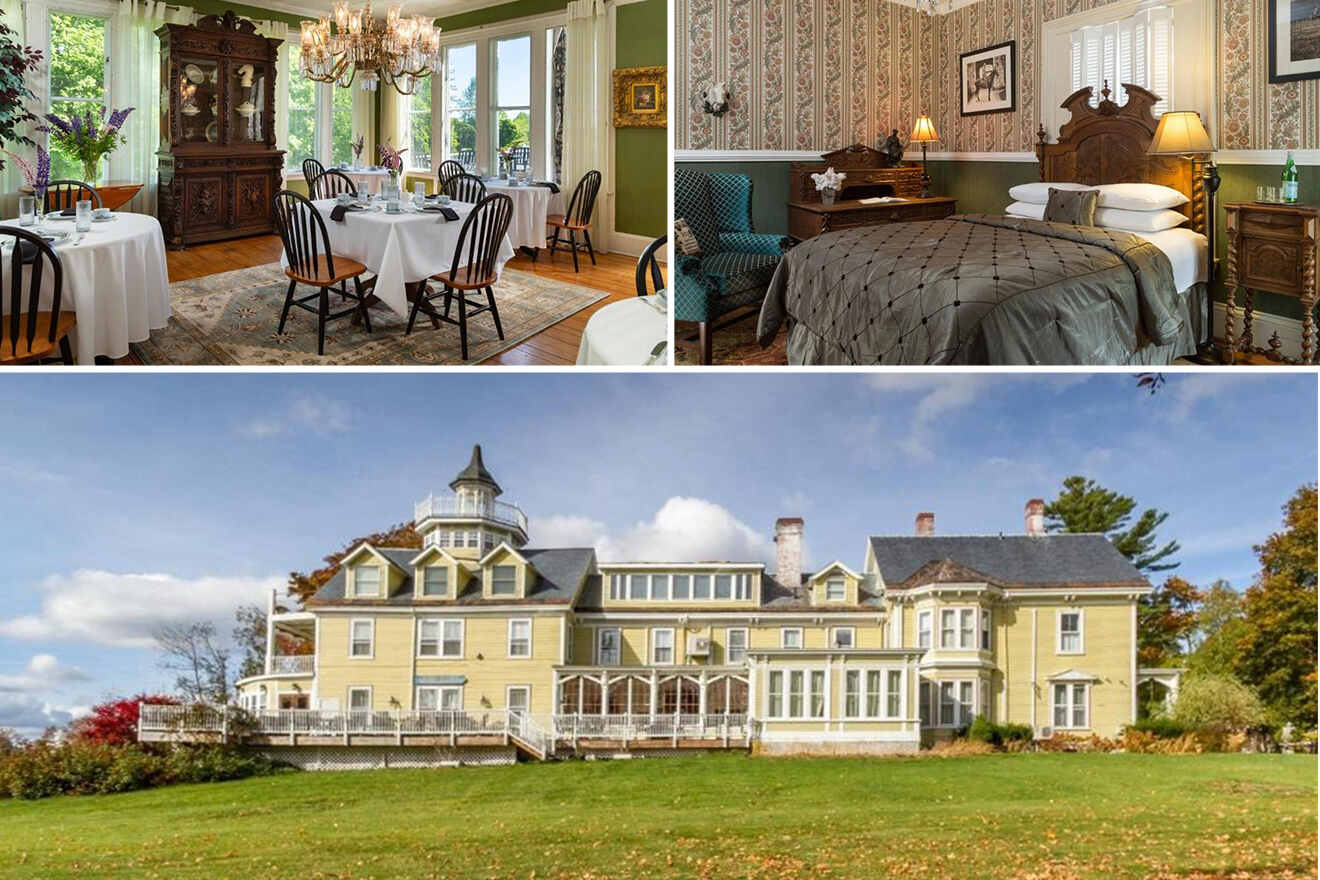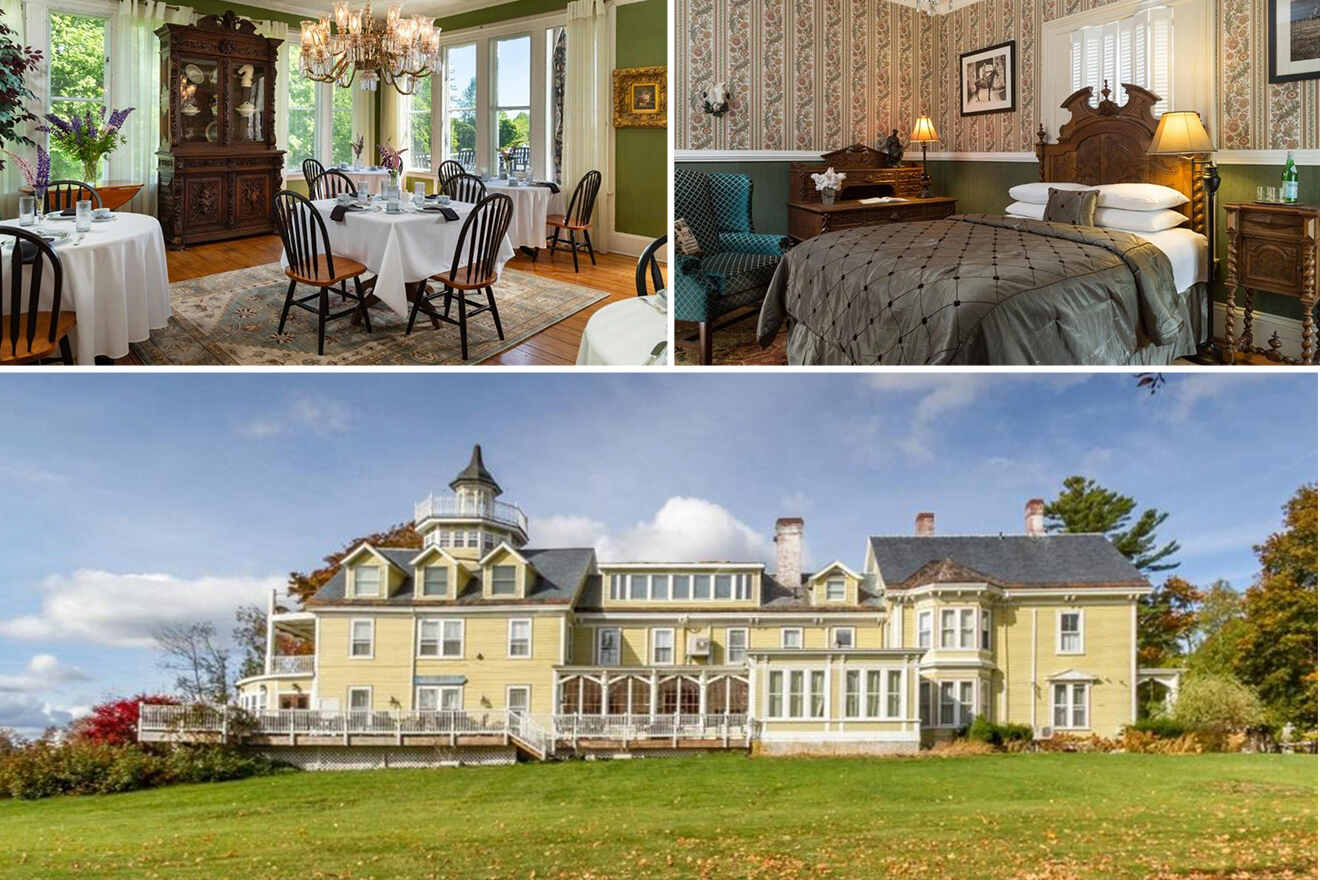 You'll want to move to the Maine Coast after seeing this charming inn! Set on Penobscot Bay between Camden and Bar Harbor, on a private beach area, the accommodation has the most amazing decor and antique furniture.
The guest rooms come with a balcony and free wi-fi, but I recommend enjoying a gourmet breakfast on the beautiful terrace. Spend your nights at the inn admiring the ocean views while warming up by the fire pit in the outdoor seating area. This inn by the sea offers the most romantic setting, and it has some great shopping sites for those interested in antiques, only a short walk away.
5. 16 Bay View – elegant hotel with a rooftop terrace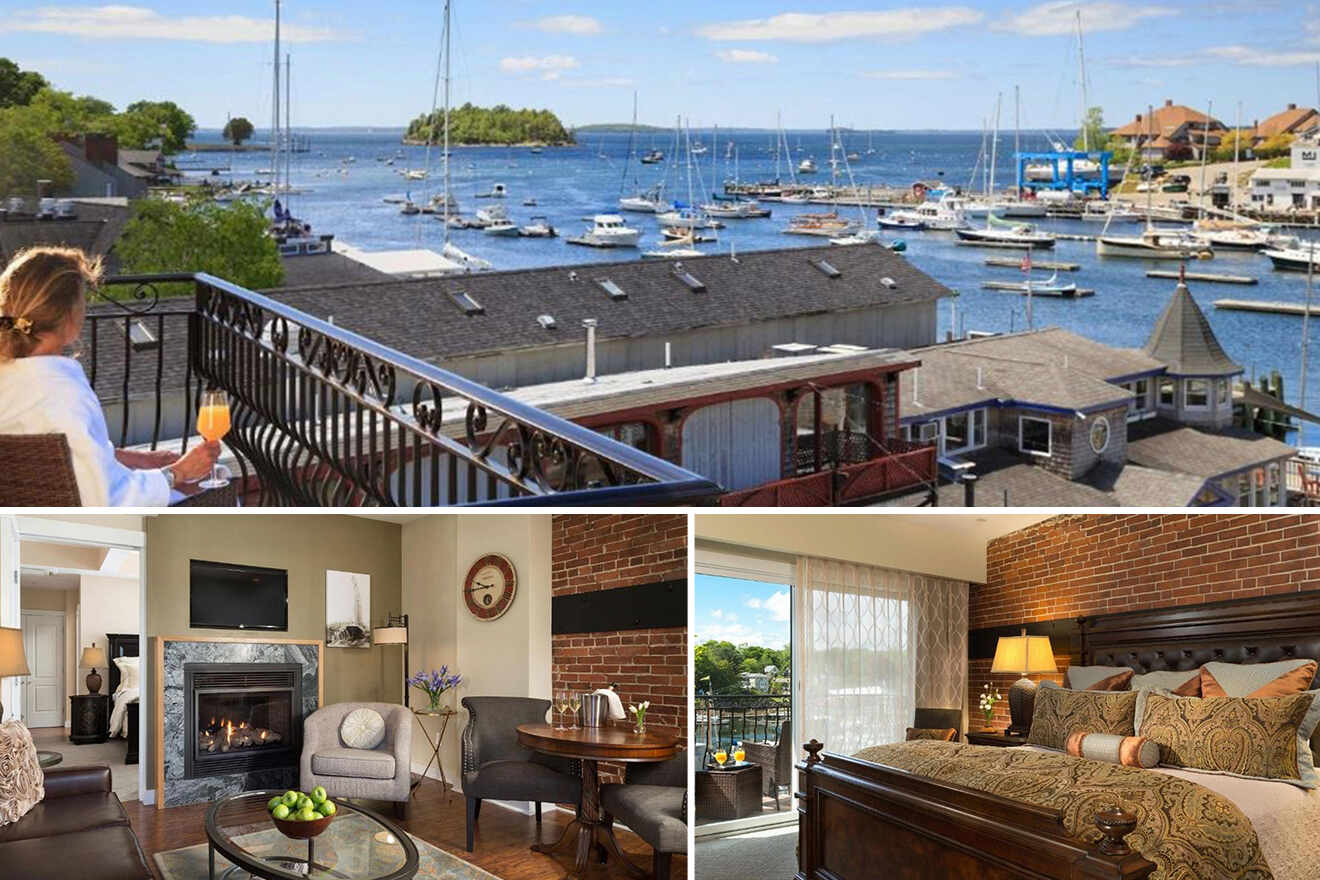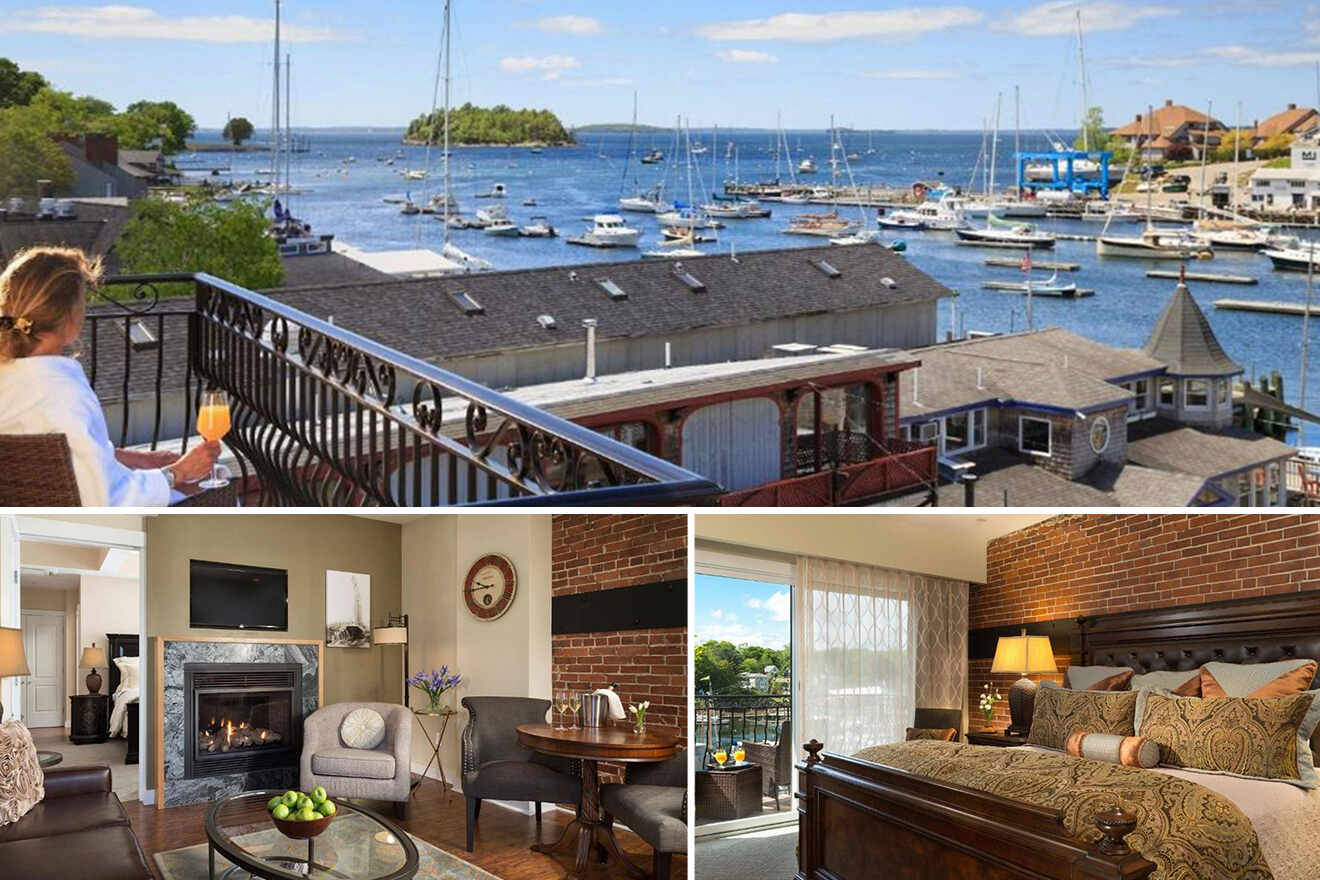 Order some champagne and relax on the balcony of your beautifully decorated hotel room at this accommodation set in Camden, overlooking Penobscot Bay. Each room has a fabulous spa bath, and in the lounge area, you'll find a fireplace. But if you want to relax properly, I recommend asking for a massage (it's so worth it)!
Grab some breakfast, and then head to the rooftop terrace to admire those fantastic harbor views! The next day, enjoy your coffee and then head out to explore all the attractions in Camden. The Historic District is less than 1 mile away from the hotel!
6. Bluenose Inn – luxurious hotel with live piano music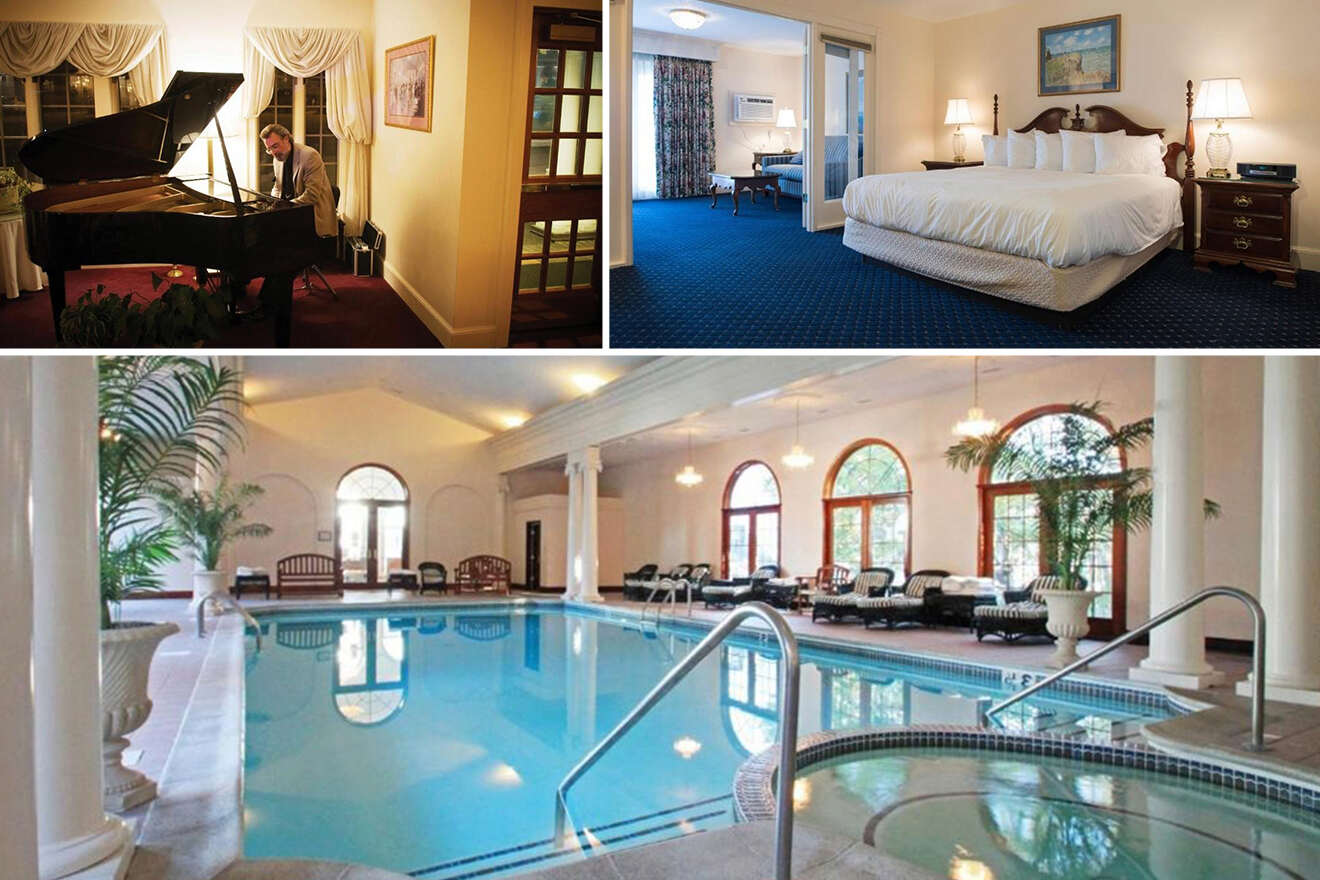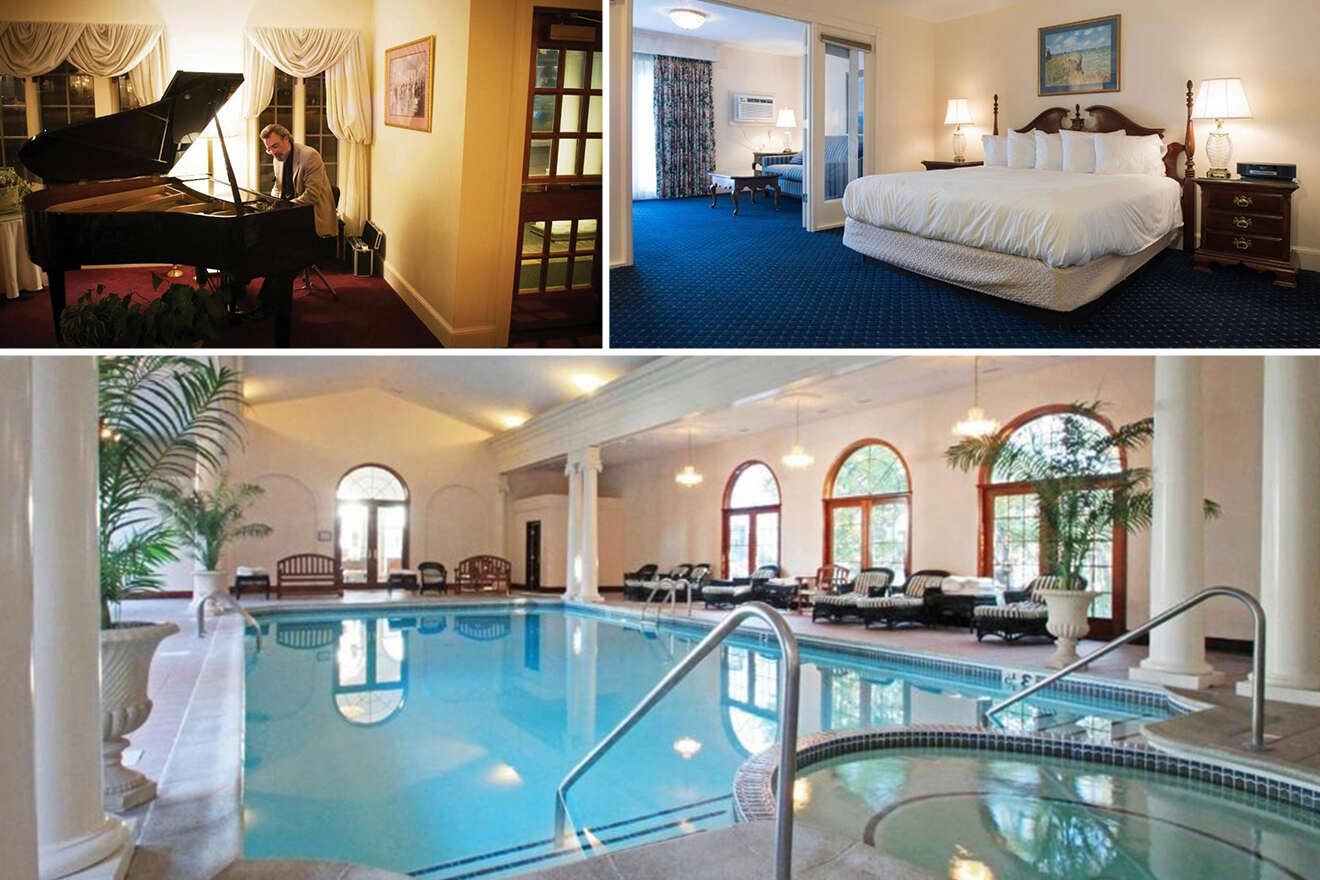 Welcome to one of the best seacoast hotels in coastal Maine! Set on Mount Desert Island, just a 10-minute drive away from Acadia National Park, this place has everything you'll need, including heated indoor and outdoor pools. 
Their cozy rooms come with a balcony overlooking Frenchman Bay but just wait until you see their Looking Glass restaurant and bar, where you can listen to live piano music! Now that sounds like my kind of place! The only other thing I would want to do after a day of exploring the hiking trails in the National Park is to relax in the hot tub or steam room.
7. The Inn at Ocean's Edge – with an amazing infinity pool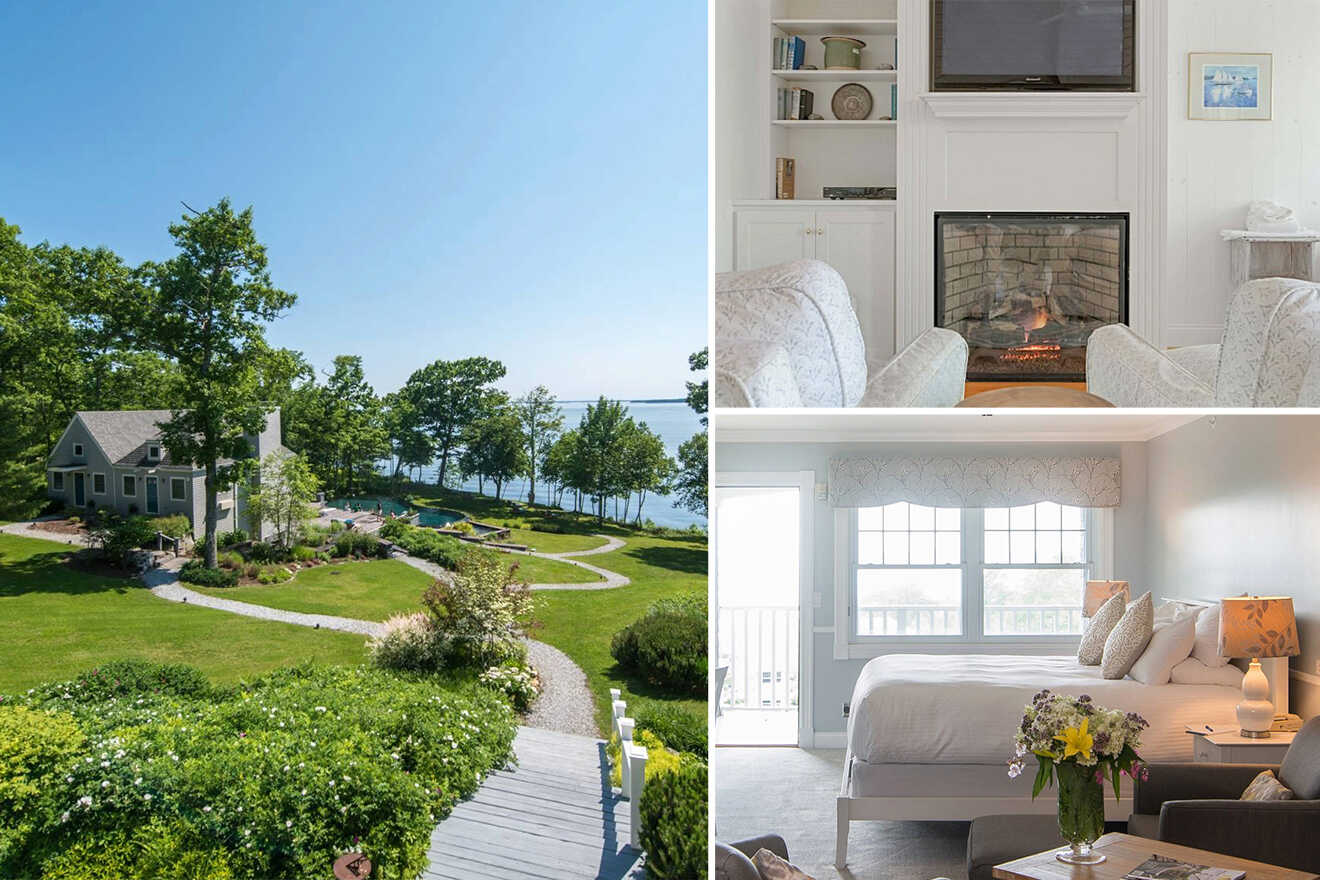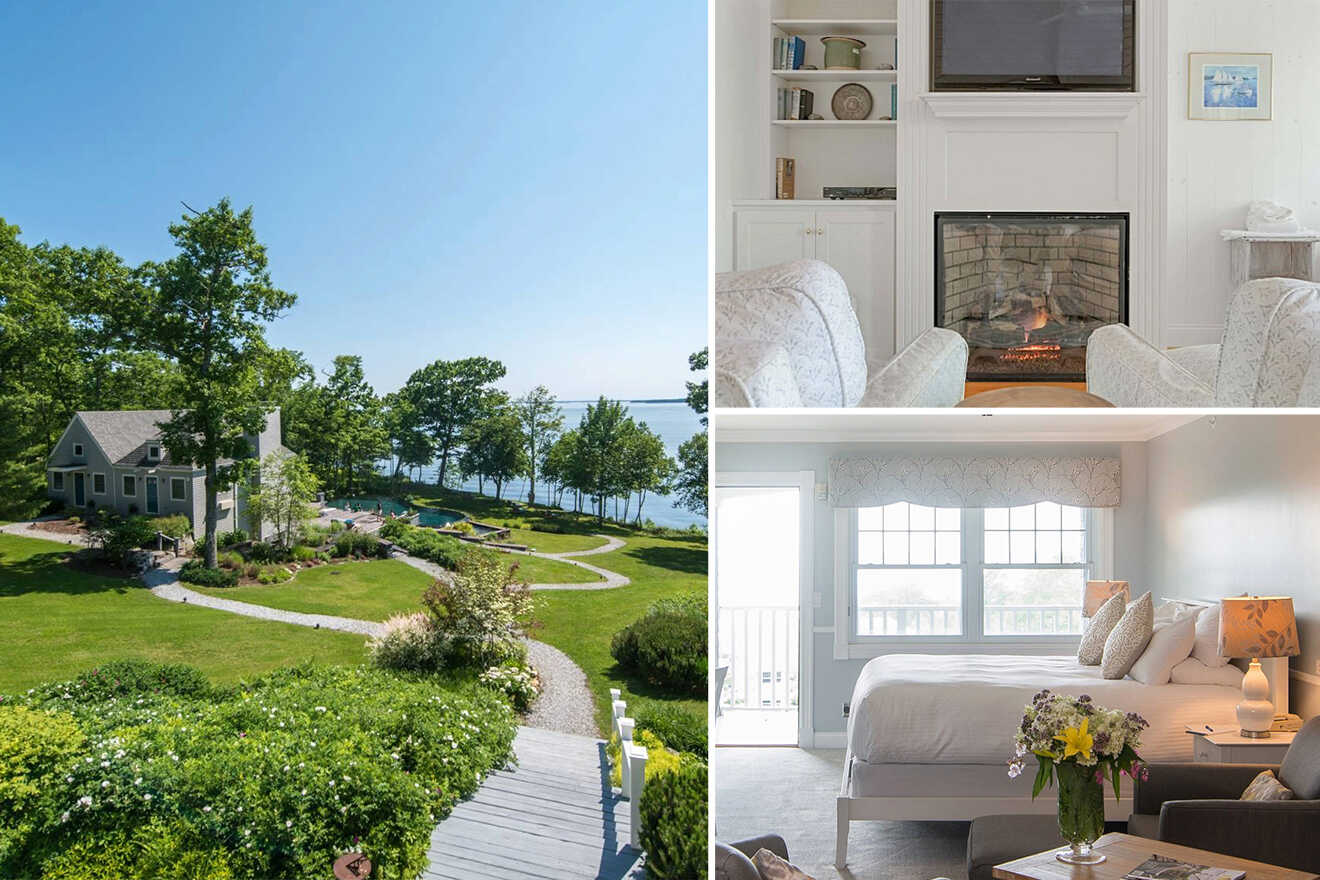 Tucked away between the trees on the shores of the Penobscot Bay within walking distance from the sandy beaches, this inn by the sea offers a dreamy setting for your holiday on the Maine coast! The uniquely decorated guest rooms come with a fireplace and a seating area perfectly cozy for any time of year.
I recommend you start your morning with the continental breakfast buffet and then head to the beach for sunbathing and exploring. But I wouldn't miss out on the fantastic infinity pool or outdoor heated pool at the hotel. Both look as if they were ripped out from magazine pages!
8. Coveside B&B – cozy inn perfect for relaxation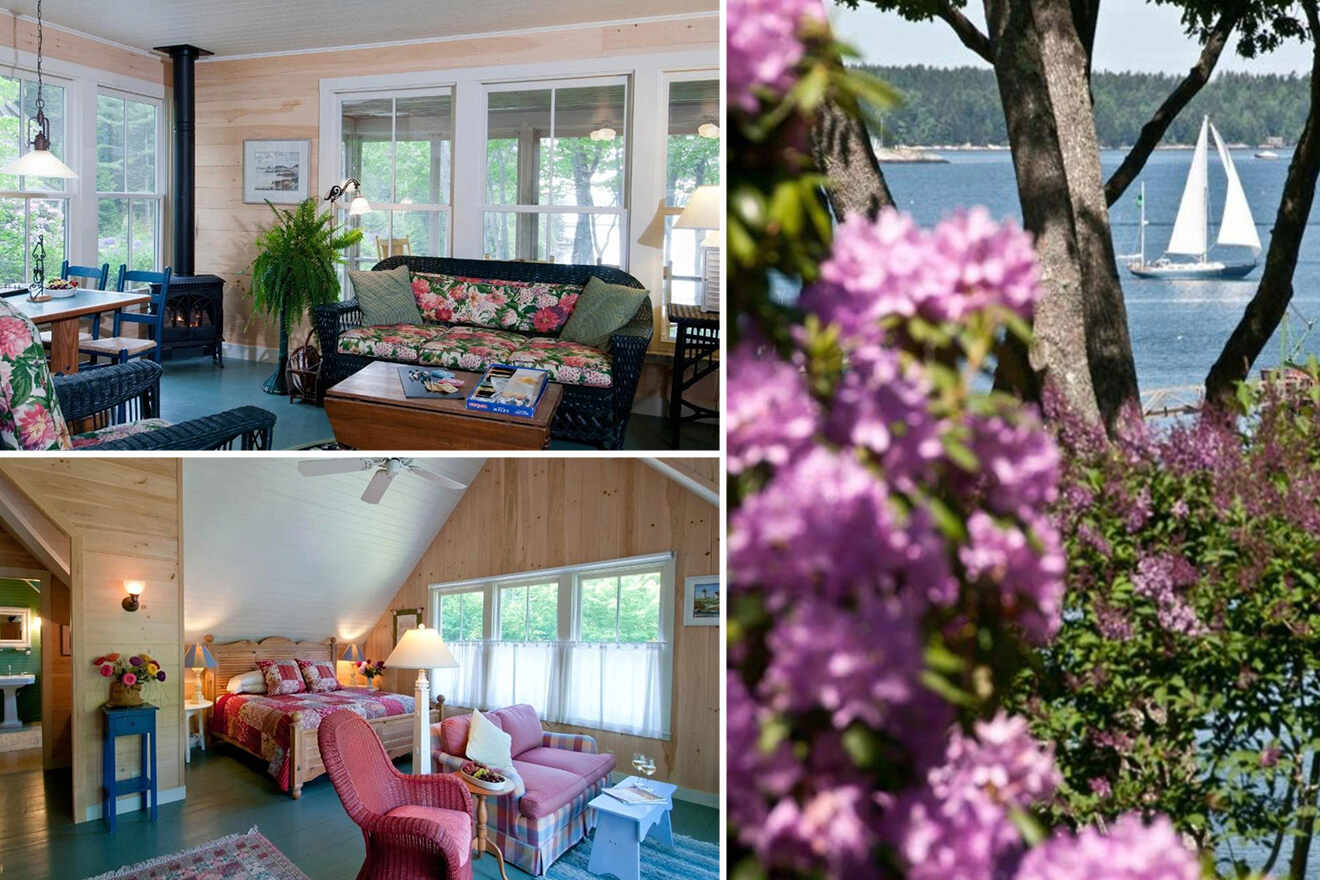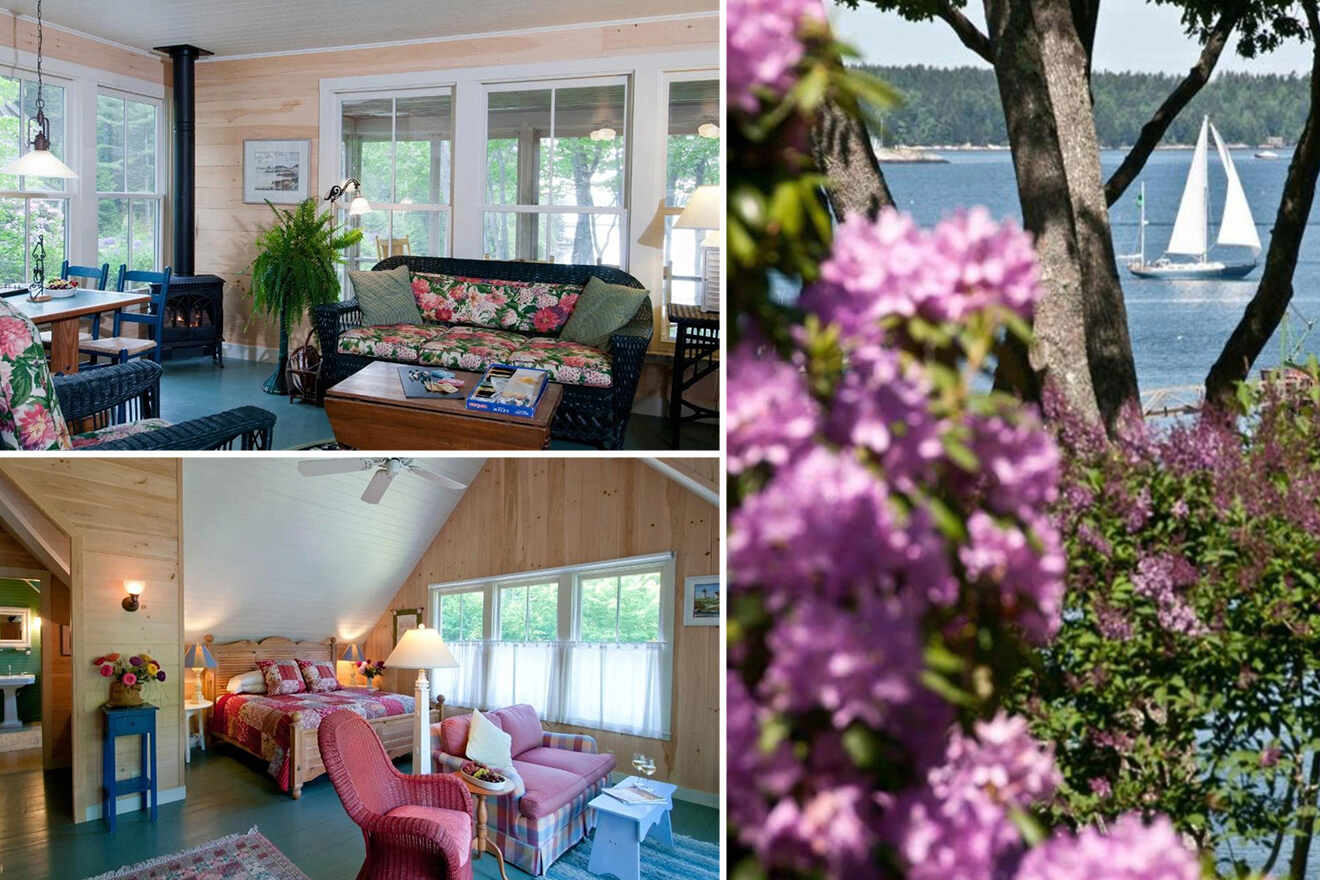 Already dreaming of doing nothing during this holiday on the Maine Coast other than relax, and eat delicious food like the Maine lobster? Well, you're going to love this Georgetown inn that looks so beautiful!
The rooms offer fantastic ocean views, and some come with a fireplace, a spa tub, or a private porch. Grab a delicious breakfast from the terrace, chill in the garden for a bit and then you can rent bicycles (for free) and explore! Or, if you just want to relax, change into something cozy and rest by the fireplace for a few moments before dinner time.
9. Atlantic Oceanside Hotel – with a seasonal shuttle to Acadia National Park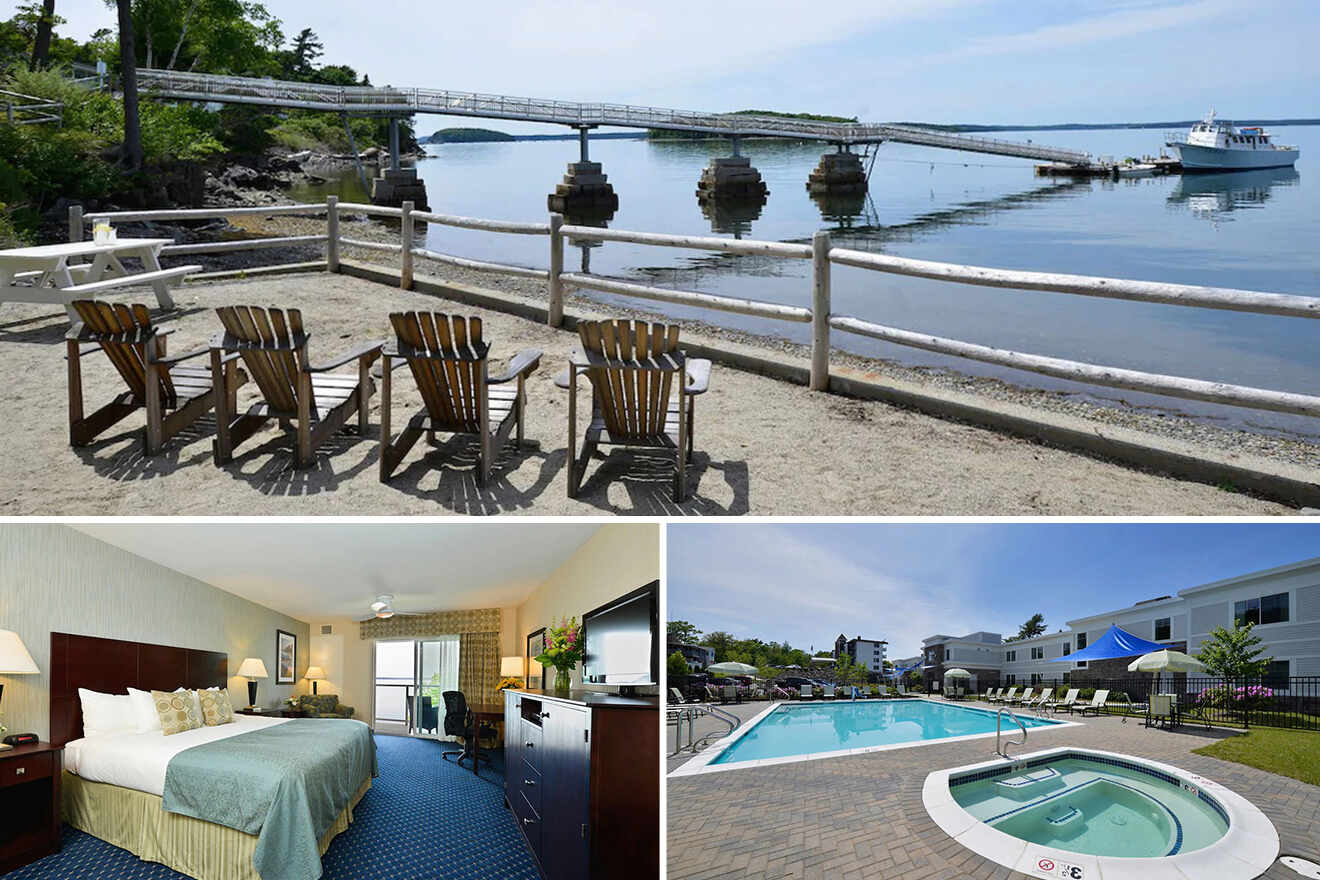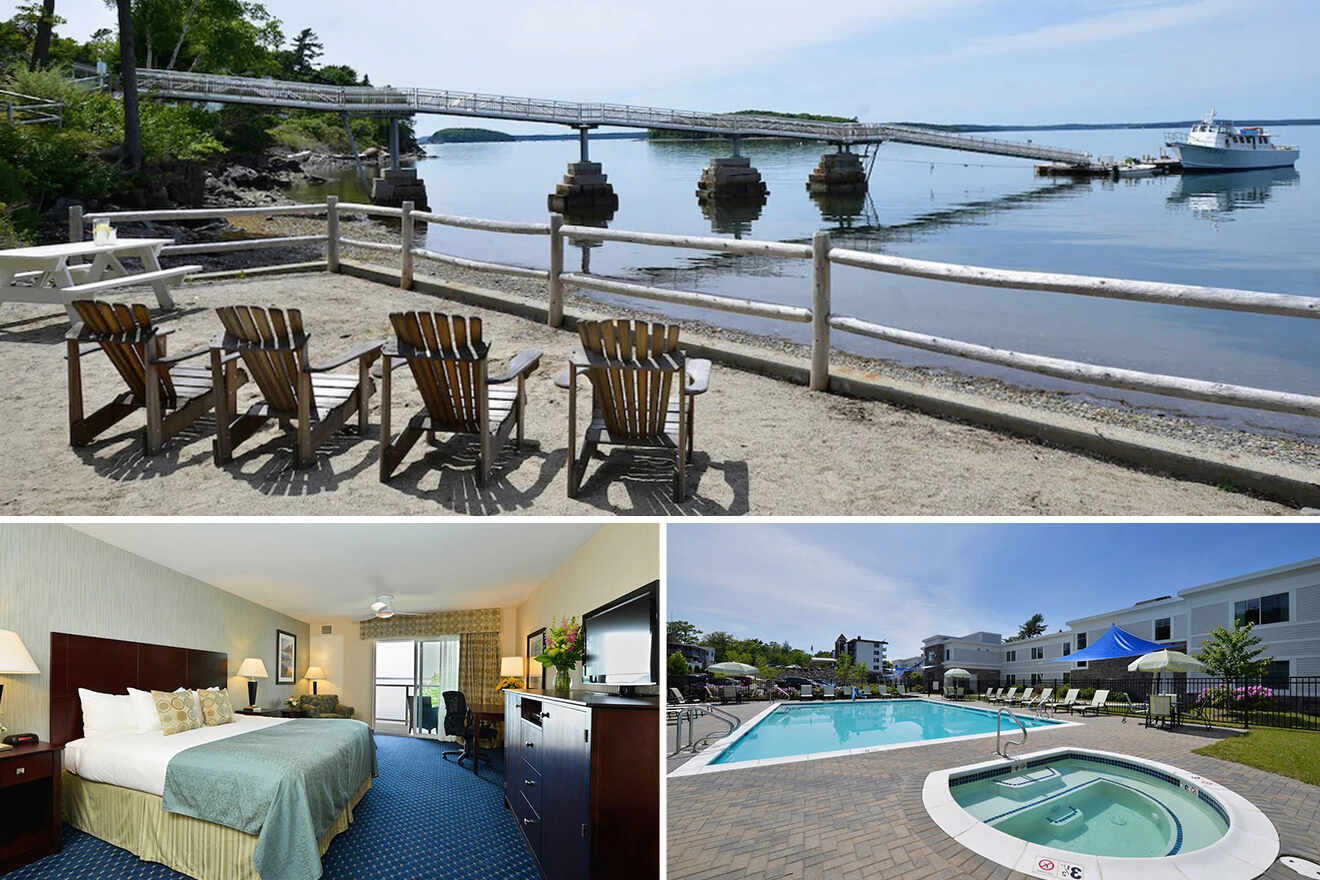 Planning to see the beautiful Acadia National Park while visiting Maine? Then stay at this oceanfront hotel in Bar Harbor with a private beach area. Guests can relax in the indoor pool or outdoor one if the weather is nice!
All the rooms are super spacious, and they come with a seating area and a small balcony from where you can admire the stunning views. Hit the fitness center whenever you like and get on the seasonal free bus to Downtown Bar Harbor and the National Park! You don't want to miss the chance to visit these places. They're so amazing!
10. The Nonantum – a seaside resort for a family vacation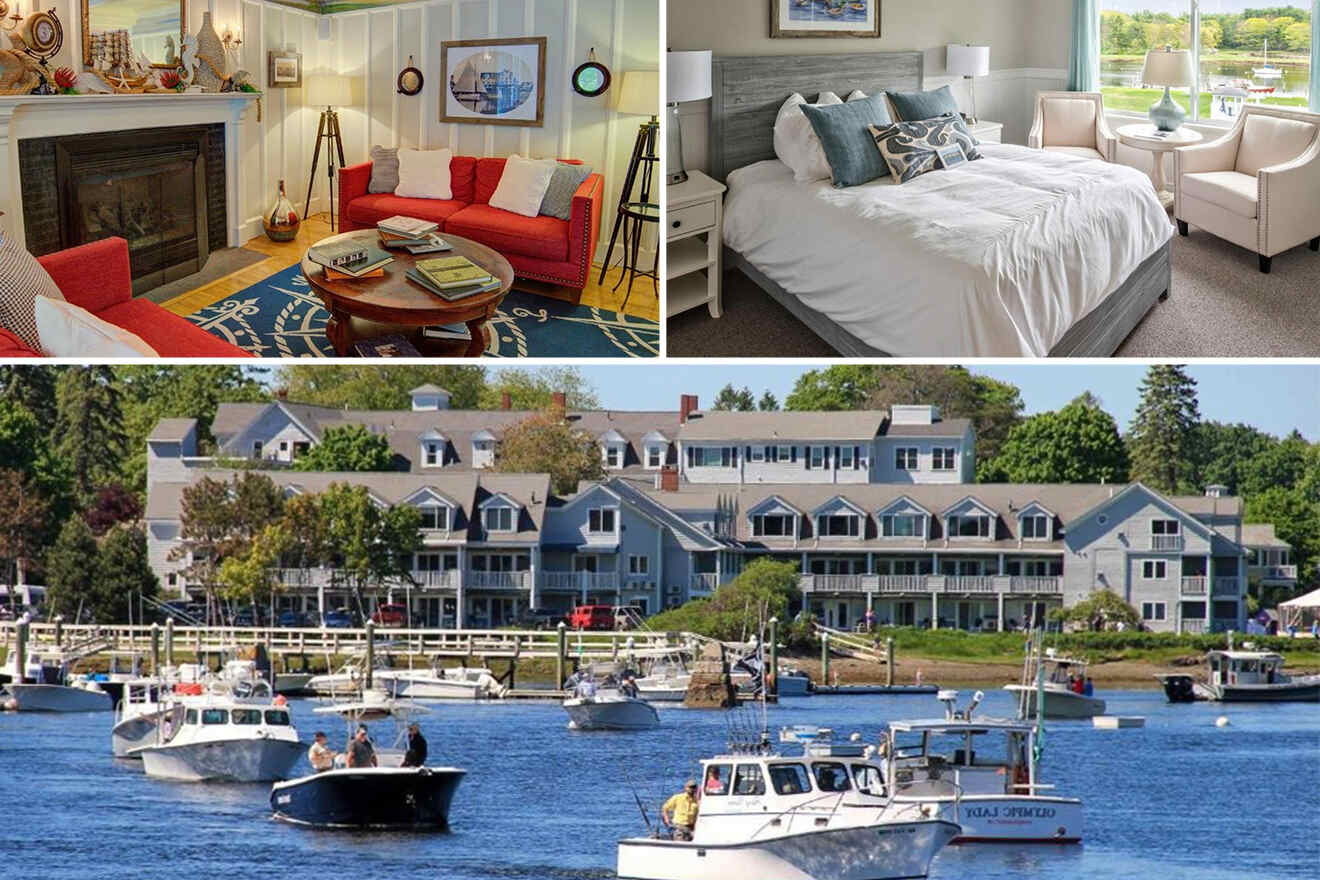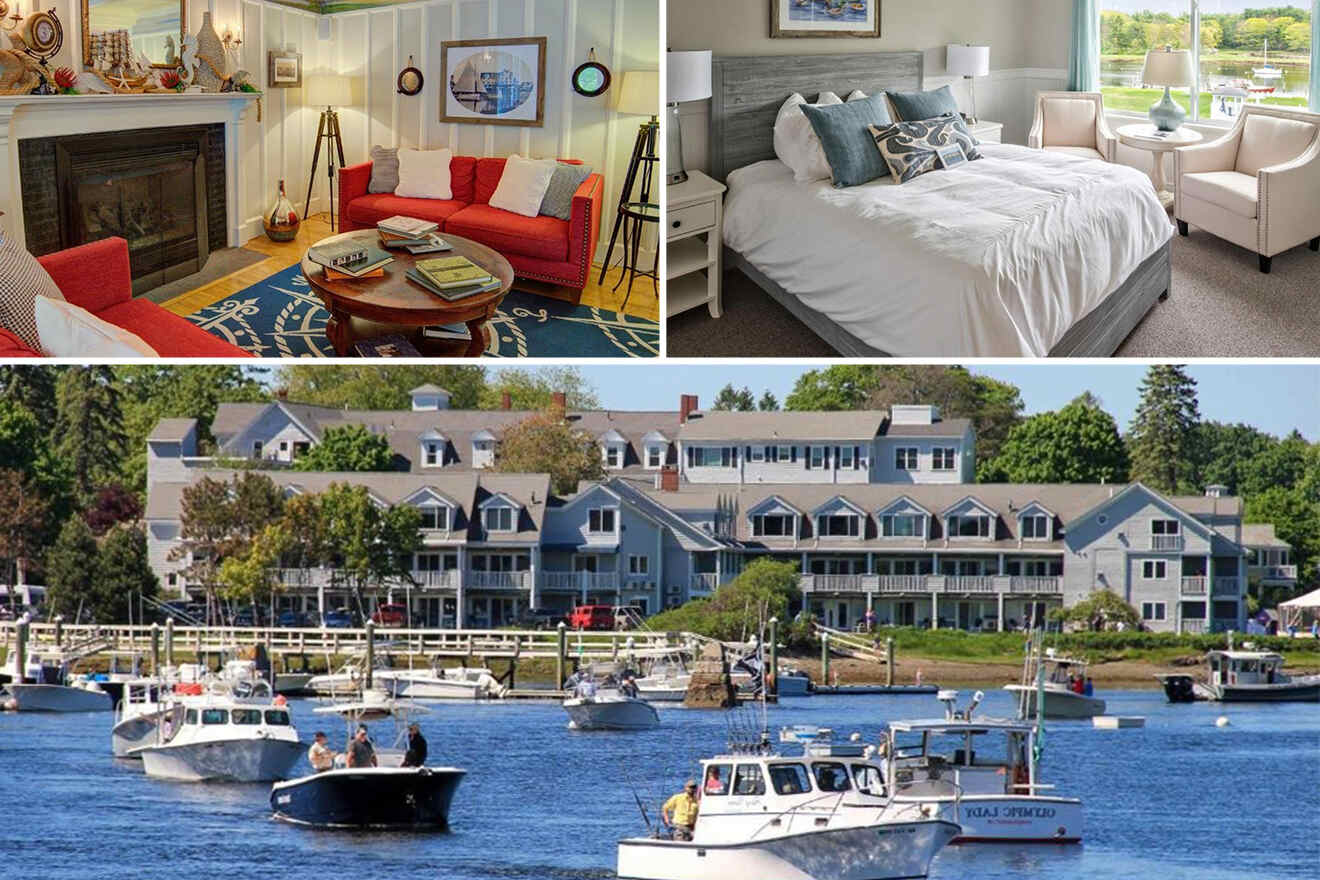 Taking the whole family to explore the beautiful Maine Coast? That sounds like fun, and there are so many fantastic oceanfront hotels for families here! This resort is near the beach, not too far from Dock Square in Kennebunkport, and it offers family rooms (some even have a gas-burning stove) and a heated outdoor pool.
The kids will have the best time at the children's activity center or rent some bikes and explore around. You can also use the free shuttle service to visit other places in the area. Or if you don't feel like doing anything, grab a blanket, a good book, and head to the beach!
11. Cutty Sark – beachfront hotel with a garden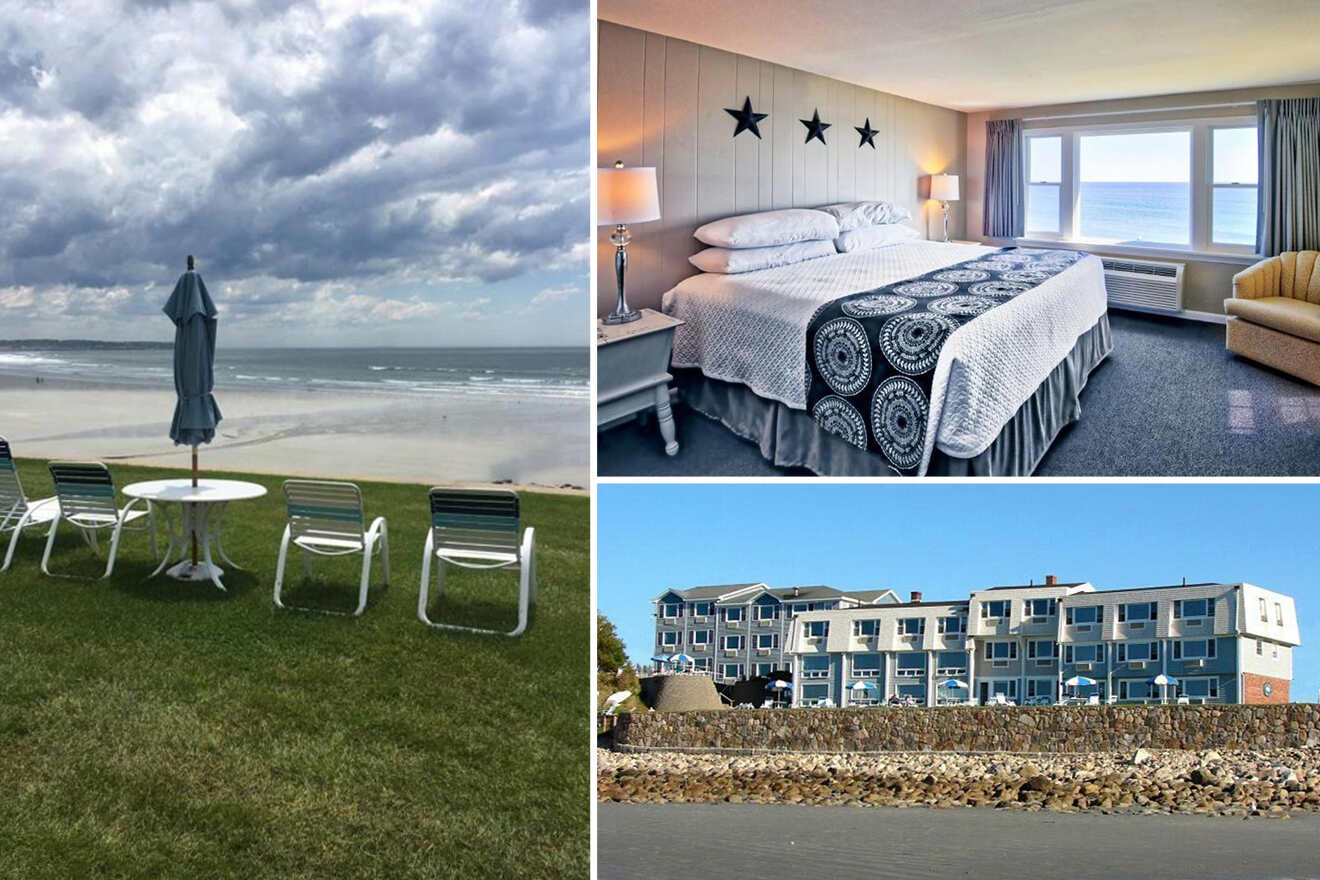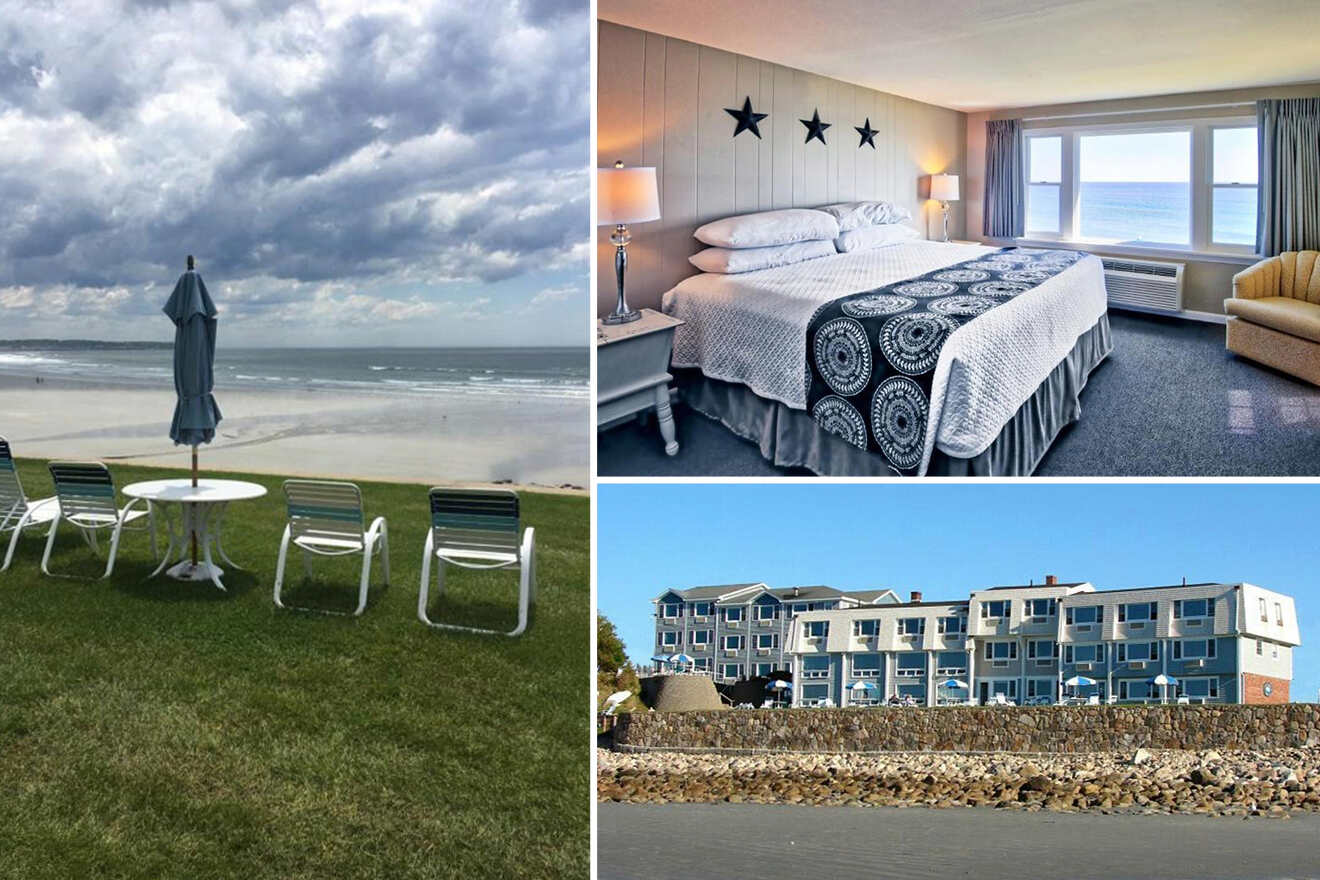 You're going to love these motel rooms that overlook the ocean! The views are so unique that you'll wake up in a good mood every morning! This York Beach accommodation offers coffee and muffins in the summer, but you'll also find plenty of restaurants nearby that serve delicious food.
When you're not out and about exploring the area and visiting all the attractions, you can chill on the beach chairs in the garden. You shouldn't miss the chance of a nice day at the beach if the weather is good, head over there for a whole day of sunbathing and playing games.
12. Spouter Inn Bed & Breakfast – colonial house with jacuzzis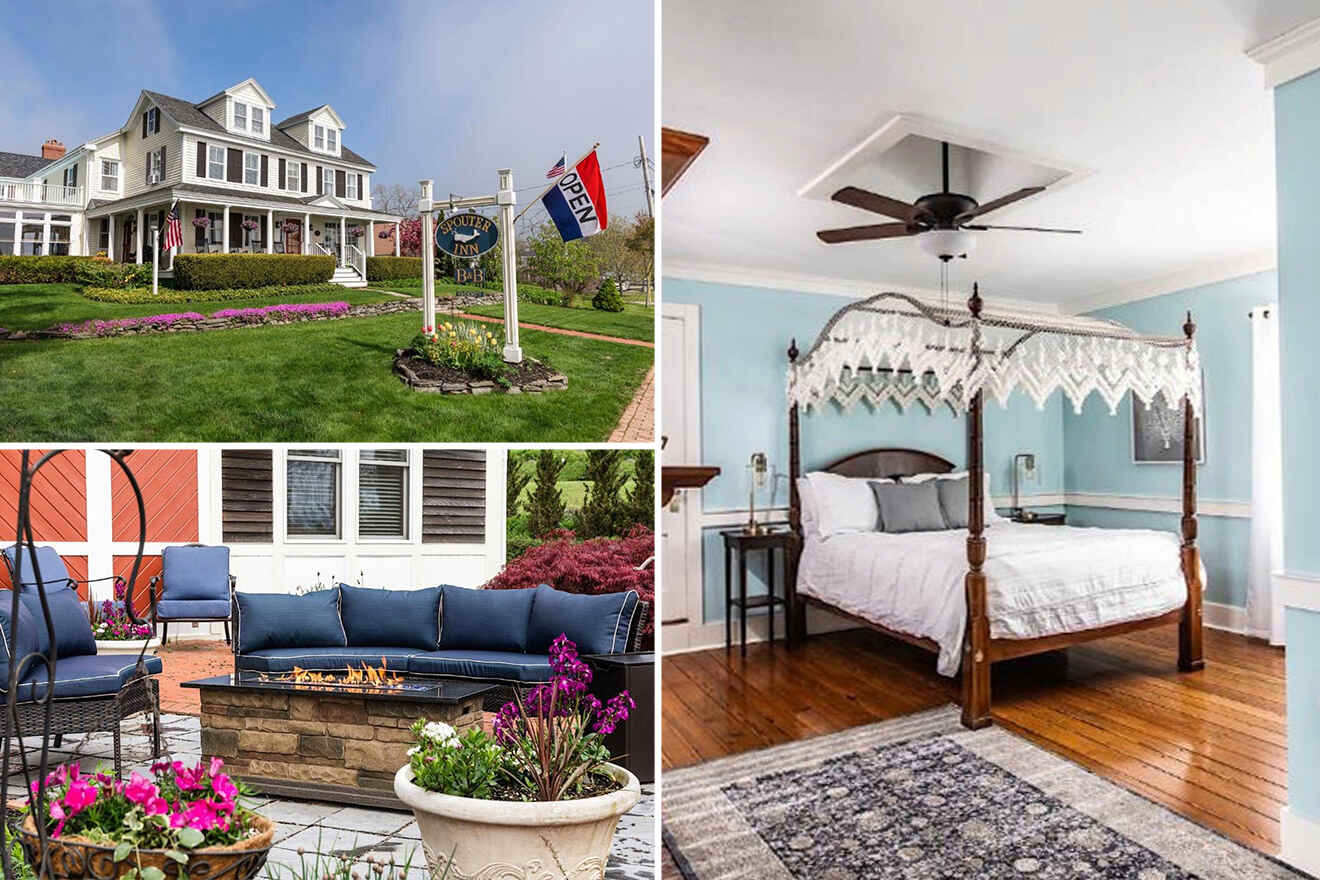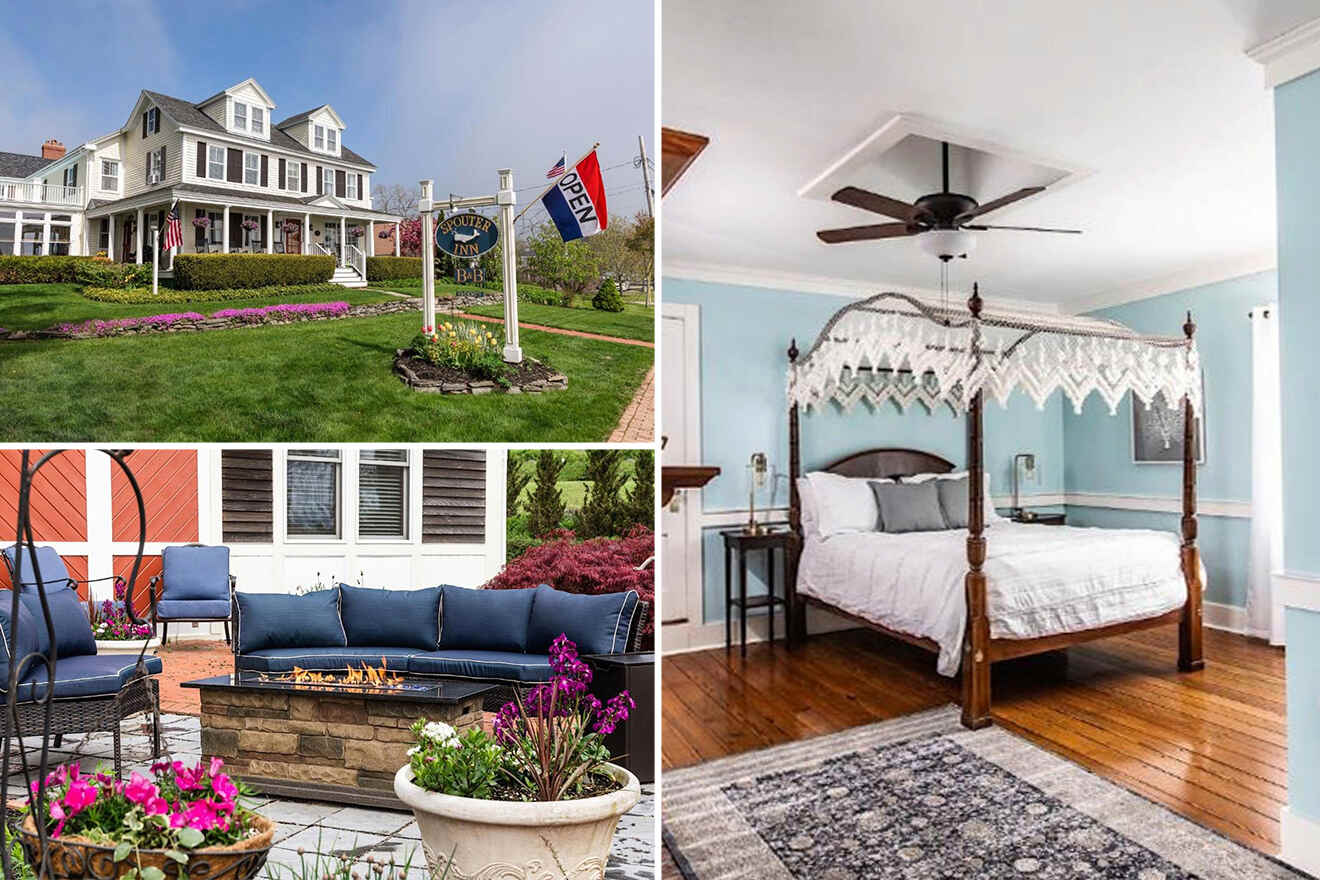 Gotta love these old houses on the Maine Coast! They'll make you feel like you've traveled back in time! Set in Lincolnville, just a short walk away from the beach, this Colonial-style home built in 1832 has rooms with ocean views, and some even come with a jacuzzi.
Grab a bite in the morning and then relax on the front porch or warm up by the fire pit in the outdoor seating area while planning what you will see next in beautiful Maine! Lincolnville is pretty amazing but there are many other spots nearby, like Camden town, that you shouldn't miss out on.
13. Harbour Towne – a unique inn with a great garden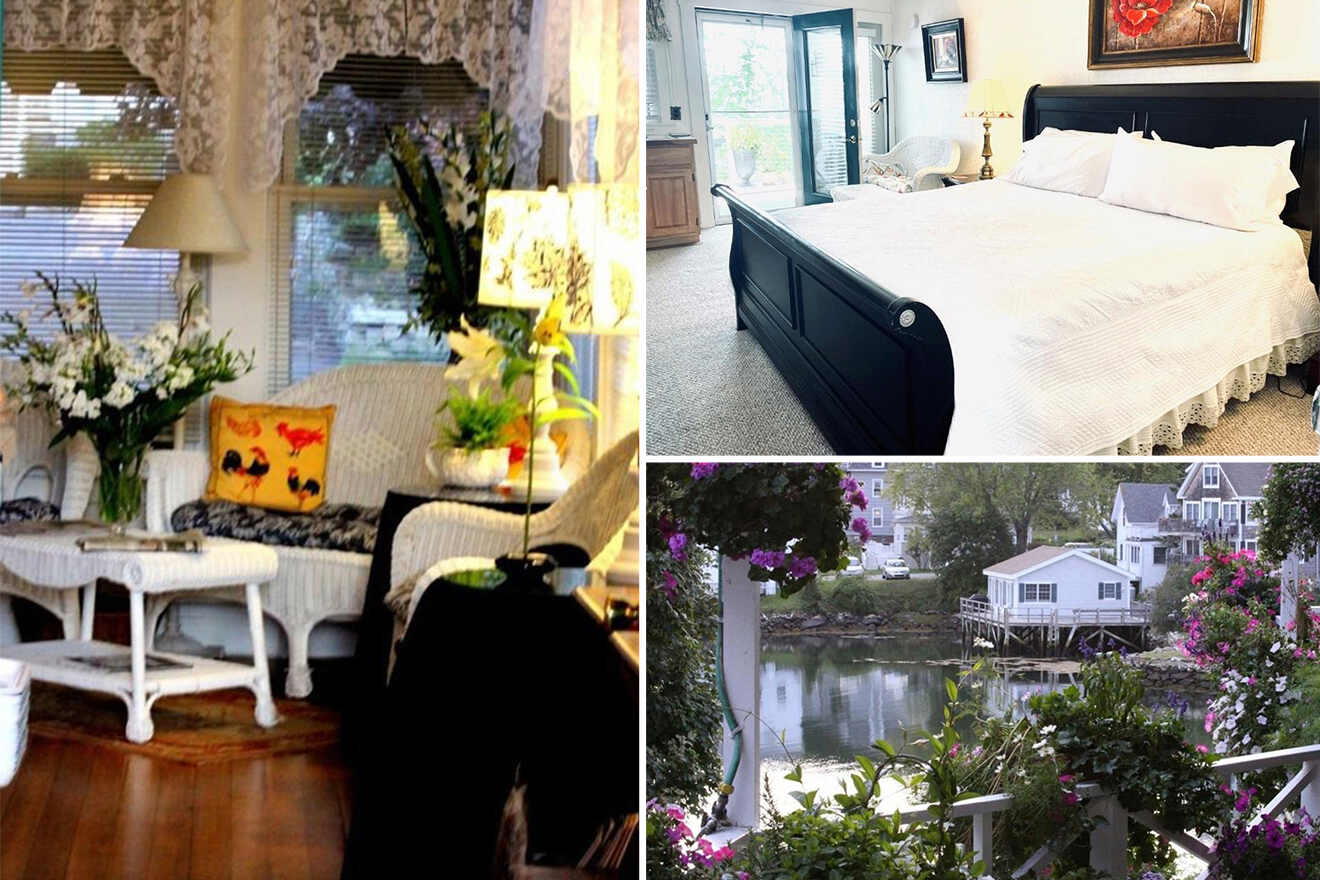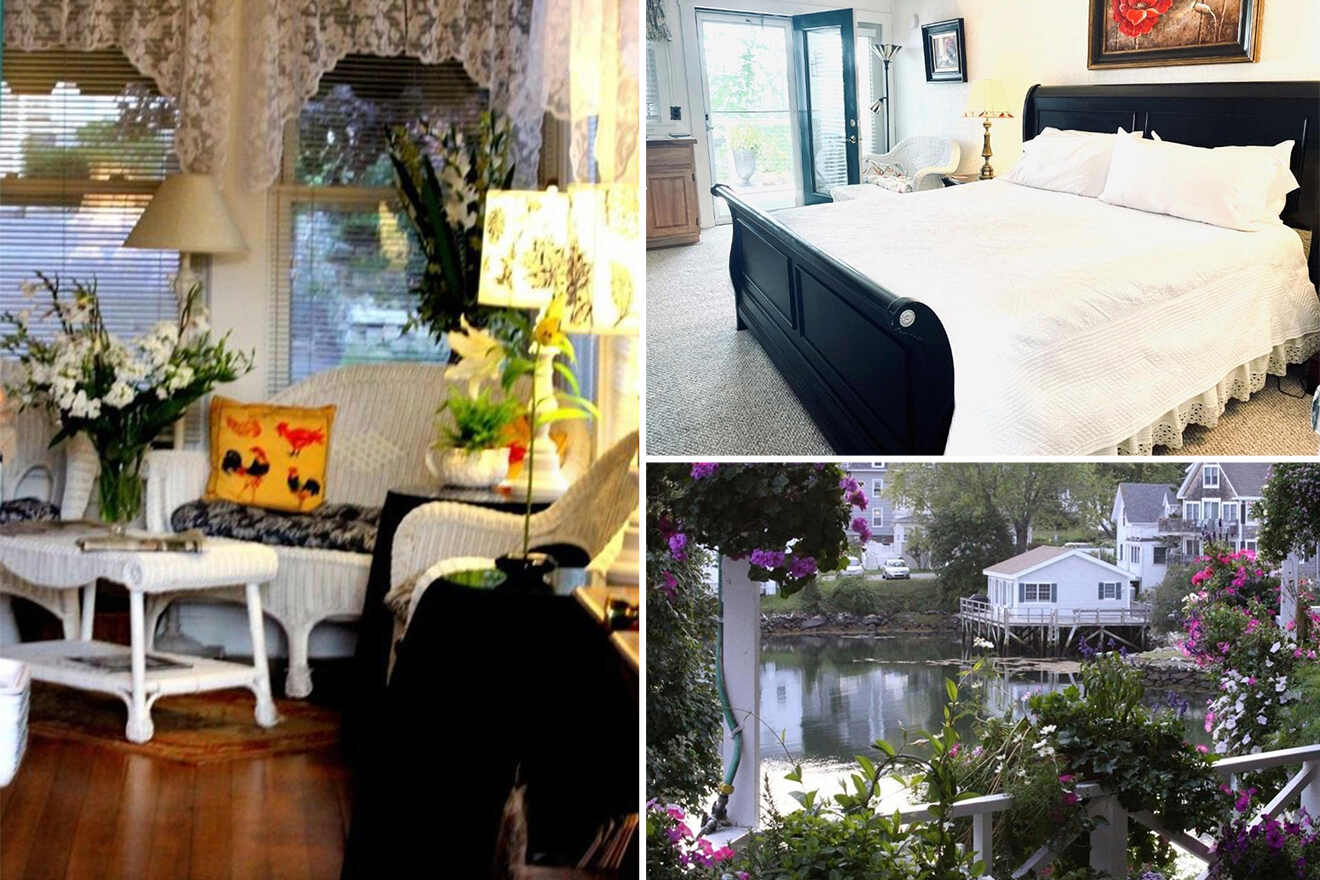 These old-style inns that managed to keep such a fantastic atmosphere are so cute! This oceanfront accommodation near the marina in Boothbay Harbor has uniquely decorated rooms with air-conditioning and private bathrooms. Other facilities at the inn include a shared lounge, free parking, and free wifi.
Guest will enjoy free breakfast, and I highly recommend having it on the terrace while admiring those beautiful views. After that, you can head over to the beach, which is only a 10-minute walk away. But don't think you're limited to that, Boothbay Harbor is a beautiful place with lots of spots worth exploring!
14. Linekin Bay – a secluded resort that offers free bikes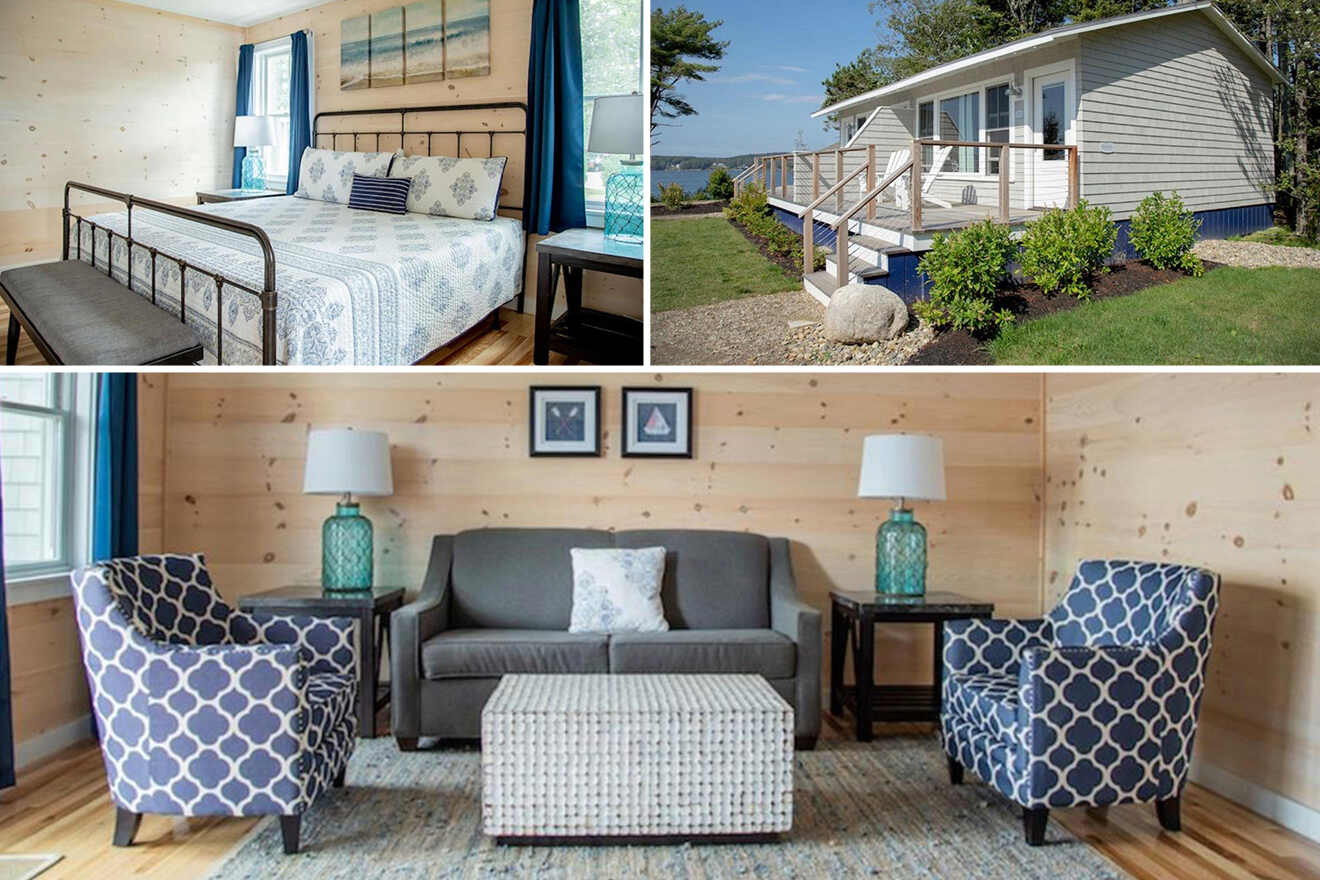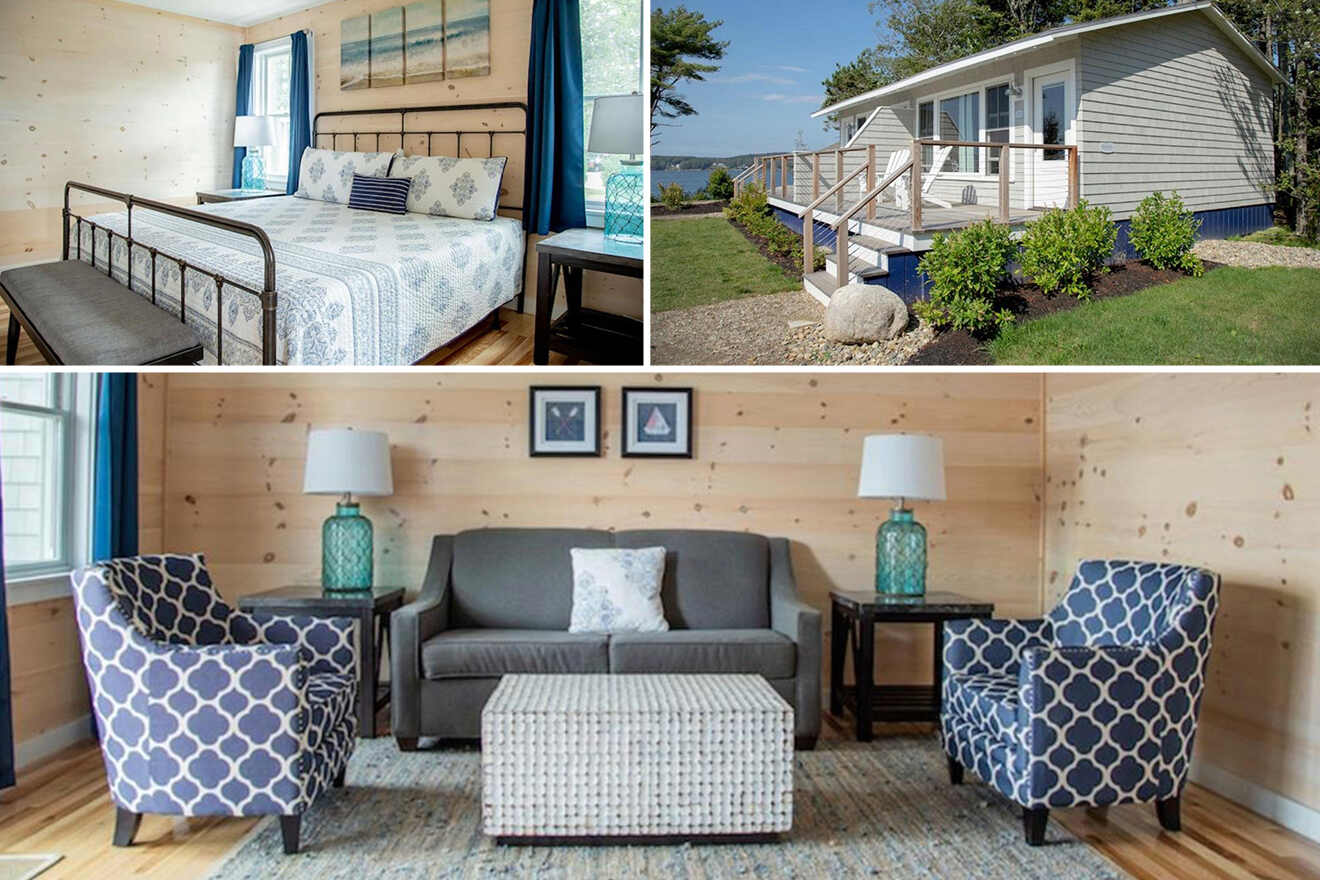 How amazing is this place that's located in Boothbay Harbor? The resort is perfect for people who want to enjoy some tranquility and peace during their holiday in Maine! Surrounded by trees and the sea, the accommodation has different units with views of the sea or garden.
There are plenty of activities that will keep you busy all day long like cycling or canoeing. But I know that on some days all we want to do is nothing! Just rest, eat some good food and enjoy this time off. If that's what you want to do then the outdoor pool will be waiting for you!
15. Sheepscot Harbour Village – a waterfront resort for nature lovers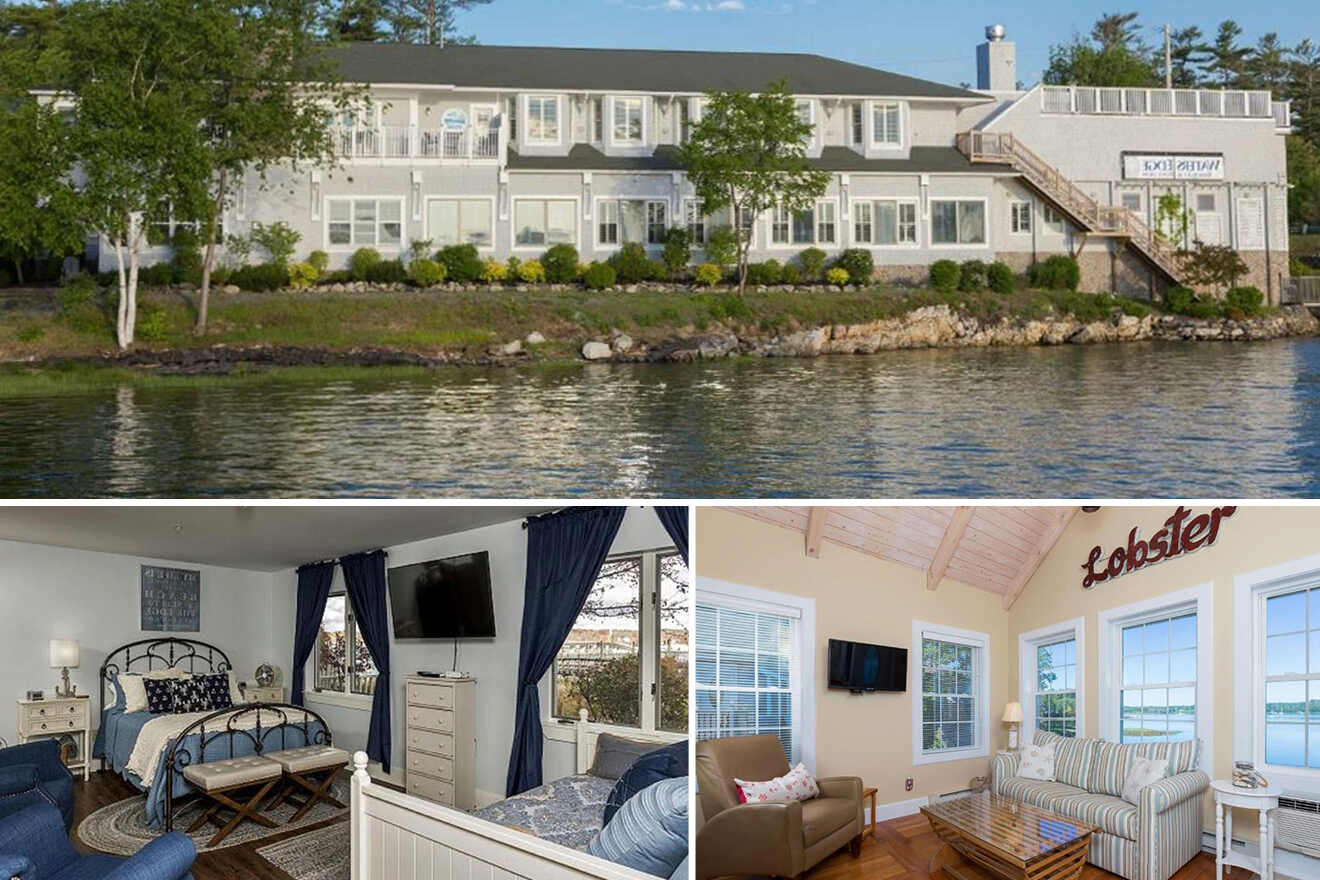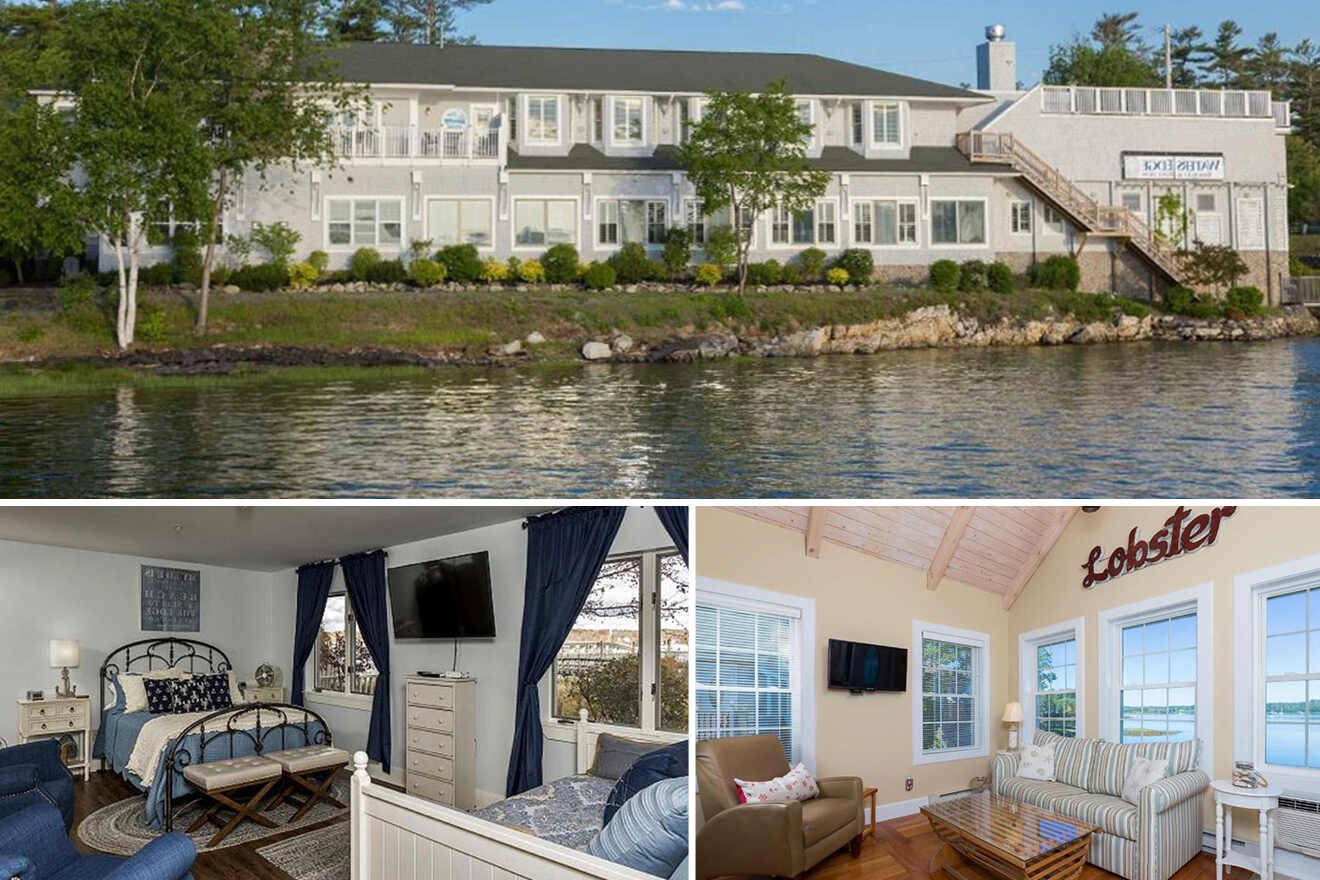 The oceanfront hotels in Maine are so diverse that you'll want to try them all! This Edgecomb resort offers a tranquil setting surrounded by nature and many spacious accommodations like oceanfront lodge rooms, inn suites, and cottages!
Wow! So many options! But hey we love a place that can offer us these many possibilities. Some rooms even have a kitchen or kitchenette! So get some marshmallows and enjoy them at the outdoor fireplace with the other guests. Start your day by exploring this village or go off the beaten track and check out the area around it. I bet it's amazing!
16. Friendship Oceanfront – comfortable inn with an outdoor pool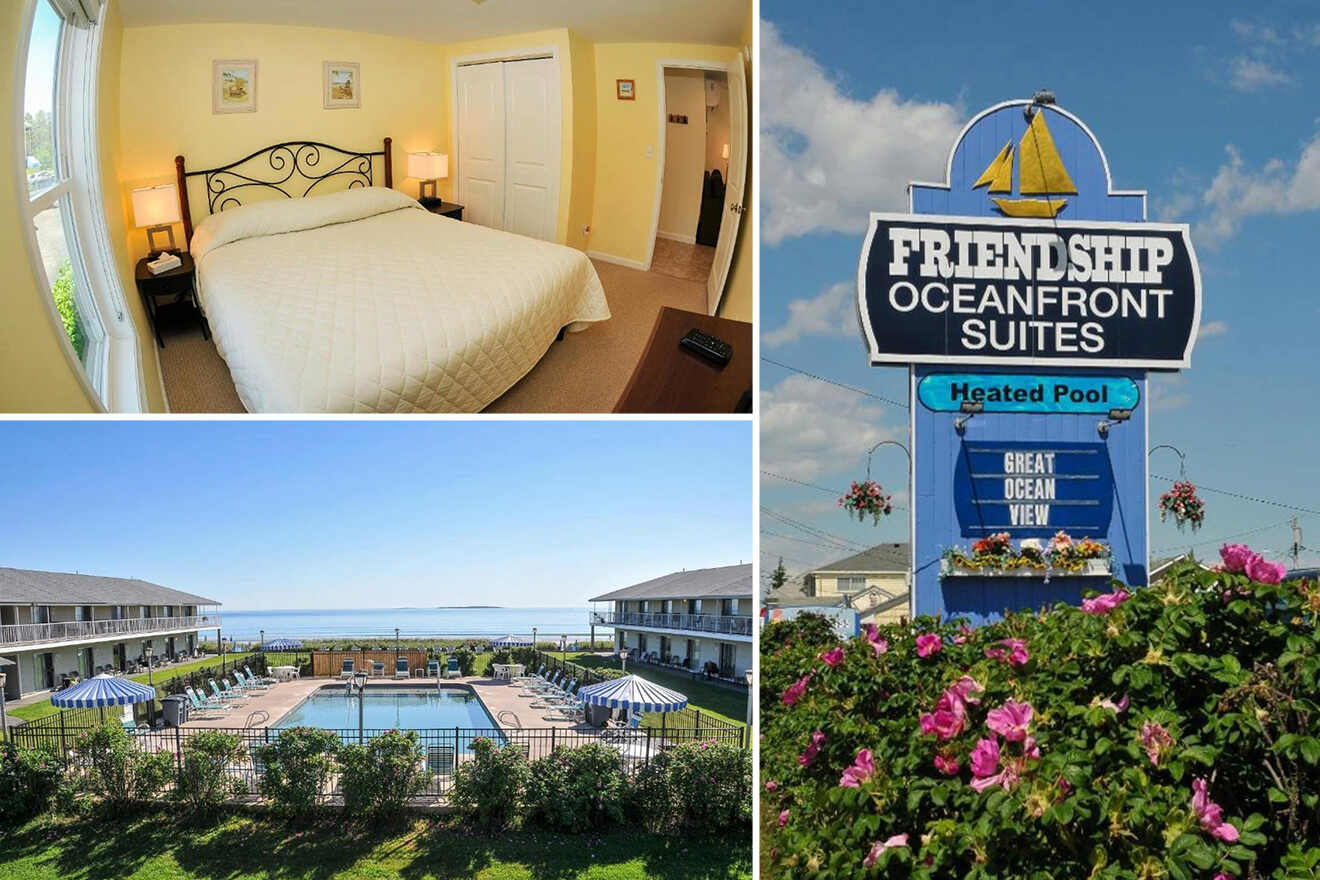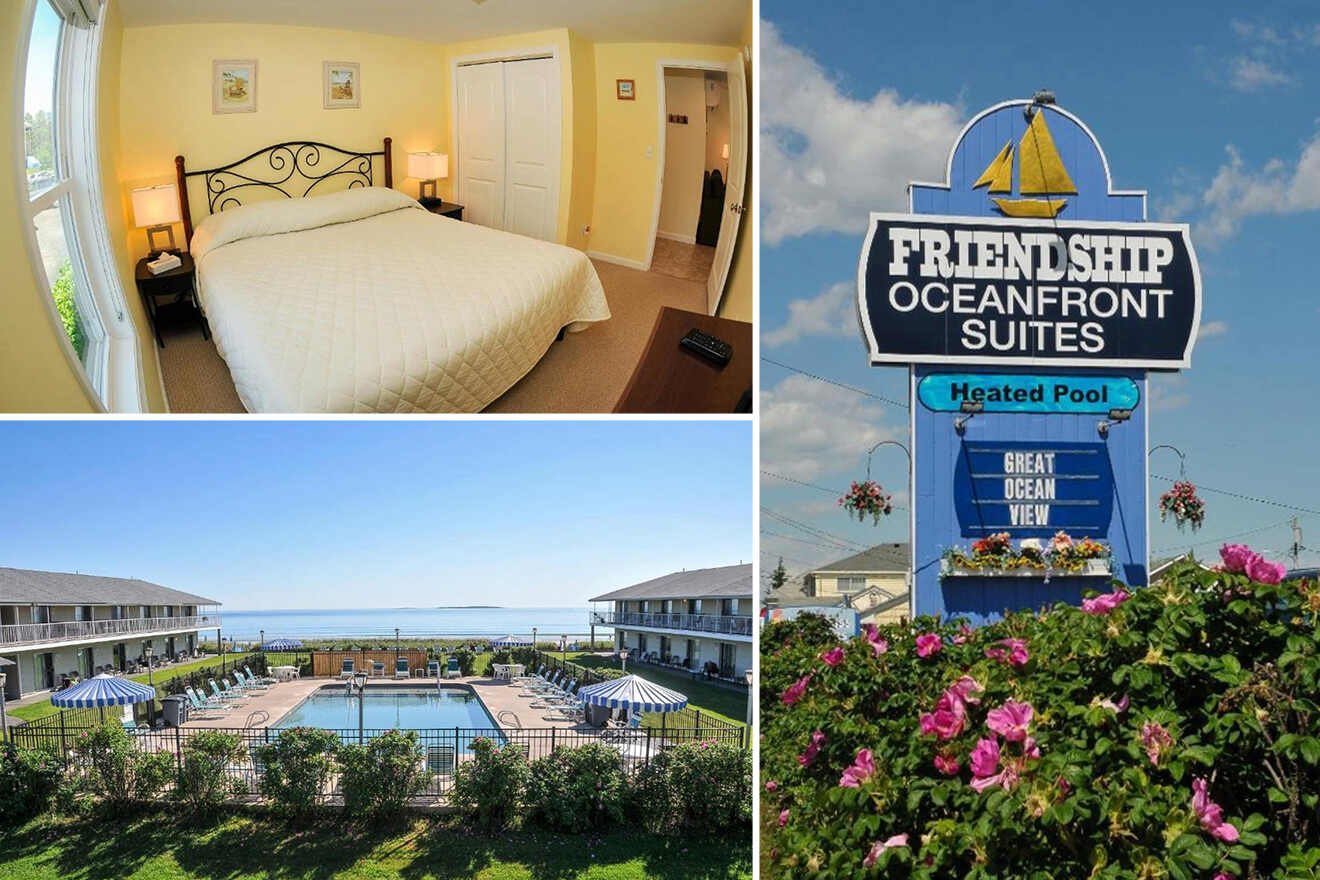 This beachside inn in Maine is set right near Old Orchard Beach, one of the best beaches in the state! It has everything you need for a fantastic trip, including free private parking, barbecue facilities, and free wifi. 
All the suites are super spacious and they come with a lovely patio, while some even have a kitchen, so you don't have to waste all your money on dining out. You could even organize some fun barbecue nights if you're in the mood! During the day you can, of course, head over to the beautiful Old Orchard Beach or chill by the swimming pool at the inn!
BONUS: The top luxury hotels in Maine for couples
Planning a romantic holiday in Maine? Well, you chose a great location as there are so many unique hotels in Maine perfect for couples! Plus the beaches, harbors, and waterfront restaurants look so dreamy!
Below, you'll find a list of the best hotels for your romantic stay in this awesome state! The accommodations here are all luxury, listed from most to least expensive and with prices from US$180 to US$400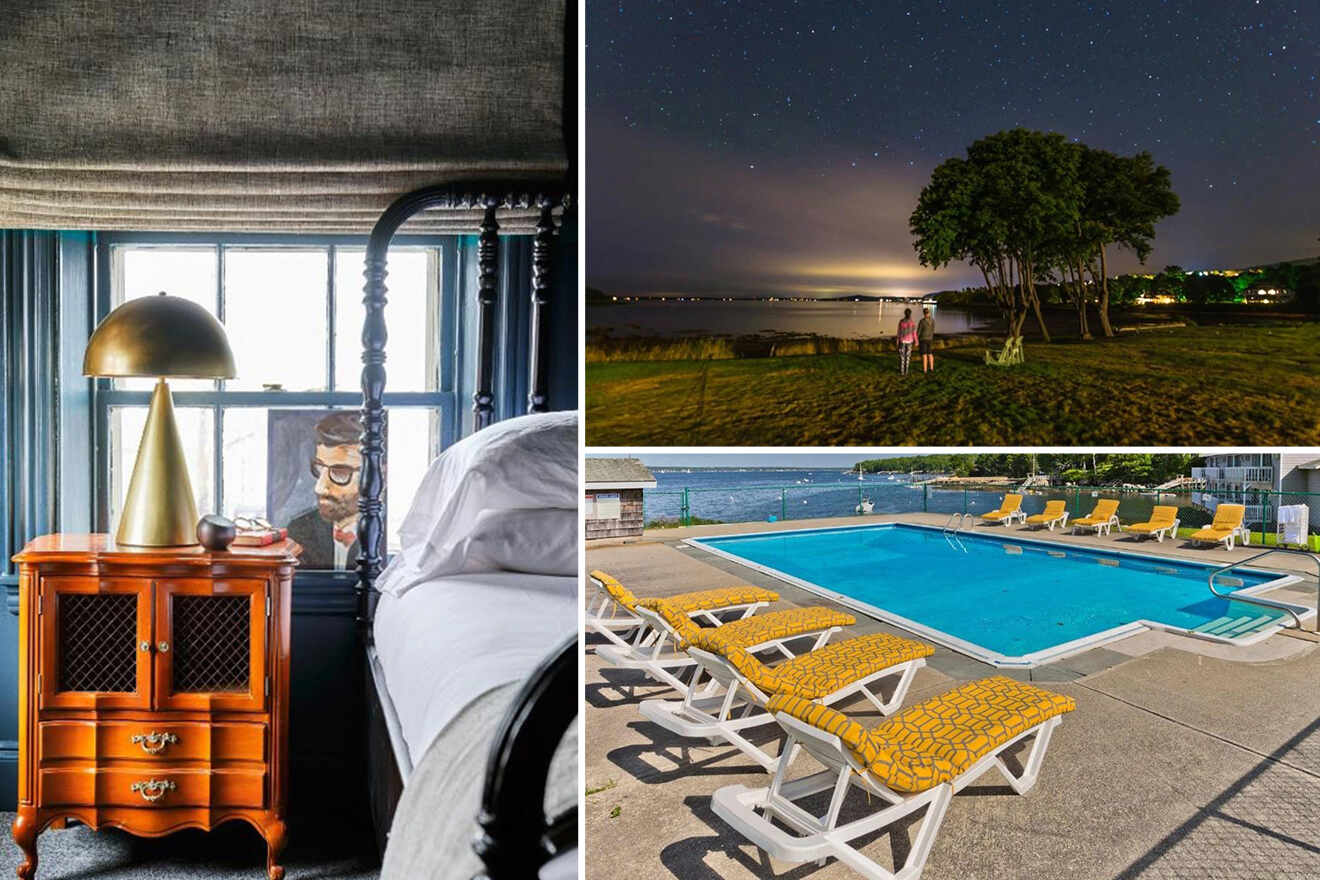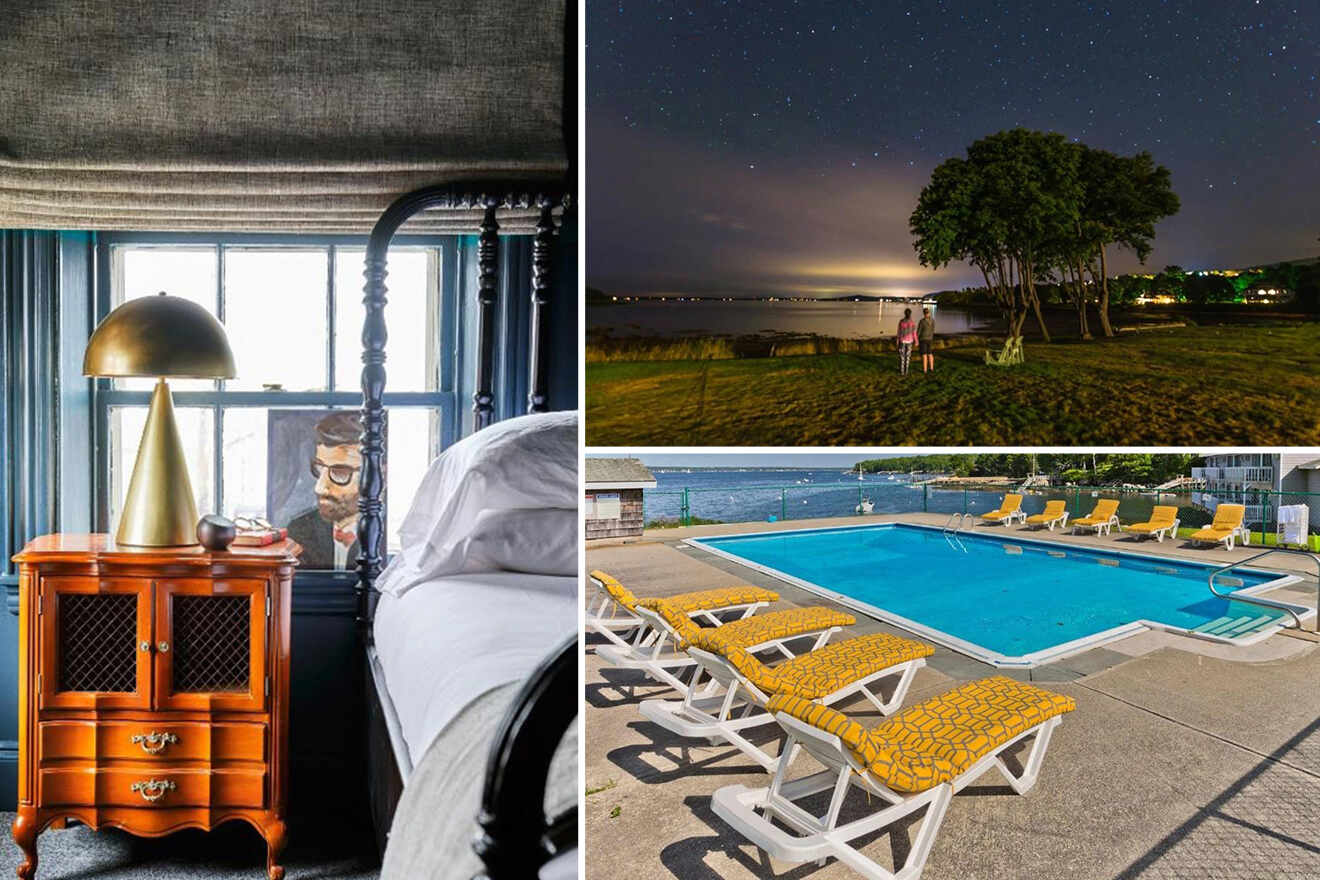 Blind Tiger – Enjoy a cozy night with your partner in front of the fireplace in this beautifully decorated house in Portland which dates back to 1823! Each room has such unique character and individualized elements that you'll never want to leave it! Play some billiards, just the two of you, or relax on the sun terrace before dinner.
Saltair Inn – Stargazing in the garden with your partner on a hot summer night! What can be better than that? This beautiful Bar Harbor inn offers so many incredible activities including cooking classes and live music performances. The rooms come with a seating area and private bathrooms with a tub!
Smuggler's Cove Inn – Enjoy a romantic sunset on the balcony of your room at this lovely inn that's set only a 10-minute drive away from Boothbay Harbor. Featuring a private beach area and restaurant on-site, you can chill with your partner by the pool and at night enjoy a glass of wine by the fireplace!
Frequently asked questions about hotels in Maine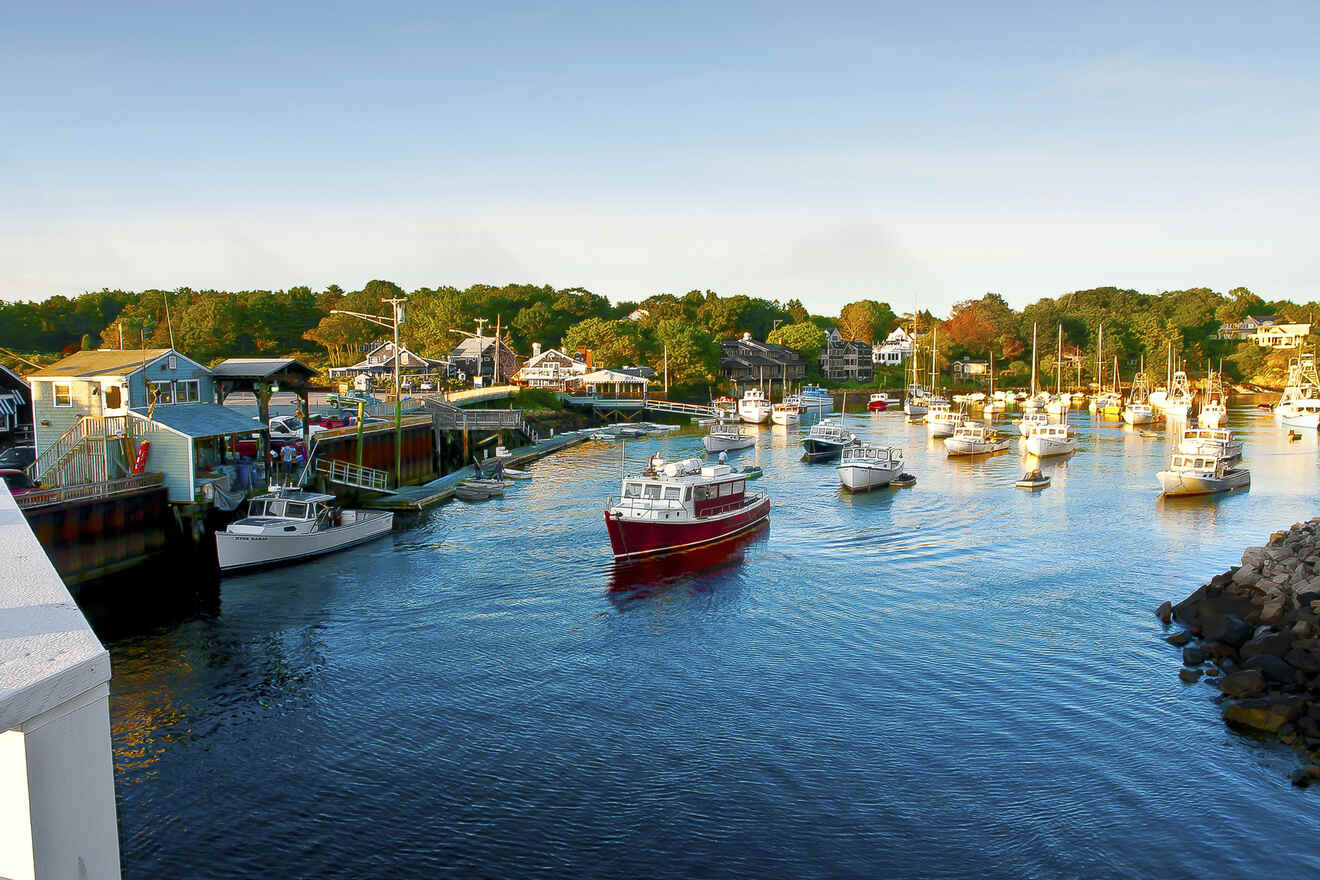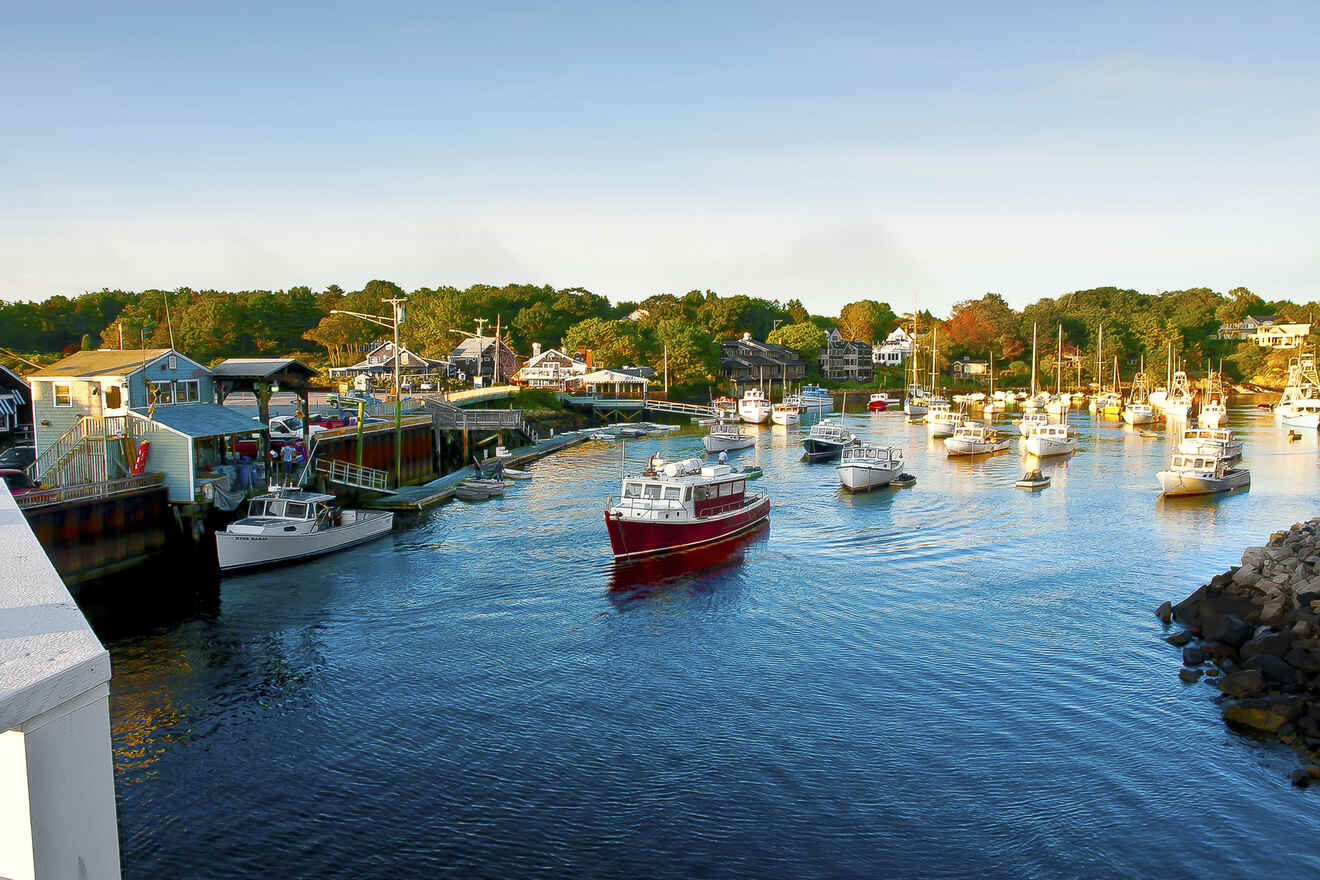 🏨 Which are the best oceanfront hotels in Maine?
Cliff House Maine and the Tides Beach Club are some of the best oceanfront hotels in Maine. The hotels offer so many facilities like a spa center, an outdoor pool, and live music performances.  
🏖️ Are there any sandy beaches in Maine?
Yes, there are many sandy beaches in Maine like Old Orchard Beach, Ogunquit Beach, and Goose Rocks Beach.  
☀️ What is the best time to visit Maine?
If you want to catch the best weather, the best time to visit is between June – August. But if you're hoping for a more laid-back holiday, then I recommend visiting in spring (March-May) or fall (September-November).
🐚What are some great hotels in Maine by the beach?
Tides Beach Club and Cutty Sark are some of the best hotels by the beach. The accommodations have great reviews and offer facilities like a pool, a spa, and a garden! 
Conclusion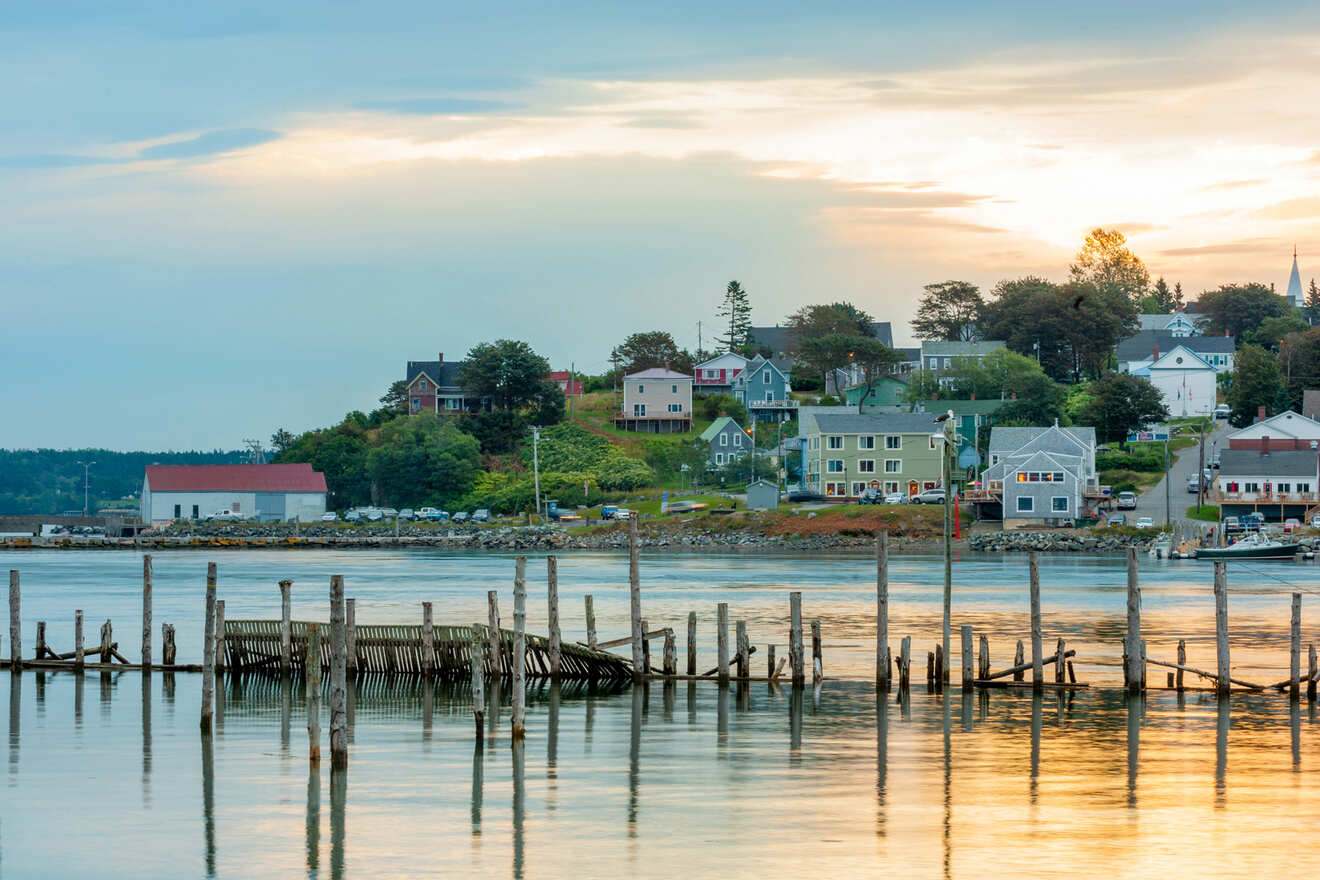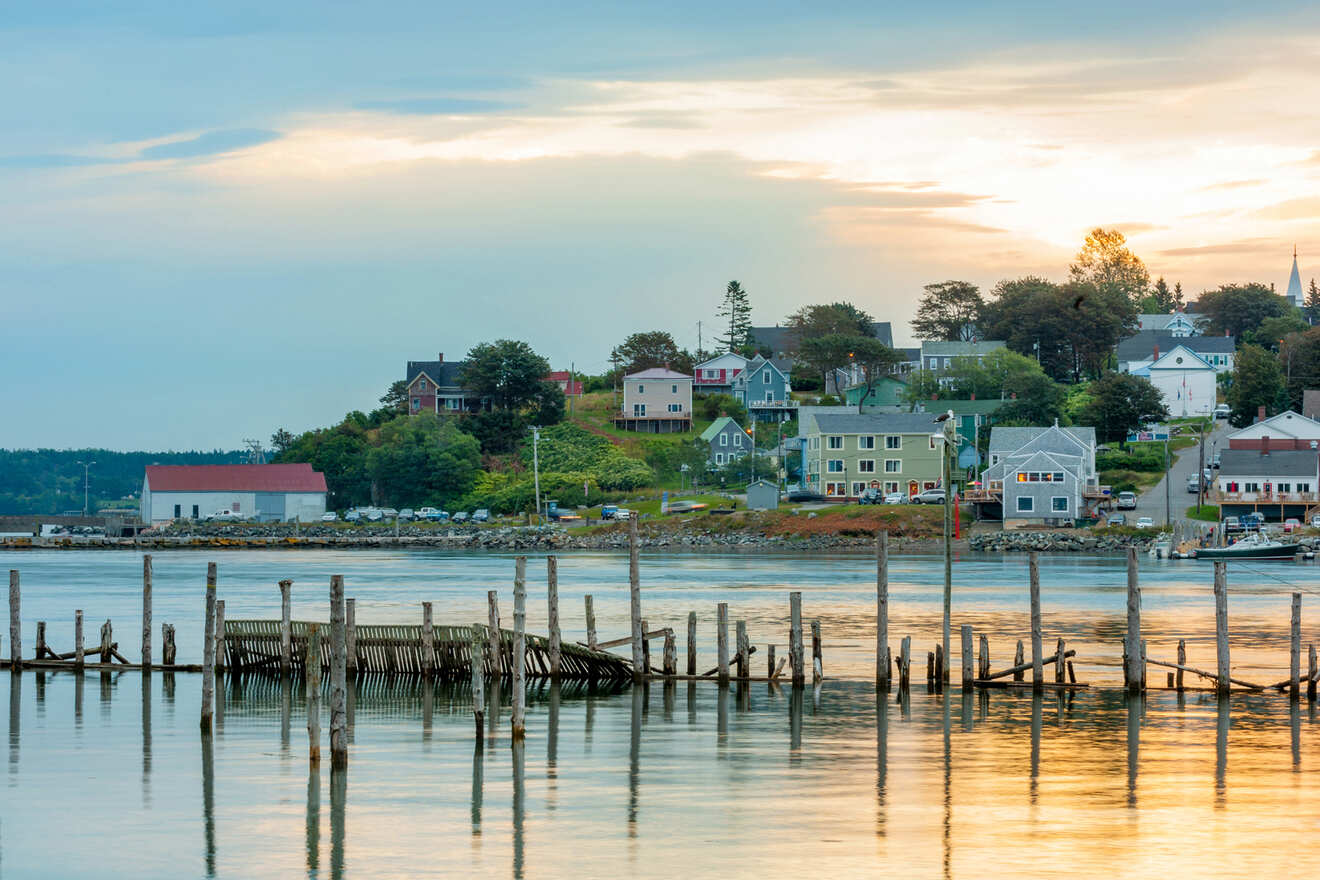 Isn't Maine amazing? I know you'll never want to leave this place, especially after seeing all these beach hotels and the beautiful Boothbay Harbor!
Well, now you've gone all the way through my detailed guide to Maine's best luxury oceanfront hotels, listed from most to least expensive.
The list may look super long but that will help you make the best decision! However, if you can't decide which boutique inn or hotel to pick, here are my top 2 favorites:
Cliff House Maine – A fabulous resort set on a cliff that offers many activities like golfing and has a spa center
Tides Beach Club – I love this beach house! It has the most beautiful decor, and it offers an outdoor pool
I always say: better safe than sorry! So please book your hotels in advance so you don't have to deal with the many last-minute booking issues like high prices or spend hours looking for the right place that's available!
And with that, here we part our ways! Have a great trip to Maine, and enjoy your days of playing lawn games and golfing!
If you have any other questions about this destination, leave me a comment below, and I'll make sure to answer it ASAP!
Safe Travels,
Victoria