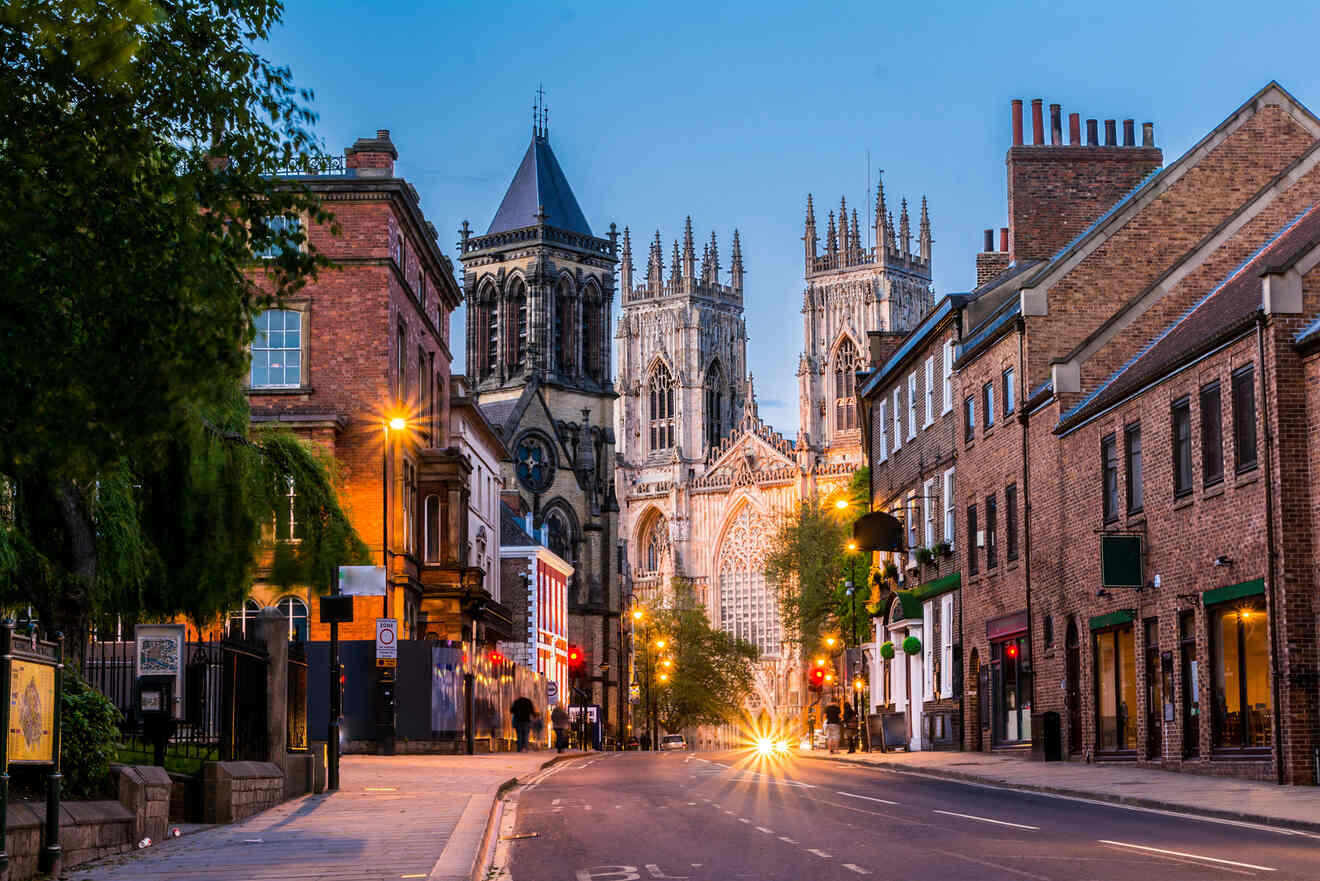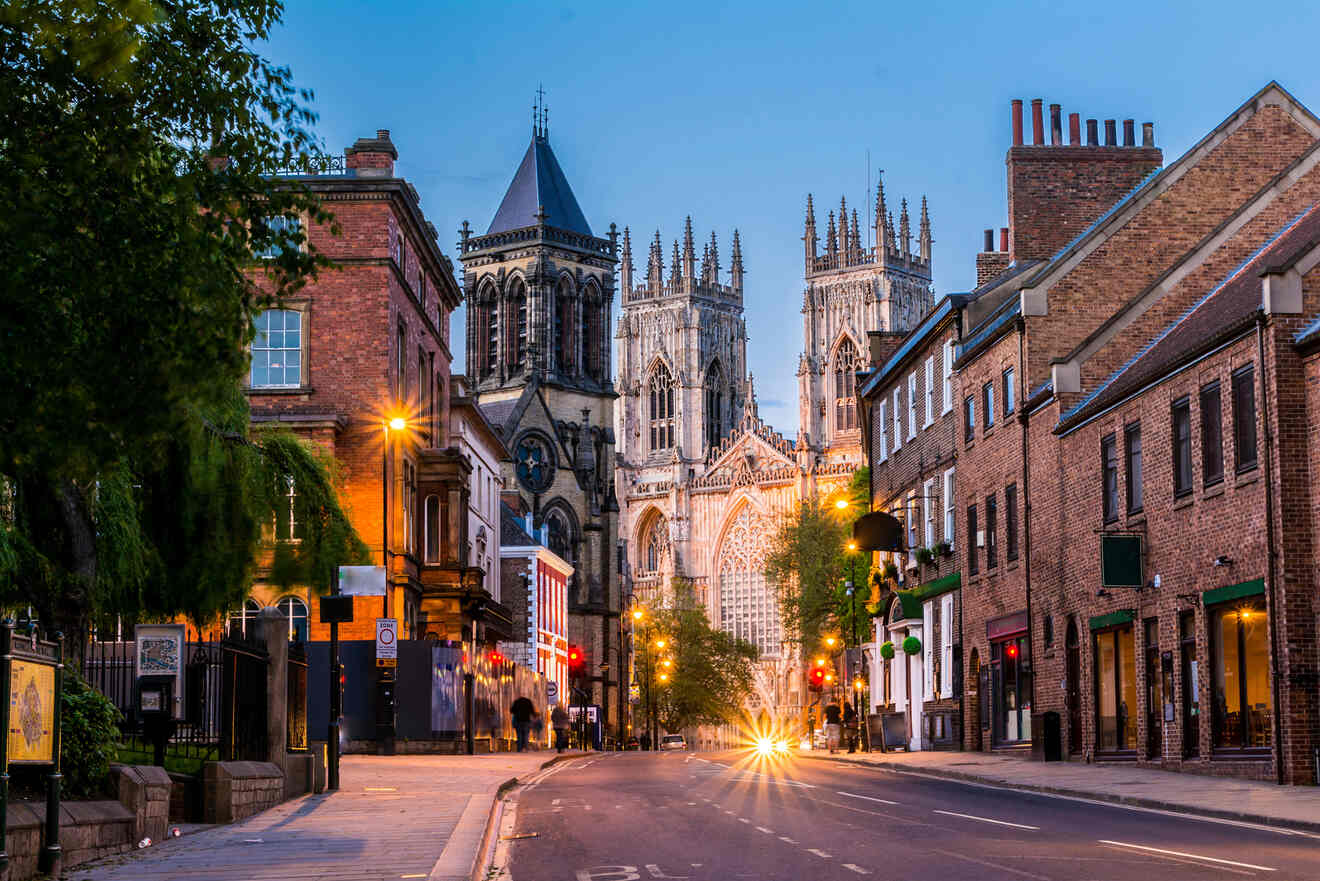 Good day to you, my lords and ladies! Who's ready for a bit of time-traveling in one of the oldest cities in Europe? York is a magical place and apparently a bit haunted! If you're traveling here then you'll need a proper guide and I'm here to help you with that!
The City Centre is the best area where to stay in York! This historic neighborhood has all the main attractions and incredible hotels. But don't worry, I know not everyone wants to stay so central. So I added 3 more places perfect for those who want to travel around, budget travelers and relaxation; City Centre West, Bootham and South Bank.
I hope you're not thinking of leaving after you finish the first part because you'll miss 2 amazing bonuses. The first one has the best hotels in York that offer parking and the other has the top accommodations perfect for a romantic getaway!
Lots to look forward to!
Since York is basically the capital of Northern England, and it's such a historic place, you'll probably see a lot of tourists around. Which means that most hotels (especially the ones in this post) will sell out quickly. I recommend booking yours in advance if you want to find a good deal and a nice place, otherwise the others will beat you to it!
I think we're ready to hit the road now!
If you are in a hurry
Below you have a short list of the best hotels, all located in the top area to stay in York, the City Centre:
Check out the map below which will take away some of the confusion and help you visualize all the areas that I'll mention in this post: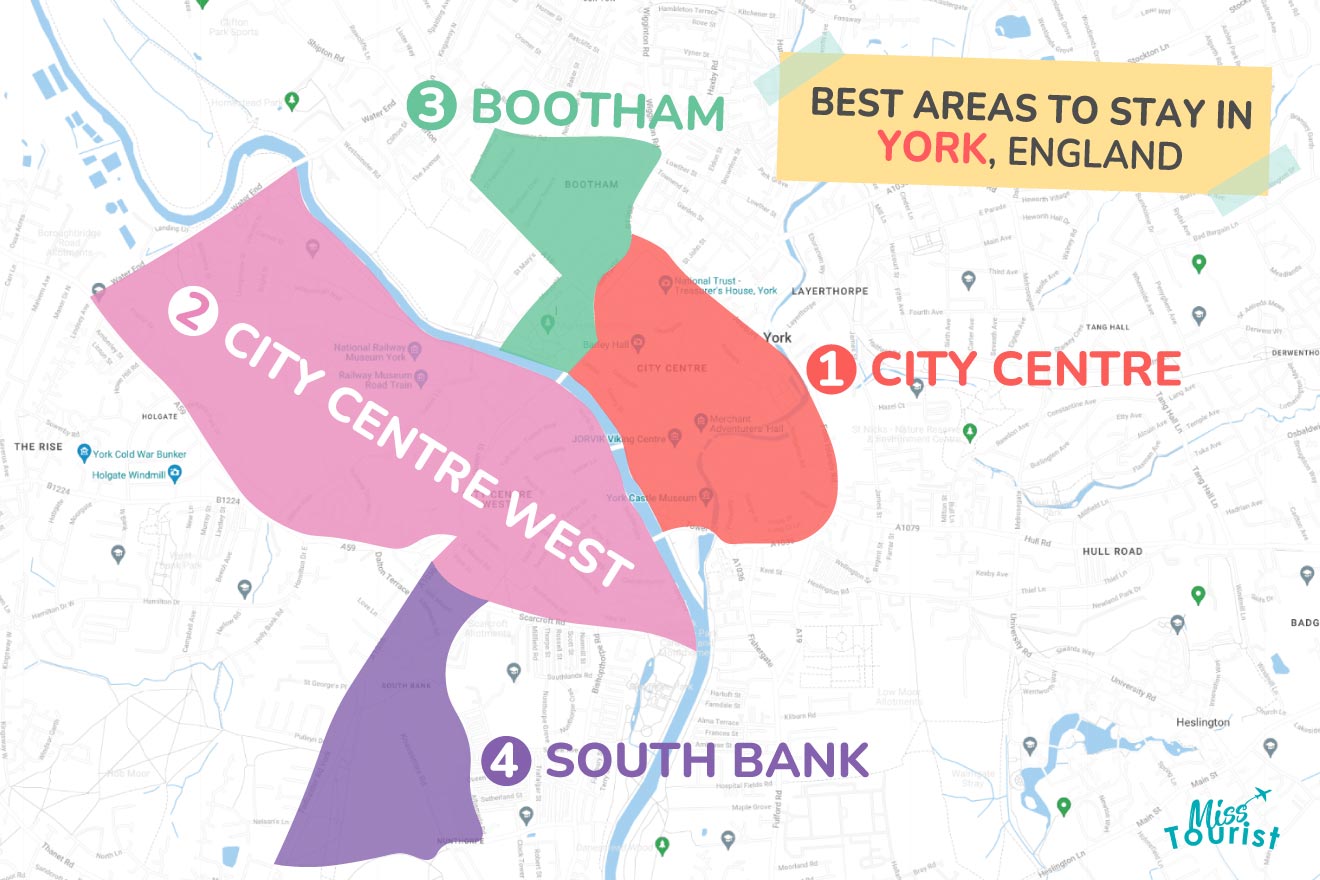 1. City Centre – where to stay in York for the first time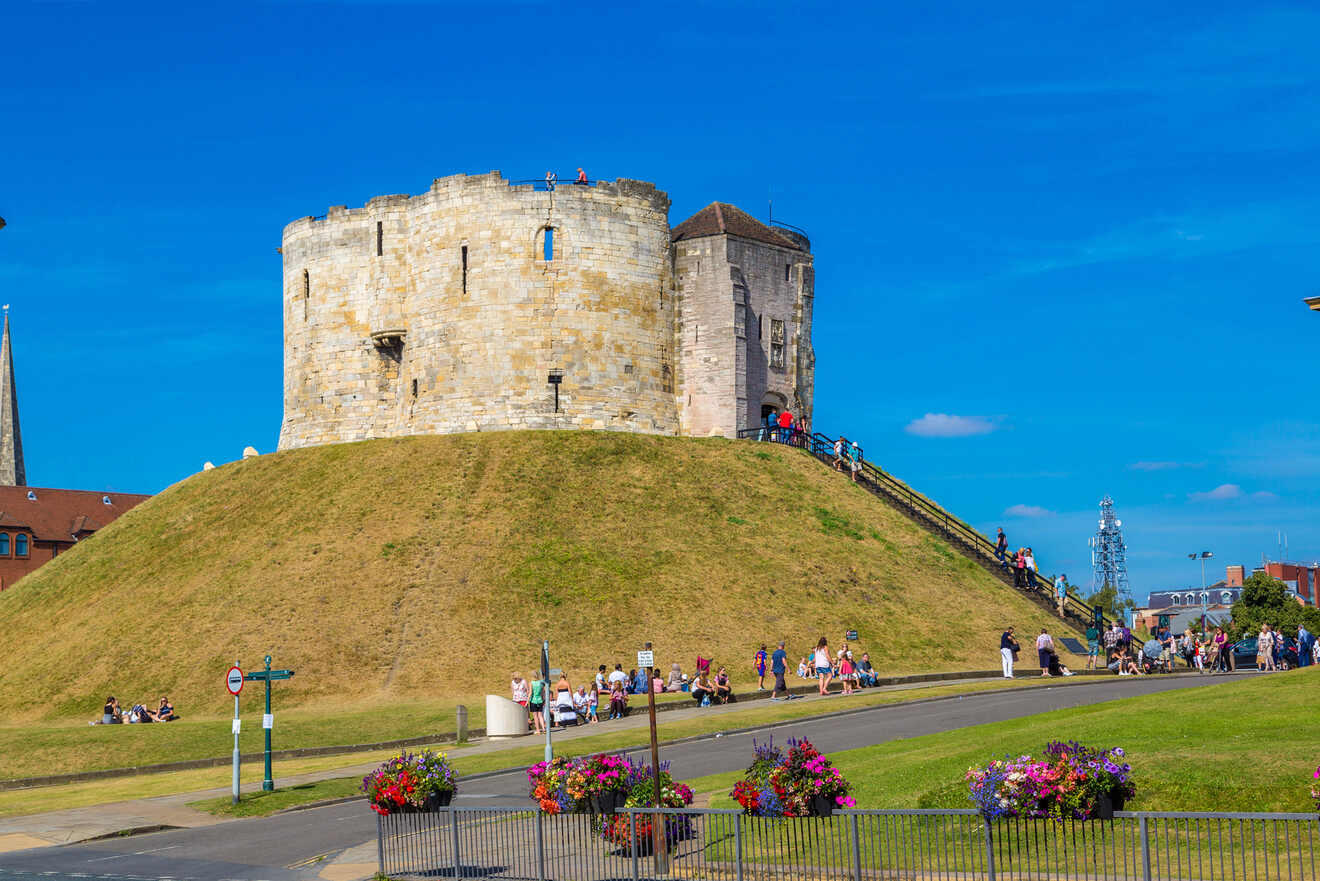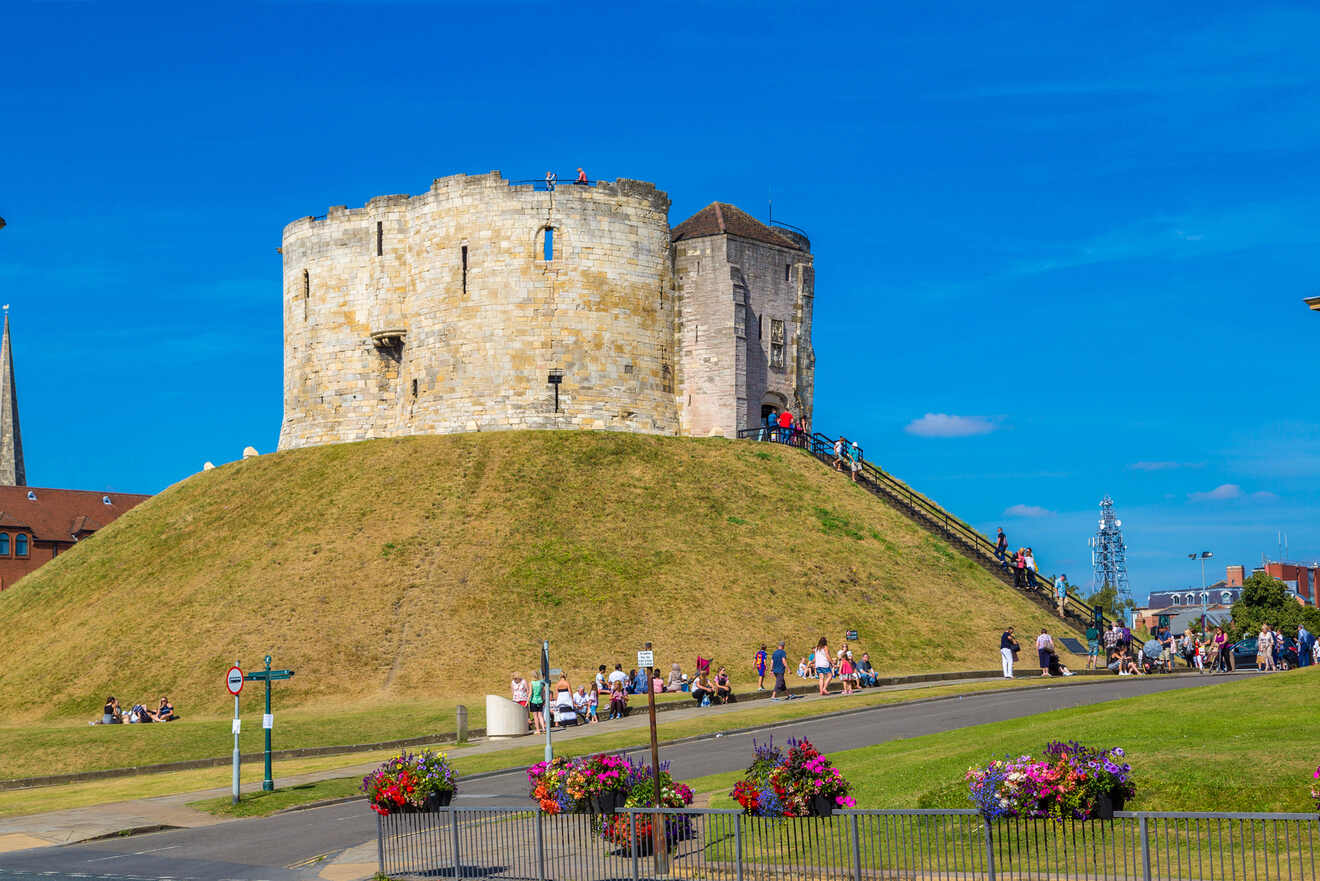 If you're fascinated with history and a real hunter of the oldest places to visit in the UK, then you've made the right choice when you picked York as your next destination!
And what better place to start your time-traveling journey than York's City Centre? This area surely gives London and Bath a run for their money! The medieval architecture (let's not forget York is one of the oldest cities in Europe and it dates back to medieval times), museums, and romantic boat tours!
Exploring York on foot is probably the best way to discover it especially if you're staying in the City Centre. That way you can take in all the stunning scenery, and enjoy its vibrant atmosphere!
Obviously, the best hotels are located in this historic City Centre. And trust me, everyone will try to book these first-thing so I highly recommend getting yours in advance. Otherwise, you may miss your chance of staying within walking distance of all the attractions!
And by the way, it's not only during the day that you'll see the historic city at its best. At night the restaurants and clubs are filled with tourists eager to try the classic pub food in England and maybe even hear some spooky stories about York's past!
Luxury hotel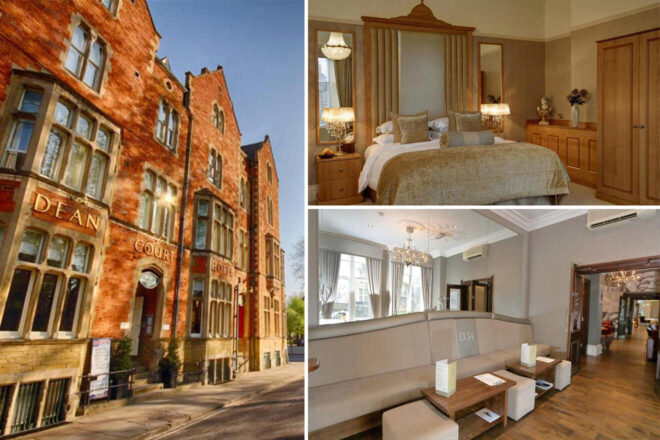 This hotel is centrally located just within walking distance from all the attractions and it offers stylish guest rooms with modern designs and a flat-screen tv. Start your day with a yummy English breakfast and then head out and start exploring York!
Other accommodation options in the City Centre
Mid-Range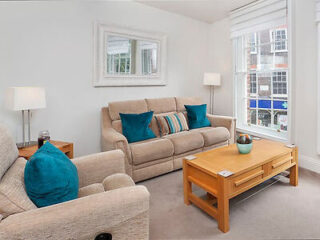 A great hotel set in a Victorian townhouse that has family rooms, free Wi-Fi and a spa center
Budget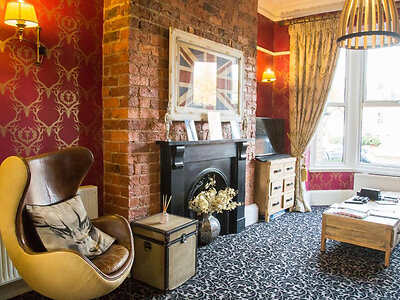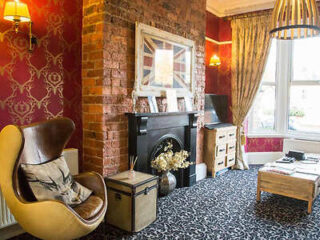 Enjoy your stay in this Georgian townhouse that has rooms with coffee-making facilities
As I mentioned earlier, finding great hotels in York's City Centre is definitely a challenge if you're booking last minute. Most of the ones in the main list above will be long gone! So that's why I thought I'd offer 4 extra York hotels which are just as good and may be on the market even a bit longer, so let's have look: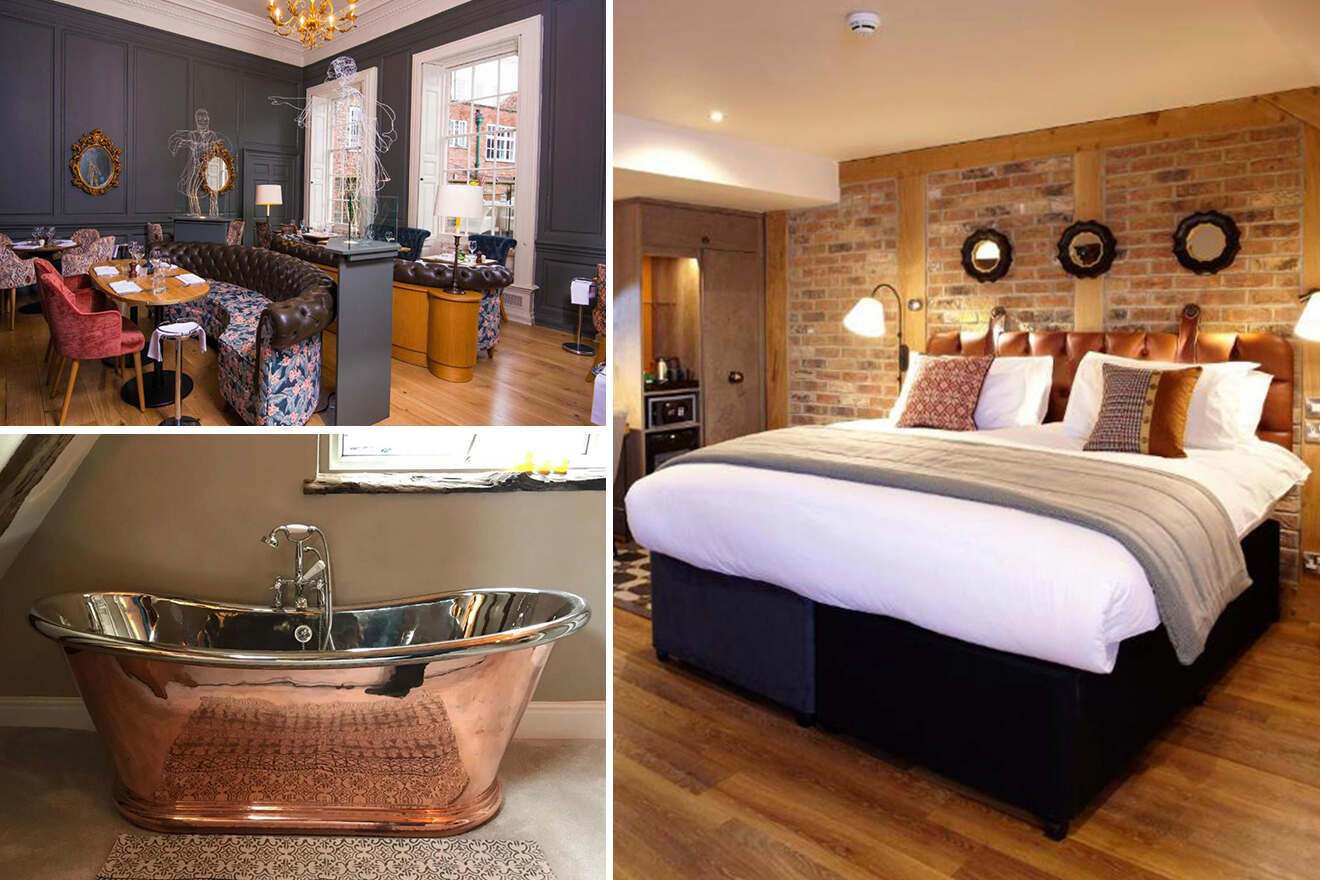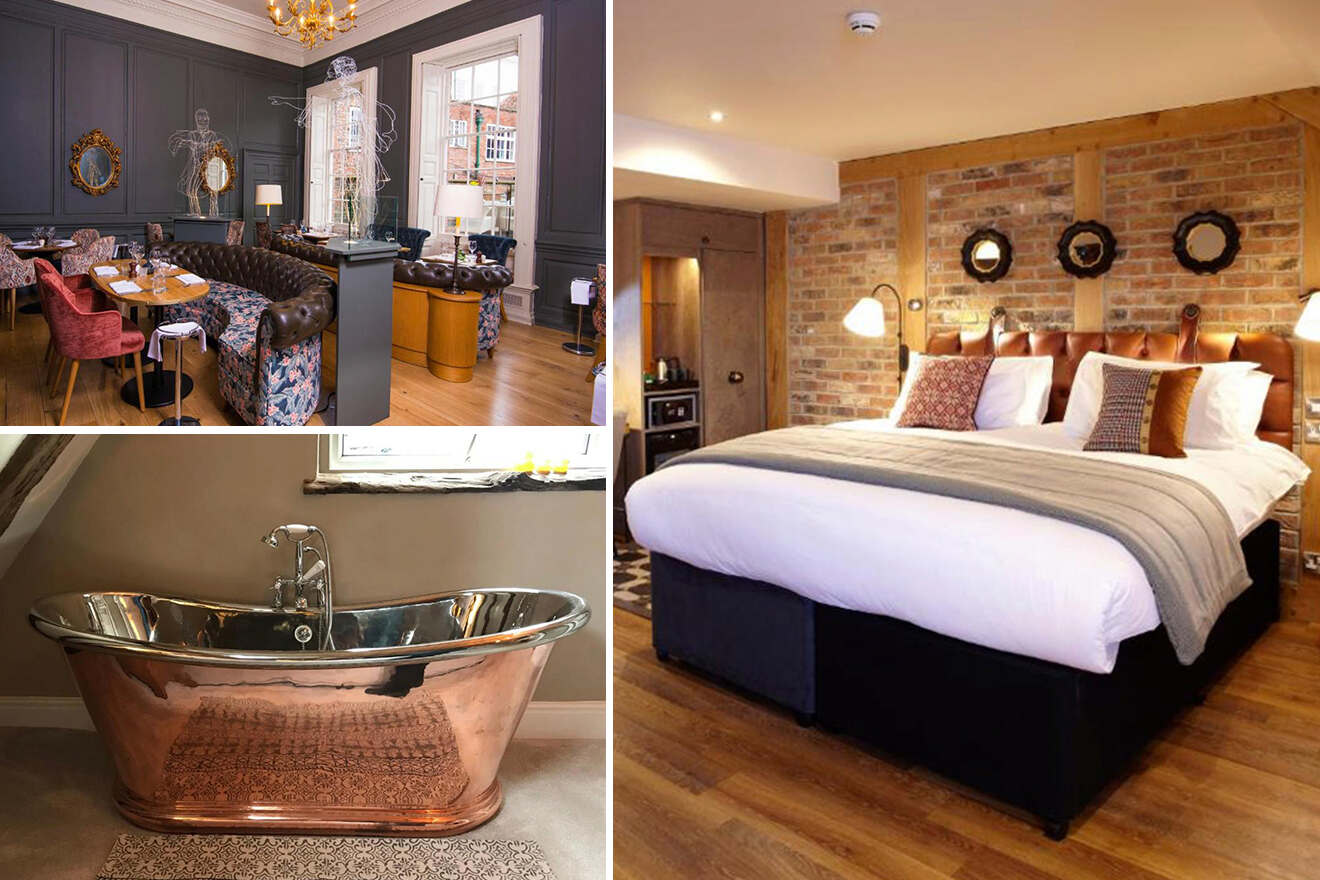 Things to do in the City Centre
Travel back in time at Jorvik Viking Centre
Climb up to see Clifford's Tower (Central Tower)
Enjoy the views from the York City Walls
Grab a drink at Valhalla York
Don't get too scared at York's Dungeons
Visit the gothic-style York Minster and the art galleries inside
Feel like you're in a Harry Potter movie on York Shambles Street
2. City Centre West – best place to stay in York for travel links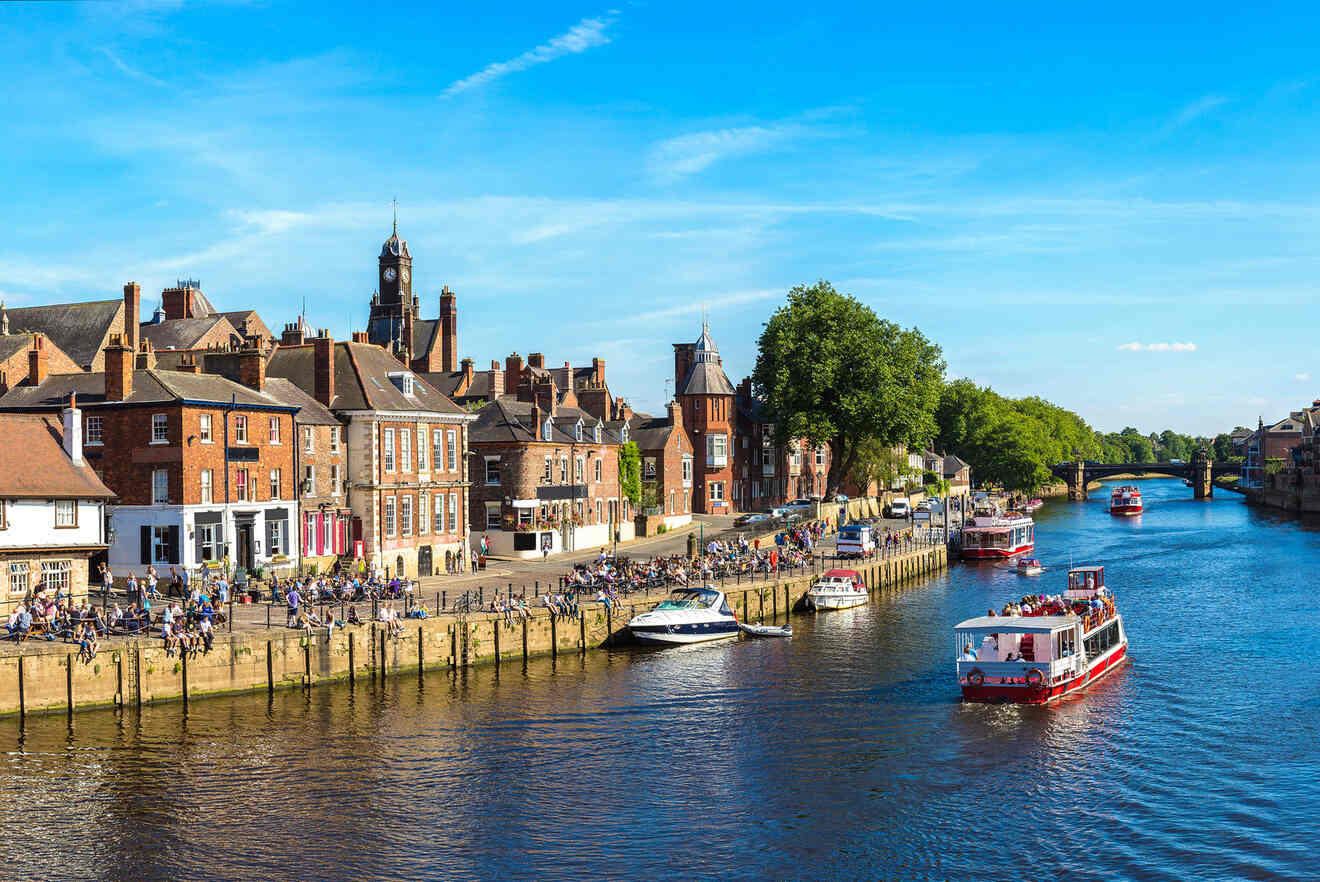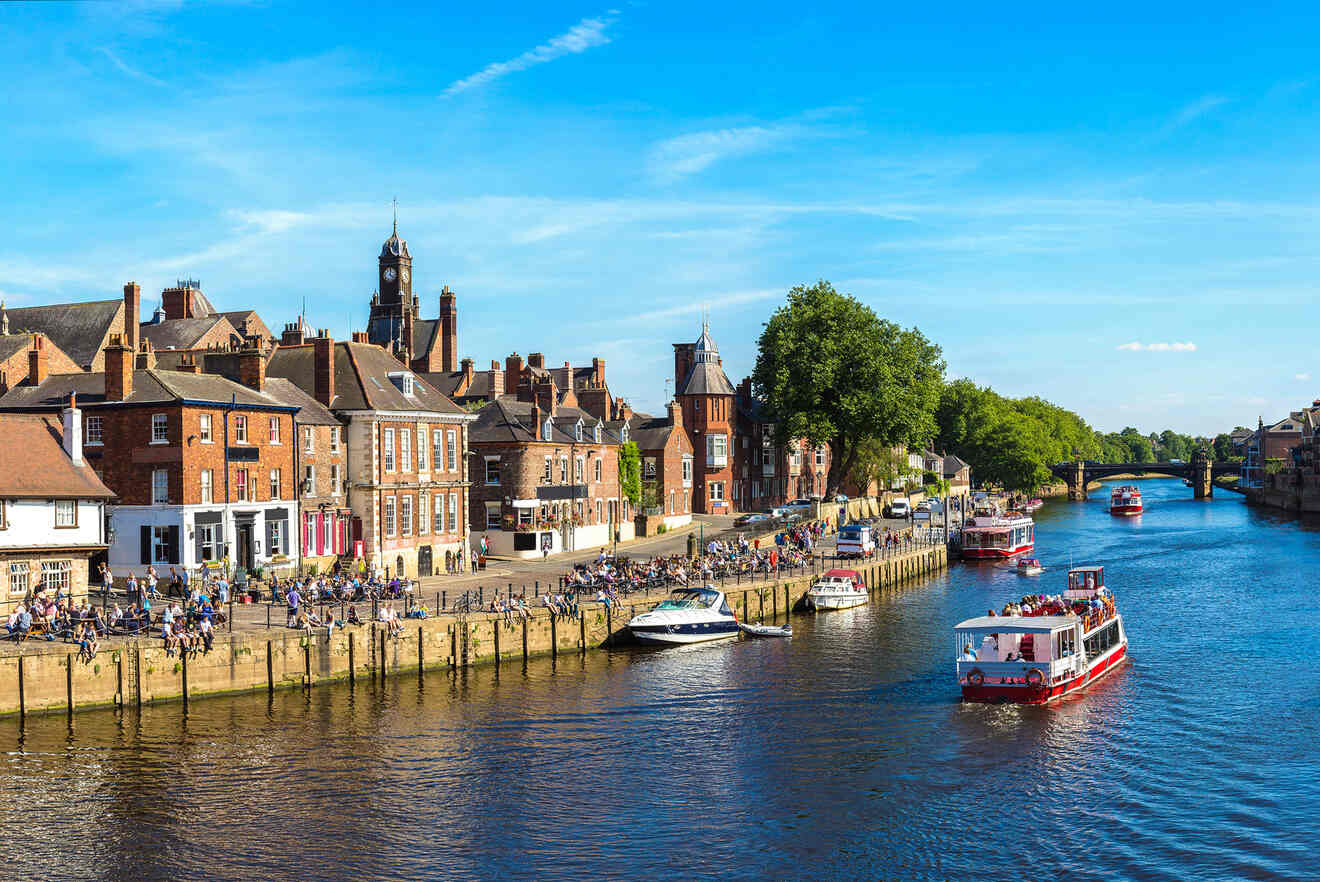 If you're planning to visit more places in the Yorkshire area, or maybe you're touring this part of England and want to be close to the main train station in town, then I've found the perfect area for you!
City Centre West is set just across the river from the City Centre, and it's just as beautiful and historic as the first area. And yes, just as busy. Since York Railway Station is located here, many tourists pick the west side of the city as well.
It's true, the main and most important attractions are set in the City Centre, but you'll also find some here as well like the National Railway Museum York and lots of pubs and restaurants.
But let's not forget that York offers impeccable architecture all around the city, so fear not! You'll be just as mesmerized by your surroundings if you choose to stay here.
By the way if you're thinking of going bar hopping at night I'd definitely bring someone with me. Apparently York is one of the most haunted cities in the world! They even estimated there are around 500 ghosts in this town! Spooky!
Luxury hotel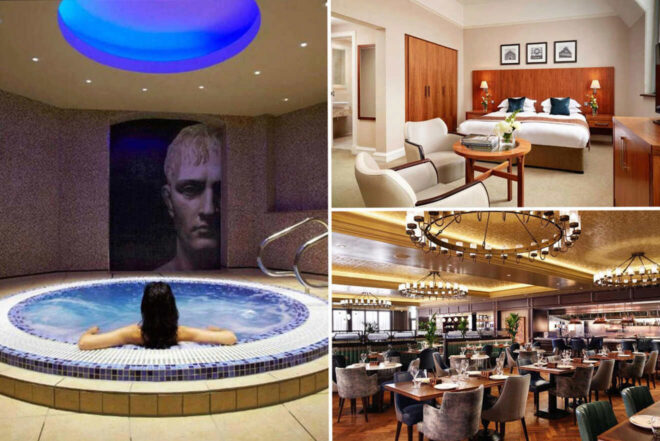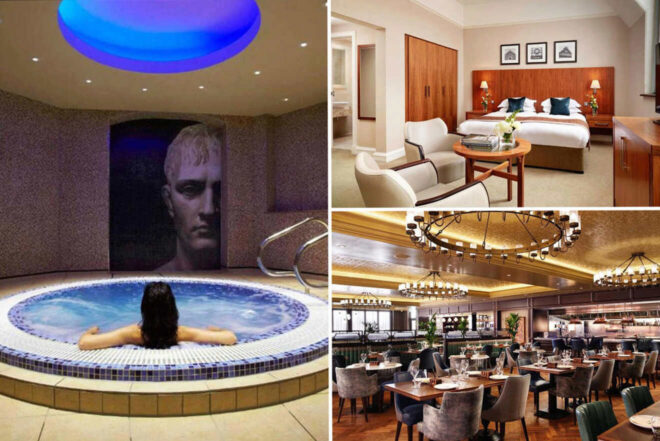 Relax and enjoy the great vibes in the luxurious spa center of this five-star hotel that's set in an iconic Grade II listed building that used to be the headquarters of the North Eastern Railway Company. Wow! The spa has a steam room and a 13m swimming pool, so I guess we know where you'll be spending most of your time!
Other accommodation options in City Centre West
Mid-Range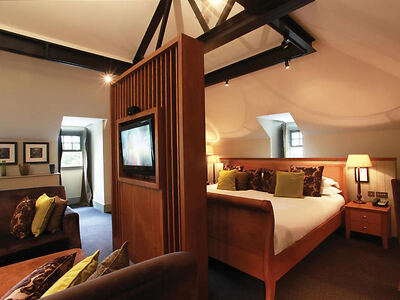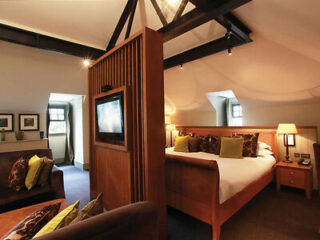 This elegantly-decorated hotel is set in a 19th-century building and has a bistro-style restaurant
Budget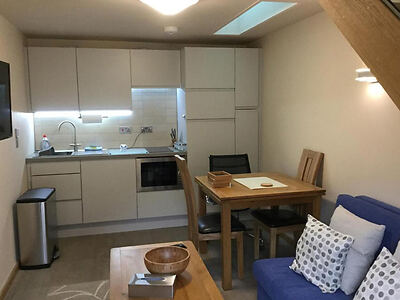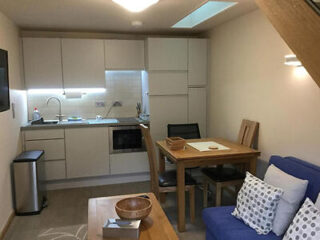 Perfect for budget travelers, this accommodation has suites with a small kitchen and a spa center
Airbnb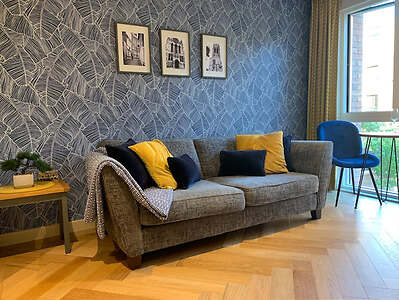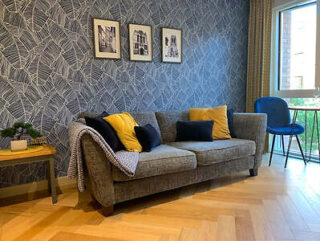 The perfect condo for 2 people who visit York! The place has a kitchen, free Wi-Fi and a garden view
Since the City Centre West had so many great hotels, I couldn't just leave you just with the options above so I've decided to add 3 more and share these amazing accommodations with you as well: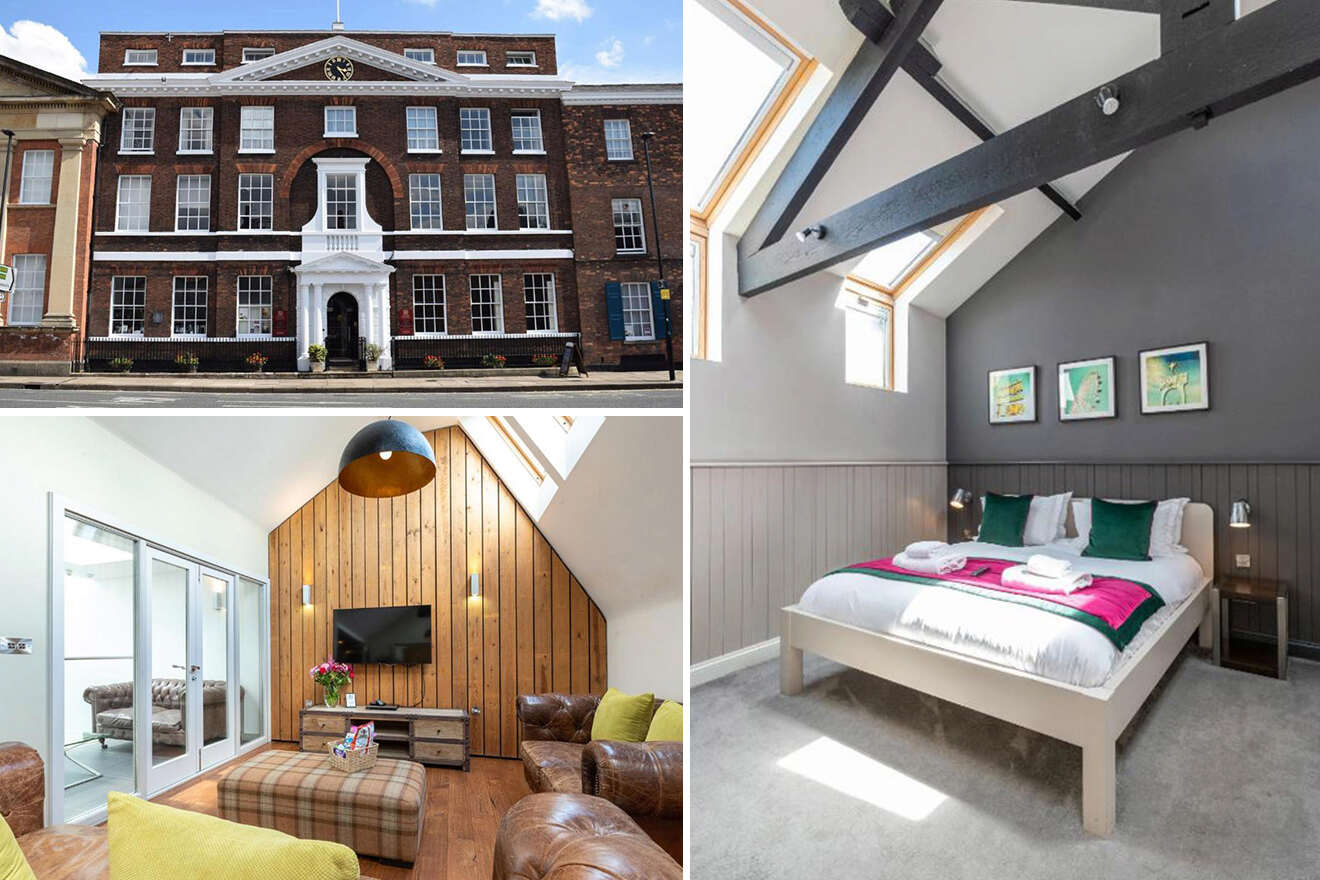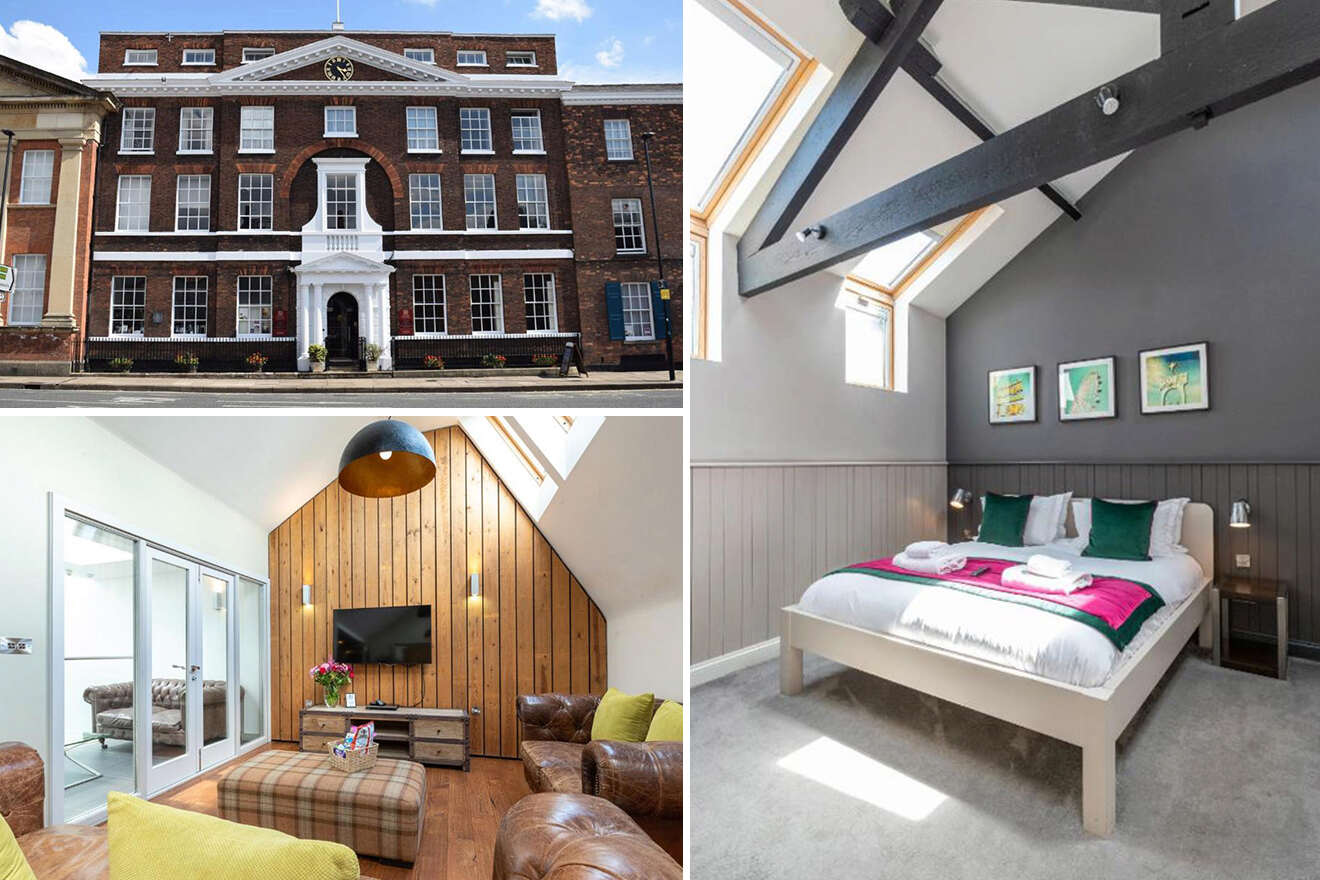 Mid Range: The Lawrance – These stylish aparthotels are located in a traditional courtyard and they come equipped with everything you need for your stay including a small kitchen and free Wi-Fi.
Budget: The Bar Convent – Enjoy a yummy breakfast at this affordable hotel that's set in a super old building. Don't worry though you'll get all the contemporary features like free Wi-Fi and a flat-screen tv.
Things to do in City Centre West
3. Bootham – where to stay in York for budget travelers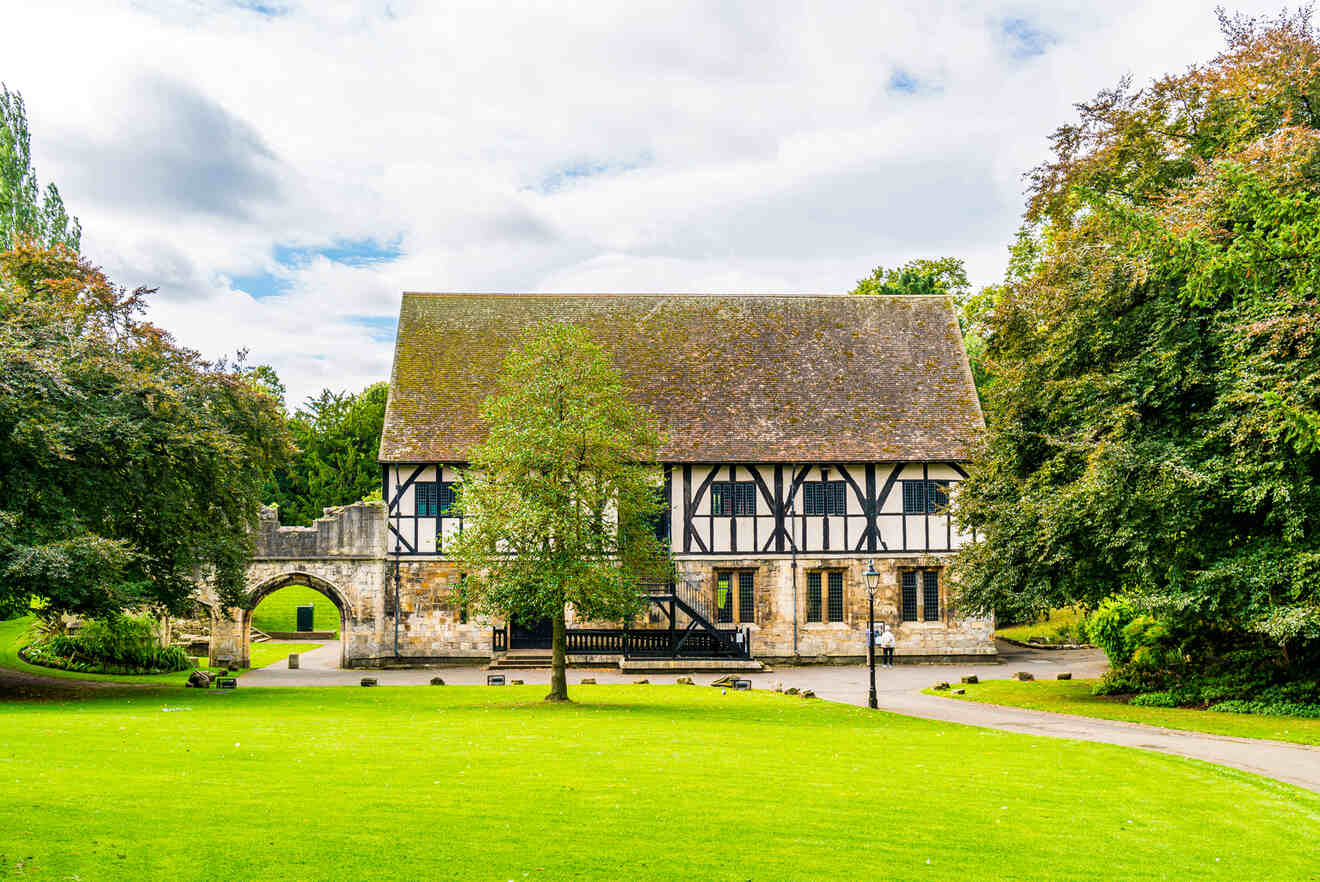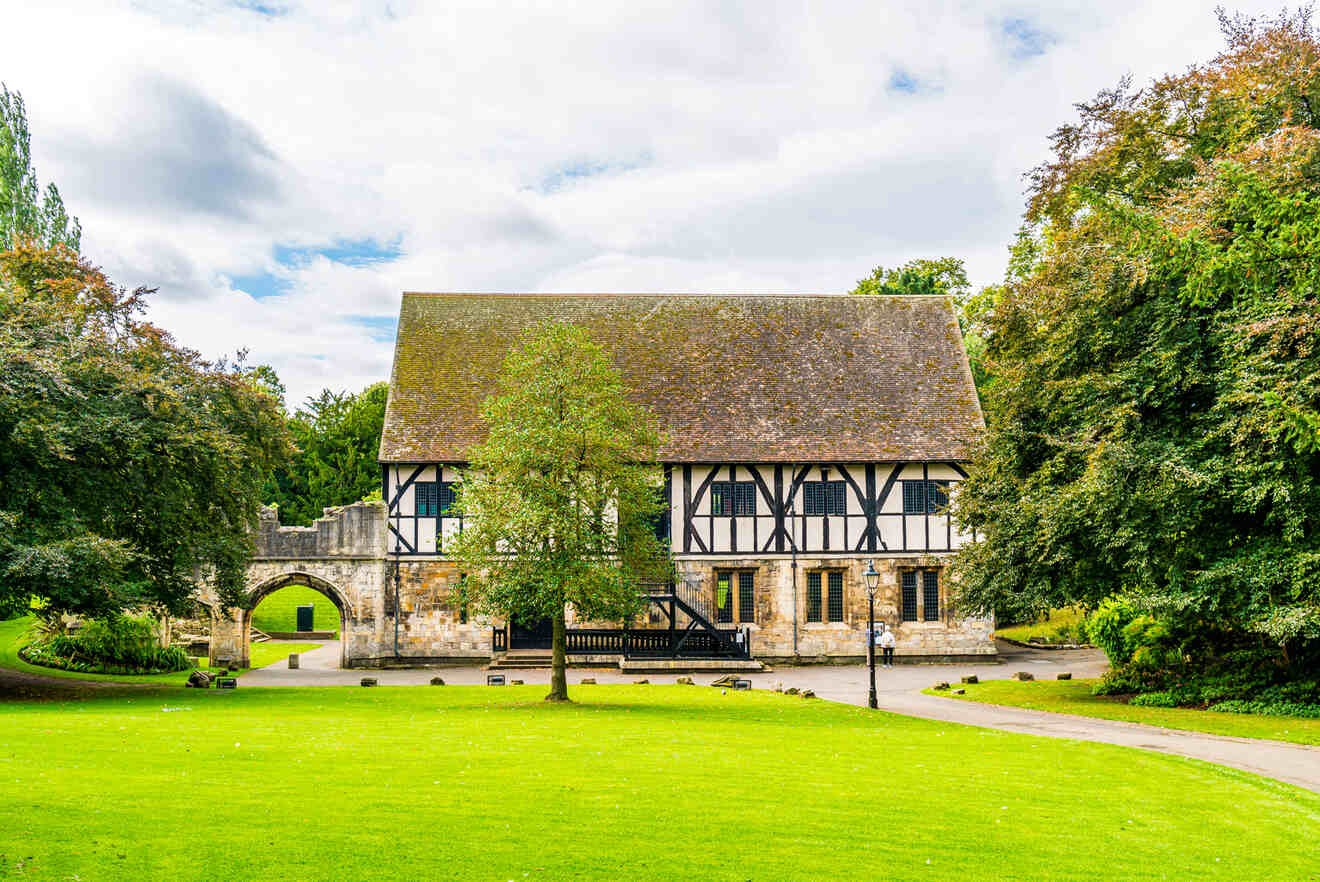 Set right near the City Center, this neighborhood is more residential and also popular with few tourists who visit York. And you know what that means?
Yep, low prices! If you were looking for a place to stay that's not super far from the main attractions like the City Walls and York Dungeon and also offers some affordable hotels, then you've hit the jackpot!
Bootham is perfect for those of you who want a mix of touristy York but also some tranquility as well. The City Center can get super busy at times since everyone is spending their time there, so this area can definitely be that breath of fresh air that you need!
And don't think that you won't find things to see here! Besides the fact that you'll get to see a more authentic park of this historic city, you'll also stumble across many vintage shops, pubs, art galleries, and museums.
I told you, no matter where you'll go in York, you'll find something to love! Now let's check out the best hotels in York, Bootham!
Luxury hotel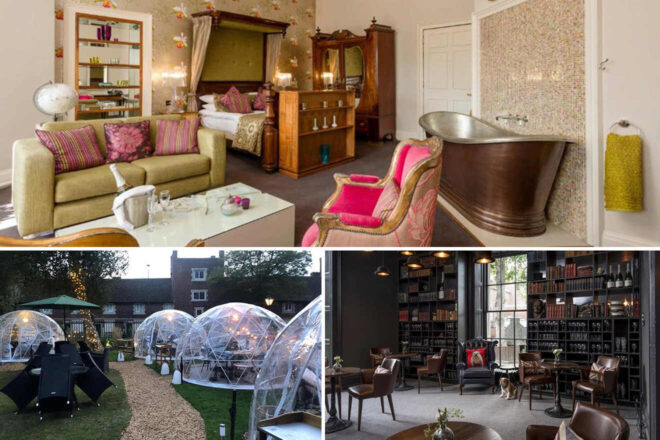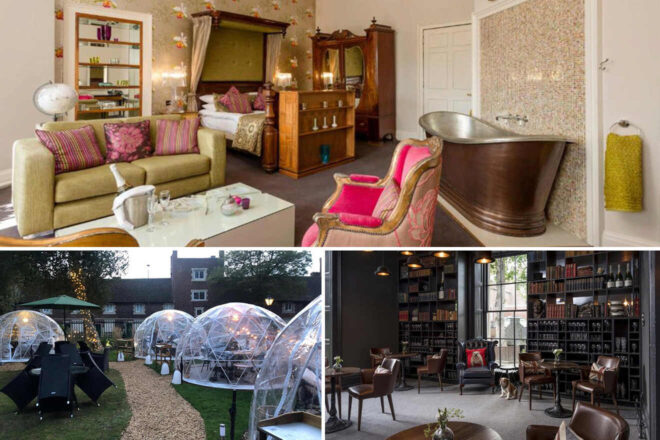 Feel like you've stepped into a whole other world at this historic hotel that's set in a building dating back to the 1800s. Decorated with antique furniture and featuring rooms with four-poster beds, the accommodation has an award-winning brasserie and an outdoor terrace.
Other accommodation options in Bootham
Mid-Range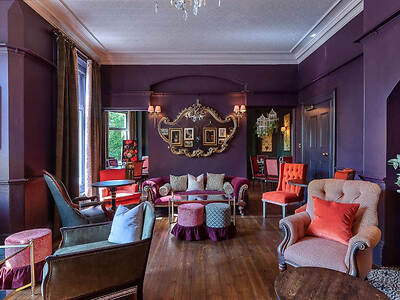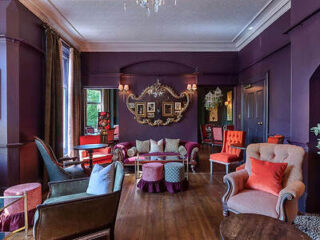 You'll love the eclectic style of this hotel that has rooms with four-poster beds and antique furniture
Budget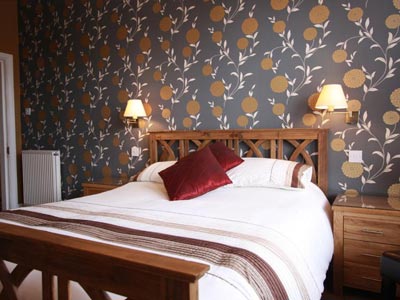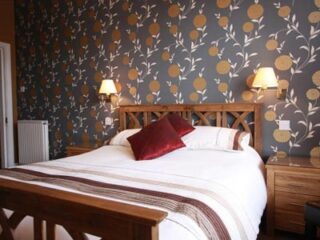 A comfy guest house that comes well-equipped with all the facilities including free Wi-Fi and parking
Airbnb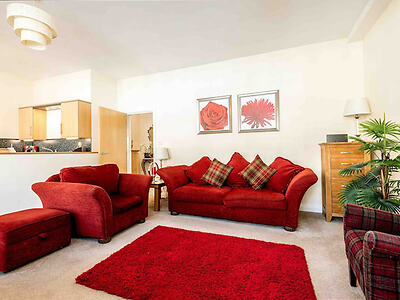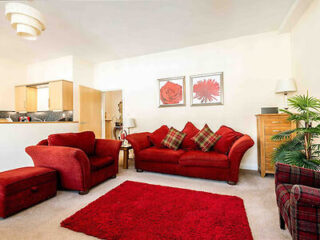 This is a great place for families or a group of friends. It comes with a kitchen and free parking
Things to do in Bootham
Visit the 11th century St Mary's Abbey
Check out the paintings at York Art Gallery
See archeological treasures at Yorkshire Museum
Grab a drink at Minster Inn pub
Catch a play at the York Theatre Royal
Enjoy the usual afternoon tea at Café FeVa
4. South Bank – best place to stay in York for nature lovers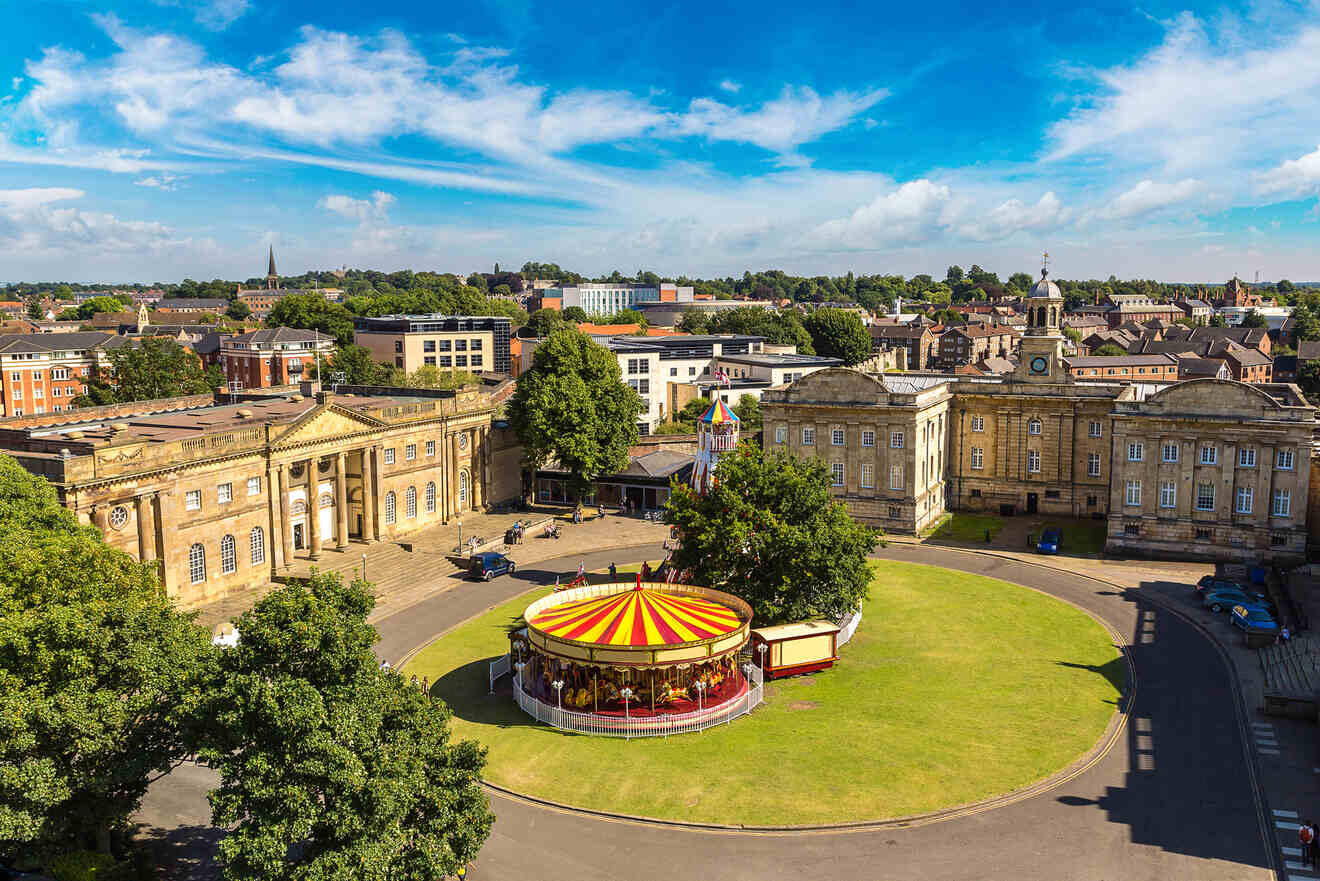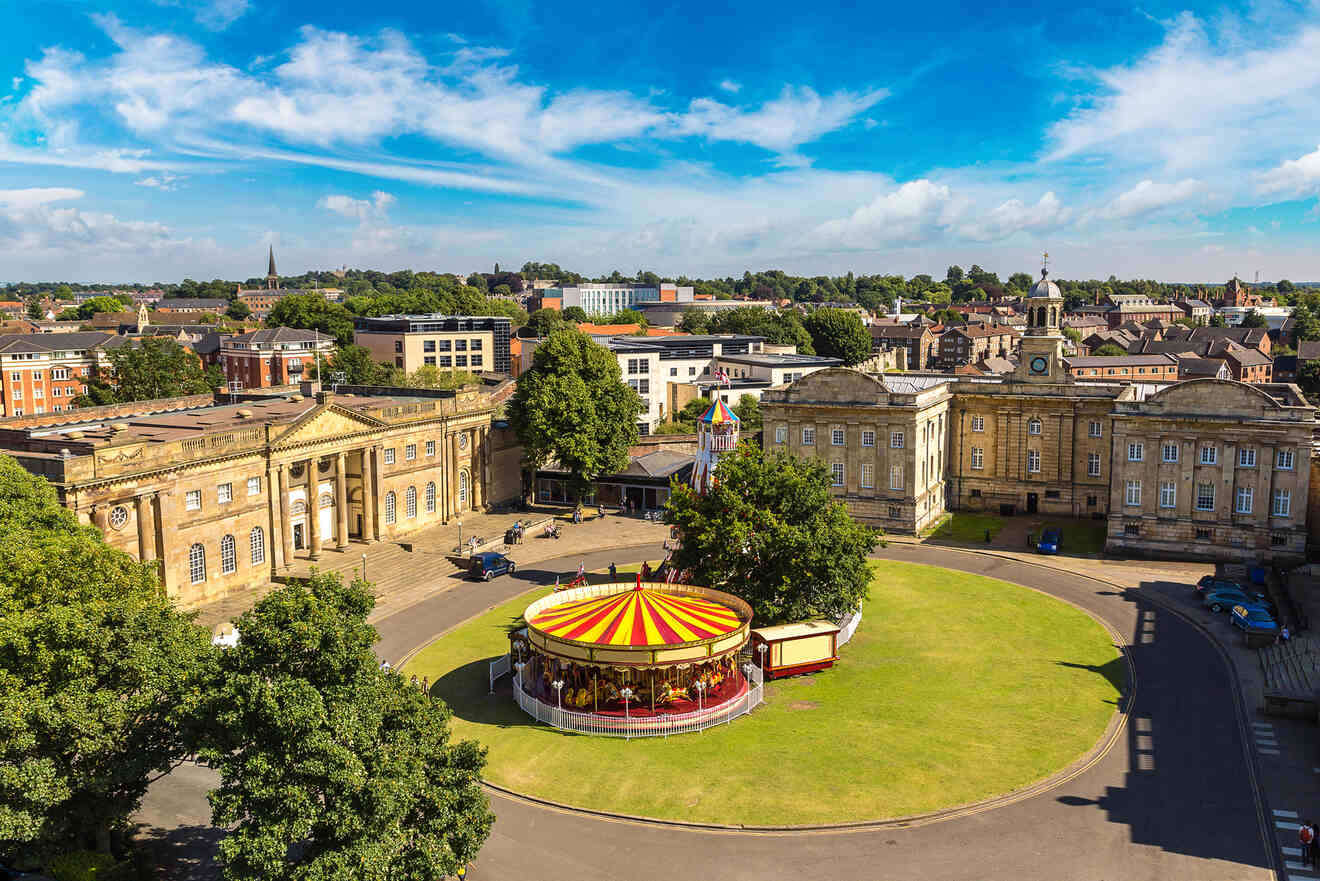 The Yorkshire area is absolutely packed with natural areas (and lots of spa hotels as well). and York has some lovely green areas as well but a bit further away from the City Center.
If you are looking for something closer to the woods and walking paths then I'd recommend booking your hotel in South Bank, an area located a 30 min walk away from Central York.
Perfect for those of you who aren't big fans of the crowds and city atmosphere, South Bank is a tranquil, peaceful neighborhood where you can relax and unwind.
As you can imagine there aren't many attractions here, since the main one is the beautiful nature, however, you will find the York Racecourse! Oh yes, this is where they hold horse racing competitions usually in the spring – summertime. So if you're a fan make sure you drop by!
When you're not too busy taking long walks and enjoying the scenery you can check out the pubs around, there are a few and even a Cricket Club if you'd like to try the famous sport in the country!
Luxury hotel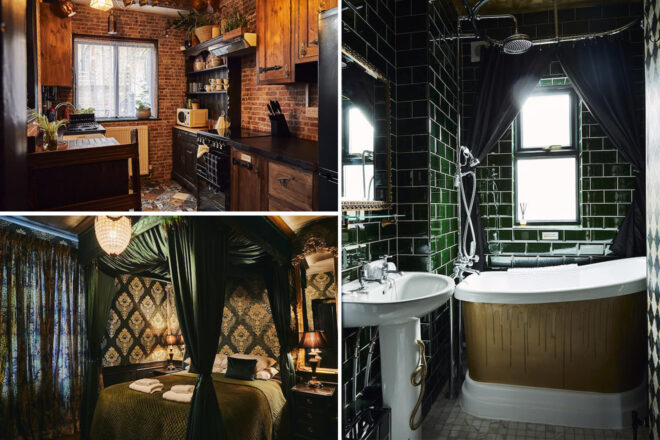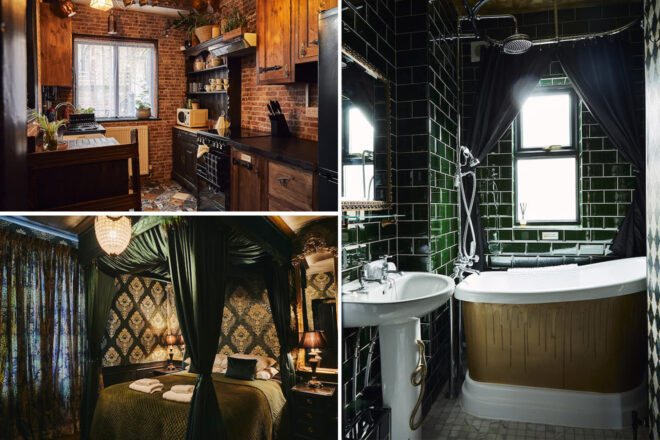 This beautiful house reminds me of those beautiful mansions in Downton Abbey! But it also has a touch of modern features which I think look amazing. The accommodation also comes with a kitchen, a beautiful courtyard view and free parking.
Other accommodation options in South Bank
Mid-Range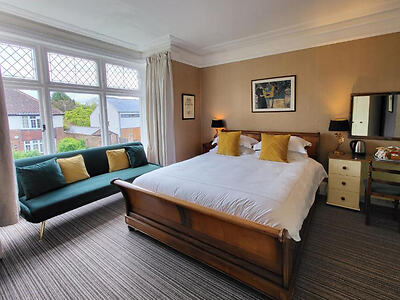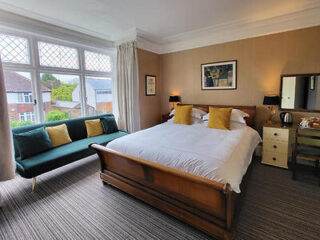 Feel at home in this lovely hotel that offers comfortable rooms, yummy breakfast and free parking
Budget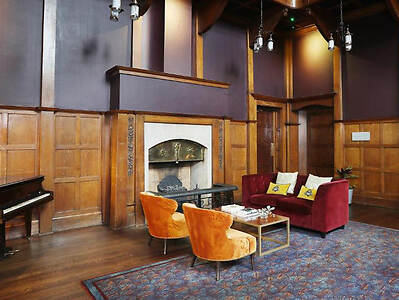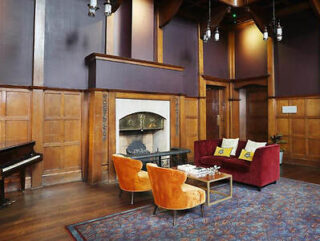 A gorgeous boutique Art Nouveau hotel that comes with stunning murals, a restaurant and free Wi-Fi
Airbnb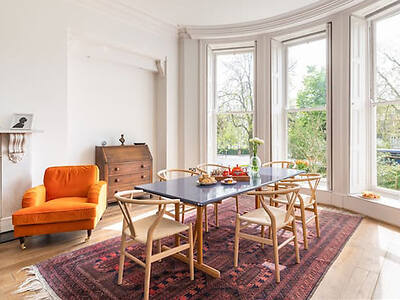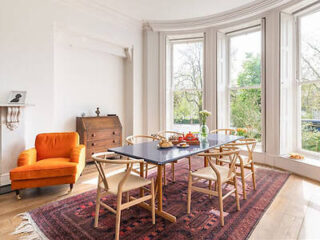 This bright apartment is set in a Victorian townhouse and has great decor, lots of space and free parking
Things to do in South Bank
Visit the York Racecourse
Stop for a drink at The Knavesmire pub
See a game at the Ovington Cricket Club
Walk around the Knavesmire Grasslands
BONUS 1: Best hotels in York with parking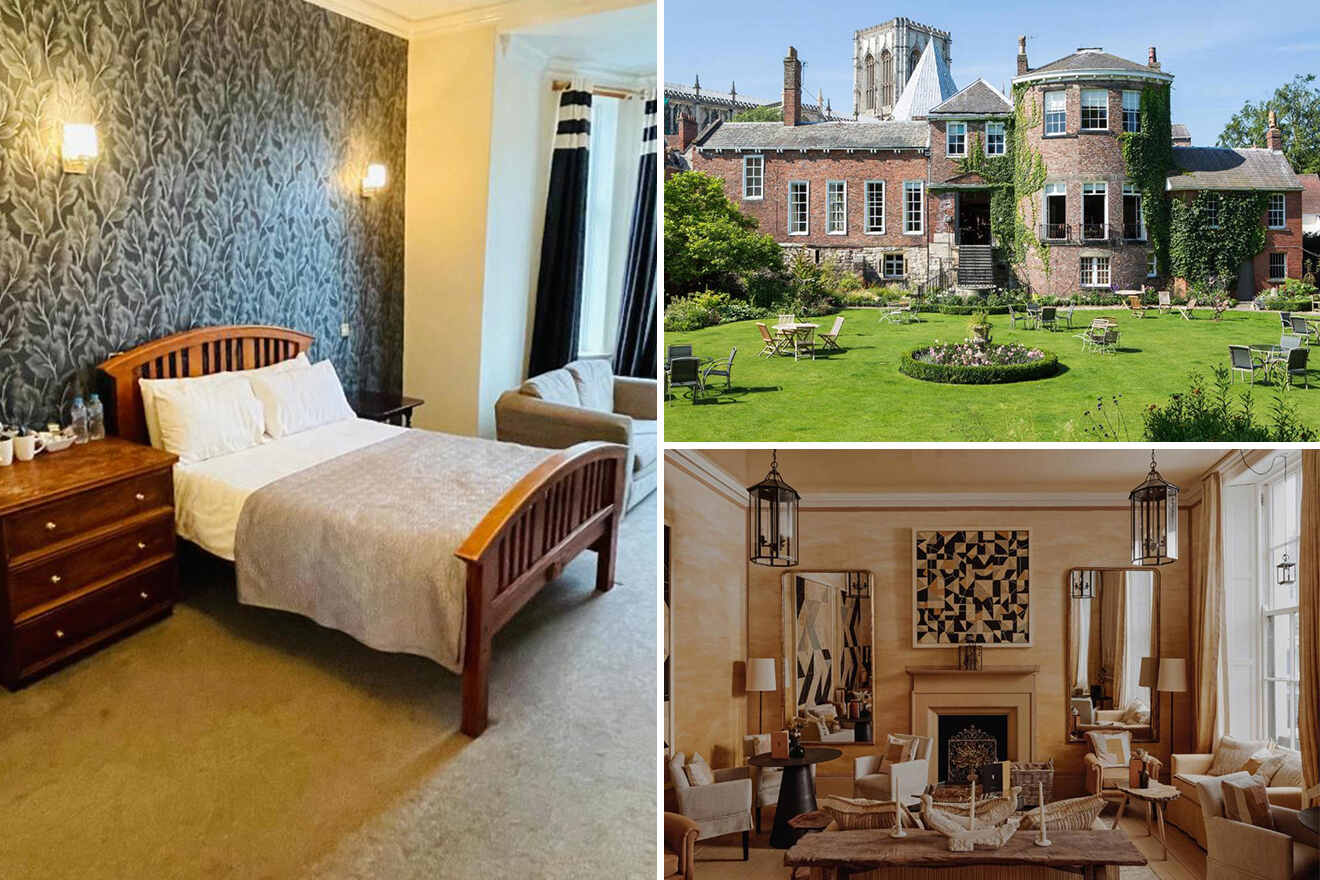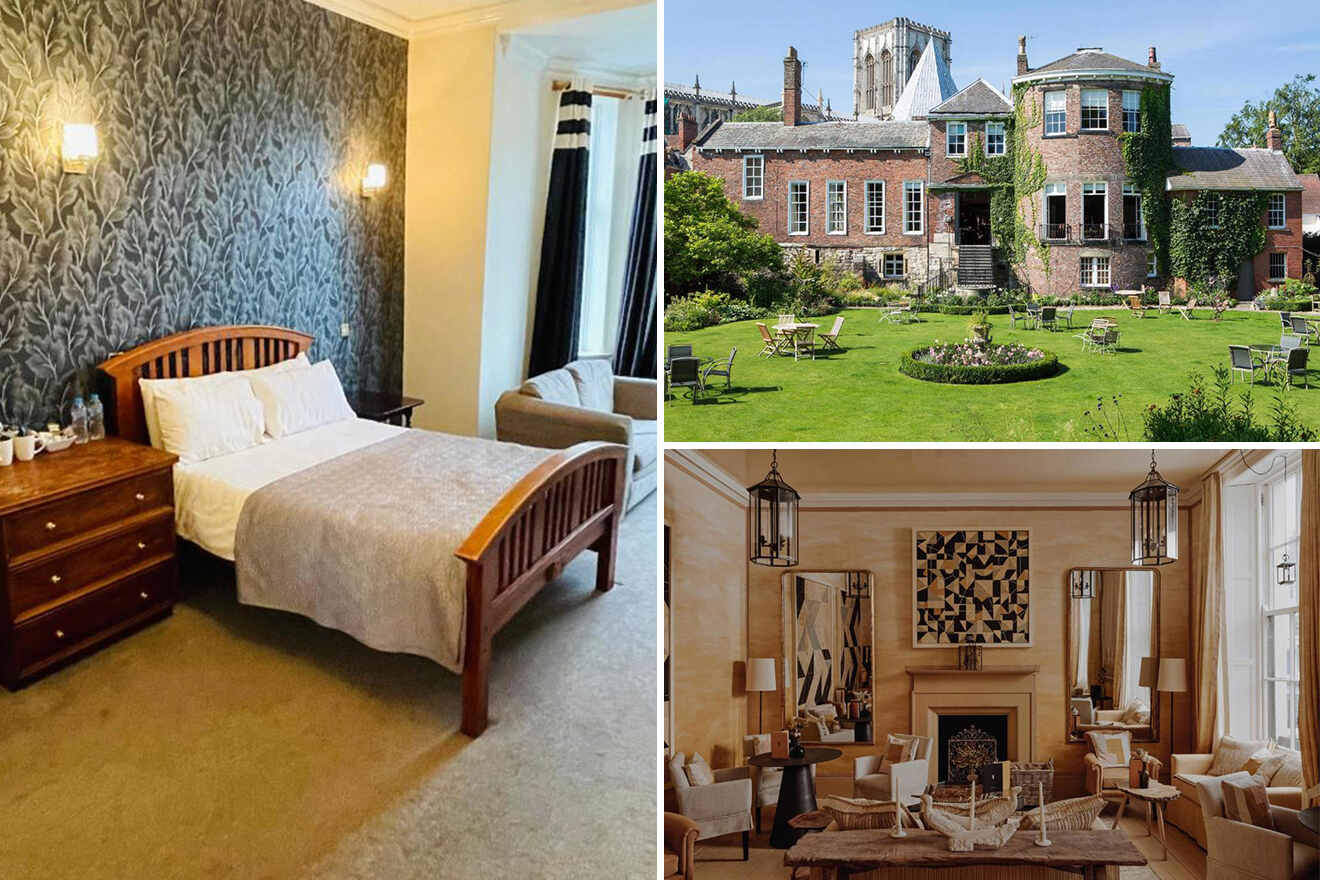 Doing a road trip around Yorkshire and you need a great hotel that offers parking spaces? Well, I'm here to help you with that! I've looked around for hours and found the best hotels in York that offer just that.
So let's have a look:
Luxury: Grays Court Hotel – This unique hotel in the City Center is so elegant and apparently it was once the home of King James I! Every little detail is so well-thought-out, and the furniture is definitely my favorite part, and also the fact that you get a nice sight of the city walls. Make sure you grab dinner at their AA Rosette restaurant, the food is delicious!
Mid Range: No 1 by GuestHouse – A beautiful boutique hotel that offers such a nice combination of old and new designs. The soft-colored furniture will create a super cozy environment and just wait until you see their luxurious spa!
Budget: The Heworth Inn – Clean, comfortable, and equipped with everything you need for your stay! This affordable hotel comes with family rooms that have a flat-screen tv and a free parking space.
BONUS 2: Best hotels in York for couples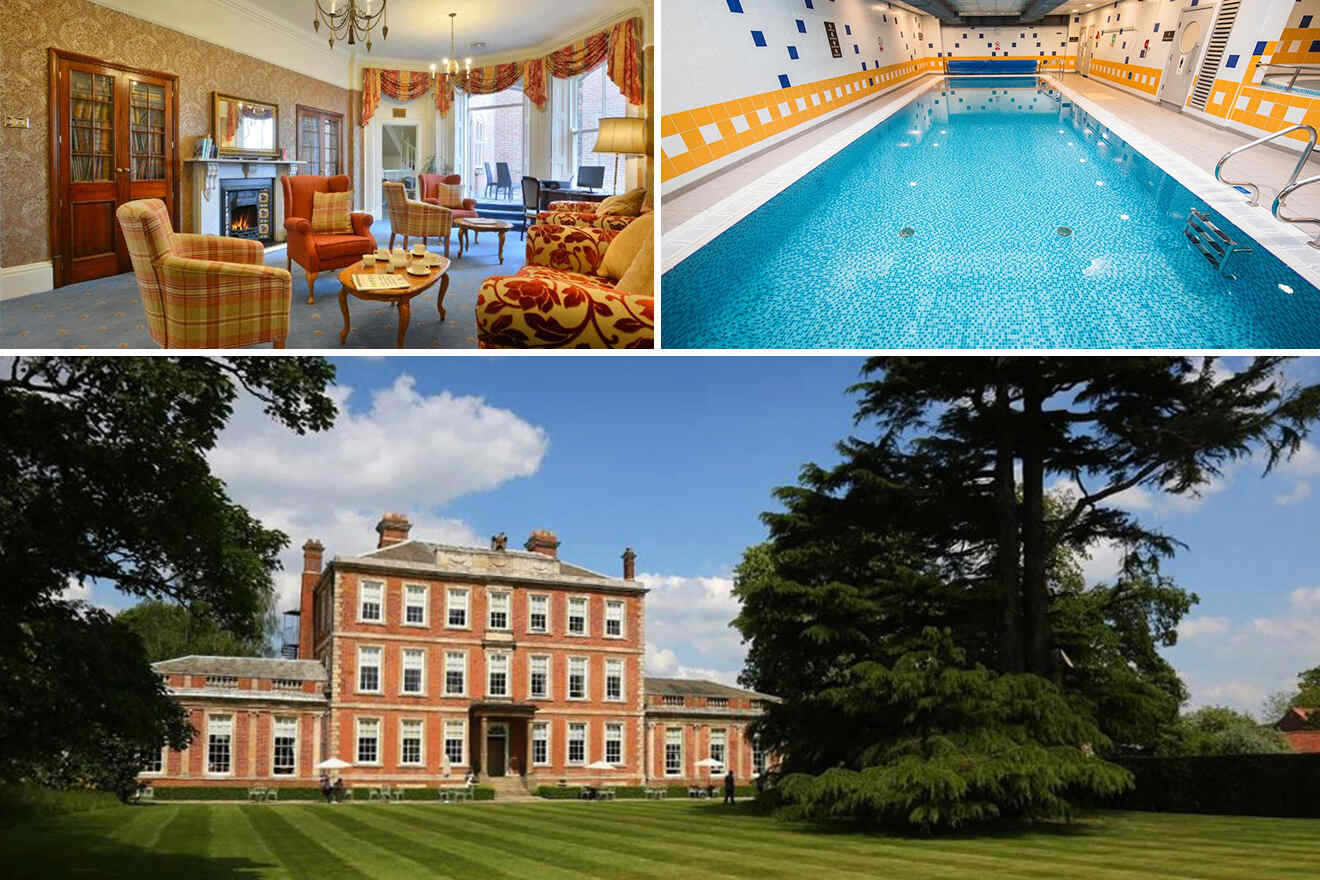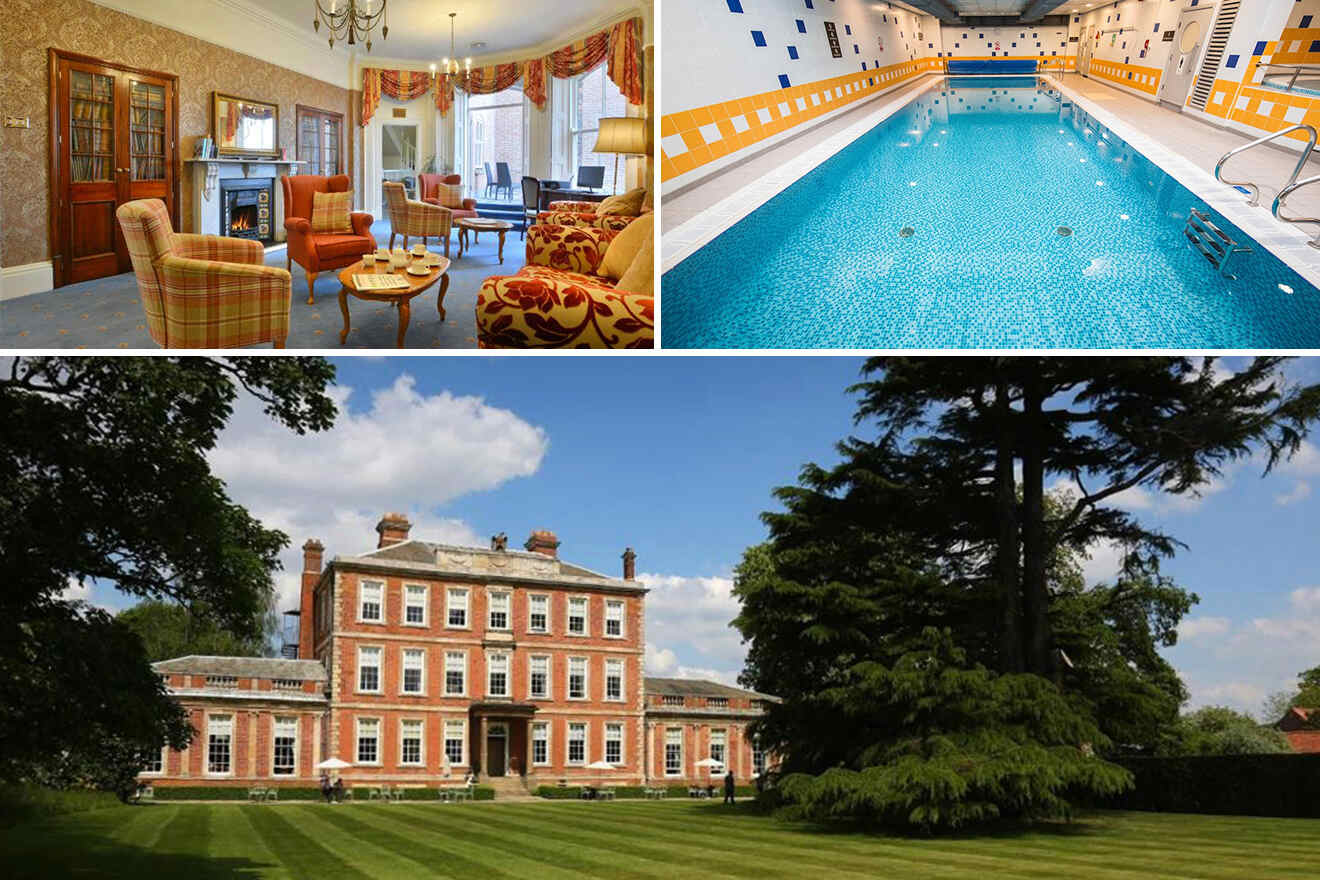 Planning a romantic getaway with your significant other in York? Well, this medieval town has a romantic vibe at times and the old houses can definitely make you feel like you're in a Jane Austen novel.
But it's not just that, you'll also find lots of unique hotels where you and your partner can enjoy your holiday in peace. I've looked through the lists and found 3 amazing ones for all budgets so let's have a look:
Luxury: Middlethorpe Hall & Spa – Peace, privacy, and award-winning food? Sounds like the perfect romantic getaway to me! This fabulous hotel that was built in the 1600s overlooks the York Racecourse and it has such stylish rooms. There's also a spa where you guys can relax and unwind with a massage.
Mid Range: Principal York – Set in an iconic building, this amazing hotel has a swimming pool and beautifully-decorated rooms. After exploring York you can end your day with a romantic candlelight dinner at their restaurant.
Budget: Best Western Kilima Hotel – This affordable hotel is so cozy! You'll never want to leave its comfortable four-poster beds and rooms! During your stay, you'll have access to a swimming pool and a nice lounge area where you can enjoy some drinks.
FAQs about hotels in York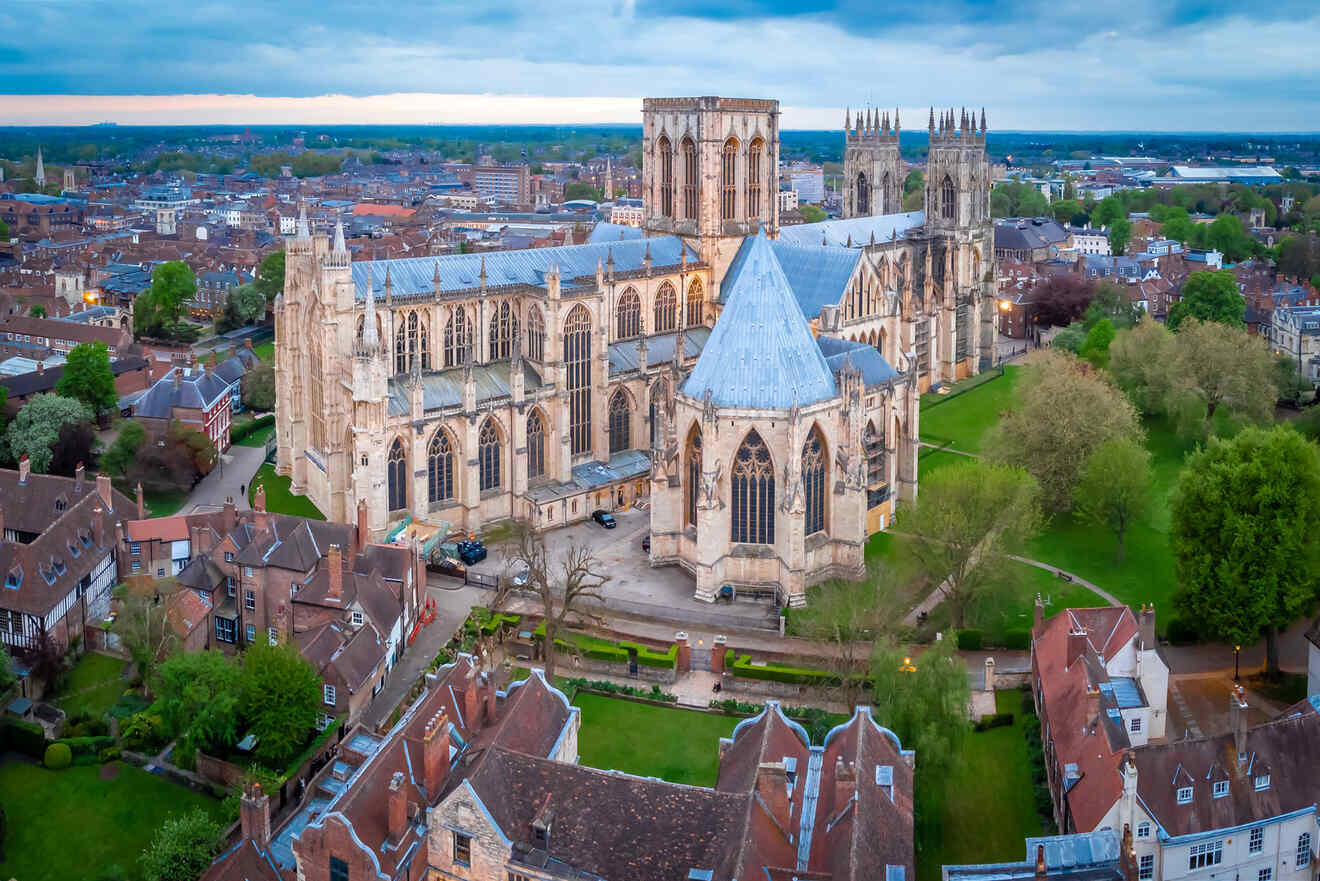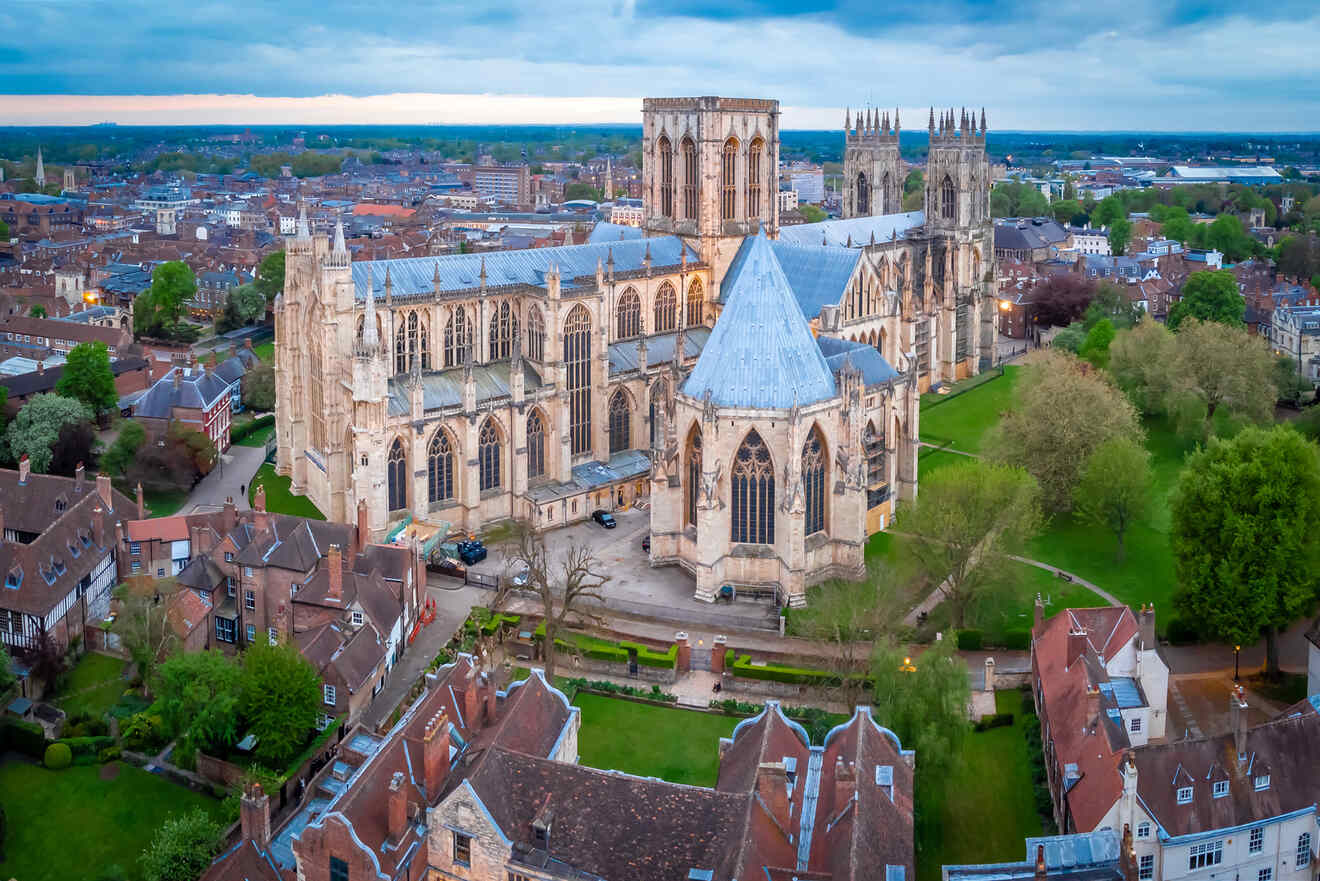 🏨 What are the best luxury hotels in York?
Some of the best luxury hotels in York are The Dean Court and The Grand. These accommodations have amazing facilities including some luxurious spa centers with a steam rooms. 
👪 Which hotels in York are good for families?
🤔 What is the best area to stay in York?
City Centre is the top area to stay in York! There you'll find the main attractions, the best hotels like Judge's Lodging, and lots of cool restaurants.
💰How much does it cost to stay in a place in York?
You can expect to pay around £180 for a luxury hotel, £130 for a mid-range one, and £90 for budget accommodation.  
Conclusion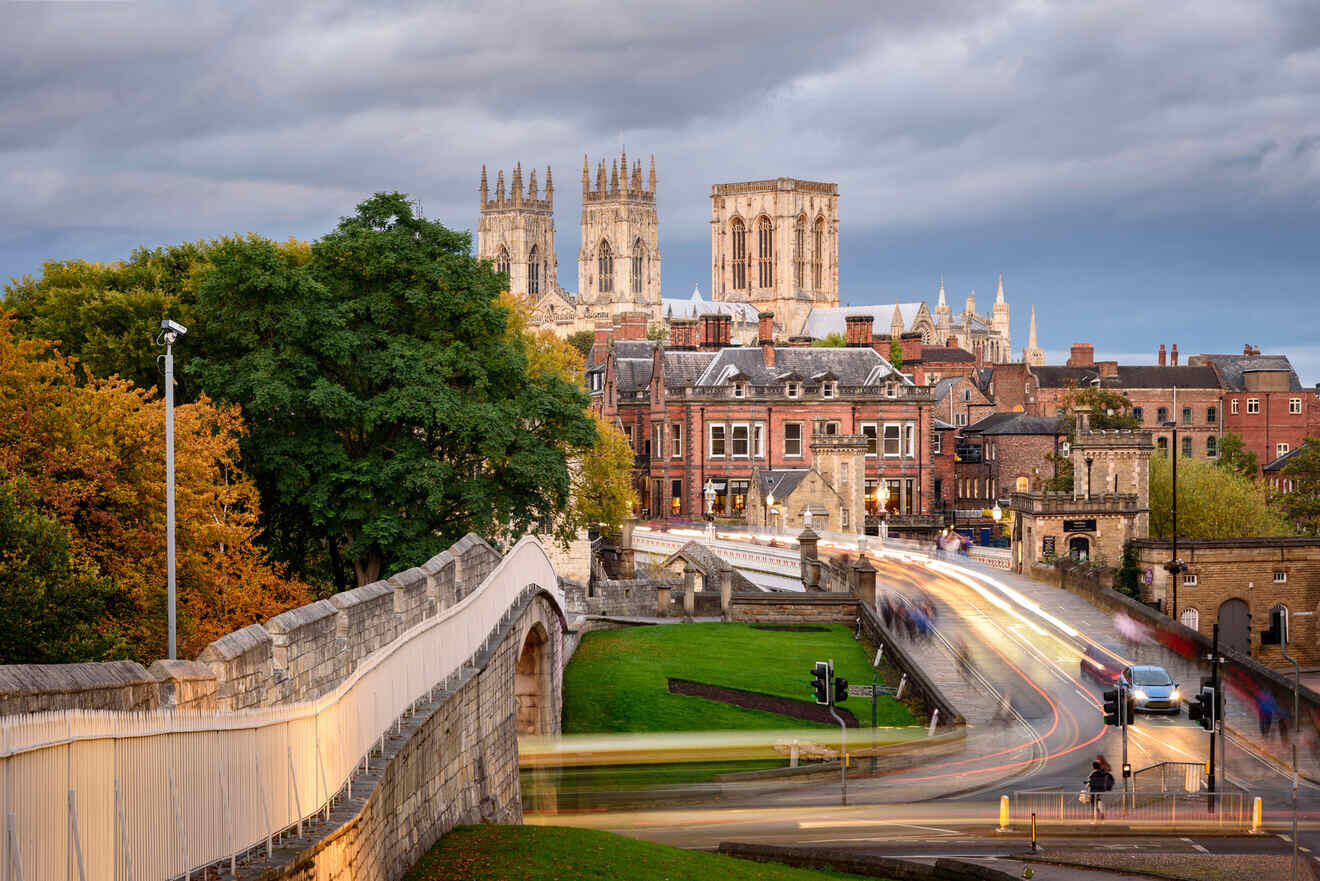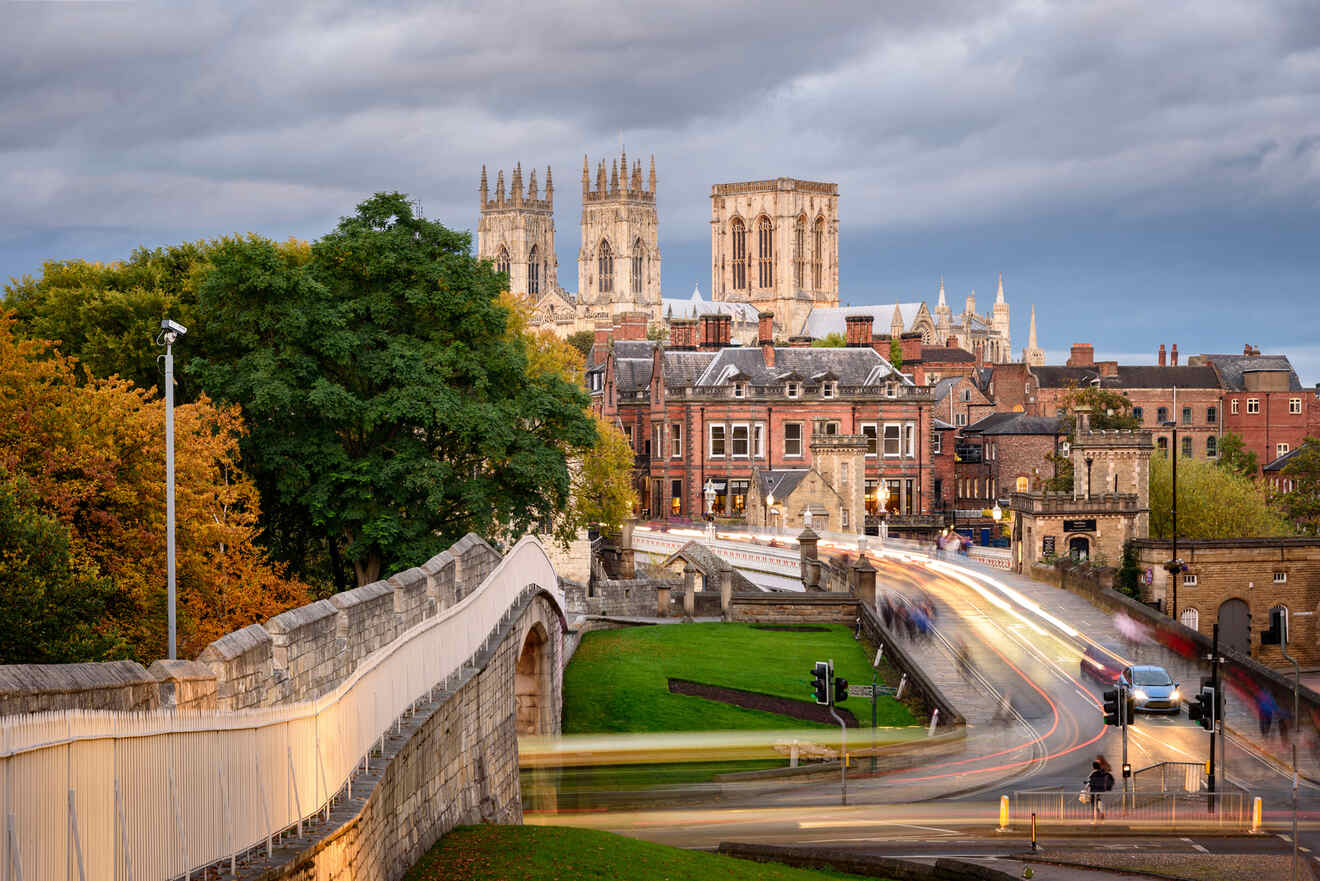 Can you believe how beautiful this place is? I'm sure you'll love every moment here! And now that you've read this super comprehensive guide with the best areas where to stay in York, you'll feel much more confident when planning your trip
But before I let you get on with the planning, let's do a quick recap of what we've talked about today.
This post has the best areas in York, plus 2 great bonuses with the top accommodations with parking and some amazing hotels which are perfect for a romantic getaway.
That's a lot of content to digest, but you know I always like to leave you feeling prepared and ready to hit the road. However, if you still have doubts on which hotel you like, then maybe my 2 favorite ones will inspire you:
The Dean Court Hotel – Set in a beautiful building this hotel has a modern decor and it offers views of York Minster
Hedley House Hotel – A lovely mid-range option that has super comfortable rooms, a hot tub, and a spa center where you can relax
Don't forget what I mentioned earlier. Booking your hotels in advance in York is so important as this city is super popular with tourists and the good ones always go first.
Well, everyone, I hope you enjoy this adventure and I want to hear all about the ghost stories when you come back! So leave me a comment below if you've encountered any spooky activity during your holiday.
Safe travels,
Victoria
---
Pin it for later!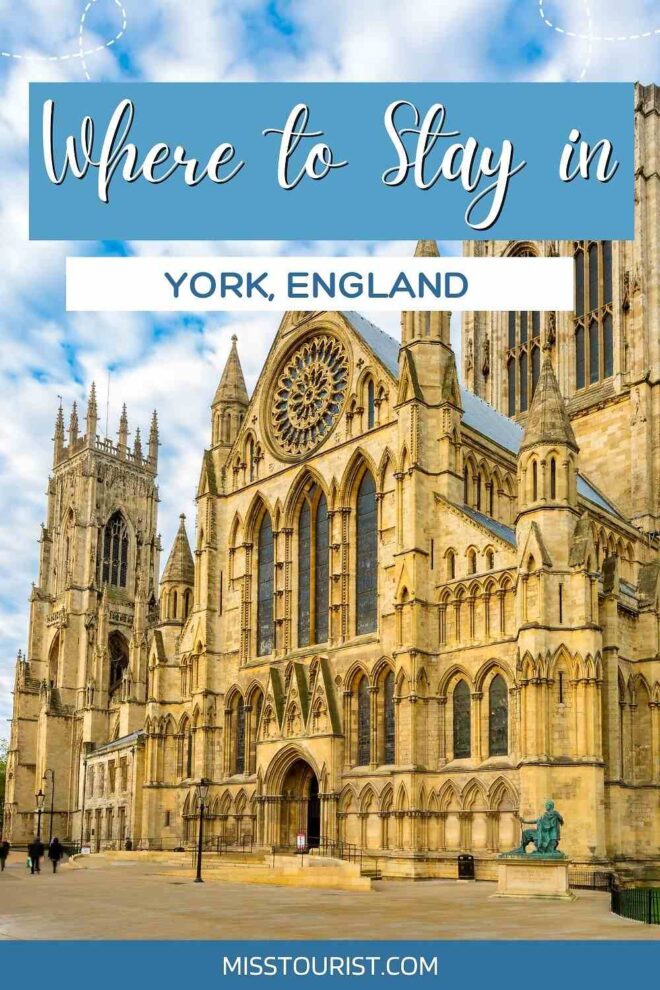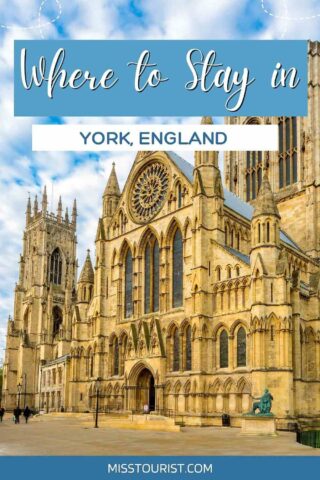 Pin it for later!