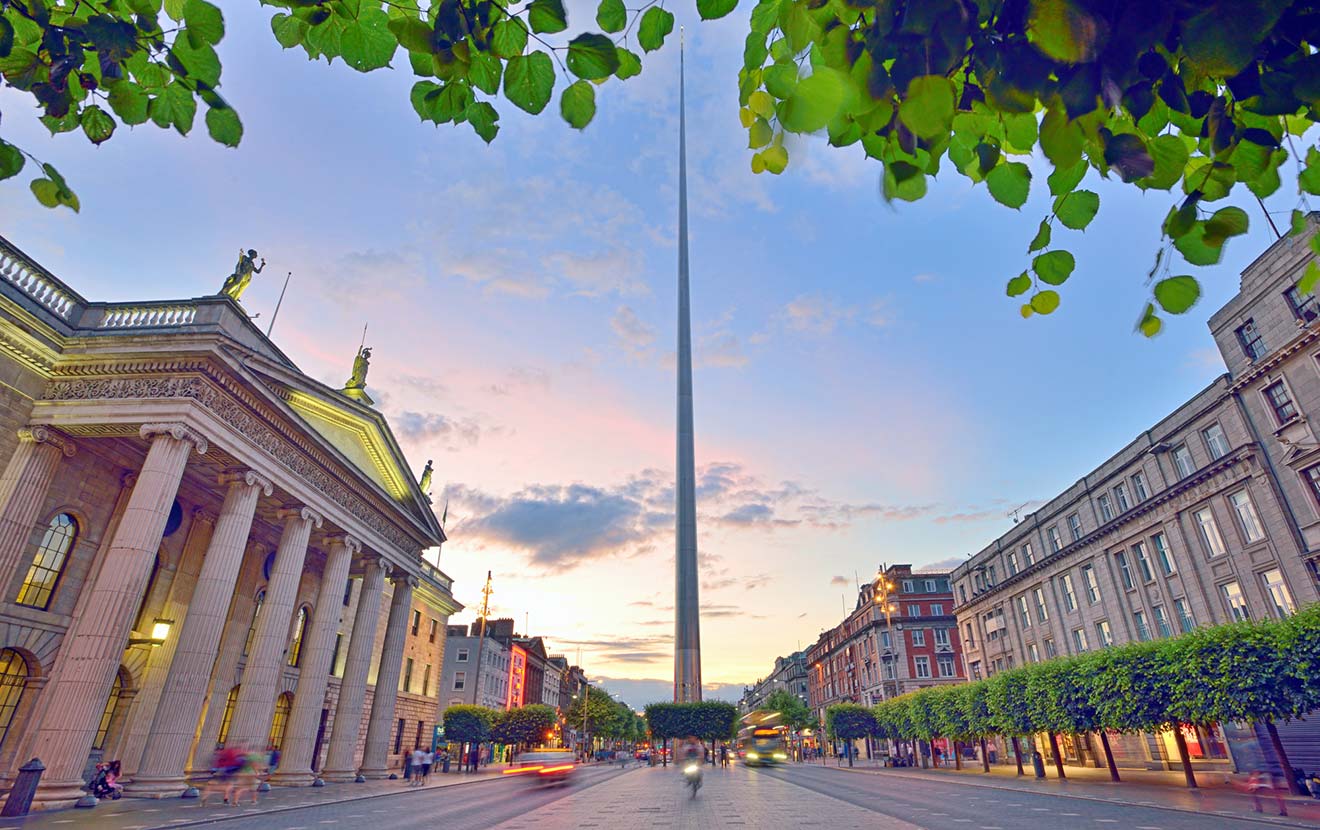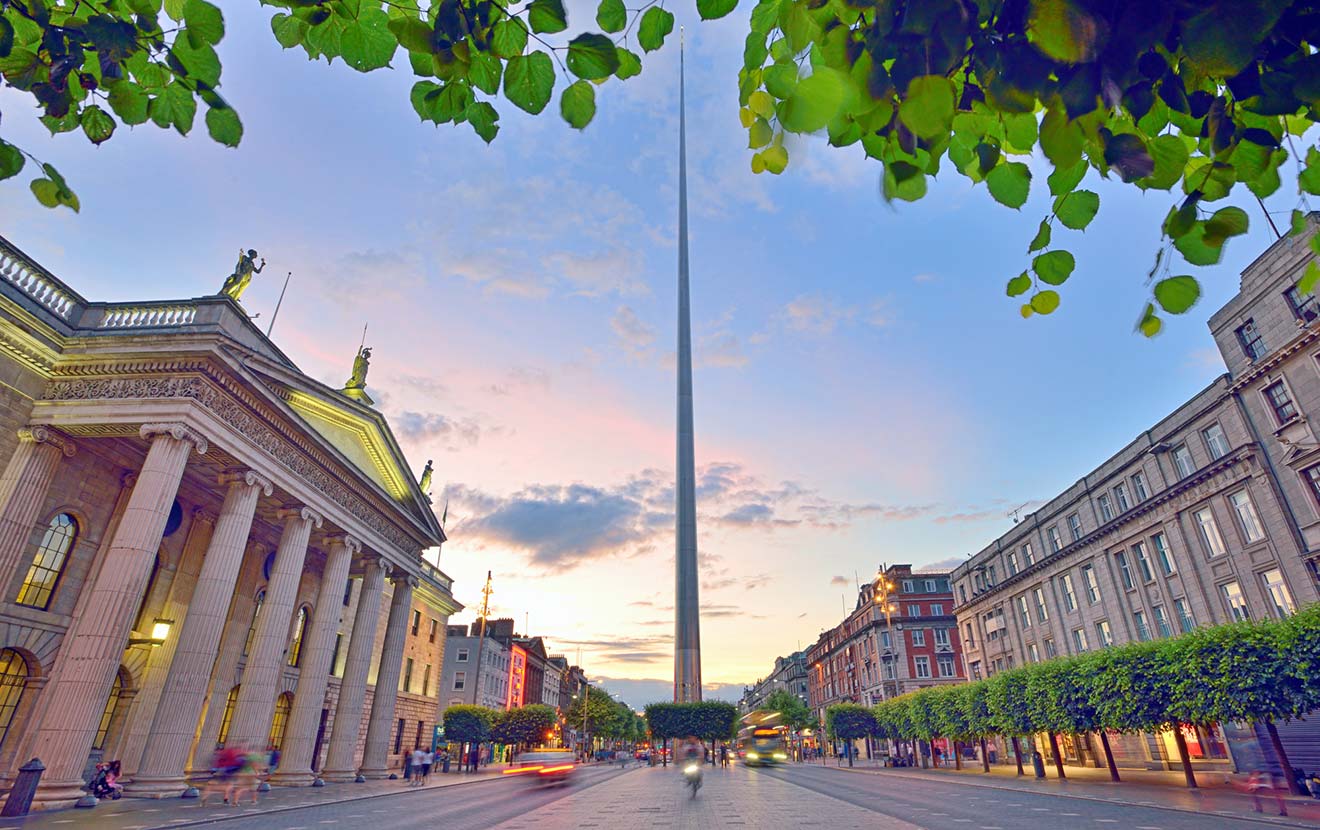 If you're planning to travel to the beautiful city of Dublin, congrats, that's a great choice! You're probably wondering where to stay in Dublin, right?
Well, I'm here to help with all the info you need. Firstly, the best area to stay in Dublin is O'Connell Street, as it is the most popular area for tourists and the heart of the city center.
But before you take my word for it, I'm sure you'll want to understand at first how this city is organized and where all the best areas for tourists are. So in order to make your life easier, I will explain everything you need to know about the 6 other neighborhoods you could stay in depending on the type of traveler you are: The Docklands, Smithfield, Phibsborough, Temple Bar and Trinity, Merrion Square and Fitzwilliam Square, and Portobello.
Scroll down to find out everything you need to know about your stay in Dublin (with maps!), as well as my best, hand-picked hotels in the city. All of them have amazing reviews and perfect service! Which is why I encourage you to hurry and book your chosen hotel in advance so you don't miss out, these rooms sell fast!
NOTE: I wouldn't classify Dublin as a cheap city, so expect the prices to be a bit higher than your usual budget European hotels. You'll clearly see what to expect for the price ranges for each budget and each area.
Ready? Let's go!
If you're in a hurry…
If you don't have time to read the whole post, here are the best hotels from each price category: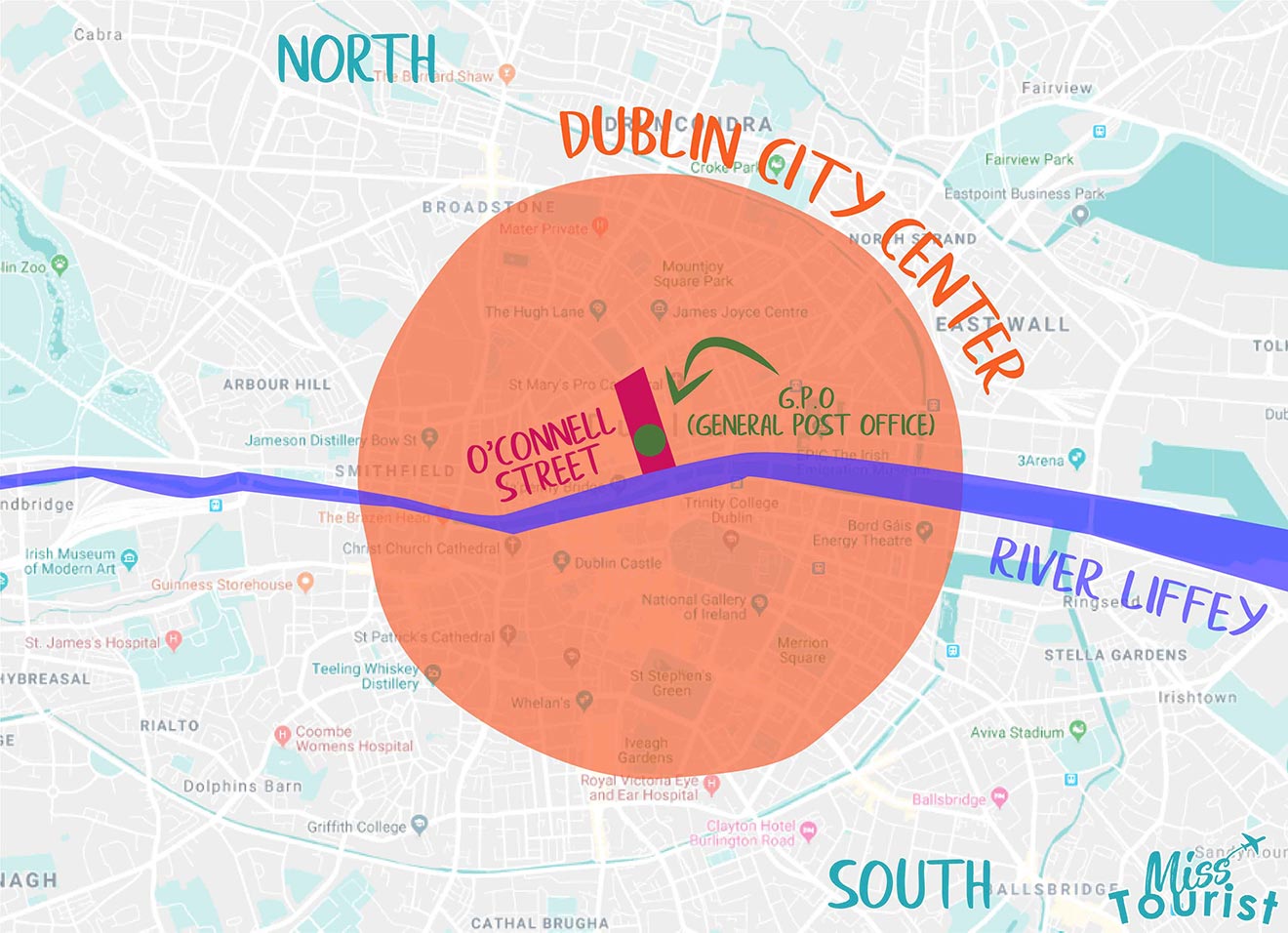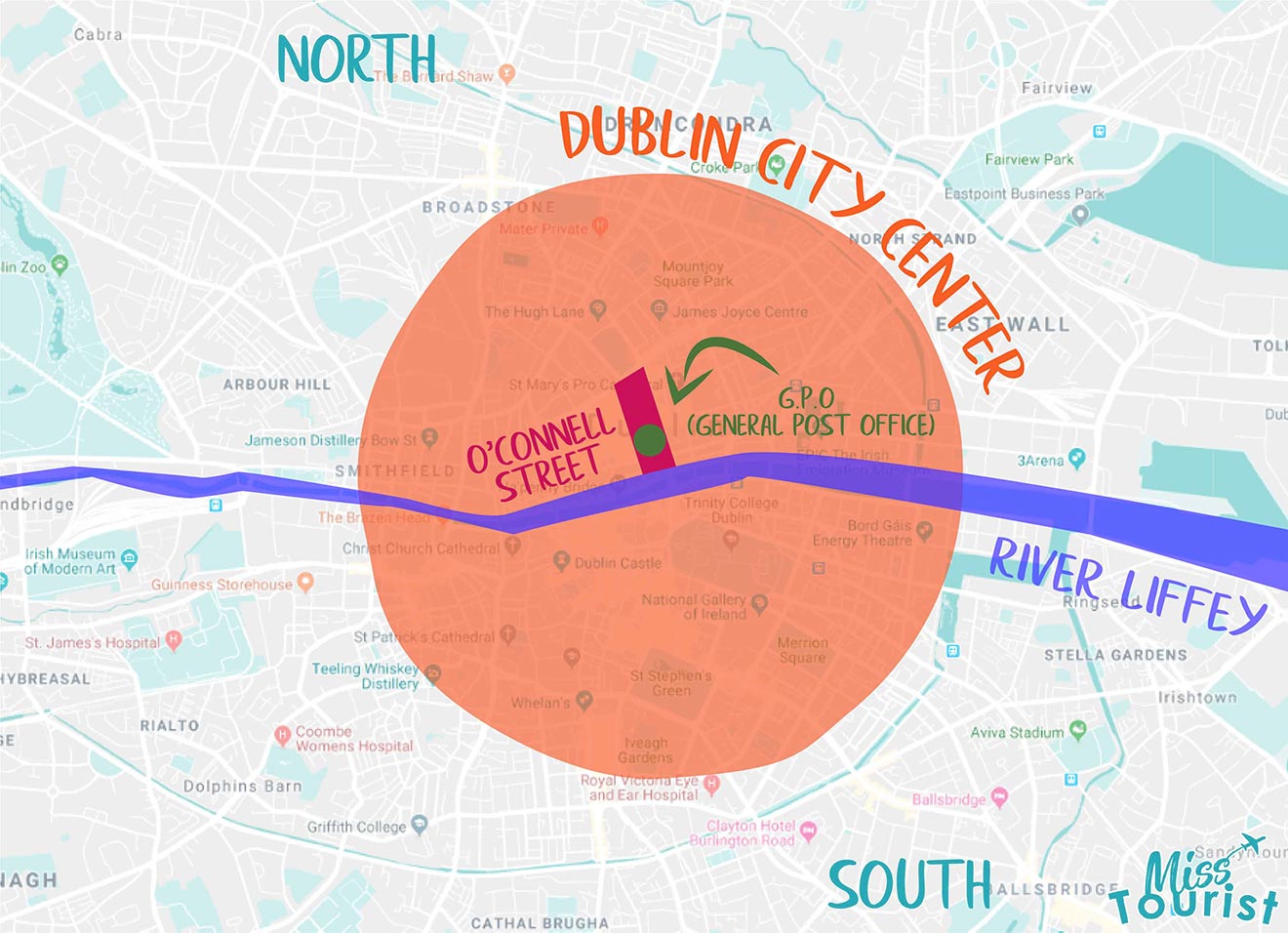 If you've never been to Dublin before, it will be somewhat confusing to understand what, where and how wide is the city center. So I'll do my best to explain this to you with this Dublin neighborhood guide.
Dublin is divided into two (almost perfect) halves by River Liffey – the North and the South. Each of these parts contains smaller neighborhoods, each of them having its own charm and advantages.
But there's a simple way of understanding what is the center of Dublin – the General Post Office located on O'Connell Street (the main street of Dublin) is considered to be the main core of Dublin and the measurement point to and from the center.
If you want to stay as central as possible, choose an accommodation that's close to O'Connell Street, regardless if it's North or South of the River Liffey. Temple Bar is also very central and one of the most famous areas of Dublin, as well as Trinity and Grafton Street.
Check out this map of Dublin's zones and regions which will hopefully help you choose the best neighbourhood for you to stay in.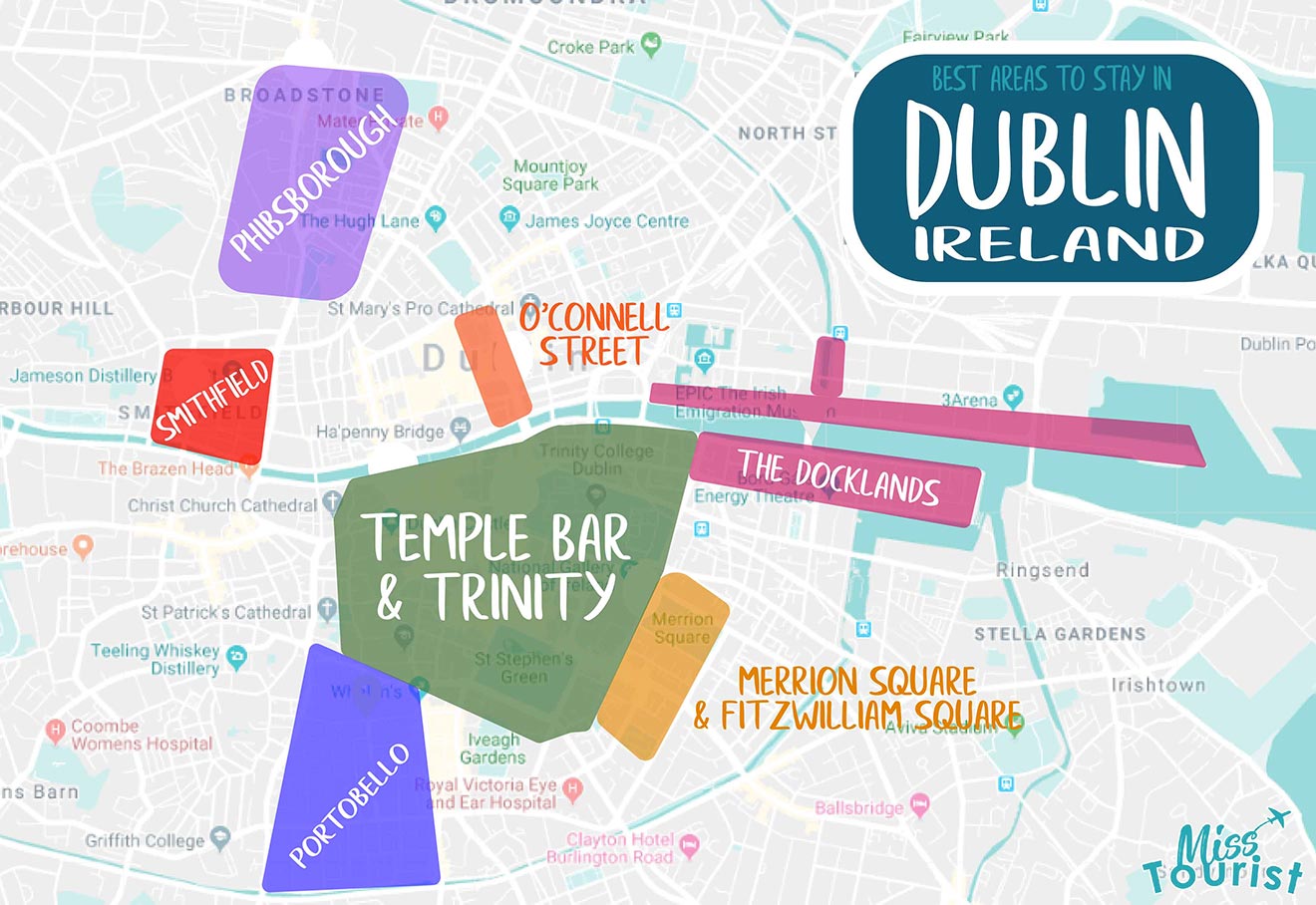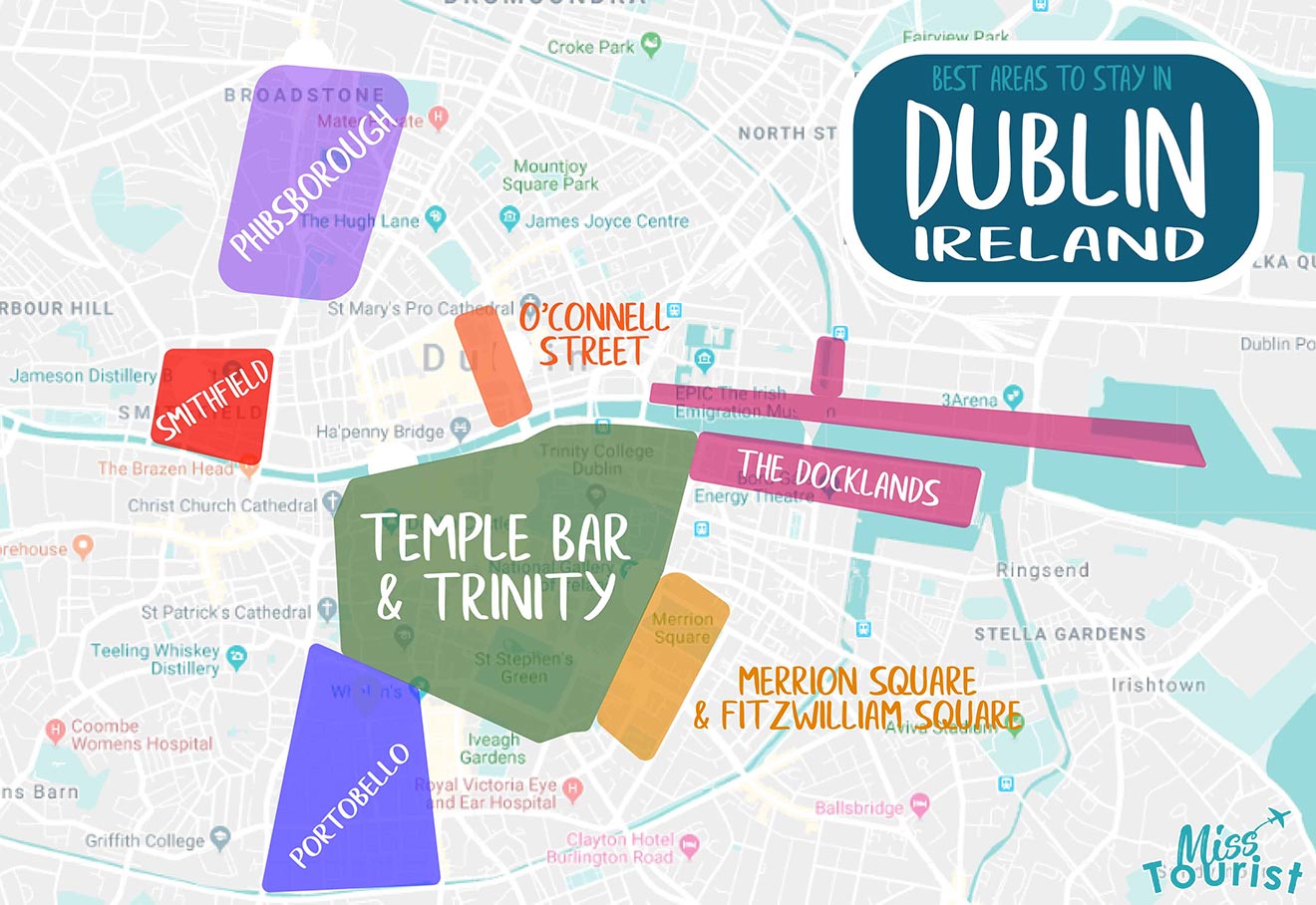 1. O'Connell St – where to stay in Dublin for first timers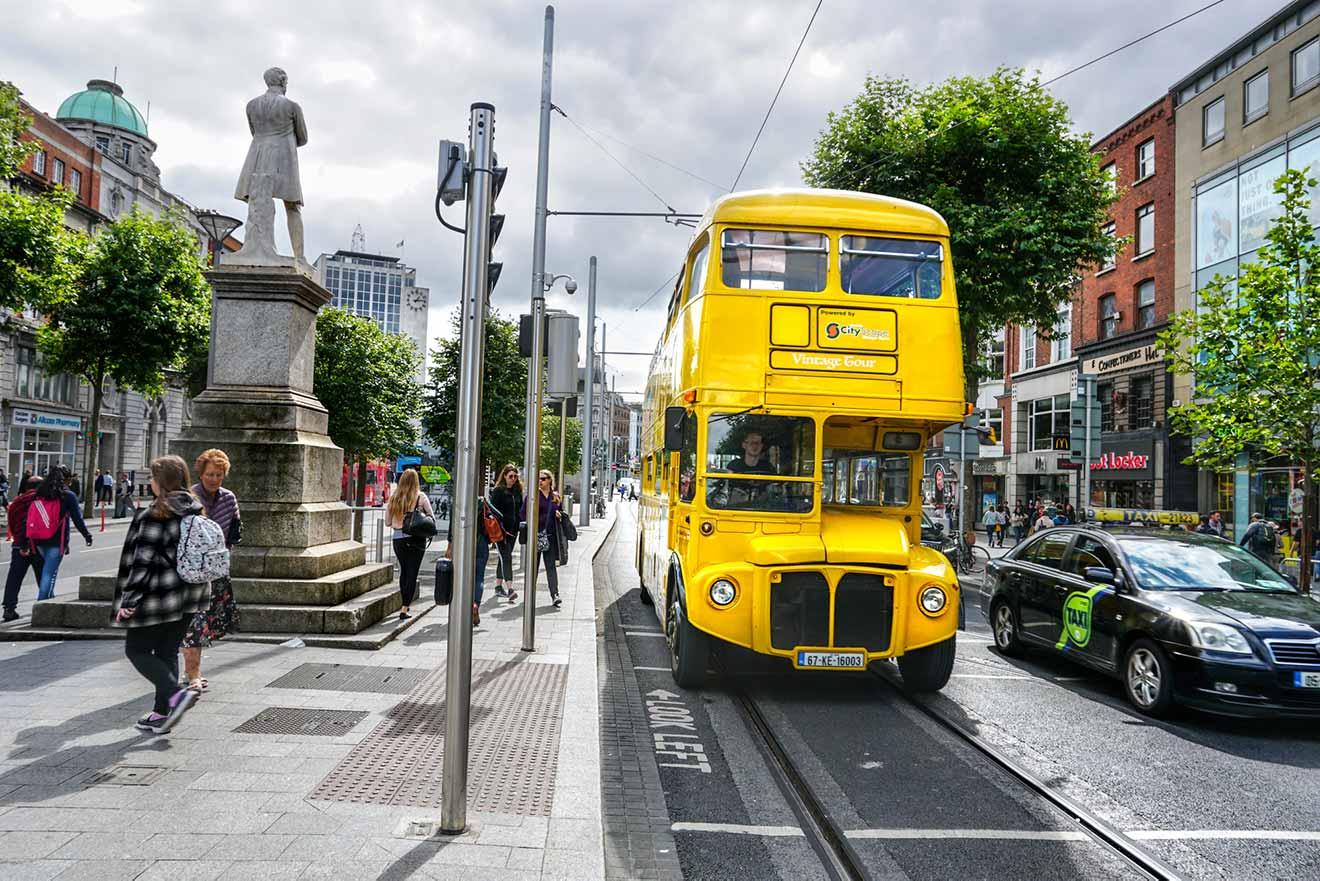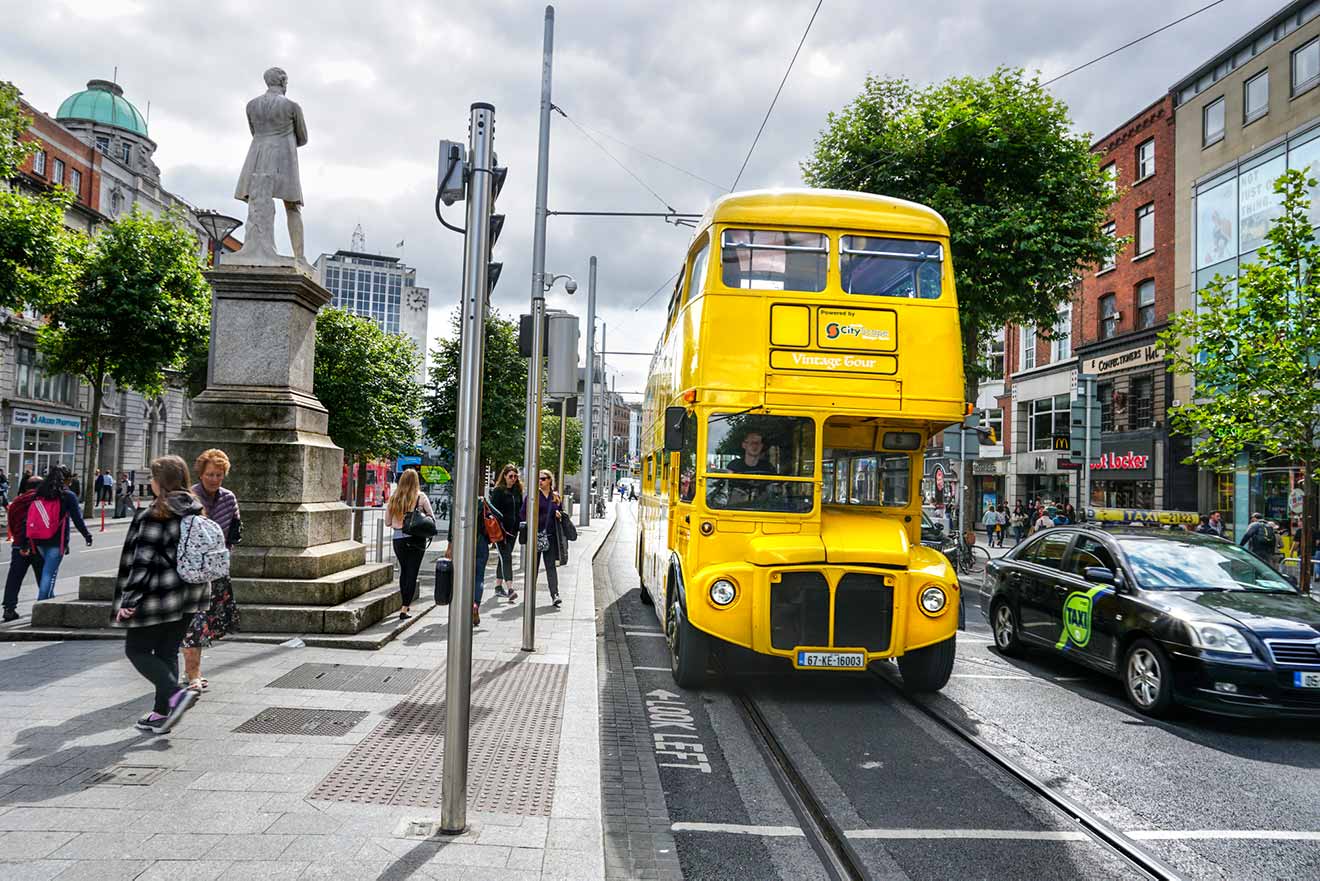 O'Connell is the city's main street and the widest road in the entire Ireland!
So if you want to be right in the core of Dublin, make sure to find a hotel that's as close to O'Connell Street as possible.
You'll find anything here from boutique shops, supermarkets, vintage stores and more, which makes it one of the greatest places for shopping as it is just one hop away from everything!
You'll also be surrounded by tons of restaurants, pubs, cafes, bars, clubs and a lot of amazing hotels for all budgets. Remember: the General Post Office on this street is considered the very center of the city, so anything close to it will be perfect for your trip!
And to make your job easier, I made a selection of the best hotels on O'Connell Street and around:
Luxury (US$170 and up)
The Morrison – This beautiful boutique hotel is stylishly decorated with original art and hand-crafted Irish carpets, it also has a bar restaurant and it's just a 5-minute walk away from Dublin's city center and O'Connell Street!
Hotel 7 – This hotel awaits with 4-star traditional Irish hospitality and some super beautiful rooms with modern, creative decor! All the rooms have comfortable beds and the property has a fab location as well – just a short walk away from Temple Bar in Dublin's city center!
Middle-priced (US$110 – US$170)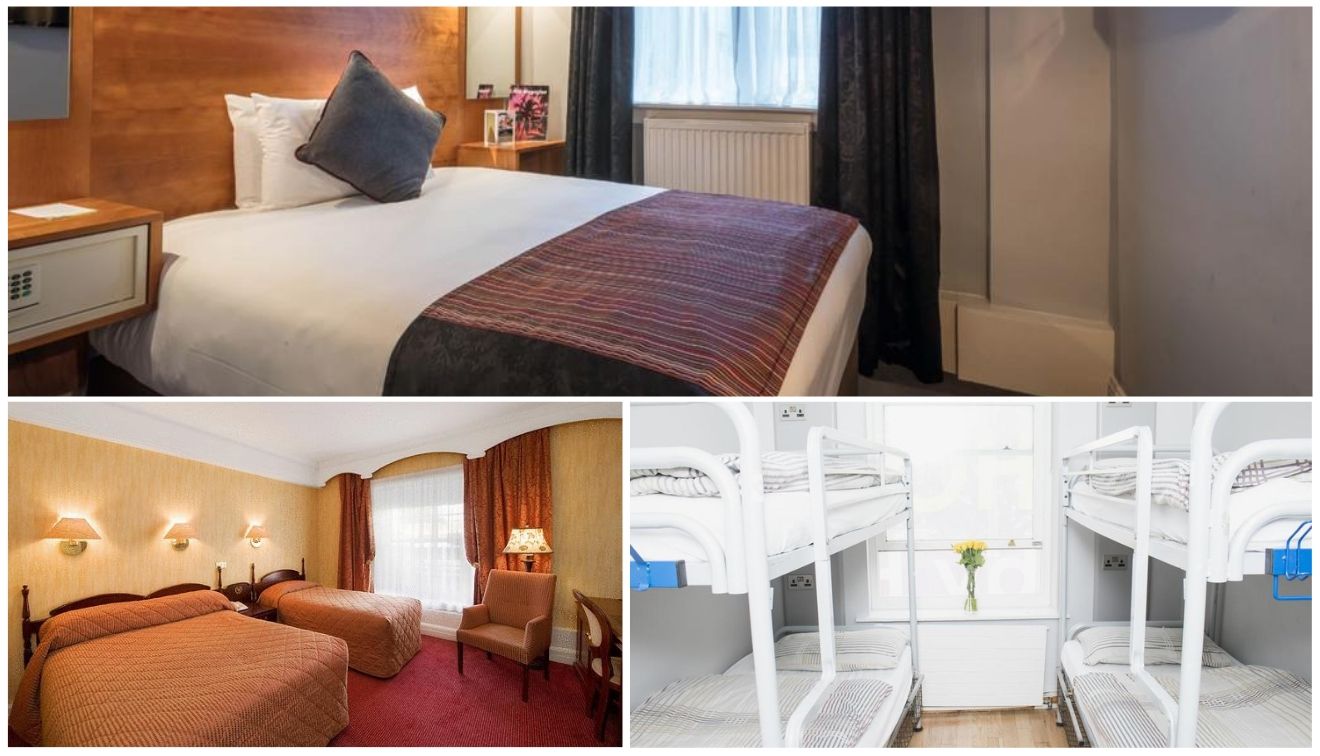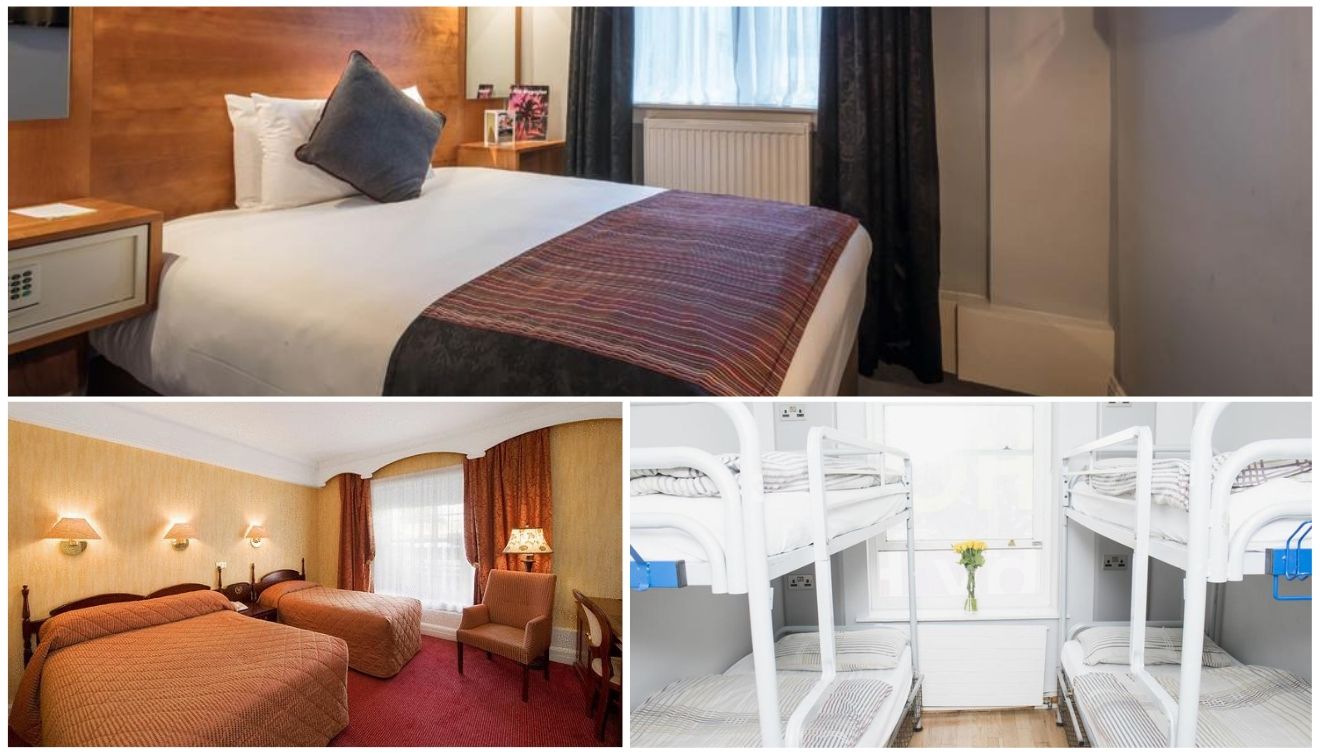 Wynn's Hotel Dublin – If you're looking for a central hotel, this is your choice! This is actually an iconic building, dating from the 19th century and it offers excellent service for a good price. All the rooms have a traditional, creative decor and the hotel has its own traditional Irish restaurant as well!
Gardiner Lodge – Situated in the heart of Dublin's City Centre, this place has garden views, á la carte breakfast and shows off the traditional Irish hospitality. Plus, it is just a short walk away from the Temple Bar Area!
Budget (up to US$110)
Jacobs Inn Hostel – This is a very affordable accommodation within Dublin central, especially for families and groups, offering spacious and comfortable rooms. It also offers free daily guided tours of the city you won't want to miss!
Holiday Inn Express Dublin City Centre – Located in Central Dublin, in this hotel you will find complimentary breakfast and family rooms! The National Gallery is just a 20-minute walk away and its proximity to the Luas (Dublin's light railway system) will get you anywhere in a heartbeat!
Book a room near O'Connell Street
2. Temple Bar, Trinity & Grafton Street – best for nightlife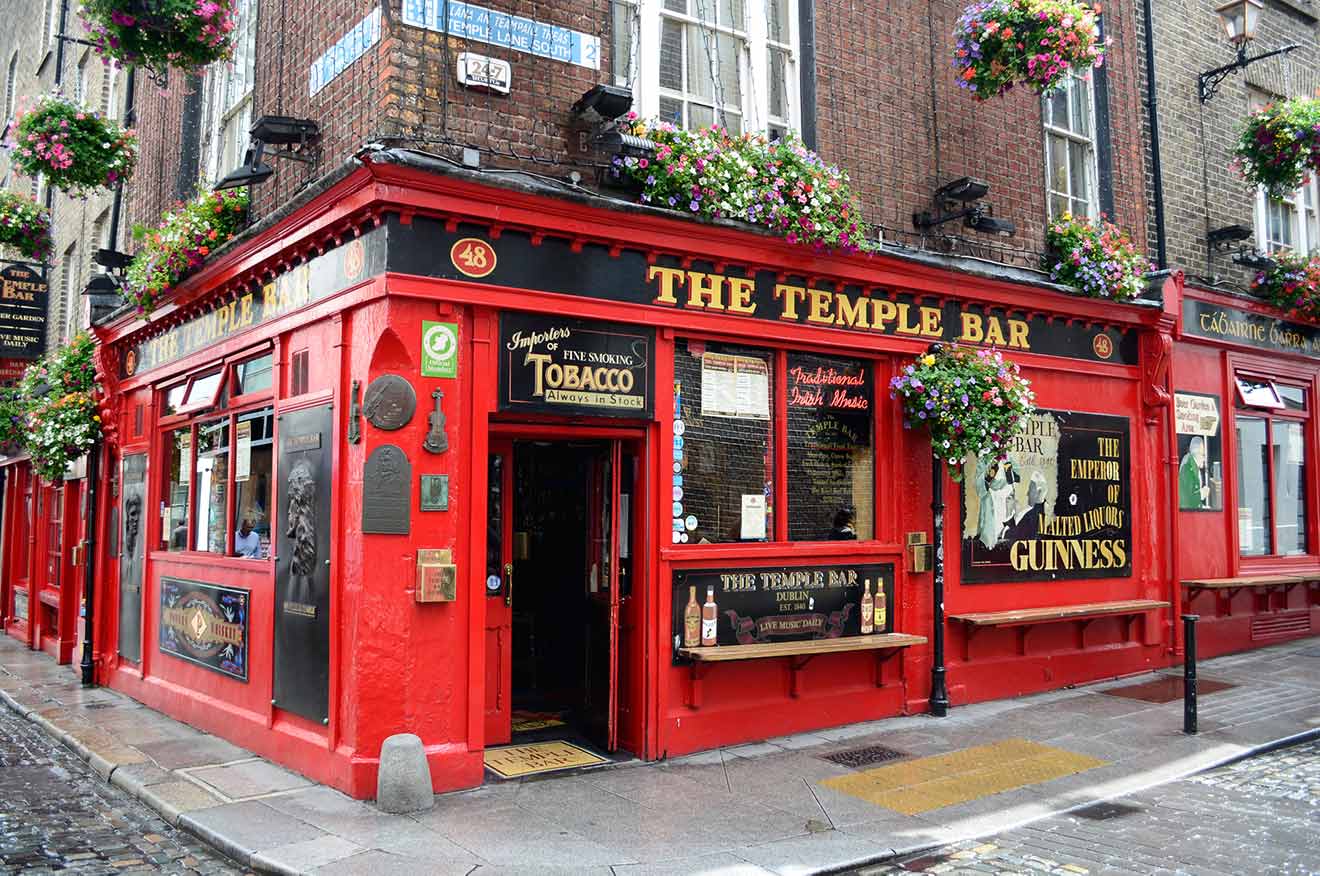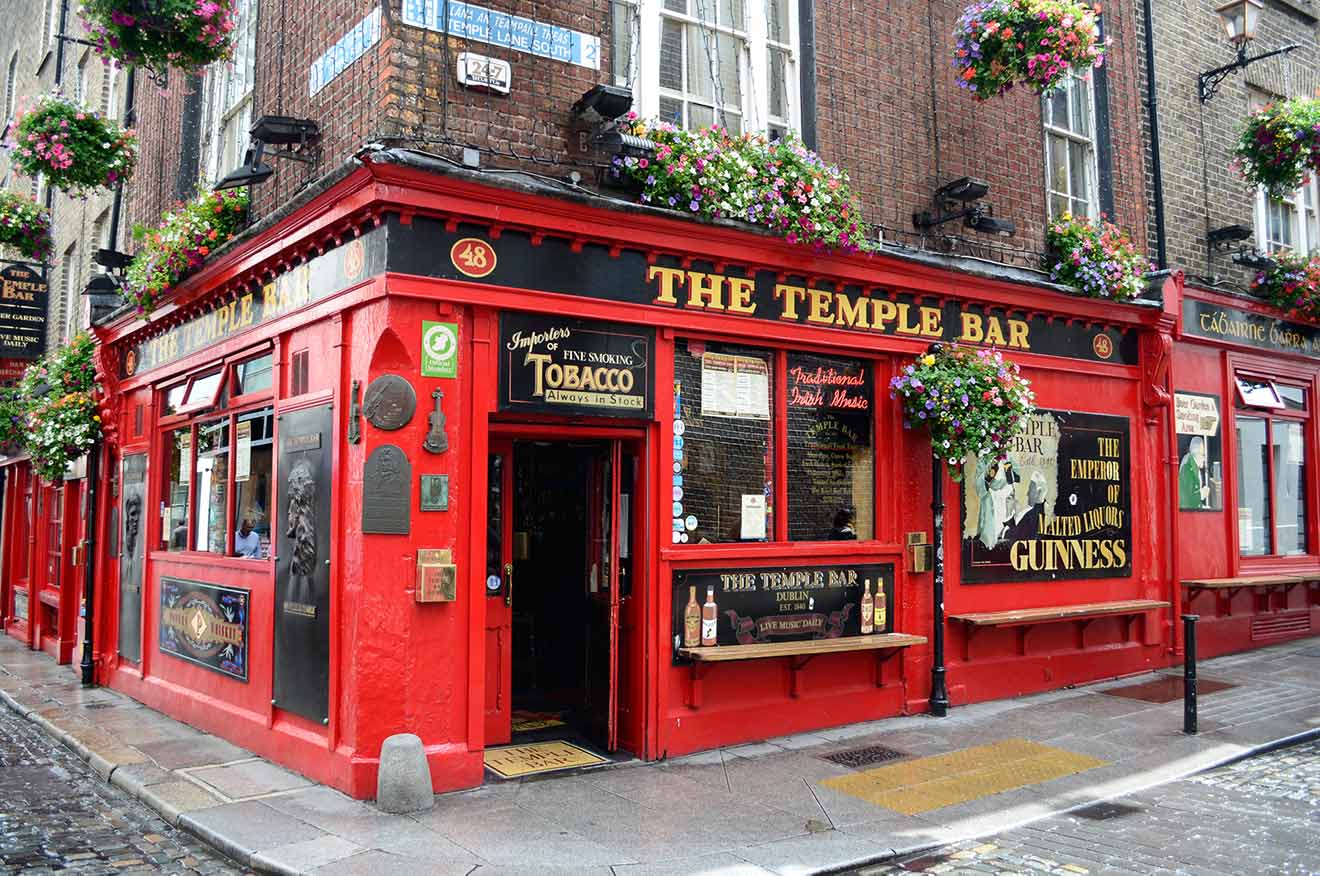 Temple Bar is the most well-known area in the entire city and the perfect choice for all the party animals out there!
You'll find Temple Bar mentioned in all Ireland guides and itineraries, as it's an iconic area and a tourist hub!
Right on the south bank of the Liffey River, Dublin Temple Bar is located right between Trinity College (another landmark of the city and one of the top ranked Irish universities) and Grafton Street (the shopping district!) and because the area is not that big, I decided to group them into one single neighborhood.
There are TONS of great traditional Irish pubs and bars with live music around this area, so it's the place to be if you want to indulge in some Irish beer and snacks and experience THE Dublin nightlife.
But that's not all! You'll also find many cute shops, markets and restaurants here, you can even find the National Gallery, among other tourist attractions, as well as beautiful architecture, so it's basically impossible to get bored.
Luxury (US$180 and up)
Hard Rock Hotel Dublin – This Trinity City hotel has the most comfortable and spacious rooms you can wish for. It is located also very near the Dublin Castle in southern Georgian Dublin and surrounded by historic buildings like the City Hall.
The Merchant House – This hotel is very near Dublin Castle, as it is amid the Temple Bar area, right next to the Trinity College too! Here you can enjoy the city life by day and Dublin's nightlife but night as you stay in a place built in the 1720's!
Middle-priced (US$100 – US$180)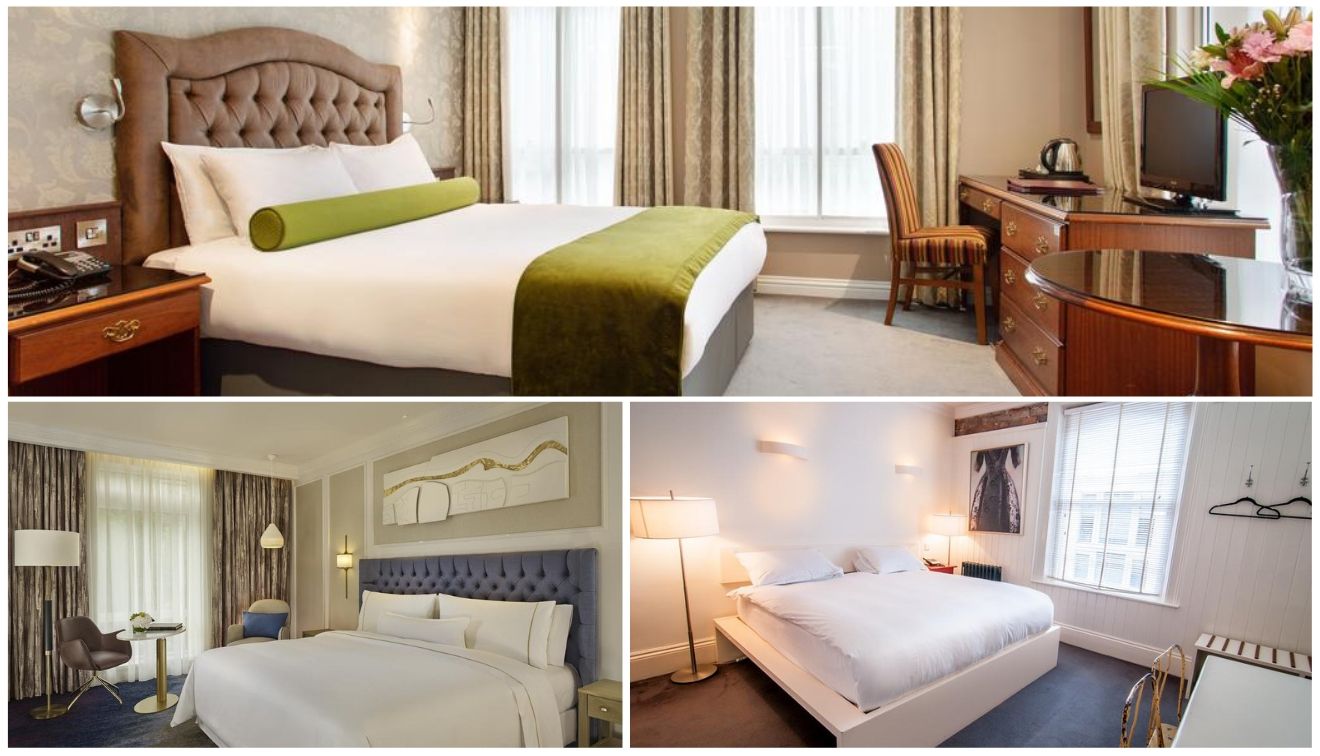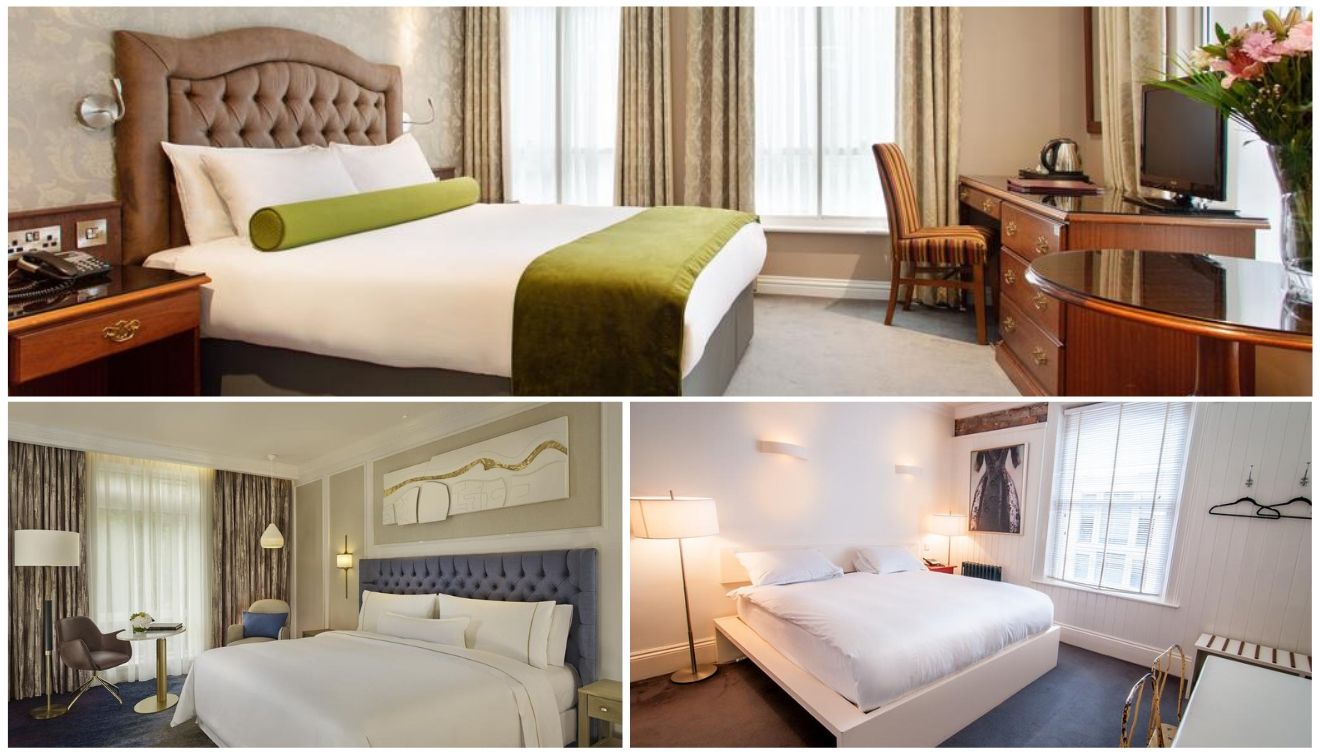 Temple Bar Inn Dublin – Here's another awesome choice for people who want to be right in the middle of the action and live music venues near the Dublin Temple Bar, but close to Aviva Stadium as well and Trinity College! Except for the awesome rooms, the Temple Bar Inn also has a beautiful terrace, a shared lounge, luggage storage and a super friendly staff!
Staycity Dublin Aparthotels – For those who prefer the comfort of their own home, no worries, I got you covered! This seemingly boutique hotel is actually an aparthotel that offers 4-star service for some pretty good prices. They also have free Wi-Fi and a kitchen that you can use!
Budget (up to US$100)
Drury Court Hotel – Here's my recommendation for anyone looking for cheap hotels in Dublin City Centre! This hotel comes with excellent service and some very good prices, considering its great location – very central and not far from Aviva Stadium either! So if you find a room that's available for your dates, make sure to reserve it!
Staycity Aparthotels Mark Street – Just within a short distance of Trinity College, this accommodation has fully equipped apartments with comfortable rooms, kitchen, dining area and even a dishwasher!
Check the rates for Temple Bar
3. Portobello – nicest area in Dublin for families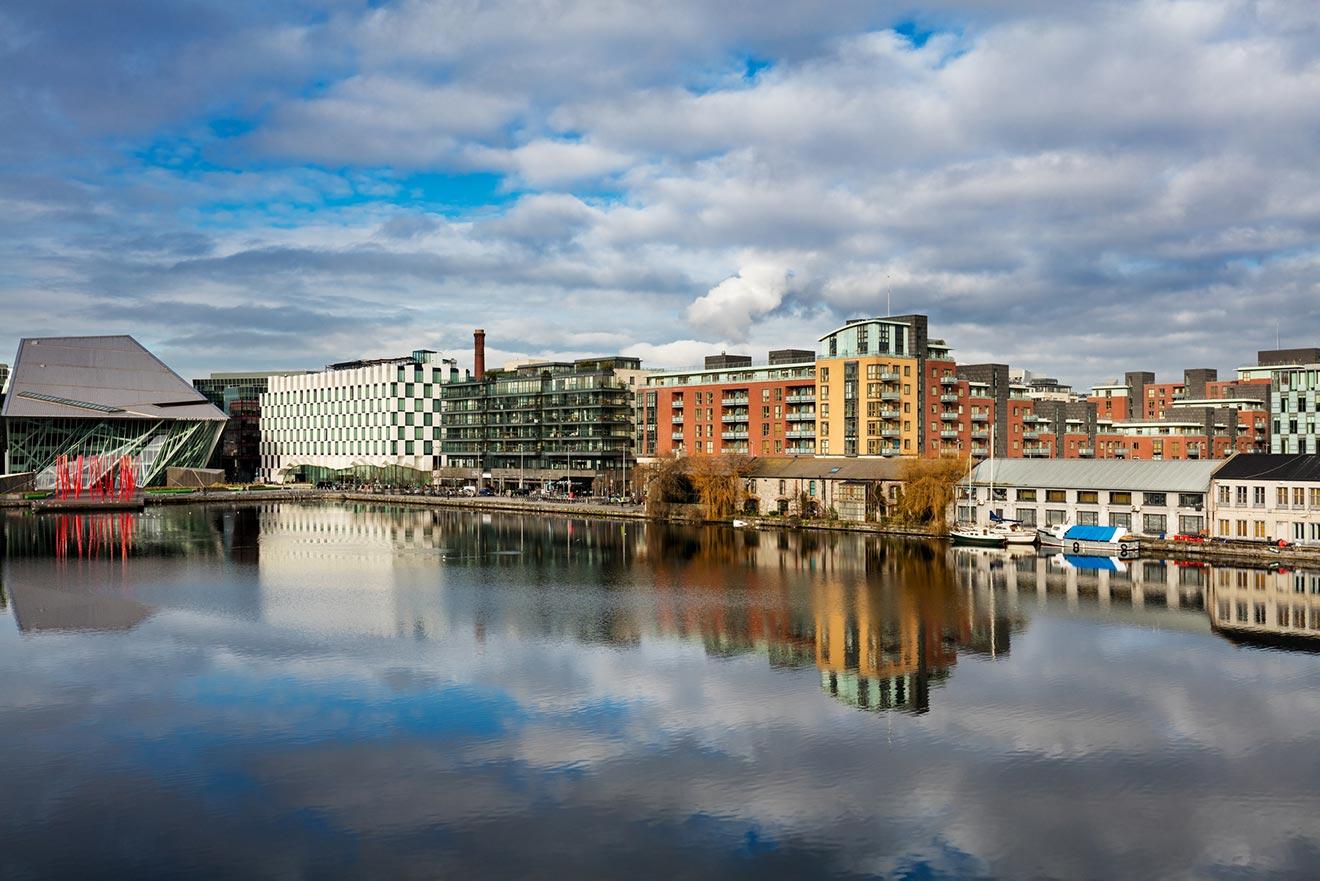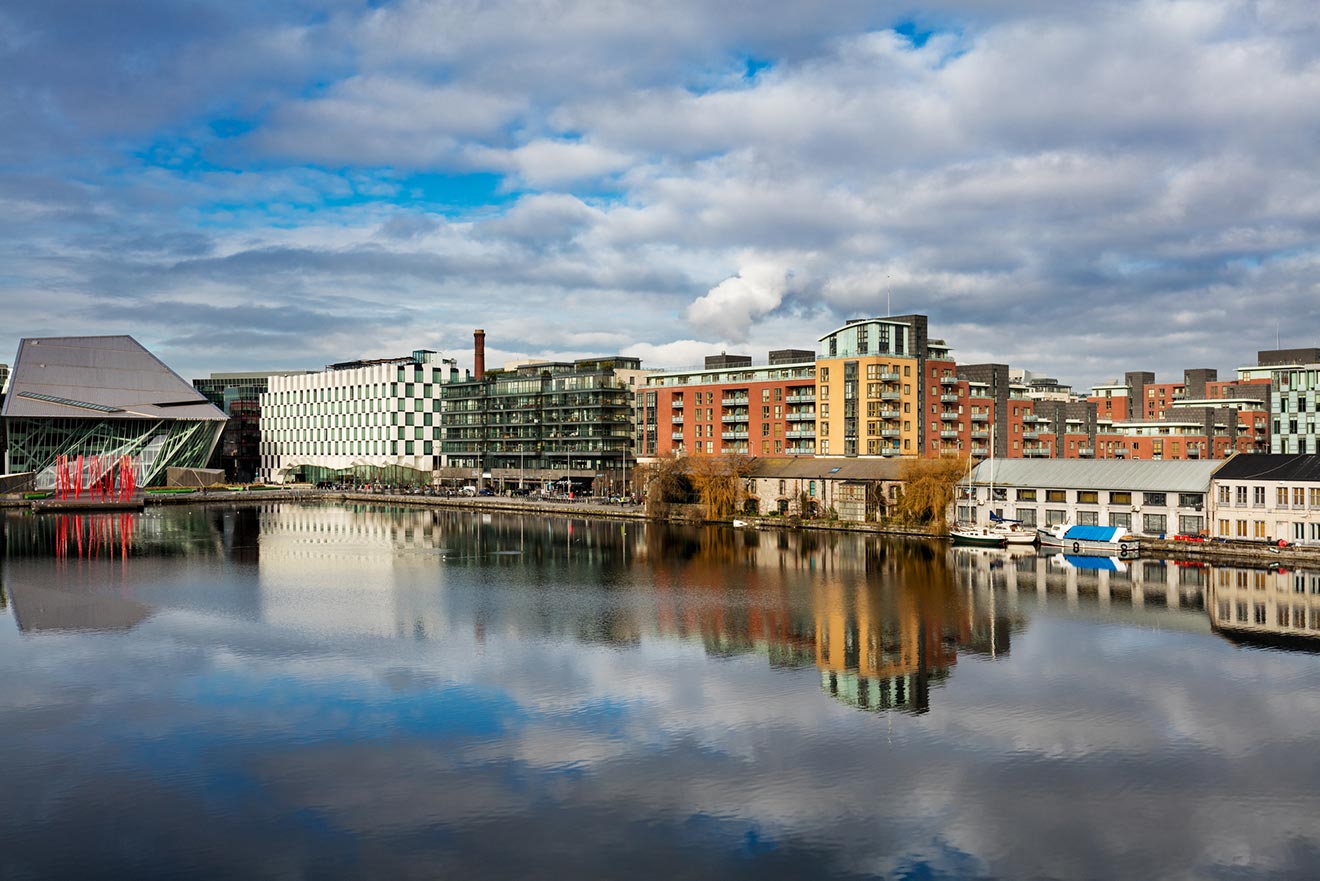 If you go a (little) bit South of the city center, you'll reach the colorful area called "Portobello".
Portobello is a central, laid-back area in Dublin and my recommendation for people traveling with their family!
Portobello quarter is also known as "Little Jerusalem" and it is where you can find the Irish Jewish Museum. It's also the birthplace of George Bernard Shaw, the famous Irish playwright; they even have an Irish pub with its name and it's pretty great – "The Bernard Shaw"!
The area has a village vibe to it and it's located very close to the Grand Canal. Most importantly, you'll have easy access to the city center in 15 minutes by foot if you decide to make Portobello your base!
It's an amazing place to stay if you want to be surrounded by plenty of amazing restaurants and shops as well. Compared to the Temple Bar and Trinity College area, this one is calmer and less vibrant, but this doesn't mean you won't have plenty of activities and things to see here.
Luxury (US$170 and up)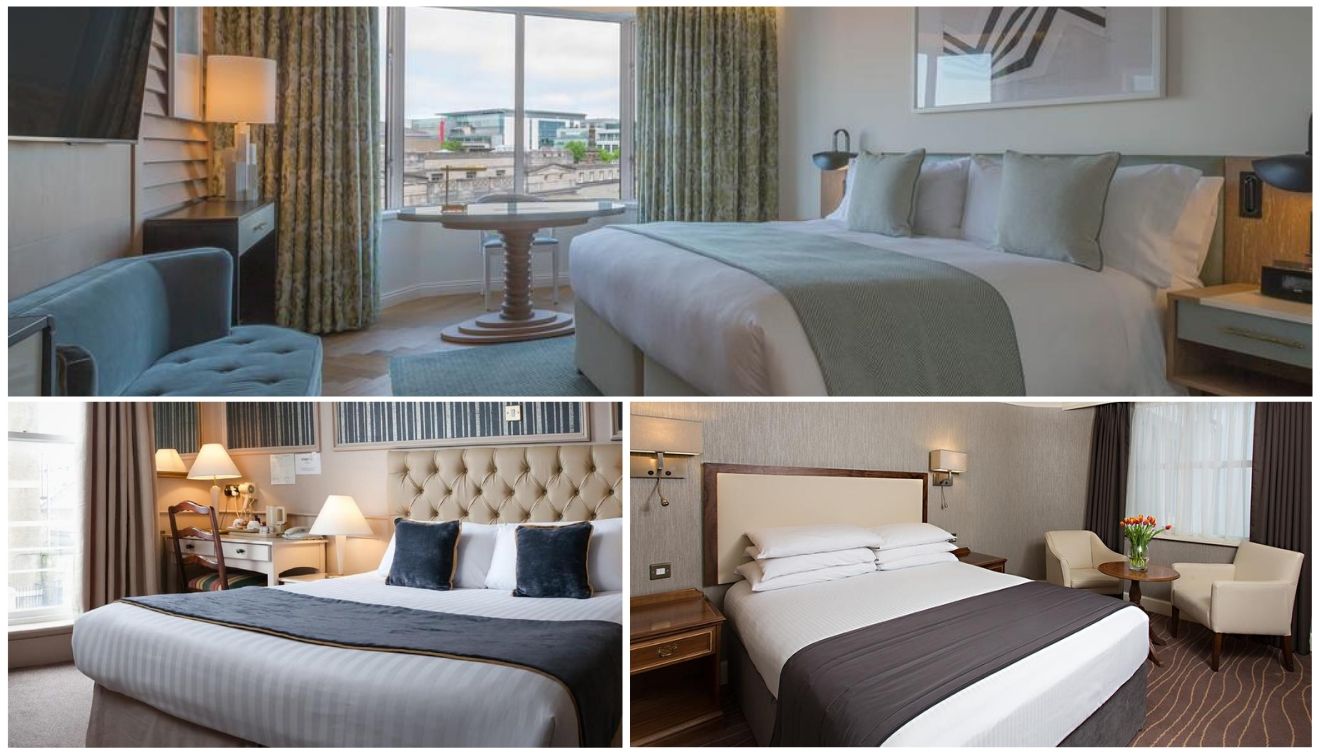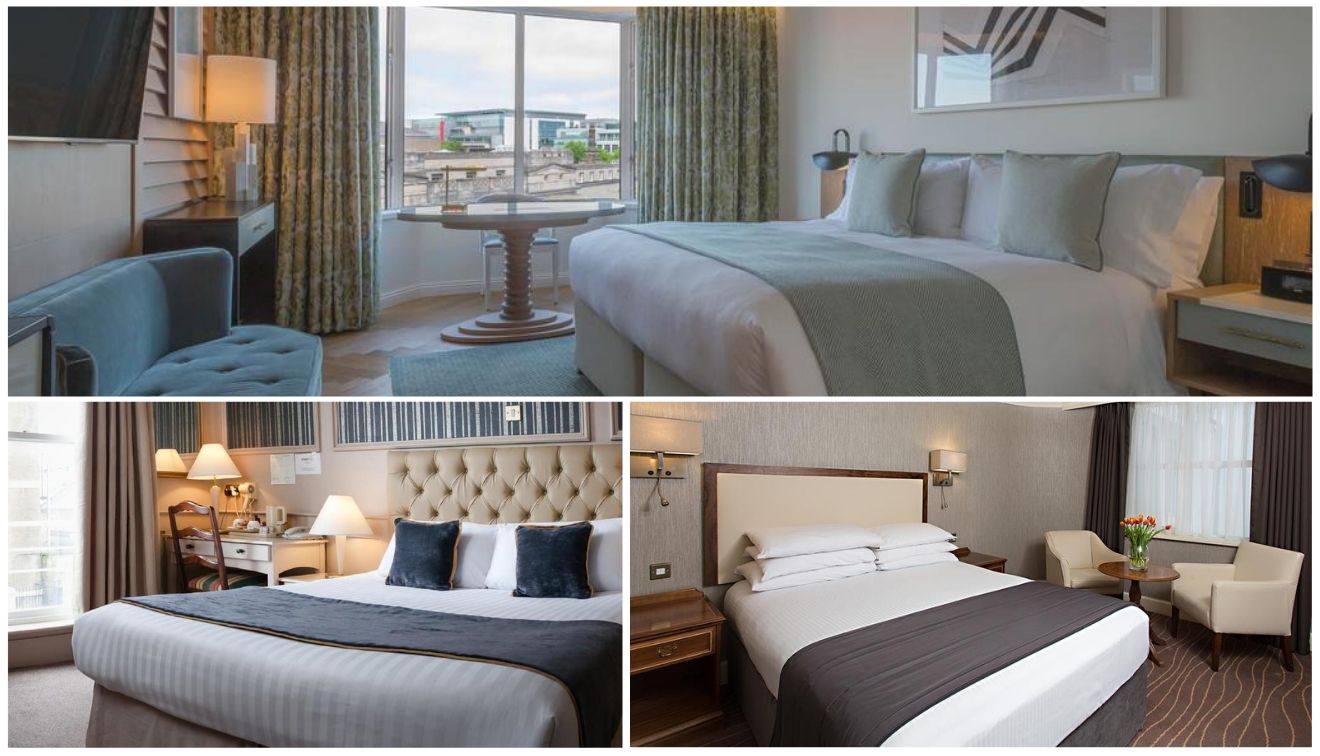 Iveagh Garden Hotel – This 4-star sustainable and eco-friendly hotel has family rooms and offers a great breakfast! Not only that, it is just a 4-minute walk to St. Stephen's Green and very near Camden Street, known for its restaurants, nightclubs and beautiful street art for all the Instagrammers out there!
Hyatt Centric The Liberties Dublin – You may already know about Hyatt hotels around the world. Well, their property in Dublin has the same excellent service you have come to expect! This one has a fitness center, an on-site restaurant, a bar, and more! It is also very near St. Stephen's Green.
Middle-priced (US$110 – US$170)
The Green – This beautiful accommodation is just across from St. Stephen's Green, very near Grafton Street, one of the best places for shopping, and a 10-minute walk from Trinity College. It also has a stylish restaurant that offers a breakfast buffet and international dishes all for reasonable prices.
Aloft Dublin City – Very near St. Patrick's Cathedral and St. Stephen's Garden, this hotel has a rooftop bar, restaurant and panoramic views of the city. It also has family rooms perfect for anyone traveling with kids.
NOTE: There were no budget hotels good enough for me to recommend in this area, if you are looking for a cheap stay, I recommend staying in the Temple Bar area above.
Check the rates for Portobello
4. Phibsborough – best place to stay for a local atmosphere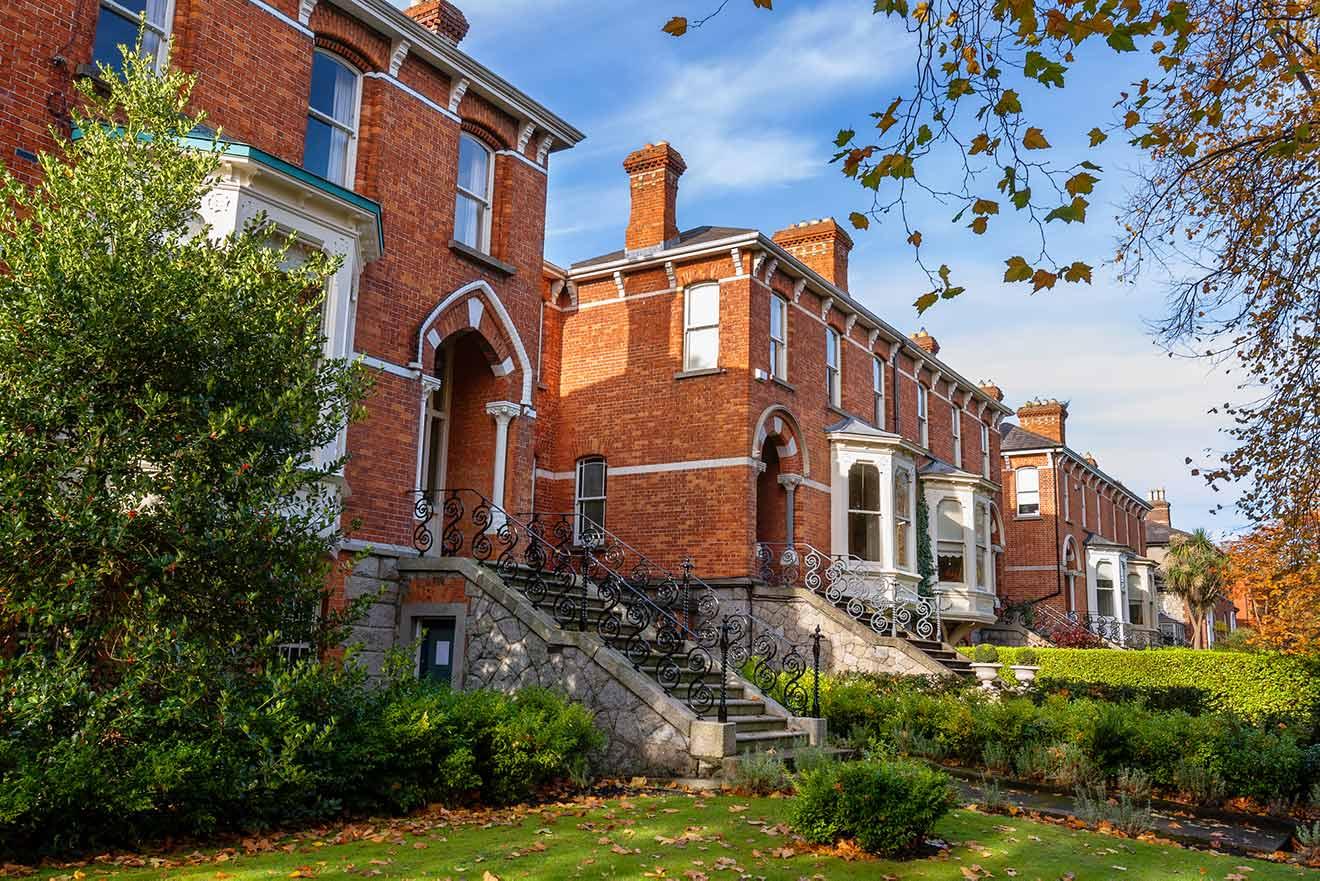 If you go a bit North of the city center instead, you'll enter the charming area of Phibsborough (also known as Phibsboro). It has recently become one of the coolest areas in the city.
It's also a great place to stay if you want to avoid the hustle and bustle of Temple Bar, for example, but still have easy access to the city center and its main attractions.
This neighborhood has plenty of great restaurants and cool shops, as well as cozy cafes, bars and Irish pubs (most of them established in abandoned buildings – so cool!) where you can enjoy a beer and people-watch.
Phibsborough is a pretty cool and balanced area, as it is also mostly a residential neighborhood, and if you think it's a perfect fit for you, let me tell you about the greatest hotels that you can choose from:
Luxury (US$160 and up)
Henrietta Suites City Centre – This beautiful apartment is in an awesome location, very near popular points of the center of Dublin such as the Button Factory among many more! You will feel very comfortable here as it has all the amenities you will need for your stay and its rooms are extremely spacious!
Maldron Hotel Parnell Square – This is a beautiful, colorful luxury hotel that will make you feel like royalty during your stay! If you book a room here, you'll be super close to Trinity College and Dublin Castle as well – so cool!
Middle-priced (from US$110 – US$160)
Eccles Townhouse – This elegant Victorian-style guest house is a boutique accommodation located in the Cultural Quarter, in the heart of southern georgian Dublin. It's built above a 19th-century style Café Bar which serves comfort food and drinks, plus near this place you can find art galleries and pubs with live music.
Dublin One – This great hotel offers city views and a terrace and is located near the Irish Emigration Museum plus several other popular attractions. Modernly decorated, their rooms are really clean and the food in its restaurant is unbelievable!
NOTE: Although there are some budget accommodations in the area, there aren't any I think are good enough to recommend, as I try to only suggest the best rated options for you!
Book your stay in Phibsborough
5. The Docklands – top area in Dublin for luxury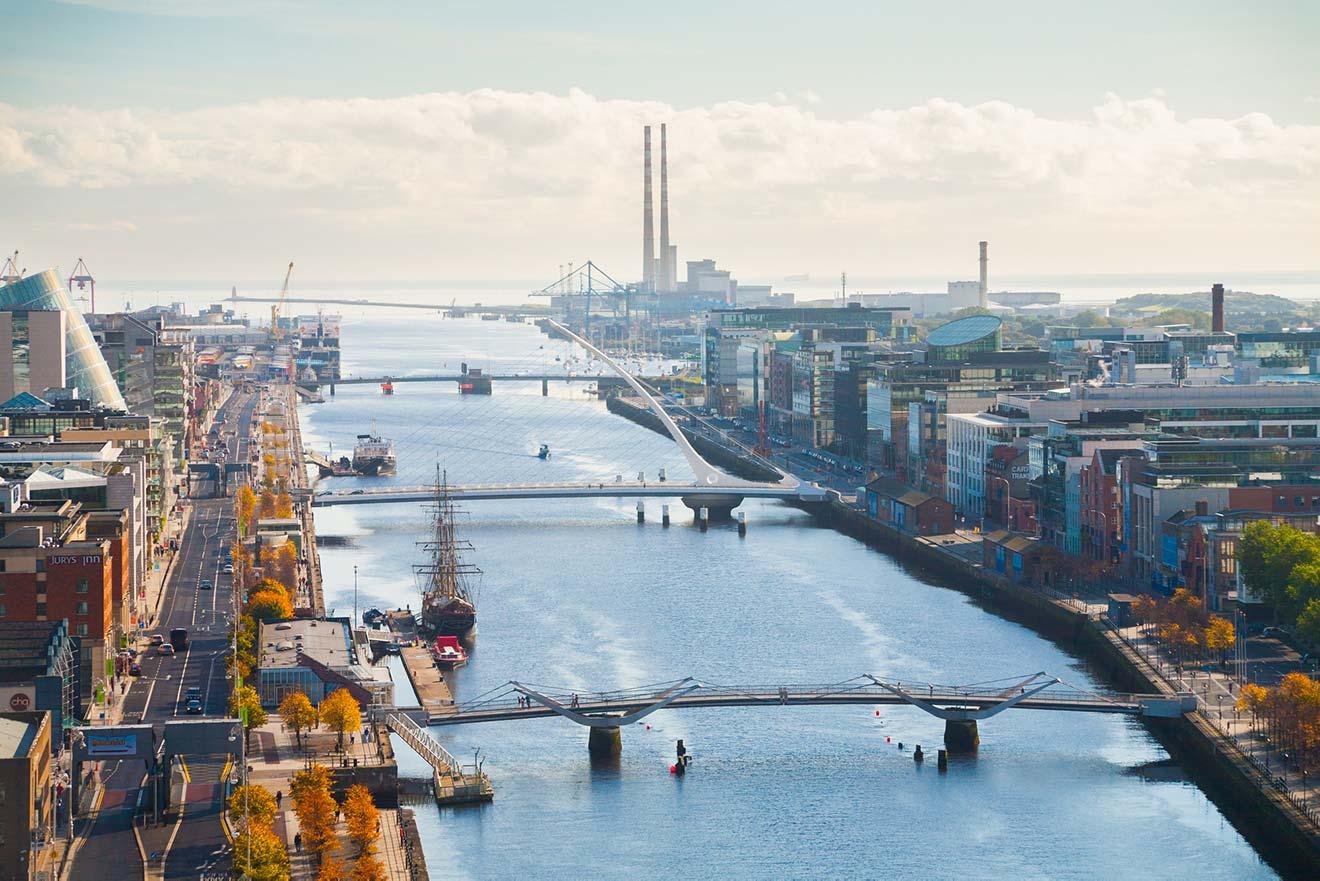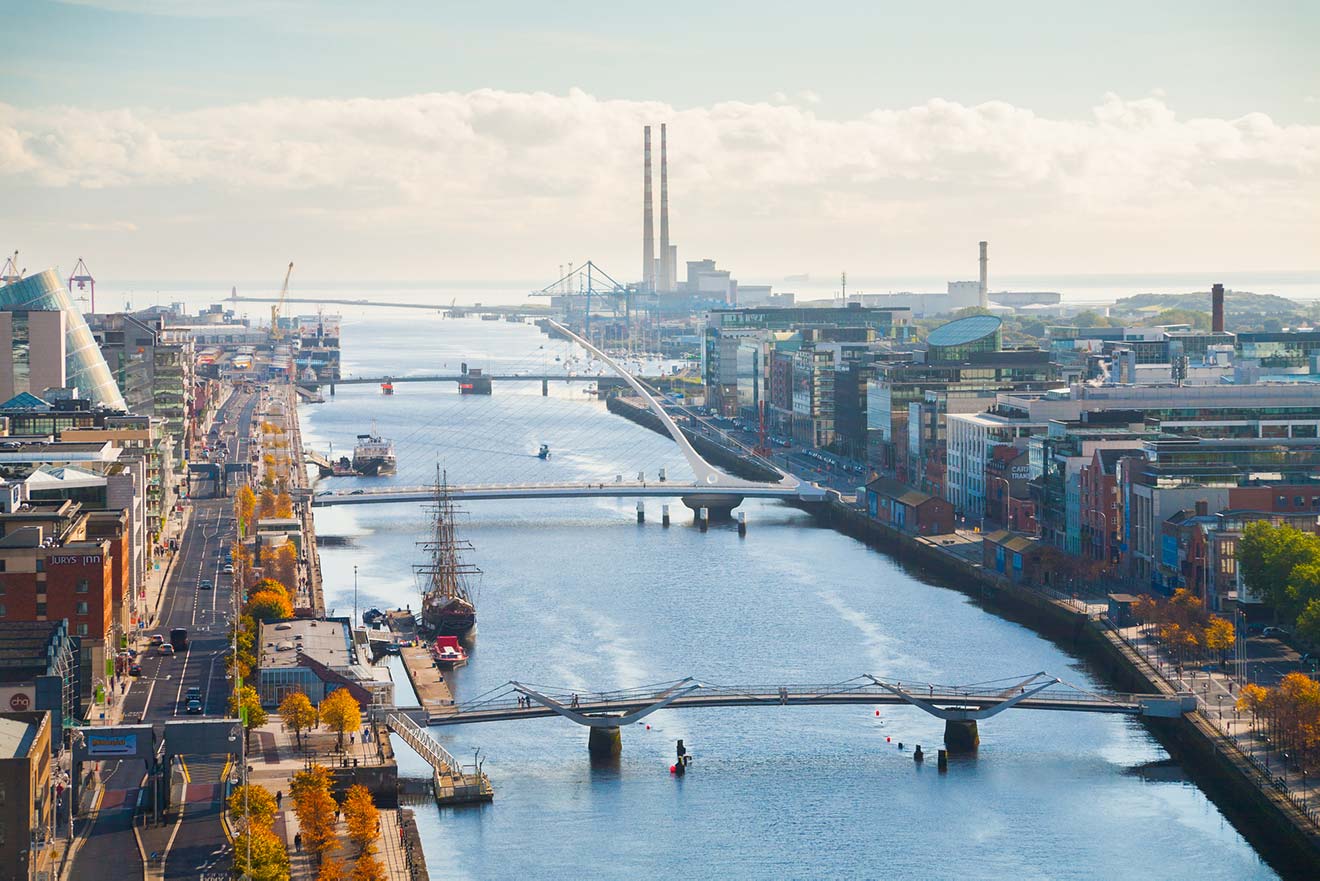 The Docklands is your perfect base if you're looking for a more upscale experience!
In case you didn't know already, this area is also known as "Silicon Docks", as some people compare it to Silicon Valley in the United States! It's the perfect area for luxury travelers and city-lovers who want to be surrounded by skyscrapers and modern buildings.
The neighborhood of the Docklands is located right along Liffey River, close to "Docklands" station. It's a great area for business travelers as well, as many big banks and companies have their base here, such as Facebook or Google.
Go to the Docklands for world-class restaurants, luxury hotels, and modern architecture. So even if you don't decide to stay here, it's a must-visit neighborhood nevertheless!
But if you decide to book a hotel here, I have selected the BEST ones for you.
Luxury (US$170 and up)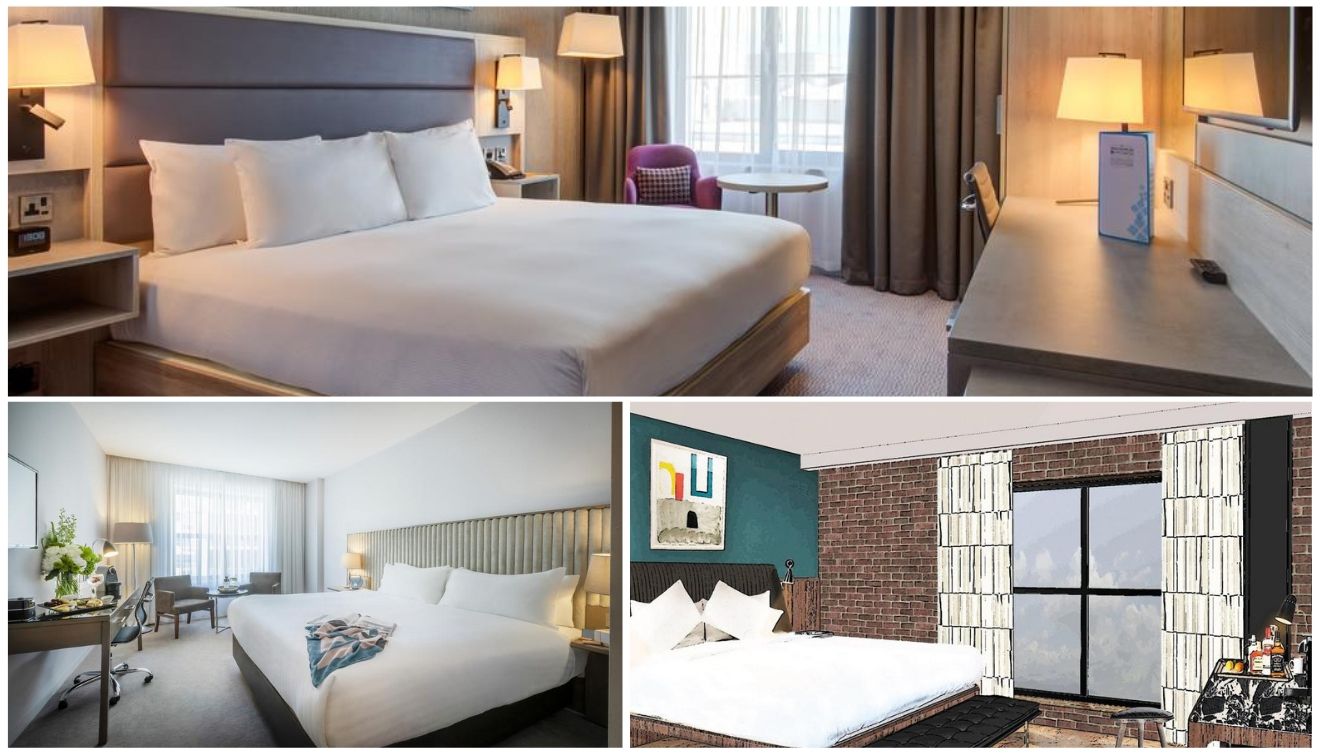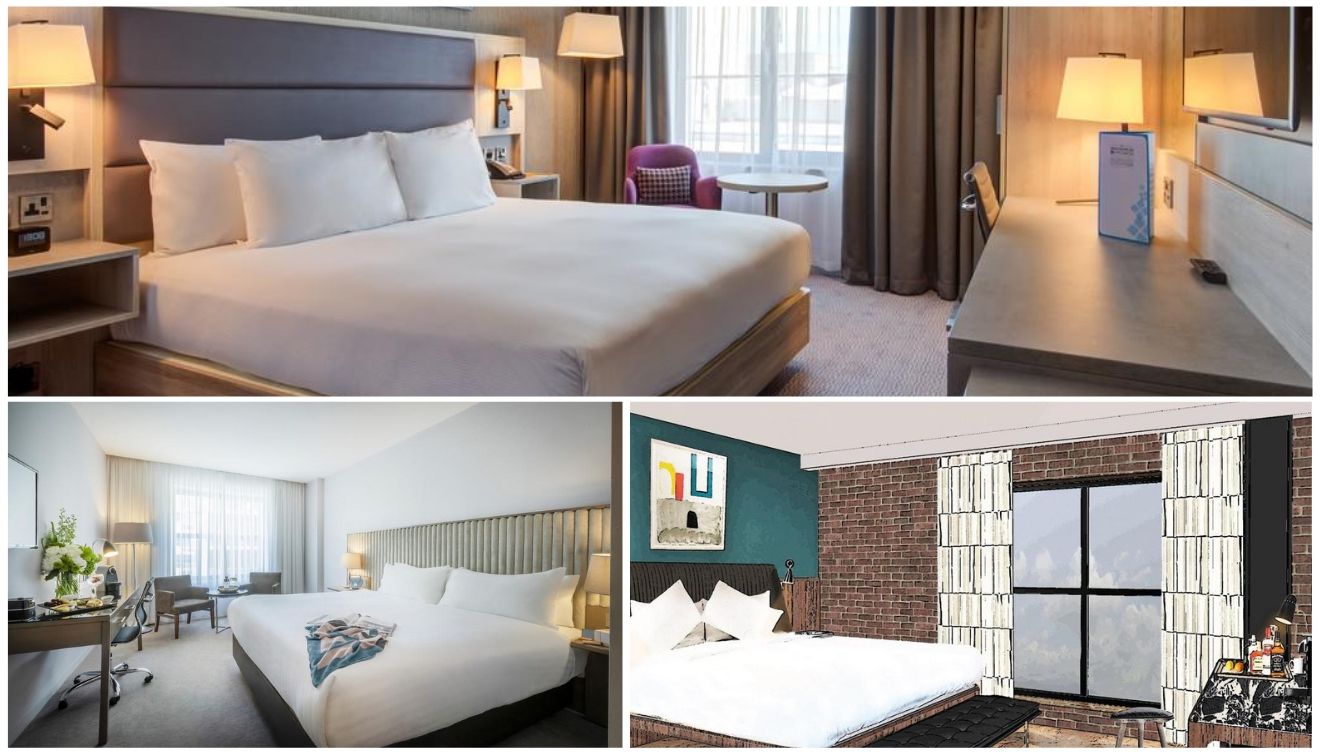 The Marker Hotel – This hotel is situated on the Grand Canal Square and it features a ground-floor cocktail bar and brasserie with traditional Irish cooking. It also offers a spa, an infinity pool and a sauna among other top-notch commodities!
Beckett Locke – This luxurious accommodation is modernly decorated showing a cool and trendy vibe, and the cocktails and food offered in their bar and restaurant are both incredibly good! Another great plus is that pets are allowed!
Middle-priced (US$110 – US$170)
Hilton Garden Inn Dublin Custom House – Book a room here if you want to stay in an upscale district and in some pretty awesome rooms as well! This one's located only 15 minutes away by foot from the city center, which is another great plus!
The Mayson – This gorgeous 4-star hotel is one of my top recommendations for people who want to enjoy the royal treatment during their stay. The rooms are simply stunning and they have river views. Plus this hotel even has a restaurant with local dishes!
NOTE: Unfortunately, as The Docklands is such a high-end area, there are basically no budget options for accommodation. But I found some gorgeous middle-priced and the best luxury hotels for your stay:
6. Smithfield – neighborhood with the best value for money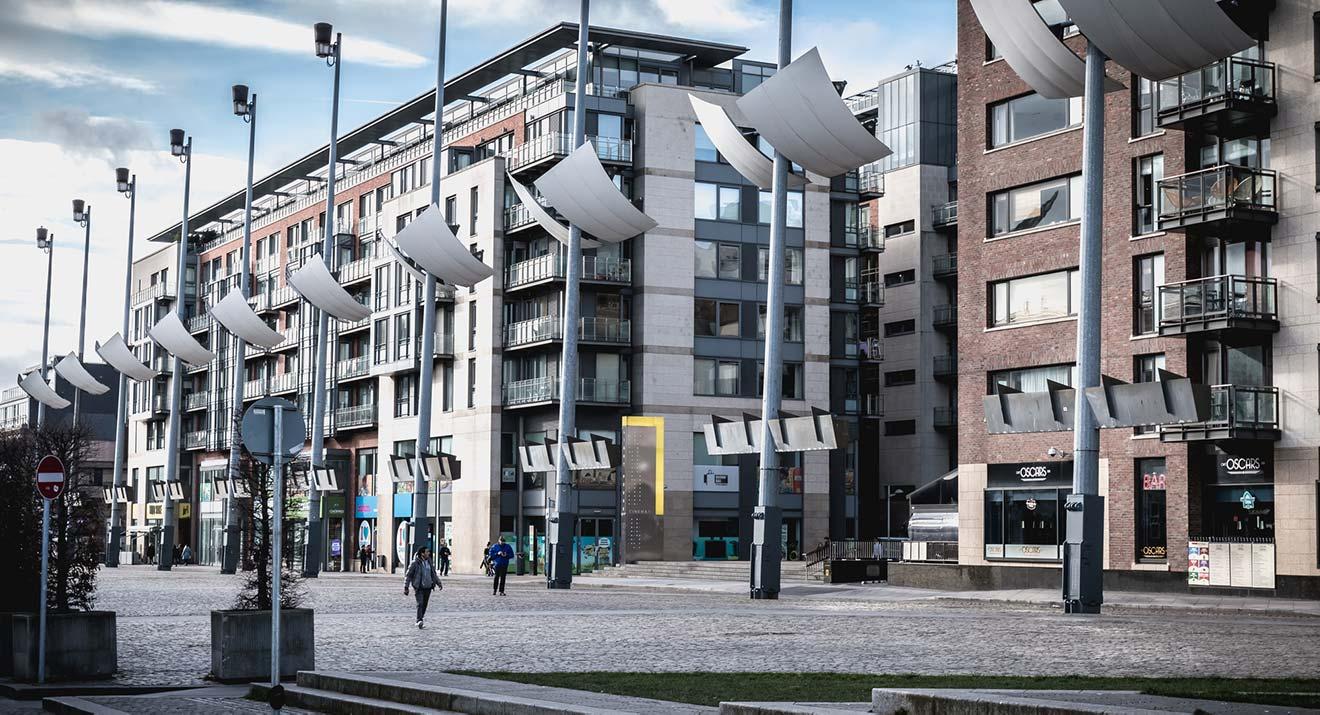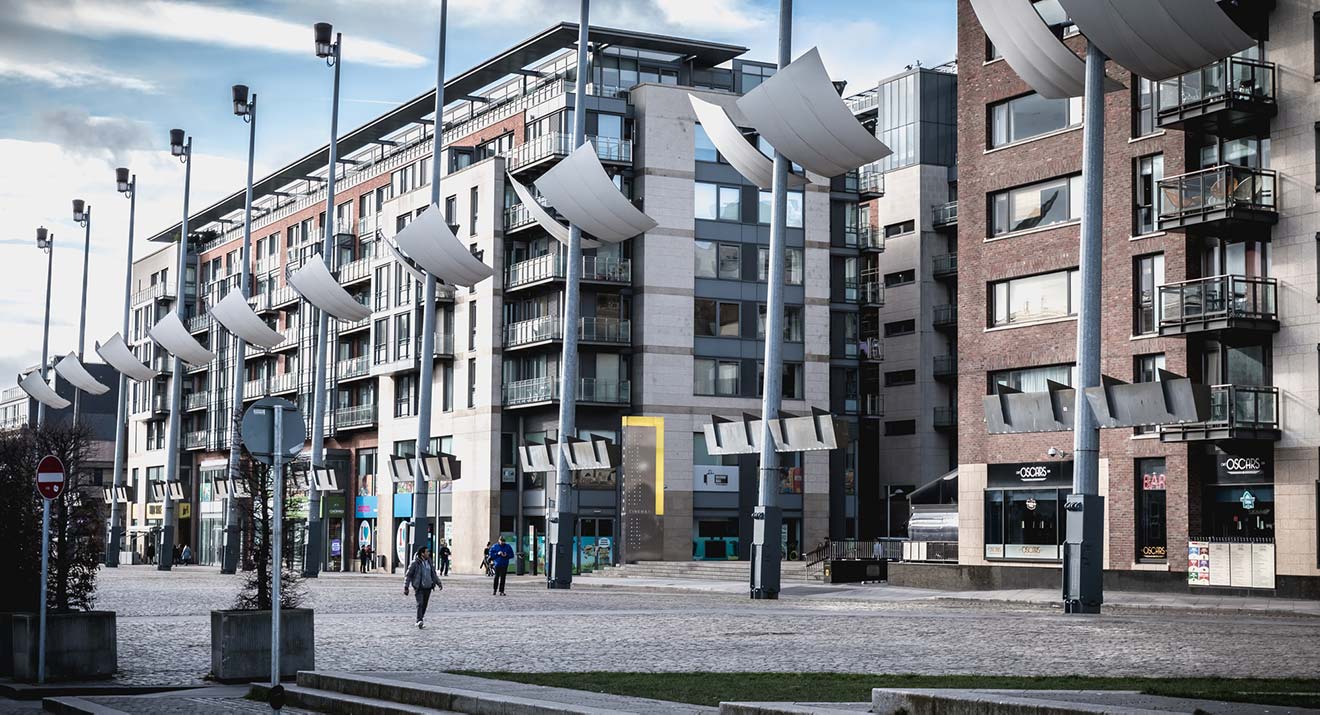 Smithfield is located North of the River Liffey as well and it's my recommendation for people who want to take care of their budget during their Dublin vacation.
Compared to the other areas I am talking about in this article, in this one you can find nice big name hotels at much lower prices when compared to the same quality in the city center. (because trust me, Dublin isn't cheap at all!). So it gives you more bang for your buck!
The neighborhood of Smithfield is pretty close to the city center as well, only a 10-minute walk from the main attractions and Temple Bar too.
And while it's very well connected to the rest of the city by public transportation, one of the best things in this area is the Jameson Distillery and Museum where you can go to learn more about whiskey so make sure you don't miss out on that!
In case you want to stay in Smithfield, here are the best hotels that you can choose from:
Luxury (US$150 and up)
Ashling Hotel Dublin – Overlooking the River Liffey, this 4-star, beautifully decorated hotel, has spacious rooms and a stylish bar. It is also located near the Dublin Zoo and the Guinness Storehouse!
Hampton by Hilton Dublin – This hotel offers all the usual modern commodities such as free Wi-Fi and air-conditioned rooms, it is modernly decorated, and breakfast has a wide selection of really good food! The hotel is also located very near Jameson Distillery – what more could you ask for?
Middle-priced (US$110 – US$150)
McGettigan's Townhouse – This is actually a pretty cool inn with an amazing location – close to the center and to the Natural History Museum (National Museum) as well! The rooms are very cozy and they have a traditional, rustic decor that you'll surely enjoy if you want a local atmosphere!
The Hendrick Smithfield – This gorgeous accommodation awaits with free Wi-Fi, a terrace, an on-site bar, and a very cool decor! The rooms are super bright and very clean as well. No need to talk about the location either, as it's super close to Dublin's main attractions!
Check the rates for Smithfield
7. Merrion and Fitzwilliam Square – best for sightseeing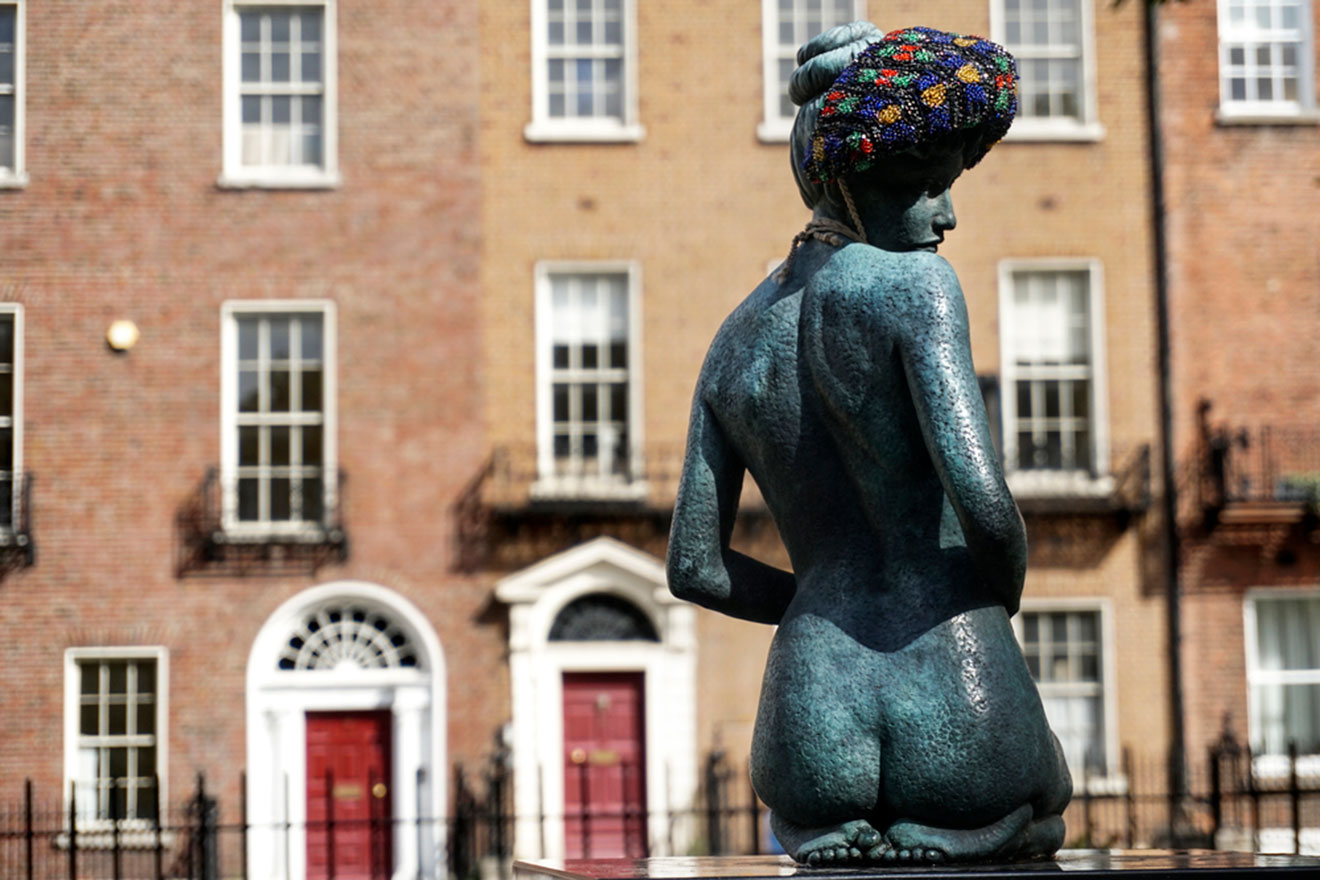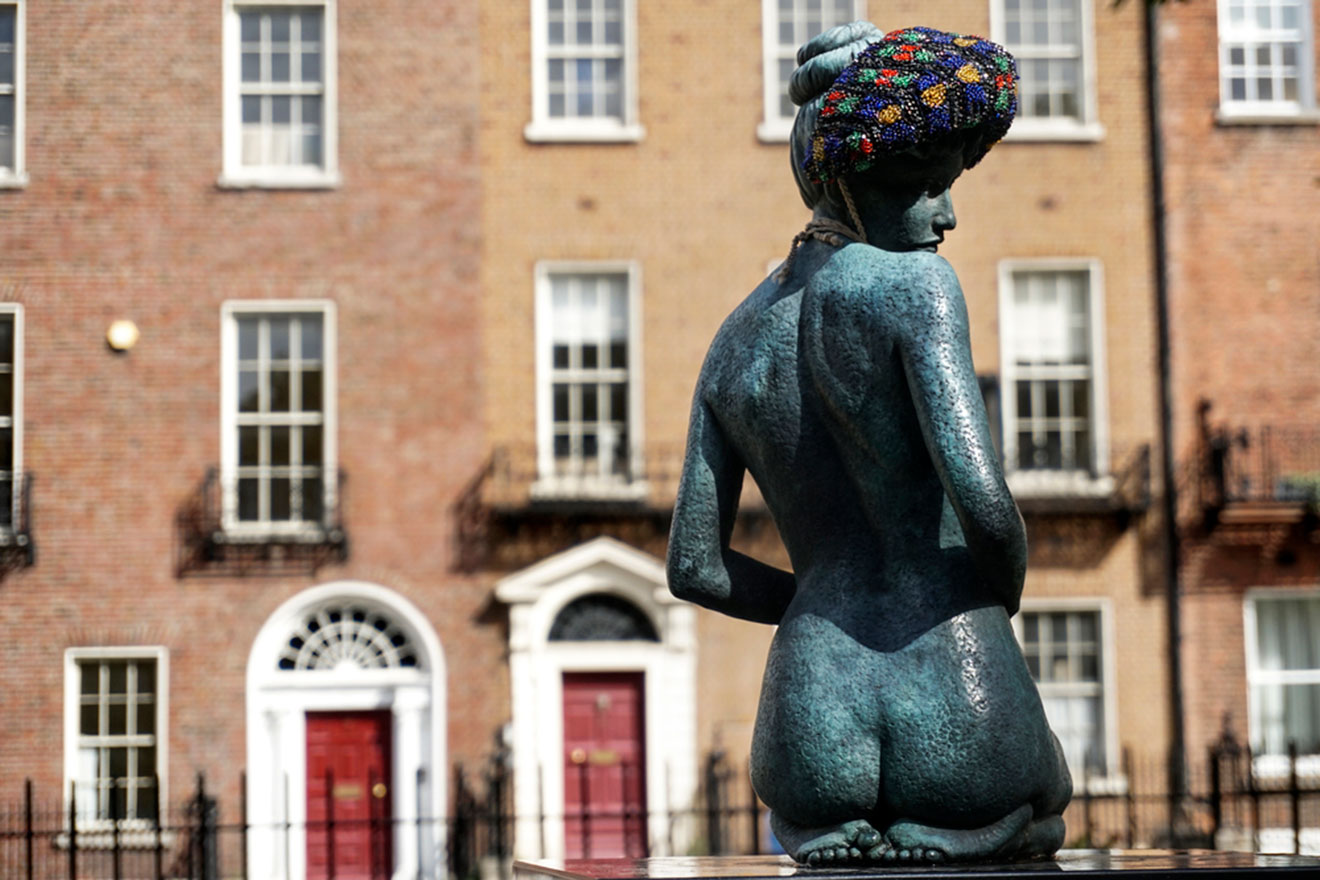 Merrion Square is another calm and interesting area of Dublin which I am recommending to families and laid-back travelers!
Merrion Square Park is located nearby Fitzwilliam Square and St. Stephen's Green, so I'm considering all three of them as a single area. Pick a hotel here if you want to be surrounded by charming cobblestone streets, a nice park, brick houses, Georgian architecture, the National Gallery (one of the highlights!), and many other cool attractions.
Even though it's not the heart of the city, this area is still pretty close to the city center and it's a great choice if you want to be a bit far away from the hustle and bustle of Temple Bar, for example, which is why it is a great place for families too.
Scroll down to find the best accommodation options I am recommending in these areas:
Luxury (US$150 and up)
Conrad Dublin – This amazing 5-star hotel is my first recommendation for any traveler that wants to be spoiled during their stay in the city! This one has an amazing central location, a bit south of central Dublin, almost beside St. Stephen's Green and in front of the National Concert Hall; and basically everything in this hotel screams "luxury"!
The Mont – If you are still wondering where to sleep in Dublin with your family, this hotel might be a perfect choice for luxury travelers! This gorgeous 4-star property is just in between Merrion Square Park and Trinity College, and just 2min from the National Gallery; the rooms have a modern decor and even an on-site Irish sports bar and a wood fire pizza restaurant.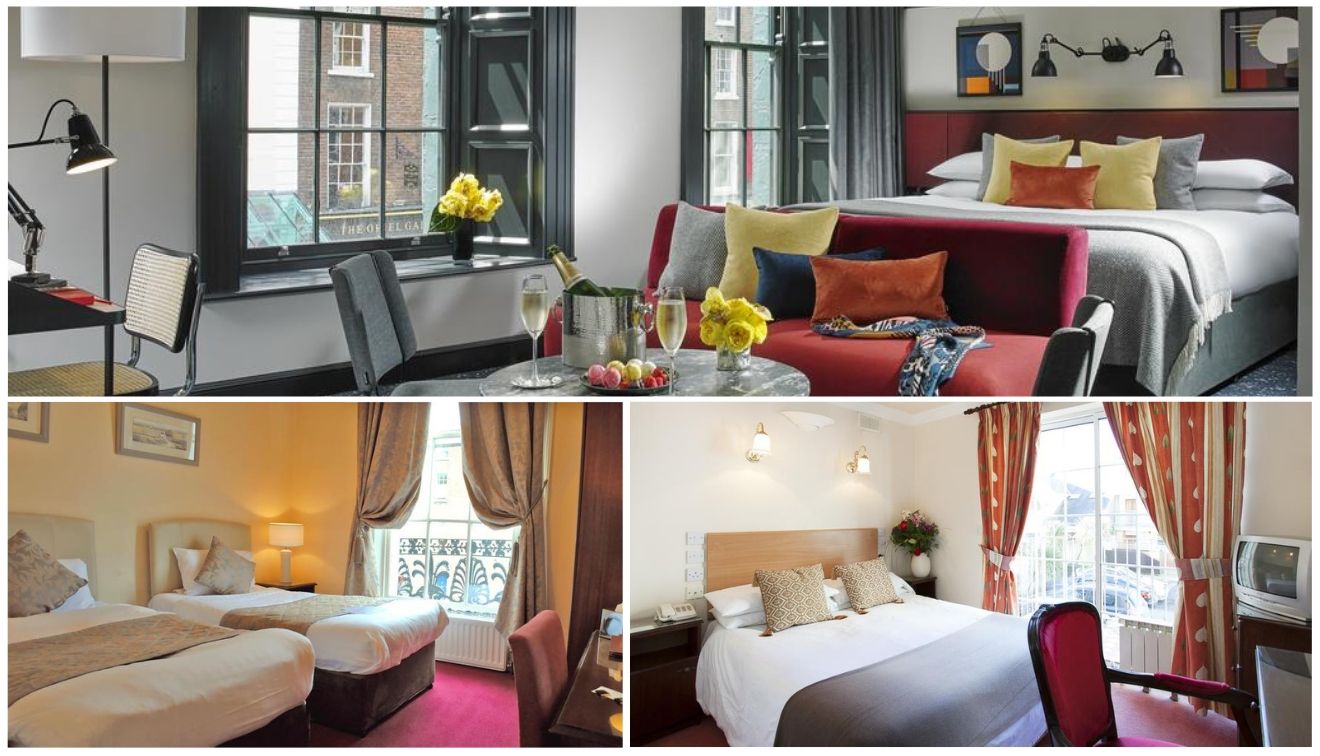 Middle-priced (US$100 – US$150)
Number 31 – This guesthouse is a classical Georgian Townhouse and is just 5-minutes walking from St. Stephen's Green, very near the National Museum. Make sure to enjoy its beautiful lounge with open fire, perfect for couples.
Baggot Court Townhouse – Here's another 3-star hotel that you can choose if you want to have free Wi-Fi, a great location, quality beds, and a friendly atmosphere! Best of all? You'll be close to many shops and restaurants!
Budget (up to US$100)
Leeson Bridge Guesthouse – Looking for where to stay in Dublin on a budget, but still close to the center? Well, here's a solution! This guesthouse is very cute and cozy and the prices are pretty unbeatable compared to the majority of the hotels in this city!
The Leeson Lodge – This is another great budget option for you – a charming family-run guesthouse! It has a very convenient location, small but cozy rooms and a full irish breakfast buffet!
Find more hotels in Merrion & Fitzwilliam
Best apartments in central Dublin, Ireland
For those of you that are looking for a cozier feeling, why not choose to stay in an apartment in Dublin? There are so many amazing ones on Airbnb that you can choose from; and trust me, the choice won't be easy!
Down below I have selected the best apartments in Dublin city center: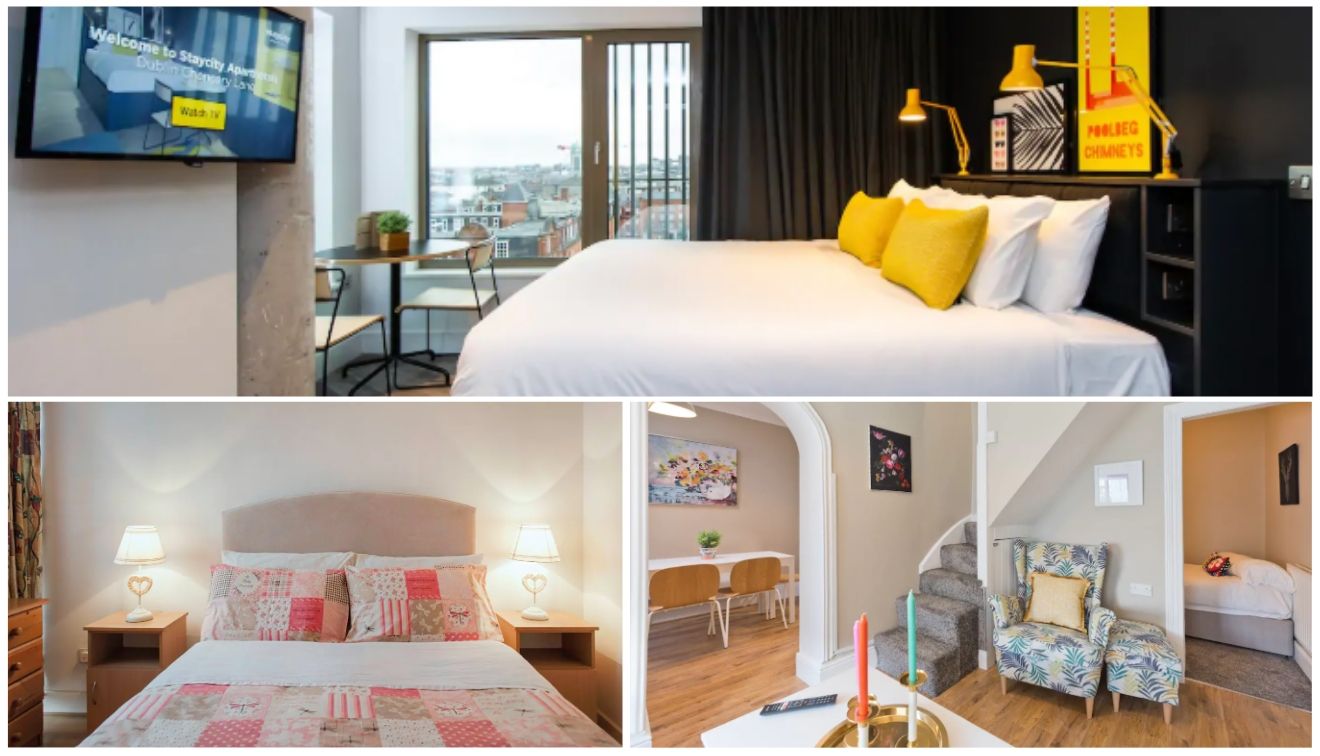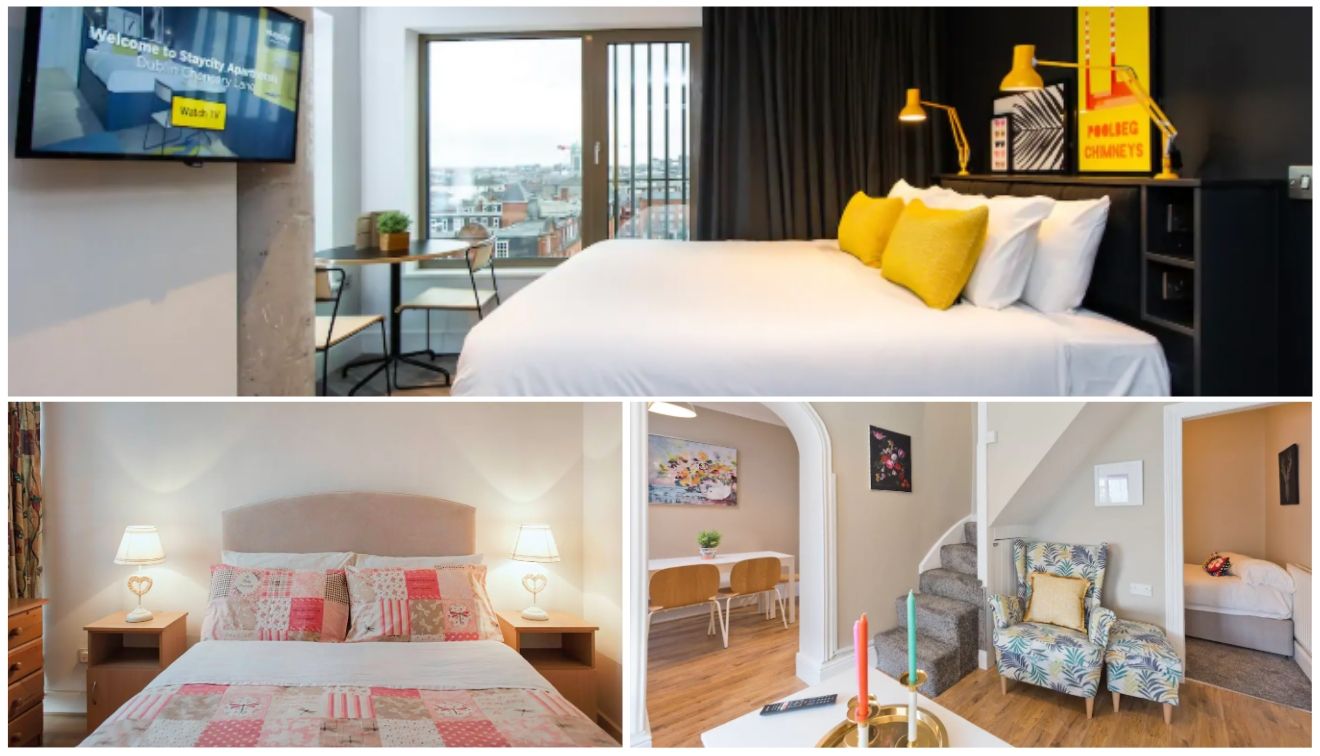 Luxury:
Unique apartment in Temple Bar – As the name suggests, this superb 2-bedroom apartment is super close to Temple Bar, the heart of Dublin. It offers stunning views of the city you won't get tired of staring at all day long. There's also a relaxing private balcony at the back, a well-equipped kitchen, and a large living and dining area.
Mid Range:
Superb Apartment in Temple Bar – For those of you who want to book a super cool place with a great value for the money, I got your back! This cool apartment has free Wi-Fi, beautiful rooms and it's walking distance from all the awesome places in the city.
Studio loft bed – Playful, colorful designs and smart use of spaces are the words that best describe this cute studio loft. It features an open-plan kitchen, dining, and a chic living room for an ultimate relaxing experience. You will also be conveniently located near restaurants, supermarkets, pubs, and cafes.
Budget:
Apt 58 Adelaide Square – This is a thoughtfully designed apartment to be the guest's home away from home while exploring the cultural wonders of Ireland. It offers unbeatable rates and can even accommodate up to 4 people! It also has an excellent location, close to the main landmarks and points of interest!
Dublin City Centre Flat – Perfect for couples – Even though it's kind of small, this accommodation is very cozy and colorful and I truly believe the title is accurate – it's perfect for a couple! Plus, the location is close to the city center!
BONUS: Best hotels near Dublin Airport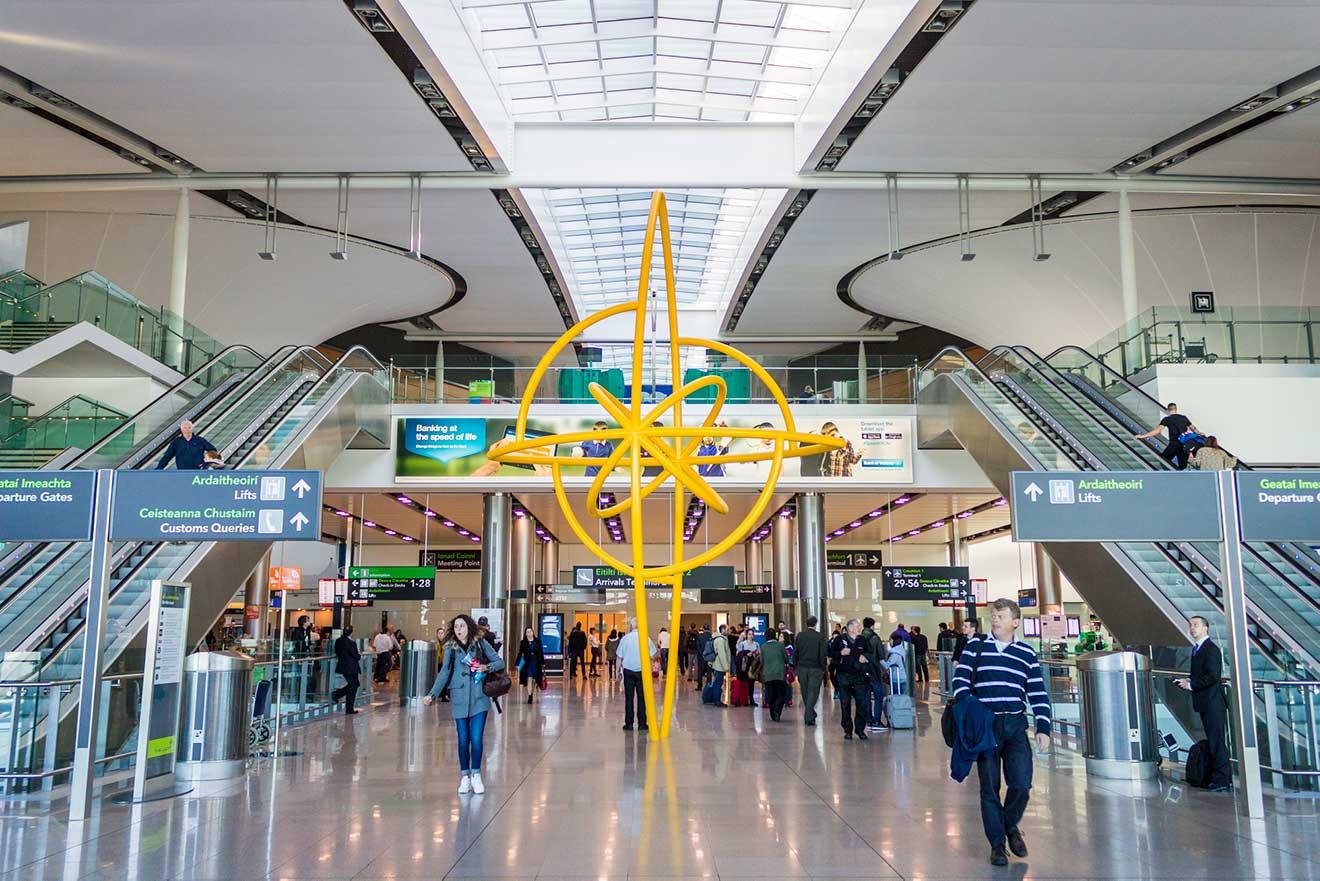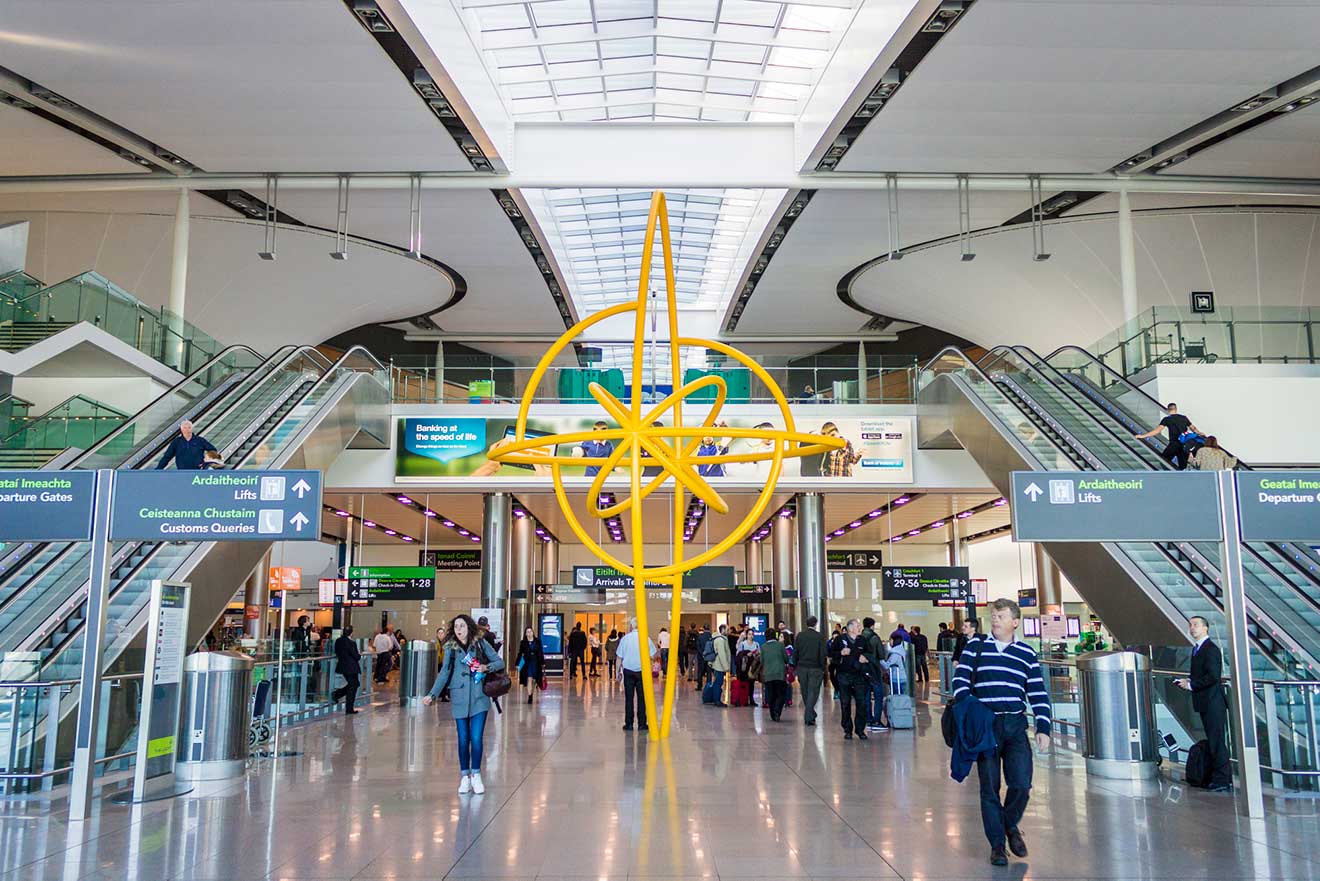 In case you are arriving with a late night flight or you want to drop-off a rented car at the end of your vacation, it might be a better idea to book a hotel located near the airport.
Dublin Airport (DUB) is around 10km away from the city center. I have researched some great options for hotels located as close to the airport as possible, with an excellent service as well and I'm recommending them below (one per each type of budget):
Maldron Hotel Dublin Airport – This one's definitely my recommendation for luxury travelers that want to be as close to the airport as possible! This 4-star accommodation is less than 1km away from the airport and it's biggest advantage is probably the free 24-hour shuttle service that they offer!
Clayton Hotel Dublin Airport – If you're looking for a middle-priced option instead, I have one for you! This is also a 4-star accommodation that comes with some more accessible prices. They also have a free 24-hour shuttle and breakfast is available from 6.30 a.m.
Holiday Inn Express Dublin-Airport – If you're looking for a budget airport hotel, this one's for you! This 3-star hotel is only 10 minutes by car from the airport and it offers a free shuttle as well. How awesome is that?
Book your stay near the airport
FAQ's about Dublin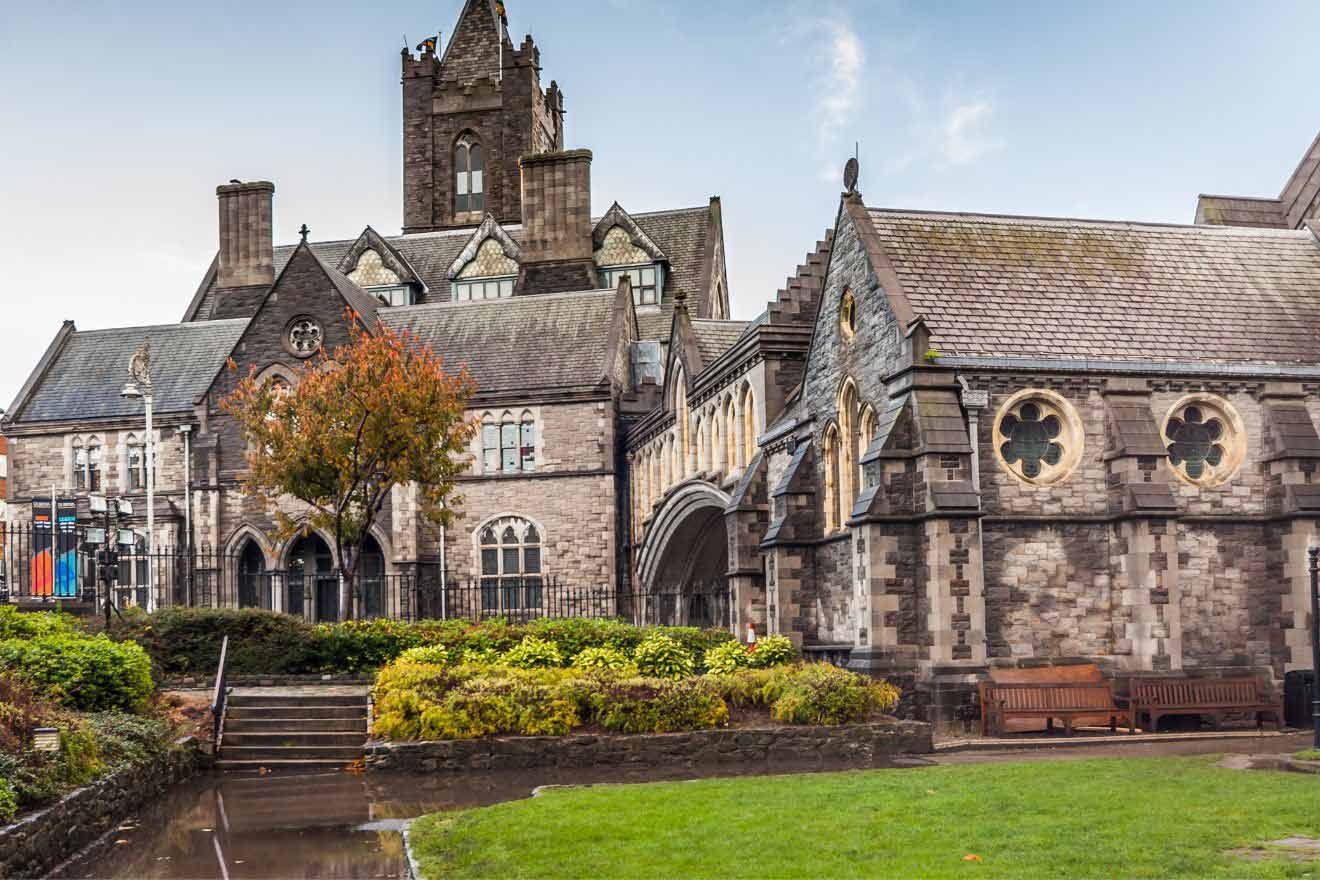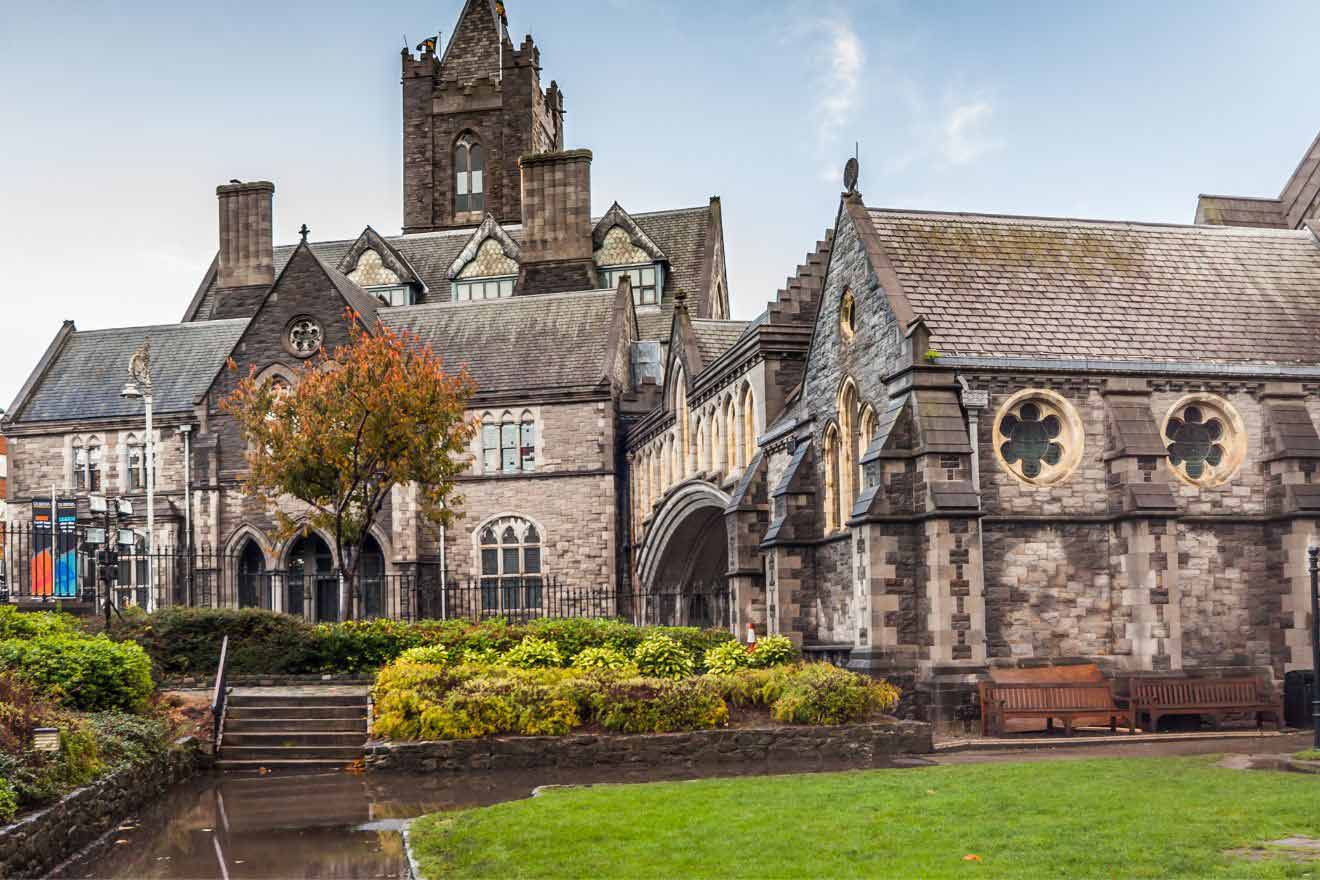 📍 Where is the best place to stay in Dublin?
The best place to stay in Dublin for first timers is anywhere near O'Connell Street or Temple Bar, as these are the most central areas for tourists. A great hotel in this area is the Hotel 7 luxurious and centrally located!
🚶‍♂️ Is Dublin a walkable city?
Yes! Dublin is the perfect city for walking as it is mostly flat and it is not a big city, so you can easily get around, specially close to the city center. Plus, if you'll be staying in any of the neighborhoods here mentioned, mostly everything is pretty close in walking distance.
🙅‍♀️ Where not to stay in Dublin?
In terms of safety, Dublin is a very safe city to stay in. But in terms of location I would advice you not to stay in the areas beyond Phibsborough to the north or south of Portobello, if you want to make the most of your trip.
🎸 Where is the best place to stay in Dublin near live music?
Dublin is full of live music in almost every corner, but if I had to choose one place it would definitely be The Temple Bar area, as pubs there host live bands every single night! A great hotel here is the Hard Rock Hotel Dublin, exceptional!
Conclusion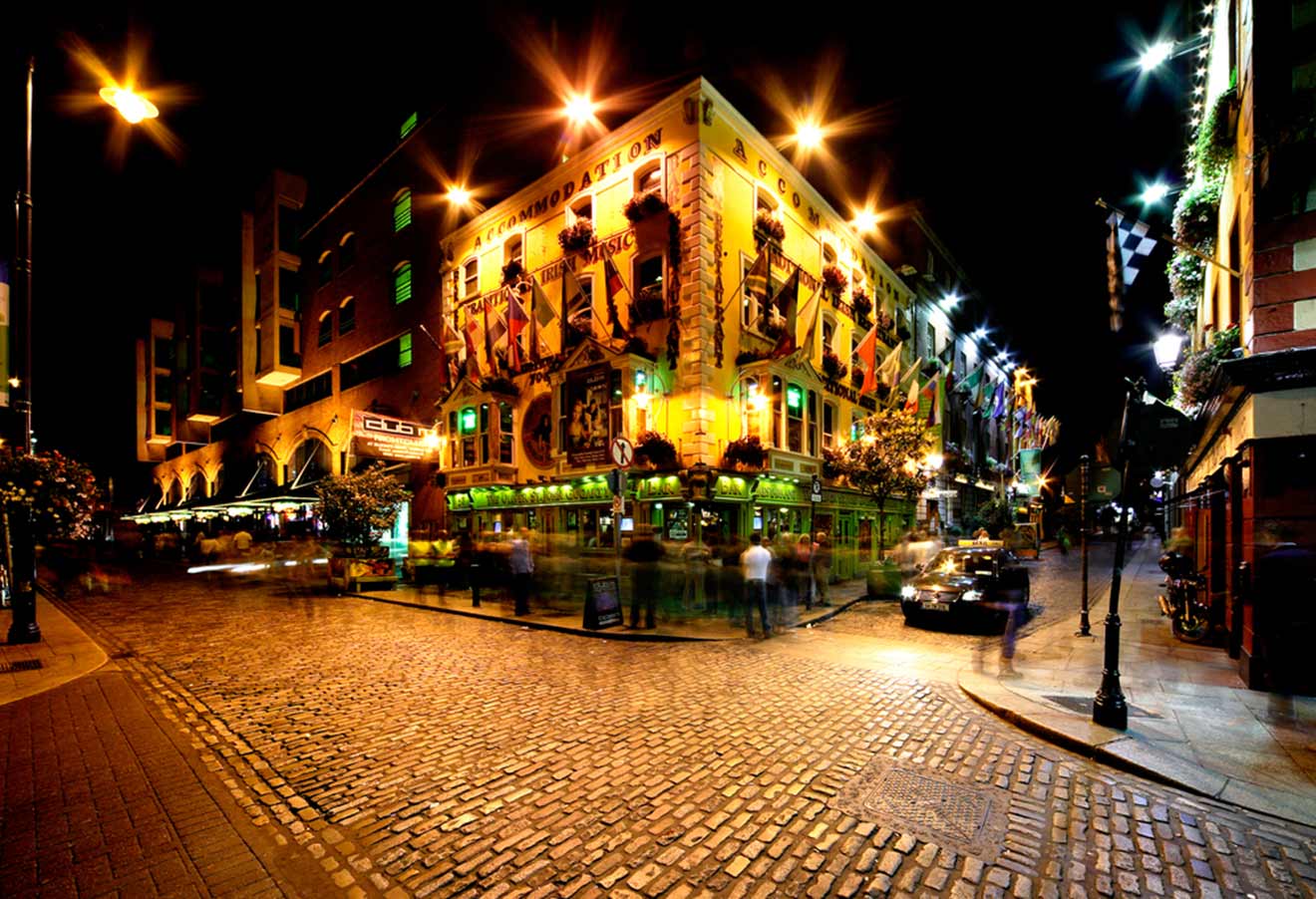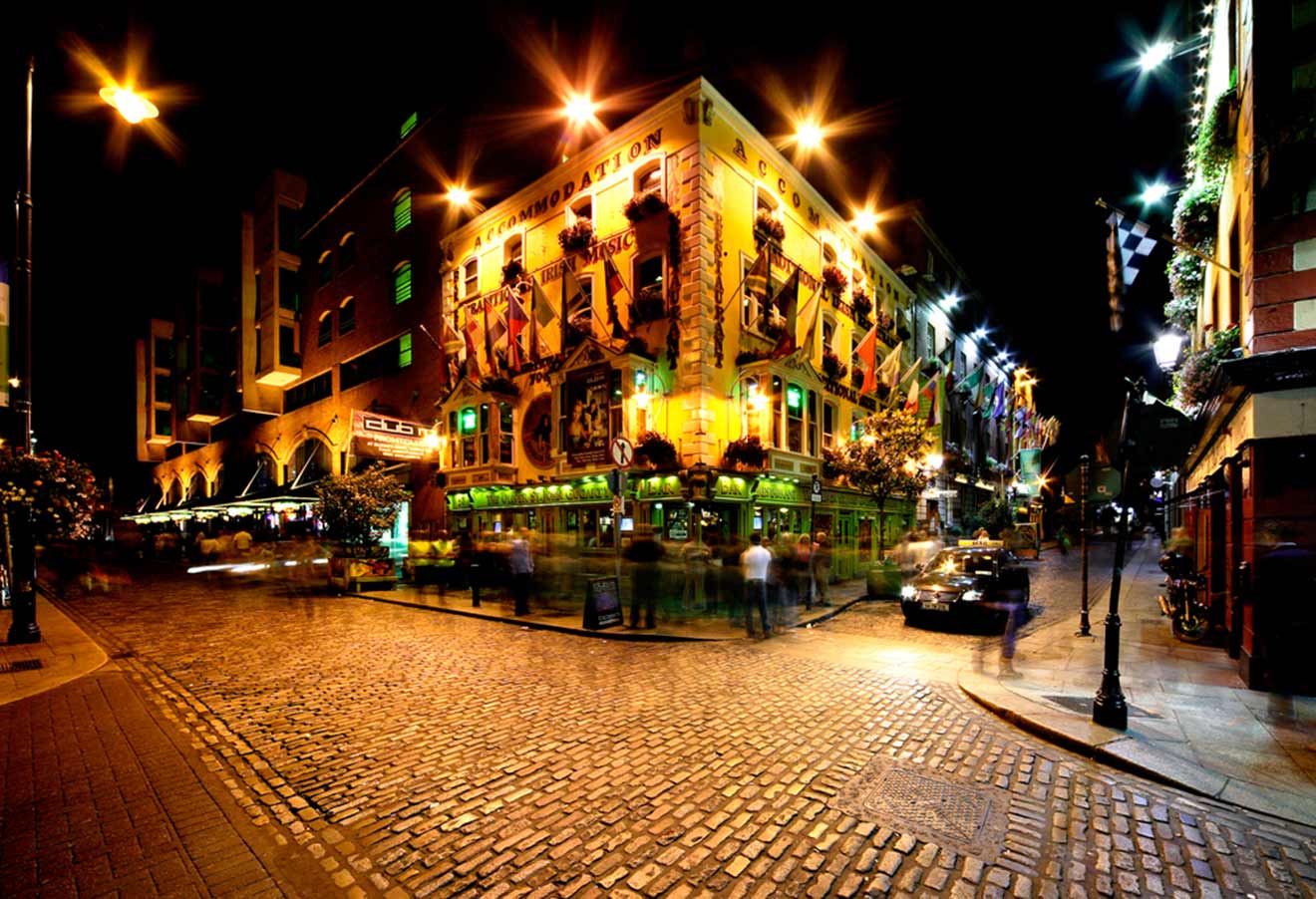 That's it, this was my complete guide on the best hotels and neighborhoods in where to stay in Dublin, Ireland!
If you've read this post, I'm sure that you already know everything about how the city of Dublin is organized and which are the best areas for your stay, especially in the city center.
I have given you my personalized area recommendations, as well as my hand-picked hotel choices divided by budget for your convenience. I even suggested some great apartments in the city and airport hotels, so you'll find everything you've been searching for and more!
But if you still can't decide, here are my favorites:
The Marker Hotel – I love the look of this luxury hotel which has all the facilities you could ever want!
Temple Bar Inn Dublin – A great hotel for the classic touristic vibe being amazingly located in the center of everything!
Whichever hotel you may choose, just remember to book in advance as almost all the ones mentioned in this post will get booked-up really quickly!
That being said, I wish you the best trip to Dublin! If you have any questions, just drop it in the comments section below, I will be happy to reply!
Romina
---
Pin it for later!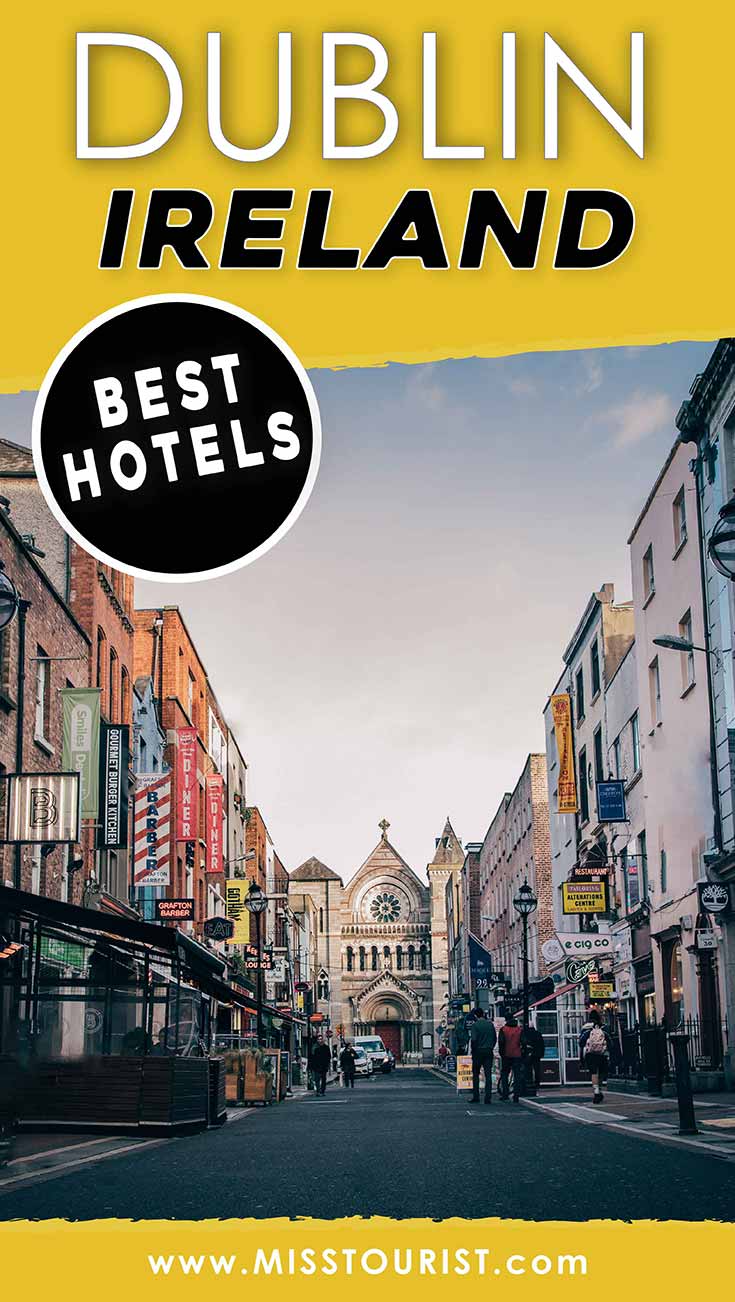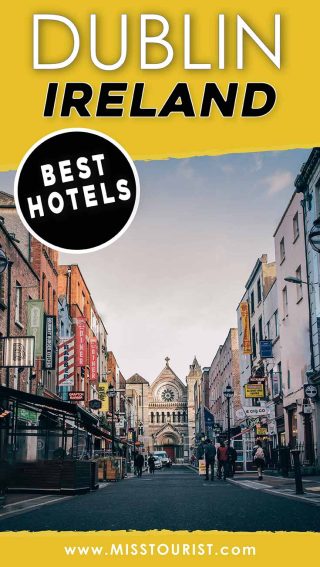 Pin it for later!