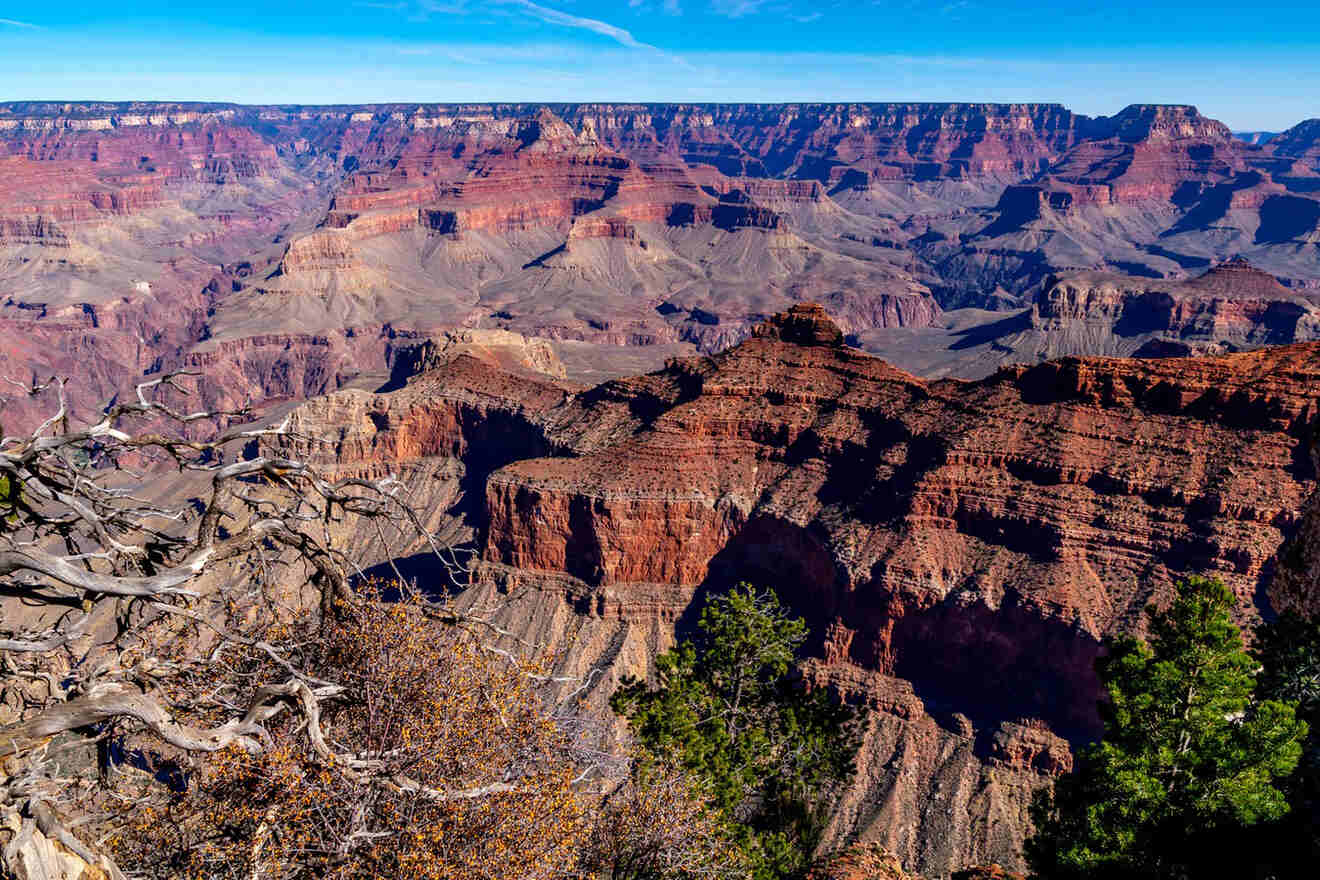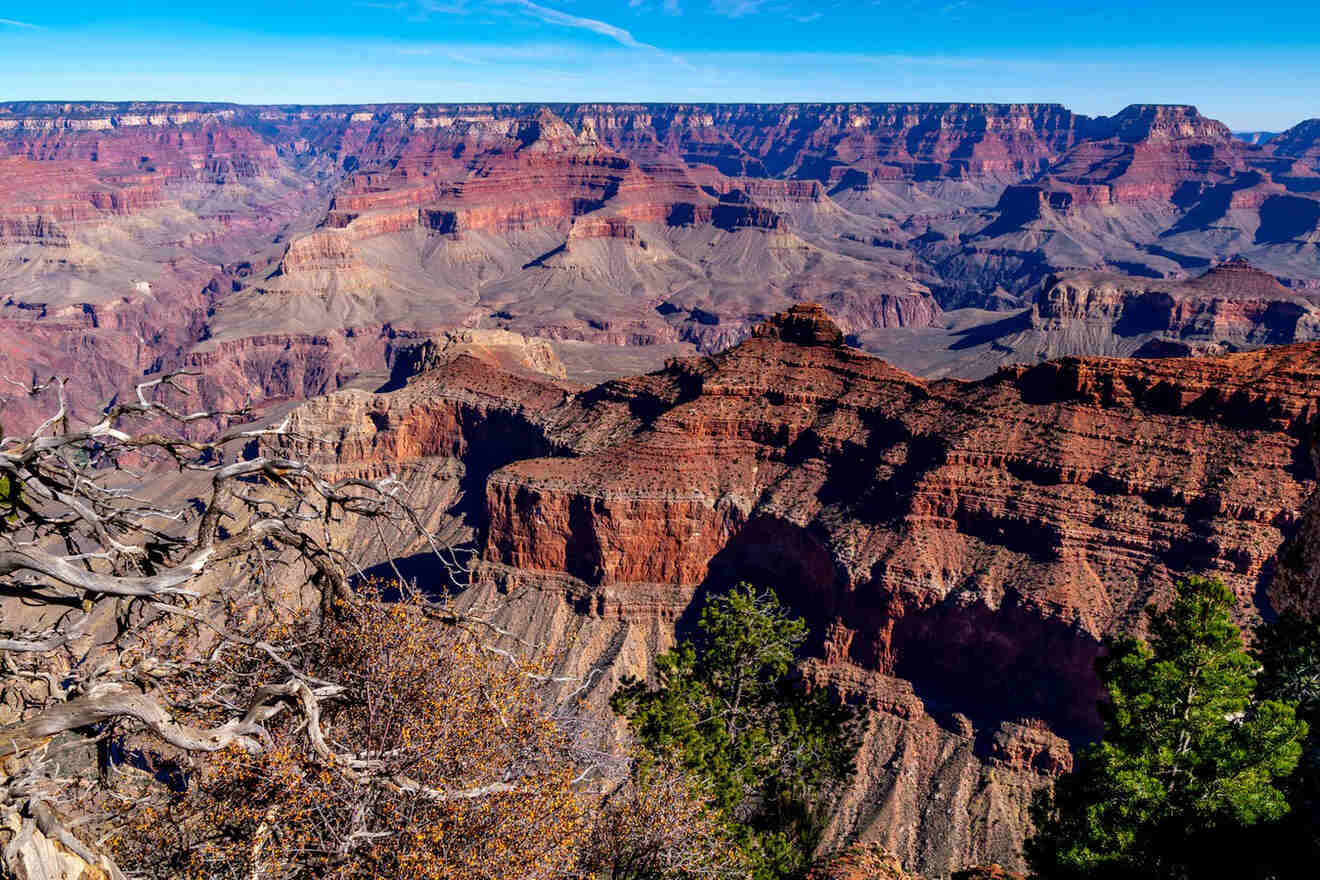 Looking for the perfect Grand Canyon Airbnb? The area is home to some stunning options, from chic yurts to bubbly, stargazing domes.
In this post, I've laid out the best Airbnbs near the canyon. You'll have your pick of gorgeous vacation rentals and, if you play your cards right, you might just find yourself staying at an alpaca ranch.
In the middle of Arizona's sparse, desert-like landscape, the earth falls away into a canyon of rather grand proportions. The Grand Canyon is a marvel that's captured the hearts of people all around the globe. Scenic vistas abound from the endless trails that snake in and around the canyon, making it a place where you're left breathless at almost every term.
The dusty, red, and orange chasm is a mile deep and up to 18 miles from rim to rim; it's no wonder that it's one of the Natural Wonders of our world.
Not only is it one of the country's most revered national parks, but it also has some lovely surroundings with amazing Airbnbs. So your stay will encompass more than just the canyon itself. Let's dive in.
If You Are in a Hurry: Best Airbnbs Near the Grand Canyon
Short on time? Not a problem. Here are my top five picks for a range of tastes and budgets. All of them are near to the canyon, so you can spend less time driving, and more time exploring the North Rim or Bright Angel Trail.
Top 16 Airbnbs Near Grand Canyon National Park
After trawling through the hundreds of Grand Canyon Airbnb listings, I finally arrived at this shortlist of the best Airbnbs near the canyon. I filtered through the good and the bad, taking a range of factors into account, and these were the outstanding Airbnbs.
To help streamline your decision, I've worked out the average price per night, based on a three-night stay. This calculation takes any cleaning and administration fees into account, so you'll be able to tell how much you will actually be paying.
I've sorted the list by town; with the towns that are closest to the Grand Canyon at the top, and those further away (but still drivable) at the bottom. Within each town, the Airbnbs are ordered by price from highest to lowest.
UPDATE: Read our new post on the best hotels and areas to stay in Grand Canyon here.
Now, enough chatter. Here are my top picks for Airbnbs near the Grand Canyon.
1. Closest to the Canyon – Affordable Yukon Camper near Grand Canyon
Location: Valle
Price: from US$130 per night
Bedrooms: 1
Guests: 4
Hidden a mile down a dusty road, amid the sparse Arizonian landscape, this camper is tantalizingly close to the South Rim Entrance. Within just 20 minutes of driving, you could be standing on the edge of the abyss, with your jaw on the floor.
It's also a peaceful place to rest your head after a day of exploring the canyon. The queen bed will welcome your weary bones, and there's a full kitchen for taking care of your taste buds.
On clear nights, you can bask under a star-lit sky, made brighter by the camper's remote location. And if the clouds come over, you can flick a DVD (remember those?) on the TV.
Williams
Williams is a quaint cowboy town of around 3000 residents. It's situated around one hour's drive from the Grand Canyon's South Rim entrance and is filled with Wild West flare.
Outside of Grand Canyon Village, Williams is the closest substantial town to the canyon. It is surrounded by the fresh pine of the Kaibab National Forest and offers a large number of affordable accommodation options. Williams also dodges the tourist hordes and inflated prices found at Grand Canyon Village.
2. Glamp like a Pro in the Mahal Yurt – Gorgeous Tent for a Large Family
Location: Williams
Price: from US$350 per night
Bedrooms: 1
Guests: 8
The glamping experience is usually reserved for smaller groups, with the standard limited space available in tents. This Airbnb is different. It's an expansive yurt, with ceilings that tower far overhead.
Inside, there are three double beds, two floor mattresses, and an interior design that seems to have been lifted from the pages of a magazine. The canvas and wood that make up the structure pair beautifully with the houseplants and desert-chic decor.
You can cook basic meals in the tent and light the indoor fireplace to keep things toasty. Outside, there's a wooden deck where you can marvel at your desert surroundings and a star-filled sky.
3. Tiny House – Stylish Airbnb for Small Families
Location: Williams
Price: from US$260 per night
Bedrooms: 1
Guests: 4
This picturesque A-frame stands starkly against the shrubbery of its rural surroundings. It appears to be perched in the middle of an African Savannah, yet it's just a 40-minute drive from the Grand Canyon.
With little more than a kitchenette and a pair of beds, it isn't a large space. But the design is flawless, and perfectly suited to a luxurious glamping experience.
Outside, you'll find a hot-water, outdoor shower, a compost toilet, and a sink. As well as a balcony for sipping wine and watching the stars. Inside, you can enjoy a board game to the crackle of the indoor fireplace and the warmth of extra blankets.
4. Rural Homestead at Grand Canyon (near South Rim) – Cozy Grand Canyon Bungalow
Location: Williams
Price: from US$200 per night
Bedrooms: 3
Guests: 6
If you're not the camping type, you can switch out the canvas for solid walls without losing a sense of seclusion. This quaint Grand Canyon bungalow is set on 20 acres of private land at the end of a dirt road. Sleeping up to six guests, it's a winning option for families or groups of friends.
Each bed is comfortable and inviting, as is the couch with its accompanying TV. There's also a washer, which will help lighten the core load.
Evenings can get chilly out in the desert, so you'll enjoy burning a few logs in the indoor fireplace. And the central air conditioning will subdue the dry desert heat that sneaks up with the daylight.
5. CornerCottage Route 66 Grand Canyon – Stylish House for Larger Groups
Location: Williams
Price: from US$200 per night
Bedrooms: 2
Guests: 7
With small nods to Arizona-living and plenty of houseplants throughout, this seven-sleeper Airbnb house is ideal for group vacations. It's just a walk away from Route 66, as well as a number of places to eat, drink, and shop.
You can sip coffee on the shaded patio while you plan your day, then set out on the scenic one hour drive to the Grand Canyon. Later, make the most of the sleek full kitchen and stream something on one of the two smart TVs. Then let the washer and dryer take care of the chores while you soak in the clawfoot tub.
6. Mystic Pines Alpaca Ranch – Great Place for Animal Lovers
Location: Williams
Price: from US$190 per night
Bedrooms: 1
Guests: 6
Who doesn't love alpacas? They're the cuddliest camelids around, with eyes that could seduce a psychopath. This cozy guesthouse is located on a working alpaca ranch, where you can catch a glimpse into the animals' lives. As well as the fiber mill that their fur supplies.
With space for six guests, a comfortable living room, and a full kitchen, you'll have all of your creature comforts at hand, too.
Venture out with your morning brew when the birds start chirping for the best start to your day; you can catch a spectacular sunrise over the distant mountains.
7. Grand Canyon Tiny House – Couple's Retreat Close to South Rim Entrance
Location: Williams
Price: from US$180 per night
Bedrooms: 1
Guests: 2
Just 30 minutes from the South Rim entrance to the Grand Canyon, this artfully-designed tiny house packs a punch.
With a nickname like 'The Grand Canyon Nugget', one can imagine its small stature. But every last inch of the 100 square foot space is rich with form and function.
Inside, you'll find a comfortable bed, a kitchenette, and a bathroom with a shower and composting toilet. As well as a wood-burning fireplace to keep icy evening air at bay.
The outdoor fire pit and seating area is equally romantic, with an umbrella for shade and clear views of the star-studded sky.
8. A Solar-powered Truck in the Arizonian wilderness
Price: US$165 per night
Bedrooms: 1
Guest: 2
You'll find this solar-powered truck in the Arizonian wilderness. It's amazing how beautiful it is inside, with well-thought designs and where you can find everything you need from a comfortable bed, relaxing living area, and mini kitchen. This just proves that your space doesn't have to be big, just smart!
Trees and desert shrubs surround the property, but perhaps the best part is the variety of friendly livestock that roams around the grounds. You can hang out with the goats and chickens as these animals on site are super friendly.
Also, don't miss the beautiful sunsets and sunrises that can be seen in this spot. And at night, prepare yourself for an amazing stargazing experience!
9. Grand Canyon Glamping Experience – Perfect for Big Group of Campers
Price: US$172 per night
Bedrooms: 3
Guest: 8
The fun of camping never gets old, and it's more fun when you can share it with your family and friends. This large glamping bell tent can comfortably accommodate eight campers in one tent!
You can practice yoga & meditation to relax your mind and body with the image of a beautiful Arizonian landscape and refreshing mountain air. Reading a book is also a good idea while waiting for nighttime for that unforgettable stargazing experience.
10. Grand Canyon Farmhouse Loft – Affordable Family Accommodation
Location: Williams
Price: from US$150 per night
Bedrooms: 1
Guests: 4
If you want a comfortable place to sleep that's affordable and close to the canyon, this loft is one of your best options. It's a quaint studio-style home that can sleep four guests between its master bedroom and sofa bed.
You'll have a well-equipped kitchen, dining space for four, and a comfortable living room, with the Grand Canyon just 30-minutes away. Plus, the Airbnb is set on 10 acres of stunning land, which you'll have at your disposal.
11. The Love Shack – The Ultimate Romantic Rental
Location: Williams
Price: from US$120 per night
Bedrooms: 1
Guests: 2
This Airbnb is called 'The Love Shack' for good reason. It's a picturesque camper that has romance pouring out of every corner. From the cozy fire pit to the view-facing bench for two, you and your partner will be floating in secluded bliss.
The inside may be small, but it's packed with everything you could want or need. The kitchen is surprisingly well-equipped, the bed is plenty comfortable, and there's an indoor fire for warmth. You'll even have a dining space for romantic meals.
Better yet, you'll be just 30-minutes from Grand Canyon National Park.
12. Grand Canyon Tiny Home – Charming & Budget-friendly
Price: US$101 per night
Bedrooms: 2
Guest: 3
As an alternative to camping, tenting or sleeping in the wide-open landscapes of Arizona, you can stay in tiny houses like this one to make you feel more at ease. However, be prepared for simplicity, as its off-grid nature means no running water, a classy bathroom, and no WIFI. 
On the other hand, that is also the charm of this Airbnb, as you'll be struck by the secluded natural surroundings and the brilliant night sky. Another plus is you got yourself the company of cute and friendly animals throughout your stay.
13. Grand Canyon Rentals Retreat Sleeps 2 – Simple Space for a Couple
Location: Williams
Price: from US$90 per night
Bedrooms: 1
Guests: 2
Visiting the Grand Canyon on a budget? You'll struggle to find an apartment more affordable than this one. It's a simple, no-nonsense studio just 20 miles from the park.
Solo travelers or couples will find everything they need to rest and recover after a day of adventuring. You can freshen up in the shower, warm something up in the microwave, fluff the pillows, and climb into the queen bed. Then flick on the TV and wind down with some Netflix.
If you want something more substantial for dinner, drive down to the local restaurants for a selection of tasty meals.
Flagstaff
With a population of over 72,000 residents, the city of Flagstaff is a lot larger than Williams. As a result, there are more accommodation options available here, and more 'big city' amenities.
It's a little further from the park, at around a 90-minute drive, partially through Coconino National Forest, and with scenic mountain views. But Flagstaff is still one of the best and closest places to stay near the Grand Canyon.
14. Relaxing Central Flagstaff Homebase – Perfect Home for Group Vacations
Location: Flagstaff
Price: from US$260 per night
Bedrooms: 3
Guests: 9
A stonework fireplace and wooden ceilings give this house a classic 'cabin in the woods' feel. But the double-height, wall to wall windows pull you back into the modern world and offer stunning tree-top views.
With space for nine guests, a foosball table and dartboard, and a large dining table, it's a great place for a friends' getaway. There's even a hot tub in the master bedroom and a washer to keep things simple.
The large wraparound deck of this tree view cabin offers stunning scenery. And with a car, you'll be around 1 hour and 15 minutes from the South Rim entrance to the Grand Canyon.
15. Airstream Dreaming – A Retro Retreat
Location: Flagstaff
Price: from US$130 per night
Bedrooms: 1
Guests: 4
If you're a lover of all things retro, you'll light up at the sight of this restored airstream from 1965. The classic camper is as cool as they come, with a sweet mountain view and fairy lights strung around the outdoor sitting area.
With heating and air conditioning, plus a queen-size bed, you'll sleep comfortably at any time of year. You can cook up a simple meal in the kitchenette or enjoy lazy evenings with the TV.
For something more lively, drive 10-miles to Flagstaff's celebrated downtown. Or tackle the 75 mile trip to The Grand Canyon National Park.
Sedona
Sedona is an attraction in its own right. It's a desert gem, surrounded by striking red rock formations and tucked under one of America's finest night skies.
I've listed just one property here, as it's around two hours from the South Rim. But it has some stellar views and the canyon is a comfortable distance for a day trip.
16. Sedona Sunset Jewel, Amazing Views, Pool – Butte View Cabin with a Pool
Location: Sedona
Price: from US$190 per night
Bedrooms: 1
Guests: 2
Sedona is home to some of the most breathtaking scenery in the South West, with vibrant, red buttes at every turn. And you can take it all in from the comfort of this entire guest suite.
Lie back on a lounger beneath the desert sun, and gaze out at the red rock surroundings. Sedona's famous 'Chimney Rock' even features in the vista. Then dive into the crisp blue pool and feel the heat melt away.
Sunsets from your private deck will dazzle you, and you'll feel plenty comfortable in the slick, studio setup.
BONUS: Things to Know About Renting an Airbnb Near The Grand Canyon
Fallen in love with one of the Grand Canyon Airbnbs and ready to pack your bags? There's some stuff you might want to know before heading off.
This section dives into some useful information for planning your trip to the Grand Canyon. So read on to help make the most of your adventure!
🏠 Where Should I Stay When Visiting The Grand Canyon?
With the exception of expensive hotels and a limited number of campsites, there isn't much accommodation at The Grand Canyon National Park itself. Most of the best vacation rentals are a short drive away in one of the nearby towns and cities like Williams, Flagstaff, and Sedona. And each of these spots has its own charm, too.
Otherwise, if you're willing to sacrifice some bang for your buck, Grand Canyon Village is as close as you'll get to the South Rim. Just be prepared for tourist crowds!
📸 What Should You Not Miss at The Grand Canyon?
From the more rugged North Rim to a bridge in the sky, here are the Grand Canyon musts.
Grand Canyon Village – This is the popular South Rim Entrance to the park, with some of the best vantage points. Expect plenty of visitor information and large crowds.
South Rim Trail – The most popular hike in the park, this 8 miles trail strings together some of the best viewpoints on the South Rim. There's even a bus that stops along the way, so you can catch a ride when you're tired.

Grand Canyon Skywalk – A loop-shaped bridge that juts out into the canyon, offering some incredible views. The glass floor gives you a unique perspective, with the canyon floor thousands of feet below.
Bright Angel Trail – Wander through the canyon, eyeing out some of its most spectacular scenery on this 18-mile trail. Best suited to more experienced hikers, it's popular among adventurous campers and backpackers.
North Rim – The lesser-visited North Rim of the Grand Canyon is certainly worth a visit. It's famously more rugged than the South Rim, offering a raw and secluded experience.
🚗 How to Get to Grand Canyon from Las Vegas
An excursion to the Grand Canyon is a popular addition to a Las Vegas trip. The 275-mile drive to the South Rim takes around 4.5 hours. You'll head southbound on highway 93 before turning east on the I-40 toward Route 64. Once you're on Route 64, you'll be around an hour from the canyon.
Alternatively, you could take a scenic bus ride with a tour company like canyontours.com.
🧳 What Should You Bring to the Grand Canyon?
📅 How Many Days Should You Stay at the Grand Canyon?
While it is possible to see some of the Grand Canyon in a day, most people recommend spending two days to get the full experience. Booking three nights of accommodation allows you to make the most of each day. Plus, most of the cool Airbnb options here are a fun experience in themselves, so the more time the merrier.
☀️ What is the Best Month to Visit the Grand Canyon?
Spring (March – May) and Fall (September – November) are generally considered the best months to visit the park. These seasons offer comfortable temperatures and smaller crowds than in summer, which is peak season (and baking hot).
If you're visiting in Fall or Spring, just be prepared for chilly evenings and occasionally unpredictable weather conditions.
Top 3 Airbnb Experiences
Airbnb offers more than just stunning stays. The platform is also home to a range of wonderful Airbnb Experiences, where local guides give you a glimpse into local life.
Having an experienced guide at the Grand Canyon can help you get the most out of your experience and learn a thing or two along the way. Here are some of the best options available.
Hike the South Kaibab Trail – This experience takes you on a scenic journey through one of the Grand Canyon National Park's best hiking trails.
Take an Afternoon Tour of the Canyon – This tour stays above the rim, but offers stunning views and valuable insights into the area.
Photograph the Stars – Get your photograph taken with the backdrop of Flagstaff's famous night sky, and snap some shots of your own.
Conclusion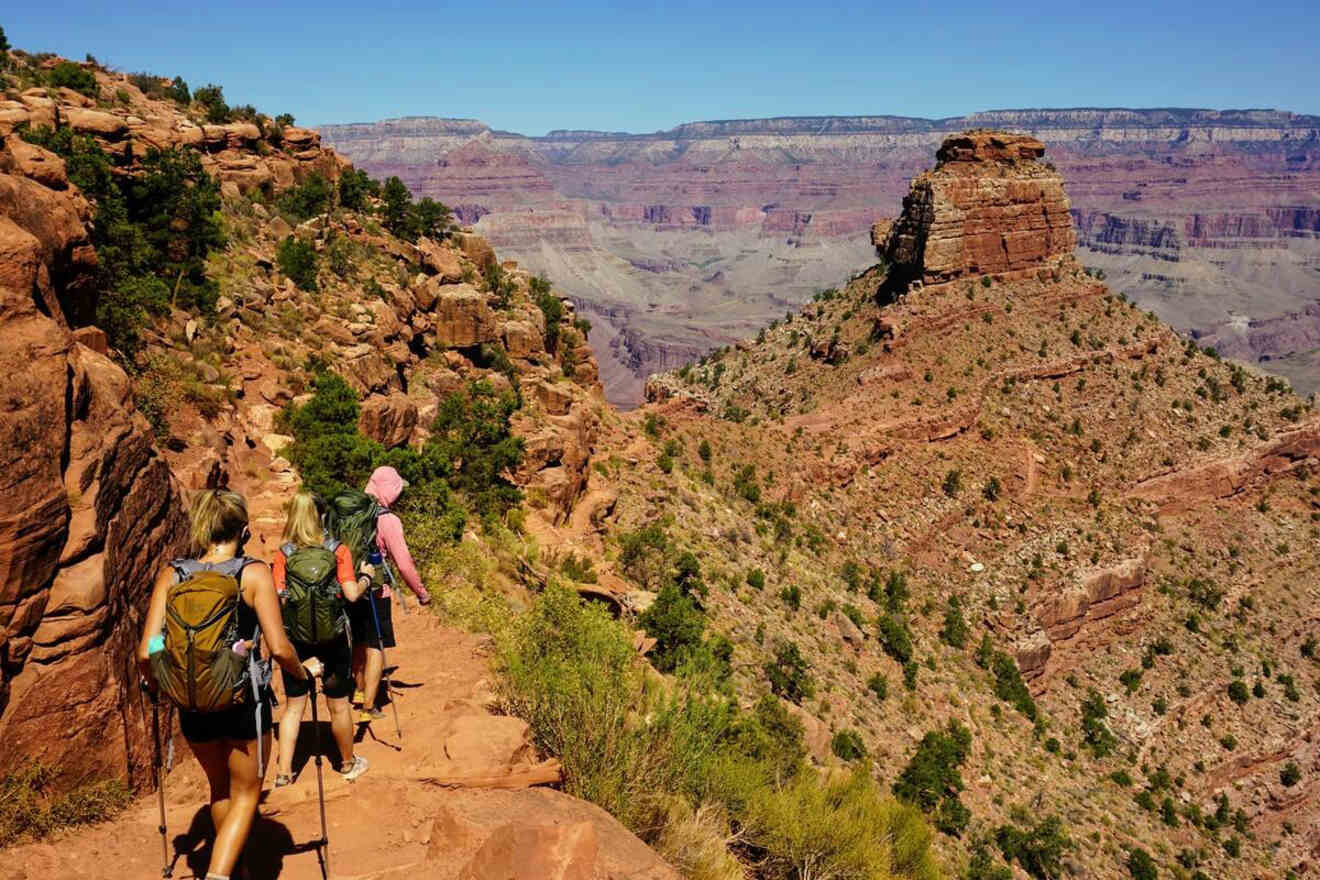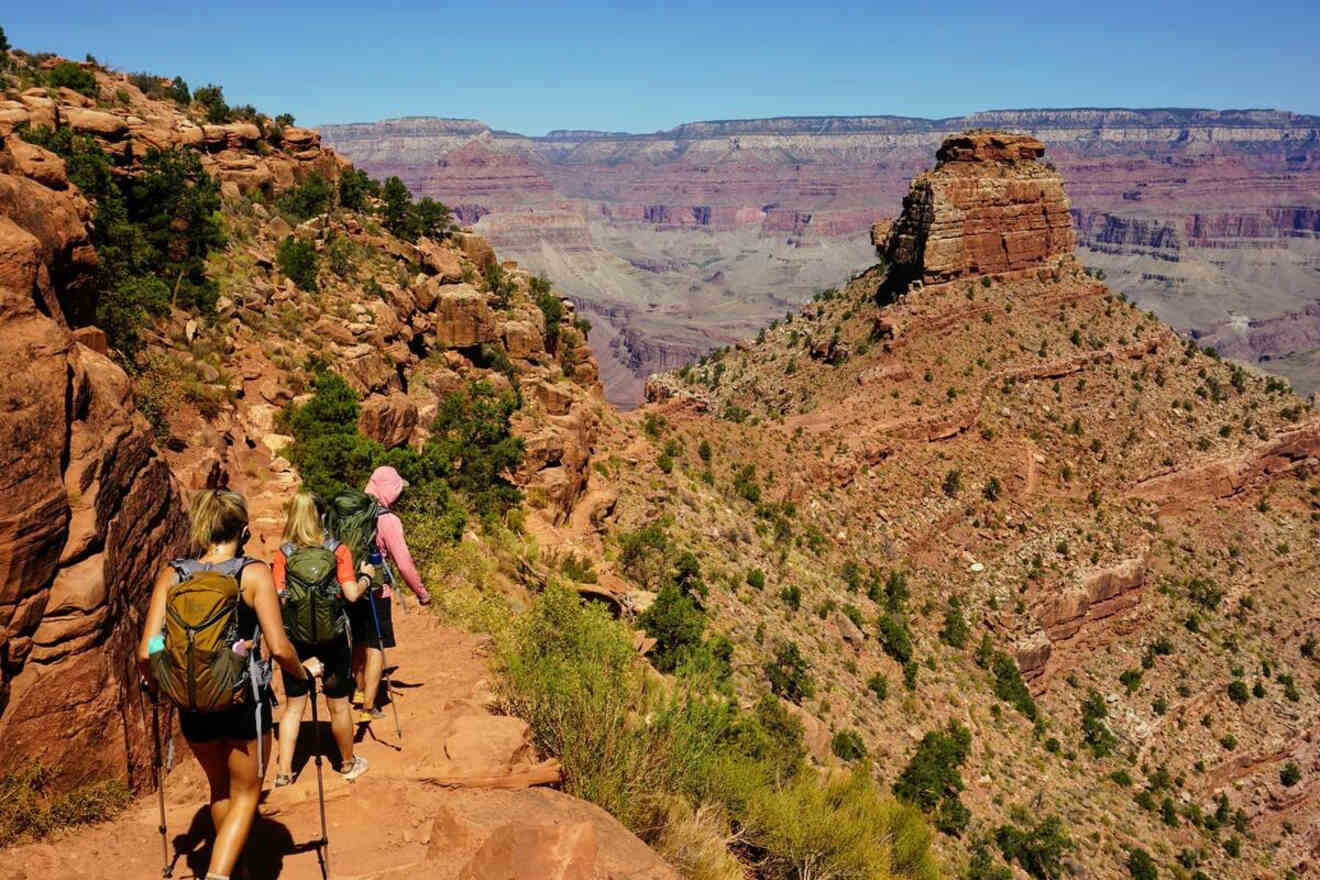 Have you set your sights on the best Airbnb Grand Canyon has to offer? If not, make a point of checking out the options I've listed above. Whether you're looking for a luxury glamping spot or a home with a hot tub, I've found an Airbnb for you.
For the ultimate glamping setup, I recommend booking a stay at the Invigorate -'Red Beauty' Safari Tent. It's a beautiful, well-equipped space that offers a marvelous stargazing experience.
For a unique group vacation, try Glamp like a pro in the Mahal Yurt. It's an enormous, secluded bell tent with space for eight guests and an interior design to die for.
But don't wait too long – the best spots get snatched up quickly!
Each year, almost six million people flock to the Grand Canyon, and not without good reason. The canyon is a geographical masterpiece, painted in the warmest hues. It flaunts its scenic vistas to the world, and the world can't help but stare. So pack your bags, and get ready for the adventure of a lifetime.
Have you visited the Grand Canyon? If so, please share your thoughts and recommendations in the comments below!
Wishing you a safe trip full of joy and wonder,
Yulia