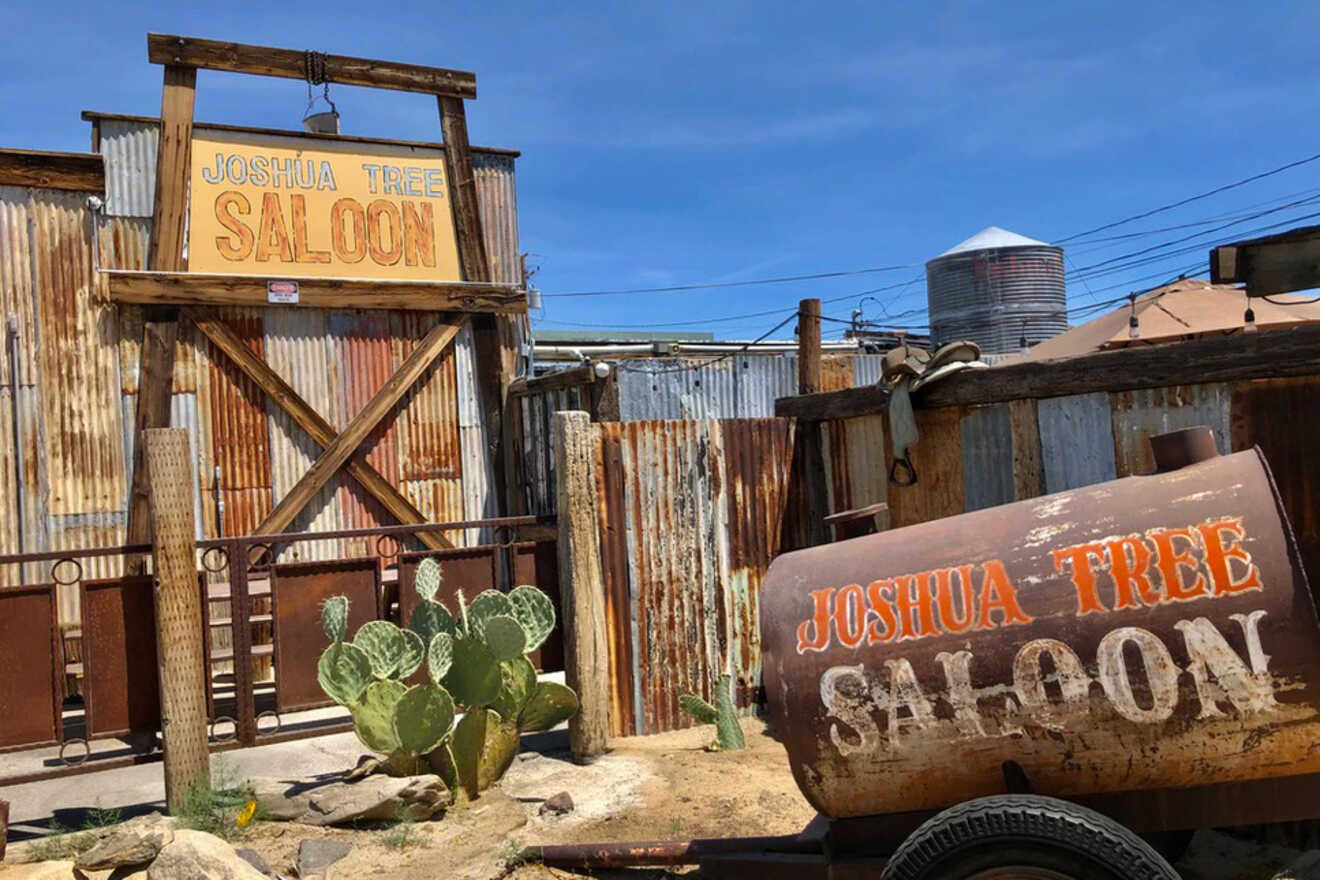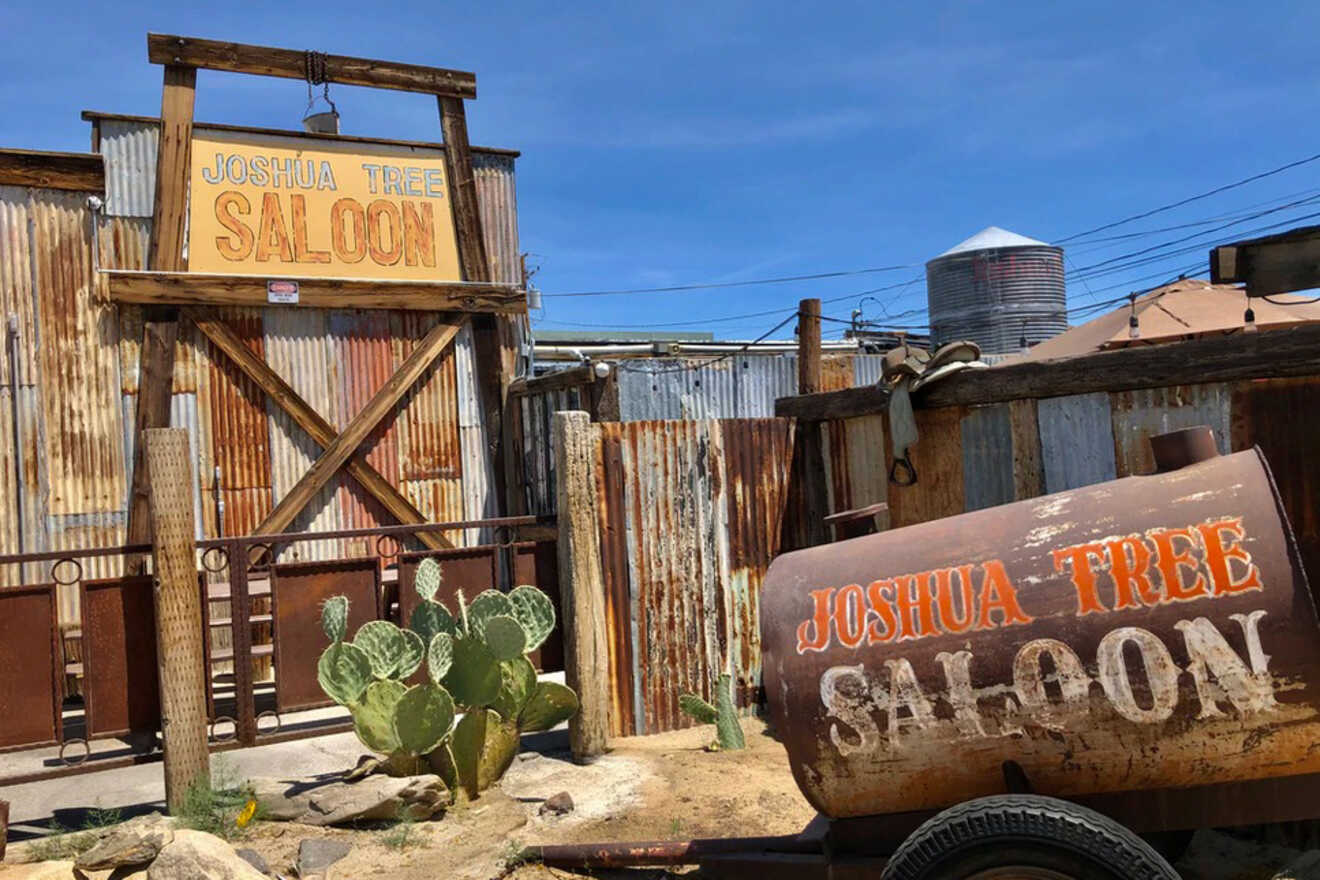 If you're planning on renting a Joshua Tree Airbnb for your next California adventure, you're in the right place. Joshua Tree National Park consists of scenic desert landscapes and stunning rock formations. And, of, course, the famous Joshua trees.
Whether you plan on hiking, or taking a sightseeing drive, or simply hiding out in a scenic cabin with the fireplace going, this park is a paradise for adventure-lovers and outdoor enthusiasts. And it's not hard to see why.
Bordered by the Mojave and Colorado deserts, the park encompasses 790,636 acres. If you don't know exactly how big that is, add an extra 13 000 acres to Rhode Island! It should come as no surprise that a park this large has plenty of things to do and see. And, as a result, plenty of places to set up a base for your trip surrounded by over a hundred yucca palms.
I've searched far and wide to compile a list of the most popular Airbnb vacation rentals in town. Including how far they are from key landmarks by car. All for your convenience. So if Joshua Tree, California sounds like the kind of place you'd like to explore, keep reading for more!
In a Hurry: Top Airbnbs in Joshua Tree
For some of the most popular vacation rentals with ideal location near the city center and all the amenities you need, take a look at some of our top picks sorted by price in descending order below:
Top 12 Airbnbs in Joshua Tree
Here are 13 of my favorite Joshua Tree Airbnb vacation rentals to help you plan the perfect outdoor adventure. I've sorted them according to the price in descending order to make it easier for you to find the best and most suitable places to stay.
I've also included all additional fees (including service fees and cleaning fees) in the final cost, so you know exactly what to expect when you're booking.
1. An Architect's Off-the-Grid Rustic Cabin – Romantic Couple's Getaway
Price: from USD $610 per night
Bedrooms: 2
Guests: 2-6
Nothing quite comes close to spending the evening in bed beneath a blanket of stars. And while some may consider that to be physically impossible, this designer rustic 'casita' cabin allows you to do just that – metaphorically speaking, of course.
Boasting a stunning contemporary design and plenty of natural light, expect dreamy interiors where all you need to do is sit back and relax. Despite its small space, there are extra beds (including one outdoors), a full kitchen, and a modern bathroom with a walk-in shower.
2. The Starfire Hill Home
Price: from USD $450 per night
Bedrooms: 1
Guests: 4
Sweeping views and bright open spaces welcome you as you step inside this one-of-a-kind Joshua Tree house. Of all places to stay in California, this place is sure to take you right to the heart of the Californian desert. All you need is a cold beer and your granny's vintage record player, and there's no better place to wind down like the good old days.
So if you're looking to get some fresh air and solitude, you're in for a real treat. It's also great if you're in search of new and interesting Instagram pics.
3. The Joshua Tree House – Great Place for a Family Getaway
Price: from USD $380 per night
Bedrooms: 2
Guests: 6
One of the trendiest Airbnb rentals is, without a doubt, the Joshua Tree House. Step inside and be welcomed by charming wood finishings, desert-themed decor, and homely touches throughout. Warm color palettes create an inviting atmosphere, while textured fabrics immediately make you feel right at home.
Take a one minute drive to check out nearby shops and restaurants in downtown Joshua Tree and then head back home to enjoy the outdoor hot tub and make dinner in the kitchen. Game nights in the living room by the fireplace offer the perfect group wind-down from a busy day.
Most reviews of Airbnb tell you all about the beauty of the place, and it's definitely one of the best looking ones I've seen.
4. Luxury 1950s-Style Casita – Great Joshua Tree Airbnb for Families
Price: from USD $380 per night
Bedrooms: 2
Guests: 4
This opulent desert Casita is a rose amongst thorns in the rough and rugged desert landscape. Spacious interiors, contemporary decor, and a host of outdoor amenities guarantee an unforgettable experience for the whole family! Not to mention the fact that it's minutes from the West Entrance of the Joshua Tree National Park.
Grill up a tasty lunch on the barbecue to enjoy in the great outdoor dining and entertainment area. Then enjoy the rest of the afternoon soaking up some vitamin D on the sun loungers before winding down in the outdoor spa. It's the best spot to watch the tumbleweeds go by.
5. The Park Boulevard House – Large Airbnb With a Hot Tub For Families
Price: from USD $350 per night
Bedrooms: 2
Guests: 4
Combining modern elegance with a Western flair, this home's stylish design offers a tranquil retreat for roaming souls. Blooming cacti plants can be found both outside and throughout, adding a breath of fresh air to the sizzling Western ambiance.
This Airbnb boasts an outdoor BBQ, a sparkling 'cowboy pool', and a beautifully landscaped frontier that's perfect for entertaining. It comfortably sleeps a small family and is within walking distance of ample local amenities. These include the Farmer's Market, the Saloon, Park Rock Cafe, and many more.
6. Green Haus – Desert Stay Near Joshua Tree National Park Entrance
Location: Yucca Valley
Price: from USD $340 per night
Bedrooms: 2
Guests: 6
Characterized by stylish modern finishes and heaps of great natural light, this greenhouse boasts a 180-degree panoramic view of the surrounding desert landscape. Located within a minute drive from Joshua Tree National Park, guests can expect unparalleled scenes of Mt. San Jacinto and Mt. Gorgonio and the spectacular nighttime sky.
Enjoy a hearty lunch by the BBQ or the outdoor chiminea on a spacious two-level outdoor terrace and then relax in the hot tub. Or pay a visit to the famous nearby Pappy & Harriet restaurant for a local dining experience. With all this natural beauty right on your doorstep, simply relax and take it all in from the comfort of your rental — or the outdoor hot tub.
7. The Shack Attack – Amazing Views
Location: Joshua Tree
Price: from USD $290 per night
Bedrooms: 1
Guests: 2
If you're a city lover from San Diego but still love the outdoors from time to time, this is the perfect place for you. In this reimagined 1957 Airbnb, you can make yourself at home and enjoy the natural environment from the comfort of your bed. This contemporary tiny home allows you to enjoy sweeping views 24/7 as the desert sleeps all around you.
You can further immerse yourself in the natural environment by preparing a wholesome meal in the partially-outdoor seating area. Or spend the day with a visit to nearby Palm Springs. And at the end of the day, have a refreshing soak in the custom tub under wide-open skies. It's an unforgettable way to embrace the Californian wilderness!
You might also like: Where to stay in Los Angeles
8. Piece of the Sky 1975 Airstream – Best Joshua Tree Airbnb For Couples
Price: from USD $240 per night
Bedrooms: 1
Guests: 2
The 1975 Airstream is a quaint mini-home set in a remote setting in close proximity to Joshua Tree National Park. Perfect for stargazers, outdoor-lovers, and art enthusiasts, there's more than just fantastic desert views, a dreamy bedroom, and vast skies!
This stay is best described as 'a high-end camping experience', so stock up on whatever you need before coming to enjoy the peaceful outdoors. But worry not, Mesa Market is a cute little corner shop within a 5-minute drive away.
9. Luxurious Bohemian Joshua Tree
Price: from USD $230 per night
Bedrooms: 2
Guests: 4
Luxury and minimalism are two of the main features of this stylish cabin. Some other characteristics include tasteful interior design, lush decor, ample amenities, and a rugged natural environment framing the exteriors. And while an Airbnb stay of this standard doesn't come cheap, it's worth every penny. Just read the reviews and you'll see why.
Begin your day with breakfast prepared in the fully-equipped and eccentrically-decorated kitchen. Then take a break from the afternoon heat with a nap in the outdoor hammock, or a nice cooling soak in the outdoor bath tub. This makes for an extremely comfy vacation home for all.
10. The Mojave Green Cabin Joshua Tree – Great Getaway for Couples
Price: from USD $230 per night
Bedrooms: 1
Guests: 4
Lazing around on a sun lounger, by the fire pit, or in a bubbling hot tub is one of the best ways to take in California's beautiful sunsets. And this Airbnb cabin has all the facilities to do just that. While the interior is thoughtful and stylish, the outdoors is one of the more scenic pastimes to engage in on a peaceful starry night.
This chic cabin sits within a remote setting encompassed by desert wildlife and desert environments — and with Western-themed decor to match! So when you've had your fill exploring the 'Old West', kick off your cowboy boots and retreat to a set of comfy beds in this high desert Airbnb haven.
11. A Desert Nest in the Boulders – Outdoor Jacuzzi With a Stunning View
Location: Yucca Valley
Price: from USD $210 per night
Bedrooms: 2
Guests: 6
Simple, chic, and loaded with rocky eccentricity, this bungalow is perfectly immersed in the desert landscape. It's set amongst giant boulder formations and a wilderness full of wildlife. So this spot serves as an idyllic retreat with hiking and rock climbing right on your doorstep.
If you need a break from the hustle and bustle of a big city, take a few minutes to roam almost 5 acres of scenic property. Or simply enjoy the view from the outdoor hammock. When the sun goes down, grab your loved ones, and relax in the little outdoor hot tub. Relaxing beneath the stars is the best place to be when the rest of the world sleeps.
12. The Moon Cabin Joshua Tree – Romantic Couples Stargazing Escape
Price: from USD $200 per night
Bedrooms: 1
Guests: 2
This rustic, modern 1950s cabin in Joshua Tree is nestled in a remote setting not far from the Joshua Tree village. Recharge your mind, body, and soul with a stay at this serene desert oasis, tastefully designed to be the getaway that dreams are made of. And since it only sleeps 2, you're guaranteed plenty of quality time.
Enjoy the served breakfast and cook dinner together in the kitchen. Sunrises and sunsets are best enjoyed from the rocking chairs on the porch. While expansive views of the surrounding wilderness serve as an added bonus.
NOTE: This Airbnb is clearly in high demand, since availability is very limited. But I just had to show it to you and give you the chance to book it if it becomes available.
4 Unusual Airbnbs in Joshua Tree California
California is home to some of the most beautiful accommodations in the United States. But if you want to spice up your trip, why not try some of the more unique places to stay in Joshua Tree?
Here are some unique stays (including a dome in the desert) that offer a different space to stay, all with glowing reviews. And for your convenience, I calculated the time it will take to drive from each place to downtown Joshua Tree.
1. The Invisible House – Luxury Getaway for Large Groups
Price: from USD $3720 per night
Bedrooms: 4
Guests: 8
The Invisible House is a luxurious horizontal skyscraper nestled on a 90-acre property with its own private mountain. Plus, the sparkling 100-foot swimming pool provides awesome views of the surrounding desert through the mirrored walls.
Its breathtaking architectural design consists of mirrored walls hosting designer decor and the most advanced technological materials available. Unsurprisingly, it's been featured in major publications such as the Washington Post, Daily Mail, Business Insider, and dozens more.
2. Area 55 Futuro House Joshua Tree
Price: from USD $370 per night
Bedrooms: 2
Guests: 4
When you combine an off-the-grid Joshua Tree Airbnb with futuristic architecture and design elements, you get the Area 55 Futuro House. The cabin-like living room and the common area are adorned with fun, colorful furniture, and space-themed decor, resulting in a distinctively rare space with unparalleled character.
This unique glamping accommodation allows you to make the most of the minimal amenities with heaps of fun and games! The home is stocked with board games, comic books, and a Bluetooth sound system so you can always be entertained. Sans Instagram.
3. Dome in the Desert – a Unique Stay for a Group of Friends or Small Families
Price: from USD $310 per night
Bedrooms: 2
Guests: 4
It's not every day that you find a house in Joshua Tree that's graced the cover of multiple world-famous magazines. So this beautiful, boho dome in the desert home is a truly unique Airbnb experience! Apart from sitting on multiple acres of secluded land, the entire dome is handcrafted with tasteful characteristics and attention to detail.
Utilizing quirky shapes and minimalistic design elements, the interiors are blissful to experience. You're free to explore the never-ending landscapes of the surrounding area. And once you've built up a solid appetite, whip up a tasty meal in the fully-equipped kitchen.
Grab a drink, grab your friends, and enjoy the peace and quiet from your memory foam mattress bed overlooking the wilderness.
4. Color Trip Trailer Desert Retreat – Fun Getaway for Couples
Price: from USD $80 per night
Bedrooms: 1
Guests: 2
If you're looking to add a little extra zest to your next vacation, I've got the perfect Airbnb rental for you. The Color Trip Trailer is the most colorful, most comfortable getaway in the Joshua Tree area. It boasts vibrant color splatters and a ton of personality all squeezed into one fun-sized RV!
Tucked away on a 3-acre property, this abode sleeps two people and is perfect for a fun-loving couple — or a solo traveler looking for a Joshua Tree retreat! Spend your time cooling off in the splash pool, or adding a splash of color to your Instagram from the living room.
Or why not enjoy the cool evening air beneath the twinkling stars and fun multi-color fairy lights? Either way, you're in for a real treat during your stay.
Things to Know About Renting an Airbnb in Joshua Tree
So you're ready to set off on an adventure to Joshua Tree. But you're wondering if there's anything in particular that you need to know in preparation for your upcoming trip. If that's the case, keep reading for a list of things to keep in mind:
You're likely in the middle of nowhere – Don't expect excellent cell reception 24/7 or hours of Instagram here – this isn't Palm Springs! The Joshua Tree vicinity is fairly remote and very different from the big city lifestyle.
It's a desert – You'll be exposed to the elements, with several potential wildlife encounters. Yes, even snakes. The environment in and around Joshua Tree never sleeps — and it can be harsh and unforgiving sometimes, so always come prepared for your stay.
Function over fashion – Clothing should be practical and suitable for the Joshua Tree environment. Especially your shoes. But whether it's sunhats or layers of winter coats, you can still make it cute.
Top 4 Joshua Tree Airbnb Experiences
Now that you have an awesome list of where to stay in Joshua Tree, why not prepare a list of the best and most popular things to do? Luckily for you, I've already done that for you:
Conclusion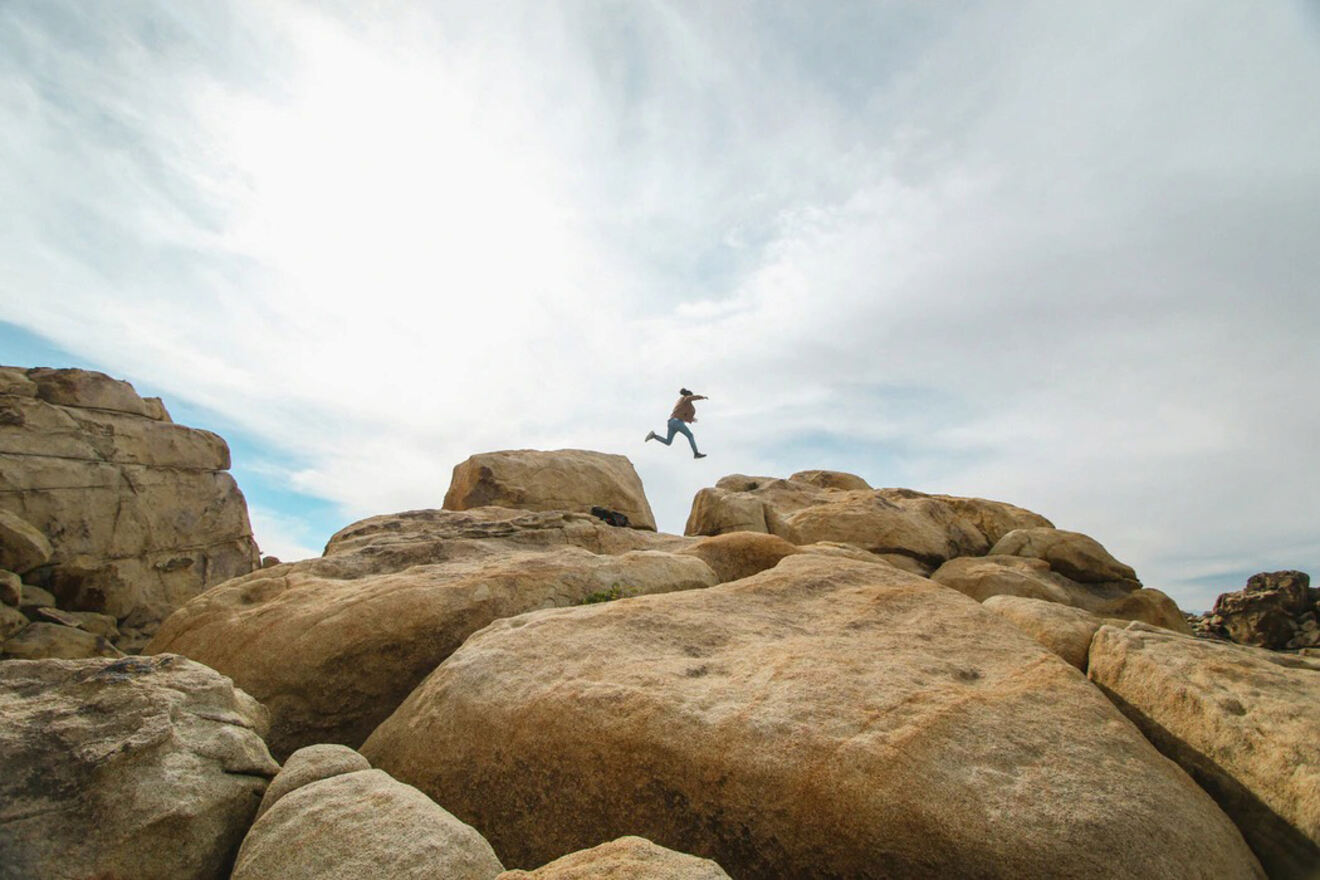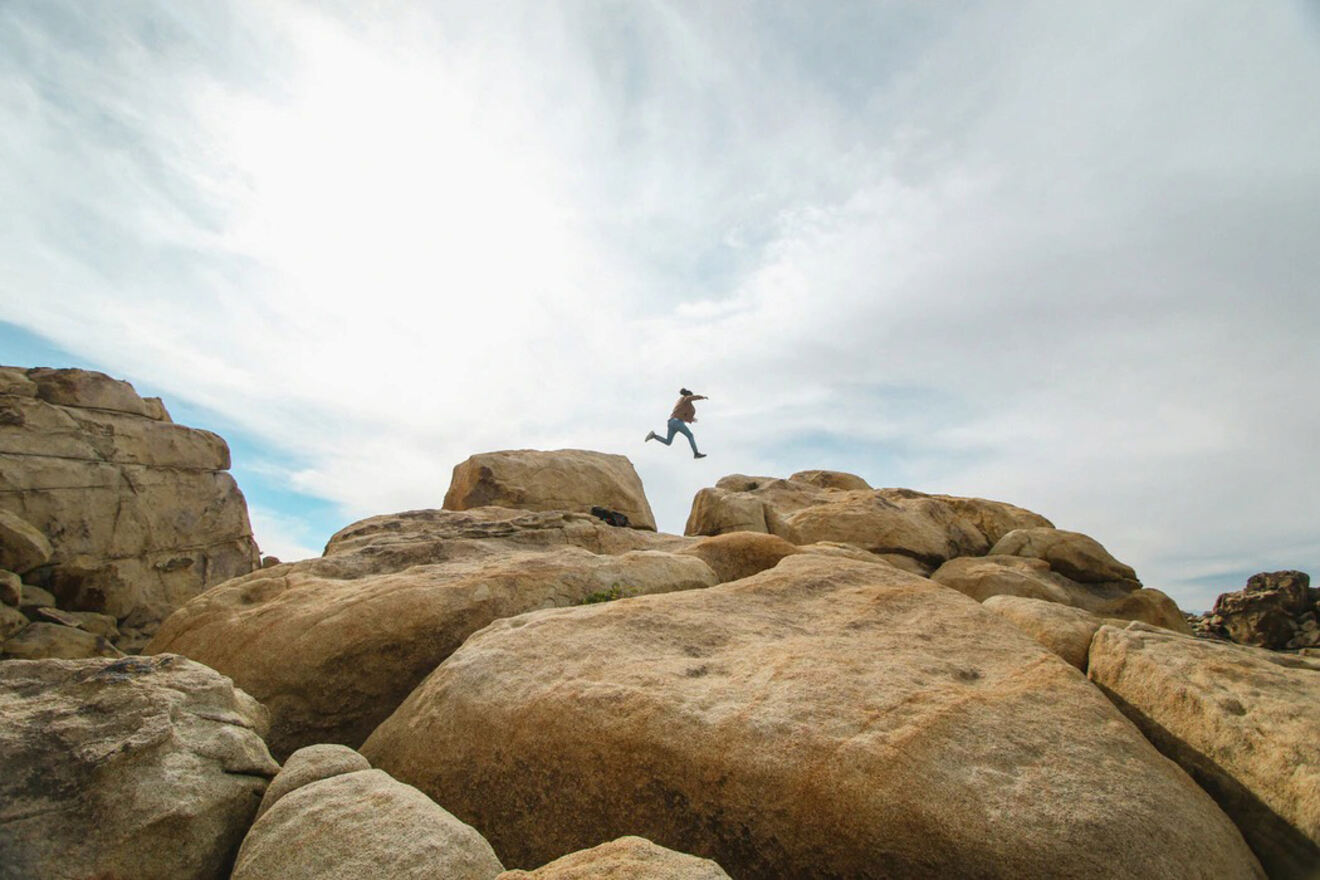 Joshua Tree Airbnb house, apartment, and cabin accommodations are well-known for their picturesque venues and Instagram-worthy views. And, as an added bonus, there are plenty of fun, unique, and family-friendly activities in the area for all travelers.
A luxury Joshua Tree cabin with a jacuzzi, homely space with a fireplace, a quirky desert hideaway, and a futuristic glamping space with minimal amenities are just a few examples of what to expect from this area.
A golden rule to remember when booking your Airbnb rental in Joshua Tree: if you snooze, you lose! So be sure to book well in advance to ensure that you don't miss out on your dreamy holiday home.
If you have any memorable experiences you'd like to share with us, or if you feel I've missed any special accommodation options or activities, feel free to leave a comment down below!
I hope you've had a marvelous time on your vacation to Joshua Tree.