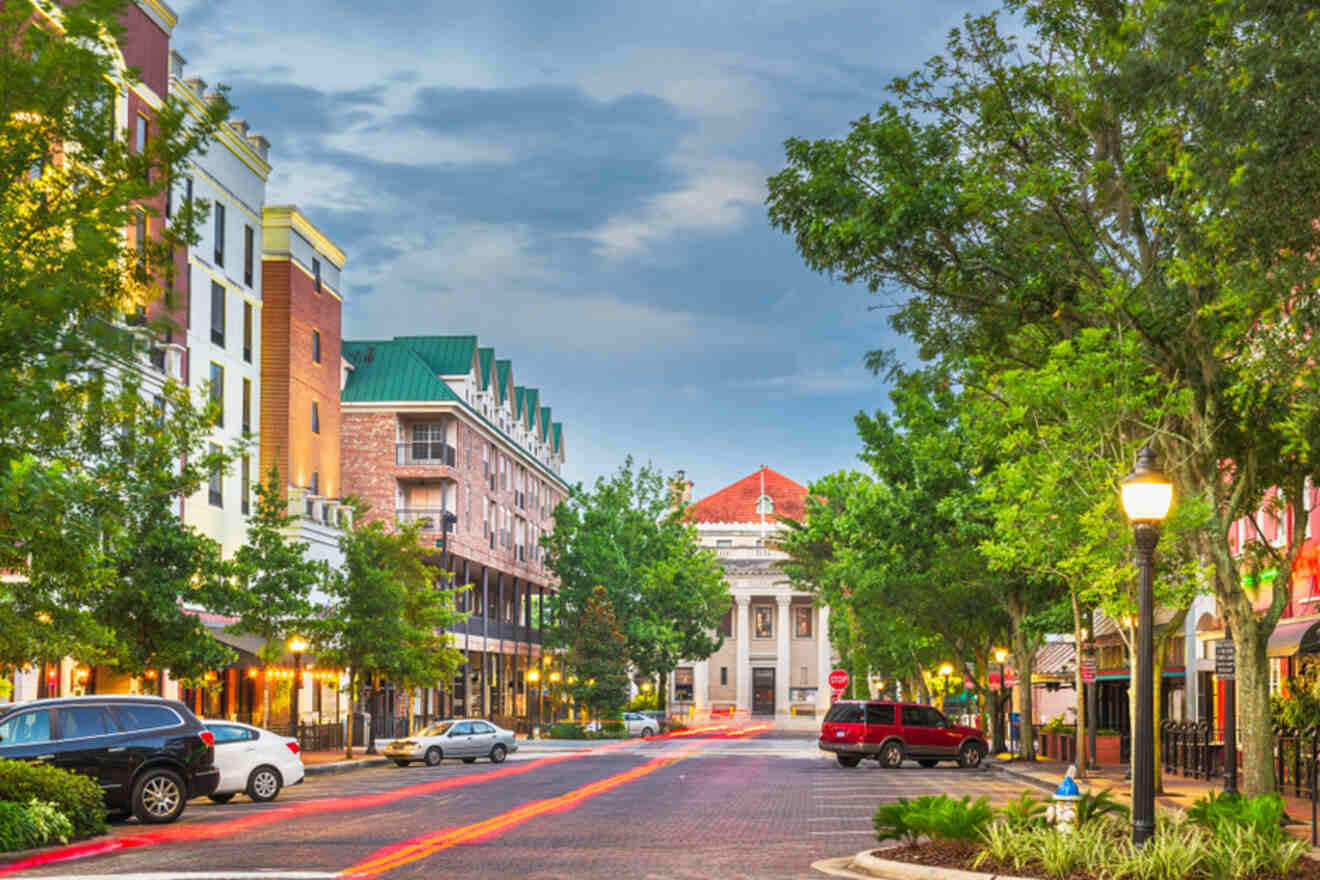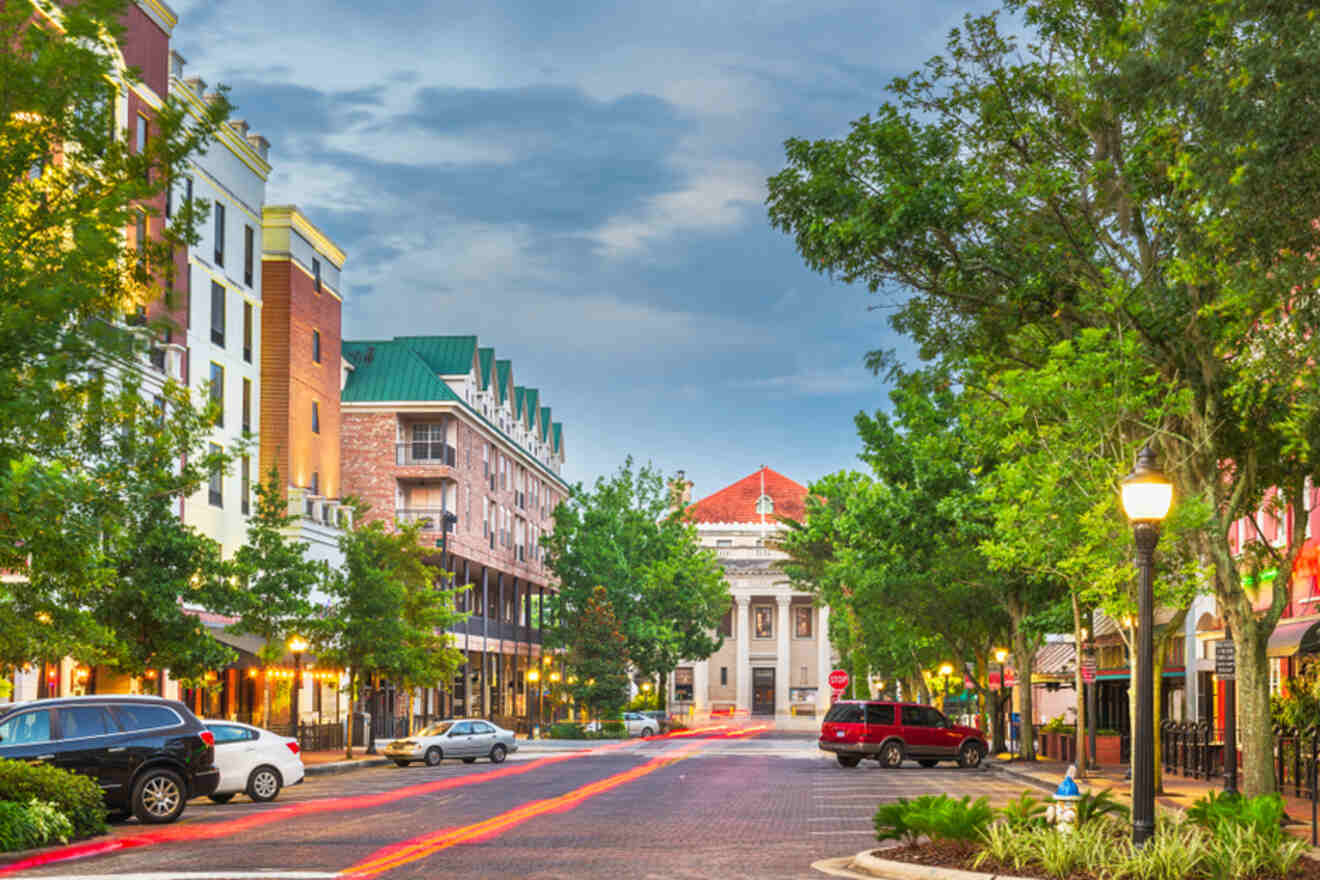 Another historical Florida city rife with nature preserves, natural springs, museums, craft breweries, and the potential for a whole lotta fun! Gainesville is top of my list for stunning areas to visit and incredible history!
While Gainesville may be home to the University of Florida, it has so much more to offer than your average college town.
Settled and founded in 1854 by Edmund Gaines, there is actually evidence that Indigenous peoples inhabited what is now known as Gainesville for thousands of years, dating back to 500 BC!
If you're looking for fun and exciting things to do in Gainesville, Florida, you are in for a treat! As a Florida local, I am going to let you in on all the best-kept secrets about this North Central Florida gem!
Let's dive in!
1. Learn about Florida's history at the Natural History Museum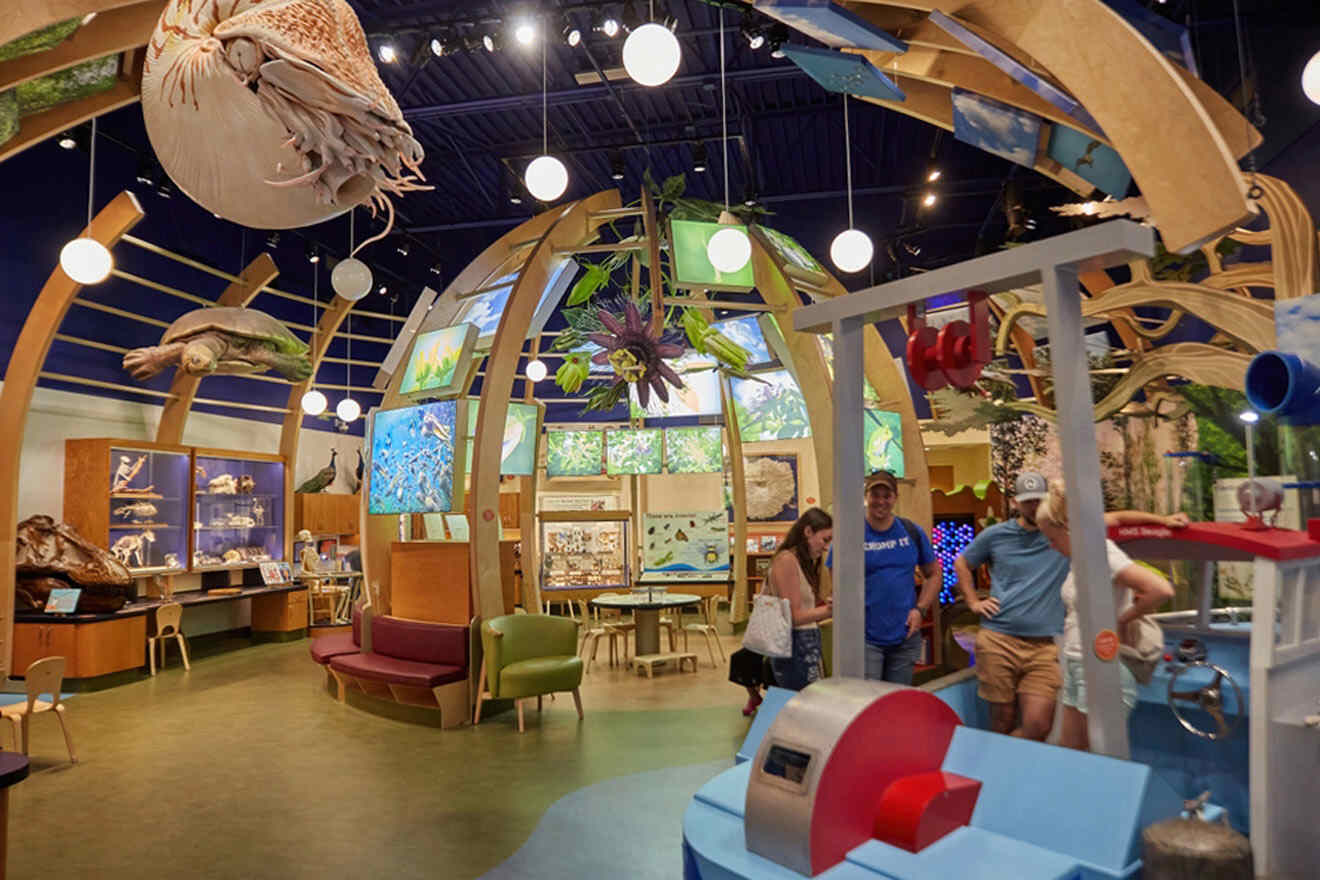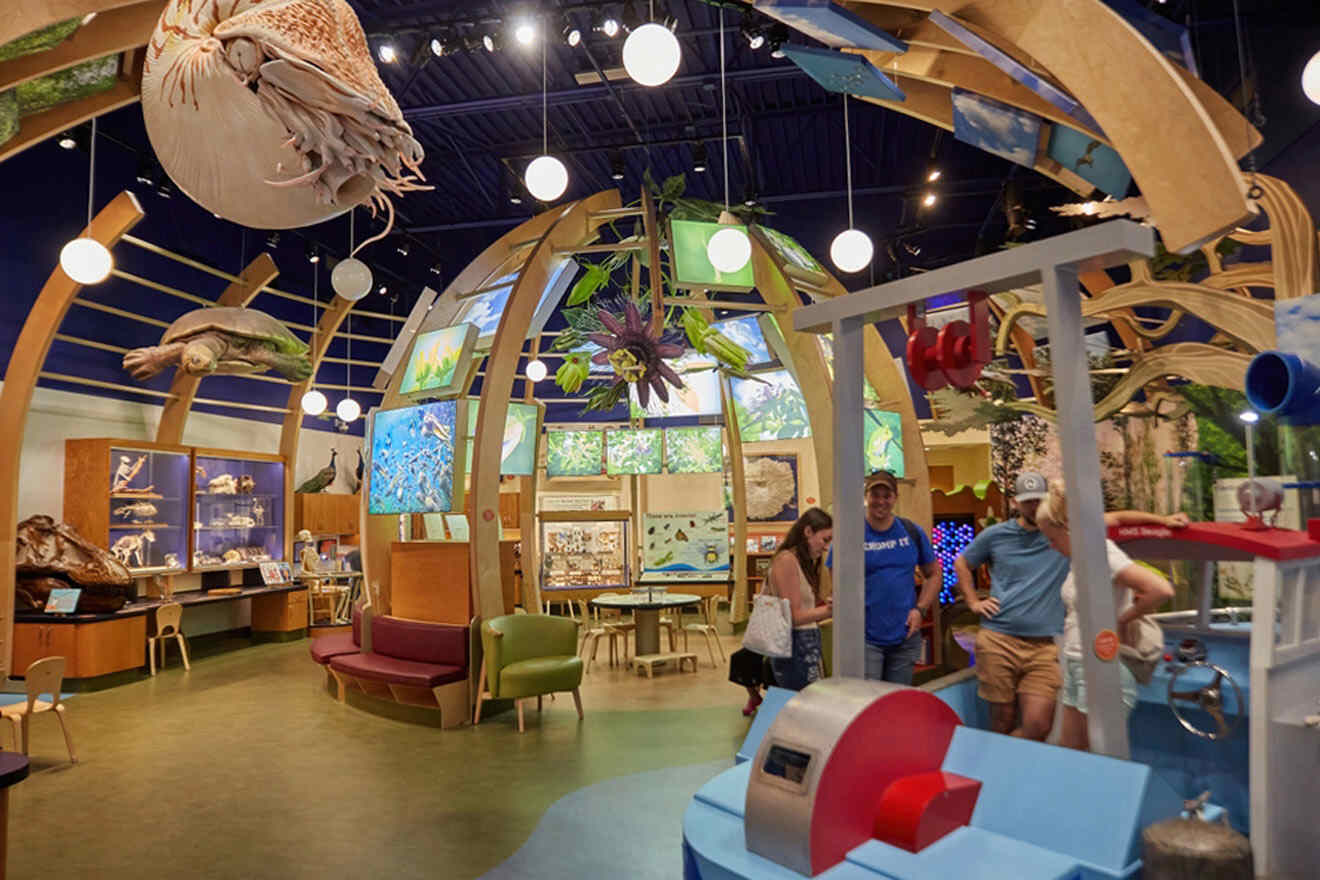 This is one of the best things to do in Gainesville. Not only is it free to enter, but this museum is also jam-packed with incredible exhibits, tidbits of history, and a unique look through the natural history of Florida.
At the Florida Natural History Museum, you can see fossils from five different geological periods in Florida. There is also a cave and hammock forest exhibit, an extensive gallery displaying Native American history in the area, a mangrove boardwalk, the home of a Calusa leader, and so much more!
Located on the University of Florida's campus, this incredible Florida museum also houses the Butterfly Rainforest.
If you're visiting with young children, this is one of the best things to do with kids in Gainesville.
This Florida Natural History Museum has a children's discovery and play area with incredible interactive games and books, providing both a fun and educational experience for the little ones.
The best part about checking out The Florida Museum of Natural History is that admission is completely free, with the exception of special exhibits and the Butterfly Rainforest.
The Butterfly Rainforest is a super cool exhibit that houses over 50 species of butterflies. At any given time, there are at least about 1,000 butterflies fluttering around!
PRICE: Free entry, US$15 for the Butterfly Rainforest
Book Your Butterfly Rainforest Tickets
2. Check out Devil's Millhopper Geological State Park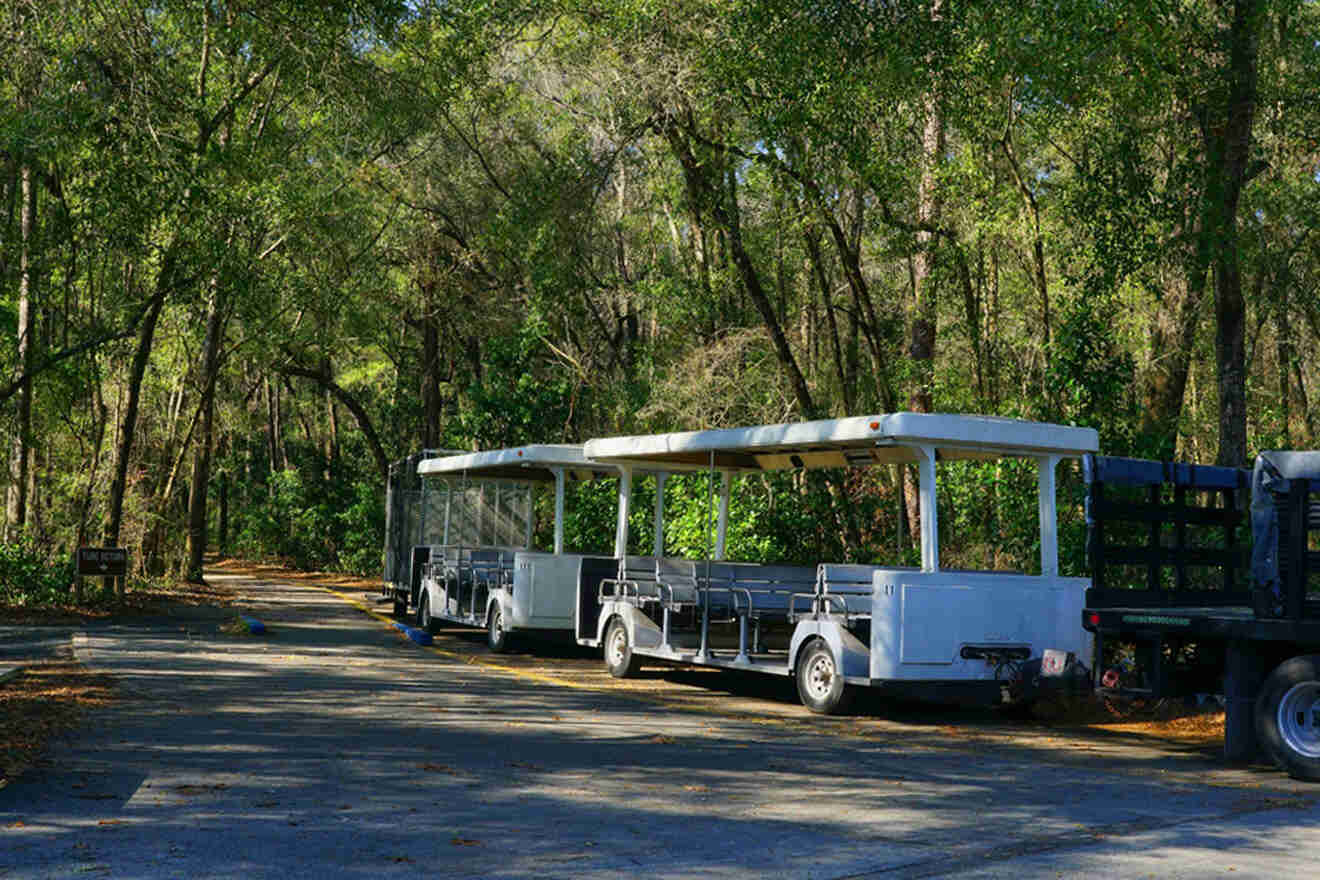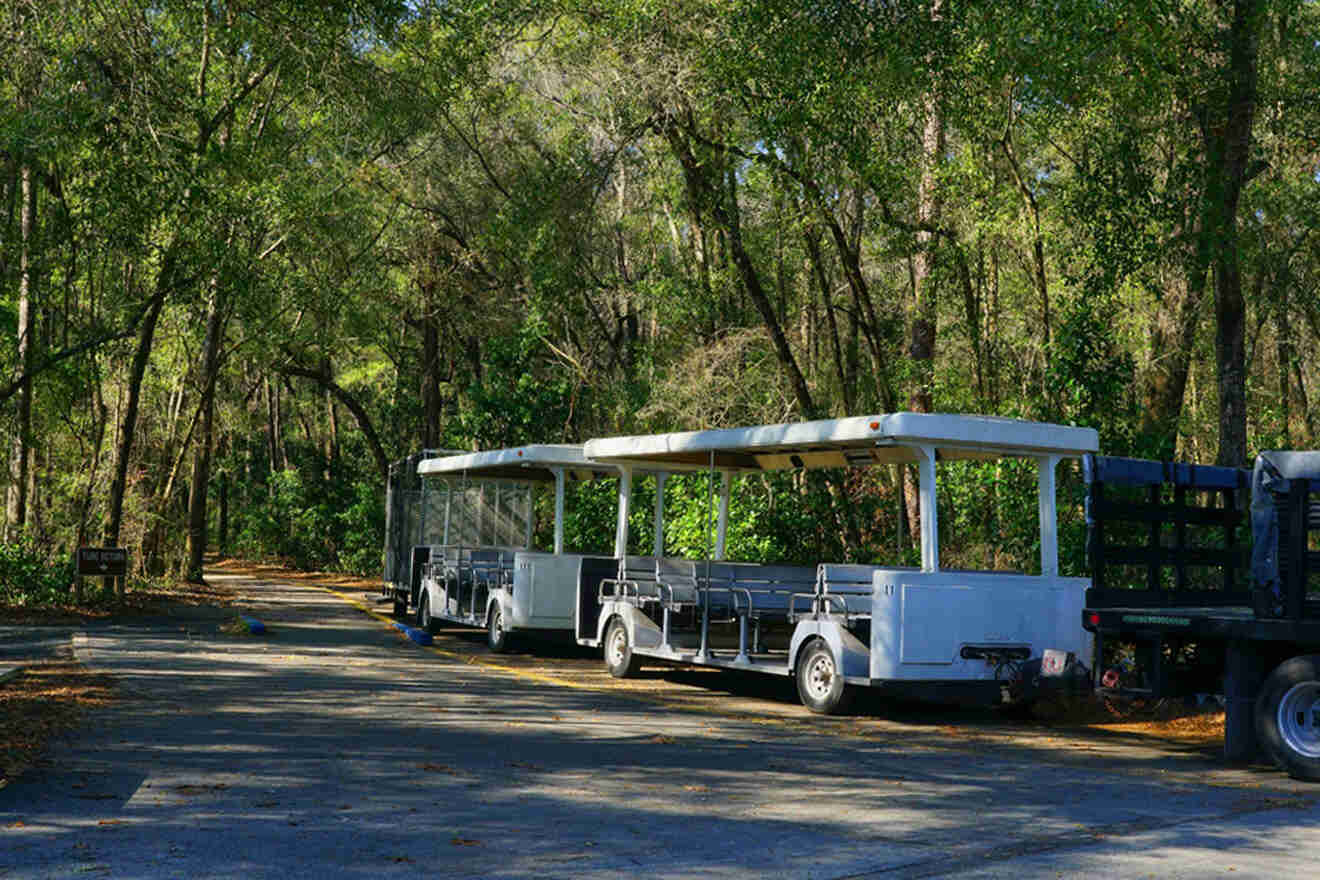 This incredible state park is home to a sinkhole that is, quite amazingly, over 500 feet wide and 120 feet deep!
An attraction beckoning Floridians from all over the state and visitors from all over the globe, this state park is an incredible geological phenomenon to witness.
Devil's Millhopper Geological State Park is one of the coolest places to visit in all of Florida.
With a wooden boardwalk that leads to an observation deck overlooking the sinkhole surrounded by lush forest, this beats Disney World for me every time!
There are all sorts of diverse ecosystems encompassed in this Florida State Park. Here you will be in a forest, a sandhill, a swamp, and a lush canopy of vibrant native Florida ecology.
Fun Fact: The name "Devil's" comes from the fact that the sinkhole is so deep and ancient that there are mega fossils at the bottom!
The trail itself is quite easy, at only about 0.5 miles to the boardwalk and sinkhole.
On Saturdays, there is a tour led by park rangers that is worth checking out! Devil's Millhopper Geological State Park is one of the coolest attractions in Florida!
PRICE: US$4 per vehicle
3. Go tubing at Ichetucknee Springs State Park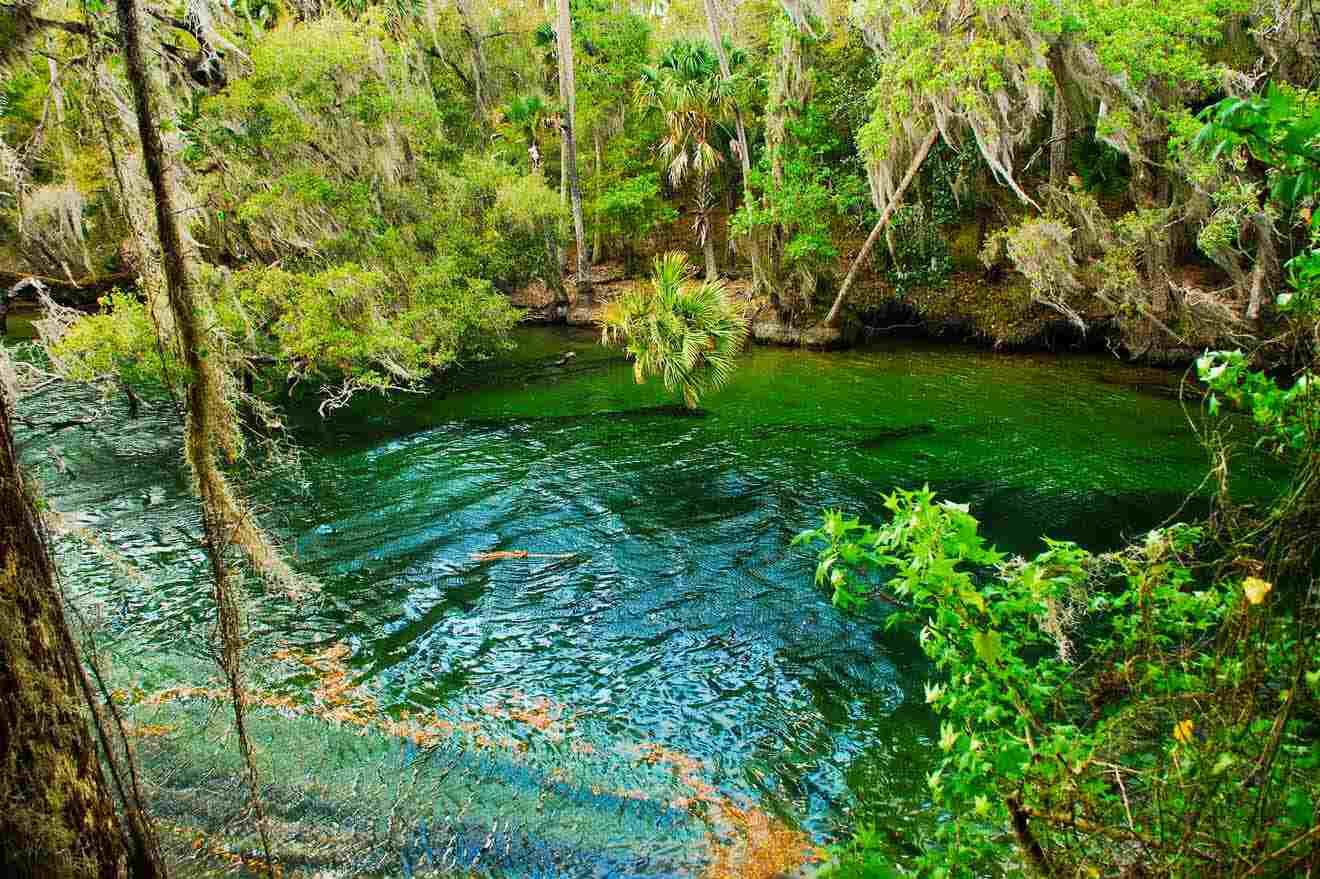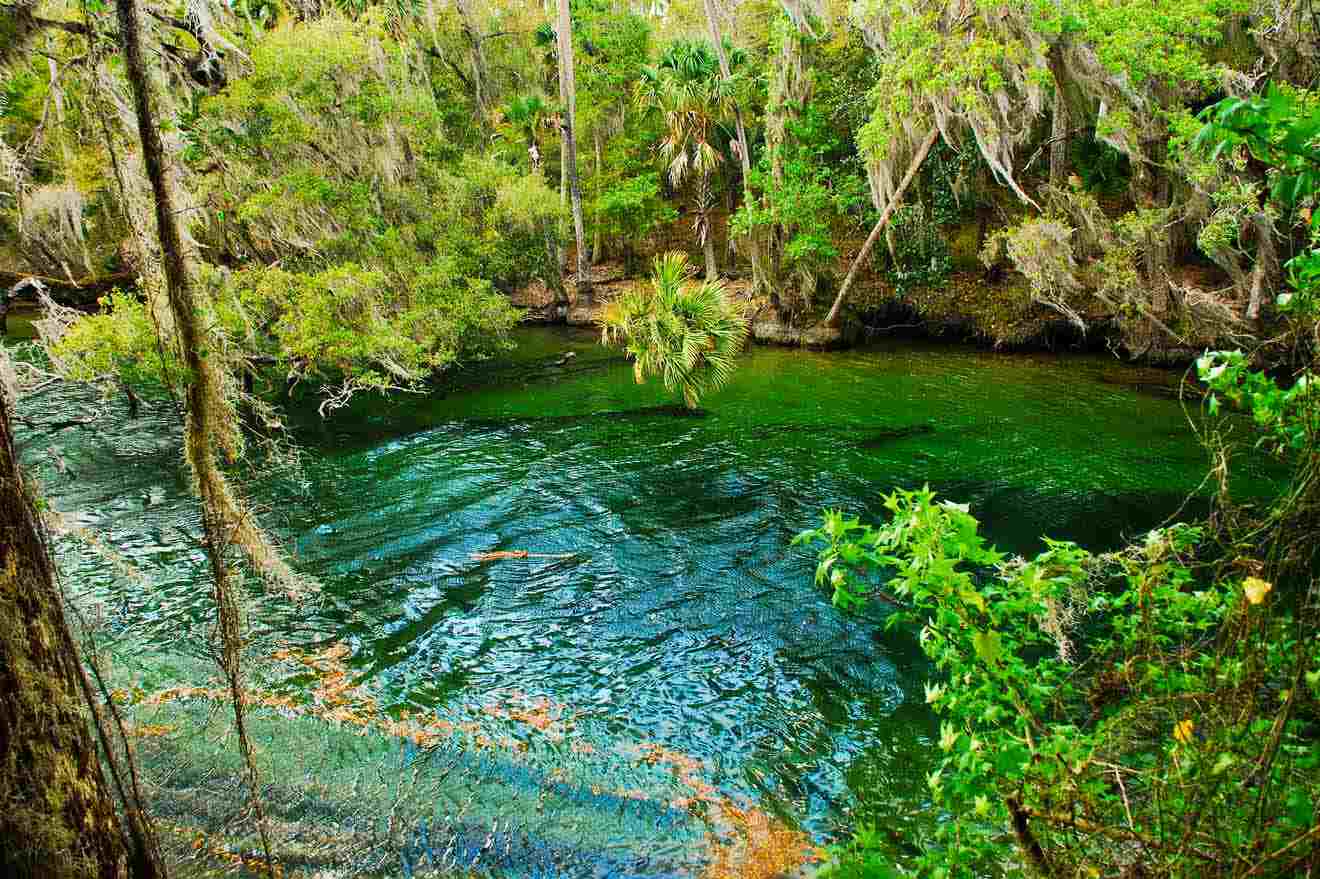 Located just north of Gainesville in Fort White, Florida, Ichetucknee Springs State Park consists of incredible spring heads, the Ichetucknee River, astonishing flora and fauna, and so much more.
Somewhere between Central and North Florida lies this outdoor adventurer's paradise. The park in itself is enormous. The spring-fed river spans six miles, with eight crystal clear spring heads!
Oh, and don't forget about the incredible nature trails throughout the park that take you through some gorgeous Wild Florida landscapes, where you will see all sorts of wildlife and get a glimpse of old Florida.
Ichetucknee Springs State Park is well known to local Floridians as an excellent tubing spot and a great place for all sorts of water adventures. Many people fail to realize that the upper portion of this incredible state park is actually a National Natural Landmark.
Ichetucknee Springs State Park is best known for its tubing. All the locals flock to this incredible springhead for fun tubing adventures, as well as kayaking and canoeing.
If you've never seen a crystal clear freshwater spring, I highly recommend checking out Ichetucknee Springs. Florida's springs are absolutely next-level beautiful, and the water itself is crystalline and mineral-rich, making it a healing and unforgettable experience when you take your first dip in these ancient and sacred waters.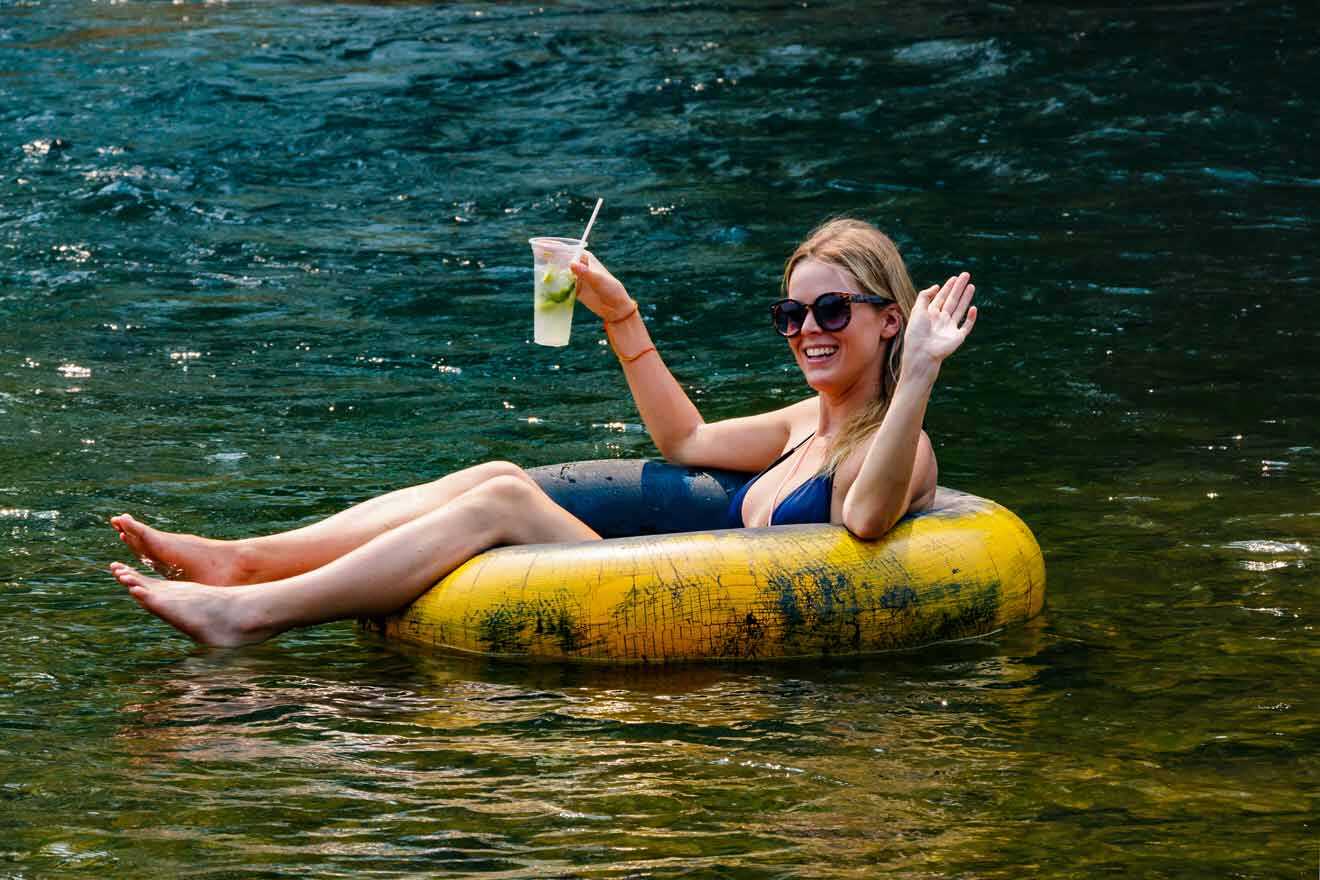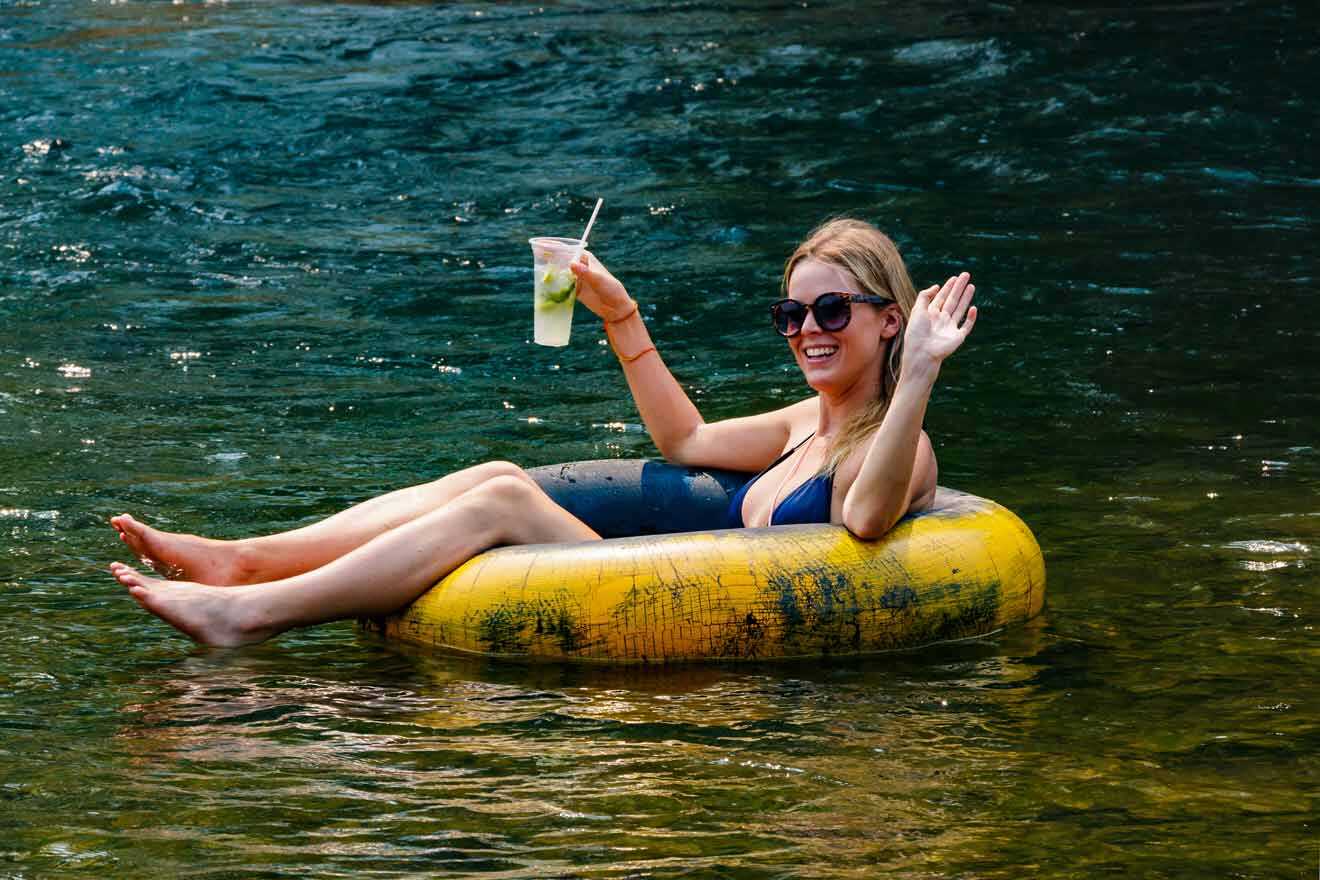 This is one of the best things to do in Gainesville for nature lovers, and really anyone, as even people with no interest in being outdoorsy will be left in shock at the sheer beauty of this Florida gem!
If you're staying near the area, you should also check out our post on the most amazing cabins in Ichetucknee Springs!
PRO TIP: If you're looking for a secret local location that isn't well-known, you should definitely visit Gainesville Hawthorne State Trail for an experience of true nature!
If you're looking for some gorgeous Springs, Gilchrist Blue State Park is also an excellent option. Just a 30-minute drive from Ichetucknee Springs, you can also go on a glass bottom kayak tour there, so it's well worth the trip! You'll see all the awesome wildlife underneath your kayak and I promise you, it's a must-do activity!
PRICE: US$6 per vehicle, US$72 for kayak tour at Gilchrist Blue State Park
4. See some wildlife at Lake Alice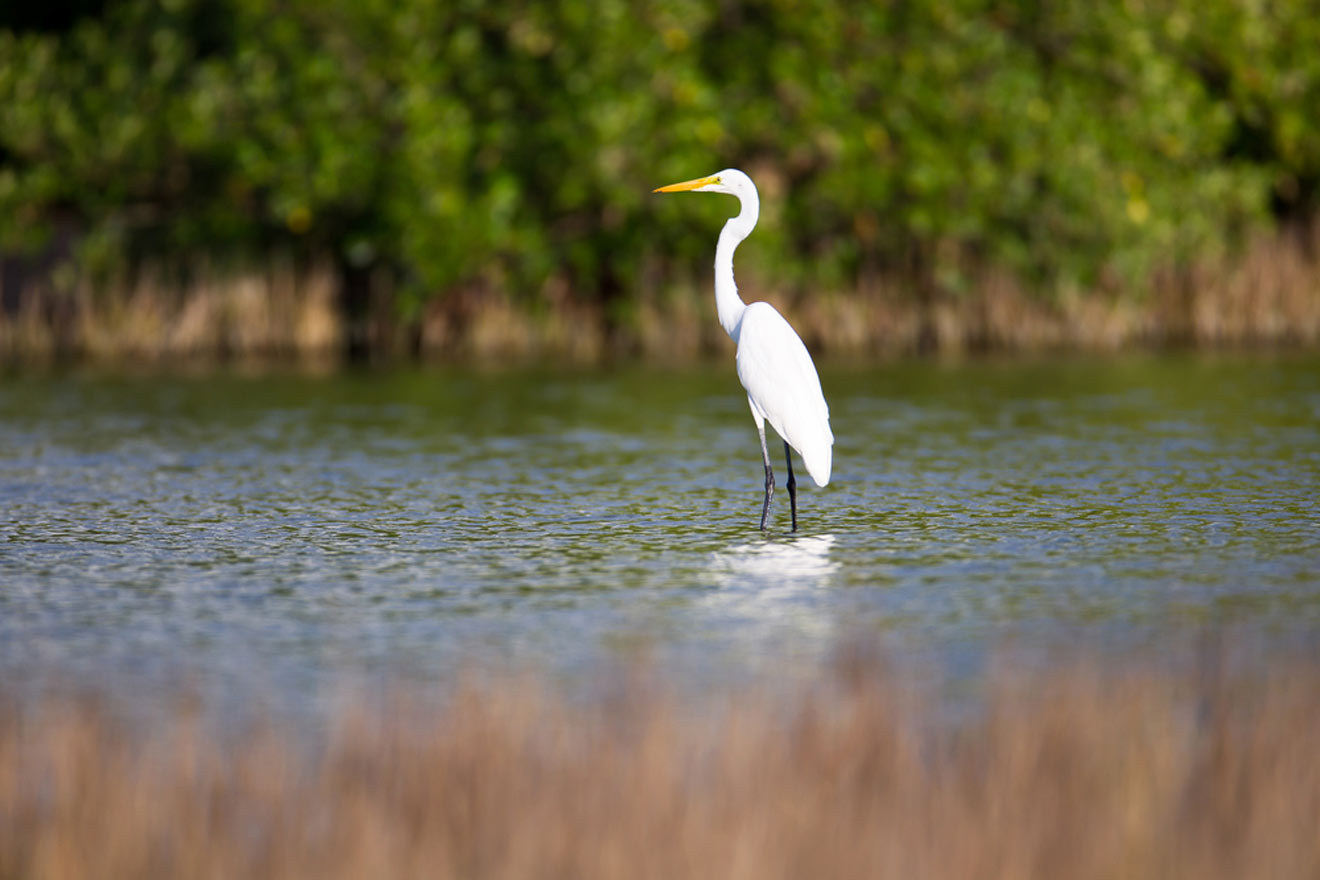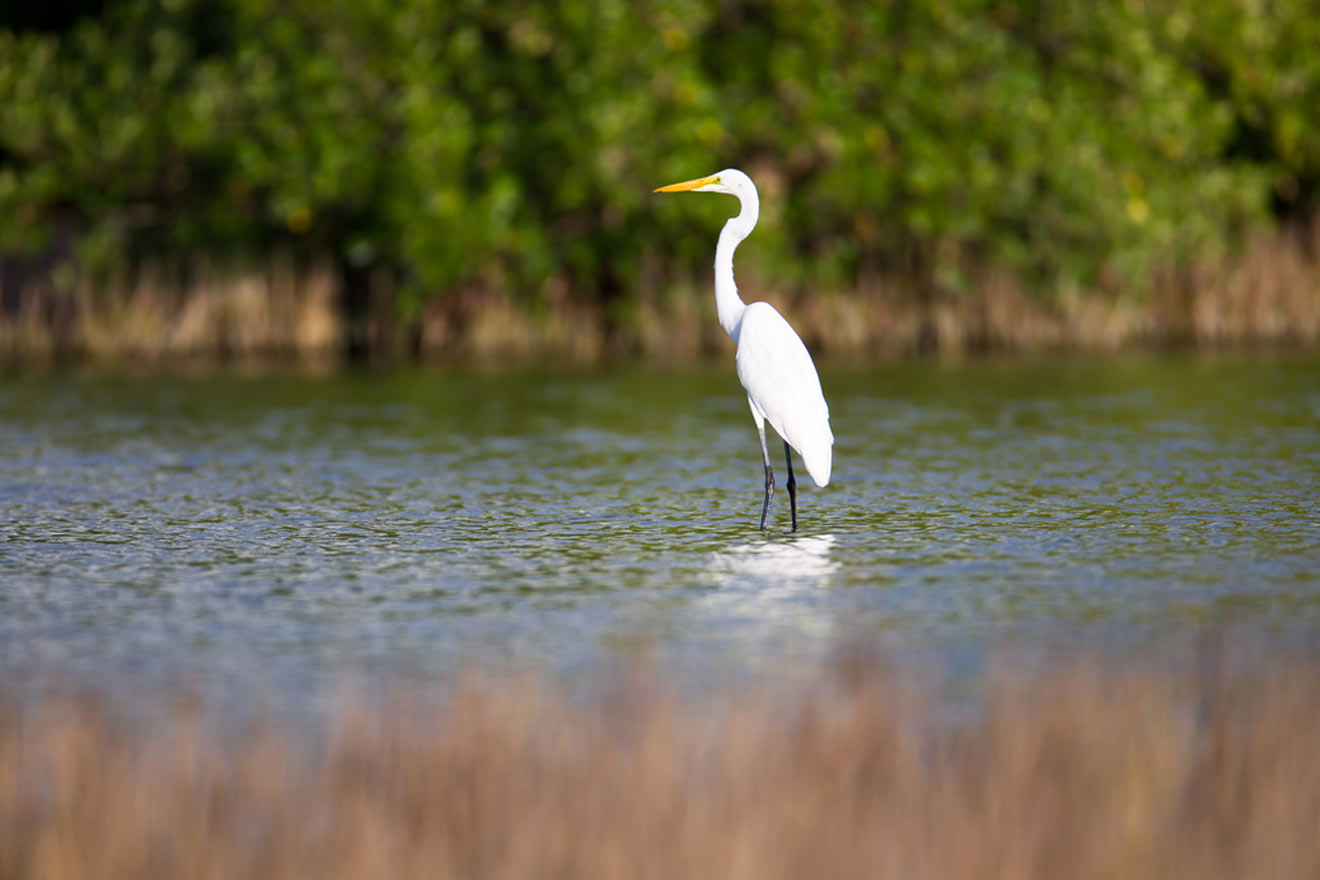 Also located on the University of Florida's campus, this ancient lake dates all the way back to 1,000 AD!
Since Lake Alice is such a keystone element of the central Florida ecosystem, the wildlife that has been inhabiting this lake for thousands of years is incredibly abundant. This is one of the best places for wildlife viewing in Gainesville!
It's an excellent place to come to unwind, breathe in some fresh forest air, reconnect with Mother Nature, and see some incredible Florida flora and fauna!
Some of the wildlife you can expect to see at Lake Alice are alligators, various wading birds, predatory birds, songbirds, turtles, and bats!
The best time to see the bats is either at dusk or dawn. It's quite a sight to see these ancient beings fluttering about over this lake that has been here long before modern civilization.
Also located on Lake Alice is the Baughman Center, a gorgeous chapel made entirely from cypress wood.
A common wedding venue and event space, this picturesque destination in Gainesville is well worth checking out!
PRICE: Free
5. Travel to space at the Planetarium
Located on the Santa Fe College Campus, the Kika Silva Pla Planetarium is one of the best places to visit in Gainesville.
With 60 seats, a 34-foot Spitz projection dome, and two planetarium projectors, the Gainesville Planetarium is an epic adventure for kids and adults alike!
Some of the shows you can see are Child of the Universe, Dynamic Earth, Black Holes, and many others.
This is an excellent experience to do with the whole family in Gainesville!
PRICE: US$6
6. Check out the Cade Museum for Creativity and Invention
Centrally located in Downtown Gainesville, the Cade Museum for Creativity and Invention is a really cool museum with hands-on experiments and experiences.
Opening its doors in 2018, the Cade Museum was named after Dr. Robert Cade, a doctor, scientist, and inventor.
Some of their interactive exhibits include Space: Moon to Mars, Skate at the Cade, and even indoor ice skating during the summer months!
If you have any interest in exploring STEAM, you should definitely check out the Cade Museum for Creativity and Invention.
The core mission of this museum is to "transform communities by inspiring future inventors, entrepreneurs, and visionaries."
PRICE: US$15
7. Pass the time at Depot Park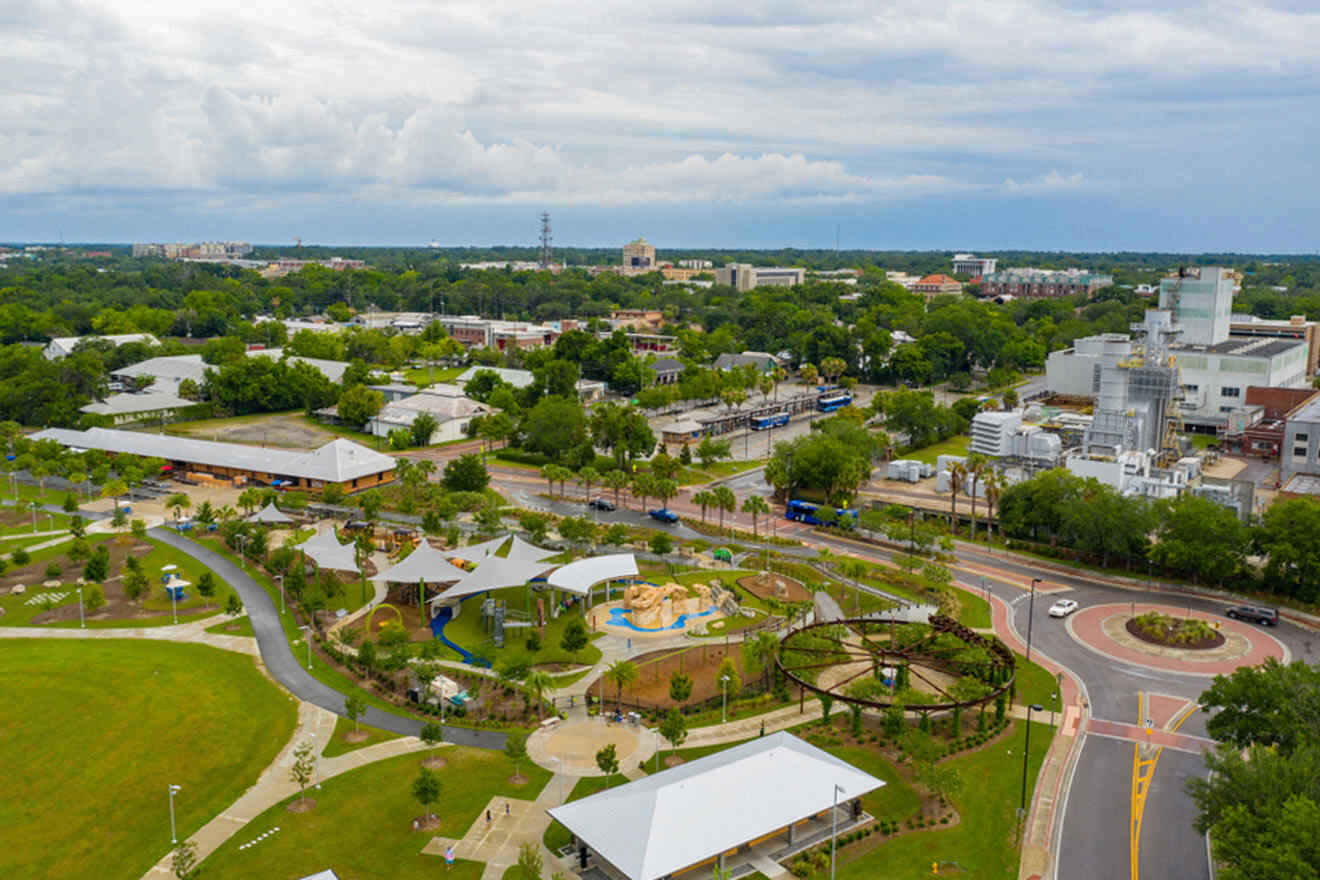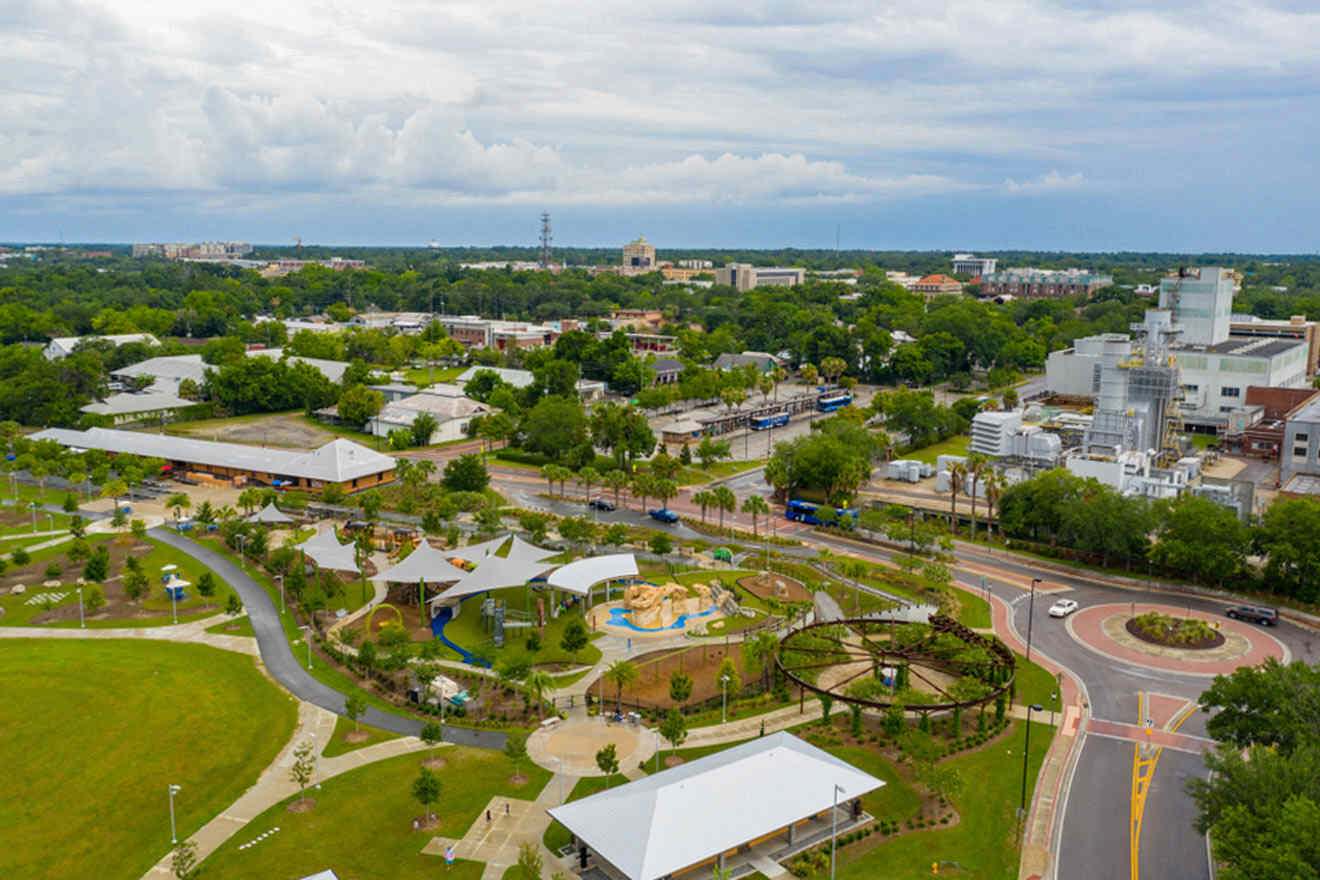 Nearby the Cade Museum is Depot Park, a recreational center with a food hall, playground, and plenty of walking trails.
This is a super fun place to go in Gainesville with kids. Little ones can run, jump, and play to their heart's content at Depot Park!
There is a fun life-sized chess set, picnic tables, and a Blue Grotto for guests to visit, where you can splash around in a mini waterfall complete with water jets and cannons!
There are also plenty of shady live oak trees around Depot Park to curl up and take a cozy nap under!
PRICE: Free
8. Discover the dark history of Gainesville at Haile Homestead
While slavery is an ugly part of Florida's past, it is an integral part of the Sunshine State's history, as this state would not be what it is today without the blood and sweat of enslaved peoples.
The Historic Haile Homestead is a colonial plantation home with historic buildings that stand today as a reminder of a dark past that should not be forgotten or glossed over.
Perhaps the most interesting part of this tourist destination and historical relic in Gainesville is the fact that there are over 12,500 words written on the walls of the home.
The home was built entirely by enslaved people and still stands today as the Allen & Ethel Graham Visitor Center.
Within the colonial plantation home, there are historical exhibits highlighting the history of slavery in the region as well as the strides toward freedom and liberation in Alachua County.
PRICE: US$5, guided tours US$10 per person
9. Go for a wine tasting at the Bluefield Estate Winery
Just east of Gainesville, this family winery is one of the most unique experiences you can have in Florida.
The Bluefield Estate Winery uses local blueberries and muscadine grapes grown on their farm for their wines! Plus, you can go blueberry picking in the Spring!
This is one of the best things to do in Gainesville for wine lovers and people who appreciate locally-made wines and farm-to-bottle goods. The tasting room has all sorts of wines available for tasting made from local fruits! My favorites are the Blueberry or Blackberry Bliss.
Their tasting room is open on Thursdays and Fridays from 11 AM to 5 PM.
Bluefield Estate Winery is one of the best things to do for couples in Gainesville – perfect for a romantic date!
10. Take a walking tour of the Kanapaha Botanical Gardens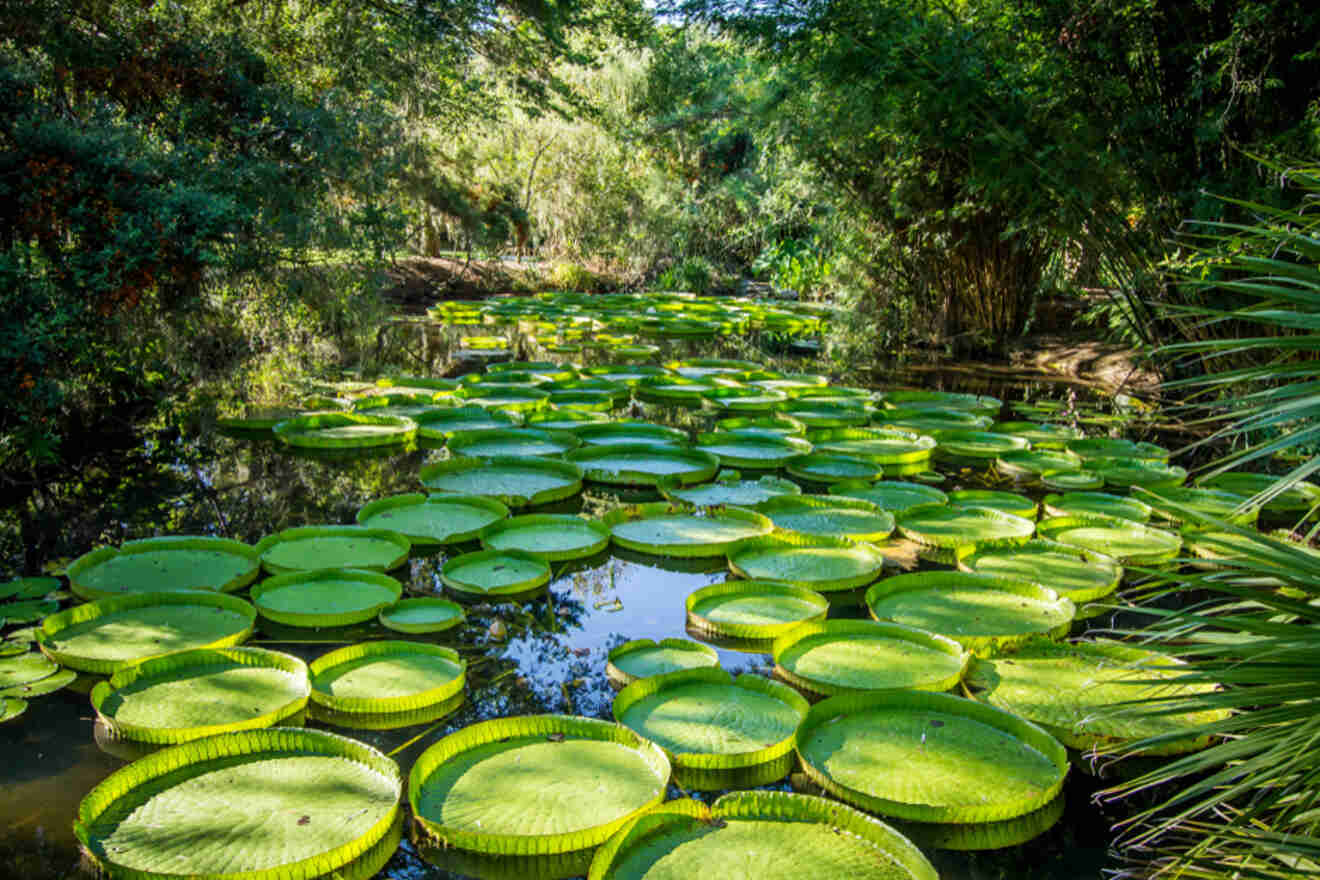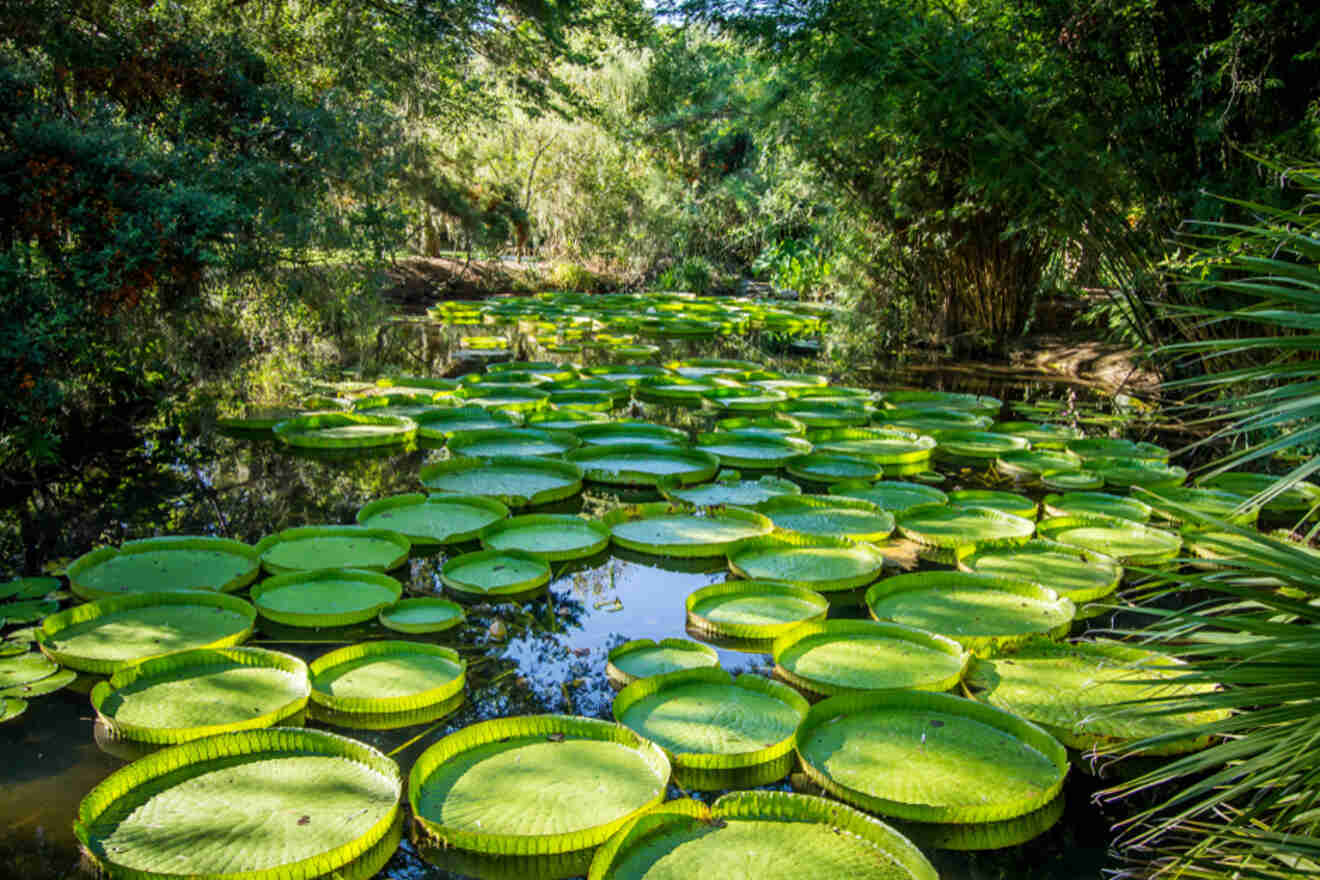 Spread out over 68 acres, the Kanapaha Botanical Gardens is a gorgeous botanical garden with over 24 collections.
Visiting Kanapaha Botanical Gardens is one of the best things to do for couples in Gainesville. Operated by the North Florida Botanical Society, this is easily one of the most beautiful botanical gardens in the state.
Home to the largest herb garden and collection of Chinese Royal Bamboo, an incredible Bamboo Garden in the Southeast!
They also host special events such as the Spring Garden Festival in March, the Moonlight Walk in May, and the Fall Plant Sale in October.
There are multiple places throughout the Kanapaha Botanical Gardens that are just perfect for picnics, as well as a children's garden complete with a beautiful koi pond!
The water gardens are both dreamy and reminiscent of a fairy garden, with giant Victoria water lilies, a labyrinth and maze, and a 0.5-mile loop.
This botanical garden is also dog friendly, so this is a great activity for those who just can't leave their pups at home!
PRICE: US$10
11. Check out the Morningside Nature Center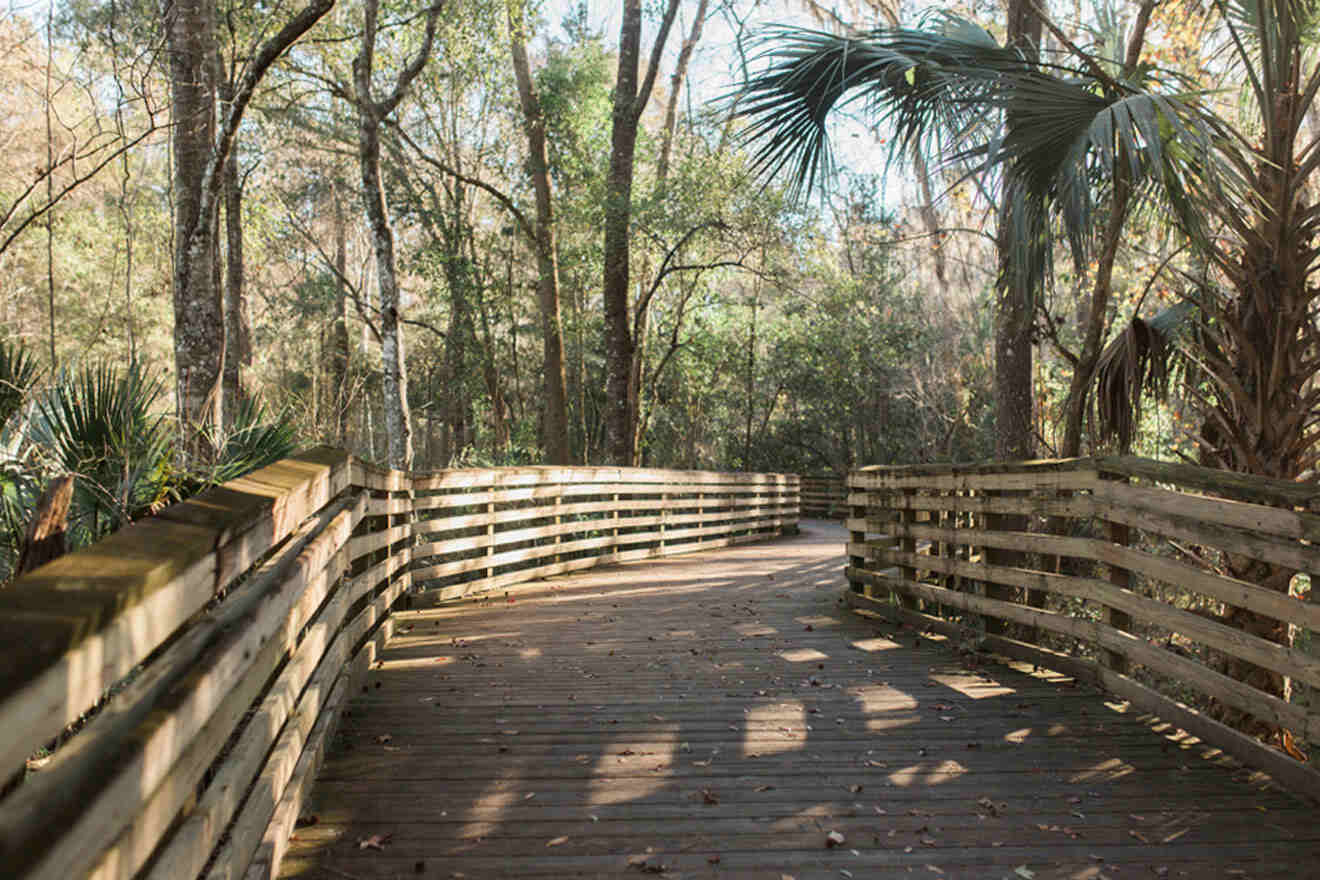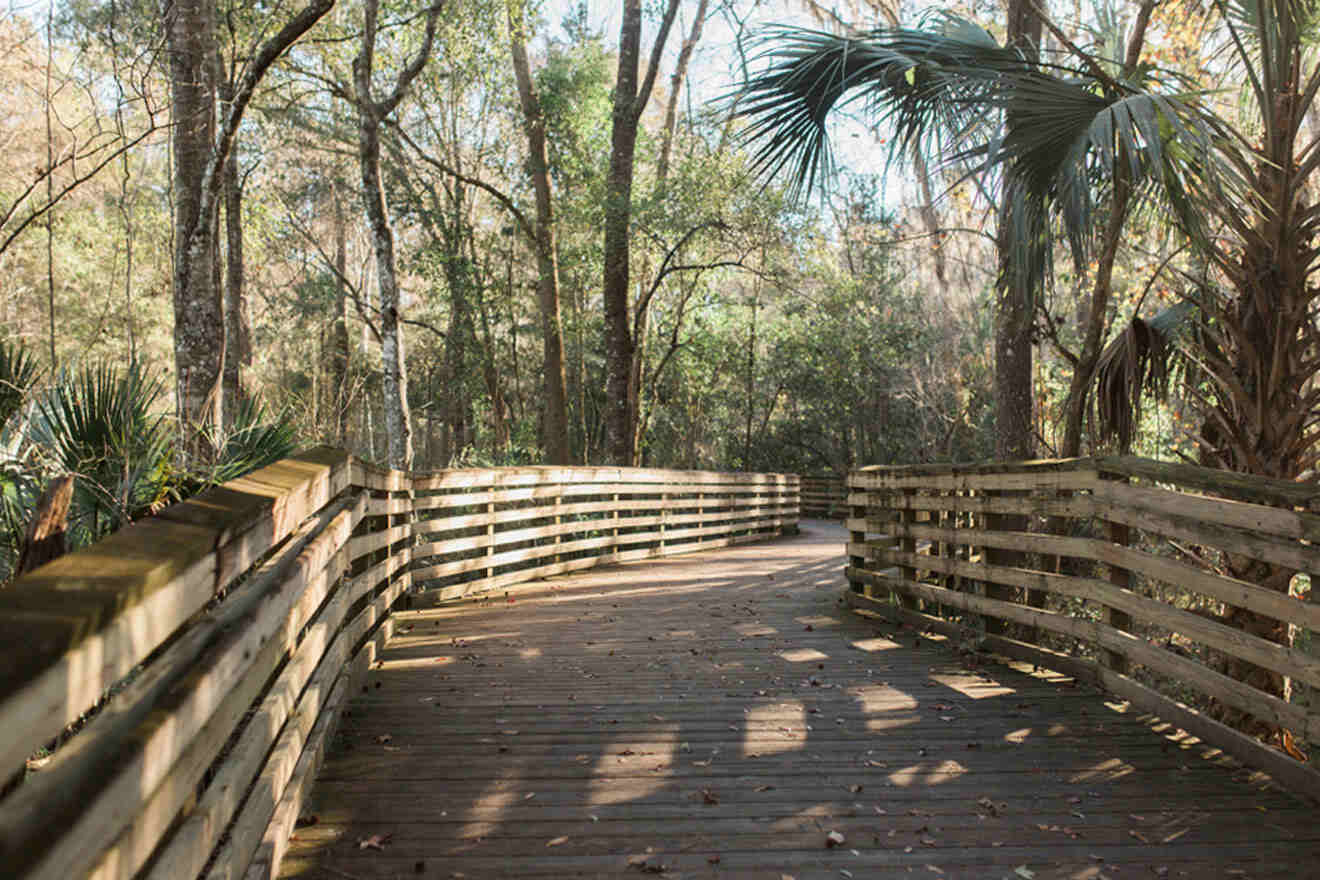 This 278-acre nature park has seven miles of lush trails through gorgeous woodland pines. The Morningside Nature Center is the perfect location to see some incredible Florida wildlife, such as deer, skunks, bald eagles, owls, turkeys, and deer.
This is one of the most unique things to do in Gainesville, as there is a Living History Farm onsite with a home and schoolhouse built in the 1840s by Irish immigrants by the name of the McCarrolls.
Behind the visitor center is also a Timucua village, where guests can learn about how the Timucua Indigenous peoples lived in the area prior to European settlement.
The first Saturday of the month hosts an event where visitors can get an authentic look into what life on the farm was like.
From September through May, on Wednesday afternoons, there is a barnyard buddies program on the Living History Farm where little ones are welcome to come and feed the farm animals at the Morningside Nature Center.
The Barnyard Buddies event is free of charge and one of the best things to do in Gainesville with kids.
There are also various hiking trails at different lengths ranging from 0.5 miles to 7 miles.
PRICE: Free
12. See a game at Ben Hill Griffin Stadium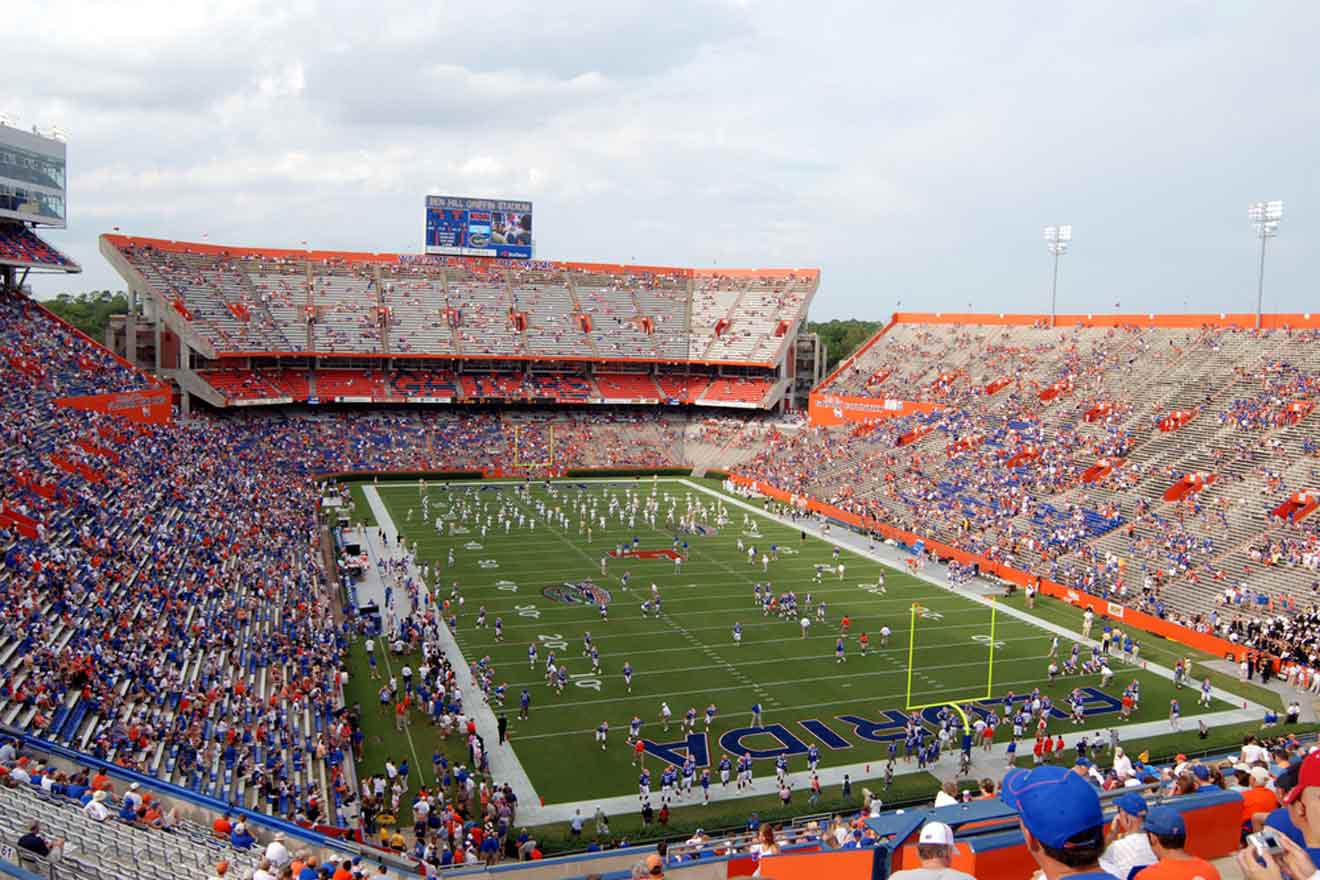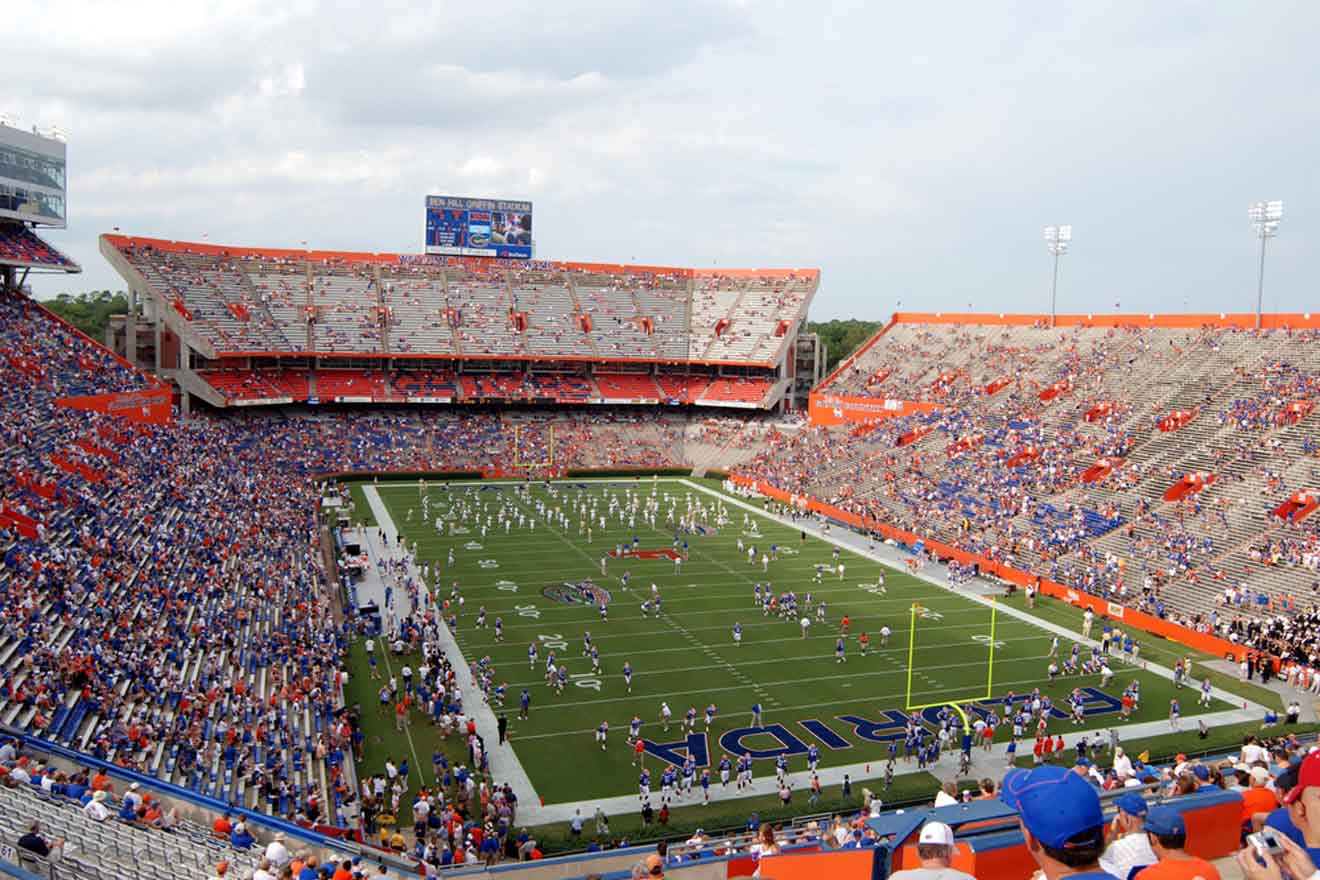 Home to the University of Florida's football team, the Ben Hill Griffin Stadium is one of the most popular things to do in Gainesville.
If you're a sports fan, attending a game here in the fall is the best time to go! The locals call it "The Swamp."
The Ben Hill Griffin Stadium itself has 90,000 seats, and when a game isn't in session, it is common to find fitness enthusiasts running up the stadium steps or around the track.
So if you're looking for a place out of the ordinary to get your daily workout in while you're in Gainesville, Ben Hill Stadium is a great place to go!
13. See some bats at the Lubee Bat Conservancy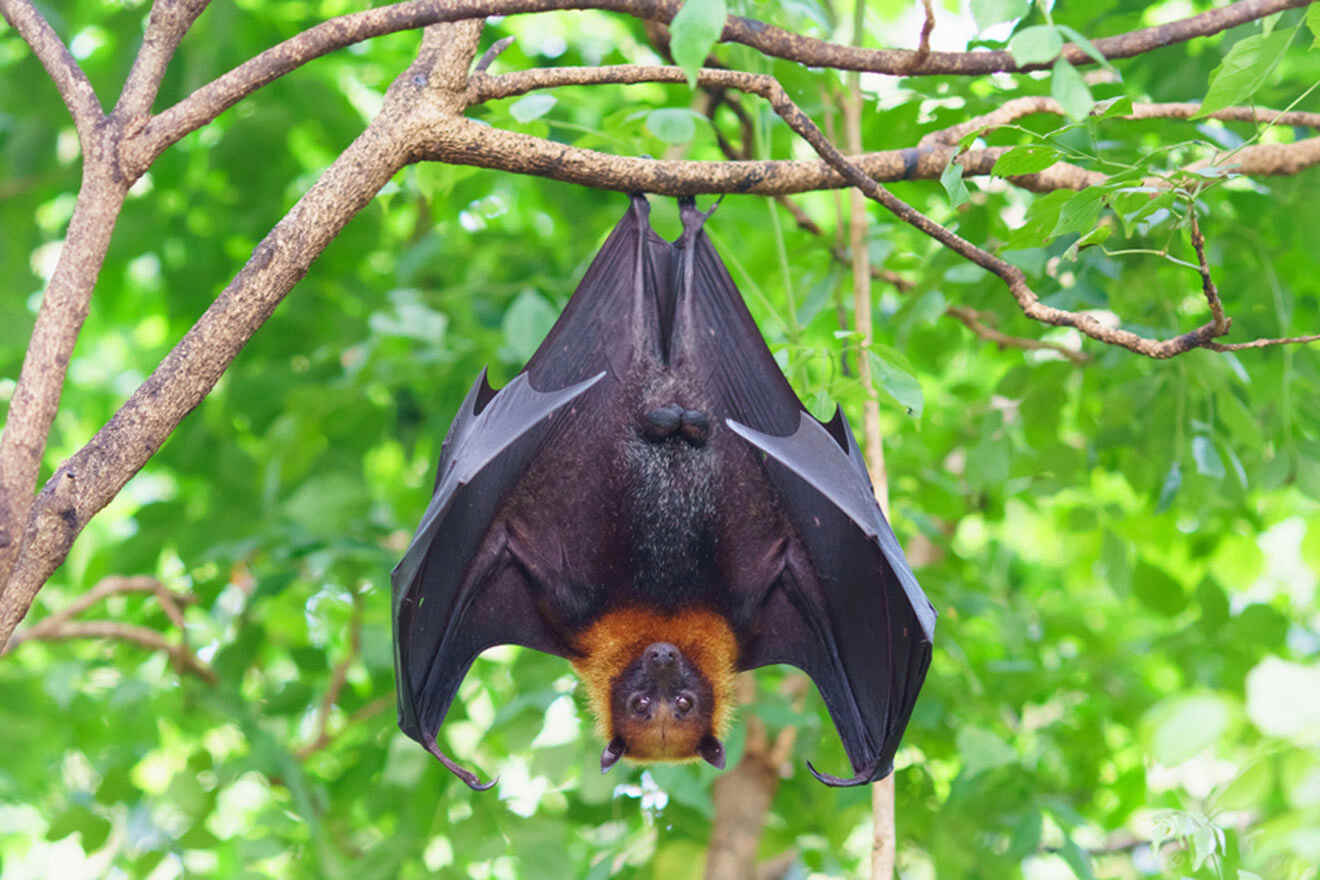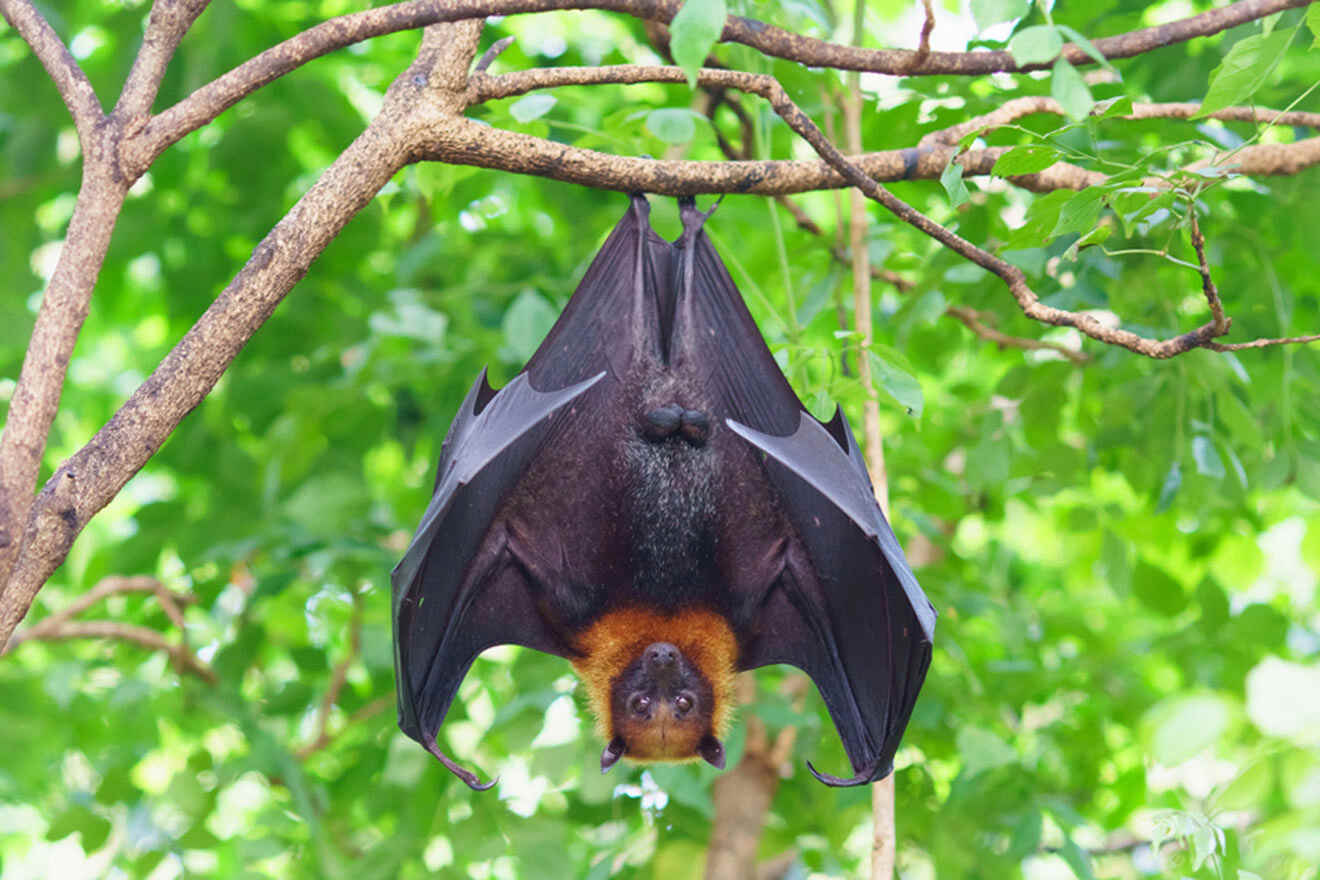 Bats are one of the most misunderstood and underappreciated animals in modern times. The Lubee Bat Conservancy is working to change that and also uplift local bat populations in Florida!
Bats play a vital role in the health of ecosystems, and you can thank them for keeping the mosquito population down!
In the heart of Gainesville lies this humble bat conservancy that is home to dozens of different species of bats with endangered species as well as species from all over the world!
Their mission is to educate the public on the importance of protecting bat populations and helping to destigmatize them in the public eye. The Lubee Bat Conservancy has also taken on the mission of bringing attention to these delicate, sensitive, yet wildly complex beings that play a vital role in the health of ecosystems all over the globe.
You can also buy a bat house and they'll install it for you so you can help protect the local bat population by helping increase their habitat that has been lost to development, as well as keep your mosquito population down near your home!
Ready for the coolest part? Some of these bats have actually been trained to paint! If you're lucky, when you visit, you just might see a bat paint a beautiful piece of artwork!
NOTE: In order to visit the facility and see the bat houses, you will need to set an appointment in advance.
PRICE: For a VIP private tour, it costs US$150, which includes the entry fee for up to 5 guests
14. View some art at the Samuel P. Harn Museum of Art
Locally known as the "Harn," the Samuel P. Harn Museum of Art is a great place to visit in Gainesville for art enthusiasts – plus it's a free museum! Located inside the Florida Cultural Plaza, this museum should definitely be one of the stops on your trip!
There are more than 10,000 incredible works of art to view, featuring modern and contemporary art, as well as traditional pieces!
Some pieces are permanent exhibits in the art galleries at the Harn Museum, while others or temporary exhibits that move all throughout Florida.
Not only does the Harn Museum of Art have plenty of art to see inside the museum, but there are also gardens and sculptures on the grounds of the property that are worth checking out as well.
Grab a coffee at the cafe and check out the art, grab a souvenir from the museum shop, and marvel at local and traditional pieces of artwork.
The Harn Museum of Art is the perfect thing to do in Gainesville on a rainy day, and a real gem if you're looking for free museums!
PRICE: Free
15. Stargaze at Paynes Prairie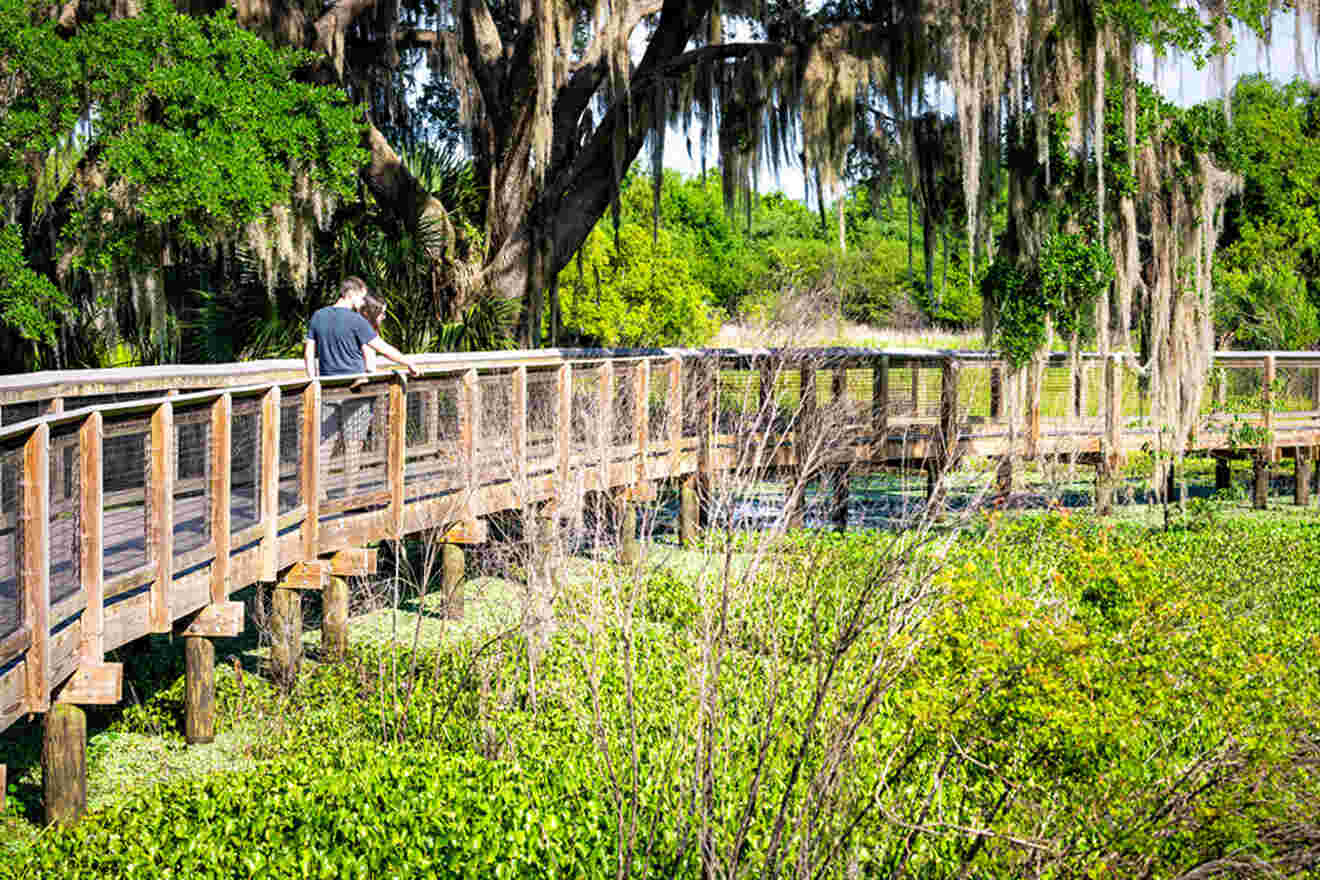 Paynes Prairie Preserve State Park is one of the darkest places in Florida, untouched by light pollution, and is a certified stargazing location!
This is by far one of the coolest places to visit in Florida!
Just south of Gainesville, Paynes Prairie Preserve State Park is the first "biologically, historically, and geologically unique state park."
What makes this one of the most unique attractions in Gainesville is that there are some of Florida's last remaining wild bison and wild Florida cracker horses roaming around!
You can also spot deer, alligators, bald eagles, armadillos, and tons of other uniquely Florida flora and fauna at Paynes Prairie.
Lake Wauberg is also located within the boundaries of Paynes Prairie. This incredible state park was once the territorial home of the Seminole Indigenous tribe!
Spread over 23,000 acres, there are eight different trails spanning 30 miles in total. This is a nature lover's paradise. Anyone who appreciates stargazing and escaping light pollution will love this gem of a state park.
PRICE: US$6 per vehicle
16. Play some games at the Arcade Bar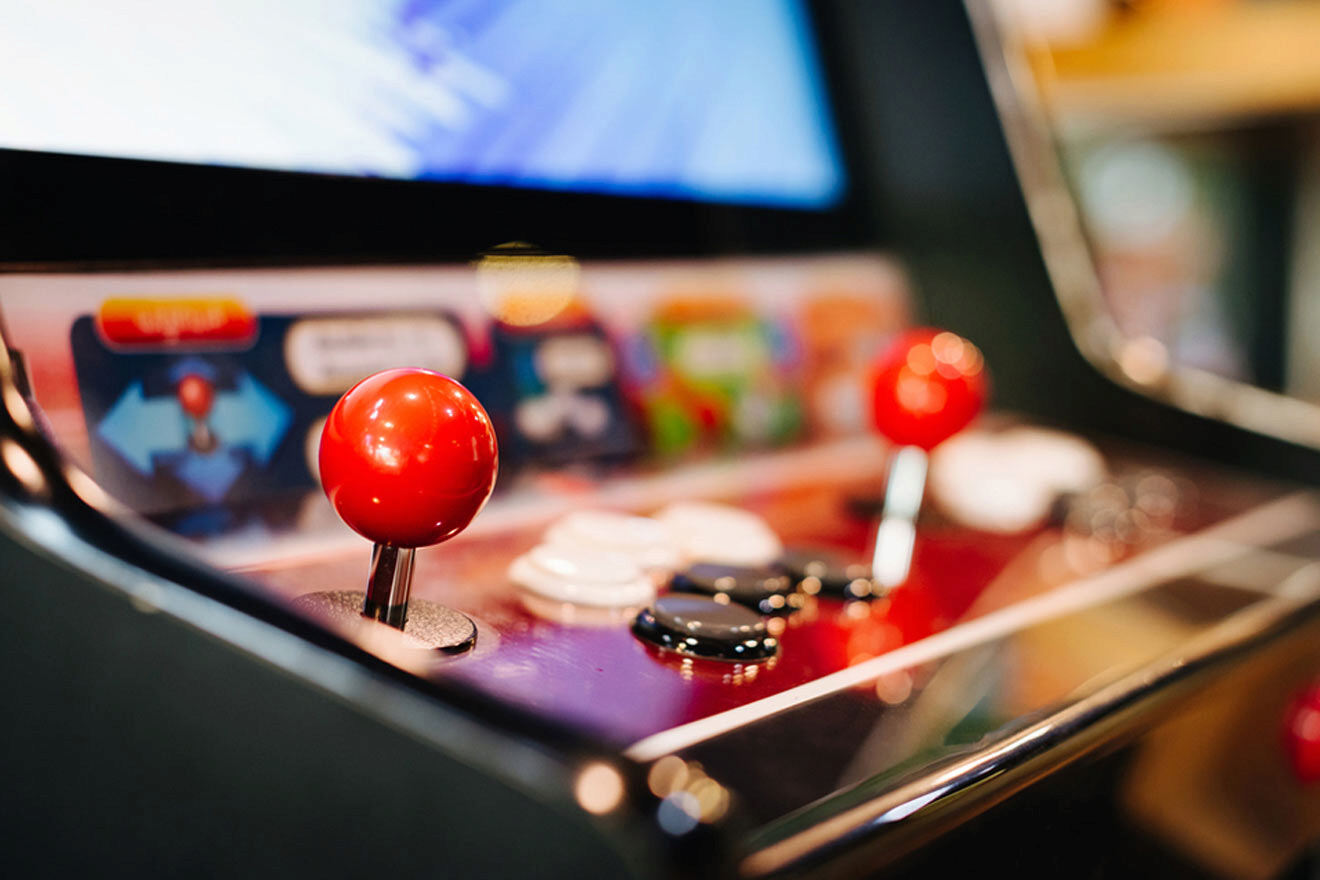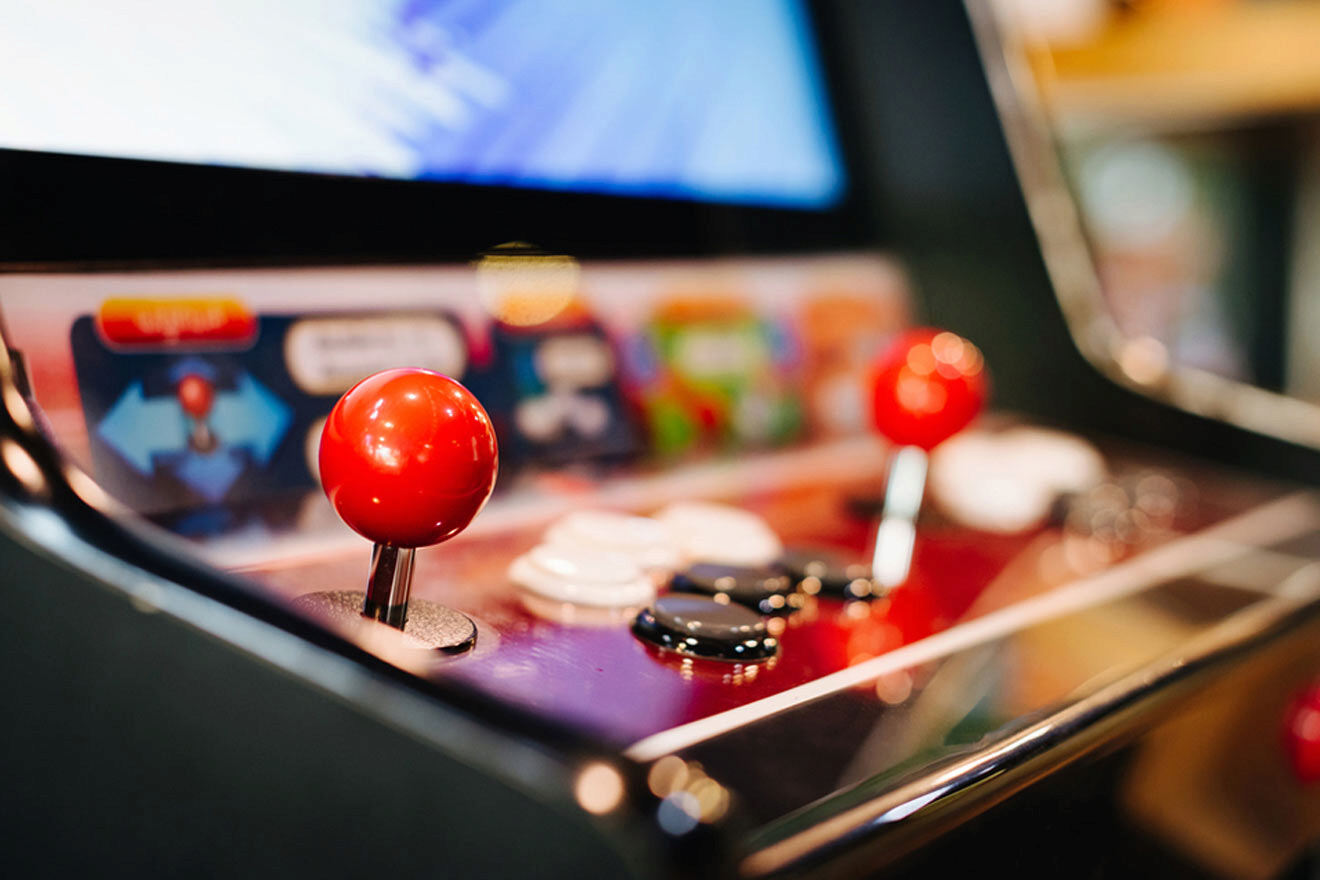 Part arcade, part bar, Arcade Bar is a super fun place on University Ave for your inner child to shine!
With plenty of games, this is a lively environment and a fun place to visit for anyone who loves vintage games and your typical arcade experience.
This is also one of the most unique places to get a drink in Gainesville. Play some music on the jukebox, play skee ball, pac man, foosball, pinball, and your classic retro arcade games.
The Arcade Bar is the perfect place for a date night or a night out with friends!
17. Dive into the Devil's Den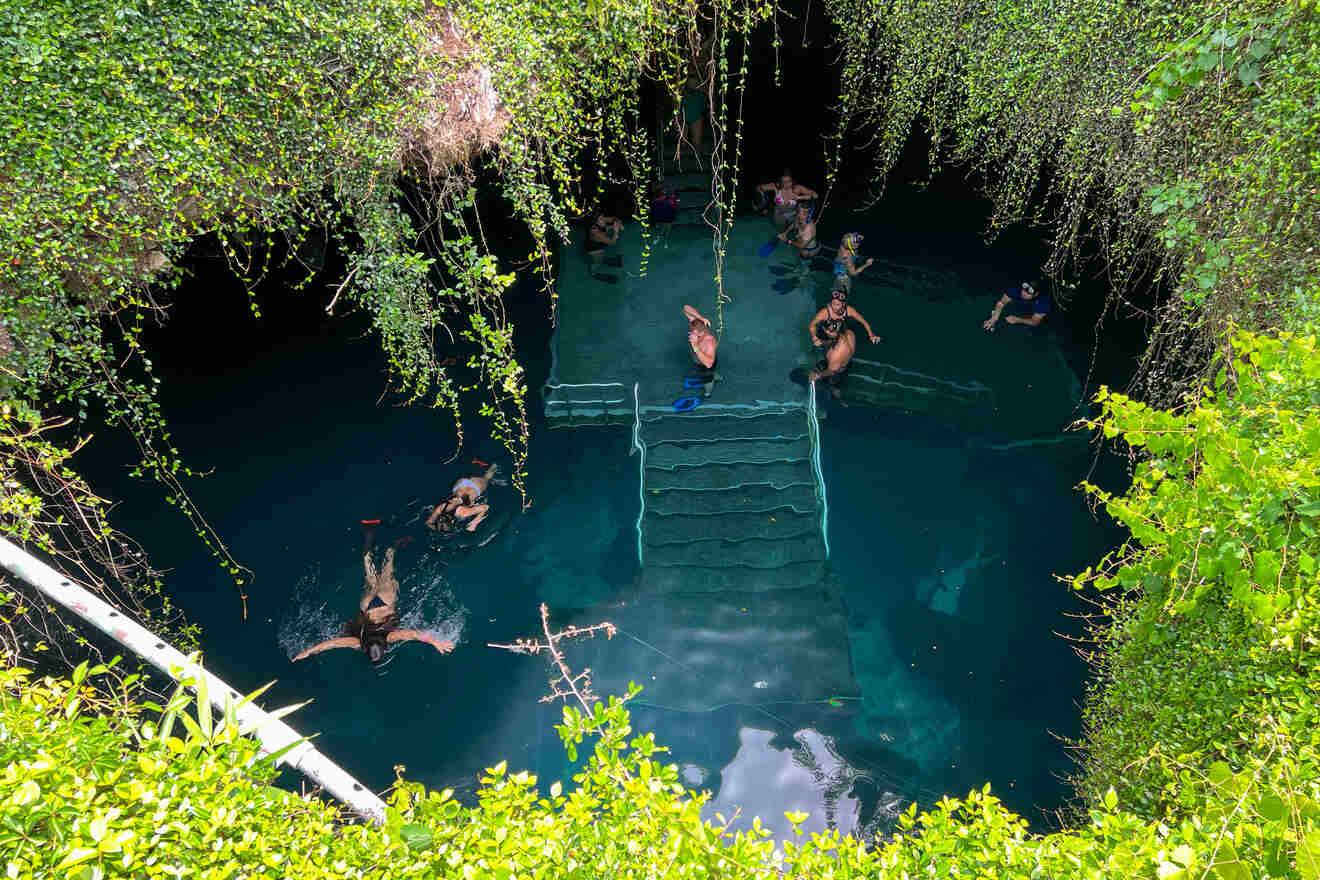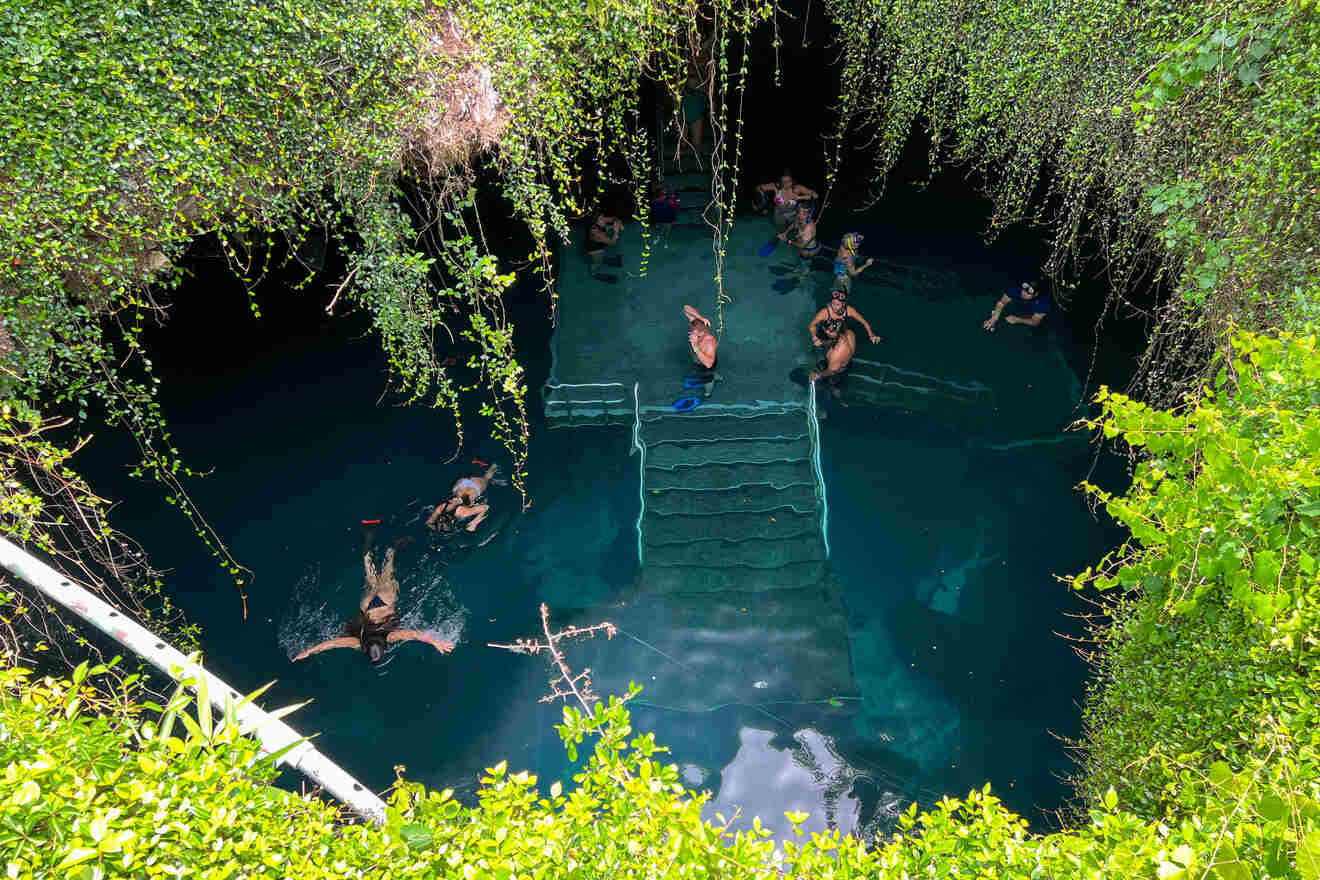 Gainesville is home to some of Florida's coolest attractions. Devil's Den is a prime example!
This prehistoric spring dates back thousands of years and is one of the most unique springs in Florida, as it is entirely underground! Popular among scuba divers, Devil's Den is definitely one of the most unique things to do in Gainesville.
Just 30 minutes south of Gainesville, I promise you, it is 100% worth checking out this incredible feat of nature.
You can rent snorkeling or scuba gear there (provided you are scuba and cave certified). If not, no worries. Just swimming or snorkeling this spring is an experience unlike anything else that you will never forget!
With a lovely 72 degrees temperature year round, this is a super unique and cool place to take a dip in Central Florida.
Devil's Den has a depth of 54 feet, with incredible fossils and astounding rock formations.
There is also camping available at this incredible Florida destination. To be honest, camping is a great option as you probably won't want to leave this stunning underground spring!
PRICE: US$18
18. Grab a craft brew at Blackadder Brewing Company
This local craft brewery in Gainesville is one of the most popular attractions in the area.
The Blackadder Brewing Company is a lovely local brewery featuring craft brews and small bites. With over 40 different beers to choose from, an outdoor seating area, as well as darts and other games, this is an excellent place for a date night or a night out with friends!
Oftentimes in the evening, there are plenty of local food trucks in the parking lot, providing a diverse dining experience paired with a delicious craft brew.
Winning awards for over 30 beers, the Blackadder Brewing Company is doing something right!
19. Indulge in the arts at the Curtis M. Phillips Center
Another gem featured on the University of Florida campus, the Curtis M Phillips Center for Performing Arts is a great place to see some Broadway shows, musicals, and prominent speakers.
Seating 1,700, there is plenty of room for when you feel called to see a live show!
Their new black box theater, Squitieri Theatre, seats 200, and hosts small shows and live music.
Check their website for upcoming events and shows if this is something you want to be a part of your trip to Gainesville!
20. Check out the 4th Ave Food Park
This downtown Gainesville hotspot off 4th Avenue is a gem for foodies!
The laid-back environment, paired with the delicious food options, makes this a must-see while you're in Downtown Gainesville.
There are 5 different restaurants, including a small airstream providing delicious coffee, and restaurants by the name of Sublime Tacos, Humble Wood Fired Pizza, Baker Baker, Satch Squared, and Fehrenbacher's Artisanal Sausage.
If you're visiting with kiddos, there is a children's playground onsite.
This downtown Gainesville foodie oasis should be high on your list of fun things to do in Gainesville.
FAQs about things to do in Gainesville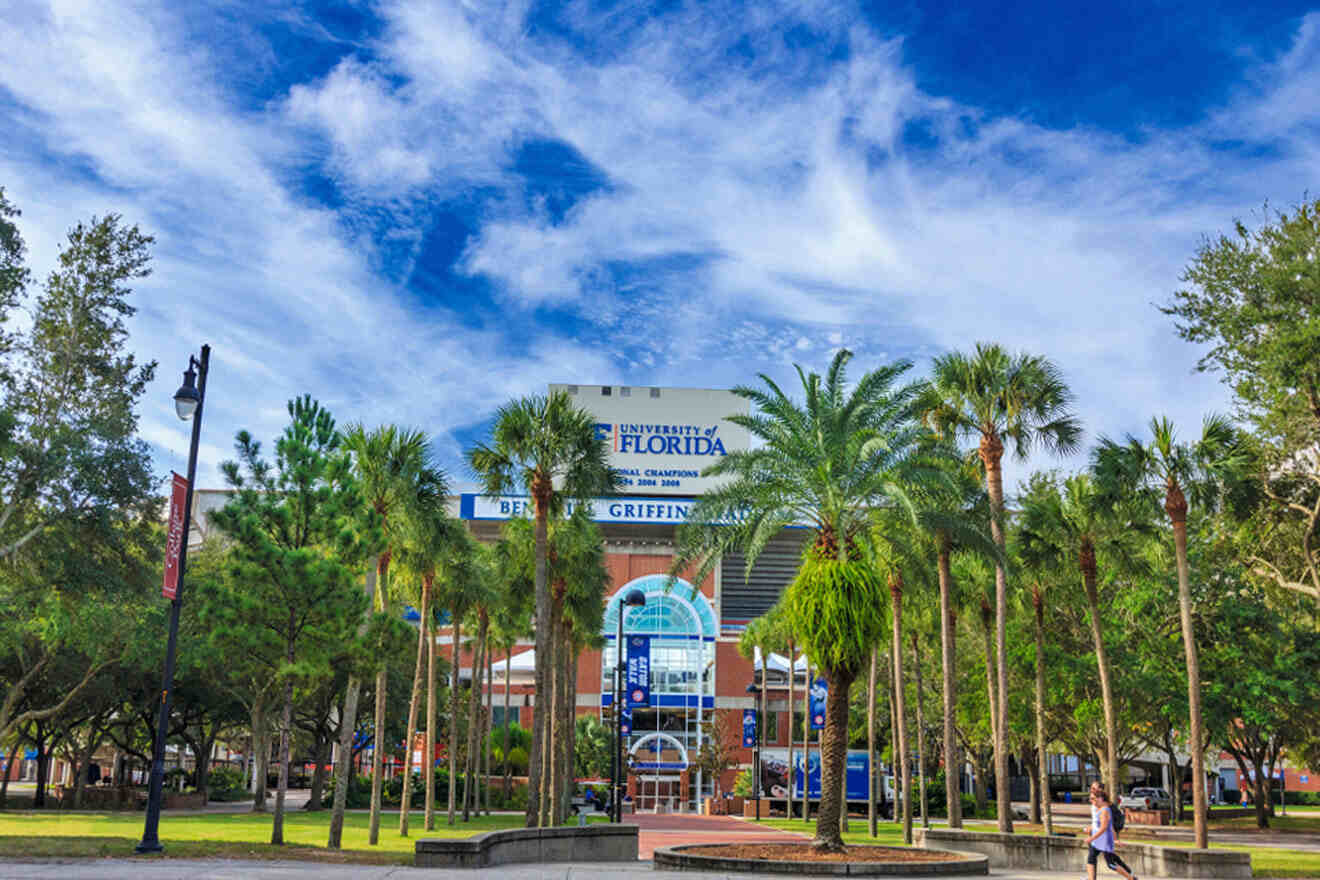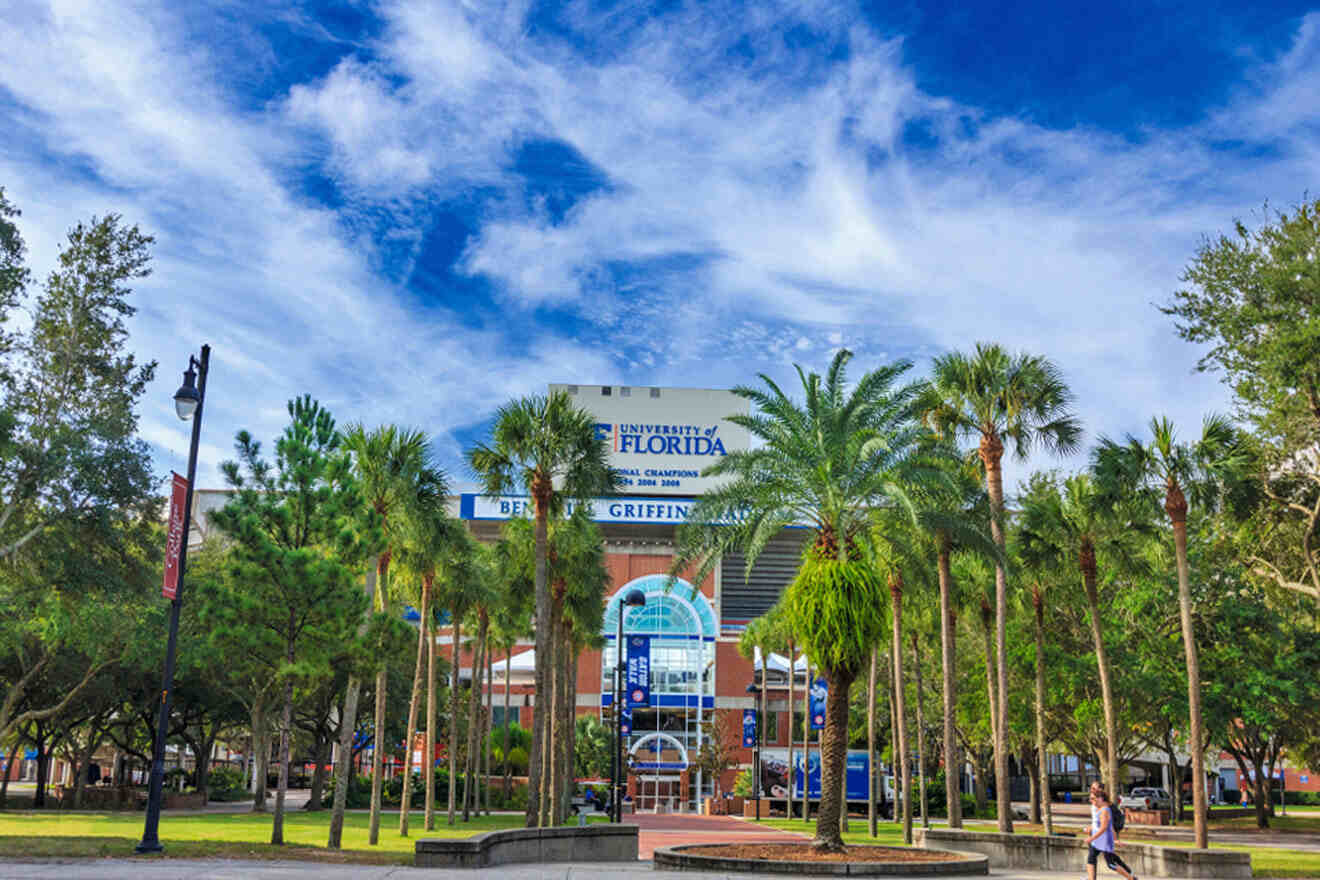 Conclusion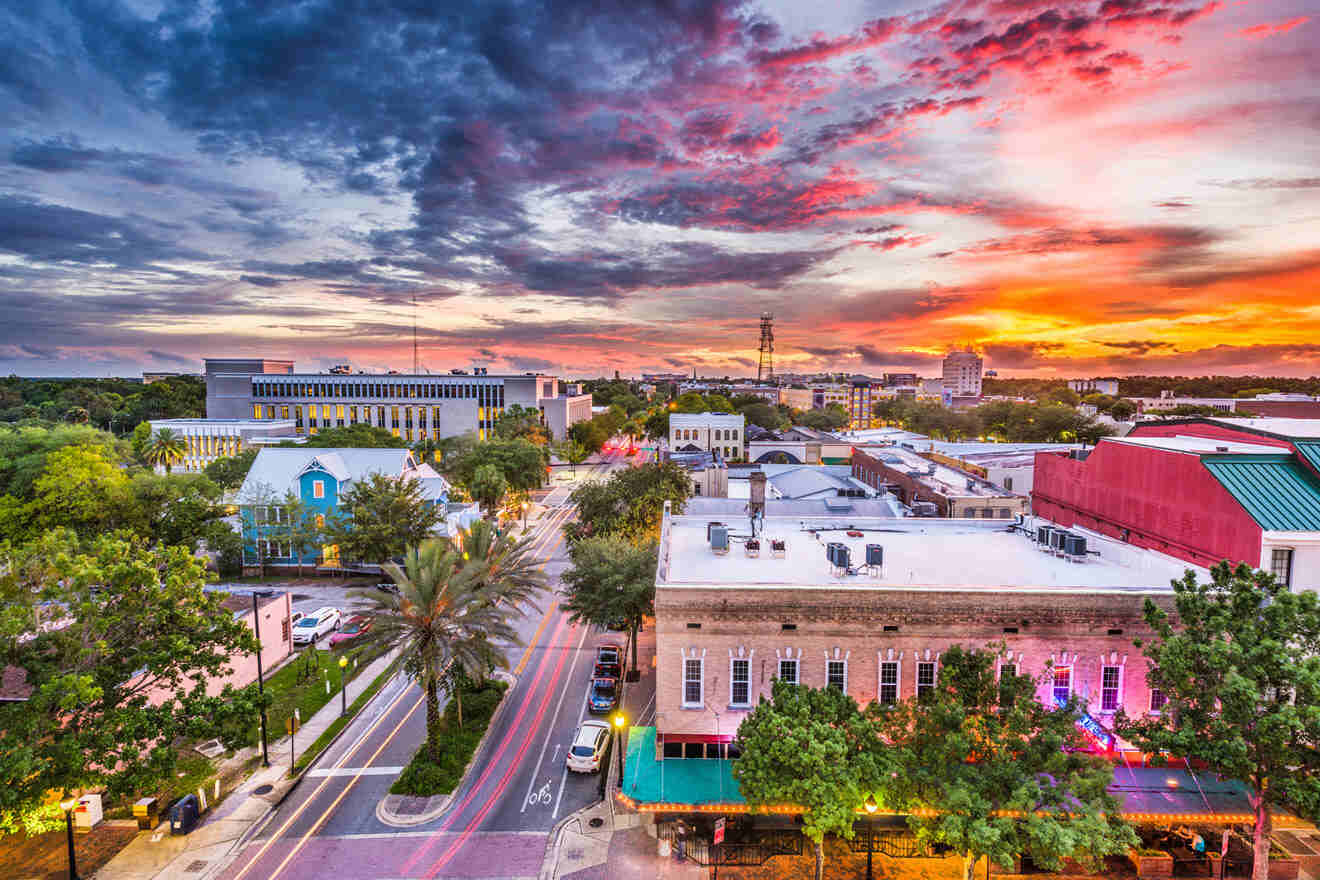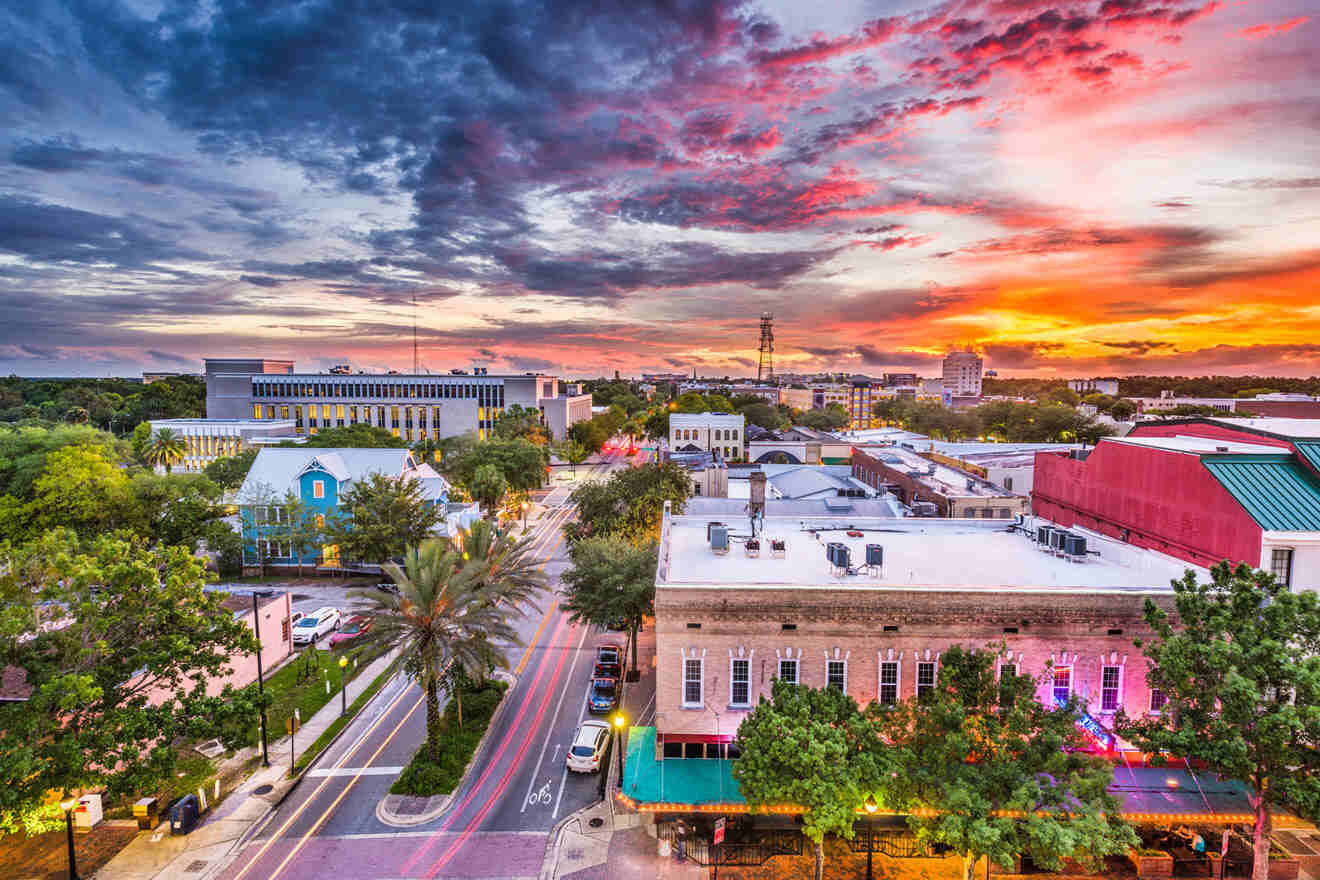 There you have it! Your ultimate guide to the best things to do in Gainesville from a Florida local!
Gainesville is a historical town with so much old-time charm, incredible state parks, nature and wildlife viewing, and ancient freshwater springs.
On your trip to Gainesville, make sure to stop by at least one of these super unique and fun local destinations. You will not regret it!
I hope you have a wonderful time and create some unforgettable memories in this Florida gem of a city!
With Love and Gratitude,
Amira G.
---
Pin it for later!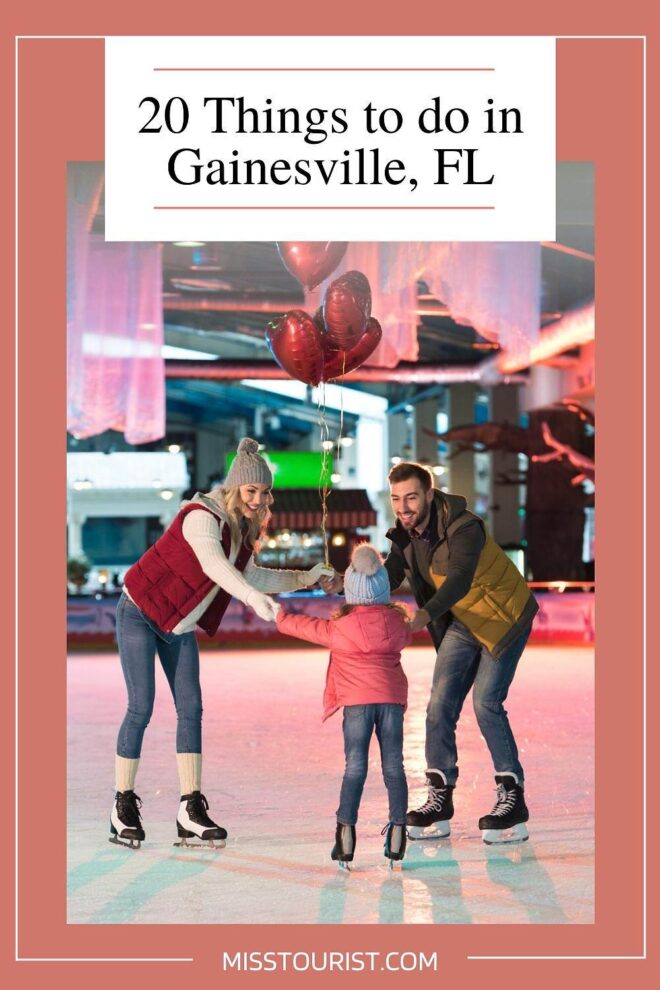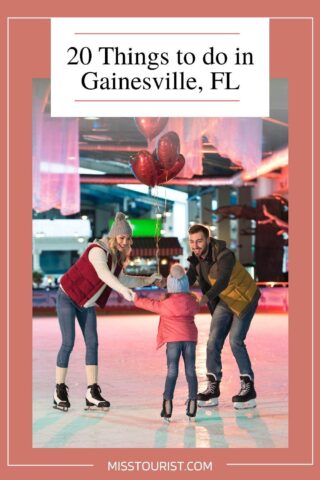 Pin it for later!