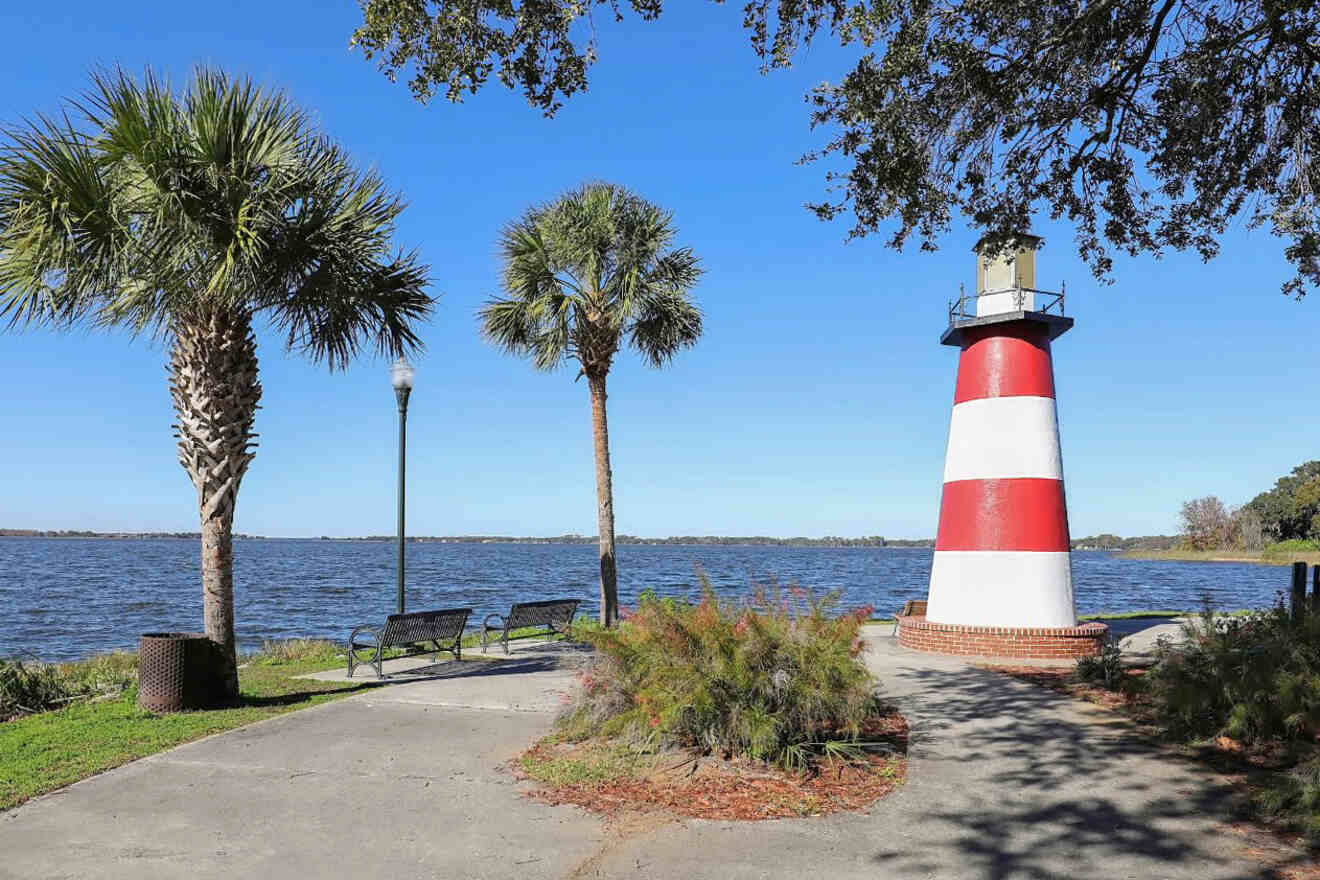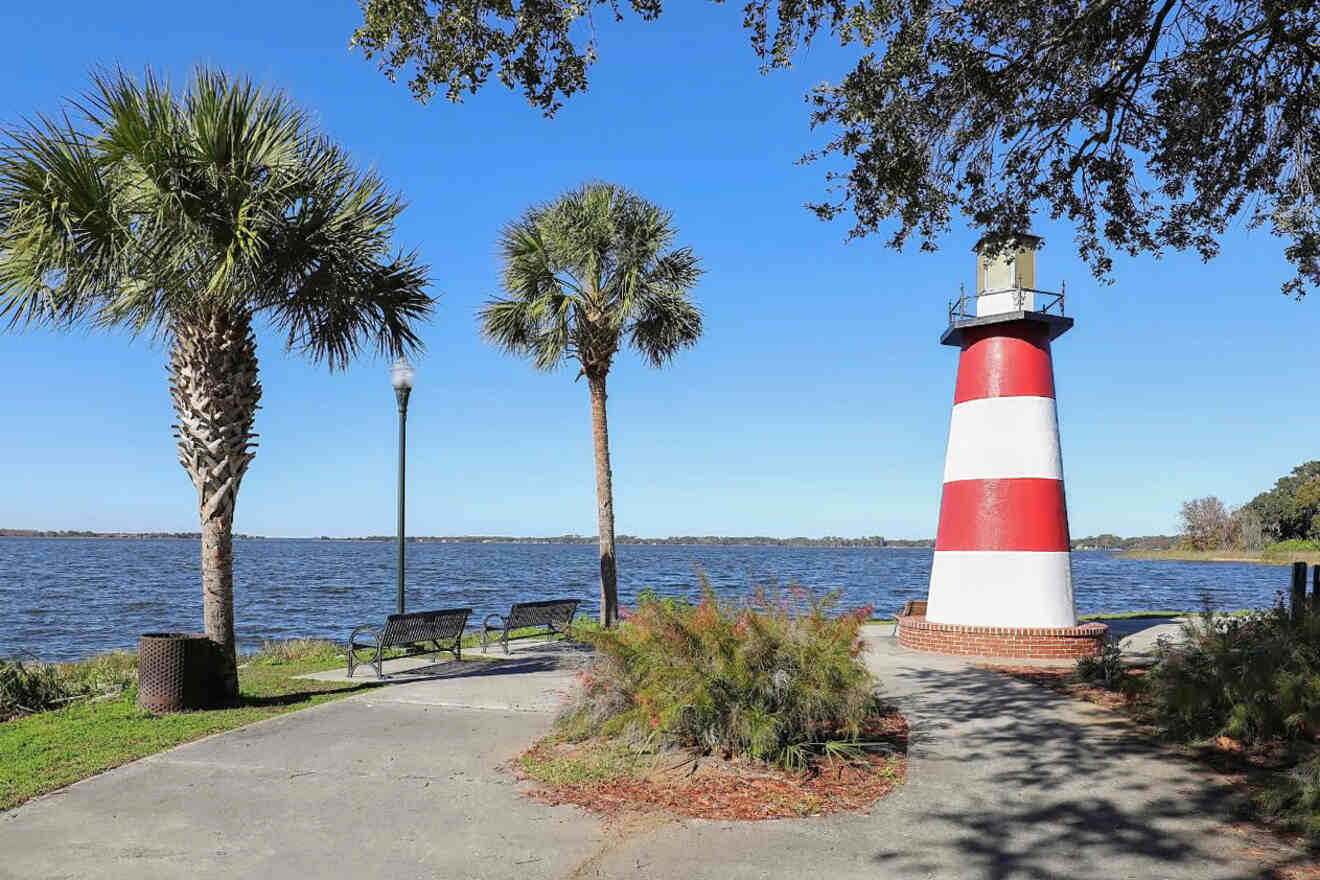 Mount Dora, Florida, is less than an hour's drive from Orlando's thrilling theme parks, but this charming, Old Florida town feels worlds away. Mount Dora just may be the cutest town I've ever seen – you'll find adorable boutiques, restaurants, bars, and a whole lot of history, all situated against the scenic backdrop of beautiful Lake Dora and dripping with Spanish moss.
I've been to Mount Dora quite a few times, and it's become one of my favorite day trips from where I live in Central Florida. You may want to leave your boyfriends and husbands behind, though, because Mount Dora really is the perfect girls' weekend: think sipping wine, shopping locally, and hunting for hidden gem antiques. When I visit Mount Dora, I love to bring my mom along with me!
There are so many fun things to do in Mount Dora, and I've rounded up the best in this article for you. Mount Dora also hosts amazing festivals and events throughout the year, which you shouldn't miss, and I'll cover the major ones in #3 on our list.
Let's jump right in!
If you are in a hurry
Since Mount Dora is a small town, the most popular activities fill up quickly, especially when there's a festival happening!
Here are the main things to book in advance:
1. Sip and shop in downtown Mount Dora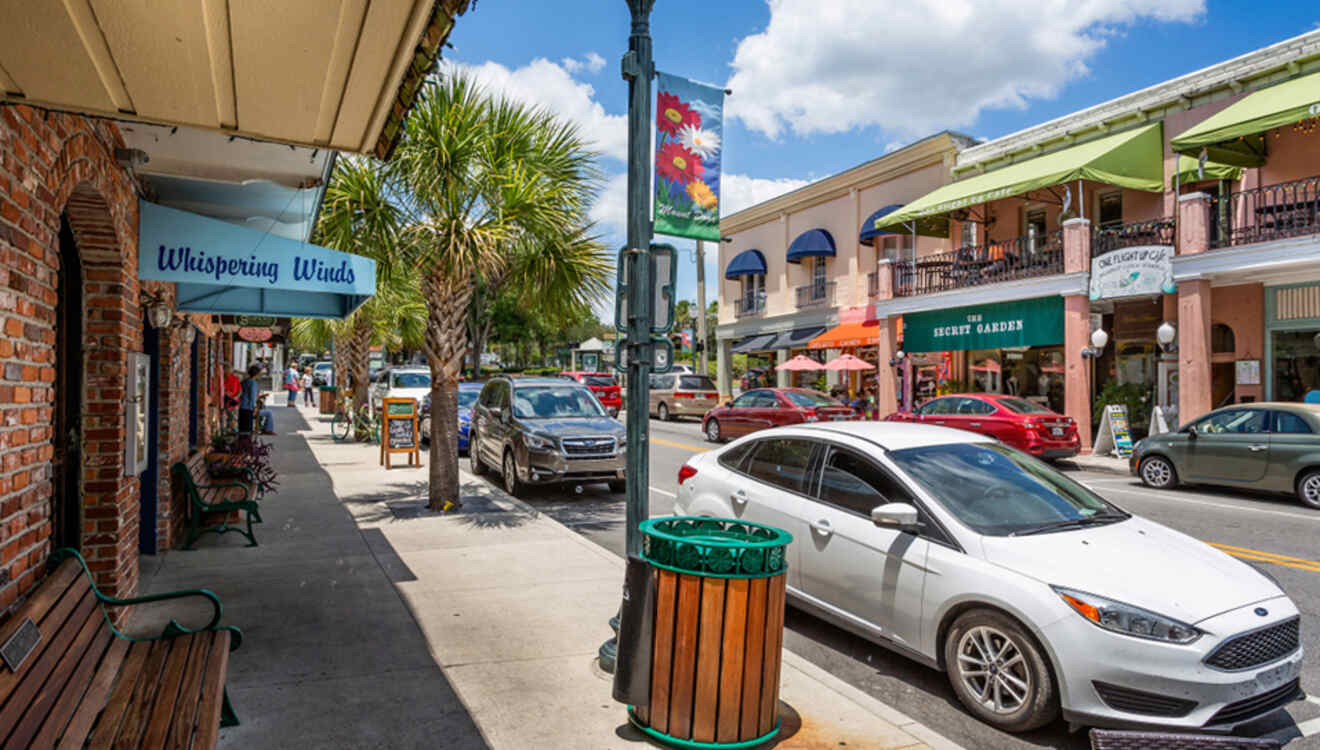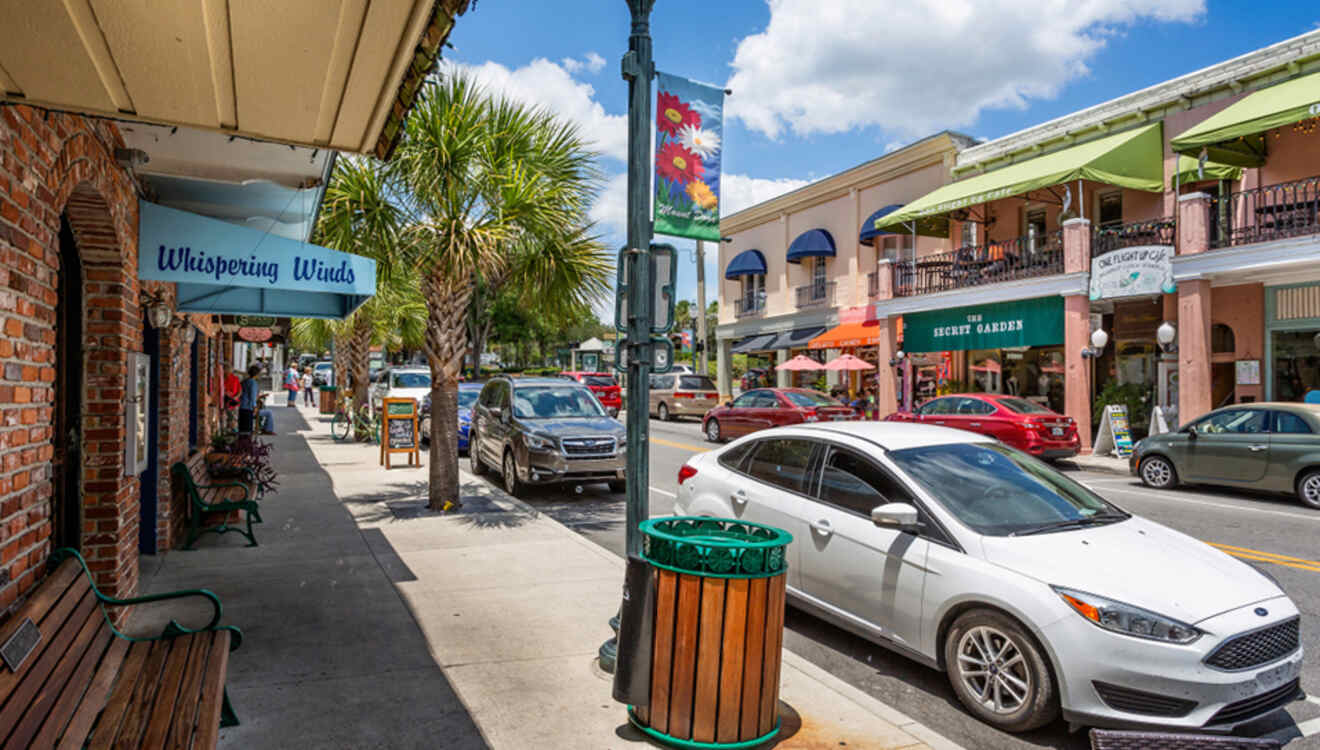 Let's kick things off with Mount Dora's a-Dora-ble downtown! There are so many unique things to love about the area: the lake views, shops, historic buildings, culinary scene, and some of the tastiest cocktails I've ever had.
You are allowed to walk around with an open alcoholic beverage in Mount Dora (one per person, 21+), which is part of why it's ideal for a girls' trip – grab a champagne to-go from Bubbles and Juice, Mount Dora's very own mimosa bar, and stroll down the postcard-worthy streets (some are still cobblestone as if my heart could handle more cuteness) while drenched in Florida sunshine.
Downtown Mount Dora is a great place to find unique gifts, clothing, art, and jewelry. Every time I visit Mount Dora, I do quite a bit of credit card swiping. Many of the wonderful things for sale are locally made, which is how I justify my purchases. We gotta support the local economy, right? 😉
2. See the Mount Dora Lighthouse at Grantham Point Park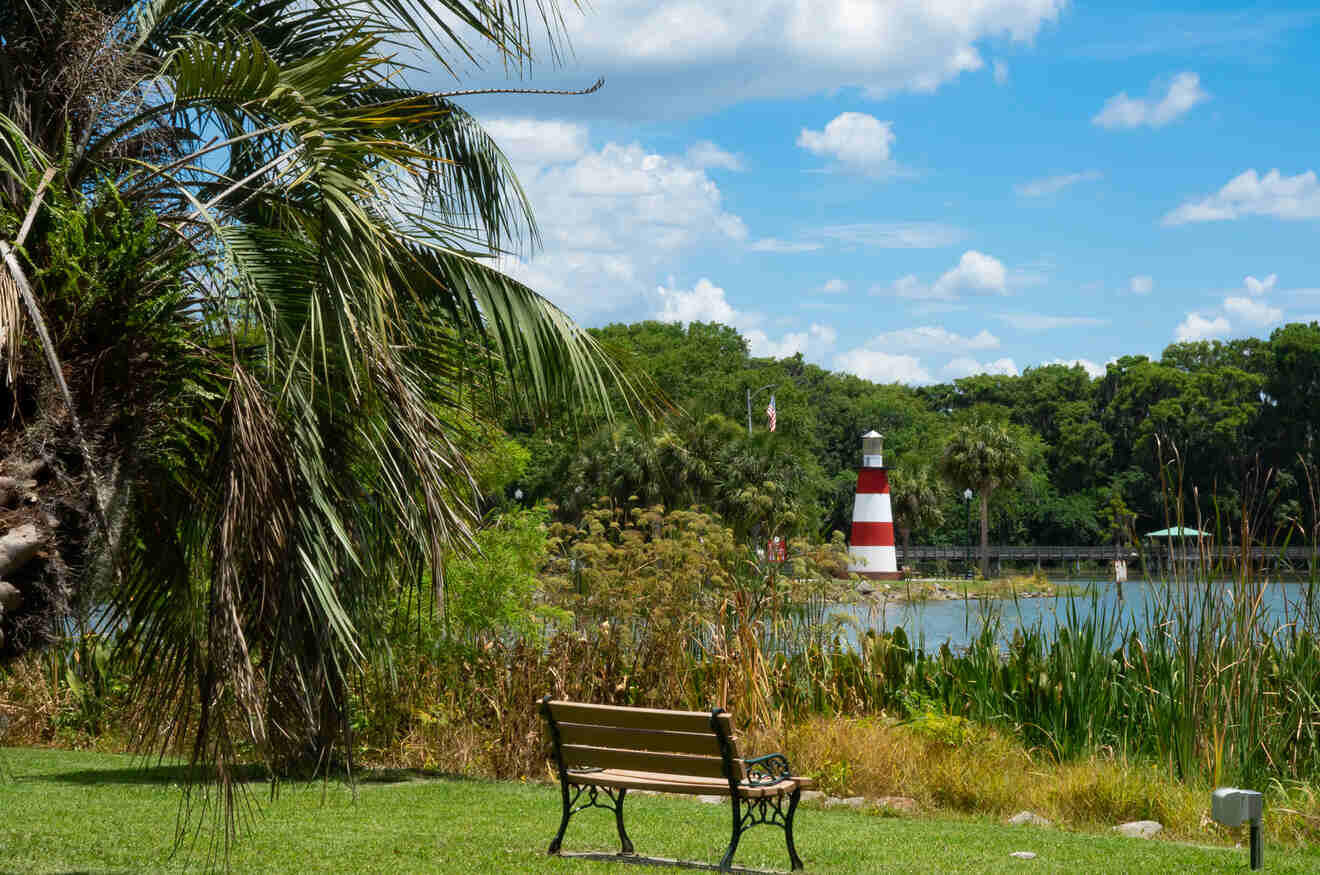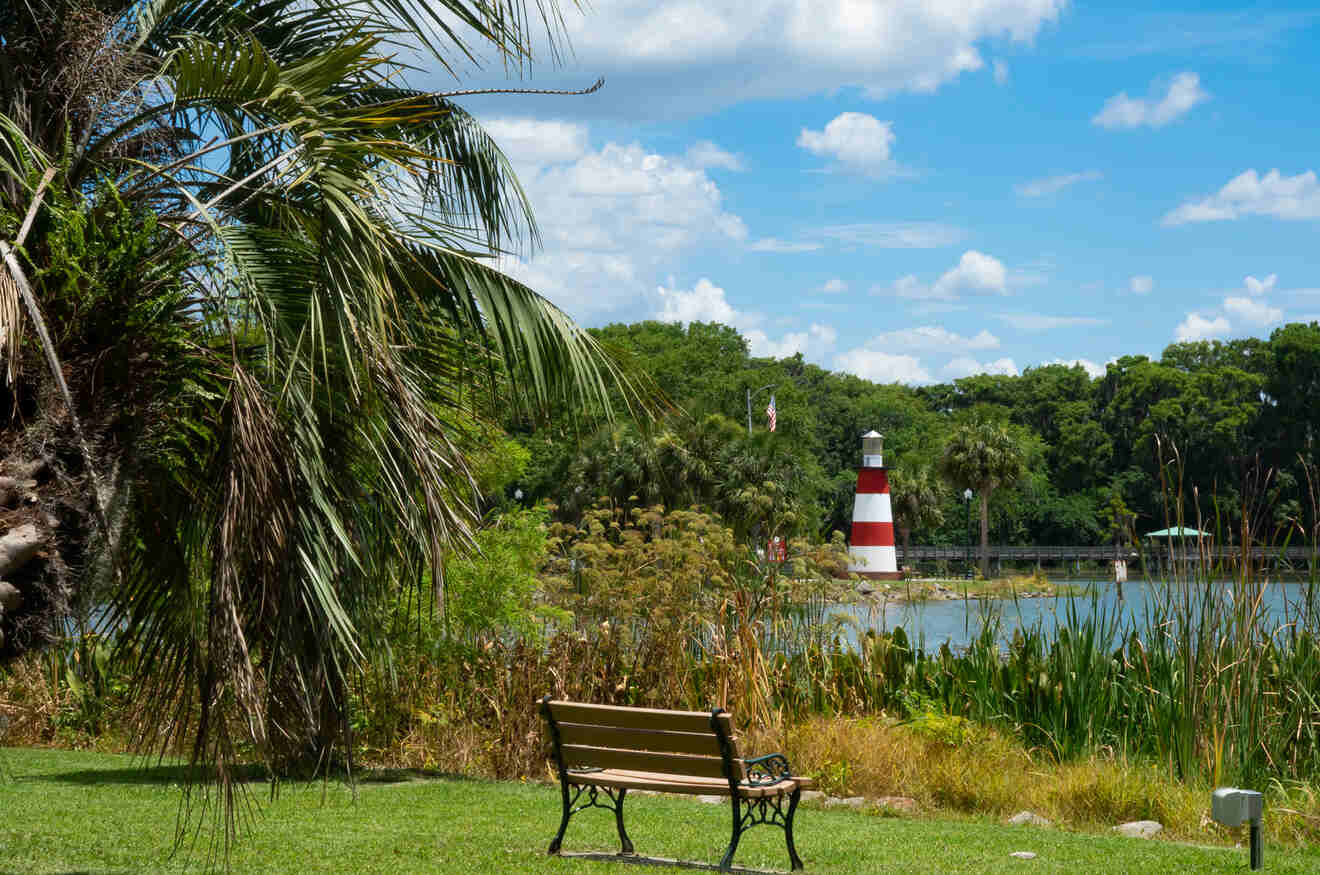 For a town as special as Mount Dora, it's only fitting that the Mount Dora Lighthouse is special too – it's the only inland freshwater lighthouse in the entire state of Florida and stands at just 35 feet (10 m) tall!
The Mount Dora Lighthouse is located at Grantham Point Park, often referred to as Lighthouse Park for this very reason. While the park itself is small, with just a few benches, the relaxing views, wildlife, and one-of-a-kind Mount Dora Lighthouse make Grantham Point Park worth the visit. It's a stunning spot for photos as well!
3. Experience Mount Dora's festivals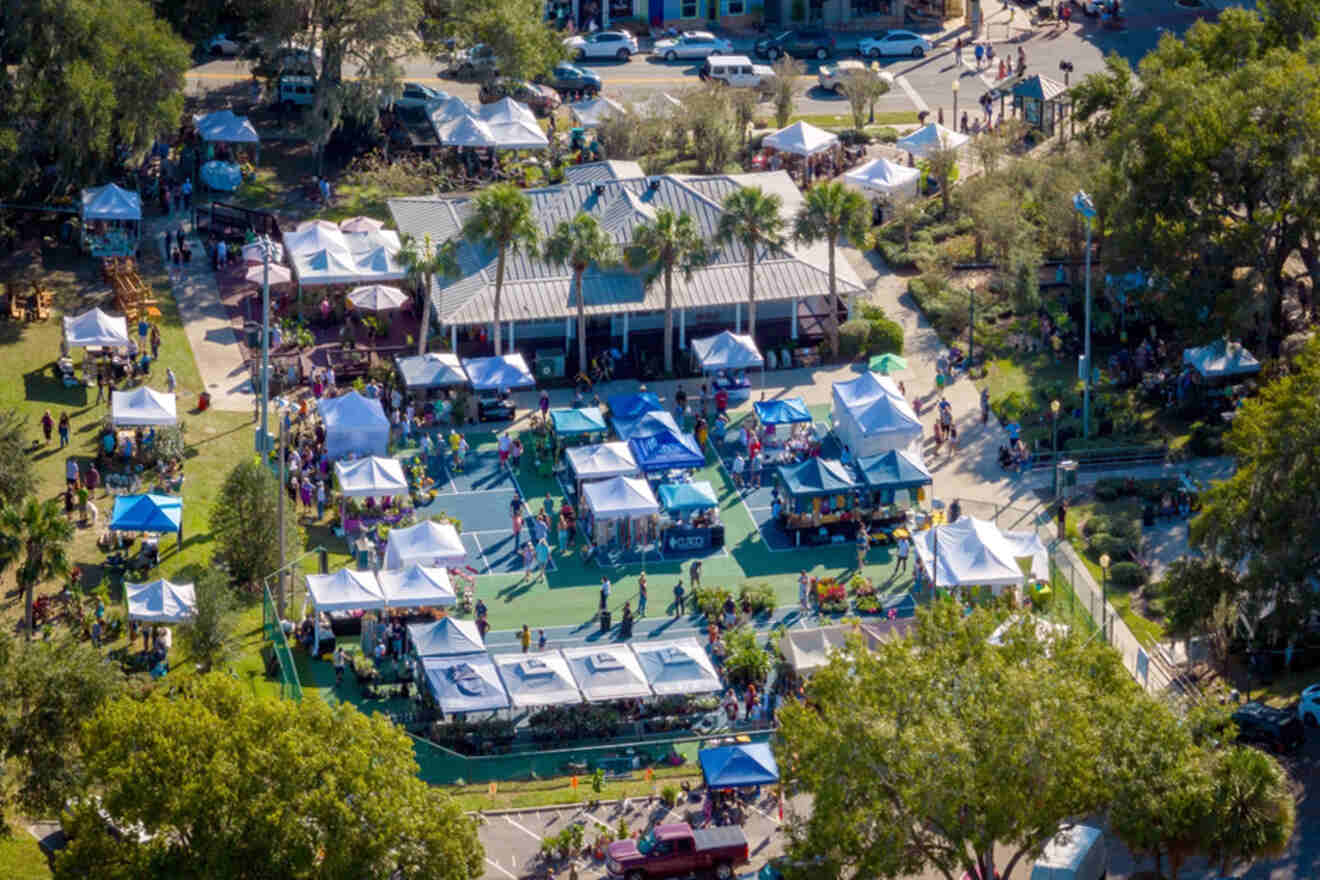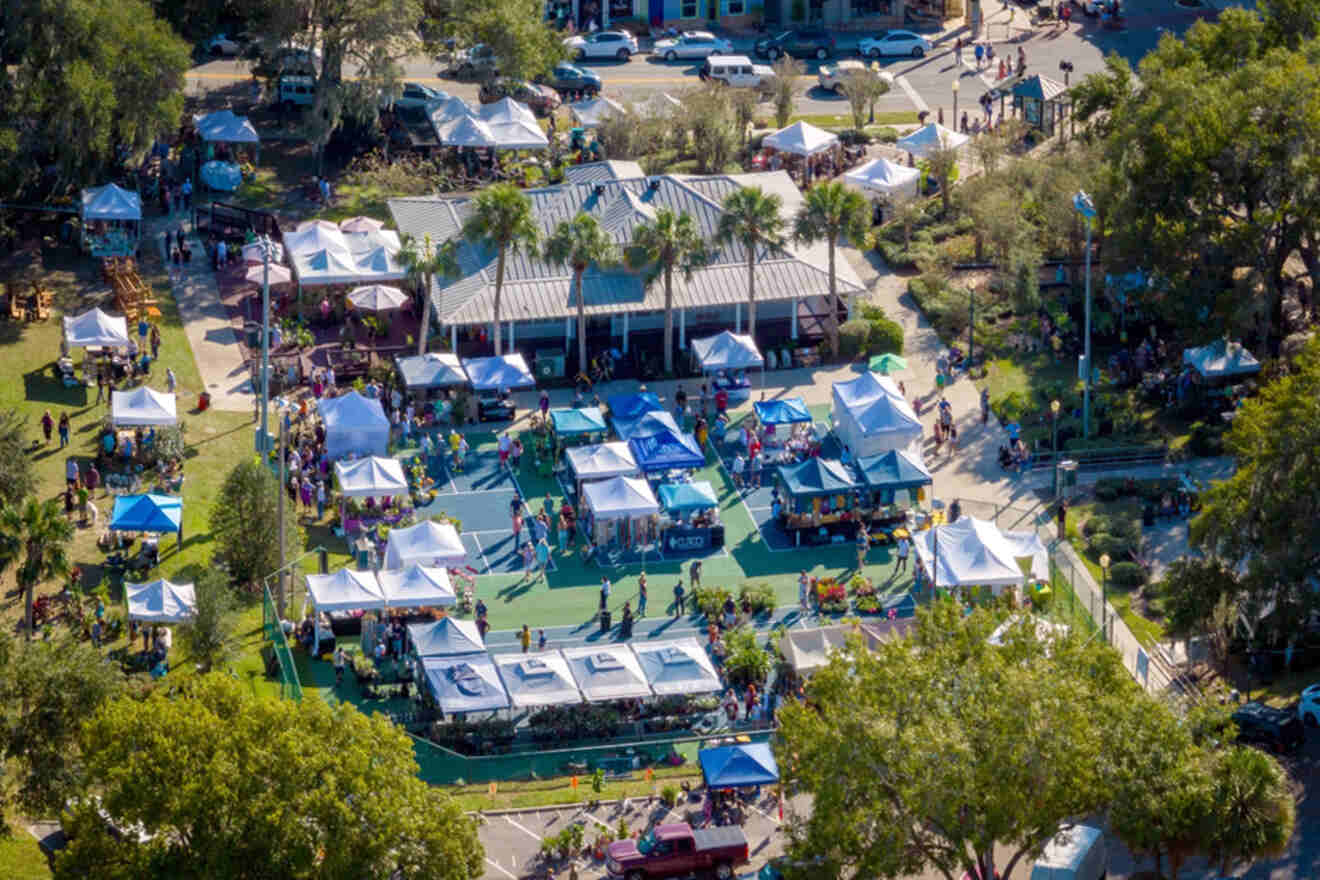 Mount Dora hosts over 30 uniquely awesome festivals and events every year, from massive antique shows to the historic Mount Dora Sailing Regatta.
Here's an overview of the major happenings that occur annually, although there are many others as well: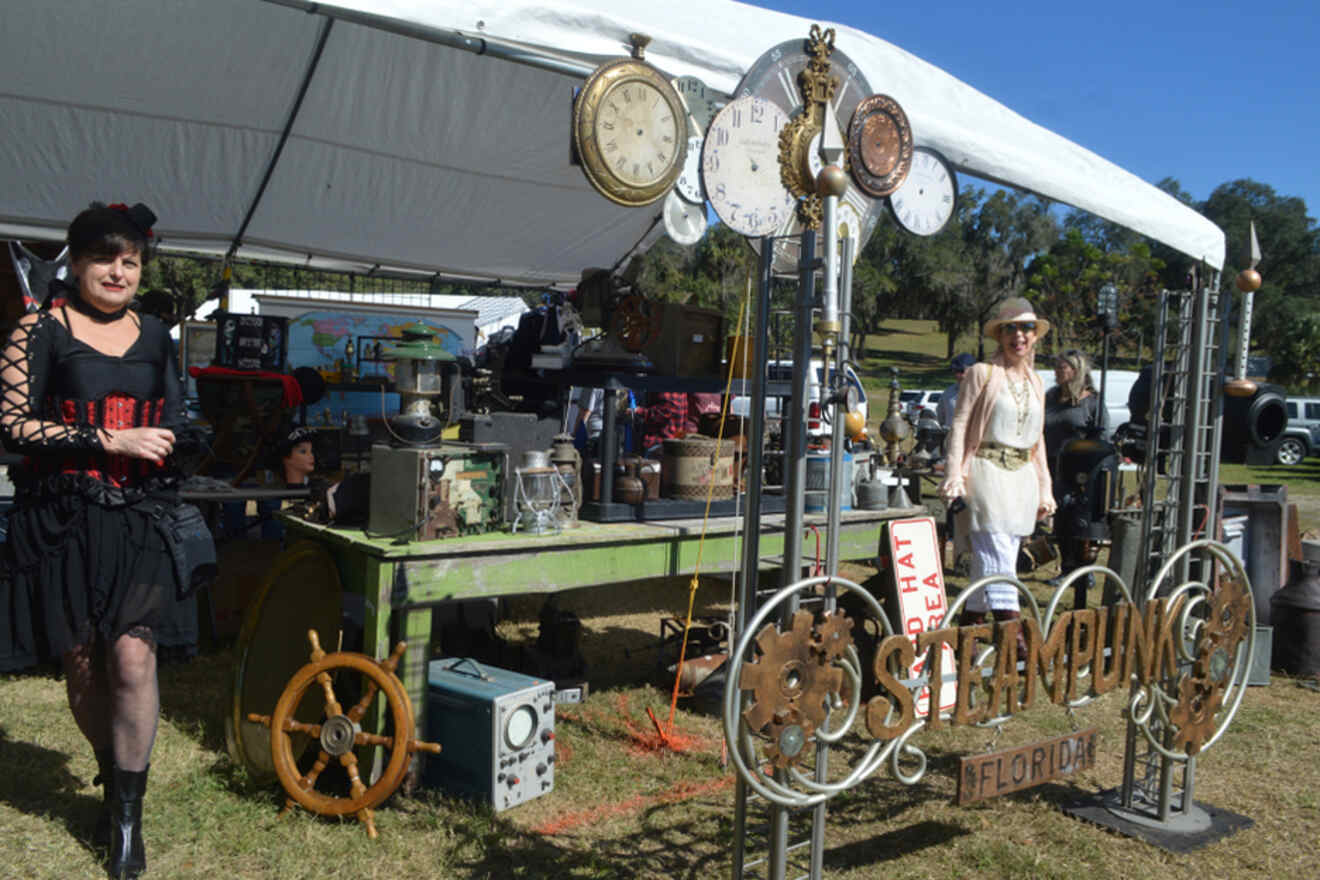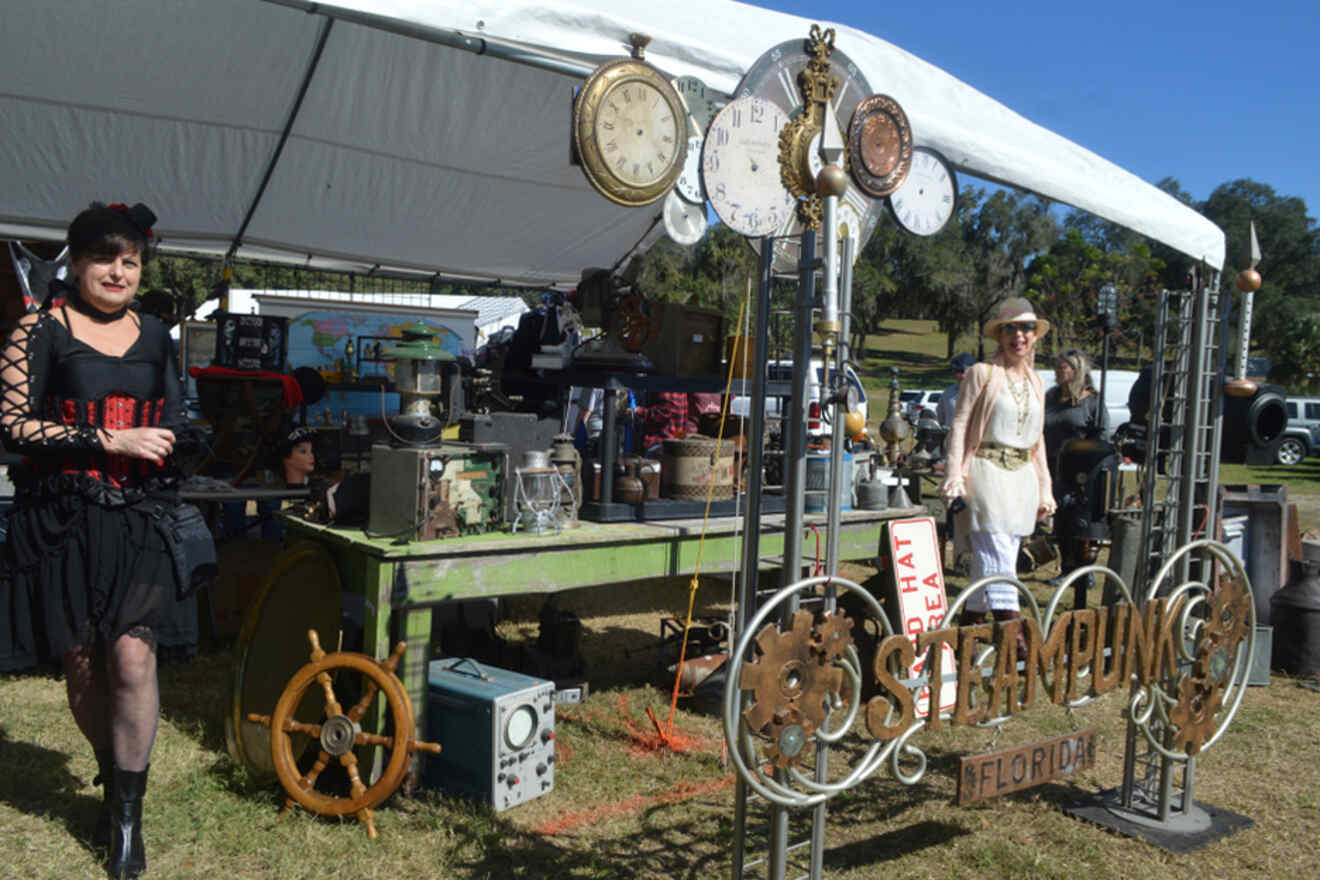 4. Take a scenic boat tour of Lake Dora & the Dora Canal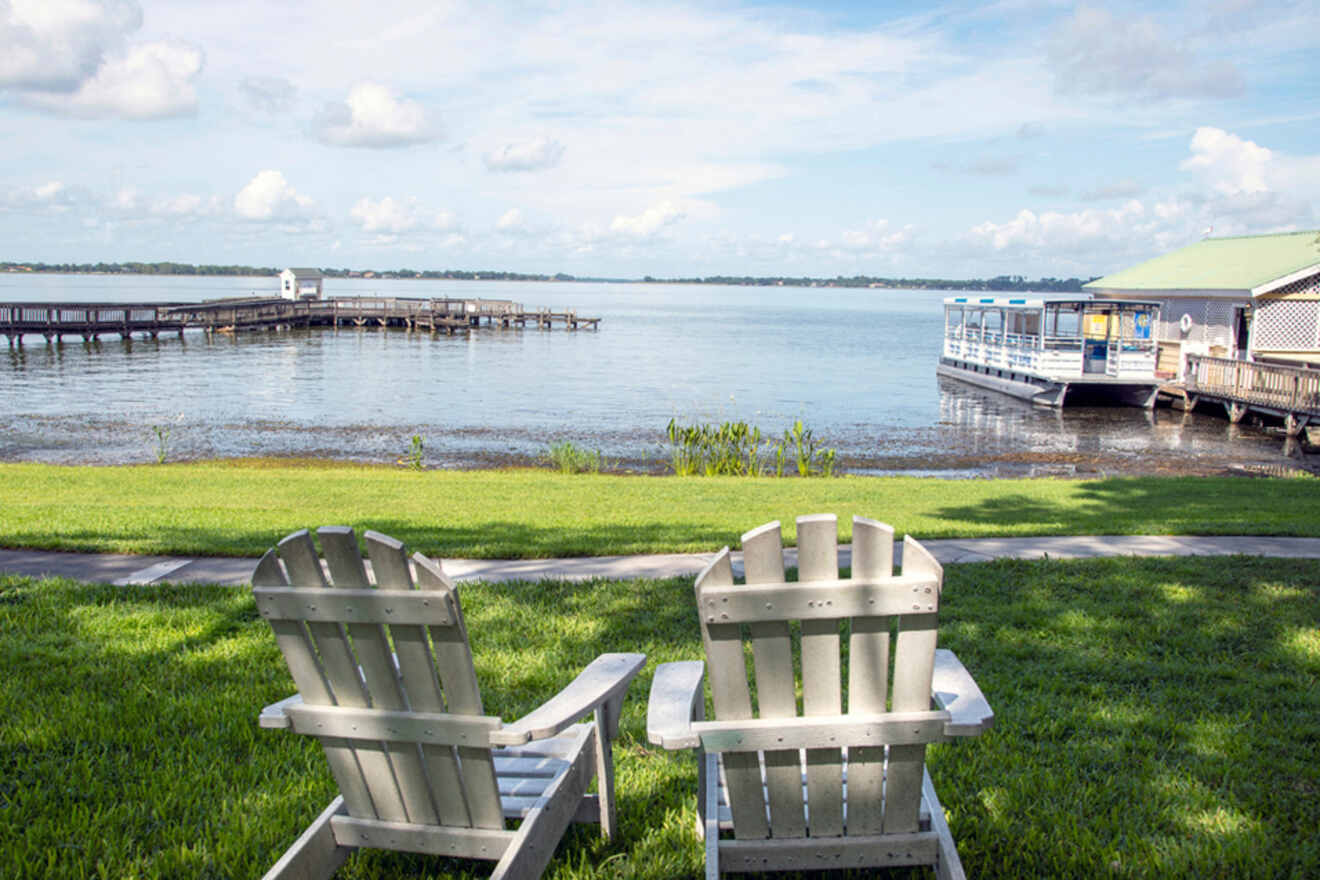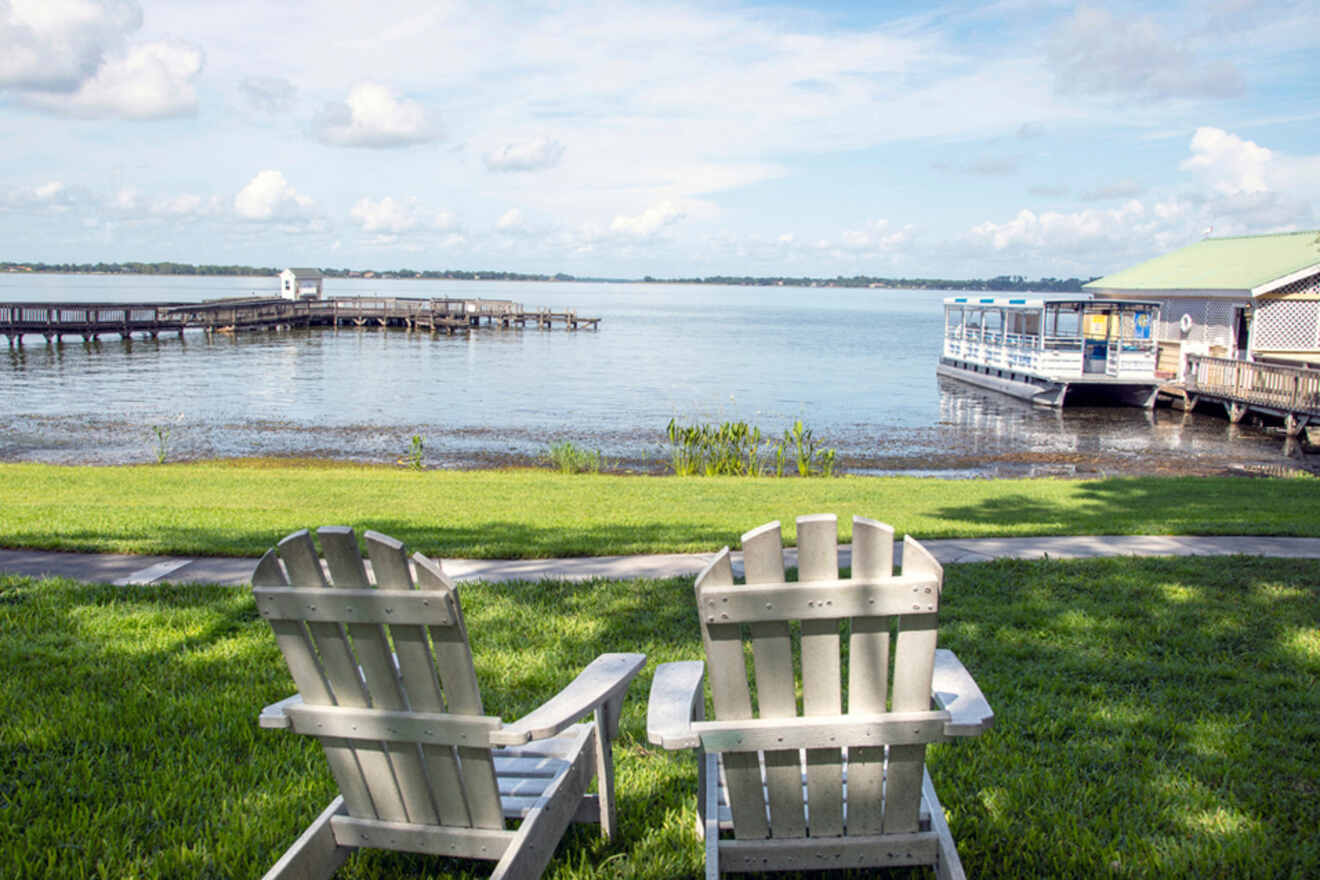 Like many other Florida destinations, Mount Dora is home to some jaw-dropping nature views and incredible wildlife. Explore the Harris Chain of Lakes, starting in beautiful Mount Dora, via pontoon boat!
Rusty Anchor Mount Dora boat tours take you on Lake Dora through the Dora Canal – a stunning mile-long strength thought by some to be the most beautiful mile of waterway in the world! Make your way through a natural, ancient cypress swamp where you might spot alligators, turtles, ospreys, bald eagles, and even river otters. It's one of the best things to do in Mount Dora, and you won't find anything quite like it anywhere else.
Be sure to book your tour online in advance, as they fill up quickly!
PRICE: US$35 for adults, US$15 for children
5. Stroll down the Palm Island Park Boardwalk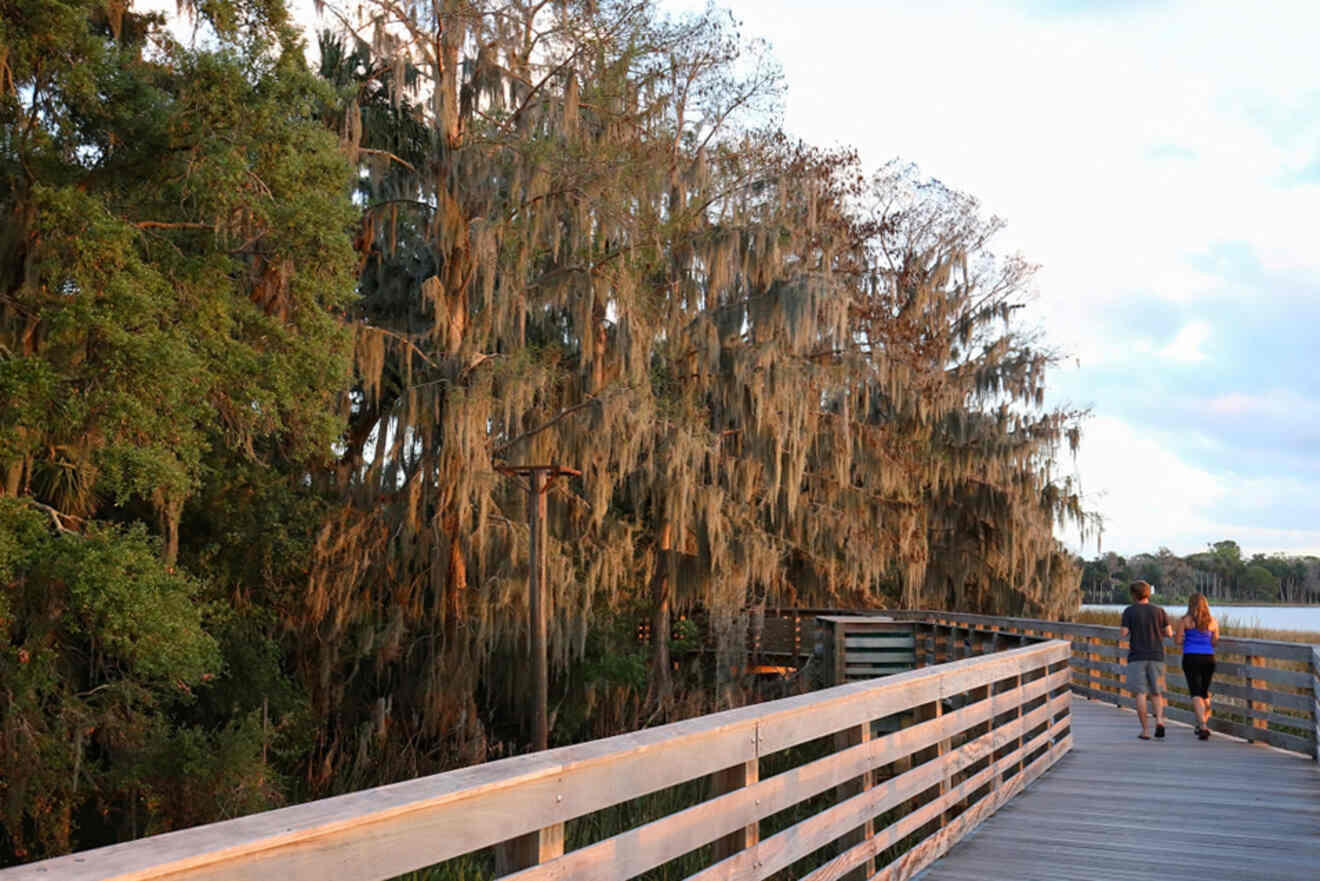 Palm Island Park in Mount Dora is an enchanting, 8-acre (3 hectares) natural preservation area with a boardwalk that winds through the shady woods, along the shoreline, and out onto Lake Dora for ⅓ of a mile (0.4 km). The Palm Island Park Boardwalk is an amazing spot to watch wildlife!
Palm Island Park is located next to Grantham Point Park, where Mount Dora Lighthouse is – you can easily walk between the two. There are picnic tables here as well, so it's a great place to enjoy a little lunch in nature and take in the beautiful views.
6. Visit the Modernism Museum
Did you know Mount Dora, FL, is home to the largest known collection of Modernist art? You can see it all on display at the Modernism Museum, a must-do for art lovers who are visiting Mount Dora.
The Modernism Museum features Modernist art by some of the most influential artists of the craft, including pieces from David Bowie's estate! It's an unexpected gem in this cozy, Old Florida town.
HOURS: Open on Fridays, Saturdays, and Sundays from 10 AM to 5 PM
PRICE: US$8 for adults and US$5 for children
7. Explore the haunted Donnelly House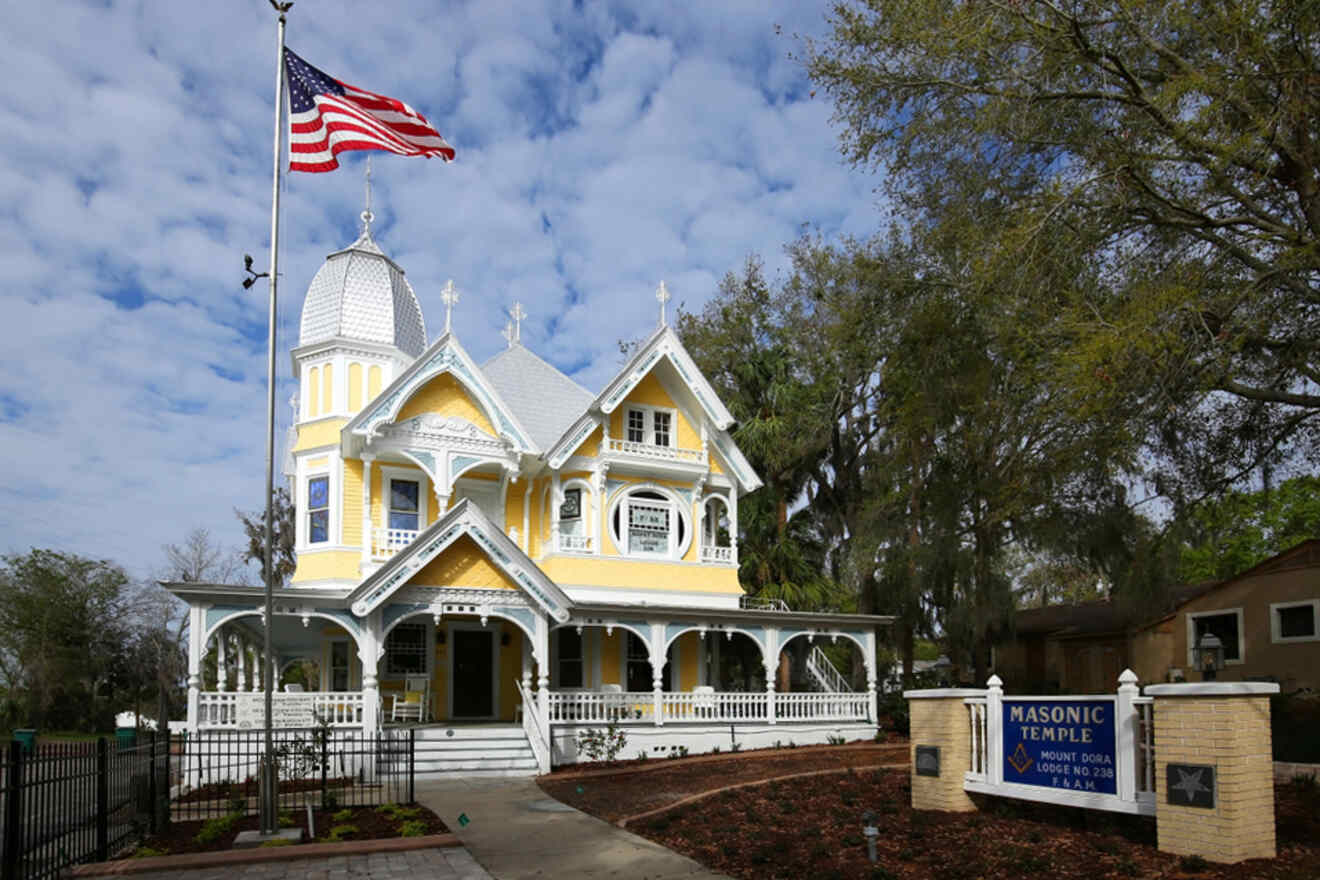 There's quite a bit of history in this charming town, and what better way to explore the past than on a search for the paranormal? The Donnelly House in Mount Dora, FL, was built in 1893 and stood out due to its Steamboat Gothic Victorian architecture. It's listed on the U.S. National Register of Historic Places. In my opinion, an eerie, mysterious home like this one is definitely best seen after dark.
Mount Dora Ghost Tours offers a 2.5-hour paranormal experience inside the Donnelly House, full of fun, entertainment, and real, high-tech paranormal investigation equipment, like EMF detectors and thermal imaging cameras! Will you catch a glimpse of the ghost of Annie Donnelly roaming the halls? Only the brave will find out.
Into spooky stuff? Mount Dora Ghost Tours also has a Haunted Pub Crawl that leaves from Sunset Park, and it's one of the most unique Mount Dora tours you'll find here!
PRO TIP: Purchase your tickets online for a discounted rate.
PRICE: Start at US$25-US$38 per person depending on the tour
8. Find something unique at the Twin Markets
Every Saturday and Sunday, Renninger's Vintage Antique Center hosts the Mount Dora Flea Market and Farmer's Market, called the Twin Markets. You will find absolutely everything you need here and a lot of things you didn't know you needed until you saw them! Hundreds of vendors gather on weekends, selling fresh produce, meats, clothing, arts, crafts, jewelry, and so much more.
There is an indoor, air-conditioned building with over 100 booths and over 400 in the open-air space as well. It's so fun to walk around and see what unique treasures you find! Admission is free.
HOURS: Saturday and Sunday from 8 AM to 4 PM.
9. Cool off with a wine slushie at Julianne's Coastal Cottage
Yes, I'm so impressed by this wine slushie, I gave it its own spot on our list of the best things to do in Mount Dora, FL! Julianne's Coastal Cottage is a fun, eclectic store downtown with some of the cutest things, from home goods to apparel to delicious locally loved food. I immediately fell in love when I saw they sold key lime pie from my favorite key lime pie bakery in Key West.
It's the kind of place where you meet locals and get caught up in conversation for longer than you realize – the wine slushies definitely contribute to that! I was shocked when I saw they even sold alcohol in the store, but I was not disappointed! The wine slushies are amazing – the cherry on top of such a wonderful shopping experience and a great way to cool off from the Florida heat.
10. Grab a bite at The Salted Fry
The Salted Fry is my go-to lunch spot in Mount Dora and one of the best Mount Dora restaurants for a quick bite. It's a 100% gluten-free restaurant, but the food is so good even my non-celiac friends adore it!
Enjoy their delicious sandwiches and Belgium-style fry plates loaded with toppings. Their savory sauces are incredible, too, and perfect for dipping. I can't say enough good stuff about this cozy Mount Dora eatery.
11. Tour historic downtown Mount Dora on an electric cart
Mount Dora is a very walkable area, which is one of the best parts about it! However, if you're interested in learning about Mount Dora's rich history, I recommend giving your feet a rest and taking this historic Mount Dora electric cart tour!
On this small group tour led by a Mount Dora local, you'll hear all about the town's fascinating past (and the town lore!) as you drive by beloved historical sites, like The Donnelly House and Lakeside Inn.
PRICE: US$20 per person
12. Try tasty cocktails at Maw's Mountain Moonshine
Maw's Mountain Moonshine serves up an old family recipe rooted in the Appalachian Mountains right in Mount Dora. At this craft distillery, you'll find unique cocktails, moonshine tastings, and live music on the patio – good vibes and a good time.
Some of their mouth-watering moonshine flavors include Strawberry Jam, Key Lime Pie, Blueberry Muffin, and Sweet Tea. Yes, they're as tasty as they sound!
13. Stop by the Mount Dora History Museum
History buffs will definitely want to explore the Mount Dora History Museum, which is housed in Mount Dora's very first fire station and city jail, dating back to 1923!
At the Mount Dora History Museum, learn how this lakeside slice of paradise evolved into the lovely town it is today. The museum is small, but it's packed with exciting things to see. I personally love little local museums like this and definitely recommend popping in to see what it's all about.
HOURS: Thursday through Sunday, from 1 PM to 5 PM
PRICE: US$2 for adults, US$1 for students
14. Have dinner at The Goblin Market Restaurant & Lounge
The Goblin Market Restaurant & Lounge is my pick for dinner in Mount Dora, and most locals and visitors agree. In fact, Goblin Market might just be the best restaurant in Mount Dora, FL.
The food is absolutely incredible. Everything tastes so fresh, and you really can't go wrong with anything on their menu. In addition to the food, I'm obsessed with the cozy interior – stocked bookshelves lining the walls, lots of wood furnishings, and eclectic artwork.
Lunch at The Goblin Market is first come, first served, but you will need to book a reservation for dinner. If you're short on time, you can instead stop by the lounge for one of their superb cocktails.
15. Spend the night at the historic Lakeside Inn on Lake Dora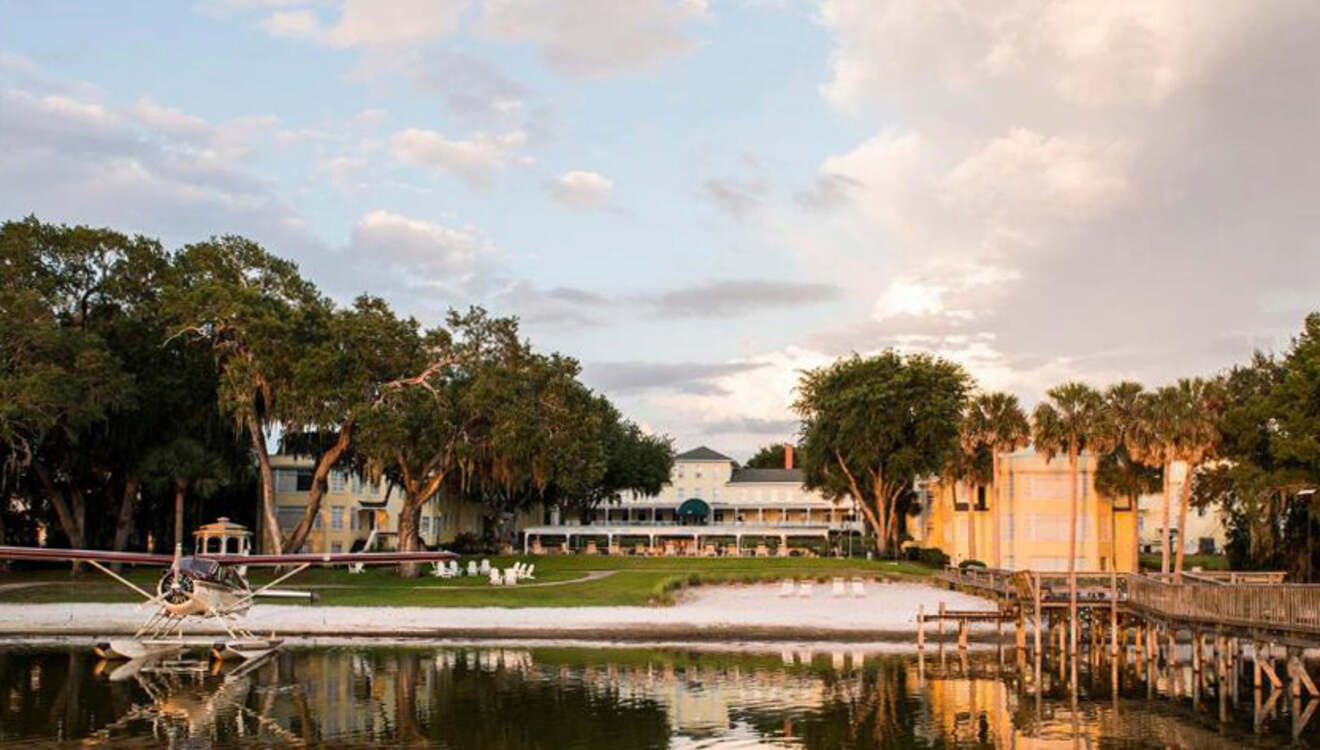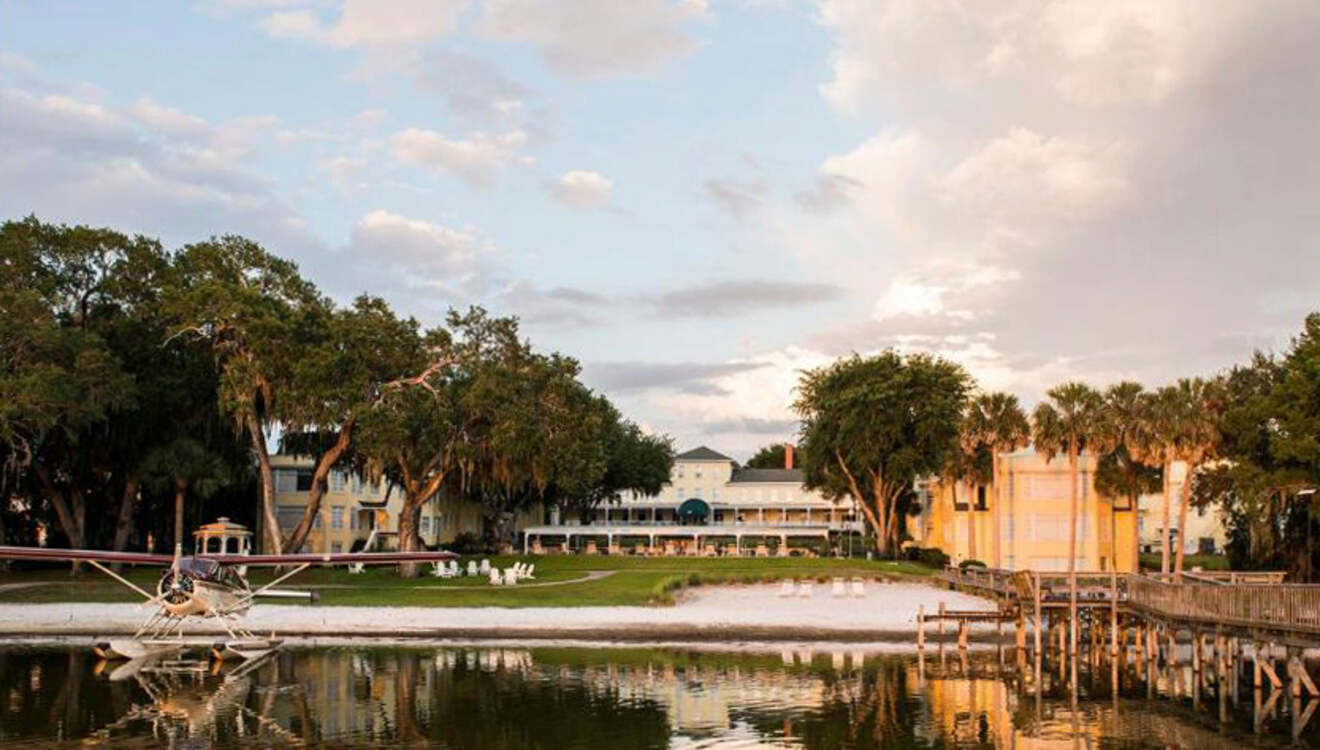 Sitting on stunning Lake Dora is Lakeside Inn, Florida's most historic hotel. It is truly a sight to behold – a grand Victorian-era hotel set against the glittering lake in Mount Dora.
Lakeside Inn is the oldest continuously operated hotel in the Sunshine State. In its 140+ years, Lakeside Inn has delighted visitors from all over, including celebrities and notable public figures. President Calvin Coolidge actually stayed here for a month-long vacation with his wife, Grace!
The grounds are breathtaking, featuring a lakeside swimming pool that's perfect for a lazy day in the sunshine. There's also a large verandah with rocking chairs to take in the views.
Even if you decide you'd rather just make a day trip to Mount Dora (it's only 40 minutes away from Orlando by car), you should still take a stroll through the Lakeside Inn grounds. You'll also find some award-winning dining on-site, as well as the only waterfront restaurant in Mount Dora, The Verandah. It's a beautiful place to eat at sunset!
PRICE: Starting at US$170 per night
FAQs about things to do in Mount Dora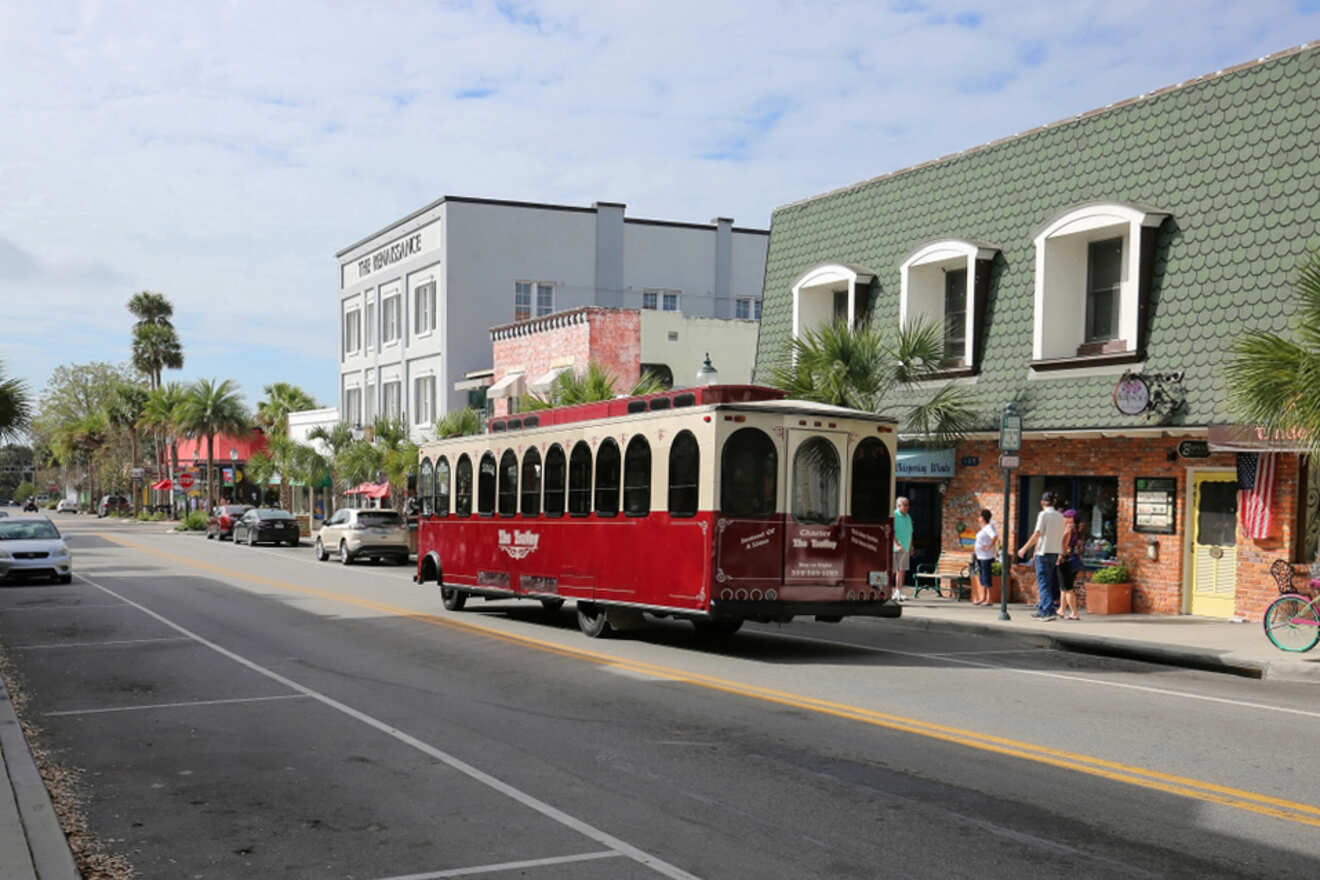 📍 Is Mount Dora worth visiting?
Yes! Mount Dora, Florida, is a charming lakeside town filled with local boutiques, galleries, restaurants, bars, and nature views. You can spend a night at Florida's most historic hotel, the Lakeside Inn on Lake Dora.
🚤 What is Mount Dora, FL, known for?
Mount Dora is known for its Old Florida charm, shopping, historic district, stunning Lake Dora, and frequent events and festivals held there every year.
🍲 What are the nicest Mount Dora restaurants?
There are many amazing restaurants at Mount Dora, but my absolute favorite is The Salted Fry for the delicious 100% gluten-free menu.  
🎥 What movie was filmed in Mount Dora, Florida?
Conclusion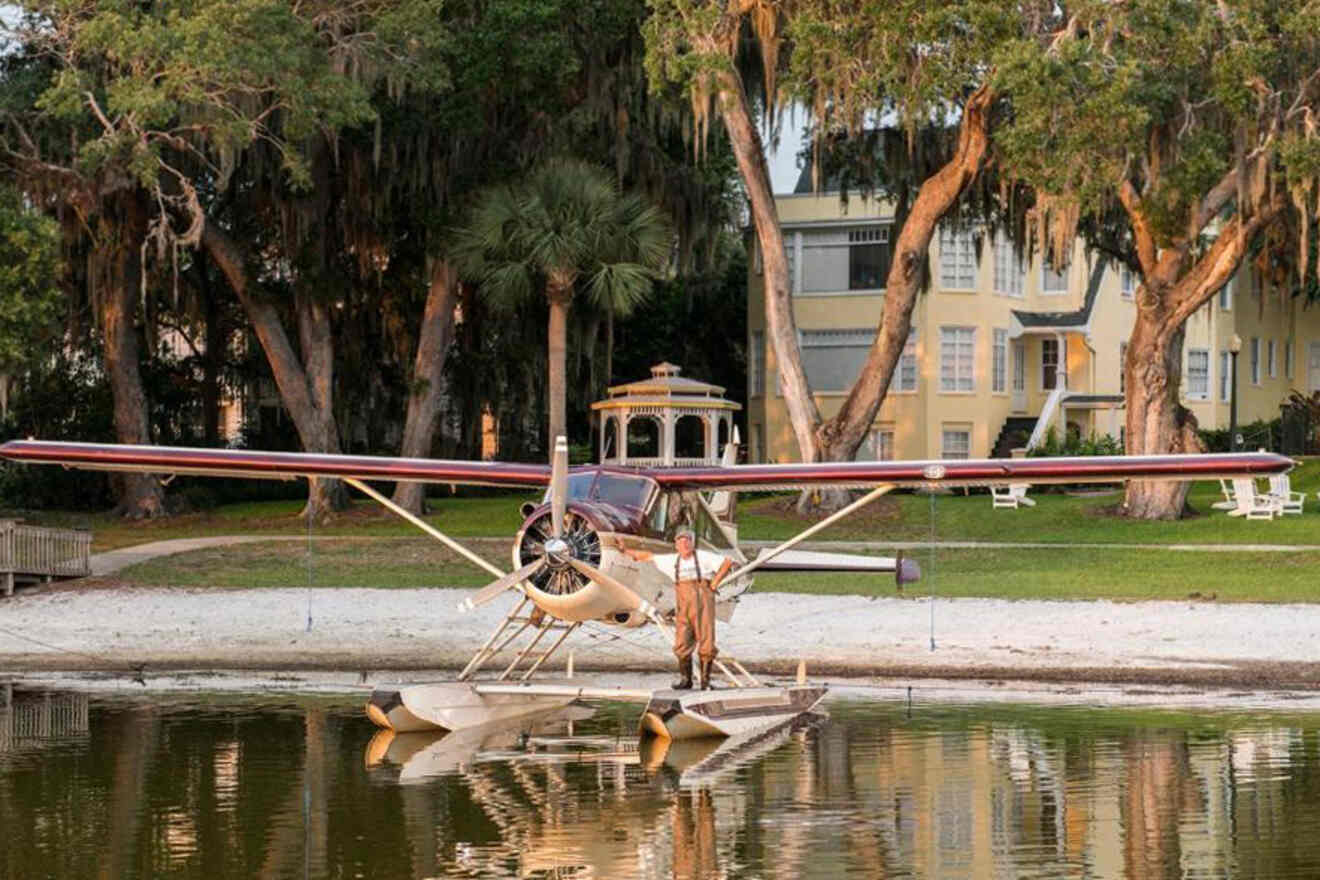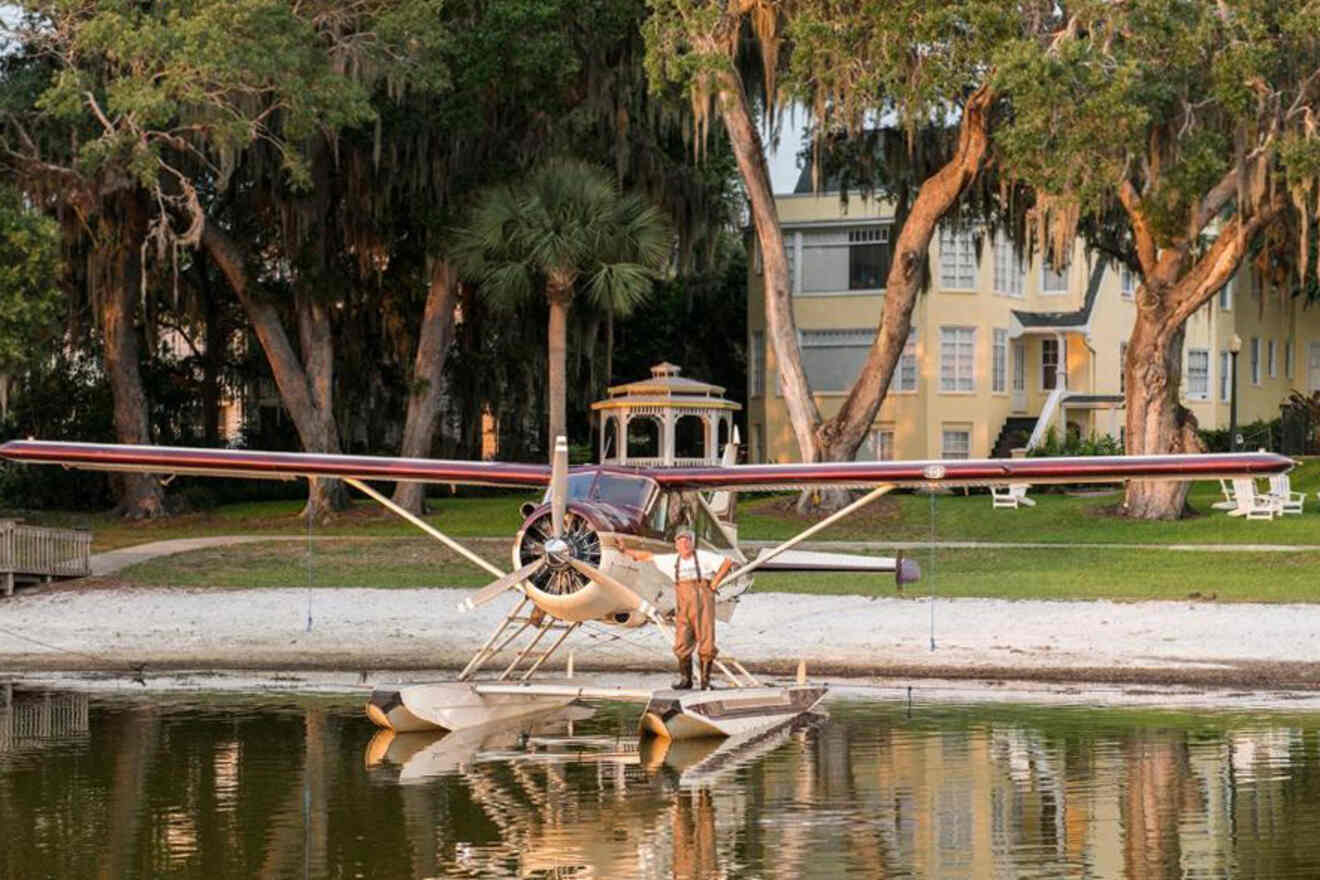 I've had so much fun telling you the best things to do in Mount Dora today – I hope you found this article helpful and informative! While Florida is best known for vacation destinations like Miami and Orlando, there are so many special small towns, like Mount Dora, to explore. If you're planning to visit Florida soon, you should definitely venture off the beaten track!
Don't forget my 2 absolute favorite things on our list today:
Mount Dora happens to be next to 2 other adorable towns, Eustis and Tavares. Together, the 3 of them make up The Golden Triangle. If you like what you've heard about Mount Dora, check out the other 2 as well. The whole area is a lake lover's paradise!
Before I leave you off, here's a small reminder to book the most popular spots in advance, and of course, leave me a comment if you have any questions. 😊
Happy travels!
Montana
---
Pin it for later!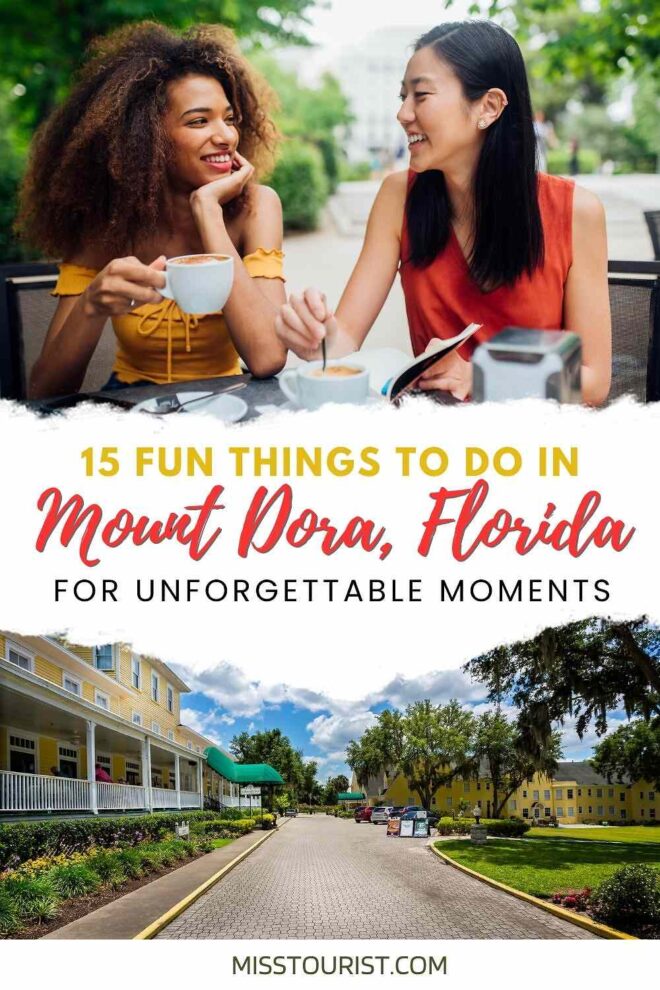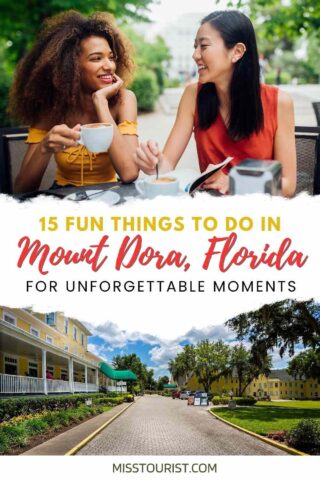 Pin it for later!