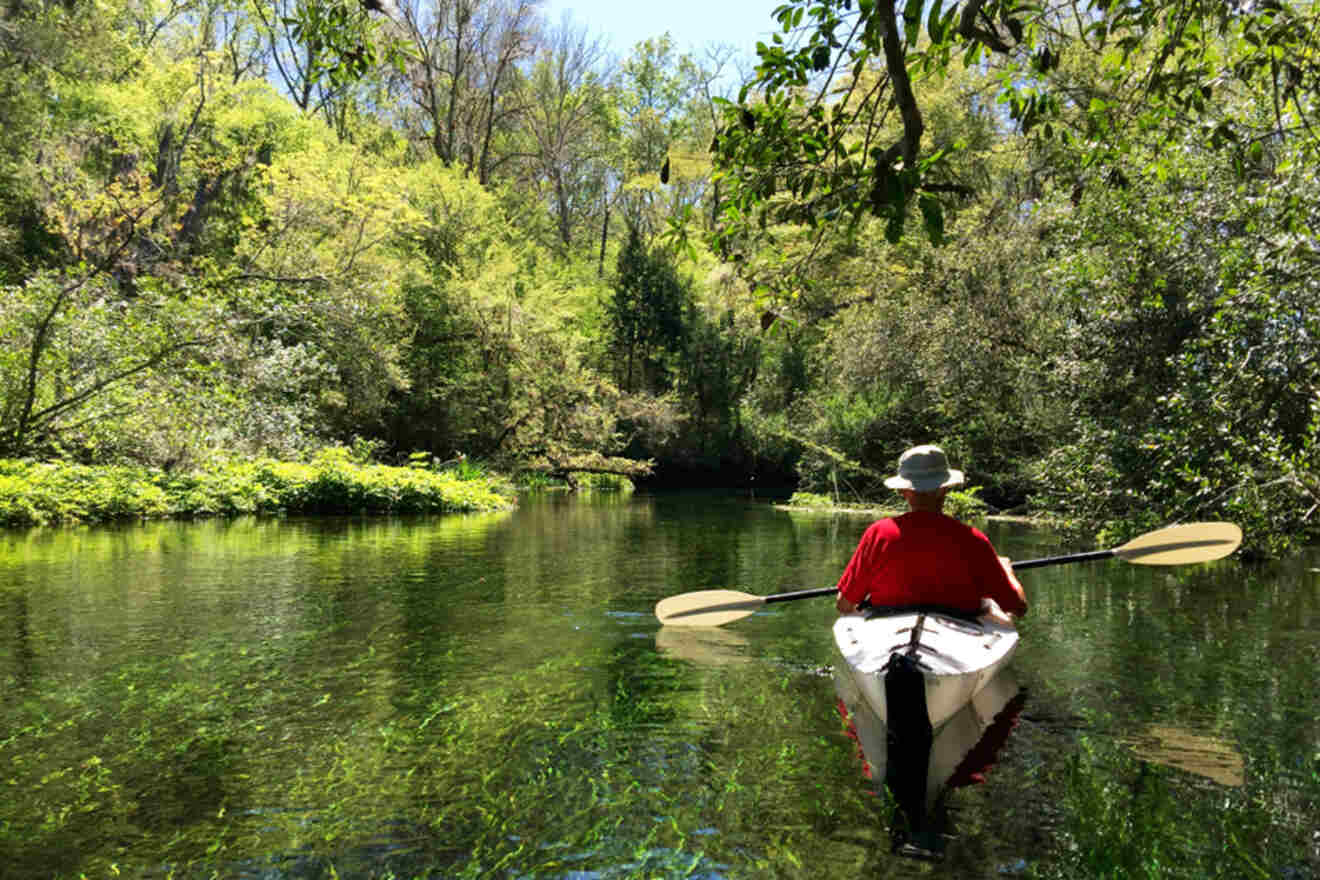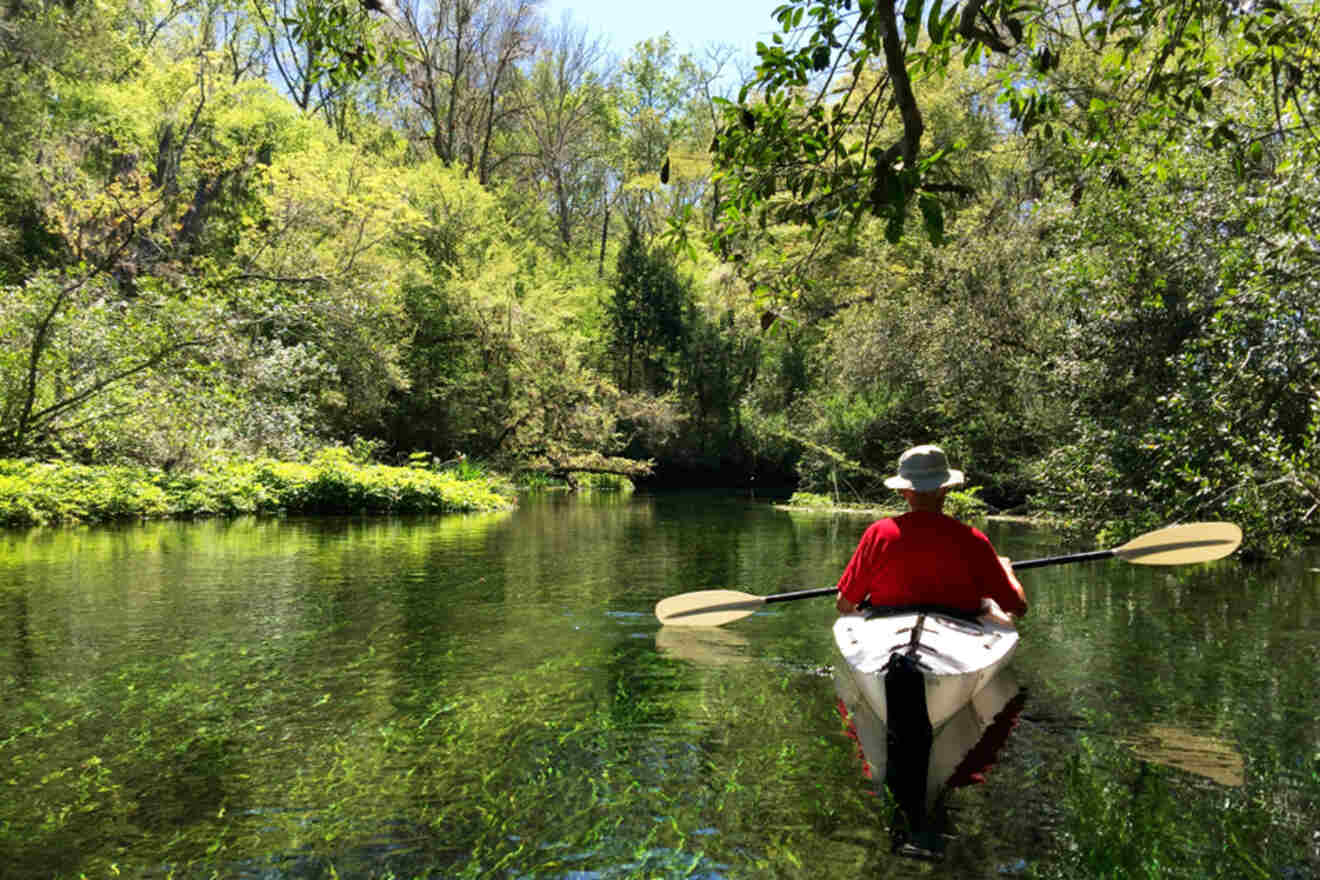 Are you planning a trip to Ichetucknee Springs State Park? Looking for the best tips and tricks to make the most out of your time in the lush Florida wilderness?
Look no further. I'm your personal Florida girl, local enthusiast, and self-acclaimed wild Florida explorer!
I'm going to let you in on all the local secrets about Ichetucknee Springs State Park that I've learned through trial and error and many visits to this Florida gem of a state park.
It is my personal mission to make sure that people get to fully enjoy the natural beauty of this incredible, wild, and ancient space.
Featuring lush, abundant canopies, incredible flora and fauna, spring-fed rivers, and amazing swimming holes, this state park is one of the most beautiful wild destinations in Northern Florida.
Without further ado, let's dive into everything you need to know to make your trip to Ichetucknee Springs State Park one for the books.
1. About Ichetucknee Springs State Park
Located in Fort White, Florida, this state park consists of incredible spring heads, the Ichetucknee River, astonishing flora and fauna, and so much more.
Somewhere between Central and North Florida lies this outdoor adventurer's paradise. The park in itself is enormous. The spring-fed river spans six miles, with eight crystal clear spring heads!
Oh, and don't forget about the incredible nature trails all throughout the park that take you through some gorgeous nature, where you will see all sorts of wildlife and get a glimpse of old Florida.
This Florida state park is well known to local Floridians as an excellent tubing spot and a great place for all sorts of water adventures, and many people fail to realize that the upper portion of this incredible state park is actually a National Natural Landmark.
2. Where is Ichetucknee Springs State Park?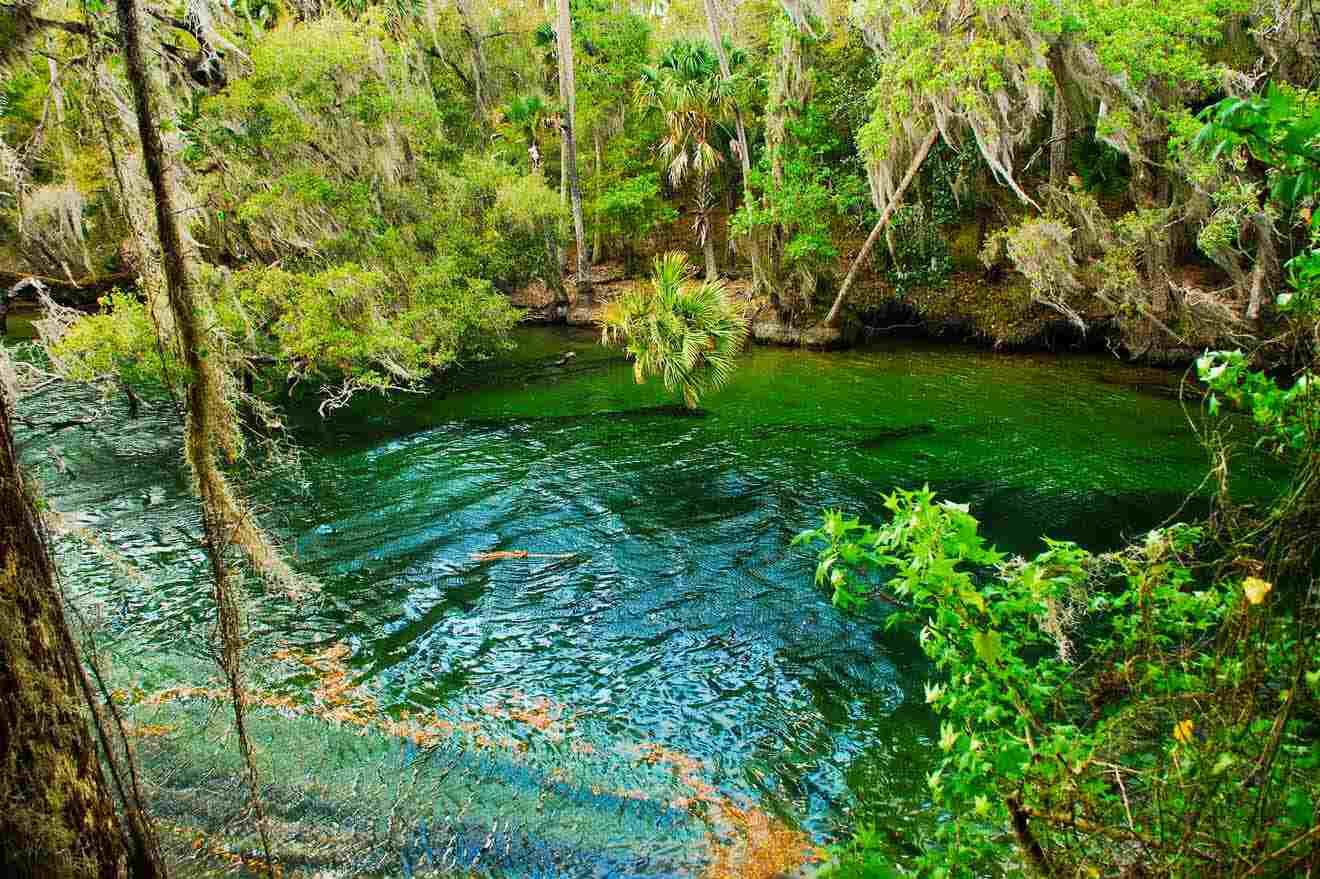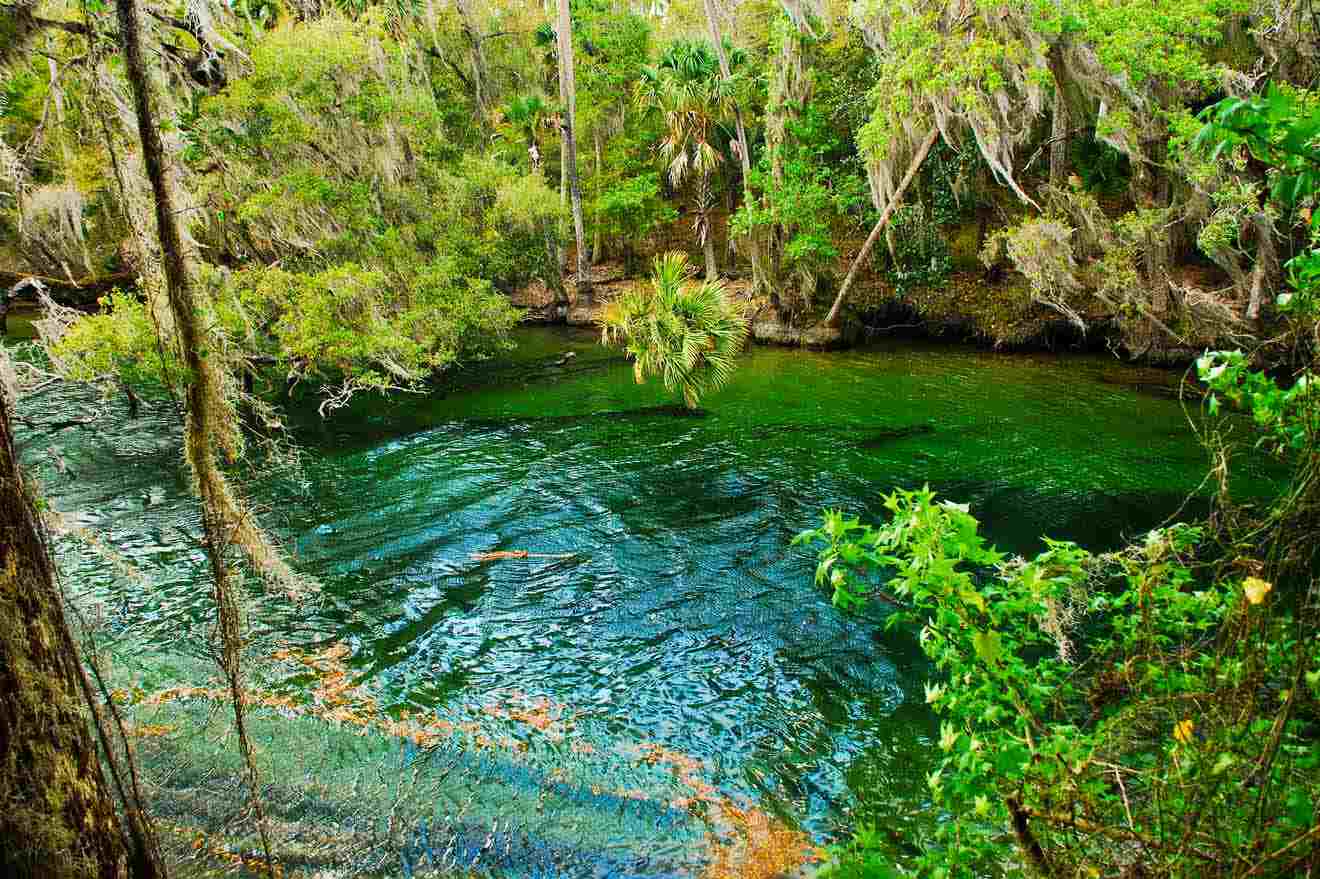 As I mentioned earlier, Ichetucknee Springs is located in Fort White, Florida, which is just north of Gainesville.
Just South of US Highway 27, this park is very easy to find when you plug it into your GPS.
Here is the exact address: 12087 S.W. U.S. Highway 27, Fort White, FL 32038
3. How cold is Ichetucknee Springs?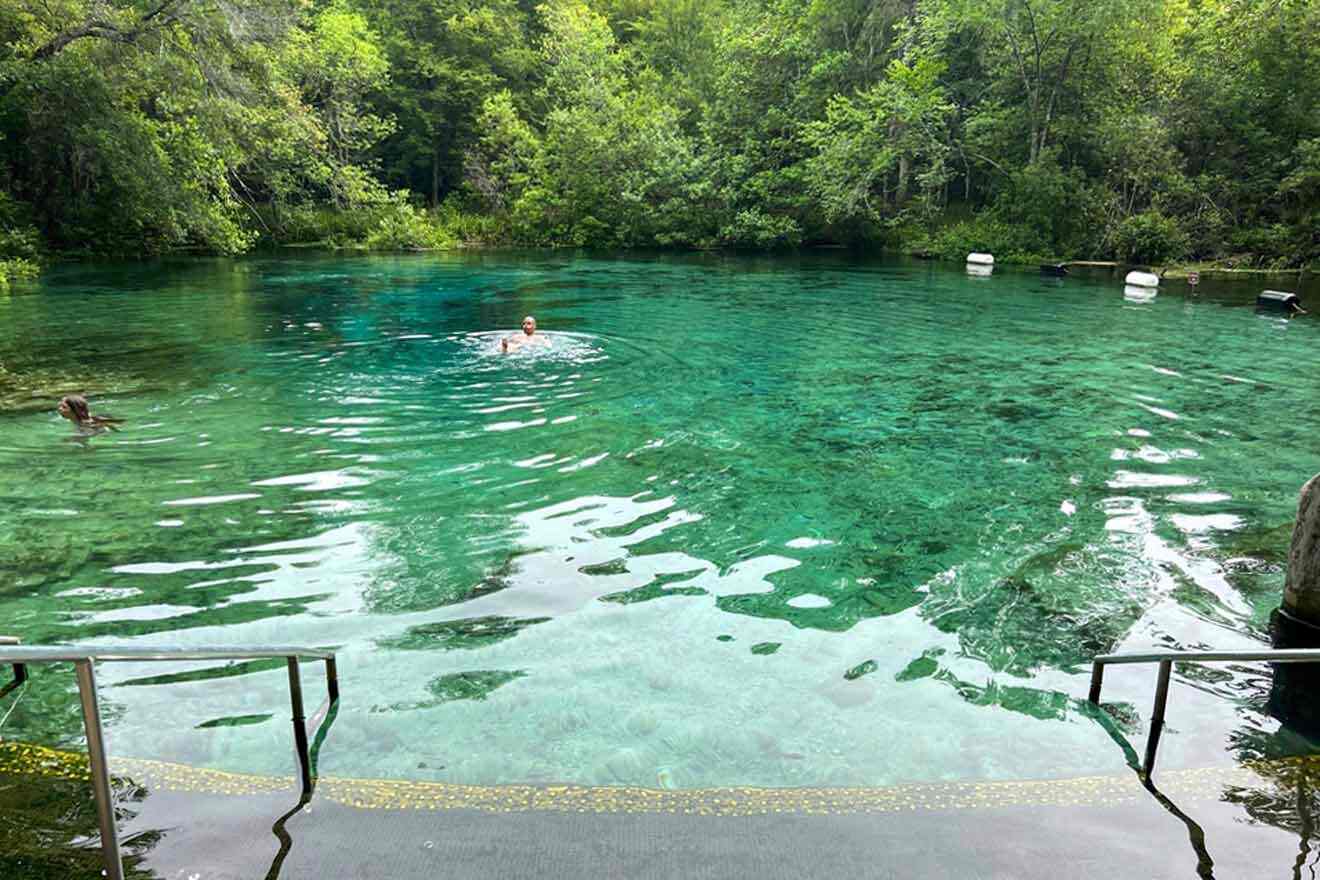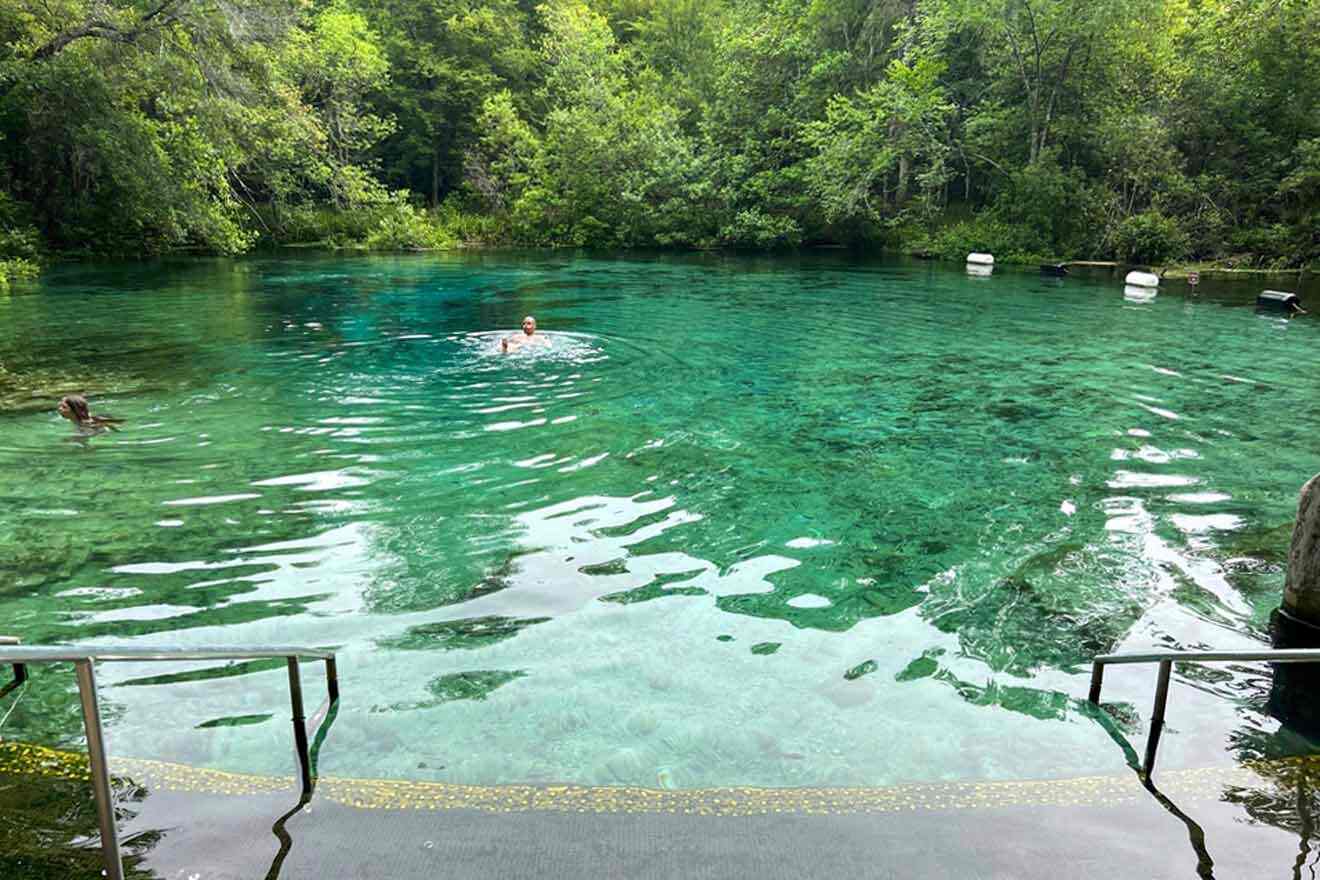 Between the multiple different swimming holes, crystal clear spring heads, and the famed spring-fed river, there are so many places to swim at this gorgeous fountain of your oasis.
Honestly, not many things are comparable to taking a dip in crystal clear water bubbling up from the depths of the Earth.
The river, on the other hand, is excellent for tubing, paddling, kayaking, and all sorts of fun water sports.
But how cold is Ichetucknee?
In order to answer this question, we have to break it down a bit. So all Florida springs stay at a steady 72 degrees year-round. So the Blue Hole Spring, the famous swimming hole at Ichetucknee, will always be 72 degrees.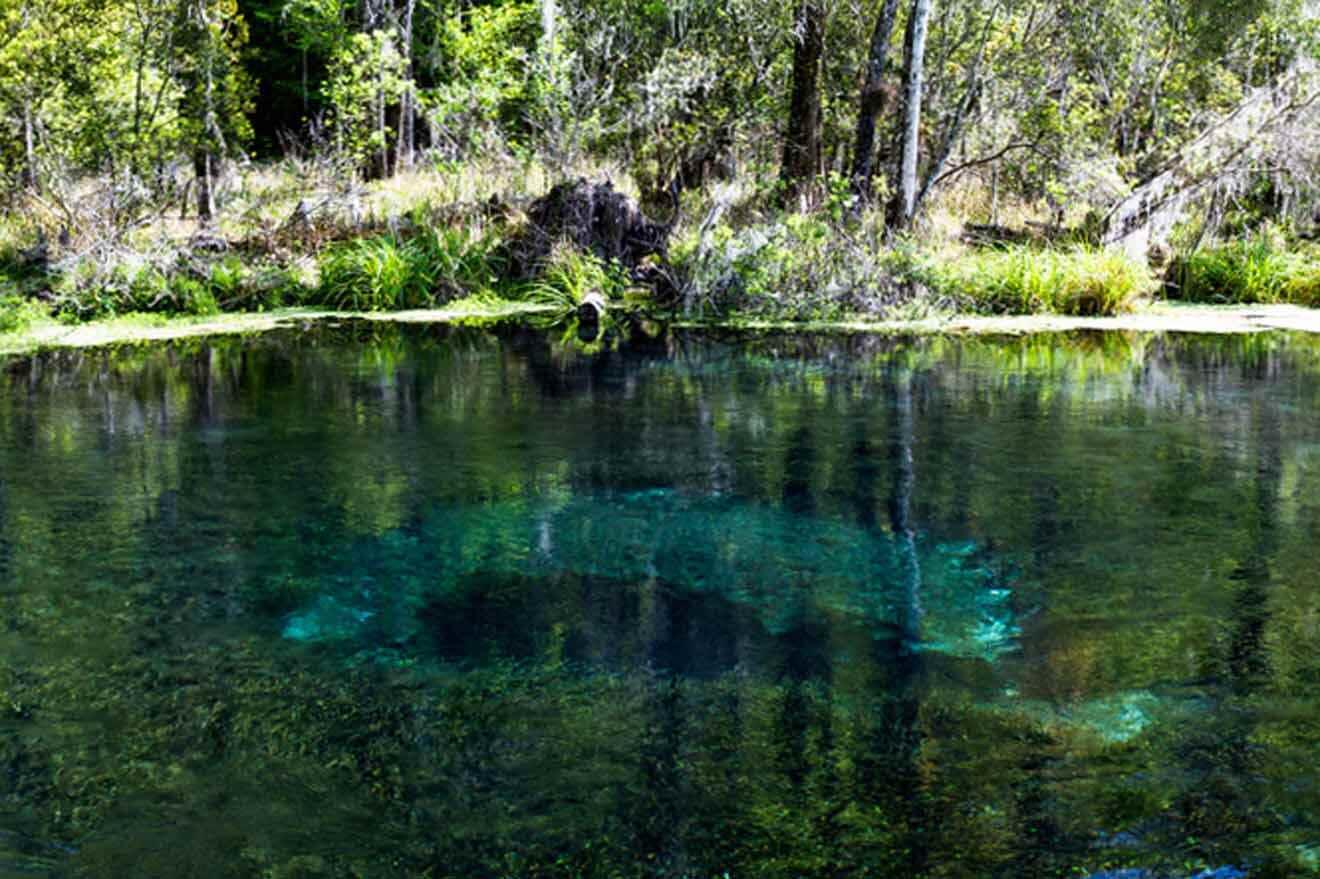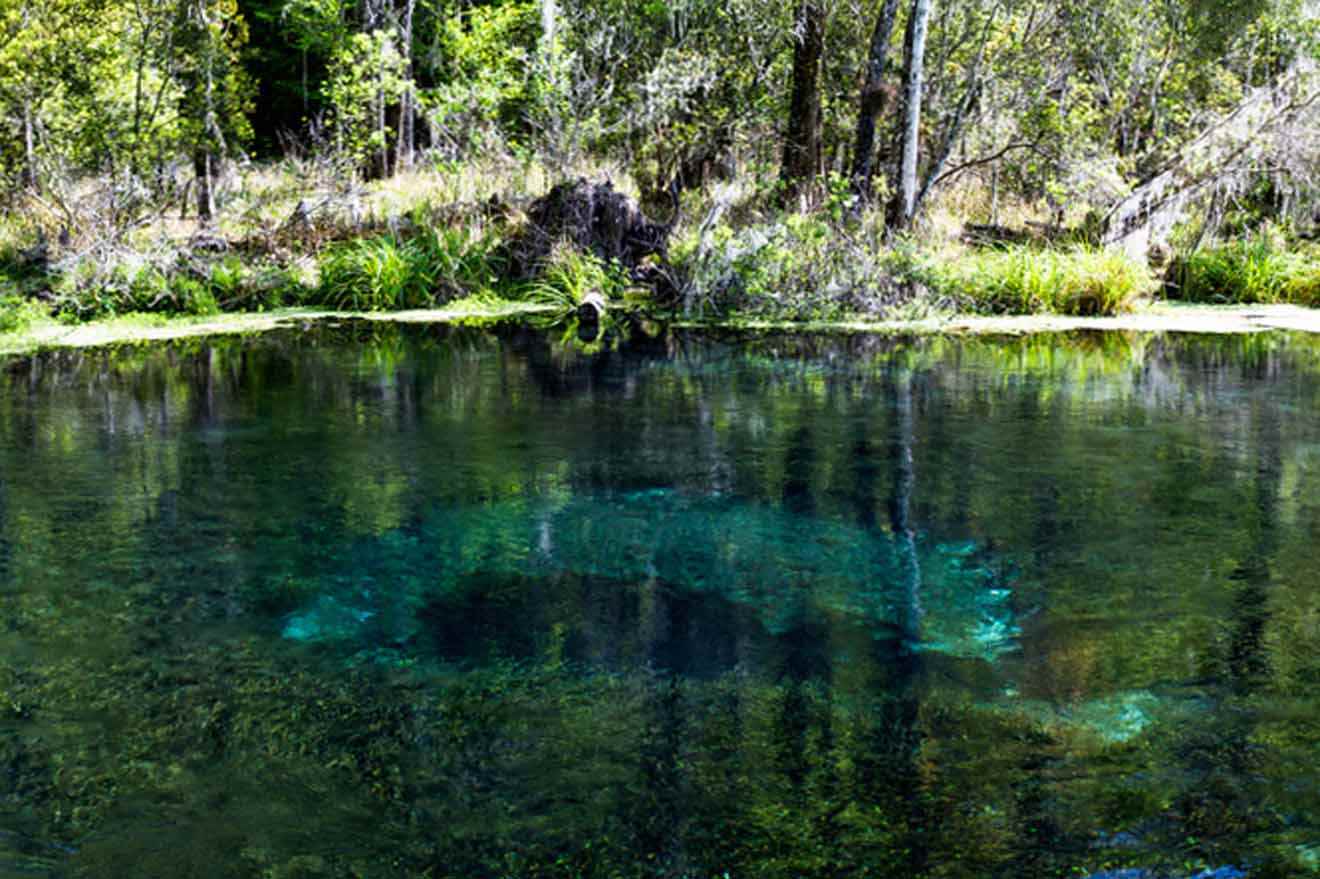 The Blue Hole is truly one of the many wonders of Florida. With ancient, crystalline, mineral-rich, ancient water lined with native palm trees and lush vegetation swaying in the wind, visiting this spring is truly an out-of-body experience.
When your toes take their first little dip into this aquamarine, artesian waters, you will enter a world filled with caves, fish, turtles, and an incredible world of mystery extending 40 feet into the Earth!
I will say, though, the temperature may fluctuate depending on how close to the surface you are and if you are enjoying the springhead or the river.
Remember, you are in Florida. The water is never really that cold!
4. How much is it to enter Ichetucknee Springs State Park?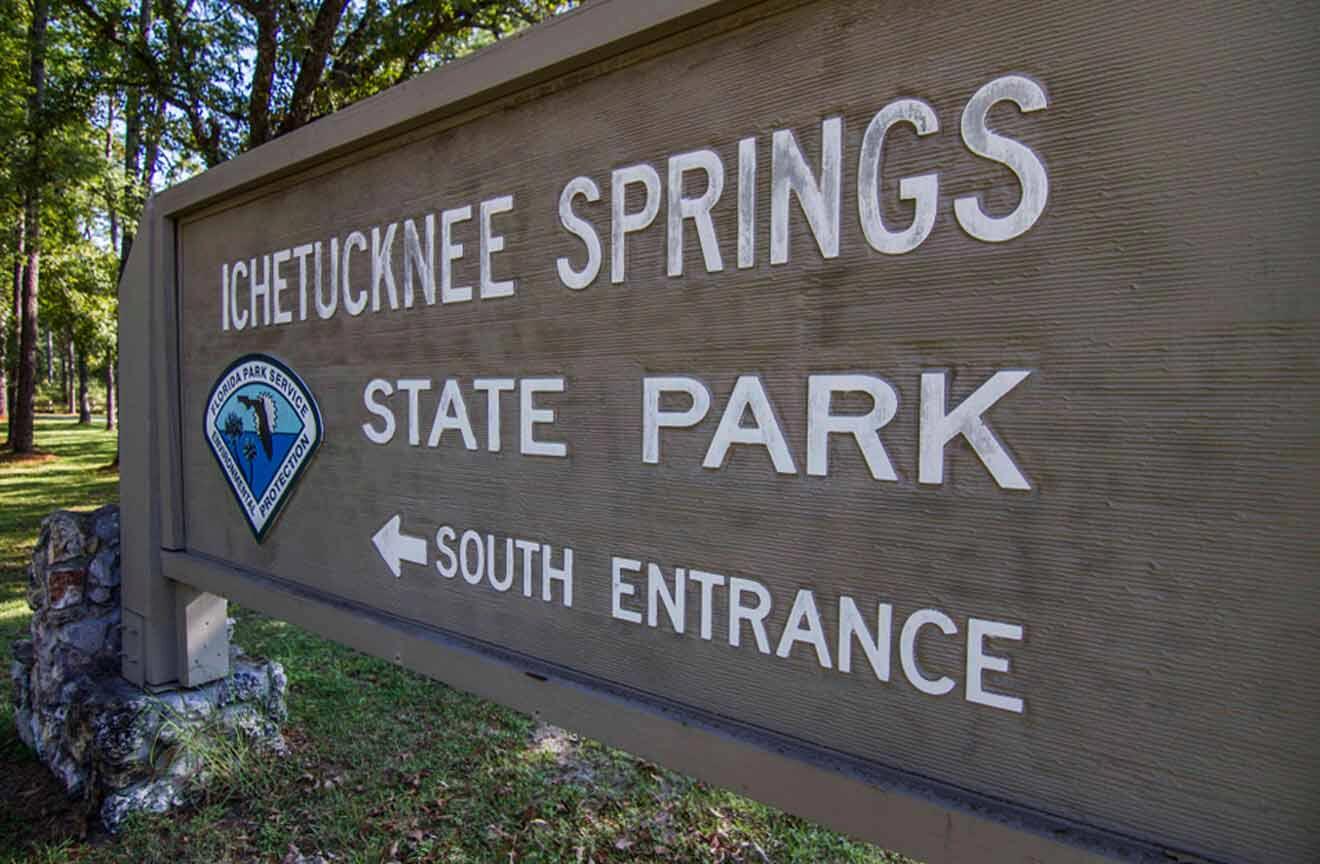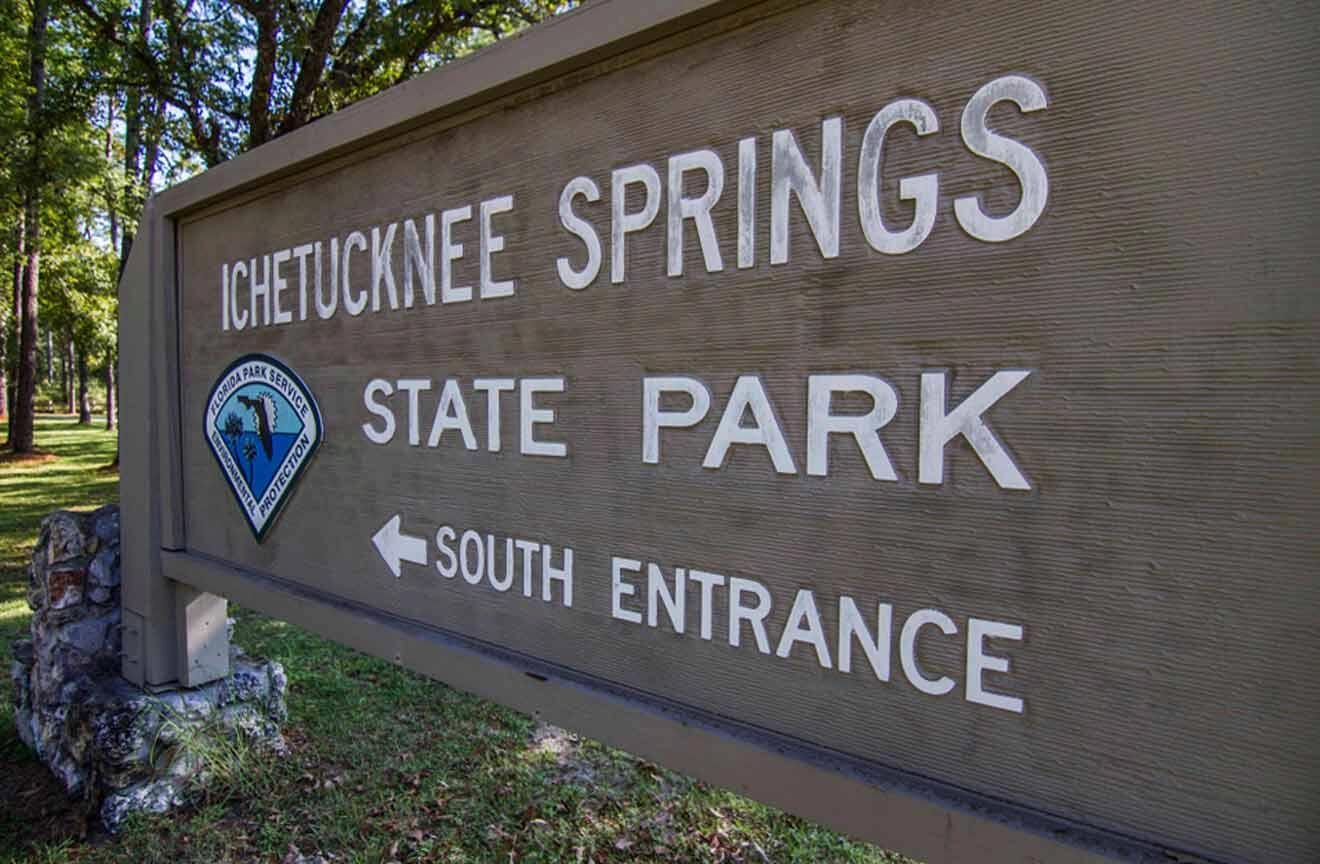 When it comes to admission, you are charged on a per-vehicle basis. It costs US$6 per vehicle holding between 2-8 people.
If you are traveling in your car alone, it is only US$4 to enter.
If you're on a motorcycle, regardless if you are alone or have a partner, it also costs US$4 to enter. Traveling by foot or on a bike? It only costs US$2 to enter!
However, if you have plans to do any water sports, there are additional fees to keep in mind:
The prices for tubing range anywhere from US$7-US$30
Renting a kayak, single or tandem costs US$25
For paddleboards, it costs around US$40 and up, and for canoes, it costs US$45
There are also shuttle and tram options available at the park concession stand. You can purchase your tickets and wristbands from the concession area adjacent to the parking lot at the south entrance of Ichetucknee Springs State Park.
5. How long does it take to tube down the Ichetucknee River?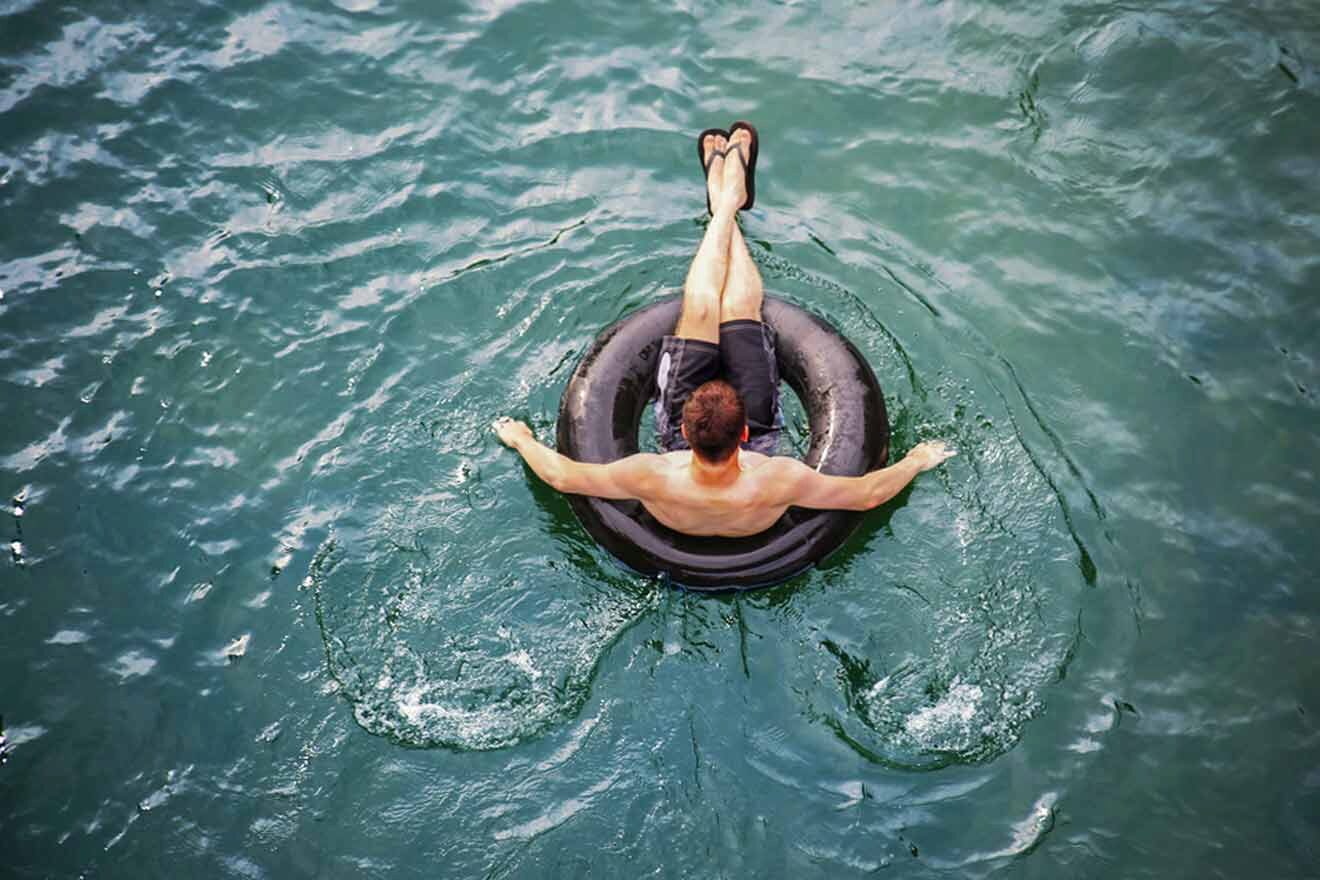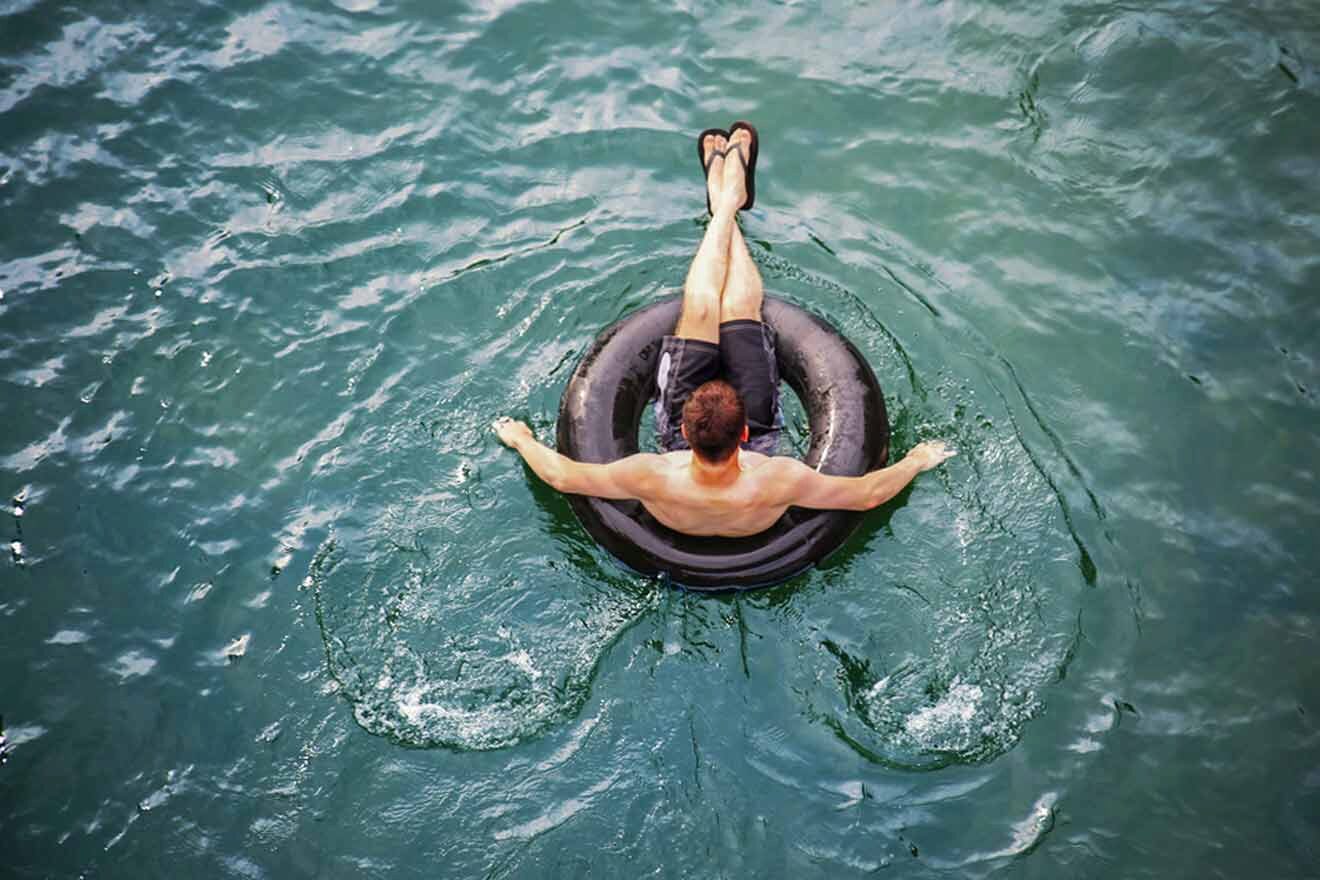 Enjoying warm weather tubing on the Ichetucknee River is a classic experience you are not going to want to miss out on during your visit.
After you dip into the crystal clear waters of the various spring heads, get ready for a leisurely tube down the river where you can float away all your worries.
It takes around 2 hours to complete the tubing journey on the Ichetucknee River. To return back to the park, you will have to float down to the exit sign that reads "The Last Take Out," and a tram service will bring you back to the entrance.
If you don't want to tube down the river for 2 hours, there is also an exit at the midpoint mark, around 45 minutes in. This early exit is called "Dampier's Landing."
NOTE: If you do feel like taking advantage of the Dampier's Landing exit, keep in mind there is no shuttle, and you will have to walk back to the south parking lot.
6. Are there alligators at Ichetucknee Springs State Park?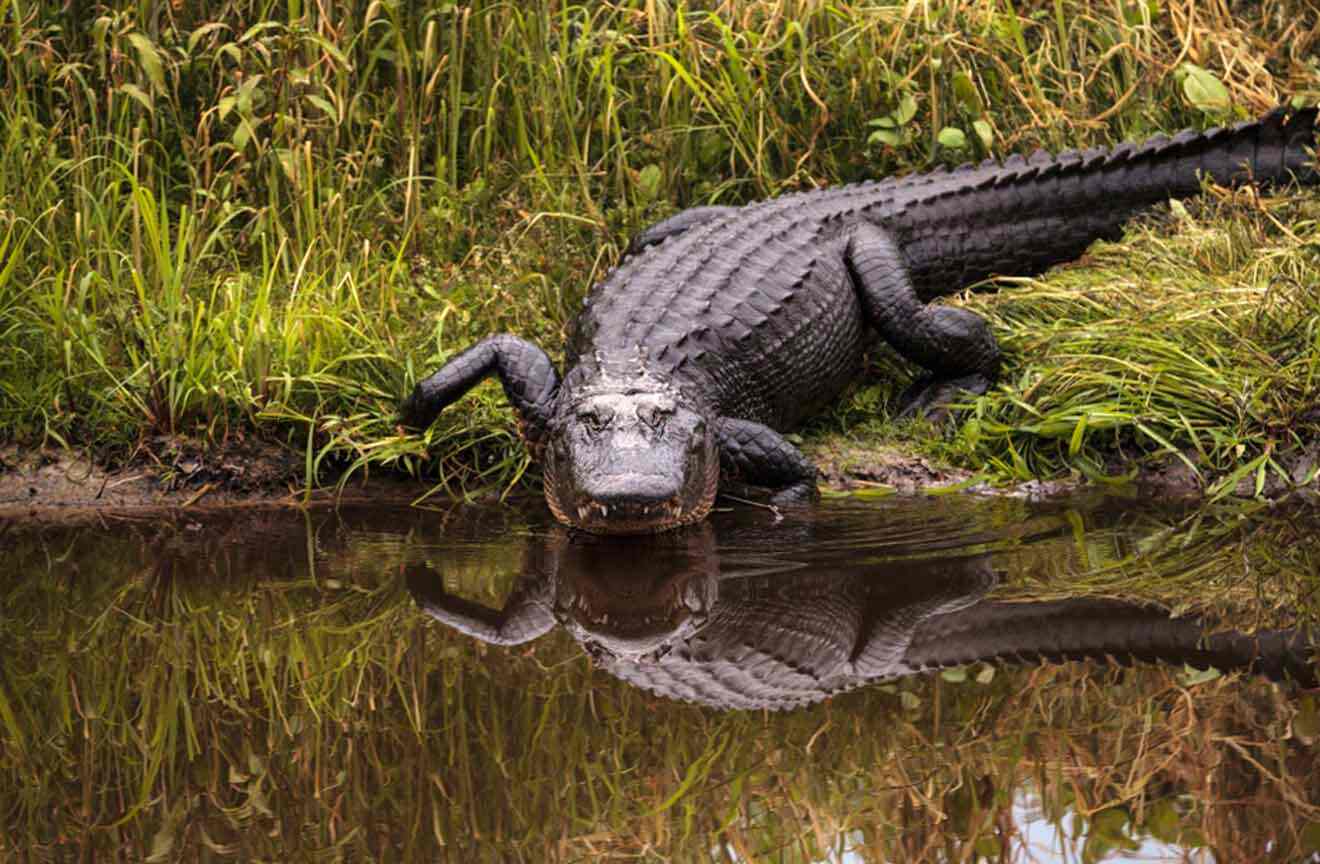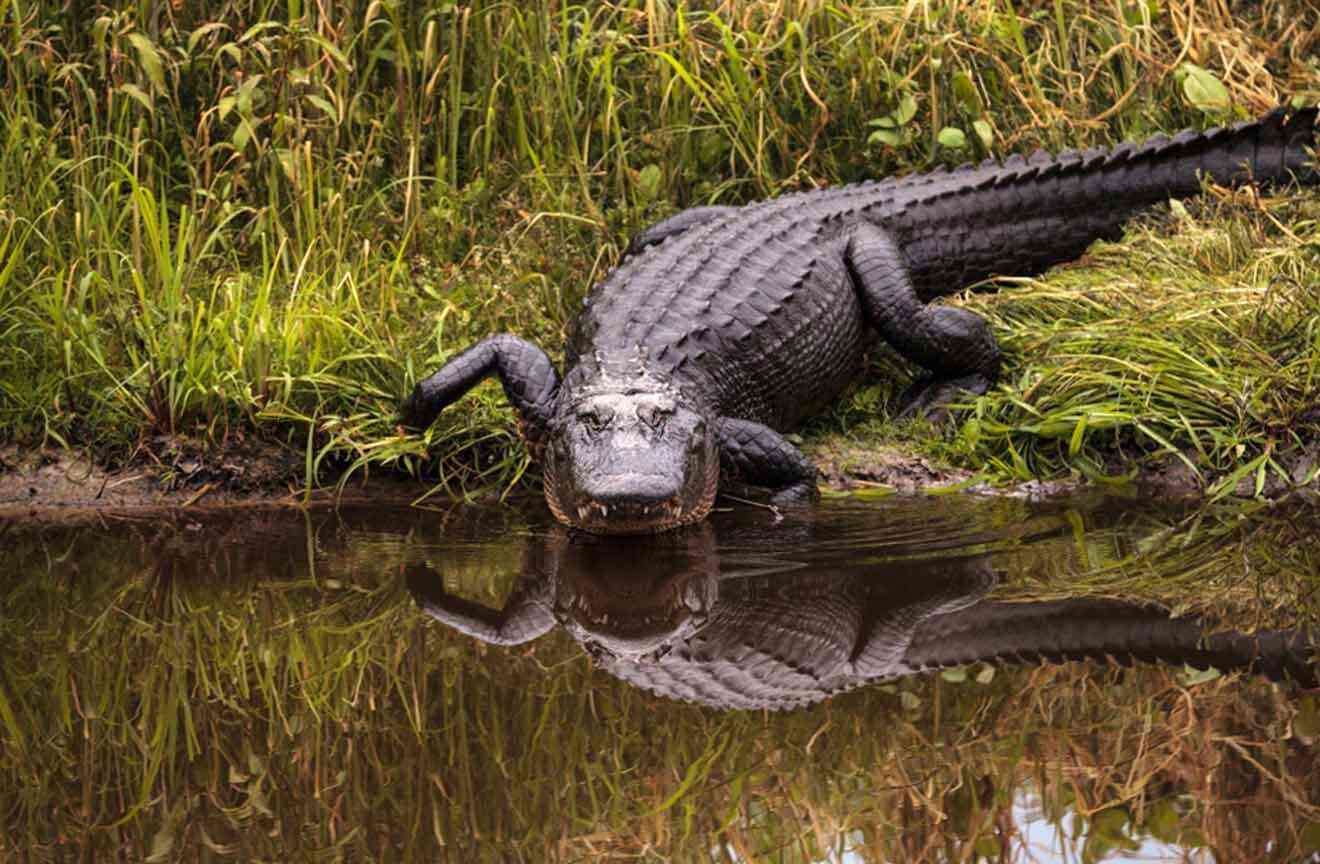 Probably one of the most frequently asked questions people ask when visiting any Florida springs is, "Are there alligators in the water?"
This is a valid question, as there are literally millions of alligators in the state of Florida!
The short answer is yes. Wherever there is freshwater in Florida, it is safe to assume that there are alligators. However, don't let that deter you!
Alligators are typically very timid and are more afraid of you than you are of them. Plus, they don't like the crystal clear waters you find at the Florida Springs. They prefer dark and murky waters.
They are also most active when the temperatures are in the 80s and 90s (around 30 C). Eventually, the spring-fed Ichetucknee River merges with the Santa Fe River. Here the water changes and it is more likely that you will see alligators in this environment.
As always, when enjoying the bounty, beauty, and glory of Florida's natural springs and lazy rivers, keep your wits about yourself, and be mindful and attentive. Always be respectful of the wildlife you encounter, keep your distance, don't litter, and leave wild spaces just as they were when you found them.
Just use common sense, stay alert, and be respectful.
Remember, these animals have been inhabiting these habitats for thousands, if not millions, of years. It was their home first. We must respect them and their environment!
7. Does it get crowded at Ichetucknee Springs?
During the summer months, people from all over the Sunshine State flock to Ichetucknee Springs.
So yes! It can get pretty packed at Ichetucknee Springs.
In fact, pretty much every Florida spring can get overcrowded relatively quickly. This is why I recommend getting there as early as possible to secure your spot in the park.
On Memorial Day, this Florida state park has been known to attract as many as 10,000 people! Needless to say, I would avoid this park on holidays.
Also, the park is huge, so even if the park is crowded, there is plenty of space for everyone to enjoy the incredible nature that this park has to offer.
In the summer, on a typical weekend, this park is known to attract around 3,000 people. During spring break and summertime, the park is usually at its most crowded.
The park opens at 8 AM, and you should plan for about 4 hours at minimum to enjoy this park. As I mentioned earlier, plan to get there before the park opens in order to secure your spot in the park. When the park reaches capacity, they will turn everyone away.
PRO TIP: If you can, plan to go to Ichetucknee Springs on the weekdays. It will be much easier to enter the park and not deal with huge crowds!
8. Enjoying water sports at Ichetucknee Springs State Park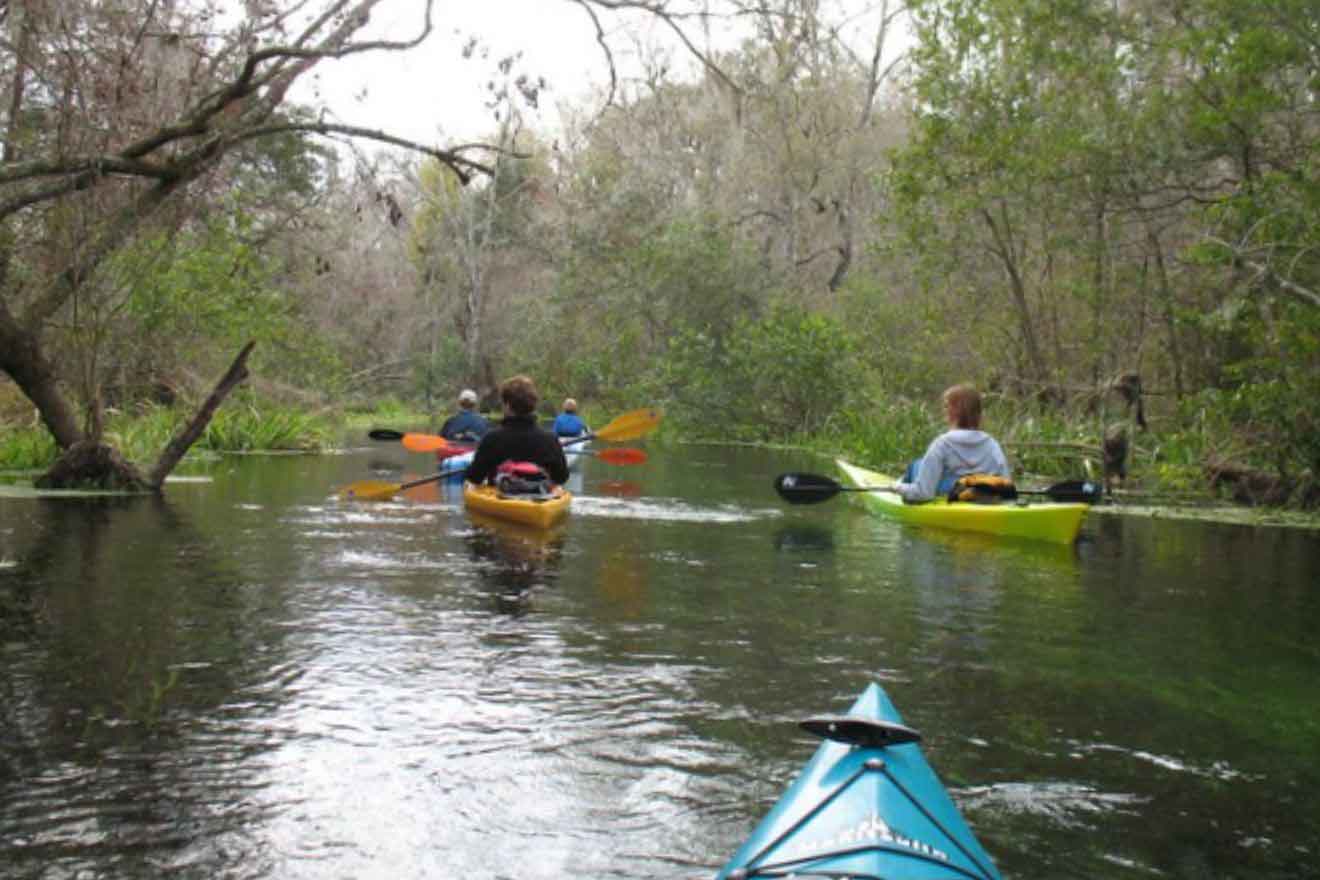 We have arrived at the part of the article everyone's been waiting for – water sports!
One of the best parts of visiting Ichetucknee Springs (and many of the other Florida State Parks) is that there are endless things to do here. Kayaking, canoeing, paddling, and tubing are all super awesome ways to get a more intimate experience at this north Florida gem of a state park!
When you're on a boat, kayak, or paddling, there's a high chance you will see some manatees, otters, turtles, and other unique Florida wildlife.
Not to mention the incredible views of ancient, Spanish moss-draped cypress trees, ferns, palm trees, and all sorts of gorgeous Florida flora and fauna.
Kayaking and paddling from the north or south end is available year-round and is one of my favorite ways to experience Ichetucknee Springs.
You may be surprised to learn that you can scuba dive at Ichetucknee Springs! However, the only permitted area for scuba diving is in the Blue Hole Spring. However, you have to be cave certified to scuba dive the Blue Hole Spring.
Scuba diving is not allowed in the river or in any of the other springs at Ichetucknee. Also, keep in mind, divers have to be out of the water an hour before sunset, and it's a half-mile trail to the Blue Hole Spring.
Snorkeling is also allowed in designated areas throughout Ichetucknee Springs State Park. The best parts of the park to go snorkeling in are obviously in the springs, where the water is crystal clear.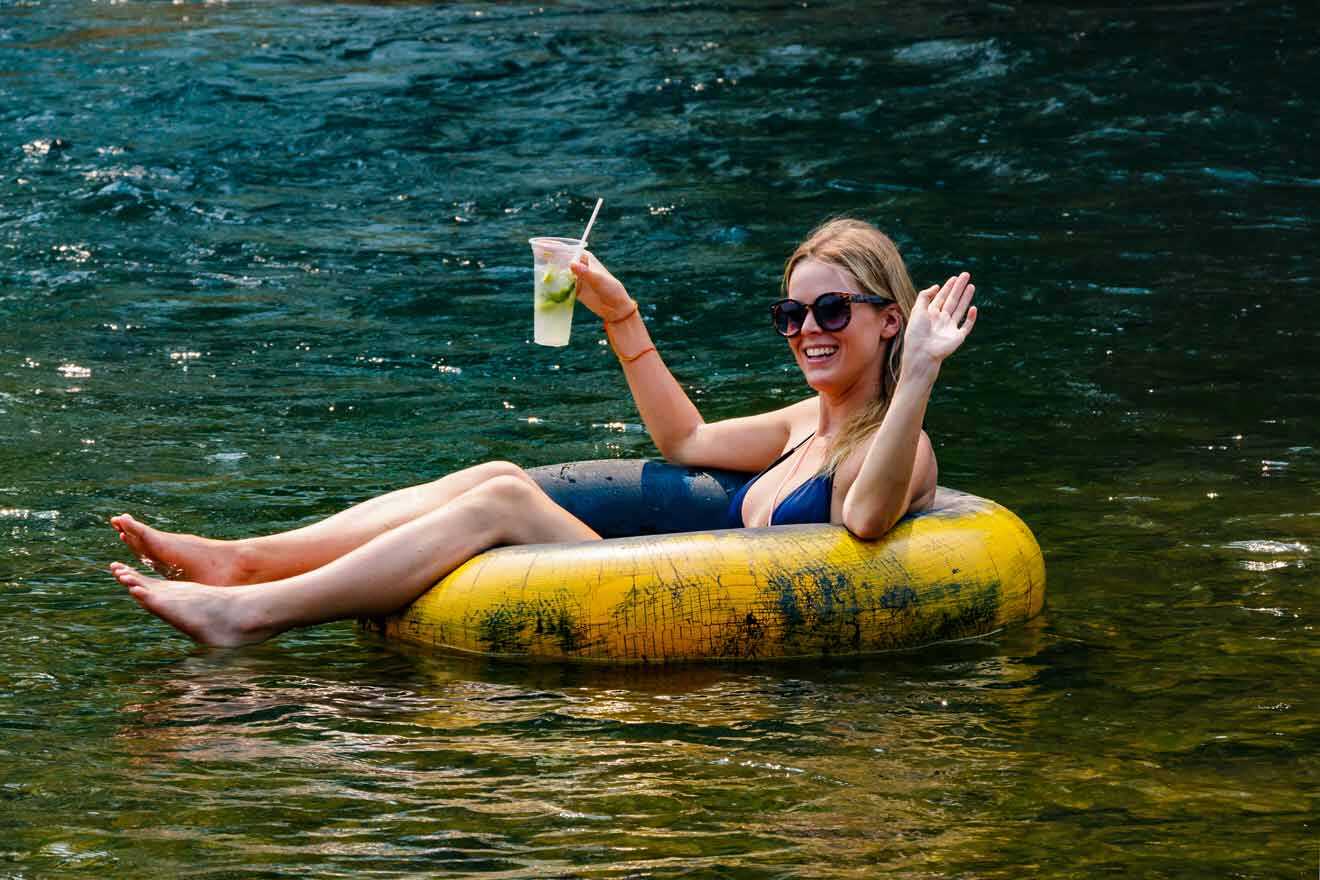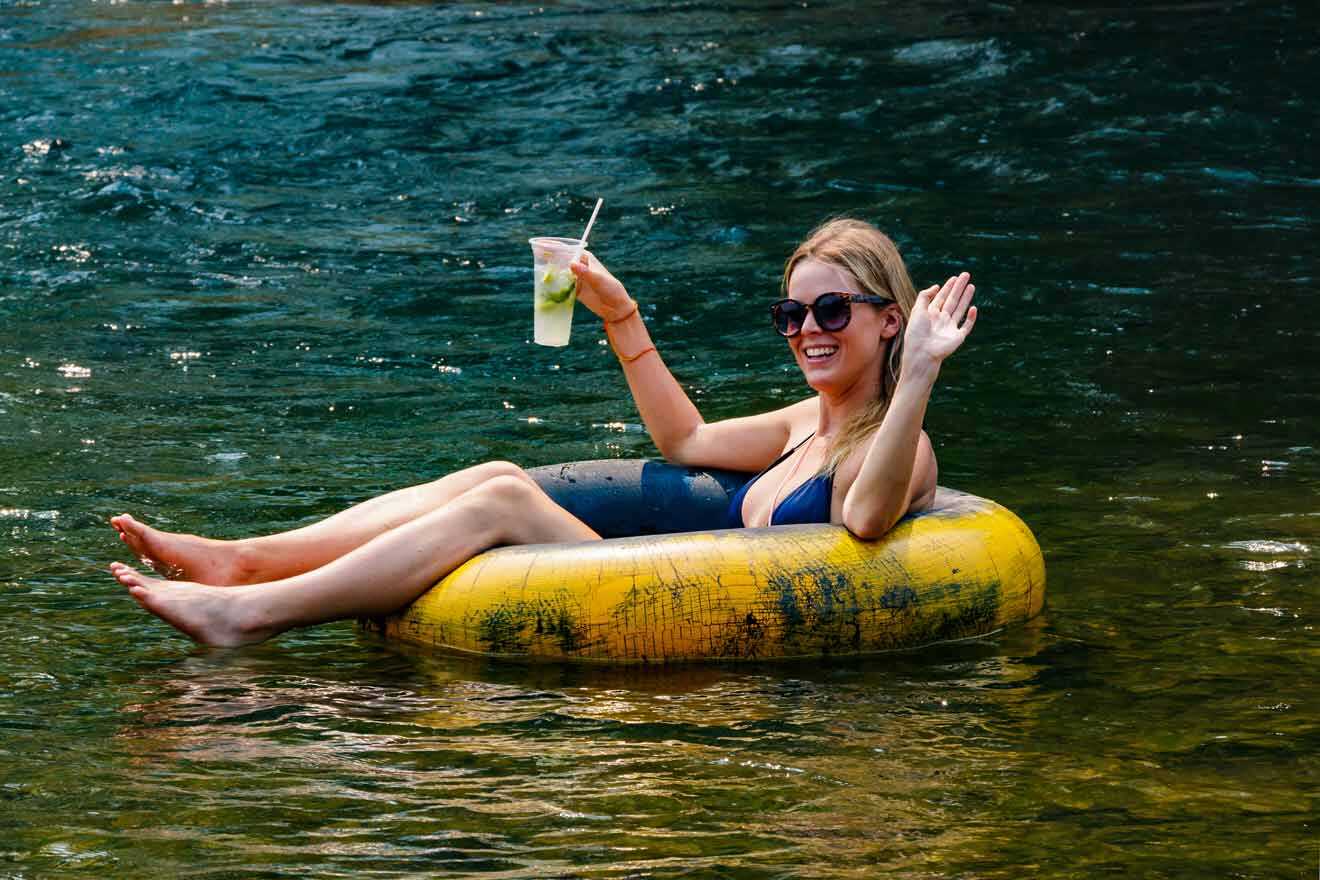 However, let's get into tubing! Tubing is by far one of the most popular things to do at this state park.
Tubes are available for rent here, or you can bring your own. Remember, if you choose to bring your own, the tube cannot exceed 60 inches in any direction.
Bear in mind that food, drinks, alcohol, tobacco, and fishing are prohibited while on the water. This keeps the wildlife safe and the area clean!
Finally, let's get into swimming! Swimming at Ichetucknee is a super fun activity that you don't want to miss on your visit. However, keep in mind that swimming at Ichetucknee is at your own risk. There is no lifeguard on duty.
The park is available for swimming and snorkeling every day of the year from 8 AM to sundown. Swimmers and snorkelers are encouraged to swim at the head springs.
NOTE: Blue Hole Spring is very deep and you should only swim there if you are very confident in your swimming skills. There is also a strong current!
9. Camping & hotels at Ichetucknee Springs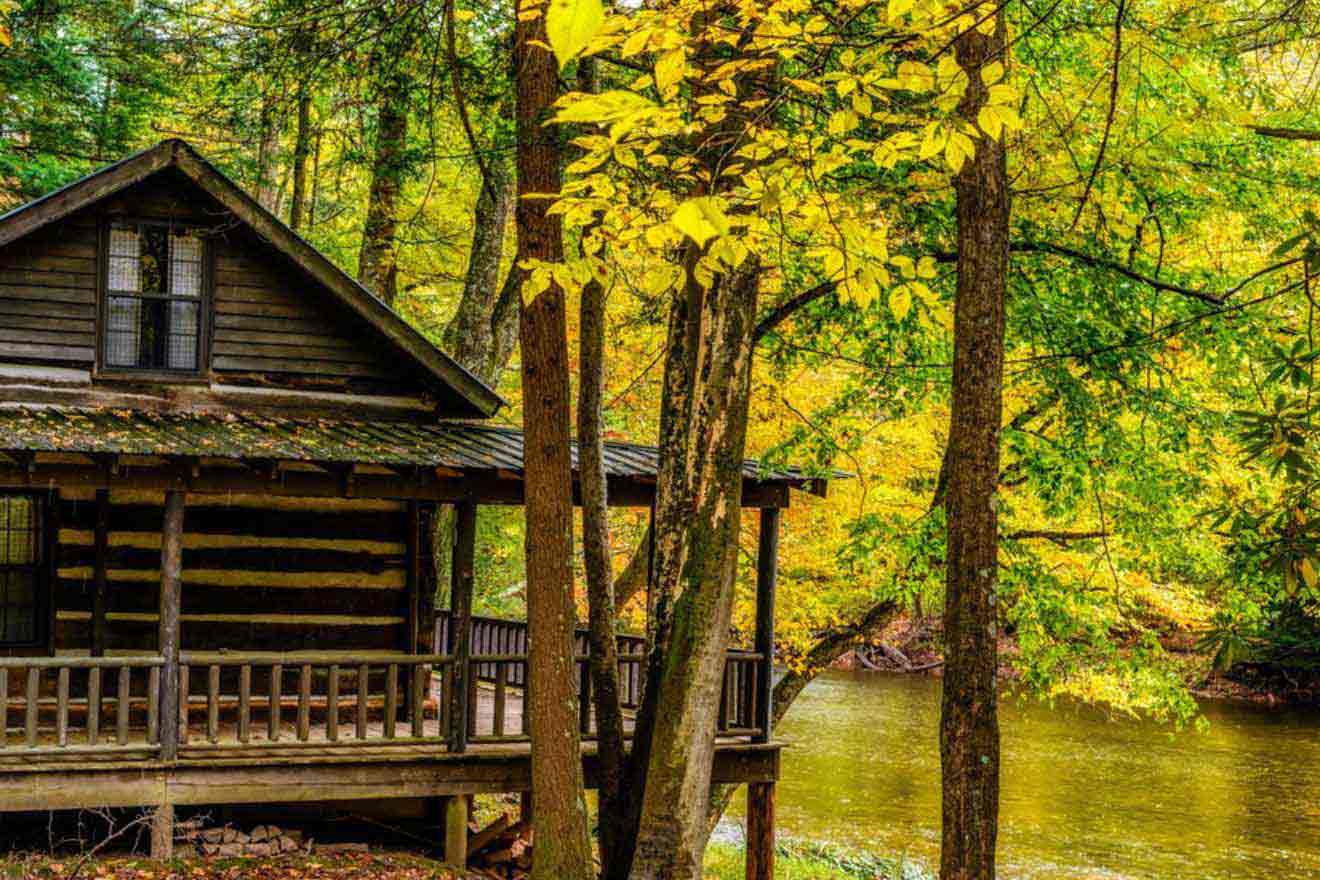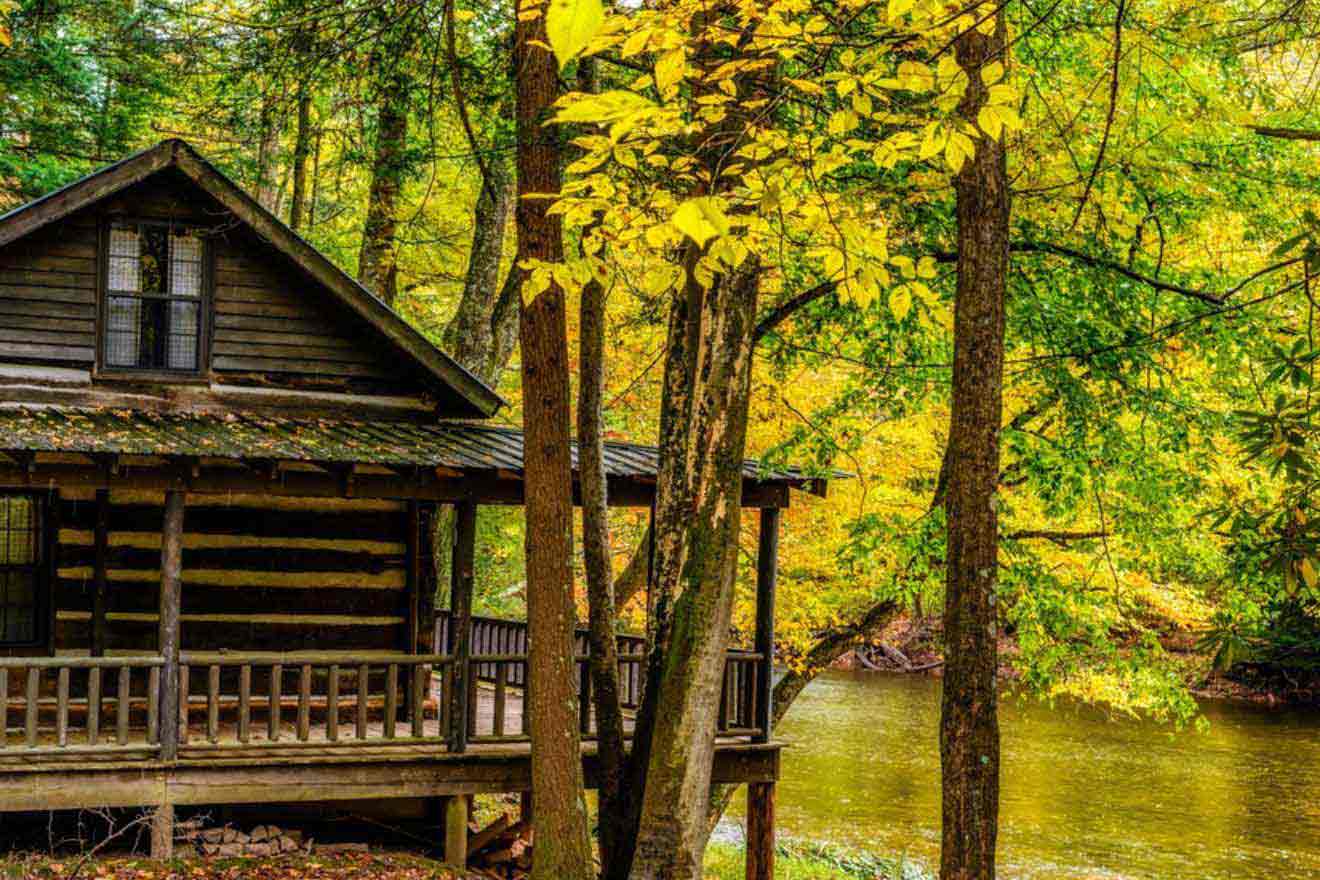 The campground was established over 40 years ago and is absolutely stunning. Surrounded by ancient Live Oaks draped in Spanish Moss, lush green foliage, and incredible views, the campground at Ichetucknee Springs is stunning.
There are plenty of amenities to make you feel comfortable during your stay. Also, the campsite is only five minutes from the North entrance of the park!
I recommend camping with a primitive tent to get the ultimate natural experience on your visit to Ichetucknee.
There is no food and water, but there are picnic tables and a fire ring. There is also the option to camp with electricity and have access to community water.
RV sites are also readily available with 30 AMP electric hookups and water.
Among some of the campground amenities are "The Sunny Shack," which has plenty of yummy snacks, tube rentals, a community bonfire, firewood, ice, a camp store, and a dump station.
Check-in is at 3 PM, and check-out is at 2 PM!
PRICE: for primitive US$20, US$35 for a tent with access to electricity, and US$40 to park your RV.
Alternatively, if you're looking for a really nice hotel stay, I recommend staying at Fort White Retreat! The property has direct river access and it's just 9 miles (14 km) from Ichetucknee Springs. It's got 3 bedrooms so perfect for the whole family! You can also check out our other post on the 15 most amazing Ichetucknee Springs cabin rentals!
10. Tips and pointers for visiting Ichetucknee Springs State Park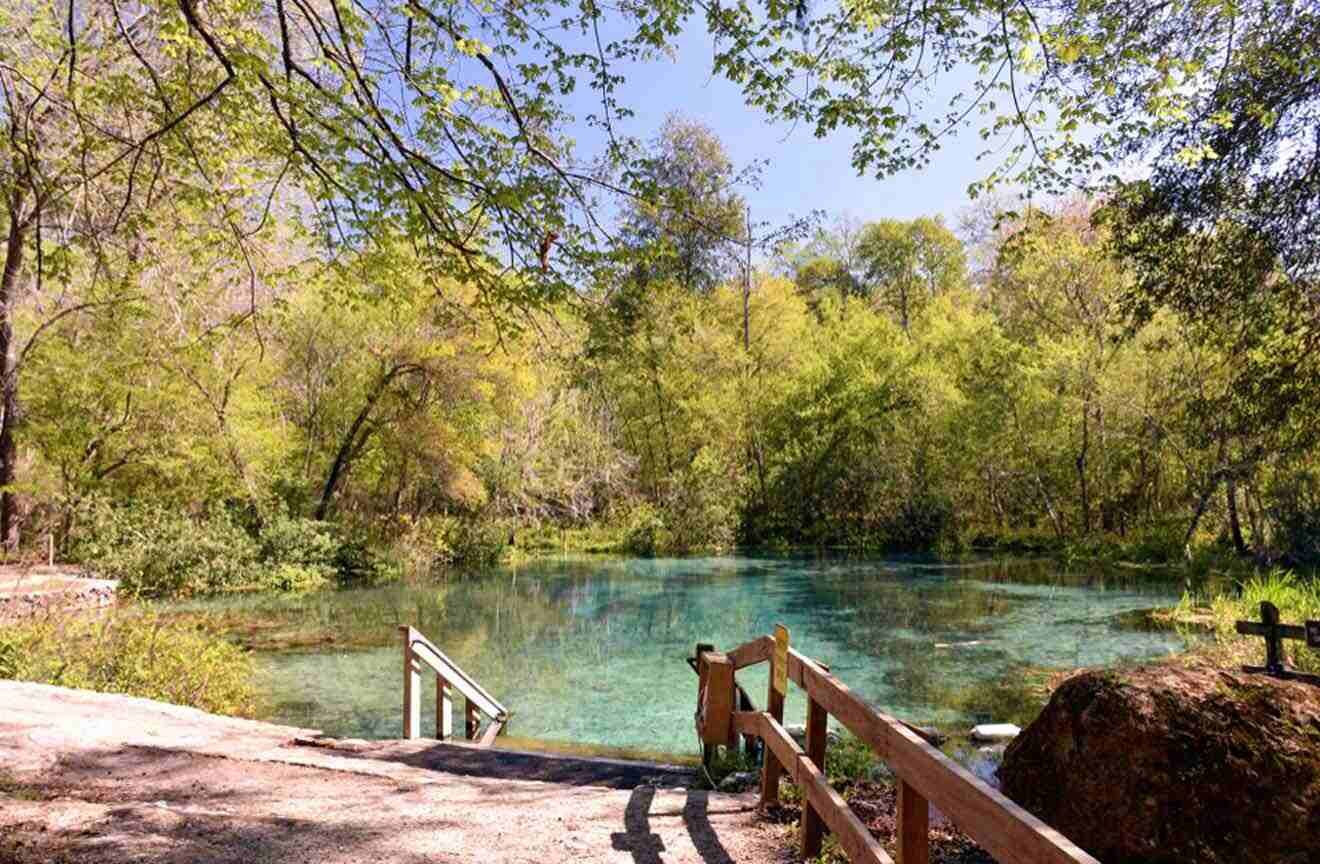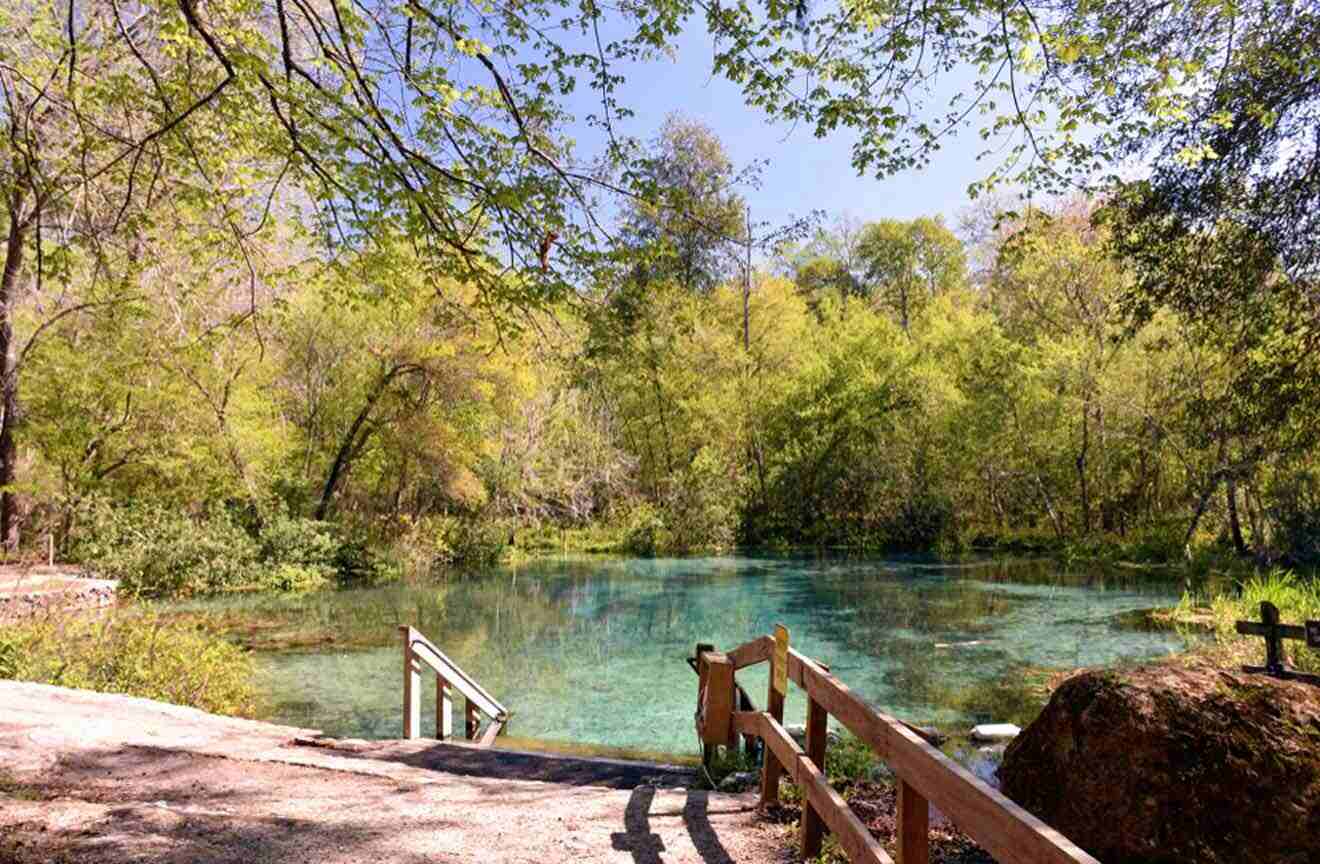 Bring your own water sports and transport gear to save money. If you have snorkeling and diving equipment, a kayak, a paddle board, etc., you will end up saving a lot of money if you bring your own!
Bring a waterproof bag for your phone, keys, wallet, etc
Do note that the north entrance is usually only open for tubing from Memorial Day to Labor Day
Water shoes will make your life easier
For the little ones, bring some arm floaties for maximum fun and safety!
There is no food, drinks, alcoholic beverages, or smoking allowed on the river in order to keep the ecosystem thriving and healthy
Wear a non-toxic, chemical-free, reef-safe sunscreen so as to not disturb the delicate local ecology of the area
| | |
| --- | --- |
| 👪 Family-friendly score: | High |
| 🏊 Best place to swim: | Blue Hole Spring |
| 🚶🏽‍♂️ Best budget activity: | Hike the nature trails |
| 👧 Best attraction for kids: | Tubing! |
FAQs about Ichetucknee Springs State Park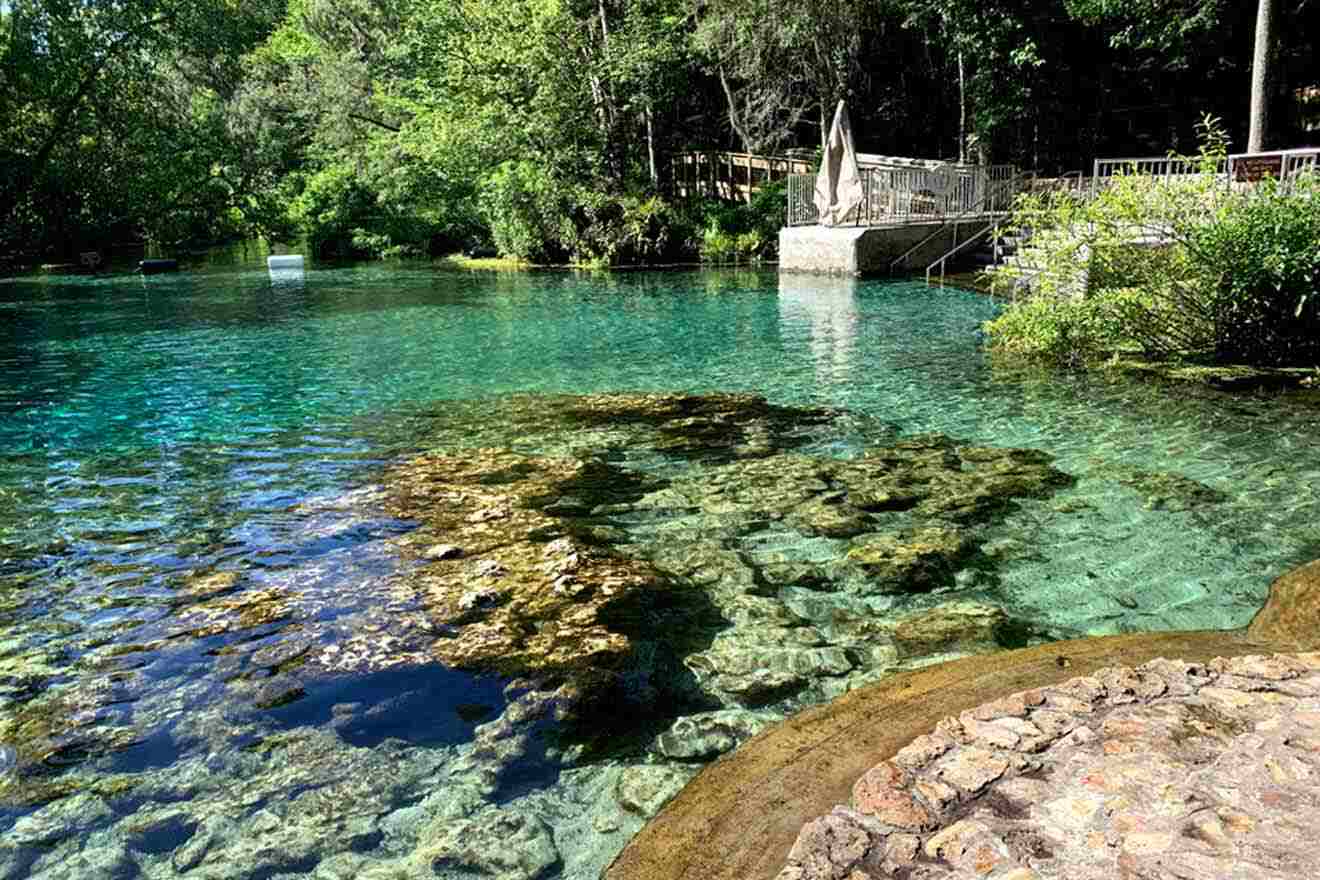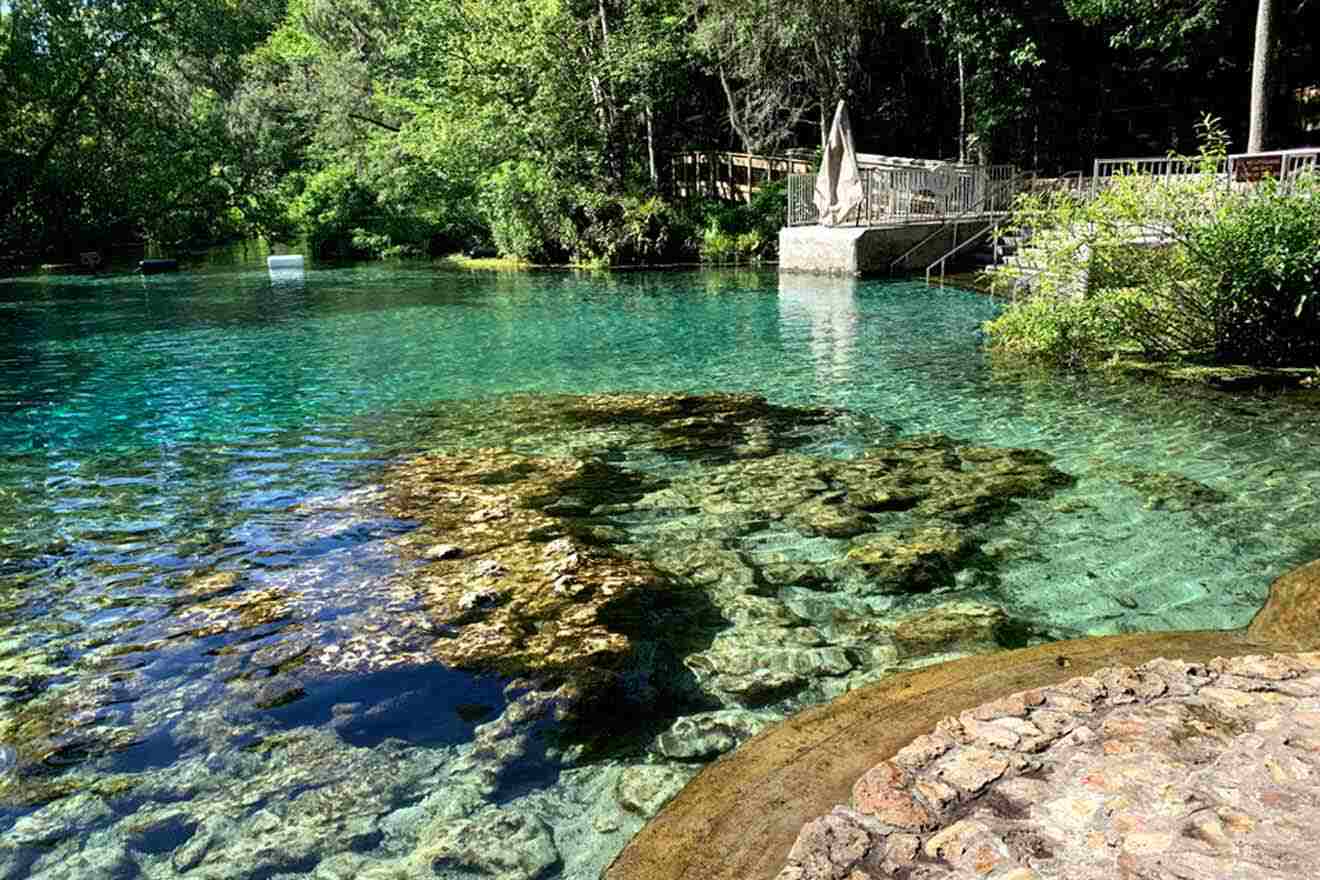 🩱 What can you do at Ichetucknee Springs State Park?
This gorgeous state park is perfect for tubing, swimming, kayaking, canoeing, paddling, hiking, snorkeling, and camping!
🐟 How deep is the Blue Hole at Ichetucknee Springs?
This first magnitude spring head pumps a whopping 67 million gallons of fresh spring water per day. In the center of the spring, the depth reaches up to 40 feet! There is also an extensive cave system lurking in the depths of this magnificent spring.
💦 Can you see manatees at Ichetucknee Springs?
Yes! Absolutely. Manatees love the springs in the Sunshine State. You can find manatees in any FL spring year-round, but the odds are higher in the winter months as they migrate en masse to the springs for the warm fresh waters that stay at a constant temperature of 72 degrees.
🌴 What is the closest town to Ichetucknee Springs?
The closest town is Fort White, northwest of Gainesville.
Conclusion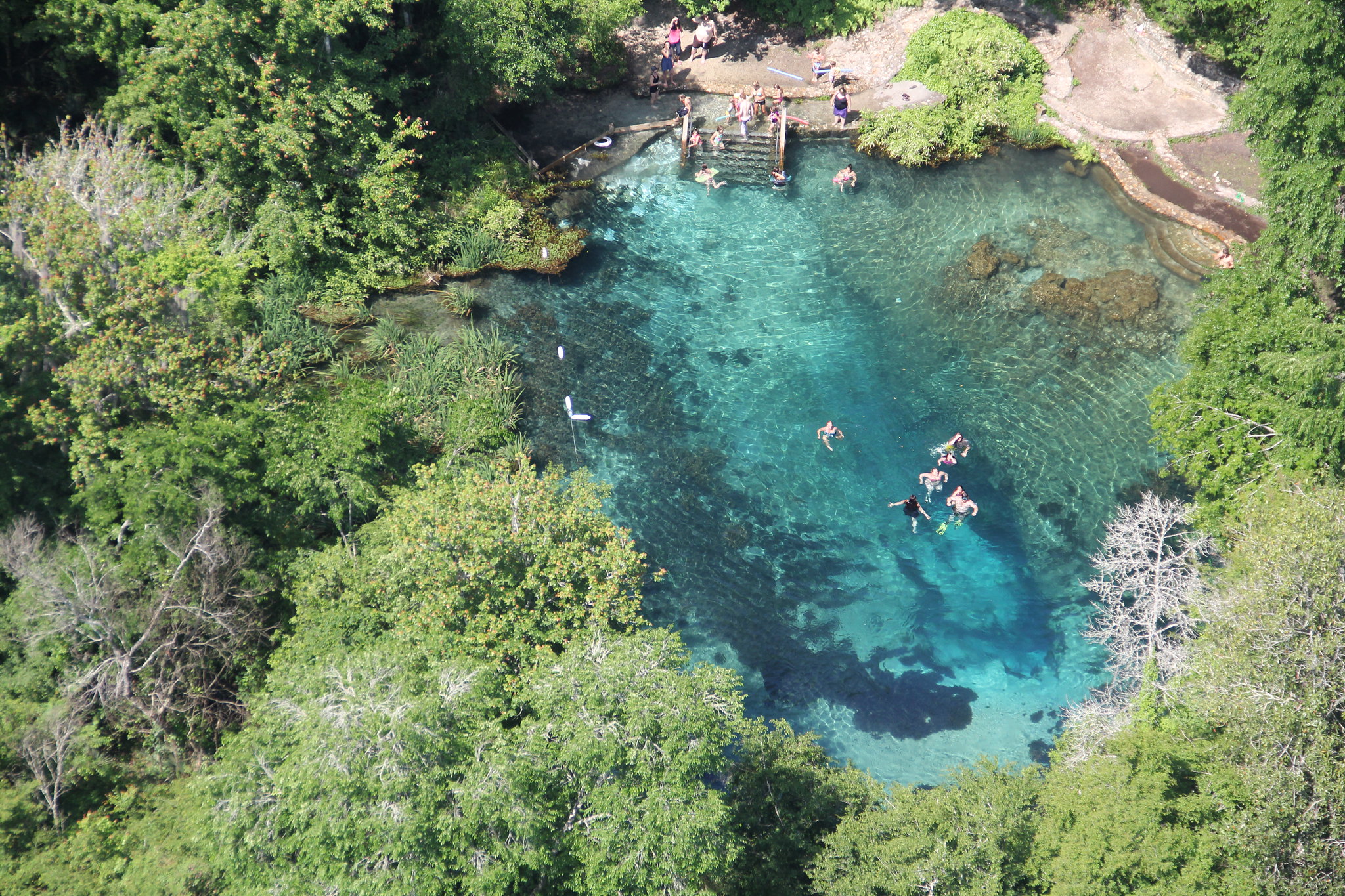 There you have it! Your ultimate guide to Ichetucknee Springs State Park!
Whether you go swimming in the head spring, go scuba diving in the depths of the Blue Hole, hike through the lush canopies, get some rented tubes, or just swim in the pristine waters, I know you will have an unforgettable time at this gorgeous slice of paradise.
This is the perfect outing for families, friends, a couple, or for a special occasion. Visiting this incredible spring is 100% worth the hype!
Plan a trip here in early September or between Memorial and Labor Day for some of the best weather and access to all the fun water activities.
With Love and Gratitude,
Amira G
---
Pin it for later!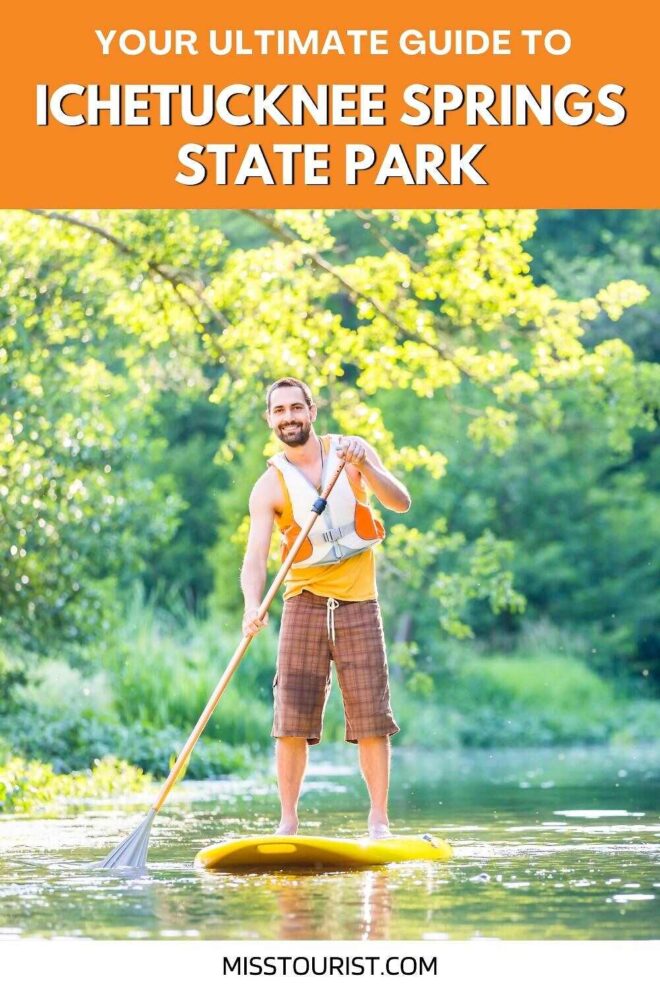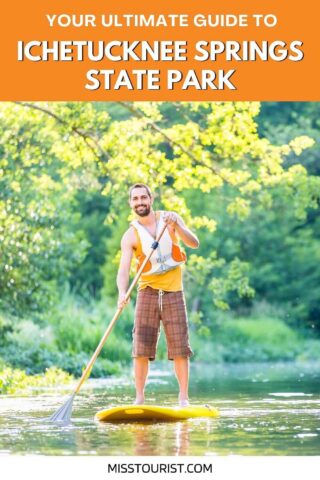 Pin it for later!