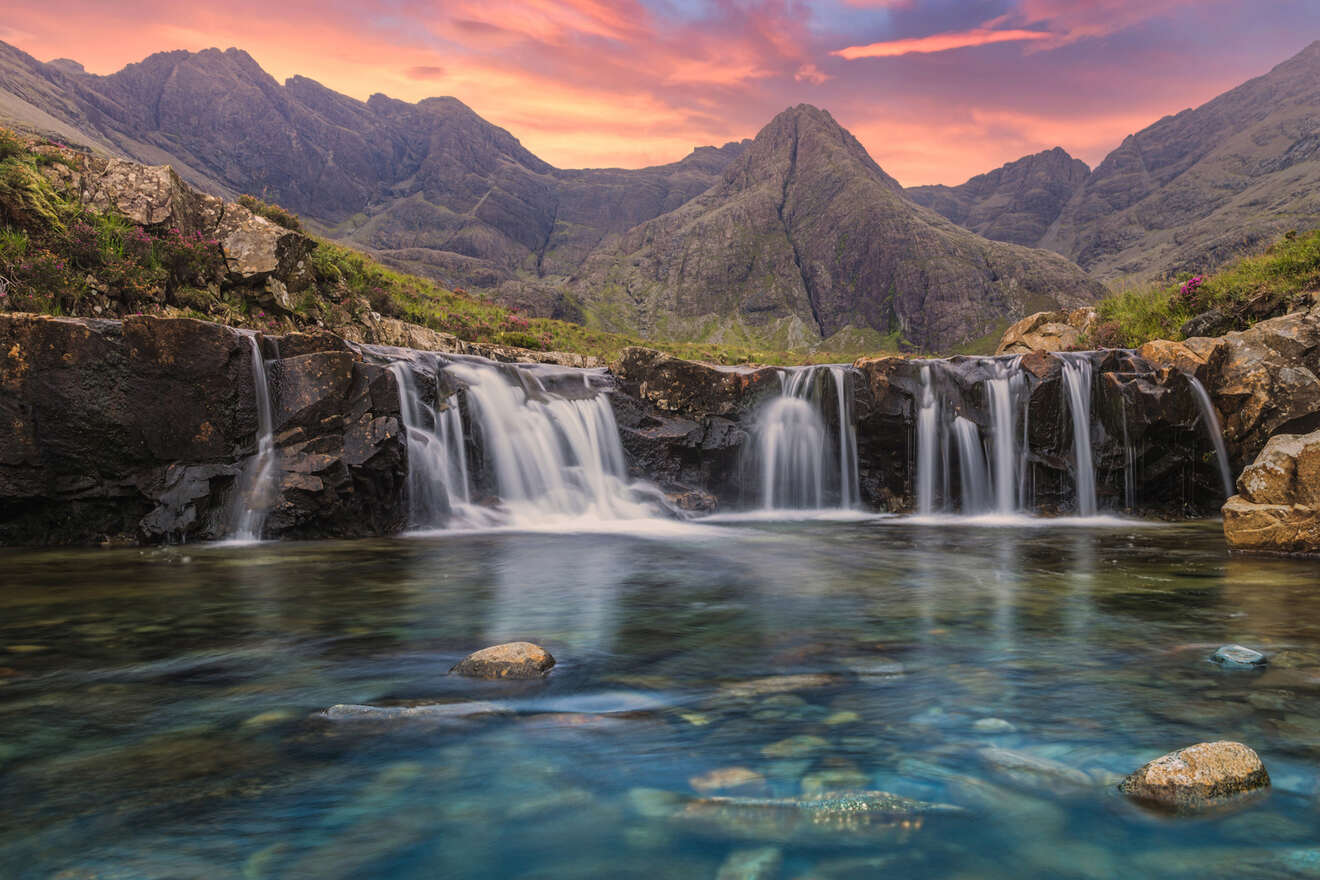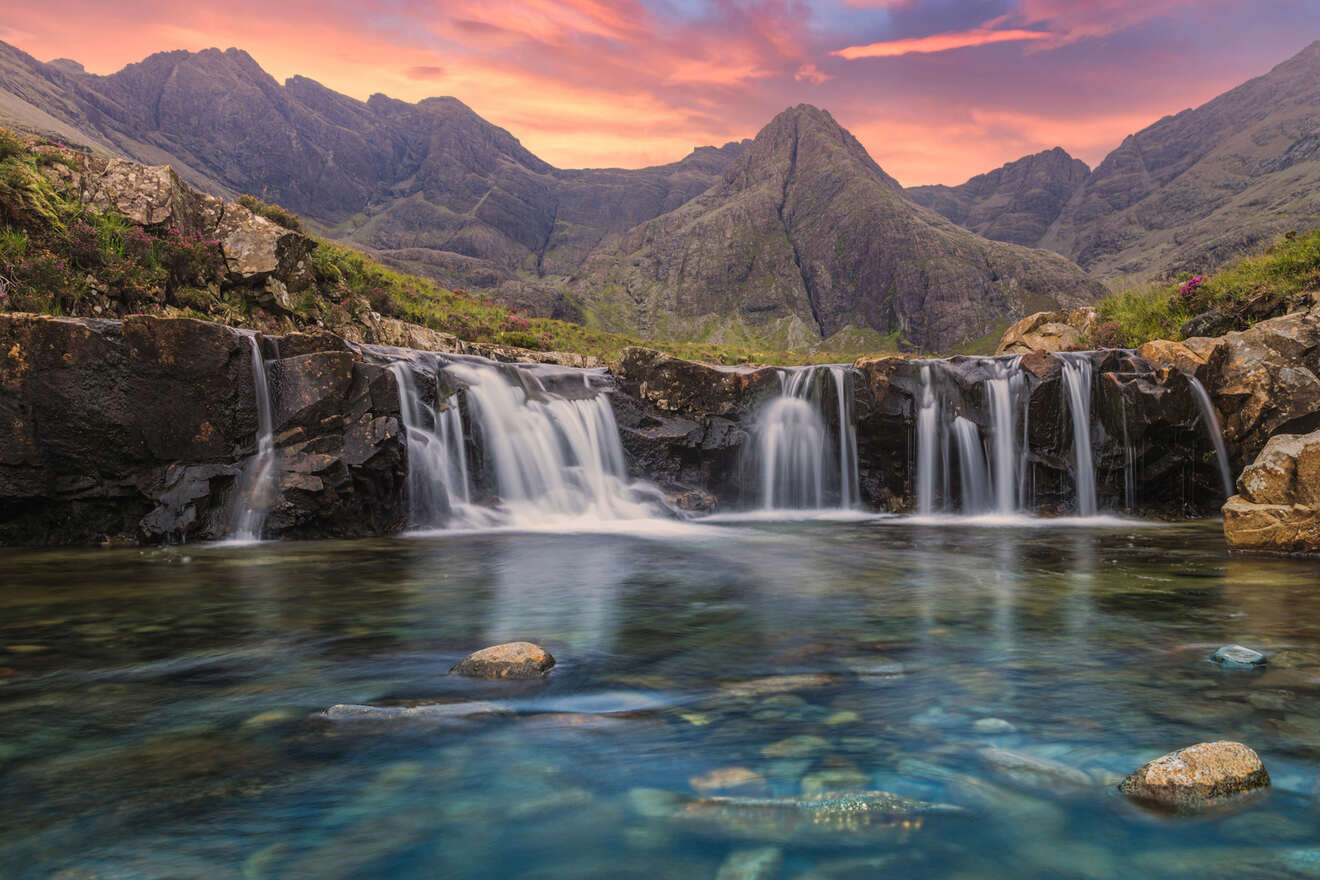 Enchanted lands, fairies, medieval castles, and dramatic landscapes! Just a sneak peek of what's waiting for you on the magical Isle of Skye in Scotland! Scroll below, and you'll find more exciting details!
The best place where to stay on the Isle of Skye is Portree. This is the island's main city, and it has the biggest concentration of hotels while offering easy access to all the attractions.
But of course, I've got more to come in this post! Specifically, 5 more towns that outdoor enthusiasts, history lovers, people who seek relaxation, those who want to see the Fairy Glen, and beach lovers will find simply stunning! So stick around to read all about Broadford, Dunvegan, Edinbane, Uig, and Staffin.
Do yourself a favor, and don't scroll past the two fabulous bonuses. I've searched for hours for the top spots on the island, and I've decided to add 3 great romantic hotels and some luxurious 4 and 5-star hotels.
It sounds like a lot, but I figured that with a place like this one, you want to have options. Since most hotels here sell out super fast (the island is super popular), make your reservations in advance to save so much time and money!
Got your cup of tea? Then let's start!
If you are in a hurry
I came prepared for all readers! If you don't have time to go through the whole post, then have a look at the list below. It has the best hotels in Portree for anyone who needs to book right now:
Before we start, check out this map with the best areas to stay on the Isle of Skye so that you can visualize all of them:
1. Portree – where to stay on the Isle of Sky for first time

rs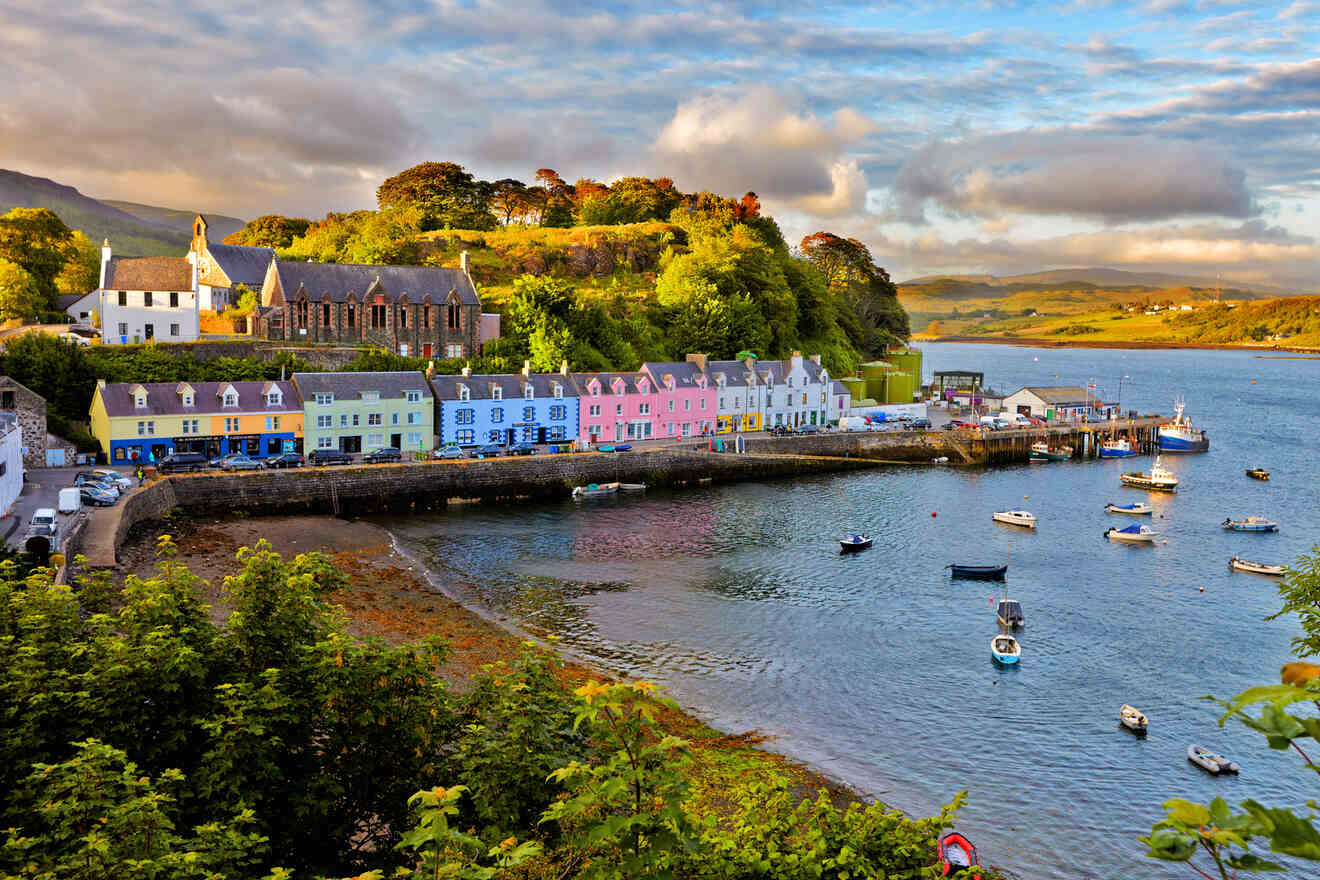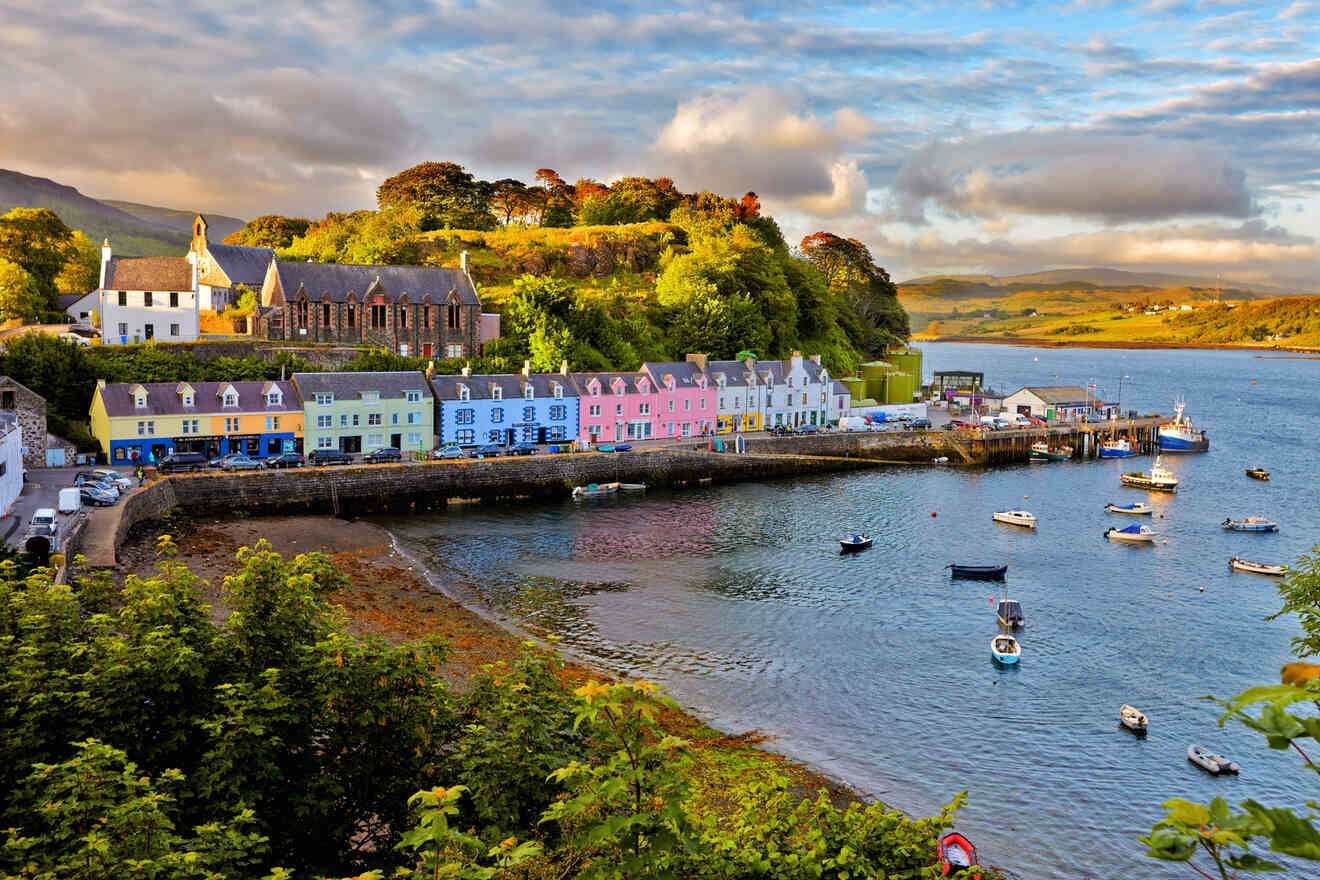 Start your magical trip around this beautiful island in Scotland, in Portree, the main town here and the cultural hub of the Isle of Skye! With a charm like few places, this town's atmosphere and fairytale-like vibe will make you fall in love with it!
Portree is among the first towns you'll pass through after crossing the Skye Bridge if you're coming by car from places like Glasgow. Everyone hurries to get hotels on this side of the island as Portree offers the best of both worlds: a remote location but with plenty of urban facilities like great restaurants, shops, and pubs!
Of course, this city is surrounded by natural beauty, sea views, and many attractions!
Out of all the towns on the Isle of Skye, Portree has the largest population and biggest concentration of hotels. However, since most tourists want to stay here, I'd recommend booking your hotels in advance! I've made a list of the best ones (which you can see below), and trust me, these will sell out in a second!
NOTE: With daily buses from Glasgow and Inverness, Portree is the most accessible town on the island, so even if you decide to stay somewhere else, you'll probably have to pass by Portree first.
Other accommodation options in Portree
I know that hotels on this side of the island book out months in advance! That's why I wanted to offer some more help to those of you who've missed your chance at one of the amazing hotels on the list above. So here are 3 extra options which are just as good:
Luxury (£250 and up)
The Portree Hotel – Set on the town's main street, this hotel comes with modern furnishings, rooms with a flat-screen tv and coffee makers. Warm up by the wood-burning stove during the chilly days and enjoy some live music and a glass of whisky at their bar!
Budget (up to £90)
Coolin View – Your home away from home! This comfy place is set in a historic building, and it offers comfy beds and rooms with a private bathroom featuring views over the harbor or Coolin Hills!
Rockview – Enjoy the harbor views and your morning coffee on the little patio of this accommodation that has rooms with a private bathroom and sea views. The accommodation also offers free breakfast and a garden!
Things to do in Portree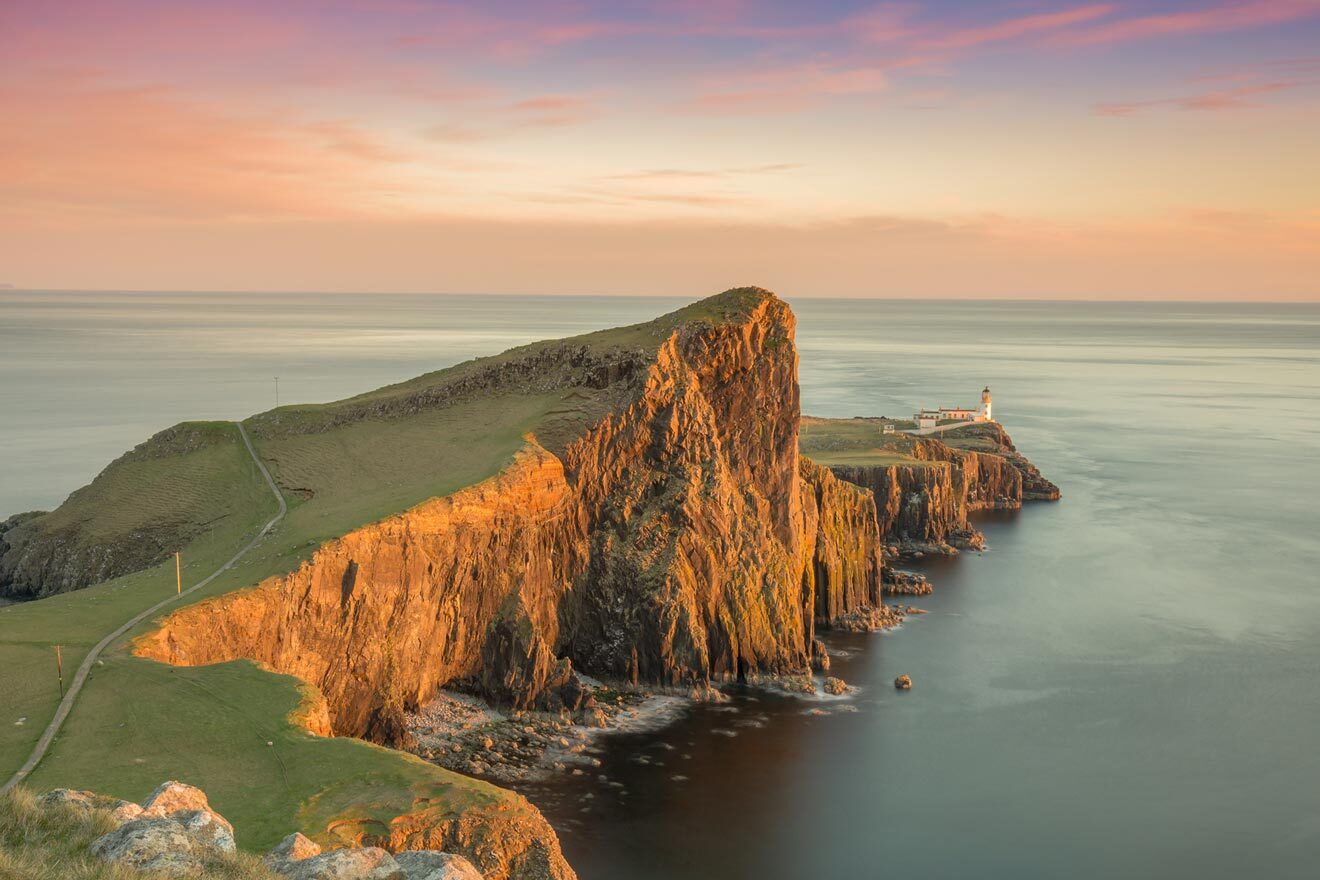 Admire the sea views from The Lump viewpoint
Catch a sunset by Loch Portree
Look for hidden gems at Skye Batiks store
Enjoy some fine dining at Sea Breezes restaurant
Learn new things at the Skye and Lochalsh Archive Centre
Visit the famous fairy pools on a day trip tour from Portree
Go for a walk in the Viewfield Garden Collective
2. Broadford – best place on Isle of Skye for the outdoors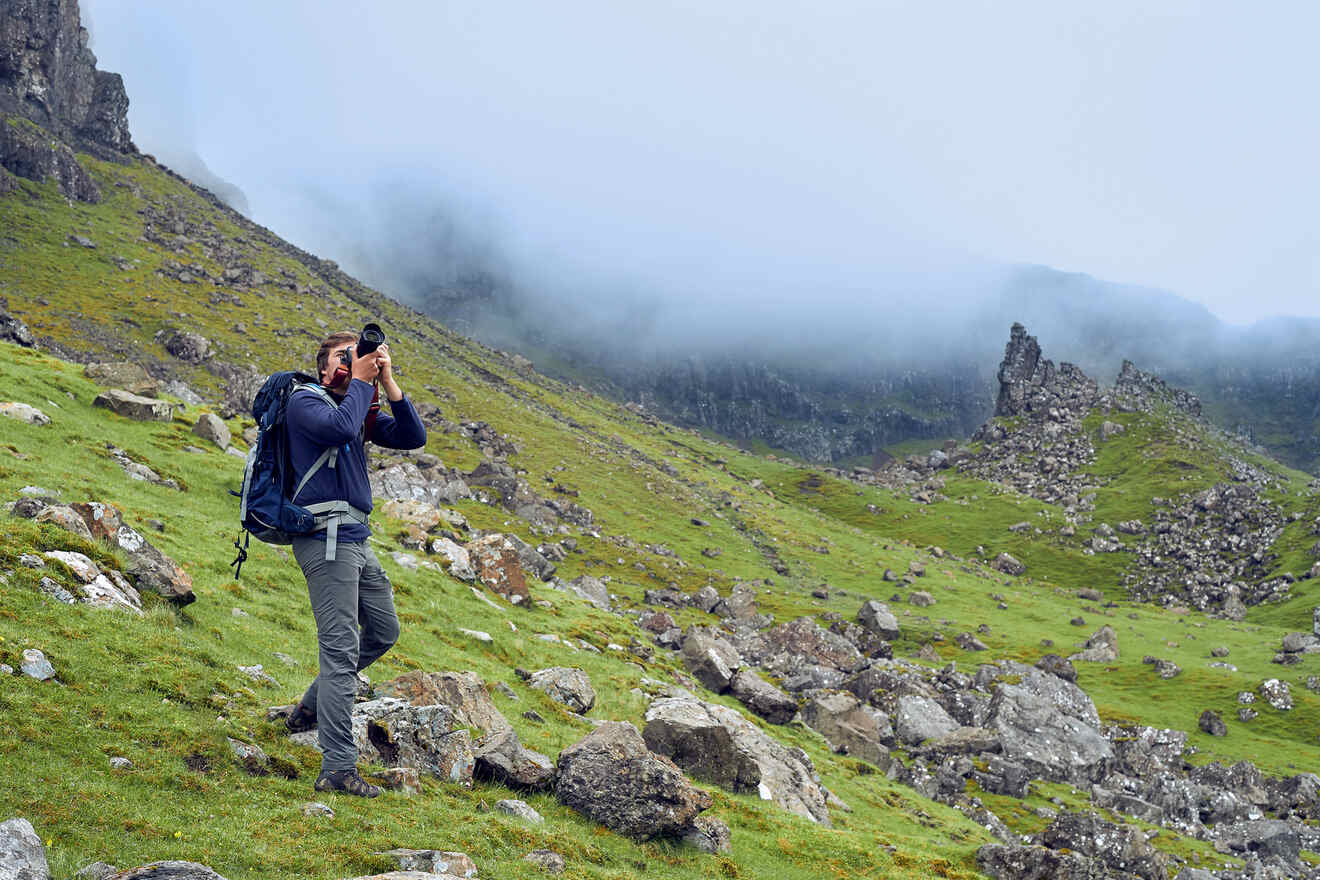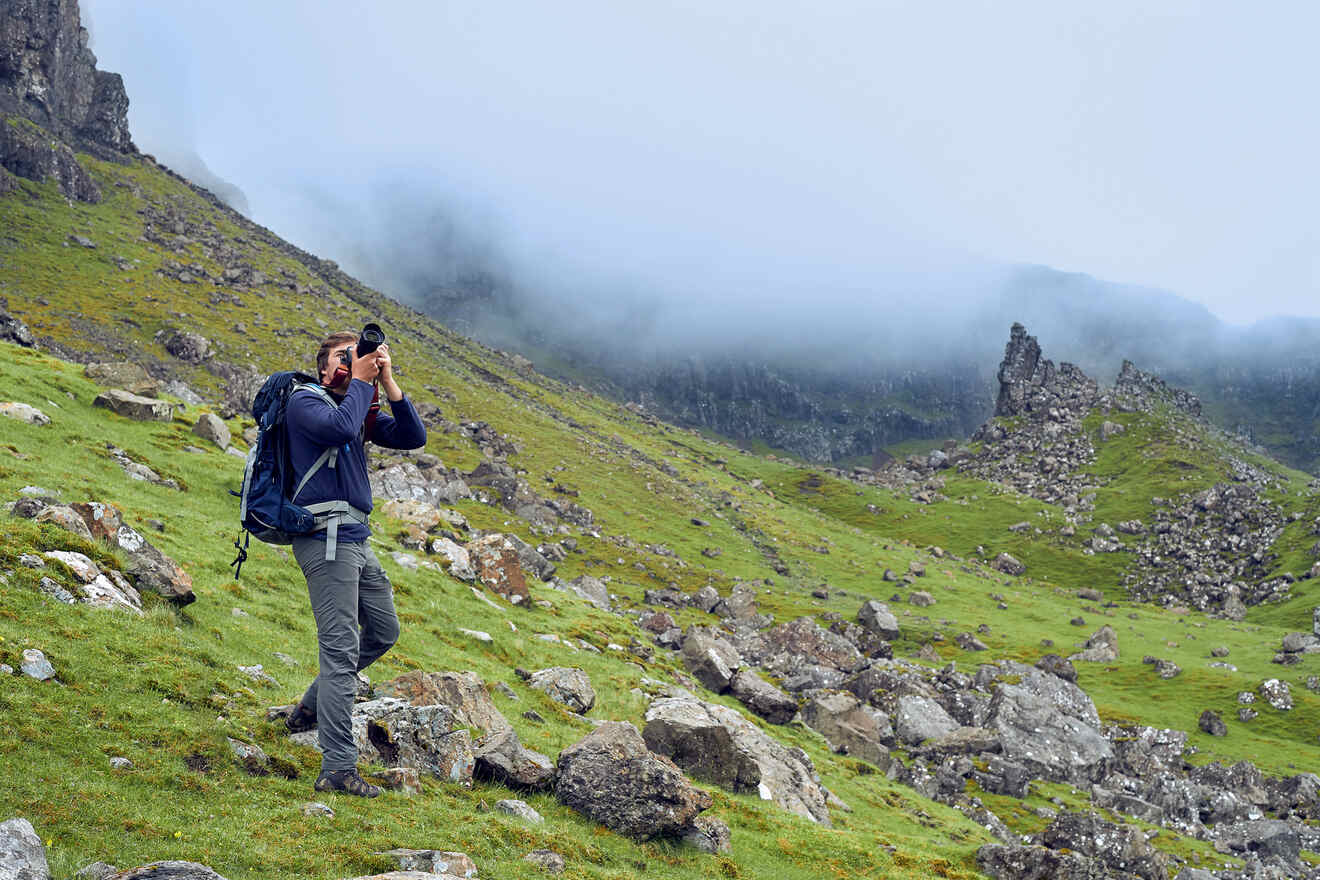 The Scottish Highlands are definitely at the top of the list of things to do for people who love outdoor activities! If you're one of them and you're looking for a place to stay on the Isle of Skye, then I'd recommend Broadford!
With a great location near the Red Cuillin mountains, this small village offers lots of fun activities like hiking, climbing, and cycling!
There's never a dull moment in this town, and the gorgeous landscapes will keep you entertained no matter what you do!
Broadford is the first town you'll see after you cross the Skye Bridge after coming from central Edinburgh. Sharing the same atmosphere as Portree, this town also has a wide range of facilities, but at the same time, it keeps that "lonely on an island" vibe so you can enjoy it to the fullest.
There are lots of things to do on in Broadford, but I'm sure you'll want to see some of the big attractions on the island as well. Places like the Fairy Pools and The Storr, are set a 40 min drive away!
Other accommodation options in Broadford
Broadford Hotel – Although it's a small village, Broadford sure has many amazing luxury and mid-range hotels! I've added one option above, but I wanted to offer another since it looks so good, and I just couldn't keep it all to myself! This fabulous 4-star hotel was established in 1611 and is the original home of Drambuie whisky liqueur. With brown aesthetics and decorations of the Drambuie tartans, the accommodation offers homemade cuisine prepared with local products and a bar where you can enjoy some whisky!
Things to do in Broadford
Go on a hike around the surrounding mountains
Buy cool stuff from the Handspinner Having Fun
Grab a coffee at Deli Gasta
Explore around the Red Cuillin Mountain Range
See some local art at the Sandbank Studio
3. Dunvegan – where to stay on the Isle of Skye for history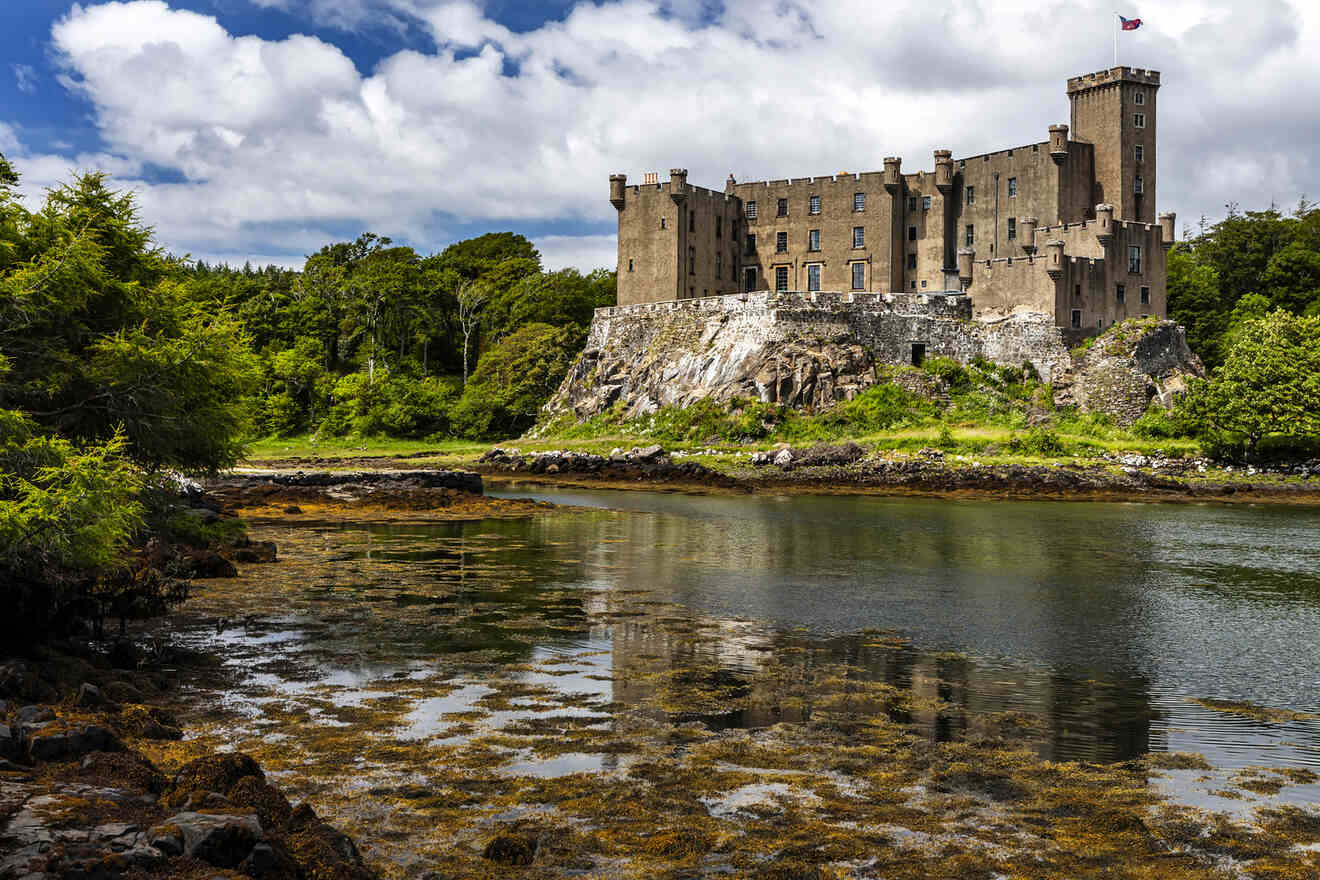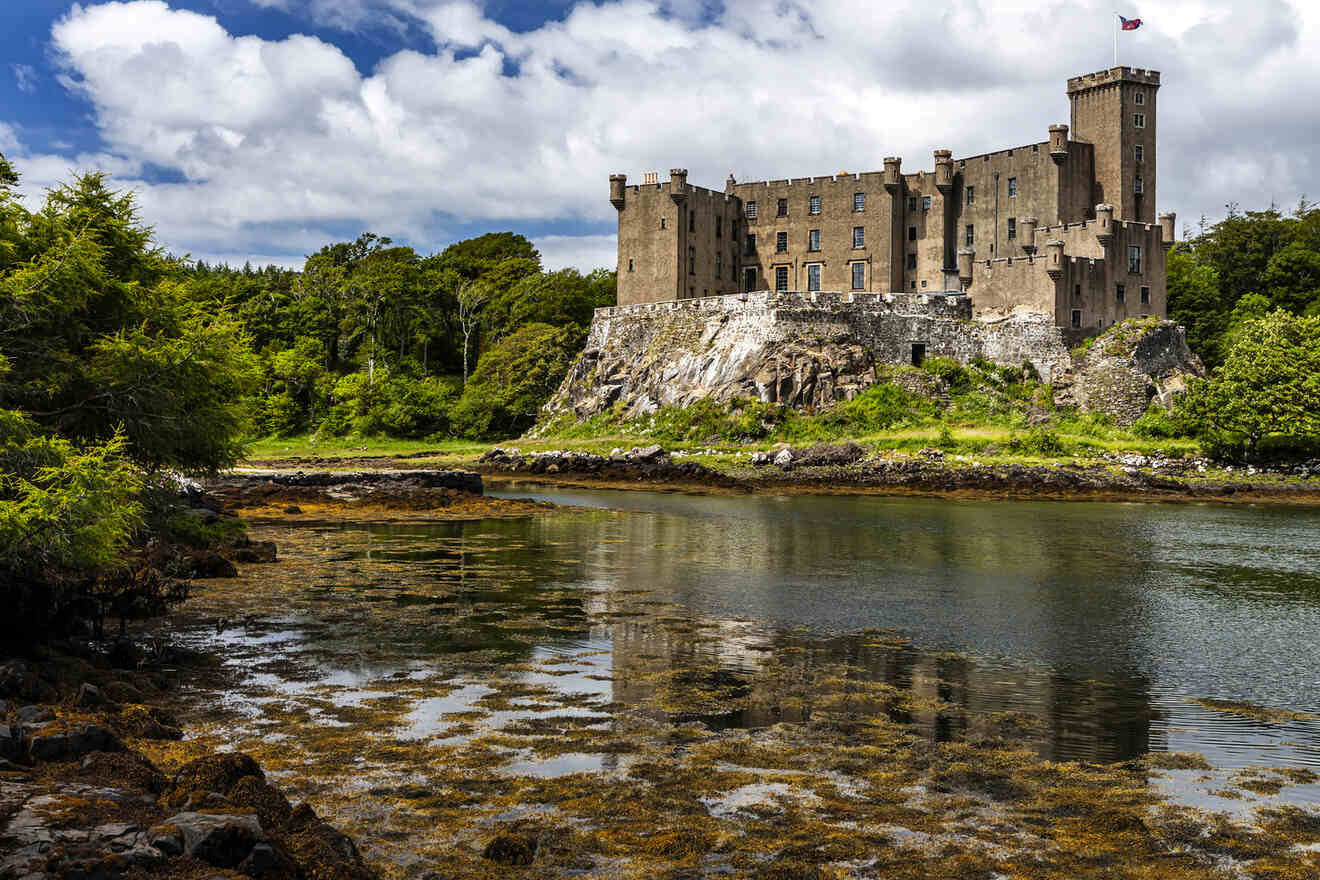 The Scottish highlands and places like the Isle of Skye are bathed in so much history! From legends and fables to myths about heroes and fairies!
What can I say, I'm a huge fan of these things, and if you are too, then I think Dunvegan will be the perfect place to stay on the Isle of Skye!
Set on the west coast of the island, on the shores of Loch Dunvegan, this town is home to the famous Dunvegan Castle, which was one of the oldest inhabited castles in Scotland and home to clan MacLeod.
There's a mysterious and misty atmosphere reigning over this small village (which could be from this old castle), but there are also some other unique places to see here like the Duirinish Stone and the marina from where you can take boat trips on Loch Dunvegan.
Although a touristy place, the local vibe is strong here, and don't worry, you'll find plenty of facilities here as well, from shops to restaurants and a post office.
NOTE: There aren't many good hotels here, so if you choose to stay in Dunvegan, you will get better value by staying in a holiday home. So let's check them out…
Other accommodation options in Dunvegan
Things to do in Dunvegan
Visit the famous Dunvegan Castle
Take a tea and cake break at Jann's Cakes
Pass by the scenic Skye Bridge
Go to see the cliffs at Neist Point Lighthouse
Check out the Giant Angus MacAskill Museum
See some art at Croft Studio
Admire the views near The Duirinish Stone
Buy some souvenirs from the Cath Waters Gallery gift shop
4. Edinbane – where to stay on the Isle of Skye for relaxation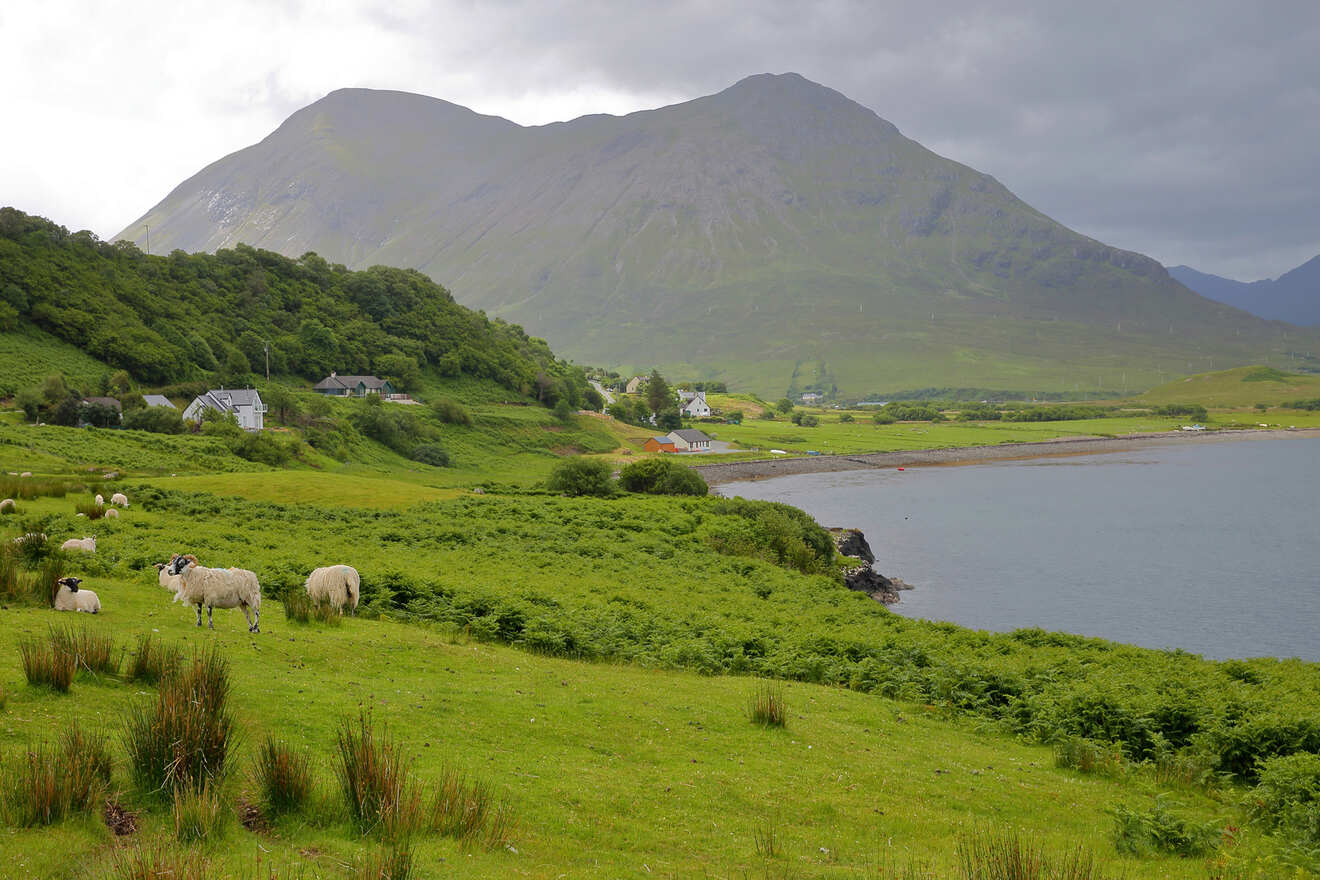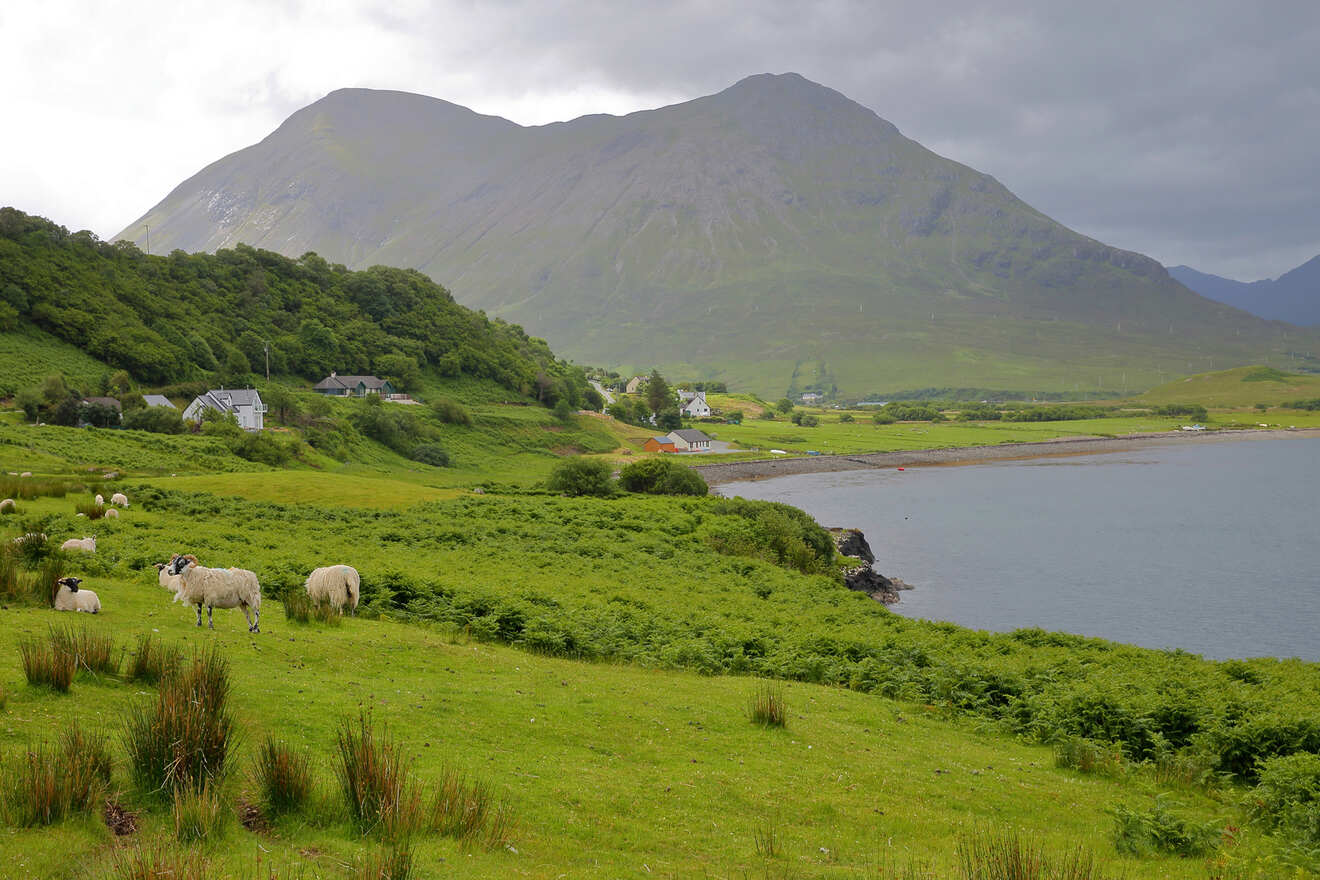 This island is a great spot for travelers who want to take a break from their hectic, busy lives and spend lots of time in nature!
Most villages on the Isle of Skye are great for that, but Edinbane sure sits at the top of the list! With a remote location and little to do around besides exploring the distant hills, this small village offers visitors a tranquil stay!
Many tourists stay here as the village offers easy access to the scenic Trotternish Peninsula. Since it is known for its dramatic landscapes, if you've got the chance, I highly recommend a visit!
Although you won't find as many things to do or facilities here, the 2 restaurants located in Edinbae received the Michelin Plate award, and they serve delicious locally sourced food. You could say that what they lack in numbers, they have in quality!
Plus, Portree is only a 20-minute drive away, so you can always take a trip if you need or want something else! Let's check out the cozy hotels in Edinbane on the Isle of Skye:
Other accommodation options in Edinbane
Things to do in Edinbane
Buy some cool souvenirs from Edinbane Pottery
Go on a boat tour with Skye Marine
Enjoy a delicious dinner at Edinbane Lodge
Visit the Trotternish Peninsula on the Isle of Skye
Admire the stunning hillside views
5. Uig – best place to stay on the Isle of Sky near the Fairy Glen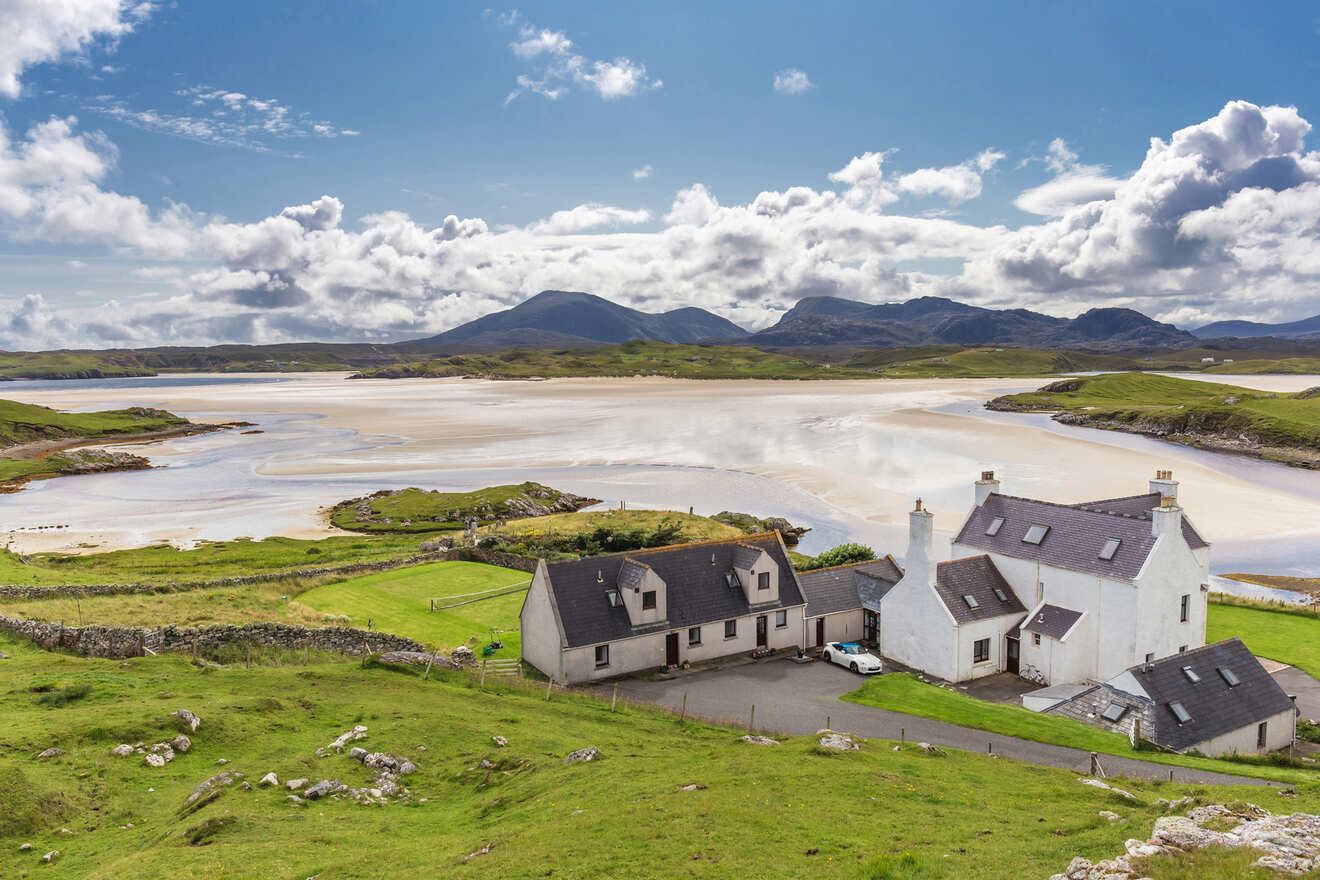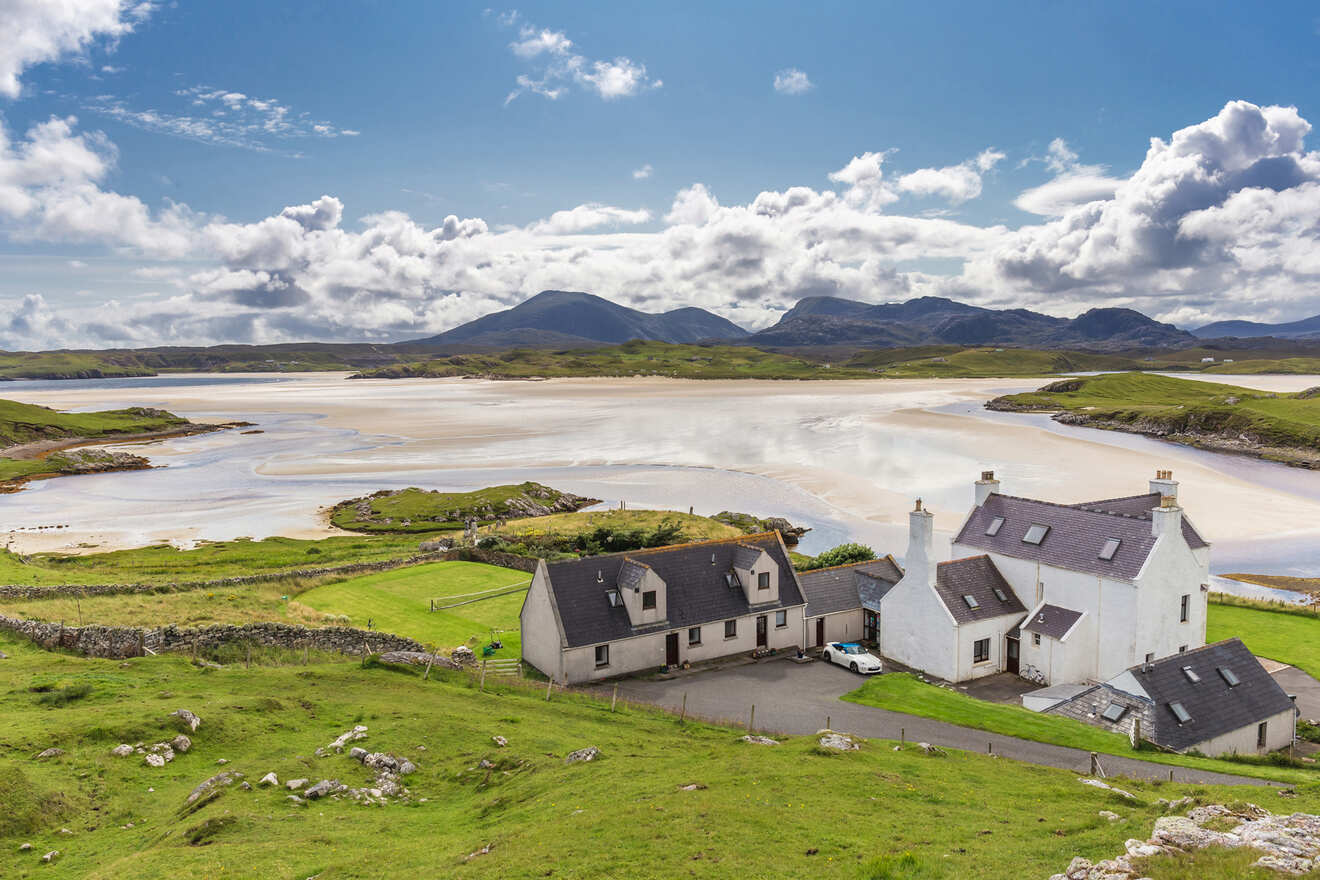 Remember what I said earlier about Scotland, that it's a land of forgotten myths and fairy stories? Well, you're about to meet the biggest attraction on the island related to that!
Uig is home to the magical Fairy Glen, an otherworldly landscape filled with rock formations, cone-shaped hills, ponds, and waterfalls!
Legend has it, fairies created this enchanted place!
It really is a breathtaking site, so I would take a few hours to explore around and venture into the hills. Who knows, maybe you may even run into the fairies!
This small port town is located on the west coast of the scenic Trotternish Peninsula, which is filled with more waterfalls, hills, and unique sites. And if you're planning to explore around, there is a ferry service that runs from Uig to other beautiful places like Uist and Harris (which are just a short ferry ride away)!
Just like the other places where to stay on the Isle of Skye, Uig is a small village, and it has the usual restaurants, stores, and great hotels, so let's have a look.
Other accommodation options in Uig
Things to do in Uig
Explore around the beautiful Fairy Glen
Visit the historical Uig Tower
Admire the views from the Uig Pier
Take a ferry to Uist or Harris on the Isle of Skye
Grab a drink at The Galley Cafe & Takeaway
6. Staffin – where to stay on Isle of Skye for beach lovers
For restaurants, shops and cafes you'll have to go to the town center, that's also where many hotels are located, which we're going to check out now!
Other accommodation options in Staffin
Things to do in Staffin
Check out the dinosaur footprints on An Corran beach
Grab a bite at the Columba 1400 restaurant
Take lots of pics on the hike to the beach
Explore the Quiraing hiking area
Admire the views of the picturesque bay
See some of the farm shops in Staffin
BONUS 1: Most romantic hotels on the Isle of Skye
Planning a romantic getaway to the Isle of Skye? What can I say, you're in for a treat! With those landscapes and remote locations where no one will disturb you, the island is the ultimate vacation spot for couples!
But you'll need some great Isle of Skye hotels! And I'm here to help you with all that, so let's check out the best luxury hotels for couples on this magical island: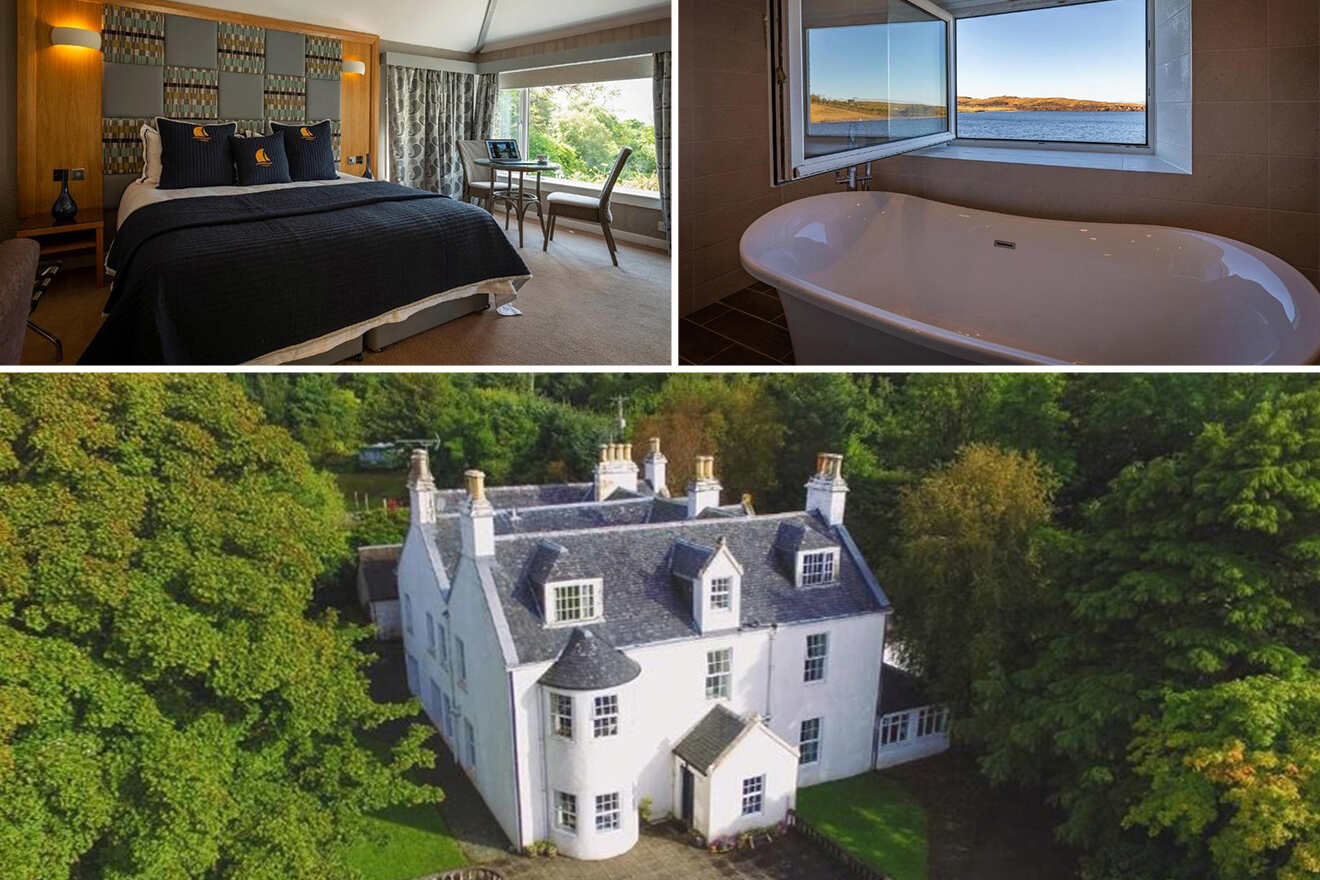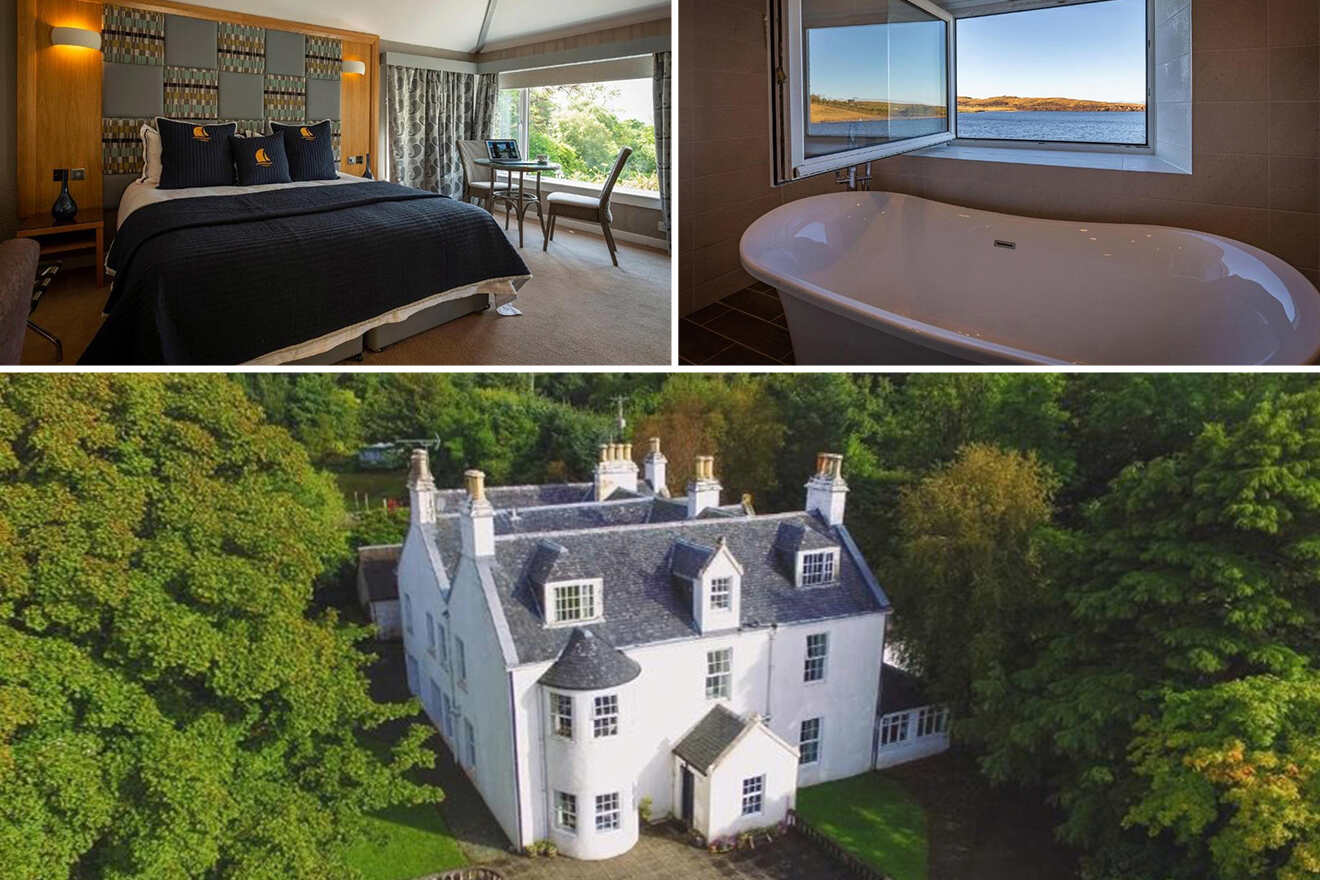 BONUS 2: Best 4 & 5-star hotels on the Isle of Skye
Who doesn't love to travel in style? And in a place like the Isle of Skye, where you can get rooms with views of the sea and the highlands, it's sure worth paying a couple of bucks extra for some fancy Isle of Skye hotels!
I've found three awesome 4 and 5-star luxury hotels which look incredible! So if you're planning on going all out on this trip to Scotland, then have a look below!
All these places are luxury hotels, and I listed them from most to least expensive so you can decide easily which one is your favorite: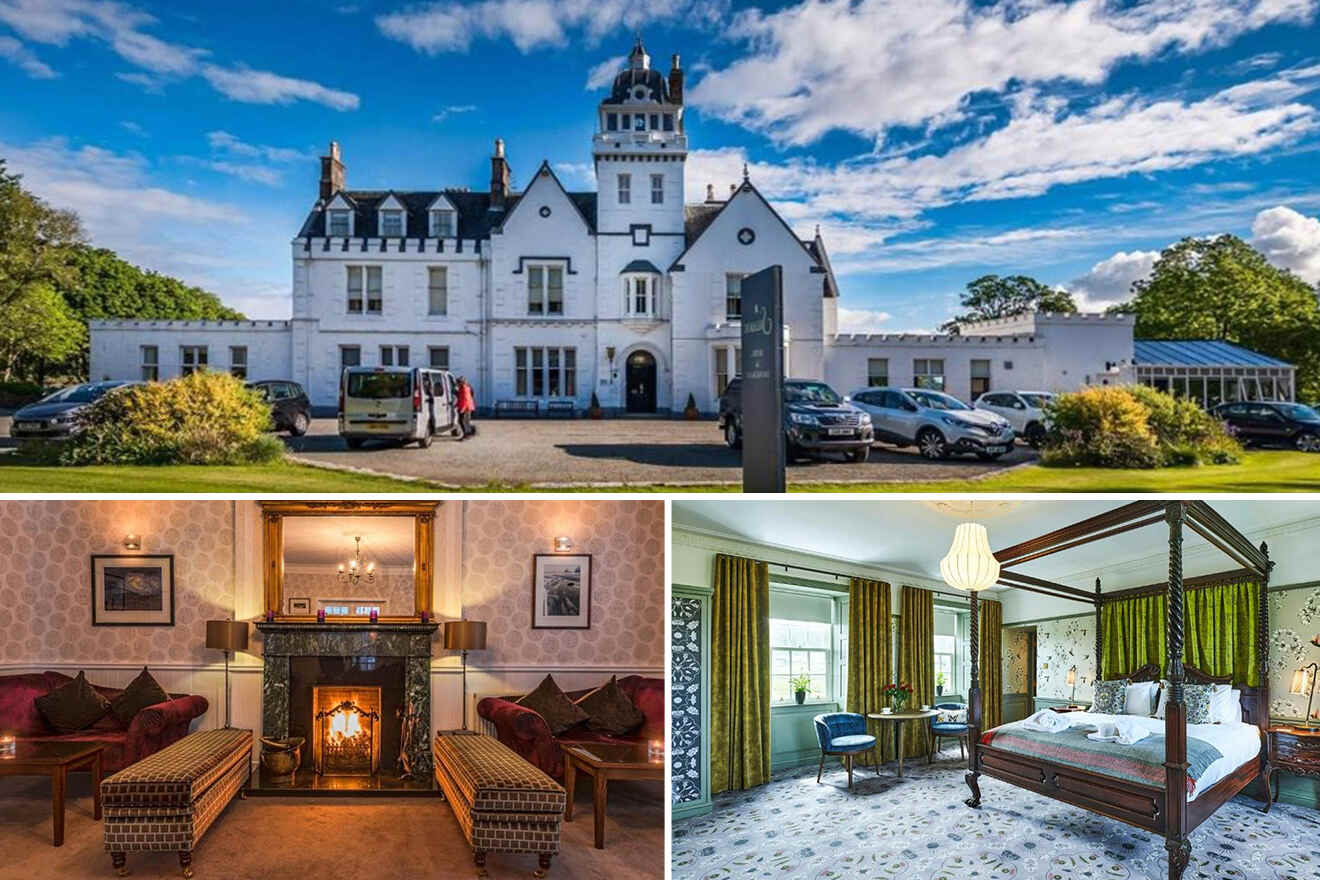 Monkstadt 1745 Lodge – You can't go wrong with a vintage style! This amazing luxury lodge on the Isle of Skye offers the most uniquely decorated rooms with four-poster beds, colorful wallpapers, and a bath (perfect spot to relax after a long hike)! Start your morning with a traditional Scottish breakfast and a cup of coffee which you can enjoy in the garden along with the views.
Toravaig House Hotel – Set in the middle of nowhere, this cozy hotel is just a short walk away from the beach! Each room has stylish decor and multiple large windows which offer the perfect light and great views. Head to the lounge area to warm up by the fireplace and eat at their on-site restaurant, which serves locally sourced food!
Skeabost House Hotel – What an incredible Victorian mansion! Perfectly blending old furnishings with modern elements, these accommodations near Portree features rooms with private balconies, high ceilings, and four-poster beds! When you're not up to exploring around, enjoy a relaxing afternoon tea at the hotel and indulge in all the yummy dishes made with local ingredients at the restaurant!
FAQs about hotels on the Isle of Skye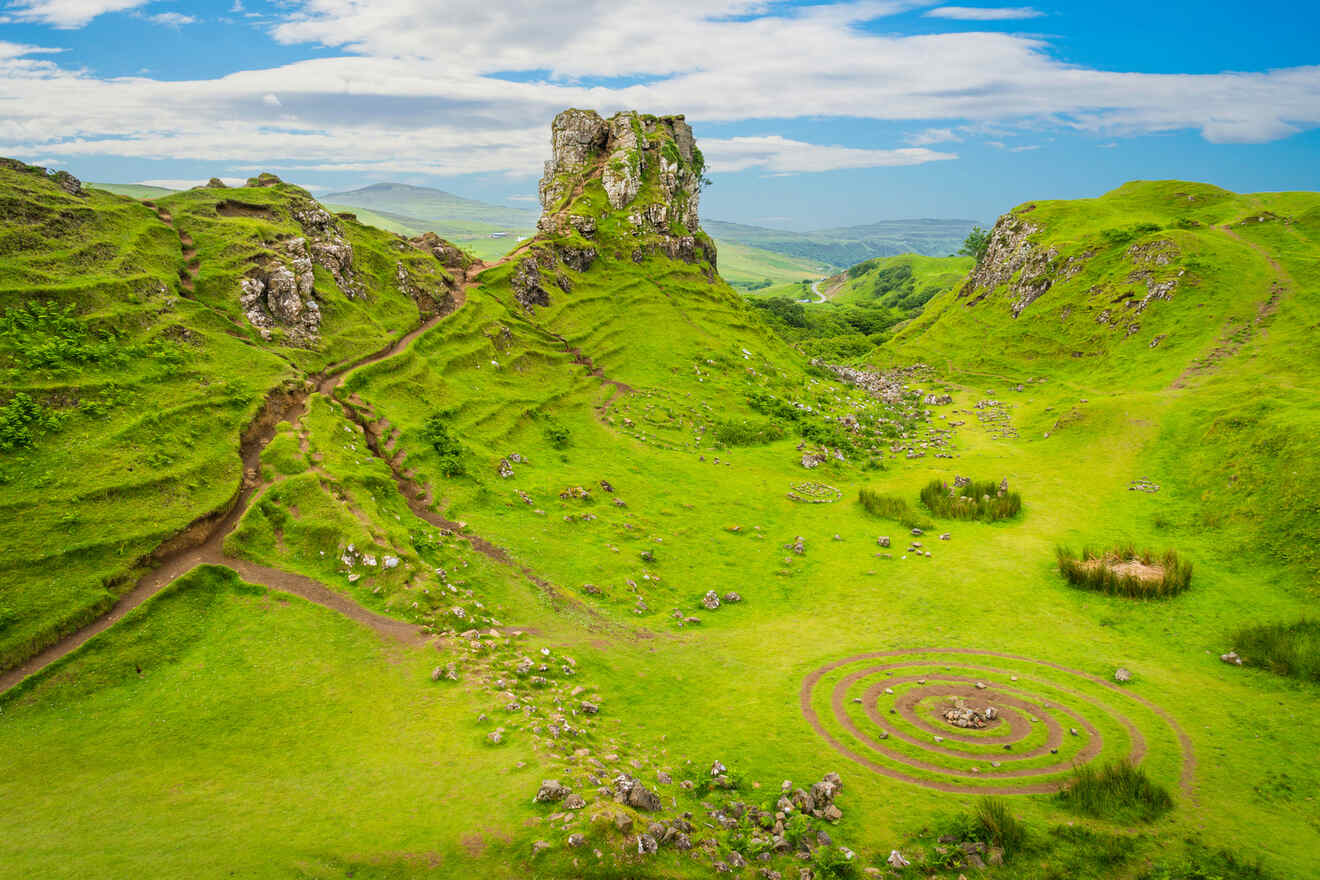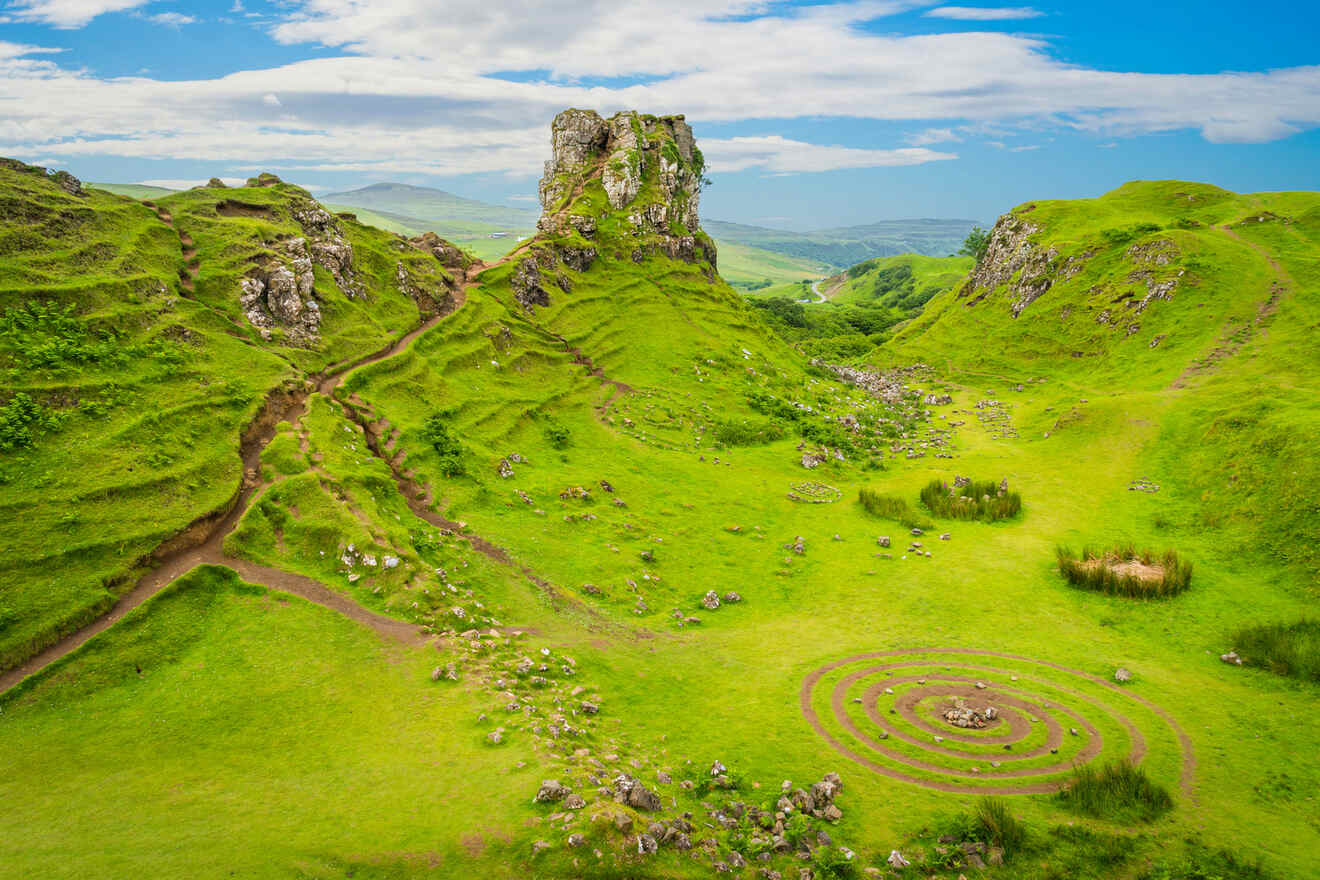 Conclusion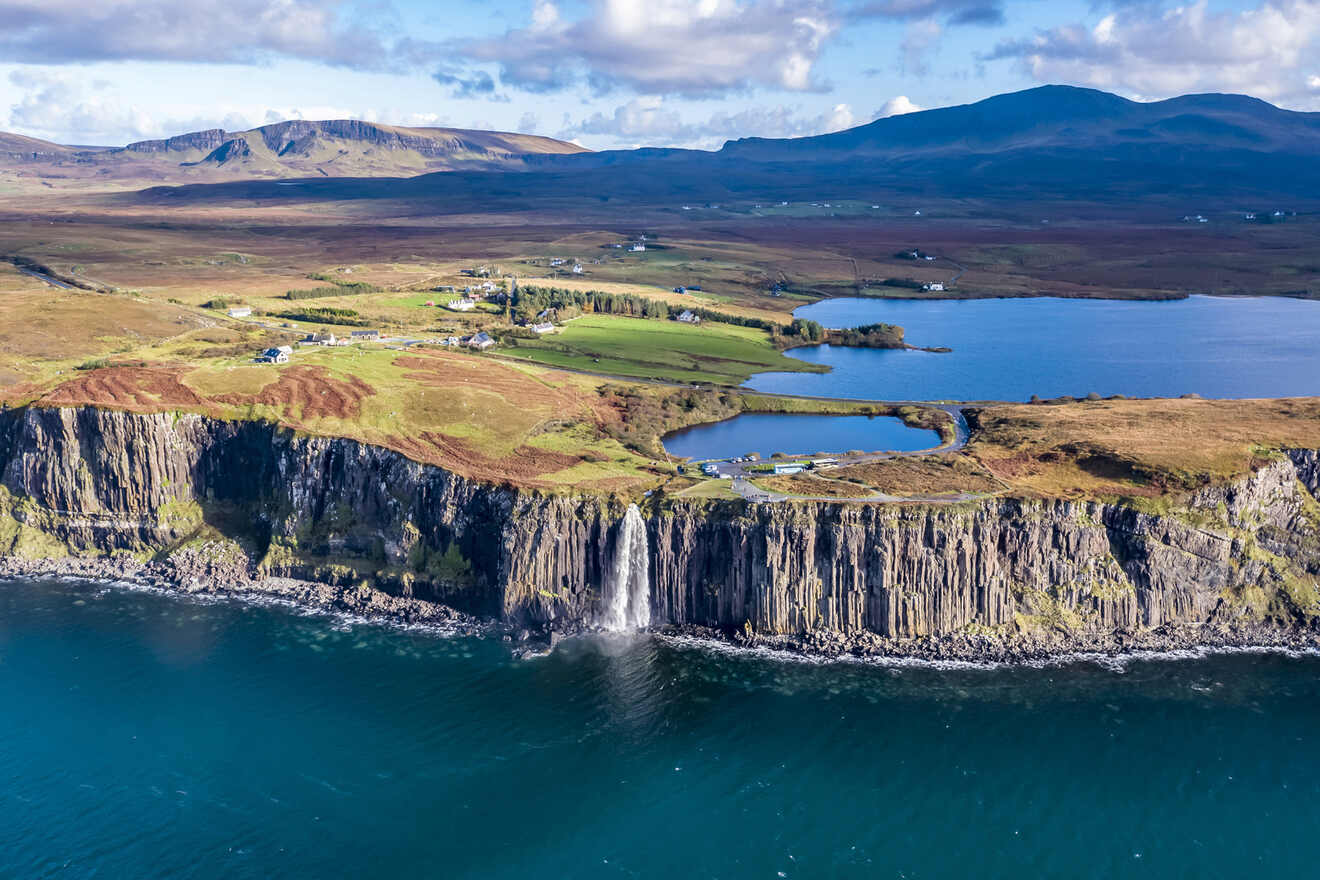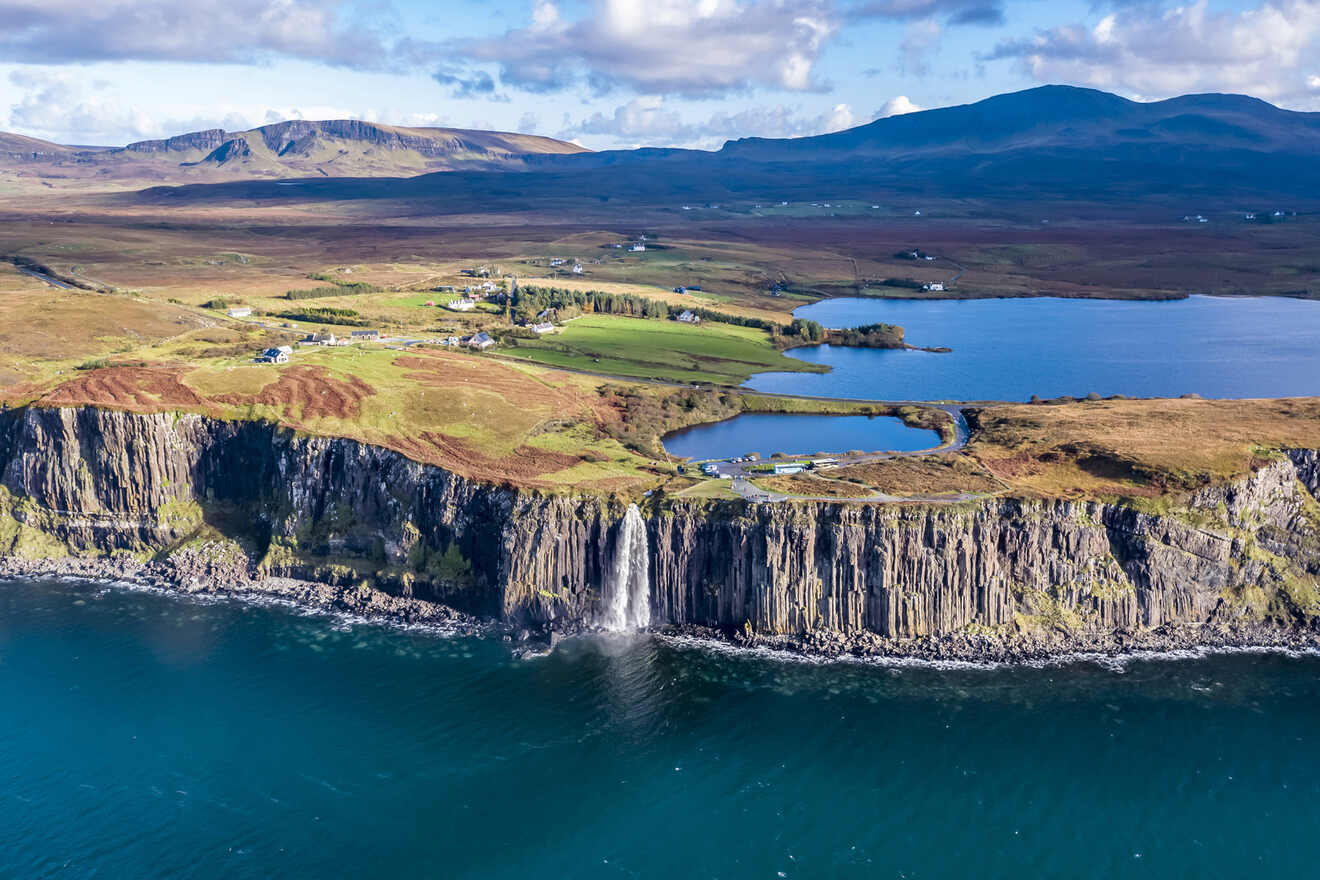 You're probably going to dream of fairies and magical lands tonight after reading so much about these lands, Scotland sure is special!
This post has the best places where to stay on the Isle of Skye, plus a list of luxury, mid-range hotels, and budget ones in each section, 2 bonuses with romantic accommodations, and some 4 and 5-star hotels!
I know you probably think that I'm crazy to give you so many options, but as I always say, better safe than sorry! These hotels on the Isle of Skye will sell out super fast as the island is visited by many tourists, so make sure to book your accommodation in advance!
And to help you a little more, I've decided to offer my 2 favorite places on the island, both located in the town of Portree:
Cuillin Hills Hotel – A beautifully-decorated hotel that has large windows overlooking Portree Bay, an award-winning restaurant, and a terrace
Marmalade – One of the best mid-range hotels set in a historic building that has modern decor, a restaurant and a sun terrace
Well, now that I gave you so many helpful travel tips, you're all ready to start off with this unforgettable adventures in one of the most beautiful places to stay in Scotland! I'm sure I added all the important details but if you do have any questions, just leave me a comment below, and I'll answer as fast as I can!
Happy exploring,
Victoria
---