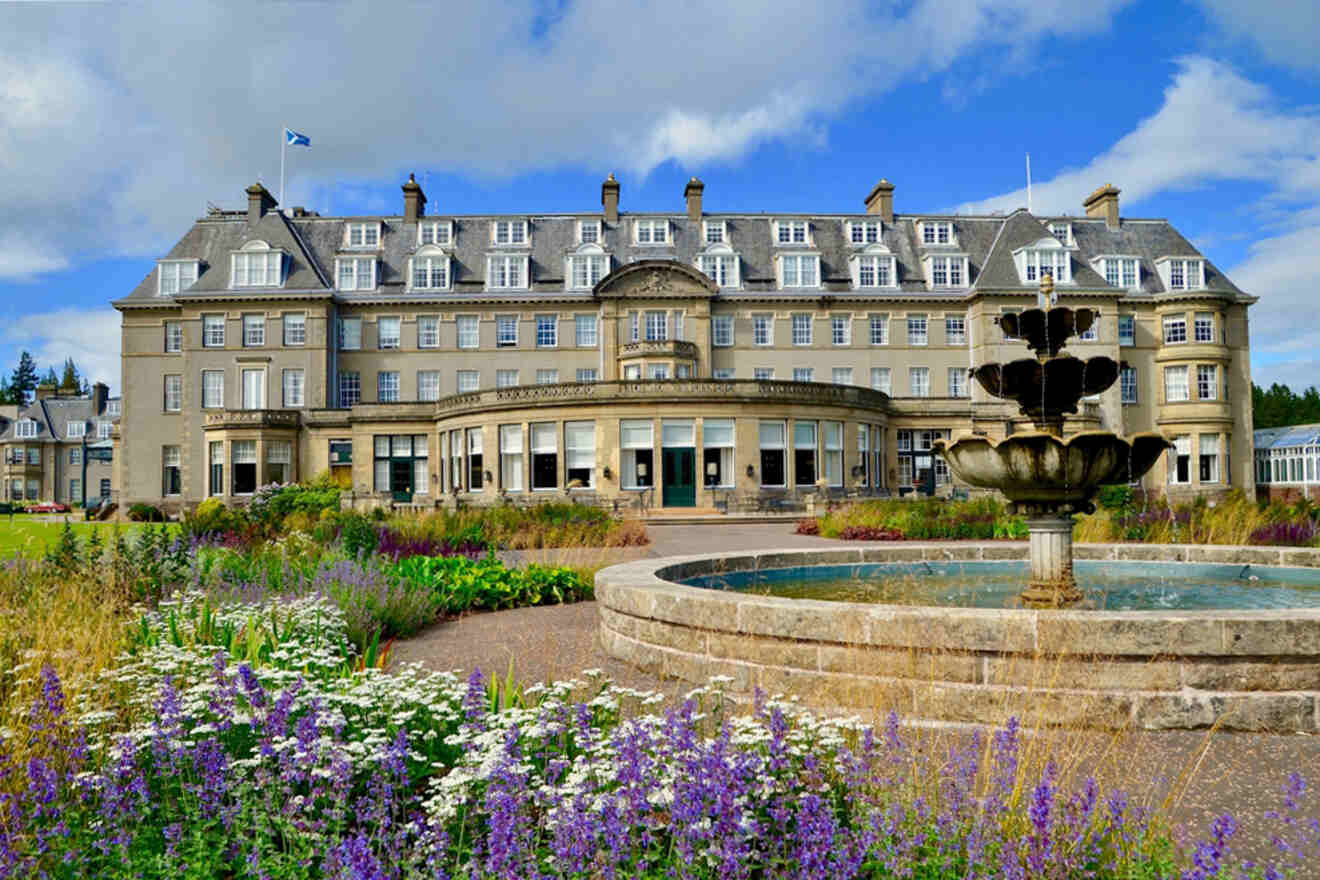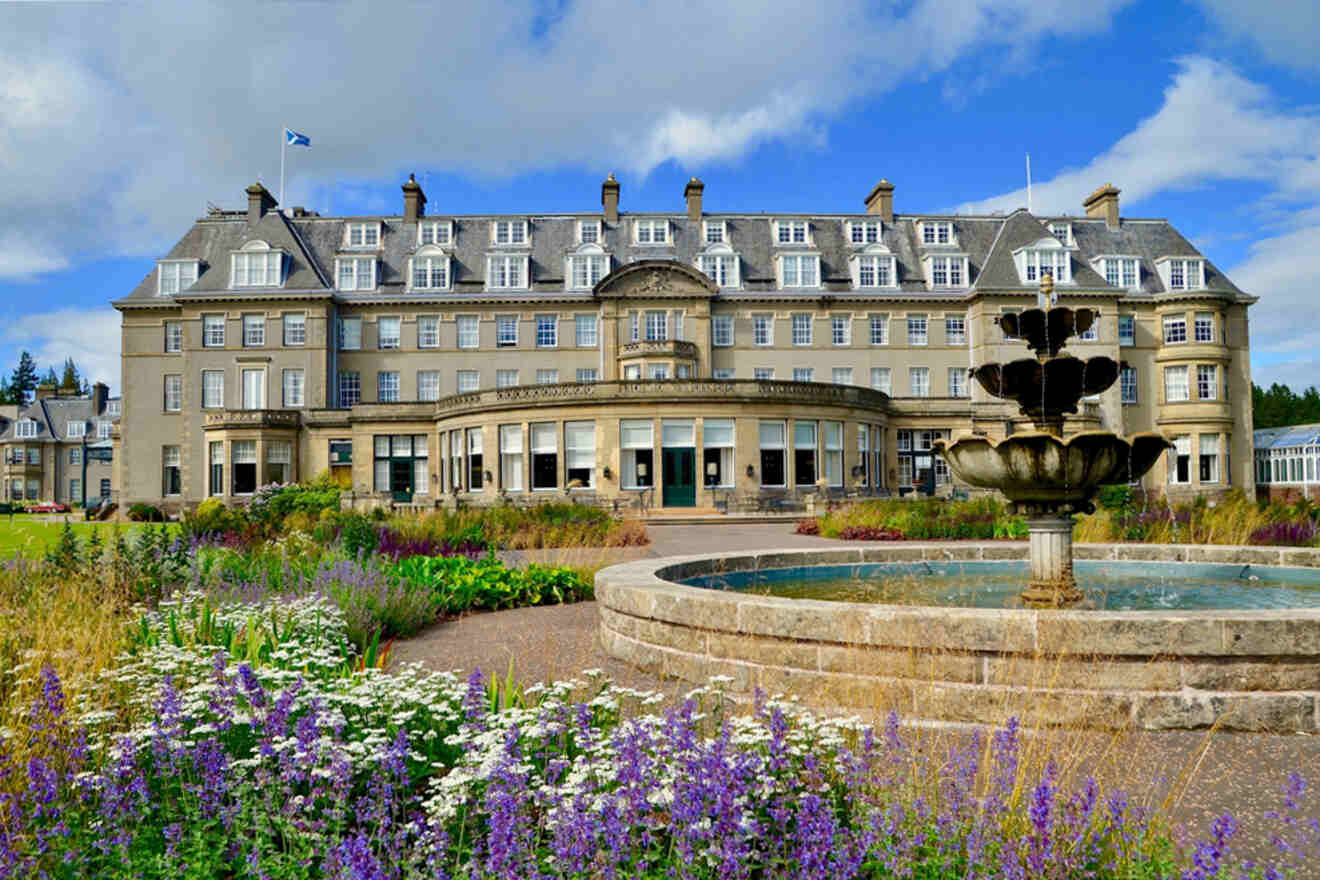 There's no better place to plan your spa break than Scotland! Pairing days of relaxation in the sauna with the famous Scottish Highlands is something that everyone should try in this life!
Luckily I'm one of the country's biggest fans, so it was such a pleasure to find the best spa hotels in Scotland! Since I'd already been there, I managed to come up with a fabulous list that I ordered from most to least expensive so that everyone could find their match.
And once you do, hold on to it! You may not know, but Scotland's popularity is rising. That's why I highly recommend booking your fabulous luxury hotel in the city or somewhere on a private island in advance, as trust me, they will sell out fast!
NOTE: The hotel prices go up during the peak season, which is around the summertime (June to August), so make sure to double-check and book ahead, as the prices can increase by US$400!
Ready for some private hot tubs, relaxation rooms, and thermal suites?
Then stock up on the whisky, and let's go!
If you are in a hurry
If you don't have time to read the whole post, then check out this short list of the best spa hotels in Scotland:
We're talking about the whole country today, so I've decided to make this map so you can easily spot the best spa hotels in Scotland and their locations:
1. The Balmoral – an exquisite hotel for history lovers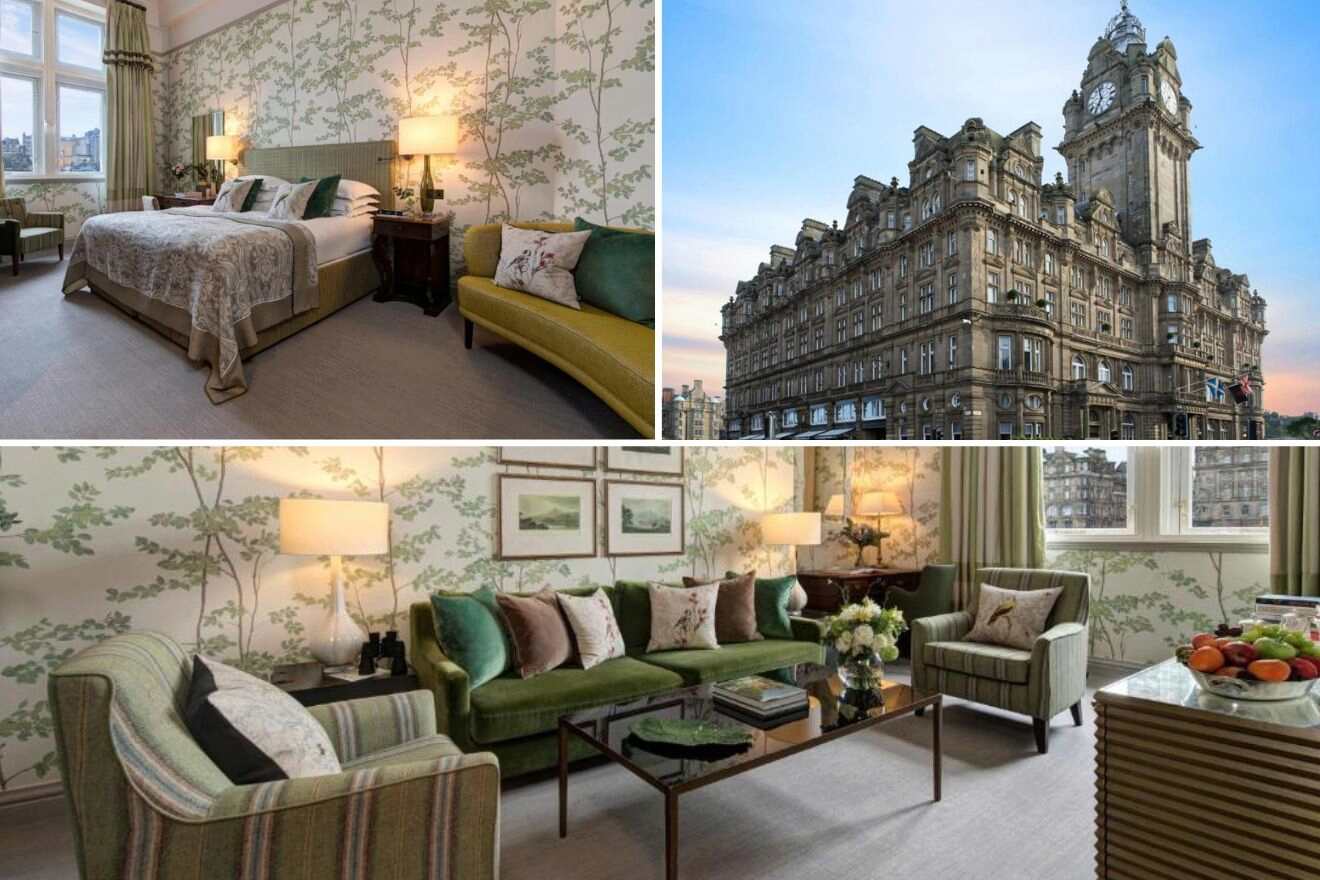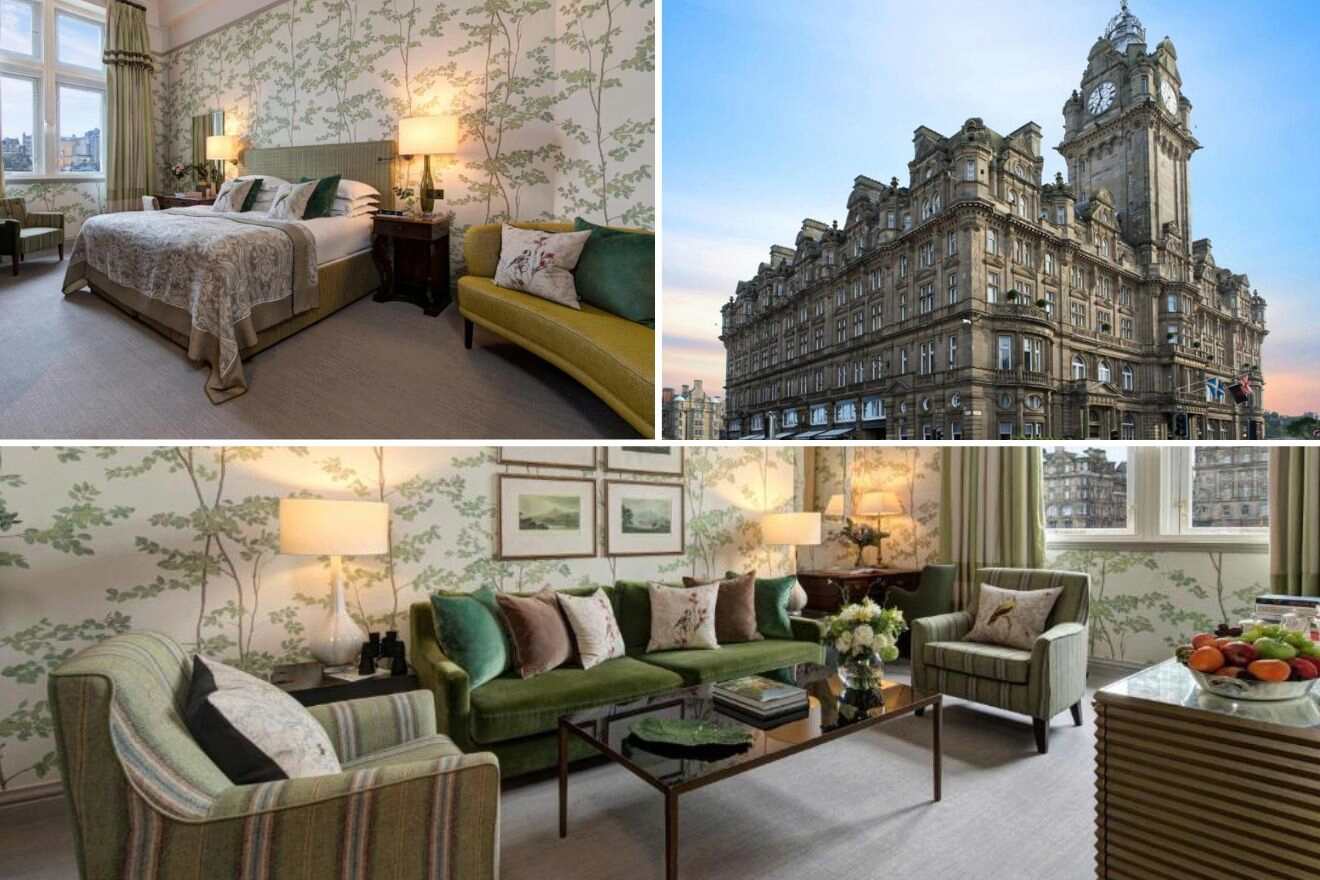 Known as the crown jewel of all the hotels in Edinburgh, Scotland's popular capital, the Balmoral (named after Balmoral Castle, the royal family's Scottish residence) is one of the most beautiful buildings in town! First opened in 1902, the historic hotel has elegant decor, stylish, spacious rooms, and an extensive spa center.
When you're not visiting all the attractions in Edinburgh or taking some fun tours in the Scottish Highlands, you can enjoy a full day of body treatments, facial treatments, some time in the sauna (which does wonders after a long flight), or steam rooms. What a great way to start your trip!
2. The Gleneagles Hotel – for the fun outdoor activities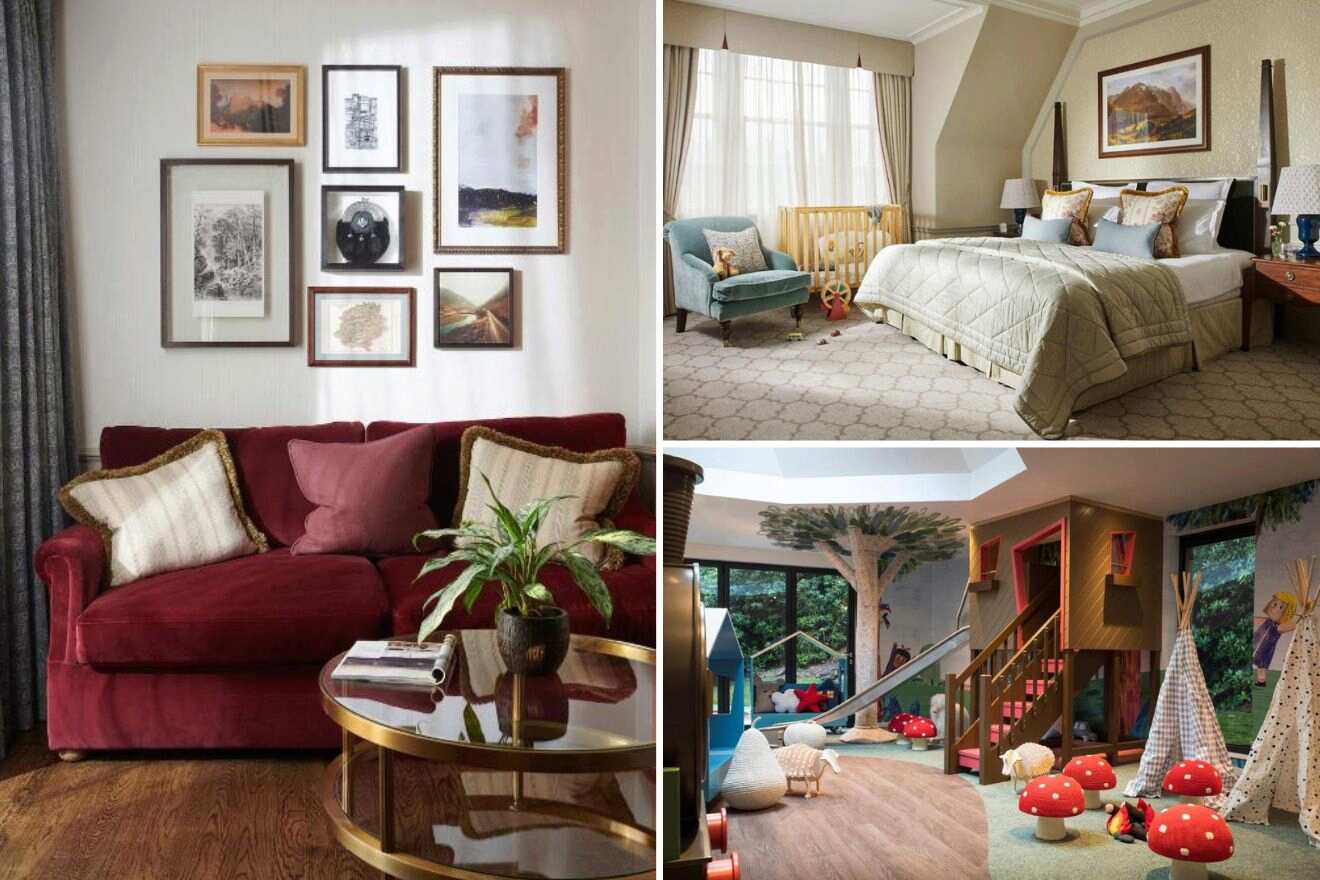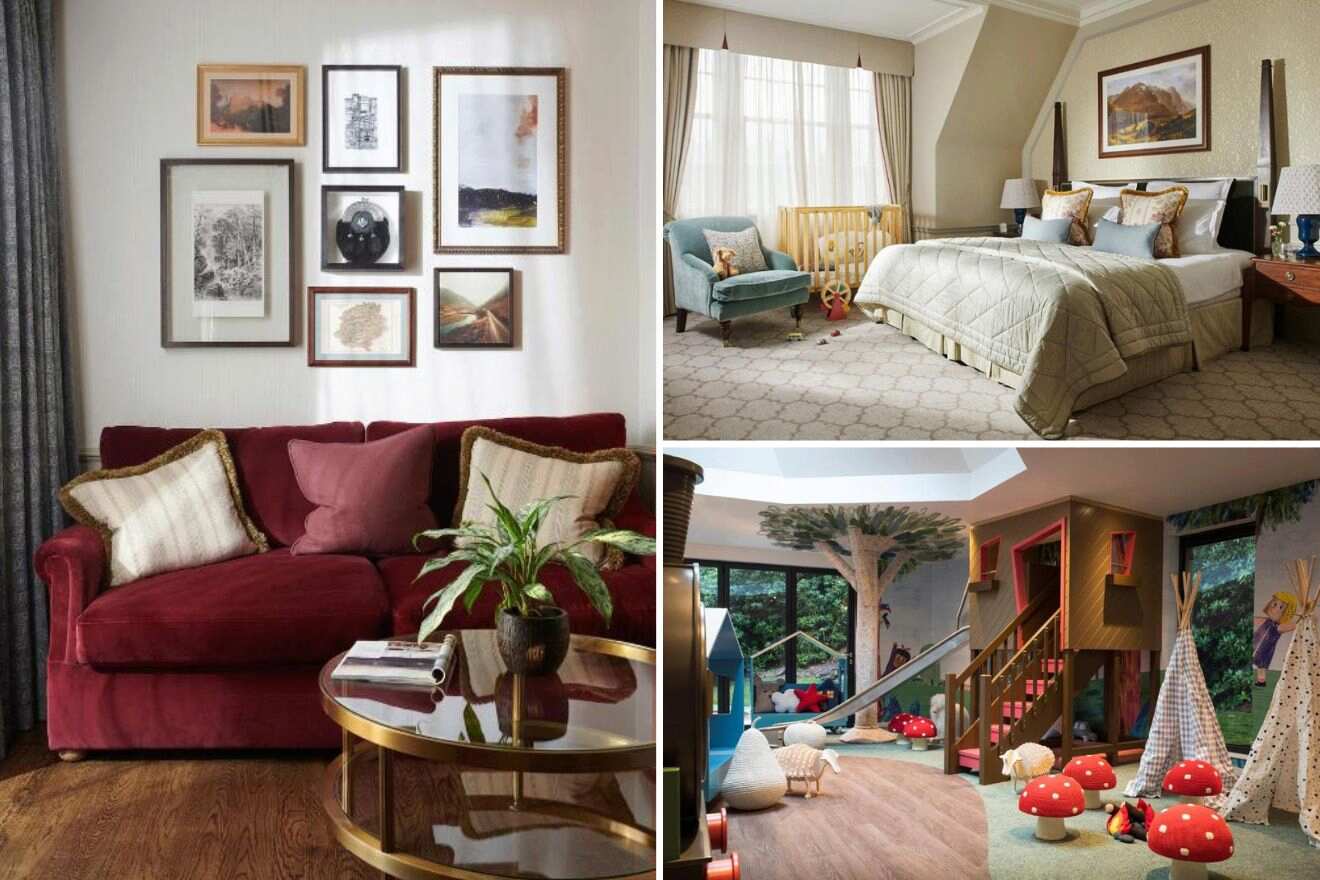 If you've read any of my other Scotland articles, you probably know I'm a huge fan of this stunning country! I mean, it has so many unique castles and mansions, just like this one that is set in Auchterarder and that was established in 1924! Surrounded by green acres and 3 championship golf courses, this resort with two indoor pools is surely a keeper!
Perfect for a spa break, the resort offers the fabulous Gleneagles spa where you can relax in the hot tubs or thermal suite, melt all the body toxins in the sauna or in the crystal steam room, and try some beauty services and any other things from their spa menu. Their elegant rooms have fluffy comfy beds and offer great views of the surrounding natural beauty where you can try lots of activities like archery, horse riding, and tennis.
3. Trump Turnberry – a great place for golf enthusiasts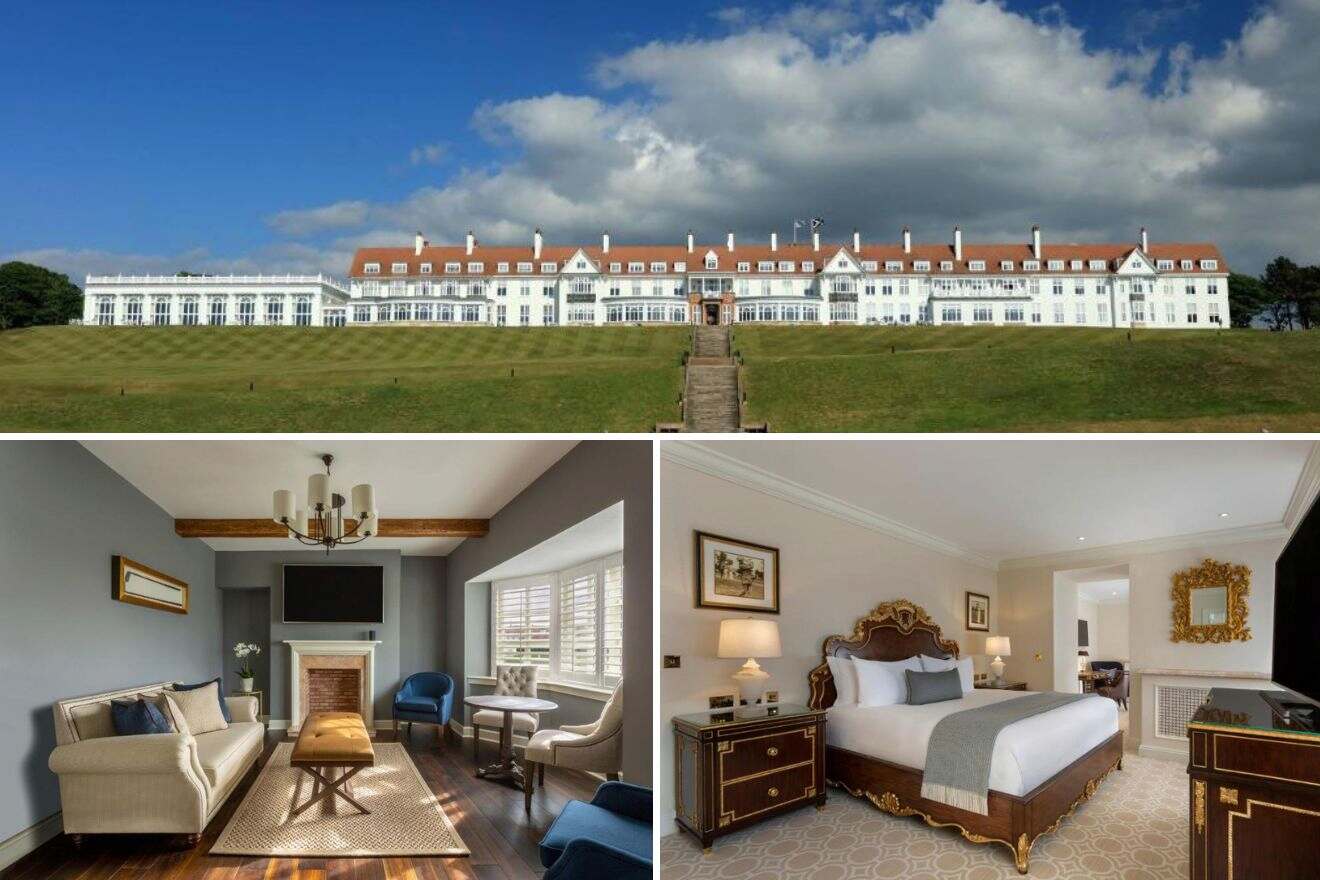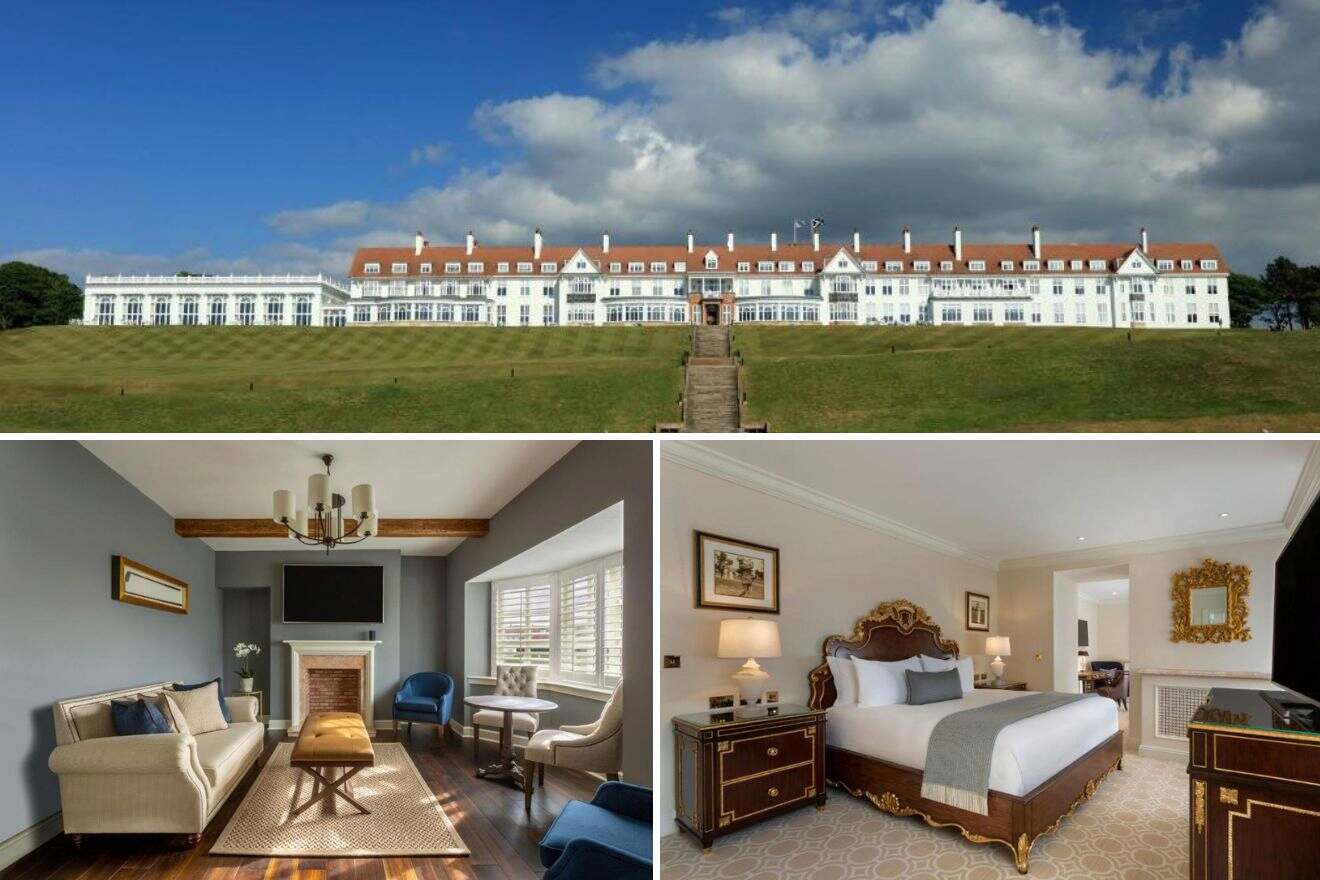 Class and elegance, but make it Scottish! This incredible hotel is located in Turnberry, on the Ayrshire Coast, and offers some incredible views of the Irish Sea! Home to the Ailsa Championship Golf Course and the challenging King Robert the Bruce course, this place is great for golf enthusiasts.
All the rooms here are beautifully and harmoniously decorated, with simple yet chic furnishings. But I'm sure you want to hear all about the luxury spa facilities! There are many, including a steam room, a hot tub, facial treatments, and many others! Start your day with breakfast at one of the 3 restaurants on-site and then head to the spa for a body treatment. Then you can continue your day with activities like archery or biking!
4. Old Course Hotel St. Andrews – has a fancy rooftop garden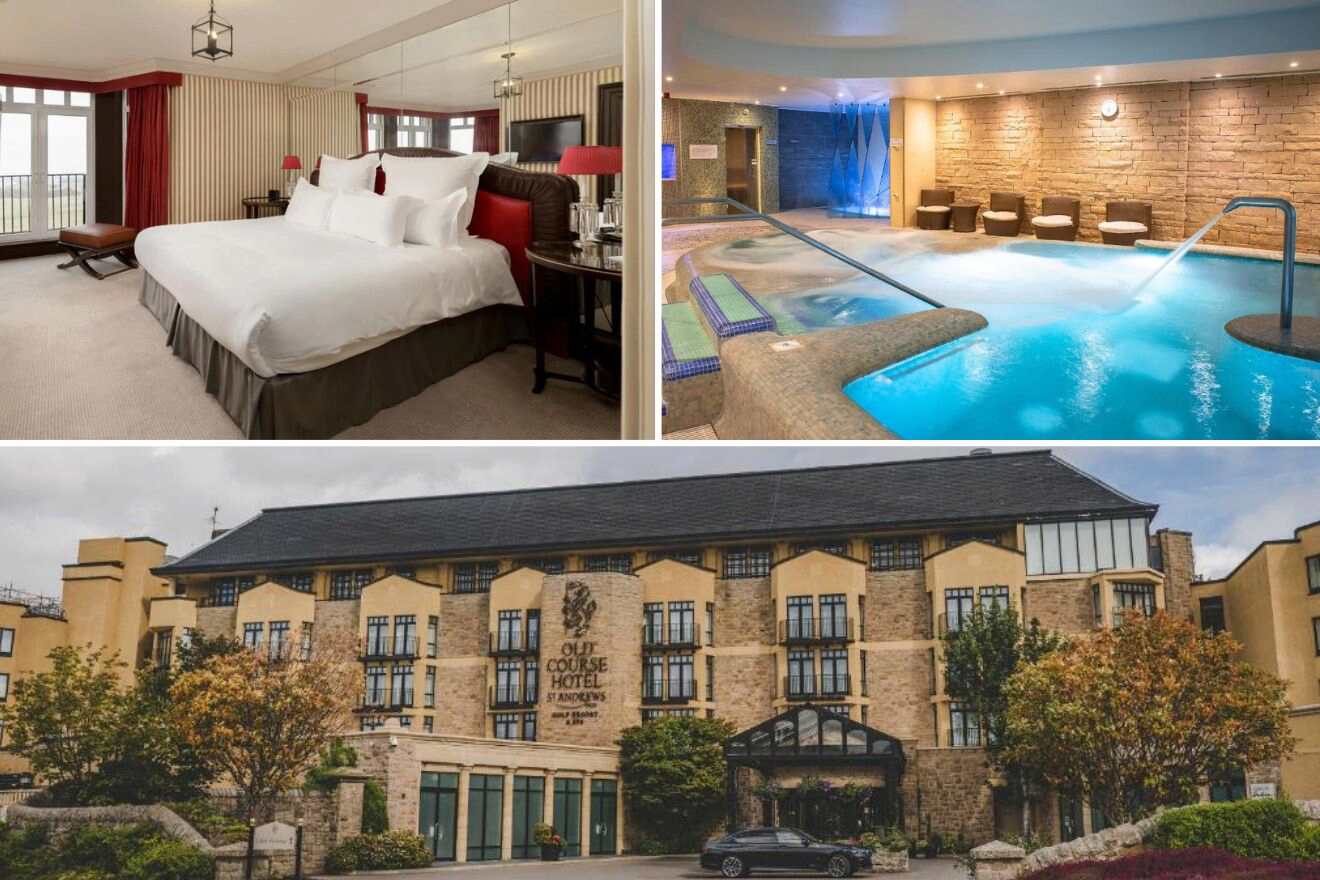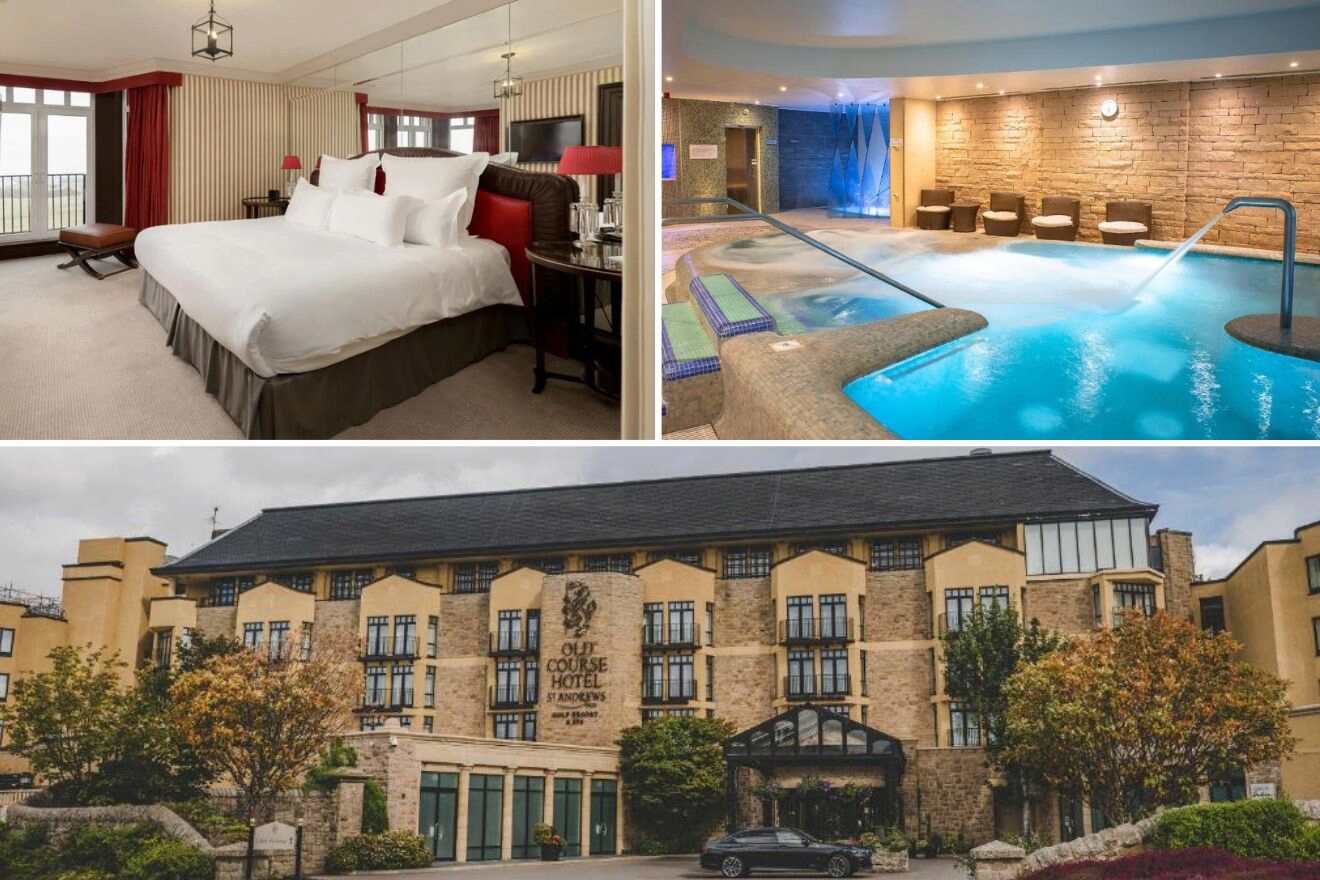 Get ready for an unforgettable experience at this gorgeous hotel located in St. Andrews that overlooks West Sands Beach and the Links Golf Course! Housed in a stunning building, the hotel will offer you a relaxing and nourishing stay through its many luxury spa treatments!
The Kohler water spa offers yoga classes, a thermal suite, sauna rooms, an ice fountain, a hot tub, and all sorts of facilities designed to make you feel like a brand new person just after a day! If you'd like, you can also try the hydrotherapy pool or do some cold plunges! Their 3 AA-Rosettes offer fine dining and over 300 types of whiskies!
5. Kinloch Lodge Hotel – a great spot for nature lovers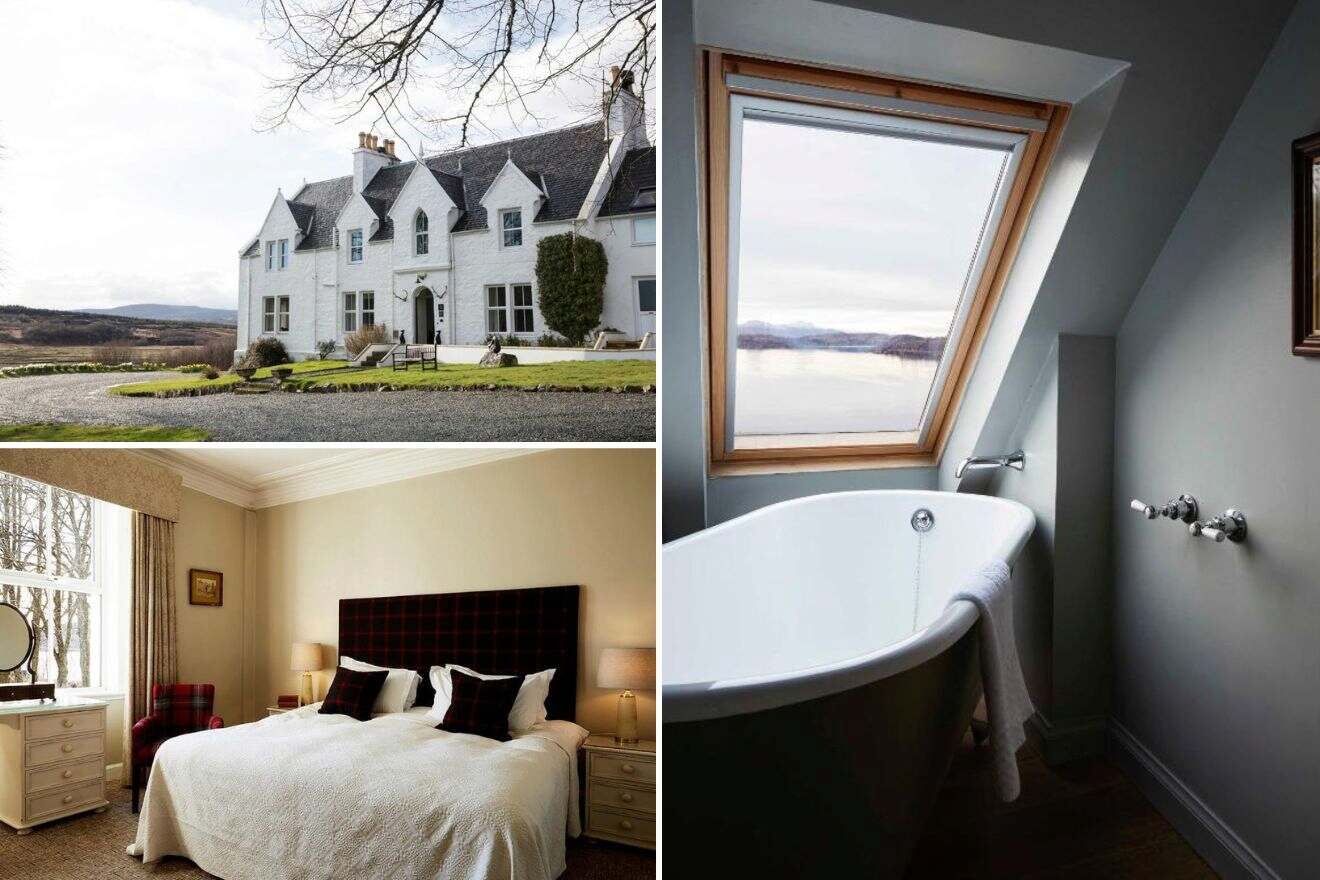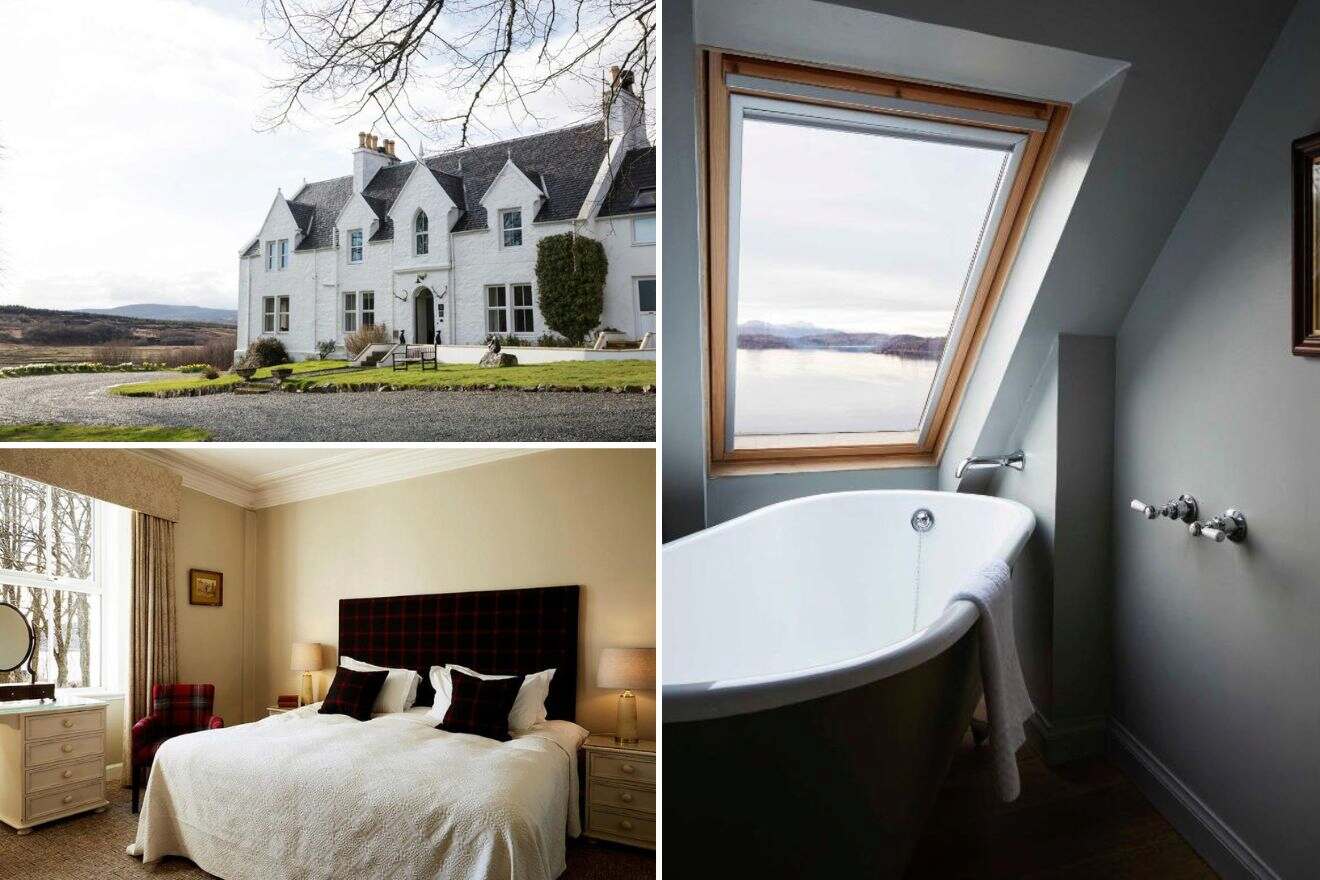 You'll fall in love with this family-run hotel which is actually a former 17th-century hunting lodge! Set on the beautiful Isle of Skye (a stunning place that you should visit), the accommodation has gorgeous decor and rooms with some of the most lovely wallpapers I've seen!
Perfect for those who want a tranquil escape, surrounded by Scotland's natural beauty, the hotel offers an array of spa treatments like body massages, facial treatments, and many other facilities. When you're not out and about exploring the island, you can enjoy a quiet day in, eating yummy food made with local ingredients and, of course, the traditional afternoon tea.
6. Fonab Castle Hotel – a fun escape in the Highlands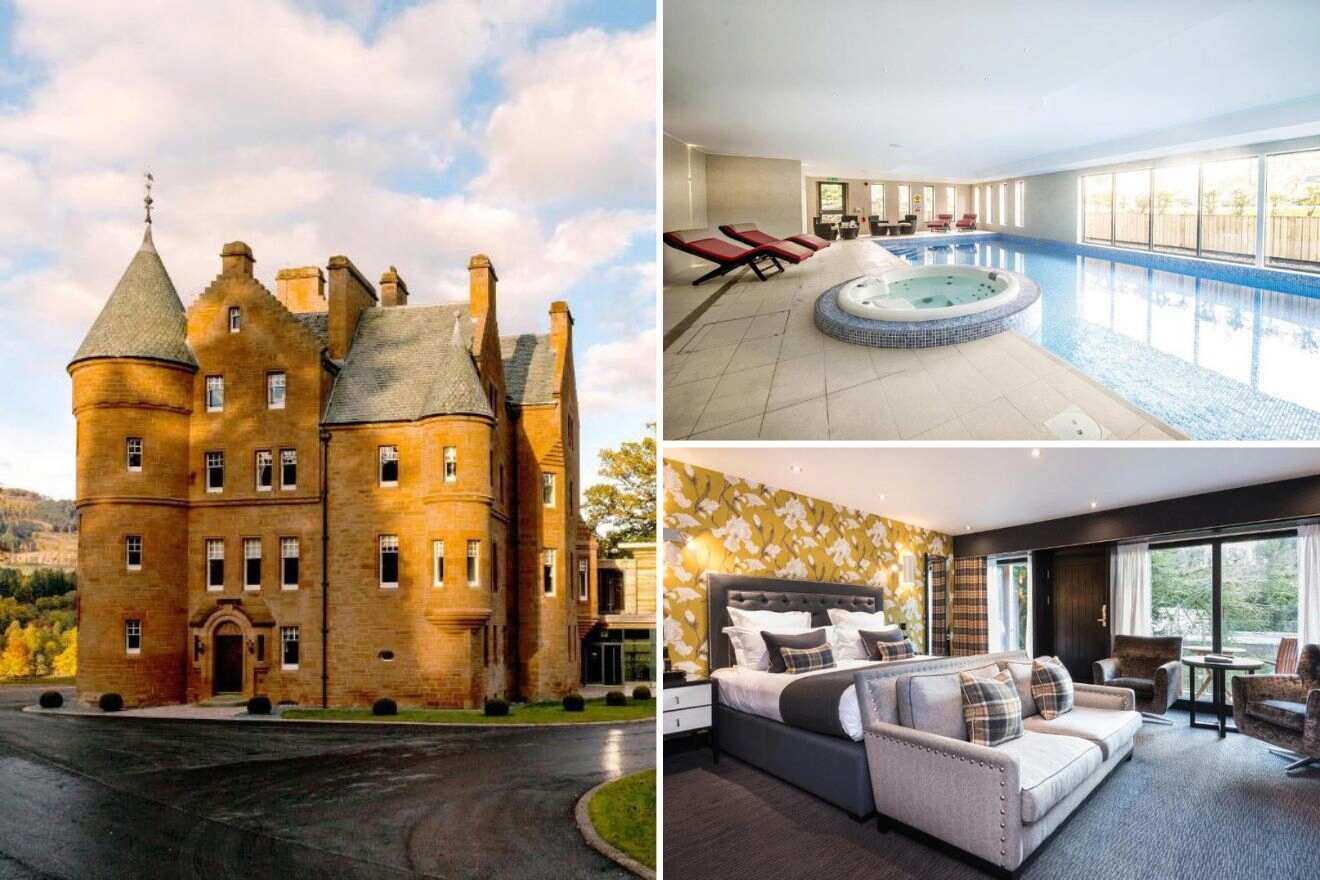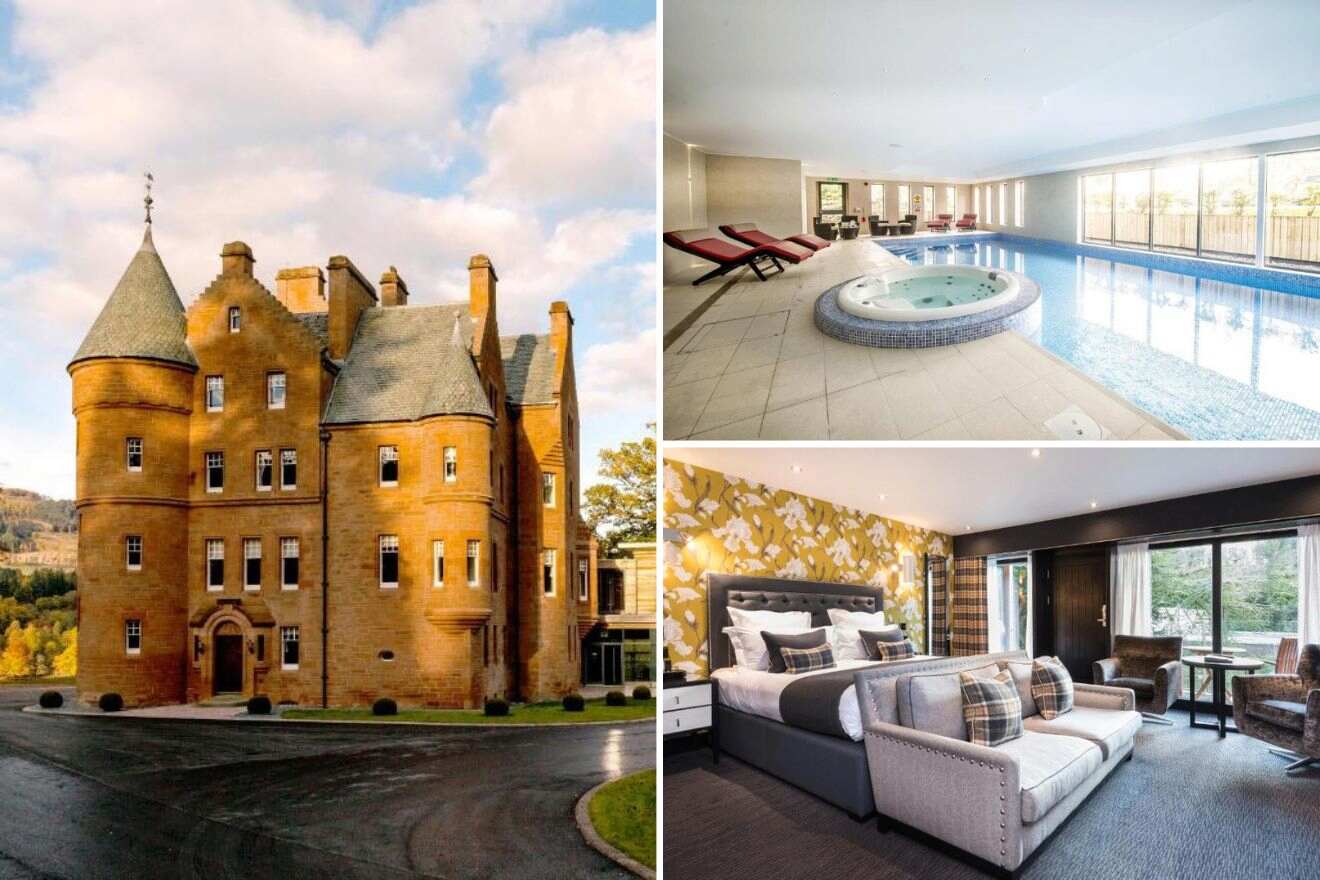 Ever wanted to stay in a castle? Then check out this stunning hotel in Pitlochry! Perfect for those who want to explore the Scottish Highlands, the accommodation is beautifully decorated, and it offers spacious rooms with a seating area and great views through the floor-to-ceiling windows.
You'll spend one of the best spa breaks here, as their center is filled with incredible amenities like a steam room, a thermal suite, hot tubs, a swimming pool, and other spa day packages that will make you feel light as a feather! The hotel also offers lots of fun activities like bike tours, hiking, archery, and many more fun things to do, which you should surely try in these lovely Highlands!
7. Kimpton Charlotte Square – for an urban escape in the capital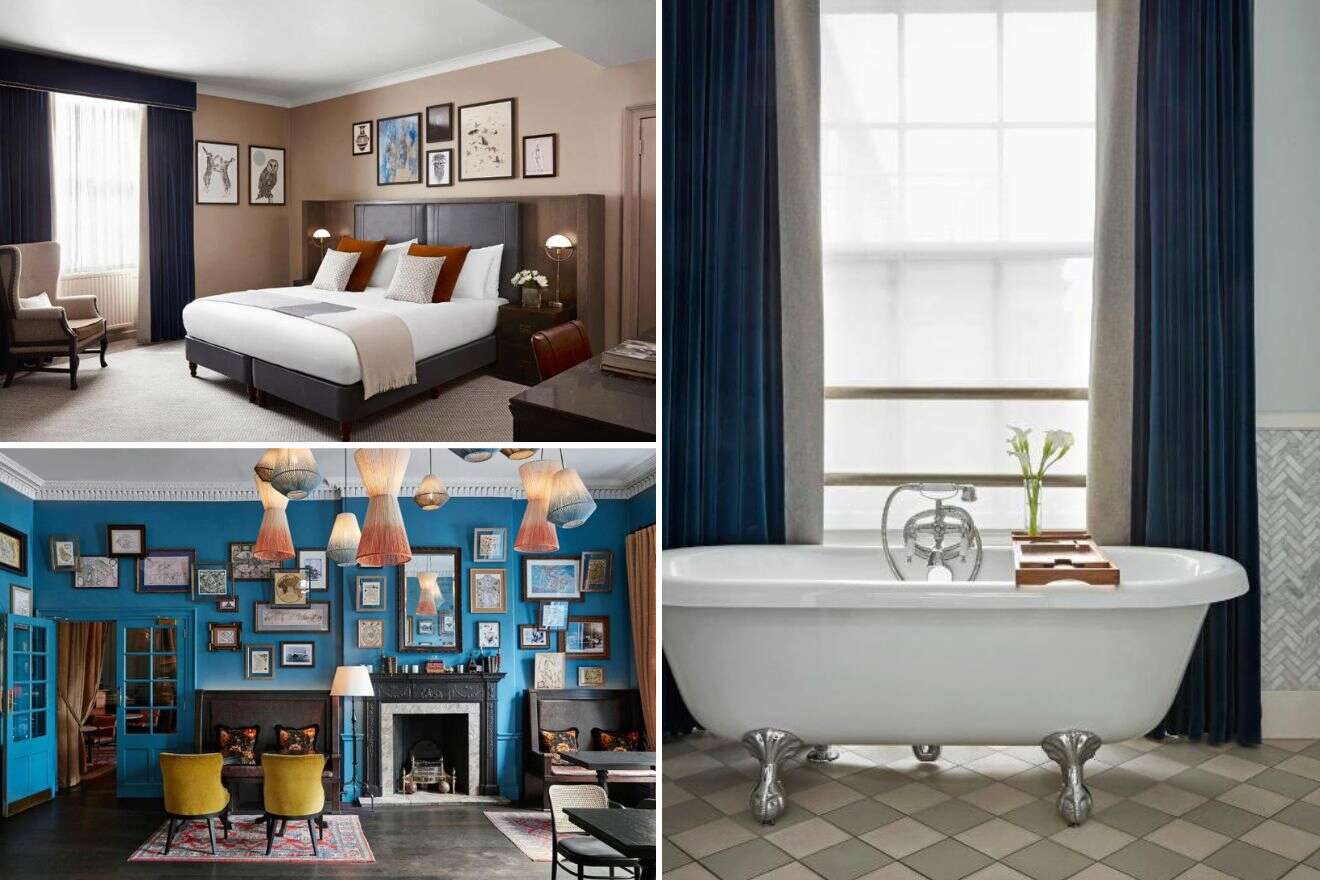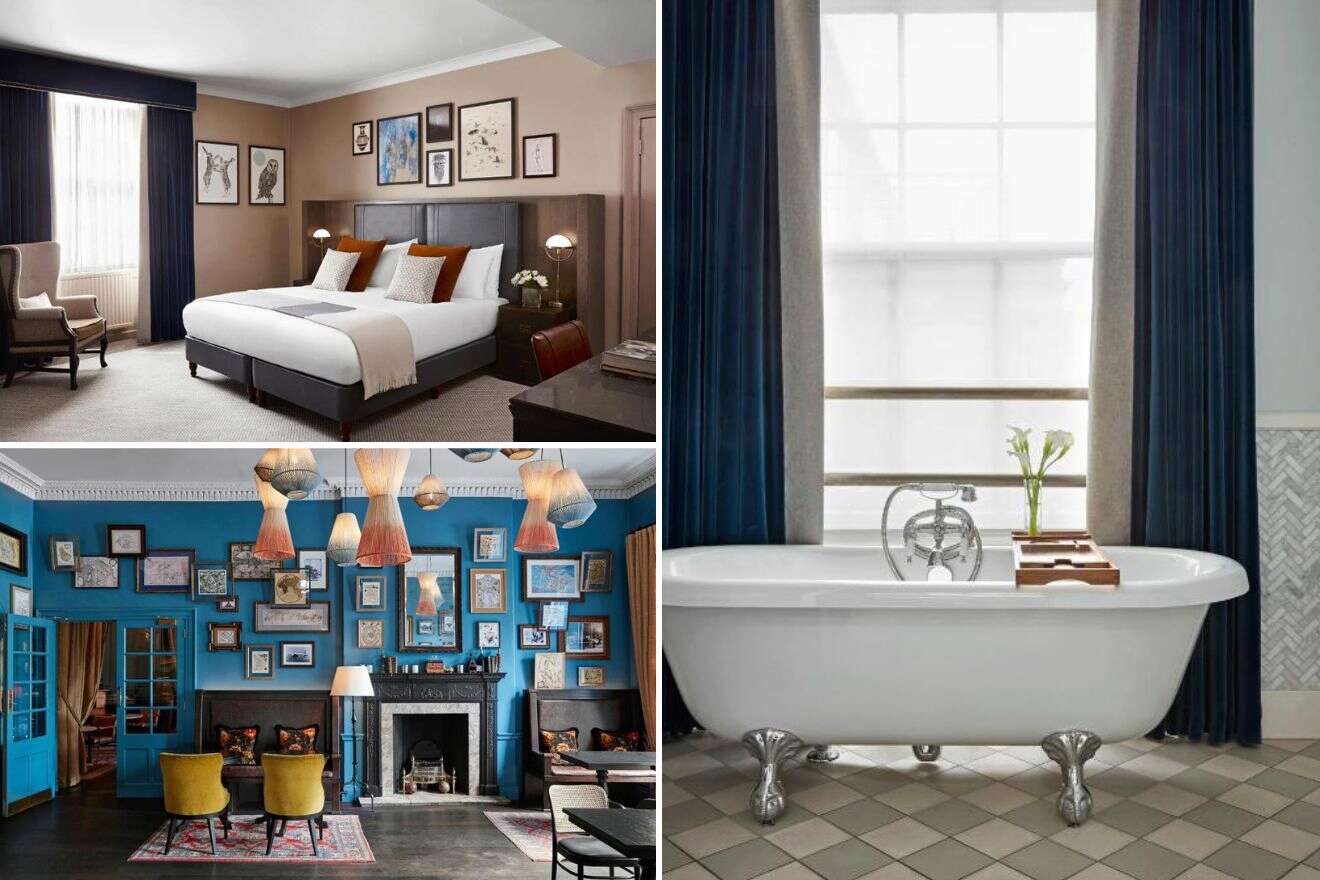 Still looking for the perfect Edinburgh hotel for your spa break? Then check out this place, which is set in the New Town, just a short walk away from Princess Street and George Street. Start your mornings here with a yummy Scottish breakfast in the indoor courtyard, where you can enjoy other meals throughout the day, and then head out to visit Edinburgh Castle!
Or you can spend your first day in town relaxing in the spa, especially if you've just had a long flight and you want to end the horrible jet lag. Their fabulous spa has a modern fitness suite, a steam room, body treatments, and couples massages. Sounds like such a dream!
8. Cameron House on Loch Lomond – for the stunning views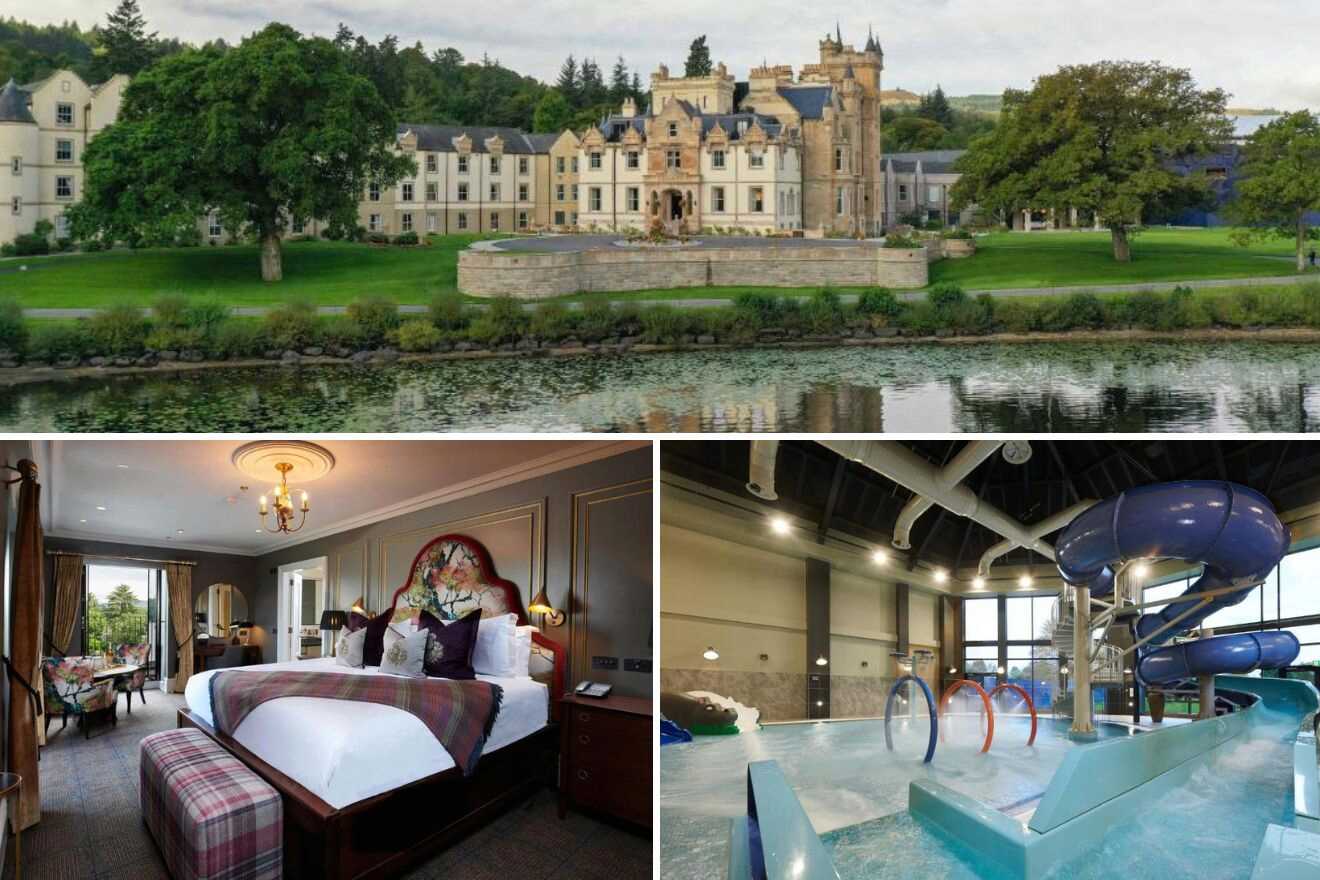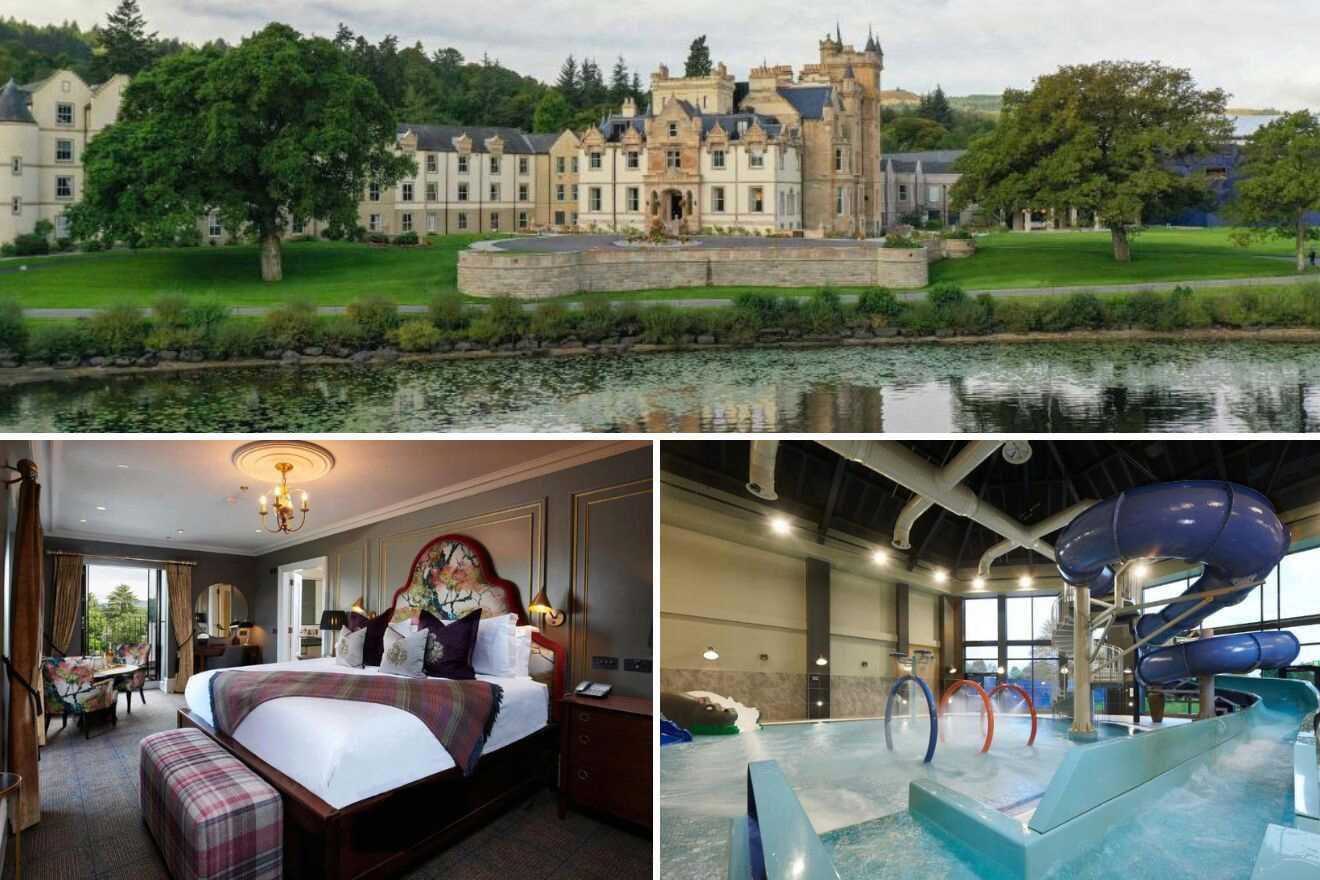 Live your Outlander dream in this stunning location on the shores of Loch Lomond within the Loch Lomond and Trossachs National Park! Enjoy a warm welcome from the staff, and then head to your fabulous rooms, which offer incredible views of Loch Lomond and unique wallpapers.
Their exclusive spa has 17 treatment rooms where all guests are invited to enjoy a few hours of absolute relaxation in the steam room or hot tub or while trying all the massages and treatments. You'll also find a rooftop infinity swimming pool, a golf course, and 4 restaurants.
9. Isle of Eriska Hotel Spa & Island – for an intimate getaway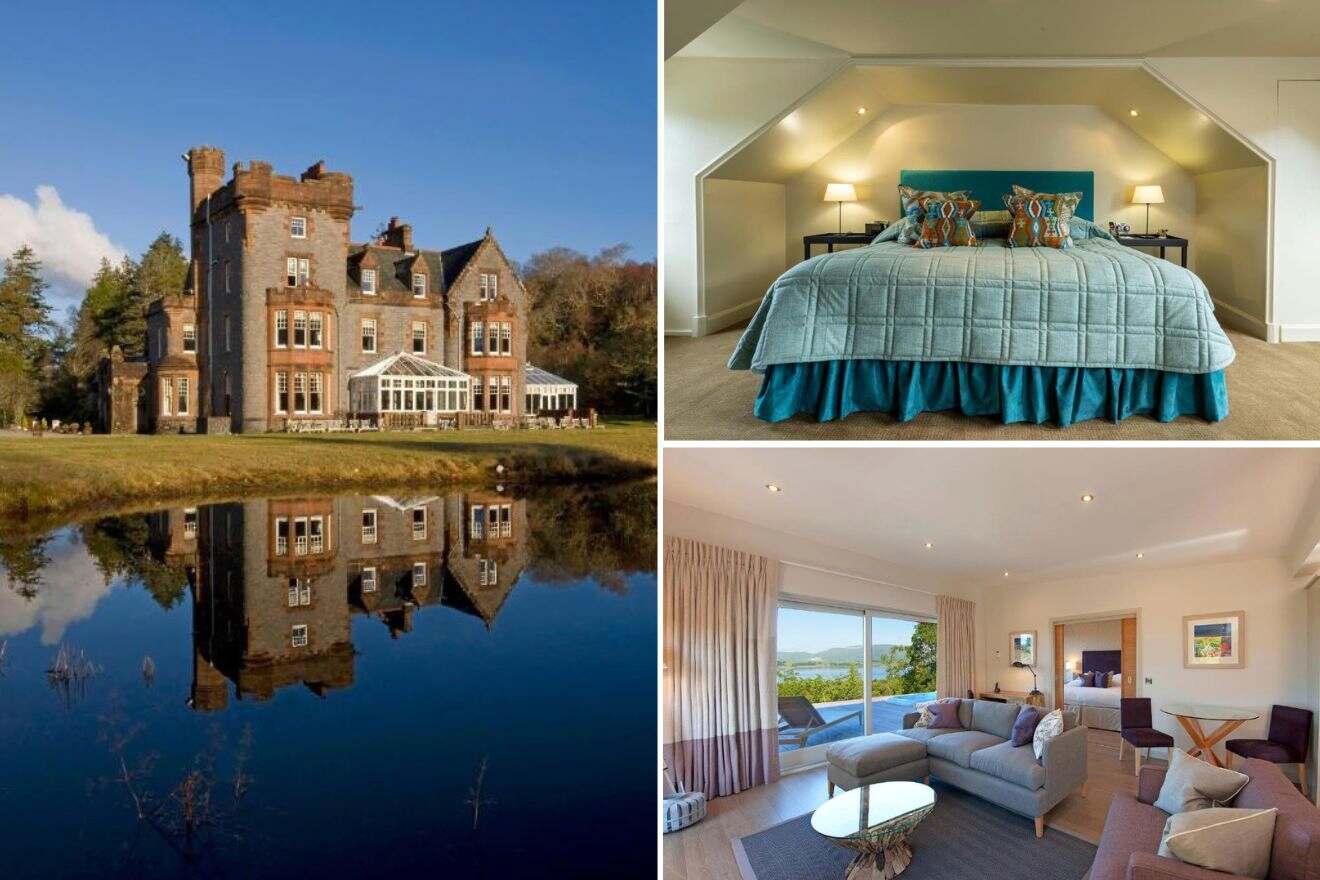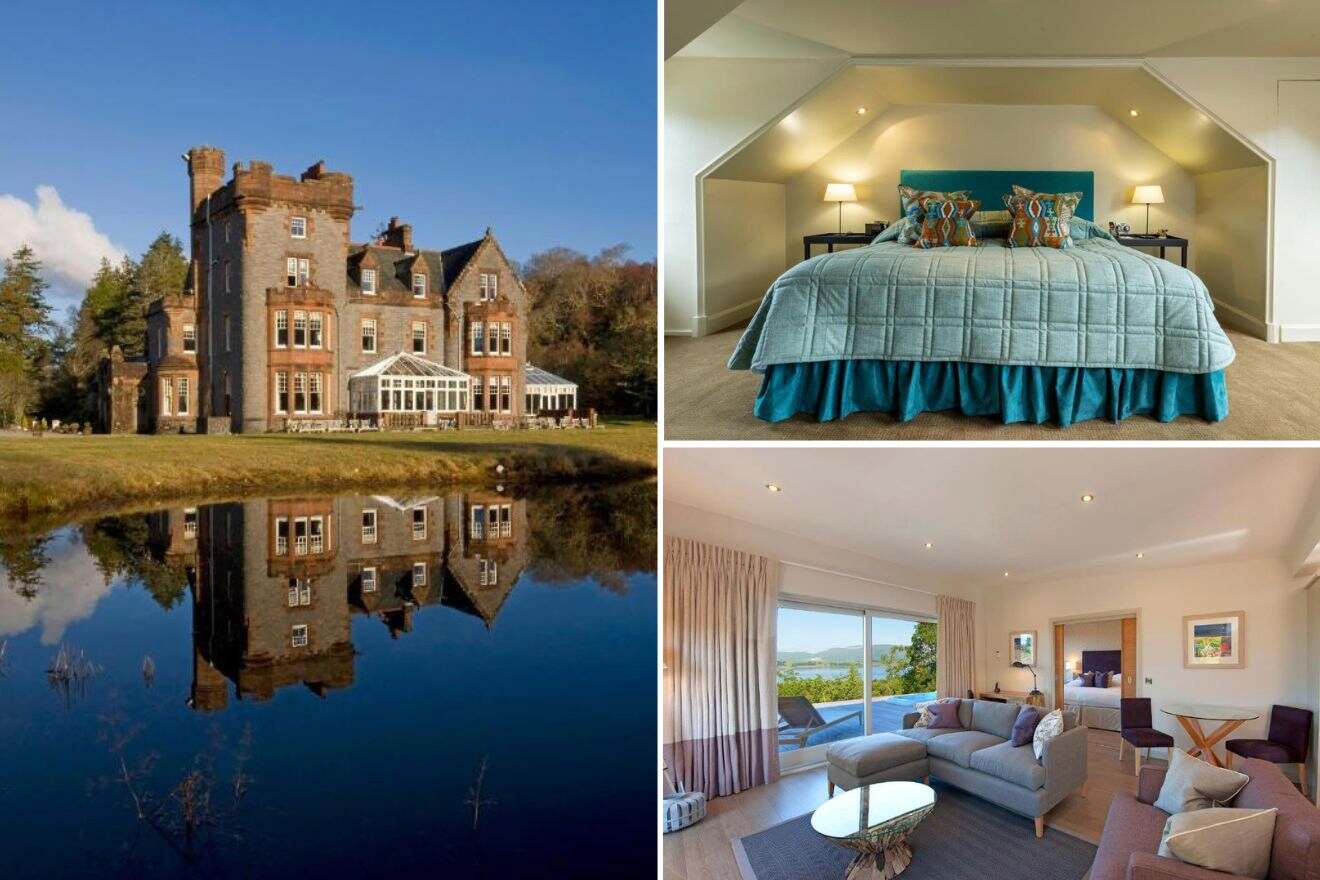 The Scottish islands are so magical, and if you want to spend your holiday on one of them, then check out this hotel that's set on the Isle of Eriska! A simple yet super chic accommodation that's surrounded by a breathtaking background of the unique Scottish landscape.
Their Stables spa has five treatment rooms where you can go and enjoy various facilities. From relaxing massages, swimming in the pool, sitting in the steam room or sauna. Let's just say you'll probably need a day to try them all! During your holiday, you can also enjoy some yummy dishes at the 2 restaurants on-site and play on the golf course.
10. Norton House Hotel & Spa – historic hotel with a hydro pool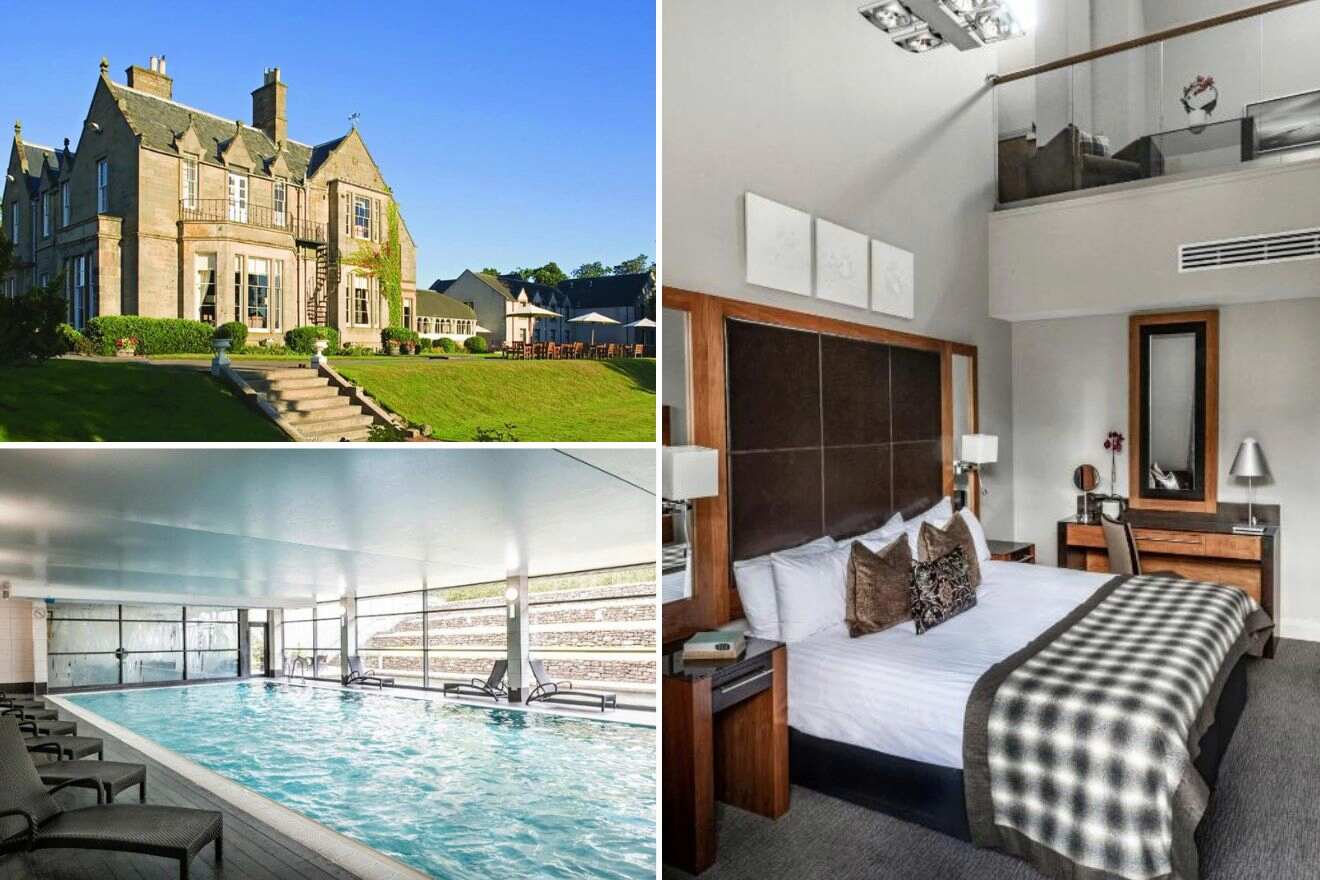 If you want to stay somewhere near Edinburgh, as the city can get pretty hectic at times, then I'd recommend this gorgeous accommodation that's set in Ingliston, just a 30 min car drive away from the capital. Set in a Victorian mansion, the hotel is by a wide green meadow where you can spend your days reading and exploring.
And when you aren't chilling somewhere on the meadow, I guess you'll probably spend some time at the spa center, which features different treatment rooms with a steam room, a sauna, and a hydro pool!
11. Machrie Hotel & Golf Links – set in a unique location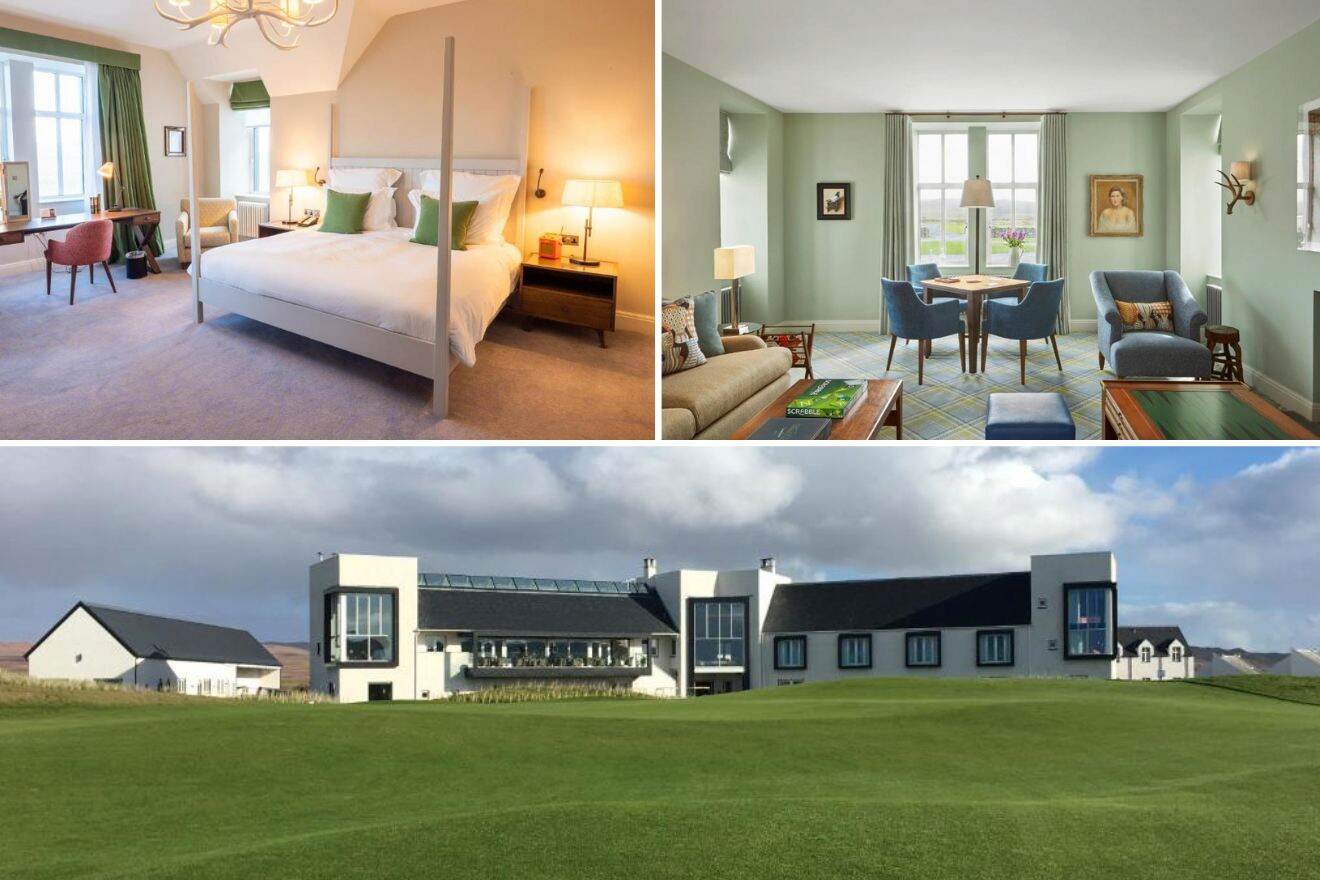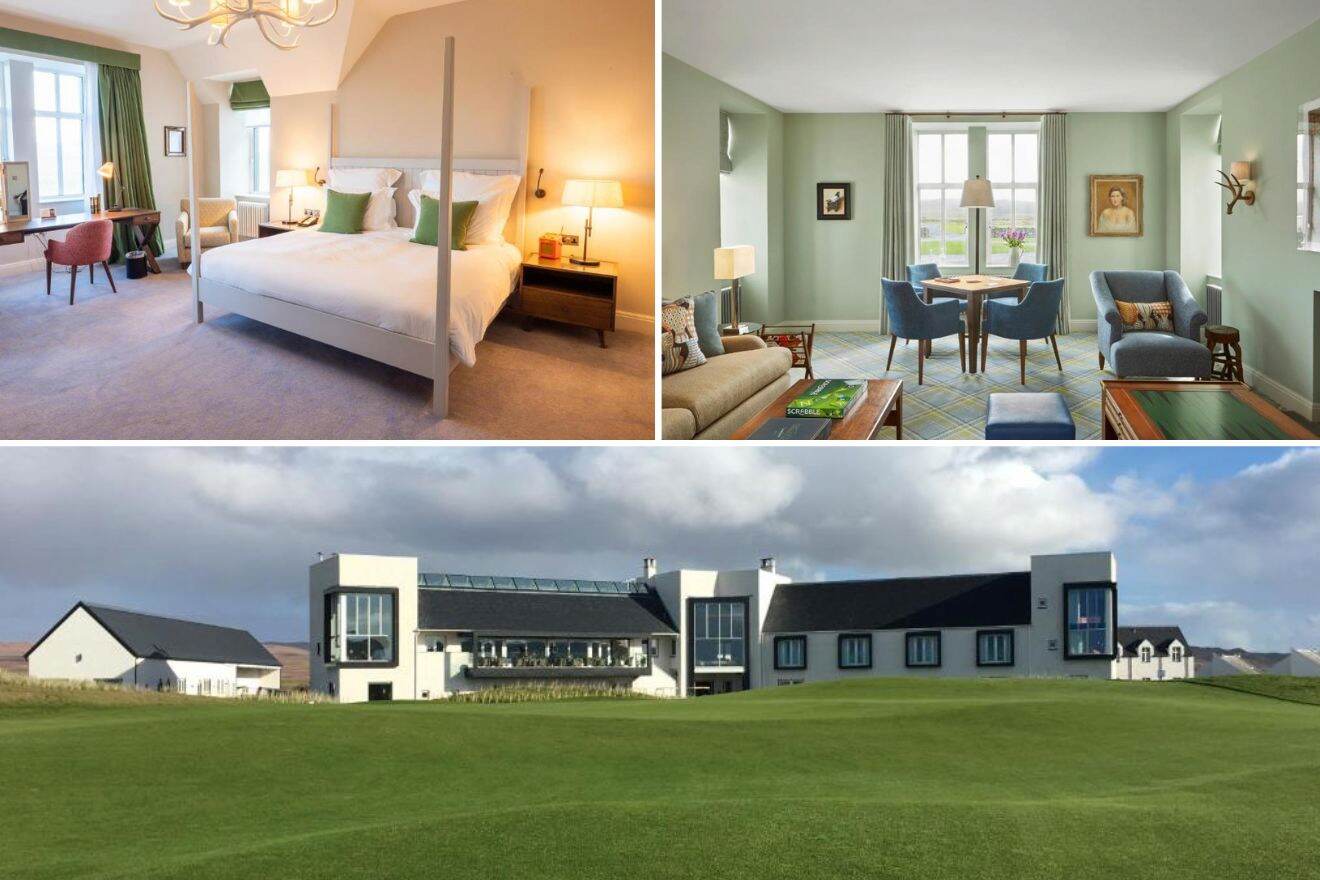 Would you look at this location? It's so incredible! Set on Islay Island, this amazing hotel is surrounded by wide and long meadows! The accommodation is super modern, and it features spacious rooms, a restaurant, and lots of fun activities that you can do nearby, like hiking in these magical lands and horse riding!
Start your day with some breakfast, and definitely don't miss their afternoon tea! Then you can head to the relaxation space and dive into the world of massages, body wraps, and beauty treatments! This is going to be one of the best spa breaks you've ever been on!
12. Kingsmills Hotel – for all the Outlander fans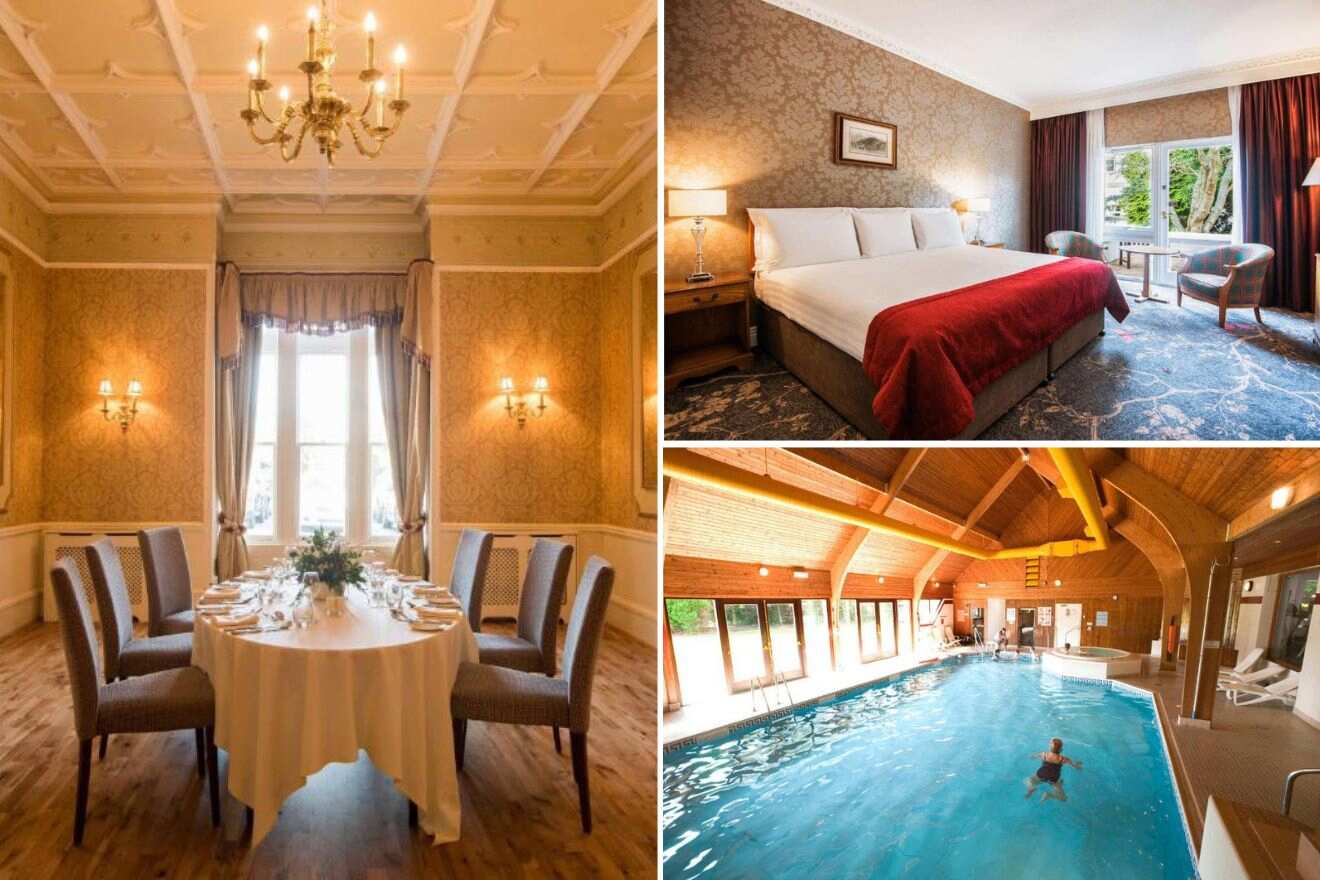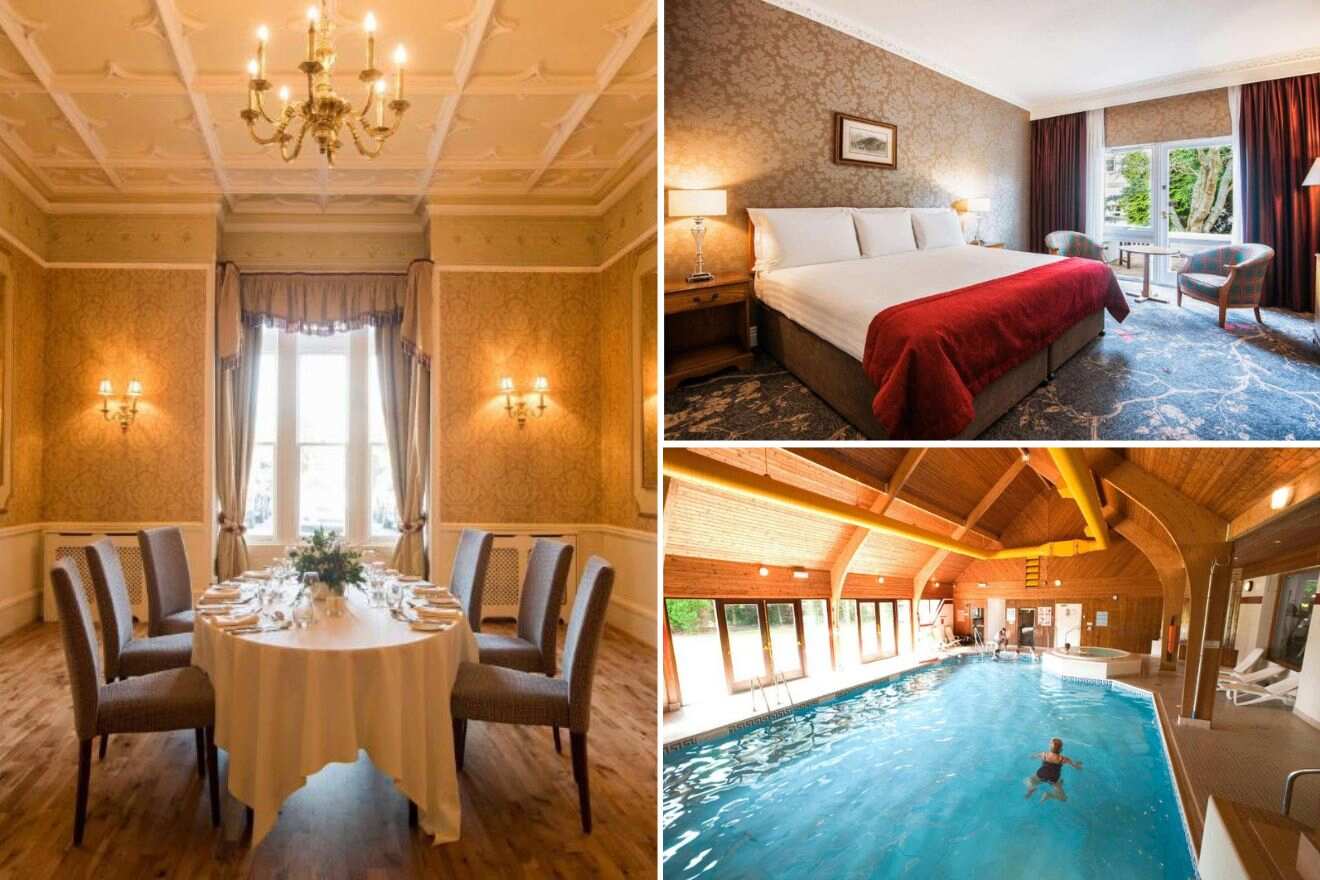 If you've watched Outlander or read the books by Diana Gabaldon, then you probably know all about Inverness, which is known as the cultural capital of the Scottish Highlands. This lovely town is an absolute paradise, especially if you love history and discovering new cultures. It has some great hotels like this one which is tucked away between some lush gardens.
When you're not out and about scouting all the Outlander locations, you can enjoy a nice spa day at the hotel and swim in the indoor pool all day long! Their spa also features steam rooms, body scrubs, hot tubs, a sauna, and many other facilities.
13. Kimpton Blythswood Square – for architecture enthusiasts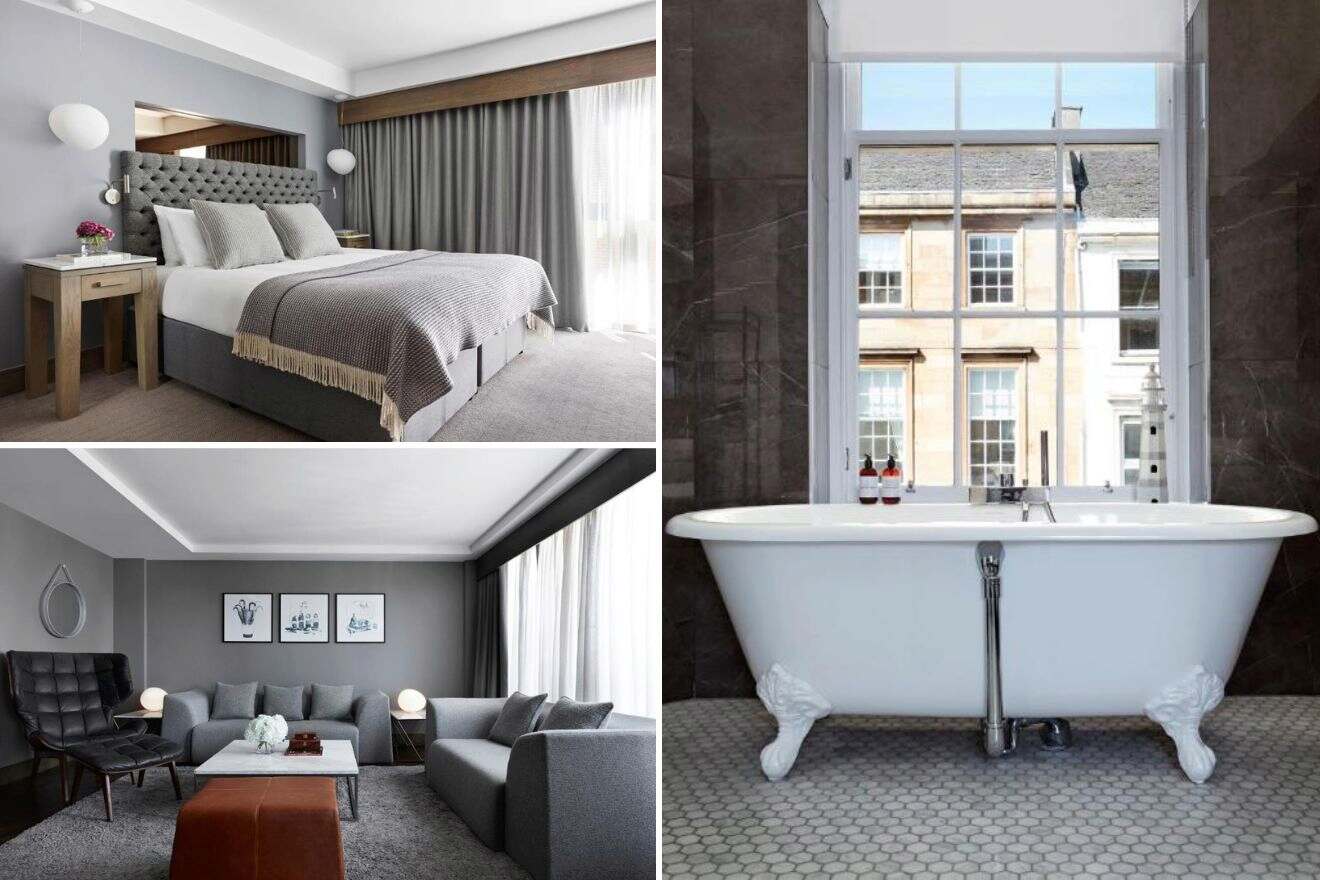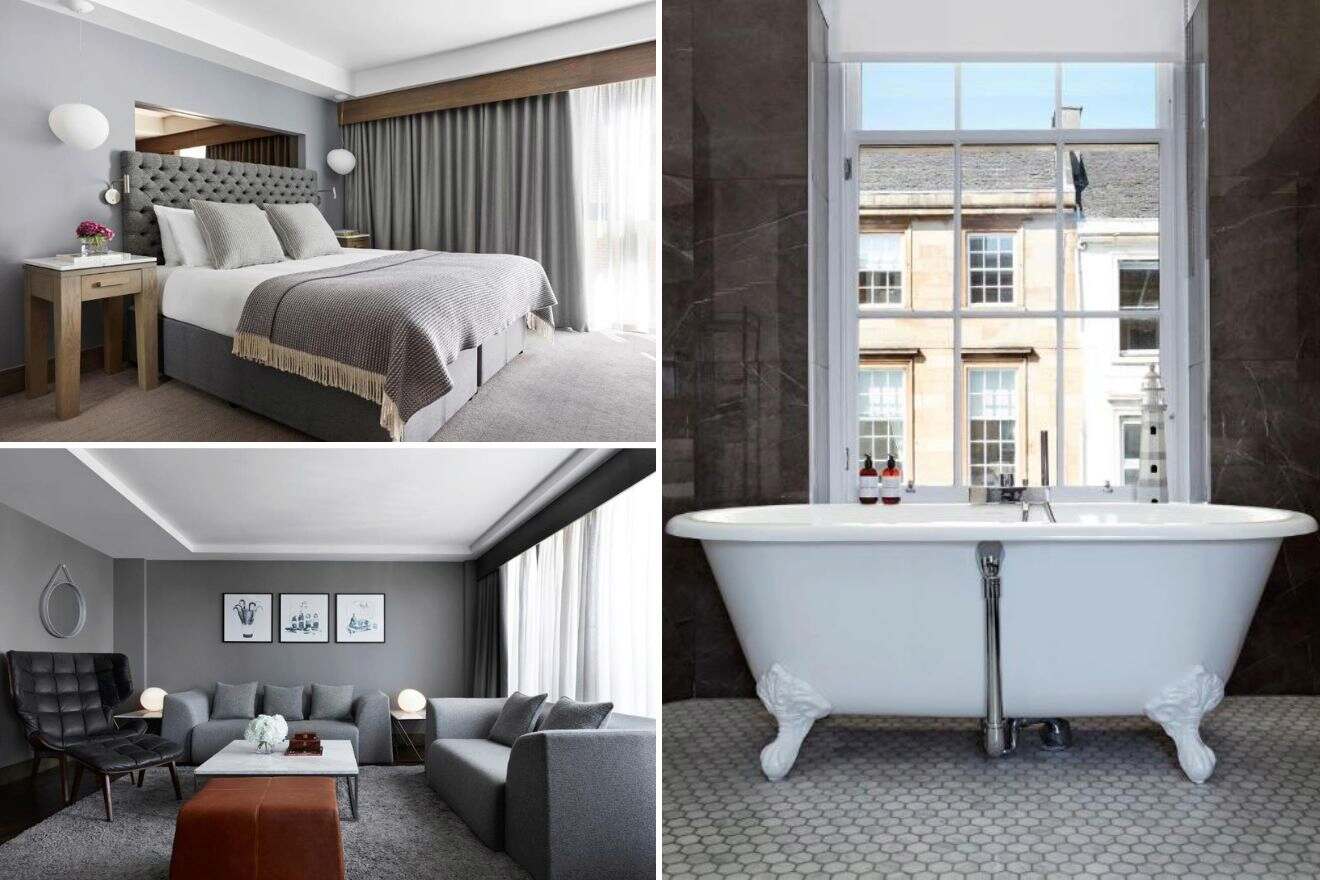 Planning to visit Glasgow while in Scotland? Then check out this fun hotel that's set in the City Center, just a short walk away from many attractions! Dating back to the 1800s, the building was actually used as the home of the Royal Scottish Automobile Club, sounds fancy, but a lot has changed since then, including its interiors.
The accommodation features rooms with a contemporary design and marble bathrooms. Certainly, there is also a spa center that offers many holistic treatments like hot stone massages, a sauna, a steam room, and many other fun things.
14. Marine Troon – a stylish hotel that overlooks the sea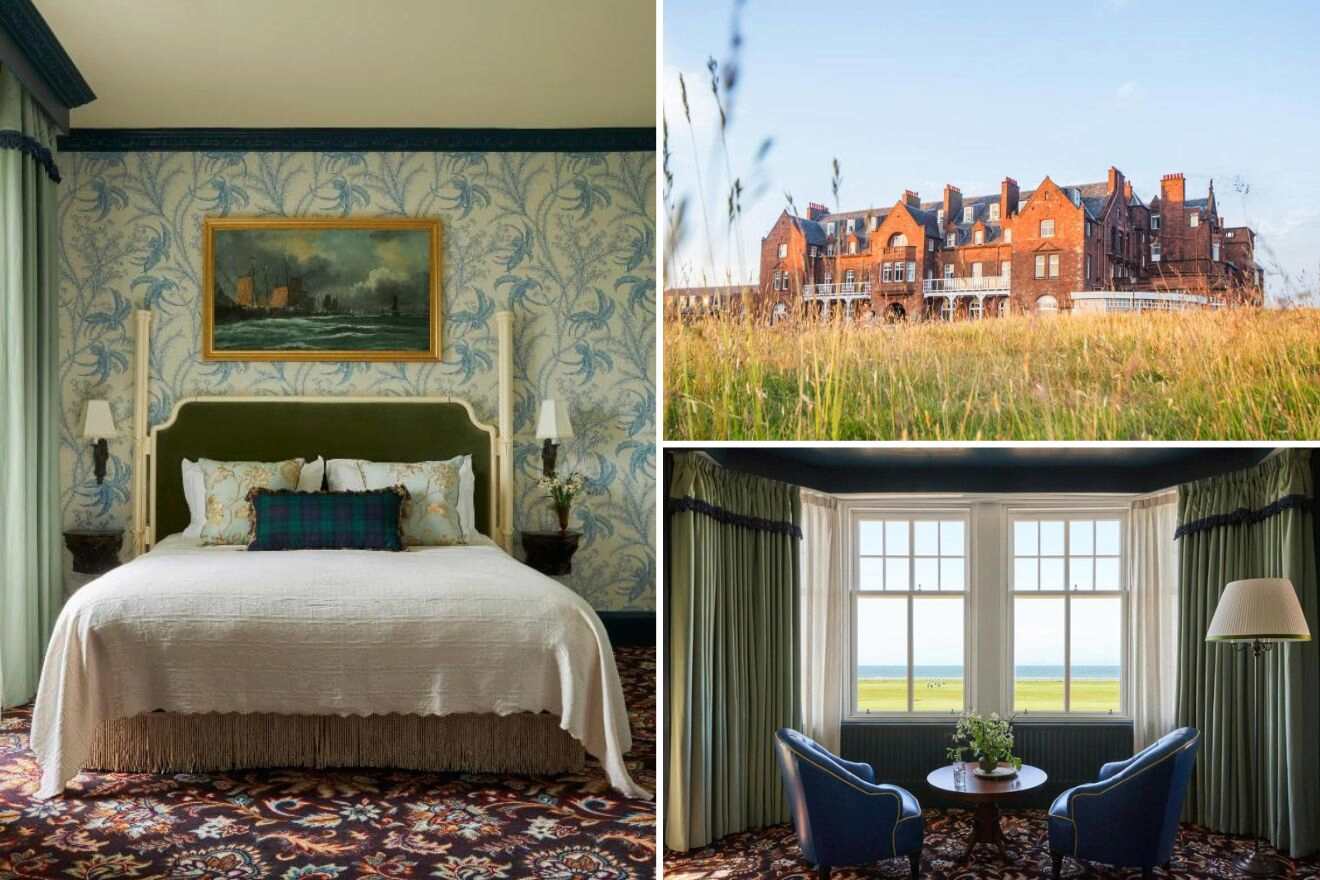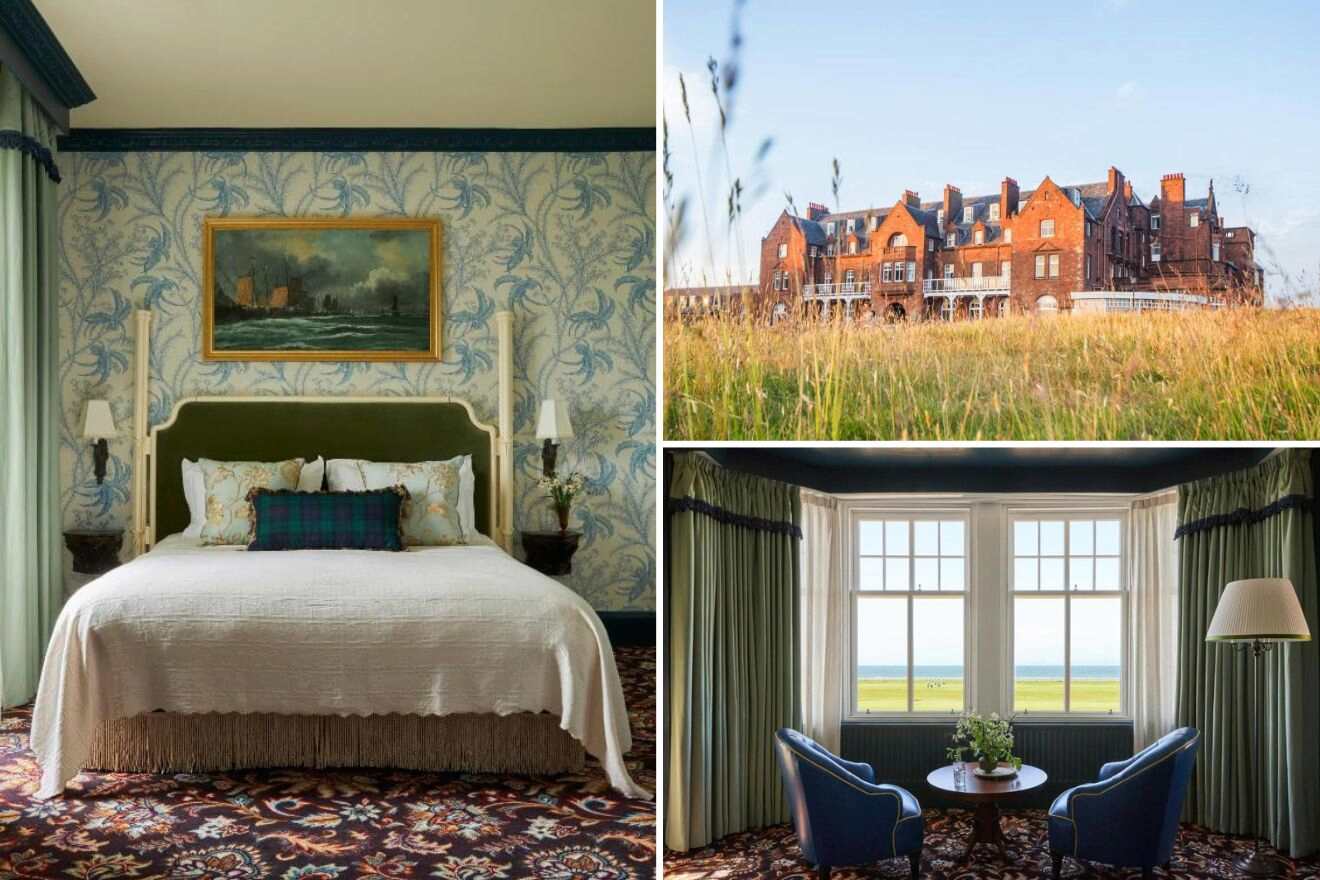 Gotta love a hotel that is all about those beautiful aesthetics! I love the interior design of the rooms here, you can easily see how everything was carefully picked and arranged, from the motifs on the wallpaper to the vintage furnishings! The accommodation is set in Troon, just 1h away from Glasgow, and it features stunning sea views!
During your stay, you can relax at their spa center, which offers a wealth of leisure and fitness facilities from saunas, spa baths, an indoor pool, and many other treatments. You can start your morning with a yummy breakfast in bed and then get ready for a fun day out!
15. The Marcliffe Hotel and Spa – for a fun holiday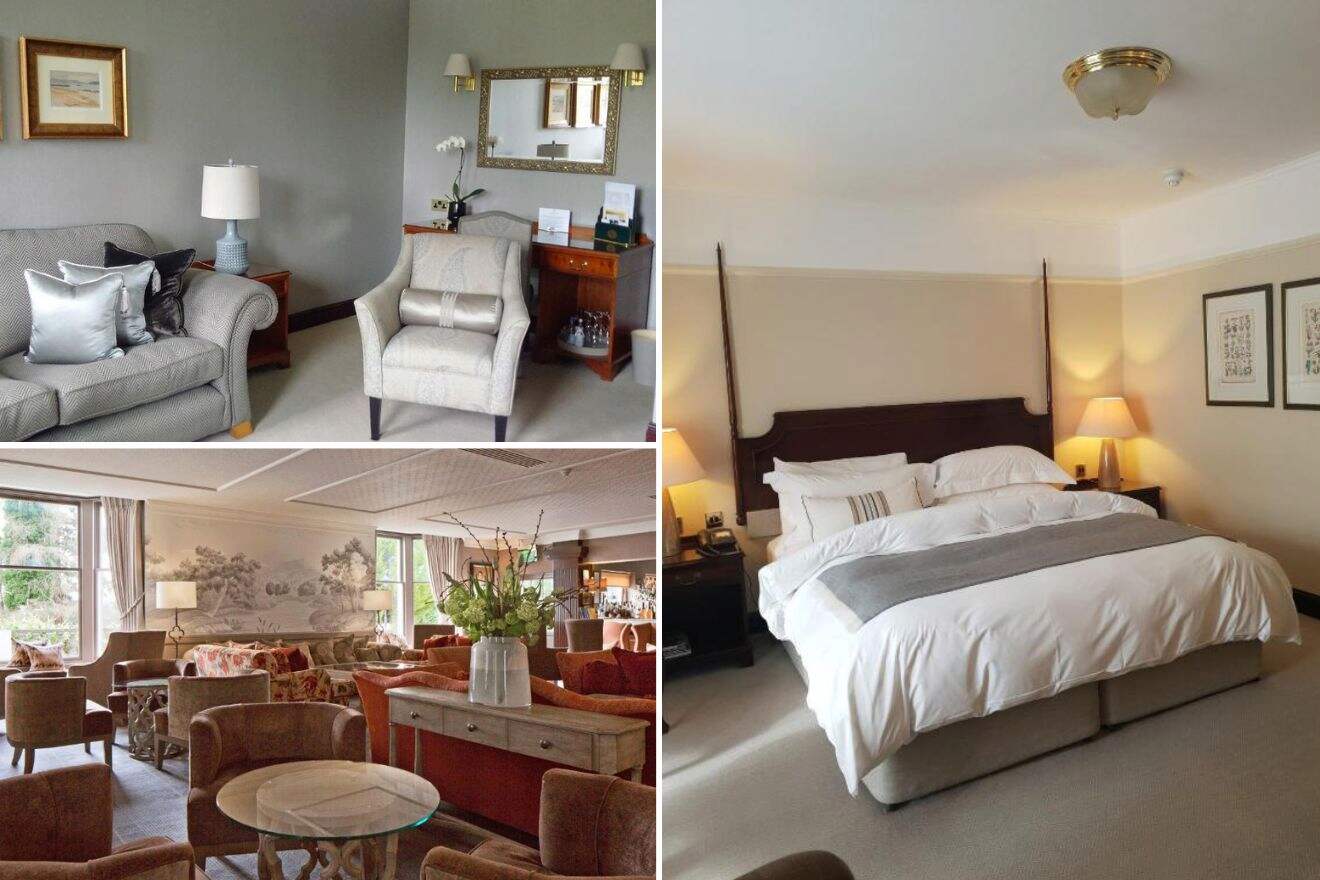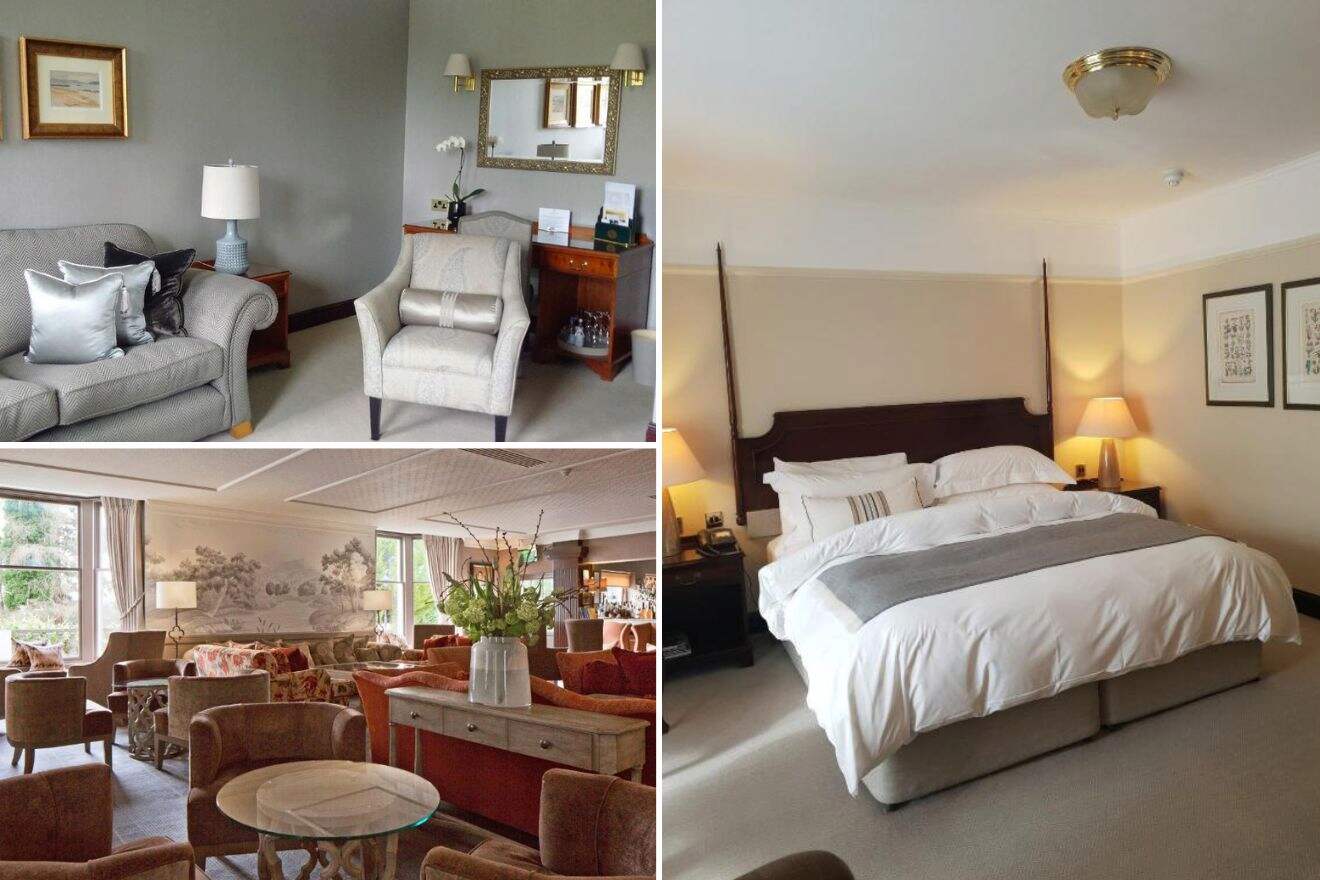 Feel at home in this super cozy hotel in Aberdeen that will make you fall in love even more with the Scottish lands! Set in a tranquil location, the accommodation features simple rooms with chic details, some even have a patio, and others offer garden views.
The hotel spa is just as amazing as the rest of the accommodations, and it includes various services like Swedish or hot stone massages, beauty treatments, facials, and many other exciting things. You'll also find a restaurant on-site and a bunch of fun activities like hiking, fishing, windsurfing, and bike tours.
16. Portavadie Loch Fyne – for those who like remote locations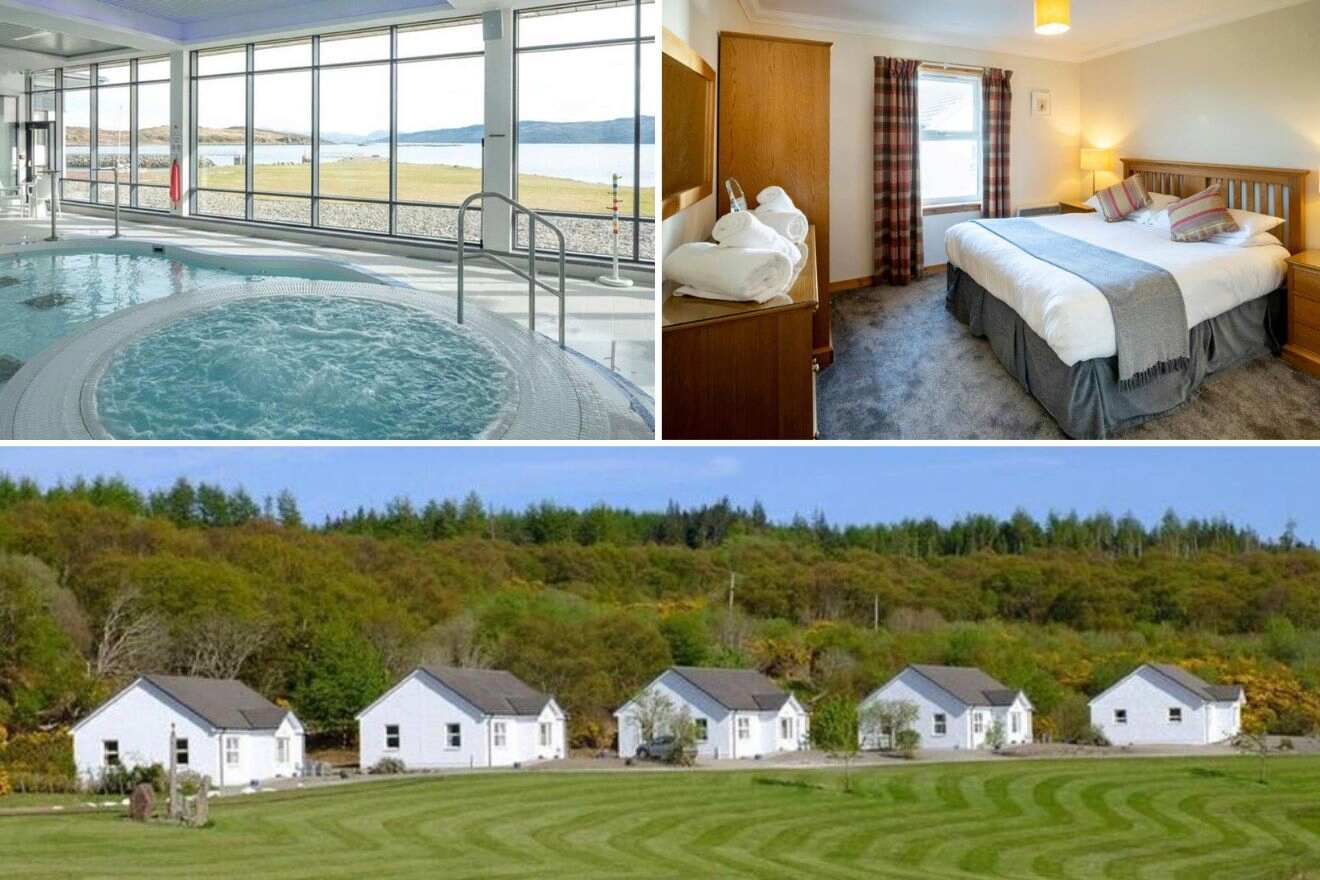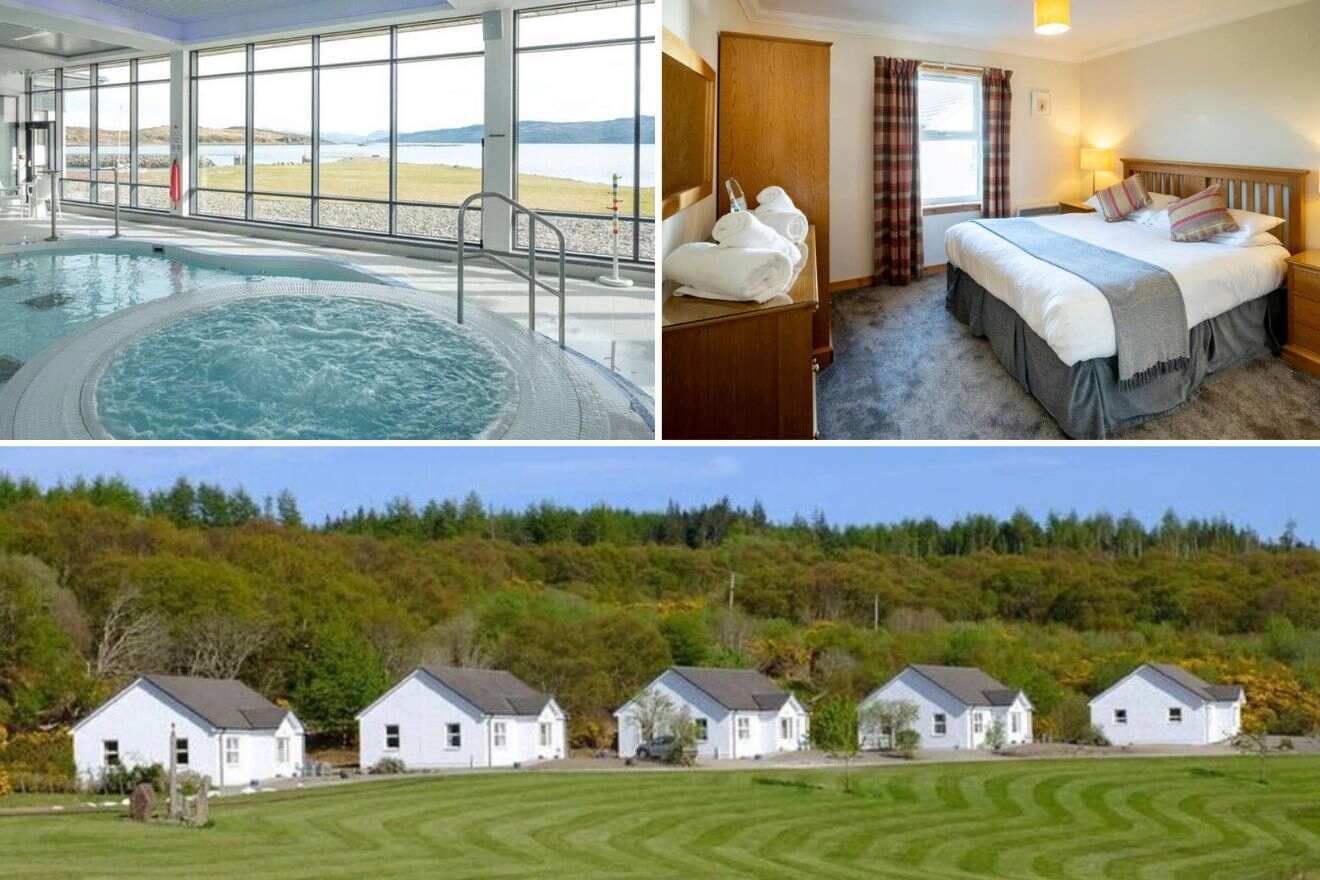 Just picture this, you're relaxing in an outdoor hot tub (which is actually Scotland's biggest heated outdoor infinity pool), watching a scenic sunset, and the mesmerizing Loch Fyne! Yep, this hotel is a keeper! Located in Portavadie, the hotel boasts an award-winning spa that offers a Scandinavian sauna, relaxation areas, and many other things.
The remote location makes the hotel even more charming, and the fact that they added those floor-to-ceiling windows just makes everything better, as you can admire the views 24/7 from your luxury apartments. You'll also find outdoor and indoor pools, a restaurant, and many fun activities.
FAQs about spa hotels in Scotland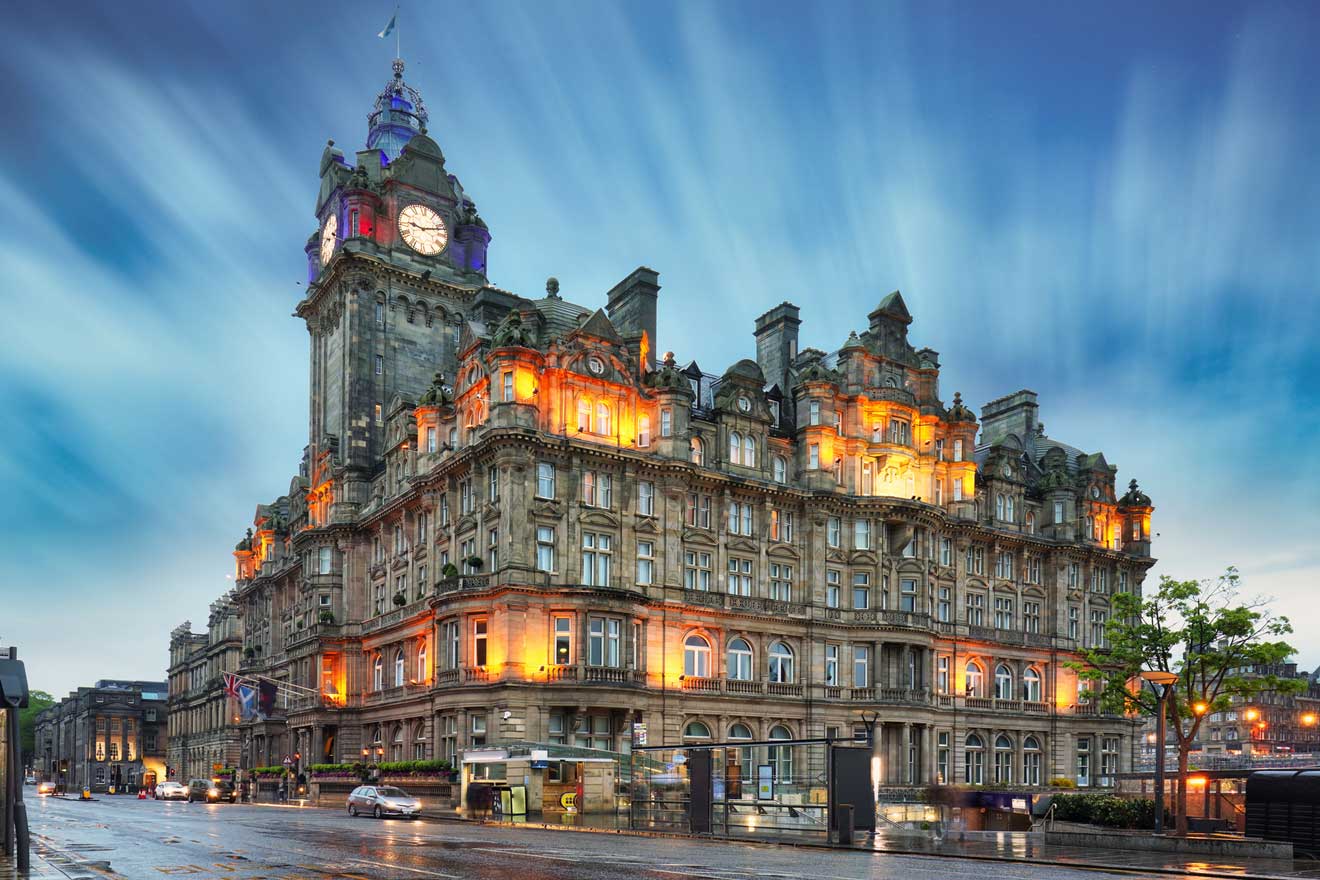 Conclusion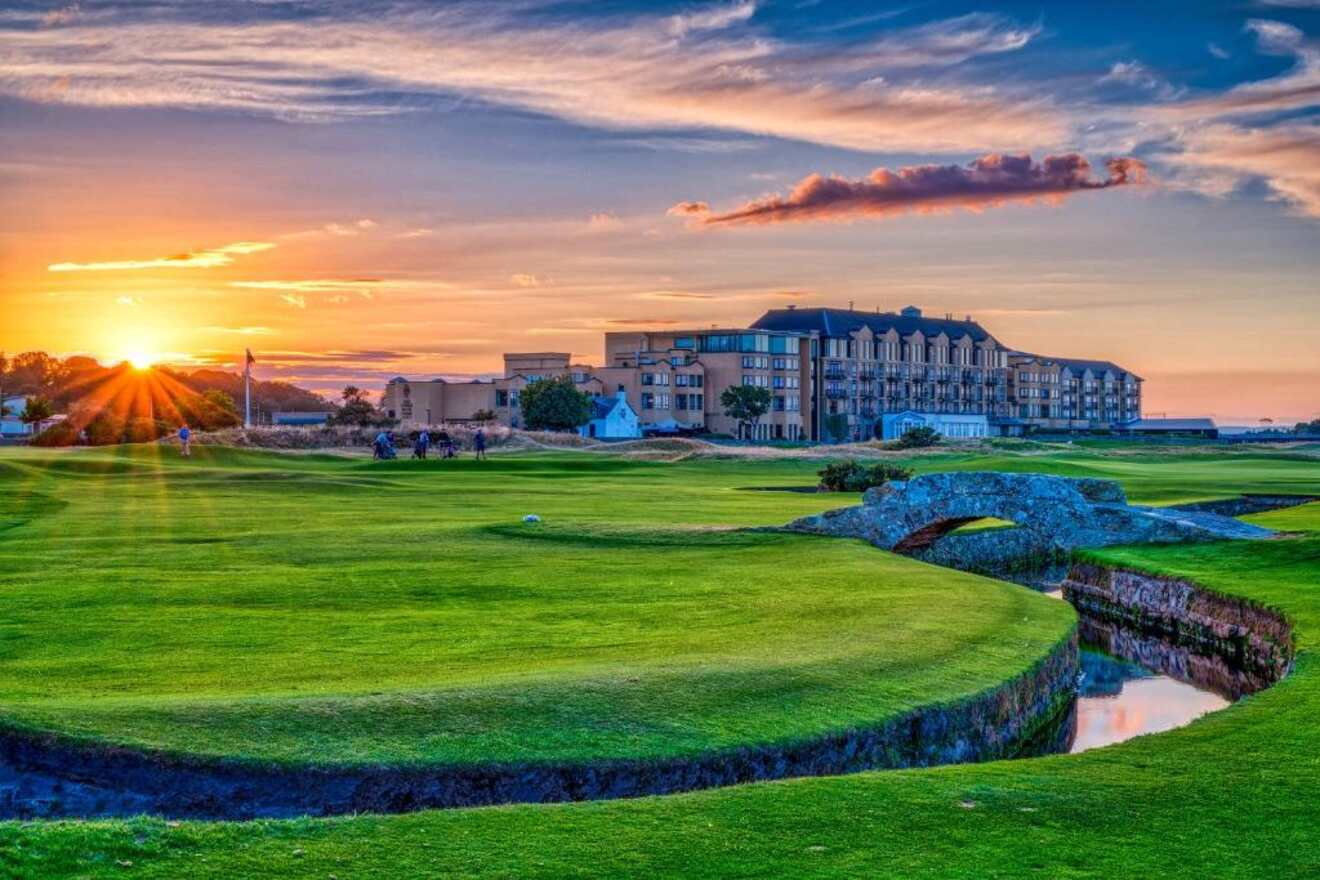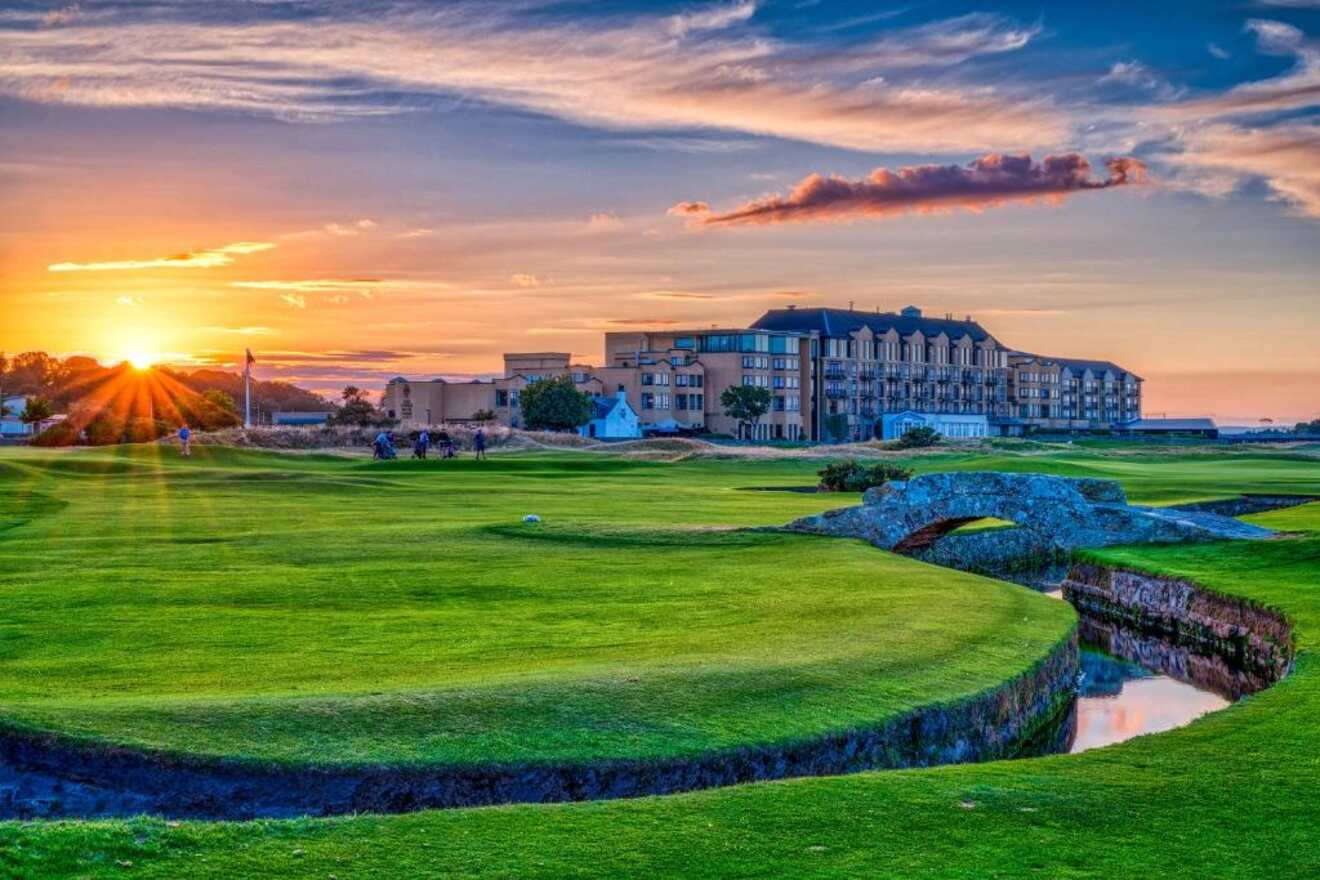 Can you believe how magician this country is? I can never get enough of its landscapes, myths, and legends!
You're one lucky person if you're headed there, and I hope that this post helped you find the best spa hotels in Scotland!
Each spa hotel is special and has unique features like outdoor hot tubs or a leisure club. That's why I highly recommend booking it in advance, as they will sell out super fast!
I can't really end the post without offering my last 2 favorite options! All of them are amazing, but these 2 are so incredible:
The Gleneagles Hotel – Set in a gorgeous location, this hotel offers plenty of outdoor activities, luxurious spa facilities, and comfy rooms.
Trump Turnberry – A fabulous hotel that offers views of the Irish Sea has a great spa and a championship golf course.
There you have it! Now you're all ready to embark on this journey!
I've had such a blast telling you all about Scotland and its best spa hotels, but I'm sure some of you will still have some questions. If that's the case, then leave me a comment below, and I'll answer ASAP!
Safe travels,
Victoria
---
Pin it for later!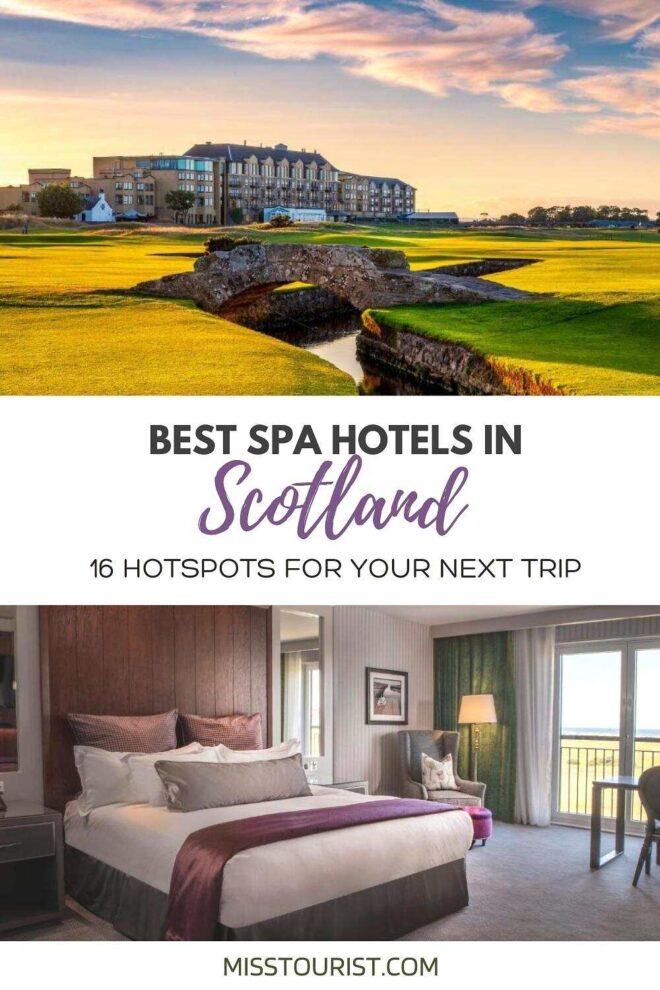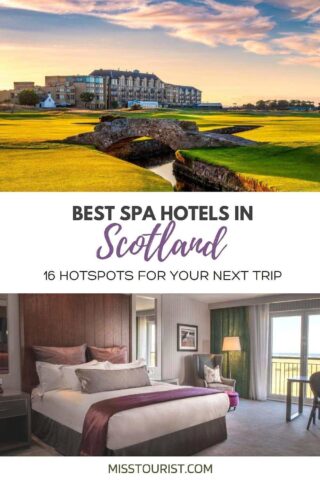 Pin it for later!