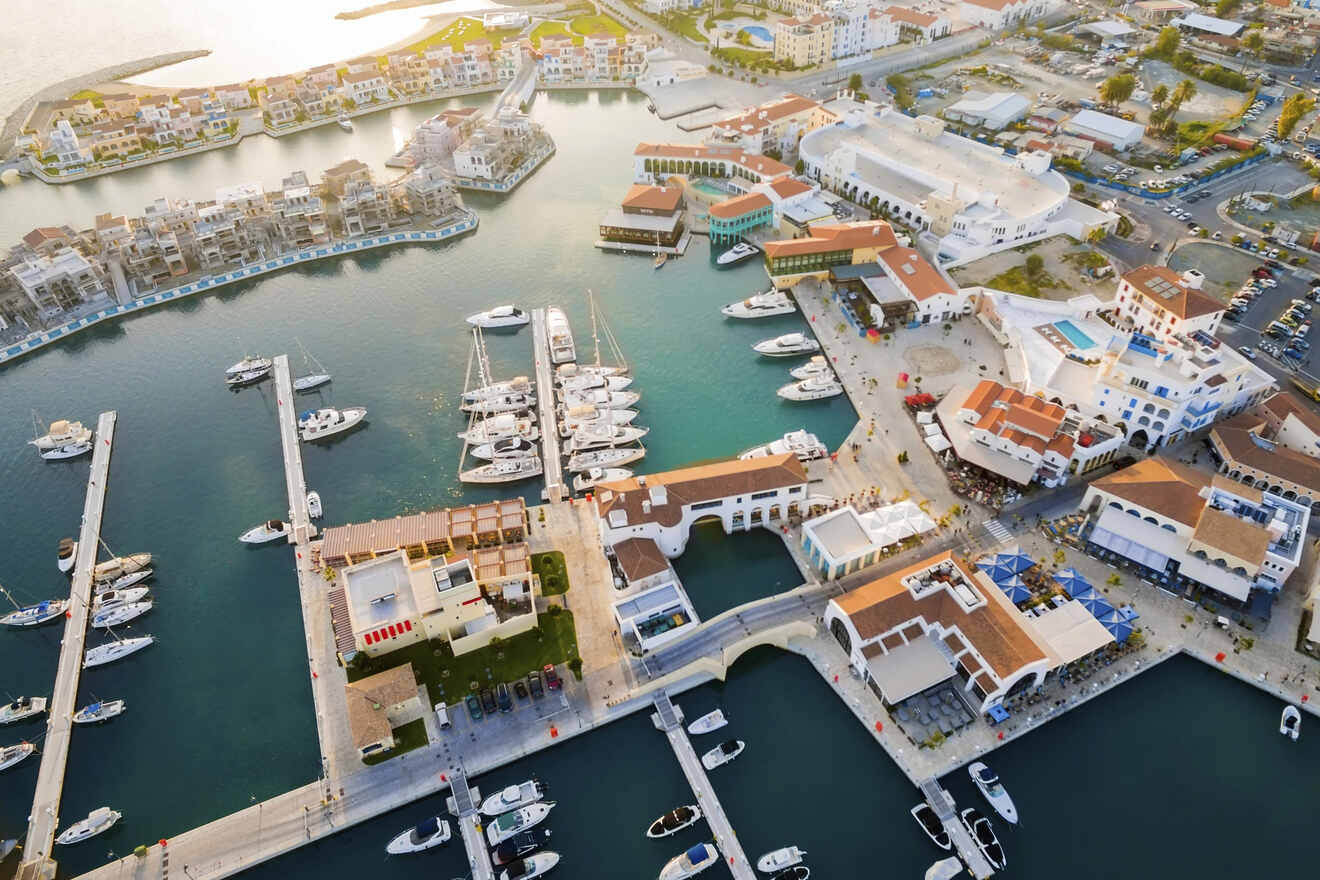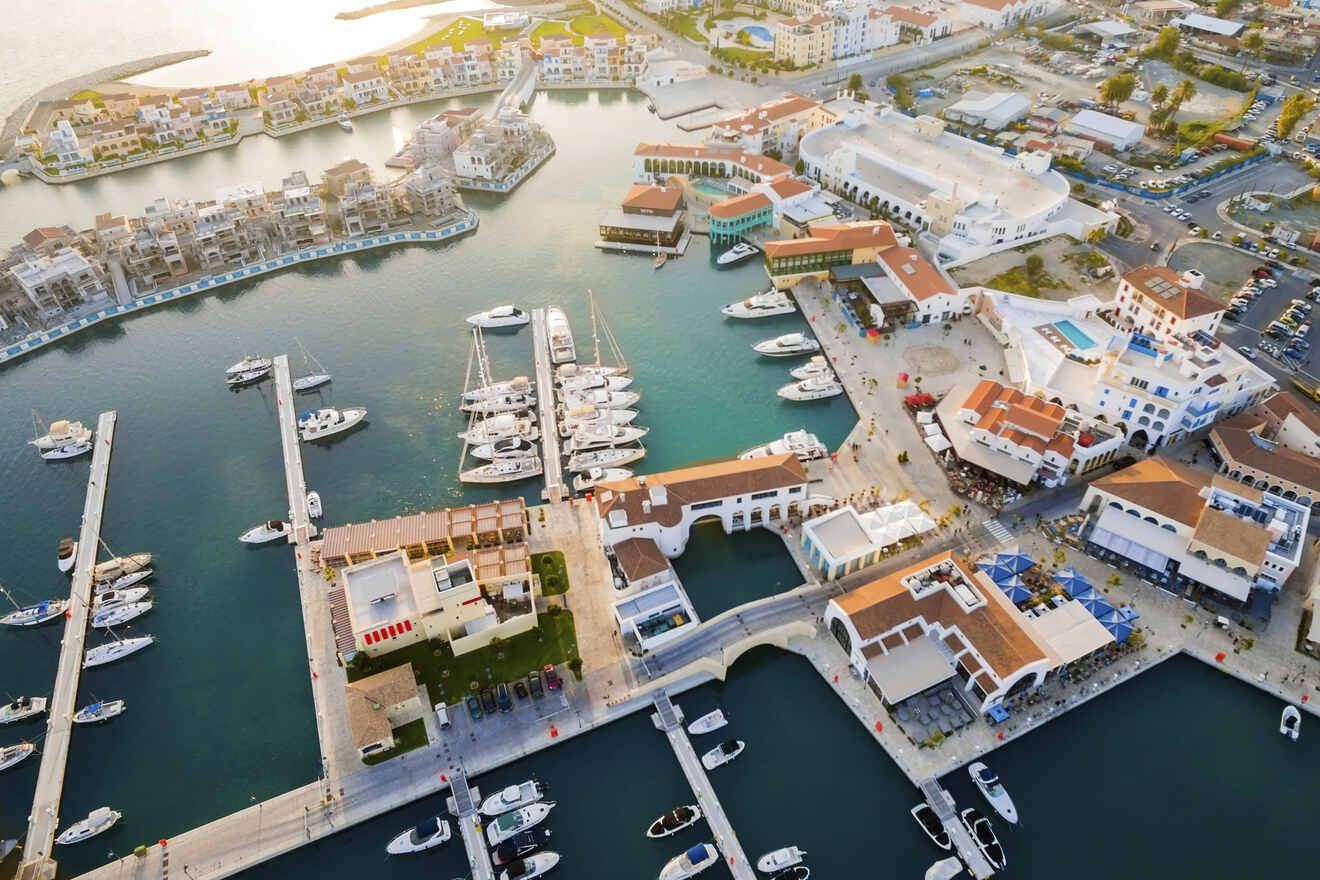 There is nothing better than an island holiday swimming in crystal water and eating delicious foods. On top of it add amazing archeological sites, ancient landmarks, cute picturesque villages, and great cultural museums. Yes, I am talking about the European capital of culture, Cyprus!
Located in the Mediterranean between Europe and the Middle East, Cyprus's capital is Nicosia. Cyprus is a divided island into 2 parts as Southern Cyprus where Greek Cypriots live and Northern Cyprus where Turkish Cypriots live. Thanks to stunning beaches, hot weather, and massive historical sites Cyprus is a popular island escape for many European travelers.
In this travel article on where to stay in Cyprus, I will talk about the 6 best areas to stay in and give the best hotels in each area for all budgets. Cyprus is a big island so all the parts have different vibes and range from boutique hotels to high-rise beach resorts. You might be confused to choose among so many hotels and cities. Don't worry I have searched through them all and picked the best ones for you!
I have to remind you that especially in the summer season, hotels in Cyprus are selling way too fast and I want you to stay at the best hotels. That's why you shouldn't forget to make a booking in advance. By making an early reservation, you will also be able to get better deals. Many of the hotels have a free cancelation, so don't worry if you change your mind!

Now, let's get started!
If you are in a hurry
Here are the best places to stay in Cyprus with hotels from luxury to budget. They all have great reviews and great locations!
Here is a map for where to stay in Cyprus with all the best 6 areas of the island I will be talking about in this blog post and giving hotels for so you can easily visualize them:
1. Limassol – where to stay in Cyprus for the first time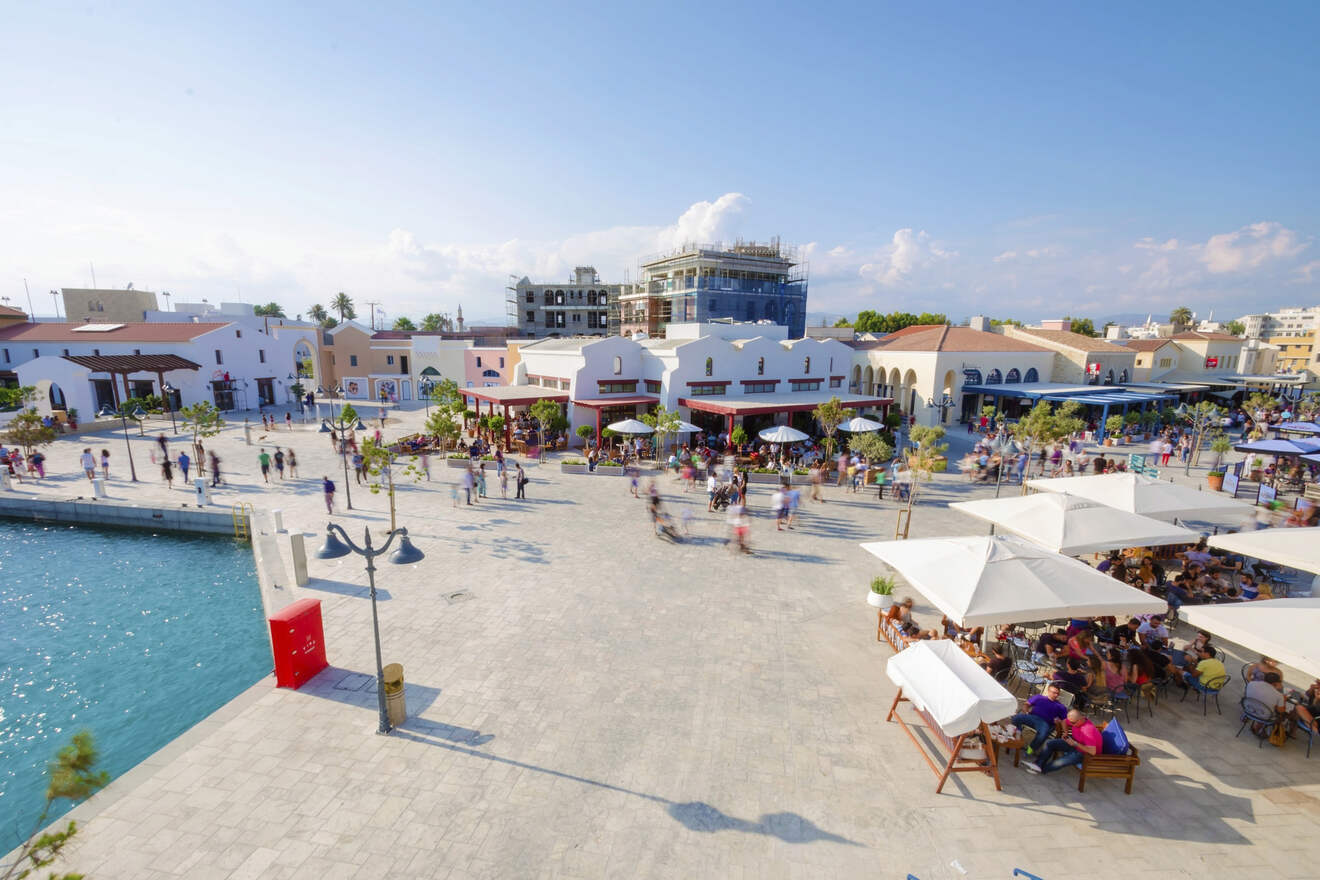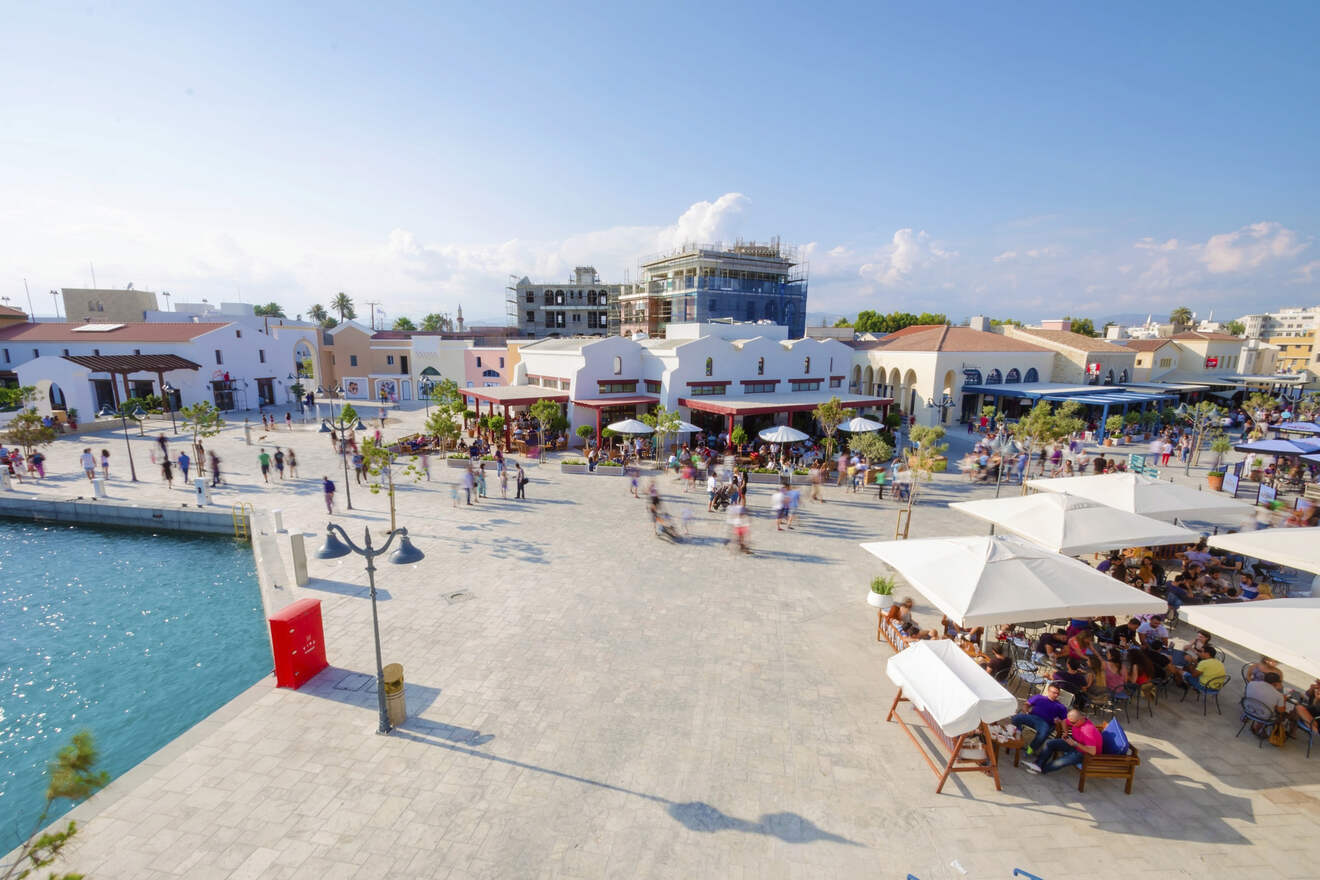 Located on the south of the island, Limassol is the second biggest city in Cyprus and where you will find a bit of everything giving you a great overview of the island. That's why my pick of where to stay in Cyprus for the first time is definitely Limassol!

Thanks to the Limassol seaport, its' nice beaches, all kinds of hotels, traditional restaurants and bars, Limassol is a very popular town in Cyprus. It has the same distance to Larnaca and Paphos airports and the journey takes about 45 minutes.
Limassol is home to the biggest "Old Town" on the island and the main attractions you should see here are the Cyprus Medieval Museum (Limassol Castle), the archaeological sites of Ancient Kourion, and the Limassol Archaeological Museum. I can sense the excitement of those who are into ancient Greek history already!
Apart from historic sites you can also enjoy the beautiful beaches in Limassol, devour delicious Greek foods in the restaurants by the sea, check out numerous shops and spend some time in the vibrant bars. You see, Limassol has it all!
In Limassol, you will find many nice hotels from luxury to budget. Being a very popular holiday destination though I highly recommend you to make a booking in advance for the hotels if you don't want to lose your favorite place. Here are the best places to stay that I picked for you in this city.
Other accommodation options in Limassol
Things to do in Limassol
2. Paphos – where to stay in Cyprus for families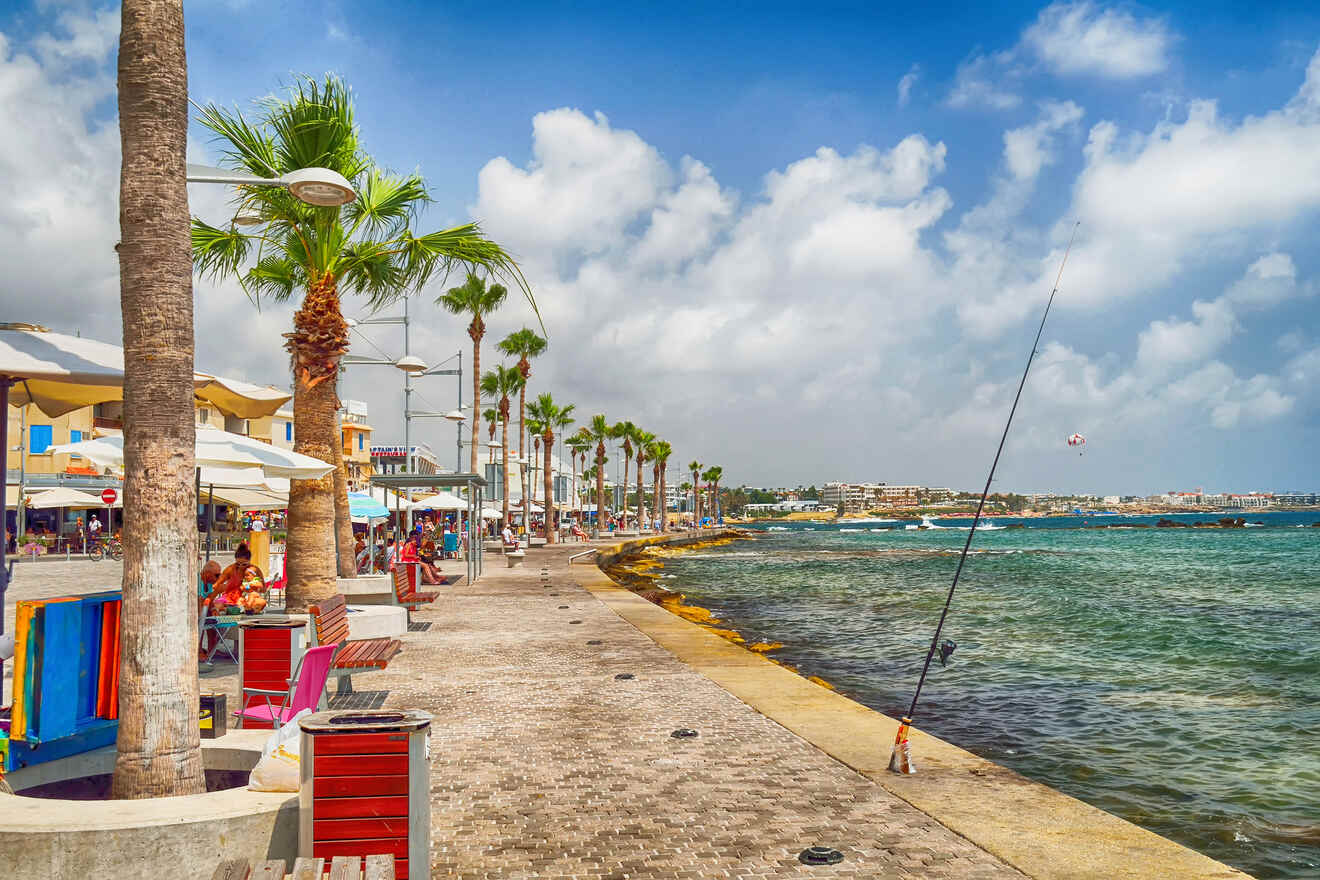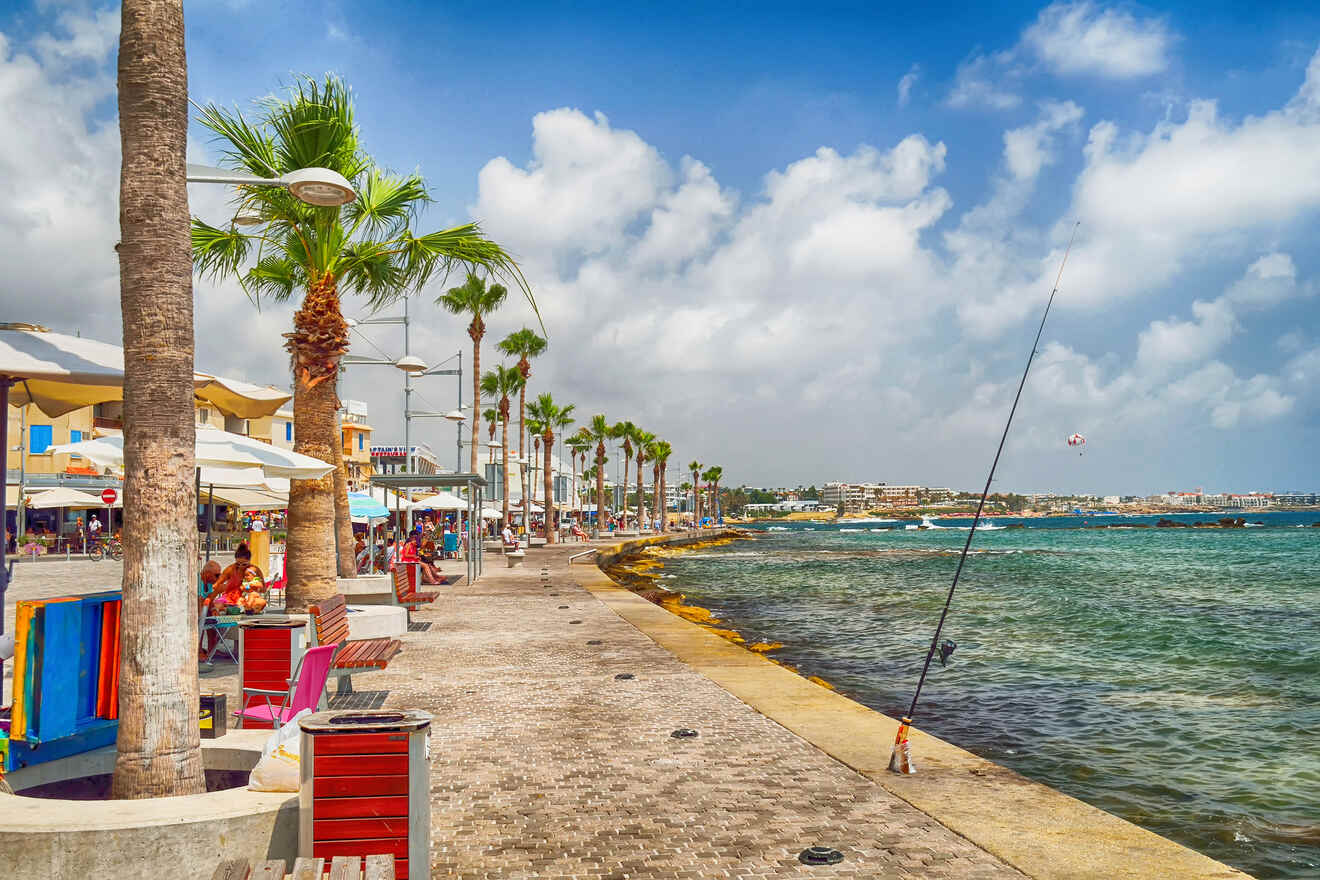 Paphos is a city located on the west coast of Cyprus and just a 20 minutes drive from Paphos Airport. This town is great for families thanks to the kid friendly attractions in the area. Some must-do activities here are Aphrodite Water Park and Pafos Zoo for animal lovers.
The city of Paphos is known as the birthplace of Aphrodite and here you will find many archaeological sites like the House of Dionysus, and UNESCO World Heritage site – Tombs of the Kings. Also if you head south of the city, you will reach Kato Paphos, an old city that is like an open-air museum. I am sure you will enjoy discovering this old town too!
In Paphos, of course, you will also be able to find nice beaches, great local restaurants, and bars. I also figured out the best family friendly hotels for you so all you have to do is pick your favorite one and countdown for your holiday. As these hotels are the best ones in Paphos city they tend to fill up fast so make sure to make your booking in advance!
Other accommodation options in Paphos
Things to do in Paphos
3. Larnaca – the best place to stay in Cyprus for couples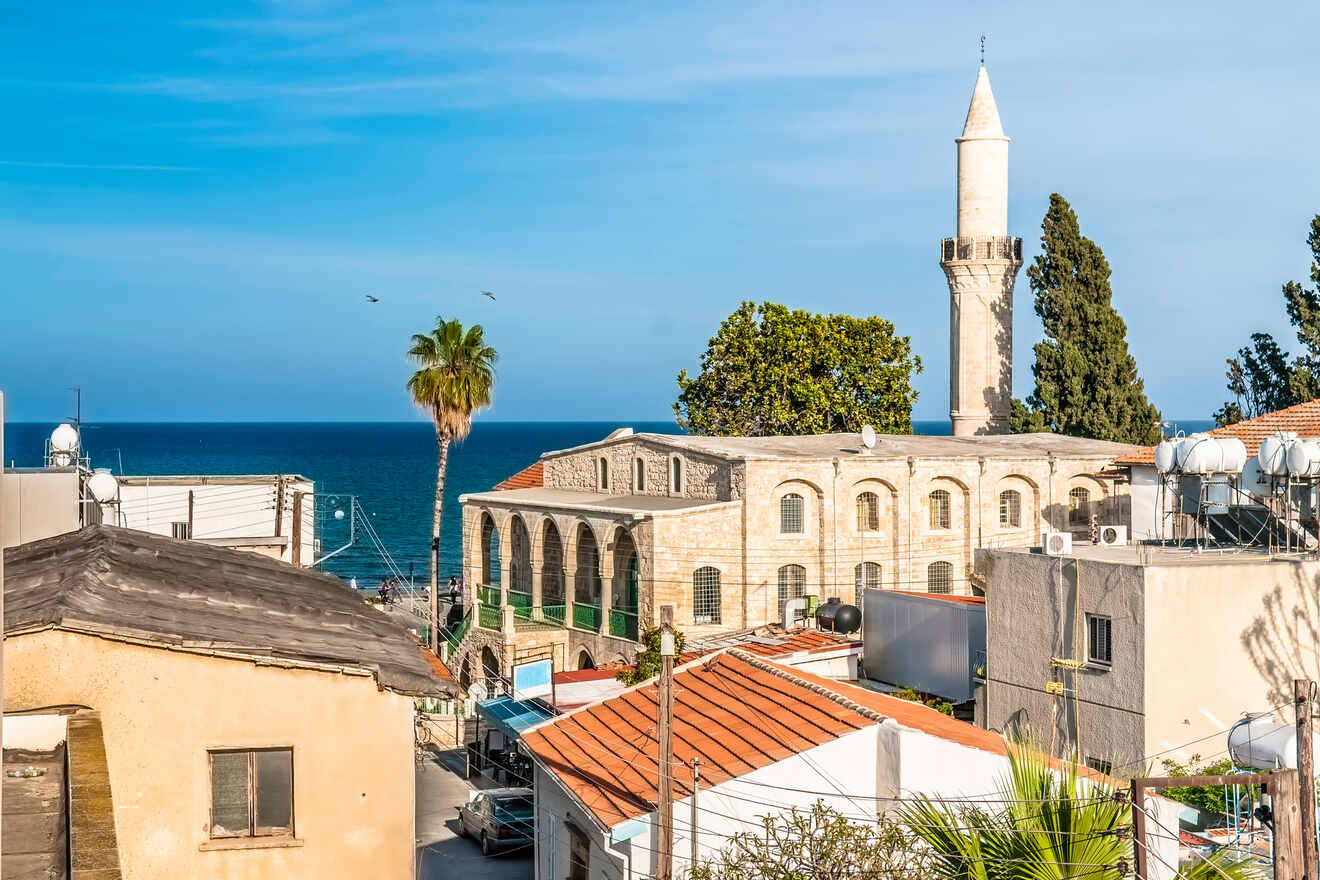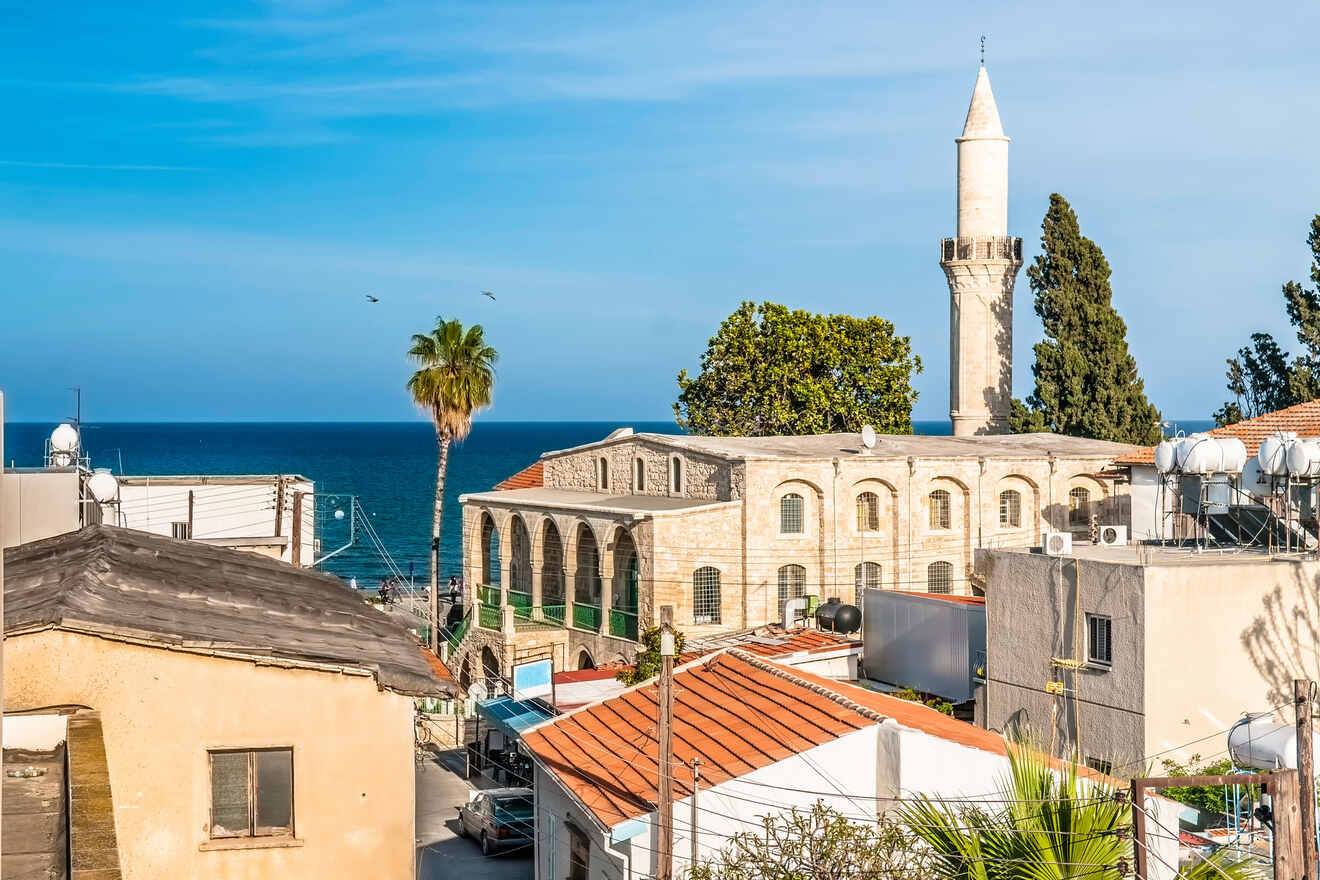 Larnaca is a city located on the southeastern coast of Cyprus and Larnaca Airport is just a 10 minutes drive away. Here you will find a mixture of history, cultural attractions, and nice beaches with a laid-back vibe. The chilled atmosphere of Larnaca makes this town charming for couples and the perfect romantic getaway for you and your partner!
In Larnaca, start your day heading to the sandy Finikoudes Beach until you feel hungry, then you should check out the nice bars and restaurants above the beach. The next day, change it up and go to Mackenzie Beach which has European Blue Flag for cleanliness to try windsurfing. At night you can enjoy a nice Greek meal in one of the many restaurants there.
You will find many nice luxury hotels, romantic Airbnbs, and budget stay options in Larnaca city. I found the best places to stay in Cyprus for lovebirds. Here are my top 4 hotels for all budgets.
If you are looking for more romantic island destinations with Greek vibe, I recommend you check out Crete.
Other accommodation options in Larnaca
Things to do in Larnaca
4. Protaras – for those who want to relax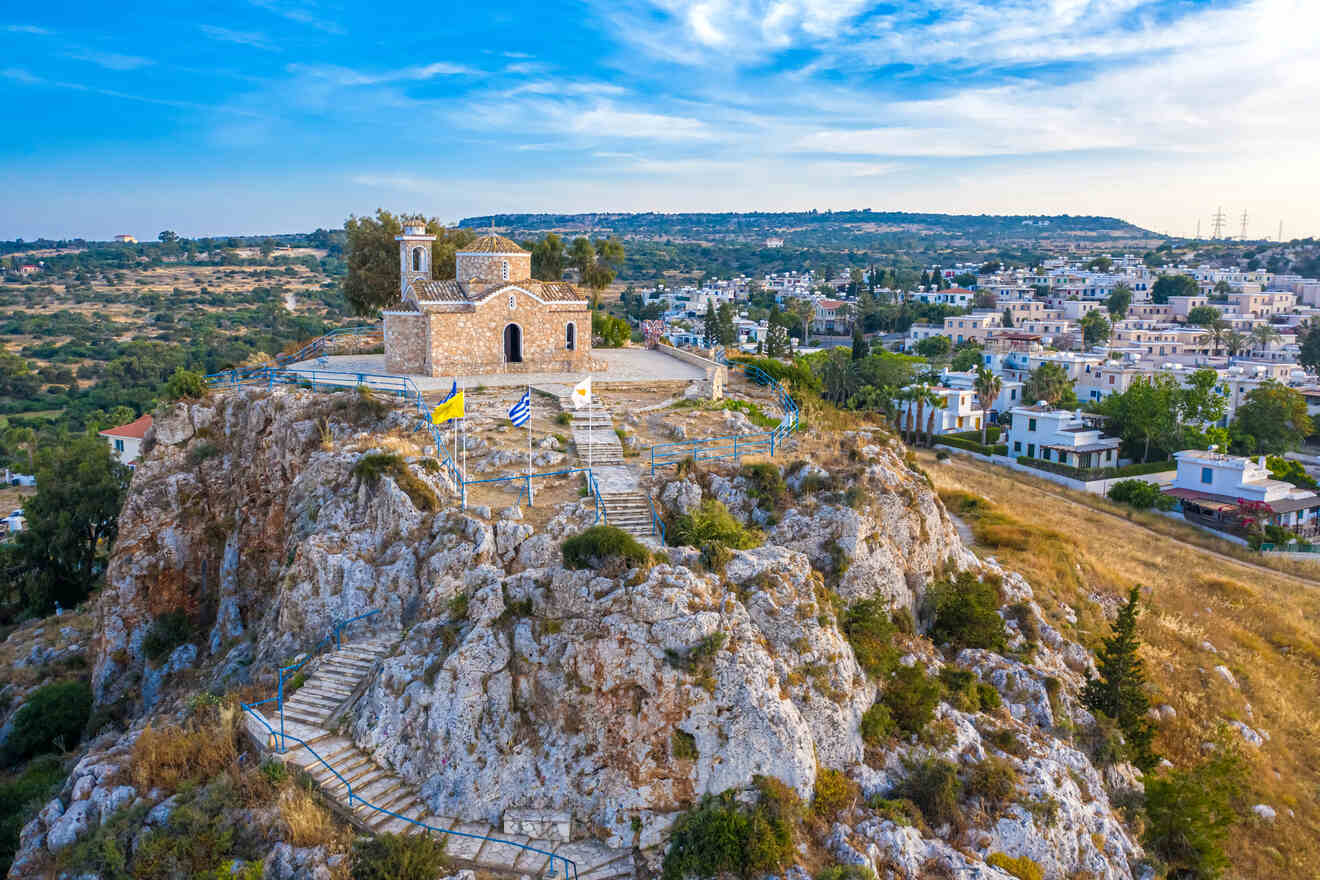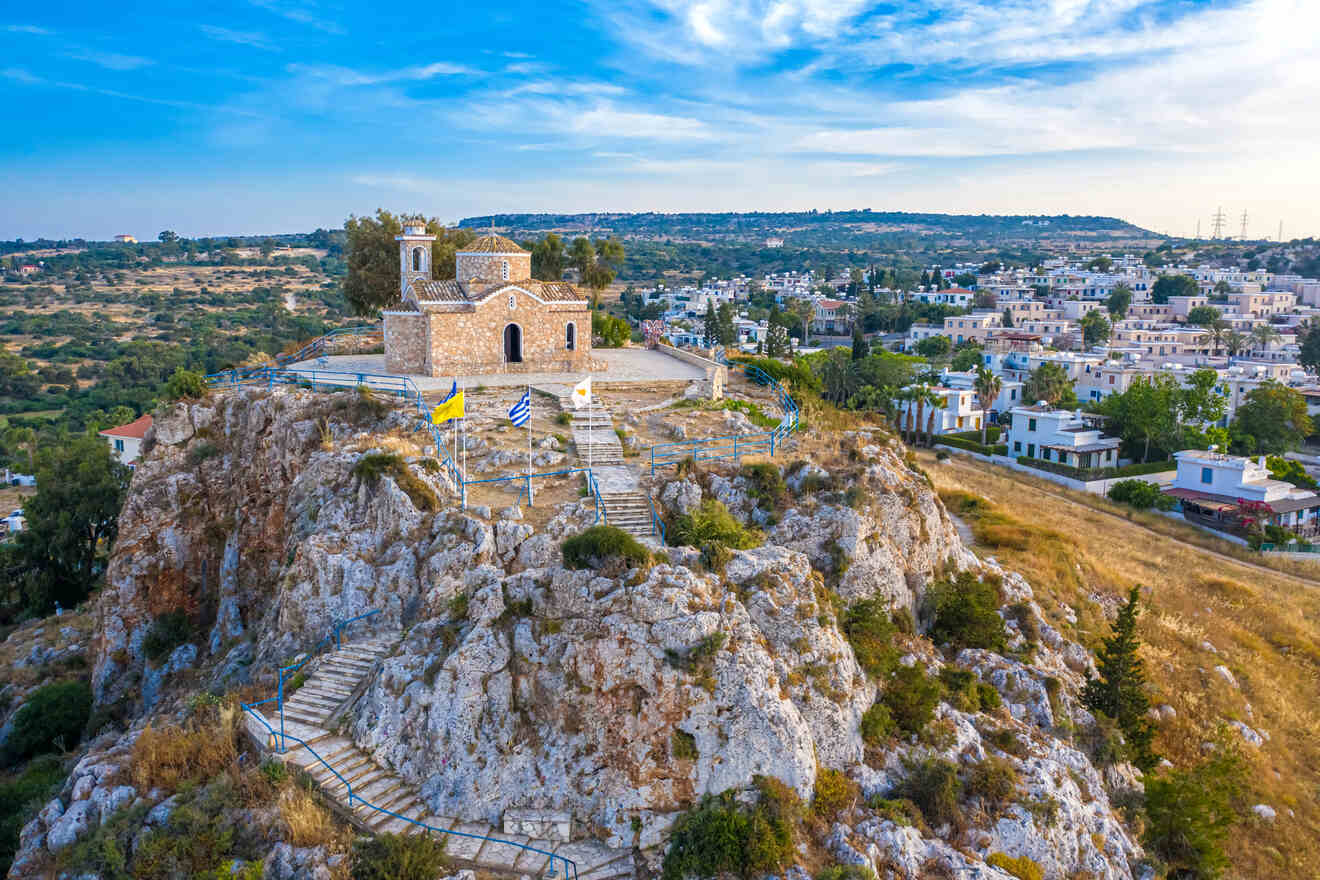 Located on the southeastern end of the island, Protaras city is closer to Larnaca Airport and takes about 1.5 hours to reach. Here you will see many attractive beaches with crystal clear water so for those who want to enjoy beautiful beaches and chill on their holiday, my answer to where to stay in Cyprus for relaxing is Protaras!
In Protaras, you will see the incredible sandy beach of Fig Tree Bay all the way along the coast. There is no word to describe the color of the water of Fig Tree so I guess you will just have to see it for yourself! After a fulfilling day at the beach, it is time to have a nice dinner. Protaras offers an amazing food scene with numerous international restaurants as well as local Greek eateries. Does it sound like your place? I'm ready to jump on a plane right now!
Protaras is a resort heaven. Here you will see many high-rise resorts overlooking the beautiful beach. Don't worry I have found the best hotels for you from luxury to budget. Let's check out the best places to stay in Protaras city:
Other accommodation options in Protaras
Things to do in Protaras
5. Coral Bay – where to stay in Cyprus for sandy beaches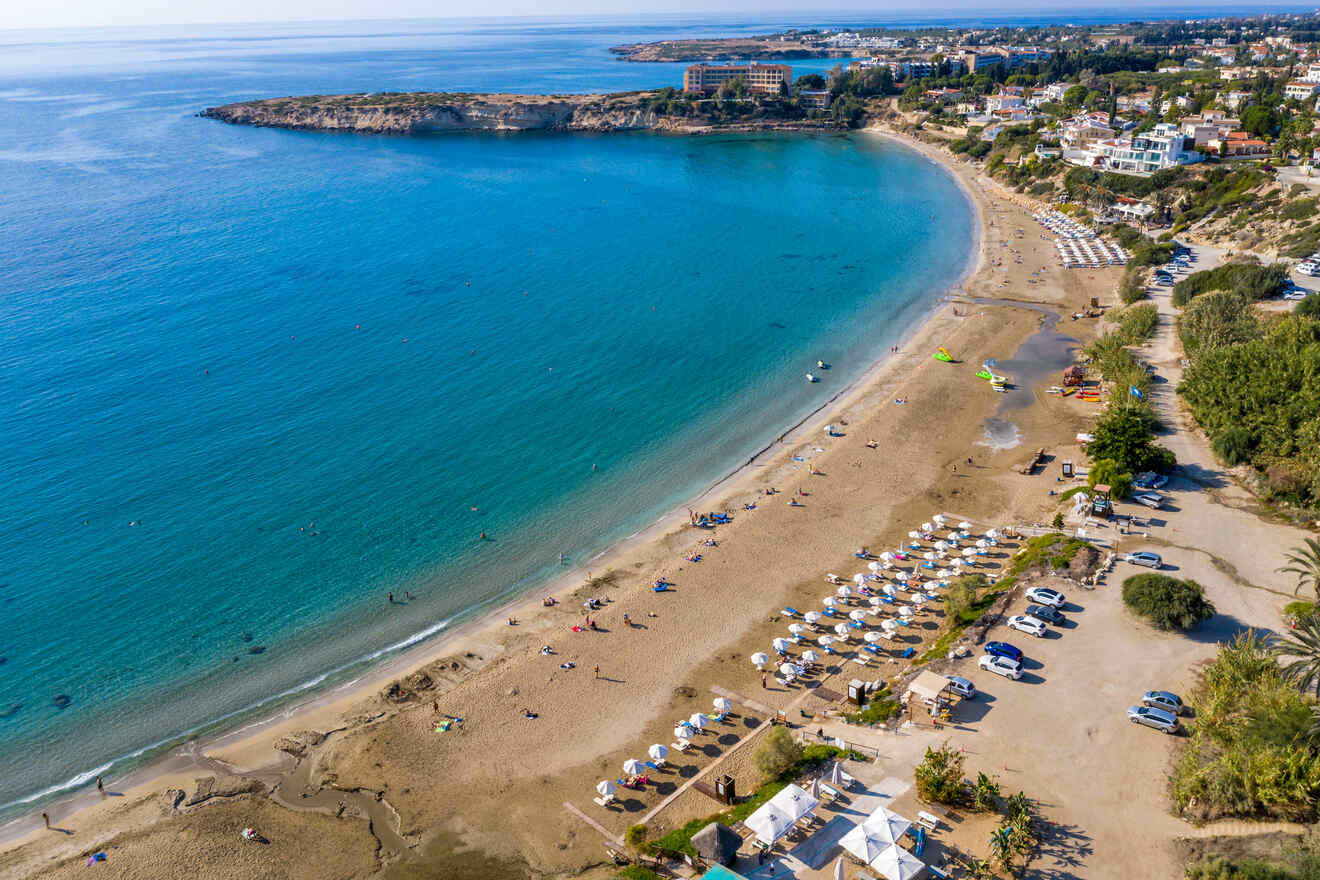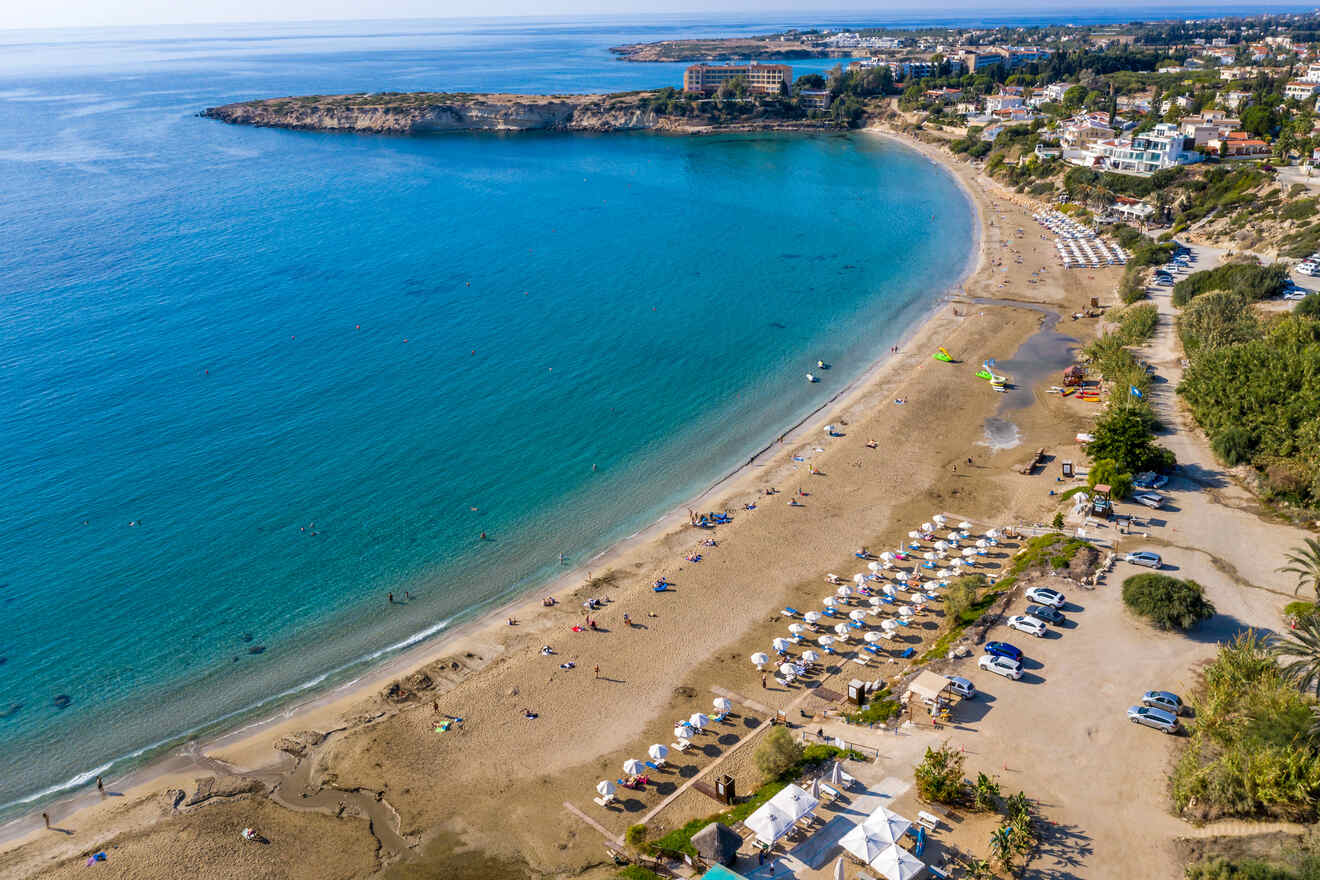 Coral Bay is a resort town located on the west coast of Cyprus and it is closer to Paphos Airport which takes about half an hour to reach the town. In Cyprus most of the beaches are pebbly so if you are looking for sandy beaches, the best place to stay for you is Coral Beach.
Coral Bay is a long stretch of beautiful sandy beach along the coast which also holds a cleanness certificate of Blue Flag with its amazing blue color water. It will be amazing to swim in Coral Bay and I know you probably already want to teleport yourself there!
In Coral Bay you will have the chance to try many water sports activities along the coast, shop in local and high brand boutiques, and try different foods at local Cypriot restaurants as well as international dining places. In terms of accommodation, Coral Bay offers a variety of luxury hotels as well as affordable boutique hotels.
Here are the 4 best places to stay in this beautiful town:
Other accommodation options in Coral Bay
Things to do in Coral Bay
6. Ayia Napa – where to stay in Cyprus for nightlife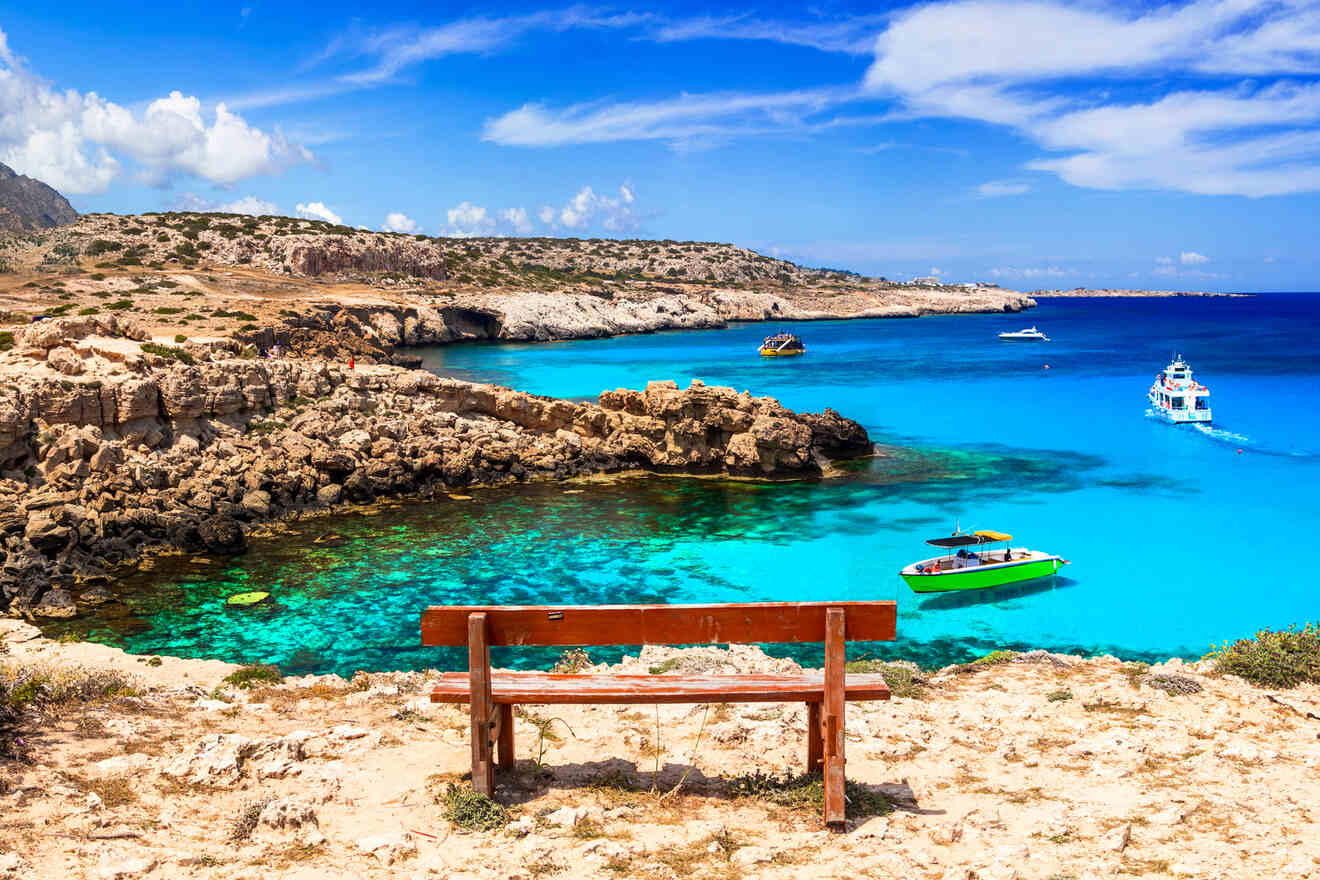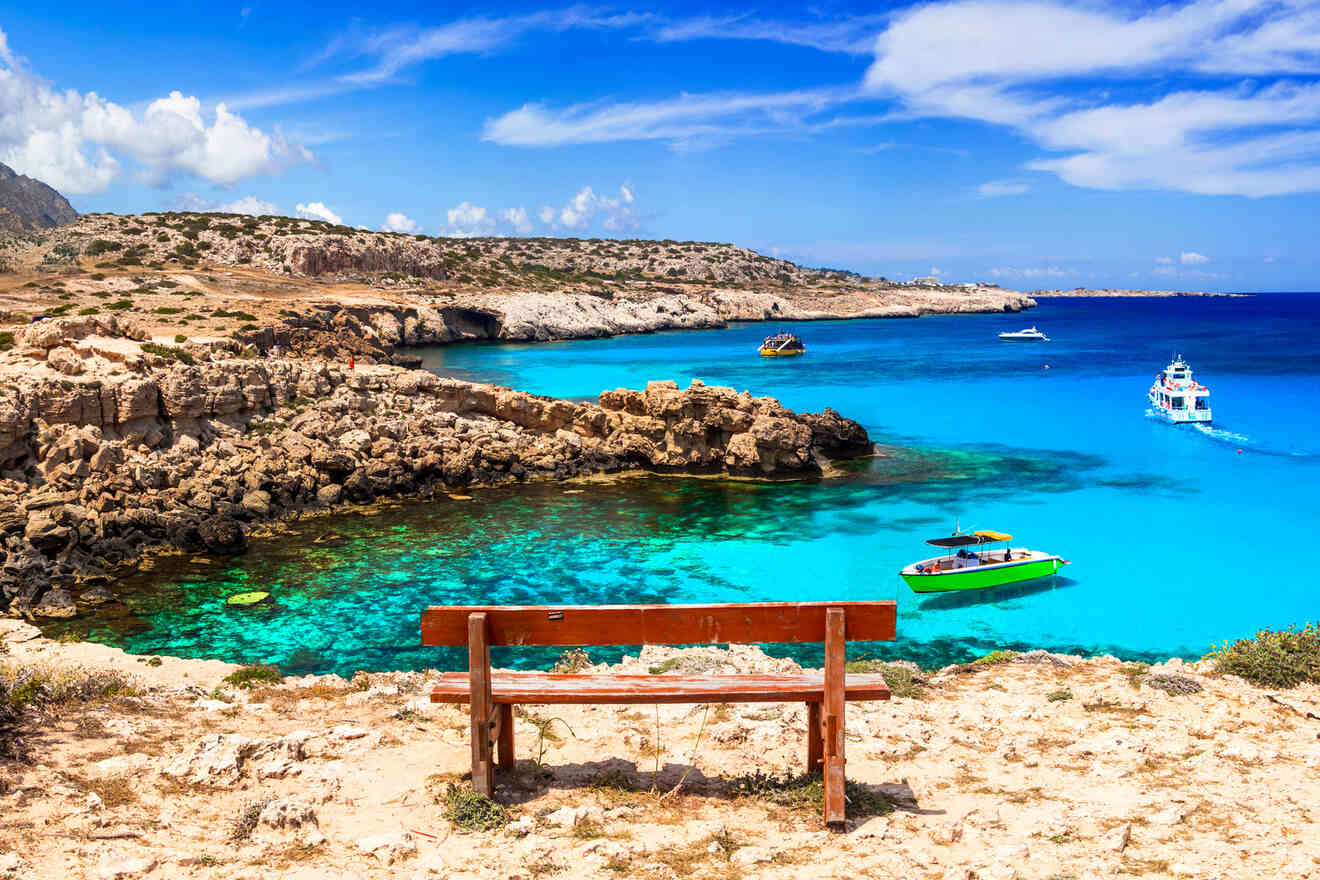 Ayia Napa is a city located on the southeast coast of Cyprus and 40 minutes drive to Larnaca Airport. It would be right to say that Ayia Napa is the party capital of the island and where you will find the most vibrant nightlife in Cyprus.
In Ayia Napa, you will find party-friendly resorts, DJ performances on the beaches, lively bars, and great restaurants. Start your day energizing yourself by chilling at the beautiful beaches along the coastline then stay for the beach parties at night. If you're still wanting, more head to the number of nightclubs in town.
If you want a day off from partying there are beautiful attractions to discover in Ayia Napa too. You can visit the small fishing town Potamos Liopetriou or rent a Quad bike, which is a popular way of discovering the island.
Ayia Napa has a great selection of hotels from luxury to budget for party people. That being said, my pick on where to stay in Cyprus is definitely Ayia Napa and I've already chosen the best places to stay for you.
Other accommodation options in Ayia Napa
Things to do in Ayia Napa
BONUS 1: Transport in Cyprus – how to get there and how to get around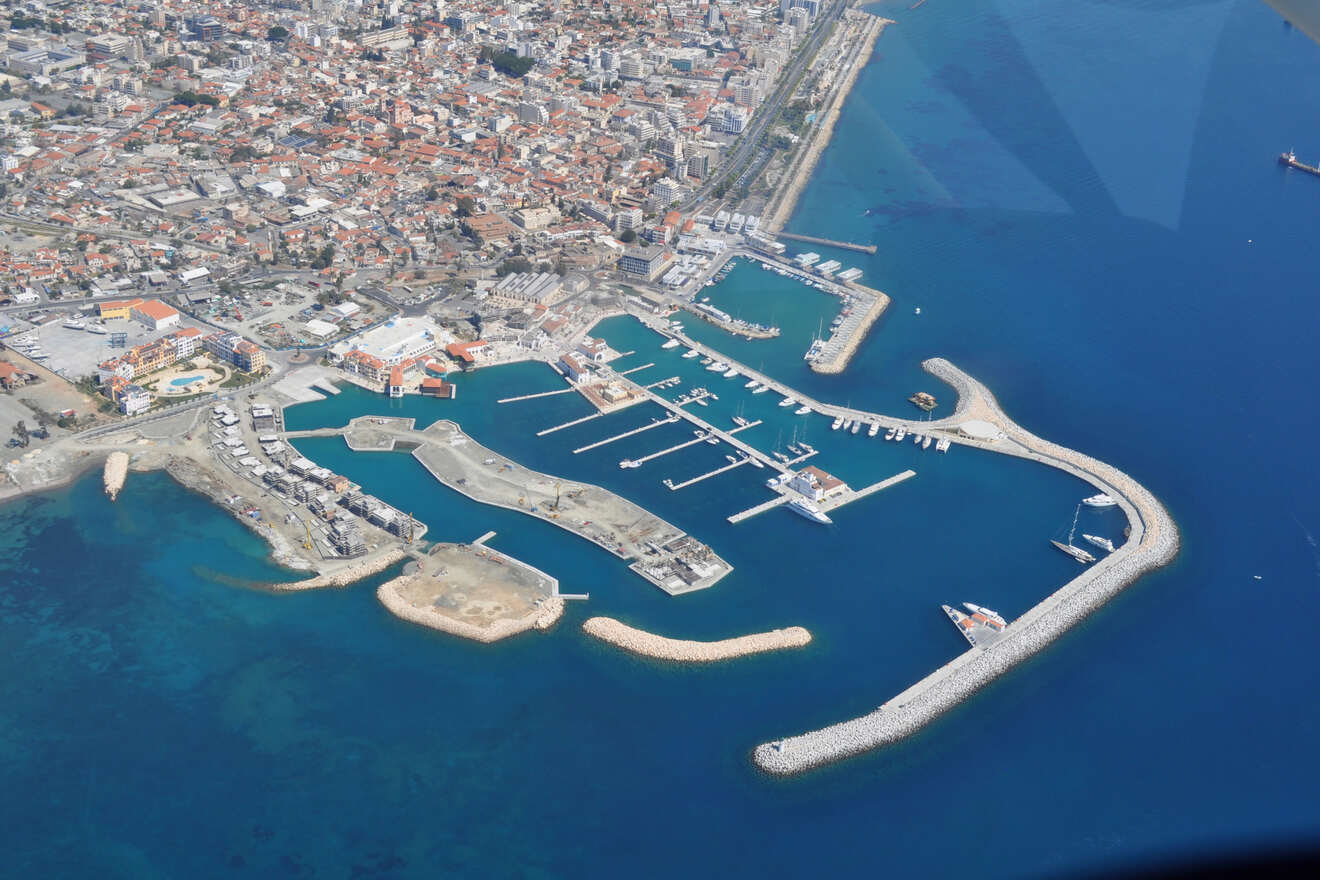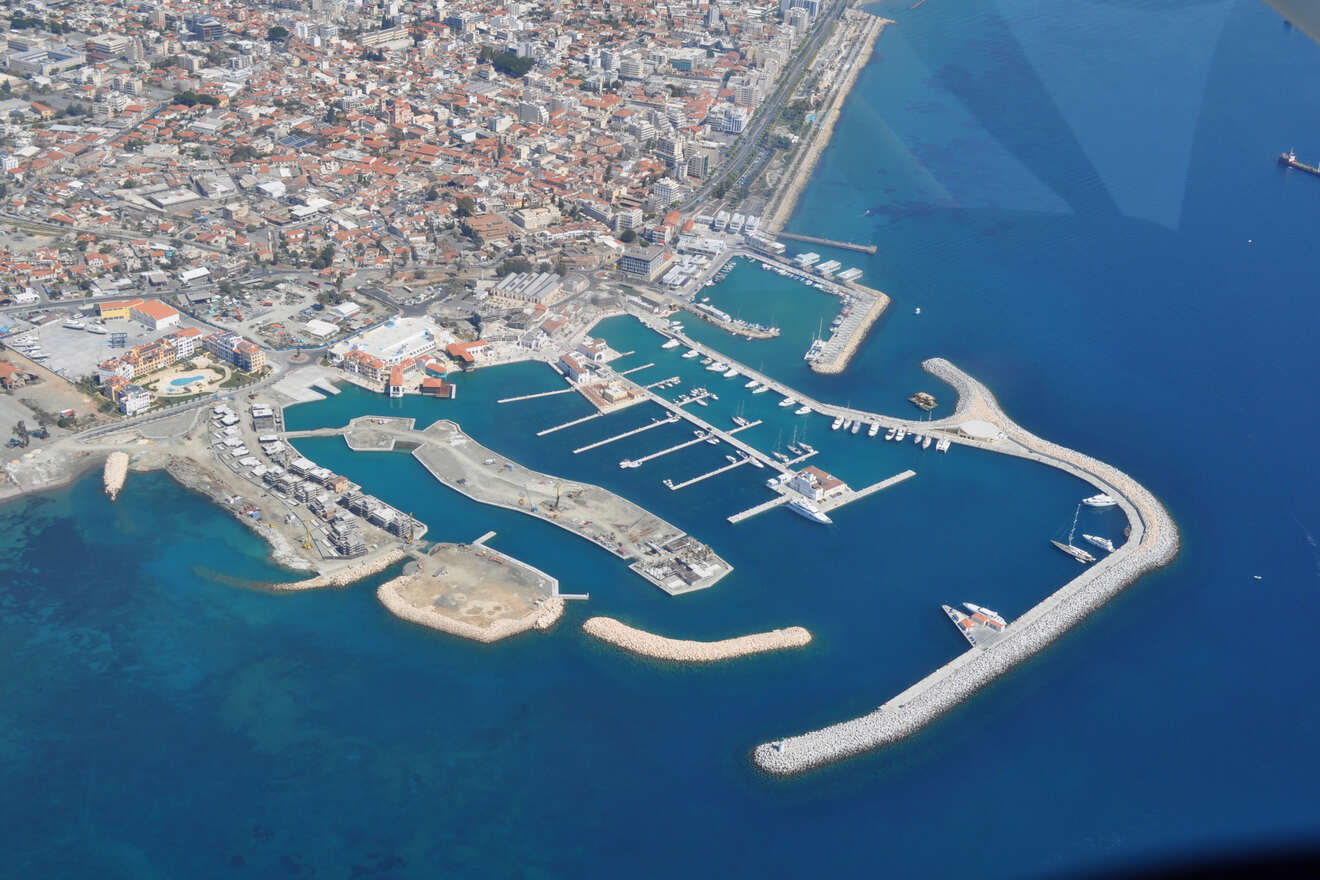 Every island destination puts a question mark on traveler's minds. I know you are also curious if it is easy enough to get to Cyprus and how the transportation is on the island. Don't worry here I will give the all information to your questions about transportation in this section to make your trip as smooth as possible.
How to get to Cyprus
Cyprus is a well-connected island which gives you a few options of how to get here. Here are your best options:

By Air
Cyprus has 2 airports which are Larnaca International Airport located on the south-east of the island, and Paphos International Airport on the south-west of Cyprus. The distance between the two airports is 120 km (75 miles). That's why before planning your trip you need to check which airport is close to your hotel in order to avoid long rides.
There are frequent direct flights from many European countries to both airports and some tour operators offer all-inclusive packages as well. Flight ticket prices vary depending on the seasons so keep in mind that the high season in Cyprus is between May and late September while the low season is between October and late March (except for the Christmas period). The same as with the hotels, you can also catch very good deals on flights as well by buying the ticket months in advance.
By Boat
You can also reach Cyprus by sea. There are some cruises from Europe which stop at Limassol Port as well as regular ferries if you are already traveling in Greece. There are 3 connections from the Greek islands of Rhodes, Crete, and to the port of Piraeus (Athens).
You can check the timetables and routes on the Greek Ferries website. A passenger ferry service is also available between Cyprus and Israel, Lebanon, and Egypt. Plus, there are also ferries from Turkey to Northern Cyprus all year round. So wherever you are coming from, you can probably take a boat for part of your journey! How cool!
How to get around on the island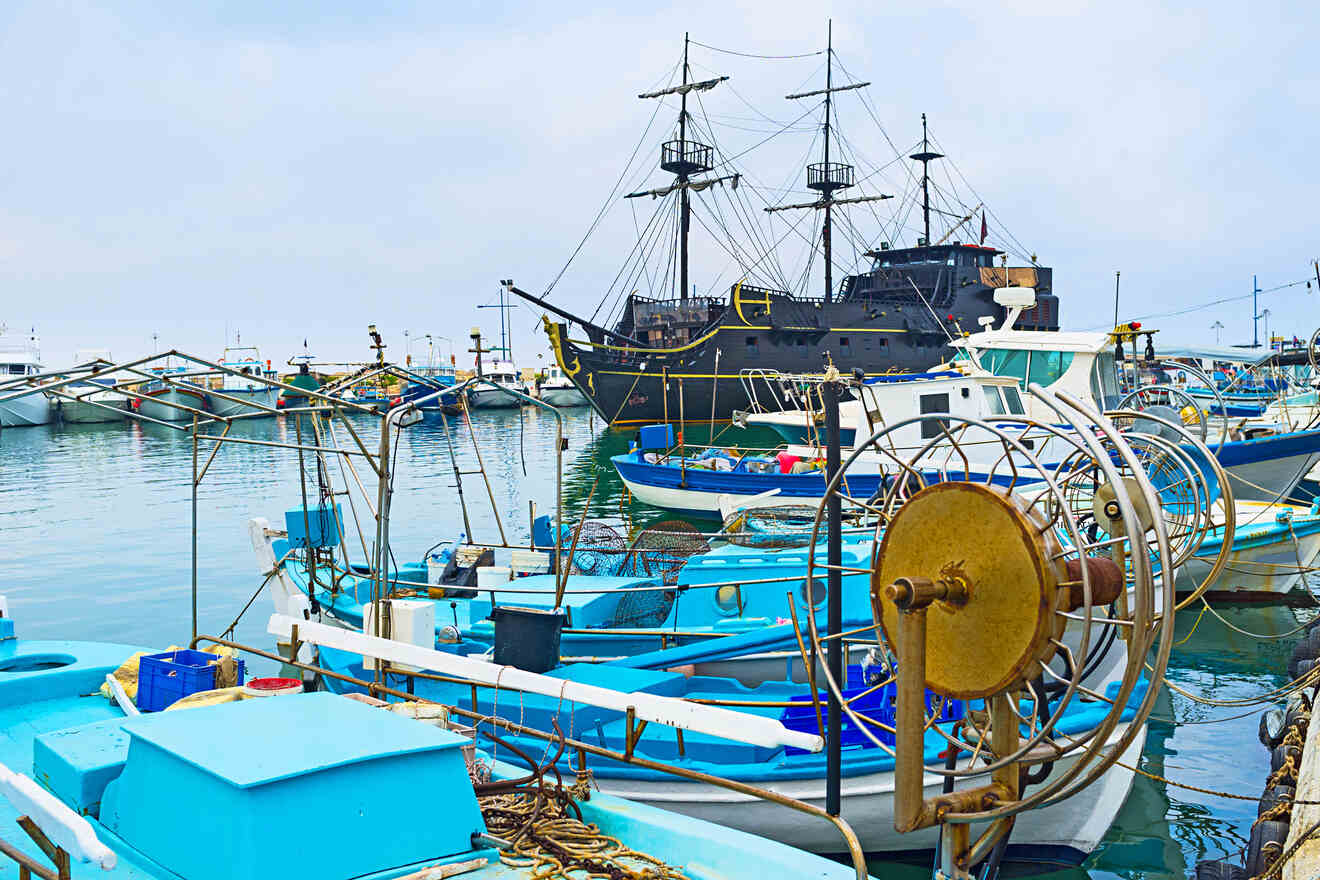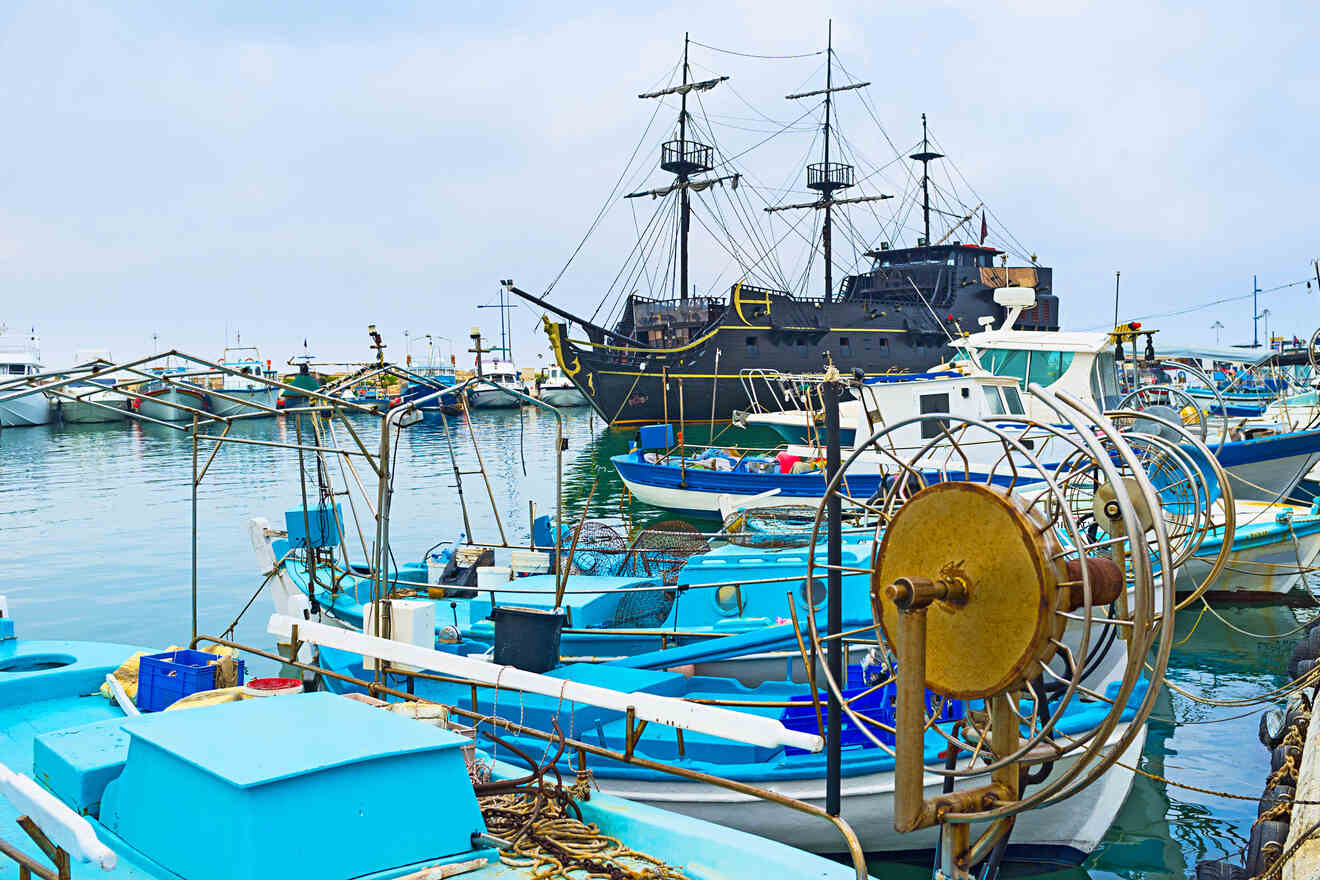 Now that you've gotten here, it's time to start exploring! Here are the best ways to get around Cyprus
By car and motorcycle
Renting a car is the most convenient way to get around in Cyprus. Depending on the season, car rental prices are not very expensive and you can easily pick up a car straight from the airport. If you are an adventurer you will like to hear that motorcycles and quad bikes are also common on the island and can be rented for around €20 per day.
Parking is free in most of the villages but in the city center, car parks are usually around €0.50 to €3 for half a day and on-street parking is between €0.80–2 during office hours. Parking is free on Saturday afternoons, Sundays, and public holidays!
By taxi
Taxis are relatively inexpensive and a safe option in Cyprus. You can call a taxi from your hotel, find one on the street in major cities or order a ride on the CABCY app. There are 3 kinds of taxis in Cyprus; urban taxis which operated inside the cities, interurban which is a shared taxi service, and rural taxis which operate in the villages.
Rural taxis do not have a meter so you will need to agree on the price in advance. On the contrary, urban taxis have to have a meter but the rate changes depending on the time of day. If you take a taxi between 6.01 AM–8.30 PM you will be charged a day tariff of €0.73 per km with an initial charge of €3.42. In all other hours, you will be charged the night rate of €0.85 per km with a €4.36 initial charge.
By bus
Public buses are available in the major cities and the fares are sold as a single journey €1.50, daily ticket €5, daily intercity €15, weekly ticket €20, and monthly ticket €40. Rural buses to Troodos Mountains are available too but less reliable and frequent so if you are trying to reach a more remote location it's best to hire a car.
BONUS 2: The top 3 day trips from Paphos you can enjoy in Cyprus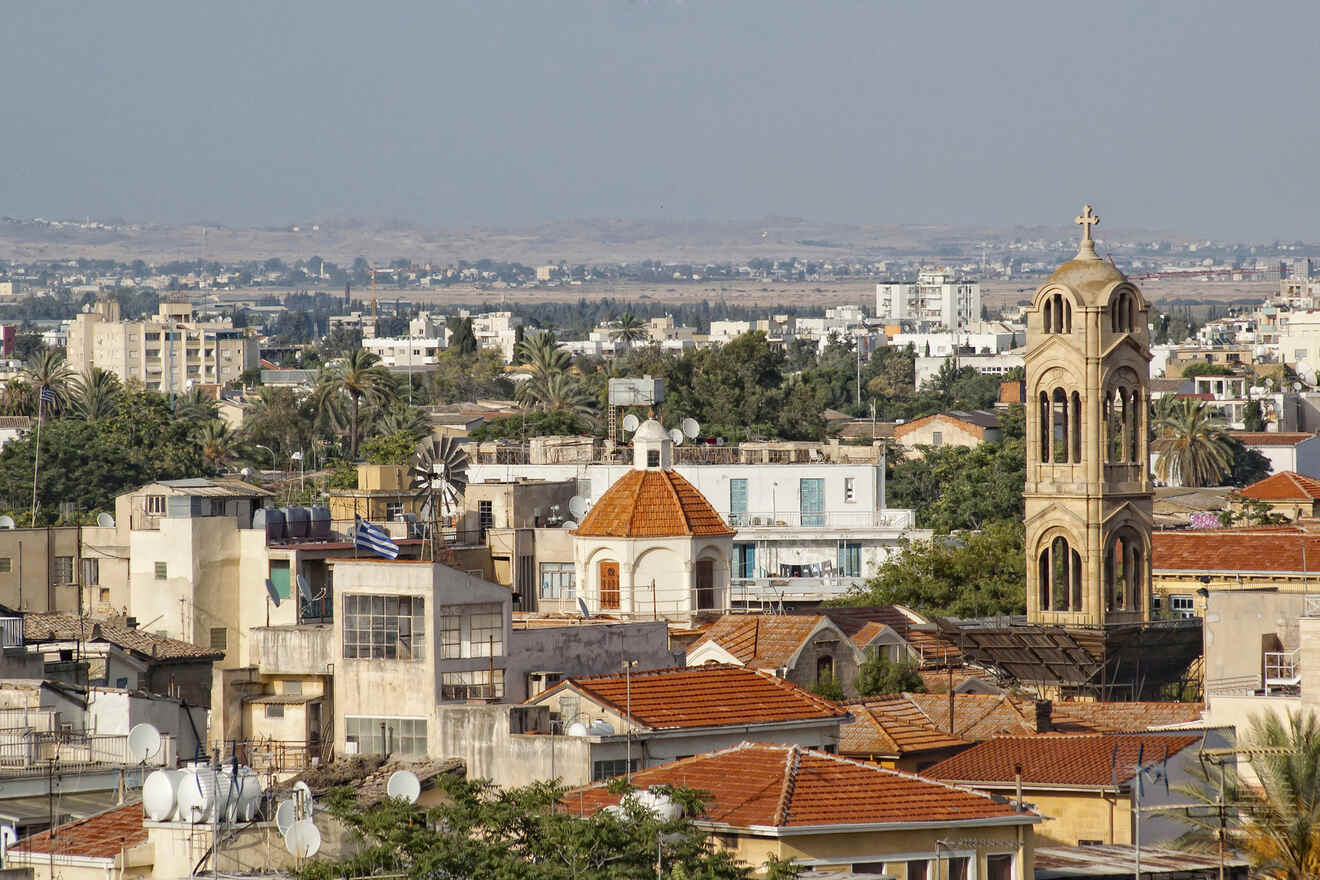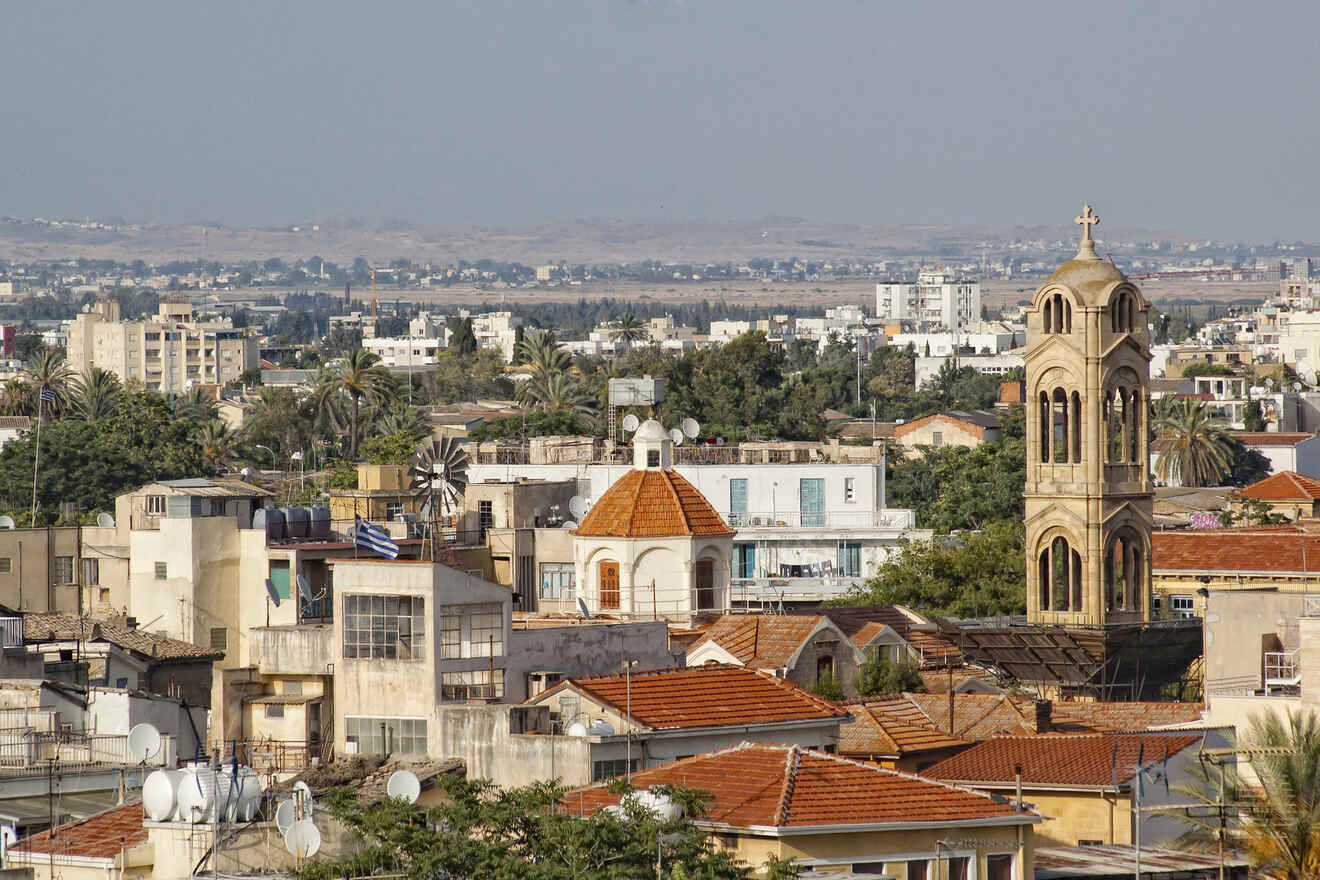 I already talked about the best hotels and areas to stay in Cyprus. However, there are so many more places to discover here and that's why I had to let you know about the most interesting day trips you can take from Paphos; Nicosia, Akamas Peninsula, and Omodos.
Although these day trips are great to take from Paphos, as the island isn't too big, they are all easily accessible from any of the areas I already mentioned in this post. I highly recommend you to rent a car to visit these locations as public transportation is not available. This way you can also enjoy the scenic road!
1. Nicosia – the capital of Cyprus
Located in the middle of the island, Nicosia is the capital of Cyprus and just a 1hr 40 min drive from Paphos. In Nicosia, you will find the buffer zone called the green line which divides the island into 2 parts as southern and northern Cyprus. If you cross the green line you will reach the Turkish Republic of Northern Cyprus. That's why Nicosia could be an interesting city to visit for those who are into history but just remember, if you want to go to the Northern part of Cyprus you will need to have your passport with you!
In Nicosia, you can visit historic museums such as the Leventis Municipal Museum of Nicosia, the Cyprus Museum, and the Byzantine Museum. If you walk along the streets of Nicosia you will feel the authentic vibe of Turkish and Greek cultures mixing. Pretty cool if you ask me!
If you are interested in different cultures you can stay in Nicosia one night and head to Varosha in Northern Cyprus, which is called the ghost town. The story behind the ghost town is that after the green line was determined to mark the border between Southern and Northern Cyprus, The Greek Cypriot left the town of Varosha and it remained empty after that. However, in The Turkish Cypriot area, you can still find restaurants and shops, try Turkish foods and buy souvenirs of your time in Northern Cyprus.

Nicosia is an interesting city for history lovers. If you are looking for cultural activities, Nicosia must be on your Cyprus itinerary. Larnaca airport is the closest to Nicosia with a 40 minutes drive.
2. Akamas Peninsula
The Akamas Peninsula National Park is located on the west coast of Cyprus and 1,5 hours drive from Paphos Airport. It is a very picturesque peninsula that offers breathtaking views and has incredible wildlife diversity including 168 kinds of birds and 20 different reptiles!
In Akamas Peninsula, there are so many things to discover. For beach lovers, two amazing beaches in this peninsula are Blue Lagoon and Lara Beach. They both have amazing crystal clear water and offer great landscapes.
Another famous activity to do in Akamas Peninsula is to go hiking. There are 3 main hiking trails which are the Adonis Trail, the Aphrodite Trail, and the Smilies Trail. All of them offer stunning views and you can check Cyprus's tourism site for the length of the tails and to find trail maps.
If you take the Aphrodite trail you will reach another famous landmark, the Bath of Aphrodite, which is a natural pool and according to mythology, the waters in the bath of Aphrodite still have a special rejuvenating effect. So why not give it a chance? Visiting Akamas Peninsula is one of the best day trip options in Cyprus!

3. Omodos Village
Situated a 45 mins drive north-east of Paphos, Omodos is the most popular village in Cyprus for its wines, local products, agrotourism, and photogenic streets. On the main street of Omodos Village, many taverns and shops sell local products which make the best souvenirs.

Have a wander and enjoy nice local food, buy some wine and local crafts, and at the end of the street, you will see Holy Cross Monastery. It is a very significant monastery for the village and every September they organize a religious event that lasts three days. If you're here during that time, look out for the villagers selling their products in the beautiful square in front of the monastery. If you stay nearby in Cyprus, it is a good idea to pay a visit to this adorable village.
Frequently asked questions about Cyprus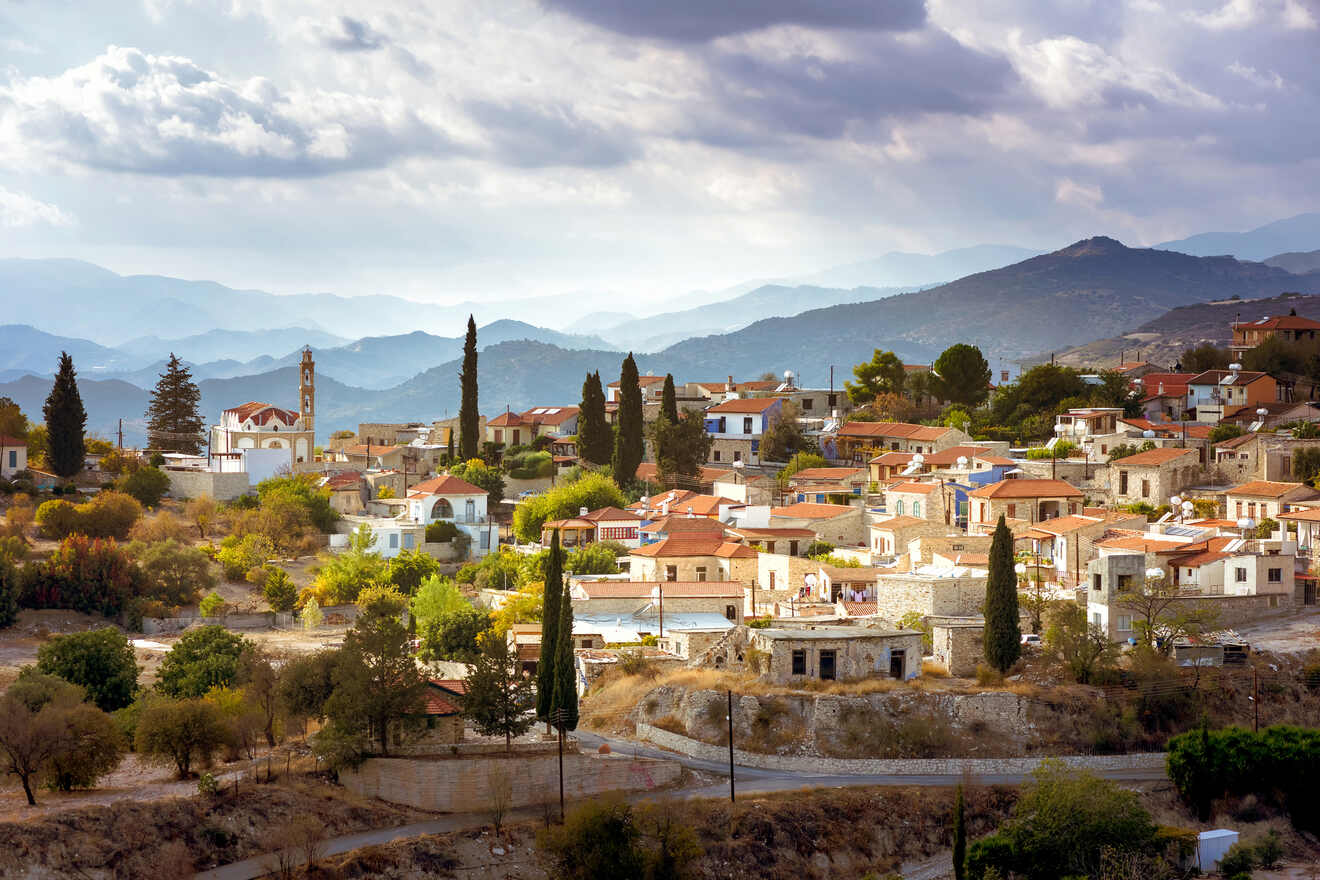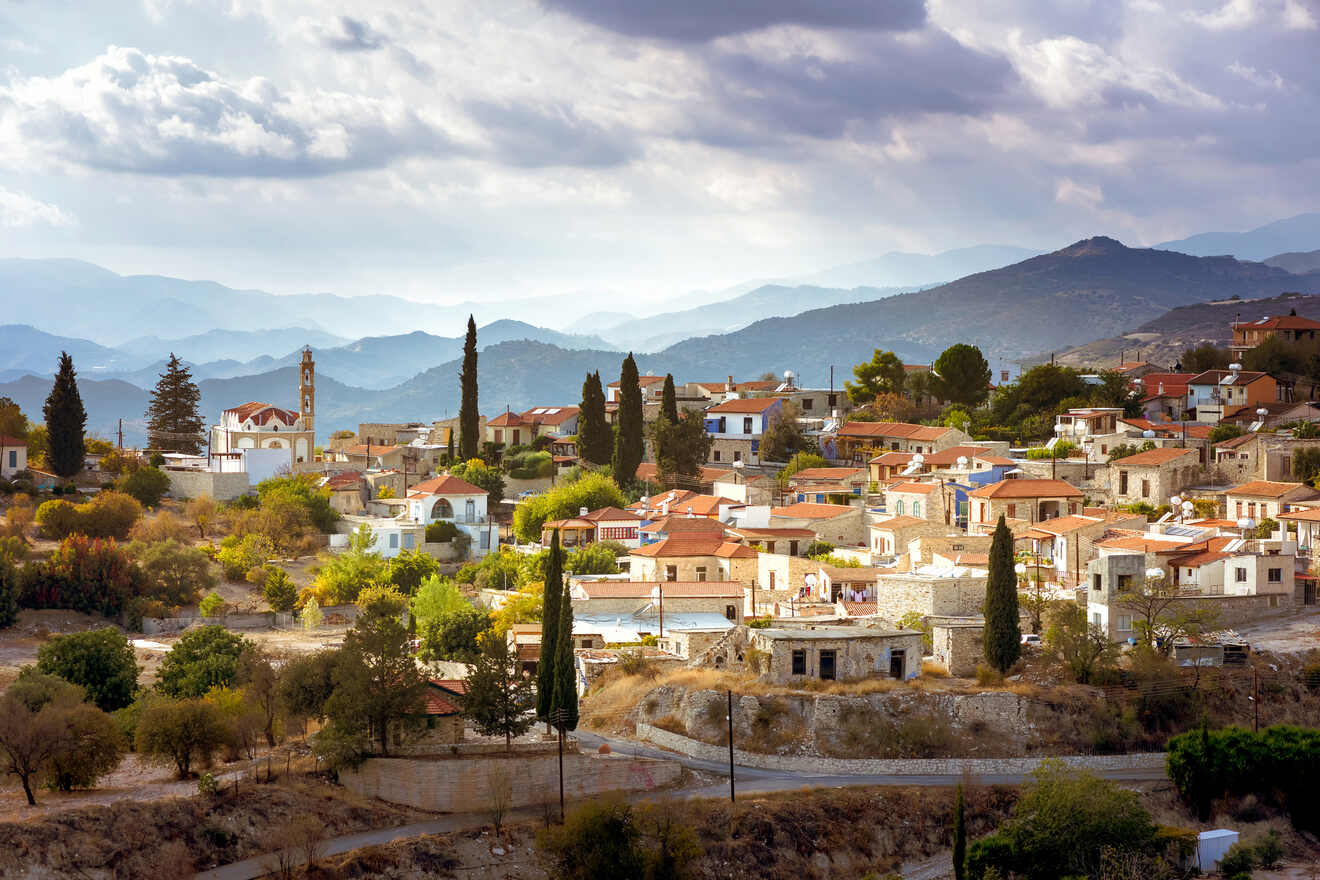 Conclusion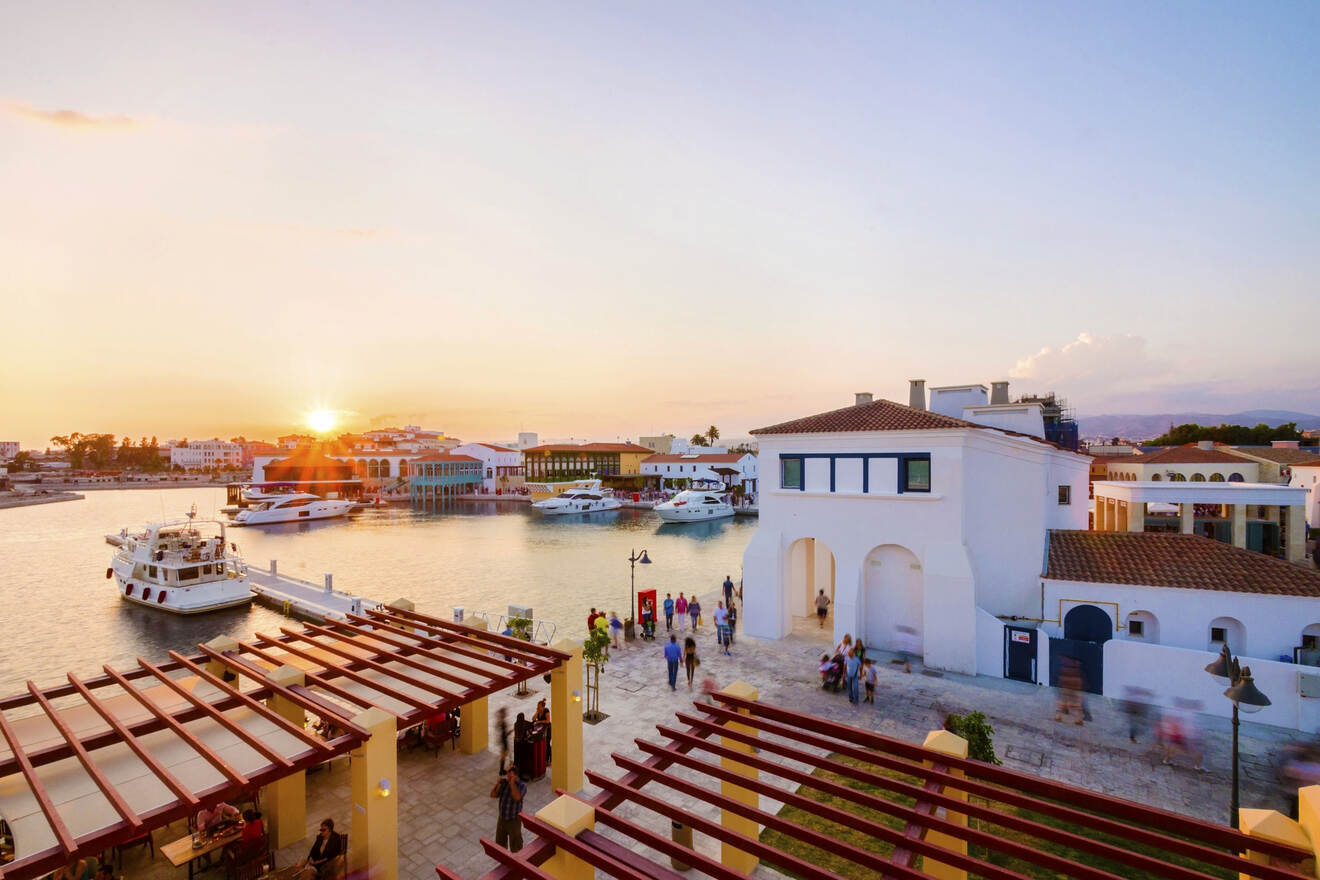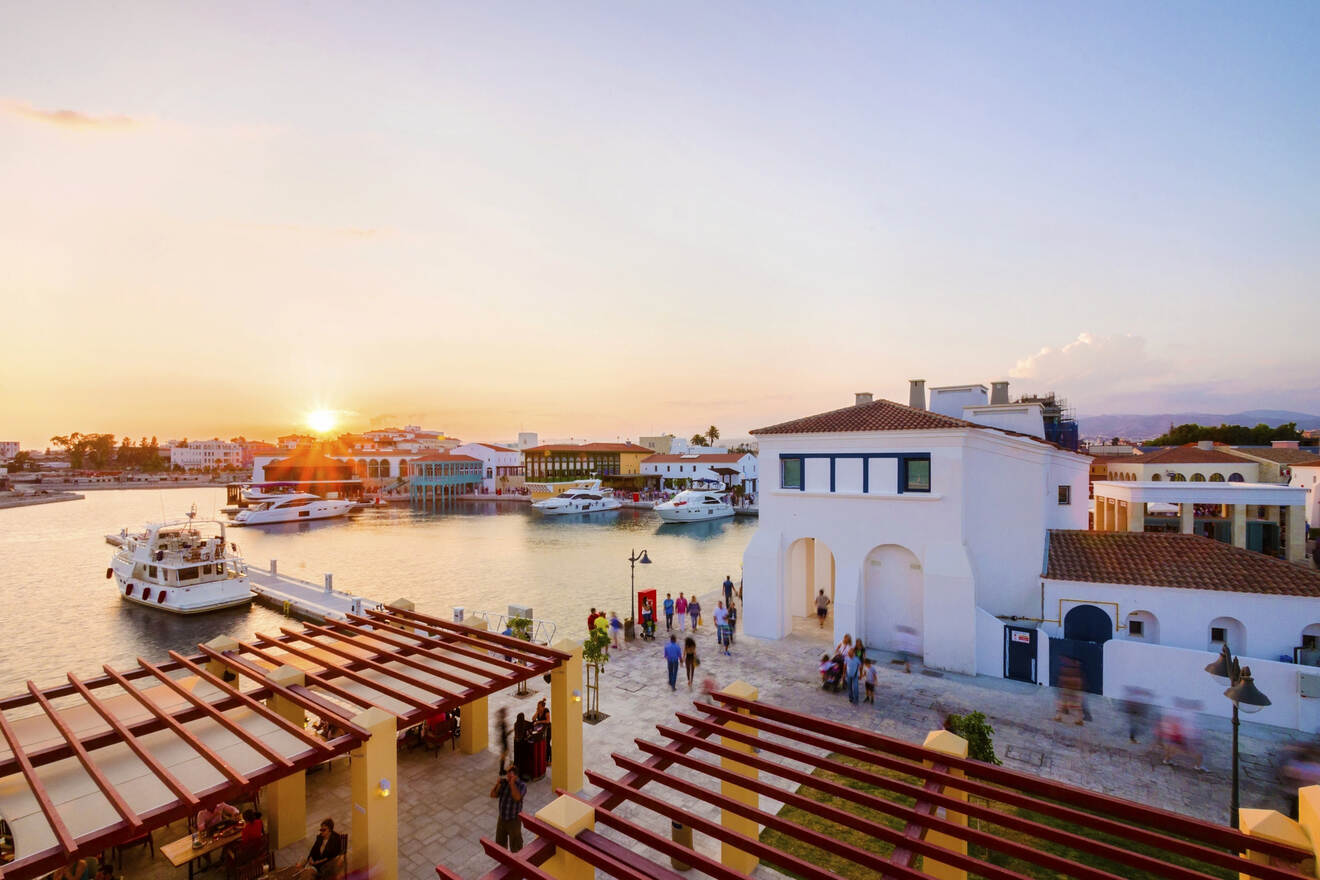 Here we came to the end of this island journey. I hope this blog post helped you understand the best areas of Cyprus and you already found your ideal hotel.
In this post, I covered the best places to stay in Cyprus and mentioned the best hotels as well as Airbnbs in each area from luxury to budget. As I mentioned earlier, Limassol is the best area to stay in for first-timers, Paphos is great for families and Ayia Napa is the place for partying.
As it is a big island it might be difficult to make a choice among the many best areas. If that is the case I would suggest you rent a car and explore other parts of the island, make day trips and discover different beaches and historic sites. I would also like to remind you of the importance of making a booking in advance as Cyprus is a very popular destination in Europe. This will help you to get better deals on hotels and guarantee to stay in your favorite hotel.
To sum up, here are the best hotels to stay in Cyprus located in the nicest parts of the island where I would definitely recommend you to stay. Both hotels have good locations and great reviews too!
I am curious to know about your holiday in Cyprus, so don't forget to leave a comment below if you have any other suggestions or questions about Cyprus or Europe! I'll be happy to leave a reply!
Enjoy your time in Cyprus,
Eylul
---