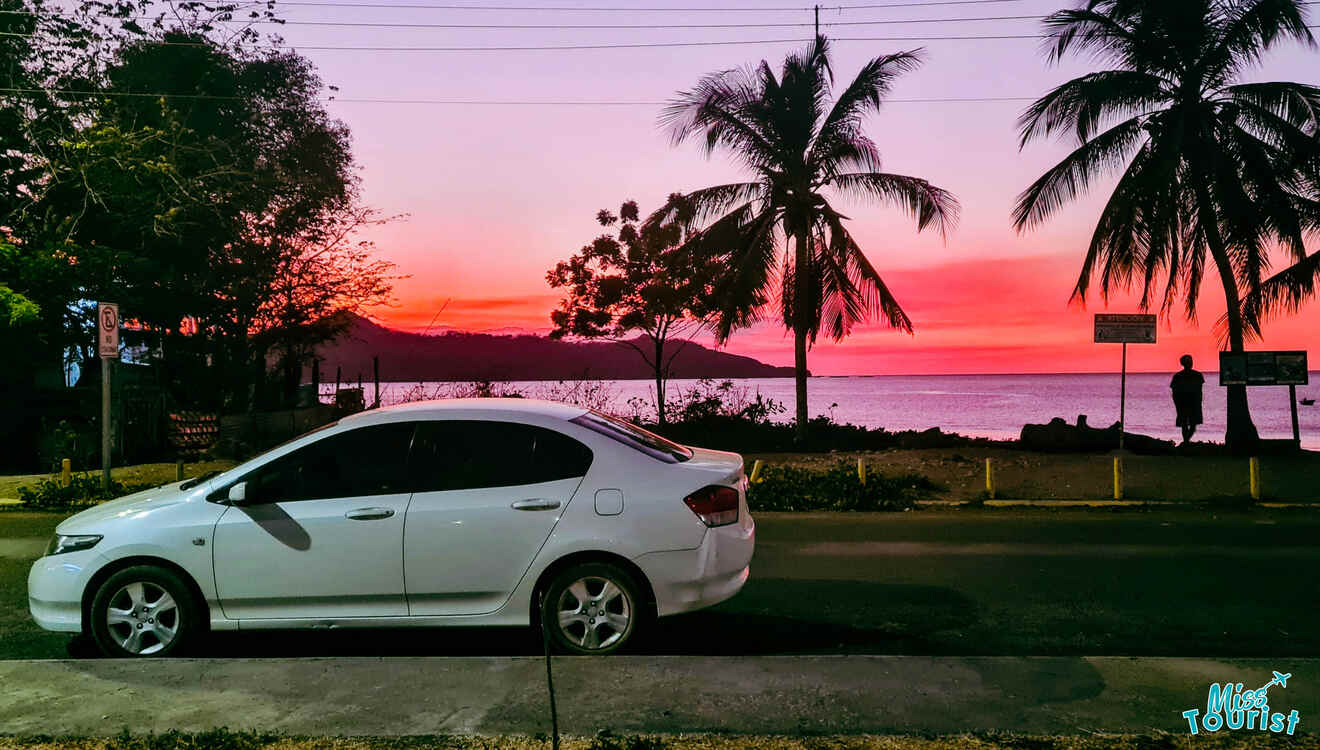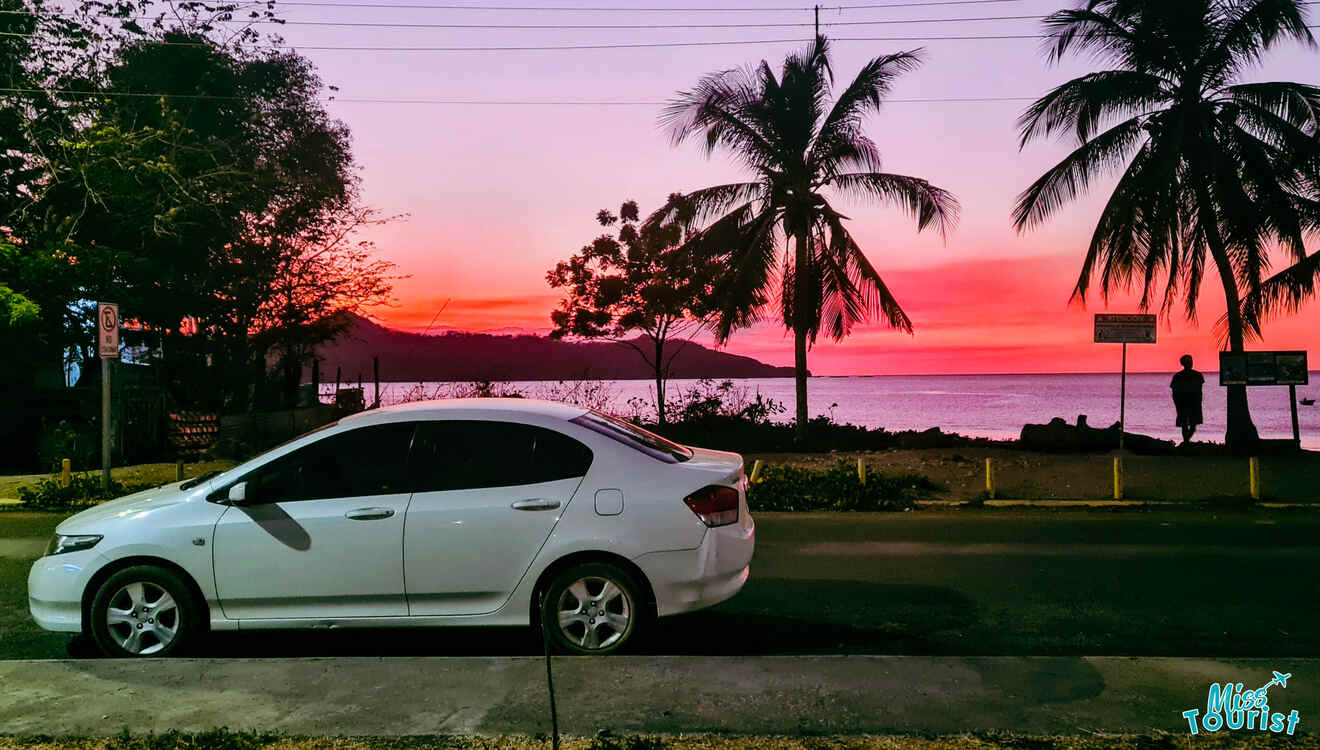 You're about to embark on a trip to Costa Rica. The idea of renting a car has crossed your mind – great! There are plenty of reasons for this – public transportation is non-existent in most places you will want to get and you are just so much more flexible when you have your own car.
It brings up a completely different experience, trust me! I am not even talking about maximizing your vacation time here:)
As a person who lived in Costa Rica for some time and rented different cars from different companies, I collected some valuable advice for you on things you should know before booking your car here in Costa Rica. 
In this post you will find out how much it should cost to rent a car, which type is the cheapest/best, what's up with the insurance in this country and other rules you should know of!
Let's start from the basics, shall we?
| | |
| --- | --- |
| Age | 21 (young surcharge for those 21 – 24 y.o.) |
| Documents needed | Passport, driving license |
| Driving license requirements | In Roman alphabet, no international license needed |
| Speed limit | 90 kph on a highway, 40 kph in a city |
| Which side of the road | Right |
| Children rules | Children under 12 y.o. (79 lb/39 kg) – car seat/booster seat mandatory |
| Alcohol allowed | BAC less than 0.05% |
| Metric or imperial system | Metric (speed in kph, gas in lt) |
| Where to book | Click here for the lowest price |
1. Car prices (and what's the best car type for you)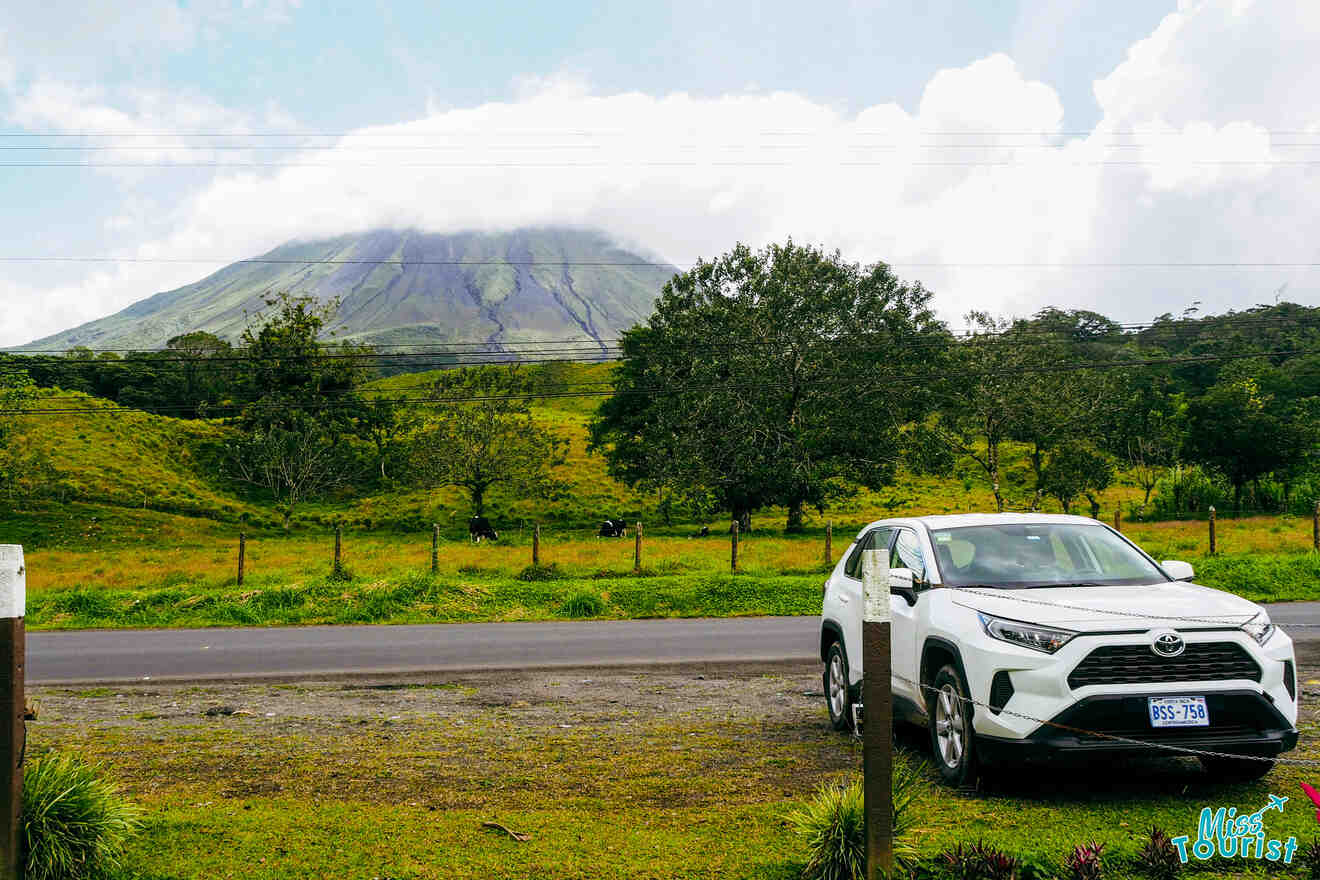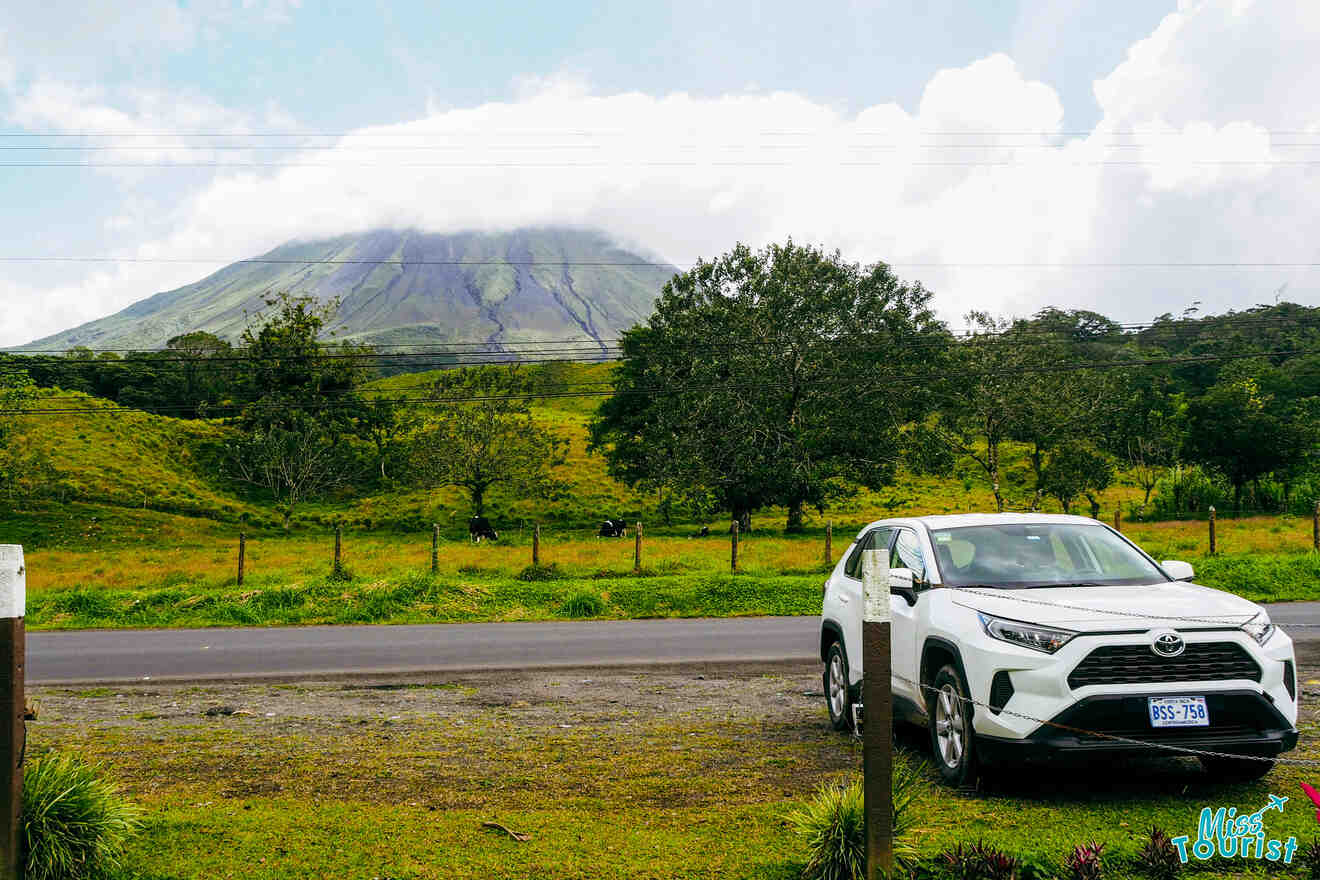 Below we are going to talk about prices in detail, but you should know that the prices vary A LOT depending on the season (we will compare all prices). The high season is anywhere between December and April + July. Low season is May, June, and from August to November.
1.1 Prices by car type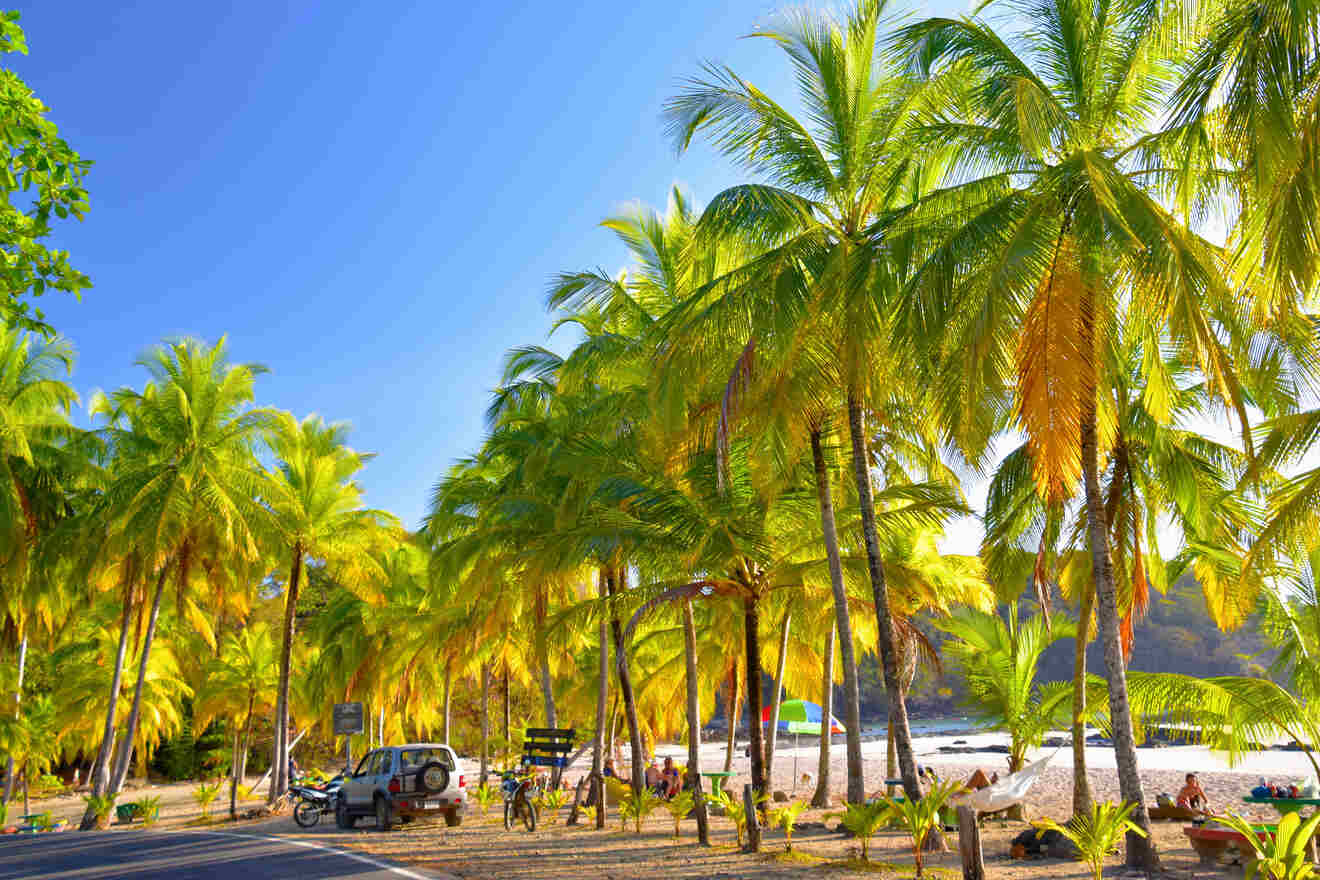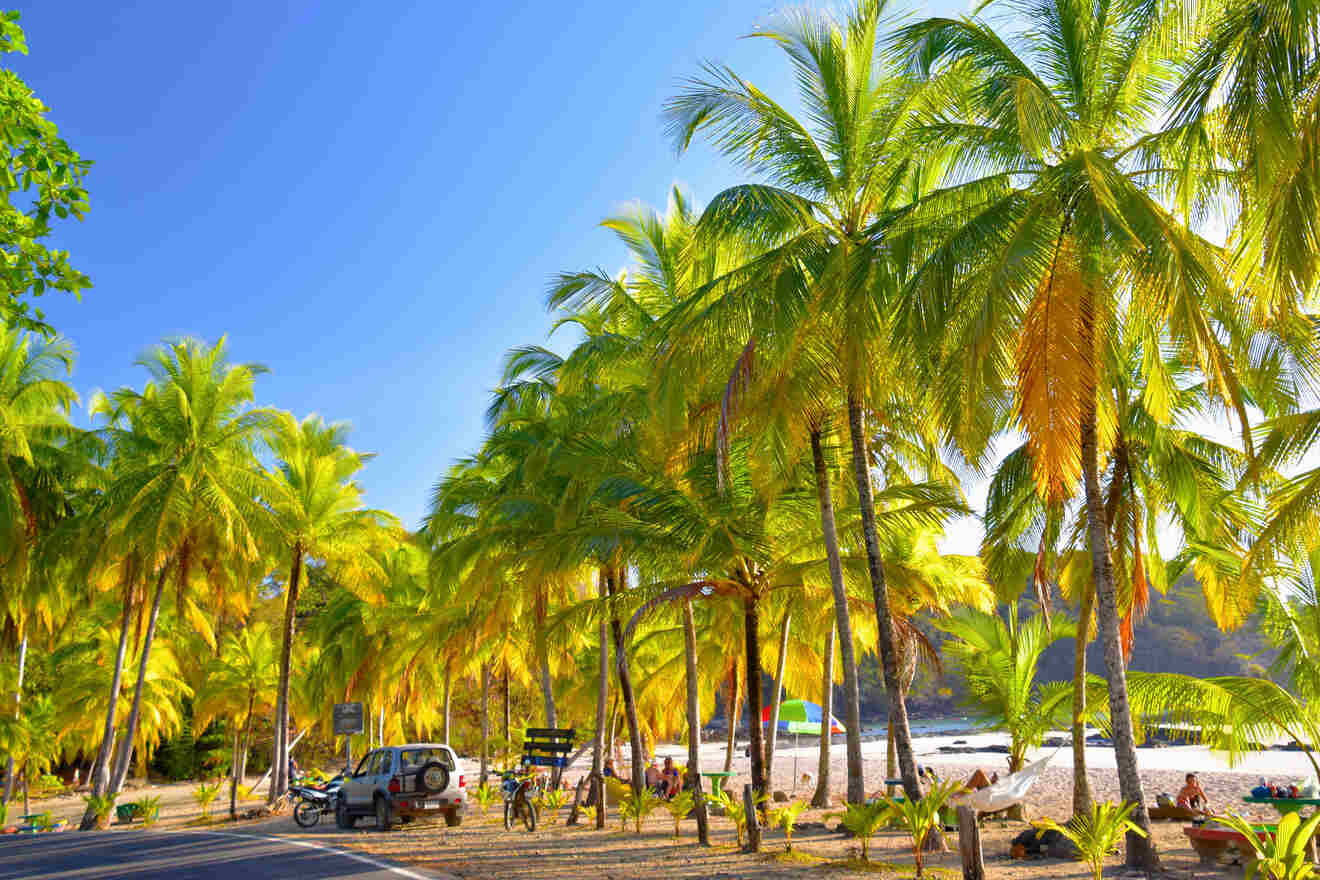 For the table below, I compared several websites and went until the end of the buying cycle to see the real price you would actually pay.
If a blinky ad tells you the rate is 35$ per day, do not rush to book it yet, this is just the base rate, the mandatory insurance will double the price.
NOTE: Also, please keep in mind that you HAVE TO book way in advance because lots of car models will simply be unavailable if you book 1 month in advance during a high season.
Type (price per day)
Low season/High season price
(very basic insurance)
Low season/High season price
(mandatory insurance)
Low season/High season price
(full insurance)
Sedan
US$45/65
US$60/80
US$85/100
4×4
US$65/125
US$85/145
US$110/160
Minivan
US$85/170
US$95/175
US$120/195
The prices you see in the table are the actual prices you are going to pay, as I said, I personally did research on many companies and many dates. If you see something for 10$ a day on Kayak, Expedia etc. – that is because they are hiding lots of obligatory fees (insurance, deposit, taxes etc.) – be careful!
I am going to explain the insurance a bit later in the text, but for now just trust me on that one – it is either mandatory insurance (Column 3), or full insurance (Column 4).
MY EXPERIENCE: We got a 4×4 at Rentalcars, which was US$1,150 per week for 2 drivers and full insurance. So, $US164 per day – we actually consider it a pretty good deal for what we got. 🙂
Here are the most popular car models in Costa Rica:
City/Beach hopping (Hyundai I10 pr Accent/Toyota Yaris).
Adventurous (Toyota Rav4/Nissan Rogue/Mitsubishi ASX)
Big family trip (Mitsubishi Montero Sport/Toyota Prado/Hyundai H1)
VERY big family/group (9-12 people) (Hyundai H1)
PRO TIP: I do NOT recommend getting a car with a very low engine – chances are you are going to go on some mountain roads (they have a lot of those!) and with a small engine it will be very hard to overtake/have AC on etc.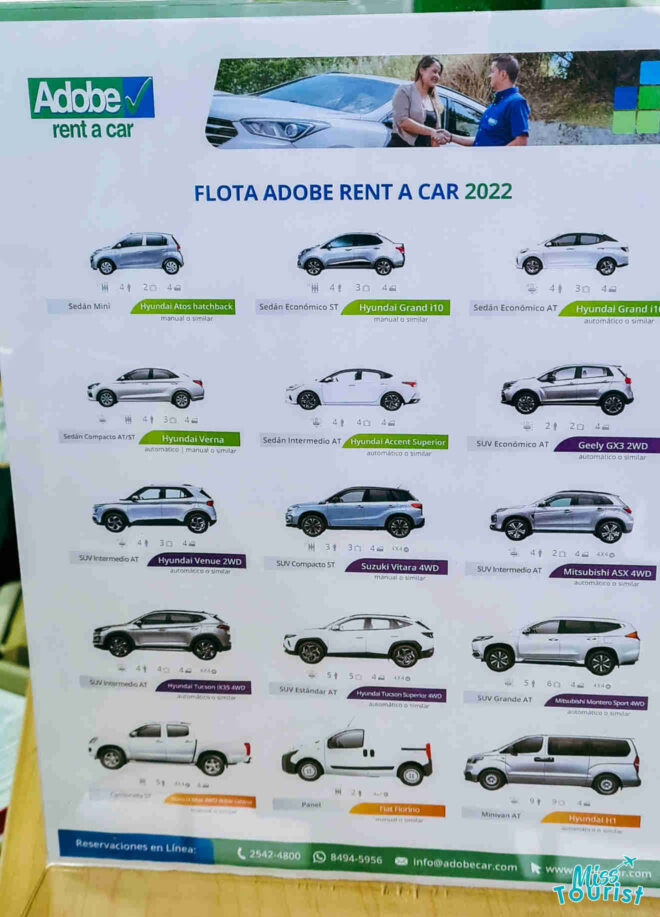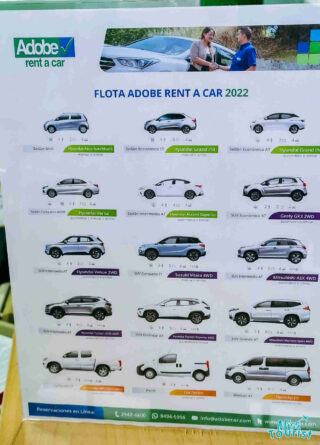 Best car rental agencies in Costa Rica: Alamo, Enterprise, Europcar, Hertz, Adobe Rent a Car

Where to book: I researched and compared prices many times and it is cheaper in 95% of the cases to book it here (that's the site comparison I used myself). If you do not find anything there, also check here.

When to book: I recommend getting your car ASAP once you know your dates. It is NOT getting any cheaper with time, trust me!

Where to pick up your car in Costa Rica: the most common places are San José Airport, San José Downtown, and Liberia Airport. If you use price comparison companies, you can check the price for different locations in 1 click.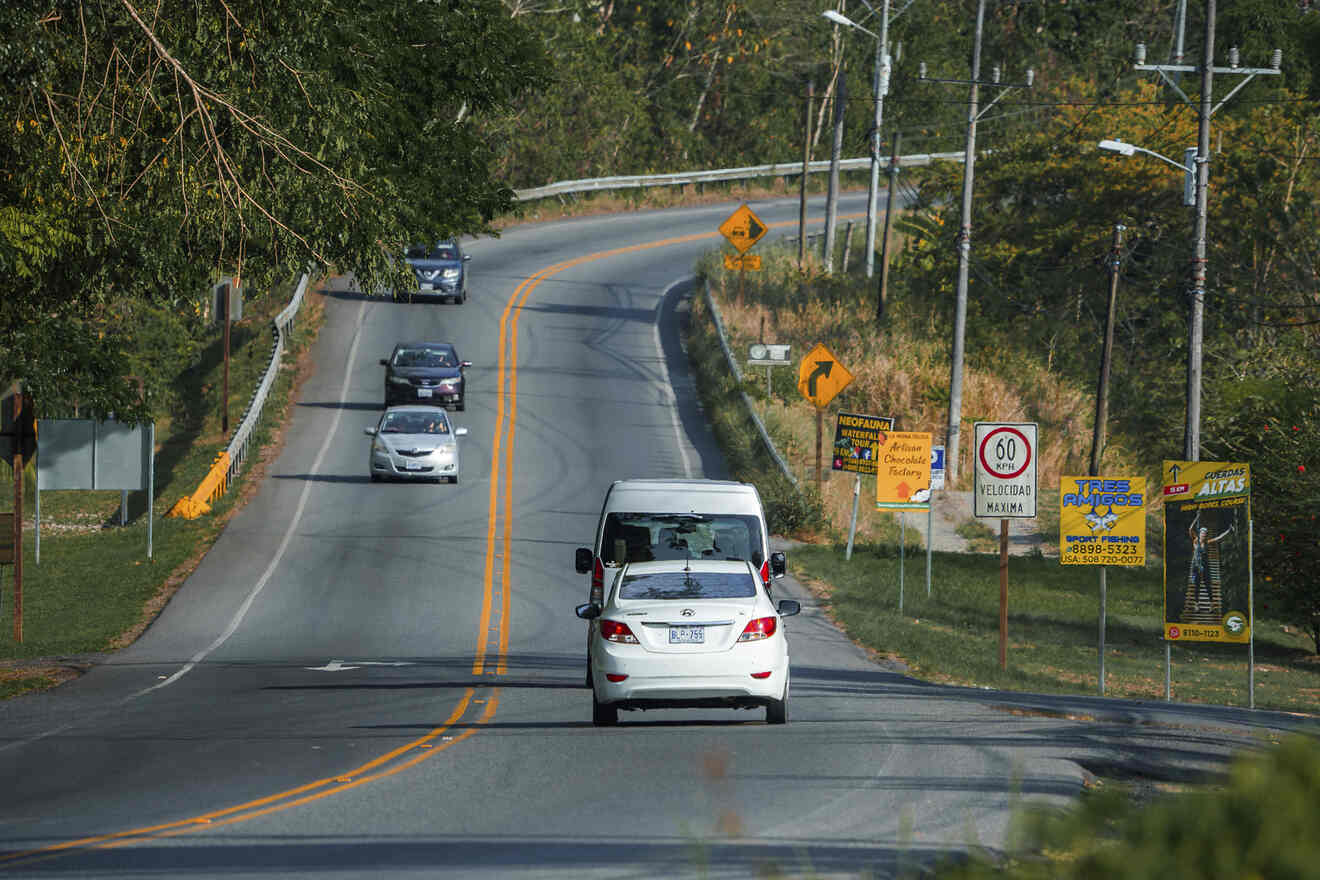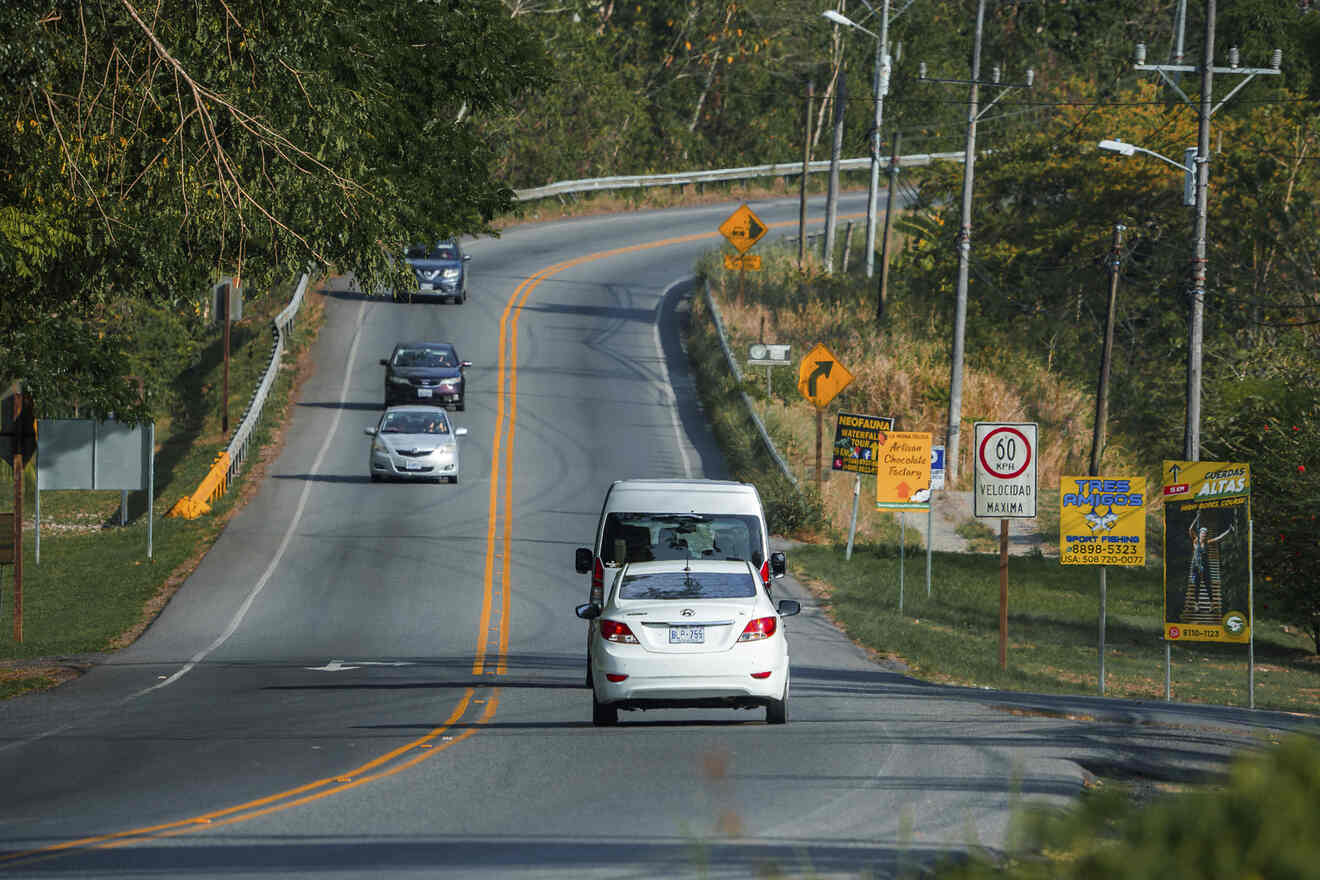 Here are some ways to save on your rental car:
Book as much in advance as you can
Book for a longer period of time
Go in a shoulder season
If you can, drive manual (usually manual transmission cars are a bit cheaper)
Share the cost with your friends
Do not rent a 4×4 unless you really need it
Check rentals in different locations – in San Jose airport (if that's where you arrive, San Jose Downtown, Liberia Airport etc. – the difference might be worth it!)
1.2 Which type of car to choose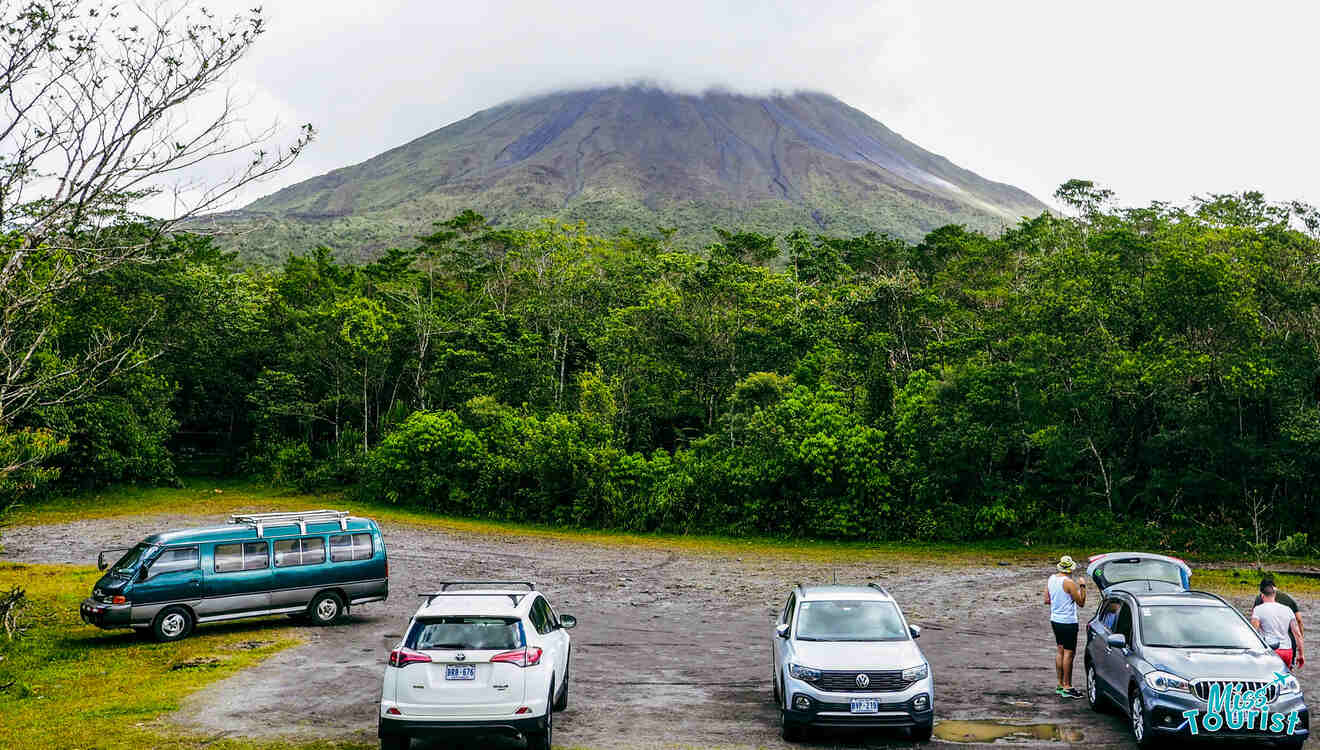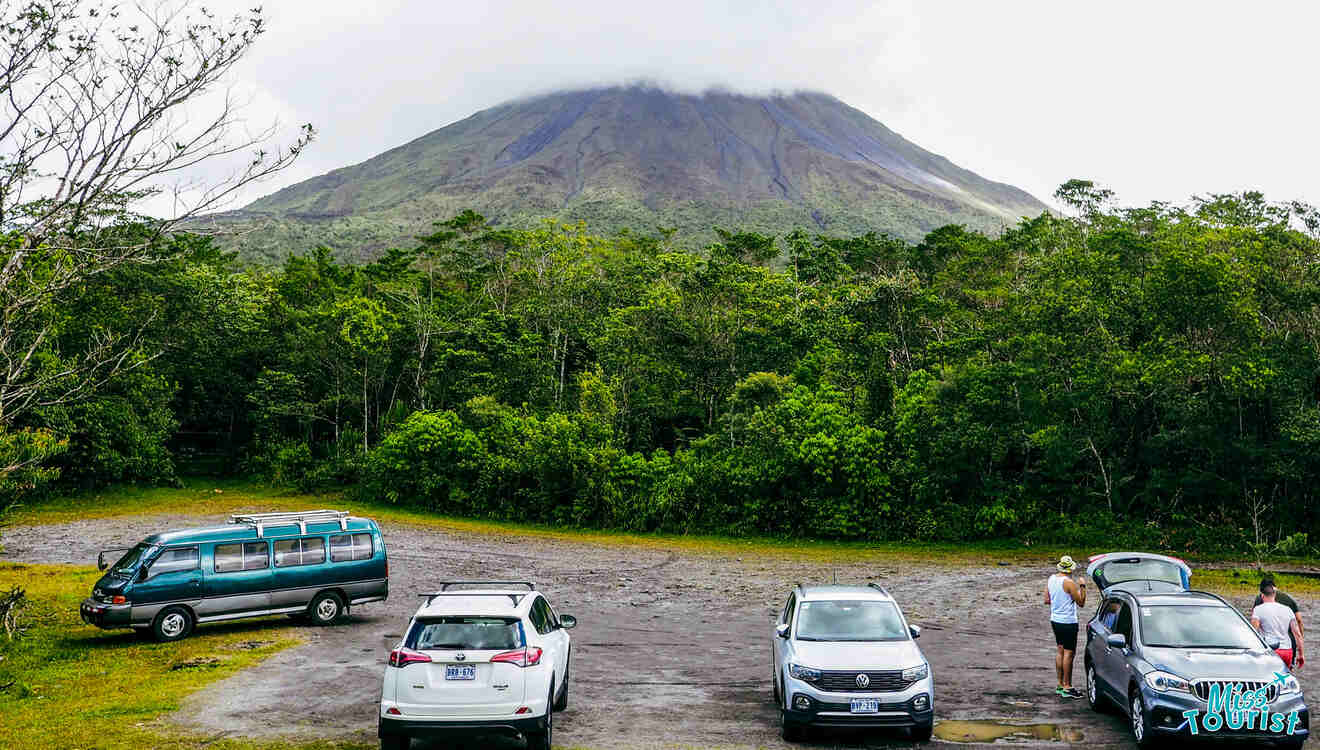 To 4WD or not to 4WD? That is the question!
Please remember that you will only need a 4×4 only in some particular places, not everywhere. While you do need a powerful car that can climb mountains and overtake tracks, in my experience the 4×4 is not exactly necessary if you are going to main tourist destinations and will take tours from there.
Since the price for a 4×4 is almost always double the price of a normal car, I would just recommend staying away from very off-roady places for the budget conscious travelers. For instance, Arenal has some unpaved roads but it is not all that bad – just check that your hotel also has a paved road to it, otherwise it would be indeed hard to get there.
2. Other prices & deposit system
In this section you will learn everything about pricing concerning your rental car in Costa Rica (other than the actual car cost that we discussed above). Check out the insurance section especially carefully, it is quite tricky and people get confused and tricked because they don't know the specifics about this country in particular.
2.1 Gas prices and types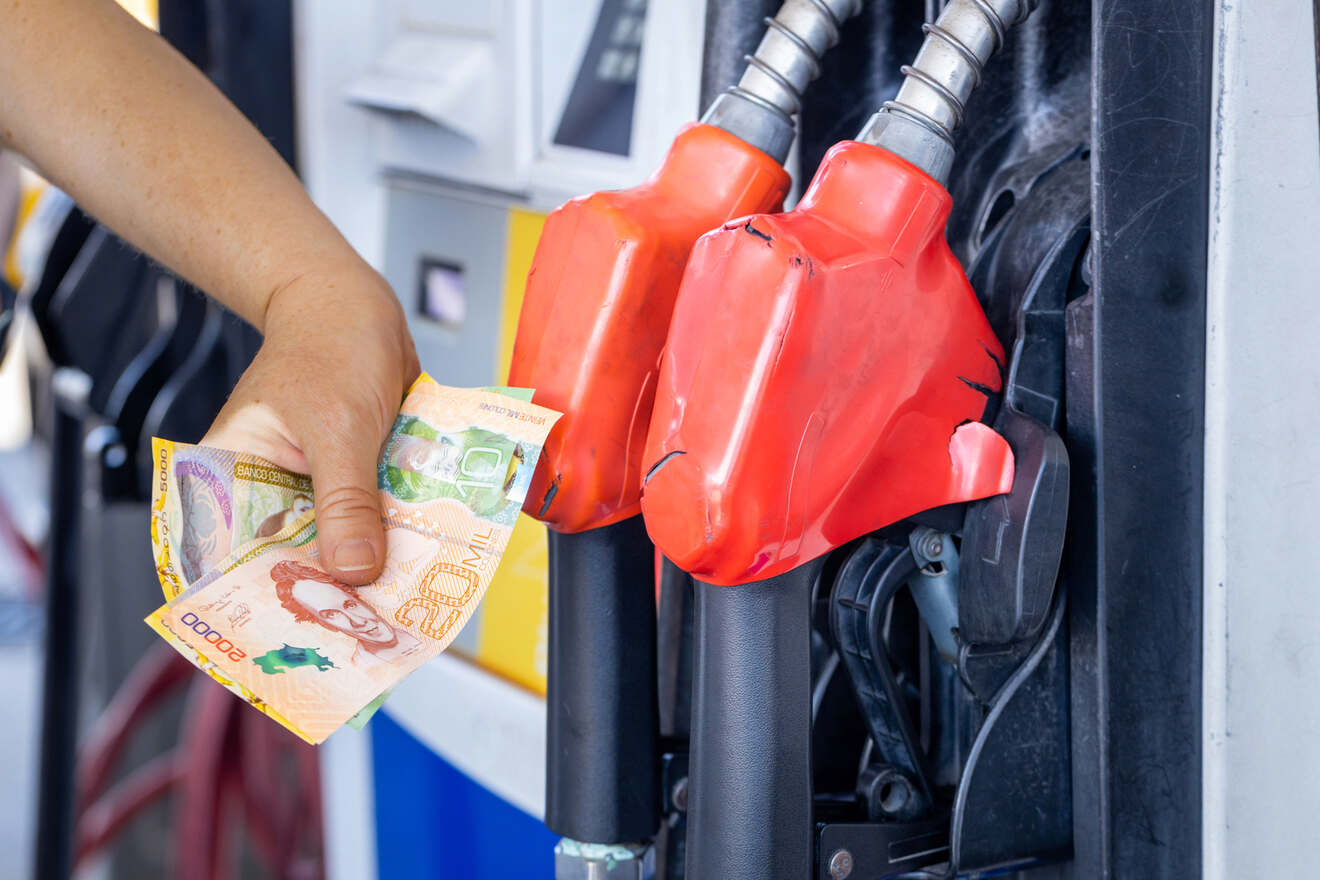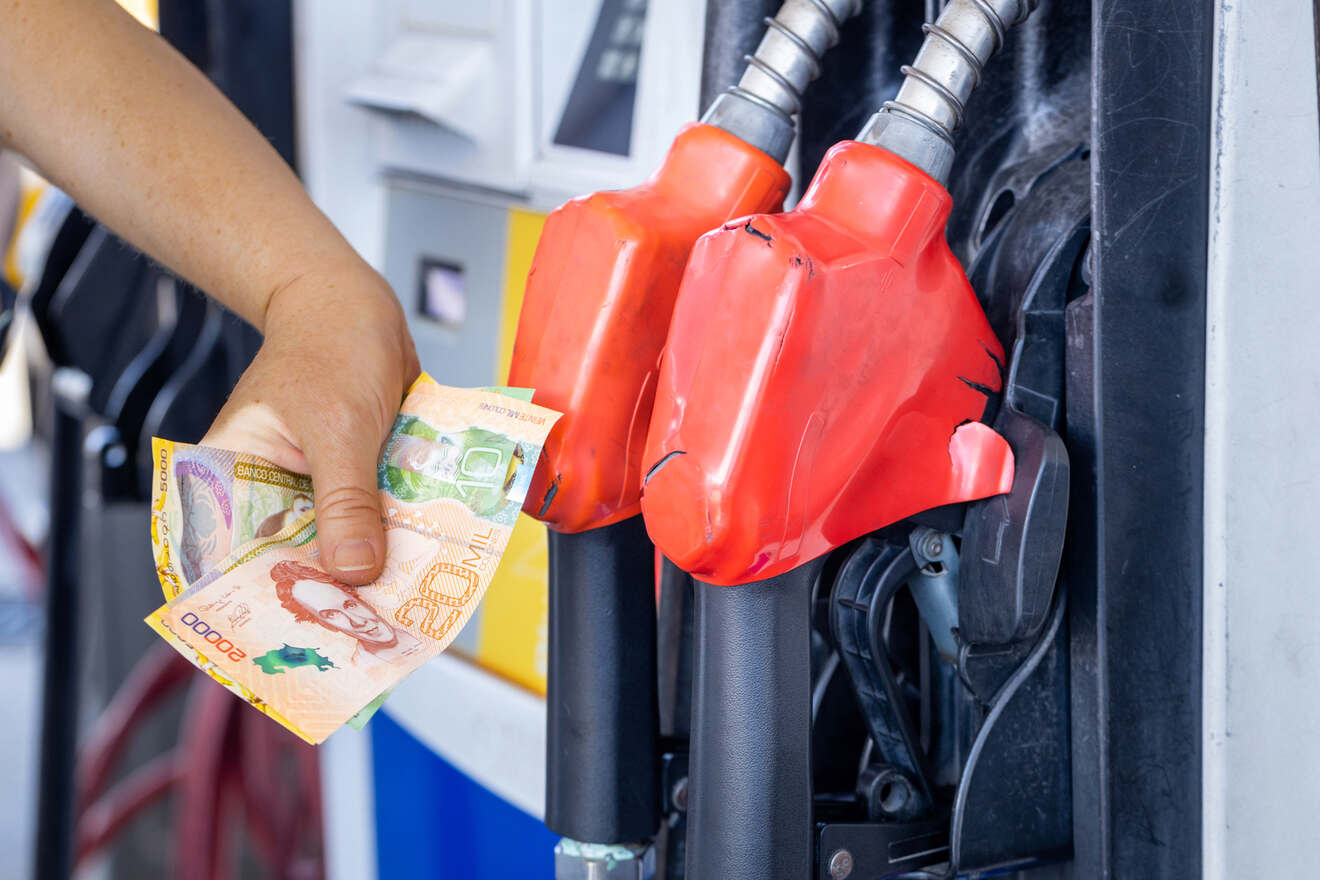 The current gas price is (check updated price here):
750 CRC (US$1,4) per lt or
2900 CRC (US$5,3) per gallon
The cool thing about gasoline prices in Costa Rica is that it is regulated by the government, so there is no point to shop around to find a cheaper price – it is the same everywhere!
HOW MUCH WILL YOU SPEND: Considering you will drive more or less 500km (310mi) in a week (which is an average a typical tourist would do), you can expect to spend about US$100 per week on gas.
PRO TIP: Just use Waze or Google Maps to find the closest gas stations, usually there are quite many around (except maybe for Corcovado – fuel up in advance if going there!).
Normally they will understand if you say "Full", but if they really don't "Lleno" (pronounced as "ie-no") is the word in Spanish. Both cash and cards are usually accepted in gas stations, but as always – if you pay cash, pay in CRC, otherwise the conversion rate will be really bad.
Types of gas:
Plus 91 – the cheapest gas, the one everyone uses for the car rental
Super – a bit higher quality gas
Diesel – pretty popular in Costa Rica for SUV cars, it is also a bit cheaper than gas
Just FYI – most gas stations in the country can also provide extra services like changing oil, adding oil to your tires (something that we actually used) etc.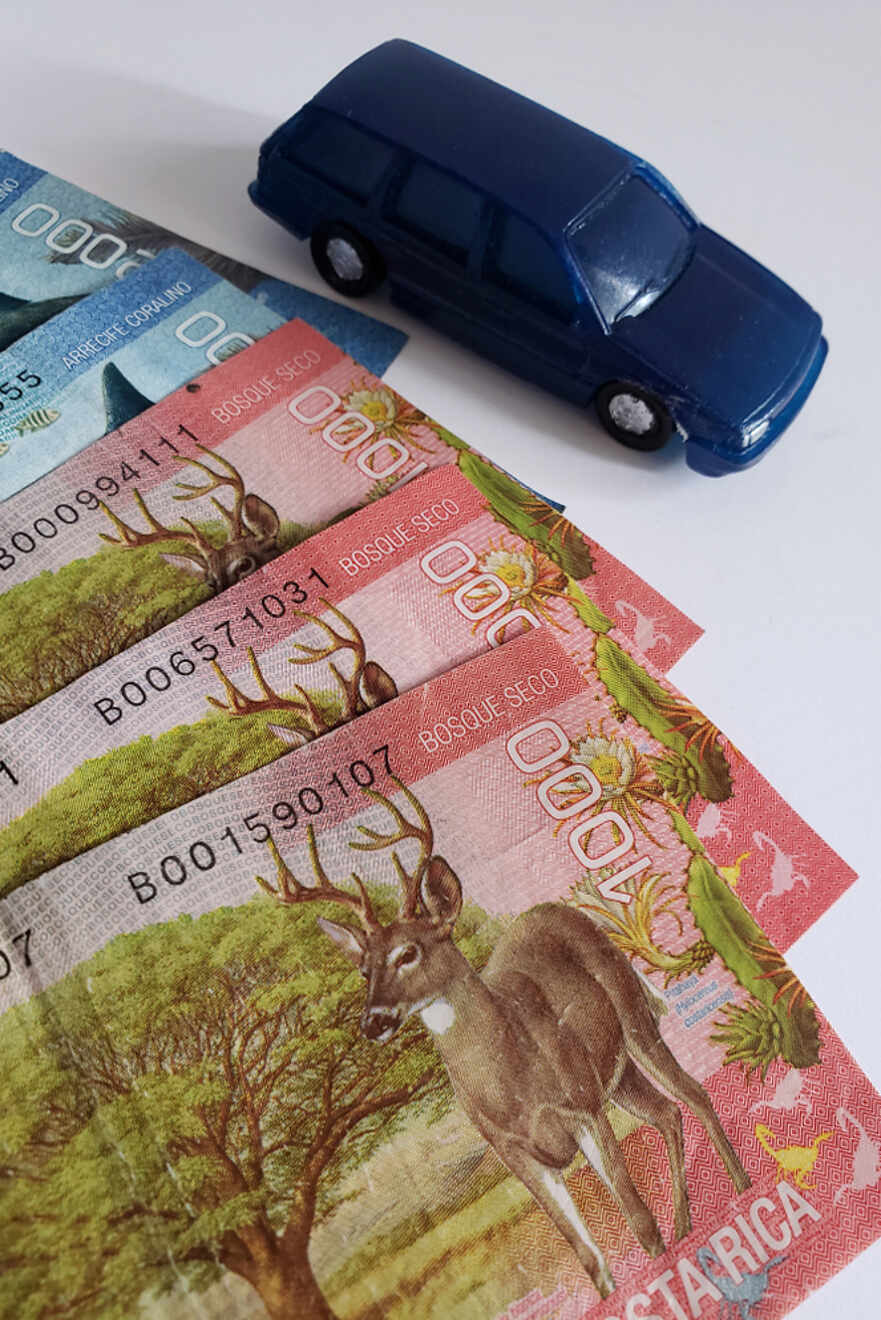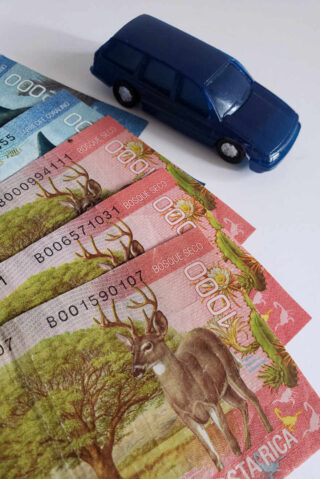 2.1 Car insurance prices
This was always a very complicated topic for me because the car companies try to make it super hard to understand and, in my opinion, most of them actually scam people with insurance.
I looked around everywhere, made my own independent research and tried to make it easy to understand for you:
Here are the types of car rental insurance in Costa Rica (with prices):
Liability protection – mandatory insurance, about 15.5$ a day. If the accident happened by your fault, it will usually cover 80% of the damage of the other car (you will have to cover the remaining 20% from your pocket + the damage of your rented car in full)
Collision Damage Waiver (CDW) or Loss Damage Waiver (LDW) – also mandatory unless you have another insurance by your bank, about 18$ per day. CDW covers the damages that will happen to your car, you will still need to pay ~1000$ out of pocket depending on the terms and conditions.
Extended protection – not mandatory, ~23,5$ per day. Covers everything – you will not need to pay the 20% nor the 1000$, it also covers a bit more than LDW (window and tires for instance)
NOTE: the cost sums up! So, if you take an LDW, it is going to be 15.5$+18$=33.5$ per day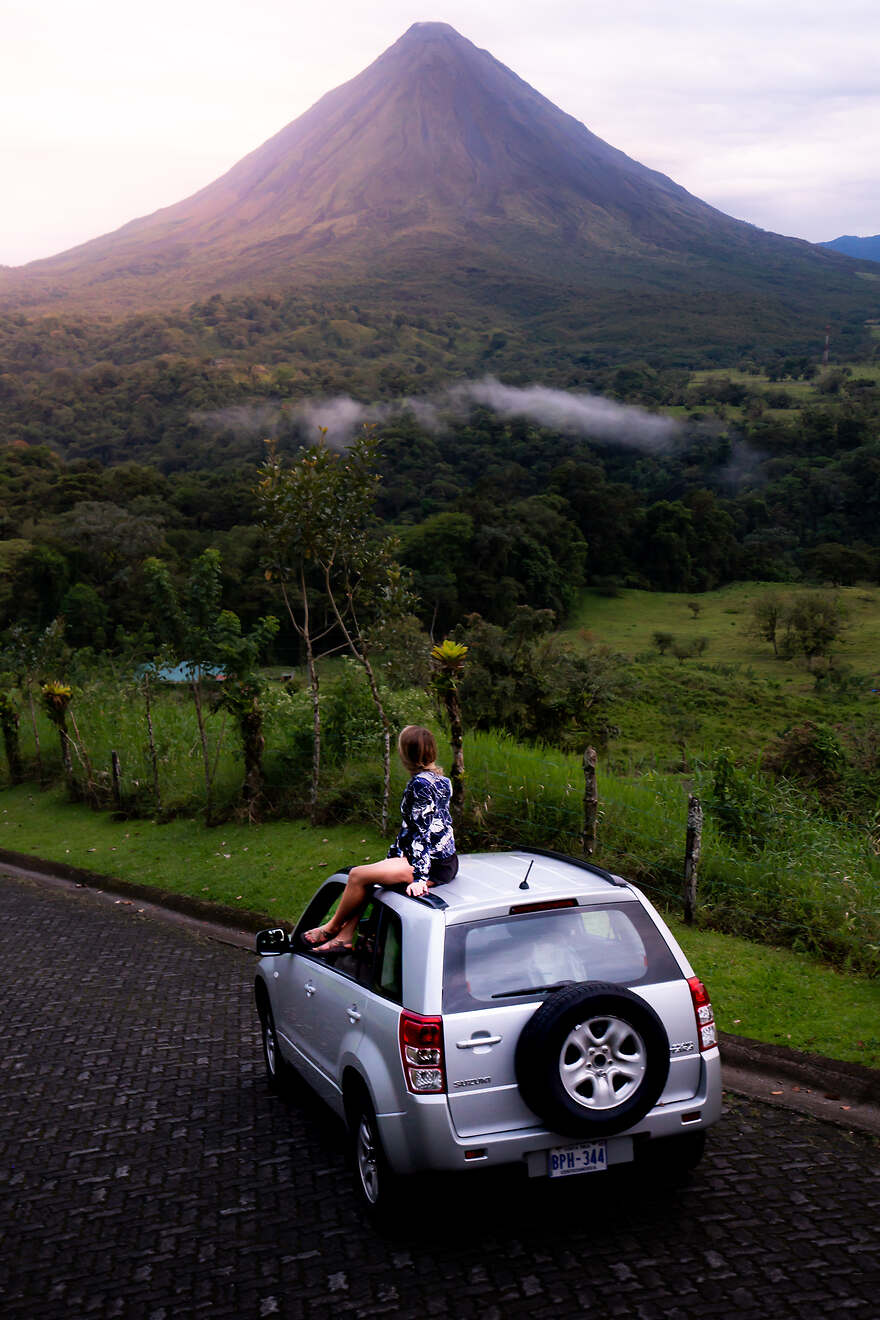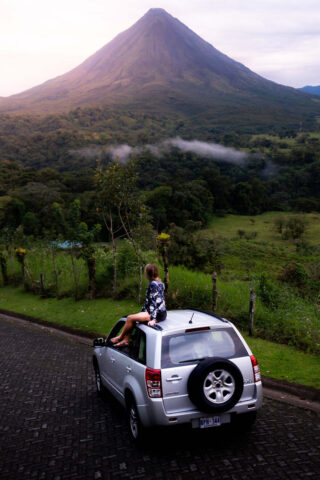 If you see a site where they quote you a much lower price including the insurance, I can almost guarantee you that they are going to demand an extra payment on arrival (always check their reviews!). The CDW/LDW insurance is required and there is no way around it unfortunately.
PRO TIP: Your credit card might actually provide you with CDW/LDW insurance – call your bank and ask them. If so, you will need a paper from your bank with the statement that your credit card provides this protection. FYI: Visa Gold and Visa Platinum do not offer CDW/LDW after 2021. 🙁 Apparently, in 99% of the cases, your bank will not cover third party damages. 🙁
Please note that even if you have a full insurance option, it still does not cover you in case an accident happened when you went off-road, if you were drunk etc.
UPDATE: There is another alternative I found and that is a marketplace for all car insurances so you do not need to get the overpriced one provided by the rental company. Check this site – it is kind of a marketplace that will instantly give you a quote on your insurance and offer you many options, with reviews etc.
2.3 Deposits – how much money will they freeze on your card?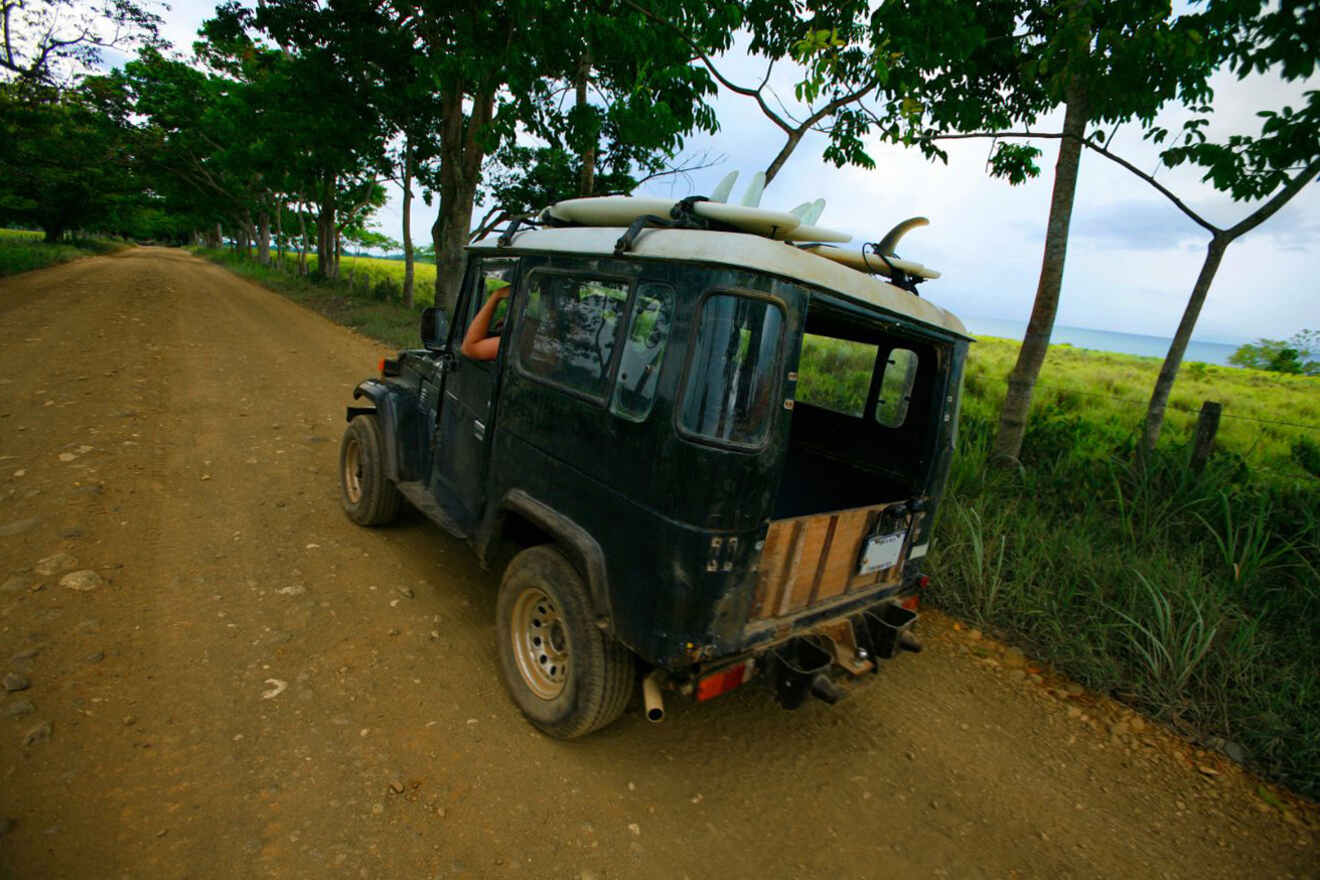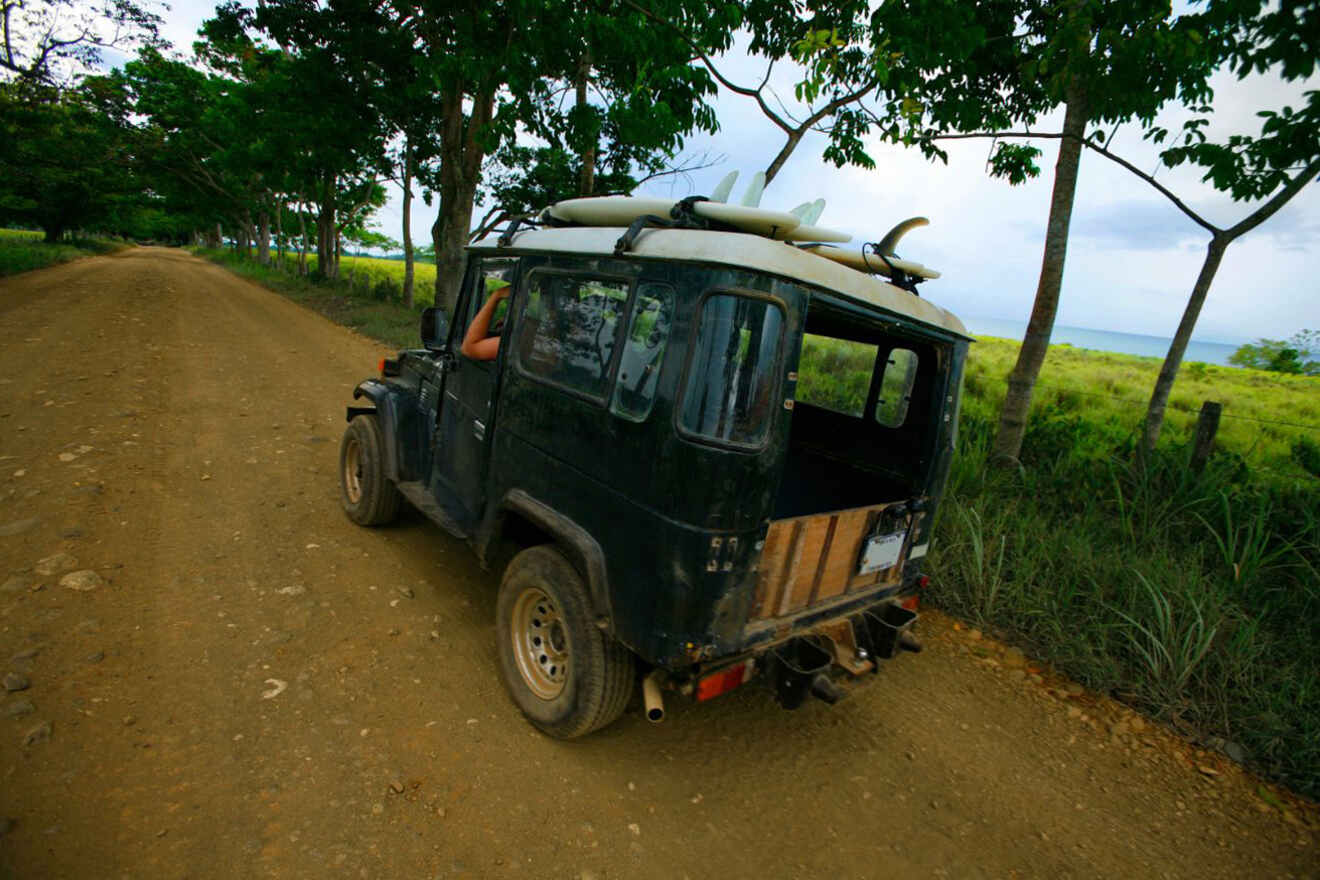 Note that if you are not taking the full insurance, your car rental company will freeze a sum on your credit card and will unfreeze it when you return the car back in the same condition.
The sum depends on the company and on the type of car (the more expensive, the higher your deposit), but it should be around US$1000 – 2000. Keep that in mind when budgeting your road trip around Costa Rica. 
In my case the money came back to my bank (got unfrozen) in one day, but I've heard it can take up to 10 working days or even a month in some rare cases.
NOTE: If you want to know more about pricing for other things like child car seats, Wi-Fi routers, one way rental fee etc, we cover it all in section 5 of this post.
3. Road tolls and fines
This section is all about rules and regulations, plus how much you would be charged if you broke the rules.
3.1 Tolls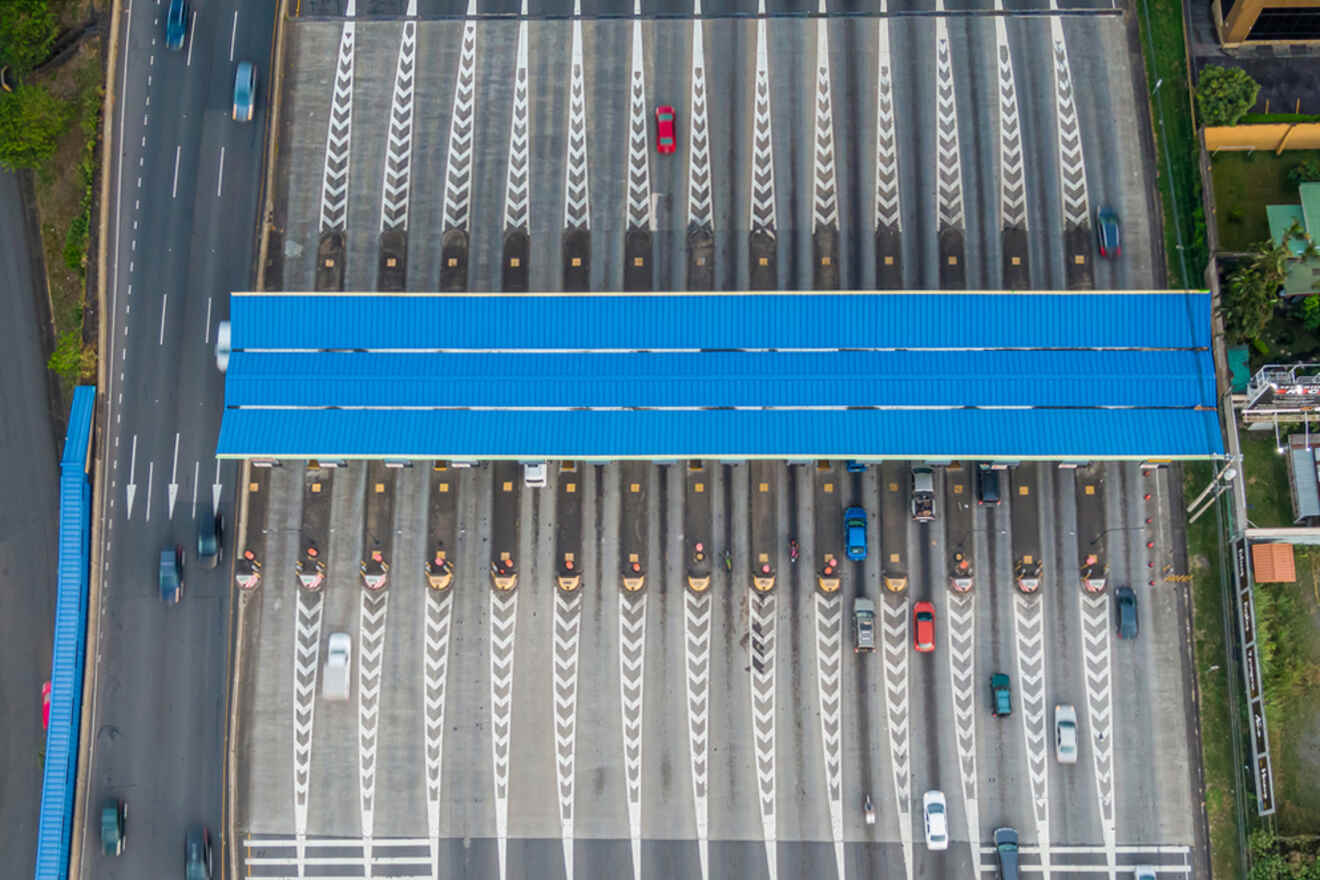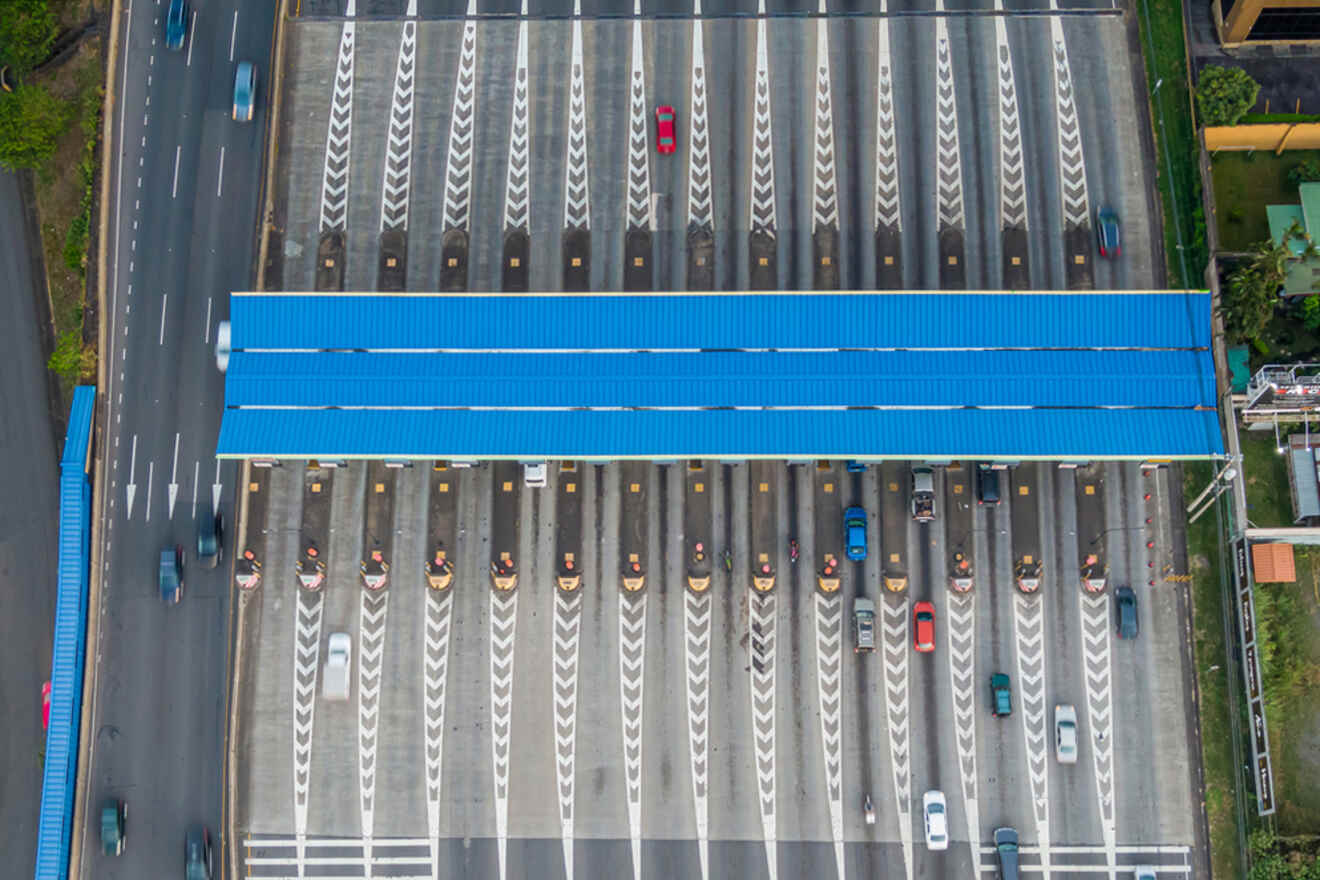 Be prepared to use quite some tolls in the country, there are especially many around San Jose. The tolls are usually inexpensive though (anywhere from 0.3 to 2 USD). In some cases you can pay with both cash and card, but usually it is cash only, so have some coins ready.
PRO TIP: You will understand that the toll is coming soon by the "Peaje" sign or when you see the toll itself, the price will be written on top of the toll. Just make sure you are not going to the "Quick Pass" line – this is for locals that have a special pass.
I've heard that you can pay with both USD and CRC (colones), but I only paid in CRC so this is not confirmed info. In any case, you should definitely have some local money to avoid the conversion rate hustle on the road. If you have to use USD, try to find some small bills – they will give you change in Colones in any way.
3.2 Fines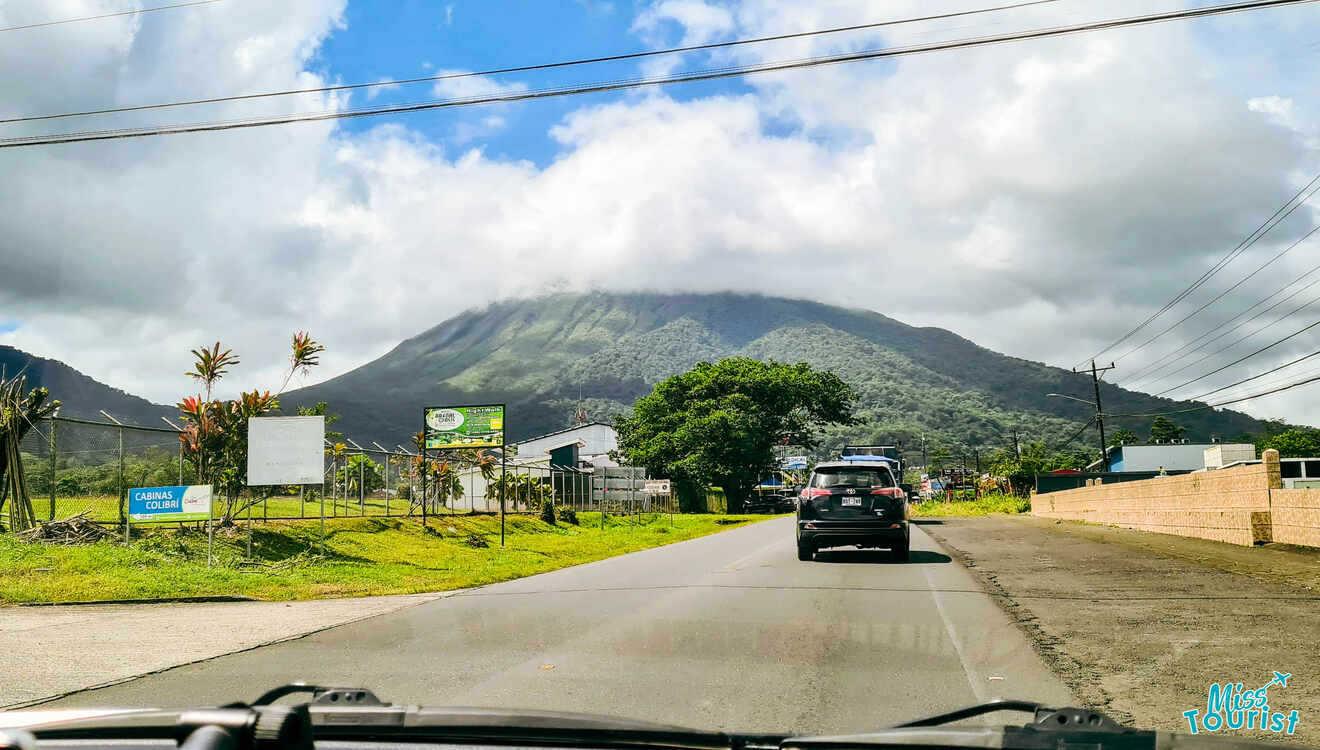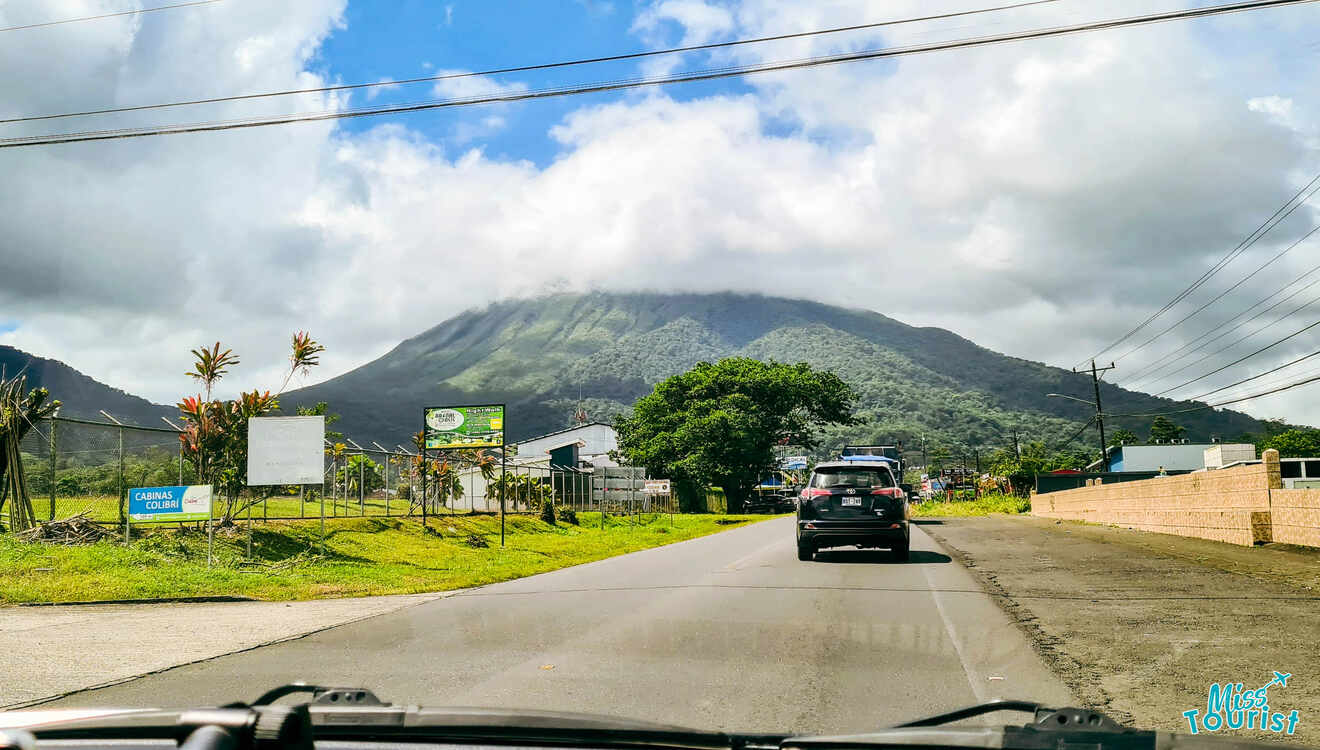 You will see that most locals do not respect the speed limits, but I recommend you do – police checks happen and the fines for speeding are steep – about $US300 on average (there are speed cams on important roads too).
If you get the ticket you should call your rental company and pay the fine when you return the car (you will HAVE TO pay it, otherwise they may not let you out of the country at the airport).
We were stopped by the police only once, it was a normal check and it is not uncommon.
Definitely do NOT try to bribe a police officer if you did something wrong, this is not one of those countries, at least not anymore.
PRO TIP: Use Waze App for navigating, it is a preferred locals choice too! Waze also announces police checks ahead (and also accidents and traffic etc). An international sign for "Police is ahead" – flashing light from cars going the other direction.
4. Parking rules and prices, road quality, signs
This bit is about all the not-so-important-but-still-is aspects of driving in Costa Rica – learn about the signs, rules for parking and my opinion on the road condition in the country.
4.1 Parking rules and prices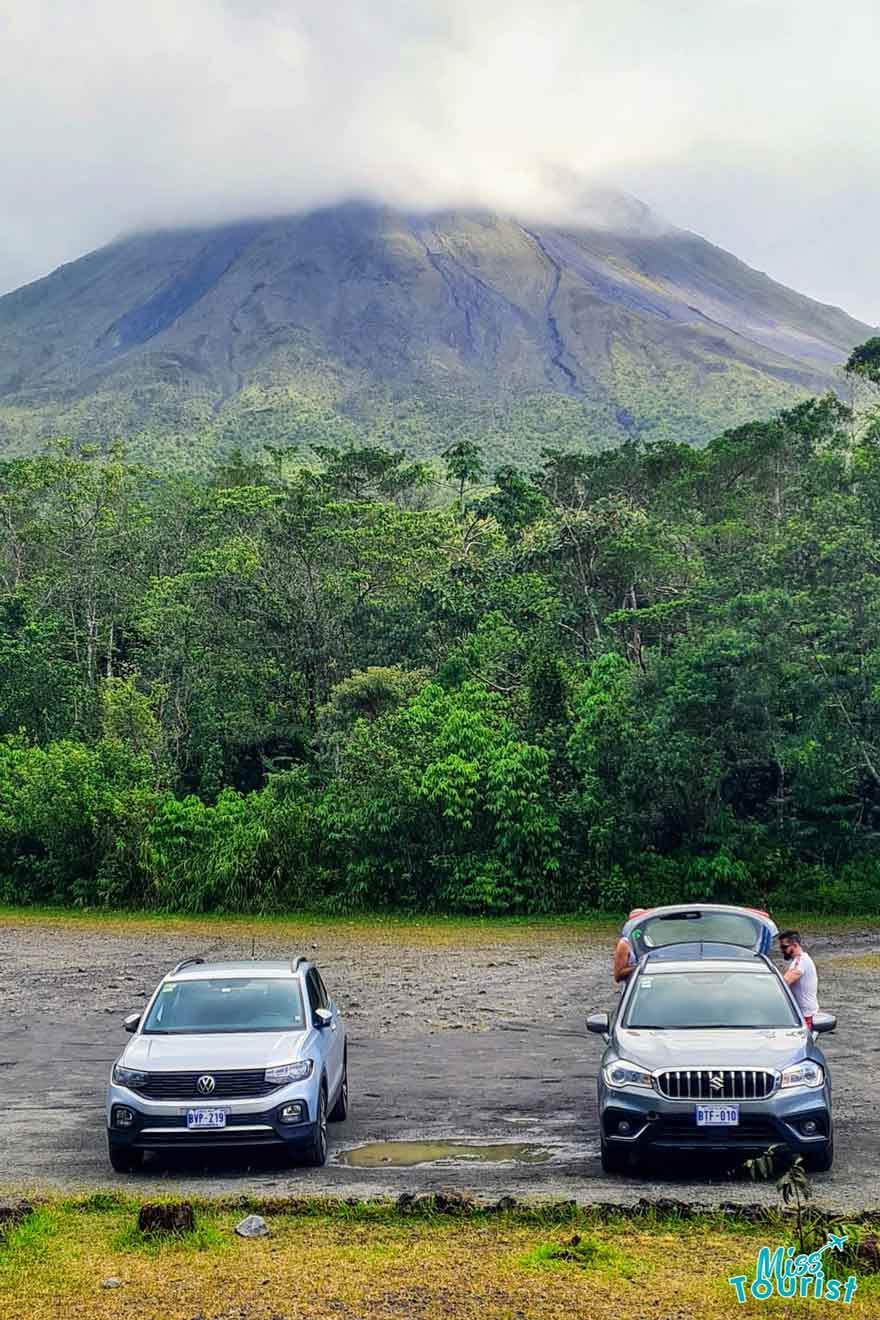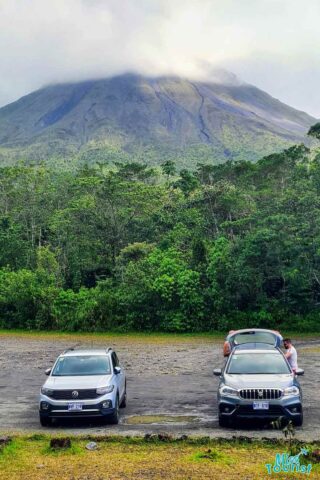 Use official parking in big cities (San Jose, Liberia, Jaco etc) otherwise you may get a ticket for not parking in the right place. As for other places, it is pretty much self organized – sometimes you will have some "parking assistants" that you will need to pay ~2000 CRC to. If it is free parking, try to choose a well lit place where there are other cars already.
PRO TIP: When you arrive at an attraction that has parking (national park etc.), a parking guy will INSIST you to park your car with the back. I do not know why and I even saw a foreigner making a scene about it, but they are pretty strict about it.
4.2 Road conditions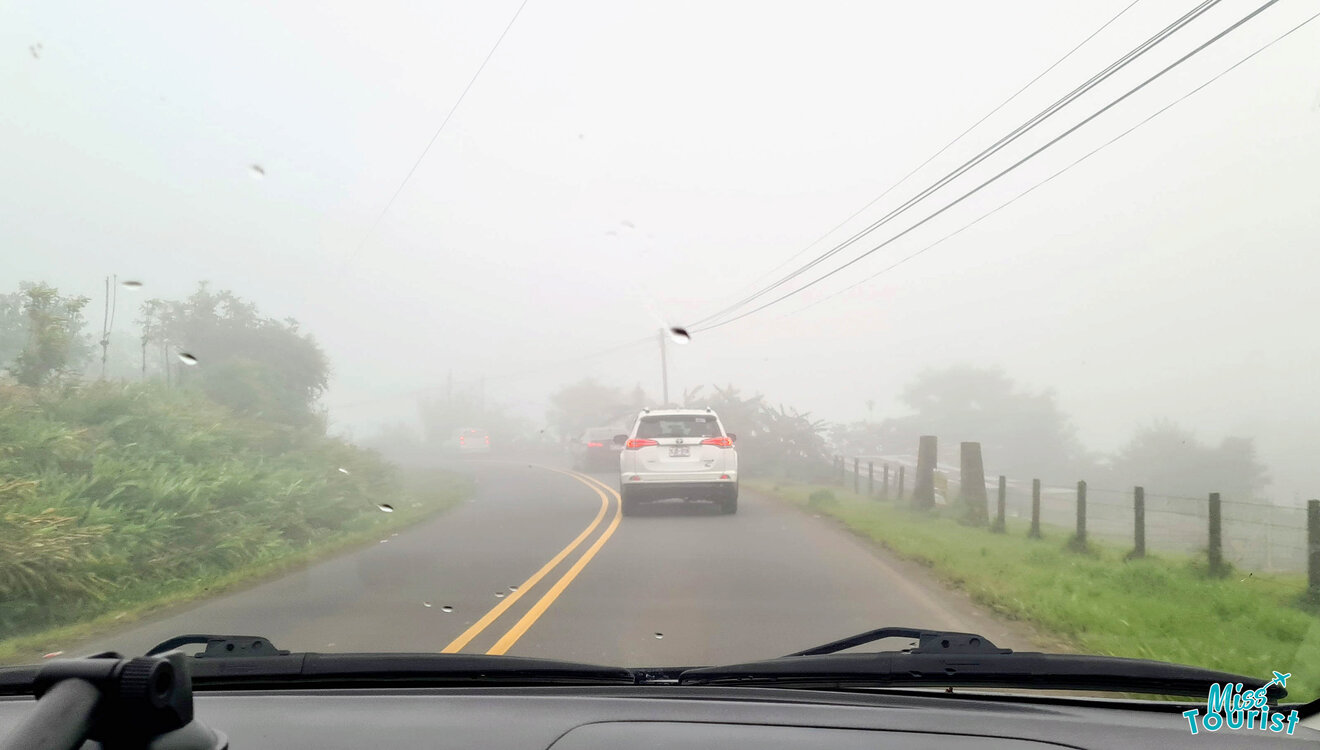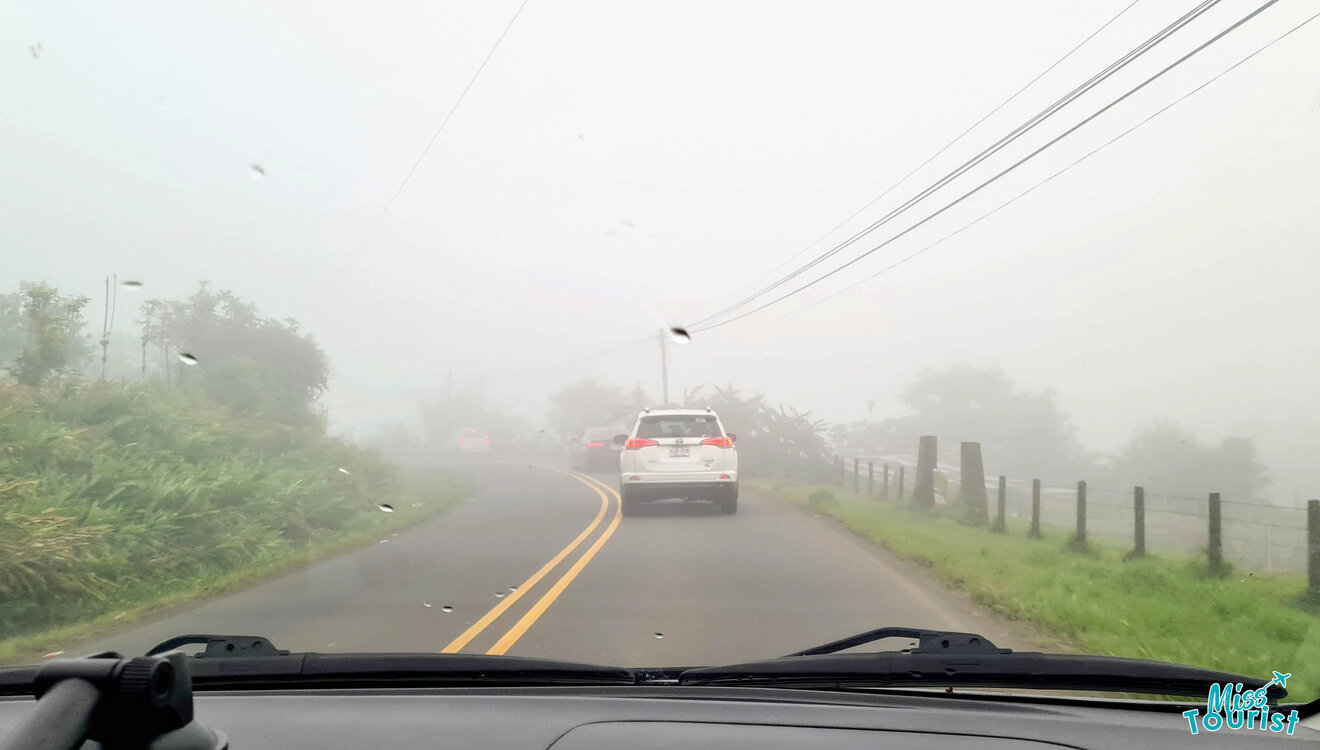 This country is still mysterious to me in this way – it looks so tiny on the map but the distances are very deceiving – it takes MUCH longer than it looks on the map (you will probably need to go up and down a mountain, go around some volcano or there is simply no direct road!)
In most cities the road conditions are fine – you may find potholes here and there, but most of it is paved. Otherwise, outside of the main cities, farm roads are pretty common. There will be plenty of places where you will have to go off-road if you are going beach hopping etc.
Quite some roads in Costa Rica can be unpainted (no marking white lines) so you will have to visually divide the roads in half in some cases. Also, once you are out of cities, there will hardly be any semaphores, seriously!
The quality of roads are decent TO (might be not so decent while IN): La Fortuna, Arenal, Jaco, Manuel Antonio, Puerto Viejo (some unpaved parts but no 4×4 needed), Playas del Coco. Some hotels might be located in hard-to-reach areas (if your car is small, I would ask the host/read the reviews before).
4×4 required roads: to Uvita, Osa Peninsula (Corcovado), San Juanillo, Ostiona, Nosara, Turrialba, Rio Celeste (4×4 during rainy season, esp September to November)
Also, there might be a couple of river crossings – they are usually safe but just be aware that it is not covered by any insurance, so be extra careful there. I have more things you should know about roads in Costa Rica in section #6 of this post.
Driving at night: Please keep in mind that it gets dark by 5:30 – 6 pm in Costa Rica – plan your road accordingly! I would stay away from driving in the dark for long distances and during the rainy season, especially if you are not an experienced driver.
Driving during the rainy season: If you are visiting Costa Rica from May to November, chances are you are going to catch at least some rain (or a lot). Except for a river crossing (which generally may appear in Nicoya or Osa Peninsulas), you should beware of landslides and washouts. The landslides are not super common but if you are taking Road 32 (towards the Carribean Coast), I would first double check the road condition with your hotel.
PRO TIP: if it is raining and dark and you feel uncomfortable driving, you can drive behind a big truck/bus and use their backlights for guidance – these guys usually know the road pretty well. 😉
4.3 Road signs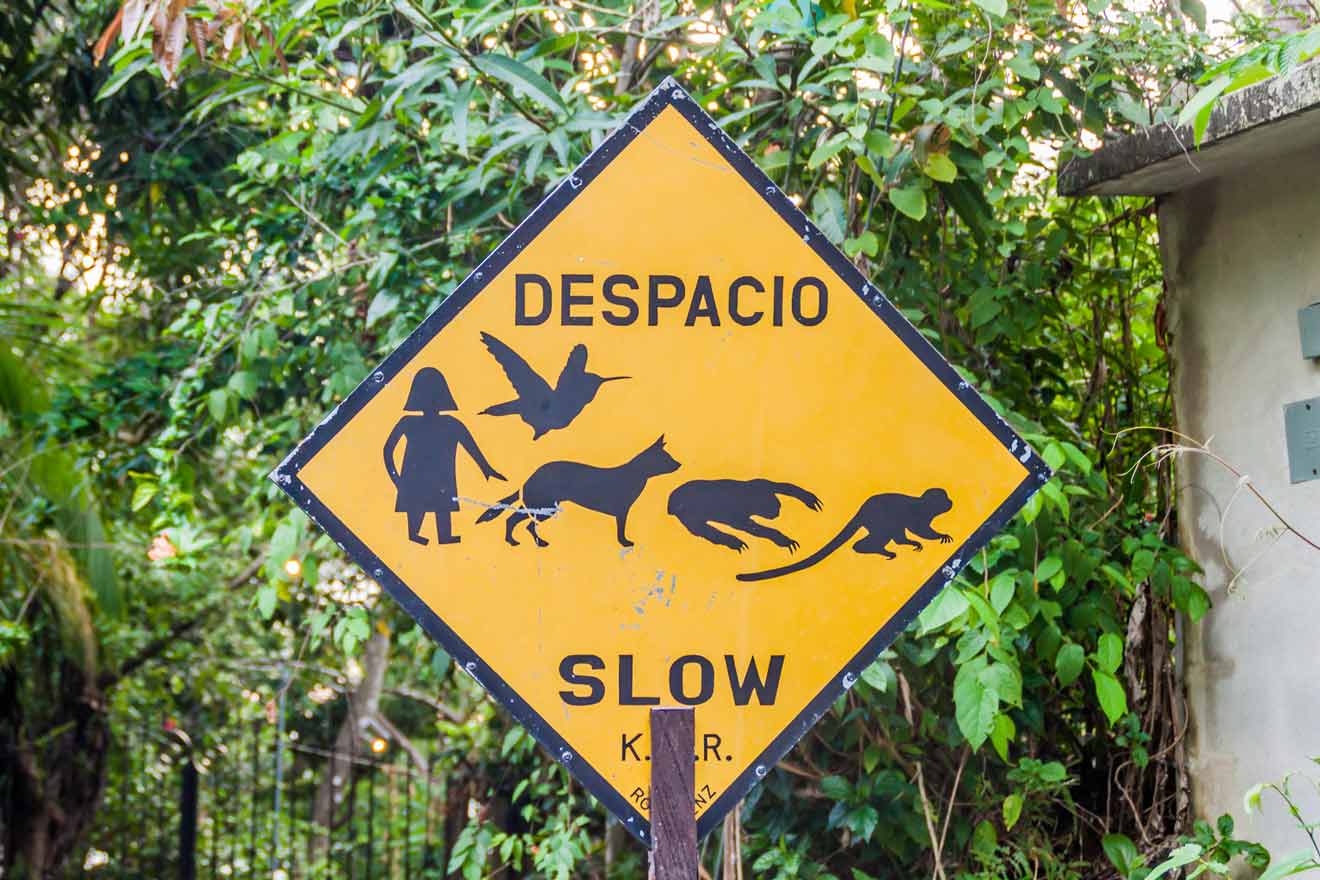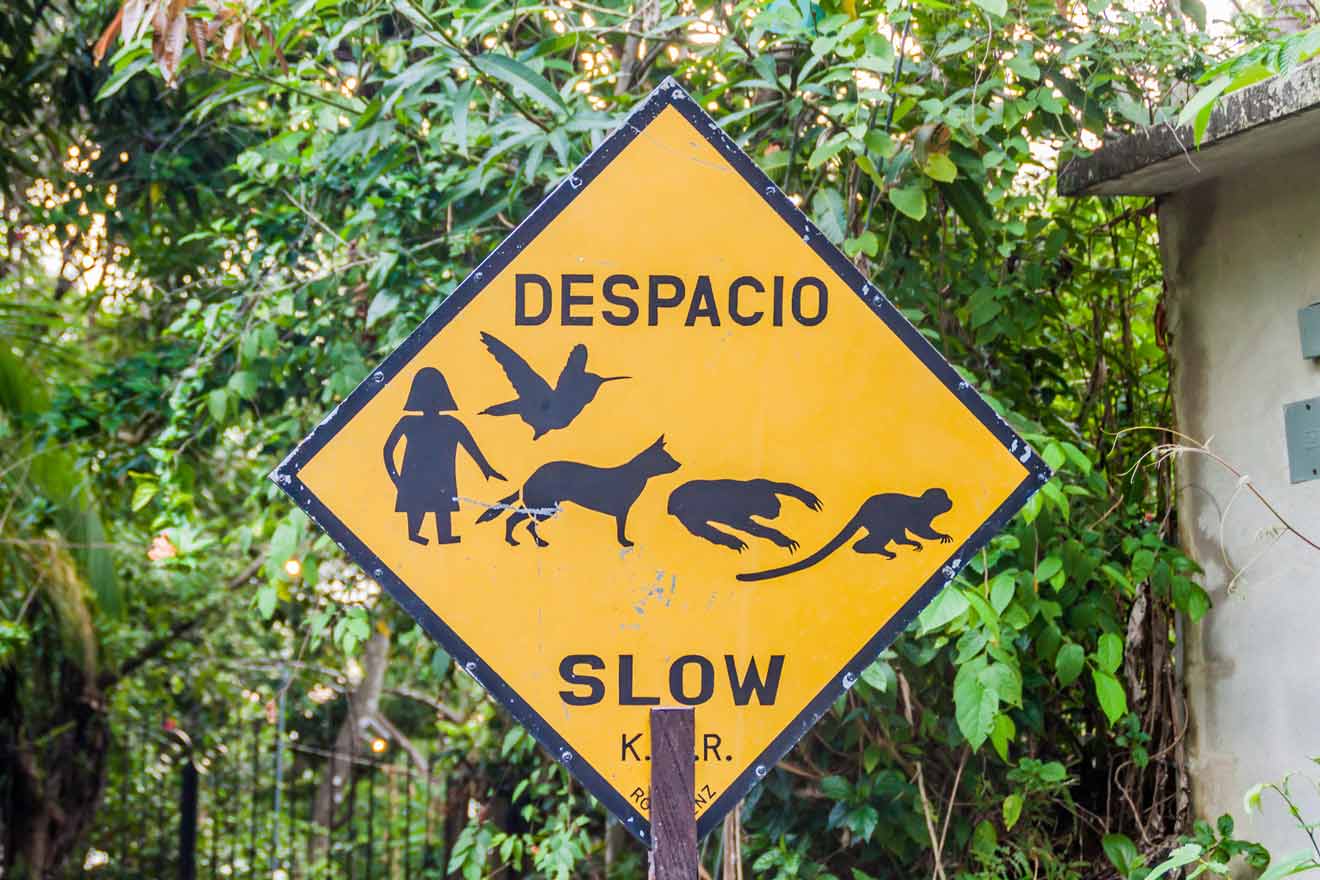 No worries, all the road signs are exactly the same as they are in the USA/Canada/the rest of the world, but the words (if they are any) are in Spanish.
Here are the main ones you may want to learn and a good video to illustrate them:
Alto – stop (red octagon)
Velocidad maxima – maximum speed (in km/h)
Ceda el paso – yield (red and white triangle upside down)
Puente angosto – narrow bridge
Desvio – detour
Despacio – slow
Cruce de monos – monkey crossing
Una via – one way
Carretera en mal estado – road in bad condition
No estacionar – no parking
Curvas peligrosas adelante – dangerous curves ahead
Calle sin salida – dead end
5. Additional fees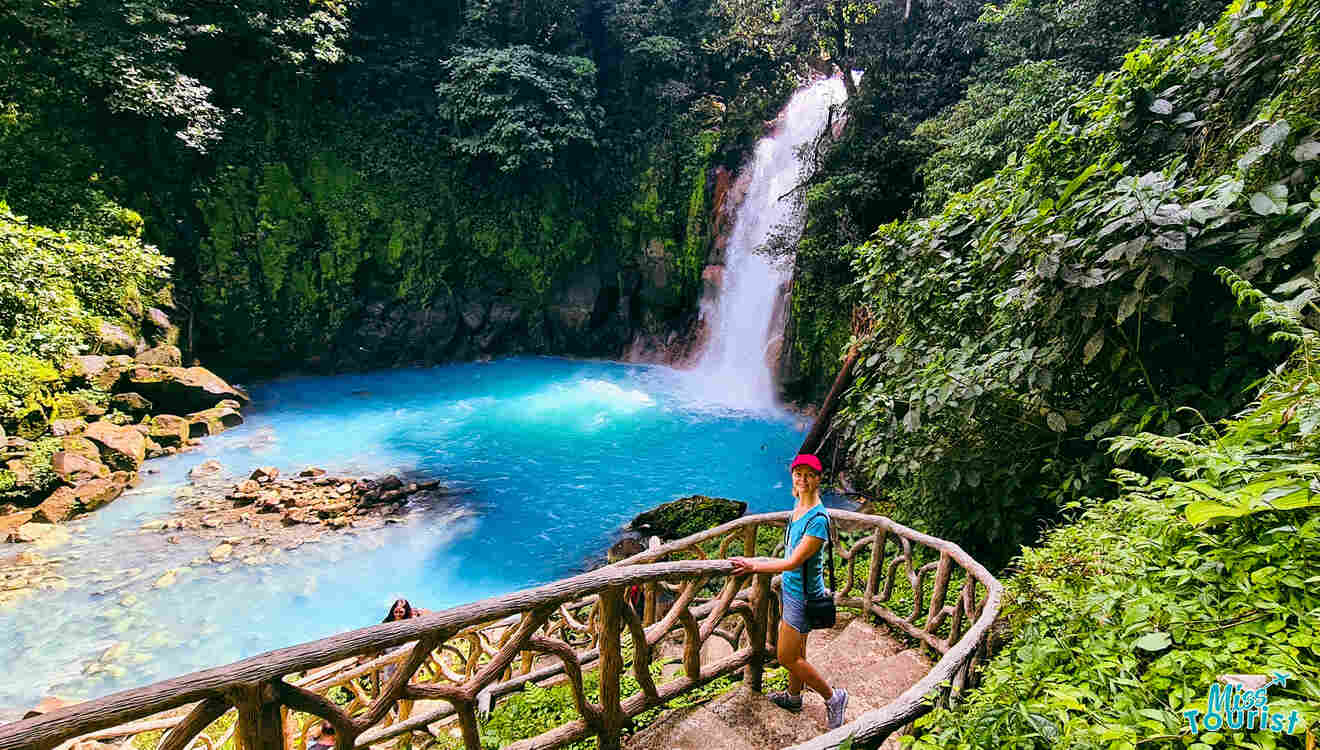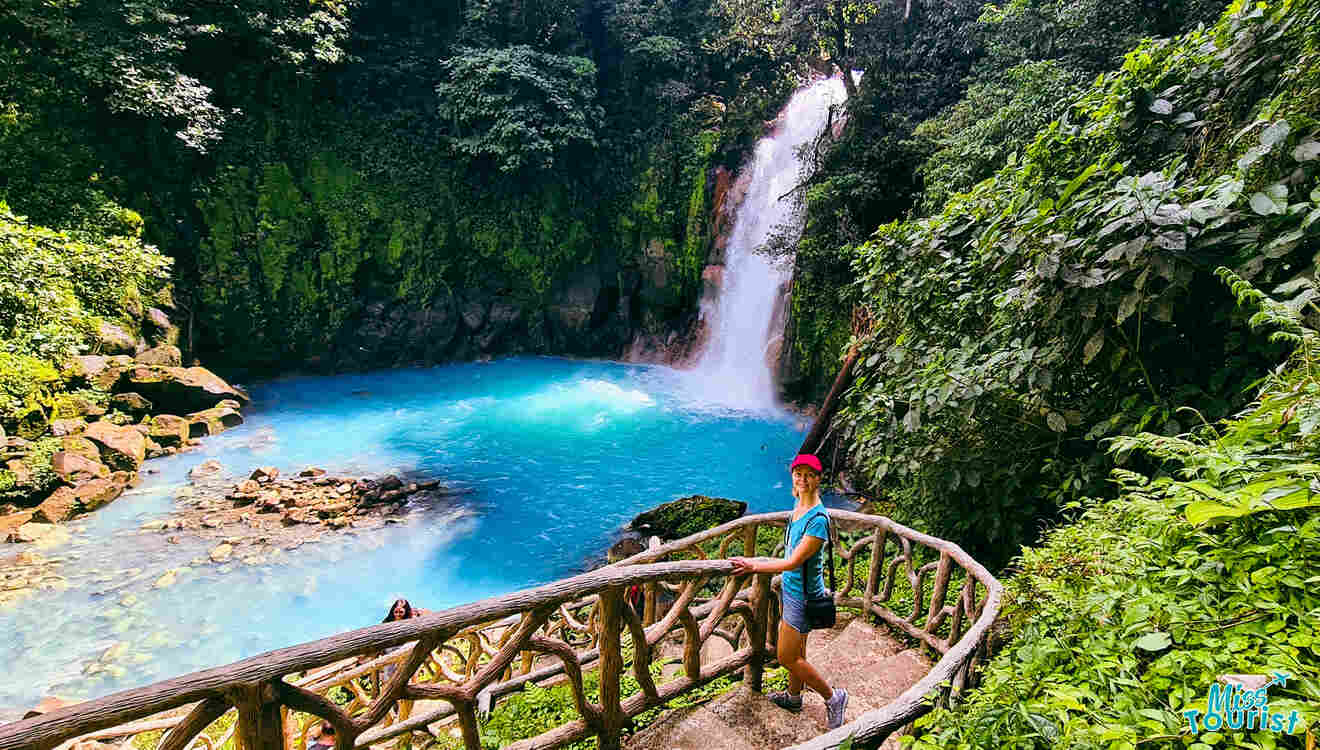 I am sure that you have already figured that compared to some other countries, renting a car in Costa Rica can be quite costly. But hey, it does not stop at the daily rate you have to pay for the car! You already know that insurance is mandatory, but below are some other fees that you might have to pay and I want this to not be a surprise for you.
NOTE: some of the companies charge extra for this, some don't (well, it is included in the price). So if you will need to use any of these things, it is worth double checking with them how much it is going to be:
GPS – ~11$ per day (PRO TIP: If the car is an older model and it does not have a usb charger for your phone, buy a USB adapter in advance so you can use your phone all the time as a GPS. If you can bring your car phone holder, that would be awesome too!)
Wi-Fi router – ~12$ per day (PRO TIP: you can just buy sim cards instead, they are about 12$ per month!)
One way rental – 20-200$ (not possible to organize at all with some companies, please ask ask beforehand, the price heavily depends on the location)
Fuel if you return not a full tank (there is definitely a fee and the company will charge you way more than a gas station would)
Transfer fee – (Most are free, but some companies actually charge you money to transfer you from the airport to their office)
Young/senior driver fee – (some local companies may allow you to rent a car if you are younger than 21, but it will cost you more and the insurance will not cover anything in case there is a damage)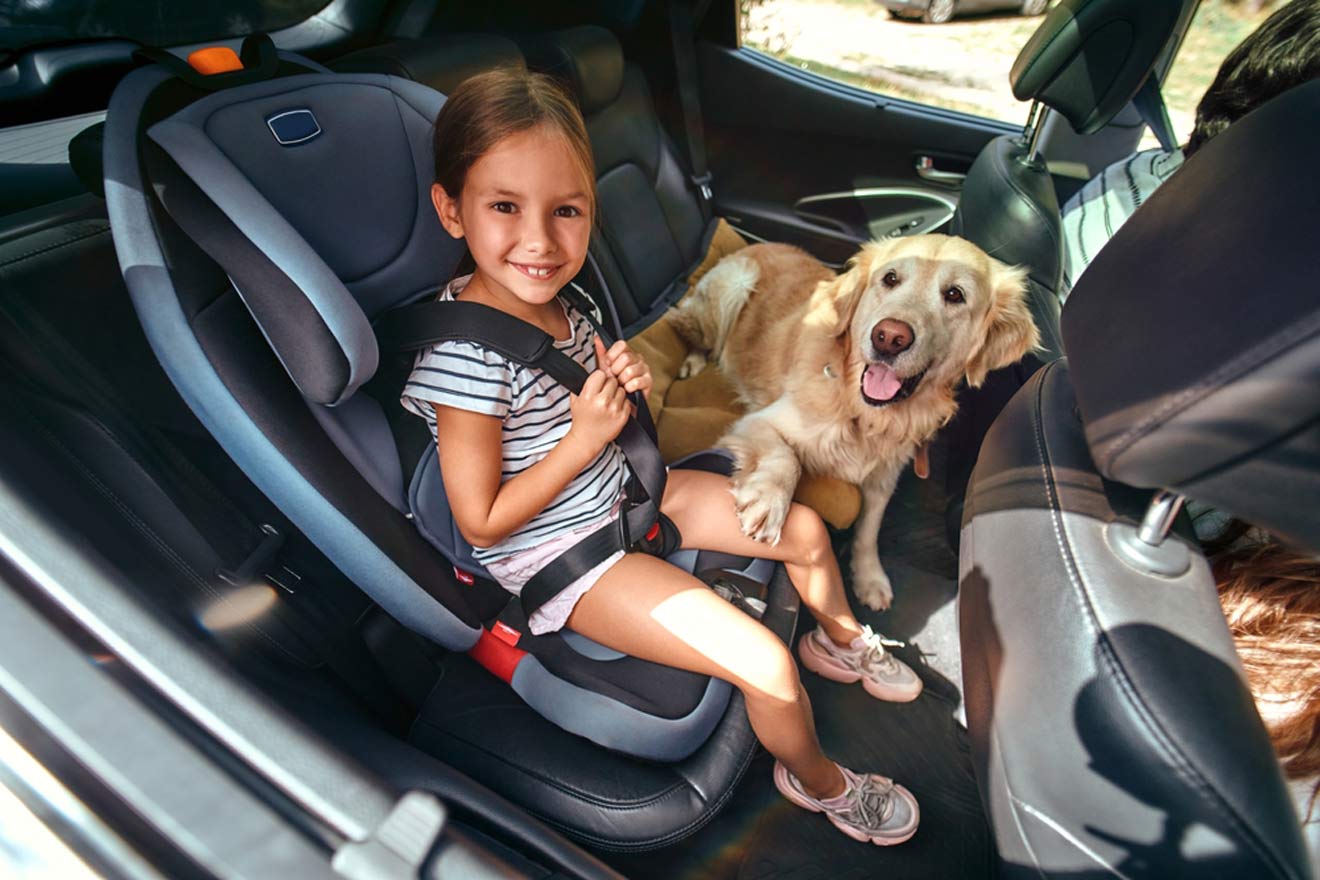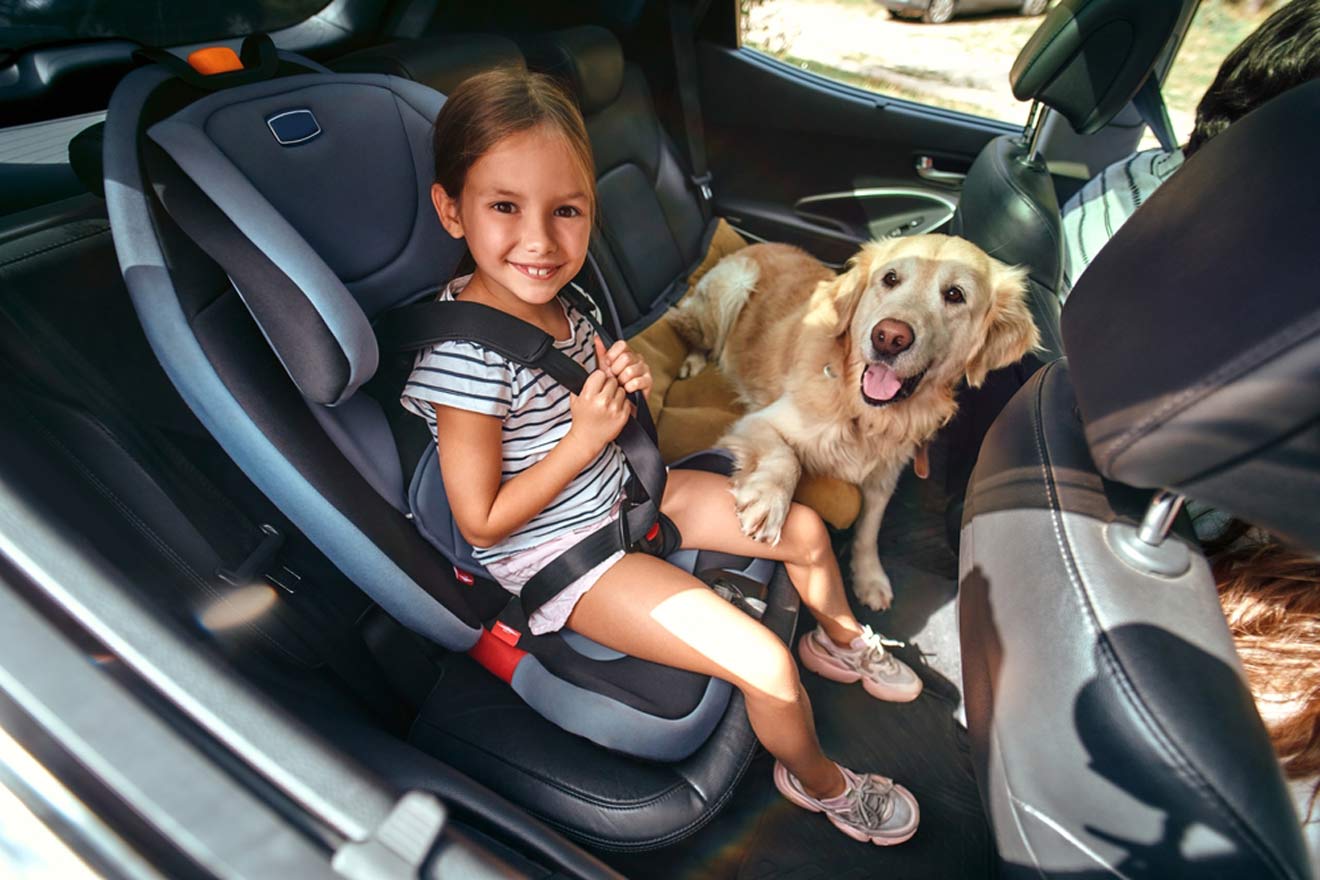 Young/senior driver fee – (some local companies may allow you to rent a car if you are younger than 21, but it will cost you more and the insurance will not cover anything in case there is a damage)
Child seat – 3$ for a baby seat and 1$ for a booster seat per day (PRO TIP: You can get your own car seat with you, I can recommend this one)
Car cleaning – 70-100$ (PRO TIP: if you know the car will need proper cleaning – sand on the sears etc. I recommend doing the cleaning yourself before, it will cost you about US$10, while they would charge you way more (they said US$75 for us in Budget))
Smoking fine – 100$ (Do not smoke in your car, this is forbidden in all companies in the country)
Second driver – ~10$ per day for an extra driver (this depends on the company, something it is free of charge)
Extra mileage – (honestly, I've never heard of limited mileage in Costa Rica, but worth checking the T&C just in case)
Surf Racks – if you are going to CR to surf, you should definitely request this as an extra option from your car rental! The prices vary, it can be also free by some companies, be sure to ask in advance if you need it.
6. Other things to know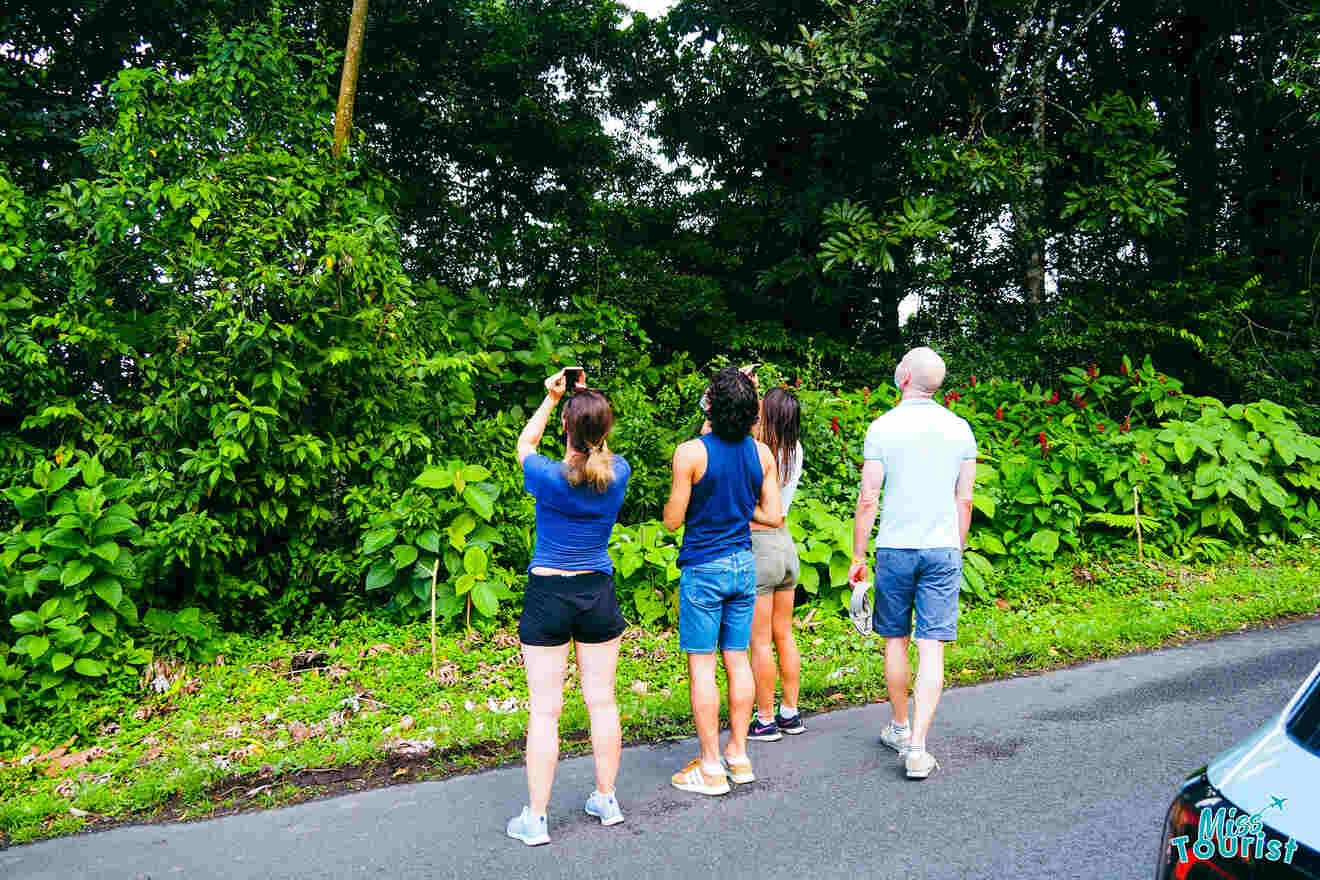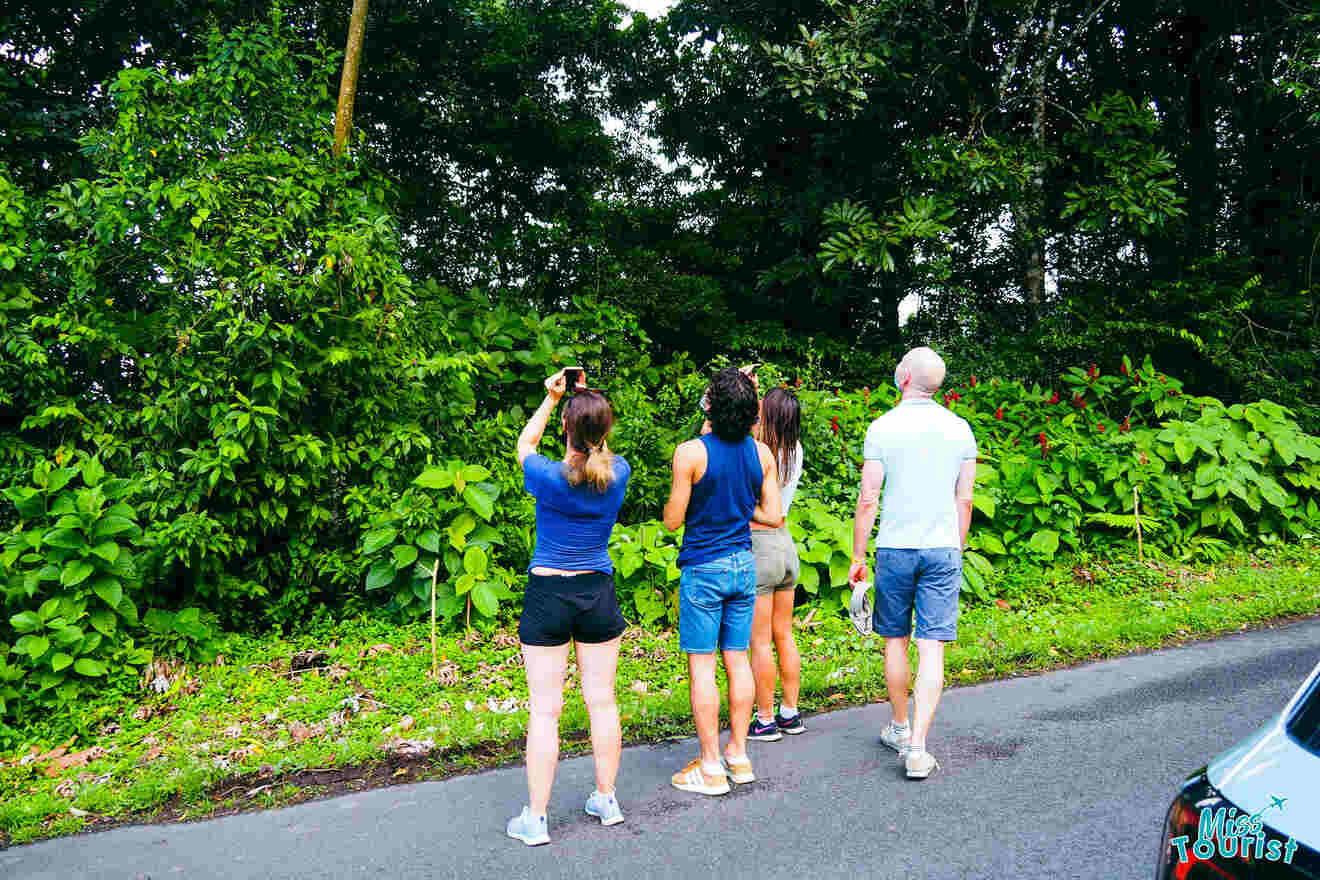 Costa Ricans are hmm… creative in driving, and you can never expect them to follow a rule/signal a turn, etc.
The general driving mood in Costa Rica is that you should not expect other drivers to give you way, but they might cut you off at all times.
Also, turn signals? Do not expect Costa Ricans ever to use them 🙂
I definitely do not want to scare you off – driving is fun and certainly possible in CR. But, like anywhere else in the world, I expect drivers to do all the stupid things unexpectedly, and here in Costa Rica, that actually happens.
Here are some things that did not fit in previous sections, but I want you to know them anyway:
Here are some things that did not fit in previous sections, but I want you to know them in any way:
Lots of overtaking happening by big trucks or minivans with tourists (most roads are one lane only), get used to it
Traffic jams in San Jose are baaaaad, count on some extra time if you are going there, especially during the rush hour (4-7 pm)
Avoid the animals on the road! We actually saw an armadillo(!!) and a couple of huuuuge iguanas crossing the road. You can also see cows, chickens etc.
If you are changing lanes and signaling, still double check that the other drivers are letting you go – they do not pay much attention to the blinkers
Lanes end and merge with the road fast so you have to be prepared
If you break suddenly, make sure to switch off your emergency light to signal to stop to the driver behind you
Bicycles and bikes are very popular in the country – beware of them
Addresses are really weird – 100 mt down the road from antique store, just pull in the name of the attraction/hotel – you will get to your place ok
Driving with small kids – I know I only gave very little info on the subject in the beginning, but you can read more detailed requirements about it here
If you are renting a campervan and you are going with younger kids, make sure they have a latch to secure the kids seat to first
You will encounter lots of one lane bridges along the way, look for Yield (Ceda) sign or, if there is none, just let the other car pass first
Safety precautions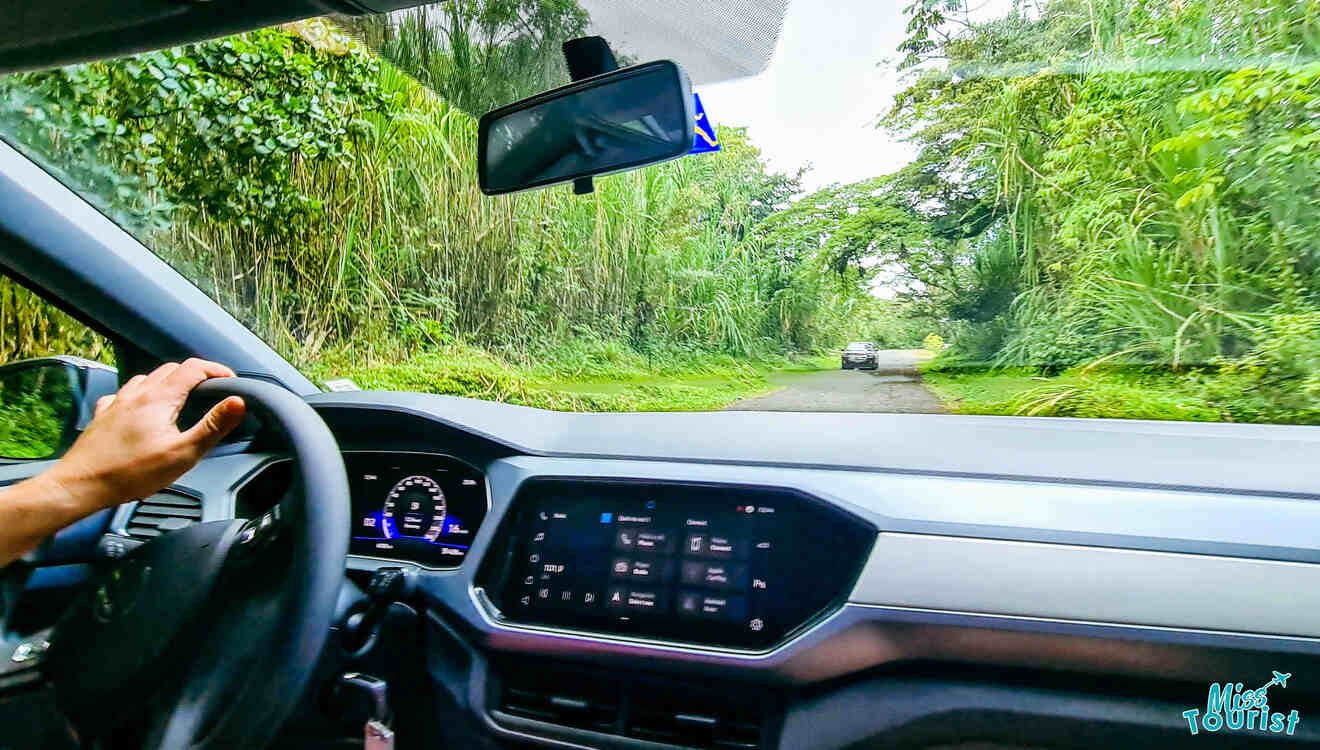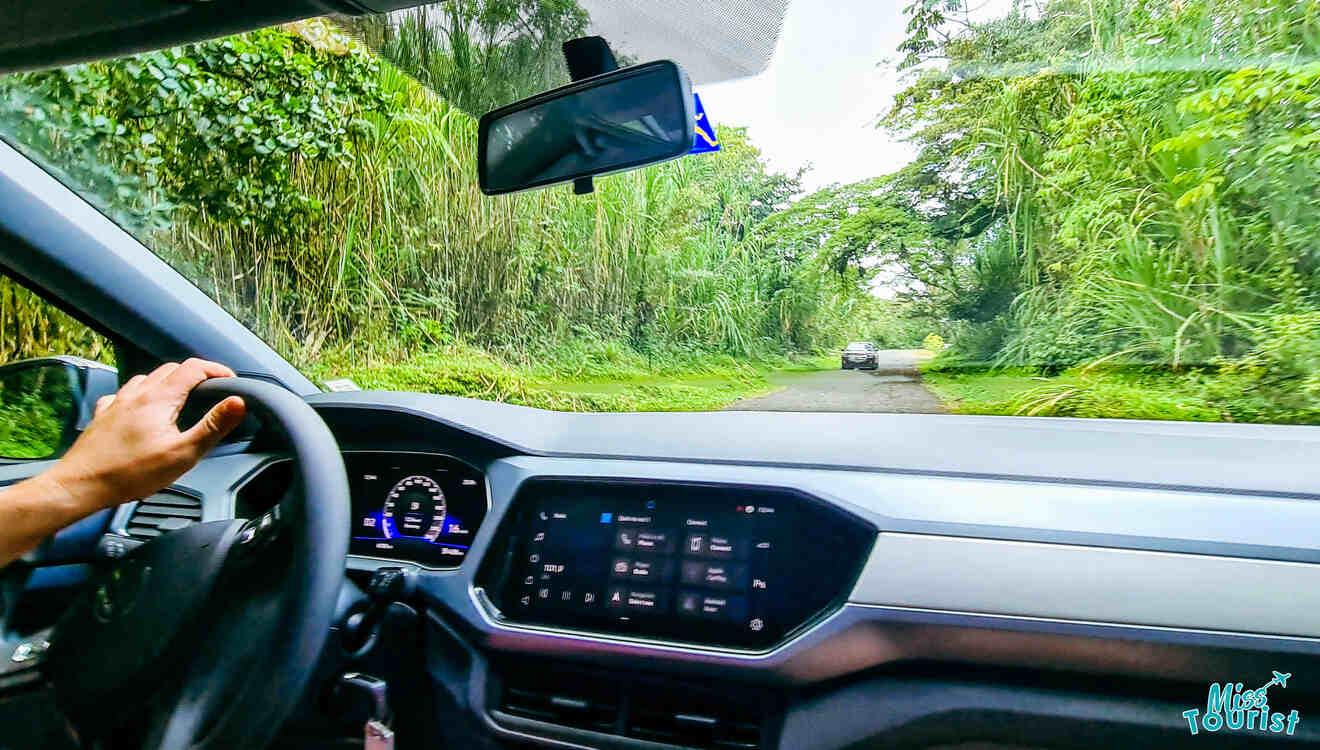 Costa Rica is a pretty safe country to be in, but, like anywhere else, it always makes sense to follow some common sense safety rules:
Lock your door when driving – it is not super dangerous in CR, but there are people that will approach you on semaphores in cities begging or selling something and I just feel safer when I know no one can open without my permission
Do not leave your valuable belongings (actually, do not leave anything) in the car when away
Close the windows when leaving the car, even if for 5 minutes
Do not EVER drink and drive – even if you are a great driver but something happens to the car, the insurance will not cover it just because you had alcohol in your blood
7. Useful navigation apps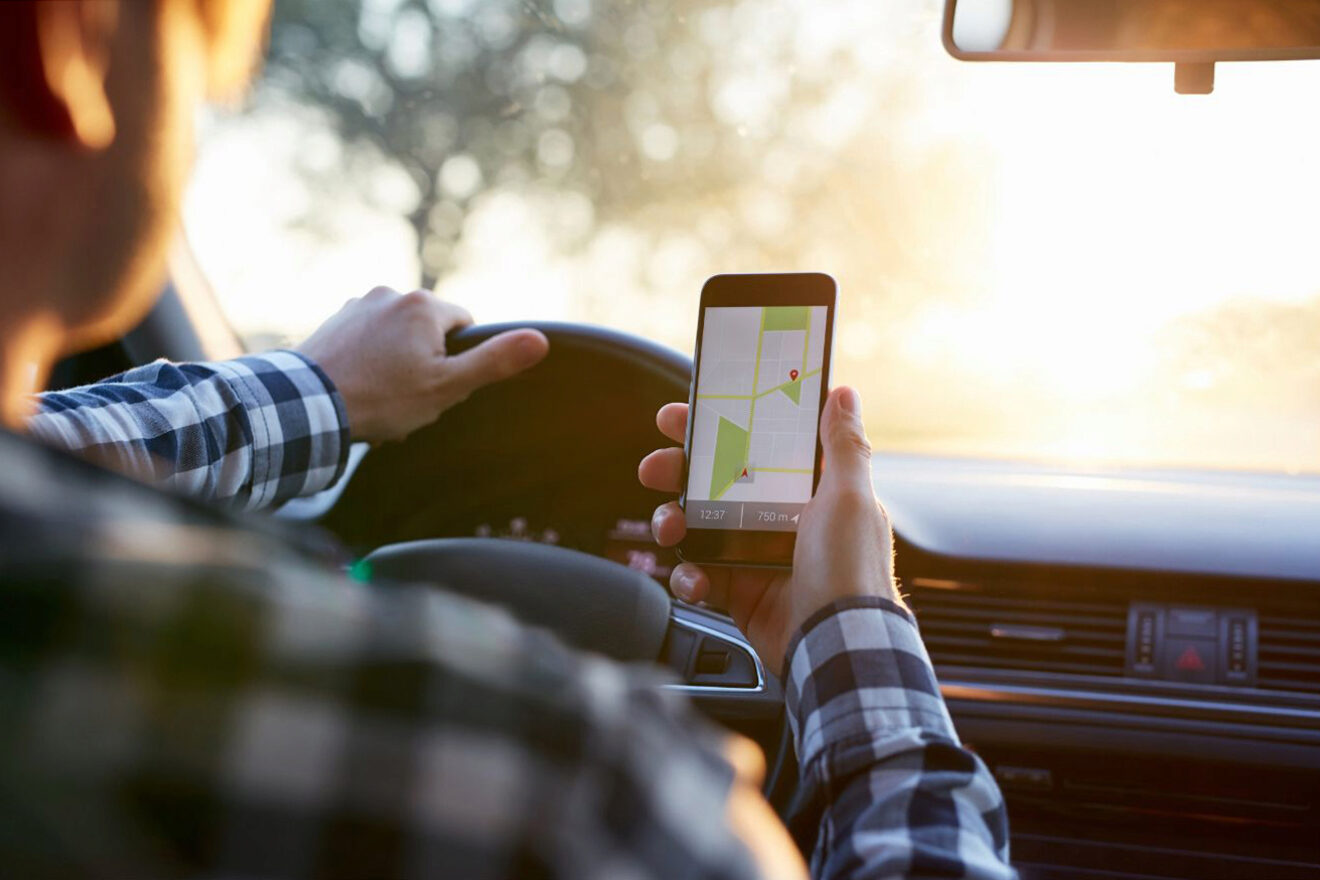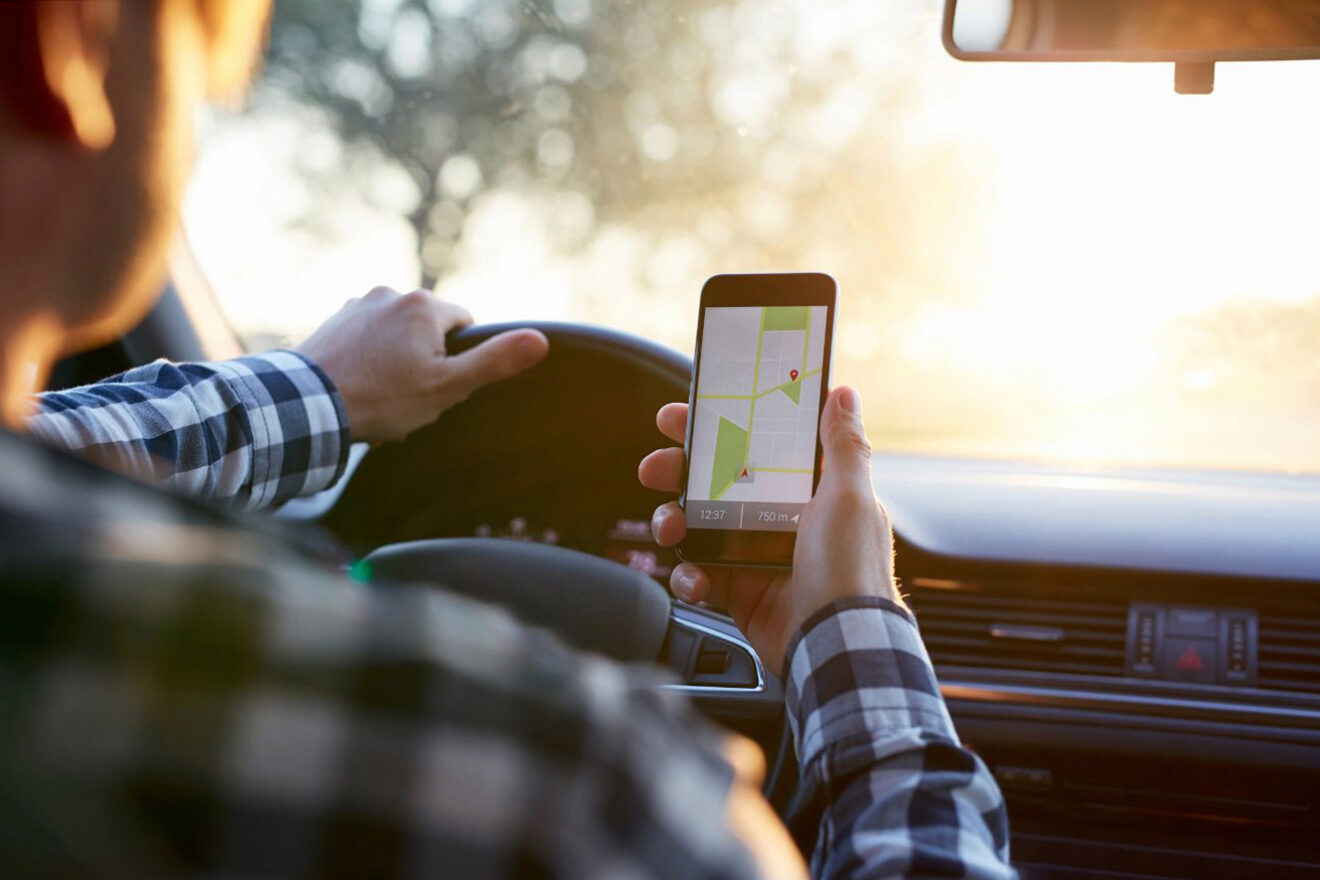 As I mentioned above, everyone is using Waze in the country – from taxi drivers to "normal" people, and I recommend you downloading it too if you haven't yet.
We actually got lost a couple of times with Google maps as it does not know all the reads here yet, Waze was much better.
Oh, and Waze will also tell you the speed limit in that particular part of the road, so that's a huge help too!
Other than that, I don't really know any special country specific apps you would need to be honest, but as anywhere else, check the weather before you go to avoid unpleasant surprises. If you ever need to communicate with the locals, WhatsApp is widely used everywhere.
8. Tips for when you receive the rented car
Here are the things you need to check before you take your rental car from the rental office:
Check the damages (take pictures/videos of the car). Use a fleshlight if there is bad lighting. Some small companies MIGHT want to charge you for some damages you did not do, but it will be much harder if you have proof it was done before you started driving it.
Check that you have all the necessary car documents in the car, you know the number to call in case of an accident
Check the condition of the car from the inside – is the AC working, is your phone connecting for music, is there enough gasoline etc.
Check your GPS – if you don't understand how to use it, make sure to ask the company representative before you leave
What to do in case of an accident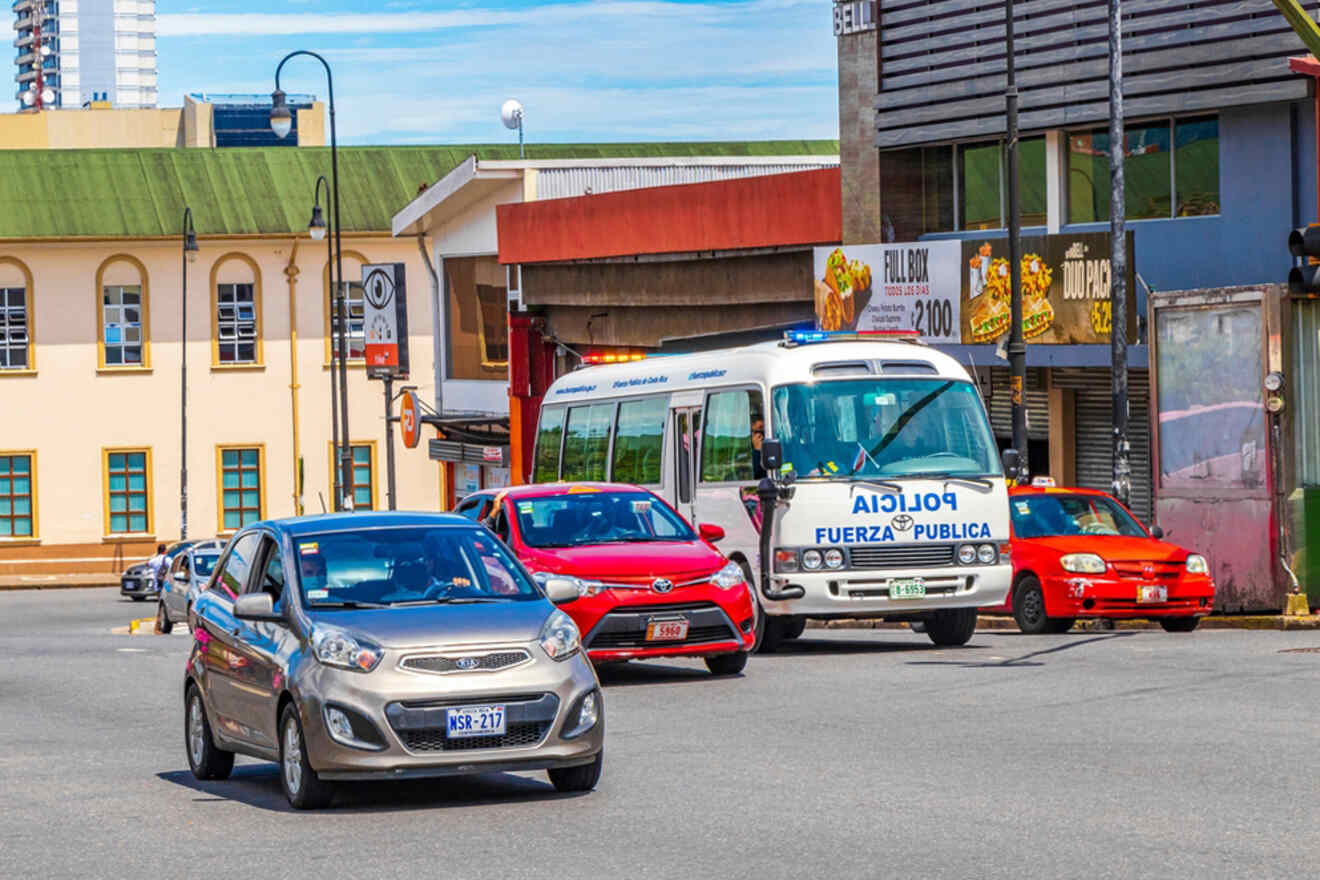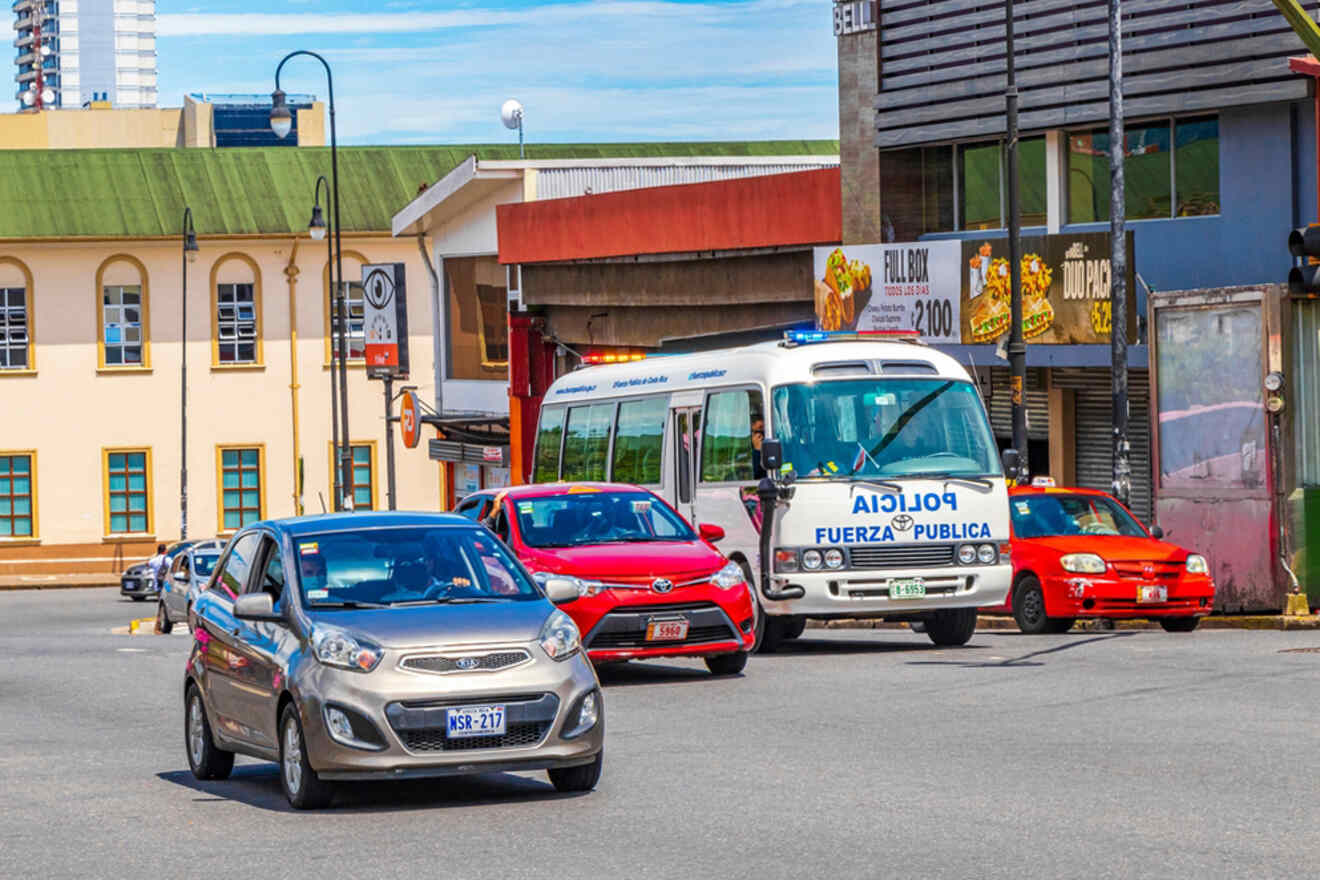 If there are any injuries – call 911 (they also speak English) and then call the number of your rental, they will tell you what to do next.
If noone is injured, you can move your car from the road (although I suspect many locals do not know that rule because I saw many accidents blocking the traffic and not moving anywhere until the police would come)
If you have a flat tire (we had it once) and it is not that bad, you might want to try to pump some air in the nearest gas station.
| | |
| --- | --- |
| 🚗 Economy car: | from US$60 |
| 🚜 4×4 price: | from US$85 |
| 🚐 Campervan price: | from US$95 |
| 👶 Driving age: | 21 |
| ⛽ Gas price: | US$1,4 per l or US$5.3 per gl |
| ✈️ Cost of traveling: | High |
| 👍 Most popular car: | Toyota Yaris or similar |
| 🚘 Top car rental company: | Rentalcars |
FAQs about renting a car in Costa Rica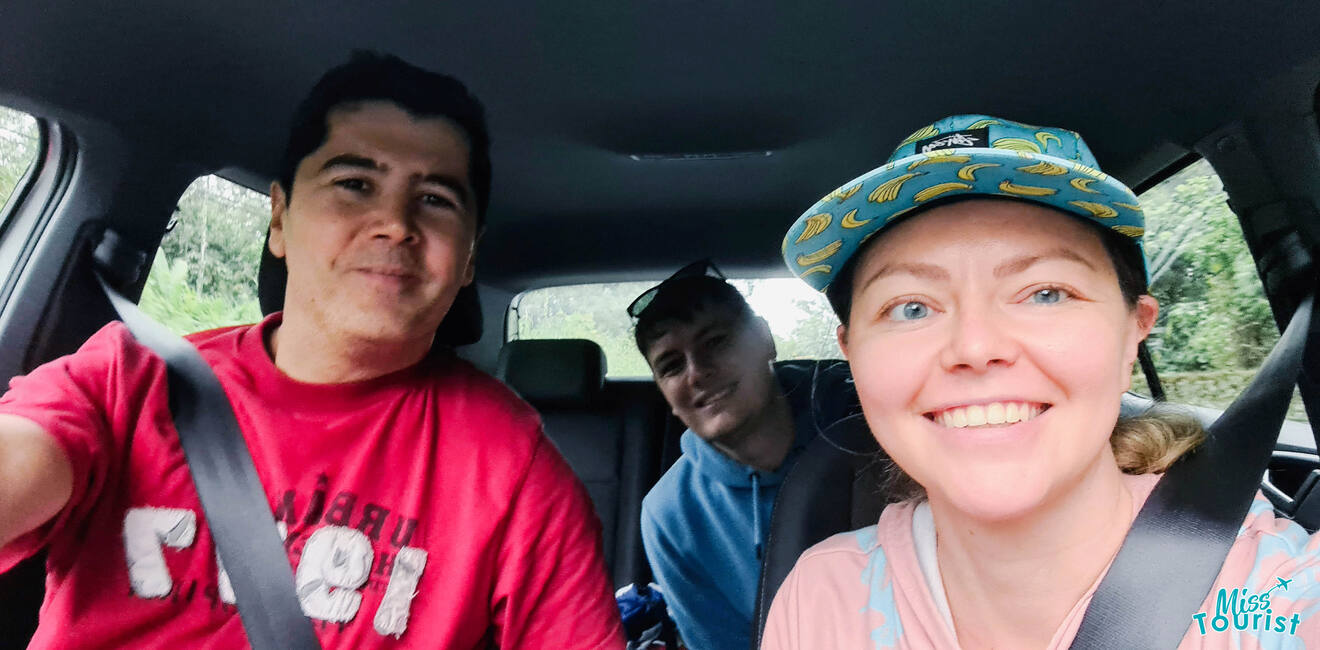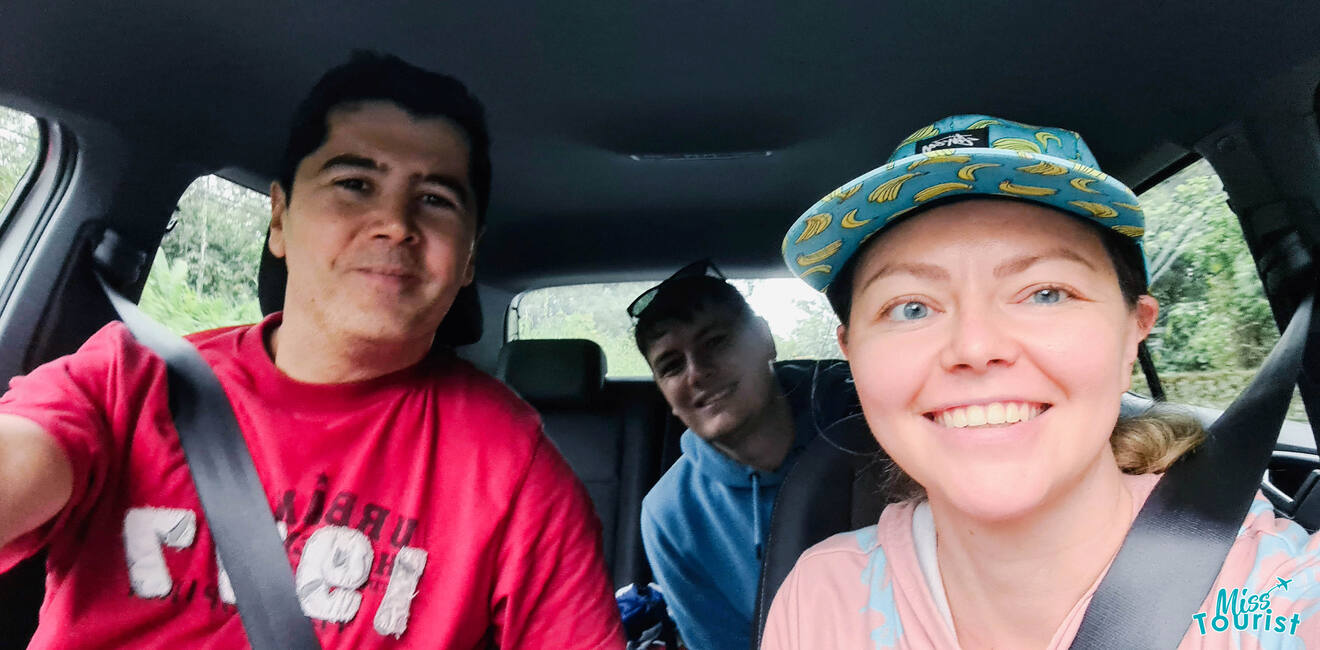 📅 When is the best time to go to Costa Rica?
The high season is anywhere between December and April + July, the low season is May, June, and from August to November.
🚗 Do I need to rent a car in Costa Rica?
Short answer – if you are going to travel around the country, definitely! Not only is it beautiful, it will save you tons of time and allow you to be flexible with where you go, you pretty much have no other option! Public transportation does not go everywhere, the local flights exist, but they don't fly everyday and the price is quite steep.
👶 What is the minimum age to rent a car in Costa Rica?
The age depends on the company's requirements and can vary from 21 to 25 years old. Check the rules with each company individually. There is usually no maximum age limit and no extra charge for it.
⌛ How much in advance do I need to book my rented car?
As much in advance as possible, the rates are not going to get any cheaper. In general, I would recommend booking the car 6 – 8 months in advance and then checking again 2 – 3 months before the trip if there are any deals meanwhile.
🤑 When is the most expensive time to rent a car in Costa Rica?
It is definitely Christmas time! If you are visiting anywhere from Dec 15 to Jan 5, I highly recommend booking your rental car as much in advance as possible. Not only is it not going to get cheaper, but also, the supply runs out quickly.
👛 When is the cheapest time to rent a car in Costa Rica?
The time when everything from car hire to hotels becomes more affordable is May, June, and September through November. You can expect your car to cost around US$60 per day with obligatory insurance included.
Conclusion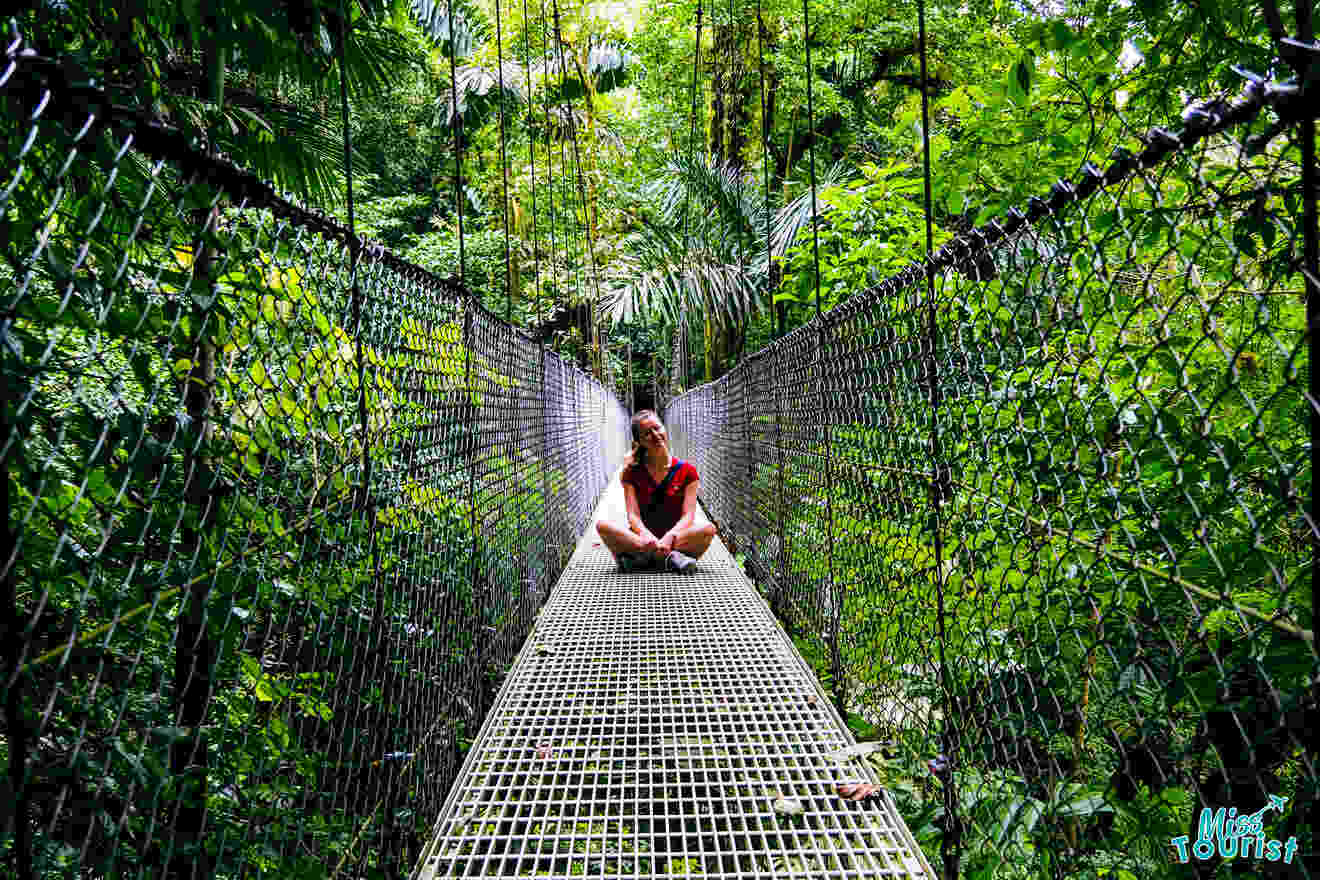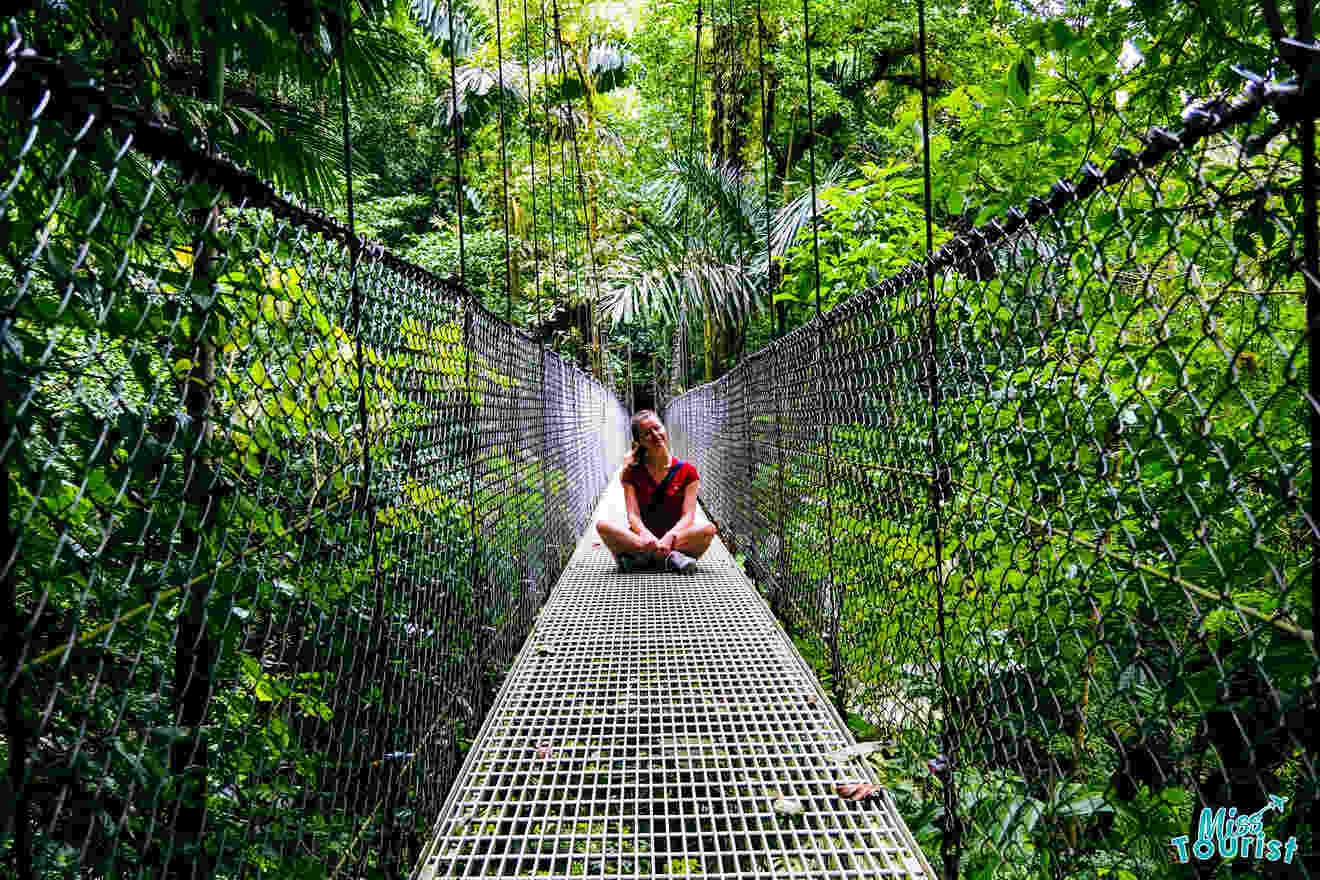 Overseas driving with its new rules and conversions from lt to gallons, from ml/h to km/h etc. is challenging enough and I truly hope I managed to shed some light on that matter!
Renting a car in Costa Rica is going to be one of the best decisions you are going to make planning the trip wisely so I am sure you will have no regrets after seeing all those crazy views and going with the flow/being flexible and having your own mode of transportation.
I hope you will enjoy your vacation and really feel the pura vida is Costa Rica (check all of our posts on the topic here)!
As usual, if you have any questions, be it on pricing, company names, or you want to just drop a line about your experience driving in Costa Rica, feel free to do so in the comments!
Yulia
---
Pin it for later!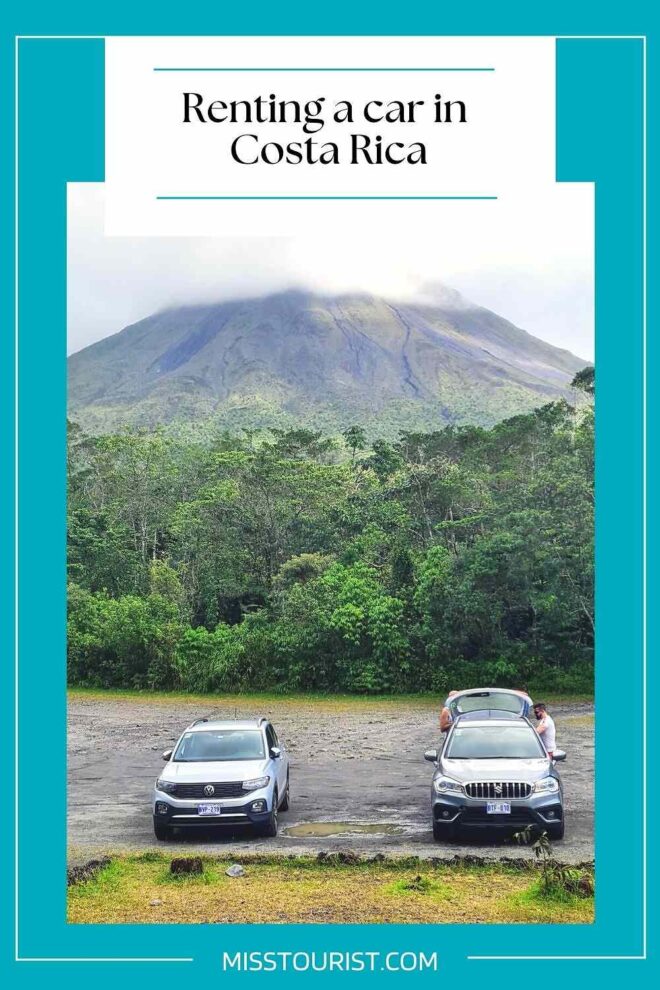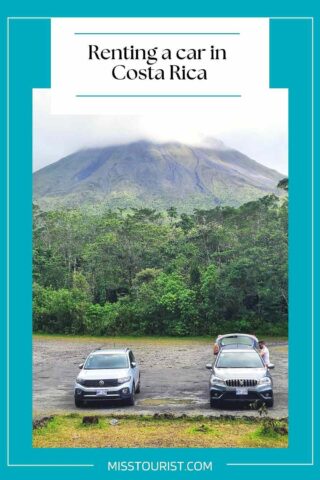 Pin it for later!